E-mail mij


Druk op onderstaande knop om mij te e-mailen.


Romenu


Romenu is een blog over gedichten, literatuur en kunst Maar Romenu is ook een professionele freelance vertaler
Du-Ne en Ne-Du http://www.romenu.nl.


Huur eens een (vakantie)huis in een natuurgebied, dichtbij het centrum van Nijmegen


Google


Georg Trakl

Georg Trakl werd op 3 februari 1887 in het conducteurshuis aan de Waagplatz 2 in Salzburg geboren. Zijn vader, Tobias Trakl, was een handelaar in ijzerwaren en zijn moeder, die ook psychische problemen had, was Maria Catharina Trakl, (meisjesnaam Halik). Voorts had hij nog drie broers en drie zussen. Margarethe (doorgaans Grethe genoemd) stond hem het naast, zelfs zodanig dat sommigen een incestueuze verhouding vermoeden. Zijn jeugd bracht hij door in Salzburg. Vervolgens bezocht hij van 1897 tot 1905 het humanistische gymnasium. Om toch een academische opleiding te kunnen volgen, werkte hij tot 1908 in de praktijk bij een apotheker. Sommigen vermoedden dat hij dit vooral deed om zichzelf opiaten te kunnen verschaffen. Bij het uitbreken van WO I werd Trakl als medicus naar het front in Galicië (heden ten dage in Oekraïne en Polen) gestuurd. Zijn gemoedsschommelingen leidden tot geregelde uitbraken van depressie, die verergerd werden door de afschuw die hij voelde voor de verzorging van de ernstig verwonde soldaten. De spanning en druk dreven hem ertoe een suïcidepoging te ondernemen, welke zijn kameraden nochtans verhinderden. Hij werd in een militair ziekenhuis opgenomen in Kraków, alwaar hij onder strikt toezicht geplaatst werd.Trakl verzonk daar in nog zwaardere depressies en schreef Ficker om advies. Ficker overtuigde hem ervan dat hij contact moest opnemen met Wittgenstein, die inderdaad op weg ging na Trakls bericht te hebben ontvangen. Op 4 november 1914, drie dagen voordat Wittgenstein aan zou komen, overleed hij echter aan een overdosis cocaïne


Paul Celan

Paul Celan werd onder de naam Paul Antschel op 23 november 1920 geboren in Czernowitz, toentertijd de hoofdstad van de Roemeense Boekovina, nu behorend bij de Oekraïne. Paul Celans ouders waren Duitssprekende joden die hun zoon joods opvoedden en hem naar Duitse christelijke scholen stuurden. In 1942 werden Celans ouders door de Duitse bezetter naar een werkkamp gedeporteerd en daar vermoord. Hijzelf wist aanvankelijk onder te duiken, maar moest vanaf juli 1942 in een werkkamp dwangarbeid verrichten. Celan overleefde de oorlog. Via Boekarest en Wenen vestigde Celan zich in 1948 in Parijs. Daar was hij werkzaam als dichter, vertaler en doceerde hij aan de prestigieuze Ecole Normale Supérieure. Vermoedelijk op 20 april 1970 beëindigde hij zijn leven zelf door in de Seine te springen.


Gerard Reve

Gerard Reve over: Medearbeiders "God is in de mensen, de dieren, de planten en alle dingen - in de schepping, die verlost moet worden of waaruit God verlost moet worden, door onze arbeid, aangezien wij medearbeiders van God zijn." Openbaring "Tja, waar berust elk godsbegrip op, elke vorm van religie? Op een openbaring, dat wil zeggen op een psychische ervaring van zulk een dwingende en onverbiddelijke kracht, dat de betrokkene het gevoel heeft, niet dat hij een gedachte of een visioen heeft, maar dat een gedachte gedachte of visioen hem bezit en overweldigt."


Simon Vestdijk
Simon Vestdijk (Harlingen, 17 oktober 1898 – Utrecht, 23 maart 1971) was een Nederlands romancier, dichter, essayist en vertaler. Zijn jeugd te Harlingen en Leeuwarden beschreef hij later in de Anton Wachter-cyclus. Van jongs af aan logeerde hij regelmatig bij zijn grootouders in Amsterdam, waar hij zich in 1917 aan de Universiteit van Amsterdam inschrijft als student in de medicijnen. Tijdens zijn studie die van 1917 tot 1927 duurde, leerde hij Jan Slauerhoff kennen.Tot 1932 is hij als arts in praktijken door heel Nederland werkzaam. In 1932 volgt zijn officiële schrijversdebuut met de uitgave van de bundel Verzen in De Vrije Bladen. Doorslaggevend voor Vestdijks uiteindelijke keuze voor de literatuur is zijn ontmoeting in 1932 met Eddy Du Perron en Menno ter Braak. Deze ontmoeting had tot resultaat dat hij redactielid werd van het tijdschrift Forum Kort daarop, in 1933, wordt zijn eerste novelle, De oubliette, uitgegeven. In hetzelfde jaar schrijft hij Kind tussen vier vrouwen, dat, eerst geweigerd door de uitgever, later de basis zal vormen voor de eerste drie delen van de Anton Wachter-romans. In 1951 ontvangt Vestdijk de P.C. Hooftprijs voor zijn in 1947 verschenen roman De vuuraanbidders. In 1957 wordt hij voor het eerst door het PEN-centrum voor Nederland voorgedragen voor de Nobelprijs voor de Literatuur, die hij echter nooit zal krijgen. Op 20 maart 1971 wordt hem de Prijs der Nederlandse Letteren toegekend, maar voor hij deze kan ontvangen overlijdt hij op 23 maart te Utrecht op 72-jarige leeftijd. Vestdijk was auteur van ca. 200 boeken. Vanwege deze enorme productie noemde de dichter Adriaan Roland Holst hem 'de man die sneller schrijft dan God kan lezen'. Andere belangrijke boeken van Simon Vestdijk zijn: "Kind van stad en land" (1936), "Meneer Visser's hellevaart" (1936), "Ierse nachten" (1946), "De toekomst de religie" (1947), "Pastorale 1943" (1948), "De koperen tuin" (1950), "Ivoren wachters" (1951), "Essays in duodecimo" (1952) en "Het genadeschot" (1964).


K.P. Kavafis

K.P. Kavafis werd als kind van Griekse ouders, afkomstig uit Konstantinopel, geboren in 1863 in Alexandrië (tot vandaag een Griekse enclave) waar hij ook het grootste deel van zijn leven woonde en werkte. Twee jaar na de dood van zijn vader verhuist het gezin in 1872 naar Engeland om na een verblijf van vijf jaar naar Alexandrië terug te keren. Vanwege ongeregeldheden in Egypte vlucht het gezin in 1882 naar Konstantinopel, om na drie jaar opnieuw naar Alexandrië terug te gaan. In de jaren die volgen maakt Kavafis reizen naar Parijs, Londen en in 1901 zijn eerste reis naar Griekenland, in latere jaren gevolgd door nog enkele bezoeken. Op de dag van zijn zeventigste verjaardag, in 1933 sterft Kavafis in Alexandrië. De roem kwam voor Kavafis pas na zijn dood, dus postuum. Deels is dat toe te schrijven aan zijn eigen handelswijze. Hij was uiterst terughoudend met de publicatie van zijn gedichten, liet af en toe een enkel gedicht afdrukken in een literair tijdschrift, gaf in eigen beheer enkele bundels met een stuk of twintig gedichten uit en het merendeel van zijn poëzie schonk hij op losse bladen aan zijn beste vrienden.


Thomas Mann


Thomas Mann, de jongere broer van Heinrich Mann, werd geboren op 6 juni 1875 in Lübeck. Hij was de tweede zoon van de graankoopman Thomas Johann Heinrich Mann welke later één van de senatoren van Lübreck werd. Zijn moeder Julia (geboren da Silva-Bruhns) was Duits-Braziliaans van Portugees Kreoolse afkomst. In 1894 debuteerde Thomas Mann met de novelle "Gefallen". Toen Thomas Mann met 21 jaar eindelijk volwassen was en hem dus geld van zijn vaders erfenis toestond - hij kreeg ongeveer 160 tot 180 goldmark per jaar - besloot hij dat hij genoeg had van al die scholen en instituties en werd onafhankelijk schrijver. Kenmerkend voor zijn stijl zijn de ironie, de fenomenale taalbeheersing en de minutieuze detailschildering. Manns reputatie in Duitsland was sterk wisselend. Met zijn eerste roman, Buddenbrooks (1901), had hij een enorm succes, maar door zijn sceptische houding tegenover Duitsland na de Eerste Wereldoorlog veranderde dit volledig. Stelde hij zich tot aan de jaren twintig apolitiek op (Betrachtungen eines Unpolitischen, 1918), meer en meer raakte hij bij het Politiek gebeuren betrokken. Zijn afkeer van het nationaal socialisme groeide, zijn waarschuwingen werden veelvuldiger en heftiger. In 1944 accepteerde hij het Amerikaanse staatsburgerschap. Tussen 1943 en 1947 schreef Mann Doktor Faustus (zie Faust), de roman van de 'Duitse ziel' in de gecamoufleerd geschilderde omstandigheden van de 20ste eeuw. In 1947 bezocht hij voor het eerst sinds de Oorlog Europa, twee jaar later pas Duitsland. In 1952 vertrok hij naar Zwitserland. Op 12 augustus 1955 stierf hij in Zürich. Twintig jaar na zijn dood, in aug. 1975, is zijn literaire nalatenschap geopend: dagboekaantekeningen van 15 maart 1933 tot 29 juli 1955, alsmede notities uit de jaren 1918 tot en met 1921.Belangrijke werken zijn: Der Zauberberg, Der Tod in Venedig, Dokter Faustus , Joseph und seine Brüder en Die Bekenntnisse des Hochstaplers Felix Krull.


Rainer Maria Rilke

Rilke werd op 4 december 1875 geboren in Praag. Hij had al naam gemaakt als dichter met zijn bundels Das Stundenbuch en Das Buch der Bilder, toen hij de literaire wereld versteld deed staan en wereldfaam verwierf met de publicatie van zijn twee delen Neue Gedichte in 1907 en 1908. Hij verzamelde daarin het beste werk uit een van zijn vruchtbaarste periodes, die hij grotendeels doorbracht in Parijs. Rilke was daar diep onder de indruk gekomen van Rodin, bij wie hij een tijdlang in dienst was als particulier secretaris. Rodin, zei hij later, had hem leren kijken. Dit kijken kwam neer op intense concentratie, om het mysterie te kunnen zien 'achter de schijnbare werkelijkheid'. Latere en rijpere werken als Duineser Elegien (1912-1923) en het ronduit schitterende Die Sonette an Orfeus (1924) illustreren Rilkes metafysische visie op het onzegbare, dat haar verwoording vindt in een hermetische muzikale taal. Op 29 december 1926 overlijdt Rilke in het sanatorium in Val-Mont aan de gevolgen van leukemie. Enkele dagen later wordt hij, overeenkomstig zijn wens, begraven op het kerkhof van Raron.


* * * * * * * * * * * * * * * *

| | |
| --- | --- |
| | Over literatuur, gedichten, kunst en cultuur |

02-05-2015

Esther Freud, Jef Last, Gottfried Benn, Rob Waumans, Tilman Rammstedt, James Holmes, Wytske Versteeg
De Engelse schrijfster Esther Freud werd geboren in Londen op 2 mei 1963. Zie ook alle tags voor Esther Freud op dit blog.
Uit: Summer at Gaglow
"Of the three girls it was only Bina who was allowed to stay up for the night-time celebrations. Places had been laid for a hundred people at a long gallery of tables that spiralled round the dining room. Bina came up to the nursery where both Nanny and the governess, Fraulein Schulze, burst into praise over her dress and the way in which her hair had been arranged. Eva stared furiously into her green baize box and cursed that she was years too young. 'It's even worse luck for me,' Martha said, and it cheered Eva up a little to see that she was right.
Their mother came up to wish them both goodnight. `You have been more than perfect today.' She smiled, glittering in the doorway of their double room, while Martha and Eva sat at twin dressing tables and stared sulkily back at her through the glass. `Sleep well.' She blew them each a kiss and left them to rejoin the party.
`Did you see the earrings she had on?' Martha gasped, and Eva agreed that they were hideous. Great red rubies that dragged down the lobes of her ears. `And such skinny arms.' She winced, continuing to give her hair the one hundred obligatory strokes insisted upon by Nanny.
`Well, at least we have Bina to report back.' Eva brushed vigorously. `Not to mention,' she lowered her voice, `our own dear Schu.'
`Now, now, children.' It was Nanny standing behind them with their nightdresses, freshly pressed and aired. `I'm sure Fraulein Schulze will be too busy enjoying herself to have time for such nonsense.'
`Oh, Omi, Omi Lise,' they both protested. They caught each other's eye and grinned. This was exactly what their governess had time for and what, above anything, she enjoyed. It was her wicked bedtime stories that had won them over at the very start, and the way she poked fun at strangers, livening up the walks they took even on the most dreary days, and filling her charges, each one, with a small, warm well of spite.
Eva lay in bed, listening to the distant strains of the music and running over in her mind the various eligible girls invited by her mother. Who. would Emanuel be dancing with, she wondered, and she smiled at the off-hand way in which he had accepted their attentions.
`Martha?' she whispered. `Martha, are you asleep?'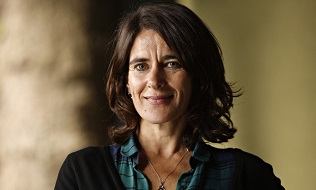 Esther Freud (Londen, 2 mei 1963)
De Nederlandse dichter en schrijver Josephus Carel Franciscus (Jef) Last werd geboren in Den Haag op 2 mei 1898. Zie ook alle tags voor Jef Last op dit blog.
Aan een gevallen makker
Een witte roos bloeide op het vale veld,
roos van de dood te midden der gewonden
een jong gezicht had in zijn laatste nood
de vage schaduw van een lach gevonden.

"Ik heb het koud" klaagden zijn blauwe lippen
zijn weke hand zocht tastend naar een maat
ik zag zijn leven met zijn bloed ontglippen
en steeds maar liever scheen mij zijn gelaat.

"Een dode meer op onze lijst van helden"
mijn god hoe walgt het woord mij in de mond
een kind veeleer dat brute domheid velde
één adem minder uit een zoete mond.

Een lied brak af na d'eerste teedre strofe
een dapper hart hield plotseling op met slaan
een makker minder op de donkre wegen
die door de modder onze voeten gaan,

maar deze morgen zet een jonge vogel
zich op een tak en zingt en zingt en zingt
het schijnt mij of in 't zoete vogelfluiten
de stem van mijn gevallen makker klinkt.
Als eens de dood komt
Als eens de dood komt, laat het zijn
in 't midden van de overgave,
de laatste beker rode wijn,
het laatste brood, het laatst refrein
waarmee een vriend een vriend kan laven -
En laat de dood het éinde zijn.
Als eens de dood komt, laat het zijn
uit lege beurs de laatste gave,
van 't volle hart de laatste pijn,
de liefste kus, het zoetst festijn
ontbloot van goed, ontdaan van have -
En laat de dood het éinde zijn.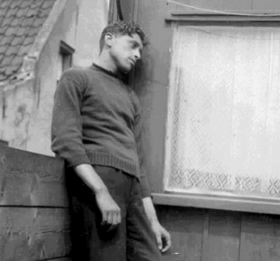 Jef Last (2 mei 1898 – 15 februari 1972)
Hier als acteur in de film Branding van Joris Ivens, 1929
De Duitse dichter en schrijver Gottfried Benn werd geboren in Mansfeld op 2 mei 1886. Zie ook alle tags voor Gottfried Benn op dit blog.
Die Schale
Kommst du zum letzten Male,
wir waren doch so allein
und rannen in eine Schale
mit Bildern und Träumen ein.
Es war doch eben noch heute
und unser Meer war die Nacht,
wir waren einander die Beute,
die weiße Fracht.

Wir streiften uns wie zwei Rassen,
zwei Völker von Anbeginn:
die Stämme, die dunklen, die blassen
gaben sich hin.

Kommst du zum letzten Male,
es war doch alles nur Spiel
oder sahst du, wie in die Schale
Tränen und Schatten fiel -

Sahst du, sahst du ihr Neigen
in Strömen dieses Weins
und dann ihr Fallen und Schweigen:
die Verwandlung des Seins -?
Reisen
Meinen Sie Zürich zum Beispiel
sei eine tiefere Stadt,
wo man Wunder und Weihen
immer als Inhalt hat?
Meinen Sie, aus Habana,
weiß und hibiskusrot,
bräche ein ewiges Manna
für Ihre Wüstennot?
Bahnhofstraßen und Rueen,
Boulevards, Lidos, Laan –
selbst auf den Fifth Avenueen
fällt Sie die Leere an –
ach, vergeblich das Fahren!
Spät erst erfahren Sie sich:
bleiben und stille bewahren
das sich umgrenzende Ich.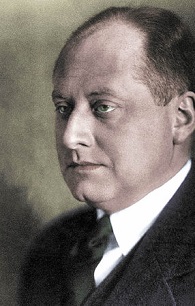 Gottfried Benn (2 mei 1886 - 7 juli 1956)
In 1932
De Nederlandse schrijver Rob Waumans werd geboren in Alkmaar op 2 mei 1977. Zie ook alle tags voor Rob Waumans op dit blog.
Gesprek (Blog)
Ik stond buiten een sigaret te roken, op de stoep voor een café in Noord. Het was koud, mijn jas hing nog binnen over mijn kruk, naast Nyk de Vries, die niet rookt maar wel graag een biertje drinkt en de volgende dag overigens kerst ging vieren met familie in Friesland omdat 'dat nou eenmaal beter uitkwam'.
We hadden allebei voorgedragen tijdens de literaire pubcrawl en we waren hier geëindigd. We dronken bier uit klassieke bierglazen die je in de jaren tachtig overal zag. Glazen waar je net zo goed cola in kunt schenken, zonder dat iemand je gek aankijkt.
Eerder die avond droeg een schrijfster een heel mooi verhaal voor over een voormalig galgenveld hier in Noord, waar nu de Shell-toren staat, werkelijk een mooi verhaal, waar ik op zondag nog regelmatig over nadacht. Haar voordracht werd een aantal keer onderbroken door een vrouw die ze niet helemaal op een rijtje had. Vlak na de voordracht begon die vrouw te dansen als een hippie, langs de tafeltjes waar mensen haar met grote, bange ogen aankeken.
En nu stond die vreemde vrouw ineens naast me, terwijl ik lekker op mijn gemak een sigaretje stond te roken.
Ze keek me aan, haalde een pakje shag uit haar jaszak en zei:
'Ik ga zo de stad in. Ga je mee of heb je het lef niet?
'Waar ga je heen,' vroeg ik.
'Daar kan ik niets over zeggen,' zei de vrouw, en toen: 'Val je op negers?'

Rob Waumans (Alkmaar, 2 mei 1977)
De Duitse schrijver Tilman Rammstedt werd geboren op 2 mei 1975 in Bielefeld. Zie ook alle tags voor Tilman Rammstedt op dit blog.
Uit: Die Abenteuer meines ehemaligen Bankberaters
"Sehr geehrter Herr Willis,
vielleicht erscheint Ihnen die Frage, ob es Ihnen gut geht, zu willkürlich, zu allgemein oder zu persönlich. Es ist nur so, dass ich zuletzt viel Zeit in Wartezimmern verbracht habe (abnehmende Sehstärke, Rückenbeschwerden, Knirscherschiene), und dort las ich in einer Zeitschrift, dass es Ihnen zurzeit alles andere als gut gehe (Liebe, Körper, Beruf ). Nun weiß ich nicht, wie aktuell diese Zeitschrift war und inwieweit solchen Zeitschriften überhaupt zu trauen ist, daher auch mein Nachfragen in den vergangenen Tagen. Aber falls es stimmt, dass Sie gerade etwas unglücklich sind, tut mir das ausgesprochen leid. Kann ich vielleicht irgendetwas für Sie tun? Ganz gleich, was es ist,
scheuen Sie sich bitte nicht, mir sofort zu schreiben.
Mit freundlichen Grüßen,
Tilman Rammstedt
PS:
Wenn Ihnen nichts einfällt, was ich für Sie tun kann, schreiben Sie mir bitte trotzdem. Vielen Dank
Auf dem Schreibtisch meines ehemaligen Bankberaters stand ein kleiner Keramikelefant mit erhobenem Rüssel. »Ein Erinnerungsstück«, erklärte er mir, als er sah, dass ich das Tier betrachtete. »Woran?«, fragte ich, und mein ehemaliger Bankberater zögerte nur kurz.
»An einen Elefanten«, sagte er."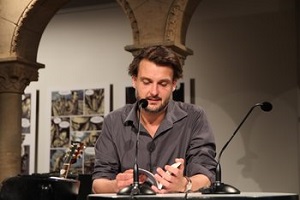 Tilman Rammstedt (Bielefeld, 2 mei 1975)
De Amerikaanse dichter en vertaler James Stratton Holmes werd geboren in Collins, Iowa, op 2 mei 1924. Zie ook alle tags voor James Holmes op dit blog.
Uit: A Long Night In Leatherland (Verschenen onder het pseudoniem Jacob Lowland)
"Oh yeah, Jake", continues Jaceques, "a little while ago someone was here, someone you would certainly like. A blond one. In his early twenties. Dashingly beautiful and slavishly polite."
Kurt, I think. "German, surely."
"Yep, he spoke English, but I think he is German. He's just left."
He will probably be next door. So will I.
The Argos. Things ain't what they used to be in the leatherscene, nor are they here. Nevertheless, still, if there's a place in Amsterdam which embodies the leather tradition, it must be the Argos. Further along in the Warmoesstraat, and then in the Heintje Hoeksteeg, one of the little alleys on the right, there the Amsterdam leatherscene was actually born. The Argos, these days, the only real grandson of the old one is considerably more spacious in size and admission policy, but there isn't much left of the almost conspiracy-like atmosphere of the little bar of the old days: that strange smell in the air of comradeship, qualified by secrecy and swank. Still, ever so present, is the air of filthiness and decay. Here you can throw your fags, spit, piss, cum on the floor, if you're pig enough for it. The limits are your only limits and the ones of the boy you are handling. It's good to be back here.
I buy a beer from Bosch, salute a few friends and acquaintances, take a peek downstairs – still very silent, but the FF-room is already occupied – and walk upstairs again. Then I go and sit where I usually hang out: on the motorbike in front of the fireplace. Jerry, just back from four weeks in Australia, gives an elaborate account of how much better the leatherscene in Sidney is these days than six years ago, when I was there for a while."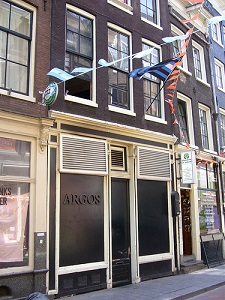 James Holmes (2 mei 1924 - 6 november 1986)
De Argos in Amsterdam
De Nederlandse schrijfster Wytske Versteeg werd geboren op 2 mei 1983. Zie ook alle tags voor Wytske Versteeg op dit blog.
Uit: Boy
'Het leven gaat verder,' zei ik cynisch, en nu was het de vrouw die hem onderbrak, mij sterkte wenste en zei dat ik altijd mocht bellen.
Ik bracht hen naar de voordeur. Pas nadat ik die rustig en beheerst had gesloten zakte ik op de vloer ineen, zat met opgetrokken knieën en mijn armen om mezelf heen geklemd tegen de deur, alsof ik het kwaad nu nog buiten kon houden.
De doden komen altijd weer naar boven en misschien is het daarom dat we grafstenen voor hen maken, van glanzend maar zwaar marmer, deuren die nooit meer open hoeven. Die rituelen zijn er niet voor niets, hoe we de doden opmaken om hen nog op hun oude zelf te laten lijken, ze blosjes op de wangen geven en hun mooiste kleren aan. Dat we kaarten schrijven, met de hand, en dat we die aan iedereen versturen om het bericht te brengen van de dood. We vragen iedereen die van ons houdt om naast ons te staan wanneer de kist de aarde in zakt of uit het zicht verdwijnt, bij ons te zijn wanneer we afscheid nemen. Hoe ver weg en hoe oud de dode ook is, we zien altijd onszelf en hoe we hier al bijna weg zijn en daarom lachen we te hard, daarom bestellen we van tevoren cake en koffie, want zolang we eten leven we. Maar als een kind sterft wil er niemand eten, sluipen de begrafenisgasten na de plechtigheid zo snel mogelijk weg, durft niemand te zeggen hoe mooi hij erbij ligt.
Niet dat dat het geval was. Boy werd begraven in een gesloten kist, hij was te lang vermist geweest."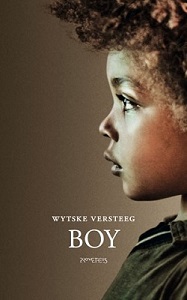 Wytske Versteeg (Amsterdam (?), 2 mei 1983)
Cover
Zie voor nog meer schrijvers van de 2e mei ook mijn twee vorige blogs van vandaag.
02-05-2015 om 12:44 geschreven door Romenu

Tags:Esther Freud, Jef Last, Gottfried Benn, Rob Waumans, Tilman Rammstedt, James Holmes, Wytske Versteeg, Romenu



Jurgis Baltrusaitis, Novalis, Georges-Arthur Goldschmidt, Angela Krauß, Gisela Elsner
De Litouwse schrijver en vertaler Jurgis Baltrušaitis werd geboren op 2 mei 1873 in Paantvardys. Zie ook alle tags voor Jurgis Baltrušaitis op dit blog.
The Surf
The day's wild ocean sings and thunders,
And beats against the fatal shore,
This breaker with dumb sorrow sunders,
And these like laughing victors roar,
Their sheen – one joy of vernal wonders,
Their sheen – vast winter's shining hoar.
In wrath triumphant forward swinging,
The lifted billow calls and fails,
A joyous giant shouting, singing,
Its voice the voice of sounding gales,
Its glory in the sunlight flinging,
Whose noonday glow it holds and hails.
Across the sea, now lightly foaming,
Another rears, that stirs the deep,
And floods the shore with the silence gloaming;
Morose and slow it seems to creep
Like one who drops, worn out with roaming,
From his bent back a fatal heap.
Each moment new, with changing power,
The surf is thundering alone.
Now idle, now it seems to lower,
Hymning a sylence all unknown,
Like a dark heart asleep, – for hour
On hour in restless monotone.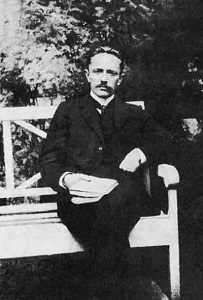 Jurgis Baltrušaitis (2 mei 1873 – 3 januari 1944)
De Duitse dichter en schrijver Novalis werd geboren in Oberwiederstedt op 2 mei 1772. Zie ook alle tags voor Novalis op dit blog.
Uit: Hymnen an die Nacht
3
Einst da ich bittre Tränen vergoß, da in Schmerz aufgelöst meine Hoffnung zerrann, und ich einsam stand am dürren Hügel, der in engen, dunkeln Raum die Gestalt meines Lebens barg – einsam, wie noch kein Einsamer war, von unsäglicher Angst getrieben – kraftlos, nur ein Gedanken des Elends noch. – Wie ich da nach Hülfe umherschaute, vorwärts nicht konnte und rückwärts nicht, und am fliehenden, verlöschten Leben mit unendlicher Sehnsucht hing: – da kam aus blauen Fernen – von den Höhen meiner alten Seligkeit ein Dämmerungsschauer – und mit einem Male riß das Band der Geburt – des Lichtes Fessel. Hin floh die irdische Herrlichkeit und meine Trauer mit ihr – zusammen floß die Wehmut in eine neue, unergründliche Welt – du Nachtbegeisterung, Schlummer des Himmels kamst über mich – die Gegend hob sich sacht empor; über der Gegend schwebte mein entbundner, neugeborner Geist. Zur Staubwolke wurde der Hügel – durch die Wolke sah ich die verklärten Züge der Geliebten. In ihren Augen ruhte die Ewigkeit – ich faßte ihre Hände, und die Tränen wurden ein funkelndes, unzerreißliches Band. Jahrtausende zogen abwärts in die Ferne, wie Ungewitter. An ihrem Halse weint ich dem neuen Leben entzückende Tränen. – Es war der erste, einzige Traum – und erst seitdem fühl ich ewigen, unwandelbaren Glauben an den Himmel der Nacht und sein Licht, die Geliebte.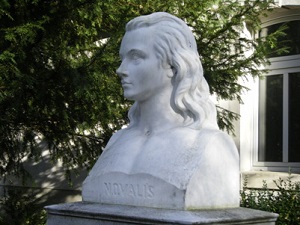 Novalis (2 mei 1772 - 25 maart 1801)
Borstbeeld in Weißenfels
De Frans-Duitse schrijver, essayist en vertaler Georges-Arthur Goldschmidt werd geboren op 2 mei 1928 in Reinbek bij Hamburg. Zie ook alle tags voor Georges-Arthur Goldschmidt op dit blog.
Uit: Die Faust im Mund
"Bis 1943 hatte ich in ständiger Aufregung gelebt, von einer Züchtigung zur nächsten, kopflos vor Schimpf und Schande, daher war mir gar nicht bewußt geworden, daß ich kleiner deutscher Flüchtling längst Französisch sprach, als ob ich das seit jeher getan hätte, als ob es meine zweite Muttersprache wäre.
An jenem Oktobertag 1943 kam alles auf einmal, auch der zweifache Zugang zum Schreiben. Statt mich wie gewöhnlich zum zweihundertmaligen Abschreiben des Satzes "Ich darf im Unterricht nicht schwätzen" oder "Ich werde Schläge bekommen, weil ich faul bin" zu verdonnern, hatte man sich diesmal in den Kopf gesetzt, mich die "Abenteuer eines Zerstreuten" aus den Charakteren von La Bruyère abschreiben zu lassen. Noch nie hatte ich so Französisch geschrieben. Es war, als ob ich über dem Text schwebte, nie zuvor war mir die absonderliche Anordnung all dieser Buchstaben aufgefallen, die die Seiten schmückten, aber beim Vorlesen meist nicht zu hören waren; das verlieh dem ganzen ein elegant pittoreskes Flattern, das mich staunen machte. So wurde die Sprache, die ich abschrieb, zu einer überraschenden, wunderbaren Zuflucht in der alltäglichen Not."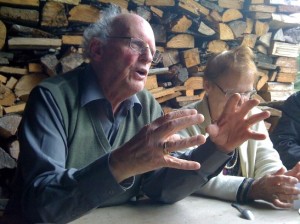 Georges-Arthur Goldschmidt (Reinbek, 2 mei 1928)
De Duitse dichteres en schrijfster Angela Krauß werd geboren op 2 mei 1950 in Chemnitz. Zie ook alle tags voor Angela Krauß op dit blog.
Uit: Ich muß mein Herz üben
Gras unter dem Rücken und oben nichts
als zartblauer Überfluß,
Nahrung zum Aufatmen,
zum Himmelsschüsseln leeren,
Vorrat für bacchantische Tag- und Nachtmähler
lebenslang, zum Schwelgen und Schlürfen
für Nüstern und Lungenzungen
und das vor Mut strotzende Herz.
Gesorgt wär für alle und
eine unendliche Geschichte.
Das Ganze ein flatterndes Meer,
kleine Mädchen und Seeleute,
Bergmänner, Frauen, die Städte bauen,
Briefboten, Countertenöre.
Jeder Daherlaufende ein Leben,
das ich auf später verschiebe.
Und noch immer kein einziger Feind,
der sich gezeigt hat.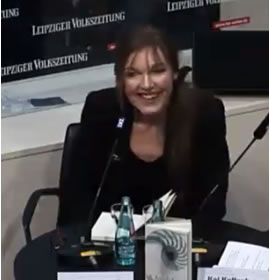 Angela Krauß (Chemnitz, 2 mei 1950)
De Duitse schrijfster Gisela Elsner werd geboren op 2 mei 1937 in Nürnberg. Zie ook alle tags voor Gisela Elsner op dit blog.
Uit: Heilig Blut
"Unwillkürlich musste er an die Behauptung seines Vaters denken, der ihm gegenüber geäußert hatte, dass die eindrucksvolle Seelenruhe, die Lüßl oft genug in kritischen Augenblicken zur Schau trage, nicht etwa auf seine Selbstbeherrschung, sondern auf ein Sedativ zurückzuführen sei. Er stellte fest, dass sich auch Hächler und Glaub­recht, die mittlerweile ihre Frühstückseier verzehrt hatten, über Lüßls an Stumpfheit grenzende Gleichmütigkeit Gedanken zu machen schienen. Während sich der letztere erst Kaffee und Milch einschenkte und daraufhin mit der Betulichkeit eines Pedanten ein Brot mit Butter bestrich, ließen sie ihn nicht aus den Augen.
Sie haben sich wohl wieder einmal gedopt, erkundigte sich Hächler schließlich.
Das kann Ihnen doch egal sein, erwiderte Lüßl, indem er sein Frühstücksei köpfte.
Es ist mir aber nicht egal, dass ich meinen Urlaub mit einem Menschen verbringen muss, der sich mit Medikamenten voll stopft, die ansonsten nur hysterischen Weibern in den Wechseljahren verordnet werden, rief Hächler, und er sah Lüßl voller Verachtung an.
Aber der war dank des Sedativs, das er offensichtlich eingenommen hatte, dermaßen dickfellig geworden, dass er nur die Achseln zuckte.
Warum reisen Sie denn nicht ab, wenn Ihnen meine Anwesenheit so lästig ist, fragte er.
Falls Sie etwa glauben sollten, Sie könnten mich hier herausekeln, irren Sie sich gehörig, entgegnete Hächler mit einem zornigen Auflachen, ehe er sich zurücklehnte und schweigend aus dem Küchenfenster starrte, gegen dessen Scheiben der böige Westwind seit einer Weile große Schneeflocken trieb."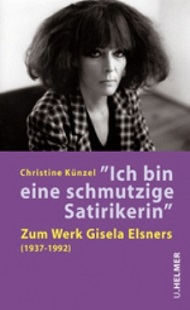 Gisela Elsner (2 mei 1937 – 13 mei 1992)
Cover
Zie voor nog meer schrijvers van de 2e mei ook mijn vorige blog van vandaag,
02-05-2015 om 12:32 geschreven door Romenu

Tags:Jurgis Baltrusaitis, Novalis, Georges-Arthur Goldschmidt, Angela Krauß, Gisela Elsner. Romenu



Franz Innerhofer, Jamal Abro, Clyde Fitch, John Galt, Jerome K. Jerome, Udo Steinke, Klaus Konjetzky
De Oostenrijkse schrijver Franz Innerhofer werd geboren op 2 mei 1944 in Krimml. Zie ook alle tags voor Franz Innenhofer op dit blog.
Uit: Schöne Tage
"Wieder in der Küche, fragte die Stiefmutter, warum er kein weißes Hemd angezogen habe. Dann ging alles sehr schnell. Der Weiße Sonntag nicht bewußt. Schulbeichte nicht nachgeholt. Schrecken. Aufspringen des Vaters. Resignation. Holl in die etwas höher liegende Speisekammer gestoßen. Hose herunter. Mit Riemen zugeschlagen. Wie immer mußte Holl um die Züchtigung bitten, nach der Züchtigung sich bedanken. Eine Übernahme vom Großvater. Die ersten Riemenhiebe schmerzten am meisten, dann sah Holl nur noch gelangweilt zum vergitterten Fenster hinauf. Das Keuchen des Vaters widerte ihn an. Die Hose mußte er halten, weil die Knöpfe ausgerissen waren. Dann warf ihn der Vater über die Stufen auf den Küchenboden hinunter, wo er hart aufschlug. Aufschreien der Stiefmutter. Stumme Gesichter der Mägde. Schmerz. Holl schämte sich. Dann befahl ihm der Vater daheim zu bleiben."
(…)
Er wollte nicht auch noch die letzte Schande auf sich nehmen. über Arbeit klagen, war die größte Schande. Er wollte nur noch sterben, einschlafen und nicht mehr aufwachen, aber er wurde immer wieder geweckt, brutal aus dem Schlaf gerissen, und dachte sofort an die Schlucht, die Hose feucht-kalt, die Fußlappen feucht, die Stiefel feucht, die Milchkannen kalt, der Melkeimer kalt. Er torkelte hinter dem Melker durch den dreckigen Stall und dachte: Morgen geht da ein anderer."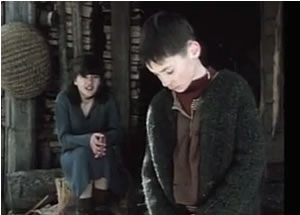 Franz Innerhofer (2 mei 1944 – 19 januari 2002)
Scene uit de film "Schöne Tage" uit 2006
De Sindi schrijver Jamal Abro werd geboren op 2 mei 1924 in in Sangi, een klein dorpje in Mehar Dholka. Zie en ook alle tags voor Jamal Abro op dit blog.
Uit: Pirani
"The dogs would not stop barking and they kept it up till they had followed the strangers back to the outskirts of the hamlet. the dogs then wagged their tails as if they had done their duty. Outside the hamlet, after considerable high-haggling the bargain was struck for sixty rupees!
The Brohis were now getting ready to return to the hungry hills. They pulled down the shacks and loaded the bullocks. The children kept chattering about the hills and the babble trees on the hills. Lalu's village was on the way. Pirani's mother walked abreast, almost touching her daughter, while the father offered his finger for Pirani to hold. Are we returning home? asked Pirani. The father nodded. He could feel a corrosive void turning and twisting within him. The mother felt as if something heavy were hammering within her breast, trying to get out.
Lalu's People were waiting. As they drew nearer, Pirani's mother twitched convulsively and clasped her daughter. Lifting her high, she pressed Pirani to her bosom. The mother and daughter were panting, their hearts pounding fast, their eyes panic-stricken.
Others stood around them. The father with his trembling hands lurched forward and tore away his daughter with a look of finality. The mother broke down, her heart crushed, her very vitals cut into pieces. She screamed, Pirani, oh, my little Pirani! The girl shrieked back... The birds flew away in panic."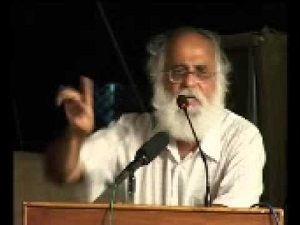 Jamal Abro (2 mei 1924 – 30 juni 2004)
De Amerikaanse (toneel) schrijver Clyde Fitch werd geboren op 2 mei in 1865 in Elmira, New York. Zie ook alle tags voor Clyde Fitch op dit blog.
Uit: The Stubbornness Of Geraldine
"GERALDINE. Glad!?! Glad!! Surely an Englishman knows what love of one's country means ! how it's born in one, and nothing ever gets it out !
Let me tell you something ! The day I sailed, a pale, small, timid girl, this same uncle gave me, to wave from the boat, a little stars and stripes; Uncle Ray DID love his country as well as a few other things ! Perhaps you'll think it silly of me, but from that day to this I've never let go that little flag. I've travelled all over Europe, but never went to sleep one night without it under my pillow at first, and afterward in a little sort of amulet about my neck [Taking hold of a chain she wears.], when it threatened to become rags! Glad to go back to America ? It's what I've been dreaming of, longing for, waiting for on tiptoe since the very hour I left fourteen years ago! Glad/!! I don't pretend to explain; I can only tell you that even to speak of going back fills me with an emotion
I don't understand. I feel it here ! [Her hand over her bosom.] And here! [At her throat.] It's why it's home, you know, that's all !
TILBURY. I know what you mean. I felt it in South Africa.
GERALDINE. [With quick interest and sympathy.] Were you in many battles there?
TILBURY. No, but I was in all the hospitals !
GERALDINE. [She laughs.] Let's walk. [To
FRAULEIN.] We're going to walk up and down a little, just here in front of you."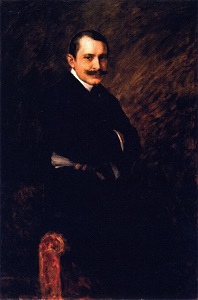 Clyde Fitch (2 mei in 1865 – 4 september 1909)
Portret door William Merritt Chase, rond 1900
De Schotse schrijver John Galt werd geboren in Irvine op 2 mei 1779. Zie ook alle tags voor John Galt op dit blog.
Uit: The Life of Lord Byron
"Sir Nicholas died in 1540, leaving an only son, Sir John Byron, whom Henry VIII. made Steward of Manchester and Rochdale, and Lieutenant of the Forest of Sherwood. It was to him that, on the dissolution of the monasteries, the church and priory of Newstead, in the county of Nottingham, together with the manor and rectory of Papelwick, were granted. The abbey from that period became the family seat, and continued so until it was sold by the poet.
Sir John Byron left Newstead and his other possessions to John Byron, whom Collins and other writers have called his fourth, but who was in fact his illegitimate son. He was knighted by Queen Elizabeth in 1579, and his eldest son, Sir Nicholas, served with distinction in the wars of the Netherlands. When the great rebellion broke out against Charles I., he was one of the earliest who armed in his defence. After the battle of Edgehill, where he courageously distinguished himself, he was made Governor of Chester, and gallantly defended that city against the Parliamentary army. Sir John Byron, the brother and heir of Sir Nicholas, was, at the coronation of James I., made a Knight of the Bath. By his marriage with Anne, the eldest daughter of Sir Richard Molyneux, he had eleven sons and a daughter. The eldest served under his uncle in the Netherlands; and in the year 1641 was appointed by King Charles I., Governor of the Tower of London. In this situation he became obnoxious to the refractory spirits in the Parliament, and was in consequence ordered by the Commons to answer at the bar of their House certain charges which the sectaries alleged against him. But he refused to leave his post without the king's command; and upon' this the Commons applied to the Lords to join them in a petition to the king to remove him. The Peers rejected the proposition.
On the 24th October, 1643, Sir John Byron was created Lord Byron of Rochdale, in the county of Lancaster, with remainder of the title to his brothers, and their male issue, respectively. He was also made Field-Marshal-General of all his Majesty's forces in Worcestershire, Cheshire, Shropshire and North Wales: nor were these trusts and honours unwon, for the Byrons, during the Civil War, were eminently distinguished. At the battle of Newbury, seven of the brothers were in the field, and all actively engaged."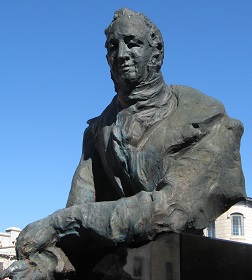 John Galt (2 mei 1779 - 11 april 1839)
Standbeeld in Ontario
De Engelse schrijver Jerome Klapka Jerome werd geboren op 2 mei 1859 in Walsall, in het toenmalige graafschap Staffordshire. Zie ook alle tags voor Jerome K. Jerome op dit blog.
Uit: Tea-table Talk
"They are very pretty, some of them," said the Woman of the World; "not the sort of letters I should have written myself."
"I should like to see a love-letter of yours," interrupted the Minor Poet.
"It is very kind of you to say so," replied the Woman of the World.
"It never occurred to me that you would care for one."
"It is what I have always maintained," retorted the Minor Poet; "you have never really understood me."
"I believe a volume of assorted love-letters would sell well," said the Girton Girl; "written by the same hand, if you like, but to different correspondents at different periods. To the same person one is bound, more or less, to repeat oneself."
"Or from different lovers to the same correspondent," suggested the Philosopher. "It would be interesting to observe the response of various temperaments exposed to an unvaried influence. It would throw light on the vexed question whether the qualities that adorn our beloved are her own, or ours lent to her for the occasion.
Would the same woman be addressed as 'My Queen!' by one correspondent, and as 'Dear Popsy Wopsy!' by another, or would she to all her lovers be herself?"
"You might try it," I suggested to the Woman of the World, selecting, of course, only the more interesting."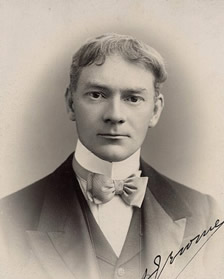 Jerome K. Jerome (2 mei 1859 – 14 juni 1927)
De Duitse schrijver en dichter Klaus Konjetzky werd geboren op 2 mei 1943 in Wenen. Zie ook alle tags voor Klaus Konjetzky op dit blog.
Aufzuhebende Widersprüche
Folg ich, wozu ich neige,
dem Kuckucksruf,
schwinden die Fernsehantennen...
Folg ich den Bürgersteigen,
laufe ich Geiselnehmern in die Hand,
geht mir ein Polizistenhund ans Bein,
pinkeln mich Wasserwerfer an,
bevor ich mich einer Festnahme
widersetzen muß.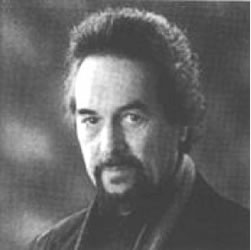 Klaus Konjetzky (Wenen, 2 mei 1943)
De Duitse schrijver Udo Steinke werd geboren op 2 mei 1942 in Łódź. Zie ook alle tags voor Udo Steinke op dit blog.
Uit: Die Buggenraths
"Zwischen den angewelkten Grashalmen perlten Herbsttröpfchen vorwitzig zur Erde hinab und wurden sofort aufgesaugt von dem ausgetrockneten Friedhofsgrund; der Morgentau war zu schwach für eine Aufweichung des ziegelharten Bodens, und an eine Arbeitserleichterung war somit nicht zu denken. Doch das Grab musste in zwei Stunden offen sein, denn zwölf Uhr mittags wollte der Herr Pfarrer eine Hand voller Erde zurückwerfen in das Loch des Vergessens, und anschliessend sollte er den Segen für eine Familiengründung sprechen"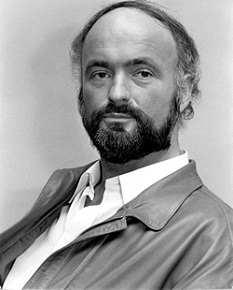 Udo Steinke (2 mei 1942 – 12 oktober 1999)
02-05-2015 om 12:22 geschreven door Romenu

Tags:Franz Innerhofer, Jamal Abro, Clyde Fitch, John Galt, Jerome K. Jerome, Udo Steinke, Klaus Konjetzky, Romenu



| | |
| --- | --- |
| | |



Inhoud blog


| | |
| --- | --- |
| | Andrea De Carlo, Naguib Mahfouz, Marie Kessels, J.C. van Schagen, Paul Rigolle, Ludwig Laher, Helene Uri, Birago Diop, Janko Ferk |
| | St. Peter and the Angel (Denise Levertov) |
| | Emily Dickinson, Karl Heinrich Waggerl, Reinhard Kaiser Mühlecker, Jorge Semprún, Gertrud Kolmarm, Jacquelyn Mitchard, Nelly Sachs, Cornelia Funke |
| | Carolyn Kizer, Pierre Louÿs, Clarice Lispector, Thomas Lux, Ara Baliozian, Christine Brückner, Rumer Godden |
| | Thomas Verbogt, Eileen Myles, Michael Krüger, Gioconda Belli, Joe McGinniss, Wolfgang Hildesheimer, Anna Gavalda |
| | Ödön von Horváth, John Milton, Jan Křesadlo, Maksim Bahdanovič, Dalton Trumbo |
| | Jamal Ouariachi, Louis de Bernières, Mary Gordon, Bill Bryson, Delmore Schwartz, Jim Morrison, Georges Feydeau, Horatius, Hervey Allen |
| | Tatamkhulu Afrika, Dirk Stermann, Johann Nestroy, Joyce Cary, Gabriel Marcel, Willa Cather, Noam Chomsky, Friedrich Schlögl, Samuel Gottlieb Bürde |
| | Karl Ove Knausgård, Peter Handke, Rafał Wojaczek, Henk van Woerden, Alfred Joyce Kilmer, Dirk Dobbrow, Sophie von La Roche, Baldassare Castiglione, Paul Adam |
| | Charlotte Wood |
| | A Ballad Of Santa Claus (Henry van Dyke) |
| | Hanif Kureishi, Alois Brandstetter, Joan Didion, Christina Rossetti, Fjodor Tjoettsjev, Calvin Trillin, Afanasy Fet, Hans Helmut Kirst, Eugenie Marlitt |
| | In Memoriam Jean d'Ormesson |
| | Rainer Maria Rilke, Geert Mak, Pat Donnez, Feridun Zaimoglu, Nikoloz Baratashvili, Emil Aarestrup, Nikolay Nekrasov, Trudi Guda, Thomas Carlyle |
| | Ready for Silence (Madeleine L' Engle) |
| | Hendrik Conscience, Joseph Conrad, Herman Heijermans, Grace Andreacchi, Ugo Riccarelli |
| | France Preseren, F. Sionil José, Franz Josef Degenhardt, Jules Claretie, Ludvig Holberg |
| | Frédéric Leroy, Ann Patchett, Hein Boeken, T. C. Boyle, George Saunders, Botho Strauß, Jacques Lacarrière, Iakovos Kampanellis, Eric L. Harry |
| | Pierre Kemp, Arthur Sze, Natasza Tardio, Daniel Pennac, Tahar Ben Jelloun, Billy Childish, Ernst Toller, Mihály Vörösmarty, Valery Bryusov |
| | Herinnering aan Ramses Shaffy |
| | Dennis Gaens, Christophe Vekeman, James Worthy, Y.M. Dangre, Reinier de Rooie, David Nicholls, Yasmine Allas, Jan G. Elburg, Jesús Carrasco |
| | Mario Petrucci, George Szirtes, Jean Senac, Carlo Levi, Jean-Philippe Toussaint, C.S. Lewis, Wilhelm Hauff, Louisa May Alcott, Franz Stelzhamer |
| | Erwin Mortier, Alberto Moravia, Hugo Pos, Stefan Zweig, Sherko Fatah, Philippe Sollers, William Blake, Alexander Blok, Rita Mae Brown |
| | Navid Kermani, Nicole Brossard, Han Kang, Philippe Delerm, James Agee, Jos. Habets, Friedrich von Canitz, Jacques Godbout, Klara Blum |
| | Jesus Christus herrscht als König (Philipp Friedrich Hiller) |
| | Luisa Valenzuela, Eugène Ionesco, Marilynne Robinson, Louis Verbeeck, Mihály Babits |
| | Herman Gorter, William Cowper, Theophilus Cibber, Alyosha Brell, Mohamed Al-Harthy, René Becher |
| | Maarten 't Hart, Connie Palmen, Abdelkader Benali, Arturo Pérez-Reverte, Ba Jin, Augusta de Wit |
| | Joseph Zoderer, Alexis Wright, Isaac Rosenberg, José Eça de Queiroz, Lope de Vega |
| | Jules Deelder, Wanda Reisel, Marlon James, Einar Kárason, Ahmadou Kourouma, Thomas Kohnstamm, Wen Yiduo, Laurence Sterne, Cissy van Marxveldt |
| | Paul Celan, Marcel Beyer, Max Goldt, Jennifer Michael Hecht, Sipko Melissen, Henri Borel, Sait Faik Abasıyanık, Nirad C. Chaudhuri, Jeroen Olyslaegers |
| | André Gide, George Eliot, Dirk van Weelden, Christian Filips, Suresh en Jyoti Guptara, Viktor Pelevin, Endre Ady, William Kotzwinkle, Elisabeth Maria Post |
| | Margriet de Moor, Gerard Koolschijn, Isaac Bashevis Singer, Wouter Steyaert, Marilyn French, Freya North, Carl-Henning Wijkmark, Voltaire, Garth Risk Hallberg |
| | Don DeLillo, Viktoria Tokareva, Sheema Kalbasi, Nadine Gordimer, Thomas Chatterton, Zinaida Hippius, Selma Lagerlöf, Ursula Ziebarth, Ferdinand von Schirach |
| | Jordi Lammers |
| | Am fünfundzwanzigsten Sonntage nach Pfingsten (Annette von Droste-Hülshoff) |
| | Scott Cairns, Sharon Olds, Mark Harris, Karel van den Oever, Christoph Wilhelm Aigner |
| | Alan Tate, Anna Seghers, Elise Bürger, Girolamo de Rada, Veronika Aydin |
| | Joost Zwagerman, Toon Tellegen, Joost Oomen, Thomas Möhlmann, Pauline Genee, Klaus Mann, Eugenio Montejo |
| | Margaret Atwood, Seán Mac Falls, Jaap Meijer, Richard Dehmel, William Gilbert, Hans Reimann, Mireille Cottenjé |
| | Joost van den Vondel, Guido van Heulendonk, Pierre Véry, Auberon Waugh, Dahlia Ravikovitch, Rebecca Walker, Christopher Paolini, Archibald Lampman, Max Barthel |
| | Jelko Arts |
| | Anton Koolhaas, Chinua Achebe, José Saramago, Renate Rubinstein, Craig Arnold, Danny Wallace, Frits van der Meer, Jónas Hallgrímsson, Hugo Dittberner |
| | Clemens J. Setz, Jan Terlouw, Wolf Biermann, Ted Berrigan, J. G. Ballard, Gerhart Hauptmann, Liane Dirks, Lucien Rebatet, Marianne Moore |
| | Norbert Krapf, Jonathan van het Reve, Olga Grjasnowa, Astrid Lindgren, René de Clercq, Chloe Aridjis, P.J. O'Rourke, Jurga Ivanauskaitė, Peter Orner |
| | Christine Otten, Inez van Dullemen, Frank Westerman, Timo Berger, Hadjar Benmiloud, Nico Scheepmaker, José Carlos Somoza, Peter Härtling, Stanisław Barańczak |
| | Am vierundzwanzigsten Sonntage nach Pfingsten (Annette von Droste-Hülshoff) |
| | Daniël Dee, Lize Spit, Lucia Berlin, Frank Witzel, Johnny van Doorn, Cristina Peri Rossi, Naomi Wolf, Malcolm Guite |
| | Hans Werner Richter, Michael Ende, Roland Barthes, Jacobus Bellamy, A.J.D. van Oosten, Carl Busse, Oskar Panizza, Juana Inés de la Cruz |
| | St. Martin and the Beggar (Thom Gunn) |


Gastenboek


Druk op onderstaande knop om een berichtje achter te laten in mijn gastenboek