De Nederlandse dichter Ed Leeflang werd geboren op 21 juni 1929 in Amsterdam. Zie ook mijn blog van 21 juni 2007, mijn blog van 21 maart 2008 en ook mijn blog van 21 juni 2008 en ook mijn blog van 21 uni 2009.
Museum
Het kinderjurkje dat al is geweven
voor er romaans gedacht werd of gebouwd
bestaat. Het slaapt niet ver in een vitrine.
Veel nachtblauw heeft de stof bewaard.
De mouwen liggen uitgespreid,
zodat het nog gedachten kan omhelzen,
die in dat leven niet zijn uitgesproken
en van dat sterven niet zijn afgeleid.
Inscriptie
Een wereldbeeld ontsnapte ons
toen wij een halfrond vergden
om er alleen te zijn,
het andere bleven bewenen.
Wij legden achter ons leven
een tuin aan, ook een register
van allen met wie wij nog zouden
bijpraten, staren, verhelen.
Wij meden de liefde
en lieten de tastzin,
schreven hooghartig
de toekomst af.
Zoek ons niet meer,
wij eisten voor alles verzekerd
een eigen piramide; daarin
een sober onvindbaar graf
Asiel
Je zou niet denken dat ze spelen,
viool, harmonica en tambourijn,
voor vijf verwaaiden op dit groot terras
en stoelen bij elkaar op schoot gezeten.
Hoor dan ons kaal en puur applaus
of wij al lang begrepen hebben
dat wij de schuld zijn van hun kou
en wat er meer lijkt op verdriet.
Zij spelen het gedreven of wij van
de wind hier op dit lege plein
voortaan wel hadden kunnen leven
als zij blijven konden, anders niet.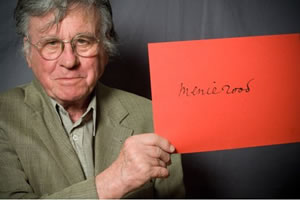 Ed Leeflang (21 juni 1929 – 17 maart 2008)
Foto: Chris van Houts
De Vlaamse dichter, schrijver en journalist Thomas Blondeau werd geboren in Poperinge op 21 juni 1978. Zie ook mijn blog van 21 uni 2009.
Trappenhuis
de hemel is van koper
je moet die dag alles maken
zoals het ooit voor haar was
de kamer is prikkeldraad
hier en daar wat wol
geen schaap te bekennen
dat alles op zolder staat
zegt de conciërge die ik op eenzaamheid
betrap maar dan van de vuige soort
slak van het trappenhuis is hij
een man die binnen blijft om
over het weer te klagen
en dan zijn er opeens tredes
zo uitgesleten dat ze podia zijn
waardoor je midden in de nacht
op je borst roffelt van de liftschacht
een kinkhoorn maakt voor dat ene lied
dat je als sinds je kattenknieën aan
het slijpen bent
boven veeg je met wol het zweet van
je voorhoofd en vraagt hoeveel zout nodig is
voor een slakkenhuis leeg genoeg voor echo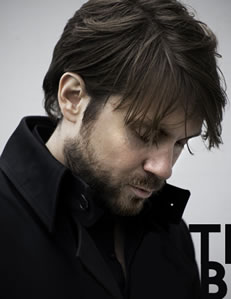 Thomas Blondeau (Poperinge, 21 juni 1978)
De Canadese dichteres, essayiste en vertaalster Anne Carson werd geboren op 21 juni 1950 in Toronto. Zie ook mijn blog van 21 juni 2007 en ook mijn blog van 21 juni 2008 en ook mijn blog van 21 uni 2009.
So The Hall Door Shuts Again And All Noise Is Gone
In the effort to find one's way among the contents of memory
(Aristotle emphasizes)
a principal of association is helpful—
"passing rapidly from one step to the next.
For instance from milk to white,
from white to air,
from air to damp,
after which one recollectes autumn supposing one is trying to
recollect that season."
Or supposing,
fair reader,
you are trying to recollect not autumn but freedom,
a principal of freedom
the existed between two people, small and savage
as principals go—but what are the rules for this?
As he says,
folly may come into fashion.
Pass then rapidly
from one step to the next,
for instance from nipple to hard,
from hard to hotel room,
from hotel room
to a phrase found in a letter he wrote in a taxi one day he passed
his wife
walking
on the other side of the street and she did not see him, she was—
so ingenious are the arrangements of the state of flux we call
our moral history are they not almost as neat as mathematical
propositions except written on water—
on her way to the courthouse
to file papers for divorce, a phrase like
how you tasted between your legs.
After which by means of this wholly divine faculty, the "memory
of words and things,"
one recollects
freedom.
Is it I? cries the soul rushing up.
Little soul, poor vague animal:
beware this invention "always useful for learning and life"
as Aristotle say, Aristotle who
had no husband,
rarely mentions beauty
and was likely to pass rapidly from wrist to slave when trying to
recollect wife.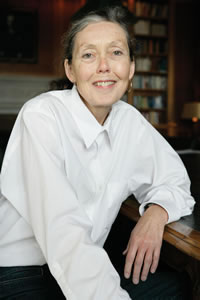 Anne Carson (Toronto, 21 juni 1950)
De Poolse dichter en essayist Adam Zagajewski werd geboren op 21 juni 1945 in Lwów, het huidige Lviv. Zie ook mijn blog van 21 juni 2007 en ook mijn blog van 21 juni 2008 en ook mijn blog van 21 uni 2009.
My Aunts
Always caught up in what they called
the practical side of life
(theory was for Plato),
up to their elbows in furniture, in bedding,
in cupboards and kitchen gardens,
they never neglected the lavender sachets
that turned a linen closet to a meadow.
The practical side of life,
like the Moon's unlighted face,
didn't lack for mysteries;
when Christmastime drew near,
life became pure praxis
and resided temporarily in hallways,
took refuge in suitcases and satchels.
And when somebody died--it happened
even in our family, alas--
my aunts, preoccupied
with death's practical side,
forgot at last about the lavender,
whose frantic scent bloomed selflessly
beneath a heavy snow of sheets.
Don't just do something, sit there.
And so I have, so I have,
the seasons curling around me like smoke,
Gone to the end of the earth and back without sound.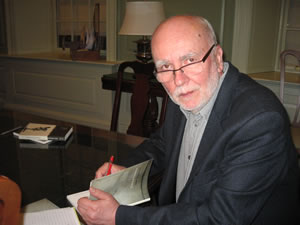 Adam Zagajewski (Lwów, 21 juni 1945)
De Duitse schrijer en uitgever Georg Lentz werd geboren in Blankenhagen op 21 juni 1928. Zie ook mijn blog van 21 uni 2009.
Uit: Muckefuck
"Ich wohne in einer Laube der Kolonie Tausendschön. Am Gartentor ist das Schild mit dem Namen meines Vaters fast unleserlich geworden: E. Kaiser. Mit Lochverfahren gestanzte Schnörkelschrift, von Grünspan verwischt. Das E. steht für Eduard. Genannt wurde mein Vater Ede. Mir haben meine Eltern den schlichten Vornamen Karl gegeben. Karl Kaiser. Meine Mutter, Minnamartha, rief mich "Menschlein", was ich haßte. Trotz aller Ereignisse, die mein Leben immer wieder in neue Richtungen drängten, hause ich immer noch in dieser Laube. Sie ist winterfest, besitzt massive Wände. Ich bin glücklich hier. Aber wenn ich den sozialen Aufstieg um mich herum sehe - am Rand der Kolonie entstand inzwischen ein Bungalowdorf -, so keimt manchmal die Hoffnung in mir, daß ich aus meiner Laube eines Tages in eine Sozialwohnung ziehen kann. Manchmal scheint es, als würde sich ein Weg zeigen für meine Flucht aus der Armseligkeit. Denn die Stadtverwaltung plant, auf dem Koloniegelände Hochhäuser zu errichten. Alle paar Monate kommen Leute mit rotweißen Meßlatten, rammen sie ein. Aber ein paar Tage später nehmen andere die Meßlatten wieder fort.
Vielleicht wird es also nichts, vorläufig, mit den Hochhäusern. Und eigentlich ist auch eine Laubenkolonie viel schöner als das großartigste Hochhaus mit Marmorvestibül und Müllschlucker. Mein Nachbar rechts hat über dem Gartentor Bogen aus grüngestrichenen Gasrohren angebracht. Im Sommer ranken dort Kletterrosen. Wie ich inzwischen weiß, sind es Crimson Rambler.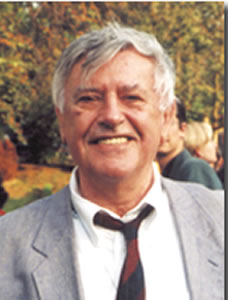 Georg Lentz (21 juni 1928 - 18 januari 2009)

21-06-2011 om 19:04 geschreven door Romenu