E-mail mij


Druk op onderstaande knop om mij te e-mailen.


Romenu


Google


Georg Trakl

Georg Trakl werd op 3 februari 1887 in het conducteurshuis aan de Waagplatz 2 in Salzburg geboren. Zijn vader, Tobias Trakl, was een handelaar in ijzerwaren en zijn moeder, die ook psychische problemen had, was Maria Catharina Trakl, (meisjesnaam Halik). Voorts had hij nog drie broers en drie zussen. Margarethe (doorgaans Grethe genoemd) stond hem het naast, zelfs zodanig dat sommigen een incestueuze verhouding vermoeden. Zijn jeugd bracht hij door in Salzburg. Vervolgens bezocht hij van 1897 tot 1905 het humanistische gymnasium. Om toch een academische opleiding te kunnen volgen, werkte hij tot 1908 in de praktijk bij een apotheker. Sommigen vermoedden dat hij dit vooral deed om zichzelf opiaten te kunnen verschaffen. Bij het uitbreken van WO I werd Trakl als medicus naar het front in Galicië (heden ten dage in Oekraïne en Polen) gestuurd. Zijn gemoedsschommelingen leidden tot geregelde uitbraken van depressie, die verergerd werden door de afschuw die hij voelde voor de verzorging van de ernstig verwonde soldaten. De spanning en druk dreven hem ertoe een suïcidepoging te ondernemen, welke zijn kameraden nochtans verhinderden. Hij werd in een militair ziekenhuis opgenomen in Kraków, alwaar hij onder strikt toezicht geplaatst werd.Trakl verzonk daar in nog zwaardere depressies en schreef Ficker om advies. Ficker overtuigde hem ervan dat hij contact moest opnemen met Wittgenstein, die inderdaad op weg ging na Trakls bericht te hebben ontvangen. Op 4 november 1914, drie dagen voordat Wittgenstein aan zou komen, overleed hij echter aan een overdosis cocaïne


Paul Celan

Paul Celan werd onder de naam Paul Antschel op 23 november 1920 geboren in Czernowitz, toentertijd de hoofdstad van de Roemeense Boekovina, nu behorend bij de Oekraïne. Paul Celans ouders waren Duitssprekende joden die hun zoon joods opvoedden en hem naar Duitse christelijke scholen stuurden. In 1942 werden Celans ouders door de Duitse bezetter naar een werkkamp gedeporteerd en daar vermoord. Hijzelf wist aanvankelijk onder te duiken, maar moest vanaf juli 1942 in een werkkamp dwangarbeid verrichten. Celan overleefde de oorlog. Via Boekarest en Wenen vestigde Celan zich in 1948 in Parijs. Daar was hij werkzaam als dichter, vertaler en doceerde hij aan de prestigieuze Ecole Normale Supérieure. Vermoedelijk op 20 april 1970 beëindigde hij zijn leven zelf door in de Seine te springen.


Gerard Reve

Gerard Reve over: Medearbeiders "God is in de mensen, de dieren, de planten en alle dingen - in de schepping, die verlost moet worden of waaruit God verlost moet worden, door onze arbeid, aangezien wij medearbeiders van God zijn." Openbaring "Tja, waar berust elk godsbegrip op, elke vorm van religie? Op een openbaring, dat wil zeggen op een psychische ervaring van zulk een dwingende en onverbiddelijke kracht, dat de betrokkene het gevoel heeft, niet dat hij een gedachte of een visioen heeft, maar dat een gedachte gedachte of visioen hem bezit en overweldigt."


Simon Vestdijk
Simon Vestdijk (Harlingen, 17 oktober 1898 – Utrecht, 23 maart 1971) was een Nederlands romancier, dichter, essayist en vertaler. Zijn jeugd te Harlingen en Leeuwarden beschreef hij later in de Anton Wachter-cyclus. Van jongs af aan logeerde hij regelmatig bij zijn grootouders in Amsterdam, waar hij zich in 1917 aan de Universiteit van Amsterdam inschrijft als student in de medicijnen. Tijdens zijn studie die van 1917 tot 1927 duurde, leerde hij Jan Slauerhoff kennen.Tot 1932 is hij als arts in praktijken door heel Nederland werkzaam. In 1932 volgt zijn officiële schrijversdebuut met de uitgave van de bundel Verzen in De Vrije Bladen. Doorslaggevend voor Vestdijks uiteindelijke keuze voor de literatuur is zijn ontmoeting in 1932 met Eddy Du Perron en Menno ter Braak. Deze ontmoeting had tot resultaat dat hij redactielid werd van het tijdschrift Forum Kort daarop, in 1933, wordt zijn eerste novelle, De oubliette, uitgegeven. In hetzelfde jaar schrijft hij Kind tussen vier vrouwen, dat, eerst geweigerd door de uitgever, later de basis zal vormen voor de eerste drie delen van de Anton Wachter-romans. In 1951 ontvangt Vestdijk de P.C. Hooftprijs voor zijn in 1947 verschenen roman De vuuraanbidders. In 1957 wordt hij voor het eerst door het PEN-centrum voor Nederland voorgedragen voor de Nobelprijs voor de Literatuur, die hij echter nooit zal krijgen. Op 20 maart 1971 wordt hem de Prijs der Nederlandse Letteren toegekend, maar voor hij deze kan ontvangen overlijdt hij op 23 maart te Utrecht op 72-jarige leeftijd. Vestdijk was auteur van ca. 200 boeken. Vanwege deze enorme productie noemde de dichter Adriaan Roland Holst hem 'de man die sneller schrijft dan God kan lezen'. Andere belangrijke boeken van Simon Vestdijk zijn: "Kind van stad en land" (1936), "Meneer Visser's hellevaart" (1936), "Ierse nachten" (1946), "De toekomst de religie" (1947), "Pastorale 1943" (1948), "De koperen tuin" (1950), "Ivoren wachters" (1951), "Essays in duodecimo" (1952) en "Het genadeschot" (1964).


K.P. Kavafis

K.P. Kavafis werd als kind van Griekse ouders, afkomstig uit Konstantinopel, geboren in 1863 in Alexandrië (tot vandaag een Griekse enclave) waar hij ook het grootste deel van zijn leven woonde en werkte. Twee jaar na de dood van zijn vader verhuist het gezin in 1872 naar Engeland om na een verblijf van vijf jaar naar Alexandrië terug te keren. Vanwege ongeregeldheden in Egypte vlucht het gezin in 1882 naar Konstantinopel, om na drie jaar opnieuw naar Alexandrië terug te gaan. In de jaren die volgen maakt Kavafis reizen naar Parijs, Londen en in 1901 zijn eerste reis naar Griekenland, in latere jaren gevolgd door nog enkele bezoeken. Op de dag van zijn zeventigste verjaardag, in 1933 sterft Kavafis in Alexandrië. De roem kwam voor Kavafis pas na zijn dood, dus postuum. Deels is dat toe te schrijven aan zijn eigen handelswijze. Hij was uiterst terughoudend met de publicatie van zijn gedichten, liet af en toe een enkel gedicht afdrukken in een literair tijdschrift, gaf in eigen beheer enkele bundels met een stuk of twintig gedichten uit en het merendeel van zijn poëzie schonk hij op losse bladen aan zijn beste vrienden.


Thomas Mann


Thomas Mann, de jongere broer van Heinrich Mann, werd geboren op 6 juni 1875 in Lübeck. Hij was de tweede zoon van de graankoopman Thomas Johann Heinrich Mann welke later één van de senatoren van Lübreck werd. Zijn moeder Julia (geboren da Silva-Bruhns) was Duits-Braziliaans van Portugees Kreoolse afkomst. In 1894 debuteerde Thomas Mann met de novelle "Gefallen". Toen Thomas Mann met 21 jaar eindelijk volwassen was en hem dus geld van zijn vaders erfenis toestond - hij kreeg ongeveer 160 tot 180 goldmark per jaar - besloot hij dat hij genoeg had van al die scholen en instituties en werd onafhankelijk schrijver. Kenmerkend voor zijn stijl zijn de ironie, de fenomenale taalbeheersing en de minutieuze detailschildering. Manns reputatie in Duitsland was sterk wisselend. Met zijn eerste roman, Buddenbrooks (1901), had hij een enorm succes, maar door zijn sceptische houding tegenover Duitsland na de Eerste Wereldoorlog veranderde dit volledig. Stelde hij zich tot aan de jaren twintig apolitiek op (Betrachtungen eines Unpolitischen, 1918), meer en meer raakte hij bij het Politiek gebeuren betrokken. Zijn afkeer van het nationaal socialisme groeide, zijn waarschuwingen werden veelvuldiger en heftiger. In 1944 accepteerde hij het Amerikaanse staatsburgerschap. Tussen 1943 en 1947 schreef Mann Doktor Faustus (zie Faust), de roman van de 'Duitse ziel' in de gecamoufleerd geschilderde omstandigheden van de 20ste eeuw. In 1947 bezocht hij voor het eerst sinds de Oorlog Europa, twee jaar later pas Duitsland. In 1952 vertrok hij naar Zwitserland. Op 12 augustus 1955 stierf hij in Zürich. Twintig jaar na zijn dood, in aug. 1975, is zijn literaire nalatenschap geopend: dagboekaantekeningen van 15 maart 1933 tot 29 juli 1955, alsmede notities uit de jaren 1918 tot en met 1921.Belangrijke werken zijn: Der Zauberberg, Der Tod in Venedig, Dokter Faustus , Joseph und seine Brüder en Die Bekenntnisse des Hochstaplers Felix Krull.


Rainer Maria Rilke

Rilke werd op 4 december 1875 geboren in Praag. Hij had al naam gemaakt als dichter met zijn bundels Das Stundenbuch en Das Buch der Bilder, toen hij de literaire wereld versteld deed staan en wereldfaam verwierf met de publicatie van zijn twee delen Neue Gedichte in 1907 en 1908. Hij verzamelde daarin het beste werk uit een van zijn vruchtbaarste periodes, die hij grotendeels doorbracht in Parijs. Rilke was daar diep onder de indruk gekomen van Rodin, bij wie hij een tijdlang in dienst was als particulier secretaris. Rodin, zei hij later, had hem leren kijken. Dit kijken kwam neer op intense concentratie, om het mysterie te kunnen zien 'achter de schijnbare werkelijkheid'. Latere en rijpere werken als Duineser Elegien (1912-1923) en het ronduit schitterende Die Sonette an Orfeus (1924) illustreren Rilkes metafysische visie op het onzegbare, dat haar verwoording vindt in een hermetische muzikale taal. Op 29 december 1926 overlijdt Rilke in het sanatorium in Val-Mont aan de gevolgen van leukemie. Enkele dagen later wordt hij, overeenkomstig zijn wens, begraven op het kerkhof van Raron.


* * * * * * * * * * * * * * * *

| | |
| --- | --- |
| | Over literatuur, gedichten, kunst en cultuur |

30-11-2014

Adventliche Einkehr (Ingo Baumgartner)
Bij de eerste zondag van de Advent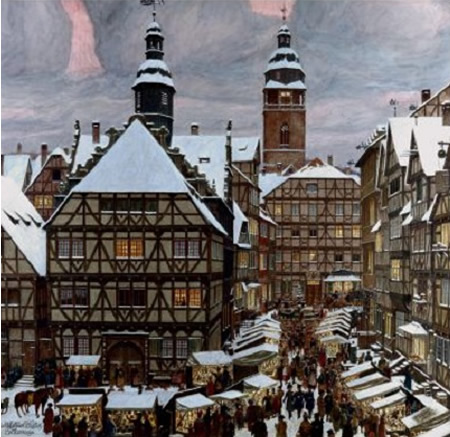 Eschweger Weihnachtsmarkt um 1816 door Ernst Christopher Metz
Adventliche Einkehr
Adventmarkt, glühgebirnte Helle,
ein runder Tisch, wie fein, ich stelle
mich hin und äußere den Wunsch
nach einem Gläschen Weihnachtspunsch.
Der Kellner eilt, jetzt schon zum dritten,
gar vierten Mal, ein Pferdeschlitten
quetscht meine Zehen, weil ich lieg
und da den fünften Becher krieg.
Der Dom hat, seltsam, heut vier Türme,
im Schnee kriecht hässliches Gewürme,
doch ist's nur eine Glühweinspur
von meiner Innenwärmungskur.
Am Nebentischchen lehnt ein Engel,
er hat genug vom Marktgedrängel
und tut, was gleich ins Auge sticht,
er säuft, der rechte Flügel bricht.
Ich geh hinüber, denn alleine
ist's kaum adventlich, wie ich meine.
So frönen wir ab nun zu zweit
der Einkehr und Besinnlichkeit.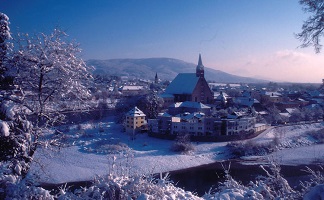 Ingo Baumgartner (Oberndorf an der Salzach, 24 december 1944)
Oberndorf an der Salzach
Zie voor de schrijvers van de 30e november ook mijn drie vorige blogs van vandaag.
30-11-2014 om 13:44 geschreven door Romenu

Tags:Advent, Ingo Baumgartner, Romenu



Christophe Vekeman, Y.M. Dangre, David Nicholls, Yasmine Allas, Reinier de Rooie, Jan G. Elburg
De Vlaamse schrijver, dichter en performer Christophe Vekeman werd geboren in Temse op 30 november 1972. Zie ook alle tags voor Christophe Vekeman op dit blog.
We waren

We schenen, we leken, we bleken, we waren
We weenden, we lachten, we dachten, we staarden
We wachtten, we keken, we hadden de tijd
We zwegen, we rookten, we kookten van geilheid

We dronken, we zopen, we zongen, we deden
We schonken, we klonken, we liepen, we reden
We riepen, we sliepen, we lagen in bed
We spraken, we blaakten, we hadden veel pret

We rustten, we vierden, we kusten, we pisten
We brulden, we gierden, we lulden, we wisten
We konden, we wonnen, we stonden perplex
We likten onze wonden en we hadden goeie seks

We trokken, we duwden, we drongen, we raasden
We lokten, we stuwden, we gokten, we aasden
We vingen, we hingen, we speelden het grof
We waren de waarheid, we deden alsof

We trilden, we rilden, we stegen, we daalden
We gilden, we vilden, we kregen, we stalen
We wilden, we baarden, we waren barbaars
We spaarden elkaar niet, ik zat in je –

We hijgden, we roofden, we zogen, we snoven
We neigden, we voosden, we kozen, we loofden
We geloofden in God en we waren Hem dankbaar
We lagen allebei van boven en we stoofden tegelijkertijd gaar

We raakten, we staken, we mikten, we wikten
We waakten, we slaakten, we slikten, we pikten
We maakten elkaar het leven zo zoet
We deden ons best en dat deden we goed

We lukten, we rukten, we beefden, we kwamen
We drukten, we fuckten, we leefden, we namen
Wij samen, we hadden altijd onze zin
Ik was royalist en jij mijn koningin

We schenen, we leken, we bleken, we waren
We weenden, we lachten, we dachten, we staarden
We wachtten, we keken, we kenden geen spijt
We werden, we bleven, we zijn nog altijd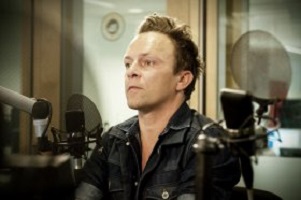 Christophe Vekeman (Temse, 30 november 1972)
De Vlaamse dichter en schrijver Y.M. (Yannick) Dangre werd op 30 november 1987 geboren in Kapellen. Zie ook alle tags voor Y.M. Dangre op dit blog.
Naoogst

Ik ben een veld met kloven, met nagelsporen
Van al wie mij bewerkt heeft en achteloos
Het zwellend onkruid met de spinnenwebben
Uit mijn hoofd trok.

Boven mij rusten de anderen, de avonden
Die zich met afgetrapte schoenen in mijn ziel
Planten en modder doen opspatten uit de voren
Van mijn melancholie.

In mijn aren hangt hun tijd te drogen,
Op kousenvoeten te vergaan van geduld,
Want mijn lijf van graan en gras is oud
En verschraald van zovele jaren
Grazen op mijn blakende naam.
Onze voet van oorlog

Wanneer wij de trap oplopen om middernacht
uit onze kleren te schudden, uit onze taal
en al te verwante bewegingen, dan weten wij
dat het bed waakt en wacht en wij,
moe en stoffig van zoveel dagelijkse revoluties,
er toch zullen in stappen op onze oude voeten
van oorlog en schimmelende wellust.

Soms bedrijven wij dan de almaar luiere liefde
als in een winterslaap, want wij hamsteren
onze driften en lieve woordjes niet meer,
verstoppen ons onder de grond van jaren
die ons een voor een hebben uitgegraven.

Maar meestal doen wij niets en wachten
op het vergeten dat wij naast elkaar liggen
begraven in dit bed, dit kilste, stilste
slagveld van lijfgeur en paringsdans,
van vroeggestorven warmtes, want nu
is het koud en voelen wij de trouwe nacht
als een loopgraaf onder de lakens.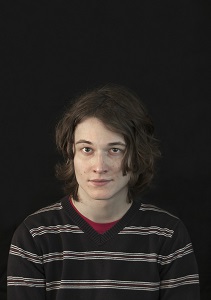 Y.M. Dangre (Kapellen, 30 november 1987)
De Nederlandse dichter Reinier de Rooie werd geboren op 30 november 1961 in Hengelo. Zie ook alle tags voor Reinier de Rooie op dit blog.
Aan een restant
versomberd door de noodzaak van je dromen
kwam je me tegen ik ging vooraf
door twee woeste mongolen en trad
uit hun spoor vol warmte je naam
je gelaat in pijn en plooi vergat
zich even
in een glimp van glimlach
en het was goed ik wist je
warmte die de tijdgeest zou doden
en het was goed dat je weer diep
slapen ging maar sterker
oog in oog
met je zelf gevonden naam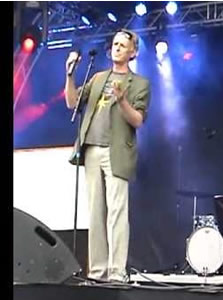 Reinier de Rooie (Hengelo, 30 november 1961)
De Engelse schrijver David Nicholls werd geboren op 30 november 1966 in Eastleigh, Hampshire. Zie ook alle tags voor David Nicholls op dit blog.
Uit: One Day
"Emma Morley thought 'handsome' a silly, nineteenth-century word, but there really was no other word for it, except perhaps 'beautiful'. He had one of those faces where you were aware of the bones beneath the skin, as if even his bare skull would be attractive. A fine nose, slightly shiny with grease, and dark skin beneath the eyes that looked almost bruised, a badge of honour from all the smoking and late nights spent deliberately losing at strip poker with girls from Bedales. There was something feline about him: eyebrows fine, mouth pouty in a self-conscious way, lips a shade too dark and full, but dry and chapped now, and rouged with Bulgarian red wine. Gratifyingly his hair was terrible, short at the back and sides, but with an awful little quiff at the front. Whatever gel he used had worn off, and now the quiff looked pert and fluffy, like a silly little hat.
Still with his eyes closed, he exhaled smoke through his nose. Clearly he knew he was being looked at because he tucked one hand beneath his armpit, bunching up his pectorals and biceps. Where did the muscles come from? Certainly not sporting activity, unless you counted skinny- dipping and playing pool. Probably it was just the kind of good health that was passed down in the family, along with the stocks and shares and the good furniture. Handsome then, or beautiful even, with his paisley boxer shorts pulled down to his hip bones and somehow here in her single bed in her tiny rented room at the end of four years of college. 'Handsome'! Who do you think you are, Jane Eyre? Grow up. Be sensible. Don't get carried away."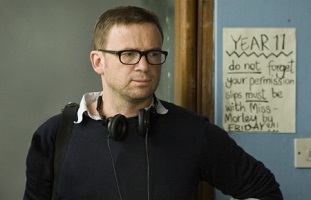 David Nicholls (Hampshire, 30 november 1966)
De Nederlandse schrijfster en actrice Yasmine Allas werd geboren op 30 november 1967 in Mogadishu in Somalië. Zie ook alle tags voor Yasmine Allas op dit blog.
Uit:U en ik
"Het was tijdens mijn eerste tramrit door het Amsterdamse centrum dat ik mijn nieuwe taal voor het eerst tegenkwam. De robuust zwarte, op het ijskoude raam geplakte letters die over zes woorden verdeeld waren en samen één zin vormden, trokken ogenblikkelijk mijn aandacht. De letters lachten hun tanden bloot naar me, ze herbergden een betekenis die ik niet kende, maar door de manier waarop ze met mij sjansten wilde ik ze maar al te graag leren kennen. En alhoewel je als vrouw in het liefdesspel niet meteen al je kaarten op tafel moet leggen, kon ik me maar nauwelijks inhouden om niet tot een spontane knuffelsessie over te gaan, zo prachtig zagen de korte woordjes uit het zinnetje eruit, waarbij mijn oog vooral was gevallen op dat ene losstaande lettertje dat in de Nederlandse taal blijkbaar een volledig woord moest zijn met een complete betekenis. U. U had in de zin een bescheiden tweede plaats ingenomen. U zag er prachtig symmetrisch uit, alsof het een los stemvorkje zonder pootje was. Hij moest wel voorzien zijn van
een harmonieuze klank die indien goed en luid uitgesproken tot aan de hemel zou kunnen reiken. Opeens had ik het. U betekende natuurlijk God. God was tenslotte één en de Nederlanders waren zo slim geweest om het ene met één letter te duiden, die er ook nog bijna volmaakt uitzag. Ik had me nog kunnen voorstellen dat ze er een O van gemaakt hadden, de O die de cirkel van leven en
dood zou weergeven, maar ach een kniesoor die daar op let en ach wat wist ik van de God van de Nederlanders?"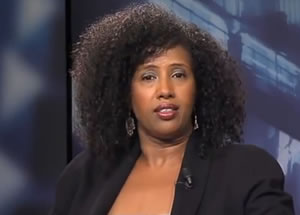 Yasmine Allas (Mogadishu, 30 november 1967)
De Nederlandse dichter en schrijver Jan G. Elburg werd geboren op 30 november 1919 te Wemeldinge. Zie ook alle tags voor Jan G. Elburg op dit blog en de overige tags voor Jan G. Elburg.
Niets doen natuurlijk
Dacht dat het oorlog werd als herfst
of zondag. een grauw costuum een
stalen paraplu is al wat men behoeft
en eten eten eten d.d.t. en hele
schoenen voor de vlucht met duizend
door deze zelfde regen overvallen mensen
en spaden voor een graf of greppels.
en stomverbaasd kreperen.
en prachtig denken.
denken.

denken.
kan prachtig denken.
wil stomverbaasd kreperen.
een graf een greppel een gekochte spade.
een aarde zonder graan. geaderd
van wroeten kreten draden en metaal.
millioenen voeten in die onbegrepen
mars op hem af om in zijn strot te bijten.
een oorlog als een koude eb of vloed.
niets aan te doen.
hoofdschuddend sterven.

een dood gemaakt als drank.
gedestilleerd. als winst becijferd.
bedoeld. verwekt. gebaard. gevoed.
verpakt. als een machine. en verstuurd
en stomverbaasd kreperen.
kan prachtig denken.
denken.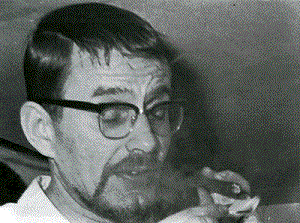 Jan G. Elburg (30 november 1919 – 13 augustus 1992)
Zie voor nog meer schrijvers van de 30e november ook mijn vorige twee blogs van vandaag.
30-11-2014 om 13:44 geschreven door Romenu

Tags:Christophe Vekeman, Y.M. Dangre, David Nicholls, Yasmine Allas, Reinier de Rooie, Jan G. Elburg, Romenu



Mark Twain, Lee Klein, Adeline Yen Mah, John McCrae, Jonathan Swift, Philip Sidney
De Amerikaanse schrijver Mark Twain (pseudoniem van Samuel Langhorne Clemens) werd geboren op 30 november 1835 te Florida. Zie ook alle tags voor Mark Twain op dit blog.
Uit:The Adventures of Huckleberry Finn
"Tom he made a sign to me — kind of a little noise with his mouth — and we went creeping away on our hands and knees. When we was ten foot off Tom whispered to me, and wanted to tie Jim to the tree for fun. But I said no; he might wake and make a disturbance, and then they'd find out I warn't in. Then Tom said he hadn't got candles enough, and he would slip in the kitchen and get some more. I didn't want him to try. I said Jim might wake up and come. But Tom wanted to resk it; so we slid in there and got three candles, and Tom laid five cents on the table for pay. Then we got out, and I was in a sweat to get away; but nothing would do Tom but he must crawl to where Jim was, on his hands and knees, and play something on him. I waited, and it seemed a good while, everything was so still and lonesome.
As soon as Tom was back we cut along the path, around the garden fence, and by and by fetched up on the steep top of the hill the other side of the house. Tom said he slipped Jim's hat off of his head and hung it on a limb right over him, and Jim stirred a little, but he didn't wake. Afterwards Jim said the witches bewitched him and put him in a trance, and rode him all over the State, and then set him under the trees again, and hung his hat on a limb to show who done it.
And next time Jim told it he said they rode him down to New Orleans; and, after that, every time he told it he spread it more and more, till by and by he said they rode him all over the world, and tired him most to death, and his back was all over saddle-boils. Jim was monstrous proud about it, and he got so he wouldn't hardly notice the other niggers. Niggers would come miles to hear Jim tell about it, and he was more looked up to than any nigger in that country. Strange niggers would stand with their mouths open and look him all over, same as if he was a wonder."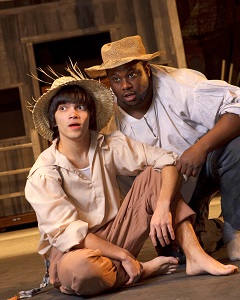 Mark Twain (30 november 1835 – 21 april 1910)
Jeff East (Huckleberry Finn) en Paul Winfield (Jim) in de film Huckleberry Finn, 1974
De Amerikaanse dichter, schrijver en essayist Lee Klein werd geboren op 30 november 1965 in New York. Zie ook alle tags voor Lee Klein op dit blog.
THE SHOPPPINGTOWN DOWN UNDER (Fragment)
Traveling the world
For the ultimate
Integrated experience
Cairns, Port Douglas
Queensland- North Queensland
The Great Barrier Reef
By catamaran
Tropical rain forest
By Hummer
Here on quicksilver
Out to the outer reef they have had
World leaders aboard
Including
Jiang Zemin
Helmut Kohl
And
William Jefferson Clinton
The last of whom
took out some time to flirt
With some of the waitresses in blue-green getups
(As if for mermaids)
And one girl in particular
whose birthday it was
while aboard
At least, so says one of the waitresses I ask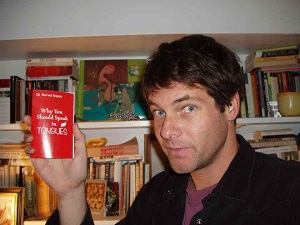 Lee Klein (New York, 30 november 1965)
De Chinese schrijfster Adeline Yen Mah werd geboren op 30 november 1937 in Tianjin. Zie ook alle tags voor Adeline Yen Mah op dit blog.
Uit: Chinese Cinderella
"At the time of my birth, Big Sister was six and a half years old. My three brothers were five, four and three. They blamed me for causing Mama's death and never forgave me.
A year later, Father remarried. Our stepmother, whom we called Niang, was a seventeen-year-old Eurasian beauty fourteen years his junior. Father always introduced her to his friends as his French wife, though she was actually half French and half Chinese. Besides Chinese, she also spoke French and English. She was almost as tall as Father, stood very straight and dressed only in French clothes, many of which came from Paris. Her thick, wavy black hair never had a curl out of place. Her large, dark brown eyes were fringed with long, thick lashes. She wore heavy makeup, expensive French perfume and many diamonds and pearls. Grandmother Nai Nai told us to call her Niang, Chinese term for mother.
One year after their wedding, they had a son (Fourth Brother), followed by a daughter (Little Sister). There were now seven of us, five children from Father's first wife and two from our stepmother Niang.
Besides Father and Niang, we lived with our Grandfather Ye Ye, Grandmother Nai Nai and Aunt Baba in a big house in the French concession of Tianjin, a port city on the northeast coast of China. Aunt Baba was the older sister of our father. Because she was meek, shy and unmarried and had no money of her own, they ordered her to take care of me. From an early age, I slept in a crib in her room. This suited me well because I grew to know her better and better. Besides a room, we came to share a life apart from the rest of our family. Under the circumstances, perhaps it was inevitable that, in time, we came to care for each other very deeply."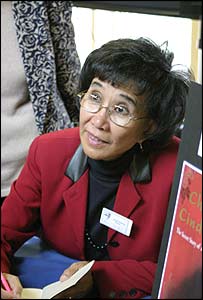 Adeline Yen Mah (Tianjin, 30 november 1937)
De Canadese dichter, arts, auteur, kunstenaar, militair John Alexander McCrae werd geboren in Guelph (Ontario) op 30 november 1872. Zie ook alle tags voor John McCrae op dit blog.
The Shadow Of The Cross
At the drowsy dusk when the shadows creep
From the golden west, where the sunbeams sleep,
An angel mused: "Is there good or ill
In the mad world's heart, since on Calvary's hill
'Round the cross a mid-day twilight fell
That darkened earth and o'ershadowed hell?"
Through the streets of a city the angel sped;
Like an open scroll men's hearts he read.
In a monarch's ear his courtiers lied
And humble faces hid hearts of pride.
Men's hate waxed hot, and their hearts grew cold,
As they haggled and fought for the lust of gold.
Despairing, he cried, "After all these years
Is there naught but hatred and strife and tears?"
He found two waifs in an attic bare;
-- A single crust was their meagre fare --
One strove to quiet the other's cries,
And the love-light dawned in her famished eyes
As she kissed the child with a motherly air:
"I don't need mine, you can have my share."
Then the angel knew that the earthly cross
And the sorrow and shame were not wholly loss.
At dawn, when hushed was earth's busy hum
And men looked not for their Christ to come,
From the attic poor to the palace grand,
The King and the beggar went hand in hand.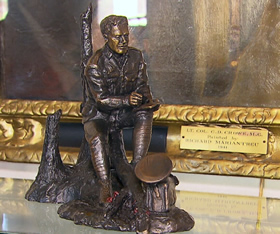 John McCrae (30 november 1872 - 28 januari 1918)
Miniversie van het ontwerp voor een standbeeld
De Engelse schrijver Jonathan Swift werd op 30 november 1667 in Dublin geboren uit Engelse ouders. Zie ook alle tags alle tags voor Jonathan Swift op dit blog.
Uit: Gulliver's Travels
"But I should have mentioned, that before the principal person began his oration, he cried out three times, Langro debul san (these words, and the former, were afterwards repeated, and explained to me). Whereupon immediately about fifty of the inhabitants came and cut the strings that fastened the left side of my head, which gave me the liberty of turning it to the right, and of observing the person and gesture of him that was to speak. He appeared to be of a middle age, and taller than any of the other three who attended him, whereof one was a page that held up his train, and seemed to be somewhat longer than my middle finger; the other two stood one on each side, to support him. He acted every part of an orator, and I could observe many periods of threatenings, and others of promises, pity, and kindness.
I answered in a few words, but in the most submissive manner, lifting up my left hand, and both my eyes, to the sun, as calling him for a witness: and, being almost famished with hunger, having not eaten a morsel for some hours before I left the ship, I found the demands of nature so strong upon me, that I could not forbear showing my impatience (perhaps against the strict rules of decency) by putting my finger frequently to my mouth, to signify that I wanted food. The hurgo (for so they call a great lord, as I afterwards learned) understood me very well.He descended from the stage, and commanded that several ladders should be applied to my sides; on which above a hundred of the inhabitants mounted, and walked towards my mouth, laden with baskets full of meat, which had been provided and sent thither by the king's orders, upon the first intelligence he received of me."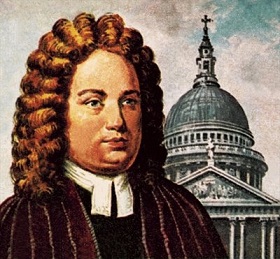 Jonathan Swift (30 november 1667 – 19 oktober 1745)
Scene uit de film Gulliver's Travels, 2010
De Engelse schrijver Sir Philip Sidney werd geboren op 30 november 1554 in het kasteel van Penshurst in het graafschap Kent. Zie ook alle tags voor Sir Philip Sidney op dit blog.
Sonnet 35: What May Words Say
What may words say, or what may words not say,
Where truth itself must speak like flattery?
Within what bounds can one his liking stay,
Where Nature doth with infinite agree?
What Nestor's counsel can my flames allay,
Since Reason's self doth blow the coal in me?
And ah what hope, that hope should once see day,
Where Cupid is sworn page to Chastity?
Honor is honor'd, that thou dost possess
Him as thy slave, and now long needy Fame
Doth even grom rich, naming my Stella's name.
Wit learns in thee perfection to express,
Not thou by praise, but prasie in thee is rais'd:
It is a praise to praise, when thou art prais'd.
Sonnet 48: Soul's Joy, Bend Not
Soul's joy, bend not those morning stars from me,
Where Virtue is made strong by Beauty's might,
Where Love is chasteness, Pain doth learn delight,
And Humbleness grows one with Majesty.
Whatever may ensue, oh let me be
Copartner of the riches of that sight:
Let not mine eyes be hell-driv'n from that light:
Oh look, oh shine, oh let me die and see.
For though I oft myself of them bemoan,
That though my heart their beamy darts be gone,
Whose cureless wounds ev'n now most freshly bleed:
Yet since my death-wound is already got,
Dear killer, spare not thy sweet cruel shot:
A kind of grace it is to kill with speed.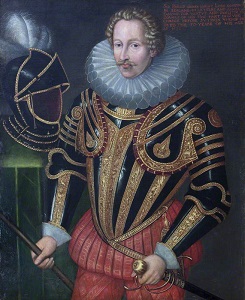 Philip Sidney (30 november 1554 – 17 oktober 1586)
Portret door John de Critz the elder, rond 1620
30-11-2014 om 13:33 geschreven door Romenu

Tags:Mark Twain, Lee Klein, Adeline Yen Mah, John McCrae, Jonathan Swift, Philip Sidney, Romenu



Winston Churchill, Lucy Maud Montgomery, Rudolf Lavant, John Bunyan,Sergio Badilla Castillo, David Mamet, Wil Mara
De Britse staatsman en schrijver Sir Winston Leonard Spencer Churchill werd geboren in Woodstock op 30 november 1874. Zie ook alle tags voor Winston Churchill op dit blog.
Uit:The Crossing
"These lapses of my father's were a perpetual source of wonder to me,--and, I must say, of delight. They occurred only when a passing traveller who hit his fancy chanced that way, or, what was almost as rare, a neighbor. Many a winter night I have lain awake under the skins, listening to a flow of language that held me spellbound, though I understood scarce a word of it.
"Virtuous and vicious every man must be,
Few in the extreme, but all in a degree."
The chance neighbor or traveller was no less struck with wonder. And many the time have I heard the query, at the Cross-Roads and elsewhere, "Whar Alec Trimble got his larnin'?"
The truth is, my father was an object of suspicion to the frontiersmen. Even as a child I knew this, and resented it. He had brought me up in solitude, and I was old for my age, learned in some things far beyond my years, and ignorant of others I should have known. I loved the man passionately. In the long winter evenings, when the howl of wolves and "painters" rose as the wind lulled, he taught me to read from the Bible and the "Pilgrim's Progress." I can see his long, slim fingers on the page. They seemed but ill fitted for the life he led.
The love of rhythmic language was somehow born into me, and many's the time I have held watch in the cabin day and night while my father was away on his hunts, spelling out the verses that have since become part of my life."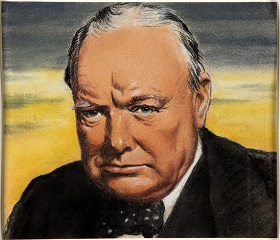 Winston Churchill (30 november 1874 - 24 januari 1965)
De Canadese schrijfster Lucy Maud Montgomery werd geboren in Clifton op 30 november 1874. Zie ook alle tags voor Lucy Maud Montgomery op dit blog.
Uit: Anne Of Green Gables
"Had it been any other man in Avonlea, Mrs. Rachel, deftly putting this and that together, might have given a pretty good guess as to both questions. But Matthew so rarely went from home that it must be something pressing and unusual which was taking him; he was the shyest man alive and hated to have to go among strangers or to any place where he might have to talk. Matthew, dressed up with a white collar and driving in a buggy, was something that didn't happen often. Mrs. Rachel, ponder as she might, could make nothing of it and her afternoon's enjoyment was spoiled.
"I'll just step over to Green Gables after tea and find out from Marilla where he's gone and why," the worthy woman finally concluded. "He doesn't generally go to town this time of year and he NEVER visits; if he'd run out of turnip seed he wouldn't dress up and take the buggy to go for more; he wasn't driving fast enough to be going for a doctor. Yet something must have happened since last night to start him off. I'm clean puzzled, that's what, and I won't know a minute's peace of mind or conscience until I know what has taken Matthew Cuthbert out of Avonlea today."
Accordingly after tea Mrs. Rachel set out; she had not far to go; the big, rambling, orchard-embowered house where the Cuthberts lived was a scant quarter of a mile up the road from Lynde's Hollow. To be sure, the long lane made it a good deal further. Matthew Cuthbert's father, as shy and silent as his son after him, had got as far away as he possibly could from his fellow men without actually retreating into the woods when he founded his homestead. Green Gables was built at the furthest edge of his cleared land and there it was to this day, barely visible from the main road along which all the other Avonlea houses were so sociably situated. Mrs. Rachel Lynde did not call living in such a place LIVING at all."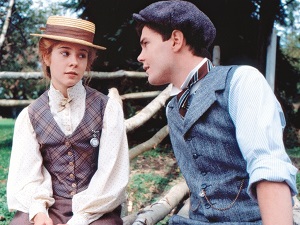 Lucy Maud Montgomery (30 november 1874 – 24 april 1942)
Megan Follows (Anne) en Jonathan Crombie (Gilbert) in de tv-film uit 1985
De Duitse dichter en schrijver Rudolf Lavant (eig. Richard Cramer) werd geboren op 30 november 1844 in Leipzig. Zie ook alle tags voor Rudolf Lavant op dit blog.
Rothe Weihnachten (Fragment)
Wie seinen Arm im Licht des jungen Tages
Der Zecher seufzend auf die Tafel stemmt,
Die man im wüsten Toben des Gelages
Mit Blut der Reben achtlos überschwemmt;
Wie in die Hand er müde senkt die Stirne,
Und wie ein Frösteln seinen Leib durchbebt
Und wie ihm leise schaudert vor der Dirne,
Die stieren Blicks das Glas noch immer hebt;
Wie er sich schämt, daß dem verbuhlten Flüstern
Er Nachts gelauscht – wie er in Ueberdruß
Sie von sich stößt, die ihm die Lippe lüstern
Noch immer bietet zu verbotnem Kuß;
Und wie, voll Ekels vor dem Wein, der Schlaffe
Das Glas, das vor ihm, hastig von sich stößt
Und gierig ein aus blitzender Karaffe
Des Wassers kalte, reine Fluth sich flößt –
So schüttelt langsam ab des Rausches Bande,
Von Frost durchrieselt, müde, stumpf und bleich,
Und so besinnt sich auf die eigne Schande
Das arme Volk im neuen Deutschen Reich.
Es weist zurück in Ungeduld und Grauen
Den Taumelkelch, mit Lolch und Mohn bekränzt,
Und runzelt drohend seine dunklen Brauen,
Wenn er ihm gleißend vor der Lippe glänzt.
Es ist der Lüge satt, die ihm geschmeichelt,
Die es berauscht, die seinen Blick verhängt,
Die ihm die Wange dirnenhaft gestreichelt
Und immer dichter sich an ihn gedrängt.
Der Rausch der Siege und der Macht – verflogen!
Die goldne Zeit, die man verhieß – ein Schein!
Wie plump und frech die Presse dich betrogen –
Mein armes Volk, siehst du es endlich ein?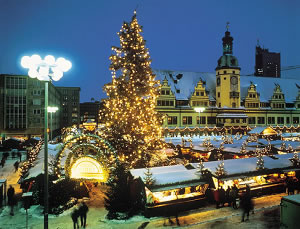 Rudolf Lavant (30 november 1844 – 6 december 1915)
Kerstmarkt in Leipzig
De Engelse dichter en schrijver John Bunyan werd geboren op 30 november 1628 in Harrowden bij Bedford. Zie ook alle tags voor John Bunyan op dit blog.
Of Holiness Of Life
Now, then, if holiness thou wouldst obtain,
And wouldst a tender Christian man remain,
Keep faith in action, let that righteousness
That Christ fulfilled always have express
And clear distinction in thy heart, from all
That men by Scripture, or besides, it, call
Inherent gospel holiness, or what
Terms else they please to give it; for 'tis that,
And that alone, by which all graces come
Into the heart; for else there is no room
For ought but pride, presumption, or despair,
No love or other graces can be there.
Received you the Spirit, saith St. Paul,
By hearing, faith, or works? not works, and shall
No ways retain the same, except you do
Hear faith, embrace the same, and stick thereto.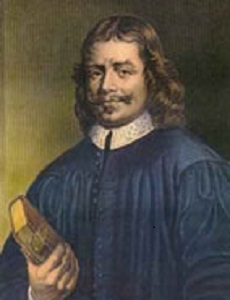 John Bunyan (30 november 1628 - 31 augustus 1688)

De Chileense dichter en schrijver Sergio Badilla Castillo werd geboren in Valparaíso op 30 november 1947. Zie ook alle tags voor Sergio Badilla Castillo op dit blog.
Epiphany
A courtyard filled with prophets
all hoping for a miracle.
Insomniac virgins doze and start
in the endless wait
and my dead legs come back to life.
A bank alarm goes off and an unfazed youth
keeps talking on his mobile phone.
Interviewed for radio I state that I'm a believer
pointlessly quoting St Augustine's Confessions.
The prophets are impatient on the cloister steps.
Loudspeakers let loose a heavenly music
and a pack of dogs growls among the crowd.
My ears and extremities feel cold.
I look to the horizon and see a mass of cumulus
and a pale moon fade into the black cosmos
supposedly plotting an escape.
The prophets withdraw quietly to the temple.
False alarm: no epiphany today.

Vertaald door Roger Hickin en Sergio Badilla Castillo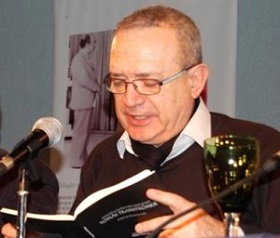 Sergio Badilla Castillo (Valparaíso, 30 november 1947)
De Amerikaanse toneelschrijver en filmregisseur David Mamet werd geboren op 30 november 1947 in Chicago. Zie ook alle tags voor David Mamet op dit blog.
Uit: Why I Am No Longer a 'Brain-Dead Liberal'
"These cherished precepts had, over the years, become ingrained as increasingly impracticable prejudices. Why do I say impracticable? Because although I still held these beliefs, I no longer applied them in my life. How do I know? My wife informed me. We were riding along and listening to NPR. I felt my facial muscles tightening, and the words beginning to form in my mind: Shut the fuck up. "?" she prompted. And her terse, elegant summation, as always, awakened me to a deeper truth: I had been listening to NPR and reading various organs of national opinion for years, wonder and rage contending for pride of place. Further: I found I had been—rather charmingly, I thought—referring to myself for years as "a brain-dead liberal," and to NPR as "National Palestinian Radio."
This is, to me, the synthesis of this worldview with which I now found myself disenchanted: that everything is always wrong.
But in my life, a brief review revealed, everything was not always wrong, and neither was nor is always wrong in the community in which I live, or in my country. Further, it was not always wrong in previous communities in which I lived, and among the various and mobile classes of which I was at various times a part."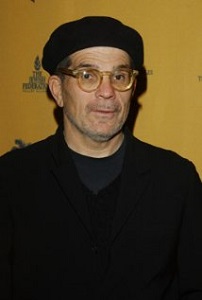 David Mamet (Chicago, 30 november 1947)
De Amerikaanse schrijver Wil Mara werd geboren op 30 november 1966 in de buurt van Long Beach Island, New Jersey. Zie ook alle tags voor Wil Mara op dit blog.
Uit: Blown Away!
"Yeah, it'll take some doing to get these animals situated," Sharkey agreed.
"Thank you." Mara smiled at me gratefully.
I took her suitcase. "Come on. Miss Edith's place is just up the road a way. One thing about Upper Matecumbe Key is that it's a narrow island, so everything is pretty close together in the town of Islamorada. Folks live on one side of the tracks or the other. These railroad tracks were built up so high above the main road, we think of them as hills."
Mara laughed. "You should see the hills in Pennsylvania, where I come from!"
We walked along quietly for a while, and then Mara said, "You look a lot like your dad."
"Everyone tells me that," I said. Dad and I both had kind of bronze-colored hair and dark eyes. Mom and Star looked alike too, with blond hair and pale blue eyes.
"You live here all the time?"
"Yep, I'm a real conch. I was born here."
"What's a conch?"
"It's really a shellfish, but people who live on the Keys are called conchs."
"Do you go to school here?"
"We go to school up in Tavernier, about fifteen miles north of here. They have electricity for two or three hours in the morning. But when I go to high school next year, I'll have to board down in Key West. What grade are you in?"
"I'm going into tenth grade. I'll be fifteen next year."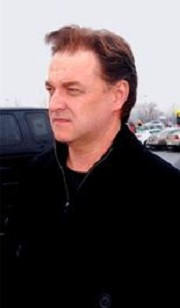 Wil Mara (Long Beach Island, 30 november 1966)
30-11-2014 om 13:33 geschreven door Romenu

Tags:Winston Churchill, Lucy Maud Montgomery, Rudolf Lavant, John Bunyan,Sergio Badilla Castillo, David Mamet, Wil Mara, Romenu



| | |
| --- | --- |
| | |



Inhoud blog


| | |
| --- | --- |
| | Alan Hollinghurst, Radwa Ashour, Hugo Raes, Vítězslav Nezval, Ivan O. Godfroid, Maxwell Bodenheim, Isabella Nadolny, Edmond De Goncourt |
| | Egyd Gstättner, Madeleine Thien, Claire Castillon, Friedrich Dieckmann, Eve Ensler, Raymond Carver, Jamaica Kincaid, Robert Ludlum, Theodore Roethke |
| | Joseph Brodsky, Michael Chabon, Bob Dylan, Henri Michaux, William Trevor, Tobias Falberg, Arnold Wesker, Rainald Goetz, Louis Fürnberg |
| | Adriaan Roland Holst, Maarten Biesheuvel, Lydia Rood, Jane Kenyon, Susan Cooper, Michaël Vandebril, Jack McCarthy, Mitchell Albom, Pär Fabian Lagerkvist |
| | In Memoriam Philip Roth |
| | Erik Spinoy, Arthur Conan Doyle, Ahmed Fouad Negm, Anne de Vries, Johannes R. Becher, Kees Winkler, Gérard de Nerval, Catulle Mendès, Takis Würger |
| | Pinksteren II (Willem de Mérode) |
| | Gabriele Wohmann, Amy Waldman, Maria Semple, Urs Widmer, Emile Verhaeren, Robert Creeley, Alexander Pope, Tudor Arghezi, Suzanne Lilar |
| | Pinksteren I (Willem de Mérode) |
| | Tommy Wieringa, Auke Hulst, Ellen Deckwitz, Jeroen Thijssen, Maurits de Bruijn, Gerrit Achterberg, Annie M.G. Schmidt, Sky du Mont |
| | Honoré de Balzac, William Michaelian, Wolfgang Borchert, Hector Malot, Ingvar Ambjørnsen, A.C. Cirino, Hanna Krall, Sigrid Undset |
| | Constantin Göttfert, Simone van Saarloos, Karel van het Reve, Gijs IJlander, Thera Coppens, H.W.J.M. Keuls, Jodi Picoult |
| | Ruskin Bond, Yahya Hassan, Fritz Rudolf Fries, Lorraine Hansberry, Rahel Varnhagen, Anna Jameson |
| | Yi Mun-yol, W.G. Sebald, Markus Breidenich, François Nourissier, Gunnar Gunnarsson, Omar Khayyam, Ernst Wiechert, Franziska zu Reventlow, John Wilson |
| | Lars Gustafsson, Peter Høeg, Eva Schmidt, Gary Paulsen, Henri Barbusse, Virginie Loveling, Dennis Potter, Cor Bruijn, Dorothy Richardson |
| | Paul Gellings, Adrienne Rich, Friedrich Rückert, Jakob van Hoddis, Juan Rulfo, Olaf J. de Landell, Olga Berggolts, Lothar Baier, Rens van der Knoop |
| | Mai (Johann Wolfgang von Goethe) |
| | Albert Verwey, Arthur Schnitzler, Pem Sluijter, W.J.M. Bronzwaer, Frits van Oostrom, Michael Lentz, Max Frisch, Judith Hermann, Mary Wortley Montagu |
| | In Memoriam Tom Wolfe |
| | Jo Gisekin, Karl-Markus Gauß, Eoin Colfer, Gaby Hauptmann, Wilma Vermaat, Frans Bastiaanse, Dante Alighieri, Krister Axel, Jens Sparschuh |
| | Moeder (M. Vasalis) |
| | Johannes (Willem de Mérode) |
| | Jan Lauwereyns, Reinout Verbeke, Bruce Chatwin, Daphne du Maurier, Kathleen Jamie, Armistead Maupin, Alphonse Daudet, Kōji Suzuki |
| | Theo van Baaren, Gregor von Rezzori, Reinhold Schneider, Jacob Haafner, Adolf Muschg, Roch Carrier, Franz Michael Felder |
| | Hagar Peeters, Bertus Aafjes, August Vermeylen, Andrej Voznesensky, Sabine Imhof, Dante Gabriel Rossetti |
| | Nicolaas Anslijn, Eva Demski, Farley Mowat, Werner Bräunig, Cäsar Flaischlen |
| | Edward Lear, Diana Raznovich, Andrej Amalrik, Maurice Carême, Massimo Bontempelli |
| | J. H. Leopold, Ida Gerhardt, Eva Menasse, Eugen O. Chirovici, Andre Rudolph, Rubem Fonseca, Henning Boëtius, Camilo José Cela, Rachel Billington |
| | De hemelvaart (Nicolaas Beets) |
| | J.C. Bloem, Herman Leenders, Didi de Paris, Ralf Rothmann, Jeremy Gable, Petra Hammesfahr, Roberto Cotroneo, Antonine Maillet, Johann Peter Hebel |
| | Jayne Cortez, Barbara Taylor Bradford, Benito Pérez Galdós, Ivan Cankar, Martin Boelitz, Ariel Durant, Fritz von Unruh, Leonard Buyst |
| | My Computer Ate My Homework 3, Dolce far niente, Gene Ziegler, Pieter Boskma, Jorie Graham, Luuk Wojcik |
| | Roddy Doyle, Thomas Pynchon, Pat Barker, Gary Snyder, Gertrud Fussenegger, Edmund Wilson, Alain-René Lesage, Sophus Schandorph, Romain Gary |
| | Libris Literatuurprijs 2018 voor Murat Isik |
| | Willem Elsschot, Almudena Grandes, Christoph Marzi, Edgar Cairo, Volker Braun, Robert Browning, Peter Carey, Archibald MacLeish, Rabindranath Tagore |
| | In Memoriam Renate Dorrestein |
| | Beloved, let us love one another,' says St. John (Christina Rossetti) |
| | Willem Kloos, Hélène Gelèns, Sasja Janssen, Ariel Dorfman, Erich Fried, Yasushi Inoue, Harry Martinson, Christian Morgenstern, Carl Ludwig Börne |
| | Ferdinand Sauter, Eugène Labiche, Gaston Leroux, Júlio César de Mello e Souza, Marie-Aude Murail, Paul Alverdes, Erik Bindervoet, Simon Mulder |
| | Als je de vrijheid tegenkomt (Ankie Peypers) |
| | Roni Margulies, Miklós Radnóti, Petra Else Jekel, Morton Rhue, Christopher Morley, George Albert Aurier |
| | Henryk Sienkiewicz, Richard Watson Dixon, Hans Werner Kolben, Christian Friedrich Scherenberg, Catullus |
| | Oorlog (Rutger Kopland) |
| | Christiaan Weijts, Amos Oz, J.W.F. Werumeus Buning, Cola Debrot, Graham Swift, Monika van Paemel, David Guterson, Jan Mulder, Werner Fritsch |
| | Erik Lindner, Jehuda Amichai, Johan de Boose, Paul Bogaert, Marc Dugain, Ben Elton, Klaus Modick, Agnès Desarthe, Juan Gelman |
| | Esther Freud, Wytske Versteeg, Rob Waumans, Tilman Rammstedt, James Holmes, Theo Sontrop, Jef Last, Gottfried Benn, Novalis |
| | What Work Is (Philip Levine) |
| | Guido Gezelle, Johano Strasser, Yasmina Reza, Joseph Heller, Yánnis Rítsos, Antal Szerb, Ignazio Silone, Aleksander Wat, Reinier van Genderen Stort |
| | Jeroen Brouwers, Alexander Osang, Ulla Hahn, Luise Rinser, John Boyne, Annie Dillard, Jaroslav Hasek, Jacob Hiegentlich, Kno'Ledge Cesare |
| | Der Weinstock und die Reben (Julie Hausmann) |


Gastenboek


Druk op onderstaande knop om een berichtje achter te laten in mijn gastenboek