De Italiaanse schrijver Antonio Fogazzaro werd geboren op 25 maart 1842 in Vicenza. Zie en ook mijn blog van 25 maart 2009 en ook mijn blog van 25 maart 2010.
Uit: The Saint
"Well," said the girl, "I enjoy seeing Memling with Signor Carlino, playing classical music with him, discussing a Kempis with him, although this affection he has recently developed for a Kempis seems a
profanation, when you consider that he believes in nothing. _Je suis catholique autant qu'on peut l'etre lorsqu'on ne l'est pas_, but when I hear an unbeliever like your brother read a Kempis so feelingly, I very nearly lose my faith in Christianity as well. I like him for one other reason, dear, because he is your brother. But that is all! Oh! Jeanne Dessalle says such strange things sometimes--such strange things! I do not understand--I really do not understand. But _warte nur, du Raethsel_, as my governess used to say."
"What am I to wait for?"
Noemi threw her arm round her friend's neck, "I will drag your soul with so fine a net that it will bring beautiful great pearls to the surface, perhaps some sea-weed as well, and a little mud from the bottom, or even a very tiny _pioeuvre_." "You do not know me," answered Jeanne. "You are the only one of my friends who does not know me."
"Of course. You imagine that only those who adore you really know you? Indeed, this belief that everybody adores you is a craze of yours."
Jeanne made the little pouting grimace with which all her friends were familiar.
"What a foolish girl," she said; but at once softened the expression with a kiss and a half-sad, half-quizzical smile.
"Women, as I have always told you, do adore me. Do you mean to say that you do not?"
"_Mais point du tout_," exclaimed Noemi. Jeanne's eyes sparkled with mischief and kindness.
"In Italian we say: _Si, di tutto cuore_," she answered."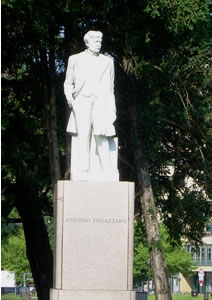 Antonio Fogazzaro (25 maart 1842 – 7 maart 1911)
Standbeeld op de Campo Marzio in Vicenza
De Duitse dichter en schrijver Daniel Schiebeler werd geboren op 25 maart 1741 in Hamburg. Zie en ook mijn blog van 25 maart 2009 en ook mijn blog van 25 maart 2010.
Ariadne und Theseus
Ich sing euch die Geschichte
Von Theseus Grausamkeit,
Von diesem Bösewichte
Kam Ariadnens Leid.
Den schönsten seidnen Faden
Gab ihm das gute Kind,
Der bracht' ihn ohne Schaden
Aus Cretens Labyrinth.
Doch mehr noch, als ein Fädchen,
Gab sie dem theuren Mann.
Sie gab ihm was ein Mädchen
Nur immer geben kann.
Der Vater mag sich grämen,
Sie liebt den Theseus mehr,
Vergißt das Abschiednehmen
Und folgt ihm auf das Meer.
Schon neun und neunzig Schönen
Bracht' er um Ruh' und Wohl,
Durch Ariadnens Thränen
Ward bald das Hundert voll,
Weh, weh dem Wüteriche,
Ihr Fluthen schlingt ihn ein!
Er ließ die Minnigliche
Auf einem Fels allein.
Als nun der Tag sie weckte,
Ach, als sie nun die Hand
Nach ihrem Theseus streckte,
Und keinen Theseus fand,
Wie ward ihr da, ihr Sterne!
Sie rief in ihrem Gram
Den, welcher, einmal ferne,
So bald nicht wieder kam.
Sie fluchte dem Geschicke,
Zerriß das goldne Haar,
Das für des Frevlers Tücke
Nicht zu bestrafen war.
Sie schlägt bis zum Zerschmettern
Die weisse Brust, und schreckt
Das Heer von Liebesgöttern,
Das dort verborgen steckt.
Doch Bachus kommt, getragen
Von Fröhlichkeit und Scherz.
Er hemmt des Mädchens Klagen
Und tröstet ihren Schmerz.
O seht! ihr Blick wird heiter,
Der Gott war wohl gemacht,
Er siegt und nun ward weiter
An Theseus nicht gedacht.
Der Fabel folgt die Lehre,
So wie der Frau die Magd.
Ein Ding, bey meiner Ehre,
Das oft den Leser plagt.
Drum kurz, was ich erzählet,
Schließt diese Regel ein:
Wenn euch die Liebe quälet;
So heilet euch mit Wein.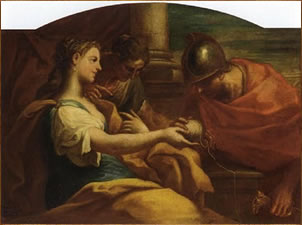 Daniel Schiebeler (25 maart 1741 – 19 augustus 1771)
Ariadne und Theseus door Niccolo Bambini
De Engelse dichteres en schrijfster Mary Webb werd geboren als Gladys Mary Meredith in Leighton, Shropshire. Zie en ook mijn blog van 25 maart 2009 en ook mijn blog van 25 maart 2010.
Farewell to beauty
'Their being is to be perceived.'
- BERKELEY
Let fall your golden showers, laburnum tree!
Break the grey casket of your buds for me--
Soon I shall go where never gold is seen,
And who will be with you as I have been?
Quick with your silver notes, O silver bird!
Wistful, I listen for the song I heard
Many a day, but soon shall hear no more,
For summoning winds are out along the shore.
All things so early fade--swiftly pass over,
As autumn bees desert the withering clover.
Now, with the bee, I sing immortal June;
How soon both song and bee are gone--how soon!
Who'll watch the clover secretly unclose?
Finger the sycamore buds, afire with rose?
Trace the mauve veins of the anemone?
Know the peculiar scent of every tree?
Maybe the solemn hill, the enchanted plain
'Will be but arable and wild again,
Losing the purple bloom they wore for me--
The dreaming god I could so clearly see.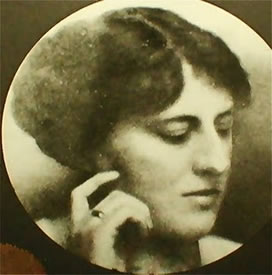 Mary Webb (25 maart 1881 – 8 oktober 1927)
De Zwitserse schrijfster en beeldhouwster Erica Pedretti werd geboren op 25 maart 1930 in Šternberk (Tsjechië). Zie ook mijn blog van 25 maart 2007.
Uit: Fremd genug
"Als ich vier war, verbrachte ich, wahrscheinlich durch Vermittlung einer Zürcher Tante, einer Cousine
meines Vaters, einige Wintermonate, aber vielleicht waren es doch nur ein paar Wochen, in einem Kinderheim auf der Rigi.
Auf dem Rigi, korrigierte mich mein Vater kopfschüttelnd, wenn ich von der Rigi erzählen wollte, der Rigi ist doch ein Berg, also männlich. Er sagte es so oft oder so energisch, daß auch ich seither
immer an den Rigi, männlich, denke.
Es war mein erstes Kinderheim. Wahrscheinlich war es viel besser als alle folgenden gräßlichen
Kinderheime, in die ich geschickt wurde, weil ich nicht aß und jämmerlich dünn war. Die für den
Vorschlag des Rigi-Kinderheims verantwortliche Zürcher Tante war eine ausgezeichnete Pädagogin
und zudem ein sehr lieber Mensch, wie ich mit meinen Geschwistern einige Jahre später feststellen
konnte, sicher hatte sie sich vorher erkundigt und die Eltern richtig beraten. Trotzdem fühlte ich mich, fast tausend Kilometer von zu Hause entfernt, unglücklich. Dagegen kam die offenbar großartige Landschaft nicht an, die bei den erwachsenen Besuchern, wenn sie in der alpinen Kulisse den Sonnenaufgang oder Sonnenuntergang bewunderten, begeisterte Ahs und Ohs auslöste.
Gegen mein Heimweh vermochte die Sonne nichts, dagegen half selbst der schönste Neuschnee
nicht, der vor der Haustür lag, zu dem man, anders als bei uns, gottlob keinen Berg hinaufsteigen
mußte."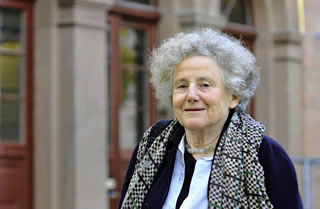 Erica Pedretti (Šternberk 25 maart 1930)

25-03-2011 om 18:46 geschreven door Romenu

Tags:Antonio Fogazzaro, Daniel Schiebeler, Mary Webb, Erica Pedretti, Romenu