De Engels - Amerikaanse dichteres Denise Levertov werd geboren op 24 oktober 1923 in Ilford, Essex. Zie ook mijn blog van 24 oktober 2008 en ook mijn blog van 24 oktober 2009.
February Evening In New York
As the stores close, a winter light
opens air to iris blue,
glint of frost through the smoke
grains of mica, salt of the sidewalk.
As the buildings close, released autonomous
feet pattern the streets
in hurry and stroll; balloon heads
drift and dive above them; the bodies
aren't really there.
As the lights brighten, as the sky darkens,
a woman with crooked heels says to another woman
while they step along at a fair pace,
'You know, I'm telling you, what I love best
is life. I love life! Even if I ever get
to be old and wheezy—or limp! You know?
Limping along?—I'd still ... ' Out of hearing.
To the multiple disordered tones
of gears changing, a dance
to the compass points, out, four-way river.
Prospect of sky
wedged into avenues, left at the ends of streets,
west sky, east sky: more life tonight! A range
of open time at winter's outskirts.
The Garden Wall
Bricks of the wall,
so much older than the house -
taken I think from a farm pulled down
when the street was built -
narrow bricks of another century.
Modestly, though laid with panels and parapets,
a wall behind the flowers -
roses and hollyhocks, the silver
pods of lupine, sweet-tasting
phlox, gray
lavender -
unnoticed -
but I discovered
the colors in the wall that woke
when spray from the hose
played on its pocks and warts -
a hazy red, a
grain gold, a mauve
of small shadows, sprung
from the quiet dry brown -
archetype
of the world always a step
beyond the world, that can't
be looked for, only
as the eye wanders,
found.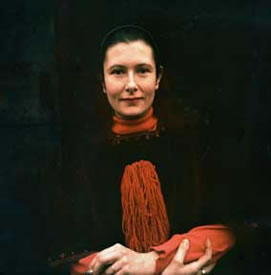 Denise Levertov (24 oktober 1923 – 20 december 1997)
De Vlaamse auteur Ernest Claes werd geboren op 24 oktober 1885 te Zichem. Zie ook mijn blog van 24 oktober 2006 en ook mijn blog van 24 oktober 2008 en ook mijn blog van 24 oktober 2009.
Uit: De Witte
"De Witte keek nu naar 't raam, en daar kwam zoo medeens met een vluchtig vedergefladder een musch op den wingerdtak zitten, vlak voor de ruit, de pootjes wijd uitschoorend om den buigenden steun, 't zwarte kopje vlug wippend links en rechts voor mogelijk gevaar, in den dikken bek een lange stroopijl. Met een schok was de lamheid bij de Witte eruit, en zijn oogen gluurden opeens met gespannen aandacht op de musch. Ritsss... 't vogeltje was weg, en even snel zat de Witte op zijn knieën voor 't raam om te zien waar het zijn nesteling heendroeg... Daar vloog de kelderkamerdeur weer driftig open.
- 'As ge potverdekke... Wa zitte doar te doen, bengel?' hield moeder haar eersten uitroep in, daar ze de Witte in zijn hemd rechtop in zijn bed zag zitten.
- 'Niks... ik koom ommes!'
- 'Ge moet et anders moar zeggen as ik oe moet hulpe!'
- 'Tijd genoeg!' mokte de Witte, terwijl hij zijn gelapte wekedaagsche broek aantrok, en toen de deur weer even driftig was toegeklakt: ''t Es altijd etzelfde!' Met zijn frak onder den arm stapte hij de kelderkamer af, nam in 't waschhok, waar ook de koeikuipen stonden, den handdoek van den nagel, hing buiten handdoek en jas over den puthaak, en plonsde zijn twee handen in den emmer water die op de moos stond. Hij peuterde wat aan zijn vuile vingertoppen, schepte dan zijn twee handen vol water, en stroelde het blazend en prasselend over zijn gezicht. Met den drogen tip van den handdoek wreef hij daarna over zijn kaken dat ze er rood van glommen.
Rond de groenbemoste putkuip pikkerden de hennen ongestoord voort. Hij zag over den vlierstruik heen moeder achter in den hof aan de beeten bezig. - En over de weiden en het land rondom groeide de glitsheete zonnedag.
Nu kwam de Witte binnen om koffie te drinken. In de huiskamer hing nog de duffe weepschheid van den morgen, de rolgordijnen waren neergelaten voor de zon die straks op dien kant van 't huis stond, de vliegen zaten te krieuwelen tegen de zwarte zoldering en de stores, op de muren en op de tafel, en dreven in zachte vlucht door de groote lage kamer. In den haard was 't vuur uitgebrand, en de zwarte kat zat er naast te slapen, ineengedoezeld, en de oogen dicht toegeknepen alsof ze glunder te peinzen zat aan de voorbije dingen van den nacht. De huisklok zwierde heur langen slinger met de koperen plaat onderaan rustig heen en weer, met lijzigen tiktak, of de dag die zoo pas begon, nog eeuwig lang zou duren en er hoegenaamd geen haast bij was."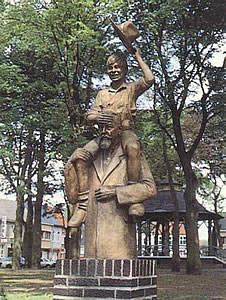 Ernest Claes (24 oktober 1885 - 2 september 1968)
Claes en De Witte in Zichem
De Ierse dichter en essayist Robert Greacen werd geboren op 24 oktober 1920 in Derry. Zie ook mijn blog van 24 oktober 2008.
Captain Fox (Fragment)
Captain Fox sits readin g metaphysics –
Hegel's the hundred watt bulb in his world.
Captain Fox is fond of Zürichs Hotel Excelsior.
A reliable place,'he says, 'solid, reliable'.
He lights a Gauloise and blows a ring:
One of these days I'll retire, I'm getting too old
For buggering along the autobahns.
Besides, I want to write a pre-Ayer work on philosophy
Which I'll finish and publish at my own expence.
Aspects of Hegel or some such title
Perhaps a village on the Adriatic…
Basques, Catalans, Slovaks, Irishmen, Blacks,
These are Captain Foxes' friends
Luckily he's as much linguist as philosopher.
He talks for hours about fireworks
And the poetry of Rainer Maria Rilke.
Truly a civilised man, Captain Fox.
'Are you in business?', I once asked him.
'Well, let's say I provide…facilities'.
A most civilised man, Captain Fox,
Discreet, solid, reliable.
His business isn't my business.
Flying Into Atlanta
A velvet evening at fall's end,
Day in retreat, I flying high
Look down on diamond lights.
John Keats, come with me now.
Let's travel in these realms.
Un-misted, mellow, fruitful,
And drink from brimming beakers
Above this city's radiance,
Nor speak of hemlock, nightingales,
Or northern islands we have fled.
Through this rich Georgian sky
We'll ride in dazzlement
Deep in romantic images
Yet hear a voice proclaim:
O my America, my new-found land!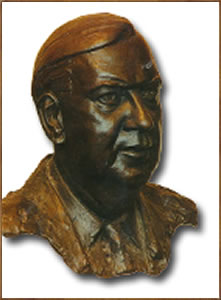 Robert Greacen (24 oktober 1920 – 13 april 2008)
Buste gemaakt door Robin Buick, 1987
De Canadese schrijver, politiek activist, essayist en filmmaker Hubert Aquin werd geboren 24 oktober 1929, in Montreal, Quebec. Aquin studeerde af aan de universiteit van Montreal in 1951. Van 1951 tot 1954 studeerde hij aan het Institut d'etudes politiques in Parijs. Bij zijn terugkeer naar Montreal werkte hij toto 1959 voor Radio-Canada. Van 1960 tot 1968 was Aquin actief in de beweging voor onafhankelijkheid van Quebec. In 1964 kondigde hij aan dat hij "ondergronds" zou gaan om d.m.v. terrorisme voor de onafhankelijkheid te strijden. Hij werd kort daarna gearresteerd en verdween voor vier maanden in een psychiatrisch ziekenhuis. Het was daar dat hij zijn eerste roman, Prochain episode, het verhaal van een gevangen revolutionair schreef. In december 1964 werd hij vrijgesproken van illegaal bezit van een vuurwapen. Prochain episode wordt beschouwd als een klassieker van de Canadese literatuur. De zelfdestructieve gedachten van verteller van de roman zijn een voorbode van Aquins eigen dood. Op 15 maart 1977 schoot hioj zichzelf door het hoofd. Hij liet een afscheidsbrief na waarin hij zijn dood een vrije en positieve keuze noemde: "I have lived intensely, and now it is over."
Uit: Trou de mémoire
"J'ai désappris- avant de naître- les danses de guerre de mon peuple conquis par des Français en dentelle qui, une fois encabanés ici, ont été conquis inlassablement et infiniment sur écran géant avec sous-titres en anglais.
Deux fois conquis … je suis en quelque sorte le spécialiste de la conquête: j'en connais par coeur toutes les modalités d'application et tous les épisodes paranoïdes. La conquête, ça me connaît; car j'ai eu le temps, depuis le temps, d'explorer cet état constitutionnellement oscillatoire et cet aller et retour écoeurant entre l'exaltation et la narcose, entre une tentative de révolution et une tentative de suicide- ce dernier rendu impossible par la perfusion du fameux poison résurrectionnel qu'on s'empresse de combattre, aussitôt qu'il est inculqué, par une injection surdosée de sulfonal contre-résurrectionnel qui est suivi de près, selon les ordonnances du conquérant, par l'absorption d'un produit antagoniste, et ainsi de suite … Poison d'abandon contre poison de survivance, cri mort contre cri ressuscité, conquête oui, conquête non!
Le conquis vit entre chien et loup, et, pour lui, chien fidèle, il n'y a qu'un jour au calendrier: un samedi saint sans lendemain … Oui le conquis s'est taillé une toute petite place entre la mort et la résurrection, il est mort et attend dans une espérance régressive et démodée un jour de Pâques qui ne viendra jamais. Il se trouve coincé fortuitement entre deux événements: sa mort passée et son impossible résurrection pascale. … Le conquis, confiné à l'attente visqueuse, se suicide sans dérougir et se ranime sans cesse, fatigué à la longue de tuer ce qui est mort en lui et d'exaspérer la fraction d'existence qui lui est déférée … La seule compensation du conquis absolu serait de comprendre pourquoi et de quelle incroyable façon il se fait enculer par l'histoire; mais justement, par définition, il a perdu la vue."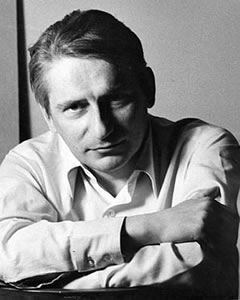 Hubert Aquin (24 oktober 1929 - 15 maart 1977)

24-10-2010 om 19:59 geschreven door Romenu

Tags:Denise Levertov, Ernest Claes, Robert Greacen, Hubert Aquin, Romenu