E-mail mij


Druk op onderstaande knop om mij te e-mailen.


Romenu


Romenu is een blog over gedichten, literatuur en kunst Maar Romenu is ook een professionele freelance vertaler
Du-Ne en Ne-Du http://www.romenu.nl.


Huur eens een (vakantie)huis in een natuurgebied, dichtbij het centrum van Nijmegen


Google


Georg Trakl

Georg Trakl werd op 3 februari 1887 in het conducteurshuis aan de Waagplatz 2 in Salzburg geboren. Zijn vader, Tobias Trakl, was een handelaar in ijzerwaren en zijn moeder, die ook psychische problemen had, was Maria Catharina Trakl, (meisjesnaam Halik). Voorts had hij nog drie broers en drie zussen. Margarethe (doorgaans Grethe genoemd) stond hem het naast, zelfs zodanig dat sommigen een incestueuze verhouding vermoeden. Zijn jeugd bracht hij door in Salzburg. Vervolgens bezocht hij van 1897 tot 1905 het humanistische gymnasium. Om toch een academische opleiding te kunnen volgen, werkte hij tot 1908 in de praktijk bij een apotheker. Sommigen vermoedden dat hij dit vooral deed om zichzelf opiaten te kunnen verschaffen. Bij het uitbreken van WO I werd Trakl als medicus naar het front in Galicië (heden ten dage in Oekraïne en Polen) gestuurd. Zijn gemoedsschommelingen leidden tot geregelde uitbraken van depressie, die verergerd werden door de afschuw die hij voelde voor de verzorging van de ernstig verwonde soldaten. De spanning en druk dreven hem ertoe een suïcidepoging te ondernemen, welke zijn kameraden nochtans verhinderden. Hij werd in een militair ziekenhuis opgenomen in Kraków, alwaar hij onder strikt toezicht geplaatst werd.Trakl verzonk daar in nog zwaardere depressies en schreef Ficker om advies. Ficker overtuigde hem ervan dat hij contact moest opnemen met Wittgenstein, die inderdaad op weg ging na Trakls bericht te hebben ontvangen. Op 4 november 1914, drie dagen voordat Wittgenstein aan zou komen, overleed hij echter aan een overdosis cocaïne


Paul Celan

Paul Celan werd onder de naam Paul Antschel op 23 november 1920 geboren in Czernowitz, toentertijd de hoofdstad van de Roemeense Boekovina, nu behorend bij de Oekraïne. Paul Celans ouders waren Duitssprekende joden die hun zoon joods opvoedden en hem naar Duitse christelijke scholen stuurden. In 1942 werden Celans ouders door de Duitse bezetter naar een werkkamp gedeporteerd en daar vermoord. Hijzelf wist aanvankelijk onder te duiken, maar moest vanaf juli 1942 in een werkkamp dwangarbeid verrichten. Celan overleefde de oorlog. Via Boekarest en Wenen vestigde Celan zich in 1948 in Parijs. Daar was hij werkzaam als dichter, vertaler en doceerde hij aan de prestigieuze Ecole Normale Supérieure. Vermoedelijk op 20 april 1970 beëindigde hij zijn leven zelf door in de Seine te springen.


Gerard Reve

Gerard Reve over: Medearbeiders "God is in de mensen, de dieren, de planten en alle dingen - in de schepping, die verlost moet worden of waaruit God verlost moet worden, door onze arbeid, aangezien wij medearbeiders van God zijn." Openbaring "Tja, waar berust elk godsbegrip op, elke vorm van religie? Op een openbaring, dat wil zeggen op een psychische ervaring van zulk een dwingende en onverbiddelijke kracht, dat de betrokkene het gevoel heeft, niet dat hij een gedachte of een visioen heeft, maar dat een gedachte gedachte of visioen hem bezit en overweldigt."


Simon Vestdijk
Simon Vestdijk (Harlingen, 17 oktober 1898 – Utrecht, 23 maart 1971) was een Nederlands romancier, dichter, essayist en vertaler. Zijn jeugd te Harlingen en Leeuwarden beschreef hij later in de Anton Wachter-cyclus. Van jongs af aan logeerde hij regelmatig bij zijn grootouders in Amsterdam, waar hij zich in 1917 aan de Universiteit van Amsterdam inschrijft als student in de medicijnen. Tijdens zijn studie die van 1917 tot 1927 duurde, leerde hij Jan Slauerhoff kennen.Tot 1932 is hij als arts in praktijken door heel Nederland werkzaam. In 1932 volgt zijn officiële schrijversdebuut met de uitgave van de bundel Verzen in De Vrije Bladen. Doorslaggevend voor Vestdijks uiteindelijke keuze voor de literatuur is zijn ontmoeting in 1932 met Eddy Du Perron en Menno ter Braak. Deze ontmoeting had tot resultaat dat hij redactielid werd van het tijdschrift Forum Kort daarop, in 1933, wordt zijn eerste novelle, De oubliette, uitgegeven. In hetzelfde jaar schrijft hij Kind tussen vier vrouwen, dat, eerst geweigerd door de uitgever, later de basis zal vormen voor de eerste drie delen van de Anton Wachter-romans. In 1951 ontvangt Vestdijk de P.C. Hooftprijs voor zijn in 1947 verschenen roman De vuuraanbidders. In 1957 wordt hij voor het eerst door het PEN-centrum voor Nederland voorgedragen voor de Nobelprijs voor de Literatuur, die hij echter nooit zal krijgen. Op 20 maart 1971 wordt hem de Prijs der Nederlandse Letteren toegekend, maar voor hij deze kan ontvangen overlijdt hij op 23 maart te Utrecht op 72-jarige leeftijd. Vestdijk was auteur van ca. 200 boeken. Vanwege deze enorme productie noemde de dichter Adriaan Roland Holst hem 'de man die sneller schrijft dan God kan lezen'. Andere belangrijke boeken van Simon Vestdijk zijn: "Kind van stad en land" (1936), "Meneer Visser's hellevaart" (1936), "Ierse nachten" (1946), "De toekomst de religie" (1947), "Pastorale 1943" (1948), "De koperen tuin" (1950), "Ivoren wachters" (1951), "Essays in duodecimo" (1952) en "Het genadeschot" (1964).


K.P. Kavafis

K.P. Kavafis werd als kind van Griekse ouders, afkomstig uit Konstantinopel, geboren in 1863 in Alexandrië (tot vandaag een Griekse enclave) waar hij ook het grootste deel van zijn leven woonde en werkte. Twee jaar na de dood van zijn vader verhuist het gezin in 1872 naar Engeland om na een verblijf van vijf jaar naar Alexandrië terug te keren. Vanwege ongeregeldheden in Egypte vlucht het gezin in 1882 naar Konstantinopel, om na drie jaar opnieuw naar Alexandrië terug te gaan. In de jaren die volgen maakt Kavafis reizen naar Parijs, Londen en in 1901 zijn eerste reis naar Griekenland, in latere jaren gevolgd door nog enkele bezoeken. Op de dag van zijn zeventigste verjaardag, in 1933 sterft Kavafis in Alexandrië. De roem kwam voor Kavafis pas na zijn dood, dus postuum. Deels is dat toe te schrijven aan zijn eigen handelswijze. Hij was uiterst terughoudend met de publicatie van zijn gedichten, liet af en toe een enkel gedicht afdrukken in een literair tijdschrift, gaf in eigen beheer enkele bundels met een stuk of twintig gedichten uit en het merendeel van zijn poëzie schonk hij op losse bladen aan zijn beste vrienden.


Thomas Mann


Thomas Mann, de jongere broer van Heinrich Mann, werd geboren op 6 juni 1875 in Lübeck. Hij was de tweede zoon van de graankoopman Thomas Johann Heinrich Mann welke later één van de senatoren van Lübreck werd. Zijn moeder Julia (geboren da Silva-Bruhns) was Duits-Braziliaans van Portugees Kreoolse afkomst. In 1894 debuteerde Thomas Mann met de novelle "Gefallen". Toen Thomas Mann met 21 jaar eindelijk volwassen was en hem dus geld van zijn vaders erfenis toestond - hij kreeg ongeveer 160 tot 180 goldmark per jaar - besloot hij dat hij genoeg had van al die scholen en instituties en werd onafhankelijk schrijver. Kenmerkend voor zijn stijl zijn de ironie, de fenomenale taalbeheersing en de minutieuze detailschildering. Manns reputatie in Duitsland was sterk wisselend. Met zijn eerste roman, Buddenbrooks (1901), had hij een enorm succes, maar door zijn sceptische houding tegenover Duitsland na de Eerste Wereldoorlog veranderde dit volledig. Stelde hij zich tot aan de jaren twintig apolitiek op (Betrachtungen eines Unpolitischen, 1918), meer en meer raakte hij bij het Politiek gebeuren betrokken. Zijn afkeer van het nationaal socialisme groeide, zijn waarschuwingen werden veelvuldiger en heftiger. In 1944 accepteerde hij het Amerikaanse staatsburgerschap. Tussen 1943 en 1947 schreef Mann Doktor Faustus (zie Faust), de roman van de 'Duitse ziel' in de gecamoufleerd geschilderde omstandigheden van de 20ste eeuw. In 1947 bezocht hij voor het eerst sinds de Oorlog Europa, twee jaar later pas Duitsland. In 1952 vertrok hij naar Zwitserland. Op 12 augustus 1955 stierf hij in Zürich. Twintig jaar na zijn dood, in aug. 1975, is zijn literaire nalatenschap geopend: dagboekaantekeningen van 15 maart 1933 tot 29 juli 1955, alsmede notities uit de jaren 1918 tot en met 1921.Belangrijke werken zijn: Der Zauberberg, Der Tod in Venedig, Dokter Faustus , Joseph und seine Brüder en Die Bekenntnisse des Hochstaplers Felix Krull.


Rainer Maria Rilke

Rilke werd op 4 december 1875 geboren in Praag. Hij had al naam gemaakt als dichter met zijn bundels Das Stundenbuch en Das Buch der Bilder, toen hij de literaire wereld versteld deed staan en wereldfaam verwierf met de publicatie van zijn twee delen Neue Gedichte in 1907 en 1908. Hij verzamelde daarin het beste werk uit een van zijn vruchtbaarste periodes, die hij grotendeels doorbracht in Parijs. Rilke was daar diep onder de indruk gekomen van Rodin, bij wie hij een tijdlang in dienst was als particulier secretaris. Rodin, zei hij later, had hem leren kijken. Dit kijken kwam neer op intense concentratie, om het mysterie te kunnen zien 'achter de schijnbare werkelijkheid'. Latere en rijpere werken als Duineser Elegien (1912-1923) en het ronduit schitterende Die Sonette an Orfeus (1924) illustreren Rilkes metafysische visie op het onzegbare, dat haar verwoording vindt in een hermetische muzikale taal. Op 29 december 1926 overlijdt Rilke in het sanatorium in Val-Mont aan de gevolgen van leukemie. Enkele dagen later wordt hij, overeenkomstig zijn wens, begraven op het kerkhof van Raron.


* * * * * * * * * * * * * * * *

| | |
| --- | --- |
| | Over literatuur, gedichten, kunst en cultuur |

10-08-2014

Kees van Kooten, Alfred Döblin, Moses Isegawa, Mark Doty, Jerzy Pilch
De Nederlandse schrijver en cabaretier Kees van Kooten werd geboren op 10 augustus 1941 in Den Haag. Zie ook mijn blog van 10 augustus 2010 en eveneens alle tags voor Kees van Kooten op dit blog.
Uit: Het groot bescheurboek
"Cadeautje
We zagen het jarenlang aankomen en eindelijk is het nu dan dus gebeurd: al onze vrienden en kennissen hebben alles al. De laatste die nog wat miste was Piet want die had gek genoeg nog geen wekradio maar laat hij nu van Medea voor zijn laatste verjaardag een wekradio krijgen! Medea zelf heeft trouwens nog een tijdjelang geen stoomkrultang gehad tot ze die dus met haar vorige moederdag van Jason bekwam. Toen zei ze het nog: nu heb ik geloof ik wel zo ongeveer alles wat ik hebben wou! Dat maakt het er voor ons als een van hun beste vrienden niet eenvoudiger op, want we kunnen toch lastig met lege handen aanbellen, als we komen. En helemaal niet als je ziet wat Koos en Medea altijd voor een werk van hun avondjes maken.
Soms hebben ze zalm zelfs. En het hele kleed nemen ze op, dat er gedanst kan worden, eventueel!
Nu hebben wij de laatste vier, vijf verjaardagen van allerhande Leuke Oude Dingen gegeven want daar waren ze nogal op zo'n beetje. Maar op een gegeven moment begonnen ze Leuke Oude Dingen dúbbel te krijgen en dan gaat het hard. Zo kregen ze de vorige keer maar liefst zeven oude koekblikken waarvan ze er al vier hadden staan. En de porseleinen diertjes die Medea opgaf als je vroeg wat ze wou hebben (Oh niks. Alleen maar een porseleinen beesje. Ik verzamel namelijk zo'n beetje porseleinen beesjes) waren uitgegroeid tot een kudde van over de honderd honden, poezen, hertjes, varkens en aapjes met een enkel mannetje of herderinnetje ertussen van vrienden die in de gauwigheid zo vlug geen beesje hadden kunnen vinden. En dat zijn dan alleen Koos en Medea nog maar! Jan en Popje, Henk en Lise-Lore, Bob en Daphne en noem de hele keng maar op: stuk voor stel zitten ze vol. Alles hebben ze al, alles. En nog wat.
Affijn: 11 maart bij Nees en Carla kwamen we met ons allen hardop tot de conclusie dat iedereen alles al had. Bij die gelegenheid kreeg Carla zesmaal Elite Hotel van Emmylou Harris en drie keer De Uitvaart van Mama Grande van Gabriel Garcia Marquez. Toen hebben we dus min of meer afgesproken dat het geen zin meer had en dat we een punt achter de Cadeaux gingen zetten."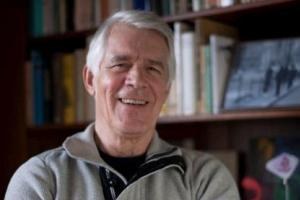 Kees van Kooten (Den Haag, 10 augustus 1941)
De Duitse schrijver Alfred Döblin werd op 10 augustus 1878 geboren in Stettin. Zie ook alle tags voor Alfred Döblin op dit blog en ook mijn blog van 10 augustus 2010
Uit: Berlin Alexanderplatz
"Das weiß ich, seufzte er in sich, daß ich hier rin muß und daß ich aus dem Gefängnis entlassen bin. Sie mußten mich ja entlassen, die Strafe war um, hat seine Ordnung, der Bürokrat tut seine Pflicht. Ich geh auch rin, aber ich möchte nicht, mein Gott, ich kann nicht.
Er wanderte die Rosenthaler Straße am Warenhaus Wertheim vorbei, nach rechts bog er ein in die schmale Sophienstraße. Er dachte, diese Straße ist dunkler, wo es dunkel ist, wird es besser sein. Die Gefangenen werden in Einzelhaft, Zellenhaft und Gemeinschaftshaft untergebracht. Bei Einzelhaft wird der Gefangene bei Tag und Nacht unausgesetzt von andern Gefangenen gesondert gehalten. Bei Zellenhaft wird der Gefangene in einer Zelle untergebracht, jedoch bei Bewegung im Freien, beim Unterricht, Gottesdienst mit andern zusammengebracht. Die Wagen tobten und klingelten weiter, es rann Häuserfront neben Häuserfront ohne Aufhören hin. Und Dächer waren auf den Häusern, die schwebten auf den Häusern, seine Augen irrten nach oben: wenn die Dächer nur nicht abrutschten, aber die Häuser standen grade. Wo soll ick armer Deibel hin, er latschte an der Häuserwand lang, es nahm kein Ende damit. Ich bin ein ganz großer Dussel, man wird sich hier doch noch durchschlängeln können, fünf Minuten, zehn Minuten, dann trinkt man einen Kognak und setzt sich. Auf entsprechendes Glockenzeichen ist sofort mit der Arbeit zu beginnen. Sie darf nur unterbrochen werden in der zum Essen, Spaziergang, Unterricht bestimmten Zeit. Beim Spaziergang haben die Gefangenen die Arme ausgestreckt zu halten und sie vor- und rückwärts zu bewegen."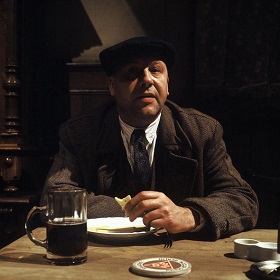 Alfred Döblin (10 augustus 1878 – 26 juni 1957)
Günter Lamprecht als Franz Biberkopf in de tv-serie uit 1980
De Oegandese schrijver Moses Isegawa (pseudoniem van Sey Wava)werd geboren op 10 augustus 1963 in Kawempe in Oeganda. Zie ook alle tags voor Moses Isegawa op dit blog en ook mijn blog van 10 augustus 2010.
Uit: Abyssinian Chronicles
"Apart from his secret fantasy, Serenity also wanted to learn how to play the fiddle. He could not get over the one-stringed moans, groans, sighs, screams, grunts and other peculiar sounds the Fiddler conjured, squeezed and rubbed out of the little instrument. The Fiddler's visits formed the high point of his week, and the music was the only thing he listened to with pleasure uncoerced or influenced by adults or peers. He wanted to learn how to hold the instrument proudly against his shoulder and tune the string with a knot of wax. His aim was to charm strange women into his magic circle and keep them rooted there for as long as he wanted. In school he was known for his beautiful pencil drawings of fiddles. His wish never came true.
Grandpa, a Catholic, was unseated and replaced by a Protestant rival in a contest marred by religious sectarianism. As the fifties ended, his power gone and the heart taken out of his life, Grandpa's homestead shrivelled as relatives, friends and hangers-on left one by one or in little groups. The women dropped out of his life, and the Fiddler took his talent elsewhere. By the time I was the age Serenity was when he ran up to strange tall women, Grandpa was living alone, sharing his house with the occasional visitor, relative or woman, a few rats, spiders and the odd snake that sloughed behind his heaps of coffee sacks.
Grandma, his only surviving sister, was also living alone, three football fields away. Serenity's bachelor house, a trim little thing standing on land donated by both Grandpa and Grandma, separated the two homesteads. It was a sleepy little house, now and then kicked from the slumber of disintegration, swept and cleaned to accommodate a visitor, or just to limit the damage wreaked by termites and other destroyers. It only came alive when Serenity's sisters or Uncle Kawayida visited and hurricane lamps washed it with golden beams. The voices and laughter made the rafters quiver, and the smoke from the open fire wound long spectacular threads round the roof and touched off distant memories."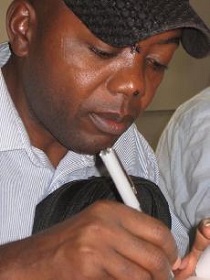 Moses Isegawa (Kawempe, 10 augustus 1963)
De Amerikaanse dichter en schrijver Mark Doty werd geboren op 10 augustus 1953 in Maryville, Tennessee. Zie ook alle tags voor Mark Doty op dit blog en ook mijn blog van 10 augustus 2010.
Brian Age Seven
Grateful for their tour
of the pharmacy,
the first-grade class
has drawn these pictures,
each self-portrait taped
to the window-glass,
faces wide to the street,
round and available,
with parallel lines for hair.
I like this one best: Brian,
whose attenuated name
fills a quarter of the frame,
stretched beside impossible
legs descending from the ball
of his torso, two long arms
springing from that same
central sphere. He breathes here,
on his page. It isn't craft
that makes this figure come alive;
Brian draws just balls and lines,
in wobbly crayon strokes.
Why do some marks
seem to thrill with life,
possess a portion
of the nervous energy
in their maker's hand?
That big curve of a smile
reaches nearly to the rim
of his face; he holds
a towering ice cream,
brown spheres teetering
on their cone,
a soda fountain gift
half the length of him
—as if it were the flag
of his own country held high
by the unadorned black line
of his arm. Such naked support
for so much delight! Artless boy,
he's found a system of beauty:
he shows us pleasure
and what pleasure resists.
The ice cream is delicious.
He's frail beside his relentless standard.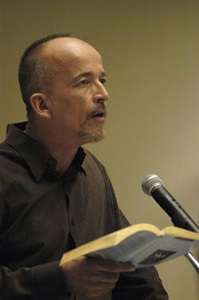 Mark Doty (Maryville, 10 augustus 1953)
De Poolse schrijver Jerzy Pilch werd geboren op 10 augustus 1952 in Wisla. Zie ook alle tags voor Jerzy Pilch op dit blog en ook mijn blog van 10 augustus 2010.
Uit: A Thousand Peaceful Cities(Vertaald door David Frick)
"A few minutes before six in the morning, Sexton Messerschmidt would climb the wooden steps, and in the gray dawn of the fall, in the winter darkness, or with the summer radiance piercing the shutters, the cast-iron caps would begin to move more and more forcefully. In the morning, the sound of the bells was delicate like the slowly rising eyelid of a Lutheran confirmation-class girl. At noon, it possessed the fullness of the fire roaring under Evangelical stovetops. And at twilight, it was mannerly and pliable like the mixed forests on Buffalo Mountain.
* * *
Sexton Messerschmidt knew how to pull the ropes such that he could achieve all those effects at will—the effect of the eyelid, the fire, and the mixed forest.
"You've got to have it here," he pointed to his palms. "You've got to have the divine spark here. The divine azure spark," he added with an enigmatic smile. "Without the divine spark, azure like a gas flame, no bell will ring."
We would leave our packs in the sacristy. The church smelled of the Sunday clothes of Protestants. Sexton Messerschmidt carefully examined our hands.
"Not a single divine spark, not a trace of ability, to say nothing of talent," he would say with disapproval. Oh well. Cripples have the right to praise the Lord too. Come unto me. Only the pious, only the most pious will attain today the grace of entry to the tower. You, Chmiel, you Sikora, you, Błaszczyk. Today it shall be given unto you. You won't even have to put your hands over your ears, since, anyway . . . you are all deaf as posts."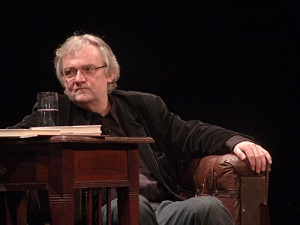 Jerzy Pilch (Wisla, 10 augustus 1952)



Zie voor nog meer schrijvers van de 10e augustus ook mijn vorige twee blogs van vandaag.
10-08-2014 om 16:41 geschreven door Romenu

Tags:Kees van Kooten, Alfred Döblin, Moses Isegawa, Mark Doty, Jerzy Pilch, Romenu



Robin Pilcher, Jorge Amado, René Crevel, Blanca Varela, Barbara Erskine
De Britse schrijver Robin Pilcher werd geboren op 10 augustus 1950 in Dundee. Zie alle tags voor Robin Pilcher op dit blog en ook mijn blog van 10 augustus 2010
Uit: Starburst
"That had been enough for Tess. The thought of "other places" had cut any notion of romantic frivolity from her mind.
Seated on the edge of the bed, Tess pulled on her brown leather calf-length boots, wrestled the legs of her jeans over them, and then got up and walked over to open the wooden shutters on one of the room's tall sash-framed windows. Her spirits, which had been flying at Learjet height since the wedding, sank a little when she looked out onto another grey day in the Scottish capital. She could tell by the movement of the leafless trees just visible up by Heriot Row and by the way the pedestrians on the pavement below walked up Dundas Street clutching their coats closed at the neck, that the wind was coming from the north, sweeping cold and unguarded across the Firth of Forth. Spring is a season that's lost its reason, she thought to herself. The beginning of May and it could as well be February. An icy draught sought out a space at the side of the ancient window frame, surrounding her with a chill that made her shiver and clasp her hands under her armpits. It was about the one thing, being married, that she regretted, having to leave her cosy little tenement block flat in West College Street and move here to Allan's great barn of a place, situated in the infinitely smarter New Town.
Tess picked up her mobile from the bedside table and thumbed a couple of buttons. She held it to her ear as she pulled on her woollen jacket and shouldered the strap of her laptop case. When Allan eventually answered, his greeting was unintelligible through a mouthful of food.
"It's me," Tess said, picking up her keys from the table in the hallway.
She heard Allan swallow. "I know. Your name came up. Sex Maniac."
"It does not say that!"
"No, you're right. It says Mrs. Goodwin."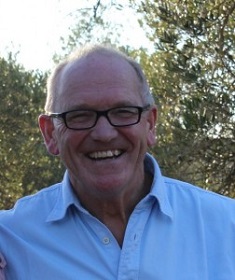 Robin Pilcher (Dundee, 10 augustus 1950)
De Braziliaanse schrijver Jorge Amado de Faria werd op 10 augustus 1912 geboren in Ferradas, in de gemeente Itabuna. Zie ook alle tags voorJorge Amado op dit blog en ook mijn blog van 10 augustus 2010
Uit: The War Of The Saints (Vertaald door Gregory Rabassa)
"They had been trustworthy vows, those of the captain and his wife, yet the old nun, huddled in her worn and severe habit, trembled for the safety of the figure throughout the long voyage, because of the river currents or the rough seas of the gulf. But she didn't say a word, didn't let her concern show; only prayed, reciting over and over the beads of her rosary, until the breeze that fluttered about the carving came to comfort her bony hands. For her the trip was long and worrisome; she breathed easily only when the sloop headed in toward the market ramp. All had gone well, God be praised! she thought. The saint and her sack of thunder and lightning would soon be in the Museum of Sacred Art, where the director, a German monk with several advanced degrees, a scholar three times over, a renowned author, in his impeccable white cassock, awaited her impatiently. He'd developed a breathtakingly daring thesis concerning the origin and the artist of this famed piece of religious sculpture. Only then, delivered from her prison of fear, would Sister Maria Eunice close her eyes, let out a sigh of relief, and succumb at last to the soft enveloping breeze.
The priest, for his part, didn't look like a priest–how could anyone recognize him as a father when he was wearing blue jeans and a flowered shirt open to the wind, with no tonsure shaved into the center of his flowing hair? He was a good-looking fellow who drew women's stares. The habit doesn't make the monk, teaches a wise proverb that dates back quite a bit, to a time before such changes in costume and custom were common. In spite of the apparent disorder in his clothes and hair, his lack of cassock and tonsure, this was no hippie on his way to the peace and love colony in Arembepe, but an ordained priest, sincere in his vocation and his apostolate, devoted to his mission. In the distant parish that was his charge, the faithful were God's unfortunates, slaves of the rich, humbled by the age-old law of violence.
For him the trip had seemed longer, endless even, because he'd been living amid impunity and injustice and had every reason to believe he was being summoned to the capital for something besides praise or encouragement. He'd heard of provocations and threats, he'd read items in the papers denouncing and condemning the subversive activity of certain priests. His name, Father Abelardo Galvão, had appeared in the press, in twisted stories that turned facts upside down, invented things, slung mud, vilified him."

Jorge Amado (10 augustus 1912 – 6 augustus 2001)
De Franse dichter en schrijver René Crevel werd geboren op 10 augustus 1900 in Parijs. Zie ook alle tags voor René Crevel op dit blogen ook mijn blog van 10 augustus 2010
Uit: Babylone
« Une petite fille interroge : « Qu'est-ce que la mort ? » mais, sans laisser le temps d'une réponse, déjà prévient:
Et surtout, puisque tu prétends que tout le monde meurt, il ne faut pas essayer de me faire croire que c'est comme quand on dort. Ceux qui s'amusent n'ont jamais sommeil…
D'une famille qui ne boit que de l'eau, se méfie des effets du poivre, a proscrit de sa table la sauce anglaise, les pickles et même la moutarde, mais, volontiers, entre la poire et le fromage, parle d'hygiène sociale, la mère, résignée, dès le seuil de la trentaine, à la plus grise, la plus inutile des vertus, constate :
— Ceux qui s'amusent ont beau n'avoir jamais sommeil, ils n'en meurent pas moins, tout comme les autres. Nul, d'entre les hommes, n'échappe à la loi fatale, car mon enfant, la mort… la mort…
— Ah oui, je comprends. La mort, elle ressemble à cousine Cynthia. Cynthia, même avant de la connaître, je ne pensais qu'à elle. D'ailleurs, à la maison, à tous les repas, on en parlait. On était si impatient de la voir, et grand-mère répétait : « Cynthia, ce sera notre rayon de soleil ». Alors quelle joie, le jour de son arrivée. Elle apportait des gentils cadeaux pour chacun et, avec ses cheveux rouges, sa robe verte et ses yeux gris comme les nuages, on devinait tout de suite qu'elle était née dans un pays où toi, tu n'iras jamais. On l'avait installée dans la plus jolie chambre, et elle aurait pu y rester des années et des années, mais, un beau jour, plus de Cynthia. Elle avait filé sans rien dire. Comme une voleuse. En partant, elle avait emmené papa. D'abord, j'ai cru que c'était pour rire, mais ils ne sont pas revenus. Grand-mère, comme toujours, fait la fière, dit qu'il ne faut pas les regretter et qu'il n'y a qu'à les laisser courir la prétentaine.»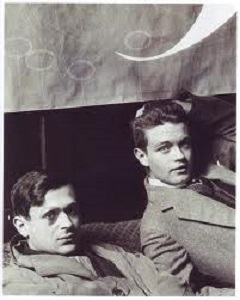 René Crevel (10 augustus 1900 – 18 juni 1935)
Man Ray, Tristan Tzara en Rene Crevel, 1928
De Peruaanse dichteres Blanca Leonor Varela Gonzáles werd geboren in Lima op 10 augustus 1926. Zie ook alle tags voor Blanca Varela op dit blog en ook mijn blog van 10 augustus 2010
The Things I Say are True
A star explodes in a small plaza and a bird loses its eyes
and falls. Around it men weep and watch the progress
of the new season. The river flows and bears in its cold
and muddled arms inscrutable matter that has
accumulated for years and years behind windows.
A horse dies and its soul flies up to the sky, smiling, its
large wooden teeth stained with dew. Later, among the
angels, it will grow black, silky wings to shoo the flies
away.
Everything is perfect. To be locked in a small hotel
room, to be wounded, cast off, impotent, while outside
rain falls, sweet, unexpected.
What is it that's happening, that throws itself down
from above and covers the leaves with blood and the
streets with golden rubble?
I know I am sick with a ponderous malady, brimming with a
bitter liquid, an inclement fever that whistles and
scares anyone who hears it. My friends left me, my
parrot has died, and I cannot keep people and animals
from fleeing at the sight of the black and terrible
splendor that my passage through the streets leaves
behind. I always have to eat lunch alone. It's terrible.
Vertaald door Esther Allen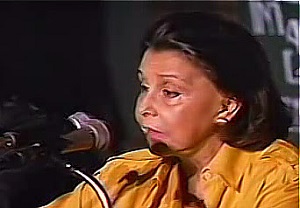 Blanca Varela (10 augustus 1926 - 12 maart 2009)
De Britse schrijfster Barbara Erskine (eig. Barbara Hope-Lewis) werd geboren op 19 augustus 1944 in Nottingham. Zie ook alle tags voor Barbara Eskine op dit blog en ook mijn blog van 10 augustus 2010
Uit: The Poet's House
"Given the time of year, she had probably been mad to rent the cottage. Suitable for writer or artist, the ad had said, code for isolated and shabby, out of season and cheap. But once she had seen the ad something had driven her on. She had to reply.
She pushed open the door and peered in cautiously. A small living room, the remains of the last fire still scattered in the hearth. Two tiny bedrooms, kitchen and bathroom. The cottage was old and pretty, swathed in end of season roses. She'd rented it because of its name. The Poet's House.
She paused for a moment, getting the feel of the place, shivering as an unexpectedly strong gust of wind stirred the wood ash in the hearth, then she went to drag her bags out of the car. There was a storm coming.
The poet's picture hung on the wall near the stairs. She had heard of him, though he wasn't famous. This had been his family home. He was young and handsome and had died tragically in the First World War, killed on the Somme. Gently she reached up and touched his face, feeling a sudden connection. Perhaps his presence would inspire her; make her writing flow.
She explored the garden before the rain set in and saw how close the sea was. No more than twenty yards away white topped waves lashed at the low cliffs. They crumbled as she watched, fissures and cracks appearing in the soft red rock as shards of sand and earth tumbled down onto the beach below where the sea hurled itself against the land. Further along the coast two houses had half collapsed over the edge. That, she realised, was probably the destiny of the cottage too. Only short lets for holiday makers. No future here but the sea. The summerhouse belonging to the cottage was right on the edge now. What a pity. It was the perfect place to write. Was that where the poet had written his poems? It looked as though it would go very soon, perhaps tonight if the storm didn't abate. She looked at it sadly then turned to go indoors.
She wrote until it was late. By the time she went to bed she was exhausted, goaded by the ever increasing scream of the gale blowing in off the North Sea.
The dream was sudden and very real. The young man was standing beside her bed, his face grey with fatigue and anxiety. 'Help me,' he said. 'Please. You have to save them or it will be too late.'
She sat up, listening to the wind and groped for the light switch. Nothing. The electricity had succumbed to the storm."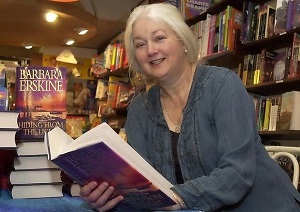 Barbara Erskine (Nottingham, 10 augustus 1944)
Zie voor nog meer schrijvers van de 10e augustus ook mijn vorige blog van vandaag.
10-08-2014 om 16:27 geschreven door Romenu

Tags:Robin Pilcher, Jorge Amado, René Crevel, Blanca Varela, Barbara Erskine, Romenu



Piet Bakker, Michail Zosjtsjenko, Philipp Nicolai, Joseph Bialot
De Nederlandse journalist en schrijver Piet Bakker werd geboren in Rotterdam op 10 augustus 1897. Zie ook mijn blog van 10 augustus 2007 en ook alle tags voor Piet Bakker op dit blog.
Uit: Ciske de Rat
'De volgende dag gaf ik Aardrijkskunde en wij kregen het natuurlijk over de sluizen en pieren van IJmuiden. Wij schoolmeesters moeten de kinderen nou eenmaal altijd wat leren. Een soort aanwensel. Stel je voor, dat de jongens en meisjes alleen maar gingen pootjebaaien en ranja met een rietje drinken en hun kousen en schoenen vol zand halen. En dat ze eens niets leerden. Ik weet uit ervaring, dat er op zo'n dag zelf niets van terecht komt. Dan kun je kletsen over sluizen en vuurtorens en vissershavens wat je wil, maar je kunt het voor hetzelfde geld in het Sanskriet zeggen. Ze hebben alleen maar aandacht voor zure balletjes, hun natte onderbroek en voor een ijsco, die met zijn belletje de leergierigheid belaagt. Om mijn schoolmeestersgeweten niet in opstand te brengen heb ik de theorie maar vooruit gegeven en zelfs nu vielen er douwen, omdat ze er de kop niet bij hadden. Ik kan mij dat eigenlijk zo goed voorstellen. De gewone lessen aanvaarden de kinderen, zoals ze mazelen en natte voeten krijgen. 't Hoort er nou eenmaal bij, al weet je niet waar dat allemaal goed voor is. Maar om de lol door het leren te bederven, dat vinden ze in wezen ongepast. Pret moet pret blijven en je gaat niet naar IJmuiden om nou eens precies te weten hoe een pier in elkaar zit'.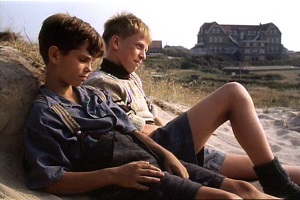 Piet Bakker (10 augustus 1897 - 1 april 1960)
Scene uit de film met Danny de Munk, 1984
De Russische schrijver Michail Michailovitsj Zosjtsjenko werd geboren in Sint-Petersburg op 10 augustus 1895. Zie ook alle tags voor Michail Zosjtsjenko op dit blog en ook mijn blog van 10 augustus 2010
Het naamfeest (Vertaald door Kristien Warmenhoven)
"Het is avond. Ik loop naar huis. Ik ben neerslachtig.
"Hé student!" roept iemand.
Het is een vrouw. Ze is zwaar opgemaakt. Ze draagt een hoed met veer, waaronder een alledaags gezicht schuilgaat met uitstekende jukbeenderen en dikke lippen.
Ik kijk haar fronsend aan en wil doorlopen, maar de vrouw zegt met een verlegen glimlach: "Het is vandaag mijn naamdag… Kom je bij me theedrinken?"
Ik antwoord: "Het spijt me, ik heb geen tijd."
"Ik ga met iedereen mee die me vraagt", zegt de vrouw, "maar vandaag vier ik mijn naamdag. Ik heb besloten zelf iemand uit te nodigen. Zeg alsjeblieft geen nee."
We lopen een donkere trap op, vol katten, en komen in een kleine kamer.
Op tafel een samowar, noten, jam en broodjes.
We drinken thee in stilte. Ik weet niets te zeggen. En zij is verlegen met mijn zwijgen.
"Heeft u dan helemaal niemand – geen vrienden of familie?"
"Nee", zegt ze. "Ik ben hier vreemd, ik kom uit Rostov."
Als ik mijn thee op heb, trek ik mijn jas aan en wil vertrekken.
"Zie je niks in me?" zegt ze.
Ik ben geamuseerd. Ik vind haar niet onaantrekkelijk. Ik kus haar dikke lippen ten afscheid. En zij vraagt me: "Kom je nog eens terug?"
Ik loop het trapportaal op. Misschien moet ik onthouden waar ze woont. In het donker tel ik hoeveel treden het zijn tot haar deur. Zal ik een lucifer aansteken en kijken wat het huisnummer is? Nee, het is niet de moeite waard. Ik kom hier nooit meer terug."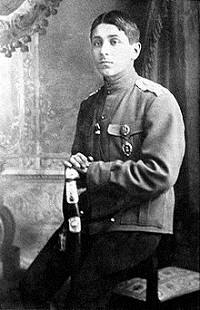 Michail Zosjtsjenko (10 augustus 1895 - 22 juli 1958)
In 1915
De Duitse dichter en pastor Philipp Nicolai werd geboren in Mengeringhausen op 10 augustus 1556. Zie ook alle tags voor Philipp Nicolai op dit blog en ook mijn blog van 10 augustus 2010
Wachet auf
Wachet auf, ruft uns die Stimme
Der Wächter sehr hoch auf der Zinne,
Wach auf du Stadt Jerusalem!
Mitternacht heißt diese Stunde!
Sie rufen uns mit hellem Munde:
"Wo seid ihr klugen Jungfrauen?
Wohlauf, der Bräutigam kommt,
Steht auf, die Lampen nehmt!
Halleluja!
Macht euch bereit zur Hochzeitsfreud;
Ihr müset ihm entgegengehen!"
Zion hört die Wächter singen,
Das Herz tut ihr vor Freuden springen,
Sie wachet und steht eilend auf.
Ihr Freund kommt vom Himmel prächtig,
Von Gnaden stark, von Wahrheit mächtig;
Ihr Licht wird hell, ihr Stern geht auf.
Nun komm, du werte Kron,
Herr Jesu, Gottes Sohn!
Hosianna!
Wir folgen all zum Freudensaal
Und halten mit das Abendmahl.
Gloria sei dir gesungen
Mit Menschen- und mit Engelzungen,
Mit Harfen und mit Zimbeln schön.
Von zwölf Perlen sind die Tore
An deiner Stadt, wir stehn im Chore
Der Engel hoch um deinen Thron.
Kein Aug hat je gespürt,
Kein Ohr hat mehr gehört
Solche Freude.
Des jauchzen wir und singen dir
Das Halleluja für und für.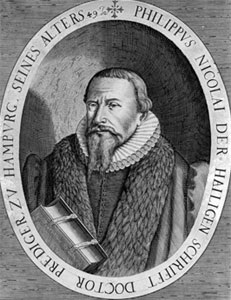 Philipp Nicolai (10 augustus 1556 - 26 oktober 1608)
De Franse schrijver Joseph Bialot werd op 10 Augustus 1923 geboren in Warschau. Zie ook alle tags voor Joseph Bialot op dit blog en ook mijn blog van 10 augustus 2010
Uit: La station Saint-Martin est fermée au public
« Une silhouette en blanc se pencha vers lui : une femme. Elle sentait le printemps. Dans son demi-sommeil, il enregistra l'odeur d'eau de Cologne qu'elle dégageait, un parfum qui le gêna. Depuis plus de deux ans, depuis janvier 43, il ne respirait que des remugles de corps vivants en décomposition, des effluves de peur, de famine, de désespoirs, et là, cette fille lui balançait des jets d'une pureté inconnue de l'univers dont il venait de sortir, mort. »
(…)
« Dès que le premier rapatrié mettait pied à terre, le silence s'installait. Tout passait par le regard. Les yeux cherchaient un visage, une attitude, une chevelure, un geste familier, mais l'œil n'enregistrait que des silhouettes émincées, vidées de leur chair, des corps aux angles aigus dont on devinait les entrailles derrière la peau diaphane, des visages sans relief aux pupilles atones, des crânes rasés ; les images caricaturales de ceux qui avaient milité, prié, enseigné, peint, écrit, travaillé, imprimé, moissonné, les traits longilignes de ceux qui s'étaient battus avec des mots, des gestes de solidarité, mais, aussi, avec des armes contre la sottise des collabos et de leurs maîtres. Ils rentraient, enfin, ceux que la malchance, la férocité, la lâcheté et la délation avaient envoyés dans le négatif de l'existence. »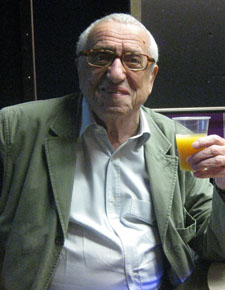 Joseph Bialot (Warschau, 10 Augustus 1923)
10-08-2014 om 16:00 geschreven door Romenu

Tags:Piet Bakker, Michail Zosjtsjenko, Philipp Nicolai, Joseph Bialot, Romenu



| | |
| --- | --- |
| | |



Inhoud blog


| | |
| --- | --- |
| | 'Unless a grain of wheat falls into the ground and dies…' (Malcolm Guite) |
| | Christa Wolf, Charlotte Roche, John Updike, Wilfred Owen, Stéphane Mallarmé, Héctor Bianciotti, Hellema, Friedrich Hebbel, Max Barry |
| | Wolfgang Bauer, Richard Condon, Walter Rheiner, Srečko Kosovel, Jean Anglade, George Plimpton, Cosmo Monkhouse, Friedrich Nicolai |
| | In Memoriam F. Starik |
| | Siegfried Lenz, Thomas Melle, Rense Sinkgraven, Hafid Aggoune, Hans Wollschläger, William Ford Gibson |
| | Patrick Hamilton, Karl Gutzkow, Urmuz, Jean Ingelow, Ebenezer Elliott, Paul Green |
| | P.C. Hooft, Bredero, Dirk von Petersdorff, Zoë Jenny, Alice Hoffman, Hooshang Golshiri, Francisco Ayala, César Vallejo, Per Leo |
| | Ben Okri, David Albahari, Louis Paul Boon, Kurt Drawert, Gerhard Seyfried, Andreas Okopenko, An Rutgers van der Loeff, Prosper van Langendonck, Paul Heyse |
| | Pam Ayres, Jochen Schimmang, Horton Foote, Volker von Törne, Olivier Delorme, Alexandru Macedonski, Albert Robida, Theodore de Banville, Wout Waanders |
| | Mahmoud Darwish, Yuri Andrukhovych, Didier Decoin, Vladimir Makanin, Yeghishe Charent, Geert van Beek, Jan H. de Groot, Kemal Tahir, Joseph Beaumont |
| | Dave Eggers, Jenny Erpenbeck, Jack Kerouac, Henrike Heiland, Naomi Shihab Nye, Carl Hiaasen, Edward Albee, De Schoolmeester, Gabriele d'Annunzio |
| | Nicodemus (Muus Jacobse) |
| | Leena Lehtolainen, Karl Krolow, Daan de Ligt, Frans Vogel, Willem Claassen, Amal Karam, Max Hermens, Eva Meijer, Helena Hoogenkamp |
| | Ernst Wichert, Douglas Adams, Torquato Tasso, Georg Maurer, Josef Martin Bauer, Maartje Smits |
| | John Rechy, Hilde Van Cauteren, Joseph von Eichendorff, Jakob Wassermann, Karel van de Woestijne, Chloé Delaume, Friedrich Schlegel |
| | Boris Vian, Manolis Anagnostakis, Peter McArthur, Samuel Ferguson, Georges Dor, Pedro Antonio de Alarcón, Otto Heinrich Kühner |
| | Koen Peeters, Peter Zantingh, Ed Hoornik, Heere Heeresma, Peter Altenberg, Vita Sackville-West, Josef Weinheber, Taras Sjevtsjenko, Umberto Saba |
| | Jeffrey Eugenides, Walter Jens, Hafid Bouazza, Cándani, A. Marja, Aslı Erdoğan, John McPhee, Mouloud Feraoun, Dominic Angeloch |
| | Bret Easton Ellis, Robert Harris, Jürgen Theobaldy, Georges Perec, Abe Kōbō, Reinhard Kaiser, Manfred Gregor, Jan Frederik Helmers, Alessandro Manzoni |
| | Patrick deWitt, Gabriel García Márquez, Jeremy Reed, Marijke Hanegraaf, Thomas Acda, Günter Kunert, Clark Accord, Elizabeth Barrett Browning, Michelangelo |
| | Pier Paolo Pasolini, Koos van Zomeren, Jurre van den Berg, Arthur van Schendel, Nelly Arcan, Jean Orizet, Leslie Marmon Silko, Frank Norris, Ennio Flaiano |
| | De tempelreiniging (Nicolaas Beets) |
| | Robert Kleindienst, Khaled Hosseini, Kristof Magnusson, Irina Ratushinskaya, Alan Sillitoe, Ryszard Kapuściński, Jean-Joseph Rabearivelo, Annette Seemann |
| | F. W. Bernstein, Giorgio Bassani, Bernardo Ashetu, Léon-Paul Fargue, Kito Lorenc, Jacques Dupin, Thomas S. Stribling |
| | Manfred Flügge, Hans Verhagen, Tjitske Jansen, James Merrill, Kola Boof, Clifton Snider, Gudrun Pausewang, Chris Kraus |
| | Josef Winkler, Heinz Knobloch, Alexandros Papadiamantis, Charles Sealsfield, William Godwin, Paul Guimard, Edmund Waller, Thomas Otway |
| | Godfried Bomans, Multatuli, Frank Albers, John Irving, Thom Wolfe, Michael Salinger, János Arany, Olivia Manning, Rinske Kegel |
| | Jan Eijkelboom, Jim Crace, Delphine de Vigan, Franz Hohler, Lytton Strachey, Robert Lowell, Myrthe van der Meer, Franzobel, Steven Barnes |
| | Peter Pessl |
| | Benedict Wells |
| | Bart Koubaa, Stephen Spender, John Montague, Josef Svatopluk Machar, Luc Dellisse, Marcel Pagnol, Bodo Morshäuser, Martin Suter, Yórgos Seféris |
| | Howard Nemerov, Daniel Handler, Dee Brown, Michel de Montaigne, Marin Sorescu, Saul Williams |
| | Cynan Jones, John Steinbeck, Ruy Belo, Lawrence Durrell, André Roy, Henry Longfellow, Elisabeth Borchers, James T. Farrell, Irwin Shaw |
| | Michel Houellebecq, Victor Hugo, Adama van Scheltema, George Barker, Ulrike Syha, Hermann Lenz, Antonin Sova, Jean Teulé, Elias Annes Borger |
| | De verheerlijking op den berg (Nicolaas Beets) |
| | Amin Maalouf, Aldo Busi, Gabriël Smit, Anthony Burgess, Robert Rius, Karl May, Lesja Oekrajinka, Karel Toman, Vittoria Colonna |
| | Franz Xaver Kroetz, Gérard Bessette, Mary Chase, Karl Wilhelm Ramler, Friedrich von Spee, Carlo Goldoni, Quirinus Kuhlmann |
| | Leon de Winter, Alain Mabanckou, George Moore, Erich Loest, Herman Maas, Luc Verbeke, Wilhelm Grimm, Friedrich Spielhagen, Jacques Presser |
| | August Derleth, Keto von Waberer, Yüksel Pazarkaya, Erich Pawlu, Irène Némirovsky, Vincent Voiture, Rosalía de Castro, Paul Alfred Kleinert, Stanisław Witkiewicz |
| | César Aira, Robert Gray, Jef Geeraerts, Bernard Cornwell, Ljoedmila Oelitskaja, Toon Kortooms, Jo Ypma, Sonya Hartnett, Maxim Februari |
| | Arnon Grunberg, Rob Schouten, Ruben van Gogh, Paul van Ostaijen, Hugo Ball, Danilo Kis, Sean O'Faolain, Ishmael Reed, Edna St. Vincent Millay |
| | J.M.A. Biesheuvelprijs voor Annelies Verbeke |
| | Herman de Coninck, Tom van Deel, Jonathan Safran Foer, Hans Andreus, David Avidan, Chuck Palahniuk, Wystan Hugh Auden, Laure Limongi, Justus van Effen |
| | P. C. Boutens, David Nolens, Ellen Gilchrist, Julia Franck, Georges Bernanos, William Carleton, Cornelis Sweerts, Johann Heinrich Voß, Pierre Boulle |
| | Michiel Stroink, Siri Hustvedt, Helen Fielding, Jaan Kross, Helene Hegemann, Björn Kuhligk, Thomas Brasch, Dmitri Lipskerov, Wolfgang Fritz |
| | De verzoeking in de woestijn (Nicolaas Beets) |
| | Nick McDonell, Robbert Welagen, Bart FM Droog, Maarten Mourik, Huub Beurskens, Gaston Burssens, Toni Morrison, Elke Erb, Charlotte Van den Broeck |
| | Níkos Kazantzákis, Jean M. Auel, Audre Lorde, Mór Jókai, Hedwig Courths-Mahler, Alexander Kielland, Wallace Stegner, Leone Battista Alberti |
| | Shahrnush Parsipur, Willem Thies, Sadegh Hedayat, Yevgeni Grishkovetz, Albert Kuyle, Jaroslav Vrchlický, Chaim Potok, Mo Yan, Frederik Hetmann |
| | Emmy Hennings, Mori Ōgai, Gustavo Bécquer, Georg Britting, Andrew Paterson, Margaret Truman, Ruth Rendell, Fjodor Sologoeb |


Gastenboek


Druk op onderstaande knop om een berichtje achter te laten in mijn gastenboek