De Oostenrijkse dichteres
Ingeborg Bachmann
werd geboren op 25 juni 1926 in Klagenfurt. Zie ook alle tags voor Ingeborg Bachmann op dit blog.
Es könnte viel bedeutеn
Es könnte viel bedeuten - wir vergehen,
wir kommen ungefragt und müssen weichen.
Doch dass wir sprechen und uns nicht verstehen
und keinen Augenblick des andren Hand erreichen,
zerschlägt so viel: Wir werden nicht bestehen.
Schon der Versuch bedrohen fremde Zeichen,
und das Verlangen, tief uns anzusehen,
durchtrennt den Kreuz, uns einsam auszustreichen-
Ausfahrt
Vom Lande steigt Rauch auf.
Die kleine Fischerhütte behalt ich im Aug,
denn die Sonne wird sinken,
ehe du zehn Meilen zurückgelegt hast.
Das dunkle Wasser, tausendäugig,
schlägt die Wimper von weißer Gischt auf,
um dich anzusehen, groß und lang,
dreißig Tage lang.
Auch wenn das Schiff hart stampft
und einen unsicheren Schritt tut,
steh ruhig auf Deck.
An den Tischen essen sie jetzt
den geräucherten Fisch;
dann werden die Männer hinknien
und die Netze flicken,
aber nachts wird geschlafen,
eine Stunde oder zwei Stunden,
und ihre Hände werden weich sein,
frei von Salz und Öl,
weich wie das Brot des Traumes,
von dem sie brechen.
Die erste Welle der Nacht schlägt ans Ufer
die zweite erreicht schon dich.
Aber wenn du scharf hinüberschaust,
kannst du den Baum noch sehen,
der trotzig den Arm hebt
-- einen hat ihm der Wind schon abgeschlagen
-- und du denkst: wie lange noch,
wie lange noch
wird das krumme Holz den Wettern standhalten?
Vom Land ist nichts mehr zu sehen.
Du hättest dich mit einer Hand in die Sandbank krallen
oder mit einer Locke an den Klippen heften sollen.
In die Muscheln blasend, gleiten die Ungeheuer des Meers
auf die Rücken der Wellen, sie reiten und schlagen
mit blanken Säbeln die Tage in Stücke, eine rote Spur
bleibt im Wasser, dort legt dich der Schlaf hin,
auf den Rest deiner Stunden,
und dir schwinden die Sinne.
Da ist etwas mit den Tauen geschehen,
man ruft dich, und du bist froh,
daß man dich braucht. Das Beste
ist die Arbeit auf den Schiffen,
die weithin fahren,
das Tauknüpfen, das Wasserschöpfen,
das Wändedichten und das Hüten der Fracht.
Das Beste ist, müde zu sein und am Abend
hinzufallen. Das Beste ist, am Morgen,
mit dem ersten Licht, hell zu werden,
gegen den unverrückbaren Himmel zu stehen,
der ungangbaren Wasser nicht zu achten
und das Schiff über die Wellen zu heben,
auf das immerwiederkehrende Sonnenufer zu.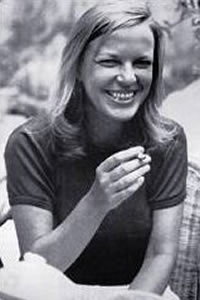 Ingeborg Bachmann (25 juni 1926 – 17 oktober 1973)


De Britse schrijver George Orwell (pseudoniem van Eric Arthur Blair) werd op 25 juni 1903 geboren in Motihari, India. Zie ook alle tags voor George Orwell op dit blog.

Uit: 1984 (Vertaald door Michael Walter)

"Es war ein strahlend-kalter Apriltag, und die Uhren schlugen dreizehn. Winston Smith, das Kinn an die Brust gezogen, um dem scheußlichen Wind zu entgehen, schlüpfte rasch durch die Glastüren
der Victory Mietskaseme, doch nicht rasch genug, um zu verhindern, daß mit ihm auch ein grießiger Staubwirbel hereinwehte.
Der Flur roch nach Kohlsuppe und Flickenteppichen. An einem Ende hatte man ein Farbplakat an die Wand gepinnt, das für drinnen eigentlich zu groß war. Es zeigte nichts weiter als ein riesiges, über einen Meter breites Gesicht: das Gesicht eines etwa fünfundvierzigjährigen Mannes mit wuchtigem schwarzem Schnurrbart und kernig-ansprechenden Zügen. Winston steuerte auf die Treppe zu. Es mit dem Lift zu probieren war zwecklos. Selbst zu günstigen Zeiten funktionierte er selten, und momentan
wurde der Strom tagsüber abgestellt. Dies war Teil der Sparsamkeitskampagne zur Vorbereitung der Haßwoche. Die Wohnung lag im siebenten Stock, und Winston, der neununddreißig war und über
dem rechten Fußknöchel ein Krampfadergeschwür hatte, ging langsam und verschnaufte unterwegs mehrmals. Auf jedem Treppenabsatz starrte dem Liftschacht gegenüber das Plakat mit dem riesigen Gesicht von der Wand. Es war eines jener Bilder, die einem mit dem Blick überallhin zu folgen scheinen. DER GROSSE BRUDER SIEHT DICH, lautete die Textzeile darunter.
In der Wohnung verlas eine sonore Stimme eine Zahlenstatistik, bei der es irgendwie um die Roheisenproduktion ging. Die Stimme kam aus einer länglich-rechteckigen Metallplatte, die wie
ein blinder Spiegel in die Wand zur Rechten eingelassen war. Winston drehte an einem Knopf, und die Stimme klang gedämpfter, blieb aber dennoch verständlich. Man konnte das Gerät (den sogenannten Teleschirm) zwar leiser stellen, aber ganz ausschalten ließ es sich nicht. Er trat ans Fenster: eine schmächtige Gestalt, deren Magerkeit durch den blauen Overall der Parteiuniform nur noch betont wurde. Sein Haar war hellblond, sein Gesicht von Natur aus rötlich, seine Haut rauh..."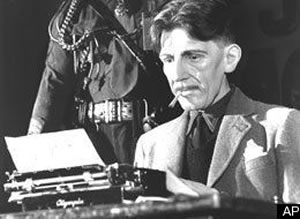 George Orwell (25 juni 1903 – 21 januari 1950)




De Amerikaanse schrijver, columnist en homoactivist Larry Kramer werd geboren in Bridgeport, Connecticut op 25 juni 1935. Zie ook alle tags voor Larry Kramer op dit blog.
Uit: Gay Culture, Redefined
"The facts: enough gay men are once again having enough unsafe sex that the rates of H.I.V. infection, gonorrhea and syphilis are returning to frightening heights.
The facts: a small and vocal gay group that calls itself Sex Panic has taken it upon itself to demand "sexual freedom," which its members define as allowing gay men to have sex when and where and how they want to. In other words, this group is an advocate of unsafe sex, if this is what is wanted, and of public sex, if this is what is wanted. It advocates unconditional, unlimited promiscuity.
The facts: public sex means sex in parks, in public restrooms, in bathhouses, in the back rooms of bars and discos, at weekend parties, on beaches -- anywhere men can gather.
The facts: this is the very same debate that occurred in 1981 when the first signs of the AIDS plague were appearing. Few wished to pay attention to the dangers then, preferring to demand the right to have sex in exactly the same ways that Sex Panic is demanding be legitimized again.
The facts: once again, this has become a battle over civil rights rather than an issue of public health.
(A question: why is public sex a civil right? I do not want to see straight people copulating in the park or in public restrooms. And I do not believe that heterosexuals view such acts as theirs by right.)
The facts: shamefully, not one AIDS organization or national gay and lesbian group has been willing to speak out and condemn or even criticize what Sex Panic is saying. There are only a few gay men willing to take on the group -- and we have been vilified by the pro-promiscuity forces for our views."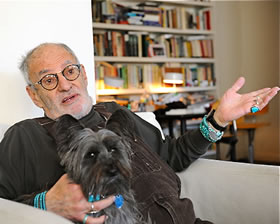 Larry Kramer (Bridgeport, 25 juni 1935)
De Amerikaanse schrijfster en journaliste Ariel Gore werd geboren op 25 juni 1970 in Carmel, Californië. Zie ook alle tags voor Ariel Gore op dit blog.
Uit: Bluebird
"New Year's Day arrives with freezing rain and news of closed bridges. I decline dinner invitations, explain that I'm tired and nauseous and "anyway, I'm not drinking right now." I'm surprised when these little clues don't give me away. "I'm six weeks pregnant," I have to explain, rather slowly.
Friends and family react with wide eyes and stunned silences.
"Is this a joke?" my mother practically screams into the phone.
It's not that I'm too young, as they thought I was when I got pregnant with my daughter at eighteen. It's not even that they think I'm too old. It's just that . . . it's been so long.
I have my own quiet doubts about my choice. I've always wanted to have a second child, but the opportunity was slow to present itself. By the time my daughter started high school, I figured I'd missed my chance. Who has children more than fifteen years apart? As college catalogs arrived in the mail and Maia studied for her SATs, I readied to change my life, too. I would be an empty nester by the time I turned thirty-seven, finally able to do all the things I'd heard women without children do—like work even harder. I applied for a job in a cold city. I could finally make some real money. My partner was about to open a community acupuncture clinic and didn't want to move, and I didn't want to sell my house in Portland, so I planned to commute the two thousand miles. I'd rent a studio apartment in the cold city, fly home on the weekends. When I envisioned my new life, it seemed hard and dark and serious. I saw myself trudging through arctic winds between concrete studio and concrete institution, but I didn't question the wisdom of my plan. It made good financial sense, after all, and who was I to question good financial sense?"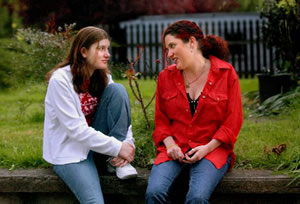 Ariel Gore (Carmel, 25 juni 1970)
Hier met haar dochter Maia (links)

Zie voor nog meer schrijvers van de 25e juni ook
mijn vorige blog van vandaag.
25-06-2012 om 19:20 geschreven door Romenu

Tags:Ingeborg Bachmann, George Orwell, Larry Kramer, Ariel Gore, Romenu