De Oekraïense dichteres, schrijfster en vertaalster Lesja Oekrajinka werd geboren op 25 februari 1871 in Novograd-Volynsky. Zie ook mijn blog van 25 februari 2009 en ook mijn blog van 25 januari 2010 en ook mijn blog van 25 februari 2011.
The Guelder-Rose
The Cossack is dying, the maiden crying :"
Let me stay beside you, deep in earth I would be lying ! "
" O if you are truly such a faithful maiden,
Then become a guelder-rose with snowy blossom laden.
Dew that in the morning on the mowing settles
Shall not weigh upon my grave but on your flowing tresses.
When the hot sun scorches and the blossom blanches
Heat shall not dry up my bones but shrivel your green branches. "
" O my sweet, how can it give you any pleasure
That I glow so red when I feel sorrow beyond measure ?
O my sweet, how can it be a cause for gladness
That I blossom when my heart is full of gall and sadness ?
Will the grave be dearer to you, my beloved,
If I am a green tree rising silently above it ? "
" Even my own mother could not grieve so deeply
As you grieve for me, my guelder-rose tree was already growing.
People with small children came and stood there gazing,
Never had they seen before a wonder so amazing :
" Who is it lies buried here beside the highway
Where a guelder-rose is blossoming in frost so spryly ?
See its green and slender leaves there twisting, curling,
And the blood-red berries in its snowy blossom stirring ! "
In reply the guelder-rose its leaves uncovered :
" Why must I be silent at the side of my beloved ?
O the tree is silent while the axe is swinging,
When the man cuts deeply, then the tree is singing.
First a branch he severs, then a pipe he's playing,
With an arrow from the guelder-rose his heart assailing."
Vertaald door Peter Tempest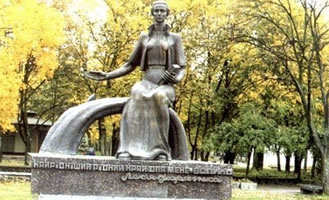 Lesja Oekrajinka (25 februari 1871 – 1 augustus 1913)
Monument in Kovel

De Duitse jezuïet en dichter Friedrich von Spee werd op 25 februari 1591 in Kaiserswerth bij Düsseldorf geboren. Zie ook alle tags voor Friedrich von Spee op dit blog.
Uit: Cautio Criminalis oder rechtliches Bedenken wegen der Hexenprozesse
"Welches sind die Beweise derer, die sofort die auf der Folter erpressten Geständnisse für wahr halten?
Auf diese Geständnisse haben alle Gelehrten fast ihre ganze Hexenlehre gegründet, und die Welt hat's ihnen, wie es scheint, geglaubt. Die Gewalt der Schmerzen erzwingt alles, auch das, was man für Sünde hält, wie lügen und andere in üblen Ruf bringen. Die dann einmal angefangen haben, auf der Folter gegen sich auszusagen, geben später nach der Folter alles zu, was man von ihnen verlangt, damit sie nicht der Unbeständigkeit geziehen werden. [...] Und die Kriminalrichter glauben dann diese Possen und bestärken sich in ihrem Tun. Ich aber verlache diese Einfältigkeit.
[...]
Muss die so gefährliche Folter abgeschafft werden?
Ich antworte: entweder ist die Folter gänzlich abzuschaffen oder so umzugestalten, dass sie nicht mit moralischer Sicherheit Unschuldigen Gefahr bringt. [...] Man darf mit Menschenblut nicht spielen, und unsere Köpfe sind keine Bälle, die man nur so hin und her wirft. Wenn vor dem Gericht der Ewigkeit Rechenschaft für jedes müßige Wort abgelegt werden muss, wie steht's dann mit der Verantwortung für das vergossene Menschenblut? "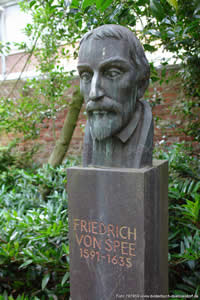 Friedrich von Spee (25 februari 1591 – 7 augustus 1635)
Borstbeeld in Düsseldorf



De Duitse dichter en filosoof Karl Wilhelm Rạmler werd geboren in Kolberg op 25 februari 1725. Zie ook mijn blog van 25 februari 2009 en ook mijn blog van 25 februari 2010.
Lob der Gottheit
Nach dem neunzehnten Psalm.
Des Himmels ewig dauerndes Gewölbe,
Das über allen Sternen hängt,
Der Erdball unter ihm, gegründet auf sich selber,
Verkündigt seinen Herrn.
Ihn lobt der Tag, ihn singt mit tausend Zungen
Die Nacht, und alle Welt vernimmt
Den Lobgesang der Nacht, und alle Völker hören
Des Tages Königin.
Sie steigt auf ihren Purpurthron im Osten,
Geht triumphirend ihre Bahn,
Und überschaut ihr Reich, bis sie der Abendhimmel
In seine Thore nimmt.
Ihr Anblick, wenn sie durch den Aether wallet,
Zieht Wälder aus der Erde Schooß,
Und aus der Fluth den Thau, der aus den Wolken träufelt,
Und aus den Bergen strömt.
Sie wickelt das erwärmte Rund der Erde
In einen grünen Teppich ein,
Bestreut mit Blumen ihn, hell leuchtend, wie die Farben
Des Gürtels, den sie webt.
Aus ihrem Feuermeer füllt seine Lampe
Der Mond mit Licht; der Morgenstern
Und seiner Brüder Chor, bekränzt von ihr mit Strahlen,
Tanzt freudig um sie her.
Laut ruft sie durch die grenzenlose Tiefe,
Und alle Sterne rufen laut:
Allmächtig ist die Hand, die uns zusammenfaßte,
Und in den Weltraum warf.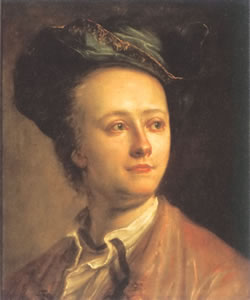 Karl Wilhelm Rạmler (25 februari 1725 – 11 april 1798)
Portret door Gottfried Hempel
De Italiaanse toneelschrijver Carlo Goldoni werd geboren in Venetië op 25 februari 1707. Zie ook mijn blog van 25 februari 2007 en ook mijn blog van 25 februari 2009 en ook mijn blog van 25 februari 2010.
Uit: The War (La Guerra,vertaald door Alexander Gross)
"LISETTA: You stay away from my basket.
THIRD: It's okay. We were just joking.
LISETTA: Stop it, I said, leave me alone.
FIRST: Just come with us, gorgeous—we know how to make you happy.
LISETTA: What's that supposed to mean? I may be a peasant girl, but I know how to behave myself.
SECOND: Just show us what's in your basket.
LISETTA: You leave my basket alone!
THIRD: What have you got in there? If you have something to sell, we'll buy it from you.
LISETTA: I have nothing I would sell to you.
FIRST: Don't you think we can pay? Look, we've got money. What's in that basket?
LISETTA: Oh, alright, I'll let you see. Some cheese, half a dozen eggs, and a few apples.
SECOND: How much do you want for the cheese?
LISETTA: One piastre.
THIRD: One piastre! How much are the eggs then?
LISETTA: I'll give you all six for two piastres.
SECOND: I'll show you what I'll give you for this cheese: the reeking bottom of the Pope's ass.
LISETTA: Give me back my cheese.
FIRST: (to Second) Hey, shame on you—don't tell me you were trying to cheat a poor little peasant girl.
SECOND: So how's that your business?
FIRST: It sure as hell is my business, piddle face.
SECOND: Yeah, who are you calling piddle face, turd head?
FIRST: I'm calling you piddle face, crotch rot. And I am not a turd head.
(he reaches for his dagger—they pretend to be about to fight. Lisetta watches, and while she is off-guard, the third soldier seizes her basket. All three run off laughing, taking the basket with them.)"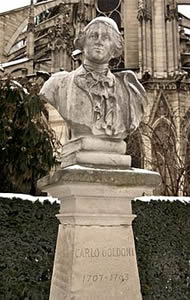 Carlo Goldoni (25 februari 1707 – 6 februari 1793)
Borstbeeld bij de Notre-Dame, Parijs

De Duitse dichter en mysticus Quirinus Kuhlmann werd geboren op 25 februari 1651 in Breslau. Zie ook mijn blog van 25 februari 2009 en ook mijn blog van 25 februari 2010.
Uit: Der Kühlpsalter
Der 1. Gesang
5.
Dises ward kaum ausgesaget,
Als ihn Libewig begrüsst:
Libewig, di ihm behaget,
Durch di alles Leid versüsst!
Er begunte strakks zubrennen,
Wi si bot di Lilgenhand:
Seelig fing er sich zunennen,
Weil er seinen Trost erkand.
6.
Libewig hilt ihn umpfangen,
Als si Libhold fest umschlos:
Jener küsste Mund und Wangen,
Si lis Libespfeile los.
So beflammten ihn di Flammen
Heiliglichter Jesuslib.
Was nur himmlisch, must entstammen,
Seraphinisch ward sein trib.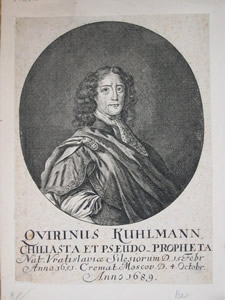 Quirinus Kuhlmann (25 februari 1651 – 4 oktober 1689)

25-02-2012 om 19:09 geschreven door Romenu

Tags:Lesja Oekrajinka, Friedrich von Spee, Karl Wilhelm Ramler, Carlo Goldoni, Quirinus Kuhlmann, Romenu