E-mail mij


Druk op onderstaande knop om mij te e-mailen.


Romenu


Romenu is een blog over gedichten, literatuur en kunst Maar Romenu is ook een professionele freelance vertaler
Du-Ne en Ne-Du http://www.romenu.nl.


Huur eens een (vakantie)huis in een natuurgebied, dichtbij het centrum van Nijmegen


Google


Georg Trakl

Georg Trakl werd op 3 februari 1887 in het conducteurshuis aan de Waagplatz 2 in Salzburg geboren. Zijn vader, Tobias Trakl, was een handelaar in ijzerwaren en zijn moeder, die ook psychische problemen had, was Maria Catharina Trakl, (meisjesnaam Halik). Voorts had hij nog drie broers en drie zussen. Margarethe (doorgaans Grethe genoemd) stond hem het naast, zelfs zodanig dat sommigen een incestueuze verhouding vermoeden. Zijn jeugd bracht hij door in Salzburg. Vervolgens bezocht hij van 1897 tot 1905 het humanistische gymnasium. Om toch een academische opleiding te kunnen volgen, werkte hij tot 1908 in de praktijk bij een apotheker. Sommigen vermoedden dat hij dit vooral deed om zichzelf opiaten te kunnen verschaffen. Bij het uitbreken van WO I werd Trakl als medicus naar het front in Galicië (heden ten dage in Oekraïne en Polen) gestuurd. Zijn gemoedsschommelingen leidden tot geregelde uitbraken van depressie, die verergerd werden door de afschuw die hij voelde voor de verzorging van de ernstig verwonde soldaten. De spanning en druk dreven hem ertoe een suïcidepoging te ondernemen, welke zijn kameraden nochtans verhinderden. Hij werd in een militair ziekenhuis opgenomen in Kraków, alwaar hij onder strikt toezicht geplaatst werd.Trakl verzonk daar in nog zwaardere depressies en schreef Ficker om advies. Ficker overtuigde hem ervan dat hij contact moest opnemen met Wittgenstein, die inderdaad op weg ging na Trakls bericht te hebben ontvangen. Op 4 november 1914, drie dagen voordat Wittgenstein aan zou komen, overleed hij echter aan een overdosis cocaïne


Paul Celan

Paul Celan werd onder de naam Paul Antschel op 23 november 1920 geboren in Czernowitz, toentertijd de hoofdstad van de Roemeense Boekovina, nu behorend bij de Oekraïne. Paul Celans ouders waren Duitssprekende joden die hun zoon joods opvoedden en hem naar Duitse christelijke scholen stuurden. In 1942 werden Celans ouders door de Duitse bezetter naar een werkkamp gedeporteerd en daar vermoord. Hijzelf wist aanvankelijk onder te duiken, maar moest vanaf juli 1942 in een werkkamp dwangarbeid verrichten. Celan overleefde de oorlog. Via Boekarest en Wenen vestigde Celan zich in 1948 in Parijs. Daar was hij werkzaam als dichter, vertaler en doceerde hij aan de prestigieuze Ecole Normale Supérieure. Vermoedelijk op 20 april 1970 beëindigde hij zijn leven zelf door in de Seine te springen.


Gerard Reve

Gerard Reve over: Medearbeiders "God is in de mensen, de dieren, de planten en alle dingen - in de schepping, die verlost moet worden of waaruit God verlost moet worden, door onze arbeid, aangezien wij medearbeiders van God zijn." Openbaring "Tja, waar berust elk godsbegrip op, elke vorm van religie? Op een openbaring, dat wil zeggen op een psychische ervaring van zulk een dwingende en onverbiddelijke kracht, dat de betrokkene het gevoel heeft, niet dat hij een gedachte of een visioen heeft, maar dat een gedachte gedachte of visioen hem bezit en overweldigt."


Simon Vestdijk
Simon Vestdijk (Harlingen, 17 oktober 1898 – Utrecht, 23 maart 1971) was een Nederlands romancier, dichter, essayist en vertaler. Zijn jeugd te Harlingen en Leeuwarden beschreef hij later in de Anton Wachter-cyclus. Van jongs af aan logeerde hij regelmatig bij zijn grootouders in Amsterdam, waar hij zich in 1917 aan de Universiteit van Amsterdam inschrijft als student in de medicijnen. Tijdens zijn studie die van 1917 tot 1927 duurde, leerde hij Jan Slauerhoff kennen.Tot 1932 is hij als arts in praktijken door heel Nederland werkzaam. In 1932 volgt zijn officiële schrijversdebuut met de uitgave van de bundel Verzen in De Vrije Bladen. Doorslaggevend voor Vestdijks uiteindelijke keuze voor de literatuur is zijn ontmoeting in 1932 met Eddy Du Perron en Menno ter Braak. Deze ontmoeting had tot resultaat dat hij redactielid werd van het tijdschrift Forum Kort daarop, in 1933, wordt zijn eerste novelle, De oubliette, uitgegeven. In hetzelfde jaar schrijft hij Kind tussen vier vrouwen, dat, eerst geweigerd door de uitgever, later de basis zal vormen voor de eerste drie delen van de Anton Wachter-romans. In 1951 ontvangt Vestdijk de P.C. Hooftprijs voor zijn in 1947 verschenen roman De vuuraanbidders. In 1957 wordt hij voor het eerst door het PEN-centrum voor Nederland voorgedragen voor de Nobelprijs voor de Literatuur, die hij echter nooit zal krijgen. Op 20 maart 1971 wordt hem de Prijs der Nederlandse Letteren toegekend, maar voor hij deze kan ontvangen overlijdt hij op 23 maart te Utrecht op 72-jarige leeftijd. Vestdijk was auteur van ca. 200 boeken. Vanwege deze enorme productie noemde de dichter Adriaan Roland Holst hem 'de man die sneller schrijft dan God kan lezen'. Andere belangrijke boeken van Simon Vestdijk zijn: "Kind van stad en land" (1936), "Meneer Visser's hellevaart" (1936), "Ierse nachten" (1946), "De toekomst de religie" (1947), "Pastorale 1943" (1948), "De koperen tuin" (1950), "Ivoren wachters" (1951), "Essays in duodecimo" (1952) en "Het genadeschot" (1964).


K.P. Kavafis

K.P. Kavafis werd als kind van Griekse ouders, afkomstig uit Konstantinopel, geboren in 1863 in Alexandrië (tot vandaag een Griekse enclave) waar hij ook het grootste deel van zijn leven woonde en werkte. Twee jaar na de dood van zijn vader verhuist het gezin in 1872 naar Engeland om na een verblijf van vijf jaar naar Alexandrië terug te keren. Vanwege ongeregeldheden in Egypte vlucht het gezin in 1882 naar Konstantinopel, om na drie jaar opnieuw naar Alexandrië terug te gaan. In de jaren die volgen maakt Kavafis reizen naar Parijs, Londen en in 1901 zijn eerste reis naar Griekenland, in latere jaren gevolgd door nog enkele bezoeken. Op de dag van zijn zeventigste verjaardag, in 1933 sterft Kavafis in Alexandrië. De roem kwam voor Kavafis pas na zijn dood, dus postuum. Deels is dat toe te schrijven aan zijn eigen handelswijze. Hij was uiterst terughoudend met de publicatie van zijn gedichten, liet af en toe een enkel gedicht afdrukken in een literair tijdschrift, gaf in eigen beheer enkele bundels met een stuk of twintig gedichten uit en het merendeel van zijn poëzie schonk hij op losse bladen aan zijn beste vrienden.


Thomas Mann


Thomas Mann, de jongere broer van Heinrich Mann, werd geboren op 6 juni 1875 in Lübeck. Hij was de tweede zoon van de graankoopman Thomas Johann Heinrich Mann welke later één van de senatoren van Lübreck werd. Zijn moeder Julia (geboren da Silva-Bruhns) was Duits-Braziliaans van Portugees Kreoolse afkomst. In 1894 debuteerde Thomas Mann met de novelle "Gefallen". Toen Thomas Mann met 21 jaar eindelijk volwassen was en hem dus geld van zijn vaders erfenis toestond - hij kreeg ongeveer 160 tot 180 goldmark per jaar - besloot hij dat hij genoeg had van al die scholen en instituties en werd onafhankelijk schrijver. Kenmerkend voor zijn stijl zijn de ironie, de fenomenale taalbeheersing en de minutieuze detailschildering. Manns reputatie in Duitsland was sterk wisselend. Met zijn eerste roman, Buddenbrooks (1901), had hij een enorm succes, maar door zijn sceptische houding tegenover Duitsland na de Eerste Wereldoorlog veranderde dit volledig. Stelde hij zich tot aan de jaren twintig apolitiek op (Betrachtungen eines Unpolitischen, 1918), meer en meer raakte hij bij het Politiek gebeuren betrokken. Zijn afkeer van het nationaal socialisme groeide, zijn waarschuwingen werden veelvuldiger en heftiger. In 1944 accepteerde hij het Amerikaanse staatsburgerschap. Tussen 1943 en 1947 schreef Mann Doktor Faustus (zie Faust), de roman van de 'Duitse ziel' in de gecamoufleerd geschilderde omstandigheden van de 20ste eeuw. In 1947 bezocht hij voor het eerst sinds de Oorlog Europa, twee jaar later pas Duitsland. In 1952 vertrok hij naar Zwitserland. Op 12 augustus 1955 stierf hij in Zürich. Twintig jaar na zijn dood, in aug. 1975, is zijn literaire nalatenschap geopend: dagboekaantekeningen van 15 maart 1933 tot 29 juli 1955, alsmede notities uit de jaren 1918 tot en met 1921.Belangrijke werken zijn: Der Zauberberg, Der Tod in Venedig, Dokter Faustus , Joseph und seine Brüder en Die Bekenntnisse des Hochstaplers Felix Krull.


Rainer Maria Rilke

Rilke werd op 4 december 1875 geboren in Praag. Hij had al naam gemaakt als dichter met zijn bundels Das Stundenbuch en Das Buch der Bilder, toen hij de literaire wereld versteld deed staan en wereldfaam verwierf met de publicatie van zijn twee delen Neue Gedichte in 1907 en 1908. Hij verzamelde daarin het beste werk uit een van zijn vruchtbaarste periodes, die hij grotendeels doorbracht in Parijs. Rilke was daar diep onder de indruk gekomen van Rodin, bij wie hij een tijdlang in dienst was als particulier secretaris. Rodin, zei hij later, had hem leren kijken. Dit kijken kwam neer op intense concentratie, om het mysterie te kunnen zien 'achter de schijnbare werkelijkheid'. Latere en rijpere werken als Duineser Elegien (1912-1923) en het ronduit schitterende Die Sonette an Orfeus (1924) illustreren Rilkes metafysische visie op het onzegbare, dat haar verwoording vindt in een hermetische muzikale taal. Op 29 december 1926 overlijdt Rilke in het sanatorium in Val-Mont aan de gevolgen van leukemie. Enkele dagen later wordt hij, overeenkomstig zijn wens, begraven op het kerkhof van Raron.


* * * * * * * * * * * * * * * *

| | |
| --- | --- |
| | Over literatuur, gedichten, kunst en cultuur |

07-01-2017

Frans Kellendonk, Reginald Gibbons, Dionne Brand, Sofi Oksanen, Henk van Zuiden, Shobhaa Dé
De Nederlandse schrijver en vertaler Frans Kellendonk werd geboren in Nijmegen op 7 januari 1951. Zie ook alle tags voor Frans Kellendonk op dit blog.
Uit: De brieven
"'Aan A. F. Th. Van der Heijden, 14 oktober 1980
Beste Adri,
Het moment waarop ik jouw brief las was één van die momenten dat ik dacht: Waar doe ik het eigenlijk voor, allemaal...
Misschien is het waar, berust deze briefwisseling op een misverstand mijnerzijds, misschien ben ik echt dom en kan ik niet lezen. In dat geval moet je mijn mening wel erg oninteressant vinden. Toch heb je er in zoverre wat aan, dat andere mensen nog veel dommer zijn dan ik -je weet dus al zo'n beetje wat je te wachten staat. Godallemachtig! Dit is geen polemiek. Ik heb je alleen over mijn bedenkingen geschreven in de hoop óf door jou op het rechte spoor gezet te worden óf je te wijzen op
iets dat jouzelf wellicht ontgaan was. Dat tweede kattebelletje was een haastige reactie op jouw brief. Ik wil best toegeven dat gelijkhebberigheid er niet vreemd aan was, maar ik was nog niet overtuigd en ik hoef niet coúte que coúte gelijk te krijgen. Als ik jouw woorden heb verdraaid, dan toch niet met kwade opzet. De woorden van mij die jij verdraait in je laatste - ! Maar goed, jij hebt het excuus van je boosheid. Nogmaals, ik stuur mijn briefjes niet naar de krant. Gooi ze weg, verbrand ze, dit blijft onder ons, dus zet alsjeblieft niet zo'n hoge borst op - er is verder niemand die het ziet. En gelukkig maar.
Wat ik je gezegd heb, heb ik gezegd uit collegialiteit, vriendschap, een diepe sympathie voor jou en je werk. Laat dit maar even flink galmen. Ik sta vierkant achter de inhoud van De Revisor, anders zou ik
geen redakteur blijven van dat blad. Maar ik verdom het om er een vereniging tot wederzijdse bewondering van te maken; daarmee zou het bestaansrecht van zo'n podium verdwijnen. Ik snap heus wel dat jij, op jouw beurt, voor een nieuw verhaal staat als een leeuw. Wil dan ook snappen dat ik zulks van jou snap, dan kunnen we tenminste weer praten van mens tot mens. Ik weet nu niet of ik je ooit weer mijn mening over werk van jou wil geven. Niet wanneer het nog zo vers is, denk ik; wanneer het betijd is, en zo jij er nog prijs op stelt, misschien wel.
Wat je schrijft over integriteit laat ik maar voor wat het is: geraaskal.
Als ik een schurk was, dan was ik niet in het oudpapier-liefdewerk gegaan. Met iets minder integriteit had ik al hoogleraar kunnen zijn. En nee, we hebben geen kopijnood, dank je; en nee, we deinzen er niet voor terug om iemand die we niet meer zien zitten aan de kant te zetten. En iemand in wie we wel geloven mag alles in het blad uitproberen, want daar is het voor.
Het zal je niet verbazen dat ik, ook al heb je er niet om gevraagd, toch op je brief gereageerd heb - en niet om het laatste woord te hebben, neem dat alsjeblieft van me aan. Ik zou, wat deze kwestie betreft, een laatste woord van jouw kant, al was het er maar eentje, zelfs erg op prijs stellen.
Bedroefd,
Frans"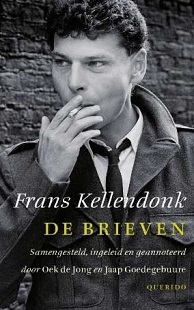 Frans Kellendonk (7 januari 1951 – 15 februari 1990)
Cover
De Amerikaanse dichter, redacteur en hoogleraar Reginald Gibbons werd geboren in Houston op 7 januari 1947. Zie ook alle tags voor Reginald Gibbons op dit blog.
Confession
Down in the blue-green water
at nightfall some selving shapes
float fluorescing, trance-dancing,
trembling to the rhythm of
theodoxical marching-
music that they hear over
the mere noise of the breaking
tide. Above, stars in certain
places; along the shore roads,
cars carrying people on
uncertain errands, sordid
and sacred and all the kinds
in between. Halogen-lit,
a woman gets down from her
all-wheel-drive velocipede,
enters through an obeying
door a cyclopean store
to buy unintelligent
fresh fish and other objects
whether formerly alive
or formerly dead, she comes
out again, a poor man calls
to her, selling his no-news-
paper; the disastrous head-
lines smile and nod, they announce
the plans of steel patriots
and undertakers, ad-men
and fallen vice-generals,
doping their stolen crusades.
But the woman has learned, as
I have learned, as all of us
must keep learning if we are
to be good subjects, how to
make of a newspaper the
mask of a locust, calmly
put it on, and begin once
more to eat everything up.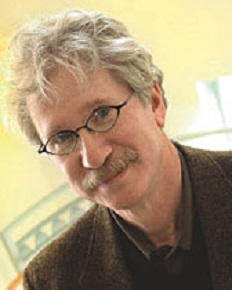 Reginald Gibbons (Houston, 7 januari 1947)
De Canadese dichteres en schrijfster Dionne Brand werd geboren op 7 januari 1953 op Trinidad. Zie ook alle tags voor Dionne Brand op dit blog.
Uit:In Another Place, Not Here
"Grace is Grace, yes. And I take it, quiet, quiet, like thiefing sugar. From the word she speak to me and the sweat running down she in that sun, one afternoon as I look up saying to myself, how many more days these poor feet of mine can take this field, these blades of cane like razor, this sun like coal pot. Long as you have to eat, girl. I look up. That woman like a drink of cool water. The four o'clock light thinning she dress, she back good and strong, the sweat raining off in that moment when I look and she snap she head around, that wide mouth blowing a wave of tiredness away, pulling in one big breath of air, them big white teeth, she, falling to the work again, she, falling into the four o'clock sunlight. I see she. Hot, cool and wet. I sink the machete in my foot, careless, blood blooming in the stalks of cane, a sweet ripe smell wash me faint. With pain. Wash the field, spinning green mile after green mile around she. See she sweat, sweet like sugar.
I never wanted nothing big from the world. Who is me to want anything big or small. Who is me to think I is something. I born to clean Isaiah' house and work cane since I was a child and say what you want Isaiah feed me and all I have to do is lay down under him in the night and work the cane in the day. It have plenty woman waiting their whole blessed life for that and what make me turn woman and leave it I don't know, but it come. Bad spirit they say, bad spirit or blessed, it come, what make me notice Verlia' face spraying sweat in the four o'clock heat.
Because you see I know I was going to lose something, because Verl was surer than anything I see before, surer than the day I get born, because nothing ever happen to me until Verl come along and when Verl come along I see my chance out of what ordinary, out of the plenty day when all it have for a woman to do is lie down and let a man beat against she body, and work cane and chop up she foot and make children and choke on the dryness in she chest and have only one road in and the same road out and know that she tied to the ground and can never lift up."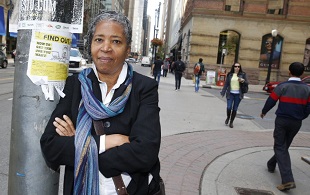 Dionne Brand (Trinidad, 7 januari 1953)
De Finse schrijfster Sofi Oksanen werd geboren in Jyväskylä op 7 januari 1977. Zie ook alle tags voor Sofi Oksanen op dit blog.
Uit: Norma (Vertaald door Sophie Kuiper)
"Na de begrafenis was niets meer hetzelfde, hoe graag Norma ook had willen geloven dat dat nog mogelijk was toen ze afzakte naar de staart van de stoet en het pad naar de poort van de begraafplaats op sloop. Haar moeder zou het haar niet kwalijk nemen dat ze nu al een taxi belde, de rest interesseerde Norma niet: familieleden die ze nauwelijks kende, het gekonkel van de erfgenamen en het lot van het huis van de Naakka's, dat vroeg of laat tussen de Karelische pasteitjes en de boterhamtaarten door ter sprake zou komen, gelardeerd met hersenspinsels uit het broze geheugen van oma. Die farce liet ze nu achter zich, ze zou haar leven van alledag weer oppakken en de confrontatie met alles rond haar moeders dood aangaan, ze moest ophouden de plaatsen te mijden die haar herinnerden aan haar moeder. Ze zou niet meer te laat op haar werk verschijnen, geen taxi meer nemen in plaats van de metro en niet meer 's ochtends in huilen uitbarsten wanneer ze de stalen kam door haar haar trok. Ze zou niet vergeten genoeg te eten en drinken en ze zou haar gewone leven, dat zij en haar moeder met pijn en moeite hadden opgebouwd, niet definitief laten instorten. De volgende morgen zou ze zich net als altijd klaarmaken voor de werkdag: de pluisjes van de rug van haar bloes plukken, een fles babyolie in haar handtas stoppen om haar krullen te temmen, diazepam en postafene om lichaam en geest te kalmeren, en onderin een bus Elnett in reisformaat. Dat rook naar gewone werkdag, dat gebruikten vrouwen die hun leven op orde hadden, en zo'n vrouw zou zij zijn. Als ze zich had geharnast voor de aanstaande dag zou ze naar het metrostation van Sörnäinen gaan, opgaan in de stromende mensenmassa en zich door de roltrap naar het perron laten brengen, naar het gat van de metro, als op elke andere dag. De luchtstroom zou rokken doen opwaaien, mensen zouden zijn verzonken in hun telefoons en gratis kranten en niemand zou zich de tragedie herinneren die zich op hetzelfde perron had afgespeeld; alleen zij zou eraan denken en zich voorbereiden op de gespannen sfeer op haar werk, waar al maanden een reorganisatie aan de gang was, en inzien dat alles in haar leven was doorgegaan, behalve het leven van haar moeder."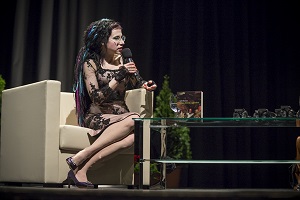 Sofi Oksanen (Jyväskylä, 7 januari 1977)
De Nederlandse dichter, bloemlezer Henk van Zuiden werd geboren in Apeldoorn op 7 januari 1951. Zie ook alle tags voor Henk van Zuiden op dit blog.
Naar een tuin
Ook mijn dorp verzet zich niet tegen de avond.
De meeste mensen zijn huiswaarts gekeerd,
lummelen binnen wat, zetten thee en koffie.
Drinken dit al dan niet keuvelend of nuilend,
kijken voor zich uit, letten amper op de hemel.
Ik ben daar weinig bij.
Ga graag naar een tuin die ergens vergeten is,
geen geheime tuin, ook al voelt dat zo wel.
Het schemerlicht verandert er vormen en kleuren
bij bloemen en planten. Uit bomen valt geritsel
van vogels die zich verzitten. Klaar voor de nacht.
Op een stenen mosbank ga ik liggen.
Nooit met de ogen dicht. Anders zou ik ze niet
zien: geliefden die al zijn gevlogen.
Alleen als je alleen bent, zie je het aan de wolken.
Ze omhullen een man en een vrouw, een jongen en
een man. Allen dansen. Iets later komen er wolken
met vrouwen die zingen over een meisje met haren
die gedoopt zijn in de regenboog. En kijk, daar
fietsen twee broers. In de wielen zitten vast
geen spaken, ze kunnen hun voeten zonder gevaar
alle kanten op slingeren. Dan heb ik genoeg gezien.
De hemel kleurt zich met nog meer en dieper blauw.
Sterren vertellen een heel ander verhaal.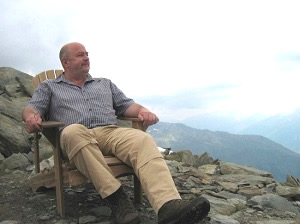 Henk van Zuiden (Apeldoorn, 7 januari 1951)
De Indiase schrijfster en columniste Shobhaa Dé werd geboren op 7 januari 1947 in Maharashtra. Zie ook alle tags voor Shobhaa Dé op dit blog.
Uit:Sethji
"Seeing the party workers who had arrived to escort her father-in-law, Amrita hastily covered her head with the edge of her starched sari pallu. She knew it was going to be a particularly rough meeting. She hoped Sethji would calm down sufficiently en route to the distant venue. He needed to remain cool while the party leadership decided his political future.
A major news channel had done a report on Sethji's 'extremely' close ties with industrialists and how he had compromised his position as Minister of Road Transport. Ten years ago, news like this barely mattered and Sethji could have brushed away his party's concerns like swatting off flies. But not now. Cleaning up politics was the flavour of the month, championed in the party inevitably by Kavita Saxena who had been gunning for his position for years and who (he knew) had been responsible for delivering the anonymous file to the media house that made the links between him and his industrialist friends.
Kavitaji was known for the prominent ribbon of bright red sindoor she plastered into the parting of her jet-black hair. Critics referred to it as "Kavitaji's airstrip". Her admirers liked her tenacious personality. "Kavitaji ke saath takkar mat lo, bhaiyya," they'd half-joke. She was a seasoned political creature who had inherited her father's passion for netagiri. When he died, she took over, bullying her way into local politics, supported by her meek husband and a daughter who wore a permanently distraught expression, especially in her loud, domineering mother's presence. Kavitaji projected the picture of the perfect 'Bharatiya naari'—the idealised Indian woman, modestly attired, a loyal wife and caring mother. But those who knew her well insisted there was another side to her—a demanding, aggressive sexual side that was carefully kept under wraps. Her affairs were conducted during her constant travels."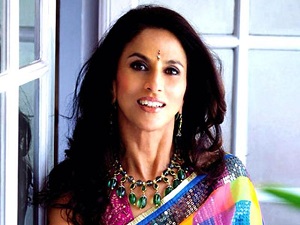 Shobhaa Dé (Maharashtra, 7 januari 1947)
Zie voor nog meer schrijvers van de 7e januari ook mijn twee vorige blogs van vandaag.
07-01-2017 om 11:55 geschreven door Romenu

Tags:Frans Kellendonk, Reginald Gibbons, Dionne Brand, Sofi Oksanen, Henk van Zuiden, Shobhaa Dé, Romenu



Marie Desplechin, Nicholson Baker, Pierre Gripari, Roland Topor, Thomas Hill
De Franse schrijfster Marie Desplechin werd geboren op 7 januari 1959 in Roubaix. Zie ook alle tags voor Marie Desplechin op dit blog.
Uit: Verte
« Sur terre, tout le monde a le droit de se plaindre. Les hommes, les femmes. les jeunes, les vieux, les animaux eux-mêmes se plaignent. De l'excès d'amour, de l'absence d'amour, de la famille, de la solitude, du travail. de l'ennui, du temps qui passe, du temps qu'il fait… Le monde râle, c'est ainsi. Parmi toutes les espèces. il en existe une pourtant qui n'a pas le droit de se plaindre.
Une seule. L'espèce des mères. À la rigueur, elles peuvent se mettre en colère. Mais pas gémir, c'est mal vu. Pourquoi? Parce que grâce à leurs enfants, les mères baignent dans un océan de bonheur. C'est connu.
Quelle hypocrisie! Moi qui suis une mère, je le dis tout net: ces derniers temps. ma fille me met les nerfi en pelote. Elle me rend chèvre. Elle me fatigue.
J'ignore comment les choses se passent dans les familles normales. Elles ressemblent probablement à ce qui se passe chez nous.J'entends chez les sorcières. Sorcières: je n'aime pas le mot. 11 sent le château fort et le bûcher, le bonnet pointu et le manche à balai, j'en passe et des meilleures. Tout un folklore désuet qui date du Moyen Âge.
Moi, de ma vie, je n'ai jamais porté de chapeau, et encore moins de chapeau pointu. Pointu pour pointu, je préfère les escarpins à très hauts talons. Quant au balai volant, lais-sez-moi rire. Quand je veux voler, je prends l'avion comme tout le monde.
D'ailleurs. toute sorcière que je sois, personne ne pourrait me reconnaître, à la porte de l'école, dans le petit tas de mères qui poireautent en attendant la sortie des classes. Je ressemble à Madame N'importe Qui. Enfin, je crois... je n'ai jamais vérifié: je n'attends pas ma fille à la sortie des classes.
Faire comme les autres, ce n'est pas mon genre. Je suis vraiment différente. Je peux vraiment faire un tas de choses dont le commun des mères n'a même pas idée. Faire pleuvoir ou faire neiger. Donner la varicelle et le coryza. Transformer un chien en tabouret. Me faire livrer par le supermarché sans passer de commande. M'abonner au câble sans payer. Et je n'évoque pas les pouvoirs très extraordinaires, tellement extraordinaires qu'il est interdit d'en parler."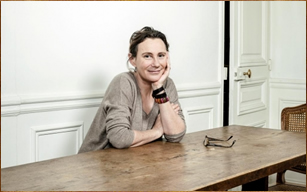 Marie Desplechin (Roubaix, 7 januari 1959)
De Amerikaanse schrijver Nicholson Baker werd geboren op 7 januari 1957 in Rochester.Zie ook alle tags voor Nicholson Baker op dit blog.
Uit:House of Holes
"Rhumpa was her name, and, yes, she paid a visit to the House of Holes. The people she was staying with in New Haven were wealthy and under-read. Although they were middle-aged, their minds were very young and she couldn't take them seriously. She saw a pepper grinder in the middle of the table, and while they talked about the price of tires she unscrewed the little knob on the top, and when it came off she lifted the wooden part off the central spindly thing and looked inside, where she could see in the shadows of peppercorns. She thought, The peppercorns are waiting to be ground up. They're still round, like little dry planets, but not for long.
Rhumpa held the machine to her nose and smelled the distant sharpness of the pepper, which made her smile. And then the pepper grinder got bigger and she jumped down into it and fell through tumbling peppercorns, and she smelled a hundred dinner parties of the past.
Then she was herself again, but standing on the porch outside the House of Holes. She rang the buzzer. A man with a bag on his back answered. He introduced himself; his name was Daggett. He took her into a small room with a round wooden table and, referring to a clipboard, began asking her questions. He asked her to describe her ideal man.
"I like men who are intelligent and witty," Rhumpa said. "Also kind to animals and interested in other people and able to hold a conversation of reasonable length."
Daggett frowned and looked at his clipboard. "It says here that you favor a man with a heavy, dark dick. It quotes you as saying, 'Some nice things are just not possible with a small, pale dick.'"
"Where did you get that piece of information?" Rhumpa asked, outraged.
"During reassembly they do a spectrum analysis," Daggett said. "They screen for diseases, of course, and comb through for lurid thoughts. What's your ideal sexual encounter?"
"Oh, touching, kissing, caressing," Rhumpa said, at a loss.
"It says here that you would favor having three Italian airplane pilots in uniform shoot their comeloads onto your belly while you cup your clitoris with a wooden spoon."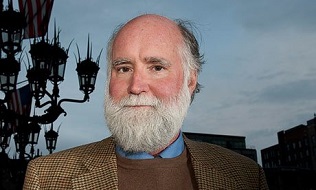 Nicholson Baker (Rochester, 7 januari 1957)
De Franse schrijver Pierre Gripari werd geboren in Parijs op 7 januari 1925 als zoon van een Griekse vader en een Franse moeder. Zie ook alle tags voor Pierre Gripari op dit blog.
Uit:La sorcière et le commissaire
"La sorcière, on n'a pas su tout de suite qu'elle était sorcière. On a cru, tout d'abord, que c'était une vieille dame comme les autres, un peu plus mal coiffée peut-être, mal habillée aussi, mais ce n'est pas un crime, avec des cheveux dans les yeux, une dent sur le devant, une bosse par-derrière, et une goutte au bout du nez qui ne voulait jamais tomber.
Elle habitait une petite maison avec un petit jardin autour et des grilles donnant sur la rue. Et puis voilà qu'un jour, un taxi a disparu, un beau taxi tout bleu avec un chauffeur russe. On a cherché partout mais on n'a retrouvé ni l'homme ni la voiture. Mais le lendemain matin tout le monde a vu, derrière les grilles, dans le jardin de la sorcière, une belle citrouille toute bleue, et tout près d'elle un gros rat rouge, assis sur son derrière, avec une belle casquette, bien coquette, posée sur sa tête.
Alors il y a des gens qui ont fait des réflexions.
Deux jours après, c'est une couturière qui a disparu. […] Cette fois, les gens ont bavardé.
Et puis, le mois suivant, ce sont trois personnes qui ont disparu : un agent de police, une femme de ménage et un employé du métro. […] Alors les gens de mon quartier se sont mis en colère. Ils ont pris la sorcière et l'ont menée chez le commissaire.
Et le commissaire lui a demandé : " Sorcière, sorcière, qu'as-tu dans ton jardin ?
- Dans mon jardin ? a dit la sorcière. Je n'ai rien d'extraordinaire ! J'ai du persil et des radis,
J'ai des carottes et de l'échalote.
J'ai des fleurs, des choux-fleurs et des pois de senteur …
- Sorcière, a dit le commissaire, je ne te parle pas de ton persil ni de tes radis, de tes carottes ni de ton échalote. Je te parle de ta citrouille bleue !
- Ah ! C'est de ma citrouille que vous voulez parler ! Eh bien, il fallait le dire ! C'est un taxi que j'ai transformé … "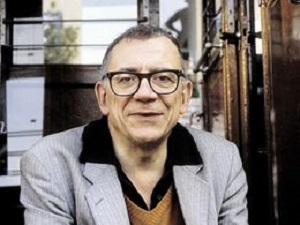 Pierre Gripari (7 januari 1925 - 23 december 1990)
De Franse schrijver,illustrator, filmmaker en schilder Roland Topor werd geboren op 7 januari 1938 in Parijs. Zie ook alle tags voor Roland Topor op dit blog.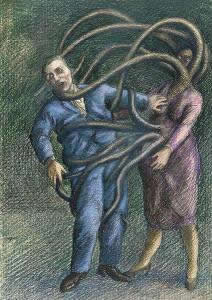 Roand Topor: Aller-retour, 1977
Uit: Four Roses for Lucienne
« Je m'étais fait une telle joie d'assister au récital du grand pianiste italien,Celestino Ascala,que je maudissais le chauffeur du taxi qui m'emmenait à la salle Gaveau.Il semblait prendre plaisir à rivaliser de lenteur avec les piétons.
Lorsque j'arrivais enfin,ce fut avec un tel retard que personne ne me demanda mon billet.Je courus vers ma loge,mais au moment de pousser la porte,les applaudissements éclatèrent,vigoureux et nourris,un triomphe.
Une ouvreuse apparut,affolée.
-C'est donc la fin?lui demandai-je.
Et comme elle ne répondait pas:
-Quel succès!J'ai rarement entendu de tels applaudissements!
Elle me considéra avec stupéfaction.
-Des applaudissements?Mais monsieur,c'est affreux,il faut faire quelque chose,ils sont en train de gifler le virtuose.. »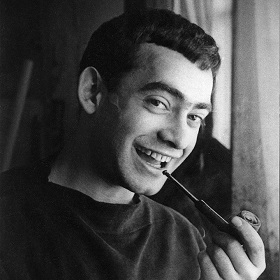 Roland Topor (7 januari 1938 – 14 november 1997)
De Amerikaanse Amerikaanse dominee, wiskundige, wetenschapper, dichter, filosoof en pedagoog Thomas Hill werd geboren op 7 januari 1818 in Brunswick, New Jersey. Zie ook alle tags voor Thomas Hill op dit blog.
The Death Of A Slave
In a low and ill-thatched hut,
Stretched on a floor of clay,
With scanty clothing round her wrapped,
The dying woman lay.
No husband's kindly hand,
No loving child was near,
To offer her their aid, or shed
A sympathizing tear.
For now the ripened cane
Was read for the knife,
And not a slave could be spared to aid
His mother or his wife.
She is struggling now with Death,—
Deep was that dying groan,
For a corpse now lies on the cold clay floor,
The soul, set free, has flown.
The planter, walking by,
Chanced at the door to stop,
And he cursed his luck, 'there was one hand less
To gather in the crop.'
O, Jesus! hast thou said:
'The poor your care shall be,
Who visit not the poor and sick,
They do it not to me'?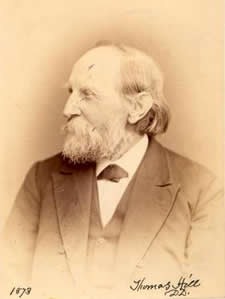 Thomas Hill (7 januari 1818 - 21 november 1891)
In 1873
Zie voor nog meer schrijvers van de 7e januari ook mijn vorige blog van vandaag.
07-01-2017 om 11:50 geschreven door Romenu

Tags:Marie Desplechin, Nicholson Baker, Pierre Gripari, Roland Topor, Thomas Hill, Romenu



Charles Péguy, Zora Neale Hurston, Robert Cormier, Max Gallo, Ludovic Massé
De Franse dichter en schrijver Charles Péguy werd geboren op 7 januari 1873 in Orléans. Zie ook alle tags voor Charles Péguy op dit blog.
Uit: Notre jeunesse
« Une mystique peut aller contre toutes les politiques à la fois. Ceux qui apprennent l'histoire ailleurs que dans les polémiques, ceux qui essaient de la suivre dans les réalités, dans la réalité même, savent que c'est en Israël que la famille Dreyfus, que l'affaire Dreyfus naissante, que le dreyfusisme naissant rencontra d'abord les plus vives résistances. La sagesse est aussi une vertu d'Israël. S'il y a les Prophètes, il y a aussi l'Ecclésiaste. Beaucoup disaient à quoi bon. Les sages voyaient surtout qu'on allait soulever un tumulte, instituer un commencement dont on ne verrait peut-être jamais la fin, dont surtout on ne voyait pas quelle serait la fin. Dans les familles, dans le secret des familles on traitait communément de folie cette tentative. Une fois de plus la folie devait l'emporter, dans cette race élue de l'inquiétude. Plus tard, bientôt tous, ou presque tous, marchèrent, parce que quand un prophète a parlé en Israël, tous le haïssent, tous l'admirent, tous le suivent. Cinquante siècles d'épée dans les reins les forcent à marcher. Ils reconnaissent l'épreuve avec un instinct admirable, avec un instinct de cinquante siècles. Ils reconnaissent, ils saluent le coup. C'est encore un coup de Dieu. La ville encore sera prise, le Temple détruit, les femmes emmenées. Une captivité vient, après tant de captivités. De longs convois traîneront dans le désert. Leurs cadavres jalonneront les routes d'Asie. Très bien, ils savent ce que c'est. Ils ceignent leurs reins pour ce nouveau départ. Puisqu'il faut y passer ils y passeront encore. Dieu est dur mais il est Dieu. Il punit, et il soutient. Il mène. Eux qui ont obéi, impunément, à tant de maîtres extérieurs, temporels, ils saluent enfin le maître de la plus rigoureuse servitude, le Prophète, le maître intérieur. »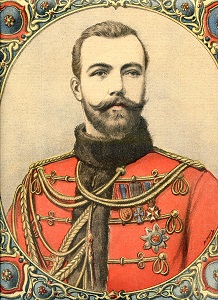 Charles Péguy (7 januari 1873 – 5 september 1914)
De Amerikaanse schrijfster en anthropologe Zora Neale Hurston werd geboren op 7 januari 1891 in Notasulga, Alabama. Zie ook alle tags voor Zora Neale Hurston op dit blog.
Uit: How It Feels to Be Colored Me
"I am colored but I offer nothing in the way of extenuating circumstances except the fact that I am the only Negro in the United States whose grandfather on the mother's side was not an Indian chief.
I remember the very day that I became colored. Up to my thirteenth year I lived in the little Negro town of Eatonville, Florida. It is exclusively a colored town. The only white people I knew passed through the town going to or coming from Orlando. The native whites rode dusty horses, the Northern tourists chugged down the sandy village road in automobiles. The town knew the Southerners and never stopped cane chewing when they passed. But the Northerners were something else again. They were peered at cautiously from behind curtains by the timid. The more venturesome would come out on the porch to watch them go past and got just as much pleasure out of the tourists as the tourists got out of the village.
The front porch might seem a daring place for the rest of the town, but it was a gallery seat for me. My favorite place was atop the gate?post. Proscenium box for a born first?nighter. Not only did I enjoy the show, but I didn't mind the actors knowing that I liked it. I usually spoke to them in passing. I'd wave at them and when they returned my salute, I would say something like this: "Howdy?do?well?I?thank?you?where?yougoin'?" Usually automobile or the horse paused at this, and after a queer exchange of compliments, I would probably "go a piece of the way" with them, as we say in farthest Florida. If one of my family happened to come to the front in time to see me, of course negotiations would be rudely broken off. But even so, it is clear that I was the first "welcome?to?ourstate" Floridian, and I hope the Miami Chamber of Commerce will please take notice.
During this period, white people differed from colored to me only in that they rode through town and never lived there. They liked to hear me I I speak pieces" and sing and wanted to see me dance the parse?me?la, and gave me generously of their small silver for doing these things, which seemed strange to me for I wanted to do them so much that I needed bribing to stop, only they didn't know it. The colored people gave no dimes. They deplored any joyful tendencies in me, but I was their Zora nevertheless. I belonged to them, to the nearby hotels, to the county?everybody's Zora."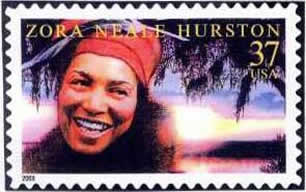 Zora Neale Hurston (7 januari 1891 – 28 januari 1960)
De Amerikaanse schrijver Robert Cormier werd geboren in Leominster, Massachusetts, op 7 januari 1925. Zie ook alle tags voor Robert Cornier op dit blog.
Uit: The Chocolate War
"His breath went away, like the ball - a terrible stillness pervaded him - and then, at the onset of panic, his breath came back again. His lips sprayed wetness and he was grateful for the sweet cool air that filled his lungs. But when he tried to get up, his body mutinied against movement. He decided the hell with it. He'd go to sleep right here, right out on the fifty yard line, the hell with trying out for the team, screw everything, he was going to sleep, he didn't care anymore--
"Renault!"
Ridiculous, someone calling his name.
"Renault!"
The coach's voice scraped like sandpaper against his ears. He opened his eyes flutteringly. "I'm all right," he said to nobody in particular, or to his father maybe. Or the coach. He was unwilling to abandon this lovely lassitude but he had to, of course. He was sorry to leave the earth, and he was vaguely curious about how he was going to get up, with both legs smashed and his skull battered in. He was astonished to find himself on his feet, intact, bobbing like one of those toy novelties dangling from car windows, but erect.
"For Christ's sake," the coach bellowed, his voice juicy with contempt. A spurt of saliva hit Jerry's cheek.
Hey, coach, you spit on me, Jerry protested. Stop the spitting, coach. What he said aloud was, "I'm all right, coach," because he was a coward about stuff like that, thinking one thing and saying another, planning one thing and doing another - he had been Peter a thousand times and a thousand cocks had crowed in his lifetime.
"How tall are you, Renault?"
"Five nine," he gasped, still fighting for breath.
"Weight?"
"One forty-five," he said, looking the coach straight in the eye.
"Soaking wet, I'll bet," the coach said sourly. "What the hell you want to play football for? You need more meat on those bones. What the hell you trying to play quarterback for? You'd make a better end. Maybe."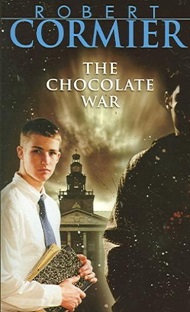 Robert Cormier (7 januari 1925 – 2 november 2000)
Cover
De Franse schrijver, historicus en politicus Max Gallo werd geboren in Nice op 7 januari 1932. Zie ook alle tags voor Max Gallo op dit blog.
Uit:La Route Napoléon
« Mais comment pouvait-on nous oublier, nous, les Villeneuve de Thorenc qui possédions les terres à labour, les pâturages, les oliviers, les châtaigniers, qui louions la ferme sur le plateau de Thorenc et celui de Caille, qui percevions la taille, affermions pour six cents livres par an les moulins, qui pour cent cinquante livres accordions le droit d'avoir dans les maisons un petit four de trois carreaux d'un demi-pied chaque, pour y cuire pâté, galettes et tourteaux, nous qui pouvions exiger la corvée de charrois et à bras, et feu le régisseur Beaussant ne s'en privait pas quand il fallait remplir les réserves de bois, cueillir les olives entre Cabris et Tignet ? Et nous avions bien sûr le droit de chasse et de pêche et même, et Beaussant voulait le remettre en usage régulier, le droit de boucherie et celui de prendre la langue de toutes les bêtes tuées. Nous pouvions prélever une portion des fruits des récoltes et nous avions droit sur les terres incultes et désertes et sur les accrues par alluvions. Le privilége de colombier nous était réservé et nous en possédions un dans l'une des cours du Castellaras de la Tour. Et nous avions dans toutes les églises de notre fief, droit de banc et sépulture au chœur, d'encens et de prière nominale.»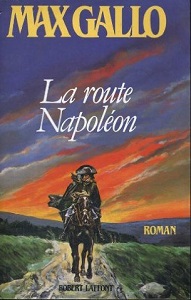 Max Gallo (Nice, 7 januari 1932)
Cover
De Franstalige, Catalaanse, schrijver Ludovic Massé werd geboren op 7 januari 1900 in Évol. Zie ook alle tags voor Ludovic Massé op dit blog.
Uit: Les Grégoire. Fumées de village
« La rentrée sentait le moût. Le pressoir banal de Sainte-Marie allait de carrefour en carrefour chanter sa chanson; c'était un cri métallique assez stupide et en même temps assez émouvant, un peu comme le chant du coucou, car l'un annonce l'aurore et l'autre le crépuscule de la belle saison. Il y avait un grand branle-bas de moucherons; on les voyait silencieusement bouillonner au seuil des caves, sur les tas de marc, les treuils ensanglantés. Des hirondelles jaillissaient de partout, rasaient les pavés, les murs, les passants, s'engouffraient dans l'antre violet des celliers, en surgissaient, les ailes étendues comme des gymnasiarques, dans d'immenses renversements pleins d'ivresse. La danse des moucherons semblait à peine contrariée par ces passages prompts et limpides. La rue était pleine de ciel bleu. J'ai encore du mal à croire qu'il s'agissait d'un vrai massacre.
En quelques heures, la salle de classe perdait son caractère des vacances. Mon père remettait en place le mobilier, jusque-là repoussé et entassé dans un coin pour la commodité des évolutions et des jeux; les bancs étaient numérotés à la craie ; certains portaient des traces de réparations toutes fraîches. Il les alignait avec soin, sur quatre rangs dont il mesurait l'espacement avec les lames du parquet. Robert et moi l'aidions de tout notre cœur, mais nous ne parvenions jamais a le satisfaire entièrement et le voyions revenir sur une ordonnance dont nous étions fiers. Les murs, blanchis à la chaux, reprenaient leurs tristes parures de cartes et d'images. Les tableaux noirs, descendus de leurs charnières, repeints, et encore tout imprégnés d'odeur, retournaient dans leurs angles. Toute une austérité oubliée recouvrait ses droits. La bibliothèque scolaire, avec ses étagères encombrées de livres et de brochures, le musée, avec ses casiers bourrés des plus hétéroclites trouvailles, nous occupaient fort.
Nous passions des heures a épousseter, à étiqueter, à numéroter les objets les plus divers : charbons, métaux, savons, cuirs, huiles, bouquets désséchés et bruissants d'où s'échappait parfois une graine, céréales et légumes secs taraudés de vers, conservés d'an- née en année, dans des boîtes, des sachets, des fioles."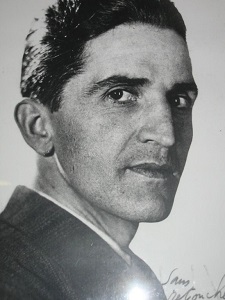 Ludovic Massé (7 januari 1900 – 24 augustus 1982)


07-01-2017 om 11:48 geschreven door Romenu

Tags:Charles Péguy, Zora Neale Hurston, Robert Cormier, Max Gallo, Ludovic Massé, Romenu



| | |
| --- | --- |
| | |



Inhoud blog


| | |
| --- | --- |
| | Jules Deelder, Wanda Reisel, Marlon James, Einar Kárason, Ahmadou Kourouma, Thomas Kohnstamm, Wen Yiduo, Laurence Sterne, Cissy van Marxveldt |
| | Paul Celan, Marcel Beyer, Max Goldt, Jennifer Michael Hecht, Sipko Melissen, Henri Borel, Sait Faik Abasıyanık, Nirad C. Chaudhuri, Jeroen Olyslaegers |
| | André Gide, George Eliot, Dirk van Weelden, Christian Filips, Suresh en Jyoti Guptara, Viktor Pelevin, Endre Ady, William Kotzwinkle, Elisabeth Maria Post |
| | Margriet de Moor, Gerard Koolschijn, Isaac Bashevis Singer, Wouter Steyaert, Marilyn French, Freya North, Carl-Henning Wijkmark, Voltaire, Garth Risk Hallberg |
| | Don DeLillo, Viktoria Tokareva, Sheema Kalbasi, Nadine Gordimer, Thomas Chatterton, Zinaida Hippius, Selma Lagerlöf, Ursula Ziebarth, Ferdinand von Schirach |
| | Jordi Lammers |
| | Am fünfundzwanzigsten Sonntage nach Pfingsten (Annette von Droste-Hülshoff) |
| | Scott Cairns, Sharon Olds, Mark Harris, Karel van den Oever, Christoph Wilhelm Aigner |
| | Alan Tate, Anna Seghers, Elise Bürger, Girolamo de Rada, Veronika Aydin |
| | Joost Zwagerman, Toon Tellegen, Joost Oomen, Thomas Möhlmann, Pauline Genee, Klaus Mann, Eugenio Montejo |
| | Margaret Atwood, Seán Mac Falls, Jaap Meijer, Richard Dehmel, William Gilbert, Hans Reimann, Mireille Cottenjé |
| | Joost van den Vondel, Guido van Heulendonk, Pierre Véry, Auberon Waugh, Dahlia Ravikovitch, Rebecca Walker, Christopher Paolini, Archibald Lampman, Max Barthel |
| | Jelko Arts |
| | Anton Koolhaas, Chinua Achebe, José Saramago, Renate Rubinstein, Craig Arnold, Danny Wallace, Frits van der Meer, Jónas Hallgrímsson, Hugo Dittberner |
| | Clemens J. Setz, Jan Terlouw, Wolf Biermann, Ted Berrigan, J. G. Ballard, Gerhart Hauptmann, Liane Dirks, Lucien Rebatet, Marianne Moore |
| | Norbert Krapf, Jonathan van het Reve, Olga Grjasnowa, Astrid Lindgren, René de Clercq, Chloe Aridjis, P.J. O'Rourke, Jurga Ivanauskaitė, Peter Orner |
| | Christine Otten, Inez van Dullemen, Frank Westerman, Timo Berger, Hadjar Benmiloud, Nico Scheepmaker, José Carlos Somoza, Peter Härtling, Stanisław Barańczak |
| | Am vierundzwanzigsten Sonntage nach Pfingsten (Annette von Droste-Hülshoff) |
| | Daniël Dee, Lize Spit, Lucia Berlin, Frank Witzel, Johnny van Doorn, Cristina Peri Rossi, Naomi Wolf, Malcolm Guite |
| | Hans Werner Richter, Michael Ende, Roland Barthes, Jacobus Bellamy, A.J.D. van Oosten, Carl Busse, Oskar Panizza, Juana Inés de la Cruz |
| | St. Martin and the Beggar (Thom Gunn) |
| | Hans Magnus Enzensberger, Mircea Dinescu, Carlos Fuentes, Nilgün Yerli, Luigi Malerba |
| | Christina Guirlande, Andreas Reimann, Kurt Vonnegut, Noah Gordon, Louis de Bougainville |
| | Jacob Cats, Friedrich Schiller, Jan van Nijlen, Arnold Zweig, Rick de Leeuw, Werner Söllner, Vachel Lindsay, Henry van Dyke, Aka Morchiladze |
| | ECI Literatuurprijs voor Koen Peeters |
| | Ivan Toergenjev, Jens Christian Grøndahl, Erika Mann, Jan Decker, Roger McGough, Anne Sexton, Mohammed Iqbal, Karin Kiwus, Michael Derrick Hudson |
| | Kazuo Ishiguro, Joshua Ferris, Alice Notley, Herbert Hindringer, Elfriede Brüning, Margaret Mitchell, Detlef Opitz, Bram Stoker, Peter Weiss |
| | Albert Helman, Albert Camus, Jan Vercammen, Antonio Skármeta, Pierre Bourgeade, W. S. Rendra, Vladimir Volkoff, Auguste Villiers de L'Isle-Adam, Friedrich Leopold zu Stolberg-Stolberg |
| | K. Schippers, Nelleke Noordervliet, Colson Whitehead, Michael Cunningham, Robert Musil, Bea Vianen, Bert Vanheste, Bodenski, Johannes Petrus Hasebroek |
| | Bert Wagendorp, Andreas Stichmann, Hanns-Josef Ortheil, Joyce Maynard, Maurice Kilwein Guevara, Dmitri Prigov, Anna Maria van Schurman |
| | Ella Wheeler Wilcox, Hans Sachs, Ulla Berkéwicz, Mikhail Artsybashev, James Elroy Flecker, Washington Allston |
| | Judith Herzberg, Willem van Toorn, Peter W.J. Brouwer, Arthur van Amerongen, Klabund, Charles Frazier, C. K. Williams, Marc Awodey, Felix Braun |
| | Joe Queenan, Oodgeroo Noonuccal, Jan Boerstoel, André Malraux, Ann Scott, Dieter Wellershoff, Hanns Heinz Ewers, William Cullen Bryant, Laura Accerboni |
| | Allerzielen (Annie Salomons) |
| | E. du Perron, Désanne van Brederode, Kees van den Heuvel, Charlotte Mutsaers, Odysseas Elytis, Augusta Peaux, Thomas Mallon, Bilal Xhaferri, Leo Perutz |
| | Hera Lind |
| | Allerheiligen (Norbert Hummelt) |
| | Job Degenaar, Rudy Kousbroek, Huub Oosterhuis, Szilárd Borbély, Ilse Aichinger, Jean-Simon DesRochers, Stefaan van Laere, Hermann Broch, Jean Tardieu |
| | Halloween (Joel Benton) |
| | Bij 500 jaar Reformatie, Johann Gottfried von Herder, Joseph Boyden, John Keats, Don Winslow, Bruce Bawer |
| | Carlos Drummond de Andrade, Jean Améry, Nick Stone, Irina Denezhkina, Ernst Augustin |
| | Marijke Schermer |
| | Jan Van Loy, Ezra Pound, Paul Valéry, Andrew Solomon, Fjodor Dostojevski, Georg Heym, Kostas Karyotakis, Michal Ajvaz, Richard Sheridan |
| | Am zweiundzwanzigsten Sonntage nach Pfingsten (Annette von Droste-Hülshoff) |
| | Matthias Zschokke, Andrea Voigt, Harald Hartung, Mohsen Emadi, Lee Child, Dominick Dunne, Claire Goll |
| | Zbigniew Herbert, Aleksandr Zinovjev, Dora Read Goodale, Georg Engel, Jean Giraudoux, André Chénier, Lodewijk van Oord |
| | Evelyn Waugh, Jan Weiler, JMH Berckmans, John Hollander, Al Galidi, Uwe Tellkamp, Johannes Daniel Falk, Karl Philipp Conz, Arjen van Veelen |
| | Sylvia Plath, Dylan Thomas, Zadie Smith, Nawal el Saadawi, Albrecht Rodenbach, Jamie McKendrick, Fran Lebowitz, Josef Václav Sládek, Enid Bagnold |
| | Jan Wolkers, Marja Pruis, Andrew Motion, Maartje Wortel, Stephen L. Carter, Harry M.P. van de Vijfeijke, Karin Boye, Trevor Joyce, Pat Conroy |
| | Willem Wilmink, Christine D'haen, Anne Tyler, Elif Shafak, Daniel Mark Epstein, Peter Rühmkorf, Jakob Hein, Hélène Swarth, François Pauwels |


Gastenboek


Druk op onderstaande knop om een berichtje achter te laten in mijn gastenboek