E-mail mij


Druk op onderstaande knop om mij te e-mailen.


Romenu


Romenu is een blog over gedichten, literatuur en kunst Maar Romenu is ook een professionele freelance vertaler
Du-Ne en Ne-Du http://www.romenu.nl.


Huur eens een (vakantie)huis in een natuurgebied, dichtbij het centrum van Nijmegen


Google


Georg Trakl

Georg Trakl werd op 3 februari 1887 in het conducteurshuis aan de Waagplatz 2 in Salzburg geboren. Zijn vader, Tobias Trakl, was een handelaar in ijzerwaren en zijn moeder, die ook psychische problemen had, was Maria Catharina Trakl, (meisjesnaam Halik). Voorts had hij nog drie broers en drie zussen. Margarethe (doorgaans Grethe genoemd) stond hem het naast, zelfs zodanig dat sommigen een incestueuze verhouding vermoeden. Zijn jeugd bracht hij door in Salzburg. Vervolgens bezocht hij van 1897 tot 1905 het humanistische gymnasium. Om toch een academische opleiding te kunnen volgen, werkte hij tot 1908 in de praktijk bij een apotheker. Sommigen vermoedden dat hij dit vooral deed om zichzelf opiaten te kunnen verschaffen. Bij het uitbreken van WO I werd Trakl als medicus naar het front in Galicië (heden ten dage in Oekraïne en Polen) gestuurd. Zijn gemoedsschommelingen leidden tot geregelde uitbraken van depressie, die verergerd werden door de afschuw die hij voelde voor de verzorging van de ernstig verwonde soldaten. De spanning en druk dreven hem ertoe een suïcidepoging te ondernemen, welke zijn kameraden nochtans verhinderden. Hij werd in een militair ziekenhuis opgenomen in Kraków, alwaar hij onder strikt toezicht geplaatst werd.Trakl verzonk daar in nog zwaardere depressies en schreef Ficker om advies. Ficker overtuigde hem ervan dat hij contact moest opnemen met Wittgenstein, die inderdaad op weg ging na Trakls bericht te hebben ontvangen. Op 4 november 1914, drie dagen voordat Wittgenstein aan zou komen, overleed hij echter aan een overdosis cocaïne


Paul Celan

Paul Celan werd onder de naam Paul Antschel op 23 november 1920 geboren in Czernowitz, toentertijd de hoofdstad van de Roemeense Boekovina, nu behorend bij de Oekraïne. Paul Celans ouders waren Duitssprekende joden die hun zoon joods opvoedden en hem naar Duitse christelijke scholen stuurden. In 1942 werden Celans ouders door de Duitse bezetter naar een werkkamp gedeporteerd en daar vermoord. Hijzelf wist aanvankelijk onder te duiken, maar moest vanaf juli 1942 in een werkkamp dwangarbeid verrichten. Celan overleefde de oorlog. Via Boekarest en Wenen vestigde Celan zich in 1948 in Parijs. Daar was hij werkzaam als dichter, vertaler en doceerde hij aan de prestigieuze Ecole Normale Supérieure. Vermoedelijk op 20 april 1970 beëindigde hij zijn leven zelf door in de Seine te springen.


Gerard Reve

Gerard Reve over: Medearbeiders "God is in de mensen, de dieren, de planten en alle dingen - in de schepping, die verlost moet worden of waaruit God verlost moet worden, door onze arbeid, aangezien wij medearbeiders van God zijn." Openbaring "Tja, waar berust elk godsbegrip op, elke vorm van religie? Op een openbaring, dat wil zeggen op een psychische ervaring van zulk een dwingende en onverbiddelijke kracht, dat de betrokkene het gevoel heeft, niet dat hij een gedachte of een visioen heeft, maar dat een gedachte gedachte of visioen hem bezit en overweldigt."


Simon Vestdijk
Simon Vestdijk (Harlingen, 17 oktober 1898 – Utrecht, 23 maart 1971) was een Nederlands romancier, dichter, essayist en vertaler. Zijn jeugd te Harlingen en Leeuwarden beschreef hij later in de Anton Wachter-cyclus. Van jongs af aan logeerde hij regelmatig bij zijn grootouders in Amsterdam, waar hij zich in 1917 aan de Universiteit van Amsterdam inschrijft als student in de medicijnen. Tijdens zijn studie die van 1917 tot 1927 duurde, leerde hij Jan Slauerhoff kennen.Tot 1932 is hij als arts in praktijken door heel Nederland werkzaam. In 1932 volgt zijn officiële schrijversdebuut met de uitgave van de bundel Verzen in De Vrije Bladen. Doorslaggevend voor Vestdijks uiteindelijke keuze voor de literatuur is zijn ontmoeting in 1932 met Eddy Du Perron en Menno ter Braak. Deze ontmoeting had tot resultaat dat hij redactielid werd van het tijdschrift Forum Kort daarop, in 1933, wordt zijn eerste novelle, De oubliette, uitgegeven. In hetzelfde jaar schrijft hij Kind tussen vier vrouwen, dat, eerst geweigerd door de uitgever, later de basis zal vormen voor de eerste drie delen van de Anton Wachter-romans. In 1951 ontvangt Vestdijk de P.C. Hooftprijs voor zijn in 1947 verschenen roman De vuuraanbidders. In 1957 wordt hij voor het eerst door het PEN-centrum voor Nederland voorgedragen voor de Nobelprijs voor de Literatuur, die hij echter nooit zal krijgen. Op 20 maart 1971 wordt hem de Prijs der Nederlandse Letteren toegekend, maar voor hij deze kan ontvangen overlijdt hij op 23 maart te Utrecht op 72-jarige leeftijd. Vestdijk was auteur van ca. 200 boeken. Vanwege deze enorme productie noemde de dichter Adriaan Roland Holst hem 'de man die sneller schrijft dan God kan lezen'. Andere belangrijke boeken van Simon Vestdijk zijn: "Kind van stad en land" (1936), "Meneer Visser's hellevaart" (1936), "Ierse nachten" (1946), "De toekomst de religie" (1947), "Pastorale 1943" (1948), "De koperen tuin" (1950), "Ivoren wachters" (1951), "Essays in duodecimo" (1952) en "Het genadeschot" (1964).


K.P. Kavafis

K.P. Kavafis werd als kind van Griekse ouders, afkomstig uit Konstantinopel, geboren in 1863 in Alexandrië (tot vandaag een Griekse enclave) waar hij ook het grootste deel van zijn leven woonde en werkte. Twee jaar na de dood van zijn vader verhuist het gezin in 1872 naar Engeland om na een verblijf van vijf jaar naar Alexandrië terug te keren. Vanwege ongeregeldheden in Egypte vlucht het gezin in 1882 naar Konstantinopel, om na drie jaar opnieuw naar Alexandrië terug te gaan. In de jaren die volgen maakt Kavafis reizen naar Parijs, Londen en in 1901 zijn eerste reis naar Griekenland, in latere jaren gevolgd door nog enkele bezoeken. Op de dag van zijn zeventigste verjaardag, in 1933 sterft Kavafis in Alexandrië. De roem kwam voor Kavafis pas na zijn dood, dus postuum. Deels is dat toe te schrijven aan zijn eigen handelswijze. Hij was uiterst terughoudend met de publicatie van zijn gedichten, liet af en toe een enkel gedicht afdrukken in een literair tijdschrift, gaf in eigen beheer enkele bundels met een stuk of twintig gedichten uit en het merendeel van zijn poëzie schonk hij op losse bladen aan zijn beste vrienden.


Thomas Mann


Thomas Mann, de jongere broer van Heinrich Mann, werd geboren op 6 juni 1875 in Lübeck. Hij was de tweede zoon van de graankoopman Thomas Johann Heinrich Mann welke later één van de senatoren van Lübreck werd. Zijn moeder Julia (geboren da Silva-Bruhns) was Duits-Braziliaans van Portugees Kreoolse afkomst. In 1894 debuteerde Thomas Mann met de novelle "Gefallen". Toen Thomas Mann met 21 jaar eindelijk volwassen was en hem dus geld van zijn vaders erfenis toestond - hij kreeg ongeveer 160 tot 180 goldmark per jaar - besloot hij dat hij genoeg had van al die scholen en instituties en werd onafhankelijk schrijver. Kenmerkend voor zijn stijl zijn de ironie, de fenomenale taalbeheersing en de minutieuze detailschildering. Manns reputatie in Duitsland was sterk wisselend. Met zijn eerste roman, Buddenbrooks (1901), had hij een enorm succes, maar door zijn sceptische houding tegenover Duitsland na de Eerste Wereldoorlog veranderde dit volledig. Stelde hij zich tot aan de jaren twintig apolitiek op (Betrachtungen eines Unpolitischen, 1918), meer en meer raakte hij bij het Politiek gebeuren betrokken. Zijn afkeer van het nationaal socialisme groeide, zijn waarschuwingen werden veelvuldiger en heftiger. In 1944 accepteerde hij het Amerikaanse staatsburgerschap. Tussen 1943 en 1947 schreef Mann Doktor Faustus (zie Faust), de roman van de 'Duitse ziel' in de gecamoufleerd geschilderde omstandigheden van de 20ste eeuw. In 1947 bezocht hij voor het eerst sinds de Oorlog Europa, twee jaar later pas Duitsland. In 1952 vertrok hij naar Zwitserland. Op 12 augustus 1955 stierf hij in Zürich. Twintig jaar na zijn dood, in aug. 1975, is zijn literaire nalatenschap geopend: dagboekaantekeningen van 15 maart 1933 tot 29 juli 1955, alsmede notities uit de jaren 1918 tot en met 1921.Belangrijke werken zijn: Der Zauberberg, Der Tod in Venedig, Dokter Faustus , Joseph und seine Brüder en Die Bekenntnisse des Hochstaplers Felix Krull.


Rainer Maria Rilke

Rilke werd op 4 december 1875 geboren in Praag. Hij had al naam gemaakt als dichter met zijn bundels Das Stundenbuch en Das Buch der Bilder, toen hij de literaire wereld versteld deed staan en wereldfaam verwierf met de publicatie van zijn twee delen Neue Gedichte in 1907 en 1908. Hij verzamelde daarin het beste werk uit een van zijn vruchtbaarste periodes, die hij grotendeels doorbracht in Parijs. Rilke was daar diep onder de indruk gekomen van Rodin, bij wie hij een tijdlang in dienst was als particulier secretaris. Rodin, zei hij later, had hem leren kijken. Dit kijken kwam neer op intense concentratie, om het mysterie te kunnen zien 'achter de schijnbare werkelijkheid'. Latere en rijpere werken als Duineser Elegien (1912-1923) en het ronduit schitterende Die Sonette an Orfeus (1924) illustreren Rilkes metafysische visie op het onzegbare, dat haar verwoording vindt in een hermetische muzikale taal. Op 29 december 1926 overlijdt Rilke in het sanatorium in Val-Mont aan de gevolgen van leukemie. Enkele dagen later wordt hij, overeenkomstig zijn wens, begraven op het kerkhof van Raron.


* * * * * * * * * * * * * * * *

| | |
| --- | --- |
| | Over literatuur, gedichten, kunst en cultuur |

21-09-2014

80 Jaar Leonard Cohen, Stephen King, Frédéric Beigbeder
80 Jaar Leonard Cohen
De Canadese dichter, folk singer-songwriter en schrijver Leonard Cohen werd geboren op 21 september 1934 te Montréal. Leonard Cohen viert vandaag zijn 80e verjaardag. Zie ook mijn blog van 21 september 2010 en eveneens alle tags voor Leonard Cohen op dit blog..
Suzanne
Suzanne takes you down to her place near the river.
You can hear the boats go by,
You can spend the night beside her.
And you know she's half crazy,
But that's why you want to be there.
And she feeds you tea and oranges that come all the way from China.
And just when you mean to tell her that you have no love to give her,
Then she gets you on her wavelength
And she lets the river answer
That you've always been her lover.

And you want to travel with her,
And you want to travel blind,
And you know she will trust you,
For you've touched her perfect body with your mind.

And Jesus was a sailor, when he walked upon the water
And he spent a long time watching from his lonely wooden tower.
And when he knew for certain, only drowning men could see him,
He said: "All men will be sailors then, until the sea shall free them."
But he himself was broken
Long before the sky would open,
Foresaken, almost human,
He sank beneath your wisdom, like a stone

And you want to travel with him
And you want to travel blind
And you think maybe you'll trust him
For he's touched your perfect body with his mind.

Now Suzanne takes your hand and she leads you to the river.
She's wearing rags and feathers from Salvation Army counters.
And the sun pours down like honey on our Lady of the Harbor.
And she shows you where to look, among the garbage and the flowers.
There are heros in the seaweed,
There are children in the morning,
They are leaning out for love,
They will lean that way forever,
While Suzanne holds the mirror.

And you want to travel with her,
And you want to travel blind,
And you know you can trust her
For she's touched your perfect body with her mind.
I wonder how many people in this
I wonder how many people in this city
live in furnished rooms.
Late at night when i look out at the buildings
I swear I see a face in every window
looking back at me
and when I turn away
I wonder how many go back to their desks
and write this down.
I'm your man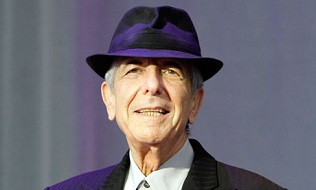 Leonard Cohen (Montréal, 21 september 1934)
De Amerikaanse schrijver Stephen Edwin King werd geboren in Portland, Maine, op 21 september 1947. Zie ook mijn blog van 21 september 2010 en eveneens alle tags voor Stephen King op dit blog.
Uit: Carrie
"The locker room was filled with shouts, echoes, and the subterranean sound of showers splashing on tile. The girls had been playing volleyball in Period One, and their morning sweat was light and eager.
Girls stretched and writhed under the hot water, squalling, flicking water, squirting white bars of soap from hand to hand. Carrie stood among them stolidly, a frog among swans. She was a
chunky girl with pimples on her neck and back and buttocks, her wet hair completely without
color. It rested against her face with dispirited sogginess and she simply stood, head slightly
bent, letting the water splat against her fl esh and roll off. She looked the part of the sacrificial
goat, the constant butt, believer in left-handed monkey wrenches, perpetual foul-up, and she was.
She wished forlornly and constantly that Ewen High had individual—and thus private—
showers, like the high schools at Westover or Lewiston. They stared. They always stared.
Showers turning off one by one, girls stepping out, removing pastel bathing caps, toweling,
spraying deodorant, checking the clock over the door. Bras were hooked, underpants stepped
into. Steam hung in the air; the place might have been an Egyptian bathhouse except for the
constant rumble of the Jacuzzi whirlpool in the corner. Calls and catcalls rebounded with all the snap and flicker of billiard balls after a hard break.
"—so Tommy said he hated it on me and I—"
"—I'm going with my sister and her husband. He picks his nose but so does she, so they're
very—"
"—shower after school and—"
"—too cheap to spend a goddam penny so Cindi and I—"
Miss Desjardin, their slim, nonbreasted gym teacher, stepped in, craned her neck around briefly, and slapped her hands together once, smartly. "What are you waiting for, Carrie? Doom? Bell in five minutes." Her shorts were blinding white, her legs not too curved but striking in their unobtrusive muscularity. A silver whistle, won in college archery competition, hung around her neck."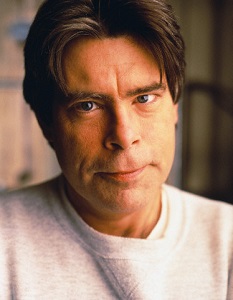 Stephen King (Portland, 21 september 1947)
De Franse schrijver Frédéric Beigbeder werd geboren op 21 september 1965 in Neuilly-sur-Seine. Zie ook mijn blog van 21 september 2010 en eveneens alle tags voor Frédéric Beigbeder op dit blog.
Uit: L'Egoiste Romantique
« C'est impossible ce que tu me demandes. Je n'arriverai jamais à ne plus t'aimer.
La pire des drogues reste l'amour. Tu m'as rendu à la vie, redonné gout aux émotions. Partout où j'allais, je ne voyais que ta bouche fraîche et mes yeux s'embuaient en ton absence. Un reste d'innocence me donnait le rouge aux joues. A partir de maintenant et jusqu'à ma mort, chaque fois que quelqu'un prononcera ton prénom devant moi, il est possible que mon regard se perde un petit peu dans le vague. Les autres diront : "il a trop bu, il a des absences", mais moi, je m'en moquerai, je serai déjà loin, contre toi, à Los Angeles entre tes bras dorés,ou à Porto Ercole perdu dans tes longs cheveux salés, à Istanbul et Moscou et Amsterdam contre tes seins crémeux, dans le paradis de l'amour réciproque, ce rêve impossible auquel tu m'as un jour, de nouveau, donné l'accès. »
(…)
« On dit souvent que la beauté est aux femmes ce que le pouvoir est aux hommes : leur premier atout de séduction. On ne dit pas qu'un joli visage est aussi une barrière. La beauté attire les crétins vulgaires et laids, et effraie les timides intelligents et tendres. Elle effectue un mauvais tri ; c'est pourquoi les jolis filles sont toujours avec des connards. La beauté physique devrait plutôt être comparée à la célébrité qu'au pouvoir : éphémère comme elle, tout aussi factice et destructrice, elle est le pire critère d'une rencontre.»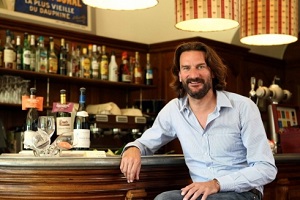 Frédéric Beigbeder (Neuilly-sur-Seine, 21 september 1965)
Zie voor nog meer schrijvers van de 21e september ook mijn vorige blog van vandaag.
21-09-2014 om 11:52 geschreven door Romenu

Tags:Leonard Cohen, Stephen King, Frédéric Beigbeder, Romenu



Xavier Roelens, Fannie Flag, H.G. Wells, Johann Peter Eckermann
De Vlaamse dichter Xavier Roelens werd op 21 september 1976 in Rekkem (Menen). Zie ook alle tags voor Xavier Roelens op dit blog.
Huishouden
we spreken de stoel af, het venster,
daarbuiten de put. hier het laken
en daaronder het naakte slopende meisje

midden de muur hangt gekaderd
het toeziend oog; camera's doen hun werk

en zonder hieraan afbreuk: een stoel wordt
geen stol, houdt huis. zo ook het raamkozijn,
het tekort van de put. het haar dat haar bewaakt

de slaap sloopt niet meer droomt onafgesproken.
het venster graaft zich in het uitzicht in - eerlijk is eerlijk.
Besluit
Zo vaak als nodig is, zeg ik nee.
Zeg ik nee.
Nee.
Het besluit is gevallen,
het valt, het blijft vallen,
en gelijk het valt, zo val ik.

Wij vallen diep, mijn besluit en ik,
maar wij vallen samen.

Wij zoeken het ravijn,
en van klimmen
is voorlopig geen sprake.

Op de bodem van het ravijn
groeien wonderlijke
bloedbloemen.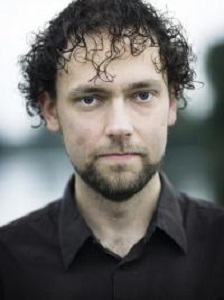 Xavier Roelens (Rekkem, 21 september 1976)
De Amerikaanse schrijfster en actrice Fannie Flagg (eig. Patricia Neal) werd geboren op 21 september in Birmingham (Alabama). Zie ook mijn blog van 21 september 2010 en evenneens alle tags voor Fannie Flagg op dit blog.
Uit:The All-Girl Filling Station's Last Reunion
"Mrs. Earle Poole, Jr., better known to friends and family as Sookie, was driving home from the Birds-R-Us store out on Highway 98 with one 10-pound bag of sunflower seeds and one 10-pound bag of wild bird seed and not her usual weekly purchase for the past fifteen years of one 20-pound bag of the Pretty Boy Wild Bird Seed & Sunflower Mix. But as she had explained to Mr. Nadleshaft, she was worried that the smaller birds were still not getting enough to eat. Every morning lately, the minute she filled her feeders, the larger more aggressive blue jays would swoop in and scare the little birds all away. She noticed that the blue jays always ate the sunflower seeds first, and so tomorrow, she was going to try putting just plain sunflower seeds in her front yard feeders, and while the blue jays were busy eating them, she would run around the house as fast as she could and put the plain wild bird seed in the feeders in the back yard. That way, her poor finches and titmouses might be able to get a little something, at least. *** As she drove over the Mobile Bay Bridge, she looked out at the big white puffy clouds and saw a long row of pelicans flying low over the water. The bay was sparkling in the bright sun and already dotted with red, white, and blue sailboats headed out for the day. A few people standing alongside the bridge fishing waved as she passed by, and she smiled and waved back. She was almost to the other side when she suddenly began to experience some sort of a vague and unusual sense of wellbeing. And with good reason. Against all odds, she had just survived the last wedding of their three daughters, Dee Dee and the twins, Ce Ce and Le Le. Their only unmarried child now was their 25-year-old son, Carter, who lived in Atlanta. And some other poor (God help her), beleaguered Mother of the Bride would be in charge of planning that happy occasion. All she and Earle would have to do for Carter's wedding was show up and smile. And today, other than one short stop at the bank and picking up a couple of pork chops for dinner, she didn't have another single thing she had to do. She was almost giddy with relief. Of course, Sookie absolutely worshipped and adored her girls, but having to plan three large weddings in less than two years had been a grueling, never-ending, twenty-four hours a day job, with all the bridal showers, picking out patterns, shopping, fittings, writing invitations, meeting with caterers, figuring out seating arrangements, ordering flowers, etc."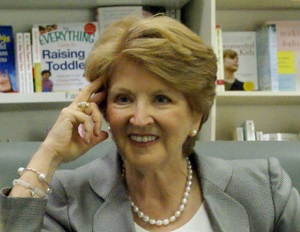 Fannie Flagg (Birmingham, 21 september 1944)
De Britse schrijver Herbert George Wells werd geboren op 21 september 1866 in Bromley, Kent. Zie ook mijn blog van 21 september 2010 en eveneens alle tags voor H. G. Wells op dit blog.
Uit: The Outline Of History (The Decay of Syria under the Sassanids)
'Syria was broken up into a curious quilt-like pattern of principalities and municipal kingdoms; beginning with the almost barbarous states of Commagene and Edessa (Urfa) in the north. South of these stood Bambyce, with its huge temples and priestly governors. Towards the coast a dense population in villages and towns clustered around the independent cities of Antioch, Apamea, and Emesa (Homs); while out in the wilderness the great Semitic merchant city of Palmyra was gaining wealth and greatness as the neutral trading-ground between Parthia and Rome. Between the Lebanon and Anti-Lebanon we find, at the height of its glory, Heliopolis (Baalbek), the battered fragments of which even now command our admiration. . . . Bending in towards Galilee we find the wondrous cities of Gerasa and Philadelphia (Amman) connected by solid roads of masonry and furnished with gigantic aqueducts. . . . Syria is still so rich in ruins and remains of the period that it is not difficult to picture to oneself the nature of its civilization. The arts of Greece, imported long before, had been developed into magnificence that bordered on vulgarity. The richness of ornamentation, the lavish expense, the flaunting wealth, all tell that the tastes of the voluptuous and artistic Semites were then as now. I have stood in the colonnades of Palmyra and I have dined in the Hotel Cecil, and, save that the latter is built of iron, daubed with sham wood, sham stucco, sham gold, sham velvet, and sham stone, the effect is identical. In Syria there were slaves in sufficient quantity to make real buildings, but the artistic spirit is as debased as anything made by machinery. Over against the cities the village folk must have dwelt pretty much as they do now, in houses of mud and dry stone wall ; while out in the distant pastures the Bedouin tended their flocks in freedom under the rule of the Nabatean kings of their own race, or performed the office of guardians and agents of the great trading caravans.
'Beyond the herdsmen lay the parching deserts, which acted as the impenetrable barrier and defence of the Parthian Empire behind the Euphrates, where stood the great cities of Ctesiphon, Seleucia, Hatra, Nisibin, Harran, and hundreds more whose very names are forgotten. These great townships subsisted on the enormous cereal wealth of Mesopotamia, watered as it then was by canals, whose makers' names were even then already lost in the mists of antiquity."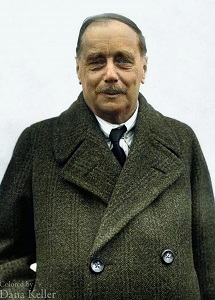 H. G. Wells (21 september 1866 - 13 augustus 1946)
Foto uit 1930, ingekleurd door Dana Keller.
De Duitse dichter Johann Peter Eckermann werd geboren op 21 september 1792 in Winsen (Luhe). Hij was bovenal de medewerker en vriend van Johann Wolfgang von Goethe.Zie ook mijn blog van 21 september 2010 en eveneens alle tags voor Johann Peter Eckermann op dit blog.
An... Es sandte der April
Es sandte der April uns herbe Schauer,
Kein grünes Blättchen wagte sich hervor;
Schien ja die Sonne, war's von kurzer Dauer,
Gleich hüllend sich in finstrer Wolken Flor.
Da war's am besten im gesell'gen Zimmer,
Am besten dort, wo man Dich, Holde, sah;
In Deiner Anmut Nähe glaubt' ich immer,
Es sei der Lenz mit allen Freuden da.
Das Dachstübchen
Du wohnst erhaben in des Himmels Nähe,
Und zwar mit mehr als bloßem Schein:
Glaubt' ich doch oft bei dir in solcher Höhe
An reiner Seligkeit ein Gott zu sein! -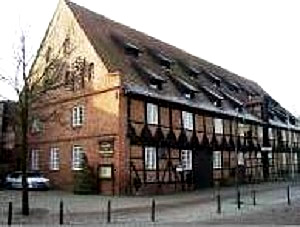 Johann Peter Eckermann (21 september 1792 - 3 december 1854)
Museum im Marstall met het Eckermann-Gedenkzimmer in Winsen
21-09-2014 om 11:21 geschreven door Romenu

Tags:Xavier Roelens, Fannie Flag, H.G. Wells, Johann Peter Eckermann, Romenu



| | |
| --- | --- |
| | |



Inhoud blog


| | |
| --- | --- |
| | Dolce far niente, Martin Bril, Rogi Wieg, X.J. Kennedy, Robert Stone, Aubrey Beardsley, Frédéric Mitterrand |
| | Dolce far niente, Tom van Deel, Anneke Brassinga, Etgar Keret, James Rollins, Clemens Meyer, Arno Surminski |
| | Maren Winter, Charles de Coster, Edgar Guest, Tarjei Vesaas, Salvatore Quasimodo, Colin MacInnes |
| | Sylvie Richterová, Ernst-Jürgen Dreyer, Boleslaw Prus, Menno Lievers, Vasili Aksjonov, Jacqueline Susann |
| | Alfred Birney |
| | Mies Bouhuys, Jonathan Coe, Li-Young Lee, Frederik Lucien De Laere, Louis Th. Lehmann, Ogden Nash, Frank McCourt |
| | Marion Pauw, John Dryden, Samuel Richardson, Jerzy Andrzejewski, James Gould Cozzens, Claude Gauvreau, Inigo de Mendoza |
| | Dolce far niente, Hans Andreus, Ulrich Woelk, Marc Degens, Luciano de Crescenzo, Alain Robbe-Grillet, Idea Vilariño |
| | Dolce far niente, Simon Vestdijk, Ted Hughes, V. S. Naipaul, Nis-Momme Stockmann, Jonathan Franzen, Jan Emmens |
| | Dolce far niente, Willen van Toorn, Charles Bukowski, Reiner Kunze, Moritz Rinke, Ferenc Juhász, Justus van Maurik |
| | Dolce far niente, Nescio, Guillaume van der Graft, Mary Jo Salter, Leonie Ossowski, Daan Zonderland, Jan Campert |
| | Kees Fens, Wolf Wondratschek, Danielle Steel, Erwin Strittmatter, Sir Walter Scott, Thusnelda Kühl |
| | Adriaan Roland Holst, antoine de kom, Atte Jongstra, Amélie Nothomb, Nikolaus Lenau, Tom Perrotta |
| | Justus van Maurik, Thomas Mann, Hans-Ulrich Treichel, Stefano Benni, Marcellus Emants, Naoki Higashida |
| | Remco Campert, Hugh MacDiarmid, Ernst Stadler, Yoshikawa Eiji, Fernando Arrabal, Andre Dubus |
| | Kees van Kooten, Alfred Döblin, Moses Isegawa, Mark Doty, Jerzy Pilch, Elvis Peeters, Michail Zostsjenko, Piet Bakker, René Crevel |
| | Luuk Gruwez, Philip Larkin, Gerrit Kouwenaar, Henk Romijn Meijer, Linn Ullmann, P. L. Travers, Pierre Klossowski, Daniel Keyes, Leonid Andreyev |
| | Jostein Gaarder, Klaus Ebner, Birgit Vanderbeke, Gernot Wolfram, Hieronymus van Alphen, André Demedts, Sara Teasdale, Donald Davidson, Lotte Lentes |
| | John Birmingham, Cees Buddingh', Diana Ozon, Vladimir Sorokin, Michael Roes, Joachim Ringelnatz, Garrison Keillor, Dieter Schlesak, Othon III de Grandson |
| | Dolce far niente, Jason O. Gilbert, Alfred Tennyson |
| | Dolce far niente,Tom Lanoye, Cees van der Pluijm, Pier Paolo Pasolini, Martin Piekar |
| | Hendrik Marsman, Rutger Kopland, Rudi van Dantzig, Percy Bysshe Shelley, Liao Yiwu, Pierre Jarawan |
| | Jan Campert, Rupert Brooke, Radek Knapp, P. D. James, Marica Bodrozic, Mirko Wenig |
| | Jussi Adler-Olsen, James Baldwin, Isabel Allende, Kristine Bilkau, Philippe Soupault, Ernest Dowson, Zoltán Egressy, Caleb Carr, Félix Leclerc |
| | Gerrit Krol, Frans Pointl, Mehis Heinsaar, Ko Un, Edward van de Vendel, Jim Carroll, Juan Filloy, Anne Hébert, Herman Melville |
| | Cees Nooteboom, Wouter Godijn, Grand Corps Malade, Joanne Rowling, Alain Nadaud, Daniel Bielenstein, Hans-Eckardt Wenzel, Ahmed Zitouni, Munshi Premchand |
| | Frans Budé, Patrick Modiano, Maja Lunde, Emily Brontë, Cherie Priest, Pauline van der Lans |
| | Harry Mulisch, Chang-Rae Lee, Thomas Rosenlöcher, Guillermo Martínez, Marja Brouwers, Wolfgang Bittner |
| | Stanley Kunitz, Sten Nadolny, Eyvind Johnson, August Stramm, Walter van den Berg |
| | Remco Campert, Malcolm Lowry, Herman Stevens, Gerard Manley Hopkins, Stephan Sanders, Angélica Gorodischer, Shahyar Ghanbari, John Ashbery, Drew Karpyshyn |
| | Michael Longley, Marijke Höweler, Theodore Dreiser, Hilde Domin, Julien Gracq, Hilaire Belloc, Vladimir Korolenko, Eimear McBride, Graeme C. Simsion |
| | Arthur Japin, Gregoire Delacourt, Anne Provoost, Yves Petry, Aldous Huxley, Nicholas Evans, Chairil Anwar, George Bernard Shaw, Hanya Yanagihara |
| | Lieke Marsman, Sytze van der Zee, Elias Canetti, Max Dauthendey, Jovica Tasevski – Eternijan, Annette Pehnt, Ottokar Kernstock, Albert Knapp, Louise Boege |
| | Robert Graves, Johan Andreas der Mouw, Banana Yoshimoto, Rosemarie Schuder, Katia Mann, Junichirō Tanizaki, Frank Wedekind, Alexandre Dumas père, Betje Wolff |
| | Wilfried de Jong, Mohsin Hamid, Lauren Groff, Frans Erens, Kai Meyer, Thea Dorn, Irina Liebmann |
| | Lisa Alther, Hubert Selby jr., Raymond Chandler, Matthias Spiegel, Tim Reus |
| | Arno Geiger, Susan Hinton, Manu Joseph, Stephen Vincent Benét, Tom Robbins |
| | Maria Janitschek, Oskar Maria Graf, Emma Lazarus, Per Hojholt, Jakob Lorber |
| | Frouke Arns, Ernest Hemingway, Belcampo, Boris Dittrich , Hans Fallada, David Boerljoek |
| | Hans Lodeizen, Henk Hofland, Arie Storm, Uwe Johnson, Simin Behbahāni, Francesco Petrarca, Maurice Gilliams, Erik Axel Karlfeldt, Cormac McCarthy |
| | Otto Julius Bierbaum, Anna Enquist, Gottfried Keller, Lucas Malan, Miltos Sachtouris, Jean-Pierre Faye |
| | Simon Vinkenoog, Steffen Popp, Per Petterson, Elizabeth Gilbert, Alicia Steimberg, Jevgeni Jevtoesjenko, Aad Nuis, William M. Thackeray, Nathalie Sarraute |
| | Martin R. Dean, Rainer Kirsch, Eelke de Jong, Alie Smeding, Paul Lomami Tshibamba, James Purdy, Roger Garaudy, Clara Viebig, Lilian Loke |
| | In Memoriam Anne Golon |
| | Reinaldo Arenas, Georges Rodenbach, Tony Kushner, Anita Brookner, Jörg Fauser |
| | Dag Solstad, Bernard Dimey, Andrea Wolfmayr, Pierre Benoit, Franz Nabl |
| | Ann De Craemer, Jean Christophe Grangé, Driss Chraïbi, Iris Murdoch, Richard Russo, Jacques Rivière, Rira Abbasi |
| | Robert Wohlleben, Heinrich Peuckmann, Walter Benjamin, Clive Cussler, Jacques Derrida, Hammond Innes, Kunikida Doppo |
| | Irving Stone, Volker Kaminski, Natalia Ginzburg, Jacques de Lacretelle, Gavrila Derzjavin, Béatrix Beck, Arthur Laurents, Owen Wister, Willard Motley |
| | Boris Pasternak, Wole Soyinka, Isaak Babel |


Gastenboek


Druk op onderstaande knop om een berichtje achter te laten in mijn gastenboek