E-mail mij


Druk op onderstaande knop om mij te e-mailen.


Romenu


Romenu is een blog over gedichten, literatuur en kunst Maar Romenu is ook een professionele freelance vertaler
Du-Ne en Ne-Du http://www.romenu.nl.


Huur eens een (vakantie)huis in een natuurgebied, dichtbij het centrum van Nijmegen


Google


Georg Trakl

Georg Trakl werd op 3 februari 1887 in het conducteurshuis aan de Waagplatz 2 in Salzburg geboren. Zijn vader, Tobias Trakl, was een handelaar in ijzerwaren en zijn moeder, die ook psychische problemen had, was Maria Catharina Trakl, (meisjesnaam Halik). Voorts had hij nog drie broers en drie zussen. Margarethe (doorgaans Grethe genoemd) stond hem het naast, zelfs zodanig dat sommigen een incestueuze verhouding vermoeden. Zijn jeugd bracht hij door in Salzburg. Vervolgens bezocht hij van 1897 tot 1905 het humanistische gymnasium. Om toch een academische opleiding te kunnen volgen, werkte hij tot 1908 in de praktijk bij een apotheker. Sommigen vermoedden dat hij dit vooral deed om zichzelf opiaten te kunnen verschaffen. Bij het uitbreken van WO I werd Trakl als medicus naar het front in Galicië (heden ten dage in Oekraďne en Polen) gestuurd. Zijn gemoedsschommelingen leidden tot geregelde uitbraken van depressie, die verergerd werden door de afschuw die hij voelde voor de verzorging van de ernstig verwonde soldaten. De spanning en druk dreven hem ertoe een suďcidepoging te ondernemen, welke zijn kameraden nochtans verhinderden. Hij werd in een militair ziekenhuis opgenomen in Kraków, alwaar hij onder strikt toezicht geplaatst werd.Trakl verzonk daar in nog zwaardere depressies en schreef Ficker om advies. Ficker overtuigde hem ervan dat hij contact moest opnemen met Wittgenstein, die inderdaad op weg ging na Trakls bericht te hebben ontvangen. Op 4 november 1914, drie dagen voordat Wittgenstein aan zou komen, overleed hij echter aan een overdosis cocaďne


Paul Celan

Paul Celan werd onder de naam Paul Antschel op 23 november 1920 geboren in Czernowitz, toentertijd de hoofdstad van de Roemeense Boekovina, nu behorend bij de Oekraďne. Paul Celans ouders waren Duitssprekende joden die hun zoon joods opvoedden en hem naar Duitse christelijke scholen stuurden. In 1942 werden Celans ouders door de Duitse bezetter naar een werkkamp gedeporteerd en daar vermoord. Hijzelf wist aanvankelijk onder te duiken, maar moest vanaf juli 1942 in een werkkamp dwangarbeid verrichten. Celan overleefde de oorlog. Via Boekarest en Wenen vestigde Celan zich in 1948 in Parijs. Daar was hij werkzaam als dichter, vertaler en doceerde hij aan de prestigieuze Ecole Normale Supérieure. Vermoedelijk op 20 april 1970 beëindigde hij zijn leven zelf door in de Seine te springen.


Gerard Reve

Gerard Reve over: Medearbeiders "God is in de mensen, de dieren, de planten en alle dingen - in de schepping, die verlost moet worden of waaruit God verlost moet worden, door onze arbeid, aangezien wij medearbeiders van God zijn." Openbaring "Tja, waar berust elk godsbegrip op, elke vorm van religie? Op een openbaring, dat wil zeggen op een psychische ervaring van zulk een dwingende en onverbiddelijke kracht, dat de betrokkene het gevoel heeft, niet dat hij een gedachte of een visioen heeft, maar dat een gedachte gedachte of visioen hem bezit en overweldigt."


Simon Vestdijk
Simon Vestdijk (Harlingen, 17 oktober 1898 – Utrecht, 23 maart 1971) was een Nederlands romancier, dichter, essayist en vertaler. Zijn jeugd te Harlingen en Leeuwarden beschreef hij later in de Anton Wachter-cyclus. Van jongs af aan logeerde hij regelmatig bij zijn grootouders in Amsterdam, waar hij zich in 1917 aan de Universiteit van Amsterdam inschrijft als student in de medicijnen. Tijdens zijn studie die van 1917 tot 1927 duurde, leerde hij Jan Slauerhoff kennen.Tot 1932 is hij als arts in praktijken door heel Nederland werkzaam. In 1932 volgt zijn officiële schrijversdebuut met de uitgave van de bundel Verzen in De Vrije Bladen. Doorslaggevend voor Vestdijks uiteindelijke keuze voor de literatuur is zijn ontmoeting in 1932 met Eddy Du Perron en Menno ter Braak. Deze ontmoeting had tot resultaat dat hij redactielid werd van het tijdschrift Forum Kort daarop, in 1933, wordt zijn eerste novelle, De oubliette, uitgegeven. In hetzelfde jaar schrijft hij Kind tussen vier vrouwen, dat, eerst geweigerd door de uitgever, later de basis zal vormen voor de eerste drie delen van de Anton Wachter-romans. In 1951 ontvangt Vestdijk de P.C. Hooftprijs voor zijn in 1947 verschenen roman De vuuraanbidders. In 1957 wordt hij voor het eerst door het PEN-centrum voor Nederland voorgedragen voor de Nobelprijs voor de Literatuur, die hij echter nooit zal krijgen. Op 20 maart 1971 wordt hem de Prijs der Nederlandse Letteren toegekend, maar voor hij deze kan ontvangen overlijdt hij op 23 maart te Utrecht op 72-jarige leeftijd. Vestdijk was auteur van ca. 200 boeken. Vanwege deze enorme productie noemde de dichter Adriaan Roland Holst hem 'de man die sneller schrijft dan God kan lezen'. Andere belangrijke boeken van Simon Vestdijk zijn: "Kind van stad en land" (1936), "Meneer Visser's hellevaart" (1936), "Ierse nachten" (1946), "De toekomst de religie" (1947), "Pastorale 1943" (1948), "De koperen tuin" (1950), "Ivoren wachters" (1951), "Essays in duodecimo" (1952) en "Het genadeschot" (1964).


K.P. Kavafis

K.P. Kavafis werd als kind van Griekse ouders, afkomstig uit Konstantinopel, geboren in 1863 in Alexandrië (tot vandaag een Griekse enclave) waar hij ook het grootste deel van zijn leven woonde en werkte. Twee jaar na de dood van zijn vader verhuist het gezin in 1872 naar Engeland om na een verblijf van vijf jaar naar Alexandrië terug te keren. Vanwege ongeregeldheden in Egypte vlucht het gezin in 1882 naar Konstantinopel, om na drie jaar opnieuw naar Alexandrië terug te gaan. In de jaren die volgen maakt Kavafis reizen naar Parijs, Londen en in 1901 zijn eerste reis naar Griekenland, in latere jaren gevolgd door nog enkele bezoeken. Op de dag van zijn zeventigste verjaardag, in 1933 sterft Kavafis in Alexandrië. De roem kwam voor Kavafis pas na zijn dood, dus postuum. Deels is dat toe te schrijven aan zijn eigen handelswijze. Hij was uiterst terughoudend met de publicatie van zijn gedichten, liet af en toe een enkel gedicht afdrukken in een literair tijdschrift, gaf in eigen beheer enkele bundels met een stuk of twintig gedichten uit en het merendeel van zijn poëzie schonk hij op losse bladen aan zijn beste vrienden.


Thomas Mann


Thomas Mann, de jongere broer van Heinrich Mann, werd geboren op 6 juni 1875 in Lübeck. Hij was de tweede zoon van de graankoopman Thomas Johann Heinrich Mann welke later één van de senatoren van Lübreck werd. Zijn moeder Julia (geboren da Silva-Bruhns) was Duits-Braziliaans van Portugees Kreoolse afkomst. In 1894 debuteerde Thomas Mann met de novelle "Gefallen". Toen Thomas Mann met 21 jaar eindelijk volwassen was en hem dus geld van zijn vaders erfenis toestond - hij kreeg ongeveer 160 tot 180 goldmark per jaar - besloot hij dat hij genoeg had van al die scholen en instituties en werd onafhankelijk schrijver. Kenmerkend voor zijn stijl zijn de ironie, de fenomenale taalbeheersing en de minutieuze detailschildering. Manns reputatie in Duitsland was sterk wisselend. Met zijn eerste roman, Buddenbrooks (1901), had hij een enorm succes, maar door zijn sceptische houding tegenover Duitsland na de Eerste Wereldoorlog veranderde dit volledig. Stelde hij zich tot aan de jaren twintig apolitiek op (Betrachtungen eines Unpolitischen, 1918), meer en meer raakte hij bij het Politiek gebeuren betrokken. Zijn afkeer van het nationaal socialisme groeide, zijn waarschuwingen werden veelvuldiger en heftiger. In 1944 accepteerde hij het Amerikaanse staatsburgerschap. Tussen 1943 en 1947 schreef Mann Doktor Faustus (zie Faust), de roman van de 'Duitse ziel' in de gecamoufleerd geschilderde omstandigheden van de 20ste eeuw. In 1947 bezocht hij voor het eerst sinds de Oorlog Europa, twee jaar later pas Duitsland. In 1952 vertrok hij naar Zwitserland. Op 12 augustus 1955 stierf hij in Zürich. Twintig jaar na zijn dood, in aug. 1975, is zijn literaire nalatenschap geopend: dagboekaantekeningen van 15 maart 1933 tot 29 juli 1955, alsmede notities uit de jaren 1918 tot en met 1921.Belangrijke werken zijn: Der Zauberberg, Der Tod in Venedig, Dokter Faustus , Joseph und seine Brüder en Die Bekenntnisse des Hochstaplers Felix Krull.


Rainer Maria Rilke

Rilke werd op 4 december 1875 geboren in Praag. Hij had al naam gemaakt als dichter met zijn bundels Das Stundenbuch en Das Buch der Bilder, toen hij de literaire wereld versteld deed staan en wereldfaam verwierf met de publicatie van zijn twee delen Neue Gedichte in 1907 en 1908. Hij verzamelde daarin het beste werk uit een van zijn vruchtbaarste periodes, die hij grotendeels doorbracht in Parijs. Rilke was daar diep onder de indruk gekomen van Rodin, bij wie hij een tijdlang in dienst was als particulier secretaris. Rodin, zei hij later, had hem leren kijken. Dit kijken kwam neer op intense concentratie, om het mysterie te kunnen zien 'achter de schijnbare werkelijkheid'. Latere en rijpere werken als Duineser Elegien (1912-1923) en het ronduit schitterende Die Sonette an Orfeus (1924) illustreren Rilkes metafysische visie op het onzegbare, dat haar verwoording vindt in een hermetische muzikale taal. Op 29 december 1926 overlijdt Rilke in het sanatorium in Val-Mont aan de gevolgen van leukemie. Enkele dagen later wordt hij, overeenkomstig zijn wens, begraven op het kerkhof van Raron.


* * * * * * * * * * * * * * * *

| | |
| --- | --- |
| | Over literatuur, gedichten, kunst en cultuur |

11-04-2015

Leonard Nolens, Mark Strand, Silvia Avallone, Walid Soliman, Attila József, Rolf Schilling, Sándor Márai
De Belgische dichter en schrijver Leonard Nolens werd geboren in Bree op 11 april 1947. Zie ook alle tags voor Leonard Nolens op dit blog.
Burgerlijk bestaansminimum
Het is vandaag geen waarheid die ik zoek,
Geen Nazareense visser die mijn dood afpakt,
Geen Weense dokter die mijn penis spreekles geeft,
Geen Trierse filosoof die op de bank mijn volmacht heeft.

Vandaag is het geen goedheid die ik zoek,
Geen Gandhi, kaal en mager, woord tot op het been,
En geen Thérèse de Lisieux. (Wat zei dat kleintje weer?
Hard moet ik U voelen, anders is er chaos,
Hard en doodvermoeiend, anders ben ik niet gerust.')

Geen goedheid, nee, verdomd, ik weet wat goedheid is.
Goedheid is een stinkend bed, een meisjesstem
Van zestig jaar, een fluimend propje vlees
In kussens van formol, een bibberende muizepoot
Waar ik van at, en die mij niet bekomt.

Vandaag is het geen schoonheid die ik zoek.
Schoonheid spreekt vanzelf als ik mijn handen opendoe
In het ivoor van mijn lievelingsakkoord, zeven vingers,
A, kleine terts, uit de nocturnes van Chopin,
Die teringlijder aan zijn Pleyel in Nohant.

Nee, het ware en het goede en het schone zijn vandaag
Een broodwinning voor ingenieurs, therapeuten en artiesten.
Maar ik, ik ben een dichter.
En op mijn nederige stoel, met mijn ambachtelijke trots
Zoek ik een degelijke, propere en zwierige manier
Om hier, vandaag, in deze tijd, alsnog te overleven.
Beginnen
2
Om twintig voor negen verliet ik geruisloos het lichaam
Van moeder en keek ik ons aan.
Ik zag ons daar allemaal liggen en staan
In mijn eerste verblinding.
Ik hoorde ons allemaal aan als de stem
Van een schaar en ik voelde mijn aanvang
Verknipt.
Mijn bloedende navel bestreek het schreeuwende centrum
Van de wereld in deze kamer.
Ik kan uit mijn kamer van jullie niet weg.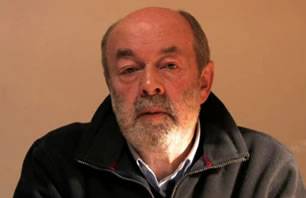 Leonard Nolens (Bree, 11 april 1947)
De Amerikaanse dichter en schrijver Mark Strand werd geboren op 11 april 1934 in Summerside, Prince Edward Island, Canada. Zie ook alle tags voor Mark Strand op dit blog.
The Garden
It shines in the garden,
in the white foliage of the chestnut tree,
in the brim of my father's hat
as he walks on the gravel.
In the garden suspended in time
my mother sits in a redwood chair:
light fills the sky,
the folds of her dress,
the roses tangled beside her.
And when my father bends
to whisper in her ear,
when they rise to leave
and the swallows dart
and the moon and stars
have drifted off together, it shines.
Even as you lean over this page,
late and alone, it shines: even now
in the moment before it disappears.
The Midnight Club
The gifted have told us for years that they want to be loved
For what they are, that they, in whatever fullness is theirs,
Are perishable in twilight, just like us. So they work all night
In rooms that are cold and webbed with the moon's light;
Sometimes, during the day, they lean on their cars,
And stare into the blistering valley, glassy and golden,
But mainly they sit, hunched in the dark, feet on the floor,
Hands on the table, shirts with a bloodstain over the heart.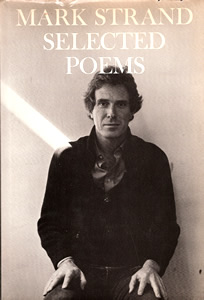 Mark Strand (11 april 1934 – 29 november 2014)
De Italiaanse schrijfster Silvia Avallone werd geboren in Biella op 11 april 1984. Zie ook alle tags voor Silvia Avallone op dit blog.
Uit: Staal (Vertaald door Manon Smits)
"'Het strand lag vol zeewier. En omgevallen boomstammen, en gestrande bootjes waarvan de romp helemaal onder de pluisjes zat. De vissers kwamen hier hun wrakken dumpen om geen afvalheffing te hoeven betalen.
Het was heerlijk om tot je kuiten in dat zachte deeg van zeewier weg te zakken, de lege schelpen te voelen die als tanden omhoogstaken en in hun voeten prikten. Miljoenen harige, bruine zeegrasbolletjes, allemaal hier neergekwakt door de zee. Aan de waterkant ploeterden ze door een zwarte algenlaag, een brij die rook naar pies en brood. Dit was hun geheime strandje.'
(…)
'Ze hebben hun gezicht opgemaakt, veel te dik. De lippenstift loopt over de randen, de mascara druipt van de hitte en plakt hun wimpers aan elkaar, maar daar trekken ze zich niets van aan. Dit is hun eigen privé-verkleedpartijtje [sic], de provocatie die ze het raam uit gooien. Ze weten tenslotte dat er misschien wel iemand is die hen bespiedt en zijn broek losknoopt.'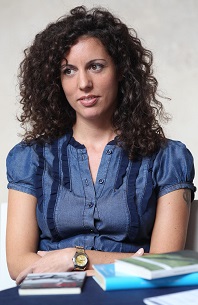 Silvia Avallone (Biella, 11 april 1984)
De Tunesische dichter, schrijver, essayist en vertaler Walid Soliman werd geboren op 11 april 1975 in Tunis. Zie ook alle tags voor Walid Soliman op dit blog.
Uit: Three hours in Fiumicino (Vertaald door Jason Casper)
"The plane did not land immediately, as I had expected, but remained hovering over the airport for some time. Finally, a voice announced over the loudspeaker to fasten seatbelts, for the plane was about to begin its descent. The fat lady turned to me while inspecting her belt, as if this were some kind of police film, and said, "What an exciting trip!"
When the plane had finally landed at Fiumicino Airport, I noticed that it had stopped quite a distance away from the other aircraft. From the window I saw border police surrounding the plane in their vehicles as alarms began sounding from everywhere. The Carabineri descended and furnished their weapons, and I realized they had been ordered to investigate, making sure there was indeed a sick woman aboard the plane.
Two officers boarded, one of them with a walky-talky. The first went straight to the cockpit, while the other went toward the rear where the sick woman was. A few minutes passed before we heard the captain inform us over the loudspeaker that we would stay in Fiumicino Airport for some time, until the woman could be examined. A small airport bus then arrived, and we were told to get inside. Meanwhile, an ambulance approached to transport the patient."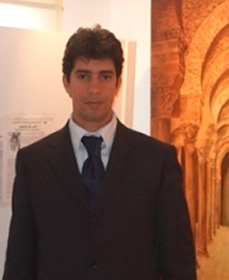 Walid Soliman (Tunis, 11 april 1975)


De Hongaarse dichter Attila József werd geboren op 11 april 1905 in Boedapest. Zie ook alle tags voor Attila József op dit blog.
Night on the outskirts (Fragment)
Slowly the light's net is lifted
Out of the yard, and our kitchen
Fills with darkness
Like the hollows deep in a pool.
Silence -
The scrubbing brush creeps to life,
Above it, a patch of wall
Hesitates, hangs, not sure
Whether to stay or fall.
A night that wears oily rags
Heaves a sigh,
Halts in the sky;
Then settles on the outskirts,
Waddles over the squareAnd lights a bit of moon to see by.
Like ruins the factories loom.
But inside them a denser gloom
Even now is being produced. It sets,
A foundation for silence.
Through the windows of textile mills
Fly moonbeams in sheaves -
Moon thread till morning weaves
On motionless looms a fabric
Of girl workers' dreams.
Farther on, like a cloistered graveyard,
The foundry, bolt makers, cement works
Echoing family crypts.
Too well these workshops keep
The secret of resurrection.
A cat's claws on the fence;
And the simple night-watchman sees
A ghost, a flashing signal.
Coolly gleam
The beetle-backed dynamos.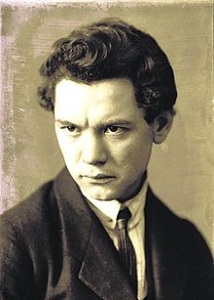 Attila József (11 april 1905 – 3 december 1937)
In 1924
De Duitse dichter Rolf Schilling werd geboren in Nordhausen in de Harz op 11 april 1950. Zie ook alle tags voor Rolf Schilling op dit blog.
Vision einer Reise
Wir brachen auf — ins Unermeßliche —
So dachten wir dereinst — und keiner wagt
Den Widerspruch. Wir schauten häßliche
Gesichter, von der tollen Zeit zernagt.

Wir sahen tote Augen aufwärts starren
Aus schwarzen Särgen, Winterwind-umtost.
Papierne Vögel hielten uns zum Narren,
Umschwirrten uns und brachten keinen Trost.

Wir sahen Wälder in erfrorne Himmel ragen,
Und erst danach fand unser Weg zu Zielen:
Uns zu erwärmen, flohen wir und fielen
Zurück ins bürgerliche Wohlbehagen.

Was bleibt von den vergangenen Ekstasen?
Ein Hauch verfaulter Luft in leeren Vasen.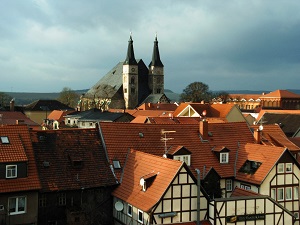 Rolf Schilling (Nordhausen, 11 april 1950)
Nordhausen
De Hongaarse schrijver Sándor Márai werd geboren op 11 april 1900 in Kassa (nu Košice, Slowakije). Zie ook alle tags voor Sándor Márai op dit blog.
Uit: Embers (Vertaald door Carol Janeway)
"The General took out the letter, carefully smoothed the paper, set his glasses on his nose and placed the sheet under the bright light to read the straight short lines of angular handwriting, his arms folded behind his back.
There was a calendar hanging on the wall. Its fist-sized numbers showed August 14. The General looked up at the ceiling and counted: August 14. July 2. He was calculating how much time had elapsed between that long-ago day and today. "Forty-one years," he said finally, half aloud. Recently he had been talking to himself even when he was alone in the room. "Forty years," he then said, confused, and blushed like a school- boy who's stumbled in the middle of a lesson, tilted his head back and closed his watering eyes. His neck reddened and bulged over the maize-yellow collar of his jacket. "July 2, 1899, was the day of the hunt," he murmured, then fell silent. Propping his elbows on the desk like a student at his studies, he went back to staring anxiously at the letter with its brief handwritten message. "Forty-one," he said again, hoarsely. "And forty-three days. Yes, exactly."
He seemed calmer now, and began to walk up and down. The room had a vaulted ceiling, supported by a central column. It had once been two rooms, a bedroom, and a dressing room.
Many years ago--he thought only in decades, anything more exact upset him, as if he might be reminded of things he would rather forget--he had had the wall between the two rooms torn down. Only the column holding up the central vault remained. The castle had been built two hundred years earlier by an army supplier who sold oats to the Austrian cavalry and in course of time was promoted to the nobility. The General had been born here in this room."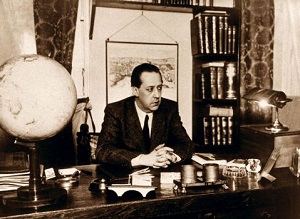 Sándor Márai (11 april 1900 – 22 februari 1989)
Zie voor nog meer schrijvers van de 11e april ook mijn vorige twee blogs van vandaag.


11-04-2015 om 14:53 geschreven door Romenu

Tags:Leonard Nolens, Mark Strand, Silvia Avallone, Walid Soliman, Attila József, Rolf Schilling, Sándor Márai



Dorothy Allison, Hubert Nyssen, Hartmut Barth-Engelbart, Barbara Köhler, Antoine Blondin, Marlen Haushofer, David Westheimer
De Amerikaanse schrijfster Dorothy Allison werd geboren op 11 april 1949 in Greenville, South Carolina. Zie ook Zie ook alle tags voor Dorothy Allison op dit blog.
Uit: Trash
"And of course these days I feel like there is a nation of us - displaced southerners and children of the working class. We listen to Steve Earle, Mary J. Blige, and k.d. lang. We devour paperback novels and tell evil mean stories, value stubbornness above patience and a sense of humor more than a college education. We claim our heritage with a full appreciation of how often it has been disdained.
And let me promise you, you do not want to make us angry."
(…)
"When my mama was twenty-five she already had an old woman's hands, and I feared them. I did not know then what it was that scared me so. I've come to understand since that it was the thought of her growing old, of her dying and leaving me alone. I feared those brown spots, those wrinkles and cracks that lined her wrists, ankles, and the soft shadowed sides of her eyes."
(…)
"I could not stand it, neither the words on the page nor what they told me about myself. My neck and teeth began to ache, and I was not at all sure I really wanted to live with that stuff inside me. But holding onto them, reading them over again, became a part of the process of survival, of deciding once more to live--and clinging to that decision."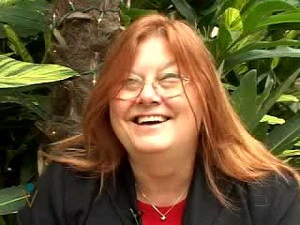 Dorothy Allison (Greenville, 11 april 1949)
De Franse schrijver, essayist en uitgever Hubert Nyssen werd geboren in Boendael aan de rand van Brussel op 11 april 1925. Zie ook Zie ook alle tags voor Hubert Nyssen op dit blog.
Sur l'ivoire

La nuit dernière j'ai rêvé, me croiras-tu,
que sur l'ivoire dont chaque jour tes doigts
calment l'attente, je parvenais à te traduire
à petits traits, petites touches, ce qui de toi
me vient depuis le jour de ton apparition,
à te montrer en ce langage par quels délires
furent marquées les heures où j'eus le sentiment
qu'il tenait à si peu que nous prenions le large.
Mais, tu le sais, je commerce avec les seuls mots,
au réveil il ne me restait qu'à les tracer
sans cacher leur misère, pour te manifester
mon rêve et ma chimère avec es quelques vers
bricolés sur l'ivoire de mon méchant clavier.
Estuaire

Ses yeux toujours furent pour moi pareils
aux deux moitiés de la planète bleue,
l'australe avec les feux qui marquent l'horizon,
la boréale aux jardins si babyloniens,
et pour chaque hémisphère ou chaque œil,
au centre de l'iris, une pupille rieuse
qui me rappelle celle qui est tapie
dans l'estuaire où je voudrais ce soir
célébrer son anniversaire.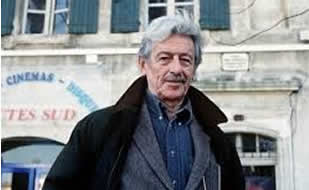 Hubert Nyssen (11 april 1925 – 12 november 2011)
De Duitse schrijver, dichter, musicus, liedjesmaker, zanger en graficus Hartmut Barth-Engelbart werd geboren op 11 april 1947 in Michelstadt. Zie ook alle tags voor Hartmut Barth-Engelbart op dit blog.
Rauhreif
Der Rauhreif um deine Augen
ist abgefallen seit
Du einmal
die kalte Dusche
ins Gesicht mir hieltest

Gesund war es für mich
ernüchternd
denn ich meinte Dich zu kennen
und sah dich nur
wie ich dich sehen wollte
und wollte mich
an dich
verschenken

Und so erfrischt
tu ichs nicht

Du sollst mich haben
wenn du mich haben willst
wenn du vor Lust auf mich
überschäumend
überquillst

Ich tue kalt
und sehne mich nach dir
brennend heiß
und will
Vergangenes vergessen
was ich nicht weiß
das macht mich –

halt

Ich tue kalt
und habe Angst
dass du vergehen könntest
wie andere vor dir

Ich habe Angst
dich und mich
in dir und mir
endgültig
zu verlieren

Und darum zögre ich

Und lachst du über mich
und meine Worte
So reuts mich nicht
ein Stück von mir
verschenkt zu haben

Dann wars wie eine
unfruchtbare Nacht
Ein schönes Spiel
bei dem der Partner fehlte
Ein warmer Hauch
in Eiseskälte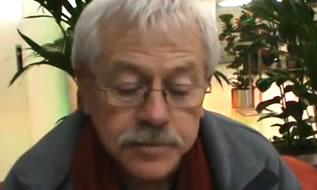 Hartmut Barth-Engelbart (Michelstadt, 11 april 1947)
De Duitse dichteres en schrijfster Barbara Köhler werd geboren op 11 april 1959 in Burgstädt. Zie ook alle tags voor Barbara Köhler op dit blog.
In the movies
"Film ist vierundzwanzigmal
Wahrheit pro Sekunde"
Jean-Luc Godard
Vierundzwanzigmal pro Sekunde
laufe ich mir davon kommt etwas
auf mich zu sagt: Ich
laufe davon bin fest
gehalten in den Bildern
die laufen ein Massaker
jede Bewegung eine Wendung
im Schlaf in vierundzwanzig
Stück pro Sekunde Stunden
der Tag zerteilt eine gepreßte
Stimme die Tonspur sagt: Ich
hab mich verlaufen sehe vor
lauter Bildern den Film nicht
den Stillstand sehe mich vor
vierundzwanzig Feststellungen
pro Sekunde bewegt die Hand
in den Mund gestopft: Leben
tut weh Madame beißen Sie zu.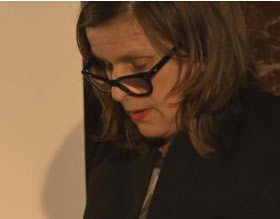 Barbara Köhler (Burgstädt, 11 april 1959)
De Franse schrijver Antoine Blondin werd geboren op 11 april 1922 in Parijs. Zie ook alle tags voor Antoine Blondin op dit blog.
Uit:Monsieur Jadis ou L'École du soir
« A peine ai-je l'air d'un fragment de moi-même et, sur mon visage, on déchiffre mal le résumé des chapitres précédents…. Ces cheveux clairsemés, cette bouche démeublée, ces yeux qui peinent à accommoder sont un déguisement. L'être qu'il cache n'est autre que le jeune homme que j'étais, que je demeure. Entendons-nous : pas question de devenir un de ces vieux messieurs qui ont gardé le cœur jeune, je suis ce jeune homme dont l'enveloppe s'est usée. Il m'arrive, au détour d'un instant, d'éprouver l'impression aveuglante que je me trouve, au moment même, sur la route irisée des Charentes, ou sur les collines brumeuses et lumineuses qui dominent Rouen, cerné par un bombardement dans un baraquement le long du Danube, dînant à Poitiers sur la route d'Espagne, débarquant à Toulouse pour un match de rugby. Tout concourt à l'hallucination : les parfums, les couleurs, l'écho à peine éteint des paroles qui auraient pu être échangées, le temps qu'il fait et l'heure qu'il est. »
(…)
Et j'aimais l'ancien collège de Clermont ou j'ai peut-être occupé en mon temps le pupitre de Molière et d'Edouard Herriot, celui de Voltaire et du Cardinal Baudrillard. Autrefois, à Paris, on était d'un lycée comme on est d'une paroisse ; on avait l'esprit de préau."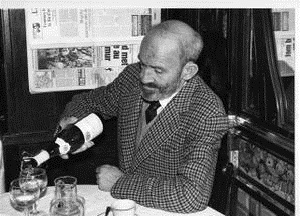 Antoine Blondin (11 april 1922 – 7 juni 1991)
De Oostenrijkse schrijfster Marlen Haushofer werd geboren op 11 april 1920 in Frauenstein (Molln). Zie ook alle tags voor Marlen Haushofer op dit blog.
Uit: Die Tapetentür
"Annette trat ans Fenster und wartete, bis Gregor aus dem Haus kam. Mit beschwingten Schritten ging er auf den Wagen zu, stieg ein und steckte den Zündschlüssel an. Der Motor fing an zu brummen, und Annette sah einen flüchtigen Augenblick lang die vertrauten Hände auf dem Lenkrad liegen. Dann bog der Wagen in die Allee ein und verschwand.
Gregor hatte nicht einmal zurückgeblickt, nicht aus Unfreundlichkeit, sondern weil er ganz und gar mit der Aufgabe beschäftigt war, seinen Wagen zu starten, außerdem wäre ihm nie eingefallen, Annette könne dort oben am Fenster stehen und ihm nachsehen. "Leg dich doch noch einmal hin", hatte er gesagt, "du siehst nicht gut aus" und "du hast ja heute Zeit". Ja, sie hatte Zeit, ihr freier Tag war heute, ein ganzer Tag ohne Bibliothek, aber auch ohne Gregor.
Sie fühlte sich müde und schwindlig, wie immer in den letzten Monaten; es war vielleicht wirklich besser, noch einmal zu versuchen einzuschlafen.
Auf dem Tisch stand die Schale, aus der Gregor eben noch getrunken hatte, ein Zigarettenstummel lag zerdrückt im Aschenbecher. Annette nahm die Schale in die Hand und setzte sie an den Mund, genau an der Stelle,
an der Gregor getrunken hatte. Der kleine Kaffeerest schmeckte bitter und war schon ganz kalt. Annette lächelte über sich selbst bei dem Gedanken, wie sehr sie es immer verabscheut hatte, aus einer fremden Schale zu trinken oder einen schon benützten Löffel zu verwenden. Ich kenne mich selbst nicht wieder, dachte sie, ich bin einfach nicht mehr der Mensch, der ich einmal war."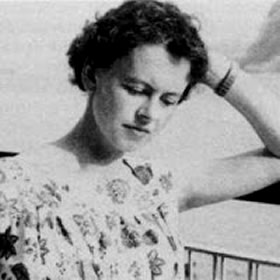 Marlen Haushofer (11 april 1920 – 21 maart 1970)
De Amerikaanse schrijver David Westheimer werd geboren op 11 april 1917 in Houston, Texas. Zie ook alle tags voor David Westheimer op dit blog.
Uit: Death Is Lighter than a Feather
"In his own regiment there was a private who had been a teacher in the middle school but it was known that he entertained subversive ideas and was not to be trusted with authority. It was a measure of the Army's desperate need that he had been permitted to serve at all. His proper place was prison, with other traitors and weaklings."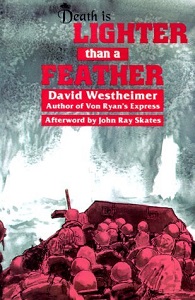 David Westheimer (11 april 1917 – 8 november 2005)
Cover
Zie voor nog meer schrijvers van de 11e april ook mijn vorige blog van vandaag.


11-04-2015 om 14:39 geschreven door Romenu

Tags:Dorothy Allison, Hubert Nyssen, Hartmut Barth-Engelbart, Barbara Köhler, Antoine Blondin, Marlen Haushofer, David Westheimer, Romenu



Bernard O'Dowd, Luise Gottsched, Anastasius Grün, Johann Heinrich Merck, Christopher Smart, Lev Blatný
De Australische dichter, schrijver en journalist Bernard O'Dowd werd geboren op 11 april 1866 in Beaufort, Victoria. Zie ook alle tags voor Bernard O'Dowd op dit blog.
The Cow
THIS is a rune I ravelled in the still,
Arrogant stare of an Australian cow—
'These prankt intruders of the hornless brow,
Puffed up with strange illusions of their skill
To fence, to milk, to fatten and to kill,
Once worshipped me with temple, rite and vow,
Crowned me with stars, and bade rapt millions bow
Before what abject guess they called my will!
'To-day, this flunkey of my midden, Man,
Throws child-oblations in my milking byre,
Stifles in slums to spare me lordly fields,
Flatters with spotless consorts my desire,
And for a pail of cream his birth-right yields,
As once in Egypt, Hellas, Ind, Iran!'
Sloth (I)
Too many a Samsan lip your teeth indent:
Too many a Sybil girl you lure to make
The Great Refusal for a fireside sake:
And glamoured poet many a look has sent
Into those eyeballs bear-brown, somnolent,
Nor dreamed that devils in each muddy lake
Were sucking his devotion in to slake
The furrowed belly of your fanged content!
Religion's bane and Freedom's subtlest foe!
Behold the poppied freight your barges bring
The dim-lit souls that crave the prophet's gleam,
Or fettered people's writhing 'neath their woe--
Gossamer clips and thriftless harvesting
Of phantom flocks and shadowy tilth of dream!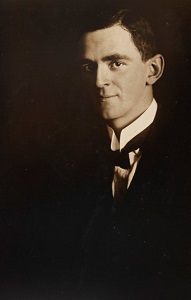 Bernard O'Dowd (11 april 1866 – 1 september 1953)
De Duitse schrijfster en vertaalster Luise Adelgunde Victorie Gottsched werd in april 1713 geboren in Danzig. Zie ook alle tags voor Luise Gottsched op dit blog.
Uit: Der Witzling
"JUNGFER LOTTCHEN. Nein, mein Herr Reinhart; dieser Fehler nimmt gewiß mit den Jahren nur noch mehr zu. Die Fehler, an denen die Jugend schuld ist, und die mit den Jahren vergehen, die bestehen gemeiniglich nur in einem gar zu großen Feuer der Leidenschaften. Bey ihm aber ist es ein Mangel der Vernunft, ein innerer Hochmuth des Herzens, eine närrische Selbstliebe: und die nimmt mit den Jahren immer mehr zu.
HERR REINHART. Glaube Sie das nicht, Jungfer Lottchen.
JUNGFER LOTTCHEN. Das glaube ich gewiß. Wer in seinem 20sten Jahre noch nicht so viel Urtheilskraft hat, daß er seine Selbstliebe verbergen kann: der bleibt sein Lebenlang ein Thor.
HERR REINHART schüttelt den Kopf. Es ist mir sehr leid, Jungfer Lottchen, daß Sie wider den jungen Menschen so sehr aufgebracht ist.
JUNGFER LOTTCHEN. Daran hat er selbst Schuld. Hätte er mir einen bessern Begriff von sich beygebracht: so würde ich ihn auch haben.
HERR REINHART. Der Mensch denket und saget doch aber alles Gutes von sich.
JUNGFER LOTTCHEN lachend. Eben darum glaube ich es nicht, weil er es selbst sagt.
HERR REINHART. Nun, nun, er ist nur erst vierzehn Tage hier: wenn Sie ihn länger kennen wird; so wird er Ihr schon noch gefallen.
JUNGFER LOTTCHEN lächelnd. Ich versichere Sie, daß er mir je länger je abgeschmackter vorkommen wird. Gewisse Leute haben nun einmal das Schicksal, je länger man sie sieht, desto verdrießlicher werden sie einem: und Herr Vielwitz ist gewiß von der Art."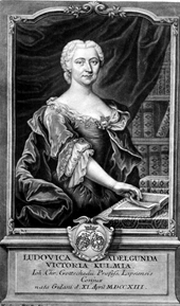 Luise Gottsched (11 april 1713 – 26 juni 1762)
De Duitse dichter, schrijver en criticus Johann Heinrich Merck werd geboren op 11 april 1741 in Darmstadt. Zie ook alle tags voor Johann Heinrich Merxk op dit blog.
Rhapsodie (Fragment)
Wer herrschet über Reich und Land
Von hier aus bis nach Samarkand –
Bei der Gesetz-Kommission
Als Präses – auf der Russen Thron
Den Frieden zu Focsany macht –
– Und hat auf die Kometen acht,
Und sieht sie um eintausend Jahr
Auf seinem Blatt Papier vorher;
Der hat Genie, und braucht's, fürwahr!
Allein der Dichter braucht noch mehr!
Der Junge von Zigeunerart
Der unterm Baum empfangen ward,
Und der auf einem Bauholz zart
Kam an das Licht der Welt hervor;
Der Fündling auf dem Mist – am Tor;
Der junge muntre Savoyard
Der künftig Schuh und Schornstein fegt,
Die Butte, die Muskete trägt;
Die jungen Herren allzumal
Die kommen, glaubet meinem Wort
Im Audienz- im Richtersaal
Auf Kanzel, Pult, und jedem Ort
Gewißlich eher alle fort,
Als wen in seinem Zorn Apoll
Zum Dichter schaffen will, und soll.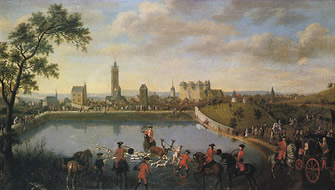 Johann Heinrich Merck (11 april 1741 – 27 juni 1791)
Darmstadt door Johann Tobias Sonntag, z.j.
De Engelse dichter Christopher Smart werd geboren op 11 april 1722 in Shipbourne. Zie ook alle tags voor Christopher Smart op dit blog.
A Song to David (Fragment)
Sublime—invention ever young,
Of vast conception, tow'ring tongue
To God th' eternal theme;
Notes from yon exaltations caught,
Unrivall'd royalty of thought
O'er meaner strains supreme.
His muse, bright angel of his verse,
Gives balm for all the thorns that pierce,
For all the pangs that rage;
Blest light still gaining on the gloom,
The more than Michal of his bloom,
Th' Abishag of his age.
He sang of God—the mighty source
Of all things—the stupendous force
On which all strength depends;
From whose right arm, beneath whose eyes,
All period, power, and enterprise
Commences, reigns, and ends.
Tell them, I AM, Jehovah said
To Moses; while earth heard in dread,
And, smitten to the heart,
At once above, beneath, around,
All Nature, without voice or sound,
Replied, O LORD, THOU ART.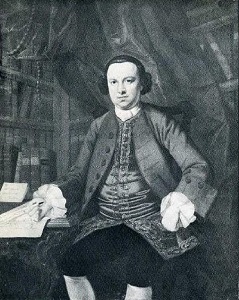 Christopher Smart (11 april 1722 – 21 mei 1771)
De Oostenrijkse dichter en politicus Anastasius Grün (eig.Anton Alexander Graf von Auersperg) werd geboren op 11 april 1808 in Laibach (tegenwoordig Ljubljana, Slovenië). Zie ook alle tags voor Anastasius Grün op dit blog.
Familiengemälde
Großvater und Großmutter,
Die saßen im Gartenhag,
Es lächelte still ihr Antlitz
Wie sonniger Wintertag.
Die Arme verschlungen, ruhten
Ich und die Geliebte dabei,
Uns blühten und klangen die Herzen
Wie Blumenhaine im Mai.
Ein Bächlein rauschte vorüber
Mit plätscherndem Wanderlied
Stumm zog das Gewölk am Himmel,
Bis unseren Blicken es schied.
Es raschelte von den Bäumen
Das Laub, verwelkt und zerstreut,
Und schweigend an uns vorüber
Zog leisen Schrittes die Zeit.
Stumm blickt aufs junge Pärchen
Das alte stille Paar;
Des Lebens Doppelspiegel
Stand vor uns licht und wahr:
Sie sahen uns an und dachten
Der schönen Vergangenheit;
Wir sahen sie an und träumten
Von ferner, künftiger Zeit.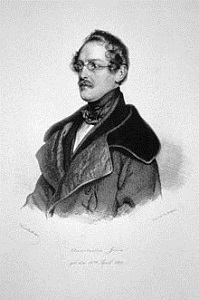 Anastasius Grün (11 april 1808 – 12 september 1876)
Lithografie van Josef Kriehuber, rond 1840
De Tsjechische dichter, schrijver en criticus Lev Blatný werd geboren op 11 april 1894 in Brno. Zie ook mijn blog van 11 april 2010.
NA CÍSAŘSKÉ SILNICI
Pás prachu bílého se plazí před námi a v lhostejnu se tratí.
Kraj v pravo, v levo bez sil v ¸áru refrénem zní fádním: "Umírat!"
a slunce urputně jak ve mstě šťávy saje na své dlouhé trati.
Jak zoufale se táhnem po císařské cestě - já a kamarád.
Vůz s vozkou ospalým se mimo odhrkal a za ním dlouhou chvíli
prach letí štiplavý jak svědomí. - Vzruch chvilkový krev línou rád
by oklamal - a nudno zas, neb víme zcela určitě, ¸e k cíli
se dostaneme přece ještě před večerem - já a kamarád.
I pro siesty rozkoš hledali jsme trsy popelavých stvolů - -
a¸ před branami města do příkopu ulehli jsme pod akát,
jen¸ sporý stín tu rozstříkl. A v chvíli oddechu jak o symbolu
jsme přemýšleli o své pouti, mudrovali - já a kamarád.
A naše putování po té nudné cestě končí přece jaře:
"Eh, šli jsme po císařské, po široké cestě, do slouhých řad,
je¸ telegrafních tyčí vlo¸ena - kde slunci rouhají se tváře
všech poutníků, kde jsme se hloupě rouhali té¸ - já a kamarád.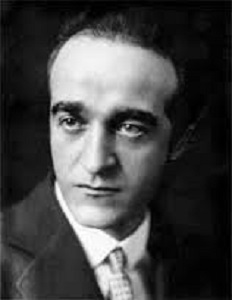 Lev Blatný (11 april 1894 – 21 juni 1930)
11-04-2015 om 14:27 geschreven door Romenu

Tags:Bernard O'Dowd, Luise Gottsched, Anastasius Grün, Johann Heinrich Merck, Christopher Smart, Lev Blatný, Romenu



| | |
| --- | --- |
| | |



Inhoud blog


| | |
| --- | --- |
| | Donald Hall, Javier Marías, Cyriel Buysse, Upton Sinclair, Joseph Breitbach, Adolf Endler, Henry Arthur Jones, Stevie Smith, Hanns Cibulka |
| | Crauss, Patrick Marber, William Golding, Ingrid Jonker, Orlando Emanuels, Jean-Claude Carričre, Stefanie Zweig, Mika Waltari, Hartley Coleridge |
| | Michaël Zeeman, Armando, Ton Anbeek, Stephan Sarek, Omer Karel De Laey, Michael Deak, Einar Már Gudmundsson, Gerrit Borgers |
| | Nicolien Mizee |
| | H.H. ter Balkt, Piet Gerbrandy, William Carlos Williams, Ken Kesey, Abel Herzberg, Dilip Chitre, Ludwig Roman Fleischer, Albertine Sarrazin, Mary Stewart |
| | Breyten Breytenbach, Alfred Schaffer, Frans Kusters, Michael Nava, Justin Haythe |
| | James Alan McPherson, Hans Arp, Andreas Neumeister, Anna Bosboom - Toussaint, Frans Eemil Sillanpää |
| | Lucebert, Jan Slauerhoff, Sergio Esteban Vélez, Chimamanda Ngozi Adichie, Agatha Christie, Orhan Kemal, Gunnar Ekelöf, James Fenimore Cooper, Claude McKay |
| | Dolce far niente, Eugen Roth, Hans Faverey, Theodor Storm, Leo Ferrier, Corly Verlooghen, Bernard MacLaverty, Ivan Klíma |
| | Tőnu Őnnepalu, Roald Dahl, Janusz Glowacki, Jac. van Looy, Nicolaas Beets, Marie von Ebner-Eschenbach, Otokar Březina, Julian Tuwim, Muus Jacobse |
| | Michael Ondaatje, James Frey, Chris van Geel, Louis MacNeice, Hannes Meinkema, Eduard Elias, Jan Willem Schulte Nordholt, Werner Dürrson, Gust Van Brussel |
| | Constantijn Huygens-prijs 2017 voor Hans Tentije |
| | David van Reybrouck, Murat Isik, D.H. Lawrence, Eddy van Vliet, Andre Dubus III, Tomas Venclova, Merrill Moore, Barbara Bongartz, Adam Asnyk |
| | Edmund de Waal, Andreď Makine, Franz Werfel, Paweł Huelle, Mary Oliver |
| | Eddy Pinas, Jeppe Aakjćr, Viktor Paskov, Hilda Doolittle, Reinhard Lettau, George Bataille |
| | C. O. Jellema, Wim Huijser, Cesare Pavese, Leo Tolstoj, Gentil Th. Antheunis, Gaston Durnez, Edward Upward, Hana Androníková, Bas Jongenelen |
| | Siegfried Sassoon, Anthonie Donker, Clemens Brentano, Wilhelm Raabe, Eduard Mörike, Franz Hellens, Frederic Mistral, Grace Metalious |
| | Merijn de Boer, Anton Haakman, Edith Sitwell, Willem Bilderdijk, Michael Guttenbrunner, Jenny Aloni, Margaret Landon, Henry Morton Robinson |
| | Christopher Brookmyre, Jennifer Egan, Aart G. Broek, Amelie Fried, Jessica Durlacher, Alice Sebold, Julien Green, Willem Brandt, Carmen Laforet |
| | 250 jaar August Wilhelm Schlegel, Marcel Möring, Herman Koch, Jos Vandeloo, Margaretha Ferguson, Ward S. Just, Heimito von Doderer, Rachid Boudjedra, Peter Winnen |
| | Helga Ruebsamen, Antonin Artaud, René de Chateaubriand, Constantijn Huygens, Richard Wright, Mary Renault, Marijn Sikken, Femke Brockhus, Dik van der Meulen |
| | In memoriam Theo Sontrop |
| | In Memoriam John Ashbery |
| | Jacq Firmin Vogelaar, Fritz J. Raddatz, Eduardo Galeano, Alison Lurie, Sergej Dovlatov, Kiran Desai, Ernst Meister, Lino Wirag, Doğan Akhanlı |
| | Willem de Mérode, Eric de Kuyper, R.A. Basart, Chris Kuzneski, Johan Daisne, Robert Habeck, Pierre Huyskens |
| | Joseph Roth, Johann Georg Jacobi, Manfred Böckl, Paul Bourget, Paul Déroulčde, Giovanni Verga, Richard Voß |
| | W. F. Hermans, Hubert Lampo, Blaise Cendrars, Edgar Rice Burroughs, Sabine Scho, Peter Adolphsen, Lenrie Peters, J. J. Cremer |
| | William Saroyan, Éric Zemmour, Wolfgang Hilbig, Elizabeth von Arnim, Théophile Gautier, Raymond P. Hammond |
| | Dolce far niente, James Whitcomb Riley, Charles Reznikoff, François Cheng, Jiři Orten, Libu¨e Moníková, Mary Wollstonecraft Shelley |
| | Dolce far niente, Jennifer Grotz, Hugo Brandt Corstius, Elma van Haren, John Edward Williams, Maurice Maeterlinck, Thom Gunn |
| | Dolce far niente, Friedrich Hebbel, Johann Wolfgang von Goethe, Maria Barnas, A. Moonen, C. J. Kelk, Frederick Kesner |
| | Rainer Kirsch, Tom Lanoye, Kristien Hemmerechts, Paul Verhuyck, Jeanette Winterson |
| | Lolita Pille, David Rowbotham, Norah Lofts, Cecil Scott Forester, Lernert Engelberts |
| | Christopher Isherwood, Laura van der Haar, C. B. Vaandrager, Paula Hawkins, Joachim Helfer, Guillaume Apollinaire, Rashid Al-Daif |
| | Jules Romains, Julio Cortázar, Walter Helmut Fritz, Joachim Zelter, Jürgen Kross, Ludwig Aurbacher, Boris Pahor |
| | Martin Amis, Kees Stip, Howard Jacobson, Charles Wright, Maxim Biller, Frederick Forsyth, Jňgvan Isaksen, Johann Gottfried von Herder, Thea Astley |
| | John Green, Drs. P, Marion Bloem, Pepijn Lanen, Stephen Fry, Jorge Luis Borges, A. S. Byatt, Sascha Anderson, Johan Fabricius |
| | Dolce far niente, Victor Vroomkoning, Charles Busch, Curtis Sittenfeld, Koos Dijksterhuis, Albert Alberts, Ilija Trojanow |
| | Dolce far niente, Jacob Israël de Haan, Griet Op de Beeck, Jeroen Theunissen, Annie Proulx, Krijn Peter Hesselink, Willem Arondeus |
| | Alfred Wellm |
| | Dolce far niente, Martin Bril, Rogi Wieg, X.J. Kennedy, Robert Stone, Aubrey Beardsley, Frédéric Mitterrand |
| | Dolce far niente, Tom van Deel, Anneke Brassinga, Etgar Keret, James Rollins, Clemens Meyer, Arno Surminski |
| | Maren Winter, Charles de Coster, Edgar Guest, Tarjei Vesaas, Salvatore Quasimodo, Colin MacInnes |
| | Sylvie Richterová, Ernst-Jürgen Dreyer, Boleslaw Prus, Menno Lievers, Vasili Aksjonov, Jacqueline Susann |
| | Alfred Birney |
| | Mies Bouhuys, Jonathan Coe, Li-Young Lee, Frederik Lucien De Laere, Louis Th. Lehmann, Ogden Nash, Frank McCourt |
| | Marion Pauw, John Dryden, Samuel Richardson, Jerzy Andrzejewski, James Gould Cozzens, Claude Gauvreau, Inigo de Mendoza |
| | Dolce far niente, Hans Andreus, Ulrich Woelk, Marc Degens, Luciano de Crescenzo, Alain Robbe-Grillet, Idea Vilarińo |
| | Dolce far niente, Simon Vestdijk, Ted Hughes, V. S. Naipaul, Nis-Momme Stockmann, Jonathan Franzen, Jan Emmens |
| | Dolce far niente, Willen van Toorn, Charles Bukowski, Reiner Kunze, Moritz Rinke, Ferenc Juhász, Justus van Maurik |


Gastenboek


Druk op onderstaande knop om een berichtje achter te laten in mijn gastenboek