De Vlaamse dichteres en prozaschrijfster Christine D'Haen werd geboren in Sint-Amandsberg op 25 oktober 1923. Zie ook alle tags voor Christine D'Haen op dit blog en ook mijn blog van 25 oktober 2009 en ook mijn blog van 25 oktober 2010
Roos
Prélude
Schaamte van zoovele vrouwen, hoe zou
wistet gij heden reeds al jet ontbladeren
morgen, o roos, bij uw verouden
het blozen vermeerderen van uwe aderen!
Uw blos, o roos, het wederbeeld
van die mij steeg naar keel en wang,
onthullend wat tot hun verheeld:
hartstochtelijkheid en tegendwang.
Eenmaal ontplooid, o roos, verwacht
geen wederkeer: diep in den nacht
blijft heel uw hart ontbloot, en slaat uw geur
mij tegen aan de kamerdeur.
Uw lippen willen alles, roos, verkonden,
en ik moet zwijgende de mijne sluiten;
alles verzwijgt gij woordloos met uw monden,
al het verborgene wil ik uiten, uiten.
Een geil, o roos, een zeer geheime
vergun mij voor mijn stil vervoeren:
zij vinden slechts die u bezoeken
volmaaktheid in uw omslagdoeken.
Uw lippen wil ik pletten tusschen tanden,
u eten en uw geurig vleesch aanranden,
dat zoeter is naarmate witter,
het witte zoet, het roode bitter.
Vervulling overstelpend, volte
van onverwoordbaarheid, geheel
uw lichaam ligt rond en holten
onthullend nauwlijks uw teveel.
Menschelijker dan andere bloemen
omdat gij met meerdere lippen zwijgt:
vegetaler ik door u niet te noemen.
Uw zilveren floers op purperlak
Uw grein van fijne maas en twijn
Uw ongefronst geglimd fustein
Uw gouden huive en paarlen jak.
Gij uw gedorend halsje buigt
door uw extremen overstelpt.
Gij bergt uw fonklende overmoed
deemoedig in uw bottelzoet.
Verbrand van regen is uw blad
verrot uw kleedsel en verdord uw hart
de storm vermorzelde u met overmacht
geen letsel hebt gijzelf u toegebracht.
Orgasme o roos binnen zooveel lippen
verborgen betooverd tot zooveel droom
van zoovele oogleden slapend geloken
met tranen bepareld hun zachtste zoom.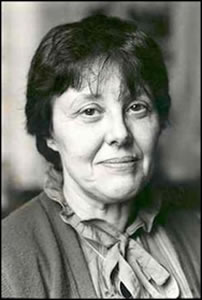 Christine D'haen (25 oktober 1923 – 3 september 2009)
De Amerikaanse dichter en schrijver John Allyn Berryman (eig. John Allyn Smith) werd geboren op 25 oktober 1914 in McAlester, Oklahoma. Zie ook alle tags voor John Berryman op dit blog en ook mijn blog van 25 oktober 2009 en ook mijn blog van 25 oktober 2010
Dream Song 10
There were strange gatherings. A vote would come
that would be no vote. There would come a rope.
Yes. There would come a rope.
Men have their hats down. "Dancing in the Dark"
will see him up, car-radio-wise. So many, some
won't find a rut to park.
It is in the occasions, that-not the fathomless heart-
the thinky death consists;
his chest is pinched. The enemy are sick,
and so is us of. Often, to rising trysts,
like this one, drove he out
and gasps of love, after all, had got him ready.
However things hurt, men hurt worse. He's stark
to be jerked onward?
Yes. In the headlights he got' keep him steady,
leak not, look out over. This' hard work,
boss, wait' for The Word.
Dream Song 14
Life, friends, is boring. We must not say so.
After all, the sky flashes, the great sea yearns,
we ourselves flash and yearn,
and moreover my mother told me as a boy
(repeatingly) 'Ever to confess you're bored
means you have no
Inner Resources.' I conclude now I have no
inner resources, because I am heavy bored.
Peoples bore me,
literature bores me, especially great literature,
Henry bores me, with his plights & gripes
as bad as achilles,
who loves people and valiant art, which bores me.
And the tranquil hills, & gin, look like a drag
and somehow a dog
has taken itself & its tail considerably away
into mountains or sea or sky, leaving
behind: me, wag.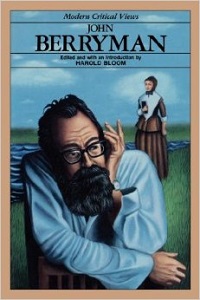 John Berryman (25 oktober 1914 – 7 januari 1972)
Cover
De Nederlandse dichteres Hélène Swarth werd geboren op 25 oktober 1859 in Amsterdam. Zie ook mijn blog van 25 oktober 2010 en eveneens alle tags voor Hélène Swarth op dit blog.
Het gele huis
Ik ben ziek van heimwee naar 't gele huis,
In het lommer van groene linden,
Waar zongen belovend hun neurie-geruis
De dromige zomerwinden.

Nu wilde ik wel reizen naar 't gele huis
En luistren naar 't suizlen der linden
En dromen van liefde in mijn zonnige kluis
En omhelzen wie trouw mij beminden.

Doch zo ik nu belde aan het gele huis,
Wie zou ik er wedervinden?
- In een zwarte kluis zijn mijn lieven thuis
En geveld zijn de zingende linden.
Ik vond een vogel, stervende in de tuin
Kinderjaren.
I
Ik vond een vogel, stervende in de tuin.
Geen koestren hielp, hij drinken wou noch eten.
Gelijk een bloem, wier stengel werd gereten,
Aan 't slappe halsje hing het kopje schuin.
Eén siddering - en dan, in niets meer weten,
Verstrakte 't lijfje, als de aarde grijzigbruin.
Wij hebben 't stil begraven in de tuin -
Die kleine vogel kan ik nooit vergeten.
Zo zag 'k voor 't eerst het wonder van de dood
- Nu moest die vogel zang en vliegspel derven,
Weerloos vergaan tot aarde in aardeschoot.
Toen wist ik: - Nu nog zijn mijn wangen rood,
Nog zing en dans ik, maar ook ik moet sterven -
'k Voel nog de kou, die héél mijn zijn doorvloot.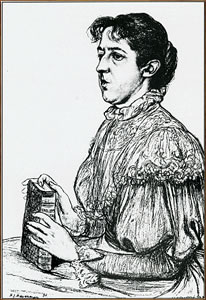 Hélène Swarth (25 oktober 1859 - 20 juni 1941)
Portret door H.J. Haverman, 1896
De Amerikaanse schrijver Harold Brodkey werd geboren op 25 oktober 1930 als Aaron Roy Weintraub in Staunton, Illinois. Zie ook alle tags voor Harold Brodkey op dit blog en ook mijn blog van 25 oktober 2009 en ook mijn blog van 25 oktober 2010
Uit: Old In Venice
"This morning I woke at dawn. and the place announced itself immediately even in the near dark through the windows of my room. water and facades. moored boats. boats at work upon the glimmering surface of dark water. I wake nowadays once or twice before I wake. I often dream I am waking and feel the half-dark air and myself as real when it isn't yet the real world . . . I'm not my age. I feel something like the silent clatter of my dreams. like horses on a shore. on the Lido. or the inland rim of the Lagoon. horses and armed men. often Oriental. usually silent.
l have discussed this with myself. who the silent Orientals are - perhaps Huns. I am mean. hungry alter a night's sleep. But men of the East and not Lombards and the lumbering bombardment of the feudal wars of one's career. Of one's polities. Goths and Vandals Milanese. But Death.
Or the dead. Or the barbarian young arriying in force during the night as Tartars and Mongols. And the sound of my ow n harsh breath is the snorting and clanging of war. of rage. left over from my night's dreams. from such invasion. Ruskin writes that Venice in the mid-nineteenth century was. at low tide. in the middle of a lagoon of mud. of seaweed and quaking. unstable muck, Desolation and uncrossability. There were miles of kreeks and rills and wandering channels of deeper water which when the tide changed rose and oyerflowed among the seaplants and stirred them and made the mud of the higher knolls gleam. and then it covered all of it w ith its own shiyering. reflectant symmetry. With reflections of the sky. Beauty arrives. The beauty of the city in the sea.
In the dream I had just before waking. l was rescued from being hung on a gibbet in Carmaregro by masked figures. and then I fought in single combat like Sohrab and Rustum with my father or my brother Carlo on the edge of the Lagoon. swords elanging on metal. eyes mad with quarrelling. with neryes. The sky was deep red. maroon-termillion. dark crimson. and purple. flames or sunset And the dream. like most dreams. was shot through with emotion very clearly. with passion and fear. but this one was also full of contest and evidence of fatality. the fatality of close relationship."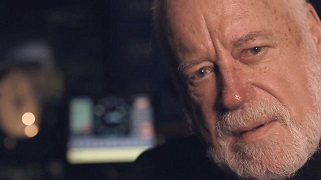 Harold Brodkey (25 oktober 1930 - 26 januari 1996)
De Oostenrijkse schrijver Karl Emil Franzos werd geboren op 25 oktober 1848 in Czortków (Galicië). Zie ook alle tags voor Karl Emil Franzos op dit blog en ook mijn blog van 25 oktober 2010
Uit:Der Pojaz
"Dort also bin ich, wie gesagt, zur Welt gekommen, vorzeitig; meine arme Mutter war ja in tödlicher Angst und Sorge um den Gatten. Die Gefahr ging gnädig an ihm vorbei; schon im November war der Aufstand der Polen zu Ende, und sie konnte heimkehren. Man sieht, ich bin deshalb in Rußland zur Welt gekommen, weil mein Vater sich als Deutscher fühlte und danach handelte.
Auch bei meiner Erziehung. Das deutsche Nationalgefühl, das mich erfüllt, das auch ich mein Leben lang betätigt habe, ist mir von Kindheit auf eingeprägt worden. Ich war noch nicht drei Käse hoch, als mir mein Vater bereits sagte: »Du bist deiner Nationalität nach kein Pole, kein Ruthene, kein Jude – du bist ein Deutscher.« Aber ebenso oft hat er mir schon damals gesagt: »Deinem Glauben nach bist du ein Jude.« Mein Vater erzog mich wie mein Großvater ihn erzogen, in denselben Anschauungen, sogar zu demselben Endzweck, ich sollte meine Heimat nicht in Galizien finden, sondern im Westen. Und auch die Gründe, die meinen Vater dazu bewogen, waren dieselben.
Ich besuchte die einzige Schule des Städtchens, die im Kloster der Dominikaner; dort lernte ich Polnisch und Latein. Im Deutschen unterrichtete mich mein Vater selbst. Für das Hebräische hatte ich einen besonderen Lehrer. Dieser Mann war zugleich der einzige meiner Czortkower Glaubensgenossen, mit dem ich bis in mein zehntes Jahr in nähere Berührung kam. Meine Mitschüler, meine Spielgefährten waren Christen. Ich betrat selten ein jüdisches Haus, nie die Synagoge. Religiöse Bräuche sowie die Speisegesetze wurden im elterlichen Hause nicht gehalten. Ich wuchs wie auf einer Insel auf. Von meinen Mitschülern schieden mich Glaube und Sprache, und genau dasselbe schied mich von den jüdischen Knaben. Ich war ein Jude, aber von anderer Art als sie, und ihre Sprache war mir nicht ganz verständlich."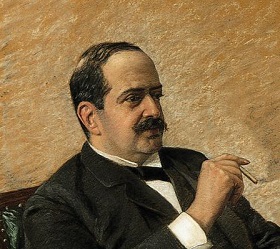 Karl Emil Franzos (25 oktober 1848 - 28 januari 1904)
Portret door P. Levy, 1893
De Franse schrijver Benjamin Henri Constant de Rebecque werd geboren op 25 oktober 1767 in Lausanne. Zie ook alle tags voor Benjamin Constant op dit blog en ook mijn blog van 25 oktober 2010
Uit: Adolphe
« Je ne me souviens pas, pendant mes dix-huit premières années, d'avoir eu jamais un entretien d'une heure avec lui. Ses lettres étaient affectueuses, pleines de conseils, raisonnables et sensibles; mais à peine étions-nous en présence l'un de l'autre qu'il y avait en lui quelque chose de contraint que je ne pouvais m'expliquer, et qui réagissait sur moi d'une manière pénible. Je ne savais pas alors ce que c'était que la timidité, cette souffrance intérieure qui nous poursuit jusque dans l'âge le plus avancé, qui refoule sur notre coeur les impressions les plus profondes, qui glace nos paroles, qui dénature dans notre bouche tout ce que nous essayons de dire, et ne nous permet de nous exprimer que par des mots vagues ou une ironie plus ou moins amère, comme si nous voulions nous venger sur nos sentiments mêmes de la douleur que nous éprouvons à ne pouvoir les faire connaître. Je ne savais pas que, même avec son fils, mon père était timide, et que souvent, après avoir longtemps attendu de moi quelques témoignages d'affection que sa froideur apparente semblait m'interdire, il me quittait les yeux mouillés de larmes et se plaignait a d'autres de ce que je ne l'aimais pas.
Ma contrainte avec lui eut une grande influence sur mon caractère. Aussi timide que lui, mais plus agité, parce que j'étais plus jeune, je m'accoutumai à renfermer en moi-même tout ce que j'éprouvais, à ne former que des plans solitaires, à ne compter que sur moi pour leur exécution, à considérer les avis, l'intérêt, l'assistance et jusqu'à la seule présence des autres comme une gêne et comme un obstacle. Je contractai l'habitude de ne jamais parler de ce qui m'occupait, de ne me soumettre à la conversation que comme à une nécessité importune et de l'animer alors par une plaisanterie perpétuelle qui me la rendait moins fatigante, et qui m'aidait à cacher mes véritables pensées. De là une certaine absence d'abandon qu'aujourd'hui encore mes amis me reprochent, et une difficulté de causer sérieusement que j'ai toujours peine à surmonter. Il en résulta en même temps un désir ardent d'indépendance, une grande impatience des liens dont j'étais environné, une terreur invincible d'en former de nouveaux."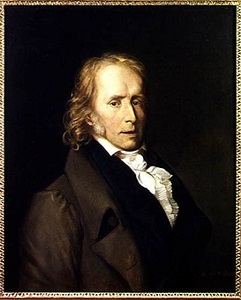 Benjamin Constant (25 oktober 1767 – 8 december 1830)
Portret door Hercule de Roche. 1830
De Engelse dichter Geoffrey Chaucer werd vermoedelijk rond het jaar 1343 geboren in Londen. Zie ook alle tags voor Geoffrey Chaucer op dit blog.
Uit:The Canterbury Tales
The Miller's Tale (Fragment)
This carpenter hadde wedded newe a wyf,
Which that he lovede moore than his lyf;
Of eighteteene yeer she was of age.
Jalous he was, and heeld hire narwe in cage,
For she was wylde and yong, and he was old,
And demed hymself been lik a cokewold.
He knew nat catoun, for his wit was rude,
That bad man sholde wedde his simylitude.
Men sholde wedden after hire estaat,
For youthe and elde is often at debaat.
But sith that he was fallen in the snare,
He moste endure, as oother folk, his care.
Fair was this yonge wyf, and therwithal
As any wezele hir body gent and smal.
A ceynt she werede, barred al of silk,
A barmclooth eek as whit as morne milk
Upon hir lendes, ful of many a goore.
Whit was hir smok, and broyden al bifoore
And eek bihynde, on hir coler aboute,
Of col-blak silk, withinne and eek withoute.
The tapes of hir white voluper
Were of the same suyte of hir coler;
Hir filet brood of silk, and set ful hye.
And sikerly she hadde a likerous ye;
Ful smale ypulled were hire browes two,
And tho were bent and blake as any sloo.
She was ful moore blisful on to see
Than is the newe pere-jonette tree,
And softer than the wolle is of a wether.
And by hir girdel heeng a purs of lether,
Tasseled with silk, and perled with latoun.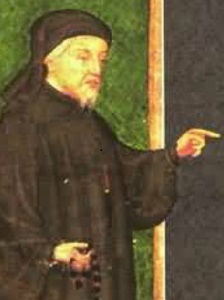 Geoffrey Chaucer (Ca. 1343 - 25 oktober 1400)
Portret door de dichter Hoccleve
25-10-2015 om 13:25 geschreven door Romenu

Tags:Christine D'haen, John Berryman, Hélène Swarth, Harold Brodkey, Karl Emil Franzos, Benjamin Constant, Geoffrey Chaucer, Romenu