De Duitse dichter en schrijver Johann Wolfgang von Goethe werd geboren op 28 augustus 1749 in Frankfurt am Main. Goethe werd de afgelopen week tot grootste Duitser aller tijden verkozen. Zie ook mijn blog van 28 augustus 2010 en eveneens alle tags voor Johann Wolfgang von Goethe op dit blog.
Uit: Faust I
"Prolog im Himmel.
Der Herr. Die himmlischen Heerscharen. Nachher Mephistopheles. Die drei Erzengel treten vor.
Raphael:
Die Sonne tönt, nach alter Weise,
In Brudersphären Wettgesang,
Und ihre vorgeschriebne Reise
Vollendet sie mit Donnergang.
Ihr Anblick gibt den Engeln Stärke,
Wenn keiner sie ergründen mag;
die unbegreiflich hohen Werke
Sind herrlich wie am ersten Tag.
Gabriel:
Und schnell und unbegreiflich schnelle
Dreht sich umher der Erde Pracht;
Es wechselt Paradieseshelle
Mit tiefer, schauervoller Nacht.
Es schäumt das Meer in breiten Flüssen
Am tiefen Grund der Felsen auf,
Und Fels und Meer wird fortgerissen
Im ewig schnellem Sphärenlauf.
Michael:
Und Stürme brausen um die Wette
Vom Meer aufs Land, vom Land aufs Meer,
und bilden wütend eine Kette
Der tiefsten Wirkung rings umher.
Da flammt ein blitzendes Verheeren
Dem Pfade vor des Donnerschlags.
Doch deine Boten, Herr, verehren
Das sanfte Wandeln deines Tags.
Zu drei:
Der Anblick gibt den Engeln Stärke,
Da keiner dich ergründen mag,
Und alle deine hohen Werke
Sind herrlich wie am ersten Tag.
Mephistopheles:
Da du, o Herr, dich einmal wieder nahst
Und fragst, wie alles sich bei uns befinde,
Und du mich sonst gewöhnlich gerne sahst,
So siehst du mich auch unter dem Gesinde.
Verzeih, ich kann nicht hohe Worte machen,
Und wenn mich auch der ganze Kreis verhöhnt;
Mein Pathos brächte dich gewiß zum Lachen,
Hättst du dir nicht das Lachen abgewöhnt.
Von Sonn' und Welten weiß ich nichts zu sagen,
Ich sehe nur, wie sich die Menschen plagen.
Der kleine Gott der Welt bleibt stets von gleichem Schlag,
Und ist so wunderlich als wie am ersten Tag.
Ein wenig besser würd er leben,
Hättst du ihm nicht den Schein des Himmelslichts gegeben;
Er nennt's Vernunft und braucht's allein,
Nur tierischer als jedes Tier zu sein.
Er scheint mir, mit Verlaub von euer Gnaden,
Wie eine der langbeinigen Zikaden,
Die immer fliegt und fliegend springt
Und gleich im Gras ihr altes Liedchen singt;
Und läg er nur noch immer in dem Grase!
In jeden Quark begräbt er seine Nase."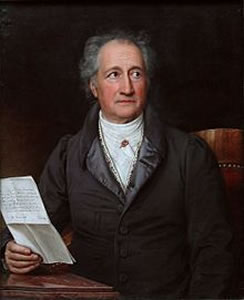 Johann Wolfgang von Goethe (28 augustus 1749 – 22 maart 1832)
Portret (olieverf) door Joseph Karl Stieler, 1828.
Volgens Stieler luidde Goethes commentaar: "Sie zeigen mir, wie ich sein könnte. Mit diesem Manne auf dem Bilde ließe sich wohl gerne ein Wörtchen sprechen. Er sieht so schön aus, dass er wohl noch eine Frau bekommen könnte." Geciteerd naar: Emil Schaeffer, Jörn Göres: Goethe – seine äußere Erscheinung, p. 179.
De Nederlandse schrijver A. Moonen, (spreek uit: 'a-punt-moonen') werd geboren in Rotterdam op 28 augustus 1937. Zie ook mijn blog van 28 augustus 2010 en eveneens alle tags voor A. Moonen op dit blog.
Uit: Armlastig
"Alles komt weer op gang. Het theaterseizoen is begonnen, de doden zijn begraven of gecremeerd en het najaar nadert. Zomerkleren kunnen in de onbewaakte garderobe. Zwangeren werden ontlast en de burgerbevolking nam toe. Neem afscheid in uw eigen stijl. Een correcte uitvaartverzorging. Het wemelt in de maasstad van de volgzame moslims met totaal herenigd gezinsleven, televée op scherp, hechte familiebanden, de koraan op 't nachtkastje, moskee binnen knielbereik en mekka ver in het oosten. De schoorsteenveger is ondertussen ook alweer geweest in opdracht der Combinatie. Geen Pyke Koch- of Hikmettype; een volksgriezel, vermoedelijk tijd besparend om in koffiehuizen over de voetbal te kunnen lullen bij een glas bier of kopstoot, zó gehaast was hij met een stofzuiger achter de gashaard bezig. Waar de suikerpatiënt naastaan zich met hebben en houden naar een andere stadswijk heeft laten verplaatsen, minstens een halfjaar terug alweer, ben ik benieuwd wie precies de woning zullen gaan belasten. In elk geval was een tweetal, van wie er één nogal luidweg hakkelde, vorige week bezig de achtergelaten tuinwildernis te ontginnen. Bofte ik nog dat ze er geen lokale radiozender bij nodig hadden. Enkel maar volkse spekstemmen, meer niet. Dit heeft mij wel geïnspireerd om Hikmet aanstaande vrijdag tuinbijverdienste ad een joetje per uur te gunnen. Omdat de verstandhouding met de Combinatie op een laag pitje is komen te staan, weet ik niet zulk recht te hebben als de nog onbekende nieuwe bewoners op tuinverzorging via de woningbouwvereniging. Pedagogisch is het trouwens beter dat Hikmet buiten de anale poespas om zo af en toe een personeelslid van mij is; dat hij shaggies voor me draait heeft immers evenzeer een gunstig effect op onze van alle gangbare normen afwijkende relatie. Ik moet mij er maar mee verzoenen dat de vaste minnaar zijn armoe op mijn armlastigheid poogt te verhalen.
Niet dat mijn tuin onoverzichtelijk verwilderd is, allerminst. Ik kan nog over de tegels tot bekant uiterste schutting lopen en er groeien zelfs nog diverse bloemen, doch het liefst is mij laag gras zonder bloemontsiering, want bloemen merk ik voldoende in de graaiklauwen der buurtbewoonsters voor de marktkraam of als zij zich naar huis spoeden om de gekochte bossen 'ruikers' over vazen te verdelen."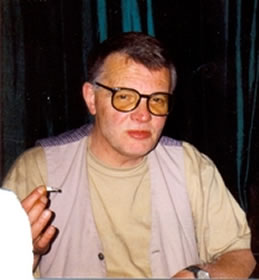 A. Moonen (28 augustus 1937 – 24 januari 2007)
De Nederlandse schrijfster, dichter en beeldend kunstenaar Maria Barnas werd geboren in Hoorn op 28 augustus 1973. Zie ook mijn blog van 28 augustus 2010.
Paradise
Om indruk te maken op de acteur aan mijn tafel
zeg ik De mooiste film die ik ooit zag heet Paradise Lost
De camera bewoog zich niet en alles was zwartwit
vreemd als een paradijs nee vreemder
De jongen zegt dat ik Stranger than paradise bedoel
Ik concentreer me op het woord 'gereserveerd'
tot de letters zwemmen en de wereld een vlek is
De wereld, mijn wereld verhardt zich
Ter illustratie: een hoofd van klei wordt in een oven
geschoven en zo heet gestookt tot het hoofd hard is
en de grootte heeft van een gebalde vuist
Maar een beeld is breekbaar
en dat geloof ik van de wereld niet
Passie is een manier om me aan het bestaan te onttrekken
maar ik kan het niet uitspreken
Het is meer iets voor een acteur
De acteur staat op
Er is een wereld die op hem wacht
Ik blijf nog even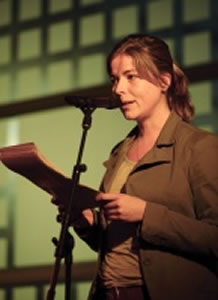 Maria Barnas (Hoorn, 28 augustus 1973)
De Australische dichter Frederick Alexander III Kesner werd geboren op 28 augustus 1967 in Manilla op de Filippijnen. Zie ook mijn blog van 28 augustus 2008 en ook mijn blog van 28 augustus 2009 en ook mijn blog van 28 augustus 2010
Love Is
Love is in the horizon,
it sits upon the sand;
the whispers in the hallway,
revealing secrets grand.
It's dancing in the rain
and in the blazing sun;
the mighty flowing river,
the voice of a long lost son.
Love is in the desert,
in the oasis' leafy fronds;
the racing tiny tadpoles
in lazy summer ponds.
It's teary airport farewells
and walks on a moonlit night;
the gentle flowing breezes
that quiet the frightened heart.


Charade in Review
The masks we wear, to us are given,
assigned to us before our cue.
The choice is ours to reveal or hide-
A grand charade with many a clue.
Would you be this or be you that;
Is it surfaced or is it hidden?
Not all secrets are lies or deceit,
Our view of others we must widen.
The genuine heart will itself reveal
Its spots or stripes are where they're at.
The lot of what we think we see,
provide but circumstantial caveat.
We often discard what eyes can't see;
Too often distrust what hearts conceal.
The masquerade of life continues,
Its colours and shapes our truths congeal.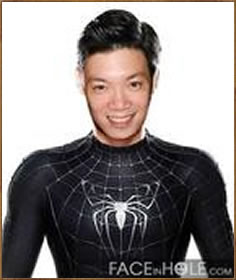 Frederick Kesner (Manilla, 28 augustus 1967)
De Amerikaanse schrijfster en dichteres Rita Frances Dove werd geboren op 28 augustus 1952 in Akron, Ohio. Zie ook mijn blog van 28 augustus 2007 en ook mijn blog van 28 augustus 2008 en ook mijn blog van 28 augustus 2009 en ook mijn blog van 28 augustus 2010
The Bistro Styx
She was thinner, with a mannered gauntness
as she paused just inside the double
glass doors to survey the room, silvery cape
billowing dramatically behind her.What's this,

I thought, lifting a hand until
she nodded and started across the parquet;
that's when I saw she was dressed all in gray,
from a kittenish cashmere skirt and cowl

down to the graphite signature of her shoes.
"Sorry I'm late," she panted, though
she wasn't, sliding into the chair, her cape

tossed off in a shudder of brushed steel.
We kissed.Then I leaned back to peruse
my blighted child, this wary aristocratic mole.

"How's business?" I asked, and hazarded
a motherly smile to keep from crying out:
Are you content to conduct your life
as a cliché and, what's worse,

an anachronism, the brooding artist's demimonde?
Near the rue Princesse they had opened
a gallery cum souvenir shop which featured
fuzzy off-color Monets next to his acrylics, no doubt,

plus beared African drums and the occasional miniature
gargoyle from Notre Dame the Great Artist had
carved at breakfast with a pocket knife.

"Tourists love us.The Parisians, of course"--
she blushed--"are amused, though not without
a certain admiration . . ."
The Chateaubriand

arrived on a bone-white plate, smug and absolute
in its fragrant crust, a black plug steaming
like the heart plucked from the chest of a worthy enemy;
one touch with her fork sent pink juices streaming.

"Admiration for what?"Wine, a bloody
Pinot Noir, brought color to her cheeks."Why,
the aplomb with which we've managed
to support our Art"--meaning he'd convinced

her to pose nude for his appalling canvases,
faintly futuristic landscapes strewn
with carwrecks and bodies being chewed

by rabid cocker spaniels."I'd like to come by
the studio," I ventured, "and see the new stuff."
"Yes, if you wish . . ."A delicate rebuff

before the warning: "He dresses all
in black now.Me, he drapes in blues and carmine--
and even though I think it's kinda cute,
in company I tend toward more muted shades."

She paused and had the grace
to drop her eyes.She did look ravishing,
spookily insubstantial, a lipstick ghost on tissue,
or as if one stood on a fifth-floor terrace

peering through a fringe of rain at Paris'
dreaming chimney pots, each sooty issue
wobbling skyward in an ecstatic oracular spiral.

"And he never thinks of food.I wish
I didn't have to plead with him to eat. . . ."Fruit
and cheese appeared, arrayed on leaf-green dishes.

I stuck with café crème."This Camembert's
so ripe," she joked, "it's practically grown hair,"
mucking a golden glob complete with parsley sprig
onto a heel of bread.Nothing seemed to fill

her up: She swallowed, sliced into a pear,
speared each tear-shaped lavaliere
and popped the dripping mess into her pretty mouth.
Nowhere the bright tufted fields, weighted

vines and sun poured down out of the south.
"But are you happy?"Fearing, I whispered it
quickly."What?You know, Mother"--

she bit into the starry rose of a fig--
"one really should try the fruit here."
I've lost her, I thought, and called for the bill.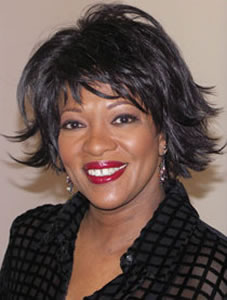 Rita Dove (Akron, 28 augustus 1952)



Zie voor nog meer schrijvers van de 28e augustus ook
mijn vorige blog van vandaag.
28-08-2011 om 19:24 geschreven door Romenu

Tags:Johann Wolfgang von Goethe, Goethe, A. Moonen, Maria Barnas, Frederick Kesner, Rita Dove, Romenu