E-mail mij


Druk op onderstaande knop om mij te e-mailen.


Romenu


Romenu is een blog over gedichten, literatuur en kunst Maar Romenu is ook een professionele freelance vertaler
Du-Ne en Ne-Du http://www.romenu.nl.


Huur eens een (vakantie)huis in een natuurgebied, dichtbij het centrum van Nijmegen


Google


Georg Trakl

Georg Trakl werd op 3 februari 1887 in het conducteurshuis aan de Waagplatz 2 in Salzburg geboren. Zijn vader, Tobias Trakl, was een handelaar in ijzerwaren en zijn moeder, die ook psychische problemen had, was Maria Catharina Trakl, (meisjesnaam Halik). Voorts had hij nog drie broers en drie zussen. Margarethe (doorgaans Grethe genoemd) stond hem het naast, zelfs zodanig dat sommigen een incestueuze verhouding vermoeden. Zijn jeugd bracht hij door in Salzburg. Vervolgens bezocht hij van 1897 tot 1905 het humanistische gymnasium. Om toch een academische opleiding te kunnen volgen, werkte hij tot 1908 in de praktijk bij een apotheker. Sommigen vermoedden dat hij dit vooral deed om zichzelf opiaten te kunnen verschaffen. Bij het uitbreken van WO I werd Trakl als medicus naar het front in Galicië (heden ten dage in Oekraïne en Polen) gestuurd. Zijn gemoedsschommelingen leidden tot geregelde uitbraken van depressie, die verergerd werden door de afschuw die hij voelde voor de verzorging van de ernstig verwonde soldaten. De spanning en druk dreven hem ertoe een suïcidepoging te ondernemen, welke zijn kameraden nochtans verhinderden. Hij werd in een militair ziekenhuis opgenomen in Kraków, alwaar hij onder strikt toezicht geplaatst werd.Trakl verzonk daar in nog zwaardere depressies en schreef Ficker om advies. Ficker overtuigde hem ervan dat hij contact moest opnemen met Wittgenstein, die inderdaad op weg ging na Trakls bericht te hebben ontvangen. Op 4 november 1914, drie dagen voordat Wittgenstein aan zou komen, overleed hij echter aan een overdosis cocaïne


Paul Celan

Paul Celan werd onder de naam Paul Antschel op 23 november 1920 geboren in Czernowitz, toentertijd de hoofdstad van de Roemeense Boekovina, nu behorend bij de Oekraïne. Paul Celans ouders waren Duitssprekende joden die hun zoon joods opvoedden en hem naar Duitse christelijke scholen stuurden. In 1942 werden Celans ouders door de Duitse bezetter naar een werkkamp gedeporteerd en daar vermoord. Hijzelf wist aanvankelijk onder te duiken, maar moest vanaf juli 1942 in een werkkamp dwangarbeid verrichten. Celan overleefde de oorlog. Via Boekarest en Wenen vestigde Celan zich in 1948 in Parijs. Daar was hij werkzaam als dichter, vertaler en doceerde hij aan de prestigieuze Ecole Normale Supérieure. Vermoedelijk op 20 april 1970 beëindigde hij zijn leven zelf door in de Seine te springen.


Gerard Reve

Gerard Reve over: Medearbeiders "God is in de mensen, de dieren, de planten en alle dingen - in de schepping, die verlost moet worden of waaruit God verlost moet worden, door onze arbeid, aangezien wij medearbeiders van God zijn." Openbaring "Tja, waar berust elk godsbegrip op, elke vorm van religie? Op een openbaring, dat wil zeggen op een psychische ervaring van zulk een dwingende en onverbiddelijke kracht, dat de betrokkene het gevoel heeft, niet dat hij een gedachte of een visioen heeft, maar dat een gedachte gedachte of visioen hem bezit en overweldigt."


Simon Vestdijk
Simon Vestdijk (Harlingen, 17 oktober 1898 – Utrecht, 23 maart 1971) was een Nederlands romancier, dichter, essayist en vertaler. Zijn jeugd te Harlingen en Leeuwarden beschreef hij later in de Anton Wachter-cyclus. Van jongs af aan logeerde hij regelmatig bij zijn grootouders in Amsterdam, waar hij zich in 1917 aan de Universiteit van Amsterdam inschrijft als student in de medicijnen. Tijdens zijn studie die van 1917 tot 1927 duurde, leerde hij Jan Slauerhoff kennen.Tot 1932 is hij als arts in praktijken door heel Nederland werkzaam. In 1932 volgt zijn officiële schrijversdebuut met de uitgave van de bundel Verzen in De Vrije Bladen. Doorslaggevend voor Vestdijks uiteindelijke keuze voor de literatuur is zijn ontmoeting in 1932 met Eddy Du Perron en Menno ter Braak. Deze ontmoeting had tot resultaat dat hij redactielid werd van het tijdschrift Forum Kort daarop, in 1933, wordt zijn eerste novelle, De oubliette, uitgegeven. In hetzelfde jaar schrijft hij Kind tussen vier vrouwen, dat, eerst geweigerd door de uitgever, later de basis zal vormen voor de eerste drie delen van de Anton Wachter-romans. In 1951 ontvangt Vestdijk de P.C. Hooftprijs voor zijn in 1947 verschenen roman De vuuraanbidders. In 1957 wordt hij voor het eerst door het PEN-centrum voor Nederland voorgedragen voor de Nobelprijs voor de Literatuur, die hij echter nooit zal krijgen. Op 20 maart 1971 wordt hem de Prijs der Nederlandse Letteren toegekend, maar voor hij deze kan ontvangen overlijdt hij op 23 maart te Utrecht op 72-jarige leeftijd. Vestdijk was auteur van ca. 200 boeken. Vanwege deze enorme productie noemde de dichter Adriaan Roland Holst hem 'de man die sneller schrijft dan God kan lezen'. Andere belangrijke boeken van Simon Vestdijk zijn: "Kind van stad en land" (1936), "Meneer Visser's hellevaart" (1936), "Ierse nachten" (1946), "De toekomst de religie" (1947), "Pastorale 1943" (1948), "De koperen tuin" (1950), "Ivoren wachters" (1951), "Essays in duodecimo" (1952) en "Het genadeschot" (1964).


K.P. Kavafis

K.P. Kavafis werd als kind van Griekse ouders, afkomstig uit Konstantinopel, geboren in 1863 in Alexandrië (tot vandaag een Griekse enclave) waar hij ook het grootste deel van zijn leven woonde en werkte. Twee jaar na de dood van zijn vader verhuist het gezin in 1872 naar Engeland om na een verblijf van vijf jaar naar Alexandrië terug te keren. Vanwege ongeregeldheden in Egypte vlucht het gezin in 1882 naar Konstantinopel, om na drie jaar opnieuw naar Alexandrië terug te gaan. In de jaren die volgen maakt Kavafis reizen naar Parijs, Londen en in 1901 zijn eerste reis naar Griekenland, in latere jaren gevolgd door nog enkele bezoeken. Op de dag van zijn zeventigste verjaardag, in 1933 sterft Kavafis in Alexandrië. De roem kwam voor Kavafis pas na zijn dood, dus postuum. Deels is dat toe te schrijven aan zijn eigen handelswijze. Hij was uiterst terughoudend met de publicatie van zijn gedichten, liet af en toe een enkel gedicht afdrukken in een literair tijdschrift, gaf in eigen beheer enkele bundels met een stuk of twintig gedichten uit en het merendeel van zijn poëzie schonk hij op losse bladen aan zijn beste vrienden.


Thomas Mann


Thomas Mann, de jongere broer van Heinrich Mann, werd geboren op 6 juni 1875 in Lübeck. Hij was de tweede zoon van de graankoopman Thomas Johann Heinrich Mann welke later één van de senatoren van Lübreck werd. Zijn moeder Julia (geboren da Silva-Bruhns) was Duits-Braziliaans van Portugees Kreoolse afkomst. In 1894 debuteerde Thomas Mann met de novelle "Gefallen". Toen Thomas Mann met 21 jaar eindelijk volwassen was en hem dus geld van zijn vaders erfenis toestond - hij kreeg ongeveer 160 tot 180 goldmark per jaar - besloot hij dat hij genoeg had van al die scholen en instituties en werd onafhankelijk schrijver. Kenmerkend voor zijn stijl zijn de ironie, de fenomenale taalbeheersing en de minutieuze detailschildering. Manns reputatie in Duitsland was sterk wisselend. Met zijn eerste roman, Buddenbrooks (1901), had hij een enorm succes, maar door zijn sceptische houding tegenover Duitsland na de Eerste Wereldoorlog veranderde dit volledig. Stelde hij zich tot aan de jaren twintig apolitiek op (Betrachtungen eines Unpolitischen, 1918), meer en meer raakte hij bij het Politiek gebeuren betrokken. Zijn afkeer van het nationaal socialisme groeide, zijn waarschuwingen werden veelvuldiger en heftiger. In 1944 accepteerde hij het Amerikaanse staatsburgerschap. Tussen 1943 en 1947 schreef Mann Doktor Faustus (zie Faust), de roman van de 'Duitse ziel' in de gecamoufleerd geschilderde omstandigheden van de 20ste eeuw. In 1947 bezocht hij voor het eerst sinds de Oorlog Europa, twee jaar later pas Duitsland. In 1952 vertrok hij naar Zwitserland. Op 12 augustus 1955 stierf hij in Zürich. Twintig jaar na zijn dood, in aug. 1975, is zijn literaire nalatenschap geopend: dagboekaantekeningen van 15 maart 1933 tot 29 juli 1955, alsmede notities uit de jaren 1918 tot en met 1921.Belangrijke werken zijn: Der Zauberberg, Der Tod in Venedig, Dokter Faustus , Joseph und seine Brüder en Die Bekenntnisse des Hochstaplers Felix Krull.


Rainer Maria Rilke

Rilke werd op 4 december 1875 geboren in Praag. Hij had al naam gemaakt als dichter met zijn bundels Das Stundenbuch en Das Buch der Bilder, toen hij de literaire wereld versteld deed staan en wereldfaam verwierf met de publicatie van zijn twee delen Neue Gedichte in 1907 en 1908. Hij verzamelde daarin het beste werk uit een van zijn vruchtbaarste periodes, die hij grotendeels doorbracht in Parijs. Rilke was daar diep onder de indruk gekomen van Rodin, bij wie hij een tijdlang in dienst was als particulier secretaris. Rodin, zei hij later, had hem leren kijken. Dit kijken kwam neer op intense concentratie, om het mysterie te kunnen zien 'achter de schijnbare werkelijkheid'. Latere en rijpere werken als Duineser Elegien (1912-1923) en het ronduit schitterende Die Sonette an Orfeus (1924) illustreren Rilkes metafysische visie op het onzegbare, dat haar verwoording vindt in een hermetische muzikale taal. Op 29 december 1926 overlijdt Rilke in het sanatorium in Val-Mont aan de gevolgen van leukemie. Enkele dagen later wordt hij, overeenkomstig zijn wens, begraven op het kerkhof van Raron.


* * * * * * * * * * * * * * * *

| | |
| --- | --- |
| | Over literatuur, gedichten, kunst en cultuur |

25-05-2013

Egyd Gstättner, Eve Ensler, Friedrich Dieckmann, Claire Castillon, Raymond Carver, Jamaica Kincaid
De Oostenrijkse schrijver en essayist Egyd Gstättner werd geboren op 25 mei 1962 in Klagenfurt. Zie ook alle tags voor Egyd Gstättner op dit blog.
Uit: Absturz aus dem Himmel
"Eigentlich wollte ich – literarisch gerade wieder einmal frei geworden, was ein nervlich strapaziöser und auf Dauer wenigstens mir unausstehlicher Zustand ist – die Geschichte eines mündigen Staatsbürgers schreiben, der nach einem langen Wahlkampf in der Wahlzelle plötzlich von einer akuten Unentschiedenheit gepackt wird.
Denn er hält alle Parolen und Versprechungen und Gesichter aller Kandidaten aller Parteien gegeneinander und weiß partout nicht, in welchen Kreis er sein Kreuz machen könnte: eine Prosa übrigens, die deutliche autobiografische Züge enthalten soll; immerhin sagt eine meiner wenigen Literaturtheorien, dass meine Existenz von Haus aus derart dramatisch ist, dass ich keine andere benötige und nichts erfinden muss. Ich muss nur Ordnung schaffen.
Ich kann von meinem Leben leben. Weil er trotz der dringlichen Aufforderungen der Wahlhelfer der Parteien die Wahlzelle stundenlang nicht wieder verlässt mit der Begründung, eine solche Wahl sei eine heikle Angelegenheit und die gründlichste und genaueste Überlegung daher ein unerlässlicher Sachzwang, ungeachtet des sicher stimmigen Einwands, dass zunehmende Gründlichkeit und Genauigkeit dieser Überlegung eine daran anschließende Entscheidung für einen der Spitzenkandidaten, denen von der Meinungsforschung seriöse Gewinnchancen zugebilligt werden, keineswegs vereinfache, sondern im Gegenteil erschwere und verunmögliche, wird bald nicht nur die Warteschlange außerhalb der Wahlzelle, sondern auch das Fernsehen und damit das gesamte Bundesgebiet auf den Wähler aufmerksam, denn der Fernsehmoderator muss der am Höhepunkt der Hochspannung befindlichen Bevölkerung eingestehen, dass die für siebzehn Uhr angekündigte Hochrechnung, die das für das politische Leben der nächsten Jahre oder gar Jahrzehnte so richtungweisende und bedeutsame und mit einem Wort entscheidende Endergebnis der Wahlen erfahrungsgemäß mit verblüffender Exaktheit vorwegnimmt, nicht ausgestrahlt werden könne, obwohl sie natürlich bereits vorliege, aber erst veröffentlicht werden dürfe, sobald das letzte Wahllokal geschlossen habe."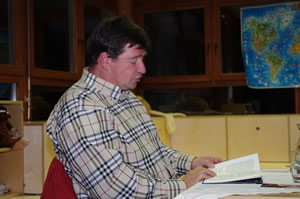 Egyd Gstättner (Klagenfurt, 25 mei 1962)
De Franse schrijfster Claire Castillon werd geboren op 25 mei 1975 in Neuilly-sur-Seine. Zie ook alle tags voor Claire Castillon op dit blog.
Uit: De wonderen (Vertaald door Kiki Coumans)
"Ik moet steeds weer aan die eerste mei denken, maar razendsnel, want dat kan ik niet langzaam. Lulu was al bij ons, maar hij was nog niet helemaal van mij, de puppy was toen nog van het hele gezin.
We hadden een appartement in de stad en Lulu zat urenlang te blaffen achter de deur van de eerste verdieping, waar ik woonde met mijn broer, mijn moeder en mijn vader. Hij blafte omdat hij wilde dat we thuiskwamen. Hij at sponzen op, hij knaagde aan stoelpoten en schoenveters, hij kon niet tegen de eenzaamheid. Mijn moeder werkte in een doe-het-zelfzaak, waar ze klanten advies gaf zonder dat ze er ook maar enig verstand van had. Op den duur was ze daar goed in geworden. Soms liet ze zich meeslepen door haar eigen geklets; eigenlijk was het haar droom prulletjes of kleren te gaan verkopen en soms zei ze over een boormachine: U kunt beter een grijze nemen, dat heeft iets jongs, en dan smeet ze het ding voor een klant neer alsof het een overhemd was.
Ze nam nooit pauze en vroeg nergens om, alleen als wij ziek waren, mijn broer en ik, belde ze de directie om haar werktijden te veranderen. Ze had dan ook geen vrienden, want bij stakingen werkte zij gewoon door om bij de chefs wat krediet op te bouwen voor als ze een keer niet kon komen. Ze werd zelfs weleens op de afdeling stofzuigers gezet omdat ze daar veel vanaf wist, en dat leverde haar extraatjes op. Mijn vader was vaak van huis als vertegenwoordiger in vernislakken, hij maakte strakke bochten met die rotauto van hem, liet muntjes in zijn broekzak rammelen en als het maar even kon zat hij naar gaatjes te loeren op meubelbeurzen, waardoor hij vaak te laat thuiskwam."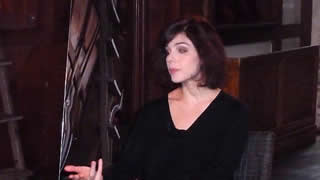 Claire Castillon (Neuilly-sur-Seine, 25 mei 1975)
De Amerikaanse schrijfster en feminste Eve Ensler werd op 25 mei 1953 in New York geboren. Zie ook alle tags voor Eve Ensler op dit blog.
Uit: In the Body of the World
"In the Congo there has been a war raging for almost thirteen years. Nearly eight million people have died and hundreds of thousands of women have been raped and tortured. It is an economic war fought over minerals that belong to the Congolese but are pillaged by the world. There are local and foreign militias from Rwanda, Burundi, and Uganda. They enter villages and they murder. They rape wives in front of their husbands. They force the husbands and sons to rape their daughters and sisters. They shame and destroy families and take over the villages and the mines. The minerals are abundant in the Congo — tin, copper, gold, and coltan, which are used in our iPhones and PlayStations and computers.
Of course by the time I got to the Congo, I had witnessed the epidemic of violence toward women that scoured the planet, but the Congo was where I witnessed the end of the body, the end of humanity, the end of the world. Femicide, the systematic rape, torture, and destruction of women and girls, was being employed as a military/corporate tactic to secure minerals. Thousands and thousands of women were not only exiled from their bodies, but their bodies and the functions and futures of their bodies were rendered obsolete: wombs and vaginas permanently destroyed.
The Congo and the individual horror stories of her women consumed me. Here I began to see the future—a monstrous vision of global disassociation and greed that not only allowed but encouraged the eradication of the female species in pursuit of minerals and wealth."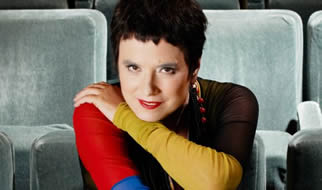 Eve Ensler (New York, 25 mei 1953)
De Duitse schrijver Friedrich Dieckmann werd geboren op 25 mei 1937 in Landsberg an der Warthe. Zie ook alle tags voor Friedrich Dieckmann op dit blog.
Uit: Freiheit ist nur in dem Reich der Träume (Schillers Jahrhundertwende)
"Dabei hatte die Krankheit immer auf der Lauer gelegen, diese Krämpfe in der Brust und darunter, ein schlafender Drache, der jederzeit aufwachen konnte. Aber derzeit schien alles gutzugehen, so groß die Spannung war – oder weil sie so groß war? »Es ist der Geist, der sich den Körper schafft« – das hatte er Wallenstein sagen lassen, als alles verloren war, und mit dem Körper war die Armee gemeint, die er zweimal aus dem Boden gestampft hatte, allerdings
Für den Kaiser dahinten in Wien, wo der Krieg niemals hingekommen war, nicht ohne oder gar gegen ihn. Er hatte das Gleichnis weitergefhrt und mußte lachen über den Vers, in den sein von der Armee verlassener Held sich verstiegen hatte:
»Wenn Haupt und Glieder sich trennen, dann wird sich zeigen, wo die Seele wohnt.« Im Moment hingen Körper und Geist ganz gut bei ihm zusammen. Aber es war gut, nach der langen Probe noch ein wenig durch das Städtchen zu laufen, das gerade zur Ruhe ging; niemand kam ihm auf der Straße entgegen. Er war an der Ackerwand entlanggegangen, zu seiten des Ilmparks; wer ihn so sah, dachte er bei sich, das Lämpchen mit dem gefalteten Blechdeckel – so kam Luft an die Ölflamme – und der eingesetzten Glasscheibe wie einen Krug in der Hand haltend, konnte ihn glatt für einen neuen Diogenes halten.
Auf der Bühne war alles gutgegangen, man hatte im fertigen Kostüm gespielt, was nicht immer vorkam, ganz historisch hatte es ausgesehen mit diesen Kollern und Wämsern und Hellebarden – auch die Schneider hatten sich ins Zeug gelegt. Hatte man nicht sogar alte Ofenplatten ausfindig gemacht, um den Stil von 1630 zu treffen? Die Schauspieler hatten ihren Text nicht nur gelernt, sie schienen ihn auch verstanden zu haben, diese Knittelverse, deren Reime man um Himmels willen nicht betonen durfte. Sie durften nur anklingen, sonst wurde es platt."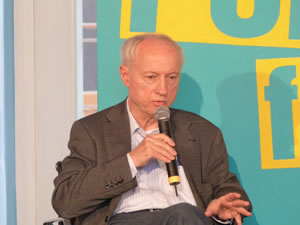 Friedrich Dieckmann (Landsberg an der Warthe, 25 mei 1937)
De Amerikaanse dichter en schrijver Raymond Carver werd geboren op 25 mei 1938 in Port Angeles. . Zie ook alle tags voor Raymond Carver op dit blog.
Circulation
And all at length are gathered in.
--LOUISE BOGAN

By the time I came around to feeling pain
and woke up, moonlight
flooded the room. My arm lay paralyzed,
propped up like an old anchor under
your back. You were in a dream,
you said later, where you'd arrived
early for the dance. But after
a moment's anxiety you were okay
because it was really a sidewalk
sale, and the shoes you were wearing,
or not wearing, were fine for that.

*

"Help me," I said. And tried to hoist
my arm. But it just lay there, aching,
unable to rise on its own. Even after
you said, "What is it? What's wrong?"
it stayed put -- deaf, unmoved
by any expression of fear or amazement.
We shouted at it, and grew afraid
when it didn't answer. "It's gone to sleep,"
I said, and hearing those words
knew how absurd this was. But
I couldn't laugh. Somehow,
between the two of us, we managed
to raise it. This can't be my arm
is what I kept thinking as
we thumped it, squeezed it, and
prodded it back to life. Shook it
until that stinging went away.

We said a few words to each other.
I don't remember what. Whatever
reassuring things people
who love each other say to each other
given the hour and such odd
circumstance. I do remember
you remarked how it was light
enough in the room that you could see
circles under my eyes.
You said I needed more regular sleep,
and I agreed. Each of us went
to the bathroom, and climbed back into bed
on our respective sides.
Pulled the covers up. "Good night,"
you said, for the second time that night.
And fell asleep. Maybe
into that same dream, or else another.

*


I lay until daybreak, holding
both arms fast across my chest.
Working my fingers now and then.
While my thoughts kept circling
around and around, but always going back
where they'd started from.
That one inescapable fact: even while
we undertake this trip,
there's another, far more bizarre,
we still have to make.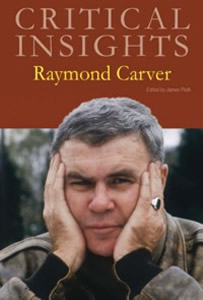 Raymond Carver (25 mei 1938 – 2 augustus 1988)
Cover
De Amerikaanse schrijfster Jamaica Kincaid (eig. Elaine Cynthia Potter Richardson) werd geboren in Saint John's, Antigua en Barbuda, op 25 mei 1949. Zie ook alle tags voor Jamaica Kincaid op dit blog.
Uit: See Now Then
"See now then, the dear Mrs. Sweet who lived with her husband Mr. Sweet and their two children, the beautiful Persephone and the young Heracles in the Shirley Jackson house, which was in a small village in New England. The house, the Shirley Jackson house, sat on a knoll, and from a window Mrs. Sweet could look down on the roaring waters of the Paran River as it fell furiously and swiftly out of the lake, a man-made lake, also named Paran; and looking up, she could see surrounding her, the mountains named Bald and Hale and Anthony, all part of the Green Mountain Range; and she could see the firehouse where sometimes she could attend a civic gathering and hear her government representative say something that might seriously affect her and the well-being of her family or see the firemen take out the fire trucks and dismantle various parts of them and put the parts back together and then polish all the trucks and then drive them around the village with a lot of commotion before putting them away again in the firehouse and they reminded Mrs. Sweet of the young Heracles, for he often did such things with his toy fire trucks; but just now when Mrs. Sweet was looking out from a window in the Shirley Jackson house, her son no longer did that. From that window again, she could see the house where the man who invented time-lapse photography lived but he was dead now; and she could see the house, the Yellow House, that Homer had restored so carefully and lovingly, polishing the floors, painting the walls, replacing the pipes, all this in the summer before that awful fall, when he went hunting and after shooting with his bow and arrow the largest deer he had ever shot, he dropped down dead while trying to load it onto the back of his truck."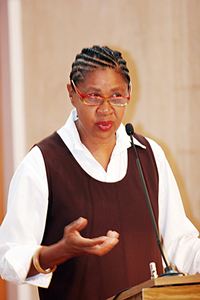 Jamaica Kincaid (Saint John's, 25 mei 1949)
Zie voor nog meer schrijvers van de 25e mei ook mijn vorige twee blogs van vandaag.

25-05-2013 om 14:20 geschreven door Romenu

Tags:Egyd Gstättner, Claire Castillon, Eve Ensler, Friedrich Dieckmann, Raymond Carver, Jamaica Kincaid, Romenu



Robert Ludlum, Theodore Roethke, Georges Bordonove, W. P. Kinsella, Max von der Grün, John Gregory Dunne
De Amerikaanse schrijver Robert Ludlum werd geboren in New York op 25 mei 1927. Zie ook alle tags voor Robert Ludlum op dit blog.
Uit: The Janson Directive
"N. Indian Ocean, 250 miles east of Sri Lanka
Northwestern Anura
The night was oppressive, the air at body temperature and almost motionless. Earlier in the evening there had been light, cooling rains, but now everything seemed to radiate heat, even the silvery half-moon, its countenance brushed with the occasional wisps of cloud. The jungle itself seemed to exhale the hot, moist breath of a predator lying in wait.
Shyam shifted restlessly in his canvas chair. It was, he knew, a fairly ordinary night on the island of Anura for this time of year: early in the monsoon season, the air was always heavy with a sense of foreboding. Yet only the ever attentive mosquitoes disturbed the quiet. At half past one in the morning, Shyam reckoned he had been on checkpoint duty for four and a half hours. In that time, precisely seven motorists had come their way. The checkpoint consisted of two parallel lines of barbed-wire frames--"knife rests"--set up eighty feet apart on the road, to either side of the search and administration area. Shyam and Arjun were the two sentries on forward duty, and they sat in front of the wooden roadside booth. A pair of backups was supposedly on duty on the other side of the hill, but the hours of silence from them suggested that they were dozing, along with the men in the makeshift barracks a few hundred feet down the road. For all the dire warnings of their superiors, these had been days and nights of unrelieved boredom. The northwestern province of Kenna was sparsely populated in the best of times, and these were not the best of times.
Now, drifting in with the breeze, as faint as a distant insect drone, came the sound of a gunned motor.
Shyam slowly got to his feet. The sound was growing closer.
"Arjun," he called out in a singsong tone. "Ar-jun. Car coming."
Arjun lolled his head in a circle, working out a crick in his neck. "At this hour?" He rubbed his eyes. The humidity made the sweat lie heavily on his skin, like mineral oil.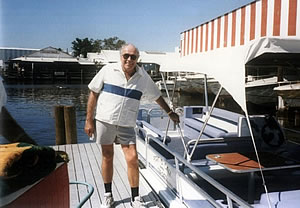 Robert Ludlum (25 mei 1927 – 12 maart 2001)
De Amerikaanse dichter Theodore Huebner Roethke werd geboren in Saginaw, Michigan op 25 mei 1908. Zie ook alle tags voor Theodore Roethke op dit blog.
Once More, the Round
What's greater, Pebble or Pond?
What can be known? The Unknown.
My true self runs toward a Hill
More! O More! visible.

Now I adore my life
With the Bird, the abiding Leaf,
With the Fish, the questing Snail,
And the Eye altering All;
And I dance with William Blake
For love, for Love's sake;

And everything comes to One,
As we dance on, dance on, dance on.
The Bat
By day the bat is cousin to the mouse.
He likes the attic of an aging house.

His fingers make a hat about his head.
His pulse beat is so slow we think him dead.

He loops in crazy figures half the night
Among the trees that face the corner light.

But when he brushes up against a screen,
We are afraid of what our eyes have seen:

For something is amiss or out of place
When mice with wings can wear a human face.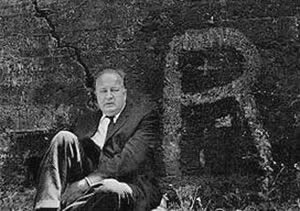 Theodore Roethke (25 mei 1908 - 1 augustus 1963)
De Franse schrijver en historicus Georges Bordonove werd geboren in Enghien-les-Bains op 25 mei 1920. Zie ook alle tags voor Georges Bordonove op dit blog.
Uit: Chien de feu
"Sais-tu, loup, que nous sommes pareils ? Nous appartenons à une race révolue, une race qui doit disparaître. La terre donne une nouvelle floraison, d'autres bêtes, d'autres hommes que nous. Il ne doit plus y avoir de seigneurs bardés de fer derrière leurs créneaux, ni de loups hurlant dans leurs bois. Cela fait partie d'un passé déjà mort. Nous nous survivons, toi et moi ; c'est dire que nous sommes condamnés. Mais quelle importance ? Nous avons eu nos vies, nos plaisirs. Nous avons cru que cela devait durer toujours. Tes pairs, dans les années qui s'annoncent, périront par le poison. Les miens, par la ruine. C'est chose douce que de comprendre ! Ainsi, tu vois, vieux loup, nous nous affronterons, parce que ce sera dans notre rôle. Je t'attaquerai, tu te défendras, tu feras front et je te daguerai. Et puis... Mais est-ce qu'on empêche l'eau de couler ? Est-ce qu'on arrête la marche des saisons ? Je suis content que ce soit toi, car tu es brave et d'expérience. Que les autres ne soient point venus à bout de ta malice ! Tu m'attendais. Il y a entre nous un pacte, une convenance. Eh bien, si tu veux, que cela soit, et jouons le jeu."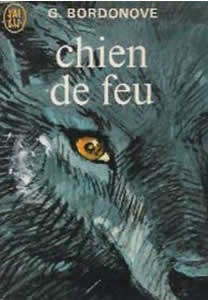 Georges Bordonove (25 mei 1920 - 16 maart 2007)
Cover
De Canadese schrijver William Patrick Kinsella werd geboren op 25 mei 1935 in Edmonton, Alberta. Zie ook alle tags voor W. P. Kinsella op dit blog.
Uit: Shoeless Joe
"Annie: She has never once called me crazy. Just before I started the first landscape work, as I stood looking out at the lawn and the cornfield, wondering how it could look so different in daylight, considering the notion of accepting it all as a dream and abandoning it, Annie appeared at my side and her arm circled my waist. She leaned against me and looked up, cocking her head like one of the red squirrels that scamper along the power lines from the highway to the house. "Do it, love," she said as I looked down at her, that slip of a girl with hair the color of cayenne pepper and at least a million freckles on her face and arms, that girl who lives in blue jeans and T-shirts and at twenty-four could still pass for sixteen.
I thought back to when I first knew her. I came to Iowa to study. She was the child of my landlady. I heard her one afternoon outside my window as she told her girl friends, "When I grow up I'm going to marry . . ." and she named me. The others were going to be nurses, teachers, pilots, or movie stars, but Annie chose me as her occupation. Eight years later we were married. I chose willingly, lovingly, to stay in Iowa. Eventually I rented this farm, then bought it, operating it one inch from bankruptcy. I don't seem meant to farm, but I want to be close to this precious land, for Annie and me to be able to say, "This is ours."
Now I stand ready to cut into the cornfield, to chisel away a piece of our livelihood to use as dream currency, and Annie says, "Oh, love, if it makes you happy you should do it." I carry her words in the back of my mind, stored the way a maiden aunt might wrap a brooch, a remembrance of a longlost love. I understand how hard that was for her to say and how it got harder as the project advanced. How she must have told her family not to ask me about the baseball field I was building, because they stared at me dumb-eyed, a row of silent, thickset peasants with red faces. Not an imagination among them except to forecast the wrath of God that will fall on the heads of pagans such as I. "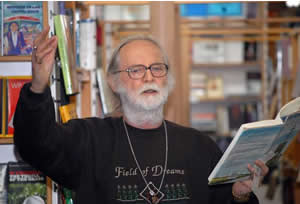 W. P. Kinsella (Edmonton, 25 mei 1935)
De Duitse schrijver Max von der Grün werd geboren op 25 mei 1926 in Bayreuth. Zie ook alle tags voor Max von der Grün op dit blog.
Uit: Wie war das eigentlich?
"Der vom Fähnleinführer niedergeschlagene Junge fragte unseren Lehrer, warum in unserer Schule gelehrt würde, daß es Unterdrückung sei, wenn man den Hut des Herrn Geßler grüßen müsse, und wollte wissen, warum man niedergeschlagen würde, wenn man die Fahne nicht grüße, schließlich sei es doch dasselbe.
Wir saßen alle mucksmäuschenstill. Wir warteten auf Antwort, aber unser Lehrer sagte nur: »Bestelle deinem Vater, er soll sich morgen Mittag beim Rektor melden.«
Ich habe nie erfahren, was bei der Unterredung herauskam. Mein Schulkamerad schwieg hartnäckig, wenn wir ihn darauf ansprachen und als ich einmal merkte, wie er heimlich weinte, hörten wir mit den Fragen auf.
Es wurde darüber getuschelt, der Rektor habe dem Vater gedroht, daß er ihn wegen Verunglimpfung hoheitlicher Symbole anzeigen werde, wenn er weiterhin darauf bestehen würde, für seinen Sohn Genugtuung zu fordern.
Daß es sogar lebensgefährlich war, die Hakenkreuzfahne nicht zu grüßen, beweist der Fall des evangelischen Pfarrers Paul Schneider."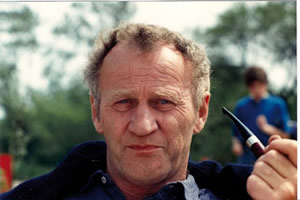 Max von der Grün (25 mei 1926 – 7 april 2005)
De Amerikaanse schrijver en journalist John Gregory Dunne werd geboren op 25 mei 1932 in West Hartford, Connecticut. Zie ook alle tags voor John Gregory Dunne op dit blog.
Uit: Nothing Lost
"I broke an Internet password. Read the spaces between the lines. Traced the implication of things. Guessed the unseen from the seen. Judged the whole piece by the pattern. Surmised. Triangulated. Extrapolated.
Anything that passed through my filter carries my shadows, my impri- matur. As fact, it might be suspect, but as truth it is as close as I can get. If you were the filter, your facts, or your memory of them, might be equally suspect, but the truth, presupposing your honesty, or as close as you could get to it.
But you weren't there, and I was, so fuck off.
I think I got it right.
Mostly.
And if I didn't, it's the available version.

Of course it began with Edgar Parlance.
His death, and the obscene brutality of it, immediately captured the headlines and the newsbreaks of the gluttonous 24/7 news cycle, searching as always for the correct and visually gratifying metaphor to validate the American experience, or, better yet, to provide a dark parable about that same experience. It is my own feeling that life began going downhill with "You give us twenty-two minutes, we'll give you the world." I think I would have preferred to live in the age of the pony express, allowing as it did, I would like to think, a time for contemplation before action was deemed necessary. 24/7, plus the transitory involvement of a president looking for a way to act presidential as the second term of his forgettable administration was winding down to its unlamented conclusion, gave Edgar Parlance's murder the push it needed to become a major media event, bringing with it the usual suspects, talking heads prattling about race hatred and the phenomenon of what they insisted on calling "Terror in the Heartland." It was a heartland that existed only in their fevered imaginations, neighborly values and small-town ways, stoked not by reality but by Oscar Hammerstein, we know we belong to the land, and the land we belong to is grand. Crap, of course. This land was fertilized with blood. Jesse and Frank James, Bonnie Parker and Clyde Barrow, killers all, sanitized into public darlings by Tyrone Power and Henry Fonda, Warren Beatty and Faye Dunaway."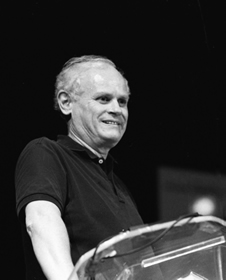 John Gregory Dunne (25 mei 1932 – 30 december 2003)
Zie voor nog meer schrijvers van de 25e mei ook mijn vorige blog van vandaag.

25-05-2013 om 14:16 geschreven door Romenu

Tags:Robert Ludlum, Theodore Roethke, Georges Bordonove, W. P. Kinsella, Max von der Grün, John Gregory Dunne, Romenu



Ralph Waldo Emerson, Rosario Castellanos, Alain Grandbois, Naim Frashëri, Edward Bulwer-Lytton
De Amerikaanse dichter, schrijver, filosoof en essayist Ralph Waldo Emerson werd geboren in Boston, Massachusetts op 25 mei 1803. Zie ook alle tags voor Ralph Waldo Emerson op dit blog.
My Garden
If I could put my woods in song
And tell what's there enjoyed,
All men would to my gardens throng,
And leave the cities void.

In my plot no tulips blow,--
Snow-loving pines and oaks instead;
And rank the savage maples grow
From Spring's faint flush to Autumn red.

My garden is a forest ledge
Which older forests bound;
The banks slope down to the blue lake-edge,
Then plunge to depths profound.

Here once the Deluge ploughed,
Laid the terraces, one by one;
Ebbing later whence it flowed,
They bleach and dry in the sun.

The sowers made haste to depart,--
The wind and the birds which sowed it;
Not for fame, nor by rules of art,
Planted these, and tempests flowed it.

Waters that wash my garden-side
Play not in Nature's lawful web,
They heed not moon or solar tide,--
Five years elapse from flood to ebb.

Hither hasted, in old time, Jove,
And every god,--none did refuse;
And be sure at last came Love,
And after Love, the Muse.

Keen ears can catch a syllable,
As if one spake to another,
In the hemlocks tall, untamable,
And what the whispering grasses smother.

Æolian harps in the pine
Ring with the song of the Fates;
Infant Bacchus in the vine,--
Far distant yet his chorus waits.

Canst thou copy in verse one chime
Of the wood-bell's peal and cry,
Write in a book the morning's prime,
Or match with words that tender sky?

Wonderful verse of the gods,
Of one import, of varied tone;
They chant the bliss of their abodes
To man imprisoned in his own.

Ever the words of the gods resound;
But the porches of man's ear
Seldom in this low life's round
Are unsealed, that he may hear.

Wandering voices in the air
And murmurs in the wold
Speak what I cannot declare,
Yet cannot all withhold.

When the shadow fell on the lake,
The whirlwind in ripples wrote
Air-bells of fortune that shine and break,
And omens above thought.

But the meanings cleave to the lake,
Cannot be carried in book or urn;
Go thy ways now, come later back,
On waves and hedges still they burn.

These the fates of men forecast,
Of better men than live to-day;
If who can read them comes at last
He will spell in the sculpture,'Stay.'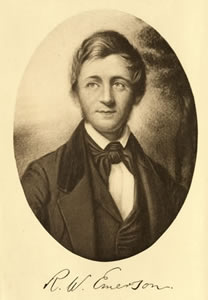 Ralph Waldo Emerson (25 mei 1803 - 27 april 1882)
De Mexicaanse dichteres en schrijfster Rosario Castellanos werd geboren in Mexico-stad op 25 mei 1925. Zie ook alle tags voor Rosario Castellanos op dit blog.
Silence Concerning an Ancient Stone
Here I am, seated, with all my words,
like a basket of green fruit, intact.
The fragments
of a thousand destroyed ancient gods
seek and draw near each other in my blood. They long
to rebuild their statue.
From their shattered mouths
a song strives to rise to my mouth,
a scent of burned resins, some gesture
of mysterious wrought stone.
But I am oblivion, treason,
the shell that did not keep from the sea
even the echo of the smallest wave.
I look not at the submerged temples,
but only at the trees that above the ruins
move their vast shadow, with acid teeth bite
the wind as it passes.
And the seals close under my eyes like
the flower under the searching fingers of a blind man.
But I know: behind
my body another body crouches,
and round about me many breaths
furtively cross
like nocturnal beasts in the jungle.
I know: somewhere,
like the cactus in the desert,
a constellated heart of spines,
it is waiting for a name, as the cactus the rain.
But I know only a few words
in the lapidary language ,
under which they buried my ancestor alive.
Vertaald door George D. Schade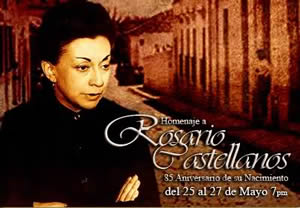 Rosario Castellanos (25 mei 1925 – 7 augustus 1974)
De Canadese dichter en schrijver Alain Grandbois werd geboren op 25 mei 1900 in Saint-Casimir, Québec. Zie ook alle tags voor Alain Grandbois op dit blog.
La Capitale déchirée
Les doux fantômes de la nuit
Précipitant l'aube
À coups redoublés
De neiges immémoriales
D'images illicites
De tourments tournant
Dans le cercle épuisé
Des destructions définitives
Créant ces musiques sournoises
Du haut des collines
Vers les horizons perdus

Mais c'est en vain
Ô beaux fantômes blancs
Ô sourds fantômes vainqueurs
La Capitale absurde et choisie
Pour ce triste bonheur
Pour cette savante défaite
Pour la suprême illumination
C'est en vain ô mes doux fantômes
Votre dur sourire
Ne saura cerner
Que vos captifs d'hier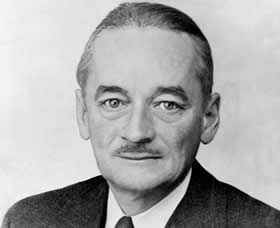 Alain Grandbois (25 mei 1900 – 18 maart 1975)
De Albanese dichter en schrijver Naim Frashëri werd geboren op 25 mei 1846 in Frashër. Zie ook alle tags voor Naim Frashëri op dit blog.
Hope
I have great hope
In God
That he will not abandon
Albania thus,
But that she will shine forth
And break into blossom.
May the day dawn
That will bestow upon us
A great light,
Giving birth to:
Civilization,
Prosperity.
Fraternity
And unity
And compassion
Are our salvation.
Happy is he who will be present
When this day comes.
When Albania
Will be radiant
And misfortune
Will be banished
Forever
From her sight.
For Albania,
Joyous days
Are at hand.
The darkness is receding.
Happy is he who will live
To see her reign!
For the Albanian
And his language
Are at one
With Albania.
Happy is he who will
Behold her soon!
Knowledge
And progress,
Goodness
And humanity
Will arise,
Never to stray.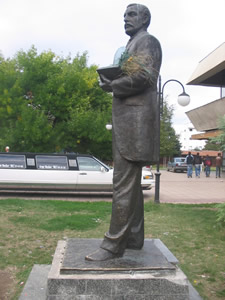 Naim Frashëri (25 mei 1846 – 20 oktober 1900)
Standbeeld in Tetovo, Macedonië
De Britse schrijver, criticus en politicus Sir Edward Bulwer-Lytton werd geboren in Londen op 25 mei 1803. Zie ook alle tags voor Edward Bulwer-Lytton op dit blog.
Uit: The Last Of The Barons
"Westward, beyond the still pleasant, but even then no longer solitary, hamlet of Charing, a broad space, broken here and there by scattered houses and venerable pollards, in the early spring of 1467, presented the rural scene for the sports and pastimes of the inhabitants of Westminster and London. Scarcely need we say that open spaces for the popular games and diversions were then numerous in the suburbs of the metropolis,--grateful to some the fresh pools of Islington; to others, the grass-bare fields of Finsbury; to all, the hedgeless plains of vast Mile-end. But the site to which we are now summoned was a new and maiden holiday-ground, lately bestowed upon the townsfolk of Westminster by the powerful Earl of Warwick.
Raised by a verdant slope above the low, marsh-grown soil of Westminster, the ground communicated to the left with the Brook-fields, through which stole the peaceful Ty-bourne, and commanded prospects, on all sides fair, and on each side varied. Behind, rose the twin green hills of Hampstead and Highgate, with the upland park and chase of Marybone,--its stately manor-house half hid in woods. In front might be seen the Convent of the Lepers, dedicated to Saint James, now a palace; then to the left, York House, [The residence of the Archbishops of York] now Whitehall; farther on, the spires of Westminster Abbey and the gloomy tower of the Sanctuary; next, the Palace, with its bulwark and vawmure, soaring from the river; while eastward, and nearer to the scene, stretched the long, bush-grown passage of the Strand, picturesquely varied with bridges, and flanked to the right by the embattled halls of feudal nobles, or the inns of the no less powerful prelates; while sombre and huge amidst hall and inn, loomed the gigantic ruins of the Savoy, demolished in the insurrection of Wat Tyler."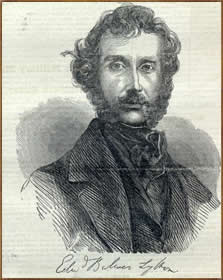 Edward Bulwer-Lytton (25 mei 1803 - 18 januari 1873)

25-05-2013 om 14:10 geschreven door Romenu

Tags:Ralph Waldo Emerson, Rosario Castellanos, Alain Grandbois, Naim Frashëri, Edward Bulwer-Lytton, Romenu



| | |
| --- | --- |
| | |



Inhoud blog


| | |
| --- | --- |
| | Wam de Moor, Bas Belleman, Roos van Rijswijk, Hanane Aad, Clara Eggink, Kathy Acker, Joy Davidman, Henry Kendall, Katharina Schwanbeck |
| | Antoon Coolen, Vincent Corjanus, Nick Hornby, Ida Boy-Ed, Thornton Wilder, David Wagner, R.J. Pineiro, Helen Meier, Karen Blixen |
| | Sarah Kirsch, Thomas Olde Heuvelt, Kingsley Amis, Patricia De Martelaere, Tristan Tzara, Ewald Vanvugt, Sibylle Lewitscharoff, Jan Luyken, Anatole France |
| | Emmaüs (Felix Timmermans) |
| | Tomas Tranströmer, Daniël Samkalden, Jérôme Lambert, Patrick Bernauw, Benjamin Zephaniah, Henry James, Wilhelm Busch, Ina Boudier-Bakker |
| | Bliss Carman, Beate Morgenstern, Jeffrey Archer, Bernhard Lassahn, Erich Arendt, Pol De Mont, Staf Weyts, Hans Egon Holthusen |
| | Péter Esterházy, Alexandre Jardin, Tjitse Hofman, Landolf Scherzer, Charles Lewinsky, Roman Graf |
| | Roberto Schopflocher, Martin Kessel, Gabriele Stötzer, Helene Hübener, Gerhard Rohlfs |
| | Nachoem Wijnberg, K. Michel, Alexander Münninghoff, Michel Faber, Jean-Marie Gustave Le Clézio, Samuel Beckett, Seamus Heaney, Tim Krabbé, Eudora Welty |
| | Antje Rávic Strubel, Alan Ayckbourn, Scott Turow, Tom Clancy, Agnes Sapper, Edward de Vere, José Gautier Benítez, Alexander Ostrovski, Guillaume-Thomas Raynal |
| | Leonard Nolens, Mark Strand, Silvia Avallone, Walid Soliman, Dorothy Allison, Hubert Nyssen, Rolf Schilling, Glenway Wescott, Claude Tillier |
| | Leo Vroman, Jan van Mersbergen, Paul Theroux, Claudio Magris, Bella Akhmadulina, Stefan Heym, Richard Wagner, Marcel van Maele, Eric Knight |
| | Charles Baudelaire, Jelle Brandt Corstius, Karel Jonckheere, Joolz Denby, Albert von Schirnding, Johannes Bobrowski, Bernard-Marie Koltès, Arnold Stadler, Yaël Vinckx |
| | Thomas (Jan Willem Schulte Nordholt) |
| | Herinnering aan Gerard Reve, Hanz Mirck, Christoph Hein, Judith Koelemeijer, Nnedi Okorafor, Barbara Kingsolver |
| | John Fante, Johann Christian Günther, Glendon Swarthout, Martin Grzimek, Hégésippe Moreau, Robert Askins |
| | Den Haag (Paul Rodenko) |
| | Juliana Spahr, William Wordsworth, Özcan Akyol, Gabriela Mistral |
| | Kazim Ali, Annejet van der Zijl, John Pepper Clark, Jakob Ejersbo, Günter Herburger, Uljana Wolf, Brigitte Schwaiger, Julien Torma, Nicolas Chamfort |
| | Hugo Claus, Martin Reints, Mieke van Zonneveld, Vítězslav Hálek, Algernon Swinburne, Bora Ćosić,, Werner J. Egli, Michael Georg Conrad, Marente de Moor |
| | Maya Angelou, Hanneke Hendrix, Marko Klomp, Marcel Vaarmeijer, E. L. James, Marguerite Duras, Robert Schindel, Michiel van Kempen, Bettina von Arnim |
| | Charles Ducal, Adriaan Jaeggi, Frederik van Eeden, Bert Bakker, Peter Huchel, Arlette Cousture, Pieter Aspe, Karel N.L. Grazell, Washington Irving |
| | Die Sonne geht im Osten auf (Christian Morgenstern) |
| | Thomas Glavinic, Jay Parini, Anneke Claus, Klaus Ender, Konrad Merz, Ed Dorn, Émile Zola |
| | György Konrád, Anne Waldman, Casanova, Hans Christian Andersen, Roberto Arlt, Edgar Hilsenrath, George Fraser |
| | Hoffmann von Fallersleben, Johann Gleim, Pierre Zaccone, Pietro della Valle, Zwier van Haren, Joanna Chmielewska, Brigitte Struzyk |
| | Preis dem Todesüberwinder! (Friedrich Klopstock) |
| | Milan Kundera, Sandro Veronesi, Nikolaj Gogol, Arnold Aletrino, Max Nord, Urs Allemann, Rolf Hochhuth, John Wilmot, Deborah Feldman |
| | Maria Polydouri, Edgar Wallace, Carl Sternheim, Edmond Rostand, Armel Guerne, Friedrich Güll, Antoine Prévost, Josep de Maistre |
| | Litanie van een wachter bij het graf (Willem Jan Otten) |
| | Stefan Hertmans, Octavio Paz, Asis Aynan, Martijn Teerlinck, Marga Minco, Enrique Vila-Matas |
| | Rob Boudestein, Kornej Tsjoekovski, Andrew Lang, Nichita Stănescu, Hartmut Lange, Marge Piercy |
| | Angela Kreuz, Judith Rossner, Andrew Marvell, John Fowles, Edward FitzGerald, Robert Brasillach, Peter Motte |
| | Golgotha (Theo Thijssen) |
| | Gerrit Komrij, Paul Verlaine, Milton Acorn, Erika Mitterer, Uwe Timm, Tom Sharpe, Gert Heidenreich, Theo Breuer, Luise Hensel |
| | Gethsemane (Jacqueline van der Waals) |
| | Geert van Istendael, Wim Brands, Ernst Jünger, Eric Walz, Georg Klein, Yvan Goll, R. S. Thomas, Jacques Brault, Denton Welch |
| | Walter van den Broeck, Joost de Vries, Mario Vargas Llosa, Chrétien Breukers, Steye Raviez, Nelson Algren, Marianne Frederiksson, Russell Banks, Léon-Gontran Damas |
| | Heinrich Mann, Shusaku Endo, Carolina Trujillo, Golo Mann, Patrick McCabe, Bob den Uyl, Dubravka Ugresić, Francis Ponge, Alfred de Vigny |
| | Tennessee Williams, Gregory Corso, Hwang Sun-won, Martin McDonagh, Robert Frost, Patrick Süskind, A. E. Housman, Bettina Galvagni, Erica Jong |
| | Jezus intrede in Jeruzalem (Nicolaas Beets) |
| | Pol Hoste, Menno Van der Beek, Jung Chang, Paul Meeuws, Flannery O'Connor, Jaime Sabines, Peter Van Straaten, Toni Cade Bambara |
| | Antonio Fogazzaro, Jacques Bens, Jacques Audiberti, Filip De Pillecyn, Erica Pedretti, Evliya Çelebi, Anne Fanshawe, Daniel Schiebeler, Mary Webb |
| | Peter Bichsel, Joy Ladin, Martin Walser, Dario Fo, Lawrence Ferlinghetti, Jacob van Lennep, Jeroen Mettes, Harry Prenen, Willem van Iependaal |
| | Top Naeff, Robert Hamerling, Fanny Lewald, Christian Schubart, Gabriele von Baumberg, Olive Schreiner, William Morris, Richard Leising |
| | Cri Stellweg, Jonathan Ames, Yōko Tawada, Gary Whitehead, Mitch Cullin, Roger Martin du Gard, Madison Cawein, Nils-Aslak Valkeapää, Federica de Cesco |
| | Billy Collins, Theo Kars, Eveline Hasler, Érik Orsenna, Arnold Sauwen, Wolfgang Bächler, Ilse Kleberger, Léon Deubel, Karel Poláček |
| | Willem de Mérode, Pim te Bokkel, Kees van Beijnum, Hamid Skif, Jean Paul |
| | Hubert Fichte, Peter Hacks, Michel Bartosik, Youssef Rzouga, Günter Vallaster, Siegfried Kapper |
| | David Malouf, Katharina Hartwell, Ricus van de Coevering, Roman Libbertz, Jens Petersen, Benoît Duteurtre, Friedrich Hölderlin, Ralph Giordano, Henrik Johan Ibsen |


Gastenboek


Druk op onderstaande knop om een berichtje achter te laten in mijn gastenboek