De Joods-Duitse schrijver Edgar Hilsenrath werd geboren in Leipzig op 2 april 1926. Zie ook alle tags voor Edgar Hilsenrath op dit blog.
Uit: Das Märchen vom letzten Gedanken
"Niemand kann dich hören, Thovma Khatisian", sagte der Märchenerzähler, "denn deine Rede ist stumm. Aber ich habe dich gehört."
"Hast du auch seinen Schrei gehört den Schrei des türkischen Ministerpräsidenten als er ins Bodenlose fiel?"
"Den hab ich auch gehört."
"Ich habe den türkischen Ministerpräsidenten noch einmal getroffen", sagte ich zum Märchenerzähler.
"Wann?"
"Vor einigen Sekunden."
"Und wo?"
"Im großen Sitzungssaal des Vereinten Völkerwissens. Es war während der üblichen Vollversammlung.
Er saß neben dem Regierungsvertreter, unauffällig und abseits. Wie ich erfuhr, war er nicht mehr Ministerpräsident, sondern Archivar beim Vereinten Völkergewissen, offiziell gewählt von allen vertretenen Nationen. Als er mich sah, verließ er seinen Platz und ging hinunter ins Archiv. Ich folgte ihm. Ich suche die armenische Akte, sagte ich. Es handelt sich um einen Bericht über den vergessenen Völkermord. Den vergessenen Völkermord? Ja. Und wann soll der stattgefunden haben? Im Jahre 1915. Das ist schon sehr lange her. Wir haben jetzt das Jahr 1988. Ja, sagte ich. Sehen Sie, sagte er.
Und dann führte er mich zum Aktenschrank. Er sagte: Unser Aktenschrank hat keine Schranktür. Es sind offene Regale, für jedermann zugänglich, denn wir haben keine Geheimnisse. Dann zeigen Sie mir, wo ich die armenische Akte finden kann. Das geht leider nicht, sagte er, denn eine so alte Akte wie die armenische ist längst verstaubt, so sehr verstaubt, daß sie unauffindbar geworden ist. Dann rufen Sie Ihre Putzfrau und veranlassen Sie, daß die Akte entstaubt wird."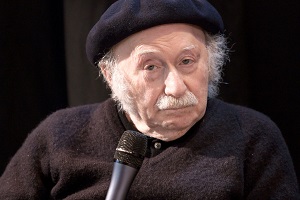 Edgar Hilsenrath (Leipzig, 2 april 1926)
De Britse schrijver en scenarioschrijver George MacDonald Fraser werd geboren in Carlisle op 2 april 1925. Zie ook alle tags voor GeorgeFraser op dit blog.
Uit: Flashman on the March
« Queen writin' letters, a penny or more on the income tax-it's true! Now d'you see why this silver must reach Napier double quick-if it don't, he'll be adrift in the middle of nowhere with not a penny to his name, and your old chum Speedicut will be a human sacrifice at the openin' of the new Foreign Office!"
"But why should Napier need Austrian silver? Hasn't he got any sterling?"
"Abyssinian niggers won't touch it, or anythin' except Maria Theresas. Purest silver,l you see, and Napier must have it for food and forage when he marches up-country to fight his war."
"So it's a war-chest? You never said a dam' word about war last night."
"You never gave me a chance, did you? Soon as I told you I was in Dickie's meadow,2 with this damned fortune to be shipped and Sturgess in dock, what sympathy did dear old friend Flashy offer? The horse's laugh, and wished me joy! All for England, home, and the beauteous Elspeth, you were . . . and now, " says he, with that old leery Speedicut look, "all of a sudden, you're in the dooce of a hurry to oblige . . . What's up, Flash?
"Not a dam' thing. I'm sick of Trieste and want away, that's all!"
"And can't wait a day? You and Hookey Walker!"
"Now, see here, Speed, d'ye want me to shift your blasted bullion, or don't you? Well, I go tonight or not at all, and since this cash is so all-fired important to Napier, your Embassy funds can stand the row for my passage home, too, when the thing's done! Well, what d 'ye say?"
"That something is up, no error! " His eyes widened. "I say, the Austrian traps ain't after you, are they-'cos if they were I daren't assist your flight, silver or no silver! Dash it, I'm a diplomat-"
"Of course 'tain't the traps! What sort of fellow d'ye think I am? Good God, ha'nt we been chums since boyhood?"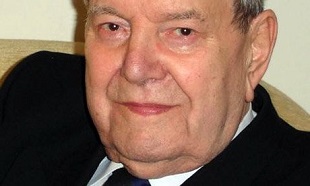 George MacDonald Fraser (2 april 1925 - 2 januari 2008)
De Duitse schrijver August Heinrich Hoffmann von Fallersleben werd geboren in Fallersleben op 2 april 1798. Zie ook alle tags voor Hoffmann von Fallersleben op dit blog en ook voor H. von Fallersleben.
Ausländerei
Daß wir so das Fremde lieben!
Zu dem Fremden hingetrieben
sind wir selbst uns fremd geblieben -
Deutsch will keiner sein.
Nur von Auslands Gnaden sollen
wir bestehen wir Lebensvollen,
Selbst nichts tun und selbst nichts wollen?
Schlag der Teufel drein !
Sollen wir an uns verzagen?
Kein Gefühl im Herzen tragen,
nicht einmal zu sagen wagen,
daß wir etwas sind?
Stählt die Sinnen und Gemüter!
Seid die Schirmer, seid die Hüter
eurer eigenen deutschen Güter!
Werdet deutschgesinnt !
Was die Fremden Gutes machten,
laßt uns immer gern beachten,
aber nach dem Besten trachten
für das Vaterland!
Liebend alle Welt umfassen,
sich verachten, sich nur hassen,
kann' s der Deutsche niemals lassen? -
Armes Vaterland!
Deutschland, was fehlt dir?
Deutschland, was fehlt Dir? Was klagest du so ?
Bist ja so glücklich, und dennoch nicht froh !
Deutschland, so klage, so traure doch nicht!
Hast Du nicht alles was vielen gebricht?

Wälder und Felder, und Täler und Höhen,
alles voll Segen so herrlich und schön;
Honig und Butter, und Bier und auch Wein -
sag, warum willst du denn nicht fröhlich sein?

Handel und Wandel, und Wissen und Kunst,
dreißig Regenten mit fürstlicher Gunst,
Adel und Pfaffen und Staatskanzleien -
sag, warum willst du denn nicht fröhlich sein?

Künstler, Gelehrte, wie Sand an dem Meer,
tapferer Soldaten manch prächtiges Heer,
freie Censur und den freien Rhein -
sag, warum willst du denn nicht fröhlich sein?

Konstitutionen, beschworen so fest,
daß sich kein Wort davon austilgen läßt
Völker und Fürsten im trauten Verein -
sag, warum willst du denn nicht fröhlich sein?

Deutschland, was fehlt dir, was klagest du so?
bist ja so glücklich, und dennoch nicht froh! -
"Fröhlich wohl sollt ich und wollt ich auch sein,
Deutschland nur fehlt mir, nur Deutschland allein."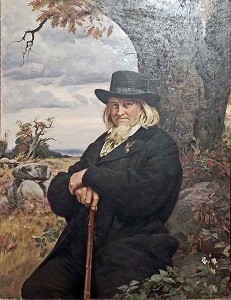 Hoffmann von Fallersleben (2 april 1798 – 19 januari 1874)
Portret door Ernst Henseler, 1898
De Duitse dichter en schrijver Johann Wilhelm Ludwig Gleim werd geboren op 2 april 1719 in Ermsleben Zie ook alle tags voor Johann Gleim op dit blog.
Der Stern der Liebe
Am Himmel steht ein schöner Stern,
Der heißt der Stern der Liebe,
Man sucht ihn auf, man sieht ihn gern,
Und ist's am Himmel trübe,
Dann missen wir sein schönes Licht,
Denn durch die Wolken scheint er nicht.
Wenn ich zu meinem Mädchen geh'
Im Kühlen und im Dunkeln,
Und dann den Stern der Liebe seh'
Am dunkeln Himmel funkeln,
Dann fühl' ich Liebe, dann ruf' ich:
Komm' Mädchen, komm' und küsse mich!
Dann kommt's, dann fühlt das Mädchen sich,
Als wenn's mich küssen müßte;
So zärtlich küßt's, als wenn es mich
Nur mit der Seele küßte;
Dann wird's vertraulich, nennt mich du,
Und alle Sternlein sehen zu!
Die Macht des Weins
Ein Frommer sprach: Ich möchte doch mich schämen,
Stets so vergnügt zu seyn;
Ich möchte doch mit ihm zu Herzen nehmen,
Was so viel Wunder prophezei'n;
Ich möchte doch, wie er, mich grämen,
Weil Ach und Weh' so viel Kometen dräu'n.
Da gab ich ihm von meinem Wein;
Da rieth er mir, ich möchte mich nicht schämen,
Stets so vergnügt zu seyn.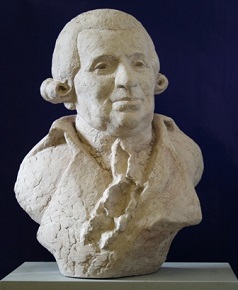 Johann Gleim (2 april 1719 – 18 februari 1803)
Borstbeeld door Norman Lodahl in het Gleimhaus in Halberstadt
De Franse schrijver Pierre Zaccone werd geboren op 2 april 1817 in Douai. Zie ook alle tags voor Pierre Zaccone op dit blog.
Uit: Éric Le Mendiant
"Si elle rencontrait un malheureux qui lui tendait la main, elle ouvrait sans hésiter la petite bourse où elle renfermait le trésor de ses modestes épargnes, et jetait généreusement une petite pièce d'argent dans la main du mendiant.
Bien souvent elle rentrait à la ferme sans la moindre obole ; et alors si son père lui disait, en prenant un air grondeur :
– Margaït ! Margaït ! vous avez fait bien des folies !
– Bon père, répondait-elle avec candeur, j'ai rencontré tant de malheureux !
Et son père l'embrassait ; il était fier d'elle, comme elle était heureuse de lui.
Aussi, quand Tanneguy, conduisant sa fille par la main se rendait le dimanche à l'église du bourg, c'était à qui chanterait sur leur passage les plus jolis guerz bretons.
Les vieillards saluaient le père qui passait gravement au milieu d'eux.
Les jeunes gens souriaient à la jeune fille dont le regard éclatait de franche gaieté.
C'était un doux murmure où l'admiration et le respect étaient mêlés et confondus, et qui les accompagnait jusqu'au seuil de la vieille église gothique, comme un pieux et touchant concert !
Telle était Margaït.
Jamais le moindre souci n'était venu mettre une ride sur son front si pur ; jamais la plus légère inquiétude n'avait troublé la sérénité calme de son cœur.
Elle allait à travers la ville comme le voyageur à travers les forêts vierges de l'Amérique, écoutant avec ravissement les douces harmonies de la nature, admirant les merveilles de cette vigoureuse et féconde végétation, s'oubliant, enfin, dans la contemplation de sublimes beautés que l'art ne peut égaler.
Margaït ne se doutait pas même des amères douleurs qui peuvent faire la vie triste et désespérée, et elle buvait sans crainte à la coupe d'or des joies terrestres dans laquelle, jusqu'alors, aucune larme n'était encore tombée de ses beaux yeux !
Depuis quelque temps cependant Margaït grandissait à vue d'œil, ses formes se développaient avec grâce, ses épaules s'arrondissaient comme sous l'amoureux ciseau d'un sculpteur invisible, une flamme discrète brillait sous ses paupières brunies."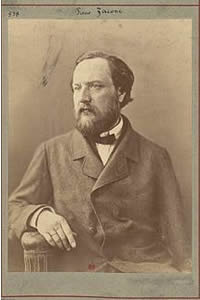 Pierre Zaccone (2 april 1817 - † ? 1895)
Portretfoto door Félix Nadar , 1900
De Italiaanse (reis)schrijver Pietro della Valle werd geboren op 2 april 1586 in Rome. Zie ook alle tags voor Pietro della Valle op dit blog.
Uit: The Travels Of Sig. Pietro della Valle (The journey to Olaza)
"Now the good Cacciatùr having open'd mine, without hurting the lock, or medling with the linnen which he found therein, took out onely all the little mony which I then had, and had put into it, to avoid carrying its weight about me; it was in one of those long leathern purses, which are made to wear round the waste like a girdle, and was full of Spanish Rialls, a Coyn in these parts, and almost in all the world current enough. His intention, I conceive, was to leave me (as they say) naked in the Mountains in the center of India, and peradventure, to go into some Territory of the Gentiles or Mahometans, there to pass a jovial life upon my expence. But it pleas'd God, the theft being done in my Chamber, where none but he resorted, we had vehement suspition of him; and therefore the Ambassador making use of his Authority, caus'd him to be laid hold on, and we found the theft in his breeches ty'd to his naked flesh; and thus I recover'd my money. I was unwilling any hurt should be done to him, and withall, to keep him longer; nevertheless that he might not go into the Infidel-Countries, lest thereby he should lose his Religion and turn to his native errors, I sent him away with some trusty persons to Goa, giving him Letters also to Signora Maria, but such as whereby they might know that I had dismis'd him, and that he was not to be entertain'd there, though otherwise indempnifi'd. By this Story you may see how much a Man may be deceiv'd in his trusting; how little benefits prevail upon an unworthy nature; and withall, you may con∣sider to what misfortunes a Stranger is subject in strange Coun∣tries; so that if I had had nothing else, being thus depriv'd of all, I should have been left to perish miserably amongst Bar∣barians."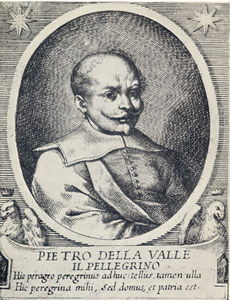 Pietro della Valle (2 april 1586 – 21 april 1652)
De Nederlandse schrijver Onno Zwier van Haren werd geboren in Leeuwarden op 2 april 1713. Zie ook alle tags voor Onno Zwier van Haren op dit blog.
Uit: Agon, Sulthan van Bantam
"Sinan
Uw wil is door myn mond verkondigd aan de Grooten,
En uw last is gebragt aan d' eerste Hof genooten:
Een ieder zal hier zyn, gelyk vereischd syn plicht,
Op de bestemde tyd, en 't uur daar toe gericht.
Schoon deze dag reeds lang voor Bantam was te wagten,
Wyl gy zoo menigmaal geuit had uw gedagten,
Heeft elk van haar niet min getoond de droeve smart,
Die 't komen van dees' dag, verspreid in ieders hart.
Agon
Die smart, hoe groot die zy, zal niet veel langer duuren,
Als tot dat morgen 't licht beschyne Bantams muuren:
Een oude Vorst verdwynd, gelyk de Maan, voor 't oog,
Wanneer de jonge Vorst klimd, als de Son, om hoog.
Sinan
Sy wagten zekerlyk een Heer van uwe handen
Die ook, gelyk als gy de Vader deezer Landen,
Haar welvaard houden zal voor syne grootste zorg,
d' Opvoeding van uw' Soons is hier voor haare borg:
Maar zoo ik uit haar naam de waarheid u mag zeggen,
En 't geen hier ieder denkt vrymoedig openleggen,
Hoe veel men van uw Soons, met reden, ook verwagt,
De onderdaan verlangd te blyven in uw magt;
Te meer dewyl men ziet Natuur u mildlyk geeven
De aangename vrugt van een gematigd leeven,
En dat de ouderdom, die elk met reeden vreest,
Niets afneemd van de kragt en vlugheid van uw geest."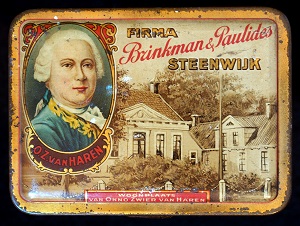 Onno Zwier van Haren (2 april 1713 – 2 september 1779)
Onno Zwier van Haren op een sigarenblikje
De Poolse schrijfster Joanna Chmielewska (eig. Irena Kühn) werd geboren op 2 april 1932 in Warschau. Zie ook alle tags voor Joanna Chmielewska op dit blog.
Uit: Mord ist Trumpf (Vertaald door Anna Junuszewska)
"Auf einmal regte sich in meinem Oberstübchen eine graue Zelle und piepste mir eine gnadenlose Mitteilung zu. Nichts mit Kenntnissen, Entdeckungen und Erfolgen. Alles war gut, solange ich ihn abgöttisch bewunderte, die ersten Risse zeigten sich erst, seit ich anfing, die Geduld zu verlieren. Ich bemerkte dieses und jenes, und ein paar unangebrachte Bemerkungen rutschten mir heraus, wie ungeschickt, mit diesen blöden Augen plötzlich klar zu sehen, die Liebe machte doch angeblich blind ...
Ich benutzte die blöden Augen, um mich noch mal im Spiegel zu mustern. Während des Nachdenkens hatte ich mich fertig geschminkt. Na gut, jetzt mal ohne Quatsch, so schlimm war es gar nicht mehr, etwas hatte sich zum Besseren verändert, ich war irgendwie weniger kahl, und die Nase kam in ihrer unglaublichen Schönheit nicht mehr ganz so sehr zur Geltung. Das Heu auf dem Kopf ließ sich sogar kämmen, aber ich machte mir nichts vor, der leiseste Lufthauch würde genügen, um das Werk wieder zunichtezumachen!
Aus einem unerfindlichen Grund übte das Treppenhaus entscheidenden Einfluss auf mich aus. Ich lehnte mich plötzlich auf. Zwischen der dritten und der Mitte der ersten Etage sah ich auf einmal die andere Seite der Medaille, was insofern eine Sensation war, als ich bislang hartnäckig eine gegen mich selbst gerichtete Vogel-Strauß-Politik betrieben hatte. Betrachten wir das Ganze doch nicht so einseitig, nicht alles geschah schließlich meinetwegen, nicht alles war meine Schuld, nicht alles lag an mir!"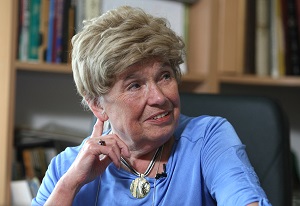 Joanna Chmielewska (2 april 1932 – 7 oktober 2013)
De Duitse schrijfster en dichteres Brigitte Struzyk (eig. Brigitte Kraft) werd op 2 april 1946 geboren in Steinbach-Hallenberg/Thüringen. Zie ook alle tags voor Brigitte Struzyk op dit blog.
Querfeldein
Querfeldein
der Hund der Rabe
im Wechselgesang
und im Wasser
das schwankende
Boot
der Lichtreklame
Vom Zugfenster aus
Nun fallen die roten Blätter,
die roten Blätter fallen.
Bald fallen die Hallen
in sich zusammen
wie sonst auch Bahnstationen
an der Saale hellem Strande.
Die Burgen perfekt saniert,
die Dächer gedeckt,
das alte Gemäuer flankiert
von Sparkassenpavillons.
Im Kurpark spazieren,
die hier sanieren,
oft Gestalten zart und mild.
Die Wandervögel ziehen dahin,
Naumburg, Schulpforta, Bad Kösen,
vorbei an den Nordic Walkern
hinauf zur Einkehr ins "Himmelreich".
Bewehrt fällt der Fluss,
Großheringen,
der Zementfabrik zu.
und der Wind streicht durch die Hallen.
Flatterband an der Baustelle "Paradies"
vor den Rohren der Fernleitungswärme
für Lobeda.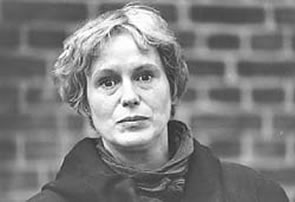 Brigitte Struzyk (Steinbach-Hallenberg, 2 april 1946)


02-04-2016 om 12:36 geschreven door Romenu

Tags:Edgar Hilsenrath, George Fraser, H. von Fallersleben, Johann Gleim, Pierre Zaccone, Pietro della Valle, Zwier van Haren, Joanna Chmielewska, Brigitte Struzyk, Romenu