De Britse schrijver Philip Pullman werd geboren op 19 oktober 1946 in Norwich als zoon van een luchtmachtofficier. Zie ook mijn blog van 19 oktober 2010 en eveneens alle tags voor Philip Pullman op dit blog.
Uit: Northern Lights
"After darkness had fallen, and when the stores and equipment had all been safely unloaded and stood in waiting on the quay, Farder Coram and Lyra walked along the waterfront and looked for Einarsson's Bar. They found it easily enough: a crude concrete shed with a red neon sign flashing irregularly over the door and the sound of loud voices through the condensation-frosted windows.
A pitted alley beside it led to a sheet-metal gate into a rear yard, where a lean-to shed stood crazily over a floor of frozen mud. Dim light through the rear window of the bar showed a vast pale form crouching upright and gnawing at a haunch of meat which it held in both hands. Lyra had an impression of blood-stained muzzle and face, small malevolent black eyes, and an immensity of dirty matted yellowish fur. As it gnawed, hideous growling, crunching, sucking noises came from it.
Farder Coram stood by the gate and called:
"Iorek Bymison!"
The bear stopped eating. As far as they could tell, he was looking at them directly, but it was impossible to read any expression on his face.
"Iorek Byrnison," said Farder Coram again. "May I speak to you?"
Lyra's heart was thumping hard, because something in the bear's presence made her feel close to coldness, danger, brutal power, but a power controlled by intelligence; and not a human intelligence, nothing like a human, because of course bears had no daemons. This strange hulking presence gnawing its meat was like nothing she had ever imagined, and she felt a profound admiration and pity for the lonely creature.
He dropped the reindeer leg in the dirt and slumped on all fours to the gate. Then he reared up massively, ten feet or more high, as if to show how mighty he was, to remind them how useless the gate would be as a barrier, and he spoke to them from that height.
'Well? Who are you?'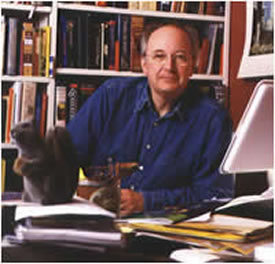 Philip Pullman (Norwich, 19 oktober 1946)
De Guatemalteekse schrijver Miguel Ángel Asturias werd geboren op 19 oktober 1899 in Guatemala-Stad. Zie ook mijn blog van 19 oktober 2010 en eveneens alle tags voor Miguel Ángel Asturias op dit blog.
In the Light of the Goldthinking-Stars (Fragment)


The Night, Nothingness and Life,
the Immense Widows,
and the Twohanded Tattooer of worlds
that HE created with his eyes
and tattooed with his sunflower stare,
created with his hands, one real and one dream,
created with his word, a tattoo of resounding saliva,
worlds that he, though blinded,
redeemed from the silence with the snail-curl of his ears
and from the luminous murk
with his extinguished constellation touch,
with his fingers bejeweled with numbers and hummingbirds.

The Night, Nothingness and Life,
the Immense Widows
in the light of the Goldthinking-stars,
Emissaries who lost their way in the nickel sky
without revealing their message
and the Twohanded Tattooer
blinded by the threadlike rain of eyes.
Vertaald door Robert W. Lebling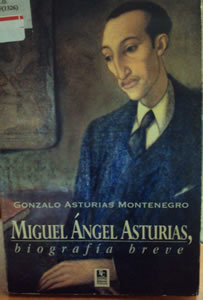 Miguel Ángel Asturias (19 oktober 1899 – 9 juni 1974)
Cover biografie
De Amerikaanse schrijfster Fannie Hurst werd geboren op 19 oktober 1889 in Hamilton, Ohio. Zie ook mijn blog van 19 oktober 2010 en eveneens alle tags voor Fanny Hurst op dit blog.
Where St. Louis begins to peter out into brick-and limestone-kilns and great scars of unworked and overworked quarries, the first and more unpretentious of its suburbs take up—Benson, Maplehurst, and Ridgeway Heights intervening with one-story brick cottages and two-story packing-cases—between the smoke of the city and the carefully parked Queen Anne quietude of Glenwood and Croton Grove.
Over Benson hangs a white haze of limestone, gritty with train and foundry smoke. At night, the lime-kilns, spotted with white deposits, burn redly, showing through their open doors like great, inflamed diphtheretic throats, tongues of flame bursting and licking-out.
Winchester Road, which runs out from the heart of the city to string these towns together, is paved with brick, and its traffic, for the most part, is the great tin-tired dump-carts of the quarries and steel interurban electric cars, which hum so heavily that even the windows of outlying cottages titillate.
For blocks, from Benson to Maplehurst and from Maplehurst to Ridgeway Heights, Winchester Road repeats itself in terms of the butcher, the baker, the corner saloon. A feed store. A monument-and stone-cutter. A confectioner. A general-merchandise store, with a glass case of men's collars outside the entrance. The butcher, the baker, the corner saloon.
At Benson, where this highway cuts through, the city, wreathed in smoke, and a great oceanic stretch of roofs are in easy view, and at closer range, an outlying section of public asylums for the city's discard of its debility and its senility.
Jutting a story above the one-storied march of Winchester Road, The Convenience Merchandise Corner, Benson, overlooks, from the southeast up-stairs window, a remote view of the City Hospital, the Ferris wheel of an amusement-park, and on clear days, the oceanic waves of roof. Below, within the store, that view is entirely obliterated by a brace of shelves built across the corresponding window and brilliantly stacked with ribbons of a score of colors and as many widths.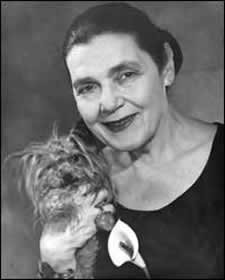 Fannie Hurst (19 oktober 1889 – 23 februari 1968)
De Engelse dichter, schrijver en essayist James Leigh Hunt werd geboren op 19 oktober 1784 in Southgate, Middlesex. Zie ook mijn blog van 19 oktober 2010 en eveneens alle tags voor Leigh Hunt op dit blog.
Ariadne Waking
The moist and quiet morn was scarcely breaking,
When Ariadne in her bower was waking;
Her eyelids still were closing, and she heard
But indistinctly yet a little bird,
That in the leaves o'erhead, waiting the sun,
Seemed answering another distant one.
She waked, but stirred not, only just to please
Her pillow-nestling cheek; while the full seas,
The birds, the leaves, the lulling love o'ernight
The happy thought of the returning light,
The sweet, self-willed content, conspired to keep
Her senses lingering in the feel of sleep;
And with a little smile she seemed to say,
"I know my love is near me, and 'tis day."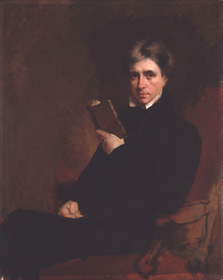 Leigh Hunt (19 oktober 1784 – 28 augustus 1859)
Portret door Samuel Laurence, z. J.
Zie voor nog meer schrijvers van de 19e oktober ook mijn blog van 19 oktober 2011 deel 1 en eveneens deel 2.
19-10-2012 om 00:00 geschreven door Romenu

Tags:Philip Pullman, Miguel Ángel Asturias, Fannie Hurst, Leigh Hunt, Romenu