De Franse dichter, schrijver en criticus Charles Augustin Sainte-Beuve werd geboren op 23 december 1804 in Boulogne-sur-Mer. Zie ook alle tags voor Charles Sainte-Beuve op dit blog.
PREMIER AMOUR
Un autre plus heureux, va unir son sort à celui de mon amie. Mais, quoiqu'elle trompe ainsi mes plus chère espérances, dois-je la moins aimer ?
Mackensie, l'Homme sensible.
Printemps, que me veux-tu ? pourquoi ce doux sourire,
Ces fleurs dans tes cheveux et ces boutons naissants ?
Pourquoi dans les bosquets cette voix qui soupire,
Et du soleil d'avril ces rayons caressants ?
Printemps si beau, ta vue attriste ma jeunesse ;
De biens évanouis tu parles à mon cœur ;
Et d'un bonheur prochain ta riante promesse
M'apporte un long regret de mon premier bonheur.
Un seul être pour moi remplissait la nature ;
En ses yeux je puisais la vie et l'avenir ;
Au musical accent de sa voix calme et pure,
Vers un plus frais matin je croyais rajeunir.
Oh ! combien je l'aimais ! et c'était en silence !
De son front virginal arrosé de pudeur,
De sa bouche où nageait tant d'heureuse indolence,
Mon souffle aurait terni l'éclatante candeur.
Par instants j'espérais. Bonne autant qu'ingénue,
Elle me consolait du sort trop inhumain ;
Je l'avais vue un jour rougir à ma venue,
Et sa main par hasard avait touché ma main.
Que de fois, étalant une robe nouvelle,
Naïve, elle appela mon regard enivré,
Et sembla s'applaudir de l'espoir d'être belle,
Préférant le ruban que j'avais préféré !
Ou bien, si d'un pinceau la légère finesse
Sur l'ovale d'ivoire avait peint ses attraits,
Le velours de sa joue, et sa fleur de jeunesse,
Et ses grands sourcils noirs couronnant tous ses traits ;
Ah ! qu'elle aimait encor, sur le portrait fidèle
Que ses doigts blancs et longs me tenaient approché,
Interroger mon goût, le front vers moi penché,
Et m'entendre à loisir parler d'elle près d'elle !
Un soir, je lui trouvai de moins vives couleurs :
Assise, elle rêvait : sa paupière abaissée
Sous ses plis transparents dérobait quelques pleurs ;
Son souris trahissait une triste pensée.
Bientôt elle chanta ; c'était un chant d'adieux.
Oh ! comme, en soupirant la plaintive romance,
Sa voix se fondait toute en pleurs mélodieux,
Qui, tombés en mon cœur, éteignaient l'espérance !
Le lendemain un autre avait reçu sa foi.
Par le vœu de ta mère à l'autel emmenée,
Fille tendre et pieuse, épouse résignée,
Sois heureuse par lui, sois heureuse sans moi !
Mais que je puisse au moins me rappeler tes charmes ;
Que de ton souvenir l'éclat mystérieux
Descende quelquefois au milieu de mes larmes,
Comme un rayon de lune, un bel Ange des cieux !
Qu'en silence adorant ta mémoire si chère,
Je l'invoque en mes jours de faiblesse et d'ennui ;
Tel en sa sœur aînée un frère cherche appui,
Tel un fils orphelin appelle encor sa mère.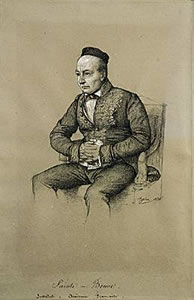 Charles Sainte-Beuve (23 december 1804 – 13 oktober 1869)
Getekend door François-Joseph Heim, 1856
De Italiaanse schrijver Giuseppe Tomasi di Lampedusa werd geboren in Palermo op 23 december 1896. Zie ook alle tags voor Giuseppe Tomasi di Lampedusa op dit blog.
Uit: The Leopard (Vertaald door Archibald Colquhoun)
'You're a gentleman, Chevalley, and I consider it a privilege to have met you; you are right in all you say; your only mistake was saying "the Sicilians must want to improve." I'll tell you a personal anecdote. Two or three days before Garibaldi entered Palermo I was introduced to some British naval officers from one of the warships then in harbour to keep an eye on things. They had heard, I don't know how, that I own a house down on the shore facing the sea, with a terrace on its roof from which can be seen the whole circle of hills around the city; they asked to visit this house of mine and look at the landscape where Garibaldini were said to be operating, as they could get no clear idea from their ships. In fact Garibaldi was already at Gibilrossa. They came to my house, I accompanied them up on to the roof; they were simple youths in spite of their reddish whiskers. They were ecstatic about the view, the vehemence of the light; they confessed, though, that they had been horrified at the squalor, decay, filth of the streets around. I didn't explain to them that one thing was derived from the other, as I have tried to with you. Then one of them asked me what those Italian volunteers were really coming to do in Sicily. "They are coming to teach us good manners!" I replied in English. "But they won't succeed, because we are gods."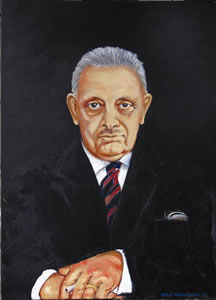 Giuseppe Tomasi di Lampedusa (23 december 1896 - 23 juli 1957)

De Duitse dichteres en schrijfster Mathilde Wesendonck werd geboren als Agnes Luckemeyer op 23 december 1828 in Elberfeld. Zie ook mijn blog van 23 december 2008 en ook mijn blog van 23 december 2009 en ook mijn blog van 23 december 2010.
Schmerzen

Sonne, weinest jeden Abend
Dir die schönen Augen rot,
Wenn im Meeresspiegel badend
Dich erreicht der frühe Tod;
Doch erstehst in alter Pracht,
Glorie der düstren Welt,
Du am Morgen neu erwacht,
Wie ein stolzer Siegesheld!
Ach, wie sollte ich da klagen,
Wie, mein Herz, so schwer dich sehn,
Muß die Sonne selbst verzagen,
Muß die Sonne untergehn?
Und gebieret Tod nur Leben,
Geben Schmerzen Wonnen nur:
O wie dank' ich, daß gegeben
Solche Schmerzen mir Natur!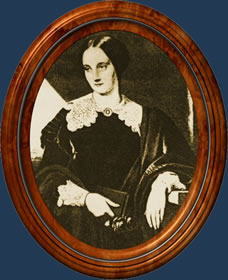 Mathilde Wesendonck (23 december 1828 – 31 augustus 1902)
De Duitse dichter Martin Opitz von Boberfeld werd geboren op 23 december 1597 in Bunzlau (Silezië). Zie ook mijn blog van 23 december 2008 en ook mijn blog van 23 december 2009 en ook mijn blog van 23 december 2010.
Sonett
Aus dem Italienischen Petrarchae.

Ist Liebe lauter nichts, wie daß sie mich entzündet?
Ist sie dann gleichwohl was, wem ist ihr Tun bewußt?
Ist sie auch recht und gut, wie bringt sie böse Lust?
Ist sie nicht gut, wie daß man Freud aus ihr empfindet?

Lieb ich gar williglich, wie daß ich Schmerzen trage?
Muß ich es tun, was hilfts, daß ich solch Trauren führ?
Tu ichs nicht gern, wer ists, der es befiehlet mir?
Tu ich es gern, warum, daß ich mich dann beklage?

Ich wanke wie das Gras, so von den kühlen Winden
Um Vesperzeit bald hin geneiget wird, bald her.
Ich walle wie ein Schiff, das in dem wilden Meer

Von Wellen umjagt nicht kann zu Rande finden.
Ich weiß nicht was ich will, ich will nicht was ich weiß,
Im Sommer ist mir kalt, im Winter ist mir heiß.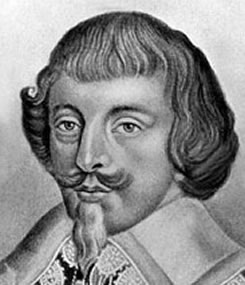 Martin Opitz (23 december 1597 – 20 augustus 1639)
23-12-2011 om 19:22 geschreven door Romenu

Tags:Charles Sainte-Beuve, Giusepe di Lampedusa, Mathilde Wesendonck, Martin Opitz, Romenu