De Engelse schrijver Frederick Forsyth werd geboren in Ashford, Kent, op 25 augustus 1938. Hij werd geplaatst op de beroemde Engelse Tonbridge School, een kostschool die deel uitmaakt van de Etongroup. Na Tonbridge studeerde Forsyth aan de Universiteit van Granada in Spanje. Al na vijf maanden staakte hij zijn studie en keerde terug naar Engeland. In mei 1956 sloot hij zich op zijn negentiende aan bij de RAF als één van de jongste piloten. In 1958 zwaaide hij af en werd journalist bij de Eastern Daily Press in Norfolk. In 1961 ging hij bij Reuters werken, eerst in Parijs en later in Oost-Europa. In 1965 keerde hij terug naar Engeland en werd verslaggever voor de BBC. In 1967 brak er in Nigeria een burgeroorlog uit. De provincie Biafra was in opstand gekomen en er woedde een strijd tussen rebellen en regeringstroepen. Forsyth verbleef van juli tot september in Biafra en versloeg de oorlog voor zijn werkgever. In 1970 had hij genoeg van de oorlog en keerde weer terug naar Engeland. Hij begon te werken aan een roman over een huurmoordenaar die in opdracht van de OAS een aanslag wil plegen op president De Gaulle. Forsyth gebruikte voor zijn roman de kennis die hij had opgedaan toen hij als correspondent voor Reuters in Parijs werkte. Elk feitje is gecontroleerd, elke straat, plein, regeringsinstelling of functionaris klopt. Ondanks al deze moeite werd het boek aanvankelijk geweigerd totdat uitgeverij Hutchinson het manuscript aankocht en uitgaf onder de titel, The Day of the Jackal. Het boek werd een bestseller en is inmiddels twee keer verfilmd. Na "The Day Of The Jackal" schreef Forsyth nog een groot aantal romans en verhalenbundels., waarbij steeds zijn voorliefde voor feiten wordt vermengd met spannende, thrillerachtige verhalen.
Uit: The Day of the Jackal
"Colonel Marc Rodin stared at the man from London. The visitor, apparently in his early thirties, was about six feet tall, with a lean athletic build. The face was suntanned, with regular but not remarkable features. He looked like a man who retained control of himself, but the eyes bothered Rodin. The flecked grey irises seemed smoky, and it took Rodin a few seconds to realise that they had no expression at all. Whatever thoughts did go on behind the smoke screen, nothing came through, and Rodin felt a worm of unease.
'We know who you are,' he began abruptly. 'I had better introduce myself. I am Colonel Marc Rodin'
'I know,' said the Englishman. 'You are chief of operations of the OAS. You are Major René Montclair, treasurer, and you are Monsieur André Casson, head of the underground.' He stared at each in turn as he spoke, and reached for a cigarette. Then he lit up, leaned back and blew out the first stream of smoke.
'Gentlemen, let us be frank. I know what you are and you know what I am. We both have unusual occupations. I operate for money, you for idealism. But we are all professionals. Therefore we do not need to fence. You have been making enquiries. It was important to me to know who was so interested in me. As soon as I discovered the identity of the organisation, two days among the French newspaper files in the British Museum were enough to tell me about you. Bon. What I would like to know is what you want.'
There was a silence for several moments; then Rodin spoke. 'I will not bore you with the motivations behind our organisation. We believe France is now ruled by a dictator and can only be restored to Frenchmen if he dies. Our attempts to eliminate him so far have misfired. We are now considering engaging the services of a professional. However, we do not wish to waste our money. The first thing we would like to know is if it is possible.'

Frederick Forsyth (Ashford, 25 augustus 1938)
De Amerikaanse dichter Charles Wright werd geboren op 25 augustus 1935 in Pickwick Dam, Tennessee. Zie ook mijn blog van 25 augustus 2008 en ook mijn blog van 25 augustus 2009.
Body and Soul II
(for Coleman Hawkins)
The structure of landscape is infinitesimal,
Like the structure of music,
seamless, invisible.
Even the rain has larger sutures.
What holds the landscape together, and what holds music together,
Is faith, it appears--faith of the eye, faith of the ear.
Nothing like that in language,
However, clouds chugging from west to east like blossoms
Blown by the wind.
April, and anything's possible.
Here is the story of Hsuan Tsang.
A Buddhist monk, he went from Xian to southern India
And back--on horseback, on camel-back, on elephant-back, and on
foot.
Ten thousand miles it took him, from 629 to 645,
Mountains and deserts,
In search of the Truth,
the heart of the heart of Reality,
The Law that would help him escape it,
And all its attendant and inescapable suffering.
And he found it.
These days, I look at things, not through them,
And sit down low, as far away from the sky as I can get.
The reef of the weeping cherry flourishes coral,
The neighbor's back porch light bulbs glow like anemones.
Squid-eyed Venus floats forth overhead.
This is the half hour, half-light, half-dark,
when everything starts to shine out,
And aphorisms skulk in the trees,
Their wings folded, their heads bowed.
Every true poem is a spark,
and aspires to the condition of the original fire
Arising out of the emptiness.
It is that same emptiness it wants to reignite.
It is that same engendering it wants to be re-engendered by.
Shooting stars.
April's identical,
celestial, wordless, burning down.
Its light is the light we commune by.
Its destination's our own, its hope is the hope we live with.
Wang Wei, on the other hand,
Before he was 30 years old bought his famous estate on the Wang River
Just east of the east end of the Southern Mountains,
and lived there,
Off and on, for the rest of his life.
He never travelled the landscape, but stayed inside it,
A part of nature himself, he thought.
And who would say no
To someone so bound up in solitude,
in failure, he thought, and suffering.
Afternoon sky the color of Cream of Wheat, a small
Dollop of butter hazily at the western edge.
Getting too old and lazy to write poems,
I watch the snowfall
From the apple trees.
Landscape, as Wang Wei says, softens the sharp edges of isolation.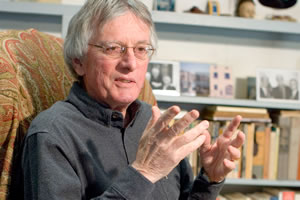 Charles Wright (Pickwick Dam, 25 augustus 1935)
De Duitse schrijver Maxim Biller werd geboren op 25 augustus 1960 in Praag. Zie ook mijn blog van 25 augustus 2007 en ook mijn blog van 25 augustus 2008 en ook mijn blog van 25 augustus 2009.
Uit: Wenn ich einmal reich und tot bin
"Ich mag keine Gedichte, sie sind mir fremd, und ich verstehe auch nichts von bisexuellen russischen Poetessen à la Marina Zwetajewa. Bei meiner Mutter jedoch liegt der Fall anders, und obwohl man mit der Behauptung vorsichtig sein sollte, sie lebe ganz allein und für sich in einer kleinen, engen Welt aus Jamben, Trochäen und Daktylen, ist doch etwas dran, denn Lyrik bedeutet ihr sehr viel.
Früher, erinnere ich mich, verschwand sie manchmal für ganze Nachmittage im Schlafzimmer, um zu lesen. Wenn sie mich dann plötzlich von dort rief, wußte ich genau, daß sie mich an ihren Versabenteuern beteiligen wollte. So stand ich in der Tür, trat von einem Fuß auf den anderen und sah sie an. Die Gardinen waren zugezogen, nur die Bettlampe gab ein gedrängtes, ockergelbes Licht ab. Meine Mutter lag am äußersten Rand des Ehebettes, im Morgenrock, zugedeckt, den Rücken von dicken Kissen hochgestützt, die Beine angewinkelt. Auf ihren Knien ruhte ein Buch von Mandelstam, das sie seit Wochen studierte. Bestimmt las sie schön, und ich hatte auch nie etwas gegen ihre russischen Gedichte — aber sie interessierten mich eben nicht. Manchmal ließ ich das Ganze über mich ergehen, manchmal nicht, weshalb ich dann sofort angeödet die Schlafzimmertür von außen schloß.
Die Mandelstam-Phase ist längst vorbei. Ich lebe jetzt in München, doch meine Eltern wohnen nach wie vor in dem alten Bürgerhaus am Hamburger Rotherbaum, wo wir 1974 auf unserem Weg von Moskau über Wien, Israel und New York schließlich untergekommen waren, zufrieden über jene lebensnotwendige Portion materieller und ziviler Sicherheit, die Deutschland uns bot."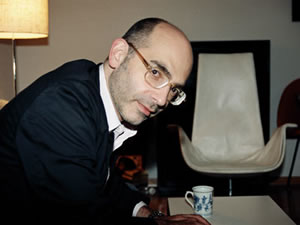 Maxim Biller (Praag, 25 augustus 1960)
De Engelse schrijver Martin Amis werd geboren op 25 augustus 1949 in Cardiff, South Wales. Zie ook mijn blog van 25 augustus 2007 en ook mijn blog van 25 augustus 2008 en ook mijn blog van 25 augustus 2009.
Uit: The War Against Cliché
"What happened, El?' said Vernon Presley to his son, one day in 1956. Elvis was twenty-one at the time, and a multimillionaire. 'The last thing I can remember is I was working in a can factory and you were driving a truck.' Elvis laughed. 'I don't know what it is,' he later told a reporter. 'I just fell into it, really.'
What happened was this. The Presleys were Depression-shoved nomads from the deep rural South. Elvis's uncle, Vester Presley, was a teenager before he owned his first pair of shoes. Looking for work, the family straggled into Memphis. Elvis was a half-employed slum spiv when he did his first audition. He recorded the rockabilly classic 'That's All Right, Mama'—and suddenly the tenement Okies found themselves in Graceland, a Doric mansion at the far end of Elvis Presley Boulevard.
It was during Elvis's much-publicized stint of military service in Germany that the present writers came into the story. Dee Stanley was the wife of a morose sergeant stationed in Bad Nauheim. On a bored impulse Dee gave El a call, to offer him some Southern hospitality. They arranged to meet for coffee. As it happened, Elvis was on manoeuvres; but Dee was greeted and squired by the courtly, personable and recently widowed Vernon... On her return to the US, Dee got a divorce and ensconced herself at Graceland, with her three small sons, Billy, Rick and David.
Elvis, We Love You Tender is their story, cobbled together twenty years on with the excitable help of journalist Martin Torgoff. Elvis's entourage was divided into TCBers and TLCers: those who Took Care of Business and those who gave Tender Loving Care when the exhausted menfolk returned from the road."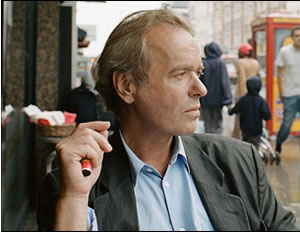 Martin Amis (Cardiff, 25 augustus 1949)



Zie voor nog meerschrijvers van de 25e augustus ook

mijn vorige blog van vandaag.
25-08-2010 om 22:11 geschreven door Romenu

Tags:Frederick Forsyth, Charles Wright, Maxim Biller, Martin Amis, Romenu