De Nederlandse dichter, vertaler en journalist Jan Eijkelboom werd op 1 maart 1926 in Ridderkerk geboren. Zie ook alle tags voor Jan Eijkelboom op dit blog.
Non omnis moriar*
Soms, als een distel door dik asfalt,
barst er een regel poëzie
de taal van mensen in.

Zo werd de Dapperstraat een plek
van hoge adel en duurt de Mei
al meer dan honderd jaar.

Zo wijs ik soms mijn kleine zoon
des avonds op een fonkelend verschijnsel
en roep: O Venus, felle star.

Hij corrigeert mij wel, maar geeft
het later toch misschien weer door.
Het lijkt zo'n magere troost,

te bedenken dat lang na je dood
een jonge vrouw een woord van jou
nog op de tong kan nemen.

Het is ook wel een weelderig genoegen,
niet geheel dood te hoeven.

* niet geheel zal ik sterven
O
O, dat ik ooit nog eens
een vers met o beginnen mocht,
dat het dan ongezocht een ode
werd waarin zeg maar een dode
dichteres tot leven kwam
ofwel een warm lief lijf
tot marmer werd waardoor
voor wie daarvoor gevoelig is
een adem ging als was het
leven nu voorgoed betrapt.

Maar nee, wat bij mij ingaat
moet bezinken,
verdicht zich tot een sprake-
loos substraat
dat roerig wordt en uit wil breken
en soms vermomd de mond verlaat.

0, klonk het nog eens ongehinderd.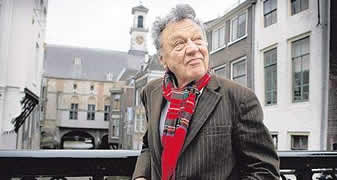 Jan Eijkelboom (1 maart 1926 – 28 februari 2008)
De Oostenrijkse schrijver, dichter en schilder Franzobel werd geboren op 1 maart 1967 in Vöcklabruck. Zie ook alle tags voor Franznobel op dit blog.
Österreich ist schön
Österreich? Ist das schön. Und hundertmal
& überhaupt. Österreich ist schön, und
schon schön ist Österreich. Ich bin hundertmal
verliebt in Österreich. Und Österreich
ist sehr schön, das lernen wir, hundertmal, daß
Österreich richtig schön ist, und das ist
das Schöne an Österreich, daß hundertmal
schon die österreichischen Schulkinder lernen,
wie schön und überall dieses Österreich nun ist,
damit sie es nur ja nie mehr vergessen. Ist
das schön. Und überhaupt. Die Sonne. Und
damit sie es nur ja nie mehr vergessen, wie schön,
schön Österreich ist, müssen schon die
österreichischen Schulkinder hundertmal,
hundertmal schreiben, Österreich ist schön.
Ist das schön. So schön ist Österreich, daß
schon die Schulkinder es aufschreiben müssen.
Müssen schreiben: Österreich fängt schön an, und
schön hört Österreich auch auf. Ja. So ist das
mit Österreich. Durch und durch schön. Hundertmal.
Blunzengröstl
Blunzengröstl essen, Kistlbrunzen müssen,
Brunzengröstl essen, Blunzenkistl müssen,
Blunzen brunzen, Gröstlkistl essen müssen,
Brunzen blunzen, Kistl müssen Gröstl essen,
Blunzen essen, brunzen müssen, Köstl. Köstl.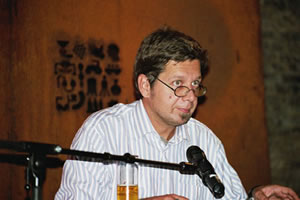 Franzobel (Vöcklabruck, 1 maart 1967)
De Engelse schrijver Jim Crace werd geboren op 1 maart 1946 in St. Albans, Hertfordshire. Zie ook alle tags voor Jim Crace op dit blog.
Uit: The Devil's Larder
"One night when there are guests and all the wine has gone, they put the can into the candlelight amongst the debris of their meal and play the guessing game. An aphrodisiac, perhaps; "Let's try." A plague. Should they open up and spoon it out? A tune, canned music, something never heard before that would rise from the open can, evaporate, and not be heard again. The elixir of youth. The human soup of DNA. A devil or a god?
It's tempting just to stab it with a knife. Wound it. See how it bleeds. What is the colour of the blood? What is its taste?
We all should have a can like this. Let it rust. Let the rims turn rough and brown. Lift it up and shake it if you want. Shake its sweetness or its bitterness. Agitate the juicy heaviness within. The gravy heaviness. The brine, the soup, the oil, the sauce. The heaviness. The choice is wounding it with knives, or never touching it again.
---------------------
"This is for the angel," Grandma used to say, tearing off a strip of dough for me to take into the yard. "Leave it somewhere he can see." Sometimes I left the strip on the street wall. Sometimes I draped it on the washing line. Sometimes I put it on the outside windowsill and hid behind the kitchen curtain beads to spot the angel in the yard."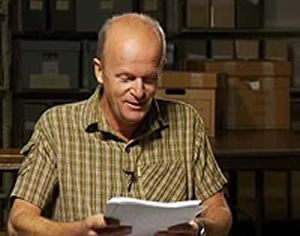 Jim Crace (St. Albans, 1 maart 1946)
De Zwitserse dichter, schrijver, cabaretier en liedjesmaker Franz Hohler werd geboren op 1 maart 1943 in Biel. Zie ook Zie ook alle tags voor Franz Hohler op dit blog.
Ein Fall
Jemand, nämlich ich, ging zielbewusst über einen Platz in Basel, nur noch wenige Minuten von der Lokalität entfernt, die er aufzusuchen gedachte, da er dort verabredet war, sein Schritt war nicht hastig, aber doch vorwärts orientiert, nicht schlendernd wie etwa derjenige der bemerkenswert schönen jungen Frau, die er überholte. Der Jemand war beschwingt, denn er war dort, wo er hinging, ein freudig Erwarteter, und es muss wohl sein in die Ferne gerichteter, seinerseits erwartungsvoller Blick gewesen sein, der ihn die kleine Kante übersehen ließ, die er nun mit seinem rechten Fuß übertrat. Er hatte sie übersehen, weil er sich auf einem gepflästerten Platz wähnte und nicht auf einem Trottoir, und nun wurden die Gesetze der Physik sekundenschnell und erbarmungslos auf ihn angewendet, Zentrifugal- und Zentripetalkraft stritten sich um ihn, zerrten ihn vor und zurück und auf und ab, sein eben noch gelassener und ebenmäßiger Gang verwandelte sich in ein Zucken und Krümmen seines Körpers, einen gnomenhaften Tanz, durch den ihm die Mütze vom Kopf geschleudert wurde, und er selbst wurde schließlich durch die wild ausscherenden Kräfte in die Knie gezwungen, und während er sich mit Mühe wieder zu erheben und seiner verlorenen Würde zu bemächtigen suchte, bückte sich die schöne junge Frau nach seiner Mütze und überreichte sie ihm lächelnd, so wie man einem Invaliden etwas zuliebe tut, bevor sie, die Handtasche an der Schulter, lässig weiter bummelte und ihn, diesen Jemand, mich also, mit einem scharfen Schmerz im Knöchel als plötzlichen Greis zurückließ, der sofort spürte, dass ihn dieser Misstritt um Kilometer von seiner Abmachung trennte und auch alle seine andern Abmachungen in eine ungewisse, bedrohliche Ferne rückte, dass dadurch auch ein Verb wie "gehen" sofort aus seinem Vokabular verbannt wurde, mehr noch, dass es niedergeschlagen wurde durch eine Bande von Substantiven, deren lümmelhafte Anführer "Unfall" und "Notfall" hießen, ein dritter, der blöde grinste, nannte sich "Zufall", und sie alle kamen nun auf Jemand zu und sagten zu ihm, als sie ihn links und rechts unter dem Arm fassten, sie hätten schon lange auf ihn gewartet.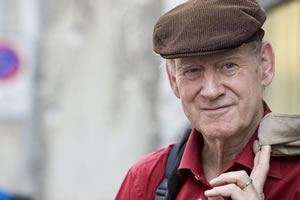 Franz Hohler (Biel, 1 maart 1943)
De Franstalige, Zwitserse schrijver Jacques Chessex werd geboren op 1 maart 1934 in Payerne. Zie ook alle tags voor Jacques Chessex op dit blog.
Uit:
Le dernier crâne de M. de Sade
"Quand cette histoire commence, en été 1814, Donatien Alphonse François, marquis de Sade, est enfermé depuis onze ans à Charenton, dans le Val-de-Marne, à la limite sud-est de Paris, un hospice d'aliénés placé sous la surveillance vétilleuse du ministère de l'Intérieur. M. de Sade est gros, accablé de toutes sortes de maux qu'une vie d'aventure, d'emprisonnement, d'obscénité et d'imagination scandaleuse a accumulés dans son corps vicié, en même temps brûlé dedans et dehors.
On ne s'étonnera pas, connaissant l'existence infâme de ce monstre, que sa fin fût aussi laide que sa vie. Et l'on voudra que la férocité qu'il y manifesta serve d'exemple, voire d'avertissement, tant aux gens de police et de coercition, à l'encontre de leurs administrés souvent trop doucement traités, qu'aux personnes vertueuses, qui trouveront là matière à méditer sur la menace toujours possible de l'indécence, et de la déchéance des âmes.
On s'indignera, ou on craindra. Mais quelque réaction que l'on manifeste, réprobation, horreur, et même trouble chez ceux que le mal hante (ou pire, a déjà gagnés), on reconnaîtra que les derniers mois du marquis de Sade, que d'aucuns ont sans honte nommé "le divin", sont de la même trempe dégoûtante que toute sa déplorable course. Et souvent qu'ils la surpassent dans la concentration du vice. Un vieux fou est plus fou qu'un jeune fou, cela est admis, quoi dire alors du fou qui nous intéresse, lorsque l'enfermement comprime sa fureur jusqu'à la faire éclater en scènes sales ?"
Jacques Chessex (1 maart 1934 – 9 oktober 2009)
Zie voor nog meer schrijvers van de 1e maart ook mijn vorige blog van vandaag en eveneens mijn eerste blog van vandaag.

01-03-2012 om 19:47 geschreven door Romenu

Tags:Jan Eijkelboom, Franzobel, Jim Crace, Franz Hohler, Jacques Chessex, Romenu