De Amerikaanse dichter en schrijver Billy Collins werd geboren in New York op 22 maart 1941. Zie ook mijn blog van 22 maart 2007 en ook mijn blog van 22 maart 2008 en ook mijn blog van 22 maart 2009 en ook mijn blog van 22 maart 2010.
I Go Back To The House For A Book
I turn around on the gravel and go back to the house for a book, something to read at the doctor's office, and while I am inside, running the finger of inquisition along a shelf, another me that did not bother to go back to the house for a book heads out on his own, rolls down the driveway, and swings left toward town, a ghost in his ghost car, another knot in the string of time, a good three minutes ahead of me — a spacing that will now continue for the rest of my life.
Japan
Today I pass the time reading
a favorite haiku,
saying the few words over and over.
It feels like eating
the same small, perfect grape
again and again.
I walk through the house reciting it
and leave its letters falling
through the air of every room.
I stand by the big silence of the piano and say it.
I say it in front of a painting of the sea.
I tap out its rhythm on an empty shelf.
I listen to myself saying it,
then I say it without listening,
then I hear it without saying it.
And when the dog looks up at me,
I kneel down on the floor
and whisper it into each of his long white ears.
It's the one about the one-ton temple bell
with the moth sleeping on its surface,
and every time I say it, I feel the excruciating
pressure of the moth
on the surface of the iron bell.
When I say it at the window,
the bell is the world
and I am the moth resting there.
When I say it at the mirror,
I am the heavy bell
and the moth is life with its papery wings.
And later, when I say it to you in the dark,
you are the bell,
and I am the tongue of the bell, ringing you,
and the moth has flown
from its line
and moves like a hinge in the air above our bed.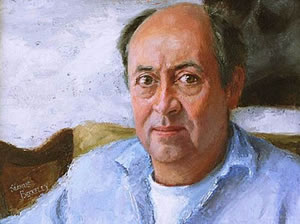 Billy Collins (New York, 22 maart 1941)
Portret door Seamus Berkeley
De Vlaamse dichter en schrijver Arnold Sauwen werd geboren te Stokkem op 22 maart 1857. Zie ook mijn blog van 11 mei 2006 en mijn blog van 22 maart 2007 en ook mijn blog van 22 maart 2008 en ook mijn blog van 22 maart 2009 en ook mijn blog van 22 maart 2010.
Zwerversleven
Wat norse wrevel legde in uw borst
die wondre drang om, met uw kinderbende,
jaar in jaar uit te zwerven zonder ende,
uw orgel draaiend voor de schrale korst;

Gij die u nooit aan werk of tucht gewende;
met onbezorgdheid uw bestaan omschorst,
en willig op uw sterke schouders torst
de jammerlast der dagen van ellende?

Van d'arbeid wars, trekt gij door dorp en steê
en speelt uw lied en voert uw have mee,
uw dempig peerd en uw gehuifde wagen;

En vraagt der wereld niets dan 't bedelbrood
en 't plekje gronds waar, bij elk avondrood,
voor éne nacht uw tent wordt opgeslagen.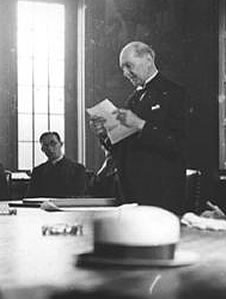 Arnold Sauwen (22 maart 1857 – 11 mei 1938)
De Duitse dichter, schrijver en theoloog Albrecht Goes werd geboren op 22 maart 1908 in Langenbeutingen. Zie ook mijn blog van 22 maart 2009 en ook mijn blog van 22 maart 2010.
Karl Barths Altersbriefe
"Wenn dies das Altern ist:
So weit, so frei sein,
so immer noch in Ja und Nein dabei sein,
so herzlich lachen, so getröstet schweigen,
so sich zum Großen, so zum Kleinen neigen –
so nah dem Zeitenton, den Ewig-Psaltern:
wenn dies das Alter ist –
– komm, laß uns altern!"
Gelöbnis
(Nachtwache, Fleckfieberlazarett, Frühling 1943)
Welchem Ziel wir sterben?
Nicht dem Vaterland.
Nicht, daß die Enkel und Erben
Von neuem Länder erwerben,
Mit des Hasses grüngiftigen Schwaden
Von neuem die Seele beladen,
Von neuem die Seele beladen
Mit patriotischem Tand.
Welchem Glauben wir leben?
Uns ward dies Land zu klein.
Die in Panzern verbrannt und in Gräben
Verschüttet, die uns umschweben,
Die Toten, hüben und drüben,
Was wolln sie, als daß wir begrüben
Den bewaffneten Wahn und endlich,
Endlich Brüder sei'n.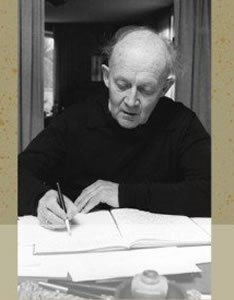 Albrecht Goes (22 maart 1908 – 23 februari 2000)

Zie voor de drie onderstaande schrijvers ook mijn blog van 22 maart 2007, mijn blog van 22 maart 2008 en ook mijn blog van 22 maart 2009 en ook mijn blog van 22 maart 2010.
De Zwitserse schrijfster Eveline Hasler werd geboren in Glarus op 22 maart 1933.
Uit: Anna Göldin
"Anna, traurige Berühmtheit.
Steine, wo man hinschaut, wenn man auf ihrer Spur zurückgeht. Dort, wo die Göldin herkommt, im Sennwald, sind Wiesen und Äcker abschüssig, voller Geröll, Felsen wachsen aus ihnen heraus, Berge mit Zacken, Hörnern, Bröckelgestein.
Irgendwann ging ein Bergsturz von den Kreuzbergen nieder zum Rhein; Tannen halten bei Salez die Brocken mit ihren Wurzeln im Griff, nichts rollt mehr, der Staub hat sich verzogen, Vögel fliegen durch die Zweige, ein scheinheiliger Friede.
Steine hatten auch der kleinen Grafschaft den Namen gegeben: Sax, Sassum, Stein. 1615, als den Grafen von Sax das Geld ausging, nur noch Steine übrigblieben, haben sie das Gebiet den Zürchern verkauft; bis zur Revolution steht es unter der »gewalt und bothmässigkeit des Löbl. Standes Zürich«.
Die Zürcher, die einmal Leben und Gut eingesetzt ha- ben für ihre Freiheit, schicken Vögte, einen Ziegler, einen Ulrich, der wohnt auf Forsteck, auf den Felsen des Bergsturzes, wo die Buchen eine Lichtung ausgespart haben, sitzt an seinem schweren Eichentisch, führt in Frey- und Eigen-Büchern säuberlich Buchhaltung über die Untertanen. Da gibt es freie und unfreie Familien und solche, in denen diese beide Kategorien von Abhängigkeit ver- mengt sind: Heiratet eine Freie einen Unfreien oder umgekehrt, so gehört das erste Kind dem Vogt, das zweite ist frei, das dritte unfrei und so fort. Aber auch die sogenannten Freien unterstehen der zürcherischen Obrigkeit, sie haben sich nur von gewissen Abgaben freigekauft.
Auf Annas Spuren habe ich in diesen Büchern nach den Bebauern der steinigen Äcker gesucht. Schon im i B. Jahrhundert heißen mehr als ein Drittel der Einwohner von Sennwald Göldi. Ein Name, in dem kaum Gold steckt, eher der im Dialektwörterbuch vermerkte Wortstamm Göl, Göleten, Geschiebe, Geröll. Auch die Vornamen gleichen sich: so viele Annas, so viele Anna Göldin."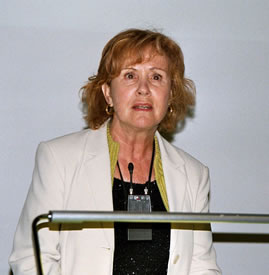 Eveline Hasler (Glarus, 22 maart 1933)
De Duitse dichter Wolfgang Bächler (een pseudoniem van Wolfgang Born) werd geboren op 22 maart 1925 in Augsburg.
Der See

Der See im Tal unter mir
war ein Reiher im Wind Vergleich, wunerschön, malerisch, ruhig
der mit den Flügeln schlug,
ohne aufzufliegen. Langeweile, Stille -nichts passiert.

Alles Grüne war gemäht und verteilt "reiche" Gegend, gehört das
um ein Schloß und Wochenendhäuser lyrische Ich dazu.
herum bis zu den Uferstegen hinab, 3-zeiliges Enjambement-steht
für großer See??
bis ins Wasser hinein, ins Schilf.

Ich konnte die Besitzer nicht sehen. "Ich" gehört nicht dazu
Doch der Wind warf ihr Lachen herauf
und das schrillere ihrer Frauen,
das wie das Klingen und Surren Vergleich; eitel, überheblich,
ihrer Geschäftskassen klang. materialistisch, oberflächlich

Ich wollte, der See flöge ihnen davon,
ließe sich anderswo nieder,
wo noch kein Zaun, keine Mauer,
kein Haus die Ufer verstellt und entstellt
und versperrt. Ich wollte, der See
und das Land gehörten uns allen. Gerechtigkeitssinn.
Ins Weiße blickend
Schnee hat auf Katzenpfoten
den Garten zurückerobert,
die Dächer und Bäume besetzt.
Erfroren starren
die Knospen dich an,
schwarze Pupillen
im Weiß der Zweige.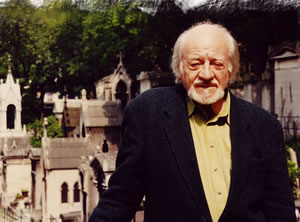 Wolfgang Bächler (22 maart 1925 – 24 mei 2007)
De Franse schrijver Érik Orsenna werd geboren in Parijs op 22 maart 1947 als Érik Arnoult.
Uit: La Révolte des accents
« Depuis quelque temps, les accents grognaient. Ils se sentaient mal aimés, dédaignés, méprisés. À l'école, les enfants ne les utilisaient presque plus. Les professeurs ne comptaient plus de fautes quand, dans les copies, ils étaient oubliés. Chaque fois que j'en croisais un dans la rue, un aigu, un grave, un circonflexe, il me menaçait.
– Notre patience a des limites, grondait-il. Un jour, nous ferons la grève. Attention, notre nature n'est pas si douce qu'il y paraît. Nous pouvons causer de grands désordres.
Je ne les prenais pas au sérieux. Je me moquais :
– Une grève, allons donc ! Et qui ça dérangerait, une grève des accents ?
Je sentais bien monter leur colère. Je ne croyais pas qu'ils préparaient quelque chose.
J'en suis certain, quand j'y pense, c'est l'affaire des ordinateurs qui a tout déclenché. Le fournisseur s'est trompé. Il a livré au collège des ordinateurs de langue anglaise : aucun accent sur le clavier.
Nos amis se sont rués chez moi. J'ai eu le tort, le très grand tort de me moquer d'eux. J'ai eu le tort, le très grand tort de leur dire qu'il valait mieux des ordinateurs sans accents que pas d'ordinateur.
Ils m'ont fait la leçon et puis ils m'ont insultés.
– Chaque langue a sa logique. Libre à l'anglaise et à l'américaine de vivre sans accents. Mais vous nous avez trahis. Dorénavant, c'est la guerre. »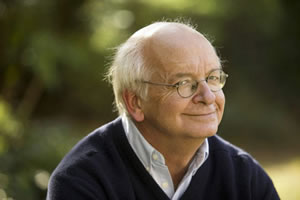 Érik Orsenna (Parijs, 22 maart 1947)




Zie voor nog meer schrijvers van de 22e maart ook mijn vorige blog van vandaag.
22-03-2011 om 18:57 geschreven door Romenu

Tags:Billy Collins, Arnold Sauwen, Albrecht Goes, Wolfgang Bächler, Eveline Hasler, Érik Orsenna, Romenu