E-mail mij


Druk op onderstaande knop om mij te e-mailen.


Romenu


Romenu is een blog over gedichten, literatuur en kunst Maar Romenu is ook een professionele freelance vertaler
Du-Ne en Ne-Du http://www.romenu.nl.


Huur eens een (vakantie)huis in een natuurgebied, dichtbij het centrum van Nijmegen


Google


Georg Trakl

Georg Trakl werd op 3 februari 1887 in het conducteurshuis aan de Waagplatz 2 in Salzburg geboren. Zijn vader, Tobias Trakl, was een handelaar in ijzerwaren en zijn moeder, die ook psychische problemen had, was Maria Catharina Trakl, (meisjesnaam Halik). Voorts had hij nog drie broers en drie zussen. Margarethe (doorgaans Grethe genoemd) stond hem het naast, zelfs zodanig dat sommigen een incestueuze verhouding vermoeden. Zijn jeugd bracht hij door in Salzburg. Vervolgens bezocht hij van 1897 tot 1905 het humanistische gymnasium. Om toch een academische opleiding te kunnen volgen, werkte hij tot 1908 in de praktijk bij een apotheker. Sommigen vermoedden dat hij dit vooral deed om zichzelf opiaten te kunnen verschaffen. Bij het uitbreken van WO I werd Trakl als medicus naar het front in Galicië (heden ten dage in Oekraïne en Polen) gestuurd. Zijn gemoedsschommelingen leidden tot geregelde uitbraken van depressie, die verergerd werden door de afschuw die hij voelde voor de verzorging van de ernstig verwonde soldaten. De spanning en druk dreven hem ertoe een suïcidepoging te ondernemen, welke zijn kameraden nochtans verhinderden. Hij werd in een militair ziekenhuis opgenomen in Kraków, alwaar hij onder strikt toezicht geplaatst werd.Trakl verzonk daar in nog zwaardere depressies en schreef Ficker om advies. Ficker overtuigde hem ervan dat hij contact moest opnemen met Wittgenstein, die inderdaad op weg ging na Trakls bericht te hebben ontvangen. Op 4 november 1914, drie dagen voordat Wittgenstein aan zou komen, overleed hij echter aan een overdosis cocaïne


Paul Celan

Paul Celan werd onder de naam Paul Antschel op 23 november 1920 geboren in Czernowitz, toentertijd de hoofdstad van de Roemeense Boekovina, nu behorend bij de Oekraïne. Paul Celans ouders waren Duitssprekende joden die hun zoon joods opvoedden en hem naar Duitse christelijke scholen stuurden. In 1942 werden Celans ouders door de Duitse bezetter naar een werkkamp gedeporteerd en daar vermoord. Hijzelf wist aanvankelijk onder te duiken, maar moest vanaf juli 1942 in een werkkamp dwangarbeid verrichten. Celan overleefde de oorlog. Via Boekarest en Wenen vestigde Celan zich in 1948 in Parijs. Daar was hij werkzaam als dichter, vertaler en doceerde hij aan de prestigieuze Ecole Normale Supérieure. Vermoedelijk op 20 april 1970 beëindigde hij zijn leven zelf door in de Seine te springen.


Gerard Reve

Gerard Reve over: Medearbeiders "God is in de mensen, de dieren, de planten en alle dingen - in de schepping, die verlost moet worden of waaruit God verlost moet worden, door onze arbeid, aangezien wij medearbeiders van God zijn." Openbaring "Tja, waar berust elk godsbegrip op, elke vorm van religie? Op een openbaring, dat wil zeggen op een psychische ervaring van zulk een dwingende en onverbiddelijke kracht, dat de betrokkene het gevoel heeft, niet dat hij een gedachte of een visioen heeft, maar dat een gedachte gedachte of visioen hem bezit en overweldigt."


Simon Vestdijk
Simon Vestdijk (Harlingen, 17 oktober 1898 – Utrecht, 23 maart 1971) was een Nederlands romancier, dichter, essayist en vertaler. Zijn jeugd te Harlingen en Leeuwarden beschreef hij later in de Anton Wachter-cyclus. Van jongs af aan logeerde hij regelmatig bij zijn grootouders in Amsterdam, waar hij zich in 1917 aan de Universiteit van Amsterdam inschrijft als student in de medicijnen. Tijdens zijn studie die van 1917 tot 1927 duurde, leerde hij Jan Slauerhoff kennen.Tot 1932 is hij als arts in praktijken door heel Nederland werkzaam. In 1932 volgt zijn officiële schrijversdebuut met de uitgave van de bundel Verzen in De Vrije Bladen. Doorslaggevend voor Vestdijks uiteindelijke keuze voor de literatuur is zijn ontmoeting in 1932 met Eddy Du Perron en Menno ter Braak. Deze ontmoeting had tot resultaat dat hij redactielid werd van het tijdschrift Forum Kort daarop, in 1933, wordt zijn eerste novelle, De oubliette, uitgegeven. In hetzelfde jaar schrijft hij Kind tussen vier vrouwen, dat, eerst geweigerd door de uitgever, later de basis zal vormen voor de eerste drie delen van de Anton Wachter-romans. In 1951 ontvangt Vestdijk de P.C. Hooftprijs voor zijn in 1947 verschenen roman De vuuraanbidders. In 1957 wordt hij voor het eerst door het PEN-centrum voor Nederland voorgedragen voor de Nobelprijs voor de Literatuur, die hij echter nooit zal krijgen. Op 20 maart 1971 wordt hem de Prijs der Nederlandse Letteren toegekend, maar voor hij deze kan ontvangen overlijdt hij op 23 maart te Utrecht op 72-jarige leeftijd. Vestdijk was auteur van ca. 200 boeken. Vanwege deze enorme productie noemde de dichter Adriaan Roland Holst hem 'de man die sneller schrijft dan God kan lezen'. Andere belangrijke boeken van Simon Vestdijk zijn: "Kind van stad en land" (1936), "Meneer Visser's hellevaart" (1936), "Ierse nachten" (1946), "De toekomst de religie" (1947), "Pastorale 1943" (1948), "De koperen tuin" (1950), "Ivoren wachters" (1951), "Essays in duodecimo" (1952) en "Het genadeschot" (1964).


K.P. Kavafis

K.P. Kavafis werd als kind van Griekse ouders, afkomstig uit Konstantinopel, geboren in 1863 in Alexandrië (tot vandaag een Griekse enclave) waar hij ook het grootste deel van zijn leven woonde en werkte. Twee jaar na de dood van zijn vader verhuist het gezin in 1872 naar Engeland om na een verblijf van vijf jaar naar Alexandrië terug te keren. Vanwege ongeregeldheden in Egypte vlucht het gezin in 1882 naar Konstantinopel, om na drie jaar opnieuw naar Alexandrië terug te gaan. In de jaren die volgen maakt Kavafis reizen naar Parijs, Londen en in 1901 zijn eerste reis naar Griekenland, in latere jaren gevolgd door nog enkele bezoeken. Op de dag van zijn zeventigste verjaardag, in 1933 sterft Kavafis in Alexandrië. De roem kwam voor Kavafis pas na zijn dood, dus postuum. Deels is dat toe te schrijven aan zijn eigen handelswijze. Hij was uiterst terughoudend met de publicatie van zijn gedichten, liet af en toe een enkel gedicht afdrukken in een literair tijdschrift, gaf in eigen beheer enkele bundels met een stuk of twintig gedichten uit en het merendeel van zijn poëzie schonk hij op losse bladen aan zijn beste vrienden.


Thomas Mann


Thomas Mann, de jongere broer van Heinrich Mann, werd geboren op 6 juni 1875 in Lübeck. Hij was de tweede zoon van de graankoopman Thomas Johann Heinrich Mann welke later één van de senatoren van Lübreck werd. Zijn moeder Julia (geboren da Silva-Bruhns) was Duits-Braziliaans van Portugees Kreoolse afkomst. In 1894 debuteerde Thomas Mann met de novelle "Gefallen". Toen Thomas Mann met 21 jaar eindelijk volwassen was en hem dus geld van zijn vaders erfenis toestond - hij kreeg ongeveer 160 tot 180 goldmark per jaar - besloot hij dat hij genoeg had van al die scholen en instituties en werd onafhankelijk schrijver. Kenmerkend voor zijn stijl zijn de ironie, de fenomenale taalbeheersing en de minutieuze detailschildering. Manns reputatie in Duitsland was sterk wisselend. Met zijn eerste roman, Buddenbrooks (1901), had hij een enorm succes, maar door zijn sceptische houding tegenover Duitsland na de Eerste Wereldoorlog veranderde dit volledig. Stelde hij zich tot aan de jaren twintig apolitiek op (Betrachtungen eines Unpolitischen, 1918), meer en meer raakte hij bij het Politiek gebeuren betrokken. Zijn afkeer van het nationaal socialisme groeide, zijn waarschuwingen werden veelvuldiger en heftiger. In 1944 accepteerde hij het Amerikaanse staatsburgerschap. Tussen 1943 en 1947 schreef Mann Doktor Faustus (zie Faust), de roman van de 'Duitse ziel' in de gecamoufleerd geschilderde omstandigheden van de 20ste eeuw. In 1947 bezocht hij voor het eerst sinds de Oorlog Europa, twee jaar later pas Duitsland. In 1952 vertrok hij naar Zwitserland. Op 12 augustus 1955 stierf hij in Zürich. Twintig jaar na zijn dood, in aug. 1975, is zijn literaire nalatenschap geopend: dagboekaantekeningen van 15 maart 1933 tot 29 juli 1955, alsmede notities uit de jaren 1918 tot en met 1921.Belangrijke werken zijn: Der Zauberberg, Der Tod in Venedig, Dokter Faustus , Joseph und seine Brüder en Die Bekenntnisse des Hochstaplers Felix Krull.


Rainer Maria Rilke

Rilke werd op 4 december 1875 geboren in Praag. Hij had al naam gemaakt als dichter met zijn bundels Das Stundenbuch en Das Buch der Bilder, toen hij de literaire wereld versteld deed staan en wereldfaam verwierf met de publicatie van zijn twee delen Neue Gedichte in 1907 en 1908. Hij verzamelde daarin het beste werk uit een van zijn vruchtbaarste periodes, die hij grotendeels doorbracht in Parijs. Rilke was daar diep onder de indruk gekomen van Rodin, bij wie hij een tijdlang in dienst was als particulier secretaris. Rodin, zei hij later, had hem leren kijken. Dit kijken kwam neer op intense concentratie, om het mysterie te kunnen zien 'achter de schijnbare werkelijkheid'. Latere en rijpere werken als Duineser Elegien (1912-1923) en het ronduit schitterende Die Sonette an Orfeus (1924) illustreren Rilkes metafysische visie op het onzegbare, dat haar verwoording vindt in een hermetische muzikale taal. Op 29 december 1926 overlijdt Rilke in het sanatorium in Val-Mont aan de gevolgen van leukemie. Enkele dagen later wordt hij, overeenkomstig zijn wens, begraven op het kerkhof van Raron.


* * * * * * * * * * * * * * * *

| | |
| --- | --- |
| | Over literatuur, gedichten, kunst en cultuur |

15-11-2015

Clemens J. Setz, Wolf Biermann, Jan Terlouw, J. G. Ballard, Gerhart Hauptmann, Heinz Piontek, Liane Dirks
De Oostenrijkse dichter, schrijver en vertaler Clemens J. Setz werd geboren op 15 november 1982 in Graz. Zie ook alle tags voor Clemens J. Setz op dit blog.
Die Nordsee
Die Kleine Hexe Bibi Blocksberg
hat einen Bruder
mit Namen Boris.
Doch nur bis Folge 9, dort
zieht er zu den Großeltern
an die Nordsee.
Als Grund wird genannt. dass er Husten hat
und die frische Seeluft ihm guttun wird.
Er taucht daraufhin nie wieder auf.
Und auch zu Weihnachten und zu Ostern
denkt die Familie
nicht mehr an ihn.
Männer in der Dunkelheit
Ein Reisehandbuch des 19. lahrhunderts
empfiehlt jungen Frauen spitze Nadeln
in den Mund zu nehmen wenn der Zug
in einen langen Tunnel taucht
um unbelästigt zu bleiben
von fremden Männern in der Dunkelheit
und ungeküsst
bis zum Licht am anderen Ende.
Schrödingers Katze
Stell dir den Wissenschaftler vor
in der ersten Nacht auf seinem Bettlager,
neben der schwarzen Box
mit dem geschlossenen Deckel.
Die erste Nacht ist immer die schlimmste.
Das Surren der Generatoren
hinter den Wänden, die trockene Luft des Labors.
der Geruch nach Staub und Pulverkaffee,
und das Kreidegespenst einer langen Gleichung
auf der verdunkelten Tafel.
Stell ihn dir vor. wie er die Nacht
damit zubringt, auf Geräusche zu achten,
wie er Schafe zählt
und in Gedanken
dreimal um den Häuserblock rennt.
Und niemand kann sagen. ob er von Toten
oder von Lebenden träumt
in der ersten Nacht auf seiner Matratze
neben der schwarzen Box.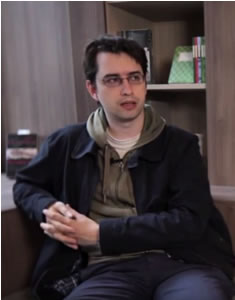 Clemens J. Setz (Graz, 15 november 1982)
De Duitse zanger, dichter en schrijver Wolf Biermann werd geboren op 15 november 1936 in Hamburg. Zie ook alle tags voor Wolf Biermann op dit blog.
Recontre à Paris
Die alten Freunde, die werden alt
- da drüben und anders, als ich.
Die Zeit im Osten ist andere Zeit
die Freunde werden alt.
Und wenn wir uns doch mal wiedersehen
in dieser Welt im Vorübergehen,
dann freuen wir uns ungeheuer.
Von denen nicht mal die Asche blieb...
wir blasen in alte Feuer.
Der Freund hat den Freund gefunden,
wir hatten einander so hilflos lieb
und leckten einander die Wunden.
Ach längst vertrocknete Tränen tropfen
wir quaseln das lange Schweigen tot,
und können die Löcher doch nicht stopfen,
wir bleiben auf ewig im selben Boot.
- und fahren längst auf verschiedenen Flüssen,
was wagten wir früher, heut' wägen wir ab:
Ost gegen West, Staat gegen Staat
und jeder will wollen und keiner will müssen,
wir schätzen uns wir, wir, bis an das Grab,
wir schätzen uns ab und wittern Verrat!
- und registrieren im vertrauten Gesicht
die neuen Züge, wir kennen uns noch,
doch, doch, wir kennen uns noch, doch doch
und erkennen uns nicht.
Die alten Freunde, die werden alt
- da drüben und anders, als ich.
Die Zeit im Osten ist andere Zeit
-wir lächeln uns an und schweigen dann
mit zärtlicher Bitterkeit
Die hab ich satt (Fragment)
Die Lehrer, die Rekrutenschinder
Sie brechen schon das Kreuz der Kinder
Sie pressen unter allen Fahnen
Die idealen Untertanen:
Gehorsam – fl
eißig – geistig matt
– die hab ich satt!
Die Dichter mit der feuchten Hand
Dichten zugrund das Vaterland
Das Ungereimte reimen sie
Die Wahrheitssucher leimen sie
Dies Pack ist käufl
ich und aalglatt
– die hab ich satt!
Der legendäre Kleine Mann
Der immer litt und nie gewann
Der sich gewöhnt an jeden Dreck
Kriegt er nur seinen Schweinespeck
Und träumt im Bett vom Attentat
– den hab ich satt
Und überhaupt ist ja zum Schrein
Der ganze deutsche Skatverein
Dies dreigeteilte deutsche Land
Und was ich da an Glück auch fand
Das steht auf einem andern Blatt
– ich hab es satt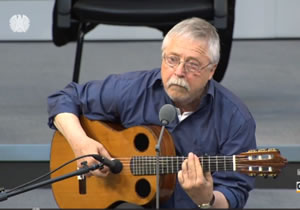 Wolf Biermann (Hamburg, 15 november 1936)
De Nederlandse schrijver, fysicus en voormalig politicus voor Democraten 66 Jan Terlouw werd geboren in Kamperveen op 15 november 1931. Zie ook alle tags voor Jan Terlouw op dit blog.
Uit:Naar zeventien zetels en terug
Politiek dagboek 9 maart 1981 - 5 november 1982
"Woensdag 23 juni
Vanochtend ben ik teruggekeerd uit de Verenigde Staten. Ik moest meteen door naar Eindhoven, omdat Alexander Horowitz, een oom van Alexandra, is overleden. Vanmiddag is hij gecremeerd in Heeze. Hij was een zeer gelukkig mens. Een technisch genie, die genoot van zijn genialiteit, die daarmee woekerde, die hem koesterde. Talloos zijn de octrooien die op zijn naam staan, en ze strekken zich uit over een zeer breed gebied van de techniek, zoals onlangs de promotor voor zijn eredoctoraat in Delft opmerkte. Een zeer bemind mens ook, door eertijds zijn ouders, zijn zusters, zijn kinderen en zijn onvoorstelbaar toegewijde vrouw Gretha. Erg jammer dat hij weg is, maar weinigen in dit tranendal hebben zo'n gelukkig leven als hij.
De Amerikaanse reis kun je geslaagd noemen. Interessante gesprekken in Washington, met een aantal kabinetsleden (Baldridge, Edwards, Brock) en de hoogste adviseurs van de president (Weidenbaum, Keyworth, en anderen). Verder was ik in Houston en in Los Angeles met de economische missie (waar we tegelijk waren met H.M.) en in het weekend in Orlando, Florida, om Kennedy Space Centre en back stage Disney World te bekijken. Er zijn aardige contacten gelegd, mijn toespraken gingen goed, althans, ik vond het leuk om ze te houden, de delegatieleden waren in het algemeen tevreden. Verder was het heerlijk om afstand te voelen tot Nederland. Het is verbazend hoe geografische afstand werkt op je gemoed. Plotseling worden de partijpolitieke schermutselingen in Nederland niet meer dan 'gedoe'. Ik heb me uit de mond laten vallen dat ik de fractie soms een kleuterklasje vond, in het bijzijn van enkele Nederlandse journalisten. Eigenlijk wel aardig, nu kan ik eens kijken wie daar boos over is."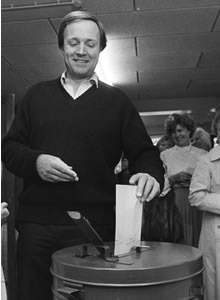 Jan Terlouw (Kamperveen, 15 november 1931)
In 1982
De Britse dichter en schrijver James Graham Ballard werd geboren in Shanghai op 15 november 1930. Zie ook alle tags voor J. G. Ballard op dit blog en ook mijn blog van 15 november 2010.
Uit: What I Believe (Fragment)
I believe in the light cast by video-recorders in department store windows, in the messianic insights of the radiator grilles of showroom automobiles, in the elegance of the oil stains on the engine nacelles of 747s parked on airport tarmacs.

I believe in the non-existence of the past, in the death of the future, and the infinite possibilities of the present.

I believe in the derangement of the senses: in Rimbaud, William Burroughs, Huysmans, Genet, Celine, Swift, Defoe, Carroll, Coleridge, Kafka.

I believe in the designers of the Pyramids, the Empire State Building, the Berlin Fuehrerbunker, the Wake Island runways.

I believe in the next five minutes.

I believe in the history of my feet.

I believe in migraines, the boredom of afternoons, the fear of calendars, the treachery of clocks.

I believe in anxiety, psychosis and despair.

I believe in the perversions, in the infatuations with trees, princesses, prime ministers, derelict filling stations (more beautiful than the Taj Mahal), clouds and birds.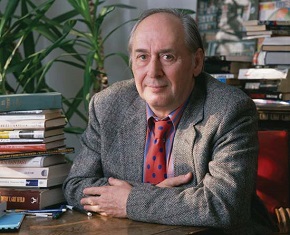 J. G. Ballard (15 november 1930 - 19 april 2009)
De Duitse dichter en schrijver Gerhart Hauptmann werd geboren in Obersalzbrunn (Neder-Silezië) op 15 november 1862. Zie ook alle tags voor Gerhart Hauptmann op dit blog.
Uit:Bahnwärter Thiel
" Auch der Pastor gestattete sich, als Thiel die Trauung anmelden kam, einige Bedenken zu äußern:
»Ihr wollt also schon wieder heiraten?«
»Mit der Toten kann ich nicht wirtschaften, Herr Prediger!«
»Nun ja wohl -- aber ich meine -- Ihr eilt ein wenig.«
»Der Junge geht mir drauf, Herr Prediger.«
Thiels Frau war im Wochenbett gestorben, und der Junge, welchen sie zur Welt gebracht, lebte und hatte den Namen Tobias erhalten.
»Ach so, der Junge,« sagte der Geistliche und machte eine Bewegung, die deutlich zeigte, daß er sich des Kleinen erst jetzt erinnere. »Das ist etwas andres -- wo habt Ihr ihn denn untergebracht, während Ihr im
Dienst seid?«
Thiel erzählte nun, wie er Tobias einer alten Frau übergeben, die ihn einmal beinahe habe verbrennen lassen, während er ein anderes Mal von ihrem Schoß auf die Erde gekugelt sei, ohne glücklicherweise mehr als eine große Beule davonzutragen. Das könne nicht so weiter gehen, meinte er, zudem da der Junge, schwächlich wie er sei, eine ganz besondere Pflege benötige. Deswegen und ferner weil er der Verstorbenen in die Hand gelobt, für die Wohlfahrt des Jungen zu jeder Zeit ausgiebig Sorge zu tragen, habe er sich zu dem Schritte entschlossen. --
Gegen das neue Paar, welches nun allsonntäglich zur Kirche kam, hatten die Leute äußerlich durchaus nichts einzuwenden. Die frühere Kuhmagd schien für den Wärter wie geschaffen. Sie war kaum einen halben Kopf kleiner wie er und übertraf ihn an Gliederfülle. Auch war ihr Gesicht ganz so grob geschnitten wie das seine, nur daß ihm im Gegensatz zu dem des Wärters die Seele abging.
Wenn Thiel den Wunsch gehegt hatte, in seiner zweiten Frau eine unverwüstliche Arbeiterin, eine musterhafte Wirtschafterin zu haben, so war dieser Wunsch in überraschender Weise in Erfüllung gegangen. Drei Dinge jedoch hatte er, ohne es zu wissen, mit seiner Frau in Kauf genommen: eine harte, herrschsüchtige Gemütsart, Zanksucht und brutale Leidenschaftlichkeit. Nach Verlauf eines halben Jahres war es ortsbekannt, wer in dem Häuschen des Wärters das Regiment führte. Man bedauerte den Wärter."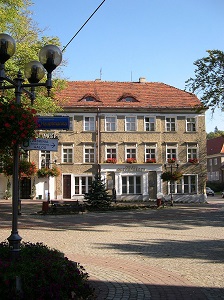 Gerhart Hauptmann (15 november 1862 - 6 juni 1946)
Hauptmanns geboortehuis inObersalzbrunn
De Duitse dichter en schrijver Heinz Piontek werd geboren op 15 november 1925 Kreuzburg (Opper-Silezië). Zie ook alle tags voor Heinz Piontek op dit blog en ook mijn blog van 15 november 2009 en en ook mijn blog van 15 november 2010.
Die Landmesser
Nun stehn die Stäbe, eingerammt im Grund
und weiß und rot, mit spitzen Eisentüllen.
Der Männer Augen sind vom Spähen wund
und rauh die Kehlen vom Befehlebrüllen.

Der eine hält die Karte ausgebreitet,
indes ein anderer die Optik dreht:
durchs Fadenkreuz die Ziegenweide gleitet
und dann ein Helfer, der zum Fluchtpunkt geht.

Ein dritter muss zum Rechenschieber greifen,
der vierte treibt die Hilfsarbeiter an.
Die trotten müßig, rauchen Stummelpfeifen
und fluchen den Beamten dann und wann.

Und alle tragen Filze, schwarze Loden,
an ihren Stiefeln haftet Tau und Staub.
Sie senken tief das Steinmal in den Boden
und schmecken an den Zähnen warmes Laub.

Und rechnen gut. Die Pläne sind genau.
Die Messgeräte richten sich verlässlich.
Und weitet sich die Ferne zart ins Blau:
Den Zirkel her! Hier ist nichts unermesslich.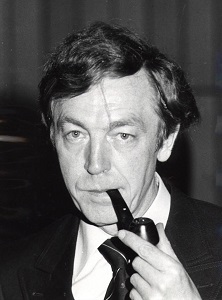 Heinz Piontek (15 november 1925 – 26 oktober 2003)
De Duitse dichteres en schrijfster Liane Dirks werd geboren op 15 november 1965 in Hamburg. Zie ook alle tags voor Liane Dirks op dit blog.
Glück II
Ganz anders. Viel heller,
leuchtend geradezu.
Auf so einer Linie
quer durch alles durch.
In hellem Grün.
Was? fragst du.
Ein Lichtstrahl natürlich.
Was sonst?
Was geht schon durch alles durch –
Quatsch, sagst du?
Licht, doch nicht. Licht geht doch nicht durch.
Liebe, es müsste Liebe sein.
Glück III
Ein weißes Veilchen. Für mein weißes Beet.
Vorhin beim Spaziergang. Ich hole eine
Schippe und gehe noch mal hin um es auszugraben. Es wächst unter einer Akazie
am Rand einer Allee neben einem Parkplatz zwischen zwei Hundehaufen.
Ich grab es aus.
Es sind noch genügend andere da.
Ich finde, ich darf es nehmen.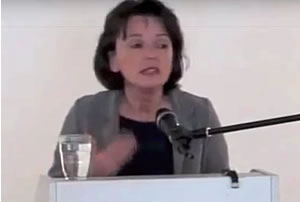 Liane Dirks (Hamburg, 15 november 1965)
Voor nog meer schrijvers van de 15e november zie ook mijn vorige twee blog van vandaag.


15-11-2015 om 12:35 geschreven door Romenu

Tags:Clemens J. Setz, Wolf Biermann, Jan Terlouw, J. G. Ballard, Gerhart Hauptmann, Heinz Piontek, Liane Dirks, Romenu



Marianne Moore, Richmal Crompton, Emmy von Rhoden, Madeleine de Scudéry, José de Lizardi
De Amerikaanse dichteres Marianne Moore werd geboren op 15 november 1887 in Kirkwood, Missouri. Zie ook alle tags voor Marianne Moore op dit blog en ook mijn blog van 15 november 2009 en ook mijn blog van 15 november 2010.
What Are Years
What is our innocence,
what is our guilt? All are
naked, none is safe. And whence
is courage: the unanswered question,
the resolute doubt, —
dumbly calling, deafly listening—that
in misfortune, even death,
encourage others
and in its defeat, stirs
the soul to be strong? He
sees deep and is glad, who
accedes to mortality
and in his imprisonment rises
upon himself as
the sea in a chasm, struggling to be
free and unable to be,
in its surrendering
finds its continuing.
So he who strongly feels,
behaves. The very bird,
grown taller as he sings, steels
his form straight up. Though he is captive,
his mighty singing
says, satisfaction is a lowly
thing, how pure a thing is joy.
This is mortality,
this is eternity.

Appellate Jurisdiction
Fragments of sin are a part of me.
New brooms shall sweep clean the heart of me.
Shall they? Shall they?
When this light life shall have passed away,
God shall redeem me, a castaway.
Shall He? Shall He?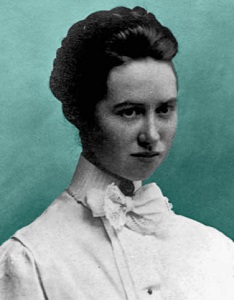 Marianne Moore (15 november 1887 – 5 februari 1972)
De Engelse schrijfster Richmal Crompton Lamburn werd geboren op 15 november 1890 in Lancashire. Zie ook alle tags voor Richmal Crompton op dit blog en ook mijn blog van 15 november 2008.
Uit: More William
« Innumerable slimy iridescent trails shone over hats, and coats, and umbrellas, and wall-paper.
"Huh!" grunted William, who was apt to overwork his phrases. "They've got out right enough."
He looked at the tracks again and brightened. Jimmy was frankly delighted.
"Oo! Look!" he cried, "Oo funny!"
William's thoughts flew back to his bedroom wall—­"A Busy Day is a Happy Day."
"Let's clean it up!" he said. "Let's have it all nice an' clean for when they come down. We'll be busy. You tell me if you feel happy when we've done. It might be true wot it says, but I don't like the flowers messin' all over it."
Investigation in the kitchen provided them with a large pail of water and a scrubbing-brush each.
For a long time they worked in silence. They used plenty of water. When they had finished the trails were all gone. Each soaked garment on the hat-stand was sending a steady drip on to the already flooded floor. The wall-paper was sodden. With a feeling of blankness they realised that there was nothing else to clean.
It was Jimmy who conceived the exquisite idea of dipping his brush in the bucket and sprinkling William with water. A scrubbing-brush is in many ways almost as good as a hose. Each had a pail of ammunition. Each had a good-sized brush. During the next few minutes they experienced purest joy. Then William heard threatening movements above, and decided hastily that the battle must cease."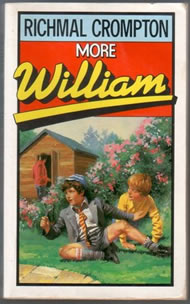 Richmal Crompton (15 november 1890 – 11 januiri 1969)
Cover
De Duitse schrijfster Emmy von Rhoden (eig. Emilie Auguste Karoline Henriette Friedrich geb. Kühne) werd geboren op 15 november 1829 in Magdeburg. Zie ook alle tags voor Emmy von Rhoden op dit blog en ook mijn blog van 15 november 2009.
Uit: Der Trotzkopf
»Oh, wie schrecklich ist es jetzt!« stieß sie schluchzend heraus. »Warum hat auch der Papa wieder eine Frau genommen! Es war alles viel schöner, als wir beide allein waren. Alle Tage muß ich lange Reden hören über Sitte und Anstand, und ich will doch keine Dame sein, ich will es nicht, und wenn sie es zehnmal sagt!«
Als sie mit ihrem Vater noch allein war, führte sie freilich ein ungebundeneres und lustigeres Leben. Niemand hatte ihr Vorschriften zu machen oder durfte sie an ihren dummen Streichen hindern; was sie auch tat, es galt als unübertrefflich. Das Lernen wurde als langweilige Nebensache betrachtet, und die Erzieherinnen fügten sich entweder dem Willen ihrer Schülerin oder sie gingen davon. Beklagte sich dann mal diese oder jene bei dem Vater und hatte der Vater wirklich den festen Entschluß gefaßt, ein Machtwort gegen sein unbändiges Kind zu sprechen, so kam er doch nicht dazu, seinen Vorsatz auszuführen. Sobald er mit ernster Miene Ilse gegenübertrat, fiel sie ihm um den Hals, nannte ihn ihren ›einzigen, kleinen Papa‹, obgleich Herr Macket ein sehr großer und kräftiger Mann war, und küßte ihn stürmisch. Versuchte er, ihr ernste Vorstellungen zu machen, hielt sie ihm den Mund zu.
›Ich weiß ja alles, was du mir sagen willst, und ich will mich ganz gewiß bessern!‹ Mit solchen und ähnlichen Worten und Versprechungen tröstete sie den Papa. Ach, wie gern ließ er sich so trösten! Er konnte dem Kinde nie ernstlich zürnen, es war jasein Alles.
Als Ilses Mutter starb, hatte sie ihm das kleine, hilflose Ding in den Arm gelegt."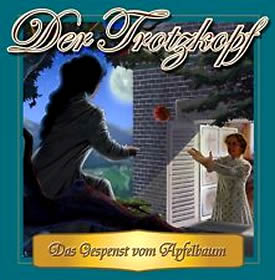 Emmy von Rhode (15 november 1829 – 7 april 1885)
Cover hoorspel
De Franse schrijfster Madeleine de Scudéry werd geboren op 15 november 1607 in Le Havre. Zie ook alle tags voorMadeleine de Scudéry op dit blog en ook mijn blog van 15 november 2009.
Uit: La Carte de Tendre (Clélie, histoire romaine)
« Après il faut, pour arriver à Tendre, passer par Tendresse, car l'amitié attire l'amitié. Ensuite il faut aller à Obéissance, n'y ayant presque rien qui engage plus le cœur de ceux à qui on obéit que de le faire aveuglément; et, pour arriver enfin où l'on veut aller, il faut passer à Constante Amitié, qui est sans doute le chemin le plus sûr pour arriver à Tendre-sur-Reconnaissance. Mais, madame, comme il n'y a point de chemins où l'on ne se puisse égarer, Clélie a fait, comme vous le pouvez voir, que ceux qui sont à Nouvelle-Amitié prenaient un peu plus à droite ou un peu plus à gauche, ils s'égareraient aussitôt; car, si au partir du Grand-Esprit, on allait à Négligence que vous voyez tout contre cette carte, qu'ensuite continuant cet égarement on aille à Inégalité; de là à Tiédeur, à Légèreté et à Oubli, au lieu de se trouver à Tendre-sur-Estime on se trouverait au lac d'Indifférence que vous voyez marqué sur cette carte et qui, par ses eaux tranquilles, représente sans doute fort juste la chose dont il porte le nom en cet endroit. De l'autre côté, si, au partir de Nouvelle-Amitié, on prenait un peu trop à gauche et qu'on allât à Indiscrétion, à Perfidie, à Orgueil, à Médisance ou à Méchanceté, au lieu de se trouver à Tendre-sur-Reconnaissance, on se trouverait à la mer d'Inimitié où tous les vaisseaux font naufrage et qui, par l'agitation de ses vagues, convient sans doute fort juste avec cette impétueuse passion que Clélie veut représenter. Ainsi elle fait voir par ces routes différentes qu'il faut avoir mille bonnes qualités pour l'obliger à avoir une amitié tendre et que ce qui en ont de mauvaises ne peuvent avoir part qu'à sa haine ou à son indifférence. »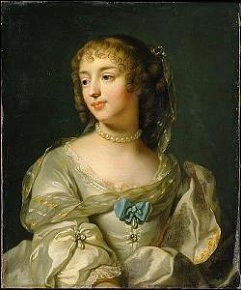 Madeleine de Scudéry (15 november 1607 – 2 juni 1701)
De Mexicaanse dichter en schrijver José Joaquín Fernández de Lizardi werd geboren in Mexico-stad op 15 november 1776. Zie ook alle tags voor José de Lizardi op dit blog en ook mijn blog van 15 november 2008.
Uit: Life and Deeds of the Mangy Little Parrot Written by Him and for His Children (Vertaald door William Little)
"The poor old people had less knowledge about the world than what I'd acquired, for I have very deep experience with the fact that most godfathers don't know the duties they take on with respect to their godchildren, and hence they think they're generous by giving them two bits when they see them. And if their parents die, they remember them as if they had never seen them. It's quite true that there are some godparents who fulfill their duties completely, and they even take the lead over the godchildren's own parents by protecting and raising them. Glory be forever for such godparents!
Actually, mine, who were rich, were involved with me as much as if they had never seen me: motive enough for me never to thing about them again.
They baptized me at last, and they named me Pedro and, as is customary, they added my father's family name, Sarmiento.
My mother was beautiful, and my father loved her madly. With this and following the persuasiveness of my cautious aunts, it was agreed nemine discrepante, to find a wet-nurse for me; that is, as we say here, a mammy.
Ah, children! If you marry someday and you have offspring, do not entrust them to the mercenary care of that class of people."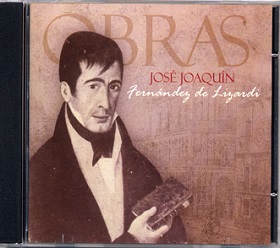 José de Lizardi (15 november 1776 - 27 april 1827)
Cover
Zie voor nog meer schrijvers van de 15e november ook mijn vorige blogg van vandaag.
15-11-2015 om 12:31 geschreven door Romenu

Tags:Marianne Moore, Richmal Crompton, Emmy von Rhoden, Madeleine de Scudéry, José de Lizardi, Romenu



Lucien Rebatet, Antoni Słonimski, Elizabeth Arthur, Carlo Emilio Gadda, Janus Secundus
De Franse schrijver en journalist Lucien Rebatet werd geboren op 15 november 1903 in Moras -en- Valloire, Drôme. Zie ook alle tags voor Lucien Rebatet op dit blog.
Uit: Les décombres
« Nous roulions en direction de Montlhéry. Quelques kilomètres après Versailles, un embouteillage inouï nous arrêta tout à coup. Nous n'étions plus en retraite, mais au milieu d'une débâcle sans précédent. Le flux des fuyards vomi de Paris par cinq ou six portes était venu se confondre inextricablement à ce carrefour. Tous les aspects de la plus infâme panique se révélaient dans ces voitures, remplies jusqu'à rompre les essieux des chargements les plus hétéroclites, femelles hurlantes aux tignasses jaunes échevelées se collant dans les trainées de fard fondu et de poussière, males en bras de chemises, en nage, exorbités, les nuques violettes, retombé en une heure à l'état de la brute néolithique, pucelles dépoitraillées à plein seins, belles-mères à demi-mortes d'épouvante et de fatigue, répandues parmi les chienchiens, les empilements de fourrures, d'édredons, de coffrets à bijoux, de cages à oiseaux, de boites de camemberts, de poupées-fétiches, exhibant comme des bêtes devant la foule leurs jambons écartés et le fond de leurs culottes. Des bicyclettes étaient fichées entre les garde-boues. Des enfants de douze ans étaient partis agrippés aux portières de petites neuf chevaux au fond desquelles s'emmêlaient dix paires de jambes et de bras. Certains avaient arrimé des lits-cages à leur malle-arrière. Des voitures de deux cent mille francs portaient sur leurs toits, enveloppés dans des draps sales, deux ou trois célèbres matelas de juin Quarante, disparaissaient sous des paquets d'on ne savait quoi ficelés dans des journaux et de vieilles serviettes éponges, pendant le long des garde-boues. Des ouvrières s'étaient mises en route à pied, nu-tête, en chaussons ou en talons Louis XV, poussant deux marmots devant elles dans une voiture de nourrice, un troisième pendu à leur jupes. Des cyclistes étaient parvenus jusque là on ne savait comment, traînant sur leurs vélos leurs échines la charge d'un chameau de caravane. Des gens avaient emportés un peignoir de bain, un aspirateur, un pot de géranium, des pincettes, un baromètre, un porte-parapluie, dans l'affolement d'un réveil de cauchemar, une empilade éperdue, le pillage forcené d'un logis par ses propres habitants. »

Lucien Rebatet (15 november 1903 - 24 augustus 1972)
In 1931
De Poolse dichter en schrijver Antoni Słonimski werd geboren op 15 november 1895 in Warschau. Zie ook alle tags voor Antoni Sionimski op dit blog en ook mijn blog van 15 november 2009 en ook mijn blog van 15 november 2010.
Hamletism
Long did I look into the dark eyes of my brother,
Into eyes well-known, although the face was not,
As he spoke, as he cautiously weighed out each word
In Leningrad, on sombre Marat Street.
Michal, Aunt Fanny's, Uncle Ludwik's son,
Names which awake the wistful taste of childhood,
Sternly and gravely concludes the discussion.
And yet he's my cousin. A very close relation.
Magnitogorsk and Urals. With us or against.
Stalin, the Party. Vast, incessant toil.
The Five-Year Plan. As children five years old
We used to exchange letters. Michal looks ill.
Light of young eyes, yet hair untimely grey.
Calm, but intent, faithful in what you do,
You serve and you want to serve your country well
And you say: 'Good night, prince.' - 'Good night, Horatio.'

To the Germans
PROUDLY looking at the ruins of the conquered city,
Carrying a short, bloody sword, from an empty yard
A Roman barbarian entered the house of Archimedes
When the legion of Marcellus conquered Syracuse.
Half-naked, breathing heavily, in his dusty helmet,
He stopped, his nostrils drinking in new blood and crime.
'Noli tangere circulos meos'
Said Archimedes gently, drawing in the sand.
On the circle, along the diameter and the inscribed triangle
The blood ran in a dark and living sign.
Archimedes, defend yourself against the mercenary!
Archimedes, who are murdered today!
Your blood sank into the sand, but your spirit lives.
Not true. The spirit dies as well. Where do traces remain?
In the marble of your house are adders' nests.
The wind spins circles out of sand on ruined Hellas.
Vertaald door Peter Dale Scott en Czeslaw Milosz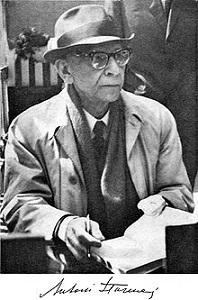 Antoni Słonimski (15 november 1895 – 4 juli 1976)
De Amerikaanse schrijfster Elizabeth Arthur werd geboren op 15 november 1953 in New York. Zie ook alle tags voor Elizabeth Arthur op dit blog en ook mijn blog van 15 november 2009 en ook mijn blog van 15 november 2010.
Uit: Till We Depart
"The young woman with bougainvillea red hair licked her silver encrusted finger, and giggled as she turned away from the passengers jostling each other beneath the DEPARTURES board.
She shrugged her shoulders, in a this-is-delicious-try-some way, towards the young man seated opposite her. He glanced up, and as he crossed his feet awkwardly, his yellow fluoro socks dazzled the underside of the table. His thin face blushed to match the woman's hair – then he continued reading his book.
The young woman moved her chair around the table like a die being rolled to the next player. She inclined her head towards the tabletop's decorative seaside scene. The young man lowered his book. He spluttered, trying to loosen a ragged piece of phlegm.
"Excuse me, but what do you want?"
The young woman looked up sideways into his mouth. She held a piece of cake icing delicately between her fingers.
"Try it," she whispered, as the cacophony of 'please make your way through security to gate lounge thirty six', and the rattling of cups and saucers and early morning coughs boomed around the food court. "Don't worry, it hasn't got any evil marzipan on it. You don't like marzipan either, do you?"
The young man tried to speak. His book slid off the table.
"Ssh," the young woman said, and delicately pushed the thick, satiny, white confection into his mouth.
"A wedding cake," she stated as she peeled foil and plastic wrapping away. "Imagine...one of those ten storey sky scraper cakes with a miniature bride and groom supervising the reception."
"Um...I'm..."
The young woman's fingers crept around the distant corner of the cake and retrieved two icing rosettes.
"One for you and one for me."
The overpowering sweetness of the rosette tingled along the young man's teeth as he bit into it. Its sugary petals melted over the roof of his mouth. He smiled. He pulled at his shirt collar.
"Have you been to a wedding..."
"Ssh," the young woman said. "The cake is dark, rich and moist…" She broke off a piece and placed it in the centre of the table. She opened her mouth, rolled her tongue along her bottom lip and leaned towards him."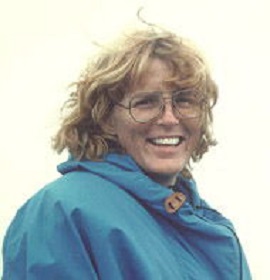 Elizabeth Arthur (New York, 15 november 1953)
De Italiaanse schrijver Carlo Emilio Gadda werd geboren op 15 november 1893 in Milaan. Zie ook alle tags voor Carlo Emilio Gadda op dit blog en ook mijn blog van 15 november 2009 en ook mijn blog van 15 november 2010.
Uit: That Awful Mess on the via Merulana (Vertaald door William Weaver)
"The tight garters, curled slightly at the edges, with a clear, lettuce-like curl: the elastic of lilac silk, in that hue that seemed in itself to give off a perfume, to signify at the same time the frail gentleness both of the woman and of her station, the spent elegance of her clothing, of her gestures, the secret manner of her submission, transmuted now into the immobility of an object, or as if of a disfigured dummy. Taut, the stockings, in a blond elegance like a new skin, given to her (above the created warmth) by the fable of our years, the blasphemy of the knitting machines: the stockings sheathed the shape of the legs with their light veil, modeling of the marvelous knees: those legs slightly spread, as if in horrible invitation. Oh! the eyes! where, at whom were they looking? The face! . . . Oh, it was scratched, poor object! Under one eye, on the nose! Oh that face! How weary it was, weary, poor Liliana, that head in the cloud of hair that enfolded it, those strands performing a final work of mercy. Sharpened in its pallor, the face: worn, emaciated by the atrocious suction of Death.
A deep, a terrible red cut opened her throat, fiercely. It had taken half the neck, from the front toward the right, that is, toward her left, the right for those who were looking down: jagged at its two edges, as if by a series of blows, of the blade or point: a horror! You couldn't stand to look at it. From it hung red strands, like thongs, from the black foam of the blood, almost clotted already; a mess! with some little bubbles still in the midst. Curious forms, to the policemen: they seemed holes, to the novice, like red-colored little maccheroni, or pink. "The trachea," murmured Ingravallo, bending down, "the carotid, the jugular! . . . God!"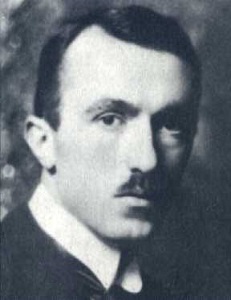 Carlo Emilio Gadda (15 november 1893 – 21 mei 1973)
In 1921
De Nederlandse humanistische dichter Janus Secundus (eigenlijk Jan Everaerts) werd geboren in werd geboren in Den Haag op 15 november 1511. Zie ook alle tags voor Janus Secundus op dit blog en ook mijn blog van 15 november 2009 en ook mijn blog van 15 november 2010.
De vierde kus
Zij geeft nektar, Neaera, 't zijn geen kussen,
zij geeft dauw van haar ziel bedwelmend geurig,
zij geeft nardus en thijm, kaneel of honing,
zóals bijen die peuren, op Hymettus
of in rozenpriëlen in Athene
her en der, om in maagdelijke was te
bergen binnen een korf van tenen vlechtwerk,
Als mij daarvan nog meer te beurt zou vallen,
zou ik daardoor meteen onsterflijk worden
en ik zou van het godenmaal genieten,
Maar voorzichtig voorzichtig met die gaven,
of word liever godin, Neaera, met mij.
Zonder jou wil ik niet met goden eten,
ook als Jupiter werd verjaagd niet en ik
heersen zou in het rose rijk der goden.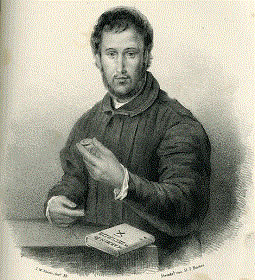 Janus Secundus (15 november 1511 - 1536)


15-11-2015 om 12:29 geschreven door Romenu

Tags:Lucien Rebatet, Antoni Sł,onimski, Elizabeth Arthur, Carlo Emilio Gadda, Janus Secundus, Romenu



| | |
| --- | --- |
| | |



Inhoud blog


| | |
| --- | --- |
| | Andrea De Carlo, Naguib Mahfouz, Marie Kessels, J.C. van Schagen, Paul Rigolle, Ludwig Laher, Helene Uri, Birago Diop, Janko Ferk |
| | St. Peter and the Angel (Denise Levertov) |
| | Emily Dickinson, Karl Heinrich Waggerl, Reinhard Kaiser Mühlecker, Jorge Semprún, Gertrud Kolmarm, Jacquelyn Mitchard, Nelly Sachs, Cornelia Funke |
| | Carolyn Kizer, Pierre Louÿs, Clarice Lispector, Thomas Lux, Ara Baliozian, Christine Brückner, Rumer Godden |
| | Thomas Verbogt, Eileen Myles, Michael Krüger, Gioconda Belli, Joe McGinniss, Wolfgang Hildesheimer, Anna Gavalda |
| | Ödön von Horváth, John Milton, Jan Křesadlo, Maksim Bahdanovič, Dalton Trumbo |
| | Jamal Ouariachi, Louis de Bernières, Mary Gordon, Bill Bryson, Delmore Schwartz, Jim Morrison, Georges Feydeau, Horatius, Hervey Allen |
| | Tatamkhulu Afrika, Dirk Stermann, Johann Nestroy, Joyce Cary, Gabriel Marcel, Willa Cather, Noam Chomsky, Friedrich Schlögl, Samuel Gottlieb Bürde |
| | Karl Ove Knausgård, Peter Handke, Rafał Wojaczek, Henk van Woerden, Alfred Joyce Kilmer, Dirk Dobbrow, Sophie von La Roche, Baldassare Castiglione, Paul Adam |
| | Charlotte Wood |
| | A Ballad Of Santa Claus (Henry van Dyke) |
| | Hanif Kureishi, Alois Brandstetter, Joan Didion, Christina Rossetti, Fjodor Tjoettsjev, Calvin Trillin, Afanasy Fet, Hans Helmut Kirst, Eugenie Marlitt |
| | In Memoriam Jean d'Ormesson |
| | Rainer Maria Rilke, Geert Mak, Pat Donnez, Feridun Zaimoglu, Nikoloz Baratashvili, Emil Aarestrup, Nikolay Nekrasov, Trudi Guda, Thomas Carlyle |
| | Ready for Silence (Madeleine L' Engle) |
| | Hendrik Conscience, Joseph Conrad, Herman Heijermans, Grace Andreacchi, Ugo Riccarelli |
| | France Preseren, F. Sionil José, Franz Josef Degenhardt, Jules Claretie, Ludvig Holberg |
| | Frédéric Leroy, Ann Patchett, Hein Boeken, T. C. Boyle, George Saunders, Botho Strauß, Jacques Lacarrière, Iakovos Kampanellis, Eric L. Harry |
| | Pierre Kemp, Arthur Sze, Natasza Tardio, Daniel Pennac, Tahar Ben Jelloun, Billy Childish, Ernst Toller, Mihály Vörösmarty, Valery Bryusov |
| | Herinnering aan Ramses Shaffy |
| | Dennis Gaens, Christophe Vekeman, James Worthy, Y.M. Dangre, Reinier de Rooie, David Nicholls, Yasmine Allas, Jan G. Elburg, Jesús Carrasco |
| | Mario Petrucci, George Szirtes, Jean Senac, Carlo Levi, Jean-Philippe Toussaint, C.S. Lewis, Wilhelm Hauff, Louisa May Alcott, Franz Stelzhamer |
| | Erwin Mortier, Alberto Moravia, Hugo Pos, Stefan Zweig, Sherko Fatah, Philippe Sollers, William Blake, Alexander Blok, Rita Mae Brown |
| | Navid Kermani, Nicole Brossard, Han Kang, Philippe Delerm, James Agee, Jos. Habets, Friedrich von Canitz, Jacques Godbout, Klara Blum |
| | Jesus Christus herrscht als König (Philipp Friedrich Hiller) |
| | Luisa Valenzuela, Eugène Ionesco, Marilynne Robinson, Louis Verbeeck, Mihály Babits |
| | Herman Gorter, William Cowper, Theophilus Cibber, Alyosha Brell, Mohamed Al-Harthy, René Becher |
| | Maarten 't Hart, Connie Palmen, Abdelkader Benali, Arturo Pérez-Reverte, Ba Jin, Augusta de Wit |
| | Joseph Zoderer, Alexis Wright, Isaac Rosenberg, José Eça de Queiroz, Lope de Vega |
| | Jules Deelder, Wanda Reisel, Marlon James, Einar Kárason, Ahmadou Kourouma, Thomas Kohnstamm, Wen Yiduo, Laurence Sterne, Cissy van Marxveldt |
| | Paul Celan, Marcel Beyer, Max Goldt, Jennifer Michael Hecht, Sipko Melissen, Henri Borel, Sait Faik Abasıyanık, Nirad C. Chaudhuri, Jeroen Olyslaegers |
| | André Gide, George Eliot, Dirk van Weelden, Christian Filips, Suresh en Jyoti Guptara, Viktor Pelevin, Endre Ady, William Kotzwinkle, Elisabeth Maria Post |
| | Margriet de Moor, Gerard Koolschijn, Isaac Bashevis Singer, Wouter Steyaert, Marilyn French, Freya North, Carl-Henning Wijkmark, Voltaire, Garth Risk Hallberg |
| | Don DeLillo, Viktoria Tokareva, Sheema Kalbasi, Nadine Gordimer, Thomas Chatterton, Zinaida Hippius, Selma Lagerlöf, Ursula Ziebarth, Ferdinand von Schirach |
| | Jordi Lammers |
| | Am fünfundzwanzigsten Sonntage nach Pfingsten (Annette von Droste-Hülshoff) |
| | Scott Cairns, Sharon Olds, Mark Harris, Karel van den Oever, Christoph Wilhelm Aigner |
| | Alan Tate, Anna Seghers, Elise Bürger, Girolamo de Rada, Veronika Aydin |
| | Joost Zwagerman, Toon Tellegen, Joost Oomen, Thomas Möhlmann, Pauline Genee, Klaus Mann, Eugenio Montejo |
| | Margaret Atwood, Seán Mac Falls, Jaap Meijer, Richard Dehmel, William Gilbert, Hans Reimann, Mireille Cottenjé |
| | Joost van den Vondel, Guido van Heulendonk, Pierre Véry, Auberon Waugh, Dahlia Ravikovitch, Rebecca Walker, Christopher Paolini, Archibald Lampman, Max Barthel |
| | Jelko Arts |
| | Anton Koolhaas, Chinua Achebe, José Saramago, Renate Rubinstein, Craig Arnold, Danny Wallace, Frits van der Meer, Jónas Hallgrímsson, Hugo Dittberner |
| | Clemens J. Setz, Jan Terlouw, Wolf Biermann, Ted Berrigan, J. G. Ballard, Gerhart Hauptmann, Liane Dirks, Lucien Rebatet, Marianne Moore |
| | Norbert Krapf, Jonathan van het Reve, Olga Grjasnowa, Astrid Lindgren, René de Clercq, Chloe Aridjis, P.J. O'Rourke, Jurga Ivanauskaitė, Peter Orner |
| | Christine Otten, Inez van Dullemen, Frank Westerman, Timo Berger, Hadjar Benmiloud, Nico Scheepmaker, José Carlos Somoza, Peter Härtling, Stanisław Barańczak |
| | Am vierundzwanzigsten Sonntage nach Pfingsten (Annette von Droste-Hülshoff) |
| | Daniël Dee, Lize Spit, Lucia Berlin, Frank Witzel, Johnny van Doorn, Cristina Peri Rossi, Naomi Wolf, Malcolm Guite |
| | Hans Werner Richter, Michael Ende, Roland Barthes, Jacobus Bellamy, A.J.D. van Oosten, Carl Busse, Oskar Panizza, Juana Inés de la Cruz |
| | St. Martin and the Beggar (Thom Gunn) |


Gastenboek


Druk op onderstaande knop om een berichtje achter te laten in mijn gastenboek