De Amerikaanse dichteres Emily Dickinson werd geboren op 10 december 1830 in Amherst, Massachusetts. Zie ook mijn blog van 10 december 2006 en ook mijn blog van 10 december 2007 en ook mijn blog van 10 december 2008 en ook mijn blog van 10 december 2009.
Het was haar laatste Zomer-
Het was haar laatste Zomer-
Wij hadden geen idee-
Het was of zachter ijver Haar
Doorstroomde, dachten Wij

Een nieuwe levenskracht
Gevormd van binnenin-
Maar Dood bracht licht in korte duur
En spoed werd helder toen-

Was elk van ons zo blind geweest
Toen er niets was te zien
Dan Haar Carrara Richtingbord-
Voor onze Botheid sein-

Toen onze Drukke Liefste dof
Doffer dan wij daar lag-
Was zij zo druk met –eindigen-
Wij –zo op ons gemak-
Ik zie graag Doodsnood in een blik
Ik zie graag Doodsnood in een blik,
Omdat ik weet – 't is echt –
Stuiptrekken simuleer je niet,
Je speelt, geen Doodsgevecht –
Het oog verglaast eens – dat is Dood –
Geen die de Kralen veinst
Die alledaagse Zielenangst
Dan op het voorhoofd rijgt.
Vertaald door Peter Vestegen
Op drift
Op drift! Een kleine boot op drift!
En de nacht valt snel!
Loodst niemand een kleine boot
Naar de haven, veilig en wel?

Naar zeelui zegden - gisteren nog -
In de schemering bruin als grog
Kon een kleine boot niet meer mee
En zonk en zonk in zee.

Naar engelen zegden- gisteren nog -
Bij dageraad jong en rood
Een kleine boot - overspoeld bijwijlen -
Rechtte zijn mast - hees de zeilen -
En won vaart - in triomf!
Vertaald door Lepus
'Geheimen' is een dagelijks woord
'Geheimen' is een dagelijks woord
Toch bestaat het niet –
Gedempt – verdoezelt het vermoedens –
Gemompeld - wordt het stil –
Gekerkerd in het Menselijk Hart
Liggen onbetwist geheimen –
Maar het Rooster is te hecht –
Niets met Tong of Oor –
Vertrekt - of kan er door –
Geheimen opgestapeld daar
Verschijnen slechts één keer – en stom –
Op hun weg naar het Graf –
Vertaald door Rosmarie Blaauboer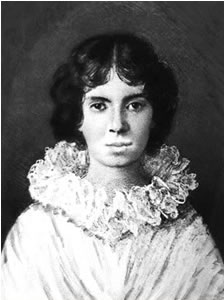 Emily Dickinson (10 december 1830 – 15 mei 1886)
De Spaanse schrijver en politicus Jorge Semprún Maura werd geboren in Madrid op 10 december 1923. Zie ook mijn blog van 10 december 2008 en ook mijn blog van 10 december 2009.
Uit: Unsre allezu kurzen Sommer (Vertaald door Evan Moldenhauer)
"Und da kam es mir so vor, als sei der im feinen hartnäckigen Frühlingsregen sich ausbreitende graue feuchte Fleck auf den angeschlagenen Zeitungsblatt eine visuelle Metapher, die auf seltsame Weise zu meinen Gefühlen paßte. Als ob das angstvolle Unbehagen, die Übelkeit, die körperliche Traurigkeit, die ich empfand, sich in den aufgelösten, aufgeweichten Fasern meines Körpers, in der trostlosen Landschaft meiner Seele ebenso ausbreiteten wie der feuchte Fleck auf jenem Zeitungsblatt.
Ich blieb im Regen stehen, sehr lange, wir mir scheint: elend.
¿No oyes caer las gotas de mi melancolía?
Ich sagte mir nicht mehr Gedichte von Baudelaire auf. Eine lange dunstige Ungewißheit von mir abschüttelnd, habe ich mich dabei ertappt, wie ich leise ein Sonett von Rubén Darío vor mich hin sagte, dessen letzter Vers so eindringlich war: "Hörst du nicht die Tropfen meiner Melancholie?"
(..)
"Sie sperrte Mund und Augen auf, aufrichtig bewegt. Und nicht ohne Grund. Denn das Gedicht war herrlich. Natürlich war es nicht von mir. Ich hätte ihr nur unbeholfene, noch kindliche Gedichtfetzen aufsagen können. Ich hatte mich dafür entschieden, ihr einige Verse von Rafael Alberti zu rezitieren. Zur Zeit, als er Sobre los ángeles schrieb, das Buch, aus dem das Fragment stammte, war Alberti bereits Kommunist. Nicht aber seine Poesie. Ich meine: seine Poesie stand einzig im Dienst ihrer selbst, im Dienst der Entdeckung der Schönheit, der Schönheit der Entdeckungen."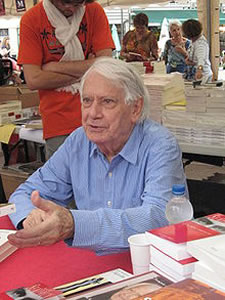 Jorge Semprún (Madrid, 10 december 1923)
De Duitse dichteres en schrijfster Nelly Sachs werd op 10 december 1891 in Berlijn geboren. Zie ook mijn blog van 10 december 2006. en ook mijn blog van 10 december 2008 en ook mijn blog van 10 december 2009.
Kleiner Frieden
in der durchsichtigen Stunde
am Levkojengrab
im Abendrot trompetet Jenseits.
Gloriole des Palmenblattes
Wüstenoffenbarung der Einsamkeit.
Der Ahne Leben
Im leuchtenden Andachtsbuch
ruhend auf Murmelbaches Schlummerrolle
und Muschel an das Ohr gelegt
mit Spieluhrmelodie.
O großer Ozean im kleinen Ohr!
O Menuett der Liebe
oblatenzartes Stundenbuch
auch das war Leben –
der gleiche Schlaf in schwarz Magie
und Dorn der die vergessene Rose
des Blutes
in Erinnerung sticht
gezähnter Blitz
in des Gewitters Maskentanz
verdunkelnd
auf diese Elfenbeinküste.
Du in der Nacht
Du
in der Nacht
mit dem Verlernen der Welt Beschäftigte
von weit weit her
dein Finger die Eisgrotte bemalte
mit der singenden Landkarte eines verborgenen Meeres
das sammelte in der Muschel deines Ohres die Noten
Brücken-Bausteine
von Hier nach Dort
diese haargenaue Aufgabe
deren Lösung
den Sterbenden mitgegeben wird.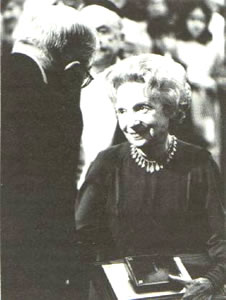 Nelly Sachs (10 december 1891 – 12 mei 1970)
Bij de uitreiking van de Nobelprijs voor literatuur, 1966

De Duitse dichteres en schrijfster Gertrud Kolmar (pseudoniem van Gertrud Käthe Chodziesner) werd op 10 december 1894 in Berlijn geboren. Zie ook mijn blog van 10 december 2006 en ook mijn blog van 10 december 2008 en ook mijn blog van 10 december 2009.
Der Seegeist
Die Glashaut meiner Lider
Verwirft die Nacht, verwirft das Licht;
Der Möwe Sturmgefieder
Hat keine Feder, die sie bricht.
Weil ihre wölbge Schale
Nicht von des Auges Sternfrucht sprang :
Es sah den Tanz der Wale
Und fühlte niemals Salz noch Tang.
Dies Aug, steht ewig offen;
Ihm ist der milde Schlaf versagt.
Ein Schließen will es hoffen,
An das es nicht zu glauben wagt.
Die Zunge ward gebunden,
Und wenn ich liebend bitten mag,
Spricht nur mit heißen Munden
Zu fremdem Ohr mein Herzensschlag.
Ich ruf aus hellen Armen,
Die Klippenstrudel wirbelnd drehn,
Als seliges Erbarmen
Der aufgeborstnen Barke wehn,
Und trinkt der Königsknabe
In kühlster Lust dies gelbe Haar :
Mein Schoß verwuchs zur Wabe,
Die nie empfing und nie gebar.
Die graugeschliffne Flosse
Läßt starke Woge mir erklirrn,
Das Schrein der Albatrosse
Fliegt wie ein Band um meine Stirn;
So muß ich Tod umwerben,
Den Schaum mir bringt und Schaum vertreibt:
Nur dies darf nimmer sterben,
Was nun und ewig fruchtlos bleibt.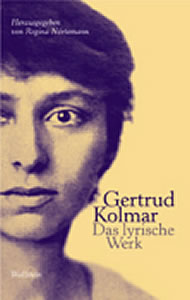 Gertrud Kolmar (10 december 1894 – (?) maart 1943)


Zie voor nog meer schrijvers van de 10e december ook
mijn vorige blog van vandaag
en eveneens
mijn eerste blog van vandaag.
10-12-2010 om 19:54 geschreven door Romenu

Tags:Emily Dickinson, Jorge Semprún, Nelly Sachs, Gertrud Kolmar, Romenu