E-mail mij


Druk op onderstaande knop om mij te e-mailen.


Romenu


Romenu is een blog over gedichten, literatuur en kunst Maar Romenu is ook een professionele freelance vertaler
Du-Ne en Ne-Du http://www.romenu.nl.


Huur eens een (vakantie)huis in een natuurgebied, dichtbij het centrum van Nijmegen


Google


Georg Trakl

Georg Trakl werd op 3 februari 1887 in het conducteurshuis aan de Waagplatz 2 in Salzburg geboren. Zijn vader, Tobias Trakl, was een handelaar in ijzerwaren en zijn moeder, die ook psychische problemen had, was Maria Catharina Trakl, (meisjesnaam Halik). Voorts had hij nog drie broers en drie zussen. Margarethe (doorgaans Grethe genoemd) stond hem het naast, zelfs zodanig dat sommigen een incestueuze verhouding vermoeden. Zijn jeugd bracht hij door in Salzburg. Vervolgens bezocht hij van 1897 tot 1905 het humanistische gymnasium. Om toch een academische opleiding te kunnen volgen, werkte hij tot 1908 in de praktijk bij een apotheker. Sommigen vermoedden dat hij dit vooral deed om zichzelf opiaten te kunnen verschaffen. Bij het uitbreken van WO I werd Trakl als medicus naar het front in Galicië (heden ten dage in Oekraďne en Polen) gestuurd. Zijn gemoedsschommelingen leidden tot geregelde uitbraken van depressie, die verergerd werden door de afschuw die hij voelde voor de verzorging van de ernstig verwonde soldaten. De spanning en druk dreven hem ertoe een suďcidepoging te ondernemen, welke zijn kameraden nochtans verhinderden. Hij werd in een militair ziekenhuis opgenomen in Kraków, alwaar hij onder strikt toezicht geplaatst werd.Trakl verzonk daar in nog zwaardere depressies en schreef Ficker om advies. Ficker overtuigde hem ervan dat hij contact moest opnemen met Wittgenstein, die inderdaad op weg ging na Trakls bericht te hebben ontvangen. Op 4 november 1914, drie dagen voordat Wittgenstein aan zou komen, overleed hij echter aan een overdosis cocaďne


Paul Celan

Paul Celan werd onder de naam Paul Antschel op 23 november 1920 geboren in Czernowitz, toentertijd de hoofdstad van de Roemeense Boekovina, nu behorend bij de Oekraďne. Paul Celans ouders waren Duitssprekende joden die hun zoon joods opvoedden en hem naar Duitse christelijke scholen stuurden. In 1942 werden Celans ouders door de Duitse bezetter naar een werkkamp gedeporteerd en daar vermoord. Hijzelf wist aanvankelijk onder te duiken, maar moest vanaf juli 1942 in een werkkamp dwangarbeid verrichten. Celan overleefde de oorlog. Via Boekarest en Wenen vestigde Celan zich in 1948 in Parijs. Daar was hij werkzaam als dichter, vertaler en doceerde hij aan de prestigieuze Ecole Normale Supérieure. Vermoedelijk op 20 april 1970 beëindigde hij zijn leven zelf door in de Seine te springen.


Gerard Reve

Gerard Reve over: Medearbeiders "God is in de mensen, de dieren, de planten en alle dingen - in de schepping, die verlost moet worden of waaruit God verlost moet worden, door onze arbeid, aangezien wij medearbeiders van God zijn." Openbaring "Tja, waar berust elk godsbegrip op, elke vorm van religie? Op een openbaring, dat wil zeggen op een psychische ervaring van zulk een dwingende en onverbiddelijke kracht, dat de betrokkene het gevoel heeft, niet dat hij een gedachte of een visioen heeft, maar dat een gedachte gedachte of visioen hem bezit en overweldigt."


Simon Vestdijk
Simon Vestdijk (Harlingen, 17 oktober 1898 – Utrecht, 23 maart 1971) was een Nederlands romancier, dichter, essayist en vertaler. Zijn jeugd te Harlingen en Leeuwarden beschreef hij later in de Anton Wachter-cyclus. Van jongs af aan logeerde hij regelmatig bij zijn grootouders in Amsterdam, waar hij zich in 1917 aan de Universiteit van Amsterdam inschrijft als student in de medicijnen. Tijdens zijn studie die van 1917 tot 1927 duurde, leerde hij Jan Slauerhoff kennen.Tot 1932 is hij als arts in praktijken door heel Nederland werkzaam. In 1932 volgt zijn officiële schrijversdebuut met de uitgave van de bundel Verzen in De Vrije Bladen. Doorslaggevend voor Vestdijks uiteindelijke keuze voor de literatuur is zijn ontmoeting in 1932 met Eddy Du Perron en Menno ter Braak. Deze ontmoeting had tot resultaat dat hij redactielid werd van het tijdschrift Forum Kort daarop, in 1933, wordt zijn eerste novelle, De oubliette, uitgegeven. In hetzelfde jaar schrijft hij Kind tussen vier vrouwen, dat, eerst geweigerd door de uitgever, later de basis zal vormen voor de eerste drie delen van de Anton Wachter-romans. In 1951 ontvangt Vestdijk de P.C. Hooftprijs voor zijn in 1947 verschenen roman De vuuraanbidders. In 1957 wordt hij voor het eerst door het PEN-centrum voor Nederland voorgedragen voor de Nobelprijs voor de Literatuur, die hij echter nooit zal krijgen. Op 20 maart 1971 wordt hem de Prijs der Nederlandse Letteren toegekend, maar voor hij deze kan ontvangen overlijdt hij op 23 maart te Utrecht op 72-jarige leeftijd. Vestdijk was auteur van ca. 200 boeken. Vanwege deze enorme productie noemde de dichter Adriaan Roland Holst hem 'de man die sneller schrijft dan God kan lezen'. Andere belangrijke boeken van Simon Vestdijk zijn: "Kind van stad en land" (1936), "Meneer Visser's hellevaart" (1936), "Ierse nachten" (1946), "De toekomst de religie" (1947), "Pastorale 1943" (1948), "De koperen tuin" (1950), "Ivoren wachters" (1951), "Essays in duodecimo" (1952) en "Het genadeschot" (1964).


K.P. Kavafis

K.P. Kavafis werd als kind van Griekse ouders, afkomstig uit Konstantinopel, geboren in 1863 in Alexandrië (tot vandaag een Griekse enclave) waar hij ook het grootste deel van zijn leven woonde en werkte. Twee jaar na de dood van zijn vader verhuist het gezin in 1872 naar Engeland om na een verblijf van vijf jaar naar Alexandrië terug te keren. Vanwege ongeregeldheden in Egypte vlucht het gezin in 1882 naar Konstantinopel, om na drie jaar opnieuw naar Alexandrië terug te gaan. In de jaren die volgen maakt Kavafis reizen naar Parijs, Londen en in 1901 zijn eerste reis naar Griekenland, in latere jaren gevolgd door nog enkele bezoeken. Op de dag van zijn zeventigste verjaardag, in 1933 sterft Kavafis in Alexandrië. De roem kwam voor Kavafis pas na zijn dood, dus postuum. Deels is dat toe te schrijven aan zijn eigen handelswijze. Hij was uiterst terughoudend met de publicatie van zijn gedichten, liet af en toe een enkel gedicht afdrukken in een literair tijdschrift, gaf in eigen beheer enkele bundels met een stuk of twintig gedichten uit en het merendeel van zijn poëzie schonk hij op losse bladen aan zijn beste vrienden.


Thomas Mann


Thomas Mann, de jongere broer van Heinrich Mann, werd geboren op 6 juni 1875 in Lübeck. Hij was de tweede zoon van de graankoopman Thomas Johann Heinrich Mann welke later één van de senatoren van Lübreck werd. Zijn moeder Julia (geboren da Silva-Bruhns) was Duits-Braziliaans van Portugees Kreoolse afkomst. In 1894 debuteerde Thomas Mann met de novelle "Gefallen". Toen Thomas Mann met 21 jaar eindelijk volwassen was en hem dus geld van zijn vaders erfenis toestond - hij kreeg ongeveer 160 tot 180 goldmark per jaar - besloot hij dat hij genoeg had van al die scholen en instituties en werd onafhankelijk schrijver. Kenmerkend voor zijn stijl zijn de ironie, de fenomenale taalbeheersing en de minutieuze detailschildering. Manns reputatie in Duitsland was sterk wisselend. Met zijn eerste roman, Buddenbrooks (1901), had hij een enorm succes, maar door zijn sceptische houding tegenover Duitsland na de Eerste Wereldoorlog veranderde dit volledig. Stelde hij zich tot aan de jaren twintig apolitiek op (Betrachtungen eines Unpolitischen, 1918), meer en meer raakte hij bij het Politiek gebeuren betrokken. Zijn afkeer van het nationaal socialisme groeide, zijn waarschuwingen werden veelvuldiger en heftiger. In 1944 accepteerde hij het Amerikaanse staatsburgerschap. Tussen 1943 en 1947 schreef Mann Doktor Faustus (zie Faust), de roman van de 'Duitse ziel' in de gecamoufleerd geschilderde omstandigheden van de 20ste eeuw. In 1947 bezocht hij voor het eerst sinds de Oorlog Europa, twee jaar later pas Duitsland. In 1952 vertrok hij naar Zwitserland. Op 12 augustus 1955 stierf hij in Zürich. Twintig jaar na zijn dood, in aug. 1975, is zijn literaire nalatenschap geopend: dagboekaantekeningen van 15 maart 1933 tot 29 juli 1955, alsmede notities uit de jaren 1918 tot en met 1921.Belangrijke werken zijn: Der Zauberberg, Der Tod in Venedig, Dokter Faustus , Joseph und seine Brüder en Die Bekenntnisse des Hochstaplers Felix Krull.


Rainer Maria Rilke

Rilke werd op 4 december 1875 geboren in Praag. Hij had al naam gemaakt als dichter met zijn bundels Das Stundenbuch en Das Buch der Bilder, toen hij de literaire wereld versteld deed staan en wereldfaam verwierf met de publicatie van zijn twee delen Neue Gedichte in 1907 en 1908. Hij verzamelde daarin het beste werk uit een van zijn vruchtbaarste periodes, die hij grotendeels doorbracht in Parijs. Rilke was daar diep onder de indruk gekomen van Rodin, bij wie hij een tijdlang in dienst was als particulier secretaris. Rodin, zei hij later, had hem leren kijken. Dit kijken kwam neer op intense concentratie, om het mysterie te kunnen zien 'achter de schijnbare werkelijkheid'. Latere en rijpere werken als Duineser Elegien (1912-1923) en het ronduit schitterende Die Sonette an Orfeus (1924) illustreren Rilkes metafysische visie op het onzegbare, dat haar verwoording vindt in een hermetische muzikale taal. Op 29 december 1926 overlijdt Rilke in het sanatorium in Val-Mont aan de gevolgen van leukemie. Enkele dagen later wordt hij, overeenkomstig zijn wens, begraven op het kerkhof van Raron.


* * * * * * * * * * * * * * * *

| | |
| --- | --- |
| | Over literatuur, gedichten, kunst en cultuur |

07-03-2015

Bret Easton Ellis, Robert Harris, Jürgen Theobaldy, Georges Perec, Milo Dor, Abe Kōbō
De Amerikaanse schrijver Bret Easton Ellis werd geboren op 7 maart 1964 in Los Angeles. Zie ook alle tags voor Bret Easton Ellis op dit blog.
Uit: Glamorama
"A black Jeep, its top up, its windows tinted, wheels in behind me on 23rd Street and as I zoom through the Park Avenue tunnel whoever's driving flips on his brights and closes in, the Jeep's fender grazing the back of the Vespa's wheel guard.
I swerve onto the dividing line, oncoming traffic racing toward me while I bypass the row of cabs on my side, heading toward the wraparound at Grand Central. I accelerate up the ramp, zoom around the curve, swerving to miss a limo idling in front of the Grand Hyatt, and then I'm back on Park without any hassles until I hit 48th Street, where I look over my shoulder and spot the Jeep a block behind me.
The instant the light on 47th turns green the Jeep bounds out of its lane and charges forward.
When my light turns I race up to 51st, where the oncoming traffic forces me to wait to turn left.
I look over my shoulder down Park but I can't see the Jeep anywhere.
When I turn back around, it's idling next to me.
I shout out and immediately slam into an oncoming cab moving slowly down Park, almost falling off the bike, and noise is a blur, all I can really hear is my own panting, and when I lift the bike up I veer onto 51st ahead of the Jeep.
Fifty-first is backed up with major gridlock and I maneuver the Vespa onto the sidewalk but the Jeep doesn't care and careens right behind me, halfway on the street, its two right wheels riding the curb, and I'm yelling at people to get out of the way, the bike's wheels kicking up bursts of the confetti that litters the sidewalk in layers, businessmen lashing out at me with briefcases, cabdrivers shouting obscenities, blaring their horns at me, a domino effect.
The next light, at Fifth, is yellow. I rev up the Vespa and fly off the curb just as the traffic barreling down the avenue is about to slam into me, the sky dark and rolling behind it, the black Jeep stuck on the far side of the light."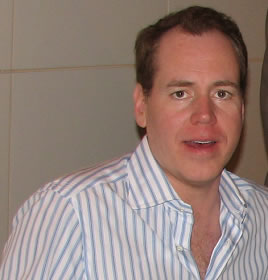 Bret Easton Ellis (Los Angeles, 7 maart 1964)
De Britse schrijver en journalist Robert Dennis Harris werd geboren op 7 maart 1957 in Nottingham. Zie ook alle tags voor Robert Harris op dit blog.
Uit: The Ghost
"THE MOMENT I HEARD how McAra died, I should have walked away. I can see that now. I should have said, "Rick, I'm sorry, this isn't for me, I don't like the sound of it," finished my drink, and left. But he was such a good storyteller, Rick -- I often thought he should have been the writer and I the literary agent -- that once he'd started talking there was never any question I wouldn't listen, and by the time he had finished, I was hooked.
The story, as Rick told it to me over lunch that day, went like this: McAra had caught the last ferry from Woods Hole, Massachusetts, to Martha's Vineyard two Sundays earlier. I worked out afterward it must have been January the twelfth. It was touch-and-go whether the ferry would sail at all. A gale had been blowing since midafternoon and the last few crossings had been canceled. But toward nine o'clock the wind eased slightly, and at nine forty-five the master decided it was safe to cast off. The boat was crowded; McAra was lucky to get a space for his car. He parked belowdecks and then went upstairs to get some air.
No one saw him alive again.
The crossing to the island usually takes forty-five minutes, but on this particular night the weather slowed the voyage considerably: docking a two-hundred-foot vessel in a fifty-knot wind, said Rick, is nobody's idea of fun. It was nearly eleven when the ferry made land at Vineyard Haven and the cars started up -- all except one: a brandnew tan-colored Ford Escape SUV. The purser made a loudspeaker appeal for the owner to return to his vehicle, as he was blocking the drivers behind him. When he still didn't show, the crew tried the doors, which turned out to be unlocked, and freewheeled the big Ford down to the quayside. Afterward they searched the ship with care: stairwells, bar, toilets, even the lifeboats -- nothing. They called the terminal at Woods Hole to check if anyone had disembarked before the boat sailed or had perhaps been accidentally left behind -- again: nothing. That was when an official of the Massachusetts Steamship Authority finally contacted the Coast Guard station in Falmouth to report a possible man overboard. »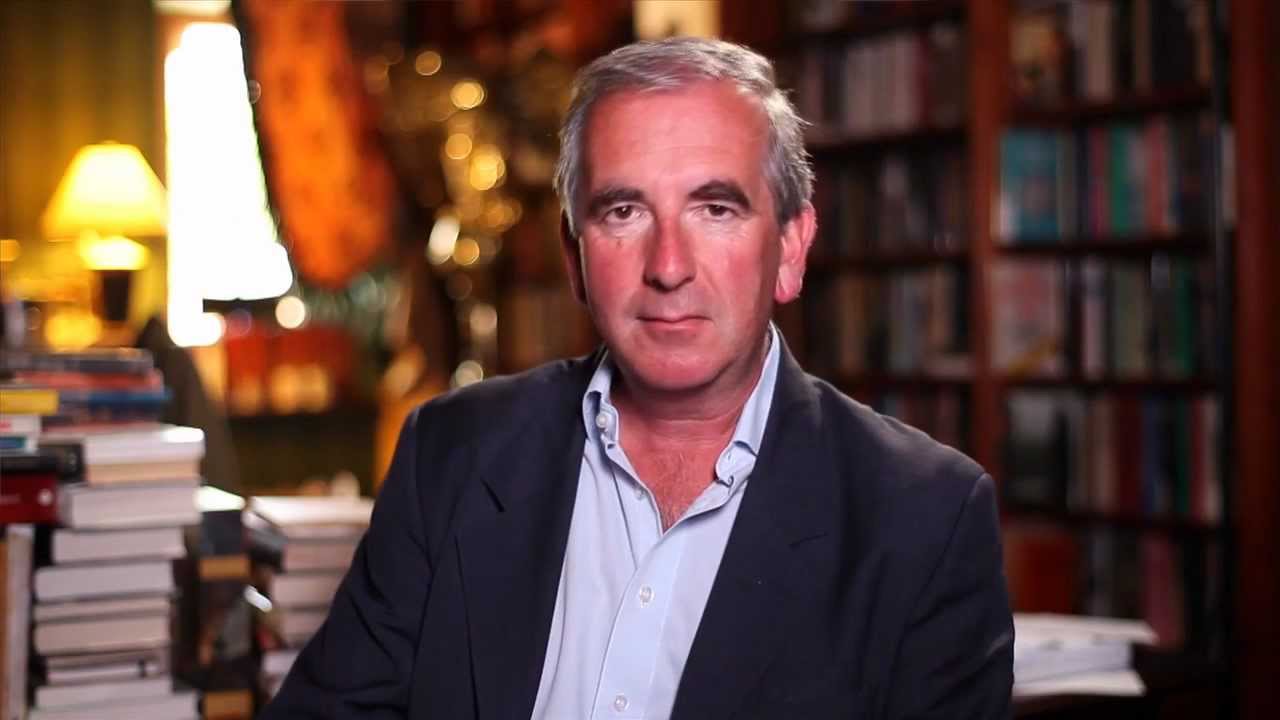 Robert Harris (Nottingham, 7 maart 1957)
De Duitse dichter en schrijver Jürgen Theobaldy werd geboren op 7 maart 1944 in Straatsburg. Zie ook alle tags voor Jürgen Theobaldy op dit blog
Die Bewohner
Nur die Bewohner machen
eine Wohnung fröhlich,
aber du bist nicht da,
die Heizung ist abgedreht
und kühl sickert die Luft
durch den Spalt im Fenster.
Ich will nicht sagen, daß ich
dich austauschen könnte
gegen irgend jemanden sonst,
ähnlich dir oder ganz
anders. Du bist eine
von Millionen, aber auch ich
bin einer von Millionen.
Wären wir soweit (du und ich
und alle, die wir nicht kennen),
die Türen nicht abzuschließen,
wenn wir wegfahren für länger,
wer weiß, ich wäre eingetreten
in einen fröhlichen Kreis.
So blicke ich auf den Teebeutel,
vertrocknet im Aschenbecher,
stehe im Mantel herum
und vermisse dich, die ich liebe,
vielleicht mehr
als uns lieb sein kann.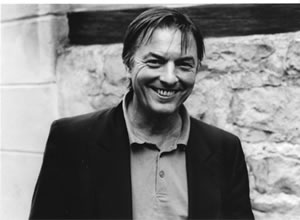 Jürgen Theobaldy (Straatsburg, 7 maart 1944)


De Franse schrijver Georges Perec werd geboren op 7 maart 1936 in Parijs. Zie ook alle tags voor Georges Perec op dit blog.
Uit: Les choses
« Depuis plusieurs années déjà, les études de motivation avaient fait leur apparition en France. Cette année-là, elles étaient encore en pleine expansion. De nouvelles agences se créaient chaque mois, à partir de rien, ou presque. On y trouvait facilement du travail. Il s'agissait, la plupart du temps, d'aller dans les jardins publics, à la sortie des écoles, ou dans les H.L.M. de banlieue, demander à des mères de famille si elles avaient remarqué quelque publicité récente, et ce qu'elles en pensaient. Ces sondages-express, appelés testings ou enquêtes-minute, étaient payés cent francs. C'était peu, mais c'était mieux que le baby-sitting, que les gardes de nuit, que la plonge, que tous les emplois dérisoires - distribution de prospectus, écritures, minutage d'émissions publicitaires, vente à la sauvette, lumpen-tapirat - traditionnellement réservés aux étudiants. Et puis, la jeunesse même des agences, leur stade presque artisanal, la nouveauté des méthodes, la pénurie encore totale d'éléments qualifiés pouvaient laisser entrevoir l'espoir de promotions rapides, d'ascensions vertigineuses. »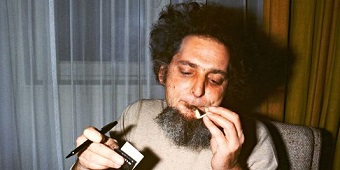 Georges Perec (7 maart 1936 – 3 maart 1982)
De Oostenrijkse schrijver Milo Dor werd als Milutin Doroslovacgeboren op 7 maart 1923 in Boedapest. Zie ook alle tags voor Milo Dor op dit blog.
Uit: Das Pferd auf dem Balkon
"Ein Wiehern, das aus dem Hof zu ihm drang, holte Mika aus seiner Fantasiewelt zurück in die Realität. Er war fast schon eingeschlafen und nicht sicher, was er da gehört hatte. Mika richtete sich im Bett auf und horchte.
Nichts. Er wollte gerade wieder auf seine Polster sinken, da vernahm er das Wiehern erneut. Mika sprang aus dem Bett, öffnete das Fenster und sah hinaus. Im fahlen Licht der alten, schiefen Laterne schritt ein Pferd stolz über den Hof. Ohne lange zu überlegen, lief Mika ins Vorzimmer, schlüpfte barfuss in seine Schuhe, zog seine Jacke über den Pyjama und schlich leise aus der Wohnung. Hedi saß mit gesenktem Kopf im Wohnzimmersessel und schlief tief und fest. Im Fernsehen lief ein alter Schwarz-Weiß-Film.
Im Hof blickte sich Mika um. Es war niemand zu sehen. Er ging zur Laterne, die sich in der Mitte der Anlage befand, und sah in alle Ecken des Hofs. Keine Spur von einem Pferd. Als er schon zurück ins Haus gehen wollte, hörte er das Wiehern ganz aus der Nähe. DasPferd stand auf dem Balkon im ersten Stock. Es hatte jetzt eine rot karierte Decke auf dem Rücken. Als Mika näher kam, spitzte das Pferd die Ohren und blickte ihn mit seinen großen, dunklen Augen an. Mika war von dem edlen Tier fasziniert.
Hoch oben auf dem Balkon wirkte es noch mächtiger als vorhin, als er es vom Fenster aus gesehen hatte. Das Pferd schüttelte seine Mähne und schnaubte, als wollte es ihn begrüßen. Mika lächelte und winkte ungelenk. Das Pferd schnaubte erneut. Mika hätte es gerne länger beobachtet, aber ihm wurde kalt. Er winkte dem Pferd noch einmal zum Abschied und lief ins Haus."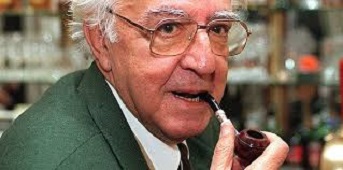 Milo Dor (7 maart 1923 – 5 december 2005)
De Japanse schrijver Abe Kōbō werd geboren op 7 maart 1924 in Tokyo. Zie ook alle tags voor Abe Kōbō op dit blog.
Uit: The ruined map (Vertaald door E. Dale Saunders)
"An unattended child swathed in blankets in a red baby carriage was crying shrilly. A young boy on a bicycle made of some light alloy, which had a glittering transmission, gave a deliberate, boisterous laugh as he sped by, his cheeks rosy with the cold. It was all ordinary enough at first glance, but when one focused on the distant landscape, people seemed like fanciful reflections. Of course, if one were used to living here, I should imagine the viewpoint would be quite the opposite. The view became fainter and fainter, transparent almost to the point of extinction, and only my face emerged like a picture printed from a negative. I had had enough of distinguishing myself. For this human filing cabinet with its endless filing-card apartments was merely the glass frame, each encasing its own family portraits.
12 East 3. East stands for the right side of the street, 3 for the third building from the front, facing the street, 12 for the second-floor apartment facing the landing at the left end. In the spaces between the blocks of lawn stood No Entry and No Parking signs, but cars were parked in front of the buildings. My luggage consisted of one small case containing a set of miniature equipment. The case was a foot and a half long, a foot wide, and something less than eight inches thick. The surface was flat and hard and served at times as a desk. In the end of the handle were hidden a mike and a switch with which one could start the tape recorder from the outside; other than that, it was a quite ordinary case. It was made of a nappy artificial leather that gave the feeling of being rather worn. Showy metal fittings had been added to the four corners. Anyway, it looked like nothing more than a traveling salesman's bag. Its appearance was useful for my purposes, but an inconvenience too. Suddenly the wind, like an icy dust, struck my face."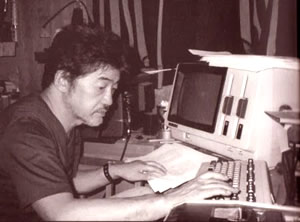 Abe Kōbō (7 maart 1924 – 22 januari 1993)
Zie voor nog meer schrijvers van de 7e maart ook mijn vorige blog van vandaag.
07-03-2015 om 11:47 geschreven door Romenu

Tags:Bret Easton Ellis, Robert Harris, Jürgen Theobaldy, Georges Perec, Milo Dor, Abe Kō,bō,, Romenu



Jan Frederik Helmers, Reinhard Kaiser, Manuel del Cabral, Manfred Gregor, Alessandro Manzoni
De Nederlandse dichter en schrijver Jan Frederik Helmers werd geboren op 7 maart 1767 in Amsterdam. Zie ook alle tags voor Jan Frederik Helmers op dit blog.
Aan mijne vriend Gerrit Joan Meijer
Bij al 't plundren, bij 't vernielen,
Bij het weiden van het zwaard,
Bij de duizenden die vielen
Door de dwingeland der aard',
Wiens gevloekte vuist niets spaart —

In dees hartverpletbre dagen,
Waar geen bloempje bloost aan 't blad,
En, in plaats der rozenvlagen,
Weemlend langs het bruiloftspad,
Merg en bloed de weg bespat —

Voegen zich bij éne stander,
In deez' algemene brand,
Alle braven bij elkander,
Vloekende d'uitheemse band
Op het puin van 't vaderland.

Die eenstemmigheid van denken
Hecht de zielen aan elkaar;
Kan in 't wee ons wellust schenken,
En verbindt een vriendenschaar
In de afgrond van 't gevaar.

Hechter wordt die band gesloten,
Als der wetenschappen gloed
Ombruist door 't ontvlamd gemoed,
Brave land- en kunstgenoten
Met dezelfde zielspijs voedt:
o! Die band verbindt als 't bloed!

Dierbre Meijer! deze banden
Strenglen zich om onze ziel;
Want gij brengt uwe offerhanden
(Wat 's lands dwingland ook verniel')
Aan de God, voor wie ik kniel.

Mocht ge, als ik niet meer zal wezen,
't Stille graf mijne as bewaart,
Eenmaal nog dees lettren lezen,
Zeggen: "Druk hem zacht, o aard'!
Helmers was mijn vriendschap waard'!"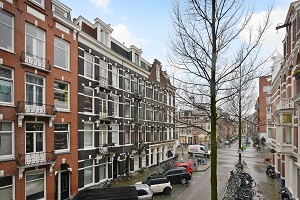 Jan Frederik Helmers (7 maart 1767 – 26 februari 1813)
Tweede Helmersstraat, Amsterdam
De Duitse schrijver Reinhard Kaiser werd geboren op 7 maart 1950 in Viersen. Zie ook alle tags voor Reinhard Kaiser op dit blog.
Uit: Der kalte Sommer des Doktor Polidori
»Monsieur, was kann ich für Sie tun?«
Polidori war erleichtert, daß der Buchhändler Französisch sprach.
»Ich suche Bücher«, begann er.
Der Buchhändler schob die gestreckten Finger beider Hände zusammen.
»Was für Bücher, wenn ich fragen darf?«
Polidori kümmerte sich nicht um das Fingerscharnier, das der Buchhändler mit gezwungenem Lächeln vor seiner Weste auf- und zuschnappen ließ. Polidori konzentrierte sich darauf, von seiner Stimme jegliche Verlegenheit fernzuhalten.
»Ich sammle lizenziöse Schriften.«
»Aha. Und in welcher Sprache?«
»Lizenziöse Schriften in allen Sprachen. In bekannten und entlegenen Zungen.«
»Verstehe ich recht? Auch in solchen Sprachen, die Sie selbst gar nicht sprechen?«
»Ja, gern, ich meine: durchaus.«
Endlich sah ihn der Buchhändler aufmerksam an. Er überlegte einen Augenblick.
»Etwas Russisches habe ich da, sogar in kyrillischer Schrift. Sehr umfangreich, allerdings nicht ganz billig. Wäre das etwas für Sie, oder sprechen Sie Russisch?«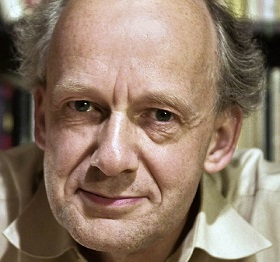 Reinhard Kaiser (Viersen, 7 maart 1950)
De Dominicaanse dichter en schrijver Manuel del Cabral werd geboren op 7 maart 1907 in Santiago de los Caballeros. Zie ook alle tags voor Manuel del Cabral op dit blog.
Like the Bull, Born to Sorrow
Like the bull, born to sorrow; like a brute;
born to pain, like the bull, I bear the signs
iron inscribed on my flank in burning lines,
and my male groin is burdened with a fruit.

Like the bull, my heart finds everything minute
because the heart lacks reason, and declines
to let your kiss rest where your love consigns
it — a right that, like a bull, I would dispute.

Like the bull, I am tormented by increasing,
my tongue steeped in my heart, from which it's poured
into my throat a tempest loud and full.

Like the bull I pursue you with unceasing
desire that you have left pierced by a sword,
like the bull, made for mockery, the bull.
Vertaald door R. P. Espaillat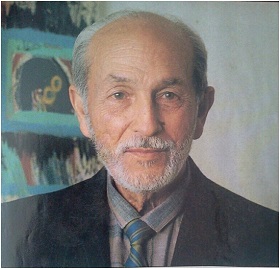 Manuel del Cabral (7 maart 1907 – 14 mei 1999)
De Duitse schrijver Manfred Gregor (pseudoniem van Gregor Dorfmeister) werd geboren op 7 maart 1929 in Tailfingen. Zie ook alle tags voor Manfred Gregor op dit blog.
Uit: Die Brücke
Kein Mensch wusste, wer den Spitznamen erfunden hatte.
"Aber es hatte auch noch keiner danach gefragt. Es hieß, dass Schaubeck den widerspenstigsten Rekruten »fertigmachen« konnte, und keiner zweifelte daran. Er sah ganz harmlos aus, solange er nicht sprach. Aber in seiner Stimme lag Unheil.
Schon wenn er jovial, betont munter und immer ein bisschen spöttisch sein militärisches Wissen an den Mann brachte.
Noch deutlicher, wenn er brüllte, und erst recht, wenn er flüsterte. Jetzt flüsterte Schaubeck.
»Horber«, flüsterte er, »Sie Jammerlappen! Können Sie sich nicht einmal ordentlich waschen? Muss wohl erst die Frau Mama rufen, dass sie dem Herrn Horber den Hintern wäscht?«
Dann lauter: »Unter die Dusche, maaarsch!«
Horber stand bewegungslos unter der Dusche, Schaubeck drehte auf, riss den Hahn herum, so weit es ging, und schenkte dem sommersprossigen Häuflein Elend unter dem niederprasselnden Wasser nichts. Gar nichts. Und in diesem Augenblick ertönte es aus der Ecke, in die sich der »Verein« verzogen hatte (mäßig stramme Haltung), leise, aber nicht zu überhören: »Dreh zu, du Drecksack!«
Schaubeck brüllte: »Wer war das?«
Lauter: »Wer war das?«
Und dann Schaubeck, ganz leise: »Ich will wissen, wer das war, versteht ihr? Oder ich schleife euch, bis euch das Arschwasser kocht!«
Lähmende Stille beim Verein. Plötzlich die gleiche Stimme wie vorher: »Das kannst du gar nicht, du Drecksack!"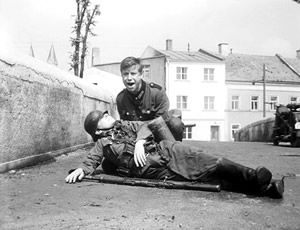 Manfred Gregor (Tailfingen, 7 maart 1929)
Scene uit de film "Die Brücke" uit 1959
De Italiaanse schrijver Alessandro Francesco Tommaso Manzoni werd geboren op 7 maart 1785 in Milaan.Zie ook alle tags voor Alessandro Manzoni op dit blog.
Uit: The Betrothed (Vertaling in de reeks Harvard Classics)
"At the period of our story, this village was also fortified, and consequently had the honour to furnish quarters to a governor, and the advantage of possessing a permanent garrison of Spanish soldiers, who gave lessons in modesty to the wives and daughters of the neighbourhood, and toward the close of summer never failed to scatter themselves through the vineyards, in order to thin the grapes, and lighten for the rustics the labours of the vintage. From village to village, from the heights down to the margin of the lake, there are innumerable roads and paths: these vary in their character; at times precipitous, at others level; now sunk and buried between two ivy-clad walls, from whose depth you can behold nothing but the sky, or some lofty mountain peak; then crossing high and level tracts, around the edges of which they sometimes wind, occasionally projecting beyond the face of the mountain, supported by prominent masses resembling bastions, whence the eye wanders over the most varied and delicious landscape. On the one side you behold the blue lake, with its boundaries broken by various promontories and necks of land, and reflecting the inverted images of the objects on its banks; on the other, the Adda, which, flowing beneath the arches of the bridge, expands into a small lake, then contracts again, and holds on its clear serpentining course to the distant horizon: above, are the ponderous masses of the shapeless rocks; beneath, the richly cultivated acclivity, the fair landscape, the bridge; in front, the opposite shore of the lake, and beyond this, the mountain, which bounds the view.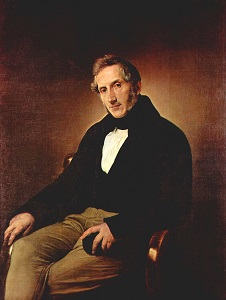 Alessandro Manzoni (7 maart 1785 – 22 mei 1873)
Portret door Francesco Hayez, 1841


07-03-2015 om 11:35 geschreven door Romenu

Tags:Jan Frederik Helmers, Reinhard Kaiser, Manuel del Cabral, Manfred Gregor, Alessandro Manzoni, Romenu



| | |
| --- | --- |
| | |



Inhoud blog


| | |
| --- | --- |
| | Bernard Malamud, Vincente Alexandre, Carl-Christian Elze, Hannelies Taschau, Theun de Vries, Hertha Kräftner, Johann Uhland |
| | Erik Menkveld, Ted Kooser, James Fenton, Walter de la Mare, Richard Anders, William Temple, John Keble |
| | Frans Coenen, Eric Bogosian, Robert Penn Warren, George Oppen, Carl Spitteler, Anthony Trollope, Michael Schaefer |
| | Thomas (Nel Benschop) |
| | William Shakespeare, Pascal Quignard, Peter Horst Neumann, Andrey Kurkov, Halldór Laxness, Christine Busta, Adelheid Duvanel |
| | Maurice Druon, Egon Hostovský, Richard Huelsenbeck, Marion Titze, Friedrich von Hagedorn, Max Bolliger, J. P. Donleavy |
| | Giorgio Fontana, Jan de Hartog, Björn Kern, Vladimir Nabokov, Chetan Bhagat, Peter Weber, Jos de Haes, Thommie Bayer, Madame de Staël |
| | Ana María Shua, Louise Glück, Robert Choquette, James Philip Bailey, Henry Fielding, Michael Schulte, Cabrera Infante, Ludwig Renn |
| | Charlotte Brontë, Patrick Rambaud, John Mortimer, Charles den Tex, Michael Mann, Peter Schneider, Meira Delmar, Alistair MacLean, Gerrit Wustmann |
| | Martinus Nijhoff, Jan Cremer, Jean Pierre Rawie, Sebastian Faulks, Jozef Deleu, Steve Erickson, Arto Paasilinna, Michel Leiris |
| | Martin Michael Driessen, Marjoleine de Vos, Manuel Bandeira, n. c. kaser, Veniamin Kaverin, Louis Amédée Achard, Pierre-Jean de Béranger, Gudrun Reinboth, Werner Rohner |
| | Wam de Moor, Bas Belleman, Roos van Rijswijk, Clara Eggink, Kathy Acker, Joy Davidman, Richard Harding Davis, Henry Kendall, Katharina Schwanbeck |
| | Pasen (Gabriël Smit) |
| | Antoon Coolen, Ida Boy-Ed, Nick Hornby, Vincent Corjanus, Thornton Wilder, Karen Blixen, David Wagner, R.J. Pineiro |
| | Anton Wildgans, Rolf Schneider, Cynthia Ozick, Helen Meier, Rolf Kalmuczak, Karl Henckell, Henry Vaughan, John Ford |
| | Osterwind (Hilde Domin) |
| | Sarah Kirsch, Thomas Olde Heuvelt, Kingsley Amis, Patricia De Martelaere, Tristan Tzara, Ewald Vanvugt, Sibylle Lewitscharoff |
| | Jan Luyken, Rolf-Dieter Brinkmann, Anatole France, Eberhard Panitz, Spike Milligan, John Millington Synge, Konstantin Vaginov |
| | Stille Zaterdag (Nel Benschop) |
| | Tomas Tranströmer, Daniël Samkalden, Jérôme Lambert, Patrick Bernauw, Benjamin Zephaniah, Henry James, Wilhelm Busch, Ina Boudier-Bakker |
| | Bliss Carman, Beate Morgenstern, Jeffrey Archer, Bernhard Lassahn, Erich Arendt, Pol De Mont, Staf Weyts, Hans Egon Holthusen |
| | Karfreitag (Peter Hille) |
| | Tjitse Hofman, Alexandre Jardin, Roman Graf, Péter Esterházy, Landolf Scherzer, Charles Lewinsky, Helene Hübener, Roberto Schopflocher, Gerhard Rohlfs |
| | Gethsemane und Golgatha (Friedrich Nietzsche) |
| | Nachoem Wijnberg, K. Michel, Alexander Münninghoff, Michel Faber, Jean-Marie Gustave Le Clézio, Samuel Beckett, Seamus Heaney, Tim Krabbé, Eudora Welty |
| | Antje Rávic Strubel, Alan Ayckbourn, Scott Turow, Tom Clancy, Agnes Sapper |
| | Leonard Nolens, Glenway Wescott, Mark Strand, Silvia Avallone, Walid Soliman, Dorothy Allison, Hubert Nyssen, Barbara Köhler, Rolf Schilling |
| | Leo Vroman, Jan van Mersbergen, Paul Theroux, Claudio Magris, Bella Akhmadulina, Stefan Heym, Richard Wagner, Marcel van Maele, Eric Knight |
| | Palmsonntag (Stefan Zweig) |
| | Charles Baudelaire, Jelle Brandt Corstius, Karel Jonckheere, Joolz Denby, Albert von Schirnding, Johannes Bobrowski |
| | Bernard-Marie Koltčs, Arnold Stadler, Julius Hart, Lev Kopelev, Carl Amery, Leonard Wibberley |
| | Herinnering aan Gerard Reve, Hanz Mirck, Christoph Hein, Judith Koelemeijer, Nnedi Okorafor, Barbara Kingsolver |
| | John Fante, Johann Christian Günther, Glendon Swarthout, Martin Grzimek, Hégésippe Moreau |
| | Juliana Spahr, William Wordsworth, Özcan Akyol, Gabriela Mistral, Henk Fedder, Donald Barthelme, Jens Peter Jacobsen, Hervé Bazin, Johannes Mario Simmel |
| | Kazim Ali, Annejet van der Zijl, John Pepper Clark, Jakob Ejersbo, Günter Herburger, Uljana Wolf, Brigitte Schwaiger, Julien Torma, Nicolas Chamfort |
| | Hugo Claus, Martin Reints, Vítězslav Hálek, Algernon Swinburne, Bora Ćosić, Werner J. Egli, Mieke van Zonneveld, Michael Georg Conrad, Marente de Moor |
| | Maya Angelou, Hanneke Hendrix, E. L. James, Marko Klomp, Marguerite Duras, Robert Schindel, Michiel van Kempen, Bettina von Arnim, Edith Södergran |
| | Charles Ducal, Adriaan Jaeggi, Frederik van Eeden, Bert Bakker, Peter Huchel, Arlette Cousture, Pieter Aspe, Karel N.L. Grazell, Johanna Walser |
| | Thomas Glavinic, Jay Parini, Ed Dorn, Émile Zola, György Konrád, Anneke Claus, Anne Waldman |
| | Casanova, Hans Christian Andersen, Roberto Arlt, Edgar Hilsenrath, George Fraser, H. von Fallersleben |
| | Johann Gleim, Pierre Zaccone, Pietro della Valle, Zwier van Haren, Joanna Chmielewska, Brigitte Struzyk |
| | Milan Kundera, Sandro Veronesi, Nikolaj Gogol, Arnold Aletrino, Max Nord, Urs Allemann, Rolf Hochhuth, John Wilmot, Deborah Feldman |
| | Maria Polydouri, Edgar Wallace, Carl Sternheim, Edmond Rostand, Armel Guerne, Friedrich Güll, Antoine Prévost, Josep de Maistre |
| | In Memoriam Jevgeni Jevtoesjenko |
| | Stefan Hertmans, Octavio Paz, Asis Aynan, Martijn Teerlinck, Marga Minco, Enrique Vila-Matas, Rob Boudestein, Kornej Tsjoekovski, Andrew Lang |
| | Gerrit Komrij, Paul Verlaine, Milton Acorn, Milton Acorn, Erika Mitterer, Uwe Timm, Tom Sharpe, Gert Heidenreich, Theo Breuer, Luise Hensel |
| | Geert van Istendael, Wim Brands, Eric Walz, Georg Klein, Ernst Jünger, Yvan Goll, R. S. Thomas, Jacques Brault, Denton Welch |
| | Walter van den Broeck, Joost de Vries, Mario Vargas Llosa, Chrétien Breukers, Nelson Algren, Marianne Frederiksson, Russell Banks, Léon-Gontran Damas, Éric-Emmanuel Schmitt |
| | Heinrich Mann, Shusaku Endo, Golo Mann, Carolina Trujillo, Patrick McCabe, Bob den Uyl, Dubravka Ugresić, Francis Ponge, Marie Under |
| | Tennessee Williams, Gregory Corso, Hwang Sun-won, Martin McDonagh, Robert Frost, Patrick Süskind |


Gastenboek


Druk op onderstaande knop om een berichtje achter te laten in mijn gastenboek