De Franse schrijver Claude Seignolle werd geboren op 25 juni 1917 in Périgueux. Zie ook alle tags voor Claude Seignrolle op dit blog.
Uit: L'Auberge du Larzac
"J'appelai et tapai du poing sur une table bancale qui faillit s'effondrer sous mes coups. L'aubergiste devait être au cellier ou dans une des chambres de l'étage. Mais, malgré mon tapage, on ne se montra pas. J'étais seul, tressaillant d'attente, devant un âtre vide inutilisé depuis bien longtemps, à en juger par les toiles d'araignées qui bouchaient la cheminée. Quant à la longue chandelle, allumée depuis peu, et soudée à une étagère, sa présence, au lieu de me rassurer, me remplit plus d'inquiétude que si je n'avais trouvé en cet endroit que la nuit et l'abandon.
Je cherchai un flacon d'eau-de-vie afin de me réconforter et chasser la crainte qui me retenait d'aller visiter les autres pièces de cette étrange auberge. Mais les bouteilles qui gisaient là, poussiéreuses, avaient depuis longtemps rendu l'âme. Toutes, de formes anciennes, étaient vides, les années assoiffées ayant effacé jusqu'aux traces des boissons qu'elles avaient contenues.
Tout était si singulier qu'attentif au moindre bruit, je me questionnai sur l'étrangeté des lieux. Du bois sec traînait. Je le rassemblai dans le foyer, sur un lit d'herbes sèches trouvées sans peine, et, frottant mon briquet épargné par la pluie, j'en tirai des flammes rassurantes.
Rencogné près de la cheminée, je me tendis à la chaleur, bien décidé à brûler le mobilier pour garder jusqu'à l'aube cette réconfortante compagnie. Les bouffées de résine me furent aussi revigorantes que des goulées d'alcool pur, mais, pensant à la perte de ma jument, je fus pris de tristesse, ne comptant plus que sur son instinct de bête pour qu'elle me revînt.
Tout à coup un insidieux frisson me traversa, semblable à celui ressenti dehors et qui m'avait chassé jusqu'ici. "On" se trouvait à nouveau là, tout proche !
Les murs avaient beau me protéger de trois côtés ; éclairé par le foyer craquant, j'étais visible et vulnérable. On pouvait m'atteindre de face, en tirant de loin, à plomb. Je me dressai, les muscles prêts à une nouvelle fuite.
Mais mon anxiété fit place à une vive angoisse qui m'oppressa jusqu'à m'étouffer. Maintenant "on" entourait l'auberge et, impitoyables dans leurs mystérieux desseins, d'invisibles regards, que je percevais, me fixaient par la fenêtre sans volets. "On" était attentif à ma personne et cela avec une telle violence que je suais, subitement terrifié. »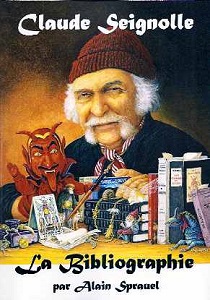 Claude Seignolle (Périgueux, 25 juni 1917)
Cover
De Amerikaanse schrijver, columnist en homoactivist Larry Kramer werd geboren in Bridgeport, Connecticut op 25 juni 1935. Zie ook alle tags voor Larry Kramer op dit blog.
Uit: Gay Culture, Redefined
"The truth is, most gay men live calm, orderly lives, often as couples, and they are embarrassed by what Sex Panic espouses. They are ashamed this issue has surfaced again. Many feel that to speak up against Sex Panic only validates its existence, and that if they keep their mouths shut the group will go away. And, as with smoking, they feel that enough information about safe sex is out there -- if people choose to ignore it, that's their business.
Criticism from lesbians, the other half of our movement, is desperately needed as well. Promiscuous gay men must hear the message, "Enough already! Haven't you learned anything from the last 17 years?" Yet lesbian activists, who alongside gay men have fought against AIDS, crawl into shells rather than confront the idiocy of what Sex Panic is demanding. Why are they refusing to speak out, particularly when so many of them have confided that they agree with me?
After all, AIDS has usurped the entire gay movement's agenda, at great cost to lesbian issues. Just when it looked as if there was some breathing space to pay more attention to these issues, AIDS resurges. The message Sex Panic and its supporters are giving to women is tantamount to: we'll come back to your issues some other time.
I cannot understand why lesbians are not furious with their gay male friends.
Without a strong, vocal opposition, Sex Panic is on its way to convincing much of America that all gay men are back to pre-AIDS self-destructive behavior that will wind up costing the taxpayer a lot of extra money. Indeed, what Sex Panic is demanding could easily allow our enemies, as well as many of our straight friends, to deny all gay people what rights we've won or are still fighting for.
Those who do speak out in protest are automatically accused of assimilationist views: we want to be like straights; we want marriage and monogamy and white picket fenced-in homes."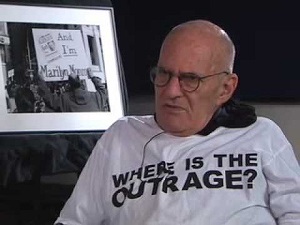 Larry Kramer (Bridgeport, 25 juni 1935)
De Amerikaanse schrijfster en journaliste Ariel Gore werd geboren op 25 juni 1970 in Carmel, Californië. Zie ook alle tags voor Ariel Gore op dit blog.
Uit: The End of Eve
"Two months shy of the death date my mother had written on her calendar in red pen, Sol and I sublet our studio apartment to an art student for the school year. We'd keep the shop space downstairs.
"Your situation is interesting," the art student said as he signed the lease agreement. "If there's a gay kid in the family, it's always the gay kid who has to take care of the sick parent. I always thought that was because the gay kid wouldn't have any children of their own. But that's obviously not true for you."
I shrugged. "Always great to be the gay kid." And we packed up the car again for our move across town.
"Let's make a pact," Sol said as she turned the key in the ignition. "If we start plotting to murder your mother, we have to move out."
I laughed. "Agreed." But I knew she wasn't kidding.
The house wasn't a duplex anymore, but my mother's now-master bedroom was separated from our smaller bedrooms by the dining room, living room, and the huge unusable kitchen.
Our first weeks in the house, I focused on cooking. On the camping stove in the back yard, I made calabacitas, ancho and mild green chile stew. When the doorbell rang and my mother spied one of the hospice nurses, she hissed in my ear: "It's one of those maidens of death. Send her away."
We'd moved here to "help," but what could we do? Our joint tasks included shopping for organic groceries and cooking when my mother was home, not asking where she was going when she left, and being polite to Ronald who came and went at odd hours carrying expensive building supplies and appliances he didn't seem to know how to install.
"I'm here with electrical wire," he announced one night after dark. He had a key to the front door. "Anyone know how to wire a place?"
My solo tasks included paying all the bills, keeping track of my mother's alternative healer appointments, and making sure there was a steady stream of Netflix noirs coming to the mailbox."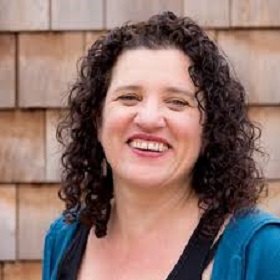 Ariel Gore (Carmel, 25 juni 1970)
De Duitse dichter, schrijver en ingenieur Heinrich Seidel werd geboren op 25 juni 1842 in Perlin, Mecklenburg-Schwerin. Zie ook alle tags voor Heinrich Seidel op dit blog.
Im Sommer
O komm mit mir aus dem Gewühl der Menge
Aus Rauch und Qualm und tobendem Gedränge,
Zum stillen Wald,
Dort wo die Wipfel sanfte Grüsse tauschen,
Und aus der Zweige sanft bewegtem Rauschen
Ein Liedchen schallt.
Dort zu dem Quell, der durch die Felsen gleitet
Und dann zum Teich die klaren Wasser breitet,
Führ' ich dich hin.
In seinem Spiegel schau die stolzen Bäume
Und weisse Wolken, die wie sanfte Träume
Vorüber ziehn.
Dort lass uns lauschen auf der Quelle Tropfen
Und auf der Spechte weit entferntes Klopfen
Mit uns allein.
Dort wollen wir die laute Welt vergessen,
An unsrem Herzschlag nur die Stunden messen
Und glücklich sein!
Sommerfäden
Still im Herbsteslicht der Sonnen
Stand der Blumen bunte Zier -
Sommerfäden, leicht gesponnen,
Woben sich von Dir zu mir.
Und wir Beide schritten sinnig,
Sprachen wenig - dachten viel -
Nur die Augen still und innig
Gaben Deutung diesem Spiel.
Jene Tage sind verstoben,
Jene Blumen sind versäet. ...
Sommerfäden, leicht gewoben,
Ach, wohin seid ihr verweht.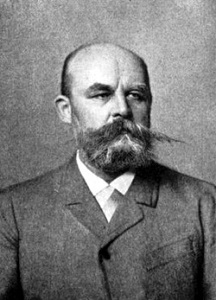 Heinrich Seidel (25. Juni 1842 – 7. November 1906)
De Duitse dichter en schrijver Hans Marchwitza werd geboren in Scharley op 25 juni 1890. Zie ook alle tags voor Hans Marchwitza op dit blog.
Uit: Sturm auf Essen
"Der Junge aß die Kartoffeln, die ihm die Mutter aufnötigen musste. Sie beobachtete ihn dabei und wischte an ihren Augen. Groß und mager war er. Und der düstere, abwesende Blick schreckte sie. Sie wusste nicht, dass dieser Blick, diese sich krampfhaft faltende Stirn, die Unrast, mit der er sich umsah, Flandern, Verdun, Aisne und noch einmal Verdun und noch einmal Flandern waren. Sie wusste nicht, dass er nicht dreiundzwanzig Jahre, sondern fünfzig, hundert Jahre alt war, dass er eine Ewigkeit von Schrecken und Toden durchgehetzt hatte. Sie dachte glücklich: Er ist wieder zurückgekommen!, und sie schnaubte die Tränen in ihre Schürze.
Franz sah sich in der Wohnung um. Alles war noch wie früher, stand fast gespenstisch genau auf dem alten Fleck - aber ein Jahrhundert schien zwischen dem Früher und Heute zu liegen. "Wer ist denn von den anderen noch zurückgekommen?" fragte er.
Einige waren zurück. Von einem ganzen Dutzend vier. Ihre alte Ecke war leer geworden. Auch dieses Erinnern an die alte Ecke lag hundert Jahre zurück.
"Ja - der Freising-Bruno und der Koschewa-Edy sind wieder auf der Zeche am Arbeiten. Nur der Kahlstein rennt noch mit dem Gewehr rum", erzählte ihm die
Mutter. "Der Kahlstein-Hermann war doch bei der Marine in Kiel und ist schon vor zwei, drei Wochen zurück. Er rennt wieder mit dem Gewehr..."
Franz grübelte. Er war vorläufig zu gar nichts entschlossen, er wusste nicht, ob er noch einmal in die Grube gehen oder ob er die Arbeit wechseln solle. Vielleicht mit einer Übertagearbeit. Aber er konnte sich das kaum noch vorstellen, dass er jetzt wieder einer normalen Tagesbeschäftigung nachgehen könne; er fühlte sich noch immer draußen im Graben. Und allen, die das Glück hatten, sich zu retten, erging es wohl ebenso; alle phantasierten sie nachts dasselbe; sie waren noch immer in Flandern oder vor Verdun."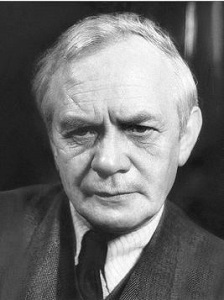 Hans Marchwitza (25 juni 1890 - 17 januari 1965)
De Franse schrijver en dramaturg Georges Courteline (eig. Georges Victor Marcel Moineaux ) werd geboren op 25 juni 1858 in Tours. Zie ook alle tags voor Georges Courteline op dit blog.
Uit: Messieurs les ronds-de-cuir
"Une immense nappe de soleil balayait d'un bout à l'autre la chaussée blondie du boulevard dont les fenêtres, à l'infini, miroitaient comme des lames d'épée, et sur l'asphalte des trottoirs les ombres jetées en biais des platanes et des marronniers semblaient des bâtons d'écolier tracés par une main géante.
Lahrier, mis en joie dès le matin au seul vu d'un reflet cuivré se jouant par la cretonne fleurie de son rideau, avait déjeuné en deux temps auprès de sa fenêtre ouverte ; puis, tourmenté de l'impérieuse soif de sortir sans par-dessus pour la première fois de l'année, il avait, de son pied léger, gagné la place de l'Opéra, remonté le boulevard jusqu'à la rue Drouot, le long des arbres déjà encapuchonnés de vert tendre, faisant le gros dos sous le soleil dont la bonne tiédeur lui caressait l'épaule à travers l'étoffe du vêtement.
Mais comme il revenait sur ses pas, talonné par l'heure du travail, équitablement partagé entre le sentiment du devoir et son amour du bien-être, brusquement il s'était rappelé n'avoir pas pris de café à son repas, et devant cette considération il avait imposé silence à ses scrupules.
Le Ministère pouvait attendre. Aussi bien était-ce l'affaire d'une minute.
Et il s'était attablé à la terrasse du Café Riche.
Le malheur est qu'une fois-là, le chapeau ramené sur les yeux, le guéridon entre les genoux, Lahrier s'était trouvé bien. Il s'était senti envahi d'une grande lâcheté de tout l'être, d'un besoin de se laisser vivre, tranquillement, sans une pensée, tombé à une mollesse alanguie et bienheureuse de convalescent. Dans sa tasse emplie à ras-bords un prisme s'était allumé, tandis que le flacon d'eau-de-vie projetait sur le glacis de la tôle une tache imprécise et dansante, aux tons roux de topaze brûlée."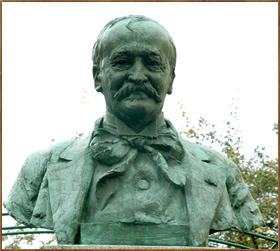 Georges Courteline (25 juni 1858 – 25 juni 1929)
Borstbeeld in de naar hem genoemde straat in Parijs
De Duitse dichteres Friederike Kempner werd geboren op 25 juni 1836 te Optatow in de provincie Posen. Zie ook alle tags voor Friederike Kempner op dit blog.
Siehst Du nicht die grünen Matten
Siehst Du nicht die grünen Matten
Und das blaue Himmelszelt?
Und der Bäume lange Schatten
Und die ganze Frühlingswelt?
All die Bäche und die Quellen
Und die Wiesen gelb und grün,
All die Knospen, die da schwellen,
Und die Düfte, die da ziehn?
Grüne Zweige, goldne Frucht
Grüne Zweige, goldne Frucht!
Wer sie findet, wer sie sucht!
Kennst Du ihren tiefen Sinn?
In der Seele wohnt er drin. –
Grüne Zweige, goldne Frucht!
Wer sie findet, wer sie sucht!
Suchen, finden wirst du sie,
Brechen, ach, auf Erden nie. –
Sonett
In Waffen steht die Welt
Um Länder und um Geld,
Aus Friedensliebe zwar,
So heißt es immerdar.
Nur eines ruhig bleibt
Und ew'ge Blüten treibt,
Im Reich der Poesie,
Da streitet man sich nie. –
In reinem Element
Man keine Feindschaft kennt,
Die Mensch von Menschen trennt.
Ob nahe oder weit
Man leidet mit, mit Leid –
Für jetzt und alle Zeit.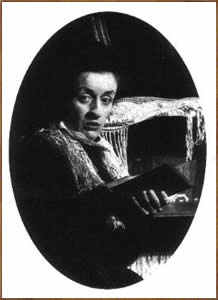 Friederike Kempner (25 juni 1836 – 23 februari 1904)
25-06-2016 om 11:48 geschreven door Romenu

Tags:Claude Seignolle, Larry Kramer, Ariel Gore, Heinrich Seidel, Hans Marchwitza, Georges Courteline, Friederike Kempner, Romenu