De Amerikaanse dichter Edwin Arlington Robinson werd geboren op 22 december 1869 in Head Tide, Maine. Zie ook alle tags voor E. A. Robinson op dit blog.
An Old Story
Strange that I did not know him then.
That friend of mine!
I did not even show him then
One friendly sign;

But cursed him for the ways he had
To make me see
My envy of the praise he had
For praising me.

I would have rid the earth of him
Once, in my pride...
I never knew the worth of him
Until he died.
Dear Friends
Dear Friends, reproach me not for what I do,
Nor counsel me, nor pity me; nor say
That I am wearing half my life away
For bubble-work that only fools pursue.
And if my bubbles be too small for you,
Blow bigger then your own: the games we play
To fill the frittered minutes of a day,
Good glasses are to read the spirit through.

And whoso reads may get him some shrewd skill;
And some unprofitable scorn resign,
To praise the very thing that he deplores;
So, friends (dear friends), remember, if you will,
The shame I win for singing is all mine,
The gold I miss for dreaming is all yours.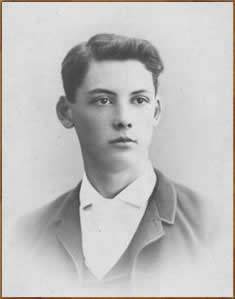 E. A. Robinson (22 december 1869 – 6 april 1935)
Op 19-jarige leeftijd
De Nederlandse schrijfster Lulu Wang werd geboren op 22 december 1960 in Beijing. Zie ook alle tags voor Lulu Wang op dit blog.
Uit: The Lily Theater (Vertaald door Hester Velmans)
Trees were in full bloom, birds were busy courting, and the funny blotches were spreading all up and down my arms. I got up and rubbed the affected areas with the sticky, smelly brown ointment, just as I did every day. I felt lonesome and sad. Never again would I have clean sheets and clean underwear like other children--the ointment made everything filthy.
That morning, at the start of her weekend home leave, Mother took a bath, then put on her best clothes, the ones she used to wear before she was detained. How different she looked, suddenly, after months of slouching around in nothing but rags! I couldn't believe my eyes.
Mother drew a fine leather handbag from the wardrobe and filled it with delicacies that she had bought for a song from the peasants who lived around the labor camp. We were going to visit a former colleague of Father's, a dermatologist. He was retired, so that when the rest of the hospital staff was evacuated he had been allowed to stay home. Unlike Father, who had been exiled to the Gansu desert for six months now.
The dermatologist's wife was ecstatic when she saw the chestnuts and the pickled eggs. "We haven't tasted those in years! What are you bringing us this kind of extravagant present for? Aren't Lian's father and my husband good friends?"
The specialist examined me and then had a talk with Mother, in private. Half an hour later Mother dragged me back home. Her eyes shone with unusual determination and her feet smacked boldly on the pavement.
For weeks now Mother had been writing letters of petition to the various leaders of her university--the Teachers' University of Beijing--in hopes of persuading them that it was essential to have me live close by, so that she could keep an eye on my rapidly worsening condition.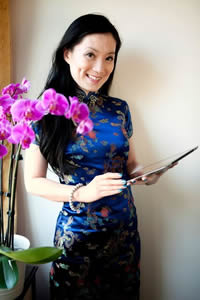 Lulu Wang (Beijing, 22 december 1960)


De Zwitserse schrijver Christoph Keller werd geboren op 22 december 1963 in St. Gallen. Zie ook alle tags voor Christoph Keller op dit blog.
Uit: Mobutu lebt
"Maître Enrico Monfrini ist ein Genussmensch, und er ist ein Mann mit Prinzipien.
Der Rechtsanwalt mit gediegener Praxis an der Place du Molârd in Genf zündet sich fürs Gespräch eine Zigarre an, konzentriert sich. Nichts lässt er im Ungefähren stehen, nimmt in Anspruch, in dieser Sache das letzte Wort zu haben, mit gutem Grund. Denn kaum ein gestürzter Despot, der sich nicht in Maître Monfrinis Aktenverzeichnis befindet – er hat dafür gesorgt, dass die nigerianische Regierung das Geld des Despoten Sani Abacha zurückerhielt, er vertritt die Republik Haiti gegen die Familie des Despoten François Duvalier. Kein anderer hat in den letzten zwanzig Jahren so viele Fälle von Potentatengeldern behandelt wie Enrico Monfrini, und kein anderer hat so tiefen Einblick gekriegt ins Innenleben nigerianischer oder haitianischer Kleptokraten. Niemand weiss besser, wie Despotenclans staatliches Geld ab-zweigen und über Umwege auf den Bankenplätzen dieser Welt parkieren.
So fällt es ins Gewicht, wenn Maître Monfrini sagt, «die Nachkommen des verstorbenen Mobutu Sese Seko bilden eine kriminelle Vereinigung im Sinne des Strafrechts». Maître Monfrini, seit vergan-genem Herbst mit der Wahrung der Interessen der Demokratischen Republik Congo gegen die Familie Mobutu beauftragt, doppelt nach und sagt, er wundere sich, «warum die Schweizer Strafverfolgungs-behörden den notorischen Umstand noch nicht zur Kenntnis genom-men haben, dass der zaïrische Diktator Mobutu Sese Seko zwar tot ist, dass aber das System des Mobutismus nach wie vor besteht.»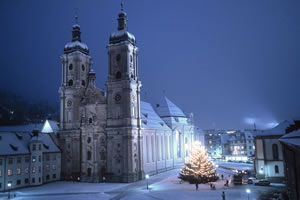 Christoph Keller (St. Gallen, 22 december 1963)
St. Gallen, kathedraal
De Noorse dichter en criticus Johan Sebastian Welhaven werd op 22 december 1807 in Bergen geboren. Zie ook alle tags voor Johan Sebastian Welhaven op dit blog.
Der Wegweiser singt
Der Kuckuck mich lockt nach Bergeshöhn,
Die goldig im Abendroth funkeln.
Komm mit hinauf du, mein Mädel schön,
Den Tag noch kannst auf der Alm du seh'n,
Thäler schon ruh'n im Dunkeln.
Es liegt am Wege ein stiller Hain,
Wo Elfen so heimlich hausen:
Dort musst du mein Mädel, stille sein,
Der Nix selber lässt dort leis' und fein
Saiten der Harf' erbrausen.
Ein Echo vom Felsen süss erklang,
Wie Töne von Saiten aus Golde,
Es läuten Glöcklein zum Lockgesang,
Und tändelnd sitzt auf dem Felsenhang,
Schätzchen, das schöne holde.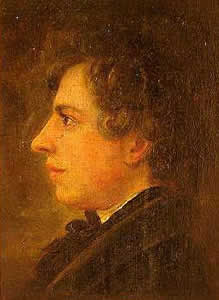 Johan Sebastian Welhaven (22 december 1807 – 21 oktober 1873)
De Zwitserse schrijver Ulrich Bräker werd geboren op 22 december 1735 in Näppis (Scheftenau), Toggenburg, Kanton St. Gallen. Zie ook alle tags voor Ulrich Bäker op dit blog.
Uit: Lebensgeschichte und Natürliche Ebentheuer des Armen Mannes im Tockenburg
"Um diese Zeit waren alle Lebensmittel wohlfeil; aber wenig Verdienst im Lande. Die Theurung und der Zwölferkrieg waren noch in frischem Angedenken. Ich hörte meine Mutter viel davon erzählen, das mich zittern und beben machte. Erst zu End der Dreyßigerjahre ward das Baumwollenspinnen in unserm Dorf eingeführt; und meine Muter mag eine von den ersten gewesen seyn, die Löthligarn gesponnen. (Unser Nachbar, A. F. trug das erste um einen Schilling Lohn an den Zürchsee, bis er eine eigne Dublone vermochte. Dann fieng er selber an zu kaufen, und verdiente nach und nach etlich tausend Gulden. Da hörte er auf, setzte sich zur Ruhe, und starb.) In meinen Kinderjahren sind auch die ersten Erdapfel in unserm Ort gepflanzt worden.
Sobald ich die ersten Hosen trug, war ich meinem Vater schon lieber. Er nahm mich hie und da mit sich. Im Herbst d. J. brannte er im Gandten, eine halbe Stunde von Näbis entfernt, Salpeter. Eines Tags nahm er mich mit sich; und, da Wind und Wetter einfiel, behielt er mich zu Nacht bey sich. Die Salpeterhütte war vor dem Tenn, und sein Bett im Tenn. Er legte mich darein und sagte liebkosend, er wolle bald auch zu mir liegen. Unterdessen fuhr er fort zu feuern, und ich schlief ein. Nach einem Weilchen erwacht' ich wieder, und rief ihm – Keine Antwort. – Ich stund auf, trippelte im Hemdli nach der Hütte und um den Gaden überall herum, rief – schrie! Nirgends kein Vater. Nun glaubt ich gewiß, er wäre heim zu der Mutter gegangen. Ich also hurtig, legte die Höslin an, nahm das Brusttüchlin übern Kopf, und rannte in der stockfinstern Regennacht zuerst über die nächstanstossende lange Wiese."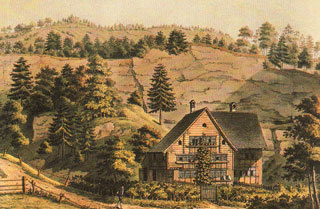 Ulrich Bräker (22 december 1735 – (begraven) 11 september 1798)
Bräkers woonhuis in Hochsteig
De Duitse schrijver Rudolf Krämer-Badoni werd geboren op 22 december 1913 in Rüdesheim als Rudolf Kramer. Zie ook alle tags voor Rudolf Krämer-Badoni op dit blog.
Uit: Die Barbaren waren wir
"Wie, so frage ich Sie und mich, wie also sollen wir die Toten der zwei letzten Kriege feiern? Können wir sagen: Sie standen an den Thermopylen und kämpften bis auf den letzten Mann gegen die anstürmenden Barbaren? Wir können es nicht. Die Barbaren im letzten Krieg waren wir. Wir überfielen Völker mitten in Frieden, wir brachen in neutrale Länder ein, wir schlossen erst ein Bündnis mit Stalin und fuhren ihm dann an die Gurgel, wir führten Millionen Sklaven von überallher ins Reich, und in Kiew sah ich ein Wehrmachtsbordell, wohin eine junge polnische Adlige verschleppt war, die einen Selbstmordversuch nach dein anderen machte, bis es ihr schließlich gelang, ihrem Leben ein Ende zu machen.
Was soll ich von unseren Naziführern sagen, die nun fast alle tot sind - gefallen im Krieg oder freiwillig aus dem Leben geschieden beim Zusammenbruch ihrer Welt oder hingerichtet nach dem Krieg? Soll ich sie feiern? Soll ich Menschen feiern, die mit Genickschüssen, Knüppeln, Hunger, Vivisektion, Fleischerhaken und Krematorien gegen wehrlose Menschen vorgingen und Millionen von jüdischen Mitbürgern, ausländischen Juden, antinazistischen Mitbürgern und fremden Geiseln abschlachteten wie Berufsschlächter?"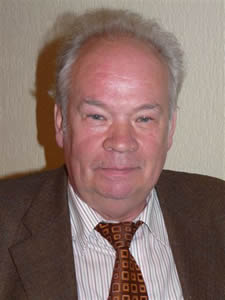 Rudolf Krämer-Badoni (22 december 1913 - 18 september 1989)
De Amerikaanse schrijver en strijder tegen slavernij Thomas Wentworth Higginson werd geboren op 22 december 1823 in Cambridge, Massachusetts. Zie ook alle tags voor Thomas Higginson op dit blog.
Uit: The Complete Civil War Journal and Selected Letters
"River opposite Beaufort
Monday. Nov 24 10 A M
Yesterday afternoon we steamed over a summer sea, the deck level as a parlor floor, no sail in sight, nor land, till at last one light house (Cape Romaine) & then a line of trees & two distant vessels and nothing more. The sunset, a great bubble of light, submerged in a vast line of rosy suffusion; it grew dark, after tea all were on deck, the ladies sang hymns, the moon set, a moon but two days old, a curved pencil of light, reclining backward on a radiant spot which rose from the ocean to meet it; it sank slowly & the last tip wavered and went down like the mast of a vessel of the skies. Toward morning the boat stopped & when I rose before six
The watch lights filtered on the land
The ship lights on the sea 7
Hilton Head lay on one side & the naval vessels on the other; all that was raw & bare in the low buildings of the new settlement softened into picturesqueness by the early light. Stars were still overhead, gulls wheeled and shrieked & above us the broad lagoon rippled towards Beaufort."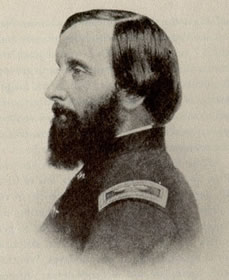 Thomas Higginson (22 december 1823 – 9 mei 1911)

22-12-2012 om 14:32 geschreven door Romenu

Tags:E. A.Robinson, Lulu Wang, Christoph Keller, Johan Sebastian Welhaven, Ulrich Bräker, Rudolf Krämer-Badoni, Thomas Higginson, Romenu