E-mail mij


Druk op onderstaande knop om mij te e-mailen.


Romenu


Romenu is een blog over gedichten, literatuur en kunst Maar Romenu is ook een professionele freelance vertaler
Du-Ne en Ne-Du http://www.romenu.nl.


Huur eens een (vakantie)huis in een natuurgebied, dichtbij het centrum van Nijmegen


Google


Georg Trakl

Georg Trakl werd op 3 februari 1887 in het conducteurshuis aan de Waagplatz 2 in Salzburg geboren. Zijn vader, Tobias Trakl, was een handelaar in ijzerwaren en zijn moeder, die ook psychische problemen had, was Maria Catharina Trakl, (meisjesnaam Halik). Voorts had hij nog drie broers en drie zussen. Margarethe (doorgaans Grethe genoemd) stond hem het naast, zelfs zodanig dat sommigen een incestueuze verhouding vermoeden. Zijn jeugd bracht hij door in Salzburg. Vervolgens bezocht hij van 1897 tot 1905 het humanistische gymnasium. Om toch een academische opleiding te kunnen volgen, werkte hij tot 1908 in de praktijk bij een apotheker. Sommigen vermoedden dat hij dit vooral deed om zichzelf opiaten te kunnen verschaffen. Bij het uitbreken van WO I werd Trakl als medicus naar het front in Galicië (heden ten dage in Oekraïne en Polen) gestuurd. Zijn gemoedsschommelingen leidden tot geregelde uitbraken van depressie, die verergerd werden door de afschuw die hij voelde voor de verzorging van de ernstig verwonde soldaten. De spanning en druk dreven hem ertoe een suïcidepoging te ondernemen, welke zijn kameraden nochtans verhinderden. Hij werd in een militair ziekenhuis opgenomen in Kraków, alwaar hij onder strikt toezicht geplaatst werd.Trakl verzonk daar in nog zwaardere depressies en schreef Ficker om advies. Ficker overtuigde hem ervan dat hij contact moest opnemen met Wittgenstein, die inderdaad op weg ging na Trakls bericht te hebben ontvangen. Op 4 november 1914, drie dagen voordat Wittgenstein aan zou komen, overleed hij echter aan een overdosis cocaïne


Paul Celan

Paul Celan werd onder de naam Paul Antschel op 23 november 1920 geboren in Czernowitz, toentertijd de hoofdstad van de Roemeense Boekovina, nu behorend bij de Oekraïne. Paul Celans ouders waren Duitssprekende joden die hun zoon joods opvoedden en hem naar Duitse christelijke scholen stuurden. In 1942 werden Celans ouders door de Duitse bezetter naar een werkkamp gedeporteerd en daar vermoord. Hijzelf wist aanvankelijk onder te duiken, maar moest vanaf juli 1942 in een werkkamp dwangarbeid verrichten. Celan overleefde de oorlog. Via Boekarest en Wenen vestigde Celan zich in 1948 in Parijs. Daar was hij werkzaam als dichter, vertaler en doceerde hij aan de prestigieuze Ecole Normale Supérieure. Vermoedelijk op 20 april 1970 beëindigde hij zijn leven zelf door in de Seine te springen.


Gerard Reve

Gerard Reve over: Medearbeiders "God is in de mensen, de dieren, de planten en alle dingen - in de schepping, die verlost moet worden of waaruit God verlost moet worden, door onze arbeid, aangezien wij medearbeiders van God zijn." Openbaring "Tja, waar berust elk godsbegrip op, elke vorm van religie? Op een openbaring, dat wil zeggen op een psychische ervaring van zulk een dwingende en onverbiddelijke kracht, dat de betrokkene het gevoel heeft, niet dat hij een gedachte of een visioen heeft, maar dat een gedachte gedachte of visioen hem bezit en overweldigt."


Simon Vestdijk
Simon Vestdijk (Harlingen, 17 oktober 1898 – Utrecht, 23 maart 1971) was een Nederlands romancier, dichter, essayist en vertaler. Zijn jeugd te Harlingen en Leeuwarden beschreef hij later in de Anton Wachter-cyclus. Van jongs af aan logeerde hij regelmatig bij zijn grootouders in Amsterdam, waar hij zich in 1917 aan de Universiteit van Amsterdam inschrijft als student in de medicijnen. Tijdens zijn studie die van 1917 tot 1927 duurde, leerde hij Jan Slauerhoff kennen.Tot 1932 is hij als arts in praktijken door heel Nederland werkzaam. In 1932 volgt zijn officiële schrijversdebuut met de uitgave van de bundel Verzen in De Vrije Bladen. Doorslaggevend voor Vestdijks uiteindelijke keuze voor de literatuur is zijn ontmoeting in 1932 met Eddy Du Perron en Menno ter Braak. Deze ontmoeting had tot resultaat dat hij redactielid werd van het tijdschrift Forum Kort daarop, in 1933, wordt zijn eerste novelle, De oubliette, uitgegeven. In hetzelfde jaar schrijft hij Kind tussen vier vrouwen, dat, eerst geweigerd door de uitgever, later de basis zal vormen voor de eerste drie delen van de Anton Wachter-romans. In 1951 ontvangt Vestdijk de P.C. Hooftprijs voor zijn in 1947 verschenen roman De vuuraanbidders. In 1957 wordt hij voor het eerst door het PEN-centrum voor Nederland voorgedragen voor de Nobelprijs voor de Literatuur, die hij echter nooit zal krijgen. Op 20 maart 1971 wordt hem de Prijs der Nederlandse Letteren toegekend, maar voor hij deze kan ontvangen overlijdt hij op 23 maart te Utrecht op 72-jarige leeftijd. Vestdijk was auteur van ca. 200 boeken. Vanwege deze enorme productie noemde de dichter Adriaan Roland Holst hem 'de man die sneller schrijft dan God kan lezen'. Andere belangrijke boeken van Simon Vestdijk zijn: "Kind van stad en land" (1936), "Meneer Visser's hellevaart" (1936), "Ierse nachten" (1946), "De toekomst de religie" (1947), "Pastorale 1943" (1948), "De koperen tuin" (1950), "Ivoren wachters" (1951), "Essays in duodecimo" (1952) en "Het genadeschot" (1964).


K.P. Kavafis

K.P. Kavafis werd als kind van Griekse ouders, afkomstig uit Konstantinopel, geboren in 1863 in Alexandrië (tot vandaag een Griekse enclave) waar hij ook het grootste deel van zijn leven woonde en werkte. Twee jaar na de dood van zijn vader verhuist het gezin in 1872 naar Engeland om na een verblijf van vijf jaar naar Alexandrië terug te keren. Vanwege ongeregeldheden in Egypte vlucht het gezin in 1882 naar Konstantinopel, om na drie jaar opnieuw naar Alexandrië terug te gaan. In de jaren die volgen maakt Kavafis reizen naar Parijs, Londen en in 1901 zijn eerste reis naar Griekenland, in latere jaren gevolgd door nog enkele bezoeken. Op de dag van zijn zeventigste verjaardag, in 1933 sterft Kavafis in Alexandrië. De roem kwam voor Kavafis pas na zijn dood, dus postuum. Deels is dat toe te schrijven aan zijn eigen handelswijze. Hij was uiterst terughoudend met de publicatie van zijn gedichten, liet af en toe een enkel gedicht afdrukken in een literair tijdschrift, gaf in eigen beheer enkele bundels met een stuk of twintig gedichten uit en het merendeel van zijn poëzie schonk hij op losse bladen aan zijn beste vrienden.


Thomas Mann


Thomas Mann, de jongere broer van Heinrich Mann, werd geboren op 6 juni 1875 in Lübeck. Hij was de tweede zoon van de graankoopman Thomas Johann Heinrich Mann welke later één van de senatoren van Lübreck werd. Zijn moeder Julia (geboren da Silva-Bruhns) was Duits-Braziliaans van Portugees Kreoolse afkomst. In 1894 debuteerde Thomas Mann met de novelle "Gefallen". Toen Thomas Mann met 21 jaar eindelijk volwassen was en hem dus geld van zijn vaders erfenis toestond - hij kreeg ongeveer 160 tot 180 goldmark per jaar - besloot hij dat hij genoeg had van al die scholen en instituties en werd onafhankelijk schrijver. Kenmerkend voor zijn stijl zijn de ironie, de fenomenale taalbeheersing en de minutieuze detailschildering. Manns reputatie in Duitsland was sterk wisselend. Met zijn eerste roman, Buddenbrooks (1901), had hij een enorm succes, maar door zijn sceptische houding tegenover Duitsland na de Eerste Wereldoorlog veranderde dit volledig. Stelde hij zich tot aan de jaren twintig apolitiek op (Betrachtungen eines Unpolitischen, 1918), meer en meer raakte hij bij het Politiek gebeuren betrokken. Zijn afkeer van het nationaal socialisme groeide, zijn waarschuwingen werden veelvuldiger en heftiger. In 1944 accepteerde hij het Amerikaanse staatsburgerschap. Tussen 1943 en 1947 schreef Mann Doktor Faustus (zie Faust), de roman van de 'Duitse ziel' in de gecamoufleerd geschilderde omstandigheden van de 20ste eeuw. In 1947 bezocht hij voor het eerst sinds de Oorlog Europa, twee jaar later pas Duitsland. In 1952 vertrok hij naar Zwitserland. Op 12 augustus 1955 stierf hij in Zürich. Twintig jaar na zijn dood, in aug. 1975, is zijn literaire nalatenschap geopend: dagboekaantekeningen van 15 maart 1933 tot 29 juli 1955, alsmede notities uit de jaren 1918 tot en met 1921.Belangrijke werken zijn: Der Zauberberg, Der Tod in Venedig, Dokter Faustus , Joseph und seine Brüder en Die Bekenntnisse des Hochstaplers Felix Krull.


Rainer Maria Rilke

Rilke werd op 4 december 1875 geboren in Praag. Hij had al naam gemaakt als dichter met zijn bundels Das Stundenbuch en Das Buch der Bilder, toen hij de literaire wereld versteld deed staan en wereldfaam verwierf met de publicatie van zijn twee delen Neue Gedichte in 1907 en 1908. Hij verzamelde daarin het beste werk uit een van zijn vruchtbaarste periodes, die hij grotendeels doorbracht in Parijs. Rilke was daar diep onder de indruk gekomen van Rodin, bij wie hij een tijdlang in dienst was als particulier secretaris. Rodin, zei hij later, had hem leren kijken. Dit kijken kwam neer op intense concentratie, om het mysterie te kunnen zien 'achter de schijnbare werkelijkheid'. Latere en rijpere werken als Duineser Elegien (1912-1923) en het ronduit schitterende Die Sonette an Orfeus (1924) illustreren Rilkes metafysische visie op het onzegbare, dat haar verwoording vindt in een hermetische muzikale taal. Op 29 december 1926 overlijdt Rilke in het sanatorium in Val-Mont aan de gevolgen van leukemie. Enkele dagen later wordt hij, overeenkomstig zijn wens, begraven op het kerkhof van Raron.


* * * * * * * * * * * * * * * *

| | |
| --- | --- |
| | Over literatuur, gedichten, kunst en cultuur |

12-04-2014

Antje Rávic Strubel, Alan Ayckbourn, Scott Turow, Tom Clancy, Agnes Sapper
De Duitse schrijfster Antje Rávic Strubel werd geboren op 12 april 1974 in Potsdam. Zie ook alle tags voor Antje Rávic Strubel op dit blog.
Uit: Fremd gehen
"An unserem letzten Abend, der jetzt für immer der letzte sein würde, obwohl es gar nicht so gedacht war, hat Marlies geweint. Ich habe ihr eine meiner Survival-Zellstoffrollen gegeben, die ich von Schweden noch übrig hatte. Bald war der Tisch übersät von zerknülltem Zellstoff. Über den Krimi haben wir an diesem Abend wieder nicht gesprochen, nur über die Männer, die sie nachts in den Bars traf und so selbstverständlich zu sich nahm wie Brot. Ich konnte es nicht mehr hören.
Früher hatten wir oft nächtelang über Daniel und seine Vorlieben geredet, und dabei war der Daniel, den sie sich vorstellte, ein ganz anderer als meiner. Meiner hatte keine Probleme mit Frauen; ihrer schon. Meiner hatte einen amerikanischen Großvater, Peter Stillman, der sich in den siebziger Jahren von der Brooklyn Brigde gestürzt hatte, weil er fand, dass die Sprache sich seit Jahrhunderten nicht verändert hatte und er wegen dieser Sprache seinem Leben hinterherhinkte. (...)
"Quatsch, Großvater!" sagte Marlies. "Wozu brauchen wir eine Genealogie, das ist altmodischer Quark, wer leistet sich heutzutage schon noch Vergangenheit. Man könnte ja keine vernünftige Armbanduhr mehr tragen, man müsste ja immerzu daran denken, wie sie von irgendwelchen Männern im Arsch durch die Weltkriege transportiert und wieder für die nächste Generation gerettet worden ist. Die Welt ist ein großes Hirngespinst. Pulp Fiction. Guck dich doch an", sagte sie und lachte. "Und das mit der Sprache, Darling, das ist westliche Propaganda, also vergiss es.
Ich fand, ich hatte eine Vergangenheit, auch eine mit Marlies. Ich bin ihr begegnet, da war es Oktober. Die Blätter waren gelb. Oder ich verwechsle das Gelb mit der Farbe der Knorpelkirschen. Jedenfalls war es nach dem Mauerfall, Marlies redete immerzu von Westgeld. Es spielt keine Rolle, ob erst ein Jahr oder schon fünf Jahre seitdem vergangen waren; der Mauerstreifen war schon frei gegeben, aufgeforstet oder nicht."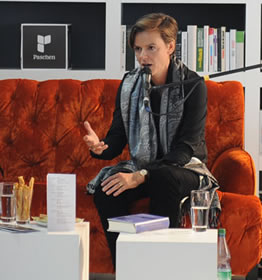 Antje Rávic Strubel (Potsdam, 12 april 1974)
De Britse blijspelauteur Alan Ayckbourn werd geboren op 12 april 1939 in Londen. Zie ook alle tags voor Alan Ayckbourn op dit blog.
Uit: Confusions
"Rosemary And then ten minutes ago, we got this phone call.
Lucy Phone call?
Rosemary Yes. Terry answered it – that's my husband – and they say will you accept a transfer charge call from a public phone box in Middlesbrough and Terry says, hallo, that's funny, he says, who do we know in Middlesbrough and I said, not a soul and he says, well, that's funny, Terry says, well who is it? How do we know we know him? If we don't know him, we don't want to waste money talking to him but if we do, it might be an emergency and we won't sleep a wink. And the operator says, well suit yourself, take it or leave it, it's all the same to me. So we took it and it was your husband.
Lucy Harry?
Rosemary Harry, yes. Mr Compton.
Lucy What did he want?
Rosemary Well – you. He was worried. He's been ringing you for days. He's had the line checked but there's been no reply.
Lucy Oh.
Rosemary Has it not been ringing?
Lucy Possibly. I don't take much notice of bells. (She goes to listen for the children)"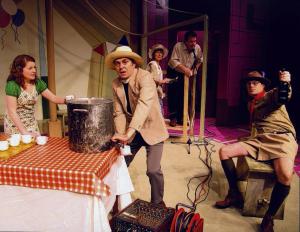 Alan Ayckbourn (Londen, 12 april 1939)
Scene uit "Confusions", The Mill Dinner Theatre, Sonning, 2009
De Amerikaanse schrijver en jurist Scott Turow werd geboren op 12 april 1949 in Chicago. Zie ook alle tags voor Scott Turow op dit blog.
Uit: Onschuldig (Vertaald door, R. Kuitenbrouwer)
"Een man zit op een bed. Hij is mijn vader. Onder het dek ligt het lijk van een vrouw. Zij was mijn moeder. Dit is niet echt het begin van het verhaal. Of het eind ervan. Maar het is het ogenblik waaraan ik altijd terugdenk, het beeld dat ik van hen voor ogen heb.
Wat mijn vader me even later zal vertellen, is dat hij bijna drieëntwintig uur in diezelfde kamer heeft doorgebracht en alleen naar de wc is geweest. Een dag eerder is hij, zoals meestal op een doordeweekse dag, om halfzeven wakker geworden en zodra hij zijn voeten in zijn sloffen stak, is hem bij het omkijken de dodelijke verandering in mijn moeder opgevallen. Hij duwde tegen haar schouder, raakte haar lippen aan. Hij drukte met zijn handpalm een paar maal op haar borstbeen, maar de huid voelde zo koel als klei. Haar ledematen bewogen al zo stram als die van een paspop. Hij zal me vertellen dat hij in een stoel bij haar is gaan zitten. Hij heeft niet gehuild. Hij heeft nagedacht, zal hij zeggen. Hij weet niet hoe lang, alleen dat het zonlicht door de hele kamer was verschoven
toen hij eindelijk opstond om als een gedrevene op te ruimen. Hij zal zeggen dat hij drie of vier boeken waarin ze altijd las op de plank heeft teruggezet. Dat hij de kleren heeft weggehangen die ze gewoonlijk op het bankje voor haar kaptafel legde en daarna het bed om haar heen heeft opgemaakt, het laken heeft ingestopt en het dekbed rechtgetrokken, en de sprei heeft omgevouwen voordat hij haar handen als die van een pop op het satijnen boordsel legde. Hij heeft twee verwelkte bloemen uit het vaasje op haar nachtkastje verwijderd en nette stapeltjes gemaakt van de kranten en tijdschriften op haar bureau."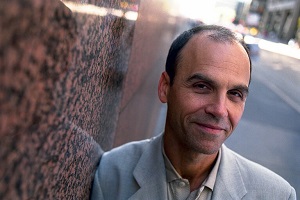 Scott Turow (Chicago, 12 april 1949)
De Amerikaanse schrijver Tom Clancy werd geboren op 12 april 1947 in Baltimore County, Maryland. Zie ook alle tags voor Tom Clancy op dit blog.
Uit: Command Authority
"The black Bronco shot through the storm, its tires kicking up mud and water and grit as it raced along the gravel road, and rain pelted the windshield faster than the wipers could clear it.
As the truck charged along at sixty miles an hour, the back doors opened and two armed men climbed out and into the rain, one on each side. The men stood on the running boards and held on to the door frame with gloved hands. Their eyes were protected from the mud and flying rocks and water by large goggles, but their black Nomex suits and the submachine guns around their necks were wet and mud-splattered in moments along with the rest of their gear: helmets with integrated headsets, ballistic protection on their chests and backs, knee and elbow pads, and magazine pouches. Everything was soaked and caked with mud by the time the Bronco closed on a cabin in the center of a rainswept pasture.
The vehicle decelerated quickly, skidding to a stop just twenty feet from the front door. The two men on the running boards leapt off and raced toward the building, their weapons scanning the trees all around, searching for any targets. The driver of the Bronco joined soon after; just like the others, he carried an H&K submachine gun with a fat silencer on the end of the barrel.
The three operators formed in a tight stack near the entrance, and the man in front reached forward and tried the door latch.
It was locked."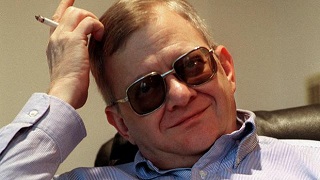 Tom Clancy (12 april 1947- 1 oktober 2013)
De Duitse schrijfster Agnes Sapper werd geboren op 12 april 1852 in München. Zie ook alle tags voor Agnes Sapper op dit blog.
Uit: Hoch droben
"In Berlin war an einem heißen Juninachmittag ein Dachdecker auf dem Dache eines vierstöckigen Hauses beschäftigt. Am Rand des Daches saß er und setzte neue Schieferplatten ein, wo die alten schadhaft geworden waren. Manchmal sah einer der Vorübergehenden von der Straße herauf nach dem jungen Mann in der schwindelnden Höhe. Der Dachdecker aber blickte nicht hinunter, er sah nur auf das Dach mit seinen vielen Plättchen, die glühend heiß wurden in der Sonne, und langsam ging ihm heute die Arbeit von der Hand. Die Hitze wurde immer drückender, die Sonne stach durch die Wolken; jetzt hielt er mit seiner Arbeit inne. Eine lange Reihe Plättchen hatte er eingesetzt, nun kam die nächste Reihe. Er legte sein Werkzeug aus der Hand, wischte sich den Schweiß von der Stirne und ruhte einen Augenblick. Da fiel sein Blick auf die Straße, wo die Wagen fuhren und die Menschen wandelten. Er war heute nicht schwindelfrei wie sonst, wo er ruhig in die Tiefe blicken konnte, er schloß die Augen und ruhte. Die Sonne verbarg sich hinter schweren Wolken, ein tiefer Schatten fiel aufs Dach und der junge Arbeiter schlief ein.
Dachdecker, hüte dich, deine Arbeit ist gefährlich, deine Ruhe ist's noch mehr!
Drunten in der Straße wogten die Menschen hin und her, bis ein Mann plötzlich stehen blieb. Er hatte nach der dunkeln Wolke geschaut, die sich am Himmel zusammenballte, und da hatte er die Gestalt auf dem Dache wahrgenommen. Andere Vorübergehende folgten unwillkürlich seinem Blick und blieben ebenso an den Platz gebannt stehen wie der erste. Was war dem Mann? Er lag da wie tot. Nein, jetzt rührte er sich ein wenig, der Arm, den er am Kopf gehalten hatte, sank langsam herunter über das Dach. Das Gesicht war halb verdeckt von der Mütze. Schlief er oder war er vom Hitzschlag getroffen? Von Mund zu Mund gingen diese Fragen in der immer mehr anwachsenden Menge, die mit Grauen in die Höhe blickte zu dem in Todesgefahr schwebenden Mann. Schutzleute kamen hinzu. »Der Mann muß gerettet werden, aber wie? Durch die Dachkammer kommt man schwer bei, von unten wird's besser gehen, mit der Leiter, mit der großen Feuerwehrleiter: man muß die Feuerwehr benachrichtigen, aber schnell, schnell: wenn der Mann eine Bewegung macht, stürzt er herunter in die Tiefe!«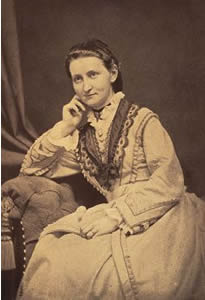 Agnes Sapper (12 april 1852 – 19 maart 1929)


Zie voor nog meer schrijvers van de 12e april ook mijn vorige blog van vandaag.
12-04-2014 om 12:32 geschreven door Romenu

Tags:Antje Rávic Strubel, Scott Turow, Tom Clancy, Alan Ayckbourn, Agnes Sapper, Romenu



Edward de Vere, José Gautier Benítez, Alexander Ostrovski, Guillaume-Thomas Raynal
De Engelse hoveling, dichter en toneelschrijver Edward de Vere, 17e graaf van Oxford, werd geboren op 12 april 1550 in Castle Hedingham. Zie ook alle tags voor Edward de Vere op dit blog.
Loss of Good Name
Fram'd in the front of forlorn hope past all recovery,
I stayless stand, to abide the shock of shame and infamy.
My life, through ling'ring long, is lodg'd in lair of loathsome ways;
My death delay'd to keep from life the harm of hapless days.
My sprites, my heart, my wit and force, in deep distress are drown'd;
The only loss of my good name is of these griefs the ground.
And since my mind, my wit, my head, my voice and tongue are weak,
To utter, move, devise, conceive, sound forth, declare and speak,
Such piercing plaints as answer might, or would my woeful case,
Help crave I must, and crave I will, with tears upon my face,
Of all that may in heaven or hell, in earth or air be found,
To wail with me this loss of mine, as of these griefs the ground.
Help Gods, help saints, help sprites and powers that in the heaven do dwell,
Help ye that are aye wont to wail, ye howling hounds of hell;
Help man, help beasts, help birds and worms, that on the earth do toil;
Help fish, help fowl, that flock and feed upon the salt sea soil,
Help echo that in air doth flee, shrill voices to resound,
To wail this loss of my good name, as of these griefs the ground.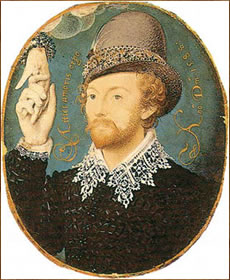 Edward de Vere (12 april 1550 – 24 juni 1604)
De Puertoricaanse dichter José Gautier Benítez werd geboren op 12 april 1848 in Caguas. Zie ook alle tags voorJosé Gautier Benítez op dit blog.
Romance III
Oh, who knows, the Caribbean,
as sea birds,
with wings of the storm
night crossed the seas,
and on the beaches of Borinquen
moved his deceptive hosts
shrewd as snakes,
as cowardly vultures,
if you moan hours in prison
far from your homes,
and if you pronounce my name
sad amid woes!

If so ... the beaches,
the mountains and valleys
sounded in war
snails and timpani;
and if canoes had not
or winds me missing,
in front of my loafers
swim cross the seas,
falling on that tribe
and bathing in their blood,
as falls guaraguao
on pigeon coward.

Well, give strength to my arm
and fortune in the fight
the name of the Cacica
of tropical forests,
that of the black mane
the very large eye.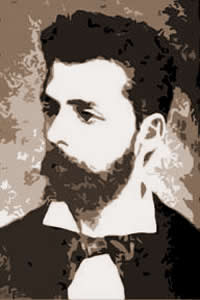 José Gautier Benítez (12 april 1848 – 24 januari 1880)
De Russische toneelschrijver Alexander Nikolajewitsj Ostrovski werd geboren op 12 april 1823 in Moskou. Zie ook alle tags voorAlexander Ostrovski op dit blog.
Uit:The Storm (Vertaald door Constance Garnett)
"KULIGIN, BORIS, KUDRIASH, and SHAPKIN.
KULIGIN. What have you to do with him, sir? We can't make it out. What can induce you to live with him and put up with his abuse?
BORIS. A poor inducement, Kuligin! I'm not free.
KULIGIN. But how are you not free, allow me to ask you. If you can tell us, sir, do.
BORIS. Why not? You knew our grandmother, Anfisa Mihalovna?
KULIGIN. To be sure I did!
KUDRIASH. I should think we did!
BORIS. She quarrelled with my father you know because he married into a noble family. It was owing to that that my father and mother lived in Moscow. My mother used to tell me that she could hardly endure life for three days together with my father's relations, it all seemed so rough and coarse to her.
KULIGIN. Well it might! you have to be used to it from the first, sir, to be able to bear it.
BORIS. Our parents brought us up well in Moscow, they spared no expense. They sent me to the Commercial Academy, and my sister to a boarding school, but they both died suddenly of cholera. We were left orphans, my sister and I. Then we heard that our grandmother was dead here, and had left a will that our uncle was to pay us a fair share of her fortune, when we came of age, only upon one condition.
KULIGIN. And what was that, sir?
BORIS. If we showed a proper respect for his authority."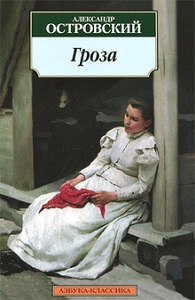 Alexander Ostrovski (12 april 1823 – 14 juni 1886)
Cover van The Storm
De Franse schrijver Guillaume-Thomas Raynal (Abbé Raynal ) werd geboren op 12 april 1713 in Lapanouse de Séverac. Zie ook alle tags voor Guillaume-Thomas Raynal op dit blog.
Uit: The French Revolution and Human Rights: A Brief Documentary History (Vertaald door Lynn Hunter)
"Behold that proprietor of a vessel, who leaning upon his desk, and with the pen in his hand, regulates the number of enormities he may cause to be committed on the Coasts of Guinea; who considers at leisure, what number of firelocks [guns] he shall want to obtain one Negro, what fetters will be necessary to keep him chained on board his ship, what whips will be required to make him work; who calculates with coolness, every drop of blood which the slave must necessarily expend in labor for him, and how much it will produce; who considers whether a Negro woman will be of more advantage to him by her feeble labours, or by going through the dangers of child-birth."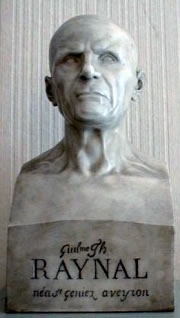 Guillaume-Thomas Raynal (12 april 1713 – 6 maart 1796)
Borstbeeld in Saint-Geniez-d'Olt
12-04-2014 om 12:18 geschreven door Romenu

Tags:Edward de Vere, José Gautier Benítez, Alexander Ostrovski, Guillaume-Thomas Raynal, Romenu



| | |
| --- | --- |
| | |



Inhoud blog


| | |
| --- | --- |
| | Tennessee Williams, Gregory Corso, Hwang Sun-won, Martin McDonagh, Robert Frost, Patrick Süskind |
| | A. E. Housman, Bettina Galvagni, Hai Zi, Erica Jong, Artur Landsberger |
| | Am vierten Sonntage in der Fasten (Annette von Droste-Hülshoff) |
| | Pol Hoste, Menno Van der Beek, Flannery O'Connor, Jaime Sabines, Peter Van Straaten, Toni Cade Bambara, Antonio Fogazzaro |
| | Jacques Bens, Jacques Audiberti, Filip De Pillecyn, Erica Pedretti, Evliya Çelebi, Anne Fanshawe, Daniel Schiebeler, Mary Webb |
| | Peter Bichsel, Martin Walser, Dario Fo, Lawrence Ferlinghetti, Jacob van Lennep, Jeroen Mettes, Harry Prenen, Willem van Iependaal, Top Naeff |
| | Cri Stellweg, Yōko Tawada, Gary Whitehead, Mitch Cullin, Steven Saylor, Roger Martin du Gard, Madison Cawein, Nils-Aslak Valkeapää, Federica de Cesco |
| | Billy Collins, Eveline Hasler, Érik Orsenna, Léon Deubel, Karel Poláček, Arnold Sauwen, Wolfgang Bächler, Albrecht Goes, Gabrielle Roy |
| | In Memoriam Colin Dexter |
| | Willem de Mérode, Pim te Bokkel, Kees van Beijnum, Jean Paul, Hamid Skif, Hubert Fichte, Peter Hacks, Michel Bartosik, Youssef Rzouga |
| | David Malouf, Friedrich Hölderlin, Katharina Hartwell, Ralph Giordano, Ricus van de Coevering, Jens Petersen, Benoît Duteurtre, Gerard Malanga, Henrik Johan Ibsen |
| | Mano Bouzamour, Hans Mayer, Philip Roth, Kirsten Boie, Lynne Sharon Schwartz, Lina Kostenko, Petar Preradović |
| | William Allingham, Ion Barbu, Rosalie Loveling, Tobias Smollett, Irving Wallace, Peter Abrahams |
| | Am dritten Sonntage in der Fasten (Annette von Droste-Hülshoff) |
| | Christa Wolf, Charlotte Roche, John Updike, Wilfred Owen, Stéphane Mallarmé |
| | Héctor Bianciotti, Hellema, Friedrich Hebbel, Max Barry, Wolfgang Bauer, Richard Condon |
| | Walter Rheiner, Srečko Kosovel, Jean Anglade, George Plimpton, Cosmo Monkhouse, Friedrich Nicolai |
| | Siegfried Lenz, Thomas Melle, Hans Wollschläger, Rense Sinkgraven, Hafid Aggoune, William Gibson, Patrick Hamilton, Karl Gutzkow, Jean Ingelow |
| | In memoriam Torgny Lindgren |
| | Frühlingsglaube (Johann Ludwig Uhland) |
| | Ben Okri, David Albahari, Louis Paul Boon, Kurt Drawert, Gerhard Seyfried, Andreas Okopenko, An Rutgers van der Loeff, Prosper van Langendonck, Paul Heyse |
| | Pam Ayres, Jochen Schimmang, Volker von Törne, Horton Foote, Olivier Delorme, Alexandru Macedonski, Albert Robida, Theodore de Banville, Wout Waanders |
| | Mahmoud Darwish, Yuri Andrukhovych, Didier Decoin, Yeghishe Charents, Vladimir Makanin, Oskar Loerke, W.O. Mitchell, Hugh Walpole, Inge Müller |
| | Jenny Erpenbeck, Dave Eggers, Jack Kerouac, Naomi Shihab Nye, Carl Hiaasen, Edward Albee, De Schoolmeester, Benedict Wells |
| | Kathrin Schmidt, Henrike Heiland, M. A. Numminen, Gabriele d'Annunzio, Irving Layton, Helga Goetze, Françoise d'Eaubonne, Antony Deschamps, Sergej Michalkov |
| | Leena Lehtolainen, Karl Krolow, Daan de Ligt, Frans Vogel, Willem Claassen, Amal Karam |
| | Ernst Wichert, Douglas Adams, Torquato Tasso, Georg Maurer, Josef Martin Bauer |
| | John Rechy, Joseph von Eichendorff, Hilde Van Cauteren, Jakob Wassermann, Karel van de Woestijne, Chloé Delaume, Friedrich Schlegel, Boris Vian, Manolis Anagnostakis |
| | Peter Altenberg, Ed Hoornik, Peter Zantingh, Heere Heeresma, Vita Sackville-West, Josef Weinheber, Taras Sjevtsjenko, Umberto Saba, Agnes Miegel |
| | Jeffrey Eugenides, Walter Jens, Hafid Bouazza, A. Marja, Aslı Erdoğan, John McPhee, Mouloud Feraoun, Mechtilde Lichnowsky, Dominic Angeloch |
| | Bret Easton Ellis, Robert Harris, Jürgen Theobaldy, Georges Perec, Abe Kōbō, Reinhard Kaiser, Manfred Gregor, Jan Frederik Helmers, Alessandro Manzoni |
| | Patrick deWitt, Gabriel García Márquez, Jeremy Reed, Marijke Hanegraaf, Thomas Acda, Günter Kunert, Clark Accord, Elizabeth Barrett Browning, Michelangelo |
| | Pier Paolo Pasolini, Arthur van Schendel, Koos van Zomeren, Jurre van den Berg, Nelly Arcan, Danny King, Jean Orizet |
| | Leslie Marmon Silko, Frank Norris, Fritz Usinger, Friedrich Schnack, Ennio Flaiano, Moritz Carrière, Karl August Timotheus Kahlert |
| | Kristof Magnusson, Khaled Hosseini, Robert Kleindienst, Irina Ratushinskaya, Alan Sillitoe |
| | Ryszard Kapuściński, Jean-Joseph Rabearivelo, Annette Seemann, F. W. Bernstein, Giorgio Bassani |
| | Bernardo Ashetu, Léon-Paul Fargue, Kito Lorenc, Jacques Dupin, Thomas S. Stribling |
| | Manfred Flügge, Hans Verhagen, Tjitske Jansen, James Merrill, Kola Boof, Clifton Snider, Gudrun Pausewang, Josef Winkler, Chris Kraus |
| | Godfried Bomans, Multatuli, Frank Albers, John Irving, Thom Wolfe, Michael Salinger, János Arany, Olivia Manning, Rinske Kegel |
| | Ash Wednesday (T. S. Eliot) |
| | Jan Eijkelboom, Jim Crace, Delphine de Vigan, Franz Hohler, Lytton Strachey, Robert Lowell, Myrthe van der Meer, Franzobel, Steven Barnes |
| | Chanson pour mourir d'amour au temps de carnaval (Louis Aragon) |
| | Stephen Spender, Bart Koubaa, Luc Dellisse, John Montague, Marcel Pagnol, Bodo Morshäuser, Martin Suter, Yórgos Seféris, Howard Nemerov |
| | Josef Svatopluk Machar |
| | Carnival Evening (Linda Pastan) |
| | Cynan Jones, John Steinbeck, Lawrence Durrell, André Roy, Henry Longfellow, Elisabeth Borchers, James T. Farrell, Irwin Shaw |
| | Fastnacht (Achim von Arnim) |
| | Michel Houellebecq, Victor Hugo, Adama van Scheltema, George Barker, Hermann Lenz, Antonin Sova, Jean Teulé |
| | Ulrike Syha, Elias Annes Borger, Vercors, Pierre Mac Orlan, Janus Djurhuus, Johann Lauremberg, August Thieme |
| | Amin Maalouf, Aldo Busi, Gabriël Smit, Anthony Burgess, Robert Rius, Karl May, Lesja Oekrajinka, Vittoria Colonna |


Gastenboek


Druk op onderstaande knop om een berichtje achter te laten in mijn gastenboek