E-mail mij


Druk op onderstaande knop om mij te e-mailen.


Romenu


Google


Georg Trakl

Georg Trakl werd op 3 februari 1887 in het conducteurshuis aan de Waagplatz 2 in Salzburg geboren. Zijn vader, Tobias Trakl, was een handelaar in ijzerwaren en zijn moeder, die ook psychische problemen had, was Maria Catharina Trakl, (meisjesnaam Halik). Voorts had hij nog drie broers en drie zussen. Margarethe (doorgaans Grethe genoemd) stond hem het naast, zelfs zodanig dat sommigen een incestueuze verhouding vermoeden. Zijn jeugd bracht hij door in Salzburg. Vervolgens bezocht hij van 1897 tot 1905 het humanistische gymnasium. Om toch een academische opleiding te kunnen volgen, werkte hij tot 1908 in de praktijk bij een apotheker. Sommigen vermoedden dat hij dit vooral deed om zichzelf opiaten te kunnen verschaffen. Bij het uitbreken van WO I werd Trakl als medicus naar het front in Galicië (heden ten dage in Oekraïne en Polen) gestuurd. Zijn gemoedsschommelingen leidden tot geregelde uitbraken van depressie, die verergerd werden door de afschuw die hij voelde voor de verzorging van de ernstig verwonde soldaten. De spanning en druk dreven hem ertoe een suïcidepoging te ondernemen, welke zijn kameraden nochtans verhinderden. Hij werd in een militair ziekenhuis opgenomen in Kraków, alwaar hij onder strikt toezicht geplaatst werd.Trakl verzonk daar in nog zwaardere depressies en schreef Ficker om advies. Ficker overtuigde hem ervan dat hij contact moest opnemen met Wittgenstein, die inderdaad op weg ging na Trakls bericht te hebben ontvangen. Op 4 november 1914, drie dagen voordat Wittgenstein aan zou komen, overleed hij echter aan een overdosis cocaïne


Paul Celan

Paul Celan werd onder de naam Paul Antschel op 23 november 1920 geboren in Czernowitz, toentertijd de hoofdstad van de Roemeense Boekovina, nu behorend bij de Oekraïne. Paul Celans ouders waren Duitssprekende joden die hun zoon joods opvoedden en hem naar Duitse christelijke scholen stuurden. In 1942 werden Celans ouders door de Duitse bezetter naar een werkkamp gedeporteerd en daar vermoord. Hijzelf wist aanvankelijk onder te duiken, maar moest vanaf juli 1942 in een werkkamp dwangarbeid verrichten. Celan overleefde de oorlog. Via Boekarest en Wenen vestigde Celan zich in 1948 in Parijs. Daar was hij werkzaam als dichter, vertaler en doceerde hij aan de prestigieuze Ecole Normale Supérieure. Vermoedelijk op 20 april 1970 beëindigde hij zijn leven zelf door in de Seine te springen.


Gerard Reve

Gerard Reve over: Medearbeiders "God is in de mensen, de dieren, de planten en alle dingen - in de schepping, die verlost moet worden of waaruit God verlost moet worden, door onze arbeid, aangezien wij medearbeiders van God zijn." Openbaring "Tja, waar berust elk godsbegrip op, elke vorm van religie? Op een openbaring, dat wil zeggen op een psychische ervaring van zulk een dwingende en onverbiddelijke kracht, dat de betrokkene het gevoel heeft, niet dat hij een gedachte of een visioen heeft, maar dat een gedachte gedachte of visioen hem bezit en overweldigt."


Simon Vestdijk
Simon Vestdijk (Harlingen, 17 oktober 1898 – Utrecht, 23 maart 1971) was een Nederlands romancier, dichter, essayist en vertaler. Zijn jeugd te Harlingen en Leeuwarden beschreef hij later in de Anton Wachter-cyclus. Van jongs af aan logeerde hij regelmatig bij zijn grootouders in Amsterdam, waar hij zich in 1917 aan de Universiteit van Amsterdam inschrijft als student in de medicijnen. Tijdens zijn studie die van 1917 tot 1927 duurde, leerde hij Jan Slauerhoff kennen.Tot 1932 is hij als arts in praktijken door heel Nederland werkzaam. In 1932 volgt zijn officiële schrijversdebuut met de uitgave van de bundel Verzen in De Vrije Bladen. Doorslaggevend voor Vestdijks uiteindelijke keuze voor de literatuur is zijn ontmoeting in 1932 met Eddy Du Perron en Menno ter Braak. Deze ontmoeting had tot resultaat dat hij redactielid werd van het tijdschrift Forum Kort daarop, in 1933, wordt zijn eerste novelle, De oubliette, uitgegeven. In hetzelfde jaar schrijft hij Kind tussen vier vrouwen, dat, eerst geweigerd door de uitgever, later de basis zal vormen voor de eerste drie delen van de Anton Wachter-romans. In 1951 ontvangt Vestdijk de P.C. Hooftprijs voor zijn in 1947 verschenen roman De vuuraanbidders. In 1957 wordt hij voor het eerst door het PEN-centrum voor Nederland voorgedragen voor de Nobelprijs voor de Literatuur, die hij echter nooit zal krijgen. Op 20 maart 1971 wordt hem de Prijs der Nederlandse Letteren toegekend, maar voor hij deze kan ontvangen overlijdt hij op 23 maart te Utrecht op 72-jarige leeftijd. Vestdijk was auteur van ca. 200 boeken. Vanwege deze enorme productie noemde de dichter Adriaan Roland Holst hem 'de man die sneller schrijft dan God kan lezen'. Andere belangrijke boeken van Simon Vestdijk zijn: "Kind van stad en land" (1936), "Meneer Visser's hellevaart" (1936), "Ierse nachten" (1946), "De toekomst de religie" (1947), "Pastorale 1943" (1948), "De koperen tuin" (1950), "Ivoren wachters" (1951), "Essays in duodecimo" (1952) en "Het genadeschot" (1964).


K.P. Kavafis

K.P. Kavafis werd als kind van Griekse ouders, afkomstig uit Konstantinopel, geboren in 1863 in Alexandrië (tot vandaag een Griekse enclave) waar hij ook het grootste deel van zijn leven woonde en werkte. Twee jaar na de dood van zijn vader verhuist het gezin in 1872 naar Engeland om na een verblijf van vijf jaar naar Alexandrië terug te keren. Vanwege ongeregeldheden in Egypte vlucht het gezin in 1882 naar Konstantinopel, om na drie jaar opnieuw naar Alexandrië terug te gaan. In de jaren die volgen maakt Kavafis reizen naar Parijs, Londen en in 1901 zijn eerste reis naar Griekenland, in latere jaren gevolgd door nog enkele bezoeken. Op de dag van zijn zeventigste verjaardag, in 1933 sterft Kavafis in Alexandrië. De roem kwam voor Kavafis pas na zijn dood, dus postuum. Deels is dat toe te schrijven aan zijn eigen handelswijze. Hij was uiterst terughoudend met de publicatie van zijn gedichten, liet af en toe een enkel gedicht afdrukken in een literair tijdschrift, gaf in eigen beheer enkele bundels met een stuk of twintig gedichten uit en het merendeel van zijn poëzie schonk hij op losse bladen aan zijn beste vrienden.


Thomas Mann


Thomas Mann, de jongere broer van Heinrich Mann, werd geboren op 6 juni 1875 in Lübeck. Hij was de tweede zoon van de graankoopman Thomas Johann Heinrich Mann welke later één van de senatoren van Lübreck werd. Zijn moeder Julia (geboren da Silva-Bruhns) was Duits-Braziliaans van Portugees Kreoolse afkomst. In 1894 debuteerde Thomas Mann met de novelle "Gefallen". Toen Thomas Mann met 21 jaar eindelijk volwassen was en hem dus geld van zijn vaders erfenis toestond - hij kreeg ongeveer 160 tot 180 goldmark per jaar - besloot hij dat hij genoeg had van al die scholen en instituties en werd onafhankelijk schrijver. Kenmerkend voor zijn stijl zijn de ironie, de fenomenale taalbeheersing en de minutieuze detailschildering. Manns reputatie in Duitsland was sterk wisselend. Met zijn eerste roman, Buddenbrooks (1901), had hij een enorm succes, maar door zijn sceptische houding tegenover Duitsland na de Eerste Wereldoorlog veranderde dit volledig. Stelde hij zich tot aan de jaren twintig apolitiek op (Betrachtungen eines Unpolitischen, 1918), meer en meer raakte hij bij het Politiek gebeuren betrokken. Zijn afkeer van het nationaal socialisme groeide, zijn waarschuwingen werden veelvuldiger en heftiger. In 1944 accepteerde hij het Amerikaanse staatsburgerschap. Tussen 1943 en 1947 schreef Mann Doktor Faustus (zie Faust), de roman van de 'Duitse ziel' in de gecamoufleerd geschilderde omstandigheden van de 20ste eeuw. In 1947 bezocht hij voor het eerst sinds de Oorlog Europa, twee jaar later pas Duitsland. In 1952 vertrok hij naar Zwitserland. Op 12 augustus 1955 stierf hij in Zürich. Twintig jaar na zijn dood, in aug. 1975, is zijn literaire nalatenschap geopend: dagboekaantekeningen van 15 maart 1933 tot 29 juli 1955, alsmede notities uit de jaren 1918 tot en met 1921.Belangrijke werken zijn: Der Zauberberg, Der Tod in Venedig, Dokter Faustus , Joseph und seine Brüder en Die Bekenntnisse des Hochstaplers Felix Krull.


Rainer Maria Rilke

Rilke werd op 4 december 1875 geboren in Praag. Hij had al naam gemaakt als dichter met zijn bundels Das Stundenbuch en Das Buch der Bilder, toen hij de literaire wereld versteld deed staan en wereldfaam verwierf met de publicatie van zijn twee delen Neue Gedichte in 1907 en 1908. Hij verzamelde daarin het beste werk uit een van zijn vruchtbaarste periodes, die hij grotendeels doorbracht in Parijs. Rilke was daar diep onder de indruk gekomen van Rodin, bij wie hij een tijdlang in dienst was als particulier secretaris. Rodin, zei hij later, had hem leren kijken. Dit kijken kwam neer op intense concentratie, om het mysterie te kunnen zien 'achter de schijnbare werkelijkheid'. Latere en rijpere werken als Duineser Elegien (1912-1923) en het ronduit schitterende Die Sonette an Orfeus (1924) illustreren Rilkes metafysische visie op het onzegbare, dat haar verwoording vindt in een hermetische muzikale taal. Op 29 december 1926 overlijdt Rilke in het sanatorium in Val-Mont aan de gevolgen van leukemie. Enkele dagen later wordt hij, overeenkomstig zijn wens, begraven op het kerkhof van Raron.


* * * * * * * * * * * * * * * *

| | |
| --- | --- |
| | Over literatuur, gedichten, kunst en cultuur |

08-11-2010

Kazuo Ishiguro, Elfriede Brüning, Detlef Opitz, Zinaida Gippius
De Japanse schrijver Kazuo Ishiguro werd op 8 november 1954 geboren in Nagasaki. Zie ook mijn blog van 8 november 2006 en ook mijn blog van 8 november 2007 en ook mijn blog van 8 november 2008 en ook mijn blog van 8 november 2009.
Uit: The Unconsoled
"The taxi driver seemed embarrassed to find there was no one-not even a clerk behind the reception desk-waiting to welcome me. He wandered across the deserted lobby, perhaps hoping to discover a staff member concealed behind one of the plants or armchairs. Eventually he put my suitcases down beside the elevator doors and, mumbling some excuse, took his leave of me.
The lobby was reasonably spacious, allowing several coffee tables to be spread around it with no sense of crowding. But the ceiling was low and had a definite sag, creating a slightly claustrophobic mood, and despite the sunshine outside the light was gloomy. Only near the reception desk was there a bright streak of sun on the wall, illuminating an area of dark wood panelling and a rack of magazines in German, French and English. I could see also a small silver bell on the reception desk and was about to go over to shake it when a door opened somewhere behind me and a young man in uniform appeared.
'Good afternoon, sir,' he said tiredly and, going behind the reception desk, began the registration procedures. Although he did mumble an apology for his absence, his manner remained for a time distinctly off-hand. As soon as I mentioned my name, however, he gave a start and straightened himself.
'Mr Ryder, I'm so sorry I didn't recognise you. Mr Hoffman, the manager, he was very much wanting to welcome you personally. But just now, unfortunately, he's had to go to an important meeting.'
'That's perfectly all right. I'll look forward to meeting him later on.'
The desk clerk hurried on through the registration forms, all the while muttering about how annoyed the manager would be to have missed my arrival. He twice mentioned how the preparations for 'Thursday night' were putting the latter under unusual pressure, keeping him away from the hotel far more than was usual. I simply nodded, unable to summon the energy to enquire into the precise nature of 'Thursday night'.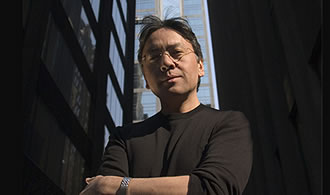 Kazuo Ishiguro (Nagasaki, 8 november 1954)
De Duitse schrijfster Elfriede Brüning werd geboren op 8 november 1910 in Berlijn. Na het verlaten van de middelbare school werkte ze als kantoorbediende en vanaf 1929 als secretaresse in een Berlijnse firma in de filmindustrie. In dezelfde tijd verscheen haar eerste journalistieke werk in diverse kranten. Zij werd lid van de KPD en begon tijdens de republiek van Weimar te werken voor de communistische pers. De machtsgreep van de nazi's voorkwam in 1933 de uitgave van haar eerste, maatschappijkritische roman "Handwerk hat goldenen Boden" (hij verscheen voor het eerst in 1970 onder de titel "Kleine Leute"). Bruning richtte zich op de ontspanningsliteratuur en publiceerde in 1934 de succesvolle roman " Und außerdem ist Sommer." In de eerste jaren van het Derde Rijk werkte Elfriede Brüning voor het communistische verzet. Tijdens de Tweede Wereldoorlog verbleef ze op het landgoed van haar schoonfamilie in de buurt van Magdeburg. Zij kwam 1946 terug in Berlijn. Ze werd opnieuw lid van de KPD en werkte voor Oost-Berlijnse kranten en tijdschriften. Sinds 1950 werkte zij als freelance schrijver in Berlijn. Ze is de auteur van romans, korte verhalen, artikelen en tv-scenario's. Elfriede Brüning ontving o.a. de Goethe-prijs van de hoofdstad van de DDR en de literaire prijs van de Demokratische Frauenbundes Deutschlands. Vandaag viert zij haar 100e verjaardag.
Uit: Kaffeefahrt ins Paradies
"Eigentlich hatte ich mir geschworen, nie mehr mitzufahren. Ich war ein gebranntes Kind.
Eine der früheren Reisen sollte uns in den frühlingshaften Spreewald bringen. Doch in dem Kaff, wo wir hielten, war im ganzen Umkreis weder ein Zipfel der Spree noch auch nur ein einziger Baum zu erspähen. Und da auch weit und breit keine Bahn oder Bus oder auch kein weiteres, etwas gemütlicheres Restaurant vorhanden war, in das man sich hätte flüchten können, blieb man in dem unwirtlichen Saal, in den man uns verfrachtet hatte, dem Werbesprecher und seinem stundenlangen Redefluß ausgeliefert, bis man sich endlich, völlig entnervt, zum Kauf einer seiner angeblich so preiswerten Lammfelldecken oder Massage- Betten entschloß, die man dann anderntags in ganz derselben Verpackung, aber um Hunderte billiger, in den Kaufhäusern liegen sah. Auch eine der so beliebten "Schnäppchen-Fahrten" zum Polenmarkt erwies sich als Flop. Denn da unser Fahrer gehalten war, sein Gefährt auf dem diesseitigen Parkplatz abzustellen, drangen wir in das polnische Nachbarland gar nicht erst vor, weil der uns empfohlenen Fußweg über die lange Brücke nach Polen für die meisten Teilnehmer viel zu beschwerlich war. Einigen gelang es gerade noch, sich bis zu dem nahen Cafe zu schleppen, wo sie die Stunden bis zur festgesetzten Rückfahrt bei Torte und Schlagsahne hinter sich brachten. Die übrigen blieben im Bus oder "lustwandelten", falls sie den unbezwinglichen Drang verspürten, ein wenig Luft zu schnappen, zwischen den zahlreichen Lastwagen, die den Parkplatz blockierten.
Doch diesmal würde ja alles ganz anders sein. Zu einem "Badischen Weinfest" wurde geladen, mit Herbst-Tombola (im Februar), einem "original badischen Winzeressen" mit Weinprobe, der Wahl einer Weinkönigin und mehreren Litern Wein "nach Ihrem Geschmack". Zusätzlich hieß es weiter", erhalten Sie, Frau B., das schmackhafte Winzerwurstpaket, insgesamt 2250 g feinster Delikatessen" – alles im Fahrpreis einbegriffen. Am Nachmittag sollte der Ausflug "mit herrlicher Landschaftsfahrt" enden."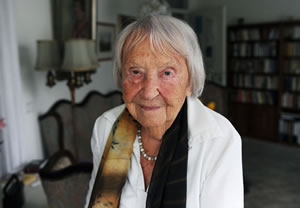 Elfriede Brüning (Berlijn, 8 november 1910)
De Duitse schrijver Detlef Opitz werd geboren op 8 november 1956 in Steinheidel-Erlabrunn. Zie ook mijn blog van 8 november 2008 en ook mijn blog van 8 november 2009.
Uit: Klio. Ein Wirbel um L.
"(...) mehr als die nüchternen Mitteilungen der Geschichtsbücher, mehr als die spröde Arithmetik historischer Prozesse, mehr als die angereicherten Spalten in heimatlichen Blättern liebe ich die Aufzählungen in den gemeinten Opera, die langen bunten Sätze der hoffnungslos antiquierten Schreiberlings, die oftmals mehrere Seiten umfassenden, ganze Kapitel andauernden, nach irgendwelchen verrotteten Pergamenten, nach Klosterakten, unförmigen Folianten gestalteten, aus den cachotigsten Archiven zusammengeholten wortreichen Illustrationen solch nebensächlicher Dinge, wie es der Festzug war, der an Rogate des Jahres '15 die Strassen der Stadt Halle passierte - was untertreibe ich?-, der die mit Fahnen und Emblemen, mit Girlanden und Heiligenbildern verzierten, die mit feiertäglich herausgepützeltem Volk, mit freigebigturpisen Puttanen, fidelvergnügten Krüppeln, glückseelsblöden Hungerleidern und absolut nervenden Bälgern, Bastarden, aber auch mit Würstchen, Gebäck, Met und Limonaden feilbietenden Marketendern gesäumten, die mit Teppichen und Rosenblüten, Panieren und den funkelnden Instrumentarien der Bürgerwehren geschmückten hallischen Strassen passierte (...)"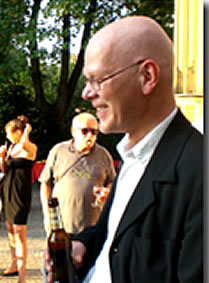 Detlef Opitz (Steinheidel-Erlabrunn, 8 november 1956)
De Russische dichteres en schrijfster Zinaida Gippius werd geboren op 8 november 1869 in Beljov in de buurt van Tula. Zie ook mijn blog van 8 november 2008 en ook mijn blog van 8 november 2009.
So It Is
1918
If light is felled – I am able to see nothing,
If a man is a beast – I hate him and scorn,
If he's worse than beasts – I kill him, laughing,
If my Russia is over – I die and I mourn.
She
In her despiteous and shameless wickedness
She is, as ashes, grey or grey as dust.
And I am perishing from just her nearness,
From bonds that solidly connected us.
She is a coarse one, she is a prickly one,
She is a cold one - she is a snake.
With her repulsive scales she had a cruel fun:
She makes me constantly be sternly baked.
If only I can feel a sharpness of the sting!
She is such clumsy, dull, such still as beef,
She is such massive thing, she is such languid thing;
I haven't access to her - she's deadly deaf.
And she inflexibly with her repulsive rings
Always caresses me and strangles at all.
And this unreal thing, this black and awful thing,
This black and monstrous thing - is just my soul!
Vertaald door Yevgeny Bonver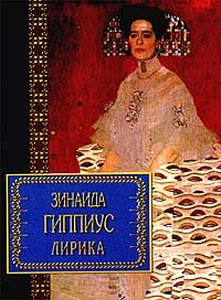 Zinaida Gippius (8 november 1869 – 9 september 1945)
Omslag biografie
Zie voor nog meer schrijvers van de 8e november ook mijn vorige blog van vandaag.

08-11-2010 om 18:13 geschreven door Romenu

Tags:Kazuo Ishiguro, Elfriede Brüning, Detlef Opitz, Zinaida Gippius, Romenu



Peter Weiss, Martha Gellhorn, Margaret Mitchell, Bram Stoker
De Duitse schrijver Peter Weiss werd geboren op 8 november 1916 in Nowawes (het tegenwoordige Neubabelsberg) bij Berlijn. Zie ook mijn blog van 8 november 2006 en ook mijn blog van 8 november 2008.
Uit: Die Ästhetik des Widerstands
"Es handelte sich nicht um die Arbeit, so wie mein Vater von ihr sprach, um die Arbeit als Vorgang der Selbstverwirklichung, sondern um Arbeit geleistet zu niedrigstem Preis und zu höchstem Profit des
Arbeitkäufers. Da nur die Arbeitenden zu sehn waren, mit ihrem ganzen Dasein den Tätigkeiten hingegeben, wurde der Eindruck erweckt, dass sie das Werk beherrschten. Sie füllten, kraftvoll skulptiert vom Schein des Feuers, den Raum aus. Beim ersten Anblick, sagte mein Vater, als wir uns im Kunstmuseum befanden, stellen sie sich in der überwältigenden Dominanz von Produktivkräften dar. Und doch bestätigen sie nur bis ins letzte die Regeln der Arbeitsteilung. Es wirkt, als handelten sie selbständig, sie existieren aber einzig in ihrer Bindung an die Maschinen und Geräte, die das Eigentum andrer sind. Diese andern waren nicht zu sehn, die Arbeitenden jedoch waren ihnen
verdingt. Auch sie, die im verdreckten Winkel kauerten, eine Welle für sich, fast wie im Besitz eines eignen Lebens, warteten nur auf das Signal, das sie wieder zurückrief. Ihre Stärke entwickelten sie allein im Handwerk, und auch dort waren die Bewegungen ihrer Arme nicht bedrohlich, es war deutlich, dass sie diese ausschließlich zur Erzeugung von Gütern verwenden würden. Die Lobpreisung der Arbeit war eine Lobpreisung der Unterordnung. Die Männer, die sich von Funken umsprüht um die glühende Eisenmasse scharten, die sich am Trog wuschen, und sie, die übermüdet vor sich hinstarrend bei ihrer Mahlzeit saßen und vor denen die junge Frau mit dem verhärmten, ängstlich aufblickenden Gesicht die leeren Becher in den Korb packte, sie alle waren machtlos. Die Tiefe der Fabrik war unbestimmbar, die Reihen der senkrechten und horizontalen Eisenträger und Rohre zogen sich als Gitterwerk ins Unendliche hin. Der sich im Rauch verlierende Bau war eine Welt, aus der es kein Entrinnen gab. Besaßen wir heute auch eine Kantine, einen Waschraum, eine Umkleidekammer und konnten mit technischen Verbeßrungen rechnen, so war der Produktionsgang doch noch der selbe, wie Menzel ihn dargestellt hatte Achtzehnhundert Fünfundsiebzig, vier Jahre nach der Zerschlagung der Commune. Ihre gesammelte Energie legten die Arbeiter in die Herstellung der eisernen Blöcke, aus denen Schienen, Lafetten, Kanonenrohre wurden. Ihre Friedfertigkeit schmolzen sie um zu einer Gewalt, die sich, von weit draußen her, gegen sie, gegen ihre Interessen richten würde."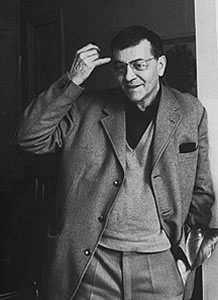 Peter Weiss (8 november 1916 - 10 mei 1982)
De Amerikaanse schrijfster en oorlogscorrespondente Martha Ellis Gellhorn werd geboren in St. Louis, Missouri op 8 november 1908. Zie ook mijn blog van 8 november 2008.
Uit: Is There a New Germany?
"Criticize, to doubt, to probe the Germans is by now not only anti-German but apparently unAmerican. In eighteen years, we have turned an astonishing emotional and intellectual somersault. Have the Germans done anything of the sort? Is there a "New Germany," or is there simply another Germany? My acquaintance with Germany began in 1924 and continued until the end of the Nürnberg Trials, though from the summer of 1936 until American troops entered Germany during the war, I watched from a distance and listened to those who had escaped the fatherland. In these post-war years, while the United States has become officially more loving every minute toward its former enemy, I have been reading of this New Germany, and wondering. Last winter I returned to West Germany to try to find what must be New Germans, those who were children or newly born at the end of the Second World War, so young then as to be untouched by the poison their people fed on for twelve years.
I had one introduction, to a Hungarian journalist established in Germany after the Hungarian revolution of 1956. My plan was to visit universities; I meant to meet Germany's future rulers. Hitler was a freak in German history in the sense that he was semiliterate; Germany is normally directed by university graduates, and the academic title Doctor has always abounded in German governmental circles. From the University of Hamburg, through those of Free Berlin, Frankfurt, Bonn, and Munich, I was passed along by students, either casually met or introduced by the student self-government in each university. We were strangers, they having no ideas about me and I no ideas about them. There was nothing official in this tour. I would wander into a student government office and chat with anyone I could find, and in turn they whistled up anyone they could find with spare time and a wish to talk; though I did try to meet all kinds, ranging from socialist to nationalist to don't-know."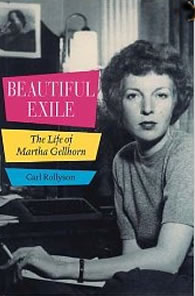 Martha Ellis Gellhorn (8 november 1908 - 16 februari 1998)
De Ameikaanse schrijfster Margaret Mitchell werd geboren op 8 november 1900 in Atlanta, Georgia. Zie ook mijn blog van 8 november 2006 en ook mijn blog van 8 november 2008.
Uit: Gone with the wind
"She began asking questions so brusquely and giving orders so decisively Pork's eyebrows went up in mystification. Miss Ellen didn't never talk so short to nobody, not even when she caught them stealing pullets and watermelons. She asked again about the fields, the gardens, the stock, and her green eyes had a hard glaze which Pork had never seen in them before.
"Yas'm, dat hawse daid, layin' dar whar Ah tie him wid his nose in de water bucket he tuhned over. No'm, de cow ain' daid. Din' you know? She done have a calf las' night. Dat why she beller so."
"A fine midwife your Prissy will make," Scarlett remarked caustically. "She said she was bellowing because she needed milking."
"Well'm, Prissy ain' fixing to be no cow midwife, Miss Scarlett," Pork said tactfully. "An' ain' no use quarrelin' wid blessin's, cause dat calf gwine ter mean a full cow an' plen'y buttermilk fer de young Misses, lak dat Yankee doctah say dey'd need."
"All right, go on. Any stock left?"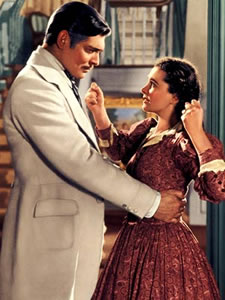 Scene uit de film 'Gone with the wind'


"No'm. Nuthin' 'cept one ole sow an' her litter. Ah driv dem inter de swamp de day de Yankees come, but de Lawd knows how we gwine get dem. She mean, dat sow."
"We'll get them all right. You and Prissy can start right now hunting for her."
Pork was amazed and indignant.
"Miss Scarlett, dat a fe'el han's bizness. Ah's allus been a house nigger."
A small fiend with a pair of hot tweezers plucked behind Scarlett's eyeballs.
"You two will catch the sow -- or get out of here, like the field hands did."
Tears trembled in Pork's hurt eyes. Oh, if only Miss Ellen were here! She understood such niceties and realized the wide gap between the duties of a field hand and those of a house nigger.
"Git out, Miss Scarlett? Whar'd Ah git out to, Miss Scarlett?"
"I don't know and I don't care. But anyone at Tara who won't work can go hunt up the Yankees. You can tell the others that too."
"Yas'm."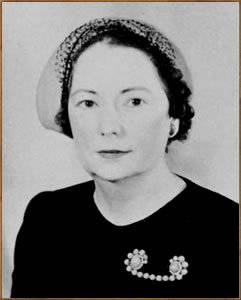 Margaret Mitchell (8 november 1900 – 16 augustus 1949)
De Ierse schrijver Bram Stoker werd geboren op 8 november 1847 in Clontarf, een wijk van Dublin in Ierland. Zie ook mijn blog van 8 november 2006 en ook mijn blog van 8 november 2008.
Uit: Dracula
"In the population of Transylvania there are four distinct nationalities: Saxons in the South, and mixed with them the Wallachs, who are the descendants of the Dacians; Magyars in the West, and Szekelys in the East and North. I am going among the latter, who claim to be descended from Attila and the Huns. This may be so, for when the Magyars conquered the country in the eleventh century they found the Huns settled in it.
I read that every known superstition in the world is gathered into the horseshoe of the Carpathians, as if it were the centre of some sort of imaginative whirlpool; if so my stay may be very interesting. (Mem., I must ask the Count all about them.)
I did not sleep well, though my bed was comfortable enough, for I had all sorts of queer dreams. There was a dog howling all night under my window, which may have had something to do with it; or it may have been the paprika, for I had to drink up all the water in my carafe, and was still thirsty. Towards morning I slept and was wakened by the continuous knocking at my door, so I guess I must have been sleeping soundly then.
I had for breakfast more paprika, and a sort of porridge of maize flour which they said was 'mamaliga', and egg-plant stuffed with forcemeat, a very excellent dish, which they call 'impletata'. (Mem., get recipe for this also.)
I had to hurry breakfast, for the train started a little before eight, or rather it ought to have done so, for after rushing to the station at 7:30 I had to sit in the carriage for more than an hour before we began to move.
It seems to me that the further east you go the more unpunctual are the trains. What ought they to be in China?
All day long we seemed to dawdle through a country which was full of beauty of every kind. Sometimes we saw little towns or castles on the top of steep hills such as we see in old missals; sometimes we ran by rivers and streams which seemed from the wide stony margin on each side of them to be subject to great floods. It takes a lot of water, and running strong, to sweep the outside edge of a river clear.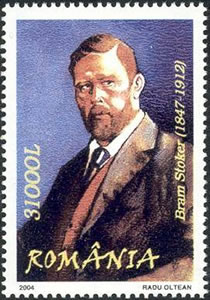 Bram Stoker (8 november 1847 – 20 april 1912)

08-11-2010 om 18:12 geschreven door Romenu

Tags:Peter Weiss, Martha Gellhorn, Margaret Mitchell, Bram Stoker, Romenu



Joshua Ferris
De Amerikaanse schrijver Joshua Ferris werd op 8 november 1974 in Danville, Illinois geboren. Ferris debuteerde in 2006 met de roman Zo kwamen we aan het eind. Ferris studeerde Engels en filosofie aan de universiteit van Iowa, werkte een aantal jaren in de reclamewereld, en behaalde daarna een Master of Fine Arts aan de UC Irvine.
Uit: The Unnamed
It was the cruelest winter. The winds were rabid off the rivers. Ice came down like poisoned darts. Four blizzards in January alone, and the snowbanks froze into gray barricades as grim and impenetrable as anything in war. Tombstones were buried across the cemetery fields and cars parked curbside were swallowed undigested. The long-term debate about changing weather was put aside for immediate concern for the elderly and the shut-ins, while the children went weeks without school. Deliveries came to a halt and the warehouses clogged up on days the planes were approved to land. There were lines at the grocery store, short tempers, a grudging toward the burden of adjustment. Some clever public services addressed the civic concerns — heat shelters, volunteer home checks. The cold was mother of invention, a vengeful mother whose lessons were delivered at the end of a lash.
The ride home was slow going because of the snow and the traffic. He usually worked by eyelet light but this evening he brought no work home and sat in one quadrant of the car without file opened or pen in hand. They were waiting for him. They didn't know they were waiting for him. The driver had on 1010 WINS, traffic and transit on the ones. Somewhere, out to sea or in the South, it might not be snowing. Here it slanted into the windshield like white ash from a starburst. The frostbite had returned to his fingers and toes. He unbuckled the seat belt and leaned over, stretching his long torso across the backseat, and what the driver thought he didn't care. The sound of the radio faded as one ear was sealed up by the distressed leather and he put a hand on the floor mat and ran his tingling fingertips over the fibertrapped pebbles. He hadn't called to tell them. He had lost his phone. They were waiting for him, but they didn't know it.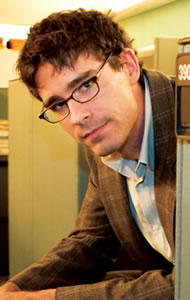 Joshua Ferris (Danville, 8 november 1974
)

08-11-2010 om 00:00 geschreven door Romenu

Tags:Joshua Ferris, Romenu


07-11-2010

Albert Camus, Albert Helman, Pierre Bourgeade, Antonio Skármeta, W. S. Rendra
De Franse schrijver en filosoof Albert Camus werd geboren op 7 november 1913 in Mondovi, Algerije. Zie ook mijn blog van 7 november 2006 en ook mijn blog van 7 november 2007 en ook mijn blog van 7 november 2008 en ook mijn blog van 7 november 2009.
Uit: Caligula
"[Acte I, Scène IV (dialogue Hélicon, Caligula)]

---
CALIGULA
... Mais je ne suis pas fou et même je n'ai jamais été aussi raisonnable.
Simplement, je me suis senti tout à coup un besoin d'impossible.
Les choses, telles qu'elles sont, ne me semblent pas
satisfaisantes.
HÉLICON
C'est une opinion assez répandue.
CALIGULA
Il est vrai. Mais je ne le savais pas auparavant.
Maintenant, je sais. Ce monde,
tel qu'il est fait, n'est pas supportable. J'ai donc
besoin de la lune, ou du bonheur, ou de l'immortalité,
de quelque chose qui soit dément peut-être,
mais qui ne soit pas de ce monde.
HÉLICON
C'est un raisonnement qui se tient. Mais, en
général, on ne peut pas le tenir jusqu'au bout.
CALIGULA,
se levant, mais avec la même simplicité.
Tu n'en sais rien. C'est parce qu'on ne le tient
jamais jusqu'au bout que rien n'est obtenu. Mais
il suffit peut-être de rester logique jusqu'à la fin,
Il regarde Hélicon.
Je sais aussi ce que tu penses. Que d'histoires
pour la mort d'une femme! Non, ce n'est pas cela.
Je crois me souvenir, il est vrai, qu'il y a quelque
jours, une femme que j'aimais est morte. Mais
qu'est-ce que l'amour? Peu de chose. Cette mort
n'est rien, je te le jure; elle est seulement le signe
d'une vérité qui me rend la lune nécessaire. C'est
une vérité toute simple et toute claire, un peu
bête, mais difficile à découvrir et lourde à porter.
HÉLICON
Et qu'est-ce donc que cette vérité, Caius ?
CALIGULA, détourné, sur un ton neutre.
Les hommes meurent et ils ne sont pas heureux.
HÉLICON, après un temps.
Allons, Caius, c'est une vérité dont on s'arrange
très bien. Regarde autour de toi. Ce n'est pas cela
qui les empêche de déjeuner.
CALIGULA, avec un éclat soudain.
Alors, c'est que tout, autour de moi, est mensonge,
et moi, je veux qu'on vive dans la vérités
Et justement, j'ai les moyens de les faire vivre
dans la vérité. Car je sais ce qui leur manque,
Hélicon. Ils sont privés de la connaissance et
il leur manque un professeur qui sache ce dont il parle."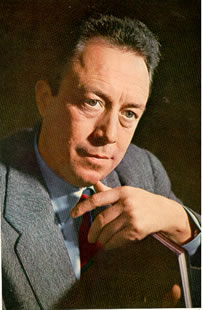 Albert Camus (7 november 1913 – 4 januari 1960)




De Nederlandse dichter en schrijver Albert Helman werd geboren op 7 november 1903 in Paramaribo. Zie ook mijn blog van 7 november 2006 en ook mijn blog van 7 november 2008 en ook mijn blog van 7 november 2009.
Uit: Orkaan bij nacht
"Heb ik ooit liefgehad?
Ben ik zelf ooit bemind?
Ik weet het niet. Ik weet het niet meer. Sinds jaren leef ik in raadsels die dag aan dag ondoorgrondelijker worden. Twijfels die zelfs de geringste gebeurtenissen vertroebelen, en de laatste kans op geluk teniet doen.
Het is zelfs de vraag of geluk iets bestaanbaars is. Mijzelf schijnt het toe dat ik nooit werkelijk gelukkig ben geweest, en de schaarsche keeren dat ik dit meende, berustten op een schandelijk bedrog van mijzelf en anderen. Een dwaze komedie waarbij geglimlacht werd en gelukzalig gekeken, maar waarbij ieder in zijn hart voelde dat hij te hoog speelde, dat hij straks onherroepelijk de verliezer zijn zou, en dupe van een kinderachtige overgevoeligheid.
De anderen? Het is mogelijk dat er gelukkigen zijn. Maar ik ken ze niet, ik heb ze nooit ontmoet. Die de schijn aannamen alsof, of zich erop beroemden dat zij gelukkig konden zijn, heb ik met gretige nieuwsgierigheid geobserveerd, op het ziekelijke af; maar ik heb altijd weer de vooze plek in hun geluk, de valschheid van hun zelfbegoocheling ontdekt. Daarvoor was niet eens bizondere scherpzinnigheid noodig; ze verrieden zichzelf maar al te graag, want van hun soort geluk raakten ze gauw genoeg vermoeid, verveeld en overstuur. Juist zooals ik, de enkele keeren dat ik een hallucinatie voor geluk heb aangezien.
Er is geen mensch die niet een tijdlang zich aan zulk zelfbedrog bezondigt, en zijn eigen ziel poogt op te lichten. Maar wat heb ik nog te maken met de menschen.... met de mensch die ik zelf eertijds was? Onherroepelijk zijn de jaren, maar het is ook dwaasheid ze ooit terug te willen roepen. Dood is dood, voorbij voorbij, begraven blijft voorgoed begraven. Beter is het ieder jaar en elke dag de eindrekening op te maken en een streep te zetten onder wat voorbij is: het verloren leven, het bedrog, en zelfs het laatste beetje dat je nog uit de algemeene ondergang dacht te redden.
Dat wil zeggen....
Neen, ik wil niet. Geen restricties. Koel en zakelijk wil ik doorgaan met de heele boel te likwideeren. Jeugd en studiejaren met hun kinderlijke illusies, hun geloof dat op deze aarde ooit iets groots zou te bereiken zijn. Die kindersprookjes.... Dan mijn huwelijk. Blijspel aller treurspelen of treurspel aller blijspelen, dat is om het even. Een vergissing, zeker, dat beken ik mij reeds jaren. Maar een van die fijne, wreede, ingewikkelde vergissingen, zooals een Planck en Einstein ze ontdekten in het onaantastbare instituut van onze wiskunde. Mijn huwelijk had ook beter moeten zijn dan alle andere, volgens de oude leer. Maar daar kwam de ontdekking: de berekeningen klopten niet."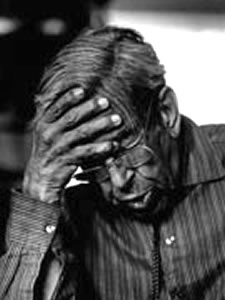 Albert Helman (7 november 1903 - 7 oktober 1996)
De Franse schrijver, scenarioschrijver, essayist, dichter, journalist en fotograaf Pierre Bourgeade werd geboren in Morlanne op 7 november 1927. Zie ook mijn blog van 7 november 2009.
Uit: Warum
"Le surlendemain, nous retrouvâmes Eva à la pâtisserie du Trocadéro. Après avoir pris le thé, nous nous rendîmes dans un petit hôtel de la rue Saint-Didier, la Résidence des Fleurs, qui louait des chambres à l'heure. Les chambres n'étaient pas numérotées, elles portaient des noms de fleurs inscrits sur de petites plaques émaillées. Il y avait les lilas, les bleuets, les myosotis, les violettes, etc.,… et elles étaient entièrement tapissées, plafond compris, d'un tissu représentant ces fleurs. On nous donna la chambre des hortensias bleus, nous eûmes l'impression de pénétrer dans une boîte géante remplie d'hortensias. Je commandai une bouteille de champagne. Eva enleva son trench-coat, s'allongea sur le lit et attendit. Elle portait sa longue robe de coton rêche, sans ceinture, dans les tons grèges. Elle avait le visage très blanc, les paupières noirs de fard, les yeux allongés d'un trait de crayon jusqu'aux oreilles. Lucienne s'assit à côté d'elle, déboutonna la robe, sous laquelle Eva était nue. Lucienne se pencha, embrassa les seins, descendit, embrassa le ventre. Eva écarta les cuisses. Je m'assis à hauteur de son visage, essayant de lui faire mettre le nez dans ma braguette, mais elle détourna la tête. Je ne bandai pas. Je glissai la main dans les cheveux de Lucienne, lui grattai le crâne. Lucienne suçait avec fougue, ahanant. Je regardai les cloisons d'hortensias bleus, le plafond d'hortensias bleus, les rideaux d'hortensias bleus, puis je pensai que nous étions des nains déguisés en hortensias bleus occupés à donner un spectacle hard dans un bocal plein d'hortensias bleus pour un Dieu solitaire dont l'œil nous voyait, caché dans l'un des hortensias bleus du plafond. Eva poussa un petit cri. «Tu me mords!»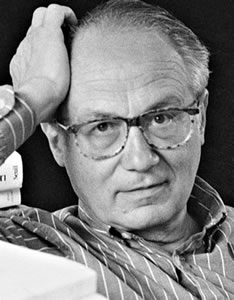 Pierre Bourgeade (7 november 1927 – 12 maart 2009)
De Chileense schrijver Antonio Skármeta werd geboren op 7 november 1940 in Antofagasta. Zie ook mijn blog van 7 november 2008 en ook mijn blog van 7 november 2009.
Uit: Das Mädchen mit der Posaune (Vertaald door Willi Zurbrüggen)
"Im Dezember 1944 saß ich mit dem malizianischen Einwanderer Stefano Coppeta einträchtig schweigend auf den Treppenstufen des Ladens Ecke Prat und Esmeralda, als ein blendender Lichtblitz von weiter unten uns gleichzeitig aufspringen ließ. Überrascht und neugierig legten wir die Hände schirmend über die Augen und spähten in das unendliche Licht, das von einem goldenen Skateboard oder einer diamantenen Antenne zu kommen schien.
Das überwältigende Leuchten blendete so, daß es unmöglich war, die Personen in seinem Umkreis auszumachen. Erst als sie bis auf einen halben Häuserblock herangekommen waren, sah ich, daß es sich um einen dicken jungen Mann handelte, begleitet von einem etwa zweijährigen Geschöpf in einem roten Trägerkleidchen, das der unerträglichen Hitze sehr angemessen war. Das Mädchen hielt einen zerbissenen Schnuller in den Händen und der Junge eine Posaune von gewaltigem Ausmaß. Eine einzige Lichtkanonade.
Vor uns beiden blieb das Paar stehen. Der junge Mann griff in die Tasche seiner Manchesterhose, die hier und da Flecken deutlich älteren Datums aufwies, zog einen abgegriffenen Zettel hervor, wischte sich damit den Schweiß von der Stirn, las ihn durch, starrte Stefano Coppeta in die Augen, als sähe er dessen Fingerabdrücke darin, steckte den Zettel zurück in die Hosentasche und sagte auf malizianisch: "Glenn Miller ist tot."
"Wer ist das?" fragte ich und spürte, wie das Mädchen an meinem Hemd zupfte.
"Glenn Miller? Der größte Musiker des Jahrhunderts. In the Mood, Little Brown Jug, Pennsylvania 6-5000, Moonlight Serenade... Kennen Sie den nicht?"
Der Mann streichelte seine Posaune, als müsse er sie trösten, und schaute dann betrübt auf das Mädchen.
"Von zeitgenössischer Musik verstehe ich nichts", sagte ich einlenkend. "Ich bin bei Mozart und Beethoven stehengeblieben." Stefano zündete sich eine Zigarette an.
"In der Silvesternacht tanzen die Landsleute manchmal Turumbas. Kennen Sie die Turumba der Früchte?"
Der Posaunist brachte das Mundstück an die Lippen, setzte es, ohne einen Ton zu blasen, wieder ab und befeuchtete die Lippen mit der Zunge.
"Die Turumba des Todes", sagte er mit bitterem Lächeln. "Die Nazis sind bis in unser Allerheiligstes vorgedrungen."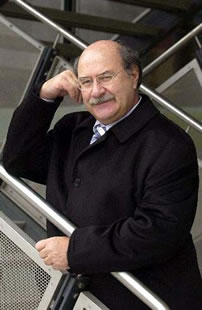 Antonio Skármeta (Antofagasta, 7 november 1940)

De Indonesische dichter en toneelregisseur Wahyu Sulaeman Rendra (eig. Willibrordus Surendra Broto Rendra) werd geboren in Surakarta op 7 november 1935. Rendra behoorde als dichter tot de groep "Angkatan '50". Als een van de weinige Indonesische dichters stond Rendra dikwijls op de kandidatenlijst voor de Nobelprijs voor de Literatuur. Hij verleende het Indonesisch een nieuwe dimensie door zijn lucide, schijnbaar simpel, maar zeer doeltreffend woordgebruik. Na enkele jaren in de Verenigde Staten te hebben doorgebracht, keerde hij in 1966 terug naar Djokjakarta. Daar werd hij echter vooral bekend met het door hem opgerichte theatercollectief "Bengkel". Rendra was ook een vooraanstaand opponent van het regime van president Soeharto (1967-1998) en zat in 1978 enkele maanden in de gevangenis.
Poem
The wet twilight calms the burning forest.
Vampire bats descend
from the dark grey sky.
Smell of munitions in the air.
Smell of corpses. And horseshit.
A pack of wild dogs
eat hundreds and thousands of human bodies
the dead and the half dead.
And among the scorched trees of the forest
puddles of blood form into a pool.
Wide and calm. Ginger in colour.
Twenty angels come down from heaven
to purify those in their death throes
but on earth
are ambushed by the giant vampires
and raped.
A vital breeze which travels gently on
moves away the ringlet curls of the corpses
makes circles on the lake of blood
and impassions the lust of angels and bats.
Yes, my brothers,
I know this is a view which satisfies you
for you have worked so intently
to create it.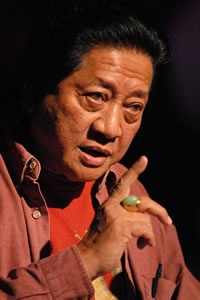 W. S. Rendra (7 november 1935 - 6 augustus 2009)
Zie voor nog meer schrijvers van de 7e november ook mijn vorige blog van vandaag.

07-11-2010 om 19:41 geschreven door Romenu

Tags:Albert Camus, Albert Helman, Pierre Bourgeade, Antonio Skármeta, W. S. Rendra, Romenu



Vladimir Volkoff, Auguste Villiers de L'Isle-Adam, Friedrich zu Stolberg-Stolberg, Johann Gottfried Schnabel, Gédéon Tallemant des Réaux
De Franse schrijver Vladimir Volkoff werd geboren in Parijs op 7 november 1932. Zie ook mijn blog van 7 november 2008 en ook mijn blog van 7 november 2009.
Uit: Le retournement
"- Avez-vous jamais réfléchi au mot bolchévik ? commença Popov. Pour l'anecdote, il signifie « majoritaire au congrès social-démocrate de 1903 », mais sans compter que la majorité semble avoir été, par bonheur, truquée, faut voir plus profond. Staline - vous pouvez me dénoncer à l'ambassadeur pour avoir cité le vieux père - a dit : « Bolchevisme et léninisme sont une seule et nième chose. » Ostrovsky attire notre attention sur le mot, qui est musclé, dense : on y mord bien. Pour moi, c'est un mot de couleur rouge foncé, tirant sur le brun ; un mot pesant, qui évoque l'artillerie de gros calibre et l'industrie lourde. Un mot comme bombardier, comme marteau-pilon. Un mot qui fait peur et chaud on même temps. Petit garçon, je ne rêvais qu'à ça avoir le droit de dire « Je suis bolchevik ». J'y rêvais plus et mieux qu'un cadet à l'épaulette, qu'un petit télégraphiste américain aux milliards de Carnegie. J'ai suivi la filière : pionniers, konisa, candidature au Parti, l'examen où l'an étale son âme sur la table d'opération... J'ai reçu mon billet. Ça y était. Vous n'êtes qu'une petite Occidentale pourrie si vous vous imaginez un instant que j'ai été déçu. Au contraire : l'initiation a dépassé mues espoirs. Quand je me suis regardé dans la glace, que j'ai tendu le doigt et que j'ai dit « Voilà un bolchevik! », j'ai senti que je m'étais majoré moi-même. Seulement, dans l'entre­temps, j'avais appris, progressivement, le vrai sens du mot. Un bolchevik, ce n'est pas un protecteur de la veuve et de l'orphelin, comme vous le croyez, ni un lutteur contre les forces d'ombre, comme je l'avais cru moi-même, ni un prolétaire plus conscient. ni un économiste plus averti, ni un prophète plus éclairé, ni un dialecticien plus logique. Ces représentations qui sortent les unes des autres sont comme nos poupées russes : toutes â limage de la vérité, la serrant de plus en plus étroitement, donc toutes vraies. Et pourtant, toutes fausses, jusqu'au moment où on atteint la dernière, celle qui ne s'ouvre plus, le noyau sous la chair, la particule infis­sible, la vérité vraie. J'avais voulu devenir bolchevik, je l'étais, mais ce n'était pas ce que je pensais, c'était mieux, infiniment mieux."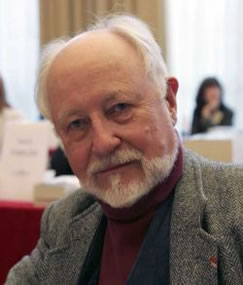 Vladimir Volkoff (7 november 1932 - 14 september 2005)
De Franse schrijver Auguste Villiers de L'Isle-Adam werd geboren op 7 november 1838 in Saint-Brieuc. Zie ook mijn blog van 7 november 2008 en ook mijn blog van 7 november 2006 en ook mijn blog van 7 november 2009.
Uit: L'Eve Future
"A vingt-cinq lieues de New York, au centre d'un réseau de fils électriques, apparaît une habitation qu'entourent de profonds jardins solitaires. La façade regarde une riche pelouse traversée d'allées
sablées qui conduit à une sorte de grand pavillon isolé. Au sud et à l'ouest, deux longues avenues de très vieux arbres projettent leurs ombrages supérieurs vers ce pavillon. C'est le n° 1 de la cité de Menlo Park.--Là demeure Thomas Alva Edison, l'homme qui a fait prisonnier l'écho.
Edison est un homme de quarante-deux ans. Sa physionomie rappelait, il y a quelques années, d'une manière frappante, celle d'un illustre Français, Gustave Doré. C'était presque le visage de l'artiste _traduit_ en un visage de savant. Aptitudes congénères, applications différentes.
Mystérieux jumeaux. A quel âge se ressemblèrent-ils tout à fait? jamais, peut-être. Leurs deux photographies d'alors, fondues au stéréoscope, éveillent cette impression intellectuelle que certaines effigies de races supérieures ne se réalisent pleinement que sous une monnaie de figures, éparses dans l'Humanité.
Quant au visage d'Edison, il offre, confronté avec d'anciennes estampes, une vivante reproduction de la médaille syracusaine d'Archimède.
Or, un soir de ces derniers automnes, vers cinq heures, le merveilleux inventeur de tant de prestiges, le magicien de l'oreille (qui, presque sourd lui-même, comme un Beethoven de la Science, a su se créer cet imperceptible instrument--grâce auquel, ajusté à l'orifice du tympan, les surdités, non seulement disparaissent, mais dévoilent, plus affiné encore, le sens de l'ouïe--), Edison, enfin, s'était retiré au plus profond de son laboratoire personnel, c'est-à-dire en ce pavillon séparé de son château."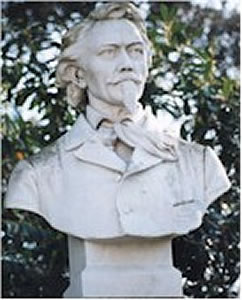 Auguste Villiers de L'Isle-Adam (7 november 1838 - 18 april 1889)
Buste van Élie Le Goff in Saint-Brieuc
De Duitse dichter, vertaler en jurist Graaf Friedrich Leopold zu Stolberg-Stolberg werd geboren op 7 november 1750 in Bramstedt. Zie ook mijn blog van 7 november 2008 en ook mijn blog van 7 november 2009.
An den Abendstern
6. Januar 1773.
Ehmals winktest du mir, Führer des schweigenden
Abends, Freuden herab, kurz, wie sie Sterblichen
Lächeln, farbigen Blasen
Ähnlich, hauchender Weste Spiel!
Zwar mir waren sie wert, wert, wie dem dürstenden
Weizenhalme der Tau! aber sie schwanden bald!
Selten blicket dein Auge
Nun, und trüber auf mich herab!
Hüllen Schleier dich ein? Oder entfließen dir
Thränen? Bist du, gleich mir, nagender Traurigkeit
Raub, ein Erbe des Jammers?
Deine strahlenden Brüder auch?
Ist das blaue Gewand leuchtender Sonnen voll,
Und mit Monden besä't, nur ein Gewebe von
Elend? Tönen die Sphären
Einen ewigen Klageton?
Oder bin ich allein elend? Du schweigest mir,
Unerbittlich auch du! dennoch ein Retter einst,
Wann den Abend du bringest,
Welchem folget kein Morgenrot!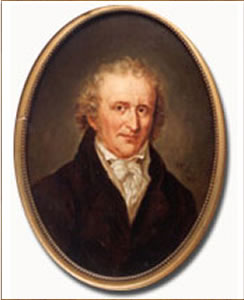 Friedrich Leopold zu Stolberg-Stolberg (7 november 1750 - 5 december 1819)
De Duitse schrijver Johann Gottfried Schnabel werd geboren op 7 november 1692 in Sandersdorf bij Bitterfeld. Zie ook mijn blog van 7 november 2009.
Uit: Der im Irrgarten der Liebe herumtaumelnde Kavalier


"Es hat ein geborener von Adel zwei Hauptwege vor sich, durch welche er zu besonderen hohen Ehren gelangen und sich vor anderen seines Standes ungemein distinguieren kann, nämlich den Weg in den Krieg oder den Weg, zur Gelehrsamkeit zu gelangen. Ob man nun schon nicht in Abrede ist, daß sich viele von Adel auf andere Arten, nämlich durch Erlernung der Jägerei, Reitkunst und dergleichen, in hohe Posten geschwungen, so ist doch sonnenklar, daß die Zahl derjenigen, welche einen von den erstgemeldeten Wegen erwählt und dadurch sehr hohe Chargen erreicht, der anderen Zahl bei weitem übertrifft.
Ein gewisser deutscher Kavalier, den wir Gratianus von Elbenstein nennen wollen, war zwar keine feige Memme, hatte aber mehr Lust zu den Büchern und zur Feder als zum Degen und anderem Gewehr, erwählte deswegen den Weg, sich durch Gelehrsamkeit emporzuschwingen. Weil er nun von seiner zarten Jugend an beständig fleißig studiert, hatte er es so weit gebracht, daß er sehr frühzeitig auf Universitäten ziehen konnte. Als er nach einigen Jahren von dannen zurück kam, zeigten sich seine vornehmen Eltern ungemein vergnügt, zumal sie von vielen Staats- und gelehrten Leuten die Versicherung erhielten, daß sie ihr Geld nicht übel angelegt, indem der junge Herr Gratianus von Elbenstein sich nicht allein in der Jurisprudenz, Philosophie, Mathematik und dergleichen, sondern auch in den Nebendingen, Tanzen, Reiten, Fechten, Voultoisieren, vor anderen, die gleich so viel Zeit und wohl mehr Geld als er verschwendet, ungemein hervorgetan hätte.
Demnach war sein Herr Vater gesonnen, ihn fürs erste an einem gewissen fürstlichen Hofe als Kammerjunker zu engagieren; da aber der junge Herr von Elbenstein seinem Herrn Vater vorstellte, was es für eine vortreffliche und höchstnötige Sache sei, daß ein junger Kavalier, ehe er Bedienung bei Hofe annähme, sich vorher auf Reisen begäbe, um die Welt sowohl als die Gemüts- und Lebensarten der Menschen von verschiedenen Nationen kennenzulernen, er auch außerdem noch viel mehr andere Beweggründe hinzusetzte, resolvierte sich der Herr Vater bald, seinen beiden Söhnen eine standesmäßige Equipage verfertigen zu lassen und jedwedem einen wohlgespickten Beutel mitzugeben."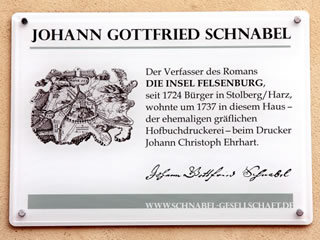 Johann Gottfried Schnabel (7 november 1692 - tussen 1751 en 1758)
Gedenkplaat aan zijn woonhuis in Stolberg in de Harz
De Franse schrijver Gédéon Tallemant des Réaux werd geboren op 7 november 1619 in La Rochelle. Zie ook mijn blog van 7 november 2008 en ook mijn blog van 7 november 2009.
Uit: Historiettes. Henri IV
"Si ce prince fût né roi de France, et roi paisible, probablement ce n'eût pas été un grand personnage : il se fût noyé dans les voluptés, puisque, malgré toutes ses traverses, il ne laissoit pas, pour suivre ses plaisirs, d'abandonner les plus importantes affaires. Après la bataille de Coutras, au lieu de poursuivre ses avantages, il s'en va badiner avec la comtesse de Guiche, et lui porte les drapeaux qu'il avoit gagnés. Durant le siège d'Amiens, il court après madame de Beaufort, sans se tourmenter du cardinal d'Autriche, depuis l'archiduc Albert, qui s'approchoit pour tenter le secours de la place.
[Sigogne fit cette épigramme :
Ce grand Henri, qui souloit estre
L'effroi de l'Espagnol hautain
Fuyt aujourd'huy devant un prestre
Et suit le c-l d'une p...n. (T.)]
Il n'étoit ni trop libéral, ni trop reconnoissant. Il ne louoit jamais les autres, et se vantoit comme un Gascon. En récompense, on n'a jamais vu un prince plus humain, ni qui aimât plus son peuple ; d'ailleurs, il ne refusoit point de veiller pour le bien de son Etat. Il a fait voir en plusieurs rencontres qu'il avoit l'esprit vif et qu'il entendoit raillerie.
Pour reprendre donc ses amours, si Sébastien Zamet, comme quelques-uns l'ont prétendu, donna du poison à madame de Beaufort, on peut dire qu'il rendit un grand service à Henri IV, car ce bon prince alloit faire la plus grande folie qu'on pouvoit faire : cependant il y étoit résolu.
On devoit déclarer feu M. le Prince bâtard. M. 1e comte de Soissons se faisoit cardinal, et on lui donnoit trois cent mille écus de rentes en bénéfices. M. le prince de Conti étoit marié alors avec une vieille qui ne pouvoit avoir d'enfants. M. le maréchal de Biron devoit épouser la fille de madame d'Estrées, qui depuis a été madame de Sanzay. M. d'Estrées la devoit avouer ; elle étoit née durant le mariage, mais il y avoit cinq ou six ans que M. d'Estrées n'avoit couché avec sa femme, qui s'en étoit allée avec le marquis d'Allègre, et qui fut tuée avec lui à Issoire, par les habitants, qui se soulevèrent et prirent le parti de la Ligue. Le marquis et sa galante tenoient pour le Roi : ils furent tous deux poignardés et jetés par la fenêtre."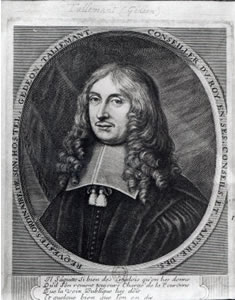 Gédéon Tallemant des Réaux (7 november 1619 – 10 november 1692)

07-11-2010 om 19:33 geschreven door Romenu

Tags:Vladimir Volkoff, Auguste Villiers de L'Isle-Adam, Friedrich zu Stolberg-Stolberg, Gédéon Tallemant des Réaux, Johann Gottfried Schnabel, Romenu


06-11-2010

Robert Musil, Michael Cunningham, Nelleke Noordervliet, Bea Vianen, Bert Vanheste
De Oostenrijkse schrijver Robert Musil werd geboren op 6 november 1880 in Klagenfurt. Zie ook mijn blog van 6 november 2006 en ook mijn blog van 6 november 2007 en ook mijn blog van 6 november 2008 en ook mijn blog van 6 november 2009.
Uit: Der Mann ohne Eigenschaften (Hoofdstuk 40)
"Ebensowenig konnte er Abenteurer werden, obgleich da das Leben etwas von einer immerwährenden Brautzeit haben mochte und seine Glieder wie sein Mut diese Lust spürten. Er hatte weder Dichter werden können noch einer von den Enttäuschten, die nur an Geld und Gewalt glaubten, obgleich er zu all dem eine Anlage hatte. Er vergass sein Alter, er stellte sich vor, er wäre zwanzig: trotzdem war es innerlich so entschieden, dass er davon nichts werden konnte; zu allem, was es gab, zog ihn etwas hin, und etwas Stärkeres liess ihn nicht dazu kommen. Warum lebte er also unklar und unentschieden? Ohne Zweifel, - sagte er sich - was ihn in eine abgeschiedene und unbenannte Daseinsform bannte, war nicht der Zwang zu jenem Lösen und Binden der Welt, das man mit einem Wort, dem man nicht gerne allein begegnet, Geist nennt.
Und Ulrich wusste selbst nicht warum, aber er wurde mit einemmal traurig und dachte: "Ich liebe mich einfach selbst nicht." In dem erfrorenen, versteinerten Körper der Stadt fühlte er ganz zu innerst sein Herz schlagen. Da war etwas in ihm, das hatte niergends bleiben wollen, hatte sich die Wände der Welt entlang gefühlt und gedacht, es gibt ja noch Millionen anderer Wände; dieser langsam erkaltende, lächerliche Tropfen Ich, der sein Feuer, den winzigen Glutkern nicht abgeben wollte.
Der Geist hat erfahren, das Schönheit gut, schlecht, dumm oder bezaubernd macht. Er zerlegt ein Schaf und einen Büsser und findet in beiden Demut und Geduld. Er untersucht einen Stoff und erkennt, dass er in grossen Mengen ein Gift, in kleineren ein Genussmittel sei. Er weiss, dass die Schleimhaut der Lippen mit der Schleimhaut des Darms verwandt ist, weiss aber auch, dass die Demut der Lippen mit der Demut alles Heiligen verwandt ist. Er bringt durcheinander, löst auf und hängt neu zusammen. Gut und bös, oben und unten sind für ihn nicht skeptisch-relative Vorstellungen, wohl aber Glieder einer Funktion, Werte, die von dem Zusammenhang abhängen, in dem sie sich befinden. Er hat es den Jahrhunderten abgelernt, dass Laster zu Tugenden und Tugenden zu Lastern werden können, und hält es im Grunde bloss für eine Ungeschicklichkeit, wenn
man es noch nicht fertig bringt, in der Zeit eines Lebens aus einem Verbrecher einen nützlichen Menschen zu machen. Er anerkennt nichts Unerlaubtes und nichts Erlaubtes, den alles kann eine Eigenschaft haben, durch die er eines Tages teil hat an einem grossen, neuen Zusammenhang. Er hasst heimlich wie den Tod alles, was so tut, als stünde es ein für allemal fest, die grossen Ideale und Gesetze und ihren kleinen versteinten Abdruck, den gefriedeten Charakter. Er hält kein Ding für fest, kein Ich, keine Ordnung weil unsre Kenntnisse sich mit jedem Tag ändern können, glaubt er an keine
Bindung, und alles besitzt den Wert, den es hat, nur bis zum nächsten Akt der Schöpfung, wie ein Gesicht, zu dem man spricht, während es sich mit den Worten verändert."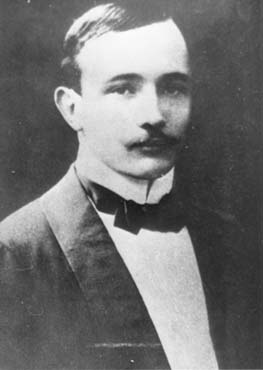 Robert Musil (6 november 1880 – 15 april 1942)
De Amerikaanse schrijver Michael Cunningham is geboren in Cincinnati, Ohio op 6 november 1952. Zie ook mijn blog van 6 november 2006 en ook mijn blog van 6 november 2007 en ook mijn blog van 6 november 2009.
Uit: Flesh And Blood
"1935 / Constantine, eight years old, was working in his father's garden and thinking about his own garden, a square of powdered granite he had staked out and combed into rows at the top of his family's land. First he weeded his father's bean rows and then he crawled among the gnarls and snags of his father's vineyard, tying errant tendrils back to the stakes with rough brown cord that was to his mind the exact color and texture of righteous, doomed effort. When his father talked about "working ourselves to death to keep ourselves alive," Constantine imagined this cord, coarse and strong and drab, electric with stray hairs of its own, wrapping the world up into an awkward parcel that would not submit or stay tied, just as the grapevines kept working themselves loose and shooting out at ecstatic, skyward angles. It was one of his jobs to train the vines, and he had come to despise and respect them for their wild insistence. The vines had a secret, tangled life, a slumbering will, but it was he, Constantine, who would suffer if they weren't kept staked and orderly. His father had a merciless eye that could find one bad straw in ten bales of good intentions.
As he worked he thought of his garden, hidden away in the blare of the hilltop sun, three square feet so useless to his father's tightly bound future that they were given over as a toy to Constantine, the youngest. The earth in his garden was little more than a quarter inch of dust caught in a declivity of rock, but he would draw fruit from it by determination and work, the push of his own will. From his mother's kitchen he had spirited dozens of seeds, the odd ones that stuck to the knife or fell on the floor no matter how carefully she checked herself for the sin of waste. His garden lay high on a crown of scorched rock where no one bothered to go; if it produced he could tend the crop without telling anyone."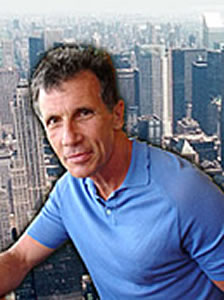 Michael Cunningham (Cincinnati, 6 november 1952)
De Nederlandse schrijfster Nelleke Noordervliet werd op 6 november 1945 in Rotterdam geboren. Zie ook mijn blog van 6 november 2006 en ook mijn blog van 6 november 2008.en ook mijn blog van 6 november 2009.
Uit: Zonder noorden komt niemand thuis
"De taxichauffeur zette me af bij een handel in tweedehands auto's, niet ver van Vancouver International Airport. De wagens stonden in het gelid als hoeren in een goedkoop bordeel, hun
prijs op de voorruit. Mijn moeder noemde een auto altijd 'wagen' en markeerde daarmee haar nederige afkomst. 'Hij heeft een mooie wagen onder zijn kont,' was haar hoogste lof. Dan had een
man wat bereikt. Mijn 'wagen' was voor haar nooit mooi genoeg.
De zon vonkte van de chromen bumpers. Ik stond met een koffer en een reistas op de immense parkeerplaats, moe van de lange vlucht, en knipperde met mijn ogen. Mijn lichaam was er, maar mijn geest haperde nog. Het felle, heldere licht verried de nabijheid van de zee. Het middaguur maakte korte schaduwen.
Onder de weidse koepel van de Canadese lucht was ik nietig. Ik kreeg ruimte. Nederland is overal benauwend, een land van centimeters, zelfs als de lucht strakblauw boven het Ijsselmeer spant, of als je vanaf de Moerdijkbrug het Hollands Diep breeduit over de aarde ziet liggen. Nederland zat me te krap.
De taxi was weggereden en ik stond daar en was vergeten wat ik kwam doen. Ik wist zelfs mijn naam niet meer. Wie was deze man? Ik was van gemiddelde lengte, gemiddeld gewicht, middelbare leeftijd, goed en sportief gekleed, ik was een man om mee voor de dag te komen, een man als een favoriete zoon, een man als een eeuwige verloofde, een man als een beste vriend, een man als een oplichter. Niemand. Iedereen. Alleman. Ik keek naar de zonwerende ramen van een kantoor. Er kwam iemand
naar buiten. Hij liep op me toe. Hij droeg een poloshirt met het logo van de dealer. Toen de man vroeg hoe hij me kon helpen, wist ik het weer: mijn naam was Robert. Robert Andersen. Ik was rechtstreeks van het vliegveld gekomen om de auto te kopen die ik op het internet had gezien en die precies aan mijn eisen leek te voldoen.
'Daar kun je nog jaren plezier van hebben,' zei de verkoper na de proefrit. Hij sloeg de vijf jaar oude Dodge Dakota 4 x 4 automaat liefderijk op de zilvergrijze flank. 'Ze is een werkpaard en de hele familie kan erin. Zelfs je schoonmoeder.' Hij zei het niet voor het eerst. Zijn mobiele telefoon ging over met de rit van de Walkuren. De man verwijderde zich drie passen en keerde me de rug toe. Waarschijnlijk vond hij dat beleefd. Het poloshirt liet ook op de rug geen misverstand bestaan over de naam van het
bedrijf."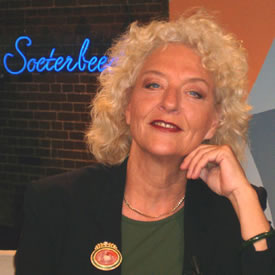 Nelleke Noordervliet (Rotterdam, 6 november 1945)

De Surinaamse schrijfster Bea Vianen werd geboren in Paramaribo op 6 november 1935. Zie ook mijn blog van 6 november 2006 en ook mijn blog van 6 november 2008 en ook mijn blog van 6 november 2009.
berm '56
Rook van brandhout in mijn neus
Een koppige woudreus
Wij voor het eerst zo bij elkaar
Stond ik niet met wilde haar
dicht tegen je aan? Onze mond
zocht... en vond, ik stond niet nee
Geknield, koppig als de woudreus
Rook van verlangen in mijn neus
Willoos wild en wild haar
Liggend, hijgend, zo bij elkaar
En gras zoveel gras
Tot ik weer verten in de ogen las.
virgo '57
Waar ging hij naar toe?
Nu ik het zwerven moe
tot jou ben teruggekeerd
bezeert mij zijn gezicht
die ik kuste in het licht
van lichte onbezonnenheid.
Wat, voor vergankelijkheid
van een kus, een streling
Yo te quiero aan de railing
Deinende tussen lucht en oceaan
Aan boord van dromen naar de maan.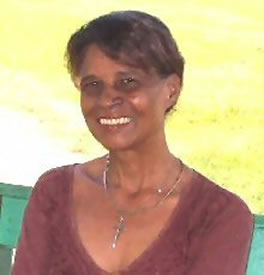 Bea Vianen (Paramaribo, 6 november 1935)
De Vlaamse literatuurwetenschapper en auteur Gilbert (Bert) Vanheste werd geboren in Pervijze op 6 november 1937. Zie ook mijn blog van 6 november 2008 en ook mijn blog van 6 november 2009.
Uit: 'Want uw vijand wie is dat?'. Mijn kleine oorlog: Louis Paul Boon als ongelovige dromer
"In Verscheurd jeugdportret heeft Boon zelf een impressie gegeven van zijn kinder- en jeugdjaren. In de eerste alinea van deze herinneringen gaf hij aan dat ze slechts een verbrokkeld en fragmentarisch beeld kunnen oproepen: 'Het is een vreemd spelletje, aan vroeger terug te denken. Niet zo-maar kriskras genoegen nemend met wat komt opdagen, maar het draadje van vroeger trachtend te volgen van dag tot dag. Het is bijna niet te geloven hoe weinig is overgebleven, hoeveel hiaten er zijn, en stukken van flarden waar men geen raad mee weet.' Dat zijn geheugen niet betrouwbaar is, blijkt meteen daarna: 'Het leek me een eindeloze root werkmanshuizen - ik was er nog onlangs en heb ze geteld, het waren er slechts negen.' (Verscheurd jeugdportret, voortaan: vj, p.7). De niet uitgewiste opnamen heeft Boon gemonteerd tot een verhaal. Weliswaar geen roman, maar toch een samenhangend, chronologisch geordend geheel. Bovendien bestaat dit zelfportret voor een aanzienlijk gedeelte uit door de auteur zelf als autobiografisch opgevatte fragmenten uit zijn romans (onder meer uit Mijn kleine oorlog!). Wie kan dan nog de grens trekken tussen verbeelding en werkelijkheid? Uit onderzoek is gebleken dat Boon zelf in niet weinig gevallen door hemzelf ingekleurde of verzonnen gebeurtenissen voor echt gebeurd ging houden. Dat zal zijn toekomstige biograaf voor grote problemen plaatsen. De doelstelling van deze studie is evenwel bescheidener van aard: niet wát heeft de auteur tijdens bij voorbeeld de eerste wereldoorlog meegemaakt, maar hoe heeft de eerste wereldoorlog, zoals Boon die zelf ervaren heeft, een rol gespeeld bij de totstandkoming van Mijn kleine oorlog? Vanzelfsprekend zullen de ervaringen van de schrijver waar mogelijk gesitueerd worden in de historische feitelijkheid."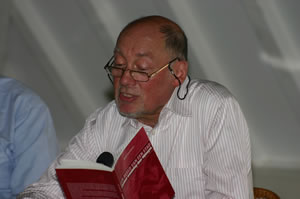 Bert Vanheste (6 november 1937 - 23 februari 2007)
Zie voor nog meer schrijvers van de 6e november ook

mijn vorige blog van vandaag.



06-11-2010 om 19:32 geschreven door Romenu

Tags:Robert Musil, Michael Cunningham, Nelleke Noordervliet, Bea Vianen, Bert Vanheste, Romenu



Bodenski, James Jones, Galaktion Tabidze, Jonas Lie, Johannes Jørgensen
De Duitse dichter, componist en musicus Bodenski (eig. Michael Boden) werd geboren op 6 november 1965 in Potsdam. Zie ook mijn blog van 6 november 2008.
Duell im Morgengrauen

Gewählte Waffe: Alphabet

Eine Salve heller Vokale
Jage ich dir in dein Bein
Du strauchelst
Antwortest pfeilschnell
Katapultierst Konsonanten
Es folgen Worte
Ganze Sätze
Reime Verse
Für Stanzen oder Nonarime wird
Die Zeit nicht reichen
Geschweige denn für Episches
Schon fühle ich mich ausgelaugt
Trocken schmerzt die Kehle
Wenn ich Genugtuung erhalten will
Muss ich dir standhaft zusetzen
So versuche ich
Ruhig Blut zu sein
Probiere es
Mit einer Drehung der Perspektive
Mit einer härteren Grammatik
Einem kälteren Ton
Schneller parierend
Mit jedem weiteren Wort

Als du eine meiner Phrasen
Mit einem Stoßseufzer durchbohrst
Begehst du eine klare Verletzung
Der Regeln
Ich bedauere die Disqualifikation

Wenigstens sind wir
Im Gegensatz zu Puschkin
Mit dem Leben davon gekommen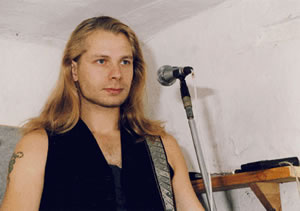 Bodenski (Potsdam, 6 november 1965)
De Amerikaanse schrijver James Jones werd geboren op 6 november 1921 in Robinson, Illinois. Zie ook mijn blog van 6 november 2008 en ook mijn blog van 6 november 2009.
Uit: The Thin Red Line
"The two transports had sneaked up from the south in the first graying flush of dawn, their cumbersome mass cutting smoothly through the water whose still greater mass bore them silently, themselves as gray as the dawn which camouflaged them. Now, in the fresh early morning of a lovely tropic day they lay quietly at anchor in the channel, nearer to the one island than to the other which was only a cloud on the horizon. To their crews, this was a routine mission and one they knew well: that of delivering fresh reinforcement troops. But to the men who comprised the cargo of infantry this trip was neither routine nor known and was composed of a mixture of dense anxiety and tense excitement.
Before they had arrived, during the long sea voyage, the cargo of men had been cynical--honestly cynical, not a pose, because they were part of an old regular division and knew that they were cargo. All their lives they had been cargo; never supercargo. And they were not only inured to that; they anticipated it. But now that they were here, were actually confronted with the physical fact of this island that they had all read so much about in the papers, their aplomb deserted them momentarily. Because though they were from a pre-war regular division, this was nevertheless to be their baptism of fire.
As they prepared themselves to go ashore no one doubted in theory that at least a certain percentage of them would remain on this island dead, once they set foot on it. But no one expected to be one of these. Still it was an awesome thought and as the first contingents came struggling up on deck in full gear to form up, all eyes instinctively sought out immediately this island where they were to be put, and left, and which might possibly turn out to be a friend's grave.
The view which presented itself to them from the deck was a beautiful one. In the bright, early morning tropic sunshine which sparkled off the quiet water of the channel, a fresh sea breeze stirred the fronds of minute coconut palms ashore behind the dun beach of the nearer island. It was too early yet to be oppressively hot. There was a feeling of long, open distances and limitless sea vistas. The same sea-flavored breeze sifted gently among the superstructures of the transports to touch the ears and faces of the men. After the olfactory numbness caused by the saturation of breath, feet, armpits and crotches below in the hold, the breeze seemed doubly fresh in their noses. Behind the tiny cocopalms on the island masses of green jungle rose to yellow foothills, which in turn gave place in the bright air to hulking, blue-hazed mountains."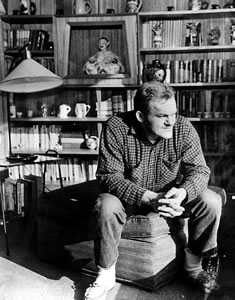 James Jones (6 november 1921 – 9 mei 1977)
De Georgische diichter en schrijver Galaktion Tabidze werd geboren op 6 november 1891 in Chqvishi, in de buurt van Vani. Zie ook mijn blog van 6 november 2008 en ook mijn blog van 6 november 2009.
The Moon Over Mtatsmtnda

My eyes have never seen the moon so lovely as to-night;
In silence wrapt she is the breathless music of the night.
Moonbeams embroider shadows with fine thread of silver light.
O, eyes have never seen the sky so lovely as to-night!
The moon adorned in beams of pearls seems like a queen divine,
The stars like fire-flies tangled in a web about her shine.
The Mtkvari flows a silver stream of lambent beauty bright.
O, eyes have never seen the moon so lovely as to-night!
Here in immortal calm and peace the great and noble sleep
Beneath the soft and dewy turf in many a mouldering heap,
Here Baratashvili came with wild desires to madness wrought,
Oppressed by raging fires of passion and perplexing thought.
O could I like the swan pour forth my soul in melody
That melts the mortal heart and breathes of immortality!
Let my free song fly far beyond this world to regions high
Where on the wings of poesy 'twill glorify the sky.
If death approaching makes the fragrance of the roses sweeter.
Attunes the soul to melodies that make all sadness dearer.
And if the swan's song thus becomes a denizen of heaven,
If in that, song she feels that death will be but ecstasy, then —
Let me like her sing one last song and in death find delight.
So breathless still and lovely I have never seen the night!
O mighty dead, let me die here beside you as I sing.
I am a poet, and to eternity my song I fling,
And let it be the fire that warms and lights the spirit's flight.
O, eyes have never seen the moon so lovely as to-night!
Vertaald door Venera Urushadze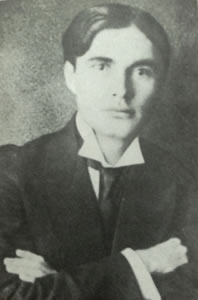 Galaktion Tabidze (6 november 1891 – 17 maart 1959)
De Noorse schrijver Jonas Laurits Idemil Lie werd geboren op 6 november 1833 in Eiker bij Drammen. Zie ook mijn blog van 6 november 2008.
Uit: The Pilot and his Wife (Vertaald door Ole Bull)
"On the stern, pine-clad southern coast of Norway, off the picturesquely-situated town of Arendal, stand planted far out into the sea the white walls of the Great and Little Torungen Lighthouses, each
on its bare rock-island of corresponding name, the lesser of which seems, as you sail past, to have only just room for the lighthouse and the attendant's residence by the side. It is a wild and lonely situation,--the spray, in stormy weather, driving in sheets against the walls, and eagles and sea-birds not unfrequently dashing themselves to death against the thick glass panes at night; while in winter all
communication with the land is very often cut off, either by drift or patchy ice, which is impassable either on foot or by boat.
These, however, and others of the now numerous lights along that dangerous coast, are of comparatively recent erection. Many persons now living can remember the time when for long reaches the only lighting was the gleam of the white breakers themselves. And the captain who had
passed the Oxö light off Christiansand might think himself lucky if he sighted the distant Jomfruland up by Kragerö.
About a score of years before the lighthouse was placed on Little Torungen there was, however, already a house there, if it could be dignified by that name, with its back and one side almost up to the eave of the roof stuck into a heap of stones, so that it had the appearance of bending forward to let the storm sweep over it. The low entrance-door opened to the land, and two small windows looked out upon the sea, and upon the boat, which was usually drawn up in a cleft above the sea-weed outside.
When you entered, or, more properly speaking, descended into it, there was more room than might have been expected; and it contained sundry articles of furniture, such as a handsome press and sideboard, which no one would have dreamt of finding under such a roof. In one corner there stood an old spinning-wheel covered with dust, and with a smoke-blackened tuft of wool still hanging from its reel; from which, and from other small indications, it might be surmised that there had once been a woman in the house, and that tuft of wool had probably been her last spin."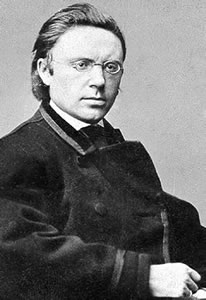 Jonas Lie (6 november 1833 – 5 juli 1908)
De Deense schrijver Johannes Jörgensen werd geboren in Svendborg op 6 november 1866 geboren. Zie ook mijn blog van 6 november 2008.
Uit: St. Francis and His Brethren (Vertaald door T. O'Conor Sloane)
"The Franciscan Order (Friars Minor) was founded by the Poverello of Assisi (1182-l226) in the little church of Portiuncula in 1209. It was given oral approval by Pope Innocent III in 1210, and the Rule was formally approved by Pope Honorius III in 1221.
Francis found himself one day in Bishop Guido's private room. As was customary with him, he had gone to the man he regarded as "the father of souls" to get advice-perhaps also to pray for alms. It was a period of hard times for the Brotherhood. After the return from the mission journeys, four new Brothers had joined the ranks-Philipp Lungo, John of San Costanzo, Barbarus, and Bernard of Vigilanzio. Francis himself had brought a fifth new Brother with him from Rieti-Angelo Tancredi, a young knight whom Francis had met in the streets of Rieti, and whom he had won by suddenly calling out to him: "Long enough hast thou borne the belt, the sword and the spurs! The time has now come for you to change the belt for a rope, the sword for the Cross of Jesus Christ, the spurs for the dust and dirt of the road! Follow me and I will make you a knight in the army of Christ!"
Thus it was that there were no longer so few men to have food daily. In the beginning the people of Assisi had been seized with a kind of wonder, and the Brothers had got considerable alms as they went from door to door. Now people began to grow weary of them; now the relatives of the Brothers were ready to persecute them. "You have given away what you had, and now you come and want to eat up other people's things!"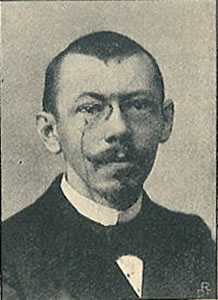 Johannes Jørgensen (6 november 1866 - 29 mei 1956)

06-11-2010 om 19:14 geschreven door Romenu

Tags:Bodenski, James Jones, Galaktion Tabidze, Johannes Jørgensen, Jonas Lie, Romenu


05-11-2010

Joyce Maynard, Hanns-Josef Ortheil, Andreas Stichmann, Ulla Berkéwicz, Mikhail Artsybashev
De Amerikaanse schrijfster Joyce Maynard werd geboren op 5 november 1953 in Durham, New Hampshire en volgde een opleiding aan de Phillips Exeter Academy. Zie ook mijn blog van 5 november 2008 en ook mijn blog van 5 november 2009.
Uit: The Good Daughters
"My father told me I was a hurricane baby. This didn't mean I was born in the middle of one. July 4, 1950, the day of my birth, fell well before hurricane season.
He meant I was conceived during a hurricane. Or in its aftermath. "Stop that, Edwin," my mother would say, if she overheard him saying this. To my mother, Connie, anything to do with sex, or its consequences (namely, my birth, or at least the idea of linking my birth to the sex act), was not a topic for discussion.
But if she wasn't around, he'd tell me about the storm, and how he'd been called out to clear a fallen tree off the road, and how fierce the rain had been that night, how wild the wind. "I didn't get to France in the war like my brothers," he said, "but it felt like I was doing battle, fighting those hundred-mile-an-hour gusts," he told me. "And here's the funny thing about it. Those times a person feels most afraid for their life? Those are the times you know you're alive." He told me how, in the cab of his truck, the water poured down so hard he couldn't see, and how fast his heart was pounding, plunging into the darkness, and how it was, after—outside in the downpour, cutting the tree and moving the heavy branches to the side of the road, his boots sinking into the mud and drenched from rain, his arms shaking.
"The wind had a human sound to it," he said, "like the moaning of a woman."
Later, thinking back on the way my father recounted the story, it occurred to me that much of the language he used to describe the storm might have been applied to the act of a couple making love. He made the sound of the wind for me, then, and I pressed myself against his chest so he could wrap his big arms around me. I shivered, just to think of how it must have been that night.
For some reason, my father liked to tell this story, though I—not my sisters, not our mother—was his only audience. Well, that made sense perhaps. I was his hurricane girl, he said. If there hadn't been that storm, he liked to say, I wouldn't be here now.
It was nine months later almost to the day that I arrived, in the delivery room of Bellersville Hospital, high noon on our nation's birthday, right after the end of the first haying season, and just when the strawberries had reached their peak."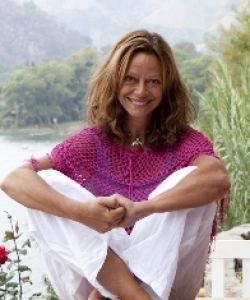 Joyce Maynard (Durham, 5 november 1953)
De Duitse schrijver Hanns-Josef Ortheil werd geboren op 5 november 1951 in Keulen. Zie ook mijn blog van 5 november 2006 en ook mijn blog van 5 november 2007 en ook mijn blog van 5 november 2008 en ook mijn blog van 5 november 2009.
Uit: Die Moselreise
"Die Moselreise im Sommer 1963 war die erste längere Reise, die ich allein mit meinem Vater unternahm. Sie hinterließ in der Geschichte unserer Familie so auffällige und merkwürdige Spuren, dass es sich lohnt, diese Spuren noch ein wenig weiterzuverfolgen. Die erste, sichtbarste Spur war natürlich die hier erstmals gedruckt vorliegende Reise-Erzählung, die ich nach unserer Rückkehr nach Köln aus all den vielen während der Reise gemachten Notizen komponierte. Ich schenkte sie schließlich meinen Eltern, und ich erlebte schon bald, dass dieses Geschenk auf sie einen außerordentlich starken Eindruck machte. Immer wieder lasen beide Eltern darin, und immer wieder kreisten die Gespräche um Themen und Motive dieser Erzählung.
Zwar erfuhr ich als Kind nicht genau, was meine Eltern an meinem Text so beeindruckte, doch konnte ich späteren Kommentaren entnehmen, dass mein Vater die Moselreise vor allem deshalb als einen Erfolg betrachtete, weil ein Reisen in genau dieser Form mir offensichtlich viel von der immer virulenten Angst vor der Fremde und allem Unvertrauten nahm. Als kleines Kind hatte ich mich nämlich viele Jahre tagsüber mit der Mutter in einem nur sehr begrenzten Terrain im Norden Kölns aufgehalten. An den Vormittagen waren wir spazieren gegangen oder hatten kleinere Einkäufe gemacht, die übrige Zeit aber waren wir meist in der Wohnung geblieben.
Meine Mutter hatte sehr viel gelesen, von Beruf war sie Bibliothekarin, und ich hatte in den vielen Bilderbüchern und all den Kinderzeitschriften und Zeitungen geblättert, die der Vater an den Abenden oft mit nach Hause brachte. Seit dem vierten Lebensjahr hatte ich darüber hinaus Klavier gespielt und viele Stunden des Tages mit Klavierüben verbracht. Diese Tätigkeit hatte mich noch enger an die Wohnung und das vertraute Haus gebunden, so dass ich schon bei geringer Entfernung von diesem Zuhause oft unruhig geworden war und zu fremdeln begonnen hatte."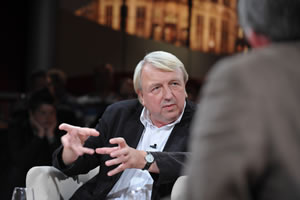 Hanns-Josef Ortheil (Keulen, 5 november 1951)
De Duitse schrijver Andreas Stichmann werd op 5 november 1983 in Bonn geboren. Stichmannn kwam door het tekenen van strips tot schrijven. Hij verbleef langere tijd in Zuidafrika en Iran. Ervaringen die hij daar opdeed zijn in zijn werk verwerkt. Hij studeerde aan het Deutsche Literaturinstitut Leipzig. In 2008 verscheen de verhalenbundel »Jackie in Silber«,waarvoor hij de Clemens Brentano Preis 2009 ontving en bovendien het Stipendium des Literarischen Colloqiums Berlin. Stichmann woont nu in Hamburg. Zie ook mijn blog van 30 augustus 2009.
Uit: Alleinstehende Herren
"Wenn der Nachmittag schwer wird und Schatten aus den Wolken fallen, wenn die Ameisen in Ritzen flüchten, weil es draußen kalt wird, wenn es drinnen warm wird, gehst du raus und kackst hinter die Hochhäuser. Aus der Grube krähen Fahrradspeichen, Kühlschrankleichen und Rostgerippe. Ein Hauch von Abenteuer. Du schreitest durch das pudrige Licht der Laternen, die Arme hinter dem Rücken verschränkt. Du siehst imaginäre Passanten laufen, grüßt mit dem Nicken eines Generals. Erschrickst, wenn du dich im Schaufenster lachen siehst. Nur selten begegnest du wirklich noch einer späten Oma, die istdann plötzlich sehr echt.
Paul, der im ersten Stock wohnt, macht jetzt alles. Du gehst mittags raus, da steht er mit seinem Hot-Dog-Stand an der Straße. Du gehst wieder rein und rufst beim Kinoprogrammservice an, Paul ist dran und sagt: »Sie wünschen?« Du gehst in die Fußgängerzone, da steht Paul als Känguru und verteilt
Reisebürowerbung. Wahrscheinlich ist er einsam, du kennst das, du kennst das. Oft genug wachst du verdattert auf und denkst: Hier bin ich wieder, mit wem rede ich denn? Dann drehst du dich noch mal um und willst dem ganzen Quatsch entgehen, aber etwas sagt dir: Schlaf nicht so lange, Schlaf
kann Menschen trinken. Putz Zähne, steck eine Münze in den Tag. Schließlich bist du der Hootscha-Kutscha-Mann.
Und du stehst auf und richtest die Wohnung her, denn gleich kommen die Jungs vom Club der einsamen Männer. Da will das Fruchtgummi auf den Tisch gestellt sein, da will die ganze Wohnung im warmen Gewand sich zeigen. Go on, zwitschert das Radio, der neueste Hit der Zitronengirls."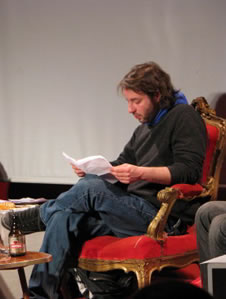 Andreas Stichmann (Bonn, 5 november 1983)
De Duitse schrijfster, uitgeefster en actrice Ulla Berkéwicz werd geboren op 5 november 1948 in Gießen als Ursula Schmidt. Zie ook mijn blog van 5 november 2008 en ook mijn blog van 5 november 2009.
Uit: Golem in Bayreuth
"In den vierhundert Jahren, seit der Hohe Rabbi Löw in Prag einen Golem erschaffen haben soll, wurde der Vertrag mit der Aufklärung geschlossen, die Magie durch Ideologie ersetzt und die Wissenschaft zum Götzen erklärt. In den fünfzig Jahren, seit Norbert Wiener jene »Wissenschaft von Mensch und Maschine« begründete, die er Kybernetik nannte, mußte der Mensch lernen, sich in einer von Daten bestimmten Welt zurechtzufinden, die nicht vollständig beschreibbar sind, da es die hierfür notwendige Mathematik noch nicht gibt. Und da nun nicht mehr ganz auszuschließen ist, daß die Mathematik am Ende doch nichts weiter sein könnte als eine magische Ideologie, wird der Vertrag mit der Aufklärung derzeit diskutiert, steht die Kündigung im Raum.
Rabbi Löw war geistiger Urahn von Norbert Wiener, der die Grundlagen zu jener mathematischen Magie schuf, die den Golem unserer Tage, den Computer, hervorbrachte. Norbert Wiener ist der geistige Ahn all jener Wissenschaftler und Ingenieure, Gelehrten und Schlawiner, die nicht mehr auf das Verständnis von Welt, sondern auf deren pure Simulation hinarbeiten, deren Ziel es ist, Denkmaschinen aus DNS-Strängen statt aus Silikon herzustellen, und die behaupten, daß in
informationsverarbeitenden Systemen Bewußtsein entstehen kann.
Rabbi Löw, Metaphysiker im Sinne der talmudischen Gesetze und Mystiker im Sinne der Kabbala, hat die Schöpfung als ein Hinabsteigen Gottes in die eigenen Urgründe begriffen, »wo alle Dinge urbildlich entfaltet sind«, ein Hinabsteigen in sein eigenes Nichts, aus dem alles hervorkommt. Norbert Wiener ging von der Annahme aus, daß alle Lebewesen »Muster« sind, die sich für immer selbst erhalten, und daß »ein Muster eine Botschaft ist und als Botschaft übertragbar«. Wenn nun Wieners geistige Kinder meinen, ein neues Muster würde gar nicht geschaffen, sondern verließe nur seinen unmanifesten Zustand, um sich in der stofflichen Welt zu etablieren, und Menschen seien nichts weiter als Informationsmuster wie Maschinen, Körper seien lediglich temporäre Behältnisse für die in ihnen enthaltenen Informationen, hören sie das weiße auschen des Vakuums, des Bereichs aller Möglichkeiten, des Subquantenfelds, werden sie zurück und vorwärts geworfen auf Gott und sein Nichts, beginnen sie das kabbalistische Alefbet neu zu buchstabieren."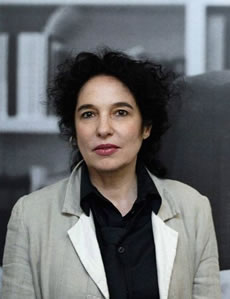 Ulla Berkéwicz (Gießen, 5 november 1948)
De Russische schrijver Mikhail Artsybashev werd geboren op 5 november 1878 in Dubroslavovka. Zie ook mijn blog van 5 november 2008 en ook mijn blog van 5 november 2009.
Uit: Sanin (Vertaald door Percy Pinkerton)
"Such kindliness and courtesy seemed to come naturally from him as the light from a lamp which shines with equal radiance on all objects.
They went out to the garden terrace and sat down on the steps. Lida sat on a lower one, listening in silence to her brother. At her heart she felt an icy chill. Her subtle feminine instinct told her that her brother was not what she had imagined him to be. In his presence she felt shy and embarrassed, as if he were a stranger. It was now evening; faint shadows encircled them. Sanine lit a cigarette and the delicate odour of tobacco mingled with the fragrance of the garden. He told them how life had tossed him hither and thither; how he had often been hungry and a vagrant; how he had taken part in political struggles, and how, when weary, he had renounced these.
Lida sat motionless, listening attentively, and looking as quaint and pretty as any charming girl would look in summer twilight.
The more he told her, the more she became convinced that this life which she had painted for herself in such glowing colours was really most simple and commonplace. There was something strange in it as well. What was it? That she could not define. At any rate, from her brother's account, it seemed to her very simple, tedious and boring. Apparently he had lived just anywhere, and had done just anything; at work one day, and idle the next; it was also plain that he liked drinking, and knew a good deal about women. But life such as this had nothing dark or sinister about it; in no way did it resemble the life she imagined her brother had led. He had no ideas to live for; he hated no one; and for no one had he suffered. At some of his disclosures she was positively annoyed, especially when he told her that once, being very hard up, he was obliged to mend his torn trousers himself.
"Why, do you know how to sew?" she asked involuntarily, in a tone of surprise and contempt. She thought it paltry; unmanly, in fact.
"I did not know at first, but I soon had to learn," replied Sanine, who smilingly guessed what his sister thought.
The girl carelessly shrugged her shoulders, and remained silent, gazing at the garden. It seemed to her as if, dreaming of sunshine, she awoke beneath a grey, cold sky."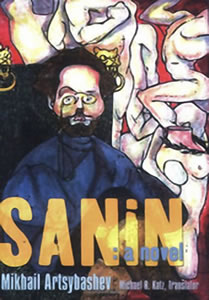 Mikhail Artsybashev (5 november 1878 – 3 maart 1927)







Zie voor nog meer schrijvers van de 5e november ook mijn vorige blog van vandaag.

05-11-2010 om 19:38 geschreven door Romenu

Tags:Joyce Maynard, Hanns-Josef Ortheil, Andreas Stichmann, Ulla Berkéwicz, Mikhail Artsybashev, Romenu



Ella Wheeler Wilcox, James Elroy Flecker, Washington Allston, Anna Maria van Schurman, Hans Sachs
De Amerikaanse dichteres en schrijfster Ella Wheeler Wilcox werd geboren op 5 november 1850 in Johnstown, Wisconsin. Zie ook mijn blog van 5 november 2008 en ook mijn blog van 5 november 2009.
Friendship
Dear friend, I pray thee, if thou wouldst be proving
Thy strong regard for me,
Make me no vows. Lip-service is not loving;
Let thy faith speak for thee.
Swear not to me that nothing can divide us-
So little such oaths mean.
But when distrust and envy creep beside us
Let them not come between.
Say not to me the depths of thy devotion
Are deeper than the sea;
But watch, lest doubt or some unkind emotion
Embitter them for me.
Vow not to love me ever and for ever,
Words are such idle things;
But when we differ in opinions, never
Hurt me by little stings.
I'm sick of words: they are so lightly spoken,
And spoken, are but air.
I'd rather feel thy trust in me unbroken
Than list thy words so fair.
If all the little proofs of trust are heeded,
It thou are always kind,
No sacrifice, no promise will be needed
To satisfy my mind.
Joy
My heart is like a little bird
That sits and sings for very gladness.
Sorrow is some forgotten word,
And so, except in rhyme, is sadness.

The world is very fair to me –
Such azure skies, such golden weather,
I'm like a long caged bird set free,
My heart is lighter than a feather.

I rise rejoicing in my life;
I live with love of God and neighbour;
My days flow on unmarred by strife,
And sweetened by my pleasant labour.

O youth! O spring! O happy days,
Ye are so passing sweet, and tender,
And while the fleeting season stays,
I revel care-free, in its splendour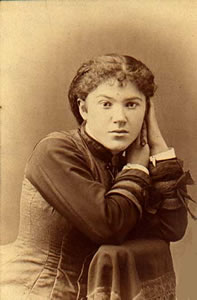 Ella Wheeler Wilcox (5 november 1850 – 30 oktober 1919)
De Engelse dichter en schrijver James Elroy Flecker werd geboren op 5 november 1884 in Londen. Zie ook mijn blog van 5 november 2008 en ook mijn blog van 5 november 2009.
A ship, an isle, a sickle moon
A ship, an isle, a sickle moon--
With few but with how splendid stars
The mirrors of the sea are strewn
Between their silver bars!
An isle beside an isle she lay,
The pale ship anchored in the bay,
While in the young moon's port of gold
A star-ship--as the mirrors told--
Put forth its great and lonely light
to the unreflecting Ocean, Night.
And still, a ship upon her seas,
The isle and the island cypresses
Went sailing on without the gale:
And still there moved the moon so pale,
A crescent ship without a sail!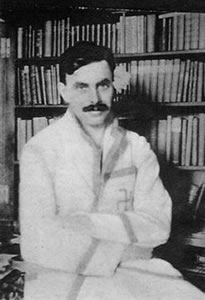 James Elroy Flecker (5 november 1884 – 3 januari 1915)
De Amerikaanse schilder en dichter Washington Allston werd geboren op 5 november 1779 in de buurt van Charleston, South Carolina. Zie ook mijn blog van 5 november 2008 en ook mijn blog van 5 november 2009.
On Rembrant
Occasioned by His Picture of Jacob's Dream
As in that twilight, superstitious age
When all beyond the narrow grasp of mind
Seem'd fraught with meanings of supernal kind,
When e'en the learned philosophic sage,
Wont with the stars thro' boundless space to range,
Listen'd with rev'rence to the changeling's tale;
E'en so, thou strangest of all beings strange!
E'en so thy visionary scenes I hail;
That like the ramblings of an idiot's speech,
No image giving of a thing on earth,
Nor thought significant in Reason's reach,
Yet in their random shadowings give birth
To thoughts and things from other worlds that come,
And fill the soul, and strike the reason dumb.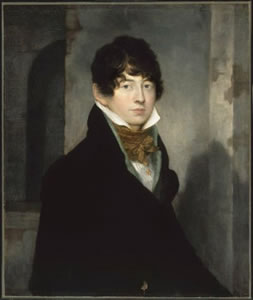 Washington Allston (5 november 1779 – 9 juli 1843)
Zelfportret, 1805
De Nederlandse schrijfster Anna Maria van Schurman werd geboren in Keulen op 5 november 1607. Zie ook mijn blog van 5 november 2006. Zie ook mijn blog van 5 november 2008 en ook mijn blog van 5 november 2009.
Uit: Hebreeuwse Brief aan Dorothea Moore
"Aan de grote stad Dublin,
voor de geachte meesteres Dorothea Moore,
weduwe van de geachte man, zoon van Gorim Moore Meir uit de stad Utrecht.
Vrede aan de vrouw die ik eer!
Ik heb uw nieuws vernomen, vriendin en geachte meesteres. En ik juichte en was blij over het goede dat de hemel nu aan ons schenkt door de eer van uw volk te vernieuwen. Want onwetend zei ik dat de wijsheid na de dood van Lady Jane Gray en koningin Elizabeth - mag hun nagedachtenis gezegend zijn - geopenbaard is temidden van de vrouwen in Engeland. Werkelijk, wijsheid heeft in uw hart haar intrek genomen en inzicht in uw ziel. Ze is een bron van vreugde voor u. God heeft u uitgekozen om een kroon van heerlijkheid te zijn voor al de vrouwen. De wijsheid heeft leiding gegeven en was tevreden over u en jullie zullen verborgen schatten vinden. Daarom was ik erg blij met uw boek, net zoals met het licht van de zon wanneer hij opkomt. Vol verlangen was ik om u lief te hebben en ik zei in mijn hart: 'Ik kom voor de eer van uw heerlijkheid met deze tien woorden van mijn mond: de armoede van mijn kennis om een zoutverbond te sluiten tussen u en mij. Laten we samen besluiten om rond te kijken en om wijsheid en inzicht te verwerven, want dat is goed. Haar winst is die van goud en zilver. Zij zullen naar haar komen.
En nu, als ik genade in uw ogen vind, laat mij al uw wensen weten.
Mag u door Jahweh gezegend zijn, en mag er eer en heerlijkheid voor uw volk zijn."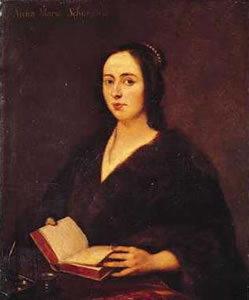 Anna Maria van Schurman (5 november 1607 – 4 of 14 mei 1678)
Portret door Jan Lievens, 1649
De Duitse dichter en schrijver Hans Sachs werd op 5 november 1494 in Nürnberg geboren als zoon van een kleermaker. Zie ook mijn blog van 5 november 2006. Zie ook mijn blog van 5 november 2008 en ook mijn blog van 5 november 2009.
Der arm kriechisch poet
10. juli 1548.

1.

Keiser Augustus het
lieb glerte leut und tet
auch an der stet
sie all reichlich begaben;
Derhalb in die stat Rom
manch glerter man auch kom,
die er annom,
tet groß freud mit in haben.
Einsmals aus Kriechenlant
ein poet hochgeleret
gen Rom bracht sein gedicht,
darin er zugericht
het kunstlich mit verstant
des keisers wird und lob,
het das weit ob
andern weisen gemeret.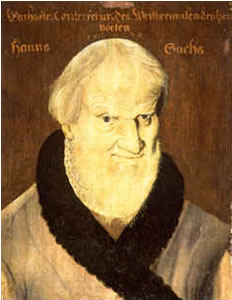 Hans Sachs (5 november 1494 -19 janauari 1576)

05-11-2010 om 19:29 geschreven door Romenu

Tags:Ella Wheeler Wilcox, James Elroy Flecker, Washington Allston, Anna Maria van Schurman, Hans Sachs, Romenu


04-11-2010

Judith Herzberg, Peter W.J. Brouwer, Arthur van Amerongen, René de Clercq
De Nederlandse dichteres en toneelschrijfster Judith Herzberg werd geboren op 4 november 1934 in Amsterdam. Zie ook mijn blog van 4 november 2006 en ook mijn blog van 4 november 2007 en ook mijn blog van 4 november 2008 en ook mijn blog van 4 november 2009.
Tot toen ging alles goed
Rijkdom is leegte op glanzende tegels
armoede dozen vol halfvolle potten
rijk een veranda met uitzicht op niets
arm een balkon met gereedschap en fietsen
weelde is niets te hoeven bewaren
armoede reddert van winter naar winter
rijkdom is stilte, en stil achter stilte
armoede haast.

En zo genoten zij dag en nacht
van wit en van stilte en water en glad
de stenen en het mos dat daar lag.
Je zoenen zijn zoeter
Je zoenen zijn zoeter dan
zoeter dan honing en ik vind je
mooier en liever, liever
en aardiger nog dan de koning.
We gaan samen liggen
een eind hier vandaan
we maken van takken
van takken en blaadjes
een vloer en een dak,
dat was onze woning,
of ik was het tuintje
en jij was de tent
daar gingen wij wonen
en blijven en horen
o rep je mijn liefje
ik heb je zo graag
nu of nooit samen slapen
want we zijn er
alleen maar vandaag.
Elke ochtend
Elke ochtend, tussen het aandoen
van zijn linker- en zijn rechterschoen
trekt zijn hele leven even langs.
Soms komt de rechterschoen er dan
bijna niet meer van.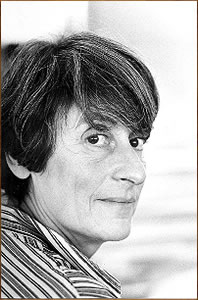 Judith Herzberg (Amsterdam, 4 november 1934)



De Nederlandse dichter Peter W.J. Brouwer werd op 4 november 1965 in Eindhoven geboren. Zie ook mijn blog van 4 november 2008 en ook mijn blog van 4 november 2009.
Om langzaam te vergeten

Haar benen weer kuis bijeen bedenken
vergeten haar mond, die smaakte naar jouw mond
de mouw waarin haar polsslag kroop
haar adem en de stilte om haar adem

vergeten het hoog opgetrokken been
ernstige ogen om een serieuze daad
haar snelle lach
als zij nu maar vergeet
jouw hemd om haar schouders
jouw hand waarin haar schoot
rustte en

vergeten haar hese stem
en het onontkoombare vloeken
om lichaamsdelen vol zoet geweld
waarin de tijd wel wilde blijven
vergeten dat het bloed toch weer
zich zonder verveling verzamelde
tot in de openingen van een ander
die geen ander meer was

vergeten wat je bedacht en
wegdacht, de stad en het land
delen van wandelingen
en het licht op een plein dat slonk in je oog
dat zich sloot voor haar
nadat je samen een laatste keer
en voldoende volledig
om langzaam te vergeten
De bloesems van gisteren

In een verloren gewaande brief
uit een verstreken jaar
begroette zij mij
door haar geluk getroffen
dacht ik aan
de bloesems van gisteren, in maart
bevroren en roze
ik las haar vraag
en herinnerde me het antwoord
ik las eindelijk wat er stond
zag hoe zij de dagen
van gisteren aanbrak
en dat de forsythia daarop
opnieuw begon
uit te lopen
alsof de dag niet meer verstreek
las ik onverhoopte woorden
maar alles bleef onbewogen
en niets werd meer toegevoegd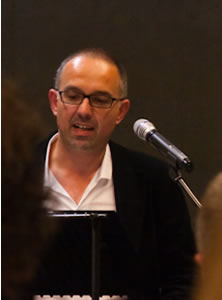 Peter W.J. Brouwer (Eindhoven, 4 november 1965)
De Nederlandse schrijver en journalist Arthur van Amerongen werd geboren op 4 november 1959 in Ede. Het gezin Van Amerongen was lid van een zoals hij dat zelf noemt een ultraorthodoxe christelijke sekte. Hij behaalde in 1991 zijn vrij doctoraal Midden-Oosten aan de Universiteit van Amsterdam; een combinatie van Hebreeuws en Arabisch Na zijn studie werkte hij als correspondent te Beiroet en Jeruzalem voor verschillende media, waaronder Vrij Nederland, Het Parool, De Groene Amsterdammer en VPRO-radio. In 2006 won hij samen met Loes de Fauwe de Prijs voor de Nederlandse Dagbladjournalistiek met de serie 'Kasba Amsterdam', over Marokkanen in Amsterdam na de moord op Theo van Gogh. Voor zijn nieuwe boek Brussel: Eurabia leefde hij een jaar lang samen met de Salafisten in Brussel om te kijken in hoeverre hij vatbaar zou zijn voor de ide?en van de extreme moslims in Brussel.
Uit: Brussel: Eurabia
"Een jaar lang leefde ik als een fanaticus, ik oefende het gebed, leefde zedig, at halal en bleef wars van elke serieuze verleiding. Maar ik bereikte een punt vanwaar ik niet verder kon. Het islamitische milieu waarin ik me in Brussel ophield, wierp mij genadeloos terug op het calvinisme uit mijn jeugd: een vreugdeloos geloof, gespeend van enige humor, met een onbeschrijfelijke angst voor het Opperwezen en het hiernamaals. De kerkgangers uit mijn jeugd waanden zich het uitverkoren volk, net als heel veel
moslims in Brussel. En net als de calvinisten zijn ook de Maghrebijnse moslims doodsbang voor intimiteit, erotiek en seks. Er heerst in die kringen een gevoel van morele superioriteit ten aanzien van de Belgen: die zuipen de godganse dag, vreten biggen en neuken erop los. Een andere overeenkomst is het volslagen gebrek aan humor bij orthodoxe moslims en orthodoxe christenen. Er is overigens wel een wezenlijk verschil tussen moslims en de gelovigen van de weerbarstige zandgronden en uitgestrekte bossen op de Veluwe die het decor van mijn jeugd vormden. De islam kent het begrip predestinatie niet. Vrome moslims verheugen zich in dit aardse tranendal voortdurend op het paradijs. De hemelpoorten staan wijd open, als ze zich maar aan de geboden en verboden van de islam houden. Het is het geloof van de zekerheid. Bij calvinisten is dat minder simpel. Ik ben ervan overtuigd dat mijn calvinistische opvoeding een uiteindelijk bekeringscarrière in de weg stond."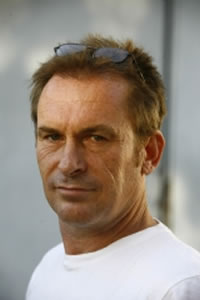 Arthur van Amerongen (Ede, 4 november 1959)
De Vlaamse schrijver, dichter, politiek activist en componist René Desiderius de Clercq werd geboren in Deerlijk op 4 november 1877. Zie mijn blog van 4 november 2008 en ook mijn blog van 4 november 2009.
Geen luid geluid
Geen luid geluid, geen luid geluid
De winter vriest de vreugden uit.
Maakt grond en sneeuw en harten hard
en al de bomen zwart
De hutten staan zo kil en stil
alsof haar elk gesloten wil
daarbinnen dringt de koude maar,
daar uit de dodenbaar

Gebogen hoofds, vereenzaamd droef
Een moeder die haar kind begroef
Sluipt wanhoop d' aarden straten door
en glimlacht als te voor
en glimlacht of zij hoop nog hiet
dat niemand merk haar wrang verdriet,
En draagt uit rouw geen rijker kleed
Maar diep haar dieper leed.
Oogen die het bruin weerkaatst
Oogen, die het bruin weerkaatst
Van uw breede brauwen,
Laat me dieper voor het laatst
In uw donker schouwen.

Teere wittetandenlach
Brekend door mijn denken...
Ach, dat ik geen enklen dag
Aan uw vreugd mag schenken.

Dat mijn neiging nimmer wordt
Wat ze liefde noemen;
Smachtend knopje dat verdort
Onder zware bloemen.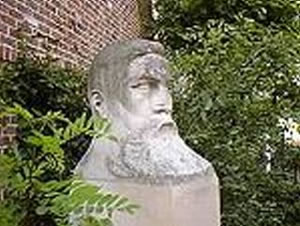 René de Clercq (4 november 1877 - 12 juni 1932)
Standbeeld in Deerlijk
Zie voor nog meer schrijvers van de 4e november ook mijn vorige blog van vandaag.

04-11-2010 om 17:44 geschreven door Romenu

Tags:Judith Herzberg, Peter W.J. Brouwer, Arthur van Amerongen, René de Clercq, Romenu



Charles Frazier, C. K. Williams, Marc Awodey, Klabund, Felix Braun
De Amerikaanse schrijver Charles Frazier werd geboren op 4 november 1950 in Asheville, North Carolina. Zie ook mijn blog van 4 november 2008 en ook mijn blog van 4 november 2009.
Uit: Cold Mountain
"The man got the bundle off the horse and over his shoulder and came walking from behind the animal in a kind of stagger. Inman could see that what he was lugging was a woman, one limp arm swinging, a cascade of black hair brushing the ground. The man carried her from out the diameter of torchlight so that they became near invisible, but his direction was clearly toward the verge of the drop-off. Inman could hear the man sobbing in the dark as he walked.
Inman ran along the road to the torch and grabbed it up and pitched it softly underhand out toward the sound of crying. What the fire lit when it struck ground was the man standing on the very lip of the bluff with the woman in his arms. He was trying to whirl to see the source of this sudden illumination, but, cumbered as he was, it took some time. With a kind of shuffle, he turned to face Inman.
--Set her down, Inman said.
She dropped in a heap at the man's feet.
--The hell kind of pistol is that? the man said, his eyes fixed on the two big mismatched bores.
--Step away from her, Inman said. Get over here where I can see you.
The man stepped across the body and approached Inman. He held his head tipped down for the hat brim to cut the glare from the torch.
--Best stop right now, Inman said, when the man got close.
--You're a message from God saying no, the man said. He took two steps more and then dropped to his knees in the road and fell forward and hugged Inman about the legs. Inman leveled the pistol at the man's head and put pressure on the trigger until he could feel all the metal parts of its firing mechanism tighten up against each other. But then the man turned his face up, and it caught the light from the torch where it still burned on the ground, and Inman could see that his cheeks were shiny with tears. So Inman relented as he might have anyway and only struck the man a midforce blow across the cheekbone with the long barrel of the pistol."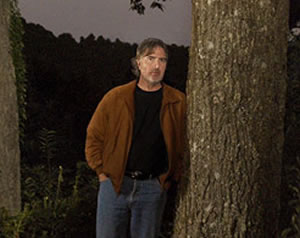 Charles Frazier (Asheville, 4 november 1950)
Foto: David S. Allee
De Amerikaanse dichter Charles Kenneth Williams werd geboren op 4 november 1936 in Newark, New Jersey. Zie ook mijn blog van 4 november 2008 en ook mijn blog van 4 november 2009.
Blackstone
When Blackstone the magician cut a woman in half in the Branford theater
near the famous Lincoln statue in already part way down the chute Newark,
he used a gigantic buzz saw, and the woman let out a shriek that out-shrieked
the whirling blade and drilled directly into the void of our little boy crotches.
That must be when we learned that real men were supposed to hurt women,
make them cry then leave them, because we saw the blade go in, right in,
her waist was bare—look!—and so, in her silvery garlanded bra, shining,
were her breasts, oh round, silvery garlanded tops of breasts shining.
Which must be when we went insane, and were sent to drive our culture insane . . .
"Show me your breasts, please." "Shame on you, hide your breasts: shame."
Nothing else mattered, just silvery garlanded breasts, and still she shrieked,
the blade was still going in, under her breasts, and nothing else mattered.
Oh Branford theater, with your scabby plaster and threadbare scrim,
you didn't matter, and Newark, your tax-base oozing away to the suburbs,
you didn't matter, nor your government by corruption, nor swelling slums—
you were invisible now, those breasts had made you before our eyes vanish,
as Blackstone would make doves then a horse before our eyes vanish,
as at the end factories and business from our vanquished city would vanish.
Oh Blackstone, gesturing, conjuring, with your looming, piercing glare.
Oh gleaming, hurtling blade, oh drawn-out scream, oh perfect, thrilling arc of pain.
Leaves
A pair of red leaves spinning on one another
in such wildly erratic patterns over a frozen field
it's hard to tell one from another and whether
if they were creatures they'd be in combat or courting
or just exalting in the tremendousness of their being.
Humans can be like that, capricious, aswirl,
not often enough in exalting, but courting, yes,
and combat; so often in combat, in rancour, in rage,
we rarely even remember what error or lie
set off this phase of our seeming to have to slaughter.
Not leaves then, which after all in their season
give themselves to the hammer of winter,
become sludge, become muck, become mulch,
while we, still seething, broiling, stay as we are,
vexation and violence, ax, atom, despair.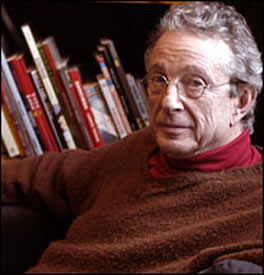 C. K. Williams (Newark, 4 november 1936)
De Amerikaanse dichter en beeldend kunstenaar Marc Awodey werd geboren op 4 november 1960 in Ann Arbor, Michigan. Zie ook mijn blog van 4 november 2008 en ook mijn blog van 4 november 2009.
Wednesday
Pictures of Wednesday flourish
untouched by a moment's mind
though limbs have grown heavy
after Tuesday's disintegrating rain.
Citizens of every land and sea
practice silent arts
as if each day were a Redeemer;
heads wear silver time pieces
sowing momentous ticks and tocks,
to cherish ashen rays abandoned
by the sun's Apollonian palm.
Perchance seeds will germinate;
on Thursday or perhaps Friday.
Per chance upon a nameless day
as a tier of top-soil conceals
tenements of clay.
But Wednesday next will surly reap
from beds of leveled minds;
gourds, root crops, grains, legumes,
and fleshy vegetables left to rot
under the veins of twisted vines.

Marc Awodey (Ann Arbor, 4 november 1960)
Awodey: Reader, 2002
De Duitse dichter en schrijver Klabund werd als Alfred Henschke geboren op 4 november 1890 in Crossen an der Oder. Zie ook mijn blog van 4 november 2006 en ook mijn blog van 4 november 2008 en ook mijn blog van 4 november 2009.
Ironische Landschaft
Gleich einem Zuge grau zerlumpter Strolche,
Bedrohlich schwankend wie betrunkne Särge,
Gehn Abendwolken über jene Berge,
In ihren Lumpen blitzen rote Sonnendolche.
Da wächst, ein schwarzer Bauch, aus dem Gelände
Der Landgendarm, daß er der Ordnung sich beflisse,
Und scheucht mit einem bösen Schütteln seiner Hände
Die Abendwolkenstrolche fort ins Ungewisse.
Wünsche
Wenn du des Nachts die große Stadt durchstreifst,
Und deine Wünsche in den Ampeln hängen,
Versuche, daß den Willen du begreifst,
Aus dem sie ins erhaben Dunkle drängen.
Sie flüchten früh vor ihrer Blondheit Glanz,
Aus der sie gerne Mörderstricke flöchten.
Ihr Dasein ist auf Strahlenschuhn ein Tanz –
Sie bringen Leben, wo sie sterben möchten.
Christbaumfeier
Piano, Geige: Hupf mein Mädel (forte),
Im Christbaum zucken gelblich ein paar Lichter,
Und an die Rampe tritt Kommis und Dichter
Und stottert stockend tannendufte Worte.
Man trampelt: »Bravo, Bravo« mit den Füßen
Und prostet mit den Krügen nach dem Helden,
Indem sich schon zwei weiße Fräuleins melden,
Mit »Stille Nacht« die Menge zu begrüßen.
Man säuft, man schreit, man giert und man verlost
Die Lebenslust – Rosa, unwiderstehlich,
Bringt lächelnd ihrem Buben bei (allmählich),
Daß er mich Papa ruft. – Na danke. Prost.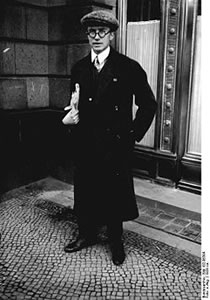 Klabund (4 november 1890 – 14 augustus 1928)
De Oostenrijkse dichter en schrijver Felix Braun werd op 4 november 1885 in Wenen geboren. Zie ook mijn blog van 4 november 2008 en ook mijn blog van 4 november 2009.
Der Leser

Sag: ist das nicht ein wunderliches Leid?
Um fremde Menschen trauern, die nicht leben,
und über Dinge, die sich nie begeben,
voll Sehnsucht träumen in der Einsamkeit.

Geheimnis, dessen Sinn ich nie verstand:
Sich über Worte atemlos zu neigen
und zu vernehmen in gespanntem Schweigen,
was einer dachte, fühlte und erfand.

Wenn Zeile so nach Zeile still verrinnt,
sich wohlig weit zurück im Sessel lehnen.
Die Arme breiten, lächeln unter Tränen.
Und wieder müssig blättern wie als Kind.

Und auf und ab in Abendgassen gehn
und Verse summen, darin Glocken läuten,
und ahnen, dass sie Welt und Leben deuten
und dennoch dunkel in den Wind verwehn....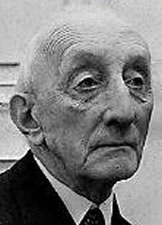 Felix Braun (4 november 1885 – 29 november 1973)

04-11-2010 om 17:36 geschreven door Romenu

Tags:Charles Frazier, C. K. Williams, Marc Awodey, Klabund, Felix Braun, Romenu


03-11-2010

Joe Queenan, Ann Scott, André Malraux, Jan Boerstoel
De Amerikaanse schrijver, humorist en criticus Joe Queenan werd geboren op 3 november 1950 in Philadelphia, Pennsylvania. Zie ook mijn blog van 3 november 2006 en ook mijn blog van 3 november 2008 en ook mijn blog van 3 november 2009.
Uit: Balsamic Dreams: A Short but Self-Important History of the Baby Boomer Generation
"Throughout history, generations imbued with a messianic complex have inspired a wide range of powerful emotions. The Jacobins who decapitated Louis XVI inspired dread. The insurgents led by George Washington inspired admiration. The twentysomething barbarians who accompanied Genghis Khan on his pitiless campaigns through Central Asia and Eastern Europe inspired despair, the young Germans who put Hitler's name in lights inspired horror, the fresh-faced Frenchmen and Frenchwomen who built the cathedrals of Chartres and Amiens and Beauvais inspired awe.
Baby Boomers fall into a somewhat different category. As convinced of their uniqueness as the Bolsheviks, as persuaded of their genius as the Victorians, as self-absorbed as the Romantics, as prosperous as the ancient Romans, the Baby Boomers, despite a very good start (the Freedom Riders, Woodstock, Four Dead in Ohio, driving Nixon from office, Jon Voigt in Midnight Cowboy), have never put many points on the historical scoreboard. Feared and admired in their youth, today they inspire little more than irritation. Not outright revulsion, not apoplectic fury, but simple, unadorned garden-variety irritation. With a bit of contempt thrown in on the side.
The single most damning, and obvious, criticism that can be leveled at Baby Boomers is, of course, that they promised they wouldn't sell out and become fiercely materialistic like their parents, and then they did. They further complicated matters by mulishly spending their entire adult lives trying to persuade themselves and everybody else that they had not in fact sold out, that they had merely matured and grown wiser, thattheir values had undergone some sort of benign intellectual mutation. This only made things worse, because they had now compounded the sin of avarice with the sin of deceit. Besides, it was useless to deny their monstrous cupidity; banks keep records of this sort of thing."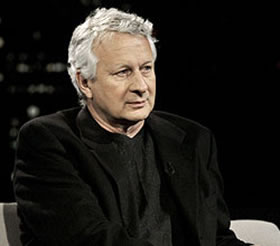 Joe Queenan (Philadelphia, 3 november 1950)
De Franse schrijfster Ann Scott (pseudoniem) werd geboren op 3 november 1965 in Boulogne-Billancourt. Zie ook mijn blog van 3 november 2008 en ook mijn blog van 3 november 2009.
Uit: A la folle jeunesse
"Le taxi filait sur les berges désertes. Il avait neigé dans la nuit, mais ce n'était pas un de ces 1er janvier radieux où en sortant on est ébloui par le blanc qui recouvre tout, et les rues sont arrêtées, immobiles, silencieuses, jusqu'à l'air qui semble purifié. C'était un jour grisâtre qui se levait, à 8 heures du matin, et des quelques flocons tombés dans la nuit, il ne restait qu'une couche de glace sur les toits des voitures garées. Derrière la vitre embuée se succédaient les bascôtés souillés de boue, les péniches amarrées et les eaux ternes de la Seine que le courant parsemait de crêtes d'écume. Çà et là, des silhouettes emmitouflées vidaient des seaux d'eau bouillante sur les ponts des péniches, soulevant de brusques nuées de vapeur comme des steaks jetés dans une poêle. Affalée en travers de la banquette, le manque de sommeil me donnait la nausée. La radio qui passait Hotel California me donnait envie de hurler, ou de pleurer, et dans les paroles je voyais ma tante. Je la voyais le matin de sa mort, avant que le moteur de sa 911 lâche sur Pacific Coast Highway et qu'on achète la Plymouth pour continuer à rouler. Je la voyais dans la cuisine, au petit déjeuner, en peignoir, une serviette enroulée autour des cheveux, en train de boire un whisky en même temps qu'elle tassait le coussin d'une chaise afin que je m'y asseye. Je voyais ses doigts crispés autour du verre pour ne pas le lâcher, un verre en cristal trop large, trop épais, trop lourd, et ses phalanges entre ses bagues qui devenaient blanches. Je voyais la fraction de seconde où le verre lui avait échappé, et ses jambes nues qui s'étaient contentées de se raidir au lieu de reculer pour ne pas être éclaboussées ou recevoir d'éclats. Je voyais ses orteils dans la flaque, le vernis impeccable, le verre qui s'était simplement cassé en deux, et je voyais ses yeux bleus : ils fixaient un glaçon qui avait glissé sur le carrelage jusqu'à la baie vitrée, mais ils auraient aussi bien pu fixer le type qui passait une épuisette à la surface de l'eau de la piscine, quand elle avait dit que regarder un glaçon fondre était comme voir quelqu'un sans substance s'évaporer."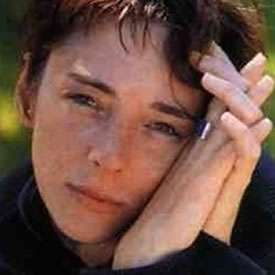 Ann Scott (Boulogne-Billancourt, 3 november 1965)
De Franse schrijver en kunstfilosoof André Malraux werd geboren op 3 november 1901 in Parijs. Zie ook mijn blog van 3 november 2007 en ook mijn blog van 3 november 2006 en ook mijn blog van 3 november 2008 en ook mijn blog van 3 november 2009.
Uit: La Voie Royale
"Donc, il y avait sans doute un monde d'atrocités au-delà de ces yeux arrachés, de cette castration qu'il venait de découvrir... Et la démence, comme la forêt à l'infini derrière cette orée... Mais il n'était pas encore fou : une exaltation tragique le bouleversait, une allégresse farouche. Il continuait à regarder vers la terre : à ses guêtres arrachées, à ses lacets de cuir tordus collait absurdement l'image ancienne d'un chef barbare prisonnier comme lui, plongé vivant dans la tonne aux vipères et mourant en hurlant son chant de guerre, les poings brandis comme des noeuds rompus. L'épouvante et la résolution s'accrochaient à sa peau. Il lança son pied sur le revolver qui parcourut un mètre en clochant, rebondissant de crosse en canon, comme un crapaud. Il repartit vers les Moïs. Claude, haletant, le tenait dans le rond des jumelles comme au bout d'une ligne de mire : les Moïs allaient-ils tirer ? Il tenta de les voir, d'un coup de jumelles ; mais sa vue ne s'accommoda pas aussitôt à la différence de distance et sans attendre il ramena les jumelles sur Perken qui avait repris exactement sa position de marche, le buste en avant : un homme sans bras, un dos incliné de tireur de bateaux sur des jambes raidies. Lorsqu'il s'était retourné, une seconde, Claude avait revu son visage, si vite qu'il n'en avait saisi que la bouche ouverte, mais il devinait la fixité du regard à la raideur du corps, aux épaules qui s'éloignaient pas à pas avec une force de machine. Le rond des jumelles supprimait tout, sauf cet homme. "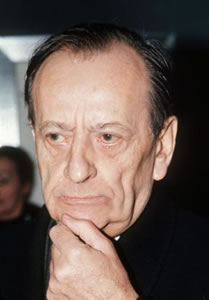 André Malraux (3 november 1901 – 23 november 1976)
De Nederlandse dichter en schrijver Jan Boerstoel werd geboren in Den Haag op 3 november 1944. Zie ook mijn blog van 3 november 2008 en ook mijn blog van 3 november 2009.
Hier in dit land
Hier in dit land van water en van wind
en wolken die tot aan de hemel reiken,
een pannenkoek van klei en zand en grind,
vol kleine mensen achter hoge dijken,
hier wordt als regel zuinig voortgeplant
en heet de favoriete hobby maaien,
de favoriete stand de middenstand,
wil heel wat onweer tóch nog overwaaien
en halen heel wat levens nooit de krant,
hier in dit land,
ons land.

Hier in dit land van water en van wind
en almaar nieuwe soorten autochtonen,
gezagsgetrouw en koninginsgezind
en ook weer blij om hier te mogen wonen,
mannen in alle kleuren zonverbrand
op ongebruikelijke zomerdagen
en vrouwen, die in religieus verband
soms rare hoedjes of een boerka dragen,
die zijn dan vaak wat zwaarder op de hand,
hier in dit land,
ons land.

Bevlogenheid is niet ons sterkste punt
en ook zijn hier geen bergen te bestijgen,
waar één ding wordt ons altijd weer gegund:
jenever om de hoogte van te krijgen
en daarna vanzelfsprekend pepermunt…

Hier in dit land van water en van wind,
waar wij het doorgaans best getroffen hebben,
maar waar al gauw het jammeren begint,
zodra de overvloed dreigt weg te ebben.
Dus gaat het met de taal hier navenant:
begrippen die het helemaal gaan maken
zijn knettergek en zweep en harde hand,
terwijl weer andere in onbruik raken,
zoals beschaafd, humaan en tolerant…
Hier in dit land,
ons land.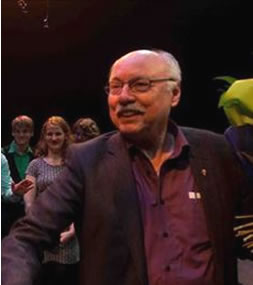 Jan Boerstoel (Den Haag, 3 november 1944)
Zie voor nog meer schrijvers van de 3e november ook mijn vorige blog van vandaag.

03-11-2010 om 19:33 geschreven door Romenu

Tags:Joe Queenan, Ann Scott, André Malraux, Jan Boerstoel, Romenu



Dieter Wellershoff, Hanns Heinz Ewers, Oodgeroo Noonuccal, William Cullen Bryant
De Duitse schrijver en essayist Dieter Wellershoff werd geboren op 3 november 1925 in Neuss. Zie ook mijn blog van 3 november 2007 en ook mijn blog van 3 november 2006 en ook mijn blog van 3 november 2008 en ook mijn blog van 3 november 2009.
Uit: Der Liebeswunsch
"Manchmal denke ich, daß ich nicht sie erklären muß, sondern mich, mein Interesse an ihr, das so spät, fast sechs Jahre nach ihrem Tod, wieder in mir erwacht ist. Doch vielleicht muß ich erst vom Vergessen sprechen, das gewaltsam als Abwendung und Trennung begann und dann allmählich in Beruhigung überging. Ich habe immer weniger, immer flüchtiger an sie gedacht und irgendwann dann nicht mehr. Wann das war, weiß ich nicht. Man vergißt auch noch das Vergessen, wenn man etwas vergißt. Es ist wie eine doppelte Wand oder wie etwas, das es in Wirklichkeit nicht gibt – eine doppelte Dunkelheit. Inzwischen weiß ich: Man kann nicht sicher sein. Sie war verschwunden in diesem doppelten Dunkel, bis ich sie plötzlich wiedersah. Sie erschien mir in jener bannenden Ausdrücklichkeit, mit der eine Schauspielerin im Lichtkegel eines Scheinwerfers, unbeirrt von den auf sie gerichteten Augen im verdunkelten Zuschauerraum, über die Bühne schreitet.
Wenige Schritte vor mir, bei einer Verkehrsampel, die gerade auf Rot schaltete, kreuzte sie inmitten anderer Fußgänger meinen Weg und verschwand in der Seitenstraße. Ruhig, ohne den Kopf zu wenden, ging sie an mir vorbei, in dem unangetasteten Reiz ihrer längst vergangenen Erscheinung Jahre vor ihrem Tod. Sie erschien mir in dem seltsamen Zwielicht einer nahen Ferne: unwirklich und selbstverständlich und, wie jene Schauspielerin, nicht anrufbar.
Es war eine andere, eine fremde Frau, in der ich sie wiedererkannte. Doch das wußte nur mein Verstand, der den Schrecken, der mich durchfuhr, mit kurzer Verzögerung beiseite schob. Sie war es nicht. Sie konnte es nicht sein. Es konnte nicht noch einmal beginnen. Erleichterung oder Enttäuschung – ich wußte nicht, was ich empfand.
Während die Frau im rechten Winkel zu meinem Weg sich entfernte – eine ganz andere Person, die nichts von den Phantasien ahnte, die ich ihr aufgebürdet hatte –, riß auch meine Verbindung zu der Umgebung, deren Mittelpunkt sie gewesen war. Ich fühlte mich wie im Inneren einer durchsichtigen
Blase, an deren Außenhaut der Verkehr, die Menschen und die Schaufenster der Geschäfte schillerten – eine zerflossene farbige Illusion."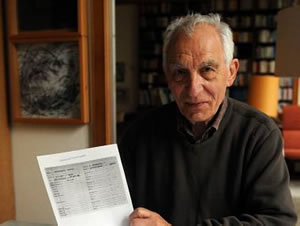 Dieter Wellershoff (Neuss, 3 november 1925)
De Duitse schrijver, filmmaker en cabaretier Hanns Heinz Ewers werd geboren op 3 november 1871 in Düsseldorf. Zie ook mijn blog van 3 november 2008 en ook mijn blog van 3 november 2009.
La Guaira
Und diese wahnsinnstarke Sonne glüht.
Zwei schreiten wortlos zwischen Häusermassen
und trinken heissen Tod aus leeren Gassen,
wo keines Lebens leiser Atem blüht.
Da wacht der Tod, dass man ihm keines raube.
- Glutkrämpfe schütteln einen Hungerhund,
die Rippen fliegen, Schaum entquillt dem Mund -
den trinkt die Sonne gierig aus dem Staube.
Zwei schreiten wortlos auf verkohltem Grase.
Die Würmer pochen tief im Ahornbaum
und schläfrig hockt der Geier auf dem Aase.
- Das alles, weiss ich, ist ein schwerer Traum,
den andere von uns träumen. Eine Phrase,
so leer wie Hundes Geiferschaum.
Drei Grafen Spee

Weit vom Osten her durch die unendliche See
Tragen drei gute Schiffe drei Grafen Spee.
Der Vater auf der "Scharnhorst", er ist Admiral.
(Herz wie aus Erz. Augen wie blanker Stahl.)
Auf der "Gneisenau" ein Sohn. Leutnant. Des Alten Blut.
Weißt schon --- was Pflicht ist. Weißt noch --- was Übermut!
Und auf der "Nürnberg" der dritte, der jüngste Spee;
Jubel, lachender Leichtsinn, Fähnrich zur See.
Der sang lachend ein Liedchen und taufte die Flotte,
Dem Ahnherrn zu Ehren, dem Briten zum Spotte,
Trank den letzten Wein, zerbrach den blanken Kristall –
Nannte sie "Deutsche Trutznachtigall"!
Von Japan her, weit über die große See
Kam mit deutschen Schiffen Admiral Graf Spee.
Schwamm zum Süden hinab längs der Salpeterwüste,
Fand den Engländer unten an Chiles Küste.
Faßte in fest. Hob die Sense und schnitt die Garben,
Pflückte den ersten Sieg zur See für die schwarzweiß-roten Farben.
Bei den Falklandinseln in wildem Wogenschwall
Sang ihr letztes Lied die "Deutche Trutznachtigall".
Sang es gut und voll aus manchen Kanonen,
Mußte doch herab zum Grunde, wo die Kraken wohnen.
Wenn John Bull angreift, weiß er, sieben zu eins, seine Odds zu nützen,
Mehr in der Zahl, größer in Schiffen, viel stärker in den Geschützen.
Und es sank die "Nürnberg". Sank die "Scharnhorst". Sank " Gneisenau" –
---Da weint zu Kiel heiße Tränen manche deutsche Seemannsfrau.
Bei den Falklandinseln, tief im Grunde der See
Liegen drei deutsche Schiffe. Liegen drei Grafen Spee.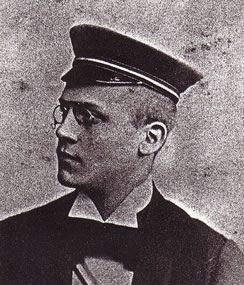 Hanns Heinz Ewers (3 november 1871 – 12 juni 1943)
Ewers als lid van het Berlijnse Corps Normannia
De Australische dichteres en schrijfster Oodgeroo Noonuccal (eig. Kathleen Jean Mary Ruska) werd geboren op 3 november 1920 in Minjerribah (Stradbroke Island) in Moreton Bay. Zie ook mijn blog van 3 november 2008 en ook mijn blog van 3 november 2009.
Ballad Of The Totems
My father was Noonuccal man and kept old tribal way,
His totem was the Carpet Snake, whom none must ever slay;
But mother was of Peewee clan, and loudly she expressed
The daring view that carpet snakes were nothing but a pest.
Now one lived inside with us in full immunity,
For no one dared to interfere with father's stern decree:
A mighty fellow ten feet long, and as we lay in bed
We kids could watch him round a beam not far above our head.
Only the dog was scared of him, we'd hear its whines and growls,
But mother fiercely hated him because he took her fowls.
You should have heard her diatribes that flowed in angry torrents,
With words you'd never see in print, except in D.H. Lawrence.
"I kill that robber," she would scream, fierce as a spotted cat;
"You see that bulge inside of him? My speckly hen make that!"
But father's loud and strict command made even mother quake;
I think he'd sooner kill a man than kill a carpet snake.
That reptile was a greedy guts, and as each bulge digested
He'd come down on the hunt at night, as appetite suggested.
We heard his stealthy slithering sound across the earthen floor,
While the dog gave a startled yelp and bolted out the door.
Then over in the chicken-yard hysterical fowls gave tongue,
Loud frantic squawks accompanied by the barking of the mung,
Until at last the racket passed, and then to solve the riddle,
Next morning he was back up there with a new bulge in his middle.
When father died we wailed and cried, our grief was deep and sore,
And strange to say from that sad day the snake was seen no more.
The wise old men explained to us: "It was his tribal brother,
And that is why it done a guy" – but some looked hard at mother.
She seemed to have a secret smile, her eyes were smug and wary,
She looked about as innocent as the cat that ate the pet canary.
We never knew, but anyhow (to end this tragic rhyme)
I think we all had snake for tea one day about that time.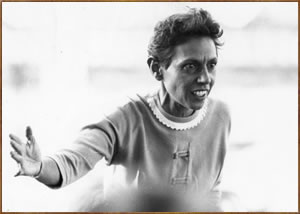 Oodgeroo Noonuccal (3 November 1920—16 September 1993)
De Amerikaanse dichter, journalist en jurist William Cullen Bryant werd geboren op 3 november 1794 in Cummington, Massachusetts. Zie ook mijn blog van 3 november 2008 en ook mijn blog van 3 november 2009.
Autumn Woods
Ere, in the northern gale,
The summer tresses of the trees are gone,
The woods of Autumn, all around our vale,
Have put their glory on.
The mountains that infold,
In their wide sweep, the coloured landscape round,
Seem groups of giant kings, in purple and gold,
That guard the enchanted ground.
I roam the woods that crown
The upland, where the mingled splendours glow,
Where the gay company of trees look down
On the green fields below.
My steps are not alone
In these bright walks; the sweet south-west, at play,
Flies, rustling, where the painted leaves are strown
Along the winding way.
And far in heaven, the while,
The sun, that sends that gale to wander here,
Pours out on the fair earth his quiet smile,--
The sweetest of the year.
Where now the solemn shade,
Verdure and gloom where many branches meet;
So grateful, when the noon of summer made
The valleys sick with heat?
Let in through all the trees
Come the strange rays; the forest depths are bright?
Their sunny-coloured foliage, in the breeze,
Twinkles, like beams of light.
The rivulet, late unseen,
Where bickering through the shrubs its waters run,
Shines with the image of its golden screen,
And glimmerings of the sun.
But 'neath yon crimson tree,
Lover to listening maid might breathe his flame,
Nor mark, within its roseate canopy,
Her blush of maiden shame.
Oh, Autumn! why so soon
Depart the hues that make thy forests glad;
Thy gentle wind and thy fair sunny noon,
And leave thee wild and sad!
Ah! 'twere a lot too blessed
For ever in thy coloured shades to stray;
Amid the kisses of the soft south-west
To rove and dream for aye;
And leave the vain low strife
That makes men mad--the tug for wealth and power,
The passions and the cares that wither life,
And waste its little hour.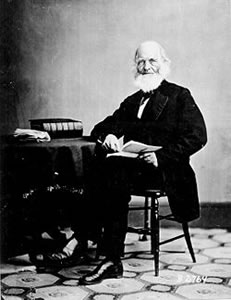 William Cullen Bryant (3 november 1794 – 12 juni 1878)

03-11-2010 om 19:25 geschreven door Romenu

Tags:Dieter Wellershoff, Hanns Heinz Ewers, Oodgeroo Noonuccal, William Cullen Bryant, Romenu


02-11-2010

E. du Perron, Odysseas Elytis, Leo Perutz, Kees van den Heuvel, Bilal Xhaferri
De Nederlandse dichter, schrijver en criticus Charles Edgar (Eddy) du Perron werd geboren op 2 november 1899 in Jatinegara (West Java). Zie ook mijn blog van 2 november 2006 en ook mijn blog van 2 november 2007 en ook mijn blog van 2 november 2008 en ook mijn blog van 2 november 2009.
Uit: Aan ambrosia. Bij Tuin van Eros door Jan Engelman
"Uw naam is, op dit ogenblik reeds, in Holland wijdvermaard - voor zover zulke woorden opgaan bij een Hollands letterlievend publiek, de schrijvers die elkaar lezen meegerekend. Een vers, voor velen onbegrijpelik, onder de evokatie van een Helleense zangeres, maar waarvan de eerste regel zich zonder moeite in het geheugen grifte, maakte hem beroemd. Ambrosia, wat vloeit mij aan? Men heeft er zelfs te veel ophef van gemaakt; het is nooit prettig voor een dichter, zo'n al te vermaard vers. Het vond navolgers, tot in het olike Vlaanderen; het leek het knippatroon bij uitstek voor het nieuwste muzikale vers. Er was een misverstand, ook in die eerste regel al, dat langzamerhand eerst werd opgeruimd: het was geen godenspijs die bedoeld werd, en wat aanvloeide was niet het daarbijbehorende vocht; het was, alles bijeengenomen, alleen maar een lied, een van de zuiverste en mooiste liederen alleen maar in onze hedendaagse poëzie. Men heeft - het was een spotziek intellektualist die het deed - protest aangetekend tegen een kaal hoofd, dat in de volgende regel reeds opdook, alsof een schone vrouw, een met het lichaam van de Nike van Samothrace, niet desnoods de strenge lijnen van een onbegroeid schedelveld vertonen mocht. Maar de intellektualiteit redeneerde à faux, en kon zich trouwens niet weerhouden de onmiskenbare kwaliteiten van het lied te waarderen. Zij aanvaardde tenslotte het lied, hoewel haar geweten zich gesterkt voelde in de langzaam groeiende overtuiging dat een lied, zozeer tot de poëzie-alleen behorende, met dezelfde rare trots van die poëzie-alleen, dom was."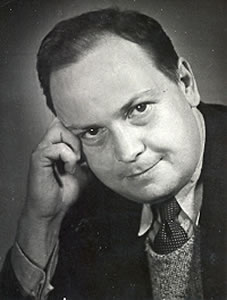 E. du Perron (2 november 1899 – 14 mei 1940)
De Griekse dichter Odysseas Elytis (pseudoniem voor Odysseas Alepoudhelis) werd op 2 november 1911 te Iraklion op Kreta geboren. Zie ook mijn blog van 2 november 2006 en ook mijn blog van 2 november 2007 en ook mijn blog van 2 november 2008 en ook mijn blog van 2 november 2009.
This wind that loiters..."

This wind that loiters among the quinces
This insect that sucks the vines
This stone that the scorpion wears next to his skin
And these sheaves on the threshing floor
That play the giant to small barefoot children.

The images of the Resurrection
On walls that the pine trees scratched with their fingers
This whitewash that carries the noonday on its back
And the cicadas, the cicadas in the ears of the trees.

Great summer of chalk
Great summer of cork
The red sails slanting in gusts of wind
On the sea-floor white creatures, sponges
Accordions of the rocks
Perch from the fingers even of bad fishermen
Proud reefs on the fishing lines of the sun.

No one will tell our fate, and that is that,
We ourselves will tell the sun's fate, and that is that.
Drinking the sun of Corinth
Drinking the sun of Corinth
Reading the marble ruins
Striding across vineyards and seas
Sighting along the harpoon
A votive fish that slips away
I found the leaves that the sun's psalm memorizes
The living land that passion joys in opening.

I drink water, cut fruit,
Thrust my hand into the wind's foliage
The lemon trees water the summer pollen
The green birds tear my dreams
I leave with a glance
A wide glance in which the world is recreated
Beautiful from the beginning to the dimensions of the heart!
Vertaald door Edmund Keeley en Philip Sherrard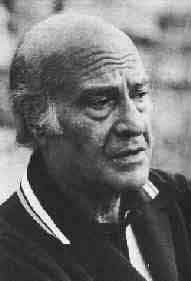 Odysseas Elytis (2 november 1911 – 18 maart 1996)
De Oostenrijkse schrijver Leo Perutz werd geboren op 2 november 1882 in Praag. Zie ook mijn blog van 2 november 2006 en ook mijn blog van 2 november 2008 en ook mijn blog van 2 november 2009.
Uit: Wohin rollst du, Äpfelchen . . .
"Die unerwartete Kontrolle in der großen Lazaretthalle des Bahnhofes war das letzte aufregende Ereignis gewesen. Von Moskau an verlief die Reise ohne irgendeinen Zwischenfall. Als Kohout die abgerissenen Spielkarten aus der Tasche zog und mit der Bemerkung, man sei ihm Revanche schuldig, eine Partie Einundzwanzig vorschlug, waren alle dabei, auch Feuerstein, der auf dem Bahnhofe während der Verlesung der Namen einen Ohnmachtsanfall erlitten hatte.
In Tula stieg Dr. Emperger, der die Reisekasse führte, aus und kaufte Brot, Eier und heißes Teewasser, sogar zwei Tafeln Schokolade trieb er auf. Als er zurückkam, sagte er, nun habe er von Rußland Abschied genommen, endgültig und für alle Zeiten, zum letzten Male in diesem Leben habe
er russische Erde betreten. Denn er befände sich jetzt eigentlich schon auf neutralem Boden, den Sanitätszug könne er nicht als zu Rußland gehörig betrachten.
Vittorins Miene verfinsterte sich. – So, also Dr. Emperger wollte auf keinen Fall mehr nach Rußland zurück? Und wenn die Wahl auf ihn fiel, was dann? Lag hinter seinen Worten irgendeine Absicht verborgen? Wollte er am Ende vorbauen, auf geschickte und unauffällige Art andeuten, daß er sich an das Übereinkommen nicht gebunden fühle? Er blickte von den Karten auf. Doch er fand in Doktor Empergers Gesicht mit den hervortretenden, völlig ausdruckslosen Augen nichts, was seinen Argwohn bestätigen konnte.
Unmöglich! Sie hatten alle fünf feierlich ihr Ehrenwort verpfändet. Ich schwöre als Offizier und Mann von Ehre – das war die Formel gewesen. Es gab kein Zurück mehr. Vielleicht war sich Doktor Emperger der Tragweite seiner Bemerkung gar nicht bewußt, vielleicht hatte er einfach ohne jede Überlegung gesprochen. In diesem Falle war ein Verweis, der ja im freundschaftlichen Ton gehalten sein konnte, durchaus am Platz."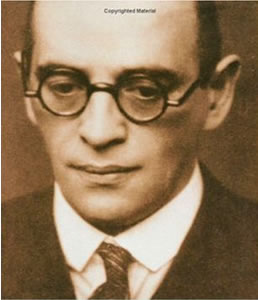 Leo Perutz (2 november 1882 – 25 augustus 1957)
De Nederlandse dichter en vertaler Kees van den Heuvel werd geboren op 2 november 1960 in Mill. Zie ook mijn blog van 2 november 2009 en mijn blog van 10 februari 2010.
Restaurant

I

Ontstemd gegrom aan tafel 30
De bruinebonensoep smaakt erwtig

I

Ontsteltenis aan tafel 40
De Haagse bluf is veel te Weertig

I

Een luid protest aan tafel 80
Men vindt er de rivierkreeft grachtig

I

Het is weer stil aan tafel 100
Die zeikerds zijn eruit gedonderd




Cont. adv.

Verl m zkt vr v 30, l
Betrouwb, ac, optim
Rom, energ, spont, charm

Volw, sxy, kwetsb, hum
Doort, openh, eleg
Erot, avontrl, cult

Act, veelz, eigenw, gal
Vasth, evenw, sens
Zelfst, levensl, wrm, sport

Ikz bn 32, fijnbesn
Integ, sl, mt wng al tevr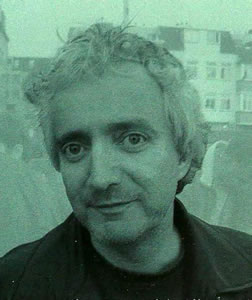 Kees van den Heuvel (2 november 1960 – 11 januari 2010)






De Albanese dichter en schrijver Bilal Xhaferri werd geboren op 2 november 1935 in Ninat bij Konispol. Zie ook mijn blog van 2 november 2008 en ook mijn blog van 2 november 2009.

Cham Ballad
In the distance fades a rainbow
Over the tips of the pyres,
A tearful word of farewell
In the pouring rain.
In the distance fades Chameria, our homeland in flames
And all of the roads take us northwards.
Over ancient Epirotic lands moans a Mediterranean wind,
Over the precious fields of our ancestors,
Lightning now feeds on the abandoned pastures,
Olive groves, unharvested, groan like the waves beating against the coast,
And on all sides, Cham land,
Enveloped in clouds,
Gasps and drowns in blood and tears,
Forsaken
And forlorn.
The bullets slicing through the darkness show us the way,
Flames that have devoured the soil, light up our path,
Behind us the storm lashes at the creaking doors of one-time homes.
And the road stretches northwards, northwards forever.
A folk now in exile, we wander in the downpour,
Farewell Chameria!

Bust of a Slain Cham Boy
I will appear before you on a misty night,
A looming silhouette of affliction and scorn.
The wind and the stars will tell you nothing of me,
Nor will the bronze glow of my silhouette.
Only my wounds will bear witness,
Only my death will declaim.
Vertaald door Robert Elsie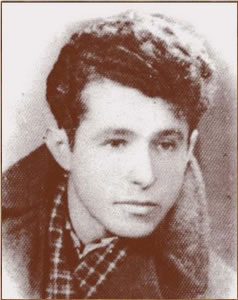 Bilal Xhaferri (2 november 1935 – 14 oktober 1986)




Zie voor nog meer schrijvers van de 2e november ook
mijn vorige blog van vandaag.
02-11-2010 om 00:00 geschreven door Romenu

Tags:E. du Perron, Odysseas Elytis, Leo Perutz, Kees van den Heuvel, Bilal Xhaferri, Romenu



Thomas Mallon, Augusta Peaux, Jules Barbey d'Aurevilly, Daniil Andreyev
De Amerikaanse schrijver en criticus Thomas Mallon werd geboren op 2 november 1951 in Glen Cove, New York. Zie ook mijn blog van 2 november 2008 en ook mijn blog van 2 november 2009.
Uit: Bandbox
"Cuddles Houlihan got clipped by the vodka bottle as it exited the pneumatic tube.
"Goddammit!"
The cry of pain that filled the office came not from Cuddles, whose head still lay asleep on his desk, but from the tube. Its ultimate source was the office of Joe Harris, the editor-in-chief. At this late, sozzled hour, Harris had mistakenly fed the interoffice mail chute not the translucent canister containing his angry communication to Cuddles, but the still-half-full, six-dollar quart of hooch he was regularly supplied with by the countess in the fact-checking department.
Harris glowered for several seconds at the undispatched canister, before giving in to the impulse to open it up and look once more at what had enraged him in the first place: a photograph of Leopold and Loeb, smiling, each with an arm around the other, perched on the edge of an upper bunk in the Joliet State Prison, both of them avidly regarding the latest issue of Bandbox. The thrill killers held it open with their free hands, like a box of candy they were sharing on a back-porch swing.
Would make a great ad, said the inked message on the back of the photograph, whose bold penmanship Harris recognized as belonging to Jimmy Gordon, up until eight months ago his best senior editor here at Bandbox. "I think of you as a bastard son," he'd once told Jimmy in a burst of bibulous sentiment. Now, as editor-in-chief of Cutaway, the younger man was his head-to-head, hand-to-throat, competition. If Harris didn't think of something, this picture of those two murderous fairies reading Bandbox-the magazine that had made goddamn Jimmy Gordon, and remade Jehoshaphat Harris-would be plastered to the side of every double-decker bus crawling up Fifth Avenue."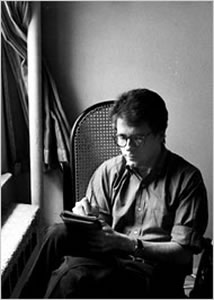 Thomas Mallon (Glen Cove, 2 november 1951)

De Nederlandse dichteres Augusta Guerdina Peaux werd geboren in Simonshaven op 2 november 1859. Zie ook mijn blog van 2 november 2008 en ook mijn blog van 2 november 2009.
Eenzaam kerkhof

De witte grassen bewegen en komen
Heen en weder door wind en dauw,
De takken wiegen hun stille dromen
Op donkere armen in sluiers van rouw,
Het sleepkleed der treurende esschenbomen
Raakt bloeiende grassen in avonddauw.
Hoog groeien de grassen, wind die ze zaaide,
Wind die ze verwaaide, zij bloeien uit,
Geen hand die ze plukte, geen zeis die ze maaide,
De witte wassen bewegen en komen
Heen en weder door wind en dauw,
Op de hekspijlen buigen de boomen
Hun donkere hoofden in krip van rouw.
Hun hangende sluiers beroeren de klachten
Der witte rozen en het schemerrood
Der oude daken, vele wolkengeslachten
Gaan het hek over, de bloemen en den dood.
Woest liggen de graven, de grendelen der aarde
Sluiten de dooden van 't leven af,
Zij zinken al dieper, een weelderige gaarde
Bloeit, hoog als de hemel, boven hun graf.
En de wagenmenner, in 't beeld van de sterren,
Ziet ernstig peinzend omlaag.
Ver ligt al de aarde, een stip, zoo verre
En zijn paarden gaan zoo traag.
Langs andere werelden siert hij zijn wagen
En waar geen werelden meer zijn,
De Steppenvlakte door van een eindeloos, vage,
Onbekende hemelwoestijn.
Koud landschap
Een late najaarsdag, sneeuw in de lucht,
belofte van veel sneeuw. Een lage wei
waar 't water blank om korte wilgen stond
tot aan de zwarte koppen. Vlokken vlogen
neer, neer, al sneller langs de naakte twijgen
en tegen 't witte water, wit en weg.
Zo, wit en weg, zo, schuinsaf door de takken
weinige, ruige vlokken op de vlucht,
als vagebonden in een winters bos
't spoor bijster.
Augusta Peaux (2 november 1859 - 23 februari 1944)
De Franse schrijver en moralist Jules Amédée Barbey d'Aurevilly werd geboren op 2 november 1808 in Saint-Sauveur-le-Vicomte (Manche). Zie ook mijn blog van 2 november 2008 en ook mijn blog van 2 november 2009.

Uit: Le Rideau cramoisi
"Il s'arrêta, baissa la glace qu'il avait devant lui... Était-ce pour mieux voir cette fenêtre dont il me parlait '... Le conducteur était allé chercher le charron et ne revenait pas. Les chevaux de relais, en retard, n'étaient pas encore arrivés de la poste. Ceux qui nous avaient traînés, immobiles de fatigue, harassés, non dételés, la tête pendant dans leurs jambes, ne donnaient pas même sur le pavé silencieux le coup de pied de l'impatience, en rêvant de leur écurie. Notre diligence endormie ressemblait à une voiture enchantée, figée par la baguette des fées, à quelque carrefour de clairière, dans la forêt de la Belle-au-Bois dormant. « Le fait est, dis-je, que pour un homme d'imagination, cette fenêtre a de la physionomie. – Je ne sais pas ce qu'elle a pour vous, reprit le vicomte de Brassard, mais je sais ce qu'elle a pour moi. C'est la fenêtre de la chambre qui a été ma première chambre de garnison. J'ai habité là... Diable ! il y a tout à l'heure trente-cinq ans ! derrière ce rideau... qui semble n'avoir pas été changé depuis tant d'années, et que je trouve éclairé, absolument éclairé, comme il l'était quand... » Il s'arrêta encore, réprimant sa pensée ; mais je tenais à la faire sortir. « Quand vous étudiiez votre tactique, capitaine, dans vos premières veilles de sous-lieutenant ' – Vous me faites beaucoup trop d'honneur, répondit-il. J'étais, il est vrai, sous-lieutenant dans ce moment-là, mais les nuits que je passais alors, je ne les passais pas sur ma tactique, et si j'avais ma lampe allumée à ces heures indues, comme disent les gens rangés, ce n'était pas pour lire le maréchal de Saxe. – Mais, fis-je, prestement comme un coup de raquette, c'était, peut-être, tout de même, pour l'imiter ' » Il me renvoya mon volant. « Oh !"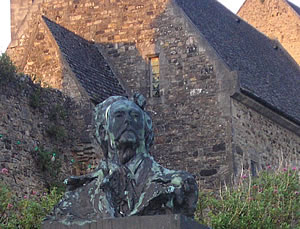 Jules Barbey d'Aurevilly (2 november 1808 – 23 april 1889)
Buste door Auguste Rodin in Saint-Sauveur-le-Vicomte
De Russische dichter, schrijver en Christelijk mysticus Daniil Leonidovich Andreyev werd geboren op 2 november 1906 in Berlijn. Zie ook mijn blog van 2 november 2008 en ook mijn blog van 2 november 2009.

Uit: The Rose of the World
"THIS BOOK WAS BEGUN at a time when the threat of an unparalleled disaster hung over the heads of humanity—when a generation only just recuperating from the trauma of the Second World War discovered to its horror that a strange darkness, the portent of a war even more catastrophic and devastating than the last, was already gathering and thickening on the horizon. I began this book in the darkest years of a dictatorship that tyrannized two hundred million people. I began writing it in a prison designated as a "political isolation ward." I wrote it in secret. I hid the manuscript, and the forces of good—humans and otherwise—concealed it for me during searches. Yet every day I expected the manuscript to be confiscated and destroyed, just as my previous work—work to which I had given ten years of my life and for which I had been consigned to the political isolation ward—had been destroyed.
I am finishing The Rose of the World a few years later. The threat of a third world war no longer looms like dark clouds on the horizon, but, having fanned out over our heads and blocked the sun, it has quickly dispersed in all directions back beyond the horizon.
Perhaps the worst will never come to pass. Every heart nurses such a hope, and without it life would be unbearable. Some try to bolster it with logical arguments and active protest. Some succeed in convincing themselves that the danger is exaggerated. Others try not to think about it at all and, having decided once and for all that what happens, happens, immerse themselves in the daily affairs of their own little worlds. There are also people in whose hearts hope smoulders like a dying fire, and who go on living, moving, and working merely out of inertia.
I am completing The Rose of the World out of prison, in a park turned golden with autumn. The one under whose yoke the country was driven to near exhaustion has long been reaping in other worlds what he sowed in this one. Yet I am still hiding the last pages of the manuscript as I hid the first ones. I dare not acquaint a single living soul with its contents, for, just as before, I cannot be certain that this book will not be destroyed, that the spiritual knowledge it contains will be transmitted to someone, anyone."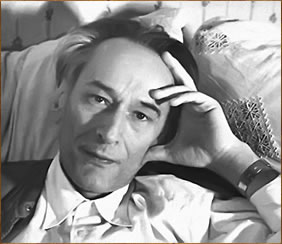 Daniil Andreyev (2 november 1906 – 30 maart 1959)

02-11-2010 om 00:00 geschreven door Romenu

Tags:Thomas Mallon, Augusta Peaux, Jules Barbey d'Aurevilly, Daniil Andreyev, Romenu



Constantijn Huygens-prijs 2010 voor A.L. Snijders

Constantijn Huygens-prijs 2010 voor A.L. Snijders
Aan de Nederlandse schrijver A.L. Snijders is de Constantijn Huygens-prijs 2010 toegekend voor zijn hele oeuvre. Aan de prijs is een geldbedrag van 10.000 euro verbonden. A.L. verwierf bekendheid met de verschijning van het boek Belangrijk is dat ik niet aan lezers denk uit 2006, een bundeling zogenaamde zkv's (Zeer Korte Verhalen). Zie ook mijn blog van 20 november 2009.
Nulla Dies
De oude man loopt met zijn hond aan de rand van het bos. In de verte ligt zijn huis. Hij ziet het. Er komt met zwier een diepliggende auto aanrijden. Jeugd. De oude man heeft zijn verzet opgegeven. Hij herkent de parafernalia van de jeugd als vanzelf. Als hij het huis binnengaat, ziet hij ze staan, ze vullen de kamer als bomen, vier Thebaanse krijgers uit Amsterdam, ongeveer twee meter lang, gegroeid uit drakentanden. Het zijn vier beeldmakers, losse kunstenaars. De oude man zegt dat ze niet moeten vertrouwen op hun talent, ze moeten stug werken, iedere dag, ondanks regen en wind, nulla dies sine linea. Wat zegt u meneer? Waarom zouden de jonge soldaten weten wat de oude man weet? De lijfspreuk van Duitse houtsnijders, middeleeuwen. Geen dag zonder lijn. Na de koffie en de koekjes stopt de laagliggende auto nog even voor het raam, portieren op een kier. Gelach. Nulla dies sine linea, meneer? Mooie spreuk voor onze cokedealer!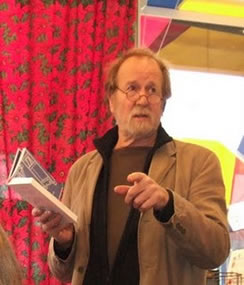 A.L. Snijders (Amsterdam, 1937)

02-11-2010 om 00:00 geschreven door Romenu

Tags:Constantijn Huygens-prijs 2010 voor A.L. Snijders, Constantijn Huygens-prijs, A.L. Snijders, Romenu


01-11-2010

Ilse Aichinger, Stefaan van Laere, Rudy Kousbroek, Hermann Broch, Aras Ören
De Oostenrijkse dichteres en schrijfster Ilse Aichinger werd met haar tweelingzusje Helga geboren op 1 november 1921 in Wenen. Zie ook mijn blog van 1 november 2006 en ook mijn blog van 1 november 2007 en ook mijn blog van 1 november 2008 en ook mijn blog van 1 november 2009.
Uit: Unglaubwürdige Reisen
"Die erste Reise, die Geburt, hat nicht nur mit den meisten letzten gemeinsam, daß sie ohne Alternative auskommen muß: Keiner holt freiwillig Luft oder wählt den Ort für die erste Chance, nicht gleich zu ersticken. Ob im Jet über Seattle, in Ambulanzwagen mit Blaulicht oder in einer sterilen Entbindungsstation oder einer Abstellkammer: der erste Schrei setzt der ersten Reise ein Ende und läßt sich fast ohne weiteres als Existenzbeweis definieren. Aber für wessen Existenz? Verwandt oder unverwandt, auswechselbar oder nicht?
Schon im Bruchteil einer Sekunde danach sind neue Instanzen zuständig: staatliche und kirchliche Behörden, Paßämter, Pfarrämter, Standesämter, Tauf- und Geburtsurkunden und früher noch ein "Heimatschein", der unglaubwürdigste Beweis für die erste unglaubwürdige Reise: Geboren in Wien, dagegen ist nichts zu machen, aber danach? Ob Graz, Hütteldorf oder der Jemen – die nach Freud entscheidende frühe Kindheit zeichnet sich sofort ziemlich endgültig ab. Auch die kann keiner wählen. Für mich hieß sie teilweise Linz an der Donau, der Pfennigberg, der Pöstlingberg, der Freinberg.
Vor allem aber ein immerhin sozialdemokratischer Bürgermeister, Ernst Koref, der gern Musik hörte und uns besuchte. Das glich die oft beunruhigenden finanziellen Schwierigkeiten aus, die durch die fünfte identische Jean-Paul-Ausgabe, die unser Vater ins Regal gestellt hatte, entstanden waren. Da reichte das Geld nur noch für ein schizophrenes Kindermädchen, Frau Emma Schrack, kurz zuvor irrtümlich aus der Psychiatrie entlassen, sie verlangte wenig und hielt uns mit den kräftigen Griffen fest, die sie von Wärtern kannte. "Wenn ihr nicht brav seid, hole ich den Wachmann", sagte sie gerne. Sie blieb drei oder vier Jahre.
Die Spazierwege: über die Landstraße zum Hauptplatz, doch noch nicht zum letzten Wohnhaus Adalbert Stifters, in dem er unter seine langen Betrachtungen über die Restaurierung von Lindenholzaltären mit einem Rasiermesserschnitt in die Kehle einen unvermuteten, aber nicht un- vermutbaren Schlußstrich gezogen hatte.
Aber schon damals, immer häufiger, führten die Wege in Richtung Landesirrenanstalt, über Wiesen mit den ersten Frühlingsblumen und Lücken in der Anstaltsmauer. Durch sie konnten wir die freundlichen und stillen oder stillgehaltenen Irren sehen."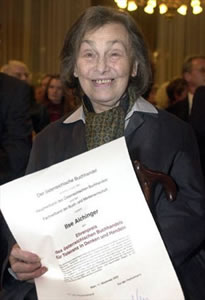 Ilse Aichinger (Wenen, 1 november 1921)
De Belgische dichter en schrijver Stefaan van Laere werd geboren op 1 november 1963 in Wetteren. Zie ook mijn blog van 1 november 2008 en ook mijn blog van 1 november 2009.
De laatste dans
Echt dood zijn is niet meer kunnen dansen
zelfs niet in de kelders van je barokke hoofd.
Geen uitzicht op een sprankel hoop, geen kansen
niemand die nog de puurheid van je passen looft.
Echt dood zijn is iets waar je op tijd moet aan beginnen
nog voor de sappen verdorren in je stramme leden
nog voor de cellen sterven en je voorgoed bederven.
Nog voor je als een muffe mummie door ieder wordt gemeden.
Maar voor we dood gaan, voor die kleine knekelvent
met zijn zwiepende zeis je levensdraad gaat bezwaaien,
is er nog tijd voor een laatste dans die alles omvat.
Je eigen last tango in Paris, gekluisterd aan je infuus.
Onhandelbaar
Zo omarmde hij de kilte van iets na middernacht
in zijn kamer boven het doffe tangofeest.
Veel te lang beleefd geweest.
Tot hij zijn wrok liet kreunen. Scheutige schim.
Zorro en geest in één.
Onder zijn droeve voeten zag hij door het gat in de vloer
hoe ze al te steriel en deftig schoven op de tonen van het concours.
Waar is het hart, riep hij. In zijn hoofd.
En hij knikte dat het goed was. De pin bleef hangen
aan zijn pink. Dan smakte de granaat plomp tussen hun schoenen.
Eindelijk raak.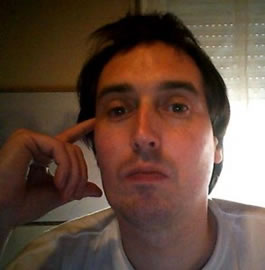 Stefaan van Laere (Wetteren, 1 november 1963)
De Nederlandse dichter, schrijver en essayist Rudy Kousbroek werd op 1 november 1929 in Pematang Siantar in Indonesië geboren. Zie ook mijn blog van 1 november 2006 en ook mijn blog van 1 november 2008 en ook mijn blog van 1 november 2009. Rudy Kousbroek overleed op 4 april van dit jaar op[ 80-jarige leeftijd. Zie ook mijn blog van 4 april 2010.
Oude schaduwen
Ik heb nog een collectie heel oude schaduwen,
Sommige half vergaan en kwetsbaar,
Een paar nog uit de 18e eeuw.

Kinderschaduwen uit Antwerpen,
De schaduw van een rode lelie,
Een meeuwenschaduw uit Den Helder.

En uit de tijd van Koningin Emma,
Gerafeld maar nog goed herkenbaar,
Schaduwen van grijze dames.

De schaduw van een boom in Frankrijk,
Een vleermuisschaduw uit Zuid-Limburg,
Een grote vliegtuigschaduw uit de oorlog.

Vergeten schaduwen in een lade,
Voel maar, koel als tafelzijde,
Sommige zo fijn als spinrag.

Je moet ze weer netjes opvouwen,
Zorgen dat ze niet scheuren,
En ze beschermen tegen het licht.
Bevroren woorden
In de strenge winer van '96
Was het zo koud
Zelfs de woorden bevroren
Zodra zij werden uitgesproken.

Ze lagen bij handenvol op straat
Als gekleurde kralen,
Sommige rood, sommige goud,
De meeste grauw als zand.

En toen het begon te dooien
Was het een onvoorstelbaar kabaal,
Hulpgeroep, gelach, ruzies, gefluister.

Jouw naam zat er ook nog ergens tussen,
Tezamen met de woorden: ik hou van je!
Dat was in de strenge winter van '96.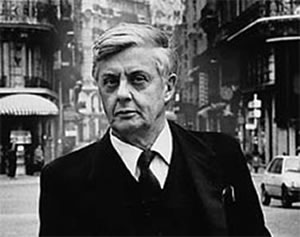 Rudy Kousbroek (1 november 1929 - 4 april 2010)
De Oostenrijkse dichter en schrijver Hermann Broch werd op 1 november 1886 in Wenen geboren. Zie ook mijn blog van 1 november 2008 en ook mijn blog van 1 november 2009.
Uit: Die Schuldlosen
"[...] sei der Held im Mittelstand einer mittelgroßen Provinzstadt, also etwa einer der ehemaligen deutschen Kleinresidenzen - Zeit 1913 - lokalisiert, sagen wir in der Person eines Gymnasialsupplenten. Es kann ferner vorausgesetzt werden, daß derselbe, unterrichte er Mathematik und Physik kraft einer kleinen Begabung für exakte Betätigung an diesen Beruf geraten war, und daß er sohin mit schöner Hingabe, roten Ohren und einem netten Glücksgefühl im klopfenden Herzen seinem Studium abgelegen haben dürfte, freilich ohne die höheren Aufgaben und Prinzipien der gewählten Wissenschaft zu bedenken oder anzustreben, vielmehr überzeugt, mit der Ablegung der Lehramtsprüfung nicht nur eine bürgerliche, sondern auch eine geistige Höchstgrenze in seinem Fach erreicht zu haben. Denn ein aus Mittelmäßigkeiten konstruierter Charakter macht sich über die Fiktivität der Erkenntnisse wenig Gedanken, ja sie erscheinen ihm bloß schrullenhaft, er kennt bloß Operationsprobleme, Probleme der Einteilung und der Kombination, niemals solche der Existenz, und gleichgültig, ob es sich hierbei um Formen des Lebens oder um Formeln der Algebra handelt, ist er immer nur darauf erpicht, daß es sich 'genau ausgehe'; die Mathematik besteht ihm aus 'Aufgaben', die er oder seine Schüler zu lösen haben, und ebensolche Aufgaben sind ihm die Fragen des Stundenplans oder die seiner Geldsorgen: sogar die sogenannte Lebensfreude ist ihm Aufgabe und eine teils vom Herkommen teils von den Kollegen vorgezeichnete Gegebenheit. Völlig determiniert von den Dingen einer ebenen Außenwelt, in den kleinbürgerlicher Hausrat und Maxwellsche Theorie einträchtig und paritätisch durcheinanderstehen, arbeitet ein solches Mensch im Laboratorium, arbeitet in der Schule, gibt Nachhilfestunden, fährt mit der Straßenbahn, trinkt abends manchmal Bier, besucht nachher das öffentliche Haus, hat Wege zum Spezialarzt, sitzt in den Ferien an Mutters Tisch; schwarzgeränderte Nägel zieren seine Hände, rötlichblonde Haare seinen Kopf, von Ekel weiß er wenig, doch Linoleum dünkt ihm ein günstiger Bodenbelag."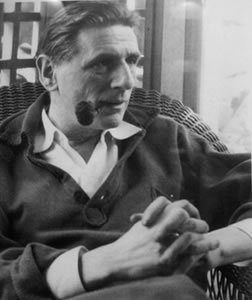 Hermann Broch (1 november 1886 - 30 mei 1951)
De Turkse schrijver Aras Ören werd geboren in Bebek bij Istanbul op 1 november 1939. Zie ook mijn blog van 1 november 2008 en ook mijn blog van 1 november 2009.
Uit: Sehnsucht nach Hollywood
"Sie fürchtete eine Gefahr, die sich ihr näherte. "Ich habe solche Sehnsucht", sagte sie, konnte aber nicht benennen, wonach sie sich sehnte. "Ob mein Verlobter mich nicht retten könnte?" dachte sie. Ihre rettenden Träume und die wundersamen Worte, aus denen sie Träume zusammensetzte, waren jetzt nicht mehr da, die Silben aus stimmlosen Buchstaben blieben ihr im Hals stecken und am Gaumen hängen, nein, sie waren nicht da, sie zappelte ganz vergeblich, "ich habe wohl überhaupt nichts gelernt", alles umsonst, nein, das kann doch nicht sein ... Das waren ihre letzten Gedanken ...
Susanne schlüpfte im Geist noch einmal in die Rollen einer keuschen Jungfrau, einer rechtschaffenen Hure, eines verliebten Schulmädchens, eines verratenen Models oder einer gemeinen Mörderin. Sie vergaß alles, dachte nicht mehr an den Regisseur, der sich die Haare raufte, nicht an den Regieassistenten, dem die Locken in die Stirn fielen, und sein verzweifeltes Flehen: "Geben Sie doch ein bißchen acht, bitte, konzentrieren Sie sich doch ein wenig!", nicht an das Jammern der anderen: "Wir sind spät dran! Was ist da schon dabei? Kann man das nicht endlich richtig machen?" und nicht an das Maulen der Requisiteure und Beleuchter, alles war vergessen, ja, der eigentliche Filmset war jetzt in ihrem Kopf. Dieses Spiel war von unglaublicher Schönheit.
Als sie durch die dunkelblaue Nacht nach Hause ging, unter dem flackernden Licht der Gaslaternen, das die Nacht noch geheimnisvoller und verschwommener erscheinen ließ, dauerte das Spiel in Susannes Phantasie an. Der mystisch eingerichtete Salon des berühmten Filmstars Sarah Stein befand sich jetzt irgendwo inmitten der Ruinen, die verlassen in der Dunkelheit lagen.
Es war eine seltsame Nacht. Sergeis Gesicht war vom Alkohol aufgeschwemmt und verfallen, Blut quoll ihm aus der aufgeplatzten Augenbraue, floß ihm über Schläfen und Wangen und tropfte vom Kinn auf das weiße Hemd. Der Regisseur, der Kameramann, die Beleuchter und die Requisiteure waren nirgendwo zu sehen, die Kamera stand still und nahm nichts mehr auf, aber die Scheinwerfer brannten noch."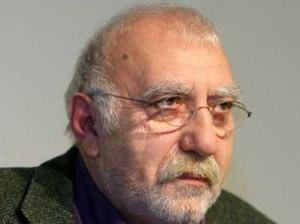 Aras Ören (Bebek, 1 november 1939)



Zie voor nog meer schrijvers van de 1e november ook mijn vorige blog van vandaag.


01-11-2010 om 18:27 geschreven door Romenu

Tags:Ilse Aichinger, Stefaan van Laere, Rudy Kousbroek, Hermann Broch, Aras Ören, Romenu



Günter de Bruyn, Huub Oosterhuis, Henri Troyat, Jean Tardieu, Stephen Crane, Jean-Simon DesRochers
De Duitse schrijver Günter de Bruyn werd op 1 november 1926 geboren in een katholiek arbeidersgezin in Berlijn. Zie ook mijn blog van 1 november 2008 en ook mijn blog van 1 november 2009.
Uit: Als Poesie gut
"Henriette war zwölf Jahre alt, als ihr eine Tante, die sie im Nähen unterrichtete, insgeheim anvertraute, daß sie bald Braut werden sollte, auch den Namen des Bräutigams und den Tag der Verlobung verriet sie ihr schon. Henriette war glücklich darüber, nun bald schön
gekleidet am Arm des Bräutigams spazierengehen zu dürfen, mehr Taschengeld als zwei Groschen im Monat zu erhalten und vielleicht sogar von den besseren Gerichten mitessen zu dürfen, die der Vater immer erhielt. Sehnlich wurde der angegebene Tag also erwartet, doch verstrich der Vormittag wie jeder andere, und erst beim Mittagessen kündigte sich durch eine Frage des Vaters das große Ereignis an. Er wollte von ihr nämlich wissen, ob sie lieber einen Rabbiner oder einen Doktor heiraten möchte, und sie entgegnete, wie es sich gehörte: jeder väterliche Entschluß sei ihr recht. Am Nachmittag verriet ihr die Mutter des Bräutigams Namen und ermahnte sie, sich ihm gegenüber gut zu benehmen. Am Abend mußte sie im Vorzimmer warten, bis man den Kontrakt aufgesetzt und unterschrieben hatte. Vor dem Notar und zwei Zeugen mußte sie ihre Zustimmung geben, worauf der Bräutigam ihr die Hand küßte und mit ihr in die Festgesellschaft ging.
Enttäuschend für sie waren die anderthalb Jahre, die sie bis zur Hochzeit noch warten mußte. Zwar erhielt sie nun sechs statt zwei Groschen im Monat, aber von schöneren Kleidern und besserem Essen war so wenig wie von Spaziergängen des Brautpaares die Rede, und jeden Abend mußte sie Stunden von entsetzlicher Langerweile durchleiden, wenn der Bräutigam kam, um mit dem Vater Karten zu spielen, denn sie mußte neben ihm sitzen, obwohl sie vom Kartenspiel nichts verstand. Allein war sie mit dem Versprochenen niemals.
Nur abends beim Abschied im Hausflur kam es manchmal zu Zärtlichkeiten, die ihr angenehm waren, aber in ihrer Bedeutung nicht klar. Als jemand ihr weismachte, die Kinder entstünden dadurch, daß
man zu oft an einen bestimmten Mann denke, fürchtete sie, durch vorzeitige Niederkunft in Schande geraten zu können, weil ihr Künftiger doch dauernd in ihren Gedanken war."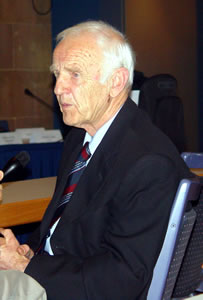 Günter de Bruyn (Berlijn, 1 november 1926)
De Nederlandse priester, theoloog en dichter Huub Oosterhuis werd geboren in Amsterdam op 1 november 1933. Zie ook mijn blog van 1 november 2008 en ook mijn blog van 1 november 2009.
Lichtverhaal
Schitterend licht uit duizend
bewegingen water
wind over water prevelend
aanstormend opspattend water

zoals ik ziende de zon op het water
het eeuwige licht denk
zo, mijn ogen verdwalend
in waterlichtverte,
denk ik dat gij bestaat

die over donkere afgrond
licht heeft geroepen -
schittergedachte

schitterlichtverteverhaal.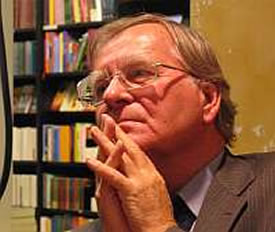 Huub Oosterhuis (Amsterdam 1 november 1933)
De Franse schrijver Henri Troyat werd geboren in Moskou op 1 november 1911. Zie ook mijn blog van 1 november 2009.
Uit: La Traque
"Nous étions fiers de vivre entre ces murs où s'était écoulée sa jeunesse, de nous promener dans le parc où il avait flâné lui-même en composant ses premiers vers, de respirer l'air qui avait empli ses poumons alors qu'il souriait encore à l'avenir. Nous apprenions par cœur, avec dévotion, ses moindres poèmes et nous abhorrions l'homme qui l'avait tué en duel, à l'âge de trente-sept ans, pour une stupide histoire de marivaudage mondain. Toutes les péripéties du drame nous étaient connues : la légèreté de la femme du poète, la très jolie et très sotte Nathalie, les galanteries déplacées de ce chevalier-garde d'origine française, Georges de Heeckeren d'Anthès, qui s'amusait à la courtiser ouvertement, les louches manœuvres du père adoptif de d'Anthès, le baron de Heeckeren, ambassadeur des Pays-Bas en Russie, les lettres anonymes infamantes qui circulaient dans Saint-Pétersbourg sur la prétendue infortune conjugale de Pouchkine, la fureur démente de celui-ci, la dérobade du gandin, lequel, pour se laver de tout soupçon, épousait, in extremis, Catherine, la propre sœur de Nathalie, mais n'en continuait pas moins à poursuivre cette dernière, en public, de ses assiduités, le scandale enfin, la rencontre sur le terrain, le coup de feu fatal, la stupeur indignée de la Russie, la dégradation et l'expulsion de d'Anthès hors des frontières... »
« Quand je quittai le lycée, en juin 1869, il y avait trente-deux ans que Pouchkine était tombé sous la balle de d'Anthès. Mais pour moi, pour nous tous, les pensionnaires de Tsarskoïe Selo, c'était hier. Pouchkine représentait à nos yeux notre ancien, notre ami intime, notre idole, et c'était la main d'un Français, admis par faveur à servir dans l'armée russe, qui avait tranché net cette si belle et si noble vie. Aucune mort, fût-ce celle d'un proche, ne nous paraissait plus difficile à accepter que celle-ci. Je me rappelle qu'au lycée nous marchions sur la pointe des pieds en passant devant la porte de la chambre numéro 14, qui avait été la sienne autrefois. Certes nous savions que c'était le jeune et insignifiant Morozoff qui y couchait maintenant. Mais elle était hantée par le fantôme de l'autre. Dans son for intérieur chacun d'entre nous enviait l'actuel occupant, qui ne méritait pas cette chance. De tous côtés, à présent, on publiait des hommages à Pouchkine, des souvenirs sur Pouchkine, des exégèses de l'œuvre de Pouchkine... La Russie entière était veuve. Néanmoins personne ne ressentait cette perte aussi cruellement que nous. Frais émoulus d'une école où nous n'avions rencontré que son ombre, nous nous considérions comme ses éternels obligés... »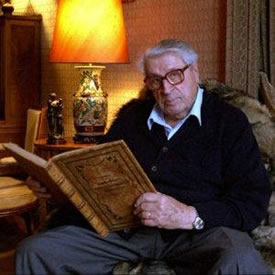 Henri Troyat (1 november 1911 – 4 maart 2007)
De Franse dichter en schrijver Jean Tardieu werd geboren op 1 november 1903 in Saint German de Joux. Zie ook mijn blog van 1 november 2008 en ook mijn blog van 1 november 2009.
Choeur d'enfants
Tout ça qui a commencé
il faut bien que ça finisse
la maison zon sous l'orage
le bateau dans le naufrage
le voyageur chez les sauvages.
Ce qui s'est manifesté
il faut que ça disparaisse
feuilles vertes de l'été
espoir jeunesse et beauté
anciennes vérités.
Moralité
Si vous ne voulez rien finir
évitez de rien commencer.
Si vous ne voulez pas mourir,
quelques mois avant dé naître
faites-vous décommander.
Le citadin
Avancez! Reculez ! Arrêtez ! - Des ordres
chuchotés haletants à l'oreille. Obéis !
(Capitaines cachés dans la faim et la soif)
Fuis ! Montre-toi ! Un salut !
Signe tais-toi réponds prends garde !
Que d'ordres venus de partout !
Le soleil ? - La main sur les yeux !
La pluie ? - Courbe le dos !
L'amour qui arrive ? – Attention !
Et ces morts en travers du chemin tout à coup !
Chocs et contre-temps de la ville
et de la vie je suis tranquille
seulement si mon souffle et mon pas vous rassemblent.
L'instable est mon repos.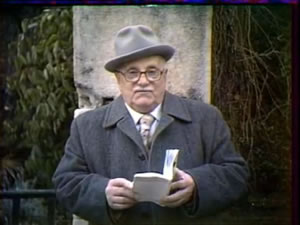 Jean Tardieu (1 november 1903 – 27 januari 1995)
De Amerikaanse schrijver Stephen Crane werd geboren op 1 november 1871 in Newark, New Jersey. Zie ook mijn blog van 1 november 2008 en ook mijn blog van 1 november 2009.
In Heaven
In heaven,
Some little blades of grass
Stood before God.
"What did you do?"
Then all save one of the little blades
Began eagerly to relate
The merits of their lives.
This one stayed a small way behind,
Ashamed.
Presently, God said,
"And what did you do?"
The little blade answered, "Oh my Lord,
Memory is bitter to me,
For, if I did good deeds,
I know not of them."
Then God, in all His splendor,
Arose from His throne.
"Oh, best little blade of grass!" He said.
In the Desert
In the desert
I saw a creature, naked, bestial,
who, squatting upon the ground,
Held his heart in his hands,
And ate of it.
I said, "Is it good, friend?"
"It is bitter -- bitter," he answered;
"But I like it
Because it is bitter,
And because it is my heart."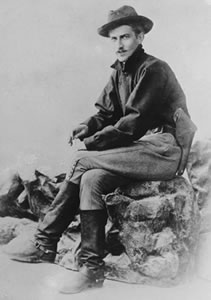 Stephen Crane (1 november 1871 - 5 juni 1900)





De Canadese schrijver Jean-Simon DesRochers werd geboren op 1 november 1976 in Montréal, Québec, Canada. Zie ook mijn blog van 2 november 2008.
Uit: La canicule des pauvres
"6 h 2 - Humidex : 31 °C
Il reste sept minutes avant la seconde sonnerie. Monique est consciente. Elle sait à quel point la sonnerie du radioréveil de Christian est stridente. Christian à côté qui dort encore, bouche ouverte. Monique reste étendue, les yeux plongés dans la pénombre du minable appartement. Il fait chaud. Tant au-dessus du drap qu'en dessous. Plus que six minutes.
Comme tous les premiers du mois, Monique passera la journée à la réception. Une journée à écouter les excuses des uns, à recevoir les chèques des autres, sauf si les locataires décident de régler avec leur petite monnaie accumulée, roulée en tubes, comme le Marsouin depuis trois mois. Comment il fait pour ramasser autant de pièces sans les boire ? Monique imagine ce boiteux en train de rouler des dollars accumulés au fond d'un contenant d'eau de dix litres. Elle le voit entasser ses piles avec une certaine fierté, s'assurer de rouler l'argent avec les faces placées du même côté. Trois cent cinquante dollars pendant trois mois... mille cinquante pièces dorées roulées en paquets de vingt-cinq... Plus qu'une minute avant la sonnerie. Il n'en a plus pour longtemps avec ce qu'il boit, le Marsouin... comment peut-on arriver à rouler des dollars et se soûler avec de l'alcool à friction... au moins, il paie son loyer... de l'alcool à friction, franchement... ça doit lui brûler l'intérieur, il y a de quoi crever...
Monique tourne les yeux. Voilà un moment que l'heure est bloquée à 6 h 8. Dès qu'elle passera à 6 h 9, Monique pressera le bouton snooze, se lèvera, grattera sa cicatrice sous le sein gauche. Elle tentera de ne pas regarder l'état de l'appartement. Autrement, l'envie de dévisager Christian deviendra insurmontable. Son médecin lui a déconseillé les expressions qui sollicitent trop de muscles faciaux pour la prochaine semaine. Elle doit sourire légèrement, garder les coins de bouche et les sourcils relevés, les narines détendues. Sinon, la douleur pourrait causer de nouvelles migraines. Pas une option pour un premier du mois, surtout avec cette maudite chaleur...

Jean-Simon DesRochers (Montréal, 1 november 1976)
01-11-2010 om 00:00 geschreven door Romenu

Tags:Günter de Bruyn, Huub Oosterhuis, Henri Troyat, Jean Tardieu, Stephen Crane, Romenu, Jean-Simon DesRochers


31-10-2010

Nick Stone, Joseph Boyden, Bruce Bawer, John Keats
De Engelse schrijver Nick Stone werd geboren op 31 oktober 1966 in Cambridge. Zie ook mijn blog van 31 oktober 2009.
Uit: The Unarmed Robbery
"Nick, the radio doesn't work."
"That's because you smacked it with your shoe," I said.
"'Cause it wasn't loud enough!"
"Laurie, did you really think that would fix it?"
She folded her arms and stared out the window into the night. "I don't understand, Nick. Why are we using a '91 Geo Prism for this?"
"I told you, you have to use a nondescript vehicle for pulling a robbery. And a '91 is about as nondescript as they get!"
Laurie turned and glared at me. "And what would you know about pulling a robbery? We've never done this before."
"True, but how hard could it be? I pull out the gun, ask for money and drive away."
"Ask for money??"
"Well yeah! I mean, with a gun in their face, will I really have to demand it? Besides, I think it's common courtesy to be polite while screaming obscenities and waving a gun in someone's face."
She eyed me suspiciously. "Have you been smoking banana peels again?"
By two in the morning we were sitting in our Geo in a parking lot across the street from a Sunoco gas station in Allen Park, MI. The station was deserted but still open. We watched for several minutes, but no one came or left the station. So far, everything was perfect.
"Do you really think you can pull this off?" she asked.
I flashed her a quick smile. "No one's as smooth as Nick Stone!"
When I was convinced there were no customers inside, I had Laurie pull the getaway Geo up to the Sunoco's front door, parking so close no one else could get inside the building. I put on my ski mask, grabbed Laurie's .38 snub-nose revolver and a cloth bag and went inside.
"Hi there!" was my congenial greeting to the girl behind the counter. "You know what I am," and I pointed to the ski mask, "you know what this is," I held up the gun, "and I assume you know what to do with this," I said, and tossed her the bag."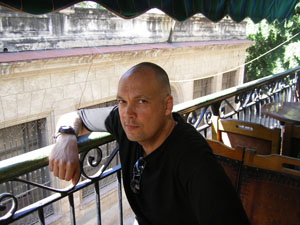 Nick Stone (Cambridge, 31 oktober 1966)
De Amerikaanse dichter, schrijver en literatuurcriticus Bruce Bawer werd geboren op 31 oktober 1956 in New York. Zie ook mijn blog van 31 oktober 2008 en ook mijn blog van 31 oktober 2009.
The View from an Airplane at Night, over California
This is a sight that Wordsworth never knew,
whether looking down from mountain, bridge, or hill:
An endless field of lights, white, orange, and blue,
as small and bright as stars, and nearly still,
but moving slowly, many miles below,
in blackness, as stars crawl across the skies,
and ranked in rows that stars will never know,
like beads strung on a thousand latticed ties.
Would even Wordsworth, seeing what I see,
know that these lights are not well-ordered stars
that have been here a near-eternity,
but houses, streetlights, factories, and cars?
Or has this slim craft made too high a leap
above it all, and is the dark too deep?
Saxophone
Walking down Seventh Avenue in the snow
I turn down Forty-eighth Street and see
a dozen guitars hanging in a window.
Lord, it's the place where I bought my saxophone.
Suddenly I remember: twelve years old,
my voice about to change, the instrument
heavy in my hands, bright gold, ice cold.
I blew my lungs out, but it only brayed.
The salesman reached out, took it away from me,
wiped the mouthpiece on his sleeve, and rent
the warm air with a perfect bell-like tone.
My father and I smiled, and the salesman played
an old, familiar Hoagy Carmichael song,
and the stockboy put down a box and sang along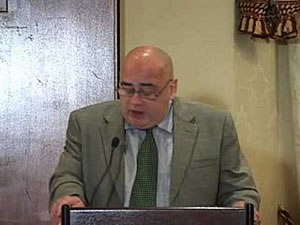 Bruce Bawer (New York, 31 oktober 1956)
De Canadese schrijver Joseph Boyden werd geboren op 31 oktober 1966 in Willowdale, Ontario. Zie ook mijn blog van 31 oktober 2008 en ook mijn blog van 31 oktober 2009.
Uit: Three Day Road
"It whistles like a giant eagle screaming, so close now that I must cover my ears.
I have paddled by myself against the big river's current for many days to get here. No mind. My one living relation died in a faraway place, and I am here to greet his friend Elijah. Elijah Whiskeyjack is as close to a relation as I still have, and I will paddle him home.
Joseph Netmaker brought the letter out to me. Winter had just started to settle itself into the country. Joseph walked on snowshoes from the town. "This is for you, Niska," he said. "It is from the Canadian boss, their hookimaw."
As soon as I saw the brown letter, the English words written upon it, I knew what it contained. I sat down beside the fire and stirred at it with a stick while Joseph read, first out loud and in his stumbling English, then for me in our language.
"'Serial No. 6711. Deeply regret to inform you, Private First Class Xavier Bird, infantry, officially reported died of wounds in the field, November 3, 1918. Director of Records.' "
I waited for more, but that was all. When Joseph left, I was alone.
Many moons later, when the winter ice was leaving and travel was difficult, Joseph came back with another letter. He explained that it was in reference to Elijah, and that Old Man Ferguson had given it to him to give to me since I was the closest thing to a relation that Elijah had.
The letter said that Elijah had been wounded, that he had only one leg now, that he had tried to rescue another soldier, was given a medal for bravery. It said that although weak, he had healed enough to travel and was expected to arrive in the same town from which he and Xavier had left so long ago.
I had Joseph explain to me how the wemistikoshiw calendar worked, what month I was to be there, and I made careful preparations to journey by canoe to that town where Elijah would arrive. I left early in the summer and paddled up the river. It was difficult. I am older now, but I travelled light. Joseph had asked to come along, but I told him no."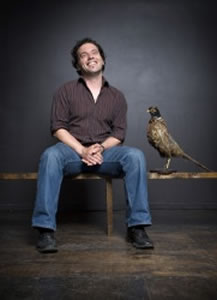 Joseph Boyden (Willowdale, 31 oktober 1966)
De Engelse dichter John Keats werd geboren op 31 oktober 1795 in Finsbury Pavement in London. Zie ook mijn blog van 31 oktober 2006 en ook mijn blog van 31 oktober 2007 en ook mijn blog van 31 oktober 2008 en ook mijn blog van 31 oktober 2009.
Bright Star
Bright star, would I were stedfast as thou art--
Not in lone splendour hung aloft the night
And watching, with eternal lids apart,
Like nature's patient, sleepless Eremite,
The moving waters at their priestlike task
Of pure ablution round earth's human shores,
Or gazing on the new soft-fallen mask
Of snow upon the mountains and the moors--
No--yet still stedfast, still unchangeable,
Pillow'd upon my fair love's ripening breast,
To feel for ever its soft fall and swell,
Awake for ever in a sweet unrest,
Still, still to hear her tender-taken breath,
And so live ever--or else swoon to death.
In Drear-Nighted December
In drear-nighted December,
Too happy, happy tree,
Thy branches ne'er remember
Their green felicity:
The north cannot undo them
With a sleety whistle through them;
Nor frozen thawings glue them
From budding at the prime.
In drear-nighted December,
Too happy, happy brook,
Thy bubblings ne'er remember
Apollo's summer look;
But with a sweet forgetting,
They stay their crystal fretting,
Never, never petting
About the frozen time.
Ah! would 'twere so with many
A gentle girl and boy!
But were there ever any
Writhed not at passed joy?
The feel of not to feel it,
When there is none to heal it
Nor numbed sense to steel it,
Was never said in rhyme.
On Death
1.
Can death be sleep, when life is but a dream,
And scenes of bliss pass as a phantom by?
The transient pleasures as a vision seem,
And yet we think the greatest pain's to die.
2.
How strange it is that man on earth should roam,
And lead a life of woe, but not forsake
His rugged path; nor dare he view alone
His future doom which is but to awake.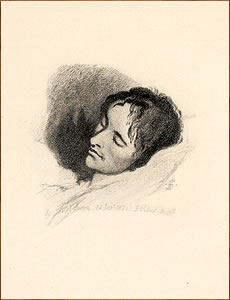 John Keats (31 oktober 1795 – 23 februari 1821)
Portret van John Keats in Rome, kort voor zijn dood in 1821, door zijn vriend Joseph Severn

Zie voor nog meer schrijvers van de 31e oktober ook
mijn vorige blog van vandaag
en zie eveneens het
In Memoriam Harry Mulisch
31-10-2010 om 21:06 geschreven door Romenu

Tags:Nick Stone, Joseph Boyden, Bruce Bawer, John Keats, Romenu



Carlos Drummond de Andrade, Irina Denezhkina, Ernst Augustin, Jean Améry
De Braziliaanse dichter Carlos Drummond de Andrade werd geboren op 31 oktober 1902 in Itabira, een klein dorpje in de staat Minas Gerais. Zie ook mijn blog van 31 oktober 2008 en ook mijn blog van 31 oktober 2009.
Wat de Peixoto-buurt

Wat de Peixoto-buurt
niet van ons weet
en heeft vergeten!
Anita Garibaldi-straat
en Siquera Campos-straat
(Francisco Braga,
Décio Vilares
op de loer, doen ze
of ze niets zien?)
Het trottoir in de schemer
heen en weer heen en
weer weer,
zijweg naar de tunnel
op zoek naar het maagdenvlies?
Weer terug:
een bankje op het plein. Bamboes.
Bamboebosje in een bries van au-au.
De bard en het meisje waren verliefd
in de Afhankelijkheidsstrijd.
Ironie van de liefde
of alleen ironie?
Straat van de 5de juli (grens
met het rijk der duisternis),
onder het oog van
nietsvermoedende huizen
gooiden we in de tuinen
en in de brievenbussen
niet goed te praten boekwerkjes
met andermans opdrachten,
brokstukken.
Laat hij de hond los? Bewaar me.
Vijfhonderd bloedhonden breken los.
Ze huilen het stramien
van bandeloze liefde.
Zie je wel? Het is in mij,
in de bard dat ze blaffen.
Dommigheid van een dom ding.
Het is al over negenduizend uur,
hoogste tijd terug te keren
naar het heiligdom van de maagd.
Nog heel eventjes. Nee.
Ik, de wijze koning, ik beveel.
Ze lacht. Lachen om mij. We blijven.
Vingers in elkaar,
verlangens parallel
in het pueriele park.
Edmundo-plein, hallo,
Bittencourt met bulderende bas.
Als hij ons zou zien zitten zoenen,
kwijlend, niet voor de eerste keer,
schrijft hij dan ingezonden brieven?
Kind als een kip zonder kop,
lachend om alles en niets,
wie de kleinste woordjes weet,
weet je waar we naar toe gaan?
Naar bed.
Niets daarvan. Slechts brandende
probeersels. Ik zwijg.
Reis over de borsten. Omlaag.
Achterlangs.
Als ik verder ga,
wie houdt me vast?
als ik het hierbij laat,
wie brengt me tot rust?
Twintig jaar later kom ik
weer door de Peixoto-buurt,
getuige van onze rendez-vous,
die vandaag niets meer weet,
van dit onhandig gedoe.
Vertaald door August Willemsen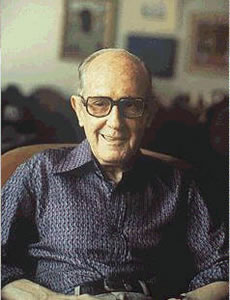 Carlos Drummond de Andrade (31 oktober 1902 – 17 augustus 1987)
De Russische schrijfster Irina Denezhkina werd geboren op 31 oktober 1981 in Yekaterinburg. Zie ook mijn blog van 31 oktober 2008 en ook mijn blog van 31 oktober 2009.
Uit: Give Me: Songs for Lovers
"Volkova had them figured out right away: nice boys, not bad-looking boys, like a set of matching dolls, but they were "nothing but a bunch of teenagers." Volkova plays her own field: rich men. Lyapa & Co. were left to me. But all they were for me was "nothing but" too. I don't know why. Some "husband" I have!
"Shall I see you home?"
I decided to strike a pose and declared:
"I can get there on my own. I'm not a child!"
Lyapa and I live at opposite ends of town. I only have to go around the corner from Lyapa's place to the metro, but then I have to ride for almost an hour all the way over to
the Vyborg District. "Okay, but when you get there give me a call."
I didn't answer and slammed the door. Some husband...Hah! Just a messy situation.
Some young guy smashed out of his skull trailed after me from the bus stop — really tall, long hair and black glasses, clutching a bottle of Petrovskoe beer. I kept walking and kept my mouth shut, cursing Lyapa and cursing myself for wanting God knows what. Who's he to me anyway?
Meanwhile this lowlife has started grabbing at my arm and hassling me, raising his voice. I got frightened. He was drunk, after all.
"Wassya name, sweetart? Why don'choo tell me? G'won, tell me! I'm Vova!"
A crowd of teenage kids appeared, coming toward us. Great, I thought. That's all I need. Then I'll send Lyapa to hell for sure, with a big bunch of roses.
The crowd came closer. Out in front of them this dirty little kid of about twelve was dancing around. He was the one who said it.
"It's him, guys!"
They separated Vova from me with a neat smack to his mouth. The bottle of beer swung loose out of Vova's hands and went flying into the air. I stood there and watched, stupefied, as several guys jumped up and down on Vova's head while the others put the boot into his gut."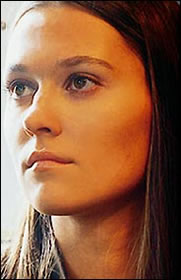 Irina Denezhkina (Yekaterinburg, 31 oktober 1981)
De Duitse schrijver Ernst Augustin werd geboren op 31 oktober 1927 in Hirschberg. Zie ook mijn blog van 31 oktober 2008 en ook mijn blog van 31 oktober 2009.
Uit: Die Schule der Nackten
"Sicherlich nicht, man trägt hier ausnehmend schöne Badekleidung, hoch in den Weichen ausgeschnitten und freigegeben, aber auch wiederum nicht so sehr, elegant freizügig eben. Sicherlich, man hat von den Nackten in der Straßenbahnlinie 8 gehört, die sich im Wildwasser abwärts stürzen, welches – eine Eigenheit Münchens – unterirdisch unter der gesamten Stadt hindurchführt, erst im Englischen Garten durch ein Maul ins Freie tritt, wo es dann unter den Augen der japanischen Touristen unsere Nackten donnernd davonträgt. Aber das sind alles wilde Studenten, die so etwas unternehmen, und daß sie am Ende nackt und bloß in die Straßenbahn steigen, um wieder zum Maul hinaufzufahren, soll jetzt auch verboten sein. Ich weiß es nicht. Im Jakobi-Bad scheint es weitaus ziviler zuzugehen. Nahm ich an.
Das Schild an der Bretterwand irritierte mich allerdings. Wie sollte man dort hindurchgehen? Mit Badehose? Was ja verboten war. Oder sollte man sie vorher ablegen und nackt passieren, was offenkundig niemand tat. Männer mit riesigen Badehosen, entweder hoch über dem Bauch getragen, so daß gerade die Brustsäcke, oder wie man sie nennen sollte, herausschauten, oder aber unterhalb des Bauchs, was auch nicht besser aussah, gingen frei als XXXL hindurch. Und die Damen? Flatterten üppig im Wind, da war auch keine, die sich entledigte, ich habe das drei Stunden lang verfolgt.
Am Ende stand ich auf, um die Inschrift zu studieren. Sie war dauerhaft in Blech geprägt, schwarz und weiß: "Freikörpergelände", und darunter "Zugang nur ohne Kleidung gestattet." Fast wäre ich mit einer Gruppe junger Männer hineingegangen (im Schwung mit hinein), fast! Sie waren alle voll bekleidet, Hemden, Hosen, Jacken, als ob sie dort eigentlich nichts zu suchen hätten, waren auch sehr laut. – Denkwürdig insofern, als ich das erste Mal war, daß ich dort eintreten wollte.
Und dann doch nicht."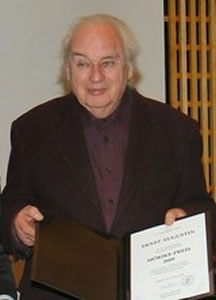 Ernst Augustin (Hirschberg, 31 oktober 1927)
De Oostenrijkse schrijver Jean Améry werd geboren op 31 oktober 1912 in Wenen. Zie ook mijn blog van 31 oktober 2006 en ook mijn blog van 31 oktober 2007 en ook mijn blog van 31 oktober 2008 en ook mijn blog van 31 oktober 2009.
Uit: Charles Bovary médecin de campagne
"Je veux qu'on l'enterre dans sa robe de noces, avec des souliers blancs, une couronne. On lui étalera ses cheveux sur les épaules ; trois cercueils : un de chêne, un d'acajou, un de plomb. Qu'on ne me dise rien, j'aurai la force. On lui mettra par-dessus toute une grande pièce de velours vert. Je le veux. Faites-le.
C'est ce que j'avais écrit, et c'est ce que l'on fit, avant que…
Puis il me sembla que la bière ne cessait de descendre et de s'enfoncer dans la terre. Et que j'aurais dû m'engloutir dans la fosse avec elle. Après tout n'était-ce pas là ma place ? Les gens m'entouraient, ils étaient bons. M. Homais me consolait, quel brave homme et quel ami fidèle ! Il fit la veillée du cadavre avec l'Abbé Bournisien, et l'un et l'autre finirent même par s'entendre, contrairement à l'habitude. Le curé me pardonna les blasphèmes que j'avais proférés dans ma douleur : Je l'exècre, votre Dieu ! m'étais-je écrié. Un brave homme. Il n'y avait que des braves gens autour de moi, Mme Tuvache, Mme Lefrançois ; même Lheureux, le boutiquier et usurier qui m'avait dépossédé de tous mes biens, était venu me présenter ses condoléances. Je ne lui garde aucune rancune, n'était-il pas normal qu'il réclamât son argent ? C'était la faute de la fatalité.
– Berthe ? Viens, mon enfant, pleure toutes les larmes de ton corps. Maman ne reviendra plus, viens pleurer avec moi, cela nous fera du bien à tous les deux. Tes bas sont déchirés, ma pauvre petite fille, et la poupée que tu tiens est déchirée, elle aussi, et maman ne rentrera plus à la maison. Aucun de ces braves gens n'a pu la sauver. Quelle tristesse. Laisse couler tes larmes, mais ne dis rien. Je sais, tu avais peur, car elle criait horriblement, ta mère, elle était blême et son visage était couvert d'une sueur glacée. Ses doigts étaient crispés et son corps s'était couvert de taches brunes. Calme-toi, mon enfant, tout est fini maintenant, va dans le jardin qui est laissé à l'abandon, car il n'y avait plus d'argent pour l'entretenir. Mais qu'aucun de ces braves gens n'ait pu faire quelque chose, c'est ce que je ne parviens pas encore à comprendre. Le docteur Canivet, ce savant, n'a trouvé aucun remède. Le docteur Larivière, mon professeur, cette lumière de la science, comme dit Homais, fut aussi impuissant que moi, moi qui en médecine brille encore moins que la plus infime des flammèches."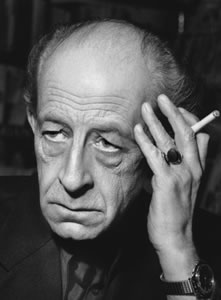 Jean Améry (31 oktober 1912– 17 oktober 1978)

31-10-2010 om 20:53 geschreven door Romenu

Tags:Carlos Drummond de Andrade, Irina Denezhkina, Ernst Augustin, Jean Améry, Romenu



| | |
| --- | --- |
| | |



Inhoud blog


| | |
| --- | --- |
| | Richard Powers, Marije Langelaar, Raymond Radiguet, Geoffrey Hill, Bert Schierbeek, Aster Berkhof, Karin Fellner, Mirjam Pressler, Ivan Gontsjarov |
| | Voor vader (Hans Lodeizen) |
| | Das Senfkorn (Meister Eckhart) |
| | Peter Rosei, Kamel Daoud, Gail Jones, Ron Padgett, Ward Ruyslinck, Adriaan van der Hoop jr, Hanna Johansen, Max Dendermonde, Tom Hofland |
| | Hanna Johansen, James Weldon Johnson, Henry Lawson, Ferdinand Freiligrath, Henrik Wergeland, John Hersey, Felix Hartlaub, Ossip Schubin |
| | Birthdays (Robert W. Service) |
| | Joël Dicker, August Willemsen, Theo Thijssen, Ronelda Kamfer, Frans Roumen |
| | Maria Dermoût, Christian Bauman, Silke Scheuermann, Hugo Borst, Ramon Lopez Velarde, Roland Dorgelès, François-Xavier Garneau, Emma Cline, Hannah van Wieringen |
| | Alex Boogers, Lieve Joris, Allard Schröder, John van Ierland, Peter O. Chotjewitz, Harriet Beecher Stowe, Hermann Kant, Jerzy Kosiński, Thomas Graftdijk |
| | Fernando Pessoa, Thomas Heerma van Voss, Willem Brakman, Virginie Despentes, William Butler Yeats, Tristane Banon, Marcel Theroux, Lode Zielens, Dorothy L. Sayers |
| | Christoph Meckel, Wolfgang Herrndorf, Anne Frank, Renan Demirkan, Djuna Barnes, Sandro Penna, Johanna Spyri H. C. Artmann, Günter Nehm |
| | William Styron, Sophie van der Stap, N. P. van Wyk Louw, Renée Vivien, Jean-Pierre Chabrol, Ben Jonson, Yasunari Kawabata, Athol Fugard, Nnimmo Bassey |
| | Magdalene—The Seven Devils (Marie Howe) |
| | Louis Couperus, D. Hooijer, Jacques Perk, James Salter, Mensje van Keulen, Jan Brokken |
| | Saul Bellow, Ion Creanga, Oktay Rifat, Peter Kurzeck, Antun Mihanović, Tijl Nuyts |
| | Maarten Doorman, Paul Beatty, Xander Michiel Beute, Anton Roothaert, Mirko Bonné, Curzio Malaparte, Jian Ghomeshi, Charles Webb, Rudolf Borchardt |
| | Willy Roggeman, Jurij Brězan, José Antonio Ramos Sucre, Akaki Zereteli, John Gillespie Magee jr., Bertha von Suttner |
| | Marguerite Yourcenar, Nino Haratischwili, Lutz Seiler, Ulf Stolterfoht, Péter Gárdos, Gwen Harwood, H. J. Friedericy, Udo Kawasser, Frank Keizer |
| | Marie Howe |
| | Het leven in juni (Marjoleine de Vos) |
| | Orhan Pamuk, Monika Mann, Nikki Giovanni, Harry Crews, Louise Erdrich, Mascha Kaléko, Jan Engelman, Gwendolyn Brooks, Elizabeth Bowen |
| | Thomas Mann, Aleksandr Poesjkin, Sarah Dessen, Jean Cayrol, Pierre Corneille, Hendrik van Teylingen, V. C. Andrews, Frank Gericke |
| | Dolce far niente, Groen-grijs gebied (Jesse Laport) |
| | Federico García Lorca, Adriaan Morriën, Ken Follett, Paul Farley, Geoff Dyer |
| | Ralf Thenior, Marie Ndiaye, Erasmus Schöfer, Buddy Wakefield, Yaak Karsunke, Charles Dickinson, Dana Bönisch, Elizabeth Jolley, Apollon Maykov |
| | Het laatste avondmaal (Nicolaas Beets) |
| | Allen Ginsberg, Philippe Djian, Maarten van Buuren, Solomonica de Winter, Monika Maron, Larry McMurtry, Norbert Gstrein, Wolfgang Cordan, Gerhard Zwerenz |
| | Carlo Michelstaedter, Kathleen E. Woodiwiss, Eugène Van Oye, Pedro Mir, Detlev von Liliencron, Friederike Brun, Otto Erich Hartleben, Philippe Quinault |
| | Jim Knipfel, Marcel Reich-Ranicki, Sibylle Berg, Carol Shields, Jean Nelissen, Thomas Hardy |
| | Markies De Sade, Dorothy West, Max Aub, Karl Gjellerup, Barbara Pym |
| | Patrick Besson, John Masefield, Ferdinand Raimund, Peter de Mendelssohn, Petra Morsbach, Colleen McCullough, Macedonio Fernández, Wilfred Campbell, Vicky Francken |
| | C. Buddingh'-prijs voor Radna Fabias |
| | Love's Choice (Malcolm Guite) |
| | Mariae Heimsuchung (Rainer Maria Rilke) |
| | Walt Whitman, Frank Goosen, Gabriel Barylli, Konstantin Paustovski, Svetlana Alexievich, Ludwig Tieck, Gerd Hergen Lübben, Saint-John Perse, T. T. Cloete |
| | Summer Storm (Bliss Carman) |
| | Elizabeth Alexander, Oscar van den Boogaard, Countee Cullen, Emmanuel Hiel, Martin Jankowski, Alfred Austin, Eddy Bruma, Henri François Rikken, Jan Geerts |
| | Summer in the City, 1949 (Ernest Farrés) |
| | André Brink, Eduard Escoffet, G. K. Chesterton, Bernard Clavel, T. H. White, Hans Weigel, Alfonsina Storni, Max Brand, Joel Benton |
| | Ein Sommergedicht (Thomas Gsella) |
| | Ad Zuiderent, Leo Pleysier, Adriaan Bontebal, Guntram Vesper, Frank Schätzing, Maeve Binchy, Ian Fleming, Sjoerd Leiker, Vladislav Chodasevitsj |
| | Dolores Dorantes |
| | St. Matthew (D. H. Lawrence) |
| | Niels 't Hooft, Jan Blokker, Linda Pastan, Louis-Ferdinand Céline, Georges Eekhoud, Said, John Cheever, John Barth |
| | Max Brod, Kaur Kender, Adriaan Venema, Arnold Bennett, Richard Schaukal, Ferdynand Ossendowski, M. A. von Thümmel, Herman Wouk, Dashiell Hammett |
| | Alan Hollinghurst, Radwa Ashour, Hugo Raes, Vítězslav Nezval, Ivan O. Godfroid, Maxwell Bodenheim, Isabella Nadolny, Edmond De Goncourt |
| | Egyd Gstättner, Madeleine Thien, Claire Castillon, Friedrich Dieckmann, Eve Ensler, Raymond Carver, Jamaica Kincaid, Robert Ludlum, Theodore Roethke |
| | Joseph Brodsky, Michael Chabon, Bob Dylan, Henri Michaux, William Trevor, Tobias Falberg, Arnold Wesker, Rainald Goetz, Louis Fürnberg |
| | Adriaan Roland Holst, Maarten Biesheuvel, Lydia Rood, Jane Kenyon, Susan Cooper, Michaël Vandebril, Jack McCarthy, Mitchell Albom, Pär Fabian Lagerkvist |
| | In Memoriam Philip Roth |