E-mail mij


Druk op onderstaande knop om mij te e-mailen.


Romenu


Romenu is een blog over gedichten, literatuur en kunst Maar Romenu is ook een professionele freelance vertaler
Du-Ne en Ne-Du http://www.romenu.nl.


Huur eens een (vakantie)huis in een natuurgebied, dichtbij het centrum van Nijmegen


Google


Georg Trakl

Georg Trakl werd op 3 februari 1887 in het conducteurshuis aan de Waagplatz 2 in Salzburg geboren. Zijn vader, Tobias Trakl, was een handelaar in ijzerwaren en zijn moeder, die ook psychische problemen had, was Maria Catharina Trakl, (meisjesnaam Halik). Voorts had hij nog drie broers en drie zussen. Margarethe (doorgaans Grethe genoemd) stond hem het naast, zelfs zodanig dat sommigen een incestueuze verhouding vermoeden. Zijn jeugd bracht hij door in Salzburg. Vervolgens bezocht hij van 1897 tot 1905 het humanistische gymnasium. Om toch een academische opleiding te kunnen volgen, werkte hij tot 1908 in de praktijk bij een apotheker. Sommigen vermoedden dat hij dit vooral deed om zichzelf opiaten te kunnen verschaffen. Bij het uitbreken van WO I werd Trakl als medicus naar het front in Galicië (heden ten dage in Oekraïne en Polen) gestuurd. Zijn gemoedsschommelingen leidden tot geregelde uitbraken van depressie, die verergerd werden door de afschuw die hij voelde voor de verzorging van de ernstig verwonde soldaten. De spanning en druk dreven hem ertoe een suïcidepoging te ondernemen, welke zijn kameraden nochtans verhinderden. Hij werd in een militair ziekenhuis opgenomen in Kraków, alwaar hij onder strikt toezicht geplaatst werd.Trakl verzonk daar in nog zwaardere depressies en schreef Ficker om advies. Ficker overtuigde hem ervan dat hij contact moest opnemen met Wittgenstein, die inderdaad op weg ging na Trakls bericht te hebben ontvangen. Op 4 november 1914, drie dagen voordat Wittgenstein aan zou komen, overleed hij echter aan een overdosis cocaïne


Paul Celan

Paul Celan werd onder de naam Paul Antschel op 23 november 1920 geboren in Czernowitz, toentertijd de hoofdstad van de Roemeense Boekovina, nu behorend bij de Oekraïne. Paul Celans ouders waren Duitssprekende joden die hun zoon joods opvoedden en hem naar Duitse christelijke scholen stuurden. In 1942 werden Celans ouders door de Duitse bezetter naar een werkkamp gedeporteerd en daar vermoord. Hijzelf wist aanvankelijk onder te duiken, maar moest vanaf juli 1942 in een werkkamp dwangarbeid verrichten. Celan overleefde de oorlog. Via Boekarest en Wenen vestigde Celan zich in 1948 in Parijs. Daar was hij werkzaam als dichter, vertaler en doceerde hij aan de prestigieuze Ecole Normale Supérieure. Vermoedelijk op 20 april 1970 beëindigde hij zijn leven zelf door in de Seine te springen.


Gerard Reve

Gerard Reve over: Medearbeiders "God is in de mensen, de dieren, de planten en alle dingen - in de schepping, die verlost moet worden of waaruit God verlost moet worden, door onze arbeid, aangezien wij medearbeiders van God zijn." Openbaring "Tja, waar berust elk godsbegrip op, elke vorm van religie? Op een openbaring, dat wil zeggen op een psychische ervaring van zulk een dwingende en onverbiddelijke kracht, dat de betrokkene het gevoel heeft, niet dat hij een gedachte of een visioen heeft, maar dat een gedachte gedachte of visioen hem bezit en overweldigt."


Simon Vestdijk
Simon Vestdijk (Harlingen, 17 oktober 1898 – Utrecht, 23 maart 1971) was een Nederlands romancier, dichter, essayist en vertaler. Zijn jeugd te Harlingen en Leeuwarden beschreef hij later in de Anton Wachter-cyclus. Van jongs af aan logeerde hij regelmatig bij zijn grootouders in Amsterdam, waar hij zich in 1917 aan de Universiteit van Amsterdam inschrijft als student in de medicijnen. Tijdens zijn studie die van 1917 tot 1927 duurde, leerde hij Jan Slauerhoff kennen.Tot 1932 is hij als arts in praktijken door heel Nederland werkzaam. In 1932 volgt zijn officiële schrijversdebuut met de uitgave van de bundel Verzen in De Vrije Bladen. Doorslaggevend voor Vestdijks uiteindelijke keuze voor de literatuur is zijn ontmoeting in 1932 met Eddy Du Perron en Menno ter Braak. Deze ontmoeting had tot resultaat dat hij redactielid werd van het tijdschrift Forum Kort daarop, in 1933, wordt zijn eerste novelle, De oubliette, uitgegeven. In hetzelfde jaar schrijft hij Kind tussen vier vrouwen, dat, eerst geweigerd door de uitgever, later de basis zal vormen voor de eerste drie delen van de Anton Wachter-romans. In 1951 ontvangt Vestdijk de P.C. Hooftprijs voor zijn in 1947 verschenen roman De vuuraanbidders. In 1957 wordt hij voor het eerst door het PEN-centrum voor Nederland voorgedragen voor de Nobelprijs voor de Literatuur, die hij echter nooit zal krijgen. Op 20 maart 1971 wordt hem de Prijs der Nederlandse Letteren toegekend, maar voor hij deze kan ontvangen overlijdt hij op 23 maart te Utrecht op 72-jarige leeftijd. Vestdijk was auteur van ca. 200 boeken. Vanwege deze enorme productie noemde de dichter Adriaan Roland Holst hem 'de man die sneller schrijft dan God kan lezen'. Andere belangrijke boeken van Simon Vestdijk zijn: "Kind van stad en land" (1936), "Meneer Visser's hellevaart" (1936), "Ierse nachten" (1946), "De toekomst de religie" (1947), "Pastorale 1943" (1948), "De koperen tuin" (1950), "Ivoren wachters" (1951), "Essays in duodecimo" (1952) en "Het genadeschot" (1964).


K.P. Kavafis

K.P. Kavafis werd als kind van Griekse ouders, afkomstig uit Konstantinopel, geboren in 1863 in Alexandrië (tot vandaag een Griekse enclave) waar hij ook het grootste deel van zijn leven woonde en werkte. Twee jaar na de dood van zijn vader verhuist het gezin in 1872 naar Engeland om na een verblijf van vijf jaar naar Alexandrië terug te keren. Vanwege ongeregeldheden in Egypte vlucht het gezin in 1882 naar Konstantinopel, om na drie jaar opnieuw naar Alexandrië terug te gaan. In de jaren die volgen maakt Kavafis reizen naar Parijs, Londen en in 1901 zijn eerste reis naar Griekenland, in latere jaren gevolgd door nog enkele bezoeken. Op de dag van zijn zeventigste verjaardag, in 1933 sterft Kavafis in Alexandrië. De roem kwam voor Kavafis pas na zijn dood, dus postuum. Deels is dat toe te schrijven aan zijn eigen handelswijze. Hij was uiterst terughoudend met de publicatie van zijn gedichten, liet af en toe een enkel gedicht afdrukken in een literair tijdschrift, gaf in eigen beheer enkele bundels met een stuk of twintig gedichten uit en het merendeel van zijn poëzie schonk hij op losse bladen aan zijn beste vrienden.


Thomas Mann


Thomas Mann, de jongere broer van Heinrich Mann, werd geboren op 6 juni 1875 in Lübeck. Hij was de tweede zoon van de graankoopman Thomas Johann Heinrich Mann welke later één van de senatoren van Lübreck werd. Zijn moeder Julia (geboren da Silva-Bruhns) was Duits-Braziliaans van Portugees Kreoolse afkomst. In 1894 debuteerde Thomas Mann met de novelle "Gefallen". Toen Thomas Mann met 21 jaar eindelijk volwassen was en hem dus geld van zijn vaders erfenis toestond - hij kreeg ongeveer 160 tot 180 goldmark per jaar - besloot hij dat hij genoeg had van al die scholen en instituties en werd onafhankelijk schrijver. Kenmerkend voor zijn stijl zijn de ironie, de fenomenale taalbeheersing en de minutieuze detailschildering. Manns reputatie in Duitsland was sterk wisselend. Met zijn eerste roman, Buddenbrooks (1901), had hij een enorm succes, maar door zijn sceptische houding tegenover Duitsland na de Eerste Wereldoorlog veranderde dit volledig. Stelde hij zich tot aan de jaren twintig apolitiek op (Betrachtungen eines Unpolitischen, 1918), meer en meer raakte hij bij het Politiek gebeuren betrokken. Zijn afkeer van het nationaal socialisme groeide, zijn waarschuwingen werden veelvuldiger en heftiger. In 1944 accepteerde hij het Amerikaanse staatsburgerschap. Tussen 1943 en 1947 schreef Mann Doktor Faustus (zie Faust), de roman van de 'Duitse ziel' in de gecamoufleerd geschilderde omstandigheden van de 20ste eeuw. In 1947 bezocht hij voor het eerst sinds de Oorlog Europa, twee jaar later pas Duitsland. In 1952 vertrok hij naar Zwitserland. Op 12 augustus 1955 stierf hij in Zürich. Twintig jaar na zijn dood, in aug. 1975, is zijn literaire nalatenschap geopend: dagboekaantekeningen van 15 maart 1933 tot 29 juli 1955, alsmede notities uit de jaren 1918 tot en met 1921.Belangrijke werken zijn: Der Zauberberg, Der Tod in Venedig, Dokter Faustus , Joseph und seine Brüder en Die Bekenntnisse des Hochstaplers Felix Krull.


Rainer Maria Rilke

Rilke werd op 4 december 1875 geboren in Praag. Hij had al naam gemaakt als dichter met zijn bundels Das Stundenbuch en Das Buch der Bilder, toen hij de literaire wereld versteld deed staan en wereldfaam verwierf met de publicatie van zijn twee delen Neue Gedichte in 1907 en 1908. Hij verzamelde daarin het beste werk uit een van zijn vruchtbaarste periodes, die hij grotendeels doorbracht in Parijs. Rilke was daar diep onder de indruk gekomen van Rodin, bij wie hij een tijdlang in dienst was als particulier secretaris. Rodin, zei hij later, had hem leren kijken. Dit kijken kwam neer op intense concentratie, om het mysterie te kunnen zien 'achter de schijnbare werkelijkheid'. Latere en rijpere werken als Duineser Elegien (1912-1923) en het ronduit schitterende Die Sonette an Orfeus (1924) illustreren Rilkes metafysische visie op het onzegbare, dat haar verwoording vindt in een hermetische muzikale taal. Op 29 december 1926 overlijdt Rilke in het sanatorium in Val-Mont aan de gevolgen van leukemie. Enkele dagen later wordt hij, overeenkomstig zijn wens, begraven op het kerkhof van Raron.


* * * * * * * * * * * * * * * *

| | |
| --- | --- |
| | Over literatuur, gedichten, kunst en cultuur |

20-06-2017

Detlev von Liliencron, Vikram Seth, Paul Muldoon
Dolce far niente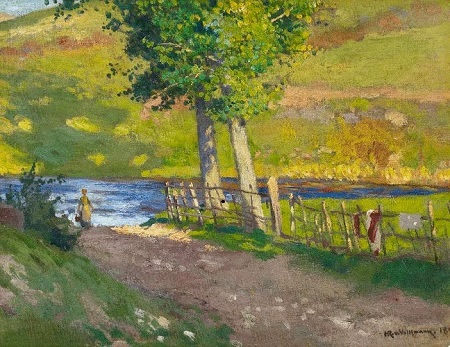 Sommerliche Flusslandschaft door Hans-Richard von Volkmann, 1897
Sommer
Zwischen Roggenfeld und Hecken
Führt ein schmaler Gang;
Süßes, seliges Verstecken
Einen Sommer lang.
Wenn wir uns von ferne sehen,
Zögert sie den Schritt,
Rupft ein Hälmchen sich im Gehen,
Nimmt ein Blättchen mit.
Hat mit Ähren sich das Mieder
Unschuldig geschmückt,
Sich den Hut verlegen nieder
In die Stirn gedrückt.
Finster kommt sie langsam näher,
Färbt sich rot wie Mohn;
Doch ich bin ein feiner Späher,
Kenn die Schelmin schon.
Noch ein Blick in Weg und Weite,
Ruhig liegt die Welt,
Und es hat an ihre Seite
Mich der Sturm gestellt.
Zwischen Roggenfeld und Hecken
Führt ein schmaler Gang;
Süßes, seliges Verstecken
Einen Sommer lang.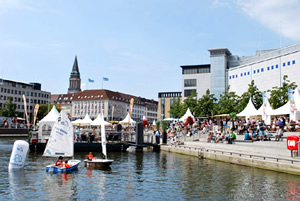 Detlev von Liliencron (3 juni 1875 – 22 juli 1909)
Kiel, Bootshafen. Detlev von Liliencron werd in Kiel geboren.
De Indische schrijver Vikram Seth werd geboren op 20 juni 1952 in Kolkata. Zie ook alle tags voor Vikram Seth op dit blog.
The Golden Gate - I (A Novel In Verse, fragment)
1.1.
To make a start more swift and weighty,
Hail Muse. Dear Reader, once upon
A time, say, circa 1980,
There lived a man. His name was John.
Successful in his field though only
Twenty-six, respected, lonely,
One evening as he walked across
Golden Gate Park, the ill-judged toss
Of a red frisbee almost brained him.
He thought, "Who'd gloat? Who would be glad?
Would anybody? " As it pained him,
He turned from this dispiriting theme
To ruminations less extreme.
1.2.
He tuned his thoughts to electronic
Circuitry. This soothed his mind.
He left irregular (moronic)
Sentimentality behind.
He thought of or-gates and of and-gates,
Of ROMs, of nor-gates, and of nand-gates,
Of nanoseconds, megabytes,
And bits and nibbles… but as flights
Of silhouetted birds move cawing
Across the pine-serrated sky,
Dragged from his cove, not knowing why,
He feels an urgent riptide drawing
Him far out, where, caught in the kelp
Of loneliness, he cries for help.
1.3.
John's looks are good. His dress is formal.
His voice is low. His mind is sound.
His appetite for work's abnormal.
A plastic name tag hangs around
His collar like a votive necklace.
Though well-paid, he is far from reckless,
Pays his rent promptly, jogs, does not
Smoke cigarettes, and rarely pot,
Eschews both church and heavy drinking,
Enjoys his garden, like to read
Eclectically from Mann to Bede.
(A surrogate, some say, for thinking.)
friends claim he's grown aloof and prim.
(His boss, though, is well-pleased with him.)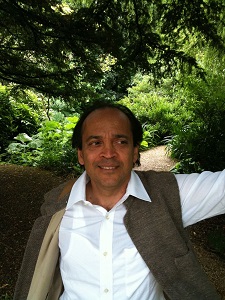 Vikram Seth (Kolkata, 20 juni 1952)
De Ierse dichter en schrijver Paul Muldoon werd geboren in Portadown, County Armagh, in Noord-Ierland op 20 juni 1951, Zie ook alle tags voor Paul Muldoon op dit blog.
The Old Country (Fragment)
I
Where every town was a tidy town
and every garden a hanging garden.
A half could be had for half a crown.
Every major artery would harden
since every meal was a square meal.
Every clothesline showed a line of undies
yet no house was in dishabille.
Every Sunday took a month of Sundays
till everyone got it off by heart
every start was a bad start
since all conclusions were foregone.
Every wood had its twist of woodbine.
Every cliff its herd of fatalistic swine.
Every runnel was a Rubicon.

II
Every runnel was a Rubicon
and every annual a hardy annual
applying itself like linen to a lawn.
Every glove compartment held a manual
and a map of the roads, major and minor.
Every major road had major roadworks.
Every wishy-washy water diviner
had stood like a bulwark
against something worth standing against.
The smell of incense left us incensed
at the firing of the fort.
Every heron was a presager
of some disaster after which, we'd wager,
every resort was a last resort.

III
Every resort was a last resort
with a harbor that harbored an old grudge.
Every sale was a selling short.
There were those who simply wouldn't budge
from the Dandy to the Rover.
That shouting was the shouting
but for which it was all over—
the weekend, I mean, we set off on an outing
with the weekday train timetable.
Every tower was a tower of Babel
that graced each corner of a bawn
where every lookout was a poor lookout.
Every rill had its unflashy trout.
Every runnel was a Rubicon.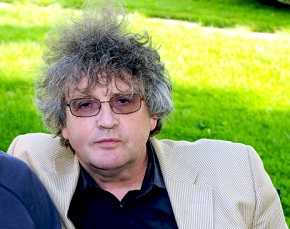 Paul Muldoon (Portadown, 20 juni 1951)
Zie voor meer schrijvers van de 20e juni ook mijn blog van 20 hjuni 2016 en eveneens mijn blog van 20 juni 2015 deel 2.
20-06-2017 om 18:14 geschreven door Romenu

Tags:Detlev von Liliencron, Vikram Seth, Paul Muldoon, Dolce far niente, Romenu



Georg-Büchner-Preis 2017 voor Jan Wagner
Georg-Büchner-Preis 2017 voor Jan Wagner
Aan de duitse dichter, schrijver en vertaler Jan Wagner is de Georg-Büchner-Preis 2017 toegekend, de belangrijkste literaire prijs in Duitsland. Jan Wagner werd geboren op 18 oktober 1971 in Hamburg. Zie ook alle tags voor Jan Wagner op dit blog.
champignons
wir trafen sie im wald auf einer lichtung:
zwei expeditionen durch die dämmerung
die sich stumm betrachteten. zwischen uns nervös
das telegraphensummen des stechmückenschwarms.
meine großmutter war berühmt für ihr rezept
der champignons farcis. sie schloß es in
ihr grab. alles was gut ist, sagte sie,
füllt man mit wenig mehr als mit sich selbst.
später in der küche hielten wir
die pilze ans ohr und drehten an den stielen -
wartend auf das leise knacken im innern,
suchend nach der richtigen kombination.
botanischer garten
dabei, die worte an dich abzuwägen -
die paare schweigend auf geharkten wegen,
die beete laubbedeckt, die bäume kahl,
der zäune blüten schmiedeeisern kühl,
das licht aristokratisch fahl wie wachs -
sah ich am hügel gläsern das gewächs-
haus, seine weißen rippen, fin de siècle,
und dachte prompt an jene walskelette,
für die man sich als kind den hals verdrehte
in den museen, an unsichtbaren drähten,
daß sie zu schweben schienen, aufgehängt,
an jene ungetüme, zugeschwemmt
aus urzeittiefen einem küstenstrich,
erstickt an ihrem eigenen gewicht.
gaststuben in der provinz
hinter dem tresen gegenüber der tür
das eingerahmte foto der fußballmannschaft:
lächelnde helden, die sich die rostenden nägel
im rücken ihrer trikots nicht anmerken lassen.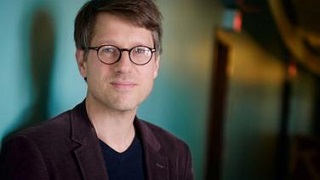 Jan Wagner (Hamburg, 18 oktober 1971)
20-06-2017 om 00:00 geschreven door Romenu

Tags:Georg-Büchner-Preis, Jan Wagner, Romenu


19-06-2017

Billy Collins, Salman Rushdie, Sybren Polet
Dolce far niente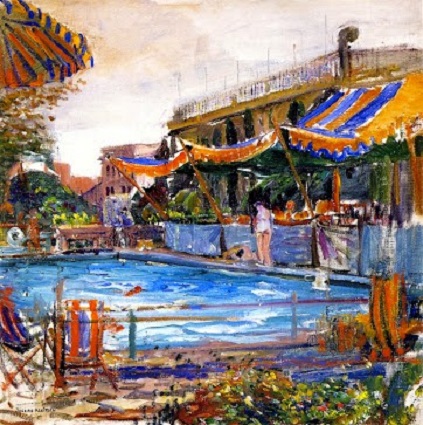 The Ambassador Hotel Swimming Pool door Joseph Kleitsch, jaren 1920
By A Swimming Pool Outside Syracusa
All afternoon I have been struggling
to communicate in Italian
with Roberto and Giuseppe, who have begun
to resemble the two male characters
in my Italian for Beginners,
the ones who are always shopping
or inquiring about the times of trains,
and now I can hardly speak or write English.
I have made important pronouncements
in this remote limestone valley
with its trickle of a river,
stating that it seems hotter
today even than it was yesterday
and that swimming is very good for you,
very beneficial, you might say.
I also posed burning questions
about the hours of the archaeological museum
and the location of the local necropolis.
But now I am alone in the evening light
which has softened the white cliffs,
and I have had a little gin in a glass with ice
which has softened my mood or—
how would you say in English—
has allowed my thoughts to traverse my brain
with greater gentleness, shall we say,
or, to put it less literally,
this drink has extended permission
to my mind to feel—what's the word?—
a friendship with the vast sky
which is very—give me a minute—very blue
but with much great paleness
at this special time of day, or as we say in America, now.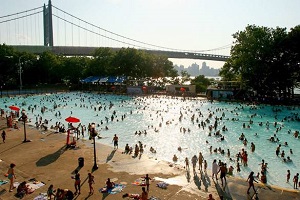 Billy Collins (New York, 22 maart 1941)
New York, Astoria Park Pool. Billy Collins werd geboren in New York
De Indisch-Britse schrijver en essayist Salman Rushdie werd geboren in Bombay op 19 juni 1947. Zie ook alle tags voor Salman Rushdie op dit blog.
Uit: The Enchantress of Florence
"When the prince arrived perspiring from the hard work of galloping around killing animals in the heat of the day, Mohini was at the head of the retinue whose task it was to remove all his clothes and massage his pale skin with scented, cooling oils. Mohini was the one who chose the perfume, sandalwood or musk, patchouli or rose, and Mohini it was who performed the privileged function of massaging his manhood to prepare him for her mistress. Other slaves fanned him and rubbed his hands and feet, but only the Skeleton could touch the royal sex. This was because of her expertise in preparing the unguents necessary for the heightening of sexual desire and the prolongation of sexual congress. She made the pastes of tamarind and cinnabar, or dry ginger and pepper which, when mixed with the honey of a large bee, gave a woman intense pleasure without requiring much exertion from the man, and allowed the man also to experience sensations of warmth and a kind of squeezing palpitation that were extremely pleasurable. She applied the pastes sometimes to her mistress's vagina, sometimes to the prince's member, usually to both. The results were held by both parties to be excellent. It was her mastery of the male drugs known as the "ones that made men into horses" that undid her. One day she ordered the castration of a male goat and boiled its testes in milk, after which she salted and peppered them, fried them in ghee, and finally chopped them up into a delicious-tasting mince. This preparation was to be eaten, not rubbed upon the body, and she fed it to the prince on a silver spoon, explaining that it was a medicine that would allow him to make love like a horse, five, ten, or even twenty times without losing his force. In the case of particularly virile young men it could facilitate one hundred consecutive ejaculations. "Delicious," said the prince, and ate heartily. The next morning he emerged from his mistress's boudoir, leaving her on the point of death. "Ha! Ha!" he shouted at Mohini on his way out. "That was fun."
It would be forty-seven days and nights before Lady Man Bai could even think about having sex again, and during that time the prince, when he visited her, was fully understanding of the damage he had wrought, behaved in a manner both contrite and solicitous, and fucked the slaves instead, asking, most often, for the favors of the skinny creature who had endowed him with such superhuman sexual powers. Lady Man Bai could not refuse him but inwardly she raged with jealousy."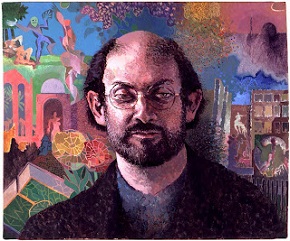 Salman Rushdie (Bombay, 19 juni 1947)
Portret door Thom Phillips, 1992
De Nederlandse dichter en schrijver Sybren Polet (pseudoniem van Sybe Minnema) werd geboren in Kampen op 19 juni 1924. Zie ook alle tags voor Sybren Polet op dit blog.
Waai niet
Waai niet, zeg niet
ik ben er niet; ik heb geen wolken om mee te spelen,
geen acrobaten om uit te beelden.

Je bent de tevreden stemming
die in het gedicht heerst
als ik thuiskom en mijn pygmeeën heb uitgehakt.

Ik kom stoffig thuis uit mijn verleden tijd,
een half humoristische sage
en breng de wind mee
die buigt en zijn hoed afneemt.

Met lippen als volleerde glimlachjes
verwelkom je hem
en je zegt: ik ben zijn huisgenoot, ik buikdanseres,
maar ik waai niet.

Zeg niet, ik ben er niet,
ik heb geen woorden om mee te spelen, geen
vreemde dieren om mij in te kleden.

Je bent de dag die op mij neerstrijkt,
schouderwarm, wanneer de woorden leeg en alle
ledematen
tevergeefs lijken,
en het verleden dat opnieuw gevuld moet worden
met warme pas genezen beelden
vul je met warme pas genezen beelden.
Zo maak je zelfs de groenste uniformen ongedaan.

Zeg niet, ik ben er niet. Want zoals je bent
ben je het hooi van wind dat door mijn haar gaat,
water dat mijn gedachten wast
als er een tijdlijke afwezigheid van zee is,
de onrust van mijn slaap, in mijn slaap zelfs
raak je mij aan. Ik raak je aan,

zo licht
alsof ik een soldaat ben die de zee kust.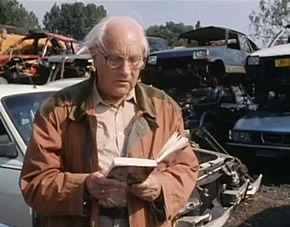 Sybren Polet (19 juni 1924 – 19 juli 2015)
Zie voor nog meer schrijvers van de 19e juni ook mijn blog van 19 juni 2016.
19-06-2017 om 18:23 geschreven door Romenu

Tags:Billy Collins, Salman Rushdie, Sybren Polet, Romenu


18-06-2017

To Summer (William Blake)
Dolce far niente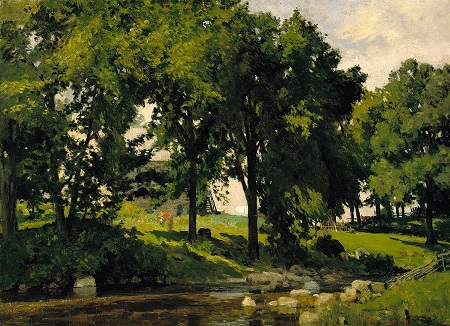 Summer Landscape II door William Brymner, 1910
To Summer
O thou who passest thro' our valleys in
Thy strength, curb thy fierce steeds, allay the heat
That flames from their large nostrils! thou, O Summer,
Oft pitched'st here thy goldent tent, and oft
Beneath our oaks hast slept, while we beheld
With joy thy ruddy limbs and flourishing hair.
Beneath our thickest shades we oft have heard
Thy voice, when noon upon his fervid car
Rode o'er the deep of heaven; beside our springs
Sit down, and in our mossy valleys, on
Some bank beside a river clear, throw thy
Silk draperies off, and rush into the stream:
Our valleys love the Summer in his pride.
Our bards are fam'd who strike the silver wire:
Our youth are bolder than the southern swains:
Our maidens fairer in the sprightly dance:
We lack not songs, nor instruments of joy,
Nor echoes sweet, nor waters clear as heaven,
Nor laurel wreaths against the sultry heat.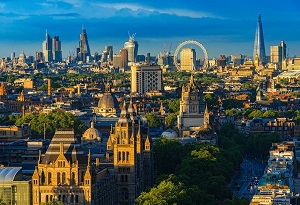 William Blake (28 november 1757 – 12 augustus 1827)
Londen. William Blake werd in Londen geboren.
Zie voor de schrijvers van de 18e juni ook mijn blog van 18 juni 2016 deel 1 en eveneens deel 2.
18-06-2017 om 11:31 geschreven door Romenu

Tags:William Blake, Dolce far niente, Romenu


17-06-2017

Peter Rosei, Kamel Daoud, Gail Jones, Ron Padgett, Ward Ruyslinck, Adriaan van der Hoop jr, Hanna Johansen, Max Dendermonde
De Oostenrijkse dichter en schrijver Peter Rosei werd geboren op 17 juni 1946 in Wenen. Zie ook mijn blog van 17 juni 2009 en eveneens alle tags voor Peter Rosei op dit blog.
Uit: Die Globalisten
"Was soll ich Ihnen schon sagen? Ich bin ja nur ein kleines, ein winziges Schräubchen im Getriebe. Ich will das gar nicht verschweigen, o nein! Aber auch so kann man eine schöne Stange Geld verdienen und sein Glück machen, nicht wahr?« Der etwas stockige, untersetzte Mann musterte sein Gegenüber. »Wir versuchen doch alle nur, auf der goldenen Kugel zu tanzen, ganz egal, wie und wohin sie rollt«, sprach er rasch weiter, und dann hob er neuerlich den Blick, den er für einen Moment zu seinen auf dem Tisch liegenden Händen gesenkt gehabt hatte. »Haben Sie Kinder?«, fragte er unvermittelt. »Das ist doch nicht Ihr Ernst, Herr Weill!«, rief sein Gegenüber da aus, ein noch jugendlich wirkender, schwarzhaariger, elastischer Mensch, der in einem guten, blauen Tuchanzug steckte und bisher stillgehalten hatte: »Wollen Sie mich verarschen?!« Er brachte die Worte mit hartem, slawischem Akzent vor. »Aber nein!«, beteuerte darauf der so Angesprochene, sein feistes Gesicht lief jetzt noch mehr an, es war ohnehin schon von roten Flecken übersät gewesen — und dann brach er in ein leutseliges, ja in ein gutmütig breites Lachen aus. »Es geht doch nicht um uns, keineswegs«, meinte er, die Stimme dämpfend, in jener Tonart, die dem Flüstern näher ist als der normalen Stimmlage, der Kellner im Hintergrund hatte, die über den Arm gelegte Serviette zurechtrückend, wegen des lauten Gelächters schon missbilligend herübergeschaut: »Das Spielchen dreht sich doch nicht um uns! Worum dreht sich's denn, na? — Um die Zukunft natürlich, um diese wunderschöne Fee!«
Die Szene spielte im CaM IMPERIAL in Wien, in jenem prächtig inszenierten Raum, der auf die Ringstraße hinausgeht, die beiden Herren saßen auf der gepolsterten Bank, die an der Wand entlangführt und mit kleinen Marmortischen bestückt ist. Gerade oberhalb der Herren und ihrer Köpfe hing eine märchenhaft aufgefasste Alpenlandschaft in schwerer Goldrahmung, auf dem Tischchen vor ihnen standen Tassen samt halb vollen Wassergläsern, die Sonne schien hell durch die großen Fenster, der im Hintergrund postierte Kellner hatte sich beflissen am Kuchenbüfett zu schaffen gemacht. Nur wenig Leute da! Wenig Kundschaft! — Es ist ja auch erst elf Uhr, dachte Weill, sein Blick hatte dabei seine Armbanduhr kurz gestreift. Jetzt sitze ich schon eine geschlagene Stunde mit dem Trottel herum, und nichts geht weiter. »Wissen Sie was? Ich will Ihnen etwas erzählen. — Es war einmal ein kleiner Junge«, hob er an und unterdrückte dabei mit forscher Miene jeden etwa aufkeimenden Protest, »die Familie stammte aus einem abgelegenen Nest in der Westschweiz her, wo sie sich seit Generationen mehr schlecht als recht mit dem Uhrmachen durchgebracht hatte."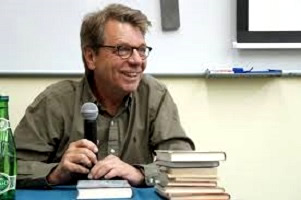 Peter Rosei (Wenen, 17 juni 1946)
De Algerijnse schrijver en journalist Kamel Daoud werd geboren op 17 juni 1970 in Mostaganem, Algerije. Zie ook alle tags voor Kamel Daoud op dit blog.
Uit: Moussa, of de dood van een Arabier(Vertaald door Manik Sarkar)
"Ja, ja, ik weet het, je popelt om me al die vragen te stellen waar ik zo'n hekel aan heb, maar toch verzoek ik je om aandachtig te luisteren; dan zul je alles uiteindelijk begrijpen. Dit is geen gewoon verhaal. Het is een verhaal dat begint aan het einde en teruggaat naar het begin. Als een school zalmen ja, maar dan getekend met potlood. Ongetwijfeld heb je het verhaal net als iedereen gelezen zoals die schrijver het heeft opgeschreven. Hij schrijft zo goed dat zijn woorden op eindeloos nauwkeurig uitgehakte stenen lijken. Hij was heel strikt met schakeringen, die held van jou; hij dwong ze haast om wiskunde te zijn. Oneindige berekeningen op basis van stenen en mineralen. Heb je gezien hoe hij schrijft? Hij beschrijft een schot en het is haast poëzie! Zijn wereld is helder, duidelijk en precies, geciseleerd door de heldere ochtend, geschetst met geuren en vergezichten. De enige schaduw zijn de 'Arabieren', onduidelijke, onsamenhangende objecten, afkomstig 'van voorheen', spoken met als enige taal de klank van een fluit. Ik denk dat hij er genoeg van had om rond te moeten zwerven in een land dat hem – dood of levend – niet wilde. De moord die hij beging was als de daad van een geliefde, bedrogen door de grond die hij niet kon bezitten. De stumper – wat moet hij geleden hebben, als kind van een oord waaruit hij niet was geboren!
Ook ik heb zijn versie van de feiten gelezen. Net als jij en miljoenen anderen. Vanaf het begin is het meteen glashelder: hij droeg een mensennaam, mijn broer de naam van een gebeurtenis. Hij had hem ook 'Veertien Uur' kunnen noemen, zoals die ander, die zijn slaaf 'Vrijdag' noemde. Een moment van de dag in plaats van een dag van de week. Veertien Uur, ja, dat klinkt niet gek. Zjoezj in het Arabisch, twee, het tweetal, hij en ik, voor degenen die het verhaal van dit verhaal kennen in zekere zin een onvermoede tweeling."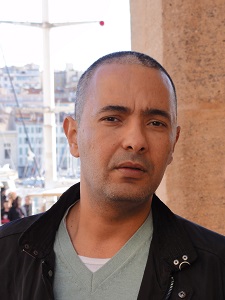 Kamel Daoud (Mostaganem, 17 juni 1970)
De Australische schrijfster Gail Jones werd geboren op 17 juni 1950 in Harvey. Zie ook alle tags voor Gail Joenes op dit blog.
Uit: A Guide to Berlin
"It was hard to imagine the icy water thawed and re-sealing, or the sky returning to a lively blue. She had a sense of contraction, of huddling against the weather. Later, it figured in her mind as Stalinist classicism, the wind tunnel of the vast and inhuman Karl-Marx-Allee, and the shapes of people in padded jackets bending against the cruel air. A scene from Eisenstein, perhaps, with a gelid lens and the special effects of monumental vision, swollen by an aerial view and historical misery. Black outlines on white snow, impersonality, extinguishment. Exaggeration of this kind was irresistible. In that early, fierce cold, Berliners coped better."
(...)
"We are all shits, my friends. We are all literary snobs in this vicarious little room of our own, dilettantish, smug, hidden from the fucked-up world. We are enslaved to the folly and the whirlpool of our own obsessions. Where is now rather than our own deeply intoxicating pasts? Where is Lampedusa, where is the tragedy of others? What do we think of a man playing "Nessun Dorma" on a saw in the shadows of a U-station? The lost homeless in Kreuzberg, the drug pushers in Gorlitzer Park, the illegally immigrant prostitutes, freezing their arses at Hackescher Markt? And all the other foreigners, wretched foreigners, who don't have wine and company? Why do we meet for this writer who laments his lost Russia, when losses are everywhere? We adore him because we find some cracked mirror there, we think that words will save us, that a fine description will drag us away from our own disappointments, and offer consolation, or explanation, or the return of a disappeared father. We want to cancel our nothingness with his vigour of incarnation, we want to believe, truly believe, in literary salvation. Who else tells us that a twig reflected in a puddle is worthy of our notice? That it looks like an undeveloped photograph, that it symptomises something inside us, that it reminds us of the entanglements of words and things and reflections; that we must all notice the withering as well as the blossoming; and that immortal gesture is always present and exists inside the world..."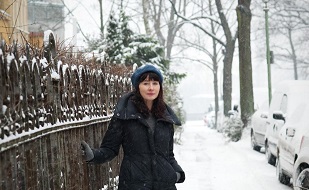 Gail Jones (Harvey, 17 juni 1950)
De Amerikaanse dichter, schrijver en vertaler Ron Padgett werd geboren op 17 juni 1942 in Tulsa, Oklahoma. Zie ook alle tags voor Ron Padgett op dit blog.
Ladies And Gentlemen In Outer Space
Here is my philosophy:
Everything changes (the word "everything"
has just changed as the
word "change" has: it now
means "no change") so
quickly that it literally surpasses my belief,
charges right past it
like some of the giant
ideas in this area.
I had no beginning and I shall have
no end: the beam of light
stretches out before and behind
and I cook the vegetables
for a few minutes only,
the fewer the better. Butter
and serve. Here is my
philosophy: butter and serve.
Grasshopper
It's funny when the mind thinks about the psyche,
as if a grasshopper could ponder a helicopter.
It's a bad idea to fall asleep
while flying a helicopter:
when you wake up, the helicopter is gone
and you are too, left behind in a dream,
and there is no way to catch up,
for catching up doesn't figure
in the scheme of things. You are
who you are, right now,
and the mind is so scared it closes its eyes
and then forgets it has eyes
and the grasshopper, the one that thinks
you're a helicopter, leaps onto your back!
He is a brave little grasshopper
and he never sleeps
for the poem he writes is the act
of always being awake, better than anything
you could ever write or do.
Then he springs away.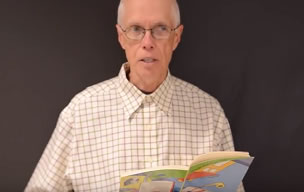 Ron Padgett (Tulsa, 17 juni 1942)
De Vlaamse schrijver Ward Ruyslinck (pseudoniem van Raymond Charles Marie De Belser) werd geboren in Berchem op 17 juni 1929. Zie ook alle tags voor Ward Ruyslinck op dit blog.
Uit: Mulisch, onze man in Havana
"In een twistgesprek met W.F. Hermans, dat eind '69 door De Haagse Post gepubliceerd werd, verklaarde Mulisch naar aanleiding van zijn Cuba-boek: 'Voordat ik daarheen ging, hing er over Nederland een zwijgen, wat dat eiland betreft. En ik vlei me met de illuzie, dat ik daar iets aan gedaan heb. Cuba is nu iets in Nederland...'. Deze uitspraak stemt me een beetje treurig, omdat ze inderdaad bewijst dat Mulisch zich vleit met een illuzie: voor zover ik dit kan beoordelen ziet het er niet naar uit, dat Mulisch' 'Oratio pro Castro' de onverschilligheid van het Nederlandse volk ten opzichte van de Cubaanse realiteit heeft doorbroken. Hoewel ik, wat de algemene standpunten in het twistgesprek betreft, geneigd ben me eerder achter dat van Mulisch op te stellen dan achter dat van Hermans, kan ik Hermans moeilijk ongelijk geven waar hij tegen Mulisch zegt: 'Je bent ontzettend misleid als je denkt dat de mensen in Nederland zich écht interesseren voor dat soort dingen'. Al slaat Mulisch in zijn boek meer dan ééns de spijker op de kop, al onthult hij achtergronden en legt hij verbanden die van aard zijn om de gemiddelde Nederlander uit zijn gelukzalige sluimer te wekken, erg veel bekeringen zal dit nochtans indrukwekkende geschrift (helaas) niet maken, omdat Mulisch (of wie dan ook) met een getuigenis als dit nu eenmaal de gemiddelde Nederlander - d.w.z. de in zijn geijkte denkpatronen vastgeroeste burger - niet bereikt, omdat hij tenslotte met een boek als 'Het woord bij de daad' alleen maar de gemoederen in beweging kan brengen van degenen wier gemoederen voordien al in beweging waren, m.a.w. omdat hij zowel door de inhoud als door het niveau van zijn boek op een publiek mikt van linkse medestanders. Wat waarschijnlijk het lot is van alle geëngageerde boeken. Als een auteur met een al dan niet geëngageerd boek aan een bestaande situatie 'iets zou kunnen doen', zoals Mulisch zegt, dan vraag ik me af waarom de zoveel grotere en bredere stroom van Vietnam-informatie van de laatste tien jaar niet veel méér heeft teweeggebracht dan het machteloze verzet van een grommende minderheid. Wellicht bedoelt Mulisch dat hij zijn landgenoten bewust heeft gemaakt van wat er in Latijns-Amerika, en in het bijzonder op Cuba, gaande is, en ik zou willen dat het waar was, dat hij daar inderdaad in geslaagd was, maar ik geloof het jammer genoeg niet."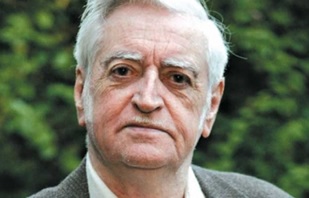 Ward Ruyslinck (17 juni 1929 – 3 oktober 2014)
De Nederlandse dichter en literatuurcriticus Adriaan van der Hoop jr werd geboren in Rotterdam op 17 juni 1802. Zie ook alle tags voor Adriaan van der Hoop op dit blog.
De Eenzaamheid
Wie mij wenen hoort of klagen,
Vraag mij niet waarom.
Voog'len zingen in de hagen
Vinden alles wat zij vragen;
Maar mijn smart is stom.

Volg mij niet, als het hart, in duister
Sombre beelden kweekt;
Eng'len dalen dan vol luister,
Brengen mij met zoet gefluister,
Wat mijn ziel ontbreekt.

Laat mij eenzaam zijn in 't leven
Eenzaam met mijn smart;
En als vreugde u mag omzweven
Zij alleen de rust gegeven
Aan 't gebroken hart.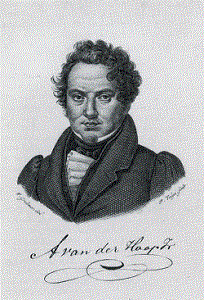 Adriaan van der Hoop jr (17 juni 1802 - 4 november 1841)

De Zwitserse schrijfster Hanna Johansen (eig. Hanna Margarete Meyer) werd geboren op 17 juni 1939 in Bremen. Zie ook alle tags voor Hanna Johansen op dit blog.
Uit: Der Herbst, in dem ich Klavier spielen lernte
"22. September Ich lerne Klavier spielen. Was dieser Satz bedeutet, weiß ich noch nicht. Es gefällt mir, das nicht zu wissen. Dagegen verwirrt mich, was er früher bedeu-tet hätte. Meine Großeltern hatten ein Klavier, ein schwarzes, die väterlichen Großeltern, bei den müt-terlichen gab es nicht mal ein Schifferklavier, sondern eine Quetschkommode, aber immer einen der vielen Onkel oder älteren Vettern, die uns damit verzaubern konnten. Auf der väterlichen Seite stand das Klavier, es gab nur einen, der es spielte, und den konnte ich ebenso wenig leiden wie die An, wie er das Klavier spielte. Er war der ältere Bruder meines Vaters und von Statur genauso pompös, wie er in die Tasten griff. In den Kriegsjahren haben wir ihn dort zu Weihnach-ten spielen gehört, nachdem ich eine gute Wegstunde auf einem Schlitten durch den Winter gezogen wor-den war. Mein Vater war einer, der nicht Klavier spielte, aber gern fotografiert hat, darum nehme ich an, dass er das Bild aufgenommen hat, das mich auf dem Schlitten zeigt, und stelle mir vor, dass er den Schlitten nur kurz an meine Mutter abgegeben hat, um uns zu fotografieren. Er war seit Mai 194o Soldat und hatte Weihnachtsurlaub.
Die Ehe meiner Eltern hat den Krieg nicht über-standen, im Herbst kam ich in die Schule, und von da an habe ich die Großeltern nur noch allein be-sucht, um meinen Vater zu treffen oder um eine Fe-rienwoche auf dem Dorf zu verbringen. Im Hühner-hof konnte ich auf der Schaukel sitzen, in der Stube mit dem Klavier spielen, mit viel Neugier und wenig Erfolg, und bei seltenen Gelegenheiten dem uner-freulichen Onkel beim Klavierspielen zuhören. Das Musikmachen hat mich angezogen, das Pompöse ab-gestoßen. Mein Großvater war Hauptlehrer an einer vier-klassigen Dorfschule, darum wohnte er mit seiner Familie in der an die Schule angebauten Wohnung, einer Wohnung mit größeren Räumen als damals üb-lich, und höher waren sie auch. Darum hatte er ein Klavier. Meine Freude an dem Instrument gefiel ihm so sehr, dass er versprach, ich würde es später einmal er-ben. Seitdem sind mehr als sechzig Jahre vergangen, ich habe vieles gelernt und erlebt, nicht aber, wie es ist, Klavier spielen zu lernen. Das will ich jetzt. Gestern hat mein Liebster mir sein Klavier ge-bracht. Das war traurig, denn er kann es nicht mehr brauchen, weil seine Hörnerven so nachgelassen ha-ben, dass er Töne nur noch falsch hört."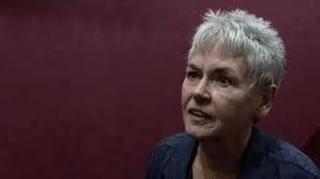 Hanna Johansen (Bremen, 17 juni 1939)
De Nederlandse dichter en schrijver Max Dendermonde (pseudoniem van Hendrik Hazelhoff) werd geboren op 17 juni 1919 in Winschoten. Zie ook alle tags voor Max Dendermonde op dit blog.
Uit: De wereld gaat aan vlijt ten onder
"Eind September zou dat weer anders zijn. Ofschoon...: wat was eigenlijk ànders? In Oaklake roken de dennen precies zo. Zolang zijn wereld deze vrije, zorgeloze geur had, deed het er weinig toe waar hij was, in de kussens van een oude Willys Overland of in een hangmat in Oaklake. Het ging om het dolce far niente. Alleen: in Oaklake was de wereld - ondanks het feit dat hij er zich moest scheren - zelfs nog vrijer en zorgelozer. Oaklake was een beetje zijn thuis, een wereld zonder haast. Oaklake was een blauw vandaag, waardoor de uren wegdreven als witte, doelloze wolken. Het was een zomaar zijn, niet een willen hebben.
Alec vond het een mooie dag, een bijna volmaakte dag. Alleen was er misschien iets te weinig tekening in de hemel. Hij zei tegen meneer Dall: 'Jammer dat er niet wat meer wolken zijn'.
Meneer Dall keek niet-begrijpend, haast een beetje verstoord. Had hij het verkeerd verstaan? Die Weatherwood zei soms van die rare dingen. Wat ging er om in die man? Eric T. Dall begreep het niet. Hijzelf had juist nagedacht over de mogelijkheid nog maar weer eens een nieuwe lezing in elkaar te zetten, iets over Zuid-Afrika misschien. Dat was niet ongunstig nu de kranten steeds maar schreven over Malan en de apartheidspolitiek. Hij had zich afgevraagd, welke boeken hij daarover zou moeten lezen en wie hem daarbij zou kunnen helpen. Zuid-Afrika, ja, dacht hij, een mooi onderwerp voor de winter. Hij glimlachte tevreden. Meneer Dall dacht altijd vooruit. Hij was de wolken alweer vergeten. En zo reden ze door, kalmaan, er gebeurde niets.
Maar een kwartier later stopten ze; er stond op de lange, eenzame weg een man te zwaaien naast een oude Chevrolet, die scheef hing op een krick onder de achteras.
'En?', vroeg meneer Dall door het raampje op de toon van een man die door tijdgebrek weinig hulp te bieden heeft. De man keek hem hard grijnzend en gom-kauwend aan. Het was een lange, blonde man in een grijs pak; een grijze hoed plakte achter op zijn hoofd. Uit zijn borstzakje staken een vulpotlood en een vulpen."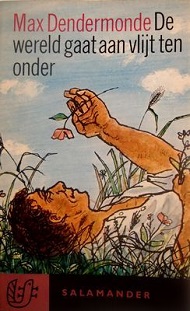 Max Dendermonde (17 juni 1919 – 24 maart 2004)
Cover
Zie voor nog meer schrijvers van de 17e juni ook mijn vorige blog van vandaag.
17-06-2017 om 09:57 geschreven door Romenu

Tags:Peter Rosei, Kamel Daoud, Gail Jones, Ron Padgett, Ward Ruyslinck, Adriaan van der Hoop jr, Hanna Johansen, Max Dendermonde, Romenu



James Weldon Johnson, Henry Lawson, Ferdinand Freiligrath, Henrik Wergeland, John Hersey, Felix Hartlaub, Ossip Schubin
De Amerikaanse dichter, schrijver en diplomaat James Weldon Johnson werd geboren op 17 juni 1871 in Jacksonville, Florida. Zie ook alle tags voor James Weldon Johnson op dit blog.
Sonnet
My heart be brave, and do not falter so,
Nor utter more that deep, despairing wail.
Thy way is very dark and drear I know,
But do not let thy strength and courage fail;
For certain as the raven-winged night
Is followed by the bright and blushing morn,
Thy coming morrow will be clear and bright;
'Tis darkest when the night is furthest worn.
Look up, and out, beyond, surrounding clouds,
And do not in thine own gross darkness grope,
Rise up, and casting off thy hind'ring shrouds,
Cling thou to this, and ever inspiring hope:
Tho' thick the battle and tho' fierce the fight,
There is a power making for the right.
Venus In The Garden
'Twas at early morning,
The dawn was blushing in her purple bed,
When in a sweet, embowered garden
She, the fairest of the goddesses,
The lovely Venus,
Roamed amongst the roses white and red.
She sought for flowers
To make a garland
For her golden head.
Snow-white roses, blood-red roses,
In that sweet garden close,
Offered incense to the goddess:
Both the white and the crimson rose.
White roses, red roses, blossoming:
But the fair Venus knew
The crimson roses had gained their hue
From the hearts that for love had bled;
And the goddess made a garland
Gathered from the roses red.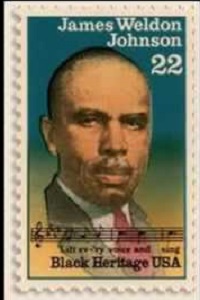 James Weldon Johnson (17 juni 1871 – 26 juni 1938)
De Australische dichter en schrijver Henry Archibald Lawson werd geboren op 17 juni 1867 in Grenfell, New South Wales. Zie ook alle tags voor Henry Lawson op dit blog.
A Song Of The Republic
Sons of the South, awake! arise!
Sons of the South, and do.
Banish from under your bonny skies
Those old-world errors and wrongs and lies.
Making a hell in a Paradise
That belongs to your sons and you.
Sons of the South, make choice between
(Sons of the South, choose true),
The Land of Morn and the Land of E'en,
The Old Dead Tree and the Young Tree Green,
The Land that belongs to the lord and the Queen,
And the Land that belongs to you.
Sons of the South, your time will come –
Sons of the South, 'tis near –
The "Signs of the Times", in their language dumb,
Fortell it, and ominous whispers hum
Like sullen sounds of a distant drum,
In the ominous atmosphere.
Sons of the South, aroused at last!
Sons of the South are few!
But your ranks grow longer and deeper fast,
And ye shall swell to an army vast,
And free from the wrongs of the North and Past
The land that belongs to you.
The Day Before I Die
There's such a lot of work to do, for such a troubled head!
I'm scribbling this against a book, with foolscap round, in bed.
It strikes me that I'll scribble much in this way by and by,
And write my last lines so perchance the day before I die.
There's lots of things to come and go, and I, in careless rhyme,
And drink and love (it wastes the most) have wasted lots of time.
There's so much good work to be done it makes me sure that I
Will be the sorriest for my death, the day before I die.
But, lift me dear, for I am tired, and let me taste the wine—
And lay your cheek a little while on this lined cheek of mine.
I want to say I love you so—your patient love is why
I'll have such little time, you know, the day before I die.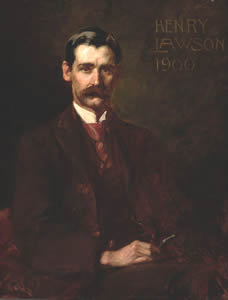 Henry Lawson (17 juni 1867 – 2 september 1922)
Portret door Sir John Longstaff, 1900
De Duitse dichter en schrijver Ferdinand Freiligrath werd geboren op 17 juni 1810 in Detmold. Zie ook alle tags voor Ferdinand Freiligrath op dit blog.
Die Auswanderer
Ich kann den Blick nicht von euch wenden;
Ich muß euch anschaun immerdar;
Wie reicht ihr mit geschäft'gen Händen
Dem Schiffer eure Habe dar!
Ihr Männer, die ihr von dem Nacken
Die Körbe langt, mit Brod beschwert,
Das ihr, aus deutschem Korn gebacken,
Geröstet habt auf deutschem Herd;
Und ihr, im Schmuck der langen Zöpfe,
Ihr Schwarzwaldmädchen, braun und schlank,
Wie sorgsam stellt ihr Krüg' und Töpfe
Auf der Schaluppe grüne Bank!
Das sind dieselben Töpf' und Krüge,
Oft an der Heimath Born gefüllt;
Wenn am Missouri Alles schwiege,
Sie malten euch der Heimath Bild;
Des Dorfes steingefaßte Quelle,
Zu der ihr schöpfend euch gebückt,
Des Herdes traute Feuerstelle,
Das Wandgesims, das sie geschmückt.
Bald zieren sie im fernen Westen
Des leichten Bretterhauses Wand;
Bald reicht sie müden braunen Gästen,
Voll frischen Trunkes, eure Hand.
Es trinkt daraus der Tscherokese,
Ermattet, von der Jagd bestaubt;
Nicht mehr von deutscher Rebenlese
Tragt ihr sie heim, mit Grün belaubt.
O sprecht! warum zogt ihr von dannen?
Das Neckarthal hat Wein und Korn;
Der Schwarzwald steht voll finstrer Tannen,
Im Spessart klingt des Aelplers Horn.
Wie wird es in den fremden Wäldern
Euch nach der Heimathberge Grün,
Nach Deutschlands gelben Weizenfeldern,
Nach seinen Rebenhügeln ziehn!
Wie wird das Bild der alten Tage
Durch eure Träume glänzend wehn!
Gleich einer stillen, frommen Sage
Wird es euch vor der Seele stehn.
Der Bootsmann winkt! - Zieht hin in Frieden!
Gott schütz' euch, Mann und Weib und Greis!
Sei Freude eurer Brust beschieden,
Und euren Feldern Reis und Mais!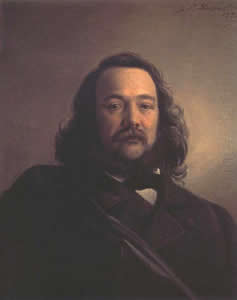 Ferdinand Freiligrath (17 juni 1810 – 18 maart 1876)
Portret door Johann Peter Hasenclever, 1851


De Noorse dichter en schrijver Henrik Wergeland werd op 17 juni 1808 in Kristiansand (aan de zuidkust van Noorwegen) geboren. Zie ook alle tags voor Henrik Wergeland op dit blog.
Juleaftenen - Heiligerabend (Fragment)
Der Alte stolpert weiter durch den Schnee.
Da schreit es wieder und er zweifelt nicht mehr länger ,
denn diese Böe, die wie einen Turm aus Schnee
den Wald durchpfeift,
trägt ein Wort, ein klares Wort vorbei;
und jäh sucht er , woher es kam,
seinen Weg tiefer in den Wald kämpfend
und tiefer in den Schnee und in die Nacht,
die s ich wie eine dunkle Felswand gegen
jeden seiner Schritte stellt, den Schnee durchscheinend,
als ob der ganze weite Wald er füllt gewesen sei
von fliegend flatternd weißen Geistern,
die auf seinem Wege heulten,
auf luftigen Zehen sich zeigend,
um dann zwischen Stämmen zu verschwinden.
Doch der Alte kämpft sich weiter durch den Sturm,
er wandert wenn es tost, wenn es verstummt
verschnauft er , horcht auf sein Knie.
Doch jäh springt er auf und geht ins Dunkel,
wie ein Zwerg bahnt er sich, durch Farne, Moos .
... Er hör t nichts mehr . Den Alten fröstelt
bei dem Gedanken, dass böse Geister mit ihm spielen,
und murmelt vor ich hin, die Gebete, die er kennt.
Da wimmert es erneut ganz nah bei ihm;
obwohl der Wind ihm seinen Schrei zurückdrückt in den Rachen.
Aber hier, ja hier !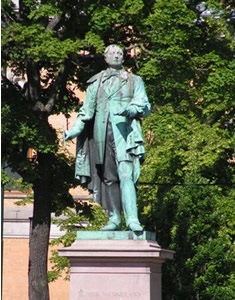 Henrik Wergeland (17 juni 1808 – 12 juli 1845)
Standbeeld in Oslo
De Amerikaanse schrijver en journalist John Hersey werd geboren op 17 juni 1914 in Tientsin in China. Zie ook alle tags voor John Hersey op dit blog.
Uit: Hiroshima
"The two key symptoms, on which the doctors came to base their prognosis, were fever and the lowered white-corpuscle count. If fever remained steady and high, the patient's chances for survival were poor. The white count almost always dropped below four thousand; a patient whose count fell below one thousand had little hope of living. Toward the end of the second stage, if the patient survived, anaemia, or a drop in the red blood count, also set in. The third stage was the reaction that came when the body struggled to compensate for its ills—when, for instance, the white count not only returned to normal but increased to much higher than normal levels. In this stage, many patients died of complications, such as infections in the chest cavity. Most burns healed with deep layers of pink, rubbery scar tissue, known as keloid tumors. The duration of the disease varied, depending on the patient's constitution and the amount of radiation he had received. Some victims recovered in a week; with others the disease dragged on for months. As the symptoms revealed themselves, it became clear that many of them resembled the effects of overdoses of X-ray, and the doctors based their therapy on that likeness. They gave victims liver extract, blood transfusions, and vitamins, especially B1. The shortage of supplies and instruments hampered them. Allied doctors who came in after the surrender found plasma and penicillin very effective. Since the blood disorders were, in the long run, the predominant factor in the disease, some of the Japanese doctors evolved a theory as to the seat of the delayed sickness. They thought that perhaps gamma rays, entering the body at the time of the explosion, made the phosphorus in the victims' bones radio-active, and that they in turn emitted beta particles, which, though they could not penetrate far through flesh, could enter the bone marrow, where blood is manufactured, and gradually tear it down."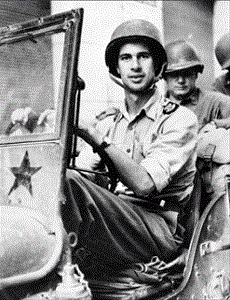 John Hersey (17 juni 1914 – 24 maart 1993)
De Duitse schrijver Felix Hartlaub werd geboren op 17 juni 1913 in Bremen. Zie ook alle tags voor Felix Hartlaub op dit blog.
Uit: Feldpostbrief
"23.8.1941
Am Samstag machte ich einen sehr schönen Fussmarsch von St. Germain nach Versailles, allein
mit einer Lunchtüte. 10km lang durch völlig menschenleere Park- und Forstlandschaft. [...] Mir
persönlich am Liebsten ist Fontainebleau.
Einige schöne Ausflüge nach Fontainebleau, von dem ich gar nicht genug bekommen kann.
Sonntag wahrscheinlich wieder nach Rouen.
Sonntag ein erneuter Abstecher nach Rouen, zusammen mit Z, der es noch nicht kannte. Von dieser Stadt kann ich einfach nicht genug bekommen. Leider hatte ich bisher immer mit dem Wetter Pech. Beängstigend ist die Verelendung der Stadt durch Zerstörungen und Arbeitslosigkeit. Völlig mittelalterliches Bettlerelend, [...] Wiedersehen mit Chartres wurde jüngst auch zelebriert, ohne Glasfenster und Skulpturen. Eine der wenigen Städte, die nichts abgekriegt hat. – Ich hoffe noch auf einen schönen letzten Sonntag in Fontainebleau."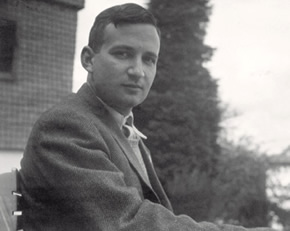 Felix Hartlaub (17 juni 1913 – begin mei (?) 1945)
De Tsjechisch-Oostenrijkse schrijfster Ossip Schubin (eig. Aloisia Kirschner) werd geboren op 17 juni 1854 in Praag. Zie ook alle tags voor Ossip Schubin op dit blog.
Uit: Maximum
"Monte Carlo!
Monte Carlo, Ende April – üppig blühende Blumenbeete, die aus smaragdgrünem Rasen herauslachen – Palmen mit braungeschuppten Stämmen und etwas zerzausten, graugrünen Blätterkronen, die sich gegen einen türkisblauen Himmel abheben, glitzernde Glasbauten, phantastische Gebäude jeder Art, alle freundlich einladend, bunt bewimpelt, dazwischen herumwandelnd Menschen, die eine Spur zu auffallend gekleidet sind und auf der Welt nichts zu tun haben, als sich zu unterhalten, – in der Luft ein Geruch von Rosen, Pittosporum und frischgewässertem Rasen – dazu ein Singen und Seufzen von Waldteufelschen Walzermelodieen – der schönste Fleck auf Erden, ein Stück Paradies, das der Teufel in Pacht genommen hat, um sein tollstes Unwesen darauf zu treiben – das ist Monte Carlo – Monte Carlo, wie es zwei junge Leute aus der verglasten Galerie des Hotels de Paris erblicken, wo sie, an einem kleinen, mit einladendster Sauberkeit und Präzision gedeckten Tischchen sitzend, auf ihr soeben bestelltes Frühstück warten und indessen an den Horsd'oeuvres naschen, die der Oberkellner vor sie hingestellt hat.
Beide derselben gesellschaftlichen Sphäre und demselben Beruf angehörend, beide Diplomaten, wie es bereits im Fremdenbuch des Hotels de Paris eingetragen stand, waren sie doch gänzlich verschieden in Nationalität, Neigungen und Charakter.
Der eine – er mochte um ein paar Jahre mehr zählen als sein Kollege – hatte dunkles, über der Stirn bereits gelichtetes Haar, feine, aber einigermaßen ermüdete Züge, einen hoch hinaufgezwirbelten Schnurrbart, ein Monocle im linken Auge und etwas überlegen Weltmännisches, Blasiertes im ganzen Wesen. Er war ein Preuße mit einer russischen Fürstin zur Mutter und hieß Gerhard von Siehrsburg; der andere, ein junger Riese mit kurzgestutztem, krausem, blondem Haar, schöngeschnittenem, sonnverbranntem Gesicht, dunkelblauen Augen und frischen, roten Lippen, zwischen denen, wenn er lächelte, zwei Reihen kerngesunder, weißer Zähne hervorblitzten, war der Sohn einer Engländerin und eines Österreichers und hieß Friedrich Graf Ulenberg. Seine Freunde nannten ihn Freddy."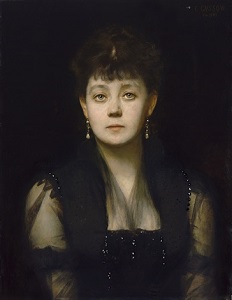 Ossip Schubin (17 juni 1854 – 10 februari 1934)
Portret door Karl Gussow, ca. 1887
17-06-2017 om 09:56 geschreven door Romenu

Tags:James Weldon Johnson, Henry Lawson, Ferdinand Freiligrath, Henrik Wergeland, John Hersey, Felix Hartlaub, Ossip Schubin, Romenu


16-06-2017

Joël Dicker, August Willemsen, Joyce Carol Oates, Derek R. Audette, Theo Thijssen, Casper Fioole, Frank Norbert Rieter, Giovanni Boccaccio, Frans Roumen
De Zwitserse schrijver Joël Dicker werd geboren op 16 juni 1985 in Genève. Zie ook alle tags voor Joël Dicker op dit blog.
Uit: De waarheid over de zaak Harry Quebert (Vertaald doorManik Sarkar)
"In de herfst van 2007 was het een jaar geleden dat mijn eerste roman was verschenen en had ik nog geen regel van de opvolger geschreven. Toen er geen brieven meer op te bergen waren, toen ik in openbare gelegenheden niet meer werd herkend en de affiches met mijn beeltenis uit de grote boekhandels van Broadway waren verdwenen, besefte ik dat roem iets vluchtigs is. Het is een uitgehongerde Gorgo die je moet blijven voeden, anders zal ze je direct vervangen: de politicus van de dag, het sterretje uit de laatste realityshow en de band die pas was doorgebroken namen mijn deel van de aandacht in. Toch waren er nog maar een schamele twaalfmaanden verstreken sindsmijn boekwas verschenen: inmijn ogen een belachelijk korte tijd, maar op de schaal van de mensheid een eeuwigheid. In dat jaar waren er alleen al in Amerika een miljoen kinderen geboren en een miljoen mensen gestorven, ruim tienduizend mensen beschoten, een half miljoen aan de drugs geraakt, een miljoen miljonair geworden, zeventien miljoen van mobieltje veranderd en vijftigduizend omgekomen bij auto-ongelukken, waarbij ook nog eens twee miljoen al dan niet ernstig gewond waren geraakt. En ik had maar één enkel boek geschreven.
Schmid & Hanson, de machtige New Yorkse uitgeverij die me een aardig sommetje geld voor mijn eerste roman had gegeven en die heel veel hoop op me had gevestigd, bestookte mijn agent, Douglas Claren, die op zijn beurt in mijn nek hijgde. Hij zei dat de tijd drong en dat ik absoluut met een nieuw manuscript moest komen en ik deed er alles aan om hem gerust te stellen, om zo mezelf gerust te stellen: ik bezwoer hem dat ik goed opschoot met mijn tweede roman en dat hij zich niet druk hoefde te maken. Maar ondanks alle uren dat ik me op kantoor opsloot, bleef het papier spierwit: de inspiratie was er zonder enige waarschuwing vandoor gegaan en ik had geen idee waar ik die moest terugvinden. En 's avonds in bed, als ik niet kon slapen, bedacht ik dat de grote Marcus Goldman binnenkort, nog voor zijn dertigste, alweer zou ophouden te bestaan. Die gedachte boezemde me zo'n angst in dat ik besloot op vakantie te gaan om op andere gedachten te komen: ik deed mezelf een maand vakantie cadeau in een paleis in Miami, zogenaamd om nieuwe inspiratiebronnen aan te boren, in de heilige overtuiging dat ontspanning onder de palmbomen me in staat zou stellen om mijn creatieve geest weer op volle toeren te laten draaien. Maar natuurlijk was Florida gewoon een vluchtpoging, en tweeduizend jaar voor mij was de filosoof Seneca ook al eens in die penibele situatie beland: waarheen je ook vlucht, je problemen zoeken een plaatsje in je bagage en reizen overal mee naartoe. Het leek of er bij aankomst in Miami bij de uitgang van het vliegveld een vriendelijke Cubaanse kruier naar me toe kwam rennen die vroeg: 'Bent u meneer Goldman?'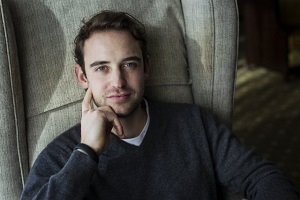 Joël Dicker (Genève,16 juni 1985)
De Nederlandse schrijver essayist en vertaler August Willemsen werd geboren in Amsterdam op 16 juni 1936. Zie ook alle tags voor August Willemsen op dit blog.
Uit: De zucht naar het Zuiden
"Opeens stond Marian naast me en haalde haar vingers door mijn haar. Ik was verrukt, maar meer nog verbaasd over het feit dat ze het bij mij deed en niet bij Jaap. Die was weliswaar met Mies, maar op hem werd iedereen altijd verliefd. Dat was een gegeven. Ik beschouwde mezelf als lelijk, en afgeschreven voor de liefde. Wel had ik altijd een 'harem': eerst de vriendinnen op school, en ook de diverse meisjes die ik in toneelstukken moest beminnen (enige tijd werd ik vergeleken met 'Monsieur Ripois et ses femmes', een film met Gérard Philippe), later de vriendinnen op het Conservatorium, Iet, Maya, Tirza, en vooral Freddie - maar er gebeurde nooit wat. Vandaar mijn verbazing over die vingers in mijn haar, en later die vingers in mijn vingers, terwijl Jaap binnen handbereik was.
In het licht van latere zeden en gewoonten is dit alles volkomen onbetekenend. Ook ik, die het zelf heb meegemaakt, kan nauwelijks begrijpen dat het in die jaren gebruik was dat volkomen normale, volwassen burgers tot aan het ochtendgloren aangekleed op matrassen lagen, pratend, wijn drinkend en luisterend naar muziek, en dat een feest noemden. Dan draaiden we, meestal bij Jaap op zolder, Franse chansons (Georges Brassens, nu volkomen vergeten zangeresje als Nicole Louvier, of de Canadese Aglaé), Spaanse flamenco, de cellosuites van Bach (Janos Starker), het dubbelconcert van Brahms (Casals/Thibault), de Tzigane van Ravel (de Menuhins), Ravi Shankar en nog veel meer. We luisterden devoot, tussen Jaaps landschappen en portretten aan de muren, maar ik voelde toch altijd de prikkel tot een zekere ontluistering van die plechtigheid, bijvoorbeeld door na Menuhins fabelachtige capriolen bemoedigend op te merken dat ik het 'kranig' vond. Sommigen (Ype, Johannes) moesten daar meer om lachen dan anderen.
Veertien dagen na de Galerie Robert was er zo'n avond bij Jaap. Na omzwervingen over alle beschikbare plaatsen was ik, diep in de nacht, links van Marian terechtgekomen."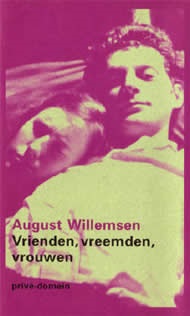 August Willemsen (16 juni 1936 – 29 november 2007)
Cover
De Amerikaanse dichteres en schrijfster Joyce Carol Oates werd geboren in Lockport, New York, op 16 juni 1939. Zie ook alle tags voor Joyce Carol Oates op dit blog.
Ancient Snapshots
In these ancient snapshots Sunday is always ablaze.
If it is Christmas, your father is hurrying to hide
the fir tree beneath the cellar stairs.
Grandfather's whiskers brush near, a steely wool.
Uncle is eating with his mouth moistly open, the teeth
too big. And there are whispers you can't hear.
Prayers for the dead not to be recorded.
(When we were children, you say. If we were children.)
In these documents it is your strategy to remember nothing.
Those slow-munching jaws, those balloon pupae.
"Life phenomena."
(The snapshots show you all curls and dimples and shy
shadowed eyes. It is always noon and a tide of light.
You are always smiling, blind.)
Look—there are creatures swimming as if idly
out of the room's dark corners. Rising from the mud.
There are avuncular whiskers, gruff jutting underlips,
pewter eyes that seem to wink,
although they do not.
A Swedish biochemist says it is his life's wish
to know life. As in "life phenomena."
In these ancient snapshots there are no explanations,
no captions. There is no speech.
Surprised in silence, and usually smiling,
the beloved dead.
When we were children.
Burning Oak, November
Yesterday, the sky in mute
horizontal swaths, air
almost too thick to breathe.
We found the stump of an old oak, man-
sized, burning without flame
at the edge of a clearing—splintered wood
raw, bulldozed roots exposed—
even the black ants fled
in the stink of old grief
made public and final, old hopes exposed—
past tense!—now headless leafless a stump
knocked half out of the earth
and the soul just blue smoke vague
and slow-spreading rising without grace
into an indifferent sky no one will paint,
or photograph, or see—
except us: yesterday.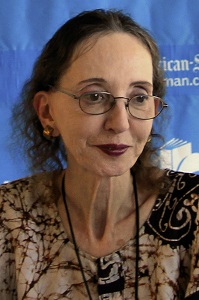 Joyce Carol Oates (Lockport, 16 juni 1939)
De Canadese dichter, artiest en musicus Derek Raymond Joseph Audette werd geboren op 16 juni 1971 in Hull, Quebec. Zie ook alle tags voor Derek R. Audette op dit blog.
Harry Potter, What Up With You?
Harry Potter's an enigma.
His forehead bears a peculiar stigma.
Yet there's a question I've often pondered,
a complex query which no puzzle surpasses:
If he's such a great and powerfull wizard,
then why in the hell does he need those glasses?
Message Of The Cardinal
A cardinal,
on this cold, yet bright
autumn morning
rests on a birch branch
outside of my window.
I pause from my work
to watch it and
breathe in
the magnificence
of its colour.
A smile overtakes me.
The cardinal
has brought for me a message
on this day.
He tells me,
in no uncertain terms,
that
life
is beautiful.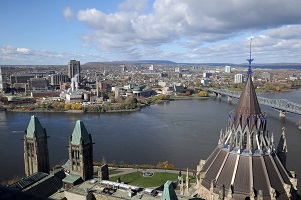 Derek R. Audette (Hull, 16 juni 1971)
Hull, Quebec
De Nederlandse schrijver en onderwijzer Theo Thijssen werd geboren in Amsterdam op 16 juni 1879. Zie ook alle tags voor Theo Thijssen op dit blog.
Uit:Kees de jongen
"Een andere stomme streek, die wist-ie zich nog duidelik te herinneren. Toen was-ie op de Kerstboom gevraagd bij neef Breman. Een hele deftige neef nogal, tenminste in die tijd. Ze hadden er een piano, en daar kregen de twee nichtjes les op van een aparte juffrouw. Tweede Kerstdag werd er een hele troep kinderen gevraagd. Ze speelden eerst spelletjes, zoals pandverbeuren, met al dat beroerde zoenen, maar het eind was een loterij. En toen had hij een doosje kleurkrijt gewonnen. En z'n neef Dolf, die nu op de H.B.S. was, sterke jongen, hoor, die won een zweeftol. En, hoe kon-ie toen zo eeuwig stom zijn, hij was ook erg klein, nog niet eens op 't grote school, - toen had-ie met Dolf geruild, en was met die dooie zweeftol thuis gekomen; waar natuurlik twee dagen later het hangertje van stuk ging; en toen was de tol door z'n gekke punt niet eens een fatsoenlike gewóne tol! Ezelachtig. Want het waren van die echte dikke pijpen kleurkrijt geweest, een doos van minstens zestig cent; wat had-ie daarmee geen fijne landschappen kunnen maken. Hij had gewoon uit schetsen kunnen gaan, naar de sla-tuintjes, waar dikwijls schilders ook zaten. Allicht had er een hem in de gaten gekregen; gezegd: Dat doe je daar heel aardig. Hier hei-je een beter stukkie papier; teken het nou es dáárop. Hij aan de gang. Het water met golfjes, met van die schaduwkantjes. De schilder riep er een ander bij. Waar heb je dat geleerd? Nergens. - Dat lieg je. - Nee, enkel gewoon op avondschool blokken en zo getekend, en één keer een kruik. - Maak dat je eigen wijs. - Maar natuurlik moesten ze hem eindelik wel geloven. Mocht-ie voor de aardigheid eens proberen met die ene z'n verf - wouen ze gewoon niet geloven, dat-ie nog nooit een penseel in z'n handen had gehad!
Zo mocht-ie dan bij schilders aan huis komen, en schoot-ie aardig op. Kwamen d'r thuis een paar schilderijtjes van hem te hangen, met z'n naam er onder; en wie weet, hoe het verder gelopen was.
Daar was nu geen kans op. Tekenen bleef tekenen, en een tekening werd nooit echt, want de kleur was het voornaamste, en kleuren had hij nooit gehad. Wat gaf het, of-ie later geld genoeg zou hebben voor kleuren? Dan was-ie eenmaal groot, en om goed beroemd te worden, moest je als jongen al beginnen, net zo als Rembrandt.
Ja, hoe zou die Rembrandt zo jong al aan al die penselen en die verf gekomen zijn? Had toch bepaald ook rijkere ouders gehad dan hij...."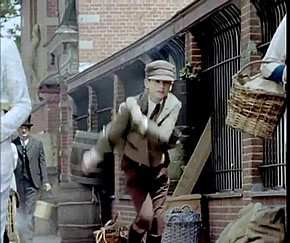 Theo Thijssen (16 juni 1879 - 23 december 1943)
Scene uit de film met Ruud Feltkamp als Kees Bakels, 2003
De Nederlandse dichter Casper Fioole werd geboren op 16 juni 1975 in Utrecht. Zie ook alle tags voor Casper Fioole op dit blog.
Nu je langzaam in vloeistof overgaat
Nu je langzaam in vloeistof overgaat
je rustig uitstrekt, oprekt, afglijdt
van de graat. Ogen eerst, vingers volgen,
de grens aftast en steeds verlegt
tot waar jij reikt en voelbaar bent

Besef ik te laat
als om regen te vergeten
ik in plassen stamp en spring
dat jij juist in dit water
was opgeweld, mij nu doorweekt.
Sporen modder op tapijt.

Drink ik jou, zuig je op
in waterhoofd met drijfverstand
en als je mij dan hebt doortrokken
ik je eindelijk pissen kan
hoor ik toch weer
jouw gezeik.

Het land zompt en plonst
ik loop over water
zoals de zoon betaamt.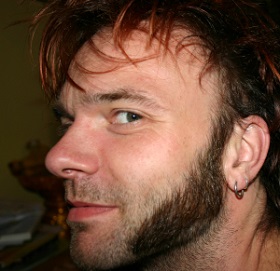 Casper Fioole (Utrecht, 16 juni 1975)
De Nederlandse schrijver Frank Norbert Rieter werd geboren op 16 juni 1973 in Nijmegen. Zie ook alle tags voor Frank Norbert Rieter op dit blog.
Uit: Het lichte hart van de mastodont
"Er werd lang en nadrukkelijk aangebeld en Gordon kon zichzelf niet wijsmaken dat hij daar gewoon doorheen sliep, al vreesde hij dat opnieuw de buurman voor de deur zou staan. Met het openen van zijn ogen realiseerde hij zich echter dat die vrees geen grond meer had. De overspannen keffer van oma, die de buren van hun slaap had afgehouden, had hij immers na een nachtelijke schermutseling over het balkon gegooid. Vier hoog, weg ermee.
Hij zag zijn gehavende hand: de tanden van het ondier hadden minuscule gaatjes achtergelaten waar een eindeloze hoeveelheid bloed uit had gestroomd. Gordon had de wond met wodka uitgewassen en met een schone theedoek verbonden. De doek was in zijn slaap losgeraakt en hoewel de wond inmiddels dicht was, getuigden vele donkere vegen en vlekken op zijn slaapshirt ervan dat het bloeden maar langzaam was gestelpt.
Pas nadat hij zich had verbonden, was er tijd geweest voor schrik en wroeging.
Het restje wodka dat in de fles overschoot was net genoeg om zichzelf in slaap te grienen. Stom onnozel beest. Het had nadat oma naar het tehuis was verhuisd zijn zindelijkheid verloren en schier onophoudelijk gekeft. Het was de tragiek van een zinloos stukje leven, zeker omdat aan Gordon geen groot hondenfluisteraar verloren was gegaan. Op het balkon ermee en dagelijks water en brokken. Hij had zich afgevraagd wie zich hulpelozer voelde bij de situatie: het keffende beest of hijzelf. Maar dat was nu voorbij: exit Fifi."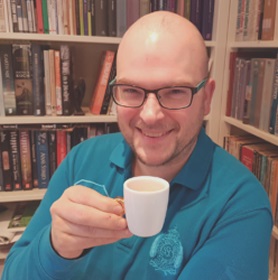 Frank Norbert Rieter (Nijmegen, 16 juni 1973)
De Italiaanse dichter en schrijver Giovanni Boccaccio werd geboren in Florence of Certaldoi in juni of juli 1313. Zie ook alle tags voor Boccacio op dit blog.
Uit:Das Dekameron (Vertaald door Karl Witte)
"Giotto aber war in keinem Stücke besser beritten oder bekleidet als jener, und so setzten sie denn, wie es zwei bejahrten Leuten geziemt, langsamen Schrittes miteinander ihre Reise fort. Da geschah es, wie sich dies im Sommer oftmals zuträgt, daß ein plötzlicher Regen sie überfiel, so daß sie sich, so schnell sie vermochten, in das Haus eines Bauern flüchteten, der mit ihnen beiden bekannt und befreundet war. Inzwischen sah es aber nicht so aus, als ob der Regen nachlassen wollte, und da beide noch am selben Tag nach Florenz wollten, liehen sie sich von dem Bauern zwei alte Mäntel, wie man sie in der Romagna trägt, desgleichen, da keine besseren zu haben waren, auch noch zwei Hüte, die vor Alter ganz abgetragen waren, und mit diesen machten sie sich auf den Weg.
Nachdem sie eine Weile geritten waren, hatte der Regen sie völlig durchnäßt; auch waren durch das Gespritze der Pferdehufe bei dem nassen Wetter ihre Anzüge ganz beschmutzt, und beides trug nicht viel dazu bei, ihren Aufzug anständiger erscheinen zu lassen. Mittlerweile hatte aber das Wetter sich ein wenig aufgehellt, und sie begannen, nachdem sie lange Zeit schweigsam nebeneinander geritten waren, sich zu unterhalten.
Als nun Messer Forese des Weges ritt und dem Giotto zuhörte, der trefflich zu reden wußte, betrachtete er ihn von der Seite her vom Kopf bis zu den Füßen und um und um, und wie er ihn in allen Stücken so unscheinbar und häßlich fand, begann er, ohne zu bedenken, welche Figur er selbst machte, zu lachen und sagte: »Giotto, wenn jetzt ein Fremder, der dich nie gesehen hätte, uns hier entgegenkäme – kannst du dir denken, daß er dich als den ersten Maler der Welt, der du doch bist, erkennen würde?« Sofort antwortete Giotto: »Messer, ich glaube wohl, daß er mich als solchen erkennen würde, sobald er, nachdem er Euch besehen, glaubte, daß Ihr das Abc könntet.«
Messer Forese erkannte aus dieser Antwort sein Unrecht und sah sich mit einer Münze bezahlt, die der von ihm verkauften Ware völlig entsprach."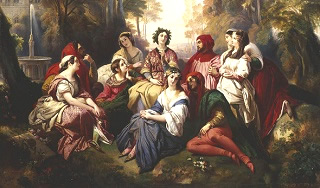 Giovanni Boccaccio ( juni of juli 1313 - 21 december 1375)
Decamerone door Franz Xaver Winterhalter, 1837
En als toegift bij een andere verjaardag:
Toen mij je schreden tot de dood ontroerden
Naar Franz Werfel
Toen mij je wezen tranenwaarts ontvoerde
En ik door jou 't onmeetbare in zweefde,
Beleefden deze dag niet afgeleefden,
Miljoenen moeitevol de mond gesnoerden?
Toen mij je schreden tot de dood ontroerden,
Was arbeid om ons heen, de aarde beefde,
Waar leegte, goddeloos en koud, aan kleefde,
Er leefden en er stierven nooitvervoerden!
Ik was zo vol van jou, dat ik kon zweven,
Er waren velen die in mufheid stampten,
Aan tafels krompen en bij ketels dampten.
O hoestenden op straten, in kanalen!
Bestaat een evenwicht in wereld, leven,
Hoe moet ik deze schuld dan ooit betalen?
Frans Roumen, Uit: Herdichten voor Verzameld Werk,
Uitgeverij Berend Immink, Nijmegen 1986)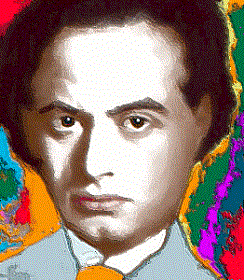 Frans Roumen (Wessem, 16 juni 1957)
Franz Werfel
Zie ook alle tags voor Frans Roumen op dit blog.
Zie voor nog meer schrijvers van de 16e juni ook mijn blog van 16 juni 2015 deel 2 en eveneens deel 3.
16-06-2017 om 00:00 geschreven door Romenu

Tags:Joël Dicker, August Willemsen, Joyce Carol Oates, Derek R. Audette, Theo Thijssen, Casper Fioole, Frank Norbert Rieter, Giovanni Boccaccio, Frans Roumen, Romenu


15-06-2017

Von Christi Fronleichnam (Friedrich von Spee)
Bij Sacramentsdag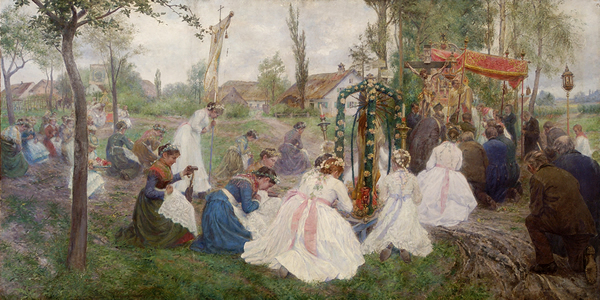 Fronleichnam door Paul Schad-Rossa, 1891
Von Christi Fronleichnam
Mein Zung erkling
Und fröhlich sing
Von Christi Leichnam zart,
Auch von dem Blut,
Das uns zu gut
Am Kreuz vergossen ward,
Das genommen
Und herkommen
Von jungfräulicher Art.
Ein Jungfrau schon
Uns Gottes Sohn
Zu Bethlehem gebar,
Der unbeschwert
Die Welt gelehrt,
Lebt drei und dreißig Jahr.
Bald gefangen,
Zum Tod gangen,
Wie prophezeiet war.
Vor seinem Tod
Und letzten Not
In diesem Jammertal,
Zu Tisch er saß,
Das Lämmlein aß,
In einem großen Saal,
Da er eben
Sich selbst geben,
Zur Speis im Abendmahl.
Das Worte sein
Aus Brot und Wein
Macht Fleisch und Blut behänd,
Er da handlet,
Kräftig wandlet,
Brot ward in Fleisch verwend,
Gleiche Krafte,
Aus Wein schaffte
Das Blut im Sakrament.
O Christ hab acht
Und wohl betracht,
Was Christus hie getan,
Durch Christi Wort,
An allem Ort,
Dasselb der Priester kann,
Wie befohlen,
Zu erholen,
Die Schrift zeigt klärlich an.
Lob, Preis und Ehr,
Je mehr und mehr,
Sei Christo weit und breit.
Ihn preis und preis
Um diese Speis,
O liebe Christenheit.
Diese Gaben,
Die wir haben,
Wohl brauch zur Seligkeit.
Amen.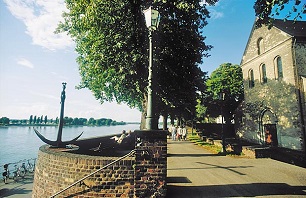 Friedrich von Spee (25 februari 1591 – 7 augustus 1635)
Kaiserswerth, promenade. Friedrich von Spee werd in Kaiserswerth geboren.
Zie voor de schrijvers van de 15 juni ook mijn vorige blog van vandaag.
15-06-2017 om 09:38 geschreven door Romenu

Tags:Friedrich von Spee, Sacramentsdag, Romenu



Maria Dermoût, Christian Bauman, Silke Scheuermann, Hugo Borst, Ramon Lopez Velarde
De Nederlands-Indische schrijfster Maria Dermoût (eigenlijk Helena Anthonia Maria Elisabeth Dermoût-Ingerman) werd geboren in Pekalongan, Java, op 15 juni 1888. Zie ook alle tags voor Maria Dermoût op dit blog.
Uit: Nog pas gisteren
"Dan kwamen zij bij de bergpas, eindelijk!
Daar hielden zij stil, de paarden werden uitgespannen, want nu kwamen er karbouwen voor de postwagen, gespannen aan een houten juk. Zij deden onrustig en wilden naar de paarden stoten en bliezen door hun neusgaten, maar de mannen hielden hen vast en spanden hen in voor de wagen met hun touwen. De karbouwen waren niet groot, maar breed en grauw en sterk, en liepen wat schuin naast elkaar onder het juk om hun grote hoorn. De linker van de een en de rechter van de ander staken over elkaar heen. De koetsier zat nog wel op de bok, maar hij hoefde geen teugels vast te houden, de mannen leidden de karbouwen, duwden telkens het juk recht, schreeuwen - rrt - rrrrrrt, klakten met de tongen, klapten met de zwepen. Het ging langzaam voetje voor voetje. Links was een ravijn. Paarse aardorchideeën groeiden er in het gras, er was een heg van wilde rozen om een hellend veldje heen. Een beek murmelde. Een straffe wind woei koud en schraal.
Boven werden de karbouwen weer uitgespannen, die waren alleen voor de steile bergpas en zij reden weer verder met de paardem. Maar al gauw hielden zij stil en stapten zij uit. Zij moesten een eind een zijweg inlopen, de mannen droegen de koffers, tot zij bij een klein wit huis kwamen in een tuin.
Voor het huis stond onder een oude scheefgegroeide boom een grijs stenen beeld van een zittende olifant, opzij was een laantje van moeibeibomen. Daar woonde de oude meneer op zijn landje.
'Een klungellandje!' zei papa, maar hij hield niet van de oude meneer.
Het huis was van bamboe en hout, en op palen - zoals een groot kamponghuis - , maar alles zat netjes in de verf. Er was ook niet meer dan één woonkamer, met een glazen wand om naar buiten te kunnen kijken, een paar slaapkamers, en de bijgebouwen achter het huis; overal kraakten de vloeren. De oude meneer had maar twee bedienden, alleen een oude kokkin, die ook het huis opruimde, en een jongen om de tuin te vegen. Voor de bloemen zorgde hij zelf; overal stonden bloemen, en om het hele huis heen groeide een brede strook heliotrope, waarvan de geur zwaar en zoet in de kamers hing."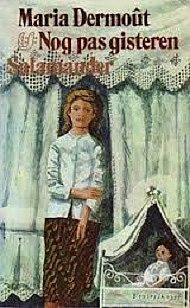 Maria Dermoût (15 juni 1888 – 27 juni 1962)
Cover
De Amerikaanse schrijver Christian Bauman werd geboren op 15 juni 1970 in Easton, Pennsylvania. Zie ook alle tags voor Christian Bauman op dit blog.
Uit: In Hoboken
"James was at Rutgers within a few months, but Thatcher and King Papas made Geoff's apartment a religion. Thatcher ended up in the army, and Papas ended up in Boston, but there was a time they never missed a Tuesday night. In the four years Thatcher was in the army he never came back, even when he was on leave. He visited Geoff if he was home, and wrote often, but never came by on Tuesdays.
"So why don't you come?" Geoff said again. "Bring both those songs."
"Okay, maybe."
"It' not a death sentence. Do what you will." Mason reached for the bottle on the floor, filled his glass and then filled Thatcher's. Thatcher took a long drink of the wine.
"You know what it is?" Thatcher said. "I just — I just don't have a connection with those people anymore."
"What people? Which?"
"The people who come here. The New Yorkers."
"You mean your friends?"
Thatcher rolled his eyes. "Some of them. My friends are in Jersey."
"So why don't you like New York writers? Because they only write about life as a New York writer?"
Thatcher rolled his eyes again.
"Yes, well." Mason tapped the stem of his wineglass with his fingernail. "We're not as elitist as you think, and you're not as worldly and of-the-people as you imagine. Just come on Tuesday and sing your proletarian drivel."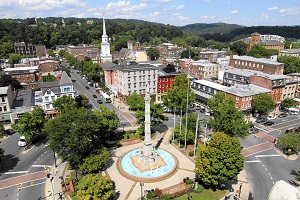 Christian Bauman (Easton, 15 juni 1970)
Easton, Pennsylvania.
De Duitse dichteres en schrijfster Silke Scheuermann werd geboren op 15 juni 1973 in Karlsruhe. Zie ook alle tags voor Silke Scheuermann op dit blog.
Uit:Wovon wir lebten
"Glaubst du, das ist eine tote Nutte?« Ich drehe mich um. Ein Stück über mir an der Böschung steht ein Junge, den ich hier noch nie gesehen habe. Von seinem Geschrei sind die Blesshühner, Enten und Nilgänse aufgeschreckt worden, die sich am Ufer versteckt halten; sie flattern wild durcheinander. Es ist sehr früher Morgen, ich kann die Nacht noch in der Luft riechen; Nebelreste qualmen über dem Flusswasser. »Nein, ganz bestimmt nicht!•, gebe ich ärgerlich zurück. »Es könnte ja sein, Mann. Die liegt da so!• Er zuckt mit den Achseln. Seine blonden Haare glänzen in der Sonne, die direkt hin-ter ihm aufgegangen ist und ihn beleuchtet wie einen Film-helden. Gerade habe ich beschlossen, ihn einfach nicht mehr zu beachten, da fängt er an, zu mir herunterzusteigen. Das Gras ist nass vom Tau und rutschig; vielleicht fällt er hin. Aber nein. Knackend zerbricht Gehölz unter seinen Schrit-ten, und er steht neben mir. Er ist etwa so groß wie ich und sehr kräftig. Obwohl es noch ziemlich kühl ist, trägt er nur ein T-Shirt zu den Jeans. »Hast du sie angefasst? Atmet sie noch?• Um warm zu bleiben, tritt er auf der Stelle. Ich sehe die Gänsehaut auf sei-nen Armen. »Reg dich ab. Natürlich atmet sie noch. Wenn du mal die Klappe hältst, hörst du sogar, wie sie schnarcht. Das ist übri-gens meine Mutter. Und sie schläft nur.• »Echt? Oh, sorry.«
Es macht ihm absolut nichts aus, das sehe ich. Um Mutter genauer zu inspizieren, geht er in die Knie. Ihre Haut ist noch blass vom Winter, ihre Haare sind rot. Alle anderen in der Familie haben braune Haare. Vater sagt, sie will etwas Besonderes sein. Sie hat den Kopf auf die Arme gelegt und umgebogene Zweige als Kissen benutzt, schläft gemütlich weiter. Ein Spuckefaden läuft ihr am Kinn hinunter. •Das ist deine Mutter? Was macht sie hier?« Ich lasse mich nicht zu einer Antwort herab. Er hätte sie nie entdeckt, wenn ich nicht vor ihr gestanden hätte wie eine blöde Hinweistafel. Hier, wo der Fluss sich zu biegen beginnt und die Strömung schneller wird, stehen die Ufer voller Schilf, das alles verdeckt. Deshalb setzt Mutter sich abends mit ihrem Bier oder der Schnapsflasche gerne hier-hin. Ich würde es wahrscheinlich genauso machen, gerade jetzt, an den ersten schönen Tagen. Bisher hatten wir dieses Jahr nur schlechtes Wetter, sogar unser Erdkundelehrer, der unwitzigste Typ überhaupt, hat angefangen, über den Un-terschied von nasser Kälte und kalter Nässe zu scherzen."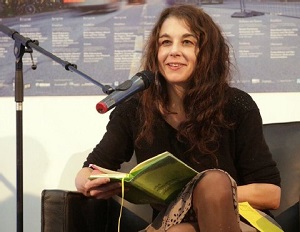 Silke Scheuermann (Karlsruhe, 15 juni 1973)
De Nederlandse schrijver, redacteur en radio- en televisiepresentator Hugo Borst werd geboren in Rotterdam op 15 juni 1962. Zie ook alle tags voor Hugo Borst op dit blog.
Uit: Ma
"Mijn vader had me gevraagd om vrijdagmorgen rond halfelf naar de Robert Kochplaats te komen. Daar stond de bruine boodschappentrolley waarvan ik voortaan gebruik zou gaan maken al klaar.
'In het voorvakje zit een munt van 50 cent voor het winkelwagentje,' legde mijn vader uit. 'Die moet je er altijd in laten zitten.'
In zijn auto op weg naar de Plus zei hij: 'Let goed op straks, want zo leer je de artikelen en merken van je moeder alvast kennen.' Hij vond dat ik de auto de week erop moest laten staan. Ik kon dat stuk makkelijk lopen met mijn jonge benen. Dat had hij jarenlang ook gedaan met zijn rotheup.
Het was zomer, het regende licht. Toen hij uitstapte, werd hij vriendelijk begroet door een man. Toen hij een winkelkarretje pakte, zei een vrouw: 'Dag meneer Borst.' Dat ging de hele tijd zo door. 'Dag meneer Borst.' 'Hoe maakt u het, meneer Borst?'
Andere mensen knikten of glimlachten naar mijn vader, als ze een hoed hadden gedragen, hadden ze de rand even aangetikt.
Mijn vader zei steeds allerhartelijkst gedag terug of hij maakte een joviaal gebaar.
Hoewel hij veel werd herkend vond ik het intiem om samen boodschappen te doen. Nu nog meer dan toen, denk ik.
Ik zie nog voor me hoe pa liep. Goh, dat twee centimeter beenlengteverschil zo'n enorme slag in zijn wiel kon slaan. Hij stond erop het winkelwagentje zelf te duwen. Ik begreep eerst niet waarom. Maar dat ding bood hem houvast. Hij liet het karretje alleen los om artikelen te pakken. Ik zag zweetdruppeltjes op zijn voorhoofd staan.
Pa werkte mij die vrijdag officieel in; het tillen was hem echt te zwaar geworden en bovendien stond hem een pittige chirurgische ingreep te wachten. Direct na de operatie zou boodschappen doen zeker niet lukken, dus mijn vrouw Karina en ik beloofden het voortaan op ons te nemen. Dat luchtte mijn vader op. Zijn dienstbaarheid aan mijn moeder was groot, zo niet onbegrensd."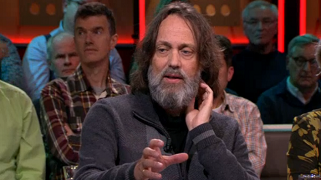 Hugo Borst (Rotterdam, 15 juni 1962)
De Mexicaanse dichter Ramon Lopez Velarde werd geboren op 15 juni 1888 in Jerez. Zie ook alle tags voor Ramon Lopez Velarde op dit blog.
Newton's Disk

Omnichromy of a perfect evening...
The soul, a muted horn,
and he light, sublime,
and fortune, replete,
and Life, a fairy spirit
set free from her prison to love.

Leaden sky.
In the west, a curl
of saffron.
and angel's overturned inkwell.
The breee, a doleful
refrain.
On the golden rapture of the hill,
green vapor, like a dragon's
breath.
And the bewitched valley
strains toward a kiss filtering
through the transoms of the horizon
through the transoms of the horizon.

A time of secrets,
like those known to the thimbles
of despairing seamstresses
who entangle their mortal monologues
in the skein of empty hours.

As secret as you were
in yesterday's hand,
rosy lode,
canary grass,
and d'Orsay perfume.

Evening, like a rehearsal of
happiness amid May's petals;
evening, Newton's disk, a time when
spring was omnichromy
and Life a spirit
set free in passive love...
Vertaald doorMargaret Sayers Peden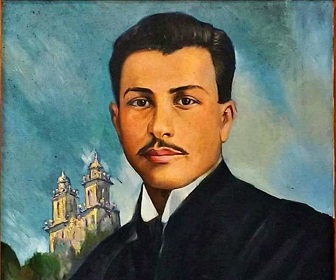 Ramon Lopez Velarde (15 juni 1888 – 19 juni 1921)
Zie voor nog meer schriijvers van de 15e juni ook mijn vorige blog van vandaag.
15-06-2017 om 09:36 geschreven door Romenu

Tags:Maria Dermoût, Christian Bauman, Silke Scheuermann, Hugo Borst, Ramon Lopez Velarde, Romenu



Roland Dorgelès, François-Xavier Garneau, Trygve Gulbranssen, Emma Cline, Hannah van Wieringen
De Franse schrijver en journalist Roland Dorgelès (eig. Roland Lécavelé) werd geboren op 15 juni 1885 in Amiens. Zie ook alle tags voor Roland Dorgelès op dit blog.
Uit:Les Croix de bois
« Le nouveau s'était redressé, vexé, un pli barrant son petit front têtu. Mais, tout de suite décontenancé par l'attitude railleuse de l'ancien, il détourna la tête et rougit. Le rouquin se contenta de ce succès flatteur. Il descendit de son trône et, pour montrer qu'il ne songeait pas à s'acharner sur un copain irresponsable, il haussa ses critiques jusqu'à l'autorité militaire, dont tous les actes, suivant lui, étaient dictés par la sottise et le désir évident de molester le soldat.
— J'dis pas ça pour toi, tu sais pas encore. Mais les autres enfifrés qui vous font passer les gamellesà la pâte au sabre pour qu'elles reluisent mieux, tu crois qu'on devrait pas tous les fusiller… Ils trouvent qu'on ne se fait pas assez viser comme ça ?… Tu me refileras ta musette, tiens, j'te la noircirai au bouchon, et on passera vos bouteillons, vos galetouses et tout l'truc à la fumée de paille, y a pas meilleur.
Lemoine, qui ne quittait jamais Sulphart d'un pas, haussa lentement les épaules.
— Tu vas pas déjà abrutir ces mecs-là avec tes boniments à la graisse, lui reprocha-t-il de sa voix traînante. Laisse-les au moins débarquer.
Le nouveau à la musette blanche s'était assis sur une brouette. Il semblait épuisé. La sueur, en rigoles noires, avait tracé des accolades de ses tempes au bas de ses joues. Il déroula ses molletières, mais n'osa pas retirer ses chaussures, de beaux brodequins de chasse aux semelles débordantes.
— J'ai le talon tout écorché, me dit-il. Je dois avoir le pied en sang. Je suis tellement chargé.
Lemoine soupesa son sac. »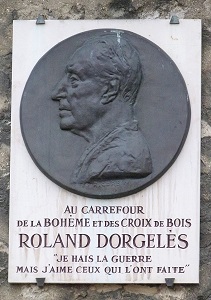 Roland Dorgelès (15 juni 1885 – 18 maart 1973)
Gedenktplaat op Monmartre
De Canadese dichter en schrijver François-Xavier Garneau werd geboren op 15 juni 1808 in Ville de Québec. Zie ook alle tags voor François-Xavier Garneau op dit blog.
Les exilés (Fragment)
II
« Heureux le barde, heureux celui qui sur la rive
Où le destin avait mis son berceau,
Peut au soir de ses jours où tranquille il arrive,
Dire aussi, là je trouve mon tombeau.

« Heureux celui qui voit à son heure dernière
Autour de lui ses vieux amis priant;
Leur présence adoucit la mort sur sa paupière
En lui voilant l'abîme du néant.

« Heureux il va dormir au milieu de ses pères
Près de l'église à l'ombre d'un côteau;
Ses enfants à genoux diront quelques prières
Avec ferveur le soir sur son tombeau.
« Heureux - mais nous, hélas! sans foyer, sans patrie,
Qui donc viendra pour nous fermer les yeux?
Jouets de la tempête, exilés qu'on oublie,
Peut-être on nous renîra pour aïeux.

« Mais j'insulte nos fils. Ah! le nom de leurs pères
Sera sacré pour eux et leurs enfants.
Car ils ont tout donné pour que des jours prospères
Dans l'avenir embellissent leurs ans.

« Ils ont osé naguère et sans chefs et sans armes
Jeter le gant au géant des combats:
Le colosse ébranlé, le coeur saisi d'alarmes
À Saint-Denis un jour lâcha le pas.
« Mais le nombre bientôt écrasa la vaillance;
Avec Chénier tombèrent nos héros.
Heureux, aux bords chéris, témoins de leur naissance,
Ils vont en paix dormir dans leurs tombeaux.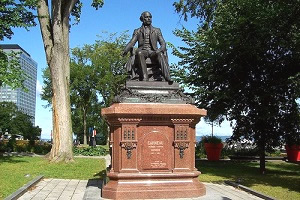 François-Xavier Garneau (15 juni 1809 – 2 februari 1866)
Standbeeld in Québec
De Noorse schrijver Trygve Emanuel Gulbranssen werd geboren in Oslo op 15 juni 1894. Zie ook alle tags voor Trygve Gulbranssen op dit blog.
Uit: En Eeuwig zingen de Bosschen (Vertaald door Annie Posthumus)
"'Dieren, vele - oneindig vele - hoorde hij aankomen van alle kanten, zwaar en licht van voetstap, achter elkander aan, achter elkander aan, uit oosten en zuiden en uit de groote bosschen in westen en noorden. Er was een gedruisch en gekraak van boomen die tegen den grond sloegen, en de aarde schudde en dreunde. Daar zag hij dieren komen, dicht achter elkander aan, zoodat zij de bosschen plat trapten, - zachtjes, als in een stroom voortwaarts glijdend, - maar met verpletterende zekerheid kwamen ze aan. Zware beren, sluipende wolven, gluipende vossen en oude elanden met geweien als heele boomen. Dichter- en dichterbij, honderden, duizenden, zachtjes, - een eindelooze rij, rug na rug. In de lucht werd het zwart van adelaars en haviken en allerlei vogels, die, stil op hun vleugels rustend, aan kwamen glijden - gereed om naar omlaag te schieten en den scherpen snavel in vleesch te hakken.
En beneden in de buurtschap, op de wegen, kwamen menschen aansluipen, vele - rondtrekkend volk en zwervers, menschen van het soort waarop in vroeger jaren klopjacht gehouden werd. Glurend keken zij om de hoeken van de huizen. Het wemelde ervan, overal, en steeds nader en nader kwamen ze. Ze praatten mompelend en dreigend, en achter hen aan, daarginds op de heuvels van Hamarrbo. en de stelle hellingen van den met bosch begroelden bergrug af, kwamen andere menschen aansluipen: - menschen uit de breede woonstreek der vlakte. Zij doken laf weg achter kreupelnout en struweel, maar hij zag ze allen. Een geknak van twijgen en een gekraak van boomen en een geraas en gedreun van duizenden op hem afkomende wilde dieren en lafaards."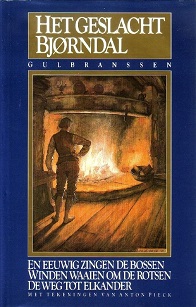 Trygve Gulbranssen (15 juni 1894 – 10 oktober 1962)
Cover
Onafhankelijk van geboortedata
De Amerikaanse schrijfster Emma Cline werd geboren in 1989 in Sonoma in Californië. Zie ook alle tags voor Emma Cline op dit blog.
Uit: The Girls
"But that was all happening somewhere else, not in Petaluma with its low-hipped ranch houses, the covered wagon perpetually parked in front of the Hi-Ho Restaurant. The sun-scorched crosswalks. I was fourteen but looked much younger. People liked to say this to me. Connie swore I could pass for sixteen, but we told each other a lot of lies. We'd been friends all through junior high, Connie waiting for me outside classrooms as patient as a cow, all our energy subsumed into the theatrics of friendship. She was plump but didn't dress like it, in cropped cotton shirts with Mexican embroidery, too-tight skirts that left an angry rim on her upper thighs. I'd always liked her in a way I never had to think about, like the fact of my own hands.
Come September, I'd be sent off to the same boarding school my mother had gone to. They'd built a well-tended campus around an old convent in Monterey, the lawns smooth and sloped. Shreds of fog in the mornings, brief hits of the nearness of salt water. It was an all-girls school, and I'd have to wear a uniform—low-heeled shoes and no makeup, middy blouses threaded with navy ties. It was a holding place, really, enclosed by a stone wall and populated with bland, moon-faced daughters. Camp Fire Girls and Future Teachers shipped off to learn 160 words a minute, shorthand. To make dreamy, overheated promises to be one another's bridesmaids at Royal Hawaiian weddings.
My impending departure forced a newly critical distance on my friendship with Connie. I'd started to notice certain things, almost against my will. How Connie said, "The best way to get over someone is to get under someone else," as if we were shopgirls in London instead of inexperienced adolescents in the farm belt of Sonoma County. We licked batteries to feel a metallic jolt on the tongue, rumored to be one-eighteenth of an orgasm. It pained me to imagine how our twosome appeared to others, marked as the kind of girls who belonged to each other. Those sexless fixtures of high schools."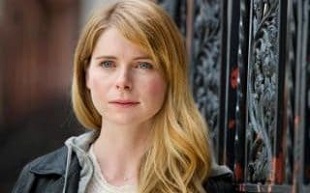 Emma Cline (Sonoma, 1989)
De Nederlandse dichteres en schrijfster Hannah van Wieringen werd geboren in 1982 in Haarlem. Zie ook alle tags voor Hannah van Wieringen op dit blog.
hou moed
een apelazarus neergezegen papzak
plet zich een omgekeerde tent in het woud

dan traag een zwart pluizige arm
door ondoordringbaar bamboeriet

van tak naar mond en mond naar tak
op dood gemak een boeddha op een berg

op dood gemak één boeddha in een bos
zou de panda weten dat hij met tweeëndertighonderd is

en stel dat er een constante hoeveelheid eenzaamheid
te verdelen is over panda's draagt hij nu

traag de last van velen? ligt opgeslagen in zijn
dikke vel het onbehagen van zijn gesneuvelde kameraden

boeddha verraadt ze niet kauwt zonder oponthoud zijn
bamboeblaren
blaast en verruft de lucht naar eigen inzicht

wandelt achteruit een boomstronk op
sproeit geurtekens aan de overlevenden:

hou moed
verander in ademend woud
kauw jezelf halsstarrig richting verlichting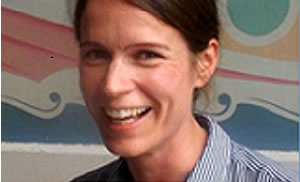 Hannah van Wieringen (Haarlem, 1982)
15-06-2017 om 09:35 geschreven door Romenu

Tags:Roland Dorgelès, François-Xavier Garneau, Trygve Gulbranssen, Emma Cline, Hannah van Wieringen, Romenu


14-06-2017

Alex Boogers, Lieve Joris, Allard Schröder, John van Ierland, Peter O. Chotjewitz, Harriet Beecher Stowe, Hermann Kant, Jerzy Kosiński, Thomas Graftdijk
De Nederlandse schrijver Alex Boogers werd geboren op 14 juni 1970 in Vlaardingen. Zie ook alle tags voor Alex Boogers op dit blog.
Uit: Alleen met de goden
"Het gevaarte stuwde allerlei rommel voort, beelden die in mijn hoofd kropen en die bezit van me wilden nemen. Het hield me uit mijn slaap en als ik eenmaal sliep zorgde het voor nachtmerries. Wanneer ik wakker schrok kreeg ik de beelden niet meer uit mijn hoofd. Het leek een ziekte. Ik lag bezweet in bed, met hartkloppingen, en met drukte en lawaai in mijn hoofd. Ik wist niet wat ik ermee aanmoest tot ik begon op te schrijven wat ik zag. Dat hielp. De beelden waren niet langer angstaanjagend. Ze vertelden verhalen die ik niet begreep. De volgende dag verborg ik mijn schrift onder mijn matras, uit schaamte. Ik leerde van papa Leeuw dat je voor niks bang moest zijn, maar ik durfde de schriften ook hem niet te laten zien. Mijn vader had geweldige vuisten waarmee hij soms wild om zich heen zwaaide en dan kon je beter niks tegen hem zeggen. Ik werd steeds rustelozer en begon meer schriften onder mijn matras te verzamelen. Mijn favoriete woorden waren 'fuck you', want dat hoorde ik vaak in de Amerikaanse films waar mijn moeder naar keek als ze in haar fauteuil zat te roken. Ze zei zelf nooit 'fuck you', want mijn moeder was een Hollandse vrouw. Ze zei vaak 'krijg de tyfus', en mijn vader zei dat mijn moeder de beste vertaalster was die hij kende.
'Wat achtervolgt ons, papa Leeuw?'
Ik zat voor de zoveelste keer rechtop in bed en keek naar het speelgoed in mijn kamer, naar het plastic beeld van Reintje de Vos, naar de stiften en tekenspullen op mijn tafeltje, naar de opgezette Vlaamse gaai aan mijn muur, en naar de poppetjes van Star Wars. Ik hield van C-3PO en Chewbacca. Mijn vader leek op Chewbacca. Hij was ook groot en harig. Niet zo harig als Chewbacca, maar wel net zo sterk, en hij had een harde, dikke buik.
'Wat achtervolgt ons?' vroeg hij verbaasd. Hij ging op de rand van mijn bed zitten. Ik knikte en voelde hoe ik zweette onder mijn armen. Ik had in mijn slaap als een bezetene gerend, op de vlucht voor een groot, onheilspellend gevaarte, dat als een woest beest achter me aan galoppeerde. Ik piepte als een bibberend vogeltje dat uit zijn nest gevallen was. Daarna werd ik wakker en schreeuwde om mijn moeder, maar die kwam nooit."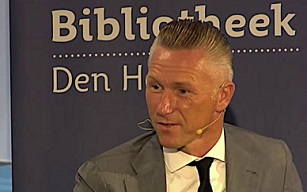 Alex Boogers (Vlaardingen, 14 juni 1970)
De Vlaamse schrijfster Lieve Joris werd geboren op 14 juni 1953 in Neerpelt. Zie ook alle tags voor Lieve Joris op dit blog.
Uit: The Rebels' Hour (Vertaald door Liz Waters)
"Driving back, he got lost. He didn't know Kinshasa very well. He needed a map, but how could he get one? Surely it would look suspicious if a man with his history asked for one now.
He was incorporated into the reunited national army, along with other high-ranking officers. Everybody was there, and he saw Joseph Kabila again. When Joseph's father was alive, they'd been young soldiers together, and even after the war broke out they'd occasionally phoned one another, but they hadn't spoken since Mzee Kabila died and Joseph stepped into his shoes. Assani had his number, but you needed to keep statesmen at arm's length; you never knew who else they might still be talking to. The thirty-two-year-old president had bags under his eyes —presumably the presence of all those rebels in town made it hard to sleep at night. His father's friends must have told him they'd come here to kill him and that Mzee Kabila would turn over in his grave if he knew his son had made peace with his sworn enemies. Representatives of the international community who'd dragged the young presi-dent through the peace negotiations, from one compromise to the next, looked down from the podium with satisfac-tion. They'd saddled him with no fewer than four vice presidents. Assani was taller than the rest, and he slumped down in his seat so the cameras wouldn't pick him out. From under his new general's cap, too big for his narrow head, he could look around surreptitiously. The transitional government was an amalgam of stones, roots, and cabbage —how could you ever make decent soup out of that? Long after the vege-tables were cooked, the stone would still be a stone. There was Yerodia. As soon as he was appointed vice president he'd rushed off to Mzee's mausoleum with a tele-vision crew, to invoke his help and to have a good cry for the cameras. He had the dazed look of an inveterate cigar smoker and he'd dressed for the occasion by tucking a silk handkerchief into the breast pocket of his sleeveless jacket."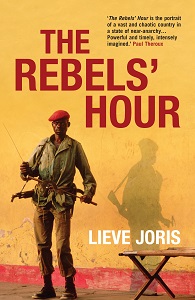 Lieve Joris (Neerpelt, 14 juni 1953)
Cover
De Nederlandse dichter en schrijver Allard Schröder werd geboren in Haren op 14 juni 1946. Zie ook alle tags voor Allard Schröder op dit blog.
Uit: Sebastiaans neus
"Het moment waarop Sebastiaan Arthur Welsend ter wereld kwam, ging bijna onopgemerkt voorbij – als nawee van het bevrijdingsfeest waren in het voorjaar van 1946 geboorten niets bijzonders. De herwonnen vruchtbaarheid van de natie zal in B***, het dorp waar hij het levenslicht zag, voor een serene aanblik hebben gezorgd. Onder het lome groen van de boomomzoomde laantjes kuierden zwangere vrouwen in hun zelfgemaakte New Look. Ze groetten elkaar met een medeplichtige glimlach en groepten soms samen om stil te staan bij wat er zich onder hun hart bewoog. Wie een kinderwagen duwde, werd door belangstellenden staande gehouden, die zich spinnend over het jonge wonder in het wagentje bogen. Intussen dwarrelden bruiden als sneeuwvlokken van de trappen van het gemeentehuis, met blije kinderogen nage - lachen door jonge vaders met hoog opgeschoren hoofden, die zich daar al vroeg in lange rijen bij het loket van de burgerlijke stand hadden opgesteld om hun kind bij de overheid aan te geven. Gehaast doorkruisten vroedvrouwen in gesteven schort het dorp, de lucht was zwaar van melk, de wereld had een strik in het haar.
De eerste dag in het leven van Sebastiaan Welsend was dus in alle opzichten een alledaagse, van de bijzondere voortekenen die voor goedgelovigen gewoonlijk de komst van een groot man aankondigen, was geen sprake. Waarom ook, als zoon van zijn vader was hij een geboren conformist, en conformisten zijn zelden groot, hun leven ligt al voor hen klaar als ze ter wereld komen, ze hoeven er nauwelijks meer iets aan te doen. Wel bleven die ochtend de weilanden rond zijn geboortehuis nog ongewoon lang fris bedauwd, de voorjaarszon was nog niet sterk genoeg en de nacht was koel geweest, maar de jasmijn bloeide en de kleine perelaar achter in de tuin liet nu pas zijn laatste bloesem vallen.
De weduwe Zoeteling-Klever schommelde de straat in. Toen ze langs het huis van de Welsends kwam, bleef ze staan, haar korset kreunde, haar schoenen kraakten, haar adem reutelde toen ze haar hoofd uit haar onderkinnen tilde en naar de eerste verdieping tuurde, waar de – toen nog – aanstaande moeder in het kraambed lag."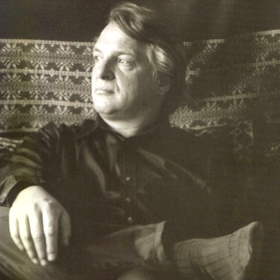 Allard Schröder (Haren,14 juni 1946)
De Nederlandse schrijver en uitgever John van Ierland werd op 14 juni 1964 geboren in Breda. Zie ook alle tags voor John van Ierland op dit blog.
Uit: De Speer van Rijsbergen
"De top van de Pra Loup, de Alpenreus, is nog vier kilometer verwijderd. De zon laat zich eindelijk zien en kleeft slecht gestreken schaduwen aan de wielen van de renners van de kopgroep. Joop Zoetemelk rijdt in het geel dat hij heeft overgenomen van Bernard Hinault, die zijn toevlucht heeft gezocht in een revalidatiekliniek in het noorden van Frankrijk. Johan sleurt Joop over de bergen, hij is de gids, de sleepwagen van Neerlands hoop voor een nieuwe Tourwinst. Johan geeft het tempo aan. Hij houdt zijn kopman scherp in de gaten, de zege is binnen handbereik.
"Waar is hij, zit hij er nog bij?"
Hij wijkt wat uit naar de buitenkant van de weg en ziet dat Joop in zijn wiel zit, er zelfs wat naast zit. Hij oogt fris en hij ziet zijn kopman een gebaar maken voor een kleine tempoversnelling; de kopgroep mag verder uitgedund worden.
Johan besluit meteen tot actie over te gaan en strekt zijn vingers. Hij herpakt zijn stuur om weer de spreekwoordelijke akkoorden aan te slaan. Maar dan gaat het verkeerd, hij grijpt mis en maakt een pedaalslag in het luchtledige. De ketting knarst langs het tandwiel en hij balanceert als een artiest in een variété-piste. Hij maakt een slinger naar rechts en blijft ternauwernood op de fiets. Joop niet, hij rijdt aan de rechterkant van Johan en raakt met zijn voorwiel het achterwiel van zijn luitenant. Log, onhandig, smakt hij tegen het asfalt. Het noodlot lijkt zich aangediend te hebben. Johan schrikt en staat meteen stil om zijn kopman te helpen die nog vastgegespt aan zijn fiets met zijn achterwerk op de puntige steenslag zit. Uit een diepe vleeswond onder zijn linker elleboog sijpelt het bloed, maar daar wil de Raleighkopman niets van weten. Johan hoort hem roepen.
"Mijn fiets, ik moet weer op die fiets."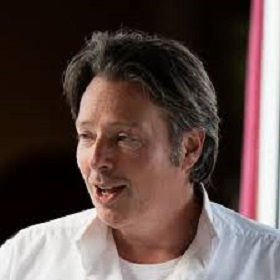 John van Ierland (Breda, 14 juni 1964)
De Duitse schrijver, vertaler en jurist Peter O. Chotjewitz werd geboren op 14 juni 1934 in Berlijn. Zie ook alle tags voor Peter O. Chotjewitz op dit blog.
Uit: Der dreißigjährige Friede
"Jürgen Schütrumpf wird am 17. September 1949 in N., einem Vorort von K., geboren. Als die Eltern sich kennenlernen, 1947 im Frühjahr, ist Adolf Schutrumpf gerade aus Kriegsgefangenschaft entlassen und bereitet sich in Abendkursen auf die Meisterprüfung vor.
Sein Geld verdient er mit Schwarzarbeit in seinem erlernten Beruf als Klempner und Installateur. Er nimmt Silber, Schmuck, Teppiche und andere Wensachen in Zahlung und setzt sie auf dem Schwarzmarkt in Nahrungsmittel aus westdeutscher Produktion und Besatzungsbeständen um.
Er ist damals viel auf dem Altrnarkt von K., dem Budenzentrum der Schmuggler und Schieber. K. ist eine Ruinenstadt. Der Stadtkern ist nahezu zerstört, ebenso die Industrieanlagen und die öffentlichen Gebäude; die Stadtrandgebiete und Vororte sind weniger und unterschiedlich betroffen. Die Brücken über den Fluß sind ebenfalls zerstört. Den Verkehr besorgt eine Fähre, die unterhalb vom Altmarkt anlegt. Das Geschäftsleben der Innenstadt spielt sich in Buden und Baracken ab. Als 1949 die Bundeshauptstadt gewählt werden soll, witzeln die Bürger von K.: Unser Ort soll Budenhauptstadt werden.
Auf dem Altmarkt lernen sich auch Edith und Adolf kennen. Edith hat viel Zeit. Ihre Mutter und ein Bruder sind bei einem der großen Luftangriffe auf K. ums Leben gekommen, sie macht den Haushalt und pflegt ihren Vater, der todkrank aus Gefangenschaft zurückgekommen ist. Sie ist jung und lebenslustig, verkehrt ein bißchen in Schieberkreisen, wo es alles gibt, und kennt ein paar Leute vom Theater. Beliebter Treffpunkt ist eine Bude, in der sich das Cafe "Zum Knusperhauschen" befindet. Als Edith sechzehn ist, 1939, träumt sie davon, zum Ballett zu gehen. Eines Tages fährt sie mit der Straßenbahn in die Stadt, findet auf Anhieb den Künstlereingang des Theaters und vertraut sich gleich am Eingang einem älteren, gutaussehenden und graumelierten Bühnenarbeiter an. den sie für den Intendanten hält. Er verspricht, sie beim Ballett unterzubringen, entjungfert sie in der Requisite und rät ihr ab; davon bekomme man dicke Schenkel und Knallwaden. Außerdem habe sie eine zu üppige Brust."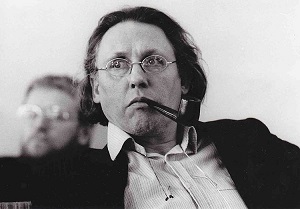 Peter O. Chotjewitz (14 juni 1934 – 15 december 2010)
In 1986
De Amerikaanse schrijfster en abolitioniste Harriet Beecher Stowe werd geboren in Litchfield, Connecticut, op 14 juni 1811. Zie ook mijn blog van 14 juni 2010 en eveneens alle tags voor Harriet Beecher Stowe op dit blog.
Uit: Uncle Tom's Cabin
"Both gentlemen laughed uproariously.
"Now, Jim," said his master, "show us how old Elder Robbins leads the psalm." The boy drew his chubby face down to a formidable length, and commenced toning a psalm tune through his nose, with imperturbable gravity.
"Hurrah! bravo! what a young 'un!" said Haley; "that chap's a case, I'll promise. Tell you what," said he, suddenly clapping his hand on Mr. Shelby's shoulder, "fling in that chap, and I'll settle the business--I will. Come, now, if that ain't doing the thing up about the rightest!"
At this moment, the door was pushed gently open, and a young quadroon woman, apparently about twenty-five, entered the room.
There needed only a glance from the child to her, to identify her as its mother. There was the same rich, full, dark eye, with its long lashes; the same ripples of silky black hair. The brown of her complexion gave way on the cheek to a perceptible flush, which deepened as she saw the gaze of the strange man fixed upon her in bold and undisguised admiration. Her dress was of the neatest possible fit, and set off to advantage her finely moulded shape;--a delicately formed hand and a trim foot and ankle were items of appearance that did not escape the quick eye of the trader, well used to run up at a glance the points of a fine female article.
"Well, Eliza?" said her master, as she stopped and looked hesitatingly at him.
"I was looking for Harry, please, sir;" and the boy bounded toward her, showing his spoils, which he had gathered in the skirt of his robe.
"Well, take him away then," said Mr. Shelby; and hastily she withdrew, carrying the child on her arm.
"By Jupiter," said the trader, turning to him in admiration, "there's an article, now! You might make your fortune on that ar gal in Orleans, any day. I've seen over a thousand, in my day, paid down for gals not a bit handsomer."
"I don't want to make my fortune on her," said Mr. Shelby, dryly; and, seeking to turn the conversation, he uncorked a bottle of fresh wine, and asked his companion's opinion of it.
"Capital, sir,--first chop!" said the trader; then turning, and slapping his hand familiarly on Shelby's shoulder, he added—"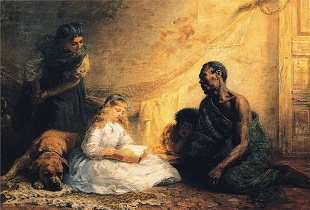 Harriet Beecher Stowe (14 juni 1811 – 1 juli 1896)
"Little Eva and Uncle Tom" door Edwin Longsden Long, 1866
De Duitse schrijver Hermann Kant werd op 14 juni 1926 in Hamburg geboren. Zie ook alle tags voor Hermann Kant op dit blog.
Uit: Lebenslauf, zweiter Absatz
"Aber wie es im Märchen zu gehen pflegt: Am Fuße des Glasbergs oder vor der Höhle des Drachen lagen die gescheiterten Prinzen und Wanderburschen zuhauf, König Theodor behielt seinen Schnaps und seinen Kurzschluß dazu. Zwar büßten Meister und Gesellen nicht gerade Leib und Leben ein, auf jeden Fall aber ein gutes Stück Reputation, denn Herr Buttewegg versäumte keineswegs, jedermann seines Standes mitzuteilen, daß nach dem Meister Hederich und dem Meister Blinker nun auch der Meister Schikowski mit all seinen Technici angerückt sei und genau wie die anderen totaliter versagt habe. »Kaum waren sie aus dem Haus«, sagte er, »passierte es wieder!« Schließlich hatte er in seiner Verzweiflung meinen Meister, den Paria der Elektroinnung, angerufen, und da war ich nun, die wandlungsfähige 1, auf meinem Wege, mit einem Auftrag in der Tasche, wie ich ihn mir unangenehmer kaum denken konnte. Meine Chance war so groß wie die des jüngsten, ärmsten und dümmsten Müllerburschen, was im Märchen freilich eine ganze Menge ist, im Märchen ja ... Während ich durch die noch dunkle Mühlenstraße fuhr, deren holpriges Pflaster sich über Nacht mit einer dicken Schneeschicht bedeckt hatte und an deren Ende das alte Haus des Herrn Buttewegg gelegen war, dachte ich an die üblen Geschichten, mit denen mich die Lehrlinge der anderen Meister traktierten, wenn wir einmal in der Woche in die hauptstädtische Berufsschule reisten. »Mensch«, sagten sie, »hast du ein Glück, daß der Buttewegg nie auf die Idee kommen wird, deinen Meister zu rufen, da könntest du was erleben. Kaum bist du da, strahlt alles im hellsten Lichterglanze, kaum bist du weg, ist es zappenduster."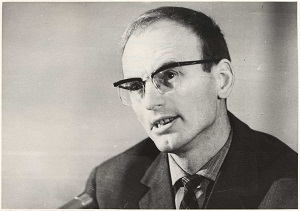 Hermann Kant (14 juni 1926 – 14 augustus 2016)
In 1966
De Amerikaans-Poolse schrijver Jerzy Kosiński werd geboren in Łódź op 14 juni 1933. Zie ook alle tags voor Jerzy Kosiński op dit blog.
Uit: The painted bird
"She lived in the forests, lured men into the bushes and pleased them so much with her voluptuousness that afterwards they could not even look at their fat and stinking wives. No one man could satisfy her; she had to have several men, one after another. And yet she was Lekh's great love. He made up tender songs for her in which she figured as a strange-colored bird flying to faraway worlds, free and quick, brighter and more beautiful than other creatures. To Lekh she seemed to belong to that pagan, primitive kingdom of birds and forests where everything was infinitely abundant, wild, blooming, and royal in its perpetual decay, death, and rebirth; illicit and clashing with the human world. Every day at noon Lekh and I would walk toward the clearing where he hoped to meet Ludmila. When we arrived Lekh hooted in imitation of an owl. Stupid Ludmila would rise above the tall grass, bluebottles and poppy flowers intertwined in her hair. Lekh rushed eagerly toward her and they stood together, swaying slightly like the grasses around them, almost growing into each other like two tree trunks rising up from a single root. I watched them from the edge of the clearing, behind the leaves of ferns. The birds in my bag were disturbed by the sudden stillness and chirped and floundered and excitedly beat their wings against each other. The man and woman kissed each other's hair and eyes, and rubbed cheek against cheek. They were intoxicated by the touch and smell of their bodies and slowly their hands became more playful. Lekh moved his big, calloused paws over the smooth arms of the woman while she drew his face closer to hers. Together they slid down into the tall grass which now shook above their bodies, partly concealing them from the curious gaze of the birds gyrating over the clearing. Lekh would say afterwards that while they lay in the grass Ludmila told him stories of her life and her sufferings, disclosing the quirks and kinks of her strange untamed feelings, all the byways and secret passages that her frail mind wandered through. It was hot. There was not a breath of wind and the treetops stood rigid. The grasshoppers and dragonflies buzzed; a butterfly suspended on an invisible breeze hovered over the sun-whitened clearing. The woodpecker ceased pecking, the cuckoo grew silent. I dozed off. Then I was awakened by voices."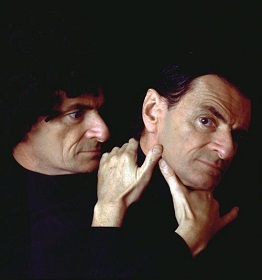 Jerzy Kosiński (14 juni 1933 – 3 mei 1991)
Kosinski Maski, fotoportret door Czesław Czapliński
De Nederlandse dichter, schrijver en vertaler Thomas Graftdijk werd geboren in Amsterdam op 14 juni 1949. Zie ook alle tags voor Thomas Graftdijk op dit blog.
Toen de wereld nog een afgezaagde grap was,
toen we bunkers binnenslopen
en appelsap dronken in de hete duinen,

toen Charlie Parker ons zweverig
in de war bracht, toen de avonden
langer waren, de meisjes mooier in onze gedachten

(dat weet je toch nog wel), toen
het te laat was geworden
om nog terug te gaan -

toen wisten we
dat dit alles maar tijdelijk was
en niet voorgoed.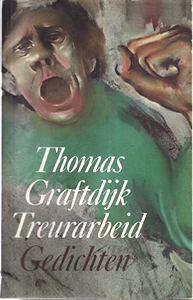 Thomas Graftdijk (14 juni 1949 – 10 februari 1992)
Zie voor nog meer schrijvers van de 14e juni ook mijn blog van 14 juni 2015 deel 1 en eveneens deel 2.
14-06-2017 om 18:07 geschreven door Romenu

Tags:Alex Boogers, Lieve Joris, Allard Schröder, John van Ierland, Peter O. Chotjewitz, Harriet Beecher Stowe, Hermann Kant, Jerzy Kosiń,ski, Thomas Graftdijk, Romenu


13-06-2017

Fernando Pessoa , Willem Brakman, William Butler Yeats, Thomas Heerma van Voss, Tristane Banon, Marcel Theroux, Lode Zielens, Dorothy L. Sayers, Franz Alfred Muth
De Portugese dichter en schrijver Fernando António Nogueira Pessoa werd geboren in Lissabon op 13 juni 1888. Zie ook alle tags voor Fernando Pessoa op dit blog.
Sonnet II
If that apparent part of life's delight
Our tingled flesh-sense circumscribes were seen
By aught save reflex and co-carnal sight,
Joy, flesh and life might prove but a gross screen.
Haply Truth's body is no eyable being,
Appearance even as appearance lies,
Haply our close, dark, vague, warm sense of seeing
Is the choked vision of blindfolded eyes.
Wherefrom what comes to thought's sense of life? Nought.
All is either the irrational world we see
Or some aught-else whose being-unknown doth rot
Its use for our thought's use. Whence taketh me
A qualm-like ache of life, a body-deep
Soul-hate of what we seek and what we weep.
Sonnet III
When I do think my meanest line shall be
More in Time's use than my creating whole,
That future eyes more clearly shall feel me
In this inked page than in my direct soul;
When I conjecture put to make me seeing
Good readers of me in some aftertime,
Thankful to some idea of my being
That doth not even my with gone true soul rime;
An anger at the essence of the world,
That makes this thus, or thinkable this wise,
Takes my soul by the throat and makes it hurled
In nightly horrors of despaired surmise,
And I become the mere sense of a rage
That lacks the very words whose waste might 'suage.
Sonnet IV
I could not think of thee as piecèd rot,
Yet such thou wert, for thou hadst been long dead;
Yet thou liv'dst entire in my seeing thought
And what thou wert in me had never fled.
Nay, I had fixed the moments of thy beauty-
Thy ebbing smile, thy kiss's readiness,
And memory had taught my heart the duty
To know thee ever at that deathlessness.
But when I came where thou wert laid, and saw
The natural flowers ignoring thee sans blame,
And the encroaching grass, with casual flaw,
Framing the stone to age where was thy name,
I knew not how to feel, nor what to be
Towards thy fate's material secrecy.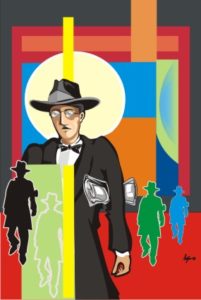 Fernando Pessoa (13 juni 1888 – 30 november 1935)
Fernando Pessoa door João Beja
De Nederlandse schrijver Willem Brakman werd geboren op 13 juni 1922 in Den Haag. Zie ook alle tags voor Willem Brakman op dit blog.
Uit: De Gegoeden
'Hij groette je,' zei de vrouw tegen de man die op het bospad naast haar liep. Het was een zware, brede man, die, omdat de zon al zo laag stond, veel schaduw wierp, een lange, schommelende schim, waarbij die van de vrouw nauwelijks opviel.
'Welke man, Maria Medik?' De vrouw wees geheel overbodig met de duim over haar schouder waarna de zware en brede bleef staan en zich omdraaide. Op een pad dat het hunne ging kruisen liep in het bovenaardse licht der late zonnestralen een magere, spierwitte figuur in een wat oranjige zwembroek, waarvan de pijpen ouderwets lang waren en bijna tot aan de knieën reikten. Wat onder de pijpen uitstak was stakig en wit, even stakig en wit als de armen, die, elk sterk zijwaarts getrokken, een kind meevoerden. Wat zijn rug betrof, daaraan vielen behalve de duidelijke ruggegraat ook de sterk uitstaande schouderbladen op. Aan het hoofd, dat wat slap en goeiig vooroverbungelde, ontsteeg zo nu en dan een rookwolkje.
Ook de vrouw was nu blijven staan, ze draaide zich echter niet om maar keek over haar schouder. 'Ken je hem, Popke?' vroeg ze, 'hij groette je.'
Eigenlijk gaf hij daar 's avonds pas antwoord op in hun zomerhuisje: hij zat aan de tafel onder de suizende gaslamp en steunde het grote hoofd met de handen omdat hij hoofdpijn had. Die hoofdpijn belette hem te lezen, deed hem wat wegsuffen over het houten tafelblad, de kringen, kerven en kwasten, en na zo een poosje te hebben weggedroomd zei hij: 'Maria Medik, ik weet bijna zeker dat dat Gerrit Slagter was vanmiddag, hij zal hier ook een huisje hebben.'
'Waar ken je die dan van?' vroeg de vrouw, die met een mandje op de schoot zat te breien. 'Nog van de zeevaartschool,' zei de man met lijzige stem, en hij wreef en kneedde zich het voorhoofd. 'Wat gezellig,' zei de vrouw, ze hield het hoofd wat schuin en zat zachtjes schuddend met de pennen te tikken. 'Praat hij zo?'
De man zweeg, hij stond op, drentelde wat heen en weer en zei toen: 'Ik ga eens buiten kijken of het soms volle maan is, want ik heb een gevoel of mijn hoofd op barsten staat.'
Vreemd groot en doodstil en bijna rond stond de maan boven het korenveld, zo groot had de man haar nog nooit gezien: ze was wat rooiig en terwijl hij keek suisde het hoog en ver in zijn oren."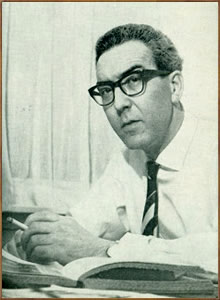 Willem Brakman (13 juni 1922 – 8 mei 2008)
In 1964
De Ierse dichter, toneelschrijver en mysticus William Butler Yeats werd geboren in Sandymount bij Dublin op 13 juni 1865. Zie ook alle tags voor William Butler Yeats op dit blog.
Two Songs Rewritten For The Tune's Sake
I
My Paistin Finn is my sole desire,
And I am shrunken to skin and bone,
For all my heart has had for its hire
Is what I can whistle alone and alone.
Oro, oro.!
Tomorrow night I will break down the door.
What is the good of a man and he
Alone and alone, with a speckled shin?
I would that I drank with my love on my knee
Between two barrels at the inn.
Oro, oro.!
To-morrow night I will break down the door.
Alone and alone nine nights I lay
Between two bushes under the rain;
I thought to have whistled her down that
I whistled and whistled and whistled in vain.
Oro, oro!
To-morrow night I will break down the door.
II
I would that I were an old beggar
Rolling a blind pearl eye,
For he cannot see my lady
Go gallivanting by;
A dreary, dreepy beggar
Without a friend on the earth
But a thieving rascally cur --
O a beggar blind from his birth;
Or anything else but a rhymer
Without a thing in his head
But rhymes for a beautiful lady,
He rhyming alone in his bed.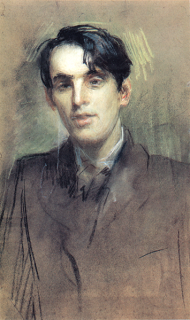 William Butler Yeats (13 juni 1865 – 28 januari 1939)
Portret door Sarah Purser, 1898
De Nederlandse schrijver Thomas Heerma van Voss werd geboren in Amsterdam op 13 juni 1990. Zie ook alle tags voor Thomas Heerma van Voss op dit blog.
Uit: De Allestafel
'Je hoeft niet zo hard te praten.' Hij bewaart de kalmte, zoals gebruikelijk. 'Ik vind het niet minder, ik vond het leuk en ik vind het leuk. Alleen anders, niet zoals vroeger, daar moet ik even aan wennen.'
'Wat doet dat ertoe? Wat heeft wennen met schoonheid te maken?'
'Daar heb ik het helemaal niet over. Het enige wat ik zeg is dat ik je haar mooi vind, alleen zit het anders en daar moet ik aan wennen, dat is alles.' Alsof hij dingen niet leuk vindt of waardeert als hij niet meteen staat te jubelen.
'Ik denk het niet zomaar, jij straalt het uit. Als iemand je complimenteert, geef je geen krimp. Als je ergens mee geholpen wordt, bedank je meestal niet eens. Het lijkt alsof je het niet meer ziet, alsof het je niks meer kan schelen.' Bij het woord 'niks' houdt ze even in, alsof ze er zelf van schrikt, alsof ze zich ineens realiseert dat het daar allemaal op neerkomt, dat dat is wat hij is, wat hij uiteindelijk voorstelt: helemaal niks.
Hij ziet hoe ze hem streng aankijkt terwijl ze verder praat, met haar handen gebarend en hevig articulerend.
Er belandt speeksel op zijn hand en op de tafel. Hij schudt zijn hoofd. Ze spuugt op hem en op haar vader.
Hij merkt dat hij verbaasd is. Een gebrek aan oog voor het mooie, dat is wel het laatste wat hem verweten kan worden. Vaak genoeg hemelt hij een album op waar verder nauwelijks iemand waarde aan hecht. Hij luistert onbevooroordeeld en heeft een pure en frisse blik op de dingen. Het is ook al meer dan eens voorgekomen dat hij een album de grond in boort dat fantastisch wordt gevonden. Mark Oldings ziet het mooie wel, maar kijkt niet met dezelfde bril als de rest van de wereld."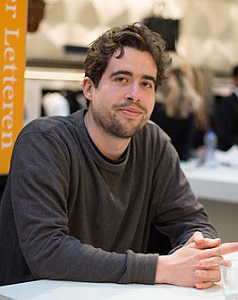 Thomas Heerma van Voss (Amsterdam, 13 juni 1990)
De Franse journaliste en schrijfster Tristane Banon werd geboren op 13 juni 1979 in Neuilly-sur-Seine. Zie ook alle tags voor Tristane Banon op dit blog.
Uit: "Erreurs avouées…".
« Dominique Strauss-Kahn est un toxicomane du lieu commun. Je voudrais en savoir plus sur l'homme et tente une intrusion sur un terrain plus personnel.
- Et vous, l'erreur, vous connaissez? La première, vous vous souvenez?
- Ma première erreur dans la vie? Ce sont mille erreurs à la suite!
Jolie répartie. Pirouette d'acrobate. Ça comble le vide, mais pas le creux du contenu. Mais où est le contenu? Les réponses de Strauss-Kahn ne sont plus qu'un contenant. Il tente de jouer de son charme, voudrait que nous jouions à un autre jeu. C'est un enfant: il récite sa leçon, mais pense a la récré.
- Sérieusement.
- Sérieusement , je pense que ma première véritable erreur est de ne pas avoir choisi de faire des études scientifiques, et la dernière d'avoir accepté de répondre à vos questions! Je ne rabâche pas mes erreurs, mais il y a des erreurs qui nous poursuivent longtemps. Les ennuis que j'ai eus sur le plan judiciaire par exemple, étaient dû à une erreur de ma part: des manipulations informatiques erronées. Dans l'affaire de la Mnef, il y a eu des erreurs de date sur des factures parce que je n'avais pas fait assez attention aux détails, etc. Si j'avais regardé précisément ces factures, je n'aurais pas commis ces erreurs. Je n'ai pas vraiment fait attention, je les ai laissées partir avec une date erronée et ça a créé tout un tas de problèmes. Dans l'affaire de la cassette Méry, ma grosse erreur est de n'y avoir même pas prêté attention et, du coup, de l'avoir laissée disparaître sans même savoir de quoi il s'agissait. Je ne l'ai jamais visionnée. Pour autant, je n'ai pas pu m'en débarrasser facilement et passer à autre chose parce que ça a mis du temps à se solder. Le problème, c'est que l'erreur nous poursuit tant que toutes ses conséquences n'ont pas été épuisées. Une fois que les conséquences sont épuisées, le mieux, psychologiquement, est d'évacuer très vite."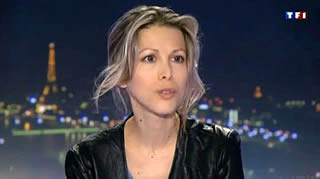 Tristane Banon (Neuilly-sur-Seine,13juni 1979)
De Britse schrijver en presentator Marcel Theroux werd geboren op 13 juni 1968 in Kampala, Oeganda. Zie ook alle tags voor Marcel Theroux op dit blog.
Uit:Strange Bodies
"Well, what to make of that? The thing gave me a creepy feeling. He didn't look the same—which of us did?— but there was no doubt in my mind that the man I'd seen was him. When you've known someone the way we knew each other, you just know. And yet the evidence of the obituary was right in front of me.
Reading it over, I was struck by what a lot he'd achieved, and also reminded why the two of us were ultimately badly matched. I was an anomaly at Downing, a state-school girl who thought Goethe was pronounced "Go-eath," and who got mixed up between China and Japan. On the few occasions I met his mother I could tell he was tense in case I said something stupid. It's odd, I suppose, for me to have a Cambridge degree and yet feel intellectually insecure, but that's how intimidating she seemed.
He won a fellowship to Yale at the beginning of our final year. He wouldn't take it up for another ten months, but I was hurt because he seemed to have written me out of his future. I ended things with him, hoping, I think, to force some acknowledgment from him that I would be part of his plans. I knew from our friends that it hurt him, but he took it stoically, like some bitter but necessary medicine. We hardly spoke that whole year, but we went to the May Ball together, because the previous year he'd promised he'd take me, and he was a man of his word. He'd started seeing someone else by then. My memory of the evening is shot through with a kind of sadness: that feeling I had perpetually when I was twenty-one that I was on the wrong side of the door to where the fun and laughter were. And I suppose I was still a little in love with him. But after graduation, we slipped out of each other's lives. We exchanged letters when his mother died. Then silence."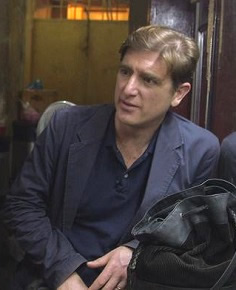 Marcel Theroux (Kampala, 13 juni 1968)
De Vlaamse schrijver Lode Zielens werd geboren in Antwerpen op 13 juni 1901. Zie ook alle tags voor Lode Zielens op dit blog.
Uit: Mops, het jongetje en ik
"Maar gelukkig, er was dan toch nog de zon....
Een bussel licht viel naar beneden en op een houten kelderval kwam een plak zonnelicht getuimeld - een weidetje boterbloemen....
Mops zag het wel.
Hij keek me nog even aan en ging in dat zonnegelicht knusjes zitten, dat lodderig straathondje!
En ja, ge zaagt het hem aan, dat het hem deugd deed, 't lekker zongetoover, en wat een kostelijk plezier was hem dat niet, nu de warmte streelend over z'n schraal lijveken gleed? Even - of beeldde ik me dat maar in? - was er een vonk in zijn oogen geschoten. Maar dan stonden ze weer vol berusting, vol onverschilligheid.... Mops zette zich dan op zijn hukken, rolde zijn prachtigen, aristokratischen staart tusschen de beenen, plantte de voorste pooten dieper het plankiertje in en hield het hoofd rechtop. Ge zoudt zeggen: de leeuw van Waterloo, maar.... minder heldhaftig....
En toen gebeurde het.
't Jongetje....
Van verre hoorde ik - wat boeide me toch aan die straatplek? - hem naderen. Fluitend een - 'k zal 't maar zeggen - ontuchtig straatliedeken, dat jammerlijk klonk in zijn kinderbek, want een kind was hij nog, - dat jongetje. Amper veertien, schat ik. Nauw van de school en al op de fabriek. 't Blauwe pak stond hem niet, daar was hij nog veel te jong voor. 't Zat hem trouwens te breed, en de vele lappen lieten denken, dat ook vader het al gedragen had.....
't Jongetje had een bussel ijzeren staven op den schouder, - een zwaren last, docht me, - maar hij floot er duchtig op los.... dat vuile liedje, en zoo oud was 't jongetje nog niet dat dit hem stond. En jammer was het bovendien voor de vele Vlaamsche liedjes die er zijn en die, naar ik meen, toch niet voor de meeuwen op de Schelde gedicht werden...."


Lode Zielens (13 juni 1901 - 28 november 1944)
<Cover
De Engelse schrijfster, dichteres en vertaalster Dorothy Leigh Sayers werd geboren op 13 juni 1893 in Oxford. Zie ook alle tags voor Dorothy L. Sayers op dit blog.
Uit:Thrones, Dominations
'Socially ambiguous? Ah! you admit, then, that the Englishman in fact despises all other races but his own.'
'Until he has had time to assimilate them. What he despises is not other races but other civilisations. He does not wish to be called a dago; but if he is born with dark eyes and an olive complexion, he is pleased to trace those features back to a Spanish hidalgo, cast away upon the English coast in the wreck of the Great Armada. Everything with us is a matter of sentiment and association.'
'A strange people!'said Monsieur Daumier. 'And yet, the national type is unmistakable. You see a man -- you know at once that he is English, and that is all you ever know about him. Take, for example, the couple at the table opposite. He is, undoubtedly, an Englishman of the leisured and wealthy class. He has a slightly military air and is very much bronzed -- but that may be due only to the habit of le sport. One would say, looking at him, that he had no interest in life beyond fox-hunting -- except indeed that he is clearly very much enamoured of his extremely beautiful companion. Yet for all I know, he may be a member of parliament, a financier, or a writer of very successful novels. His face tells nothing.'
Mr Delagardie darted a glance at the diners in question.
'Ah, yes!' he said. 'Tell me what you make of him and the woman with him. You are right; she is an exquisite creature. I have always had a faiblesse for the true red-blonde. They have the capacity for passion.'
'It Is, I think, passion that is in question at the moment,' replied Monsieur Daumier. 'She is, I imagine, mistress and not wife -- or rather, for she is married, not his wife. If any generalisation is possible about Englishmen, it is that they take their wives for granted. They do not carefully cultivate the flower of passion with the pruning-scissors. They permit it to seed away into a settled affection, fruitful and natural, but not decorative, Observe them in conversation. Either they do not listen to what their wives say at all, or they attend with the intelligent courtesy one accords to a talkative stranger."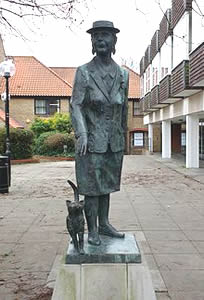 Dorothy L. Sayers (13 juni 1893 – 17 december 1957)
Standbeeld in Witham doorJohn Doubleday
De Duitse dichter, schrijver en priester Franz Alfred Muth werd geboren op 13 juni 1839 in Hadamar. Zie ook alle tags voor Franz Alfred Muth op dit blog.
Nach dem Haus schau' ich hinüber
Nach dem Haus schau' ich hinüber,
Sternenklar ist rings die Nacht;
Nach dem Haus schau' ich hinüber:
Deiner hab' ich heiß gedacht.
Magst nicht mehr herübersehen
Mit dem ros'gen Angesicht,
In die Fremde muß ich gehen
Ohne Sonne ohne Licht.
In die Fremde muß ich gehen,
Und den Gruß verweht der Wind;
Werd' dich nimmer wiedersehen,
Süßes, heißgeliebtes Kind.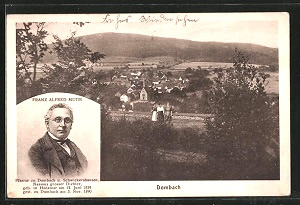 Franz Alfred Muth (13 juni 1839 - 3 november 1890)
Ansichtkaart met Muth en het dorp Dombach waar hij pastor was.
Zie voor nog meer schrijvers van de 13e juni ook mijn blog van 13 juni 2015 deel 1 en eveneens deel 2.
13-06-2017 om 18:19 geschreven door Romenu

Tags:Fernando Pessoa , Willem Brakman, William Butler Yeats, Thomas Heerma van Voss, Tristane Banon, Marcel Theroux, Lode Zielens, Dorothy L. Sayers, Franz Alfred Muth, Romenu


12-06-2017

Christoph Meckel, Wolfgang Herrndorf, Anne Frank, Renan Demirkan, Djuna Barnes, Johanna Spyri H. C. Artmann, Günter Nehm
De Duitse dichter, schrijver en graficus Christoph Meckel werd geboren op 12 juni 1935 in Berlijn. Zie ook alle tags voor Christopher Meckel op dit blog.
Im Vergleich
Und der krumme Hund mit dem Pfennig im Sack
ist ein guter Anblick, verglichen
mit dem krummen Hund ohne Sack und Pfennig.
Der Neger, sein Messer küssend im Dunkeln
ist ein guter Anblick, verglichen
mit dem, der seinen Namen wegwirft und einschläft.
Lustig macht uns der Frierende Franz
verglichen mit dem, der frierend
Zuflucht sucht in seinem Leichnam; es macht uns
lustig was lebt und den Tag im Auge behält.
Der Baum, der Stein, der Regen
braucht nicht verglichen zu werden, erhaben
über jeden Vergleich.
Aber wir können verglichen werden
der Reihe nach, einer am andern,
der Hunger des einen und das Erbrochene des ändern
das Rasierzeug des einen mit der Kehle des ändern
nackt, nackter, entblößt bis auf den Herzschlag
können wir endlos verglichen werden
zu jeder Stunde, auf jedem Abtritt
die Schlaflosigkeit des einen
mit der Geliebten des ändern
der Kältegrad des einen
und die Schmerzmeisterschaft des andern.
Gentleman, die Vergleiche ruinieren uns, sichtbar
sichtbarer mit der Zeit, am sichtbarsten ohne Anlaß
das Stipendium des einen und der Wortschatz des andern
fern, ferner, am entferntesten einer vom andern;
einer immer hat kältere Füße
und schwärzeres Mehl in den Knochen, einer wird immer
gefischt aus dem Wasser, das grundloser ist
als das grundlose Wasser vom letzten Mal.
Steh auf, schlag den Kopf an die Wand im Vergleich
mit dem schärfsten Schmerz
mit dem härtesten Knochen!
Geh hin, zieh dich aus im Vergleich
mit der schmutzigsten Haut, mit der löchrigsten Decke!
Die Superlative halten sich schadlos
verzehren uns, persönlich und unpersönlich
während wir uns ausruhn von Hart
und Härter und Steinhart
und wir übertreffen sie, lebend und nichts sonst
und drehn uns zur Wand im Vergleich
zu früher und später
und sterben, verglichen mit niemand
tot, tot im Vergleich zu Luft und Asche.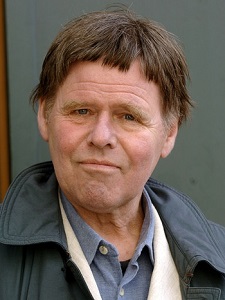 Christoph Meckel (Berlijn, 12 juni 1935)
De Duitse schrijver, schilder en illustrator Wolfgang Herrndorf werd geboren op 12 juni 1965 in Hamburg. Zie ook alle tags voor Wolfgang Herrndorf op dit blog.
Uit: Sand
"Canisades' Ergebnis hatte deutlich höher gelegen. Um wie viel höher, selbst daran konnte Polidorio sich nicht erinnern. Aber die eigene Zahl stand von nun an festbetoniert in seinem Gedächtnis. Obwohl er sicher war, dass er im nüchternen Zustand mehr Punkte erzielt hätte – nicht mehr als Canisades, aber mehr auf jeden Fall–, fiel ihm das jetzt jedes Mal wieder ein, wenn er etwas nicht verstand.
Wenn er etwas mühsamer begriff als andere, wenn er Sekundenbruchteile später über einen Witz lachte als seine Kollegen.
Polidorio hatte sich immer für einen verständigen und begabten Menschen gehalten. Wenn er nun zurückblickte, wusste er nicht, worauf sich diese Überzeugung gegründet hatte. Er war ohne große Schwierigkeiten durch die Schule, die Ausbildung, die Prüfungen gekommen, aber mehr auch nicht. Immer Mittelfeld, immer Durchschnitt.
Und nichts anderes besagte die Zahl ja auch: Durchschnitt.
Die Erkenntnis, nichts Besonderes zu sein, überfällt die meisten Menschen einmal in ihrem Leben, nicht selten gegen Ende der Schulzeit oder zu Beginn der Berufsausbildung, und die intelligenteren eher als die unintelligenten. Aber nicht alle leiden gleich stark darunter. Wer mit den Idealen des persönlichen Verdienstes, der Leistung, des Herausragens als Kind nicht ausreichend vertraut gemacht worden ist, wird das Bewusstsein blasser Durchschnittlichkeit vielleicht hinnehmen wie eine zu große Nase oder zu dünnes Haar. Andere wieder reagieren darauf mit den bekannten Fluchtbewegungen, die von exzentrischer Kleidung über exzentrisches Leben bis hin zur ehrgeizigen Suche nach einem Selbst reichen können, das im eigenen Innern vermutet wird wie ein prächtiger verborgener Schatz, welchen die gnädige Psychoanalyse auch dem letzten Trottel zugesteht. Und die Sensiblen reagieren mit einer Depression.
Schon ein paar Tage nachdem Canisades die herrlichen Erlebnisse der Nacht dem gesamten Kollegen- und Bekanntenkreis weitererzählt hatte, stand Polidorio vor seinem Fach mit der Nummer 703 und sah, dass irgendein Witzbold mit Kugelschreiber aus der 7 eine 1 und aus der 3 eine 2gemacht hatte."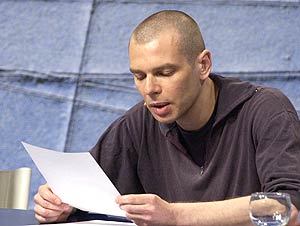 Wolfgang Herrndorf (12 juni 1965 – 26 augustus 2013)
De Nederlandse schrijfster Anne Frank werd geboren in Frankfurt am Main op 12 juni 1929. Zie ook alle tags voor Anne Frank op dit blog.
Uit:The Diary of a Young Girl (Vertaald door B. M. Mooyart-Doubleday)
"SATURDAY, JULY 11, 1942
Dearest Kitty,
....
Last night the four of us went down to the private office and listened to England on the radio. I was so scared someone might hear it that I literally begged Father to take me back upstairs. Mother understood my anxiety and went with me. Whatever we do, we're very afraid the neighbors might hear or see us. We started off immediately the first day sewing curtains. Actually, you can hardly call them that, since they're nothing but scraps of fabric, varying greatly in shape, quality and pattern, which Father and I stitched crookedly together with unskilled fingers. These works of art were tacked to the windows, where they'll stay until we come out of hiding.
The building on our right is a branch of the Keg Company, a firm from Zaandam, and on the left is a furniture workshop. Though the people who work there are not on the premises after hours, any sound we make might travel through the walls. We've forbidden Margot to cough at night, even though she has a bad cold, and are giving her large doses of codeine.
I'm looking forward to the arrival of the van Daans, which is set for Tuesday. It will be much more fun and also not as quiet. You see, it's the silence that makes me so nervous during the evenings and nights, and I'd give anything to have one of our helpers sleep here.
It's really not that bad here, since we can do our own cooking and can listen to the radio in Daddy's office. Mr. Kleiman and Miep, and Bep Voskuijl too, have helped us so much. We've already canned loads of rhubarb, strawberries and cherries, so for the time being I doubt we'll be bored. We also have a supply of reading material, and we're going to buy lots of games. Of course, we can't ever look out the window or go outside. And we have to be quiet so the people downstairs can't hear us."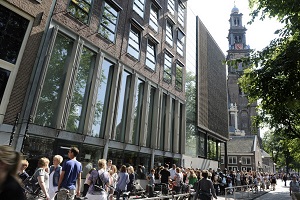 Anne Frank (12 juni 1929 – maart 1945)
Niet aflatende rijen bij het Anne Frank Huis in Amsterdam
De Turks-Duitse schrijfster en actrice Renan Demirkan werd geboren op 12 juni 1955 in Ankara. Zie ook alle tags voor Renan Demirkan op dit blog
Uit:Wie buchstabiert man Liebe
"Im Türkischen, zum Beispiel, ist das anders als im Deutschen. Da gibt es zwei verschiedene Worte für die – wie Erich Fromm sie nennt – für die ›individuelle‹ Liebe und für die ›gesellschaftliche‹ Liebe. Das eine Wort heißt Aschk und das andere Sevgi.
Aber dazu später.
Die Wissenschaftler sagen, und die haben ja auch meistens Recht, also die sagen, je nachdem, wie viel Liebe ein Kind erfahren hat, wird es stark oder schwach, intelligent oder dumm, offen oder verschlossen, respektvoll oder hasserfüllt.
Und die Prognose für die Erwachsenen ist auch nicht viel besser, da heißt es: Erwachsene Menschen, die nicht geliebt werden, sterben früher!
Das macht einen doch richtig panisch und man denkt sich: Verdammt noch mal! Wo kriege ich jetzt bloß genug Liebe her, damit ich nicht zu früh krepiere!? Und, was ist überhaupt ›genug‹ Liebe, damit es reicht?
Egal, denk ich mir, genug ist nie genug, je mehr umso besser! Her mit dem Zeug, ich brauch es um jeden Preis!
Aber was ist der Preis? Was kostet dieses Zeug?
Was die Wissenschaftler da berichten, klingt zwar nach einer Art Handelsabkommen, als gäbe es da einen Transfer von Impression und Expression mit einer Abschlussbilanz, eine Art seelischer Kosten-Nutzen-Rechnung, aber sie schreiben nichts von einem Preis, auch nichts von einer Währung!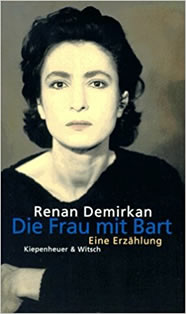 Renan Demirkan (Ankara, 12 juni 1955)
Cover
De Amerikaanse schrijfster Djuna Barnes werd geboren in Cornwall-on-Hudson, Orange County in de staat New York op 12 juni 1892. Zie ook alle tags voor Djuna Barnes op dit blog.
Lines To A Lady
Lay her under the rusty grass,
With her two eyes heavy and blind and done;
Her two hands crossed beneath her breast
One on one.
Lay her out in the paling eve,
With its sudden tears and white birch-trees;
And let her passing seem to be
One with these.
Close her out of this hour of grief,
And casting the earth on her, like a breath,
Sew her tenderly, that she may-
Reap her death!
And close her eyes, close, close her lips,
For still, too still is her smitten tongue;
Her hour's over, her breath has passed,
And her song is sung.
Lay her under the wild red grass
In the fields death-tossed and bowed with rain;
And let her silence seem to move
Within the grain.
Shadows
A LITTLE trellis stood beside my head,
And all the tiny fruitage of its vine
Fashioned a shadowy cover to my bed,
And I was madly drunk on shadow wine!
A lily bell hung sidewise, leaning down,
And gowned me in a robe so light and long;
And so I dreamed, and drank, and slept, and heard
The lily's song.
Lo, for a house, the shadow of the moon;
For golden money, all the daisy rings;
And for my love, the meadow at my side -
Thus tramps are kings!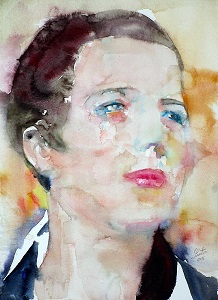 Djuna Barnes (12 juni 1892 – 18 juni 1982)
Portret door Fabrizio Cassetta, 2016
De Italiaanse dichter en schrijver Sandro Penna werd geboren op 12 juni 1906 in Perugia. Zie ook alle tags voor Sandro Penna op dit blog.
Uit: Confuso sogno
When the trees are bare
and January
has just begun,
under a pure sun
pebbles in the now
deserted park
glisten with the spit
of a boy who
passed running maybe,
driven by April
He left the field abruptly,
still half naked,
and immediately disappeared.
In the warmth of that moment,
a warm odor remained….
a few flies—
among them, me.
Vertaald door George Scrivani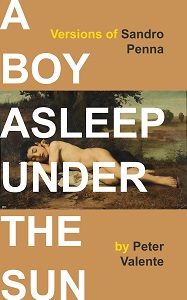 Sandro Penna (12 juni 1906 – 21 januari 1977)
Cover
De Zwitserse schrijfster Johanna Spyri werd geboren in Hirzel op 12 juni 1827. Zie ook alle tags voor Johanna Spyri op dit blog.
Uit: Heidi kann brauchen, was es gelernt hat
"Über den Hauptpunkt aber, daß sie nun unmöglich mehr stattfinden könnte, glitt er eilig hinweg, denn er fürchtete sich ein wenig vor den kommenden Tränen. Dann ging er schnell auf den neuen Gedanken über und machte Klara darauf aufmerksam, wie wohltätig es für ihren guten Freund wäre, wenn er diese Erholungsreise unternehmen würde.
Die Tränen waren wirklich aufgestiegen und schwammen in den blauen Augen, wie sehr sich auch Klara Mühe gab, sie niederzudrücken, denn sie wußte, wie ungern der Papa sie weinen sah. Aber es war auch hart, daß nun alles aus sein sollte, und den ganzen Sommer hindurch war die Aussicht auf die Reise zum Heidi ihre einzige Freude und ihr Trost gewesen in all den langen, einsamen Stunden, die sie durchlebt hatte. Aber Klara war nicht gewohnt zu markten, sie wußte recht gut, daß der Papa ihr nur versagte, was zum Bösen führen würde und darum nicht sein durfte. Sie schluckte ihre Tränen hinunter und wandte sich nun der einzigen Hoffnung zu, die ihr blieb. Sie nahm die Hand ihres guten Freundes und streichelte sie und bat flehentlich:
»O bitte, Herr Doktor, nicht wahr, Sie gehen zum Heidi, und dann kommen Sie, um mir alles zu erzählen, wie es ist dort oben und was das Heidi macht und der Großvater und der Peter und die Geißen, ich kenne sie alle so gut! Und dann nehmen Sie mit, was ich dem Heidi schicken will, ich habe schon alles ausgedacht und auch etwas für die Großmutter. Bitte, Herr Doktor, tun Sie's doch; ich will auch gewiß unterdessen Fischtran nehmen, soviel Sie nur wollen."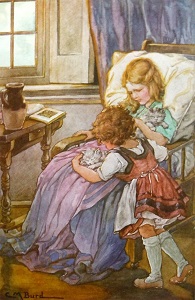 Johanna Spyri (12 juni 1827 - 7 juli 1901)
Heidi en Klara. Illustratie door Clara M. Burd, 1924
De Oostenrijkse dichter en vertaler Hans Carl Artmann werd geboren op 12 juni 1921 in Wenen. Zie ook alle tags voor H. C. Artmann op dit blog en eveneens voor H. Artmann.
MYLADY mit dem blauen hut
MYLADY mit dem blauen hut,
ich finde sie so äußerst chic,
ihr angewandter silberblick,
der fest auf meinem frischen frackhemd ruht,
geht mir wie amors pfeil durchs blut.
die jazzband dudelt im savoy,
man tanzt den english waltz, den fox,
im whisky klirren kühl die rocks,
ich hoff, madame, sie bleiben mir doch treu,
klopf an das stuhlbein, toi, toi, toi!
sie rauben mir perfekt die ruh,
wie klimpern ihre wimpern keck,
madame, ich bin vor liebe weg,
der ober drückt bereits ein auge zu,
mir sinkt das herz bis in die schuh.
ich bin bekannt mit vielen fraun
und mit den meisten kaum per sie,
ein tête à tête, ein vis à vis,
und mir ist auch schon nimmermehr zu traun,
wenn sie aus schönen augen schaun.
jedoch vor ihnen bin ich scheu,
pardon, ich staune über mich,
das läuft mir förmlich gen den strich,
mir ist das wirklich gar nicht einerlei,
so sie und ich hier im savoy.
mylady mit dem blauen hut,
wie kann den sowas möglich sein,
trotz curaçao, chartreuse und wein
verlier ich plötzlich meinen ganzen mut
vor ihrer blicke heißer glut.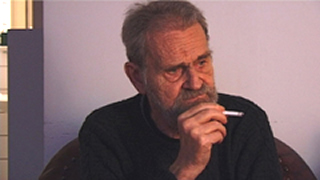 H. C. Artmann (12 juni 1921 – 4 december 2000)
De Duitse dichter Günter Nehm werd geboren in Wattenscheid op 12 juni 1926. Zie ook alle tags voor Günter Nehm op dit blog.
EISENBAHN
Mir fiel, mit Hein per EISENBAHN,
als wir 'ne kesse BIENE SAHN,
die schönste Form des HABENS EIN,
ich sprach: «Sei doch kein HASENBEIN,
die schönste meiner BASEN, HEIN,
die dürfte noch zu HABEN SEIN.»
Der Zug fuhr weiter SEINE BAHN,
in dem wir schlanke BEINE SAHN.
Vor der Türe steht ein Pferd
Vor der Türe steht ein Pferd,
ganz in weiß, es ist ein Schimmel,
drückt verhärmt und abgezehrt
mit den Hufen auf die Bammel.

Als ich öffne, sagt es zag:
"Meine Kehle brennt wie Feuer.
Sie verzeihen, wenn ich frag:
Warum ist das Bier so teuer?"

Darauf sage ich sehr schlau:
"Das liegt sicher an den Preisen,
doch exakt und ganz genau
läßt sich so was nicht beweisen."

"Dachte ich mir's", spricht der Gaul,
"wer kann diesem Trend entrinnen?"
Er verzieht erbost das Maul
und zieht durstgeplagt von hinnen.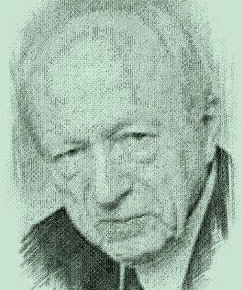 Günter Nehm (12 juni 1926 - 11 februari 2009)
Zie voor nog meer schrijvers van de 12e juni ook mijn blog van 12 jnui 2016 deel 2.
12-06-2017 om 18:38 geschreven door Romenu

Tags:Christoph Meckel, Wolfgang Herrndorf, Anne Frank, Renan Demirkan, Djuna Barnes, Johanna Spyri H. C. Artmann, Günter Nehm, Romenu


11-06-2017

William Styron, Sophie van der Stap, N. P. van Wyk Louw, Renée Vivien, Jean-Pierre Chabrol, Ben Jonson, Yasunari Kawabata
De Amerikaanse schrijver William Styron werd op 11 juni 1925 in Newport News in de staat Virginia geboren. Zie ook alle tags voor William Styron op dit blog.
Uit: Darkness Visible
"I felt a kind of numbness, an enervation, but more particularly an odd fragility—as if my body had actually become frail, hypersensitive and somehow disjointed and clumsy, lacking normal coordination. And soon I was in the throes of a pervasive hypochondria. Nothing felt quite right with my corporeal self there were twitches and pains, sometimes intermittent, often seemingly constant, that seemed to presage all sorts of dire infirmities. (Given these signs, one can understand how, as far back as the seventeenth century-in the notes of contemporary physicians, and in the perceptions of John Dryden and others—a connection is made between melancholia and hypochondria; the words are often interchangeable, and so were used until the nineteenth century by writers as various as Sir Walter Scott and the Brontes, who also linked melancholy to a preoccupation with bodily ills.) It is easy to see how this condition is part of the psyche's apparatus of defense: unwilling to accept its own gathering deterioration, the mind announces to its indwelling consciousness that it is the body with its perhaps correctable defects—not the precious and irreplaceable mind—that is going haywire. In my case, the overall effect was immensely disturbing, augmenting the anxiety that was by now never quite absent from my waking hours and fueling still another strange behavior pattern—a fidgety recklessness that kept me on the move, somewhat to the perplexity of my family and friends.
…By now I had moved back to my house in Connecticut. It was October, and one of the unforgettable features of this stage of my disorder was the way in which my own farmhouse, my beloved home for thirty years, took on for me at that point when my spirits regularly sank to their nadir an almost palpable quality of ominousness. The fading evening light—akin to that famous "slant of light" of Emily Dickinson's, which spoke to her of death, of chill extinction—had none of its familiar autumnal loveliness, but ensnared me in a suffocating gloom. I wondered how this friendly place, teeming with such memories of (again in her words) "Lads and Girls," of "laughter and ability and Sighing,/ And frocks and Curls," could almost perceptibly seem so hostile and forbidding. Physically, I was not alone. As always Rose was present and listened with unflagging patience to my complaints. But I felt an immense and aching solitude. I could no longer concentrate during those afternoon hours, which for years had been my working time, and the act of writing itself, becoming more and more difficult and exhausting, stalled, then finally ceased."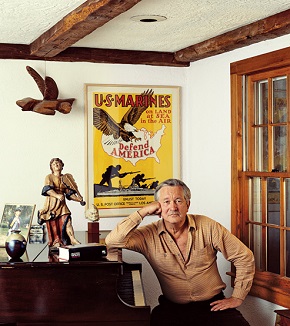 William Styron (11 juni 1925 – 1 november 2006)
De Nederlandse schrijfster Sophie van der Stap werd geboren in Amsterdam op 11 juni 1983. Zie ook alle tags voor Sophie van der Stap op dit blog.
Uit: The Girl With Nine Wigs (Vertaald door Charlotte Caroline Jongejan)
« He calmly acknowledges me as I stand up. A teenager. I can practically see the thought forming in his mind as he looks at me. But to me he looks like a dream: handsome face, nice hands, fortysomething. Finally, my Grey's Anatomy fantasy is becoming a reality. Who knew that a hospital would turn out to be a great place for a single girl like me? I abandon my mom in the waiting room and follow him, gingerly, down the hall.
As my details are taken down for what feels like the hundredth time — amid all these technologically advanced supermachines, they still can't keep track of my records — I take advantage of this time and study Dr. McDreamy more closely. His nametag says DR. K, PULMONARY SPECIALIST. I'm guessing early forties. Charming, handsome, and smart: a playboy or happily married in the suburbs? Or maybe both? Better Google him later. A white coat can be misleading, but shoes never lie. Brogues, black leather. Hmm. ... Not bad, not great either. Not much to go on, but given his age I decide to give him the benefit of the doubt.
He tells me to take a seat and asks me to lift up my top. I'm allowed to keep on my bra. He places a cold metal stethoscope against my chest, and then on my back.
He listens, I sigh.
I sigh, he listens.
I listen, he sighs.
"Something isn't quite right," he says. His words don't scare me. In fact, I'm even a bit relieved. It's been blatantly clear for a long time that something's wrong; finally, someone else is catching on. Handsome and smart. Dr. K might be the answer to this Kafkaesque hospital. At last I'll get a diagnosis, some pills in a jar, and back to normal life."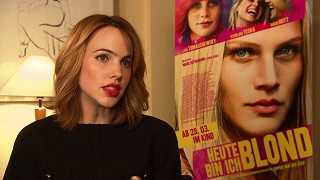 Sophie van der Stap (Amsterdam, 11 juni 1983)

De Zuid-Afrikaans schrijver en dichter Nicolaas Petrus van Wyk Louw werd geboren in Sutherland op 11 juni 1906. Zie ook alle tags voor N. P. van Wyk Louw op dit blog.
Ballade van die Nagtelike Ure
Ons liefde het uitgeblom
tussen elfuur en kwart oor twee -
hier sit ek onder die dagbreek
half-nugter en verlee
op koel stoeptreetjies êrens
waar ek 'n blink waterkraan sien
in die ure van die donker dors
tussen twaalfuur en smôrens om tien.
Om elfuur was jou liggaam
die honger en dors in my,
as jou skewe papier-kalot
ver deur die danssaal gly.
Om twaalfuur was jy 'n ligte brug,
'n hoë, gevaarlike gang
bo my klein verwildering
tussen pyn en sterwe gehang.
Om eenuur was jou hare
vir my vingers 'n bose strik,
en jou lyf soos swart still water
en jou asem soos 'n snik.
En nou het die môre my
oor die rand van sy glas gemors
op die stoep by die kraan wat blink
in die uur van die donker dors.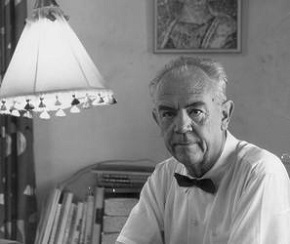 N. P. van Wyk Louw (11 juni 1906 – 18 juni 1970)
De Britse dichteres en schrijfster Renée Vivien (eig. Pauline Mary Tarn) werd geboren op 11 juni 1877 in Londen. Zie ook alle tags voor Renée Vivien op dit blog.
I have ruined my heart
I have ruined my heart, devastated my soul
And a beggar of love is what I am today:
The memories, like filthy vermin, take their toll,
Gnaw at me in the implacable face of day.
I have ruined my heart, devastated my soul
And of fate, I implore shamefully, without cease,
A reflection of your eyes: a divine caprice;
O fugitive form, perfumed pallor that hovers
So prodigal, so abundant among lovers!
I have looked endlessly for your gaze in strange eyes,
I have searched for your kiss on ephemeral lips;
Like a vine in the orchard, flushed by the sun's rise,
Floating on Bacchic laughter which rises and dips,
I have looked endlessly for your gaze in strange eyes
Without freeing my heart from your harsh caresses.
And thus, like the sighing of plaintive mistresses
Who weep at night for a summer without return,
In laments I hear echos of love-words which yearn.
O form so fugitive, O pallor so perfumed,
Inconstant sweetness which destiny sought to cease,
Abundant and prodigal lover who once bloomed,
I have lost your sweet smile to the divine caprice;
O form so fugitive, O pallor so perfumed,
You have turned me to a beggar of love today
Exposed in the implacable face of the day
The stark grief of wretched misery takes its toll...
I have ruined my heart, devastated my soul.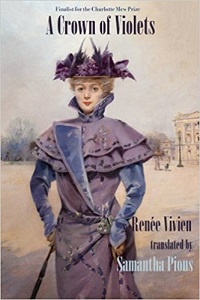 Renée Vivien (11 juni 1877 – 10 november 1909)
Cover
De Franse schrijver Jean-Pierre Chabrol werd geboren op 11 juni 1925 in Chamborigaud. Zie ook alle tags voor Jean-Pierre Chabrol op dit blog.
Uit:Fleur d'épine
"— Quel âge ça lui fera maintenant, à l'Ours-Lion ? Ils se carrent, prennent leur souffle, prennent leur distance. La buire de terre garde le café à portée de flammes, au fond de l'âtre. Le velours des pantalons roucoule. Un genou craque. Sous la table, Flambeau aboie trois fois, drôlement : jappe-ments plaintifs, courts, suivis, chacun, d'un grondement étouffé. Flambeau rêve, les hommes sourient. Le sanglier est suspendu par les pattes do derrière dans la casetta 1, avec deux charges de chevrotines dans le corps. La première, dans le museau, l'a retourné. La deuxième, dans le coeur, l'a roulé sur la pente du maquis, de bruyères en rochers, jusqu'au buisson de lentisques où il a fini la course de sa vie. Il était trop tard quand les chasseurs l'ont remonté du fleuve. Ce sera demain, à l'aube, la fête du dépeçage, de la charcuterie, et les enfants pourront jouer au ballon avec les poumons. Dolinda lave les assiettes sur la pierre du coin noir et, parfois, son coude fait tinter les seaux. Dom Petru sort. La lune flatte la casetta. En salut, Dom Petru s'étire puis bâille, avec des variations. Les montagnes sont en étain. A leur pied, deux collines forment hausse. On peut viser la mer, la mer, jour et nuit couleur de ciel, la mer, coup de faux dans les étoiles. Demain il fera clair. On verra là-bas l'île d'Elbe, l'île Pianosa, l'île de Monte Cristo, on devinera la côte italienne. Dom Petru ramasse un moignon d'olivier et il entre : — Demain, il fera beau. Avant qu'il ait refermé la porte,"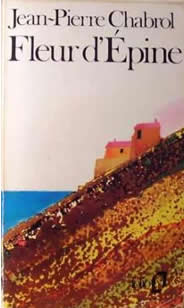 Jean-Pierre Chabrol (11 juni 1925 – 1 december 2001)
Cover
De Engelse dichter en schrijver Ben Jonson werd geboren rond 11 juni 1572 in Westminster, Londen. Zie ook alle tags voor Ben Jonson op dit blog.
An Ode To Himself
Where dost thou careless lie,
Buried in ease and sloth?
Knowledge that sleeps doth die;
And this security,
It is the common moth
That eats on wits and arts, and oft destroys them both.
Are all th' Aonian springs
Dried up? lies Thespia waste?
Doth Clarius' harp want strings,
That not a nymph now sings?
Or droop they as disgrac'd,
To see their seats and bowers by chatt'ring pies defac'd?
If hence thy silence be,
As 'tis too just a cause,
Let this thought quicken thee:
Minds that are great and free
Should not on fortune pause;
'Tis crown enough to virtue still, her own applause.
What though the greedy fry
Be taken with false baites
Of worded balladry,
And think it poesy?
They die with their conceits,
And only piteous scorn upon their folly waits.
Then take in hand thy lyre,
Strike in thy proper strain,
With Japhet's line aspire
Sol's chariot for new fire,
To give the world again;
Who aided him will thee, the issue of Jove's brain.
And since our dainty age
Cannot endure reproof,
Make not thyself a page
To that strumpet, the stage,
But sing high and aloof,
Safe from the wolf's black jaw and the dull ass's hoof.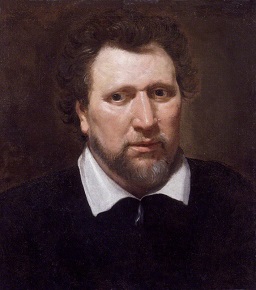 Ben Jonson (ca. 11 juni 1572 – 6 augustus 1637)
Naar een portret van Abraham van Blijenberch, ca. 1617
De Japanse schrijver Yasunari Kawabata werd geboren op 11 juni 1899 in Osaka. Zie ook alle tags voor Yasunari Kawabata op dit blog.
Uit: Snow Country (Vertaald door Edward Seidensticker)
"In any case, he had revised his view of her, and he had found, surprisingly, that her being a geisha made it even more difficult for him to be free and open with her.
Dead-drunk that night, she had savagely bitten her half-paralyzed arm in a ɹt of irritation at its recalcitrance. "What's the matter with you? Damn you, damn you. Lazy, worthless.
What's the matter with you?"
And, unable to stand, she had rolled from side to side. "I'll never have any regrets. But I'm not that sort of woman. I'm not that sort of woman."
"The midnight for Tokyo." The woman seemed to sense his hesitation, and she spoke as if to push iaway. At the sound of the train whistle she stood up. Roughly throwing open a paper-paneled door and the window behind it, she sat down on the sill with her body thrown back against the railing. The train moved oʃ into the distance, its echo fading into a sound as of the night wind. Cold air flooded the room.
"Have you lost your mind?" Shimamura too went over to the window. The air was still, without a suggestion of wind.
It was a stern night landscape. The sound of the freezing of snow over the land seemed to roar deep into the earth. There was no moon. The stars, almost too many of them to be true, came forward so brightly that it was as if they were falling with the swiftness of the void. As the stars came nearer, the sky retreated deeper and deeper into the night color. The layers of the Border Range, indistinguishable one from another, cast their heaviness at the skirt of the starry sky in a blackness grave and somber enough to communicate their mass. The whole of the night scene came together in a clear, tranquil harmony.
As she sensed Shimamura's approach, the woman fell over with her breast against the railing. There was no hint of weakness in the pose. Rather, against the night, it was the strongest and most stubborn she could have taken. So we have to go through that again, thought Shimamura.
Black though the mountains were, they seemed at that moment brilliant with the color of the snow. They seemed to him somehow transparent, somehow lonely. The harmonybetween sky and mountains was lost."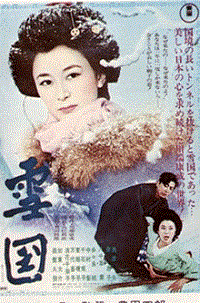 Yasunari Kawabata (11 juni 1899 — 16 april 1972)
Filmposter
Zie voor nog meer schrijvers van de 11e juni ook mijn vorige blog van vandaag.
11-06-2017 om 10:31 geschreven door Romenu

Tags:William Styron, Sophie van der Stap, N. P. van Wyk Louw, Renée Vivien, Jean-Pierre Chabrol, Ben Jonson, Yasunari Kawabata, Romenu



Athol Fugard, Nnimmo Bassey, Jules Vallès, George Wither, Barnabe Googe
De Zuidafrikaanse schrijver Harold Athol Lannigan Fugard werd geboren op 11 juni 1932 in Middelburg, Kaapprovincie. Zie ook alle tags voor Athol Fugard op dit blog.
Uit: Hello And Goodbye
"HESTER. Ja, that's right.
JOHNNIE. YOU will?
HESTER [ignoring his question]. You were always daring me. You used to find it—the thing you were too scared to do, and dare me, and watch while I did it and got into trouble. That's what you want, hey? You and him. `Hester's in trouble again, Pa!'
JOHNNIE. You won't?
HESTER. No. [She goes back to the papers.]
JOHNNIE [to himself]. Too much to hope for.
HESTER. You won't get rid of me that easily.
JOHNNIE. But I tried. Whatever happens nobody can say I didn't try. Be brave.
HESTER [readingfrom one of the papers]. 'Johannes Albertus Smit.' That's you.
JOHNNIE. Yes, in full. What's it say?
HESTER [scanning the letter]. 'Your application. . . The Kroonstad Railway School. From the Principal. Saying they accept your application to be a learner-stoker. And a second-class voucher to get there. November, 1958.
JOHNNIE. Too late now.
HESTER. But you said you tore up your application.
JOHNNIE. That's right.
HESTER. Because you didn't want to go.
JOHNNIE. So?
HESTER. So here he says he got your application.
JOHNNIE. These things happen. [Pause. Hester thinks about this.]
HESTER. No. No, they don't. He wouldn't tell you to come if you didn't have asked him if you could come.
JOHNNIE. Where does that get us?
HESTER. You did post that application.
JOHNNIE. I see.
HESTER. But you told me you didn't."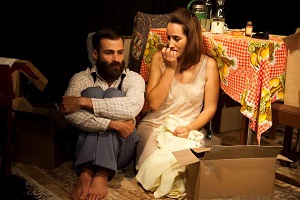 Athol Fugard (Middelburg (ZA), 11 juni 1932)
Scene uit een opvoering in Kaapstad, 2014
De Nigeriaanse dichter, schrijver, architect, en milieuactivist Nnimmo Bassey werd geboren in Akwa Ibom op 11 juni 1958. Zie ook alle tags voor Nnimmo Bassey op dit blog.
To Cook A Continent
First it was the Ogonis
Today it is the Ijaws
Who will be slain this next day?
We see open mouths
But hear no screams
Tears don't flow
When you are scarred
We stand in pools
Up to our knees
We thought it was oil
But it was blood
We thought it was oil
But it was blood
Dried tear bags
Polluted streams
Things are real
When found in dreams
We see their shells
Behind military shields
Evil, horrible, gallows called oilrigs
Drilling our souls
We thought it was oil
But it was blood
We thought it was oil
But it was blood
The heavens are open
Above our heads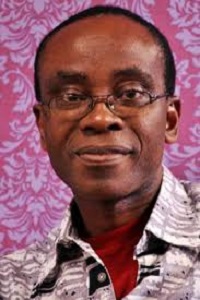 Nnimmo Bassey (Akwa Ibom, 11 juni 1958)
De Franse schrijver Jules Vallès werd geboren op 11 juni 1832 in Puy-en-Velay, Haute-Loire. Zie ook alle tags voor Jules Vallès op dit blog.
Uit: Les Victimes du Livre
"Pas une de nos émotions n'est franche.
Joies, douleurs, amours, vengeances, nos sanglots, nos rires, les passions, les crimes ; tout est copié, tout !
Le Livre est là.
L'encre surnage sur cette mer de sang et de larmes !
Cela est souvent gai, quelquefois triste. Mais à travers les débris, les fleurs, les vies ratées, les morts voulues, le Livre, toujours le Livre !
« Cherchez la femme, » disait un juge. C'est le volume que je cherche, moi : le chapitre, la page, le mot…
Combien j'en sais dont tel passage lu un matin a dominé, défait ou refait, perdu ou sauvé l'existence !
Une pensée traduite du chinois ou du grec, prise à Sénèque ou à saint Grégoire, a décidé d'un avenir, pesé sur un caractère, entraîné une destinée. Quelquefois le traducteur s'était trompé, et la vie d'un homme pivotait sur un contresens.
Souvent, presque toujours, la victime a vu de travers, choisi à faux, et le Livre la traîne après lui, vous faisant d'un poltron un crâneur, d'un bon jeune homme un mauvais garçon, d'un poitrinaire un coureur d'orgies, un buveur de sang d'un buveur de lait, une tête-pâle d'une queue rouge. Tyrannie comique de l'Imprimé !
D'où vient cela ?
Je ne sais ; mais l'influence est là ! Tous la subissent, jusqu'à nous, les corrompus, qui lisons mieux sur la mise en page que sur le manuscrit, et croyons plutôt que c'est arrivé.
Joignez à cette autorité de l'imprimé l'intérêt du roman. Que l'écrivain ou l'écrivailleur ait donné à ses personnages une physionomie saisissante, dans le mal ou le bien, sur une des routes que montre Hercule, moine ou bandit, ange ou démon ! et c'en est fait du simple ou du fanfaron sur qui le bouquin tombera."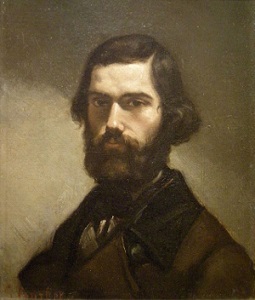 Jules Vallès (11 juni 1832 – 14 februari 1885)
Portret door Gustave Courbet, 1860
De Engelse dichter en satiricus George Wither werd geboren op 11 juni 1588 in Bentworth. Zie ook alle tags voor George Wither op dit blog.
The Lord is King
The Lord is King, and weareth
A robe of glory bright:
He clothed with strength appeareth,
And girt with powerful might.
The earth He hath so grounded
That moved it cannot be;
His throne long since was founded,
More old than time is He.
The waters highly flowed,
And raised their voice, O Lord;
The seas their fury showed,
And loud their billows roar'd.
But God in strength excelleth
Strong seas and powerful deeps;
With Him all pureness dwelleth,
And firm His truth He keeps.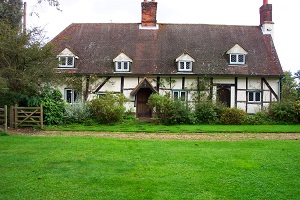 George Wither (11 juni 1588 – 2 mei 1667)
Ivall's Farm, cottage in Bentworth
De Engelse dichter en vertaler Barnabe Googe werd geboren op 11 juni 1540 in Londen of Kent. Zie ook alle tags voor Barnabe Googe op dit blog.
Coming Homeward Out Of Spain
O raging seas, and Mighty Neptune's reign,
In monstrous hills that throwest thyself so high,
That with thy floods dost beat the shores of Spain,
And break the cliffs that dare the force envy;
Cedase now thy rage and lay thine ire aside.
And thou that hast the governance of all,
O mighty God! grant weather, wind and tide,
Till in my country coast our anchor fall.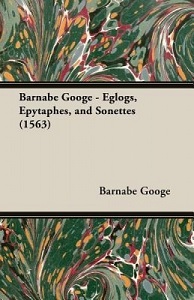 Barnabe Googe (11 juni 1540 – 1594)
Cover
11-06-2017 om 10:30 geschreven door Romenu

Tags:Athol Fugard, Nnimmo Bassey, Jules Vallès, George Wither, Barnabe Googe, Romenu


10-06-2017

Louis Couperus, Jacques Perk, James Salter, Mensje van Keulen, Jan Brokken, Saul Bellow
De Nederlandse schrijver Louis Couperus werd op 10 juni 1863 geboren in Den Haag. Zie ook alle tags voor Louis Couperus op dit blog.
Uit: Langs lijnen van geleidelijkheid.
"Het pension van de marchesa Belloni was gelegen in een van de gezondste, zoo niet dichterlijkste wijken van Rome: de helft van het huis was een gedeelte van een villino der oude Ludovisi-tuinen; de oude mooie tuinen, betreurd door een ieder, die ze gekend had, vóór de nieuwe kazernewijken verrezen waren, waar eerst het Romeinsche villa-park zich had uitgestrekt. Het pension stond in de Via Lombardia; het oude villino-gedeelte had voor de locataires van de marchesa zekere antieke bekoring gehouden, en het nieuw aangebouwde perceel bood aan: ruime kamers, moderne waterleiding en electrisch licht. Het pension had een zekere reputatie van goed en goedkoop en aangenaam gelegen te zijn; enkele minuten wandelens van den Pincio af, hoog gelegen, behoefde men er niet voor malaria te vreezen, en de prijs, dien men er voor een langer verblijf betaalde, en die acht lire nauw-lijks te boven ging was buitengewoon voor Rome, bekend als duurder dan iedere andere Italiaansche stad. Zoo was het pension dan ook meestal vol: de reizigers kwamen reeds in October - die het vroegst in den season kwamen, betaalden het minst; en behalve enkele haastige toeristen, bleven zij meest allen tot Paschen, om na de groote kerkfeesten naar Napels af te zakken.
Het pension was door Engelsche reiskennissen zeer aanbevolen aan Cornélie De Retz van Loo, die alleen in Italië reisde, en uit Florence geschreven had aan de marchesa Belloni. Het was de eerste keer, dat zij in Italië reisde; het was de eerste keer, dat zij uitstapte aan het groote holle station bij de Thermen van Diocletianus, en op het plein, in de gouden zonnelucht van Rome, terwijl de groote fontein van de Acqua Marcia ruischte, en de koetsiers klapperden met de zweepen en met de tong - om haar aandacht te trekken - kreeg zij hare 'lieve Italiaansche sensatie', zooals zij dacht, en was blij in Rome te zijn.
Zij zag een oud moeilijk loopend mannetje op haar toe komen, met het instinct van een oud-gedienden portier, die zijn reizigers dadelijk herkent, en zij zag op zijn pet: Hôtel Belloni, en wenkte hem, en glimlachte. Hij begroette haar als een oude kennis, met familiariteit en eerbied tegelijk, als was hij blij haar te zien - vroeg of zij prettig gereisd had, of zij niet moê was, geleidde haar naar de victoria, schikte haar plaid, haar valies, vroeg het biljet van hare koffers, en zeide, dat zij maar gaan moest: in tien minuten volgde hij met de bagage. Zij kreeg een gevoel van gezelligheid, van verzorgd te worden door het oude hinkende mannetje, en knikte hem vriendelijk toe, terwijl de koetsier wegreed. Zij gevoelde zich licht en luchtig, met even den weemoed van iets onbekends, dat haar gebeuren ging: en zij zag links en rechts, als om nu te zien de straten van Rome: zij zag alleen maar huizen en huizen, kazernehuizen; toen een groot wit paleis: het nieuwe Palazzo Piombino - waar zij wist, dat de Juno Ludovisi was - en toen hield hij stil, en een knoopenjongetje kwam naar haar toe."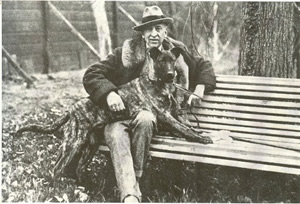 Louis Couperus (10 juni 1863 – 16 juli 1923)
Hier met zijn hond Brinio
De Nederlandse dichter Jacques Fabrice Herman Perk werd geboren in Dordrecht op 10 juni 1859. Zie ook alle tags voor Jacques Perk op dit blog.
Sluimer
Stil! - Duizendogig spiegelt zich in 't meer
De nacht, en laat haar bleke luchter beven,
Die gloeiend witte glanzen heen doet zweven
Om 't, rond de diepte reiend, rotsenheer.

En Sluimer daalt op vlinderwieken neer,
Met wuivend rijs, waaraan de druppen beven,
Die dauwend droom en zoet vergeten geven,
En zweeft in schaduw peinzend heen en weer.

En in mijn dolend hulkje, dat er glijdt
Langs 't kabblend zilver, zet hij zich; ik zie
Hem tederblikkend over mij gebogen.

Hij lacht mij aan, ontplooit de wieken wijd...
Ik hoor een sluimerende melodie,
En weet niet wat mij loodzwaar viel op de ogen...
Sanctissima virgo
't Was bladstil, en een lauwe loomheid lag
En woog op beemd en dorre wei, die dorstten;
Zwaar zeeg en zonder licht een vale dag
Uit wolken, die gezwollen onweer torsten.

Toen is het zwijgend zwerk uit-een-geborsten,
En knetterende donders, slag op slag,
Verrommelden en gromden. Vol ontzag,
Look ik mijne ogen, die niet ogen dorsten:

Een schelle schicht schoot schichtig uit den hogen,
En sloeg mij. Ik bezwijmde... ontwaakte, en zag
De lucht geschraagd door duizend kleurenbogen.

Daarboven, in een kolk van licht te pralen,
Stond reuzengroot de Jonkvrouw, en een lach
Voelde ik van haar verengeld aanschijn stralen.
De schietbeek
(XVII)
In 't brede lommer van de lage bomen
Glipt, glipt het beekje langs de holle boorden:
Het streelt de blonde bloemen aan zijn zomen,
En zingt een lied vol murmelende akkoorden.

Toen kost gij, lieve, uw lust niet meer betomen
Maar waadde door de golfjes, die bekoorden:
Zij wijken, nu zij bij uw voetjes komen,
En kussend fluisteren zij liefdewoorden.

Hoe fronsen zich die gladde rozenvoeten
In 't rimpelend kristal.... O, laat mij beiden,
Om met een voetkus mijn vorstin te groeten!...

En 'k liet het linnen van haar voeten drinken
Het water, wenend om het wreed verscheiden,
En zag haar oog van frisse blijheid blinken. -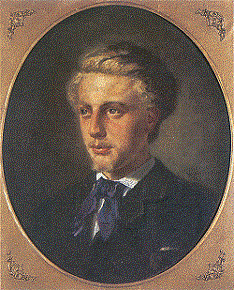 Jacques Perk (10 juni 1859 - 1 november 1881)
Portret door Herman van der Voort in de Betouw, 1870
De Amerikaanse schrijver James Salter werd op 10 juni 1925 in New York geboren. Zie ook alle tags voor James Salter op dit blog.
Uit: There and Then
"A few summers ago, searching for dinosaur excavations, we stopped in a little town named DeBeque in western Colorado. There was a grocery store, an old garage, a post office, and a bar. No one seemed to know anything about dinosaurs although they had an alleged forty-million-year-old tortoise fossil, turned up during road construction, in the garage. "Why don't you go and talk to Armand DeBeque?" they said.
Armand DeBeque lived in a well-kept house at the edge of town but he wasn't there. We found him at the high school where he taught journalism. He was working on the yearbook. He was sixty-eight and the son of a man who had founded DeBeque as part of a land grant given out after the Civil War. His father had fought in that war. Your grandfather, I suggested. No, his father, he said. His father had been born in 1840 and was seventy-two years old at the birth of his son. In one leap the entire history of the state, almost of the West, was spanned.
Colorado lies in two parts. The eastern half is flat, part of the great, fertile heartland that feeds the nation. Denver is the last city of the plains. From its hotel windows, to the west, the mountains rise like a wall. These are the Rockies. Beneath the mountains lies the great reef of silver upon which the mining towns were built. Almost everything was done by hand in these remote locations—trees felled, tunnels dug, shafts and galleries timbered. Sometimes you find the remains of mines with weathered piles of tailings deep in the wilderness. On the way to Crested Butte from Aspen, over the mountains, there are several. It is difficult to imagine such backbreaking labors far from any road or town, but then one remembers the purity of the ore and the size of the nuggets that were sometimes found: in one celebrated case, almost twenty-one hundred pounds of pure silver.
Walking to Crested Butte takes a day. The path at the beginning, in the early morning, is narrow but defined. Gradually it begins to fade and finally, above timberline, to wander aimlessly through high meadows, though the final rocky trail over the pass is plain. The air is thin at this height. One's eyes feel dry; the skin itches. All around is wilderness and fever-blue sky. A friend of mine once encountered two women walking with difficulty toward him near the top of the pass. Jehovah's Witnesses, they were wearing high heels. They wanted to know if this was the way to town."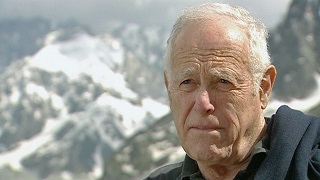 James Salter (10 juni 1925 – 19 juni 2015)
De Nederlandse schrijfster Mensje van Keulen werd op 10 juni 1946 geboren in Den Haag. Zie ook alle tags voor Mensje van Keulen op dit blog.
Uit: In het donker
''Benno is een fantastische kat. Als ik het huis binnenga, staat hij me op te wachten en begint meteen te spinnen. Het is jammer dat jij niet tegen katten kan, ik zou er graag een willen.'
'Voor honden ben ik niet allergisch. We zouden een hondje kunnen overwegen, ik heb het je eerder gezegd.'
'Weet je hoe heerlijk het voelt als je een kat aait?'
'Die je vervolgens openhaalt.'
"Daar kon hij niks aan doen.'
Opnieuw het geluid van een naderende wagen.
'Nog meer onschuldige schepsels naar de slachtbank,' zegt ze. 'Is het binnenkort soms weer offerfeest? Ooit hadden we een wet die bepaalde dat dieren niet moesten lijden als ze voor de slacht gedood werden. Maar ook op die school van jou krijgen ze voor het gemak tegenwoordig allemaal maar halal worst en kaas waarvoor kalveren zonder verdoving moeten leegbloeden. Arabieren schijnen eerst de pezen van de achterpoten van koeien door te snijden zodat de dieren niet kunnen wegrennen.'
'Je moet oppassen met dat soort opmerkingen.'
'En wees jij niet zo politiek correct. Dat zijn degenen die het meest liegen.'



Mensje van Keulen (Den Haag, 10 juni 1946)
De Nederlandse schrijver Jan Brokken werd geboren op 10 juni 1949 in Leiden. Zie ook alle tags voor Jan Brokken op dit blog.
Uit:De gloed van Sint-Petersburg
"Toen ik in 1975 voor het eerst van mijn leven in Leningrad verbleef, was het nog maar negen jaar geleden dat Anna Achmatova de laatste adem had uitgeblazen. Haar invloed was nog altijd merkbaar in de stad, maar om geen problemen met de autoriteiten te krijgen kon je haar naam beter niet uitspreken in het openbaar. Echt verboden was haar werk niet langer, een op de tien bewoners van Leningrad kon haar verzencyclus Requiem uit het hoofd declameren – schat ik – en toch riep haar naam nog altijd het vermoeden van protest en dissidentie op. De volledige, ongecensureerde versie van Requiem zou pas vele jaren later in de Sovjet-Unie verschijnen, in 1987; Anna Achmatova zat nog half in het verdomhoekje.
De laatste jaren voor haar dood had ze als een gevangene geleefd, afgeschermd en afgesloten van de wereld. De voornaamste reden dat haar volgeling Joseph Brodsky als persona non grata op een vliegtuig naar de Verenigde Staten werd gezet, was zijn veelvuldig contact met Achmatova geweest, tegen de wens van de autoriteiten in. Hij deed er alles aan om de poëzie van Achmatova onder een breed publiek te verspreiden en stak niet onder stoelen of banken dat hij haar vereerde als de grootste Russische dichter sinds Poesjkin. Dat streelde het ego van de dichteres. Achmatova had de jongeman als het even kon iedere dag ontvangen, mede omdat hij haar onophoudelijk aan de vermoorde Osip Mandelstam deed denken. Met Mandelstam had ze een band gehad die het begrip en de genegenheid verre oversteeg: zij leken een en dezelfde dichtersziel te delen.
Veertig jaren zijn voorbijgegaan sinds mijn eerste bezoek aan de stad. Op zondag 22 februari 2015 loop ik over de Voskresenskaja, de Opstandingskade die voorheen Robespierrekade heette, langs de Neva in de richting van de Smolnykathedraal.
De sneeuw knerpt onder mijn schoenzolen. Het is zo koud dat de lucht die ik inadem als een mes in mijn longen snijdt. Brede rijen auto's denderen over de wit uitgeslagen weg langs de rivier; door het geratel van hun spijkerbanden lijken geweren af te gaan. Ik zet de capuchon van mijn anorak op, trek de sjaal rond mijn kraag strakker aan en sta bij het metrostation Tsjernysjevskaja plotseling voor het standbeeld van Anna Achmatova."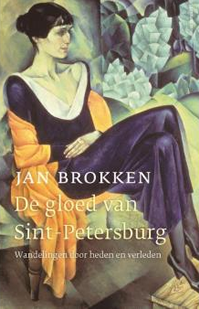 Jan Brokken (Leiden, 10 juni 1949)
Cover
De joods-Amerikaanse schrijver Saul Bellow werd geboren op 10 juni 1915 te Lachine, een voorstad van Montreal. Zie ook alle tags voor Saul Bellow op dit blog.
Uit: The Adventures of Augie March
"Simon was a blond boy with big cheekbones and wide gray eyes and had the arms of a cricketer—I go by the illustrations; we never played anything but softball. Opposed to his British style was his patriotic anger at George III. The mayor was at that time ordering the schoolboard to get history books that dealt more harshly with the king, and Simon was very hot at Cornwallis. I admired this patriotic flash, his terrific personal wrath at the general, and his satisfaction over his surrender at Yorktown, which would often come over him at lunch while we ate our bologna sandwiches. Grandma had a piece of boiled chicken at noon, and sometimes there was the gizzard for bristleheaded little Georgie, who loved it and blew at the ridgy thing more to cherish than to cool it. But this martial true-blood pride of Simon's disqualified him for the crafty task to be done at the dispensary; he was too disdainful to lie and might denounce everybody instead. I could be counted on to do the job, because I enjoyed it. I loved a piece of strategy. I had enthusiasms too; I had Simon's, though there was never much meat in Cornwallis for me, and I had Grandma Lausch's as well. As for the truth of these statements I was instructed to make—well, it was a fact that we had a boarder. Grandma Lausch was our boarder, not a relation at all. She was supported by two sons, one from Cincinnati and one from Racine, Wisconsin. The daughters-in-law did not want her, and she, the widow of a powerful Odessa businessman—a divinity over us, bald, whiskery, with a fat nose, greatly armored in a cutaway, a double-breasted vest, powerfully buttoned (his blue photo, enlarged and retouched by Mr. Lulov, hung in the parlor, doubled back between the portico columns of the full-length mirror, the dome of the stove beginning where his trunk ended)—she preferred to live with us, because for so many years she was used to direct a house, to command, to govern, to manage, scheme, devise, and intrigue in all her languages. She boasted French and German besides Russian, Polish, and Yiddish; and who but Mr. Lulov, the retouch artist from Division Street, could have tested her claim to French? And he was a serene bogus too, that triple-backboned gallant tea-drinker. Except that he had been a hackie in Paris, once, and if he told the truth about that might have known French among other things, like playing tunes on his teeth with a pencil or singing and keeping time with a handful of coins that he rattled by jigging his thumb along the table, and how to play chess."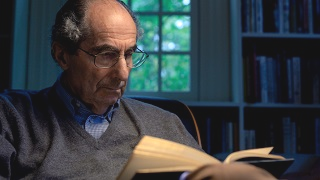 Saul Bellow (10 juni 1915 - 5 april 2005)

Zie voor nog meer schrijvers van de 10e juni ook mijn vorige blog van vandaag.
10-06-2017 om 10:54 geschreven door Romenu

Tags:Louis Couperus, Jacques Perk, James Salter, Mensje van Keulen, Jan Brokken, Saul Bellow, Romenu



Ion Creanga, Oktay Rifat, Peter Kurzeck, Antun Mihanović, Tijl Nuyts
De Roemeense schrijver Ion Creanga werd geboren op 10 juni 1839 in Humuleşti. Zie ook alle tags voor Ion Creanga op dit blog.
Uit: Memories of My Boyhood (Vertaald door Ana Cartianu en R.C. Johnston)
"One day what should come into the priest's head but to inspect our prayerbooks. Seeing them all bloodstained, he clutched his head in horror. As soon as he found out how they had got into this shocking state, he summoned each one of us in turn to Dapple-Grey's back and began to belabour us with St. Nicholas, bishop in partibus, as retribution for the pains the martyred flies and the holy bumble-bees had suffered at our hands.
Not long after this, one day in the month of May, close upon the Whitsun Moşi1 festival, the Evil One prompted Master Vasile, the blockhead, for I have no better word for him, to appoint a fellow called Nică, Costache's son, to test my knowledge. Nică, who was older than me and whose scholarship was a trifle more than non-existent, had quarrelled with me on account of little Smaranda, whom, one day, with every sign of regret, I had been forced to shove away because she would interfere with my catching flies. So Nică began to examine me, and just went on examining and examining and didn't he just score mistakes wholesale on a piece of shingle: one, two, three, and so on up to twenty-nine! "My word, this is past a joke," I said to myself. "He has not yet finished examining me, and think of all the mistakes to come!" All of a sudden, everything went black in front of me and I began to tremble with anger. "Well, well, I am in a hole! What's to be done about it?" I kept asking myself. Slyly I glanced at the door of salvation and kicked my heels impatiently, waiting for some loiterer outside to come in, for there was a school rule that two people should not walk out at the same time. My heart was fit to burst within me seeing that no one would come in and give me a chance of escaping mounting Dapple-Grey and receiving the blessing of St. Nicholas, that dispenser of black and blue."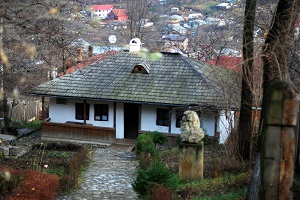 Ion Creanga (10 juni 1839 – 31 december 1889)
Het geboortehuis van Ion Creanga, nu museum
De Turkse dichter Oktay Rifat werd geboren op 10 juni 1914 in Trabzon. Zie ook alle tags voor Oktay Rifat op dit blog.
I Hoisted all my flags
I hoisted all my flags on the flagpoles,
I painted the city with my blood's hot colour.
I spread stones on the road that led to anger.
I levelled towers with the back of my hand.
I quartered love into east, west, north and south,
For the leaps from corner to corner.
My first grasshopper, key to my lock.
Fresh as spring sunshine, burgeoning hopes
That carry my joy on the branch.
Inside the light a different light,
Inside the fruit another seed
Empty all my taps, pour my rain
On darkness and fear and the old.
Hello to the torrents that flood down the hill to the plain!
I stand in the middle; days and nights,
Streets and houses, flow past me on both sides.
I am keener than a rust-free anchor, than the sky.
I spin tbe seasons like a top.
In one snap of the fingers I overturned loneliness, erased it.
Fed on my own milk I grow into immortality.
Grass on the earth, and trees, and wet tomorrows.
Vertaald door Ruth Christie
Freedom Has Hands
1
Our horses galloped foaming
to the calm sea.
2
What is this flight? Is it the dove's
joy of freedom?
3
It was forbidden to kiss, did you know
forbidden to think
forbidden to defend the work force.
4
They've picked the fruit from the tree
and they sell it in the market
for as much as they can get,
labor's broken branches on the ground.
Vertaald door Richard McKane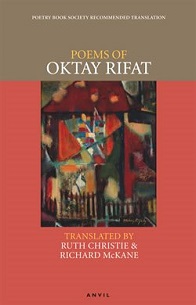 Oktay Rifat (10 juni 1914 – 10 april 1988)
De Duitse schrijver Peter Kurzeck werd geboren op 10 juni 1943 in Tachau, Bohemen. Zie ook alle tags voor Peter Kurzeck op dit blog.
Uit: Ein Kirschkern im März
"Als Gast. Alle Abende mit meinem Leben unter dem Oberlichtfenster oder im leeren schweigenden Nebenzimmer. Am Anfang des Abends. Immer der gleiche Moment. Noch eben hell.
März, eine Amsel singt. Du bist müde und spürst, wie die Zeit an dir zieht. Wer bin ich? Und warum hier? Bevor du dich jedesmal wieder auf den Weg machst, deinem Kind gute Nacht sagen.
Carina ist viereinhalb. Ende November die Trennung. Vorher fristgerecht meine Arbeit verloren, eine unersetzliche Halbtagsstelle in einem Antiquariat. Kein Geld, keine Wohnung, kein Einkommen. Schriftsteller. Letzten Sommer mit meinem dritten Buch angefangen. Ende November die Trennung und von da an dann ganz zuletzt jede Nacht aus den überzähligen Matratzen ein Bett, ein Ersatzbett mir in unserem großen Zimmer. Mit Selbstgesprächen. Und immer noch fassungslos. In der Stille nach Mitternacht. Die Zeit, die mir bleibt. Dann spät im Januar für sechs Wochen in eine Abstellkammer in einer fremden Wohnung zwei Straßen weiter und als Spuk, als Gespenst, als Schatten vorerst in dieser Abstellkammer. Eine Trennung und noch keine Wörter dafür. Und hätte nicht gedacht, daß das zu mir und zu meinem Leben gehört. Das Jahr 1984. Frankfurt am Main.
Und als mir auch in der Abstellkammer nur noch drei letzte Tage blieben, sagte im Kinderladen ein anderer Vater zu mir: Du kannst bei uns wohnen. Auch länger. In der Eppsteiner Straße.
Du warst ja schon bei uns. Aber haben im gleichen Haus unterm Dach noch zwei Zimmer als Arbeitszimmer, sagt er, für Birgit und mich. Heizung. Bad dabei. Alles was du brauchst, sagt er. Platz genug. Er heißt Peter wie ich. Ende Februar. Ein heller Morgen. Wir stehen vor dem Kinderladen am Tor. Das besetzte Haus in der Siesmayerstraße. Dann am ersten März bei ihnen eingezogen. Und seither als Gast."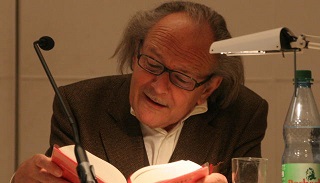 Peter Kurzeck (10 juni 1943 – 25 november 2013)
De Kroatische dichter en diplomaat Antun Mihanović werd geboren in Zagreb op 10 juni 1796. Zie ook alle tags voor Antun Mihanović op dit blog.
Notre belle patrie
Notre belle patrie,
Oh cher et héroïque pays,
Patrie à la gloire ancestrale,
Sois toujours heureuse !
Chère, autant que tu es glorieuse,
Toi seule nous est chère.
Chère, là où ton sol est plat,
Chère, là où il est montagneux.
Coule Drave, Save coule,
Toi non plus Danube, ne perd pas ta vigueur
Mer azur, va annoncer au monde
Qu'un Croate aime son peuple !
Tant que le soleil réchauffe sa terre labourée,
Tant que les tempêtes fouettent ses chênes,
Tant que les tombeaux cachent ses morts
Tant que bat son cœur vivant !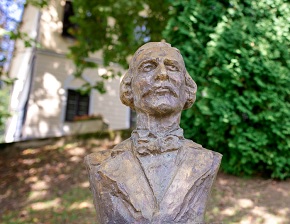 Antun Mihanović (10 juni 1798 – 14 november 1861)
Borstbeeld in Tuhelj
Onafhankelijk van geboortedata:
De Vlaamse dichter Tijl Nuyts werd geboren in 1993. Nuyts studeerde Engelse en Spaanse taal- en letterkunde en westerse literatuur. Momenteel werkt hij als assistent Spaanstalige literatuur aan de KU Leuven. Eerder verschenen korte verhalen, gedichten en essays van hem in onder meer Deus ex Machina, Kluger Hans, DW B, Streven, Oikos, Romaneske, Mvslim.com, Gierik & NVT. Bij uitgeverij Polis verschijnt in januari 2017 zijn eerste gedichtenbundel Anagrammen van een blote keizer.
aborg 2
het is bijna zoals italiaanse schilderijen
of flirten in een stomme film:
het gevaar de dingen te noemen
tussen handelspanden verzonken in
tijdloze kronkelstraten schrikt
een man op een stapel perzische tapijten wakker;
hij verontschuldigt zich voor zijn dutje:
'hoofdpijn', zegt hij
toen werd ik ziek, het was augustus
en terwijl zij beneden tevergeefs hun kleuren tonen
— paradijsvogels vol 'origo ik ik ik!' — plaats ik,
gebogen over scarabee en avondmaal,
een injectie in de bloedbaan van het denken
zij begrijpen niet dat wij niet
naar de woorden luisteren
maar naar hun eelt
daar staat hij, op het grasveld onder mijn raam: wilhelm kostrowicky;
als een kind dat vrienden zoekt om mee te fietsen
zijn snor stijf van de pommade, messen kwetterend in zijn handen
zijn stem een autoalarm in de stenen nachtlucht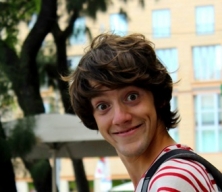 Tijl Nuyts (1993)
10-06-2017 om 10:53 geschreven door Romenu

Tags:Ion Creanga, Oktay Rifat, Peter Kurzeck, Antun Mihanović,, Tijl Nuyts, Romenu


09-06-2017

Maarten Doorman, Paul Beatty, Xander Michiel Beute, Anton Roothaert, Jian Ghomeshi, Mirko Bonné, Curzio Malaparte, Charles Webb, Rudolf Borchardt
De Nederlandse dichter, schrijver, criticus en filosoof Maarten Doorman werd geboren op 9 juni 1957 in Medina Sidonia (Spanje). Zie ook alle tags voor Maarten Doorman op dit blog.
Het landschap denkt ons
Alles ligt klaar voor de wandelaar
De beek langs de weg, het seinhuis
het te smalle trottoir als gedachten
die je ontmoet en dan de jouwe
noemt, ook zonder kaart liggen ze daar
en wie de deur uitgaat ziet ze haast
voor ze ons omhelzen en wij denken
dat wij het doen terwijl de bomen minzaam
zwaaien. En wij doen het soms
maar meestal denkt het landschap ons
en daar ga je
Hoekwachters
Ze wachten op minstens 2 trams tegelijk
de hakkenlichters
die tussen twee wallen
hun zwaargeestige momenten staan te kauwen,
op minstens 2 trams die in vereiste richting
met de bel mee gaan.
Ze wachten als doodgetrapte ballonnen
deze pikstekige vrouwspersonen
en de mannen aan toonder,
even onbedaarlijk als schaamteloos staan ze daar
in de beklemming van hun natte jas
weg te raken. In portieken gedrukt
tegen de regen vraagt hun ongeduld
toch verhuld om uitstel van bestemming:
met lege tas willen de hoekwachters liever
de tram niet in.
Wat doe ik ik hun plastic zak?
- een föhn die kastanjegeur blaast
een brilmontuur van konijnebout
een schubje zeemeermin
en een nieuw papiertje voor maart (de weekends
uitgezonderd), een spijker een mes en een touwtje
een vies vloekblaadje een stukje
zuidelijk halfrond en een eigen houtje
voor het bijten. Een 45-
strippenkaart voor lijn 1 t/m 100.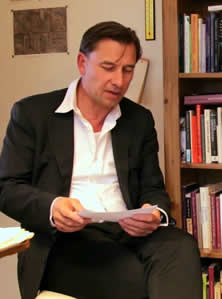 Maarten Doorman (Medina Sidonia, 9 juni 1957)
De Amerikaanse schrijver Paul Beatty werd geboren op 9 juni 1962 in Los Angeles. Zie ook alle tags voor Paul Beatty op dit blog.
Uit:De verrader (Vertaald door Gerda Baardman en Bart Gravendaal)
"De drie basiswetten van de gettofysica zijn: een nigger die je lastigvalt, blijft je meestal lastigvallen; ongeacht waar de zon aan de hemel staat, het is altijd 'kwart over je apenreet en tien voor je kloten'; en nummer drie: als er iemand wordt neergeschoten van wie je houdt, ben je steevast net thuis voor de kerstvakantie, halverwege je eerste studiejaar, en ben je die middag te paard op weg naar een afspraak met je vader voor een vergadering van de Intellectuelen van de Dum Dum Donut, de plaatselijke denktank, waar hij en de andere buurtgeleerden je overvoeren met cider, kaneelbroodjes en homotherapie. (Niet dat je vader denkt dat je gay bent, maar hij maakt zich zorgen omdat je altijd om elf uur thuis bent en de uitdrukking 'lekkere bitch' niet in je vocabulaire lijkt voor te komen.) Het is een koude avond. Je bemoeit je met je eigen zaken en neemt net genietend de laatste slokjes van je vanillemilkshake als je op een troep rechercheurs stuit die om het lijk heen staan. Je stijgt af. Je doet een stap dichterbij en herkent een schoen, of een overhemdsmouw of een sieraad. Mijn vader lag op zijn buik op de kruising. Ik herkende hem aan zijn vuist, stevig toegeknepen, de aderen op de rug van zijn hand nog steeds opgezwollen en vol. Ik compromitteerde de plaats delict door wat pluis uit zijn verklitte afro te plukken, de gekreukte kraag van zijn Oxford-overhemd glad te strijken, het grind van zijn wang te vegen en wat volgens het politierapport nog het ergste was, mijn hand in de plas bloed rond zijn lichaam te leggen, die tot mijn verrassing koud was. Niet heet, niet kolkend van de zwarte woede en de levenslange frustratie van een fatsoenlijke, zij het enigszins gestoorde man die nooit was geworden wie hij vond dat hij was.
'U bent zijn zoon?'
De rechercheur nam me van top tot teen op. Hij fronste zijn wenkbrauwen en zijn ogen schoten heen en weer van herkenningspunt naar herkenningspunt. Achter zijn minachtend zelfgenoegzame glimlach zag ik zijn hersenen bijna speuren naar verwijzingen in mijn littekens, lengte en bouw naar een bestand met gezochte misdadigers in zijn hoofd.
'Inderdaad.'
'Ben je iets bijzonders?'
'Huh?'
'Volgens de agenten schreeuwde hij bij zijn aanhouding, en ik citeer: "Ik waarschuw jullie, stelletje anale, autoritaire archetypes, jullie weten niet wie mijn zoon is!" Dus, ben je een bijzonder iemand?'
Wie ben ik? En hoe kan ik die persoon worden?
'Nee, ik ben niets bijzonders.'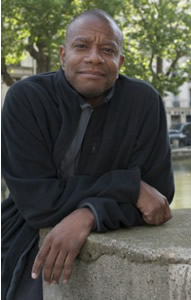 Paul Beatty (Los Angeles, 9 juni 1962)
De Nederlandse schrijver Xander Michiel Beute werd geboren op 9 juni 1975 te Gouda. Zie ook alle tags voor Xander Michiel Beute op dit blog.
Uit: Nachtvoorstelling
"Dit is gebeurd, geen weg terug. Kut, hoe kom ik thuis'? Ademhalen Maarten, blijven ademhalen. De lucht diep in je longen zuigen, daar goed op letten. Dan krachtig uitblazen door de mond, de wangen moeten bol staan. Eerst rustig worden, beginnen met de ademhaling dan volgt het hart vanzelf. Het lijkt te werken, De man houdt me nog steeds zorgvuldig overeind. Zijn handen omklemmen mijn schouders stevig. Omvallen zal ik niet meer. Ik moet steeds aan mijn knie denken, het doet al minder pijn, misschien valt het nog wel mee. De man kijkt me recht in de ogen. Hij heeft donkere ogen, serieus. Ken ik hem ergens van? Hij beangstigt me een beetje. Verlegen kijk ik langs hem heen, mijn ogen zoeken een bekend gezicht. Er staat een kring van mensen om ons heen, allemaal jongens. Ik herken niemand. Ze lachen. Wat valt er nou te lachen? Ik sta nog op mijn benen! Achter de kring van jongens zie ik nu vaag nog veel meer gezichten. Ze staan een eind van ons vandaan. Een haag van mensen. Toeschouwers. De man verstevigt zijn grip om mijn schouders. Viel ik weer bijna om, hield hij me daarom zo stevig vast? Het lijkt alsof ik zijn vingers in mijn vlees voel. Zijn gezicht komt dichterbij. Ik kijk verlegen naar mijn schoenen. 'Zo, nou heb je ineens geen grote bek meer! ' Hij houdt zijn hand in de lucht, zijn vuist is gebald. 'Wat?' Op het moment dat ik nog meer wil zeggen, wordt ik verblind door de slaande vuist in mijn gezicht. Mijn hoofd trilt, ik schud met mijn hoofd, doe mijn ogen open, alles begint te bonzen. Bloed. Ik kijk de man recht in zijn ogen aan. Rode vlekken bewegen voor mijn ogen. Hij spuugt me in het gezicht. 'Een vuile klootzak ben je! ' Ik verroer geen vin. Ik ben een standbeeld, vastgenageld. Vragend blijf ik de man in het gezicht kijken. Het maakt hem nog kwader. Zijn voorhoofd glimt van het zweet. Ik voel mijn hand weer trillen, Mijn hoofd knalt uit mekaar, ziedend van woede weet ik helemaal niets. Een klap voor zijn smoel kan ie krijgen. Ik heb niets gedaan, helemaal niets. Ik kan niets doen. Zijn speeksel druipt langs mijn wangen, het blijft op mijn lippen plakken. Mijn mond is droog. Het gebeurt allemaal niet echt, het is niet zo... een vuist slaat me hard in het gezicht."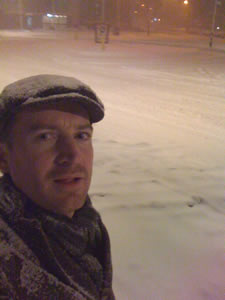 Xander Michiel Beute (Gouda, 9 juni 1975)
De Nederlands schrijver en jurist Antonius Martinus Henricus (Anton) Roothaert werd geboren in Tilburg op 9 juni 1896. Zoe ook alle tags voor Anton Roothaert op dit blog.
Uit: Doctor Vlimmen
"En bij deze onplezierige ontmoeting zit Vlimmen in zijn wagen, beweegt zich niet en tuurt in het spiegeltje of daar zijn leven van afhangt. Zijn huid voelt aan als het pantser van een schildpad; alleen is het jammer, dat hij niet zijn hoofd eronder kan wegstoppen, een hoofd, waarvan hij met ergernis voelt, dat het steeds roder wordt... Daar staat Treeborg al naast zijn wagen!... Wie moet nu het eerst groeten? Zal hij...? Maar stel je voor, dat de vent hem negeert, of een hautain knikje teruggeeft!...
Juist als hij op het punt staat met een verschrikt gebaar zijn zakboekje te trekken om gauw iets na te kijken:
'Bonjour, de Vlim! Hoe gààt het nog, zeg?'
Vlimmen is komiek in zijn slecht-gespeelde verrassing en hij weet het... Maar hoor toch 'ns, wat 'n jovialiteit! 'De Vlim' is zijn studentennaam en het klinkt hem tegenwoordig in de oren, als werd hij bij zijn voornaam genoemd...
'Hallo - uh - Treeborg! Hoe is 't?' Hij spant zich vergeefs in om gewoon te doen. Maar de ander let meer op zichzelf, trekt een geleerd gezicht en komt ter zake.
'Zeg!' roept hij en het zweemt al een beetje naar zag. 'Beginnen ze bij jullie ook al te zaniken over verlaging van tarieven in verband met de malaise?'
Het is einde 1929 en de crisis begint eerst. Iedereen zegt dat alles 'omlaag' moet en dat het zo geen jaar moet duren, want dan gaan we allemaal over de kop.
'Ik heb er nog niets van gehoord,' zegt Vlimmen, de ogen strak op het asbakje van zijn auto... Moet hij nu aanstonds, als de bomen opgaan 'die feut' vragen om mee te rijden...? 'Maar ik ben zelf al begonnen met verlagen,' zegt hij dan met de bedoeling om eens zeer grappig voor den dag te komen.
'O - uh?' De gedachtengang van den jongen arts wordt er hinderlijk door onderbroken. Hij is juist bezig een belangrijk verhaal ineen te dichten over grootmachten van de Maatschappij voor Geneeskunde, professoren en dat soort lui, die hij gewoon bij de naam zal noemen als Jantje Kouwer en Pietje Lameris, die hem persoonlijk hebben geraadpleegd, wien hij dit en dat eens heel flink heeft gezegd, waarop ze moesten toegeven, dat...
'Ja, ik heb zo juist nog m'n tarieven verlaagd voor olifanten, tijgers en zeboe's!' Vlimmen trekt er een zeer ernstig gezicht bij."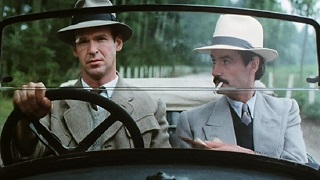 Anton Roothaert (9 juni 1896 – 29 maart 1967)
Scene uit de film "Dokter Vlimmen" met Peter Faber (Vlimmen) en Roger Van Hool (Dacha), 1977
De Canadese schrijver, muzikant en tv-en radiopresentatorpresentator Jian Ghomeshi werd geboren op 9 juni 1967 in Londen en groeide op in Thornhill, Ontario. Zie ook alle tags voor Jian Ghomeshi op dit blog.
Uit: 1982
"Thad always wanted to be a rock singer. I'd done pretty well with the Wing nuts and our big gig at the Wood-land Junior High gymnasium in Grade 8.
I'd certainly deduced that girls fan-cied rock singers. And so I imagined that if I became a good rock singer, I would probably get Wendy's attention and af-fection. The good news was that a few months before I summoned up the courage to ask Wendy to the Police Pic-nic, I began to receive some notice for my vocal abilities. The less than good news was that this modest vocal triumph did not really come from singing. It was about speaking. In the middle of Grade 9, I started doing the morning announcements at Thornlea Secondary School. It was a job for a nerd. I was that nerd. Actually, no, I was more. I was an aspiring Persian-Canadian New Wave singer with newly acquired hair gel ... and also a public-speaking nerd. This was the first time I became identified for my voice. The morning announcements were roughly five minutes in length and in-volved holding a microphone close to a cassette deck that was playing the na-tional anthem and then telling everyone that classes were to begin. We didn't have digital music players in the early '8os. We had clunky porta-ble cassette decks left over from the 'dos.
They would make loud whirring sounds cassette-player speaker for the audio to when they were rewinding. And we be heard over the school PA system. would hold a microphone close to the If you're a teenager reading this now, you probably think the whole exercise sounds prehistoric. That's because it was. Sometimes, describing the way we lived in the early 198os is akin to telling the story of being a pioneer: "Yes ... we survived with these large-knobbed cassette players, children. And we used shiny tapes in plastic cases that moved quickly in circles and often broke. And also, we learned how to mash up peanuts and butter in order to make peanut butter for food." OK, maybe I have no idea how you make peanut butter. We never did that. But the point is, clunky Thornlea tape-deck technology was the only op-tion at the time. It was all very anti-quated. The morning announcements were a thankless endeavour but a big step into prominence by my standards. And I'm still not really sure how I got this odd morning gig. Somehow, I took the place of our vice-principal and his moustache."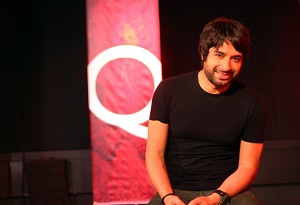 Jian Ghomeshi (Londen, 9 juni 1967)
De Duitse dichter, schrijver en vertaler Mirko Bonné werd op 9 Juni 1965 in Tegernsee / Oberbayern. Zie ook alle tags voor Mirko Bonné op dit blog.
Uit: Nie mehr Nacht
"Ira reiste durch Israel, um Hebräisch zu lernen, und wurde schwanger. In Hamburg heiratete ich meine Nachbarin. In kam aus Netanja zurück und brachte einen Sohn zur Welt. Ich ließ mich scheiden. Aber meine frühere Frau blieb in der Nähe, Saskia und ich blieben Freunde. Aus Angst umeinan-der wurden wir wieder zu Nachbarn. Rückblickend schien mir außerdem, dass im Gegensatz zu mir meine Schwester sehr wohl versucht hatte, sich gegen ihre Angst zu wappnen. Oder waren ihre Reisen eine Flucht gewesen? Wovor? Vor wem? Was uns peinigte, schienen wir entweder in uns zu tragen oder waren es selbst. Beide nah-men wir es überallhin mit, ihm entkommen, das wusste wir, konnten weder sie noch ich. Irgendwann wohnte sie in einem eigenen Haus. Es war kein schönes Haus, nichts daran war besonders, außer dass es in den letzten Jahren vor ihrem Tod der Mittelpunkt ihrer Welt war. In ihrem Haus, sagte In, stehe zu jeder Sekunde alles auf dem Spiel, bei Tag und auch auch in der Nacht. Allein mit dem Kind, fühlte sie sich in dem Haus einge-mauert. Bei Wind und Wetter — immer! — kamen um kurz nach halb zwei die Nachbarskinder aus der Schule und fuh-ren mit Fahrrädern durch die Siedlung, so wie sie selber vor zwanzig Jahren keine zehn Kilometer entfernt durch Schnei-sen gefahren war Moos überwucherte den Garten, und schon im März kamen die Mücken. Ab Mitte Juni bellte der kleine Hund von nebenan gegen die Terrassenmarkise an, sobald sie heraus-gekurbelt wurde. Im Hochsommer schob sie den Buggy mit dem Jungen auf trostlose Spielplätze. Im Herbst stand sie an der Terrassentür und starrte durch das Gitter des Regens auf eine bemooste Pergola und lauter Thujen. Zwei Fledermäuse gaukelten durch die Dämmerung. Manchmal bekam sie Lust, den Rasen umzugraben, die schwarze Erde ans Licht zu holen, aber tat es nicht. Es wurde kalt, und in seinem Kel-lertank tropfte das Heizöl, im Kinderzimmer, im Vorgarten, in der Garage, wo immer man stand und horchte, überall war es zu hören. Einmal hatte sie mich gebeten, ihr Haus zu zeichnen. An einem Wintertag standen wir im Garten, und sie zeigte mir, wie sie sich das Bild vorstellte: Das Haus sollte wegfliegen."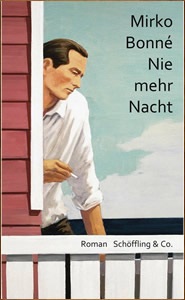 Mirko Bonné (Tegernsee, 9 juni 1965)
De Italiaanse schrijver van Duitse afkomst Curzio Malaparte (pseudoniem van Kurt Erich Suckert) werd geboren in Prato Toscane, 9 juni 1898. Zie ook alle tags voor Curzio Malaparte op dit blog.
Uit: Kaputt (Vertaald door Hellmut Ludwig)
"Als Dietl den Arm hob und »Heil Hitler!« rief, stand der Mann auf, und jetzt erkannte ich ihn. Es war der Mann aus dem Aufzug, es war Himmler. Er stand uns gegenüber, auf seinen Plattfüßen, deren große Zehen seltsam nach aufwärts gebogen waren, die kurzen Arme hingen ihm seitlich herab. Ein Schweißbach rann wie aus einer Wasserleitung von seinen Fingerspitzen; selbst von seinem Penis strömte ein Wasserstrahl, so daß Himmler aussah wie die Figur des Mannekenpis in Brüssel. Um die schlaffen Brüste sprossen zwei kleine Haarkronen, zwei Mondhöfe lichtblonder Haare; von den Brustwarzen spritzte der Schweiß wie Milch.
Er machte eine Bewegung, sich an der Wand zu stützen, um nicht auf dem feuchten und glitschigen Bodenbelag auszugleiten, und bot uns so den Anblick seiner zwei runden, stark ausgebildeten Hinterbacken, die wie eine Tätowierung den Abdruck der Bankbretter zeigten. Schließlich gelang es ihm, das Gleichgewicht wiederzufinden, er wandte sich um, hob den Arm und öffnete den Mund, doch der Schweiß, der von seinem Gesicht herabströmte, lief ihm in den Mund und hinderte ihn, »Heil Hitler« zu sagen. Bei dieser Bewegung, welche die Anwesenden als das Signal zur Geißelung auffaßten, hoben die anderen nackten Männer ihre Birkenruten und begannen zunächst sich gegenseitig zu peitschen, dann, wie auf Verabredung, schlugen sie mit den Reisern auf Himmler ein, auf Schultern, Rücken und Gesäß, sich zu immer größerer Heftigkeit steigernd."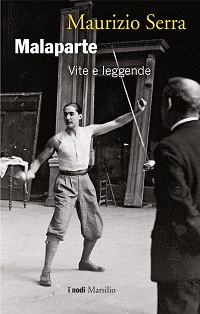 Curzio Malaparte (9 juni 1898 – 19 juli 1957)
Cover biografie
De Amerikaanse schrijver Charles Webb werd geboren op 9 juni 1939 in San Francisco. Zie ook alle tags voor Charles Webb op dit blog.
Uit:The Graduate
"Ben."
"I'm grotesque. This house is grotesque. It's just this feeling I have all of a sudden. And I don't know why!"
"Ben, it's because you're all tied up in knots."
Benjamin shook his head.
"Now I want you to relax."
"I can't seem to."
"Ben, you've just had four of the most strenuous years of your life back there."
"They were nothing," Benjamin said.
"What?"
"The whole four years," he said, looking up at his father. "They were nothing. All the things I did are nothing. All the distinctions. The things I learned. All of a sudden none of it seems to be worth anything to me."
His father was frowning. "Why do you say that."
"I don't know," Benjamin said. He walked across the room to the door. "But I've got to be alone. I've got to think until I know what's been happening to me."
"Ben?"
"Dad, I've got to figure this thing out before I go crazy," he said, unlocking the door. "I'm not just joking around either." He stepped back out into the hall."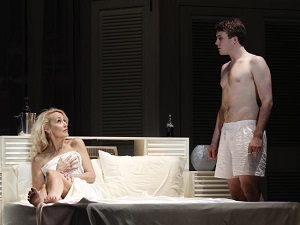 Charles Webb (San Francisco, 9 juni 1939)
Jerry Hall en Tim Dashwood in een toneeluitvoering van The Graduate in Sydney, 2015
De Duitse dichter, schrijver en vertaler Rudolf Borchardt werd geboren op 9 juni 1877 in Königsberg. Zie ook alle tags voor Rudolf Borchert op dit blog.
Knaben Schwermut

O Wolken, warum nahmt ihr was ich litt
Und was ich war, was ihr mir brachtet, mit?
Schon neue steigen an den Hügelrändern
Und bringen mir den Schmerz, mich zu verändern.

Ich sehne mich nach einem ewigen Nun;
Nicht immer, aber heute möcht ich ruhn;
Ich sehne mich danach, daß dieser Strich
Nicht morgen fleht: "mach mich veränderlich".

Nun muß ich wachsen, wie Gefild und Tier;
Auch ist im Winde Eigenschaft von mir;
Mein Eigen ist der bittere Gewinn,
In mir zu wissen, was ich nicht mehr bin.

Zum Wachsen ist es die bewußte Pein,
Die mich zu werden zwingt, und neu zu sein —
Kein Zeiger mißt und keine Spitze schreibt
Und keine Hand stellt ruhig, was mich treibt.

Um unsere Stirnen wandelt wunderbar
Mit Sturm und leichter Luft das mächtige Jahr —
Von jedem Wandel, dran es sich erhält,
Fällt Wandel über uns und auf die Welt:

Du wußtest, Altertum, was du gedichtet:
Augen der Götter sind auf uns gerichtet,
Wie das Gestirn am Bogen weiter rückend,
Taglang und Nachtlang, quälend und entzückend.

Von ihnen fließt es: aber meine Hände,
Wann halten sie, was ihnen widerstände?
Bin ich auf ewig dem Geheiß verpflichtet,
Weil michs beseligt, daß es mich vernichtet?
Ich wollte ohn euch sein, wenn Ihr mir ließt,
Was Ihr mir gabt, und sagen: "Andern fließt!"
Ihr seid die Feuersbrunst, Ihr seid die Habe:
Wir sind gemein, und nennen beides Gabe.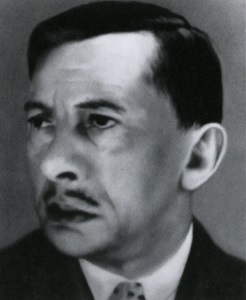 Rudolf Borchardt (9 juni 1877 – 10 januari 1945)
Portret door Gerhard Richter, 1971/72
Zie voor nog meer schrijvers van de 9e juni ook mijn blog van 9 juni 2015 en ook mijn blog van 9 juni 2014 deel 2.
09-06-2017 om 18:32 geschreven door Romenu

Tags:Maarten Doorman, Paul Beatty, Xander Michiel Beute, Anton Roothaert, Jian Ghomeshi, Mirko Bonné, Curzio Malaparte, Charles Webb, Rudolf Borchardt, Romenu


08-06-2017

Marguerite Yourcenar, Lutz Seiler, Ulf Stolterfoht, Péter Gárdos, Gwen Harwood, H. J. Friedericy, Gerald Bisinger, Udo Kawasser, Michael Basse
De Belgisch-Amerikaanse, Franstalige schrijfster Marguerite Yourcenar werd geboren in Brussel op 8 juni 1903. Zie ook alle tags voor Marguerite Yourcenar op dit blog.
Uit:Memoirs of Hadrian (Vertaald door Grace Frick, in samenwerking met de schrijfster)
"When I consider my life, I am appalled to find it a shapeless mass. A hero's existence, such as is described to us, is simple; it goes straight to the mark, like an arrow. Most men like to reduce their lives to a formula, whether in boast or lament, but almost always in recrimination; their memories oblingingly construct for them a clear and comprehensible past. My life has contours less firm. As is commonly the case, it is what I have not been which defines me, perhaps, most aptly: a good soldier, but not a great warrior; a lover of art, but not the artist which Nero thought himself to be at his death; capable of crime, but not laden with it. I have come to think that great men are characterized precisely by the extreme position which they take, and that their heroism consists in holding to that extremity throughout their lives. They are our poles, or our antipodes. I have occupied each of the extremes in turn, but have not kept to any one of them; life has always drawn me away. And nevertheless neither can I boast, like some plowman or worthy carter, of a middle-of-the-road existence.
The landscape of my days appears to be composed, like mountainous regions, of varied materials heaped up pell-mell. There I see my nature, itself composite, made up of equal parts of instinct and training. Here and there protrude the granite peaks of the inevitable, but all about is rubble from the landslips of chance. I strive to retrace my life to find in it some plan, following a vein of lead, or of gold, or the course of some subterranean stream, but such devices are only tricks of perspective in the memory. From time to time, in an encounter or an omen, or in a particular series of happenings, I think that I recognize the working of fate, but too many paths lead nowhere at all, and too many sums add up to nothing. To be sure, I perceive in this diversity and disorder the presence of a person; but his form seems nearly always to be shaped by the pressure of circumstances; his features are blurred, like a face reflected in water. I am not of those who say that their actions bear no resemblance to them. Indeed, actions must do so, since they alone give my measure, and are the sole means of engraving me upon the memory of men, or even upon my own memory (and since perhaps the very possibility of continuing to express and modify oneself by action may constitute the real difference between the state of the living and of the dead). But there is between me and these acts which compose me an indefinable hiatus, and the proof of this separation is that I feel constantly the necessity of weighing and explaining what I do, and of giving account of it to myself. In such an evaluation certain works of short duration are surely negligible; yet occupations which have extended over a whole lifetime signify just as little. For example, it seems to me as I write this hardly important to have been emperor."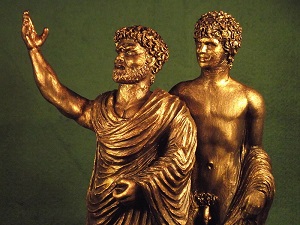 Marguerite Yourcenar (8 juni 1903 – 17 december 1987)
Hadrianus en Antinous, sculptuur van Malcolm Lidbury voor het LGBT History & Art Project Cornwall UK, 2016
De Duitse dichter en schrijver Lutz Seiler werd geboren op 8 juni 1963 in Gera. Zie ook alle tags voor Lutz Seiler op dit blog.
Uit: Turksib
"Trotz der hundert Rubel hatte ich nicht wirklich an sein Funktionieren geglaubt, und offensichtlich war, daß er auch nicht so funktionierte, wie er sollte, denn deutlich spürte ich, wie sein Verhalten in mich drang. Gern hätte ich mich ausgestreckt, flach auf dem Boden – ich war gebannt von einem außerordentlich wichtigen, tröstlichen Bild, welches das wispernde Kästchen mir in seiner wundersamen Melodie entgegenhob: Etwas, das ich nicht ganz erfassen konnte, ein Gesicht vielleicht, das noch schemenhaft blieb, eine Maske, unter der beharrlich oder auch nur abwartend geschwiegen wurde.
Ich selbst hatte in den Wochen vor meiner Abreise neben den bereits vorbestimmten Stationen Pawlodar und Karaganda jenen dritten Ort, nämlich Semey, Semey am Irtysch, ins Spiel gebracht. Der Konsul hatte länger als üblich nicht geantwortet. Nur von der Frau des Konsuls war eine kleine Liste eingetroffen, ein paar Dinge, die sie für sich und ihre Familie erbat: einen Adventskranz, Dominosteine und ein Medikament namens Uralyt. Schließlich hatte der Konsul meinem Vorschlag, wenn auch zurückhaltend, zugestimmt. In Semey, schrieb er, solle es dann aber unbedingt das Dostojewskihaus sein – ein idealer Ort für unser Thema; Städte im Nichts – der Titel war eine Idee der Übersetzerin gewesen.
Zu den Überraschungen des Konsuls gehörte, daß meine Auftritte von einem kasachischen Dombraspieler und seiner dreizehnjährigen Tochter begleitet wurden.
Die Sängerin, die aufgrund ihrer puppenhaften Erscheinung von der Übersetzerin bald unsere kleine, glänzende Mumie getauft wurde, zog die Töne von weit her und dehnte sie dann nach innen. Für diese umgekehrte, tief in den Rachen gedrehte Form des Gesangs stand sie wie angewurzelt, nur ihre Hände gingen durch die Luft, als striche sie vorsichtig über etwas, das sich unmittelbar vor ihr befinden mußte. Vollkommen unangebracht schien es mir, die betäubende Stille nach dem Lied mit meiner eigenen Stimme zu durchbrechen: Brasilia, Nairobi, und dann zum Wesentlichen hin, dem Wunder Astana, der "Hauptstadt der Steppe".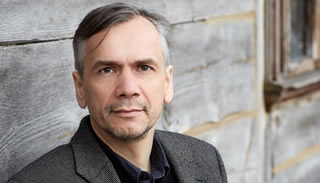 Lutz Seiler (Gera, 8 juni 1963)
De Duitse dichter, schrijver en vertaler Ulf Stolterfoht werd geboren op 8 juni 1963 in Stuttgart. Zie ook alle tags voor Ulf Stolterfoht op dit blog.
engelstrompete
engelstrompete: schon nach dem ersten zug setzt dumpfes brüten
ein, die arme hängen rechts und links herab, vor dem mund bunter
schaum. atmung beschleunigt, schenkel unschön verdreht. abwech-
selnd lauscht der berauschte oder geifert herzzerreißend. stöhnt,
ächzt und fällt in tiefen schlaf. nach dem erwachen erzählt er von
längeren reisen und seinen gesprächen mit bense. das klang nach
belang, doch gleichzeitig reichlich gefährlich. ecke witthoh-staffel /
wannenstraße hatte es eine grünanlage gegeben, mit truthahnge-
hege – und die hähne fraßen das zeug. gerieten völlig außer sich.
das hat uns schließlich bewogen. und nie, wirklich nie, hat uns die
pflanze um bilder betrogen. informationsästhetische bilder, bilder
der entropie, geschaute edv usw. wir haben dort eine kybernetische
hütte errichtet, von der aus flogen wir ab. keine ahnung, ob bense
das wußte. vielleicht hat ihm etwas geschwant. wie auch immer.
geraucht hatte sich die wirkung dann doch ein wenig verbraucht.
so wurde gekaut, schließlich gespritzt, und etwas seltsames ge-
schah: es genügten jetzt immer geringere mengen. die depots wa-
ren voll, quollen über, die nennung des namens ersetzte den stoff.
wir formten die klitsche zum sprachlabor um, setzten die kopf-
hörer auf und hauchten uns "engelstrompete" ins ohr. beachtlicher
flash. manche begannen, im zustand zu dichten. vielleicht unsre
besten. mit echten karrieren. kurz vor dem olymp verleugnung der
wurzeln. die immer gleiche geschichte: bense – wer ist das? und:
die beste droge ist ein weißes blatt. ihr werk verwese ungelesen.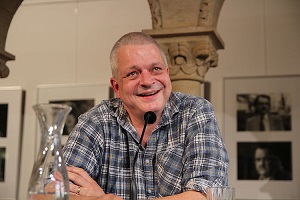 Ulf Stolterfoht (Stuttgart, 8 juni 1963)
De Hongaarse schrijver en film- en theaterregisseur Péter Gárdos werd geboren op 8 juni 1948 in Boedapest. Zie ook alle tags voor Péter Gárdos op dit blog.
Uit: Fever at Dawn (Vertaald doorElizabeth Szász)
"Pressed against the X-ray machine, Miklós had done his best not to move. Dr Lindholm shouted at him from the other room. The doctor was a gangling figure, at least six foot six tall, and he spoke a funny sort of Hungarian. All his long vowels sounded the same, as if he were blowing up a balloon. He had run the Lärbro hospital—now temporarily enlarged to accommodate the intake of camp survivors—for the last dozen years. His wife, Márta, a tiny woman whom Miklós reckoned couldn't be more than four foot six, was a nurse and worked in the hospital too; she was Hungarian, which explained why the doctor tackled the language with such bravado.
'You hold breath! No frisking!' he bellowed.
A click and a hum—the X-ray was ready. Miklós relaxed his shoulders.
Dr Lindholm walked over and stood beside him, gazing with compassion at a point slightly above his head. Miklós was slumped, his sunken chest naked against the machine, as if he never wanted to get dressed again. His glasses had steamed up.
'What you say you occupied with, Miklós?' the doctor asked. 'I was a journalist. And poet.'
'Ah! Engineer of the soul. Very good.'
Miklós shifted from one foot to the other. He was cold.
'Dress. Why you stand around?'
Miklós shuffled over to the corner of the room and pulled on his pyjama jacket. 'Is there a problem?' he asked the doctor.
Lindholm still didn't look at him. He started walking towards his office, waving at Miklós to follow him. He was muttering, almost to himself, 'Is a problem.'
Miklós sat in a leather armchair. Opposite him, on the other side of the desk, sat Dr Lindholm. He was flicking anxiously through Miklós's medical reports.
'How much you weigh now, Miklós?'
'Forty-seven kilos.'
'You see. It works like a clock.'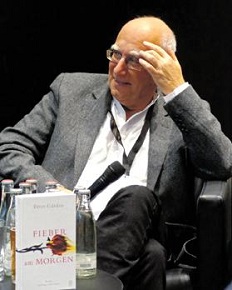 Péter Gárdos (Boedapest, 8 juni 1948)
De Australische dichteres en librettiste Gwen Harwood werd geboren op 8 juni 1920 in Taringa, Queensland. Zie ook alle tags voor Gwen Harwood op dit blog.
The Wound
The tenth day, and they give
my mirror back. Who knows
how to drink pain, and live?
I look, and the glass shows
the truth, fine as a hair,
of the scalpel's wounding care.
A round reproach to all
that's warped, uncertain, clouded,
the sun climbs. On the wall,
by the racked body shrouded
in pain, is a shadow thrown;
simple, unchanged, my own.
Body, on whom the claims
of spirit fall to inspire
and terrify, there flames
at your least breath a fire
of anguish, not for this pain,
but that scars will remain.
You will be loved no less.
Spirit can build, make shift
with what there is, and press
pain to its mould; will lift
from your crucible of night
a form dripping with light.
Felix culpa. The sun
lights in my flesh the great
wound of the world. What's done
is done. In man's estate
let my flawed wholeness prove
the art and scope of love.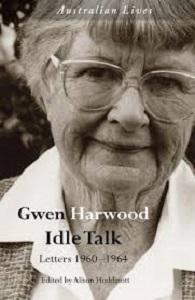 Gwen Harwood (8 juni 1920 - 5 december 1995)
Cover brievenboek
De Nederlandse schrijver Herman Jan (Han) Friedericy werd op 8 juni 1900 geboren in Stadskanaal in de gemeente Onstwedde. Zie ook alle tags voor H. J. Friedericy op dit blog.
Uit: Bendeleider (Onder het pseudoniem H. J. Merlijn)
"Deze renden op de Chinezen af en staken de ene timmerman dadelijk dood. Hij heeft niet geweten wie hem vermoord hebben, want hij stond met zijn rug naar de weg te timmeren en had geen tijd om zich om te draaien. De andere timmerman probeerde weg te komen, maar de drie mannen kregen ook hem te pakken. Zij doorstaken hem met hun krissen en lieten hem voor dood achter. Later bleek hij nog te leven, maar ook hij zou wel dood gaan.
Daarna trokken de drie mannen schreeuwend verder het dorp in. Bij het grote huis van Aroe Peneki bleven zij staan en onder aan de trap riep een van hen, de aanvoerder, of iemand thuis was. De schrijver van de Aroe had, boven aan de trap, geantwoord, dat de Aroe naar een vergadering was met andere hoofden, in Sengkang. De aanvoerder, een grote kerel, had toen gezegd, dat hij een afgezant was van de koning van Bone en dat hij met alle eerbied ontvangen wenste te worden. De bevende schrijver had hem toen buigend binnen genodigd en de drie mannen waren statig de trap op gelopen en breeduit gaan zitten in het grote voorvertrek. Zij hadden zich laten bedienen, thee gedronken en gebak gegeten.
Inmiddels had de schrijver, die wel bang, maar niet dom was, een bediende op de fiets de Aroe tegemoet gestuurd met een jachtgeweer. Na een benauwd uur stapte de Aroe onder aan de trap van zijn fiets en met het jachtgeweer in de aanslag riep hij naar boven, wie er binnen waren. De drie mannen stonden op en toen zij boven aan de trap kwamen en de Aroe met het geweer zagen, trokken zij hun bebloede krissen weer en wilden zij de trap afstormen. De Aroe wachtte niet. Een schot klonk donderend onder de overkapping van de trap en de aanvoerder rolde dood van de treden tot voor de voeten van de Aroe. De twee anderen wierpen hun krissen weg en werden gebonden."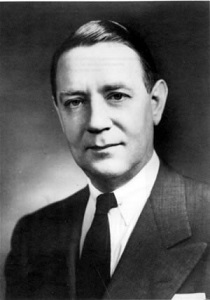 H. J. Friedericy (8 juni 1900 – 23 november 1962)
De Oostenrijkse dichter en vertaler Gerald Bisinger werd geboren op 8 juni 1936 in Wenen. Zie ook alle tags voor Gerald Bisinger op dit blog.
Die Welt ist struppig
I
Das Wirtshaus ist die Mitte der Welt.
(Wirtshaus gehört grammatikalisch zu den Sammel-
namen; es sind das Wörter, deren Singular mehrere
Wesen oder Dinge umfaßt, sie in sich sammelt. Eine
Vielheit wird sprachlich durch eine Einheit ausgedrückt.
Die Mitte der Welt ist analog zu den Sammelnamen
ein Sammelbegriff).
Das Wirtshaus ist die Mitte der Welt.

II
«Diese Welt die ist ja wirklich sehr groß die
ist immer noch größer ein wenig immer ein we-
nig noch größer als diese und jene Wortwelt
und nicht mal De Gaulle war la France und die Wort-
welt ist anders und größer und ... »

III
Ich fahre jetzt jeden Tag mit der S-Bahn von Berlin-
Friedennu zum Wannsee. Dabei sehe ich ein schönes
Stück Welt. Häuser, manchmal weitet sich das Bahnge-
lände, Kohlenlager, Bäume, kahle Bäume und Kiefern,
ein Stück vom zugefrorenen Schlachtensee, Schnee liegt,
und es schneit.
So vermittelt sich mir jeden Tag ein Bild von der
Welt.
Im Frühjahr werden die Bäume wieder blühn wie im
Wiener Prater.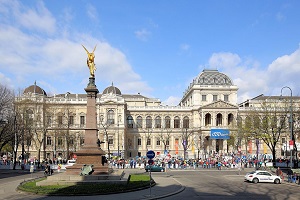 Gerald Bisinger (8 juni 1936 – 22 februari 1999)
Wenen. Hoofgebouw van de universiteit aan de Ringstraße
Onafhankelijk van geboortedata:
De Oostenrijkse dichter, vertaler, danser en choreograaf Udo Kawasser werd geboren in 1965 in Vorarlberg. Zie ook alle tags voor Udo Kawasser op dit blog.
Uit: Einbruch der Landschaft
"hatte nicht glauben wollen, dass es wirklich Probleme geben könnte. wen geht es schon an, wen ich mit aufs Zimmer nehme. sie wolle keine Scherereien mit der Polizei haben, ¡imagínate tú! stell dir vor, es sei verboten und schließlich geschehe es auch zu meinem eigenen Schutz. hatte Vida nicht geglaubt, als sie mich davor warnte, mit ihr zusammen hoch zu gehen, tatsächlich war es schon vorher ein Fehler gewesen, ihre Hand zu nehmen, als wir von der Rampa Richtung Vedado gingen. hatte der Abend dadurch nicht sehr bald etwas Mechanisches, allzu Vorhersehbares bekommen? selbst als ich mich bemühte, den Weg zu meinem Zimmer zu verlängern, nach der BANCO POPULAR Vida auf eine der Bänke im Halbdunkel des anschließenden kleinen Parks zog? da saß dann einer, der wollte Gefühle, wollte überwältigt werden von der Anwesenheit des anderen, es war der Augen Untergang, die Hand der Frau in seiner begann zu wiegen, lag ihm wie ein lebloses Ding zwischen den Fingern, das Du floh aus den Berührungen, sickerte in die Schatten, die sie unter dem Ficus umgaben, mit immer forscheren Zärtlichkeiten haschte er nach den fliehenden Empfindungen, hielt ihr Fleisch unter dem Lycrahemd umfangen und sah über ihre Schulter hinweg in das gelbe Licht der Straßenlaterne. die 23. Straße lag ermattet in der Nacht und gähnte, ließ den Schweiß aus ihren Schenkelfalten verdunsten, sehe den dunklen, bizarr ausfransenden Umriss zweier mächtiger Gestalten aufragen, eine Schindmähre, die sich in zuckendem Irrsinn aufbäumt, auf ihrem Rücken die ausgezehrte Gestalt des Hidalgos mit spitzem Bart, der um sein Gleichgewicht kämpft und wie die Mambizes das Schwert schwingt gegen einen eingebildeten Feind. auf ihren Hinterläufen steigt Rocinante in den Nachthimmel Havannas, habe mich wieder auf das Bett gelegt, in den kühlenden Propellerstrom, wie können einen von einem Tag auf den anderen so die Lebensgeister fliehen, wie ist es möglich, dass mich in den letzten beiden Tagen das Herabsteigen von diesem Dachzimmer in Centro Habana so erschöpft und das alles nur um ein paar Malangas oder einen dieser aufgeschäumten weißen Brotwecken zu bekommen, die nicht schwerer wiegen als das Geld, das man für sie bezahlt."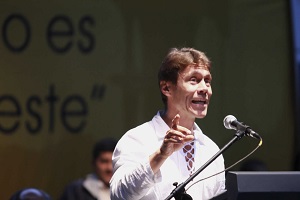 Udo Kawasser (Vorarlberg, 1965)
De Duitse dichter, schrijver en vertaler Michael Basse werd geboren in 1957 in Bad-Salzuflen / Nordrhein-Westfalen. Zie ook alle tags voor Michael Basse op dit blog.
Prachtmenschen
nach victor hugo
Verschärft gesichtet in diesen tagen
aliens von nebenan
wunschlose wiedergänger
transitgeschöpfe die nicht begehren
& so herrlich benommen sind
von den blaustufen des himmels
von den graustufen darunter
(falter käfer stahlgewitter)
von lymphatischen krümmungen
einer kleinen wirbelsäule
(formen alles nur formen)
seht nur der aldebaran geht auf
seht die wunderbare rosette
die eine scheibe tannenholz
unterm mikroskop offenbart
vergleicht mir das mit mechelner spitzen!
geduldige osmotiker
ohne ausdrückliches ego
kühle betrachter des schmerzes
die der enthauptung zusehn
und einen lichteffekt dabei suchen
agenten unverdächtiger pracht
die nero nicht bemerken
despektierliches wimmern kratzen
in der zelle nebenan
wünschelgänger des augenblicks
gebieter flüchtigen staunens
die sich die lider reiben
wenn der dornbusch in flammen steht
die sich gegenseitig erkennen
am zeichen auf ihrer stirn
wahrscheinlich muß es sie geben
wahrscheinlich wird es sie immer geben
götterlieblinge sternenmenschen
auf dem gipfel
im zenit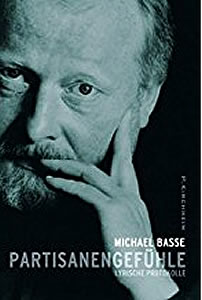 Michael Basse (Bad-Salzuflen, 1957)
08-06-2017 om 16:22 geschreven door Romenu

Tags:Marguerite Yourcenar, Lutz Seiler, Ulf Stolterfoht, Péter Gárdos, Gwen Harwood, H. J. Friedericy, Gerald Bisinger, Udo Kawasser, Michael Basse, Romenu


07-06-2017

Orhan Pamuk, Monika Mann, Nikki Giovanni, Harry Crews, Louise Erdrich, Mascha Kaléko, Jan Engelman, Gwendolyn Brooks, Elizabeth Bowen
De Turkse schrijver Orhan Pamuk werd geboren op 7 juni 1952 in Istanbul. Zie ook alle tags voor Orhan Pamuk op dit blog.
Uit: The New Life (Vertaald door Guneli Gun)
"I read a book one day and my whole life was changed. Even on the first page I was so affected by the book's intensity I felt my body sever itself and pull away from the chair where I sat reading the book that lay before me on the table. But even though I felt my body dissociating, my entire being remained so concertedly at the table that the book worked its influence not only on my soul but on every aspect of my identity. It was such a powerful influence that the light surging from the pages illumined my face; its incandescence dazzled my intellect but also endowed it with brilliant lucidity. This was the kind of light within which I could recast myself; I could lose my way in this light; I already sensed in the light the shadows of an existence I had yet to know and embrace. I sat at the table, turning the pages, my mind barely aware that I was reading, and my whole life was changing as I read the new words on each new page. I felt so unprepared for everything that was to befall me, and so helpless, that after a while I moved my face away instinctively as if to protect myself from the power that surged from the pages. It was with dread that I became aware of the complete transformation of the world around me, and I was overtaken by a feeling of loneliness I had never before experienced—as if I had been stranded in a country where I knew neither the lay of the land nor the language and the customs.
I fastened onto the book even more intensely in the face of the helplessness brought on by that feeling of isolation. Nothing besides the book could reveal to me what was my necessary course of action, what it was that I might believe in, or observe, and what path my life was to take in the new country in which I found myself. I read on, turning the pages now as if I were reading a guidebook which would lead me through a strange and savage land. Help me, I felt like saying, help me find the new life, safe and unscathed by any mishap. Yet I knew the new life was built on words in the guidebook. I read it word for word, trying to find my path, but at the same time I was also imagining, to my own amazement, wonders upon wonders which would surely lead me astray.
The book lay on my table reflecting its light on my face, yet it seemed similar to the other familiar objects in the room. While I accepted with joy and wonder the possibility of a new life in the new world that lay before me, I was aware that the book which had changed my life so intensely was in fact something quite ordinary. My mind gradually opened its doors and windows to the wonders of the new world the words promised me, and yet I seemed to recall a chance encounter that had led me to the book. But the memory was no more than a superficial image, one that hadn't completely impressed itself on my consciousness. As I read on, a certain dread prompted me to reflect on the image: the new world the book revealed was so alien, so odd and astonishing that, in order to escape being totally immersed in this universe, I was anxious to sense anything related to the present ».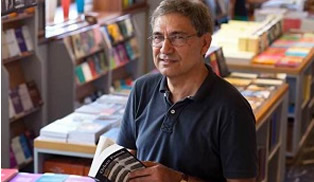 Orhan Pamuk (Istanbul, 7 juni 1952)

De Duitse schrijfster Monika Mann werd als vierde kind van Thomas Mann geboren op 7 juni 1910 in München. Zie ook alle tags voor Monika Mann op dit blog.
Uit:Das fahrende Haus
"Während wir schon bei der nächsten Frage waren, dachte ich blitzschnell – wenn einer übel von meinem Bruder redet, mag ich ihm einen Nasenstüber versetzen ; wenn einer übel von China, Norwegen, Rumänien oder Amerika redet, so ist mir's einerlei. Denn das sind Begriffe, während mein Bruder ein Individuum, eine Tatsache ist. Ich mag nur für das Individuum den Nasenstüber austeilen ! – Ich zählte langsam, stockend, ich glaub' ein wenig singend die Staaten auf, nebenher dachte ich wieder blitzschnell – und doch, jene Begriffe mögen Tatsache sein. Der Begriff eines Landes, einer Nation, eines Kontinents, der Begriff « Amerika » wird individuell, verteidigungswert in diesem Menschen, der da als Richter vor mir sitzt. – Kentucky, Tennessee, Georgia, Florida – summte ich, und ich stockte. – In diesem Menschen, der als Richter vor mir sitzt. – Alabama, Mississippi, Louisiana, Ohio, Indiana, Michigan, Wisconsin, Minnesota, Kansas, Nebraska, Colorado, New Mexico, seine Fahne hat 48 Sterne, aber Texas hat nur einen Stern (improvisierte ich), Idaho, Utah, Kalifornien, Oregon, Washington. – In diesem Menschen, der als Richter vor mir sitzt . . . Mir schwindelte.
[. . .]
Und was man sich erworben hat, kann man sich bewahren !
Ich bewahre es mir. Nicht äußerlich – ich bin dabei, das amerikanische Staatsbürgerrecht niederzulegen –, aber innerlich : Ich bewahre mir das Recht, Amerika zu lieben, ihm dankbar zu sein."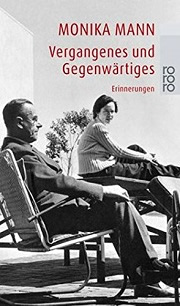 Monika Mann (7 juni 1910 – 17 maart 1992)
Cover
De Amerikaanse dichteres en schrijfster Nikki Giovanni werd geboren op 7 juni 1943 in Knoxville, Tennessee. Zie ook alle tags voor Nikki Giovanni op dit blog.
Always There Are The Children
and always there are the children
there will be children in the heat of day
there will be children in the cold of winter
children like a quilted blanket
are welcomed in our old age
children like a block of ice to a desert sheik
are signs of status in our youth
we feed the children with our culture
that they might understand our travail
we nourish the children on our gods
that they may understand respect
we urge the children on the tracks
that our race will not fall short
but our children are not ours
nor we theirs they are future we are past
how do we welcome the future
not with the colonialism of the past
for that is our problem
not with the racism of the past
for that is their problem
not with the fears of our own status
for history is lived not dictated
we welcome the young of all groups
as our own with the solid nourishment
of food and warmth
we prepare the way with the solid
nourishment of self-actualization
we implore all the young to prepare for the young
because always there will be children.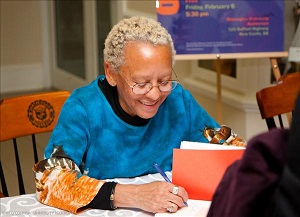 Nikki Giovanni (Knoxville, 7 juni 1943)
De Amerikaanse schrijver Harry Crews werd geboren op 7 juni 1935 in Bacon County, Georgia. Zie ook alle tags voor Harry Crews op dit blog.
Uit:Classic Crews: A Harry Crews Reader
"I picked up a magazine not long ago in which a man was writing about his children. In the very beginning of the piece, he said, "The storms of childhood and adolescence had faded into the past." He would be the poorer for it if that were true. But it is not true, not for him or for any father. The storms don't fade into the past, nor do all the moments that are beautiful and full of happiness, the moments that quicken our hearts with pride. In early July of the summer Byron would turn 12, we were sitting on the top of Springer Mountain in Georgia. It was raining and we were soaked and exhausted to the bone, having made the long steep climb of the approach to the Appalachian Trail, which winds its way across the Eastern united States and finally ends on Mount Katahdin in Maine. Between us, embedded in the boulder on which we were sitting, was the metal image of a young hiker.
Byron put his hand on the stone and said, "Well, we made it to the beginning."
And so we had, but a hell of a beginning it had been. It hadn't stopped raining all day as we'd climbed steadily over broken rock. He was carrying a 20-pound pack and mine weighed 45, both probably too heavy, but we'd decided to pack enough with us so that we could hike for as long as we wanted to without getting out of the mountains to restock our supplies. I had put him in the lead to set the pace.
"Remember, we're not in a hurry," I called after we'd been going awhile. "This is not a goddamn contest."
I was forced to say it because he'd taken off over the brutally uneven trail like a young goat. He'd looked back at me for only an instant and kept climbing.
Then, as the mud and rock made the footing more and more unsure, I said, "You think we ought to find a place to wait out this rain."
He stopped and turned for just an instant to look at me. "Did we come to by God hike or did we come to hike?"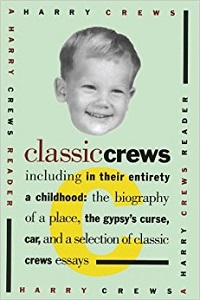 Harry Crews (7 juni 1935 – 28 maart 2012)
Cover
De Amerikaanse dichteres en schrijfster Louise Erdrich werd geboren op 7 juni 1954 in Little Falls, Minnesota. Zie ook alle tags voor Louise Erdrich op dit blog.
Indian Boarding School: The Runaways
Home's the place we head for in our sleep.
Boxcars stumbling north in dreams
don't wait for us. We catch them on the run.
The rails, old lacerations that we love,
shoot parallel across the face and break
just under Turtle Mountains. Riding scars
you can't get lost. Home is the place they cross.
The lame guard strikes a match and makes the dark
less tolerant. We watch through cracks in boards
as the land starts rolling, rolling till it hurts
to be here, cold in regulation clothes.
We know the sheriff's waiting at midrun
to take us back. His car is dumb and warm.
The highway doesn't rock, it only hums
like a wing of long insults. The worn-down welts
of ancient punishments lead back and forth.
All runaways wear dresses, long green ones,
the color you would think shame was. We scrub
the sidewalks down because it's shameful work.
Our brushes cut the stone in watered arcs
and in the soak frail outlines shiver clear
a moment, things us kids pressed on the dark
face before it hardened, pale, remembering
delicate old injuries, the spines of names and leaves.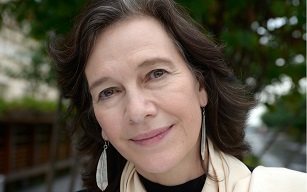 Louise Erdrich (Little Falls, 7 juni 1954)
De Duitstalige dichteres Mascha Kaléko (eig. Golda Malka Aufen) werd geboren op 7 juni 1907 in Krenau of Schidlow in Galicië in het toenmalige Oostenrijk-Hongarije, nu Polen. Zie ook alle tags voor Mascha Kaléko op dit blog.
Die frühen Jahm
Ausgesetzt
In einer Barke von Nacht
Trieb ich
Und trieb an ein Ufer.
An Wolken lehnte ich gegen den Regen.
An Sandhügel gegen den wütenden Wind.
Auf nichts war Verlaß.
Nur auf Wunder.
Ich aß die grünenden Früchte der Sehnsucht,
Trank von dem Wasser das dürsten macht
Ein Fremdling, stumm vor unerschlossenen Zonen,
Fror ich mich durch die finsteren Jahre.
Zur Heimat erkor ich mir die Liebe.

Der kleine Unterschied
Es sprach zum Mister Goodwill
ein deutscher Emigrant
,,Gewiß, es bleibt dasselbe,
sag ich nun land statt Land,
sag ich für Heimat homeland
und poem für Gedicht
Gewiss, ich bin sehr happy:
Doch glücklich bin ich nicht'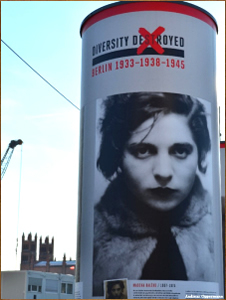 Mascha Kaléko (7 juni 1907 – 21 januari 1975)


De Nederlandse dichter Johannes Aloysius Antonius Engelman werd geboren in Utrecht op 7 juni 1900. Zie ook alle tags voor Jan Engelman op dit blog.
Annabel
Mijn kleine, kleine Annabel
zij zong zo zuiver en zo schel
als fluiten op een glansrivier,
zij was geluk en leefde hier

mijn kleine, kleine Annabel
ik wist uw prille leden wel,
de trilling van die bloemenmond
wanneer een hand uw haren vond

mijn kleine, kleine Annabel
de geest is lang, maar wij gaan snel:
op 't koude laken ligt uw lijf
en ik vind nergens meer verblijf

mijn kleine, kleine Annabel
als ik in hemel of in hel
moet varen met mijn lichte lied,
verloochen, maar vergeet mij niet
Orgelpunt
De man die uwe weelden mint
is weerloos als het kleine kind:
de wereld ging hem vreemd voorbij
als aan zijn borst uw hartslag lei.
Maar wat ons saamgedreven heeft
is wat in kleine bloemen beeft
en gonzend draagt het groot heelal:
't is twee-in-een, en dat is al.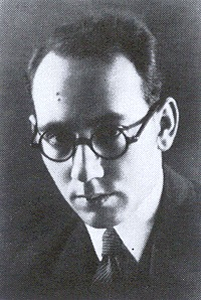 Jan Engelman (Utrecht 7 juni 1900 ;Amsterdam 20 maart 1972)
Begin jaren 1930
De Amerikaanse dichteres Gwendolyn Brooks werd geboren op 7 juni 1917 in Topeka, Kansas. Zie ook alle tags voor Gwendolyn Brooks op dit blog.
The Children Of The Poor
1
People who have no children can be hard:
Attain a mail of ice and insolence:
Need not pause in the fire, and in no sense
Hesitate in the hurricane to guard.
And when wide world is bitten and bewarred
They perish purely, waving their spirits hence
Without a trace of grace or of offense
To laugh or fail, diffident, wonder-starred.
While through a throttling dark we others hear
The little lifting helplessness, the queer
Whimper-whine; whose unridiculous
Lost softness softly makes a trap for us.
And makes a curse. And makes a sugar of
The malocclusions, the inconditions of love.

2
What shall I give my children? who are poor,
Who are adjudged the leastwise of the land,
Who are my sweetest lepers, who demand
No velvet and no velvety velour;
But who have begged me for a brisk contour,
Crying that they are quasi, contraband
Because unfinished, graven by a hand
Less than angelic, admirable or sure.
My hand is stuffed with mode, design, device.
But I lack access to my proper stone.
And plenitude of plan shall not suffice
Nor grief nor love shall be enough alone
To ratify my little halves who bear
Across an autumn freezing everywhere.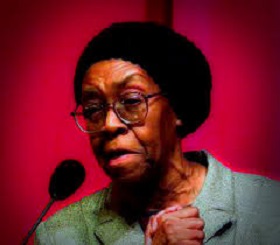 Gwendolyn Brooks (7 juni 1917 – 3 december 2000)
De Ierse schrijfster Elizabeth Bowen werd geboren op 7 juni 1899 in Dublin. Zie ook alle tags voor Elizabeth Bowen op dit blog.
Uit: Friends and Relations
"The morning of the Tilney–Studdart wedding rain fell steadily from before daylight, veiling trees and garden and darkening the canvas of the marquee that should have caught the earliest sun in happy augury. The bride's relations frowned in sleep and were roused with a sense of doom by rain's inauspicious mutter on roofs and windowsills. Clouds with their reinforcements came rolling over the Malvern hills. Till quite late, the rooms at Corunna Lodge were dusky as though the morning had been delayed.
Laurel Studdart herself was not concerned with weather and gave the windows hardly a glance. She and Colonel Studdart, both embarrassed by idleness, frequently met throughout the morning as, straying from room to room, they attempted to efface themselves. Her father had the afternoon on his mind – he had not yet given away a daughter – for her, these hours before her wedding were like a too long wait on the platform of some familiar station from which, virtually, one has already departed, where the very associations become irksome. Her clothes were all packed; she was buttoned into an old blazer of Janet's and did not look like today's bride. From half-past ten till noon she and Colonel Studdart, shut into the morning-room, played demon patience. Her life here was over, his at a standstill; there was nothing for them to do. The morning-room flowers had been 'arranged'; freesia banked the fireplace; Colonel Studdart, from nervousness and a tendency to hay-fever, frequently sneezed. Pollen dashed Laurel's cheek where she had leant excitedly forward across a lily.
The rain stopped before lunch. Later, during the ceremony, the sun came out, parting the clouds widely; so that Laurel's married way down the aisle was gold from successive windows. When she uncertainly smiled in the porch, against strong blasts from the organ rolling out from behind, the umbrellas were finally down; the graves glittered. It was early-closing day, friends from the Cheltenham shops were among the onlookers. The sweet bride, trailing light in her veil, was nodded and smiled to the car where the chauffeur compromised with his impassivity".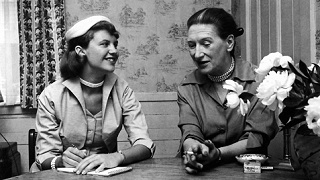 Elizabeth Bowen (7 juni 1899 – 22 februari 1973)
Hier met een jonge Sylvia Plath (links) tijdens een interview
Zie voor nog meer schrijvers van de 7e juni ook mijn blog van 7 juni 2015 deel 2.
07-06-2017 om 18:27 geschreven door Romenu

Tags:Orhan Pamuk, Monika Mann, Nikki Giovanni, Harry Crews, Louise Erdrich, Mascha Kaléko, Jan Engelman, Gwendolyn Brooks, Elizabeth Bowen, Romenu


| | |
| --- | --- |
| | |



Inhoud blog


| | |
| --- | --- |
| | Florian Zeller, Ryszard Krynicki, Mark Helprin, Marlene Streeruwitz, Fritzi Harmsen van Beek, Luigi Pirandello, Jean Jacques Rousseau, Anton van Wilderode, Juan José Saer |
| | Lucille Clifton, Rafael Chirbes, Teju Cole, Frank O'Hara, Paul Laurence Dunbar, E. J. Potgieter, Kees Ouwens, Dawud Wharnsby, João Guimarães Rosa |
| | Aimé Césaire, Jacqueline van der Waals, Yves Beauchemin, Elisabeth Büchle, Laurie Lee, Pearl S. Buck, Stefan Andres, Martin Andersen-Nexø, Branwell Brontë |
| | George Orwell, Yann Martel, Rob van Essen, Michel Tremblay, Nicholas Mosley, Ingeborg Bachmann, Arseny Tarkovsky |
| | Larry Kramer, Claude Seignolle, Ariel Gore, Heinrich Seidel, Hans Marchwitza, Georges Courteline, Friederike Kempner |
| | Wilfred Smit, Ernesto Sabato, Yves Bonnefoy, Scott Oden, John Ciardi, Matthijs Kleyn |
| | Madelon Székely-Lulofs, Johannes van het Kruis, Kurt Kusenberg, Ambrose Bierce, Jean-Baptiste Boyer d'Argens, Josse Kok |
| | David Leavitt, Jo Govaerts, Rafik Shami, Aart van der Leeuw, Pascal Mercier, Franca Treur, Jean Anouilh, Anna Achmatova, Hanneke van Eijken |
| | Sommer (Ilse Kleberger), Nescio, Juliën Holtrigter, Jaap Robben |
| | Summer Solstice (Stacie Cassarino), Ed Leeflang, Thomas Blondeau, Adam Zagajewski |
| | Detlev von Liliencron, Vikram Seth, Paul Muldoon |
| | Georg-Büchner-Preis 2017 voor Jan Wagner |
| | Billy Collins, Salman Rushdie, Sybren Polet |
| | To Summer (William Blake) |
| | Peter Rosei, Kamel Daoud, Gail Jones, Ron Padgett, Ward Ruyslinck, Adriaan van der Hoop jr, Hanna Johansen, Max Dendermonde |
| | James Weldon Johnson, Henry Lawson, Ferdinand Freiligrath, Henrik Wergeland, John Hersey, Felix Hartlaub, Ossip Schubin |
| | Joël Dicker, August Willemsen, Joyce Carol Oates, Derek R. Audette, Theo Thijssen, Casper Fioole, Frank Norbert Rieter, Giovanni Boccaccio, Frans Roumen |
| | Von Christi Fronleichnam (Friedrich von Spee) |
| | Maria Dermoût, Christian Bauman, Silke Scheuermann, Hugo Borst, Ramon Lopez Velarde |
| | Roland Dorgelès, François-Xavier Garneau, Trygve Gulbranssen, Emma Cline, Hannah van Wieringen |
| | Alex Boogers, Lieve Joris, Allard Schröder, John van Ierland, Peter O. Chotjewitz, Harriet Beecher Stowe, Hermann Kant, Jerzy Kosiński, Thomas Graftdijk |
| | Fernando Pessoa , Willem Brakman, William Butler Yeats, Thomas Heerma van Voss, Tristane Banon, Marcel Theroux, Lode Zielens, Dorothy L. Sayers, Franz Alfred Muth |
| | Christoph Meckel, Wolfgang Herrndorf, Anne Frank, Renan Demirkan, Djuna Barnes, Johanna Spyri H. C. Artmann, Günter Nehm |
| | William Styron, Sophie van der Stap, N. P. van Wyk Louw, Renée Vivien, Jean-Pierre Chabrol, Ben Jonson, Yasunari Kawabata |
| | Athol Fugard, Nnimmo Bassey, Jules Vallès, George Wither, Barnabe Googe |
| | Louis Couperus, Jacques Perk, James Salter, Mensje van Keulen, Jan Brokken, Saul Bellow |
| | Ion Creanga, Oktay Rifat, Peter Kurzeck, Antun Mihanović, Tijl Nuyts |
| | Maarten Doorman, Paul Beatty, Xander Michiel Beute, Anton Roothaert, Jian Ghomeshi, Mirko Bonné, Curzio Malaparte, Charles Webb, Rudolf Borchardt |
| | Marguerite Yourcenar, Lutz Seiler, Ulf Stolterfoht, Péter Gárdos, Gwen Harwood, H. J. Friedericy, Gerald Bisinger, Udo Kawasser, Michael Basse |
| | Orhan Pamuk, Monika Mann, Nikki Giovanni, Harry Crews, Louise Erdrich, Mascha Kaléko, Jan Engelman, Gwendolyn Brooks, Elizabeth Bowen |
| | Thomas Mann, Aleksandr Poesjkin, Sarah Dessen, Frank Gericke, Jean Cayrol, Pierre Corneille, Hendrik van Teylingen, V. C. Andrews |
| | Pfingstbestellung (Joachim Ringelnatz) |
| | Federico García Lorca, Adriaan Morriën, Ken Follett, Margo Lanagan, Carel Peeters, Robert Franquinet, Margaret Drabble, Kristin Gore |
| | Thomas Kling, Hélène Cixous, Spalding Gray, Christy Brown, David Hare, Alifa Rifaat, Otto F. Walter, Ivy Compton-Burnett |
| | Pinksteren (Jan Willem Schulte Nordholt) |
| | Ralf Thenior, Marie Ndiaye, Erasmus Schöfer, Buddy Wakefield, Yaak Karsunke, Charles Dickinson |
| | Dana Bönisch, Elizabeth Jolley, Apollon Maykov, Jacques Roumain, Fritz Weber |
| | Allen Ginsberg, Philippe Djian, Maarten van Buuren, Solomonica de Winter, Monika Maron, Larry McMurtry, Norbert Gstrein, Wolfgang Cordan, Gerhard Zwerenz |
| | Carlo Michelstaedter, Kathleen E. Woodiwiss, Eugène Van Oye, Pedro Mir, Detlev von Liliencron, Friederike Brun, Otto Erich Hartleben, Philippe Quinault |
| | C. Buddingh'-Prijs voor Vicky Francken |
| | Jim Knipfel, Marcel Reich-Ranicki, Sibylle Berg, Carol Shields, Jean Nelissen, Thomas Hardy, Markies De Sade, Dorothy West, Max Aub |
| | Patrick Besson, John Masefield, Ferdinand Raimund, Peter de Mendelssohn, Colleen McCullough, Macedonio Fernández, Elena Ferrante, Sophie Hannah |
| | In Memoriam Tankred Dorst |
| | Vicky Francken |
| | Walt Whitman, Frank Goosen, Gabriel Barylli, Konstantin Paustovski, Svetlana Alexievich, Ludwig Tieck, Gerd Hergen Lübben, Saint-John Perse, Georg Herwegh |
| | T. T. Cloete |
| | Elizabeth Alexander, Countee Cullen, Emmanuel Hiel, Martin Jankowski, Alfred Austin, Michail Bakoenin, Eddy Bruma, Henri François Rikken, Jan Geerts |
| | Summer is coming (Dora Read Goodale) |
| | André Brink, Eduard Escoffet, G. K. Chesterton, Bernard Clavel, T. H. White, Hans Weigel, Alfonsina Storni |
| | The Throstler (Alfred Tennyson) |