E-mail mij


Druk op onderstaande knop om mij te e-mailen.


Romenu


Romenu is een blog over gedichten, literatuur en kunst Maar Romenu is ook een professionele freelance vertaler
Du-Ne en Ne-Du http://www.romenu.nl.


Huur eens een (vakantie)huis in een natuurgebied, dichtbij het centrum van Nijmegen


Google


Georg Trakl

Georg Trakl werd op 3 februari 1887 in het conducteurshuis aan de Waagplatz 2 in Salzburg geboren. Zijn vader, Tobias Trakl, was een handelaar in ijzerwaren en zijn moeder, die ook psychische problemen had, was Maria Catharina Trakl, (meisjesnaam Halik). Voorts had hij nog drie broers en drie zussen. Margarethe (doorgaans Grethe genoemd) stond hem het naast, zelfs zodanig dat sommigen een incestueuze verhouding vermoeden. Zijn jeugd bracht hij door in Salzburg. Vervolgens bezocht hij van 1897 tot 1905 het humanistische gymnasium. Om toch een academische opleiding te kunnen volgen, werkte hij tot 1908 in de praktijk bij een apotheker. Sommigen vermoedden dat hij dit vooral deed om zichzelf opiaten te kunnen verschaffen. Bij het uitbreken van WO I werd Trakl als medicus naar het front in Galicië (heden ten dage in Oekraďne en Polen) gestuurd. Zijn gemoedsschommelingen leidden tot geregelde uitbraken van depressie, die verergerd werden door de afschuw die hij voelde voor de verzorging van de ernstig verwonde soldaten. De spanning en druk dreven hem ertoe een suďcidepoging te ondernemen, welke zijn kameraden nochtans verhinderden. Hij werd in een militair ziekenhuis opgenomen in Kraków, alwaar hij onder strikt toezicht geplaatst werd.Trakl verzonk daar in nog zwaardere depressies en schreef Ficker om advies. Ficker overtuigde hem ervan dat hij contact moest opnemen met Wittgenstein, die inderdaad op weg ging na Trakls bericht te hebben ontvangen. Op 4 november 1914, drie dagen voordat Wittgenstein aan zou komen, overleed hij echter aan een overdosis cocaďne


Paul Celan

Paul Celan werd onder de naam Paul Antschel op 23 november 1920 geboren in Czernowitz, toentertijd de hoofdstad van de Roemeense Boekovina, nu behorend bij de Oekraďne. Paul Celans ouders waren Duitssprekende joden die hun zoon joods opvoedden en hem naar Duitse christelijke scholen stuurden. In 1942 werden Celans ouders door de Duitse bezetter naar een werkkamp gedeporteerd en daar vermoord. Hijzelf wist aanvankelijk onder te duiken, maar moest vanaf juli 1942 in een werkkamp dwangarbeid verrichten. Celan overleefde de oorlog. Via Boekarest en Wenen vestigde Celan zich in 1948 in Parijs. Daar was hij werkzaam als dichter, vertaler en doceerde hij aan de prestigieuze Ecole Normale Supérieure. Vermoedelijk op 20 april 1970 beëindigde hij zijn leven zelf door in de Seine te springen.


Gerard Reve

Gerard Reve over: Medearbeiders "God is in de mensen, de dieren, de planten en alle dingen - in de schepping, die verlost moet worden of waaruit God verlost moet worden, door onze arbeid, aangezien wij medearbeiders van God zijn." Openbaring "Tja, waar berust elk godsbegrip op, elke vorm van religie? Op een openbaring, dat wil zeggen op een psychische ervaring van zulk een dwingende en onverbiddelijke kracht, dat de betrokkene het gevoel heeft, niet dat hij een gedachte of een visioen heeft, maar dat een gedachte gedachte of visioen hem bezit en overweldigt."


Simon Vestdijk
Simon Vestdijk (Harlingen, 17 oktober 1898 – Utrecht, 23 maart 1971) was een Nederlands romancier, dichter, essayist en vertaler. Zijn jeugd te Harlingen en Leeuwarden beschreef hij later in de Anton Wachter-cyclus. Van jongs af aan logeerde hij regelmatig bij zijn grootouders in Amsterdam, waar hij zich in 1917 aan de Universiteit van Amsterdam inschrijft als student in de medicijnen. Tijdens zijn studie die van 1917 tot 1927 duurde, leerde hij Jan Slauerhoff kennen.Tot 1932 is hij als arts in praktijken door heel Nederland werkzaam. In 1932 volgt zijn officiële schrijversdebuut met de uitgave van de bundel Verzen in De Vrije Bladen. Doorslaggevend voor Vestdijks uiteindelijke keuze voor de literatuur is zijn ontmoeting in 1932 met Eddy Du Perron en Menno ter Braak. Deze ontmoeting had tot resultaat dat hij redactielid werd van het tijdschrift Forum Kort daarop, in 1933, wordt zijn eerste novelle, De oubliette, uitgegeven. In hetzelfde jaar schrijft hij Kind tussen vier vrouwen, dat, eerst geweigerd door de uitgever, later de basis zal vormen voor de eerste drie delen van de Anton Wachter-romans. In 1951 ontvangt Vestdijk de P.C. Hooftprijs voor zijn in 1947 verschenen roman De vuuraanbidders. In 1957 wordt hij voor het eerst door het PEN-centrum voor Nederland voorgedragen voor de Nobelprijs voor de Literatuur, die hij echter nooit zal krijgen. Op 20 maart 1971 wordt hem de Prijs der Nederlandse Letteren toegekend, maar voor hij deze kan ontvangen overlijdt hij op 23 maart te Utrecht op 72-jarige leeftijd. Vestdijk was auteur van ca. 200 boeken. Vanwege deze enorme productie noemde de dichter Adriaan Roland Holst hem 'de man die sneller schrijft dan God kan lezen'. Andere belangrijke boeken van Simon Vestdijk zijn: "Kind van stad en land" (1936), "Meneer Visser's hellevaart" (1936), "Ierse nachten" (1946), "De toekomst de religie" (1947), "Pastorale 1943" (1948), "De koperen tuin" (1950), "Ivoren wachters" (1951), "Essays in duodecimo" (1952) en "Het genadeschot" (1964).


K.P. Kavafis

K.P. Kavafis werd als kind van Griekse ouders, afkomstig uit Konstantinopel, geboren in 1863 in Alexandrië (tot vandaag een Griekse enclave) waar hij ook het grootste deel van zijn leven woonde en werkte. Twee jaar na de dood van zijn vader verhuist het gezin in 1872 naar Engeland om na een verblijf van vijf jaar naar Alexandrië terug te keren. Vanwege ongeregeldheden in Egypte vlucht het gezin in 1882 naar Konstantinopel, om na drie jaar opnieuw naar Alexandrië terug te gaan. In de jaren die volgen maakt Kavafis reizen naar Parijs, Londen en in 1901 zijn eerste reis naar Griekenland, in latere jaren gevolgd door nog enkele bezoeken. Op de dag van zijn zeventigste verjaardag, in 1933 sterft Kavafis in Alexandrië. De roem kwam voor Kavafis pas na zijn dood, dus postuum. Deels is dat toe te schrijven aan zijn eigen handelswijze. Hij was uiterst terughoudend met de publicatie van zijn gedichten, liet af en toe een enkel gedicht afdrukken in een literair tijdschrift, gaf in eigen beheer enkele bundels met een stuk of twintig gedichten uit en het merendeel van zijn poëzie schonk hij op losse bladen aan zijn beste vrienden.


Thomas Mann


Thomas Mann, de jongere broer van Heinrich Mann, werd geboren op 6 juni 1875 in Lübeck. Hij was de tweede zoon van de graankoopman Thomas Johann Heinrich Mann welke later één van de senatoren van Lübreck werd. Zijn moeder Julia (geboren da Silva-Bruhns) was Duits-Braziliaans van Portugees Kreoolse afkomst. In 1894 debuteerde Thomas Mann met de novelle "Gefallen". Toen Thomas Mann met 21 jaar eindelijk volwassen was en hem dus geld van zijn vaders erfenis toestond - hij kreeg ongeveer 160 tot 180 goldmark per jaar - besloot hij dat hij genoeg had van al die scholen en instituties en werd onafhankelijk schrijver. Kenmerkend voor zijn stijl zijn de ironie, de fenomenale taalbeheersing en de minutieuze detailschildering. Manns reputatie in Duitsland was sterk wisselend. Met zijn eerste roman, Buddenbrooks (1901), had hij een enorm succes, maar door zijn sceptische houding tegenover Duitsland na de Eerste Wereldoorlog veranderde dit volledig. Stelde hij zich tot aan de jaren twintig apolitiek op (Betrachtungen eines Unpolitischen, 1918), meer en meer raakte hij bij het Politiek gebeuren betrokken. Zijn afkeer van het nationaal socialisme groeide, zijn waarschuwingen werden veelvuldiger en heftiger. In 1944 accepteerde hij het Amerikaanse staatsburgerschap. Tussen 1943 en 1947 schreef Mann Doktor Faustus (zie Faust), de roman van de 'Duitse ziel' in de gecamoufleerd geschilderde omstandigheden van de 20ste eeuw. In 1947 bezocht hij voor het eerst sinds de Oorlog Europa, twee jaar later pas Duitsland. In 1952 vertrok hij naar Zwitserland. Op 12 augustus 1955 stierf hij in Zürich. Twintig jaar na zijn dood, in aug. 1975, is zijn literaire nalatenschap geopend: dagboekaantekeningen van 15 maart 1933 tot 29 juli 1955, alsmede notities uit de jaren 1918 tot en met 1921.Belangrijke werken zijn: Der Zauberberg, Der Tod in Venedig, Dokter Faustus , Joseph und seine Brüder en Die Bekenntnisse des Hochstaplers Felix Krull.


Rainer Maria Rilke

Rilke werd op 4 december 1875 geboren in Praag. Hij had al naam gemaakt als dichter met zijn bundels Das Stundenbuch en Das Buch der Bilder, toen hij de literaire wereld versteld deed staan en wereldfaam verwierf met de publicatie van zijn twee delen Neue Gedichte in 1907 en 1908. Hij verzamelde daarin het beste werk uit een van zijn vruchtbaarste periodes, die hij grotendeels doorbracht in Parijs. Rilke was daar diep onder de indruk gekomen van Rodin, bij wie hij een tijdlang in dienst was als particulier secretaris. Rodin, zei hij later, had hem leren kijken. Dit kijken kwam neer op intense concentratie, om het mysterie te kunnen zien 'achter de schijnbare werkelijkheid'. Latere en rijpere werken als Duineser Elegien (1912-1923) en het ronduit schitterende Die Sonette an Orfeus (1924) illustreren Rilkes metafysische visie op het onzegbare, dat haar verwoording vindt in een hermetische muzikale taal. Op 29 december 1926 overlijdt Rilke in het sanatorium in Val-Mont aan de gevolgen van leukemie. Enkele dagen later wordt hij, overeenkomstig zijn wens, begraven op het kerkhof van Raron.


* * * * * * * * * * * * * * * *

| | |
| --- | --- |
| | Over literatuur, gedichten, kunst en cultuur |

19-02-2017

Carson McCullers, Alfredo Bryce Echenique, Kay Boyle, Wolfgang Fritz, Yuri Olesha, André Breton, Paul Zech, Mark Prager Lindo, Heinrich L. Wagner
De Amerikaanse schrijfster Carson McCullers werd geboren als Lula Carson Smith 19 februari 1917 in Columbus, Georgia. Zie ook alle tags voor Carson McCullers op dit blog.
Uit: The Heart is a Lonely Hunter
"They shared the upstairs of a small house near the business section of the town. There were two rooms. On the oil stove inthe kitchen Antonapoulos cooked all of their meals. There were straight, plain kitchen chairs for Singer and an overstuffed sofa for Antonapoulos. The bedroom was furnished mainly with a large double bed covered with an eiderdown comforter for the big Greek and a narrow iron cot for Singer.
Dinner always took a long time, because Antonapoulos loved food and he was very slow. After they had eaten, the big Greek would lie back on his sofa and slowly lick over each one of his teeth with his tongue, either from a certain delicacy or because he did not wish to lose the savor of the meal — while Singer washed the dishes.
Sometimes in the evening the mutes would play chess. Singer had always greatly enjoyed this game, and years before he had tried to teach it to Antonapoulos. At first his friend could not be interested in the reasons for moving the various pieces about on the board. Then Singer began to keep a bottle of something good under the table to be taken out after each lesson. The Greek never got on to the erratic movements of the knights and the sweeping mobility of the queens, but he learned to make a few set, opening moves. He preferred the white pieces and would not play if the black men were given him. After the first moves Singer worked out the game by himself while his friend looked on drowsily. If Singer made brilliant attacks on his own men so that in the end the black king was killed, Antonapoulos was always very proud and pleased."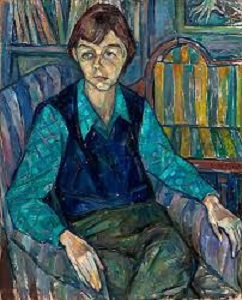 Carson McCullers (19 februari 1917 - 29 september 1967)
Portret door Emanuel Romano, ca. 1949
De Peuaanse schrijver Alfredo Bryce Echenique werd op 19 februari 1939 in Lima geboren. Zie ook alle tags voor Alfredo Bryce Echenique op dit blog.
Uit:L'Amygdalite de Tarzan (Vertaald door Jean Marie Saint-Lu)
"J'étais tombé amoureux d'elle, de sa peau de pêche bronzée toute l'année, de sa silhouette à vous réveiller un mort, de sa longue et rousse chevelure, de ses sourcils et de ses yeux très noirs à Lima, un soir que je chantais dans une fête à l'université catholique où elle était "Miss Faculté", ou quelque chose comme ça, et moi une sorte de Nat King Cole en espagnol, et à force de viens plus près de moi, plus près, plus près encore, je finis par tant la rapprocher de moi que je n'ai pas encore réussi à l'écarter complètement, bien que plus de mille ans, bien plus encore aient passé depuis ce temps-là, ce qui fait que je crois pouvoir répondre à l'auteur de ce boléro que oui, il semble bien que l'amour existe dans l'éternité."
(…)
"Mais bien entendu, Tarzan, c'est elle, cela a toujours été elle, et maintenant c'est comme si Tarzan venait de découvrir la voracité totale de chaque cellule vivante de la forêt vierge. C'est comme si Tarzan commençait enfin à mûrir, une bonne fois pour toutes, pour s'occuper de ses gosses parmi les frondaisons et les eaux tourbillonnantes et leurs habitants dévorateurs, comme la hyène, ou venimeux, comme la tarentule. Et c'est maintenant comme si Tarzan avait pris conscience d'être l'objet de milles horribles et pervers affûts à la Rambo et que, s'apercevant que son cri dans la forêt n'a pas encore l'énergie suffisante, qu'il manque de férocité ou d'huile de foie de morue, appelez ça comme vous voudrez, il venait de s'inscrire dans un gymnase."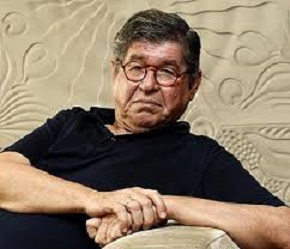 Alfredo Bryce Echenique (Lima, 19 februari 1939)
De Amerikaanse dichteres en schrijfster Kay Boyle werd geboren op 19 februari 1902 in Saint Paul, Minnesota. ook alle tags voor Kay Boyle op dit blog.
Mothers
In the still of night
Have we wept,
And our hearts, shattered and aching
Have prayed.
In the cold, cold moonlight
Have we sobbed
And dreamed of what might have been.
And our hearts have bled from stabs
Given unheeding.
We are the women who have suffered alone -
Alone and in silence.
What Parents Do Not Yet Know

The tree that lingers at the window is just sixteen,
And you, uneasy parent of its wanton ways,
Eavesdrop upon the whispering of three-fingered leaves.

The pale pink squirrel who dances in the nude,
Chattering of nuts, with eyes that see five ways,
Is not related to the tree's anomalies, nor grieves

That you, tormented guardian of bark and roots
And leaves, must seek for words to ratify the pace.
You were once witness to departing wings that fled defiantly

One winter night; hear now the fragile music as it waves
Like ivy through the cawing of the crows. Not wasp, or cattle ant, or bee
Is hesitant, for each believes his paragon of industry is what
Transforms a tree to a child, and child to tree again (with softly whispering leaves).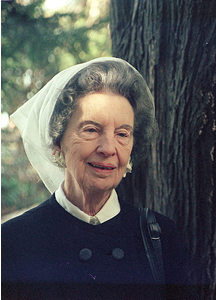 Kay Boyle (19 februari 1902 – 27 december 1992)
De Russische schrijver Yuri Olesha werd geboren op 19 februari 1899 in Elizavetgrad (nu Kirovohrad, Oekraïne). Zie ook alle tags voor Yuri Olesha op dit blog.
Uit: Envy
"Comrades! They are trying to take your most treasured possessions away from you: your homes. The steeds of the Revolution, thundering up the back stairs, are trampling over your children and your cats, breaking into your kitchens, smashing your beloved stoves and sinks. Women, your pride and your glory--your homes--are in danger. Mothers and wives, the elephants of the Revolution are stampeding, and they will raze your kitchens!
. . . .
He [Andrei] wants to turn you into homeless tramps, roaming the wilderness of history. Wives, he is spitting into your soup. Mothers, he dreams of wiping family resemblances from your babies' little faces, the beautiful, sacred family resemblance. He violates your lilttle secret corners, scurries like a rat along your shelves, pokes under your bed, crawls under your shirts, sniffs at the hair of your armpits. You must send him to hell!
See this pillow? I am the king of pillows. Tell him: We wish to sleep, each of us on her own pillow. Don't you dare touch our pillows! Our heads have rested on them, our kisses have fallen on them during our nights of love, we have died on them and those whom we have killed have died on them, too. Keep your hands off our pillows! Stop calling to us! Stop beckoning to us, trying to lure us! What can you offer us to replace our capacity to love, to hate, to hope, to cry, to pity, to forgive? See this pillow? It is our coat of arms. Our symbol. Bullets get buried in a pillow. With a pillow we shall smother you."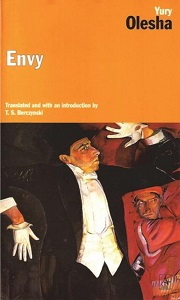 Yuri Olesha (19 februari 1899 – 10 mei 1960)
Cover
De Franse dichter en essayist André Breton werd geboren in Tinchebray in het departement Orne op 19 februari 1896. Zie ook alle tags voor André Breton op dit blog.
La Porte Bat
La por por porte por
La fe ne tre
Sur l'odeur arrière du limurerre
Qui me rappelle
Milady de
Winter
Lissant son cheautru derrière les losanges de la pluie
Brifrouse-bifrousses le plancher est si vieux
Qu'à travers on voit le feu de la terre
Toutes les belles à leur coumicouroir
Comme les hirondelles
Sur les fils où je joue dans les gouttes
D'un instrument inconnu
Oum yoblisoett iste
Au cœur de ce nœud de serpents
Qu'est la croix ses quatre gueules fuyantes suspendues aux pis cardinaux
La Poétesse - Constellation
La
Belle
Cordière de nos jours retrouve sa mission, qui est de faire grésiller le sel de la terre.
Elle mire l'instant où le soleil'doit devenir a noir comme un sac fait de poil » et le vent joncher la terre de figues vertes.
C'est, il semble, amorcé, quoique la lune persiste à répandre l'odeur de seringa.
Les jeux de l'amour et de la mort se poursuivent sous le péristyle dans des détonations d'armes à feu.
Des taillis où couve une chanson ensorcelante perce par éclairs et ondule la pointe du sein de la belladone.
Lamiel, le tison aux doigts, s'apprête à incendier le
Palais de
Justice.
Intérieur
Une table servie du plus grand luxe
Démesurément longue
Me sépare de la femme de ma vie
Que je vois mal
Dans l'étoile des verres de toutes tailles qui la tient
renversée en arrière
Décolletée en coup de vent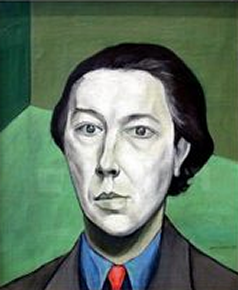 André Breton (19 februari 1896 – 28 september 1966)
Portret door Victor Brauner, 1934
De Duitse dichter en schrijver Paul Zech werd geboren op 19 februari 1881 in Briesen. Zie ook alle tags voor Paul Zech op dit blog.
Fabrikstraße Tags
Nichts als Mauern. Ohne Gras und Glas
zieht die Straße den gescheckten Gurt
der Fassaden. Keine Bahnspur surrt.
Immer glänzt das Pflaster wassernass.
Streift ein Mensch dich, trifft sein Blick dich kalt
bis ins Mark; die harten Schritte haun
Feuer aus dem turmhoch steilen Zaun,
noch sein kurzer Atem wolkt geballt.
Keine Zuchthauszelle klemmt
so in Eis das Denken wie dies Gehn
zwischen Mauern, die nur sich besehn.
Trägst Du Purpur oder Büßerhemd -:
immer drückt mit riesigem Gewicht
Gottes Bannfluch: uhrenlose Schicht.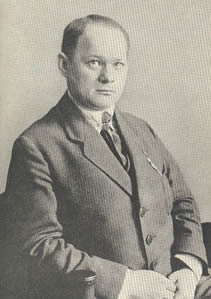 Paul Zech (19 februari 1881 – 7 september 1946)
De Nederlandse schrijver Mark Prager Lindo, beter bekend als Den Ouden Heer Smits werd geboren in Londen op 19 februari 1819. Zie ook alle tags voor Mark Prager Lindo op dit blog.
Uit: Familie van ons
"Zie de jonge moeder met haar eerstgeboren kindje. Zelfopoffering, eindelooze zorgen, kwellende angst zijn de geschenken, welke het hulpelooze wichtje reeds met den eersten snik zijne moeder aanbiedt. Ze worden met dankbaarheid en liefde aangenomen, - en met eene hemelsche sterkte gedragen.
En hetgeen mij mede het meest boeit als ik de jonge moeder beschouw, is, dat zij tot die klasse van wezens behoort, welke wij, stervelingen, zoo goed begrijpen en tevens zoo zeer beminnen en bewonderen moeten. Zij is inderdaad de eenige 'engel,' welken ik sedert mijn achttiende jaar, toen ik alle jonge meisjes gaarne dien eeretitel verleende, ontmoet heb. En zij is een engel, met wien wij op een gemeenzamen voet staan. Zij heeft geen vleugels noodig om zich boven ons te verheffen, - en zij is juist het meest verheven, als zij zich het meest tot ons nederbuigt. Voor alle andere engelen koester ik een eerbiedig opzien; - ik ben, als mensch, op mijn gemak, ik ben geheel en al tehuis bij eene 'moeder.'
Haar kleine zwakheden en hare moederlijke ijdelheid maken haar maar te menschelijker en verstaanbaarder en beminnelijker.
Ik kom bij haar en begin met te lachen over het heel kleine kindje, dat zulk eene heel groote rol in huis speelt. Ik kan ook niet vinden, dat er iets schoons is in die roode, gerimpelde handjes, of in die kromme, spartelende beentjes, en de eenige merkwaardigheid van de oogjes, die zoo geroemd worden, is, voor mij, dat het ééne gewoonlijk gesloten is, terwijl het andere openstaat en rondrolt als dat van een dronkaard, - terwijl het mondje, dat de moeder zoozeer roemt, nu eens in de hoogte, dan in de breedte zich uitzet, en trekt en pruilt, alsof het coquetteerde met het knobbeltje vleesch, dat een neus voorstelt. Maar de moeder is bezield, en de bezieling is aanstekelijk, en de liefde, welke uit het oog van de moeder straalt, verspreidt haar glans over de gelaatstrekken van het kindje en verblindt mijn zwakke blikken, en de misvormde, of liever nog ongevormde trekken worden schoon, en de onnoozelheid van de gelaatsuitdrukking wordt in heilige onschuld veranderd, en het leelijke mondje en de schelle stem, in plaats van wanluidend en oorverdoovend te gillen, doen heerlijke beloften voor de toekomst, welke in het hart der moeder weerklinken, van waar eene zwakke echo mijn oor bereikt."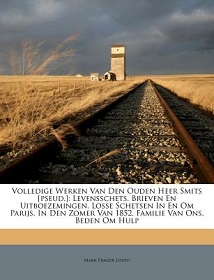 Mark Prager Lindo (19 februari 1819 - Den Haag, 9 maart 1877)
Cover
De Duitse schrijver Heinrich Leopold Wagner werd geboren op 19 februari 1747 in Straatsburg. Zie ook alle tags voor Heinrich Leopold Wagner op dit blog.
Uit: Die Kindermörderin
"EVCHEN. Du! seit wann so vertraut?
v. GRÖNINGSECK. Zank nicht Evchen! zank nicht! müßt mir heut nichts übel nehmen Leutchen, ich hab ein Gläschen Liqueur zuviel.
FR. HUMBRECHT. Was ich fragen wollt, Herr Leutenant, sie stehn mir doch davor, daß wir in einem honetten Haus sind?
v. GRÖNINGSECK. So soll mich der Teufel lebendig zerreißen, Frau Humbrecht! wenn hier nicht täglich alles, was beau monde heißt, zusammenkommt: – sehn sie nur an, wie schlecht das Zimmer meublirt ist. –
FR. HUMBRECHT. Ebendrum!
v. GRÖNINGSECK. Eben drum! freilich, eben drum! Das macht die guten Zimmer sind alle schon besetzt. Meynt sie denn pardieu! der Lieutenant von Gröningseck würde sich sonst in einen solchen Stall weisen lassen. Drey Stühl, und ein Tisch, den man nicht anrühren darf! (er stößt daran, der Tisch fällt um, das Licht mit, geht aus.)
FR. HUMBRECHT. Herr Jemine das Licht! Herr Leutenant, das Licht!
v. GRÖNINGSECK. (ihr nachäffend.) Das Licht! das Licht! hat der Henker das geholt, so gibts noch andre. – Wo ist der Leuchter? – (sucht.)
EVCHEN Hier hab ich ihn schon.
v. GRÖNINGSECK. Wo? wo?
EVCHEN Ey hier! sie greifen ja dran vorbey – pfuy! –
FR. HUMBRECHT. Was ist? was giebts?
v. GRÖNINGSECK. Gar nichts! (nimmt den Leuchter ab, und geht nach der Thüre) Hola, des flambeaux!
(Ein altes Weib hält ihm ohne sich recht sehn zu lassen ein Licht hin, er steckt seines an.)
EVCHEN (sich die Hände am Schnupftuch abwischend) Ey da hab ich mir die Hände am Inschlitt beschmiert. (Wirft dem Lieutenant heimlich einen drohenden Blick zu: er lächelt)."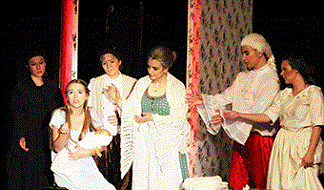 Heinrich Leopold Wagner (19 februari 1747 – 4 maart 1779)
Scene uit een schoolopvoering in Schwäbisch Hall, 2003
19-02-2017 om 12:00 geschreven door Romenu

Tags:Carson McCullers, Alfredo Bryce Echenique, Kay Boyle, Yuri Olesha, André Breton, Paul Zech, Mark Prager Lindo, Heinrich L. Wagner, Romenu


18-02-2017

Nick McDonell, Robbert Welagen, Bart FM Droog, Maarten Mourik, Huub Beurskens, Gaston Burssens, Toni Morrison, Elke Erb, Charlotte Van den Broeck
De Amerikaanse schrijver Nick McDonell werd geboren op 18 februari 1984 in New York. Zie ook alle tags voor Nick McDonell op dit blog.
Uit: The Third Brother
"Mike tries to decode this and can't. Analect tells him again to stay out of trouble and that Bishop will take care of him. It seems to Mike that Bishop is pleased to have the help, but that there is more to it. When they are leaving the office, Analect tells Mike to wait for a moment, and when they are alone, he tells Mike that Dorr had been a friend of Mike's father, years ago. That they had all been good friends, actually, the three of them practically brothers, and that Mike's father would be glad for news of Dorr.
Mike looks out the window. He notices for the first time how really extraordinary the view from Analect's office is. Mike can see the whole city, enormous and smogged and throbbing. For a moment he can't believe the sound of it doesn't blow in the windows. But Analect's office sits quietly above it all, humming coolly. Mike is suddenly uneasy, with only the inch of glass between the two of them and the loud, empty space above the city. He looks back at Analect, who is frowning.
"Dorr and your father were sparring partners, when they boxed back in college," says Analect.
Mike looks back out over the city. He knew about the boxing, but his father had never mentioned Dorr. It all surprises him, but maybe it's just seeing his own features reflected in the glass, and the long drop to Hong Kong from fifty stories up.
When Mike was a small boy, his parents often entertained. In New York City in their world, they were famous for the dinners they gave in their big beach house at the end of Long Island, especially Thanksgiving. Mike remembered the candlelight and gluey cranberry sauce, which he would wipe off his hands into his hair. His older brother, Lyle, remembered the same things. There were servants, who disciplined Mike when his parents did not. One Filipino lady in particular boxed his ears. When he was older he remembered how it hurt but not her name. Their parents gave these dinners several years in a row. There were mostly the same guests, adults who would tousle Mike's fine but cranberried hair, and their children, a crew of beautiful, spoiled playmates whom Mike assumed he would know forever. He still saw some of them, at parties and dinners of their own on school breaks. At hearing that one or two of them had slid into addiction, Mike would remember chasing them through his mother's busy kitchen. His mother was never in the kitchen, of course, but it was definitely hers. Small paintings of vegetables and an antique mirror hung on its walls."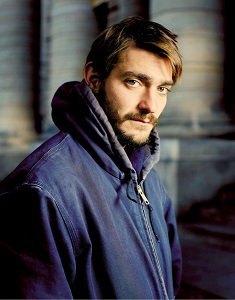 Nick McDonell (New York, 18 februari 1984)
De Nederlandse schrijver Robbert Welagen werd geboren in Dordrecht op 18 februari 1981. Zie ook alle tags voor Robbert Welagen op dit blog.
Uit: In goede handen
"Verdomd, daar loop ik. Op perron 4 van station Amstel. Ik ben het, geen twijfel mogelijk. Ik zit in de trein op weg naar Amsterdam Centraal en we staan stil, pal naast de roltrappen. Het is half zeven 's avonds. Ik kijk door het raam naar buiten en tussen de mensen op het perron – bellend, etend, in de weer met hun OV-pas, uitgeblust voor zich uit starend – zie ik mezelf. Ik, althans, een man die als twee druppels water op mij lijkt, sluit netjes aan bij de mensenmassa en glijd daarna langzaam met de roltrap naar beneden.
De man kijkt anders uit zijn ogen en draagt kleding die ik nooit zou dragen, maar toch ben ik het: hetzelfde gezicht, ongeveer één meter negentig lang, begin dertig, licht gebogen. Onder een bijpassende jas draagt hij een pak met stropdas. Hij heeft zijn haar iets korter geknipt dan ik het meestal heb. Door de ongewoon gezonde teint in het gezicht lijkt het alsof hij onlangs op wintersportvakantie is geweest. In zijn hand heeft hij een leren aktetas. Zelf zou ik nooit een leren aktetas dragen of op wintersport gaan.
Ik moet mezelf volgen; ik wil beslist weten wie hij is en waar hij naartoe gaat. Snel stap ik de trein uit, net nadat de conducteur op zijn fluitje heeft geblazen. De deuren schuiven pal achter me dicht.
Eigenlijk ben ik op weg naar de kunstacademie waar ik elke donderdagavond van zeven tot tien uur een cursus geef. Dat is een van de losse baantjes die ik heb omdat mijn illustraties en tekeningen niet zo veel opbrengen. Lesgeven op de academie waar ik zelf les heb gehad geeft me een gemengd gevoel van vooruitgang en stilstand. Vanavond zullen we het lijnperspectief behandelen. 'Het is een misverstand dat het perspectief een uitvinding is uit de vijftiende eeuw. Het werd toen herontdekt. Nieuw is een relatief begrip.' Negen cursisten zullen in het lokaal op me zitten wachten en naar de lege lerarenstoel kijken. Als ik mezelf snel inhaal, kan ik nog net op tijd zijn."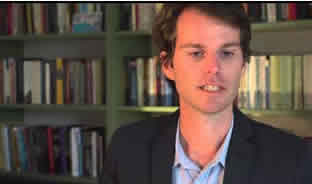 Robbert Welagen (Dordrecht, 18 februari 1981)
De Nederlandse dichter Bart FM Droog werd geboren in Emmen op 18 februari 1966. Zie ook alle tags voor Bart FM Droog op dit blog.
Blauwe maan
We zijn er blauw van afgekomen
met blauwe bloempjes van witteboord
de blauwe begijn lag er blauw van
en dat een blauwe maandag lang
blauwe maan was een blauwe baby
een blauwe bliksem waar niemand zich
zijn vingers blauw aan telde, alhier
en dat een blauwe maandag lang
blauwboorden kregen blauwe schenen
van blauwe boodschap van witteboord
we zijn er blauw van afgekomen
en dat een blauwe maandag lang.
Mens op planeet aarde
Europa, Azië, Afrika - ik verzamel
continenten werkgewijs - ik wijs
toerisme af en waan me werker
in een wereld die naar rotting stinkt

ach, hoe mooi de sterren, hoe onbedorven
de planeten waar nooit mensen waren
met machines die aarde vraten, wateren
ontvisten en vergiftigen, ja voordien

'k zou me moeten schamen, 'k zou
zoveel excuses aan moeten bieden
maar aan wie o wie o wie.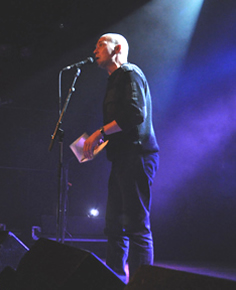 Bart FM Droog (Emmen, 18 februari 1966)
De Nederlandse dichter, publicist en diplomaat Maarten Mourik werd geboren in Streefkerk op 18 februari 1923. Zie ook alle tags voor Maarten Mourik op dit blog.
Indian Summer
Gloeiende kleuren op alle heuvels
van Virginië, maar nergens bloemen;
in het dorre gras alleen nog stervend blad.
Wel is er elke dag opnieuw
die heldere stilte, ver en hoog,
maar aan de open hemel hangt,
in ijle rook van brandend loof,
onzekerheid: wat doet het hart zo laat
nog in oktober met een zomer:
toegift, elegische, na brio van 't concert,
waarvoor men toch betaalt:
met aftrek op het jaar.
Want elke nieuwe dag laten ons de gordijnen
van ochtendmist en avondnevel
een smaller doorkijk op de kammen
der Alleghenies in het Westen, waarachter
lang al donkere wolkenruggen dringen.
En in het niemandsland van de seizoenen
wordt schraler steeds de krekelzang.

Stormvloed
Ons is van 't eenmaal onbegrensd gebied
van 't gemeenschappelijke samenleven
nog slechts een uiterst smalle strook gebleven
wat ons de stormvloed van de dood nog liet:
een zwakke terp, aan alle kanten omgeven
door 't zwarte water van de nacht, meer niet.
Al slaan de golven sissend in 't riet,
hier zijn w' een ogenblik de hel ontheven.
Het is de droom, dat allerlaatst domein
waar we nog even kunnen samenzijn
en jouw verlorenheid niet wordt gevoeld.
Maar wordt de droom gebroken als mijn hand
jou tastend zoekt en niets vindt dan de wand
dan word ook ik door 't stormtij overspoeld.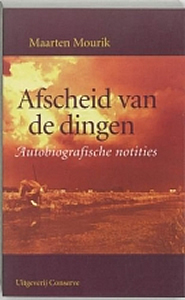 Maarten Mourik (18 februari 1923 - 30 september 2002)
Cover
De Nederlandse dichter,vertaler en schilder Huub Beurskens is geboren in Tegelen op 18 februari 1950. Zie ook alle tags voor Huub Beurskens op dit blog.
Tederheid van wolven
Wij liggen in het gras
Op het Wolvenveld boven Vršac

Men zegt
Dat hier alle wolven
Zijn doodgeslagen
Tot op de laatste

Levend bleef
Alleen hun naam

Een soort dierlijke tederheid dringt
Vanonder opgeschrikt gras
En beroert onze ledematen
Lippen en bloed

Wij beminnen elkaar zonder woorden
Mijn jonge wolvin en ik
Alleenspraak in de herfst
In de warme oktoberzon in een stadspark gezeten
met schrik beseffen hoeveel najaren voordien je al
wist dat, in tegenstelling tot jij nu, geen wesp die
zwermt het zwermen der wespen van de herfst

tevoren mist, geen kruisspin zich kruisspinnen
herinnert, daar zij er niet waren in hun eertijds
dat je kent. Van den beginne maak ik deel uit
van het einde der dagen, wat intussen niet went

hoewel ik er de afgrond zelve toe ben. Stiller
spelen kinderen in hun vragen waarvan de klanken
verder dragen. Dat ik mensen in het gras zie liggen
als na hun laatste val, ligt aan mij en niet aan hen.

Huub Beurskens (Tegelen, 18 februari 1950)
Tegelen
De Vlaamse dichter en schrijver Gaston Burssens werd geboren in Dendermonde op 18 februari 1896. Zie ook alle tags voor Gaston Burssens op dit blog.
Amazone
Over de zomerweide drijft geur van drogend hooi
ons trouwe schouwers eenzaam toewaarts
langs den weg staan blakende papavers passieloos
en bloeien anemonen hun laatsten stond
van eenzaamheid.

Zag ik hun laatsten stond?
den laatsten stond van laaiende papavers
in 't aanschijn van het drogend hooi
alover de zomerweide waart ook de geur van 't hooi
den weg langs waar een amazone rijdt
ons trouwe schouwers toewaarts
een rit van eenzaamheid.

Als onder paardenhoeven thans lillende papavers
hun stengels niet bestendig weten
bloeien hun laatsten stond de anemonen
en glijdt de anemonenblik der amazone
het oogenblik der eenzaamheid van beiden voorbij.
Ontsnapping
De spijker van mijn lichaam is verroest.
De suiker opgelost in vet en water.
De spijker heb ik in mijn kist geslagen.
Mijn kist met zeep en water opgepoetst.

Dies is van mij niet méér gebleven
dan niets [maar met een majuscuul].
Of niets. Wat zit ik hier dan te beweren?
Zoiets is radicaal òf ridicuul.

Welnee. Welnee. Gezelle zei het reeds:
'Niets is een kouse voeteloos
en zonder been d'r an'.

Wat dan?
Zo'n Niets is zo maar niets. Het is het iets
dat ons altijd nog juist ontsnappen kan.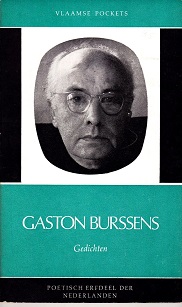 Gaston Burssens (18 februari 1896 – 29 januari 1965)
Cover
De Afro-Amerikaansschrijfster Toni Morrison werd geboren op 18 februari 1931 in Lorain, Ohio. Zie ook alle tags voor Toni Morrison op dit blog.
Uit: The Bluest Eye
"The puke swaddles down the pillow onto the sheet -- green-gray, with flecks of orange. It moves like the insides of an uncooked egg. Stubbornly clinging to its own mass, refusing to break up and be removed. How, I wonder, can it be so neat and nasty at the same time?
My mother's voice drones on. She is not talking to me. She is talking to the puke, but she is calling it my name: Claudia. She wipes it up as best she can and puts a scratchy towel over the large wet place. I lie down again. The rags have fallen from the window crack, and the air is cold. I dare not call her back and am reluctant to leave my warmth. My mother's anger humiliates me; her words chafe my cheeks, and I am crying. I do not know that she is not angry at me, but at my sickness. I believe she despises my weakness for letting the sickness "take holt." By and by I will not get sick; I will refuse to. But for now I am crying. I know I am making more snot, but I can't stop.
My sister comes in. Her eyes are full of sorrow. She sings to me: "When the deep purple falls over sleepy garden walls, someone thinks of me. . . ." I doze, thinking of plums, walls, and "someone."
But was it really like that? As painful as I remember? Only mildly. Or rather, it was a productive and fructifying pain. Love, thick and dark as Alaga syrup, eased up into that cracked window. I could smell it -- taste it -- sweet, musty, with an edge of wintergreen in its base -- everywhere in that house. It stuck, along with my tongue, to the frosted windowpanes. It coated my chest, along with the salve, and when the flannel came undone in my sleep, the clear, sharp curves of air outlined its presence on my throat. And in the night, when my coughing was dry and tough, feet padded into the room, hands repinned the flannel, readjusted the quilt, and rested a moment on my forehead. So when I think of autumn, I think of somebody with hands who does not want me to die."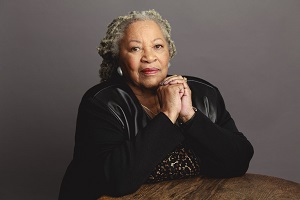 Toni Morrison (Lorain, 18 februari 1931)
De Duitse dichteres en schrijfster Elke Erb werd geboren op 18 februari 1938 in Scherbach in de Eifel. Zie ook alle tags voor Elke Erb op dit blog.
Erwägung

Stelle ich mir vor, was ich sehe, seien Erscheinungen.

Und die Erscheinungen seien nur Schein.

Und der Schein sei nichts als die Oberfläche.

Und die Oberfläche sei glatt.

Aber die Erscheinung «suspekt»
sei nicht glatt wie die Gesamtheit der anderen,

sondern schrumplig, ein schrumplig verdecktes Loch
in der Gesamtheit der andern.

Als brodele etwas, ohne zu kochen,
brodele kalt – suspekt.

Werfe Blasen auf.
Diese Stelle verdecke die Hölle.

Und wäre ein Denkprozeß
adäquat so beschreibbar,

und man beschriebe ihn so –
fände er sich diffamiert.
Sich äussern

Warum spricht man nicht so, wie man denkt bei sich:

flugs, andeutend, aber zielstrebig,
konzentriert, aber weich, so daß
bei sich heißen könnte in nuce?

Ausgeführt sprechen ist
gesellschaftlich positioniert sprechen.

Gedichte schreiben ist – in nuce, aber nicht weich,
sondern strategisch gehärtet: wie als spräche man positioniert
(Impetus, kommunikative Provokations-, Vermittlungs-&
Verführungstechniken).

Das Unternehmen, so zu sprechen, nämlich in nuce,
aber wie positioniert,

ist selbst Poesie.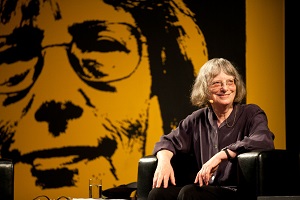 Elke Erb (Scherbach, 18 februari 1938)
Onafhankelijk van geboortedata
De Vlaamse dichteres Charlotte Van den Broeck werd in 1991 geboren in Borgerhout. Zie ook alle tags voor Charlotte van den Broeck op dit blog.
Flamingo

Ik heb onlangs ontdekt, dat ik slaap
zoals flamingo's staan:
met één been gestrekt, het ander
in een krul en dan op mijn zij.

Op dit donzen bed dook ik
de liefde in, wankel in donkerroze,
nek aan nek, als twee verstrengelde
worsten, snakken naar adem.

Flamingo's veroveren elkaar synchroon,
een hoofse paringsdans: minstens twaalf
wimperblikken een monogaam leven lang.
Een steekspel, dat we vooral kennen van
televisieprogramma's.

Eerst waren we nog grijs,
nu zijn we bijna piloten.
Bijna een ode aan vogels.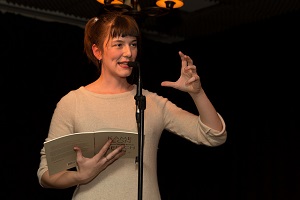 Charlotte Van den Broeck (Borgerhout, 1991)
Zie voor nog meer schrijvers van de 18e februari ook mijn vorige blog van vandaag.
18-02-2017 om 11:45 geschreven door Romenu

Tags:Nick McDonell, Robbert Welagen, Bart FM Droog, Maarten Mourik, Huub Beurskens, Gaston Burssens, Toni Morrison, Elke Erb, Charlotte Van den Broeck, Romenu



Níkos Kazantzákis, Jean M. Auel, Mór Jókai, Hedwig Courths-Mahler, Alexander Kielland, Audre Lorde, Wallace Stegner, Leone Battista Alberti
De Griekse dichter en schrijver Níkos Kazantzákis werd geboren in Heraklion op 18 februari 1883. Zie ook alle tags voor Níkos Kazantzákis op dit blog.
Uit: The Odyssey (Vertaald door Kimon Friar)
O Sun, my quick coquetting eye, my red-haired hound,
sniff out all quarries that I love, give them swift chase,
tell me all that you've seen on earth, all that you've heard,
and I shall pass them through my entrails' secret forge
till slowly, with profound caresses, play and laughter,
stones, water, fire, and earth shall be transformed to spirit,
and the mud-winged and heavy soul, freed of its flesh,
shall like a flame serene ascend and fade in sun.

You've eaten and drunk well, my lads, on festive shores,
until the feast within you turned to dance and laughter,
love-bites and idle chatter that dissolved in flesh;
but in myself the meat turned monstrous, thewine rose,
a sea-chant leapt within me, rushed to knock me down,
until I longed to sing this song- make way, my brothers!
Oho, the festival lasts long, the place is small;
make way, let me have air, give me a ring to stretch in,
a place to spread my shinbones, kick up my heels,
so that my giddiness won't wound your wives and children.
As soon as I let my words loose along the shore
to hunt all mankind down, I know they'll choke my throat,
and when my full neck smothers and my pain grows vast
I shall rise up- make way!- to dance on raging shores.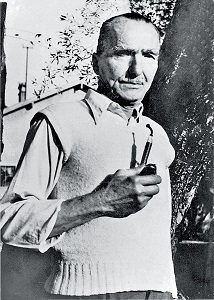 Níkos Kazantzákis (18 februari 1883 - 26 oktober 1957)

De Amerikaanse schrijfster Jean Marie Auel werd geboren op 18 februari 1936 in Chicago. Zie ook alle tags voor Jean M. Auel op dit blog.
Uit: Het lied van de grotten (Vertaald door Henny van Gulik en Ingrid Tóth)
"Ayla en Jondalar liepen achteraan in de stoet, met achter zich drie paarden, en ze keken op om te zien wat de oorzaak van het oponthoud was. 'Ik vraag me af waarom we halt houden,' zei Jondalar, met een zorgelijke frons.
Ayla keek nauwlettend naar de leider en de mensen die om hem heen stonden en bracht instinctief haar hand beschermend naar het warme bundeltje in de zachte leren draagdoek op haar buik. Jonayla had pas de borst gekregen en sliep, maar ze bewoog even bij de aanraking van haar moeder. Ayla had een buitengewoon vermogen om lichaamstaal te lezen, dat had ze op jonge leeftijd geleerd toen ze bij de Stam leefde.
Ze wist dat Joharran verontrust was en Th efona bang. Ayla had ook een uitzonderlijk scherp gezichtsvermogen. Daarbij kon ze geluiden horen die boven het bereik van het menselijk gehoor lagen, en de diepe tonen voelen van de geluiden daaronder. Haar reuk- en smaakzin waren eveneens buitengewoon scherp, maar ze had zich nooit met iemand vergeleken en besefte dus niet hoe bijzonder haar waarnemingen waren. Ze was geboren met uiterst fi jngevoelige zintuigen, wat ongetwijfeld had bijgedragen tot haar kans op overleving nadat ze op haar vijfde haar ouders en alles wat haar vertrouwd was had verloren.
Al haar kennis had ze opgedaan uit het leven zelf. Ze had haar aangeboren vaardigheden ontwikkeld gedurende de jaren dat ze dieren had bestudeerd, met name carnivoren, toen ze zichzelf had leren jagen. In de stilte bespeurde ze de nauwelijks waarneembare, maar vertrouwde bromgeluiden van leeuwen. Ze rook in een zachte bries hun kenmerkende geur, en ze zag dat verschillende mensen vooraan in de groep naar voren keken. Toen ze hun blik volgde, zag ze iets bewegen. Plotseling leken de katten in het hoge gras scherp in beeld te komen. Ze onderscheidde nu twee jonge en drie of vier volwassen holenleeuwen.
Terwijl ze naar voren liep ging haar ene hand naar haar speerwerper die aan een lus aan haar riem hing, en met de andere pakte ze een speer uit de houder op haar rug.
'Waar ga je heen?' vroeg Jondalar."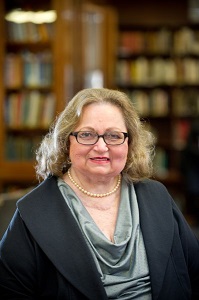 Jean M. Auel (Chicago, 18 februari 1936)
De Hongaarse schrijver en journalist Mór Jókai werd geboren op 18 februari 1825 in Komárom. Zie ook alle tags voor Mór Jókai op dit blog.
Uit: The Baron's Sons (Vertaald door Percy Favor Bicknell)
"The final words of this peroration were drowned in a storm of cheers, an outburst of music, and the confused din caused by the pushing back of chairs and the dashing of wine-glasses against the wall, while the guests fell into one another's arms in an ecstasy of enthusiasm.
"Long life to him!" they cried; "may he live a thousand years!"
He to whom the assembled company wished so long a life was the renowned and honoured Baron Casimir Baradlay, lord lieutenant of his county, the owner of large estates, and the leader of a powerful party. The high dignitaries assembled about his hospitable board had gathered from far and near to determine upon a programme which should ensure their country's welfare for the coming years. As a fitting close to this important conference, Baron Baradlay was treating his partisans to a banquet in the great hall of his castle, and in the unavoidable absence of the host himself his wife was presiding at the festive board. The administrator, however, Benedict Rideghváry, had taken the absentee's place at the conference.
At the close of the toast, when those near the head of the table turned to touch glasses with the hostess, her absence was noticed, and the butler who stood behind her empty chair explained that the physician had just entered and whispered something in the lady's ear, whereupon she had left the room. Probably, said he, her husband had sent for her. Upon this information a number of the guests made anxious inquiry whether their honoured host was seriously ill; and the administrator hastened to reassure all present, as far as his voice could reach down the long table, by telling them that it was merely a return of the baron's chronic ailment. Some of the better-informed supplemented this announcement by explaining to their neighbours that the gentleman had, for perhaps ten years, been subject to frequent attacks of heart-failure, but could nevertheless, by observing very regular habits, be expected to live for another ten years or more."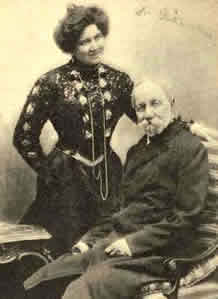 Mór Jókai (18 februari 1825 – 5 mei 1904)
Hier met zijn tweede vrouw Bella Nagy
De Duitse schrijfster Hedwig Courths-Mahler werd geboren in Nebra (Saksen-Anhalt) op 18 februari 1867. Zie ook alle tags voor Hedwig Courths-Mahler op dit blog.
Uit: Ich lieb' in dir die ganze Welt
"Graf Lothar seufzte. "Ja, Baroness, auf Rosen sind wir hier nicht gebettet. Und das wird in Zukunft sogar noch schlimmer werden. Der Treubruch seiner Frau hat Rüdiger noch griesgrämiger gemacht. Wir werden hier ein Leben in Sack und Asche führen müssen."
"Ich wollte, ich könnte Sie davon erlösen. Wenn ich könnte, wie ich wollte, würde ich, noch ehe Graf Rüdiger heimkommt, meine Sachen packen und nach Rottberg fahren. Sie müssten mich dann begleiten, und wir würden froh und vergnügt sein."
Graf Lothar sah ihr mit einem tiefen Blick in die Augen. "Das klingt wie ein schönes Märchen, in dem eine gute Fee zwei Geschwister von einem bösen Zauber erlöst."
"Ja, liebe Annedore", sagte nun auch die Komtess, "wunderschön wäre das! Sie sind so gut und haben ein edles, empfängliches Herz."
Annedore wurde verlegen. "Das müssen Sie nicht sagen. Ich bin gar nicht gut und edel, sondern oft recht trotzig und unliebenswürdig. Nur wen ich gern habe, der hat es leicht mit mir."
Graf Lothar fasste ihre Hand. "Wenn ich doch zu den Menschen gehörte, die Sie gern haben!"
Errötend zog Annedore ihre Hand zurück. "Ganz sicher gehören Sie dazu, Graf Lothar, und Lilly auch. Sie haben es mir so leicht gemacht durch Ihr freundliches Entgegenkommen. Es musste ja nach Ihren Beschreibungen ganz schrecklich in Lindeck sein unter Graf Rüdigers Herrschaft."
"Nun, schließlich hat ja Rüdiger auch manche gute Seiten", erwiderte Graf Lothar in lauer Verteidigung, nur um sich den Anschein des Edelmuts zu geben.
Annedores Augen leuchteten warm in die seinen. "Es ehrt Sie, Graf Lothar, dass Sie trotz allem, was Ihr Bruder Ihnen angetan hat, noch für ihn eintreten."
Einen Moment sah Graf Lothar ein wenig verlegen vor sich hin. Die ehrlichen Mädchenaugen genierten ihn. Doch solche Gefühle waren in seiner Situation vollkommen fehl am Platz …"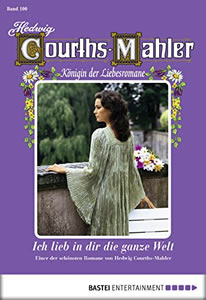 Hedwig Courths-Mahler (18 februari 1867 - 26 november 1950)
Cover
De Noorse schrijver Alexander Lange Kielland werd geboren in Stavanger op 18 februari 1849. Zie ook alle tags voor Alexander Kielland op dit blog.
Uit: Tales of Two Countries (Vertaald door William Archer)
"It was not difficult to obtain control of her, as she belonged to no one. He gave her a name, and placed her in one of the best convent schools. Before long her benefactor had the satisfaction of observing that the seeds of evil died away and disappeared. She developed an amiable, rather indolent character, correct and quiet manners, and a rare beauty.
When she grew up he married her. Their married life was peaceful and pleasant; in spite of the great difference in their ages, he had unbounded confidence in her, and she deserved it.
Married people do not live in such close communion in France as they do with us; so that their claims upon each other are not so great, and their disappointments are less bitter.
She was not happy, but contented. Her character lent itself to gratitude. She did not feel the tedium of wealth; on the contrary, she often took an almost childish pleasure in it. But no one could guess that, for her bearing was always full of dignity and repose. People suspected that there was something questionable about her origin, but as no one could answer questions they left off asking them. One has so much else to think of in Paris.
She had forgotten her past. She had forgotten it just as we have forgotten the roses, the ribbons, and faded letters of our youth—because we never think about them. They lie locked up in a drawer which we never open. And yet, if we happen now and again to east a glance into this secret drawer, we at once notice if a single one of the roses, or the least bit of ribbon, is wanting. For we remember them all to a nicety; the memories are as fresh as ever—as sweet as ever, and as bitter.
It was thus she had forgotten her past—locked it up and thrown away the key.
But at night she sometimes dreamed frightful things. She could once more feel the old witch with whom she lived shaking her by the shoulder, and driving her out in the cold mornings to work at her artificial flowers."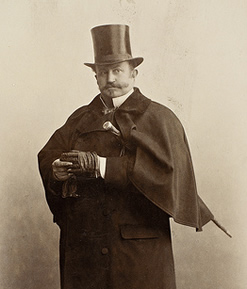 Alexander Kielland (18 februari 1849 - 6 april 1906)
De Afro-Amerikaanse schrijfster, dichteres en lesbisch-feministische, anti-racistische activiste Audre Geraldine Lorde werd geboren op 18 februari 1934 in New York. Zie ook alle tags voor Audre Lorde op dit blog.
Father Son and Holy Ghost
I have not ever seen my father's grave.
Not that his judgment eyes
have been forgotten
nor his great hands' print
on our evening doorknobs
one half turn each night
and he would come
drabbled with the world's business
massive and silent
as the whole day's wish
ready to redefine
each of our shapes
but now the evening doorknobs
wait and do not recognize us
as we pass.
Each week a different woman
regular as his one quick glass
each evening
pulls up the grass his stillness grows
calling it weed.
Each week a different woman
has my mother's face
and he
who time has changeless
must be amazed
who knew and loved
but one.
My father died in silence
loving creation
and well-defined response
he lived still judgments
on familiar things
and died knowing
a January 15th that year me.
Lest I go into dust
I have not ever seen my father's grave.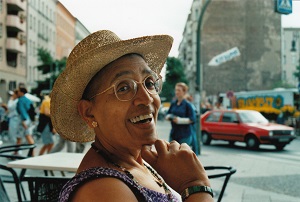 Audre Lorde (18 februari 1934 – 17 november 1992)
De Amerikaanse schrijver Wallace Stegner werd geboren op 18 februari 1909 in Lake Mills, Iowa. Zie ook alle tags voor Wallace Stegner op dit blog.
Uit: Wat behouden blijft (Vertaald door Edzard Krol)
"Terwijl ik uit verwarrende dromen en herinneringen naar boven kom, slingerend als een forel opduik door de kringen van eerdere stijgingen, bereik ik het oppervlak. Mijn ogen gaan open. Ik ben wakker.
Mensen die lijden aan grauwe staar zullen na afloop van de operatie, als het verband wordt verwijderd, iets dergelijks zien: elk detail heeft de scherpte van iets wat voor het eerst wordt waargenomen, toch is het ook bekend, van de tijd die aan de blindheid voorafging, het herinnerde en het waargenomen beeld vallen samen als in een stereoscoop.
Het is duidelijk nog heel vroeg. Het licht dat door de kieren van de jaloezieën lekt, is niet meer dan een schemering. Maar ik zie, of herinner me, of beide, de gordijnloze ramen, de kale dakspanten, de houten wanden die leeg zijn, op een kalender na, die er acht jaar geleden geloof ik ook hing, toen we hier voor het laatst waren.
Wat ooit opvallend spartaans was, is nu sjofel. Sinds Charity en Sid het terrein aan de kinderen hebben overgedragen, is er niets bij gekomen of opgeknapt. Ik zou het gevoel moeten hebben wakker te worden in een goedkoop hotelletje in crisistijd, maar dat is niet het geval. Ik heb te veel goede dagen en nachten in dit huisje doorgebracht om mij er ontmoedigd door te voelen.
Als mijn ogen zich aan de schemering hebben aangepast en ik mijn hoofd van het kussen til om rond te kijken, is er iets wonderbaarlijk geruststellends, behaaglijks aan de kamer, zelfs in het halfduister. Door de associaties wellicht, maar ook door de kleur.
In de loop van de jaren is het onafgewerkte grenen van de wanden en plafonds verzacht tot een rijke honingkleur, alsof ze geverfd zijn door de warmte van de mensen die er een wijkplaats voor hun vrienden van maakten. Ik vat het op als een voorteken; en hoewel ik mezelf eraan herinner waarom we hier zijn, kan ik het heerlijke gevoel van vertrouwdheid waarmee ik zojuist wakker werd niet van me afschudden."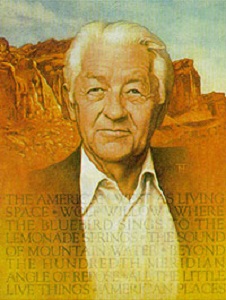 Wallace Stegner (18 februari 1909 – 13 april 1993)
De Italiaanse dichter en schrijver Leone Battista Alberti werd geboren in Genua op 18 februari 1404. Zie ook alle tags voor Leone Battista Alberti en voor Leone Alberti op dit blog.
Uit: On Painting (Vertaald door Cecil Grayson)
"I used to marvel and at the same time to grieve that so many excellent and superior arts and sciences from our most vigorous antique past could now seem lacking and almost wholly lost. We know from [remaining] works and through references to them that they were once widespread. Painters, sculptors, architects, musicians, geometricians, rhetoricians, seers and similar noble and amazing intellects are very rarely found today and there are few to praise them. Thus I believed, as many said, that Nature, the mistress of things, had grown old and tired. She no longer produced either geniuses or giants which in her more youthful and more glorious days she had produced so marvelously and abundantly.
Since then, I have been brought back here [to Florence]from the long exilein which we Alberti have grown old into this our city, adorned above all others. I have come to understand that in many men, but especially in you, Filippo, and in our close friend Donato the sculptor and in others like Nencio, Luca and Masaccio, there is a genius for [accomplishing] every praiseworthy thing. For this they should not be slighted in favor of anyone famous in antiquity in these arts. Therefore, I believe the power of acquiring wide fame in any art or science lies in our industry and diligence more than in the times or in the gifts of nature. It must be admitted that it was less difficult for the Ancients--because they had models to imitate and from which they could learn to come to a knowledge of those supreme arts which today are most difficult for us. Our fame ought to be much greater, then, if we discover unheard-of and never-before-seen arts and sciences without teachers or without any model whatsoever."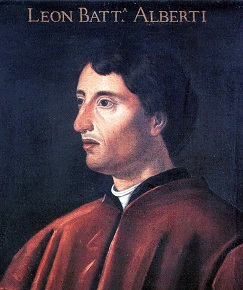 Leone Battista Alberti (14 februari 1404 — 25 april 1472)
Florentijnse school, 1e helft 17e eeuw
18-02-2017 om 11:44 geschreven door Romenu

Tags:Níkos Kazantzákis, Jean M. Auel, Mór Jókai, Hedwig Courths-Mahler, Alexander Kielland, Audre Lorde, Wallace Stegner, Leone Battista Alberti, Romenu


17-02-2017

Shahrnush Parsipur, Willem Thies, Sadegh Hedayat, Yevgeni Grishkovetz, Albert Kuyle
De Iraanse schrijfster Shahrnush Parsipur werd geboren op 17 februari 1946 in Teheran. Zie ook alle tags voor Shahrnush Parsipur op dit blog.
Uit: Frauen ohne Männer (Vertaald door Jutta Himmelreich)
"Der Garten, von Mauern aus Lehmstroh umgeben, saftig grün, lag jenseits des Dorfes, am Fluß, der das Grundstück begrenzte. Es war ein Kirschgarten, mit sauren und süßen Kirschen.
Auf dem Grundstück stand ein Wohngebäude, halb Land-, halb Stadthaus, mit drei Zimmern. Vor dem Haus befand sich ein Wasserbecken, voller Algen und Frösche. Rings um das Bassin war Kies gestreut, und unweit standen vereinzelte Weidenbäume. Nachmittags lag das dunkle Grün des Wassers mit dem hellen Grün der sich spiegelnden Weiden immer in lautlosem Wettstreit. Mahdokhtstimmte dasjedesmaltraurig,weilsieStreiterei überhaupt nicht mochte. Einfach und unkompliziert wie sie war,wünschte sie, alle und alles sollten sich miteinander vertragen, selbst die Myriaden von Grüntönen dieser Welt. So ruhige Farben, gewiß, und doch . . ., dachte sie.
Unter einem der Bäume stand, mit zweien ihrer vier Beine auf der Einfassung des Beckenrands, eine Bank, die auf dem glitschigen Untergrund jederzeit ins Wasser rutschen konnte. Auf dieser Bank saß Mahdokht und betrachtete das Wasser, die Spiegelbilder der Weiden in ihrem Streit, und das Blau des Himmels, das sich meist nachmittags machtvoll über diesem grünen Reigen erhob und Mahdokht wie der höchste Richter vorkam.
Wenn Mahdokht im Winter strickte oder erwog, Französisch zu lernen oder die Welt zu bereisen, dann deshalb, weil man in der Kälte gesunde Luft atmen konnte. Im Sommer hingegen war's damit vorbei. Denn der Sommer war voller Rauch und Dunst und Staub, und es wimmelte von Autos und Menschen. Dazu diese großen, traurigen Fensterscheiben, die die stechende Sonne hereinließen.
Warum, zum Teufel, begreifen sie nicht, daß solche Fenster in unserem Land nichts taugen?
Das fragte sich Mahdokht und war auch deshalb schlecht gelaunt, weil sie der Einladung ihres älteren Bruders Huschang Khan notgedrungen gefolgt und hierher in den Garten gekommen war, wo ihr nun nichts anderes übrigblieb, als den Lärm der Kinder zuertragen,die den lieben langen Tag Geschrei machten, sich die Bäuche mit Kirschen vollschlugen, allabendlich Durchfall bekamen und nächtelang Joghurt aßen.
»Das ist Joghurt aus dem Dorf.«
»Ausgezeichnet, ja.«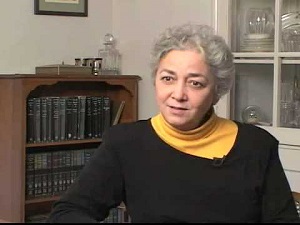 Shahrnush Parsipur (Teheran, 17 februari 1946)
De Nederlandse dichter Willem Thies werd geboren op 17 februari 1973 in Nijmegen. Zie ook alle tags voor Willem Thies op dit blog.
Cyclus
Ochtend: tegen de wind heft een vogel zijn vlucht op.

Middag: aan de voet van een praatzieke fontein
kwijt een klein dier.

Avond: de bomen op de kade dopen hun donkere
takken in het water
tot de volgende dag
de zon ze weer opdregt.
Buurtgenoten
Wat is dat voor muziek?

O, dat zijn buitenlanders. Vietnamese bootvluchtelingen.
Vader collaboreerde met de Amerikanen. Nu rookt hij
waterpijp in een rijtjeshuis, begiet plantjes
in de achtertuin, de godganse dag in zijn pyjama.

Wie had kunnen voorzien dat de Amerikanen
uitgerekend déze oorlog zouden verliezen?

De Iraniër op de hoek leert zijn
vierjarige dochter schaken. Volgens hem
is zij een wonderkind. De Iraniër, brildragend, is klein
en eigenwijs. Zijn vrouw wil al jaren van hem scheiden.

Daarnaast een oud-militair getrouwd met een alcoholiste:
beiden zijn niet opgewassen tegen het burgerbestaan.
Soms, in woede, ledigt hij haar flessen
in de gootsteen.

Tot slot, een jongen, alleen op zijn kamer,
jazzplaten draaiend.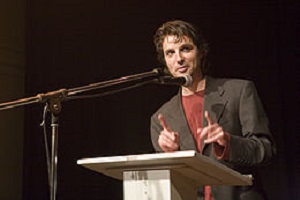 Willem Thies (Nijmegen, 17 februari 1973)
De Iraanse schrijver Sadegh Hedayat werd geboren op 17 februari 1903 in Teheran. Zie ook alle tags voor Sadegh Hedayat op dit blog.
Uit: The Silent Language of a Donkey at the Time of Death (Vertaald door Farzin Yazdanfar)
"Natural scientists do not see a big difference between themselves and us, and regard themselves as the head of the mammals. But Descartes, one of the well-known philosophers, thinks he has proven that animals are nothing but moving machines. In other words, with the advancement of technology, it is mechanically possible to build animals. In the pursuit of this vain idea, other philosophers have stood up against him. Among them Schopenhauer has defended us. He states that the basic principle of ethics is having mercy not only on our own kind but also on other animals and, to some extent, he has explained our feelings and intelligence in his book of ethics. Someone else has said that it is amusing to some mothers to see their kids cutting off a bird's head or wounding a dog or a cat in their games. This is the root of corruption and the basis of cruelty, oppression and crime. In fact, the injustice which is done to us is as a result of the unjust way some mothers educate their children.
Alas! We are speechless and this is the cause of our misery. Only Aristotle has found out the truth about our lives. He says: "Human beings are talking animals." It is because of human beings' ability to speak that we have fallen victim of the lust and capriciousness of a bunch of greedy and egotistic beasts. Why haven't people followed these philosophers? It is evident that human beings' intentions are based on their personal interests. This is especially true with mule drivers who are all followers of Descartes and treat us as if we were lifeless objects.
Having mercy on animals is essentially an idea which was developed in the Orient. Besides, all the prophets have forbidden cruelty towards animals. Learned men, wise men, writers who write about moral issues and even poets are all in agreement on the subject of animal rights. For instance, Hakim Ferdousi, may God rest his soul, says, "Don't torment an ant who bears a seed upon his back because the creature is alive and life is sweet to him."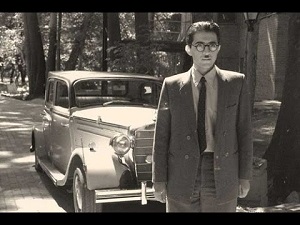 Sadegh Hedayat (17 februari 1903 – 9 april 1951)

De Russische schrijver, regisseur en acteur Yevgeni Grishkovetz werd geboren op 17 februari 1969 in Kemerovo. Zie ook alle tags voor Yevgeni Grishkovetz op dit blog.
Uit:How I Ate the Dog
"There occur such moments in life, well, for example, you arrive home a little later than you promised, meaning you promised to come at nine, but you came at 11: You didn't call, didn't warn in advance, and, well, you come in, start to apologize, well, it's no use…. And they tell you, "Oh, and of course you went drinking, you're drunk." But you weren't drinking, that is, not at all! And you say, "No way, mom (or anyone else), God be with you, I didn't have anything to drink…" and something to this effect. And suddenly you have a thought, you clearly understand that you're behaving yourself like you're drunk, that is, the more you explain yourself, the more you become indignant, the more you appear to be drunk, moreover you already understand this, but all the same you can never do anything about it. "Well, admit that you were drinking and go to bed, why get worked up," they say. "But I wasn't drinking, I wasn't…" you grumble through your teeth, wave your hand and actually go to bed, and there's nothing else to do about it. And no one to get mad at, since it's exactly as if you're drunk…
I say this so that it will be understood that I myself don't understand the reasons why I'm going to tell all of this now; it seems that there are many reasons, but as soon as you name one of them, you understand that it's not the right reason, or it's not a fundamental reason, or whatever…. That is, we'll consider that everything that I recount, I'm recounting without a reason, well, and you… you're listening for the reason that you came to listen, or simply because there already isn't anywhere else to go, or for some other reason of your own. I don't know…."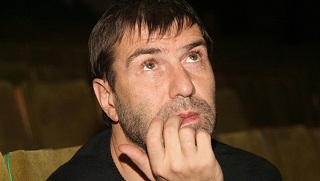 Yevgeni Grishkovetz (Kemerovo, 17 februari 1969)
De Nederlandse schrijver Albert Kuyle werd geboren in Utrecht op 17 februari 1904. Zie ook alle tags voor Albert Kuyle op dit blog.
Uit: Harten en Brood
"En daarom heb ik de dauw de dauw gelaten, en interesseerde mij het hakhout verder niet. Dauw, dauw, bij dauw hooren rozen en bij rozen gelukkige menschen. Maar als de dauw over de zwerver valt, die aan de wegberm ligt, is de dauw een natte ellende geworden en, opstaand, ziet de man rond naar een plaats waar de dauw niet komen kan. God gaf de dauw voor de kruiden, als een vochtige deken, die het moegebrande land dekt bij nacht. En hij gaf de dauw om speelsch in rond te gaan, met opgeschort kleed en met dansende voeten. Voor menschen, die begeeren hebben in spel en vroolijkheid.
Het is nu het uur, dat die keeren naar de stad. Ze zijn moegespeeld en moegekust en over de dijken gaat hun witte, lichte bewegen terug naar huis. Daar wacht het avondmaal onder de lage lampen, en in een glas tusschen de schalen zetten zij de ratelaars en de zwanenbloemen die ze meebrachten van de tocht. Het spel wordt zoeter en het groeit in de warme beslotenheid van het huis. In de oogen staat de middag nog en de warme overvloed van landen vol gras en bloemen. En zie, buiten, over de tuin die vol rozen staat, komt de dauw. Wit, wollig, een plas, een meer vol vergane zeilen, dat staag en voortdurend aanrolt over het land. Als het grint knerpt onder de jonge voeten haast zich de dauw nog dichter te komen naar het huis en de menschen. Een zee van jeugd, van nieuwheid, van parelmoer en berstend schuim. En over de haag geleund zien de blije menschen hoe land en wereld van zwevend water zijn overstroomd.
Maar er is nog een andere kant aan dit meer van witte blijdschap. En aan die andere kant liggen de kleine huisjes tegen het land. Honderd, duizend kleine huisjes, voor kleine menschen met een klein bestaan. Voor menschen die in de loop van een eeuw hun behoeften verkleind hebben tot de maat van hun huisjes, tot de kleinheid van de plaats die de wereld voor hen heeft. En dat is héél klein. Ze zitten op hun plaatsjes, onder hun duivenhokken en hun waschgoed, en ze rooken pijpen. Of ze lezen bij het laatste licht de groote letters van de krant."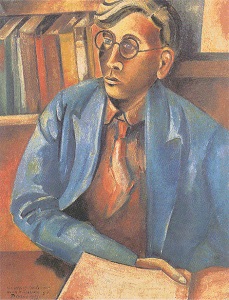 Albert Kuyle (17 februari 1904 - 4 maart 1958)
Portret door Hendrik Wiegersma, 1925
Zie voor nog meer schrijvers van de 17e februari ook mijn vorige blog van vandaag.
17-02-2017 om 18:22 geschreven door Romenu

Tags:Shahrnush Parsipur, Willem Thies, Sadegh Hedayat, Yevgeni Grishkovetz, Albert Kuyle , Romenu



Chaim Potok, Mo Yan, Frederik Hetmann, Emmy Hennings, Mori Ōgai
De Amerikaanse schrijver Chaim Potok werd geboren in New York City op 17 februari 1929. Zie ook alle tags voor Chaim Potok op dit blog.
Uit: The Chosen
"On a Sunday afternoon in early June, the fifteen members of my team met with our gym instructor in the play yard of our school. It was a warm day, and the sun was bright on the asphalt floor of the yard. The gym instructor was a short, chunky man in his early thirties who taught in the mornings in a nearby public high school and supplemented his income by teaching in our yeshiva during the afternoons. He wore a white polo shirt, white pants, and white sweater, and from the awkward way the little black skullcap sat perched on his round, balding head, it was clearly apparent that he was not accustomed to wearing it with any sort of regularity. When he talked he frequently thumped his right fist into his left palm to emphasize a point. He walked on the balls of his feet, almost in imitation of a boxer's ring stance, and he was fanatically addicted to professional baseball. He had nursed our softball team along for two years, and by a mixture of patience, luck, shrewd manipulations during some tight ball games, and hard, fist-thumping harangues calculated to shove us into a patriotic awareness of the importance of athletics and physical fitness for the war effort, he was able to mold our original team of fifteen awkward fumblers into the top team of our league. His name was Mr. Galanter, and all of us wondered why he was not off somewhere fighting in the war.
During my two years with the team, I had become quite adept at second base and had also developed a swift underhand pitch that would tempt a batter into a swing but would drop into a curve at the last moment and slide just below the flaying bat for a strike. Mr. Galanter always began a ball game by putting me at second base and would use me as a pitcher only in very tight moments, because, as he put it once, "My baseball philosophy is grounded on the defensive solidarity of the infield."
That afternoon we were scheduled to play the winning team of another neighborhood league, a team with a reputation for wild, offensive slugging and poor fielding. Mr. Galanter said he was counting upon our infield to act as a solid defensive front. Throughout the warm-up period, with only our team in the yard, he kept thumping his right fist into his left palm and shouting at us to be a solid defensive front."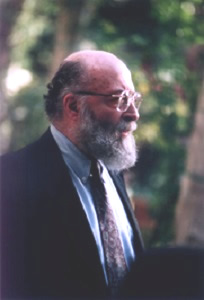 Chaim Potok (17 februari 1929 – 23 juli 2002)
De Chinese schrijver Mo Yan werd geboren op 17 februari 1955 in Gaomi in de provincie Shandong. Zie ook alle tags voor Mo Yan op dit blog.
Uit: Shifu, You'll Do Anything for a Laugh (Vertaald door Howard Goldbaltt)
« A pair of police cars stormed up to the compound, sirens blaring. This threw such a scare into Ding Shikou, whose heart was racing, that all he could think of was getting the hell out of there; too bad he couldn't get his legs to follow orders. Finding it impossible to drive through the gate, the police parked their cars outside the compound and poured out of the cars; there were seven of them in all — four fat ones and three skinny ones. Armed with batons, handcuffs, walkie-talkies, pistols, bullets, tear gas, and a battery-powered bullhorn, the seven cops took a few unhurried steps, then stopped just outside the gate to form a cordon, as if to seal off the factory gate as an escape route. A closer look showed that they probably weren't going to seal off the factory, after all. One of the cops, who was getting along in years, raised the bullhorn to his mouth and ordered the workers to disperse, which they did. Like a wolf exposed in the field when sorghum stalks are cut down, the assistant manager for supply and marketing popped into view. He was sprawled on the ground, facedown, protecting his head with his hands, his rear end sticking up in the air, looking like a frightened ostrich. The cop handed his bullhorn to the man beside him and walked up to the cowering assistant manager; he reached down and took hold of the man's collar with his thumb and two fingers, as if to lift him to his feet, but the assistant manager looked as though he was trying to dig a hole for himself. His suit coat separated itself from him, forming a little tent. Now Ding could hear what he was shouting:
"Don't blame me, good people. I've just returned from Hainan Island, and I don't know a thing. You can't blame me for this… ."
Without letting go of the man's coat, the policeman nudged his leg with the tip of his shoe. "Get up," he said, "right now!"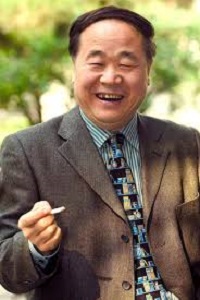 Mo Yan (Gaomi, 17 februari 1955)
De Duitse schrijver Frederik Hetmann (eig. Hans-Christian Kirsch) werd geboren op 17 februari 1934 in Breslau. Zie ook alle tags voor Frederik Hetmann op dit blog.
Uit: Traumklänge
"Nein", antwortete Izaak überrascht, "das wusste ich nicht."
Die Berührung der Hand war angenehm. Außer dem wehte eine kleine Brise eines Parfüms zu ihm herüber, das er gern roch.
"Was meinen Sie", sagte die Stimme neben ihm weiter, "gibt es menschliches Leben auf einem anderen Stern?"
"Die Frage ist mir auch schon öfter gekommen,während ich hier saß", gab Izaak zu."
Heaven's sake, endlich einmal ein Mann mit Fantasie", sagte die Stimme lebhaft.
"Aber Sie haben meine Frage noch nicht beantwortet."
Jemand in der Reihe hinter ihnen zischte: "Wenn Sie sich hier unterhalten wollen, verschwinden Sie doch nach draußen."
"Wird gemacht", sagte die weibliche Stimme resolut, und zu Izaak: "Kommen Sie!"
Die Frau neben ihm stand auf und bahnte sich an den Sitzenden vorbei den Weg zum Mittelgang. Izaak war erstaunt, aber er folgte ihr.
"Also, wie ist nun Ihre Meinung?" insistierte sie, als sie draußen im Vorraum nebeneinander her gingen. Er betrachtete jetzt, da es heller war, die Frau sorgfältig von Kopf bis Fuß. Bis auf die Brille, die sie trug, fand er nichts an ihr auszusetzen. Er schätzte sie auf Ende zwanzig, Anfang dreißig. Sie trug kein Make-up. Sie war groß, eher schlank, hatte sehr lange gerade Beine. Das Gesicht war oval. Ihr Haar war kupferrot. Ein redhead!"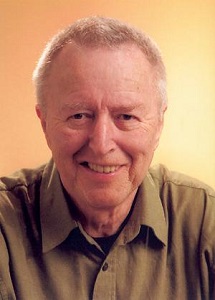 Frederik Hetmann (17 februari 1934 – 1 juni 2006)
De Duitse dichteres, schrijfster en caberetiere Emmy Hennings werd geboren op 17 februari 1885 in Flensburg. Zie ook alle tags voor Emmy Hennings op dit blog.
Twilight Song
for Hugo Ball

Octaves reel, and through the grey years -- echoes
as heaps of days collapse upon themselves.
I want only to be yours.
Within my tomb my blond hair grows;
in elderberry bushes live strange folk.
A pale curtain whispers "homicide."
Two eyes range restless through the room,
inside our cupboards spirits hide.
Little fir trees are the children's souls
and ancient oaks the souls of aged men
that whisper of miscarried lives.
The cliff-king sings an old, old tune.
I had no guard against the evil eye,
Though black men creep out of the water pail,
The picture book's Red Riding Hood
Has me in thrall for once and for all time.
Ether Stanzas

Pardon! I must jump off this ball;
in Paris a beautiful festival reigns.
Crowds collect in the Gare de l'Est
where bright silk banners wave as well.
You won't find me among them, though.
I've run off to this vast big room.
I mix myself in every dream,
a thousand looks and each I know.
A sick man lies in misery.
His last look hypnotizes me.
We long to go back to some lost summer day.
A black cross fills the room.
Vertaald door William Seaton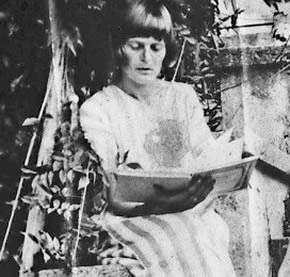 Emmy Hennings (17 februari 1885 – 10 augustus 1948)


De Japanse schrijver Mori Ōgai werd geboren op 17 februari 1862 als Mori Rintaro in het dorpTsuwano in Iwami. Zie ook alle tags voor Mori Ōgai op dit blog.
Uit: The Wild Geese (Vertaald door Kingo Ochiai en Sanford Goldstein)
"There was another route. He occasionally entered the university campus by the exit used by the patients of the hospital attached to the medical school because the Iron Gate was closed early. Going through the Red Gate, he would proceed along Hongo-dori until he came to a shop where people were standing and watching the antics of some men pounding millet. Then he would continue his walk by turning into the compound of Kanda Shrine. After crossing the Megane-bashi, which was still a novelty in those days, he would wander for a short while through a street with houses on only one side along the river. And on his way back he went into one of the narrow side streets on the western side of Onarimichi and then came up to the front of the Karatachi Temple. This was an alternate route. Okada seldom took any other.
On these trips Okada did little more than browse now and then in the second-hand bookstores. Today only two or three out of many still remain. On Onarimichi, the same shops, little changed from what they formerly were, continue to run their businesses. Yet almost all the stores on Hongo-dori have changed their locations and their proprietors.
On these walks Okada hardly ever turned right after leaving the Red Gate because most of the streets narrowed so much that it was annoying. Besides, only one second-hand bookshop could then be found along that way.
Okada stopped in such shops because, to use a term now in vogue, he had literary tastes. In those days the novels and plays of the new school had not yet been published; as for the lyric, neither the haiku of Shiki nor the waka of Tekkan had been created. So everyone read such magazines as the Kagetsu Shinshi , which printed the first translation of a Western novel. In his student days Okada read with interest the happenings of the new era written in the style of classical Chinese literature. This was the extent of his literary tastes."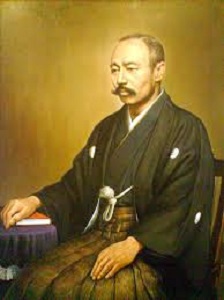 Mori Ōgai (17 februari 1862 – 9 juli 1922)
Zie voor nog meer schrijvers van de 17e februari ook mijn blog van 17 februari 2011 deel 2 en ook deel 3.
17-02-2017 om 18:21 geschreven door Romenu

Tags:Chaim Potok, Mo Yan, Frederik Hetmann, Emmy Hennings, Mori Ogai, Romenu



Jack Gilbert
De Amerikaanse dichter Jack Gilbert werd geboren in Pittsburgh op 17 februari 1925. Na de middelbare school werkte hij als colporteur, ongedierteverdelger en staalarbeider. Zijn interesse voor poëzie en schrijven ontwikkelde hij aan de Universiteit van Pittsburgh, samen met zijn klasgenoot Gerald Stern. Gilbert kreeg met zijn eerste gedichtenbundel "Views of Jeopardy" in 1962 al spoedig erkenning en hij kreeg veel aandacht van de media. Toch trok hij zich terug uit zijn eerdere activiteiten in de poëzie scene van San Francisco poetry en vertrok naar Europa. Daar reisde hij van land naar land reisde en leefde van een Guggenheim Fellowship beurs. Bijna zijn gehele carrière na de publicatie van zijn eerste bundel is gekenmerkt door een, zoals hij in interviews heeft omschreven, zelf-opgelegd isolement. Sommigen zien hierin een spirituele zoektocht en zijn vervreemding van de hoofdstroom van de Amerikaanse cultuur. Anderen doen dit af als een langdurig verblijf als "professioneel gast des huizes" op kosten van welgestelde Amerikaanse literaire bewonderaars. Na het debuut verschenen nog maar een paar andere gedichtenbundels en dat met grote tussenpozen. Gilbert bleef echter schrijven. Tussen zijn boeken door leverde hij bij gelegenheid bijdragen aan The American Poetry Review, Genesis West, The Quarterly, Poetry, Ironwood, The Kenyon Review en The New Yorker. Zijn werk werd onderscheiden met een groot aantal prijzen en nominaties. Jack Gilbert is goed bevriend met de dichteres Linda Gregg, een van zijn vroegere studenten, met wie hij 6 jaar getrouwd was. Ook was hij getrouwd met Michiko Nogami, die het onderwerp vormt van veel van zijn gedichten. Gedurende de jaren vijftig van de 20e eeuw had Gilbert in San Francisco een langdurige relatie met de Beat dichteres Laura Ulewicz. Gilbert leed zijn laatste jaren aan dementie en overleed op 87-jarige leeftijd in een verzorgingstehuis in Berkeley.
Searching For Pittsburgh
The fox pushes softly, blindly through me at night,
between the liver and the stomach. Comes to the heart
and hesitates. Considers and then goes around it.
Trying to escape the mildness of our violent world.
Goes deeper, searching for what remains of Pittsburgh
in me. The rusting mills sprawled gigantically
along three rivers. The authority of them.
The gritty alleys where we played every evening were
stained pink by the inferno always surging in the sky,
as though Christ and the Father were still fashioning the Earth.
Locomotives driving through the cold rain,
lordly and bestial in their strength. Massive water
flowing morning and night throughout a city
girded with ninety bridges. Sumptuous-shouldered,
sleek-thighed, obstinate and majestic, unquenchable.
All grip and flood, mighty sucking and deep-rooted grace.
A city of brick and tired wood. Ox and sovereign spirit.
Primitive Pittsburgh. Winter month after month telling
of death. The beauty forcing us as much as harshness.
Our spirits forged in that wilderness, our minds forged
by the heart. Making together a consequence of America.
The fox watched me build my Pittsburgh again and again.
In Paris afternoons on Buttes-Chaumont. On Greek islands
with their fields of stone. In beds with women, sometimes,
amid their gentleness. Now the fox will live in our ruined
house. My tomatoes grow ripe among weeds and the sound
of water. In this happy place my serious heart has made.
Divorce
Woke up suddenly thinking I heard crying.
Rushed through the dark house.
Stopped, remembering. Stood looking
out at bright moonlight on concrete.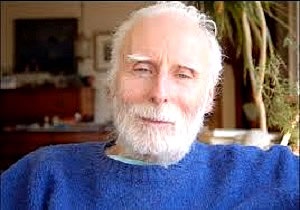 Jack Gilbert (17 februari 1925 – 13 november 2012)
17-02-2017 om 00:00 geschreven door Romenu

Tags:Jack Gilbert, Romenu



Jaroslav Vrchlický
De Tsjechische dichter en schrijver Jaroslav Vrchlický (eig. Emilius Jakob Frida) werd geboren op 17 februari 1853 in Louny, Bohemen. Hij woonde tien jaar bij zijn oom, een pastor in de buurt van Keulen. Hier volgde hij de eerste jaren van de basisschool. Hij doorliep vanaf 1862 de gymnasia in Slaný, in Praag en deed eindexamen in 1872 in Klatovy. In de voetsporen van zijn oom bezocht hij na zijn eindexamen het seminarie van de Praagse aartsbisschop, maar in 1873 stapte hij over naar de Faculteit der Letteren van de Karelsuniversiteit in Praag, waar hij geschiedenis, filosofie en Romaanse filologie studeerde. Zijn eerste literaire werk werd gedrukt door de uitgeefster Sofia Podlipská. In Praag sloot hij vriendschappen met Zikmund Winter, Josef Vaclav Sladek en Alois Jirasek. Zij vormden de groep Lumírovců. Vanaf 1875 werkte hij als secretaris en docent van de zonen van de adellijke familie Montecuccoli-Laderchi, eerst in Merano in de buurt van Modena, en later Livorno. Op voorspraak van Leopold graaf von Thun und Hohenstein werd hij in 1877 benoemd tot secretaris van de Tsjechisch Praagse Polytechnische Hogeschool. In 1901 werd hij samen met Antonin Dvorak geridderd, en de Oostenrijkse keizer Franz Joseph I benoemde hem tot lid van de Eerste Kamer van de Keizerlijke Raad in Wenen. Vrchlický verdedigde de eis van het algemeen kiesrecht. In 1893 werd hij benoemd tot hoogleraar in de Europese literatuur aan de Karelsuniversiteit. Hij was ook een lid van de Tsjechische Academie van Wetenschappen en Kunsten. Vrchlický schreef naast lyrische ook epische poëzie, toneelstukken, proza ​​en literaire essays en vertaalde op grote schaal uit diverse talen, bijv. Dante, Goethe, Shelley, Baudelaire, Poe en Whitman in het Tsjechisch. Hij was één van de belangrijkste stemmen van het tijdschrift Lumír en werd acht keer voor de Nobelprijs voor de Literatuur genomineerd.
The Tree Of Life

Walt Whitman watched Louisiana's blooming.
I in Bohemia see it – God's own verve!
The same expanse and filled with joy consuming,
same joy in hundreds of its offshoots zooming,
same yearning arms and hearts and lips observe!

The tree of life! — I bare my head in wonder
and lift my arms and hands up high in praise;
may Dawn bedeck it with her golden splendour,
may rosy morn up-flare, its glory render,
may Night with its own shade protect its gaze!

Something about it, constant, ever living,
to sing for one the dying pressing dream,
a hundred blossoms blaze for one less giving…
Oh wondrous, arcane mysteries conceiving!
A beehive in its boughs to hear you seem!

Lo, from the faded, fresh new leaves are burgeoning,
life's one incessant constant revelry!
Yours there to read in leaves e'er freshly surging,
pure life, in strands you see in weave emerging
all round carousing, graceful, orderly!

And in its shade a hundredfold embracing,
and in its branches birdsong never fails,
a hundred kissing mouths, arms interlacing,
"We're happy!" blend a thousand voices, facing,
and here a child, and there a bloom exhales!

Walt Whitman saw Louisiana's budding,
I in Bohemia see it, home, out call,
I sing my song with boughs outstretched and leading
with faith in Joy, Love, Life and Fortune's bidding…
Oh, happy tree of life, our joy, grow tall!
Vertaald door Václav Z J Pinkava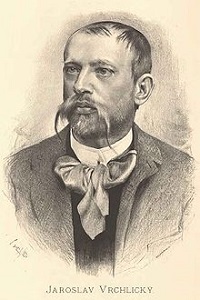 Jaroslav Vrchlický (17 februari 1853 - 9 september 1912)
Portret door Jan Vilímek
17-02-2017 om 00:00 geschreven door Romenu

Tags:Jaroslav Vrchlický, Romenu


16-02-2017

Gelukkige liefde (Wislawa Szymborska)
Dolce far niente - Bij een Diamanten Huwelijk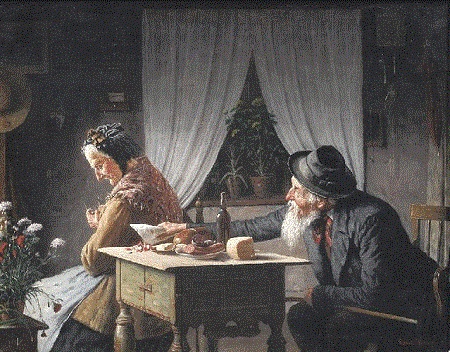 Der alte Charmeur door Emil Rudolf Weiß (1875 – 1942)
Gelukkige liefde
Gelukkige liefde. Is dat normaal,
verdient dat respect, heeft dat nut-
wat moet de wereld met twee mensen
die voor elkaar de hele wereld zijn?
Zonder enige verdienste tot elkaar verheven,
stom toevallig twee uit een miljoen
en er toch van overtuigd
dat het zo moest gaan – als beloning waarvoor?
Voor niets;
het licht valt nergens vandaan –
waarom juist op hen, en niet op anderen?
Is dat kwetsend voor ons rechtsgevoel?
– Jazeker.
Schendt dat onze zorgvuldig opgeworpen principes,
stoot het de moraal van zijn top?
– Het een zowel als het ander.
Kijk eens naar het gelukkige stel:
als ze zich nu een beetje inhielden,
om hun vrienden te sterken
neerslachtigheid voorgaven!
Hoor eens hoe ze lachen – aanstootgevend.
Wat voor taal ze bezigen – alleen in schijn begrijpelijk.
En dan al die vormelijkheden, poespas,
die subtiele verplichtingen jegens elkander –
het lijkt wel een komplot achter de mensheid om!
Je kunt nauwelijks voorzien waartoe dit zou leiden,
als hun voorbeeld nagevolgd kon worden.
Waarop zouden poëzie, religie nog kunnen hopen,
wat zou men respecteren, wat nalaten,
wie zou in de kring willen blijven.
Gelukkige liefde? Is dat echt nodig?
Tact en gezond verstand gebieden ons erover te zwijgen
als over een schandaal in Hogere Sferen.
Prachtige kindertjes worden zonder haar hulp geboren.
Nimmer zou ze de aarde kunnen bevolken,
ze komt immers maar zo zelden voor.
Laat de mensen die geen gelukkige liefde kennen
maar volhouden dat er nergens gelukkige liefde is.
Met dat geloof valt het hun lichter te leven, en te sterven.
Vertaald door Gerard Rasch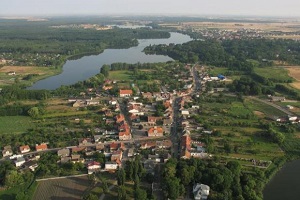 Wislawa Szymborska (2 juli 1923 – 1 februari 2012)
Bnin (Kórnik). Wislawa Szymborska werd geboren in Bnin.
De Zuidafrikaanse dichteres Elisabeth Eybers werd geboren op 16 februari 1915 in Klerksdorp. Zie ook alle tags voor Elisabeth Eybers op dit blog.
Homesickness
A house is something that stands up to a slope
by what it confronts on every side.
But take note: say house in this country
and three crammed rooms is what you describe.
Here there is no urge to move up or away,
no gradual ascension, no light
except what wire and glass permit.
The uniformity is sensible and cheap.
Behind a gray and anonymous wall
stairs hoist you from the street
up to the so-called house, and later
let you drop back, right to the same spot.
Never essential, only mechanical, may
the rhythm of your heart and your ribcage
heave a bit to rise above a deadly spirit level
while you knock together a new day.
At Night
Yes I'm still here and maybe I won't ever have to go
you think when you startle awake deep in the night.
What you have to leave behind won't vanish once you're no longer
keeping watch,
you keep what you can and the rest has a life of its own,
sometimes within reach, untouched by decay,
captured in amber, immune to the most recent day:
you cast an astonished glance through the bars of time
where all that has vanished not wanting to vanish waits for you
and you're drawn further toward the infinite
time after time when you startle awake deep in the night.
Last Attempt at Logic
Emptiness – that's what a person comes to be filled with –
increases profusely, becoming gradually excessive.
What is all too quickly taken as an injury
is usually a fuss about rounding off
paired with niggling inconvenience:
not really a legitimate grievance.
Before, you were deep in the day-after-day,
now there's seldom anything to accomplish –
completely unsuitable, even at the end,
you keep evading the compulsion to persist.
Vertaald doorJacquelyn Pope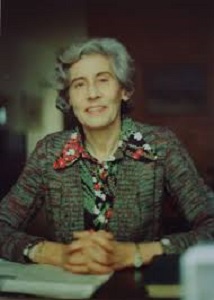 Elisabeth Eybers (16 februari 1915 – 1 december 2007)
Zie voor meer schrijvers van de 16e februari ook mijn blog van 16 februari 2016 en ook mijn blog van 16 februari 2015 en eveneens mijn blog van 16 februari 2013 deel 1 en deel 2 en eveneens deel 3.
16-02-2017 om 07:57 geschreven door Romenu

Tags:Dolce far niente, Wislawa Szymborska, Elisabeth Eybers, Romenu


15-02-2017

Richard Blanco, Elke Heidenreich, Chrystine Brouillet, Hans Kruppa, Douglas Hofstadter, Wilhelm Jensen, Demetrius Vikelas
De Amerikaanse dichter Richard Blanco werd geboren op 15 februari 1968 in Madrid. Zie ook alle tags voor Richard Blanco op dit blog.
Mother Picking Produce
She scratches the oranges then smells the peel,
presses an avocado just enough to judge its ripeness,
polishes the Macintoshes searching for bruises.
She selects with hands that have thickened, fingers
that have swollen with history around the white gold
of a wedding ring she now wears as a widow.
Unlike the archived photos of young, slender digits
captive around black and white orange blossoms,
her spotted hands now reaching into the colors.
I see all the folklore of her childhood, the fields,
the fruit she once picked from the very tree,
the wiry roots she pulled out of the very ground.
And now, among the collapsed boxes of yucca,
through crumbling pyramids of golden mangos,
she moves with the same instinct and skill.
This is how she survives death and her son,
on these humble duties that will never change,
on those habits of living which keep a life a life.
She holds up red grapes to ask me what I think,
and what I think is this, a new poem about her-
the grapes look like dusty rubies in her hands,
what I say is this: they look sweet, very sweet.
Contemplations at the Virgin de la Caridad Cafetería, Inc.
Que será, el café of this holy, incorporated place,
the wild steam of scorched espresso cakes rising
like mirages from the aromatic waste, waving
over the coffee-glossed lips of these faces

assembled for a standing breakfast of nostalgia,
of tastes that swirl with the delicacy of memories
in these forty-cent cups of brown sugar histories,
in the swirling froth of café-con-leche, que será,

what have they seen that they cannot forget—
the broad-leaf waves of tabaco and plaintains
the clay dust of red and nameless mountains,
que será, that this morning I too am a speck;

I am the brilliant guitar of a tropical morning
speaking Spanish and ribboning through potions
of waist-high steam and green cane oceans,
que será, drums vanishing and returning,

the African gods that rule a rhythmic land
playing their music: bongó, bembé, conga;
que será, that cast the spells of this rumba,
this wild birthright, this tropical dance

with the palms of this exotic confusion;
que será, that I too should be a question,
que será, what have I seen, what do I know—
culture of café and loss, this place I call home.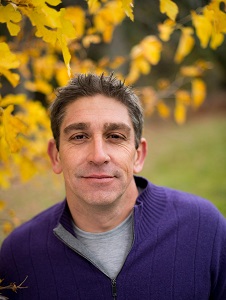 Richard Blanco (Madrid, 15 februari 1968)
De Duitse schrijfster, critica en presentatrice Elke Heidenreich werd geboren op 15 februari 1943 in Korbach. Elke Heidenreich viert vandaag haar 70e verjaardag. Zie ook alle tags voor Elke Heidenreich op dit blog.
Uit:Alles kein Zufall
"Ich sitze im Speisesaal eines österreichischen Hotels. Zwei Tische weiter eine Frau, di immerzu lacht, laut, mit weit geöffnetem Mund, immer auf demselben dummen Ton, ein künstliches, ein freudloses Lachen. Es quält mich. Ich schreibe auf die Serviette: »Wenn Sie noch einmal lachen, bringe ich Sie um.« Ich würde ihr die Serviette gern durch den extrem blasierten Restaurant- oder Hotelchef zustellen lassen, der im Trachtenjankerl und mit Stechschritt von Tisch zu Tisch marschiert und schnarrt: »Gott!« oder »Zeit!«
Was meint er? Soll ich mir mehr Zeit für Gott nehmen? Hat Gott jetzt Zeit für mich?
Irgendwann versteh ich es, er meint »Grüß Gott!« und »Mahlzeit!«
Auf der Speisekarte stehen Breinwurst, Bohnschlotengulasch, Ganserl, Erdäpfelgnocchi, Sulzerl mit Kernöl, ich weiß nicht, was das ist und was davon ich essen könnte. Ein Schild mit Pudel drauf besagt: »Mein Platz ist am Boden!« Dürften Schäferhunde und Möpse auf die Tische und Bänke?
Der Nachtisch heißt »Mohr im Hemd« und ist eine Art warmer Schokoladenkuchen mit Sahne. Der Ober fragt: »War bei Ihnen der Schluss in Ordnung?« Was meint er? Mein Lebensende? Den Mohren?
Zwei alte Damen am Nebentisch: »Ich sa immer, es gibt Schmerzen, die man aushalten kann, weil man sie aushalten muss.«
Manche Restaurantbesuche kann man auch nur aushalten, weil man sie aushalten muss."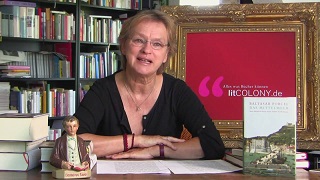 Elke Heidenreich (Korbach, 15 februari 1943)
De Canadese schrijfster Chrystine Brouillet werd geboren op 15 februari 1958 in Loretteville, Quebec. Zie ook alle tags voor Chrystine Brouillet op dit blog.
Uit: Les chevaux enchantés
« -- Réveille-toi, Arthur! On est arrivés!
-- Je ne dormais pas, a-t-il dit en bâillant. Je réfléchissais.
-- Ah? Tu ronfles quand tu réfléchis?
Il n'a pas répondu, s'affairant à récupérer nos bagages.
-- Tu n'oublies rien? a demandé mon ami Arthur.
-- Mais non!
-- Et ça?
Il me montrait mon chapeau. Je l'ai pris sans dire un mot. C'est vrai que j'étais un peu excitée à l'idée de passer quelques jours chez Élise. On allait à 1' école ensemble quand on était petites. Elle avait ensuite déménagé à la campagne, car son père élève des chevaux, mais on était restées amies.
Élise a de longs cheveux si blonds, si pâles, qu'ils paraissent blancs. Elle est plus grande que moi, même si on est presque du même âge, et elle adore mon chien Sherlock. Malheureusement, je n'ai pas pu l'emmener avec moi; c'est formellement interdit dans les autobus. Élise, elle, a un très vieux chien, Dagobert. Il dort tout le temps!
J'ai présenté Arthur à Mme Dugas, tandis que M. Dugas rangeait nos bagages dans le coffre de la voiture. Elise et ses parents habitent à vingt minutes de la gare. Leur maison est très jolie et, au loin, on distinguait les écuries.
-- On va pouvoir faire de l'équitation? a demandé Arthur.
-- Bien sûr! On prend une collation et on part ensuite en promenade.
J'ai mangé une tartine avec de la confiture de fraises des bois, puis je me suis changée dans notre chambre. Quand je suis redescendue, Arthur m'attendait. C'était la première fois qu'il était prêt avant moi! Il avait vraiment hâte de monter à cheval. »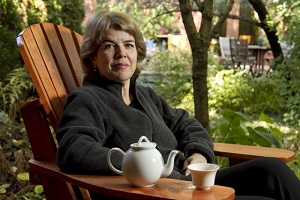 Chrystine Brouillet (Loretteville, 15 februari 1958)
De Duitse dichter en schrijver Hans Kruppa werd geboren op 15 februari 1952 in Marl. Zie ook alle tags voor Hans Kruppa op dit blog.
Das bist du
Wie klares Wasser.
Wie blauer Himmel.
Wie feiner weißer Sand
bist du.

Wie Muscheln am Strand.
Ein Schmetterling im Wind.
Wie ein Schweigen,
das alles umarmt -
so bist du.
Ein Freudenfeuer
in der Nacht der Welt,
ein Lächeln im Gesicht des Mondes.
Die wahre schöne Stille
abseits vom Lärm der Schauspieler -
das bist du.
Feuervögel

Als Feuervögel flogen wir
in das Land ohne Worte
und ohne Erinnerung,
wo jeder Augenblick
aus sich selbst entsteht
und nichts aufeinander aufbaut,
weil es keine Zeit gibt -
nur den Zauber,
der Träumen Wirklichkeit schenkt,
nur die berauschende Musik
ineinander versunkenen Lebens.

Als Feuervögel flogen wir
dem Himmel in die Arme
und kannten keine Grenzen.

Das war vor Tagen;
seitdem hat die Erde uns wieder.

Aber wer einmal so zusammenflog,
der will nichts andres mehr.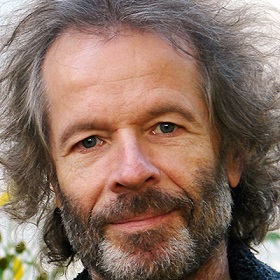 Hans Kruppa (Marl, 15 februari 1952)
De Amerikaanse wetenschapper en schrijver Douglas Richard Hofstadter werd geboren op 15 februari 1945 in New York. Zie ook alle tags voor Douglas Hofstadter op dit blog.
Uit:On translators, traitors, and traders
"With this, we find ourselves square in the territory staked out by the celebrated and hugely negativistic Italian slogan Traduttore, traditore, which literally means "Translator, betrayer" or "Translator, traducer" – or then again, "Translator, traitor." The irony residing in the final one of these three possibilities is that it beautifully undermines its own claim. The pithy slogan "Translator, traitor" shows very clearly that a translator need not be a betrayer or traitor, for it beautifully preserves the key quality that makes the original Italian phrase so memorable – namely, its catchiness, which is due to the fact that the two nouns inside it sound so much alike. There is no aspect of the phrase Traduttore, traditore that is missed by "Translator, traitor," and so this English translation is a checkmate in response to the strong-seeming check tendered by the Italian opponent.
I am not in the least a believer in the extreme pessimism expressed by Traduttore, traditore (or its perfect English counterpart "Translator, traitor"), no matter how catchy this famous phrase may be and no matter how often it is repeated like a clever mantra by supposed literary sophisticates. I hear it as a cute sound bite rather than as a serious thesis about translation. In fact, I am far more inclined to believe in a rival (and also cute) sound bite – namely, "Translator, trader"....
(…)
A phrase-trader has to have an intuitive sense of where the pale is – what's well within it, what's well beyond it. But the pale is so ethereal, so elusive, so intangible, so impalpable – so pale – that no one can actually see it. The pale is something determined collectively by the masses that speak the language, and no one person can pinpoint it."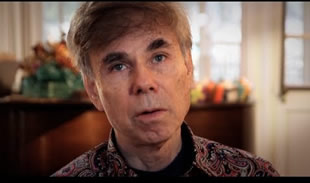 Douglas Hofstadter (New York, 15 februari 1945)
De Duitse dichter en schrijver Wilhelm Jensen werd geboren op 15 februari 1837 in Heiligenhafen (Holstein). Zie ook alle tags voor Wilhelm Jensen op dit blog.
Siehst du mich an mit stillen Augen
Siehst du mich an mit stillen Augen,
Da überkommt's mich oft genug,
Als seien wir emporgestiegen
Aus einem alten Märchenbuch.

Und wie im Traum' schau' ich die Halle
Und schau' im Waldesdunkel tief
Die grüne Dämmrung, drin verzaubert
Uralt beschlossne Liebe schlief.

Und immer will es mich bedünken,
Als sei ich noch nicht ganz erwacht,
Als liege noch um meine Stirne
Ein Schleier jener Wundernacht.

Siehst du mich an mit stillen Augen,
Da fällt er mehr und mehr herab,
Und aus dem Herzen bricht es jubelnd,
Daß ich dich ganz zurücke hab'
Zwielicht weht über die Haide
Zwielicht weht über die Haide,
Im Schilfe murmelt der Wind;
Nun reiten wir zweibeide
Mit über die Haide geschwind.

Im flatternden Nebelkleide
Huscht tanzend das Elfengesind'
Seitab um die graue Weide
Und lacht und verblaßt und zerrinnt.

Doch uns, wie Fäden von Seide,
Umwogt das Gras und spinnt
Thautropfen wie Perlgeschmeide
Um dich, mein blondes Kind.

Mir ist, als rief's aus den Zweigen
Uns nach mit lachendem Mund,
Als kläng's wie Hochzeitsreigen
Fern über den Haidegrund -

Die Luft ist glockentönig,
Als trüg' auf nebelndem Roß
Der Wind uns zum Haidekönig
Auf deines Vaters Schloß.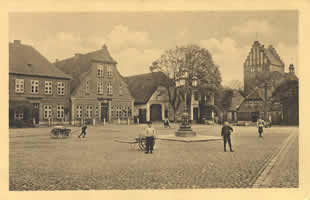 Wilhelm Jensen (15 februari 1837 – 24 november 1911)
Heiligenhafen, de markt, op een ansichtkaart van rond 1900
De Griekse schrijver en zakenman Demetrius Vikelas, ook bekend als Bikelas werd geboren in Ermoupoli op 15 februari 1835. Zie ook alle tags voor Demetrius Vikelas op dit blog.
Uit: The Plain Sister (Vertaald door L.E. Opdycke)
"He had almost reached the dockyard, which then marked the outskirts of Syra, and was still walking along the shore, when he saw his well-beloved Liakos in the distance coming from the town. A smile of satisfaction lighted his round face; he threw up both hands, in one of which was a stout cane, and raising his voice so as to be heard by his friend from afar, declaimed this line from the "Iliad":
[Greek text] Who mayest thou be, of mortal men most brave?
The professor had a habit of quoting Homer on all occasions, and was reputed to know the whole "Iliad" and "Odyssey" by heart. He modestly disavowed this tribute to his learning, but without giving up the quotations that seemed to justify it. It is true ill-natured people said his verses were not always quite applicable; but the Hellenists of Syra did not confirm this slander, possibly because they were not competent to judge. Still, everybody used to smile when he raised his voice in the midst of a trivial conversation to roll forth majestically some sonorous hexameter from Homer.
When the two friends were near enough, Mr. Plateas stopped and effusively shook hands with his preserver.
"My dear friend, why didn't you tell me you were going to walk to-day? We could have come out together, it's time to go in now. Why did you start so late?"
"Yes, I am late; I expected to meet you farther on." And Mr. Liakos added with a show of indifference, "Are there many people out to-day?"
"Very few. You know our Syrans; they're content to saunter up and down their crowded square; it is only people of taste who enjoy themselves
[Greek Text] ... on the shore of the resounding sea."
"And who were these men of taste to-day?" asked the judge, with a smile."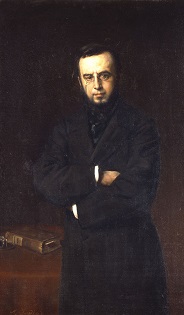 Demetrius Vikelas (15 februari 1835 – 20 juli 1908)
Portret doorNikolaos Xydias Typaldos, ca. 1870
Zie voor nog meer schrijvers van de 15e februari ook mijn blog van 15 februari 2015 deel 1 en eveneens deel 2.
15-02-2017 om 18:36 geschreven door Romenu

Tags:Richard Blanco, Elke Heidenreich, Chrystine Brouillet, Hans Kruppa, Douglas Hofstadter, Wilhelm Jensen, Demetrius Vikelas, Romenu



Stacie Cassarino
De Amerkiaanse dichteres en schrijfster Stacie Cassarino werd geboren op 15 februari 1975 in Hartford, Connecticut. Zij studeerde aan Middlebury College (BA, 1997), aan de Universiteit van Washington (MA, 2000) en UCLA (PhD, 2014). Cassarino doceerde aan de faculteiten Engels van Middlebury College in Vermont, het Pratt Institute in Brooklyn en UCLA. Ze heeft ook als privé chef-kok gewerkt en in Babbo in New York City gekookt. Zij werkt als copy editor op ELLE.com. Haar poëzie werd gepubliceerd in belangrijke literaire tijdschriften zoals The New Republic, Verse Daily, Gulf Coast, Crazyhorse, Iowa Review, Georgia Review, AGNI en de Comstock Review. Haar gedicht "Summer Solstice" kreeg prominente aandacht op de radio in Garrison Keillor's The Writers 'Almanac in 2011. In 2005 won ze de "Discovery" / De Joan Leiman Jacobson Poetry Award, in 2007 werd zij genomineerd voor de Rona Jaffe Writer Award en zij werd twee keer genomineerd voor de Pushcart-prijs. Zij heeft ook een grote prijs ontvangen van het Astraea Foundation Writer's Fund. Haar dichtbundel "Zero at the Bone" werd in 2009 gepubliceerd. Daarvoor kreeg zij in 2010 de Lambda Literary Award en de Audre Lorde Award.
Firework
The day my body caught fire
the woodland darkened. The horizon
was a sea of maids, rushing to piece me
back into a girl. Out of the girl came yellow
flowers, came stem & sepal.
You never happened, they said.
The meadow was a narration of lessness.
Inside the corral, horses fell
from the impact of lightning. They broke
down. I heard gunshots in my sleep.
I was a keeper of breath,
of hay. I walked a field, collecting bones.
You can build a house out of bones.
You can stand at the doorway
quarrelling with your legs to enter
or run until you turn to ash.
Snowshoe to Otter Creek
love lasts by not lasting
—Jack Gilbert
I'm mapping this new year's vanishings:
lover, yellow house, the knowledge of surfaces.
This is not a story of return.
There are times I wish I could erase
the mind's lucidity, the difficulty of Sundays,
my fervor to be touched
by a woman two Februarys gone. What brings the body
back, grieved and cloven, tromping these woods
with nothing to confide in? New snow reassumes
the circleting trees, the bridge above the creek
where I stand like a stranger to my life.
There is no single moment of loss, there is
an amassing. The disbeliever sleeps at an angle
in the bed. The orchard is a graveyard.
Is this the real end? Someone shoveling her way out
with cold intention? Someone naming her missing?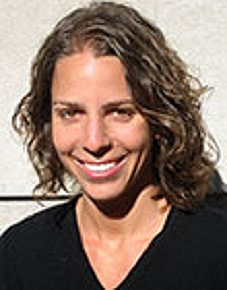 Stacie Cassarino (Hartford, 15 februari 1975)


15-02-2017 om 00:00 geschreven door Romenu

Tags:Stacie Cassarino, Romenu


14-02-2017

Nähe des Geliebten (Johann Wolfgang von Goethe)
Bij Valentijnsdag - Dolce far niente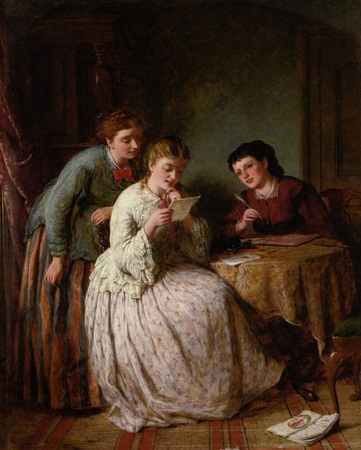 The Eve of St Valentine door George Smith, 1871
Nähe des Geliebten
Ich denke dein, wenn mir der Sonne Schimmer
vom Meere strahlt;
ich denke dein, wenn sich des Mondes Flimmer
in Quellen malt.

Ich sehe dich, wenn auf dem fernen Wege
der Staub sich hebt;
in tiefer Nacht, wenn auf dem schmalen Stege
der Wanderer bebt.

Ich höre dich, wenn dort mit dumpfen Rauschen
die Welle steigt;
im stillen Haine geh ich oft zu lauschen,
wenn alles schweigt.

Ich bin bei dir, du seist auch noch so ferne,
du bist mir nah!
Die Sonne sinkt, bald leuchten mir die Sterne.
O wärst du da!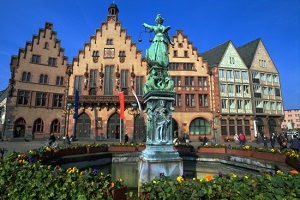 Johann Wolfgang von Goethe (28 augustus 1749 – 22 maart 1832)
Frankfurt am Main, Der Römer. Goethe werd geboren in Frankfurt.
De Nederlandse dichter en predikant Piet Paaltjens werd geboren in Leeuwarden op 14 februari 1835. Zie ook alle tags voor Piet Paaltjes op dit blog.
Des zangers min (Fragment)
't Oorijzer fonkelt bij het licht
Eens lucifers, dien vlak
Voor 's dichters huis een passagier,
Die rooken wou, ontstak.
Maar meer dan goud, meer dan 't juweel
Op 't blanke voorhoofd, gloeit
Haar oog, dat als met tooverkracht
Des zangers blikslag boeit,
Het hart hem zet in laaie vlam
En, met een rauw "o jé!"
Met harp en al hem neersmijt op
Zijn dichterscanapë.
Want, ja! het is dát zielvol oog,
Dat in den laatsten tijd
Hem voor den geest stond, als hij zong
Na d'afloop van 't ontbijt
't Is de verwezenlijking van
Het lieflijk droombeeld, dat
Zijn ziel zich had geschapen, die
Daar in dien wagen zat.
o Zoete smart! o smartlijk zoet!
Zoo leeft dan, die hij mint!
Maar wie staat borg, dat hij haar ooit
Op aarde wedervindt?
Want, lacy, eer van d'ergsten schrik
De jongling is hersteld,
Is reeds de diligence met
De schoone heengesneld.
Wat zal hij doen? Naar Woerden gaan?
Desnoods nog verderop,
Tot weer zijn oog haar oog ontmoet,
Zijn hart haar harteklop?
En, moet het, dwars door sneeuw en ijs
Naar Friesland's barren grond
Haar volgen, tot zijn dichterswang
Den kus voet van haar mond?
Hij aarzelt, - neen, hij aarzelt niet, -
Ten minste niet heel lang: -
"'t Verloorne zoeken - dat 's geen werk
Voor zonen van den zang!
Maar treuren om't verlorene
Met roeren-teer gekweel
En hout- of tortelduifgekir,
Dat is des zangers deel!
De daad is proza, maar de klacht,
De traan is poëzij.
Zoo vaar dan heen, o Mina mijn!
En gij, mijn hart, breek vrij!"
En als de morgenzon weer gloort,
Zit hij aan 't vensterglas,
En wacht de diligence en schreit
Een brakken tranenplas.
En als de diligence passeert,
Dan grijpt hij woest de snaar
Der harp en heft een klaagzang aan,
Zóó allerijslijkst naar,
Dat niet slechts menig passagier
In droef gepeins verzinkt,
Maar dat de conducteur zich zelfs
Een traan uit de oogen pinkt.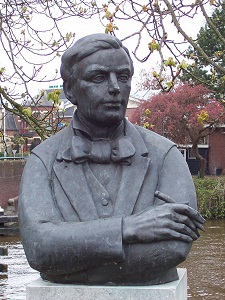 Piet Paaltjens (14 februari 1835 – 19 januari 1894)
Borstbeeld in Leeuwarden
De Nederlandse schrijfster journaliste en columniste Hanna Marleen Bervoets werd geboren in Amsterdam op 14 februari 1984.Zie ook alle tags voor Hanna Bervoets op dit blog.
Uit:Efter
"Jullie zullen hun portretten voorbij zien komen. Die glimlach, die ogen, het kapsel of kettinkje dat sociale afkomst verraadt en zo jullie mate van mededogen bepaalt: even, heel even maar, zullen jullie ernaar kijken.
Veel langer staren jullie naar de foto's van de daders.
Omdat jullie je afvragen welke blik er achter dat zwarte balkje schuilgaat. Maar vooral omdat jullie die daders begríjpen.
Zíj waren degenen die wachtten, smachtten, droomden van samenzijn, niet veel meer verlangden dan wederzijdse genegenheid. Zij waren degenen die het langst leden. En dus degenen met wie jullie het meest gemeen hebben. Een deel van jullie zal op den duur zelfs doen wat zij deden. De liefde in eigen hand nemen.
Zo zal de teller blijven oplopen, van #107 naar #1007, naar #10007, naar #100007 – het einde niet in zicht omdat er geen einde is.
Er is alleen een begin. Iets dat het allemaal in gang zette.
Misschien knikken jullie nu, van achter het scherm van jullie Seos of Book. Ja, jullie denken vast te weten wat dat begin was.
Efterslachtoffer #001: het meisje op kamer twaalf. Ze vonden haar in bed, haar kleren nog aan. Ach, jullie kennen de details. Haar verhaal werd keer op keer herhaald, de omstandigheden rond haar dood steeds opnieuw getoond.
Ik, als geen ander, ken deze omstandigheden. Want ík was het die de feiten over het meisje in kamer twaalf verzamelde.
Ze vonden haar op 7 augustus, achttien minuten over zes; er zat geen bloed op de lakens. Er waren geen verwondingen, geen blauwe plekken, geen sneeën in hals of polsen. Geen sporen van handgemeen of verzet.
Op 8 augustus, kwart over negen 's ochtends, trof men rattengif aan in het bloed van het meisje. Hierop werd ook de beker naast het bed in kamer twaalf onderzocht.
Op 9 augustus stelde men een rapport op. 'Doodsoorzaak: vergiftiging', stond daarin.
Ik ben het allemaal nagegaan. Het was inderdaad een hoge dosis warfarine die het hart van het meisje deed stoppen met pompen. Het was alleen niet de doodsóórzaak."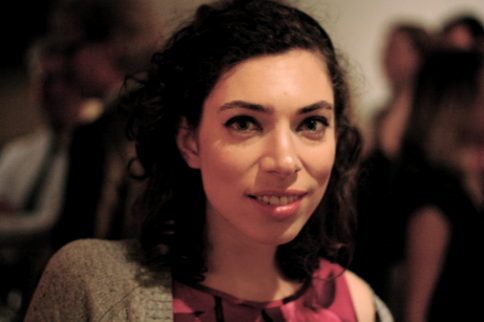 Hanna Bervoets (Amsterdam, 14 februari 1984)
Zie voor de schrijvers van de 14e februari ook mijn blog van 16 februari 2016 deel 2 en eveneens deel 3.
14-02-2017 om 12:25 geschreven door Romenu

Tags:Dolce far niente, Valentijnsdag, Johann Wolfgang von Goethe, Piet Paaltjens, Hanna Bervoets, Romenu


13-02-2017

M. Vasalis, Jan Arend, Georges Simenon, Nynke van Hichtum, Friedrich Christian Delius, Urs Faes, Katja Lange-Müller
De Nederlandse dichteres en psychiater M. Vasalis werd geboren in Den Haag op 13 februari 1909. Zie ook alle tags voor M. Vasalis op dit blog.
Cannes
In een woestijn van zon, dicht langs de zee
staan de platanen in een brede allee;
dorstige herten, plotseling betoverd
en in hun ren naar 't water star gebleven,
het groene lichaam wit gevlekt, hoornen geloverd,
het wit gewei breed opgeheven.

Langs lopend, te gezond, te naakt
en door een lichte wijn in een soort droom bewegend,
besef ik plotseling de enig werkelijke zonde:
dat ik door het verwonderlijkste nauw geraakt,
zonder besef door het bestaan gezegend
en door de schadelijkste dingen nauw geschonden,
ver van de werkelijkheid ben weggeraakt.
Cet age est sans pitié
Links naast ons - midscheeps - woonde de ex-kapitein
ter zee, weduwnaar, purper van het drinken.
Hij had een dochtertje, dat opzienbarend lelijk was,
zo opgestopt, verkeerd begroeid en kruislings scheel,
dat iedereen wel graag met haar zou willen spelen
alleen al om dichtbij iets zo uitzonderlijks te zijn.
Haar vader maakte dat onmooglijk, want hij bood ons geld
voor als ze mee mocht doen; zo dachten wij
dat het een soort van werkje was - en wilden niet.
Ze glimlachte zo trots en raadselachig bovendien
dat het gevaarlijk leek - wij zagen niets van het verlangen
in 't uren lang met krabben-armpjes uit het venster handen.
Maar moeder wel - ze bleef vaak even staan, zei wat
en vroeg wat, nauwelijks te verstaan, en op een dag
vertelde zij: ze vroeg of ze me moeder noemen mag.
Je hebt toch zeker nee gezegd! Waarom? zei zij
ik zei natuurlijk: graag. Ze was heel blij.
Zoals een hond, verdrinkend in zijn redders handen bijt
Zoals een hond, verdrinkend in zijn redders handen bijt,
bijt mijn gevoel de reddende gedachte,
dat deze nood voorbij gaat en dat zulke nachten
eenmaal weer zullen blussen in de tijd.

Het eerst verdronkene is de verwachting,
de hoop zieltoogt. Maar de herinnering
vecht het hardnekkigst. Lieveling!

M. Vasalis (13 februari 1909 - 6 oktober 1998)
Portret door Egbert Bakker, z.j.
De Nederlandse schrijver en dichter Jan Arends werd geboren op 13 februari 1925 in Den Haag. Zie ook alle tags voor Jan Arends en voor J. Arends op dit blog.
Ik heb een huis
Ik heb
een huis

Het huis
dat ik heb
is mijn leven.

Wat ik gedaan heb.

Wat ik ben.

Ik vraag
geen mensen
bij mij thuis.

Ik weet
dat wie koffie
bij mij drinkt
zich later ophangt.
De hele v.v.l.
Terwijl
ik schrijf
staat
de hele v.v.l.
achter mij
en
zegt honend
Jan Arends
jij kan niet schrijven.

Jawel
de v.v.l
dat is
mijn vakbond.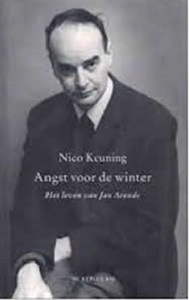 Jan Arends (13 februari 1925 – 21 januari 1974)
Cover biografie
De Nederlandse journalist en schrijver Arjan Visser werd geboren in Werkendam, Noord-Brabant, op 13 februari 1961. Zie ook alle tags voor Arjan Visser op dit blog.
Uit:Der blaue Vogel kehrt zurück (Vertaald doorBettina Bach)
"Ich bin fast da.
Nur ein Schritt trennt mich noch von der Unendlichkeit. Im dunklen Blau lässt sich eine flaumige Wolkendecke erahnen. Darauf kann ich mich ausruhen, wenn ich müde bin von meinen Bahnen um die Erde. meiner frei schwebenden Weltkugel.
Allerdings müsste ich mich dafür noch von einer Gruppe Menschen losreißen: meinen Mitreisenden und der Flugzeugbesatzung, zusammen etwas über hundert Personen.
Ich könnte den Notausgang nehmen. Wer sich in seine Nähe setzt. muss versprechen. anderen im Bedarfsfall zu helfen. Na gut, dann helft mir mal. Danke fürs Mitnehmen. Hier will ich raus.
So nah bei den Sternen war ich noch nie. Wenn ihr mich gehen lasst, komme ich aus eigener Kraft noch höher hinauf. Höher, als ich in meinen Träumen je war.
Der Himmel wird immer heller. Der Mann auf dem Fensterplatz wendet sich mir zu. Er öffnet den Mund. klappt ihn wieder zu. rückt sein Kissen zurecht und zieht eine Plastikwand vor meine Aussicht.
Ein Miniatur- Flugzeug folgt einer gestrichelten Linie zum Wort München«. Den Angaben unten im Bild zufolge werden meine alten Knochen mit einer Durchschnittsgeschwindigkeit von neunhundert Stundenkilometern durch die Luft befördert. Und der Flieger, der gestern um 19:10 Uhr in Brasilien abgehoben hat, wird heute um 10:50 Uhr in Deutschland landen.
Ich stelle die Beine schräg in den Gang und ziehe die blaue Decke der Fluggesellschaft etwas höher. Dabei streife ich mit dem Ellbogen die Fernbedienung in der Armlehne. letzt sind zwei Menschen aufdem Monitor zu sehen, Kinder noch, die sich wild küssen. ich probiere alle Knöpfe durch und erwische wohl den Aus-Schalter, denn der Bildschirm wird schwarz.
Es ist sehr beengt und mir ist entweder zu warm oder zu kalt.
Der freundliche Chefsteward. der mich vor vielen Stunden zu meinem Sitz begleitet und versprochen hat, mir einen besseren Platz zu suchen, ist nicht wiedergekommen. Die Stewardessen mit ihren Waigelchen will ich nicht behelligen."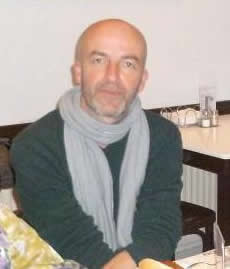 Arjan Visser (Werkendam, 13 februari 1961)
De Belgische (Franstalig) schrijver Georges Simenon werd geboren in Luik op 13 februari 1903. Zie ook alle tags voor Georges Simenon op dit blog.
Uit: Le chat
"« - Tu vas me dire pourquoi ça t'a pris un jour de ne plus me regarder que comme un objet, de me préférer un chat trouvé dans la rue. Qu'est-ce qui s'est passé ?
- Il ne s'est rien passé ! J'ai changé et c'est tout, voilà !
- Pourquoi tu as changé ? Tu as changé de quoi ?
- J'ai changé comme le monde entier a changé !
- Qu'est-ce que j'ai fait de mal ?
- Rien, tu as été parfaite, et moi j'ai été dégueulasse, dégueulasse comme tous les hommes. Je n'ai rien à te reprocher mais je ne peux plus te voir devant moi ! Je t'avais dit que je t'aimerais toujours. Et bien, je me suis gouré, j'ai vieilli, je ne t'aime plus !
- Mais moi si !
- Oh, je t'en prie, ne sois pas grotesque, pas à notre âge ! Maintenant, le temps nous a séparés et dis-toi bien qu'il nous séparera pour de bon un jour ou l'autre !
- Je préfère tout de suite !
- Tu n'as qu'à te suicider ! »
Il lui donne son pistolet.
« Tiens, ça fera un chouette fait divers : l'acrobate tue son mari parce qu'il l'a trompée avec le chat ! »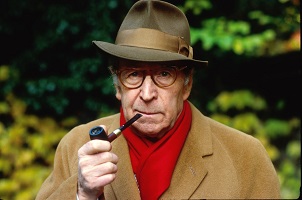 Georges Simenon (13 februari 1903 - 4 september 1989)

De Nederlandse schrijfster Nynke van Hichtum (pseudoniem van Sjoukje Troelstra-Bokma de Boer) werd geboren in Nes op 13 februari 1860. Zie ook alle tags voor Nynke van Hichtum op dit blog.
Uit: Afke's tiental
"Maar zoover was het nog niet, al was 't dan ook nòg zoo koud. Oude Saapke trok haar omslagdoekje dichter om de schouders, en de wollen muts verder over de ooren. Het tochtte toch zóó door dat raam, en de koude Oostenwind had ook vrijen toegang door een paar reten in de deur! Brr, wat was 't koud! Saapke deed haar toffels uit, en liep zacht over den met matten bedekten vloer naar de kookkachel onder den schoorsteen. Daarin stonden eenige turven bij elkaar te smeulen. Een er van was doorgebrand, - een prachtige kool! Saapke nam de tang, en borg dien in de blank gepoetste doofpot. Er moest nu noodzakelijk een nieuwe turf bij, zou 't vuur niet uitgaan, maar - de turfbak was leeg! Saapke opende voorzichtig de kamerdeur, en sloop de ladder op naar boven. Foei, wat kraakten die sporten! Die arme Afke zou er stellig wakker van worden!
Daar hoorde ze al wat in de bedstee! - nee - toch niet, - en gelukkig, nu was ze al boven! - O wee, daar lagen nog maar twaalf kleine turfjes! Saapke's gezicht betrok. Ze begreep wel dat ze héél zuinig moest zijn, want wanneer zouden deze menschen ooit weer geld hebben voor turf? Het schrale weekloon, dat de vader Zaterdags thuisbracht, reikte al bijna niet voor eten en drinken en schoeisel, om van kleeren nog niet eens te spreken!
Met drie turven in de hand, kwam Saapke weêr voorzichtig langs de ladder naar beneden, - voetje voor voetje - altijd nog op kousen, om Afke niet wakker te maken, hoewel ze haar oude voeten flink pijn deed op de smalle laddersporten.
Daar was ze beneden; de kamerdeur kraakte weer even, maar gelukkig, er bewoog zich niets in de bedstee!
Nu een van de turfjes nog gauw in de kachel gelegd, even gekeken of 'de pop' goed toegedekt lag, - ja, alles was in orde!"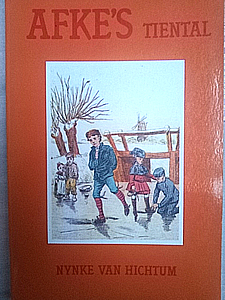 Nynke van Hichtum (13 februari 1860 - 9 januari 1939)
Cover
De Duitse dichter en schrijver Friedrich Christian Delius werd geboren in Rome op 13 februari 1943. Zie ook alle tags voor Friedrich Christian Delius op dit blog.
Uit: Der Reichtum Europas
"Im Frühjahr 1988 versammelten sich in Berlin, im Westen Berlins, etwa vierzig Schriftsteller zu einem Kongress "Ein Traum von Europa". Sie kamen aus Ost und West, Süd und Nord, dazu Susan Sontag aus den USA und Kuma Ndumbe III aus Kamerun. Ich weiß nicht, ob außer mir hier noch andere Veteranen sitzen, die an diesem Kongress teilgenommen haben. György Konrád stiftete uns damals an, die Regierungschefs der Unterzeichner-Staaten des Helsinki-Abkommens mit Fragen zu belästigen wie: "Sind Sie nicht auch der Ansicht, daß die Überwindung der Spaltung Europas auf die Tagesordnung der Politik gehört?" Konrád und die meisten von uns versuchten, ein Europa ohne Teilung zu denken. Wir ahnten nicht, wie nah wir der Utopie waren. Aber das Nachdenken hat, wie wir heute wissen, geholfen.
Seitdem sind keine 17 Jahre vergangen, und ein Wunder ist geschehen, was freilich nicht allein der Phantasiekraft der Schriftsteller zu danken ist. Europa ist ein neuer Kontinent geworden, fast ohne Grenzen, vital und rau, selbstbewusst und mürrisch, sentimental und bürokratisch, sich ständig neu mischend und widersprechend, jede Region in anderer Balance zwischen lokalen, nationalen und globalen Gewichten. Probleme, Gefahren, Reibungen gibt es genug, aber da Schriftsteller die ohnehin nicht lösen werden, haben wir heute, hier in Rom, hoffentlich Besseres zu tun, als die bekannten Sorgen und Klagen über Europa auszubreiten und zu einer Jammer-Olympiade anzutreten, oder bescheidener, zu einer Europameisterschaft im Lamentieren. Ich möchte jedenfalls darauf verzichten, obwohl gerade den Deutschen in dieser olympischen Disziplin besondere Talente nachgesagt werden, auch den Italienern, ich weiß. Es scheint mir fruchtbarer, die Gedanken von 1988 fortzuspinnen. Denn das neue Europa muss sich noch selbst entdecken und seine Vorzüge zu würdigen und zu stärken lernen."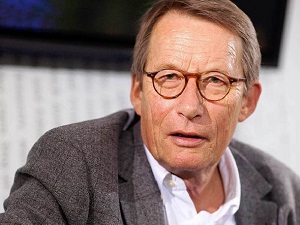 Friedrich Christian Delius (Rome, 13 februari 1943)
De Zwitserse schrijver Urs Faes werd geboren op 13 februari 1947 in Aarau. Zie ook alle tags voor Urs Faes op dit blog.
Uit:Sommer in Brandenburg
"Da entdeckte er das Mädchen am Brunnen, das zum Fenster hinaufstrahlte, wo zwei andere sich herauslehnten und mit ausgebreiteten Armen winkten. Er wollte sich schon abwenden, um die Pferde in den Stall zu treiben und um endlich das Tor zu schließen. So war es ihm aufgetragen an diesem Abend. Mit der Madricha war nicht zu spaßen, das wußten alle; auch wenn sie ihre jeweiligen Anweisungen mit weicher Stimme gab, mitfreundlichen Blicken. Auch sie, die da lachte, würde das noch lernen müssen.
Wieder schaute er hin. Die Mädchen am Fenster verschwanden; und sie stand allein da, nah am Brunnenbecken, aus dem ein Strahl hoch aufschoß und niederfiel in die Marmorschale. Das Lachen war verstummt.
Das Mädchen drehte sich zögernd in seine Richtung, den Fuß nach innen gerichtet. Er schaute aufdie Seidenstrümpfe, keine hier im Landwerk trug Seidenstriimpfe. Arbeitshose, knöchellang, auch für die Mädchen: Feldarbeit war zu tun, hacken und rechen, jäten und Tomaten einbringen, Spargel stechen, die letzten der Saison. Diese hier am Brunnen zupfte leicht an ihrem Kleid, ein feiner Stoff zweifellos, zog und zupfte an den Falten, als wolle sie, daß der Saum weiter nach unten falle und möglichst viel von den Beinen bedecke.
Seine Schritte verlangsamten sich, bis er sich ihr aufjene Distanz genähert hatte, die schicklich einer Fremden gegenüber war. Er ahnte die Blicke hinter den Gardinen aufden Vorhofhinunter und wollte keine mahnende Stimme hören, nicht von der Madricha ertappt werden, die das Mädchenhaus im Auge hatte.
So standen sie einander gegenüber, derjunge Mann mit den wirbelwilden Locken von dunklem Braun und die junge Frau mit dem halblangen hellen Haar, das mit einer Spange im Nacken zusammengefaßt war. Ihre dunklen Augen überraschten ihn, ließen auch ihr Gesicht hell erscheinen. Eine Tasche hing von ihrer Schulter, schmale Finger umklammerten die schnurähnlich gewundenen Träger.
Sie hatte sich ihm zugewandt, als hätte er sie beim Namen gerufen."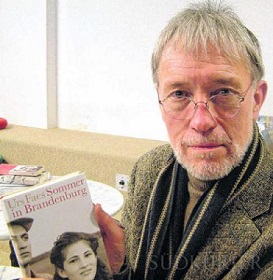 Urs Faes (Aarau,13 februari 1947)
De Duitse schrijfster Katja Lange-Müller werd geboren op 13 februari 1951 in Berlijn-Lichtenberg. Zie ook alle tags voor Katja Lange-Müller op dit blog.
Uit: Drehtür
"Blitzgewitter. denkt Asta. das Wort ist mir lange nicht mehr. jetzt aber tatsächlich blitzartig eingefallen. Artiger Blitz? Bullshit. Also: Unter einem Blitzgewitter versteht man ein jäh einsetzendes. hefliges Gewitter, das ebenso plötzlich aufhört. - Aufltören. wieder so ein Wort. das Asta irritiert. sie stört in ihrem Bemühen. sich daran zu erinnern. was ein Blitzgewitter eigentlich genau ausmacht. Aulhören. Denkt sie. könnte ja wohl noch etwas anderes bedeuten: doch würde man dann nicht eher aufhorchen sagen. in meiner Muttersprache. die ich nicht vergessen. nur kaum gebraucht habe. während der letzten zwanzig. nein. zweiundzwanzig Jahre. die ich wo verbrachte? In der Fremde. In der Fremde? Ach, in all den Fremden. - Muttersprache. auch dies zusammengesetzte Substantiv tritt sogleich eine Assoziationslawine los. Das Hauptwort Mutter, eben noch ganz fern, kommt ihr unangenehm nahe. Haupt = Kopf. denkt sie; mein Kopf hat seinen eigenen Kopf. Und der behauptet. er müsse sich Wörter fangen. deutsche Wörter jetzt. Aber ist es nicht vielmehr so. dass all diese deutschen Wörter bereits gefangen wa- ren in meinem Trotzköpt'chen, Kapitalverbrecher, schweigsame Knastgreise. die längst resigniert hatten; doch nun. da ich zurückgekehrt bin ins Land meiner Herkunft. rühren sie sich wieder. – Apropos Muttersprache. wie oder was hat Mutter eigentlich gesprochen? Dazu fällt ihr nichts ein. gar nichts. jedenfalls nicht im Moment. Sie weiß bloß noch. warum die schon seit 1980 tote Mutter sie Asta genannt hatte. In ihrer Familie. nein. nicht in ihrer. sie ist ja mann- und kinderlos. in der Familie der Mutter. meine Mutter kann sie nicht mal denken, soll einst eine hübsche, freundliche Schäferhiindin mit eben diesem Namen gelebt und jene irgendwie der dänischen Schauspielerin Asta Nielsen ähnlich gesehen haben. - Wenigstens das Wort Wort ist frei. denkt Asta. zumindest frei von jeder Doppelbedeutung. und ein Blitzgewittcr heißt Blitzgewitter, weil es blitzschnell Iosbricht und abrupt endet. nicht wegen der Blitze, die es begleiten. Gewitter. aber keine Blitze. gibt es das? Und den Blitzen folgt Donner. Donnergrollen. Donnerschläge."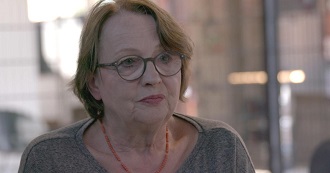 Katja Lange-Müller (Berlijn, 13 februari 1951)
Zie voor nog meer schrijvers van de 13e februari ook mijn blog van 13 februari 2016 deel 2 en eveneens deel 3.
13-02-2017 om 18:43 geschreven door Romenu

Tags:M. Vasalis, Jan Arend, Georges Simenon, Nynke van Hichtum, Friedrich Christian Delius, Urs Faes, Katja Lange-Müller, Romenu



Gerard Keller
De Nederlandse schrijver en krantenredacteur Gerard Keller werd geboren op 13 februari 1829 in Gouda. Keller studeerde aan de Technische hogeschool te Delft, maar was door omstandigheden genoodzaakt zijn studie af te breken. In 1850 werd hij stenograaf van de Staten-Generaal en 1864 werd hij redacteur van de "Arnhemsche Courant". Keller was een voor zijn tijd buitengewoon productief schrijver. Zijn werken omvatten romans, korte verhalen, reisverhalen en kunsthistorische artikelen. Bovendien werkte Keller als redacteur van het "Kunstkroniek" op het gebied van de Nederlandse kunstgeschiedenis en daarnaast was hij ook nog een populaire schrijver voor de jeugd en schreef hij komedies als: »De dochter van den barbier« (1878), »Het blauwe lint« (1881) en »Het gevaarlijk nichtje« (1884).
Uit: Het Servetje
'Die 'kleine leelijke Jood', zooals hij wel eens genoemd werd, imposeerde niet door houding, gelaat of zeggingskracht, maar hij had iets in zich, dat terstond den indruk maakte, dat hij meer was dan wij allen. Groot geleerde, dichter in de hoogste beteekenis, maar bovenal man des geloofs en held zijner overtuiging.
Als men hem voor het eerst zag optreden en zijne eerste volzinnen hoorde op schreeuwenden, oosterschen toon met eenigszins joodsch dialect uitgesproken en men zag hem zich in zijn katheder bewegen, alsof er nooit regelen voor uiterlijke welsprekendheid waren vastgesteld, dan was men geneigd te glimlachen over zulk een redenaar.
Maar had men hem tien minuten aangehoord, dan werd men medegesleept door die vurige voordracht, door dat tintelen en flikkeren en bliksemen van zijn geest; men hoorde niet meer dat heesche schreeuwende orgaan, maar slechts de bezielde woorden, die met wonderlijke afwisseling van diepen ernst en hooge vlucht en alledaagschheid – trivialiteit zou men bijna zeggen – scherpe satire en gemoedelijken humor elkander volgden en verdrongen, zoodat men schier bedwelmd werd door die overstelpende welsprekendheid, die gepaard ging met groote rusteloosheid van beweging en de meest onverwachte en ongekendste gebaren'.
(…)
'Hij (Da Costa) hield zich niet altijd ver van feestelijke of gezellige maaltijden met geestverwanten. Eens dat hij te Amsterdam aanzat en zijne plaats had in de buurt van Van Lennep, vroeg deze in antwoord op eene geloofstheorie van den antirevolutionair: 'En indien ik U dan zeg, mijnheer da Costa, dat deze kippen zullen vliegen, gelooft gij dat dan ook?' en hij wees op de gebraden kippen die op den schotel voor hem lagen.
'Indien een geloofwaardig man als gij, mijnheer Van Lennep, mij dit in vollen ernst zegt, ja, dan geloof ik het', was Da Costa's antwoord. 'Zeg het; ik zal gelooven'. Maar Van Lennep wachtte wel die verzekering te geven, omdat hij ze niet geven kon en hij verklaarde ridderlijk zich overwonnen'.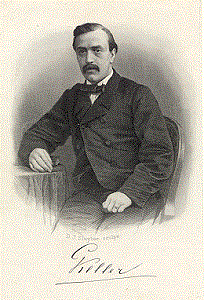 Gerard Keller (13 februari 1829 – 10 januari 1899)
13-02-2017 om 00:00 geschreven door Romenu

Tags:Gerard Keller, Isaäc da Costa, Jacob van Lennep, Romenu


12-02-2017

Barbara Honigmann, Detlev Meyer, Lou Andreas-Salomé, Sabahattin Ali, Friedrich de la Motte-Fouqué, Joachim Meyerhoff, John Hennessy
De Duitse schrijfster Barbara Honigmann werd geboren op 12 februari 1949 in Oost-Berlijn. Zie ook alle tags voor Barbara Honigmann op dit blog.
Uit: Chronik meiner Straße
"Wenn wir sagen, daß wir in der Rue Edel wohnen, antwortet man uns meistens, ach ja, da haben wir am Anfang auch gewohnt.
Unsere Straße scheint also eine Straße des Anfangs und des Ankommens zu sein, bevor man nämlich in die besseren Viertel umzieht, die ruhiger sind und in deren Häusern nur zwei, drei Parteien wohnen, Häuser, die von kleinen oder größeren Gärten umgeben sind und in der Nähe von Parks liegen oder des Europa Parlaments, oder aus deren Fenster man einen Blick auf die Kathedrale hat oder auf die Ill, die ein Nebenfluß des Rheins ist und die Altstadt von Straßburg einschließt.
Von alldem hat unsere Straße gar nichts, Bäume oder Sträucher oder sonst etwas Grünes gibt es in unserer Straße nicht, keine Gärten, keine Parks in unmittelbarer Nähe, kein Europa Parlament, keine Kathedrale und keine Ill, dem Blick bietet sich nichts als die baumlose Straße und die gegenüberliegenden Häuser, von denen einige sehr häßliche Betonklötzer sind, schnell in eine Baulücke gesetzt; eine Freundin, die mit ihren Eltern hier auch am Anfang gewohnt hat, erinnert sich noch, daß sie als Kind in einer solchen Lücke Ball spielte.
Als wir einzogen, am Anfang, vor langer Zeit, sagten wir ja auch, das Haus ist häßlich, die Straße triste, die Gegend öde, nahe dem öden Neubauviertel, wir ziehen jetzt nur schnell ein, damit wir erst einmal einen Platz für uns und die Kinder und unsere Kisten und Kartons haben und unsere Koffer auspacken können, nach Wochen, in denen wir in provisorischen Unterkünften nur aus dem Koffer gelebt haben, und danach, bald, in den nächsten Monaten, werden wir in Ruhe eine neue Wohnung in einer anderen, schöneren Gegend suchen. Und haben nur das Nötigste ausgepackt, Küchengerätschaften und Kleider und Spielsachen und Bücher. Vieles andere ließen wir in den Kisten und Kartons liegen, wo es zum Teil immer noch liegt, denn wir sind hier nie ausgezogen und wohnen heute noch in der Straße, in der man eigentlich nur »am Anfang« wohnt."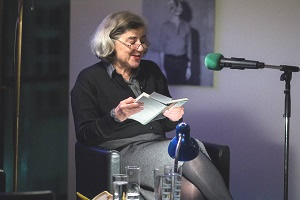 Barbara Honigmann (Oost-Berlijn, 12 februari 1949)
De Duitse schrijver en dichter Detlev Meyer werd geboren op 12 februari 1950 in Berlijn. Zie ook alle tags voor Detlev Meyer op dit blog.
Uit: Das Sonnenkind
"Mensch, Papa, das sollte die Überraschung sein, du solltest doch raten, wen wir getroffen haben.
Georg Scholze nimmt den Jungen in den Arm und sagt: Und Grandseigneur hast du dir wieder gleich gemerkt, wie ich dich kenne.
Klar, Papa, das mach ich ja immer.
Vor einiger Zeit hatte die Großmutter im Kreise ihrer Damen, schlichtere Seelen würden sagen:
beim Kaffeeklatsch, durchblicken lassen, ihr Max sei in seinen frühen Jahren ein Filou gewesen.
Jeder wisse das, und vor dem Kind wolle sie das nicht näher ausführen. Wieder erstattete Carsten um gehend Bericht: Opa war früher ein Filou, Papa.
PG war er auch - früher, dein feiner Herr Großvater, sagt Georg Scholze, aber darüber wird im
Hause Wollin ungern gesprochen.
Eine Erklärung dieses komischen Wortes folgt nicht. Der Vater sagt, so etwas könne ein kleiner
Junge noch nicht verstehen. Und im übrigen möge Carsten das für sich behalten. Kein Wort über PG. Versprochen?
Ich schwöre, Papa!
Mein Gott, denkt der Junge abends im Bett, was man sich alles merken muß. Grandseigneur
darf man sagen, PG darf man nicht sagen. Hoffentlich bringe ich das nicht durcheinander.
Quatsch, sagt er laut, ich doch nicht! Andere Kinder vielleicht.
Und dann denkt er noch, daß er schon wieder mehr weiß als gestern. Vielleicht muß er gar nicht warten, bis er erwachsen ist, vielleicht weiß er schon als großer Junge alles. Die Städte und Länder, die Flüsse und die Präsidenten."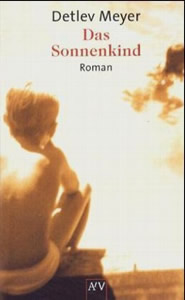 Detlev Meyer (12 februari 1950 – 30 oktober 1999)
Cover
De Russisch-Duitse dichteres en schrijfster Lou Andreas-Salomé werd geboren op 12 februari 1861 in Sint Petersburg. Zie ook alle tags voor Lou Andreas-Salomé op dit blog.
Uit: Aus fremder Seele
"Als sie auf die Dorfstraße trat, holte ein andres Mädchen sie ein und schob die Hand in ihren Arm.
»Laß die Mannsleute reden, Trudel, - deinem lieben Himmelspastor geschieht nichts«, sagte es tröstend und hob das blatternarbige Gesicht zu ihr auf, »aber wahr ist s schon: die Kathrine hat Unrecht getan. Man muß doch seinen Stolz haben und etwas auf sich halten.«
»Mag sein. Aber es gibt mancherlei Versuchungen, das kannst du glauben!« bemerkte Gertrud einsilbig.
»Wo denn, Trudchen? wenn man brav ist? Ich war auch im Dienst.«
»Ja, - du!« ein halb mitleidiger, halb geringschätziger Blick streifte die Gefährtin; »übrigens ist das gewiß auch verschieden. Aber das sage ich dir: wenn er nicht wäre, - wenn unser Pastor nicht wäre, - und so gut, und so eindringlich -, dann - weiß Gott! Man will doch leben!« -
Durch die Seitentür der Sakristei, wo er sein Ornat abgelegt, hatte Pastor Arnsfeldt sich auf den Heimweg begeben. Er ging raschen Schrittes an den beiden Mädchen vorüber, ihren Gruß nur mit freundlichem Nicken erwidernd, denn ihm blieb keine Hand frei: die Rechte wie die Linke waren von je einem kleinen Mädel erwischt worden, und andre Kinder folgten noch dicht hinterdrein. Das war meistens so, wenn er sich auf der Dorfstraße zeigte.
Die Kleine an seiner Rechten, die sich vergeblich abmühte, Schritt mit ihm zu halten, sagte bedenklich: »Wenn du so läufst, Herr Pastor, dann bist du schon gleich zu Hause.«
»Das will ich auch, Gretchen. Ich eile sehr. Denn denk doch: zu Hause ist ja mein Junge angekommen. Kurt ist angekommen! Und ich hab' ihm noch kaum guten Tag sagen können."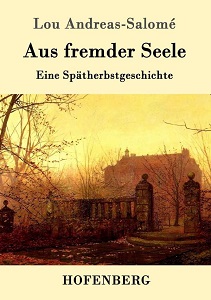 Lou Andreas-Salomé (12 februari 1861 – 5 februari 1937)
Cover
De Turkse dichter en schrijver Sabahattin Ali werd geboren op 12 februari 1906 in Gümülcine, tegenwoordig, Komotini, Griekenland. Zie ook alle tags voor Sabahattin Ali op dit blog.
Uit: The Madonna in the Fur Coat (Vertaald door David Gramling en Ilker Hepkaner)
"I replied: "Nowhere… Just around, then I saw an exhibition of modern artists."
The people in the dining room promptly took to conversing about modern art, and I took the next opportunity to go up to my room.
While undressing, a newspaper leaf fell from my pocket onto the floor. When I picked it up and put it on the table, my heart flushed. It was the newspaper that I had bought that morning, in which I had seen the article about the exhibition. I tore open the pages to see what this article had to say about the painting and its artist. Even I was taken aback by how excited such a slow and intractable man like me could become, given the situation. I skimmed the article from top to bottom. By the middle of the article, my eyes were fixed on the words I had seen: Maria Puder…
The piece talked at length about this young artist, whose paintings were being exhibited for the first time. The author of the article spoke of the great expressive talents of this woman, who wished to follow in the footsteps of the classicists. Apparently, the painter was not inclined toward the kind of beautification, nor toward the deliberate uglification, that was common among many self-portraitists. After a couple of technical digressions, the author claimed that, thanks to a strange equivalence of posture and facial expression, the woman looked so much like the depiction of Mother Mary in Andreas del Sarto's painting Madonna delle Arpie that the resemblance could give someone the chills. Then, with a rather tongue-in-cheek turn of phrase, the author wished this "Madonna in a Fur Coat" great success, and moved on to another artist."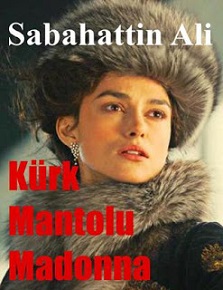 Sabahattin Ali (12 februari 1906 – 2 april 1948)
Cover
De Duitse schrijver Friedrich Heinrich Karl Freiherr de la Motte-Fouqué werd geboren in Brandenburg an der Havel op 12 februari 1777. Zie ook alle tags voor Friedrich de la Motte-Fouqué op dit blog.
Uit: Undine
"Der weiße, nickende Mann ward nämlich urplötzlich zu einem ihm längst wohlbekannten Bächlein, das schäumend aus dem Forste hervorrann und sich in den Landsee ergoß. Wer aber das Geräusch verursacht hatte, war ein schön geschmückter Ritter, der zu Roß durch den Baumschatten gegen die Hütte vorgeritten kam. Ein scharlachroter Mantel hing ihm über sein veilchenblaues goldgesticktes Wams herab; von dem goldfarbigen Barette wallten rote und veilchenblaue Federn, am goldnen Wehrgehenke blitzte ein ausnehmend schönes und reichverziertes Schwert. Der weiße Hengst, der den Ritter trug, war schlankeren Baues, als man es sonst bei Streitrossen zu sehen gewohnt ist, und trat so leicht über den Rasen hin, daß dieser grünbunte Teppich auch nicht die mindeste Verletzung davon zu empfangen schien. Dem alten Fischer war es noch immer nicht ganz geheuer zumut, obwohl er einzusehn meinte, daß von einer so holden Erscheinung nichts Übles zu befahren sei, weshalb er auch seinen Hut ganz sittig vor dem näherkommenden Herrn abzog und gelassen bei seinen Netzen verblieb. Da hielt der Ritter stille und fragte, ob er wohl mit seinem Pferde auf diese Nacht hier Unterkommen und Pflege finden könne? – »Was Euer Pferd betrifft, lieber Herr«, entgegnete der Fischer, »so weiß ich ihm keinen bessern Stall anzuweisen als diese beschattete Wiese und kein besseres Futter als das Gras, welches darauf wächst. Euch selbst aber will ich gerne in meinem kleinen Hause mit Abendbrot und Nachtlager bewirten, so gut es unsereiner hat.« – Der Ritter war damit ganz wohl zufrieden, er stieg von seinem Rosse, welches die beiden gemeinschaftlich losgürteten und loszügelten, und ließ es alsdann auf den blumigen Anger hinlaufen, zu seinem Wirte sprechend: »Hätt ich Euch auch minder gastlich und wohlmeinend gefunden, mein lieber alter Fischer, Ihr wäret mich dennoch wohl für heute nicht wieder losgeworden, denn, wie ich sehe, liegt vor uns ein breiter See, und mit sinkendem Abende in den wunderlichen Wald zurückzureiten, davor bewahre mich der liebe Gott!« – »Wir wollen nicht allzuviel davon reden«, sagte der Fischer und führte seinen Gast in die Hütte."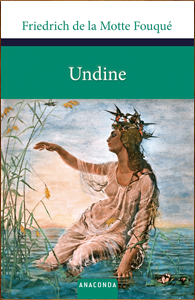 Friedrich de la Motte-Fouqué (12 februari 1777 – 23 januari 1843)
Cover
Onafhankelijk van geboortedata
De Duitse schrijver, acteur en regisseur Joachim Philipp Maria Meyerhoff werd geboren in 1967 in Hamburg. Zie ook alle tags voor Joachim Meyerhoff op dit blog.
Uit: Ach, diese Lücke, diese entsetzliche Lücke
"Es wurde ein Platz für sie gesucht, und da blieben sie dann für immer. So als hätte die freie Stelle geduldig auf genau diesen Gegenstand gewartet.
Das Haus war immer blitzeblank-sauber. Da jedoch die Putzfrau, Frau Schuster, immer dieselbe blieb, die Bügelfrau alt und taub wurde, Herr Moser, der ebenfalls betagte Gärtner und Alleskönner, irgendwann nur noch im Schneckentempo den Rasenmäher kreuz und quer durch den Garten schob, schlichen sich Unebenheiten ein, die aber meine Großeltern durch ihr eigenes Noch-Älter-Sein nicht bemerkten. Wollmäuse in den Ecken, heruntergefallene Nüsse, schiefe Bügelfalten, ungemähte Raseninseln. Die Putzfrau wurde vergesslich, ließ überall ihr Zeug liegen und vollbrachte sogar einmal das Kunststück, den Staubsauger ohne ihn auszuschalten in den Schrank zurückzustellen. Stundenlang saugte er dort verzweifelt vor sich hin, bis mein Großvater sagte: »Spinn ich, oder brummt da was?«
Meine Großeltern waren immer sehr gut gekleidet, sehr gepflegt, sahen blendend aus. Sie waren auf fast schon exotische Weise kultiviert. Doch in dieser Kultiviertheit auch ein wenig weltfremd und aus der Zeit gefallen.
Meine Großmutter war Schauspielerin, hatte aber das Theaterspielen schon Mitte der Sechzigerjahre aufgegeben. Zu abgeschmackt sei alles geworden. Dieses Wort benutzte sie gerne, wenn sie über das heutige Theater sprach: abgeschmackt. Dabei hatte sie sich seit Jahren schon nichts mehr angesehen. Und sowenig sie sich, will man ihren Beteuerungen Glauben schenken, jemals auf eine Bühne zurückgesehnt hatte, so sehr war das Theatralische, ja, Dramatische in ihr alltägliches Dasein hinübergerutscht. Selbst wenn sie von den profansten Dingen sprach, verliehen ihre Sprechweise, ihre Kopfhaltung, ihre Gestik dem Gesagten etwas Grandioses.
Wobei meine Großmutter nie schrill oder gar operettig wirkte. Nein, ihre gesamte Persönlichkeit tendierte zielsicher in Richtung großes Drama."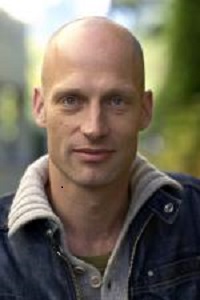 Joachim Meyerhoff (Hamburg, 1967)
De Amerikaanse dichter John Hennessy werd geboren in 1965 in New Jersey. Zie ook alle tags voor John Hennessy op dit blog.Zie ook alle tags voor John Hennessy op dit blog.
Netflix Green Man
Netflix the Green Man and any screen
becomes a vineyard. Episodes cluster
and climb, trellis narrative. Between
the corn and lichen, creepers muster
nine lives. They grow, divide, and splice,
steal scenes by running fox grape, bittersweet,
return on any handheld device
as moonseed, woodbine, dodder, buckwheat — 
false buckwheat — note, though star- and heart-shaped.
He trucks some mascot for our kids, glad-hands
a sidekick dressed to burrow, root, and take
them through their lessons rattling dad's
bouzouki nerves, mom's percussive bones.
Return, that ritual button, pressed like wine
in HD, when end credits jolt. Stop time,
we're keyed up. Eternal return? Eternal jones.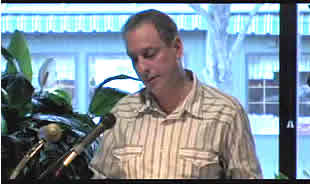 John Hennessy (New Jersey, 1965)
Zie voor nog meer schrijvers van de 12e februari ook mijn twee vorige blogs van vandaag.
12-02-2017 om 11:25 geschreven door Romenu

Tags:Barbara Honigmann, Detlev Meyer, Lou Andreas-Salomé, Sabahattin Ali, Friedrich de la Motte-Fouqué, Joachim Meyerhoff, John Hennessy, Romenu



Janwillem van de Wetering, Hans Dieter Baroth, Otto Ludwig, Michel de Saint Pierre, R. F. Delderfield, George Meredith
De Nederlandse schrijver Janwillem Van de Wetering werd geboren in Rotterdam op 12 februari 1931. Zie ook alle tags voor Janwillem van de Wetering op dit blog.
Uit: Inspector Saito's Small Satori
"Inspector Saito felt a bit better when the constable had switched off the Datsun's siren, but just a trifle better for his headache throbbed on. Once more he felt sorry about having visited the Willow Quarter the night before, and about the sixth jug of sake. He should have remembered his limit was five jugs. But it had been a good bar and there had been good people in the bar. And the difference between six jugs and five jugs is only one jug, yet that one small jug had caused the headache, which even after sixteen hours showed no sign of abating.
He forced himself to walk over to the uniformed sergeant, a middle-aged man in a crisp green uniform waiting under the large ornamental gate. The sergeant bowed. Saito bowed back. "In that direction, sir, in the alley next to the temple." Saito grunted. There was a corpse in the alley, a female corpse—a gaijin body, white, limp, and lifeless. This much he knew from Headquarters. It was all very unfortunate, a miserable conglomeration of circumstances, all of them bad. He shouldn't have a hangover, he shouldn't have been on the night shift, and he shouldn't be trying to solve a murder case. But he had had too much to drink the night before, his colleague was ill, and there had been a murder. And the three events now met in the person of Saito, only a short distance from an alley between two temples in Daidharmaji, the most beautiful and revered of all temple complexes in the holy city of Kyoto."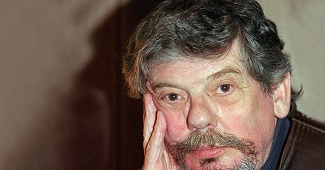 Janwillem van de Wetering (12 februari 1931 – 4 juli 2008)
De Duitse schrijver Hans Dieter Baroth werd geboren op 12 februari 1937 in Oer-Erkenschwick. Zie ook alle tags voor Hans Dieter Baroth op dit blog.
Uit: Aber es waren schöne Zeiten
"Ein Gleichnis habe ich nicht vergessen. Er hatte aus der Bibel über die Probleme des Zweifels am Glauben gelesen. Natürlich hatte das niemand verstanden, bei unserer Ausdrucksarmut verständlich. Der Rektor, der Schwarzhaarige mit den Goldzähnen und der Drohgebärde, der Mann mit der gewaltigen Stimme, machte uns klar, wie es mit dem Zweifel bestellt sei.
Vor der Kirche war an dem Sonntag eine Kirmes aufgebaut. Also kam in seinem Gleichnis eine Kirmes vor. Der Herrscher, der König also, befahl, ein Glas Wasser randvoll über die Kirmes zu tragen und keinen Tropfen zu vergießen. Herrscher und König waren seine Lieblingsbeispiele. Der Knabe aber widersprach dem König und Herrscher, es sei Kirmes und da werde er abgelenkt durch die Buden und Lustbarkeiten. Dabei könne er sich nicht auf das Glas Wasser konzentrieren, er könne den Auftrag nicht erfüllen. Da sei der König und Herrscher streng geworden, so der Rektor, er habe gesagt, wenn er auch nur einen Tropfen des vollen Glases verschütte, so lasse der König und Herrscher ihm den Kopf abschlagen. Und der König und Herrscher sei für seine Strenge bekannt. Daraufhin habe sich der Knabe mit dem vollen Glas Wasser über den Kirmesplatz bewegt und dort hätten viele versucht, ihn abzulenken. Die Gaukler, die Glücksspieler und ähnliche Figuren des Vergnügens. Doch der Knabe habe sich nicht ablenken lassen, er habe auf sein Glas geschaut, ganz konsequent. Er habe weder nach rechts noch nach links geschaut. Er sei ganz konzentriert gewesen.
Seht ihr, so hat der Rektor argumentiert, so sei es auch mit dem Glauben: Gott der Herrscher sei streng und hart, er sei der Richter. Scharfrichter hat er nicht gesagt. Wer sich von seinem Glauben ablenken lasse, der verliere das ewige Glück, wie der Knabe seinen Kopf verloren hätte. Und dann hatte er mit theatralisch erhobener Hand wiederum gedroht: "So sei euer Glaube, laßt euch davon nicht abbringen, denkt an den Knaben, schaut unbeirrt auf euren katholischen Glauben und schaut nicht nach rechts oder links. Laßt euch nicht von den Verführern ablenken, denn am Ende steht die ganze Strenge des Herrn." Die Orgel spielte, Punktum, die Predigt des Kindergottesdienstes war beendet."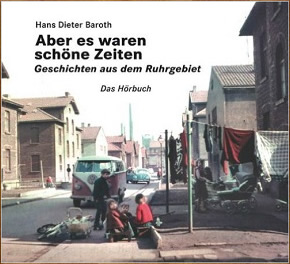 Hans Dieter Baroth (Oer-Erkenschwick, 12 februari 1937)
Cover CD
De Duitse schrijver Otto Ludwig werd geboren op 12 februari 1813 in Eisfeld. Zie ook alle tags voor Otto Ludwig op dit blog.
Uit: Das Fräulein von Scuderi
"Miossens: Meister Serons,
Daß Eu'r Vertrauen ich zu schätzen weiß,
Beweist, daß ich es argwohnlos erwidre.
Denn hier beschützt mich die Geburt so wenig,
Als Euch der Ruf von Eurer Meisterschaft
Als Arzt. Den Pair des Reichs, den Grafen trennt
Kein Vorrecht mehr von dem gemeinen Pöbel.
Die Kammer ist's nicht mehr der Pairs, die ihre
Mitglieder richtet. Vor ein königlich
Tribunal wie den Bürger und den Bauer
Schleppt man den Herzog, Grafen und Baron.
Dem König konnte nichts gelegner kommen
Als dies Verbrechen, das dem neuen Griff
In unser Recht erwünschten Vorwand lieh.
Ein Stückchen Staatskunst, das dem schlauen Schüler
Des schlauen Lehrers Ehre macht. Das ist
Ein Kunststück noch aus Mazarinis [Fußnote] Schule.
Damit bricht er des Adels Ansehn vollends,
Und sichert sich zugleich des Pöbels Gunst,
Und spielt uns dieses Werkzeug aus den Händen,
Und wie erst wir es gegen ihn gebraucht,
Wird er's zu brauchen wissen gegen uns.
Der Ananas lebt von gemeinem Dünger –
Und dieser große Ludwig ward so groß,
Weil er es nicht verschmäht, so klein zu sein,
Dem Kote schön zu thun an seinen Sohlen.Alt,
uralt ist die Wahlverwandtschaft zwischen
Der Hefe und dem Schaum.
Serons: Und wirklich war es nur des Volkes Gunst,
Was dies Tribunal möglich machen konnte,
Das sich herausnimmt, was der König selbst
Nicht wagt, und seine Eifersucht heraustrotzt,
Die keine Macht im Staate sonst mag dulden,
Als die wie Strahlen von der einen Sonne
Ausgeht allein vom Königsdiadem.
Doch schon beginnt die leichtgeschürzte Gunst
Des Volks den alten Günstling zu verlassen."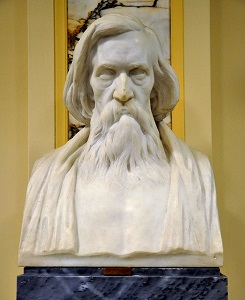 Otto Ludwig (12 februari 1813 – 25 februari 1865)
Borstbeeld in het theater van Meiningen
De Franse schrijver Michel de Saint Pierre werd geboren op 12 februari 1916 in Blois. Zie ook alle tags voor Michel de Saint Pierreop dit blog.
Uit: Les nouveaux aristocrates
«Vous êtes pire qu'au Moyen Age, pire qu'au Moyen Age! Et j'en ai assez, moi, vous entendez? J'ai vingt-cinq ans. Je sais ce que j'ai à faire! Mais vous êtes là, toujours, comme une espèce d'ombre sur moi. Et vous ne comprenez pas que j'en ai assez, non? Que j'étouffe? Oh, je devine bien ce que vous allez encore trouver pour m'avoir à votre merci : vous me renverrez de Maubrun pour toujours si j'épouse Conti. Même cela, vous entendez, je suis prête à le subir pour vous échapper!... Tout le monde commence à en avoir marre, ici...»
(…)
"Le révérend père Raphaël Menuzzi, dit " La Tigresse ", faisait sa ronde matutinale.
Dans les corridors déserts, il allait, fantôme grassouillet et noir. Le père Menuzzi, préfet des études et de discipline au collège Pierre-Favre, aimait beaucoup son métier. " Autorité, ponctualité, information ", tels étaient ses maîtres-mots. Il eût fait un extraordinaire meneur de jeu dans un réseau d'espionnage - et rien de ce qui se passait entre les hauts murs du collège ne lui était étranger. Petit, dodu, il roulait en silence le long des couloirs. Dans son visage au teint de suif, les yeux de fauve, qui ne cillaient jamais, reflétaient un calme sans pitié. Il devait son surnom à ce regard - à sa tête de chat, toute ronde, aux oreilles bizarrement pointues et velues - et à sa voix souple, volontiers ronronnante, qui parfois mêlait de grondantes menaces à l'on ne savait quelles intonations féminines. Les enfants le redoutaient.
" Un collège de huit cents élèves, disait-il, s'administre comme une ville et se mène comme une armée."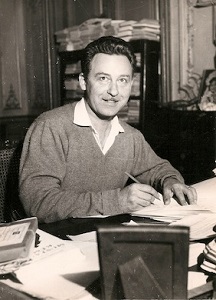 Michel de Saint Pierre (12 februari 1916 – 19 juni 1987)
De Engelse schrijver Ronald Frederick Delderfield werd geboren op 12 februari 1912 in Bermondsey, London. Zie ook alle tags voor R. F. Delderfield op dit blog.
Uit:God Is an Englishman
"They stormed out ofthe dustcloud in a solid, scurrying mass, horse and foot in about equal proportions, but in no sort of formation; a mob of armed fugitives, with nothing in mind but to escape the hangman, or the bayonets of the Highlanders who had nished the town at first light and had now fought their way as far as the Ranee's palace.
Swarm, sitting his horse a few lengths in front of the extended squadron, recognised the badges and uniforms of the foremost, men of the 12th Native Infantry and the 14th Irregular Cavalry, the murderers of women who had entertained him here when he had ridden over from Allahabad less than a year ago. But before he could use his spurs the leading mounted man was bearing down on him and Swarm noticed that he was encumbered by a curved-topped casket, balanced on the bow ofhis saddle.
The casket registered as an incongruity. It seemed ridiculous that a man flying for his life should encumber himself with luggage but this man had, so much so that his tulwar swung loose from his wrist on its sword-knot, and before he could find its hilt, Swann had sent him tumbling from the saddle with a single, backhanded slash.
The box went flying, and even in that terrible uproar Swann heard the splintering crack of shattered wood as it bounced across the ground. Then he was engulfed, horse and foot streaming past himon either side, and his bay pivoted and was carried forward, gyrating and bucketing as her rider threw his weight this way and that parrying the random thrusts of sepoy bayonets and the sweep of the horsemen's swords".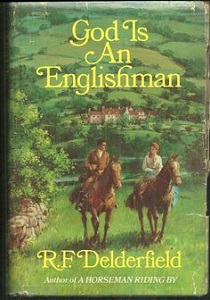 R. F. Delderfield (12 februari 1912 – 24 juni 1972)
Cover
De Engelse dichter en schrijver George Meredith werd geboren op 12 februari 1828 in Portsmouth. Zie ook alle tags voor George Meredith op dit blog.
The State Of Age
Rub thou thy battered lamp: nor claim nor beg
Honours from aught about thee. Light the young.
Thy frame is as a dusty mantle hung,
O grey one! pendant on a loosened peg.
Thou art for this our life an ancient egg,
Or a tough bird: thou hast a rudderless tongue,
Turning dead trifles, like the cock of dung,
Which runs, Time's contrast to thy halting leg.
Nature, it is most sure, not thee admires.
But hast thou in thy season set her fires
To burn from Self to Spirit through the lash,
Honoured the sons of Earth shall hold thee high:
Yea, to spread light when thy proud letter I
Drops prone and void as any thoughtless dash.

To A Nightingale
O nightingale! how hast thou learnt
The note of the nested dove?
While under thy bower the fern hangs burnt
And no cloud hovers above!
Rich July has many a sky
With splendour dim, that thou mightst hymn,
And make rejoice with thy wondrous voice,
And the thrill of thy wild pervading tone!
But instead of to woo, thou hast learnt to coo:
Thy song is mute at the mellowing fruit,
And the dirge of the flowers is sung by the hours
In silence and twilight alone.
O nightingale! 'tis this, 'tis this
That makes thee mock the dove!
That thou hast past thy marriage bliss,
To know a parent's love.
The waves of fern may fade and burn,
The grasses may fall, the flowers and all,
And the pine-smells o'er the oak dells
Float on their drowsy and odorous wings,
But thou wilt do nothing but coo,
Brimming the nest with thy brooding breast,
'Midst that young throng of future song,
Round whom the Future sings!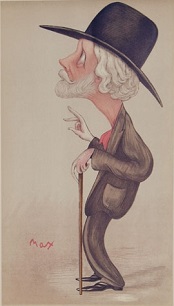 George Meredith (12 februari 1828 - 18 mei 1909)
Karikatuur door Max Beerbohm in Vanity Fair, september 1896
Zie voor nog meer schrijvers van de 12e februari ook mijn vorige blog van vandaag.
12-02-2017 om 11:24 geschreven door Romenu

Tags:Janwillem van de Wetering, Hans Dieter Baroth, Otto Ludwig, Michel de Saint Pierre, R. F. Delderfield, George Meredith, Romenu



Thomas Campion, C. Barlaeus, Charles Duclos, Kazimierz Przerwa-Tetmajer, Theodor Plevier, Reinhard Federmann
De Engelse dichter, schrijver, componist en medicus Thomas Campion werd geboren op 12 februari 1567 in Londen Zie ook alle tags voor Thomas Campion op dit blog.
Integer Vitae
The man of life upright,
Whose guiltless heart is free
From all dishonest deeds,
Or thought of vanity;
The man whose silent days
In harmless joys are spent,
Whom hopes cannot delude,
Nor sorrow discontent;
That man needs neither towers
Nor armour for defence,
Nor secret vaults to fly
From thunder's violence:
He only can behold
With unaffrighted eyes
The horrors of the deep
And terrors of the skies.
Thus, scorning all the cares
That fate or fortune brings,
He makes the heaven his book,
His wisdom heavenly things;
Good thoughts his only friends,
His wealth a well-spent age,
The earth his sober inn
And quiet pilgrimage.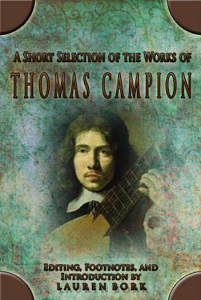 Thomas Campion (12 februari 1567 – 1 maart 1620)
Cover
De Nederlandse dichter, schrijver en predikant Casparus Barlaeus werd geboren op 12 februari 1584 te Antwerpen. Zie ook alle tags voor Casparus Barlaeus op dit blog.
De rooktabak spreekt
Men drinkt my nimmer, en nóchtans ik word gedronken:
'k Ben drank by 't vólk genaamt, schoon 'k nooit wierd ingeschonken.
In 't Westen werd ik veel gekaauwt, en 'k was nooit spys,
De dorst by die my drinkt, vermeerdert op die wys.
Slachtóffer van 't Gemeen. Ik word geroost, doorsneeden,
Gepynigt, en voor 't laatst verbrand met al myn leden.
't Gezélschap zet zich nêer op 't zien der Hemelgaaf,
En tot myn ondergang toont elk zich even braaf.
Dees kerft my fyn en gróf, die legt myn vogte blad'ren
Op 't vuur: een ander doet me aan kaers of vlamme nad'ren.
Hy zoekt de ledigheid in my, die 't meest haar mydt;
En voert, hoe zeer hy slooft, niets uit met al zyn vlyt.
'k Word door een zelven mond ontfangen en verlooren,
En weêr verdreven van die me insloot korts te vooren
Ja hy die myn banké t recht goed en smaak'lyk vondt,
Blaast my, eene yd'le rook, veracht'lyk uit den mond,
De Juffers, die voor my geen best salét verschoonen,
Zal ik voor al heur dank met spóg en quyl beloonen.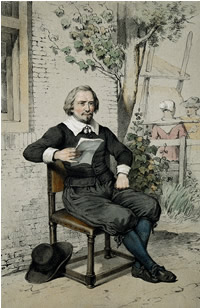 Casparus Barlaeus (12 februari 1584 - 14 januari 1648)
Lithografie door W. P. Hoevenaar.
De Franse schrijver Charles Pinot Duclos werd geboren op 12 februari 1704 in Dinan. Zie ook alle tags voor Charles Pinot Duclos op dit blog.
Uit: Mémoires sur la vie de Duclos, écrits par lui-même
« Celle de ma mère n'était pas si facile à tourner : elle réunissait des qualités qui vont rarement ensemble : avec un caractère singulièrement vif une imagination brillante et gaie , elle avait un jugement prompt, juste et ferme. Voilà déjà une femme assez rare; mais , ce qui est peut-être sans exemple , elle a en , à cent ans passés , la tête qu'elle avait à quarante. Qui que ce soit de ceux qui l'ont connue ne me contredirait. Une telle femme n'était pas faite pour sacrifier sa liberté à une vanité ridicule. Mais un autre motif que je ne pourrais pas taire sans ingratitudé , fut sa tendresse pour ses enfans. Elle déclara donc au dit marquis et autres , qu'elle avait autant d'enfans qu'elle en pouvait élever et établir honnêtement pour leur état , et ne voulait pas leur donner un beau-père qui avec les meilleurs sentimens , n'aurait pourtant jamais pour eux ceux d'un père. Dès ce moment , ceux qui l'avaient recherchée renoncizrent à leurs prétentions , restèrent ses amis , et plusieurs lui ont rendu service. Mon père qui , avec un bou esprit , reconnaissait la supériorité de celui de ma mère , lui avait toujours laissé diriger les opérations de commerce. Ainsi , maîtresse de tout duvivant de son mari, devenue veuve , elle n'eut rien à changer dans son plan de conduite.
Le commerce de St.-Malo était alors dans sa plus grande activité par celui de la mer du Sud, et par la course. Tout y était négociant ou corsaire, et souvent l'un et l'autre. Au milieu des malheurs de la guerre qui désolait, accablait et ruinait la France, les armateurs maloiu-s , etceuxqui s'y associaient, voyaient leurs entreprises réussir sur toutes sur toutes les mers. Je ne rappellerai point les Duguay-Trouin , les Magon , les Loquet , les Vincent les Purée , les Moreau , les Lefer et tant d'autres. La liste en serait trop longue, et je ne suis pas ici historiograplm , mais un petit particulier qui écrit ses souvenirs. On sait du moins que par le courage , l'habileté et l'opuleuce , jamais St.-Malo ne fut dans un état plus brillant."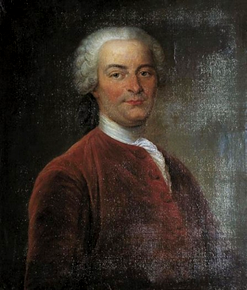 Charles Pinot Duclos (12 februari 1704 – 26 maart 1772)
Portret door Quentin de La Tour, 1e helft 18e eeuw
De Poolse dichter en schrijver Kazimierz Przerwa-Tetmajer werd geboren op 12 februari 1865 in Ludźmierz. Zie ook alle tags voor Kazimierz Przerwa-Tetmajer op dit blog.
The End Of The 19th Century
A curse?... But only savages in pain
abuse their god that's hiding in the air.
An irony?... but how can you compare
most dreadful scorns with every day's disdain?
Contempt?... but only fools despise the weight
that is too heavy for their feeble arms.
Despair?... so hearing danger's grim alarms
just like a scorpion we end our fate?
Struggle?... but how an ant succeed in strife
when thrust upon a rail before the train?
Resignation?... but can there be less pain
when we acquiesce to the butcher's knife?
The future life?... The stars who can explore,
and who can guess the ending of the world?
Joy?... but at the bottom of our souls lie furled,
those thoughts that mid enjoyment cry for more.
So what is left? In all the faiths of yore
we find no comfort. Things for us are clear.
What is your shield against the evil's spear,
man of the fin-de-siècle?... He spoke no more.
Vertaald door Jarek Zawadzki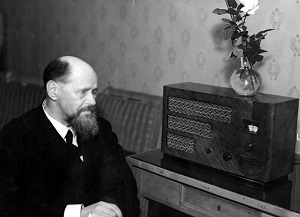 Kazimierz Przerwa-Tetmajer (12 februari 1865 – 18 januari 1940)
De Duitse schrijver Theodor Plievier werd geboren op 12 februari 1892 in Berlijn. Zie ook alle tags voor Theodor Plievier op dit blog.
Uit Stalingrad
"Guderian allein gegen Hitler, das ist zu ungleich. Guderian ist ein ausgezeichneter Truppenoffizier, ein Meister grosser Bewegungen, hat grosse Konzeptionen, beherrscht die moderne Panzertaktik souverän, doch darüber hinaus geht seine Phantasie nicht. Er ist ausserstande, einen Mann wie Hitler zu begreifen, er sieht ihn, als ob er ein Wilhelm II. oder ein Wilhelm III. wäre und klammerte dabei die ganze Einmaligkeit Hitlers, die zeitgebundene Problematik und die Dämonie seines Auftretens aus !
In der politischen Konzeption noch ein Weltkriegsoffizier wie viele andere. Auch unser Bomelbürg sagt sich : Ich muß mich doch darauf verlassen können, dass der Staat in Ordnung ist ! Der Inhalt ist nicht seine Sache, geht ihn nichts an, darum bekümmert er sich nicht !
Ja, das ist wohl unsere Tragik : von Politik verstehen wir nichts, doch wenn die Aussenpolitik eine Katastrophe herbeibeschwört, dann sollen plötzlich die Waffen das Ergebnis dieser falschen Aussenpolitik wieder in Ordnung brigen, und das geht nicht, das stellt sich immer wieder heraus. Im ersten Weltkrieg ist das Heer überfordert worden, und wir dürfen nur hoffen, dass es diesmal nicht wieder so sein wird."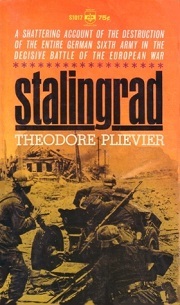 Theodor Plievier (12 februari 1892 – 12 maart 1955)
Cover
De Oostenrijkse schrijver Reinhard Federmann werd geboren op 12 februari 1923 in Wenen. Zie ook alle tags voor Reinhard Federmann op dit blog.
Uit: Die Stimme
"Leo erinnerte sich seiner Mutter nur als einer äußerst empfindlichen Dame, auf die man in jeder Weise Rücksicht zu nehmen hatte. Seit ihrer Scheidung von seinem Vater Dr. Heymerle lebte sie in Rom. Von dort aus sandte sie Leo zu Weihnachten und zu seinem Geburtstag kleine lila Kärtchen, die sie in ebensolche Kuverts steckte. Außer den jeweils indizierten Glückwünschen stand auf diesen Kärtchen mit geringfügigen Variationen stets das Folgende:
"Mein liebster Sohn! Ich hoffe, daß Du große Fortschritte machst und Deinem geplagten Vater keine Sorgen bereitest. Mir geht es hier im sonnigen Italien ausgezeichnet, die Leute sind alle so rücksichtsvoll. Mein einziger Kummer ist, daß ich Dich, mein liebster Sohn, nicht hier bei mir habe. Zu gerne würde ich Dir einmal das ewige Rom zeigen."
Sooft Leo diesen nichtssagenden Text zu Gesicht bekam, ärgerte er sich darüber. Manchmal sammelte er die Kärtchen, die in seiner Tischlade durcheinandergeworfen herumlagen, und betrachtete sie konzentriert."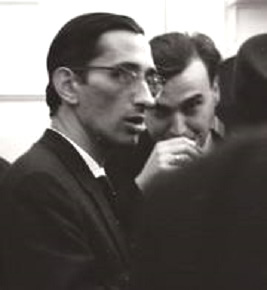 Reinhard Federmann (12 februari 1923 – 29 januari 1976)
12-02-2017 om 11:23 geschreven door Romenu

Tags:Thomas Campion, C. Barlaeus, Charles Duclos, Kazimierz Przerwa-Tetmajer, Theodor Plevier, Reinhard Federmann, Romenu



Mariana Leky
De Duitse schrijfster Mariana Leky werd geboren op 12 februari 1973 in Keulen. Naast een opleiding voor het boekenvak studeerde Leky vanaf 1993 Duits en empirisch cultuurwetenschappen in Tübingen. Van 1994 tot 1996 bezocht zij het universitaire "Studio Literatur und Theater". Vanaf 1999 studeerde zij aan de universiteit van Hildesheim creatief schrijven en culturele journalistiek. Terwijl ze nog studeerde, won ze prijzen voor korte verhalen, o.a. bij de Allegra-Wettbewerb en bij de Niedersächsische Literaturwettbewerb Junge Literatur in Neder-Saksen. Zij debuteerde met de verhalenbundel "Liebesperlen" in 2001. In 2004 verscheen haar eerste roman "Erste Hilfe". In 2010 volgde haar tweede roman Die Herrenausstatterin".
Uit:Erste Hilfe
»Ich liebe dich«, sagt Sylvester, und er sagt das, als würde ihn jemand dabei fotografieren. Wir sind in der Küche. Ich sitze auf der Spüle, Sylvester hat zerknittertes Geschenkpapier in der Hand. An dem Geschenkpapier hängt ein Kärtchen, »Alles Gute«, steht darauf.
Sylvester und ich sind kein Paar, und ich kann es nicht leiden, wenn Sylvester »Ich liebe dich« sagt. Vor allem, weil ich ihm dann »Ich liebe dich« zurücksagen soll, und zwar möglichst prompt.
Früher habe ich Sylvester gefragt, ob auch »Ich hab dich lieb« gilt, aber Sylvester behauptet, das gelte nicht. Früher habe ich Sylvester erklärt, dass »Ich liebe dich« sich abnutzt, je öfter man es sagt. Die Amerikaner beispielsweise, habe ich erklärt, sagen »Ich liebe dich« so oft, dass »Ich liebe dich« auf amerikanisch nicht mehr bedeutet als »Bis nachher«.
Es klingelt. Sylvester legt das glatt gestrichene Geschenkpapier auf den Kühlschrank, ich rutsche von der Spüle und gehe durch den Flur, in dem kleine Kartons mit Luftlöchern stehen. Sylvester geht mir hinterher, überholt mich und stellt sich vor die Wohnungstür. »Du willst also sagen«, sagt er, »dass du eine bist, die alles, was kostbar ist, verwahrt und aufspart für seltene Sonntagsbesuche.«
Um den Betrieb nicht aufzuhalten, weil es noch mal klingelt und seltene Sonntagsbesuche nach Kondensmilch klingt, sage ich Sylvester »Ich liebe dich« zurück, wie er es mir beigebracht hat, nicht zu laut, nicht zu leise, und Sylvester sagt: »Mit Namen.«
Ich sage: »Du hast auch nicht mit Namen.«
Sylvester sagt: »Natürlich habe ich mit Namen.«
Also sage ich: »Ich liebe dich, Sylvester«, wegen des Betriebes. Sylvester grinst, und ich frage: »Können wir dann jetzt bitte aufmachen?«
»Gern«, sagt Sylvester und öffnet die Tür.
Vor der Tür steht Matilda und sagt: »Guten Tag, es tut mir leid, dass ich so wenig gesagt habe.«
Matilda sagt aber eigentlich nie viel, und wenn, dann sagt sie es sehr leise. Wir haben uns daran gewöhnt und halten unsere Ohren nahe an ihr Gesicht. Nur manchmal sagen wir: »ein bisschen, nur ein bisschen lauter bitte, Matilda.«
»Ihr spinnt ja«, sagt Matilda dann, »ich schreie.« Wir sagen, sie schreie ganz und gar nicht, dann redet sie ein bisschen lauter, wir lehnen uns zwei Sätze lang zurück, bis Matilda wieder leise wird."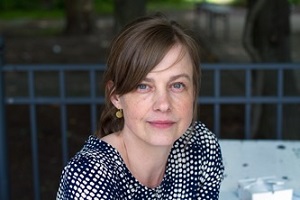 Mariana Leky (Keulen, 12 februari 1973)
12-02-2017 om 00:00 geschreven door Romenu

Tags:Mariana Leky, Romenu


11-02-2017

Maryse Condé, Else Lasker-Schüler, Kazys Bradūnas, Gerhard Kofler, Roy Fuller, Karoline von Günderrode, Hermann Allmers
De Franse schrijfster Maryse Condé werd op 11 februari 1937 in Pointe-à-Pitre op Guadeloupe geboren. Zie ook alle tags voor Maryse Condé op dit blog.
Uit: Wie Spreu im Wind (Vertaald door Uli Wittmann)
"Mutter, warum liebst du ihn mehr als mich? Warum bist du so glücklich über seine Ankunft, dass du mich nicht mehr beachtest?«
Abdel Salam sprach mit weinerlicher Stimme und zerknüllte mit den Fingern die weiße Seide seines Kaftans. Er war fast zwölf, und dieses Gespräch war eigentlich fehl am Platz. Aber Maryem hatte dieses Kind nicht so erzogen, wie es die Zurückhaltung der Fulbe erforderte, und hatte auch nie seine Liebesbezeigungen unter Kontrolle halten können. Im Gegenteil. Sie brauchte sie und musste sich ihrer immer wieder vergewissern, um sich einzureden, dass ihr Leben dadurch wieder einen Sinn hatte. Sie drückte Abdel Salam ganz fest an sich und erklärte ihm zärtlich: "Ich liebe ihn nicht mehr als dich".
Aber er hat so sehr gelitten! Als er so alt war wie du, ist sein Vater getötet worden. Dann hat er mit angesehen, wie sein Land in den Krieg hineingezogen wurde, und hat ein Bein verloren, als er es verteidigte.
Dennoch kann er glücklich sein, dass er überlebt hat, während sein bester Freund neben ihm starb und sein Bruder verschollen ist! Er ist allein, krank an Körper und Seele. Das verstehst du doch. Nicht wahr?«
Abdel Salam antwortete nicht. Das Gesicht gegen den warmen, duftenden Hals seiner Mutter gepresst, genoss er diesen Augenblick verbotenen Glücks. Bald würde er sie verlassen, zu seinen Kameraden in die Koranschule zurückkehren und unter dem strengen Blick eines Malam Still sitzen müssen. Abdel Salam war nicht dumm.
Doch wenn er Koranverse aufsagen oder seine Auffassungsgabe unter Beweis stellen sollte, legte sich Nacht über seine Gedanken und löschte sie nach und nach aus, während die Worte wie vom Wind verweht davonflogen. Dann stand er benommen da und schwieg, von den anderen ausgelacht. Maryem wiederholte: »Das verstehst du doch. nicht wahr?«
Abdel Salam nickte lustlos. Im selben Augenblick hörte man Schritte, die von den Teppichen im Nebenzimmer gedämpft wurden. Mutter und Sohn trennten sich schnell."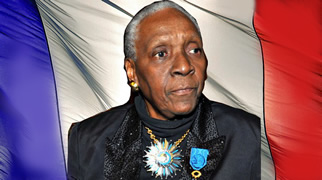 Maryse Condé (Pointe-à-Pitre, 11 februari 1937)
De Duitse schrijfster en dichteres Else Lasker-Schüler werd geboren in Elberfeld op 11 februari 1869. Zie ook alle tags voor Else Lasker-Schüler op dit blog.
Uit: Freunde – Karl Kraus
"Im Zimmer meiner Mutter hängt an der Wand ein Brief unter Glas im goldenen Rahmen. Oft stand ich als Kind vor den feinen pietätvollen Buchstaben wie vor Hieroglyphen und dachte mir ein Gesicht dazu, eine Hand, die diesen wertvollen Brief wohl geschrieben haben könnte. Darum auch war ich Karl Kraus schon wo begegnet –in meinen Heimatjahren, beim Betrachten der kostbaren Zeilen unter Glas im goldenen Rahmen. Den Brief hatte ein Bischof geschrieben an meiner Mutter Mutter, ein Dichter. Blau und mild waren seine Augen, und sanftbewegt seine schmalen Lippen und sein Stirnschatz wohlbewahrt, wie bei Karl Kraus; der trägt frauenhaft das Haar über die Stirn gekämmt. Und immer empfangen seine Augen wie des Priesterdichters Augen gastlich den Träumenden. Immer schenken Karl Kraus' Augen Audienz. Ich sitze so gerne neben ihm, ich denke dann an die Zeit, da ich den Schreiber des Briefes hinter Glas aus seinem goldenen Rahmen beschwor. Heute spricht er mit mir. Ich bewundere die goldgelbe Blume über seinem Herzen, die er mir mit feierlicher Höflichkeit überreicht. Ich glaube, sie war bestimmt für eine blonde Lady; als sie an unseren Tisch trat, begannen seine Lippen zu spielen. Karl Kraus kennt die Frauen, er beschaut durch sie zum Denkvertreib die Welt. Bunte Gläser, ob sie fein getönt oder vom einfachsten Farbenblut sind, behutsam behütend, feiert er die Frau. Verkündet er auch ihre Schäden dem Leser seiner Aphorismen – wie der wahre Don Juan, der nicht ohne Frauen leben kann, sie darum haßt – im Grunde aber nur die Eine sucht. Ich begegne Karl Kraus am liebsten unter »kriegsberatenen Männern«. Seine dichterische Strategie sind Strophen feinster Abschätzung. Ein gütiger Pater mit Pranken, ein großer Kater, gestiefelte Papstfüße, die den Kuß erwarten. Manchmal nimmt sein Gesicht die Katzenform eines Dalai-Lama an, dann weht plötzlich eine Kühle über den Raum – Allerleifurcht. Die große chinesische Mauer trennt ihn von den Anwesenden. Seine chinesische Mauer, ein historisches Wortgemälde, o, plastischer noch, denn alle seine Werke treten hervor, Reliefs in der Haut des Vorgangs."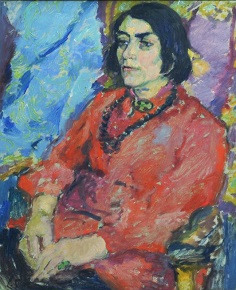 Else Lasker-Schüler (11 februari 1869 - 22 januari 1945)
Portret door Lene Schneider-Kainer, ca. 1914/15
De Litouwse dichter Kazys Bradūnas werd geboren in Kiršai, Rayon Vilkaviškis, op 11 februari 1917. Zie ook alle tags voor Kazys Bradūnas op dit blog.
Mit der Stimme des Buches
"...Nehmet mich und leset"
So gab sich hin
Mit der Stimme des Buches
Martynas Ma¸vydas.
Die in der Welt sich verbreitenden Buchstaben
Stellen sich in Worte auf
Wie Hocken während der Roggenernte
In Klein- und Großlitauen
Hinter den Ozeanen
Und im Gebetbuch Sibiriens
Sowie in freier Anthologie der "Erde"
Und in den schmuckhaften Portfieuls
"Lithuanian Writers in the West"
Und "Katechismus" über alles
Gleich ursprüngliches Wort "Es sei"
Wenn Abendröte schon aufblitzte,
Wenn man sich wie zuhause fühlt,
Wenn Brüder, Schwestern ringsumher sind,
Und auf dem Tisch ist wieder Buch
Von arbeitsmüden Händen des Wirtes
Wie Furche aufgeschlagen wird es
Das Wunder mit den Buchstaben beginnt
Die Osterglocken auf dem Friedhof
Knie nieder und küsse die Blätter.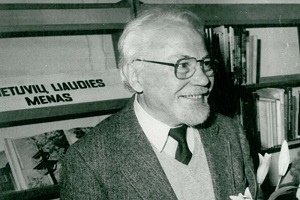 Kazys Bradūnas (11 februari 1917 - 9 februari 2009)

De Oostenrijkse dichter Gerhard Kofler werd geboren op 11 februari 1949 in Bozen. Zie ook alle tags voor Gerhard Kofler op dit blog.
Wenn die Schrift vorher und nachher Gesang ist
doch die traurigkeit
sagst du dann
und die schmerzen
wo tust du sie hin
in dieser
deiner knappen
theorie?
ja eben
traurigkeit
und schmerzen
und zur gleichen
zeit
ein gewisses
wohl-
befinden
beim schreiben
wenn die
schrift vorher
gesang ist
und dann
es wieder wird
in einer welle
gefühlten
wohlstands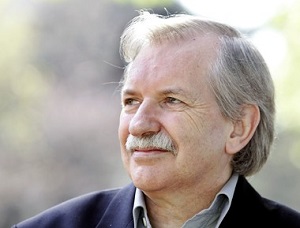 Gerhard Kofler (11 februari 1949 - 2 november 2005)
De Engelse dichter en schrijver Roy Fuller werd geboren op 11 februari 1912 Failsworth in Lancashire. Zie ook alle tags voor Roy Fuller op dit blog.
The Middle Years
Hardy, with his plain, speaking style, old fashioned air,
Might have made verse of a moment of my life today:
Hair falling on the barber's sheet, my idle remark
That I was turning grey
And the barber saying that the grey would show much more
Were I not fair.
Fair: the word seemed incongruous; I had never thought
My brown fair, my late father being dark, my mother
Chestnut when young, although before she died quite grey.
My hair wme from some other.
It was a time before I reached the further past
And found whom I sought.
-My mother's father, that dead civic humorous man
Whose eccentricity and color I inherit:
My introversion flows along another stem.
Thus does the human ferret
Among the dead in his sad middle years to find
The unmeaning plan.
And, Hardyesque, I saw in the barber's candid glass,
Instead of the face I know so well, a dim dead host,
Its composite ancestral features topped with grey;
And felt myself a ghost
That watches regretfully, ironically, the living
Procession pass.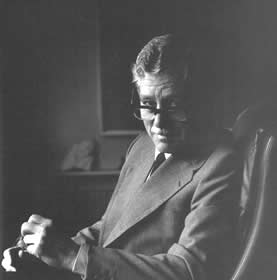 Roy Fuller (11 februari 1912 – 27 september 1991)
De Duitse dichteres Karoline von Günderode werd geboren op 11 februari 1780 in Karlsruhe. Zie ook alle tags voor Karoline von Günderode op dit blog.
Adonis Tod
2.
Den Lilienleib des Purpurs dunkler Schleier
Dem irren Blick der Göttin halb entzieht;
Der Trauer Bild, die Anemone, blüht
So weiß als rot zur stillen Totenfeier.
Erloschen ist in ihm des Lebens Feuer,
Sein totes Aug' die Blume nimmer sieht. -
Doch plötzlich schmilzt der Göttin Leid im Lied,
Die Klage tönt, die Seele fühlt sich freier.
Ein Kranker, der des Liedes Sinn empfunden,
Durch ihrer Töne Zauber soll gesunden. -
Der Andacht gerne Liebe sich vertraut.
Und gläubig einen Tempel er sich baut,
Auf daß er pflege in dem Heiligtume
Der Sehnsucht Kind, die süße Wunderblume.
Novalis
Novalis, deinen heil'gen Seherblicken
Sind aufgeschlossen aller Welten Räume,
Dir offenbart sich weihend das Gemeine,
Du schaust es in prophetischem Entzücken.
Du siehst der Dinge zukunftsvolle Keime
Und zu des Weltalls ewigen Geschicken,
Die gern dem Aug' der Menschen sich entrücken,
Wirst du geführt durch ahndungsvolle Träume.
Du siehst das Recht, das Wahre, Schöne siegen,
Die Zeit sich selbst im Ewigen zernichten
Und Eros ruhend sich dem Weltall fügen;
So hat der Weltgeist liebend sich vertrauet
Und offenbart in Novalis Dichten,
Und wie Narziß in sich verliebt geschauet.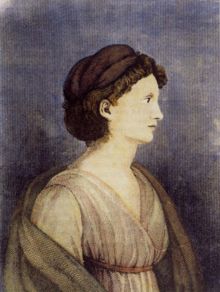 Karoline von Günderode (11 februari 1780 - 26 juli 1806)
Anoniem portret
De Duitse schrijver Hermann Ludwig Allmers werd geboren op 11 februari 1821 in Rechtenfleth aan de Weser. Zie ook alle tags voor Hermann Allmers op dit blog.
Bin ich in später Nacht allein...
Bin ich in später Nacht allein,
Wenn alles ruht, wenn alles schweigt,
O wie sich dann mein ganzes Sein
Zu dir mit Macht hinüber neigt!
Und wieder kommt dein liebes Bild
Hold lächelnd wie an jenen Tagen,
Und nickt mir zu, als spräch es mild:
"Mein armer Junge, laß dein Klagen!
Noch bist du mein, noch bin ich dein,
Schütt aus dein Herz an meinem Herzen,
Vergessen wirst du alle Pein
Und alle noch so herben Schmerzen." -
Einst hast du oft dies Wort gesagt,
Mich dann gestreichelt und umschlungen,
Wenn ich in trüber Zeit geklagt,
Wenn ich mit Sorgen bang gerungen.
Nun bist du fort, nun bist du fern,
Wie hat sich alles nun gewendet,
Doch immer bist du noch ein Stern,
Der seine schönen Strahlen sendet,
Denn immer kommt dein liebes Bild,
Hold lächelnd wie in jenen Tagen,
Und nickt mir zu, als spräch es mild:
"Mein armer Junge, laß dein Klagen!"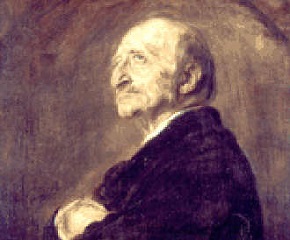 Hermann Allmers (11 februari 1821 - 9 maart 1902)
Portret door F. von Lenbach, 1895
Zie voor nog meer schrijvers van de 11e februari ook mijn vorige blog van vandaag.



11-02-2017 om 11:43 geschreven door Romenu

Tags:Maryse Condé, Else Lasker-Schüler, Kazys Bradū,nas, Gerhard Kofler, Roy Fuller, Karoline von Günderrode, Hermann Allmers, Karl Kraus, Romenu



Rachilde, Johannes van Melle, Lydia Child, Marie-Joseph Chénier, Bernard de Fontenelle, Honoré d'Urfé, Rudolf Hans Bartsch
De Franse schrijfster Rachilde werd geboren als Marguerite Vallette-Eymery in Périgueux op 11 februari 1860. Zie ook alle tags voor Rachilde op dit blog.
Uit: Monsieur Vénus
« L'homme sentit le froid que laissait pénétrer la porte ouverte; il releva l'abat-jour de la lampe et se retourna.
—Est-ce que je me trompe, monsieur? interrogea la visiteuse, désagréablement impressionnée; Marie Silvert, je vous prie.
—C'est bien ici, madame, et, pour le moment, Marie Silvert, c'est moi.
Raoule ne put s'empêcher de sourire: faite d'une voix aux sonorités mâles, cette réponse avait quelque chose de grotesque, que ne corrigeait pas la pose embarrassée du garçon tenant ses roses à la main.
—Vous faites des fleurs? Vous les faites comme une vraie fleuriste!
—Sans doute, il le faut bien. J'ai ma sœur malade; tenez, là, dans ce lit, elle dort..... Pauvre fille! Oui, très malade. Une grosse fièvre qui lui secoue les doigts. Elle ne peut rien fournir de bon...; moi, je sais peindre, mais je me suis dit qu'en travaillant à sa place, je gagnerais mieux ma vie qu'à dessiner des animaux ou copier des photographies. Les commandes ne pleuvent guère, ajouta-t-il en matière de conclusion, mais je décroche le mois tout de même.
Il eut un haussement de cou pour surveiller le sommeil de la malade. Rien ne remuait sous les lis. Il offrit une des chaises à la jeune femme. Raoule serra autour d'elle son pardessus de loutre et s'assit avec une grande répugnance; elle ne souriait plus.
—Madame désire...? demanda le garçon, lâchant sa guirlande, pour fermer sa blouse, qui s'écartait beaucoup sur sa poitrine.
—On m'a donné, répondit Raoule, l'adresse de votre sœur en me la recommandant comme une véritable artiste. J'ai absolument besoin de m'entendre avec elle au sujet d'une toilette de bal. Ne pouvez-vous la réveiller?
—Une toilette de bal? oh! madame, soyez tranquille, inutile de la réveiller. Je vous soignerai ça... Voyons, que vous faut-il? des piquets, des cordons ou des motifs détachés?...
Mal à l'aise, la jeune femme avait envie de s'en aller. Au hasard, elle prit une rose et en examina le cœur, que le fleuriste avait mouillé d'une goutte de cristal:
—Vous avez du talent, beaucoup de talent, répéta-t-elle, tout en détirant les pétales de satin...
Cette odeur de pommes rissolées lui devenait insupportable. »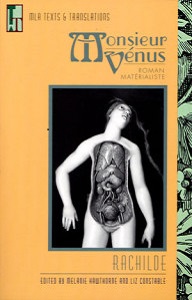 Rachilde (11 februari 1860 – 4 april 1953)
Cover
De Zuidafrikaanse-Nederlandse schrijver Johannes van Melle werd op 11 februari 1887 in Goes. Zie ook alle tags voor Johannes van Melle op dit blog.
Uit: Bart Nel, de opstandeling
"Dat Botha Hertzog uitgeskop het uit die kabinet is maar goed. As hy nie met horn kan klaarkom nie moet hy horn afsit, dink ek- Maar die Nasionaliste is nou vir Botha so kwaad dat hulle geen goeie woord 'if hom het nie. Botha is nou 'n Engelsman- Botha gaan Boerebloed offer vir Engeland. - Ag wat, laat die arme goed praat; ek steur my nie aan hulle nie."
Ze keek naar de klok en zag dat het drie uur was- 'Ek sal maar vir myself alleen koffie maak', dacht ze- 'Bart kan nog lank wegbly. Die mans is nou met die oorlog so op hulle perd dat hulle net aan politiek dink. Bart sit seker weer by Pieter of by Fransoois- Dit kan nog lank duur eer hy kom.'
Ze ging naar de keuken om koffie op te schenken, nam beschuit uit een kast en zette daarvan op een bord. Toen ging zij naar buiten staan kijken of zij Bart nog niet zag komen. Een bezorgde uitdrukking was op haar gezicht- De toekomst leek donker; het was niet onmogelik dat er oorlog kwam.
Aan de andere kant van de laagte, een tien minuten te voet van hen af, stond het huis van Pieter Vermaak, bijna onzichtbaar door een klein aantal bomen dat er omheen stond: een kleine boomgaard van perziken, sommigen nog lichtrood van het bloeisel, een groep zwarthoutbomen, een hoge blauwe-gomboom.
De koffie was nu genoeg getrokken en zij schonk een kopje in voor zichzelf en een blikken beker voor de meid.
'Sara', riep ze, 'kom en vat jou koffie.'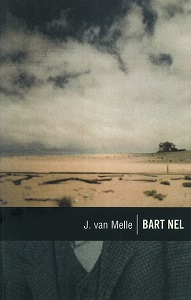 Johannes van Melle (10 februari 1887 – 8 november 1953)
Cover
De Amerikaanse dichteres en schrijfster Lydia Maria Francis Child werd geboren op 11 februari 1802 in Medford, Massachusetts. Zie ook alle tags voor Lydia Child op dit blog.
Lines Suggested By A Lock Hair From Our Departed Friend, Catherine Sargent
That little lock of silvery hair
Reminds me of what friendly care!
And gratefully my memory pays
Its tribute to departed days.
Thou good old friend, so kind and true!
Thy worth was known to very few.
Not in the glare of noon-day sun,
Thy kind and gentle deeds were done;
And silently thy prayers did rise,
With offerings of self-sacrifice.
Not for thy goodness unto me
Do I revere thy memory;
But for the love that never failed,
The courage, too, that never quailed,
When the poor orphan breathed a sigh,
Or slaves required thy sympathy.
While statesmen argued day and night,
To settle whether wrong was right,
Thou hadst no need of subtle art,
Seeing truth with thy honest heart;
Religion was not unto thee
Any recondite mystery.
God loves all, was the simple creed,
Which served thee in each hour of need.
Guileless thy life, serene thy death;
And when had passed thy latest breath,
From thy attendant angel's glance
A light fell on thy countenance;
A gleam of bright celestial love,
Touching this earth from realms above.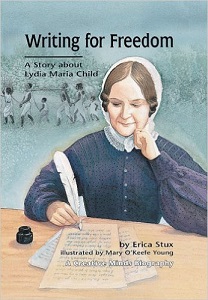 Lydia Child (11 februari 1802 - 7 juli 1880)
Cover biografie
De Franse dichter en schrijver Marie-Joseph Chénier werd geboren op 11 februari 1764 in Constantinopel. Zie ook alle tags voor Marie-Joseph Chénier op dit blog.
Chant du 14 Juillet (Fragment)
Princes, nobles, prélats, nageaient dans l'opulence ;
Le peuple gémissait de leurs prospérités ;
Du sang des opprimés, des pleurs de l'indigence,
Leurs palais étaient cimentés.

En de pieux cachots l'oisiveté stupide,
Afin de plaire à Dieu, détestait les mortels ;
Des martyrs, périssant par un long homicide,
Blasphémaient an pied des autels.

Ils n'existeront plus, ces abus innombrables
La sainte liberté les a tous effacés ;
Ils n'existeront plus, ces monuments coupables :
Son bras les a tous renversés.

Dix ans sont écoulés ; nos vaisseaux, rois de l'onde,
À sa voix souveraine ont traversé les mers :
Elle vient aujourd'hui des bords d'un nouveau monde
Régner sur l'antique univers.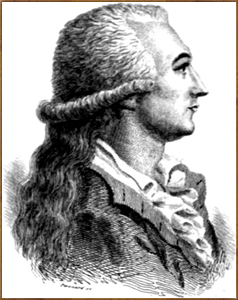 Marie-Joseph Chénier (11 februari 1764 – 10 januari 1811)
De Franse dichter en schrijver Bernard le Bovier de Fontenelle werd geboren op 11 februari 1657 in Rouen. Zie ook alle tags voor Bernard de Fontenelle op dit blog.
Uit: Du bonheur
« Voici une matière la plus intéressante de toutes, dont tout le monde parle, que les philosophes, surtout les anciens, ont traitée avec beaucoup d'étendue : mais quoique très intéressante, elle est dans le fond assez négligée ; quoique tout le monde en parle, peu de gens y pensent ; et quoique les philosophes l'aient beaucoup traitée, ç'a été si philosophiquement, que les hommes n'en peuvent tirer guère de profit.
On entend ici par le mot de bonheur un état, une situation telle qu'on en désirât la durée sans changement ; et en cela le bonheur est différent du plaisir, qui n'est qu'un sentiment agréable, mais court et passager, et qui ne peut jamais être un état. La douleur aurait bien plutôt le privilège d'en pouvoir être un.
A mesurer le bonheur des hommes seulement par le nombre et la vivacité des plaisirs qu'ils ont dans le cours de leur vie, peut-être y a-t-il un assez grand nombre de conditions assez égales, quoique fort différentes. Celui qui a moins de plaisirs les sent plus vivement : il en sent une infinité que les autres ne sentent plus ou n'ont jamais senti ; et à cet égard la nature fait assez son devoir de mère commune. Mais si, au lieu de considérer ces instants répandus dans la vie de chaque homme, on considère le fond des vies mêmes, on voit qu'il est fort inégal ; qu'un homme qui a, si l'on veut, pendant sa journée autant de bons moments qu'un autre, est tout le reste du temps beaucoup plus mal à son aise, et que la compensation cesse entièrement d'avoir lieu.
C'est donc l'état qui fait le bonheur : mais ceci est très fâcheux pour le genre humain. Une infinité d'hommes sont dans des états qu'ils ont raison de ne pas aimer ; un nombre presque aussi grand sont incapables de se contenter d'aucun état : les voilà donc presque tous exclus du bonheur, et il ne leur reste pour ressources que des plaisirs, c'est-à-dire des moments semés ça et là sur un fond triste qui en sera un peu égayé. Les hommes, dans ces moments, reprennent les forces nécessaires à leur malheureuse situation, et se remontent pour souffrir. »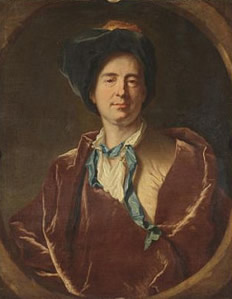 Bernard de Fontenelle (11 februari 1657 - 9 januari 1757)
Portret door Hyacinthe Rigaud, 1702
De Franse dichter en schrijver Honoré d'Urfé werd geboren op 11 februari 1568 in Marseille. Zie ook alle tags voor Honoré d'Urfé op dit blog.
Chanson
Dessus les bords d'une fontaine
D'humide mousse revêtus,
Dont l'onde à maints replis tortus
S'allait égarant dans la plaine,
Un berger se mirant en l'eau
Chantait ces vers au chalumeau :
Cessez un jour, cessez, la belle,
Avant ma mort d'être cruelle.

Se peut-il qu'un si grand supplice
Que pour vous je souffre en aimant,
Si les dieux sont faits de justice,
Soit enfin souffert vainement ?
Peut-il être qu'une amitié
N'émeuve jamais à pitié,
Même quand l'amour est extrême,
Comme est celle dont je vous aime ?

Ces yeux de qui les mignardises
M'ont souvent contraint d'espérer,
Encores que plein de feintises,
Veulent-ils bien se parjurer ?
Ils m'ont dit souvent que son coeur
Quitterait enfin sa rigueur,
Accordant à ce faux langage
Le reste de son beau visage.

Mais quoi ? les beaux yeux des bergères
Se trouveront aussi trompeurs
Que des cours les attraits pipeurs ?
Doncques ces beautés bocagères,
Quoique sans fard dessus le front,
Dedans le coeur se farderont
Et n'apprendront en leurs écoles
Qu'à ne donner que des paroles ?

C'est assez, il est temps, ma belle,
De finir cette cruauté,
Et croyez que toute beauté
Qui n'a la douceur avec elle,
C'est un oeil qui n'a point de jour,
Et qu'une belle sans amour,
Comme indigne de cette flamme,
Ressemble un corps qui n'a point d'âme.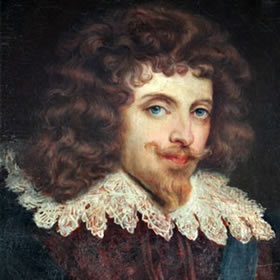 Honoré d'Urfé (11 februari 1568 – 1 juni 1625)
Portret door Anton van Dyck, rond 1590 (detail)

De Oostenrijkse dichter en schrijver Rudolf Hans Bartsch werd geboren op 11 februari 1873 in Graz. Zie ook alle tags voor Rudolf hans Bartsch op dit blog.
Frühsommer
. . . Und der, der in die Berge steigt, in die Wälder, sich jeden Augenblick fühlt als Bruder, als Kind, als Schützer, Verwalter des europäisch gräßlich verwüsteten Ewigkeitsgutes dort oben, er wird, so einfach er auch erzogen und gebildet sein möge, ein Stück Gottheit.
Er ist geweiht. Jedes Teilchen seiner Arbeit an der Natur und seiner Liebe geht hin wie ein Sonnenkeil ins düstere Zimmer der heutigen, entgotteten Menschheit: er wird immer breiter. Sein Leben teilt sich, freilich verdünnt, aber dennoch Sonnenkraft, allen Stubenhockern mit; macht sie erst sehnsüchtig, dann suchend, zuletzt gesund. Lockt sie zur Mutter zurück.
So sehe ich ein allerhöchstes Amt m die Hände der feiertägigen Menschen überantwortet, die oft bloß einen einzigen, siebenten Tag frei haben, um sich in und an der Natur zu heiligen. Gerade diese rückkehrenden Mens dien vermögen in ihren halbdunklen Arbeitsstätten Apostel der Sonne, der Freiheit und Retter, ja Väter der geschändeten Natur zu werden.
Das ist etwas so Köstliches und Heiliges, daß ich aus eigener Ergriffenheit enden und schweigen muß, um nachzudenken, was für eine heilige Mensdiheit aus soldier Lebensführunng zu entstehen vermöchte.Und daß jeder der vielleicht Wenigen, der dies las und erfaßte und, in sich erbebend, erlebte, inne würde, daß ihm bestimmt sei, die Menschheit zu erlösen.
Das Moralgesetz erlöst bloß den gequälten Körper. Die völlige Hingabe an das Mitleben mit dem All erlöst die Seele.
Wir sind als Menschen bloß eine Spezies. Gut ist es, für sie zu arbeiten und ihr Leid zu tilgen. Aber Leben und Leid währen kurz. Wer nicht in sich Jahrmilliarden zu erleben und mitzuleben weiß, bleibt physisch zerstörbar und darum aufs traurigste unerlöst, ja ungelebt.
Wer zu den Wäldern und Bergen geht, hat nicht mehr weit zur Ewigkeit.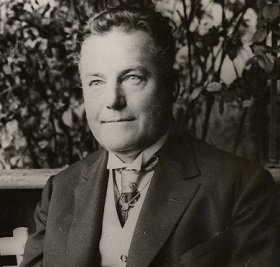 Rudolf Hans Bartsch (11 februari 1873 – 7 februari 1952)
11-02-2017 om 11:42 geschreven door Romenu

Tags:Rachilde, Johannes van Melle, Lydia Child, Marie-Joseph Chénier, Bernard de Fontenelle, Honoré d'Urfé, Rudolf Hans Bartsch, Romenu


10-02-2017

Johan Harstad, Ĺsne Seierstad, Marjolijn van Heemstra, Derek Otte, Jac. van Hattum, Simone Trieder, Bertolt Brecht, Boris Pasternak, Carry-Ann Tjong-Ayong
De Noorse schrijver Johan Harstad werd geboren op 10 februari 1979 in Stavanger. Zie ook alle tags voor Johan Harstad op dit blog.
Uit: Darlah (Vertaald door Gabriele Haefs)
"Dieses Bild wurde von James Irwin von Apollo 15 auf dem Mond aufgenommen. Der Astronaut auf dem Foto ist David R. Scott."
"Aber wer ist die andere Person im Hintergrund?"
"Das wissen wir nicht."
"Das wisst ihr nicht? Was zum Teufel wird hier eigentlichgespielt?"
"Alles zu seiner Zeit, Johnson. Alle Informationen, um die du hier bittest, werden zugänglich gemacht werden, wenn wir einstimmig beschließen, das Projekt weiterzuverfolgen. Aber erst dann. Und jetzt lasst uns über etwas anderes reden. Wie erklären wir, dass wir seit vierzig Jahren einen unbenutzten Stützpunkt auf dem Mond haben, ohne dass irgendwer davon erfahren hat?"
"Unbenutzt? Willst du damit sagen, dass sich dort noch nie jemand aufgehalten hat?"' fragte einer der im Raum anwesenden Astronauten. »Was ist mit denen, die den Stützpunkt konstruiert haben?"
"Die waren nie dort. Sie haben die Module montiert, sie auf der Oberfläche aufgestellt und sind zur Erde zurückgekehrt."
Ein Mann erhob sich und sagte mit einem dümmlichen Lächeln: "Wir lancieren das als Geschenk. Und erzählen, dass wir vierzig Jahre gebraucht haben, um alles zu testen und uns davon zu überzeugen, dass es perfekt funktioniert."
"Tut es das?"' fragte ein anderer.
"Im Prinzip ja", antwortete der Mann mit dem dämlichen Lächeln.
"Im Prinzip ist aber nicht gut genug, oder was?"
"Es muss reichen. Für mehr fehlt uns die Zeit. Wir können ja nicht gut eine neue Station bauen, oder? Wir müssen innerhalb der nächsten fünfzehn Jahre wieder hin, sonst ist es zu spät."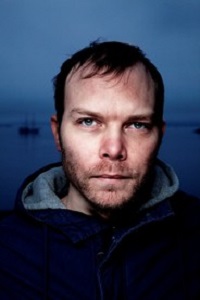 Johan Harstad (Stavanger, 10 februari 1979)
De Noorse schrijfster en journaliste Åsne Seierstad werd geboren in Oslo op 10 februari 1970. Zie ook alle tags voor Åsne Seierstad op dit blog.
Uit: The Bookseller of Kabul (Vertaald door Ingrid Christophersen)
"Sharifa cried for twenty days. "What have I done? What a disgrace. Why are you dissatisfied with me?"
Sultan told her to pull herself together. No one in the family backed him up, not even his own sons. Nevertheless, no one dared speak out against him-he always got his own way.
Sharifa was inconsolable. What really rankled was the fact that the man had picked an illiterate, someone who had not even completed nursery school. She, Sharifa, was a qualified Persian language teacher. "What has she got that I haven't got?" she sobbed.
Sultan rose above his wife's tears.
No one wanted to attend the engagement party. But Sharifa had to bite the bullet and dress up for the celebrations.
"I want everyone to see that you agree and support me. In the future we will all be living under the same roof and you must show that Sonya is welcome," he demanded. Sharifa had always humored her husband, and now too, in this worst circumstance, giving him to someone else, she knuckled under. He even demanded that Sharifa should put the rings on his and Sonya's fingers.
Twenty days after the proposal of marriage the solemn engagement ritual took place. Sharifa pulled herself together and put on a brave face. Her female relatives did their best to unsettle her. "How awful for you," they said. "How badly he has treated you. You must be suffering."
The wedding took place two months after the engagement, on the day of the Muslim New Year's Eve. This time Sharifa refused to attend.
"I can't," she told her husband."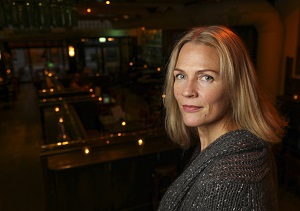 Åsne Seierstad (Oslo, 10 februari 1970)
De Nederlandse dichteres, schrijfster en theatermaakster Marjolijn (barones) van Heemstra werd geboren in Amsterdam op 10 februari 1981. Zie ook alle tags voor Marjolijn van Heemstra op dit blog.
Schaduwhuis
Ik kwam hier achteloos wonen
van schaduw wist ik niks
hoe het bot krimpt en de planken
kieren schemer broeden
ik had nooit een lijn getrokken
om te zien tot waar de zon komt
Ik wist niets van het meten van licht
van verlangen
naar schaduw van bomen op de ijskast
de trap meer geel dan wit, een raam
dat vet toont een poes
die erdoor wil naar het gras
een plant die opkijkt, dingen
kleiner dan dieren zichtbaar dansend
in rode reuzenwarmte.
Bij het tuinhuis schuift een streep
langzaam sinds maart de goede kant op
tegels vlakbij zijn al verdroogd
een halve meter nog en twee weken
tot de langste dag.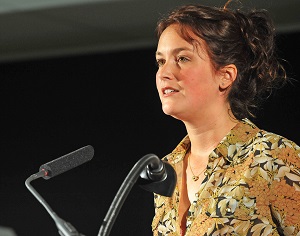 Marjolijn van Heemstra (Amsterdam, 10 februari 1981)
De Nederlandse dichter en schrijver Derek Otte werd geboren in Rotterdam op 10 februari 1988. Zie ook alle tags voor Derek Otte op dit blog.
Achter 't net
net vloog er een zin voorbij
die alle pijn omvatte
alsof ik even alles
in 't universum snapte
die zin bezat problemen
alle vragen overal
al het onrecht en verdriet
maar het antwoord bovenal
alles zou zijn opgelost
had ik 'm opgeschreven
hij was niet eens zo lastig
nu ben ik 'm vergeten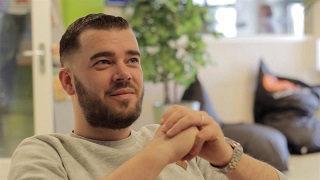 Derek Otte (Rotterdam, 10 februari 1988)
De Nederlandse dichter en schrijver Jacob (Jac.) van Hattum werd geboren in Wommels op 10 februari 1900. Zie ook alle tags voor Jac. Van Hattum op dit blog.
Visvangst

Sprank'lend opgeslagen
uit het diepste diep,
waar het stenen prinsje
onder wieren sliep;
waar de goud-dukaten
in de gulden schrijn
onder grijze mossels
goed geborgen zijn;
waar de meermin 's avonds
van de mensen zingt;
waar de bronzen paling
zich door lijken wringt;
sprank'lend opgeslagen,
blikt de vreemde vis
in het licht der dagen,
dat zijn licht niet is.
En mijn hand ontschoten,
schiet hij in het diep,
waar het stenen prinsje
reeds zijn speelnoot riep.
Wat was zij ziek dien avond......
Wat was zij ziek dien avond en haar mond
verteld' ons, wat zij altijd had verzwegen;
- wel heeft ons hart de volle maat gekregen -;
soms lachte zij en riep: ''k Word weer gezond.'

En later in den nacht lag ze maar stil
een kinderliedje voor zich heen te zingen
en riep: 'Ik zie, ik zie zoovele dingen,
die ik zoo graag dicht naast mij hebben wil.'

Dan, in den morgen, was 't, of zij gewon,
wat haar het Leven altijd had onthouden;
toen rustig zich haar smalle handen vouwden,
viel over 't laken 't licht der morgenzon.

Ze wenkt' en fluisterde: 'Laat mij alleen...';
en met 't Geluk, dat zij zich had verworven,
is in dat ochtenduur zij stil gestorven;
zoo, stil-berustend, gaan Gods Kind'ren heen.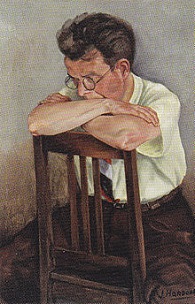 Jac. van Hattum (10 februari 1900 – 19 augustus 1981)
Portret door door J. Hardonk, ca.1930
De Duitse schrijfster Simone Trieder werd geboren op 10 februari 1959 in Quedlinburg. Zie ook alle tags voor Simone Trieder op dit blog.
Uit: Zelle Nr. 18 (Samen met Lars Skowronski)
"Die Sirene. 'W'ieder. Ein hoher Ton - ein paar Henschläge lang. Pause und wieder. Voralarm. Helga ging zum Tisch, klappte den Ordner zu und steckte ihn in das Notgepick, das an der Tür bereitstand- Das Kleeblattalbum musste mit in den Keller. Briefpapier und Stifte- Im Gehen noch einen Apfel schnappen. Die W'ohnungstiir ofien stehen lassen- Im Dunkel die Treppen hinab. Nachbarn waren schon unterwegs, wie gestern, wie letzte Woche. Diese gemeinsame nächtliche 'W'anderung in den Keller gehörte bereits zur Routine in diesem Berliner Spätsommer 1943. Im schwach beleuchteten Raum roch es nach dem frischen Holz der neu gezimmerten Bänke und Tische. Dort hatte jeder schon seinen Stammplatz. Helga schaute Bombennacht für Bombennacht auf das Plakat: »Uns können die Engländer nicht kleinkriegen«.
Die Sirene heulte auf und ab: Fliegeralarm. Die Eisentür wurde verschlossen- Nun war die Heine Kellergemeinschaft auf ihr Gehör angewiesen. Manch einer sprach auf das hereindringende Dröhnen der Motoren ein Gebet. Das Pfeifen der herabfallenden Bomben endete im dumpfen Krachen der Einschläge. Flugabwehrkanonen donnerten. Helga ließ die anderen beten und lauschen, sie zog das Briefpapier aus dern Notgepäck und einen der Stifte. Sie roch an dem Apfel und schrieb: »Liebes Kleeblatt«
Helga schaute au£ Sie verspürte keine Angst, etwas gab ihr die Gewissheit, dass sie hier heil herauskommen würde. Sie hatte einen Aufirag, sie musste das Kleeblattalbum hinüberretten in die neue Zeit ohne Hitler, ohne Krieg und Mlorden. Helga war überzeugt: Das vom braunen Bazillus vergiftete deutsche Volk muss sich selbst befreien."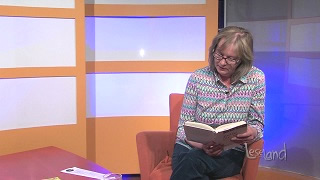 Simone Trieder (Quedlinburg, 10 februari 1959)
De Duitse dichter en schrijver Bertolt Brecht werd op 10 februari 1898 in de Zuid-Duitse stad Augsburg geboren. Zie ook alle tags voor Bertolt Brecht op dit blog.
Die Morität von Mackie Messer
Und der Haifisch, der hat Zähne
Und die trägt er im Gesicht
Und Macheath, der hat ein Messer
Doch das Messer sieht man nicht.
Und es sind des Haifischs Flossen
Rot, wenn dieser Blut vergießt
Mackie Messer trägt 'nen Handschuh
Drauf man keine Untat liest.
An der Themse grünem Wasser
Fallen plötzlich Leute um
Es ist weder Pest noch Cholera
Doch es heißt: Mackie geht um.
An'nem schönen blauen Sonntag
Liegt ein toter Mann am Strand
Und ein Mensch geht um die Ecke
Den man Mackie Messer nennt.
Und Schmul Meier bleibt verschwunden
Und so mancher reiche Mann
Und sein Geld hat Mackie Messer
Dem man nichts beweisen kann.
Jenny Towler ward gefunden
Mit 'nem Messer in der Brust
Und am Kai geht Mackie Messer
Der von allem nichts gewußt.
Wo ist Alfons gleich, der Fuhrherr?
Kommt er je ans Sonnenlicht?
Wer es immer wissen könnte
Mackie Messer weiß es nicht.
Und das große Feuer in Soho
Sieben Kinder und ein Greis
In der Menge Mackie Messer, den
Man nichts fragt, und der nichts weiß.
Und die minderjähr'ge Witwe
Deren Namen jeder weiß
Wachte auf und war geschändet
Mackie welches war dein Preis?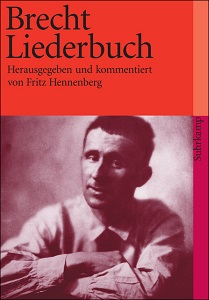 Bertolt Brecht (10 februari 1898 – 14 augustus 1956)
Cover
De Russische dichter en schrijver Boris Leonidovich Pasternak werd geboren in Moskou op 10 februari 1890. Zie ook alle tags voor Boris Pasternak op dit blog.
Uit: Doctor Zhivago (Vertaald door Max Hayward and Manya Harari)
"Nikolai Nikolaevich was bringing Voskoboinikov the proofs of his little book on the land question, which, in view of increased pressure from the censorship, the publisher had asked him to revise.
"Folk are acting up in the district," said Nikolai Nikolaevich. "In the Pankovo area they cut a merchant's throat and a zemstvo man had his stud burned down. What do you think of that? What are they saying in your village?"
But it turned out that Pavel took an even darker view of things than the censor who was restraining Voskoboinikov's agrarian passions.
"What're they saying? Folk got free and easy. Spoiled, they say. Can you do that with our kind? Give our muzhiks the head, they'll crush each other, it's God's truth. Gone to sleep, eh?"
This was the uncle and nephew's second trip to Duplyanka. Yura thought he remembered the way, and each time the fields spread out wide, with woods embracing them in front and behind in a narrow border, it seemed to Yura that he recognized the place where the road should turn right, and at the turn there would appear and after a moment vanish the seven-mile panorama of Kologrivovo, with the river glistening in the distance and the railroad running beyond it. But he kept being mistaken. Fields were succeeded by fields. Again and again they were embraced by woods. The succession of these open spaces was tuned to a vast scale. You wanted to dream and think about the future."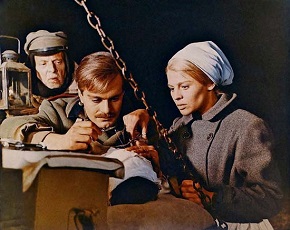 Boris Pasternak (10 februari 1890 - 30 mei 1960)
Scene uit de gelijknamige film uit 1965
De Surinaamse dichteres Carry-Ann Tjong-Ayong werd op 10 februari 1941 in Paramaribo, Suriname geboren Zie ook alle tags voor Carry-Ann Tjong-Ayong op dit blog.
Liefdesavond
je eens zo gladde buik hangt treurig langs je lijf
je sterke benen zijn doorvlochten blauwe koorden
en van je ooit weelderig begroeide zo markante kop
hangen de roze kwabben
taaie kalkoense haan gelijk
het ooit zo strakke kontje verdwijnt in veel te grote slobberbroek
mijn held is zoek
en ik
verschrompel onder je verdwaasde blik
mijn borsten halve zakken rijst
neigen reeds naar mijn uitgestulpte navel
die zo potsierlijk mijn te bolle buikje siert
mijn rimpelige dijen bibberen wanneer ik sta
of op te grote sloffen onzeker voorwaarts ga
en mijn vermoeide oogopslag
ontwaart je als een schim van de Adonis die je was
maar jij en ik
hebben de stormen steeds doorstaan
zijn steeds door dik en dun door vet en mager
reeds gesamen doorgegaan
en onze oude handen strelen de doorleefde huid
en onze monden vinden telkens weer
de kus waarmee het ooit begon….
"mijn bleke maan..."
"mijn avondzon..."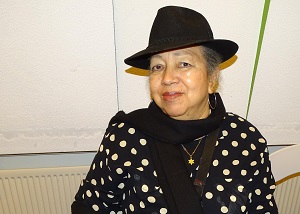 Carry-Ann Tjong-Ayong (Paramaribo, 10 februari 1941)

Zie voor nog meer schrijvers van de 10e februari ook mijn blog van 10 februari 2013 deel 2 en eveneens deel 3.
10-02-2017 om 18:57 geschreven door Romenu

Tags:Johan Harstad, Ĺsne Seierstad, Marjolijn van Heemstra, Derek Otte, Jac. van Hattum, Simone Trieder, Bertolt Brecht, Boris Pasternak, Carry-Ann Tjong-Ayong, Romenu



| | |
| --- | --- |
| | |



Inhoud blog


| | |
| --- | --- |
| | Am dritten Sonntage nach Heilige Drei Könige (Annette von Droste-Hülshoff) |
| | Louis Menand, Ludwig Thoma, Ludwig Jacobowski, Kristín Marja Baldursdóttir, Egon Friedell, Joseph Méry, Roderich Benedix |
| | Anna Basener |
| | Stefan Popa, Edward Hirsch, Guy Helminger, André Kubiczek, Batya Gur, Nazim Hikmet, Qurratulain Hyder, Robert Olen Butler Jr. |
| | Axel Hacke, Egon Bondy, Sawako Ariyoshi, Eugen Gomringer, Raymond Roussel, Michiel de Swaen, Edeltraud Eckert, Imre Madách |
| | Julian Barnes, Bert Natter, Edgar Allen Poe, Edwidge Danticat, Patricia Highsmith, Marie Koenen, Gustav Meyrink, Eugénio de Andrade, Thomas Gsella |
| | Peter Stamm, Sascha Kokot, Franz Blei, Jon Stallworthy, Montesquieu, Ioan Slavici, Rubén Darío, Paul Léautaud, Alan Alexander Milne |
| | Ilja Leonard Pfeijffer, Tom Dolby, Nanne Tepper, Jaap van den Born, Anton Valens, Diana van Hal, David Ebershoff, Gavin Extence, Roel Houwink |
| | Ester Naomi Perquin, Anthony Hecht, Reinhard Jirgl, Inger Christensen, Susan Sontag, Brian Castro, José Soares, Kálmán Mikszáth, Tino Hanekamp |
| | Antoine Wauters, Etty Hillesum, Tsjębbe Hettinga, Maud Vanhauwaert, F. Springer, Osip Mandelstam, Mihai Eminescu, Moličre, Philip Snijder |
| | Gouden Ganzenveer 2018 voor Antjie Krog |
| | J. Bernlef, Chris de Stoop, Edward St Aubyn, Anchee Min, Yukio Mishima, Martin Auer, Andreas Steinhöfel, John Dos Passos |
| | Isaäc da Costa, Tillie Olsen, Marek Hlasko, Rudolf Hagelstange, Anatoli Rybakov, Werner Helwig, Zacharias Topelius, Ida Dehmel |
| | Edmund White, Daniel Kehlmann, Jay McInerney, Lorrie Moore, Jan de Bas, Edgardo Cozarinsky, Mohammad- Ali Jamālzādeh, Clark Ashton Smith, Michael Carroll |
| | Jurgis Kunčinas, Kostís Palamás, Karl Bleibtreu, Victor de Laprade, Eduard von Bauernfeld, Maler Müller, Mark Alexander Boyd |
| | Cees van der Pluijm, David Mitchell, Jacques Hamelink, Haruki Murakami, Kamiel Verwer, Jakob Lenz, Fatos Kongoli, Jack London, Ferenc Molnár |
| | BNG Bank Literatuurprijs 2017 voor Marjolijn van Heemstra |
| | Katharina Hacker, Jasper Fforde, W. C. Heinz, Nikos Kavvadias, Mart Smeets, Oswald de Andrade, Eduardo Mendoza, Diana Gabaldon, Slavko Janevski |
| | Antonio Muńoz Molina, Saskia Stehouwer, Annette von Droste-Hülshoff, Mies Bouhuys, Harrie Geelen, Dennis Cooper, Adrian Kasnitz, Jared Carter, Yasmina Khadra |
| | Bas Heijne, Benjamin Lebert, Wessel te Gussinklo, Nora Bossong, Theodor Holman, Danny Morrison, Brian Friel, Simone de Beauvoir, Kurt Tucholsky |
| | Juan Marsé, Waldtraut Lewin, Claudia Grehn, Leonardo Sciascia, Alfred Tomlinson, Gaston Miron, Vasyl Stus, Wilkie Collins, Roland Moed |
| | Frans Kellendonk, Reginald Gibbons, Dionne Brand, Sofi Oksanen, Henk van Zuiden, Shobhaa Dé, Marie Desplechin, Nicholson Baker |
| | Charles Péguy, Max Gallo, Roland Topor, Pierre Gripari, Thomas Hill, Zora Neale Hurston, Robert Cormier, Ludovic Massé |
| | Die heiligen drei Könige (August Wilhelm Schlegel) |
| | Hester Knibbe, Elizabeth Strout, Khalil Gibran, Romain Sardou, Carl Sandburg, Jens Johler, Philipp Friedrich Hiller, E. L. Doctorow |
| | Ivan Olbracht, Benedikt Livshits, Anja Meulenbelt, Astrid Gehlhoff-Claes, Joachim Specht, Günter Görlich, Idris Davies |
| | Umberto Eco, Joris van Casteren, Paul Ingendaay, Ngũgĩ wa Thiong'o, Xu Xiake, Luisa Futoransky, Friedrich Dürrenmatt, Forough Farokhzad, László Krasznahorkai |
| | Gao Xingjian, Emil Zopfi, David Berman, Hellmuth Karasek, Markus Seidel, Fernand Handtpoorter, Andreas Altmann, Doris Kearns Goodwin, Jacob Grimm |
| | Peter Ghyssaert, J.R.R. Tolkien, Smith Henderson, Marie Darrieussecq, Alex Wheatle, Cicero, Jean Muno, John Gould Fletcher, Jacob Balde |
| | Nyk de Vries, André Aciman, Jimmy Santiago Baca, David Shapiro, Look J. Boden, Anton van Duinkerken, Hans Herbjřrnsrud, Jean-Bernard Pouy, Luc Decaunes |
| | Simples Neujahrslied (Ludwig Eichrodt) |
| | Ernest van der Kwast, Rhidian Brook, Adonis, Jonas T. Bengtsson, Chantal van Gastel, Inge Schilperoord, J.D. Salinger, E. M. Forster, Juan Gabriel Vásquez |
| | Douglas Kennedy, Rascha Peper, Carry van Bruggen, Paul Hamilton Hayne, Rüdiger Safranski, Joe Orton, Mariano Azuela, René de Ceccatty, Sven Regener |
| | Rawi Hage |
| | A Farewell - Goodbye, old year (Alfred Austin) |
| | Anne Vegter, Arjen Duinker, Junot Díaz, Bastian Böttcher, Jacob Israël de Haan, August van Cauwelaert, Paula Dehmel |
| | Dieter Noll, Nicolas Born, Dal Stivens, Connie Willis, Giovanni Pascoli, Marie d'Agoult |
| | Nicholas Sparks, Irina Korschunow, Gottfried August Bürger, Alexander Smith, Horacio Quiroga, Stephan Krawczyk, Kingbotho |
| | Peter Buwalda, Theodor Fontane, Miklós Bánffy, Peter Lund, Joshua Clover, Paul Bowles, Rudyard Kipling, Douglas Coupland |
| | Willy Spillebeen, Norbert Hummelt, Georg von der Vring, Daniil Charms, Heinrich Hart, Betty Paoli, Maurice Bedel |
| | Stefan Brijs, Christian Kracht, Gilbert Adair, Paul Rudnick, Brigitte Kronauer, William Gaddis, Carmen Sylva, Vesna Lubina |
| | Liu Xiaobo, Burkhard Spinnen, Engelbert Obernosterer, Shen Congwen, Conrad Busken Huet, Manuel Puig, Hildegard Knef, Guy Debord, Antoine Bodar |
| | Bernard Wesseling, Édouard Nabe, Wendy Coakley-Thompson, Louis de Bourbon, Mariella Mehr, Markus Werner, Malin Schwerdtfeger, Mirza Ghalib, Carl Zuckmayer |
| | Der Weihnachtsbaum (Hoffmann von Fallersleben) |
| | David Sedaris, Elizabeth Kostova, Henry Miller, Rainer Malkowski, Mani Beckmann, Alejo Carpentier |
| | Jean Toomer, Hans Brinkmann, Willy Corsari, Alfred Huggenberger, René Bazin, Julien Benda |
| | Thomas Gray, Jean Galtier-Boissičre, Ernst Moritz Arndt, Johann Gaudenz von Salis-Seewis, E. D. E. N. Southworth, Jean-François de Saint-Lambert |
| | Nigel Cliff |
| | Weihnachten (Max Dauthendey) |
| | David Pefko, Karin Amatmoekrim, Quentin Crisp, Lisa Kränzler, N.E.M. Pareau. Sheila Heti, Tununa Mercado, Maarten Goethals, Sabine Kuegler |