E-mail mij


Druk op onderstaande knop om mij te e-mailen.


Romenu


Google


Georg Trakl

Georg Trakl werd op 3 februari 1887 in het conducteurshuis aan de Waagplatz 2 in Salzburg geboren. Zijn vader, Tobias Trakl, was een handelaar in ijzerwaren en zijn moeder, die ook psychische problemen had, was Maria Catharina Trakl, (meisjesnaam Halik). Voorts had hij nog drie broers en drie zussen. Margarethe (doorgaans Grethe genoemd) stond hem het naast, zelfs zodanig dat sommigen een incestueuze verhouding vermoeden. Zijn jeugd bracht hij door in Salzburg. Vervolgens bezocht hij van 1897 tot 1905 het humanistische gymnasium. Om toch een academische opleiding te kunnen volgen, werkte hij tot 1908 in de praktijk bij een apotheker. Sommigen vermoedden dat hij dit vooral deed om zichzelf opiaten te kunnen verschaffen. Bij het uitbreken van WO I werd Trakl als medicus naar het front in Galicië (heden ten dage in Oekraïne en Polen) gestuurd. Zijn gemoedsschommelingen leidden tot geregelde uitbraken van depressie, die verergerd werden door de afschuw die hij voelde voor de verzorging van de ernstig verwonde soldaten. De spanning en druk dreven hem ertoe een suïcidepoging te ondernemen, welke zijn kameraden nochtans verhinderden. Hij werd in een militair ziekenhuis opgenomen in Kraków, alwaar hij onder strikt toezicht geplaatst werd.Trakl verzonk daar in nog zwaardere depressies en schreef Ficker om advies. Ficker overtuigde hem ervan dat hij contact moest opnemen met Wittgenstein, die inderdaad op weg ging na Trakls bericht te hebben ontvangen. Op 4 november 1914, drie dagen voordat Wittgenstein aan zou komen, overleed hij echter aan een overdosis cocaïne


Paul Celan

Paul Celan werd onder de naam Paul Antschel op 23 november 1920 geboren in Czernowitz, toentertijd de hoofdstad van de Roemeense Boekovina, nu behorend bij de Oekraïne. Paul Celans ouders waren Duitssprekende joden die hun zoon joods opvoedden en hem naar Duitse christelijke scholen stuurden. In 1942 werden Celans ouders door de Duitse bezetter naar een werkkamp gedeporteerd en daar vermoord. Hijzelf wist aanvankelijk onder te duiken, maar moest vanaf juli 1942 in een werkkamp dwangarbeid verrichten. Celan overleefde de oorlog. Via Boekarest en Wenen vestigde Celan zich in 1948 in Parijs. Daar was hij werkzaam als dichter, vertaler en doceerde hij aan de prestigieuze Ecole Normale Supérieure. Vermoedelijk op 20 april 1970 beëindigde hij zijn leven zelf door in de Seine te springen.


Gerard Reve

Gerard Reve over: Medearbeiders "God is in de mensen, de dieren, de planten en alle dingen - in de schepping, die verlost moet worden of waaruit God verlost moet worden, door onze arbeid, aangezien wij medearbeiders van God zijn." Openbaring "Tja, waar berust elk godsbegrip op, elke vorm van religie? Op een openbaring, dat wil zeggen op een psychische ervaring van zulk een dwingende en onverbiddelijke kracht, dat de betrokkene het gevoel heeft, niet dat hij een gedachte of een visioen heeft, maar dat een gedachte gedachte of visioen hem bezit en overweldigt."


Simon Vestdijk
Simon Vestdijk (Harlingen, 17 oktober 1898 – Utrecht, 23 maart 1971) was een Nederlands romancier, dichter, essayist en vertaler. Zijn jeugd te Harlingen en Leeuwarden beschreef hij later in de Anton Wachter-cyclus. Van jongs af aan logeerde hij regelmatig bij zijn grootouders in Amsterdam, waar hij zich in 1917 aan de Universiteit van Amsterdam inschrijft als student in de medicijnen. Tijdens zijn studie die van 1917 tot 1927 duurde, leerde hij Jan Slauerhoff kennen.Tot 1932 is hij als arts in praktijken door heel Nederland werkzaam. In 1932 volgt zijn officiële schrijversdebuut met de uitgave van de bundel Verzen in De Vrije Bladen. Doorslaggevend voor Vestdijks uiteindelijke keuze voor de literatuur is zijn ontmoeting in 1932 met Eddy Du Perron en Menno ter Braak. Deze ontmoeting had tot resultaat dat hij redactielid werd van het tijdschrift Forum Kort daarop, in 1933, wordt zijn eerste novelle, De oubliette, uitgegeven. In hetzelfde jaar schrijft hij Kind tussen vier vrouwen, dat, eerst geweigerd door de uitgever, later de basis zal vormen voor de eerste drie delen van de Anton Wachter-romans. In 1951 ontvangt Vestdijk de P.C. Hooftprijs voor zijn in 1947 verschenen roman De vuuraanbidders. In 1957 wordt hij voor het eerst door het PEN-centrum voor Nederland voorgedragen voor de Nobelprijs voor de Literatuur, die hij echter nooit zal krijgen. Op 20 maart 1971 wordt hem de Prijs der Nederlandse Letteren toegekend, maar voor hij deze kan ontvangen overlijdt hij op 23 maart te Utrecht op 72-jarige leeftijd. Vestdijk was auteur van ca. 200 boeken. Vanwege deze enorme productie noemde de dichter Adriaan Roland Holst hem 'de man die sneller schrijft dan God kan lezen'. Andere belangrijke boeken van Simon Vestdijk zijn: "Kind van stad en land" (1936), "Meneer Visser's hellevaart" (1936), "Ierse nachten" (1946), "De toekomst de religie" (1947), "Pastorale 1943" (1948), "De koperen tuin" (1950), "Ivoren wachters" (1951), "Essays in duodecimo" (1952) en "Het genadeschot" (1964).


K.P. Kavafis

K.P. Kavafis werd als kind van Griekse ouders, afkomstig uit Konstantinopel, geboren in 1863 in Alexandrië (tot vandaag een Griekse enclave) waar hij ook het grootste deel van zijn leven woonde en werkte. Twee jaar na de dood van zijn vader verhuist het gezin in 1872 naar Engeland om na een verblijf van vijf jaar naar Alexandrië terug te keren. Vanwege ongeregeldheden in Egypte vlucht het gezin in 1882 naar Konstantinopel, om na drie jaar opnieuw naar Alexandrië terug te gaan. In de jaren die volgen maakt Kavafis reizen naar Parijs, Londen en in 1901 zijn eerste reis naar Griekenland, in latere jaren gevolgd door nog enkele bezoeken. Op de dag van zijn zeventigste verjaardag, in 1933 sterft Kavafis in Alexandrië. De roem kwam voor Kavafis pas na zijn dood, dus postuum. Deels is dat toe te schrijven aan zijn eigen handelswijze. Hij was uiterst terughoudend met de publicatie van zijn gedichten, liet af en toe een enkel gedicht afdrukken in een literair tijdschrift, gaf in eigen beheer enkele bundels met een stuk of twintig gedichten uit en het merendeel van zijn poëzie schonk hij op losse bladen aan zijn beste vrienden.


Thomas Mann


Thomas Mann, de jongere broer van Heinrich Mann, werd geboren op 6 juni 1875 in Lübeck. Hij was de tweede zoon van de graankoopman Thomas Johann Heinrich Mann welke later één van de senatoren van Lübreck werd. Zijn moeder Julia (geboren da Silva-Bruhns) was Duits-Braziliaans van Portugees Kreoolse afkomst. In 1894 debuteerde Thomas Mann met de novelle "Gefallen". Toen Thomas Mann met 21 jaar eindelijk volwassen was en hem dus geld van zijn vaders erfenis toestond - hij kreeg ongeveer 160 tot 180 goldmark per jaar - besloot hij dat hij genoeg had van al die scholen en instituties en werd onafhankelijk schrijver. Kenmerkend voor zijn stijl zijn de ironie, de fenomenale taalbeheersing en de minutieuze detailschildering. Manns reputatie in Duitsland was sterk wisselend. Met zijn eerste roman, Buddenbrooks (1901), had hij een enorm succes, maar door zijn sceptische houding tegenover Duitsland na de Eerste Wereldoorlog veranderde dit volledig. Stelde hij zich tot aan de jaren twintig apolitiek op (Betrachtungen eines Unpolitischen, 1918), meer en meer raakte hij bij het Politiek gebeuren betrokken. Zijn afkeer van het nationaal socialisme groeide, zijn waarschuwingen werden veelvuldiger en heftiger. In 1944 accepteerde hij het Amerikaanse staatsburgerschap. Tussen 1943 en 1947 schreef Mann Doktor Faustus (zie Faust), de roman van de 'Duitse ziel' in de gecamoufleerd geschilderde omstandigheden van de 20ste eeuw. In 1947 bezocht hij voor het eerst sinds de Oorlog Europa, twee jaar later pas Duitsland. In 1952 vertrok hij naar Zwitserland. Op 12 augustus 1955 stierf hij in Zürich. Twintig jaar na zijn dood, in aug. 1975, is zijn literaire nalatenschap geopend: dagboekaantekeningen van 15 maart 1933 tot 29 juli 1955, alsmede notities uit de jaren 1918 tot en met 1921.Belangrijke werken zijn: Der Zauberberg, Der Tod in Venedig, Dokter Faustus , Joseph und seine Brüder en Die Bekenntnisse des Hochstaplers Felix Krull.


Rainer Maria Rilke

Rilke werd op 4 december 1875 geboren in Praag. Hij had al naam gemaakt als dichter met zijn bundels Das Stundenbuch en Das Buch der Bilder, toen hij de literaire wereld versteld deed staan en wereldfaam verwierf met de publicatie van zijn twee delen Neue Gedichte in 1907 en 1908. Hij verzamelde daarin het beste werk uit een van zijn vruchtbaarste periodes, die hij grotendeels doorbracht in Parijs. Rilke was daar diep onder de indruk gekomen van Rodin, bij wie hij een tijdlang in dienst was als particulier secretaris. Rodin, zei hij later, had hem leren kijken. Dit kijken kwam neer op intense concentratie, om het mysterie te kunnen zien 'achter de schijnbare werkelijkheid'. Latere en rijpere werken als Duineser Elegien (1912-1923) en het ronduit schitterende Die Sonette an Orfeus (1924) illustreren Rilkes metafysische visie op het onzegbare, dat haar verwoording vindt in een hermetische muzikale taal. Op 29 december 1926 overlijdt Rilke in het sanatorium in Val-Mont aan de gevolgen van leukemie. Enkele dagen later wordt hij, overeenkomstig zijn wens, begraven op het kerkhof van Raron.


* * * * * * * * * * * * * * * *

| | |
| --- | --- |
| | Over literatuur, gedichten, kunst en cultuur |
15-04-2018

Emmaüs (Felix Timmermans)
Bij de tweede zondag na Pasen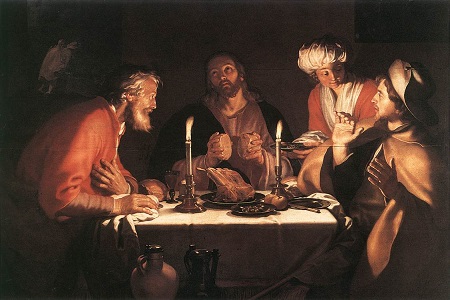 De Emmaüsgangers door Abraham Bloemaert, 1622
Emmaüs
'Heer blijf bij ons, de zon gaat onder.'
Wij boden dan het avondbrood
de vreemde man, die langs de baan
met ons was meegegaan.
En wijl hij, 't zegenend, de ogen sloot,
gebeurde het: Zijn aangezicht
verklaarde in een hemels licht,
waarin Hij plotseling verdween…
Dit was het wonder.
Wij stonden weer alleen,
doch vouwden blij onz' handen.
Het was alsof Hij door ons heen verdween
en 't licht in ons is blijven branden.
Blijf zo in ons, o Heer, de zon gaat onder!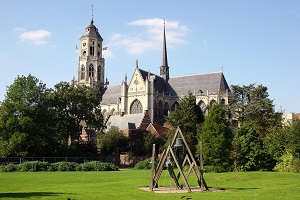 Felix Timmermans (5 juli 1886 – 24 januari 1947)
De Sint-Gummarus kerk in Lier, de geboorteplaats van Felix Timmermans
Zie voor de schrijvers van de 15e april ook mijn twee vorige blogs van vandaag.
15-04-2018 om 10:23 geschreven door Romenu

Tags:Felix Timmermans, Pasen, Romenu



Tomas Tranströmer, Daniël Samkalden, Jérôme Lambert, Patrick Bernauw, Benjamin Zephaniah, Henry James, Wilhelm Busch, Ina Boudier-Bakker
De Zweedse dichter en schrijver Tomas Tranströmer werd geboren in Stockholm op 15 april 1931. Zie ook alle tags voor Tomas Tranströmer op dit blog.
November in the Former DDR
The almighty cyclop's-eye clouded over
and the grass shook itself in the coal dust.
Beaten black and blue by the night's dreams
we board the train
that stops at every station
and lays eggs.
Almost silent.
The clang of the church bells' buckets
fetching water.
And someone's inexorable cough
scolding everything and everyone.
A stone idol moves its lips:
it's the city.
Ruled by iron-hard misunderstandings
among kiosk attendants butchers
metal-workers naval officers
iron-hard misunderstandings, academics!
How sore my eyes are!
They've been reading by the faint glimmer of the glow-worm lamps.
November offers caramels of granite.
Unpredictable!
Like world history
laughing at the wrong place.
But we hear the clang
of the church bells' buckets fetching water
every Wednesday
- is it Wednesday? -
so much for our Sundays!
Vertaald door Robin Fulton
The Stones
The stones we have thrown I hear
fall, glass-clear through the year. In the valley
confused actions of the moment
fly howling from tree-top
to tree-top, quieting
in air thinner than now's, gliding
like swallows from mountain-top
to mountain-top till they
reach the furthest plateaus
along the edge of existence. Where
all our deeds fall
glass-clear
to no ending
except ourselves.
Vertaald door Patty Crane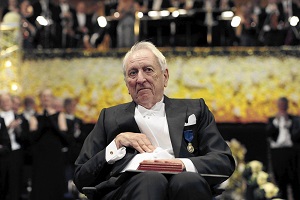 Tomas Tranströmer (15 april 1931 - 26 maart 2015)
Bij de uitreiking van de Nobelprijs voor literatuur in 2011
De Nederlandse schrijver, columnist, kleinkunstenaar en zanger Daniël Samkalden werd geboren op 15 april 1979 in Naarden. Zie ook alle tags voor Daniël Samkalden op dit blog.
Uit: Ik zou deze jetlag voorgoed in mij gevangen willen houden (Column, november 2012)

"Toen tussen kwart over twaalf en half één in de verschillende hoeken op de verschillende zenders Barack Obama werd uitgeroepen tot winnaar van de verkiezingen, bleven de aanwezige Amerikanen vrij onaangedaan, maar vierden wij dat euforisch, als een Nederlandse zege. Ik had onze ingedutte seniorengroep steeds graag belachelijk gemaakt, maar toen men jassen aantrok om in taxi's naar het Witte Huis te gaan waar een feest was losgebarsten, was ik degene die zich te moe voelde om aan te haken.
'Dan missen we de toespraak,' zei mijn vader. Ik knikte dankbaar. Op onze kamer in onze kingsize bedden wachtten wij op het spreken van Obama. De afstandsbediening in mijn hand. CNN herhaalde de uitslagen. Ik herinner me dat ik wakker werd. Dat Obama aan het praten was. Dat mijn vader sliep. Dat dit toch het grote moment van onze reis was. Dat ik moeite had me te concentreren. Dat ik me afvroeg of ik mijn vader wakker moest maken. En vervolgens dat er een felle zonnestraal de kamer in viel.
Ik zou deze jetlag voorgoed in mij gevangen willen houden. Het is precies de correctie die mijn systeem nodig heeft. De overweldigende moeheid die zich rond negen uur 's avonds al aankondigt, als de wereld langzamer lijkt te gaan draaien en de willekeur zich trechtert tot een punt van onwrikbare rust. En dan de wakkerheid waarmee ik de ochtend in word gekatapulteerd. Mijn ogen die openspringen nog voor de wekker gaat. Zonder dat ik ze weer dicht laat vallen. Kraakhelder uitgeslapen, zoals ik dat al jaren vergeefs najaag. De avond, een punt. De ochtend, een hoofdletter. Ik zou mij in westelijke richting over de wereld moeten blijven bewegen. Het zou me een eenduidig, betrouwbaar en tevreden mens maken."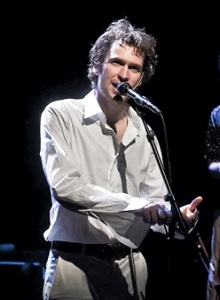 Daniël Samkalden (Naarden, 15 april 1979)
De Franse schrijver Jérôme Lambert werd geboren op 15 april 1975 in Nantes. Zie ook alle tags voor Jérôme Lambert op dit blog.
Uit Chambre simple; refaire l'amour
"J'ai repris conscience sur le brancard d'une ambulance ou d'une voiture de pompiers, je ne sais plus.
Comment vous appelez-vous Vous savez où vous êtes Quelle heure est-il Ça vous est déjà arrivé Quel âge avez-vous Restez avec nous s'il vous plaît, Ne vous endormez pas Vous habitez loin d'ici Quel jour sommes-nous Prenez ma main (je serre sa main, je garde sa main, j'écrase sa main) D'accord, mais en quelle année Pouvez-vous me dire – et ils répétaient mon nom – en quelle année nous sommes ?
J'avais bon à tout et j'ai flanché sur l'année.
Peut-être par épuisement puisque tout m'épuisait.
Peut-être parce que leur harcèlement m'agaçait.
Peut-être qu'un neurone n'a pas fait son boulot.
Vous avez deux ans de retard, a dit le grand type à la main large assis à ma droite, un détail (laisse ta main sur la mienne comme une amarre de chair et de pulpe). Il a réglé mon cas d'une croix sur son écriteau de plastique rouge en souriant. Un clin d'œil quand il me recolle le masque sur le bas du visage, l'odeur du caoutchouc neuf qui envahit mes narines, l'oxygène qui fonce droit au cerveau.
J'étais trop calme, mais je n'avais ni le choix, ni la force ni l'envie de lutter.
Après je ne sais pas.
Après c'est l'hôpital.
« Il y a des antécédents dans votre famille ? »
Ce n'est plus un test, c'est une vraie question de docteur. Terminé le chaos de l'ambulance, je suis en consultation, allongé dans le calme étourdissant d'un hôpital où on me réclame une information."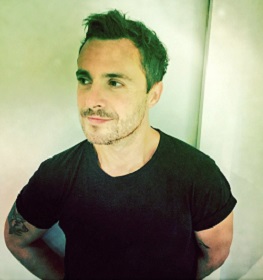 Jérôme Lambert (Nantes,15 april 1975)
De Vlaamse schrijver, cenarist, acteur en regisseur Patrick Bernauw werd geboren op 15 april 1962 in Aalst. Zie ook alle tags voor Patrick Bernauw op dit
Uit: Het Bloed van het Lam
"En dat zeg je nù pas!?' barst Lena uit. 'Waarom laat je mij dit allemaal vertellen als je het al wéét!?'
Maarten haalt de schouders op. 'Laten we zeggen dat ik je graag bezig hoor, Lena.'
'Je gelooft me niet, hé?'
'Waarom zou ik je niet geloven?'
'Je vertrouwt me niet, Maarten!'
'Vertrouw jij mij dan, Lena? Vertrouw jij mij dan voldoende om me de waarheid en niets anders dan de waarheid te vertellen? Ik krijg zo stilaan genoeg van je geheimdoenerij en néé, niet van je leugens, maar van de dingen die je voor me verzwijgt! En probeer me nu asjeblief niet wéér wijs te maken dat Lena is afgeleid van Helena! Wat heeft het nog voor zin als je al zo ver gekomen bent? Je hebt al a gezegd, Lena!... Je hebt het uitgeschreeuwd!... Aààh!... En nu wordt het de hoogste tijd om ook b te zeggen, denk je niet?'
Ze krimpt in elkaar. 'Sorry,' fluistert ze. 'Het spijt me. Ik dacht… Je zou me verslijten voor… voor een gek… Je zou mijn verhaal met dat vooroordeel beluisteren en dan… Dan zou ik verloren zijn.'
Maarten neemt haar in zijn armen – ze beeft op haar benen – en veegt de tranen uit haar donkere ogen. Hij streelt haar weerbarstige zwarte krullen, strijkt met een vinger voorzichtig over haar schattig en licht gebogen joodse neusje.
'Het is niets,' mompelt hij. 'Het is niets…'
Jezus Christus was een rechtstreekse afstammeling van de joodse koningen Salomon en David. De Messias moest niet in de eerste plaats beschouwd worden als een symbolische, vergeestelijkte koning der joden, maar als de echte en legitieme monarch. Hij huwde met Maria Magdalena en kreeg kindjes. Sommigen hielden zelfs vol dat de gebeurtenissen op Golgotha alleen maar een mise-en-scène waren geweest; in werkelijkheid was hij niet aan het kruis gestorven. Vandaar dat diverse vroegchristelijke secten de kruisdood verwierpen. Zij vonden gehoor bij de katharen, die hun naam zouden lenen aan al wat ketters was, en bij de orde der Tempeliers."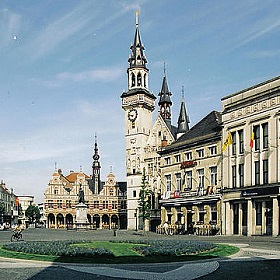 Patrick Bernauw (Aalst, 15 april 1962)
Aalst
De Engelse dichter en schrijver Benjamin Zephaniah werd geboren op 15 april 1958 in Handsworth, Birmingham. Zie ook alle tags voor Benjamin Zephania op dit blog.
White Comedy
I waz whitemailed
By a white witch,
Wid white magic
An white lies,
Branded by a white sheep
I slaved as a whitesmith
Near a white spot
Where I suffered whitewater fever.
Whitelisted as a whiteleg
I waz in de white book
As a master of white art,
It waz like white death.
People called me white jack
Some hailed me as a white wog,
So I joined de white watch
Trained as a white guard
Lived off the white economy.
Caught and beaten by de whiteshirts
I waz condemned to a white mass,
Don't worry,
I shall be writing to de Black House.
Wot A Pair
I waz walking down Wyefront street
When me trousers ran away,
I waz feeling incomplete
But still me trousers would not stay,
When I found where they had gone
De pair addressed me rather blunt,
And they told me they were sick of being put on
Back to front.
I told dem I would treat dem good
And wear dem back to back,
I promised dem protection
From a friend who is a mac,
Me trousers did not believe a single word I had to say,
And me underpants were laughing
When me trousers ran away.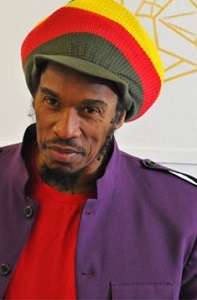 Benjamin Zephaniah (Handsworth, 15 april 1958)
De Amerikaanse schrijver Henry James werd geboren in New York op 15 april 1843. Zie ook alle tags voor Henry James op dit blog.
Uit:Washington Square
"The fact of his having married a rich woman made no difference in the line he had traced for himself, and he cultivated his profession with as definite a purpose as if he still had no other resources than his fraction of the modest patrimony which on his father's death he had shared with his brothers and sisters. This purpose had not been preponderantly to make money- -it had been rather to learn something and to do something. To learn something interesting, and to do something useful--this was, roughly speaking, the programme he had sketched, and of which the accident of his wife having an income appeared to him in no degree to modify the validity. He was fond of his practice, and of exercising a skill of which he was agreeably conscious, and it was so patent a truth that if he were not a doctor there was nothing else he could be, that a doctor he persisted in being, in the best possible conditions. Of course his easy domestic situation saved him a good deal of drudgery, and his wife's affiliation to the "best people" brought him a good many of those patients whose symptoms are, if not more interesting in themselves than those of the lower orders, at least more consistently displayed. He desired experience, and in the course of twenty years he got a great deal. It must be added that it came to him in some forms which, whatever might have been their intrinsic value, made it the reverse of welcome. His first child, a little boy of extraordinary promise, as the Doctor, who was not addicted to easy enthusiasms, firmly believed, died at three years of age, in spite of everything that the mother's tenderness and the father's science could invent to save him. Two years later Mrs. Sloper gave birth to a second infant--an infant of a sex which rendered the poor child, to the Doctor's sense, an inadequate substitute for his lamented first- born, of whom he had promised himself to make an admirable man. The little girl was a disappointment; but this was not the worst. A week after her birth the young mother, who, as the phrase is, had been doing well, suddenly betrayed alarming symptoms, and before another week had elapsed Austin Sloper was a widower.
For a man whose trade was to keep people alive, he had certainly done poorly in his own family; and a bright doctor who within three years loses his wife and his little boy should perhaps be prepared to see either his skill or his affection impugned. Our friend, however, escaped criticism: that is, he escaped all criticism but his own, which was much the most competent and most formidable."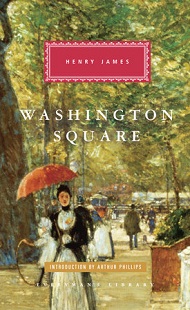 Henry James (15 april 1843 - 28 februari 1916)
Cover
De Duitse dichter en tekenaar Wilhelm Busch werd geboren in Wiedensahl op 15 april 1832. Zie ook alle tags voor Wilhelm Busch op dit blog.
Uit: Max und Moritz
Zweiter Streich
Als die gute Witwe Bolte
Sich von ihrem Schmerz erholte,
Dachte sie so hin und her,
Daß es wohl das beste wär',
Die Verstorbnen, die hienieden
Schon so frühe abgeschieden,
Ganz im stillen und in Ehren
Gut gebraten zu verzehren.
Freilich war die Trauer groß,
Als sie nun so nackt und bloß
Abgerupft am Herde lagen,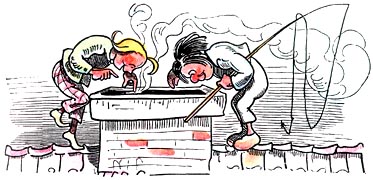 Sie, die einst in schönen Tagen
Bald im Hofe, bald im Garten
Lebensfroh im Sande scharrten. –
Ach, Frau Bolte weint aufs neu,
Und der Spitz steht auch dabei.
Max und Moritz rochen dieses.
»Schnell aufs Dach gekrochen!« hieß es.
Durch den Schornstein mit Vergnügen
Sehen sie die Hühner liegen,
Die schon ohne Kopf und Gurgeln
Lieblich in der Pfanne schmurgeln.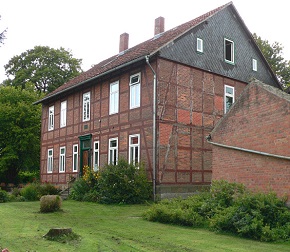 Wilhelm Busch (15 april 1832 - 9 januari 1908)
Museum Wilhelm-Busch-Haus in in Mechtshausen
De Nederlandse schrijfster Ina Boudier-Bakker werd geboren in Amsterdam op 15 april 1875. Zie ook alle tags voor Ina Boudier-Bakker op dit blog.
Uit: De klop op de deur
"Ze huppelde op straat ineens van een diepe blijdschap om zooveel heerlijkheid. En zij deed een sprongetje van geluk naar zijn lengte, ver boven haar. Hij moest stilstaan en midden op straat zich een zoen laten geven.
Hij zei niets - hij was geen man van woorden - gesloten, nuchter, ernstig en stroef. Maar dit ontroerde hem, en hij hield haar wollen handje vaster in zijn buitengewoon groote magere hand.
'Gaan we het poortje onderdoor?' vroeg ze toen ze bij het Beurspleintje waren.
'Goed.'
Ze trippelde in een zwijgende vreugde ook deze vermakelijkheid door. En hij dacht, dat hij eigenlijk nooit met zijn kind wandelde. Hij werkte altijd. Alleen als het heel slecht weer was, reed hij zijn visites, en nam haar dan soms mee. Dan zat zij tegenover hem op den langen tocht met haar poppen bij zich, haar nieuwsgierige helder bruine oogjes door de raampjes kijkend.
Maar hij kon nog niet aldoor rijden. Over een paar jaar hoopte hij zijn praktijk genoeg te hebben opgewerkt. Als Fransje maar wat zuiniger was. Maar in zijn huis ging niets zuinig.
Hij verschoof even zijn hoogen hoed die hem drukte - zijn jas ook was te zwaar. Het leek een voorjaarsdag.
Hij ging daar door het Amsterdam dier dagen, een bekrompen, eerlijk levend man, met zeer weinig behoeften voor zichzelf, behalve dien sterksten drang: naar den uitersten karigsten eenvoud. In nauwgezette plichtsbetrachting zich gevend aan zijn patiënten, maar dor en stroef, en geen andere vreugde eruit puttend dan het kalm bewustzijn in zijn stad een erkend goed medicus te zijn. Een man, zooals de meeste mannen van zijn tijd, nauwelijks wetend en volkomen zonder begrip van wat buiten Holland in de groote landen van Europa sinds de late veertiger jaren gistte en groeide, en bezig was de oude maatschappij te ondergraven."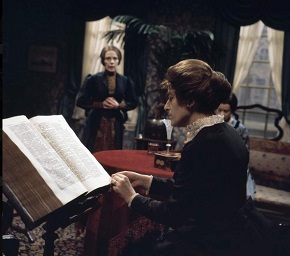 Ina Boudier-Bakker (15 april 1875 - 26 december 1966)
Scene uit de gelijknamige tv-serie uit 1970-71
Zie voor nog meer schrijvers van de 15e april ook mijn vorige blog van vandaag.
Zie voor bovenstaande schrijvers ook mijn blog van 15 april 2007 en ook mijn blog van 15 april 2008 en eveneens mijn blog van 15 april 2009.
15-04-2018 om 10:22 geschreven door Romenu

Tags:Tomas Tranströmer, Daniël Samkalden, Jérôme Lambert, Patrick Bernauw, Benjamin Zephaniah, Henry James, Wilhelm Busch, Ina Boudier-Bakker, Romenu



Bliss Carman, Beate Morgenstern, Jeffrey Archer, Bernhard Lassahn, Erich Arendt, Pol De Mont, Staf Weyts, Hans Egon Holthusen
De Canadese dichter Bliss Carman werd geboren in Fredericton, in de provicincie New Brunswick op 15 april 1861. Zie ook alle tags voor Bliss Carman op dit blog.
A Vagabond Song
There is something in the autumn that is native to my blood—
Touch of manner, hint of mood;
And my heart is like a rhyme,
With the yellow and the purple and the crimson keeping time.
The scarlet of the maples can shake me like a cry
Of bugles going by.
And my lonely spirit thrills
To see the frosty asters like a smoke upon the hills.
There is something in October sets the gypsy blood astir;
We must rise and follow her,
When from every hill of flame
She calls and calls each vagabond by name.
At Sunrise
Now the stars have faded
In the purple chill,
Lo, the sun is kindling
On the eastern hill.
Tree by tree the forest
Takes the golden tinge,
As the shafts of glory
Pierce the summit's fringe.
Rock by rock the ledges
Take the rosy sheen,
As the tide of splendor
Floods the dark ravine.
Like a shining angel
At my cabin door,
Shod with hope and silence,
Day is come once more.
Then, as if in sorrow
That you are not here,
All his magic beauties
Gray and disappear.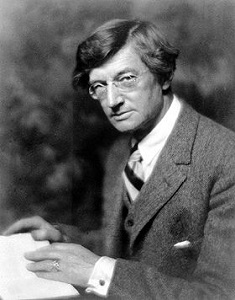 Bliss Carman (15 april 1861 – 8 juni 1929)



De Duitse schrijfster Beate Morgenstern werd geboren op 15 april 1946 in Cuxhaven. Zie ook alle tags voor Beate Morgenstern op dit blog.
Uit: Küsse für Butzemännchen
"Ein Schlag wie ein Stromstoß, ausgelöst von einem Namen, in der Aktuellen Kamera genannt, den Halb-acht-Uhr-Nachrichten des Fernsehens der DDR. Fünfeichen, hatte der Gutsbesitzer Dressel damals gesagt, hatte - den eigenen nahen Tod vor Augen - nicht geschwiegen, Nachricht gegeben vom Weg, den er gemeinsam mit dem Vater von Anfang an gegangen war, Bautzen, eine polnische Domäne, Graudentz, zuletzt Fünfeichen, ein kleines Lager des NKWD und das nördlichste der dreizehn in der sowjetischen Besatzungszone. Die Mutter und Susanne wussten von nun an, wann der Vater an Hunger und Entkräftung gestorben war und wo. 43 Jahre tot. An einem Märzabend 1990 wiedererstanden: Kameraschwenks über ein Waldstück. Eichen, noch nicht so kräftig, ein Anemonenfeld. Gräben durch dieses Feld gezogen, menschliche Skelette freigelegt. Bekannt die Bilder, mit denen war man aufgewachsen. Sie hatten das Volk der DDR warnen sollen: Nie wieder! Die Bilder betrafen Konzentrationslager der Nazis, Massengräber der von ihnen Hingerichteten. Es durfte nicht laut werden, dass in denselben Lagern auch nach 45 gestorben wurde. Leute, die abgeholt worden waren. Nazigrößen weniger, die waren in der Regel westwärts geflohen. Über Schuld mehr oder minder befand kein Gericht. Ein Hinweis genügte, von einem missgünstigen Nachbarn zum Beispiel, von einem, der seine eigene Haut retten wollte. Das war bis 45 so, das war danach nicht anders. Ein Leben lang Schweigen. Andeutungen nur zu Freunden. Dann Rechtfertigungszwang. In der NSDAP sei er wohl gewesen. Doch von der Verwandtschaft gedrängt wegen des Geschäfts. Alle Inhaber großer Geschäfte im Ort waren eingetreten. Und nur vier Wochen Zellenleiter. Obwohl schon 38 Jahre alt und ohne militärischen Rang, wurde er gleich am Anfang des Krieges einberufen, als habe man ihn weg haben wollen, als hätte er Feinde im Ort gehabt, wie die Mutter vermutete. Übrigens sei er trotz eines für eine Offizierslaufbahn ausreichenden Bildungsgrades bis zuletzt Gefreiter geblieben. Schreibstubenhengst. Und hätte ein Nazi wohl ein Mädchen jüdischen Namens adoptiert? Genaues über ihre Herkunft könne sie nicht nachweisen. Die Mutter hätte dem Vater alles überlassen oder absichtlich vergessen."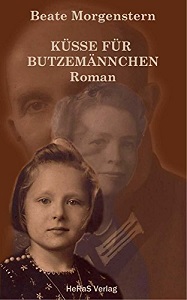 Beate Morgenstern (Cuxhaven, 15 april 1946)
Cover
De Britse schrijver Jeffrey (Howard) Archer, Baron Archer of Weston-super-Mare, werd geboren op 15 april 1940 in Londen. Zie ook alle tags voor Jeffrey Archer op dit blog.
Uit: To Cut a Long Story Short
'Damn good drive,' said Toby, as he watched his opponent's ball sail through the air. 'Must be every inch of 230, perhaps even 250yards,' he added, as he held up his hand to his forehead to shield his eyes from the sun, and continued to watch the ball bouncing down the middle of the fairway.'Thank you,' said Harry.'What did you have for breakfast this morning, Harry?' Toby
asked when the ball finally came to a halt.'A row with my wife,' came back his opponent's immediate reply. 'She wanted me to go shopping with her this morning.''I'd be tempted to get married if I thought it would improve my golf that much,' said Toby as he addressed his ball. 'Damn,' he added a moment later, as he watched his feeble effort squirt towards the heavy rough no more than a hundred yards from where he stood.Toby's game did not improve on the back nine, and when they headed for the clubhouse just before lunch, he warned his opponent,
'I shall have to take my revenge in court next week.''I do hope not,' said Harry, with a laugh.'Why's that?' asked Toby as they entered the clubhouse.'Because I'm appearing as an expert witness on your side,'
Harry replied as they sat down for lunch.'Funny,' Toby said. 'I could have sworn you were against me.'Sir Toby Gray QC and Professor Harry Bamford were not always on the same side when they met up in court.' All manner of persons who have anything to do before My Lords the Queen's Justices draw near and give your attendance.'The Leeds Crown Court was now sitting. Mr. Justice Fenton presided. Sir Toby eyed the elderly judge. A decent and fair man, he considered, though his summings-up, could be a trifle long-winded. Mr Justice Fenton nodded down from the bench. »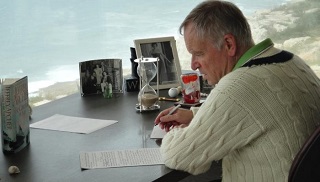 Jeffrey Archer (Londen, 15 april 1940)
De Duitse schrijver Bernhard Lassahn werd op 15 april 1951 in Coswig / Anhalt geboren. Zie ook alle tags voor Bernhard Lassahn op dit blog.
Uit: Liebe Frauen! (Briefe)
"Ein möglicher Titel für das Buch, der lange zur Diskussion stand, war zum Beispiel: Die Friedenspiraten. So sahen sich die Aktivisten nämlich selber: als Piraten für den Frieden.
Was hatten sie vor? Sie wollten auf Segelschiffen verbotene Bücher nach Afrika bringen. Es sollte eine künstlerische und zugleich politische Aktion sein; eine Aktion, die symbolisch und zugleich konkret ist. Sie wollten damit Frieden nach Afrika bringen.
Ja, tatsächlich: Bücher bringen Frieden. Das haben sie wirklich gedacht. Es ist gar nicht so naiv, wie es auf den ersten Blick erscheint. Bücher können Türen zu anderen Welten öffnen, sie können Verständnis für das, was man noch nicht kennt, ermöglichen. Bücher können die Leser in der Kunst einüben, sich dem anderen anzunähern und über den Tellerrand der Ichbezogenheit hinauszugucken.
Diese Idee stand auch hinter dem Programm, das mich einst als Austauschschüler nach Michigan gebracht hat. Entstanden waren solche Programme aus den Erfahrungen des letzten Krieges. Die neue Jugend sollte sich nicht in Organisationen wie der Hitler-Jugend austoben, vielmehr sollte sie sich mit anderen Lebensweisen in anderen Gesellschaften auseinandersetzen und versuchen, in der Fremde wie unter Freunden zu leben.
Solche Jugendlichen würden sich nicht mehr so leicht in einen Krieg schicken lassen. Denn Verständnis und Wertschätzung für den anderen immunisiert gegen Hetze und Propaganda und arbeitet damit auch gegen den Krieg. So konnte man noch in den 70er Jahren argumentieren, wenn man begründen wollte – und das musste man auch –, warum man den Kriegsdienst mit der Waffe verweigern wollte. Das habe ich getan. Ich denke im Grunde immer noch so, und es gefällt mir, was in dem Briefwechsel von Albert Einstein an Sigmund Freud steht, da heißt es: "Alles, was der Kunst dient, arbeitet auch gegen den Krieg."
Auch Malala Yousafzai, die mit 18 die bisher jüngste Friedensnobelpreisträgerin ist, fragt in aller Unschuld: "Wieso ist es so leicht, Waffen zu geben, aber so schwer, Bücher zu geben? Wieso ist es so einfach Panzer zu bauen, aber so schwer Schulen zu errichten?" Auch sie teilt diesen zerbrechlichen Traum: "Ein Kind, ein Lehrer, ein Buch und Stift können die Welt verändern."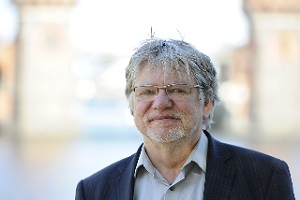 Bernhard Lassahn (Coswig 15, april 1951)
De Duitse dichter en schrijver Erich Arendt werd geboren op 15 april 1903 in Neuruppin. Zie ook alle tags voor Erich Arendt op dit blog.
Nach dem Prozeß Sokrates
Steingrauer Tag,
der sein Lid senkt.
Knie nicht
in den Schatten!
Spreu
schleifen die Stunden,
Spreu, abermillion, die
halt nicht machen
vor deiner Stirn
− Trauerschafott −,
schneller und
schneller, ohne
Geheimnis, und −
kein blutender Kern.
Verzweifelt die
chimärischen Fahnen,
sie blichen im jäh
verdämmernden
Rot,
Gleichgeschaltet
mit abwaschbaren
Handschuhn
gleichgeschaltet durch die
gezeichneten Finger
das erschöpfte
tausendströmige Herz.
Die da
handeln, an Tischen,
mit deiner Hinfälligkeit,
allwissenden Ohrs,
ledernen
Herzens ihr Gott, sie
haben das Wort:
Worte,
gedreht und
gedroschen: Hülsen
gedroschen, der
zusammengekehrte Rest.
Gehend im Kreis
der erschoßnen Gedanken
− wie war
doch der Atem groß −
halt versiegelt den Mund, daß
der Knoten
Blut
nicht Zeugnis ablege!
Wo Freude und Recht
gemeuchelt lag,
an der Wand
der Geschichte
stets noch: Du!
Gehend im Kreis – doch
der Meteor
Verfinsterung jagt
am ummauerten Himmel:
nie nicht –
Blutwimper, schwarz
das Jahrhundert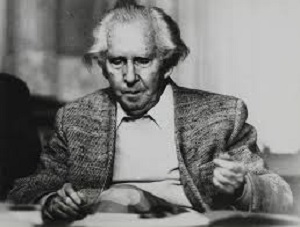 Erich Arendt (15 april 1903 - 25 september 1984)
De Vlaamse dichter en schrijver Pol De Mont werd geboren in Wambeek op 15 april 1857. Zie ook alle tags voor Pol de Mont op dit blog.
Als Jezus zou slapen
Als Jezus zou slapen, avond spâ,
volgden Hem steeds elf engelen na,
en hielden heel hoog -- en lichtten Hem voor
veel sterren, zilverzacht van gloor.
En als Hij nu in zijn bedje lag,
traden zij nader, vol heilig ontzag,
en namen elkaar heel stil bij de hand
ten reidans om zijn ledikant,
en zongen liedekens, wonderzacht,
gelijk nachtegalen bij lentenacht .
Vielen dan 's Kindjes oogelijns dicht,
dan doofden zij gauw hun sterrenlicht
en ieder koos zich, zonder geluid,
voor heel de nacht een plekje uit .
Twee zetten zich, groen als de zee die deint,
aan zijn hoofd- en aan zijn voeteneind.
Rechts en links, op de spondeplank,
zaten twee andre, als sneeuw zoo blank.
Twee deden niets dan 't Kindje dekken
die waren azuur als de zomernacht.
Twee moesten Het, kussend, des morgens wekken
die waren gedost in morgenpracht.
Twee hielden hun opgevouwen wieken
als een levende hemel over het Wicht
hun kleed geleek op het morgenkrieken
en van hun aanzicht straalde licht.
En ieder op zijn hoofdje droeg
een vonkelend rode rozenhoed.
Eén enkele stond ter zij, alléén,
en waagde het niet vooruit te treên,
en zag met ogen vol getraan
van ver het slapend Kindje aan
die droeg op 't hoofd een doornenhoed,
zijn handen en voeten dropen van bloed ...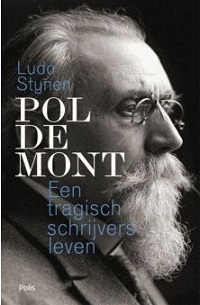 Pol De Mont (15 april 1857 - 29 juni 1931)
Cover biografie
De Vlaamse dichter en schrijver Staf Weyts werd geboren op 15 april 1909 in Mechelen. Zie ook alle tags voor Staf Weyts op dit blog.
Vers
Laat ons vertrekken nog met deze late boot,
Eenzaam over dees somber water in den nacht.
Misschien dat ginds, waar die sirene floot,
Het schrijnend heimwee van ons beider hart verzacht.

Want morgen wieken hier weer witte vogels rond;
- Al jaren lang en altijd lijk vandaag -
Zien we de grijze lucht boven den grauwen grond,
En boven 't water dat omhoog gaat en omlaag.

En wordt het oude weerom nieuw, en al het nieuwe weerom oud
Komen dezelfde droomen voor een korten tijd;
En lijk het weder warm wordt en daarna weer koud,
In ons dezelfde vreugde en dezelfde triestigheid.

Want aan den slenter van ons leven zijn we vastgebonden;
We treuren en we hopen,
Alle dagen doen wij dezelfde zonden
En 's avonds onze oogen toe en 's morgens open.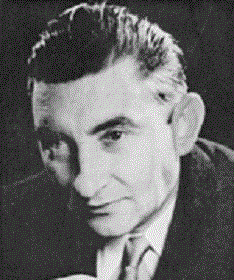 Staf Weyts (15 april 1909 – 12 januari 1985)
De Duitse dichter, essayist, criticus en literatuurwetenschapper Hans Egon Holthusen werd geboren op 15 april 1913 in Rendsburg. Zie ook Zie ook alle tags voor Hans Egon Holthusen op dit blog.
Uit: Rainer Maria Rilke: A Study of His Later Poetry
"I doubt whether belief proper enters into the activity of a great poet, qua poet', says Mr Eliot in his essay on Shakespeare and the Stoicism of Seneca . 'That is, Dante qua poet did not believe or disbelieve the Thomist cosmology or theory of the soul: he merely made use of it, or a fusion took place between his initial emotional impulses and a theory, for the purpose of making poetry.' The emphasis here is on what Mr Eliot calls 'the emotional': for it is, he says, '[the poet's] business to express the greatest emotional intensity of his time, based on whatever his time [happens] to think.' This is indeed an essential and profound insight; nevertheless, it is only one half of the truth of the matter. For the rest, it is important to realize that there is no such thing as 'pure poetry' from which all non-poetic intentions are excluded. The poet too is part of the human order of things, he too is involved in the moral, religious and intellectual discourse or strife of the world; hence it is clear that such a spiritual and intellectual decision as a poem is influenced by non-aesthetic considerations too. Mallarmé's 'absolute work of art' is an illusion. The poet desires not only to create beauty but also to expound the truth. Thus it is Klopstock aim in the Messias to declare his Christian faith; Lessing in his Nathan the Wise to express his faith in the doctrine of enlightened toleration; and Goethe too, in his Gott und Welt poems, is concerned with presenting a very specific view of the world. Now the truth which a poet expounds has no significance if it does not also appear in a beautiful form, if the bare, theoretical, conceptual truth has failed to issue into an 'artistically true' formulation. And only where it is the expression and formulation of the true can the beautiful be said to be artistically significant. 'Only that is beautiful', says Grillparzer, 'which, while wholly satisfying the sensuous, lifts up the soul at the same time."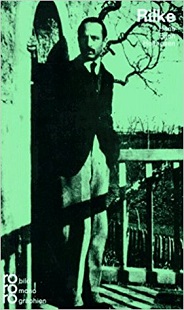 Hans Egon Holthusen (15 april 1913 – 21 januari 1997)
Cover van een monografie over Rilke door Hans Egon Holthusen
Zie voor bovenstaande schrijvers ook mijn blog van 15 april 2007 en ook mijn blog van 15 april 2008 en eveneens mijn blog van 15 april 2009.
15-04-2018 om 10:21 geschreven door Romenu

Tags:Bliss Carman, Beate Morgenstern, Jeffrey Archer, Bernhard Lassahn, Erich Arendt, Pol De Mont, Staf Weyts, Hans Egon Holthusen, Romenu


14-04-2018

Péter Esterházy, Alexandre Jardin, Tjitse Hofman, Landolf Scherzer, Charles Lewinsky, Roman Graf
De Hongaarse schrijver Graaf Péter Esterházy van Galántha werd geboren in Boedapest op 14 april 1950. Zie ook alle tags voor Péter Esterházy op dit blog.
Uit: Celestial Harmonies (Vertaald door Judy Sollosy)
"My father was one of the most generously endowed figures of seventeenth-century Hungarian culture and history. At the peak of his political career, he bore the title of Palatine and Prince of the Empire. He turned the palace of Kismarton into a magnificent residence, building several churches and keeping sculptors and painters in his employ at Court. Several members of the family learned to play musical instruments. My father "clapped out" his favorite pieces on the virginal, Prince Pál Antal had mastered several instruments (some say the violin, flute and lute, others the violin and the cello), while it is commonly accepted that Haydn composed his pieces expressly for Prince Miklós the Magnificent, who loved the baryton and magnificence in equal measure. My father wrote several volumes of poetry, most of which testify to the influence of the great baroque poet and military commander, Miklós Zrínyi. He also published works on religion, as well as prayer books. His collection of religious psalms, Celestial Harmonies, was published in Vienna in 1711. Furthermore, until recently, Hungarian musicologists have considered him a composer of some note. Latest findings, however, suggest that his contributions are somewhat limited, not only because a number of the melodies in the book can be shown not to have originated with him (most contemporary composers worked with borrowed melodies), but because, it seems, he did not compose the pieces, or adapt existing melodies, himself. His scores are not only rudimentary and tentative on the surface, they are incorrect, too. Judging by the extant documents, the schism between my father's mental faculties and his erudition and Celestial Harmonies is so wide, especially its more intricate layers, that it would take a great leap of the imagination to span. (To mention only the most important types of suspension bridges pertaining hereof, there's the plain, the specially anchored, the self-anchored, and also the cable bridge, the slant-cable harp-bridge, the slanted star-cable bridge, the slanted fan-shaped, and the single-pylon slanted harp-cable varieties. My father played on the harp as well as the star.)"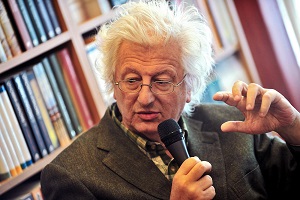 Péter Esterházy (Boedapest, 14 april 1950)
De Franse schrijver Alexandre Jardin werd geboren in Neuilly op 14 april 1965. Zie ook alle tags voor Alexandre Jardin op dit blog.
Uit: Des gens très bien
"Comment ai-je fait pour me dégager de la vérité officielle de nos ascendants si fidèles à Vichy? pour finir par accepter ma honte d'être de cette lignée-là de gens supposément "très bien" ? Et ma colère devant l'évidence que le pire pût être commis dans nos rangs sans qu'on y ait jamais vu à mal. Sans que la moindre gêne fût ouvertement exprimée. Même si, bien sûr, il ne m'a pas échappé que les vrais commanditaires de l'horreur furent avant tout des Allemands : Heinrich, Oberg, Dannecker, Knochen et d'autres.
Ce secret français tient en une scène, que j'ai mis vingt-cinq ans à voir avec la bonne focale.
Chacun des Jardin aurait pu la convoquer dans son esprit mais, préférant le refuge du flou à l'horreur de la netteté, nous ne savions pas comment regarder de face sans suffoquer une telle débâcle morale. Comme des millions de familles françaises, anxieuses d'ouvrir les placards moisis de la collaboration.
Sauf que chez nous, l'affaire était énorme ; comme souvent chez les Jardin habitués à l'improbable. Et aux épisodes où l'Histoire exagère. Cette fois, la vérité sombre était dissimulée sous des kilos de gaieté, des centaines de pages de littérature chatoyante, un vrac de souvenirs cocasses, une tornade d'anecdotes. Moi-même, j'y ai contribué en perpétuant la légende nourricière des Jardin ; farcie de galopades et de situations enjôleuses. En m'abritant systématiquement derrière un masque de légèreté, un optimisme de façade, une fausse identité frivole. Issu de la honte, j'ai choisi le rire ; un rire longtemps forcé.
Pour faire oublier ma double vie, plus mélancolique.
Une existence parallèle et ombreuse que j'ai toujours pris soin de dissimuler ; en m'affichant comme un auteur de romans ensoleillés. Et amoureux du rose. Cette vie-là fut celle d'un homme au front nuageux qui, depuis l'âge de seize ans, tourne autour d'une scène qui continue de lui couper les jarrets. Un épisode qui m'a éclairé sur les gens intelligents et très convenables qui commettent l'irréparable en se réfugiant dans les bras de leur bonne conscience. Un chapitre vichyssois qui m'a conduit dès la sortie de l'adolescence à mener une réflexion obsessionnelle - et quasi clandestine - sur les destructeurs des Juifs et leurs collaborateurs. Méditation directement issue de ma position particulière. Qui reste non pas une étoile jaune mais une croix. Et pas une croix de Lorraine."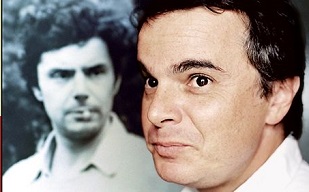 Alexandre Jardin (Neuilly, 14 april 1965)
De Nederlandse dichter Tjitse Hofman werd geboren in Assen op 14 april 1974. Zie ook alle tags voor Tjitse Hofman op dit blog.
Machine
Machine
machine zeg je
je zegt dat ik
machine heet
hete machine
maar wat weet jij
van draaien
maaiende bladen
zingende zagen
wielen schoepen raderen
ratelen razen
schrale gaten slijten
in mijn condenseringsvat
want ik weet
dat je het meent
en ik weet dat je neemt
van mijn paardenkracht
van mijn paardenkracht.
Lounge
Ein Mantel
von Frauenflaum
ein Hauch charmant
und Haare aus Regen
Ihre Ärmel
haben Hände
schwellen weiß der Abend
an eingefallenen Wangen
Kaminfeuer Klaviermusik
Champagner und Zigarren
Niederschlag der Tage
und Damenbeine
Sind es
schwarzgeschminkte Augen
saugende Blicke
und träumende Lippen
Lab ich mich
im blitzenden Licht
prickelt die Luft
mein Flimmern
Auster
wär ich doch
Auster.
Vertaald door Jan Klug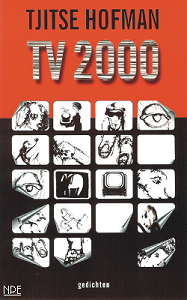 Tjitse Hofman (Assen, 14 april 1974)
Cover
De Duitse schrijver Landolf Scherzer werd geboren op 14 april 1941 in Dresden. Zie ook alle tags voor Landolf Scherzer op dit blog.
Uit: Der Rote
"Am nächsten Tag warte ich überpünktlich im Erfurter Friseursalon von David Liebmann auf den Ministerpräsidenten. Im The Barber sitzen ein junger Mann, dessen Haare eine Friseuse wäscht, und ein Herr, dessen schlohweiße Haare vom Chef geschnitten werden.
David Liebmann fragt mich freundlich, aber bestimmt, ob ich bestellt bin. Ich schüttele den Kopf, und der Chef bedauert, dass er im Moment nur bestellte Kunden bedienen
kann. Als ich erkläre, dass ich hier mit Bodo Ramelow verabredet bin, will er wissen, ob ich zu den Personenschützern gehöre, die im Voraus die Sicherheit kontrollieren müssen.
Ich denke: Wie könnte man hier bei all den scharfen Scheren und noch schärferen Messern die Sicherheit garantieren, und erzähle, dass ich den Ministerpräsidenten ab und an begleite, um über ihn zu schreiben. Darauf meint David Liebmann, dass in der DDR Friseure wahrscheinlich bedeutender gewesen sind als Ministerpräsidenten, denn über einen Ministerpräsidenten hat damals niemand ein Buch geschrieben, wohl aber über einen Friseur!
Mit dem Kopf deutet er auf das Fensterbrett. Dort liegt das DDR-Kultbuch »Friseur Kleinekorte in Venedig und anderswo
«. Das kennt auch der weißhaarige Herr und zitiert die immer wiederkehrende Begrüßung: »Nemse Platz, Herr Jeheimrat. Was gibsn Neues aufm Bau? Wieder Nachtschicht jehabt?« Seinerzeit seien Friseure »die Beichtväter der Atheisten « gewesen. Heute sei man beim Haareschneiden schweigsamer. Doch wie von Kleinekorte inspiriert, erzählt er, dass er seit 11 Jahren zu Herrn Liebmann kommt, dass ihm, wenn er als 83-Jähriger frisch frisiert durch Erfurt geht, die Frauen noch hinterherschauen, dass er ein Grundstück von 2000 Quadratmetern mit 6 reichlich tragenden Apfelbäumen sein Eigen nennt, dass er inzwischen wartet, bis die
Äpfel herunterfallen, und sie dann vergräbt. »Früher nahm man sie mir im Konsum ab. Heute will keine Verkaufsstelle Äpfel, die unterschiedlich groß sind.«
Draußen halten zwei Limousinen.
»Seit 5 Jahren ist Herr Ramelow immer pünktlich, sogar als Ministerpräsident«, schwärmt David Liebmann.
Bodo Ramelow kommt allein. Seine Personenschützer hat er trotz scharfer Scheren und noch schärferer Messer vor der Tür gelassen."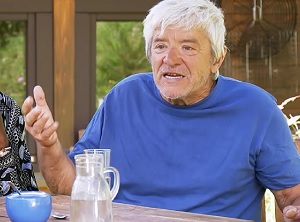 Landolf Scherzer (Dresden, 14 april 1941)
De Zwitserse schrijver en draaiboekauteur Charles Lewinsky werd geboren op 14 april 1946 in Zürich. Zie ook alle tags voor Charles Lewinsky op dit blog.
Uit: Melnitz
"Immer, wenn er gestorben war, kam er wieder zurück.
Am letzten Tag der Trauerwoche, wenn der Verlust sich im Alltag verlaufen hatte, wenn man den Schmerz schon suchen musste, ein Mückenstich, der gestern noch gejuckt hat und heute kaum mehr zu ertasten ist, wenn die Rücken weh taten vom Sitzen auf den niedrigen Hockern, die der alte Brauch den Hinterbliebenen für die sieben Tage zuweist, dann war er ganz selbstverständlich wieder da, trat unauffällig mit den anderen Besuchern ins Zimmer, durch keine Äußerlichkeit von ihnen unterschieden. Nur Essen brachte er keines mit, auch wenn das der Brauch gewesen wäre. In der Küche warteten die Töpfe und die zugedeckten Schüsseln in Reih und Glied, eine Ehrenwache für den Verstorbenen; er kam mit leeren Händen, nahm sich einen Stuhl, wie man es tut, sagte kein Wort, wenn er von den Trauernden nicht angesprochen wurde, stand auf, wenn sie beteten, setzte sich, wenn sie sich hinsetzten. Und wenn dann die andern, ihren Trostspruch murmelnd, sich verabschiedeten, blieb er einfach sitzen, war wieder da, wie er immer da gewesen war. Seine Ausdünstung von feuchtem Staub mischte sich mit den anderen Gerüchen des Trauerhauses, Schweiß, Talgkerzen, Ungeduld; er gehörte wieder dazu, trauerte mit, nahm Abschied von sich selber, seufzte sein vertrautes Seufzen, das halb ein Stöhnen war und halb ein Schnarchen, schlief ein mit hängendem Kopf und offenem Mund und war wieder da.
Salomon Meijer stand von seinem Hocker auf, schob den Körper in die Höhe, stemmte ein schweres Gewicht, ein Kuhviertel oder einen Mühlensack Mehl, reckte sich, dass die Gelenke in den Schultern knackten, und sagte: »Nu. Lasst uns etwas essen.« Er war ein großer, breit gebauter Mann, der nur deshalb nicht kräftig wirkte, weil sein Kopf zu klein war für seine Statur, der Kopf eines Gelehrten auf dem Körper eines Bauern. Er hatte sich einen Backenbart wachsen lassen, der stellenweise – viel zu früh, meinte Salomon – schon weiß wurde. Darunter, vom Bart eingerahmt, bildete ein Geflecht aus geplatzten Äderchen zwei rote Flecken, die ihn immer wie angeschickert aussehen ließen, obwohl er nur zum feierlichen Kiddusch Wein trank, sonst höchstens mal, an ganz heißen Tagen, ein Bier oder zwei. Alles andere vernebelt den Kopf, und der Kopf ist der wichtigste Körperteil eines Viehhändlers.
Er war ganz schwarz gekleidet, nicht aus Trauer, sondern weil er sich eine andere Farbe nicht vorstellen konnte, trug einen altmodischen Gehrock aus schwerem Tuch, den er jetzt, wo keine Besucher mehr zu erwarten waren, aufknöpfte und hinter sich fallen ließ ohne sich umzusehen. Er ging davon aus, dass seine Golde den Gehrock schon auffangen und, wie es sich gehört, über eine Stuhllehne legen würde, und darin lag nichts Tyrannisches, nur die Selbstverständlichkeit klar aufgeteilter Bereiche."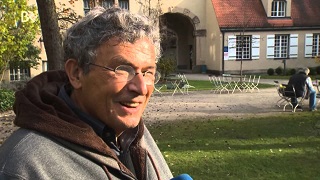 Charles Lewinsky (Zürich, 14 april 1946)
De Zwitserse dichter en schrijver Roman Graf werd geboren geboren op 14 april 1978 in Winterthur, Zwitserland. Zie ook alle tags voor Roman Graf op dit blog.
Großvater (Fragment)
Großvater
wieder Weihnachten
die Birken vor deinem Haus
seit Jahren gefällt
letzten Sommer ist nun doch
Gras über der Stelle gewachsen
du sitzt auf dem Sofa
es ist so alt wie die Birken
fünfzig Jahre / du schläfst
auf dem Sofa, daneben die Ablage
Bücher über den Zweiten
Weltkrieg und die Schweizer Armee
ein Radio für die Nachrichten im DRS1
und deine Tropfen für
Herz und Kreislauf
später sage ich
pflanz doch wieder einen Baum
am besten schon bald
im Frühling
einen kleinen nur
der wirft wenig Laub ab und gibt
nicht viel Arbeit
ich sage
eine Linde vielleicht
denn die Form der Krone
entspricht der Form eines Blattes
ein Herz umgedreht
es ist inzwischen dunkel geworden
die Kerzen brennen gleich
Großvater, du stöhnst
du sagst Bäume
setzt man im
Herbst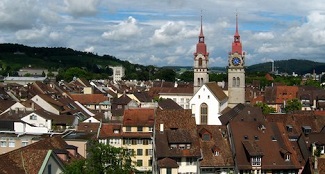 Roman Graf (Winterthur, 14 april 1978)
Winterthur
Zie voor nog meer schrijvers van de 14e april ook mijn vorige blog van vandaag.
Zie voor bovenstaande schrijvers ook mijn blog van 14 april 2007 en ook mijn blog van 14 april 2008 en eveneens mijn blog van 14 april 2009.
14-04-2018 om 11:43 geschreven door Romenu

Tags:Péter Esterházy, Alexandre Jardin, Tjitse Hofman, Landolf Scherzer, Charles Lewinsky, Roman Graf, Romenu



Roberto Schopflocher, Martin Kessel, Gabriele Stötzer, Helene Hübener, Gerhard Rohlfs
De Duits-Argentijnse schrijver Robert Schopflocher werd geboren op 14 april 1923 in Fürth. Zie ook alle tags voor Roberto Schopflocher op dit blog.
Uit: Eine Kindheit
"Als Kind hatte es mir die Zauberwelt der Tropfsteinhohlen in der Frankischen Schweiz angetan: die Bing- und die Teufelshohle, vor allem aber die Maximiliansgrotte. Die Stalaktiten und Stalagmiten glichen Orgelpfeifen und marmornen Skulpturen; die von den Karbidlampen angestrahlten Kavernen verwandelten sich in geheimnisvoll aufblitzende Schatzkammern. An gewissen Stellen blieb der Fuhrer stehen, legte den Zeigefinger auf die Lippen und machte uns auf das leise Ticken der Wassertropfen aufmerksam oder auf das Rauschen eines unterirdischen Flusses. Es konnte geschehen, das er sein Licht hinter einen der Steine hielt, der dann alabastern schimmerte. Und gelegentlich brachte er eine hohle Tropfsteinsaule durch einen behutsamen Schlag zum Klingen. Das Auftauchen erzschurfender Zwerge mit roten Zipfelmutzen hatte mich kaum in Erstaunen versetzt.
Erstaunen dagegen rief das Erlebnis in mir hervor, das mich beeindruckte, als ich Jahrzehnte spater noch einmal die Maximiliansgrotte besuchte. Inzwischen waren zahlreiche Stadte in Schutt und Asche gesunken, Millionen Menschen waren dem von einer Verbrecherclique ausgelosten Mordrausch zum Opfer gefallen. Neue Staatsgebilde waren entstanden, alte waren von der Landkarte verschwunden, und der erste Mensch war auf dem Mond gelandet. Das Zeitalter der Antibiotika war angebrochen, das des Computers, der Gen- und Psychotechnik, der Atomphysik, der weltumspannenden Massenkommunikation. Und in der Tropfsteinhohle, in die ich nun als Erwachsener zuruckkehrte, erzahlte uns der Fuhrer in der gleichen maulenden frankischen Mundart die gleichen Geschichten, die damals, als ich als kleiner Bub an der Hand meines Vaters das glitschige Labyrinth dieser Unterwelt entlang getippelt war, sein langst verstorbener Kollege – sein Grosvater womoglich – heruntergeleiert hatte. Vom Windloch war die Rede, wo oaner nei'g'folln wor, tog'lang wor der so dogleg'n mit zerdepperte Glieder. Und wie viele Jahre es braucht, bis so ein Tropfstein heranwachst. Der gleiche Tonfall, die gleiche Hohlenluft und das gleiche Flattern der Fledermause. Nur das man jetzt elektrische Taschenlampen in der Hand hielt anstatt der Karbidfunzeln. Und das ich mich nunmehr des ofteren bucken muste, um mir den Kopf nicht zu stosen.
Angesichts dieser Galerien und Stollen kam mir die Vielschichtigkeit unserer Existenz zum Bewustsein. Tiefliegende Seelenfloze drangten an die Oberflache; verschuttete Kindheitserinnerungen erwachten. Die Vergangenheit pflegt einen leichten Schlaf. Das sachte Klopfen an einer Tropfsteinsaule etwa, das Herunterleiern eines langst vergessen geglaubten Spruchs im vertrauten Heimatdialekt – und schon richtet sie sich auf, die Vergangenheit, und bahnt sich den Weg in die Gegenwart, wird zur Gegenwart. Durch fragwurdige Gedachtnismanipulation gefilterte Geschichte, gefarbt vom Heute und von der im Laufe des Lebens erworbenen Erfahrung: eine nur noch unscharf erfasbare," jedoch stets ausbruchbereite Vergangenheit."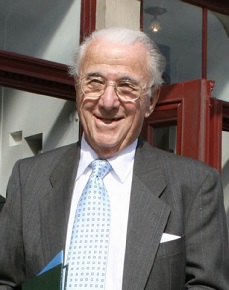 Robert Schopflocher (14 april 1923 – 23 januari 2016)
De Duitse dichter en schrijver Martin Kessel (pseud. Hans Brühl) werd geboren op 14 april 1901 in Plauen (Vogtland). ook alle tags voor Martin Kessel op dit blog.
Uit: Herrn Brechers Fiasko
"Täglich, zumal bei Büroschluß, läuft ein Zittern durchs Zentrum, durch die Fundamente Berlins, als wäre nun wieder etwas Unvorhergesehenes im Gang.
Alles ist unterwegs. Wer sich frühmorgens pünktlich im Gebäude seiner Firma eingefunden hat, wird nun wieder – nach einem funktionellen Verdauungsprozeß, der den Menschen zur bloßen Arbeitskraft degradiert und deren Bestes sich zunutze gemacht hat – auf die Straße gesetzt und seinem Privatschicksal überlassen. Die eine Organisation entläßt, die andere empfängt, aus der Arbeitskraft wird ein Fahrgast oder ein Fußgänger. Diesen wiederum öffnen sich Kinos und Restaurants, und jedes Stadium fordert seinen Tribut.
Spießt eine Stange irgendwo in die Luft, auch Haltestelle genannt, ist ein Loch irgendwo zur U-Bahn hinunter oder ein Podium, auch Bahnsteig genannt, gleich findet daselbst eine Kristallisation statt. Leute sammeln sich an, Passanten der verschiedensten Gattung, die's eilig haben, aber mit einer Ernsthaftigkeit auf den Gesichtern, als wären es letzte Vereinsmitglieder ums Banner. Ein Dunst steigt auf, ein Geruch wie aus der Manege, und über all die fixen Ideen und wahrzunehmenden Interessen hin spielt der diffuse Widerschein des Lichtes, lautlos, als einzig zärtliches, Träume spinnendes Element.
Tag für Tag, in einer Art Schlafwandel der Gewohnheit, erneuert sich das, ein schweigsames von Hand-zu-Hand-Gehen, und in mehreren Schichten sind die besten Köpfe dabei, auch fürs Unvorhergesehene die einwandfrei besten organisatorischen Formeln zu finden. Ist nicht alles durch Zeichen geregelt, durch Signale, Paragraphen und Übereinkünfte, durch eine Sprache, deren Geometrie in nahezu atavistischer Weise tabu ist, und hat sich nicht im Laufe des Funktionierens etwas herausgebildet, das Beachtung verdient, eine Art gläubige Sorglosigkeit, ein Lakonismus vor der höheren abstrakten Ordnung?"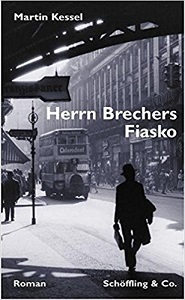 Martin Kessel (14 april 1901 – 14 april 1990)
Cover
De Duitse dichteres en schrijfster Gabriele Stötzer werd geboren op 14 april 1953 in Emleben inThüringen in de toenmalige DDR. Zie ook alle tags voor Gabriele Stötzer op dit blog.
die lüge saß auf dem schemel
die lüge saß auf dem schemel und biß sich die zehennägel ab
der salat war durchgerührt und weinte nun vor rührung
das ich war besoffen und blubberte ätzend
der hut sagte guten tag beim in die luft steigen
die fliege flog und war tot an der patsche
der kleber klebte klug das eine ans andere auch wenn er
zwischendurch versank
die nähe ist angebunden
die ferne ist frei
die nähe kommt
die ferne geht
die nähe hat ein gesicht und hände
die ferne löst sich auf im nebel
die nähe schlägt sich prügelt sich kotzt ab
die ferne ist erhaben
noch zu haben?
der dampf treibt wolken −
vors gesicht
sieh mich an und sieh mich nicht
folg der worte lauteklang
körper dreht sich wochenlang
und es war trotzdem nur
ein lauern um den heißen brei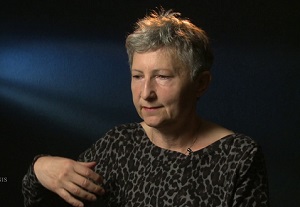 Gabriele Stötzer (Emleben, 14 april 1953)
De Duitse schrijfster Helene Hübener werd geboren op 14 april 1843 in Sternberg. Zie ook alle tags voor Helene Hübner op dit blog.
Uit: Im Rosenhaus
"So! Das wäre fertig!« Sie legte die Hefte, die sie eben durchgesehen hatte, beiseite und rief durch die offene Tür: »Frau Gründler, sind Sie mit Ihrer Arbeit in der Küche bald fertig?«
Ein schwerfälliger Tritt ließ sich hören, und eine behäbige, sauber gekleidete Frau erschien auf der Bildfläche. »Ich wollte eben den Schlüssel bringen, Fräulein Anna. Sie gehen doch sicher noch ein wenig spazieren, Sie müssen ja ganz steif von dem vielen Sitzen sein!«
Anna lachte. »Sie kommen wohl nicht in die Verlegenheit, Frau Gründler. Aber Sie haben recht. Wenn man morgens Schule gehalten und nachmittags einen Stoß Arbeiten durchgesehen hat, muß man mal ins Freie. Also auf morgen!« Mit diesen Worten verabschiedete sie ihre Aufwärterin und stand, während sie den Mantel zuknöpfte, am offenen Fenster und erfreute sich an der schönen Aussicht. Der Anblick war ihr lange vertraut, denn sie wirkte als Leiterin einer Privatschule schon eine Reihe von Jahren in Falkenau. Sie hatte sich damals dieses Haus wegen seiner schönen Lage ausgesucht und auch zwei passende Schulräume im gleichen Haus gefunden. Anna liebte die Natur, sie liebte die bewaldete Bergkette die sich in blauer Ferne vor ihr ausdehnte, die zu ihren Füßen liegende Kleinstadt mit ihren roten Dächern und grünen Bäumen, den Fluß, der sich wie ein Silberfaden durch Felder und Wiesen schlängelte.
»Ja, schön ist's hier«, sagte sie halblaut vor sich hin. »Aber sehr viel einsamer ist's doch für mich geworden, seit Margarete heimgegangen ist.«
Margarete war ihre beste Freundin gewesen. Sie hatten als Kinder dieselbe Schule besucht und sich schon früh aneinander angeschlossen. Margarete verheiratete sich sehr jung mit einem Arzt, der sich in Falkenau niedergelassen hatte. So war Anna hierhergekommen. Und nun war die Freundin vor kurzem einer tückischen Krankheit erlegen."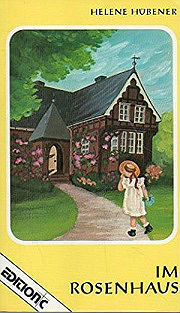 Helene Hübener (14 april 1843 – 5 juni 1918)
Cover
De Duitse schrijver en Afrikareiziger Gerhard Rohlfs werd geboren op 14 april 1831 in Vegesack bij Bremen. Zie ook alle tags voor Gerhard Rohlfs op dit blog.
Uit: Mein erster Aufenthalt in Marokko und Reise südlich vom Atlas durch die Oasen Draa und Tafilet
"Entmuthigt kehrte ich ins Hotel zurück. Aber eine Berathung mit Gatell, der Reiz des Neuen, das Lockende, völlig unbekannte Gegenden durchziehen zu können, fremde Völker und Sitten, ihre Sprache und Gebräuche kennen zu lernen, ein Trieb zu Abenteuern, ein Hang, Gefahren zu trotzen: alles dies bewog mich, das Wagniss auszuführen, und nach einer zweiten Unterredung mit Sir Drummond wurde beschlossen, ich solle—(es war dies das einzige Mittel, um ins Innere des Landes Zugang zu bekommen)—äusserlich den Islam annehmen und eine Anstellung als Arzt in der Armee des Sultans nachsuchen. Unter dieser Verkleidung und mit solchen Intentionen, meinte Sir Drummond, sei ich in Fes eines guten Empfanges sicher und könne mich so lange im Lande aufhalten wie ich wollte. Mulei el Abbes, den ich versuchte zu besuchen, war indess nicht sichtbar für mich, jedesmal kam ich zu ungelegener Zeit.
Unterdessen machte ich mich rasch und mit Energie daran, meinen Vorsatz auszuführen, obschon alle anderen Europäer abriethen. Ich vermied aber so viel wie möglich mit ihnen in weitere Berührungen zu kommen, namentlich mied ich das spanische Consulat (obschon mir dasselbe später in Marokko viel Freundschaft erwiesen hat), um nicht als Spion verdächtigt zu werden. Denn hätten die Mohammedaner mich nach wie vor mit Christen verkehren sehen, so würden sie es gleich gemerkt haben, dass ich nur zum Schein übergetreten. So war ich nur fünf Tage in Tandja, wie der Marokkaner die Stadt nennt, und am sechsten Tage hatte ich dem Orte schon den Rücken gekehrt, in Begleitung eines Landbewohners, der es übernommen hatte, mich nach Fes bringen zu wollen.
Ich hatte meine Sachen auf das Nothdürftigste reducirt, ein Bündelchen mit Wäsche war Alles, was ich bei mir hatte, nach Landessitte trug ich es an einem Stocke hängend auf der Schulter; eine weisse Djelaba (ein weisses langes wollenes, mit Capuze versehenes Hemd) war meine Kleidung. Gelbe Pantoffeln, dann eine spanische Mütze, worein ich mein letztes Geld—eine englische Fünf-Pfundnote—genäht hatte, endlich ein schwarzer weiter europäischer Ueberzug, der als Burnus dienen konnte: das war mein Anzug. Ich hatte keine Waffen, ein kleines Buch mit Bleistift, um Notizen machen zu können, war in der Tasche verborgen. Dies war meine ganze Ausrüstung."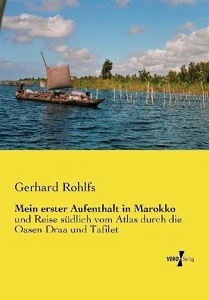 Gerhard Rohlfs (14 april 1831 – 2 juni 1896)
Cover
Zie voor bovenstaande schrijvers ook mijn blog van 14 april 2007 en ook mijn blog van 14 april 2008 en eveneens mijn blog van 14 april 2009.
14-04-2018 om 11:42 geschreven door Romenu

Tags:Roberto Schopflocher, Martin Kessel, Gabriele Stötzer, Helene Hübener, Gerhard Rohlfs, Romenu



Michael Basse
De Duitse dichter, schrijver en vertaler Michael Basse geboren op 14 april 1957 in Bad-Salzuflen / Nordrhein-Westfalen. Hij studeerde filosofie, psychologie en germanistiek in Regensburg en München, waarhij sinds 1984 woont. Sinds 1993 is hij werkzaam bij de redactie cultuurkritiek van de Bayerische Rundfunk. Hij schreef talrijke radioessays en schrijversportretten. Daarnaast vertaalde hij gedichten van o.a. Blaga Dimitrova, Ljubomir Nikolov, Boiko Lambovski (Bulgaars), Anise Koltz, Jean Portante (Frans) und John F. Deane (Engels). Bad-Salzuflen / Nordrhein-Westfalen. Zie ook alle tags voor Michael Basse op dit blog.

Uit:Ein einziges lyrisches Missverständnis
"Die Stoßrichtung ist alles andere als avantgardistisch. Und das gilt sowohl für die Sprachauffassung wie für den ideologisch-politischen Überbau. Der Vergleich mit Pound bietet sich hier geradezu an, zumal es in der Vita beider überraschende Parallelen gibt. Für beide ist die Poesie sprachlich auf den Hund gekommen. Während Borchardt die naturalistischen und neoromantischen Strömungen ebenso auf den Geist gehen wie der sich andeutende Expressionismus und später die neue Sachlichkeit, gegen die er einen hohen Ton restituieren will, der sich an klassischen Epochen vom Mittelalter bis zur Goethezeit messen lassen kann, wettert Pound gegen die gekünstelt anämische Stimmungs- und Gefühlsdichtung Londoner Salons, deren dekorativer Schwulst von sprachlicher Impotenz zeuge. Beiden geht es um ein fundamental anderes Verhältnis zur Sprache, eigentlich um ihre Wiederbelebung. Ernsthafte Auseinandersetzung mit Traditionen, echte Bildung und philologische Kenntnisse sind dabei selbstverständliche Voraussetzung, wenn nicht blind ins Blaue hinein gedichtet werden soll. Für Borchardt hatte sich Deutsch als Literatursprache geschichtlich verabschiedet; für den Wahleuropäer Pound, der sich je nach Lage englisch, französisch, italienisch und mitunter auch deutsch ausdrückte, hatte sich das Italienische als Literatursprache seit Dante und Cavalcanti - mit Ausnahme Leopardis - kaum weiterentwickelt. Beide übersetzten aus dem Italienischen, wurden aus Bewunderung für Mussolini auf der Oberfläche Faschisten, machten dem Duce ihre Aufwartung. Beide hofften auf eine kulturelle Erneuerung aus dem Geiste des Archipelagos. Beider Domizile - Lucca und Rapallo - lagen Luftlinie gerade mal 100 Kilometer entfernt."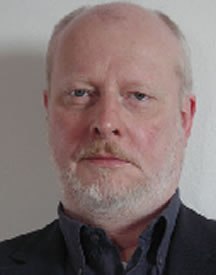 Michael Basse (Bad-Salzuflen, 14 april 1957)
14-04-2018 om 00:00 geschreven door Romenu

Tags:Michael Basse, Romenu


13-04-2018

Nachoem Wijnberg, K. Michel, Alexander Münninghoff, Michel Faber, Jean-Marie Gustave Le Clézio, Samuel Beckett, Seamus Heaney, Tim Krabbé, Eudora Welty
De Nederlandse dichter en schrijver Nachoem Mesoelam Wijnberg werd geboren in Amsterdam op 13 april 1961. Zie ook alle tags voor Nachoem Wijnberg op dit blog.
De eerste keer dat je je herinnert dat je dat deed
Je bent hier lang niet geweest
en kwam terug
om nog een keer te kijken.

Had het niet meer
veranderd moeten zijn?

Maar het is enkel voor een deel
zoals je je kan herinneren,
een groter deel
zoals je denkt dat het was.

Je schuift dat wat je je herinnert
verder uit elkaar,
om nog een keer te zoeken.

Om daar met je heer herinnering
rond te lopen,
jij wijst hem iets aan
alsof het van jou is
en daarna wijst hij jou iets aan, maar waar is hij nu?

Een lege straat,
einde van de middag.

Je weet niet meer
welke maand het was,
maar het was een lege, niet-koude middag.

Je zat in de bus van school naar huis
en je stapte eerder uit
om te lopen waar je liep
toen je op een vorige school zat
en je kon wat je je niet en wat je je wel herinnerde niet even zwaar maken.
Politiek als beroep, zegt Max Weber
Gedichten zijn nutteloos om de wereld te besturen,
zegt Huang Tingjian, wiens gedichten wonderlijk zijn als ze lukken.
Als het een doen beter is dan het ander, als ze allebei goed gedaan worden,
is iets doen wat op het een lijkt beter dan iets wat op het ander lijkt?
Kan ik dat niet korter zeggen?
Een gedicht verspilt toch niet.
Nu kom ik pas bij het belangrijkere probleem:
genoegen nemen met wat op het betere lijkt omdat het op het betere lijkt?

Af en toe doe ik alsof ik iets goed kan, zegt Su Dongpo,
zoals iets waaraan ik dan meteen daarna opnieuw moet beginnen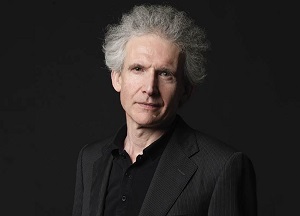 Nachoem Wijnberg (Amsterdam, 13 april 1961)
De Nederlandse dichter K. Michel werd geboren op 13 april 1958 in Tilburg. Zie ook alle tags voor K. Michel op dit blog.
Paris / Charlie 7 – 1 – 15
Na al het nieuws
haal ik de heilige boeken
uit de kast
en schud daar de leeswijzers
en de vrome praatjes uit

Van deze zuiverheid
nastrevende stof
kneed ik een sneeuwbal
– haren en kruimels geen probleem –
en steek daar een vulpen in
tot de sneeuwbal zwart kleurt

Dan zet ik het machteloos
mooie 'vogels in bos en duin' op
schenk jou een glas rood in
en wachten wij op het onbedaarlijke smelten
Domino
Er zwemt een barst door het huis
Niemand die luistert

Uit de schaduw groeien schaduwen
in het onderwaterlicht
dat passerende auto's werpen
op de muren rondom het bed

In de diepblauwe stilte
herhaalt een jongetje lipzacht
al wat gezegd is die dag
en stopt woord voor woord
de gaten in het geluid
dat huwelijk heet

De vloer golft
De deurklink is ver

En het jongetje houdt zijn handpalmen
als een boek in zijn handen
en ik lees 'kom terug, ga weg'

Een spreuk, een dominosteen
die een ster slaat
in het glas van mijn huis

Dan begint het buiten
bruidsjurken te sneeuwen

K. Michel (Tilburg, 13 april 1958)
De Nederlands schrijver en journalist Alexander Münninghoff werd geboren in Posen op 13 april 1944. Zie ook alle tags voor Alexander Münninghoff op dit blog.
Uit: De stamhouder
"De Oude Heer geloofde het pas toen hij het van zijn zwager, Onkel Walter, nog eens bevestigd kreeg. Met een ernstig gezicht had deze de vellen met medische rapporten, die hij als Duits oncoloog van het Antoni van Leeuwenhoek-ziekenhuis ter inzage had gekregen, bestudeerd, en zijn conclusie was hard en duidelijk: 'Je hebt hooguit twee maanden, Joan. Je moet nu echt dingen gaan regelen.' Het was december 1953. Ik was negen en had zojuist van Mimousse gehoord wat ik al een tijdje bevroedde: Sinterklaas bestond niet. Ze vond het gek dat ik daar niet zelf al achter was gekomen. Dat Opa op sterven lag, hoorde ik pas aan de vooravond van 23januari1954, de dag dat hij definitief de ogen sloot, omringd door vrouw, kinderen, Onkel Walter en een geestelijke, pater Kolfschoten, die elke dag langskwam en hem vlak voor zijn dood de biecht afnam en het Heilig Oliesel toediende. 'Vaarwel, lieve broeder, grote vriend, tot ziens. In coelo quies,' hoorde ik de jezuïtische huisvriend, die hem nog uit Riga kende en die in de herenkamer meer dan wie ook instrumenteel was geweest in de besluitvorming in talloze zaken, met gesmoorde stem zeggen. Ikzelf stond, samen met Mimousse en Trees, in de deuropening van Opa's slaapkamer, die zijn sterfkamer was geworden: hij had me bij zich laten roepen, me over mijn hoofd geaaid en niets gezegd. En ook ik had zwijgend de laatste impressie van hem in me opgenomen: bleek, met tinten lichtgeel en lichtpaars, was zijn gezicht geweest. Geen zichtbare emotie viel er te bespeuren. Mijn grootvader was verstijfd tot een keurige man met voorname gelaatstrekken, en toen zijn hand krachteloos op het laken was teruggevallen, leefde hij alleen nog maar door zijn donkere ogen, die merkwaardig strak op mij gericht waren geweest terwijl ik achteruitschuifelde, totdat hij langzaam en eventjes knipperend, alsof hij opeens bedacht dat hij toch nog iets moest zeggen, zijn oogleden sloot. Toen dokter Van Tilburg het onomstotelijke eindvonnis geveld had — 'Hij is dood, lieve mensen' —, zeeg mijn grootmoeder, zoals dat hoort bij Russische vrouwen, krampachtig snikkend bij de Oude Heer neer. Dat had ik wel min of meer verwacht; wat me echter verbaasde was dat mijn vader meteen naar het raam liep dat op de achtertuin uitkeek en de gordijnen, die de hele week dag en nacht gesloten waren geweest, opende, waarna Xeno, die achter hem aan was gekomen, ze in een vloeiende, naadloos aansluitende beweging weer sloot."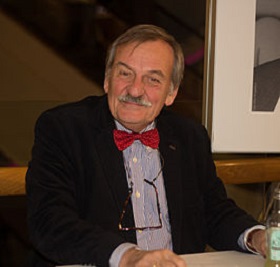 Alexander Münninghoff (Posen, 13 april 1944)
De Schotse, Engelstalige schrijver van Nederlandse herkomst, Michel Faber werd geboren in Den Haag op 13 april 1960. Zie ook alle tags voor Michel Faber op dit blog.
Uit: The Crimson Petal and The White
"Watch your step. Keep your wits about you; you will need them. This city I am bringing you to is vast and intricate, and you have not been here before. You may imagine, from other stories you've read, that you know it well, but those stories flattered you, welcoming you as a friend, treating you as if you belonged. The truth is that you are an alien from another time and place altogether.
When I first caught your eye and you decided to come with me, you were probably thinking you would simply arrive and make yourself at home. Now that you're actually here, the air is bitterly cold, and you find yourself being led along in complete darkness, stumbling on uneven ground, recognising nothing. Looking left and right, blinking against an icy wind, you realise you have entered an unknown street of unlit houses full of unknown people.
And yet you did not choose me blindly. Certain expectations were aroused. Let's not be coy: you were hoping I would satisfy all the desires you're too shy to name, or at least show you a good time. Now you hesitate, still holding on to me, but tempted to let me go. When you first picked me up, you didn't fully appreciate the size of me, nor did you expect I would grip you so tightly, so fast. Sleet stings your cheeks, sharp little spits of it so cold they feel hot, like fiery cinders in the wind. Your ears begin to hurt. But you've allowed yourself to be led astray, and it's too late to turn back now.
It's an ashen hour of night, blackish-grey and almost readable like undisturbed pages of burnt manuscript. You blunder forward into the haze of your own spent breath, still following me. The cobblestones beneath your feet are wet and mucky, the air is frigid and smells of sour spirits and slowly dissolving dung. You hear muffled drunken voices from somewhere nearby, but what little you can understand doesn't sound like the carefully chosen opening speeches of a grand romantic drama; instead, you find yourself hoping to God that the voices come no closer."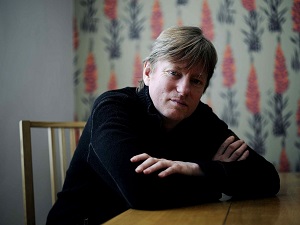 Michel Faber (Den Haag, 13 april 1960)
De Franse schrijver Jean-Marie Gustave Le Clézio werd geboren op 13 april 1940 in Nice. Zie ook alle tags voor Jean-Marie Gustave Le Clézio op dit blog.
Uit: Onitsha
« L'Afrique brûle comme un secret, comme une fièvre. Geoffroy Allen ne peut pas détacher son regard, un seul instant, il ne peut pas rêver d'autre rêve. C'est le visage sculpté des marques itsi, le visage masqué des Umundri. Sur les quais d'Onitsha, le matin, ils attendent, immobiles, en équilibre sur une jambe, pareils à des statues brûlées, les envoyés de Chuku sur la terre.
C'est pour eux que Geoffroy est resté dans cette ville, malgré l'horreur que lui ins­pirent les bureaux de la United Africa, mal­gré le Club, malgré le Résident Rally et sa femme, leurs chiens qui ne mangent que du filet de bœuf et qui dorment sous des moustiquaires. Malgré le climat, malgré la routine du Wharf. Malgré la séparation d'avec Maou, et ce fils né au loin, qu'il n'a pas vu grandir, pour qui il n'est qu'un étranger.
Eux, chaque jour, sur le quai, dès l'aube, attendent on ne sait quoi, une pirogue qui les emmènerait en amont, qui leur apporterait un message mystérieux. Puis ils s'en vont, ils disparaissent, en marchant à tra­vers les hautes herbes, vers l'est, sur les chemins d'Awgu, d'Owerri. Geoffroy essaye de leur parler, quelques mots d'ibo, des phrases en yoruba, en pidgin, et eux, tou­jours silencieux, non pas hautains, mais absents, disparaissant vite à la file indienne le long du fleuve, se perdant dans les hautes herbes jaunies par la sécheresse. Eux, les Umundri, les Ndinze, les « ancêtres », les « initiés ». Le peuple de Chuku, le soleil, entouré de son halo comme un père est entouré de ses enfants.
C'est le signe itsi. C'est lui que Geoffroy a vu, sur les visages, la première fois qu'il est arrivé à Onitsha. Le signe gravé dans la peau des visages des hommes, comme une écriture sur la pierre. C'est le signe qui est entré en lui, l'a touché au cœur, l'a marqué, lui aussi, sur son visage trop blanc, sur sa peau où manque depuis sa naissance là trace de la brûlure. Mais à présent il ressent cette brûlure, ce secret. Hommes et femmes du peuple Umundri, dans les rues d'Onitsha, ombres absurdes errant dans les allées de poussière rouge, entre les bosquets d'acacia, avec leurs troupeaux de chèvres, leurs chiens. Seuls certains d'entre eux por­tent sur le visage le signe de leur ancêtre Ndri, le signe du soleil."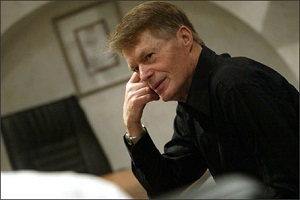 Jean-Marie Gustave Le Clézio (Nice, 13 april 1940)
De Ierse (toneel)schrijver en dichter Samuel Barclay Beckett werd geboren in Foxrock, Dublin op 13 april 1906. Zie ook alle tags voor Samuel Beckett op dit blog.
Uit: Krapp's Last Tape
"Krapp remains a moment motionless, heaves a great sigh, looks at his watch, fumbles in his pockets, takes out an evelope, puts it back, fumbles, takes out a small bunch of keys, raises it to his eyes, chooses a key, gets up and moves to front of table. He stoops, unlocks first drawer, peers into it, feels about inside it, takes out a reel of tape, peers at it, puts it back, locks drawer, unlocks second drawer peers into it, feels about inside it, takes out a large banana, peers at it, locks drawer, puts keys back in his pocket. He turns, advances to edge of stage, halts, strokes banana, peels it, drops skin at his feet, puts end of banana in his mouth and remains motionless, staring vacuously before him. Finally he bites off the end, turns aside and begins pacing to and fro at edge of stage, in the light, i.e. not more than four or five paces either way, meditatively eating banana. He treads on skin, slips, nearly falls, recovers himself, stoops and peers at skin and finally pushes it, still stooping, with his foot over the edge of the stage into pit. He resumes his pacing, finishes banana, returns to table, sits down, remains a moment motionless, heaves a great sigh, takes keys from his pockets, raises them to his eyes, chooses key, gets up and moves to front of table, unlocks second drawer, takes out a second large banana, peers at it, locks drawer, puts back his keys in his pocket, turns, advances to the edge of stage, halts, strokes banana, peels it, tosses skin into pit, puts an end of banana in his mouth and remains motionless, staring vacuously before him. Finally he has an idea, puts banana in his waistcoat pocket, the end emerging, and goes with all the speed he can muster backstage into darkness. Ten seconds. Loud pop of cork. Fifteen seconds. He comes back into light carrying an old ledger and sits down at table. He lays ledger on table, wipes his mouth, wipes his hands on the front of his waistcoat, brings them smartly together and rubs them."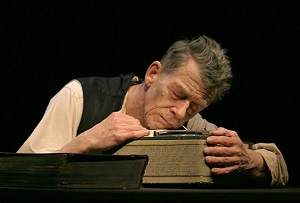 Samuel Beckett (13 april 1906 - 22 december 1989)
John Hurt in de titelrol tijdens een uitvoering in New York, 2011
De Ierse dichter Seamus Heaney werd op 13 april 1939 te County Derry, Noord-Ierland, geboren. Zie ook alle tags voor Seamus Heaney op dit blog.
Tankas For Toraiwa
I loved to carry
Her violin case, its nose
In air, its back end
Nice and heavy, the balance
Factored in and factored out.
Every time she placed
Her two thumbs to the two snibs
And opened the lid
She couldn't help a quick frown
(Disguised pleasure?) as she checked.
Then her brow would clear
And the sun disc of her face
Tilt up and brighten
At the tap of a baton,
At the tip of a baton…
In the baize-lined case
Emptied of the ingrown jut
Of the fiddlehead,
A lump of ancient resin
And a dirty chamois cloth.
The conductor's hands –
Big and out of proportion
To his skinny wee
Professor's body–always,
she said, "interested" her.
Fiddlehead ferns: why
do I think of them do I
Think: Toraiwa?
Because–surprise–he quizzed me
about the erotic life.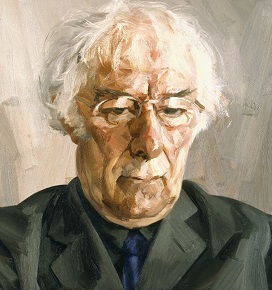 Seamus Heaney (13 april 1939 – 30 augustus 2013)
Portret door Tai-Shan Schierenberg, 2004
De Nederlands schrijver en schaker Tim Krabbé werd geboren in Amsterdam op 13 april 1943. Zie ook alle tags voor Tim Krabbé op dit blog.
Uit: De veertiende etappe (De man die bijna)
"Ineens was dat tafeltje leeg en kwam er een jongen in korte broek naast me zitten. Hij knikte me vriendelijk toe, sloeg een krantje open en begon te lezen. Ik herkende hem meteen, maar het duurde seconden voor ik kon geloven dat het echt Fignon was. Het zijn altijd vreemde confrontaties tussen twee mensen die allebei weten dat ze geen fabeldier zijn, maar waarvan er één dat voor de ander toch is. Ik voelde ook een lichte teleurstelling: Tourwinnaars horen zich niet op te houden met zaken als aan jou vragen of die stoel vrij is. Daar zaten we, hij met L 'Equipe, ik zonder vragen. Ach, had De Renner in het Frans vertaald mogen zijn, had hij het gelezen mogen hebben, wat zou ik graag zijn vragen over de Ronde van de Mont Aigoual hebben beantwoord. Waarschijnlijk heb ik gezegd dat ik Nederlander was, want ik zie hem nog grinniken, met glinsterende ogen, over een brief die een Nederlands meisje hem had geschreven. Ik vroeg of hij nog iets had gemerkt van de aanwezigheid van Dustin Hoffman in de Tour. Ja, hij was aan hem voorgesteld, dat was toch voor een film die misschien gemaakt zou worden, The Yellow Jersey? Fignon was vriendelijk en zachtbespraakt, en totaal onaanmatigend, maar het heeft toch geduurd tot hij fotografen die hem lastigvielen tegen de kloten begon te schoppen dat ik hem ben gaan noemen als de renner die ik misschien wel het meest bewonder. Grote kampioenen winnen soms grote wedstrijden vóór ze daar echt recht op hebben. De drieëntwintigjarige Hinault van de Tour van 1978 die eigenlijk voor Pollentier was, en de tweeëntwintigjarige Fignon die in 1983 won toen Pascal Simon in het geel met een schouderblessure moest uitvallen, zijn daar voorbeelden van. Maar ook grote kampioenen die eigenlijk al over hun hoogtepunt heen zijn, winnen soms ten onrechte. Zoetemelk 1980 (Hinault!) en Hinault 1985 (LeMond!) zijn dáár voorbeelden van. Fignon 1989 wordt een nieuw geval."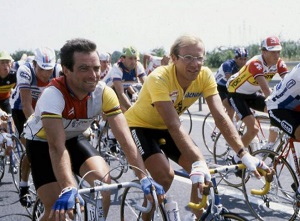 Tim Krabbé (Amsterdam, 13 april 1943)
Bernard Hinault en Laurent Fignon in 1984
De Amerikaanse schrijfster Eudora Alice Welty werd geboren in Jackson, Mississippi, op 13 april 1909. Zie ook alle tags voor Eudora Welty op dit blog.
Uit: A Curtain of Green (Petrified Man)
"Lord, yes, she's from New Orleans. Ever'body in New Orleans believes ever'thing spooky. One of 'em in New Orleans before it was raided says to Mrs. Pike one summer she was goin' to go from State to State and meet some grey-headed men, and, sure enough, she says she went on a beautician convention up to Chicago. . . . "
"Oh!" said Mrs. Fletcher. "Oh, is Mrs. Pike a beautician too?"
"Sure she is," protested Leota. "She's a beautician. I'm goin' to git her in here if I can. Before she married. But it don't leave you. She says sure enough, there was three men who was a very large part of making her trip what it was, and they all three had grey in their hair and they went in six States. Got Christmas cards from 'em. Billy Boy, go see if Thelma's got any dry cotton. Look how Mrs. Fletcher's a-drippin'."
"Where did Mrs. Pike meet Mr. Pike?" asked Mrs. Fletcher primly.
"On another train," said Leota.
"I met Mr. Fletcher, or rather he met me, in a rental library," said Mrs. Fletcher with dignity, as she watched the net come down over her head.
"Honey, me an' Fred, we met in a rumble seat eight months ago and we was practically on what you might call the way to the altar inside of half an hour," said Leota in a guttural voice, and bit a bobby pin open.
"Course it don't last. Mrs. Pike says nothin' like that ever lasts."
"Mr. Fletcher and myself are as much in love as the day we married," said Mrs. Fletcher belligerently as Leota stuffed cotton into her ears.
"Mrs. Pike says it don't last," repeated Leota in a louder voice. "Now go git under the dryer. You can turn yourself on, can't you? I'll be back to comb you out. Durin' lunch I promised to give Mrs. Pike a facial. You know—free. Her bein' in the business, so to speak."
"I bet she needs one," said Mrs. Fletcher, letting the swing-door fly back against Leota. "Oh, pardon me."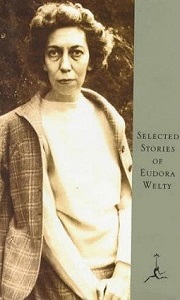 Eudora Welty (13 april 1909 – 23 juli 2001)
Cover
Zie voor nog meer schrijvers van vandaag ook mijn blog van 13 april 2014.
Zie voor bovenstaande schrijvers ook mijn blog van 13 april 2007 en ook mijn blog van 13 april 2008 en eveneens mijn blog van 13 april 2009.
13-04-2018 om 09:03 geschreven door Romenu

Tags:Nachoem Wijnberg, K. Michel, Alexander Münninghoff, Michel Faber, Jean-Marie Gustave Le Clézio, Samuel Beckett, Seamus Heaney, Tim Krabbé, Eudora Welty, Romenu


12-04-2018

Antje Rávic Strubel, Alan Ayckbourn, Scott Turow, Tom Clancy, Agnes Sapper, Edward de Vere, José Gautier Benítez, Alexander Ostrovski, Guillaume-Thomas Raynal
De Duitse schrijfster Antje Rávic Strubel werd geboren op 12 april 1974 in Potsdam. Zie ook alle tags voor Antje Rávic Strubel op dit blog.
Uit: Snowed Under (Vertaald door Zaia Alexander)
"Postal clerk Erik M. Broda, retired for three weeks, though still working part-time, eagerly awaits his female superior Simona's arrival, so he can give her a special wink as he slams his cancellation stamp on the wrong side of a postcard to Mainz. He doesn't like the card. He has read hundreds of postcards like it in his career.
Whenever he doesn't like a postcard, he stamps the postmark wrong side up. Bad postcards are like female superiors. They gab a lot and then forget the most important things. The most important things for a postcard are: first, the stamp, second, the postal code, and third, the signature. The signature is missing on this one.
He covers the card with his left palm, sohe's just able to read the message, and pulls over a stack of thick envelopes in need of postmarking. The stamp hovers in his fist halfway above the desk. That way he can slam it down if Simona came in by surprise.
Ever since she started working here, everything has changed. Back then, he could be sure nobody
would disturb him.
Dear Haschi,
Unfortunately, I couldn't find a funny postcard for you. All they've got are ones with sunsets or with Rübezahl, the mountain spirit, on the front. At least they've got super yummy dumplings and pancakes and gorgeous wild icicles. I'm drinking lots of mulled wine with Evy. I'd love to know what's going on in her head, like you always knew with me. Bet she'd like that. But I don't. Say hi to C., whoever he is. You're a lot happier, since you've been together with him. Laughed more last time. Would love to be with you again, but could it work after all these years?
The card makes him angry. There was enough space for a signature. What angers him most, though, is that the card had obviously been written by a man. He admires women. They are completely perfect beings, right from the start, they help him differentiate one day from the next; they give him a rhythm, like Simona with her irregular visits to his office. But he doesn't expect precision from women. They've
overtaken us, he thinks, but they'll never take over. He imaginesthey'll just keep climbing higher than him in the future."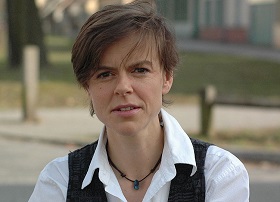 Antje Rávic Strubel (Potsdam, 12 april 1974)
De Britse blijspelauteur Alan Ayckbourn werd geboren op 12 april 1939 in Londen. Zie ook alle tags voor Alan Ayckbourn op dit blog.
Uit: Confusions
"Lucy (as she goes) Sit still. Don't run around. I won't be a minute.
(Lucy goes out into the kitchen. Rosemary sits nervously. She rises after a second, looks guiltily towards the kitchen and sits again. The door chimes sound. Rosemary looks towards the kitchen. There is no sign of Lucy. The door chimes sound again. Rosemary gets up hesitantly)
Rosemary (calling) Mrs—er
Lucy (off in the kitchen) Wait, wait, wait! I'm coming ...
(The door chimes sound again Rosemary runs off to the front door. Lucy returns from the kitchen with a glass of orange juice)
Here we are, Rosemary, I . (She looks round the empty room, annoyed. Calling) Rosemary! It's on the table.
(Lucy puts the orange juice on the coffee-table and goes out to the kitchen again. Rosemary returns from the hall with Terry, a rather pudgy man in shirt sleeves)
Rosemary (sotto voce) Come in a minute.
Terry I'm watching the telly.
Rosemary Just for a minute.
Terry I wondered where you'd got to. I mean, all you had to do was give her the number ...
Rosemary I want you to meet her. See what you think. I don't think she's well.
Terry How do you mean?
Rosemary She just seems ...
Terry Is she ill?
Rosemary I don't know ...
Terry Well, either she's ill or she isn't."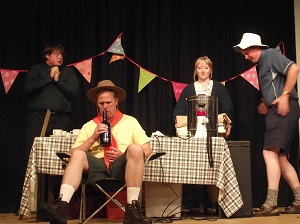 Alan Ayckbourn (Londen, 12 april 1939)
Scene uit een opvoering in Shifnal, Shropshire, 2011
De Amerikaanse schrijver en jurist Scott Turow werd geboren op 12 april 1949 in Chicago. Zie ook alle tags voor Scott Turow op dit blog.
Uit: Ordinary Heroes
"All parents keep secrets from their children. My father, it seemed, kept more than most.
The first clue came when Dad passed away in February 2003 at the age of eighty-eight, after sailing into a Bermuda Triangle of illness—heart disease, lung cancer, and emphysema—all more or less attributable to sixty years of cigarettes. Characteristically, my mother refused to leave the burial details to my sister and me and met the funeral director with us. She chose a casket big enough to require a hood ornament, then pondered each word as the mortician read out the proposed death announcement.
"Was David a veteran?" he asked. The undertaker was the cleanest-looking man I'd ever seen, with lacquered nails, shaped eyebrows, and a face so smooth I suspected electrolysis.
"World War II," barked Sarah, who at the age of fifty-two still raced to answer before me.
The funeral director showed us the tiny black rendering of the Stars and Stripes that would appear in the paper beside Dad's name, but my mother was already agitating her thinning gray curls.
"No," she said. "No war. Not for this David Dubin." When she was upset, Mom's English tended to fail her. And my sister and I both knew enough to keep quiet when she was in those moods. The war, except for the bare details of how my father, an American officer, and my mother, an inmate in a German concentration camp, had fallen in love, virtually at first sight, had been an unpleasantness too great for discussion throughout our lives. But I had always assumed the silence was for her sake, not his.
By the end of the mourning visitation, Mom was ready to face sorting through Dad's belongings. Sarah announced she was too pressed to lend a hand and headed back to her accounting practice in Oakland, no doubt relishing the contrast with my unemployment. Mom assigned me to my father's closet on Monday morning, insisting that I consider taking much of his clothing. It was nearly all disastrously out of fashion, and only my mother could envision me, a longtime fatso, ever shrinking enough to squeeze into any of it. I selected a few ties to make her happy and began boxing the rest of his old shirts and suits for donation to the Haven, the Jewish relief agency my mother had helped found decades ago and which she almost single-handedly propelled for nearly twenty years as its Executive Director."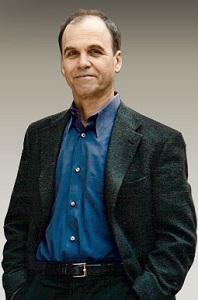 Scott Turow (Chicago, 12 april 1949)
De Amerikaanse schrijver Tom Clancy werd geboren op 12 april 1947 in Baltimore County, Maryland. Zie ook alle tags voor Tom Clancy op dit blog.
Uit: De tanden van de tijger (Vertaald door Hugo Kuipers)
"David Greengold was geboren in de meest Amerikaanse gemeenschap die er was, Brooklyn, maar op zijn bar mitswa was er iets belangrijks veranderd in zijn leven. Nadat hij had uitgeroepen: 'Vandaag ben ik een man', was hij naar het feest gegaan en had daar een paar familieleden ontmoet die uit Israel waren overgekomen. Zijn oom Moses had daar veel succes als diamanthandelaar. Davids eigen vader had zeven juwelierszaken, waarvan het vlaggenschip zich in 40th Street in Manhattan bevond.
Terwijl zijn vader en zijn oom het bij een glas Californische wijn over zaken hadden, was David aan de praat geraakt met zijn neef Daniel. Daniel, tien jaar ouder dan hij, werkte sinds kort voor de Mossad, de belangrijkste inlichtingendienst van Israel, en als een echte nieuweling vond hij het prachtig om zijn neef verhalen te vertellen. Daniel had zijn dienstplicht vervuld bij de Israelische para's; hij had elf sprongen op zijn naam staan en ook enige actie meegemaakt in de Zesdaagse Oorlog van 1967.
Voor hem was het een mooie oorlog geweest. In zijn compagnie had niemand ernstig letsel opgelopen en ze hadden genoeg treffers gescoord om het op een jachtpartij te laten lijken – jagers die achter gevaarlijk, maar niet te gevaarlijk, wild aan zaten, met een afloop die heel goed paste bij de ideeen en verwachtingen die hij voor de oorlog had gekoesterd.
De verhalen hadden in sterk contrast gestaan met de sombere televisiebeelden van Vietnam waarmee in Amerika het journaal elke avond begon. Met het enthousiasme van zijn op die dag bevestigde religieuze identiteit had David onmiddellijk besloten meteen na zijn eindexamen naar zijn joodse thuisland te emigreren. Zijn vader, die in de Tweede Wereldoorlog in de Tweede Pantserdivisie van het Amerikaanse leger had gediend en over het geheel genomen weinig plezier aan dat avontuur had beleefd, had het helemaal geen prettig vooruitzicht gevonden dat zijn zoon naar een Aziatische jungle zou gaan om in een oorlog te vechten waarvoor zijn kennissen en hij geen enkel enthousiasme konden opbrengen, en dus vloog de jonge David na zijn eindexamen met El Al naar Israel om daar voorgoed te blijven. Hij spijkerde zijn Hebreeuws bij, vervulde zijn Israelische dienstplicht en werd toen net als zijn neef door de Mossad gerekruteerd."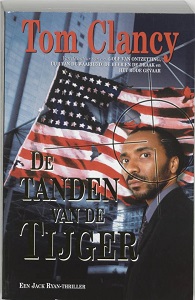 Tom Clancy (12 april 1947- 1 oktober 2013)
Cover
De Duitse schrijfster Agnes Sapper werd geboren op 12 april 1852 in München. Zie ook alle tags voor Agnes Sapper op dit blog.
Uit: Die Familie Pfäffling. Eine deutsche Wintergeschichte
"Im Hause Pfäffling war nach dem lauten Abgang der sieben Familienmitglieder eine ungewohnte Stille eingetreten. Es blieb nur noch die Mutter zurück, und Elschen, das jüngste niedliche Töchterchen, sowie die treue Walburg, die in der Küche wirtschaftete. Frau Pfäffling atmete auf, die Stille tat ihr wohl. Was war das für ein Sturm gewesen, bis der letzte die Türe hinter sich zugemacht hatte, und was für eine Unruhe all die Ferienwochen hindurch! Während sie ordnend und räumend von einem Zimmer ins andere ging, war ihr ganz festtäglich zu Mute. Sie war von Natur eine stille, nachdenkliche Frau und gern in Gedanken versunken, aber das Leben hatte sie als Mittelpunkt in einen großen Familienkreis gestellt, und es drehten sich lauter lebhafte, plaudernde, fragende, musizierende Menschen um sie herum. Während nun die Mutter sich der Ruhe freute, wußte Elschen gar nicht, wo es ihr fehlte. Allein zu spielen hatte sie ganz verlernt. So ging sie hinunter in den Hof, wo die großen Balken lagen. Oft hatte sie sich in den letzten Wochen geärgert, wenn sie ängstlich auf den glatten Balken kleine Schrittchen machte, daß die Brüder das so flink konnten und sie ihnen immer Platz machen sollte. Jetzt hatte sie alle die Baumstämme allein zu ihrer Verfügung, aber nun machten sie ihr keine Freude. Sie ging weiter zu den Brettern, die übereinander aufgestapelt lagen. Dort oben, wo ein kleines dickes Brett querüberlag, war Frieders Lieblingsplatz, auf dem er immer mit der Ziehharmonika saß. Wenn er gar zu lang spielte und sie nicht beachtete, war sie manchmal ungeduldig geworden und hatte sogar einmal gesagt, die Harmonika sei eine alte Kröte. Aber jetzt, dachte an ihn. Es war so langweilig heute morgen – fast zum weinen!
Da tat sich oben im Haus ein Fenster auf und der Mutter Stimme rief: »Elschen, flink, Essig holen!«
Einen Augenblick später wanderte auch Else die Frühlingsstraße hinunter, zwar nicht mit den Büchern in die Schule, aber mit dem Essigkrug zum nächsten Kaufmann."
wo es überall ganz still war, hätte sie auch die Harmonika gern gehört. Sie setzte sich auf Frieders Platz und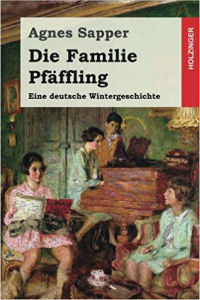 Agnes Sapper (12 april 1852 – 19 maart 1929)
Cover
De Engelse hoveling, dichter en toneelschrijver Edward de Vere, 17e graaf van Oxford, werd geboren op 12 april 1550 in Castle Hedingham. Zie ook alle tags voor Edward de Vere op dit blog.
When I was fair and young
When I was fair and young then favour graced me;
Of many was I sought their mistress for to be.
But I did scorn them all, and answered them therefore,
Go, go, go, seek some otherwhere,
Importune me no more.

How many weeping eyes I made to pine in woe;
How many sighing hearts I have no skill to show;
Yet I the prouder grew, and answered them therefore,
Go, go, go, seek some otherwhere,
Importune me no more.

Then spake fair Venus' son, that proud victorious boy,
And said, you dainty dame, since that you be so coy,
I will so pluck your plumes that you shall say no more
Go, go, go, seek some otherwhere,
Importune me no more.

When he had spake these words such change grew in my breast,
That neither night nor day I could take any rest.
Then, lo ! I did repent, that I had said before
Go, go, go, seek some otherwhere,
Importune me no more.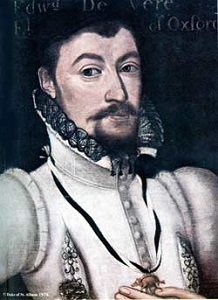 Edward de Vere (12 april 1550 – 24 juni 1604)
Portret door Marcus Gheeraedts, ca. 1590
De Puertoricaanse dichter José Gautier Benítez werd geboren op 12 april 1848 in Caguas. Zie ook alle tags voorJosé Gautier Benítez op dit blog.
Pueto Rico (Fragment)
A garden of enchantment, fountains playing
Above the azure sea that round you swirls,
A vase of many-colored flowers swaying
Amid the foam and coral, scents and pearls.
You who at dusk, spilling your colors, came
In all the hues of brilliant sunset dressed,
Filling the ocean full of floating flame
Till the last rays of sun died in the West.
You who supply the air I breathe each day
Inspiring my spontaneous song of praise,
Accept the adoring tribute of my lay
That as your inspired poet to you I raise!
The sacred love that lies within my breast
Would play for you its rustic harmony;
For you I cast it to the wind's unrest:
Your love compels the poet's heart to sing,
And in his song his heart he sends to thee.
My island, hark! This possibly could be
]My lyre's last note; for soon I will depart
For those far regions without memory.
My fleeing youth is weakening, wastes away,
An aching, sad, a melancholy soul
No longer in its jail content to stay.
Before I see that last day given me
And my song is extinguished with my breath,
Take, Homeland, my last lines of poetry:
They're testament and sign of my love's depth!
They're fond FAREWELL your singer sends to thee!
Vertaald door W. K. Jones en Roberto Màrquez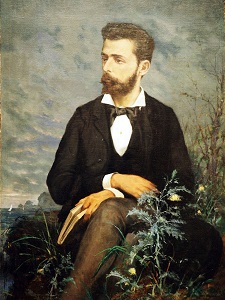 José Gautier Benítez (12 april 1848 – 24 januari 1880)
Portret door Francisco Oller, 1886
De Russische toneelschrijver Alexander Nikolajewitsj Ostrovski werd geboren op 12 april 1823 in Moskou. Zie ook alle tags voorAlexander Ostrovski op dit blog.
Uit:The Storm (Vertaald door Constance Garnett)
"KUDRIASH. Who could please him, when his whole life's spent in bullying people? Especially where money's at stake; no accounts are ever settled without storms of abuse. Often people are glad to go short of their due, if only he'll let them off quietly. Woe to us if anyone vexes him in the morning! He falls foul of everyone all day long.
BORIS. Every morning my aunt entreats us with tears in her eyes: "Don't anger him, friends! Dear boys, don't anger him!"
KUDRIASH. But you can never avoid it! If he goes to the bazaar, it's all up! He scolds all the peasants. Even if they ask him less than cost price they never get off without abuse. And then he's upset for the whole day.
SHAPKIN. He's a bully—there's no other word for him.
KUDRIASH. A bully? I should think he is!
BORIS. And what's fatal is if some man offends him, whom he daren't be rude to. Then all his household have to look out for themselves!
KUDRIASH. Bless my soul! That was a joke though. Didn't that hussar let him have it on the Volga, at the ferry! Oh, a lovely shindy he kicked up afterwards, too.
BORIS. Ah, and didn't his family suffer for it! Why, for a fortnight after we were all hiding away in the attics and cupboards.
KULIGIN. Surely that's not the folk coming back from vespers?
[Several persons pass in the background.
KUDRIASH. Come on, Shapkin, let's get a drink! It's no good stopping here.
[They bow and exeunt."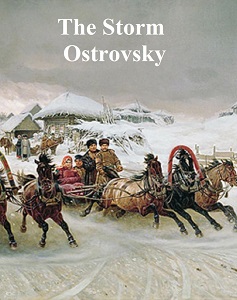 Alexander Ostrovski (12 april 1823 – 14 juni 1886)
Cover
De Franse schrijver Guillaume-Thomas Raynal (Abbé Raynal ) werd geboren op 12 april 1713 in Lapanouse de Séverac. Zie ook alle tags voor Guillaume-Thomas Raynal op dit blog.
Uit: L'Histoire des deux Indes
« Estimons-nous beaucoup les productions des colonies ?Je crois qu'on n'en fauroit douter. Pourquoi donc prenons -nous si peu d'intérêt à leur prospérité & à la conservation des colons? Que la fureur d'un ouragan ait enseveli des milliers de ces malheureux sous la ruine de leurs habitations , & le dégât de leurs possessions, nous nous en occupons moins que d'un duel ou d'un assassinat commis à notre porte. Qu'une vaste contrée de ce continent éloigné continue d'être dévastée par quelque épidémie, on s'en entretient ici plus froidement que du retour incertain d'une petite - vérole inoculée. Que les horreurs de la disette réduifent les habitant de Saint-Domingue ou de la Martinique à chercher leur nourriture dans la campagne, ou à se dévorer les uns les autres, nous y pren-drons moins de part qu'au fléau d'une grêle qui auroit haché les moissons de quelques-uns de nos villages. Il el assez naturel de penser que cette indifférence est un effet de l'éloignement , & que les colons ne font pas plus sensibles à nos malheurs que noix aux leurs. Mais, réplique-t-on, nos villes font contiguës à nos campagnes. Nous avons sans celle sous les yeux la misère de leurs habitans. Nous n'en desirons pas moins d'abondantes récoltes en tout genre, & l'on ne peut guère pousser plus loin le mépris pour l'encouragement , la multiplication & la conservation du cultivateur. »

Guillaume-Thomas Raynal (12 april 1713 – 6 maart 1796)
Borstbeeld in het Musée des Beaux Arts, Dijon
Zie voor bovenstaande schrijvers ook mijn blog van 12 april 2007 en ook mijn blog van 12 april 2008 en eveneens mijn blog van 12 april 2009.
12-04-2018 om 18:56 geschreven door Romenu

Tags:Antje Rávic Strubel, Alan Ayckbourn, Scott Turow, Tom Clancy, Agnes Sapper, Edward de Vere, José Gautier Benítez, Alexander Ostrovski, Guillaume-Thomas Raynal, Romenu


11-04-2018

Leonard Nolens, Mark Strand, Silvia Avallone, Walid Soliman, Dorothy Allison, Hubert Nyssen, Rolf Schilling, Glenway Wescott, Claude Tillier
De Belgische dichter en schrijver Leonard Nolens werd geboren in Bree op 11 april 1947. Zie ook alle tags voor Leonard Nolens op dit blog.
Bed
Ik ben niet gemaakt om 's avonds de trap op te gaan
Naar het smalste bed van de wereld.
Ik krijg het aan niemand verkocht.

Ik ben niet gemaakt om 's nachts het licht uit te doen
En mijn ogen te sluiten alleen.
Kon iemand dat maar in mijn plaats.

Ik ben niet gemaakt om wakker te worden 's ochtends
Met een opgeschoonde kop.
Ik doe alles verkeerd in mijn slaap.

Ik ben niet gemaakt om het huis uit te gaan,
Om boven de hondenweide de blaffende zee te zien
Van licht waaraan geen touw valt vast te knopen.

Ik ben niet gemaakt om in het vergezicht
Van een kantoorlandschap te zitten zweten
Onder de zon van een baas.
Voor bredere bedden heeft hij geen geld.

Ik ben niet gemaakt.
Meeuwen voeren
1
Als herten in de verte dorstend naar land
Burlen de schepen 's nachts en wekken mijn vriendin.
Wij zijn ook nog maar pas naar hier gekomen
Om nieuw leven. Oude liefde wou dat zo.

's Ochtends tilt het noorderlicht de slaapvertrekken
Uit hun voegen, hemelt ons hier langzaam op
In een machtig geheel, een helende verblinding.
Daar kunnen wij in schuilen voor elkaar.



2
Wij staan op het terras te praten met een wolk
Van af- en aanvliegende meeuwen, geven namen
Aan kiftende snavels die ons brood betwisten,
Ons vlees vliegen naar de stampende haven.

Zij houdt zo van hun magnifieke wreedheid, de zwevende
Obsceniteit van al die malse zatgevreten lijven,
Hun opvliegende natuur, hun vleesgeworden honger.
Zo aards en zo gehemeld zijn ze zeer waarschijnlijk
De krijsende gedachten van haar dode God.

Ze komen gulzig eten uit mijn lege handen
Op het Zuid, het nieuwe huis dat zij me leert,
Waar wij vanouds de werkelijkheid ten einde dromen
Van liefde die dat burlen hoort en niet kan slapen.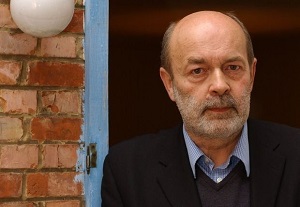 Leonard Nolens (Bree, 11 april 1947)
De Amerikaanse dichter en schrijver Mark Strand werd geboren op 11 april 1934 in Summerside, Prince Edward Island, Canada. Zie ook alle tags voor Mark Strand op dit blog.
The View
For Derek Walcott

This is the place. The chairs are white. The table shines.
The person sitting there stares at the waxen glow.
The wind moves the air around, repeatedly,
As if to clear a space. 'A space for me,' he thinks.
He's always been drawn to the weather of leavetaking,
Arranging itself so that grief - even the most intimate -
Might be read from a distance. A long shelf of cloud
Hangs above the open sea with the sun, the sun
Of no distinction, sinking behind it - a mild version
Of the story that is told just once if true, and always too late.
The waitress brings his drink, which he holds
Against the waning light, but just for a moment.
Its red reflection tints his shirt. Slowly the sky becomes darker,
The wind relents, the view sublimes. The violet sweep of it
Seems, in this effortless nightfall, more than a reason
For being there, for seeing it, seems itself a kind
Of happiness, as if that plain fact were enough and would last.
XVI
It is true, as someone has said, that in
A world without heaven all is farewell.
Whether you wave your hand or not,

It is farewell, and if no tears come to your eyes
It is still farewell, and if you pretend not to notice,
Hating what passes, it is still farewell.

Farewell no matter what. And the palms as they lean
Over the green, bright lagoon, and the pelicans
Diving, and the glistening bodies of bathers resting,

Are stages in an ultimate stillness, and the movement
Of sand, and of wind, and the secret moves of the body
Are part of the same, a simplicity that turns being

Into an occasion for mourning, or into an occasion
Worth celebrating, for what else does one do,
Feeling the weight of the pelicans' wings,

The density of the palms' shadows, the cells that darken
The backs of bathers? These are beyond the distortions
Of change, beyond the evasions of music. The end

Is enacted again and again. And we feel it
In the temptations of sleep, in the moon's ripening,
In the wine as it waits in the glass.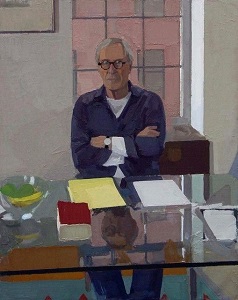 Mark Strand (11 april 1934 – 29 november 2014)
Portret door John Dubrow, 2010 - 2015
De Italiaanse schrijfster Silvia Avallone werd geboren in Biella op 11 april 1984. Zie ook alle tags voor Silvia Avallone op dit blog.
Uit: Swimming to Elba (Vertaald door Antony Shugaar)
"It's an entire zoo in here: pig iron everywhere, cranes of every species and variety. Rusted animals with horned heads… The dense black sludge of molten metal was bubbling in the crucibles, potbellied swiveling barrels running along on the mill trains. Giant tanks on wheels that looked like primordial creatures… Metal was everywhere, in the process of birth. Unceasing cascades of steel and glistening cast iron and viscous light. Torrents, rapids, estuaries of molten metal coursing through the flow lines, into the ampules of the ladles and pouring out into the tundishes to drain into the molds for furnaces and trains... Raw materials were being transformed at every hour of the day and night… You could feel the blood rushing through your arteries at a fantastic velocity in there, and from the arteries to the capillaries, while your muscles built up in tiny fractures: You were regressing to the animal state. Alessio was small and alive in this vast burgeoning organism.
(...)
He could feel the pressure of it at the nape of his neck, the black tower of the A-Fo 4, a giant spider that digests, ruminates, and belches out... Bluish fluorescences, toxic clouds in volumes sufficient to poison not only the Val di Cornia, but all of Tuscany... tons of metal whirling like birds, yellow clouds of carbon smoke, black at the mouths of the smokestacks. It's called continuous integrated steel production. As Alessio walked he crushed nettles and chunks of refractory brick underfoot. Metal saturated the ground and his skin... the elementary motion of machinery that is no different from life."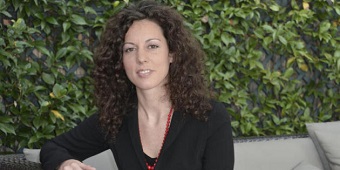 Silvia Avallone (Biella, 11 april 1984)
De Tunesische dichter, schrijver, essayist en vertaler Walid Soliman werd geboren op 11 april 1975 in Tunis. Zie ook alle tags voor Walid Soliman op dit blog.
Uit: Three hours in Fiumicino (Vertaald door Jason Casper)
"But before I could finish, it was announced over the loudspeaker that all travelers to Montreal were to get ready for boarding. And at that she said to me, "Too bad… this was a nice conversation." But before rising to leave and say goodbye, she searched a moment in her handbag before taking out a small crystal souvenir in the shape of a dolphin, and presented it to me. "I'm sorry also… I don't have anything else either to give you but this dolphin. It can serve as your reminder about Bella…" But before I took the souvenir from her hand she used it to take out a notebook from her coat pocket and quickly wrote her full name, address, and phone number. "I'm really happy to meet you… it's too bad it's gotten late... I'll await your letter and respond without delay… there wasn't enough time to take your address…"
The designated gate for flights to Canada was quite a distance away, so Bella had to hurry. When she disappeared after leaving the cafeteria, I took time to admire the crystal dolphin she had given me. It seemed quite charming. Only a few moments passed until I heard the call over the loudspeaker for all passengers to Brussels to return to the airplane. I put the dolphin in my coat pocket, and held it as one might hold on to a precious piece of art."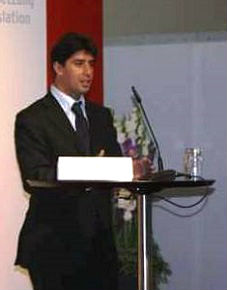 Walid Soliman (Tunis, 11 april 1975)

De Franse schrijver, essayist en uitgever Hubert Nyssen werd geboren in Boendael aan de rand van Brussel op 11 april 1925. Zie ook Zie ook alle tags voor Hubert Nyssen op dit blog.
Uit: Le Miroir Invisible
« Une fantasmagorie d'une troublante vraisemblance, un beau travail d'illusionniste. Mais cela suffisait-il pour expliquer le succès ? Non, il ne fallait pas l'oublier, pensait Rondier, il y avait aussi le talent et la réputation de Solange Vattier. Elle avait une carrière au cinéma, elle avait tourné pour Truffaut et Rohmer, elle avait des admirateurs, et la subtile essence venue de sa voix avait pu exercer une sorte de fascination contagieuse...
Oui, certes, mais l'idée même de la pièce devait avoir sa part dans l'engouement. Cette idée, Serge Rondier l'avait eue un jour où il déjeunait seul dans une brasserie de la rue Racine. Il s'était pris à observer une inconnue dans un des miroirs de la salle, avec une insistance d'autant plus tranquille que, placée comme elle l'était, elle ne pouvait, pensait-il, surprendre son regard. C'était une femme de la quarantaine, d'une simple beauté, celle qui vient du fond de l'être et non de ses apprêts, visage magnifique en tout cas, mais le reste, d'où il était, Rondier ne le voyait pas. Cette femme était là, dans le miroir, plus inquiétante que désirable. L'imagination du dramaturge était partie à l'aventure avec la vieille idée que tout est dans tout car il avait repéré sur la joue de cette inconnue un grain de beauté d'une dimension inaccoutumée qui était pourtant posé là comme la chose la plus naturelle du monde, et il s'était dit que, disparue du miroir qui lui offrait son image, la femme resterait dans sa mémoire par cette apostille. Il n'en avait pas fallu davantage pour que son imagination vînt à lui suggérer que le grain de beauté contenait cette femme comme elle-même contenait le monde.Tout était bien dans tout... Et par une de ces petites illuminations que connaissent les créateurs, il avait eu l'idée puis le désir soudain d'écrire une pièce en forme de monologue où une telle femme, oui, celle-là précisément, serait aux prises avec un amant qui s'obstinerait à la convaincre qu'il voyait en elle la totalité du monde sensible. Une monade, quoi, une vraie monade ! Oui, mais cette femme ne comprendrait pas un amour qui la dépassait et dont les mots lui paraitraient destinés à une autre. Le malentendu engendrerait l'inquiétude puis la discorde et avec elle la désunion. Son amant parti, peut-être mort (mort ou parti, on verrait bien... mais c'était tout vu, et Rondier avait déjà décidé de flinguer le personnage), la femme aurait la révélation de la passion peu ordinaire dont elle avait été l'objet. Alors, Eurydice à contre rôle, elle repartirait à rebours dans sa vie pour tenter de dire à l'amant disparu ce qu'elle n'avait su lui dire quand, par ses illuminations, il l'effrayait. »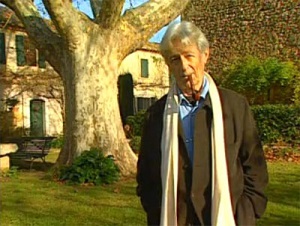 Hubert Nyssen (11 april 1925 – 12 november 2011)
De Amerikaanse dichteres en schrijfster Dorothy Allison werd geboren op 11 april 1949 in Greenville, South Carolina. Zie ook Zie ook alle tags voor Dorothy Allison op dit blog.
The Women Who Hate Me
1.
The women who do not know me.
The women who, not knowing me, hate me
mark my life, rise in my dreams and shake their loose hair
throw out their thin wrists, narrow their already sharp eyes
say Who do you think you are?
Lazy, useless, cuntsucking, scared, stupid
What you scared of anyway?
Their eyes, their hands, their voices.
Terrifying.The women who hate me cut me
as men can't. Men don't count.
I can handle men. Never expected better
of any man anyway.
But the women,
shallow-cheeked young girls the world was made for
safe little girls who think nothing of bravado
who never got over by playing it tough.
What do they know of my fear
What do they know of the women in my body?
My weakening hips, sharp good teeth,
angry nightmares, scarred cheeks,
fat thighs, fat everything.
Don't smile too wide. You look like a fool.
Don't want too much. You ain't gonna get it.
Ain't gonna get it.
Goddamn.
Say goddamn and kick somebody's ass
that I am not even half what I should be
full of terrified angry bravado.
BRAVADO.
The women who hate me
don't know
can't imagine
life-saving, precious bravado.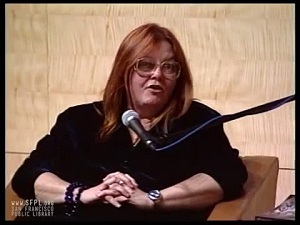 Dorothy Allison (Greenville, 11 april 1949)
De Duitse dichter Rolf Schilling werd geboren in Nordhausen in de Harz op 11 april 1950. Zie ook alle tags voor Rolf Schilling op dit blog.
Traumgänger
Ein dunkler Strom, der über Stufen rann,
Und wie ein Wiegen hob es langsam an,
Und wie ein Schatten aus dem Paradies
Trat einer ein aus Nacht und Schlafes Bann.

Es war ein Knabe, der die Flöte blies,
Er trug auf Schultern schmal das Purpur-Vlies,
Und was er wirkte, was sein Wink beschwor,
War Stolz und Traurigkeit und nichts als dies.

Wie Schlangen stand sein Sang vor deinem Ohr,
Doch als die Lippe dann das Lied verlor,
War Sanftheit bald in Wagemut verkehrt,
Und Speere blitzten aus dem Rosenflor.

Ein Schein von Blut auf seinem Bronze-Schwert
War dir Befehl zu folgen, und er lehrt:
Wer so wie du den Wurf Apolls nicht scheut,
Ist edlen Stamms und aller Weihen wert.

Sein Finger - war es gestern? War es heut? -
Band Flechten aus Orakeln und Gekräut,
So setz die Zeichen, Blut und Banner gib
Dem Drifter, daß er deine Träume deut.

Ob er die Antwort in den Sand dir schrieb?
Ob er dein Floß zu dunklen Ufern trieb?
Und steht sein Licht noch über Tal und Teich,
Wenn vom Gesagten kaum ein Hauch verblieb?

Hier sieh das Tor, hier endet sein Bereich,
Und Flocken lösen sich und fallen weich
Auf deine Stirn, verstoßen ins Gewog
Von seinem Stab, dem deinen nicht mehr gleich.

Du weißt nicht, ob er lachte, ob er log,
Ob er den Lorbeer dir zu Kronen bog,
Nicht wer ihn ausgesandt noch wer er war,
Nur daß er weilte und dann weiterzog.

Doch lag ein dunkler Glanz auf seinem Haar,
Ein Widerschein von Größe und Gefahr,
Und all dein Ruhm, novemberlich im Mai,
Verweht vor ihm wie Asche vom Altar.

So schritt er leicht im Wind und ging vorbei,
Du weißt, er liebt dich nicht, was immer sei,
Und was auch wiederkehrt und was begann,
Trägt ihn nicht her und gibt sein Bild nicht frei.

Nur dunkles Blut, das über Stufen rann,
Und wie ein Wiegen hebt es manchmal an
Und wird als Weinen laut und wächst zum Schrei
Und stirbt in Schlafes Haft und Traumes Bann.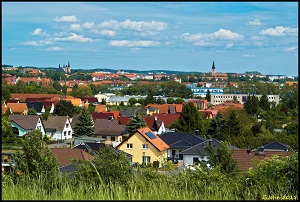 Rolf Schilling (Nordhausen, 11 april 1950)
Nordhausen am Harz
De Amerikaanse schrijver Glenway Wescott werd geboren op 11 april 1901 in Kewaskum, Wisconsin. Zie ook alle tags voor Glenway Wescott op dit blog.
Uit: The Grandmothers
"Until Alwyn Tower grew to manhood he never forgot that everyone was older than he. People remembered things not in existence now, and many of them had been born in houses which had vanished long ago.
A cabin which had stood in the melon patch had been his father's birthplace; and as a child, jumping over the heavy, downy vines, he tried in vain to find a trace of its foundations.
His uncle Jim, the minister, on the other hand, had not been born in the garden, but in a building which was now the woodshed. Alwyn asked himself how anyone could have slept in that poor shack, whose floor was the ground, trodden and scattered with chips, where the snow sifted in winter on the woodpiles. Of course when his grandmother had lain there with a baby in her arms, it must have been warm, safe, and pink, in the firelight. Now she was a strong old woman with sandy-gray hair ; and only with difficulty, by calling to mind the family daguerreotypes, W'as he able to' imagine a young mother in that vanished bed.
Alwyn's father and mother shared with his grandparents the third house on the farm which his grandfather had bought from the government when Wisconsin was a wilderness. In that house his young aunt Flora had been born, in what was now his mother's parlor, exactly below the spare bedroom papered with forget-me-nots where Alwyn himself had slept when he was a baby. The house had been rearranged frequently, and augmented by new rooms, porches, doors, and windows, as the family grew. Now the old people and Flora kept house by themselves in the south wing.
In their sitting room the sunlight burned brightly on stiff patterns of wallpaper, on the red garlands of the carpet, the ripples painted on the woodwork in imitation of quarter-sawed oak, and the false-Nottinghara curtains looped up in the windows. A rack on the wall held a row of hand-painted plates, the work of his aunt and his great-aunt Nancy, decorated with birds, wild roses, and rosebuds.
Beneath the plate rack stood a couch, upholstered in rows of yellow tapestry biscuits, with a green button at each intersection of the crevices. It had the proportions of a lion's body — the legs carved in claws, the sloping back, the head uplifted under a mass of fringed pillows. In spite of its discomfort, Alwyn's grandfather took his nap there every afternoon, his spectacles in his hand, an open newspaper over his face."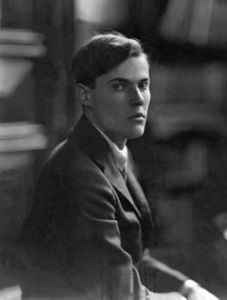 Glenway Wescott (11 april 1901 - 22 februari 1987)
De Franse schrijver Claude Tillier werd geboren in Clamecy, Nièvre, op 11 april 1801, Zie ook alle tags voor Claude Tillier op dit blog.
Uit: Mon oncle Benjamin
« Quand nous avons tous les appétits de la jeunesse, que notre sang est plein de fer et d'alcool, nous n'avons pas un écu ; quand nous n'avons plus ni dents, ni estomac, nous sommes millionnaires. Nous avons à peine le temps de dire à une femme : « Je t'aime ! » qu'à notre second baiser, c'est une vieille décrépite. Les empires sont à peine consolidés, qu'ils s'écroulent ; ils ressemblent à ces fourmilières qu'élèvent, avec de grands efforts, de pauvres insectes ; quand il ne faut plus qu'un fétu pour les achever, un bœuf les effondre sous son large pied, ou une charrette sous sa roue. Ce que vous appelez la couche végétale de ce globe, c'est mille et mille linceuls superposés l'un sur l'autre par les générations. Ces grands noms qui retentissent dans la bouche des hommes, noms de capitales, de monarques, de généraux, ce sont des tessons de vieux empires qui résonnent. Vous ne sauriez faire un pas que vous ne souleviez autour de vous la poussière de mille choses détruites avant d'être achevées.
J'ai quarante ans ; j'ai déjà passé par quatre professions ; j'ai été maître d'études, soldat, maître d'école, et me voilà journaliste. J'ai été sur la terre et sur l'Océan, sous la tente et au coin de l'âtre, entre les barreaux d'une prison et au milieu des espaces libres de ce monde ; j'ai obéi et j'ai commandé ; j'ai eu des moments d'opulence et des années de misère. On m'a aimé et on m'a haï ; on m'a applaudi et on m'a tourné en dérision. J'ai été fils et père, amant et époux ; j'ai passé par la saison des fleurs et par celle des fruits, comme disent les poètes. Je n'ai trouvé dans aucun de ces états que j'eusse beaucoup à me féliciter d'être enfermé dans la peau d'un homme, plutôt que dans celle d'un loup ou d'un renard, plutôt que dans la coquille d'une huître, dans l'écorce d'un arbre ou dans la pellicule d'une pomme de terre. Peut-être si j'étais rentier, rentier à cinquante mille francs surtout, je penserais différemment."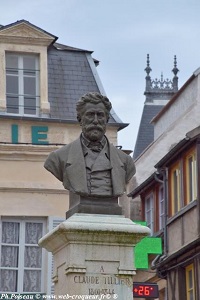 Claude Tillier (11 april 1801 - 12 oktober 1844)
Borstbeeld in Clamecy
Zie voor nog meer schrijvers van de 11e april ook mijn blog van 11 april 2017 en ook mijn blog van 11 april 2015 deel 1 en eveneens deel 2 en ook deel 3.
Zie voor bovenstaande schrijvers ook mijn blog van 11 april 2007 en ook mijn blog van 11 april 2008 en eveneens mijn blog van 11 april 2009.
11-04-2018 om 18:48 geschreven door Romenu

Tags:Leonard Nolens, Mark Strand, Silvia Avallone, Walid Soliman, Dorothy Allison, Hubert Nyssen, Rolf Schilling, Glenway Wescott, Claude Tillier, Romenu



Marc Tritsmans
De Vlaamse dichter Marc Tritsmans werd geboren in Antwerpen op 11 april 1959. Hij studeerde tandheelkunde en werkt als milieuambtenaar. Na publicatie van een aantal losse gedichten in diverse literaire tijdschriften debuteerde hij in 1992 met de bundel 'De wetten van de zwaartekracht'. Er volgden nog 10 dichtbundels, waaronder "Onder bomen" (1994), "Oog van de tijd" (1997), "Van aarde" (1999) en "Sterk water" (2000). In 1991 won hij de P.-G. Buckinxprijs met 'Cyclus Alpen', en in 1995 opnieuw met het gedicht 'Blad'. In 2010 werd hij bekroond met de poëzieprijs Melopee van de gemeente Laarne voor het gedicht 'Geen aanleg'. In 2011 kreeg hij de Herman de Coninckprijs voor 'Studie van de schaduw', en tevens de publieksprijs voor het beste gedicht met 'Uitgesproken'. Tritsmans publiceert regelmatig in De Gids , Hollands Maandblad , Het Liegend Konijn en Poëziekrant .
Zeezicht
Dit uitzicht heeft zich dus honderd jaar eerder
ook voor mijn overgrootvaders ogen ontvouwd.
Toen hij in zijn zondagse pak met strohoed,
vrouw in zwierige jurk aan de arm, op net
zo'n warme julidag de dijk beklom en
haar daar zag liggen. Bij deze zee van
millennia kan ik even weer naast hem op die
bruinige foto. Hij knikt verstrooid als ik me
voorstel en neuriet verder een liedje dat ik
later nog wel van zijn kleindochter leer.
Rechtzetting

Die me naar school bracht
onder de kastanjebomen, die
me nog als laatste bloedstollend

kon vertellen over Duitsers en
onder kleren gesmokkelde
boter. Die me steevast redde

als de wereld te groot werd.
Haar nu, ondanks het late
uur, nog even bellen en

zeggen dat het me spijt. Dat
ik er had moeten zijn die nacht
toen ze voorgoed vertrok.
Koeien

Het lijkt wel of ze staan te wachten
maar ze wachten helemaal op niets. Voor
hen volstaat het om te blijven waar ze
grazen hun wereld moet niet groter dan

tot waar de ogen reiken: dit weiland
dat gewoonweg ophoudt bij de bosrand
het huis daar in de verte met de man
die hen komt melken of hen meevoert

als het koud wordt ze kreunen snuiven
het regent zon schijnt op hun vachten
het wordt donker alles laat hen onbewogen
nergens zit een einde aan de tijd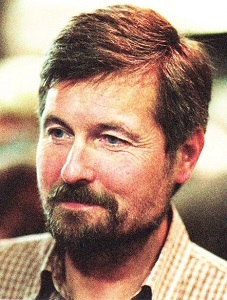 Marc Tritsmans (Antwerpen, 11 april 1959)
11-04-2018 om 00:00 geschreven door Romenu

Tags:Marc Tritsmans, Romenu



Patrick Cornillie
De Vlaamse dichter en schrijver Patrick Cornillie werd geboren in Roeselare op 11 april 1961. Cornillie was leraar in het buitengewoon secundair onderwijs, daarna redacteur bij de Krant van West-Vlaanderen. In 1995 schreef hij over zijn ervaringen in het buitengewoon onderwijs een jeugdroman met de titel 'Buitengewoon'. In Lichtervelde staat aan de bibliotheek een bronzen beeld van een accordeonspeler, gegoten door Ron Deblaere met daaronder het gedicht "De Liedjeszanger" van Cornillie. Sedert 1998 is hij freelance journalist en auteur en leverde bijdragen aan diverse kranten en (wieler)tijdschriften.Van Cornillie verschenen gedichten en verhalen in 'De Muur', 'Deus Ex Machina', 'Dietsche Warande & Belfort', 'Dighter', 'Kreatief', 'Van Mensen en Dingen', 'Poëziekrant' en 'Vlaanderen'. Samen met Frank Pollet stond hij aan de wieg van de drukbezochte Tourblog GeelZucht (2010-2014). Eind 2016 verbleef Cornillie als writer in residence in het Streuvelshuis in Ingooigem. Het resulteerde in 'De zeer schone uren van Stijn Streuvels, cyclotoerist'. In 2017 verscheen zijn gedicht 'Ode aan de jonge flandriens' op 40.000 flesjes Kwaremont-bier. Ook leverde hij het script voor virtual reality-projecten in het Centrum Ronde van Vlaanderen in Oudenaarde en het Abdijmuseum Ter Duinen in Koksijde. Cornillie won diverse prijzen, waaronder de poëzieprijs van de stad Harelbeke in 1988, de Yang Poëzieprijs (1989), de Guido Wulmsprijs voor Poëzie in Sint-Truiden (2003), de poëzieprijs van de stad Halle (2006), de prozaprijs van de Universitaire Werkgroep Literatuur, WeL, Leuven in 2008, de poëzieprijs van de gemeente Keerbergen (2010) en de driejaarlijkse Hilarion Thans Poëzieprijs (Lanaken, 2014).
Een boom

Een boom heeft het recht te dromen.
In de takken van zijn verleden
laat hij onverstoord de seizoenen komen.
En de draagwijdte van het heden

slaat hij op onder zijn huid.
In zijn kruin plooit het licht
met een zacht ruisend geluid.
Van de aarde kent hij het evenwicht.

Geworteld, in handel
en wandel
- hoe een landschap zich naar hem richt

bepaalt hij elk vergezicht.
Bewaart hij de tijd
door zijn aanwezigheid.

Een huis

Muren met een teken aan de wand.
Binnen de huid van deze ruimte gehuld
en een raam dat verten verbant.
Hoe aanwezigheid daar zichzelve invult.

Een huis lijkt eeuwig in evenwicht.
Zoals de tijd binnenskamers blijft, opgehangen
in een foto, een stilleven, een ansicht.
Gezichten in een kader gevangen.

Een huis waakt in zijn voegen.
Over het heden
en het verleden

dat als een walm sigaretterook beslaat
en vlekken op het behang achterlaat.
Blanke foto's op vergeeld ongenoegen.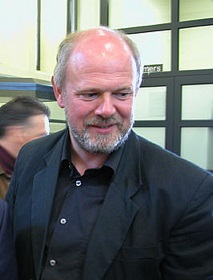 Patrick Cornillie (Roeselare, 11 april 1961)
11-04-2018 om 00:00 geschreven door Romenu

Tags:Patrick Cornilliem Romenu


10-04-2018

Leo Vroman, Jan van Mersbergen, Paul Theroux, Claudio Magris, Bella Akhmadulina, Stefan Heym, Richard Wagner, Marcel van Maele, Eric Knight
De Nederlandse dichter Leo Vroman werd op 10 april 1915 in Gouda geboren. Zie ook alle tags voor Leo Vroman op dit blog.
Veelheden hoe
Een half petje kip,
een popotamus hip,
twee muisjes vleer
vier hanen weer,
acht beelden voor,
zestien kijkjes door,
tweeëndertig vliegjes vuur,
vierenzestig kastjes muur,
honderd achtentwintig fouten druk,
een kippetje tuk?
tweehonderd zesenvijftig stokken tover,
vijfhonderd twaalf tochten over,
en ongeveer,
duizend minnen meer.
Nacht

Dieper naar voren kan ik mij niet buigen
over de wereldrand, spaarzaam verlicht.
Met het gelaat op blinde duisternis gericht
kan ik mij van Gods glans niet overtuigen.

De verste nadering betracht ik in de vele
gedachten die ik naar dat hol gebied
uitzend; talrijke keren niet,
doch ik verlies mij in dit koppig spelen

en in de pijn die tot een lust verdooft
om hun verminkte wederkomst waaraan
'k een wreed en zeker teken hecht van Gods bestaan:
dat ginds een wand is waar wat in hem gelooft
en tot zijn licht vliegt blindelings op stuit.

Doch wellicht hoort hij in de stilste nachten
het zieke ritselen van mijn gedachten
die zich te pletter fladderen buiten op zijn ruit.
Een psalm voor het smelten

Nu ik weet dat ijs-hoge
torens die het menselijk woelen
in al die kantoren
van bazen en bazinnen
liefde en onvermogen
van binnen niet voelen of horen,
dat die kunnen smelten
in luttele seconden
de pratende omzetten
in pruttelend vlees
en de haatvolle hitte
die hele lieve bevolking
om kan zetten tot een
dikke witte wolk
die na dagen zout en zacht
vredig neerzinkt als een grijze vacht
zodat de nu overtollige
tafels en stoelen, kopjes en borden
binnen verre huizen
mollige wezentjes worden,
en ver buiten de stad
op het gras, het verlaten speelgoed,
het poeder blijft praten
over wie het zopas nog,
al pratende, was,
nu ik dat weet, Systeem,
nu weet ik niets meer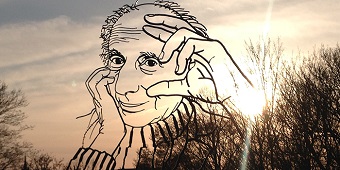 Leo Vroman (10 april 1915 - 22 februari 2014)
Beeld van Leo Vroman op het dak van de stadsbibliotheek Gouda.
De Nederlandse schrijver Jan van Mersbergen werd geboren in Gorinchem 10 april 1971. Zie ook alle tags voor Jan van Mersbergen op dit blog.
Uit: Uiterwaarden
"Ik moet nog heel vaak denken aan het eendenkuiken dat door een snoek gegrepen werd, en opgegeten. Ik zag het vanaf de kant, en in het water dreef een kano, dat kwam in die tijd net op, kanovaren. Nu had je bij ons een klein riviertje, en verder wat kanalen, en niemand van ons kwam op het idee om daar met een kano doorheen te gaan. We kenden de omgeving, die zag er vanaf het water net zo uit. En voor de ontspanning hoefden we het ook niet te doen. Dat bestond daar niet, ontspanning. Bijna alles wat we deden was erop gericht de spanning te verhogen: met buksen schieten, appels jatten, 's nachts over de dijk scheuren, ruzie zoeken in een van de boerendisco's in andere dorpen, behalve misschien vissen, maar ook daar vonden we wel iets van spanning in, zeker toen die snoek dat eendje greep. De mensen in de kano waren verbijsterd. Dat waren een man en een vrouw, een gillende vrouw. Ik zat daar met een vriend langs de kant en die jongen zei tegen die vrouw dat ze niet zo moest schreeuwen, daar hielden wij niet van en de vissen ook niet. En de man stampte met zijn gehuurde pedel in het water om de snoek te verdrijven – die natuurlijk al lang en breed vertrokken was – en met dat gestamp verjoeg hij nu de rest van de vissen, dus dat we nog iets vingen konden we hier wel vergeten, en dus gooiden we kluiten losse aarde naar de kano, of beter nog, vlak ervoor.
Ik doorkruiste de uiterwaarden in de richting van de rivier die daar achter de wilgen lag, het was warm, er waren veel vliegen en een enkele vlinder, en de koeien stonden in de verte, in de schaduw. Ze zagen me. De eerste zette zich in beweging, liep op me af, en de andere koeien volgden, heel rustig. Ik wachtte tot ze bij me waren. Ze begroetten me met hun staarten en de voorste snuffelde aan mijn hand. Ze waren heel zachtmoedig. Drie keer per dag werden ze gemolken. Ik zag ze nooit naar de boerderij lopen en ik zag ook nooit een mobiele melkwagen die ik bij andere boeren wel eens gezien had, handig als de koeien ver weg grazen. Deze koeien leken bejaarden. Ze waren er, ze stonden hier en dat was het. Ik kende ze al lang, ze stonden al jaren in deze uiterwaarden. Je kon zwemmen bij de rivier, op de strandjes tussen de golfbrekers, er was haast nooit iemand. Als je er 's avonds kwam dan stonden de koeien dicht tegen elkaar aan of lagen ze te slapen. Er werd verteld dat je ze om kon duwen als ze stonden te slapen, maar dat heb ik nooit geprobeerd. Een koe omduwen, daar zag ik niks in."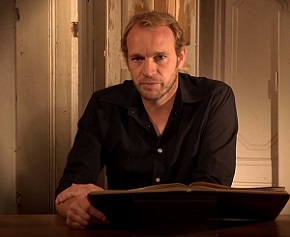 Jan van Mersbergen (Gorinchem, 10 april 1971)
De Amerikaanse schrijver Paul Edward Theroux werd geboren op 10 april 1941 in Medford, Massachusetts. Zie ook alle tags voor Paul Theroux op dit blog.
Uit: The Pillars of Hercules, A Grand Tour of The Mediterranean
"The Greeks had not taken very much interest in their past until Europeans became enthusiastic discoverers and diggers of their ruins. And why should they have cared? The Greeks were not Greek, but rather the illiterate descendants of Slavs and Albanian fishermen, who spoke a debased Greek dialect and had little interest in the broken columns and temples except as places to graze their sheep.
(...)
The Turks had brought their whole culture, their language, the Muslim religion, and their distinctive cuisine not only here but throughout the Middle East and into Europe, as far as Budapest. The contradiction persists, even today: Greek food is actually Turkish food, and many words we think of as distinctively Greek, are in reality Turkish kebab, doner, kofta, meze, taramasalata, dolma, yogurt, moussaka, and so forth; all Turkish.
(...)
"Signs at the entrance to Delphi said, Show proper respect ... I saw a pair of rambunctious Greek youths being reprimanded by an officious little man, for flinging their arms out and posing for pictures. The man twitched a stick at them and sent them away. Why was this? It was just what you would expect to happen if you put a pack of ignoramuses in charge of a jumble of marble artifacts they had no way of comprehending. They would in their impressionable stupidity begin to venerate the mute stones and make up a lot of silly rules. This Show proper respect business and No posing [in front of the ancient stones] was an absurd and desperate transfer of the orthodoxies of the Greeks' tenacious Christianity, as they applied the severe prohibitions of their church to the ruins. Understanding little of the meaning of the stones, they could only see them in terms of their present religious belief; and so they imposed a sort of sanctity on the ruins. This ludicrous solemnity was universal in Greece. Women whose shorts were too tight and men wearing bathing suits were not allowed to enter the stadium above Delphi, where the ancients had run races stark ballocky naked."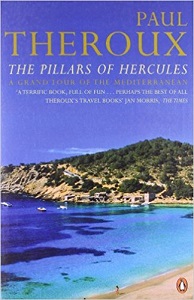 Paul Theroux (Medford, 10 april 1941)
Cover
De Italiaanse schrijver en vertaler Claudio Magris werd geboren op 10 april 1939 in Triëst. Zie ook alle tags voor Claudio Magris op dit blog.
Uit: Danube (Vertaald door Patrick Creagh)
"In a little town between Ivanovo and Ruse there was once a stork which always built its nest on the lamp-post, unaware of the danger or the damage that might ensue. Having several times chased it away in vain, the Council, by official decree, erected another lamp-post, power the delirium of the age, which dazzles and distorts the vision of the world. Amongst all these odds and ends, in the mystery that is always present in every space hewn out of the formless universe, something irrecoverable has been lost. Even Canetti's childhood has vanished, and his derailed autobiography dots not succeed in grasping. it. We send a postcard to Canetti in Zurich, but I know that he will not appreciate this intrusion into his dominions, this attempt to seek out his hiding place and identify it. In his autobiography, which was probably the determining factor in his winning of the Nobel Prize, Canetti goes hunting for himself, for the author of Auto-da-fi . The Nobel committee awarded prizes to two writers, the one of the past, who is in hiding, and the one of the present, who is reappearing. The first is a mysterious and anomalous genius, maybe vanished beyond recall; he it was who in 1935, at the age of thirty, published one of the great books of the century, his only truly great book, Auto-daft, which almost at once disappeared from the literary scene and remained forgotten for some thirty years. This impossible, unmanageable book makes no concessions and refuses to be assimilated by the cultural establishment; it is a grotesque parable of the delirium of the intelli-gence which destroys life, a terrible picture of the lack of love and of bewilderment. The republic of letters, with its benign historical approach, was the book's ideal mediator, but it rejected the work for the most obvious reason — the absolute and radical greatness was more than it could take:This book, which sheds light on our life as very few others do, was for a long rime virtually ignored, and Canetti bore this neglect with a firmness of character which perhaps concealed, in its courteous modesty, a stubborn awareness of his own genius. "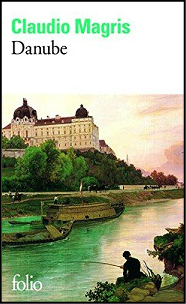 Claudio Magris (Triëst, 10 april 1939)
Cover
De Russische dichteres Bella Akhmadulina werd geboren op 10 April 1937 in Moskou. Zie ook alle tags voor Bella Akhmadulina op dit blog.
The Saint Bartholomew's Night (Fragment)
Used to abundance of the death and blood,
you, worthy people, always fight and swear,
you so boldly nurse your own child,
as if he doesn't raise your sense of fear.
If from his sleep, he cries and wakes, alarmed,
don't be in trouble – it's his fault, entire:
a gentle gum is, maybe, slightly harmed
by milk-eye-teeth of your sinless vampire.
And if, through branches, once, would something gaze
at you in ways, which make you twitch and shiver,
don't be afraid! – this is a little face
of any child, bred in the evil sphere.
But maybe, midst deep fits or Heaven plains,
this cry's high honour to the other choices,
and this little throat fiercely complains
about its frugality and losses
with all its tunes, too deep for world of strings,
with all its awe, too great for lines' discretion.
But yet, in whole, what a trifling thing!
Just thirty thousand killed Huguenots, in question.
Vertaald door Yevgeny Bonver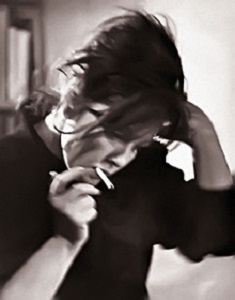 Bella Akhmadulina (Moskou, 10 April 1937)

De Duitse dichter en schrijver Stefan Heym (eig. Hellmuth Flieg) werd geboren op 10 april 1913 in Chemnitz. Zie ook alle tags voor Stefan Heym op dit blog.

Uit: 5 Tage im Juni
"Sonnabend, 13. Juni 1953 19.00 Uhr lag Witte auf seinem Bett, halbnackt, das Kissen zerknüllt von sei-nen ruhelosen Kopfbewegungen. Der Wind, der gegen Abend auf-gekommen war, hatte keine Abkühlung gebracht. Der Wind trug den Staub von den Ruinen an der Straße durch das offene Fenster herein, dazu die Straßengeräusche — ein Wochenendsäufer, der aus einer Kneipe grölte, ein paar Weiber, die von Balkon zu Balkon schnatterten. Möglich, daß er ein Verfahren bekam. Aus Bangganz' Andeutun-gen sprach schon die Anklage: Mißachtung von Parteibeschlüssen, Verstoß gegen die Parteidisziplin, Mangel an Vertrauen zur Partei-führung. Und dann würde alles wieder aufgebrüht werden — der lei-dige Fall Kasischke, der zu einem Fall Witte hochgespielt worden war; seine Bekanntschaft mit Genossen, die aus schwer ersichtli-chen Gründen in Verruf geraten waren; bis zurück in die Zeit noch vor Hitler, ins Jahr 1932, wo er sich, seine Jugendsünde, geweigert hatte, Seite an Seite mit den Faschisten Streikposten zu beziehen ge-gen die sozialdemokratischen Verkehrsarbeiter. Nein, das würden sie wohl doch übergehen; der Verkehrsstreik war inzwischen still-schweigend als Fehler anerkannt worden. Er entschloß sich aufzustehen. Ein sehr müdes Gesicht, Schatten unter den Augen, starrte ihm aus dem Spiegel entgegen. Die Stun-den, die er wach gelegen, hatten einen stumpfen Schmerz im Kopf hinterlassen; er preßte die Fingerspitzen gegen den Schädel; dann strich er sich durch das Haar, das an den Schläfen schon grau wurde. Einundvierzig erst, dachte er; aber da waren Jahre gewesen, die für zehn zählten. Er rasierte sich, obwohl er keine Pläne für den Abend hatte. Die Wand zum Nebenzimmer war dünn; dort wurde ein Kommoden- fach aufgezogen und wieder zugeschoben. Er hörte die Schritte der jungen Frau. Anna hieß sie und war die Schwiegertochter der Frau Hofer, bei der er zur Untermiete wohnte. Manchmal, heute zum Beispiel, war es ihm tröstlich, daß ein anderes menschliches Wesen in der Nähe existierte — hustete oder gähnte oder einen Pantoffel zu Boden fallen ließ. Natürlich konnte er sich aufmachen und zu Greta gehen. Greta würde überrascht sein, sehr zurückhaltend, würde ihn aber auffor-dern einzutreten, in die Wohnung, wo es nach Essen roch und nach frischer Wäsche. Die Kinder würden sich freuen, besonders die Kleine, Claudia, die so nach Zärtlichkeit hungerte; der Junge zeigte seine Gefühle weniger, aber auch der hing schon, mehr als gut war, an ihm; arme Kerlchen, beide, der Vater vermißt irgendwo bei Wi-tebsk und die Mutter auf Arbeit bei VEB Merkur."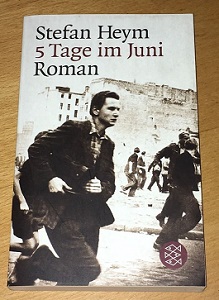 Stefan Heym (10 april 1913 – 16 december 2001)
Cover
De Duitse schrijver Richard Wagner werd geboren op 10 april 1952 in Lovrin, in Roemenië. Zie ook alle tags voor Richard Wagner op dit blog.
Uit: Miss Bukarest
"Razvan hielt sich bedeckt. Wenn Erika was auffiele, solle sie sich doch kurz melden. Unter dieser Telefonnummer. Und er diktierte ihr eine unserer Informanten-Nummern.
Erika erzählte mir die Sache sofort. Sie fragte mich, was ich davon halte. »Schwer zu sagen«, meinte ich. »Mal sehen. Erzähl es noch nicht weiter. Vielleicht war es Zufall, Routine. Wenn er tatsächlich was will, hörst du bestimmt noch von ihm.«
Mit diesem letzten Satz hatte ich wirklich die Wahrheit gesagt. Ich berichtete Saracu von Erikas Reaktion auf die Begegnung mit Razvan, und Saracu verfügte, daß Razvan und ich nun in der Sache Erika Binder, Deckname »Parfum«, zusammenarbeiten sollten. Ich arbeitete ungern mit Razvan zusammen. Aber was sein mußte, mußte sein. Befehl ist Befehl, wie die Deutschen sagen.
Zwischen mir und Razvan war es mehrmals zu unangenehmen Vorfällen gekommen. Es ging nicht bloß um Meinungsverschiedenheiten. Zum Beispiel in der Benjamin-Sache. Razvans große Blamage. Er führte sie auf mich zurück. Und das kam so:Razvan hatte einen Schreibmaschinentext aus der Szene bekommen. Der Titel lautete: »Der Engel der Geschichte«. Verfasser war keiner angegeben. Razvan tippte auf Martin oder Richartz. Eher auf Richartz. Razvan hatte den Text übersetzen und interpretieren lassen. Von einem unserer Möchtegern-Literaturwissenschaftler, der bei der Securitate gelandet war, weil ihn sonst keiner wollte.
Im Text stand der Satz: »›Es gibt ein Bild von Klee, das Angelus Novus heißt.‹«
»Wer ist Klee«, fragte Saracu.
»Irgendein Maler«, sagte Razvan und las weiter: »›Ein Engel ist darauf dargestellt, der aussieht, als wäre er im Begriff, sich von etwas zu entfernen, worauf er starrt.‹«
»Ein Engel«, sagte Razvan. »Angelus Novus. Das ist Latein. Muß also mit den Katholiken zu tun haben.«
»Seit wann ist denn Richartz religiös?«
»Der und religiös«, sagte Razvan, »der will uns damit ärgern. Vielleicht ist es auch eine Anspielung auf die verbotenen Unierten, die Griechisch-Katholischen. Vielleicht will er sagen, daß bei uns Kirchen verboten sind.«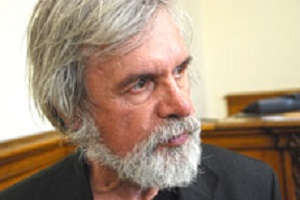 Richard Wagner (Lowrin, 10 april 1952)
De Vlaamse dichter en beeldhouwer Marcel van Maele werd geboren in Brugge op 10 april 1931. Zie ook alle tags voor Marcel van Maele op dit blog.
En zo dromen zij...
Schuifelend over de binnenwand,
luisterend naar de geluiden van buiten,
trekken zij de wereld rond en krom.
In deze rimpelloze duisternis,
geen wind, geen regen. Weer-loos.
Zo hadden zij reeds,
hun tellen kwijt, het noorden zoek,
in ruil voor een liever weten
hun duimen gelegd.
Dat verre verleden, die kommerloze ogenblikken.
En ook de buitenkant der dingen.
Hoe in een grijnzend heelal
de zon in de zee verzinkt,
hoe dorre handen in onvruchtbare aarde
wroeten. Regen en wind. Weer-zin.
Zo richt hij zijn revolver
vanuit het holst van de nacht
naar de smachtende maan
en blaffen blaffen maar.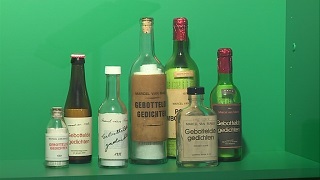 Marcel van Maele (10 april 1931 - 24 juli 2009)
Marcel Van Maele: Gebottelde gedichten
De Amerikaanse schrijver Eric Knight werd geboren op 10 april 1897 in Menston in Yorkshire, Engeland. Zie ook alle tags voor Eric Knight op dit blog.
Uit: Lassie Come-Home
"Lassie whirled to look for him, but her senses were drawn to something else—the warm, blood smell of the rabbit that lay on the path. For a long time she regarded it. She came nearer, bending her head warily, as if ready to spring away. For, though the blood smell of food was there, the scent of the weasel still lingered, too. Carefully her nose came nearer and nearer until it touched the freshly killed quarry. She drew back and walked around it. Then she came near, bent her head, and picked up the game. She lifted her head again and waited.
It was as if, in the wild land, far from all human beings, she was expecting the sudden call of the master: "No, Lassie! Drop it! Drop it!" But no sound came. She stood indecisively for almost a half minute, and then it was over. Carrying the rabbit, she trotted along. She quested to right and left as she went. Then she saw what she wanted—a thick tangle of gorse that made a sort of den. She walked to it, coiled herself close so that she was protected on three sides. She dropped to the ground, letting the rabbit fall before her. She smelled it again. It smelled good. It was food. After that she had a newly acquired sense. She had learned the smell of rabbit. Instinct told her the rest. As she traveled along, whenever her keen nose told her of the nearness of game, she became a hunter. She scouted and ran and caught it, and she ate. It was the sensible law of nature. She did not kill wantonly as man often does. She killed to live, and no more. Such food was just sufficient to sustain life, but that was all. Now there were no keen eyes to watch Lassie, to note her weight, to look at the color of her gums, to eye the quality of her coat. There was no one to say: "She's off a couple of pounds—give her a little more beef liver in her dinner!" "She doesn't seem quite up to snuff—better start giving her a bowl of milk in the morning. You might just drop a raw egg in it if she'll take it!"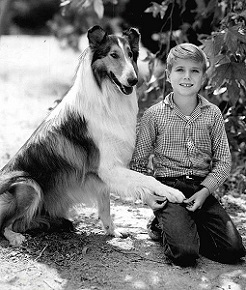 Eric Knight (10 april 1897 – 14 januari 1943)
Lassie en Timmy (Jon Provost), Lassies tweede baasje in de tv-serie (1957-1965)
Zie voor nog meer schrijvers van de 10e april ook mijn blog van 10 april 2016 deel 2.
Zie voor bovenstaande schrijvers ook mijn blog van 10 april 2007 en ook mijn blog van 10 april 2008 en eveneens mijn blog van 10 april 2009.
10-04-2018 om 18:27 geschreven door Romenu

Tags:Leo Vroman, Jan van Mersbergen, Paul Theroux, Claudio Magris, Bella Akhmadulina, Stefan Heym, Richard Wagner, Marcel van Maele, Eric Knight, Romenu


09-04-2018

Charles Baudelaire, Jelle Brandt Corstius, Karel Jonckheere, Joolz Denby, Albert von Schirnding, Johannes Bobrowski, Bernard-Marie Koltès, Arnold Stadler, Yaël Vinckx
De Franse dichter Charles Baudelaire werd geboren in Parijs op 9 april 1821. Zie ook alle tags voor Charles Baudelaire op dit blog.
Le rebelle
Un ange furieux fond du ciel comme un aigle,
Du mécréant saisit à plein poing les cheveux,
Et dit, le secouant : " Tu connaîtras la règle !
(Car je suis ton bon Ange, entends-tu ?) Je le veux !

Sache qu'il faut aimer, sans faire la grimace,
Le pauvre, le méchant, le tortu, l'hébété,
Pour que tu puisses faire, à Jésus, quand il passe,
Un tapis triomphal avec ta charité.

Tel est l'Amour ! Avant que ton coeur ne se blase,
A la gloire de Dieu rallume ton extase ;
C'est la Volupté vraie aux durables appas !"

Et l'Ange, châtiant autant, ma foi ! qu'il aime,
De ses poings de géant torture l'anathème ;
Mais le damné répond toujours : " Je ne veux pas !"
Mens en zee
U, vrije mens, vereert de zee het allermeest.
Zij is uw spiegelbeeld: u kunt uw ziel ontwaren
In het oneindig deinen van haar zilte baren,
Al even bitter als de afgrond van uw geest.
U duikt diep in uw evenbeeld vol zelfbehagen;
Uw oog en arm omvademen het, en uw hart
Vergeet soms het gejammer van zijn eigen smart
In het geluid van haar ontembaar woeste klagen.
Steeds zult u beiden even duister en gesloten zijn:
Mens, niemand kan de diepten van uw geest doorgronden;
Zee, niemand heeft de schatten in uw schoot gevonden,
Zo angstvallig bewaart u beiden uw geheim.
En desondanks gaat sedert onheuglijke tijden
Uw tweekamp ongenadig en verbeten voort,
Zozeer bent u verknocht aan slachting en aan moord,
Die onverbiddelijk als broers elkaar bestrijden.
Vertaald door Paul Claes
Der Mensch und das Meer
Du freier Mensch, du liebst das Meer voll Kraft,
Dein Spiegel ist's. In seiner Wellen Mauer,
Die hoch sich türmt, wogt deiner Seele Schauer,
In dir und ihm der gleiche Abgrund klafft.
Du liebst es, zu versinken in dein Bild,
Mit Aug' und Armen willst du es umfassen,
Der eignen Seele Sturm verrinnen lassen
In seinem Klageschrei, unzähmbar wild.
Ihr beide seid von heimlich finstrer Art.
Wer taucht, o Mensch, in deine letzten Tiefen,
Wer kennt die Perlen, die verborgen schliefen,
Die Schätze, die das neidische Meer bewahrt?
Und doch bekämpft ihr euch ohn' Unterlass
Jahrtausende in mitleidlosem Streiten,
Denn ihr liebt Blut und Tod und Grausamkeiten,
O wilde Ringer, ewiger Bruderhass!
Vertaald door Stefan George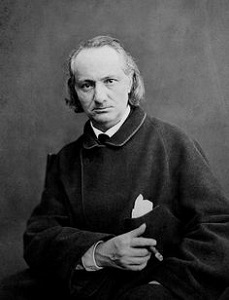 Charles Baudelaire (9 april 1821 – 31 augustus 1867)
Foto door Nadar
De Nederlandse schrijver, correspondent en programmamaker Jelle Brandt Corstius werd geboren in Bloemendaal op 9 april 1978. Zie ook alle tags voor Jelle Brandt Corstius op dit blog.
Uit: Arctisch Dagboek
"Ik heb het ook vaak gehad bij het interviewen van Russische officials. Aanvankelijk onderbrak ik hun monologen, waarna zij getergd korte en onbruikbare antwoorden gaven. En ik had hun wodka ook al afgeslagen! Later werd ik wijzer en liet ik zo'n man rustig zijn monoloog houden. Nadat ik een wodka achterover had geslagen en een augurk had gegeten, keek ik zo'n man aan en knikte af en toe op de juiste momenten, zonder te horen waar hij het over had – een handigheid van onschatbare waarde. In de tussentijd dacht ik aan andere dingen, bijvoorbeeld wat ik ging koken die avond, of nam ik rustig nog een augurk. Als de official na een halfuur was uitgepraat zette ik de recorder aan en startte ik het echte interview.
De man was tevreden dat hij zijn zegje had kunnen doen, en ik zat met een man die zin had om te praten. Iedereen blij. De man ratelde verder over zijn vrindje, of god weet waarover, en ik moest denken aan de reis met Jeroen naar de Sami. De leider van de rendierbrigade had ons meegenomen naar zijn kudde, een paar uur reizen per rendierslee over bevroren meren en bevroren toendra. Op een meer stopten wij, en de rendierman en Jeroen vertrokken om de rendieren te zoeken. Ik bleef achter op het ijs.
Er stond geen wind, er waren geen vogels, nergens was een spoor van beschaving. Er waren zelfs geen bomen, alleen maar ijs, dat vloeiend overging in een melkachtige lucht. Voor de eerste keer in mijn leven maakte ik complete stilte mee. Het was zo stil dat ik het bloed door mijn aderen hoorde stromen. Die twintig minuten totdat Jeroen en de rendierhouder terugkwamen waren angstig en fantastisch tegelijk.
Ik werd uit mijn gedachten gehaald toen de man zijn arm van mijn schouder haalde, en onmiddellijk drong een vrouw zich aan mij op. Zij stelde me wat impertinente vragen over mijn zus Aaf, die ze alleen maar kende als columnist uit de Volkskrant. Toen ik daar geen antwoord op gaf vertelde ze dat zij zelf geen cent te makken had, maar dat een rijke vriendin de reis had betaald. Ze wees naar een vrouw in de hoek van de zaal met een indrukwekkend permanentje, dat deed denken aan de boeg van een ijsbreker."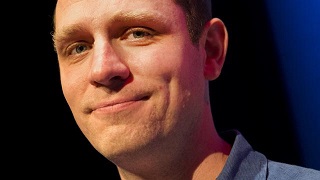 Jelle Brandt Corstius (Bloemendaal, 9 april 1978)
De Vlaamse dichter en schrijver Karel Jonckheere werd geboren in Oostende op 9 april 1906. Zie ook alle tags voor Karel Jonckheere op dit blog.
Roofbouw op het ijle
Nu ik nog ben wil ik de dood beleven
te meer daar hij als waarde niet bestaat,
ik pleeg geen roofbouw op een later staat
waar ik als ziel of schim subtiel zou zweven.

Niet eens een lokkend omgekeerd verleden
is het hiernamaals met zijn eeuwigheid,
die dwaze som van korte stukjes tijd
waaraan wij, mens na mens, ons bloed besteden.

Geen syndicaat bij sterven, geen misdeelden,
het grote niets is hedendaags jolijt
verrijs gerust eer ge begraven zijt:
de dood is slechts afwezigheid in beelden.
Gesprek voor het inslapen
Ach, niet de dood alleen is afscheid van het leven,
maar elke droom, die sterft maakt ons verkleumd en oud,
en hij, die eenzaam is en met het leed vertrouwd,
weet dat geen enkle God wat heen is weer kan geven.

'k Had u een huis gebouwd met bloemen om de muren
naar ouden Vlaamschen aard; mijn boeken, uw klavier;
er zouden kindren zijn, een hond, een goed vat bier,
gij zoudt mijn glimlach zijn en ik uw avonturen.

We hadden 't saam beslist, we leerden beiden wachten
en zoenden ons den mond bij 't minste twijfelwoord;
zoo teeder heeft geen man ooit aan een vrouw behoord
en niemand werd zoo mild in louterend verwachten.

Maar wie zijn droom verhaalt ziet dezen droom ook sterven
en dit is onze straf, en het is niemands schuld,
nu gaan wij onzen weg, het hart is onvervuld,
maar geen van beiden kan het beeld van d'ander derven.

Is er geen droom, mijn kind, die ons nog saam doet hooren,
ons rest nog innigheid, wij pleegden geen verraad,
houdt ieder voor zich zelf de pijn, die 't leven slaat,
wij hebben 't paradijs maar niet ons hart verloren.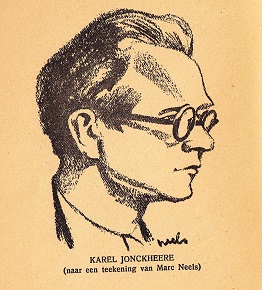 Karel Jonckheere (9 april 1906 - 13 december 1993)
Naar een tekening van Marc Neels
De Engelse dichteres, schrijfster en "spoken-word artist" Joolz Denby werd geboren op 9 april 1955 in Colchester. Zie ook alle tags voor Joolz Denby op dit blog.
Bradford (Fragment)
I fill my bag with fruit and wander on,
window-shopping, my eye caught by the fabric shops
that burst with rolls and bolts of lace, and lamé
metallic and dangerous as deep water,
with satin, crepe and polyester
crusted with sequins, bullion and tiny mirrors,
foil stamped, hologrammed and photo-printed,
fabric patterned in every possible way;
striped and checked, hazy with impossible flowers,
stark with calligraphic motifs repeating and repeating
unknown phrases in an unknown tongue.
Brilliant as some dead caliph's treasure
the windows blaze with textile gems;
sapphire and emerald; ruby, heavy turquoise
and white that glimmers with the blue sheen of
Chomolungma's distant snows.
One window is all pinks; from summer's dusky rose
through bubblegum, Shocking to a
shell pink so faint it's hardly breathing.
And best of all, so beautiful it makes me sigh,
a half unrolled length of pure, gleaming
silk that fades from blood red to the pink
of a desert sunset and back again.
But I walk on, down into the valley and the
secret stone puzzle that's the City.
Above me far overhead, wind-driven clouds unfurl
like great tattered banners, whipping through the blue
like flying prayers; they twist and roil like a time-lapse film,
cinematic, impossible and always with us in
this place so dominated by vast, untameable skies.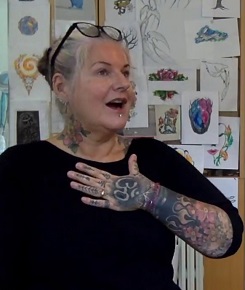 Joolz Denby (Colchester, 9 april 1955)
De Duitse dichter, schrijver, essayist en criticus Albert von Schirnding werd geboren op 9 april 1935 in Regensburg. Zie ook. Zie ook alle tags voor Albert von Schirnding op dit blog.
Uit: Thomas Mann
"In einem langen Brief vom 23. Juni 1950 an den Literaturwissen-schaftler Hans Mayer, den Autor des Buches Thomas Mann. Werk und Entwicklung, wehrt sich der Dichter gegen das Prädikat des «Ungeliebten», das ihm der Verfasser der Monographie in einem Kapitel über «Gerhart Hauptmann oder die Persönlichkeit» zugesprochen hatte. Die Leser, so Hans Mayer, empfanden ihm gegenüber Bewunderung, nicht aber Ehrfurcht oder gar Liebe. Und erst recht sei diese Distanz bei den schreibenden Zeitgenossen spürbar. «Allenthalben war Fremdheit. Ihnen allen war Thomas Mann der Ungeliebte.» Der Brief-schreiber halt entgegen: «Unbeliebt soll man sich machen bei den Dummen und Schlechten, und ich habe es immer unbedenklicher, rücksichtsloser getan, je alter ich wurde. Aber ungeliebt war ich nicht, bin ich nicht, will ich nicht sein, leugne, es zu sein.» Der Verfasser des vorliegenden Buches weiß aus eigener intensiver Erfahrung, wie we-nig schon in den fünfziger Jahren, als er zwanzigjährig seine ersten Begegnungen mit dem Zauberberg, dem Joseph, dem Doktor Faustus, dem Felix Krull absolvierte, Bewunderung und Liebe für den «Zau-berer» einander auszuschließen brauchten. Aber diese Liebe mußte auch in den Jahrzehnten, die folgten, erstaunt und irritiert zur Kennt-nis nehmen, daß keiner der großen Schriftsteller des zwanzigsten Jahrhunderts bei allem Weltruhm stärkere allergische Reaktionen hervorgerufen hat als Thomas Mann. Die Gründe dafür sind sehr verschieden; sie scheinen mir aber mehr bei den Kritikern und in den Zeitumständen zu liegen als in der Person und im Werk des Ge-schmähten. Der Erzähler wurde als selbsterwählter Repräsentant einer verfaulten bürgerlichen Kultur, als herzloser Ironiker und selbstgefälliger Manierist beschimpft. Dem Verfasser einer der «For-derung des Tages», der nach wie vor auch der unsere ist, Genüge leistenden politischen Essayistik wurden Ahnungslosigkeit, Blind-heit, Opportunismus, Verrat nachgesagt. Der Autor der Tagebücher mußte sich von hoher moralischer Entrüstungswarte Antisemitis-mus, Narzißmus, Eiseskälte seinen nächsten Angehörigen gegenüber, feig unterdrückte Homosexualität vorwerfen lassen."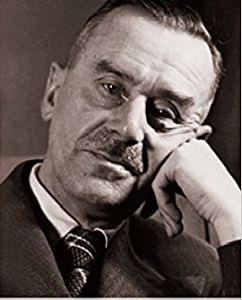 Albert von Schirnding (Regensburg, 9 april 1935)
Thomas Mann
De Duitse schrijver, dichter en essayist Johannes Bobrowski werd geboren op 9 april 1917 in Tilsit. Zie ook alle tags voor Johannes Bobrowski op dit blog.
Anruf
Wilna, Eiche
du –
meine Birke,
Nowgorod –
einst in Wäldern aufflog
meiner Frühlinge Schrei, meiner Tage
Schritt erscholl überm Fluß.
Ach, es ist der helle
Glanz, das Sommergestirn,
fortgeschenkt, am Feuer
hockt der Märchenerzähler,
die nachtlang ihm lauschten, die Jungen
zogen davon.
Einsam wird er singen:
Über die Steppe
fahren Wölfe, der Jäger
fand ein gelbes Gestein,
aufbrannt' es im Mondlicht. –
Heiliges schwimmt,
ein Fisch,
durch die alten Täler, die waldigen
Täler noch, der Väter
Rede tönt noch herauf:
Heiß willkommen die Fremden.
Du wirst ein Fremder sein. Bald.
Die Frauen der Nehrungsfischer
Wo das Haff
um den Strand lag
dunkel, unter der Nacht noch,
standen sie auf im klirrenden
Hafer. Draußen die Boote
sahen sie, weit.
Wenn sie kamen – die Alten
wachten am Ruder, die Söhne,
wirr vor Schlaf, in den Armen
des Netzzugs Last –,
ging durch den Himmel ein heller
Streif und hing um die Dächer.
Droben
wenige Rufe
trieben im Wind.
Und gering war der Fang.
Vor Zeiten, sagt man, umglänzte
hundertschwärmig der Hering
draußen die Meerbucht, silbern
schwand er. Die Närrin
schreit es am Waldrand hin, –
altes Lied, Gewitter
reißt's aus der Bläue.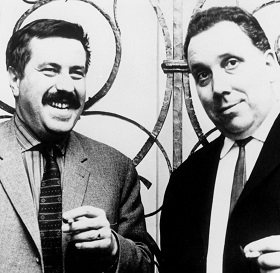 Johannes Bobrowski (9 april 1917 – 2 september 1965)
Hier met Günter Grass (lins) in 1964
De Franse toneelschrijver Bernard-Marie Koltès werd geboren in Metz op 9 april 1948. Zie ook alle tags voor Bernard-Marie Koltès op dit blog.
Uit: Roberto Zucco
"Une voix - Par où as-tu filé? Donne-nous la filière.
Zucco - Par le haut. Il ne faut pas chercher à traverser les murs, parce que, au-delà des murs, il y a d'autres murs, il y a toujours la prison. Il faut s'échapper par les toits, vers le soleil. On ne mettra jamais un mur entre le soleil et la terre.
Une voix - Et les gardiens?
Zucco - Les gardiens n'existe pas. Il suffit de ne pas les voir. De toute façon, je pourrais en prendre cinq dans une seule main et les écrase d'un coup.
Une voix - D'où te vient ta force,Zucco, d'où te vient ta force?
Zucco - Quand j'avance, je fonce, je ne vois pas les obstacles, et, comme je ne les ai pas regardés, ils tombent tout seuls devant moi. Je suis solitaire et fort, je suis un rhinocéros.
(...)
Zucco - Je ne suis qu'un garçon normal et raisonnable monsieur. Je ne me suis jamais fait remarquer [...]. J'ai toujours pensé que la meilleure manière de vivre tranquille était d'être aussi transparent qu'une vitre, comme un caméléon sur la pierre, passer à travers les murs, n'avoir ni couleur ni odeur ; que le regard vous traverse et voie les gens derrière vous comme si vous n'étiez pas là. C'est une rude tâche d'être transparent ; c'est un métier ; c'est un ancien, très ancien rêve d'être invisible. Je ne suis pas un héros. Les héros sont des criminels. Il n'y a pas de héros dont les habits ne soient pas trempés de sang, et le sang est la seule chose au monde qui ne puisse pas passer inaperçue. C'est la chose la plus visible au monde. Quand tout sera détruit, qu'un brouillard de fin du monde recouvrira la terre, il restera toujours les habits trempés de sang des héros."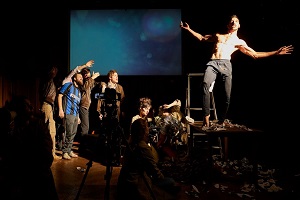 Bernard-Marie Koltès (9 april 1948 – 15 april 1989)
Scene uit een opvoering in Avignon, 2017
De Duitse schrijver Arnold Stadler werd geboren op 9 april 1954 in Meßkirch. Zie ook alle tags voor Arnold Stadler op dit blog.
Uit:Rauschzeit
"Und das ist gut so, dachte sie schon fast vergnügt an ihre Tante Mausi, die schon früh, das heißt in einem Alter, in dem sie selbst jetzt war, gesagt hatte: »Ik hab abjedankt. Sollen die
Jungen mal ran!«
In solchen Romanen war es dann so, als wären die Frauen von einem Mann ausgedacht, seine Geschöpfe, und als hätte Gott zu den Männern gehört. In den Liebesopern war es genauso.
Immer nur Männer, oftmals alte, die diese dicken Romane und Opern geschrieben hatten, und über die Jahrhunderte und Jahrtausende waren es Frauen, die sich von den Männern erklären
lassen sollten, was die Liebe war.
Also ein blonder Däne, der neben ihr mitanhören und mitansehen müsste, wie Tosca singend in den Tod sprang. So hatte es Puccini verfügt, geschrieben in Rom, in ein paar Monaten des Jahres 1899, und zum ersten Mal gehört ebenda, Anno 1900, zum dreißigsten Geburtstag Italiens und der Eroberung Roms durch die Italiener. Das war nun über zweieinhalbtausend Jahre nach der Eroberung Italiens durch die Römer. So viel Geschichte musste sein.
Puccini ließ eine Frau in den Tod springen, von der Engelsburg, die gerade noch die Zuflucht des Papstes gewesen war, auf der Flucht vor den päpstlichen Männern und Folterern. Das erwartete sie. Mehr wusste Mausi nicht. Sie lebte gerne, es war Freitag, der 25. Juni 2004. Jetzt wurden die Tage wieder kürzer. Friedrich Gulda (sonst war es immer Lili Kraus) spielte gerade für sie das Andante con variazioni in fa minore von Franz Joseph Haydn. Alain war in Köln.
Die Welt war der Ort, wo uns die Zeit davonlief, von diesem Satz in meinem Kopf war ich schon gleich nach 5 Uhr aus dem Bett getrieben worden, und mit den Sätzen von Mausi, die sie mir mit auf den Weg nach Köln gegeben hatte, stand ich nun vor meinem Morgenspiegel: Dass du wie ein Waldschrat aussiehst, weißt du. Und außerdem hatte sie mich kurz darauf auch noch gefragt: »Sollten wir nicht ins Vegetarische wechseln?
« Das setzte die Geschichte von Menschen voraus, deren große Zeit vorbei war."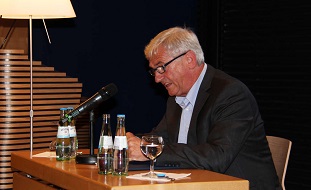 <Arnold Stadler (Meßkirch, 9 april 1954)
Onafhankelijk van geboortedata
De Nederlandse schrijfster, journaliste en presentatrice Yaël Vinckx werd geboren in Hazerswoude in 1968. Zie ook alle tags voor Yaël Vinckx op dit blog.
Uit: De oorlog van mijn moeder
"In de stationshal droop de condens van de muren.
De vluchtelingen verdrongen zich voor de loketten; ze stampten op elkaars tenen, elleboogden zich naar voren, snauwden elkaar af. Inge zat op de arm van Hubertina, maar algauw moest zij haar dochter op de grond zetten om hun plek met heel haar lichaam te verdedigen. De natte zomen sloegen het kind in het gezicht, terwijl grote koffers haar dreigden te verpletteren en plunjezakken zich elk moment als een metershoge vloedgolf over haar uit konden storten. Ze werd verzwolgen door een zee aan zware, doorweekte jassen. In die vloed gleed haar hand, bijna onopgemerkt, uit die van moeder.
Het duurde even voor Hubertina zich realiseerde dat ze haar dochtertje niet langer beet had. In paniek riep ze haar naam. Ergens tussen het gebrul van de metershoge zoomgolven door hoorde Inge haar stem. Die klonk gesmoord, zoals iedere zaterdag als Hubertina haar hoofd onder water duwde in de wastobbe in de keuken, om haar bruine krullen te wassen.
'Inge? Inge! Waar ben je?' Wanhopig trok Hubertina haar zoon uit de rij, sleepte de tassen naast hem en viel op haar handen en knieën. Zo kroop ze langs de mensen terwijl ze de naam van haar verloren dochter schreeuwde. Inge wilde roepen, maar was bang dat als ze haar mond zou openen ze in de natte zomen zou stikken. Opeens trok een grote man haar tussen zijn voeten vandaan en gaf haar over de hoofden van de andere wachtenden aan Hubertina. Zij drukte haar dochter tegen zich aan en streek de natte haren uit Inges gezicht. 'Dat mag je nooit meer doen!'
Iedereen keek nu naar de vrouw en de twee kinderen, maar niemand maakte plaats. Uiteindelijk moest Hubertina Inge opnieuw op de grond zetten om samen met Carl jr. de koffers naar het einde van de rij te slepen, waar het gezin voor de tweede keer aansloot."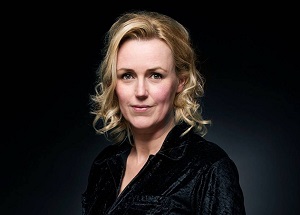 Yaël Vinckx (Hazerswoude, 1968)
Zie voor nog meer schrijvers van de 9e april ook mijn blog van 9 april 2017 deel 2.
Zie voor bovenstaande schrijvers ook mijn blog van 9 april 2007 en ook mijn blog van 9 april 2008 en eveneens mijn blog van 9 april 2009.
09-04-2018 om 18:52 geschreven door Romenu

Tags:Charles Baudelaire, Jelle Brandt Corstius, Karel Jonckheere, Jolz Denby, Albert von Schirnding, Johannes Bobrowski, Bernard-Marie Koltès, Arnold Stadler, Yaël Vinckx, Thomas Mann, Romenu


08-04-2018

Thomas (Jan Willem Schulte Nordholt)
Bij Beloken Pasen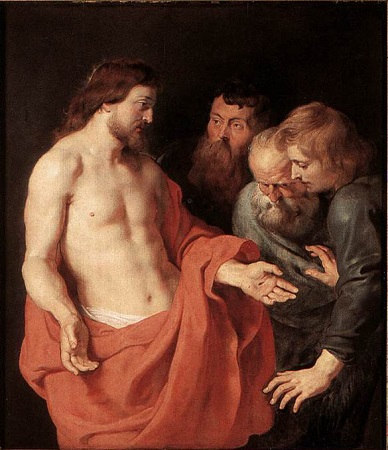 De ongelovige Thomas door Peter Paul Ruben, 1613 - 1615
Thomas
Als God bestond dan viel hij met ons samen
hier op aarde waar wij mensen zijn,
was hij het brood van ons, was hij de wijn
was hij de stem waarvoor we ons zouden schamen.

Was hij de groene ziel bij ons van binnen,
de vleugel die ons hart had aangeraakt,
het licht waarin ons leven was ontwaakt,
en onze pijn en wildernis van zinnen.

Hij is een glans die langs de sterren gaat,
een adem in een ontoegankelijk licht.
Hij is zo heilig dat hij niet bestaat.

Als ik hem niet aanraak met deze hand,
hem kus met deze mond, met dit gezicht
hem in mij opneem, en hij mij verbrandt.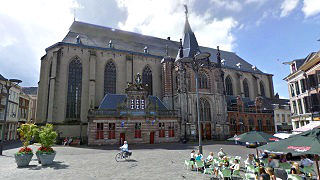 Jan Willem Schulte Nordholt (12 september 1920 - 16 augustus 1995)
De Grote Kerk in Zwolle, de geboorteplaats van Jan Willem Schulte Nordholt
Zie voor de schrijvers van de 8e april ook mijn vorige twee blogs van vandaag.
08-04-2018 om 10:38 geschreven door Romenu

Tags:Beloken Pasen, Pasen, Jan Willem Schulte Nordholt, Romenu



Herinnering aan Gerard Reve, Hanz Mirck, Christoph Hein, Judith Koelemeijer, Nnedi Okorafor, Barbara Kingsolver
Herinnering aan Gerard Reve
Vandaag is het precies 12 jaar geleden dat de Nederlandse dichter en schrijver Gerard Reve overleed. Zie ook alle tags voor Gerard Reve op dit blog en eveneens mijn blog van 14 december 2006. en mijn blog van 9 april 2006.
Herkenning
Nu weet ik, wie gij zijt,
de Jongen die ik eenzaam zag te Woudsend en daarna,
nog op dezelfde dag, in een kafee te Heeg.
Ik hoor mijn Moeders stem.
O Dood, die waarheid zijt: nader tot U.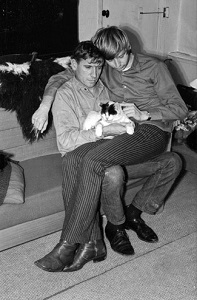 Gerard Reve (14 december 1923 - 8 april 2006)
Reve met Woelrat en Knorretje
De Nederlandse dichter Hanz Mirck werd geboren op 8 april 1970 te Zutphen. Zie ook alle tags voor Hanz Mirck op dit blog en mijn blog van 28 juni 2006.
Veluws eiland
Het verschil tussen dwalen en verdwalen is de verte
van huis – de bocht die je verleidt een nieuwe
bocht in; de tijd is hier anders, niet trager
maar in een vriendelijker licht

en het licht is hier
waar niet alles knippert en schreeuwt
geduldiger: zoals jij nietsvermoedend
in dit gedicht bent gelopen;

een bocht na een bocht, na een strand weer
een ander strand, een groene zee,
een geheim eiland

in de achtertuin van je haast,
waar je verdwaalt niet om de bestemming
maar om de bocht
Een wesp verliefd
'Dag meneer de wees.'
'Wesp' zei de wesp.
'Weps' zei Eric blozend.
Godfried Bomans
die onder mijn dakraam
de bloemen in mijn dekbed ziet
zich daaronder wild zoemend
tegen me aanduwt

die mij op een weide uitgestrekt vindt
mijn broekspijp in mijn stuifmeel zoekt
niet steekt als ik krabbel waar hij kriebelt
maar afgewezen wegvliegt

sla je hart maar door mijn huid
bloed je kloppend gif in mijn lijf
geef me al je leven
en val je laatste meters leeg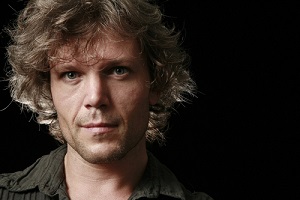 Hanz Mirck (Zutphen, 8 april 1970)
De Duitse schrijver, essayist en vertaler Christoph Hein werd geboren op 8 april 1944 in Heinzendorf in Silezié. Zie ook alle tags voor Christian Hein op dit blog.
Uit: Trutz
"Gericht konnte sich keiner der Grenzpolizisten an den genauen Ablauf erinnern, und die Beteiligten sagten aus, sie hätten in dem Moment, als der Schuss fiel, woanders hingeschaut. Alle mit dem Fall befassten Gerichte mussten sich trotz erheblicher Bedenken mit diesen Auskünften und einem non-liquet, der Feststellung der Beweislosigkeit, zufriedengeben. Einen Tag nach dem tödlichen Schuss trat der Innenminister zurück, zwei Tage später wurde der Generalbundesanwalt entlassen.
Der Rücktritt, so wurde der Öffentlichkeit mitgeteilt, erfolge aus persönlichen Gründen, die Entlassung stehe in keinem Zusammenhang mit dem vom Gericht aufzuklärenden Geschehen. Eine vom Gericht beantragte Vernehmung des zurückgetretenen Ministers wie des entlassenen Bundesanwalts unterblieb, da beiden Personen die Aussagegenehmigung verweigert wurde.
Gern wäre ich im Amtszimmer des Richters dabei gewesen, als er in der Gerichtsakte die Einstellung des Verfahrens gegen die Beschuldigten wegen Nichterweislichkeit einer Beweisbehauptung notierte, als er sein non-liquet eintrug, es ist nicht klar. Zwei der mit diesem Fall befassten Richter waren bereit, mit mir zu sprechen, beide waren mittlerweile pensioniert, doch sie vermochten keine zusätzlichen Fakten und Hintergründe zu benennen, die über die in den Gerichtsakten festgehaltenen hinausgingen. Einer der Ruheständler sagte, in keinem seiner Prozesse sei er entwürdigender vorgeführt worden, der Staat habe zugelassen, dass seine garantierte Unabhängigkeit gegenüber der Exekutive zur Farce verkam.
Ich war als Mann ohne jede Amtsgewalt chancenlos und hatte keinerlei Aussicht, mehr Licht als die Staatsanwälte und Richter in dieses Dunkel zu bringen, hoffte jedoch, im Bundesarchiv in der Finckensteinallee ein paar Akten zu finden, die weiterhelfen könnten, aber gleichzeitig wusste ich, dass ich dort sehr gute, sehr gewichtige Gründe vorbringen musste, damit man mir eine solche Akteneinsicht gewährte. Ein freundliches Gespräch und viel Charme würde mir eventuell die so sorgsam verschlossene Tür öffnen. Da der Schlüssel für diese Tür in der Direktionsetage lag, musste ich dahin vordringen, und nur deswegen ging ich an jenem Montag zu diesem mich wenig interessierenden Vortrag."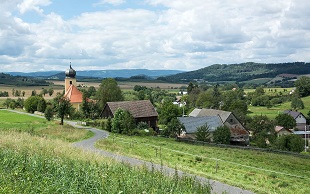 Christoph Hein (Heinzendorf, 8 april 1944)
Heinzendorf (Tegenwoordig: Skrzynka, Polen)
De Nederlandse schrijfster en journaliste Judith Koelemeijer werd geboren in Zaandam op 8 april 1967. Zie ook alle tags voor Judith Koelemeijer op dit blog.
Uit: Anna Boom
"Ze vertelde over Dóra en de familie Stein, over de Zweedse passen in haar kast, over de dodenmarsen, over de drie oude dames die ze had willen helpen en over haar arrestatie in het Gellért. Het verbaasde haar zelf hoe nuchter ze erover sprak. Ze zag het allemaal als een film voor zich, een versneld afgespeelde zwart-witfilm van erg lang geleden. Toen herinnerde ze zich de brieven. De verklaringen die ze, op aanraden van Faure, in 1946 door haar vrienden en kennissen had laten schrijven omdat er werd geroddeld dat ze met de Duitsers zou hebben samengewerkt. Ze liep naar de wandkast in Jans werkkamer, waarin ze de doos bewaarde met brieven en documenten uit haar Boedapesttijd. Jarenlang had die doos bij haar moeder in het pension gestaan. Na haar moeders dood had ze hem verhuisd naar Estoril en daarna naar Cascais. De doos was nog steeds stevig dichtgebonden.
`Ik heb nog wat,' zei ze, terwijl ze met Jans brievenopener de touwtjes lossneed. Het stapeltje verklaringen zat netjes bij elkaar. Ze gaf ze aan Jan. Zelf had ze de brieven nooit meer overgelezen. Jan ging achter zijn grote, antieke bureau zitten en zette zijn leesbril op. Zelf bladerde ze wat in een tijdschrift. Af en toe keek ze naar Jan. Hij zei niets. Na een paar brieven kwam er één die wat langer was. Hij las hem heel aandachtig. Ze zag dat er een traan over zijn wang rolde. `Dat jij dit hebt gedaan,' zei hij zacht. `Van wie is die brief?' Hij gaf het papier aan haar De brief was van meneer Perint, haar tandarts, van wiens vrouw ze nog lessen in modeontwerp had gehad. Mejuffrouw Boom heeft niet alleen een deel van onze bezittingen voor ons bewaard, ze heeft ons ook het leven gered. In een rijd dat menigeen zich liet afschrikken door de bloedige vergeldingsmaatregelen van de Pijlkruisers, dacht zij er niet aan haar hulp te beëindigen. Toen alle ons goedgezinde vrienden ons reeds verlaten hadden, was zij de enige die mij, mijn vrouw en dochtertje tijdelijk onderdak bood. Maar niet alleen wij waren deze gelukkigen, haar woning was altijd vol met hulpzoekenden. Ik weet — ik heb het zelf gezien en ik kan het bevestigen — dat ze zich dag en nacht heeft ingezet en heeft gedaan wat ze kon. De een heeft ze een schuilplaats gegeven, de ander papieren en wie kleding nodig had gaf ze zonder nadenken haar eigen jas of broek. Ik weet dat ze bij het Zweedse Rode Kruis werkte en dat haar naam in kringen van vervolgden een begrip was."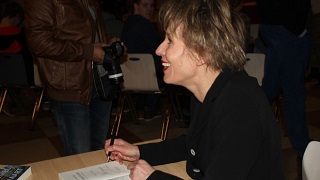 Judith Koelemeijer (Zaandam, 8 april 1967)
De Afrikaanse-Amerikaanse schrijfster Nnedi Okorafor werd geboren op 8 april 1974 in Cincinnati, Ohio. Zie ook alle tags voor Nnedi Okorafor op dit blog.
Uit: Akata Witch
« I've always been fascinated by candles. Looking into the flame calms me down. Here in Nigeria, PHC is always taking the lights, so I keep candles in my room just in case.
PHC stands for "Power Holding Company of Nigeria," but people like to say it really stands for "Please Hold Candles in Nigeria." Back in Chicago we had National Grid, and the electricity was always working. Not here, though. Not yet. Maybe in the future.
One night, after the power went out, I lit a candle as usual. Then, also as usual, I got down on the floor and just gazed at its flame.
My candle was white and thick, like the ones in church.
I lay on my belly and just stared and stared into it. So orange, like the abdomen of a firefly. It was nice and soothing until . . . it started flickering.
Then, I thought I saw something. Something serious and big and scary. I moved closer.
The candle just flickered like any other flame. I moved even closer, until the flame was an inch from my eyes. I could see something. I moved closer still. I was almost there. I was just starting to understand what I saw when the flame kissed something above my head. Then the smell hit me and the room was suddenly bright yellow orange! My hair was on fire!
I screamed and smacked my head as hard as I could. My burning hair singed my hand. Next thing I knew, my mother was there. She tore off her rapa and threw it over my head.
The electricity suddenly came back on. My brothers ran in, then my father. The room smelled awful. My hair was half gone and my hands were tender.
That night, my mother cut my hair. Seventy percent of my lovely long hair, gone. But it was what I saw in that candle that stayed with me most. I'd seen the end of the world in its flame. Raging fires, boiling oceans, toppled sky- scrapers, ruptured land, dead and dying people. It was horrible. And it was coming."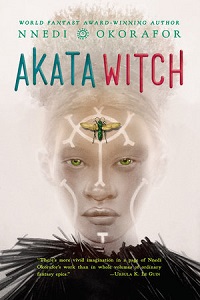 Nnedi Okorafor (Cincinnati, 8 april 1974)
Cover
De Amerikaanse schrijfster Barbara Kingsolver werd geboren op 8 april 1955 in Annapolis, Maryland. Zie ook alle tags voor Barbara Kingsolver op dit blog.
Uit: High Tide In Tucscon
"If you ask me, when something extraordinary shows up in your life in the middle of the night, you give it a name and make it the best home you can.
The business of naming involved a grasp of hermit-crab gender that was way out of our league. But our household had a deficit of males, so my daughter and I chose Buster, for balance. We gave him a terrarium with clean gravel and a small cactus plant dug out of the yard and a big cockleshell full of tap water. All this seemed to suit him fine. To my astonishment our local pet store carried a product called Vitaminized Hermit Crab Cakes. Tempting enough (till you read the ingredients) but we passed, since our household leans more toward the recycling ethic. We give him leftovers. Buster's rapture is the day I drag the unidentifiable things in cottage cheese containers out of the back of the fridge.
We've also learned to give him a continually changing assortment of seashells, which he tries on and casts off like Cinderella's stepsisters preening for the ball. He'll sometimes try to squeeze into ludicrous outfits too small to contain him (who can't relate?). In other moods, he will disappear into a conch the size of my two fists and sit for a day, immobilized by the weight of upward mobility. He is in every way the perfect housemate: quiet, entertaining, and willing to eat up the trash. He went to school for first-grade show-and-tell, and was such a hit the principal called up to congratulate me (I think) for being a broad-minded mother.
It was a long time, though, before we began to understand the content of Buster's character. He required more patient observation than we were in the habit of giving to a small, cold-blooded life. As months went by, we would periodically notice with great disappointment that Buster seemed to be dead. Or not entirely dead, but ill, or maybe suffering the crab equivalent of the blues. He would burrow into a gravelly corner, shrink deep into his shell, and not move, for days and days. We'd take him out to play, dunk him in water, offer him a new frock--nothing. He wanted to be still.
Life being what it is, we'd eventually quit prodding our sick friend to cheer up, and would move on to the next stage of a difficult friendship: neglect. We'd ignore him wholesale, only to realize at some point later on that he'd lapsed into hyperactivity. We'd find him ceaselessly patrolling the four corners of his world, turning over rocks, rooting out and dragging around truly disgusting pork-chop bones, digging up his cactus and replanting it on its head. At night when the household fell silent I would lie in bed listening to his methodical pebbly racket from the opposite end of the house. Buster was manic-depressive."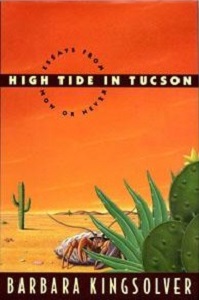 Cover
Zie voor nog meer schrijvers van de 8e april ook mijn vorige blog van vandaag.
Zie voor bovenstaande schrijvers ook mijn blog van 8 april 2007 en ook mijn blog van 8 april 2008 en eveneens mijn blog van 8 april 2009.
08-04-2018 om 10:36 geschreven door Romenu

Tags:Herinnering aan Gerard Reve, Hanz Mirck, Christoph Hein, Judith Koelemeijer, Nnedi Okorafor, Barbara Kingsolver, Romenu



John Fante, Johann Christian Günther, Glendon Swarthout, Martin Grzimek, Hégésippe Moreau, Robert Askins
De Amerikaanse schrijver John Fante werd geboren in Colorado op 8 april 1909. Zie ook alle tags voor John Fante op dit blog.
Uit: Ask the Dust
"Los Angeles, give me some of you! Los Angeles come to me the way I came to you, my feet over your streets, you pretty town I loved you so much, you sad flower in the sand, you pretty town. A day and another day and the day before, and the library with the big boys in the shelves, old Dreiser, old Mencken, all the boys down there, and I went to see them, Hya Dreiser, Hya Mencken, Hya, hya: there's a place for me, too, and it begins with B, in the B shelf, Arturo Bandini, make way for Arturo Bandini, his slot for his book, and I sat at the table and just looked at the place where my book would be, right there close to Arnold Bennett; not much that Arnold Bennett, but I'd be there to sort of bolster up the B's, old Arturo Bandini, one of the boys, until some girl came along, some scent of perfume through the fiction room, some dick of high heels to break up the monotony of my fame. Gala day, gala dream! But the landlady, the white-haired landlady kept writing those notes: she was from Bridgeport, Connecticut, her husband had died and she was all alone in the world and she didn't trust anybody, she couldn't afford to, she told me so, and she told me I'd have to pay. It was mounting like the national debt, I'd have to pay or leave, every cent of it — five weeks overdue, twenty dollars, and if I didn't she'd hold my trunks; only I didn't have any trunks, I only had a suitcase and it was cardboard without even a strap, because the strap was around my belly holding up my pants, and that wasn't much of a job, because there wasn't much left of my pants. 'I just got a letter from my agent,' I told her. 'My agent in New York. He says I sold another one; he doesn't say where, but he says he's got one sold. So don't worry Mrs Hargraves, don't you fret, I'll have it in a day or so.' But she couldn't believe a liar like me. It wasn't really a lie; it was a wish, not a lie and maybe it wasn't even a wish, maybe it was a fact, and the only way to find out was watch the mailman, watch him closely, check his mail as he laid it on the desk in the lobby, ask him point blank if he had anything for Bandini. But I didn't have to ask after six months at that hotel."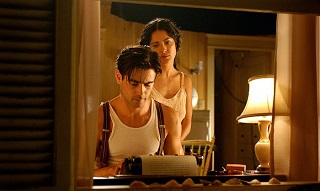 John Fante (8 april 1909 – 8 mei 1983)
Scene uit de film uit 2006 met o.a. Colin Farrell (Arturo) en Salma Hayek (Camilla)
De Duitse dichter Johann Christian Günther werd geboren op 8 april 1695 in Striegau. Zie ook mijn blog van 8 april 2007. Zie ook alle tags voor Johann Christian Günther op dit blog.
Studentenlied
Brüder, last uns lustig seyn,
Weil der Frühling währet
Und der Jugend Sonnenschein
Unser Laub verkläret.
Grab und Baare warthen nicht;
Wer die Rosen jezo bricht,
Dem ist der Kranz bescheeret.
Unsers Lebens schnelle Flucht
Leidet keinen Zügel,
Und des Schicksals Eifersucht
Macht ihr stetig Flügel.
Zeit und Jahre fliehn davon,
Und vielleichte schnizt man schon
An unsers Grabes Riegel.
Wo sind diese, sagt es mir,
Die vor wenig Jahren
Eben also, gleich wie wir,
Jung und fröhlich waren?
Ihre Leiber deckt der Sand,
Sie sind in ein ander Land
Aus dieser Welt gefahren.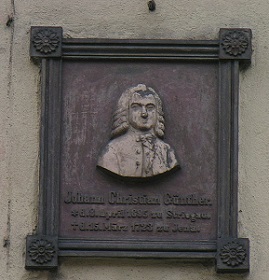 Johann Christian Günther (8 april 1695 – 15 maart 1723)
Herdenkingssteen in Striegau (Tegenwoordig: Strzegom in Polen)
De Amerikaanse schrijver Glendon Fred Swarthout werd geboren op 8 april 1818 in Pinckney, Michigan. Zie ook alle tags voor Glendon Swarthout op dit blog.
Uit: The Shootist
"In another hour under the sun obscured and irritated by dust he reached a ridge which overlooked the pass, and there before him were the town and the Rio Grande and, on the far side, Ciudad Juárez and more mountains and Old Mexico. A chill wind urged him down the ridge into the pass. He had not been in El Paso for years, and they had developed it considerably since then, he'd heard, along the lines of sin and salvation. They had churches and a Republican or two and a smart of banks and a symphony orchestra and five railroads and a lumberyard and the makings of a library. So much for sin. On the side of salvation they had ninety-some saloons, just shy of one for every hundred citizens, although municipal goodyism had moved the gambling rooms out back or upstairs. They had a "Line" on Utah Street with some of the fanciest parlor houses and flossiest girls in Christendom. Champagne went for five dollars a bottle and the girls went for drives in carriages on Sunday. In El Paso, they said, it was "day all day in the daytime and daytime all night, too." He thought: If Hostetler is here, and he says I am O.K., and he had better after I have come three hundred miles to see him, I will be thirty years old again in thirty seconds. I will take the best room in the Grand Central or the Orndorff Hotel. I will dine on oysters and palomitas and wash them down with white wine. Then I will go to the Acme or Keating's or the Big Gold Bar and sit down and draw my cards and fill an inside straight and win myself a thousand dollars. Then I will go to the Red Light or the Monte Carlo and dance the floor afire. Then I will go to a parlor house and have them top up a bathtub with French champagne and I will strip and dive into it with a bare-assed blonde and a redhead and an octoroon and the four of us will get completely presoginated and laugh and let long bubbly farts at hell and baptize each other in the name of the Trick, the Prick, and the Piper-Heidsick.
On that prospect he clucked the roan into a trot, sharpening the anguish in his groins, and cursed himself for thinking thirty and putting the cart before the horse."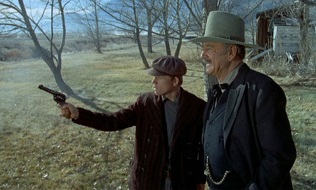 Glendon Swarthout (8 april 1918 – 23 september 1992)
Scene uit de gelijknamige film met Ron Howard (Gillom) en John Wayne (J.B. Brooks), 1976
De Duitse schrijver Martin Grzimek werd geboren op 8 april 1950 in Trutzhain, Hessen. Zie ook alle tags voor Martin Grzimek op dit blog.
Uit: Tristan
"Ein wolkenverhangener, stürmischer Morgen war es gewesen, als Riwalin sich entschlossen hatte, Morgan und seine Truppen anzugreifen. Seine Berater hatten ihm prophezeit, es würde in Kürze zu regnen beginnen. Dann hätten sich die Dünen von Convuë in schlammige Hügel und Täler verwandelt. Morgan wäre mit seinen Reitern in eine Falle geraten, und die Pferde hätten unter
ihren Hufen den Halt verloren.
»Wann regnet es denn endlich!«, schrie Riwalin in den dunklen Himmel. Er wollte eine Entscheidung. Rual hatte seinen Herrn zurückzuhalten versucht. Die Mannen seien noch nicht formiert, hatte er gesagt, wartet noch eine Stunde. Aber Riwalin war ungeduldig. Er hatte kaum geschlafen, war vor Sonnenaufgang im Zelt auf und ab gegangen, hatte mit Gott gestritten, warum er ihm nicht mehr an Beistand leistete, und immer wieder Morgan verflucht, diesen vierschrötigen, habsüchtigen Mann aus Erui, dessen ganzes Sinnen und Trachten darin zu bestehen schien, andere zu knechten und seine Macht zu genießen.
»Was ist das für eine Macht?«, grollte Riwalin und achtete nicht auf die Worte seines Marschalls, als der von den Verlusten sprach, die sie am vorausgegangenen Tag erlitten hatten. Stattdessen wünschte er sich Regen herbei, nichts anderes als Regen. Aus den Wolken sollte er sich ergießen, Sturzbächen gleich.
»O mein Gott!«, schrie er in den Himmel. »Du überschwemmst uns doch sonst mit deinen Tränen! Warum denn nicht heute, nicht jetzt?« Plötzlich wandte er sich um zu einem der Hauptmänner. »Wir brechen auf!«, schrie er. »Gib das Signal!« Entschlossen sprang er auf sein Pferd, hielt den Speer in den Himmel, als wollte er die Wolken aufstechen, hörte das Horn und preschte los.
…………..
Er warf als Erster den Speer und traf einen von Morgans Soldaten direkt in die Brust. Mit einem Kampfschrei spornte er seine Mannen an, sie ritten nun seitwärts der Düne, und Morgans Leute schienen schon die Flucht zu ergreifen und dem Meer entgegenzueilen, dorthin, wo ihre Boote lagen, als Morgan den feindlichen Speer aus der Brust des Toten riss und sein Pferd gegen den Angreifer lenkte. Das sahen seine Soldaten. Sie sahen, wie ihr Fürst den Speer in den tiefen schwarzen Himmel schleuderte, wie der Speer sich im Flug senkte und Riwalin nur um Armeslänge verfehlte".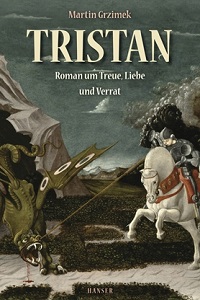 Martin Grzimek (Trutzhain, 8 april 1950)
Cover
De Franse dichter en schrijver Hégésippe Moreau (eig. Pierre-Jacques Roulliot) werd geboren op 8 april 1810 in Parijs. Zie ook alle tags voor Hégésippe Moreau op dit blog.
Le Chant des Anges, romance
À fêter la Vierge suprême,
Là-haut, chaque ange est invité ;
Et mon ange gardien lui-même
Dès l'aurore, hélas ! m'a quitté.
Bel ange, à la reine céleste
Porte ton bouquet, moi, je reste
La reine de mon cœur est là,
Et pour célébrer ses louanges,
J'emprunte le refrain des anges :
Ave Maria, ave Maria.
Je lui coûtai, petit encore,
Petit comme l'enfant Jésus,
Bien des alarmes qu'on ignore,
Bien des pleurs que Dieu seul a vus.
Chassant l'insecte qui bourdonne,
Combien de fois, douce madone,
Près de ma couche elle veilla !
Aussi, pour chanter ses louanges,
J'emprunte le refrain des anges :
Ave Maria, ave Maria.
Au front de la sainte que j'aime.
Hélas ! j'aurais voulu poser
Des étoiles pour diadème…
Je n'y peux mettre qu'un baiser.
Mais espérance, ô ma patronne,
J'ose rêver pour ta couronne
Quelques lauriers… et jusque-là
À tes pieds chantant tes louanges,
Je veux redire avec les anges :
Ave Maria, ave Maria.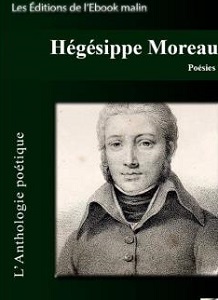 Hégésippe Moreau (8 april 1810 – 20 december 1838)
Cover
Onafhankelijk van geboortedata
De Amerikaanse schrijver Robert Askins werd geboren in Cypress, Texas in 1980. Op de middelbare school vond hij zijn eigen weg naar het podium. "Een meisje met wie hij wiet rookte, hield van theater en hij vond haar schattig," vertelde hij zelf in een interview. Hij behaalde - ternauwernood – zijn diploma, nam een ​​jaar vrij om te werken in een Blockbuster videotheek en schreef zich vervolgens, op verzoek van zijn tante, in bij Baylor. Daar dronk hij te veel, luisterde naar Nine Inch Nails, schreef voor het satiremagazine van een geheim genootschap en werd herhaaldelijk afgewezen bij audities. Een professor liet hem kennismaken met het werk van Sarah Kane - een Britse toneelschrijfster die opgroeide in een evangelisch huis, gewelddadige drama's schreef en zichzelf op 28-jarige leeftijd vermoordde - en haar werken, evenals die van anderen overtuigden Askins ervan dat er was ruimte voor zijn eigen stem. In 2005 vertrok Askins naar New York voor het zomerprogramma van Ensemble; hij bleef er, deed allerlei klusjes en werkte zich omhoog, van helpen bij de kassa tot deelname aan het Youngblood-programma voor opkomende toneelschrijvers, naast Annie Baker en Amy Herzog. Hij schreef zoveel als hij kon. In 2009 werd zijn toneelstuk "Princes of Waco" geproduceerd door The Ensemble Studio Theatre / Youngblood. Zijn eenakter "Matthew and the Pastor's Wife" maakte deel uit van Marathon 2010 op EST en voor "The Love Song of the Albanian Sous Chefwon" ontving hij in 2011 een Dallas Outer Circle Critics-prijs. Eeveneens in 2011 ging zijn stuk "Hand to God" in première Off-Broadway en werd opnieuw gespeeld in 2015. Voor de Broadway-productie ontving het stuk vijf Tony Award-nominaties, waaronder voor Beste Nieuwe Toneelstuk.
Uit: Hand to God
"MARGERY. Hey y'all my name's Rita and I love Jesus! Do you love Jesus? (She laughs to herself. Enjoying her puppet voice. She looks around the room. Nobody seems to love Jesus. Nobody seems to want to be there. The boys are Jason and Timothy. The girl is Jessica. Jason is blond and slight and slightly afraid. Timothy is in all black. Jessica is dark-haired and thin. She is working on her puppet, a little hunched over in the corner.)Well where's everybody at? Jessie you gonna finish your ...
JESSICA. Jolene.
MARGERY. You gonna finish Jolene today.
JESSICA. I guess.
(She pulls a load of stuffing out of the puppet supply bag. She maybe starts stuffing it under the puppet's shirt.)
MARGERY. Whoa Jessie how much of that stuffing do you need?
JESSICA. You said I could make her look like I wanted.
MARGERY. Yes but what is all that for.
TIMOTHY. Puppet boobs.
JESSICA. Shut up Timothy.
TIMOTHY. It's not my fault you got no tits.
MARGERY. Hello Tim.
JASON. (To Jessica.)I think you look nice.
JESSICA. Umm thanks.
TIMOTHY. Dude I can see your boner from here.
MARGERY. Stop it Tim, that is enough.
TIMOTHY. What I'm the one that's being forced to look at a boner. I'm the victim here.
MARGERY. Timothy, you cannot see his boner.
JASON. Mom.
MARGERY. Timothy. Tim ... T ... do you even have your puppet Timothy.
TIMOTHY. Uhhh. No.
MARGERY. Why don't you have a puppet, Timothy.
TIMOTHY. 'Cause puppet are for faggots.
MARGERY. Timothy.
JESSICA. You are so ...
TIMOTHY. What?
JESSICA. Afraid.
MARGERY. Jessica.
TIMOTHY. Afraid of what?
JESSICA. Afraid you're gay.
MARGERY. Hey now.
TIMOTHY. What?
JESSICA. That's why you say that.
TIMOTHY. See if you can taste the gay when I nut in your mouth."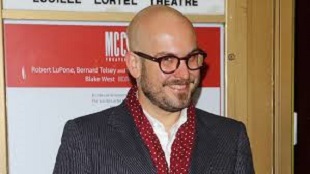 Robert Askins (Cypress, 1980)
Zie voor bovenstaande schrijvers ook mijn blog van 8 april 2007 en ook mijn blog van 8 april 2008 en eveneens mijn blog van 8 april 2009.
08-04-2018 om 10:35 geschreven door Romenu

Tags:John Fante, Johann Christian Günther, Glendon Swarthout, Martin Grzimek, Hégésippe Moreau, Robert Askins, Romenu


07-04-2018

Den Haag (Paul Rodenko)
Dolce far niente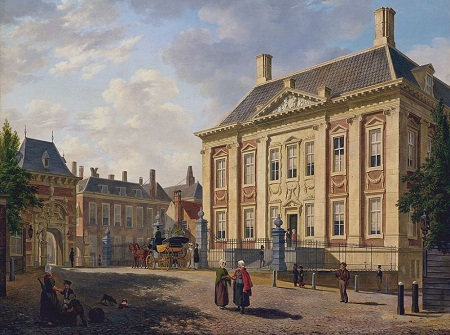 Den Haag - Het Mauritshuis in 1825, geschilderd door Bartholomeus Johannes van Hove
Den Haag
Den Haag: stad van aluinen winden en pleinen.
Winden als pleinen zo wijd.
Pleinen rustig als de grote handpalm
van de grote openheid.
Reigerlijk zijn er de vrouwen, lang en toch lieflijk;
kuis staan zij aan parken , karyatiden van zonlicht
en lieflijk gaan zij desmiddags; antiektakkend uurwerk.
Zuidelijker later en lynxer; heupruisender; bemerk nu haar ogen:
een klein ballet, speelkaarten vuurwerk.
Trager de mannen,
Meer ingetogen. Hun handen zijn blauw als water,
hun handen zijn als strakke blauwe winden.
Zo vinden zij daaglijks de verte uit, als een
voorwerp waarmee men wijs worden kan, sterven, regeren.
Toch kennen zij deernis, houden van dieren, van honing
en vallende sterren.
Zij staan als uitkijktorens open.
Zij sluiten zich lang en onvermoeid, als bloemen.
Ruim zijn de dagen en toch menselijk, gedempt rumoerig.
Maar de nachten zijn stil en oplettend;
hoe zuiver schaakt de maan in het plantsoen!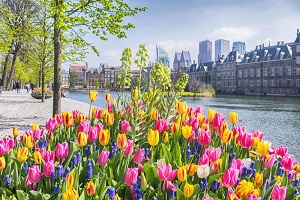 Paul Rodenko (26 november 1920 - 9 juni 1976)
Lente in Den Haag, de geboorteplaats van Paul Rodenko
Zie voor enkele schrijvers van de 7e april ook mijn vorige blog van vandaag.
07-04-2018 om 08:27 geschreven door Romenu

Tags:Paul Rodenko, Romenu, Dolce far niente



Juliana Spahr, William Wordsworth, Özcan Akyol, Gabriela Mistral
De Amerikaanse dichteres, critica en uitgeefster Juliana Spahr werd geboren op 7 april 1966 in Chillicothe, Ohio. Zie ook alle tags voor Juliana Spahr op dit blog.
Dynamic Positioning (Fragment)
It is a blowout preventer, a series of valves
That seal off the excessive pressure should

The wellhead kick then blowout. There are all
These variables. Various valves. Pressures.

Buoyancies. Mixes of cements. Currents. Claims.
Humans. Bow spring. Top plug. Shoe track. Floatshoe.

I could go on and on here calling the
New muses of innovation, common

Vocabulary, that covers over the
Elaborate simplicity of this,
This well, Macondo well, was drilled by
Deepwater Horizon and it went through

Five thousand feet, through the abyssal zones,
The epipelagic with its sunlight

The mesopelagic with its twilight
The bathypelagic with its midnight

Then where the sea meets floor, the deep ocean,
A blowout preventer there with the fish,

The darker fish, the large detritevars
That feed on the drizzle of the moulted

Exoskeletons, the carnivores, snipe eels
Big lantern fish, and zooplankton, corals.
This well then went on reaching for the oil
Another thirteen thousand feet. When it hits

The pay zone, down through it, down deeper, deep.
This well, Macondo well, was exploratory.

This story then begins with other wells,
But I will tell the story of This Well:

In April twenty ten, the setting south
And east of Louisiana's long coast.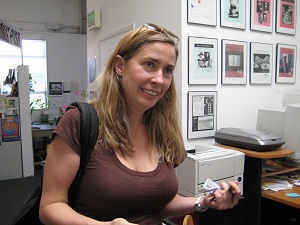 Juliana Spahr (Chillicothe, 7 april 1966)
De Engelse dichter William Wordsworth werd geboren op 7 april 1770 in Cockermouth, Cumberland. Zie ook alle tags voor William Wordsworth op dit blog.
Lines written at a small distance from my house. Written at a small distance from my House, and sent by my little boy to the person to whom they are addressed
It is the first mild day of March:
Each minute sweeter than before,
The red-breast sings from the tall larch
That stands beside our door.
There is a blessing in the air,
Which seems a sense of joy to yield
To the bare trees, and mountains bare,
And grass in the green field.
My Sister! ('tis a wish of mine)
Now that our morning meal is done,
Make haste, your morning task resign;
Come forth and feel the sun.
Edward will come with you, and pray,
Put on with speed your woodland dress,
And bring no book, for this one day
We'll give to idleness.
No joyless forms shall regulate
Our living Calendar:
We from to-day, my friend, will date
The opening of the year.
Love, now an universal birth.
From heart to heart is stealing,
From earth to man, from man to earth,
--It is the hour of feeling.
One moment now may give us more
Than fifty years of reason;
Our minds shall drink at every pore
The spirit of the season.
Some silent laws our hearts may make,
Which they shall long obey;
We for the year to come may take
Our temper from to-day.
And from the blessed power that rolls
About, below, above;
We'll frame the measure of our souls,
They shall be tuned to love.
Then come, my sister! come, I pray,
With speed put on your woodland dress,
And bring no book; for this one day
We'll give to idleness.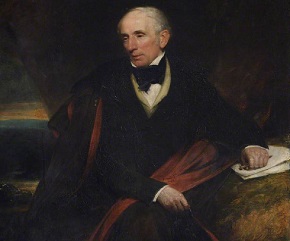 William Wordsworth (7 april 1770 – 23 april 1850)
Portret door Henry William Pickersgill, ca. 1850
De Nederlandse schrijver en columnist Özcan Akyol werd geboren in Deventer op 7 april 1984. Zie ook alle tags voor Özcan Akyol op dit blog.
Uit: Turis
"Ik mocht aan de derde tafel spelen, de andere jongens uit mijn klas waren iets beter, maar alleen gezamenlijk konden we de titel pakken, in eerste instantie door de poule te overleven, daarna volgden de finalerondes. We rekenden onszelf tot de kanshebbers. `Denk je dat het wat waard is?' vroeg Turis. Ik zag aan de waterige ogen van Orhan dat hij dronken was, een verzameling spikkels ontsierde zijn rode neus en wangen. `Geen idee,' fluisterde Orhan, hees van de sigaretten. 'Ik zal navraag doen bij een paar mensen. Laat dat maar aan mij over.' `Nee, het is van school en moet na het toernooi weer terug.' Ik trok het snel uit de hand van die alcoholist en deed een stap naar achteren, op veilige afstand van Turis, die gelukkig niet boos werd maar een slok van zijn drank nam.
`Die jongen is onbeschoft, hij praat als een machine.' `Hij lijkt op zijn moeder,' verklaarde Turis, 'die heeft ook geen manieren.' `Ik verstond de helft van zijn verhaal niet. Wat een spraakwaterval.' Ik twijfelde of ik mijn rugzak op de stoffen stoel kon achterlaten. `Kan ik gaan?' vroeg ik. 'Ik heb honger.' Turis knikte en maakte een wegwerpgebaar. `Ja, ingerukt mars, kleine jongen, we regelen de zaken met dat racket later wel.' Orhan was een enge, onvoorspelbare man, die regelmatig dronken op straat lag, terwijl hij zijn roes uitsliep, of in harde klanken in een brabbeltaal tegen de vogels sprak. De meeste kinderen namen hem niet serieus, soms staken ze takken of steentjes in zijn neusgaten, maar bij mij trok het kippenvel over mijn hele lichaam bij een onverwachte confrontatie. Dan holde ik steevast de straat uit, of eigenlijk de hele wijk, zo snel en lang als ik het volhield, totdat ik me ergens in een onbekende steeg buiten adem kon verstoppen. Ik liep met het batje naar de keuken en drukte een kus op de wang van mijn moeder. `Vanavond hebben we een belangrijk toernooi. We kunnen kampioen worden.' `Op zondag?' vroeg ze. 'Nou goed, maar ik wil niet dat je in de blubber gaat staan, of dat jullie de hele tijd over straat rollebollen, die zandkorrels zijn niet goed voor onze wasmachine.' `Nee, nee. Het is in een overdekte zaal, met een tafel en een net.' `Als je maar vóór het donker thuis bent, daarna lopen er dronkaards op straat.' `Ze zitten ook in de woonkamer, mama.' Mijn moeder legde een wijsvinger op haar lippen en keek me streng aan. `Ik leg dit ding onder de wasbak, tussen de wasproducten. Je mag deze verstopplek aan niemand verraden, want anders pakken ze het af. Beloof je dat?"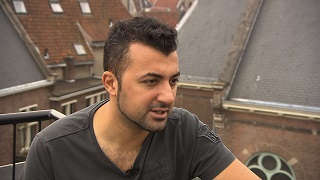 Özcan Akyol (Deventer, 7 april 1984)
De Chileense dichteres en diplomate Gabriela Mistral werd geboren in Vicuña, Chili op 7 april 1889. Zie ook alle tags voor Gabriela Mistral op dit blog.
Der Becher
Ich trug einen Becher
von einer Insel zur andern. Ich weckte das Wasser nicht.
Hätt' ich's verschüttet, hätt' ich den Durst betrogen.
Nur einen Tropfen, und die Gabe wäre vertan,
alles wäre verloren, sein Herr hätte geweint.
Ich habe keine Stadt begrüßt,
kein Lob dem Flug ihrer Türme gespendet,
nicht die Arme geöffnet in der großen Pyramide,
kein Heim gegründet dem Reigen der Kinder.
Doch als ich ihn abgab, den Becher, rief ich,
die junge Sonne auf meiner Kehle:
"Meine Arme sind frei wie die Wolken, die herrenlosen.
Und mein Hals wiegt sich auf dem Hügel,
eingeladen haben mich die Täler."
Lüge war mein Alleluja! Seht mich an!
Ich halte den Blick gesenkt auf meine leeren Hände.
Langsam schreite ich, ohne den Diamanten aus Wasser.
Schweigend gehe ich fort. Nicht trage ich Schätze.
Mich betäubt das Blut, das in meiner Brust , in meinen Pulsen
schlägt aus Angst, aus Sorge.
Vertaald door Albert Theile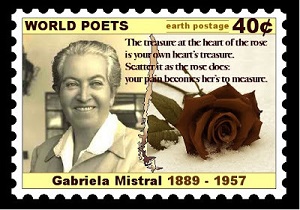 Gabriela Mistral (7 april 1889 – 10 januari 1957)
Zie voor nog meer schrijvers van de 7e april ook mijn blog van 7 april 2017 en ook mijn blog van 7 april 2016 en mijn blog van 7 april 2014 en ook mijn blog van 7 april 2013 deel 1 en eveneens deel 2.
Zie voor bovenstaande schrijvers ook mijn blog van 7 april 2007 en ook mijn blog van 7 april 2008 en eveneens mijn blog van 7 april 2009.
07-04-2018 om 08:25 geschreven door Romenu

Tags:Juliana Spahr, William Wordsworth, Özcan Akyol, Gabriela Mistral, Romenu


06-04-2018

Kazim Ali, Annejet van der Zijl, John Pepper Clark, Jakob Ejersbo, Günter Herburger, Uljana Wolf, Brigitte Schwaiger, Julien Torma, Nicolas Chamfort
De Amerikaanse dichter, schrijver en essayist Kazim Ali werd geboren op 6 april 1971 in Croydon, Engeland. Zie ook alle tags voor Kazim Ali op dit blog.
Dear J.
It should be a letter
To the man inside
I could not become
Dressed in yellow
And green, the colors of spring
So I could leave death
In its chamber veined
With deep ore
I've no more to tell you
Last winter I climbed
The mountains of Musoorie
To hear frozen peals of bell and wire
A silver thread of sound
Sky to navel
Draws me
like the black strip
in a flower's throat
meant to guide you in
I lie now in the winter
open-petaled beneath Sirius
I cereus bloom
Bright Felon Dvd Extra/Alternate Ending
In the convicted evening I am a victor struck loose and restless,
creeping for the unlocked window.
The family inside at the dinner table is mine.
Listening to the escape story on the radio, my mother's hand freezes
in the air halfway to her mouth.
She realizes it's me they're talking about.
Lightning by lightning the minute before thunder.
Streets as empty as a beach before rain.
My hand on the cold glass.
Car alarm, tornado warning, catastrophe.
Who remembers the criminal son, free of the labyrinth and still
unsought, unthought of.
Oh when will the streetlamps blink out so my father can appear furtive
at the door and beckon me furiously in.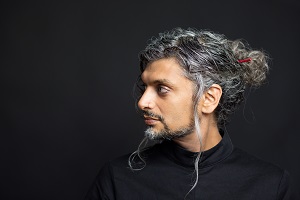 Kazim Ali (Croydon, 6 april 1971)
Foto: Tanya Rosen-Jones
De Nigeriaanse dichter en schrijver John Pepper Clark werd geboren op 6 april 1935 in Kiagbodo, Nigeria. Zie ook alle tags John Pepper Clark op dit blog.
Uit: The Raft
"OGRO: Will anyone tell where we are?
OLOTU: Yes, where exactly are we going now?
IBODO: I can't see through the grey baft spread
Of the night. The moon has long turned in, and not
A single star in the skies. Why doesn't
Someone turn up the lamp?
KENGIDE: No, that will only serve to create
A pale of light. From inside that pool even
A dog will not see.
OGRO:: I think I can just see to my right
There trees on the bank drifting past.
KENGIDE: Don't be an idiot; it's we
Who are doing the drifting.
(...)
IBODO: Do they ever sing to laugh in your part
Of the country?
OGRO: No, each day some poor fellow is either
Going out with a hiss or making his brief
Entrance with a howl, and the women wail
Going to bed and wake up wailing, for their seeds
Are eaten up by the black beetle.
IBODO Forgive me, Ogro, in my place too, plants
Wilt and die, but all
The same, we have our happy seasons.
KENGIDE: That is because, like the very creeks
You live on, your ways meander like the python
You worship. Thus you drink where you
Defecate, and will have others believe
It's living water.
IBODO: And your people have pure wells and sweet springs!
KENGIDE: No, water swirling with mud."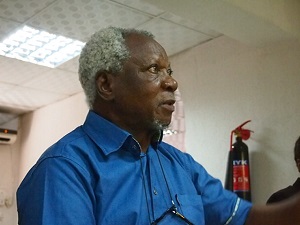 John Pepper Clark (Kiagbodo, 6 april 1935)
De Deense schrijver en journalist Jakob Ejersbo werd geboren in Rødovre op 6 april 1968. Zie ook alle tags voor Jakob Ejersbo op dit blog.
Uit: Exile (Vertaald door Mette Petersen)
"I wake up early with blood on the sheet, a headache and aching joints. I can hear the maid in the kitchen. We have to leave by mid-morning. I scrunch up the bed linen and dump it in the laundry basket. Then it's into the sitting room. Alison is standing in the middle of the room in an oversized T-shirt, looking sleepy. "Where's Dad?" she asks. "I don't know," I say. I look outside — his Land Rover is gone. Only clues: toothbrush missing, toothpaste, gun. Not a word, not even a note. Just gone. How long? Who knows? Mum sits on the patio drinking coffee. "He can't face saying goodbye to Alison," she says. I leap down the slope and into the boathouse; then I sail out to fish, bringing only a mask, a snorkel and a harpoon. I hang about three metres below the surface, and it starts raining, even though the short rains aren't due for several months — it's scary. The surface of the water is whipped to foam. I hurry back ashore. Everything's a grey blur. Mum is still sitting on the patio. The rain has stopped. "Don't you have anything to do?" I ask. "Why?" she asks. "Because ..." I say. "You girls have almost left home, and Douglas is always away, and I have chased the staff every single day for years and told them the same things over and over. And they don't do it — not unless I stand over them, glaring at them. I'm sick of it. I'm sick of the humidity, of the mosquitoes, of the hotel, of ..." "Of Douglas, of us," I say. Mum looks startled. "Not of you," she says. Alison appears in the door leading into the sitting room. "You're sick of yourself, really," she says. "Yes," Mum says. "And of Africa. Africa is doing me in." She looks up at me. "If I went back to England, would you come, Samantha?" she asks. "You want to go on holiday?" I ask. "No, to stay." "In England?" "Yes." "No," I say. England? What would I do there? "We have to be off soon," Alison says."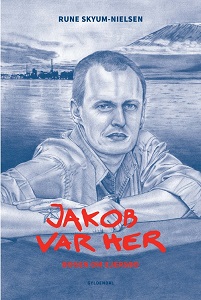 Jakob Ejersbo (6 april 1968 - 10 juli 2008)
Cover biografie
De Duitse schrijver en dichter Günter Herburger werd geboren op 6 april 1932 in Isny im Allgäu. Zie ook alle tags Günther Herburger op dit blog.
Eine Uhr in Japan
Sie geht richtig,
kommt aus dem Schwarzwald,
überwand den Zeitsprung,
bleibt im Gehäuse.
Massen betören sie,
das Gestöber der Ziffern,
in Ordnung gebracht von einer
nichteuklidischen Geometrie,
auch sie gehört dazu.
Sie braucht Lymphe,
das miniatürliche Perlen
des Wassers in den Wäldern
der Kapillaren des Tangs,
eine Erinnerung, als stellte sie
ihre digitalen Löffel hoch.
So gerät sie in ein Fünfersystem
der Knöchel und des Gemengels
morgens auf Bahnsteigen
bei Tau und Lehm
von Jesus nach Osaka.
Die Standhaftigkeit, das Klatschen
die nicht benützten Ferien
der Bevölkerung holen sie ein,
diese Pausen ißt der Kaiser.
Ein Sandkorn im Binären
wird als Überfluß
zum Wärmetod führen.
Kleine Batterie, sagt sie,
du auch?
Seufzende Symmetrie.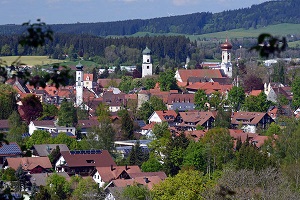 Günter Herburger (Isny im Allgäu, 6 april 1932)
Isny im Allgäu
De Duitse dichteres Uljana Wolf werd geboren op 6 april 1979 in Berlijn. Zie ook alle tags Uljana Wolf op dit blog.
schliefen die öfen [III / malczyce / maltsch]
malczyce / maltsch
als die ausrangierten wagen
auf dem nebengleis träumten
vom umschlagplatz am oderknie
von güterschütt und kohlenstaub
stahlen wir einen trägen waggon
aus seinem gleis aus seinem bett
ließen in den leeren lagerhallen
funken springen die uns galten
schliefen die öfen [IV / die kleinen bahnhöfe ohne einen ort]
die kleinen bahnhöfe ohne einen ort
wolfgang koeppen
als wir aber auf offner strecke
aufstoben zwischen den orten
weil auch die sterne sagt man
ihren ofen über uns anheizen
funkten wir durch landschaft
die wie flugasche um uns lag
noch einmal die route durch
zum haus der weichenwärter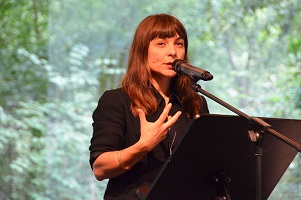 Uljana Wolf (Berlijn, 6 april 1979)
De Oostenrijkse schrijfster Brigitte Schwaiger werd geboren op 6 april 1949 in Freistadt. Zie ook alle tags voor Brigitte Schwaiger op dit blog.
Uit: Lange Abwesenheit
"Es ist schon dunkel. Vielleicht ist das Tor geschlossen. Dann werde ich über die Mauer klettern. Ich will zu meinem Vater, jetzt. Auch wenn geschlossen ist. Aber das Tor lässt sich leicht öffnen. So finster ist es, dass andere Kinder sich fürchten würden, um diese Zeit durch die Grabreihen zu gehen. Schau, Vater, herauf oder herunter, da bin ich. Ich möchte dir etwas sagen. Mein Auto steht draußen an der Friedhofsmauer. Ich habe es nicht versperrt. So eilig hatte ich es, zu dir zu kommen. Blödsinn, sagt er, du hast doch sicher Geld im Auto, Geld ist Geld! Ich möchte aber nicht schon wieder über Geld mit dir reden. Was haben sie dir denn da hergemeißelt? Ist dir die Schrift recht? Weißt du, wie lange ich als Kind in deiner Ordination saß, nachmittags, wenn du Krankenbesuche machtest, und die Privatrezeptblöcke betrachtete? Ich empfand für alles, was mit deinem Namen bedruckt war, ehrfürchtige Liebe. Ein Vater, der so wichtig war, dass man seinen Namen druckte. Doktor der gesamten Heilkunde. Ich war stolz auf dich. Du warst so wichtig, dass man dich nur selten sehen konnte. Wurdest ständig gebraucht von deinen Kranken. Wenn du heimkamst, warst du müde. Mutter schickte uns in unsere Zimmer. Der Vater hat genug Gesichter gesehen den ganzen Tag! Er braucht Ruhe.
Birer lebt. Drei Jahre, sagtest du, als ich dir vor fünf oder sechs Jahren von seiner Krankheit erzählte.
Als ich Birer kennen lernte, hoffte ich, er würde dich überleben. Birer war für mich da, wenn ich Fragen hatte. Wann hättest du dir Zeit genommen, mit mir zu reden? Als ich begriff, dass du sterben würdest, nahm ich es dir übel, dass du einfach fortgingst, ohne jemals für mich vorhanden gewesen zu sein.
Mach ein bisschen auf. Sag etwas. Sag etwas mit deiner Stimme. Sag vielleicht:
Oh, du bist hier? Das freut mich aber, dass du gekommen bist! Sag etwas in dem liebevollen Ton, den du für mich hattest, wenn du in Gegenwart eines Patienten in deiner Ordination mit mir telefoniertest. Wenn die Patienten dich hören konnten und sehen konnten, warst du ganz anders zu allen deinen Töchtern. Sag etwas. Lass mich nicht so dastehen.
Wenn es etwas gibt, schweb heran! Leg deine Hände auf meine Hüften, wie ich das nie haben wollte, wenn du nichts anderes kannst. Ein Friedhofsmörder könnte mich erwürgen und zerstückeln. Diese Gefahr gehe ich für dich ein. Siehst du, was für Macht du hast?"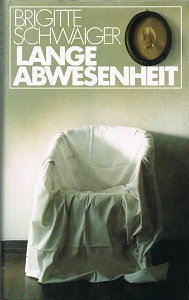 Brigitte Schwaiger (6 april 1949 – 26 juli 2010)
Cover
De Nederlands schrijfster en historica Annejet van der Zijl werd geboren in Leeuwarden op 6 april 1962. Zie ook alle tags voor Annejet van der Zijl op dit blog.
Uit: Sonny Boy
"Tot op zekere hoogte hadden de mensen die ervan overtuigd waren geweest dat de bezetter zich niet zou bezondigen aan de primitiefste vormen van terreur gelijk gekregen. Want net zoals de gedisciplineerde Duitse militairen hun handen liever niet vuilmaakten aan de jodenjacht, zo lieten ze ook de verhoren omtrent Judensachen bij voorkeur over aan de Hollanders in hun dienst. Een van de beruchtsten van hen was de 28-jarige Kees J. Kaptein oftewel `Kappie'. Zelf als kind in Nederlands-Indië stelselmatig vernederd en mishandeld door zijn vader, schepte deze voormalige Oostfrontstrijder groot behagen in de angst van de mensen die aan hem overgeleverd waren en de macht die hij over ze had. Later zou hij zich erop beroemen dat hij 99 procent van zijn slachtoffers binnen een maand aan het praten kreeg. Hij beschreef zijn methode als volgt: 'Eerst maar eens gewoon vragen — dan dreigen — dan diepe kniebuigingen — dan een paar opdonders, tikken zoals ik het noem.' Zo ver ging Kaptein in het uitleven van zijn machtswellust dat het zelfs zijn Duitse superieuren soms te gortig werd en ze hem maanden het wat rustiger aan te doen. Maar zelf was hij trots op zijn reputatie en het feit dat Radio Oranje in een van zijn uitzendingen speciaal voor hem gewaarschuwd had en aan nieuwe slachtoffers stelde hij zich dan ook bij voorkeur voor met de woorden: 'Ik ben Kees Kaptein, de grootste jodenbeul van Nederland!' Vrouwen hadden het bij hem extra zwaar te verduren. Van de jongeren probeerde hij orerend over zijn rol als `weldoener der mensheid' seksuele gunsten los te krijgen; de ouderen vernederde hij, vooral als ze zich hadden bezondigd aan wat hij beschouwde als 'rassenschande', oftewel omgang met een joodse man. Hij schreeuwde en sloeg, liet ze honderden kniebuigingen doen of net zo lang om een pilaar heen lopen tot ze er letterlijk bij neervielen."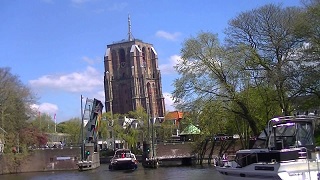 Annejet van der Zijl (Leeuwarden, 6 april 1962)
Leeuwarden, de Oldehove.
De Franse schrijver, dramaturg en dichter Julien Torma werd geboren in Cambrai op 6 april 1902. Zie ook alle tags voor Julien Torma op dit blog.
Uit: Écrits définitivement incomplets
LE PREMIER RÉDIMÉ

Le nommé Barabbas sort de prison
Il est libre
Le voilà qui s'enfonce à travers les déserts d'épines,
À travers la léthargie des eaux-mères,
À travers le quadrille des quolibets simiesques;
Il oblique devant les quinconces en œufs durs coloriés
L'épigastre mordu par le souvenir du fouet,
La nuque humiliée par le poids des senteurs de la mort,
Tandis qu'à chaque endroit où son pied se pose
Un petit jet d'eau fuse sans bruit,
Il avance tournant le dos aux hommes
Barabbas
Mendiant chassé de son lit de noces à coup d'épieu.
En lui des images pourpres surgissent et se culbutent,
Quelque chose d'indiciblement pénétrant
S'irradie peu à peu jusqu'au zénith de son être
Comme la lumière de l'aube force le blockhaus des paupières;
Et puis voilà que par-derrière une sorte de regard
Le poignarde lentement entre les épaules
Et que sous chaque caillou
Une petite voix dure l'appelle par son nom
Bar Abba
Le Fils du Père.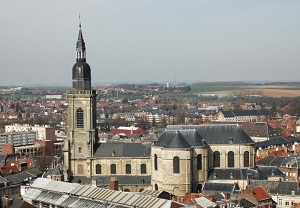 Julien Torma (6 april 1902 - 17 februari 1933)
Cambrai
De Franse schrijver en aforist Nicolas Chamfort, pseudoniem van Sébastien Roch Nicolas, werd geboren op 6 april 1740 in Clermont - Ferrand. Zie ook alle tags voor Nicolas Chamfort op dit blog.
Uit:Des femmes, de l'amour, du mariage et de la galanterie (Maximes et Pensées)
« CCCLXIII
Les jeunes femmes ont un malheur qui leur est commun avec les Rois, celui de n'avoir point d'amis. Mais heureusement, elles ne sentent pas ce malheur plus que les Rois eux-mêmes. La grandeur des uns et la vanité des autres leur en dérobe le sentiment.

CCCLXIV
On dit, en politique, que les sages ne font point de conquêtes : cela peut aussi s'appliquer à la galanterie.

CCCLXV
Il est plaisant que le mot : connaître une femme, veuille dire, coucher avec une femme, et cela dans plusieurs langues anciennes, dans les mœurs les plus simples, les plus approchantes de la Nature ; comme si on ne connaissait point une femme sans cela. Si les patriarches avaient fait cette découverte, ils étaient plus avancés qu'on ne croit.

CCCLXVI
Les femmes font avec les hommes une guerre où ceux-ci ont un grand avantage, parce qu'ils ont les filles de leur côté.
CCCLXVII
Il y a telle fille qui trouve à se vendre, et ne trouverait pas à se donner. »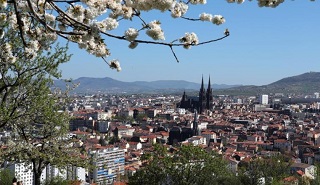 Nicolas Chamfort (6 april 1740 – 13 april 1784)
Clermont-Ferrand
Zie voor nog meer schrijvers van de 6e april ook mijn blog van 6 april 2015 deel 2 en eveneens deel 3.
Zie voor bovenstaande schrijvers ook mijn blog van 6 april 2007 en ook mijn blog van 6 april 2008 en eveneens mijn blog van 6 april 2009.
06-04-2018 om 18:07 geschreven door Romenu

Tags:Kazim Ali, Annejet van der Zijl, John Pepper Clark, Jakob Ejersbo, Günter Herburger, Uljana Wolf, Brigitte Schwaiger, Julien Torma, Nicolas Chamfort, Romenu



Iulian Ciocan
De Roemeense schrijver, journalist en literair criticus Iulian Ciocan werd geboren op 6 april 1968 in Chisinau, in de toenmalige Sovjet Socialistische Republiek Moldavië. Hij studeerde in 1995 af met een graad in Roemeense taal en letterkunde aan de Universiteit Transilvania inBrașov, Roemenië. Zijn roman "Înainte să moară Brejnev" ("Voordat Brezjnev stierf")werd in 2007 uitgegeven en vertaald in het Tsjechisch. Zijn roman "Tărâmul lui Saşa Kozak" ("Het rijk van Saşa Kozak") werd in 2011 uitgegeven en is vertaald in het Slowaaks en het Frans. Een hoofdstuk uit zijn tweede roman werd opgenomen in de bloemlezing Best European Fiction 2011, uitgegeven door Aleksandar Hemon. In april 2011 werd hij uitgenodigd om deel te nemen aan het PEN World Voices-festival in New York. Sinds 1998 werkt hij als radio-commentator voor Free Europe in Chisinau. Zijn proza ​​is gepubliceerd in literaire tijdschriften in de Verenigde Staten, België, Duitsland en Brazilië. Hij schreef ook twee boeken met literaire kritieken en publiceerde acht boeken met journalistiek werk. Hij is lid van PEN Club, Republic of Moldova. In 2015 verscheen de roman "Iar dimineata vor veni rusii" ("En in de ochtend zullen de Russen komen").
Uit: And in the Morning the Russians Will Arrive (Vertaald door Alistair Ian Blyth)
"On the morning of 25 June 2020, Latin teacher Nicanor Turturica awoke later than usual. Not just because it was a Saturday, but because he had played online chess until after midnight, against an obstinate Australian, who flatly refused to admit defeat at the hands of a representative of some Lilliputian country. Nicanor Turturica idled in bed for a while, wondering at the much too dark cloud he could see through the window, and realised with alarm that his deep sleep had not banished his weariness. Yes, although he was still a man in the prime of his life, at the age of sixty, with increasing frequency he was bothered by a state of extreme tiredness, his eyes ached, and he suffered cramps. To blame, an obtuse physician had told him, was supposedly the Internet, and to be more precise, online chess, in which he had found solace after the sudden death of his wife. But how could he live without any refuge, after an accursed breast cancer had stolen away his younger wife? This was why, for a few weeks after the funeral, Nicanor Turturica had succumbed to alcoholism, and then, after a heated discussion on Skype with his daughter, who lived in the United States, the teacher discovered online chess, giving up vodka and wine. And after a while he met the mild and gentle Raya, a widow of sixty-two, who sold pies at the faculty canteen and whom he started to visit at weekends. The insatiable window would have liked to have sex every night, but what with his Latin lessons and online chess, that would have done him in altogether. And so he persuaded her that they should meet just once a week. Absence makes the heart grow fonder, as they say. But when it came to chess, he could not tolerate any absence. He would sit in front of the computer for hours on end, doing battle with opponents from every continent, accumulating victories with a grim determination worthy of a better cause and losing his temper after every defeat, which, of course, seemed to him stupid and unfair. But on the morning of 25 June Nicanor Turturica felt so exhausted that he abandoned any thought of turning on his laptop or the television set. Perhaps that opaque physician had been right when he claimed that his tiredness was caused by his sedentariness, by sitting in front of the computer and the television. "Life means movement!" the physician kept reminding him, a truth that only now revealed itself to him in all its grandeur. He had to get into shape as a matter of urgency; apart from anything else, that evening he was due to cast himself into the burly arms of Raia from the canteen, who made up for lost time with great ardour, draining him of strength. »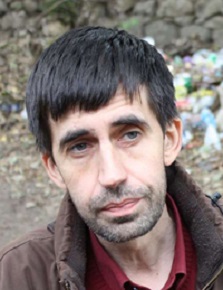 Iulian Ciocan (Chisinau, 6 april 1968)
06-04-2018 om 00:00 geschreven door Romenu

Tags:Iulian Ciocan, Romenu



| | |
| --- | --- |
| | |



Inhoud blog


| | |
| --- | --- |
| | Christbaum (Ada Christen) |
| | Thomas Verbogt, Margot Vanderstraeten, Eileen Myles, Patricio Pron, Michael Krüger, Gioconda Belli, Joe McGinniss, Wolfgang Hildesheimer |
| | Anna Gavalda, Ödön von Horváth, John Milton, Jan Křesadlo, Maksim Bahdanovič, Dalton Trumbo |
| | Jamal Ouariachi, Louis de Bernières, Mary Gordon, Bill Bryson, John Banville, Delmore Schwartz, Jim Morrison, Georges Feydeau |
| | Horatius, Hervey Allen, James Thurber, Carmen Martín Gaite, Nikos Gatsos, Jura Soyfer, Bjørnstjerne Bjørnson, Joel Chandler Harris |
| | Tatamkhulu Afrika, Dirk Stermann, Johann Nestroy, Joyce Cary, Gabriel Marcel, Willa Cather, Noam Chomsky, Friedrich Schlögl, Samuel Gottlieb Bürde |
| | Karl Ove Knausgård, Peter Handke, Yolanda Entius, Rafał, Wojaczek, Henk van Woerden, Alfred Joyce Kilmer, Sophie von La Roche, Paul Adam, Charlotte Wood |
| | Wat heeft Sint voor jou gekocht? (Thomas Verbogt) |
| | Hanif Kureishi, Alois Brandstetter, Joan Didion, Christina Rossetti, Fjodor Tjoettsjev, Calvin Trillin, Afanasy Fet, Hans Helmut Kirst, Eugenie Marlitt |
| | Rainer Maria Rilke, Geert Mak, Pat Donnez, Feridun Zaimoglu, Emil Aarestrup, Nikolay Nekrasov, Trudi Guda, Samuel Butler, Thomas Carlyle |
| | Hendrik Conscience, Kristina Sandberg, Joseph Conrad, Herman Heijermans, Grace Andreacchi, Ugo Riccarelli, France Pre¨eren, F. Sionil José, Franz Josef Degenhardt |
| | Advent (Marjoleine de Vos ) |
| | Frédéric Leroy, Ann Patchett, Hein Boeken, T. C. Boyle, George Saunders, Botho Strauß, Jacques Lacarrière, Iakovos Kampanellis, Eric L. Harry |
| | December (Algernon Swinburne) |
| | Pierre Kemp, Daniel Pennac, Arthur Sze, Natasza Tardio, Tahar Ben Jelloun, Billy Childish |
| | Ernst Toller, Mihály Vörösmarty, Valery Bryusov, Rex Stout. Henry Williamson |
| | Herinnering aan Ramses Shaffy |
| | Dennis Gaens, Christophe Vekeman, James Worthy, Y.M. Dangre, Reinier de Rooie, David Nicholls, Yasmine Allas, Jan G. Elburg, Jesús Carrasco |
| | Mario Petrucci, George Szirtes, Jean Senac, Carlo Levi, Jean-Philippe Toussaint, C.S. Lewis, Wilhelm Hauff, Louisa May Alcott, Franz Stelzhamer |
| | Erwin Mortier, Alberto Moravia, Stefan Zweig, Hugo Pos, Sherko Fatah, Philippe Sollers, William Blake, Alexander Blok, Rita Mae Brown |
| | Navid Kermani, Nicole Brossard, Han Kang, Philippe Delerm, James Agee, Jos. Habets, Friedrich von Canitz, Jacques Godbout, Saskia Goldschmidt |
| | Luisa Valenzuela, Eugène Ionesco, Marilynne Robinson, Herman Gorter, Paul Rodenko, Mihály Babits, Louis Verbeeck, Alyosha Brell, Mohamed Al-Harthy |
| | King of glory, King of peace (George Herbert) |
| | Maarten 't Hart, Connie Palmen, Abdelkader Benali, Arturo Pérez-Reverte, Ba Jin, Augusta de Wit |
| | Joseph Zoderer, Alexis Wright, Isaac Rosenberg, José Eça de Queiroz, Lope de Vega |
| | Isabel Ecclestone Mackay |
| | Jules Deelder, Wanda Reisel, Marlon James, Einar Kárason, Ahmadou Kourouma, Thomas Kohnstamm, Hans Sahar |
| | Wen Yiduo, Laurence Sterne, Cissy van Marxveldt, Arundhati Roy, Carlo Collodi, Gerhard Bengsch, Ludwig Bechstein |
| | Paul Celan, Marcel Beyer, Max Goldt, Jennifer Michael Hecht, Sipko Melissen, Henri Borel, Sait Faik Abasıyanık, Nigel Tranter, Guy Davenport |
| | André Gide, George Eliot, Dirk van Weelden, Christian Filips, Suresh en Jyoti Guptara, Viktor Pelevin, Endre Ady, William Kotzwinkle, Elisabeth Maria Post |
| | Margriet de Moor, Gerard Koolschijn, Isaac Bashevis Singer, Wouter Steyaert, Marilyn French, Freya North, P. A. de Génestet, Voltaire, Garth Risk Hallberg |
| | Don DeLillo, Viktoria Tokareva, Sheema Kalbasi, Nadine Gordimer, Thomas Chatterton, Zinaida Hippius, Selma Lagerlöf, Jordi Lammers, Ferdinand von Schirach, Yevgenia Ginzburg |
| | Scott Cairns, Sharon Olds, Mark Harris, Karel van den Oever, Alan Tate, Anna Seghers, Elise Bürger, Girolamo de Rada, Veronika Aydin |
| | Arno Van Vlierberghe |
| | November (Helen Maria Hunt Jackson) |
| | Toon Tellegen, Joost Zwagerman, Joost Oomen, Thomas Möhlmann, Pauline Genee, Klaus Mann, Eugenio Montejo |
| | Margaret Atwood, Seán Mac Falls, Jaap Meijer, Richard Dehmel, William Gilbert, Hans Reimann, Mireille Cottenjé |
| | Iemand als een mensenzoon (Walter Jan Ceuppens) |
| | Christoph Wilhelm Aigner |
| | Joost van den Vondel, Guido van Heulendonk, Dahlia Ravikovitch, Rebecca Walker, Auberon Waugh |
| | Christopher Paolini, Pierre Véry, Archibald Lampman, Max Barthel, Jelko Arts |
| | Anton Koolhaas, Chinua Achebe, José Saramago, Renate Rubinstein, Craig Arnold, Danny Wallace, Frits van der Meer, Jónas Hallgrímsson, Hugo Dittberner |
| | Jan Terlouw, Clemens J. Setz, Wolf Biermann, Ted Berrigan, J. G. Ballard, Gerhart Hauptmann, Liane Dirks, Lucien Rebatet, Marianne Moore |
| | Susanne Fröhlich |
| | Norbert Krapf, Astrid Lindgren, P. J. O'Rourke, Jonathan van het Reve, Olga Grjasnowa, René de Clercq, Jurga Ivanauskaitė, Karla Schneider, Peter Orner |
| | Christine Otten, Inez van Dullemen, Frank Westerman, Timo Berger, Hadjar Benmiloud, Nico Scheepmaker, José Carlos Somoza, Peter Härtling, Bert Leston Taylor |
| | Daniël Dee, Lize Spit, Frank Witzel, Johnny van Doorn, Cristina Peri Rossi, Naomi Wolf, Malcolm Guite, Jacobus Bellamy |
| | Old Martinmas Eve (Ivor Gurney) |
| | Hans Magnus Enzensberger, Mircea Dinescu, Carlos Fuentes, Nilgün Yerli, Luigi Malerba |
| | Christina Guirlande, Andreas Reimann, Kurt Vonnegut, Noah Gordon, Louis de Bougainville |