E-mail mij


Druk op onderstaande knop om mij te e-mailen.


Romenu


Google


Georg Trakl

Georg Trakl werd op 3 februari 1887 in het conducteurshuis aan de Waagplatz 2 in Salzburg geboren. Zijn vader, Tobias Trakl, was een handelaar in ijzerwaren en zijn moeder, die ook psychische problemen had, was Maria Catharina Trakl, (meisjesnaam Halik). Voorts had hij nog drie broers en drie zussen. Margarethe (doorgaans Grethe genoemd) stond hem het naast, zelfs zodanig dat sommigen een incestueuze verhouding vermoeden. Zijn jeugd bracht hij door in Salzburg. Vervolgens bezocht hij van 1897 tot 1905 het humanistische gymnasium. Om toch een academische opleiding te kunnen volgen, werkte hij tot 1908 in de praktijk bij een apotheker. Sommigen vermoedden dat hij dit vooral deed om zichzelf opiaten te kunnen verschaffen. Bij het uitbreken van WO I werd Trakl als medicus naar het front in Galicië (heden ten dage in Oekraïne en Polen) gestuurd. Zijn gemoedsschommelingen leidden tot geregelde uitbraken van depressie, die verergerd werden door de afschuw die hij voelde voor de verzorging van de ernstig verwonde soldaten. De spanning en druk dreven hem ertoe een suïcidepoging te ondernemen, welke zijn kameraden nochtans verhinderden. Hij werd in een militair ziekenhuis opgenomen in Kraków, alwaar hij onder strikt toezicht geplaatst werd.Trakl verzonk daar in nog zwaardere depressies en schreef Ficker om advies. Ficker overtuigde hem ervan dat hij contact moest opnemen met Wittgenstein, die inderdaad op weg ging na Trakls bericht te hebben ontvangen. Op 4 november 1914, drie dagen voordat Wittgenstein aan zou komen, overleed hij echter aan een overdosis cocaïne


Paul Celan

Paul Celan werd onder de naam Paul Antschel op 23 november 1920 geboren in Czernowitz, toentertijd de hoofdstad van de Roemeense Boekovina, nu behorend bij de Oekraïne. Paul Celans ouders waren Duitssprekende joden die hun zoon joods opvoedden en hem naar Duitse christelijke scholen stuurden. In 1942 werden Celans ouders door de Duitse bezetter naar een werkkamp gedeporteerd en daar vermoord. Hijzelf wist aanvankelijk onder te duiken, maar moest vanaf juli 1942 in een werkkamp dwangarbeid verrichten. Celan overleefde de oorlog. Via Boekarest en Wenen vestigde Celan zich in 1948 in Parijs. Daar was hij werkzaam als dichter, vertaler en doceerde hij aan de prestigieuze Ecole Normale Supérieure. Vermoedelijk op 20 april 1970 beëindigde hij zijn leven zelf door in de Seine te springen.


Gerard Reve

Gerard Reve over: Medearbeiders "God is in de mensen, de dieren, de planten en alle dingen - in de schepping, die verlost moet worden of waaruit God verlost moet worden, door onze arbeid, aangezien wij medearbeiders van God zijn." Openbaring "Tja, waar berust elk godsbegrip op, elke vorm van religie? Op een openbaring, dat wil zeggen op een psychische ervaring van zulk een dwingende en onverbiddelijke kracht, dat de betrokkene het gevoel heeft, niet dat hij een gedachte of een visioen heeft, maar dat een gedachte gedachte of visioen hem bezit en overweldigt."


Simon Vestdijk
Simon Vestdijk (Harlingen, 17 oktober 1898 – Utrecht, 23 maart 1971) was een Nederlands romancier, dichter, essayist en vertaler. Zijn jeugd te Harlingen en Leeuwarden beschreef hij later in de Anton Wachter-cyclus. Van jongs af aan logeerde hij regelmatig bij zijn grootouders in Amsterdam, waar hij zich in 1917 aan de Universiteit van Amsterdam inschrijft als student in de medicijnen. Tijdens zijn studie die van 1917 tot 1927 duurde, leerde hij Jan Slauerhoff kennen.Tot 1932 is hij als arts in praktijken door heel Nederland werkzaam. In 1932 volgt zijn officiële schrijversdebuut met de uitgave van de bundel Verzen in De Vrije Bladen. Doorslaggevend voor Vestdijks uiteindelijke keuze voor de literatuur is zijn ontmoeting in 1932 met Eddy Du Perron en Menno ter Braak. Deze ontmoeting had tot resultaat dat hij redactielid werd van het tijdschrift Forum Kort daarop, in 1933, wordt zijn eerste novelle, De oubliette, uitgegeven. In hetzelfde jaar schrijft hij Kind tussen vier vrouwen, dat, eerst geweigerd door de uitgever, later de basis zal vormen voor de eerste drie delen van de Anton Wachter-romans. In 1951 ontvangt Vestdijk de P.C. Hooftprijs voor zijn in 1947 verschenen roman De vuuraanbidders. In 1957 wordt hij voor het eerst door het PEN-centrum voor Nederland voorgedragen voor de Nobelprijs voor de Literatuur, die hij echter nooit zal krijgen. Op 20 maart 1971 wordt hem de Prijs der Nederlandse Letteren toegekend, maar voor hij deze kan ontvangen overlijdt hij op 23 maart te Utrecht op 72-jarige leeftijd. Vestdijk was auteur van ca. 200 boeken. Vanwege deze enorme productie noemde de dichter Adriaan Roland Holst hem 'de man die sneller schrijft dan God kan lezen'. Andere belangrijke boeken van Simon Vestdijk zijn: "Kind van stad en land" (1936), "Meneer Visser's hellevaart" (1936), "Ierse nachten" (1946), "De toekomst de religie" (1947), "Pastorale 1943" (1948), "De koperen tuin" (1950), "Ivoren wachters" (1951), "Essays in duodecimo" (1952) en "Het genadeschot" (1964).


K.P. Kavafis

K.P. Kavafis werd als kind van Griekse ouders, afkomstig uit Konstantinopel, geboren in 1863 in Alexandrië (tot vandaag een Griekse enclave) waar hij ook het grootste deel van zijn leven woonde en werkte. Twee jaar na de dood van zijn vader verhuist het gezin in 1872 naar Engeland om na een verblijf van vijf jaar naar Alexandrië terug te keren. Vanwege ongeregeldheden in Egypte vlucht het gezin in 1882 naar Konstantinopel, om na drie jaar opnieuw naar Alexandrië terug te gaan. In de jaren die volgen maakt Kavafis reizen naar Parijs, Londen en in 1901 zijn eerste reis naar Griekenland, in latere jaren gevolgd door nog enkele bezoeken. Op de dag van zijn zeventigste verjaardag, in 1933 sterft Kavafis in Alexandrië. De roem kwam voor Kavafis pas na zijn dood, dus postuum. Deels is dat toe te schrijven aan zijn eigen handelswijze. Hij was uiterst terughoudend met de publicatie van zijn gedichten, liet af en toe een enkel gedicht afdrukken in een literair tijdschrift, gaf in eigen beheer enkele bundels met een stuk of twintig gedichten uit en het merendeel van zijn poëzie schonk hij op losse bladen aan zijn beste vrienden.


Thomas Mann


Thomas Mann, de jongere broer van Heinrich Mann, werd geboren op 6 juni 1875 in Lübeck. Hij was de tweede zoon van de graankoopman Thomas Johann Heinrich Mann welke later één van de senatoren van Lübreck werd. Zijn moeder Julia (geboren da Silva-Bruhns) was Duits-Braziliaans van Portugees Kreoolse afkomst. In 1894 debuteerde Thomas Mann met de novelle "Gefallen". Toen Thomas Mann met 21 jaar eindelijk volwassen was en hem dus geld van zijn vaders erfenis toestond - hij kreeg ongeveer 160 tot 180 goldmark per jaar - besloot hij dat hij genoeg had van al die scholen en instituties en werd onafhankelijk schrijver. Kenmerkend voor zijn stijl zijn de ironie, de fenomenale taalbeheersing en de minutieuze detailschildering. Manns reputatie in Duitsland was sterk wisselend. Met zijn eerste roman, Buddenbrooks (1901), had hij een enorm succes, maar door zijn sceptische houding tegenover Duitsland na de Eerste Wereldoorlog veranderde dit volledig. Stelde hij zich tot aan de jaren twintig apolitiek op (Betrachtungen eines Unpolitischen, 1918), meer en meer raakte hij bij het Politiek gebeuren betrokken. Zijn afkeer van het nationaal socialisme groeide, zijn waarschuwingen werden veelvuldiger en heftiger. In 1944 accepteerde hij het Amerikaanse staatsburgerschap. Tussen 1943 en 1947 schreef Mann Doktor Faustus (zie Faust), de roman van de 'Duitse ziel' in de gecamoufleerd geschilderde omstandigheden van de 20ste eeuw. In 1947 bezocht hij voor het eerst sinds de Oorlog Europa, twee jaar later pas Duitsland. In 1952 vertrok hij naar Zwitserland. Op 12 augustus 1955 stierf hij in Zürich. Twintig jaar na zijn dood, in aug. 1975, is zijn literaire nalatenschap geopend: dagboekaantekeningen van 15 maart 1933 tot 29 juli 1955, alsmede notities uit de jaren 1918 tot en met 1921.Belangrijke werken zijn: Der Zauberberg, Der Tod in Venedig, Dokter Faustus , Joseph und seine Brüder en Die Bekenntnisse des Hochstaplers Felix Krull.


Rainer Maria Rilke

Rilke werd op 4 december 1875 geboren in Praag. Hij had al naam gemaakt als dichter met zijn bundels Das Stundenbuch en Das Buch der Bilder, toen hij de literaire wereld versteld deed staan en wereldfaam verwierf met de publicatie van zijn twee delen Neue Gedichte in 1907 en 1908. Hij verzamelde daarin het beste werk uit een van zijn vruchtbaarste periodes, die hij grotendeels doorbracht in Parijs. Rilke was daar diep onder de indruk gekomen van Rodin, bij wie hij een tijdlang in dienst was als particulier secretaris. Rodin, zei hij later, had hem leren kijken. Dit kijken kwam neer op intense concentratie, om het mysterie te kunnen zien 'achter de schijnbare werkelijkheid'. Latere en rijpere werken als Duineser Elegien (1912-1923) en het ronduit schitterende Die Sonette an Orfeus (1924) illustreren Rilkes metafysische visie op het onzegbare, dat haar verwoording vindt in een hermetische muzikale taal. Op 29 december 1926 overlijdt Rilke in het sanatorium in Val-Mont aan de gevolgen van leukemie. Enkele dagen later wordt hij, overeenkomstig zijn wens, begraven op het kerkhof van Raron.


* * * * * * * * * * * * * * * *

| | |
| --- | --- |
| | Over literatuur, gedichten, kunst en cultuur |

10-09-2010

Andreï Makine, Franz Werfel, Paweł Huelle, Mary Oliver, Eddy Pinas
De Franse schrijver van Russische afkomst Andreï Makine werd geboren in Krasnojarsk op 10 september 1957. Hij leerde al vroeg Frans van zijn uit Frankrijk afkomstige grootmoeder (en volgens Makine zelf ook van een vriend) en schreef al op jonge leeftijd gedichten in het Russisch zowel als het Frans. Makine studeerde onder andere filologie en filosofie in Tver, Moskou en Novgorod. In 1987 reisde hij naar Frankrijk in het kader van een uitwisselingsprogramma voor docenten en besloot er asiel aan te vragen. Sindsdien leeft hij als schrijver in Parijs. Na de teleurstellende ontvangst van zijn eerste romans, brak Makine in 1995 door met zijn grootse roman Het Franse testament, waarvoor bij de prestigieuze Prix Goncourt, de Prix Goncourt des lycéens en de Prix Médicis ontving. Veel waardering kreeg Makine ook voor zijn Requiem voor Rusland (2000).
Uit: Das französische Testament (Vertaald door Holger Fock en Sabine Müller)
"Ich war noch ein Kind, da ahnte ich, dass dieses eigentümliche Lächeln einen sonderbaren kleinen Sieg für jede Frau darstellte. Ja, eine kurzzeitige Revanche für die enttäuschten Hoffnungen, die Grobheit der Männer, die Seltenheit des Wahren und Schönen im Leben. Wäre ich damals imstande gewesen, es auszudrücken, ich hätte diese Art zu lächeln "weiblich" genannt ... Doch zu jener Zeit haftete meine Sprache noch zu sehr an den Gegenständen. Ich begnügte mich damit, in unseren Fotoalben die Gesichter der Frauen zu erforschen und das Aufleuchten der Schönheit in einigen von ihnen zu entdecken.
Diese Frauen wussten alle, was sie tun mussten, um schön zu sein, nämlich, kurz bevor das Blitzlicht sie blendete, jene geheimnisvolle französische Silbenfolge sprechen, deren Sinn nur wenige kannten: "petite-pomme ..." Statt sich in heiterer Verzückung oder ängstlicher Verkrampfung zu verziehen, rundete sich der Mund anmutig wie durch ein Wunder. Das ganze Gesicht war wie verwandelt. Die Brauen wölbten sich leicht, die Wangen dehnten sich. Man sagte "petite pomme", und ein Hauch von träumerischer Abwesenheit verschleierte den Blick, ließ die Gesichtszüge edler erscheinen, tauchte die Aufnahme in das gedämpfte Licht verflossener Tage.
Auf diesen fotografischen Zauber hatten sich die unterschiedlichsten Frauen verlassen. Jene Moskauer Verwandte zum Beispiel, die auf der einzigen Farbaufnahme in unseren Alben zu sehen ist. Sie war mit einem Diplomaten verheiratet, sprach, ohne den Mund aufzumachen, und stöhnte schon gelangweilt, bevor jemand auch nur ein Wort gesagt hatte. Auf dem Foto von ihr bemerkte ich jedoch sofort den Zauber des "petite pomme".
Ich entdeckte seinen Widerschein in den Zügen der unbekannten Tante, einer unscheinbaren Kleinstädterin, über die nur gesprochen wurde, wenn von den Frauen die Rede war, die nach dem Männer verschlingenden letzten Krieg keinen Ehemann gefunden hatten."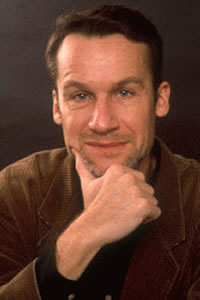 Andreï Makine (Krasnojarsk, 10 september 1957)
De Oostenrijkse dichter en schrijver Franz Werfel werd op 10 september 1890 in Praag geboren. Zie ook mijn blog van 10 september 2006 en ook mijn blog van 10 september 2007 en ook mijn blog van 10 september 2008 en ook mijn blog van 10 september 2009.
Uit: Verdi
"Der unirdische Monddunst dieser lau-bezaubernden Weihnacht drang durch das Wasserportal des Fenicetheaters und verklärte die finstere Mündung des langen Ganges, der vorwärts zum erleuchteten Foyer führte. An der grünspanigen Mauer, unbewegt in der Schwärze des Kanals, ein wenig abseits von Treppe und Pflöcken, ruhten einige Gondeln entlang des Fondamento.
Die Ruderer, die zuerst meinten, es gebe eine Oper zu hören, und die ihren Herrschaften nachgeschlichen kamen, um durch einen Türspalt oder gar auf unbezahlten Stehplätzen den Gesang zu genießen, waren enttäuscht worden. Das Orchester da drinnen - alle Musiker in schwarzer Parade - machte eine endlose, langweilige Musik. Und diese Musik wurde vor nicht mehr als fünfzehn Menschen gelärmt. Wußte man nichts Besseres aufzuführen, jetzt, im Dezember, zur Zeit der Stagione?
Die Gondelführer saßen längst schon in einer der Tavernen auf dem Campo del Teatro. Einer von ihnen stand von Zeit zu Zeit immer auf, um nachzusehen, ob die Geschichte nicht schon zu Ende sei. Im übrigen waren sie nicht um Musik betrogen. In der offenen Tür der Nachbarschenke hatte ein Invalide in vergilbter vergessener Uniform Platz genommen und ein kleines Cello mit hohem Stachel zwischen die Knie gestemmt. Unter seinem Bogen beklagte dieses mittelalterliche Bettel-Instrument, das sich auf irgendeinem geheimnisvollen Wege in unsere Zeit verirrt hatte, sein trübes Schicksal. In der Taverne, wo die Wartenden lachten und stritten, produzierte sich ein Paar von Straßensängern: der Knabe mit seiner Mandoline und eine blinde Alte mit schrecklichen Augenhöhlen und einer hellstechenden Tenorstimme. Dazu kam, daß fast alle Leute, die über den Platz gingen, einen Melodieteil sangen, summten, grölten, pfiffen, daß liederliche Aufschreie, Rufe, Gelächter aus plötzlich sich öffnenden und zuschlagenden Türen brachen, und daß jede Viertelstunde von allen Türmen herab die in dieser Nacht heilig erregten Glockenfluten auf die Stadt Venedig stürzten."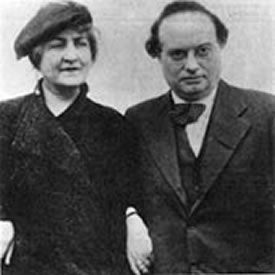 Franz Werfel (10 september 1890 – 26 augustus 1945)
Hier met Alma Mahler
De Poolse schrijver Paweł Huelle werd geboren op 10 september 1957 in Gdańsk. Zie ook mijn blog van 10 september 2007 en ook mijn blog van 10 september 2008 en ook mijn blog van 10 september 2009.
Uit: The Last Supper (Vertaald door Antonia Lloyd-Jones)
"The noise of the electric train came rattling through the open windows of the old German villa. Mateusz was standing in the kitchen alcove trying to find a corkscrew, while the Engineer stared about him with a look on his face implying that all the oils, sketches, drawings, water colours and gouaches filled him with total disgust. He went up to the easel, then the wall, almost pressing his nose against the canvas as if he were very short-sighted, then turned towards us wearing a grimace and lisped: "Dweadful, tewible, howendous!"
"What's your point?" asked Mateusz as the cork finally popped from the bottle of Bulgarian wine and he poured it into some thick, tea-stained glasses. "Maybe you could paint it better yourself?"
The Engineer made a face that implied extreme irritation with a dash of contempt.
"The point is not whether something is well or badly painted," he drawled. "The point is whether it's painted at all. Fuckin' 'ell, can't you understand that?"
"To be honest, no, I can't really," I said, looking the Engineer straight in the eye.
"This man, nailed to the earth's sphere," I went on, pointing at the canvas, "is screaming so loud he can be heard in every galaxy. But God is not there."
"Fuckin' 'ell," said the Engineer, clutching his head and looking at our host, "who've you got here? A virgin incowupt?"
"This is his," said Mateusz, holding up a copy of my first book, which admittedly was at that point just a typescript in cardboard covers, "but you wouldn't understand it all the same."
"What an arsehole," snarled the Engineer, "a writer on art is a piece of shit."
Mateusz nodded indulgently, implying that he'd heard it all a hundred times before and did not necessarily agree with the Engineer, who had now gone entirely on the offensive; hopping about like a boxer, he was running up to each canvas and board in turn shouting: "And what the fuck is this? Fucking litewature! Paint is just dwied-up blood! It's ancient dwied-up sperm! Painting is kaput! It's over. Can't you see that?"
Suddenly he took a razor out of his pocket, which, as I can see now, hadn't got there by accident, went up to the painting I'd just mentioned, "Ecce Homo", and slowly, without a word, with long strokes of the blade, ripped it into narrow strips. Mateusz was astonished, maybe even mesmerised at the sight of this destruction: the point being that it was planned, deliberately performed before his eyes, so patently and brazenly that it took your breath away."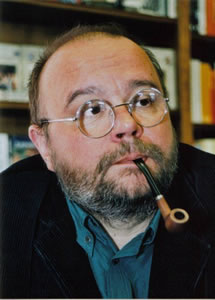 Paweł Huelle (Gdańsk, 10 september 1957)
De Amerikaanse dichteres Mary Oliver werd geboren op 10 september 1936 in Maple Heights, Ohio. Zie ook mijn blog van 10 september 2008 en ook mijn blog van 10 september 2009.
Wild Geese

You do not have to be good.
You do not have to walk on your knees
for a hundred miles through the desert, repenting.
You only have to let the soft animal of your body
love what it loves.
Tell me about despair, yours, and I will tell you mine.
Meanwhile the world goes on.
Meanwhile the sun and the clear pebbles of the rain
are moving across the landscapes,
over the prairies and the deep trees,
the mountains and the rivers.
Meanwhile the wild geese, high in the clean blue air,
are heading home again.
Whoever you are, no matter how lonely,
the world offers itself to your imagination,
calls to you like the wild geese, harsh and exciting--
over and over announcing your place
in the family of things.
The Swan
Did you too see it, drifting, all night, on the black river?
Did you see it in the morning, rising into the silvery air -
An armful of white blossoms,
A perfect commotion of silk and linen as it leaned
into the bondage of its wings; a snowbank, a bank of lilies,
Biting the air with its black beak?
Did you hear it, fluting and whistling
A shrill dark music - like the rain pelting the trees - like a waterfall
Knifing down the black ledges?
And did you see it, finally, just under the clouds -
A white cross Streaming across the sky, its feet
Like black leaves, its wings Like the stretching light of the river?
And did you feel it, in your heart, how it pertained to everything?
And have you too finally figured out what beauty is for?
And have you changed your life?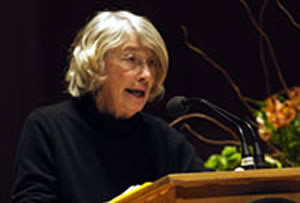 Mary Oliver (Maple Heights, 10 september 1935)
De Surinaamse dichter en schrijver Eddy Louis Pinas werd geboren in Paramaribo op 10 september 1939. Eddy Pinas was eigenaar van een bedrijf in elektrotechnische apparatuur. In 1996 beëindigde hij zijn bedrijfsactiviteiten en hij vestigde zich in Nederland. Hij publiceerde schaars: het toneelstuk Gerda (1971), twee dichtbundels, Krawasi [Zweep] (1973, onder de schuilnaam Faceless X) en Te koop wegens vertrek (1975), het verhaal 'Julien Colijn' in de bloemlezing Een pantservagen in de straten (1981) en in het Sranan 'San pesa ini Kaneri' [Wat er gebeurde in Kaneri] in de bloemlezing Nieuwe Surinaamse verhalen (1986). Pinas won tweemaal een literaire prijs: met anderen in 1975 de Literatuurprijs van Sticusa en in 1981 de prijsvraag 'Rondom de revolutie van 25 februari 1980' met zijn verhaal 'Julien Colijn'. Eddy Pinas was actief bij het NAKS-volkstoneel.
Testament van een bedelaar
stoep Kirpalani 9 februari 1973
Dit is mijn laatste wilsbeschikking:
mijn slaapplaats - onder het balkon -
laat ik na aan oom Hendrik
thans wonend in L.W.G.
met 4 man in een
kamer 3 x 3
de inhoud van mijn plunjezak -
1 broek, 2 borstrokken, 1 jas, 1 mok,
1 kam (nieuw), een partij
sigaretten eindjes,
7 dagbladen (februari 1969),
1 geërfde aansteker - zult gij
delen onder de stoepbewoners
mijn wandelstok (Tamarindehout) gaat
naar de politie
mijn beurs - exclusief 10 % pensioenpremie -
te delen onder eventuele
weduwen uit de strijd
mijn eergevoel
laat ik na aan de
regering van Suriname.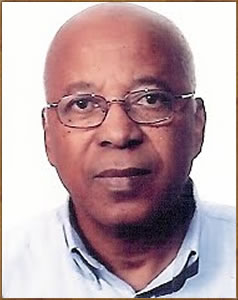 Eddy Pinas (Paramaribo, 10 september 1939)




Zie voor nog meer schrijvers van de 10e september ook mijn vorige blog van vandaag.

10-09-2010 om 19:46 geschreven door Romenu

Tags:Andreï Makine, Franz Werfel, Paweł, Huelle, Mary Oliver, Eddy Pinas, Romenu



Viktor Paskov, Hilda Doolittle, Reinhard Lettau, George Bataille, Jeppe Aakjær
De Bulgaarse schrijver en musicus Viktor Markos Paskov werd geboren in Sofia op 10 september 1949. Paskov studeerde aan de hogeschool voor muziek en theater in Leipzig en bleef na zijn studies nog 4 jaar in de DDR als jazz-muzikant en operazanger. In 1980 ging hij terug naar Bulgarije, waar hij onder meer actief werd als scenarioschrijver. Van 2002 tot 2004 stond hij aan het hoofd van het Bulgaars cultuurcentrum in Berlijn. Zijn bekendste boek is Balada za Georg Henih (Nederlands: Ballade voor Georg Henych) uit 1987. De roman speelt zich af in het Sofia van de jaren '50 en is quasi-autobiografisch.
Uit: Allemagne, conte cruel
« Derrière moi s'élevait le grandiose monument de ce Kuno - Otto - Friedrich. Le grand Kurfürst montait une massive rosse de fer. D'une main il tenait les rênes, de l'autre une massue levée bien haut au-dessus de sa tête. Pour autant qu'il m'était possible de voir, d'en bas, c'était un petit homme minable, comme Herr Dietze. Les pattes de devant de la rosse fendaient l'air. Quatre chiens de fonte se tortillaient autour d'elle. De leur gueule jaillissait un mince filet d'eau. Tout le groupe était vert de rage. Je me tournai de nouveau vert Kurt. C'est à ce moment-là que je vis qu'au-dessus de sa tête, juste sous la façade de la mairie, on avait tendu un long mot d'ordre en lettres rouges : Avec le soutien des partis communistes allemand et soviétique unis, luttons pour le triomphe de l'humanisme. »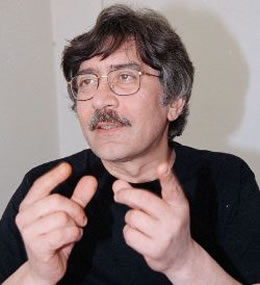 Viktor Paskov (10 september 1949 - 16 april 2009)
De Amerikaanse dichteres en schrijfster Hilda Doolittle werd geboren in Bethlehem, Pennsylvania, op 10 september 10 1886. Zie ook mijn blog van 10 september 2006 en ook mijn blog van 10 september 2008 en ook mijn blog van 10 september 2009.
Adonis
1.
Each of us like you
has died once,
has passed through drift of wood-leaves,
cracked and bent
and tortured and unbent
in the winter-frost,
the burnt into gold points,
lighted afresh,
crisp amber, scales of gold-leaf,
gold turned and re-welded
in the sun;
each of us like you
has died once,
each of us has crossed an old wood-path
and found the winter-leaves
so golden in the sun-fire
that even the live wood-flowers
were dark.
2.
Not the gold on the temple-front
where you stand
is as gold as this,
not the gold that fastens your sandals,
nor thee gold reft
through your chiselled locks,
is as gold as this last year's leaf,
not all the gold hammered and wrought
and beaten
on your lover's face.
brow and bare breast
is as golden as this:
each of us like you
has died once,
each of us like you
stands apart, like you
fit to be worshipped.
Sea Rose
Rose, harsh rose,
marred and with stint of petals,
meagre flower, thin,
sparse of leaf,
more precious
than a wet rose
single on a stem --
you are caught in the drift.
Stunted, with small leaf,
you are flung on the sand,
you are lifted
in the crisp sand
that drives in the wind.
Can the spice-rose
drip such acrid fragrance
hardened in a leaf?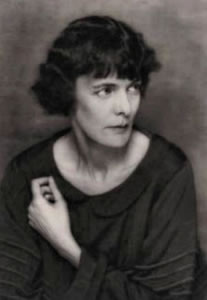 Hilda Doolittle (10 september 1886 – 21 september 1961)
De Duits-Amerikaanse schrijver Reinhard Lettau werd geboren op 10 september 1929 in Erfurt. Midden jaren 1950 emigreerde hij naar de Verenigde Staten, waar hij sinds 1967 hoogleraar Duitse letterkunde was aan de Universiteit van Californië in San Diego (UCSD). Hij was een actief lid van de groep 47 en hield vurige toespraken aan de Vrije Universiteit van Berlijn, waar hij Springer pers aan de kaak stelde. Hij werd vervolgens uitgewezen uit Duitsland, omdat hij een buitenlander was - hij had een Amerikaans paspoort. Lettau had Duits, filosofie en literatuur in Heidelberg en aan de Harvard University gestudeerd.
Anmaßender Dichter
Natürlich bin ich bedeutender
als Reinhard Lettau,
bedeutend bedeutender,
aber was bedeutet das schon?
Was bedeutet "natürlich"?
Was bedeutet "bedeutender"?
Was bedeutet "Lettau"?
Was bedeutet "bedeutet"?
"Natürlich" bedeutet natürlich nichts.
"Bedeutender" bedeutet natürlich auch nichts.
"Lettau" bedeutet natürlich gar nichts.
"Bedeutet" bedeutet natürlich bedeutet.
Einzig "ich", das bedeutet was.
Unter "ich" kann ich mir etwas vorstellen.
Unter "mir" kann ich mir allerdings schon weniger
vorstellen, außer, natürlich, Reinhard Lettau.

Reinhard Lettau (10 september 1929 - 17 juni 1996)
Lettau's graf in Berlijn
De Franse schrijver en filosoof George Bataille werd op 10 september 1897geboren in Billom (Auvergne). Zie ook mijn blog van 10 september 2006 en ook mijn blog van 10 september 2008 en ook mijn blog van 10 september 2009.
Uit: Le bleu du ciel
"Elle disparut avec le train.
J'étais seul sur le quai. Dehors il pleuvait à verse. Je m'en allai en pleurant. Je marchais péniblement. [...] J'arrivai à l'extrémité du hall: j'entendis un bruit de musique violent, un bruit d'une aigreur intolérable. Je pleurais toujours. De la porte de la gare, je vis de loin, à l'autre extrémité d'une place immense, un théâtre bien éclairé et, sur les marches du théâtre, une parade de musiciens en uniforme: le bruit était splendide, déchirant les oreilles, exultant. J'étais si surpris qu'aussitôt, je cessai de pleurer. Je n'avais plus envie d'aller aux cabinets. Sous la pluie battante, je traversai la place vide en courant. Je me mis à l'abri sous l'auvent du théâtre.
J'étais devant des enfants en ordre militaire, immobiles, sur les marches de ce théâtre: ils avaient des culottes courtes de velours noir et de petites vestes ornées d'aiguillettes, ils étaient nu-tête; à droite des fifres, à gauche des tambours plats. Ils jouaient avec tant de violence, avec un rythme si cassant que j'étais devant eux le souffle coupé. Rien de plus sec que les tambours plats qui battaient, ou de plus acide, que les fifres. Tous ces enfants nazis (certains d'entre eux étaient blonds, avec un visage de poupée) jouant pour de rares passants, dans la nuit, devant l'immense place vide sous l'averse, paraissaient en proie, raides comme des triques, à une exultation de cataclysme: devant eux, leur chef, un gosse d'une maigreur de dégénéré. avec le visage hargneux d'un poisson (de temps à autre, il se retournait pour aboyer des commandements, il râlait), marquait la mesure avec une longue canne de tambour-major."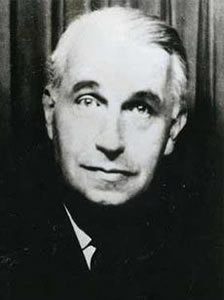 George Bataille (10 september 1897 – 9 juli 1962)
De Deense dichter en schrijver Jeppe Aakjær werd geboren in Aakjær bij Skive op 10 september 1866. Zie ook mijn blog van 10 september 2007 en ook mijn blog van 10 september 2009.
Uit: Menschenhandel (Vertaald door Erich Holm)
»Morten! Komm runter vom Boden! Hau mir den Per durch!« scholl Ann-Marie Kjærsgaards schrille Stimme aus der offenen Halbtür der Armenkate der Gemeinde. Ann-Marie stand an der Bodenstiege, und ihre grünen Augen schauten zum Schuhmacher auf, der in die Höhe geklettert war, um ein Bund Heu für die Ziege herunterzulassen.
Morten ließ sich nicht stören, sondern machte sich weiter mit seinem Heu zu schaffen.
»Hörst nicht, was man dir sagt, du Schlafmütze du!« fuhr Ann-Marie fort, erregt mit den verschwollenen Händen fuchtelnd, die gleich ihrem zurückgeschlagenen Rock von Lauge und Seifenschaum trieften.
»Halt's Maul, Alte, und halt dir sie selber in Ordnung, deine Rangen, die mich nichts angehen,« antwortete der Schuhmacher.
»Da hör mal einer, wie er sich das Maul auswaschen kann, der hinkende Teufel,« gab Ann-Marie zurück. »Möcht deiner Ehre wohl nicht zu nahe gehen, wenn du dich des Großen dann und wann annehmen tätest; seine Unnützigkeit wächst einem schon rein über den Kopf. Da steht er und lernt und lernt und vergißt ganz, was er unter den Händen hat. Gestern schmeißt er die Wiege mit der Kleinsten um, und heut, wo man ihn hinstellt, den Brei umzurühren, läßt er's ganze Essen anbrennen.«
Der Urheber so vieler Schändlichkeiten, der elfjährige Per, stand indessen am offenen Herd und lauschte gespannt auf den Ausgang dieser Verhandlung.
Als er nun den schweren Klumpfuß des Schusters die Bodentreppe herunterhumpeln hörte, verzog sich sein Gesicht, und die Schattenstriche, die sich hineinzeichneten, gingen, je näher die Gefahr kam, in tiefe Furchen über, die im Nu voll Wasser standen. Per hatte bisher nach besten Kräften den widerhaarigen Brei in dem großen Hafen umgerührt und dabei ab und zu einen Blick in etliche fettige Blätter eines zerrissenen Buches geworfen. Doch da die klumpfüßige Gerechtigkeit ihm näher auf den Leib rückte, erschien ihm die Situation so beunruhigend, daß er den Kochlöffel resolut fahren ließ und laut jammernd Deckung in der Torfecke unter dem Küchentisch suchte. Als der Schuhmacher über die Türschwelle humpelte, stieg die überkochende Grütze von allen Seiten zum Hafenrand auf, von wo sie in siedenden Kaskaden über die Torfglut niederschoß.
»Ach, Herr Jesu Christ, verdient er jetzt nicht die ärgste Tracht Prügel, die nur auf seinem Buckel Platz hat, der verdammte Nichtsnutz!« schrie Ann-Marie, die dem Manne auf den Fersen folgte, und stürzte zum Herd hin, um die auf wallenden Reste der Grütze zu retten. Im Vorbeischießen versetzte sie dem Schuhmacher unversehens einen Tritt auf das Schienbein seines Klumpfußes, woraus sich ein heftiges Gezänk entspann, das mit einer regelrechten Schlägerei endete. Ann-Maries Gekreisch und Wutgeschrei erfüllten das Haus."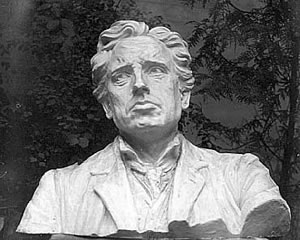 Jeppe Aakjær (10 september 1866 - 22 april 1930)
Buste van Niels Hansen Jacobsen in het Vejen Kunstmuseum

10-09-2010 om 00:00 geschreven door Romenu

Tags:Viktor Paskov, Hilda Doolittle, Reinhard Lettau, George Bataille, Jeppe Aakjær, Romenu


09-09-2010

C. O. Jellema, Edward Upward, Cesare Pavese, Hana Androníková
De Nederlandse dichter, essayist en germanist C. O, Jellema werd geboren op 9 september 1936 in Groningen. Zie ook mijn blog van 8 juni 2007 en mijn blog van 9 september 2006. en ook mijn blog van 9 september 2007 en ook mijn blog van 9 september 2008 en ook mijn blog van 9 september 2009.
In Memoriam Paul Celan 1
Kometentijd,
even, dat is
hoeveel dagen, zichtbaar
de haast van een andere
orde dan aarde.

Reis die begon voor wij stenen slepen,
ons oor, aan een boomstam geleund,
van hoeven de nadering opving
van achter de kim, van hoever.

Geen ster meer boven een stal,
die stil staat en spreekt, wij
spreken het woord
zonnewind, het bestaat.

Doel ons voorbij
en intussen
wat mens werd,
wat mens werd?

wat mens werd:
vreemd werd, komeet,
ons woord wereld.
Olifanten langs de snelweg
Geen kant kunnen wij op: als kunstidee
het tegenbeeld voor wie ons doelverdwaasd
om de tijd in te halen voorbijraast,
vertolken, kleine kudde, wij gedwee
de kolossale zielenrust waarmee
natuur zin in zichzelf had, ongehaast
naar deze vreemde plek van land uit zee
om te verbazen ons domein ontzworven:
een stap nog en dat razen kwam tot stand.
De kunst is ons geduld, wij wachten, want
pas als de mens zich straks heeft uitgestorven,
zijn wij, polders weer toendra, triumfant.

[bij een beeldengroep van Tom Claassen, Almere]
Hovenier
Nog zit de vorst tien centimeter
diep in de grond, toch naast zijn schoenen
al sprieten groen van sneeuwklok, krokus.

Hij snoeit wat hoger werd dan hem, de vlinder-
struik tot op de schijnbaar dode stam.

Van zeven zwanen ziet hij op hun roep
de vorkvlucht boven naar het noorden.

Nog hoger denkt hij zich planeten en
nog kouder, verder, sterren, overdag
onzichtbaar, en de grenzen van 't heelal.

Van daar ziet ziet hij zich staan: een kruin,
verwaaide haren, een snoeischaar in de hand, en naast de schoenen

die toefjes prille spriet net niet vertrapt.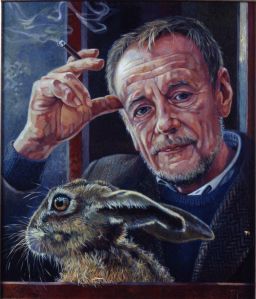 C. O. Jellema (9 september 1936 – 19 maart 2003)
Olieverfschilderij door Trudy Kramer
De Engelse schrijver Edward Falaise Upward werd geboren in Romford op 9 september 1903. Als jonge man maakte hij deel uit van de groep rond Christopher Isherwood, W.H. Auden en Stephen Spender. Na zijn studie was hij bijna dertig jaar leraar op Alleyn's School te Dulwich. Vanaf het begin van de jaren zestig wijdde hij zich geheel aan het schrijven en verhuisde hij naar Sandown op Wight.
Van 1932 tot 1948 was hij lid van de communistische partij, maar zou heel zijn leven verknocht blijven aan het internationalisme en het socialisme. Upwards eerste roman, Journey to the Border uit 1938, beschrijft in een poëtisch proza de opstand van een privéleraar tegen zijn werkgever en de dreigende wereld van de jaren 1930. De semi-autobiografische trilogie The Spiral Ascent gaat over het leven van een dichter en zijn strijd om artistieke scheppingsdrang te combineren met politiek engagement, onder meer de strijd tegen de Britse fascisten in de jaren 1930, de oppositie tegen de leiding van de communistische partij in de jaren 1940 en later, engagement in de strijd tegen de atoomwapens. In de laatste decennia van de 20e eeuw schreef Upward vooral korte verhalen. Hij stierf op 13 februari 2009 op 105-jarige leeftijd.
Uit: The Spiral Ascent
"On the paddle steamer halfway across from the mainland to the island Alan Sebrill was already less oppressed by his failure to make progress during the last fortnight with the long poem he had started writing. His fears in the train down from London that he might waste the freedom he had gained when he had thrown up his preparatory school teaching job two months before, and that he might never produce the real poetry he had then believed himself capable of, were forgotten as he looked at the nearing pier-head above the glistering water and at summer trees dark behind the shore. Though he could not yet hope that his visit to the island might help him to continue writing, he felt he was reprieved now from anxiety; and before the steamer arrived against the landing-stage of the pier he was thinking pleasurably of the meeting he would soon have with his friend, Richard Marple, who had invited him down here.
The roof tiles of the pier pavilion, as Richard had said in his letter, were curved like the scales of a fish; and the two gabled huts, one on each side of the turnstiles at the shore end of the pier, did in actuality have finials suggestive of the spikes on Prussian soldiers' helmets. Beyond the turnstiles a dark crimson open motor-coach was waiting, recognizable immediately as the one that Richard had told Alan to look out for, with a bright brass horn fixed just below the brass-framed windscreen. Alan climbed up to sit on the front seat beside the cocky young driver, who wore a cap tilted so far back that Richard must surely have been right in supposing it to be held to his head by some sort of hatpin,
and who waved to a girl in a kiosk before he drove away from the pier. Under trees along lanes where Tennyson and perhaps Turgenev had once strolled, the motor-coach hurried, while Alan remembered phrases and sentences that Richard had used to recommend the marvels of the place: 'the marine lueurs in the sky' (Gallicisms, as well as certain Americanisms, being in fashion with the two of them at this period); 'from where I sit the underside of the verandah roof looks like an inverted clinker-built rowing-boat'; 'come and live the poetic life at last'; 'your bemused friend, Richard.'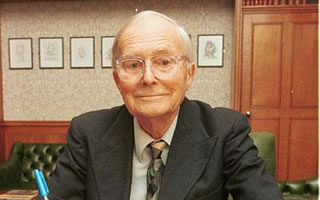 Edward Upward (9 september 1903 - 13 februari 2009)
De Italiaanse dichter en schrijver Cesare Pavese werd geboren in Santo Stefano Belbo op 9 september 1908. Zie ook mijn blog van 9 september 2007 en ook mijn blog van 9 september 2008 en ook mijn blog van 9 september 2009.
Passion for Solitudeby Cesare Pavese
I'm eating a little supper by the bright window.
The room's already dark, the sky's starting to turn.
Outside my door, the quiet roads lead,
after a short walk, to open fields.
I'm eating, watching the sky—who knows
how many women are eating now. My body is calm:
labor dulls all the senses, and dulls women too.
Outside, after supper, the stars will come out to touch
the wide plain of the earth. The stars are alive,
but not worth these cherries, which I'm eating alone.
I look at the sky, know that lights already are shining
among rust-red roofs, noises of people beneath them.
A gulp of my drink, and my body can taste the life
of plants and of rivers. It feels detached from things.
A small dose of silence suffices, and everything's still,
in its true place, just like my body is still.
All things become islands before my senses,
which accept them as a matter of course: a murmur of silence.
All things in this darkness—I can know all of them,
just as I know that blood flows in my veins.
The plain is a great flowing of water through plants,
a supper of all things. Each plant, and each stone,
lives motionlessly. I hear my food feeding my veins
with each living thing that this plain provides.
The night doesn't matter. The square patch of sky
whispers all the loud noises to me, and a small star
struggles in emptiness, far from all foods,
from all houses, alien. It isn't enough for itself,
it needs too many companions. Here in the dark, alone,
my body is calm, it feels it's in charge.
Vertaald door Geoffrey Brock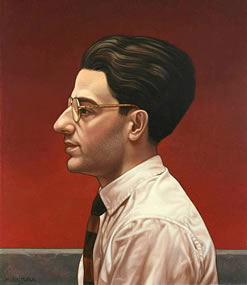 Cesare Pavese (9 september 1908 – 27 augustus 1950)
Portret door Marco Ventura
De Tsjechische schrijfster Hana Androníková werd geboren op 9 september 1967 in Zlín. Zie ook mijn blog van 9 september 2007 en ook mijn blog van 9 september 2008 en ook mijn blog van 9 september 2009.
Uit: The Sound of the Sundial
"She didn't like it in India at all. She saw the dirt, the mouldering walls of the houses, litter floating in the sludge. It made her feel sick, the putrid stench wafting towards her, the dozens of curs and cats running around, hairless and mangy. She went into fits when she saw crippled children lying in the dust of the street, wretched beggars with their club-feet and outstretched hands. She suffered from phobias. About dirt and disease. She couldn't bear the naked face of reality, the raw shape of misery, sickness and dying. The day she saw her first snake she wanted to go home.
Mother India. Land of an ancient culture, mysterious and inscrutable. Broad rivers of rolling yellowy-grey water, silent and everlasting. India. Father tried to merge into the land and extract the best from the tangle of different people, cultures and religions. At first, mother tried to understand the country. She always tried to find sense in things. But then, you have to hate India.
India wasn't going to change for her sake. India had remained the same for thousands of years. It was Raquel who changed. She came to terms with it. Thanks to her obsession with age-old myths, images of faith and the power of the word, she revealed, for herself and for us, the poetry of the oriental continent; she let herself be carried away by extremes and by the abundance of destinies. She fell in love with India. India became our common love. Scorching and relentless, sweet and distressing, sensuous and repellent. I grew up in the embrace of her contrasts, amongst people who ignited in my life a desire for harmony with myself. My India. I didn't try to understand her. I loved her."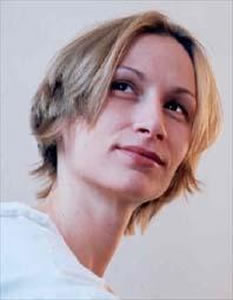 Hana Androníková (Zlín, 9 september 1967)



Zie voor nog meer schrijvers van de 9e september ook
mijn vorige blog van vandaag.
09-09-2010 om 00:00 geschreven door Romenu

Tags:C. O. Jellema, Edward Upward, Cesare Pavese, Hana Androníková



Leo Tolstoj, Gentil Th. Antheunis, Gaston Durnez
De Russische schrijver Leo Tolstoj werd geboren op 9 september 1828 op het landgoed Jasnaja Poljana, in de buurt van Toela. Zie ook mijn blog van 9 september 2006. Zie ook mijn blog van 9 september 2007 en ook mijn blog van 9 september 2008 en ook mijn blog van 9 september 2009.
Uit: The Death Of Ivan Ilyich (Vertaald door Louise and Aylmer Maude)
"That moment started three days of incessant screaming, screaming so terrible that even two rooms away one could not hear it without trembling. The moment he had answered his wife, he realized that he was lost, that there was no return, that the end had come, the very end, and that his doubts, still unresolved, remained with him.
"Oh! Oh! No!" he screamed in varying tones. He had begun by shouting: "I don't want it! I don't!" and went on uttering screams with that "O" sound.
For three straight days, during which time ceased to exist for him, he struggled desperately in that black sack into which an unseen, invincible force was thrusting him. He struggled as a man condemned to death struggles in the hands of an executioner, knowing there is no escape. And he felt that with every minute, despite his efforts to resist, he was coming closer and closer to what terrified him. He felt he was in agony because he was being shoved into that black hole, but even more because he was unable to get right into it. What prevented him from getting into it was the belief that his life had been a good one. This justification of his life held him fast, kept him from moving forward, and caused him more agony than anything else.
Suddenly some force struck him in the chest and the side and made his breathing even more constricted: he plunged into the hole and there at the bottom, something was shining. What had happened to him was what one frequently experiences in a railway car when one thinks one is going forward but is actually moving backward, and suddenly becomes aware of the actual direction."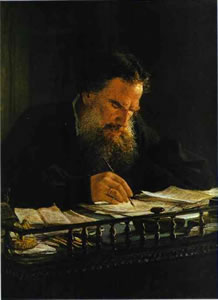 Leo Tolstoj (9 september 1828 – 20 november 1910)
Portret door Nicolay Gay
De Vlaamse dichter en componist Gentil Theodoor Antheunis werd geboren te Oudenaarde op 9 september 1840. Zie ook mijn blog van 9 september 2006. Zie ook mijn blog van 9 september 2007 en ook mijn blog van 9 september 2008 en ook mijn blog van 9 september 2009.
Afscheid
Dus is eindlijk 't uur geslagen,
't Lang gevreesde, droevig uur!
'k Voel mijn hart onstuimig jagen;
Ach! wat kost me uw afscheid duur.
Tranen wellen in mijn oogen
Bij het zingen van mijn lied;
Denk aan mij in uw gebeden,
Liefste, neen, vergeet mij niet.
Als de koele lente weder
De aarde siert met bloem en vrucht;
Als het lieve zuidenwindje
In het trillend loover zucht,
Zal het soms mijn naam u lisp'len,
Zoet als 't murm'len van den vliet;
Denk aan mij in uw gebeden,
Liefste, neen, vergeet mij niet.
Als de gure winter nogmaals
De aarde blad en bloesems rooft,
En gij eenzaam zit te mijm'ren
Met ter neer gebogen hoofd;
Als de lange kruipende avond
Vele droeve stonden biedt,
Denk aan mij, die steeds u lief heb,
Liefste, neen, vergeet mij niet.
Als u God in 't stille klooster
Tot zijn bruid verkiezen zal,
Zoek mij soms in uwe droomen;
Maar in uw gebed vooral
Dat mijn naam soms uwe lippen
Stil aan 't altaar Gods ontvlied',
Denk aan mij, die steeds u lief heb,
Liefste, neen, vergeet mij niet.
Als uw teerbeminde bruîgom
In uw boezem nederdaalt,
En de vlamme zijner liefde
U uit hart en oogen straalt;
Als ge, van geluk schier zwijmend,
Reeds der zaal'gen lot geniet;
Denk aan mij in uw gebeden,
Liefste, neen, vergeet mij niet.
Als daar alles in aanbidding
Nederknielt voor God en zwijgt,
En uw maagdelijke bede
Geurig met den wierook stijgt;
In zijn kronkelende walmen
Droom somtijds dat gij mij ziet;
Denk aan onze kinderjaren,
Liefste, neen, vergeet mij niet.
Als uw laatste dag zal komen,
En als de engel van den dood
Uwe zwanenblanke ziele
Dragen zal in Godes schoot;
Werp nog eens uw englenoogen
Op den zanger van dees lied;
Liefste, neen, vergeet uw broeder
Ook in 's Heeren woning niet.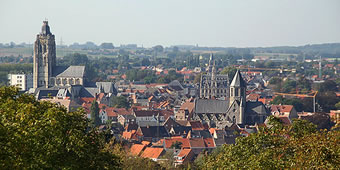 Gentil Th. Antheunis (9 september 1840 – 5 augustus 1907)
Oudenaarde
De Vlaamse schrijver, dichter en journalist Gaston Cyriel Durnez werd geboren in Wervik. Zie ook mijn blog van 9 september 2007 en ook mijn blog van 9 september 2008 en ook mijn blog van 9 september 2009.
Jan de krekel
had een hekel
aan het werk bij zomerdag.
En hij zong maar en hij sprong maar
en vergat zijn oude dag.
Maar wat later stond zijn snater...
't was toen winter....... stil en stijf.
En 't gebeurde dat hij treurde
zonder eten in zijn lijf.
't Werd vernomen door een vrome
mier, die hem wel lijden mocht.
En die eten ongeweten
in haar magazijnen zocht.
Hier, zo zei ze, wil niet grijnzen
heb niet langer nog verdriet.
La Fontaine en de zijnen
zijn lang dood ……. zij weten 't niet.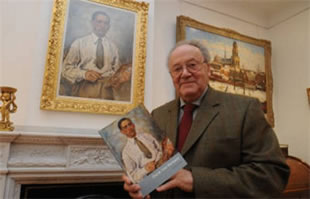 Gaston Durnez (Wervik, 9 september 1928)

09-09-2010 om 00:00 geschreven door Romenu

Tags:Leo Tolstoj, Gentil Th. Antheunis, Gaston Durnez, Romenu


08-09-2010

Siegfried Sassoon, Eduard Mörike, Perikles Monioudis, Frederic Mistral
De Engelse dichter Siegfried Sassoon werd geboren op 8 september 1886 in Brenchley, Kent. Zie ook mijn blog van 8 september 2006. Zie ook mijn blog van 8 september 2007 en ook mijn blog van 8 september 2008 en ook mijn blog van 8 september 2009.
Alone
I've listened: and all the sounds I heard
Were music,—wind, and stream, and bird.
With youth who sang from hill to hill
I've listened: my heart is hungry still.
I've looked: the morning world was green;
Bright roofs and towers of town I've seen;
And stars, wheeling through wingless night.
I've looked: and my soul yet longs for light.
I've thought: but in my sense survives
Only the impulse of those lives
That were my making. Hear me say
'I've thought!'—and darkness hides my day.
An Old French Poet
When in your sober mood my body have ye laid
In sight and sound of things beloved, woodland and stream,
And the green turf has hidden the poor bones ye deem
No more a close companion with those rhymes we made;
Then, if some bird should pipe, or breezes stir the glade,
Thinking them for the while my voice, so let them seem
A fading message from the misty shores of dream,
Or wheresoever, following Death, my feet have strayed.
Enemies
He stood alone in some queer sunless place
Where Armageddon ends. Perhaps he longed
For days he might have lived; but his young face
Gazed forth untroubled: and suddenly there thronged
Round him the hulking Germans that I shot
When for his death my brooding rage was hot.
He stared at them, half-wondering; and then
They told him how I'd killed them for his sake—
Those patient, stupid, sullen ghosts of men;
And still there seemed no answer he could make.
At last he turned and smiled. One took his hand
Because his face could make them understand.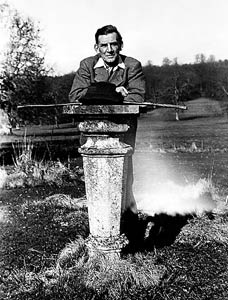 Siegfried Sassoon (8 september 1886 – 1 september 1967)
De Duitse dichter en schrijver Eduard Mörike werd geboren op 8 september 1804 in Ludwigsberg. Zie ook mijn blog van 8 september 2006. Zie ook mijn blog van 8 september 2007 en ook mijn blog van 8 september 2008 en ook mijn blog van 8 september 2009.
An meine Mutter
Siehe, von allen den Liedern
nicht eines gilt dir, o Mutter,
dich zu preisen, o glaub's !
bin ich zu arm und zu reich.
Ein noch ungesungenes Lied,
ruhst du mir am Busen,
keinem vernehmbar sonst,
mich nur zu trösten bestimmt,
wenn sich das Herz unmutig
der Welt abwendet
und einsam seines himmlischen Teils
ewigen Frieden bedenkt.
Auf der Reise
Zwischen süßem Schmerz,
Zwischen dumpfen Wohlbehagen
Sitz`ich nächtlich in den Reisewagen,
Lasse mich so weit von dir, mein Herz.
Weit und immer weiter tragen.
Schweigend sitz`ich und allein,
Ich wiege mich in bunten Träumen,
Das muntre Posthorn klingt darein,
Es tanzt der liebe Mondenschein
Nach diesem Ton auf Quellen und auf Bäumen,
Sogar zu mir durchs enge Fensterlein.
Ich wünsche mir nun dies und das.
O könnt`ich jetzo durch ein Zauberglas
Ins Goldgewebe deines Traumes blicken!
Vielleicht dann säh`ich wieder mit Entzücken
Dich in der Laube wohlbekannt.
Ich sähe Genovevens Hand
Aufdeiner Schulter traulich liegen,
Am Ende säh`ich selber mich,
Halb keck und halb bescheidentlich,
An deine holde Wange schmiegen.
Doch nein! wie dürft`ich auch nur hoffen,
Daß jetzt mein Schatten bei dir sei!
Ach, stünden deine Träume für mich offen,
Du winktest wohl auch wachend mich herbei!

Jägerlied
Zierlich ist des Vogels Tritt im Schnee,
Wenn er wandelt auf des Berges Höh:
Zierlicher schreibt Liebchens liebe Hand.
Schreibt ein Brieflein mir in ferne Land`.
In die Lüfte hoch ein Reiher steigt,
Dahin weder Pfeil noch Kugel fleugt:
Tausendmal so hoch und so geschwind
Die Gedanken treuer Liebe sind.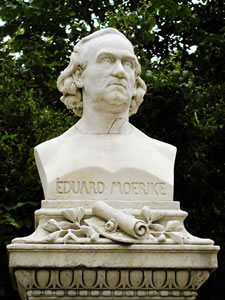 Eduard Mörike (8 september 1804 – 4 juni 1875)
Borstbeeld in Stuttgart
De Zwitserse schrijver Perikles Monioudis werd geboren op 8 september 1966 in Glarus. Zijn Griekse ouders immigreerden twee jaar voor zijn geboorte uit het kosmopolitische Alexandrië naar Zwitserland, en Monioudis groeiede tweetalig (Duits en Grieks) op. Hij bezocht de kanton school Glarus school en studeerde in 1993 af in sociologie, politicologie en algemeen staatsrecht aan de Universiteit van Zürich (lic.phil.I). In 1991 richtte hij de schrijversgroep "Netz" op. Die Verwechslung, zijn eerste roman, verscheen in 1993 en werd bekroond met de boekprijs van de stad Zürich. Vanaf 1995 had hij verschillende woonplaatsen (Toronto, Philadelphia en anderen). Hij verhuisde naar Berlijn, nadat hij een beurs voor vijf maanden had gekregen van de Berlijnse Senaat voor het Literaire Colloquium Berlin. Voor zijn tweede roman, Das Passagierschiff (1995), ontving hij de prijs van de Zwitserse Schillerstiftung. Hij ontving verscheidene beurzen en gaf lezingen en werkte aan meer dan een dozijn universiteiten, zowel in de VS als in Europa.
Uit: Land
"Nach dem Abendessen ging er nun, die Brise im Rücken, die Straße hinunter und erreichte einen ausgedehnten, mit Flutern erhellten Platz. Nur kurz versuchte er, sich den Stadtplan von Alexandria zu vergegenwärtigen, den er im Hotel, auf dem Nachttisch, liegengelassen hatte. Er schmeckte das Salz in der Brise. Der Reisende atmete auf, als ob er erst in diesem Augenblick am anderen, südlichen Rand des Mittelmeers angelangt wäre.
Als er sich umdrehte, stieß er gegen die hölzerne Bank. Einige Dutzend Sitzreihen waren vor der Bühne aufgestellt. Er betrachtete die alten Menschen, die vielen Familien und Gruppen junger Männer. Sie mußten, neugierig, wie sie sich umsahen, von den Dörfern im Nildelta angereist sein. Die bunten Beleuchtungen, Glühbirnen, an den Seiten des Platzes die Stände, an denen Erdnüsse geröstet und Maiskolben gebraten wurden. Er kaufte eine Handvoll Pistazien. Von hier also kam die Musik, die er schon von weitem, Straßen entfernt, gehört hatte: vom Band, aus aufgestapelten Lautsprecherboxen, schwarze, mannshohe Türme, links und rechts der Bühne mit Seilen an den ausgewachsenen Gummibäumen und Palmen festgemacht.
Wie auf einen Befehl hin füllten sich die Reihen. Die Menschen blinzelten, sie hielten die Hand vor die Stirn, die Scheinwerfer waren zum guten Teil auf sie und auf die Stände gerichtet, wo sich die Ansammlungen nun aufgelöst hatten. Sie bewegten die Lippen zum Text, schlossen die Augen, mit den Fingern schlugen sie den schleppenden Rhythmus, auf das Knie, mit der Sohle auf den gewalzten Sand.
Er mochte diese Musik. Er merkte, daß er sie vermißt hatte, nicht sehnsüchtig, eher erfüllte sich dabei eine lange währende Vorfreude. Von der Sängerin mit dem kratzigen Alt besaß sein Vater mehrere Kassetten, blau und rot arabisch beschriftet. Mit zwölf hatte der Junge eine nach der anderen abgespielt. Daß ihn diese Musik zum Tanzen gebracht, ihn übermütig die Hüften kreisen und die Arme in die Luft hatte werfen lassen, verwunderte ihn heute. War sie ihm näher als die Schullieder deutscher Sprache gewesen, näher als die Schlager im Fernsehen, vorgetragen von Einheimischen, von Menschen, die ihm nur außerhalb des Elternhauses begegneten?"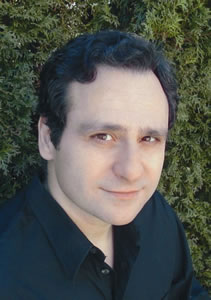 Perikles Monioudis (Glarus, 8 september 1966)
De Franse (Occitaanse) dichter en schrijver Frederic (Frédéric) Mistral werd geboren op 8 september 1830 in Maillane. Zie ook mijn blog van 8 september 2007. Zie ook mijn blog van 8 september 2007 en ook mijn blog van 8 september 2008 en ook mijn blog van 8 september 2009.
Uit: Memoires et recits
AU MAS DU JUGE.
Les Alpilles. La chanson de Maillane. Ma famille. Maitre Francois, mon pere. Delaide, ma mere. Jean du Porc. L'aieul Etienne. La mere-grand Nanon. La foire de Beaucaire. Les
fleurs de glais.
D'aussi loin qu'il me souvienne, je vois devant mes yeux, au Midi la -bas, une barre de montagnes dont les mamelons, les rampes, les falaises et les vallons bleuissaient du matin aux vepres, plus ou moins clairs ou fonces, en hautes ondes. C'est la chaine des Alpilles, ceinturee d'oliviers comme un massif de roches grecques, un veritable belvedere de gloire et de legendes.
Le sauveur de Rome, Caius Marius, encore populaire dans toute la contree, c'est au pied de ce rempart qu'il attendit les Barbares, derriere les murs de son camp; et ses trophees triomphaux, a
Saint-Rey sur les Antiques, sont, depuis deux mille ans, dores par le soleil. C'est au penchant de cette cote qu'on rencontre les troncons du grand aqueduc romain qui menait les eaux de Vaucluse dans les Arenes d'Arles: conduit que des gens du pays nomment _Ouide di Sarrasin_ (pierree des Sarrasins), parce que c'est par la que les Maures d'Espagne s'introduisirent dans Arles. C'est sur les rocs escarpes de ces collines que les princes des Baux avaient leur
chateau fort. C'est dans ces vals aromatiques, aux Baux, a Romanin et a Roque-Martine, que tenaient cour d'amour les belles chatelaines du temps des troubadours. C'est a Mont-Majour que dorment, sous les dalles du cloitre, nos vieux rois arlesiens. C'est dans les grottes du Vallon d'Enfer, de Cordes, qu'errent encore nos fees. C'est sous ces ruines, romaines ou feodales, que git la Chevre d'Or.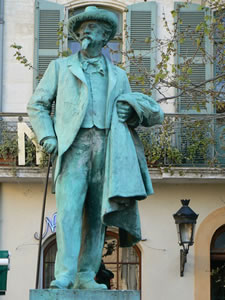 Frederic Mistral (8 september 1830 – 25 maart 1914)
Standbeeld in Arles



Zie voor nog meer schrijvers van de 8e september ook mijn vorige blog van vandaag.



08-09-2010 om 19:44 geschreven door Romenu

Tags:Siegfried Sassoon, Eduard Mörike, Perikles Monioudis, Frederic Mistral, Romenu



Clemens Brentano, Wilhelm Raabe, Ludovico Ariosto, Grace Metalious
De Duitse dichter en schrijver Clemens Brentano werd geboren op 8 september 1778 in Ehrenbreitstein. Zie ook mijn blog van 8 september 2006 en ook mijn blog van 8 september 2008 en ook mijn blog van 8 september 2009.
Sonett
Es saß ein Kind ganz still zu meinen Füßen,
Und spielte froh mit freundlichen Gedanken,
Es blickt mich an, bis ihm die Blicke sanken,
Und goldne ferne Lande sich erschließen,
Von allen Seiten dringt ein süßes Grüßen,
Das alte Leben muß nun abwärts wanken,
Daß neue frohe Zweige grün umranken
Und rund umher ihm zarte Blumen sprießen.
Das Kind erwacht, und fraget mich mit Bangen,
Ob andern wohl ein solcher Traum gelinge,
Ob ich's allein mit Zauberei umfangen,
Daß dankbar es die Arme um mich schlinge.
Da rötet mir Verwunderung die Wangen
Woher das Kind die kühne Frag erschwinge.
Auf Dornen oder Rosen hingesunken…
Auf Dornen oder Rosen hingesunken? –
– Ob leiser Atem von den Lippen fließt –
– Ob ihr der Krampf den kleinen Mund verschließt –
– Kein Öl der Lampe? – oder keinen Funken? –
Der Jüngling – betend – tot – im Schlafe trunken?
– Ob er der Jungfrau höchste Gunst genießt –
Was ist's? das der gefallne Becher gießt –
– Hat Gift, hat Wein, hat Balsam sie getrunken –
Und sieh! des Knaben Arme Flügel werden –
– Nein Mantelsfalten, – Leichentuches Falten
Um sie strahlt Heilgenschein – zerraufte Haare –
O deute die undeutlichen Geberden,
O laß des Zweifels schmerzliche Gewalten –
Enthüll, verhüll das Freudenbett – die Bahre.
O lieber Gott, so mild und lind…
O lieber Gott, so mild und lind,
Du schließest mit Erbarmen
Die Kinder all, die Waisen sind,
In deine Vaterarmen.
Siehst nieder in der stillen Nacht
Mit tausend kleinen Sternen,
Und wo dein freundlich Auge wacht,
Muß sich der Feind entfernen.
Drum fasse Mut, du Menschenkind,
Verlier dich nicht im Dunkeln,
Die Lichter ja am Himmel sind
Um tröstlich dir zu funkeln.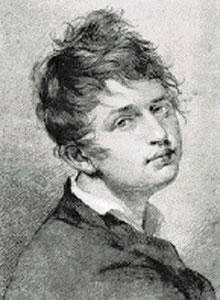 Clemens Brentano (8 september 1778 – 28 juli 1842)
Potret door Casper David Friedrich van de jonge Brentano
De Duitse schrijver Wilhelm Raabe werd op 8 september 1831 in Eschershausen geboren. Zie ook mijn blog van 8 september 2006 en ook mijn blog van 8 september 2008 en ook mijn blog van 8 september 2009.
Uit: Die schwarze Galeere


"Es war eine dunkle, stürmische Nacht in den ersten Tagen des Novembers, im Jahre 1599, als die spanische Schildwache auf dem Fort Liefkenhoek an dem flandrischen Ufer der Schelde das Lärmzeichen gab, die Trommel die schlafende Besatzung wach rief und ein jeder - Befehlshaber wie Soldat - seinen Posten auf den Wällen einnahm.
Die Wellen der Schelde gingen hoch, und oft warfen sie ihre Schaumspitzen den fröstelnden Südländern über die Brüstungsmauern ins Gesicht. Scharf pfiff der Wind von Nordost von den "Provinzen" herüber, und die Spanier wußten schon lange, daß aus der Richtung ihnen selten etwas Gutes komme.
Auch auf dem Fort Lillo auf der brabantischen Seite des Flusses wirbelte die Trommel, klang das Horn: deutlich vernahm man durch das Getöse des Sturmes, durch das Brausen der Wasser fernen Kanonendonner, welcher nur von einem Schiffskampf auf der Westerschelde herrühren konnte.
Die Wassergeusen spielten ihr altes Spiel.
Was kümmerte dieses Amphibiengeschlecht der Sturm und die Finsternis? Waren Sturm und Nacht nicht seine besten Verbündeten? Wann hätte je ein Wassergeuse das stürmische Meer und die Finsternis gefürchtet, wenn es galt, seine Todfeinde zu überlisten, die Verwüster und Bedränger seines den Wogen abgekämpften Vaterlandes zu vernichten? Gräßlich aber war der Krieg ausgeartet.
Zweiunddreißig Jahre dauerte nun schon dieses fürchterliche Hin- und Herdrängen der kämpfenden Parteien, und noch war kein Ende davon abzusehen. Die Saat der Drachenzähne war üppig aufgegangen; wohl waren eiserne Männer emporgewachsen aus dem blutgedüngten Boden, und selbst die Frauen mußten verlernen, was Menschlichkeit und Milde sei. Es gab eine junge Generation, welche sich schon deshalb nicht nach dem Frieden sehnte, weil sie ihn gar nicht kannte.
Und war der Krieg schrecklich auf dem festen Lande, so war er noch viel fürchterlicher auf dem Meere. Auf dem Lande konnten immer noch Gefangene ausgewechselt oder losgekauft werden; Städte, Flecken und Dörfer konnten Brand und Plünderung abkaufen; auf der See gab es aber schon längst weder Pardon noch Ranzion. Für Barmherzigkeit wurde es geachtet, wenn man die gegenseitigem Gefangenen kurzweg niederstieß oder sie an der Rahe aufhing und sie nicht langsam auf die grausamste Art zu Tode marterte, sie nicht auf dem Verdeck kreuzigte und mit dem genommenen Schiff versenkte. –"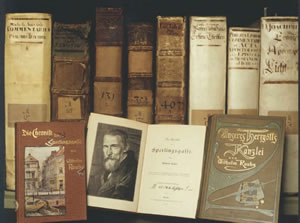 Wilhelm Raabe (8 september 1831 - 15 november 1910)
Werken
De Italiaanse dichter, toneelschrijver Ludovico Ariosto werd geboren in Reggio Emilia op 8 september 1474. Zie ook mijn blog van 8 september 2007 en ook mijn blog van 8 september 2009.
Uit: Der rasende Roland
Erster Gesang
4.
Es tritt mit andern auserlesnen Degen,
Die hoch zu preisen dieser Sang erklingt,
Auch Roger, ja, der Ahnherr, dir entgegen,
Von dem des Hauses hehrer Stamm entspringt.
Sein Wert und, was er tat auf Heldenwegen,
Wenn du's verstattest, dir zu Ohren dringt:
Den Flug des Geistes senk' ein wenig nieder,
Hinaufzunehmen meine schlichten Lieder.
5.
Graf Roland, für Angelika entglommen,
Gewohnt, für sie die Gegner hinzumähn,
Erfocht im Inderreich zu ihrem Frommen,
Bei Medern und Tataren Kriegstrophän;
Nach Westen war er jetzt mit ihr gekommen,
Dort, wo am Fuß der schroffen Pyrenän
Für Frankreichs Heer und das aus deutschen Landen
Auf Karls Befehl die Lagerzelte standen,
6.
Daß vor Verdruß sich selbst ins Antlitz schlügen
Marsilius und König Agramant:
Der schickte ja nach Nord in langen Zügen,
Wer nur mit Schwert und Lanze war bekannt;
Und jener sah die Hoffnung ihn betrügen,
Mit der ganz Spanien ward ausgesandt.
So traf denn Roland ein zu guten Stunden;
Doch Freude drüber ist ihm bald geschwunden.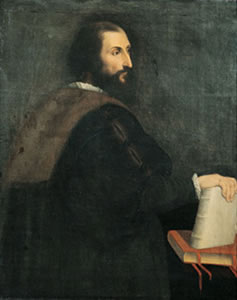 Ludovico Ariosto (8 september 1474 – 6 juli 1533)
Onbekende meester
De Amerikaanse schrijfster Grace Metalious werd geboren in Manchester, New Hampshire, op 8 september 1924. Zie ook mijn blog van 8 september 2007.
Uit: Peyton Place
""Peyton Place…is the oddest name for a town I've every heard. Who is it named for?"
"Oh, I don't know," said Corey, making unnecessary circular motions with a cloth on his immaculate counter. "There's plenty of towns have funny names. Take that Baton Rouge, Louisiana. I had a kid took French over to the high school. Told me Baton Rouge means Red Stick. Now, ain't that a helluva name for a town? Red Stick, Louisiana. And what about that Des Moines, Iowa? What a crazy name that is."
"True," said Markis. "But for whom is Peyton Place named, or for what?"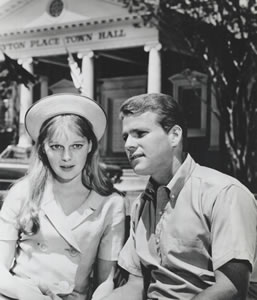 Mia Farrow en Ryan O'Neal in de tv-serie Peyton Place (1964 – 1969)
"Some feller that built a castle up here, back before the Civil War. Feller by the name of Samuel Peyton," said Corey, reluctantly.
"A castle!" exclaimed Makris.
"Yep. A real, true, honest-to-God castle, transported over here from England, every stick and stone of it."
"Who was this Peyton? asked Makris. "An exiled duke?"
"Nah," said Corey Hyde. "Just a feller with money to burn. Excuse me, Mr. Makris. I got things to do in the kitchen."
The old man at the end of the counter chuckled. "Fact of the matter, Mr. Makris," said Clayton Frazier in a loud voice, "is that this town was named for a friggin' nigger. That's what ails Corey. He's delicate like, and just don't want to spit it right out"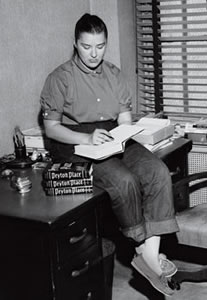 Grace Metalious (8 september 1924 - 25 februari 1964)
08-09-2010 om 19:35 geschreven door Romenu

Tags:Clemens Brentano, Wilhelm Raabe, Ludovico Ariosto, Grace Metalious, Romenu


07-09-2010

Edith Sitwell, Michael Guttenbrunner, Margaret Landon, Anton Haakman, Willem Bilderdijk, Jenny Aloni, Henry Morton Robinson
De Engelse dichteres en schrijfster Edith Sitwell werd geboren op 7 september 1887 in Scarborough. Zie ook mijn blog van 7 september 2008 en ook mijn blog van 7 september 2009.
The Web Of Eros
Within your magic web of hair, lies furled
The fire and splendour of the ancient world;
The dire gold of the comet's wind-blown hair;
The songs that turned to gold the evening air
When all the stars of heaven sang for joy.
The flames that burnt the cloud-high city Troy.
The mænad fire of spring on the cold earth;
The myrrh-lit flame that gave both death and birth
To the soul Phoenix; and the star-bright shower
That came to Danaë in her brazen tower...
Within your magic web of hair lies furled
The fire and splendour of the ancient world.
When Cold December
When cold December
Froze to grisamber
The jangling bells on the sweet rose-trees--
Then fading slow
And furred is the snow
As the almond's sweet husk--
And smelling like musk.
The snow amygdaline
Under the eglantine
Where the bristling stars shine
Like a gilt porcupine--
The snow confesses
The little Princesses
On their small chioppines
Dance under the orpines.
See the casuistries
Of their slant fluttering eyes--
Gilt as the zodiac
(Dancing Herodiac).
Only the snow slides
Like gilded myrrh--
From the rose-branches--hides
Rose-roots that stir.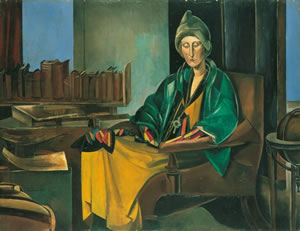 Edith Sitwell (7 september 1887 - 9 december 1964)
Portret door Percy Wyndham Lewis, 1943
De Oostenrijkse dichter en schrijver Michael Guttenbrunner werd geboren op 7 september 1919 in Altenhofen. Zie ook mijn blog van 7 september 2008 en ook mijn blog van 7 september 2009.
Nach vierzig Jahren
Gezwungen halb und ohne Phantasie
Ging er zum dritten Male nach Athen.
Dann nahm er alles, was er dort empfing,
der Freuden Fülle, aus der Hand der Griechen.
Des Lebens Silberstrick war frisch geflochten,
wie Anastasia,
und das Erdbeben schreckte ihn nicht.
Die Grenzen der Berge sind noch die alten.
Das Gebliebene genügt: der Boden unter den Füßen,
der Himmel und das Meer.
Du findest noch die Stelle für den Kuss
Und, dass ein Stein noch auf dem andern steht.
Hier, wo es über Griechenleichen ging,
gehst du mit Griechen jetzt zum Wein
und zechst in Turkobunia Hand in Hand,
wo einst der Aberoff aus Haut und Knochen stand,
vollgepfercht bis zum Exzess.
Und immer wieder wurde frisch geladen.
Er war berufen des Untergangs Stufen
Er war berufen,
des Untergangs Stufen
noch einzuseifen
und sich drauf zu versteifen,
alles noch zu retten.
Das Volk, teils in Ketten
und teils in Waffen,
illegal und offiziell;
doch niemand gerüstet,
ihm Luft zu schaffen
zum letzten Appell. -
Ach, wenn ihr wüsstet,
was das war:
Das Mundvoll Österreich
beim Großen Zapfenstreich
im Achtunddreißigerjahr!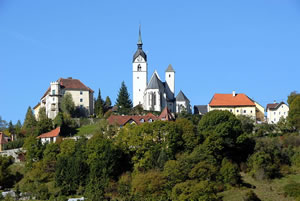 Michael Guttenbrunner (7 september 1919 – 12 mei 2004)
Altenhofen
De Amerikaanse schrijfster Margaret Landon werd geboren op 7 september 1903 in Somers, Wisconsin. Zie ook mijn blog van 7 september 2008. en ook mijn blog van 7 september 2009.
Uit: Der König und ich


"Die Frau starrte wortlos und mit müden Augen die weiße Fremde an, während Anna sich neben den Teich setzte und hilflos zu der Gefangenen hinübersah. Wieder einmal erlebte sie die Gefühllosigkeit und Härte des Haremslebens hautnah – selbst einen Verbrecher dürfte man nicht ungeschützt der tropischen Sonne aussetzen. Und hier saß eine halbnackte, harmlose Frau. Die Matte und die zerbrochenen Schirme deuteten darauf hin, dass sie der unerbittlichen Hitze und dem Regen schon eine ganze Weile ausgesetzt sein musste. Schlimmer hätte man sie nicht demütigen können, und dennoch lag eine unglaubliche Anmut in ihrer Sorge für dass Kind. Wer konnte nur für dieses tragische Schicksal verantwortlich sein? Anna hätte vor Zorn aufschluchzen können, doch sie hatte ihre Stimme nicht mehr unter Kontrolle. Endlich fragte sie die Frau nach ihrem Namen. [...] Anna blickte in das sonnenverbrannte Gesicht und hörte auf, die Sklavin mit leeren Versprechungen zu trösten. Nur Tatsachen konnten ihr wirklich helfen. Sie ließ die Frau mit dem Gesicht auf dem heißen Pflaster liegen und trat wieder durch das Tor. Die lange dunkle Straße war genauso menschenleer wie zuvor.
Nachdem sie zwanzig Minuten auf den Straßen des Harems umhergelaufen war, gelangte sie in eine Gasse, die ihr bekannt vorkam. Als sie endlich die Schule erreichte, war es zwölf Uhr und ihre Schüler warteten bereits auf ihren Plätzen auf sie. In der gleichmäßigen Betriebsamkeit des Tempels erschien ihr das seltsame Erlebnis in dem fernen Winkel der Palaststadt plötzlich vollkommen unwirklich."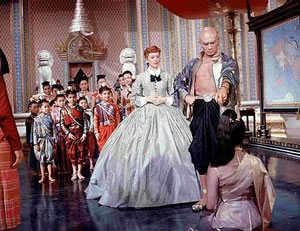 Margaret Landon (7 september 1903 – 4 december 1993)
(Scene uit de film "The King and I" uit 1956)
De Nederlandse schrijver Anton Haakman werd geboren op 7 september 1933 in Bussum. Zie ook mijn blog van 7 september 2008. en ook mijn blog van 7 september 2009.
Uit: De wachters van het rijk
"Waar in West-Europa voel je je nog echt in het buitenland? Nergens, behalve in Engeland en Vlaanderen. Alleen een streng bewaakt isolement kan het exotische karakter van een land veilig stellen. Het water heeft veel gedaan voor het behoud van het absurde Engelse volkskarakter. Anders is het gesteld met het bewaken van de folklore in het Rijk van Koning Boudewijn. Daar wordt het isolement op ronduit geheimzinnige wijze gehandhaafd.
In schijn is België een land zonder grenzen; altijd groene stoplichten markeren begin en einde. Maar een web van snelwegen en een efficiënte bewaking van alles wat terzijde van die wegen ligt houden Vlaanderen van vreemde smetten vrij.
Het initiatief is uitgegaan van een Noordnederlandse schrijver. Jaren geleden heeft deze gevraagd om een tunnel onder België door. Dat zou hem in staat stellen Frankrijk sneller, veiliger en minder geërgerd te bereiken. Hij heeft zijn zin gekregen, met dien verstande dat men inzag dat zo'n tunnel — net als een metro — evengoed bovengronds kon worden aangelegd.
Sindsdien kunnen we België overslaan. We merken niet meer in welk land we zijn, in de vijf kwartier die we nodig hebben van Meer tot Menen.
De doortocht is te vergelijken met die Transitweg door de DDR, die Berlijn met West-Duitsland verbindt en die men zonder vergunning niet mag verlaten. Doet men het toch, dan is de kans op onaangenaamheden groot. Bij voorbeeld last met de politie."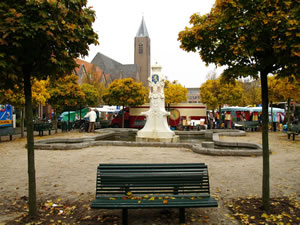 Anton Haakman (Bussum, 7 september 1933)
Bussum

De Nederlandse dichter en schrijver Willem Bilderdijk werd geboren op 7 september 1756 in Amsterdam. Zie ook mijn blog van 7 september 2006 en ook mijn blog van 7 september 2007 en ook mijn blog van 7 september 2008. en ook mijn blog van 7 september 2009.
Uit: Geschiedenis des vaderlands. Deel 1
"De Batavieren zijn Duitsch volk, uit hun vaderland herwaarts afgezakt: niet (naar het schijnt) uit den woeligen geest van verhuizing, maar ter zake van inlandsche geschillen. Men rekent dit gebeurd te zijn eene eeuw voor onze jaartelling.
Ten tijde van Cezar waren zij nog nog niet lang in hun eiland gevestigd, en de overstroomingen noodzaakten hen ook over de rivier eenigen nog onbewoonden grond in te nemen.
Zij vonden het eiland woest en onbewoond, uit hoofde van de gedurige winteroverstroomingen waaraan 't onderhevig was, en waartegen zij zich zeer gebrekkig door ophooging van terpen beschermden. Ondanks de bedijkingen was het in de IV Eeuw nog moerassig, als blijkt uit eumenius, Panegyr.
Zij hadden geene betrekking tot de volken Noordof Zuidelijk van hun gezeten; en waren als verjaagde Germanen, den Germanen geen vrienden.
De Friezen aan wie zij onmiddellijk paalden, en die zich aan wederzijde van het Fliemeer vooral ten Oosten wijd uitstrekten, maar onder verschillende namen (meestal uit de geschapenheid van den grond ontleend) en samenscholingen, zonder gemeen hoofd of verband leefden, waren den nieuwen aankomelingen (natuurlijkerwijze) vijandig.
In dezen staat vindt hen Cezar. De naam van het Imperium Romanum was wijd en zijd verbreid en men droeg er ontzag voor. (De woeste volken van 't Noorden noemden naderhand den Keizer met den naam van den Koning der wareld1). Cezar was zachtaardig en hield de uitmuntendste krijgstucht. En dus waren de Batavieren uit ontzag, uit toegenegenheid voor Cezar, en uit hoofde van hunne ligging midden tusschen vijanden, in de beste gesteltenis om zich met de Romeinen te verbinden, aan wien zij steun en bescherming konden vinden, en met wien zij hun strijdbaren aart in alle hoeken der wareld oefenen konden.
Van daar de eerste betrekking tot de Romeinen, met wien zij dadelijk naar Brittanje overstaken; en ook elders in hun oorlogen deel namen; ja zelfs voor Cezar tegen Pompejus streden; en die zij op hunnen grond met blijdschap ontfingen, en gaarne een legerplaats inwilligden.
En dit is het eerste en oudste verbond, 't geen Tacitus in zijn tijd antiqua societas noemt."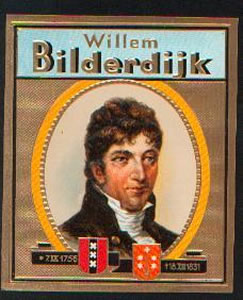 Willem Bilderdijk (7 september 1756 – 18 december 1831)
De Duits – Israëlische dichteres en schrijfster Jenny Aloni (eig. Jenny Rosenbaum werd geboren op 7 september 1917 in Paderborn. Zie ook mijn blog van 7 september 2007 en ook mijn blog van 7 september 2008. en ook mijn blog van 7 september 2009.
Impression, September
Äste halten den Himmel vergittert
hinter den Blättern der Sykomore,
der letzten im Brachland der Seelen.
Nestgestrüppe stopfen
schwarze Knoten in das Wolkenlose.
Schwärme schmarotzender Fliegen
schwirren erregt um Gürtel
süß gegorener Feigen.
Ein Telegraphendraht zerschneidet
das endenlose Nichts zu langer Sommer
in zwei leere Ewigkeiten.
In ihnen schillert fremd der blaue Vogel
mit dem krummen Schnabel
fischefangender Jäger.
Sein harter, einsamer Ruf
kämmt lockend die dunklen
Stämme der Zypressen.
Wiedersehen mit der Stadt der Kindheit
Der Wolken düstre Regenhorde
hat mir den Silbermond entführt.
Die Giebel schwarzer Dächer kichern
über meinen fremden Gang und funkeln mich
mit bösen Fenstern an.
Baumlange Schemen hüllen fahl
sich in den dunstgebrämten Pelz der Nacht
und tuscheln, wer da so allein
den Schatten zwischen die Laternen führt,
so mutterseelenallein.
Unter blaugewachstem Sternenkorbe,
weiter als die Hügelschlange kriecht
und die flinken Flossenfische
wetthüpfen mit den Meerschaumwellen,
kauert eine weiße Hütte
in die Schimmerzweige sich
von Oleander und Zitronen.
Gäben sie nur jetzt den Mondkahn frei,
fände ich wohl einen Gruß in ihm
und wüßte, daß er an mich denkt
fern im gelben Sand der Brotfruchtbäume.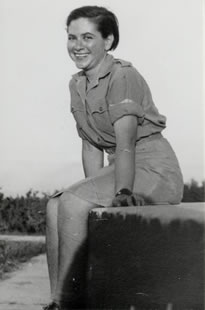 Jenny Aloni (7 september 1917 – 30 september 1993)
De Amerikaanse schrijver Henry Morton Robinson werd op 7 September 1898 in Boston, Massachusetts als oudste van elf kinderen geboren in een arme wijk. Hij diende in de Eerste Wereldoorlog bij de marine, studeerde af in 1924 en werd docent aan de Columbia University. Later werd hij hoofdredacteur van Reader's Digest. Zijn beroemdste werk, De kardinaal (1950), werd in 1963 verfilmd. Inhoud van dit boek is het conflict tussen een dienaar van God en de menselijke liefde.
Uit: The Cardinal
"He found the system puzzling at first; only gradually did he begin to grasp its elaborate rules. He could easily understand why, in the great strongholds of Black Society, a special throne room was kept in readiness for the day His Holiness could again leave the Vatican and pay visits of honour to those who had remained faithful during his long imprisonment. (If no special room were set aside, a tapestried armchair was kept turned to the wall.) Stephen appreciated the profound loyalty and deep religious faith that buttressed these symbols, yet some of the trivia of Black Society annoyed him. He noticed, for example, that in certain houses many of the older men wore a glove only on the left hand, leaving the right hand bare. In other houses both hands were gloved, but the thumb of the right hand was exposed.
"What's this off-and-on glove business?" he asked Roberto.
"Two theoretic reasons lie behind it," explained Braggiotti. "The glove was originally a patent of nobility. You never see a peasant with gloves on, do you? Traditionally, the glove is also associated with another symbol of rank—the sword. Some believe that the right hand must be kept unencumbered, the better to draw a sword in defense of your sovereign. Another school holds that you must be ungloved in order to accept the hand of your host the moment it is offered you. Any delay might be construed as unfriendly."
"I see. But why the exposed right thumb?"
Braggiotti smiled patronizingly. "In all societies, there are degrees of intimacy. A seven-hundred-year-old family such as the Odaleschi, whose ancestors supported the Hildebrandine Popes against the German brigands, cannot be expected to give their entire hand to late-comers. Anyone arriving after the seventeenth century—and that includes you, Americus—is lucky to get a thumb and forefinger."
"Do they take themselves that seriously?"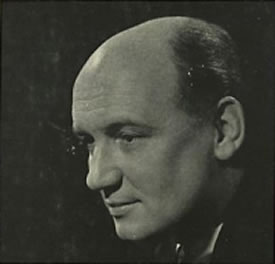 Henry Morton Robinson (7 september 1898 – 13 januari 1961)

07-09-2010 om 19:43 geschreven door Romenu

Tags:Edith Sitwell, Michael Guttenbrunner, Margaret Landon, Anton Haakman, Willem Bilderdijk, Jenny Aloni, Henry Morton Robinson, Romenu


06-09-2010

Alice Sebold, Christopher Brookmyre, Amelie Fried, Jennifer Egan
De Amerikaanse schrijfster Alice Sebold op 6 september 1962 in Madison, Wisconsin. Zie ook mijn blog van 6 september 2009.
Uit: The Lovely Bones
"My name was Salmon, like the fish; first name, Susie. I was fourteen when I was murdered on December 6, 1973. In newspaper photos of missing girls from the seventies, most looked like me: white girls with mousy brown hair. This was before kids of all races and genders started appearing on milk cartons or in the daily mail. It was still back when people believed things like that didn't happen.
In my junior high yearbook I had a quote from a Spanish poet my sister had turned me on to, Juan Ramón Jiménez. It went like this: "If they give you ruled paper, write the other way." I chose it both because it expressed my contempt for my structured surroundings à la the classroom and because, not being some dopey quote from a rock group, I thought it marked me as literary. I was a member of the Chess Club and Chem Club and burned everything I tried to make in Mrs. Delminico's home ec class. My favorite teacher was Mr. Botte, who taught biology and liked to animate the frogs and crawfish we had to dissect by making them dance in their waxed pans.
I wasn't killed by Mr. Botte, by the way. Don't think every person you're going to meet in here is suspect. That's the problem. You never know. Mr. Botte came to my memorial (as, may I add, did almost the entire junior high school -I was never so popular) and cried quite a bit. He had a sick kid. We all knew this, so when he laughed at his own jokes, which were rusty way before I had him, we laughed too, forcing it sometimes just to make him happy. His daughter died a year and a half after I did. She had leukemia, but I never saw her in my heaven."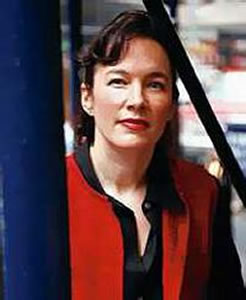 Alice Sebold (Madison, 6 september 1962)
De Schotse schrijver Christopher Brookmyre werd geboren op 6 september 1968 in Glasgow. Zie ook mijn blog van 6 september 2008. Zie ook mijn blog van 6 september 2009.
Uit: Country of the Blind
"If Nicole Carrow was being absolutely honest with herself, her most substantial reason for believing Thomas McInnes was innocent was that he had made her a nice cup of tea. She hadn't been a lawyer long, but she still suspected she might need more than that in court. Her two weeks experiencing the practical application of Scots Law had demonstrated a few divergences from its more familiar English cousin, but she'd yet to find precedent for a special defence of Refreshing Herbal Infusion.
Nicole had anticipated an uncomfortable breaking-in period in Glasgow - acclimatising herself to the city, the people and the notorious weather - and was prepared for feeling like a fish out of water in the job for a while. However, her vision of in-at-the-deep-end had nonetheless proven short-sighted: she'd naively assumed it would be a bit more than a fortnight before she was representing the accused in a crime that had shaken the world.
Obviously the contents of the oh-so-mysterious envelope had raised her hopes and stiffened her resolve, but the sober reality was that - as Mr Campbell had pointed out - they merely thickened the plot her client was embroiled in, and apart from briefly delighting a few conspiracy theorists, would ultimately be of more use to the prosecution.
The coldfacts remained that McInnes, his son Paul, one Robert Hannah and one Cameron Scott had been apprehended fleeing the grounds of Craigurquhart House in Perthshire, that the Dutch media mogul Roland Voss, his wife Helene and their two bodyguards had been found murdered within, that when Paul McInnes was detained he was soaked in blood, and that an attempt had been made to open Voss's bedroom safe.
McInnes and Hannah had been members of the "Robbin' Hoods", as the tabloids had tagged them, a gang responsible for a series of country-house break-ins over a short but prolific period during the mid-1980s, the name referring to their profession of pilfering from the rich, and conveniently ignoring their omission of the giving-to-the-poor part."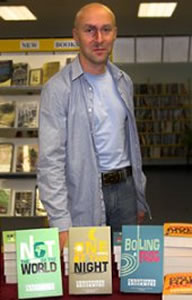 Christopher Brookmyre (Glasgow, 6 september 1968)
De Duitse schrijfster Amelie Fried werd geboren op 6 september 1958 in Ulm. Zie ook mijn blog van 6 september 2009.
Uit: Offene Geheimnisse
"Gibt es etwas Deprimierenderes als den Frühling? Die Vögel singen, prominente Liebespaare lassen sich halbnackt fotografieren, die Badesaison droht, und es muss ein neuer Bikini her.
Es soll ja Männer geben, die Frauen lieben - die Gestalter von Anprobekabinen in den Bademodenabteilungen von Kaufhäusern gehören definitiv nicht zu ihnen.
Das müssen die schlimmsten Frauenhasser unter der Sonne sein, denn warum sonst leuchten sie gnadenlos diese Kabuffs aus, in denen wir unser winterweißes Fleisch aus den zu eng gewordenen Jeans schälen, um fröhlich-bunte Bikinis anzuprobieren, die uns eigentlich Langnese-gute-Laune machen sollten.
Gute Laune? Von wegen! Mit vor Entsetzen starrem Blick in den Spiegel beschließen wir, nicht zu
glauben, was wir sehen. Dieses Dellengebirge sollen unsere Oberschenkel sein, dieser Michelin-Reifen unsere Taille? Unmöglich. Das kann nicht sein. Das grelle Licht von oben suggeriert einen völlig falschen Eindruck. Dann fällt uns ein: Die Sonne am Strand kommt auch von oben.
Soll das etwa heißen, die anderen Badegäste sehen, was wir gerade sehen?
Aaaargh! Flucht aus der Kabine, Rettung ins nächste Café, ein Stück Torte mit Sahne und einen süßen Kakao für die aufgewühlten Nerven. Gibt es nicht so was wie ein Recht auf körperliche und seelische Unversehrtheit?
Das Recht auf menschliche Behandlung, auch in Bademoden-Umkleidekabinen? Was wir dort
erleiden müssen, grenzt an eine Verletzung der Menschenrechte."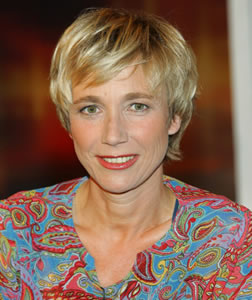 Amelie Fried (Ulm, 6 september 1958)
De Amerikaanse schrijfster Jennifer Egan werd geboren in Chicago op 6 september 1962. Zie ook mijn blog van 6 september 2007 en ook mijn blog van 6 september 2008. Zie ook mijn blog van 6 september 2009.
Uit: Emerald City
"Sisters of the Moon
Silas has a broken head. It happened sometime last night, outside The Limited on Geary and Powell. None of us saw. Silas says the fight was over a woman, and that he won it. "But you look like all bloody shit, my friend," Irish says, laughing, rolling the words off his accent. Silas says we should've seen the other guy.
He adjusts the bandage on his head and looks up at the palm trees, which make a sound over Union Square like it's raining. Silas has that strong kind of shape, like high school guys who you know could pick you up and carry you like a bag. But his face is old. He wears a worn-out army jacket, the pockets always fat with something. Once, he pulled out a silver thimble and pushed it into my hand, not saying one word. It can't be real silver, but I've kept it.
I think Silas fought in Vietnam. Once he said, "It's 1974, and I'm still alive," like he couldn't believe it.
"So where is he?" Irish asks, full of humor. "Where is this bloke with half his face gone?"
Angel and Liz start laughing, I don't know why. "Where's this woman you fought for?" is what I want to ask.
Silas shrugs, grinning. "Scared him away."
********
San Francisco is ours, we've signed our name on it a hundred times: SISTERS OF THE MOON. On the shiny tiles inside the Stockton Tunnel, across those building like blocks of salt on the empty piers near the Embarcadero. Silver plus another color, usually blue or red. Angel and Liz do the actual painting. I'm the lookout. While they're spraying the paint cans, I get scared to death. To calm down, I'll say to myself, If the cops come, or if someone stops his car to yell at us, I'll just walk away from Angel and Liz, like I never saw them before in my life. Afterward, when the paint is wet and we bounce away on the balls of our feet, I get so ashamed, thinking, What if they knew? They'd probably ditch me, which would be worse than getting caught–even going to jail. I'd be all alone in the universe."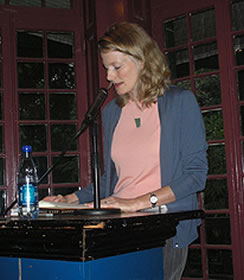 Jennifer Egan (Chicago, 6 september 1962)



Zie voor nog meer schrijvers van de 6e september ook
mijn vorige blog van vandaag.
06-09-2010 om 00:00 geschreven door Romenu

Tags:Christopher Brookmyre, Alice Sebold, Amelie Fried, Jennifer Egan, Romenu



Julien Green, Carmen Laforet, Cyrus Atabay, Jessica Durlacher
De Frans – Amerikaanse schrijver Julien Green werd geboren op 6 september 1900 in Parijs. Zie ook mijn blog van 6 september 2006 en ook mijn blog van 6 september 2008. Zie ook mijn blog van 6 september 2009.
Uit: Le Grand large du soir
"27 octobre - Il n'y a pas de saint qui ait un plus magnifique regard que Molière. Ce qu'il y avait de plus beau à l'Académie, c'était son buste, que j'ai vu un jour pour tout jamais. Je l'ai regardé en songeant que je ne remettrais plus les pieds dans cette galère, c'était à lui que je disais adieu.
15 novembre - Pour en revenir à ce qui préoccupe bien des vivants, le monde actuel se cherche et ne se trouve guère. La fin d'un siècle, et de plus d'un millénaire, suscite des penseurs de lieux communs, des prophètes du désastre, aussi bien que des gourous de l'utopie (la vie sera meilleure, etc.). En réalité, nous sommes revenus à l'une de ces crises de croissance du monde et le bouleversement échappe à tout pouvoir. Ce ne sont pas tant les grandes émigrations en marche, le bafouillage des langues, la confusion des croyances et le désir de croire à un rassemblement humain dans le bien, le beau, le tolérant, qui changent quoi que ce soit. Loin de là. Arrière, quand on emploie l'abstrait, cela cache le pire. L'homme n'est pas un concept ; le sang, l'angoisse, la liberté ne sont pas des abstractions. Ce qui est triste pour un homme de mon âge et toujours passionné par tout ce qui concerne la vie, c'est justement l'abandon de l'être humain aux démons du bien. Ces démons-là sont des rêves qui conduisent droit aux barbelés des interdictions, aux miradors de la pensée bien pensante et unique, aux camps de l'uniformité. Ce qui se croit le plus avancé d'opinion, le plus libéré, est déjà dans un cercle fermé. Par exemple, « mon corps est à moi », ce n'est pas neuf, et dans le cas de l'avortement, c'est s'en remettre à la dictature du plaisir. Après cela viendra une dictature sans plaisir et le monde aura basculé dans l'épouvante des lois. On balisera la vie, comme on le fait déjà du travail et de la mort.
26 novembre - Le monde de l'imagination (musiciens, peintres, écrivains, architectes) retombe en enfance dans le mauvais sens du terme. Ce ne sont que gribouillages, balbutiements, graffitis, comme ceux d'enfants pas très doués. On appelle ça l'art par dérision. Dire que ce sont les prolégomènes des oeuvres futures laisse envisager un effondrement de la civilisation universelle, à moins qu'un bon coup de balai ou de torchon vide les musées et les bibliothèques et que quelque tremblement de terre secoue les hideurs construites sans grâce, sans goût et sans génie. Quant à la musique d'aujourd'hui, on a le droit entre un académisme ridicule qui siège à l'Institut et les crises de nerfs de marmots sourds."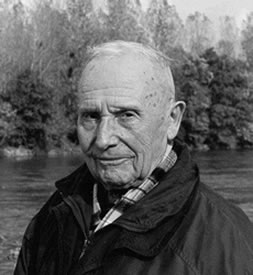 Julien Green (6 september 1900 - 13 augustus 1998)
De Spaanse schrijfster Carmen Laforet werd geboren op 6 september 1921 in Barcelona. Zie ook mijn blog van 6 september 2006. en ook mijn blog van 6 september 2008. Zie ook mijn blog van 6 september 2009.
Uit: Nada (Vertaald door Edith Grossman)
"I wanted to believe I'd come to the wrong apartment, but the good-natured old woman wore a smile of such sweet kindness that I was certain she was my grandmother.
"Is that you, Gloria?" she said in a whisper.
I shook my head, incapable of speaking, but she couldn't see me in the gloom.
"Come in, come in, my child. What are you doing there? My God! I hope Angustias doesn't find out you've come home at this hour!"
Intrigued, I dragged in my suitcase and closed the door behind me. Then the poor old woman began to stammer something, disconcerted.
"Don't you know me, Grandmother? I'm Andrea."
"Andrea?"
She hesitated. She was making an effort to remember. It was pitiful.
"Yes, dear, your granddaughter. . . . I couldn't get here this morning the way I wrote I would."
The old woman still couldn't understand very much, and then through one of the doors to the foyer came a tall, skinny man in pajamas who took charge of the situation. This was Juan, one of my uncles. His face was full of hollows, like a skull in the light of the single bulb in the lamp.
As soon as he patted me on the shoulder and called me niece, my grandmother threw her arms around my neck, her light-colored eyes full of tears, and saying "poor thing" over and over again. . . .
There was something agonizing in the entire scene, and in the apartment the heat was suffocating, as if the air were stagnant and rotting. When I looked up I saw that several ghostly women had appeared. I almost felt my skin crawl when I caught a glimpse of one of them in a black dress that had the look of a nightgown. Everything about that woman seemed awful, wretched, even the greenish teeth she showed when she smiled at me. A dog followed her, yawning noisily, and the animal was also black, like an extension of her mourning. They told me she was the maid, and no other creature has ever made a more disagreeable impression on me."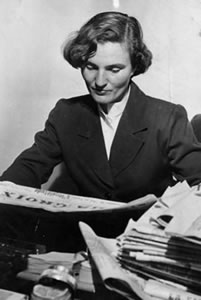 Carmen Laforet (6 september 1921 – 28 februari 2004)
De Duitstalige, Iraanse dichter en schrijver Cyrus Atabay werd geboren op 6 september 1929 in Teheran. Zie ook mijn blog van 6 september 2009.
Uit: Poet und Vagant
"Selbstauskunft
Geboren wurde ich am 6. September 1929 in Teheran. Mein Vater hatte in den dreißiger Jahren in Berlin an der Charité Medizin studiert und bei Sauerbruch promoviert. Er beschloß, seine zwei Söhne in Deutschland erziehen zu lassen. Ein solcher Entschluß wäre unverantwortlich, hätte man ein Kind aus einer Geborgenheit gerissen. Doch ich war in einer magischen Welt aufgewachsen, in der das Bedrohliche vorherrschte. So vertauschte ich eine Benommenheit mit einer anderen, als ich 1937 nach Berlin kam. Das Gefühl der Unwirklichkeit verließ mich in der neuen Umgebung nie, während die regenerativen Kräfte für Orientierungspunkte sorgten: Innerhalb eines Jahres hatte ich die Berliner Floskeln, die ich für meine Streifzüge auf dem Roller in der Fasanenstraße vonnöten hatte, auswendig gelernt. Noch immer ist es mir ein Rätsel, welche orientalischen Tricks in Anwendung gebracht wurden, daß ich kaum drei Jahre später in das renommierte Arndt-Gymnasium in Dahlem aufgenommen wurde.

Durch die Schludrigkeit eines Vormunds, der die Möglichkeit, meinen Bruder und mich in die Schweiz zu bringen, ungenutzt ließ, blieb ich bis Kriegsende in Deutschland. Als ich im Sommer 1945, nach acht Jahren Trennung, wieder nach Persien kam, hatte ich die persische Sprache verlernt. Beschämt hörte ich die Fragen meiner Mutter in persischer Sprache, auf die ich nicht antworten konnte. Langsam wurde mir meine Muttersprache wieder vertraut, doch der Wiedergewinn an Sprache reichte nicht aus, um in einer Klasse meiner Altersgruppe eine persische Schule zu besuchen. Auf meinen Wunsch wurde ich in die Schweiz geschickt, um meinen Schulbesuch fortzusetzen."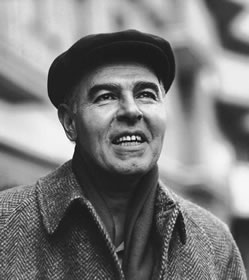 Cyrus Atabay (6 september 1929 – 26 januari 1996)
De Nederlandse schrijfster Jessica Durlacher werd geboren in Amsterdam op 6 september 1961. Zie ook mijn blog van 6 september 2007 en ook mijn blog van 6 september 2008. Zie ook mijn blog van 6 september 2009.
Uit: De dochter
"Het lezen stilde mijn honger, maar nooit genoeg; uiteindelijk bleven het verhalen van anderen en niet de echte.Niet die van mijn vader,Ik kon hem niets vragen. Bang dat hij mijn gretigheid zou zien, mijn intense nieuwsgierigheid zou ruiken. Bang dat ik zou verraden hoeveel kwaad er in me zat, en zo als vijand zou worden ontmaskerd. Bang dat ik niet genoeg kon huilen en dat de grimassen op mijn gezicht als lachen zouden worden uitgelegd."
(...)
"Het digitale vliegtuigje vloog net boven Edinburgh toen de wereld ineens honderdtachtig graden begon te draaien. Mijn wereld. Het had niets te maken met de lage stem van de stewardess die turbulentie aankondigde. Had iemand me op dat moment iets gevraagd, dan nog betwijfel ik of ik een ander geluid had kunnen maken dan een benauwd gehijg. Van ongeloof, van schrik. Nog eens van ongeloof."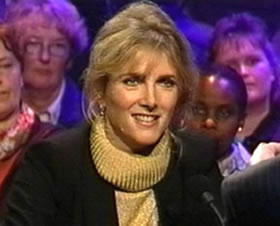 Jessica Durlacher (Amsterdam, 6 september 1961)

06-09-2010 om 00:00 geschreven door Romenu

Tags:Julien Green, Carmen Laforet, Cyrus Atabay, Jessica Durlacher, Romenu


05-09-2010

Marcel Möring, Herman Koch, Rachid Boudjedra, Christoph Wieland
De Nederlandse dichter en schrijver Marcel Möring werd geboren in Enschede op 5 september 1957. Zie ook mijn blog van 5 september 2008.en ook mijn blog van 5 september 2009.
Hoe het begon

Als wij morgen klaar zijn met dansen slingers
in luie bogen confetti op de vloer sterrennevels
hier en daar een woord een gezicht
al afgewend en de glazen halfvol niet meer
beslagen snippers in het bier
laten we dan naar de waterkant gaan
en geld op de stroom strooien en vertellen
over het einde van de wereld hoe de rotsen
uit de aarde kwamen en weer verzonken ijzer
bloed werd de mensen oud hoe het begon.
Greatest hits

Op een ochtend kraaien boven de eiken
van je jeugd en de mist van vroege weiden
ze ligt naast je. Je bent wakker geworden
en nu ben je thuis.

De ochtend zingt er is zon
alles is ver weg jij bent een lied

nog niet gezongen
nog niet af
en toch voorbij.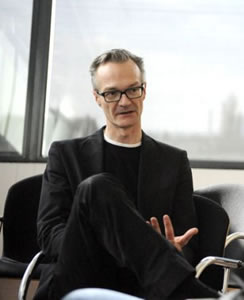 Marcel Möring (Enschede, 5 september 1957)
De Nederlandse schrijver en acteur Herman Koch werd geboren in Arnhem op 5 september 1953. Zie ook mijn blog van 5 september 2008. en ook mijn blog van 5 september 2009.
Uit: Nooit echtere stoelpoten dan op Internet (Column)
"In de tekst op Internet waren een paar fragmenten cursief afgedrukt. Voordat ik kon vragen waarom dat was, klikte mijn zwager een cursief gedeelte aan en voordat ik wist of ik dit wel allemaal had gewild, hoorde ik mijn eigen stem.
Mijn eigen stem die iets te berde bracht wat tien jaar eerder in een URGENTE-envelop op de post was gedaan.
Maar op de achtergrond hoorde ik ook nog iets anders: ik hoorde hoe de poten van de houten stoel - dezelfde stoel waarop ik op dit moment zat - over de tegelvloer piepte, dezelfde tegelvloer in dezelfde serre-kamer waarin ik nu naar de Internet-pagina staarde.
Alles was inmiddels op de radio uitgezonden - en alles was inmiddels, zoals dat gaat bij radio, op de ethergolven weggewaaid. Maar het was daar op dat moment in Barcelona dat ik me voor het eerst realiseerde dat het allemaal echt waar was. Dat ik er echt was geweest. Dat het allemaal niet bij elkaar gelogen was.
Dat ik voortaan tegen eenieder, die mijn verblijf in Barcelona in twijfel zou trekken, kon zeggen: 'Klik het maar aan op Internet dan weet je dat ik hier niet zomaar wat uit mijn nek sta te ouwehoeren. Je moet vooral goed naar de stoel luisteren: naar hoe de stoelpoten over de vloer piepen.'
Waar vind je anders zo'n tegelvloer ... ?
-...dan in Barcelona?
-...dan op Internet?"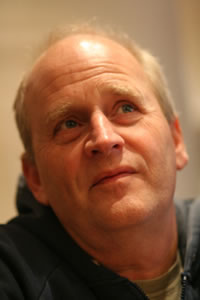 Herman Koch (Arnhem, 5 september 1953)
De Algerijnse dichter, schrijver en draaiboekauteur Rachid Boudjedra werd geboren op 5 september 1941 in Aïn Beïda. Zie ook mijn blog van 5 september 2008. en ook mijn blog van 5 september 2009.
Uit: Les 1001 années de la nostalgie
"Lorsqu'au IXe siècle un riche commerçant construisit le village de Manama à l'intérieur des remparts, sur le lieu de passage des caravanes qui troquaient le sel et les dattes contre de l'avoine et de la verrerie, faisaient en plus des échanges sans malice ni esbroufe, revenaient avec des chameaux chargés de provisions, bimboloterie, bijoux, benjoin, cire, tissus, ustensiles et appareillages plus ou moins compliqués mais tellement nécessaires à la réalité quotidienne et au prolongement des rêves et autres mirages tatoués, à même les visages, liquoreux et charpentés, bois d'ébène dégoulinant de perles amères à la fois et salées, il avait la prétention de convertir cet endroit en une capitale, lien entre plusieurs civilisations et deux ou trois continents. Ce rêve insensé échoua, parce que le centre de gravitation du commerce du sel se déplaça un millier de kilomètres plus bas."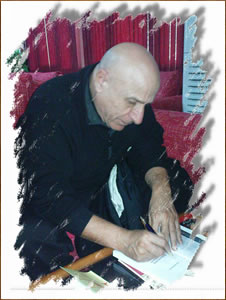 Rachid Boudjedra (Aïn Beïda, 5 september 1941)
De Duitse dichter en schrijver Christoph Martin Wieland werd geboren in Oberholzheim op 5 september 1733. Zie ook mijn blog van 5 september 2007 en ook mijn blog van 5 september 2008. en ook mijn blog van 5 september 2009.
Uit: Geschichte des Agathon
"Die Sonne neigte sich bereits zum Untergang, als Agathon, der sich in einem unwegsamen Walde verirret hatte, von der vergeblichen Bemühung einen Ausgang zu finden abgemattet, an dem Fuß eines Berges anlangte, welchen er noch zu ersteigen wünschte, in Hoffnung von dem Gipfel desselben irgend einen bewohnten Ort zu entdecken, wo er die Nacht zubringen könnte. Er
schleppte sich also mit Mühe durch einen Fußweg hinauf, den er zwischen den Gesträuchen gewahr ward; allein da er ungefähr die Mitte des Berges erreicht hatte, fühlt er sich so entkräftet, daß er den Mut verlor den Gipfel erreichen zu können, der sich immer weiter von ihm zu entfernen schien, je mehr er ihm näher kam. Er warf sich also ganz Atemlos unter einen Baum hin, der eine kleine Terrasse umschattete, auf welcher er die einbrechende Nacht zuzubringen beschloß.
Wenn sich jemals ein Mensch in Umständen befunden hatte, die man unglücklich nennen kann, so war es dieser Jüngling in denjenigen, worin wir ihn das erstemal mit unsern Lesern bekannt machen. Vor wenigen Tagen noch ein Günstling des Glücks, und der Gegenstand des Neides seiner Mitbürger, befand er sich, durch einen plötzlichen Wechsel, seines Vermögens, seiner Freunde, seines Vaterlands beraubt, allen Zufällen des widrigen Glücks, und selbst der Ungewißheit ausgesetzt, wie er das nackte Leben, das ihm allein übrig gelassen war, erhalten möchte. Allein ungeachtet so vieler Widerwärtigkeiten, die sich vereinigten seinen Mut niederzuschlagen, versichert uns doch die Geschichte, daß derjenige, der ihn in diesem Augenblick gesehen hätte, weder in seiner Miene noch in seinen Gebärden einige Spur von Verzweiflung, Ungeduld oder nur von Mißvergnügen hätte bemerken können."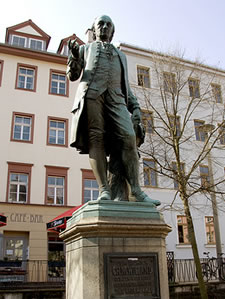 Christoph Wieland (5 september 1733 - 20 januari 1813)
Standbeeld in Weimar

05-09-2010 om 20:28 geschreven door Romenu

Tags:Marcel Möring, Herman Koch, Rachid Boudjedra, Christoph Wieland, Romenu



Jos Vandeloo, Peter Winnen, Heimito von Doderer, Margaretha Ferguson, Goffredo Mameli
De Belgische schrijver Jos Vandeloo werd geboren op 5 september 1925 in Zonhoven, Belgisch-Limburg. Zie ook mijn blog van 5 september 2006 Zie ook mijn blog van 5 september 2008. en ook mijn blog van 5 september 2009.
Uit: De beklimming van de Mont Ventoux
'Opletten. Zorgen dat ik geen kwak krijg. De renner voor u zwiept even met zijn achterwiel tegen uw voorwiel. Niemand ziet het. Rotgevaarlijk. Voor ge het weet, ligt ge in de sloot. De trukendoos van de profs.'
(...)
Gustave: 'In een flits denk ik nog: ik hoop dat het iemand anders is. Ik ren ernaar toe; het is onze Georges. Hij ligt op de grond. Een wit gezicht en een pijnlijke grimas. Ik duw de mensen achteruit. Help hem uit zijn voethaken. Die stommelingen staan allemaal maar te kijken. Even blijft hij zitten. Voelt aan zijn rechterschouder. Krabbelt dan verdwaasd overeind. Kijkt om zich heen. Grabbelt naar zijn fiets. Wil er op stappen. Wankelt. Valt bijna. Gezoem van een camera en lichtflitsen. 'Nee, Georges, niet doen!' roep ik. Hij staart me aan, zonder enig benul. Ik schrik me rot van die rare blik in zijn ogen.'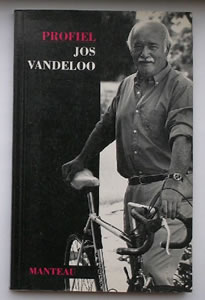 Jos Vandeloo (Zonhoven, 5 september 1925)
De Nederlandse schrijver en wielrenner Peter Winnen werd geboren op 5 september 1957 in Ysselsteyn. Zie ook mijn blog van 5 september 2006. Zie ook mijn blog van 5 september 2008. en ook mijn blog van 5 september 2009.
Uit: Lijdt, of ik schiet (Column)
Zomaar een dialoogje tussen Michel Wuyts en analist Hans de Clercq, opgevangen tijdens de laatste etappe bij het zoveelste helikopterbeeld. Uit de blote bol, dus bij benadering.
Wuyts: Er zal hier zal ongetwijfeld een kasteel staan, maar in Châtenay- Malabry is ook het beruchte dopinglab gevestigd dat onder andere Riccardo Ricco fataal is geworden.
De Clerq: Twee jaar geleden stonden ze hier langs de kant en wisten ze het al.
Wuyts: Wat?
De Clerq: Landis.
Wuyts: (zwijgen, alsof hij zich opeens bewust werd van de verschrikkelijke mogelijkheid dat de Tour nog wel eens een paar dagen langer zou kunnen duren.)
De Tour 2008 werd drie weken geleden weggeschoten als een marketingconcept. Het imago van de wedstrijd, nee het imago van het ganse wielrennen zou grondig worden opgepoetst. Op de tweede rustdag sprak de Tourdirectie triomfantelijk van een "bijna gewonnen oorlog". Terug naar de romantiek, terug naar het ouderwetse lijden, dat is het kruid van het concept. ASO- baas Clerc riep het verzamelde journaille schaamteloos op hiervan uitbundig kond te doen.
We hebben gezien dat de Fransen houden van een harde hand. Wat zeg ik, soms werden de wapens uit de holsters getrokken. We hebben ook gezien dat het peloton en haar entourage, een paar uitzonderingen daargelaten, zich uitstekend heeft aangepast aan de nieuwe situatie. "Zero tolerance", luidt de slogan in de meeste ploegen. Voor minder doen we het niet. Tegen de muur met "de valsspelers". Wat valt er nog over te zeggen. Waar is de discussie over doping, medische begeleiding, waar de nuance? Dood. Iedereen is murw, iedereen over the top."
xml:namespace prefix = v ns = "urn:schemas-microsoft-com:vml" />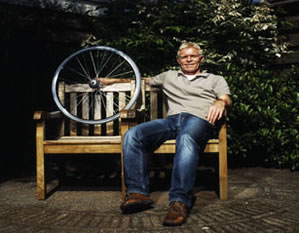 Peter Winnen (Ysselsteyn, 5 september 1957)
De Oostenrijkse schrijver Franz Carl Heimito von Doderer werd geboren op 5 september 1896 in Weidlingau, Oostenrijk. Zie ook mijn blog van 5 september 2006. Zie ook mijn blog van 5 september 2008. en ook mijn blog van 5 september 2009.
Uit: Die Strudlhofstiege
"Der Doktor Negria nahm Anstoß an Marys Ehe. Er konnte nicht glauben, er vermochte es einfach nicht zu glauben, daß Marys Gattinnentreue zulängliche Grundlagen habe, er ärgerte sich maßlos über diese Treue, und dieser Ärger war mindestens gleichzeitig da mit dem ersten Affekte der Begehrlichkeit.
(Der Schriftsteller Kajetan von S. hätte hier zweifellos geschrieben "er begehrte sie aus abgründiger Bosheit" – und bei Leuten seiner Art mag es ja solche im Grunde harmlose, auf groteske Manier zurechtfrisierte Dummheiten wirklich geben.) Das Verflixte bei dem Angelhaken, den der Doktor
Negria verschluckt hatte, war jedoch, daß jene untadelige Frau keineswegs unbewußt eine treue Frau war. Sie war zu wenig einfältig, ihrem Herzen waren schon in der Mädchenzeit – während welcher sie durchaus als Frau fühlte, schon mit vierzehn – verschiedene Falten bewußt geworden, und so hatte sie sich denn später auf jener Ebene entfaltet und reifend geglättet, welche zuständig wird für alle, die ihre Lebensbahn nicht zwischen fugenlosen Mauern der Unschuld wandeln, eine Straße ohne Ausblick wie die vom alten Athen zum Piräus. Mary ist aber unberührt in die Ehe mit ihrem Oskar getreten. Andererseits, wenn sie hier treu war, so blieb es auch nicht deshalb dabei, weil ein stabiler Gleichgewichtszustand bei ihr entstanden wäre aus einer Art von unwiderruflicher Entscheidung
und gewissermaßen Bekehrung zu ihren Aufgaben als Ga ttin und Mutter, als Mutter eines hübschen Kinderpaares, Mädel und Bub, jenes rötlichblond nach dem Vater, dieser dunkel-tizianrot
wie sie selbst.
Zwischen den angedeuteten Grundlinien stellte sich die Sache dem Doktor Negria (nicht der Frau Mary) dar, und die Konstruktion, welche er da einem sich darbietenden Sachverhalt unterschob, stimmte im großen und ganzen. Auf diesem untergezogenen Rost – der aber am unentschiedenen Dahinleben des Gegenstandes durchaus nichts zu ändern vermochte – briet er seinen Ärger."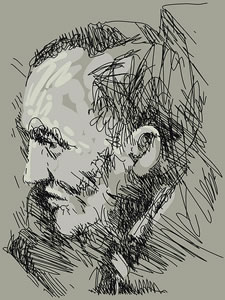 Heimito von Doderer (5 september 1896 – 23 december 1966)
De Nederlandse schrijfster Margaretha Ferguson wered geboren op 5 september 1920 in Arnhem. Zie ook mijn blog van 5 september 2006. Zie ook mijn blog van 5 september 2008. en ook mijn blog van 5 september 2009.
Uit: Chaos
"Zo'n Hollands halletje, altijd te nauw door de fietsen tegen de muur, zo'n Hollandse gang met een loper en een kapstok vol winterkleren en een spiegel in houten lijst met daarnaast een aan een koperen haakje opgehangen klerenborstel, een scheut licht door de halfgeopende keukendeur en een oerhollandse geur van zeepsop en boenwas en koffie.
Mevrouw Verlaer leidde haar naar binnen; ruime hoge kamers vol glanzende roodbruine meubels, kleden op de vloer en op de tafels, kleedjes voor de haarden, gebloemde kussens in de fauteuils en op de elegant gewelfde bank waar ze moest gaan zitten, Ingrid had al bezit genomen van het rieten kinderstoeltje met de poppenwagen ernaast, mevrouw Verlaer nam plaats naast de theetafel met op het bovenblad een porseleinen servies waarover een met ingeweven bloemen versierd kanten kleed.
Zo dadelijk staan we weer op straat, waar moeten we dan heen, de bus is onvindbaar, ik ken hier niemand. . . nerveus verbood Katharina Ingrid die begonnen was haar schoentjes uit te schoppen. In Ataka, dichtbij Port-Saïd, waren ze van het schip af grote loods in geleid waar hun kleren voor Europa werden aangepast - aan schoentjes was Ingrid nog niet gewend. De witharige vorstin leidde Ingrid af door haar een schaal met koekjes voor te houden, "daar mag jij er t'wéé van uitkiezen. . . . een, twee, goed zo, jij kan al een beetje tellen!"
Als ik mijn kop thee opheb zal ze zeggen: ja mevrouw, ik vind het jammer, het spijt me vreselijk, maar u zult zelf wel begrijpen, zulke mensen als u kunnen we hier niet hebben, in zo'n huis als dit. . . natuurlijk niet, antwoordde Katharina in gedachten, wij horen hier niet. Het beeld sloeg door haar heen van de plek in Singapore waar ze tot aan de verdere evacuatie naar Holland waren ondergebracht: een bijna leeg huis, op palen, omgeven door modder; in andere kamers woonden, eveneens tijdelijk opgevangen, ex-geïnterneerden uit de Japanse kampen."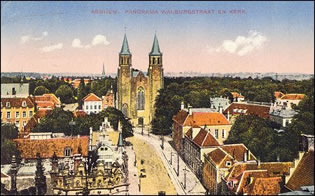 Margaretha Ferguson (5 september 1920 - 8 mei 1992)
Arnhem, Walburgisstraat en kerk
Zie voor onderstaande schrijver ook mijn blog van 5 september 2008.
De Italiaanse dichter en patriot Goffredo Mameli werd geboren op 5 september 1827 in Genua.

05-09-2010 om 20:27 geschreven door Romenu

Tags:Jos Vandeloo, Peter Winnen, Heimito von Doderer, Margaretha Ferguson, Goffredo Mameli, Romenu



Daniela Danz
De Duitse dichteres en schrijfster Daniela Danz werd op 5 september 1976 in Eisenach geboren Na het volgen van de school in Ruhla studeerde zij kunstgeschiedenis en germanistiek in Tübingen, Praag, Berlijn en Halle / Saale. Ze doceert aan de Universiteit van Osnabrück, en is deelneemster in het Peter Szondi collegium. Danz ' literaire werk omvat poëzie en korte verhalen. In haar werk houdt zij zich bezig met de klassieke canon, zoals de epen van Homerus of de Metamorfosen van Ovidius. Van daaruit experimenteert Danz met overgangen naar de meer recente geschiedenis, zoals de Tweede Wereldoorlog, en de huidige sociaal-politieke vraagstukken zoals migratie. Zie ook mijn blog van 14 april 2010.
der schöne tag mit durst vom schnee
zwei frauen im römischen bad sind wir
und die schrift der lobpreisungen fließt
in kaltem schwall über unsere glänzenden
rücken schweigsame sätze schreibe ich
in das davonrinnende wasser auf die fliesen
das bist du sagst du beim entziffern
von text auf meinem rücken mit elfenbein
fingern rasuren tilgungen lücken in schriften
meine gedanken gehn fort unterdessen:
dies palastgrün mündet ins herzkammer
dunkel warum ist nicht alles so anfangsfarbig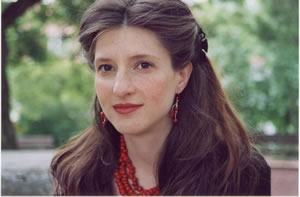 Daniela Danz (Eisenach, 5 september 1976)
05-09-2010 om 00:00 geschreven door Romenu

Tags:Daniela Danz, Romenu


04-09-2010

Helga Ruebsamen, Antonin Artaud, Mary Renault, Richard Wright, René de Chateaubriand, Constantijn Huygens
De Nederlandse schrijfster Helga Ruebsamen is op 4 september 1934 geboren in Batavia, in Nederlands lndië. Zie ook mijn blog van 4 september 2006 en ook mijn blog van 4 september 2008 en ook mijn blog van 4 september 2009.
Uit: Beer is terug
"In sombere winternachten slapen Beer en ik samen in op het kleed voor de open haard. De sintels gloeien nog wat na en zullen langzaam doven, maar wij krijgen het warmer en warmer omdat we steeds dichter naar elkaar toe kruipen. Als ik af en toe wakker word, verheft zijn kanonskogelkop zich
waakzaam van mijn schouder: is er onraad? Het volgende ogenblik wrijft zijn stevige bakkes met de korte haartjes geruststellend tegen mijn wang, ik vermoed dat hij mij in het donker liefdevol aankijkt, hij hijgt er een beetje bij, ik streel hem en voel dat er druppeltjes aan zijn onderlip hangen.
Hij geniet met volle teugen van ons samenzijn. Hij nestelt zich zo dicht tegen mij aan dat mijn haren in zijn ogen en neus kriebelen, het moet hinderlijk zijn, maar daarvan laat hij niets blijken, hij kijkt we1 uit, voor geen prijs wil hij dat er iets verandert aan onze gelukzaligheid. Wij vrijen een beetje, maar altijd decent.
Beer zal er niet over peinzen om mij op koude, stormachtige nachten de straat op te schoppen, omdat hij zo nodig weer zo'n grietje van de G.J. de Jonghweg moet hebben. Mijn beste vriendinnen, mijn leerlingetjes met hun tassen vol bladmuziek op hun prille heupen, mijn naaister, mijn kapster, mijn pedicure, mijn Beer zou hen nu geen haar krenken, en zeer zeker zou hij nooit proberen ze allemaal achter mijn rug om te neuken.
Mijn Beer gaat nu waar ik ga, hij likt mijn hand en kijkt mij dwepend aan. Dat heb ik wel anders meegemaakt."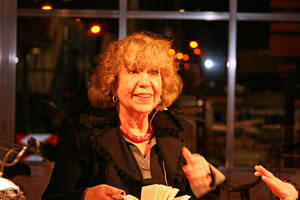 Helga Ruebsamen (Batavia, 4 september 1934)
De Franse schrijver Antonin Artaud werd geboren op 4 september 1896 in Marseille. Zie ook mijn blog van 4 september 2006 en ook mijn blog van 4 september 2008 en ook mijn blog van 4 september 2009.
Uit: L'ombilic des Limbes
"Un ventre fin. Un ventre de poudre ténue et comme en image.
Au pied du ventre, une grenade éclatée. La grenade déploie une circulation floconneuse qui monte comme des langues de feu, un feu froid.
La circulation prend le ventre et le retourne. Mais le ventre ne tourne pas.
Ce sont des veines de sang vineux, de sang mêlé de safran et de soufre,
mais d'un soufre édulcoré d'eau.
Au-dessus du ventre sont visibles des seins. Et plus haut, et en profondeur,
mais sur un autre plan de l'esprit, un soleil brûle, mais de telle sorte que l'on pense que ce soit le sein qui brûle.
Et au pied de la grenade, un oiseau.
Le soleil a comme un regard. Mais un regard qui regarderait le soleil.
Le regard est un cône qui se renverse sur le soleil.
Et tout l'air est comme une musique figée, mais une vaste, profonde musique, bien maçonnée et secrète, et pleine de ramifications congelées.
Et tout cela, maçonné de colonnes, et d'une espèce de lavis d'architecte
qui rejoint le ventre avec la réalité.
La toile est creuse et stratifiée. La peinture est bien enfermée dans la toile.
Elle est comme un cercle fermé, une sorte d'abîme qui tourne,
et se dédouble par le milieu.
Elle est comme un esprit qui se voit et se creuse, elle est remalaxée et travaillée sans cesse par les mains crispées de l'esprit. Or l'esprit sème son phosphore.
L'esprit est sûr. Il a bien un pied dans le monde. La grenade, le ventre, les seins,
sont comme des preuves attestatoires de la réalité."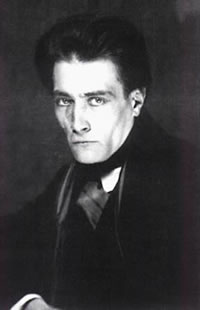 Antonin Artaud (4 september 1896 - 4 maart 1948)
De Engelse schrijfster Mary Renault werd op 4 september 1905 geboren als Mary Challans in Forest Gate in Essex. Zie ook mijn blog van 4 september 2006 en ook mijn blog van 4 september 2008 en ook mijn blog van 4 september 2009.
Uit: The Charioteer
"It was the first time he had ever heard the clock strike ten at night. If he had been asleep and waked to hear the strokes, it would have been different, a small manageable fragment broken off the unknown hugeness of night, from somewhere in the middle. He would have been a little uneasy, perhaps, in his waking solitude, and, if he heard anyone stirring, would have found something legitimate to call out for, such as a drink of water. Only babies called out about nothing. The ten months which had passed of his fifth year felt like at least half his remembered life, and he was used to his responsibilities.
Tonight was unique. Tonight he had not been to sleep at all, and it was ten.
Seven o'clock was familiar and domesticated. With luck and good management, at seven his mother might still be sitting on the edge of his bed with an unfinished story. Eight was unusual, and associated with trouble: having been punished, or being sick. Nine was the wild outpost of an unknown continent. Ten was the mountains of the moon, the burial-place of the elephants: white on the map. He lay staring with round birdlike eyes at the dim lapping of light on the ceiling, incredulous of the journey he had made alone.
Outside a man passed the house, whistling. The noise had an absolute foreignness, like the note of a jungle bird. It had no link with humanity; it was simply a mysterious feature on the face of night. Somewhere, so far off that in the daytime one never heard it, a line of railway trucks was shunted together. The metallic clangs, melancholy with distance, not quite harsh and not quite musical, made a loose chain of sound, then stopped inconclusively, leaving the ear suspended and waiting."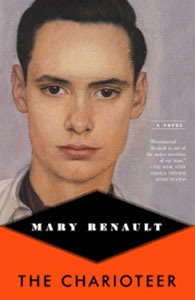 Mary Renault (4 september 1905 - 13 december 1983)
Cover
De Amerikaanse schrijver Richard Nathaniel Wright werd geboren in Roxie, Mississippi op 4 september 1908. Zie ook mijn blog van 4 september 2007 en ook mijn blog van 4 september 2008 en ook mijn blog van 4 september 2009.
Uit: Black Boy
"Don't do that," he said.
"How come?" I asked.
"You'll burn the whole broom," he said.
"You hush," I said.
"I'll tell," he said.
"And I'll hit you," I said.
My idea was growing, blooming. Now I was wondering just how the long fluffy white curtains would look if I lit a bunch of straws and held it under them. Would I try it? Sure. I pulled several straws from the broom and held them to the fire until they blazed; I rushed to the window and brought the flame in touch with the hems of the curtains. My brother shook his head.
"Naw," he said.
He spoke too late. Red circles were eating into the white cloth: then a flare of flames shot out. Startled, I backed away. The fire soared to the ceiling and I trembled with fright. Soon a sheet of saw her taut face peering under the edge of the house. She had found me! I held my breath and waited to hear her command me to come to her. Her face went away; no, she had not seen me huddled in the dark nook of the chimney. I tucked my head into my arms and my teeth chattered.
"Richard!"
The distress I sensed in her voice was as sharp and painful as the lash of a whip on my flesh.
"Richard! The house is on fire. Oh, find my child!"
Yes, the house was afire, but I was determined not to leave my place of safety. Finally I saw another face peering under the edge of the house; it was my father's. His eyes must have become accustomed to the shadows, for he was now pointing at me.
"There he is!"
"Naw!" I screamed.
"Come here, boy!"
"Naw!"
"The house is on fire!"
"Leave me 'lone!"
He crawled to me and caught hold of one of my legs. I hugged the edge of the brick chimney with all of my strength. My father yanked my leg and I clawed at the chimney harder".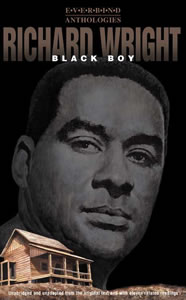 Richard Wright (4 september 1908 – 28 november 1960)
De Franse schrijver François René de Chateaubriand werd geboren op 4 september 1768 in Saint Malo. Zie ook mijn blog van 4 september 2006 en ook mijn blog van 4 september 2008 en ook mijn blog van 4 september 2009.
Uit: Atala, ou les Amours de deux sauvages dans le désert
« C'EST une singulière destinée, mon cher fils, que celle qui nous réunit dans le désert. Je vois en toi l'homme civilisé qui s'est fait Sauvage ; tu vois en moi l'homme sauvage, que le grand Esprit, sans doute pour ses desseins, a voulu civiliser. Entrés l'un et l'autre dans la carrière de la vie, par les deux bouts opposés, tu es venu te reposer à ma place, et j'ai été m'asseoir à la tienne : ainsi nous avons dû avoir des objets une vue totalement contraire. Qui de toi ou de moi, a le plus gagné ou le plus perdu à ce changement de position ? C'est ce que savent les génies, dont le moins savant a plus de sagesse que tous les hommes ensemble.
A la prochaine lune des fleurs, il y aura sept fois dix neiges, et trois neiges de plus, que ma mère me mit au monde, sur les bords du Meschacebé. Les Espagnols s'étoient depuis peu établis dans la baie de Pensacola, mais aucun blanc n'habitoit encore la Louisiane. Je comptois à peine dix-sept chûtes de feuilles, lorsque je marchai avec mon père le guerrier Outalissi, contre les Muscogulges, nation puissante des Florides. Nous nous joignîmes aux Espagnols nos alliés, et le combat se donna sur une des branches de la Maubile. Areskoui, et les Manitous ne nous furent pas favorables. Les ennemis triomphèrent ; mon père perdit la vie dans la mêlée, et je fus blessé deux fois en le défendant. Si j'étois alors descendu dans le pays des ames, j'aurois évité les malheurs qui m'attendoient sur la terre ; mais les esprits en ordonnèrent autrement, et je fus entraîné, par les fuyards, à Saint-Augustin.
Dans cette ville, nouvellement bâtie par les Espagnols, je courois les risques d'être enlevé pour les mines de Mexico, lorsqu'un vieux Castillan, nommé Lopez, touché de ma jeunesse et de ma simplicité, m'offrit un asyle, et me présenta à une soeur, avec laquelle il vivoit, sans épouse."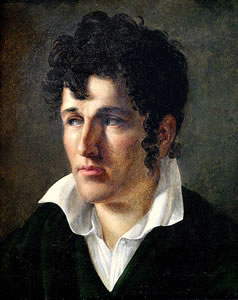 René de Chateaubriand (4 september 1768 – 4 juli 1848)
Portret door Anne-Louis Girodet de Roucy Trioson
De Nederlandse dichter en schrijver Constantijn Huygens werd geboren op 4 september 1596 in Den Haag. Zie ook mijn blog van 4 september 2006 en ook mijn blog van 4 september 2008 en ook mijn blog van 4 september 2009.
HOORN
Ben ick de MoederStad van soo veel moedigh bloed,
Dat soo veel wondren dé, en soo veel wondren doet;
Van Mannen die vermant voor Mannen noyt en weken,
Van Zeilers die verzeilt voor Zeilers noyt en streken;
Heb ick van allen eerst 'tgroot Haring-nett gebreydt,
Van allen eerst gespreidt, van allen eerst verbreydt;
Ben ick de Zuyvel-mouw van voor en achter Stavren;
Ben ick soo verr ick sie de Vrouwe vande Klavren;
En vraegtmen hoe ick Hoorn van ouds herr heeten moet?
En heet ick anders recht als Hoorn van Overvloed?
OOGHEN-TROOST (Fragment)
Verdenckt den dichter niet die dese Penn' beleidt.
Hij heeft u vander jeughd met ydel' vrolickheid,
Met jock voor jock bericht: en 't docht hem in die jaren
Dat woorden sonder sout en lacchen, susters waren;
En 't docht u even soo. Nu weten Ghij en Hij
Het suer en 'tsoet gesicht te stellen, naer het zij.
Naer 't nu is, voeght ons 'tsuer: maer tuschen 'tsuer en 'tsuere
Valt keurigh onderscheid. D'ellendigh' avont-ure
Daer God ons mede dreight vereischt een amper-soet,
Een statigh-suer gelaet van ooghen en gemoed.
Als 'tkind geslagen werdt betaemt hem eens te suchten:
Maer knorr en kijven zijn ontydighe geruchten,
Die noch een' niewe Roeij verdienen van de hand
Die d'eerste geessel gaf aen syn geliefde pand.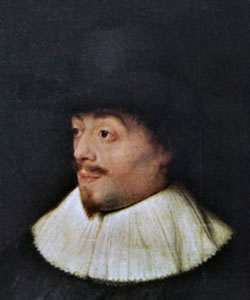 Constantijn Huygens (4 september 1596 — 28 maart 1687)

04-09-2010 om 00:00 geschreven door Romenu

Tags:Helga Ruebsamen, Antonin Artaud, Mary Renault, Richard Wright, René de Chateaubriand, Constantijn Huygens, Romenu


03-09-2010

Kiran Desai, Eduardo Galeano, Alison Lurie, Sergej Dovlatov, Lino Wirag
De Indische schrijfster Kiran Desai werd geboren op 3 september 1971 in New Dehli. Zie ook mijn blog van 3 september 2008.en ook mijn blog van 3 september 2009.
Uit: The Inheritance of Loss


"All day, the colors had been those of dusk, mist moving like a water creature across the great flanks of mountains possessed of ocean shadows and depths. Briefly visible above the vapor, Kanchenjunga was a far peak whittled out of ice, gathering the last of the light, a plume of snow blown high by the storms at its summit.
Sai, sitting on the veranda, was reading an article about giant squid in an old National Geographic. Every now and then she looked up at Kanchenjunga, observed its wizard phosphorescence with a shiver. The judge sat at the far corner with his chessboard, playing against himself. Stuffed under his chair where she felt safe was Mutt the dog, snoring gently in her sleep. A single bald lightbulb dangled on a wire above. It was cold, but inside the house, it was still colder, the dark, the freeze, contained by stone walls several feet deep.
Here, at the back, inside the cavernous kitchen, was the cook, trying to light the damp wood. He fingered the kindling gingerly for fear of the community of scorpions living, loving, reproducing in the pile. Once he'd found a mother, plump with poison, fourteen babies on her back.
Eventually the fire caught and he placed his kettle on top, as battered, as encrusted as something dug up by an archeological team, and waited for it to boil. The walls were singed and sodden, garlic hung by muddy stems from the charred beams, thickets of soot clumped batlike upon the ceiling. The flame cast a mosaic of shiny orange across the cook's face, and his top half grew hot, but a mean gust tortured his arthritic knees.
Up through the chimney and out, the smoke mingled with the mist that was gathering speed, sweeping in thicker and thicker, obscuring things in parts—half a hill, then the other half. The trees turned into silhouettes, loomed forth, were submerged again. Gradually the vapor replaced everything with itself, solid objects with shadow, and nothing remained that did not seem molded from or inspired by it. Sai's breath flew from her nostrils in drifts, and the diagram of a giant squid constructed from scraps of information, scientists' dreams, sank entirely into the murk."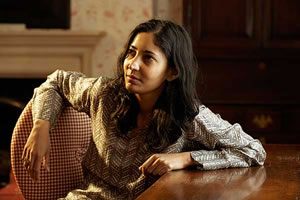 Kiran Desai (New Dehli, 3 september 1971)
De Uruguayaanse schrijver, essayist en journalist Eduardo Hughes Galeano werd geboren op 3 september 1940 in Montevideo. Zie ook mijn blog van 3 september 2008.en ook mijn blog van 3 september 2009.
Uit: Memory of Fire
"For a long time Alvarado contemplated his beaten enemy, his body slashed open, the quetzal feathers sprouting from his arms & legs, the wings broken, the triple crown of pearls, diamonds & emeralds...
The children seated in a circle around the poet will ask: "& all this you saw? You heard?"
"Yes."
"You were here?" the children will ask.
"No. None of our people who were here survived."
The poet will point to the moving clouds & the sway of the treetops.
"See the lances?" he will ask. "See the horses' hooves? The rain of arrows? The smoke? Listen," he will say, & put his ear against the ground, filled with explosions.
& he will teach them to smell history in the wind, to touch it in stones polished by the river, & to recognize its taste by chewing certain herbs, without hurry, as one chews on sadness".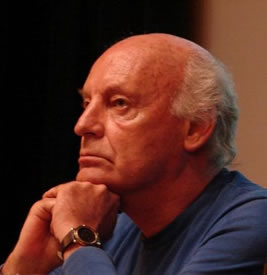 Eduardo Galeano (Montevideo, 3 september 1940)



De Amerikaanse schrijfster en literatuurwetenschapster Alison Lurie werd geboren op 3 september 1926 in Chicago, Illinois. Zie ook mijn blog van 3 september 2007 en ook mijn blog van 3 september 2008 en ook mijn blog van 3 september 2009.
Uit: Foreign Affairs
"Though patience is held to be a virtue most appropriate to women, especially aging women, Vinnie has always particularly disliked waiting for anything, and never does so if it can be avoided. Now, for instance, she elbows her way deftly past less experienced passengers who are searching for their seat numbers or are encumbered with excess luggage or with children, excusing herself in a thin pleasant voice. By crossing through the galley to the far aisle and back again between two rows of seats, she outflanks a massed confusion of obvious rubes with carry-on bags labeled sun tours. In less time than it takes to read this paragraph she has made her way to a window seat near an exit in the nonsmoking section, pausing only to extract the London Times and British Vogue from a magazine rack. (Once the plane is airborne, the stewardess will distribute periodicals to all the passengers, but those Vinnie prefers may vanish before they reach her.)
Following her usual procedure, Vinnie slides into her place and unzips her boots. In stocking feet she climbs onto the seat and opens the overhead locker; since she is barely over five feet tall, this is the only way she can reach it. She removes two pillows and a loose-woven blue blanket, which she drops onto the center seat beside her handbag and her British periodicals, thus tacitly claiming this space if—as is likely in midweek and mid-February—it hasn't been assigned to anyone. Then she arranges her worn wool-lined raincoat, her floppy beige felt hat, and her amber-and-beige Liberty-print wool shawl in the locker, in such a way that only the rudest of fellow passengers will attempt to encroach upon them. She slams the locker shut with some difficulty, and sits down. She stows her boots under her own seat along with a carton of duty-free Bristol Cream sherry, and puts on a pair of folding slippers. She arranges one pillow beside her head and wedges the other between her hip and the arm of the chair. Finally she smooths her crisply cut graying hair, leans back, and with a sigh fastens the seatbelt across her tan wool sweater and skirt."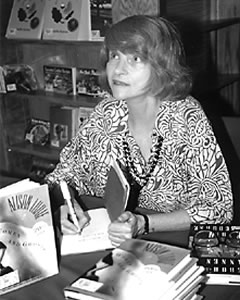 Alison Lurie (Chigaco, 3 september 1926)

De Russische schrijver Sergej Dovlatov werd geboren op 3 september 1941 in Ufa, in het zuiden van Rusland. Zie ook mijn blog van 3 september 2007 en ook mijn blog van 3 september 2008 en ook mijn blog van 3 september 2009.
Uit: Kurz ist das Leben (Vertaald door Eric Boemer)
"In ihrem Handtäschchen lag etwas, dass vom Umfang her nur etwas größer als der Miniaturbrowning für Frauen »Elita-16« war.
Regina Gasparjan stammte aus einer edlen russifizierten Familie. Ihr Vater war ein ziemlich bekannter Dozent des Stieglitz-Institutes. Als kommender Armenier beschäftigte er sich mit Kosmopolitismus. In den fünfziger Jahren schlug ihm der Forscher Čuev ein Album mit Reproduktionen von Degas in die Physiognomie.
Ihre Mutter war eine qualifizierte Übersetzerin. Kannte Kaškin. Traf sich mit Rita Kovalëva. Einen Monat lang begleitete sie Caldwell bei seiner Tournee durch den Kaukasus. Sie wurde wegen ihres komplizierten Charakters und als exotische östliche Schönheit gerühmt.
In ihrer Jugend war Regina eine typische sowjetische Schülerin. Nahm an Aufführungen teil. Spielte die Soja Kosmodejanskaja. Der Vater, unter Chruščëv rehabilitiert, nannte sie im Scherz »Sojka Komsomodejanskaja«.
Das Tauwetter brach heran. Im Haus des bekannten Künstlers Gasparjan versammelten sich junge Leute. Meistens Dichter. Hier fütterte man sie, und in der Hauptsache – man hörte sie geduldig bis zu Ende an. Unter ihnen befanden sich auch Lipskij und Brejn.
Alle waren ein bisschen hinter der schönen, belesenen und gut gebauten Regina her. Man widmete ihr Verse. Meist lustige, humoristische. Brejn schrieb ihr zu Beginn der Damanischen Krise aus Soči:
Wart' auf mich, ich kehr' zurück, wartest du nur sehr,
Warte, bis die Schwermut bringt gelbe Führer her …
Es begannen die siebziger Jahre. Das Tauwetter, wie sich die Journalisten der Emigration gerne ausdrücken, wurde vom Raureif abgelöst. Die besten Freunde gingen in den Westen."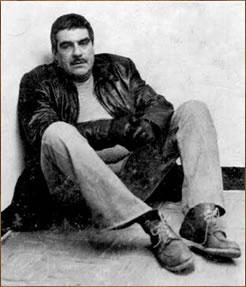 Sergej Dovlatov (3 september 1941 - 24 augustus 1990)
Onafhankelijk van geboortedata:
De Duitse dichter, schrijver en striptekenaar Lino Wirag werd geboren in 1983 in Pforzheim. Zie ook mijn blog van 3 september 2009.
Anti-Licht-Gedicht

Nächtig-dämmrig dichtes Nicht-Licht,
Das ein Schwarzloch in die Sicht sticht,
Dunkel-düstre Schummerstunde,
Tintenschwarze Schemenrunde.

Dreilicht, Zwielicht, Einslicht, Keinslicht,
Schwärze ist eine Gesteinsschicht,
Kohlpechzappenrabendunkel,
Koptisch finstres Mankelmunkel.

Mitternächtens, lichtlos-lauernd,
Schattenschläger, formlos-kauernd,
Friedhofsgänger, haltlos-schauernd,
Rottenregen, endlos-dauernd.

Gräber, Grüfte, Leichensteine,
Mausoleen, Steingebeine,
Urnen, Kreuze, Totenmale,
Ehrenstätten, Funerale,

Ziehen schwer durch mein Gemüt,
Wenn mein Aug' die Dinge sieht,
Die mein Ofenrohr verschmutzen:

Ich sollte doch mal wieder putzen.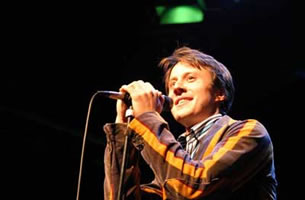 Lino Wirag (Pforzheim, 1983)

03-09-2010 om 00:00 geschreven door Romenu

Tags:Kiran Desai, Eduardo Galeano, Alison Lurie, Sergej Dovlatov, Lino Wirag, Romenu


02-09-2010

Willem de Mérode, Chris Kuzneski, Johann Georg Jacobi, Manfred Böckl
De Nederlandse dichter en schrijver Willem de Mérode (pseudoniem van Willem Eduard Keuning) werd op 2 september 1887 geboren in Spijk. Zie ook mijn blogs van mijn blog van 21 maart 2006, en ook mijn blog van 2 september 2006, eveeens mijn blog van 21 maart 2007 en mijn blog van 2 september 2007 en eveneens mijn blog van 21 maart 2008. en ook mijn blog van 2 september 2008. en ook mijn blog van 21 maart 2009 en ook mijn blog van 21 maart 2010. en ook mijn blog van 2 september 2009.
GANYMEDES (fragment)
Zijn schoonheid had haar rijkste bloei bereikt,
Nog éne dag, de schuchterheid der jeugd
Zou groeien tot de donkre durf des mans,
En hunkrend gloeien door zijn straffer lêen.
Maar nog niet : bevende was daar een glans,
Nu zilvren en dan even goudgetint,
Dan klaar en blank, dan diep- en purperrood,
Al naar hij wendde en ging, of danste of lag,
Al naar het siddrend rhythme van zijn aêm
Verdeinde rustig, of gejaagd en kort
En hijgend ging, wanneer begeerte heet
Met pijnigende slag zijn bevend hart
Deed bonzen hoorbaar, en het ziedend bloed
De polsen zwol ter suizelende slaap.
En al de heerlijkheid ontwaakter jeugd
Die schoon en veeg is als de morgendauw
Als haar de zon verheerlijkend verderft,
Straalde verblindend in Zeus' felle licht.
De goden minnen zeer het schoon geslacht
Der sterfelijke knapen, en hun glans
Huwt gaarne zich aan blode donkerheid.
Zo Zeus. - Hij zag de zoete heimlijkhêen
Waarmee zich Ganymedes iedre dag
Naar ziel en lijf, één enig offer, bood,
Als hij der haren donkre overvloed
Streek van het klare voorhoofd; als hij 't oog
Verdroomd liet dwalen langs het helle blauw
Des hemels, of, (de dauwen avondlucht
Was zijner lichte leden wazen kleed)
Ging, vleesgeworden smachten, gans alleen,
De weedom door van 't scheemrig geurend veld.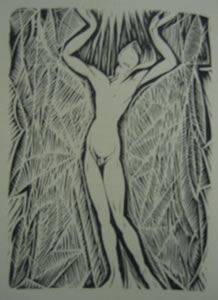 Houtsnede door Johan Dijkstra in de bundel Ganymedes
Zeus zag, en peinsde aan de aanminnigheid
Der ogen en de zoete prille mond,
Wiens kuise lieflijkheid was onberoerd,
En aan de schelpen zijner oren, waar
Het fluisteren der goddelijke stem
Zou wonen als 't geruis der eeuwige zee;
En aan de bleke blauw doorâerde hals,
Even gebogen, vloeiend wederzijds
Uit in de breekbre pracht der schouderen :
En peinsde aan zijn handen, smal en rap,
Die prijkten aan der armen kostlijkheid;
En aan de matte glans der nagelen,
Die droegen op hun flauw gebogen vlak
De bleke sikkel van Selenes beeld
Boven der vingren zongebronsde huid;
En peinsde aan zijn jonge ranke lijf,
En aan de huiverende zuiverheid
Der dijen en der knieën blank gewricht;
En peinsde aan de lichte statigheid
Der benen en d'aanbiddelijke dans
Der voeten, als zij gingen over de aard.
En heel dit broze en sterfelijke schoon
Beminde hij, wanneer het gouden licht
Van Helios de knaap deed glanze' als god,
En als Selenes zilveren gewaad
Hem kleedde boven gods onwelkbre pracht.
En Zeus beminde hem dees laatste dag
Van zijne jeugd ...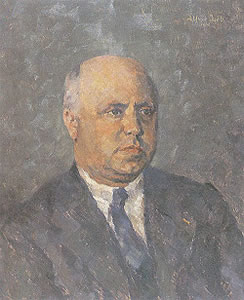 Willem de Mérode (2 september 1887 – 22 mei 1939)
Portret door oor Alfred Löb, 1936
De Amerikaanse schrijver Chris Kuzneski werd geboren op 2 september 1969 in Indiana, Pennsylvania. Zie ook mijn blog van 2 september 2009.
Uit: The Secret Crown
"For years he had been paid to protect the king. Now he had orders to kill him.
And it needed to be done today.
Without witnesses. Without wounds. Before he could slip away.
Tracking his target from the nearby trees, he watched Ludwig as he left the castle grounds and strolled along the shoreline. The king wore an overcoat and carried an umbrella, protection from the threatening skies that had blanketed the region for much of the day. Normally the sun wouldn't set until quarter past nine, but the approaching storm made dusk come early.
A storm that would wash away any signs of foul play.
The assassin checked his watch and noted the time. Ten minutes to seven. Dinner would be served at eight and not a moment before. If his target was late, an alarm would be sounded and a search party would be formed. That much was certain. This was a turbulent time in Bavaria, and Ludwig was the central figure in all the drama, somehow loved and hated at the exact same time.
Some viewed him as a hero, a brilliant visionary who could do no wrong. Others saw him as a madman, a paranoid schizophrenic who had bankrupted the royal family with his flights of fancy. The assassin realized the truth was probably somewhere in between, though he couldn't care less about politics. He was there to do a job, and he would do it without mercy."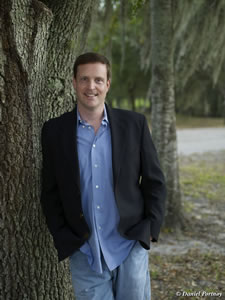 Chris Kuzneski (Indiana, 2 september 1969)
De Duitse dichter en schrijver Johann Georg Jacobi werd geboren op 2 september 1740 op Gut Pempelfort bij Düsseldorf. Zie ook mijn blog van 2 september 2009.
An Chloen

Bey der Liebe reinsten Flammen,
Glänzt das arme Hütten-Dach:
Liebchen! ewig nun beysammen!
Liebchen! schlafend oder wach!

Süßes, zärtliches Umfangen,
Wenn der Tag am Himmel graut:
Heimlich klopfendes Verlangen,
Wenn der Abend niederthaut!

Wonne dort auf allen Hügeln,
Wenn' im Thal, und Jubel hier!
Volle Freyheit, zu verriegeln
Unsre kleine Hütten-Thür!

Lobgesang in Finsternissen,
Wo kein Neider sich versteckt;
Wo nicht mehr, indem wir küssen,
Jedes Lüftchen uns erschreckt!

Und wir theilen alle Freuden,
Sonn' und Mond und Sternen-Glanz;
Allen Segen, alles Leiden,
Arbeit und Gebeth und Tanz.

So, bey reiner Liebe Flammen,
Endet sich der schöne Lauf;
Ruhig schweben wir zusammen,
Liebchen! Liebchen! Himmel auf.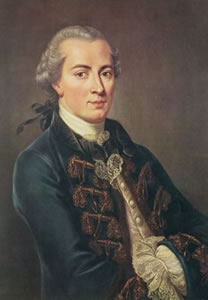 Johann Georg Jacobi (2 september 1740- 4 januari 1814)
De Duitse schrijver Manfred Böckl werd geboren op 2 september 1948 in Landau an der Isar. Zie ook mijn blog van 2 september 2009.
Uit : Šumava - Die Saga des Böhmerwaldes
"Schwarzkoppe nannte ich diesen Berg, als ich ihn zum erstenmal sah", sagte Birg leise.
"Čerchov", murmelte Boleslav. "Gut hast du den Namen gewählt. Schon von weitem erinnerte sein Vrchol, sein Gipfel, an einen gewaltigen Kohlenmeiler, der osamělý, einsam, in der Wildnis glost. Jedenfalls pak, dann, wenn Wolkenschatten ihn überstrichen."
Der Helläugige nickte, dann deutete er nach Nordosten. "Der Aufstieg auf den Čerchov, wie du ihn nennst, hat uns vom geraden Weg abgebracht", erklärte er. "Doch von hier aus kannst du bereits das Tal erkennen, zu dem ich dich führen wollte. Dort drüben, wo die Nord- und Südhänge sich sanft gegeneinander neigen, schlängelt sich ein Flüßchen durch den Wald, welches nach meiner Schätzung später in die Radbuza mündet -so wie du mir ihren Lauf neulich beschrieben hast. Ich entdeckte das Gewässer im vorigen Jahr, als ich in dieser Gegend pirschte. Der Boden dort ist gut, reichlich steht das Wild in den Wäldern. Und am Sonnenhang des einen Hügels sah ich Wildemmer wachsen, so daß dort sicher auch Korn geerntet werden kann."
Der Sorbe schenkte seinem Freund einen dankbaren Blick: Dann schätzte er die Wegstrecke ab, die sie noch von ihrem Ziel trennte. "Vor Sonnenuntergang werden wir es bohužel, leider, nicht mehr bis dorthin schaffen", sagte er zuletzt mit bedauerndem Unterton in der Stimme.
Birg stimmte ihm zu: "Die Zeit reicht gerade noch für den Abstieg und den Bau einer Unterkunft aus. Doch morgen wird der Tag noch nicht alt sein, bis wir dort angekommen sind, wo du mit deinen Leuten siedeln wirst - vorausgesetzt, der Platz sagt dir wirklich zu." "Ich habe das Pocit, das Gefühl, er wird es tun", erwiderte Boleslav. "Und ich werde dann immer den Čerchov vor Augen haben, von dem aus ich dohromady, zusammen, mit dir die neue Heimat zum erstenmal sah."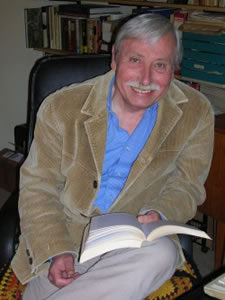 Manfred Böckl (Landau an der Isar, 2 september 1948)


Zie voor nog meer schrijvers van de 2e september ook
mijn vorige blog van vandaag
en eveneens
mijn eerste blog van vandaag.
02-09-2010 om 18:46 geschreven door Romenu

Tags:Willem de Mérode, Chris Kuzneski, Johann Georg Jacobi, Manfred Böckl, Romenu



Johan Daisne, Joseph Roth, Paul Bourget, Pierre Huyskens
De Belgische dichter en schrijver Johan Daisne werd op 2 september 1912 in Gent geboren als Hermanus Thiery. Zie ook mijn blog van 2 september 2006 en ook mijn blog van 2 september 2007.en ook mijn blog van 2 september 2008 en ook mijn blog van 2 september 2009.
Ik ook, heer

Het jaar waait met verwoede rukken.
De zondag zieltoogt achter 't raam .
Ik zie de bomen wijslijk bukken,
ontbladerd en beroofd van naam.

Ik zou hun armen willen drukken',
Ik die hier loom van warmte zit
maar met mijn hart en hoofd aan stukken:
een droom van donker en sneeuwwit!

Waarom zou het ook mij niet mogen lukken,
daar morgen weerom schoon te staan?
Straks komen feesten die verrukken
en steeds toch gaat de zon weer aan.

Blijf bloesems van uw bomen plukken -
ik ook, Heer, ben Uw onderdaan!
Met zeven aan tafel

Met zeven aan tafel, zo zitten
de oude vrienden nog een keer.
Gele bladen werden weer witte.
Die mocht leven, zegent de Heer.

Al doet het allemaal weer zeer,
de dingen die van daden droomden,
die waarheid waren, roos en speer,
en al wat mettertijd verloomde.

Maar hier, hier zitten we dan weer,
met koffie of een whisky-soda,
terwijl ik van de oude ode

een woord, een komma corrigeer.
En we vertellen van het leven,
dat altijd werd en wordt geschreven,

mijn God, tot Uw meerdere eer!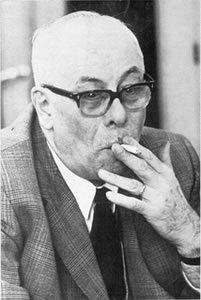 Johan Daisne (2 september 1912 – 9 augustus 1978)
De Oostenrijks – Hongaarse schrijver en journalist Joseph Roth werd geboren op 2 september 1894 in Brody in Galicië. Zie ook mijn blog van 2 september 2006 en ook mijn blog van 2 september 2007. en ook mijn blog van 2 september 2008 en ook mijn blog van 2 september 2009.
Uit: Hiob
"Vor vielen Jahren lebte in Zuchnow ein Mann namens Mendel Singer. Er war fromm, gottesfürchtig und gewöhnlich, ein ganz alltäglicher Jude. Er übte den schlichten Beruf eines Lehrers aus. In seinem Haus, das nur aus einer geräumigen Küche bestand, vermittelte er Kindern die Kenntnis der Bibel. Er lehrte mit ehrlichem Eifer und ohne aufsehenerregenden Erfolg. Hunderttausende vor ihm hatten
wie er gelebt und unterrichtet.
Unbedeutend wie sein Wesen war sein blasses Gesicht. Ein Vollbart von einem gewöhnlichen Schwarz umrahmte es ganz. Den Mund verdeckte der Bart. Die Augen waren groß, schwarz, träge und halbverhüllt von schweren Lidern. Auf dem Kopf saß eine Mütze aus schwarzem Seidenrips,
einem Stoff, aus dem manchmal unmoderne und billige Krawatten gemacht werden. Der Körper steckte im halblangen landesüblichen jüdischen Kaftan, dessen Schöße flatterten, wenn Mendel Singer durch die Gasse eilte, und die mit hartem regelmäßigen Flügelschlag an die Schäfte der hohen Lederstiefel pochten.
Singer schien wenig Zeit zu haben und lauter dringende Ziele. Gewiß war sein Leben ständig schwer und zuweilen sogar eine Plage. Eine Frau und drei Kinder mußte er kleiden und nähren. (Mit einem vierten ging sie schwanger.) Gott hatte seinen Lenden Fruchtbarkeit verliehen, seinem Herzen
Gleichmut und seinen Händen Armut. Sie hatten kein Gold zu wägen und keine Banknoten zu zählen. Dennoch rann sein Leben stetig dahin, wie ein kleiner armer Bach zwischen kärglichen Ufern. Jeden Morgen dankte Mendel Gott für den Schlaf, für das Erwachen und den anbrechenden Tag.
Wenn die Sonne unterging, betete er noch einmal. Wenn die ersten Sterne aufsprühten, betete er zum dritten Mal."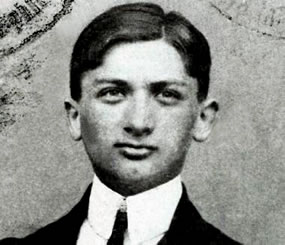 Joseph Roth (2 september 1894 - 27 mei 1939)
De Franse dichter en schrijver Paul Charles Joseph Bourget werd geboren op 2 september 1852 in Amiens. Zie ook mijn blog van 2 september 2007 en ook mijn blog van 2 september 2008 en ook mijn blog van 2 september 2009.
Remords dans l'avenir (Fragment)
Tu ne m'aimeras pas, bien que la destinée
Ait ému nos deux cœurs en un seul battement,
Que tu saches ma vie aux deuils abandonnée,
Et que je t'ai un jour chérie uniquement.
Je n'aurai pas la gloire, et mon adolescence
S'était épanouie en beaux et chastes vers.
Nul n'adora peut-être avec plus d'espérance
L'âme de notre obscur et mystique univers.
Je ne vivrais pas pur et je hais la matière,
Etant de toute chair aussitôt dégoûté,
Réjoui seulement par la pure lumière
De l'éternel amour, vierge et sans volupté.
....
Mais les grands cœurs humains, plus troublés que les ondes,
Ces cœurs aujourd'hui froids et jadis embrasés,
Qui pourra compter sous leurs douleurs profondes
Tous les amours éteints et les espoirs brisés ?
....
Qui se souvient, devant l'horizon blanc de voiles,
Que le ciel et la mer sont deux vastes tombeaux ?
On aime une jeune fille de quinze ans,
Oh! reste ainsi toujours sans comprendre les âmes,
Les yeux ouverts sans pleurs sur l'immense horizon ;
Que les astres divins éclairent de leur flammes,
Sans les brûler jamais, ton cœur et ta raison !
Prends en pitié le mal qu'on apaise ou qu'on aide,
Les pauvres corps qu'on touche et qu'on peu secourir,
Et ne connais jamais la peine sans remède
Du cœur humain blessé qui ne veut pas guérir.
Car l'amour même malheureux est toujours bon ...

Paul Bourget (2 september 1852 – 25 december 1935)
Portret door Paul Chabas

De Nederlandse journalist en schrijver Pierre Huyskens werd geboren op 2 september 1931 in Wessem. Zie ook mijn blog van 19 november 2008 en ook mijn blog van 2 september 2009.
Ballade van de kroonduif
Bekijkt u nu dit monument
U ziet de tropenzon erin verbeeld,
die met haar zwoele warmte
het rijk van Insulinde
zo genereus bedeelt.
U ziet de koppen van karbouwen
en u herkent de kracht, waarmee
zij hielpen 't land verbouwen –
de sawah's, hier in steen geïmiteerd.
Maar hier wordt niet alleen
die éne parel
aan de Gordel van Smaragd.
Het eiland Java met zijn vruchtbaarheid
in beeld gebracht.
O, nee, u ziet de Kroonduif toch,
symbool destijds van Neerlands
Nieuw-Guinea; het mooiste sluitstuk
van die Gordel van Smaragd,
dat Nederland zich hoe dan ook,
in lengte van jaren had toebedacht.
Helaas- dat droombeeld ging niet op.
U hebt in trouwe dienstplicht,
maar vergeefs dat mooie land
met Kroonduif en met Vogelkop
beschermd als laatste krijgsmacht,
in de oost.
Als laatste sluitstuk van het overzees bewind.
Een schrale troost.
U wist het zelf ook, al gauw;
het was de wereldpolitiek
die het 'Den Haag' voorschreef
dat Nieuw-Guinea als Irian Jaja
met Papoea-volk en al
voor Nederland niet behouden bleef.
Het doet niets af
aan wat u daar met inzet
en met vlagge-trouw
met hoog moreel en zware offers
hebt volbracht.
En wat u overbleef was rouw
om al die kameraden, die nog
te land, ter zee en in de lucht
het hoogste offer hebben gebracht,
in het zo late eind
van een vergeefse strijd
om dat laatste juweel
van die Gordel van Smaragd.
Neem nu, ondanks uw eigen pijn
in ziel of lichaam
een ogenblik hun naam
in uw gedachten,
opdat zij in de stilte van dit park
en bij de erewacht van deze oude bomen
in het haast tropisch licht van deze zon
en door de Kroonduif zelf gedragen
weer even levend bij ons komen.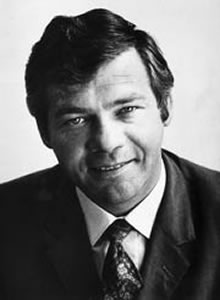 Pierre Huyskens (2 september 1931 – 19 november 2008)

02-09-2010 om 18:37 geschreven door Romenu

Tags:Johan Daisne, Joseph Roth, Paul Bourget, Pierre Huyskens, Romenu



Paul Déroulède, Giovanni Verga, Richard Voß
De Franse dichter, schrijver en politicus Paul Déroulède werd op 2 september 1846 geboren in Parijs. Zie en ook mijn blog van 2 september 2009.
LE CLAIRON (Fragment)
L'air est pur, la route est large
Le clairon sonne la charge
Les zouaves vont en chantant
Et la haut sur la colline,
Dans la forêt qui domine,
Le Prussien les attend.
Le clairon est un vieux brave
Et lorsque la lutte est grave,
C'est un rude compagnon;
Il a vu mainte bataille
Et porte plus d'une entaille,
Depuis les pieds jusqu'au front
C'est lui qui guide la fête,
Jamais sa fière trompette
N'eut un accent plus vainqueur,
Et de son souffle de flamme,
L'espérance vient à l'âme,
Le courage monte au coeur.
On grimpe, on court, on arrive,
Et la fusillade est vive
Et les Prussiens sont adroits;
Quand enfin le cri se jette:
"En marche! A la baïonette!"
Et l'on entre sous le bois.
A la première décharge,
Le clairon sonnant la charge
Tombe frappé sans recours;
Mais, dans un effort suprême,
Menant le combat quand même,
Le clairon sonne toujours.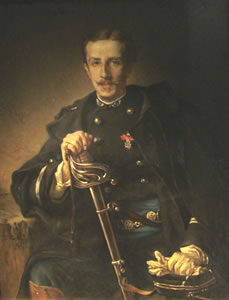 Paul Déroulède (2 september 1846 - 30 januari 1914)
Portret door Jean-François Portaels, 1877
De Italiaanse schrijver Giovanni Verga werd op 2 september 1840 geboren als oudste zoon in een welgestelde liberale Siciliaanse familie in Catania op Sicilië. Zie ook mijn blog van 2 september 2009.
Uit: Cavalleria Rusticana and Other Stories (Vertaald door G. H. McWilliam)
"The She-Wolf
She was dark-haired, tall and lean, with firm, well-rounded breasts, though she was no longer young, and she had a pale complexion, like someone forever in the grip of malaria. The pallor was relieved by a pair of huge eyes and fresh red lips that looked as though they would eat you.
In the village they called her the She-Wolf because, no matter what she had, she was never satisfied. The woman crossed themselves whenever they saw her coming, lone as a stray bitch, with the restless and wary appearance of a starving wolf. She would gobble up their sons and their husbands in the twinkling of an eye with those red lips of hers, and draw them to the tail of her skirt and transfix them with those devilish eyes, as though they were standing before the altar at St Agrippina's. Luckily the She-Wolf herself never set foot inside the church, either at Easter or at Christmas or to hear Mass or to go to confession. Father Angiolino of St Mary of Jesus, a true servant of God, had lost his soul on her account. Maricchia, poor girl, a good and worthy soul, shed tears in secret because she was the She-Wolf's daughter and nobody would ever want to marry her, even though she too had a fine trousseau tucked away in a chest and a patch of decent land in the sun, like any other girl in the village.
Then it happened that the She-Wolf fell in love with a handsome young fellow back from the army, when the two of them were hay-making on the notary's farm. She'd fallen for him lock, stock and barrel, her flesh burning beneath her thick cotton bodice, and, staring into his eyes, she was overcome with the kind of thirst you would experience down in the valley on a hot midsummer day. But he just kept scything calmly away, head down over the hay, saying "What's the matter, Pina?".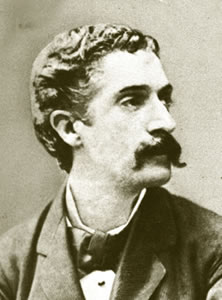 Giovanni Verga (2 september 1840 – 27 januari 1922)
De Duitse schrijver Richard Voß werd geboren op 2 september 1851 op Gut Neugrape in Pommern. Zie ook mijn blog van 2 september 2009.
Uit: Ein Münchner Regentag
Das Wetter war schauderhaft! Schnee und Regen durcheinander. Dabei scharfer Nordwind, und auf Straßen und Plätzen ein Schmutz, daß der kühne Fußwanderer Pfützen durchwaten und wahre Moräste durchschreiten mußte inmitten der lieben Hauptstadt des schönen Bayerlandes. Und zwar geschah solches nicht etwa im grauen, barbarischen Mittelalter, sondern in der aufgeklärten Zeit einer universellen Skepsis und des Glühlichts.
München bei Novemberregen!
In der fashionabeln Briennerstraße einige tiefgesenkte, hin und her schwankende Schirme; auf dem friedlichen Odeonsplatz kein einziger Fiaker; die ganze lange, klassische Ludwigsstraße bis hinauf zum feierlichen Siegestor kaum eine lebendige Seele.
Der Regen rauschte und rauschte, der Tag wurde trüber und trüber; aus dem durchweichten Boden, aus sämtlichen kleinen und großen Wasserlachen stiegen Dünste auf; vom Himmel sanken dichter und dichter die Nebel herab, die der Wind wie Rauchwolken vor sich her trieb.
Die winzigen, blauweiß angestrichenen Wagen der hauptstädtischen Pferdebahn, mit dem einen einzigen, lebensmüden Rößlein davor, glitten wie Nürnberger Riesenspielzeug durch den Dunst hin und her. Bei dem stattlichen Eckhaus, in dessen Erdgeschoß Thierry und Breuil die neuesten, allerliebsten Quincailleriekapricen Altenglands feilhält und die alte, biedere Brienner Bäckerei ihre Gäste mit gut bürgerlichem Kaffee und massiven Backwaren erquickt – an dieser bedeutsamen Stelle des großstädtischen Verkehrs ertönte von Zeit zu Zeit, das Rauschen des Regens und das Brausen des Windes durchgehend, der schrille Pfiff des bedauernswerten Rosselenkers. Er und der Kondukteur hatten ihr leuchtendes Himmelblau unter dunkeln Hüllen verborgen, als müßten sie mithelfen, das Bild eines echten deutschen Regentages grau in grau zu malen.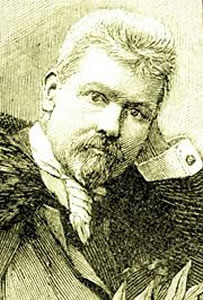 Richard Voß (2 september 1851 – 10 juni 1918)

02-09-2010 om 18:31 geschreven door Romenu

Tags:Paul Déroulède, Giovanni Verga, Richard Voß, Romenu


01-09-2010

W. F. Hermans, Hubert Lampo, Blaise Cendrars, Peter Adolphsen
De Nederlandse schrijver Willem Frederik Hermans werd geboren op 1 september 1921 in Amsterdam. Zie ook mijn blog van 1 september 2006. Zie ook mijn blog van 1 september 2007 en ook mijn blog van 1 september 2008 en ook mijn blog van 1 september 2009.
Uit: Herinneringen van een engelbewaarder

"Het is, edelachtbare heren, een groot voorrecht in een vrij en democratisch land te leven als het onze. Niet minder groot is het voorrecht dagbladschrijver te zijn in zulk een land, waar persvrijheid bestaat. Waar vrijheid van gedachten, vrijheid van geest al eeuwen dierbare goederen zijn, door het voorgeslacht met opoffering van goed en bloed verworven, door het nageslacht behoed als het kostbaarste kleinood dat het verleden ons nagelaten heeft."
De stem van zijn engel onderscheidde hij niet van de stem van zijn gedachten. Wat er op papier stond waren zijn gedachten op dat ogenblik niet en daardoor ging er dan ook van Alberegt's voordracht niet de geringste bezieling uit. Want mijn stem kon hij niet tot zwijgen brengen en ik kon dat evenmin, omdat het denken van een engel altijd spreken is en zijn spreken denken.
"Juist daarom, meneer de president, mogen wij niet nalaten dit goed, tot hoge prijs gewonnen, ook tot elke prijs te verdedigen. Juist omdat wij deze onmetelijke vrijheid van gedachten bezitten, juist daarom moeten wij zelf bepalen hoever wij in het uiten van die gedachten kunnen gaan. Het is dan ook toe te juichen dat de wetgever enige jaren geleden besloten heeft het in woord en geschrift beledigen van bevriende staatshoofden strafbaar te stellen.
Juist omdat de vrijheid ons hoogste goed is, dienen wij ons beperkingen op te leggen. Het zou niet aangaan dat ons land, door de onberaden uitlatingen van sommige pennevoerders, in den vreemde de reputatie zou krijgen dat hier de persoon van bevriende staatshoofden niet de bescherming zou genieten, die ook de gewone burger geniet.
Men kan over het regime dat door Adolf Hitler in Duitsland gevoerd wordt, zo zijn gedachten hebben. Uitdrukkelijk wil ik echter vaststellen dat het de zaak van de Duitsers is, niet de onze, te beslissen hoe en door wie zij wensen te worden geregeerd, Voorts in aanmerking genomen dat Nederland aan Duitsland grenst; dat Nederland klein is en Duitsland groot; dat allerwegen een vernietigende oorlog woedt; dat ons land tot dusverre voor de verschrikkingen van deze oorlog gespaard gebleven is. Daarbij ons afvragende wat de kleine pen van een kleine pennevoerder in een klein neutraal land zou vermogen te bewerkstelligen tegen vermeend groot onrecht in een grote en machtige buurstaat, komen wij tot de conclusie dat verdachte niet de zorgvuldigheid in acht genomen heeft die elke burger in een vrij land siert, toen hij het geïncrimineerde artikel over het Duitse staatshoofd aan het papier toevertrouwde."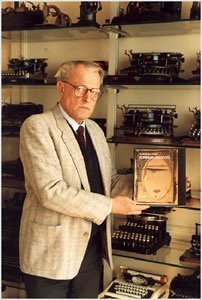 W. F. Hermans (1 september 1921 – 27 april 1995)
De Belgische schrijver Hubert Lampo werd op 1 september 1920 geboren in Het Kiel, Antwerpen. Zie ook mijn blog van 1 september 2006. Zie ook mijn blog van 1 september 2007 en ook mijn blog van 1 september 2008 en ook mijn blog van 1 september 2009.
Uit: Terugkeer naar Atlantis
"De Nederzetting
Op een vochtige avond als deze drijft de organische reuk van de kleine kaarsenfabriek laag en haast tastbaar over de nederzetting. Ons, de inboorlingen, schijnt die reuk niet te hinderen. Ook hij heeft er iets mee te maken: weer voel ik mij in het uitsterven van de nazomer een jaar ouder geworden. Nog steeds staan de gaslantarens nutteloos te branden in het landschap van mijn jeugd. Mijn laatste bezoekers voor vandaag waren een vrouw met een kind, dat aan heupgewrichtsontsteking lijdt: armoedzaaiers, zoals de anderen. Morgenvroeg zal ik het stedelijk hospitaal opbellen en horen, wat ze voor me doen kunnen. Het regende geruisloos toen ik hen uitliet. Bedachtzaam heb ik mijn pijp gestopt. Als beschutting tegen de tocht, hield ik de handen bol om de opvlammende lucifer heen. Het deed mij denken aan de vreemde lantarens, die wij als kind omstreeks deze tijd in de vorm van een doodshoofd uit geroofde bieten sneden en waarvoor wij zélf huiverden, als we er een kaars in opstaken. Ik rookte langzaam en aandachtig een goedkope, doch met overleg gekozen zware tabak, gemengd met eigen kweeksel. Daarna heb ik de luiken gesloten. Het geknars der scharnieren en het bonzen van het hout schonken mij één ogenblik die kleine rilling van destijds weder, wanneer moeder mij naar bed had gebracht."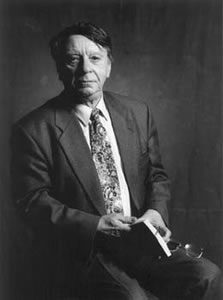 Hubert Lampo (1 september 1920 - 12 juli 2006)
De Franstalige, Zwitserse dichter en schrijver Blaise Cendrars werd geboren op 1 september 1887 in La Chaux-de-Fonds. Zie ook mijn blog van 1 september 2007 en ook mijn blog van 1 september 2008 en ook mijn blog van 1 september 2009.
Trans-Siberian Prose and Little Jeanne from France (Fragment)

I was in my adolescence at the time
Scarcely sixteen and already I no longer remembered my childhood

I was 16,000 leagues from my birthplace
I was in Moscow, in the city of a thousand and three belfries and seven railroad stations
And they weren't enough for me, the seven railroad stations and the thousand and three towers
For my adolescence was so blazing and so mad
That my heart burned in turns as the temple of Epheseus, or as Red Square in Moscow
When the sun sinks.
And my eyes shone upon the ancient routes
And I was already such a bad poet
That I didn't know how to go all the way to the end.

The Kremlin was like an immense Tatar cake
Crusted with gold,
With great almonds of cathedrals all done in white
And the honeyed gold of the bells…

An old monk was reading to me the legend of Novgorod
I was thirsty
And I was deciphering cuneiform characters
Then, suddenly, the pigeons of the Holy Spirit soared above the square
And my hands also flew up, with the rustling of the albatross
And these, these were the last recollections of the last day
Of the entire last voyage
And of the sea.
But I was a very bad poet.
I didn't know how to go to all the way to the end.
I was hungry
And all the days and all the women in the cafés and all the glasses
I would have liked to drink and to break them
And all the shop windows and all the streets
And all the homes and all the lives
And all the wheels of the hackney cabs turning in a whirlwind on the bad cobblestones
I would have wanted to thrust them into a furnace of swords
And I would have wanted to crush all the bones
And to tear out all the tongues
And to liquefy all the big bodies strange and naked under the clothing that drives me to madness…
I sensed the coming of the great red Christ of the Russian revolution…
And the sun was a bad wound
That split open like a burnt up inferno.


Vertaald door Ekaterina Likhtik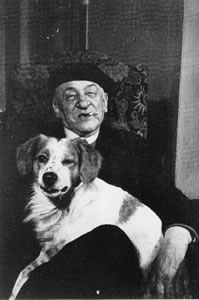 Blaise Cendrars (1 september 1887 – 21 januari 1961)
De Deense schrijver Peter Adolphsen werd geboren op 1 september 1972 in Århus. Zie ook mijn blog van 1 september 2007 en ook mijn blog van 1 september 2008 en ook mijn blog van 1 september 2009.
Uit: Kleine Geschichten (Vertaald door Uwe Englert)
"Vor dem Beginn aller Zeiten öffnete GOtt das Buch der Schöpfung und riss eine Seite heraus, denn hätte ER dies nicht getan, wäre das Buch vollkommen und somit die Existenz GOttes unmöglich, da es eines von GOttes Attributen ist, das einzige Vollkommene zu sein. Danach begann ER zu lesen, und allmählich entstand das Universum, indem dessen Geschichte unter Seinen Augen vorüberglitt, doch als ER an die fehlende Seite gelangte und einfach weiterlas, gab es notwendigerweise etwas, das ER nicht wusste, womit Seine Existenz ebenfalls unmöglich war, denn ein weiteres Seiner Attribute ist Seine Allwissenheit. Da ER aber allwissend ist, wusste er von Beginn an, dass ER sich - unabhängig davon, ob er die Seite herausreißen würde oder nicht -, gezwungen sähe, Seine Existenz zu beenden; ergo haben weder GOtt, das Buch, noch beide zusammen jemals existieren können, was in jedem Fall bedeutet, dass auch diese Geschichte unmöglich ist. Es sei denn, ER ist noch nicht an die fehlende Seite gelangt."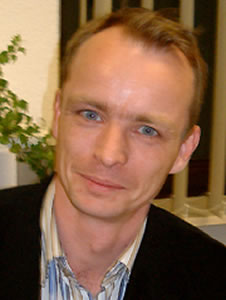 Peter Adolphsen (Århus, 1 september 1972)





Zie voor nog meer schrijvers van de 1e september ook mijn vorige blog van vandaag.

01-09-2010 om 20:48 geschreven door Romenu

Tags:W. F. Hermans, Hubert Lampo, Blaise Cendrars, Peter Adolphsen, Romenu



Sabine Scho, Lenrie Peters, J. J. Cremer, Edgar Rice Burroughs
De Duitse dichteres en schrijfster Sabine Scho werd geboren op 1 september 1970 in Ochtrup. Zie ook mijn blog van 1 september 2009.
chartreuse

glaub das doch bitte nicht
was man sagt, was man sieht
die abgewedelten deprivationen
der aufgehellte fleck, und frag
nicht nach fahnen, am malen
ist doch was dran, man kann
auch taschenschirme klonen
und behaupten, sie seien geklaut
bis davon was sichtbar wird
bleibt regen regen, »es läuft
es rollt die leere fassade«
hat es je jemanden interessiert

was man dahinter wie destilliert?


glacier
hartschaum, zerkaute
icegumfelder, bricolage
in curaçao, der umgekippte
saft, das wilde
gefrieren passiert problemlos
die blut-hirnschranke,
eros und
schmelze, squeeze
serotonin, klebt wie
hulle, i mean, warum
ziehst du nicht einfach
leine, empty a bottle
and feel a bit freeze
gefäßverengender
wird es nicht mehr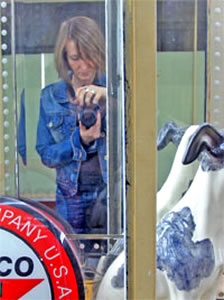 Sabine Scho (Ochtrup, 1 september 1970)
De Gambiaanse schrijver en chirurg Lenrie Leopold Wilfred Peters werd geboren in Bathurst op 1 september 1932. Zie ook mijn blog van 1 september 2009.

We Have Come Home
We have come home
From the bloodless wars
With sunken hearts
Our booths full of pride-
From the true massacre of the soul
When we have asked
'What does it cost
To be loved and left alone'

We have come home
Bringing the pledge
Which is written in rainbow colours
Across the sky-for burial
But is not the time
To lay wreaths
For yesterday's crimes,
Night threatens
Time dissolves
And there is no acquaintance
With tomorrow

The gurgling drums
Echo the stars
The forest howls
And between the trees
The dark sun appears.

We have come home
When the dawn falters
Singing songs of other lands
The death march
Violating our ears
Knowing all our loves and tears
Determined by the spinning coin

We have come home
To the green foothills
To drink from the cup
Of warm and mellow birdsong
'To the hot beaches
Where the boats go out to sea
Threshing the ocean's harvest
And the hovering, plunging
Gliding gulls shower kisses on the waves

We have come home
Where through the lighting flash
And the thundering rain
The famine the drought,
The sudden spirit
Lingers on the road
Supporting the tortured remnants of the flesh
That spirit which asks no favour of the world
But to have dignity.To be loved and left alone'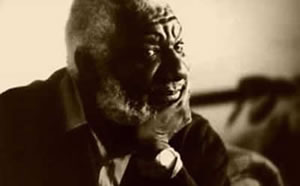 Lenrie Peters (1 september 1932 - 28 mei 2009)

De Nederlandse schrijver Jacob(us) Jan Cremer werd geboren op in Arnhem op 1 september 1827. Zie ook mijn blog van 1 september 2009.
Uit: Fabriekskinderen
"'t Is winter. Een koude decembernacht houdt met kille vingers oud Hollands grijze academieveste den blinddoek voor de oogen.
Slechts een waardig trawant van den reuzengeest dezer eeuw voert strijd met den nacht en rukt er gedurig den blinddoek weêr los. Zie maar, de gazvlammen werpen van afstand tot afstand een vlugtig licht in de holle straten en ginds langs de sombere grachten.
Waartoe die kamp; waarvoor dat licht? Immers de stad ging ter ruste en slaapt.
Geloof het niet, want telkens moet ze wakker en ziende zijn, wakker en ziende om er te waken voor het onheil dat naderen kon.
En de oude stad, zij slaapt dan ook niet. Slechts bij wijlen bevangt haar een ligte sluimering, en 't schijnt u toe als droomde zij van heur alouden roem - even als de teedere loot van den grijzen vorst der Alpen, die zoetjes dommelt aan haren boezem, en murmelt en fluistert van de grootheid zijner afkomst.
Maar toch, hoe vlugtig ook haar sluimering zij - telkens turend over den blinddoek heen, om er te waken zelfs in den nacht, toch vermag zij het niet zoo als zij 't zou willen.
De arme is krank!
Ja, 't hoofd is wel helder, zelfs klaarder dan voorheen; ja heur harte klopt wel even luide voor deugd en voor trouw als in de dagen harer jeugd, nogtans, gij ziet het wel hoe heur regter-arm als verlamd daar ter nederligt.
Luister:
Een deel van heur eêlste sappen gingen over in onzuivere vochten; in vochten die zich vormden tot een afzigtelijke wonde; een wonde die hare krachten verteert, en welligt haar voert in het einde tot de slooping van haar glorierijk bestaan."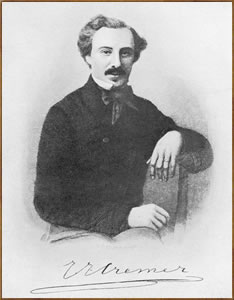 J. J. Cremer (1 september 1827 - 5 juni 1880)
De Amerikaanse schrijver Edgar Rice Burroughs werd geboren in Chicago op 1 september 1875 als de zoon van een zakenman. Zie ook mijn blog van 1 september 2008 en ook mijn blog van 1 september 2009.
Uit: The Son of Tarzan
"Paulvitch had taken to the jungle when he had seen the beasts of Tarzan and their savage lord swarm the deck of the Kincaid, and in his terror lest Tarzan pursue and capture him he had stumbled on deep into the jungle, only to fall at last into the hands of one of the savage cannibal tribes that had felt the weight of Rokoff's evil temper and cruel brutality. Some strange whim of the chief of this tribe saved Paulvitch from death only to plunge him into a life of misery and torture. For ten years he had been the butt of the village, beaten and stoned by the women and children, cut and slashed and disfigured by the warriors; a victim of often recurring fevers of the most malignant variety. Yet he did not die. Smallpox laid its hideous clutches upon him; leaving him unspeakably branded with its repulsive marks. Between it and the attentions of the tribe the countenance of Alexis Paulvitch was so altered that his own mother could not have recognized in the pitiful mask he called his face a single familiar feature. A few scraggly, yellow-white locks had supplanted the thick, dark hair that had covered his head. His limbs were bent and twisted, he walked with a shuffling, unsteady gait, his body doubled forward. His teeth were gone--knocked out by his savage masters. Even his mentality was but a sorry mockery of what it once had been.
They took him aboard the Marjorie W., and there they fed and nursed him. He gained a little in strength; but his appearance never altered for the better--a human derelict, battered and wrecked, they had found him; a human derelict, battered and wrecked, he would remain until death claimed him. Though still in his thirties, Alexis Paulvitch could easily have passed for eighty. Inscrutable Nature had demanded of the accomplice a greater penalty than his principal had paid."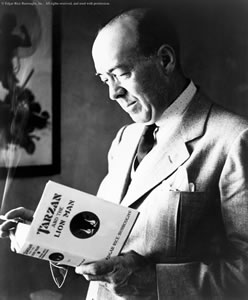 Edgar Rice Burroughs (1 september 1875 - 19 maart 1950)

01-09-2010 om 19:54 geschreven door Romenu

Tags:Sabine Scho, Lenrie Peters, J. J. Cremer, Edgar Rice Burroughs, Romenu


31-08-2010

Wolfgang Hilbig, Raymond P. Hammond, Elizabeth von Arnim, William Saroyan, Théophile Gautier
De Duitse dichter en schrijver Wolfgang Hilbig werd geboren in Meuselwitz op 31 augustus 1941. Zie ook mijn blog van 31 augustus 2007 en ook mijn blog van 31 augustus 2008 en ook mijn blog van 31 augustus 2009.
Mittag
Balance der eingelegten reglos ruhenden Ruder
von denen blendend weiße Tropfen fallen
auf den zitternden Spiegel der See
in der unwirklichen Stille des lotrechten Lichts –
während in der Tiefe die Nacht sich wälzt mit ihrem Gewürm –
o dieser Augenblick im Gleichgewicht der den Atem anhält
bevor das Bild kentert.
Hinter Mir
Hinter meiner Mauer
im Rücken meiner Undurchdringlichkeit
im Licht
drehen sich Gottes Spielzeuge um sich selbst …
Hinter mir diese Karusselle von Desastern: grell bemalt
und von den blauen Netzen der Sonne verhüllt
und fern in verstockter Musik.
Matière de la poésie
Das Meer verhüllt von Licht: verhüllt von Helligkeit ...
im Sinn von Licht: ein Lilienweiß um nichts zu sein
als Weiß der Lilien – und Meer um nichts als Meer
zu sein und ohne Maß: und Mond-Abwesenheit –
welch Leuchten das seine langer Überfahrt antritt
und jedes Land vergisst auf nichts bedacht als Ewigkeit -
das Meer: das nicht mehr Tag noch Nacht ist sondern Zeit.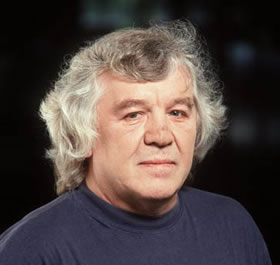 Wolfgang Hilbig (31 augustus 1941 - 2 juni 2007)
De Amerikaanse dichter, criticus en tijdschriftredacteur Raymond P. Hammond werd geboren op 31 augustus 1964 in Roanoke, Virginia. Hij volgde William Packard op bij de New York Quarterly na diens overlijden in 2002. Zie ook mijn blog van 31 augustus 2007 en ook mijn blog van 31 augustus 2008 en ook mijn blog van 31 augustus 2009.
I love how the snow slightly
I love how the snow slightly
salts on shoulders, in hair
of the darkly draped women
whose sole earlier accent
of color was powder blue
pink, red, green, fuchsia scarves, hats
a contrast of dark to light
daguerreotype to color
old, young, ancient to modern
a colorized timelessness
of vision that I can pass
through and get chillingly wet
Crows Crouched
Crows crouched
on Southern Crosses
erected by some other
crazy christian
whose pyrrhic vision
told him to paint
the two smaller ones blue
and the center one gold
whose base is now rotten
and leaning toward
the theif who didn't
repent
Richard of St. Victor's
dark and fluttering souls
held fast
to this earth
by the weightless
gravity of sin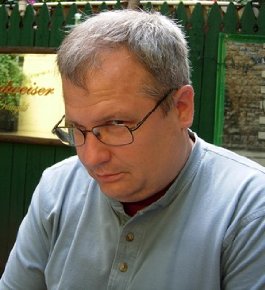 Raymond P. Hammond (Roanoke, 31 augustus 1964)
De Engelse schrijfster Elizabeth von Arnim werd op 31 augustus 1866 geboren in Kirribilli Point in de buurt van Sydney. Zie ook mijn blog van 31 augustus 2007 en ook mijn blog van 31 augustus 2008 en ook mijn blog van 31 augustus 2009.
Uit: The Enchanted April
"It began in a Woman's Club in London on a February afternoon--an uncomfortable club, and a miserable afternoon--when Mrs. Wilkins, who had come down from Hampstead to shop and had lunched at her club, took up The Times from the table in the smoking-room, and running her listless eye down the Agony Column saw this:
To Those Who Appreciate Wistaria and Sunshine. Small mediaeval Italian Castle on the shores of the Mediterranean to be Let furnished for the month of April. Necessary servants remain. Z, Box 1000, The Times.
That was its conception; yet, as in the case of many another, the conceiver was unaware of it at the moment.
So entirely unaware was Mrs. Wilkins that her April for that year had then and there been settled for her that she dropped the newspaper with a gesture that was both irritated and resigned, and went over to the window and stared drearily out at the dripping street.
Not for her were mediaeval castles, even those that are specially described as small. Not for her the shores in April of the Mediterranean, and the wisteria and sunshine. Such delights were only for the rich. Yet the advertisement had been addressed to persons who appreciate these things, so that it had been, anyhow addressed too to her, for she certainly appreciated them; more than anybody knew; more than she had ever told. But she was poor. In the whole world she possessed of her very own only ninety pounds, saved from year to year, put by carefully pound by pound, out of her dress allowance. She had scraped this sum together at the suggestion of her husband as a shield and refuge against a rainy day. Her dress allowance, given her by her father, was L100 a year, so that Mrs. Wilkins's clothes were what her husband, urging her to save, called modest and becoming, and her acquaintance to each other, when they spoke of her at all, which was seldom for she was very negligible, called a perfect sight.
Mr. Wilkins, a solicitor, encouraged thrift, except that branch of it which got into his food. He did not call that thrift, he called it bad housekeeping. But for the thrift which, like moth, penetrated into Mrs. Wilkins's clothes and spoilt them, he had much praise. "You never know," he said, "when there will be a rainy day, and you may be very glad to find you have a nest-egg. Indeed we both may."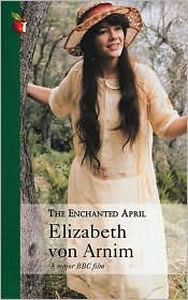 Elizabeth von Arnim (31 augustus 1866 – 9 februari 1941)
Boekomslag
De Amerikaanse schrijver William Saroyan werd geboren op 31 augustus 1908 in Fresno, Californië. Zie ook mijn blog van 31 augustus 2006 Zie ook mijn blog van 31 augustus 2007 en ook mijn blog van 31 augustus 2008 en ook mijn blog van 31 augustus 2009.
Uit: One Day in the Afternoon of the World
"You didn't come to New York to tell the man you don't want to make a deal, did you?"
"I came to New York because he sent me a check for a thousand dollars, with no strings attached. I came to meet him, to hear him out, to examine the contract."
"What kind of contract do you want?"
"What kind does he want? This is his idea, not mine. All he's got to do is put a deal in writing. All I've got to do is read it carefully and say yes or no. I made that very clear in my letter."
"What about the play?"
"What about it?"
"What kind of a play is it going to be?"
"If the contract's okay, and I sign it, it's going to be a play that I write."
"What kind of play, though?"
"The play isn't written. We'll know the kind it is when it is written."
"He wants you to write a play something like one of the plays of Shaw. I forget which one, but he feels you're the only playwright in the world who can write a play like that."
"I don't write a play like a play somebody else once wrote. I write a play, that's all."
"Have you got an idea for a play?"
"I don't need an idea. For fifteen years I've written at least one new play a year. I haven't earned a penny from any of them. You've looked up this man in Dun and Bradstreet, and he's worth a lot of money. He wants me to write a play. He wants me to do something for him, for money, that I do anyway, for no money. I don't ask him how he's going to make his next million. I don't ask him anything. Until you phoned and wired and wrote, and he phoned and wired, I didn't even know he was alive. Now it turns out he is, and for some reason he wants me to write a play. All he's got to do is let me see the contract."
"Suppose you don't like the contract?"
"I won't sign it."
xml:namespace prefix = v ns = "urn:schemas-microsoft-com:vml" />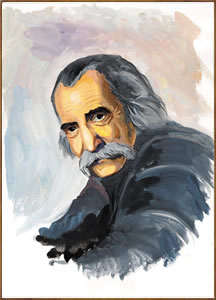 William Saroyan (31 augustus 1908 – 18 mei 1981)
Portret door Nareh Balian
De Franse dichter en schrijver Théophile Gautier werd op 31 augustus 1811 geboren in Tarbes (departement Hautes-Pyrénées). Zie ook mijn blog van 31 augustus 2006 Zie ook mijn blog van 31 augustus 2007 en ook mijn blog van 31 augustus 2008 en ook mijn blog van 31 augustus 2009.
Albertus, I
Sur le bord d'un canal profond dont les eaux vertes
Dorment, de nénufars et de bateaux couvertes,
Avec ses toits aigus, ses immenses greniers,
Ses tours au front d'ardoise où nichent les cigognes,
Ses cabarets bruyants qui regorgent d'ivrognes,
Est un vieux bourg flamand tel que les peint Teniers.
- Vous reconnaissez-vous ? - Tenez, voilà le saule,
De ses cheveux blafards inondant son épaule
Comme une fille au bain, l'église et son clocher,
L'étang où des canards se pavane l'escadre ;
- Il ne manque vraiment au tableau que le cadre
Avec le clou pour l'accrocher. –
Albertus, II
Confort et far-niente ! - toute une poésie
De calme et de bien-être, à donner fantaisie
De s'en aller là-bas être Flamand ; d'avoir
La pipe culottée et la cruche à fleurs peintes,
Le vidrecome large à tenir quatre pintes,
Comme en ont les buveurs de Brawer, et le soir
Près du poêle qui siffle et qui détonne, au centre
D'un brouillard de tabac, les deux mains sur le ventre,
Suivre une idée en l'air, dormir ou digérer,
Chanter un vieux refrain, porter quelque rasade,
Au fond d'un de ces chauds intérieurs, qu'Ostade
D'un jour si doux sait éclairer !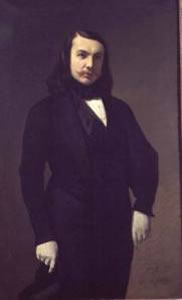 Théophile Gautier (31 augustus 1811 – 23 oktober 1872)
Portret door Auguste de Ch
âtilon

31-08-2010 om 19:46 geschreven door Romenu

Tags:Wolfgang Hilbig, Raymond P. Hammond, Elizabeth von Arnim, William Saroyan, Théophile Gautier, Romenu



| | |
| --- | --- |
| | |



Inhoud blog


| | |
| --- | --- |
| | Vikram Seth, Paul Muldoon, Kurt Schwitters, Jean-Claude Izzo, Silke Andrea Schuemmer, Carel van Nievelt, Robert Rozhdestvensky, Laure Wyss, Lillian Hellman |
| | Salman Rushdie, Sybren Polet, Josef Nesvadba, Osamu Dazai, José Rizal, Friedrich Huch, Gustav Schwab, Elke Geurts, Claudia Gabler |
| | Richard Powers, Marije Langelaar, Raymond Radiguet, Geoffrey Hill, Bert Schierbeek, Aster Berkhof, Karin Fellner, Mirjam Pressler, Ivan Gontsjarov |
| | Voor vader (Hans Lodeizen) |
| | Das Senfkorn (Meister Eckhart) |
| | Peter Rosei, Kamel Daoud, Gail Jones, Ron Padgett, Ward Ruyslinck, Adriaan van der Hoop jr, Hanna Johansen, Max Dendermonde, Tom Hofland |
| | Hanna Johansen, James Weldon Johnson, Henry Lawson, Ferdinand Freiligrath, Henrik Wergeland, John Hersey, Felix Hartlaub, Ossip Schubin |
| | Birthdays (Robert W. Service) |
| | Joël Dicker, August Willemsen, Theo Thijssen, Ronelda Kamfer, Frans Roumen |
| | Maria Dermoût, Christian Bauman, Silke Scheuermann, Hugo Borst, Ramon Lopez Velarde, Roland Dorgelès, François-Xavier Garneau, Emma Cline, Hannah van Wieringen |
| | Alex Boogers, Lieve Joris, Allard Schröder, John van Ierland, Peter O. Chotjewitz, Harriet Beecher Stowe, Hermann Kant, Jerzy Kosiński, Thomas Graftdijk |
| | Fernando Pessoa, Thomas Heerma van Voss, Willem Brakman, Virginie Despentes, William Butler Yeats, Tristane Banon, Marcel Theroux, Lode Zielens, Dorothy L. Sayers |
| | Christoph Meckel, Wolfgang Herrndorf, Anne Frank, Renan Demirkan, Djuna Barnes, Sandro Penna, Johanna Spyri H. C. Artmann, Günter Nehm |
| | William Styron, Sophie van der Stap, N. P. van Wyk Louw, Renée Vivien, Jean-Pierre Chabrol, Ben Jonson, Yasunari Kawabata, Athol Fugard, Nnimmo Bassey |
| | Magdalene—The Seven Devils (Marie Howe) |
| | Louis Couperus, D. Hooijer, Jacques Perk, James Salter, Mensje van Keulen, Jan Brokken |
| | Saul Bellow, Ion Creanga, Oktay Rifat, Peter Kurzeck, Antun Mihanović, Tijl Nuyts |
| | Maarten Doorman, Paul Beatty, Xander Michiel Beute, Anton Roothaert, Mirko Bonné, Curzio Malaparte, Jian Ghomeshi, Charles Webb, Rudolf Borchardt |
| | Willy Roggeman, Jurij Brězan, José Antonio Ramos Sucre, Akaki Zereteli, John Gillespie Magee jr., Bertha von Suttner |
| | Marguerite Yourcenar, Nino Haratischwili, Lutz Seiler, Ulf Stolterfoht, Péter Gárdos, Gwen Harwood, H. J. Friedericy, Udo Kawasser, Frank Keizer |
| | Marie Howe |
| | Het leven in juni (Marjoleine de Vos) |
| | Orhan Pamuk, Monika Mann, Nikki Giovanni, Harry Crews, Louise Erdrich, Mascha Kaléko, Jan Engelman, Gwendolyn Brooks, Elizabeth Bowen |
| | Thomas Mann, Aleksandr Poesjkin, Sarah Dessen, Jean Cayrol, Pierre Corneille, Hendrik van Teylingen, V. C. Andrews, Frank Gericke |
| | Dolce far niente, Groen-grijs gebied (Jesse Laport) |
| | Federico García Lorca, Adriaan Morriën, Ken Follett, Paul Farley, Geoff Dyer |
| | Ralf Thenior, Marie Ndiaye, Erasmus Schöfer, Buddy Wakefield, Yaak Karsunke, Charles Dickinson, Dana Bönisch, Elizabeth Jolley, Apollon Maykov |
| | Het laatste avondmaal (Nicolaas Beets) |
| | Allen Ginsberg, Philippe Djian, Maarten van Buuren, Solomonica de Winter, Monika Maron, Larry McMurtry, Norbert Gstrein, Wolfgang Cordan, Gerhard Zwerenz |
| | Carlo Michelstaedter, Kathleen E. Woodiwiss, Eugène Van Oye, Pedro Mir, Detlev von Liliencron, Friederike Brun, Otto Erich Hartleben, Philippe Quinault |
| | Jim Knipfel, Marcel Reich-Ranicki, Sibylle Berg, Carol Shields, Jean Nelissen, Thomas Hardy |
| | Markies De Sade, Dorothy West, Max Aub, Karl Gjellerup, Barbara Pym |
| | Patrick Besson, John Masefield, Ferdinand Raimund, Peter de Mendelssohn, Petra Morsbach, Colleen McCullough, Macedonio Fernández, Wilfred Campbell, Vicky Francken |
| | C. Buddingh'-prijs voor Radna Fabias |
| | Love's Choice (Malcolm Guite) |
| | Mariae Heimsuchung (Rainer Maria Rilke) |
| | Walt Whitman, Frank Goosen, Gabriel Barylli, Konstantin Paustovski, Svetlana Alexievich, Ludwig Tieck, Gerd Hergen Lübben, Saint-John Perse, T. T. Cloete |
| | Summer Storm (Bliss Carman) |
| | Elizabeth Alexander, Oscar van den Boogaard, Countee Cullen, Emmanuel Hiel, Martin Jankowski, Alfred Austin, Eddy Bruma, Henri François Rikken, Jan Geerts |
| | Summer in the City, 1949 (Ernest Farrés) |
| | André Brink, Eduard Escoffet, G. K. Chesterton, Bernard Clavel, T. H. White, Hans Weigel, Alfonsina Storni, Max Brand, Joel Benton |
| | Ein Sommergedicht (Thomas Gsella) |
| | Ad Zuiderent, Leo Pleysier, Adriaan Bontebal, Guntram Vesper, Frank Schätzing, Maeve Binchy, Ian Fleming, Sjoerd Leiker, Vladislav Chodasevitsj |
| | Dolores Dorantes |
| | St. Matthew (D. H. Lawrence) |
| | Niels 't Hooft, Jan Blokker, Linda Pastan, Louis-Ferdinand Céline, Georges Eekhoud, Said, John Cheever, John Barth |
| | Max Brod, Kaur Kender, Adriaan Venema, Arnold Bennett, Richard Schaukal, Ferdynand Ossendowski, M. A. von Thümmel, Herman Wouk, Dashiell Hammett |
| | Alan Hollinghurst, Radwa Ashour, Hugo Raes, Vítězslav Nezval, Ivan O. Godfroid, Maxwell Bodenheim, Isabella Nadolny, Edmond De Goncourt |
| | Egyd Gstättner, Madeleine Thien, Claire Castillon, Friedrich Dieckmann, Eve Ensler, Raymond Carver, Jamaica Kincaid, Robert Ludlum, Theodore Roethke |
| | Joseph Brodsky, Michael Chabon, Bob Dylan, Henri Michaux, William Trevor, Tobias Falberg, Arnold Wesker, Rainald Goetz, Louis Fürnberg |