E-mail mij


Druk op onderstaande knop om mij te e-mailen.


Romenu


Google


Georg Trakl

Georg Trakl werd op 3 februari 1887 in het conducteurshuis aan de Waagplatz 2 in Salzburg geboren. Zijn vader, Tobias Trakl, was een handelaar in ijzerwaren en zijn moeder, die ook psychische problemen had, was Maria Catharina Trakl, (meisjesnaam Halik). Voorts had hij nog drie broers en drie zussen. Margarethe (doorgaans Grethe genoemd) stond hem het naast, zelfs zodanig dat sommigen een incestueuze verhouding vermoeden. Zijn jeugd bracht hij door in Salzburg. Vervolgens bezocht hij van 1897 tot 1905 het humanistische gymnasium. Om toch een academische opleiding te kunnen volgen, werkte hij tot 1908 in de praktijk bij een apotheker. Sommigen vermoedden dat hij dit vooral deed om zichzelf opiaten te kunnen verschaffen. Bij het uitbreken van WO I werd Trakl als medicus naar het front in Galicië (heden ten dage in Oekraïne en Polen) gestuurd. Zijn gemoedsschommelingen leidden tot geregelde uitbraken van depressie, die verergerd werden door de afschuw die hij voelde voor de verzorging van de ernstig verwonde soldaten. De spanning en druk dreven hem ertoe een suïcidepoging te ondernemen, welke zijn kameraden nochtans verhinderden. Hij werd in een militair ziekenhuis opgenomen in Kraków, alwaar hij onder strikt toezicht geplaatst werd.Trakl verzonk daar in nog zwaardere depressies en schreef Ficker om advies. Ficker overtuigde hem ervan dat hij contact moest opnemen met Wittgenstein, die inderdaad op weg ging na Trakls bericht te hebben ontvangen. Op 4 november 1914, drie dagen voordat Wittgenstein aan zou komen, overleed hij echter aan een overdosis cocaïne


Paul Celan

Paul Celan werd onder de naam Paul Antschel op 23 november 1920 geboren in Czernowitz, toentertijd de hoofdstad van de Roemeense Boekovina, nu behorend bij de Oekraïne. Paul Celans ouders waren Duitssprekende joden die hun zoon joods opvoedden en hem naar Duitse christelijke scholen stuurden. In 1942 werden Celans ouders door de Duitse bezetter naar een werkkamp gedeporteerd en daar vermoord. Hijzelf wist aanvankelijk onder te duiken, maar moest vanaf juli 1942 in een werkkamp dwangarbeid verrichten. Celan overleefde de oorlog. Via Boekarest en Wenen vestigde Celan zich in 1948 in Parijs. Daar was hij werkzaam als dichter, vertaler en doceerde hij aan de prestigieuze Ecole Normale Supérieure. Vermoedelijk op 20 april 1970 beëindigde hij zijn leven zelf door in de Seine te springen.


Gerard Reve

Gerard Reve over: Medearbeiders "God is in de mensen, de dieren, de planten en alle dingen - in de schepping, die verlost moet worden of waaruit God verlost moet worden, door onze arbeid, aangezien wij medearbeiders van God zijn." Openbaring "Tja, waar berust elk godsbegrip op, elke vorm van religie? Op een openbaring, dat wil zeggen op een psychische ervaring van zulk een dwingende en onverbiddelijke kracht, dat de betrokkene het gevoel heeft, niet dat hij een gedachte of een visioen heeft, maar dat een gedachte gedachte of visioen hem bezit en overweldigt."


Simon Vestdijk
Simon Vestdijk (Harlingen, 17 oktober 1898 – Utrecht, 23 maart 1971) was een Nederlands romancier, dichter, essayist en vertaler. Zijn jeugd te Harlingen en Leeuwarden beschreef hij later in de Anton Wachter-cyclus. Van jongs af aan logeerde hij regelmatig bij zijn grootouders in Amsterdam, waar hij zich in 1917 aan de Universiteit van Amsterdam inschrijft als student in de medicijnen. Tijdens zijn studie die van 1917 tot 1927 duurde, leerde hij Jan Slauerhoff kennen.Tot 1932 is hij als arts in praktijken door heel Nederland werkzaam. In 1932 volgt zijn officiële schrijversdebuut met de uitgave van de bundel Verzen in De Vrije Bladen. Doorslaggevend voor Vestdijks uiteindelijke keuze voor de literatuur is zijn ontmoeting in 1932 met Eddy Du Perron en Menno ter Braak. Deze ontmoeting had tot resultaat dat hij redactielid werd van het tijdschrift Forum Kort daarop, in 1933, wordt zijn eerste novelle, De oubliette, uitgegeven. In hetzelfde jaar schrijft hij Kind tussen vier vrouwen, dat, eerst geweigerd door de uitgever, later de basis zal vormen voor de eerste drie delen van de Anton Wachter-romans. In 1951 ontvangt Vestdijk de P.C. Hooftprijs voor zijn in 1947 verschenen roman De vuuraanbidders. In 1957 wordt hij voor het eerst door het PEN-centrum voor Nederland voorgedragen voor de Nobelprijs voor de Literatuur, die hij echter nooit zal krijgen. Op 20 maart 1971 wordt hem de Prijs der Nederlandse Letteren toegekend, maar voor hij deze kan ontvangen overlijdt hij op 23 maart te Utrecht op 72-jarige leeftijd. Vestdijk was auteur van ca. 200 boeken. Vanwege deze enorme productie noemde de dichter Adriaan Roland Holst hem 'de man die sneller schrijft dan God kan lezen'. Andere belangrijke boeken van Simon Vestdijk zijn: "Kind van stad en land" (1936), "Meneer Visser's hellevaart" (1936), "Ierse nachten" (1946), "De toekomst de religie" (1947), "Pastorale 1943" (1948), "De koperen tuin" (1950), "Ivoren wachters" (1951), "Essays in duodecimo" (1952) en "Het genadeschot" (1964).


K.P. Kavafis

K.P. Kavafis werd als kind van Griekse ouders, afkomstig uit Konstantinopel, geboren in 1863 in Alexandrië (tot vandaag een Griekse enclave) waar hij ook het grootste deel van zijn leven woonde en werkte. Twee jaar na de dood van zijn vader verhuist het gezin in 1872 naar Engeland om na een verblijf van vijf jaar naar Alexandrië terug te keren. Vanwege ongeregeldheden in Egypte vlucht het gezin in 1882 naar Konstantinopel, om na drie jaar opnieuw naar Alexandrië terug te gaan. In de jaren die volgen maakt Kavafis reizen naar Parijs, Londen en in 1901 zijn eerste reis naar Griekenland, in latere jaren gevolgd door nog enkele bezoeken. Op de dag van zijn zeventigste verjaardag, in 1933 sterft Kavafis in Alexandrië. De roem kwam voor Kavafis pas na zijn dood, dus postuum. Deels is dat toe te schrijven aan zijn eigen handelswijze. Hij was uiterst terughoudend met de publicatie van zijn gedichten, liet af en toe een enkel gedicht afdrukken in een literair tijdschrift, gaf in eigen beheer enkele bundels met een stuk of twintig gedichten uit en het merendeel van zijn poëzie schonk hij op losse bladen aan zijn beste vrienden.


Thomas Mann


Thomas Mann, de jongere broer van Heinrich Mann, werd geboren op 6 juni 1875 in Lübeck. Hij was de tweede zoon van de graankoopman Thomas Johann Heinrich Mann welke later één van de senatoren van Lübreck werd. Zijn moeder Julia (geboren da Silva-Bruhns) was Duits-Braziliaans van Portugees Kreoolse afkomst. In 1894 debuteerde Thomas Mann met de novelle "Gefallen". Toen Thomas Mann met 21 jaar eindelijk volwassen was en hem dus geld van zijn vaders erfenis toestond - hij kreeg ongeveer 160 tot 180 goldmark per jaar - besloot hij dat hij genoeg had van al die scholen en instituties en werd onafhankelijk schrijver. Kenmerkend voor zijn stijl zijn de ironie, de fenomenale taalbeheersing en de minutieuze detailschildering. Manns reputatie in Duitsland was sterk wisselend. Met zijn eerste roman, Buddenbrooks (1901), had hij een enorm succes, maar door zijn sceptische houding tegenover Duitsland na de Eerste Wereldoorlog veranderde dit volledig. Stelde hij zich tot aan de jaren twintig apolitiek op (Betrachtungen eines Unpolitischen, 1918), meer en meer raakte hij bij het Politiek gebeuren betrokken. Zijn afkeer van het nationaal socialisme groeide, zijn waarschuwingen werden veelvuldiger en heftiger. In 1944 accepteerde hij het Amerikaanse staatsburgerschap. Tussen 1943 en 1947 schreef Mann Doktor Faustus (zie Faust), de roman van de 'Duitse ziel' in de gecamoufleerd geschilderde omstandigheden van de 20ste eeuw. In 1947 bezocht hij voor het eerst sinds de Oorlog Europa, twee jaar later pas Duitsland. In 1952 vertrok hij naar Zwitserland. Op 12 augustus 1955 stierf hij in Zürich. Twintig jaar na zijn dood, in aug. 1975, is zijn literaire nalatenschap geopend: dagboekaantekeningen van 15 maart 1933 tot 29 juli 1955, alsmede notities uit de jaren 1918 tot en met 1921.Belangrijke werken zijn: Der Zauberberg, Der Tod in Venedig, Dokter Faustus , Joseph und seine Brüder en Die Bekenntnisse des Hochstaplers Felix Krull.


Rainer Maria Rilke

Rilke werd op 4 december 1875 geboren in Praag. Hij had al naam gemaakt als dichter met zijn bundels Das Stundenbuch en Das Buch der Bilder, toen hij de literaire wereld versteld deed staan en wereldfaam verwierf met de publicatie van zijn twee delen Neue Gedichte in 1907 en 1908. Hij verzamelde daarin het beste werk uit een van zijn vruchtbaarste periodes, die hij grotendeels doorbracht in Parijs. Rilke was daar diep onder de indruk gekomen van Rodin, bij wie hij een tijdlang in dienst was als particulier secretaris. Rodin, zei hij later, had hem leren kijken. Dit kijken kwam neer op intense concentratie, om het mysterie te kunnen zien 'achter de schijnbare werkelijkheid'. Latere en rijpere werken als Duineser Elegien (1912-1923) en het ronduit schitterende Die Sonette an Orfeus (1924) illustreren Rilkes metafysische visie op het onzegbare, dat haar verwoording vindt in een hermetische muzikale taal. Op 29 december 1926 overlijdt Rilke in het sanatorium in Val-Mont aan de gevolgen van leukemie. Enkele dagen later wordt hij, overeenkomstig zijn wens, begraven op het kerkhof van Raron.


* * * * * * * * * * * * * * * *

| | |
| --- | --- |
| | Over literatuur, gedichten, kunst en cultuur |

12-09-2010

Michael Ondaatje, Werner Dürrson, James Frey, Louis MacNeice, Eduard Elias
De Canadese schrijver Philip Michael Ondaatje werd op 12 september 1943 geboren in Colombo, Ceylon (nu Sri Lanka). Zie ook mijn blog van 12 september 2007 en ook mijn blog van 12 september 2008 en ook mijn blog van 12 september 2009.
Uit: Divisadero

"By our grandfather's cabin, on the high ridge, opposite a slope of buckeye trees, Claire sits on her horse, wrapped in a thick blanket. She has camped all night and lit a fire in the hearth of that small structure our ancestor built more than a generation ago, and which he lived in like a hermit or some creature, when he first came to this country. He was a self-sufficient bachelor who eventually owned all the land he looked down onto. He married lackadaisically when he was forty, had one son, and left him this farm along the Petaluma road.
Claire moves slowly on the ridge above the two valleys full of morning mist. The coast is to her left. On her right is the journey to Sacramento and the delta towns such as Rio Vista with its populations left over from the Gold Rush.
She persuades the horse down through the whiteness alongside crowded trees. She has been smelling smoke for the last twenty minutes, and, on the outskirts of Glen Ellen, she sees the town bar on fire —the local arsonist has struck early, when certain it would be empty. She watches from a distance without dismounting. The horse, Territorial, seldom allows a remount; in this he can be fooled only once a day. The two of them, rider and animal, don't fully trust each other, although the horse is my sister Claire's closest ally. She will use every trick not in the book to stop his rearing and bucking. She carries plastic bags of water with her and leans forward and smashes them onto his neck so the animal believes it is his own blood and will calm for a minute. When Claire is on a horse she loses her limp and is in charge of the universe, a centaur. Someday she will meet and marry a centaur.
The fire takes an hour to burn down. The Glen Ellen Bar has always been the location of fights, and even now she can see scuffles starting up on the streets, perhaps to honour the landmark. She sidles the animal against the slippery red wood of a madrone bush and eats its berries, then rides down into the town, past the fire. Close by, as she passes, she can hear the last beams collapsing like a roll of thunder, and she steers the horse away from the sound.
On the way home she passes vineyards with their prehistoric-looking heat blowers that keep air moving so the vines don't freeze. Ten years earlier, in her youth, smudge pots burned all night to keep the air warm."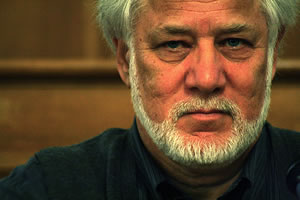 Michael Ondaatje (Colombo, 12 september 1943)

De Duitse dichter en schrijver Werner Dürrson werd geboren op 12 september 1932 in Schwenningen am Neckar. Zie ook mijn blog van 12 september 2007 en ook mijn blog van 12 september 2008 en ook mijn blog van 12 september 2009.
Zuletzt
blieben die Äpfel an
blattlosen Bäumen hängen oder sie
lagen vollzählig im Gras.
Fürs erste wird Schnee die
Äcker bestellen. Über verwischten Zeilen
vielleicht eine Rehspur oder Striche
von Krähenflügeln
Winter in Bosnien
Die zerfetzten Bäume, das
Trümmerholz von den Häusern
der Toten, Schrank Bett Stühle.
Verheizt, sagt der Mann, schiebt
mit klammen Fingern das letzte
Stück Fußboden in den
Küchenherd. Bleiben die Bücher,
sagt er. Falls keine Granate
dazwischenkommt.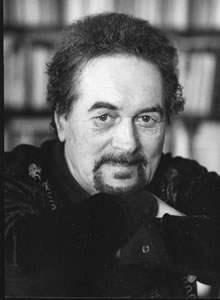 Werner Dürrson (12 september 1932 – 17 april 2008)
De Amerikaanse schrijver James Frey werd geboren op 12 september 1969 in Cleveland. Zie ook mijn blog van 12 september 2007 en ook mijn blog van 12 september 2008 en ook mijn blog van 12 september 2009.
Uit: Bright Shiny Morning
"On September 4, 1781, a group of forty-four men, women and children who call themselves the Pobladores establish a settlement on land that is near the center of contemporary Los Angeles. They name the settlement El Pueblo de Nuestra Señora la Reina de Los Angeles de Porciuncula. Two-thirds of the settlers are either freed or escaped African slaves, or the direct descendants of freed or escaped African slaves. Most of the rest are Native American. Three are Mexican. One is European.
They can see the glow a hundred miles away it's night and they're on an empty desert highway. They've been driving for two days. They grew up in a small town in Ohio they have known each other their entire lives, they have always been together in some way, even when they were too young to know what it was or what it meant, they were together. They're nineteen now. They left when he came to pick her up for the movies, they went to the movies every Friday night. She liked romantic comedies and he liked action films, sometimes they saw cartoons. They started the weekly outing when they were fourteen.
Screaming, he could hear her screaming as he pulled into the driveway. He ran into the house her mother was dragging her along the floor by her hair. Clumps of it were missing. There were scratches on her face. There were bruises on her neck. He pulled her away and when her mother tried to stop him he hit her mother, she tried again he hit her mother harder. Mother stopped trying.
He picked her up and carried her to his truck, a reliable old American pickup with a mattress in the back and a camper shell over the bed.He set her in the passenger seat carefully set her and he covered her with his jacket. She was sobbing bleeding it wasn't the first time it would be the last. He got into the driver's seat, started the engine, pulled out as he pulled out Mother came to the door with a hammer and watched them drive away, didn't move, didn't say a word, just stood in the door holding a hammer, her daughter's blood beneath her fingernails, her daughter's hair still caught in her clothes and hands."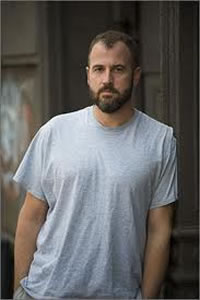 James Frey (Cleveland, 12 september 1969)
De Ierse dichter en schrijver Louis MacNeice werd geboren op 12 september 1907 in Belfast. Hij studeerde aan Oxford, waar hij afstudeerde in klassieke talen en filosofie. In 1930 trouwde hij met Giovanna Ezra en aanvaardde hij een baan als docent klassieke talen aan de Universiteit van Birmingham, een positie die hij bekleedde tot 1936, toen hij Grieks ging doceren aan de Universiteit van Londen. In 1941 trad hij in dienst van de British Broadcasting Company als schrijver en producent. Zoals veel moderne Engelse dichters vond MacNeice een publiek voor zijn werk door de Britse radio. Enkele van zijn bekendste toneelstukken, waaronder Christopher Columbus (1944) en The Dark Tower (1946), werden oorspronkelijk geschreven voor de radio en later gepubliceerd. Ondanks zijn omgang met jonge Britse dichters als Stephen Spender, WH Auden, Christopher Isherwood en andere linkse dichters wantrouwde MacNeice politieke programma's als was hij wars van filosofische systemen. Hij was nooit een lid van de communistische partij of een andere fractie, en hij was heel eerlijk over de onduidelijkheden van zijn politieke opvattingen "My sympathies are Left," schreef hij. "But not in my heart or my guts."
Sunday Morning
Down the road someone is practising scales,
The notes like little fishes vanish with a wink of tails,
Man's heart expands to tinker with his car
For this is Sunday morning, Fate's great bazaar;
Regard these means as ends, concentrate on this Now,
And you may grow to music or drive beyond Hindhead anyhow,
Take corners on two wheels until you go so fast
That you can clutch a fringe or two of the windy past,
That you can abstract this day and make it to the week of time
A small eternity, a sonnet self-contained in rhyme.
But listen, up the road, something gulps, the church spire
Open its eight bells out, skulls' mouths which will not tire
To tell how there is no music or movement which secures
Escape from the weekday time. Which deadens and endures.
The Brandy Glass
Only let it form within his hands once more -
The moment cradled like a brandy glass.
Sitting alone in the empty dining hall...
From the chandeliers the snow begins to fall
Piling around carafes and table legs
And chokes the passage of the revolving door.
The last diner, like a ventriloquist's doll
Left by his master, gazes before him, begs:
'Only let it form within my hands once more.'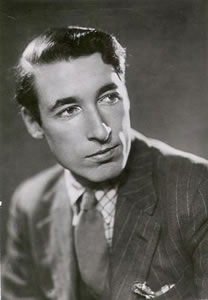 Louis MacNeice (12 september 1907 – 3 september 1963)
De Nederlandse columnist, journalist en schrijver Eduard Maurits Elias werd geboren in Amsterdam op 12 september 1900. Na het Stedelijk Gymnasium in 's-Hertogenbosch studeerde hij rechten aan de universiteit van Leiden. Tijdens zijn universitaire opleiding begon hij reeds belangstelling te tonen voor literatuur en in 1924 produceerde hij zijn eerste literaire werk. Ook kreeg hij interesse in het zionisme met als gevolg dat hij redacteur werd bij De Joodsche Wachter, het blad van de Nederlandse Zionistenbond. Voorts gaf Elias er de voorkeur aan zich Israëliet te noemen in plaats van zichzelf als Jood te afficheren. Hij studeerde in 1927 af en startte in 1928 zijn werkzame leven met een baan in de journalistiek, een vak wat hij met een onderbreking tijdens de Tweede Wereldoorlog zijn gehele verdere leven zou uitoefenen. In 1939 vertrok Eduard Elias, bezorgd over de oorlogsdreiging, eerst naar de Verenigde Staten en vervolgens naar Curaçao waar hij als ambtenaar werkte voor het Netherlands Information Bureau. Na zijn terugkeer in 1945 trad Elias in dienst bij Elseviers Weekblad, waar hij meerdere rubrieken verzorgde onder de pseudoniemen Flaneur en Edouard Bouquin en waarmee hij pagina 2 goeddeels vulde met zijn rubriek Praetvaeria. Slechts twee boeken verschenen onder pseudoniem, voor de overige titels tekende hij als Mr. E. Elias. Eduard Elias was mede-oprichter van het satirisch tijdschrift Mandril. Maandblad voor mensen (1948-1953) en had op Curaçao ook meegewerkt aan het literaire tijdschrift De Stoep.

Uit: Praetvaeria
PROTEST
Onze man Rudolf (die men gerust alomtegenwoordig mag noemen) was er weer bij toen
een heer in heftig debat gewikkeld was met een restauranthouder. Blijkens wat onze man Rudolf uit het opgewonden debat opving, kwam de zaak hierop neer: de heer had twaalf vlees-croquetten-om-mee-te-nemen gekocht, nadat hij van de ober de stellige verzekering had gekregen dat zij van extra-gemalen houtwol (met meel) waren gemaakt. De heer (die analyst bleek te zijn) had echter de vleescroquetten onderzocht en was tot de ellendige conclusie gekomen dat dat van die houtwol maar een smoesje was geweest en dat zij van gemalen Palthedozen (met meel) waren gemaakt. De restaurateur had uitgeroepen: "Een kind kan begrijpen, dat houtwol te kostbaar is voor vleescroquetten, die maar één gulden per stuk kosten!" Maar de analytische heer had zich niet laten overtuigen: "Uw ober heeft mij houtwol gegarandeerd!", riep hij (hartstochtelijk) uit, "trouwens, in een zaak van de standing als de uwe verwacht ik eigenlijk niet minder; Palthedoos-croquetten kan ik bij mij op de hoek voor drie kwartjes per stuk krijgen. Daar behoef ik niet voor bij u te komen." Het zal wel een rechtszaak worden, dacht onze man Rudolf.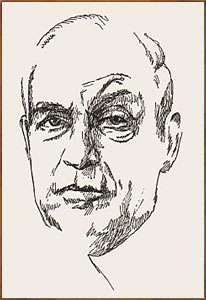 Eduard Elias (12 september 1900 — 14 januari 1967)



Zie voor nog meer schrijvers van de 12e september ook
mijn vorige blog van vandaag.
12-09-2010 om 19:40 geschreven door Romenu

Tags:Michael Ondaatje, Werner Dürrson, James Frey, Louis MacNeice, Eduard Elias, Romenu



Hannes Meinkema, Gust Van Brussel, Stanislaw Lem, Marya Zaturenska, Elsa Triolet
De Nederlandse dichteres en schrijfster Hannes Meinkema werd op 12 september 1943 geboren in Tiel. Zie ook mijn blog van 12 september 2006. Zie ook mijn blog van 12 september 2007 en ook mijn blog van 12 september 2008 en ook mijn blog van 12 september 2009.
Uit: Het binnenste ei
"Joost zit daar zijn krant te lezen en ik ben blij met hem. Zijn haar is aan de lange kant, zijn krullen steken horizontaal uit zijn hoofd. Ik ben trots als ik met hem op straat loop: alle meisjes kijken, Joost is een knappe jongen. Waarom heb je mij getrouwd, vroeg ik, ik ben zo onopvallend. Om de kuiltjes in je wangen als je lacht, zei hij - en ik lach veel als hij er is, ik lach nu hoewel hij niet naar me kijkt, ik lach omdat Joost me door met me te trouwen, de kans gegeven heeft een echt volwassenmensen-leven te leiden."
(…)
"Ik weet het niet met Max. Soms denk ik hij is aardig, maar dan weer lijkt het of ik alleen de oppervlakte zie, dat hij daar onder al die tijd zijn eigen dingen denkt. Ik ken hem niet. [...] Zijn manier van spreken is precieus. Ja, zegt hij dan, nu word ik wel heel persoonlijk - en komt met iets gewoons. Of: ik weet niet waarom ik er lust in heb je dit te vertellen - en ik denk: lust. Maar hij is niet iemand om in vertrouwen te nemen, dat zie ik wel."
(…)
"Ik bewonderde haar ook, natuurlijk (dat kan niet wederkerig zijn geweest). En op een hele vreemde manier had ik, terwijl ik haar bewonderde, ook met haar te doen. Want éen ding kon ik beter dan zij, hoewel het geen eigenschap was die door haar hoog werd gewaardeerd: ik kon tevreden zijn met éen ander mens in een huis te leven - Diana had een exclusieve relatie altijd benauwend gevonden."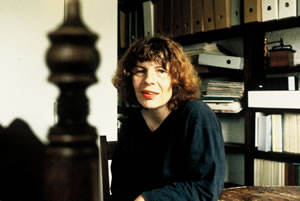 Hannes Meinkema (Tiel, 12 september 1943)
De Vlaamse schrijver Gust Van Brussel werd geboren in Antwerpen op 12 september 1924. Zie ook mijn blog van 12 september 2008 en ook mijn blog van 12 september 2009.
Uit: Sus De ongekroonde koning van de Vogelenmarkt
"De Vlaamse zomers gingen voorbij zoals dat meestal gebeurde, half verzopen in de kletsende regen waaraan geen einde kwam of half gebakken in een gloeiende zon. De mensen van 't stad zoals die van Antwerpen zichzelf noemen, trokken zogauw ze een dag vakantie hadden naar de Noordzeekust om er de verse garnaal van Zeebrugge te eten, scharrekes van Nieuwpoort of mosselen uit Ierzeke. Die een mond Frans konden klappen, al was het keskejevoe, reden naar de Ardennen om er rauwe hesp van de streek met omeletten of vers geplukte paddestoelen naar binnen te werken Als zij met vrienden kaarters bij het manillen een pot hadden gespaard, dienden die centen om bij de Walen hun buikske eens goed rond te eten op een gastro-nomisch weekend met zes gangen. Daar hielden ze dan dagen aan een stuk koppijn en een overladen maag aan over waar aspirine en maagzout goed voor waren. Als ze met een serieus stuk in hunne frak terugkwamen, dan trokken de feestvierders met schele ogen naar de doktoor om een briefke om een paar dagen uit te blazen, van hem los te krijgen. Daar hoorde natuurlijk wel wat smoelentrekkerij bij die de meeste doktoors rap begrepen. Zogauw ze hun betaald verlof hadden getrokken, vlogen ze in charters zover de portemonnaie het toeliet om er in de goddelijkste vakantieoorden uit hun reiscatalogen, hun verlofgeld tot de laatste cent op te doen. Veel was niet genoeg! De tijd van arm Vlaanderen was iets van overgrootvader. Er reden geen beestenwagens meer naar de koolputten van de Borinage gelijk jaren geleden en het kappen van de bieten in Frankrijk aan een hongerloon dateerde uit de oude tijd van voor de laatste Wereldoorlog. Het was allemaal veel plezanter geworden in 't stad van Brabo."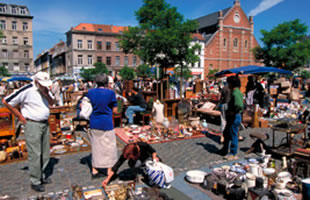 Gust Van Brussel (Antwerpen, 12 september 1924)
Vogeltjesmarkt, Antwerpen

De Poolse schrijver Stanislaw Lem werd geboren op 12 september 1921 in Lwów. Zie ook mijn blog van 12 september 2006.
Uit: A Blink of an Eye (Vertaald door Christina Manetti)
"In my current analysis of what has happened over the past forty years or so (since I wrote Summa technologiæ, and an earlier book, Dialogues), I will refer to various chapters of Summa—but not because I wrote it, or as an indulgence in self-praise. Readers should bear in mind that, during the half-century that is now coming to an end, I found myself in a terrible situation, cut off from information, scientific or otherwise, by the system in power in Poland at the time. Today, however, it seems that my way of getting around this was especially fortunate. I started by showing the similarities between two kinds of evolution, technological and biological. Then I began to consider the as yet unresolved problem of extraterrestrial civilizations, then turning later to a description of the development of "intellectronics" on Earth. My imagination gathered momentum, as the following chapter titles show: "Prolegomena on Omnipotence," "Phantomology," and "Creating Worlds." "Lampoon on Evolution" completed the work.
This work reflected my tendency to observe the past from a bird's-eye view. Maybe the distance in space and time was even greater for me. There was not much point, however, in a formulation that attempted to present future human endeavors in detail, together with the dangers that arise as a result. The innumerable predictions made in the second half of the twentieth century have been tripped up by attempts to describe the future in detail. Detailed predictions are simply impossible. I do not say this to defend myself, but rather because we know now about futurology's failures when attempts have been made to go beyond generalizations."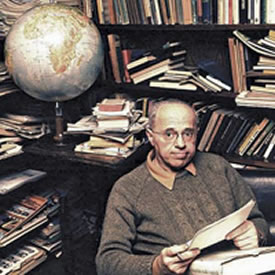 Stanislaw Lem (12 september 1921 – 27 maart 2006)
De Amerikaanse dichteres en schrijfster Marya Zaturenska werd geboren op 12 september 1902 in Kiev. Zaturenska vestigde zich in 1910 in de Verenigde Staten en nam studeerde aan de Universiteit van Wisconsin-Madison. Zij ontving het Amerikaanse staatsburgerschap in 1912 en trouwde in 1925 met de dichter Horatius Gregory. Samen met haar man, publiceerde ze een aantal bloemlezingen, waaronder in 1946 werk Een geschiedenis van de Amerikaanse poëzie, 1900 – 1940. Bekend werd Zaturenska in 1937 door haar bundel Cold morning sky, waarvoor haar in 1938 de Pulitzer Prize voor poëzie werd toegekend. Naast talrijke bundels als Threshold and hearth (1934) en The listening landscape schreef ze een biografie over het leven van Christina Georgina Rossetti. Haar laatste werk was de in 1974 verschenen gedichtenbundel "The hidden waterfall".
Song of a Factory Girl


It's hard to breathe in a tenement hall,
So I ran to the little park,
As a lover runs from a crowded ball
To the moonlit dark.
I drank in clear air as one will
Who is doomed to die,
Wistfully watching from a hill
The unmarred sky.
And the great trees bowed in their gold and red
Till my heart caught flame;
And my soul, that I thought was crushed or dead,
Uttered a name.
I hadn't called the name of God
For a long time;
But it stirred in me as the seed in sod,
Or a broken rhyme.
The Runaway
Silent and stealthy days that hour by hour
Spring up unnoticed as a flower
In summer grass; and like a breath, a light, a feather,
Make my world's weather,
I wished to weave a garland, deep and rare,
To wear upon my hair,
Or a long chain, intricate, strong, and fine,
To sound through stillness and to shine,
To bind the intangible days that so efface
Themselves with me, and run so dull a pace.
O they have run! They have gone! Nor have they set
Their seal of vast regret
Upon that wide and echoing door
That, opening, opens, shuts and sounds no more.
How to pursue Life's Runaway? Let go
Forego the moons and waters of the mind:
Today is all that you shall find.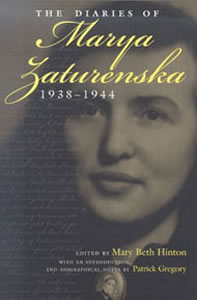 Marya Zaturenska (12 september 1902 - 19 januari 1982)
De Franse schrijfster Elsa Triolet Yur'evna werd geboren op 12 september 1896 in Moskou. Zij en haar zus, Lilya Brik kregen uitstekend onderwijs en waren in staat vloeiend Duits en Frans te spreken en piano te spelen. Elsa studeerde af aan het Moskouse Instituut voor Architectuur. Elsa genoten van poëzie en in 1915 raakte zij bevriend met de futuristische dichter en grafisch kunstenaar Vladimir Majakovski. In 1918, bij het begin van de Russische Burgeroorlog trouwde Elsa met de Franse cavalerie-officier Andre Triolet en emigreerde naar Frankrijk. Ze was de eerste die de poëzie van Majakovski in het Frans vertaalde. Later scheidde ze van Triolet. In 1928 ontmoette Elsa de Franse schrijver Louis Aragon. Ze trouwden en bleven 42 jaar samen. Triolet en Aragon hebben deelgenomen aan het Franse anti-fascistische verzet. In 1944 was Triolet de eerste vrouw die bekroond werd met de Prix Goncourt.
Uit: La mise en mots
"Je ne saurais être le Dr Doolittle, je ne suis qu'un exemple entre autres, à étudier comme d'autres, le cas échéant. Je parle de création, forte de ma seule ignorance, de mon expérience seule. Si je dis juste, des scientifiques reconnaîtront la chose, la nommeront, l'expliqueront. N'empêche que celui qui romance aura peut-être été le premier à découvrir cette chose, avant la science.
Il romance dans son langage intime, qui court dans le labyrinthe crânien à la vitesse d'une vie-seconde. Traduire ce langage-là en langage public, c'est comme limiter l'expression au code de la route. L'art d'une construction verbale qui provoquerait chez "l'autre", chez le correspondant, ce que l'expéditeur avait l'intention de provoquer, l'essentiel et ses prolongements, c'est l'art de la mise en mots, la transposition du "langage intime" en langage public de convention.
Les mots sont ces quelques feuilles qui créent l'illusion d'un arbre avec toutes ces feuilles, l'illusion de tout dire, non seulement l'arbre mais encore sa fraîcheur, l'ombre, l'abri, l'âme. La convention des mots, toile peinte, maquillage, rend ambigu leur sens incomplet. Les textes de lois, tracts, publicité, qui exigent un comportement précis de ceux à qui ils s'adressent, se gardent bien du vague, mais les lois s'interprètent comme les tracts, la publicité rate souvent son coup, et même les simples interdictions manquent de netteté : à l'interdit de fumer, on a pu ajouter, même une Gitane. Voilà qui est plus clair. Exemple d'une interdiction et d'une publicité également précises."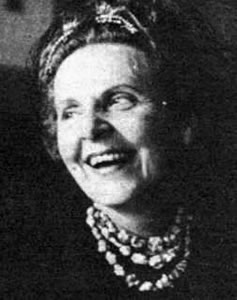 Elsa Triolet (12 september 1896 - 16 juni 1970)
12-09-2010 om 00:00 geschreven door Romenu

Tags:Hannes Meinkema, Gust Van Brussel, Stanislaw Lem, Marya Zaturenska, Elsa Triolet, Romenu


11-09-2010

D.H. Lawrence, Eddy van Vliet, Barbara Bongartz, Tomas Venclova, O. Henry, Joachim Fernau
De Engelse dichter en schrijver D.H. Lawrence werd geboren op 11 september 1885 in Eastwood (Nottinghamshire). Zie ook mijn blog van 11 september 2006 en ook mijn blog van 11 september 2007 en ook mijn blog van 11 september 2008 en ook mijn blog van 11 september 2009.
From A College Window
The glimmer of the limes, sun-heavy, sleeping,
Goes trembling past me up the College wall.
Below, the lawn, in soft blue shade is keeping
The diasy-froth quiescent, softly in thrall.
Beyond the leaves that overhang the street,
Along the flagged, clean pavement summer-white,
Passes the world with shadows at their feet
Going left and right.
Romoste, although I hear the beggar's cough,
See the woman's twinkling fingers tend him a coin,
I sit absolved, assured I am better off
Beyond a world I never want to join.
On That Day
ON that day
I shall put roses on roses, and cover your grave
With multitude of white roses: and since you were brave
One bright red ray.
So people, passing under
The ash-trees of the valley-road, will raise
Their eyes and look at the grave on the hill, in wonder,
Wondering mount, and put the flowers asunder
To see whose praise
Is blazoned here so white and so bloodily red.
Then they will say: "'Tis long since she is dead,
Who has remembered her after many days?"
And standing there
They will consider how you went your ways
Unnoticed among them, a still queen lost in the maze
Of this earthly affair.
A queen, they'll say,
Has slept unnoticed on a forgotten hill.
Sleeps on unknown, unnoticed there, until
Dawns my insurgent day.
No! Mr. Lawrence!
No, Mr Lawrence, it's not like that!
I don't mnd telling you
I know a thing or two about love,
perhaps more than you do.
And what I know is that you make it
too nice, too beautiful.
It's not like that, you know; you fake it.
It's really rather dull.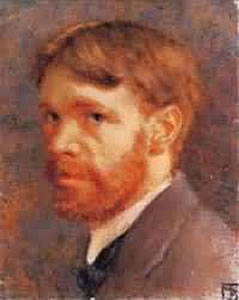 D.H. Lawrence (11 september 1885 – 2 maart 1930)
Portret door Mike Bolt

De Vlaamse dichter Eddy van Vliet werd geboren op 11 september 1942 in Antwerpen. Zie ook mijn blog van 11 september 2006 en ook mijn blog van 11 september 2007 en ook mijn blog van 11 september 2008 en ook mijn blog van 11 september 2009.
Wij gingen uit stelen
Wij gingen uit stelen en begonnen meteen
met de dag. Van zonsopgang tot een handvol
peperdure minuten na middernacht.

Wij verzamelden geneeskrachtige kruiden
zoals de zangerige lus van de bergweg,
de speeltuinen en de boomgaard waarin
het boerse linnen te bleken lag.

Wij droogden wat we met honderd listigheden
verworven hadden en stampten het fijn
met de vijzel van alwetendheid tot woorden
die door niemand konden worden uitgelegd.
De kustlijn verandert niet voor de visser
De kustlijn verandert niet voor de visser
die dagelijks zijn netten uitgooit
en onder het slijk het aardewerk niet vermoedt

Het land was steeds land voor de boer
die over haaienkerkhoven heen
zijn wiede afstapt

Graniet is hard en eeuwig en zo ook het marmer
voor het kind dat metershoge
tot kiezels afgesleten rotsen
over het wateroppervlak doet springen

Onfeilbaar juist was de tijd
voor de Majapriesters die na 260 dagen
een nieuw jaar intraden

En toch vraag ik je soms
'wanneer kom je terug?'
terwijl tranen op je wangen zich oplossen in de lucht
en zich vermengen met het stof van een van een volgende eeuw.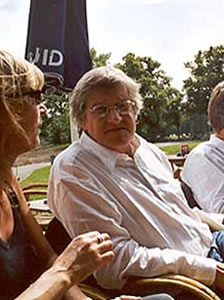 Eddy van Vliet (11 september 1942 – 5 oktober 2002)
De Duitse schrijfster Barbara Bongartz werd geboren op 11 september 1957 in Keulen. Bongartz studeerde theater-, film-en tv-Studies (TFF), germanistiek en filosofie in Parijs, München en Keulen. In 1984 ontving ze een master aan de Universiteit van Keulen. Van 1982 tot 1988 werkte zij als freelance assistent-directeur en directeur (documentaires over beeldende kunst).
In 1989 studeerde ze af aan het instituut voor Theater-Film-und Fernsehwissenschaft van de Universiteit van Keulen. Vanaf 1996 leefde ze als een freelance schrijver in Düsseldorf en New York. In samenwerking met beeldend kunstenaar Gisela Kleinlein ontstaan edities en speciale edities van hun geschriften. Sinds 2002 woont en werkt in Berlijn. Bongartz schrijft romans, korte verhalen, essays, artikelen over beeldende kunst, boekbesprekingen en radio-uitzendingen.
Uit: Die amerikanische Katze
"Es war einer dieser grausamen heißen Sommer in Manhattan, und ich verbrachte oft schlaflose Nächte. Es war jener Sommer, in dem Präsident Clinton beinah zu Fall gebracht worden wäre, und ich wußte nicht, was ich in New York sollte. Ich fühlte mich schlecht. Ich hatte einen scheußlichen Winter gehabt.
Zum Herbst hin war ein dickes Buch von mir über Die Melancholie des Vergeblichen erschienen, ein wirklicher Koloß von einem Wälzer, ein fett gebundener Schinken unter der Vielzahl von Schwarten, der nur mit Mühe seine Blätter hielt. Seit der Buchmesse fürchtete ich die öffentliche Reaktion. Man hatte mir schon einmal nachgesagt, ich sei das Produkt fremder Geister, meine Notate ausschließlich den Einflüsterungen fremder Stimmen zu verdanken, sämtliche meiner Worte Zitate. Da meine Herkunft dunkel ist, ist es schwer, all dieses zu widerlegen.
Ich bin keine sehr stabile Persönlichkeit. Weder meine dubiose Vergangenheit, noch meine desolate Gegenwart, noch meine unsichere Zukunft stehen dafür. Und als Ende Februar des Jahres 1998 etwas Unerwartetes geschah, wurde ich panisch. Ein Mann rief mich an. Er sprach mit tiefer, eindringlicher Stimme. Es war die Stimme eines Fremden. Er sagte, sein Name sei Stroheim, "und ich bin auf der Flucht vor meiner Frau." Ich antwortete ihm, daß er sich verwählt haben müsse, denn einen Mann dieses Namens kennte ich nicht. Der Fremde hielt dagegen. Er sei deutschstämmig – aus Swinemünde auf Usedom in Polen - , und wir seien verwandt. Er wolle sich im Rheinland niederlassen, und ich, als seine Verwandte, müsse ihm behilflich sein. Es nützte nichts, daß ich versuchte, ihm begreiflich zu machen, daß meine Herkunft dunkel sei, daß ich keinen Nachweis über Verwandte hätte, ja daß ich nicht einmal sagen könnte, ob der deutsche Paß meiner Herkunft entspreche. Er sagte, er wisse davon. Er wisse mehr als ich von mir. Er wisse alles, und er würde es mir erzählen, wenn ich ihm behilflich sei. Und wenn ich ihm nicht behilflich sein wolle, erzählte er es mir erst recht. Ich würde mich wundern. Ich weigerte mich, ihn zu sehen, und legte auf."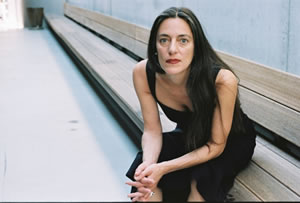 Barbara Bongartz (Keulen, 11 september 1957)

De Litouwse dichter, schrijver en vertaler Tomas Venclova werd geboren op 11 september 1937 in Klaipeda, Litouwen. Hij is de zoon van Antanas Venclova, ook een schrijver, maar ook een communistisch politicus. Venclova, die in 1977 is geëmigreerd uit Litouwen in 1977, doceert aan de Yale University, VS, Russische en Oost-Europese literatuur. In de zomer van 2010 bekleedde Tomas Venclova de Samuel Fischer gastleerstoel letterkunde aan de Vrije Universiteit van Berlijn.
Vor der Tür das Ende der Welt
Vor der Tür das Ende der Welt.
Von fernher rollt die Flut.
Das Licht wie ein Spalt
Zwischen Wind und Stein.
Ich bin hier geboren, ewig ist es her,
Doch das Ufer hat sich schon früher geteilt
(Noch tiefer leuchtet die Lage Kies
Am Saum der schwindenden Nacht).

Den glatten Asphalt werden ein wenig
Massige Strahlen aufrauhen,
Die Kiefer wird Sauerstoff atmen
Über so manchem Schieferdach.
Glut wird leuchten im Eck,
Von Zukunft kein Moment mehr übrig sein,
Dem Säugling angst sein vor der Nacht,
Er wird sich retten in den Schlaf.

Kein Ochs wird an der Schwelle stehn,
Keine drei Könige, kein Ruhm,
Doch für den Herrn gibt's Raum genug,
Da braucht sich bloß der Nadelbaum
Zu neigen, der am Fenster knarrt -
Gewölbe und Achse der Welt,
Und Segen wird der Wiege sein
Und nie das Feuer ausgehen im Herd.

Nur weit vom Auge entfernt
Das Kind: ich gehe mit ihm
Den holperigen und steilen Pfad hinauf
Am Hang des Atmens. Ich lausche,
Merke mir die Zeichen, schreite aus,
Und weiß es selber nicht: mit wem
Ich spreche - mit dem, der keine Grenzen kennt,
Oder ganz einfach mit dem Kreis des Lichts.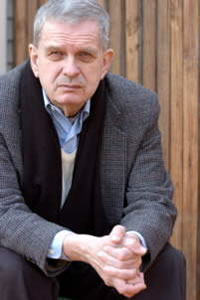 Tomas Venclova (Klaipeda, 11 september 1937)
De Amerikaanse schrijver O.Henry, pseudoniem van William Sydney Porter , werd geboren in Greensboro (North Carolina) op 11 september 1862. Zie ook mijn blog van 11 september 2008 en ook mijn blog van 11 september 2009.
Uit: Brickdust Row
"With a curious eye, a critical mind, and a fairly withheld judgement Blinker considered the temples, pagodas and kiosks of popularized delights. Hoi polloi trampled, hustled, and crowded him. Basket parties bumped him; sticky children tumbled, howling, under his feet, candying his clothes. Insolent youths strolling among the booths with hard-won canes under one arm and easily won girls on the other, blew defiant smoke from cheap cigars into his face. The publicity gentlemen with megaphones, each before his own stupendous attraction, roared like Niagara in his ears. Music of all kinds that could be tortured from brass, reed, hide, or string, fought in the air to gain space for its vibrations against its competitors. But what held Blinker in awful fascination was the mob, the multitude, the proletariat shrieking, struggling, hurrying, panting, hurling itself in incontinent frenzy, with unabashed abandon, into the ridiculous sham palaces of trumpery and tinsel pleasures. The vulgarity of it, its brutal overriding of all the tenets of repression and taste that were held by his caste, repelled him strongly."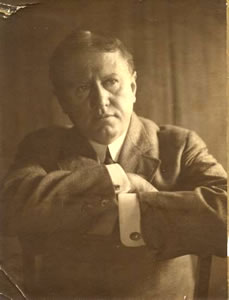 O. Henry (11 september 1862 – 5 juni 1910)
De Duitse schrijver, kunstenaar en kunstverzamelaar Joachim Fernau werd geboren in Bromberg op 11 september 1909. Zie ook mijn blog van 11 september 2008 en ook mijn blog van 11 september 2009.
Uit: Deutschland, Deutschland über alles...
"Ach, meine Lieben, die Sache mit dem ersten Kreuzzug war leider ganz, ganz anders. Die Kreuzzüge sind überhaupt eines der merkwürdigsten, interessantesten und folgenschwersten Ereignisse des Mittelalters. Ich kann mich nicht enthalten, sie Ihnen zu erzählen, bitte Sie jedoch, Heinrich IV. nicht aus dem Auge zu verlieren, den wir in einer Ecke Deutschlands abgestellt haben.
Es begann an einem Tage des Jahres 1095 in dem französischen Städtchen Clermont. Dort hielt auf einem Kirchenkonzil der Papst als Hauptreferat eine flammende Rede über die Greuel eines asiatischen Volkes (der Sarazenen), das soeben Kleinasien erobert, die Heiligen Stätten verwüstet und sämtlichen Christen den Hals abgeschnitten hatte. Er endete mit dem Aufruf, einen Kriegszug zur Befreiung des Heiligen Landes im Namen Christi und unter dem Reisezeichen eines Kreuzes zu unternehmen. Wenn Sie sich erinnern, was ich über die innere Wandlung und Bereitschaft der damaligen Menschen sagte, so werden Sie verstehen, daß die Worte des Papstes ungeheuren Eindruck machten. Da der Papst persönlich natürlich nicht dorthin zu ziehen gedachte, waren seine leidenschaftlichen Worte an die Adresse der Könige und Adligen gerichtet. Die Priester, die Mönche, alles schaltete sich ein und erreichte, daß eine Welle kriegerisch-religiöser Begeisterung durch Deutschland, Frankreich und Italien ging."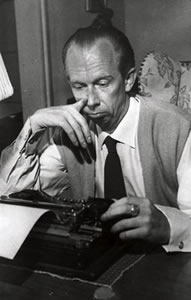 Joachim Fernau (11 september 1909 - 24 november 1988)


Zie voor nog meer schrijvers van de 11e september ook mijn vorige blog van vandaag.
11-09-2010 om 20:22 geschreven door Romenu

Tags:D.H. Lawrence, Eddy van Vliet, Barbara Bongartz, Tomas Venclova, O. Henry, Joachim Fernau, Romenu



Peter Hille, Adam Asnyk, Fitz Hugh Ludlow, James Thomson, Thomas Parnell, Johann Jakob Engel
De Duitse dichter en schrijver Peter Hille werd geboren in Erwitzen bij Nieheim op 11 september 1854. Zie ook mijn blog van 11 september 2007.en ook mijn blog van 11 september 2008 en ook mijn blog van 11 september 2009.
Wie deine grüngoldnen Augen funkeln
Wie deine grüngoldnen Augen funkeln,
Wald, du moosiger Träumer!
Wie deine Gedanken dunkeln,
Einsiedel, schwer von Leben,
Saftseufzender Tagesversäumer!
Über der Wipfel Hin- und Wiederschweben
Wies Atem holt und voller wogt und braust
Und weiter zieht
und stille wird
und saust.
Über der Wipfel Hin- und Wiederschweben
Hoch droben steht ein ernster Ton,
Dem lauschten tausend Jahre schon
Und werden tausend Jahre lauschen
Und immer dieses starke, donnerdunkle Rauschen.
Seegesicht
Die Küste ruht.
Weites Tritonengetut
Silberne Wunden der Flut
Tobende Augen der Wut.
Krähende Pausbacks auf steigenden Rossen,
Plätschernder Spielen purpurne Flossen,
Neckisch Bedräuen mit Zacken und Spießen,
Kräftig anfassendes Leiberumschließen.
Und sieh, eine Muschel fleischgelb und zart
Von Amorinen flüsternd bewahrt.
Hingegossen ruhende Linien,
Grüßender rauschender Palmen und Pinien.
Angeblühte rosige Brüste.
Lächelnde sonnengestreifte Küste.
Fürder kein Dräuen mit Zacken und Spießen
Müdhinlallendes Leiberumschließen.
Nickende Pausbacks auf schlürfenden Rossen. –
Grünhinflüsternde, finstere Flossen.
Erloschene Wunden der Flut,
Fernes Tritonengetut
Stierende Augen der Wut.
Die Küste ruht.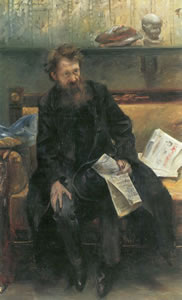 Peter Hille (11 september 1854 - 7 mei 1904)
Geschilderd door Lovis Corinth, 1902
De Poolse dichter en toneelschrijver Adam Asnyk werd geboren op 11 september 1838 in Kalisz en werd opgevoed als erfgenaam van het landgoed van zijn familie. Als zodanig kreeg hij onderwijs op het Instituut voor Landbouw en Bosbouw in Marymont en vervolgens op de Medisch Chirurgische School in Warschau. Hij vervolgde zijn studie in het buitenland in Breslau, Parijs en Heidelberg. In 1862 keerde hij terug naar Congres-Polen en nam deel aan de Januari-opstand tegen Rusland. Hierom moest hij het land ontvluchten en hij vestigde zich in Heidelberg, waar hij in 1866 een doctoraat in de filosofie ontving. Kort daarna keerde hij terug naar Polen en vestigde hij zich aanvankelijk in Lwów en vervolgens in Krakau.
Pointless your mourning
Pointless your mourning and your toil
Helpless your curses dire
Past forms no miracle can bring
Back from funereal pyre.
The world will not release its grip
On fleeting ghosts of yore
Fire or sword will not bring back
What's lost forevermore.
One must go forward with the living
Reach for new life, instead
Of placing a bunch of wasted laurels
Stubbornly on one's head.
You shall not turn the tide of life!
Your anger keep at bay
Pointless your mourning and your toil
The world shall go its way.
Vertaald door Jan Rybicki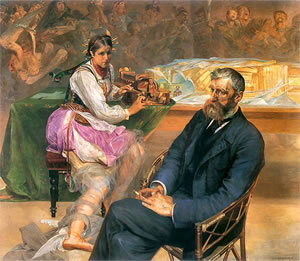 Adam Asnyk (11 september 1838 – 2 augustus 1897)
Adam Asnyk en de muze, geschilderd door Jacek Malczewski
De Amerikaanse schrijver, journalist en ontdekkingsreiziger Fitz Hugh Ludlow werd geboren op 11 september 1836 in New York. Ludlow werd vooral bekend door zijn autobiografische boek The Hasheesh Eater uit 1857. De verkenningen van veranderde staten van bewustzijn in de Hasheesh Eater zijn tegelijkertijd ongrijpbaar welsprekende beschrijvingen van subjectieve verschijnselen en surrealistische, bizarre en prachtige literatuur. In zijn tweede boek The Heart of the Continen schreef hij ook over zijn reizen door heel Amerika. Fitz Hugh Ludlow was ook de auteur van vele werken van korte fictie, essays, wetenschappelijke rapportages en kunstkritieken. Hij wijdde veel van de laatste jaren van zijn leven aan pogingen om de behandeling van opiaatverslaafden te verbeteren.
Uit: The Hasheesh Eater
"About the shop of my friend Anderson the apothecary there always existed a peculiar fascination, which early marked it out as my favorite lounging-place. In the very atmosphere of the establishment, loaded as it was with a composite smell of all things curative and preventive, there was an aromatic invitation to scientific musing, which could not have met with a readier acceptance had it spoken in the breath of frankincense. The very gallipots grew gradually to possess a charm for me as they sat calmly ranged upon their oaken shelves, looking like a convention of unostentatious philanthropists, whose silent bosoms teemed with every variety of renovation for the human race. A little sanctum at the inner end of the shop, walled off with red curtains from the profane gaze of the unsanative, contained two chairs for the doctor and myself, and a library where all the masters of physic were grouped, through their sheep and paper representatives, in more friendliness of contact than has ever been known to characterize a consultation of like spirits under any other circumstances. Within the limits of four square feet, Pereira and Christison condensed all their stores of wisdom and research, and Dunglison and Brathwaite sat cheek by jowl beside them. There stood the Dispensatory, with the air of a business-like office, wherein all the specifics of the materia medica had been brought together for a scientific conversazione, but, becoming enamored of each other's society, had resolved to stay, overcrowded though they might be, and make an indefinite sitting of it. In a modest niche, set apart like a vestibule from the apartments of the medical gentlemen, lay a shallow case, which disclosed, on the lifting of a cover, the neatly-ordered rank of tweezers, probe, and lancet, which constituted my friend's claim to the confidence of the plethoric community; for although unblessed with metropolitan fame, he was still no "Cromwell guiltless of his country's blood."
Here many an hour have I sat buried in the statistics of human life or the history of the make-shifts for its preservation. Here the details of surgical or medical experiment have held me in as complete engrossment as the positions and crises of romance; and here especially, with a disregard to my own safety which would have done credit to Quintus Curitus, have I made upon myself the trial of the effects of every strange drug and chemical which the laboratory could produce."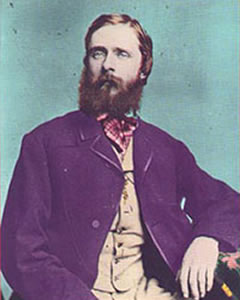 Fitz Hugh Ludlow (11 september 1836 – 12 september 1870)
De Schotse dichter en schrijver James Thomson werd geboren op 11 september 1700 in Ednam, Roxburghshire. Zie ook mijn blog van 11 september 2009.
Evening In Autumn
The western sun withdrawn the shorten'd day,
And humid evening, gliding o'er the sky
In her chill progress, to the ground condensed
The vapours throws. Where creeping waters ooze,
Where marshes stagnate, and where rivers wind,
Cluster the rolling fogs, and swim along
The dusky-mantled lawn. Meanwhile the moon,
Full-orb'd, and breaking through the scatter'd clouds,
Shews her broad visage in the crimson east.
Turn'd to the sun direct, her spotted disk,
Where mountains rise, umbrageous dales descend,
And caverns deep, as optic tube descries,
A smaller earth, gives us his blaze again,
Void of its flame, and sheds a softer day.
Now through the passing cloud she seems to stoop,
Now up the pure cerulean rides sublime.
Wide the pale deluge floats, and streaming mild
O'er the skied mountain to the shadowy vale,
While rocks and floods reflect the quivering gleam,
The whole air whitens with a boundless tide
Of silver radiance, trembling round the world.
Gifts
GIVE a man a horse he can ride,
Give a man a boat he can sail;
And his rank and wealth, his strength and health,
On sea nor shore shall fail.
Give a man a pipe he can smoke,
Give a man a book he can read:
And his home is bright with a calm delight,
Though the room be poor indeed.
Give a man a girl he can love,
As I, O my love, love thee;
And his heart is great with the pulse of Fate,
At home, on land, on sea.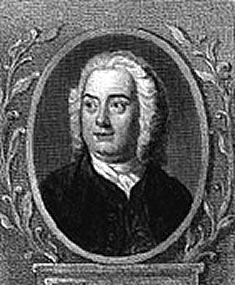 James Thomson (11 september 1700 – 27 augustus 1748)
De Ierse dichter Thomas Parnell werd geboren in Dublin op 11 september 1679. Zie ook mijn blog van 11 september 2009.
A Song
Thyrsis, a young and am'rous Swain,
Saw two, the Beauties of the Plain;
Who both his Heart subdue:
Gay Cælia's Eyes were dazzling fair,
Sabina's easy Shape and Air
With softer Magick drew.
He haunts the Stream, he haunts the Grove,
Lives in a fond Romance of Love,
And seems for each to dye;
'Till each a little spiteful grown,
Sabina Cælia's Shape ran down,
And she Sabina's Eye.
Their Envy made the Shepherd find
Those Eyes, which Love cou'd only blind;
So set the Lover free:
No more he haunts the Grove or Stream,
Or with a True-love Knot and Name
Engraves a wounded Tree.
Ah Cælia! (sly Sabina cry'd)
Tho' neither love, we're both deny'd;
Now, to support the Sex's Pride,
Let either fix the Dart.
Poor Girl! (says Cælia) say no more;
For shou'd the Swain but one adore,
That Spite which broke his Chains before,
Wou'd break the other's Heart.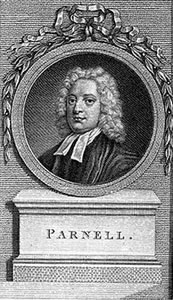 Thomas Parnell (11 september 1679 – 24 oktober 1718)
De Duitse schrijver Johann Jakob Engel werd geboren op 11 september 1741 in Parchim, Mecklenburg-Schwerin. Hij studeerde theologie in Rostock en Bützow, en filosofie in Leipzig, waar hij zijn artsengraad behaalde. In 1776 werd hij benoemd tot hoogleraar in de moraalfilosofie en bellettrie aan het Joachimstal gymnasium in Berlijn, en een paar jaar later werd hij docent van de kroonprins van Pruisen, de latere Frederik Willem III. De lessen in ethiek en politiek die hij gaf aan zijn koninklijke leerling werden gepubliceerd in 1798 onder de titel Furstenspiegel, en zijn een goed voorbeeld van zijn talent als populair filosofisch schrijver. In 1787 werd hij toegelaten tot de Academie van Wetenschappen van Berlijn, en in hetzelfde jaar werd hij directeur van de koninklijke schouwburg, een ambt dat hij zijn ontslag in 1794 vervulde. Naast tal van drama's, waarvan sommige een groot succes waren, schreef Engel een aantal waardevolle boeken over esthetische onderwerpen.
Uit: Herr Lorenz Stark
"Herr Lorenz Stark galt in ganz H ....., wo er lebte, für einen sehr wunderlichen, aber auch sehr vortrefflichen alten Mann. Das Äusserliche seiner Kleidung und seines Betragens verkündigte auf den ersten Blick die altdeutsche Einfalt seines Charakters. Er ging in ein einfarbiges, aber sehr feines Tuch, grau oder bräunlich, gekleidet; auf dem Kopfe trug er einen kurzen Stutz, oder wenn's galt, eine wohlgepuderte Troddelperücke; mit seinem kleinen Hute kam er zweimal ausser die Mode, und zweimal wieder hinein; die Strümpfe waren mit grosser Zierlichkeit über das Knie hinaufgewickelt; und die stark besohlten Schuhe, auf denen ein Paar sehr kleiner, aber sehr hell polirter Schnallen glänzten, waren vorne stumpf abgeschnitten. Von überflüssiger Leinewand vor dem Busen und über den Händen war er kein Freund; sein grösster Staat war eine feine Halskrause mit Spitzen.
Die Fehler, deren dieser vortreffliche Mann nicht wenig hatte, und die denen welche mit ihm leben mussten, oft sehr zur Last fielen, waren so innig mit den besten seiner Eigenschaften verwebt, dass die einen ohne die andern kaum bestehen zu können schienen. Weil er in der That klüger war, als fast Alle mit denen er zu thun hatte, so war er sehr eigenwillig und rechthaberisch; weil er fühlte, dass man ihm selbst seiner Gesinnungen und Handlungen wegen keinen gegründeten Vorwurf machen könnte, so war er gegen Andre ein sehr freier, oft sehr beschwerlicher Sittenrichter; und weil er, bei seiner natürlichen Gutmüthigkeit, über keinen Fehler sich leicht erhitzen, aber auch keinen ungeahndet konnte hingehen lassen, so war er sehr ironisch und spöttisch.
In seiner Casse stand es ausserordentlich gut; denn er hatte die langen lieben Jahre über, da er gehandelt und gewirthschaftet hatte, den einfältigen Grundsatz befolgt: dass man, um wohlhabend zu werden, weniger ausgeben als einnehmen müsse. Da sein Anfang nur klein gewesen, und er sein ganzes Glück sich selbst, seiner eigenen Betriebsamkeit und Wirthlichkeit schuldig war: so hatte er in frühern Jahren sich nur sehr karg beholfen; aber auch nachher, da er schon längst die ersten Zwanzigtausend geschafft hatte, von denen er zu sagen pflegte, dass sie ihm saurer als sein nachheriger ganzer Reichthum geworden, blieb noch immer der ursprüngliche Geist der Sparsamkeit in seinem Hause herrschend: und dieser war der vornehmste Grund von dem immer steigenden Wachsthum seines Vermögens."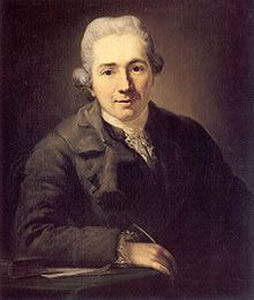 Johann Jakob Engel (11 september 1741 – 28 juni 1802)
Portret door Anton Graff
11-09-2010 om 20:12 geschreven door Romenu

Tags:Peter Hille, Adam Asnyk, Fitz Hugh Ludlow, James Thomson, Thomas Parnell, Johann Jakob Engel, Romenu



David van Reybrouck
De Vlaamse dichter, schrijver en wetenschapper David Van Reybrouck werd geboren in Brugge op 11 september 1971. Zie ook mijn blog van 30 mei 2009 en ook mijn blog van 30 mei 2010.
Uit: De hel van Hewa Bora Airways
"De tussenlanding in Lubumbashi duurde en duurde. Uit het raampje zag ik hoe uit het laadruim honderden en honderden flessen mineraalwater in pakken van zes werden gegooid en op een vrachtwagen geladen. Wat was dit voor een land, waar men zelfs mineraalwater per lijnvlucht uit Zuid-Afrika moest importeren? Het werd nog gekker. Plots werd een zeildoek keurig uitgespreid. Uit het laadruim kwamen bloemen en kransen, van de meest bombastische soorten. Men leek maar te stapelen en te herschikken en dan nog een keer. Ten slotte werd een barokke, ongelooflijk kitscherige en gelakte lijkkist uitgeladen. Die werd plechtstatig te midden van de kransen neergelegd. Daarmee waren wij dus op stap: drinkwater en een dode.
Maar het kan nog veel erger. Air Zaïre werd in de jaren tachtig al omschreven als 'Air Peut-Être', maar dat was nog niets vergeleken met de minuscule luchtvaartbedrijfjes van vandaag. Die hebben vaak niet meer dan twee verrotte sportvliegertjes waarmee men tussen Kinshasa en een stadje in het oerwoud pendelt. Missionarissen zeggen dat je je geen zorgen moet maken omdat deze of gene maatschappij 'la compagnie des religieux' is en dat Onze-Lieve-Heer daar het beste mee voorheeft. Tja. Zetels zijn soms vervangen door plastic tuinstoelen, landen doe je op een piste vol blutsen, uren later fluiten je oren soms nog omdat de cabine niet helemaal afgesloten was en je trommelvliezen gek geworden zijn van de luchtdruk."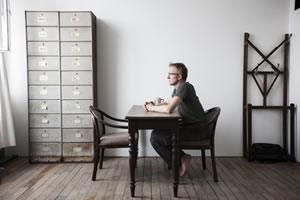 David van Reybrouck (Brugge, 11 september 1971)

11-09-2010 om 00:00 geschreven door Romenu

Tags:David van Reybrouck, Romenu



Murat Isik
De Nederlands-Turkse schrijver, columnist en journalist Murat Isik werd geboren in Izmir op 11 september 1977. Naast het schrijven werkt hij als jurist. Hij studeerde tijdens zijn studie Nederlands Recht een semester Creative Writing aan de San Francisco State University. Zijn korte verhalen werden gepubliceerd in Lava Literair, De Brakke Hond, DUF en Contrast. In 2007 was Isik winnaar van de verhalenwedstrijd van de Juni Kunstmaand in Amsterdam met het korte verhaal De purperen citroen dat in juni 2008 tot toneelstuk werd bewerkt. Ook schreef hij een kort verhaal voor de verhalenbundel Fasten your seat belt! (2008). In deze bundel staan 20 korte verhalen van jonge Nederlandse schrijvers. Isik schreef op freelance basis voor het opinieblad Contrast Magazine en Tulpia. Sinds april 2009 is hij columnist voor MTNL en sinds april 2010 voor JOOP, de online opiniepagina van de publieke omroep VARA.
Uit: De kinderen van Oaxaca
"Zoals Oaxaca, het gebied waar hij ter wereld was gekomen in het zuiden van Mexico, gevangen is tussen het Sierra Madre del Sur gebergte en de Grote Oceaan, zo was hij gevangen in zijn eigen wereld zonder daglicht of kleur. Zijn ogen zouden hem nooit in staat stellen de hem omringende bergachtige wereld vol fijne rode stof en mysterieuze guajebomen te aanschouwen. Emillio Borgetti was blind geboren.
Zijn moeder, die weduwe was geworden toen hij twee jaar was, moest de grootse plannen die zij met Emillio had bijstellen. Hij zou geen arts of advocaat worden, met die gedachte had ze zich al vroeg verzoend. Maar ze hoopte dat hij zichzelf zou kunnen redden als zij te oud was geworden om de zelf gebakken maïspannenkoekjes nog te verkopen in haar kraampje. Aan de dag dat hij zonder haar moest verder leven, durfde ze geen seconde te denken.
Ze vestigde haar hoop op het blindeninstituut in Oaxaca waar ze door de enige onderwijzer van het dorp op gewezen was. Daar moest Emillio leren lezen, daar moesten gekwalificeerde mensen haar het vertrouwen geven dat ze miste voor de toekomst. Ze wilde in staat zijn te geloven dat Emillio het zou redden en zou uitgroeien tot een zelfstandige en zelfredzame man.
Toen Emillio vijf jaar was nam ze hem mee naar Oaxaca de Juárez, de hoofdstad van de staat Oaxaca. De busreis van hun dorp San Lucas naar de hoofdstad nam zes uur in beslag. De kleine Emillio zat de hele rit rustig bij het raam met een kalme glimlach rond zijn mondhoeken terwijl de bus zo nu en dan heen en weer werd geslingerd over het gehavende wegdek. Door zijn liefde voor bussen was hij erg opgetogen over zijn eerste lange busreis."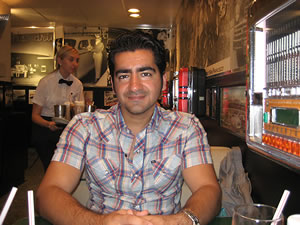 Murat Isik (Izmir, 11 september 1977)

11-09-2010 om 00:00 geschreven door Romenu

Tags:Murat Isik, Romenu


10-09-2010

Andreï Makine, Franz Werfel, Paweł Huelle, Mary Oliver, Eddy Pinas
De Franse schrijver van Russische afkomst Andreï Makine werd geboren in Krasnojarsk op 10 september 1957. Hij leerde al vroeg Frans van zijn uit Frankrijk afkomstige grootmoeder (en volgens Makine zelf ook van een vriend) en schreef al op jonge leeftijd gedichten in het Russisch zowel als het Frans. Makine studeerde onder andere filologie en filosofie in Tver, Moskou en Novgorod. In 1987 reisde hij naar Frankrijk in het kader van een uitwisselingsprogramma voor docenten en besloot er asiel aan te vragen. Sindsdien leeft hij als schrijver in Parijs. Na de teleurstellende ontvangst van zijn eerste romans, brak Makine in 1995 door met zijn grootse roman Het Franse testament, waarvoor bij de prestigieuze Prix Goncourt, de Prix Goncourt des lycéens en de Prix Médicis ontving. Veel waardering kreeg Makine ook voor zijn Requiem voor Rusland (2000).
Uit: Das französische Testament (Vertaald door Holger Fock en Sabine Müller)
"Ich war noch ein Kind, da ahnte ich, dass dieses eigentümliche Lächeln einen sonderbaren kleinen Sieg für jede Frau darstellte. Ja, eine kurzzeitige Revanche für die enttäuschten Hoffnungen, die Grobheit der Männer, die Seltenheit des Wahren und Schönen im Leben. Wäre ich damals imstande gewesen, es auszudrücken, ich hätte diese Art zu lächeln "weiblich" genannt ... Doch zu jener Zeit haftete meine Sprache noch zu sehr an den Gegenständen. Ich begnügte mich damit, in unseren Fotoalben die Gesichter der Frauen zu erforschen und das Aufleuchten der Schönheit in einigen von ihnen zu entdecken.
Diese Frauen wussten alle, was sie tun mussten, um schön zu sein, nämlich, kurz bevor das Blitzlicht sie blendete, jene geheimnisvolle französische Silbenfolge sprechen, deren Sinn nur wenige kannten: "petite-pomme ..." Statt sich in heiterer Verzückung oder ängstlicher Verkrampfung zu verziehen, rundete sich der Mund anmutig wie durch ein Wunder. Das ganze Gesicht war wie verwandelt. Die Brauen wölbten sich leicht, die Wangen dehnten sich. Man sagte "petite pomme", und ein Hauch von träumerischer Abwesenheit verschleierte den Blick, ließ die Gesichtszüge edler erscheinen, tauchte die Aufnahme in das gedämpfte Licht verflossener Tage.
Auf diesen fotografischen Zauber hatten sich die unterschiedlichsten Frauen verlassen. Jene Moskauer Verwandte zum Beispiel, die auf der einzigen Farbaufnahme in unseren Alben zu sehen ist. Sie war mit einem Diplomaten verheiratet, sprach, ohne den Mund aufzumachen, und stöhnte schon gelangweilt, bevor jemand auch nur ein Wort gesagt hatte. Auf dem Foto von ihr bemerkte ich jedoch sofort den Zauber des "petite pomme".
Ich entdeckte seinen Widerschein in den Zügen der unbekannten Tante, einer unscheinbaren Kleinstädterin, über die nur gesprochen wurde, wenn von den Frauen die Rede war, die nach dem Männer verschlingenden letzten Krieg keinen Ehemann gefunden hatten."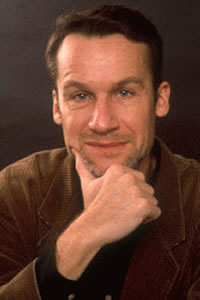 Andreï Makine (Krasnojarsk, 10 september 1957)
De Oostenrijkse dichter en schrijver Franz Werfel werd op 10 september 1890 in Praag geboren. Zie ook mijn blog van 10 september 2006 en ook mijn blog van 10 september 2007 en ook mijn blog van 10 september 2008 en ook mijn blog van 10 september 2009.
Uit: Verdi
"Der unirdische Monddunst dieser lau-bezaubernden Weihnacht drang durch das Wasserportal des Fenicetheaters und verklärte die finstere Mündung des langen Ganges, der vorwärts zum erleuchteten Foyer führte. An der grünspanigen Mauer, unbewegt in der Schwärze des Kanals, ein wenig abseits von Treppe und Pflöcken, ruhten einige Gondeln entlang des Fondamento.
Die Ruderer, die zuerst meinten, es gebe eine Oper zu hören, und die ihren Herrschaften nachgeschlichen kamen, um durch einen Türspalt oder gar auf unbezahlten Stehplätzen den Gesang zu genießen, waren enttäuscht worden. Das Orchester da drinnen - alle Musiker in schwarzer Parade - machte eine endlose, langweilige Musik. Und diese Musik wurde vor nicht mehr als fünfzehn Menschen gelärmt. Wußte man nichts Besseres aufzuführen, jetzt, im Dezember, zur Zeit der Stagione?
Die Gondelführer saßen längst schon in einer der Tavernen auf dem Campo del Teatro. Einer von ihnen stand von Zeit zu Zeit immer auf, um nachzusehen, ob die Geschichte nicht schon zu Ende sei. Im übrigen waren sie nicht um Musik betrogen. In der offenen Tür der Nachbarschenke hatte ein Invalide in vergilbter vergessener Uniform Platz genommen und ein kleines Cello mit hohem Stachel zwischen die Knie gestemmt. Unter seinem Bogen beklagte dieses mittelalterliche Bettel-Instrument, das sich auf irgendeinem geheimnisvollen Wege in unsere Zeit verirrt hatte, sein trübes Schicksal. In der Taverne, wo die Wartenden lachten und stritten, produzierte sich ein Paar von Straßensängern: der Knabe mit seiner Mandoline und eine blinde Alte mit schrecklichen Augenhöhlen und einer hellstechenden Tenorstimme. Dazu kam, daß fast alle Leute, die über den Platz gingen, einen Melodieteil sangen, summten, grölten, pfiffen, daß liederliche Aufschreie, Rufe, Gelächter aus plötzlich sich öffnenden und zuschlagenden Türen brachen, und daß jede Viertelstunde von allen Türmen herab die in dieser Nacht heilig erregten Glockenfluten auf die Stadt Venedig stürzten."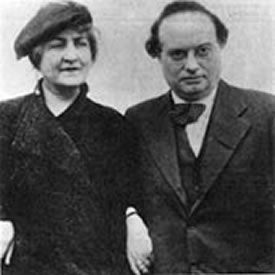 Franz Werfel (10 september 1890 – 26 augustus 1945)
Hier met Alma Mahler
De Poolse schrijver Paweł Huelle werd geboren op 10 september 1957 in Gdańsk. Zie ook mijn blog van 10 september 2007 en ook mijn blog van 10 september 2008 en ook mijn blog van 10 september 2009.
Uit: The Last Supper (Vertaald door Antonia Lloyd-Jones)
"The noise of the electric train came rattling through the open windows of the old German villa. Mateusz was standing in the kitchen alcove trying to find a corkscrew, while the Engineer stared about him with a look on his face implying that all the oils, sketches, drawings, water colours and gouaches filled him with total disgust. He went up to the easel, then the wall, almost pressing his nose against the canvas as if he were very short-sighted, then turned towards us wearing a grimace and lisped: "Dweadful, tewible, howendous!"
"What's your point?" asked Mateusz as the cork finally popped from the bottle of Bulgarian wine and he poured it into some thick, tea-stained glasses. "Maybe you could paint it better yourself?"
The Engineer made a face that implied extreme irritation with a dash of contempt.
"The point is not whether something is well or badly painted," he drawled. "The point is whether it's painted at all. Fuckin' 'ell, can't you understand that?"
"To be honest, no, I can't really," I said, looking the Engineer straight in the eye.
"This man, nailed to the earth's sphere," I went on, pointing at the canvas, "is screaming so loud he can be heard in every galaxy. But God is not there."
"Fuckin' 'ell," said the Engineer, clutching his head and looking at our host, "who've you got here? A virgin incowupt?"
"This is his," said Mateusz, holding up a copy of my first book, which admittedly was at that point just a typescript in cardboard covers, "but you wouldn't understand it all the same."
"What an arsehole," snarled the Engineer, "a writer on art is a piece of shit."
Mateusz nodded indulgently, implying that he'd heard it all a hundred times before and did not necessarily agree with the Engineer, who had now gone entirely on the offensive; hopping about like a boxer, he was running up to each canvas and board in turn shouting: "And what the fuck is this? Fucking litewature! Paint is just dwied-up blood! It's ancient dwied-up sperm! Painting is kaput! It's over. Can't you see that?"
Suddenly he took a razor out of his pocket, which, as I can see now, hadn't got there by accident, went up to the painting I'd just mentioned, "Ecce Homo", and slowly, without a word, with long strokes of the blade, ripped it into narrow strips. Mateusz was astonished, maybe even mesmerised at the sight of this destruction: the point being that it was planned, deliberately performed before his eyes, so patently and brazenly that it took your breath away."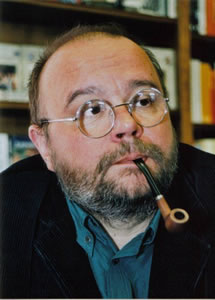 Paweł Huelle (Gdańsk, 10 september 1957)
De Amerikaanse dichteres Mary Oliver werd geboren op 10 september 1936 in Maple Heights, Ohio. Zie ook mijn blog van 10 september 2008 en ook mijn blog van 10 september 2009.
Wild Geese

You do not have to be good.
You do not have to walk on your knees
for a hundred miles through the desert, repenting.
You only have to let the soft animal of your body
love what it loves.
Tell me about despair, yours, and I will tell you mine.
Meanwhile the world goes on.
Meanwhile the sun and the clear pebbles of the rain
are moving across the landscapes,
over the prairies and the deep trees,
the mountains and the rivers.
Meanwhile the wild geese, high in the clean blue air,
are heading home again.
Whoever you are, no matter how lonely,
the world offers itself to your imagination,
calls to you like the wild geese, harsh and exciting--
over and over announcing your place
in the family of things.
The Swan
Did you too see it, drifting, all night, on the black river?
Did you see it in the morning, rising into the silvery air -
An armful of white blossoms,
A perfect commotion of silk and linen as it leaned
into the bondage of its wings; a snowbank, a bank of lilies,
Biting the air with its black beak?
Did you hear it, fluting and whistling
A shrill dark music - like the rain pelting the trees - like a waterfall
Knifing down the black ledges?
And did you see it, finally, just under the clouds -
A white cross Streaming across the sky, its feet
Like black leaves, its wings Like the stretching light of the river?
And did you feel it, in your heart, how it pertained to everything?
And have you too finally figured out what beauty is for?
And have you changed your life?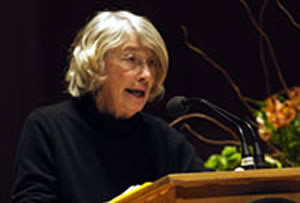 Mary Oliver (Maple Heights, 10 september 1935)
De Surinaamse dichter en schrijver Eddy Louis Pinas werd geboren in Paramaribo op 10 september 1939. Eddy Pinas was eigenaar van een bedrijf in elektrotechnische apparatuur. In 1996 beëindigde hij zijn bedrijfsactiviteiten en hij vestigde zich in Nederland. Hij publiceerde schaars: het toneelstuk Gerda (1971), twee dichtbundels, Krawasi [Zweep] (1973, onder de schuilnaam Faceless X) en Te koop wegens vertrek (1975), het verhaal 'Julien Colijn' in de bloemlezing Een pantservagen in de straten (1981) en in het Sranan 'San pesa ini Kaneri' [Wat er gebeurde in Kaneri] in de bloemlezing Nieuwe Surinaamse verhalen (1986). Pinas won tweemaal een literaire prijs: met anderen in 1975 de Literatuurprijs van Sticusa en in 1981 de prijsvraag 'Rondom de revolutie van 25 februari 1980' met zijn verhaal 'Julien Colijn'. Eddy Pinas was actief bij het NAKS-volkstoneel.
Testament van een bedelaar
stoep Kirpalani 9 februari 1973
Dit is mijn laatste wilsbeschikking:
mijn slaapplaats - onder het balkon -
laat ik na aan oom Hendrik
thans wonend in L.W.G.
met 4 man in een
kamer 3 x 3
de inhoud van mijn plunjezak -
1 broek, 2 borstrokken, 1 jas, 1 mok,
1 kam (nieuw), een partij
sigaretten eindjes,
7 dagbladen (februari 1969),
1 geërfde aansteker - zult gij
delen onder de stoepbewoners
mijn wandelstok (Tamarindehout) gaat
naar de politie
mijn beurs - exclusief 10 % pensioenpremie -
te delen onder eventuele
weduwen uit de strijd
mijn eergevoel
laat ik na aan de
regering van Suriname.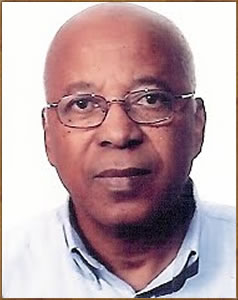 Eddy Pinas (Paramaribo, 10 september 1939)




Zie voor nog meer schrijvers van de 10e september ook mijn vorige blog van vandaag.

10-09-2010 om 19:46 geschreven door Romenu

Tags:Andreï Makine, Franz Werfel, Paweł, Huelle, Mary Oliver, Eddy Pinas, Romenu



Viktor Paskov, Hilda Doolittle, Reinhard Lettau, George Bataille, Jeppe Aakjær
De Bulgaarse schrijver en musicus Viktor Markos Paskov werd geboren in Sofia op 10 september 1949. Paskov studeerde aan de hogeschool voor muziek en theater in Leipzig en bleef na zijn studies nog 4 jaar in de DDR als jazz-muzikant en operazanger. In 1980 ging hij terug naar Bulgarije, waar hij onder meer actief werd als scenarioschrijver. Van 2002 tot 2004 stond hij aan het hoofd van het Bulgaars cultuurcentrum in Berlijn. Zijn bekendste boek is Balada za Georg Henih (Nederlands: Ballade voor Georg Henych) uit 1987. De roman speelt zich af in het Sofia van de jaren '50 en is quasi-autobiografisch.
Uit: Allemagne, conte cruel
« Derrière moi s'élevait le grandiose monument de ce Kuno - Otto - Friedrich. Le grand Kurfürst montait une massive rosse de fer. D'une main il tenait les rênes, de l'autre une massue levée bien haut au-dessus de sa tête. Pour autant qu'il m'était possible de voir, d'en bas, c'était un petit homme minable, comme Herr Dietze. Les pattes de devant de la rosse fendaient l'air. Quatre chiens de fonte se tortillaient autour d'elle. De leur gueule jaillissait un mince filet d'eau. Tout le groupe était vert de rage. Je me tournai de nouveau vert Kurt. C'est à ce moment-là que je vis qu'au-dessus de sa tête, juste sous la façade de la mairie, on avait tendu un long mot d'ordre en lettres rouges : Avec le soutien des partis communistes allemand et soviétique unis, luttons pour le triomphe de l'humanisme. »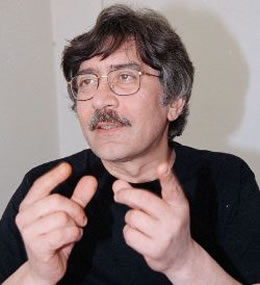 Viktor Paskov (10 september 1949 - 16 april 2009)
De Amerikaanse dichteres en schrijfster Hilda Doolittle werd geboren in Bethlehem, Pennsylvania, op 10 september 10 1886. Zie ook mijn blog van 10 september 2006 en ook mijn blog van 10 september 2008 en ook mijn blog van 10 september 2009.
Adonis
1.
Each of us like you
has died once,
has passed through drift of wood-leaves,
cracked and bent
and tortured and unbent
in the winter-frost,
the burnt into gold points,
lighted afresh,
crisp amber, scales of gold-leaf,
gold turned and re-welded
in the sun;
each of us like you
has died once,
each of us has crossed an old wood-path
and found the winter-leaves
so golden in the sun-fire
that even the live wood-flowers
were dark.
2.
Not the gold on the temple-front
where you stand
is as gold as this,
not the gold that fastens your sandals,
nor thee gold reft
through your chiselled locks,
is as gold as this last year's leaf,
not all the gold hammered and wrought
and beaten
on your lover's face.
brow and bare breast
is as golden as this:
each of us like you
has died once,
each of us like you
stands apart, like you
fit to be worshipped.
Sea Rose
Rose, harsh rose,
marred and with stint of petals,
meagre flower, thin,
sparse of leaf,
more precious
than a wet rose
single on a stem --
you are caught in the drift.
Stunted, with small leaf,
you are flung on the sand,
you are lifted
in the crisp sand
that drives in the wind.
Can the spice-rose
drip such acrid fragrance
hardened in a leaf?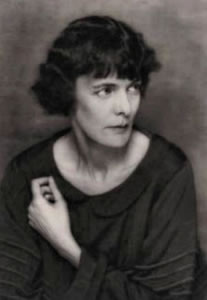 Hilda Doolittle (10 september 1886 – 21 september 1961)
De Duits-Amerikaanse schrijver Reinhard Lettau werd geboren op 10 september 1929 in Erfurt. Midden jaren 1950 emigreerde hij naar de Verenigde Staten, waar hij sinds 1967 hoogleraar Duitse letterkunde was aan de Universiteit van Californië in San Diego (UCSD). Hij was een actief lid van de groep 47 en hield vurige toespraken aan de Vrije Universiteit van Berlijn, waar hij Springer pers aan de kaak stelde. Hij werd vervolgens uitgewezen uit Duitsland, omdat hij een buitenlander was - hij had een Amerikaans paspoort. Lettau had Duits, filosofie en literatuur in Heidelberg en aan de Harvard University gestudeerd.
Anmaßender Dichter
Natürlich bin ich bedeutender
als Reinhard Lettau,
bedeutend bedeutender,
aber was bedeutet das schon?
Was bedeutet "natürlich"?
Was bedeutet "bedeutender"?
Was bedeutet "Lettau"?
Was bedeutet "bedeutet"?
"Natürlich" bedeutet natürlich nichts.
"Bedeutender" bedeutet natürlich auch nichts.
"Lettau" bedeutet natürlich gar nichts.
"Bedeutet" bedeutet natürlich bedeutet.
Einzig "ich", das bedeutet was.
Unter "ich" kann ich mir etwas vorstellen.
Unter "mir" kann ich mir allerdings schon weniger
vorstellen, außer, natürlich, Reinhard Lettau.

Reinhard Lettau (10 september 1929 - 17 juni 1996)
Lettau's graf in Berlijn
De Franse schrijver en filosoof George Bataille werd op 10 september 1897geboren in Billom (Auvergne). Zie ook mijn blog van 10 september 2006 en ook mijn blog van 10 september 2008 en ook mijn blog van 10 september 2009.
Uit: Le bleu du ciel
"Elle disparut avec le train.
J'étais seul sur le quai. Dehors il pleuvait à verse. Je m'en allai en pleurant. Je marchais péniblement. [...] J'arrivai à l'extrémité du hall: j'entendis un bruit de musique violent, un bruit d'une aigreur intolérable. Je pleurais toujours. De la porte de la gare, je vis de loin, à l'autre extrémité d'une place immense, un théâtre bien éclairé et, sur les marches du théâtre, une parade de musiciens en uniforme: le bruit était splendide, déchirant les oreilles, exultant. J'étais si surpris qu'aussitôt, je cessai de pleurer. Je n'avais plus envie d'aller aux cabinets. Sous la pluie battante, je traversai la place vide en courant. Je me mis à l'abri sous l'auvent du théâtre.
J'étais devant des enfants en ordre militaire, immobiles, sur les marches de ce théâtre: ils avaient des culottes courtes de velours noir et de petites vestes ornées d'aiguillettes, ils étaient nu-tête; à droite des fifres, à gauche des tambours plats. Ils jouaient avec tant de violence, avec un rythme si cassant que j'étais devant eux le souffle coupé. Rien de plus sec que les tambours plats qui battaient, ou de plus acide, que les fifres. Tous ces enfants nazis (certains d'entre eux étaient blonds, avec un visage de poupée) jouant pour de rares passants, dans la nuit, devant l'immense place vide sous l'averse, paraissaient en proie, raides comme des triques, à une exultation de cataclysme: devant eux, leur chef, un gosse d'une maigreur de dégénéré. avec le visage hargneux d'un poisson (de temps à autre, il se retournait pour aboyer des commandements, il râlait), marquait la mesure avec une longue canne de tambour-major."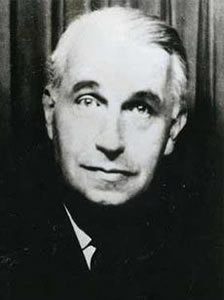 George Bataille (10 september 1897 – 9 juli 1962)
De Deense dichter en schrijver Jeppe Aakjær werd geboren in Aakjær bij Skive op 10 september 1866. Zie ook mijn blog van 10 september 2007 en ook mijn blog van 10 september 2009.
Uit: Menschenhandel (Vertaald door Erich Holm)
»Morten! Komm runter vom Boden! Hau mir den Per durch!« scholl Ann-Marie Kjærsgaards schrille Stimme aus der offenen Halbtür der Armenkate der Gemeinde. Ann-Marie stand an der Bodenstiege, und ihre grünen Augen schauten zum Schuhmacher auf, der in die Höhe geklettert war, um ein Bund Heu für die Ziege herunterzulassen.
Morten ließ sich nicht stören, sondern machte sich weiter mit seinem Heu zu schaffen.
»Hörst nicht, was man dir sagt, du Schlafmütze du!« fuhr Ann-Marie fort, erregt mit den verschwollenen Händen fuchtelnd, die gleich ihrem zurückgeschlagenen Rock von Lauge und Seifenschaum trieften.
»Halt's Maul, Alte, und halt dir sie selber in Ordnung, deine Rangen, die mich nichts angehen,« antwortete der Schuhmacher.
»Da hör mal einer, wie er sich das Maul auswaschen kann, der hinkende Teufel,« gab Ann-Marie zurück. »Möcht deiner Ehre wohl nicht zu nahe gehen, wenn du dich des Großen dann und wann annehmen tätest; seine Unnützigkeit wächst einem schon rein über den Kopf. Da steht er und lernt und lernt und vergißt ganz, was er unter den Händen hat. Gestern schmeißt er die Wiege mit der Kleinsten um, und heut, wo man ihn hinstellt, den Brei umzurühren, läßt er's ganze Essen anbrennen.«
Der Urheber so vieler Schändlichkeiten, der elfjährige Per, stand indessen am offenen Herd und lauschte gespannt auf den Ausgang dieser Verhandlung.
Als er nun den schweren Klumpfuß des Schusters die Bodentreppe herunterhumpeln hörte, verzog sich sein Gesicht, und die Schattenstriche, die sich hineinzeichneten, gingen, je näher die Gefahr kam, in tiefe Furchen über, die im Nu voll Wasser standen. Per hatte bisher nach besten Kräften den widerhaarigen Brei in dem großen Hafen umgerührt und dabei ab und zu einen Blick in etliche fettige Blätter eines zerrissenen Buches geworfen. Doch da die klumpfüßige Gerechtigkeit ihm näher auf den Leib rückte, erschien ihm die Situation so beunruhigend, daß er den Kochlöffel resolut fahren ließ und laut jammernd Deckung in der Torfecke unter dem Küchentisch suchte. Als der Schuhmacher über die Türschwelle humpelte, stieg die überkochende Grütze von allen Seiten zum Hafenrand auf, von wo sie in siedenden Kaskaden über die Torfglut niederschoß.
»Ach, Herr Jesu Christ, verdient er jetzt nicht die ärgste Tracht Prügel, die nur auf seinem Buckel Platz hat, der verdammte Nichtsnutz!« schrie Ann-Marie, die dem Manne auf den Fersen folgte, und stürzte zum Herd hin, um die auf wallenden Reste der Grütze zu retten. Im Vorbeischießen versetzte sie dem Schuhmacher unversehens einen Tritt auf das Schienbein seines Klumpfußes, woraus sich ein heftiges Gezänk entspann, das mit einer regelrechten Schlägerei endete. Ann-Maries Gekreisch und Wutgeschrei erfüllten das Haus."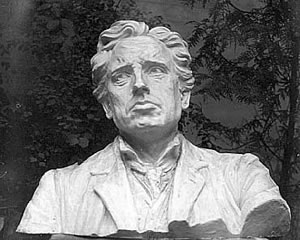 Jeppe Aakjær (10 september 1866 - 22 april 1930)
Buste van Niels Hansen Jacobsen in het Vejen Kunstmuseum

10-09-2010 om 00:00 geschreven door Romenu

Tags:Viktor Paskov, Hilda Doolittle, Reinhard Lettau, George Bataille, Jeppe Aakjær, Romenu


09-09-2010

C. O. Jellema, Edward Upward, Cesare Pavese, Hana Androníková
De Nederlandse dichter, essayist en germanist C. O, Jellema werd geboren op 9 september 1936 in Groningen. Zie ook mijn blog van 8 juni 2007 en mijn blog van 9 september 2006. en ook mijn blog van 9 september 2007 en ook mijn blog van 9 september 2008 en ook mijn blog van 9 september 2009.
In Memoriam Paul Celan 1
Kometentijd,
even, dat is
hoeveel dagen, zichtbaar
de haast van een andere
orde dan aarde.

Reis die begon voor wij stenen slepen,
ons oor, aan een boomstam geleund,
van hoeven de nadering opving
van achter de kim, van hoever.

Geen ster meer boven een stal,
die stil staat en spreekt, wij
spreken het woord
zonnewind, het bestaat.

Doel ons voorbij
en intussen
wat mens werd,
wat mens werd?

wat mens werd:
vreemd werd, komeet,
ons woord wereld.
Olifanten langs de snelweg
Geen kant kunnen wij op: als kunstidee
het tegenbeeld voor wie ons doelverdwaasd
om de tijd in te halen voorbijraast,
vertolken, kleine kudde, wij gedwee
de kolossale zielenrust waarmee
natuur zin in zichzelf had, ongehaast
naar deze vreemde plek van land uit zee
om te verbazen ons domein ontzworven:
een stap nog en dat razen kwam tot stand.
De kunst is ons geduld, wij wachten, want
pas als de mens zich straks heeft uitgestorven,
zijn wij, polders weer toendra, triumfant.

[bij een beeldengroep van Tom Claassen, Almere]
Hovenier
Nog zit de vorst tien centimeter
diep in de grond, toch naast zijn schoenen
al sprieten groen van sneeuwklok, krokus.

Hij snoeit wat hoger werd dan hem, de vlinder-
struik tot op de schijnbaar dode stam.

Van zeven zwanen ziet hij op hun roep
de vorkvlucht boven naar het noorden.

Nog hoger denkt hij zich planeten en
nog kouder, verder, sterren, overdag
onzichtbaar, en de grenzen van 't heelal.

Van daar ziet ziet hij zich staan: een kruin,
verwaaide haren, een snoeischaar in de hand, en naast de schoenen

die toefjes prille spriet net niet vertrapt.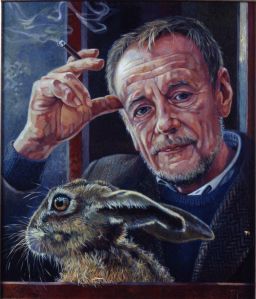 C. O. Jellema (9 september 1936 – 19 maart 2003)
Olieverfschilderij door Trudy Kramer
De Engelse schrijver Edward Falaise Upward werd geboren in Romford op 9 september 1903. Als jonge man maakte hij deel uit van de groep rond Christopher Isherwood, W.H. Auden en Stephen Spender. Na zijn studie was hij bijna dertig jaar leraar op Alleyn's School te Dulwich. Vanaf het begin van de jaren zestig wijdde hij zich geheel aan het schrijven en verhuisde hij naar Sandown op Wight.
Van 1932 tot 1948 was hij lid van de communistische partij, maar zou heel zijn leven verknocht blijven aan het internationalisme en het socialisme. Upwards eerste roman, Journey to the Border uit 1938, beschrijft in een poëtisch proza de opstand van een privéleraar tegen zijn werkgever en de dreigende wereld van de jaren 1930. De semi-autobiografische trilogie The Spiral Ascent gaat over het leven van een dichter en zijn strijd om artistieke scheppingsdrang te combineren met politiek engagement, onder meer de strijd tegen de Britse fascisten in de jaren 1930, de oppositie tegen de leiding van de communistische partij in de jaren 1940 en later, engagement in de strijd tegen de atoomwapens. In de laatste decennia van de 20e eeuw schreef Upward vooral korte verhalen. Hij stierf op 13 februari 2009 op 105-jarige leeftijd.
Uit: The Spiral Ascent
"On the paddle steamer halfway across from the mainland to the island Alan Sebrill was already less oppressed by his failure to make progress during the last fortnight with the long poem he had started writing. His fears in the train down from London that he might waste the freedom he had gained when he had thrown up his preparatory school teaching job two months before, and that he might never produce the real poetry he had then believed himself capable of, were forgotten as he looked at the nearing pier-head above the glistering water and at summer trees dark behind the shore. Though he could not yet hope that his visit to the island might help him to continue writing, he felt he was reprieved now from anxiety; and before the steamer arrived against the landing-stage of the pier he was thinking pleasurably of the meeting he would soon have with his friend, Richard Marple, who had invited him down here.
The roof tiles of the pier pavilion, as Richard had said in his letter, were curved like the scales of a fish; and the two gabled huts, one on each side of the turnstiles at the shore end of the pier, did in actuality have finials suggestive of the spikes on Prussian soldiers' helmets. Beyond the turnstiles a dark crimson open motor-coach was waiting, recognizable immediately as the one that Richard had told Alan to look out for, with a bright brass horn fixed just below the brass-framed windscreen. Alan climbed up to sit on the front seat beside the cocky young driver, who wore a cap tilted so far back that Richard must surely have been right in supposing it to be held to his head by some sort of hatpin,
and who waved to a girl in a kiosk before he drove away from the pier. Under trees along lanes where Tennyson and perhaps Turgenev had once strolled, the motor-coach hurried, while Alan remembered phrases and sentences that Richard had used to recommend the marvels of the place: 'the marine lueurs in the sky' (Gallicisms, as well as certain Americanisms, being in fashion with the two of them at this period); 'from where I sit the underside of the verandah roof looks like an inverted clinker-built rowing-boat'; 'come and live the poetic life at last'; 'your bemused friend, Richard.'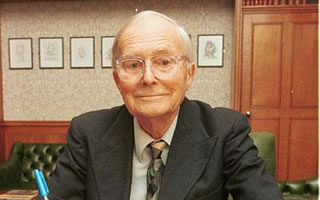 Edward Upward (9 september 1903 - 13 februari 2009)
De Italiaanse dichter en schrijver Cesare Pavese werd geboren in Santo Stefano Belbo op 9 september 1908. Zie ook mijn blog van 9 september 2007 en ook mijn blog van 9 september 2008 en ook mijn blog van 9 september 2009.
Passion for Solitudeby Cesare Pavese
I'm eating a little supper by the bright window.
The room's already dark, the sky's starting to turn.
Outside my door, the quiet roads lead,
after a short walk, to open fields.
I'm eating, watching the sky—who knows
how many women are eating now. My body is calm:
labor dulls all the senses, and dulls women too.
Outside, after supper, the stars will come out to touch
the wide plain of the earth. The stars are alive,
but not worth these cherries, which I'm eating alone.
I look at the sky, know that lights already are shining
among rust-red roofs, noises of people beneath them.
A gulp of my drink, and my body can taste the life
of plants and of rivers. It feels detached from things.
A small dose of silence suffices, and everything's still,
in its true place, just like my body is still.
All things become islands before my senses,
which accept them as a matter of course: a murmur of silence.
All things in this darkness—I can know all of them,
just as I know that blood flows in my veins.
The plain is a great flowing of water through plants,
a supper of all things. Each plant, and each stone,
lives motionlessly. I hear my food feeding my veins
with each living thing that this plain provides.
The night doesn't matter. The square patch of sky
whispers all the loud noises to me, and a small star
struggles in emptiness, far from all foods,
from all houses, alien. It isn't enough for itself,
it needs too many companions. Here in the dark, alone,
my body is calm, it feels it's in charge.
Vertaald door Geoffrey Brock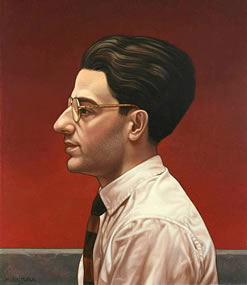 Cesare Pavese (9 september 1908 – 27 augustus 1950)
Portret door Marco Ventura
De Tsjechische schrijfster Hana Androníková werd geboren op 9 september 1967 in Zlín. Zie ook mijn blog van 9 september 2007 en ook mijn blog van 9 september 2008 en ook mijn blog van 9 september 2009.
Uit: The Sound of the Sundial
"She didn't like it in India at all. She saw the dirt, the mouldering walls of the houses, litter floating in the sludge. It made her feel sick, the putrid stench wafting towards her, the dozens of curs and cats running around, hairless and mangy. She went into fits when she saw crippled children lying in the dust of the street, wretched beggars with their club-feet and outstretched hands. She suffered from phobias. About dirt and disease. She couldn't bear the naked face of reality, the raw shape of misery, sickness and dying. The day she saw her first snake she wanted to go home.
Mother India. Land of an ancient culture, mysterious and inscrutable. Broad rivers of rolling yellowy-grey water, silent and everlasting. India. Father tried to merge into the land and extract the best from the tangle of different people, cultures and religions. At first, mother tried to understand the country. She always tried to find sense in things. But then, you have to hate India.
India wasn't going to change for her sake. India had remained the same for thousands of years. It was Raquel who changed. She came to terms with it. Thanks to her obsession with age-old myths, images of faith and the power of the word, she revealed, for herself and for us, the poetry of the oriental continent; she let herself be carried away by extremes and by the abundance of destinies. She fell in love with India. India became our common love. Scorching and relentless, sweet and distressing, sensuous and repellent. I grew up in the embrace of her contrasts, amongst people who ignited in my life a desire for harmony with myself. My India. I didn't try to understand her. I loved her."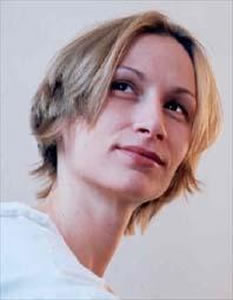 Hana Androníková (Zlín, 9 september 1967)



Zie voor nog meer schrijvers van de 9e september ook
mijn vorige blog van vandaag.
09-09-2010 om 00:00 geschreven door Romenu

Tags:C. O. Jellema, Edward Upward, Cesare Pavese, Hana Androníková



Leo Tolstoj, Gentil Th. Antheunis, Gaston Durnez
De Russische schrijver Leo Tolstoj werd geboren op 9 september 1828 op het landgoed Jasnaja Poljana, in de buurt van Toela. Zie ook mijn blog van 9 september 2006. Zie ook mijn blog van 9 september 2007 en ook mijn blog van 9 september 2008 en ook mijn blog van 9 september 2009.
Uit: The Death Of Ivan Ilyich (Vertaald door Louise and Aylmer Maude)
"That moment started three days of incessant screaming, screaming so terrible that even two rooms away one could not hear it without trembling. The moment he had answered his wife, he realized that he was lost, that there was no return, that the end had come, the very end, and that his doubts, still unresolved, remained with him.
"Oh! Oh! No!" he screamed in varying tones. He had begun by shouting: "I don't want it! I don't!" and went on uttering screams with that "O" sound.
For three straight days, during which time ceased to exist for him, he struggled desperately in that black sack into which an unseen, invincible force was thrusting him. He struggled as a man condemned to death struggles in the hands of an executioner, knowing there is no escape. And he felt that with every minute, despite his efforts to resist, he was coming closer and closer to what terrified him. He felt he was in agony because he was being shoved into that black hole, but even more because he was unable to get right into it. What prevented him from getting into it was the belief that his life had been a good one. This justification of his life held him fast, kept him from moving forward, and caused him more agony than anything else.
Suddenly some force struck him in the chest and the side and made his breathing even more constricted: he plunged into the hole and there at the bottom, something was shining. What had happened to him was what one frequently experiences in a railway car when one thinks one is going forward but is actually moving backward, and suddenly becomes aware of the actual direction."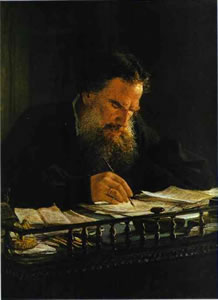 Leo Tolstoj (9 september 1828 – 20 november 1910)
Portret door Nicolay Gay
De Vlaamse dichter en componist Gentil Theodoor Antheunis werd geboren te Oudenaarde op 9 september 1840. Zie ook mijn blog van 9 september 2006. Zie ook mijn blog van 9 september 2007 en ook mijn blog van 9 september 2008 en ook mijn blog van 9 september 2009.
Afscheid
Dus is eindlijk 't uur geslagen,
't Lang gevreesde, droevig uur!
'k Voel mijn hart onstuimig jagen;
Ach! wat kost me uw afscheid duur.
Tranen wellen in mijn oogen
Bij het zingen van mijn lied;
Denk aan mij in uw gebeden,
Liefste, neen, vergeet mij niet.
Als de koele lente weder
De aarde siert met bloem en vrucht;
Als het lieve zuidenwindje
In het trillend loover zucht,
Zal het soms mijn naam u lisp'len,
Zoet als 't murm'len van den vliet;
Denk aan mij in uw gebeden,
Liefste, neen, vergeet mij niet.
Als de gure winter nogmaals
De aarde blad en bloesems rooft,
En gij eenzaam zit te mijm'ren
Met ter neer gebogen hoofd;
Als de lange kruipende avond
Vele droeve stonden biedt,
Denk aan mij, die steeds u lief heb,
Liefste, neen, vergeet mij niet.
Als u God in 't stille klooster
Tot zijn bruid verkiezen zal,
Zoek mij soms in uwe droomen;
Maar in uw gebed vooral
Dat mijn naam soms uwe lippen
Stil aan 't altaar Gods ontvlied',
Denk aan mij, die steeds u lief heb,
Liefste, neen, vergeet mij niet.
Als uw teerbeminde bruîgom
In uw boezem nederdaalt,
En de vlamme zijner liefde
U uit hart en oogen straalt;
Als ge, van geluk schier zwijmend,
Reeds der zaal'gen lot geniet;
Denk aan mij in uw gebeden,
Liefste, neen, vergeet mij niet.
Als daar alles in aanbidding
Nederknielt voor God en zwijgt,
En uw maagdelijke bede
Geurig met den wierook stijgt;
In zijn kronkelende walmen
Droom somtijds dat gij mij ziet;
Denk aan onze kinderjaren,
Liefste, neen, vergeet mij niet.
Als uw laatste dag zal komen,
En als de engel van den dood
Uwe zwanenblanke ziele
Dragen zal in Godes schoot;
Werp nog eens uw englenoogen
Op den zanger van dees lied;
Liefste, neen, vergeet uw broeder
Ook in 's Heeren woning niet.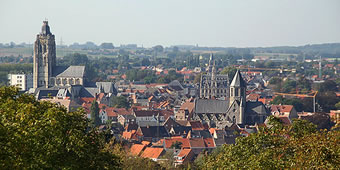 Gentil Th. Antheunis (9 september 1840 – 5 augustus 1907)
Oudenaarde
De Vlaamse schrijver, dichter en journalist Gaston Cyriel Durnez werd geboren in Wervik. Zie ook mijn blog van 9 september 2007 en ook mijn blog van 9 september 2008 en ook mijn blog van 9 september 2009.
Jan de krekel
had een hekel
aan het werk bij zomerdag.
En hij zong maar en hij sprong maar
en vergat zijn oude dag.
Maar wat later stond zijn snater...
't was toen winter....... stil en stijf.
En 't gebeurde dat hij treurde
zonder eten in zijn lijf.
't Werd vernomen door een vrome
mier, die hem wel lijden mocht.
En die eten ongeweten
in haar magazijnen zocht.
Hier, zo zei ze, wil niet grijnzen
heb niet langer nog verdriet.
La Fontaine en de zijnen
zijn lang dood ……. zij weten 't niet.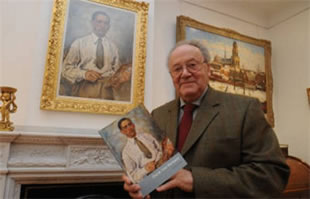 Gaston Durnez (Wervik, 9 september 1928)

09-09-2010 om 00:00 geschreven door Romenu

Tags:Leo Tolstoj, Gentil Th. Antheunis, Gaston Durnez, Romenu


08-09-2010

Siegfried Sassoon, Eduard Mörike, Perikles Monioudis, Frederic Mistral
De Engelse dichter Siegfried Sassoon werd geboren op 8 september 1886 in Brenchley, Kent. Zie ook mijn blog van 8 september 2006. Zie ook mijn blog van 8 september 2007 en ook mijn blog van 8 september 2008 en ook mijn blog van 8 september 2009.
Alone
I've listened: and all the sounds I heard
Were music,—wind, and stream, and bird.
With youth who sang from hill to hill
I've listened: my heart is hungry still.
I've looked: the morning world was green;
Bright roofs and towers of town I've seen;
And stars, wheeling through wingless night.
I've looked: and my soul yet longs for light.
I've thought: but in my sense survives
Only the impulse of those lives
That were my making. Hear me say
'I've thought!'—and darkness hides my day.
An Old French Poet
When in your sober mood my body have ye laid
In sight and sound of things beloved, woodland and stream,
And the green turf has hidden the poor bones ye deem
No more a close companion with those rhymes we made;
Then, if some bird should pipe, or breezes stir the glade,
Thinking them for the while my voice, so let them seem
A fading message from the misty shores of dream,
Or wheresoever, following Death, my feet have strayed.
Enemies
He stood alone in some queer sunless place
Where Armageddon ends. Perhaps he longed
For days he might have lived; but his young face
Gazed forth untroubled: and suddenly there thronged
Round him the hulking Germans that I shot
When for his death my brooding rage was hot.
He stared at them, half-wondering; and then
They told him how I'd killed them for his sake—
Those patient, stupid, sullen ghosts of men;
And still there seemed no answer he could make.
At last he turned and smiled. One took his hand
Because his face could make them understand.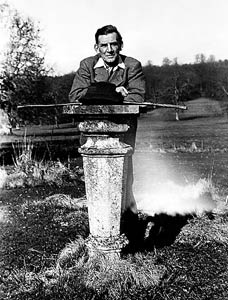 Siegfried Sassoon (8 september 1886 – 1 september 1967)
De Duitse dichter en schrijver Eduard Mörike werd geboren op 8 september 1804 in Ludwigsberg. Zie ook mijn blog van 8 september 2006. Zie ook mijn blog van 8 september 2007 en ook mijn blog van 8 september 2008 en ook mijn blog van 8 september 2009.
An meine Mutter
Siehe, von allen den Liedern
nicht eines gilt dir, o Mutter,
dich zu preisen, o glaub's !
bin ich zu arm und zu reich.
Ein noch ungesungenes Lied,
ruhst du mir am Busen,
keinem vernehmbar sonst,
mich nur zu trösten bestimmt,
wenn sich das Herz unmutig
der Welt abwendet
und einsam seines himmlischen Teils
ewigen Frieden bedenkt.
Auf der Reise
Zwischen süßem Schmerz,
Zwischen dumpfen Wohlbehagen
Sitz`ich nächtlich in den Reisewagen,
Lasse mich so weit von dir, mein Herz.
Weit und immer weiter tragen.
Schweigend sitz`ich und allein,
Ich wiege mich in bunten Träumen,
Das muntre Posthorn klingt darein,
Es tanzt der liebe Mondenschein
Nach diesem Ton auf Quellen und auf Bäumen,
Sogar zu mir durchs enge Fensterlein.
Ich wünsche mir nun dies und das.
O könnt`ich jetzo durch ein Zauberglas
Ins Goldgewebe deines Traumes blicken!
Vielleicht dann säh`ich wieder mit Entzücken
Dich in der Laube wohlbekannt.
Ich sähe Genovevens Hand
Aufdeiner Schulter traulich liegen,
Am Ende säh`ich selber mich,
Halb keck und halb bescheidentlich,
An deine holde Wange schmiegen.
Doch nein! wie dürft`ich auch nur hoffen,
Daß jetzt mein Schatten bei dir sei!
Ach, stünden deine Träume für mich offen,
Du winktest wohl auch wachend mich herbei!

Jägerlied
Zierlich ist des Vogels Tritt im Schnee,
Wenn er wandelt auf des Berges Höh:
Zierlicher schreibt Liebchens liebe Hand.
Schreibt ein Brieflein mir in ferne Land`.
In die Lüfte hoch ein Reiher steigt,
Dahin weder Pfeil noch Kugel fleugt:
Tausendmal so hoch und so geschwind
Die Gedanken treuer Liebe sind.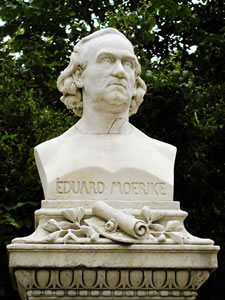 Eduard Mörike (8 september 1804 – 4 juni 1875)
Borstbeeld in Stuttgart
De Zwitserse schrijver Perikles Monioudis werd geboren op 8 september 1966 in Glarus. Zijn Griekse ouders immigreerden twee jaar voor zijn geboorte uit het kosmopolitische Alexandrië naar Zwitserland, en Monioudis groeiede tweetalig (Duits en Grieks) op. Hij bezocht de kanton school Glarus school en studeerde in 1993 af in sociologie, politicologie en algemeen staatsrecht aan de Universiteit van Zürich (lic.phil.I). In 1991 richtte hij de schrijversgroep "Netz" op. Die Verwechslung, zijn eerste roman, verscheen in 1993 en werd bekroond met de boekprijs van de stad Zürich. Vanaf 1995 had hij verschillende woonplaatsen (Toronto, Philadelphia en anderen). Hij verhuisde naar Berlijn, nadat hij een beurs voor vijf maanden had gekregen van de Berlijnse Senaat voor het Literaire Colloquium Berlin. Voor zijn tweede roman, Das Passagierschiff (1995), ontving hij de prijs van de Zwitserse Schillerstiftung. Hij ontving verscheidene beurzen en gaf lezingen en werkte aan meer dan een dozijn universiteiten, zowel in de VS als in Europa.
Uit: Land
"Nach dem Abendessen ging er nun, die Brise im Rücken, die Straße hinunter und erreichte einen ausgedehnten, mit Flutern erhellten Platz. Nur kurz versuchte er, sich den Stadtplan von Alexandria zu vergegenwärtigen, den er im Hotel, auf dem Nachttisch, liegengelassen hatte. Er schmeckte das Salz in der Brise. Der Reisende atmete auf, als ob er erst in diesem Augenblick am anderen, südlichen Rand des Mittelmeers angelangt wäre.
Als er sich umdrehte, stieß er gegen die hölzerne Bank. Einige Dutzend Sitzreihen waren vor der Bühne aufgestellt. Er betrachtete die alten Menschen, die vielen Familien und Gruppen junger Männer. Sie mußten, neugierig, wie sie sich umsahen, von den Dörfern im Nildelta angereist sein. Die bunten Beleuchtungen, Glühbirnen, an den Seiten des Platzes die Stände, an denen Erdnüsse geröstet und Maiskolben gebraten wurden. Er kaufte eine Handvoll Pistazien. Von hier also kam die Musik, die er schon von weitem, Straßen entfernt, gehört hatte: vom Band, aus aufgestapelten Lautsprecherboxen, schwarze, mannshohe Türme, links und rechts der Bühne mit Seilen an den ausgewachsenen Gummibäumen und Palmen festgemacht.
Wie auf einen Befehl hin füllten sich die Reihen. Die Menschen blinzelten, sie hielten die Hand vor die Stirn, die Scheinwerfer waren zum guten Teil auf sie und auf die Stände gerichtet, wo sich die Ansammlungen nun aufgelöst hatten. Sie bewegten die Lippen zum Text, schlossen die Augen, mit den Fingern schlugen sie den schleppenden Rhythmus, auf das Knie, mit der Sohle auf den gewalzten Sand.
Er mochte diese Musik. Er merkte, daß er sie vermißt hatte, nicht sehnsüchtig, eher erfüllte sich dabei eine lange währende Vorfreude. Von der Sängerin mit dem kratzigen Alt besaß sein Vater mehrere Kassetten, blau und rot arabisch beschriftet. Mit zwölf hatte der Junge eine nach der anderen abgespielt. Daß ihn diese Musik zum Tanzen gebracht, ihn übermütig die Hüften kreisen und die Arme in die Luft hatte werfen lassen, verwunderte ihn heute. War sie ihm näher als die Schullieder deutscher Sprache gewesen, näher als die Schlager im Fernsehen, vorgetragen von Einheimischen, von Menschen, die ihm nur außerhalb des Elternhauses begegneten?"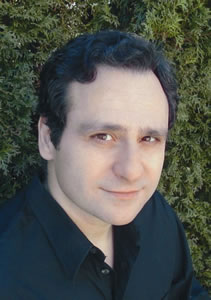 Perikles Monioudis (Glarus, 8 september 1966)
De Franse (Occitaanse) dichter en schrijver Frederic (Frédéric) Mistral werd geboren op 8 september 1830 in Maillane. Zie ook mijn blog van 8 september 2007. Zie ook mijn blog van 8 september 2007 en ook mijn blog van 8 september 2008 en ook mijn blog van 8 september 2009.
Uit: Memoires et recits
AU MAS DU JUGE.
Les Alpilles. La chanson de Maillane. Ma famille. Maitre Francois, mon pere. Delaide, ma mere. Jean du Porc. L'aieul Etienne. La mere-grand Nanon. La foire de Beaucaire. Les
fleurs de glais.
D'aussi loin qu'il me souvienne, je vois devant mes yeux, au Midi la -bas, une barre de montagnes dont les mamelons, les rampes, les falaises et les vallons bleuissaient du matin aux vepres, plus ou moins clairs ou fonces, en hautes ondes. C'est la chaine des Alpilles, ceinturee d'oliviers comme un massif de roches grecques, un veritable belvedere de gloire et de legendes.
Le sauveur de Rome, Caius Marius, encore populaire dans toute la contree, c'est au pied de ce rempart qu'il attendit les Barbares, derriere les murs de son camp; et ses trophees triomphaux, a
Saint-Rey sur les Antiques, sont, depuis deux mille ans, dores par le soleil. C'est au penchant de cette cote qu'on rencontre les troncons du grand aqueduc romain qui menait les eaux de Vaucluse dans les Arenes d'Arles: conduit que des gens du pays nomment _Ouide di Sarrasin_ (pierree des Sarrasins), parce que c'est par la que les Maures d'Espagne s'introduisirent dans Arles. C'est sur les rocs escarpes de ces collines que les princes des Baux avaient leur
chateau fort. C'est dans ces vals aromatiques, aux Baux, a Romanin et a Roque-Martine, que tenaient cour d'amour les belles chatelaines du temps des troubadours. C'est a Mont-Majour que dorment, sous les dalles du cloitre, nos vieux rois arlesiens. C'est dans les grottes du Vallon d'Enfer, de Cordes, qu'errent encore nos fees. C'est sous ces ruines, romaines ou feodales, que git la Chevre d'Or.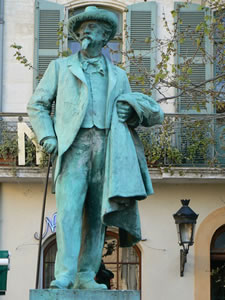 Frederic Mistral (8 september 1830 – 25 maart 1914)
Standbeeld in Arles



Zie voor nog meer schrijvers van de 8e september ook mijn vorige blog van vandaag.



08-09-2010 om 19:44 geschreven door Romenu

Tags:Siegfried Sassoon, Eduard Mörike, Perikles Monioudis, Frederic Mistral, Romenu



Clemens Brentano, Wilhelm Raabe, Ludovico Ariosto, Grace Metalious
De Duitse dichter en schrijver Clemens Brentano werd geboren op 8 september 1778 in Ehrenbreitstein. Zie ook mijn blog van 8 september 2006 en ook mijn blog van 8 september 2008 en ook mijn blog van 8 september 2009.
Sonett
Es saß ein Kind ganz still zu meinen Füßen,
Und spielte froh mit freundlichen Gedanken,
Es blickt mich an, bis ihm die Blicke sanken,
Und goldne ferne Lande sich erschließen,
Von allen Seiten dringt ein süßes Grüßen,
Das alte Leben muß nun abwärts wanken,
Daß neue frohe Zweige grün umranken
Und rund umher ihm zarte Blumen sprießen.
Das Kind erwacht, und fraget mich mit Bangen,
Ob andern wohl ein solcher Traum gelinge,
Ob ich's allein mit Zauberei umfangen,
Daß dankbar es die Arme um mich schlinge.
Da rötet mir Verwunderung die Wangen
Woher das Kind die kühne Frag erschwinge.
Auf Dornen oder Rosen hingesunken…
Auf Dornen oder Rosen hingesunken? –
– Ob leiser Atem von den Lippen fließt –
– Ob ihr der Krampf den kleinen Mund verschließt –
– Kein Öl der Lampe? – oder keinen Funken? –
Der Jüngling – betend – tot – im Schlafe trunken?
– Ob er der Jungfrau höchste Gunst genießt –
Was ist's? das der gefallne Becher gießt –
– Hat Gift, hat Wein, hat Balsam sie getrunken –
Und sieh! des Knaben Arme Flügel werden –
– Nein Mantelsfalten, – Leichentuches Falten
Um sie strahlt Heilgenschein – zerraufte Haare –
O deute die undeutlichen Geberden,
O laß des Zweifels schmerzliche Gewalten –
Enthüll, verhüll das Freudenbett – die Bahre.
O lieber Gott, so mild und lind…
O lieber Gott, so mild und lind,
Du schließest mit Erbarmen
Die Kinder all, die Waisen sind,
In deine Vaterarmen.
Siehst nieder in der stillen Nacht
Mit tausend kleinen Sternen,
Und wo dein freundlich Auge wacht,
Muß sich der Feind entfernen.
Drum fasse Mut, du Menschenkind,
Verlier dich nicht im Dunkeln,
Die Lichter ja am Himmel sind
Um tröstlich dir zu funkeln.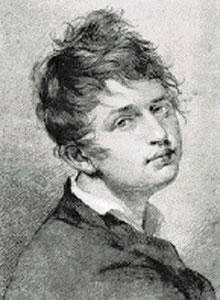 Clemens Brentano (8 september 1778 – 28 juli 1842)
Potret door Casper David Friedrich van de jonge Brentano
De Duitse schrijver Wilhelm Raabe werd op 8 september 1831 in Eschershausen geboren. Zie ook mijn blog van 8 september 2006 en ook mijn blog van 8 september 2008 en ook mijn blog van 8 september 2009.
Uit: Die schwarze Galeere


"Es war eine dunkle, stürmische Nacht in den ersten Tagen des Novembers, im Jahre 1599, als die spanische Schildwache auf dem Fort Liefkenhoek an dem flandrischen Ufer der Schelde das Lärmzeichen gab, die Trommel die schlafende Besatzung wach rief und ein jeder - Befehlshaber wie Soldat - seinen Posten auf den Wällen einnahm.
Die Wellen der Schelde gingen hoch, und oft warfen sie ihre Schaumspitzen den fröstelnden Südländern über die Brüstungsmauern ins Gesicht. Scharf pfiff der Wind von Nordost von den "Provinzen" herüber, und die Spanier wußten schon lange, daß aus der Richtung ihnen selten etwas Gutes komme.
Auch auf dem Fort Lillo auf der brabantischen Seite des Flusses wirbelte die Trommel, klang das Horn: deutlich vernahm man durch das Getöse des Sturmes, durch das Brausen der Wasser fernen Kanonendonner, welcher nur von einem Schiffskampf auf der Westerschelde herrühren konnte.
Die Wassergeusen spielten ihr altes Spiel.
Was kümmerte dieses Amphibiengeschlecht der Sturm und die Finsternis? Waren Sturm und Nacht nicht seine besten Verbündeten? Wann hätte je ein Wassergeuse das stürmische Meer und die Finsternis gefürchtet, wenn es galt, seine Todfeinde zu überlisten, die Verwüster und Bedränger seines den Wogen abgekämpften Vaterlandes zu vernichten? Gräßlich aber war der Krieg ausgeartet.
Zweiunddreißig Jahre dauerte nun schon dieses fürchterliche Hin- und Herdrängen der kämpfenden Parteien, und noch war kein Ende davon abzusehen. Die Saat der Drachenzähne war üppig aufgegangen; wohl waren eiserne Männer emporgewachsen aus dem blutgedüngten Boden, und selbst die Frauen mußten verlernen, was Menschlichkeit und Milde sei. Es gab eine junge Generation, welche sich schon deshalb nicht nach dem Frieden sehnte, weil sie ihn gar nicht kannte.
Und war der Krieg schrecklich auf dem festen Lande, so war er noch viel fürchterlicher auf dem Meere. Auf dem Lande konnten immer noch Gefangene ausgewechselt oder losgekauft werden; Städte, Flecken und Dörfer konnten Brand und Plünderung abkaufen; auf der See gab es aber schon längst weder Pardon noch Ranzion. Für Barmherzigkeit wurde es geachtet, wenn man die gegenseitigem Gefangenen kurzweg niederstieß oder sie an der Rahe aufhing und sie nicht langsam auf die grausamste Art zu Tode marterte, sie nicht auf dem Verdeck kreuzigte und mit dem genommenen Schiff versenkte. –"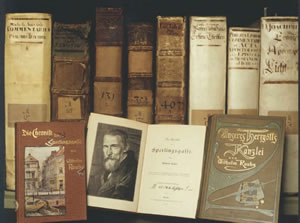 Wilhelm Raabe (8 september 1831 - 15 november 1910)
Werken
De Italiaanse dichter, toneelschrijver Ludovico Ariosto werd geboren in Reggio Emilia op 8 september 1474. Zie ook mijn blog van 8 september 2007 en ook mijn blog van 8 september 2009.
Uit: Der rasende Roland
Erster Gesang
4.
Es tritt mit andern auserlesnen Degen,
Die hoch zu preisen dieser Sang erklingt,
Auch Roger, ja, der Ahnherr, dir entgegen,
Von dem des Hauses hehrer Stamm entspringt.
Sein Wert und, was er tat auf Heldenwegen,
Wenn du's verstattest, dir zu Ohren dringt:
Den Flug des Geistes senk' ein wenig nieder,
Hinaufzunehmen meine schlichten Lieder.
5.
Graf Roland, für Angelika entglommen,
Gewohnt, für sie die Gegner hinzumähn,
Erfocht im Inderreich zu ihrem Frommen,
Bei Medern und Tataren Kriegstrophän;
Nach Westen war er jetzt mit ihr gekommen,
Dort, wo am Fuß der schroffen Pyrenän
Für Frankreichs Heer und das aus deutschen Landen
Auf Karls Befehl die Lagerzelte standen,
6.
Daß vor Verdruß sich selbst ins Antlitz schlügen
Marsilius und König Agramant:
Der schickte ja nach Nord in langen Zügen,
Wer nur mit Schwert und Lanze war bekannt;
Und jener sah die Hoffnung ihn betrügen,
Mit der ganz Spanien ward ausgesandt.
So traf denn Roland ein zu guten Stunden;
Doch Freude drüber ist ihm bald geschwunden.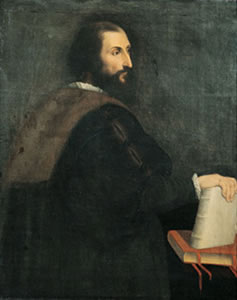 Ludovico Ariosto (8 september 1474 – 6 juli 1533)
Onbekende meester
De Amerikaanse schrijfster Grace Metalious werd geboren in Manchester, New Hampshire, op 8 september 1924. Zie ook mijn blog van 8 september 2007.
Uit: Peyton Place
""Peyton Place…is the oddest name for a town I've every heard. Who is it named for?"
"Oh, I don't know," said Corey, making unnecessary circular motions with a cloth on his immaculate counter. "There's plenty of towns have funny names. Take that Baton Rouge, Louisiana. I had a kid took French over to the high school. Told me Baton Rouge means Red Stick. Now, ain't that a helluva name for a town? Red Stick, Louisiana. And what about that Des Moines, Iowa? What a crazy name that is."
"True," said Markis. "But for whom is Peyton Place named, or for what?"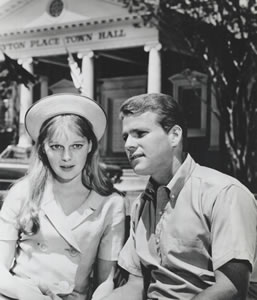 Mia Farrow en Ryan O'Neal in de tv-serie Peyton Place (1964 – 1969)
"Some feller that built a castle up here, back before the Civil War. Feller by the name of Samuel Peyton," said Corey, reluctantly.
"A castle!" exclaimed Makris.
"Yep. A real, true, honest-to-God castle, transported over here from England, every stick and stone of it."
"Who was this Peyton? asked Makris. "An exiled duke?"
"Nah," said Corey Hyde. "Just a feller with money to burn. Excuse me, Mr. Makris. I got things to do in the kitchen."
The old man at the end of the counter chuckled. "Fact of the matter, Mr. Makris," said Clayton Frazier in a loud voice, "is that this town was named for a friggin' nigger. That's what ails Corey. He's delicate like, and just don't want to spit it right out"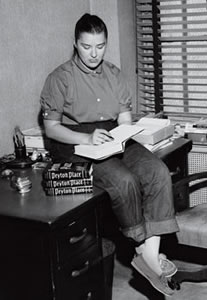 Grace Metalious (8 september 1924 - 25 februari 1964)
08-09-2010 om 19:35 geschreven door Romenu

Tags:Clemens Brentano, Wilhelm Raabe, Ludovico Ariosto, Grace Metalious, Romenu


07-09-2010

Edith Sitwell, Michael Guttenbrunner, Margaret Landon, Anton Haakman, Willem Bilderdijk, Jenny Aloni, Henry Morton Robinson
De Engelse dichteres en schrijfster Edith Sitwell werd geboren op 7 september 1887 in Scarborough. Zie ook mijn blog van 7 september 2008 en ook mijn blog van 7 september 2009.
The Web Of Eros
Within your magic web of hair, lies furled
The fire and splendour of the ancient world;
The dire gold of the comet's wind-blown hair;
The songs that turned to gold the evening air
When all the stars of heaven sang for joy.
The flames that burnt the cloud-high city Troy.
The mænad fire of spring on the cold earth;
The myrrh-lit flame that gave both death and birth
To the soul Phoenix; and the star-bright shower
That came to Danaë in her brazen tower...
Within your magic web of hair lies furled
The fire and splendour of the ancient world.
When Cold December
When cold December
Froze to grisamber
The jangling bells on the sweet rose-trees--
Then fading slow
And furred is the snow
As the almond's sweet husk--
And smelling like musk.
The snow amygdaline
Under the eglantine
Where the bristling stars shine
Like a gilt porcupine--
The snow confesses
The little Princesses
On their small chioppines
Dance under the orpines.
See the casuistries
Of their slant fluttering eyes--
Gilt as the zodiac
(Dancing Herodiac).
Only the snow slides
Like gilded myrrh--
From the rose-branches--hides
Rose-roots that stir.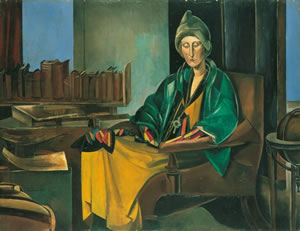 Edith Sitwell (7 september 1887 - 9 december 1964)
Portret door Percy Wyndham Lewis, 1943
De Oostenrijkse dichter en schrijver Michael Guttenbrunner werd geboren op 7 september 1919 in Altenhofen. Zie ook mijn blog van 7 september 2008 en ook mijn blog van 7 september 2009.
Nach vierzig Jahren
Gezwungen halb und ohne Phantasie
Ging er zum dritten Male nach Athen.
Dann nahm er alles, was er dort empfing,
der Freuden Fülle, aus der Hand der Griechen.
Des Lebens Silberstrick war frisch geflochten,
wie Anastasia,
und das Erdbeben schreckte ihn nicht.
Die Grenzen der Berge sind noch die alten.
Das Gebliebene genügt: der Boden unter den Füßen,
der Himmel und das Meer.
Du findest noch die Stelle für den Kuss
Und, dass ein Stein noch auf dem andern steht.
Hier, wo es über Griechenleichen ging,
gehst du mit Griechen jetzt zum Wein
und zechst in Turkobunia Hand in Hand,
wo einst der Aberoff aus Haut und Knochen stand,
vollgepfercht bis zum Exzess.
Und immer wieder wurde frisch geladen.
Er war berufen des Untergangs Stufen
Er war berufen,
des Untergangs Stufen
noch einzuseifen
und sich drauf zu versteifen,
alles noch zu retten.
Das Volk, teils in Ketten
und teils in Waffen,
illegal und offiziell;
doch niemand gerüstet,
ihm Luft zu schaffen
zum letzten Appell. -
Ach, wenn ihr wüsstet,
was das war:
Das Mundvoll Österreich
beim Großen Zapfenstreich
im Achtunddreißigerjahr!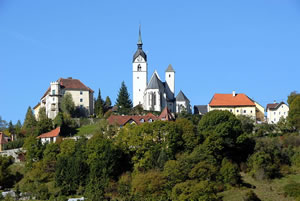 Michael Guttenbrunner (7 september 1919 – 12 mei 2004)
Altenhofen
De Amerikaanse schrijfster Margaret Landon werd geboren op 7 september 1903 in Somers, Wisconsin. Zie ook mijn blog van 7 september 2008. en ook mijn blog van 7 september 2009.
Uit: Der König und ich


"Die Frau starrte wortlos und mit müden Augen die weiße Fremde an, während Anna sich neben den Teich setzte und hilflos zu der Gefangenen hinübersah. Wieder einmal erlebte sie die Gefühllosigkeit und Härte des Haremslebens hautnah – selbst einen Verbrecher dürfte man nicht ungeschützt der tropischen Sonne aussetzen. Und hier saß eine halbnackte, harmlose Frau. Die Matte und die zerbrochenen Schirme deuteten darauf hin, dass sie der unerbittlichen Hitze und dem Regen schon eine ganze Weile ausgesetzt sein musste. Schlimmer hätte man sie nicht demütigen können, und dennoch lag eine unglaubliche Anmut in ihrer Sorge für dass Kind. Wer konnte nur für dieses tragische Schicksal verantwortlich sein? Anna hätte vor Zorn aufschluchzen können, doch sie hatte ihre Stimme nicht mehr unter Kontrolle. Endlich fragte sie die Frau nach ihrem Namen. [...] Anna blickte in das sonnenverbrannte Gesicht und hörte auf, die Sklavin mit leeren Versprechungen zu trösten. Nur Tatsachen konnten ihr wirklich helfen. Sie ließ die Frau mit dem Gesicht auf dem heißen Pflaster liegen und trat wieder durch das Tor. Die lange dunkle Straße war genauso menschenleer wie zuvor.
Nachdem sie zwanzig Minuten auf den Straßen des Harems umhergelaufen war, gelangte sie in eine Gasse, die ihr bekannt vorkam. Als sie endlich die Schule erreichte, war es zwölf Uhr und ihre Schüler warteten bereits auf ihren Plätzen auf sie. In der gleichmäßigen Betriebsamkeit des Tempels erschien ihr das seltsame Erlebnis in dem fernen Winkel der Palaststadt plötzlich vollkommen unwirklich."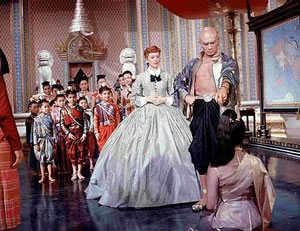 Margaret Landon (7 september 1903 – 4 december 1993)
(Scene uit de film "The King and I" uit 1956)
De Nederlandse schrijver Anton Haakman werd geboren op 7 september 1933 in Bussum. Zie ook mijn blog van 7 september 2008. en ook mijn blog van 7 september 2009.
Uit: De wachters van het rijk
"Waar in West-Europa voel je je nog echt in het buitenland? Nergens, behalve in Engeland en Vlaanderen. Alleen een streng bewaakt isolement kan het exotische karakter van een land veilig stellen. Het water heeft veel gedaan voor het behoud van het absurde Engelse volkskarakter. Anders is het gesteld met het bewaken van de folklore in het Rijk van Koning Boudewijn. Daar wordt het isolement op ronduit geheimzinnige wijze gehandhaafd.
In schijn is België een land zonder grenzen; altijd groene stoplichten markeren begin en einde. Maar een web van snelwegen en een efficiënte bewaking van alles wat terzijde van die wegen ligt houden Vlaanderen van vreemde smetten vrij.
Het initiatief is uitgegaan van een Noordnederlandse schrijver. Jaren geleden heeft deze gevraagd om een tunnel onder België door. Dat zou hem in staat stellen Frankrijk sneller, veiliger en minder geërgerd te bereiken. Hij heeft zijn zin gekregen, met dien verstande dat men inzag dat zo'n tunnel — net als een metro — evengoed bovengronds kon worden aangelegd.
Sindsdien kunnen we België overslaan. We merken niet meer in welk land we zijn, in de vijf kwartier die we nodig hebben van Meer tot Menen.
De doortocht is te vergelijken met die Transitweg door de DDR, die Berlijn met West-Duitsland verbindt en die men zonder vergunning niet mag verlaten. Doet men het toch, dan is de kans op onaangenaamheden groot. Bij voorbeeld last met de politie."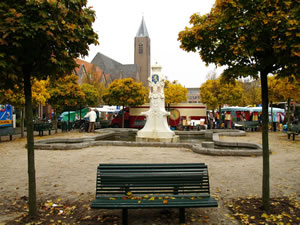 Anton Haakman (Bussum, 7 september 1933)
Bussum

De Nederlandse dichter en schrijver Willem Bilderdijk werd geboren op 7 september 1756 in Amsterdam. Zie ook mijn blog van 7 september 2006 en ook mijn blog van 7 september 2007 en ook mijn blog van 7 september 2008. en ook mijn blog van 7 september 2009.
Uit: Geschiedenis des vaderlands. Deel 1
"De Batavieren zijn Duitsch volk, uit hun vaderland herwaarts afgezakt: niet (naar het schijnt) uit den woeligen geest van verhuizing, maar ter zake van inlandsche geschillen. Men rekent dit gebeurd te zijn eene eeuw voor onze jaartelling.
Ten tijde van Cezar waren zij nog nog niet lang in hun eiland gevestigd, en de overstroomingen noodzaakten hen ook over de rivier eenigen nog onbewoonden grond in te nemen.
Zij vonden het eiland woest en onbewoond, uit hoofde van de gedurige winteroverstroomingen waaraan 't onderhevig was, en waartegen zij zich zeer gebrekkig door ophooging van terpen beschermden. Ondanks de bedijkingen was het in de IV Eeuw nog moerassig, als blijkt uit eumenius, Panegyr.
Zij hadden geene betrekking tot de volken Noordof Zuidelijk van hun gezeten; en waren als verjaagde Germanen, den Germanen geen vrienden.
De Friezen aan wie zij onmiddellijk paalden, en die zich aan wederzijde van het Fliemeer vooral ten Oosten wijd uitstrekten, maar onder verschillende namen (meestal uit de geschapenheid van den grond ontleend) en samenscholingen, zonder gemeen hoofd of verband leefden, waren den nieuwen aankomelingen (natuurlijkerwijze) vijandig.
In dezen staat vindt hen Cezar. De naam van het Imperium Romanum was wijd en zijd verbreid en men droeg er ontzag voor. (De woeste volken van 't Noorden noemden naderhand den Keizer met den naam van den Koning der wareld1). Cezar was zachtaardig en hield de uitmuntendste krijgstucht. En dus waren de Batavieren uit ontzag, uit toegenegenheid voor Cezar, en uit hoofde van hunne ligging midden tusschen vijanden, in de beste gesteltenis om zich met de Romeinen te verbinden, aan wien zij steun en bescherming konden vinden, en met wien zij hun strijdbaren aart in alle hoeken der wareld oefenen konden.
Van daar de eerste betrekking tot de Romeinen, met wien zij dadelijk naar Brittanje overstaken; en ook elders in hun oorlogen deel namen; ja zelfs voor Cezar tegen Pompejus streden; en die zij op hunnen grond met blijdschap ontfingen, en gaarne een legerplaats inwilligden.
En dit is het eerste en oudste verbond, 't geen Tacitus in zijn tijd antiqua societas noemt."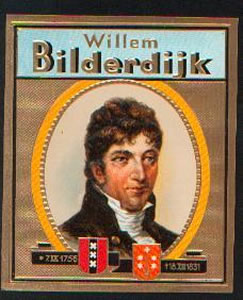 Willem Bilderdijk (7 september 1756 – 18 december 1831)
De Duits – Israëlische dichteres en schrijfster Jenny Aloni (eig. Jenny Rosenbaum werd geboren op 7 september 1917 in Paderborn. Zie ook mijn blog van 7 september 2007 en ook mijn blog van 7 september 2008. en ook mijn blog van 7 september 2009.
Impression, September
Äste halten den Himmel vergittert
hinter den Blättern der Sykomore,
der letzten im Brachland der Seelen.
Nestgestrüppe stopfen
schwarze Knoten in das Wolkenlose.
Schwärme schmarotzender Fliegen
schwirren erregt um Gürtel
süß gegorener Feigen.
Ein Telegraphendraht zerschneidet
das endenlose Nichts zu langer Sommer
in zwei leere Ewigkeiten.
In ihnen schillert fremd der blaue Vogel
mit dem krummen Schnabel
fischefangender Jäger.
Sein harter, einsamer Ruf
kämmt lockend die dunklen
Stämme der Zypressen.
Wiedersehen mit der Stadt der Kindheit
Der Wolken düstre Regenhorde
hat mir den Silbermond entführt.
Die Giebel schwarzer Dächer kichern
über meinen fremden Gang und funkeln mich
mit bösen Fenstern an.
Baumlange Schemen hüllen fahl
sich in den dunstgebrämten Pelz der Nacht
und tuscheln, wer da so allein
den Schatten zwischen die Laternen führt,
so mutterseelenallein.
Unter blaugewachstem Sternenkorbe,
weiter als die Hügelschlange kriecht
und die flinken Flossenfische
wetthüpfen mit den Meerschaumwellen,
kauert eine weiße Hütte
in die Schimmerzweige sich
von Oleander und Zitronen.
Gäben sie nur jetzt den Mondkahn frei,
fände ich wohl einen Gruß in ihm
und wüßte, daß er an mich denkt
fern im gelben Sand der Brotfruchtbäume.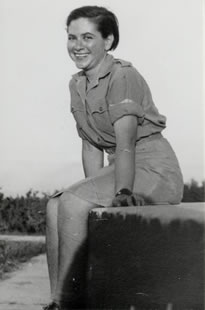 Jenny Aloni (7 september 1917 – 30 september 1993)
De Amerikaanse schrijver Henry Morton Robinson werd op 7 September 1898 in Boston, Massachusetts als oudste van elf kinderen geboren in een arme wijk. Hij diende in de Eerste Wereldoorlog bij de marine, studeerde af in 1924 en werd docent aan de Columbia University. Later werd hij hoofdredacteur van Reader's Digest. Zijn beroemdste werk, De kardinaal (1950), werd in 1963 verfilmd. Inhoud van dit boek is het conflict tussen een dienaar van God en de menselijke liefde.
Uit: The Cardinal
"He found the system puzzling at first; only gradually did he begin to grasp its elaborate rules. He could easily understand why, in the great strongholds of Black Society, a special throne room was kept in readiness for the day His Holiness could again leave the Vatican and pay visits of honour to those who had remained faithful during his long imprisonment. (If no special room were set aside, a tapestried armchair was kept turned to the wall.) Stephen appreciated the profound loyalty and deep religious faith that buttressed these symbols, yet some of the trivia of Black Society annoyed him. He noticed, for example, that in certain houses many of the older men wore a glove only on the left hand, leaving the right hand bare. In other houses both hands were gloved, but the thumb of the right hand was exposed.
"What's this off-and-on glove business?" he asked Roberto.
"Two theoretic reasons lie behind it," explained Braggiotti. "The glove was originally a patent of nobility. You never see a peasant with gloves on, do you? Traditionally, the glove is also associated with another symbol of rank—the sword. Some believe that the right hand must be kept unencumbered, the better to draw a sword in defense of your sovereign. Another school holds that you must be ungloved in order to accept the hand of your host the moment it is offered you. Any delay might be construed as unfriendly."
"I see. But why the exposed right thumb?"
Braggiotti smiled patronizingly. "In all societies, there are degrees of intimacy. A seven-hundred-year-old family such as the Odaleschi, whose ancestors supported the Hildebrandine Popes against the German brigands, cannot be expected to give their entire hand to late-comers. Anyone arriving after the seventeenth century—and that includes you, Americus—is lucky to get a thumb and forefinger."
"Do they take themselves that seriously?"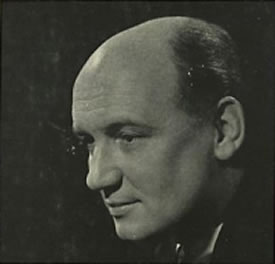 Henry Morton Robinson (7 september 1898 – 13 januari 1961)

07-09-2010 om 19:43 geschreven door Romenu

Tags:Edith Sitwell, Michael Guttenbrunner, Margaret Landon, Anton Haakman, Willem Bilderdijk, Jenny Aloni, Henry Morton Robinson, Romenu


06-09-2010

Alice Sebold, Christopher Brookmyre, Amelie Fried, Jennifer Egan
De Amerikaanse schrijfster Alice Sebold op 6 september 1962 in Madison, Wisconsin. Zie ook mijn blog van 6 september 2009.
Uit: The Lovely Bones
"My name was Salmon, like the fish; first name, Susie. I was fourteen when I was murdered on December 6, 1973. In newspaper photos of missing girls from the seventies, most looked like me: white girls with mousy brown hair. This was before kids of all races and genders started appearing on milk cartons or in the daily mail. It was still back when people believed things like that didn't happen.
In my junior high yearbook I had a quote from a Spanish poet my sister had turned me on to, Juan Ramón Jiménez. It went like this: "If they give you ruled paper, write the other way." I chose it both because it expressed my contempt for my structured surroundings à la the classroom and because, not being some dopey quote from a rock group, I thought it marked me as literary. I was a member of the Chess Club and Chem Club and burned everything I tried to make in Mrs. Delminico's home ec class. My favorite teacher was Mr. Botte, who taught biology and liked to animate the frogs and crawfish we had to dissect by making them dance in their waxed pans.
I wasn't killed by Mr. Botte, by the way. Don't think every person you're going to meet in here is suspect. That's the problem. You never know. Mr. Botte came to my memorial (as, may I add, did almost the entire junior high school -I was never so popular) and cried quite a bit. He had a sick kid. We all knew this, so when he laughed at his own jokes, which were rusty way before I had him, we laughed too, forcing it sometimes just to make him happy. His daughter died a year and a half after I did. She had leukemia, but I never saw her in my heaven."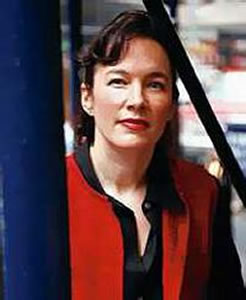 Alice Sebold (Madison, 6 september 1962)
De Schotse schrijver Christopher Brookmyre werd geboren op 6 september 1968 in Glasgow. Zie ook mijn blog van 6 september 2008. Zie ook mijn blog van 6 september 2009.
Uit: Country of the Blind
"If Nicole Carrow was being absolutely honest with herself, her most substantial reason for believing Thomas McInnes was innocent was that he had made her a nice cup of tea. She hadn't been a lawyer long, but she still suspected she might need more than that in court. Her two weeks experiencing the practical application of Scots Law had demonstrated a few divergences from its more familiar English cousin, but she'd yet to find precedent for a special defence of Refreshing Herbal Infusion.
Nicole had anticipated an uncomfortable breaking-in period in Glasgow - acclimatising herself to the city, the people and the notorious weather - and was prepared for feeling like a fish out of water in the job for a while. However, her vision of in-at-the-deep-end had nonetheless proven short-sighted: she'd naively assumed it would be a bit more than a fortnight before she was representing the accused in a crime that had shaken the world.
Obviously the contents of the oh-so-mysterious envelope had raised her hopes and stiffened her resolve, but the sober reality was that - as Mr Campbell had pointed out - they merely thickened the plot her client was embroiled in, and apart from briefly delighting a few conspiracy theorists, would ultimately be of more use to the prosecution.
The coldfacts remained that McInnes, his son Paul, one Robert Hannah and one Cameron Scott had been apprehended fleeing the grounds of Craigurquhart House in Perthshire, that the Dutch media mogul Roland Voss, his wife Helene and their two bodyguards had been found murdered within, that when Paul McInnes was detained he was soaked in blood, and that an attempt had been made to open Voss's bedroom safe.
McInnes and Hannah had been members of the "Robbin' Hoods", as the tabloids had tagged them, a gang responsible for a series of country-house break-ins over a short but prolific period during the mid-1980s, the name referring to their profession of pilfering from the rich, and conveniently ignoring their omission of the giving-to-the-poor part."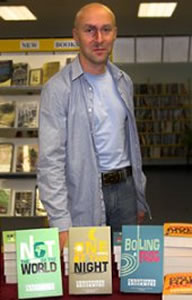 Christopher Brookmyre (Glasgow, 6 september 1968)
De Duitse schrijfster Amelie Fried werd geboren op 6 september 1958 in Ulm. Zie ook mijn blog van 6 september 2009.
Uit: Offene Geheimnisse
"Gibt es etwas Deprimierenderes als den Frühling? Die Vögel singen, prominente Liebespaare lassen sich halbnackt fotografieren, die Badesaison droht, und es muss ein neuer Bikini her.
Es soll ja Männer geben, die Frauen lieben - die Gestalter von Anprobekabinen in den Bademodenabteilungen von Kaufhäusern gehören definitiv nicht zu ihnen.
Das müssen die schlimmsten Frauenhasser unter der Sonne sein, denn warum sonst leuchten sie gnadenlos diese Kabuffs aus, in denen wir unser winterweißes Fleisch aus den zu eng gewordenen Jeans schälen, um fröhlich-bunte Bikinis anzuprobieren, die uns eigentlich Langnese-gute-Laune machen sollten.
Gute Laune? Von wegen! Mit vor Entsetzen starrem Blick in den Spiegel beschließen wir, nicht zu
glauben, was wir sehen. Dieses Dellengebirge sollen unsere Oberschenkel sein, dieser Michelin-Reifen unsere Taille? Unmöglich. Das kann nicht sein. Das grelle Licht von oben suggeriert einen völlig falschen Eindruck. Dann fällt uns ein: Die Sonne am Strand kommt auch von oben.
Soll das etwa heißen, die anderen Badegäste sehen, was wir gerade sehen?
Aaaargh! Flucht aus der Kabine, Rettung ins nächste Café, ein Stück Torte mit Sahne und einen süßen Kakao für die aufgewühlten Nerven. Gibt es nicht so was wie ein Recht auf körperliche und seelische Unversehrtheit?
Das Recht auf menschliche Behandlung, auch in Bademoden-Umkleidekabinen? Was wir dort
erleiden müssen, grenzt an eine Verletzung der Menschenrechte."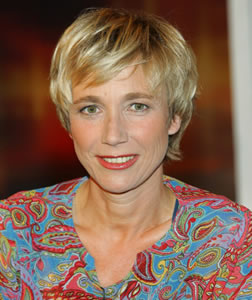 Amelie Fried (Ulm, 6 september 1958)
De Amerikaanse schrijfster Jennifer Egan werd geboren in Chicago op 6 september 1962. Zie ook mijn blog van 6 september 2007 en ook mijn blog van 6 september 2008. Zie ook mijn blog van 6 september 2009.
Uit: Emerald City
"Sisters of the Moon
Silas has a broken head. It happened sometime last night, outside The Limited on Geary and Powell. None of us saw. Silas says the fight was over a woman, and that he won it. "But you look like all bloody shit, my friend," Irish says, laughing, rolling the words off his accent. Silas says we should've seen the other guy.
He adjusts the bandage on his head and looks up at the palm trees, which make a sound over Union Square like it's raining. Silas has that strong kind of shape, like high school guys who you know could pick you up and carry you like a bag. But his face is old. He wears a worn-out army jacket, the pockets always fat with something. Once, he pulled out a silver thimble and pushed it into my hand, not saying one word. It can't be real silver, but I've kept it.
I think Silas fought in Vietnam. Once he said, "It's 1974, and I'm still alive," like he couldn't believe it.
"So where is he?" Irish asks, full of humor. "Where is this bloke with half his face gone?"
Angel and Liz start laughing, I don't know why. "Where's this woman you fought for?" is what I want to ask.
Silas shrugs, grinning. "Scared him away."
********
San Francisco is ours, we've signed our name on it a hundred times: SISTERS OF THE MOON. On the shiny tiles inside the Stockton Tunnel, across those building like blocks of salt on the empty piers near the Embarcadero. Silver plus another color, usually blue or red. Angel and Liz do the actual painting. I'm the lookout. While they're spraying the paint cans, I get scared to death. To calm down, I'll say to myself, If the cops come, or if someone stops his car to yell at us, I'll just walk away from Angel and Liz, like I never saw them before in my life. Afterward, when the paint is wet and we bounce away on the balls of our feet, I get so ashamed, thinking, What if they knew? They'd probably ditch me, which would be worse than getting caught–even going to jail. I'd be all alone in the universe."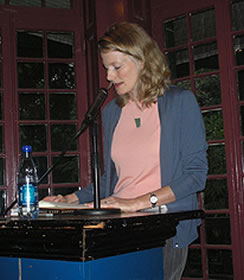 Jennifer Egan (Chicago, 6 september 1962)



Zie voor nog meer schrijvers van de 6e september ook
mijn vorige blog van vandaag.
06-09-2010 om 00:00 geschreven door Romenu

Tags:Christopher Brookmyre, Alice Sebold, Amelie Fried, Jennifer Egan, Romenu



Julien Green, Carmen Laforet, Cyrus Atabay, Jessica Durlacher
De Frans – Amerikaanse schrijver Julien Green werd geboren op 6 september 1900 in Parijs. Zie ook mijn blog van 6 september 2006 en ook mijn blog van 6 september 2008. Zie ook mijn blog van 6 september 2009.
Uit: Le Grand large du soir
"27 octobre - Il n'y a pas de saint qui ait un plus magnifique regard que Molière. Ce qu'il y avait de plus beau à l'Académie, c'était son buste, que j'ai vu un jour pour tout jamais. Je l'ai regardé en songeant que je ne remettrais plus les pieds dans cette galère, c'était à lui que je disais adieu.
15 novembre - Pour en revenir à ce qui préoccupe bien des vivants, le monde actuel se cherche et ne se trouve guère. La fin d'un siècle, et de plus d'un millénaire, suscite des penseurs de lieux communs, des prophètes du désastre, aussi bien que des gourous de l'utopie (la vie sera meilleure, etc.). En réalité, nous sommes revenus à l'une de ces crises de croissance du monde et le bouleversement échappe à tout pouvoir. Ce ne sont pas tant les grandes émigrations en marche, le bafouillage des langues, la confusion des croyances et le désir de croire à un rassemblement humain dans le bien, le beau, le tolérant, qui changent quoi que ce soit. Loin de là. Arrière, quand on emploie l'abstrait, cela cache le pire. L'homme n'est pas un concept ; le sang, l'angoisse, la liberté ne sont pas des abstractions. Ce qui est triste pour un homme de mon âge et toujours passionné par tout ce qui concerne la vie, c'est justement l'abandon de l'être humain aux démons du bien. Ces démons-là sont des rêves qui conduisent droit aux barbelés des interdictions, aux miradors de la pensée bien pensante et unique, aux camps de l'uniformité. Ce qui se croit le plus avancé d'opinion, le plus libéré, est déjà dans un cercle fermé. Par exemple, « mon corps est à moi », ce n'est pas neuf, et dans le cas de l'avortement, c'est s'en remettre à la dictature du plaisir. Après cela viendra une dictature sans plaisir et le monde aura basculé dans l'épouvante des lois. On balisera la vie, comme on le fait déjà du travail et de la mort.
26 novembre - Le monde de l'imagination (musiciens, peintres, écrivains, architectes) retombe en enfance dans le mauvais sens du terme. Ce ne sont que gribouillages, balbutiements, graffitis, comme ceux d'enfants pas très doués. On appelle ça l'art par dérision. Dire que ce sont les prolégomènes des oeuvres futures laisse envisager un effondrement de la civilisation universelle, à moins qu'un bon coup de balai ou de torchon vide les musées et les bibliothèques et que quelque tremblement de terre secoue les hideurs construites sans grâce, sans goût et sans génie. Quant à la musique d'aujourd'hui, on a le droit entre un académisme ridicule qui siège à l'Institut et les crises de nerfs de marmots sourds."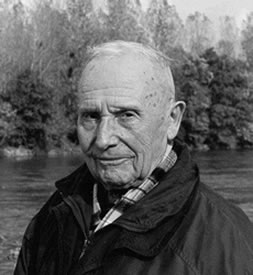 Julien Green (6 september 1900 - 13 augustus 1998)
De Spaanse schrijfster Carmen Laforet werd geboren op 6 september 1921 in Barcelona. Zie ook mijn blog van 6 september 2006. en ook mijn blog van 6 september 2008. Zie ook mijn blog van 6 september 2009.
Uit: Nada (Vertaald door Edith Grossman)
"I wanted to believe I'd come to the wrong apartment, but the good-natured old woman wore a smile of such sweet kindness that I was certain she was my grandmother.
"Is that you, Gloria?" she said in a whisper.
I shook my head, incapable of speaking, but she couldn't see me in the gloom.
"Come in, come in, my child. What are you doing there? My God! I hope Angustias doesn't find out you've come home at this hour!"
Intrigued, I dragged in my suitcase and closed the door behind me. Then the poor old woman began to stammer something, disconcerted.
"Don't you know me, Grandmother? I'm Andrea."
"Andrea?"
She hesitated. She was making an effort to remember. It was pitiful.
"Yes, dear, your granddaughter. . . . I couldn't get here this morning the way I wrote I would."
The old woman still couldn't understand very much, and then through one of the doors to the foyer came a tall, skinny man in pajamas who took charge of the situation. This was Juan, one of my uncles. His face was full of hollows, like a skull in the light of the single bulb in the lamp.
As soon as he patted me on the shoulder and called me niece, my grandmother threw her arms around my neck, her light-colored eyes full of tears, and saying "poor thing" over and over again. . . .
There was something agonizing in the entire scene, and in the apartment the heat was suffocating, as if the air were stagnant and rotting. When I looked up I saw that several ghostly women had appeared. I almost felt my skin crawl when I caught a glimpse of one of them in a black dress that had the look of a nightgown. Everything about that woman seemed awful, wretched, even the greenish teeth she showed when she smiled at me. A dog followed her, yawning noisily, and the animal was also black, like an extension of her mourning. They told me she was the maid, and no other creature has ever made a more disagreeable impression on me."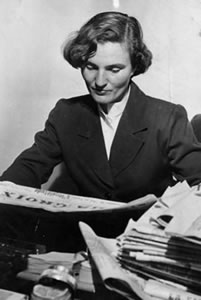 Carmen Laforet (6 september 1921 – 28 februari 2004)
De Duitstalige, Iraanse dichter en schrijver Cyrus Atabay werd geboren op 6 september 1929 in Teheran. Zie ook mijn blog van 6 september 2009.
Uit: Poet und Vagant
"Selbstauskunft
Geboren wurde ich am 6. September 1929 in Teheran. Mein Vater hatte in den dreißiger Jahren in Berlin an der Charité Medizin studiert und bei Sauerbruch promoviert. Er beschloß, seine zwei Söhne in Deutschland erziehen zu lassen. Ein solcher Entschluß wäre unverantwortlich, hätte man ein Kind aus einer Geborgenheit gerissen. Doch ich war in einer magischen Welt aufgewachsen, in der das Bedrohliche vorherrschte. So vertauschte ich eine Benommenheit mit einer anderen, als ich 1937 nach Berlin kam. Das Gefühl der Unwirklichkeit verließ mich in der neuen Umgebung nie, während die regenerativen Kräfte für Orientierungspunkte sorgten: Innerhalb eines Jahres hatte ich die Berliner Floskeln, die ich für meine Streifzüge auf dem Roller in der Fasanenstraße vonnöten hatte, auswendig gelernt. Noch immer ist es mir ein Rätsel, welche orientalischen Tricks in Anwendung gebracht wurden, daß ich kaum drei Jahre später in das renommierte Arndt-Gymnasium in Dahlem aufgenommen wurde.

Durch die Schludrigkeit eines Vormunds, der die Möglichkeit, meinen Bruder und mich in die Schweiz zu bringen, ungenutzt ließ, blieb ich bis Kriegsende in Deutschland. Als ich im Sommer 1945, nach acht Jahren Trennung, wieder nach Persien kam, hatte ich die persische Sprache verlernt. Beschämt hörte ich die Fragen meiner Mutter in persischer Sprache, auf die ich nicht antworten konnte. Langsam wurde mir meine Muttersprache wieder vertraut, doch der Wiedergewinn an Sprache reichte nicht aus, um in einer Klasse meiner Altersgruppe eine persische Schule zu besuchen. Auf meinen Wunsch wurde ich in die Schweiz geschickt, um meinen Schulbesuch fortzusetzen."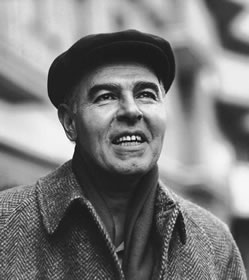 Cyrus Atabay (6 september 1929 – 26 januari 1996)
De Nederlandse schrijfster Jessica Durlacher werd geboren in Amsterdam op 6 september 1961. Zie ook mijn blog van 6 september 2007 en ook mijn blog van 6 september 2008. Zie ook mijn blog van 6 september 2009.
Uit: De dochter
"Het lezen stilde mijn honger, maar nooit genoeg; uiteindelijk bleven het verhalen van anderen en niet de echte.Niet die van mijn vader,Ik kon hem niets vragen. Bang dat hij mijn gretigheid zou zien, mijn intense nieuwsgierigheid zou ruiken. Bang dat ik zou verraden hoeveel kwaad er in me zat, en zo als vijand zou worden ontmaskerd. Bang dat ik niet genoeg kon huilen en dat de grimassen op mijn gezicht als lachen zouden worden uitgelegd."
(...)
"Het digitale vliegtuigje vloog net boven Edinburgh toen de wereld ineens honderdtachtig graden begon te draaien. Mijn wereld. Het had niets te maken met de lage stem van de stewardess die turbulentie aankondigde. Had iemand me op dat moment iets gevraagd, dan nog betwijfel ik of ik een ander geluid had kunnen maken dan een benauwd gehijg. Van ongeloof, van schrik. Nog eens van ongeloof."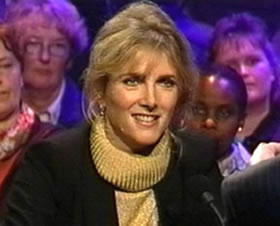 Jessica Durlacher (Amsterdam, 6 september 1961)

06-09-2010 om 00:00 geschreven door Romenu

Tags:Julien Green, Carmen Laforet, Cyrus Atabay, Jessica Durlacher, Romenu



| | |
| --- | --- |
| | |



Inhoud blog


| | |
| --- | --- |
| | John (Lucille Clifton) |
| | Adriaan van Dis, Andrei Ruse, Jane Austen, Adriaan van der Veen, Noël Coward, Tip Marugg |
| | Rafael Alberti, Pierre Lachambeaudie, V.S. Pritchett, Mary Russell Mitford, Olavo Bilac |
| | Klaus Rifbjerg, Jan Greshoff, Ingo Schulze, Simone van der Vlugt, Edna O',Brien, Hans Carossa |
| | Nicolas Gilbert, Maxwell Anderson, Indrek Hirv, François de La Rochefoucauld, Muriel Rukeyser, Garth Risk Hallberg |
| | Gerard Reve, Boudewijn Büch, Hervé Guibert, Paul Eluard, Helle Helle, Regina Ullmann, Shirley Jackson, Andreas Mand, Christian Huber |
| | José Eduardo Agualusa, Anton H.J. Dautzenberg, Jack Hirschman, Adrian Chivu, Heinrich Heine, Kenneth Patchen, Jean Rouaud, Ida Vos, William Drummond |
| | In Memoriam Wilhelm Genazino |
| | Susanna Tamaro, Kader Abdolah, Sophie Kinsella, Helen Dunmore, Gustave Flaubert, John Osborne, Vassilis Alexakis, Shrinivási, Hans Keilson |
| | Andrea De Carlo, Naguib Mahfouz, Marie Kessels, J.C. van Schagen, Paul Rigolle, Ludwig Laher, Helene Uri, Birago Diop, Ernst van Altena |
| | P. C. Hooftprijs 2019 voor Marga Minco |
| | Emily Dickinson, Karl Heinrich Waggerl, Reinhard Kaiser Mühlecker, Jorge Semprún, Gertrud Kolmarm, Jacquelyn Mitchard, Nelly Sachs, Cornelia Funke, George MacDonald |
| | Christbaum (Ada Christen) |
| | Thomas Verbogt, Margot Vanderstraeten, Eileen Myles, Patricio Pron, Michael Krüger, Gioconda Belli, Joe McGinniss, Wolfgang Hildesheimer |
| | Anna Gavalda, Ödön von Horváth, John Milton, Jan Křesadlo, Maksim Bahdanovič, Dalton Trumbo |
| | Jamal Ouariachi, Louis de Bernières, Mary Gordon, Bill Bryson, John Banville, Delmore Schwartz, Jim Morrison, Georges Feydeau |
| | Horatius, Hervey Allen, James Thurber, Carmen Martín Gaite, Nikos Gatsos, Jura Soyfer, Bjørnstjerne Bjørnson, Joel Chandler Harris |
| | Tatamkhulu Afrika, Dirk Stermann, Johann Nestroy, Joyce Cary, Gabriel Marcel, Willa Cather, Noam Chomsky, Friedrich Schlögl, Samuel Gottlieb Bürde |
| | Karl Ove Knausgård, Peter Handke, Yolanda Entius, Rafał, Wojaczek, Henk van Woerden, Alfred Joyce Kilmer, Sophie von La Roche, Paul Adam, Charlotte Wood |
| | Wat heeft Sint voor jou gekocht? (Thomas Verbogt) |
| | Hanif Kureishi, Alois Brandstetter, Joan Didion, Christina Rossetti, Fjodor Tjoettsjev, Calvin Trillin, Afanasy Fet, Hans Helmut Kirst, Eugenie Marlitt |
| | Rainer Maria Rilke, Geert Mak, Pat Donnez, Feridun Zaimoglu, Emil Aarestrup, Nikolay Nekrasov, Trudi Guda, Samuel Butler, Thomas Carlyle |
| | Hendrik Conscience, Kristina Sandberg, Joseph Conrad, Herman Heijermans, Grace Andreacchi, Ugo Riccarelli, France Pre¨eren, F. Sionil José, Franz Josef Degenhardt |
| | Advent (Marjoleine de Vos ) |
| | Frédéric Leroy, Ann Patchett, Hein Boeken, T. C. Boyle, George Saunders, Botho Strauß, Jacques Lacarrière, Iakovos Kampanellis, Eric L. Harry |
| | December (Algernon Swinburne) |
| | Pierre Kemp, Daniel Pennac, Arthur Sze, Natasza Tardio, Tahar Ben Jelloun, Billy Childish |
| | Ernst Toller, Mihály Vörösmarty, Valery Bryusov, Rex Stout. Henry Williamson |
| | Herinnering aan Ramses Shaffy |
| | Dennis Gaens, Christophe Vekeman, James Worthy, Y.M. Dangre, Reinier de Rooie, David Nicholls, Yasmine Allas, Jan G. Elburg, Jesús Carrasco |
| | Mario Petrucci, George Szirtes, Jean Senac, Carlo Levi, Jean-Philippe Toussaint, C.S. Lewis, Wilhelm Hauff, Louisa May Alcott, Franz Stelzhamer |
| | Erwin Mortier, Alberto Moravia, Stefan Zweig, Hugo Pos, Sherko Fatah, Philippe Sollers, William Blake, Alexander Blok, Rita Mae Brown |
| | Navid Kermani, Nicole Brossard, Han Kang, Philippe Delerm, James Agee, Jos. Habets, Friedrich von Canitz, Jacques Godbout, Saskia Goldschmidt |
| | Luisa Valenzuela, Eugène Ionesco, Marilynne Robinson, Herman Gorter, Paul Rodenko, Mihály Babits, Louis Verbeeck, Alyosha Brell, Mohamed Al-Harthy |
| | King of glory, King of peace (George Herbert) |
| | Maarten 't Hart, Connie Palmen, Abdelkader Benali, Arturo Pérez-Reverte, Ba Jin, Augusta de Wit |
| | Joseph Zoderer, Alexis Wright, Isaac Rosenberg, José Eça de Queiroz, Lope de Vega |
| | Isabel Ecclestone Mackay |
| | Jules Deelder, Wanda Reisel, Marlon James, Einar Kárason, Ahmadou Kourouma, Thomas Kohnstamm, Hans Sahar |
| | Wen Yiduo, Laurence Sterne, Cissy van Marxveldt, Arundhati Roy, Carlo Collodi, Gerhard Bengsch, Ludwig Bechstein |
| | Paul Celan, Marcel Beyer, Max Goldt, Jennifer Michael Hecht, Sipko Melissen, Henri Borel, Sait Faik Abasıyanık, Nigel Tranter, Guy Davenport |
| | André Gide, George Eliot, Dirk van Weelden, Christian Filips, Suresh en Jyoti Guptara, Viktor Pelevin, Endre Ady, William Kotzwinkle, Elisabeth Maria Post |
| | Margriet de Moor, Gerard Koolschijn, Isaac Bashevis Singer, Wouter Steyaert, Marilyn French, Freya North, P. A. de Génestet, Voltaire, Garth Risk Hallberg |
| | Don DeLillo, Viktoria Tokareva, Sheema Kalbasi, Nadine Gordimer, Thomas Chatterton, Zinaida Hippius, Selma Lagerlöf, Jordi Lammers, Ferdinand von Schirach, Yevgenia Ginzburg |
| | Scott Cairns, Sharon Olds, Mark Harris, Karel van den Oever, Alan Tate, Anna Seghers, Elise Bürger, Girolamo de Rada, Veronika Aydin |
| | Arno Van Vlierberghe |
| | November (Helen Maria Hunt Jackson) |
| | Toon Tellegen, Joost Zwagerman, Joost Oomen, Thomas Möhlmann, Pauline Genee, Klaus Mann, Eugenio Montejo |
| | Margaret Atwood, Seán Mac Falls, Jaap Meijer, Richard Dehmel, William Gilbert, Hans Reimann, Mireille Cottenjé |
| | Iemand als een mensenzoon (Walter Jan Ceuppens) |