E-mail mij


Druk op onderstaande knop om mij te e-mailen.


Romenu


Romenu is een blog over gedichten, literatuur en kunst Maar Romenu is ook een professionele freelance vertaler
Du-Ne en Ne-Du http://www.romenu.nl.


Huur eens een (vakantie)huis in een natuurgebied, dichtbij het centrum van Nijmegen


Google


Georg Trakl

Georg Trakl werd op 3 februari 1887 in het conducteurshuis aan de Waagplatz 2 in Salzburg geboren. Zijn vader, Tobias Trakl, was een handelaar in ijzerwaren en zijn moeder, die ook psychische problemen had, was Maria Catharina Trakl, (meisjesnaam Halik). Voorts had hij nog drie broers en drie zussen. Margarethe (doorgaans Grethe genoemd) stond hem het naast, zelfs zodanig dat sommigen een incestueuze verhouding vermoeden. Zijn jeugd bracht hij door in Salzburg. Vervolgens bezocht hij van 1897 tot 1905 het humanistische gymnasium. Om toch een academische opleiding te kunnen volgen, werkte hij tot 1908 in de praktijk bij een apotheker. Sommigen vermoedden dat hij dit vooral deed om zichzelf opiaten te kunnen verschaffen. Bij het uitbreken van WO I werd Trakl als medicus naar het front in Galicië (heden ten dage in Oekraïne en Polen) gestuurd. Zijn gemoedsschommelingen leidden tot geregelde uitbraken van depressie, die verergerd werden door de afschuw die hij voelde voor de verzorging van de ernstig verwonde soldaten. De spanning en druk dreven hem ertoe een suïcidepoging te ondernemen, welke zijn kameraden nochtans verhinderden. Hij werd in een militair ziekenhuis opgenomen in Kraków, alwaar hij onder strikt toezicht geplaatst werd.Trakl verzonk daar in nog zwaardere depressies en schreef Ficker om advies. Ficker overtuigde hem ervan dat hij contact moest opnemen met Wittgenstein, die inderdaad op weg ging na Trakls bericht te hebben ontvangen. Op 4 november 1914, drie dagen voordat Wittgenstein aan zou komen, overleed hij echter aan een overdosis cocaïne


Paul Celan

Paul Celan werd onder de naam Paul Antschel op 23 november 1920 geboren in Czernowitz, toentertijd de hoofdstad van de Roemeense Boekovina, nu behorend bij de Oekraïne. Paul Celans ouders waren Duitssprekende joden die hun zoon joods opvoedden en hem naar Duitse christelijke scholen stuurden. In 1942 werden Celans ouders door de Duitse bezetter naar een werkkamp gedeporteerd en daar vermoord. Hijzelf wist aanvankelijk onder te duiken, maar moest vanaf juli 1942 in een werkkamp dwangarbeid verrichten. Celan overleefde de oorlog. Via Boekarest en Wenen vestigde Celan zich in 1948 in Parijs. Daar was hij werkzaam als dichter, vertaler en doceerde hij aan de prestigieuze Ecole Normale Supérieure. Vermoedelijk op 20 april 1970 beëindigde hij zijn leven zelf door in de Seine te springen.


Gerard Reve

Gerard Reve over: Medearbeiders "God is in de mensen, de dieren, de planten en alle dingen - in de schepping, die verlost moet worden of waaruit God verlost moet worden, door onze arbeid, aangezien wij medearbeiders van God zijn." Openbaring "Tja, waar berust elk godsbegrip op, elke vorm van religie? Op een openbaring, dat wil zeggen op een psychische ervaring van zulk een dwingende en onverbiddelijke kracht, dat de betrokkene het gevoel heeft, niet dat hij een gedachte of een visioen heeft, maar dat een gedachte gedachte of visioen hem bezit en overweldigt."


Simon Vestdijk
Simon Vestdijk (Harlingen, 17 oktober 1898 – Utrecht, 23 maart 1971) was een Nederlands romancier, dichter, essayist en vertaler. Zijn jeugd te Harlingen en Leeuwarden beschreef hij later in de Anton Wachter-cyclus. Van jongs af aan logeerde hij regelmatig bij zijn grootouders in Amsterdam, waar hij zich in 1917 aan de Universiteit van Amsterdam inschrijft als student in de medicijnen. Tijdens zijn studie die van 1917 tot 1927 duurde, leerde hij Jan Slauerhoff kennen.Tot 1932 is hij als arts in praktijken door heel Nederland werkzaam. In 1932 volgt zijn officiële schrijversdebuut met de uitgave van de bundel Verzen in De Vrije Bladen. Doorslaggevend voor Vestdijks uiteindelijke keuze voor de literatuur is zijn ontmoeting in 1932 met Eddy Du Perron en Menno ter Braak. Deze ontmoeting had tot resultaat dat hij redactielid werd van het tijdschrift Forum Kort daarop, in 1933, wordt zijn eerste novelle, De oubliette, uitgegeven. In hetzelfde jaar schrijft hij Kind tussen vier vrouwen, dat, eerst geweigerd door de uitgever, later de basis zal vormen voor de eerste drie delen van de Anton Wachter-romans. In 1951 ontvangt Vestdijk de P.C. Hooftprijs voor zijn in 1947 verschenen roman De vuuraanbidders. In 1957 wordt hij voor het eerst door het PEN-centrum voor Nederland voorgedragen voor de Nobelprijs voor de Literatuur, die hij echter nooit zal krijgen. Op 20 maart 1971 wordt hem de Prijs der Nederlandse Letteren toegekend, maar voor hij deze kan ontvangen overlijdt hij op 23 maart te Utrecht op 72-jarige leeftijd. Vestdijk was auteur van ca. 200 boeken. Vanwege deze enorme productie noemde de dichter Adriaan Roland Holst hem 'de man die sneller schrijft dan God kan lezen'. Andere belangrijke boeken van Simon Vestdijk zijn: "Kind van stad en land" (1936), "Meneer Visser's hellevaart" (1936), "Ierse nachten" (1946), "De toekomst de religie" (1947), "Pastorale 1943" (1948), "De koperen tuin" (1950), "Ivoren wachters" (1951), "Essays in duodecimo" (1952) en "Het genadeschot" (1964).


K.P. Kavafis

K.P. Kavafis werd als kind van Griekse ouders, afkomstig uit Konstantinopel, geboren in 1863 in Alexandrië (tot vandaag een Griekse enclave) waar hij ook het grootste deel van zijn leven woonde en werkte. Twee jaar na de dood van zijn vader verhuist het gezin in 1872 naar Engeland om na een verblijf van vijf jaar naar Alexandrië terug te keren. Vanwege ongeregeldheden in Egypte vlucht het gezin in 1882 naar Konstantinopel, om na drie jaar opnieuw naar Alexandrië terug te gaan. In de jaren die volgen maakt Kavafis reizen naar Parijs, Londen en in 1901 zijn eerste reis naar Griekenland, in latere jaren gevolgd door nog enkele bezoeken. Op de dag van zijn zeventigste verjaardag, in 1933 sterft Kavafis in Alexandrië. De roem kwam voor Kavafis pas na zijn dood, dus postuum. Deels is dat toe te schrijven aan zijn eigen handelswijze. Hij was uiterst terughoudend met de publicatie van zijn gedichten, liet af en toe een enkel gedicht afdrukken in een literair tijdschrift, gaf in eigen beheer enkele bundels met een stuk of twintig gedichten uit en het merendeel van zijn poëzie schonk hij op losse bladen aan zijn beste vrienden.


Thomas Mann


Thomas Mann, de jongere broer van Heinrich Mann, werd geboren op 6 juni 1875 in Lübeck. Hij was de tweede zoon van de graankoopman Thomas Johann Heinrich Mann welke later één van de senatoren van Lübreck werd. Zijn moeder Julia (geboren da Silva-Bruhns) was Duits-Braziliaans van Portugees Kreoolse afkomst. In 1894 debuteerde Thomas Mann met de novelle "Gefallen". Toen Thomas Mann met 21 jaar eindelijk volwassen was en hem dus geld van zijn vaders erfenis toestond - hij kreeg ongeveer 160 tot 180 goldmark per jaar - besloot hij dat hij genoeg had van al die scholen en instituties en werd onafhankelijk schrijver. Kenmerkend voor zijn stijl zijn de ironie, de fenomenale taalbeheersing en de minutieuze detailschildering. Manns reputatie in Duitsland was sterk wisselend. Met zijn eerste roman, Buddenbrooks (1901), had hij een enorm succes, maar door zijn sceptische houding tegenover Duitsland na de Eerste Wereldoorlog veranderde dit volledig. Stelde hij zich tot aan de jaren twintig apolitiek op (Betrachtungen eines Unpolitischen, 1918), meer en meer raakte hij bij het Politiek gebeuren betrokken. Zijn afkeer van het nationaal socialisme groeide, zijn waarschuwingen werden veelvuldiger en heftiger. In 1944 accepteerde hij het Amerikaanse staatsburgerschap. Tussen 1943 en 1947 schreef Mann Doktor Faustus (zie Faust), de roman van de 'Duitse ziel' in de gecamoufleerd geschilderde omstandigheden van de 20ste eeuw. In 1947 bezocht hij voor het eerst sinds de Oorlog Europa, twee jaar later pas Duitsland. In 1952 vertrok hij naar Zwitserland. Op 12 augustus 1955 stierf hij in Zürich. Twintig jaar na zijn dood, in aug. 1975, is zijn literaire nalatenschap geopend: dagboekaantekeningen van 15 maart 1933 tot 29 juli 1955, alsmede notities uit de jaren 1918 tot en met 1921.Belangrijke werken zijn: Der Zauberberg, Der Tod in Venedig, Dokter Faustus , Joseph und seine Brüder en Die Bekenntnisse des Hochstaplers Felix Krull.


Rainer Maria Rilke

Rilke werd op 4 december 1875 geboren in Praag. Hij had al naam gemaakt als dichter met zijn bundels Das Stundenbuch en Das Buch der Bilder, toen hij de literaire wereld versteld deed staan en wereldfaam verwierf met de publicatie van zijn twee delen Neue Gedichte in 1907 en 1908. Hij verzamelde daarin het beste werk uit een van zijn vruchtbaarste periodes, die hij grotendeels doorbracht in Parijs. Rilke was daar diep onder de indruk gekomen van Rodin, bij wie hij een tijdlang in dienst was als particulier secretaris. Rodin, zei hij later, had hem leren kijken. Dit kijken kwam neer op intense concentratie, om het mysterie te kunnen zien 'achter de schijnbare werkelijkheid'. Latere en rijpere werken als Duineser Elegien (1912-1923) en het ronduit schitterende Die Sonette an Orfeus (1924) illustreren Rilkes metafysische visie op het onzegbare, dat haar verwoording vindt in een hermetische muzikale taal. Op 29 december 1926 overlijdt Rilke in het sanatorium in Val-Mont aan de gevolgen van leukemie. Enkele dagen later wordt hij, overeenkomstig zijn wens, begraven op het kerkhof van Raron.


* * * * * * * * * * * * * * * *

| | |
| --- | --- |
| | Over literatuur, gedichten, kunst en cultuur |

15-03-2017

Ben Okri, David Albahari, Louis Paul Boon, Kurt Drawert, Gerhard Seyfried, Andreas Okopenko, An Rutgers van der Loeff, Prosper van Langendonck, Paul Heyse
De Nigeriaanse dichter en romanschrijver Ben Okri werd geboren op 15 maart 1959 in Minna, Nigeria. Zie ook alle tags voor Ben Okri op dit blog.
Uit:The Famished Road
"We longed for an early homecoming, to play by the river, in the grasslands, and in the magic caves. We longed to meditate on sunlight and precious stones, and to be joyful in the eternal dew of the spirit. To be born is to come into the world weighted down with strange gifts of the soul, with enigmas and an inextinguishable sense of exile. So it was with me.
How many times had I come and gone through the dreaded gateway? How many times had I been born and died young? And how often to the same parents? I had no idea.
So much of the dust of living was in me. But this time, somewhere in the inter space between the spirit world and the Living, I chose to stay. This meant breaking my pact and outwitting my companions. It wasn't because of the sacrifices, the burnt offerings of oils and yams and palm-nuts, or the blandishments, the short-lived promises of special treatment, or even because of the grief I had caused. It wasn't because of my horror of recognition either. Apart from a mark on my palm I had managed to avoid being discovered. It may have simply been that I had grown tired of coming and going.
It is terrible to remain forever in-between. It may also have been that I wanted to taste of this world, to feel it, know it, love it, to make a valuable contribution to it, and to have that sublime mood of eternity in me as I live the life to come. But I sometimes think it was a face that made me want to stay. I wanted to make happy the bruised face of the woman who would become my mother.
When the time arrived for the ceremonies of birth to begin, the fields at the crossroads were brilliant with lovely presences and iridescent beings. Our king led us to the first peak of the seven mountains. He spoke to us for a long time in silence. His cryptic words took flame in us. He loved speeches. With great severity, his sapphire eyes glowing, he said to me:"You are a mischievous one. You will cause no end of trouble. You have to travel many roads before you find the river of your destiny. This life of yours will be full of riddles.
You will be protected and you will never be alone."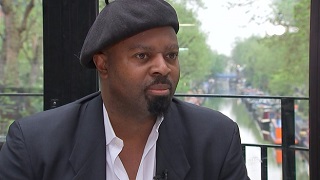 Ben Okri (Minna, 15 maart 1959)
De Servische schrijver David Albahari werd op 15 maart 1948 geboren in Pec in Sevie.Zie ook alle tags voor David Albahari op dit blog.
Uit: Gotz and Meyer (Vertaald door Ellen Elias-Bursac)
"Sometimes you win when you admit defeat, but not with me. I would rather tilt at windmills, even the old and decrepit kind, the way they are now, Götz and Meyer, if they are alive. I never met them, I can only imagine them. I'm back where I began. This is what my life has turned into: stumbling, looking back, starting anew. One of those three lives I was living in parallel, maybe even a fourth. The rest continued to follow me, unchanged, and I'd wake up like Götz, or Meyer, eager to work, and go to sleep like a 13-year-old boy preparing for his Bar Mitzvah and repeating words in a language that made his throat ache. None of my relatives in the camp could be described as a 13-year-old boy, nor do I know where he came from, nor which life he belongs to. Götz and Meyer are also unable to help me. If we had remembered all those faces, they say, we'd remember nothing else. The boy kept popping up, and on one occasion, instead of my own hands, I saw his, clear as day. He was clutching a mug of milk and he was thirsty. He was in me that day, when, in a voice squeaky with excitement, I proposed to my students that we spend our next class in a hands-on demonstration. Although beside themselves at the thought that they wouldn't have to be in school, they wanted to know what was going to happen. The boy had, in the meanwhile, faded, leaving me to respond. It was going to be about the difference between the tangible world and art, I explained, but also about the similarity between an instant of reality and a figment of the imagination. I was pretty busy for a few days. I had to find a school bus, collect money from the students, work out the route, get my thoughts together. This last item was the hardest for me, I admit. Then on the family tree, in a forgotten corner, I found a distant relative, a Matilda, who had died in 1929. I never learned anything about her, as if she was cloaked in a family secret. I couldn't find her grave in the Jewish cemetery, even in the overgrown Ashkenazy section."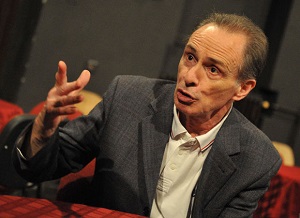 David Albahari (Pec, 15 maart 1948)
De Vlaamse dichter, schrijver en kunstschilder Louis Paul Boon werd geboren in Aalst op 15 maart 1912. Zie ook alle tags voor Louis Paul Boon op dit blog.
Uit: De kapellekensbaan
"Terwijl johan janssens de dichter en dagbladschrijver op zijn blote-voeten-in-sloefen naar u toekomt, al zeggend pff in plaats van goeiendag... en terwijl de kantieke schoolmeester hem antwoordt dat het onweren zal, meer nog kijkend naar de onbewogen ogen van zijn schone vrouw lucette dan naar de lucht die 1 lucht is ginder ver in de verte... terwijl vraagt ge hen wat hun mag believen: ge hebt al iets over de wereldliteratuur gehad, zal het nu weer hetzelfde zijn?
Als ik resumeer wat er besproken werd, zegt johan janssens in zijn schoonste dagbladstijl, dan moet ik de kantieke schoolmeester gelijk geven als hij zegt dat er niets meer te zeggen valt, maar dan kan ik u toch geen ongelijk geven als ge zegt dat al het gezegde ieder 10 jaar zou moeten herhaald worden maar met andere woorden. Ha en als ik het goed voorheb dan komt het hier op neer dat het de vorm is die moet veranderen, want het evoluerend verstand en de blijvende domheid van de mens, alsook het schone geloof in de toekomst en de ketterse twijfel eraan, waren in de antieke-beschaving juist dezelfde als de dag van vandaag in onze hedendaagse-beschaving, maar iemand moet de oude wijn in nieuwe vaten gieten – als ik mij in mijn hoedanigheid van Dichter zo mag uitdrukken – opdat iedereen die er zich aan bedrinkt zou begrijpen dat niet alleen de tovenaarswereld-van-een-atlantic naar de dieperik ging, maar dat de werklozenwereld-van-een-atomic haar op de hielen volgt... hè ik verschiet en ik krijg schrik en ik moet lachen met mijn eigen spiritualiteit... en ik begin rap over iets anders, de vorm dus: als gij het door de kantieke schoolmeester opgesomde wilt opnieuw zeggen, dan zult ge een andere vorm moeten zoeken, maar dewelke? b.v.b. een roman waarin ge alles holderdebolder uitkeert, kwak, gelijk een kuip mortel die van een stelling valt, + ernaast en erbij uw aarzelingen en twijfels omtrent het doel en nut van de roman, + daarbij en daarenboven iets dat ge zoudt kunnen noemen de reis van nihilisme naar realisme – weg en weer, 3de klas – want vandaag is er nog hoop dat de wereld iets wordt maar morgen wordt die hoop terug de bodem ingeslagen... en daarnaast zoudt ge nog kunnen randbemerkingen geven, plotse invallen, nutteloze omschrijvingen, gekapseerde erotische dromen en zelfs dagbladknipsels..."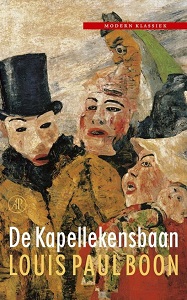 Louis Paul Boon (15 maart 1912 - 10 mei 1979)
Cover
De Duitse dichter en schrijver Kurt Drawert werd geboren op 15 maart 1956 in Henningsdorf. Zie ook alle tags voor Kurt Drawert op dit blog.
Zwischenzeitlich
I
Ich bin, was ich in meiner Sprache bin,
Was ich in den Worten bin, die ich mir
über mich mache.
Was ich in den Worten bin ist das,
Was ich in den Worten der anderen war,
Weil ich bin, was ich für andere bin,
und
Weil ich für andere bin, was ich nicht
bin.
Also ich bin, was ich nicht bin und bin nicht,
Was ich bin.

II
Wenn meine Sprache, meine Gedanken, einer
Verfehlung gleich, abnabeln vom Sinn,
Wortkrank sich verlieren, versanden,
Wenn mein Raum, also das Rechteck
Schulter Schulter, Fuß Fuß, einem, versehentlich,
falschen
Ausdruck erliegt, dann werde ich abscheiden,
Im Schnee stehen und mir nachwinken, bis der Arm
erfriert,
Blau das Gesicht von des Scheiterns schneidendem
Wind.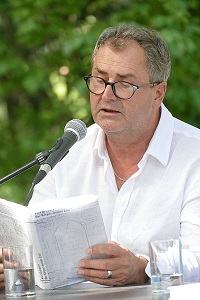 Kurt Drawert (Henningsdorf, 15 maart 1956)
De Duitse schrijver, tekenaar en karikaturist Gerhard Seyfried werd geboren op 15 maart 1948 in München. Zie ook alle tags voor Gerhard Seyfried op dit blog.
Uit: Verdammte Deutsche!
"Der Offizier sieht sich um, ob niemand zuhören kann, aber sie sind ganz allein auf dieser Straßenseite. Trotzdem dämpft er seine Stimme: »An erster Stelle Rosyth am Firth of Forth. Oben in Schottland. Die Briten errichten dort einen großen Flottenstützpunkt. Wir wissen nichts darüber, wie der Ausbau fortschreitet, nur, daß cr im Budgetjahr 1903 beschlossen worden ist. Die Arbeiten begannen angeblich erst im Sommer 1909. Das ist alles, Endc der Fahnenstange. Haut natürlich nicht hin, wir sind schließlich der Marinegeheimdienst.« Er schüttelt ärgerlich den Kopf. »Letztes Jahr haben wir einen Mann hingeschickt, der sich das ansehen sollte. Das ist jetzt acht Monate her. Bis heute haben wir nichts von ihm gehört. Ist geschnappt worden oder hat unser Geld eingesteckt und sich damit aus dem Staub gemacht.« »Rosyth?« Steinhauer zupft nachdenklich an seinem Schnurrbart. »War da nicht neulich ein Artikel in der britischen Presse, in dem kritisiert wurde, daß der Aufbau der Basis so langsam fortschreitet? Ich glaube, es hieß unter anderem, die Admiralität sei nicht mehr sicher, ob der Platz geeignet sei, und wolle die Flotte lieber weiter im Norden stationieren.« Der Kapitän wiegt den Kopf. »Ja, hab ich auch gelesen. Hab da aber meine Zweifel. Könnte eine Finte sein, um uns glauben zu lassen, daß dort nicht viel passiert.« Er macht einen Schritt zur Seite, um im Schatten zu bleiben, und sagt: »Sollten uns eine Scheibe von den Briten abschneiden. Die sind ganz schön aktiv bei uns. Immer öfter werden Leute erwischt, die Pläne und geheime Unterlagen stehlen, neulich sogar ein Werftbeamter. Letzten August hat die Geheimpolizei zwei englische Offiziere auf Borkum verhaftet, die dort die Festungsanlagen ausspioniert haben. Sie erinnern sich, der Fall Brandon und Trench.« Er schaut stirnrunzelnd auf seine staubig gewordenen Schuhe, dann räuspert cr sich: »Wie auch immer, ich möchte, daß Sie sich von jetzt an ganz auf England konzentrieren, Steinhauer. Tun Sie Ihr Möglichstes, um die Nachrichtenbeschaffung dort in Schwung zu bringen.«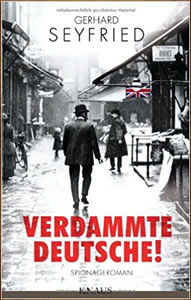 Gerhard Seyfried (München, 15 maart 1948)
De Oostenrijkse dichter en schrijver Andreas Okopenko werd in Košice (Slowakije) geboren op 15 maart 1930. Zie ook alle tags voor Andreas Okopenko op dit blog.
Uit: Lexikon-Roman
"Nur scheinbar begegnen Sie ihm nicht, nur scheinbar geht die Handlung dort – unter den Ziegen, Unkräutern, Vagabunden – nicht weiter. In Wahrheit geschieht mit dem Helden Ungeheures: Ziegen, Unkräuter, Vagabunden werden Bestandteil seiner Welt. Wenn Sie sich an einen fatalen Tag erinnern: Abschlußprüfung, Gefangennahme, Verlobung…, wird der dunstige Blauhimmel oder ein rastendes Trödlerpferd, ein Bausparhaus mit Klavieretüden oder ein zerbrochenes Zahnarztschild auf dem Gehsteig die führende Rolle in dieser Erinnerung spielen. Und dann: ständen am Ufer nur Pappdeckelkulissen, von der DDSG zu Ehren des sentimentalen Exporteurs rasch hingebaut wie die Krimdörfer des Fürsten Potemkin, hätte der Held eine magere Reise.
Das Wichtigste an einem Tor, das man sieht, ist doch, daß Gänge dahinter sind, das Wichtigste an Kindern, die vor einem spielen, ist doch ihre daheimgebliebene Schwester oder ihr Schulatlas mit dem verkritzelten Afrika, das Wichtigste an einer bunten Stranddame ist, daß sie morgen Papier zählen oder Gift nehmen wird. Betrachten Sie einen Stadtplan: er sagt, daß Sie durch die Bierschädelgasse an der alten Brauerei vorbei zum Dirndlmarkt gehen können und – genau so wirklich! – durch die Rußnasengasse über den Judensturz zum Hotel Wildschwein. Das ist Welt. Und ich will Ihnen keinen sentimentalen Exporteur im Glaskasten vorführen, sondern eine kleine Reise, ein Mikromodell Welt, gruppiert um den sentimentalen Exporteur, der ihr Bestandteil ist, wie sie sein Bestandteil ist.
Noch etwas: Wer hat nicht schon im Lexikon, Goldschminke nachschlagen wollend, erst einmal den Artikel über Goldoni, dann den über Goldregen gelesen, dort auf Laburnum verwiesen, die Einrichtung von Laboratorien gestreift, Interesse an der Herstellung eines Chlorkalziumröhrchens gefaßt, das Glasblasen erlernt, dabei einen Wangenriß erlitten, pflasterbeklebt einem Clown geähnelt, nachgedacht, was zum Clown noch fehlte, dabei Blanc und Rouge aufgefunden und so den Gedanken zurückgewonnen, daß er ja Goldschminke nachschlagen wollte – was er nun endgültig tat."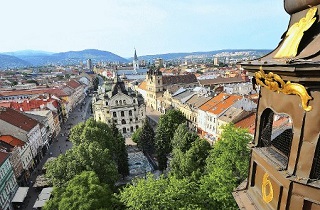 Andreas Okopenko (15 maart 1930 – 27 juni 2010)
Košice (Slowakije)
De Nederlandse schrijfster An Rutgers van der Loeff werd geboren in Amsterdam op 15 maart 1910. Zie ook alle tags voor An Rutgers van der Loeff op dit blog.
Uit: Die Kinderkarawane (Vertaald door Irma Silzer)
"Durch die grüne Hügellandschaft strömte der Lara-mie-Fluss, wild und reißend, breit und schäumend, aber in diesem trockenen Frühjahr nirgends tiefer als einen Meter. Hier und dort ragten Felsspitzen her-aus, über die das Wasser hinwegsprühte, und auch die flachen Ufer waren felsig. Dort stand Weidenge-strüpp und dazwischen sah man Gruppen von Baumwollbäumen. Etwas höher im Tal, am Fuß des ersten Hügels, lag das Fort Laramie — es war ein rechteckiges, niedriges Gebäude, umgeben von Steinmauern mit Palisaden aus Holzpfählen. Diese Außenmauem bildeten die Rückseite aller Räume, die sich auf einen Innenhof öffneten, einen vierecki-gen Innenhof mit einem Fußboden aus gestampfter Erde. In der sengenden Mittagssonne sah er fast weiß aus. An einer Seite war eine kleine Falltür und direkt gegenüber stand der große viereckige Turm mit den Schießscharten, hinter denen eine schwere bronzene Kanone Wache hielt. An zwei gegenüber-liegenden Ecken des Forts standen solide Blockhüt-ten. Bei einem Überfall durch die Indianer konnte man von hier aus alle vier Nationen in diese Gegend kamen. Das war auch jetzt wieder der Fall. Fort Laramic, einsam in der Wildnis gelegen, 667 Meilen weit vom letzten Vorposten der bewohnten Welt, war der wichtigste Handelsplatz auf dem Weg nach Oregon und Kalifornien. An diesem glühend heißen Junimittag des Jahres 1844 zeigte sich kein Mann auf dem Innenplatz."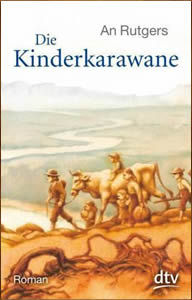 An Rutgers van der Loeff (15 maart 1910 – 19 augustus 1990)
Cover
De Vlaamse dichter en schrijver Prosper Antoine Joseph Van Langendonck werd geboren in Brussel op 15 maart 1862. Zie ook alle tags voor Prosper van Langendonck op dit blog.
En zie, 't is lente
En zie, 't is lente! - Nevens 't kerkhof
Ligt de akker glanzend in 't verschiet,
Waar 't door zijn hand gezaaide koren
Reeds welig door de kleien schiet.

Daar was het eng toneel zijns levens.
Daar heeft zijn zweet, als uit de lucht
De dauw des hemels, mild gedroppeld,
De erflijke grond bevrucht.

Bij morgenrood en avondschemer
Is daar, al zwoegend, immeraan
De akker liefderijk omvangend,
Zijn lange schaduw rondgegaan.

En 't koren dat hij zelf er zaaide,
Een andre zal het rijpen zien;
Een andre zal de sikkel zwaaien
Op 't maatgezang der arbeidsliên.

Toch zal hij sluímren zacht en dromen,
Bij 't wiegend reuzlen van het graan.
Zijn geest nog zal het werk bestieren,
Zijn adem over d' akker gaan;

En dubbel zalig zal hij wezen
Zo de aarde, met zijn zweet gedrenkt,
Zijn kindren lief haar wondre schatten
Met moederlijke mildheid schenkt.
Mei
En door de lichtbegraasde wei,
in 't vonklend kleed van d'ochtenddauw,
komt flink en fris de fiere Mei
en blaast de luchten lind en lauw.
Lange bossen, heuvlen, vlakte en dal
zwaait hij zijn groenen loverhoed
en luidend' hymnen van kristal
weerkaatsen wijd zijn morgengroet.

Met goud van vlammen, nooit geblust,
doortintelt hij de lentedag.
Hij lacht; 't is louter levenslust
en bloemenlach en zonnelach.
En de aarde deint in weelde en kracht
en breidt haar golvend groene sprei
voor d'eedle Minnaar, trouw verwacht,
de blonde Mei, de fiere Mei.

Plechtstatig stijgt een breed geruis
als traag aanzwellend orgelklank,
vol bladgefluister, beekgebruis
en licht en geur en vogelzang.
Geen harte zwijgt, hoe mat en koud,
en schel, uit alle borsten, schiet
het steeds gezongen, 't eeuwenoud
en eeuwigjonge liefdelied.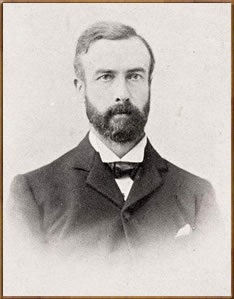 Prosper van Langendonck (15 maart 1862 – 7 november 1920)
De Duitse dichter, schrijver en essayist Paul Heyse werd geboren in Berlijn op 15 maart 1830. Zie ook alle tags voor Paul Heyse op dit blog.
Im Lenz
Im Lenz, im Lenz,
Wenn Veilchen blühn zuhauf,
Gib acht, gib acht,
Da wachen die Tränen auf.
Im Herbst, im Herbst
Fiel alles Laub vom Baum.
Ach, Lieb' und Glück
Vergangen wie ein Traum!
Gib acht, gib acht,
So ist der Dinge Lauf:
Blumen und Wunden
Brechen im Frühling auf.
Mondlied
Ich wandle still den Waldespfad,
Es dunkelt die Nacht herein.
Im Grunde rauscht ein Mühlenrad,
Der Grillen Lied fällt ein.
Wie liegt so tief, wie liegt so weit
Die Welt im Mondesduft!
Die Stimme der Waldeinsamkeit
Im Windessäuseln ruft:
Wirf ab dein bang erträumtes Weh,
Wirf ab die falsche Lust!
Sie schmelzen hin wie Märzenschnee,
Und öde bleibt die Brust.
Blick auf, wo Stern an Stern entbrennt,
Und sprich dein Herz zur Ruh;
Denn ew'ger als das Firmament,
Du kleines Licht, bist du!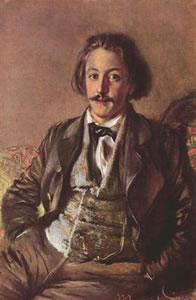 Paul Heyse (15 maart 1830 - 2 april 1914)
Portret door Adolf von Menzel, 1853
Zie voor nog meer schrijvers van de 15e maart ook mijn blog van 15 maart 2015 deel 2.
15-03-2017 om 18:20 geschreven door Romenu

Tags:Ben Okri, David Albahari, Louis Paul Boon, Kurt Drawert, Gerhard Seyfried, Andreas Okopenko, An Rutgers van der Loeff, Prosper van Langendonck, Paul Heyse, Romenu


14-03-2017

Pam Ayres, Jochen Schimmang, Volker von Törne, Horton Foote, Olivier Delorme, Alexandru Macedonski, Albert Robida, Theodore de Banville, Wout Waanders
De Britse dichteres van humoristische poëzie Pam Ayres werd geboren op 14 maart 1947 in Stanford in the Vale in Berkshire (tegenwoordig Oxfordshire). Zie ook alle tags voor Pam Ayres op dit blog.
Sat Nav

I have a little Satnav, It sits there in my car
A Satnav is a driver's friend, it tells you where you are.

I have a little Satnav, I've had it all my life
It's better than the normal ones, my Satnav is called a wife.

It gives me full instructions, especially how to drive
"It's sixty miles an hour", it says, "You're doing sixty five".

It tells me when to stop and start, and when to use the brake
And tells me that it's never ever, safe to overtake.

It tells me when a light is red, and when it goes to green
It seems to know instinctively, just when to intervene.

It lists the vehicles just in front, and all those to the rear
And taking this into account, it specifies my gear.

I'm sure no other driver, has so helpful a device
For when we leave and lock the car, it still gives its advice.

It fills me up with counselling, each journey's pretty fraught
So why don't I exchange it, and get a quieter sort?

Ah well, you see, it cleans the house, makes sure I'm properly fed
It washes all my shirts and things, and keeps me warm in bed!

Despite all these advantages, and my tendency to scoff,
I only wish that now and then, I could turn the bugger off.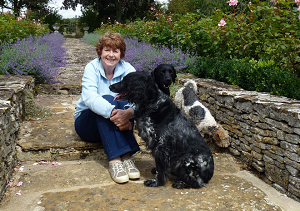 Pam Ayres (Stanford in the Vale, 14 maart 1947)
De Duitse schrijver Jochen Schimmang werd geboren op 14 maart 1948 in Leer, Ostfriesland. Zie ook alle tags voor Jochen Schimmang op dit blog.
Uit: Grenzen Ränder Niemandsländer
"Als wir durch den Stellenwechsel meines Vaters umzogen' kam ich erstmals in die Nähe einer richtigen Grenze, das heißt, einer Grenze zum Ausland. So toll gesichert wie die zur Ostzone war sie allerdings nicht und daher beim ersten Anblick fur mich etwas enttäuschend. Es gab einen Schlagbaum, und man musste selbstverständlich seinen Personalausweis vorzeigen. Aber an so etwas wie Selbstschussanlagen, Wachtürme oder scharfe Munition dachte man nicht, wenn man den deutsch-holländischen Grenzübergang Neuschanz (damals traute sich noch kein Deutscher, den Namen Nieuwe Schans auzusprechen) passierte. Was doch häufiger geschah, damals, weil es in Neuschanz/Nieuwe Schans im Laden direkt an der Grenze Kaffee, Butter und andere Lebens- und Genussmittel billiger einzukaufen gab als auf deutschem Boden. Der Ort selbst interessierte eigentlich nicht. Entscheidend war die Grenze: der Unterschied: der Preis.
Auf diesen Expeditionen war ich damals immer in Begleitung meiner Eltern bzw. meines älteren Brudes. Mein erster Grenzübertritt ohne diese ohne diese Begleitung scheiterte. lch war mit einem Schulfreund bis an die Grenze getrampt. Der Fahrer des Wagens. der uns mitgenommen hatte, blieb aber auf der deutschen Seite (weil er dort wohnte), und wir mussten zu Fuß auf die andere Seite wechseln.
Zumindest versuchten wir es. Wir waren l3 oder 14, es war ein Werktag, und wir hatten dennoch schulfrei.
Der Werktag war der 31. Oktober, in protestantischen Gebieten Deutschlands auch unter dem Namen Reformationstag bekannt ("Ein feste Burg ist unser Gott") und damals in eben diesen Gebieten noch ein Feiertag.
Das Wetter war schon im November angekommen. Die Deutschen ließen uns durch, aber an der wirklichen Grenze: am Schlagbaum: am Häuschen pflanzte sich ein ziemlich langer Holländer in einem fast ebenso langen schwarzen Unifonnmantel und mit einer sdnwarzen Schirmmütze vor uns auf und fragte: -Warum seid ihr von zu Hause weggelaufen?"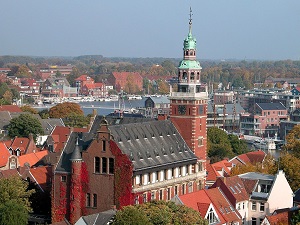 Jochen Schimmang (Leer, 14 maart 1948)
Leer
De Duitse dichter Volker von Törne werd geboren op 14 maart 1934 in Quedlinburg. Zie ook alle tags voor Volker von Törne op dit blog.
Deutsche Heraldik
1
Noch trage ich kein Brett vorm Kopf
Und fiel in keinen Honigtopf
Doch hab ich mir das Maul verbrannt
Schon oft im deutschen Vaterland
2
Was fragt ihr mich, wies weitergeht
Ich sage euch: es ist zu spät
Ich sehe schwarz, und den Befund
Les ich euch aus dem Kaffeegrund
3
Die Zähne habt ihr ausgespuckt
Und euch vor jeder Maus geduckt
Jetzt zittert ihr in eurem Haus
Vor jeder Wanze, jeder Laus
4
Was ihr berührt, das wird zu Müll
Was auch geschieht, ihr haltet still
Ihr tragt in eurem Wappenschild
Der Eintagsfliege goldnes Bild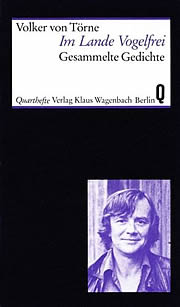 Volker von Törne (14 maart 1934 – 30 december 1980)
Cover
De Amerikaanse schrijver en draaiboekauteur Horton Foote werd geboren op 14 maart 1916 in Wharton, Texas. Zie ook alle tags voor Horton Foote op dit blog.
Uit: The Old Beginning
"TOMMY. Are you sure this is the right file cabinet? (MR. Mavis is busy looking at papers on his desk and doesn't answer.) Dad, where is it? I can't see it?
MAVIS. Now where would it be, Son? Think carefully. Think.
TOMMY. It should be under N, but it isn't.
MAVIS. Then look again. It's bound to be under N.
ROBERTA. Oh, H.T., stop teasing the boy and help him to find it. I'm in a hurry.
MAVIS. He's twenty-four, Roberta. I'm leaving him in charge of my business. It's time he learned to think things through for himself. Have you found it, Tommy?
(Tommy looks through the files)
TOMMY. I tell you it's not here.
MAVIS. Then you have the wrong file cabinet.
TOMMY. OK. But you said …
MAVIS. Never argue with your father in front of customers. Son, just look in the other one.
TOMMY. All right. (He starts for the next one)
MAVIS. You must have had the wrong file cabinet.
TOMMY. I didn't have the wrong one. You told me to look there.
MAVIS. Quickly, Son, never keep a customer waiting.
(Tommy gives him a look and goes to the other cabinet)
ROBERTA. Help him, H.T. We have so much to do this afternoon.
MAVIS. Now, Roberta. Let me handle this. Tommy is twenty-four. He has to learn about things. By the time I was twenty-four, Mrs. Nelson, I had saved twenty thousand dollars.
ROBERTA. Tommy is twenty-three, H.T. He is not twenty-four.
MAVIS. Well, do you think he's going to save twenty thousand dollars in the next year?"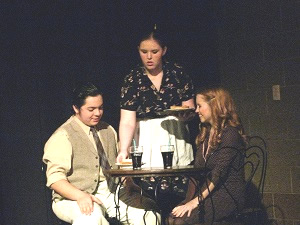 Horton Foote (14 maart 1916 – 4 maart 2009)
Scene uit een opvoering in Dallas, 2011
De Franse schrijver Olivier Delorme werd geboren op 14 maart 1958 in Chalon-sur-Saône. Zie ook alle tags voor Olivier Delorme op dit blog.
Uit: Yannis Tsarouchis, ou l'Éros en maillot de corps
« Quant à la tradition orientale, Tsarouchis se familiarise avec elle dès ses années d'étude, avant son premier voyage à Paris. En 1930, il devient pour trois ans l'assistant de Photis Kontoglou, un réfugié d'Asie Mineure qui prône le retour à la peinture byzantine, icône et fresque, pour créer une peinture profane et moderne authentiquement grecque. Tsarouchis apprend alors le tissage traditionnel, mais aussi à psalmodier ; il étudie les tissus coptes auxquels Matisse s'est également intéressé, il copie ses premiers portraits funéraires du Fayoum au musée ethnographique d'Athènes. Il ne cessera toute sa vie d'y revenir, en copiant d'autres au Louvre ou au musée de Dijon – en 1976 encore.
Ainsi, lorsque, en 1935, il peint une série de jeunes hommes déguisés en evzones, il donne à l'un d'entre eux le visage d'un Fayoum qu'il se souvient avoir vu au Louvre… et qu'il ne retrouvera jamais. Quant à ses portraits (1971) de F.P. et d'un « coiffeur anglais », tous deux couronnés d'or, ils sont directement inspirés du saisissant « expressionnisme oriental » de cet art grec de l'Égypte hellénistique (Ier-IVe siècles de notre ère). Mais au-delà, cette source irrigue tout l'art du portrait de Tsarouchis, exactement à la manière dont les épitaphes hellénistiques inspirent à Cavafis quelques-uns de ses plus beaux poèmes.
La rencontre avec la peinture de Pompéi, au retour du voyage parisien de 1935, puis avec la mosaïque de la Méduse hellénistique dite du Pirée seront tout aussi déterminantes : incapable d'achever le premier des nus masculins d'après nature qu'il a entrepris, Tsarouchis raconte qu'il s'est rendu au Musée national d'Athènes pour y copier la Méduse."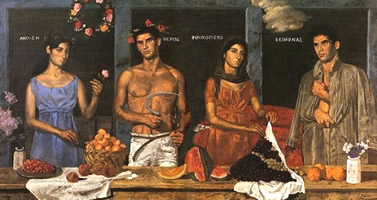 Olivier Delorme (Chalon-sur-Saône, 14 maart 1958)
De vier jaargetijden door Yannis Tsarouchis, 1965
De Franse schrijver, tekenaar, schilder, karikaturist en journalist Albert Robida werd geboren op 14 maart 1848 in Compiègne.Zie ook alle tags voor Albert Robida op dit blog.
Uit: The Monkey King (Fragment uit:Voyages très extraordinaires de Saturnin Farandoul,vertaald door Brian Stableford)
« The infant's name is Fortuné-Gracieux-Saturnin Farandoul. The names of the parents and witnesses are irrelevant to our story, so we shall pass over them in silence, but we must state that this document had further implications: firstly, that Saturnin Farandoul was a French citizen; and secondly, that he was only four months and seven days old. Truly, this was an early start for a career as a castaway.
After mature reflection, Papa Orang-utan evidently came to a decision in the matter of the newly-discovered infant; he made a gesture signifying that five might just as well be six, and got up. The child was adopted; the family, thus augmented, ambled back along the path to their abode.
It was a good night for all concerned. The moon illuminated the tranquil sleep of our hero in the bosom of his adopted family, in the deep forest. The sun rose to find Farandoul perfectly comfortable in his new social estate, and his adoptive parents quite content with their lucky find.
In her hut of branches covered with large banana leaves, the good she-monkey studied her nursling while he feasted greedily upon the banquet offered to his lips by beneficent Nature. In addition to the little monkeys, fascinated by the appearance of this new companion, there was a large crowd in the hut, dominated by she-monkeys.
What astonishment there was on every face! With what curiosity were the least movements of little Farandoul followed! At first, the young she-monkeys could not suppress a thrill of fear when the nursing mother jokingly extended the infant towards them, but soon the gentleness of Farandoul won every one of their hearts, and the entire audience was soon competing for the privilege of loving him up. The hut never emptied; male and female monkeys came from the neighbouring forests carrying gifts of fruit and coconuts, which Farandoul pushed away with his hands and feet in order to thrust himself back upon the quasi-maternal breast.
Outside, Farandoul's foster-father, surrounded by old white-bearded orangs, seemed to be telling the story of his discovery. Perhaps he was giving his report to the authorities; in any case, he saw by their benevolent gestures that the elders approved of his conduct and appeared well pleased with him."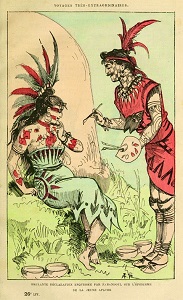 Albert Robida (14 maart 1848 – 11 oktober 1926)
Illustratie uit "Voyages très-extraordinaires de Saturnin Farandoul »
De Roemeense dichter Alexandru Macedonski werd geboren op 14 maart 1854 in Craiova. Zie ook alle tags voor Alexandru Macedonski op dit blog.
Nuit de Décembre (Fragment)
Elle est tout aussi grande en lui et sur terre,
Froide, la lune en lui et dans le ciel…
Les ténèbres lui allongent terribles coups de serre.
Son front, les ombres le réclament, démentielles…

Froide, la lune en lui et dans le ciel.

Tout à coup, le feu couvant sous les cendres pétille…
Sur les murs, des visions bleuîtres s'emportent…
Dans la cheminée, une vive flamme éclate et brille,
S'élance, palpite, crépite et, cependant, babille.

Dis donc, Archange d'or, qu'est-ce que tu nous apportes ?

Et la flamme prend sur elle pour dire : « Je vous inspire…
Ecoute et chante toi-même et tîche jeune encore d'être…
Dans la gloire du retour, étouffe tes soupirs…
En fort et riche émir, tu dois apparaître ».
Et la flamme prend sur elle pour dire : je vous inspire
Et, dans la blanche pièce, tout se met à frémir.

La tristesse émanée des congères disparaît…
Tout est en or : l'horizon jusqu'à l'orée, -
C'est lui, l'émir d'une ville extraordinaire…
Ses palais sont de blancs fantasmes, en entier,
Cachés par feuilles, fruits surgis des contes de fée,
Se mirant dans l'éclat d'une claire rivière.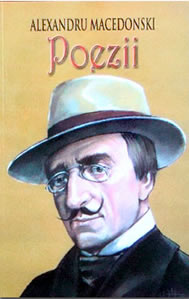 Alexandru Macedonski (14 maart 1854 – 24 november 1920)
Cover
De Franse dichter Theodore Faullain de Banville werd geboren op 14 maart 1823 in Moulins in de Auvergne. Zie ook alle tags voor Theodore de Banville op dit blog.
Le printemps
Te voilà, rire du Printemps !
Les thyrses des lilas fleurissent.
Les amantes qui te chérissent
Délivrent leurs cheveux flottants.

Sous les rayons d'or éclatants
Les anciens lierres se flétrissent.
Te voilà, rire du Printemps !
Les thyrses de lilas fleurissent.

Couchons-nous au bord des étangs,
Que nos maux amers se guérissent !
Mille espoirs fabuleux nourrissent
Nos coeurs gonflés et palpitants.
Te voilà, rire du Printemps !
L'Automne
Sois le bienvenu, rouge Automne,
Accours dans ton riche appareil,
Embrase le coteau vermeil
Que la vigne pare et festonne.

Père, tu rempliras la tonne
Qui nous verse le doux sommeil ;
Sois le bienvenu, rouge Automne,
Accours dans ton riche appareil.

Déjà la Nymphe qui s'étonne,
Blanche de la nuque à l'orteil,
Rit aux chants ivres de soleil
Que le gai vendangeur entonne.
Sois le bienvenu, rouge Automne.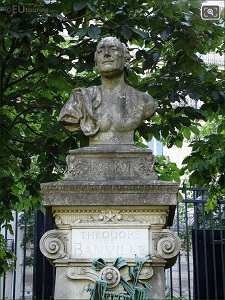 Theodore de Banville (14 maart 1823 – 15 maart 1891)
Borstbeeld in Le Jardin du Luxembourg, Parijs
Onafhankelijk van geboortedata
De Nederlandse dichter Wout Waanders werd geboren in 1989in 's-Hertogenbosch. Zie ook alle tags voor Wout Waanders op dit blog.
Wal
Toegegeven, ik ben een muur,
Van wantsen als verlegen nimfen
Hoe langer je naar me kijkt
Hoe breder ik kan worden
Er is om mij heen te lopen,
Maar voor je het weet,
Kom ik op je af;
Pantsers in je kielzog
Ik kruis straten, gordels
patrijzen, palen, perken door,
Dwars tussen het dressoir
Van spuitend ongenoegen
Geen houden meer aan mij,
Alleen eventjes te leunen
Aan de enige binding
- of onderbreking -
Van alles wat niet tot jou valt
en ergens beklijft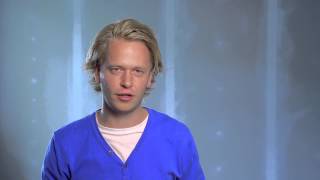 Wout Waanders ('s-Hertogenbosch, 1989)
Zie voor nog meer schrijvers van de 14e maart ook mijn blog van 14 maart 2015 en ook 14 maart 2015 deel 2.
14-03-2017 om 18:25 geschreven door Romenu

Tags:Pam Ayres, Jochen Schimmang, Volker von Törne, Horton Foote, Olivier Delorme, Alexandru Macedonski, Albert Robida, Theodore de Banville, Wout Waanders, Romenu


13-03-2017

Mahmoud Darwish, Yuri Andrukhovych, Didier Decoin, Yeghishe Charents, Vladimir Makanin, Oskar Loerke, W.O. Mitchell, Hugh Walpole, Inge Müller
De Palestijnse dichter Mahmoud Darwish werd geboren in Al-Birwa, Palestina, op 13 maart 1941. Zie ook alle tags voor Mahmoud Darwish op dit blog.
The Horse Fell Off The Poem
and the Galilean women were wet
with butterflies and dew,
dancing above chrysanthemum
The two absent ones: you and I
you and I are the two absent ones
A pair of white doves
chatting on the branches of a holm oak
No love, but I love ancient
love poems that guard
the sick moon from smoke
I attack and retreat, like the violin in quatrains
I get far from my time when I am near
the topography of place...
There is no margin in modern language left
to celebrate what we love,
because all that will be... was
The horse fell bloodied
with my poem
and I fell bloodied
with the horse's blood...
No Flag Flutters In The Wind
No flag flutters in the wind,
no horse floats in the wind,
no drums accompany the rise and fall of waves…
Nothing happens in tragedies today…
The curtain is drawn, both poets and audience
have left - there are no cedars or processions,
no olive branches to greet those coming in by boat,
weary from nosebleed and the lightness
of the final act, as if passing from one fate
to another, a fate written beyond the text,
a woman of Greece playing the part
of a woman of Troy, as easily white as black,
neither broken nor exalted, and no one asks:
'What will happen in the morning?'
'What comes after this Homeric pause?'
…as if this were a lovely dream
in which prisoners of war are relieved
by fairness of their long, immediate night,
as if they now say:
'We mend our wounds with salt'
'We live near our memory'
'We shall try out an ordinary death'
'We wait for resurrection, here, in its home
in the chapter that comes after the last…'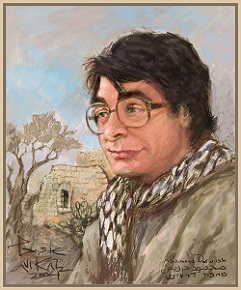 Mahmoud Darwish (13 maart 1941 - 9 augustus 2008)
Portret door Avi Katz, z.j.
De Oekraïense dichter en schrijver Yuri Andrukhovych werd geboren op 13 maart 1960 in Iwano-Frankiwsk. Zie ook alle tags voor Yuri Andrukhovych op dit blog.
In Homeland Of Rotkäppen
They say that no one comes here in January.
Not a soul in the palace or the outbuildings,
padlocks on the doors, garden plants in bags,
statues the same, trees naked.
I've seen it somewhere before.
But in May everything blossoms
with patients.
Whole cavalcades of Germans
on rollerblades, on bikes.
Couples in love, the first brigade of pensioners
in shorts. Oh, and one more,
an artists commune,
a nest of romanticism! They buy
soft drinks in the orangerie and, endlessly delighted
by the uniqueness of the place, the time, themselves and others,
follow the program onwards –
to the statue
of Little Red Riding Hood.
(Apparently it was in these very woods
that unfortunate incident with the wolf).
As far as the patients themselves are concerned
they wander out onto the terrace
at the designated time, three times a day,
according to the program of gulping food,
filling the time with conversation in common languages
(Bettina von Arnim, they say, Bettina von Arnim.
It's the password). It's so beautiful, here, in May,
that you don't want to do anything.
"Bettina von Arnim" – I say to the wine glass
and to the ashtray. Oh, unfortunate me!
Oh, ungrateful me! And why this nastiness?
And why am I so stubbornly thinking
of escape, of a straitjacket,
of prisoners' striped pyjamas?
No one knows what to expect
from anyone. After all, that's why we're patients –
to mess around.
For the first three days
no one noticed his disappearance.
On the fourth day someone wondered
where the hell he'd got to, that jovial big-bellied Fin
with his flies permanently undone
and the smell of beer under his arms. (The above
details will not be formulated aloud, out of politeness.
Of course, something will be said,
something more neutral, like for example
"And where is our Finnish friend?")
On the fifth day it will be time for the staff
to clean out his room.
And then the truth will out.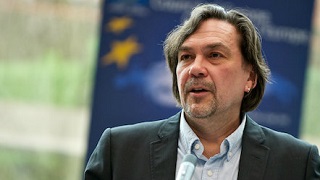 Yuri Andrukhovych (Iwano-Frankiwsk, 13 maart 1960)
De Franse schrijver Didier Decoin werd geboren op 13 maart 1945 in Boulogne-Billancourt (Seine). Zie ook alle tags voor Didier Decoin op dit blog.
Uit: Le bureau des jardins et des étangs
"Après une longue claustration accompagnée de la stricte observance des restrictions alimentaires liées au deuil, et après avoir lustré le corps de Katsuro à l'aide d'une étofi'e sacrée destinée à en absorber les impuretés, Amakusa Miyuki s'était soumise au rituel destiné à la purifier de la souillure entraînée par la mort de son mari. Mais comme il n'était pas envisageable que la jeune veuve s'immergeât dans cette même rivière où venait de se noyer Katsuro, le prêtre shinto s'était contenté, les lèvres pincées, de secouer sur elle une branche de pin dont l'eau de la Kusagawa avait mouillé les rameaux les plus bas. Puis il l'avait assurée qu'elle pouvait à présent renouer avec la vie et montrer sa gratitude aux dieux qui ne manqueraient pas de lui transmettre courage et force.
Miyuki avait parfaitement saisi ce qu'il y avait derrière les paroles de réconfort du prêtre : il espérait que, malgré la précarité de sa situation aggravée par la disparition de Katsuro, la jeune femme allait déposer entre ses mains une expression concrète de la reconnaissance qu'elle devait aux kami.
Mais si Miyuki éprouvait quelque gratitude envers les dieux pour l'avoir lavée de ses souiflures, elle ne pouvait leur pardonner d'avoir laissé la rivière Kusagawa, qui après tout n'était rien de moins qu'un dieu elle aussi, lui ravir son mari.
Elle s'était donc contentée d'une modeste aumône composée de radis blancs, d'un bouquet de têtes d'ail et de quelques gâteaux de riz gluant. Mais habilement enveloppée dans un linge, l'ofi'rande occupait, surtout grâce au gigantisme de certains radis, un volume qui laissait supposer un présent bien plus conséquent. Le prêtre s'y était laissé prendre et il était parti content."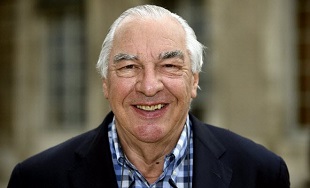 Didier Decoin (Boulogne-Billancourt 13 maart 1945)
De Armeense dichter Yeghishe Charents werd geboren op 13 maart 1897 in Kars (toen Rusland, nu Turkije). Zie ook alle tags voor Yeghishe Charents op dit blog.
Road
I love the sun-baked taste of Armenian words,
the lilt of ancient lutes in sweet laments
our blood-red fragrant roses bending
as in Nayiran dances, danced still by our girls.

I love the deep night sky, our lakes of light,
the winter winds that howl like dragons fire.
The meanest huts with blackened walls are dear to me-
each of the thousand year old city stones.

Wherever I go, I take our mournful music,
our steel forged letters turned to prayers.
However sharp my wounds or drained of blood,
or orphaned- my yearning heart turns there with love.

There is no brow, no mind, like Narek's Koutch.

No mountain peak like Ararat's,
Search the world, there is no crest as white, so holy.
So like an unreached road to glory - Massis mountain that I love.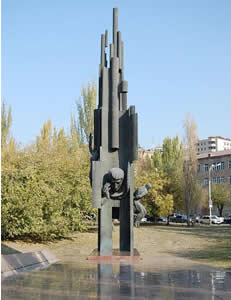 Yeghishe Charents (13 maart 1897 – 29 november 1937)
Monument in Yerevan
De Russische schrijver Vladimir Makanin werd geboren op 13 maart 1937 in Orsk. Zie ook alle tags voor Vladimir Makanin op dit blog.
Uit: Benzinkönig (Vertaald door Annelore Nitschke)
"Er versucht die Rote Armbinde am Ärmel zu packen. Damit der sich zu ihm umdreht:
»Saschik wird ungehalten sein.«
»Was geht's dich an?«
»Warum hängst du die Soldaten an seine Kolonne an? Saschik wird böse sein.«
»Ist mir doch egal ... Siehst du noch gut, Alter? Siehst du diese Horde?!«
Sie sehen beide ... kaum auf die Schützenpanzer geklettert, hüpfen die Soldaten darauf herum. Suchen einen besseren Platz – bald hier, bald dort. Umarmen sich schnatternd und lachend. Trotz der unvorstellbaren Trunkenheit strahlen viele Gesichter. Diese klaren, diese lebenslustigen jungen Augen!
Der Roten Armbinde fehlt es an entschlusskraft. Der Soldat da, der ist ja völlig übergeschnappt! Höchste Zeit, dem Blödmann eins auf die Rübe zu geben! ... Der ist zu den vorbeigehenden Bahnarbeitern gestürzt, Tschetschenen und Russen ... ölverschmiert ... unausgeschlafen ... Der Soldat rennt hin und her.
Schreit lauthals, ruft: »Pa-paa! Pa-paa!« Fragt die Arbeiter nach seinem Vater aus. Der Soldat glaubt, er sei immer noch an der Wolga. Der Dummkopf hat sich nicht mehr verabschieden können!
Er glaubt, sein Zuhause sei hier irgendwo. Kapiert nicht, dass er in Tschetschenien ist. »Wo ist mein Vater?! ... Pa-paa!«
Der Roten Armbinde springt der trinkfeste hünenhafte Soldat bei. Mit Namen Schora, ein vor Gesundheit nur so strotzender Kerl."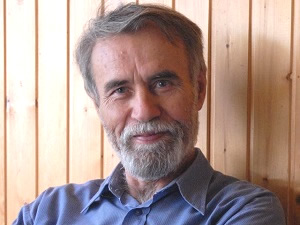 Vladimir Makanin (Orsk, 13 maart 1937)
De Duitse dichter Oskar Loerke werd geboren op 13 maart 1884 in Jungen. Zie ook alle tags voor Oskar Loerke op dit blog.
Hier dieses ist der junge Raum
Hier dieses ist der junge Raum,
Der alte ist verschollen.
Wenn seines Jenseit-Meeres Brecher rollen,
Zeigt sich am Himmel eine stille Flocke Schaum.
Am Wege liegt des Nachbarkindes Puppe
Mit starren Gliedern auf dem Rücken,
Die Augen auf der fernen Flocke,
Als banne sie ein Furcht-Entzücken:
Nie netzt das Jenseits meine Locke, -
Auch ich bin jenseits! - nie die Fingerkuppe.
Aus dem Bergwerk meiner Seele
Aus dem Bergwerk meiner Seele
Schwer ans Licht beschworen,
Klagtet ihr mit meiner Kehle,
Münder, stumm geboren.

Da, als ihr für euch geworben,
Wars um euch geschehen.
Ich, ich hätte euch verdorben,
Und ich möge gehen.

Wie ihr, daß euch niemand sähe,
Still das Grab euch machtet!
Mein Gesicht in bittrer Nähe
Hat euch nachgetrachtet.

Da habt ihr euch umgewendet,
Steiger aus den Zechen.
Nun wart ihr noch nicht vollendet,
Lerntet wieder sprechen.

Aus den Worten zeigen Fernen
In das Land Vergebens.
Ich will besser schweigen lernen
Für den Rest des Lebens.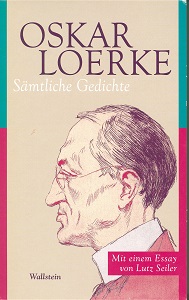 Oskar Loerke (13 maart 1884 – 24 februari 1941)
Cover
De Canadese schrijver W.O. Mitchell werd geboren op 13 maart 1914 in Weyburn, Saskatchewan. Zie ook alle tags voor W. O. Mitchell op dit blog.
Uit: Since Daisy Creek
"2943 Killdeer Boulevard. South West."
"Would you please tell the court, Dr. Dobbs, what happened to you on the morning of April third last year?"
"I was hunting grizzly in the first range of mountains in the Daisy Creek area, about forty miles west of the town of Shelby. I shot a grizzly bear. She mauled me."
"Would you describe to the court the nature and extent of your injuries?"
"She almost disembowelled me. She destroyed my right hip joint. She cracked two cervical vertebrae-smashed my elbow." He could feel his hand starting to jump on his knee; he tried to still it with his left hand. The sweat had started. This was when Terry wanted him to turn to Judge McElroy and take off the coloured glasses to reveal the eye and all the cheek. He averted
his face from the bench. "I had some plastic surgery done to my face. I spent three months in the neurological ward of Western General Hospital."
"And where is Western General Hospital?"
"The corner of Holy Cross and Rodeo."
"The name of the doctor attending you?"
"There were several but the main one was a Doctor Arrowsmith."
"You say you shot the grizzly bear before it did all this to you?" "Yes."
"It mauled you after you had shot it?"
"Yes."
"What was the nature of the shot-wound-you inflicted upon the grizzly bear?"
"A Weatherby magnum shell. lt destroyed her shoulder. It blew the heart out of her."
"You could tell that as soon as you shot it?"
"No. I lost consciousness when she attacked me."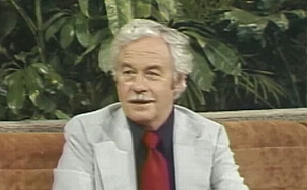 W.O. Mitchell (13 maart 1914 – 25 februari 1998)
De Britse schrijver Hugh Seymour Walpole werd geboren op 13 maart 1884 in Auckland, Nieuw Zeeland. Zie ook alle tags voor Hugh Walpole op dit blog.
Uit:The Cathedral
"Adam Brandon was born at Little Empton in Kent in 1839. He was educated at the King's School, Canterbury, and at Pembroke College, Cambridge. Ordained in 1863, he was first curate at St. Martin's, Portsmouth, then Chaplain to the Bishop of Worcester; in the year 1875 he accepted the living of Pomfret in Wiltshire and was there for twelve years. It was in 1887 that he came to our town; he was first Canon and afterwards Archdeacon. Ten years later he had, by personal influence and strength of character, acquired so striking a position amongst us that he was often alluded to as "the King of Polchester." His power was the greater because both our Bishop (Bishop Purcell) and our Dean (Dean Sampson) during that period were men of retiring habits of life. A better man, a greater saint than Bishop Purcell has never lived, but in 1896 he was eighty-six years of age and preferred study and the sanctity of his wonderful library at Carpledon to the publicity and turmoil of a public career; Dean Sampson, gentle and amiable as he was, was not intended by nature for a moulder of men. He was, however, one of the best botanists in the County and his little book on "Glebshire Ferns" is, I believe, an authority in its own line.
Archdeacon Brandon was, of course, greatly helped by his magnificent physical presence. "Magnificent" is not, I think, too strong a word. Six feet two or three in height, he had the figure of an athlete, light blue eyes, and his hair was still, when he was fifty-eight years of age, thick and fair and curly like that of a boy. He looked, indeed, marvellously young, and his energy and grace of movement might indeed have belonged to a youth still in his teens. It is not difficult to imagine how startling an effect his first appearance in Polchester created."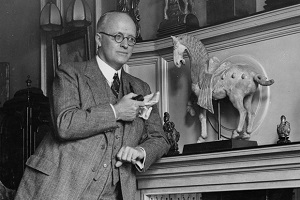 Hugh Walpole (13 maart 1884 – 1 juni 1941)
De Duitse dichteres en schrijfster Inge Müller werd geboren op 13 maart 1925 in Berlijn. Zie ook alle tags voor Inge Müller op dit blog.
Freunde
Im Zimmer geblieben
Ist der Tabaksrauch
Ihr geht, gern ging ich auch
Und wenns zum Fenster wär
Die Gardine zur Seite schieben
Im Schnee unterm Wind beugt sich ein Strauch
Das Eis am Fenster schluckt mein Hauch
Ich seh eure Schatten wandern
Einer vor über in dem andern
Die Wände um mich geben keinen Ton
Wo sind eure Stimmen? Kein Echo? Schon
Ist alles leer, ich find nicht was ich hab
Und geh und wasche für morgen
Die Teetassen ab.
Ich habe sie gesehen: Menschen
Ohne Gott. Ausgeliefert
Und still.
Sein werd ich nicht mehr.
Es ist viel
Wenn sie sich erinnern.
Und keine Literatur.
Einberufung
12-Zeilen-Befehl, Stakkato in Phrasen
Ein Stempel: Mädchen, du bist Soldat
Weg mit den Locken, den Kleidern – den Rasen
Ob grün oder weiß, zahlt der Staat.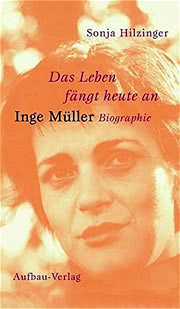 Inge Müller (13 maart 1926 – 1 juni 1966)
Cover biografie
Zie voor nog meer schrijvers van de 13e maart ook mijn blog van 13 maart 2016 deel 1 en eveneens deel 2 en ook deel 3.
13-03-2017 om 18:27 geschreven door Romenu

Tags:Mahmoud Darwish, Yuri Andrukhovych, Didier Decoin, Vladimir Makanin, Yeghishe Charents, Oskar Loerke, W.O. Mitchell, Hugh Walpole, Inge Müller, Romenu



Geert van Beek
De Nederlandse dichter en schrijver Geert van Beek werd op 13 maart 1920 geboren in Gennep, als vierde van vijf kinderen. Na het overlijden, in 1921, van zijn vader, die politieambtenaar was, verhuisde het gezin naar Bemmel, bij Nijmegen. Vijf jaar lang volgde van Beek gymnasiaal onderwijs aan het klein seminarie in Kaatsheuvel, maar in 1938 stapte hij over naar de kweekschool voor onderwijzers in Nijmegen, waar hij de hoofdakte behaalde. Daarna studeerde hij met succes voor de akte lo Duits. In 1943 werd hij onderwijzer in Treebeek, Zuid-Limburg. Naast zijn werk studeerde hij voor de akte lo Engels. Na WO II werkte van Beek als onderwijzer in Nijmegen. In 1951 behaalde hij zijn akte MO-a Nederlands. Naast zijn werk en studie schreef hij verhalen, waarvan er in 1952 voor het eerst een werd gepubliceerd in het tijdschrift Roeping. In 1959 kreeg van Beek een betrekking als leraar in Veghel. Daar bleef hij werkzaam tot zijn pensionering in 1983. In 1961 publiceerde hij zijn eerste roman, "Buiten schot", waarvoor hij in 1962 de Anne Frank-prijs ontving Vier jaar later volgde een nieuwe verhalenbundel, "De gekruisigde rat", waarvoor hij de Hilvarenbeekse Literatuurprijs kreeg, Verdere werken van hem omvatten de verhalenbundel "Het Mexicaanse paardje" (1966), de novelle "Blazen tot honderd" (1967) en de met de Vijverbergprijs bekroonde roman "De steek van een schorpioen" (1968). In 1987 verscheen nog de roman "Gezichten binnen handbereik".
Uit: Ruhe!
"... maar in het vroege voorjaar, als de tuinen geel uitsloegen van mimosa, en citroenen onwaarschijnlijk dichtbij aan de bomen hingen, was het hotel grotendeels bezet door oorlogsveteranen, verschillende nationaliteiten die elkaar zo'n halve eeuw geleden liefst hadden uitgeroeid. Grijs was de hoofdkleur. De voertaal leek Duits; staalharde vocalen overstemden schaarse, meer gereserveerde Angelsaksische geluiden.
Sommige mannen droegen hun verleden in littekens met zich mee. Er liep een wat wankele oude heer rond die zijn linnen jasje alleen uittrok op het terras rond het zwembad en zijn linnen hoedje alleen afzette als hij zich onder dak wist. Graf Von. Baron Zur. Meer dan een rood, afgebladderd gezicht en rode benedenarmen gaf hij niet prijs. Twee oude dames in fraaie jurken vormden zijn lijfwacht. Ze waren iets beter ter been dan de ex-generaal zelf. Telkens wanneer ze hem hulpvaardig onder een arm namen, kreeg zijn gezicht een gekwelde uitdrukking. Vrouwen waren in de minderheid.
Er was een man zo eenzaam dat hij aan belangstelling niets tekort kwam. Hij hield zich achteraf; in de uitbundige eetzaal zat hij steevast op een privé plekje in een hoek. Een houten lambrisering dekte hem in de rug, een tactisch opgestelde palm onttrok hem min of meer aan het oog. Maar je kon hem tegenkomen in lounges, op terrassen en langs het strand dat door de nog lage temperatuur van het zeewater vrijwel leeg was. Een stevige, kleurig geklede man, maar ook de laatste mode kon het met voorbarige vrolijke zomertinten niet camoufleren: het gespleten voorhoofd, alsof een middeleeuws zwaard de schedel had willen klieven van voorhoofdsbeen tot nek, maar was blijven steken en met geweld eruit gewrongen. De wond was wonderbaarlijk genezen, het vlees aan elkaar gehecht. Een vingerdikke gleuf tot tussen zijn ogen deelde zijn gezicht in tweeën.
Kleine kinderen liepen als speelgoed dat tot leven is gewekt tussen de oudere mensen en bejaarden. Twee van hen onderscheidden zich door hun speelse luidruchtigheid. Iedereen wist dat ze Andrea en Alexandra heetten. Binnen en buiten riepen ze luidkeels elkaars naam, niet gehinderd door fatsoensnormen, door volwassen nationale afspraken, Warnungen, Mitteilungen omtrent rust en stilte. En hun moeders riepen binnen en buiten hun namen om hen tot de orde te roepen. Ordnung muss sein. Alom wekten de kleine meisjes vertedering en bewondering, vooral bij de niet-Germaanse gasten."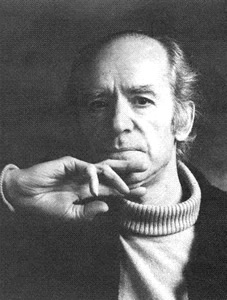 Geert van Beek (13 maart 1920 – 2 januari 2001)
13-03-2017 om 00:00 geschreven door Romenu

Tags:Geert van Beek, Romenu



Jan H. de Groot
De Nederlandse dichter Jan Hendrik de Groot werd op 13 maart 1901 geboren in Alkmaar. Tijdens zijn middelbare schoolperiode bracht zijn leraar Nederlands dr. André Schillings hem in contact met de literatuur. Het was Schillings die de belangstelling voor het dichten bij hem wekte. In 1924 debuteerde Jan H. de Groot in het protestants-christelijke literaire tijdschrift Opwaartsche Wegen met het gedicht 'De karrekiet', dat het begin inluidde van een natuurlyrische periode in zijn dichterschap. "Lentezon", zijn eerste bundel, verscheen in 1927. Van 1920 tot 1937 werkte hij bij de Rijkstelegrafie, van 1937 tot 1948 bij de bibliotheek van de Koninklijke Nederlandse Akademie van Wetenschappen. In de periode 1926-1938 was hij ook redactiesecretaris van een protestants-christelijk jongerentijdschrift Het Korenland (1924-1938), gewijd aan cultuur en literatuur, waaraan hij vijfenveertig gedichten, een aantal verhalen en tientallen boekbesprekingen bijdroeg. Behalve aan Het Korenland en Opwaartsche Wegen droeg De Groot ook gedichten bij aan De Werkplaats. Uit zijn vooroorlogse poëzie blijkt een duidelijke verwantschap met de Jong-Protestanten, een groep protestantse dichters en schrijvers die streefden naar een synthese tussen literatuur en christendom. Hun voornaamste vertegenwoordiger was Willem de Mérode. De Groots maatschappelijke en politieke betrokkenheid blijkt overigens uit zijn hele oeuvre. Voor de oorlog waarschuwde hij als een van de eerste dichters tegen het gevaar van nazi-Duitsland. In 1948 werd hij redacteur van Het Vrije Volk in Arnhem en vanaf 1950 tot aan zijn pensionering in 1966 was hij perschef van de aku in Arnhem. Van 1950 tot 1962 was hij secretaris en penningmeester van de Nederlandse afdeling van de internationale auteursvereniging pen.
De inwoner
De herfst kwam onweerhoudbaar in mij aan
en wil, naar ik voorvoel inwonend blijven
ik vraag mij af hoe zal ik hem verdrijven
ik heb geen boodschap aan die veteraan.

Hoe kan ik hem het allerbest beschrijven
dat zelfverzekerd in mij ommegaan
zijn kleuren goud en geel zijn al vergaan
er is geen blad waarop hij nog kan drijven.

De winter staat voor 't raam wit aangedaan
hij is van plan mijn gast uit 't veld te slaan
mijn adem gaat tot bloemenbeeld verstijven

Ik sta verkleumd mijn handen warm te wrijven
Elk weet hij zal zich aanstonds in gaan lijven
in lente waar mijn hart op wacht zal staan.
Mei
Ze liepen lachend door het land,
Een lentedag in Mei.
De blommen glommen in de zon
In frissche groene wei.
En d' ééne hand zocht d' andre hand,
En 't ééne oog, het andre, want
Och, 't was nu eenmaal Mei.
Toen klonk het ernstig vragend:
'Heb jij me lief?'
'Jij mij?'

Ze stoeiden lachend in het land,
Een zonnedag in Mei.
De vogels zongen in de lucht
Hun keeltjes schier voorbij.
En d' eene mond zocht d' andre mond,
Ze vlijden zich op groenen grond.
Och 't was nu eenmaal Mei.
Toen klonk 't ondeugend plagend:
'Ik heb je lief.'
'Jij mij?'

Ze gingen mokkend door het land,
Een Maartschen dag in Mei.
En wind en regen joegen neer,
En sloegen alle blomkes zeer.
Weg was die zonnewei.
Hun voeten stampten op den grond,
De spatten vlogen in het rond.
En geen van twee was blij.
Toen klonk het aarz'lend vragend:
'Heb jij me lief?'
'Jij mij?'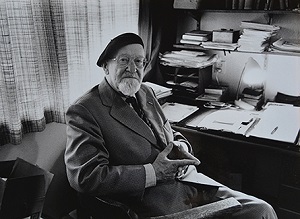 Jan H. de Groot (13 maart 1901 -1 december 1990)
13-03-2017 om 00:00 geschreven door Romenu

Tags:Jan H. de Groot, Romenu


12-03-2017

Jenny Erpenbeck, Dave Eggers, Jack Kerouac, Naomi Shihab Nye, Carl Hiaasen, Edward Albee, De Schoolmeester, Benedict Wells
De Duitse schrijfster en filmregisseur Jenny Erpenbeck werd geboren op 12 maart 1967 in Oost-Berlijn. Zie ook alle tags voor Jenny Erpenbeck op dit blog.
Uit: Aller Tage Abend
"Der Herr hat's gegeben, der Herr hat's genommen, hatte die Großmutter am Rand der Grube zu ihr gesagt. Aber das stimmte nicht, denn der Herr hatte viel mehr genommen, als da war – auch alles, was aus dem Kind hätte werden können, lag jetzt da unten und sollte unter die Erde. Drei Handvoll Erde, und das kleine Mädchen, das mit dem Schulranzen auf dem Rücken aus dem Haus läuft, lag unter der Erde, der Schulranzen wippt auf und ab, während es sich immer weiter entfernt; drei Handvoll Erde, und die Zehnjährige, die mit blassen Fingern Klavier spielt, lag da; drei Handvoll, und die Halbwüchsige, der die Männer nachschauen, weil ihr Haar so kupferrot leuchtet, wurde verschüttet; dreimal Erde geworfen, und es wurde auch die erwachsene Frau, die ihr, wenn sie selbst begonnenhätte, langsam zu werden, eine Arbeit aus der Hand genommen hätte mit den Worten: ach, Mutter, auch die wurde langsam von Erde, die ihr in den Mund fiel, erstickt. Unter drei Händen voll Erde lag eine alte Frau da im Grab, eine Frau, die selbst schon begonnen hat, langsam zu werden, zu der eine andere junge Frau oder ein Sohn manchmal gesagt hätte: ach, Mutter, auch die wartete nun darauf, dass man Erde auf sie warf, bis die Grube irgendwann wieder ganz voll sein würde, und ein wenig voller als voll, denn den Hügel über der Grube wölbt ja der Körper aus, wenn der auch viel weiter unten liegt, wo man ihn nicht mehr sieht. Über einem Säugling, der plötzlich gestorben ist, wölbt sich der Hügel fast gar nicht. Eigentlich aber müsste der Hügel so riesig sein wie die Alpen. Das denkt sie, und dabei hat sie die Alpen noch niemals mit eigenen Augen gesehen.
Sie sitzt auf derselben Fußbank, auf der sie als Kind immer saß, wenn ihre Großmutter ihr Geschichten erzählte. Diese Fubank war das Einzige, was sie sich von der Großmutter für ihren eigenen Hausstand gewünscht hatte. Sie sitzt im Flur auf dieser Fußbank, lehnt sich an die Wand, hält die Augen geschlossen und rührt das Essen und T rinken, das eine Freundin vor sie hingestellt hat, nicht an. Sieben Tage wird sie jetzt so da sitzen. Ihr Mann hat versucht, sie hochzuziehen, aber gegen ihren Willen hat er es nicht geschafft."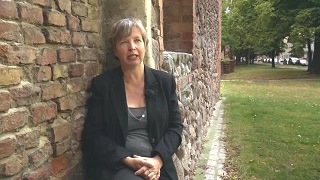 Jenny Erpenbeck (Berlijn, 12 maart 1967)
De Amerikaanse schrijver Dave Eggers werd geboren op 12 maart 1970 in Chicago. Zie ook alle tags voor Dave Eggers op dit blog.
Uit: A Heartbreaking Work of Staggering Genius
"That thing is handy, huh?" I ask my mother, walking past her, toward the kitchen.
"Yeah, it's the cat's meow," she says.
I get a popsicle from the refrigerator and come back to the family room.
They took my mother's stomach out about six months ago. At that point, there wasn't a lot left to remove - they had already taken out [I would use the medical terms here if I knew them] the rest of it about a year before. Then they tied the [something] to the [something], hoped that they had removed the offending portion, and set her on a schedule of chemotherapy. But of course they didn't get it all. They had left some of it and it had grown, it had come back, it had laid eggs, was stowed away, was stuck to the side of the spaceship. She had seemed good for a while, had done the chemo, had gotten the wigs, and then her hair had grown back - darker, more brittle. But six months later she began to have pain again - Was it indigestion? It could just be indigestion, of course, the burping and the pain, the leaning over the kitchen table at dinner; people have indigestion; people take Tums; Hey Mom, should I get some Tums? - but when she went in again, and they had "opened her up" - a phrase they used - and had looked inside, it was staring out at them, at the doctors, like a thousand writhing worms under a rock, swarming, shimmering, wet and oily - Good God! - or maybe not like worms but like a million little podules, each a tiny city of cancer, each with an unruly, sprawling, environmentally careless citizenry with no zoning laws whatsoever. When the doctor opened her up, and there was suddenly light thrown upon the world of cancer - podules, they were annoyed by the disturbance, and defiant. Turn off. The fucking. Light."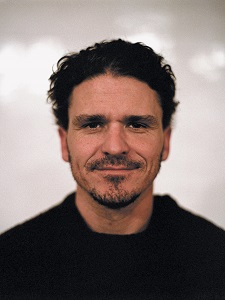 Dave Eggers (Chicago, 12 maart 1970)
De Amerikaanse schrijver Jack Kerouac werd geboren op 12 maart 1922 in Lowell, in de Amerikaanse staat Massachusetts. Zie ook alle tags voor Jack Karouac op dit blog.
Uit:On The Road (Vertaald door Guido Golüke)
'Waarheen?' 'Los Angeles.' De wijze waarop ze 'Los Angeles' zei vond ik prachtig; ik vind de wijze waarop iedereen aan de westkust 'Los Angeles' zegt prachtig; ten slotte is het hun enige gouden stad. 'Daar ga ik ook heen!' riep ik uit. 'Ik ben blij, dot ik bij u mag zitten, ik was erg eenzaam en ik heb al verdomd veel afgereisd.' En we begonnen elkaar uit ons leven te vertellen.
Haar verhaal luidde als volgt: Ze had een man en een kind. De man sloeg haar, dus had ze hem verlaten, daar in Sobinal, ten zuiden van Fresco, en ze ging nu noor Los Angeles om een poosje bij haar zuster te wonen. Hoor zoontje had ze bij haar familie achtergelaten, die druivenplukkers waren en in een hut in de wijngaarden woonden. Ze had niets te doen dan te piekeren en razend te worden. Ik had zo dadelijk mijn armen om haar heen willen slaan. Al kort daarop zei ze dat ze wilde dat ze naar New York kon. 'Dat kunnen we misschien wel!' lk lachte. De bus trok al kreunend de Gropevine Pass door en toen kwamen we in de grote onregelmatig verspreide lichtvlekken terecht. Zonder tot een bepaalde afspraak te komen begonnen we elkaars hand vast te houden en op dezelfde monier werd zonder iets te zeggen het schone en pure besluit genomen dat ze, als ik in Los Angeles mijn hotelkamer had, bij mij zou blijven. Ik hunkerde helemaal van verlangen naar haar; ik leunde met mijn hoofd in haar prachtige haar. Haar schoudertjes maakten me gek; ik knuffelde haar aan één stuk door. En ze vond het heerlijk. 'Ik ben dol op de liefde,' zei ze, de ogen sluitend. Ik beloofde hoor een mooie liefde. Ik vermeide me in haar. Onze verhalen waren verteld, we zonken in stilzwijgend en heerlijke op de gebeurtenissen vooruitlopende gedachten weg. Zo simpel ging het. Hou al je Peoches en Betty's en Marylou's en Rita's en Camille's en Inezsen ter wereld maar; dit was mijn meisje en mijn soort meisjesziel en dat vertelde ik haar ook.Ze bekende dat ze gezien had hoe ik naar haar keek in de bus. 'lk dacht dat je een leuke jongen van de universiteit was.' '0, dat ben ik ook!'verzekerde ik haar. De bus kwam in Hollywood aan. In de grauwe ochtendschemer, als de dageraad waarin in de film Sullivan's Travels Joel McCreo in een eetzaak Veronica Lake ontmoet, sliep ze op mijn schoot. Begerig keek ik naar buiten: de keurig gepleisterde huizen en palmen en drive-ins, het hele waanzinnige gedoe, het slonzige beloofde land, het fantastische einde van Amerika."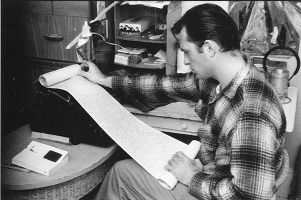 Jack Kerouac (12 maart 1922 – 21 oktober 1969)


De Amerikaanse dichteres en schrijfster Naomi Shihab Nye werd geboren op 12 maart 1952 in St. Louis, Missouri. Zie ook alle tags voor Naomi Shihab Nye op dit blog.
Arabs in Finland
Their language rolls out,
soft carpet in front of them.
Strolling slowly beneath trees,
men in white shirts,
belts, baggy trousers,
women in scarves,
glinting cigarettes in the dusk.
What they left to be here, in the cold country,
where winter lasts forever,
haunts them in the dark -
golden hue of souk in sunlight,
gentle calling through streets that said, brother,
sit with me a minute, on the small stool
with the steaming glass of tea. Sit with me.
We belong together.

Fundamentalism
Because the eye has a short shadow or
it is hard to see over heads in the crowd?
If everyone else seems smarter
but you need your own secret?
If mystery was never your friend?
If one way could satisfy
the infinite heart of the heavens?
If you liked the king on his golden throne
more than the villagers carrying baskets of lemons?
If you wanted to be sure
his guards would admit you to the party?
The boy with the broken pencil
scrapes his little knife against the lead
turning and turning it as a point
emerges from the wood again
If he would believe his life is like that
he would not follow his father into war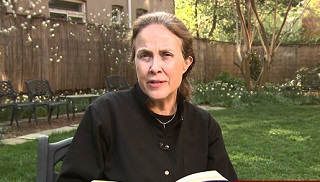 Naomi Shihab Nye (St. Louis,12 maart 1952)

De Amerikaanse schrijver, journalist en columnist Carl Hiaasen werd geboren op 12 maart 1953 in Plantation, Florida. Zie ook alle tags voor Carl Hiaasen op dit blog.
Uit: Skinny Dip
"At the stroke of eleven on a cool April night, a woman named Joey Perrone went overboard from a luxury deck of the cruise liner M.V. Sun Duchess. Plunging toward the dark Atlantic, Joey was too dumbfounded to panic.
I married an asshole, she thought, knifing headfirst into the waves.
The impact tore off her silk skirt, blouse, panties, wristwatch and sandals, but Joey remained conscious and alert. Of course she did. She had been co-captain of her college swim team, a biographical nugget that her husband obviously had forgotten.
The impact tore off her silk skirt, blouse, panties, wristwatch and sandals, but Joey remained conscious and alert. Of course she did. She had been co-captain of her college swim team, a biographical nugget that her husband obviously had forgotten.
Bobbing in its fizzy wake, Joey watched the gaily lit Sun Duchess continue steaming away at twenty nautical miles per hour. Evidently only one of the other 2,049 passengers was aware of what had happened, and he wasn't telling anybody.
Bastard, Joey thought.
She noticed that her bra was down around her waist, and she wriggled free of it. To the west, under a canopy of soft amber light, the coast of Florida was visible. Joey began to swim.
The water of the Gulf Stream was slightly warmer than the air, but a brisk northeasterly wind had kicked up a messy and uncomfortable chop. Joey paced herself. To keep her mind off sharks, she replayed the noteworthy events of the week-long cruise, which had begun almost as unpromisingly as it had ended.
The Sun Duchess had departed Port Everglades three hours late because a raccoon had turned up berserk in the pastry kitchen. One of the chefs had wrestled the frothing critter into a sixty-gallon tin of guava custard before it had shredded the man's jowls and humped snarling to the depths of the ship. A capture team from Broward Animal Control had arrived, along with health inspectors and paramedics. Evacuated passengers were appeased with rum drinks and canapés."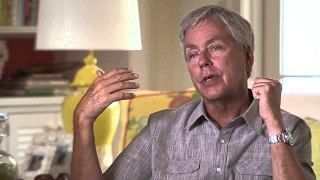 Carl Hiaasen (Plantation, 12 maart 1953)
De Amerikaanse schrijver Edward Albee werd geboren op 12 maart 1928 in Washington DC. Zie ook alle tags voor Edward Albee op dit blog.
Uit: Who's Afraid of Virginia Woolf?
"GEORGE. Well, just stay on your feet, that's all These people are your guests, you know, and
MARTHA. I can't even see you I haven't been able to see you for years
GEORGE. if you pass out, or throw up, or something
MARTHA. I mean, you're a blank, a cipher
GEORGE. and try to keep your clothes on, too. There aren' t many more sickening sights than you with a couple of drinks in you and your skirt up over your head
MARTHA. ….a zero…..
GEORGE. . . . your hair, I should say . .. (The front doorbell chimes.)
GEORGE. Murderously) I'm wally looking forward to this, Martha…
MARTHA. (Same) Go answer the door.
GEORGE. (Not moving.) You answer it.
MARTHA. Get to that door, you. (He does not move.) I'll fix you, you…..
GEORGE. (Fake-spits.) To you (Door chime again.)
MARTHA. (Shouting to the door.) C'MON IN! ( To George, between her teeth.) I said, get over there!
GEORGE. (Moving toward the door.) All right, love whatever… love wants. Isn't it nice the way some people have manners, though, even in this day and age? Isn't it nice that some people won't just come braking into other people's houses even if they do hear some subhuman monster yowling at 'em from inside…
MARTHA. FUCK YOU! (Simultaneously with Martha's last remark, George flings open the frontdoor. Honey and Nick are framed in the entrance. There is a brief silence, then...)"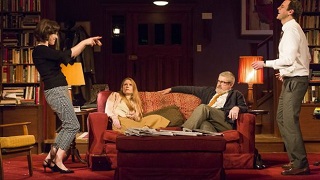 Edward Albee (Washington DC, 12 maart 1928)
Scene uit een opvoering in Dublin, 2016
De Nederlandse dichter De Schoolmeester (Gerrit van de Linde) werd geboren op 12 maart 1808 in Rotterdam. Zie ook alle tags voor De Schoolmeester op dit blog.
Wekkers
In 't onbekende Zuiën,
Waar men onder andere van klokken en pendules niet weet, mitsgaders van 't beieren, kleppen en luien,
Weten de horologiemakers natuurlijk met hun lege tijd geen raad,
En nemen daarom dienst als wekkers ten nutte van de Staat:
En als je dan 's morgens eens heel vroeg klaar wilt zijn, gewassen en geschoren,
Dan wekken ze je gewoonlijk 's avonds te voren.
Brief
Ik schrijf u met een treurend hart:
mijn maag, thans in een strik verward,
die al de slimmigheid der art-
senijkunst en aptekers tart,
is krank, en gans en al bezeerd.
Het stuiversbroodje, onverteerd,
roept luid: 't is alles hier verkeerd!
Terwijl 't kadet, het stuiverskind,
zich even onverteerbaar vindt.
De haas, de vlugge runderhaas,
zegt: deze krankte is mij de baas.
Citroenvla, taart en confituur!
Uw zoetheid walgt mij in dit uur.
Zelfs 't glinstrend klontje op 't theesalet
mij 't hart geheel aan 't draaien zet.
Weg lekkernij uit Oost en West! -
't Ontberend vasten voegt mij best.
O vee, in overvloed gemest!
Uw rundvlees is mij thans een pest,
uw kalfsschijf ben ik walgens moe.
Weg met het vleesprodukt der koe:
weg met de lamsbout en de nier,
de zweezrik, 't borstje, weg van hier!
'k Hou van uw lekkerheid geen zier
en haat thans ieder zoogbaar dier.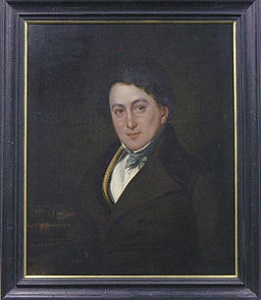 De Schoolmeester (12 maart 1808 – 27 januari 1858)
Portret van Gerrit van de Linde uit zijn studententijd, ca. 1833
Onafhankelijk van geboortedata
De Duitse schrijver Benedict Wells werd geboren geboren in München in 1984. Zie ook alle tags voor Benedict Wells op dit blog.
Uit: Vom Ende der Einsamkeit
"Was folgt. ist dunkles Staunen und ein dichter Nebel. nur selten gelichtet von einigen kurzen Erinnerungen. Wie ich in meinem Zimmer in München stehe und aus dem Fenster sehe. in den Innenhof mit der Schaukel und dem Baumhaus und in das Morgenlicht, das sich in den
Ästen der Bäume verfingt. Es ist der letzte Tag in unserer komplett leergeräumten Wohnung, ich höre Marty nach mir rufen.
-Jules, kommst du?'
Zögerlich wende ich mich ab. Mir geht durch den Kopf, dass ich nie wieder in den geliebten Hof hinaussehen werde, doch ich fühle nichts, nicht mal, dass meine Kindheit vorbei ist.
Kurz darauf die erste Nacht im Internat, als wir zu spät ankommen und ich von meinen Geschwistern getrennt werde. Ich gehe mit dem Koffer den kahlen, rnit Linoleum ausgelegten Gang entlang. der nach Essig riecht, an der Seite eines Erziehers. Er läufl zu schnell. ich falle etwas zurück. Schließlich öffnet er eine Tür. Ein Raum mit drei Betten. zwei davon schon belegt. Die anderen Kinder blinzeln verschlafen. Um sie nicht weiter zu stören, lösche ich das
Licht und ziehe mich im Dunkeln aus. Verstecke ein Stofftier unter meinem Kissen. Als ich in meinem neuen Bett liege, denke ich an meine Eltern und an meine Geschwister, die in der Nähe sind und trotzdem ganz weit weg, und ich weine nicht, nicht eine Sekunde.
Ich erinnere mich auch noch an einen Tag im Winter, einige Wochen später. Ein böiger Wind peitscht über die hügelige, verschneite Landschafi. Ich schließe den Anorak, halte mir die Hand vors Gesicht und stapfe weiter. Meine Nase tropfl, die Schuhe drücken den frischen Schnee platt, es knarzt bei jedem Schritt. Die Kälte ist ein Schock für meine Lungen. Nach einer Stunde setze ich mich auf eine eisige Bank und blicke runter ins Tal. Stumm und fremd wirkt es. Ich stelle mir vor, wie ich hinabspringe, nur wenige Meter über der glitzernden Schneekruste von der Lufl aufgefangen werde, ein atemberaubender Moment."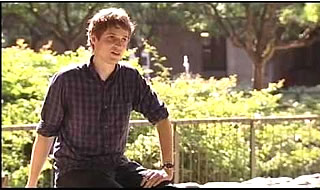 Benedict Wells (München, 1984)
Zie voor nog meer schrijvers van de 12e maart ook mijn vorige blog van vandaag.
12-03-2017 om 12:22 geschreven door Romenu

Tags:Jenny Erpenbeck, Dave Eggers, Jack Kerouac, Naomi Shihab Nye, Carl Hiaasen, Edward Albee, De Schoolmeester, Benedict Wells, Romenu



Kathrin Schmidt, Henrike Heiland, M. A. Numminen, Gabriele d'Annunzio, Irving Layton, Helga Goetze, Françoise d'Eaubonne, Antony Deschamps, Sergej Michalkov
De Duitse dichteres en schrijfster Kathrin Schmidt werd geboren op 12 maart 1958 in Gotha. Zie ook alle tags voor Kathrin Schmidt op dit blog.
Uit: Du stirbst nicht
"Helene spürt eine Hand auf der Stirn. Es ist die von Matthes, sie merkt es, noch ehe sie die Augen geöffnet hat. Matthes sieht nicht zornig aus. Er war sehr oft zornig in den letzten beiden Jahren. Ihr Anblick allein reichte schon aus, ihn in Rage zu versetzen. Aber stimmt das überhaupt? Leise, wie eben geschlüpfte Schlangen, züngelt Unsicherheit. Was gerade wie eine Erinnerung anmutete, kommt ihr in diesem Moment wie ein jäher, plötzlicher und eigentlich unmotivierter Verdacht vor. Hat die Gegenwart sie als Geisel genommen, um die Vergangenheit freizupressen? Aber wer sollte damit zu erpressen sein ... Ihr will niemand einfallen. Die Unsicherheit leckt die Haut der Unterarme, die Härchen stellen sich auf. Sie fröstelt. Nun reicht Matthes' Anblick, sie in Rage zu versetzen: wie verständnisvoll, er auf sie schaut, wie allwissend! Ganz Vater, der sein kleines, unbeholfenes Kind begütigend und mit ebenjenem Hauch Spott auf den Lippen besänftigen will, der das Fass zum Überlaufen bringt. Das Kind windet sich, tritt, schlägt um sich. Der Vater lächelt und hält es fest.
Sie kann nicht ausdrücken, was sie denkt.
Es ist furchtbar, aber sie ist es, die sich windet. Die schlägt."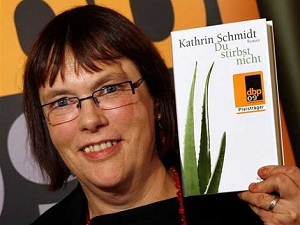 Kathrin Schmidt (Gotha, 12 maart 1958)
De Duitse schrijfster Henrike Heiland werd geboren op 12 maart 1975 in Solms. Zie ook alle tags voor Henrike Heiland op dit blog.
Uit:Schwarzblende
"Niemand lief mit einer Machete durch London.
Abgesehen von den beiden Männern. die gerade an ihm vorbeigingen. Niall lehnte an der Brückenbrüstung. er hatte Fotos von der Stelle gemacht, an der einst der Fluss Eflra in die Themse geflossen war, als sich einer der beiden nach ihm umdrehte. Der Blick des Mannes blieb eine Sekunde zu lang an ihm hängen. Er sah ihn an. auffordemd. so kam es ihm zumindest vor. Vielleicht wollte er ihn provozieren, herausfordern, hey, sieh mal, was wir uns trauen. und niemand hält uns auf. In dieser Stadt, die nicht einmal Mülleimer in der Nähe von Regierungsgebäuden zuließ. aus Angst. jemand könne darin eine Bombe platzieren. ganz so. als sei dies nur in Mülleimern möglich.
Niall hätte eigentlich noch zu tun gehabt. Den Dreh nächste Woche vorbereiten. Sich weiter umsehen. was er filmen wurde. welche Kameralahrten er plante. Welche Motive sich eigneten. Dann einkaufen. nach Hause fahren Eigentlich. Aber jetzt folgte er den beiden. Er war unruhig wegen der Macheten. Und irgendwie auch neugierig. So ein unterirdischer Fluss lief ihm außerdem nicht weg.
Die Männer gingen auf das südliche Themseufer zu. unter der Bahnhrücke durch, bogen links ab, ein Stück am Park entlang. Sie schienen es nicht besonders eilig zu haben. Manchmal kamen ihnen Leute entgegen, aber niemand achtete auf die beiden. Alle richteten ihre Blicke nur auf den eigenen Weg. Auf das eigene Leben.
Schauspieler. dachte Niall. Auf dem Weg zur Probe oder zum Dreh. Aber brachten Schauspieler ihre Requisiten selbst mit? Eine kleine Truppe. vielleicht. Oder Angeber. die etwas beweisen wollten. Eine Mutprobe. Wie bei einem Junggesellenabschied, nur eben nichts Albernes. sondern etwas mit Waffen."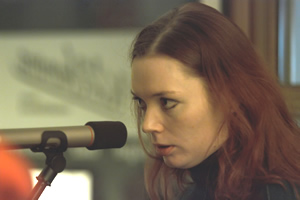 Henrike Heiland (Solms, 12 maart 1975)
De Finse schrijver, dichter, zanger, componist, entertainer en filmmaker Mauri Antero Numminen werd geboren op 12 maart 1940 in Somero. Zie ook alle tags voor M. A. Numminen en alle tags voor Numminen op dit blog.
Uit: Tango ist meine Leidenschaft (Vertaald door Eike Fuhrmann)
"Ich hasse scheußliche Kunststücke, die mich faszinieren, und möchte ungern in den Hosen eines Latino stecken. Was für ein Streß, was für eine Verantwortung. Offenbar müssen die Haare gefettet und nach hinten gekämmt sein, bevor man sich an den Tango macht. Ich finde fettige Haare ekelhaft, außer wenn sie auf natürliche Weise fettig geworden sind. Ein paar Abende war ich mit ungewaschenen Haaren beim Schwof. Und hab trotzdem Tango getanzt. Ein gutes Gefühl, zu zeigen, daß Tangogehen nicht von sauberen Haaren abhängt.
Ich hatte noch nie was mit einer Frau. Mit fünfzehn stieß ich auf Platon. Er sagt, daß die Frau mit vierundzwanzig reif für den Geschlechtsakt ist, der Mann mit fünfunddreißig. Bald werd ich sechsunddreißig und noch immer unberührt sein. Wenn ich das schaffe, bin ich besser als Platon!
Zum Tango braucht man nicht unbedingt eine Frau, mit einem Mann gehts genausogut.
Dann und wann war ich auch schon mal beim Schwulentanz. Aber Männer machen mich nicht an.
Russische Männer tanzen miteinander Krakowiak, und keiner denkt sich was dabei.
In Argentinien haben zuerst nur Männer Tango getanzt. In Finnland können Frauen miteinander tanzen, Männer nicht -normalerweise. Irgendwas ist falsch. Damit mein ich nicht die sexuellen Beziehungen im allgemeinen, sondern meine Gelüste im besonderen. Ich krieg von einem Mann nicht, was ich von einer Frau kriege. So einfach ist das. Mit einem Mann künstlerisch tanzen, kann ich mir vorstellen, sogar Tango. Ich tauge nicht zum Künstler. Manchmal träum ich, ein Künstler zu sein. Das leben des Künstlers ist spannend. Unsicher und großartig."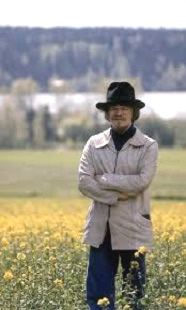 M. A. Numminen (Somero, 12 maart 1940)
De Italiaans schrijver, dichter en politicus Gabriele d'Annunzio werd geboren in Pescara op 12 maart 1863. Zie ook alle tags voor Gabriele d'Annunzio op dit blog.
Uit: The Triumph of Death (The drowned boy, vertaald door Thomas Walsh)
"The sea lay at rest, breathing peacefully, close to the head of the dead child. But the sun blazed fiercely down upon the sand; and something pitiless, emanating from that sky of flame and from those stolid witnesses, seemed to pass over the pallid corpse.
"Why," asked Giorgio, "do you not place him in the shade, in one of the houses, on a bed?
"He is not to be moved," declared the man on guard, "until they hold the inquest."
"At least carry him into the shade, down there, below the embankment!"
Stubbornly the man reiterated, "He is not to be moved."
There could be no sadder sight than that frail, lifeless little being, extended on the stones, and watched over by the impassive brute who repeated his account every time in the selfsame words, and every time made the selfsame gesture, throwing a pebble into the sea:—
"There; only to there."
A woman joined the group, a hook-nosed termagant, with gray eyes and sour lips, mother of the dead boy's comrade. She manifested plainly a mistrustful restlessness, as if she anticipated some accusation against her own son. She spoke with bitterness, and seemed almost to bear a grudge against the victim.
"It was his destiny. God had said to him, 'Go into the sea and end yourself.'"
She gesticulated with vehemence. "What did he go in for, if he did not know how to swim?"
A young lad, a stranger in the district, the son of a mariner, repeated contemptuously, "Yes, what did he go in for? We, yes, who know how to swim—"…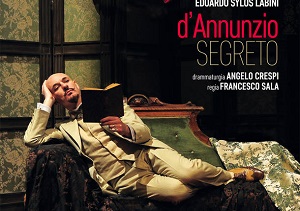 Gabriele d'Annunzio (12 maart 1863 - 1 maart 1938)
Edoardo Sylos Labini als d'Annunzio op een affiche voor "D'Annunzio segreto"
De Canadese dichter en schrijver Irving Layton werd geboren als Israel Pincu Lazarovici op 12 maart 1912 in Tîrgu Neamt, Roemenië. Zie ook alle tags voor Irving Layton op dit blog.
Drill Shed
The passive motion of and
Is fluid geometry. Fir needles
Are the cool, select thoughts of madmen, and
Like a beggar the wind wheedles
Pine cones from the pines.
Inside there's no violence
Only the silence
Of an empty church;
Drilled zngtes shift
From font to foot or lurch
With half-closed eyes against the guns
While the ack-eye shows
With delphic joy
The deeper things a dial sight knows;
Curious now
I marvel how
Lord Buclid's dream
Can stiffen a boy.
Newsboy
Neither tribal nor trivial he shouts
From the city's center where tramcars move
Like Stained bacilli across the eyeballs;
Where people spore in composite buildings
From their protecrive gelatine of doubts,
Old ills, and incapacity to love.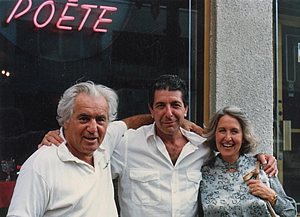 Irving Layton (12 maart 1912 – 4 janauri 2006)
Hier met Leonard Cohen (midden) en Laytons vrouw Aviva
De Duitse dichteres, kunstenares en politiek activiste Helga Goetze werd geboren op 12 maart 1922 in Magdeburg. Zie ook alle tags voor Helga Goetze op dit blog.
Der Alte ist ein Spinner (Fragment)
Zwei Autos, Haus und Hund und Weib,
zwei Söhne so zum Zeitvertreib,
Ingenieur und manche tausend Mark,
dazu fast einen Herzinfakrt.
Und dieser Sohn, der frech und dumm
und läuft mit langen Haaren rum,
geht über seinen Rasen quer
und hört nicht hin und hört nicht her.
Der Vater tritt ihn in den Steiß,
das ist des Vaters Machtbeweis.
Doch dieser Sohn dreht sich nur stumm,
zeigt ihm einen Vogel blöd und dumm
und sagt, wie ihr da oben hört,
nur die zwei Sätze - wie das stört.
Zwei Sätze nur, die schluckt der rein
und muss fortan ein andrer sein.
Sitzt nicht mehr oben riesengroß,
zwei Sätze gaben ihm den Stoß,
dass er so purzelt von der Höh,
tat seinem Ich so mächtig weh.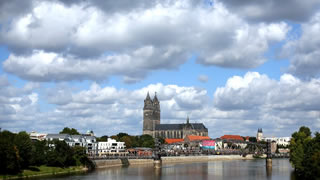 Helga Goetze (12 maart 1922 – 29 januari 2008)
Magdeburg
De Franse schrijfster en feministe Françoise d'Eaubonne werd geboren op 12 maart 1920 in Parijs. Zie ook alle tags voor Françoise d'Eaubonne op dit blog.
Uit: Les Tricheurs
« Bob revit Alain, sa peau hâve, ses dents de loup. Il sourit à cette image plus qu'à sa mère, et sentit la différence entre ce sourire et celui de son camarade.
Si, maman, dit-il très doucement. Une... comment te dire ça ? Une espèce de désespoir... de désespoir métaphysique
Mme Letellier rit comme un oiseau, la main sur le loquet de la porte. Elle n'avait évidemment rien compris et ne cherchait pas à comprendre. Elle lança à son fils:
-T'amusant, ce que tu dis là… et ajouta en sortant:
-Je vais faire ajouter un couvert.
-Prétentieux ! murmura Bernard.
-Ane ! répondit promptement Bob.
Ils s'empoignèœnt un peu, pour se détendre. Quand Bernard en eut assez, il rejeta ses cheveux en arrière et les lissa des deux paumes à la fois, en soufflant. Il était cramoisi, et Bob se montrait tout aussi congesfionné. Bernard ræpirait fort et riait. Tous ses gestes étaient d'un adolescent sans problèmes, bien élevé et plein de santé.
- On s'y met, avant la boufl'e ?Allez, Bob, on s'y met ?
-Oh !dit Bob en levant les épaules, après, avant... ça servira à quoi ?
Bernard le toisa, étonné, puis secoua l'index vers son nez, comiquement, en feignant de loucher comme un clown :
-Toi, je vois ça ! T'as encore réfléchi en te rasant !En avant la faillite des valeurs morales, la crise d'angoisse et le toutim !A nous Sartre etKierkegaard ! Tu devrais te purger.
-Ça ne t'arrive jamais, la crise ? riposta Bob.
-Tout le temps.
Surpris par cette réponse, Bob le regarda plus attentivement. Il achevait de repeigner ses cheveux éboufiffés, renouait sa cravate. Le disque de Mufligan s'arrêta au moment où Bernard terminait sur un ton sérieux, lourd, que Bob ne lui avait jamais encore entendu :
-C'est bien pour ça que je continue. Autrement, je serais devant le trou. Un de ces vides, mon vœux..."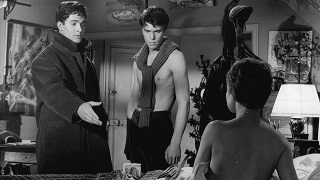 Françoise d'Eaubonne (12 maart 1920 – 3 augustus 2005)
Scene uit de gelijknamige film uit 1958
De Franse dichter en vertaler Antony Deschamps (eig. Antoine-François-Marie Deschamps de Saint-Amand) werd geboren op 12 maart 1800 in Parijs. Zie ook alle tags voor Antony Deschamps op dit blog.
Miserere à la chapelle Sixtine (Fragment)
C'était une musique à nulle autre pareille,
Et par de là les monts inconnue à l'oreille :
De vingt bouches sorti, le son faible en naissant
S'enflait et grandissait comme un fleuve puissant,
Qui, jaillissant ruisseau des flancs de la montagne,
S'épand majestueux à travers la campagne.
Donc, j'entendais grossir l'harmonieuse mer,
Et ses flots isolés en vagues se former ;
Et me laissant bercer à la rumeur sublime,
Pareil au voyageur penché sur un abîme,
Qui lorsque le soleil au fond du gouffre a lui,
Regarde les rochers tourner autour de lui ;
Les genoux frémissans et la tête troublée,
Je n'apercevais plus la pieuse assemblée,
Mes esprits s'envolaient dans le vague emportés,
Et les illusions dansaient à mes côtés
Puis sous les lambris peints d'une couleur étrange,
Je croyais voir passer l'âme de Michel-Ange,
Que ce saint vendredi, jour de la Passion,
Venait se réjouir en sa création,
Et donnant une vie aux voûtes immobiles,
Balançait sur mon front prophètes et sibyles ;
Tandis que sur le mur, son divin monument,
Montaient et descendaient les morts du jugement.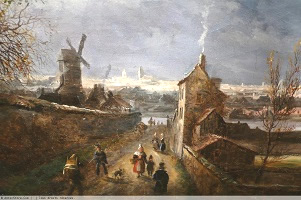 Antony Deschamps (12 maart 1800 - 29 oktober 1869)
Vue de Paris door Louis-Claude Malbranche (1790 - 1838)
De Russische dichter Sergej Michalkov werd geboren op 12 maart 1913 in Moskou. Zie ook alle tags voor Sergej Michalkov op dit blog.
Die Meise im Ausland
Einer Meise, leichten Sinnes, mit Gedanken, die nichts wiegen,
glückt' es einst, im Ausland hin- und herzufliegen.
Sie geriet in die Gesellschaft über See,
trat bei Kakadus des Auslands auf, herrjeh,
und bei Pfau'n mit üppigem Gefieder
fing sie unbegreiflich an (mit Eifer wieder),
schwarz zu malen ihren heimatlichen Wald.
Anteilnahme für die Meise gab es bald:
ach, in ihren heimatlichen Zonen
wollte niemand sie mit Interviews belohnen –
hier dagegen rundherum die fremden Federn krächzen,
Kolibris nach ihren Autogrammen lechzen ...
Und die Meise kreischt: "Ich bin auch überzeugt jetzt,
daß man hier mich nach Verdienst schätzt!"
Und der Atem stockt' in ihrer Kehle von der Schmeichelei,
plötzlich äußerte sie eine Litanei,
daß sogar der Papagei, ein hundertjährger Greis,
ihr sogleich entgegenwarf: "reingefallen auf die plumpste Weis?!"
Ach, du meine Güte, schickt doch nicht auf Reisen
bis ins Ausland solche Art von Meisen.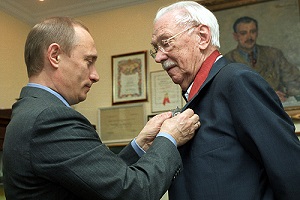 Sergej Michalkov (12 maart 1913 – 27 augustus 2009)
Hier met Poetin bij de uitreiking van de Orde van Verdienste voor het Vaderland, 2003
12-03-2017 om 12:20 geschreven door Romenu

Tags:Kathrin Schmidt, Henrike Heiland, M. A. Numminen, Gabriele d'Annunzio, Irving Layton, Helga Goetze, Françoise d'Eaubonne, Antony Deschamps, Sergej Michalkov, Romenu


11-03-2017

Leena Lehtolainen, Karl Krolow, Daan de Ligt, Frans Vogel, Willem Claassen, Amal Karam
De Finse schrijfster Leena Lehtolainen werd geboren op 11 maart 1964 in Vesanto. Zie ook alle tags voor Leena Lehtolainen op dit blog.
Uit: Das Echo deiner Taten (Vertaald door Gabriele Schrey-Vasara)
"Die Birkenzweige hingen schlaff in der silbernen Vase. Die ersten Blätter waren bereits abgefallen: Im April gab es nur tiefgekühlte Birkenquaste vom vorigen Sommer zu kaufen. Irgendwer hatte ein Stück Fleischwurst auf den Touren-schlittschuh gespießt. Vielleicht gab es ja im Norden noch Eis, auf dem Oberkommissar Jyrki Taskinen das Geschenk zu sei-ner Pensionierung testen konnte. Koivu, Puupponen und ich hatten unserem ehemaligen Chef zum Abschied Schlittschuhe geschenkt. Er hätte von nun an Zeit genug, nicht nur an Ma-rathonläufen, sondern auch an Eismarathons teilzunehmen.
Im Kabinett des Hotels Scandic in Espoo war den ganzen Abend lang keine ausgelassene Stimmung aufgekommen, ob-wohl der Polizeichef und die Vertreter des Personals Taskinen über den grünen Klee gelobt hatten. Ich hatte mich geweigert, eine Rede zu halten. Mit Taskinens Eintritt in den Ruhestand endete gewissermaßen eine ganze Epoche. Er hatte bereits in den 1990er Jahren, als die Espooer Polizei das neue Polizei-gebäude in Kilo bezog, eine Führungsposition gehabt, er hatte die Strukturreformen, Zusammenlegungen und Kürzungen miterlebt und in all dem Trubel seine Untergebenen verteidigt wie ein Löwe. Wie oft hatte er vermittelt, wenn ich mit den höchsten Chefs aneinandergeraten war? Natürlich konnte ich selbst für mich eintreten, aber Taskinens Unterstützung war unersetzlich gewesen. Unsere Freundschaft würde nicht mit seiner Pensionierung enden, doch sie würde eine andere Fär-bung annehmen.
Die Hauptperson des Abends war dabei, sich zu verabschieden, der Polizeichef bestellte ein Taxi. Zwar hatte Tas-kinen erst das Mindestrentenalter für leitende Polizeibeamte erreicht, doch sein Weggang war für manche eine Erleichte-rung. Jeder natürliche Abgang schuf die Möglichkeit, die frei gewordene Stelle zu streichen oder mit einer anderen zusam-menzulegen. Die Bezahlung im Staatsdienst war immer noch mager, aber nicht mehr langfristig gesichert, das Staatsbrot war in Häppchen zerschnitten worden, die man den Hung-rigen jederzeit entziehen konnte."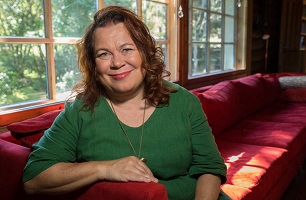 Leena Lehtolainen (Vesanto, 11 maart 1964)
De Duitse dichter en schrijver Karl Krolow werd geboren op 11 maart 1915 in Hannover. Zie ook alle tags voor Karl Krolow op dit blog.
Das Hindernis des Lebens
Das Hindernis des Lebens −
eine beiläufige Notiz Kants.
Man muß auch heute noch
mit bürgerlicher Melancholie rechnen.
In die Nähe von Gärten
gehört der Augenblick der Phantasie:
ein Tulpenbeet, eine Terrasse
mit Mandelbäumen,
während Handlungshemmung
sich fortsetzt.
Schmerz und Gegenschmerz −
mein Herz habe ich allein,
schreibt Werther, wie man
seine konstitutionelle Depression
behält oder
der Einbruch der Nacht
eine Aufhebung von Ordnung
bewirkt.
Es war die Nacht

Es war die Nacht, in der sie nicht mehr lachten,
die Nacht, in der sie miteinander sprachen
wie vor dem Abschied und in der sie dachten,
dass sie sich heimlich aus dem Staube machten,
die Nacht, in der sie schweigend miteinander brachen.

Es war die Nacht, in der nichts übrig blieb
von Liebe und von allen Liebesstimmen
im Laub und in der Luft. Wie durch ein Sieb
fielen die Gefühle: niemandem mehr lieb
und nur noch Schemen, die in der Nacht verschwimmen.

Es war die Nacht, in der man sagt: gestehe,
wasm it uns war. Ist es zu fassen?
Was bleibt uns künftig von der heißen Nähe
der Körper? Es wird kalt. Ich sehe,
wie über Nacht wir voneinander lassen.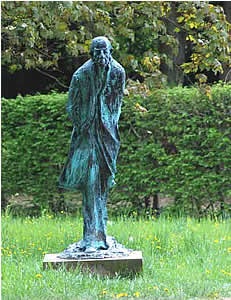 Karl Krolow (11 maart 1915 – 21 juni 1999)
Monument in Darmstadt
De Nederlandse dichter Daan de Ligt werd geboren op 11 maart 1953 in Den Haag. Zie ook alle tags voor Daan de Ligt op dit blog.
Vierluik
I Contactadvertentie

beschaafde heer, wat grijzend langs de slapen
en bovenop de schedel, zeg maar kaal
wel lief, niet noemenswaardig geniaal
de levenslust nog niet op apegapen

geen lichaamsbouw als goedgetrainde knapen
het maandsalaris uitgesproken schraal
de woning, tja … geen villa, meer modaal
de buik is daarentegen welgeschapen

zou graag, omdat het maar niet lukt te sparen
eens kennismaken met een rijke taart
geen kinderen en hogelijk bejaard
derhalve niet van plan nog te verjaren

dus bent u rijk en bijna doodverklaard
dan heb ik tegen trouwen geen bezwaren


II Reactie

Geachte Heer Modaal, hier schrijft een fan
van de contactrubriek in menig krant,
door uw annonce aangesproken want
het toeval wil dat ik van adel ben:

Gravin van-Eberstad-in-Nederland,
al meer dan tachtig, maar nog vlot ter pen,
fortuinlijk, kinderloos, bemind door hen
die willen erven langs groottantes kant.

U zoekt een rijke "taart" die weldra sterft?
Ik wens geen luiaard-in-verfrommeld-pak,
alleen een jonge, energieke vent

die liefst de hele kamasutra kent.
Pas na bewezen diensten op dit vlak
wordt er gehuwd en na verloop... geërfd!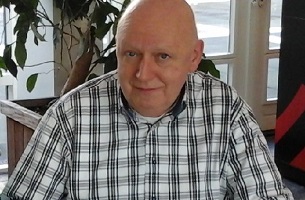 Daan de Ligt (11 maart 1953 – 22 augustus 2016)
De Nederlandse schrijver, dichter, columnist, het fotomodel, de beeldend kunstenaar en copywriter Frans Vogel werd op 11 maart 1935 geboren in Haarlem. Zie ook alle tags voor Frans Vogel op dit blog.
Way back home
(Wo gehen wir denn hin?
Immer nach Hause.
- Novalis)
Ver na middernacht, in het pikkedonker
van doodstil Delfshaven per benenwagen
onderweg naar huis (maison d'être)
passeer ik het café De Grootste Slok -
dat al lang dicht had moeten wezen,
echter (de pleuris voor Peper?) nog volop
in bedrijf is: krijg ter plekke plens
tl-licht over me heen.

Voor de deur
staat een gitzwarte stretch limo,
waar een nogal uitbundig gezelschap
dames & heren ('Emme ga nonnie
naar huis!') wankelend in plaats neemt.

De chauffeur, op het punt
om ook zelf in te stappen,
ontwaart mijn persoon
en roept mij toe (met een stem
die me niks zegt, noch dat ik
's mans verschijning thuis kan brengen),
hij noemt eerst nog mijn voornaam:
'Je had al lang thuis moeten wezen.
Plantjes water geven.'

Verrek. Hoe hij dat wéet.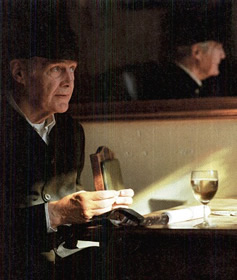 Frans Vogel (11 maart 1935 – 19 februari 2016)
Onafhankelijk van geboortedata:
De Nederlandse schrijver Willem Claassen werd geboren in Beuningen in 1982. Zie ook alle tags voor Willem Claassen op dit blog.
Uit: De koe die over de Waal zwom
"…de andere kant van de boomgaard waar onze hond voor twee dagen in verdween, het blauwe bord met 'Beuningen' waar een flinke deuk in zit, de grote weg waar onze kat werd doodgereden toen we verkleed waren als Zwarte Pieten en de weg overstaken en het zagen gebeuren, de grote weg waar ik tweehonderd meter met de tractor op heb gereden terwijl ik geen rijbewijs had en niet wist hoe ik moest schakelen, de vluchtheuvel, de afslag die ik het vaakst heb genomen, de afdaling die voelt als thuiskomen, de brandnetels, de rotte lucht waarvan ik nooit heb geweten waar die vandaan komt, de reiger naast de sloot, onze oprit, de brievenbus met daarin alleen maar post voor mijn vader, de tuin met aan de rand de knotwilgen, de stal, mijn vader met de hogedrukspuit, de achterdeur, de laarzen en de klompen bij de achterdeur, de mat, de wc, de jassen op de grond onder een veel te volle kapstok, het schilderij van Anton Pieck, de keuken, mijn moeder aan tafel met thee en de koekjestrommel, mijn verhuisdozen in de hoek, mijn broer die uit de computerkamer komt en vraagt: 'Ben je nog niet weg?', mijn gehandicapte zus die uit de woonkamer komt en zegt: 'Ik ben blij als je weg bent', mijn vader die in zijn overall in de deuropening staat en vraagt: 'Ga jij de koeien omjagen? Het is de laatste keer dat je dat kunt doen', en ik die even aarzel, ze alle vier op mij zie wachten, mijn moeder, mijn broer, mijn zus, mijn vader, en dan zeg: 'Ja, da's goed, ik ga ze halen'.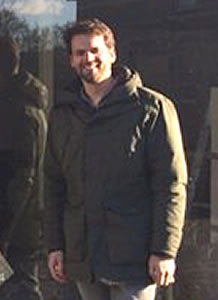 Willem Claassen (Beuningen, 1982)
De Nederlands- Palestijnse dichteres Amal Karam groeide op in Beiroet, Libanon. Op haar achttiende verhuisde ze naar Syrië om Engelse literatuur te studeren. Na haar studie werkte ze als journalist, was ze politiek actief en schreef ze gedichten en verhalen. In 1996 kwam ze als vluchteling naar Nederland. Onder het pseudoniem Ama Karma schreef ze van 2006 tot 2013 wekelijkse columns voor de Gelderlander. In 2012 won Karam met haar gedicht 'De Haatpostbode' de El Hizjra Literatuurprijs voor poëzie. Haar poëzie werd in verschillende verzamelbundels opgenomen en eind 2014 verscheen haar debuutbundel, eveneens De Haatpostbode genaamd. Hierin staan zowel Nederlandse als Arabische gedichten. Naast haar schrijverschap is Karam als docente verbonden aan ROC Nijmegen. Amal Karam is de zevende stadsdichter van Nijmegen.
Haatpostbode
Alle duiven zijn vertrokken
Toen de haatpostbode…
kogels en bommen bezorgde.
Een schok bij het eerste lijk…
Tranen bij het tweede…
Schreeuw je ziel je keel uit…
bij een slachtpartij…
Een stil gebed…
Bij een oorlog.
En je lacht als het stil wordt
Als je nog leeft.
Geen gedicht is een schuilplaats
Geen lied is een schild
De haatpostbode is ontslagen…
Maar hij woont in onze wijk
En als een chronische pijn
In onze stem en gedachten
Hij eet van ons brood…
Drinkt onze thee…
Luistert naar ons zelfde lied.
En lacht ook,
omdat hij nog leeft.
De kogels en de bommen zijn ontvangen
De lijken verzonden
De haatpostbode loopt op straat.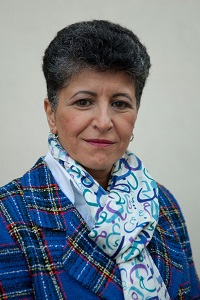 Amal Karam (Beiroet, 1960)
Zie voor nog meer schrijvers van de 11e maart ook mijn vorige blog van vandaag.
11-03-2017 om 11:32 geschreven door Romenu

Tags:Leena Lehtolainen, Karl Krolow, Daan de Ligt, Frans Vogel, Willem Claassen, Amal Karam, Romenu



Ernst Wichert, Douglas Adams, Torquato Tasso, Georg Maurer, Josef Martin Bauer
De Duitse schrijver Ernst Wichert werd geboren op 11 maart 1831 in Insterburg. Zie ook alle tags voor Ernst Wichert op dit blog.
Uit:Der Bürgermeister von Thorn
"In der Marienburg, dem Haupthause des Deutschen Ordens in Preußen, lag im Oktober des Jahres 1449 der ehrwürdige Hochmeister Herr Konrad v. Erlichshausen zum Tode krank. Er hatte schon bei Beginn der Krankheit, die rasch einen schlimmen Verlauf zu nehmen drohte, seine fürstliche Wohnung im Mittelschloß verlassen und die einfacheren, aber wohnlicheren Räume bezogen, die im alten Hochschloß, dem mächtigen Mauerviereck daneben, für die Landmeister des Deutschen Ordens hergerichtet waren, bevor zu Anfang des vierzehnten Jahrhunderts der Hochmeister Siegfried von Feuchtwangen seine Residenz von Venedig an die Nogat verlegte und die Marienburg diesem Zweck entsprechend ausbauen ließ. Er hatte hier auch die Kirche in der Nähe, die der fromme Mann ungern versäumte, solange es ihm noch möglich war, sie auf einem Tragsessel zu erreichen. Jetzt freilich sah er sich schon seit Wochen an sein Schmerzenslager gefesselt.
Es waren nur zwei kleine zellenartige Räume, auf die der Meister sich beschränkt hatte. Wenn auch die Ordensregel ihn nicht hinderte, sich jede seinem fürstlichen Stande angemessene Bequemlichkeit zu gestatten, so liebte er es doch, sich der alten Rittersitte treu zu beweisen und den Brüdern, die zu Abweichungen aller Art nur zu geneigt waren, ein gutes Beispiel von Einfachheit und Mäßigkeit zu geben. Nur schwer und auf dringenden Wunsch der Ärzte hatte er sich entschließen können, ein Federbett anzunehmen und eine wärmere Decke als seinen weißen Mantel über sich breiten zu lassen. Das Holzgestell, auf dem er lag, unterschied sich nur wenig von der Lagerstätte der Konventsbrüder. Die Wände des Schlafzimmers waren aber mit Teppichen behängt und die Steinfliesen mit Matten belegt. Ein Bettschirm von Leder hielt den Zugwind gegen die Tür hin ab, und das hoch angebrachte Fenster in der dicken Mauer war durch einen mit geöltem Pergament überzogenen Rahmen geschlossen, der zwar selbst bei hellem Tage nur spärliches und dämmeriges Licht einließ, aber doch Kälte und Nässe abhielt, über dem Fußende des Bettes hing ein Kruzifix, die treffliche Holzschnitzerei eines deutschen Künstlers, der seine Werkstube in Nürnberg hatte. Auf der Decke lag ein Rosenkranz von großen Bernsteinperlen, ein Geschenk des Paternoster-Gewerks in Danzig. Ein in der Fensternische stehender Lehnsessel von reicher Schnitzarbeit und weich gepolstert, aus den Prunkgemächern des Mittelbaues hierhergebracht, wurde nur noch benutzt, wenn der Kranke umgebettet werden mußte. Ein paar einfache Stühle und Schemel waren für Besuchende bestimmt. Auf einem kleinen Tisch am Kopfende des Bettes hatten Flaschen und Büchsen mit Medikamenten neben einer Lampe und einem Weinkrug Platz. Auch wurde dorthin das Brett mit den Speisen aus der Hospitalküche gestellt, die jedoch der Kranke meist unberührt wieder abtragen ließ. Eine Glocke stand ihm nahe zur Hand."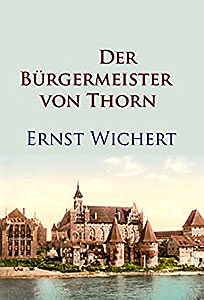 Ernst Wichert (11 maart 1831 – 21 januari 1902)
Cover
De Engelse schrijver Douglas Noel Adams werd geboren in Cambridge op 11 maart 1952. Zie ook alle tags voor Douglas Adams op dit blog.
Uit: The Hitchhikers Guide to the Galaxy
"Trillian read this longingly, but reluctantly decided that Zaphod wasn't really in the right frame of mind for attempting to fly, or for walking through mountains or for trying to get the Brantisvogan Civil Service to acknowledge a change-of-address card, which were the other things listed under the heading "Recreational Impossibilities".
Instead, she flew the ship to Allosimanius Syneca, a world of ice, snow, mind-hurtling beauty and stunning cold. The trek from the snow plains of Liska to the summit of the Ice Crystal Pyramids of Sastantua is long and gruelling, even with jet skis and a team of Syneca Snowhounds, but the view from the top, a view which takes in the Stin Glacier Fields, the shimmering Prism Mountains and the far ethereal dancing icelights, is one which first freezes the mind and then slowly releases it to hitherto unexperienced horizons of beauty, and Trillian, for one, felt that she could do with a bit of having her mind slowly released to hitherto unexperienced horizons of beauty.
They went into a low orbit. There lay the silver-white beauty of Allosimanius Syneca beneath them. Zaphod stayed in bed with one head stuck under a pillow and the other doing crosswords till late into the night.
Trillian nodded patiently again, counted to a sufficiently high number, and told herself that the important thing now was just to get Zaphod talking.
She prepared, by dint of deactivating all the robot kitchen synthomatics, the most fabulously delicious meal she could contrive - delicately oiled meals, scented fruits, fragrant cheeses, fine Aldebaran wines.
She carried it through to him and asked if he felt like talking things through.
– Zark off, - said Zaphod."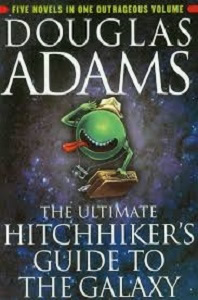 Douglas Adams (11 maart 1952 - 11 mei 2001)
Cover
De Italiaanse dichter Torquato Tasso werd geboren op 11 maart 1544 in Sorrento bij Napels. Zie ook alle tags voor Torquato Tasso op dit blog.
Uit: Jeruzalem bevrijd (Fragment)
O Vader, Zoon en Geest, u riepen ze aan,
en u, Moeder van God en van de mensen,
O Maagd Maria tot wie allen gaan
voor de vervulling van hun diepste wensen
en u, o engelen, die ons bestaan
in drievoud en in negenvoud begrenzen,
en u, o doper, die, zoals 't u paste,
't goddelijke hoofd van de Messias waste.
En u, o steenrots, waarop tegelijk
de hoge Heer zijn kerk en woning bouwde,
waar uw zeer waardige opvolger als blijk
van liefde onlangs nog Gods genade ontvouwde,
en u, apostelen, die 't koninkrijk
van Christus aan de wereld toevertrouwden,
en u, o martelaren, die gedreven
uw leven voor de waarheid hebt gegeven;
en u, kerkvaders, die met pen en tong
ons allen 't rechte pad ten hemel wezen,
en u, tweede Maria, die de sprong
aandurfde naar een wereld boven deze,
en u, nonnen en zusters, die nog jong
door met de Heer te huwen de aarde ontrezen,
en u martelaressen, die geslachten
van koningen en volkeren verachtten.
Vertaald door Frans van Dooren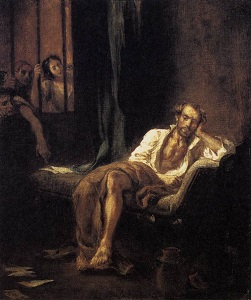 Torquato Tasso (11 maart 1544 – 25 april 1595)
Tasso in het ziekenhuis van St. Anna in Ferrara door Eugène Delacroix, 1839
De Duitse dichter en essayist Georg Maurer werd geboren op 11 maart 1907 in Siebenburgen (Roemenië). Zie ook alle tags voor Georg Maurer op dit blog.
Spätes Aufwachen
Mir geht's schlecht, schlecht geht's mir.
Von diesem Lager erheb ich mich nicht mehr. Vor acht Wochen
da war ich noch ein Kerl. – Aber vor acht Wochen
sagtest du auch, du wärest vor acht Wochen ein Kerl gewesen,
und du stürzst jetzt, wie heute. Was soll ich glauben? –
Alles, was ich sage. Ich spaß nicht. – Ich hol den Arzt. –
Bist du wahnsinnig ? Was soll mir ein Arzt? Die Augen
kannst du mir zudrücken. – Sieh mich mal an. –
Meine Lider sind wie Blei. Ich mag kein Licht sehn,
das ist es ja. Wahrhaftig ich fürcht mich vorm Licht.
Ich könnt mich sterben sehn. Unerträglich. Ich wache lieber
mit geschlossenen Augen. Da kann ich mich konzentrieren.
Solang sich einer konzentriert, stirbt er nicht. –
Dann konzentrier dich. Ich mach währenddes das Essen. –
Aber wenn ich einschlafe und der Tod kommt?
Seit altersher waren sie Brüder und schieben sich gegenseitig
die Menschen zu. Infame Brüder. Richtige Verschwörer.
Ich will nicht schlafen. Dösen, ja! Da wird man wenigstens
nicht so überrascht, – Gut. Ich mach jetzt das Essen. –
Was gibt's denn? – Blumenkohl! – Gut, aber gebacken
und mit Bröseln. Da ist wenigstens noch eine Hoffnung.
Und schau nach Post. – Aber du kannst ja die Augen nicht öffnen. –
Du liest mir vor. Vielleicht schreibt mir einer,
daß ich ein Kerl war. Da stirbt sich's leichter. –
Du brauchst also keinen Blumenkohl mehr? – Was,
die eigne Frau läßt einen verhungern? O Welt, Welt!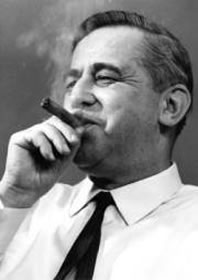 Georg Maurer (11 maart 1907 – 4 augustus 1971)
De Duitse schrijver Josef Martin Bauer werd geboren op 11 maart 1901 in Taufkirchen. Zie ook alle tags voor Josef Martin Bauerop dit blog.
Uit: So weit die Füsse tragen
"Daß die Hölle so schön sein kann!
Das Schreien am Zug entlang ist nicht weniger laut als sonst, und die Türen der Waggons werden nicht freundlicher aufgestoßen. Nach sechsundzwanzig Tagen hat das Ohr unterscheiden gelernt, was für Kernstücke der Schwall rauher russischer Worte hat, und nach dem bloßen Klang verstehen die Männer, deren Leiber beim Aufreißen der Tür durch die Öffnung quellen, daß sie fürs erste die Toten herauszulegen haben, damit man sie abbucht, daß sie Schnee in den Kochtopf fassen dürfen und daß es erlaubt ist, von dem Holzstoß da drüben zu nehmen, zwar nur ein paar Arme voll für jeden Waggon, aber eben doch Holz, nachdem seit neun Tagen der Kanonenofen nicht mehr angeheizt werden konnte.
Vor dem Rechteck der offenen Tür liegt ein sichtig kalter Tag, der mild zum Abendwerden eingerötet ist.
Der Weg in die Ewigkeit hat seine festen Stationen, die schon mit in die Ewigkeit eingeplant sind und keine verlorene, aber auch keine gewonnene Zeit mehr kennen, ob der Zug drei Stunden oder vier Tage hier verhält. Diese Station nun heißt Omsk.
Der Tag der Fahrt ist der sechsundzwanzigste. Aus den Waggons, die der Tod seit dem letzten Anhalten besucht hat, werden die Leichen in den kalten Tag hinausgehoben und an die Böschung eines etwas höher liegenden Nachbargeleises gelegt. Holz wird hereingenommen. Die Handreichungen sind gewohnt und eingelemt. Aber die Stadt jenseits der Toten und der Geleise ist schön: eine von romantisierenden Adventzeichnem auf rosaroten Abendhimmel gemalte und mit Schneebehang überzuckerte Silhouette von Türmen und Hochhäusern".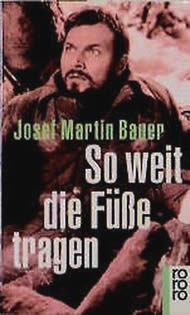 Josef Martin Bauer (11 maart 1901 – 15 maart 1970)
Cover
11-03-2017 om 11:31 geschreven door Romenu

Tags:Ernst Wichert, Douglas Adams, Torquato Tasso, Georg Maurer, Josef Martin Bauer, Romenu


10-03-2017

John Rechy, Joseph von Eichendorff, Hilde Van Cauteren, Jakob Wassermann, Karel van de Woestijne, Chloé Delaume, Friedrich Schlegel, Boris Vian, Manolis Anagnostakis
De Amerikaanse schrijver John Rechy werd geboren op 10 maart 1934 in El Paso, Texas. Zie ook alle tags voor John Rechy op dit blog.
Uit: Bodies and Souls
"Ten days before the slaughter on the freeways, and on an afternoon in late spring, early summer, Orin, Lisa, and Jesse James stood before the gates of an abandoned mansion on Sunset Boulevard in Beverly Hills. Many tourists milled about the notorious house. From behind the elaborate gates, burly guards stares at the game sweaters.
Although unpredictable, June is often murky, even cool; but a Southern California day can go through a mild version of the four seasons-the blue coolness of morning moving to sweaty warmth. Today in that seasonless month, a breeze containing a hint of heat kept the smog against the watery horizon of an azure sky.
"It reminds me of Tara in Gone with the Wind," Lisa said. She had just turned eighteen. She had a prettiness saved from cuteness and nudged toward beauty by a full, sensual mouth.
She had cultivated a crooked half-smile like Lauren Bacall's in To Have and Have Not.
You're crazy," Jesse James laughed. The jagged angles of his twenty-one-year-old face gave him a composite handsomeness his individual features did not possess. Under his cowboy hat, darkish hair licked his forehead. He opened another button of his shirt, exposing his chest to more sun. "Gone with the Wind had tall columns, and it sure didn't have those statues."
Beyond the iron-grill fencing of intricate fleurs-de-lis looping over stone-embossed walls, the mansion is painted green, smeared now by buried smoke. A large tree, killed by fire, lies over a long veranda. Statues of naked bodies line the cracked balustrade. muscular figures of men, curved bodies of women, almost life-size, once painted in flesh tones, with rosy lips and cheeks and eyelashed tinted eyes, and pubic hair, drawn black and realistic. Now the colored bodies are faded; only the painted hair over exposed genitals remains bold and dark. Defiantly the mansion faces the strip of coiffed grass that divides the wide boulevard as it curves and swerves along miles of green, flowered wealth and stops far away in Malibu at the frothing edge of the Pacific Ocean."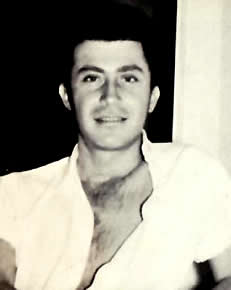 John Rechy (El Paso, 10 maart 1934)
In 1963
De Duitse dichter en schrijver Joseph von Eichendorff werd op 10 maart 1788 op het slot Lubowitz in Ratibor geboren. Zie ook alle tags voor Joseph von Eichendorff op dit blog
Uit: Aus dem Leben eines Taugenichts
"Ich griff nach der Weste; meine paar Groschen, weiß Gott, sie müssen beim Herumtanzen auf dem Wagen aus der Tasche gesprungen sein, waren weg, ich hatte nichts als mein Geigenspiel, für das mir überdies auch der Herr mit dem Stabe, wie er mir im Vorbeigehn sagte, nicht einen Heller geben wollte. Ich sagte daher in meiner Herzensangst zu der Kammerjungfer: ja; noch immer die Augen von der Seite auf die unheimliche Gestalt gerichtet, die immerfort wie der Perpendikel einer Turmuhr in der Halle auf und ab wandelte und eben wieder majestätisch und schauerlich aus dem Hintergrunde heraufgezogen kam. Zuletzt kam endlich der Gärtner, brummte was von Gesindel und Bauernlümmel unterm Bart und führte mich nach dem Garten, während er mir unterwegs noch eine lange Predigt hielt: wie ich nur fein nüchtern und arbeitsam sein, nicht in der Welt herumvagieren, keine brotlosen Künste und unnützes Zeug treiben solle, da könnt ich es mit der Zeit noch einmal zu was Rechtem bringen. – Es waren noch mehr sehr hübsche, gutgesetzte, nützliche Lehren, ich habe nur seitdem fast alles wieder vergessen. Überhaupt weiß ich eigentlich gar nicht recht, wie das alles so gekommen war, ich sagte nur immerfort zu allem: ja – denn mir war wie einem Vogel, dem die Flügel begossen worden sind. – So war ich denn, Gott sei Dank, im Brote.
In dem Garten war schön leben, ich hatte täglich mein warmes Essen vollauf und mehr Geld, als ich zum Weine brauchte, nur hatte ich leider ziemlich viel zu tun. Auch die Tempel, Lauben und schönen grünen Gänge, das gefiel mir alles recht gut, wenn ich nur hätte ruhig drin herumspazieren können und vernünftig diskurrieren, wie die Herren und Damen, die alle Tage dahinkamen."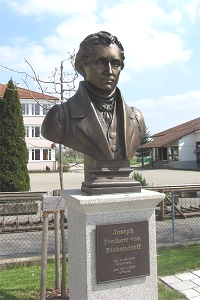 Joseph von Eichendorff (10 maart 1788 – 26 november 1857)
Monument in Eichendorf, Beieren
De Vlaamse dichteres Hilde Van Cauteren werd geboren 10 maart 1967 in Hamme. Zie ook alle tags voor Hilde Van Cauteren op dit blog.
Observatie
Ze draaien rond in hun glazen lokaal,
terwijl god in een hoek zit te gluren.
Hoe de witte flappen van hun jassen
zwierig hun beweging onderstrepen,
het zegt hem niets. Hij leest het happen
van hun lippen, ziet hoe zijn naam
op elke tong verschijnt. Hoe hij alleen
de zaal in puin, een volle ziekenboeg
en alle hens aan dek. Daar is de naald,
daar zijn de lange mouwen. De woede
is voorbij, god reikt sereen zijn handen.
Hij wil alleen nog weten hoe ze vechten
voor hun leven. Wenen ze? vraagt hij.
Of knarsen ze met hun tanden?
Barst
Er zit een barst in ons bestaan,
het is zo duidelijk dat niemand
hem ziet zitten. Iedereen kijkt
iemand anders aan. Een hond
haalt vrolijk een schouderbot
op en plots wil iedereen leren
apporteren. Wat kan een barst
de dartele tweevoeter schelen?
Er zit een barst in ons bestaan,
een camera staat vierentwintig
zeven aan, een waakhond blaft
naar vierentwintig schermen.
Elk scherm vertoont een identieke
barst. Een werkgroep stelt geen
onregelmatigheden vast.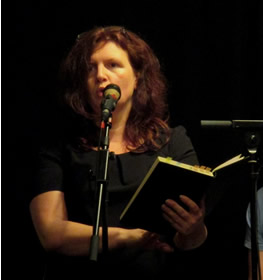 Hilde Van Cauteren (Hamme, 10 maart 1967)
De Duitse schrijver Jakob Wassermann werd geboren op 10 maart 1873 in Fürth. Zie ook alle tags voor Jakob Wassermann op dit blog.
Uit: Caspar Hauser oder Die Trägheit des Herzens (Der fremde Jüngling)
"Welch ein armseliges Ding, sagten die Leute; viele waren der Ansicht, daß man eine neue Spezies entdeckt habe, eine Art Höhlenmensch etwa, und unter den berichteten Seltsamkeiten war nicht die geringste die, daß der Knabe jede andre Nahrung als Wasser und Brot mit Abscheu zurückwies.
Nach und nach wurden die einzelnen Umstände, unter denen der Fremdling aufgetaucht war, allgemein bekannt. Am Pfingstmontag gegen die fünfte Nachmittagsstunde war er plötzlich auf dem Unschlittplatz, unweit vom Neuen Tor, gestanden, hatte eine Weile verstört um sich geschaut und war dann dem zufällig des Weges kommenden Schuster Weikmann geradezu in die Arme getaumelt. Seine bebenden Finger wiesen einen Brief mit der Adresse des Ritt-meisters Wessenig vor, und da nun einige andre Personen hinzukamen, schleppte man ihn mit ziemlicher Mühe bis zum Haus des Rittmeisters. Dort fiel er erschöpft auf die Stufen, und durch die zerrissenen Stiefel sickerte Blut.
Der Rittmeister kam erst um die Dämmerungsstunde heim, und seine Frau erzählte ihm, daß ein verhungerter und halbvertierter Bursche auf der Streu im Stall schlafe; zugleich übergab sie ihm den Brief, den der Rittmeister, nachdem er das Siegel erbrochen, mit größter Verwunderung einige Male durchlas; es war ein Schriftstück, ebenso humoristisch in einigen Punkten wie in andern von grausamer Deutlichkeit. Der Rittmeister begab sich in den Stall und ließ den Fremdling aufwecken, was mit vieler Anstrengung zustande gebracht wurde. Die militärisch gemessenen Fragen des Offiziers wurden von dem Knaben nicht oder nur mit sinnlosen Lauten beantwortet, und Herr von Wessenig entschied sich kurzerhand, den Zuläufer auf die Polizeiwachtstube bringen zu lassen.
Auch dieses Unternehmen war mit Schwierigkeiten verknüpft, denn der Fremdling konnte kaum mehr gehen; Blutspuren bezeichneten seinen Weg; wie ein störrisches Kalb mußte er durch die Straßen gezogen werden, und die von den Feiertagsausflügen heimkehrenden Bürger hatten ihren Spaß an der Sache. »Was gibts denn?« fragten die, welche den ungewohnten Tumult nur aus der Ferne beobachteten. »Ei, sie führen einen betrunkenen Bauern«, lautete der Bescheid."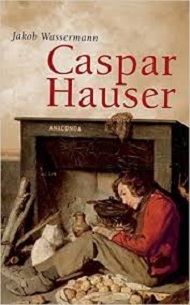 Jakob Wassermann (10 maart 1873 – 1 januari 1934)
Cover
De Vlaamse dichter en schrijver Karel van de Woestijne werd geboren te Gent op 10 maart 1878. Zie ook alle tags voor Karel van de Woestijne op dit blog
Er komt iemand bij mij
Er komt iemand bij mij, die 'k nimmer zag,
en uit-der-mate vriendlijk, die mij zegt:
'Gij weet, ik berg iemand in mijne woon.
Neen: er verbergt zich iemand in mijn woon.
Ik zie hem niet, maar ben in hem begaan.
Ik ken hem, en hij is mijn liefst bezit...'
- Ik durf niet zeggen dat die vreemdling liegt.
Ik durf niet zeggen dat zijn gast de mijne is. Ach!
ik durf niet zèggen dat hij niet bestaat, misschien.

Want hij bestaat in mij.
Een vrucht die valt
Een vrucht die valt...
- Waar 'k wijle in 't onontwijde zwijgen,
buigt statiglijk de nacht zijn boog om mijn gestalt.
De tijd is dood, omhoog, omlaag. Geen sterren rijgen
haar paarlen aan 't stramien der roereloze twijgen.
En geen gerucht, dan deze vrucht, die valt.

Een vrucht.
- En waar ik sta, ten zatte levens-zome,
vol als de nacht, maar even stil; blind als de lucht
hoe rijk ook aan 't verholen licht van mijne dromen,
voel 'k - lomer dan in 't loof der luideloze bomen
een vrucht die valt, - mijn hart, gelijk een vrucht
die valt...
Wat ben ik, dan een vogel
Wat ben ik, dan een vogel in de schemering?...
Ik ben verliefd, o mijne vriende', en, wen ik zing,
hoor ik de avond-dauw uit zware beuken leken
en, dof geplets, de rillend-diepe stilte breken;
en - 't is of mijn geluid in mijne kele breekt...
Ben ik bedroefd? - Hoor hoe een nachtegaalke spreekt
mistroostig en gerust, met droeve en staêge ijver,
gelijk de zang van dwalend-verre schapen-drijver.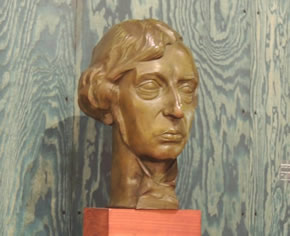 Karel van de Woestijne (10 maart 1878 - 24 augustus 1929)
Portret door Jozef Cantré uit 1935, Koningin Fabiolazaal, Antwerpen
De Franse schrijfster en performance artieste Chloé Delaume werd geboren als Nathalie Dalain op 10 maart 1973 in Parijs. Zie ook alle tags voor Cloé Delaume op dit blog
Uit: Dans ma maison sous terre
« Je suis une fin de règne. Il reste une troisième place. La concession est ainsi faite, urgence et tiercé imposés. Je voulais la rejoindre, j'explique à Théophile, je voulais être contre, déjouer l'ordre établi. Perpétuer l'inversion, être fille et seconde. Sûrement pour la toucher. Encore et malgré tout. Un dernier rapprochement, ultime et terminal, est-ce que vous comprenez, je dis à Théophile, est-ce que vous comprenez même si c'est ridicule. Mon grand-père sur maman c'est tellement dégoûtant, de l'inceste imposé en terreau post-mortem.
Il est mort un 13 mars. J'ai pleuré de dépit. La semaine précédente je m'étais encore ratée, mais là c'était trop tard, l'immonde entre nous deux. Je voulais m'effondrer dans les bras de ma mère ulna radius thorax, résidus végétaux vasculaires. À l'enterrement je me souviens d'une pulsion extrêmement vivace avant que le cercueil ne rejoigne la tranchée. Dans ma poche un couteau, mais je n'ai pas osé. Me donner en spectacle me posait un problème, je redoutais aussi leur interventionnisme. Sein gauche marqué d'une croix j'abandonnais encore une option destinée de crainte de terminer mes jours dans un asile.
Il reste une troisième place et ce n'est pas la mienne, les branches ne s'élaguent pas sans l'accord du grand garde des généalogies. Quand la hache reviendra elle m'ignorera encore. Son manche me chuchotera : la forêt est hantée. Soudoyer le passeur est l'unique solution. Je dois en finir avec ça, je dois en finir avec elle, je dois en finir avec toi. Je vis dans l'ombre d'un deuil qui refermerait Pandore."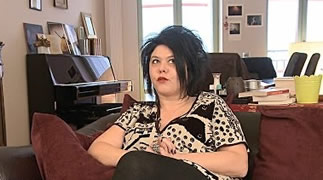 Chloé Delaume (Parijs, 10 maart 1973)
De Duitse dichter, vertaler en filosoof Karl Wilhelm Friedrich von Schlegel werd geboren op 10 maart 1772 in Hannover. Zie ook alle tags voor Friedrich Schlegel op dit blog.
Erstes Sonett
Um meiner Mannheit Tiefgang auszuloten,
Ging ich mit nacktem Glied zu Keuschgesinnten.
Ich glaubte, diese deutlichste der Finten
Sei zwingender als Zahlen oder Zoten.
Ich trat zu Mädchen unversehns von hinten,
Sprach sanft sie an und spielte den Zeloten.
Dann fragt' ich plötzlich, wann sie denn den roten
Gewaltherrn hätten, und wie lang sie minnten.
Sie sehn verdrehten Auges auf den Stecken,
Der ihnen doch galant entgegensteht.
Ich hebe sie, darauf zu stülpsen.
Zuerst wohl würgen, schreien sie, und rülpsen,
Dann fließt die Lust, und alles Weh vergeht.
Bis sie zutiefst gekitzelt drauf verrecken.
Der Sänger
Nimmer wird das Leid geendet,
Dem die Lieder nur gefallen,
Die von ferne leise hallen,
Wo es gern sie hingesandt,
Daß sie wieder zu ihm wallen.
Will mich Gegenwart umfangen,
Schöne Liebe gleich betören,
Muß ich Fernes doch verlangen,
Und nur auf das Echo hören.
So wird nie mein Sinn gewendet,
Wenn er hört die Lieder schallen,
Die von ferne leise hallen,
Wo er gern sie hingesendet,
Saß sie wieder zu ihm wallen.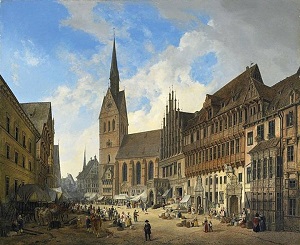 Friedrich von Schlegel (10 maart 1772 – 11 januari 1829)
De Marktkirche in Hannover door Domenico Quaglio, ca. 1832
De Franse schrijver, ingenieur, dichter, zanger en jazztrompettist Boris Vian werd geboren in Ville-d'Avray op 10 maart 1920. Zie ook alle tags voor Boris Vian op dit blog
Pourquoi que je vis
Pourquoi que je vis
Pour la jambe jaune
D'une femme blonde
Appuyée au mur
Sous le plein soleil
Pour la voile ronde
D'un pointu du port
Pour l'ombre des stores
Le café glacé
Qu'on boit dans un tube
Pour toucher le sable
Voir le fond de l'eau
Qui devient si bleu
Qui descend si bas
Avec les poissons
Les calmes poissons
Ils paissent le fond
Volent au-dessus
Des algues cheveux
Comme zoizeaux lents
Comme zoizeaux bleus
Pourquoi que je vis
Parce que c'est joli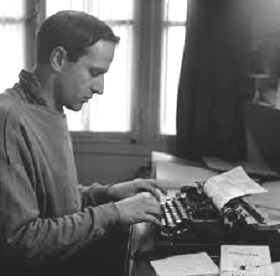 Boris Vian ( 10 maart 1920 - 23 juni 1959)
De Griekse dichter Manolis Anagnostakis werd geboren op 10 maart 1925 in Thessaloniki. Zie ook alle tags voor Manolis Anagnostakis op dit blog.
The decision
Are you for or against?
At least answer with a yes or with a no.
You have thought about the problem
I believe of course it has tortured you
Everything tortures in life
Children women insects
Harmful plants lost hours
Difficult passions rotten teeth
Average films. And this tortured you of course.
So speak with authority then. At least with yes or no.
To you belongs the decision.
We are not asking you anymore to stop
The things you occupy yourself with, to interrupt your life
Your beloved newspapers; the discussions
At the barbershop; your Sundays at the stadium.
One word only. So let's go:
Are you for or against?
Think about it well. I will wait.
Vertaald door Eva Johanos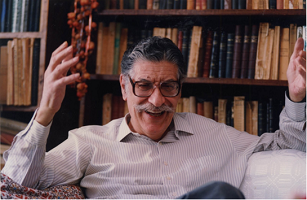 Manolis Anagnostakis (10 maart 1925 – 22 juni 2005)
Zie voor nog meer schrijvers van de 10e maart ook mijn blog van 10 maart 2013 deel 2 en eveneens deel 3.
10-03-2017 om 18:24 geschreven door Romenu

Tags:John Rechy, Joseph von Eichendorff, Hilde Van Cauteren, Jakob Wassermann, Karel van de Woestijne, Chloé Delaume, Friedrich Schlegel, Boris Vian, Manolis Anagnostakis, Romenu


09-03-2017

Peter Altenberg, Ed Hoornik, Peter Zantingh, Heere Heeresma, Vita Sackville-West, Josef Weinheber, Taras Sjevtsjenko, Umberto Saba, Agnes Miegel
De Oostenrijkse schrijver Peter Altenberg werd geboren op 9 maart 1859 in Wenen. Zie ook alle tags voor Peter Altenberg op dit blog.
Uit: Erinnerung
"Ich verstehe das alles nicht von der Kindheit, von diesem Gegensatze nämlich der Kindertage und der späteren. Das verstehe ich nicht. Denn hierin habe ich doch eine Kontrolle, da ich 49 Jahre alt bin und mit 9 Jahren nach Vöslau kam im Sommer. Der Arzt hatte zu meiner wunderbar schönen überzarten Mama gesagt: »Da Sie also Ihren geliebten Gatten während der Sommermonate nicht in Wien für sich einsam arbeiten lassen wollen, andererseits aber Sie und Ihr Söhnchen sehr zart organisiert sind, so rate ich Ihnen dringend zu Vöslau. Es ist trockene staubfreie Luft, stundenlange Tannenwälder, ein Bad von 22 Grad Réaumur, und ihr geliebter Gatte kann jeden Abend hinausgelangen.« Ich lernte das grünbewachsene Geländer des kleinen Bahnhofes damals fanatisch lieben, die lange eigentlich melancholische Bahnhofstraße mit dem braunen Bache, in welchem Wäsche gewaschen wurde oder Enten ein Bad nahmen, das nur die letzte Vorbereitung war zum Abgestochenwerden. Rechts war die riesige Spinnfabrik. Man wußte nichts von ihr, als daß der Direktor ein persönlicher Freund meines Vaters sei. Man war erstaunt, an einem Landaufenthalt eine große Spinnfabrik anzutreffen, mit Gärten und Blumenbeeten und stark vergittert und schweigsam. Man sah Rauch aus langen dünnen Schloten und dachte nicht weiter nach. Dann kam man zum Bade, wo es nach Linden roch und nach den sonngedörrten Planken, die das Bad umfriedeten. Bänke waren da für die Ausruhenden vom Bade, für die Wartenden und Erwartenden. Die graublaue Quelle kam aus dem Innern der Erde und floß über Kieselgrund. Die Natur bot nirgends eine Pracht und Fülle, aber jede Eiche war bekannt und beliebt auf dem schütteren trockenen Wiesengrunde. Im Walde waren Büsche mit roten Beeren, mit schwarzen Beeren und mit hellgrünen Beeren, und Blumen waren nur zu zählen. Die Tannen würzten an heißen Stellen die Luft. Dem Boden fehlte entschieden Wasser, und die angeschnittenen Tannen gaben Harz von sich, ihren Lebensbalsam. »In drei Jahren müssen sie daran zugrunde gehen«, sagte unser Hofmeister, »aber der Herr Baron wird davon leben.« »Es tut ihnen aber wenigstens nicht weh«, erwiderte ich. – »Weißt du es?!« sagte mein geliebter Hofmeister. Bei der »Waldandacht« begann eigentlich erst für mich die Wildnis. Diese Waldschlucht bis Merkenstein kam mir vor wie unentdeckte Wege zum Viktoria-Nyanza. Ich war erstaunt, daß man keine scharfen Beile benötigte, um sich durch undurchdringliches Gestrüppe einen Weg zu bahnen. Immerhin war es eine Waldschlucht, die sich hinzog ins Unendliche. Der Name »Merkenstein«, dort, wo das Tal endete, war wie der Name »Ewigkeit«. In Vöslau selbst liebte ich alles, alles, jeden Gartenzaun, und die Blicke in die trostlose Ebene, wo das Bahngeleise war."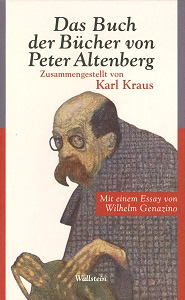 Peter Altenberg (9 maart 1859 – 8 januari 1919)
Cover
De Nederlandse dichter en prozaïst Ed Hoornik werd geboren in Den Haag op 9 maart 1910. Zie ook alle tags voor Ed Hoornik op dit blog en ook mijn blog van 8 december 2006.
Revolutie in het café
Europa is aan Burgos opgehangen,
dat is de zin van 't Reuter-telegram,
dat wij, om middernacht ontvangen,
ontvluchten in een kroeg in Amsterdam.

Over het borrelglas gaan commentaren,
maar geen weet het bevrijdend woord;
het glimlicht in de oude klare
wordt in een wilde teug vermoord.

Dit beeld heeft mij niet losgelaten:
de vriendenschaar, die plotseling zweeg,
en voor de krijtwitte gelaten
het glas: verbijsterend en leeg.
De zwemmer
Hij liep de polders door en zag den plas,
waarop het avondlicht in rimpels vloeide,
waarop een boer, pijp-rookend, huiswaarts roeide,
en eenzaamheid der dingen aanschijn was.

En zich ontkleedend werd hij zelf gewas,
dat vleezig neven riet en andoorn groeide,
waar klaver geurde en de wind licht stoeide,
en vogelroep over de wijdte was.

Hij zwom ver uit, keerde, en liet zich drijven
over het water naar het wolkenland,
hij was hun beider zoon, en wilde blijven.

Maar damp steeg snel, onrust en bangheid kwamen,
wilgen en elzen krompen aan den kant,
een vluchtend grutto riep verwarde namen.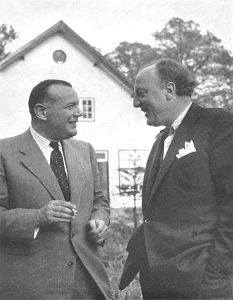 Ed Hoornik (9 maart 1910 – 1 maart 1970)
Hier met uitgever en schrijver Bert Bakker
De Nederlandse schrijver, columnist en blogger Peter Zantingh werd geboren op 9 maart 1983 in Heerhugowaard. Zie ook alle tags voor Peter Zantingh op dit blog.
Uit: De eerste maandag van de maand
"SeQure was een verzekeringsmaatschappij die alleen auto's deed.
Het logo was een getekend lichtblauw autotje met een lijntje eromheen, alsof er een beschermende zeepbel omheen hing. Daaronder de naam. De Q was een van de wieltjes.
We waren een kleine maatschappij, maar wel onderdeel van een van de grootste bankverzekeraars van het land. De verliezen waren een schijntje vergeleken bij de winsten die ze met hun andere bedrijfstakken maakten. Ik had weleens van een collega gehoord dat ze een paar jaar eerder een portefeuille levensverzekeringen hadden overgenomen van een Amerikaanse bank en dat wij alleen al met de rente daarvan overeind gehouden konden worden. We waren het proeflokaal, de speeltuin. Wij mochten struikelen. Het zou weinig uitmaken.
Ik schat dat ongeveer één op de tien mensen op het hoofdkantoor wist dat wij bestonden. Toen ik een vast contract kreeg, moest ik daar een introductiedag doorlopen. Ik was de enige van SeQ1re en moest aan de rest uitleggen wat we deden. 'Alleen auto's,' zei ik. En aan de cursusleider die de naam op een schoolbord geschreven had: 'Het is een Q in plaats van een c. Een hoofdletter Q.`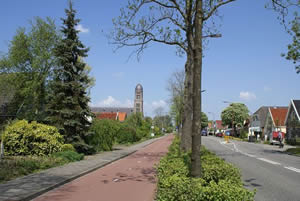 Peter Zantingh (Heerhugowaard, 9 maart 1983)
Heerhugowaard
De Nederlandse schrijver en dichter Heere Heeresma werd geboren in Amsterdam op 9 maart 1932. Zie ook alle tags voor Heere Heeresma op dit blog.
Uit:Bleib Gesund! Brieven
"Aan James Brockway
's-Gravenhage, 18 april '65
Beste
Hoe stom van mij niet veel eerder kontakt met je te hebben gezocht! Nu moet ik schrijven en steeds je antwoord afwachten en hopen dat je de animo kunt opbrengen om me te schrijven. Ik ben weer het slachtoffer geweest van mijn eigen verlegenheid, d.w.z. steeds wanneer mij een feit, een doel, een toestand, iemand mij werkelijk aangaat overvalt me een mentale verlamming. Anders storm ik met een plaat voor mijn kop overal doorheen.
Natuurlijk ga ik volledig met jouw adviezen akkoord wat betreft het proza voor de Engelse lezer. ]e behoeft die adviezen voor mij nooit met redenen te omkleden. Het advies, jouw keuze is mij voldoende.
Ik ben erg blij en ook wel een beetje trots dat je t.z.t. je over mijn werk wilt buigen en ik wilje alle hulp en informatie geven die misschien noodzakelijk is. Geen moeite zal mij hiervoor te veelzijn.
Uit het vervolg van je brief klinkt verbittering. Weinig is zo halsstarrig en moeilijk te verdrijven als de herinnering aan ondervonden onrecht. Vertel mij wat! Vooral wanneer je niet de kans krijgt of de mogelijkheid zich voordoet de situatie te saneren en 'recht' te trekken. Je blijft met een ellendige smaak in de mondholte achter, een smaak die langzaam maar zeker de gele kleur van gal aanneemt en werkelijk je leven verzuurt. Ik zou je saillante voorbeelden 'uit eigen ervaring' kunnen vertellen. Als het maar hielp. Maar het helpt jou niet, evenmin als het mij geholpen heeft. Achterklap, halve waarheden, onbegrip, kwaaddunkendheid, jalousie de metier, verdachtmaking, dat alles in de schemer van het heimelijk gefluister. Dan wordt een gebaar van overtuiging een slag in de lucht, dan wordt een beslissing die getuigt van een totale persoonlijke inzet ridicuul."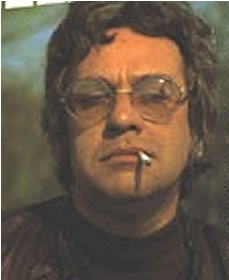 Heere Heeresma (9 maart 1932 – 26 juni 2011)
De dichteres en schrijfster Vita Sackville-West werd geboren op 9 maart 1892 in Kent. Zie ook alle tags voor Vita Sackville-West op dit blog.
Bee-Master (Fragment)
Look, too, when summer hatches out the brood,
In tardy May or early June,
And the young queens are strong in the cocoon,
Watch, if the days be warm,
The flitting of the swarm.
Follow, for if beyond your sight they stray
Your bees are lost, and you must take your way
Homeward disconsolate, but if you be at hand
Then you may take your bees on strangers' land.
Have your skep ready, drowse them with, your smoke,
Whether they cluster on the handy bough
Or in the difficult hedge, be nimble now,
For bees are captious folk
And quick to turn against the lubber's touch,
But if you shake them to their wicker hutch
Firmly, and turn towards the hive your skep,
Into the hive the clustered thousands stream,
Mounting the little slatted sloping step,
A ready colony, queen, workers, drones,
Patient to build again the waxen thrones
For younger queens, and all the chambered cells
For lesser brood, and all the immemorial scheme.
And still they labour, though the hand of man

Inscrutable and ravaging descend,
Pillaging in their citadels,
Defeating wantonly their provident plan,
Making a havoc of their patient hoard;
Still start afresh, not knowing to what end,
Not knowing to what ultimate reward,
Or what new ruin of the garnered hive
The senseless god in man will send.
Still their blind stupid industry will strive,
Constructing for destruction pitiably,
That still their unintelligible lord
May reap his wealth from their calamity.

Vita Sackville-West (9 maart 1892 – 2 juni 1962)
Janet McTeer als Vita (rechts) en Cathryn Harrison als Violet Trefusis in de BBC miniserie "Portrait of a Marriage", 1992
De Oostenrijkse dichter, schrijver en essayist Josef Weinheber werd geboren op 9 maart 1892 in Wenen. Zie ook alle tags voor Josef Weinheber op dit blog.
Herbstzeitlose
Kränklicher Kelch,
steigst in die Welt,
wenn das Jahrblau
rauchigem Rot verfällt.
Ach, wenn es morgen schneit !
Zitternder Hauch !

Zeitloses Leid
weiß um Weisheit auch;
weiß um letztes Licht,
lebt von der Not.
Schicksal schändet nicht:
Groß ist der Tod !

Aber Vergängliches
gibt schmaler Schönheit Kraft,
eh sie ein herbstlicher Stern
ewig entrafft.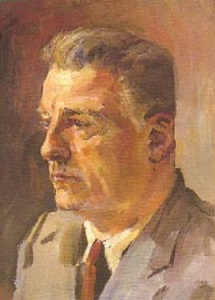 Josef Weinheber (9 maart 1892 - 8 april 1945)

De Oekraïense dichter, schrijver en schilder Taras Sjevtsjenko werd geboren op 9 maart 1814 in Morynzi bij Kiev. Zie ook alle tags voor Taras Sjevtsjenko op dit blog.
It's not that I'm of God complaining
It's not that I'm of God complaining
Or any other person blaming.
I just deceive myself. I trow.
And even sing the while I plow
My pauper field forlorn and fallow!
I sow the word. Good crops will follow
In days to come. Yet will they? No!
Myself alone, I have the feeling,
And no one else am I deceiving...
Unfold, my field, fold in furrows,
Black earth set for seeding!
Hill and valley plowed in furrows,
Sown with seeds of freedom!
Unfold, my field, cultivated.
Green with verdure covered,
With gold grain inseminated,
With good fortune watered!
So unfold in all directions,
Spread, my fertile meadow,
Seeded not with empty gestures
But with wisdom mellow!
Folks will come the crop to garner....
Oh harvest of plenty!...
So unfold, with green be covered,
My field poor and scanty!!
But am I not myself deceiving
With fancies of my own conceiving?
I am! Because it's better so,
To strive, though it should be but vainly,
Than make my peace with bitter foes
And idly keep or God complaining!
Vertaald door John Weir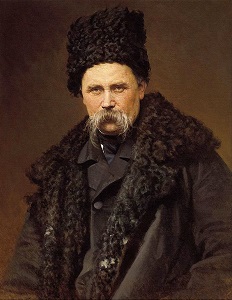 Taras Sjevtsjenko (9 maart 1814 - 10 maart 1861)
Portret door Ivan Kramskoi, 1871 (naar een foto uit 1859)
De Italiaanse dichter en schrijver Umberto Saba werd geboren op 9 maart 1883 in Triëst. Zie ook alle tags voor Umberto Saba dit blog.
The broken pane
It all conspires against you. Nasty weather,
lights that keep going out, and the old house
jolted by every gust. It's dear to you
for what you suffered in it, for the hopes
dashed there, and for a few good times as well.
Survival seems to you a refusal to obey
the way of things.
And in the shattering
of a window pane, you hear a judgment passed.
The sapling
Today is made of rain.
Morning looks like evening,
spring like autumn,
and a great wind is blasting
a sapling that holds—surprisingly—steady;
it stands above the plants like a boy
grown too tall for his green age.
You watch, filled with pity,
perhaps, for all those pale flowers
stripped by the gales; they are fruit,
they are winter's sweet
preserves, those flowers that fall now
to the grass. And you grieve in your vast
maternity.
Vertaald door Geoffrey Brock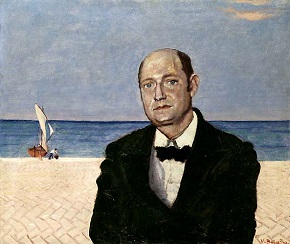 Umberto Saba (9 maart 1883 – 25 augustus 1957)
Portret door Vittorio Bolaffio, 1946
De Duitse dichteres Agnes Miegel werd op 9 maart 1879 in Königsberg geboren. Zie ook alle tags voor Agnes Miegel op dit blog.
Es war ein Land... (Fragment)
Es war ein Land, - der Nebel zog
Wie Spinnweb, das um den Wacholder flog,
Die Birken leuchteten weiß und golden,
Und korallen die schweren Quitschendolden,
Die Eicheln knirschten bei Deinem Gehen
In den harten Furchen der Alleen.
Ein Stern nur blinkte, fern und allein,
Und Du hörtest im Forst die Hirsche schrein
In der kalten Nacht, - der Septembernacht

Es war ein Land, - der Ostwind pfiff,
Da lag es still wie im Eis das Schiff.
Wie Daunen deckte der Schnee die Saat
Und deckte des Elchs verschwiegenen Pfad,
Grau fror die See an vereister Buhne.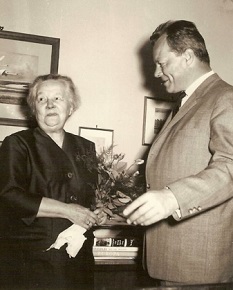 Agnes Miegel (9 maart 1879 - 26 oktober 1964)
Hier met de latere bondskanselier Willy Brandt in 1961
Zie voor nog meer schrijvers van de 9e maart ook mijn blog van 9 maart 2014 deel 2.
09-03-2017 om 18:43 geschreven door Romenu

Tags:Peter Altenberg, Ed Hoornik, Peter Zantingh, Heere Heeresma, Vita Sackville-West, Josef Weinheber, Taras Sjevtsjenko, Umberto Saba, Agnes Miegel, Romenu


08-03-2017

Jeffrey Eugenides, Walter Jens, Hafid Bouazza, A. Marja, Aslı Erdoğan, John McPhee, Mouloud Feraoun, Mechtilde Lichnowsky, Dominic Angeloch
De Amerikaanse schrijver Jeffrey Eugenides werd geboren op 8 maart 1960 in Detroit. Zie ook alle tags voor Jeffrey Eugenides op dit blog.
Uit: The Marriage Plot
"All over College Hill, in the geometric gardens of the Georgian mansions, the magnolia-scented front yards of Victorians, along brick sidewalks running past black iron fences like those in a Charles Addams cartoon or a Lovecraft story; outside the art studios at the Rhode Island School of Design, where one painting major, having stayed up all night to work, was blaring Patti Smith; shining off the instruments (tuba and trumpet, respectively) of the two members of the Brown marching band who had arrived early at the meeting point and were nervously looking around, wondering where everyone else was; brightening the cobblestone side streets that led downhill to the polluted river, the sun was shining on every brass doorknob, insect wing, and blade of grass. And, in concert with the suddenly flooding light, like a starting gun for all the activity, the doorbell in Madeleine's fourth-floor apartment began, clamorously, insistently, to ring.
The pulse reached her less as a sound than as a sensation, an electric shock shooting up her spine. In one motion Madeleine tore the pillow off her head and sat up in bed. She knew who was ringing the buzzer. It was her parents. She'd agreed to meet Alton and Phyllida for breakfast at 7:30. She'd made this plan with them two months ago, in April, and now here they were, at the appointed time, in their eager, dependable way. That Alton and Phyllida had driven up from New Jersey to see her graduate, that what they were here to celebrate today wasn't only her achievement but their own as parents, had nothing wrong or unexpected about it. The problem was that Madeleine, for the first time in her life, wanted no part of it. She wasn't proud of herself. She was in no mood to celebrate. She'd lost faith in the significance of the day and what the day represented.
She considered not answering. But she knew that if she didn't answer, one of her roommates would, and then she'd have to explain where she'd disappeared to last night, and with whom. Therefore, Madeleine slid out of the bed and reluctantly stood up.
This seemed to go well for a moment, standing up. Her head felt curiously light, as if hollowed out. But then the blood, draining from her skull like sand from an hourglass, hit a bottleneck, and the back of her head exploded in pain."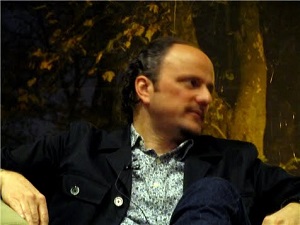 Jeffrey Eugenides (Detroit, 8 maart 1960)
De Duitse schrijver, classicus, literair historicus, criticus en vertaler Walter Jens werd geboren op 8 maart 1923 in Hamburg.Zie ook alle tags voor Walter Jens op dit blog.
Uit: Frau Thomas Mann
"Die vielfach mit den Attributen ‹schön›, ‹klug› und – im Allgemeinen jedenfalls – ‹liebenswürdig› charakterisierte Frau Hedwig war die 1855 geborene Tochter des Schriftstellers und Kladderadatsch
-Redakteurs Ernst Dohm und der Frauenrechtlerin Hedwig Dohm, geb. Schleh. Alfred Prinheim hatte seine spätere Frau als Mitglied des berühmten Meininger Hoftheater-Ensembles, Mitte der siebziger Jahre des 19. Jahrhunderts, kennen gelernt. Aber auch frühere Begegnungen wären – im Zeichen einer dem Dohm'schen Hause und dem jungen Mathematiker gemeinsamen Liebe zur Musik Richard Wagners – durchaus denkbar gewesen. Sowohl Hedwig Dohms Vater wie auch Alfred Pringsheim gehörten zu den frühesten Förderern von Bayreuth und halfen bereits im Jahr 1872 bei der Grundsteinlegung des Festspielhauses. Ernst Dohm war Präsident des Berliner Wagner-Vereins und galt, wie Alfred Pringsheim, als leidenschaftlicher Vorkämpfer des damals so heftig umstrittenen Musikers Richard Wagner. Dieser Umstand verschaffte auch der in Meiningen debütierenden Tochter – wie sie 1930 in einem ihrer für die Vossische Zeitung geschriebenen Feuilletons erzählt – im Sommer 1876 Einladungen ins Haus Wahnfried: «Der Familienkreis machte einen [. . . ] gemütlichen, behaglichen Eindruck. Richard Wagner sprach ein unverfälschtes Sächsisch und erzählte manch lustige Anekdote; Frau Cosima,durchaus grande dame, präsidierte mit Anmut und Sicherheit [. . . ] Die Abendempfänge in Wahnfried aber waren überaus interessant und glänzend; alles, was gut und schön und teuer war, fand sich da zusammen. [. . . ] Ich entsinne mich einer Soirée, in der Franz Liszt, Vater und Schwiegevater des Hauses, wunderbar spielte.»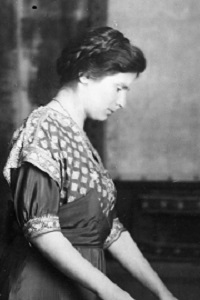 Walter Jens (8 maart 1923 - 9 juni 2013)
De jonge Katia Mann
De Marokkaans-Nederlandse schrijver Hafid Bouazza werd geboren op 8 maart 1970 in Oujda, Marokko. Zie ook alle tags voor Hafid Bouazza op dit blog.
Uit: Paravion (Vertaald door Ira Wilhelm)
"Die Frauen von Paravion zeigten viel nackte Haut, die Palmsprößlinge ihrer durchsichtigen Gliedmaßen und meist bepunkteten Busen waren appetitlich anzusehen und erfüllten die Besucher des Teehauses mit Geilheit und Ekel gleichermaßen. Doch wirklich schamlos waren erst die Wesen im grünen Zentrum von Paravion, dort, wo jegliche Bekleidung verboten zu sein schien. Zum Glück befand sich das Teehaus im Ostteil des Parks, also weit von diesem Ort des Sittenverfalls entfernt.
Gegenüber befand sich die Pizzeria Süzülien, wo die schnauzbärtigen Ober ein merkwürdiges Italienisch sprachen, und wiederum daneben stand ein weiteres Gasthaus, Shalaam - Marijkens Lieblingsrestaurant -, es war auf Falafel spezialisiert. Die Teehäusler unterhielten kaum Kontakte zu den Gästen des Shalaam. Die Bauarbeiter erhoben sich und trugen das Tablett mit der Teekanne und den Gläsern hinein. Pffft, sie seien müde, jetzt erst mal ein kleines Schläfchen, am frühen Nachmittag werden sie wiederkommen, um weiterzuarbeiten. Der Wirt nickte und grüßte zurück. Durch einen Wasserfall bunter Perlen hindurch traten sie auf die Straße. Der Postbote bastelte an seinem Solex herum, wie jeden Tag. In Paravion gab es keine Ersatzteile dafür, und so mußte er sich mit Draht, Bindfaden und sogar Klebeband behelfen. Den Traum, sich ein neues Solex anzuschaffen, hatte er schon längst aufgegeben. Die Marke gab es hier nicht. Und sollte sich sein Solex nur noch auf Krücken vorwärtsbewegen, er würde sich trotzdem nie davon trennen. Er war in Paravion zu einer Sehenswürdigkeit geworden, und man hatte ihm schon viel Geld für seinen fahrenden Untersatz geboten, doch er wollte es nicht verkaufen. Er hätte es zu gern gegen ein anderes Solex eingetauscht, doch das einzige, das er je zu Gesicht bekommen hatte, stand im Schaufenster eines Museums oder einer Kunstausstellung oder in einer ähnlich verrückten Institution, von denen es in Paravion so viele gab."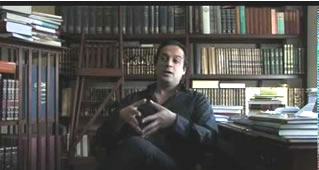 Hafid Bouazza (Oujda, 8 maart 1970)
De Nederlandse dichter en schrijver A. Marja (pseudoniem van Arend Theodoor Mooij) werd geboren in Oude Leije op 8 maart 1917. Zie ook alle tags voor A. Marja op dit blog.
Bekentenis
Je bent nu dood; je geloofde altijd
dat er een hemel was waar je zou leven,
daar woon je nu, en ik ben hier gebleven
en weet niet waar dit eenzaam pad heenleidt.

Een pad? maar dan een dat ik zelf moet banen,
waar ieder helder uitzicht mij ontbreekt;
jij zei altijd: jongen, wat heb je aan een
leven, waarin niet God Zijn woord meespreekt.

Jij hebt nu rust, die ik nergens kan vinden,
misschien ligt het aan mij, misschien aan Hem:
wij luisteren niet naar elkanders stem
en Hij laat Zich en ik laat mij niet binden.

En jij bent dood; - sla je nu toch een brug
tussen Zijn rijk en mijn verwarde wegen?
want telkens aan het eind kom ik jou tegen
en wijs je mij naar 'tzelfde doel terug.
Het kind
aan Martin Leopold
Wie van ons heeft het dromen niet bemind:
te zwerven ver, te wachten op een lied,
dat aanstroomt op de lentewind, dat niet
te grijpen valt, maar ook in ons begint.

Dat ons doorzingt, vervoert naar een gebied
zo wijd en open in die lentewind,
dat ergens in ons aarzelend een kind
mee instemt en de dingen anders ziet.

Maar eenmaal zijn wij blind en blijven staan,
gedwongen tot dat andere bestaan,
waarin niet meer gedroomd wordt of verwacht.

Soms zien wij dan onszelf verwonderd aan,
dat altijd nog hetzelfde hart blijft slaan
nu kind en dromen werden omgebracht.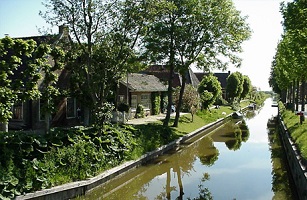 A. Marja (8 maart 1917 – 10 januari 1964)
Oude Leije, de Feinsumer Feart
De Turkse schrijfster, journaliste en natuurkundige Aslı Erdoğan werd geboren op 8 maart 1967 in Istanbul. Zie ook alle tags voor Aslı Erdoğan op dit blog.
Uit: Die Stadt mit der roten Pelerine (Vertaald door Angelika Gillitz-Acar en Angelika Hoch)
"Noch vorgestern hatte sie diese Schüsse bloß als eine weitere Lärmquelle in diesem unablässig dröhnenden Rio angesehen, als eine weitere Störung, die sie daran hinderte, sich auf ihren Roman zu konzentrieren, oder sie glaubte zunächst, sie als solche zu sehen. Bis es mit ihren Nervenzusammenbrüchen losging.
Heute war irgendein Sonntag. Ein ganz normaler Sonntag. Wieder so ein trister, trostloser Tag, der, wie schon die Tage zuvor, ohne irgendeine Hoffnung, Erwartung oder Bedeutung verstrich. Der Tag der Feuerwerke.
Obwohl es erst Anfang Dezember war, hatte sich eine entsetzliche Hitze über der Stadt ausgebreitet, die anschwoll und in Wellen über sie hereinbrach. Die Temperatur sollte nun wochen- und monatelang nicht mehr unter vierzig Grad sinken. Die überall in den Straßen der Stadt angebrachten Thermometer sollten jetzt wie unter der Achsel eines Gelbfieberkranken Werte um die zweiundvierzig Grad anzeigen. Wie im Wahn stürzt sich die Hitze auf die Menschen, drückt ihnen die Kehle zu und raubt ihnen den Atem. Die Stadt verwandelt sich dann in einen riesigen Ofen, in dem die Menschen bei lebendigem Leib langsam schmoren. Die Sonne reißt sich die Maske der freigiebigen Königin, die sie das ganze Jahr getragen hat, herunter und gebärdet sich wie eine mordlüsterne Tyrannin. Die Luft saugt so viel Feuchtigkeit wie möglich auf und kondensiert sie zu Wasser. Die legendäre Feuchtigkeit der Tropen.
Özgürs Unterkunft bestand aus einem Wohnraum, so schmal und lang wie ein Trog, einer Küche, die sie »Gruft« nannte, und einem Bad voller Blutegel, die sie nicht umbringen konnte, weil sie sich so vor ihnen ekelte. Die Wohnung war eine von sechs Appartements einer schneeweißen, mit Säulen und ähnlichem Schnickschnack verzierten Villa, die den hochtrabenden Namen »Villa Branca« trug. Der Abhang ins Tal von Santa Teresa war derart steil, dass sich die hinteren Fenster ebenerdig zu einem Dschungel aus wilden Gräsern und dornigen Sträuchern hin öffneten, während sich der Balkon auf der Vorderseite mindestens drei Meter über dem Boden befand. Durch die Fenster, die wegen der Hitze Tag und Nacht geöffnet waren, drangen Termiten, Eidechsen, Heuschrecken, handtellergroße Kakerlaken und manchmal sogar herrenlose, vom Hunger geschwächte Katzen ein. Auch Özgür war einmal hinausgeklettert und hatte versucht, sich durch diesen Dschungel zu kämpfen, aber sie hatte noch keine zwei Schritte getan, da waren ihre Hände und ihr Gesicht schon völlig zerkratzt."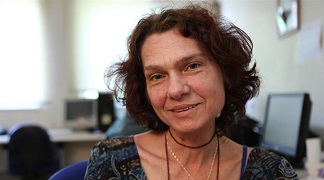 Aslı Erdoğan (Istanbul, 8 maart 1967)
De Amerikaanse schrijver John Angus McPhee werd geboren op 8 maart 1931 in Princeton. Zie ook alle tags voor John McPhee op dit blog.
Uit: Coming into the Country
"We passed first through stands of fireweed, and then over ground that was wine-red with the leaves of bearberries. There were curlewberries, too, which put a deep-purple stain on thehand. We kicked at some wolf scat, old as winter. It was woolly and white and filled with the hair of a snowshoe hare. Nearby was a rich inventory of caribou pellets and, in increasing quantity as we moved downhill, blueberries--an outspreading acreage of blueberries. Bob Fedeler stopped walking. He touched my arm. He had in an instant become even more alert than he usually was, and obviously apprehensive. His gaze followed straight on down our intended course. What he saw there I saw now. It appeared to me to be a hill of fur. "Big boar grizzly," Fedeler said in a near-whisper. The bear was about a hundred steps away, in the blueberries, grazing. The head was down, the hump high. The immensity of muscle seemed to vibrate slowly--to expand and contract, with the grazing. Not berries alone but whole bushes were going into the bear. He was big for a barren-ground grizzly. The brown bears of Arctic Alaska (or grizzlies; they are no longer thought to be different) do not grow to the size they will reach on more ample diets elsewhere. The barren-ground grizzly will rarely grow larger than six hundred pounds.
"What if he got too close?" I said.
Fedeler said, "We'd be in real trouble."
"You can't outrun them," Hession said.
A grizzly, no slower than a racing horse, is about half again as fast as the fastest human being. Watching the great mound of weight in the blueberries, with a fifty-five-inch waist and a neck more than thirty inches around, I had difficulty imagining that he could move with such speed, but I believed it, and was without impulse to test the proposition. Fortunately, a light southerly wind was coming up the Salmon valley. On its way to us, it passed the bear. »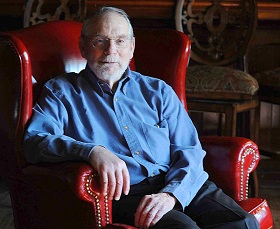 John McPhee (Princeton, 8 maart 1931)
De Algerijnse schrijver Mouloud Feraoun werd geboren op 8 maart 1913 in het bergdorp Tizi Hibel, Kabylie. Zie ook alle tags voor Mouloud Feraoun op dit blog.
Uit:Mon village
«Eh bien ! De tels discours ne me concernent jamais. Non qu'il me tienne en particulière estime ou qu'il me juge différant des autres. Simplement parce qu'il en a assez de me narguer, à force de me revoir. Même si, par extraordinaire, il lui prenait la fantaisie de lire du mépris dans mon regard, il ne ferait que hausser les épaules. Si l'on peut dire.
— Ah ! C'est toi encore ? Pas tant de façon, va ! Tu ne me déranges pas… rentre chez toi en vitesse. C'est au bout, là-bas, le quartier des aît-flane, la ruelle la plus longue, la plus étroite, celle où les maisons ressemblent à des cages aux barreaux de bois parce que chacun a tenu à s'isoler une cloison de piquets. Je sais que tu n'es pas fier. Tu peux lorgner mon agoudou* et constater qu'il a raisonnablement grossi. Tu verras aussi la murette qui protégeait la maison de votre vieille voisine : Elle s'est effondrée l'hiver dernier mais on l'a rafistolée à l'aide de roseaux… Ne t'inquiète pas, il y a encore assez de boue dans les rues pour maculer tes chaussures cirées et même le bas de ton pantalon. Pas seulement de la boue, d'ailleurs. Quand tu viendras t'asseoir sur les dalles de tajmaat*… Il me murmure ces petites méchancetés d'un ton si amical qu'il réussit chaque fois à me troubler. Alors il se tait sur un bout de phrase et me laisse tranquille. Mais mon trouble je le lui cache et je lui dis avec malice :
— Tu radotes, vieux père ! J'ai bien remarqué que tu te modernises. Cette route arrive au cimetière, on l'a retouchée aussi. Ce n'est pas mal. Elle est de bonne largeur et caillassée. Tu en es un peu fier, avoue-le. Voilà un garage qui n'existait pas l'an dernier. Et à côté, il y a un pressoir à huile, ainsi qu'un moulin à grain avec son bruit de motocyclette."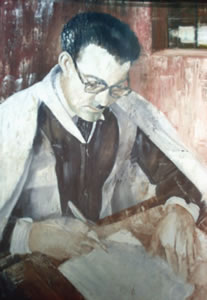 Mouloud Feraoun (8 maart 1913 – 15 maart 1962)
De Duitse schrijfster Mechthilde Christiane Marie Gravin von und zu Arco-Zinneberg, beter bekend als Mechtilde Lichnowsky, werd geboren op geboren op 8 maart 1879 op slot Schönburg. Zie ook alle tags voor Mechtilde Lichnowsky op dit blog.
Uit: Gott betet
"Ich beuge mein Haupt in vollkommener Liebe zu Dir, o Mensch, ich beuge es, denn ich fühle kein Leid.
Du aber lebst davon und erfandest die Freude.
Ich bete zu Dir. Das ist die vollkommene Liebe.
Ich erflehe nichts. Deine Arbeit erwarte ich nicht.
Ich klage mich nicht an. Der Strom meiner Liebe zu Dir ist einer Säule gleich, fließend und unbewegt.
Beten ist Lieben. So bete ich Dich an. So bete ich zu Dir, lieber Mensch, denn Du bist allgütig und unsichtbar.
Wer weiß von Dir?
Du selbst nicht. Und die andern nicht.
Du siehst Dich nicht. Du atmest den Wohlgeruch nicht, der aus der Tiefe Deines Seelenkelches zu mir dringt.
Schöner warmer Kelch. Dein Leben perlt an den goldenen Wänden.
Und außerhalb des Bechers steht ein kühler Schweiß, der mich erbarmt.
Ich trinke Dich zur Neige in vollkommener Liebe.
Du liebst meine Geschöpfe. Ich fühle es, wenn ich Dich trinke.
Du fandest eine Sprache im Wind, den ich rief um meine Welt zu trocknen, als ich sie schuf. Ich höre Deine Musik, wenn ich Dich trinke.
Du griffst nach meinen Sonnenstrahlen, die ich brach zu Deinem Spielzeug. Ich begrüße die tausend Farben in Dir, wenn ich Dich trinke."

Mechtilde Lichnowsky (8 maart 1879 - 4 juni 1958)
Onafhankelijk van geboortedata:
De Duitse dichter, schrijver en literatuurwetenschapper Dominic Angeloch werd in 1979 in Stuttgart geboren. Zie ook alle tags voor Dominic Angeloch op dit blog.
Uit: Blinder Passagier
"Über dir eine Lei$te goldgerahmter Spiegel. vor dir die schwarze Tischfläche. auf der ein Brotkriimel liegt. Nach einer Weile verschwindet der Krümel unter der Speisekarte, die dir die irgend wie auch glatzköplige Hand des Kellners zuschiebt. "Ein Glas Bier, bitte": Als du aulhlickfst, siehst du diese neblige Kugel '.Bitte" durch den Raum zwischen dir und dem Kellner wabern. einen Moment seine Glatze einhüllen ... und an jenem "Sofort" zerplatzen, das der Kellner durch ein bedauerndes Lächeln drückt.
Dann gelingt es dir nur noch mit Mühe. deinen immer schwerer werdenden Kopf aufrecht zu halten. Als du der immer stärrkeren Versuchung, ihn nur ein wenig zu senken, nachzugeben beginnst, versagen dir für einen Augenblick die Nackenmuskeln - so daß dein Kopf fast auf die Speisekarte fällt, abgestützt allenfalls noch durch die Buchstaben dazwischen:
Viktoriabarsch in Buttersauce mit Siedekartofleln- Lachsfilet am Kaviarschmand mit frischem Baguette. Gebratene Hähnchenbrust auf Blattsalaten der Saison in Kräuter vinaigrette, Lammhäxle in Paprikasud an Serviettenknödeln. Zwiebelrostbraten in Rotweinsauce mit hausgemachten Spätzle. Marillenknödel mit Vanillesauce, Vanifleeis mit heißen Himbeeren.
Ein ganz schönes Brimborium, denkst du. diese Wirbel, diese Schnörkel, diese Unteriängen - und als der Kellner wieder am deinen Tisch herantritt und die Haut seiner nackten Stirn so zusammenzieht, daß sich die buschligen Augenbrauen leicht auf und ab bewegen, weißt du aufeinmal, daß die Handschrift auf der Speisekarte niemandes anderen Handschrift sein kann als die seine. Du gibst die Karte nebst einer Bestellung an den Kellner zurück und schließt die Lider:-"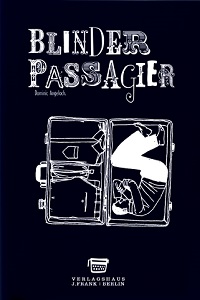 Dominic Angeloch (Stuttgart, 1979)
Cover
Zie voor nog meer schrijvers van de 8e maart ook mijn blog van 8 maart 2015 deel 2.
08-03-2017 om 16:30 geschreven door Romenu

Tags:Jeffrey Eugenides, Hafid Bouazza, Walter Jens, A. Marja, Aslı, Erdoğ,an, John McPhee, Mouloud Feraoun, Mechtilde Lichnowsky, Dominic Angeloch, Katia Mann, Thomas Mann, Romenu



Cándani
De Surinaamse schrijfster Cándani werd geboren in District Suriname op 8 maart 1965. Cándani betekent in het Sarnami: "Esthetica van de maan". Vanaf 1982 tot 2007 was Cándani het pseudoniem van Asha van den Bosch-Radjkoemar. Cándani debuteerde in 1990 met een dichtbundel in het Sarnami en het Nederlands: "Ghunghru tut gail/De rinkelband is gebroken" in 1990. De bundel werd uitgebracht door de Volksboekwinkel (Paramaribo) en het NBLC (Den Haag) en de auteur kwam voor de presentatie naar Nederland. Zij ging niet meer terug naar haar geboorteland vanwege de familieomstandigheden daar. Zij was als illegaal in Nederland en kwam terecht bij Scientology. Wel ging zij door met publiceren. Na Cándani's debuutbundel volgden haar eveneens tweetalige bundel "Ghar ghar ke khel/Het spel van huisje huisje" (2002) en de Nederlandstalige bundels "Vanwaar je dacht te vertrekken sta je geplant" (1993), "Zal ik terugkeren als je bruid" (1999) en "Een zoetwaterlied" (2000). Zij schreef ook twee romans, "Oude onbekenden" (2001) en "Huis van as" (2002) waarin de zoektocht naar het verleden en het antwoord op de vraag wie-ben-ik geplaatst wordt binnen de historische context van de hindostaanse migratie en hermigratie naar Nederland. "Geef mij het land dat in jou woont" (2004) is een historische dichtbundel over de geschiedenis van Suriname. Na jarenlang stilzwijgen trad zij in juni 2013 weer naar buiten, nu met schilderijen die zij maakt onder de naam Saya D.L. Amores.
Uit: Relaas voor S.
"Je kijkt naar de planken muren zonder iets te zien. Je praat zonder je eigen stem te horen. Jij beseft onze realiteit en denkt dat ik niets begrijp. Maar ik begrijp jou, je vraagt naar de man die geen vaderschap over jou verdient. Je wilt veel weten. Vol verwachting kijk je naar mij op alsof ik je een sprookje ga vertellen. Ik wil het wel maar kan het niet. Het valt buiten ons boek.
Het leven gaat langzaam. Ik weet me geen raad in dit kleine huis. Ik heb geen kracht om wat te doen. Het vaatwerk wacht op mij. Mijn boeken en schriften liggen overal. Ik heb geen eetlust; jij dwingt me om te eten. Zèlf wilde je kerrie-ei en ik kan je niets weigeren. Na het eten blijf je op mijn schoot spelen. Na vijf minuten zet ik je in bed. Nu slaap je.
Ik ga terug naar de keuken, zak op een stoel naast de door mij in elkaar gespijkerde tafel. Het vieze, kleine hok staart naar mij. Ik val in slaap, maar na een uur maken mijn vrienden, de muskieten, mij wakker. De ramen staan nog open, de stroom is uitgevallen. Ik kijk naar de overkant, daar brandt wel licht, dus iemand heeft mijn zekering weggehaald. Morgen naar de ebs om voor tien gulden een nieuwe te halen. In het donker tast ik naar de aansteker en probeer het gas aan te maken. Het lukt niet, de gasbom is dus ook verdwenen. Goed, maar laat die dieven niet in mijn huis komen, ik kap ze aan stukken.
Gisteravond voelde ik me beroerd. Telkens schrok ik wakker. Wat heb ik misdaan? Ik ben bang. Alsof de dood mij elk moment wil versieren. Ik wil niet dood. Niet nu. Van jou maak ik een geëmancipeerde, zelfstandige vrouw. Mijn maag was opgezwollen van de zenuwen, maar omdat de bussen staakten kon ik niet direct naar de dokter.
Vanochtend vroeg heb ik je gewassen en gekleed. We zijn samen naar de dokter geweest. Ik wist niet waar ik moest kijken in de kale behandelkamer. Je zeurde en zat overal aan. Er lag een bloeddrukmeter. Hé, dacht ik, ik moet mijn kindertijd inhalen. Ik pakte het apparaat, draaide het stoffen gedeelte om mijn arm en pompte het op. Plotseling kwam de dokter binnen.
'Hallo meisje', zei hij, wat doe je?' Hij is heel jong.
'Dokter', viel ik met de deur in huis, 'ik heb altijd 't idee gehad dat u oud was.' 'Waarom?' vroeg hij.
'Omdat u zo'n groot huis hebt. Vanwaar hebt u het geld gediekt?'
'O, dat heb ik gestolen', zei hij en hij lachte. 'Wat scheelt je?'
Toen ik wegging - de arts schreef me kalmeringstabletten voor - vroeg ik: 'Dokter, u zei dat ik een man moet nemen, heeft u broers?'
'Ja', zei hij.
'Goed, stuur ze dan maar, ik zal met ze trouwen.'
'Maar ze zijn allemaal ouder dan ik en ze wonen in Nederland.' Van ergens dook een assistente op."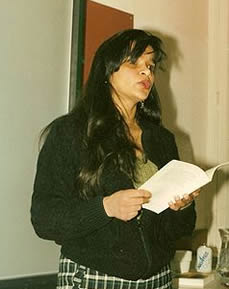 Cándani (District Suriname, 8 maart 1965)
In 1992
08-03-2017 om 00:00 geschreven door Romenu

Tags:Cándani, Romenu


07-03-2017

Bret Easton Ellis, Robert Harris, Jürgen Theobaldy, Georges Perec, Abe Kōbō, Reinhard Kaiser, Manfred Gregor, Jan Frederik Helmers, Alessandro Manzoni
De Amerikaanse schrijver Bret Easton Ellis werd geboren op 7 maart 1964 in Los Angeles. Zie ook alle tags voor Bret Easton Ellis op dit blog.
Uit: American Psycho
"ABANDON ALL HOPE YE wno ENTER HERE is scrawled in blood red lettering on the side of the Chemical Bank near the corner of Eleventh and First and is in print large enough to be seen
from the backseat of the cab as it lurches forward in the traffic leaving Wall Street and just as Timothy Price notices the words a bus pulls up, the advertisement for Les Mirémbles on its side blocking his view, but Price who is with Pierce 5: Pierce and twenty-six doesn't seem to care because he tells the driver he will give him five dollars to turn up the radio, "Be My Baby" on WYNN, and the driver, black, not American, does so.
"I'm resourceful," Price is saying. "I'm creative, I'm young, unscrupulous, highly motivated, highly skilled. In essence what I'm saying is that society cannot afford to lose me. I'm an asset."
Price calms down, continues to stare out the cab's dirty window, probably at the word FEAR sprayed in red grafiti on the side of a McDonald's on Fourth and Seventh. "I mean the fact remains that no one gives a shit about their work, everybody hates their job, I hate my job, you be told me you hate yours. What do I do?
Go back to Los Angeles? Not an alternative. I didn't transfer from UCLA to Stanford to put up with this. I mean am I alone in thinking we're not making enough money?" Like in a movie another bus appears, another poster for Les Misérables replaces the word-not the same bus because someone has written the word DYKE over Eponine's face. Tim blurts out, "I have a co-op here. I have a place in the Hamptons, for Christ sakes."
Parents', guy. It's the parents'."
"I'm buying it from them. Will you fucking turn this up?" he snaps but distractedly at the driver, the Crystals still blaring from the radio.
"It don't go up no higher," maybe the driver says.
Timothy ignores him and irritably continues. "I could stay living in this city if they just installed Blaupunkts in the cabs.
Maybe the ODM III or ORG ll dynamic tuning systems?" His voice softens here. "Either one. Hip my friend, very hip."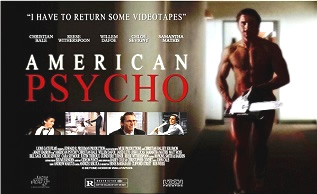 Bret Easton Ellis (Los Angeles, 7 maart 1964)
Affiche voor de gelijknamige film uit 2000
De Britse schrijver en journalist Robert Dennis Harris werd geboren op 7 maart 1957 in Nottingham. Zie ook alle tags voor Robert Harris op dit blog.
Uit: Conclaaf (Vertaald door Reintje Ghoos en Jan Pieter van der Sterre)
"Even voor tweeën in de ochtend verliet kardinaal Lomeli zijn appartement in het Paleis van het Heilig Officie en liep haastig door de donkere kloostergangen van het Vaticaan naar het slaapvertrek van de paus.
Onderweg bad hij: O Heer, hij heeft nog zoveel te doen, terwijl al mijn nuttige werk in dienst van U voltooid is. Hij is geliefd, terwijl ik vergeten ben. Spaar hem, Heer. Spaar hem. Neem mij in zijn plaats.
Moeizaam liep hij over de kasseien omhoog naar de Piazza Santa Marta. De Romeinse lucht was zacht en heiig, maar hij bespeurde de eerste vage kilte van de herfst erin. Het regende licht. Aan de telefoon had de prefect van het Pauselijk huis zo panisch geklonken dat Lomeli verwachtte op een infernaal tafereel te zullen stuiten. Maar het bleek ongewoon stil op de piazza, afgezien van een eenzame ambulance, die op een discrete afstand stond geparkeerd en waarvan het silhouet zich aftekende tegen de met schijnwerpers verlichte zuidkant van de Sint-Pieter. In de ambulance brandde licht, de ruitenwissers zwiepten heen en weer, en van dichtbij kon hij de gezichten van de chauffeur en zijn bijrijder onderscheiden.
De chauffeur zat te telefoneren met een mobieltje en er ging een schok door Lomeli heen toen hij besefte: ze zijn niet gekomen om een zieke naar het ziekenhuis te transporteren, ze zijn gekomen om een lijk te halen.
Bij de ingang van Casa Santa Marta salueerde de Zwitserse wacht door een witgehandschoende hand naar een helm met rode veren te brengen. 'Eminentie.'
Knikkend naar de auto zei Lomeli: 'Wilt u er alstublieft voor zorgen dat die man niet met de media belt?'"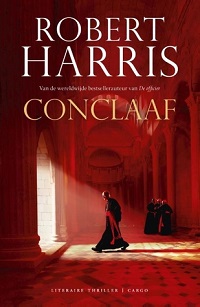 Robert Harris (Nottingham, 7 maart 1957)
Cover
De Duitse dichter en schrijver Jürgen Theobaldy werd geboren op 7 maart 1944 in Straatsburg. Zie ook alle tags voor Jürgen Theobaldy op dit blog
Uferweg
Im Kopf wehrt sich das Saxophon zu klagen,
Der Wind wirft Wellen in mein Tagebuch.
Die alten Freunde, früher suchten sie
bis in die Nacht hinein nach neuen Quellen.
Am Wasser glimmen Lichter aus dem Dunst.
Die Blätter wieder unten wie das Wild,
ihr Teppich schwankt, ich trete ein.
Gestocktes Blut in den Vitrinen des Lokals.
Das Schöne lieben? Oder schönes Lieben?
Am Nachbartisch die toten Spötter warten.
Kleine Herberge
Selbst wer nichts sucht,
wird hier das Eine finden,

spricht das Gästebuch zu mir,
für Sie und Ihn, auf Englisch.

Rhetorik zahlt keinen Aufschlag
auf die Nacht im leeren Zimmer,

den Badezuber mit dem heißen Wasser,
hinten im Verschlag im Garten,

auf das linde Sternenmoos,
den glimmend kalten Ahorn

und die Steinlaterne
im Licht elektrischer Monde.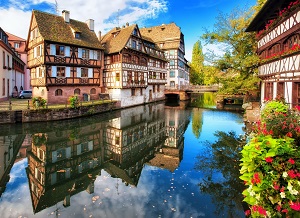 Jürgen Theobaldy (Straatsburg, 7 maart 1944)
Straatsburg, de wijk "La Petite France"
De Franse schrijver Georges Perec werd geboren op 7 maart 1936 in Parijs. Zie ook alle tags voor Georges Perec op dit blog.
Uit: Les choses
"Depuis plusieurs années déjà, les études de motivation avaient fait leur apparition en France. Cette année-là, elles étaient encore en pleine expansion. De nouvelles agences se créaient chaque mois, à partir de rien, ou presque. On y trouvait facilement du travail. Il s'agissait, la plupart du temps, d'aller dans les jardins publics, à la sortie des écoles, ou dans les H.L.M. de banlieue, demander à des mères de famille si elles avaient remarqué quelque publicité récente, et ce qu'elles en pensaient. Ces sondages-express, appelés testings ou enquêtes-minute, étaient payés cent francs. C'était peu, mais c'était mieux que le baby-sitting, que les gardes de nuit, que la plonge, que tous les emplois dérisoires - distribution de prospectus, écritures, minutage d'émissions publicitaires, vente à la sauvette, lumpen-tapirat - traditionnellement réservés aux étudiants. Et puis, la jeunesse même des agences, leur stade presque artisanal, la nouveauté des méthodes, la pénurie encore totale d'éléments qualifiés pouvaient laisser entrevoir l'espoir de promotions rapides, d'ascensions vertigineuses.
Ce n'était pas un mauvais calcul. Ils passèrent quelques mois à administrer des questionnaires. Puis il se trouva un directeur d'agence qui, pressé par le temps, leur fit confiance: ils partirent en province, un magnétophone sous le bras; quelques-uns de leurs compagnons de route, à peine leurs aînés, les initièrent aux techniques, à vrai dire moins difficiles que ce que l'on suppose généralement, des interviews ouvertes et fermées: ils apprirent à faire parler les autres, et à mesurer leurs propres paroles; ils surent déceler, sous les hésitations embrouillées, sous les silences confus, sous les allusions timides, les chemins qu'il fallait explorer; ils percèrent les secrets de ce «hm» universel, véritable intonation magique, par lequel l'interviewer ponctue le discours de l'interviewé, le met en confiance, le comprend, l'encourage, l'interroge, le menace même parfois."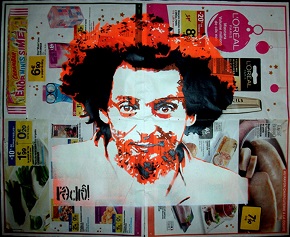 Georges Perec (7 maart 1936 – 3 maart 1982)
Street Art van Pedro Dorian
De Japanse schrijver Abe Kōbō werd geboren op 7 maart 1924 in Tokyo. Zie ook alle tags voor Abe Kōbō op dit blog.
Uit: The Woman in the Dunes (Vertaald door E. Dale Saunders)
"The theory had been advanced that the man, tired of life, had committed suicide. One of his colleagues, who was an amateur psychoanalyst, held to this view. He claimed that in a grown man enthusiasm for such a useless pastime as collecting insects was evidence enough of a mental quirk.
Even in children, unusual preoccupation with insect collecting frequently indicates an Oedipus complex. In order to compensate for his unsatisfied desires, the child enjoys sticking pins into insects, which he need never fear will escape. And the fact that he does not leave off once he has grown up is quite definitely a sign that the condition has become worse. Thus it is far from accidental that entomol- ogists frequently have an acute desire for acquisitions and that they are extremely reclusive,-kleptomaniac, homosexual. From this point to suicide out of weariness with the world is but a step. As a matter of fact, there are even some collectors who are attracted by the potassium cyanide intheir bottles rather than by the collecting itself, and no matter how they try they are quite incapable of washing their hands of the business. Indeed, the man had not once confided his interests to anyone, and this would seem to be proof that he realized they were rather dubious.
Yet, since no body had actually been discovered, all of these ingenious speculations were groundless."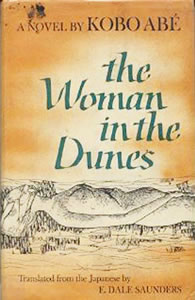 Abe Kōbō (7 maart 1924 – 22 januari 1993)
Cover
De Duitse schrijver Reinhard Kaiser werd geboren op 7 maart 1950 in Viersen. Zie ook alle tags voor Reinhard Kaiser op dit blog.
Uit: Der kalte Sommer des Doktor Polidori
»Nein, das nicht. Aber im Augenblick bin ich auf der Suche nach einem bestimmten französischen Buch: "Die Wundernacht oder das Nec plus ultra der Lust." "Es soll von Denon sein die Fortsetzung von "Eine einzige Nacht".
Im Hintergrund ertönte ein »Oh!«, gefolgt von einem Stuhlrücken.
Der Buchhändler sagte: »Ich glaube, ich weiß, wo -- einen Moment bitte«, und wandte sich einem der Regale zu.
Polidori tat zwei Schritte vorwärts und spähte durch die Öffnung zwischen den Regalwänden, aus der eben der Buchhändler getreten war, in den hinteren Raum. Ein junges Mädchen hatte sich unter ein Schreibpult gebückt. Sie schien Polidori schon zu bemerken, während sie noch am Boden herumtastete. Doch erst nachdem sie sich wieder auf ihren hohen Hocker hinter dem Pult geschoben hatte, drehte sie den Kopf nach ihm.
Jetzt warf sie ihm ihren Blick zu.
Polidori wußte nicht, warum -- aber sofort spürte er ein Bedauern, ein brennendes Gefühl der Reue darüber, daß er nach jenem Buch verlangt hatte. Er versuchte den Blick des Mädchens zu erwidern, ohne rechte Hoffnung, ihn ergründen zu können. Da wurden ihre ernsten, aufmerksamen Augen ein wenig glasig.
»Monsieur, ich glaube, ich habe hier, was Sie suchen«, ertönte die Stimme des Buchhändlers neben ihm.
Polidori war sich nicht mehr ganz sicher, was er eigentlich suchte. Der Buchhändler hielt ihm einen schmalen, wässrigblauen Band entgegen. Weniger begierig, als er noch vor einem Augenblick gewesen wäre, nahm Polidori ihn in die Hand und schlug die Titelseite auf. Kein Verfassername und das wahrscheinlich fiktive Datum »Paris 1777«. Es war offenbar das Buch, das er suchte. Eine fremde Hand hatte die Zahl »1801« und ein Fragezeichen hinzugesetzt."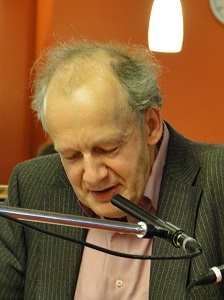 Reinhard Kaiser (Viersen, 7 maart 1950)
De Duitse schrijver Manfred Gregor (pseudoniem van Gregor Dorfmeister) werd geboren op 7 maart 1929 in Tailfingen. Zie ook alle tags voor Manfred Gregor op dit blog.
Uit: Die Brücke
"Eine ruhige, satte, beinahe gelangweilte Stimme. Jeder im Verein wusste, das war Ernst Scholten, der Snob unter den sieben: leidenschaftlicher Musiker, schwärmt für Bach und kann Mädchen nicht leiden. Einmal Jugendarrest wegen Waldfrevel.
Der Verein war stolz auf Scholten, aber gleichzeitig fürchteten den Sechzehnjährigen alle ein bisschen, der – geistig weit über sein Alter hinaus – Dinge tat, an die ein Sohn braver Leute normalerweise nicht einmal denken sollte.
Auch jetzt wusste der Verein nicht, was Scholten eigentlich wollte. Gut, Schaubeck schikanierte Horber, aber den würde ja schließlich das Wasser nicht umbringen. Warum also gerade jetzt gegen Schaubeck anstänkern? Der Verein begriff im Augenblick nicht, dass bei Ernst Scholten der kritische Zeitpunkt gekommen war, dass es ihm einfach reichte.
Die Schikanen der letzten vierzehn Tage hatte keiner der sieben so schmerzlich empfunden wie er. Es hatte begonnen, als er Schaubeck zum ersten Mal gegenüberstand:
»Name?«
»Scholten«, kleine Pause, dann zögernd: »Ernst – Ernst Scholten!«
Schaubeck wunderte sich: »Komischer Name, Scholten, nie gehört. Mann, wie kann man bloß Scholten heißen?«
Schaubeck machte gern solche Witze und wartete dann, bis die Rotte lachte. Aber die sechs, die in diesem Augenblick um Schaubeck und Scholten herumstanden, lachten nicht, weil sie noch nicht gelernt hatten, wann man bei Schaubeck zu lachen hatte und wann nicht.
Schaubeck fuhr fort: »Schon mal was von Zivilisation gehört, Scholten?«
»Jawohl, Herr Unteroffizier!«
»Das heißt nicht ›jawohl‹, Sie Schlumper, das heißt ›jawoll‹ und zur Zivilisation gehört der Haarschnitt! Er ist eine Errungenschaft der Zivilisation, verstanden?"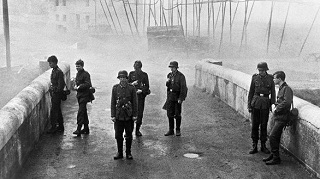 Manfred Gregor (Tailfingen, 7 maart 1929)
Scene uit de film "Die Brücke" uit 1959
De Nederlandse dichter en schrijver Jan Frederik Helmers werd geboren op 7 maart 1767 in Amsterdam. Zie ook alle tags voor Jan Frederik Helmers op dit blog.
De Handel (Fragment)
Ja! 'k durf het! door uw' aanblik stouter;
En nader tot het heilig outer,
En wierook daar den God van 't licht.
Verrukt, begeesterd, opgetogen,
ô Dichters! door uw zangvermogen,
Versmaadt gij nier mijn krachtloos pogen!
ô Neen! gij zier met gunstige oogen,
ô Barden! op mijn nietig dicht.
De Reiziger ziet Romes wallen
Op Tempels en Paleizen brallen,
Op Zuil, Fontein, en Tibervliet;
Maar hij, aan de eeuwge stad ontweken,
Frascaties slingerende beken,
En Tivolies vergode streken,
Rust van zijn' togt, aan stille kreken,
En smaadt daar 't nedrig hutje niet.
Een Vader, van de reis gekomen,
Drukt blij, aan de ouderlijke zoomen,
Het eerst aan 't hart zijn gade en kind!
Vergeten zijn die bange nachten,
Waar in hij naar dien kus bleef smachten!
Zijn Vriend blijft in verschiet hem wachten,
En hij, hij zal thans niet verachten
Den handdruk van zijn' ouden Vrind.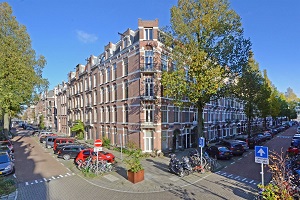 Jan Frederik Helmers (7 maart 1767 – 26 februari 1813)
De Tweede Helmersstraat in Amsterdam
De Italiaanse dichter en schrijver Alessandro Francesco Tommaso Manzoni werd geboren op 7 maart 1785 in Milaan.Zie ook alle tags voor Alessandro Manzoni op dit blog.
The fifth of May (Fragment)
He has passed. As stark and still,
When the mortal gasp was given,
Lay the unremindful spoil
Whence so great a soul was riven;
So the Earth, smitten and dazed
At the announcement, stands amazed
Silent, pondering on that last
Fateful hour; nor, gazing back
In fearful wonder o'er the past,
Kens she when with such a track
By mortal foot shall yet be pressed
The dust upon her bloody breast.
My Genius saw him on a throne
In flashing splendor, nothing said;
The blandishments of fortune flown,
He fell, he rose, again was laid;
While thousand voices then awoke,
Mingled with these, no word he spoke;
Virgin of end-serving praise
And the coward's safe outrage,
Shocked by the blot of such a blaze,
He rises now his chance to gage,
Shaking the urn, e'en to untie
A canticle which will not die.
Vertaald door J. F. Bingham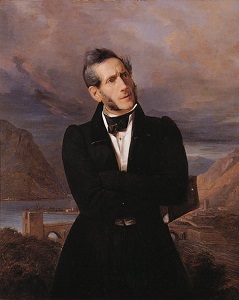 Alessandro Manzoni (7 maart 1785 – 22 mei 1873)
Portret doorGiuseppe Molteni, 1835
Zie voor nog meer schrijvers van de 7e maart ook mijn blog van 7 maart 2016 en ook mijn blog van 7 maart 2015 deel 2.
07-03-2017 om 18:27 geschreven door Romenu

Tags:Bret Easton Ellis, Robert Harris, Jürgen Theobaldy, Georges Perec, Abe Kō,bō,, Reinhard Kaiser, Manfred Gregor, Jan Frederik Helmers, Alessandro Manzoni, Romenu


06-03-2017

Patrick deWitt, Gabriel García Márquez, Jeremy Reed, Marijke Hanegraaf, Thomas Acda, Günter Kunert, Clark Accord, Elizabeth Barrett Browning, Michelangelo
De Canadese schrijver en scenarist Patrick deWitt werd geboren op 6 maart 1975 op Vancouver Island. Zie ook alle tags voor Patrick deWitt op dit blog.
Uit: Undermajordomo Minor
"These words played in Lucy's head as he stood on the platform awaiting the Count and Countess's arrival. As the train came into the station, he could hear a man's wild cackling; when the Count emerged from his compartment he was quite obviously drunken, swaying in place, a cigar planted in the fold of his slick, blubbery mouth. His skull was a softly pink egg, his eyes blood-daubed yolks — he drew back from the sunlight as one scalded. Once recovered, he focused on Lucy, gripping him by the lapel. "Ah, Broom, happy to see you again, boy."
"Yes, sir, nice to see you, as well. Only I'm not Mr Broom; my name is Lucy."
"What?"
"My name is Lucy, sir."
The Count stared. "You're Broom."
"I'm not he, sir."
"Well, where has Broom run off to?"
"He has died, sir."
The Count leaned back on his heels. Speaking over his shoulder and into the blackened compartment, he said, "Did you know about this?"
"About what?" said the Countess.
"Broom is dead."
"Who?"
"The servant lad? Broom? You were so fond of him last time we visited."
"Oh, yes, him. Nice boy — nice colouring. He's dead, you say?"
"Dead as dinner, apparently."
"How did he die?"
"I don't know how." The Count looked at Lucy. "How?"
Lucy said, "He was possessed by a wickedness and so cast himself into the Very Large Hole, sir."
The Count made an irritable face.
"Did he say a very large hole?" the Countess asked."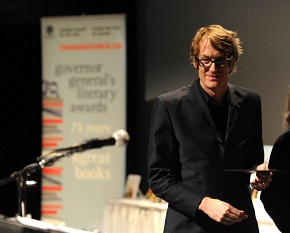 Patrick deWitt (Vancouver Island, 6 maart 1975)
De Colombiaanse schrijver Gabriel García Márquez werd op 6 maart 1928 in de kustplaats Aracataca geboren. Zie ook alle tags voor Gabriel García Márquez op dit blog.
Uit: Memories of My Melancholy Whores (Vertaald door Edith Grossman)
"I live in a colonial house, on the sunny side of San Nicolás Park, where I have spent all the days of my life without wife or fortune, where my parents lived and died, and where I have proposed to die alone, in the same bed in which I was born and on a day that I hope will be distant and painless. My father bought the house at public auction at the end of the nineteenth century, rented the ground floor for luxury shops to a consortium of Italians, and reserved for himself the second floor, where he would live in happiness with one of their daughters, Florina de Dios Cargamantos, a notable interpreter of Mozart, a multilingual Garibaldian, and the most beautiful and talented woman who ever lived in the city: my mother. The house is spacious and bright, with stucco arches and floors tiled in Florentine mosaics, and four glass doors leading to a wraparound balcony where my mother would sit on March nights to sing love arias with other girls, her cousins. From there you can see San Nicolás Park, the cathedral, and the statue of Christopher Columbus, and beyond that the warehouses on the river wharf and the vast horizon of the Great Magdalena River twenty leagues distant from its estuary. The only unpleasant aspect of the house is that the sun keeps changing windows in the course of the day, and all of them have to be closed when you try to take a siesta in the torrid half-light. When I was left on my own, at the age of thirty-two, I moved into what had been my parents' bedroom, opened a doorway between that room and the library, and began to auction off whatever I didn't need to live, which turned out to be almost everything but the books and the Pianola rolls. For forty years I was the cable editor at El Diario de La Paz, which meant reconstructing and completing in indigenous prose the news of the world that we caught as it flew through sidereal space on shortwaves or in Morse code. Today I scrape by on my pension from that extinct profession, get by even less on the one I receive for having taught Spanish and Latin grammar, earn almost nothing from the Sunday column I've written without flagging for more than half a century, and nothing at all from the music and theater pieces published as a favor to me on the many occasions when notable performers come to town."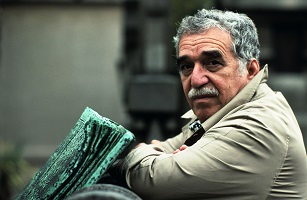 Gabriel García Márquez (6 maart 1928 - 17 april 2014)
De Nederlandse dichteres Marijke Hanegraaf werd op 6 maart 1946 geboren in Tilburg. Zie ook alle tags voor Marijke Hanegraaf op dit blog.
Onwezenlijk 1
Mocht je me niet op je feestje uitnodigen
ik zal aanwezig zijn.

Ik zal er zijn in jouw speciale aandacht
om me niet uit te nodigen
en in de ongestelde vragen van je gasten
in de vermoedens, de gissingen.

Ik zal het gesprek sturen, want halverwege
een zin die lastig op mij toeliep
stokt iemand, ik ben het
waar jullie overheen praten

wat je niet zegt doet ook mee
het glipt in de stiltes die vallen
en die jullie met zijn allen haastig zullen vullen.
Vanwege mij kletsen jullie zoveel door elkaar

dat jullie het de hele avond over niets hebben
en lacherig zijn, waarbij ongetwijfeld iemand
denkt Hoe kan ik lachen als zij er niet is?
zodat ik zelfs tussen jullie gelach zit.
De steen te ervaren
Iemand legde een steen
op haar hoofd, maar ze wou
dat het een hoed was.

Ze droeg hem als een hoge hoed.
Zulke hoeden zijn zwaar,
ze verplichten.

De steen droeg in zich
de tijd die haar hals sterkte
en rechtte en haar wekte:

ze droeg een steen.
Het gelukkig moment
de steen te ervaren

als een bot van de aarde,
voornamer dan ieder gewicht
dat de geesten scheidt.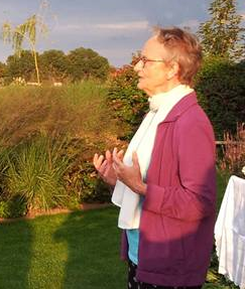 Marijke Hanegraaf (Tilburg, 6 maart 1946)
De Engelse dichter en schrijver Jeremy Reed werd geboren op 6 maart 1951 op Jersey. Zie ook alle tags voor Jeremy Reed op dit blog.
Uit:Boy Caesar
"The year is AD 218. From where he stood, pointing his left cheekbone up for the mirror, Heliogabalus was aware that he was being watched. The sensation frisked his nerves, causing him to freeze. The idea that there was two of him, and that the other meant trouble, had been cooking in his unconscious for a long time.
He could hear the rain outside knuckling the little yellow pompons of flowering mimosa. The unseasonable rains had been returning day after day, the rapping staccato of brilliant showers seeming even to break into his sleep and make noise in his dreams. He was fourteen years old. So much had happened already that he remembered highlights in his life with total recall.
For weeks now, encouraged by his mother Symiamira and her entourage of lovers, Heliogabalus had dared to entertain the hope of becoming not only emperor but caesar. Was he not, after all, reputed to be the illegitimate son of the butchered Caracalla and as such the last of the Antonines?
No matter how tenuous his claims to the imperial title, he knew instinctually that he was about to take up with his destiny. It was somewhere out there on the exhaustive highway that led to Rome. His mother had fed him with ambition the way a slow poison accumulates in the system. It was she who had condoned his wish to make up like a girl and live out his same-sex attractions. She had fine-tuned his aesthetic, allowed him to wear her dresses and been right behind him in his fanatical devotion to the god Elagabal. But more than anything she had impressed on him his difference. He was set apart, she claimed, by the data in his blood. An emperor's sperm had patterned menus in his genes.
His imagination had needed little prompting. Already he saw himself dragging it in front of the Senate. It was his plan to affront their machismo by insisting that women should be introduced into the governing body. He had it in mind to subvert the whole gender-bias on which Roman society was founded. In the hours in which he was thrown in on himself and had nothing to do, he would create scenarios in his head, like shooting random footage. In these documentaries he was invariably in the process of entering Rome, and to his astonishment there was nobody there. He had come to a dead city."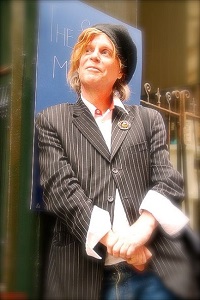 Jeremy Reed (Jersey, 6 maart 1951)
De Nederlandse cabaretier, acteur, schrijver en zanger Thomas Acda werd geboren in Amsterdam op 6 maart 1967. Zie ook alle tags voor Thomas Acda op dit blog.
Uit: Onderweg met Roadie
"Ze kijkt me aan, ze weet dat ik wat wil zeggen. In haar hoofd legt ze waarschijnlijk haar in de afgelopen jaren verzamelde snedige antwoorden op een afvuurbaar rijtje klaar. Maar ik zeg niets, terwijl ik die vrouw toch met drie, vier zinnen had kunnen vloeren.
'Echt? Twaalf? Wow? Thanks!' hoor ik mezelf zeggen. Ben ik dat? Het klinkt nog gemeend ook. Het vóélt ook gemeend, net als wanneer ik speel en een filmscène lekker loopt. Het gevoel dat het klopt. Mijn tegenspeler en ik, goed in het moment. Dan voelt het alsof het sneeuwt om ons heen.
'Je bent een van de twaalf,' murmelt de vrouw nog wat na, opgelucht dat ik me weer gedraag zoals bezoekers dat hier behoren te doen. Dóórlopend. Vol verwondering. En met respect voor de suppoost, toch wel het luiste baantje ter wereld.
In de niet te ontwijken museumshop neem ik geroutineerd de Charles en Ray Eames-dvd Powers of Ten uit het schap, mijn Catcher in the Rye. Als ik die dvd zie liggen, moet ik hem kopen. Mocht je mij willen uitnodigen op je verjaardag: tien tegen een dat ik kom opdagen met deze dvd. Omdat ik te laat ben geweest om een echt cadeau te kopen en ik deze dus in tientallen in de kast heb liggen, ongeopend. Papiertje eromheen en kijk eens hoe attent ik ben! Al zullen er, als we gemeenschappelijke kennissen hebben, best een paar mensen elkaar bevreemd aankijken. Maar toen zij jarig waren keken ze maar wat blij.
Ik sluit me aan in de rij voor de kassa. Het witte evenbeeld van mijn zwarte vriendin met de geïmplanteerde kruk slaat met de worstjes onder aan haar arm zuchtend op de kassa. Ze slaat steeds te veel aan. De kassawereld is duidelijk nog niet klaar voor het obesitastijdperk. Deze vrouw is roze, oningepakt vet dat hier een kassabaantje heeft bemachtigd. Mocht je een erkende vijand van de Verenigde Staten zijn, dan zou ik niet meer investeren in wapens maar in suiker. En die, in welke snackvorm ook, voor een habbekrats verkopen aan de yank. Ze hebben nog maar een klein duwtje nodig. Alleen acteur en zanger Harry Dean Stanton is nog slank. Andere slanke mensen hebben nog steeds veel vet, maar hebben zich ervan laten scheiden."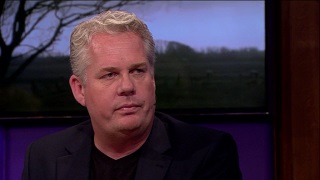 Thomas Acda (Amsterdam, 6 maart 1967)
De Duitse dichter en schrijver Günter Kunert werd geboren op 6 maart 1929 in Berlijn. Zie ook alle tags voor Günter Kunert op dit blog.
Am Vorabend
Wieder die Eimer
mit Wasser fürsorglich gefüllt. Wieder
unlöschbar die Brände, der Durst
Sterbender. Kostengünstige Gasmasken
neben den Betten. Auch der Haß
ist fest installiert wie die Angst.
Blinde und Krüppel sind abzuweisen
von der Tür: Selig wessen
noch eine eignet. Dunkelhäutigen droht
Tod, ein Meister aus Deutschland
keineswegs allein, vielmehr Herr
der Welt. Hopliten ziehen
durch die Straßen, sie trinken
auf ihr Wohl unser Blut, genießen
unser Fleisch. Die Greisin
im Rinnstein lohnt nicht die Entbeinung.
Ratten
kehren aus der Literatur zurück
in die wahnhafte Wirklichkeit,
als Sieger verlorener wie gewonnener
Schlachten.
Genesis
In die Endlichkeit hineingeboren
und ganz und gar und gleich
verschworen dem Maschinengang der Fakten,
zurechtgemacht zum Unrecht,
vergebens zum Verkauf bestellt,
hauptsächlich geschlechtlich
geschäftig
dem kosmischen Gewölbe anheimgegeben,
der Fortsetzung entgangen,
verblieben fragmentarisch
wie du weh dir.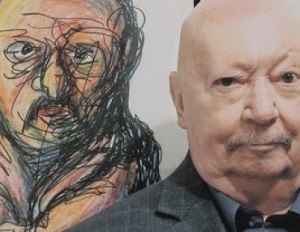 Günter Kunert (Berlijn, 6 maart 1929)
Kunert met zelfportret
De Surinaamse schrijver Clark Accord werd op 6 maart 1961 geboren in de Surinaamse hoofdstad Paramaribo. Zie ook alle tags voor Clark Accord op dit blog.
Uit: The Queen From Paramaribo (Vertaald door Susan Massotty)
"It was infuriating, watching the man trying to bite,back a smile. But she wasn't about to let him see how tense she was. "You mean it'll be an honor for him to dance with me. At the Halikibe I'm known as the 'Queen of the Black Bottom.' Besides, I've spent weeks perfectin my style. I can dance better than any woman alive. The Black Bottom,the Charleston, the Rumba, the Tango – I can do 'em all!"
She tossed her head back challengingly.
"They say he's the best Black Bottom dancer in the West Indies. He never stops bragging about how good he is. I hea he likes to make a laughingstock out of his partners. If they aren't good enough, he ups the tempo and makes quick rhythm changes.
The poor girl stumbles around in his arms, and the crowd laps it up."
"Really? Well, I'm ready for him. Let him have a try. This twenty-six-year-old gal is gonna show him a thing or two! But there's no need for you to worry. You concentrate on your driving skills, and I'll see to the dancing."
"I was just trying to warn you."
Though she radiated calm, her stomach was churning. She was terrified at the thought of being turned into a laughingstock. If she made one wrong step or couldn't keep up with him tonight, she'd be done for.
So much for her fame as the sta of the Halikibe. She knew that the other girls would grab at the chance to topple her from her throne. Not to mention that the men would no longer be lining up to dance with her. The ticket price would hit rock bottom. And of course they'd all laugh themselves sick."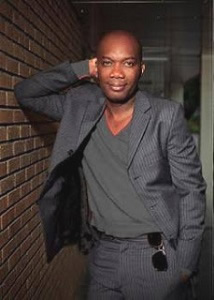 Clark Accord (6 maart 1961 – 11 mei 2011)
De Engelse dichteres Elizabeth Barrett Browning werd op 6 maart 1806 geboren in Durham, Engeland. Zie ook alle tags voor Elizabeth Barrett Browning op dit blog.
A Curse For A Nation (Fragment)
I heard an angel speak last night,
And he said 'Write!
Write a Nation's curse for me,
And send it over the Western Sea.'
I faltered, taking up the word:
'Not so, my lord!
If curses must be, choose another
To send thy curse against my brother.
'For I am bound by gratitude,
By love and blood,
To brothers of mine across the sea,
Who stretch out kindly hands to me.'
'Therefore,' the voice said, 'shalt thou write
My curse to-night.
From the summits of love a curse is driven,
As lightning is from the tops of heaven.'
'Not so,' I answered. 'Evermore
My heart is sore
For my own land's sins: for little feet
Of children bleeding along the street:
'For parked-up honors that gainsay
The right of way:
For almsgiving through a door that is
Not open enough for two friends to kiss:
'For love of freedom which abates
Beyond the Straits:
For patriot virtue starved to vice on
Self-praise, self-interest, and suspicion:
'For an oligarchic parliament,
And bribes well-meant.
What curse to another land assign,
When heavy-souled for the sins of mine?'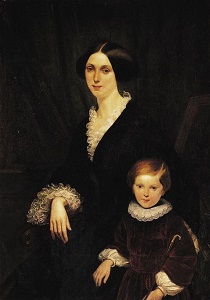 Elizabeth Barrett Browning (6 maart 1806 – 29 juni 1861)
Portret van Elizabeth Barrett Browning en haar zoon, Robert, 1850-55 door Francesco Podesti
De Italiaanse beeldhouwer, schilder, architect en dichter Michelangelo werd geboren op 6 maart 1475 in Caprese. Zie ook alle tags voor Michelangelo op dit blog.
The Heavenly Birth Of Love And Beauty
This heart of flesh feeds not with life my love:
The love wherewith I love thee hath no heart;
Nor harbours it in any mortal part,
Where erring thought or ill desire may move.
When first Love sent our souls from God above,
He fashioned me to see thee as thou art-
Pure light ; and thus I find God's counterpart
In thy fair face and feel the sting thereof.
As heat from fire, from loveliness divine
The mind that worships what recalls the sun
From whence she sprang, can be divided never:
And since thine eys all Paradise enshrine,
Burning unto those orbs of light I run,
There where I loved thee first to dwell for ever.

Vertaald door John Addington Symonds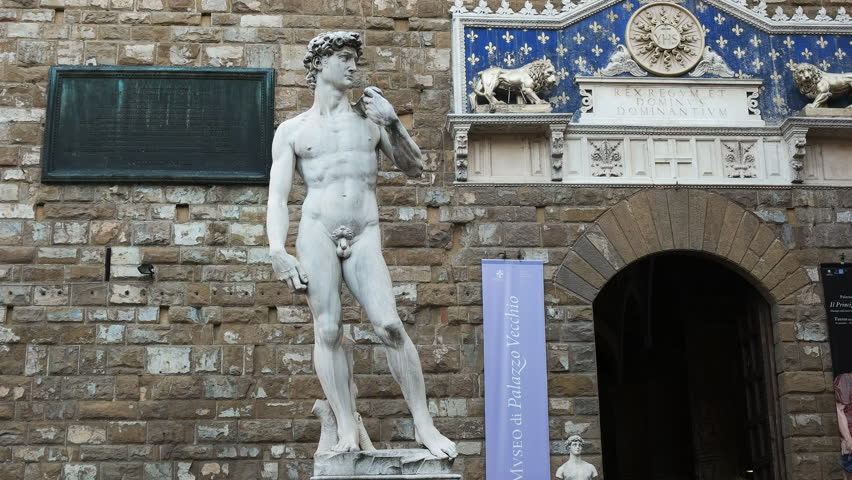 Michelangelo (6 maart 1475 – 18 februari 1564)
De replica van Michelangelo's David voor het Palazzo della Signoria, Florence
Zie voor nog meer schrijvers van de 6e maart ook mijn blog van 6 maart 2016 deel 2 en eveneens deel 3.
06-03-2017 om 18:30 geschreven door Romenu

Tags:Patrick deWitt, Gabriel García Márquez, Jeremy Reed, Marijke Hanegraaf, Thomas Acda, Günter Kunert, Clark Accord, Elizabeth Barrett Browning, Michelangelo, Romenu


05-03-2017

Pier Paolo Pasolini, Arthur van Schendel, Koos van Zomeren, Jurre van den Berg, Nelly Arcan, Danny King, Jean Orizet
De Italiaanse filmregisseur, dichter en schrijver Pier Paolo Pasolini werd geboren in Bologna op 5 maart 1922. Zie ook alle tags voor Pier Paolo Pasolini op dit blog.
Uit: Seven Poems for Ninetto
6/
When you have been in pain for so long
and for so many months it has been the same, you resist it,
but it remains a reality in which you are caught.
It is a reality that wants only to see me dead.
And yet I do not die. I am like someone who is nauseous
and does not vomit, who does not surrender
despite the pressure of Authority. Yet, Sir,
I, like the entire world, agree with you.
It is better that we are kept at a far distance.
Instead of dying I will write to you.
In this way, I preserve intact my critique
of your hypocritical way of life,
which has been my sole joy in the world.
7/
After much weeping, in secret
and in front of you, after having staged
many acts of desperation, you made
the final decision to surrender
and never to be seen again. I am done.
I have acted like a madman. I will not let the water run
from the source of my evil and my good:
these pacts between men are not for you or perhaps
you're too skilled in the art of breaking them,
guided by a Genie that gives you certainty
by which you are transfigured. You
know the right button to push.
When I speak you tell me "no"
and I tremble with disgust and fury
at the thought of our unforgettable happy hours.

Pier Paolo Pasolini (5 maart 1922 – 2 november 1975
Ninetto Davoli en Pier Paolo Pasolini
De Nederlandse schrijver, columnist en dichter Koos van Zomeren werd geboren in Velp op 5 maart 1946. Zie ook alle tags voor Koos van Zomeren op dit blog.
Villgrater Joch
In mijn ogen strek ik mij
geweldig uit,
ik ben in alles wat ik zie.

Al uren klimmen we, de bergen
zinken weg, alleen de diepten
klimmen mee. Ik zie
een meertje dat gesprongen is,
een in het ijs geslagen spinnenweb.

Mijn hond doet steeds meer dingen
voor het laatst. Nog één keer
deze hoogte en hij gaat nog één
keer liggen en hij haalt nog één
keer adem en hij valt in slaap.

In wat ik niet zie
ben ik trouwens ook.
Stanley
Onverzadigbarekoekjesvrager
stuiterendetennisballenjager
gigantischgrotestokkendrager
altijd tot nog extra werk bereid.

Er schoten twee schimmen over het pad
de achterste mijn dappere hond
en even later weer twee schimmen, nu
in omgekeerde richting, de achterste
een daverend everzwijn.

Tezamen op een heuveltje, hij met
zijn gebroken rug, ik met mijn
strelende hand.
Ik zal je missen
of met een roerend germanisme
jij zult aan mij ontbreken.

Toen is hij opgestaan en zijn we
maar naar huis gegaan.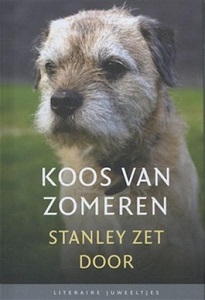 Koos van Zomeren (Velp, 5 maart 1946)
Cover
De Nederlandse dichter Jurre van den Berg werd geboren in Thesinge op 5 maart 1986. Zie ook alle tags voor Jurre van den Berg op dit blog.
Vraag je niet af

Het hart van een touw
schuilt in zijn knopen.

J. Bernlef

Dat meisjes pas mooi zijn
als je ze vrouwen noemt,
dat sterren geen baken zijn

in een uitdijend heelal
wist ja al, maar ook dat niet

alles zwart op of tussen wit gedrukt staat,
zoals je handen toetsen volgen:
het laat zich niet lezen maar schrijft zichzelf.

Het is droog hout voordat het vlam vat, vraag je
op deze momenten niet af van wie

de hand is, van wie de hand was,
wie de wind op je wangen blaast,

hoe je van hooi gras maakt.

Onthoud dat
glas niet alleen mooi is

vanwege de belofte dat het breken kan
maar ook omdat je er doorheen kunt kijken.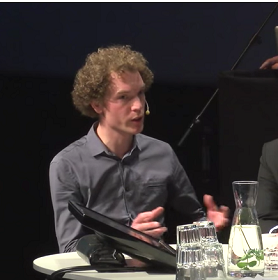 Jurre van den Berg (Thesinge, 5 maart 1986)
De Nederlandse schrijver Arthur van Schendel werd geboren op 5 maart 1874 in Batavia. Zie ook alle tags voor Arthur van Schendel op dit blog.
Uit: Een zwerver verdwaald
"En voor het einde van het najaar werden zijn schreden verder geleid. Een hond die hem op den landweg had gezien liep achter zijn voeten, een reiziger vergezelde hem. De vreemdeling sprak gedurig terwijl zij voortgingen in den vochtigen dag, zijn gebaren waren niets dan vragen, en Tamalone luisterde met zijn hoofd zeer laag ter neder gebogen, want er was in de woorden die hij hoorde heugenis van een verleden dat hij geheim hield in zijn ziel. Maar wanneer de ander stil stond om op antwoord te wachten, keek hij rond naar het land waar de wilgen geel van gebladert, met de bochtige slingers van wingerdloof en een schielijk watertje daarneven, in dit vluchtige zonlicht de eenzaamheid tot een sierlijke vreugde maakten, en hij antwoordde niet, het zwijgen was hem liever dan donkere woorden en vragen zonder eind.
En zwijgend vervolgden zij hun tocht, tot Meron Joseph met diepe stem, buigzaam en berustend van toon, verder sprak over voorzienigheid, over het onheil dat hij aanschouwd had, en zooveel verhaalde en zoo lang, dat Tamalone ten laatste enkel luisterde naar den klank zijner stem. Die was hem aangenaam geworden, hij wist niet hoe, maar het was voor het eerst sedert menigen dag dat het geluid en de aanwezigheid van een ander hem gevallig waren. Toen hij zijn reis begon had hij wel geweten dat de groote verwachting nog steeds in hem leefde, nochtans bij dit luttel behagen al vreesde hij voor ontrouw aan het liefste waar hij gedachten aan wijdde. Zijn wensch was alleen door de landen te loopen, immer alleen gelijk hij altoos gedaan had, gelijk naar zijn aard was, en de stad daarginder zou van veel dat zijn droevigen vrede kon storen wel vol zijn. Maar hij had uit de diepten de oude vraag van onnoozeler jaren, in zwaarderen toon thans, weer in zijn borst verstaan, of hij waarlijk aldus was geschapen voor het geluk te vroeg of te laat? - en hij was tot zijn bevreemding meer dan in den jongelingstijd verlangend geworden naar het onverwachte dat in de wereld geschiedt."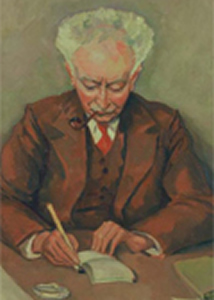 Arthur van Schendel (5 maart 1874 – 11 september 1946)
Portret door Jan Poortenaar, 1955
De Canadese (Franstalige) schrijfster Nelly Arcan - pseudoniem van Isabelle Fortier – werd geboren in Lac-Mégantic op 5 maart 1973. Zie ook alle tags voor Nelly Arcan op dit blog.
Uit: Folle
"Je disais que l'équilibre entre les hommes et les femmes aurait pu exister si Dieu avait permis que l'ovulation soit produite par l'orgasme et non par l'autonomie d'un système qui ne tient pas compte de la montée du plaisir ni de l'urgence de se vider ni même des états d'âme qui pourraient entraver la libération de l'ovule. À ça j'ajoutais que si les femmes pouvaient décharger leur fertilité comme les hommes, les hommes en perdraient leurs moyens de bander et que cette question de la décharge des femmes les absorberait entièrement. Je disais que la bipolarité qui supporte l'univers en agençant tous ses atomes et qui fait s'inverser les pôles sud et nord tous les x millions d'années donnerait aux hommes une nature de femme. Si mon grand-père m'avait entendue, il en aurait été retourné, mon grand-père ne croyait pas en l'évolution de l'espèce humaine, il croyait seulement en sa disparition. »
(…)
« Ensemble on a pourtant vécu de bons moments. Un mois ou deux après notre première rencontre à Nova on s'est aimés en même temps. Entre nous il y a eu des moments magnétiques où on ne prenait plus la peine de terminer nos phrases tant l'un savait où l'autre voulait en venir : c'était le stade de la contemplation de soi dans l'autre. Entre nous il y a eu une courte période où on s'entendait sur tout et même sur le fait que les hommes et les femmes ne peuvent pas s'entendre. Je me souviens d'ailleurs de ce livre que tu avais lu où les hommes venaient de Mars et les femmes de Vénus, je me souviens que la mésentente y était expliquée de long en large et qu'à tes yeux ces explications avaient fait de nous un couple typique; l'un face à l'autre, nos sexes réagissaient comme prévu."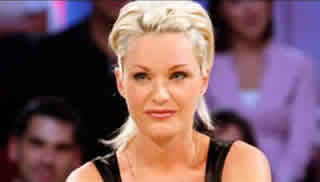 Nelly Arcan (5 maart 1973 –24 september 2009)
De Britse schrijver Danny King werd geboren op 5 maart 1969 in Slough, Berkshire. Zie ook alle tags voor Danny King op dit blog.
Uit: The Monster Man of Horror House (Vertaald door Heike Schrapper)
"In jeder Stadt, in jedem Viertel gibt es so ein gruseliges altes Haus: heruntergekommen, zugewuchert, vernachlässigt und vergessen. Bewohnt wird es in der Regel von einem gruseligen alten Mann, der mehr oder weniger den gleichen Eindruck macht. Vergammelt, verwittert und mit bröckelnder Fassade schlurft dieser alte Mann durch die Gegend und kümmert sich um seinen eigenen Kram, wie zum Beispiel das Durchwühlen der Bauschuttcontainer in der Nachbarschaft. Wenn er und sein muffiger Geruch kommen, um die Rente abzuholen, lichtet sich unweigerlich die Schlange vor dem Postschalter.
Die Tatsache, dass er von allen als verschrobener Sonderling angesehen wird, ist ihm beneidenswerterweise überhaupt nicht bewusst. Er selbst hält sich für einen ruhigen, anspruchslosen Gesellen, unaufdringlich und weise – zwar ein Einzelgänger, aber auch ganz schön ausgefuchst. Und höchstwahrscheinlich macht er den klassischen Fehler zu denken, dass er sich einfach nur aus den Angelegenheiten anderer heraushalten muss, damit die anderen sich auch aus seinen heraushalten.
Wenn es doch bloß so einfach wäre!
Es hat ein paar Monate gedauert, bis ich herausfand, dass der gruselige alte Sonderling in meiner Straße ich selbst war.
Bis dahin hatte ich mich einfach nur als John betrachtet: hart arbeitend, konservativ, sparsam und alleinstehend. An heißen Tagen vielleicht ein wenig streng riechend, aber was machte das schon, wenn ich sowieso allein lebte? In meinem eigenen Haus konnte ich schließlich riechen, wie ich wollte."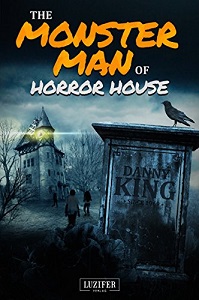 Danny King (Slough, 5 maart 1969)
De Franse dichter en schrijver Jean Orizet werd geboren in Marseille op 5 maart 1937. Zie ook alle tags voor Jean Orizet op dit blog.
Apocalipsi
La grotte ou saint
Jean eut la révélation de l'Apocalypse ferme à midi.
Arrivés en retard, nous entrâmes de justesse — soulagés — car notre bateau partait le soir même.
Nous descendîmes rapidement les quelques dizaines de marches, ombragées de bougainvillées, qui conduisent au saint lieu.
L'endroit est petit, bas, sombre, presque humide.
En quelques minutes (était-ce une éternité?) le vieux pope de service désigne à notre attention:
a)
Une alvéole dans le roc, à ras du sol, où saint
Jean appuyait sa tête pour se reposer.
b)
Au-dessus, une croix taillée par l'Évangéliste selon la tradition.
c)
A droite, une encoche où le grand exilé plaçait la main quand il voulait s'agenouiller pour prier, ou quand il voulait se relever.
d)
Plus haut, une sorte de pupitre naturel inscrit à même la paroi, où
Prochoros, disciple de l'ancien pêcheur de
Tibériade, écrivit, sous la dictée, le texte de l'Apocalypse.
e)
Enfin, au plafond, une fente en forme de croix, signe de la présence divine, et d'où
Jean entendit
Dieu lui dire:
Je suis l'Alpha et l'Oméga.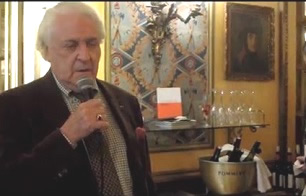 Jean Orizet (Marseille, 5 maart 1937)
Zie voor nog meer schrijvers van de 5e maart ook mijn vorige blog van vandaag.
05-03-2017 om 13:12 geschreven door Romenu

Tags:Pier Paolo Pasolini, Arthur van Schendel, Koos van Zomeren, Jurre van den Berg, Nelly Arcan, Danny King, Jean Orizet, Romenu



Leslie Marmon Silko, Frank Norris, Fritz Usinger, Friedrich Schnack, Ennio Flaiano, Moritz Carrière, Karl August Timotheus Kahlert
De Indiaans-Amerikaanse schrijfster Leslie Marmon Silko werd geboren op 5 maart 1948 in Albuquerque, New Mexico. Zie ook alle tags voor Leslie Marmon Silko op dit blog.
Lullaby
The earth is your mother,
she holds you.
The sky is your father,
he protects you.
Sleep,
sleep.
Rainbow is your sister,
she loves you.
The winds are your brothers,
they sing to you.
Sleep,
sleep.
We are together always
We are together always
There never was a time
when this
was not so.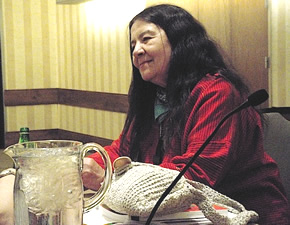 Leslie Marmon Silko (Albuquerque, 5 maart 1948)
De Amerikaanse schrijver Frank Norris werd geboren op 5 maart 1870 in Chicago. Zie ook alle tags voor Frank Norris op dit blog.
Uit: The Pit
"It was Empire, the resistless subjugation of all this central world of the lakes and the prairies. Here, mid-most in the land, beat the Heart of the Nation, whence inevitably must come its immeasurable power, its infinite, infinite, inexhaustible vitality.
Here, of all her cities, throbbed the true life - the true power and spirit of America; gigantic, crude with the crudity of youth, disdaining rivalry; sane and healthy and vigorous; brutal in its ambition, arrogant in the new-found knowledge of its giant strength, prodigal of its wealth, infinite in its desires. In its capacity boundless, in its courage indomitable; subduing the wilderness in a single generation, defying calamity, and through the flame and the debris of a commonwealth in ashes, rising suddenly renewed, formidable, and Titanic.
Laura, her eyes dizzied, her ears stunned, watched tirelessly.
"There is something terrible about it," she murmured, half to herself, "something insensate. In a way, it doesn't seem human. It's like a great tidal wave. It's all very well for the individual just so long as he can keep afloat, but once fallen, how horribly quick it would crush him, annihilate him, how horribly quick, and with such horrible indifference! I suppose it's civilisation in the making, the thing that isn't meant to be seen, as though it were too elemental, too - primordial; like the first verses of Genesis."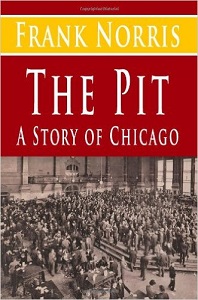 Frank Norris (5 maart 1870 – 25 oktober 1902)
Cover
De Italiaanse schrijver Ennio Flaiano werd op 5 maart 1910 in Pescara geboren.Zie ook alle tags voor Ennio Flaiano op dit blog.
Uit: Alles hat seine Zeit (Tempo di uccidere, Vertaald door Susanne Hurni)
"Ich hätte eine Abkürzung nehmen können, aber ich habe nicht allzu viel Vertrauen zu den
Abkürzungen in Afrika. Und doch zweigte von der Straße, an der Seite zum Fluss, dann und wann ein Pfad ab, der nach kurzen Windungen steil abfiel zum Gehölz. Ich achtete also nicht auf die Abkürzungen, und nach zwei Stunden (die Hitze hatte zugenommen, und die Bäume waren erschreckend gewachsen, schienen aber immer mehr wie aus Pappkarton zu sein, immer älter und salbungsvoller, wie Heilige einer untergegangenen Religion) sah ich, dass der Buschwald dichter und die Straße heiß und sandig wurde. Der Fluss lag plötzlich vor mir. Man war dabei, eine neue Brücke zu bauen.
Zwischen den dicken Bäumen standen noch ein paar Kreuze, und unter dem heißen Sand, in den Kisten, in denen Büchsenfleisch und Zwieback gewesen waren, lagen noch ein paar Leichen.
Irgendein Soldat, der stehengeblieben war und gesagt hatte: «Ich schaff 's nicht mehr»; es hatte wohl auch Mühe gekostet, den Feldwebel, dann den Oberleutnant und dann den Hauptmann zu überreden, dass sie ihn hier ausruhen ließen. Und irgendetwas in dieser Natur (vielleicht der graue Sand oder die Knospen der Bäume) hatte ihm wohl zu verstehen gegeben, dass seine Ruhe nun wirklich begann. Die Leute, die das Büchsenfleisch und den Zwieback in di Kisten packen, dort oben, Tausende von Kilometern entfernt, wissen nicht, wie kostbar dieses Holz ist.
Wahrhaftig ein mit Sorgfalt zu behandelndes Holz! Eine Kiste ist immer nützlich, und wer auch nur eine besitzt, verschönt sich sein Zelt mit einem außergewöhnlichen Möbelstück; in ruhigen Zeiten kann er noch das Bild der geliebten Frau daraufstellen, zwischen ein Buch und den Tabaksbeutel. Es ist weniger schwierig, sich eine Frau zum lieben zu verschaffen, als eine Kiste.
Kein einziger lastwagen. Die Arbeiter hatten wohl wegen der Hitze aufgehört zu arbeiten und aßen. Sie waren neu angekommen, nach den großen Sonnenbrillen zu schließen, die sie noch nicht weggeworfen hatten. Sie saßen vor ihren Zelten und plauderten mit dem Carabiniere des Postens, noch erstaunt darüber, dass es sie nach hier unten verschlagen hatte in dieses Land, das so anders war als jenes Afrika ihrer Vorstellung."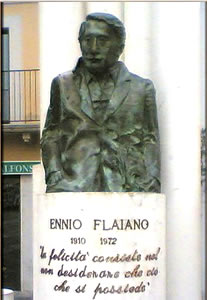 Ennio Flaiano (5 maart 1910 – 20 november 1972)
Standbeeld in Pescara

De Duitse dichter, schrijver en vertaler Fritz Usinger werd geboren op 5 maart 1895 in Friedberg, Hessen. Zie ook alle tags voor Fritz Usinger op dit blog.
Das Glück spricht...

Der du Tag und Nacht mich bittest,
Fürchte, daß ich die erscheine!
Denn was du wohl an mir littest,
Sagt der Hoffnungen dir keine.

Ja, je mehr ich mich dir schenke,
Daß du ganz erfüllt dich findest:
Wenn ich scheide, Herz, gedenke,
Wie du solches überwindest.

Glaub, an der verlassnen Stätte
Mag es, Fliehender, geschehen,
Daß du wünschst, dein Auge hätte
Niemals mich gesehen.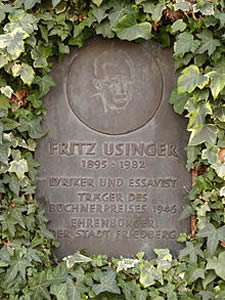 Fritz Usinger (5 maart 1895 – 9 december 1982)
Gedenkplaat aan het voormalige woonhuis van Fritz Usinger in Friedberg
De Duitse dichter en schrijver Friedrich Schnack werd geboren op 5 maart 1888 in Rieneck, Unterfranken. Zie ook alle tags voor Friedrich Schnack op dit blog.
Weihrauchwölkchen
Durch meinen Garten flog ein Weihrauchwölkchen,
Ein Kirchenduft der Maienprozession:
Der Wohlgeruch gefiel dem Bienenvölkchen,
Und süßer ward der Blumen bauch davon.
Indes die Knaben von Maria sangen,
Die himmelfern auf mondner Sichel steht,
Und ihre Stimmen in der Flur verklangen'
Verrichteten die Immen ihr Gebet.
Sie zogen den blühenden Kapellen,
Geweiht dem Kinde und der Lieben Frau,
Und schöpften summend aus den Nektarquellen
Das reine Wachs, den goldenen Honigtau.
Die Beete glänzten von Gewürzt und Kräutern,
Gesegnet von der Maienprozession.
Das Öl begann sich zärtlicher zu läutern,
Von Vogelwipfeln glockte Glorienton.
Durch meinen Garten flog das Weihrauchwölkchen
Und floß vergebend in die Gottesluft:
Als zöge heimlich mit ein Engelswölkchen,
Umwehte traumhaft mich ein Sternenduft.
Wenn meine Rose blüht
Wenn meine Rose blüht,
bedarf es andrer Blumen nicht,
sie heiligt mein Gemüt,
und füllt mein Herz mit Licht.

Wie sollte da noch Platz
für andre Blumen sein?
Ein ganzer Rosengarten
rankt in mich hinein.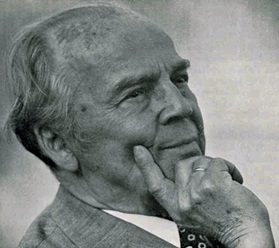 Friedrich Schnack (5 maart 1888 – 6 maart 1977)
De Duitse schrijver en filosoof Moritz Carrière werd geboren op 5 maart 1817 in Griedel, Hessen. Zie ook alle tags voor Moritz Carrière op dit blog.
Uit: Das Wesen und die Formen der Poesie
"Und Goethe, den sie unter die glücklichsten Sterblichen rechnen, Goethe sagte am Abend seines Lebens zu Eckermann, daß wenn er die Summe seines Daseins zöge, kaum vier Wochen ungetrübten Glückes herauskämen. "Der Menschheit ganzer Jammer faßt mich an!" Wer dieses eine Wort dem Faust in den Mund legen konnte, der mußte die himmlischen Mächte kennen gelernt, der mußte mit dem alten Harfner im Wilhelm Meister die kummervollen Nächte weinend auf seinem Bette gesessen und sein Brot mit Thränen gegessen haben. Oder wer wollte behaupten, daß Justinus Kerner keine subjective Wahrheit, keine eigene Erfahrung ausspricht, wenn er singt:
Poesie ist tiefes Schmerzen,
Und es kommt das echte Lied
Einzig aus dem Menschenherzen,
Das ein schweres Leid durchglüht.
Doch die höchsten Poesien
Schweigen wie der höchste Schmerz;
Nur wie Geisterschatten ziehen
Stumm sie durchs gebrochne Herz.
Es ist für Viele, nur nicht für Alle wahr was Freiligrath sagt, daß die Flamme der Dichtung ein Fluch, ihr Mal ein Kainstempel sei, es ist namentlich für diejenigen wahr welche das sittliche Maß und die Selbstbeherrschung des Geistes aus Uebermuth oder Schlaffheit gering achten; dem Nessushemd ward von Prutz mit Recht die Leukotheabinde der Dichtung entgegengehalten. Goethe sagt in einem Divansliede nach Hafis:
Ich will es gerne gestehn
Ich singe mit schwerem Herzen;
Sieh doch einmal die Kerzen,
Sie leuchten indem sie vergehn."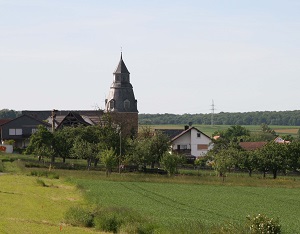 Moritz Carrière (5 maart 1817 – 19 januari 1895)
Griedel
De Duitse schrijver, literatuurhistoricus en muziekcriticus Karl August Timotheus Kahlert werd geboren op 5 maart 1807 in Breslau. Zie ook alle tags voor Karl August Timotheus Kahlert op dit blog.
Alles um sie
Ich mag so gerne liegen am Hügel in der Nacht
und schau'n in dunkler Höhe die goldne Sternenpracht.
Ich mag so gerne schauen der Rosen sanften Schein
in ihrem Dufte schwelgend von Herzen fröhlich sein.
Ich mag so gerne lauschen im Hain im Dämmerlicht,
vertrauten fernen Tönen daraus die Sehnsucht spricht.
Und doch in deiner Nähe was ist dies Alles mir,
was Sterne, Blumen, Töne bei Blick und Wort von dir?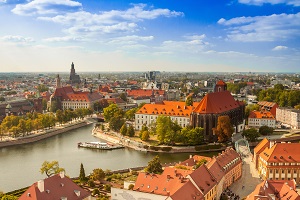 Karl August Timotheus Kahlert (5 maart 1807 – 29 maart 1864)
Breslau
05-03-2017 om 13:10 geschreven door Romenu

Tags:Leslie Marmon Silko, Frank Norris, Fritz Usinger, Friedrich Schnack, Ennio Flaiano, Moritz Carrière, Karl August Timotheus Kahlert, Romenu


04-03-2017

Kristof Magnusson, Khaled Hosseini, Robert Kleindienst, Irina Ratushinskaya, Alan Sillitoe
De Duitse schrijver Kristof Magnusson werd geboren op 4 maart 1976 in Hamburg. Zie ook alle tags voor Kristof Magnusson op dit blog.
Uit: Ik was het niet (Vertaald door Hilde Keteleer)
"Ik vroeg de anderen wat ze ervan vonden dat Felix Magath nu trainer van Schalke werd. Iedereen kende alleen maar Bayern München. Natuurlijk wist ik wel dat het zinvol was om met de collega's iets te gaan drinken.
Netwerken en zo. Het wás ook werk, maar niet zo productief dat je er een hele nacht aan hoefde te besteden. Waarom dronken ze niet gewoon twee pintjes, handelden intussen de hele riedel van Tottenham en Arsenal, Auditt, Range Rover en vrouwelijke collega's af en gingen dan maffen?
Eindelijk ging de kroeg dicht. Ik liep naar het hotel en had al op de liftknop geduwd toen Vikram, de in Bombay geboren Arsenalfan, aan mijn mouw trok en me meezeulde naar de hotelbar, waar iedereen bij elkaar zat. 'We drinken Jägermeister, man', had hij gezegd, alsof ik dan als Duitser geen nee kon zeggen. En dus dronk ik. Veroorzaakte een pijnlijke stilte toen ik zei dat ik geen auto had. Om drie uur deed ik alsof ik naar de wc moest, liep naar mijn kamer, kotste, douchte, dronk twee liter water, nam twee magnesiumtabletten, drie paracetamols en een Pantozol, pakte mijn koffer, nam een taxi naar Heathrow en stapte om 5.03 uur in dit vliegtuig terug naar Chicago.
De stewardess nam mijn jasje aan en hing het op een knaapje, waaraan ze mijn instapkaart vastmaakte als een garderobenummer. Daarna kwam ze met een glas champagne.
Ik moest me beheersen om niemand te laten merken hoe blij ik was met mijn stoel in de businessclass. Per slot van rekening was deze vlucht geen cadeau van Rutherford & Gold maar een noodzakelijke uitgave."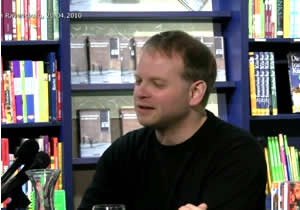 Kristof Magnusson (Hamburg, 4 maart 1976)
De Afghaanse schrijver Khaled Hosseini werd geboren op 4 maart 1965 in Kabul. Zie ook alle tags voor Khaled Hosseini op dit blog.
Uit: A Thousand Splendid Suns
"Later, when she was older, Mariam did understand. It was the way Nana uttered the wordnot so much saying it as spitting it at herthat made Mariam feel the full sting of it. She understood then what Nana meant, that a harami was an unwanted thing; that she, Mariam, was an illegitimate person who would never have legitimate claim to the things other people had, things such as love, family, home, acceptance.
Jalil never called Mariam this name. Jalil said she was his little flower. He was fond of sitting her on his lap and telling her stories, like the time he told her that Herat, the city where Mariam was born, in 1959, had once been the cradle of Persian culture, the home of writers, painters, and Sufis.
"You couldn't stretch a leg here without poking a poet in the ass," he laughed. Jalil told her the story of Queen Gauhar Shad, who had raised the famous minarets as her loving ode to Herat back in the fifteenth century. He described to her the green wheat fields of Herat, the orchards, the vines pregnant with plump grapes, the city's crowded, vaulted bazaars.
"There is a pistachio tree," Jalil said one day, "and beneath it, Mariam jo, is buried none other than the great poet Jami." He leaned in and whispered, "Jami lived over five hundred years ago. He did. I took you there once, to the tree. You were little. You wouldn't remember."
It was true. Mariam didn't remember. And though she would live the first fifteen years of her life within walking distance of Herat, Mariam would never see this storied tree. She would never see the famous minarets up close, and she would never pick fruit from Herat's orchards or stroll in its fields of wheat. But whenever Jalil talked like this, Mariam would listen with enchantment. She would admire Jalil for his vast and worldly knowledge. She would quiver with pride to have a father who knew such things.
"What rich lies!" Nana said after Jalil left. "Rich man telling rich lies. He never took you to any tree. And don't let him charm you. He betrayed us, your beloved father. He cast us out. He cast us out of his big fancy house like we were nothing to him. He did it happily." Mariam would listen dutifully to this. She never dared say to Nana how much she disliked her talking this way about Jalil. The truth was that around Jalil, Mariam did not feel at all like a harami. For an hour or two every Thursday, when Jalil came to see her, all smiles and gifts and endearments, Mariam felt deserving of all the beauty and bounty that life had to give. And, for this, Mariam loved Jalil."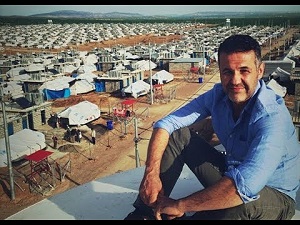 Khaled Hosseini (Kabul, 4 maart 1965)
De Oostenrijkse dichter en schrijver Robert Kleindienst werd geboren op 4 maart 1975 in Salzburg. Zie ook alle tags voor Robert Kleindienst op dit blog.
Ich weiß, was es heißt, glücklich zu sein
wir zwei stehen hier also zu dritt und
halten die Hand fester. so viel Grün, wie uns
der Frühling schenkt, überrascht uns dann
doch, das hätten wir nur im Traum
gedacht. nicht im Traum aber spiegeln wir
uns im Weiher, sehen Entenküken
nach, die Spuren ziehen im Wasser.
am Horizont leuchten Berge weiß, wir
warten noch eine Weile, schwimmen
weiter, dem Ufer zu

Heute, vor langer Zeit
siehst du, die Schaukel steht still
in Sisak. siehst du, ein Kind
sitzt darauf, das keinen Schatten wirft,
bis es der Wind hebt ans andere Ufer.
wir warten nicht dort, es ist
schon zu spät, sagt man uns
in der Lobby. alle frühzeitig
abgereist. später werden wir
die Rechnung zahlen,
abfahren, ein einziges Mal
zurückblicken, zu sehen,
wer winkt
Einklang
Dieser ruhige Atem
neben meiner Nacht.
Diese kleine Hand
in meiner Welt, die sich
öffnet, die ich schließe
in mir.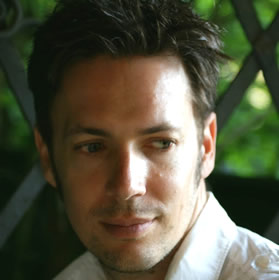 Robert Kleindienst (Salzburg, 4 maart 1975)
De Russische dichteres en dissidente Irina Ratushinskaya werd geboren op 4 maart 1954 in Odessa. Zie ook alle tags voor Irina Ratushinskaya op dit blog.
And I undid the old shawl
And I undid the old shawl
And at once there came to rm:
The four winds from all the roads,
From the clouds; of the earth.
And the first wind sang Inc a song,
About a house behind a hlack mountain.
And the second wind told me
About an enchanted arquebus.
And the third wind began to dance,
And the fourth gave me a ring.
But the fifth wind came laughing
And I recognised his face.
And I asked: "Where have you come from?
And who has sent you to mc'?'
But he looked into my features
And said nothing.
And I touched his shoulder
And sent all the others away.
And this wind blew out the candle.
When night. fell.
Vertaald door David McDuff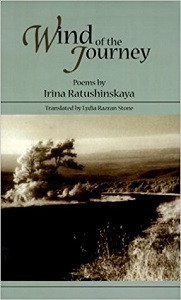 Irina Ratushinskaya (Odessa, 4 maart 1954)
Cover
De Engelse schrijver Alan Sillitoe werd geboren op 4 maart 1928 in Nottingham. Zie ook alle tags voor Alan Sillitoe op dit blog.
Uit: Saturday Night and Sunday Morning
""Loudmouth grunted and tried to ignore her eulogy, but at the end of a fiery and vivid description of a brothel in Alexandria he called over to Arthur: "I hear you drink a lot, matey?"
Arthur didn't like being called "matey." It put his back up straight away. "Middlin'," he answered modestly. "Why?"
"What's the most you've ever drunk, then?" Loudmouth wanted to know. "We used to have boozing matches on shore- leave," he added with a wide, knowing smile to the aroused group of spectators. He reminded Arthur of a sergeant-major who once put him on a charge.
"I don't know," Arthur told him. "I can't count, you see."
"Well," Loudmouth rejoined, "let's see how much you can drink now. Loser pays the bill."
Arthur did not hesitate. Free booze was free booze. Anyway, he begrudged big talkers their unearned glory, and hoped to show him up and take him down to his right size.
Loudmouth's tactics were skilful and sound, he had to admit that. Having won the toss-up for choice, he led off on gins, and after the seventh gin he switched to beer, pints. Arthur enjoyed the gins, and relished the beer. It seemed an even contest for a long time, as if they would sit there swilling it back for ever, until Loudmouth suddenly went green halfway through the tenth pint and had to rush outside. He must have paid the bill downstairs, because he didn't come back. Arthur, as if nothing had happened, went back to his beer.
He was laughing to himself as he rolled down the stairs, at the dull bumping going on behind his head and along his spine, as if it were happening miles away, like a vibration on another part of the earth's surface, and he an earthquake-machine on which it was faintly recorded. This rolling motion was so restful and soporific, in fact, that when he stopped travelling-having arrived at the bottom of the stairs-he kept his eyes closed and went to sleep. It was a pleasant and faraway feeling, and he wanted to stay in exactly the same position for the rest of his life."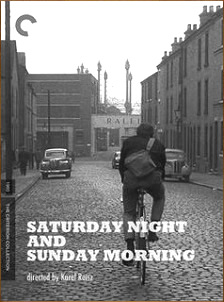 Alan Sillitoe (4 maart 1928 - 25 april 2010)
Cover DVD
Zie voor nog meer schrijvers van de 4e maart ook mijn twee vorige blogs van vandaag.
04-03-2017 om 12:59 geschreven door Romenu

Tags:Khaled Hosseini, Kristof Magnusson, Robert Kleindienst, Irina Ratushinskaya, Alan Sillitoe, Romenu



Ryszard Kapuściński, Jean-Joseph Rabearivelo, Annette Seemann, F. W. Bernstein, Giorgio Bassani
De Poolse schrijver dichter en journalist Ryszard Kapuściński werd geboren in Pinsk, Polen (thans Wit-Rusland), op 4 maart 1932. Zie ook alle tags voor Ryszard Kapuściński op dit blog.
Uit: Travels with Herodotus (Vertaald door Klara Glowczewska)
« Before Herodotus sets out on his travels, ascending rocky paths, sailing a ship over the seas, riding on horseback through the wilds of Asia; before he happens upon the mistrustful Scythians, discovers the wonders of Babylon, and plumbs the mysteries of the Nile; before he experiences a hundred different places and sees a thousand inconceivable things, he will appear for a moment in a lecture on ancient Greece, which Professor Bieiunska-Malowist delivers twice weekly to the first-year students in Warsaw University's department of history.
He will appear and just as quickly vanish.
He will disappear so completely that now, years later, when I look through my notes from those classes, I do not find his name. There are Aeschylus and Pericles, Sappho and Socrates, Heraclitus and Plato; but no Herodotus. And yet we took such careful notes. They were our only source of information. The war had ended six years earlier, and the city lay in ruins. Libraries had gone up in flames, we had no textbooks, nobooks at all to speak of.
The professor has a calm, soft, even voice. Her dark, attentive eyes regard us through thick lenses with marked curiosity. Sitting at a high lectern, she has before her a hundred young people the majority of whom have no idea that Solon was great, do not know the cause of Antigone's despair, and could not explain how Themistocles lured the Persians into a trap.
If truth be told, we didn't even quite know where Greece was or, for that matter, that a contemporary country by that name had a past so remarkable and extraordinary as to merit studying at university. We were children of war. High schools were closed during the war years, and although in the larger cities clandestine classes were occasionally convened, here, in this lecture hall, sat mostly girls and boys from remote villages and small towns, ill read, undereducated. It was 1951. University admissions were granted without entrance examinations, family provenance mattering most-in the communist state the children of workers and peasants had the best chances of getting in."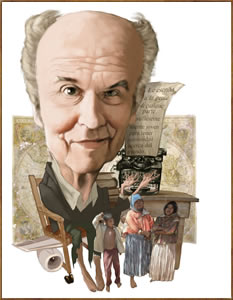 Ryszard Kapuściński (4 maart 1932 - 23 januari 2007)
Getekend door Angelero
De Madagassische dichter en schrijver Jean-Joseph Rabearivelo werd geboren op 4 maart 1901 in Antananarivo. Zie ook alle tags voor Jean-Joseph Rabearivelo op dit blog.
Autre naissance du jour
On ne sait si c'est de l'Est ou de l'Ouest
qu'est venu le premier appel ;
mais maintenant,dans leur huttes transpercées par les étoiles
et les autres sagaies des ténèbres,
les coqs se dénombrent,
soufflent dans les conques marines
et se répondent de partout
jusqu'au retour de celui qui est allé dormir dans l'océan
et jusqu'à l'ascension de l'alouette
qui va à sa rencontre avec des chants
imbus de rosée.
Read
Make no sound, do not speak:
off to explore a forest, eyes, heart,
mind, dreams . . .
Secret forest; yet you can touch this forest
with your hands.
Forest astir with stillness,
forest where the bird is gone, the bird to catch,
catch in a trap and make him sing
or make him cry.
Make him sing or make him cry
and tell the place where he was hatched.
Forest. Bird.
Secret forest, bird hidden
in your hands.
Vertaald door John Reed en Clive Wake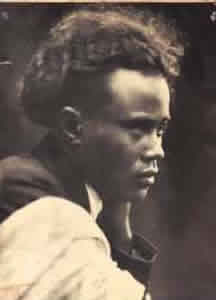 Jean-Joseph Rabearivelo (4 maart 1901 – 22 juni 1937)




De Duitse schrijfster en vertaalster Annette Seemann werd geboren op 4 maart 1959 in Frankfurt am Main. Zie ook alle tags voor Annette Seemann op dit blog.
Uit:Schillers Schwester Christophine
"Als alte Frau, im Jahr 1845, legt Christophine Reinwald die sogenannten Notizen über meine Familie nieder, in denen sie die Herkunft vor allem des Bruders beschreibt, doch freilich auch auf sich selbst zu sprechen kommt. So setzt dieser Text mit den Worten ein: »Ob ich schon vermute, daß die bisherigen Lebensbeschreibungen von meinem sel[igen] Bruder fast alles berhrt haben, was meine Familie betrifft, so könnte doch vielleicht teilnehmenden Freunden nicht unwillkommen sein, was ich als älteste Schwester in meinen Erinnerungen noch aufbewahrt habe, und es hiermit aufzeichne.« Die »teilnehmenden Freunde« sind es, diejenigen, die dereinst den Nachlaß ordnen wrden – namentlich war dies die einzige damals noch lebende Nichte Emilie von Gleichen-Rußwurm (1804-1872). Damit ist ein zentrales Lebensthema Christophine Reinwalds genannt: die Freundschaft, die ihr fast wichtiger als die Liebe war. Trotz hoher moralischer und geistiger Ansprche gewann sie lebenslang viele Freunde, fast ausschließlich Frauen. Ein zweites Identifikationsmerkmal stellt sie dem Leser in diesem ersten Satz vor: »Christophine Reinwald, geborene Schiller« – so sollte sie im Alter fast alle Briefe unterzeichnen. Sie sah sich in erster Linie als »Schillers lteste Schwester«. Diese Identität schloß andere Identitäten aus,die gleichwohl einen Großteil ihres Lebens ausmachten: Tochter von Johann Caspar und Elisabeth Dorothea Schiller, Schwester von Louise und Christiane Schiller, Ehefrau von Wilhelm Reinwald, oder einfach nur: Christophine Reinwald, begabte Zeichnerin und Malerin!
Sie fährt fort: »Unser lieber Vater, Johann Caspar Schiller, ward in Bittenfeld, einem Dorfe unweit Ludwigsburg in Württemberg, 1723 geboren.
Sein Vater war daselbst Schultheiß, den er aber sehr früh verlor, und seine Mutter,Witwe mit sieben Kindern, mußte sich sehr einschränken und konnte nicht viel auf seine Ausbildung verwenden. Sie wollte ihn daher nur für ländliche Geschäfte erziehen, und er mußte sich mit großer Mühe einige Kenntnisse verschaffen."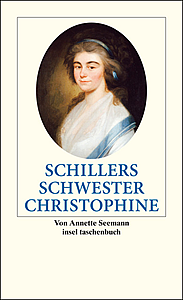 Annette Seemann (Frankfurt am Main, 4 maart 1959)
Cover
De Duitse dichter, graficus, karikaturist en satiricus F. W. Bernstein (eig. Fritz Weigle) werd geboren op 4 maart 1938 in Göppingen. Zie ook alle tags voor F. W. Bernstein en ook voor Bernstein op dit blog
Guten Morgen!
Guten Morgen!
O Morgenröte um halb acht,
Die kalte Nacht vergangen.
Ich lebe und bin aufgewacht,
Der Tag hat angefangen.

O Bademantelmorgenstund!
Ein Stückchen Schokolade?
Die Heizung gluckert glücklich und
ich zieh mich aus und bade.
Die bildenden Künste
Wichtig ist das Kleinformat
weil's uns was zu sagen hat.
Große Bilder zeigen
Farb und Form und schweigen.
Waldunsinn
Pü Reh rennt wiehernd durch den Tann,
weil es sich selber melken kann.
Das Veilchen platzt; die Nelken welken,
sie können sich nicht selber melken.
Pü Reh tut weiter wiehern,
statt sie zu erziehern.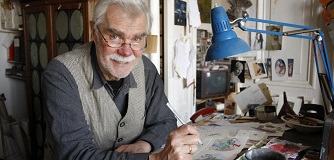 F. W. Bernstein (Göppingen, 4 maart 1938)
De Italiaanse schrijver Giorgio Bassani werd geboren op 4 maart 1916 in Bologna. Zie ook alle tags voor Giorgio Bassani op dit blog.
Uit:The Garden of the Finzi-Continis (Vertaald door Jamie McKendrick)
'Ask that gentleman back there,' he said, jerking his thumb towards me. Giannina turned. Her mouth hidden by the top of the seat, she gave me a rapid glance, severe, filled with mistrust. I waited for her to repeat the question. But she didn't: she promptly turned around and looked straight ahead.
Coming down the road, which continued to rise slightly, flanked by a double row of cypresses, groups of villagers were approaching us, girls and young men. It was the Sunday stroll. Arm in arm, the girls at times formed chains that stretched to the center of the road. At the moment we passed them, we felt ourselves inspected through the windows by their laughing eyes, in which curiosity was mixed with a kind of strange pride, barely dissimulated contempt.
"Papà,' Gianninia asked again, 'why is it that ancient tombs are not as sad as new ones?'
A group more numerous than the others, occupying a good part of the road, and singing in chorus with no thought of making way for us, had forced the car almost to a stop. Her father shifted into second.
'That's obvious,' he answered. 'People who have just died are closer to us, and so we are fonder of them. The Etruscans, after all, have been dead for a long time' – again he was telling a fairy tale – 'so long it's as if they had never lived, as if they had always been dead.'
Another longer pause. At the end of it (we were already near the open space I front of the entrance to the necropolis, full of automobiles and buses), it was Giannina's turn to impart the lesson.
'But now, if you say that,' she ventured softly, 'you remind me that the Etruscans were also alive once, and so I'm fond of them, like everyone else.'
Our visit then to the necropolis, I recall, was completely affected by the extraordinary tenderness of this sentence. Giannina had prepared us to understand. It was she, the youngest, who somehow guided us."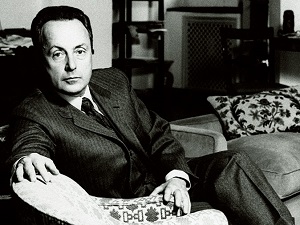 Giorgio Bassani (4 maart 1916 – 13 april 2000)
Zie voor nog meer schrijvers van de 4e maart ook mijn vorige blog van vandaag.
04-03-2017 om 12:58 geschreven door Romenu

Tags:Ryszard Kapuś,ciń,ski, Jean-Joseph Rabearivelo, Annette Seemann, F. W. Bernstein, Giorgio Bassani, Friedrich Schiller, Romenu



Bernardo Ashetu, Léon-Paul Fargue, Kito Lorenc, Jacques Dupin, Thomas S. Stribling
De Surinaamse dichter Bernardo Ashetu (Eig. Hendrik George van Ommeren) werd geboren in Kasabaholo op 4 maart 1929. Zie ook alle tags voor Bernardo Ashetu op dit blog.
Niets
Ach,
vandaag
was er niets
op de berg,
zelfs geen snipper
van een vod.
Daarom bevind ik
mij hier op de
hoge toren bij de
gepolijste vlaggestok. -
En ik hijs de vlag
en ik strijk de vlag
en hijs de vlag
en strijk de vlag.
en ik woeker met
haar kleuren.
Roet
Ik was tot aan de grens van de zee
bijna bij het einde
toen een loktoon mij terugvoerde
naar dit veren bed
op gras dat reeds lang verdord is.
Iedere avond kom jij dan nog
in 't half-duister schuivend aan
en gooit roet in m'n kleurloos eten.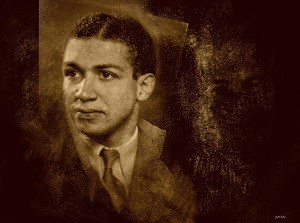 Bernardo Ashetu (4 maart 1929 - 3 augustus 1982)
De Franse dichter en essayist Léon-Paul Fargue werd geboren op 4 maart 1876 in Parijs. Zie ook alle tags voor Léon-Paul Fargue op dit blog.
Spleen
Dans un vieux square où l'océan
Du mauvais temps met son séant
Sur un banc triste au yeux de pluie
C'est d'une blonde
Rosse et gironde
Que je m'ennuie
Dans ce cabaret du Néant
Qu'est notre vie.
Amour tremblant
Amour tremblant . Crainte de proie.
J'aime vos deux instincts frappants.
Crainte tenace. Amour tremblant.
Je sais ton style heureusement.
Je suis le maître dans la nuit.
Amour tenace. Amour tremblant.
Tu t'es posé sur le rebord
De l'âme la plus misérable.
comme un aigle sur un balcon !
Amour tenace. Amour tremblant.
L'horloge creuse la mort
Je l'honore dans tes beaux yeux,
Je la distingue aux seins blessants.
Les fleurs qu'on ne voit que la nuit
C'est ce qui fait qu'on réfléchit.
Mais veuille surveillez nos yeux.
Quand nous souffrons fais-nous pleurer.
lorsqu'on pleure on est presque heureux.
Amour tenace. amour tremblant !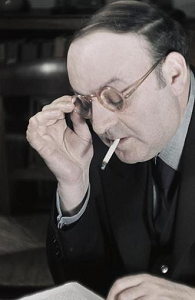 Léon-Paul Fargue (4 maart 1876 – 24 november 1947)
De Duits-sorbische dichter, schrijver en vertaler Kito Lorenc werd geboren op 4 maart 1938 in Schleife (Oost-Sachsen). Zie ook alle tags voor Kito Lorenc op dit blog.
Singende Amsel
Als die steinerne Stadt
unter Sirenenrufen
ans Sonnenufer rollte
und Rauchopfer aufstiegen
ins Blau, früh, als ich heimkam
sah ich dich auf deinem Mast:
Gelbe Flöte schwarzes Herz –
es schwingt noch
das Mundstück aus Horn
vor der leis zitternden Säule zarter Luft.
Kleines bebendes Herz, glühst rötlich
durch dein schwarzes Gefieder,
geflügeltes Herz,
so zu singen
Angesicht in Angesicht: Sonne und Herz
Da flog sie auf:
Sing, sing du
Sorbisch-deutsche Abendlesung

Nacht steigt
Poës, frische
Wische

Schöne Fröse
unvergleichlich
Wallei

Mond Glotze
duse später
Tolpen

Weine Klitte
so verschieden
Prossetlein

Blei bai Unz
schinki schanki
Hypp!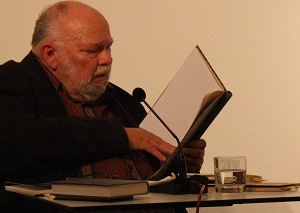 Kito Lorenc (Schleife, 4 maart 1938)
De Franse dichter Jacques Dupin werd geboren in Privas, Ardèche, op 4 maart 1927. Zie ook alle tags voor Jacques Dupin op dit blog.
Grand vent
Nous n'appartenons qu'au sentier de montagne
Qui serpente au soleil entre la sauge et le lichen
Et s'élance à la nuit, chemin de crête,
À la rencontre des constellations.
Nous avons rapproché des sommets
La limite des terres arables.
Les graines éclatent dans nos poings.
Les flammes rentrent dans nos os.
Que le fumier monte à dos d'hommes jusqu'à nous !
Que la vigne et le seigle répliquent
À la vieillesse du volcan !
Les fruits de l'orgueil, les fruits du basalte
Mûriront sous les coups
Qui nous rendent visibles.
La chair endurera ce que l'œil a souffert,
Ce que les loups n'ont pas rêvé
Avant de descendre à la mer.
L'angle du mur
Ma méditation ton manteau se consument
Pour te perdre mieux
Ou te mordre blanche.
La tour délivrée de son lierre croule.
La terreur conduit sous terre ma semence,
L'éclairé et la refroidit.
J'attends la déflagration.
Et je tutoie les morts, les nouveaux venus.
Celle que j'aime est dans leur camp,
Fourche, flamme et minerai.
Le sang qui brille sur la page de garde
Ne sera jamais le sien.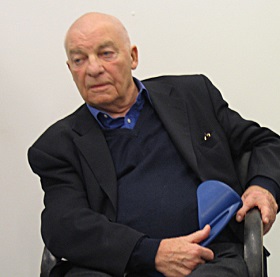 Jacques Dupin (4 maart 1927 – 27 oktober 2012)
De Amerikaanse schrijver Thomas S. Stribling werd geboren op 4 maart 1881 in Clifton, Tennessee. Zie ook alle tags voor Thomas S. Stribling op dit blog.
Uit: The Store
"In response to his wife's uncertain inquiry about the political speaking, Colonel Miltiades Vaiden called back from his gate that he did not think there would be any ladies at the courthouse that evening.
By laying stress on the word "think" the Colonel not only forecasted a purely masculine attendance in Courthouse Square that summer evening in Florence, Alabama, but at the same time he subtly expressed his own personal disapproval of women appearing at political gatherings at any place or time whatsoever.
The heavy wife in the doorway hesitated at the Colonel's implication. She had wanted to go. She felt the gregarious impulse of fleshy persons to foregather with crowds, to laugh and fraternize with the audience, to propel her large body among her lighter fellows with the voluptuous and genial ruthlessness of a fat person. However, on the other hand, her feminine fear of being the only woman in the audience stood in her path.
But behind these two antagonistic impulses lay another cause of depression which the ponderous wife knew too well but which she never frankly had admitted even to herself. This was that her husband did not want her to go with him to this or to any other public gathering; it was ... that he was ashamed of her.
This fact wavered in the woman's mind until she expelled it by calling out:
"Oh, Mr. Milt, there'll be a lot of leading men down there, I expect. Maybe some of 'em will offer you a—a better position...."
At this mention of position a disagreeable tickle went through the husband's chest, but he answered in an impassive, corrective tone:
"Not likely such a topic will come up at a political meeting, Ponny."
"Well ... if it does ... you ... you mustn't repulse 'em, Mr. Milt."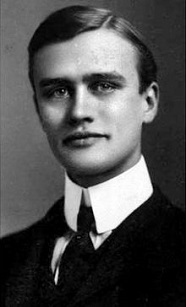 Thomas S. Stribling (4 maart 1881 – 8 juli 1965)
04-03-2017 om 12:57 geschreven door Romenu

Tags:Bernardo Ashetu, Léon-Paul Fargue, Kito Lorenc, Jacques Dupin, Thomas S. Stribling, Romenu



| | |
| --- | --- |
| | |



Inhoud blog


| | |
| --- | --- |
| | Arjen Lubach, Lévi Weemoedt, Jonas Lüscher, Doris Lessing, Alfred Douglas, A. L. Kennedy, Charles Leconte de Lisle, Ivan Boenin, Timur Vermes |
| | Martin Bril, Doeschka Meijsing, Daan Doesborgh, Alphonse de Lamartine, Samuel T. Coleridge |
| | Patrick Kavanagh, Tariq Ali, Nikos Engonopoulos, Mehdi Charef, Allen Hoey, Martin Roda Becher |
| | Hans Warren, Mustafa Stitou, Hans Maarten van den Brink, Ela Angerer, Arthur Rimbaud, Marnix Gijsen, Oskar Pastior, Elfriede Jelinek, Robert Pinsky |
| | David Vann, Philip Pullman, Miguel Ángel Asturias, Fannie Hurst, Leigh Hunt, Nardo Aluman, Andrew Vachss, John le Carré, Adam Lindsay Gordon |
| | Kees Fens, Nic Pizzolatto, Jan Wagner, Isabelle Autissier, Ntozake Shange, Terry McMillan, Heinrich von Kleist, Raymond Brulez, Jan Erik Vold |
| | Man Booker Prize 2017 voor George Saunders |
| | Mois d'octobre (François Coppée), Dolce far niente |
| | Simon Vestdijk, Pieter Waterdrinker, Georg Büchner, Mark Gatiss, Arthur Miller, Miguel Delibes, Emanuel Geibel, Nel Noordzij, Tom Rachman |
| | Indian Summer (Henry van Dyke), Dolce far niente |
| | Günter Grass, Oscar Wilde, Alma Mathijsen, Guðbergur Bergsson, Eugene O'Neill, Dino Buzzati, Gerold Späth, Albrecht von Haller, Gustaaf Peek |
| | Friedenspreis des Deutschen Buchhandels 2017 voor Margaret Atwood |
| | Herfst (Jacqueline van der Waals). Dolce far niente |
| | A. F.Th. van der Heijden, Heinz Helle, Boualem Sansal, Riekus Waskowsky, Friedrich Nietzsche, Alfred Neumann |
| | Michail Lermontov, Italo Calvino, Tessa de Loo, P.G. Wodehouse, Mario Puzo, Vergilius, Kees Beekmans |
| | Indian Summer (Wilfred Campbell), Dolce far niente |
| | E. E. Cummings, Maarten van der Graaff, Daniël Rovers, Péter Nádas, Katha Pollitt, Katherine Mansfield, Margarete Susman, Stefan Żeromski, Philip Winkler |
| | Colin Channer, Herman Franke, Jeet Thayil, Sebastian Fitzek, Richard Howard, Migjeni, Arna Wendell Bontemps, Conrad Richter, Edwina Currie |
| | Stefaan van den Bremt, Eugenio Montale, Robert Fitzgerald, Paul Engle, Ann Petry, Louis Hemon, Paula von Preradović, Marcelo Figueras, Shida Bazyar |
| | Daniel Falb, Conrad Ferdinand Meyer, Christoph Peters, Han Resink, Gertrud von Le Fort, François Mauriac, Pierre Jean Jouve, Boris Pilnjak, Hans Schiebelhuth |
| | Menno Wigman, Jonathan Littell, Ferdinand Bordewijk, Mercè Rodoreda, Harold Pinter, Boeli van Leeuwen, R. K. Narayan, Eugen Egner, Claude Simon |
| | Deutscher Buchpreis 2017 voor Robert Menasse |
| | Herman Brusselmans, Tadeusz Różewicz, Mário de Andrade, Colin Clark, Victor Klemperer, Marína Tsvetájeva, Elaine Goodale Eastman, Léopold Senghor, Holger Drachmann |
| | Alexis de Roode, Martin van Amerongen, Benjamin Cheever, Jakob Arjouni, John Cowper Powys, Sergei Efron, André Theuriet, Nikolaus Becker, Atticus Lish |
| | Simon Carmiggelt, Rachel Kushner, Thomas Keneally, Dirkje Kuik, Steven Erikson |
| | Georg Hermann, James Whitcomb Riley, Wilhelm Müller, Sohrab Sepehri, Chigozie Obioma |
| | Victor Vroomkoning, Ulrike Ulrich, Yaşar Kemal, Heinrich Federer, Ludwig Begley, Maria Dąbrowska, Horst Bingel, Peter Gosse, Lennart van Nieuwenhuijzen |
| | Václav Havel, Roberto Juarroz, Stig Dagerman, K.L. Poll, Flann O'Brien, Denis Diderot, Charlotte Link, José Donoso, Sven Cooremans |
| | Nobelprijs voor Literatuur 2017 voor Kazuo Ishiguro |
| | Coen Peppelenbos, Oek de Jong, Cynthia Mc Leod, Matthieu Gosztola, Gabriel Loidolt, Koos Schuur, Roy Alton Blount Jr., Mary Elizabeth Braddon, André Salmon |
| | Peter Terrin, Gore Vidal, Kira Wuck, James Herriot, Stijn Streuvels, Alain-Fournier, Sergej Jesenin, Bernard Cooper, Louis Aragon |
| | Leïla Slimani |
| | Dimitri Verhulst, Joost Baars, Göran Sonnevi, Graham Greene, Wallace Stevens, Andreas Gryphius, Nes Tergast, Waltraud Anna Mitgutsch, Jan Morris |
| | Michael Schindhelm, Louis Untermeyer, Inge Merkel, Sergej Aksakov, Michael Bijnens, Titus Meyer, Stephan Reich |
| | Renée van Marissing |
| | Khalid Boudou, Günter Wallraff, P. N. van Eyck, Israël Querido, Charles Cros, John Hegley, Tim O'Brien |
| | Willem G. van Maanen, Truman Capote, Hendrik Marsman, Wilfried de Jong, Elie Wiesel, Henk Spaan |
| | Roemi, Zhang Ailing, Edzard Schaper, Hermann Sudermann, Ferdinand von Saar, Jurek Becker |
| | Indian Summer (Leo Vroman), Dolce far niente |
| | Pé Hawinkels, Hristo Smirnenski, Elizabeth Gaskell, Miguel de Unamuno, Miguel de Cervantes, Colin Dexter, Ingrid Noll, Akram Assem, Lanza del Vasto |
| | Herinnering aan Hella Haasse |
| | Philip Huff, Ellis Peters, Ben Greenman, Thijs Zonneveld, Albert Vigoleis Thelen, Robert Thomas, Prosper Mérimée, Francis Turner Palgrave, Rudolf Baumbach |
| | Altweibersommer (Klaus Ender), Dolce far niente |
| | Irvine Welsh, Ko de Laat, Kay Ryan, Esther Verhoef, Ignace Schretlen, Josef ¦kvorecký, Christian Schloyer, Tanja Kinkel, Edvard Kocbek |
| | Bart Chabot, T. S. Eliot, Thomas van Aalten, Luís Fernando Veríssimo, Mark Haddon, William Self, Jane Smiley, Vladimir Vojnovitsj |
| | Niccolò Ammaniti, David Benioff, Michael Reefs, Carlos Ruiz Zafón, Andrzej Stasiuk, William Faulkner, Patricia Lasoen, Rebecca Gablé, Lu Xun |
| | Altweibersommer (Carl Busse), Dolce far niente |
| | Joke van Leeuwen, Mark Boog, A.L. Snijders, Alejandro Zambra, F. Scott Fitzgerald, Shamim Sarif |
| | Hendrik Tollens, Fernand Ouellette, Yves Navarre, Alfons Petzold, Charles Ferdinand Ramuz, Szilvia Molnar |
| | De mist (Jan Prins), Dolce far niente |