E-mail mij


Druk op onderstaande knop om mij te e-mailen.


Romenu


Google


Georg Trakl

Georg Trakl werd op 3 februari 1887 in het conducteurshuis aan de Waagplatz 2 in Salzburg geboren. Zijn vader, Tobias Trakl, was een handelaar in ijzerwaren en zijn moeder, die ook psychische problemen had, was Maria Catharina Trakl, (meisjesnaam Halik). Voorts had hij nog drie broers en drie zussen. Margarethe (doorgaans Grethe genoemd) stond hem het naast, zelfs zodanig dat sommigen een incestueuze verhouding vermoeden. Zijn jeugd bracht hij door in Salzburg. Vervolgens bezocht hij van 1897 tot 1905 het humanistische gymnasium. Om toch een academische opleiding te kunnen volgen, werkte hij tot 1908 in de praktijk bij een apotheker. Sommigen vermoedden dat hij dit vooral deed om zichzelf opiaten te kunnen verschaffen. Bij het uitbreken van WO I werd Trakl als medicus naar het front in Galicië (heden ten dage in Oekraïne en Polen) gestuurd. Zijn gemoedsschommelingen leidden tot geregelde uitbraken van depressie, die verergerd werden door de afschuw die hij voelde voor de verzorging van de ernstig verwonde soldaten. De spanning en druk dreven hem ertoe een suïcidepoging te ondernemen, welke zijn kameraden nochtans verhinderden. Hij werd in een militair ziekenhuis opgenomen in Kraków, alwaar hij onder strikt toezicht geplaatst werd.Trakl verzonk daar in nog zwaardere depressies en schreef Ficker om advies. Ficker overtuigde hem ervan dat hij contact moest opnemen met Wittgenstein, die inderdaad op weg ging na Trakls bericht te hebben ontvangen. Op 4 november 1914, drie dagen voordat Wittgenstein aan zou komen, overleed hij echter aan een overdosis cocaïne


Paul Celan

Paul Celan werd onder de naam Paul Antschel op 23 november 1920 geboren in Czernowitz, toentertijd de hoofdstad van de Roemeense Boekovina, nu behorend bij de Oekraïne. Paul Celans ouders waren Duitssprekende joden die hun zoon joods opvoedden en hem naar Duitse christelijke scholen stuurden. In 1942 werden Celans ouders door de Duitse bezetter naar een werkkamp gedeporteerd en daar vermoord. Hijzelf wist aanvankelijk onder te duiken, maar moest vanaf juli 1942 in een werkkamp dwangarbeid verrichten. Celan overleefde de oorlog. Via Boekarest en Wenen vestigde Celan zich in 1948 in Parijs. Daar was hij werkzaam als dichter, vertaler en doceerde hij aan de prestigieuze Ecole Normale Supérieure. Vermoedelijk op 20 april 1970 beëindigde hij zijn leven zelf door in de Seine te springen.


Gerard Reve

Gerard Reve over: Medearbeiders "God is in de mensen, de dieren, de planten en alle dingen - in de schepping, die verlost moet worden of waaruit God verlost moet worden, door onze arbeid, aangezien wij medearbeiders van God zijn." Openbaring "Tja, waar berust elk godsbegrip op, elke vorm van religie? Op een openbaring, dat wil zeggen op een psychische ervaring van zulk een dwingende en onverbiddelijke kracht, dat de betrokkene het gevoel heeft, niet dat hij een gedachte of een visioen heeft, maar dat een gedachte gedachte of visioen hem bezit en overweldigt."


Simon Vestdijk
Simon Vestdijk (Harlingen, 17 oktober 1898 – Utrecht, 23 maart 1971) was een Nederlands romancier, dichter, essayist en vertaler. Zijn jeugd te Harlingen en Leeuwarden beschreef hij later in de Anton Wachter-cyclus. Van jongs af aan logeerde hij regelmatig bij zijn grootouders in Amsterdam, waar hij zich in 1917 aan de Universiteit van Amsterdam inschrijft als student in de medicijnen. Tijdens zijn studie die van 1917 tot 1927 duurde, leerde hij Jan Slauerhoff kennen.Tot 1932 is hij als arts in praktijken door heel Nederland werkzaam. In 1932 volgt zijn officiële schrijversdebuut met de uitgave van de bundel Verzen in De Vrije Bladen. Doorslaggevend voor Vestdijks uiteindelijke keuze voor de literatuur is zijn ontmoeting in 1932 met Eddy Du Perron en Menno ter Braak. Deze ontmoeting had tot resultaat dat hij redactielid werd van het tijdschrift Forum Kort daarop, in 1933, wordt zijn eerste novelle, De oubliette, uitgegeven. In hetzelfde jaar schrijft hij Kind tussen vier vrouwen, dat, eerst geweigerd door de uitgever, later de basis zal vormen voor de eerste drie delen van de Anton Wachter-romans. In 1951 ontvangt Vestdijk de P.C. Hooftprijs voor zijn in 1947 verschenen roman De vuuraanbidders. In 1957 wordt hij voor het eerst door het PEN-centrum voor Nederland voorgedragen voor de Nobelprijs voor de Literatuur, die hij echter nooit zal krijgen. Op 20 maart 1971 wordt hem de Prijs der Nederlandse Letteren toegekend, maar voor hij deze kan ontvangen overlijdt hij op 23 maart te Utrecht op 72-jarige leeftijd. Vestdijk was auteur van ca. 200 boeken. Vanwege deze enorme productie noemde de dichter Adriaan Roland Holst hem 'de man die sneller schrijft dan God kan lezen'. Andere belangrijke boeken van Simon Vestdijk zijn: "Kind van stad en land" (1936), "Meneer Visser's hellevaart" (1936), "Ierse nachten" (1946), "De toekomst de religie" (1947), "Pastorale 1943" (1948), "De koperen tuin" (1950), "Ivoren wachters" (1951), "Essays in duodecimo" (1952) en "Het genadeschot" (1964).


K.P. Kavafis

K.P. Kavafis werd als kind van Griekse ouders, afkomstig uit Konstantinopel, geboren in 1863 in Alexandrië (tot vandaag een Griekse enclave) waar hij ook het grootste deel van zijn leven woonde en werkte. Twee jaar na de dood van zijn vader verhuist het gezin in 1872 naar Engeland om na een verblijf van vijf jaar naar Alexandrië terug te keren. Vanwege ongeregeldheden in Egypte vlucht het gezin in 1882 naar Konstantinopel, om na drie jaar opnieuw naar Alexandrië terug te gaan. In de jaren die volgen maakt Kavafis reizen naar Parijs, Londen en in 1901 zijn eerste reis naar Griekenland, in latere jaren gevolgd door nog enkele bezoeken. Op de dag van zijn zeventigste verjaardag, in 1933 sterft Kavafis in Alexandrië. De roem kwam voor Kavafis pas na zijn dood, dus postuum. Deels is dat toe te schrijven aan zijn eigen handelswijze. Hij was uiterst terughoudend met de publicatie van zijn gedichten, liet af en toe een enkel gedicht afdrukken in een literair tijdschrift, gaf in eigen beheer enkele bundels met een stuk of twintig gedichten uit en het merendeel van zijn poëzie schonk hij op losse bladen aan zijn beste vrienden.


Thomas Mann


Thomas Mann, de jongere broer van Heinrich Mann, werd geboren op 6 juni 1875 in Lübeck. Hij was de tweede zoon van de graankoopman Thomas Johann Heinrich Mann welke later één van de senatoren van Lübreck werd. Zijn moeder Julia (geboren da Silva-Bruhns) was Duits-Braziliaans van Portugees Kreoolse afkomst. In 1894 debuteerde Thomas Mann met de novelle "Gefallen". Toen Thomas Mann met 21 jaar eindelijk volwassen was en hem dus geld van zijn vaders erfenis toestond - hij kreeg ongeveer 160 tot 180 goldmark per jaar - besloot hij dat hij genoeg had van al die scholen en instituties en werd onafhankelijk schrijver. Kenmerkend voor zijn stijl zijn de ironie, de fenomenale taalbeheersing en de minutieuze detailschildering. Manns reputatie in Duitsland was sterk wisselend. Met zijn eerste roman, Buddenbrooks (1901), had hij een enorm succes, maar door zijn sceptische houding tegenover Duitsland na de Eerste Wereldoorlog veranderde dit volledig. Stelde hij zich tot aan de jaren twintig apolitiek op (Betrachtungen eines Unpolitischen, 1918), meer en meer raakte hij bij het Politiek gebeuren betrokken. Zijn afkeer van het nationaal socialisme groeide, zijn waarschuwingen werden veelvuldiger en heftiger. In 1944 accepteerde hij het Amerikaanse staatsburgerschap. Tussen 1943 en 1947 schreef Mann Doktor Faustus (zie Faust), de roman van de 'Duitse ziel' in de gecamoufleerd geschilderde omstandigheden van de 20ste eeuw. In 1947 bezocht hij voor het eerst sinds de Oorlog Europa, twee jaar later pas Duitsland. In 1952 vertrok hij naar Zwitserland. Op 12 augustus 1955 stierf hij in Zürich. Twintig jaar na zijn dood, in aug. 1975, is zijn literaire nalatenschap geopend: dagboekaantekeningen van 15 maart 1933 tot 29 juli 1955, alsmede notities uit de jaren 1918 tot en met 1921.Belangrijke werken zijn: Der Zauberberg, Der Tod in Venedig, Dokter Faustus , Joseph und seine Brüder en Die Bekenntnisse des Hochstaplers Felix Krull.


Rainer Maria Rilke

Rilke werd op 4 december 1875 geboren in Praag. Hij had al naam gemaakt als dichter met zijn bundels Das Stundenbuch en Das Buch der Bilder, toen hij de literaire wereld versteld deed staan en wereldfaam verwierf met de publicatie van zijn twee delen Neue Gedichte in 1907 en 1908. Hij verzamelde daarin het beste werk uit een van zijn vruchtbaarste periodes, die hij grotendeels doorbracht in Parijs. Rilke was daar diep onder de indruk gekomen van Rodin, bij wie hij een tijdlang in dienst was als particulier secretaris. Rodin, zei hij later, had hem leren kijken. Dit kijken kwam neer op intense concentratie, om het mysterie te kunnen zien 'achter de schijnbare werkelijkheid'. Latere en rijpere werken als Duineser Elegien (1912-1923) en het ronduit schitterende Die Sonette an Orfeus (1924) illustreren Rilkes metafysische visie op het onzegbare, dat haar verwoording vindt in een hermetische muzikale taal. Op 29 december 1926 overlijdt Rilke in het sanatorium in Val-Mont aan de gevolgen van leukemie. Enkele dagen later wordt hij, overeenkomstig zijn wens, begraven op het kerkhof van Raron.


* * * * * * * * * * * * * * * *

| | |
| --- | --- |
| | Over literatuur, gedichten, kunst en cultuur |

07-10-2010

Simon Carmiggelt, James Whitcomb Riley, Thomas Keneally
De Nederlandse schrijver en dichter Simon Carmiggelt werd geboren op 7 oktober 1913 in Den Haag. Zie ook mijn blog van 7 oktober 2006 en mijn blog van 7 oktober 2007 en ook mijn blog van 7 maart 2008 en ook mijn blog van 7 oktober 2009.
Uit: Brieven aan Gerard Reve
"20 mei 1971
Beste Gerard,
Deze brief, die antwoordt op de jouwe van 16 mei, begin ik met een visuele herinnering. Ik weet niet meer hoeveel jaar geleden. Maar je was pas tot het bewustzijn gekomen van je homofilie en er open voor uitgekomen in een publicatie.
Ik zat op een zomermiddag op een caféterras op het Kleine Gartmanplantsoen. Jij liep langs, met iemand. Je zag me niet. Je ging voor het Citytheater in de rij staan, naar ik meen om een film van Fellini te gaan zien. Ik keek naar je en dacht: 'Zijn motoriek is veranderd. Hij loopt en staat anders. Onbevangener, bevrijd.' En je praatte met de persoon die je bij je had op een vrolijke manier, geheel ontspannen. Ik dacht: 'Hij is gelukkig, geloof ik. Wat fijn voor hem. En wat een ramp voor hem als schrijver en voor mij als lezer.'
Dit is geen 'anecdote', maar wat mij betreft pure ernst. En misschien een bijdrage tot het probleem van je depressies. Iedere schrijver krijgt de depressies die hij verdient. Jij krijgt ze op jouw formaat. Maar als ze je niet verhinderen 'Gezond leven' te schrijven, vormen ze, naar mijn mening, geen probleem van betekenis. Wel voor jou als 'particulier' natuurlijk en voor je omgeving. Maar niet voor jou als schrijver en voor mij als lezer. Ik ben niet bezig je ergens van te overtuigen. Dat is natuurlijk onmogelijk. Maar ik betoog alleen, als lezer, dat je wanhoop en je vertwijfeling volstrekt onmisbaar zijn voor je werk. Als je, geheel bij wijze van spreken, een - uiteraard niet alcoholische - toverdrank innam, die je wensloos gelukkig maakt, zou je als schrijver sterven. Het valt te betwijfelen of je dan nog schrijven zou. Waarom? Gelukkige mensen hoeven dat niet. Maar als je het wel zou doen, wil ik het niet lezen. Wat heb ik aan de onbeduidende mededelingen van een gelukkig mens? Jouw hele werk drijft, tot zinken bereid, op de donkere onderstroom van je wanhoop. Haal je die eronderuit, dan blijft er niets over. Vandaar mijn vrees, toen ik je zag staan voor het Citytheater. Ik bedoel: onderwaardeer je wanhoop niet. Als je niet meer wanhoopt en je 'happy' voelt, zal je stijl de spankracht verliezen, die deze stijl nu bezit. 'Particulier' is het wel vervelend voor je - toegegeven. Maar wat betekent de particulariteit van een schrijver? Niets. Lezers zijn wreed. En Hemingway had gelijk, toen hij zei: 'Een schrijver kan niet met pensioen gaan' en zich door zijn kop schoot toen hij dat laatste boek over Parijs niet uit zijn pen kon krijgen. Het is modieus het een rotboek te vinden. Dat is het niet, maar het staat beneden zijn peil. Maar als jij nu 'Gezond leven' kunt schrijven, moet je de zelfmoord echt nog wel even uitstellen. Begrijp me wel: ik wil je niet, als 'humanist', tegen beter weten in leven houden. Ik praat als egoïstische lezer, die alles nog niet gehad heeft.
Maar die het wel allemaal hebben wil. Als jij voortijdig uitknijpt, besteel je me. Dat is een misdrijf. Zie de arresten van de Hoge Raad.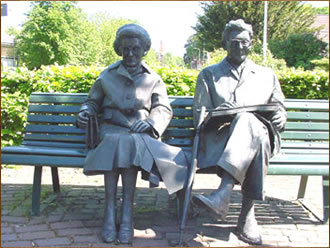 Simon Carmiggelt (7 oktober 1913 – 30 november 1987)
Carmiggelt met zijn vrouw Tini, brons van Wim Kuijl in Rheden
De Amerikaanse dichter en schrijver James Whitcomb Riley werd geboren op 7 oktober 1849 in Greenfield, Indiana. Zie ook mijn blog van 7 oktober 2006 en ook mijn blog van 7 maart 2008 en ook mijn blog van 7 oktober 2009.
Dead Leaves
Dawn
As though a gipsy maiden with dim look,
Sat crooning by the roadside of the year,
So, Autumn, in thy strangeness, thou art here
To read dark fortunes for us from the book
Of fate; thou flingest in the crinkled brook
The trembling maple's gold, and frosty-clear
Thy mocking laughter thrills the atmosphere,
And drifting on its current calls the rook
To other lands. As one who wades, alone,
Deep in the dusk, and hears the minor talk
Of distant melody, and finds the tone,
In some wierd way compelling him to stalk
The paths of childhood over,--so I moan,
And like a troubled sleeper, groping, walk.
Dusk
The frightened herds of clouds across the sky
Trample the sunshine down, and chase the day
Into the dusky forest-lands of gray
And somber twilight. Far, and faint, and high
The wild goose trails his harrow, with a cry
Sad as the wail of some poor castaway
Who sees a vessel drifting far astray
Of his last hope, and lays him down to die.
The children, riotous from school, grow bold
And quarrel with the wind, whose angry gust
Plucks off the summer hat, and flaps the fold
Of many a crimson cloak, and twirls the dust
In spiral shapes grotesque, and dims the gold
Of gleaming tresses with the blur of rust.
Night
Funereal Darkness, drear and desolate,
Muffles the world. The moaning of the wind
Is piteous with sobs of saddest kind;
And laughter is a phantom at the gate
Of memory. The long-neglected grate
Within sprouts into flame and lights the mind
With hopes and wishes long ago refined
To ashes,--long departed friends await
Our words of welcome: and our lips are dumb
And powerless to greet the ones that press
Old kisses there. The baby beats its drum,
And fancy marches to the dear caress
Of mother-arms, and all the gleeful hum
Of home intrudes upon our loneliness.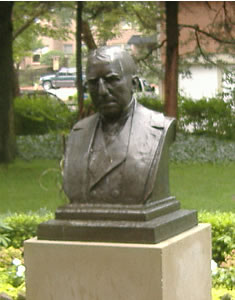 James Whitcomb Riley (7 oktober 1849 – 22 juli 1916)
Buste van Riley in Indianapolis
De Australische schrijver Thomas Keneally werd geboren op 7 oktober 1935 in Sydney. Zie ook mijn blog van 7 maart 2008 en ook mijn blog van 7 oktober 2009.
Uit: Schindler's List
"The family Schindler was Catholic. So too was the family of young Amon Goeth, by this time also completing the Science Course and sitting for the Matura examinations in Vienna.
Oskar's mother, Louisa, practiced her faith with energy, her clothes redolent all Sunday of the incense burned in clouds at High Mass in the Church of St. Maurice. Hans Schindler was the sort of husband who drives a woman to religion. He liked cognac; he liked coffeehouses. A redolence of brandy-warm breath, good tobacco, and confirmed earthiness came from the direction of that good monarchist, Mr. Hans Schindler.
The family lived in a modern villa, set in its own gardens, across the city from the industrial section. There were two children, Oskar and his sister, Elfriede. But there are not witnesses left to the dynamics of that household, except in the most general terms. We know, for example, that it distressed Frau Schindler that her son, like his father, was a negligent Catholic.
But it cannot have been too bitter a household. From the little that Oskar would say of his childhood, there was no darkness there. Sunlight shines among the fir trees in the garden. There are ripe plums in the corner of those early summers. If he spends a part of some June morning at Mass, he does not bring back to the villa much of a sense of sin. He runs his father's car out into the sun in front of the garage and begins tinkering inside its motor. Or else he sits on a side step of the house, filing away at the carburetor of the motorcycle he is building.
Oskar had a few middle-class Jewish friends, whose parents also sent them to the German grammar school. These children were not village Ashkenazim—quirky, Yiddish-speaking, Orthodox—but multilingual and not-so-ritual sons of Jewish businessmen. Across the Hana Plain and in the Beskidy Hills, Sigmund Freud had been born of just such a Jewish family, and that not so long before Hans Schindler himself was born to solid German stock in Zwittau.
Oskar's later history seems to call out for some set piece in his childhood. The young Oskar should defend some bullied Jewish boy on the way home from school. It is a safe bet it didn't happen, and we are happier not knowing, since the event would seem too pat. Besides, one Jewish child saved from a bloody nose proves nothing. For Himmler himself would complain, in a speech to one of his Einsatzgruppen, that every German had a Jewish friend. " 'The Jewish people are'going to be annihilated,' says every Party member. 'Sure, it's in our program: elimination of the Jews, annihilation—we'll take care of it.' And then they all come trudging, eighty million worthy Germans, and each one has his one decent Jew. Sure, the others are swine, but this one is an A-One Jew."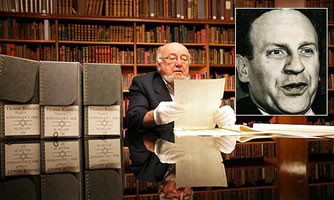 Thomas Keneally (Sydney, 7 oktober 1935)
Inzet Oskar Schindler


Zie voor nog meer schrijvers van de 7e oktober ook
mijn vorige blog van vandaag.
07-10-2010 om 00:00 geschreven door Romenu

Tags:Simon Carmiggelt, James Whitcomb Riley, Gerard Reve, Thomas Keneally, Romenu



Dirkje Kuik, Steven Erikson, Wilhelm Müller
De Nederlandse schrijfster en beeldend kunstenares Dirkje Kuik werd geboren in Utrecht op 7 oktober 1929. Zie ook mijn blog van 7 maart 2008 en ook mijn blog van 7 oktober 2009.
Het museum Jo, weet je nog
Het museum Jo, weet je nog,
kleine vriendelijke doffer, wie weet.
Alle schilderkunst sloegen we
over, behalve Sinte Caecilia
en de graflegging, ons heer
in zijn glazen kastje, schilder
de mensen van pintor Scorel zegt men.
Zeer beschadigd waren we, dronken
van vroeger en wijn, venijn van de kunst,
een gunst zo maar gegeven, drie gulden,
aangeschoten doffer weet je nog, de toegang.
Metamorfose
Vandaag ben ik een lekkker dier,
eenhoorn, hoewel ten halve stier, een fabel.
Morgen wellicht Jan zonder land
Och arme kruidenier,
de kat met negen staarten.
Het boegbeeld van een schip, gestrand,
een zeemeermin gebleven na de vloed,
Krake, de leden in het vissersnet, verlaten,
Kleio, de neus in het zand.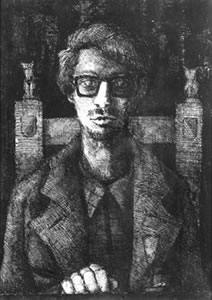 Dirkje Kuik (7 oktober 1929 – 18 maart 2008)
Zelfportret, 1955
De Canadese schrijver, archeoloog, antropoloog Steven Erikson (pseudoniem van Steve Rune Lundin) werd geboren in Toronto op 7 oktober 1959. Zie ook mijn blog van 7 maart 2008 en ook mijn blog van 7 oktober 2009.
Uit: Memories Of Ice
"Swallows darted through the clouds of midges dancing over the mudflats. The sky above the marsh remained grey, but it had lost its mercurial wintry gleam, and the warm wind sighing through the air above the ravaged land held the scent of healing.
What had once been the inland freshwater sea the Imass called Jaghra Til – born from the shattering of the Jaghut ice-fields – was now in its own death-throes. The pallid overcast was reflected in dwindling pools and stretches of knee-deep water for as far south as the eye could scan, but none the less, newly birthed land dominated the vista.
The breaking of the sorcery that had raised the glacial age returned to the region the old, natural seasons, but the memories of mountain-high ice lingered. The exposed bedrock to the north was gouged and scraped, its basins filled with boulders. The heavy silts that had been the floor of the inland sea still bubbled with escaping gases, as the land, freed of the enormous weight with the glaciers' passing eight years past, continued its slow ascent.
Jaghra Til's life had been short, yet the silts that had settled on its bottom were thick. And treacherous.
Pran Chole, Bonecaster of Cannig Tol's clan among the Kron Imass, sat motionless atop a mostly buried boulder along an ancient beach ridge. The descent before him was snarled in low, wiry grasses and withered driftwood. Twelve paces beyond, the land dropped slightly, then stretched out into a broad basin of mud.
Three ranag had become trapped in a boggy sinkhole twenty paces into the basin. A bull male, his mate and their calf, ranged in a pathetic defensive circle. Mired and vulnerable, they must have seemed easy kills for the pack of ay that found them.
But the land was treacherous indeed. The large tundra wolves had succumbed to the same fate as the ranag. Pran Chole counted six ay, including a yearling. Tracks indicated that another yearling had circled the sinkhole dozens of times before wandering westward, doomed no doubt to die in solitude.
How long ago had this drama occurred? There was no way to tell. The mud had hardened on ranag and ay alike, forming cloaks of clay latticed with cracks. Spots of bright green showed where windborn seeds had germinated, and the Bonecaster was reminded of his visions when spiritwalking – a host of mundane details twisted into something unreal. For the beasts, the struggle had become eternal, hunter and hunted locked together for all time."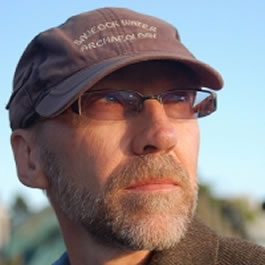 Steven Erikson (Toronto, 7 oktober 1959)
De Duitse, romantische dichter Wilhelm Müller werd geboren op 7 oktober 1794 in Dessau. Zie ook mijn blog van 7 oktober 2006 en ook mijn blog van 7 maart 2008 en ook mijn blog van 7 oktober 2009.
Der Müller und der Bach
[Der Müller]
Wo ein treues Herze
In Liebe vergeht,
Da welken die Lilien
Auf jedem Beet.
Da muß in die Wolken
Der Vollmond gehn,
Damit seine Tränen
Die Menschen nicht sehn.
Da halten die Englein
Die Augen sich zu,
Und schluchzen und singen
Die Seele zu Ruh
[Der Bach]
Und wenn sich die Liebe
Dem Schmerz entringt,
Ein Sternlein, ein neues,
Am Himmel erblinkt.
Da springen drei Rosen,
Halb rot, halb weiß,
Die welken nicht wieder,
Aus Dornenreis.
Und die Engelein schneiden
Die Flügel sich ab,
Und gehn alle Morgen
Zur Erde hinab.
[Der Müller]
Ach, Bächlein, liebes Bächlein,
Du meinst es so gut:
Ach, Bächlein, aber weißt du,
Wie Liebe tut?
Ach, unten, da unten,
Die kühle Ruh!
Ach, Bächlein, liebes Bächlein,
So singe nur zu.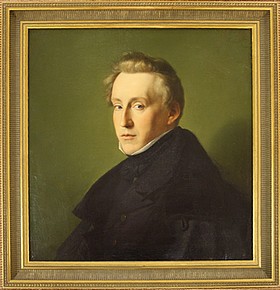 Wilhelm Müller (7 oktober 1794 – 1 oktober 1827)
Mogelijke schilders:
Johann Heinrich Beck of Franz Krüger

07-10-2010 om 00:00 geschreven door Romenu

Tags:Dirkje Kuik, Steven Erikson, Wilhelm Müller, Romenu



Nobelprijs literatuur voor Mario Vargas Llosa
Nobelprijs literatuur voor Mario Vargas Llosa
De Nobelprijs voor de Literatuur is dit jaar toegekend aan de Peruaanse schrijver en oud-politicus Mario Vargas Llosa. Dat heeft de Zweedse Academie donderdag bekendgemaakt. Hij is de eerste Peruaan die de prijs heeft gekregen. De laatste Spaanstalige schrijver aan wie de prijs werd toegekend, was in 1990 de Mexicaan Octavio Paz. De prijs, waaraan een bedrag van 10 miljoen Zweedse kronen (1,5 miljoen euro) is verbonden is aan Vargas Llosa toegekend voor ,,de manier waarop hij machtsstructuren in kaart brengt en zijn scherpzinnige beelden van het verzet, de opstandigheid en de nederlaag van het individu.'' Vargas Llosa is de elfde Spaanstalige winnaar van de Nobelprijs voor de Literatuur. De eerste was de Spanjaard José Echegaray in 1904. Andere Spaanstalige winnaars waren onder anderen Pablo Neruda (1971) en Gabriel Garcia Márquez (1982).
Mario Vargas Llosa in Arequipa werd geboren op 28 maart 1936. Zie ook mijn blog van 28 maart 2007 en ook mijn blog van 28 maart 2008.en ook mijn blog van 28 maart 2009 en eveneens mijn blog van 28 maart 2010.
Uit: The Feast of the Goat (Vertaald door Edith Grossman)
"But the colonial city has not been modernized, and neither has Gazcue, her neighborhood. And she is absolutely certain her house has hardly changed at all. It must be the same, with its small garden, old mango tree, and the flamboyán with red flowers bending over the terrace where they used to have lunch outdoors on weekends; the sloping roof and the little balcony outside her bedroom, where she would go to wait for her cousins Lucinda and Manolita, and, during that last year, 1961, spy on the boy who rode past on his bicycle, watching her out of the comer of his eye and not daring to speak. Would it be the same inside? The Austrian clock that sounded the hours had Gothic numerals and a hunting scene. Would her father be the same? No. You've seen him failing in the photos sent to you every few months or years by Aunt Adelina and other relatives who continued to write even though you never answered their letters.
She drops into an armchair. The rising sun penetrates to the center of the city; the dome of the National Palace and its pale ocher walls sparkle gently under a curve of blue. Go now, soon the heat will be unbearable. She closes her eyes, overcome by a rare inertia, for she is accustomed to always being active and not wasting time in what, since her return to Dominican soil, has occupied her day and night: remembering. "This daughter of mine is always working, she even repeats her lessons when she's asleep" That's what Senator Agustín Cabral, Minister Cabral, Egghead Cabral used to say about you when he boasted to his friends about the girl who won all the prizes, the student the sisters always held up as an example. Did he boast to the Chief about Urania's scholarly achievements? "I'd like so much for you to know her, she has won the Prize for Excellence every year since she enrolled at Santo Domingo. It would make her so happy to meet you and shake your hand. Urania prays every night for God to protect that iron health of yours. And for Dona Julia and Dona María as well. Do us this honor. The most loyal of your dogs asks, begs, implores you. You can't refuse: receive her. Excellency! Chief!"
Do you despise him? Do you hate him? Still? "Not anymore," she says aloud. You wouldn't have come back if the rancor were still sizzling, the wound still bleeding, the deception still crushing her, poisoning her, the way it did in your youth, when studying and working became an obsessive defense against remembering. Back then you did hate him. With every atom of your being, with all the thought and feeling your body could hold. You wanted him to suffer misfortunes, diseases, accidents. God granted your wish, Urania. Or rather, the devil did. Isn't it enough that the cerebral hemorrhage brought him a living death? A sweet revenge that he has spent the last ten years in a wheelchair, not walking or talking, depending on a nurse to eat, lie down, dress, undress, trim his nails, shave, urinate, defecate? Do you feel avenged? "No."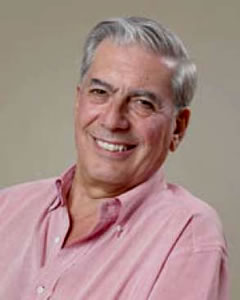 Mario Vargas Llosa (Arequipa, 28 maart 1936)
07-10-2010 om 00:00 geschreven door Romenu

Tags:Nobelprijs literatuur voor Mario Vargas Llosa


06-10-2010

Victor Vroomkoning, Horst Bingel, Ludwig Begley, Heinrich Federer, Maria Dąbrowska, Peter Gosse
De Nederlandse dichter Victor Vroomkoning (pseudoniem van Walter van de Laar) werd geboren op 6 oktober 1938 in Boxtel. Zie ook mijn blog van 6 oktober 2006 en ook mijn blog van 6 oktober 2007 en ook mijn blog van 6 oktober 2008 en ook mijn blog van 6 oktober 2009.
Spiegel
Ik haal mijn vader in.

De roos die als confetti
op zijn schouders sneeuwde,
de slierten lang gehouden
haar - resten serpentine
om de leegte van zijn schedel
op te sieren -, de schamele
guirlande van zijn baard
die de krachteloze kin
bewimpelde: ontluistering
die ik herken in bange ogen
blikken van zelfbespiegeling.
Overleg
Mijn zoon spant bogen
samen met mijn vader.
Zij lijken sprekend
op grote mensen die gemeen-
zaam aan het werk terloops
wijsheden verkondigen.

Terwijl mecano-onderdelen
tot een brug worden gesmeed
legt vader uit dat sommigen
na honderd jaar de over-
kant bereiken.

Zijn wij sommig?
leidt het kind hem af.
Vader geeft geen antwoord
maar een schroef terug
die niet past.

De brug vlot naar zijn einde
als de onvermijdelijke god
weer boven water komt.
Of die dan sommig is?
Sommiger dan wij,
probeert vader.
Latijn
Hoe het huis wekelijks meeleefde
als hij neerstreek, steeds hetzelfde
ritueel, zongend onderaan de trap,
flarden Latijnse mis, dronken
tenor maar helder alsof hij alleen
beschonken het hoog akkoord kon
halen, klossend naar zijn hemel-
bed, roeden uit hun klemmen wippend,
een wonder dat hij elke keer weer
boven raakte waar de halve nacht
zijn vrouw, onze moeder, waakte
die hem kapittelend ontving
maar spoedig inbond als zijn Latijn
in een onvervalste smartlap over-
ging, ze mee ging neurien met haar
gevallen engel en hij genas
aan haar borst. Dank ik mijn genese
aan zulk een lucide verbond?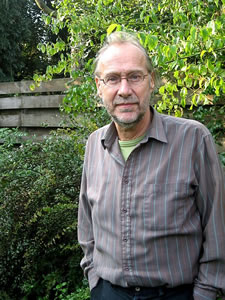 Victor Vroomkoning (Boxtel, 6 oktober 1938)
De Duitse dichter, schrijver, graficus en uitgever Horst Bingel werd geboren in Korbach op 6 oktober 1933. Zie ook mijn blog van 6 oktober 2008 en ook mijn blog van 6 oktober 2009.
Taube

Du triffst die Taube im Flug, sie ist nicht blau, was
staunst du, sie ist nicht blau,
die Taube sitzt rot schon tief im Horizont, sie wartet mit
dir, bei Tag, nachts, sie spreizt ihr Gefieder,
sie wartet,
sie wartet doch nicht.


Du siehst die Taube so nah, sie ist jetzt dein, was
staunst du, sie ist doch dein,
die Taube spitzt ewig scharf deinen Schnabel, hinter dem
Horizont, bei Nacht, tags, sie spitzt ihn ja
dir, sie fliegt nur,
sie fliegt stets allein.


Du hörst die Taube im Flug, sie bleibt dein Schatten, was
staunst du, sie grüßt nicht,
die Taube ist nun arg bunt im Horizont, sie ist sonst gar
nichts, bei Tag, nachts, doch hinter dem Regen,
sie trägt dich,
sie trägt dich im Kopf.




Poesiealbum

Das Schreiben von Gedichten, es kann
doch keine Sünde sein, du trinkst auch
mit einer Schönen nicht immer nur
Wein, schon sitzt im Herzen
der alte, der Wurm
Vergißmeinnicht und
bleibt sitzen auf
einem, einem
Liebesgedicht.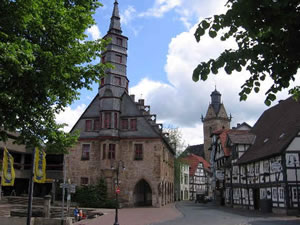 Horst Bingel (6 oktober 1933 – 14 april 2008)
Korbach
De Amerikaanse schrijver Louis Begley werd geboren als Ludwig Beglejter op 6 oktober 1933 in Stryj (toen Polen, tegenwoordig Oekraïne). Zie ook mijn blog van 6 oktober 2008 en ook mijn blog van 6 oktober 2009.
Uit: Mistler's Exit
"I understand, said Mistler.
Really, there was no need to rush the conversation. The waiting room was empty. Bill Hurley had become Mistler?s family doctor fifteen years earlier, succeeding to the practice of an uncle, who died on the tennis court of a ruptured aneurism upon double-faulting in the fourth game of the fourth set of his club?s senior doubles championship, when the score was forty?love. By now, he was also a friend. The secretary had specifically asked Mistler to stop by toward the end of the afternoon, when Dr. Hurley would be through with other patients. Just the same, as soon as Mistler arrived, she began to apologize, because the doctor was running late.
Don?t worry, he told her. For once, I don?t mind waiting.
That was the truth. An interval of empty time seemed vastly preferable to what would follow. In fact, if there was a reason to hurry, once Mistler had reluctantly
abandoned a two-year-old issue of Glamour and found himself in Hurley?s office, the place where Hurley interrogated and decreed, the reluctant flesh having been poked and kneaded into yielding its secrets in the adjoining cubicle that housed the examination table and a reliable scale, the only piece of Hurley?s equipment Mistler was fond of, it had to be that the place was so ugly. With its stacks of manila envelopes containing, Mistler supposed, X rays and EKG tapes, apparently untouched since the time of Hurley?s uncle (if indeed either the uncle or the nephew had ever examined their contents, which Mistler was not ready to take for granted), the fake antique desk, small enough to fit in a college dormitory room, cluttered with pharmaceutical company doodads, and, on the walls, prints of ducks alongside diplomas that traced Hurley?s progress from his New Jersey prep school through the last board certification, this room spoke of indifference and small economies. One would not have tolerated such a thing in any other high-priced service business. Did it ever occur to doctors to have discussions that broke the patient?s heart outside the office, over a cup of coffee, or a drink, if they were unwilling to spend money on furniture? One could, after all, with a minimum of skill, maneuver the patient into paying the check, or bury the disbursement in the statement as a stool test or the like. Most lawyers Mistler dealt with would have considered either a lead-pipe cinch."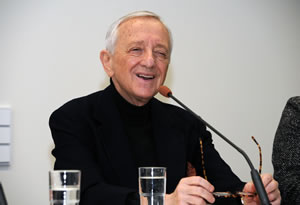 Louis Begley (Stryj, 6 oktober 1933)
De Zwitserse schrijver en priester Heinrich Federer werd geboren op 6 oktober 1866 in Brienz. Zie ook mijn blog van 6 oktober 2009.
Uit: Der gestohlene König von Belgien
"Wie viele glänzende Fünffränkler sind mir schon durch die Finger gegangen! Rund sind sie und rollen weg und rollen zu, – und wenn einem am Abend des Lebens noch einer zur Zehrung der letzten Stunden bleibt, ist's gut und ist's auch genug. Aber ein ehrlicher muss es sein.
Springt mir – doch nein, es pressiert ihm ja nicht! – spaziert mir so ein Silbermond in die Hand, dann schaue ich flugs, was für ein thronendes Wesen er trägt. Ist es die freie Mutter Helvetia, so lacht mir mein eidgenössisches Herz im Leibe. Obwohl sie ein so rauhes und steifes Gesicht macht wie eine junge Stiefmutter, wenn sie zum erstenmal in die Stube voll Stiefbuben und Stiefmädchen blickt und merkt, dass dies Geschlecht schwer zu bändigen ist und gleich tiefe Augen macht und die Knochen hart in die Wangen springen lässt: – es muss eben doch meine richtige Frau Mama sein und wer's nicht glaubt, der sehe einmal ringsum die Urnerberge und vor allem dieses Weibes goldene Bernerzöpfe an! Ist das nicht helle, dicke Schweiz? – Die Welschlandkönige, Sohn, Vater und Grossvater lassen ihren Schnurrbart zugleich mit ihren Staatsschulden weit über die Münze hinauswachsen. Das stört mich wie alle Prahlerei.
Wogegen der dritte Napoleon mit seinem spitzen Bärtchen und Ludwig XVIII. im Behagen seines Doppelkinns mich weder kalt noch warm machen.
Aber gern seh' ich das lange, verlebte Gesicht des belgischen Leopold. Nicht als ob ich für diesen eisigen Monarchen schwärme, – da wäre ich wohl ein selten dummer Hans. – Aber an dieses Silbergeld knüpft sich ein sündiges Abenteuer meiner Jugend, das ich nie vergessen kann. Unter den Augen des belgischen Leopold habe ich meinen ersten Diebstahl verbrochen. So oft ich nun den Fürsten sehe, erröte ich, selbst heute noch, wo ich glaube, dass auch die Könige zuweilen vor uns erröten dürften. Und jedesmal wird mir doch wieder seltsam leicht. Denn es war auch mein letzter und schwer gesühnter Diebstahl.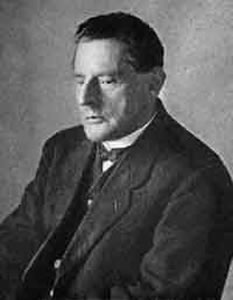 Heinrich Federer (6 oktober 1866 – 29 april 1928)
De Poolse schrijfster Maria Dąbrowska werd geboren op 6 oktober 1889 in Russów bij Kalisz. Zie ook mijn blog van 6 oktober 2009.
Uit: Nights and Days
"In the old days, the Niechcic family lived more or less like all the rest of the squirearchy. They maintained close and varied relations with their relatives – even with the most remote – who usually held estates similar to theirs or, what amounted to the same thing, suburban gardenlands supplying comparable agricultural income.
They felt themselves to be an intimate part of a powerful self-sufficient tribe, which had its own jargon of kinship and friendliness, pondered how to educate its children aloof from outside influences and, in general, conducted its business in such a way that movement outside the tribe, or even outside the local ever-expanding family structure, was rare. The grandfather of Bogumił Niechcic, Maciej, however, had begun to drift slowly out of the family world.
More and more often he received into his home friends and acquaintances from outside the clan: scientists, professors, artists, journalists, members and activists of political parties, people of doubtful origin or those who also left their own circle. The tale went out that Maciej Niechcic gave away heart, mind and, last but not least, money to perfect strangers. He acquired a reputation as a restless man and his own people began to avoid him.
What extenuated these antics in the minds of his more sympathetic relations was Maciej's supposed ambitious desire to emulate the great nobles, magnates and celebrities who traditionally patronized science, art and politics.
Soon, however, it became evident that Niechcic was a stranger to such ambitions: it was not in the least evident that the significance and splendor of his house was increasing in any sense. On the contrary, Maciej Niechcic seemed to be doing everything to become poorer and less conspicuous. For example, after the rising of 1830, he conceived the idea of exchanging one of his hereditary estates for another which, for some reason or other, suited his purposes better."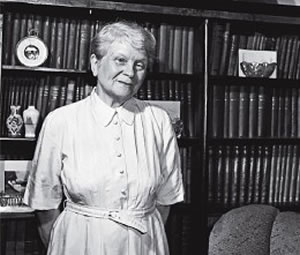 Maria Dąbrowska (6 oktober 1889 – 19 mei 1965)
De Duitse dichter, schrijver en essayist Peter Gosse werd geboren in Leipzig op 6 oktober 1938.
Zie ook mijn blog van 6 oktober 2008.
Uit: Genug. Nach Puschkin
Genug, Freund, es ist Zeit. Ich will nun Stille.
Die Jahre gehn. Wir werden Hülle.
Ich weiß nicht mehr, wer du bist, wer ich bin.
Wir möchten sein. Doch sieh: wir siechen hin.
Was ist denn sein? Gelöstsein – das ist alles.
So dacht ich einst auf Flucht: ein arbeitvolles
Gelassenes Genießen: dies der Ort!
Ihn träum ich manchmal noch. Der Traum geht fort.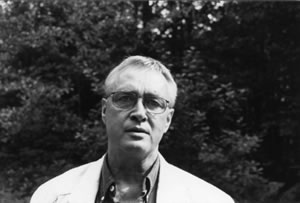 Peter Gosse (Leipzig, 6 oktober 1938)

06-10-2010 om 19:38 geschreven door Romenu

Tags:Victor Vroomkoning, Horst Bingel, Ludwig Begley, Heinrich Federer, Maria Dą,browska, Peter Gosse, Romenu



Ulrike Ulrich
De Duitse dichteres en schrijfster Ulrike Ulrich werd geboren in op 6 oktober 1968 in Düsseldorf. Zij studeerde in Münster germanistiek, kunstgeschiedenis en communicatiewetenschappen. Daarna werket zij in Bochum op het gebied van de computerlinguistiek. In 1999 trok zij naar Wenen waar zij werkte aan de Schule für Dichtung. Ulrich schrijft gedichten, proza, draaiboeken, columns en hoorspelen en is tevens werkzaam als uitgeefster van bloemlezingen. Sinds 2002 woont zij in Zwitserland. Zie ook mijn blog van 25 april 2010.
Der Hund ist tot
Der, der den Hund begraben hat, der hat vergessen, wo er liegt. Der hat kein Kreuz gemacht und keine Kerbe. Der hat von Breitengraden keine Ahnung und weiß nicht mal, in welcher Gegend. Ob er den Hund in halbgefrorner Erde, in abgesacktem Sand, in Torf, in Lehm. Er weiß es nicht.
Jetzt suchen alle nach der Leiche. Mit Wünschelruten, Satelliten, Schäfer­hunden. Mit Archäo­logen, Patho­logen, Kopf­geld­jägern, Agenten, Agenturen und Experten. Mit Boden­truppen und mit Religion.
Der, der den Hund begraben hat, der hat den Hund nicht mal gekannt. Er hat ihn bloß gefunden. Der, der den Hund begraben hat, der fürchtet sich vor Hunden, selbst vor toten. Er hat so tief gegraben, wie er konnte. Ob er vor Jahren, Tagen, vor Jahrzehnten. Er weiß es nicht. Er weiß auch nichts vom Leichengift.
Weil niemand wirklich weiß, wo er begraben liegt, gibt es an jeder Ecke Hundegräber, und jeder hält ein andres Grab für das verbürgte. Sie weinen Tränen über Maulwurfshügel, sie klagen, schreien, werfen Blumen, sich zu Boden, einander vor, am falschen Grab zu stehn und sagen: Das Grab ist leer.
Der, der den Hund begraben hat, der leidet lang schon unter Amnesie. Seit er am Grab des ungekannten Hundes stand. Er weiß nicht, wer er ist noch was er wollte. Er wird von niemandem erkannt. Er ist mit niemandem verwandt. Doch jeder fragt ihn nach dem Weg. Er weiß ihn nicht.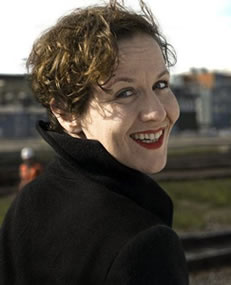 Ulrike Ulrich (Düsseldorf, 6 oktober 1968)

06-10-2010 om 00:00 geschreven door Romenu

Tags:Ulrike Ulrich, Romenu


05-10-2010

Flann O'Brien, Charlotte Link, José Donoso, Václav Havel
De Ierse schrijver Flann O'Brien werd geboren op 5 oktober 1911 in Strabane, County Tyrone. Zie ook mijn blog van 5 oktober 2008 en ook mijn blog van 5 oktober 2009.
Uit: The Poor Mouth
"I AM NOTING down the matters which are in this document because the next life is approaching me swiftly—far from us be the evil thing and may the bad spirit not regard me as a brother!—and also because our likes will never be there again. It is right and fitting that some testimony of the diversions and adventures of our times should be provided for those who succeed us because our types will never be there again nor any other life in Ireland comparable to ours who exists no longer.
...more
O'Coonassa is my surname in Gaelic, my first name is Bonaparte and Ireland is my little native land. I cannot truly remember either the day I was born or the first six months I spent here in the world. Doubtless, however, I was alive at that time although I have no memory of it, because I should not exist now if I were not there then and to the human being, as well as to every other living creature, sense comes gradually.
The night before I was born. it happened that my father and Martin O'Bannassa were sitting on top of the hen-house, gazing at the sky to judge the weather and also chatting honestly and quietly about the difficulties of life.
- Well, now. Martin, said my father, the wind is from the north and there's a forbidding look about the White Bens; before the morning there'll be ram and we'll get a dirty tempestuous night of it that will knock a shake out of us even if we're in the very bed. And look here! Martin, isn't it the bad sign that the ducks are in the nettles? Horror and misfortune will come on the world tonight; the evil thing and sea-cat will be a-foot in the darkness and, if 'tis true for me, no good destiny is ever in store for either of us again.
- Well, indeed, Michelangelo, said Martin O'Bannassa, 'tis no little thing you've said there now and if you're right, you've told nary a lie but the truth itself.
I was born in the middle of the night in the end of the house. My father never expected me because he was a quiet fellow and did not understand very accurately the ways of life. My little bald skull so astounded him that he almost departed from this life the moment I entered it and, indeed. it was a misfortune and harmful thing for him that he did not, because after that night he never had anything but misery and was destroyed and rent by the world and bereft of his health as long as he lived. The people said that my mother was not expecting me either and it is a fact that the whisper went around that I was not born of my mother at all but of another woman. All that, nevertheless, is only the neighbours' talk and cannot be checked now because the neighbours are all dead and their likes will not be there again. I never laid eyes on my father until I was grown up but that is another story and I shall mention it at another time in this document."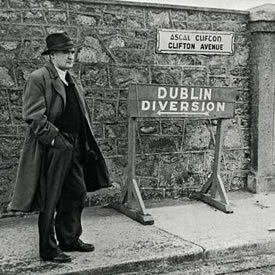 Flann O'Brien (5 oktober 1911 – 1 april 1966)
De Duitse schrijfster Charlotte Link werd geboren op 5 oktober 1963 in Frankfurt am Main. Zie ook mijn blog van 5 oktober 2007 en ook mijn blog van 5 oktober 2008 en ook mijn blog van 5 oktober 2009.
Uit: Wenn die Liebe nicht endet
"Ein Schauspieler in Narrenkleidung führte Späße vor, beobachtet von einigen kichernden Dorfmädchen. Er jonglierte mit Kieselsteinen, ließ ein Ei verschwinden und wieder auftauchen
und wackelte mit den Ohren. Ein dicker Wirt bot erwärmtes, schäumendes Bier an, das er aus einer Holzschale in Becher schöpfte, daneben arbeiteten ein Schuhmacher und ein Seifensieder.
Ein Kupferschmied hämmerte auf einem Stück glänzenden Kupfers herum, und ein Leintuchkrämer breitete große saubere Leinwandbahnen auf Brettern aus und pries nicht vorhandenen Zuhörern die Vorzüge der Stoffe.
Die drei Mädchen schlenderten von einem Wagen zum anderen. Sie waren so lange nicht mehr aus dem Kloster herausgekommen, dass ihnen alles neu und aufregend schien. Fasziniert blickten sie auf die Frauen, die in den Wagen saßen, auf verhärmte Gesichter, in denen sie nicht die Entbehrungen und das Elend sahen, sondern nur Zauber des Reisens und der Abenteuer. Im ganzen Reich sind sie schon gewesen, dachte Margaretha, wie großartig muss es sein, so weit herumzukommen!
Und schließlich blieben sie lange vor einem Stand stehen, an dem Schmuck verkauft wurde. Es funkelte alles so bunt im kalten Winterlicht. Margaretha wünschte sich ein Paar Ohrringe mit
Steinen aus grünem Glas, Clara konnte sich nicht satt sehen an einem breiten Armband, mit Glasstücken besetzt, und Angela strich über eine zweireihige Kette aus silbrigem Blech. Ein
kleiner, dunkelhaariger Mann trat heran.
"Gefällt Ihnen die Kette?" fragte er. Seine Stimme hatte einen fremdländischen Klang.
"Sie ist wunderschön", entgegnete Angela. Der Mann ergriff die Kette und hängte sie Angela um den Hals. Er trat einen Schritt zurück.
"Wie ein Engel", sagte er ehrfürchtig.
Auch die anderen fanden das. Der Schmuck unterstrich auf wunderbare Weise Angelas edle Gesichtszüge.
"Darf ich Ihnen die Kette schenken?" fragte der Mann.
Angela seufzte.
"Wir dürfen so etwas leider nicht tragen", meinte sie, "außerdem kann ich das nicht annehmen."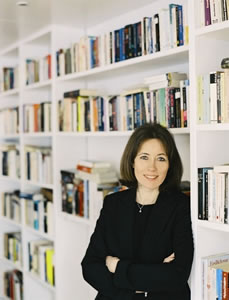 Charlotte Link (Frankfurt am Main, 5 oktober 1963)
De Chileense schrijver José Donoso (eigenlijk Jose Donoso Yáñez) werd geboren op 5 oktober 1924 in Santiago de Chile. Nadat Donoso drie jaar aan het Pedagogisch Instituut van de Universidad de Chile had gestudeerd, kreeg hij een tweejarige studiebeurs voor de universiteit van Princeton. Hier behaalde hij in 1951 het Bachelordiploma. Tijdens zijn tijd in Princeton, publiceerde hij verhalen in het Engels. Hij werkte daarna als docent Engelse literatuur en Engels op universiteiten in Chili, maar ook als journalist. In 1956 bekroonde de stad Santiago de Chile hem met een prijs voor zijn eerste bundel korte verhalen. Het daarop volgende jaar publiceerde hij zijn eerste roman, De kroning. Voor de Engelse vertaling werd hem in 1962 de William Faulkner Foundation Prize toegekend. In 1958 reisde Donoso naar Buenos Aires, waar hij in contact kwam met belangrijke Argentijnse schrijvers als Jorge Luis Borges en ontmoette hij zijn toekomstige vrouw. In 1964 verliet hij Chili en hij keerde pas zeventien jaar later terug. In die tijd woonde hij vooral in Spanje, maar ook in de Verenigde Staten. Tijdens deze jaren schreef hij zijn beroemde romans. In 1986 schreef hij The Island of the Dead, een kritische roman over het leven in Chili onder de dictatuur van Augusto Pinochet. In 1990 werd hij bekroond met de Premio Nacional de Literatura de Chile, de hoogste onderscheiding voor literatuur in Chili.
Uit: Curfew (Vertaald door Alfred MacAdam)
"Was this an accomplice? What did she know? Did she know that his soft hand perspired when he placed it on the knee of a woman he felt to be powerful? Did Christinita, exempted the same way Judit was, enjoy strange privileges in exchange for keeping Ricardo's secret? Liliana didn't know that if her plans for Ricardo worked out, she too was condemned to pardon. The complicity between the two of them was negligible, unimportant, partial, which shouldn't have surprised her, since these were unimportant human beings who only acquired life in the reflected light of cruelty. Was it important that this man, with his high, falsely noble forehead, vigorous neck, black mustache above loquacious lips, engrossed in a dissertation on Boris, would pay for pardoning her? Was it possible for her to aim the pistol at him and avenge all pardons, including the imprudent Lilianita's? Because from the beginning in Ada Luffs house--and she, and son Cesar, and all the women knew it--this was no seduction but a murder.
The pup was really splendid, said Ricardo. He'd won prizes at every show his daughter Cristy had entered him in. They were rare, these miniature Dobermans, as ferocious as the regular kind and much easier to train, even if at the beginning you had to punish them so they'd see the difference between what they could and couldn't do. Farias had punished her with the worst punishment imaginable. No, he hadn't punished her. He'd condemned her, because ever since her return from Caracas, with the remains of her ideology in rags after so much time and distance, she could not focus on anything but finding the man responsible for the rapes.
When she'd returned, she'd reestablished her network of accomplices from her underground days and sought their knowledge of the urban night--don Cesar, with his contacts and pals and his knowledge of jokes, bars, and wine, and Aury with her beauty-parlor chatter, and Dario's father and Dario himself, with the kids in his slums, and Ada Luz--enlisting their help in her plan to destroy the past and begin again at zero. But every lead until now had turned into a dead end, and she and the others always came back empty-handed. It was never the right man."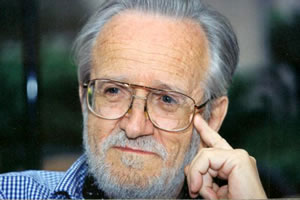 José Donoso (5 oktober 1924 - 7 december 1996)
De Tsjechische schrijver en politicus Václav Havel werd op 5 oktober 1936 in Praag geboren. Zie ook mijn blog van 5 oktober 2006 en ook mijn blog van 5 oktober 2008 en ook mijn blog van 5 oktober 2009.
Uit: Summer Meditations (Vertaald door Paul Wilson)
Evil will remain with us, no one will ever eliminate human suffering, the political arena will always attract irresponsible and ambitious adventurers and charlatans. And man will not stop destroying the world. In this regard, I have no illusions. Neither I nor anyone else will ever win this war once and for all. At the very most, we can win a battle or two-- and not even that is certain. Yet I still think it makes sense to wage this war persistently... This must be done on principle, because it is the right thing to do. Or, if you like, because God wants it that way.
(...)
"It seems I am a naive dreamer trying to reconcile the irreconcilable, i.e., politics and morals. I know that theme well, I have heard it since forever. . . . Violence is well-known to breed violence, which is why most revolutions have degenerated into dictatorships, devouring their own offspring and bringing into the world new revolutionaries prepared for renewed violence, not knowing that they were digging their own graves and confining society in a vicious circle of revolutions and counter-revolutions. Communism was defeated by life, by thought, by integrity. Yet [there are] those who, even today, assert that politics is above all a manipulation of power, of public opinion, and that morals have no place in it. Politicking is not politics. . . .
True politics, worthy of the name -- and the only kind I will practice -- is the politics of service to one's neighbor. Service to the community; service to those who will succeed us. Its origin is moral because it is nothing but responsibility realized toward all and by all. It is such responsibility that in itself constitutes superior responsibility by the fact that it is based in metaphysics; it is nourished by certitude, conscious or unconscious, that nothing ends by death, that all is recorded forever, all is appraised elsewhere, somewhere "above us" in what I have called the memory of being, in that part which is inseparable from the mysterious order of the cosmos, of nature, and of life, which believers call God, and to whose judgment all are subject."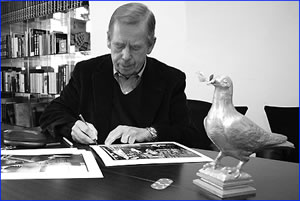 Václav Havel (Praag, 5 oktober 1936)




Zie voor nog meer schrijvers van de 5e oktober ook mijn vorige blog van vandaag.

05-10-2010 om 19:42 geschreven door Romenu

Tags:Flann O'Brien, Charlotte Link, José Donoso, Václav Havel, Romenu



Roberto Juarroz, Stig Dagerman, Ervin Sinko, Denis Diderot
De Argentijnse dichter, essayist en literatuurwetenschapper Roberto Juarroz werd geboren in Coronel Dorrego 1925. Zie ook mijn blog van 5 oktober 2008 en ook mijn blog van 5 oktober 2009.
Hoe het zwart afschrapen...

Hoe het zwart afschrapen,
de smaak van het zwart,
de klank van het zwart,
de zwartheid van zwart?
Hoe het zwart raspen,
zijn voedsel, zijn deeg,
totdat de specerij van het wit
in zijn kieren is doorgedrongen?
Hoe het zwart overstromen
met een visie in staat het te belopen
en op zijn bodem iets anders te vinden
dan het spoor van de dood?
Hoe in het zwart andere kleuren vinden,
blauwzwart, roodzwart, liefdezwart, zelfmoordzwart,
of in zijn ingewand eenvoudig verkruimelen
de kleur van het leven van de mens?
Vertaald door Mariolein Sabarte Belacortu
A man spells out his tiredness
A man spells out his tiredness.
All at once as he spells
he meets some strange capital letters,
unexpectedly alone,
unexpectedly tall.
They weigh more on the tongue.
They weigh more but they get away
faster and hardly
can they be spoken.
His heart crowds into the roads
where death is exploding.
And he meets, as he goes on spelling,
bigger and bigger capital letters.
And a great fear chokes him
of finding a word
written all in capitals
and not being able to pronounce it.
Vertaald door W. S. Merwin
I'm awake
I'm awake.
I'm asleep.
I'm dreaming that I'm awake.
I'm dreaming that I'm aslseep.
I'm dreaming that I'm dreaming.

I'm dreaming that I'm dreaming
that I'm awake.
I'm dreaming that I'm dreaming
that I'm asleep.
I'm dreaming that I'm dreaming
that I'm dreaming.

I'm awake.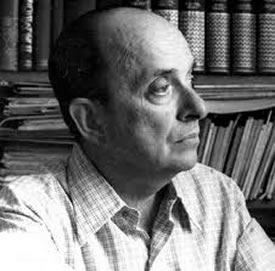 Roberto Juarroz (5 oktober 1925 – 31 maart 1995)
De Zweedse schrijver en journalist Stig Dagerman werd geboren op 5 oktober 1923 in Älvkarleby. Zie ook mijn blog van 5 oktober 2008 en ook mijn blog van 5 oktober 2009.
Uit: Schwedische Hochzeitsnacht (Vertaald door Herbert G. Hegedo)
"Wer klopft an das Fenster der Braut?
I m m e r l a n g s a m – so schuf Gott die Schnecke. Oder wer es sonst war, der sie schuf. Doch wer es auch war, er hat es gut gemacht. Denn wozu braucht die Schnecke die Eile? Worauf sie kriecht, das gehört ihr. Wohin sie sich wendet in der Welt, ihr Haus steht auf eigenem Grund. Sie braucht sich nicht die Beine abzulaufen, um rechtzeitig zur Versteigerung, Pfändung oder Notschlachtung nach Hause zu kommen. Die Schnecke trägt ihr Haus auf dem Rücken. Solch einen Rücken müsste man haben.
Aber wenn man ihn hat, dann ist man schlecht angesehen. Da können die Sonnabendkätner, Steineputzer und Birkenrindensauger von Långmo auf ihren Brücken stehen und glotzen und Kautabak mahlen. Einige haben nur das zu tun. Einige haben ganz teuflische Brücken vor ihren zerfallenen Katen. So geschickt, dass sie die geringste Kleinigkeit, die in Fuxe geschieht, beobachten können. Sitzt man so vor dem Haus mit der »Smålänning« in der Hand, dann können die sie sogar lesen, wenn es hell genug ist. Und baut man ein Stockwerk hinzu, so stehen sie auf den Brücken und gaffen, bis das Maul voller Fliegen ist. Spuck aus! Viktor ist nun wohl ganz übergeschnappt. Tja. So hat man es sich auf den Brücken erzählt. Als ob die Bude nicht gelangt hätte für den Angeber-Palm, so wie sie seit den Tagen von Schwiegervater Asp Johannes war. Aber nein! Rauf mit einer Bude auf die Bude! Einen Herrenhof hat er sich wohl vorgestellt. Ein Gut mit zwölf Hektar. Herr Gutsbesitzer muss man vielleicht allmählich zu dem früheren Knecht sagen. Ein Pferd des Herrn Gutsbesitzers soll Druse gekriegt haben, und die Tochter des Herrn Gutsbesitzers soll eine Stellung bei einem Prokuristen in der Stadt haben. Die mit dem Unehelichen natürlich. Das erste Mal, das man getauft wird, rechnet nicht. Nur die anderen Male gelten. Der einzige Name, den man hat, ist der, den man mit Scham trägt. Den man von den Klatschbasen und Spitzzungen bekommt. Und hat man ein Haus gebaut, das ein Haus auf dem Rücken trägt, dann heißt man Schnecke, bis man stirbt."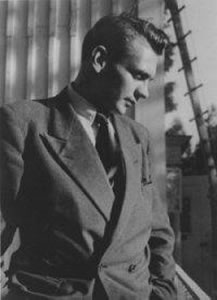 Dagerman (5 oktober 1923 - 5 november 1954)




De Hongaars-sprekende Joegoslavische schrijver Ervin Sinko (eig. Franz Spitzer) werd op 5 oktober 1898 in Apatin (Vojvodina) geboren. Sinko ging naar het gymnasium en werd lid van de Sociaal-Democratische arbeidersbeweging. Hij ging naar school, toen de Eerste Wereldoorlog begon. In 1916 werd hij opgeroepen voor het leger en naar oostelijk front gestuurd. Daar raakte hij geïnteresseerd in de Russische Revolutie. Na de oorlog ging Sinko naar in Boedapest. In 1919 nam hij deel aan de Hongaarse radenrevolutie. Na hun nederlaag bleef Sinko ongeveer een maand ondergedoken in Boedapest en hielp Georg Lukács in de partij organisatie. Na verscheidene jaren van ballingschap in Wenen, keerde hij in 1926 terug naar Joegoslavië. In ballingschap schreef hij zijn roman, The Optimist. In de roman, zijn de gebeurtenissen van de Hongaarse radenrevolutie 1918/1919 beschreven. Om zijn manuscript te publiceren trok Sinko in 1932 naar Parijs. Daar ontmoette hij de voormalige Hongaarse minister-president Mihály Károlyi. Karolyi beval het manuscript aan bij Romain Rolland. Na bemiddeling door Rolland ging Sinko in 1935 naar Moskou. De sfeer van politieke censuur en het conformisme in de zogenaamde socialistische Sovjet-Unie bereikte in de tijd van de Moskouse processen hun hoogtepunt. In 1937 werd Sinko's verblijfsvergunning niet verlengd en keerde hij terug naar Parijs. In hetzelfde jaar verhuisde Sinko naar Zagreb, waar hij woonde tot aan zijn dood in 1967.
Uit: Roman eines Romans - Moskauer Tagebuch (Vertaald door Edmund Trugly jun)
"Ich glaube an einen Morgen, an einen sozialistischen Morgen, wenn die Menschen unter so viel menschlicheren Voraussetzungen leben, daß sie gar nicht verstehen können, wie wir jemals diese heutige sowjetische Atmosphäre der Renaissance finsteren Aberglaubens, der Dummheit, der Selbstgefälligkeit, der Scheußlichkeit und der durchsichtigen Lüge als Grundprinzip staatlicher Propaganda überhaupt ertragen konnten. Ich hoffe und glaube, daß diese Menschen gar nicht mehr begreifen können, wie wir in dieser Atmosphäre überhaupt zu leben vermochten, die aber dennoch gegenüber der äußeren, faschistischen, kapitalistischen Welt die revolutionäre Negation nicht nur vertritt, sondern auch objektiv darstellt. Und weil ich an einen Morgen, an einen sozialistischen Morgen glaube, der im heutigen Zustand der Sowjetunion unbedingt eine Phase der Rückständigkeit, der unmenschlichen Willkür und der entmenschten Beamten erblicken wird, richte ich mich auf und versuche, über die Zeitmauer hinweg meine Hand einem jungen Menschen zu reichen, der einmal leben wird, wenn der Rückblick auf unsere Zeit nur noch eine in Schulbüchern festgehaltene böse Erinnerung einer unglücklichen Menschheit bedeutet."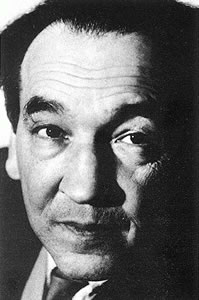 Ervin Sinko (5 oktober 1898 - 26 maart 1967)
De Franse schrijver, filosoof en kunstcriticus Denis Diderot werd geboren in Langres op 5 oktober 1713. Diderot was een prominente persoonlijkheid in wat als De Verlichting bekend zou worden. Hij was tussen 1750 en 1776 met D'Alembert redacteur van de beroemde Encyclopédie en schreef zelf ongeveer 6000 van de 72.000 artikelen in die encyclopedie. De encyclopedie kende veel tegenstanders, in 1759 werd de encyclopedie formeel verboden. Het werk ging vanaf die tijd clandestien door. De encyclopedie was door de nadruk op religieuze tolerantie en vrijheid van gedachten, en een democratische geest, een bedreiging voor de aristocratie. In 1773 onderneemt Diderot een journalistieke reis door Holland. (Voyage en Hollande). Samen met Baruch Spinoza en Pierre Bayle is Diderot de belangrijkste filosoof van de Radicale Verlichting. Diderot was voor de vrijheid van meningsuiting en godsdienst, hierover heeft hij ook enkele boeken geschreven.
Diderot droeg ook bij aan de literatuur, in het bijzonder met zijn werk Jacques Le Fataliste, een satirische roman waarmee de auteur conventies over de structuur en inhoud van romans aan de kaak stelde, terwijl hij ook filosofische ideeën met betrekking tot de vrije wil onderzocht.
Uit: Jacques de fatalist en zijn meester (Vertaald door Martin de Haan)
"Hoe hadden ze elkaar ontmoet? Bij toeval, zoals iedereen. Hoe heetten ze? Wat gaat u dat aan? Waar kwamen ze vandaan? Van de dichtstbijzijnde plaats. Waar gingen ze heen? Weet een mens waar hij heen gaat? Wat zeiden ze? De meester zei niets, en Jacques zei dat zijn kapitein zei dat alle goede en slechte dingen die ons hier beneden overkomen, daar boven geschreven staan.
MEESTER: Dat is een prachtig gezegde.
JACQUES: Mijn kapitein voegde eraan toe dat elke kogel die uit een geweer kwam zijn bestemming had.
MEESTER: En hij had gelijk…
Na een korte stilte riep Jacques uit: 'De duivel hale de herbergier en zijn herberg!'
MEESTER: Waarom je naaste naar de duivel wensen? Dat is niet christelijk.
JACQUES: Omdat ik me zat te bedrinken met zijn slechte wijn en daardoor onze paarden naar het wed vergat te brengen. Mijn vader merkte het, hij werd boos. Ik schudde mijn hoofd, hij pakte een stok en liet die onzacht op mijn schouders neerkomen. Er trok een regiment langs, op weg naar het kamp voor Fontenoy; uit pure nijd nam ik dienst. We komen aan, de slag barst los.
MEESTER: En jij ontvangt de kogel die voor jou bestemd was.
JACQUES: Goed geraden: een schot in mijn knie. En God weet wat dat schot voor goede en slechte dingen met zich mee heeft gebracht, die allemaal net zo hecht in elkaar grijpen als de schakels van een kinketting. Zo zou ik zonder dat schot denk ik nooit van mijn leven verliefd zijn geweest, en ook niet mank.
MEESTER: Je bent dus verliefd geweest?
JACQUES: Nou en of!
MEESTER: En dat kwam door een geweerschot?
JACQUES: Ja, door een geweerschot."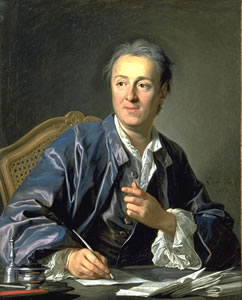 Denis Diderot (5 oktober 1713 - 31 juli 1784)
Portret door Louis-Michel van Loo, 1767
05-10-2010 om 19:33 geschreven door Romenu

Tags:Roberto Juarroz, Stig Dagerman, Ervin Sinko, Denis Diderot, Romenu



Deutscher Buchpreis 2010 voor Melinda Nadj Abonji
Deutscher Buchpreis voor Melinda Nadj Abonji
De Zwitserse schrijfster en muzikante Melinda Nadj Abonji krijgt dit jaar de Deutsche Buchpreis voor haar boek Tauben fliegen auf, zo werd op 4 oktober 2010 traditioneel bij de opening van de Frankfurter Buchmesse bekendgemaakt.
Melinda Nadj Abonji werd geboren op 22 juni 1968 in Bečej (nu in Servië). Zij verhuisde met haar ouders in 1973 uit het voormalige Joegoslavië van Tito naar Zwitserland en is sindsdien genaturaliseerd. Ze beëindigde haar studie aan de universiteit van Zürich in 1997 met de Lizenziatsgrad. In 2004 deed zij mee aan het Ingeborg Bachmann Concours in Klagenfurt. Ze treedt op als solo artieste en samen met rapper Jurczok 1001 als muzikante (zang en viool). Ook schreef zij tal van artikelen voor literaire tijdschriften (o.a. drehpunkt, Lenos, Basel / manuskripte, Graz / entwürfe, Zürich) en bloemlezingen. Haar roman Tauben fliegen auf werd gepubliceerd in 2010. Zij vertelt erin over de familie Kocsis, die deel uitmaakt van de Hongaarse minderheid in het noorden van Servië en die verhuisde naar Zürich. De voormalige immigrante werd de allereerste Zwitserse schrijver/schrijfster die ooit de Deutsche Buchpreis heeft gewonnen. Abonji woont al vele jaren in Zürich. Zie ook mijn blog van 22 juni 2009.
Uit: Tauben fliegen auf
"Titos Sommer
Als wir nun endlich mit unserem amerikanischen Wagen einfahren, einem tief braunen Chevrolet, schokoladefarben, könnte man sagen, brennt die Sonne unbarmherzig auf die Kleinstadt, hat die Sonne die Schatten der Häuser und Bäume beinahe restlos aufgefressen, zur Mittagszeit also fahren wir ein, recken unsere Hälse, um zu sehen, ob alles noch da ist, ob alles noch so ist wie im letzten Sommer und all die Jahre zuvor.
Wir fahren ein, gleiten durch die mit majestätischen Pappeln gesäumte Strasse, die Allee, welche die Kleinstadt vorankündigt, und ich habe es nie jemandem gesagt, dass mich diese zum Himmel strebenden Bäume in einen schwindelerregenden Zustand versetzen, einen Zustand, der mich mit Matteo kurzschliesst (der Taumel, dem ich verfalle, als Matteo und ich uns endlos im Kreis drehen, auf der schönsten Lichtung des Dorfwaldes, innig, seine Stirn auf meiner, später dann Matteos Zunge, die eigenartig kühl ist, seine schwarzen Körperhaare, die sich so an seine Haut schmiegen, als wären sie ihrer hellen Schönheit völlig ergeben).
Als wir an den Pappeln vorbeifahren, mir dieses Flirren den Verstand raubt, unser schokoladefarbenes Schiff geräuschlos von einem Baum zum nächsten gleitet, dazwischen die Luft der Ebene, die sichtbar wird, ich kann sie sehen, die Luft, die jetzt stillsteht, weil die Sonne so erbarmungslos ist, da sagt mein Vater zur Klimaanlage hin, immer noch alles genau gleich, mit kleiner Stimme sagt er, hat sich nichts verändert, gar nichts.
Niemand weiss, was mir diese Bäume bedeuten, die Luft zwischen den Bäumen, die man genau sehen kann, und nirgends sind die Bäume so verheissungsvoll wie hier, wo die Ebene ihnen Platz lässt, und ich wünsche mir auch diesmal stehenzubleiben, mich an einen dieser Stämme zu lehnen,
meinen Blick zu heben, mich von den raschen, kleinen Bewegungen der Blätter verführen zu lassen, und ich bitte meinen Vater auch diesmal nicht anzuhalten, weil ich auf die Frage »warum« keine Antwort wüsste, weil ich vieles erzählen müsste, ganz bestimmt aber von Matteo, um zu erklären,
warum ich ausgerechnet hier anhalten will, so kurz vor dem Ziel."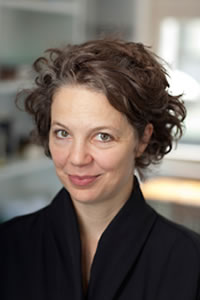 Melinda Nadj Abonji (Bečej, 22 juni 1968)

05-10-2010 om 00:00 geschreven door Romenu

Tags:Deutscher Buchpreis, Melinda Nadj Abonji, Romenu


04-10-2010

Oek de Jong, Matthieu Gosztola, Charles Frazier, Gabriel Loidolt
De Nederlandse schrijver Oek de Jong werd geboren in Breda op 4 oktober 1952. Zie ook mijn blog van 4 oktober 2007 en ook mijn blog van 4 oktober 2008 en ook mijn blog van 4 oktober 2009.
Uit: Opwaaiende zomerjurken
'Hij had zich vastgeklemd en niet begrepen wat hen bezielde. Maar toen hield opeens het zenuwslopende geratel van het stokje langs de spaken op, was er alleen nog het suizen van de wind, het fladderen van hun jurken en leek het of hij zich na een lange aanloop in de lucht verhief en in plotselinge stilte wegzweefde. Een onbeschrijflijk licht en ruim gevoel. Hij zat nog gewoon op die wiebelende bagagedrager. Hij voelde de heupen van zijn moeder bewegen onder zijn handen. Hij zag de gespierde benen van mevrouw Koelman. En die zomerjurken, nu eens klevend aan hun benen, dan weer opbollend als kleine parachutes. Alles was gewoon zoals het was. Maar hij hoorde bij alles en zweefde.'
(…)
'Hij buigt zich naar voren en kust haar mond, zo zacht als hij kan, om een nieuw gevoel in haar over te laten stromen. Vanavond zal ik haar het vlinderkusje leren. En dan heeft ze hem al tussen haar benen getrokken, kust ze zijn vingers, stopt die in haar mond.'
(…)
'Je hebt iemand ontmoet die je al jaren lijkt te kennen. Ga met hem mee, hij zal je een kamer in zijn huis geven... Hij zal je volgen in je eindeloze redeneringen, hij zal je gevoelens peilen. Waar anderen afhaken, je alleen laten in je extremiteiten, zal hij je volgen... Hij overtreft je in alles. Hij kan je platpraten, je zelfbeheersing breken, je buiten jezelf brengen. Met zijn hulp zullen de regels en de theorieën en datgene wat zich daaraan onttrekt tot een eenheid worden. Je zult die vervloekte gespletenheid te boven komen. Geen angst meer, geen schuilplaatsen. Twee jaar zal ik zijn leerling zijn. Daarna schrijf ik mijn encyclopedie van het geluk.'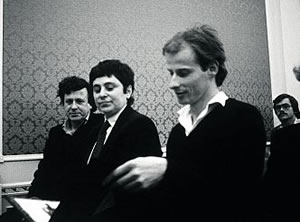 Oek de Jong (Breda, 4 oktober 1952)
In 1980 bij de uitreiking van de Bordewijkprijs, met Andreas Burnier
De Franse dichter en schrijver Matthieu Gosztola werd geboren op 4 oktober 1981 in Le Mans (Sarthe). Zie ook mijn blog van 4 oktober 2009.
Uit: Traveling
Chaque matin
La veuve emplit deux tasses
Chaque matin
Elle vide le contenu d'une tasse
Dans l'évier
*
Le corps debout dans la cuisine
Elle égrène un chapelet de groseilles
*
Il y a quelques jours encore
Tout était à sa place
Au réveil
J'ai assisté impuissant à
La dispersion des feuilles de mon arbre
Dans le vent jaune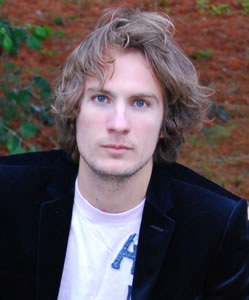 Matthieu Gosztola (Le Mans, 4 oktober 1981)
De Amerikaanse schrijver Charles Frazier werd geboren op 4 oktober 1950 in Asheville, North Carolina. Zie ook mijn blog van 4 oktober 2009.
Uit: Thirteen Moons
"There is no scatheless rapture. Love and time put me in this condition. I am leaving soon for the Nightland, where all the ghosts of men and animals yearn to travel. We're called to it. I feel it pulling at me, same as everyone else. It is the last unmapped country, and a dark way getting there. A sorrowful path. And maybe not exactly Paradise at the end. The belief I've acquired over a generous and nevertheless inadequate time on earth is that we arrive in the afterlife as broken as when we departed from the world. But, on the other hand, I've always enjoyed a journey.
Cloudy days, I sit by the fire and talk nothing but Cherokee. Or else I sit silent with pen and paper, rendering the language into Sequoyah's syllabary, the characters forming under my hand like hen-scratch hieroglyphs. On sunny days, I usually rock on the porch wrapped in a blanket and read and admire the vista. Many decades ago, when I built my farm out of raw land, I oriented the front of the house to aim west toward the highest range of mountains. It is a grand long view. The river and valley, and then the coves and blue ridges heaved up and ragged to the limits of eyesight.
Bear and I once owned all the landscape visible from my porch and a great deal more. People claimed that in Old Europe our holdings would have been enough land to make a minor country. Now I have just the one little cove opening onto the river. The hideous new railroad, of which I own quite a few shares, runs through my front yard. The black trains come smoking along twice a day, and in the summer when the house windows are open, the help wipes the soot off the horizontal faces of furniture at least three times a week. On the other side of the river is a road that has been there as some form of passway since the time of elk and buffalo, both long since extinguished. Now, mules drawing wagons flare sideways in the traces when automobiles pass."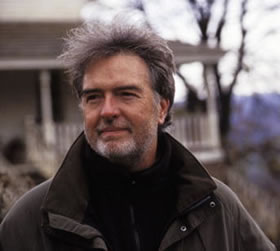 Charles Frazier (Asheville, 4 oktober 1950)
De Oostenrijkse schrijver Gabriel Loidolt werd geboren op 4 oktober 1953 in Eibiswald. Zie ook mijn blog van 4 oktober 2009.
Uit: Hurensohn
"Eigentlich wollte ich meine Hurenmutter gar nicht umbringen. Nicht, als ich sie die Treppe hinunterstürzte. Trotzdem bin ich ein Mutterverbrecher geworden, das ist eine Tragödie. In meiner Wut habe ich natürlich oft gedacht: Ich bringe sie um! Denn stets mußte ich nach ihrer Pfeife tanzen. Trotzdem konnte ich ihr nie etwas recht machen. Auch sie wollte mich oft umbringen: "Picka ti materina!" fluchte sie bei jeder Gelegenheit. "Man sollte dich wie eine Laus erschlagen, du undankbarer Idiot!"
Wir verstanden einander nie gut, das stimmt. Doch richtig schlimm wurde es erst, als ich erfuhr, was meine Mutter tatsächlich trieb. Damals besuchte ich bereits die zweite Klasse der normalen Schule, ganz in meiner Nähe. Ich hatte keine guten Noten, aber ich war nicht sitzengeblieben. Ich verstand und sprach gut Deutsch und liebte diese Sprache sogar. "Deutsch ist nur so schwer, weil die Österreicher es nicht beherrschen!" sagte Onkel Ante. "Laß einen Politiker bis drei zählen, und du weißt, aus welchem Stall er kommt!" Die meisten Schüler in der Schule allerdings sprachen nicht das schöne Deutsch von Jakov, ja auch nicht das meines Onkels, der fast so perfekt wie Jakov sprach. Deshalb wurde ich bald als unechter Österreicher erkannt, obwohl ich doch ein Eingeborener war wie die meisten meiner Mitschüler. Aber eben kein echter Eingeborener, weil meine Mutter noch den roten Paß hatte, nicht den grünen. So war ich zuerst ein Balkanier, dann ein Jugo und schließlich ein Tschusch. Ich wagte immer seltener, meinen Mund aufzumachen, ich begann mich vor der Schule zu fürchten. Ich schwitzte, wenn ich aufstehen und zur Strafe bis hundert zählen sollte. Bevor ich den Mund aufmachte, hörte ich Onkel Ante zählen, ich hörte Jakov, Tante Ljiljana, meine Mutter und in abwechselndem Echo meine Mitschüler aus meiner Lebensstadt und den todesgefährlichen Zeckendörfern der echten Eingeborenen. Ich begann zu zählen, die halbe Klasse kicherte. Da schlug der Herr Lehrer mit seinem Lineal auf den Tisch, und ich durfte mich setzen."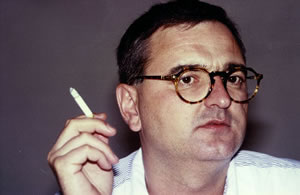 Gabriel Loidolt (Eibiswald, 4 oktober 1953)


Zie voor nog meer schrijvers van de 4e oktober ook mijn vorige blog van vandaag en eveneens mijn eerste blog van vandaag.
04-10-2010 om 00:00 geschreven door Romenu

Tags:Oek de Jong, Matthieu Gosztola, Charles Frazier, Gabriel Loidolt, Romenu



Cynthia Mc Leod, Herbert Kranz, Roy Alton Blount Jr, Hugh McCrae
De Surinaamse schrijfster Cynthia Henri Mc Leod werd geboren op 4 oktober 1936 in Paramaribo als Cynthia Ferrier. Zie ook mijn blog van 4 oktober 2006 en ook mijn blog van 4 oktober 2008 en ook mijn blog van 4 oktober 2009.
Uit: Hoe duur was de suiker?
"Als de Basya de jongens hun zweepslagen had gegeven, kon de groep vertrekken. En nadat de zweep was neergeknald op de magere blote ruggen van Tenu en Kobi en beide jongens huilend naar hun werkterrein waren gestrompeld, kon de ongeveer 60 man sterke groep zich opsplitsen. De veldgroep, ± 40 man, vertrok het eerst; zwijgend, de meesten op een 'alanga tiki'1 kauwend, zette de groep zich in beweging; 2 droegen een bos bananen op het hoofd, en een ander weer een bundel tajer, dat was voor de maaltijd die in het veld gekookt werd in 2 grote ijzeren kookpotten. De basya met een zweep in de ene hand en een houwer in de andere, liep helemaal achteraan. Een ander zestal ging naar de suikermolen, een paar naar het suiker kookhuis, weer een stel ging naar de timmerloods, 2 naar het botenhuis en 2 ouderen naar de omgeving van het plantagehuis om met hark, tjap en gieter te zorgen dat daar alles mooi en schoon was. Ook een vijftal vrouwen en meisjes, de huisslavinnen en 2 futuboi's, evenals Sydni, de lijfslaaf van de masra, gingen naar het witte huis dat er nog slapend uitzag door alle gesloten vensters en deuren. Opzichter Mekers ging eerst naar zijn eigen woning waar zijn slavin het ontbijt al had klaargemaakt.
Van de gedekte tafel kwam hem al een heerlijke geur tegemoet van gebakken eieren en vers gezette koffie. Een nieuwe dag was begonnen. Voor de slaven, een nieuwe dag van hard werken, een nieuwe dag in de reeks van eindeloze dagen zonder vooruitzicht."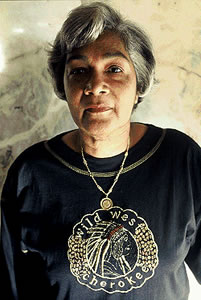 Cynthia Mc Leod (Paramaribo, 4 oktober 1936)
De Amerikaanse schrijver, journalist, musicus en acteur Roy Alton Blount Jr. werd geboren op 4 oktober 1941 in Indianapolis, Indiana. Zie ook mijn blog van 4 oktober 2008 en ook mijn blog van 4 oktober 2009.
Uit: Feet on the Street
"Since the Mississippi flows generally south from its origin in Minnesota to the Gulf of Mexico, you expect a town on the river to be on the east bank or the west. But at New Orleans the river flows eastwardly, sort of, so New Orleans is on the north bank, sort of. On the other side of the river is an area known, to be sure, as West Bank, but most of it lies either south or east of the river. On a map you can see: if the river were straight, New Orleans would be almost horizontal, right to left, east to west, between the river to the south and Lake Pontchartrain (as big as Rhode Island) to the north. But the river is crooked. The best known parts of New Orleans form a sort of tipped-forward S along bends in the river, from Uptown and the Garden District through Downtown, the French Quarter, and on around eastward into Fauxborg Marigny and the Bywater. Within this S, Uptown is south (upriver) and Downtown north (downriver), because the river takes a northerly hitch. However, the part of the Quarter that is farthest downtown is referred to as the upper Quarter, though I have heard it called the lower.
So when I tell you that I am pretty damn sure that in 1998, during Hurricane Georges, I saw the river, at least the topmost layer of it, flowing backward (because the wind was blowing so hard southerly along that northerly hitch), you can see why I might not be absolutely sure.
It was late and I was by myself at the time, nobody else was around. And I was feeling let down, because although the wind was blowing hard, and half the population had been evacuated, and thousands who'd stayed had been herded into the Superdome for their safety, and my friend Greg Jaynes and I had taken refuge in the shuttered-up Burgundy Street home of my friend Curtis Wilkie, it was clear that this was not going to be the Big One: the full force of Georges was going to miss us."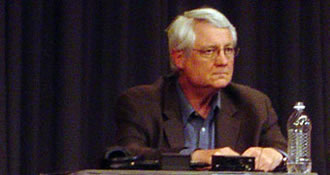 Roy Alton Blount Jr. (Indianapolis, 4 oktober 1941)
De Duitse schrijver Herbert Kranz werd geboren op 4 oktober 1891 in Nordhausen. Zie ook mijn blog van 4 oktober 2008 en ook mijn blog van 4 oktober 2009.
Uit: Flucht zu den Eishai-Jägern
"Die drei Herren von der 'kanadischen Kommission' waren aufs beste aufgenommen worden. Sie hatten im Flughafengebäude die Zimmer bekommen, die für Ehrengäste vorgesehen waren.
Sie waren durch alle Räume geführt worden. Sie hatten sich im Dispatch-Center, der Herzkammer des Flugbetriebs gründlich aufgehalten. Sie hatten zugesehen, wie für jede Maschine, die von Kopenhagen aus ihre weite Reise antrat, je nach Typ und Wetterlage, genau errechnet wurde, wie viel Brennstoff sie mitnehmen musste, wie viel davon der Captain der Maschine von Funkfeuer zu Funkfeuer der Strecke verbrauchen durfte, welche Höhen er einhalten, wie er die Flugzeit einteilen musste, was für Wind er zu erwarten, welche Nebelbänke er zu vermeiden hatte – wie die Wetterlage jetzt war, wie sie voraussichtlich nach fünf Flugstunden sein würde. Sie sahen, wie die Flugkapitäne vor ihrem Abflug die Flugpläne in die Hand bekamen, in denen über siebenhundert Rubriken mit Zahlen ausgefüllt waren, an denen das Schicksal ihres Fluges hing. Sie sahen, wie die schweigsamen
Männer mit den ernsten, kühnen Gesichtern diese Papierblätter überflogen und dann den inhaltsschweren Satz unterschrieben, mit dem sie darüber quittierten: "Hierdurch bestätige ich, dass
ich alle Unterlagen erhalten habe, die ich gemäß den Vorschriften für meinen Flug bekommen muss, und dass ich nach bestem Wissen und Gewissen für die Sicherheit des Fluges einstehe.
Dann tippten sie mit dem Finger an den Rand ihrer Mütze, zündeten sich eine letzte Zigarette an und gingen in ihrer Fliegerkleidung langsam zu den Maschinen, wahrhafte Ritter des 20. Jahrhunderts."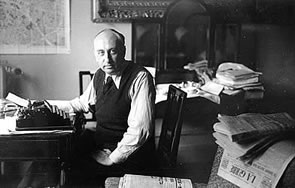 Herbert Kranz (4 oktober 1991 – 30 augustus 1973)
De Australische dichter en schrijver Hugh Raymond McCrae werd geboren op 4 oktober 1876 in Melbourne. Zie ook mijn blog van 4 oktober 2008 en ook mijn blog van 4 oktober 2009.
A Bridal Song
SHE is more sparkling beautiful
Than dawn-light seen thro' tears
The weeping worlds of Paradise
Shed down upon the spheres.
Her eyes are bright and passionate
With love's immortal flame—
The flowers of a wildwood tree
In petals write her name.
Her breath of life 's so wondrous sweet
The bees halt, in amaze,
Their streaming honey-laden fleet
Above the meadow ways;
And every little singing thing
Atween the breasted hill
And God's high-vaulted cloistering
Upraises with a will
Paeans of laud, and cheery chaunts
Of her, who now is mine—
Queen-Angel of angelic haunts
Thro' months of mead and wine.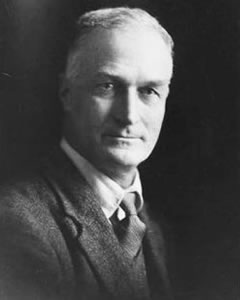 Hugh McCrae (4 oktober – 1876 – 17 februari 1958)

04-10-2010 om 00:00 geschreven door Romenu

Tags:Cynthia Mc Leod, Herbert Kranz, Roy Alton Blount Jr, Hugh McCrae, Romenu



Jacky Collins, André Salmon, Juliette Adam, Eugène Pottier
De Britse schrijfster Jacky Collins werd geboren in Londen op 4 oktober 1937. Zie ook mijn blog van 4 oktober 2009.
Uit: Drop Dead Beautiful
"Drop Dead Beautiful. The three little words were scrawled on the Cartier card Lucky Santangelo had just opened. Hand-delivered, the note had been brought up to the house in Bel Air by Philippe, her houseman, who'd discovered it in the mailbox at the end of the driveway.
Drop Dead Beautiful. No signature, no return address.
Was it an invitation to an upcoming event too clever for its own good?
Whatever. One quick glance at the card, and Lucky tossed it in the trash.
Lucky Santangelo. A dangerously seductive woman with blacker-than-night eyes, full sensuous lips, a tangle of long jet-black hair, deep olive skin, and a lithe body. Wherever she went, Lucky still brought a room to a standstill, for not only was she wildly beautiful, she was also a powerhouse — a woman to be reckoned with, a force of nature. Street-smart and forever savvy — Lucky Santangelo had it all.
In her past, she'd built hotels in Vegas, owned a major movie studio, and been married three times. She'd also survived much heartache. Her mother, Maria, had been murdered when she was five years old. Her brother, Dario, was shot to death and tossed from a moving car. Then finally her fiancé, Marco, was gunned down in the parking lot of her Vegas hotel."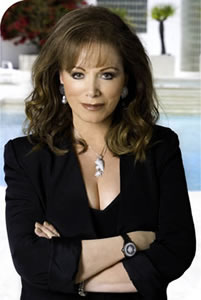 Jacky Collins (Londen, 4 oktober 1937)
De Franse dichter en criticus André Salmon werd geboren op 4 oktober 1881 in Parijs. Zie ook mijn blog van 4 oktober 2009.
La Marchande d'Images
C'est la vieille qui fume la pipe,
Elle est de Bruxelles en Brabant
Et vend l'Histoire du Juif-Errant,
La légende tendre et terrible
Du Petit-Poucet qui semait des cailloux
Sur son chemin ainsi que font les fous
Et les poètes qui vont semant des étoiles
Sans se douter qu'ils sont sur des vaissseaux sans voiles ;
Elle vend des chansons bleues et des romans noirs,
Elle a le Messager Boiteux de Strasbourg et l'Histoire
De la Dame du Lac et du beau Lancelot,
Elle vend du tumulte, du rire et des sanglots,
Des contes très pervers parfumés de morale
Et l'Histoire en couleurs du Petit Caporal.
Dans son vieux sac, il y a de petites choses qui brillent,
Elle porte, dit-on, des messages aux filles,
Mais je crois qu'on la calomnie.
Je l'ai vue souvent dans les champs,
Elle n'avait pas l'air méchant,
Sa jupe rouge dans l'herbe verte
Semblait flamber sur son échine
Et dans sa bouche entrouverte
Deux dents souillées de nicotine
Frémissaient comme ses narines.
Je crois qu'elle a toujours vécu
Et le Juif-Errant la connaît
Et peut-être a-t-elle tenu
Sur les marches du palais
Le beau manteau d'or sur fond blanc
De Geneviève de Brabant.
Vieux poète en jupon! viens donc, lorsqu'il fait soir
Dans mon cœur, m'enseigner tes plus belles histoires
Pour que mon âme épouse l'âme des amoureuses
Qu'emporte la fumée de ta pipe crasseuse.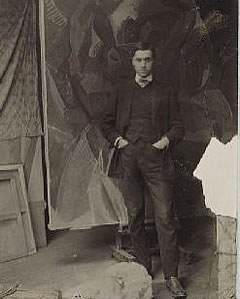 André Salmon (4 oktober 1881 – 12 maart 1969)
De Franse schrijfster, polemiste en feministe Juliette Adam werd als Juliette Lamber geboren op 4 oktober 1836 in Verberie. Zie ook mijn blog van 4 oktober 2008 en ook mijn blog van 4 oktober 2009.
Uit My Literary Life
"More friends one fine day who should come to see me but Arles-Dufour and Lambert-Bey, delegated by the Pere Enfantin, to ask me to preside at a banquet which the heads of the Saint-Simonian School proposed to give in my honour. I hesitated to accept it in spite of the spontaneous sympathy with which Arles-Dufour inspired me. I have never met any one for whom I felt such a sudden filial inclination. The first time he called me " my child," I wished to answer him " Father." He had a noble and beautiful face. Very simple in his speech and manner, he impressed one as possessing great kindness and much dignity. This came, perhaps, from the fact that he had always thought and acted with perfect freedom. His dominant passion, he said, " was liberty under all its forms, even eccentric ones." Arles-Dufour was one of the rare Saint-Simo- nians who had remained convinced of the integral truth of the school's principles. All his life he had felt an intense desire to raise woman from the state of inferiority in which he found her in France. It was through him, at Lyons, that the first woman was made a Bachelor of Letters; he took great interest in governesses and women doctors. He was very generous. He devoted a certain portion of his earnings to gifts under the form of loans. It was the bank that lent, not himself. When a debtor reimbursed his loan, it went to the bank. When there were good returns, it lent a great deal; when the bank was exhausted, nothing was given. Arles-Dufour insisted upon my accepting his " brothers' " and friends' banquet. Lambert-Bey invited me especially in the Pere Enfantin's name, who saw in me, as Saint-Simon had seen in Madame de Stael—fancy, how flattering it was!—the woman hoped for since the school's foundation,"[...]"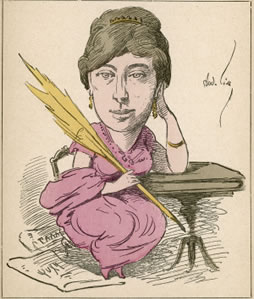 Juliette Adam (4 oktober 1836 – 23 augustus 1936)
De Franse dichter Eugène Edine Pottier werd geboren op 4 oktober 1816 in Parijs. Zie ook mijn blog van 4 oktober 2009.
L'internationale
Debout ! les damnés de la terre !
Debout ! les forçats de la faim !
La raison tonne en son cratère,
C'est l'éruption de la fin.
Du passé faisons table rase,
Foule esclave, debout ! debout !
Le monde va changer de base :
Nous ne sommes rien, soyons tout !
Refrain : (2 fois sur deux airs différents)
C'est la lutte finale
Groupons-nous, et demain,
L'Internationale,
Sera le genre humain.
Il n'est pas de sauveurs suprêmes,
Ni Dieu, ni César, ni tribun,
Producteurs sauvons-nous nous-mêmes !
Décrétons le salut commun !
Pour que le voleur rende gorge,
Pour tirer l'esprit du cachot,
Soufflons nous-mêmes notre forge,
Battons le fer tant qu'il est chaud !
Refrain
L'État comprime et la loi triche,
L'impôt saigne le malheureux ;
Nul devoir ne s'impose au riche,
Le droit du pauvre est un mot creux.
C'est assez languir en tutelle,
L'égalité veut d'autres lois :
« Pas de droits sans devoirs, dit-elle,
Égaux, pas de devoirs sans droits ! »
Refrain
Hideux dans leur apothéose,
Les rois de la mine et du rail,
Ont-ils jamais fait autre chose,
Que dévaliser le travail ?
Dans les coffres-forts de la bande,
Ce qu'il a créé s'est fondu.
En décrétant qu'on le lui rende,
Le peuple ne veut que son dû.
Refrain
Les Rois nous saoulaient de fumées,
Paix entre nous, guerre aux tyrans !
Appliquons la grève aux armées,
Crosse en l'air et rompons les rangs !
S'ils s'obstinent, ces cannibales,
A faire de nous des héros,
Ils sauront bientôt que nos balles
Sont pour nos propres généraux.
Refrain
Ouvriers, Paysans, nous sommes
Le grand parti des travailleurs ;
La terre n'appartient qu'aux hommes,
L'oisif ira loger ailleurs.
Combien de nos chairs se repaissent !
Mais si les corbeaux, les vautours,
Un de ces matins disparaissent,
Le soleil brillera toujours !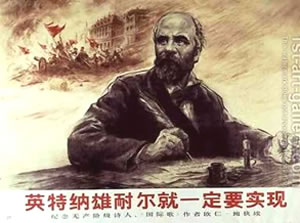 Eugène Pottier (4 oktober 1816 – 6 november 1887)

04-10-2010 om 00:00 geschreven door Romenu

Tags:Jacky Collins, André Salmon, Juliette Adam, Eugène Pottier, Romenu


03-10-2010

Bernard Cooper, Gore Vidal, Stijn Streuvels, Sergej Jesenin, Alain-Fournier
De Amerikaanse schrijver Bernard Cooper werd geboren op 3 oktober 1951 in Hollywood, California. Zie ook mijn blog van 3 oktober 2009.
Uit: Between The Sheets
"So the guy who draws my blood — what do you call them? A blood-drawer? — tells me I'm his last needle-stick of the day.
I say, "Nobody's ever called me a needle-stick before."
"Make a fist," he says, inspecting the crook of my arm where a blue vein rises to the surface of my skin. I can't quite grasp that he's going to jab it, the syringe half hidden on a tray behind his back. I used to know why veins are blue, but like most explanations, I forgot it long ago.
"After I've drained you dry," he says, looking me in the eye to make sure I know he's joking, "I'm off to the mall." When he lowers his head, I see that his hair is thinning at the crown, and I guess he's maybe 30, a few years older than me.
Fear makes my mouth taste metallic. The sounds in the room — air streaming through an overhead vent, the wheels of his chair on linoleum — are louder than they should be. I look away as he swabs my skin, feeling the icy kiss of antiseptic.
"You okay?" he asks.
"Fine," I say, but it doesn't sound convincing.
"Anyway," he says, "my mother bought me a set of new sheets, and I'm going to the mall to return them. I've been sleeping on flowered sheets — really pretty, like a watercolor garden — and last week she comes over to my apartment, plops herself down on the couch and says, 'Teddy, we have to talk. Now don't get defensive, but the one thing I truly wish is that . . .'
"'Mom,' I say. 'You know I'm never going to get married or give you grandchildren. We had this discussion years ago.'
"'Who said anything about grandchildren? I've given up on grandchildren. As far as I'm concerned, you can make love with whomever or whatever you want. Far be it for me to oppress you with my hopes. What I was going to say is that I wish you'd let me buy you some sheets that are a little less . . . feminine.'"
I ask if she was joking.
"I wish! I just stare at her from the other end of the couch and say, 'You might recall that your husband, my father, also sleeps on flowered sheets, and that hasn't raised any serious doubts about his manhood. And what about Denny?' That's my older brother. 'He sleeps on flowered sheets, too, and according to Lisa, Denny has to shave twice a day.'"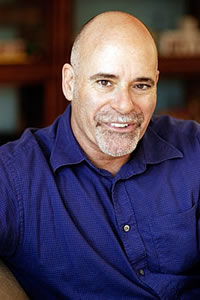 Bernard Cooper (Hollywood, 3 oktober 1951)
De Amerikaanse schrijver, dramaticus en essayist Gore Vidal werd geboren op 3 oktober 1925 in West Point, New York. Zie ook mijn blog van 3 oktober 2006 en ook mijn blog van 3 oktober 2007 en ook mijn blog van 3 oktober 2008 en ook mijn blog van 3 oktober 2009.
Uit: Point to Point Navigation: A Memoir
"My memory of the Depression is more of talk on the radio and in the house than of actual scenes of apple-selling in the street. Also, I did not always understand what I heard. When stock market shares fell, I thought that chairs were falling out of second-story windows. I did know that senators spent their days in the Senate chamber passing bills—dollar bills, I thought—from one to another, by no means an entirely surreal image.
At the age of five I sat in the Senate gallery and watched as T. P. Gore was sworn in for a fourth term. Defeated in 1920, he had made a triumphant return in 1930. I recall the skylit pale greens of the chamber so like the aquarium in the basement of the Commerce Building. I was also very much aware of my grandfather's enemy (and my father's friend and employer), the loudly menacing Franklin D. Roosevelt, with a black spot—like a dog's—over his left eyebrow. He was always in the papers and on the radio; worse, there he was in practically every newsreel, smiling balefully at us and tossing his huge head about.
Finally, in the spring of 1932, I saw at first hand history before it was screened. A thousand veterans of the First World War had arrived in the capital to demand a bonus for their services in the late and, to my grandfather, unnecessary war. These veterans were known as the Bonus Army, or Boners for short. By June, there were seventeen thousand of them encamped around Washington and in deserted buildings near the Capitol. The city panicked. There was talk of a revolution, like the recent one in Russia, or the one in France, which I knew so well from having seen so many movies."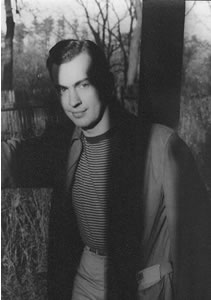 Gore Vidal (West Point, 3 oktober 1925)
De Vlaamse schrijver Stijn Streuvels, pseudoniem voor Frank Lateur werd geboren in Heule op 3 oktober 1871. Zie ook mijn blog van 3 oktober 2006 en ook mijn blog van 3 oktober 2008 en ook mijn blog van 3 oktober 2009.
Uit: Prutske's vertelselboek. De Opperdief
"DE boerinne van Tierelantierenhof had een zeune en hij hiet Jan, en Jan moest heele godsche dagen de koeien wachten. Zoo Jan wierd dat moe, en hij ging naar huis en hij zei:
- Zie, moeder, 'k en wil de koeien niet meer wachten. 'k Trek er van onder. 'k Ga mijnen kost gaan zoeken, en trachten rijk man te worden.
En hij ging 't land uit, zoo verre, tot hij aan een bosch kwam, en daar zag Jan al met eens een heelen troep heeren verschijnen, al even schoone gekleed met gouden strepen op hunnen frak, maar ze pakten Jan vast en vroegen hem:
- Waar gaat gij naartoe?
- Ik ben op zoek om rijke te worden zunder werken, zei Jan.
- Hewel, komt mee met ons.
- Welk ambacht doet gij? vroeg Jan.
- Stelen en rooven, maar moorden, nooit.
- Hewel, dat is mijn goeste, 'k ga mee.
Zoo, Jan ging mee, en ze roofden en ze stolen overal, bij dage en bij nachte, al dat ze krijgen kosten. 't En duurde niet lange of Jan kende zijn ambacht beter dan gelijk wie, en hij wierd kapitein van de bende, en ze hieten Jan den Opperdief.
Zoo, als hij daar nu lange bij was, en dat ze veel geld en goed thoope hadden, vroeg hij zekeren dag zijn deel en zei:
'k Ga naar mijn huis.
Zoo, ze gaven hem zijn deel, en Jan trok naar huis.
't Was in den winter. Hij klopte aan zijn deure en zijn moeder, de boerinne van Tierelantierenhof, deed open.
- Wel, dag moeder, leef-je nog?
- Hewel, menheere, ik en ken u niet.
- Moeder, ik ben uwe Jan, laat mij maar binnen. En hij gaf haar seffens geld voor brood en voor hout.
- Och moeder, ik ben nu toch rijke.
- Wel, mijne Jan, waar heb-je gij al dat geld gehaald?
- Al van stelen en rooven."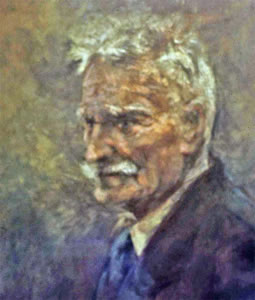 Stijn Streuvels (3 oktober 1871 – 15 augustus 1969)
Portret door Jan Van Der Smissen
De Russische dichter Sergej Aleksandrovitsj Jesenin werd geboren op 3 oktober 1878 in het dorpje Konstantinovo, bij Rjazan. Zie ook mijn blog van 3 oktober 2008 en ook mijn blog van 3 oktober 2009.
Kein Lied nach meinem mehr, vom Dorf zu singen
Kein Lied nach meinem mehr, vom Dorf zu singen,
die Bretterbrücke kann nicht mehr ins Lied.
Ich seh die Birke Weihrauchkessel schwingen,
ich wohn ihr bei - der Abschiedsliturgie.
Aus meinem Leib gezogen ist die Kerze,
sie brennt herab, brennt golden und brennt stumm.
Von ihm, dem Mond, der Uhr, der Uhr dort hölzern,
les ich es ab; Die Zeit, Sergej - herum.
Übers blaue Feld kommt er gegangen,
kommt und kommt, der eiserne, der Gast.
Rauft die Halme aus, die Abendröte tranken,
und er ballt sie in der schwarzen Faust.
Hände ihr, ihr fremden, seelenleeren,
was ich sing, wenn ihr es greift, ists hin.
Ach, um ihn, der einst der Herr hier war -: die Ähren,
sie, die wiehern, trauern einst um ihn.
Seelenmessen dann und danach Tänze,
nach dem Wiehern schwingen sie das Bein.
Jene Uhr dort, ja, die Uhr dort, hölzern,
sagts dir bald: Sergej, es ist soweit.
Vertaald door Paul Celan
Gut ist: unterm Herbsthimmel schütteln
Gut ist: unterm Herbsthimmel schütteln
den Apfelbaum Seele im Wind
und still sehn, wie die Sonne das Flüßchen
mit blitzender Pflugschar zerschnitt.
Und gut: aus dem Körper schlagen
den Nagel des Lieds, der dich glüht,
und in Weiß, wie an Feiertagen
erwarten den Gast vor der Tür:
Ich lern, ich bewahr mir tief innen
die Farben, des Faulbeerbaumes Licht;
nur Kargheit wärmt die Gefühle,
wenn das Leck dir die Rippen bricht.
Einstürzt lautlos der Sterne Kirchturm.
Blätter, Kerzen fürs Morgenrot, glühn.
Ich laß niemanden in mein Zimmer,
ich öffne keinem die Tür.
Vertaald door Rainer Kirsch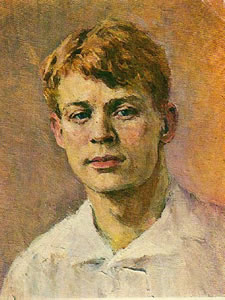 Sergej Jesenin (3 oktober 1878 - 28 december 1925)
De Franse schrijver Henri Alain--Fournier werd geboren op 3 oktober 1886 in Épineuil-le-Fleuriel (Cher). Zie ook mijn blog van 3 oktober 2008 en ook mijn blog van 3 oktober 2009.
Uit: Le Grand Meaulnes
"Meaulnes reste un moment ébloui et titubant dans ce corridor noir. Il craint maintenant d'être surpris. Son allure hésitante et gauche le ferait, sans doute, prendre pour un voleur. Il va s'en retourner délibérément vers la sortie, lorsque de nouveau il entend dans le fond du corridor un bruit de pas et des voix d'enfants. Ce sont deux petits garçons qui s'approchent en parlant.
"Est-ce qu'on va bientôt dîner ? leur demande Meaulnes avec aplomb.
— Viens avec nous, répond le plus grand, on va t'y conduire."
Et avec cette confiance et ce besoin d'amitié qu'ont les enfants, la veille d'une grande fête, ils le prennent chacun par la main. Ce sont probablement deux petits garçons de paysans. On leur a mis leurs plus beaux habits : de petites culottes coupées à mi-jambe qui laissent voir leurs gros bas de laine et leurs galoches, un petit justaucorps de velours bleu, une casquette de même couleur et un nœud de cravate blanc.
"La connais-tu, toi ? demande l'un des enfants.
— Moi, fait le plus petit, qui a une tête ronde et des yeux naïfs, maman m'a dit qu'elle avait une robe noire et une collerette et qu'elle ressemblait à un joli pierrot.
— Qui donc ? demanda Meaulnes.
— Eh bien, la fiancée que Frantz est allé chercher…"
Avant que le jeune homme ait rien pu dire, ils sont tous les trois arrivés à la porte d'une grande salle où flambe un beau feu. Des planches, en guise de table, ont été posées sur des tréteaux ; on a étendu des nappes blanches, et des gens de toutes sortes dînent avec cérémonie."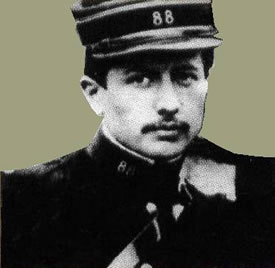 Alain-Fournier
(3 oktober 1886 - 22 september 1914)



Zie voor nog meer schrijvers van de 3e oktober ook
mijn vorige blog van vandaag.
03-10-2010 om 19:46 geschreven door Romenu

Tags:Bernard Cooper, Gore Vidal, Stijn Streuvels, Sergej Jesenin, Alain-Fournier, Romenu



Louis Aragon, Thomas Wolfe, James Herriot, Wolf Klaußner, Johann Peter Uz
De Franse dichter, schrijver en essayist Louis Aragon werd geboren in 1897 in Parijs. Zie ook mijn blog van 3 oktober 2007 en ook mijn blog van 3 oktober 2008 en ook mijn blog van 3 oktober 2009.
Les oiseaux déguisés
Tous ceux qui parlent des merveilles
Leurs fables cachent des sanglots
Et les couleurs de leur oreille
Toujours à des plaintes pareilles
Donnent leurs larmes pour de l'eau

Le peintre assis devant sa toile
A-t-il jamais peint ce qu'il voit
Ce qu'il voit son histoire voile
Et ses ténèbres sont étoiles
Comme chanter change la voix

Ses secrets partout qu'il expose
Ce sont des oiseaux déguisés
Son regard embellit les choses
Et les gens prennent pour des roses
La douleur dont il est brisé

Ma vie au loin mon étrangère
Ce que je fus je l'ai quitté
Et les teintes d'aimer changèrent
Comme roussit dans les fougères
Le songe d'une nuit d'été

Automne automne long automne
Comme le cri du vitrier
De rue en rue et je chantonne
Un air dont lentement s'étonne
Celui qui ne sait plus prier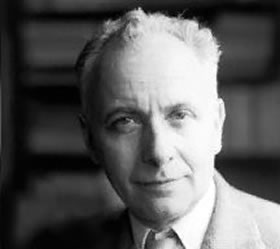 Louis Aragon (3 oktober 1897 – 24 december 1982)

De Engelse schrijver en dierenarts James Herriot (pseudoniem van James Alfred Wight) werd geboren op 3 oktober 1916 in Sunderland. Zie ook mijn blog van 3 oktober 2009.
Uit: All Things Wise and Wonderful
"He rolled his head from side to side. Oh God, but it's worse for him. You've seen him in the car-he's so interested in everything. Life wouldn't be worth living for him if he lost his sight. And I don't want to live any more either!
You mustn't talk like that, Andrew, I said. That's going too far. I hesitated. Please don't be offended, but you ought to see your doctor.
Oh I'm always at the doctor, he replied dully. I'm full of pills right now. He tells me I have a depression.
The word was like a mournful knell. Coming so soon after Paul it sent a wave of panic through me.
How long have you been like this?
Oh, weeks. I seem to be getting worse.
Have you ever had it before?
No, never. He wrung his hands and looked at the floor. The doctor says if I keep on taking the pills I'll get over it, but I'm reaching the end of my tether now.
But the doctor is right, Andrew. You've got to stick it and you'll be as good as new.
I don't believe it, he muttered. Every day lasts a year. I never enjoy anything. And every morning when I wake up I dread having to face the world again. What's the use of going on? I know I'm going to be miserable for the rest of my life.
I am no psychiatrist but I knew better than to tell somebody in Andrew's condition to snap out of it. And I had a flash of intuition.
All right, I said. Be miserable for the rest of your life, but while you're about it you've got to look after this dog.
Like a man in a dream he bent and gathered his dog into his arms and shuffled along the passage to the front door. As he went down the steps into the street I called out to him. Keep in touch with your doctor, Andrew. Take your pills regularly-and remember, I raised my voice to a shout. Remember you've got a job to do with that dog."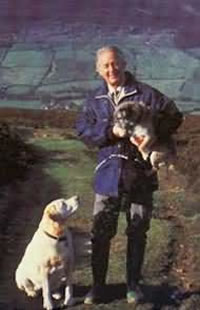 James Herriot (3 oktober 1916 - 23 februari 1995)
De Amerikaanse schrijver Thomas Wolfe werd geboren op 3 oktober 1900 in Asheville, North Carolina. Zie ook mijn blog van 3 oktober 2006 en ook mijn blog van 3 oktober 2008 en ook mijn blog van 3 oktober 2009.
Uit: You Can't Go Home Again
"I believe that we are lost here in America, but I believe we shall be found……I think the true discovery of our spirit, of our people, of our mighty and immortal land is yet to come. I think the true discovery of our own democracy is still before us……
I think the enemy is here before us, too……I think the enemy is here before us with a thousand faces, but I, we, know that all his faces wear one mask. I think the enemy is single selfishness and compulsive greed. I think the enemy is blind, but has the brutal power of his blind grab.
I think the enemy deceives us with false words and lying phrases, saying:
"See, I am one of you—I am one of your children, your son, your brother, and your friend. Behold how sleek and fat I have become—and all because I am just one of you, and your friend. Behold how rich and powerful I am—and all because I am one of you—shaped in your way of life, of thinking, of accomplishment....am I not just one of you? Am I not the living image of what each of you may hope to be, would wish to be, would desire for his own son? Would you destroy the glorious incarnation of your own heroic self? If you do, then, "says Enemy, "you destroy yourselves—you kill the thing that is most gloriously American, and in so killing, kill yourselves."
He lies! And now we know he lies!. He is not gloriously, or in any other way, ourselves. He is not our friend, our son, our brother. And he is not American! For, although he has a thousand familiar and convenient faces, his own true face is old as Hell.
Look about you and see what he has done.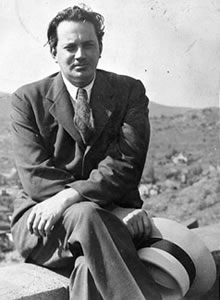 Thomas Wolfe (3 oktober 1900 - 15 september 1938)
De Duitse schrijver Wolf Klaußner werd geboren op 3 oktober 1930 in Lichtenau. Zie ook mijn blog van 3 oktober 2009.
Uit: Lebensläufe
"— Hoho. Ich kenne die Familie von früher her, aus meiner ehemaligen Tätigkeit, das waren gediegene Faschisten, bloß dein Conte nicht, der war das schwarze Schaf, ein Bauer obendrein, und dem sind jetzt alle Güter zugefallen, weil sie die Familie teils umgebracht oder nach New York vertrieben haben. Dem gehört inzwischen ein schöner Fleckenteppich in der Toskana, selbst wenn er es nicht wissen sollte, was ich nicht glaube. Wie es aussieht, kann er deine Tochter in Samt und Seide hüllen — da stinkst du ab.
— Angst, sagte Konrad, der nicht zugehört hatte, — kannte ich früher nie. Ich hatte ja nichts, riskierte also null, das heißt alles. Verzeih, ich bin schon seit einiger Zeit ... wäre am liebsten als Schipper auf einen Kohlendampfer gegangen, aber seit ich Gritli habe, und es hat gefunkt am ersten Tag in der ersten Stunde, ich liebe sie mehr als mein Leben und die Kleine ...
— Man sieht es, sagte Johannes, — ich habe noch nie ein Paar...
—Ich habe Angst, und nun gar jetzt: Mit dreizehn Jahren schwanger, wie soll sie eine Geburt überstehen?
— Die Kinder küßten sich hingerissen.
— Die ist zäh, sagte der Freund, — und wenn die beiden nur zwei Jahre in solchem Rausch leben: Hat es sich dann gelohnt? Dann hat es sich gelohnt. Mag kommen was mag. Konrad Loy schwieg lange. Von der Ebene herauf kam kühlender Wind.
— Du wirst es nicht glauben: Ich bin ein anderer geworden und darf nicht mehr so weitermachen, als hätte ich nichts zu tun mit dem äußeren Leben. Man hat mir einen Lehrauftrag angeboten — hab abgelehnt — aber ich nehme ihn an. Wird Gritli nicht recht sein.
Johannes zündete sich eine schwere Zigarre an, drehte sie im Mund, zog gewaltig durch und sagte durch den Qualm: — Und mir auch nicht (— Dir? Kann dir doch ...) weil ich nämlich eines Juristen bedarf. Hast du eigentlich je Prozesse geführt?"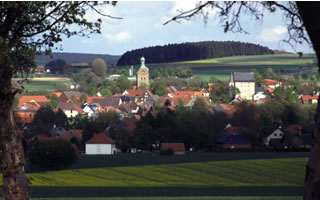 Wolf Klaußner (3 oktober 1930 – 3 april 2005)
Lichtenau (Geen portret beschikbaar)
De Duitse dichter en schrijver Johann Peter Uz werd geboren op 3 oktober 1720 in Ansbach. Zie ook mijn blog van 3 oktober 2009.
Die Rose
Der Frühling wird nun bald entweichen:
Die Sonne färbt sein Angesicht:
Er schmachtet unter welken Sträuchen;
Und findet seinen Zephyr nicht.
Er hinterläßt uns, da er fliehet,
Den Ausbund seiner Lieblichkeit.
Die Rose, die in Purpur blühet,
Verherrlicht seine lezte Zeit.
Du, Rose! sollst mein Haupt umkränzen:
Dich lieben Venus und ihr Sohn.
Kaum seh ich dich im Busche glänzen,
So wallt mein Blut, so brenn ich schon.
Ich fühl ein jugendlich Verlangen,
Ein blühend Mädchen hier zu sehn,
Um dessen rosenvolle Wangen
Die jungen Weste süsser wehn.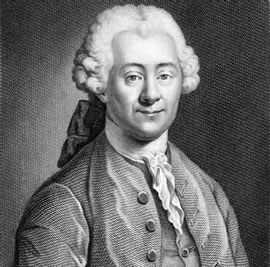 Johann Peter Uz (3 oktober 1720 – 12 mei 1796)

03-10-2010 om 19:46 geschreven door Romenu

Tags:Louis Aragon, Thomas Wolfe, James Herriot, Wolf Klaußner, Johann Peter Uz, Romenu


02-10-2010

Dimitri Verhulst, Graham Greene, Wallace Stevens, Andreas Gryphius
De Vlaamse dichter en schrijver Dimitri Verhulst werd op 2 oktober 1972 geboren in Aalst. Zie ook mijn blog van 16 oktober 2006 en ook mijn blog van 16 oktober 2007 en ook mijn blog van 2 oktober 2008.
Uit: De helaasheid der dingen
"Tante Rosie zat met gezwollen, rode ogen en in peignoir op ons te wachten. 'Waar hebben jullie godverdomme zo lang gezeten? Er misschien ondertussen even aan gedacht dat ik hier thuis zat dood te gaan van ongerustheid?' Het speet ons. Alles in het leven speet ons. Zo waren we. 'En gij, Sylvie, gij ziet er anders ook proper uit.' 'Het wonder is geschied', zei Sylvie. 'Wablieft?' 'Het wonder is geschied, mijn pruim is nat en 't regent niet.'
Die nacht hoorde ik ook de bomen als cheerleaders wapperen met hun kruinen, de wind kwam van ver en had ons niets meegebracht dan enkel te zware gedachten. Het was de tijd vlak na de slacht, waarin de koeien wisten dat hun gratie voor een winter was verleend, zodat ze nog eens tochtig mochten staan, en dat de droefste onder hen hun sirenes loeiden om te rouwen om een kalf dat was opgegaan in kotelet. Daarom viel die nacht het blauwe licht van de politiewagen zo mooi op het behangpapier van onze slaapkamer, omdat het deel uitmaakte van de goddelijke choreografie.
Onze aandacht voor vrouwenlichamen bleef een constante, maar de klemtoon kende seizoenen, zoals de meeste dingen in het leven. De periode waarin we maniakaal de borsten bekeken en qouteerden had lang standgehouden, maar had uiteindelijk toch baan weten te ruimen voor de onvermijdelijke fase van het achterwerk, waarin onze voorkeuren fundamenteel verschilden, hetgeen meer ruimte liet voor debat. Toen een ons onbekende vrouw voor de deur stond en in beschaafd Vlaams naar mijn vader vroeg , bevonden wij ons op de middaghoogte van een periode waarin wij de binnenkant van damesbillen met grote zorg taxeerden en waardeerden, waardoor wij het dubbel zo erg apprecieerden dat het zomer was en dit vrouwmens een hemels korte rok droeg.
'Welke fohnstoot heeft er jou naar hier geblazen? Is dat je kleine? Het is onze Pie gescheten, twee druppels water nondedju.' Hij staart met zijn grote kijkers naar die vreemden, verstaat hun dialect niet.
'Hoe noemt hij?'
Joeri. Lelijker kan een naam niet zijn. Zijn moeder heeft hem gekozen. Joerie, het lijkt wel iets voor een auto. Een Opel Joeri.
'Joeri. Schone naam. Hey Joeri, krijgt uw nonkelke Potrel een pol van u…Allez, geef ons allemaal iets te drinken!'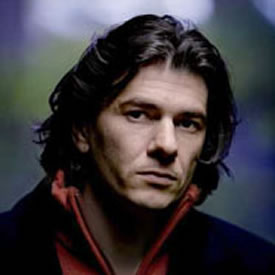 Dimitri Verhulst (Aalst, 2 oktober 1972)
De Engelse schrijver Graham Greene werd geboren op 2 oktober 1904 in Berkhamsted, Hertfordshire. Zie ook mijn blog van 2 oktober 2006 en ook mijn blog van 2 oktober 2007 ook mijn blog van 2 oktober 2008.
Uit: The quiet American
"Just as I rose the voice stopped: the silence made me jump. Pyle said sharply, 'drop your riffle.' I had just time to wonder whether the sten was unloaded – I hadn't bothered to look – when the man threw his rifle down.
I crossed the room and picked it up. Then the voice began again – I had the impression that no syllable had changed. Perhaps the used a record. I wondered when the ultimatum would expire.
'What happens next?' Pyle asked, like a schoolboy watching a demonstration in the laboratory: he didn't seem personally concerned.
'Perhaps a bazooka, perhaps a Viet.'
Pyle examined his sten. 'There doesn't seem any mystery about this,' he said. 'Shall I fire a burst?'
'No, let them hesitate. They'd rather take the post without firing and it gives us time. We'd better clear out fast.'
'They may be waiting at the bottom.'
'Yes.'
The two men watched us – I write men, but I doubt whether they had accumulated forty years between them. 'And these?' Pyle asked, and he added with a shocking directness, 'shall I shoot them?' Perhaps he wanted to try the sten.
'They've done nothing'
'They were going to hand us over.'
'Why not?' I said. 'We've no business here. It's their country.'
I unloaded the rifle and laid it on the floor. 'Surely you're not leaving that,' he said.
'I'm too old to run with a rifle. And this isn't my war. Come on.'
It wasn't my war, but I wished those others in the dark knew that as well. I blew the oil-lamp out and dangled my legs over the trap, feeling for the ladder. I could hear the guards whispering to each other like crooners, in their language like a song. 'Make straight ahead,' I told Pyle, 'aim for the rice. Remember there's water – I don't know how deep. Ready?'
'Yes.'
'Thanks for the company.'
'Always a pleasure,' Pyle said.
I heard the guards moving behind us; I wondered if they had knives. The megaphone voice spoke peremptorily as though offering a last chance. Something shifted softly in the dark below us, but it might have been a rat. I hesitated. 'I wish to god I had a drink,' I whispered.
'Let's go.'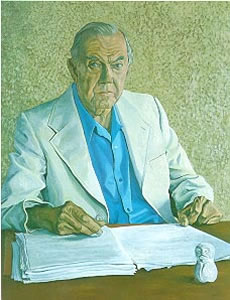 Graham Greene (2 oktober 1904 – 3 april 1991)
Portret door Anthony Palliser
De Amerikaanse dichter en essayist Wallace Stevens werd geboren op 2 oktober 1879 in Reading, Pennsylvania. Zie ook mijn blog van 2 oktober 2008.
The Snow Man
One must have a mind of winter
To regard the frost and the boughs
Of the pine-trees crusted with snow;
And have been cold a long time
To behold the junipers shagged with ice,
The spruces rough in the distant glitter
Of the January sun; and not to think
Of any misery in the sound of the wind,
In the sound of a few leaves,
Which is the sound of the land
Full of the same wind
That is blowing in the same bare place
For the listener, who listens in the snow,
And, nothing himself, beholds
Nothing that is not there and the nothing that is.
What is Divinity
What is divinity if it can come
Only in silent shadows and in dreams?
Shall she not find in comforts of the sun,
In pungent fruit and bright, green wings, or else
In any balm or beauty of the earth,
Things to be cherished like the thought of heaven?
Divinity must live within herself:
Passions of rain, or moods in falling snow;
Grievings in loneliness, or unsubdued
Elations when the forest blooms; gusty
Emotions on wet roads on autumn nights;
All pleasures and all pains, remembering
The bough of summer and the winter branch,
These are the measures destined for her soul.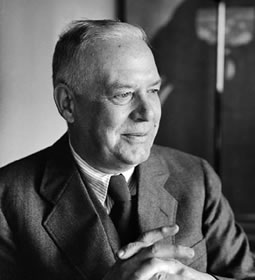 Wallace Stevens (2 oktober – 1879 – 2 augustus 1955)
De Duitse dichter en schrijver Andreas Gryphius (gelatiniseerde naam van Andreas Greif) werd geboren op 2 oktober 1616 in Glogau (Silezië). Zie ook mijn blog van 2 oktober 2006 en ook mijn blog van 2 oktober 2007 en ook mijn blog van 2 oktober 2008.
Abend
Der schnelle Tag ist hin / die Nacht schwingt ihre Fahn /
Und führt die Sternen auff. Der Menschen müde Scharen
Verlassen feld und werck / Wo Thier und Vögel waren
Trauert itzt die Einsamkeit. Wie ist die zeit verthan!
Der port naht mehr und mehr sich / zu der glieder Kahn.
Gleich wie diß licht verfiel / so wird in wenig Jahren
Ich / du / und was man hat / und was man siht / hinfahren.
Diß Leben kömmt mir vor alß eine renne bahn.
Laß höchster Gott mich doch nicht auff dem Laufplatz gleiten
Laß mich nicht ach / nicht pracht / nicht luft / nicht angst verleiten.
Dein ewig heller glantz sei von und neben mir /
Laß / wenn der müde Leib entschläfft / die Seele wachen /
Und wenn der letzte Tag wird mit mir abend machen /
So reiß mich auß dem thal der Finsternuß zu dir.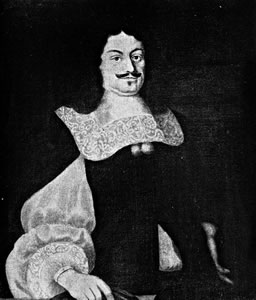 Andreas Gryphius (2 oktober 1616 - 16 juli 1664)
Kopergravure van Philipp Kilian
Zie voor nog meer schrijvers van de 2e oktober ook mijn vorige blog van vandaag.

02-10-2010 om 19:31 geschreven door Romenu

Tags:Dimitri Verhulst, Graham Greene, Wallace Stevens, Andreas Gryphius, Romenu



Göran Sonnevi, Waltraud Anna Mitgutsch, Jan Morris
De Zweedse dichter en vertaler Göran Sonnevi werd geboren in Lund op 2 oktober 1939. Zie ook mijn blog van 2 oktober 2007 en ook mijn blog van 2 oktober 2008.
Neujahr 1990; Envoi
Das Himmelslicht offnet sich Die Sonne ist es
die kommt, die in den Baumkristallen leuchtet
Die niedere Sonne kommt von unten her
aus dem Innern, seinem klaren Dunkel
Es ist die gleiche Sonne, wir sind ihre Kinder
Wenn sich die Sonnen begegnen sind wir nicht mehr
Ich seh jetzt hinaus in die Zeit neuen Lichts Was
ich mir erwarte weis ich nicht, auch kaum
was ich mir wunsche Wir bestehen aus Utopien, noch
ungeboren, im Realen, schimmernd im doppelten Licht
Hier konnen die Konflikte beginnen, ohne Gewalt, wenn
sie nur nichts zuruckhalten So einfach?
Nein! Wie konntest du das glauben? Die Konflikte sind im Realen
Auch unuberschaubar, und mit versteckter Gewalt, auch unter
dem Offnen Wenn das Offene abgeschafft wird dringt das Versteckte hervor
Dann mus auch das fort Wir konnen miteinander reden
Der Gesang ist einsam, auser in auserster Freiwilligkeit, oder ihrer
Annaherung, denn wir sind auch Menschen Du
hilfst jetzt meiner Mutter beim Haarewaschen; ich bin froh daruber
Jener Impuls von Zartlichkeit Jenes Ungeschaffene Jenes Kind
Wir stehn im Offenen; aber nur solange es nicht
geschlossen wird, von ausen oder innen Wir entscheiden nicht selbst
Keine Befreiung last sich kontrollieren; auch unsere eigene nicht
Wir schlafen nebeneinander, den Schlaf der ersten Nacht
Glaubte fur einen Augenblick noch etwas mehr begriffen zu haben
von den Strukturen der Blendung, in mir, auserhalb von mir Dann
begriff ich, ich hatte nichts begriffen Das es nicht
genug war Als ware die dunkle Blendung
immer groser Aber das Licht kommt dabei aus mindestens zwei Richtungen
wieder, wieder, in seiner kreisformigen Bewegung Wir nehmen sie hinein,
in immer neuen Umdrehungen Wie wir zahlen hat keine Bedeutung Es
summiert sich in uns, in jedem Augenblick integral Wie
wir in Wirklichkeit zusammen leben, mit welchen Blindheiten
welcher Sicht Mit welchen Spiegeln die wir voreinander hochhalten
Die niedere Sonne dreht sich in mir Ich bin ausgespannt um ihr Universum
Vielleicht gibt es ein geringeres Wort Ich schaute auf die Gesichter der Toten,
einige lachelten im Tod, und mit offenen Augen Was vorher war
war schlimmer, jene Utopie Als konnten wir uberhaupt wahlen
Doch konnen wir es, alle, auch in der gemeinsamen Sonne Eine freie Wahl?
Nein! Keine Wahl ist frei, dennoch konnen wir wahlen Wenn es
noch offen ist, wenn auch nur fur einen Augenblick, zwischen den Regimen
Wir sind alle informiert von dem was es nicht gibt, dem Augenblick
vor dem Realen Aber wir mussen dann lebendig sein Wir stehn im offenen
Sonnenlicht
In seinem Wasserfall, auch von unten, von uberallher Im Baum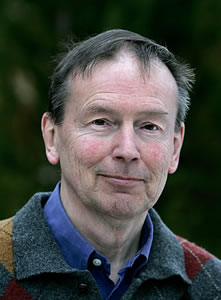 Göran Sonnevi (Lund, 2 oktober 1939)
De Oostenrijkse schrijfster en literatuurwetenschapster Waltraud Anna Mitgutsch werd geboren in Linz op 2 oktober 1948. Zie ook mijn blog van 2 oktober 2008.
Uit: Wenn du wiederkommst
"Louise war eine Freundin der Familie geworden, der sich auch Ilana anvertraute, aber sie gab nie die Hoffnung auf, dass er sich eines tages für sie entscheiden würde.
Im Spital haben sie mich behandelt wie seine nächste Angehörige, erzählt sie gerade, sie waren so fürsorglich und nett zu mir.
Auch sie wiederholt für jeden, der neu hinzukommt, ihren Augenzeugenbericht, wie sie um sein Leben gebangt habe und zugleich darum, dass er nicht als Pflegefall ende wie seine Mutter. Sie erzählt von der Ärztin, die sich bei ihr erkundigte, ob die Familie mit einer Organspende einverstanden sei. Ilana und ich sehen sie entsetzt an.
Du hast doch nicht? Das darfst du doch gar nicht! ruft Ilana.
Seine Hornhaut, er sollte seine Hornhaut spenden, aber dann hieß es, er sei zu alt und krank gewesen, sagt Louise den Tränen nah; seine blauen Augen, seine wunderbaren blauen Augen.
Wie kann man einen Mann geliebt haben und seine Augenfarbe vergessen, frage ich mich.
Er hat graugrün gesprenkelte Augen, genau wie ich, entgegnet Ilana ungeduldig. Sieh mich an, sind meine Augen blau?
Wer gibt dir das recht, über seinen Körper zu bestimmen? frage ich sie gereizt.
Müssen wir diese Diskussion haben? Fragt Louise zurück.
Ich sehe uns wie in einem Film in der Küche sitzen, in der die Reste der letzten Mahlzeit des Toten noch nicht beseitigt sind: Zwei nicht mehr junge Frauen, die beide glauben, einen Anspruch auf ihn zu haben, bebeend vor Zorn, am Rande eines Streits über die Frage, wessen Eigentum er ist."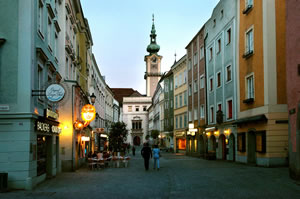 Waltraud Anna Mitgutsch (Linz, 2 oktober 1948)
Linz
De Britse (reis)schrijfster en historica Jan Morris werd als James Humphrey Morris geboren op 2 oktober 1926 in Clevedon, Somerset. Zie ook mijn blog van 2 oktober 2008.
Uit: A Writer's House in Wales
"Trefan Morys is the name of my house in Wales, and I'll tell you frankly, to me much the most interesting thing about it is the fact that it is in Wales. I am emotionally in thrall to Welshness, and for me Trefan Morys is a summation, a metaphor, a paradigm, a microcosm, an exemplar, a multum in parvo, a demonstration, a solidification, an essence, a regular epitome of all that I love about my country. Whatever becomes of Wales, however its character is whittled away down the generations, I hope my small house will always stand in tribute to what has been best in it.
Do you know where Wales is? Most people in the world have no idea. It is a peninsula standing at the heart of the British Isles, on the western flank of England facing Ireland. It is some 200 miles long from north to south and never more than seventy miles wide, and it is known in its own language as Cymru, signifying a comradeship or comity. Wales is part of the United Kingdom, all too often thought by foreigners to be synonymous with England itself, but its people form one of those ancient minority nations, from the powerful Catalans to the infinitesimal Karims, who have miraculously contrived to maintain their identities, to one degree or another, through the infinite convolutions of European history. They are all subject to the political domination of some greater State, but they remain determinedly themselves, and generally hope to stay that way within the framework of a uniting Europe.
Such quixotic survivals suit me. I want no pomp or circumstance, and would much rather be a poet than a President (unless, like Abraham Lincoln, I could be both at the same time). Small may not always be Beautiful, as a mantra of the 1970s used to claim, but for my tastes it is usually more interesting than Large, and little nations are more appealing than great powers."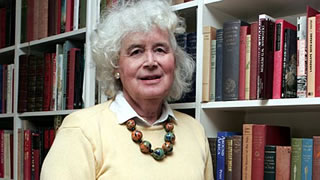 Jan Morris (Clevedon, 2 oktober 1926)

02-10-2010 om 19:24 geschreven door Romenu

Tags:Göran Sonnevi, Waltraud Anna Mitgutsch, Jan Morris, Romenu


01-10-2010

P. N. van Eyck, Khlaid Boudou, Charles Cros, Günter Wallraff, Michael Schindhelm
De Nederlandse dichter criticus, essayist en letterkundige Pieter Nicolaas van Eyck werd geboren op 1 oktober 1887 in Breukelen. Zie ook mijn blog van 1 oktober 2007 en ook mijn blog van 1 oktober 2008 en ook mijn blog van 1 oktober 2009.
Zomerregen
Regen, regen, gij kleine regen,
Daar straks, van even terzijde, schuin
Door de uchtendstilte neergezegen
Op klim- en struikroos van de tuin.
En nu, de vochtige naglans tegen
Uit mij, dit donker perk, gebeurd,
Regen, regen, gij kleine regen,
Eén witte bloem, die trilt en geurt.
Bij Spinoza's portret
Meester van 't stil, wijs woord, lichtend fanal
Dat al wat is doordringt; de heldere blik,
Die dwars door waan en wankelbaar beschik
Het Ene als grond, vorm, zin zag van 't Getal.
Van 't diepste zwijgt wie stamelt: God is Al, -
Gij, grote Ziel, aanschouwde in 't Ogenblik
't Volmaakte Godsgeheim van 't ik-loos Ik,
Dat door uw wijsheid spreekt en spreken zal.
Uw geest schiet stralen verder dan men weet:
Gij zelf de zuivere vorm van al dat licht,
Sterk en onschendbaar, boven sterfelijk lot.
Die vol van liefde vóor u staat, vergeet
Uw tijdelijkheid, en ziet in uw gezicht
Het hoog gezicht van 't Eeuwige, onze God.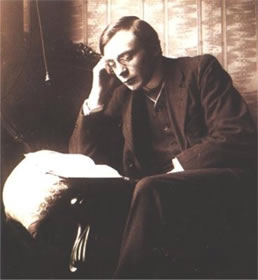 P. N. van Eyck (1 oktober 1887 – 10 april 1954)

De Nederlands – Marokkaanse schrijver Khalid Boudou werd geboren in Tamsamane, Marokko op 1 oktober 1974. Zie ook mijn blog van 1 oktober 2008 en ook mijn blog van 1 oktober 2009.
Uit: Het schnitzelparadijs
"Hoe zou ik je een indruk kunnen geven hoe het er hier in mijn hoekje uitziet, waarmee zou ik het kunnen vergelijken? Een kleine vuilnisbelt? Een SM-studio voor extravagante bejaarden? Een duizelige modderpoel? Een bassin voor jonglerende bacteriën? Werkelijk, de bacteriën hebben in deze soeppolder tussen de muizenkeutels een eigen bacillenstaat opgericht, ze gaan hier naar school, in het schnitzellaboratorium, drinken gezamelijk een pintje, doen aan carrièreplanning, organiseren wedstrijden wie het eerst bij de soep is, en doen toelatingsexamen voor de Hogere Bederfschool."
(…)
"Waar haalde de tijd het recht vandaan om mij de zon, de vijgenboom, het magische zand, de fluittonen van mijn neef en de verhalen van mijn grootvader te ontnemen en deze te verruilen voor regen, Tita Tovenaar, nepchocola en sprookjes? En terwijl ik de vraag als natte kleuter bleef stellen, in lengte van dagen, zei mijn buurvrouw Malade, al even herhaaldelijk: 'Ga dan maar terug, als het hier niet zóóó fijn is...' En ik ontgroeide het antwoord, het maakte allemaal niets meer uit, ik liet me aaien door diezelfde aardige buurvrouw, die me plakjes ontbijtkoek met boter gaf. Ze wilde zo graag voor dit arme kind met wilde krullen uit het verre Afrika zorgen...
Met diezelfde buurvrouw, mevrouw Malade, zou ik een haat-liefdeverhouding beginnen. Ik werd ontbijtkoekmoe, had genoeg van haar nep-verzorgende smeerpraktijken en heel netjes zei ik tegen haar – dat soort taal had ik al snel opgepikt – toen ze weer eens met haar kromme tenen in slippers en niets dan een badjas aan voor het hek stond, een bord vol plakjes ontbijtkoek voor zich uitgestoken: 'Stop die koek maar tussen uw drillende olifantenbillen...!'"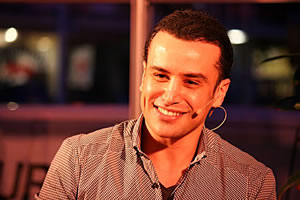 Khalid Boudou (Tamsamane, 1 oktober 1974)
De Franse dichter Charles Cros werd geboren in Fabrezan op 1 oktober 1842. Zie ook mijn blog van 1 oktober 2007 en ook mijn blog van 1 oktober 2008 en ook mijn blog van 1 oktober 2009.
Les quatre saisons - L'hiver
C'est l'hiver. Le charbon de terre
Flambe en ma chambre solitaire.

La neige tombe sur les toits.
Blanche ! Oh, ses beaux seins blancs et froids !

Même sillage aux cheminées
Qu'en ses tresses disséminées.

Au bal, chacun jette, poli,
Les mots féroces de l'oubli,

L'eau qui chantait s'est prise en glace,
Amour, quel ennui te remplace !
A une chatte
Chatte blanche, chatte sans tache,
Je te demande, dans ces vers,
Quel secret dort dans tes yeux verts,
Quel sarcasme sous ta moustache.
Tu nous lorgnes, pensant tout bas
Que nos fronts pâles, que nos lèvres
Déteintes en de folles fièvres,
Que nos yeux creux ne valent pas
Ton museau que ton nez termine,
Rose comme un bouton de sein,
Tes oreilles dont le dessin
Couronne fièrement ta mine.
Pourquoi cette sérénité ?
Aurais-tu la clé des problèmes
Qui nous font, frissonnants et blêmes,
Passer le printemps et l'été ?
Devant la mort qui nous menace,
Chats et gens, ton flair, plus subtil
Que notre savoir, te dit-il
Où va la beauté qui s'efface,
Où va la pensée, où s'en vont
Les défuntes splendeurs charnelles ?
Chatte, détourne tes prunelles ;
J'y trouve trop de noir au fond.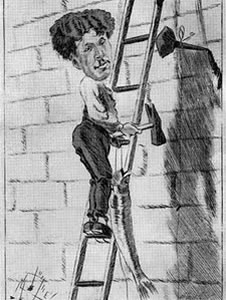 Charles Cros (1 oktober 1842 - 9 augustus 1888)
Karikatuur
De Duitse schrijver en undercoverjournalist.Günter Wallraff werd geboren op 1 oktober 1942 in Burscheid bij Keulen. Zie ook mijn blog van 1 oktober 2006 en ook mijn blog van 1 oktober 2007 en ook mijn blog van 1 oktober 2008 en ook mijn blog van 1 oktober 2009.
Uit: Schwarz auf weiß. Fremd un ter Deutschen
"Fürstlich sind die Gärten, an denen wir entlang fahren sollen. Der muskelbepackte Gondelkapitän empfängt uns in breitester sächsischer Mundart: »Ich begrüße Sie ganz herzlich hier bei uns an Bord bei Ihrer Gondelfahrt. Wir umrunden den Hauptteil des Fürstenparks Wörlitz, und zwar den Schlossgarten.«
Ich habe mich als Mitfahrer recht zeitig eingefunden und als einer der Ersten auf dem kleinen flachen Ruderkahn Platzgenommen, der rings um mit Bänken versehen ist. Ich sitze hinten, neben mir bleibt alles frei, obwohl es nach und nach eng wird auf dem Boot. Einer der Gäste, ein auf den ersten Blick nicht unsympathisch wirkender Zeitgenosse – Typ Gymnasiallehrer Physik und Mathematik –, schiebt sich vor sichtig auf der Längsbank zu mir hin, schaut mich an und gibt eine Bestellung auf: »Ich hätt'
gern zwei Bier.« Als ich nicht reagiere, wiederholt er: »Zwei Bier,bitte.«
Wie ist er auf die Idee gekommen? Ich habe keine Kellnerkluft an, keine Bierflaschen in der Hand, keine Gläser, kein Geschirrtuch, ich stehe nicht einmal, sondern sitze hier wie er.
»Kein Service, nix Service?« Er lässt nicht locker.
»Nee, nee«, antworte ich, »nix Service« und habe erst ein mal Ruhe.
Dass ich ihm lächelnd Paroli geboten habe, macht mich in seinen Augen jedoch nicht sympathischer. Jedenfalls hält der schlanke, graue Herr Abstand, obwohl es auf dem Boot immer enger wird. Der Bootsführer foedert seine Gäste auf, doch bitte aufzurücken. Aber der Mann hält dagegen: »Ob wir das wollen, das ist hier die Frage. Ich will mal hier genießen meine Boots fahrt.« Doch der Kapitän der Barke lässt keine Ausrede gelten und wiederholt seine Aufforderung. So setzt sich der Vorsichtige schließlich neben mich – »rutsch mal ein Stück hin« –, unter den mitleidig-belustigten Blicken der anderen Reisenden."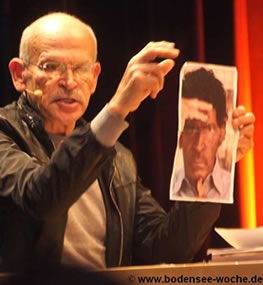 Günter Wallraff (Burscheid, 1 oktober 1942)
De Duitse schrijver, vertaler en dramaturg Michael Schindhelm werd geboren op 1 oktober 1960 in Eisenach. Zie ook mijn blog van 1 oktober 2008 en ook mijn blog van 1 oktober 2009.
Uit: Mein Abenteuer Schweiz
"Ich komme aus Ostdeutschland. Im Esszimmer meiner Familie hing ein grosses Intarsienbild mit einer Ansicht vom Lac Léman und dem Schloss Chillon. Aus einem dunkelbraunen Röhrenradio zwitscherte einst die Stimme Vico Torrianis, auf dem Tisch stand manchmal ein Gericht, das in meiner Erinnerung mit dem identisch sein muss, was man in der Schweiz Hirnischnitten nennt. Die Schulferien verbrachte ich ein paar Mal in der Sächsischen Schweiz. In unserem Städtchen lebte ein Schweizer. Bis zu meinem vierunddreissigsten Lebensjahr gab es sonst kein nennenswertes gegenseitiges Interesse zwischen dem Land und mir.
Ich kam aus Ostdeutschland. Am Abend des Umzugs traf der Möbelwagen ein. Die Packer wollten ein Europameisterschaftsspiel zwischen England und Deutschland sehen. Sie kamen aus Tschechien und waren offenkundig dazu aufgelegt, die Deutschen beim Siegen zu erleben. Wir fanden in der Nähe unseres neuen Zuhauses eine Eckkneipe, in der ein Fernseher lief und die Leute bis auf die Strasse hinaus sassen. Ich kann mich an den Ausgang des Spiels nicht erinnern, aber die Deutschen müssen eine gute Partie geboten und deutlich gewonnen haben. Die Männer von der Spedition waren am nächsten Morgen trotzdem nicht besonders gut gelaunt, denn sie waren in der Kneipe am Abend zuvor die einzigen Anhänger der Deutschen gewesen.
Das sonstige Publikum, Schweizer, Italiener, Franzosen und Jugoslawen, hatten mit den Engländern gefiebert. Ich beschloss, die Jungs zu trösten und einen Kasten Bier zu besorgen. Im nächstgelegenen Supermarkt waren alkoholische Getränke merkwürdigerweise nicht zu haben; nebenan bei Coop staunte ich dann nicht schlecht über den Betrag, den ich für zwölf Flaschen Feldschlösschen zahlen sollte. Ich versuchte herauszufinden, wie viel von diesem Preis für das Flaschenpfand draufging, wurde jedoch von dem asiatischen Verkäufer nicht verstanden und wollte erst mal nicht einsehen, wieso ich für irgendein Depot eine Art Steuer entrichten sollte."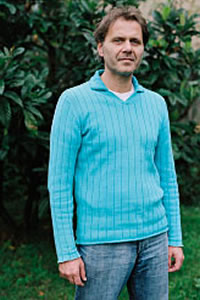 Michael Schindhelm (Eisenach, 1 oktober 1960)



Zie voor nog meer schrijvers van de 1e oktober ook mijn vorige blog van vandaag.

01-10-2010 om 00:00 geschreven door Romenu

Tags:P. N. van Eyck, Khlaid Boudou, Charles Cros, Günter Wallraff, Michael Schindhelm, Romenu



John Hegley, Tim O'Brien, Louis Untermeyer, Inge Merkel, Sergej Aksakov
De Engelse dichter John Hegley werd geboren op 1 oktober 1953 in Londen. Zie ook mijn blog van 1 oktober 2008 en ook mijn blog van 1 oktober 2009.
The Death of a Scoutmaster
How I remember the old scoutmaster
nobody could start a camp-fire faster
I can see the old scoutmaster in the old scout hut
saying always carry a plaster
in case you cut yourself
if it doesn't happen to you it could happen to your
dog
you could be chopping up the firewood
when you mistake him for a log
if it doesn't happen to your dog
it could happen to your glasses
they could be knocked to the floor
by the long arm of the law
when you're standing on the corner
and a copper on a push-bike signalling a left turn
passes by
if it's a friend you need you need a friend indeed
you need a plaster
you need your money and your keys
but more than these you need a plaster
always carry a plaster the scoutmaster told us
they found one in his pocket
the day a bus ran over him.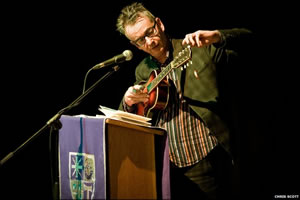 John Hegley (Londen, 1 oktober 1953)
De Amerikaanse schrijver Tim O'Brien werd geboren op 1 oktober 1946 in Austin, Minnesota. Hoewel O'Brien in de jaren zestig tegen de oorlog in Vietnam, ging hij toch het leger in om tegen de communisten te vechten in het Aziatische land. Het vooruitzicht dienst te weigeren en naar Canada te 'vluchten' vond hij nog erger, zo schrijft hij in zijn memoires. Terug in Amerika ging hij aan Harvard University studeren. Tijdens de vakantiemaanden werkte hij als journalist voor de Washington Post.
In 1973 debuteerde hij met zijn memoires 'If I Die in a Combat Zone, Box Me Up and Send Me Home'. In 1978 won hij de National Book Award met 'Going after Cacciato'.
Uit: The Vietnam in Me
"In February 1969, 25 years ago, I arrived as a young, terrified pfc. on this lonely little hill in Quang Ngai Province. Back then, the place seemed huge and imposing and permanent. A forward firebase for the Fifth Battalion of the 46th Infantry, 198th Infantry Brigade, LZ Gator was home to 700 or 800 American soldiers, mostly grunts. I remember a tar helipad, a mess hall, a medical station, mortar and artillery emplacements, two volleyball courts, numerous barracks and offices and supply depots and machine shops and entertainment clubs. Gator was our castle. Not safe, exactly, but far preferable to the bush. No land mines here. No paddies bubbling with machine-gun fire.
Maybe once a month, for three or four days at a time, Alpha Company would return to Gator for stand-down, where we took our comforts behind a perimeter of bunkers and concertina wire. There were hot showers and hot meals, ice chests packed with beer, glossy pinup girls, big, black Sony tape decks booming "We gotta get out of this place" at decibels for the deaf. Thirty or 40 acres of almost-America. With a little weed and a lot of beer, we would spend the days of stand-down in flat-out celebration, purely alive, taking pleasure in our own biology, kidneys and livers and lungs and legs, all in their proper alignments. We could breathe here. We could feel our fists uncurl, the pressures approaching normal. The real war, it seemed, was in another solar system. By day, we'd fill sandbags or pull bunker guard. In the evenings, there were outdoor movies and sometimes live floor shows -- pretty Korean girls breaking our hearts in their spangled miniskirts and high leather boots -- then afterward we'd troop back to the Alpha barracks for some letter writing or boozing or just a good night's sleep.
So much to remember. The time we filled a nasty lieutenant's canteen with mosquito repellent; the sounds of choppers and artillery fire; the slow dread that began building as word spread that in a day or two we'd be heading back to the bush. Pinkville, maybe. The Batangan Peninsula. Spooky, evil places where the land itself could kill you."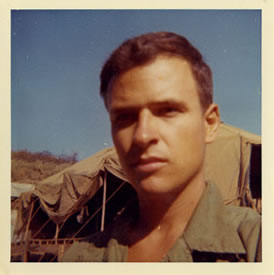 Tim O'Brien (Austin, 1 oktober 1946)
Als militair
De Amerikaanse dichter en bloemlezer Louis Untermeyer werd geboren op 1 oktober 1885 in New York City. Na een korte opleiding begon Untermeyer zonder diploma in het bedrijf van zijn vader, waar hij bleef tot 1923, op het laatst als vice-president. Hij wijdde zich daarna aan zijn carrière als schrijver. Zijn eerste gedichtenbundel, First Love verscheen 1911. Untermeyer publiceerde meer dan 100 boeken, waaronder zijn zeer invloedrijke bloemlezingen van de Amerikaanse en Britse poëzie, maar ook kinderboeken, parodieën, en biografieën. Als vertaler bracht hij o.a. Heinrich Heine en Gottfried Keller onder de aandacht van zijn landgenoten. Hij was betrokken bij de oprichting van The Seven Arts, een tijdschrift dat een belangrijk forum was voor jonge dichters, onder wie Robert Frost. IMet Frost verbond Untermeyer een lange vriendschap. In 1956 kreeg hij van de Poetry Society of America de gouden medaille. Hij was ook een Poet Laureate Consultant in Poetry van de Library of Congress van 1961 tot 1963. Untermeyer was vóór de Eerste Wereldoorlog betrokken bij de uitgave van het marxistische tijdschrift The Masses. Net als veel van zijn kameraden, keerde hij zich tegen deelname van Amerika aan de oorlog.
Faith
What are we bound for? What's the yield
Of all this energy and waste?
Why do we spend ourselves and build
With such an empty haste?
Wherefore the bravery we boast?
How can we spend one laughing breath
When at the end all things are lost
In ignorance and death? . . .
The stars have found a blazing course
In a vast curve that cuts through space;
Enough for us to feel that force
Swinging us through the days.
Enough that we have strength to sing
And fight and somehow scorn the grave;
That Life's too bold and bright a thing
To question or to save.
Feuerzauber
I never knew the earth had so much gold --
The fields run over with it, and this hill,
Hoary and old,
Is young with buoyant blooms that flame and thrill.
Such golden fires, such yellow -- lo, how good
This spendthrift world, and what a lavish God --
This fringe of wood,
Blazing with buttercup and goldenrod.
You too, beloved, are changed. Again I see
Your face grow mystical, as on that night
You turned to me,
And all the trembling world -- and you -- were white.
Aye, you are touched; your singing lips grow dumb;
The fields absorb you, color you entire . . .
And you become
A goddess standing in a world of fire!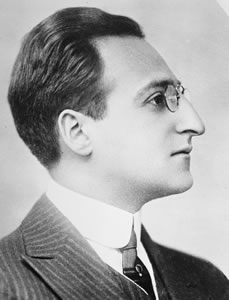 Louis Untermeyer (1 oktober 1885 - 18 december 1977)
De Oostenrijkse schrijfster Inge Merkel werd geboren op 1 oktober 1922 in Wenen. Zie ook mijn blog van 1 oktober 2008 en ook mijn blog van 1 oktober 2009.
Uit: Der rote Rock
"Ein Leser, der bis zuletzt durchhalten und nicht am Ende dieses verstrickte Gewirr von Mitteilungen und Textfragmenten zornig vom Tisch gewischt oder jedenfalls resignierend still zur Seite gelegt haben will, sollte erfahren, wer hier berichtet und wer mal sie ist und mal ich ist und letztendlich was für einer ICH ist.
Nicht dumme Heimlichtuerei veranlasst mich, dem neugierigen und verständnisbereiten Leser die ganze Wirrsal unaufgelöst und unerklärt vor die witternde Nase zu setzen. Ich bin selbst etwas ratlos und sehe mich in diesem Wort- und Satzgeröll von beiden Beinen gerissen und abgestürzt. Aber ich will nun endlich vernünftig anfangen und die Lage zu erklären versuchen.
Sie und ich ist, wie man im Roman sagt, die Hauptperson, um die herum und aus der heraus alles aufgeschrieben wurde. Genau genommen eine achtzigjährige Frau auf der Endstrecke ihres Lebens. Ja, auf der Endstrecke. Manche Leser mögen denken: was interessiert mich der sterile Rest eines Lebens, wo nichts Wissenswertes mehr geschieht, wo auf jeden Schritt und jeden Atemzug bereits der Schatten des Todes fällt, mit Furcht oder ohne oder mit nur fallweiser Furcht.
Schwieriger ist zu erklären, wer ICH bin. Denn unsere, das heißt meine Existenz ist nicht allgemein bekannt, obwohl jeder lebende Mensch ungeachtet besonderer Merkmale wie Geschlecht, sozialer Stand und Sprache einen wie mich hat, genau gesagt, mit mir zusammen geboren wurde, mich aber nicht sehen oder spüren kann, mich bestenfalls manchmal ahnt. ICH bin ein Comes, eine Wesensgattung, die bei der Schöpfung nicht eingeplant war, sondern aus bestimmten Gründen als Nachtrag und Korrektur ins Leben gerufen wurde, von Gott, der bei eingehender Betrachtung seiner Lieblingsschöpfung, des Menschen, zu zweifeln begann und in Ratlosigkeit fiel. Er hatte sich dieses Wesen zwischen Gott und Tier mit Liebe und großer Erwartung ausgeformt: Lehm, angehaucht mit seinem Atem, wie man es sich vorstellt und erzählt und geschrieben hat. Gedacht als ein Geschöpf zu seiner, Gottes, Unterhaltung, denn das Leben der Natur, einschließlich der organischen, läuft ja sehr einförmig ab und langweilte bald durch seine angeschaffene Gleichförmigkeit."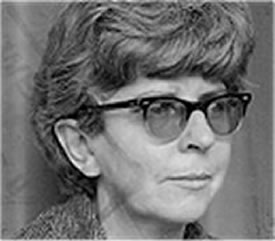 Inge Merkel (1 oktober 1922 – 15 januari 2006)
De Russische schrijver Sergej Aksakov werd geboren op 1 oktober 1791 in Oefa. Zie ook mijn blog van 1 oktober 2008..
Uit: Years of Childhood (Vertaald door J. D. Duff)
"Once in the early morning I woke, or became conscious, and could not recognize where I was. All was unfamiliar: the large lofty room, the bare walls of fir planks, new and very thick, the strong smell of resin. The sun – a summer sun, apparently – was just rising, and, as it shone through a window on my right above a thin canopy spread over me, was brightly reflected on the opposite wall. Near me was my mother sleeping uneasily, in her clothes and with no pillows. Even now I seem to see her black hair straying in disorder over her pale thin face.
(...)
I was very fond of the smell of resin, which was sometimes used to fumigate our nursery. I smelt the sweet transparent blobs of resin, admired them and played with them; they melted in my hands and made my long thin fingers sticky; then my mother washed and dried my hands, and I began to doze. Visible objects became confused before me: I thought that we were driving, and that I refused to take some medicine which was offered me, and that the figure beside me was not my mother, but my nurse Agatha or my foster-mother… How I went to sleep, and what happened afterwards, I have quite forgotten."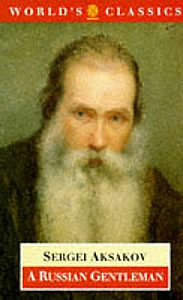 Sergej Aksakov (1 oktober 1791 - 12 mei 1859)

01-10-2010 om 00:00 geschreven door Romenu

Tags:John Hegley, Tim O'Brien, Louis Untermeyer, Inge Merkel, Sergej Aksakov, Romenu


30-09-2010

Truman Capote, Hendrik Marsman, Zhang Ailing, Edzard Schaper, Hermann Sudermann
De Amerikaanse schrijver Truman Capote werd geboren op 30 september 1924 als Truman Streckfus Persons in New Orleans. Zie ook mijn blog van 1 oktober 2006 en ook mijn blog van 30 september 2007 en ook mijn blog van 30 september 2008 en ook mijn blog van 30 september 2009.
Uit: A Christmas Memory
"Winter Woods
Morning. Frozen rime lusters the grass; the sun, round as an orange and orange as hot-weather moons, balances on the horizon, burnishes the silvered winter woods. A wild turkey calls. A renegade hog grunts in the undergrowth. Soon, by the edge of knee-deep, rapid-running water, we have to abandon the buggy. Queenie wades the stream first, paddles across barking complaints at the swiftness of the current, the pneumonia-making coldness of it. We follow, holding our shoes and equipment (a hatchet, a burlap sack) above our heads. A mile more: of chastising thorns, burs and briers that catch at our clothes; of rusty pine needles brilliant with gaudy fungus and molted feathers. Here, there, a flash, a flutter, an ecstasy of shrillings remind us that not all the birds have flown south. Always, the path unwinds through lemony sun pools and pitch vine tunnels. Another creek to cross: a disturbed armada of speckled trout froths the water round us, and frogs the size of plates practice belly flops; beaver workmen are building a dam. On the farther shore, Queenie shakes herself and trembles. My friend shivers, too: not with cold but enthusiasm. One of her hat's ragged roses sheds a petal as she lifts her head and inhales the pine-heavy air. ''We're almost there; can you smell it, Buddy?'' she says, as though we were approaching an ocean.
And, indeed, it is a kind of ocean. Scented acres of holiday trees, pricklyleafed holly. Red berries shiny as Chinese bells: black crows swoop upon them screaming. Having stuffed our burlap sacks with enough greenery and crimson to garland a dozen windows, we set about choosing a tree."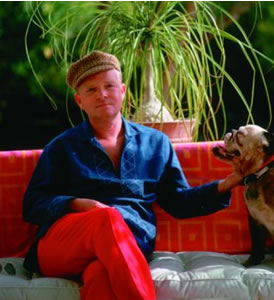 Truman Capote (30 september 1924 – 25 augustus 1984)
De Nederlandse dichter en schrijver Hendrik Marsman werd geboren op 30 september 1899 in Zeist. Zie ook mijn blog van 30 september 2006 en ook mijn blog van 30 september 2007 en ook mijn blog van 30 september 2008 en ook mijn blog van 30 september 2009.
Herfst
De avonden donkeren al.
dit is het regenende jaargetijde
waarin wij haar eenmaal ten grave droegen;
ook toen sloegen de bladeren en de regen
over de paden en de zwarte wegen
en het woei duister in de donkre groeve.

alleen was het toen vroeger herfst
en droever.
Holland
De hemel groots en grauw.
daaronder het geweldig laagland met de plassen;
bomen en molens, kerktorens en kassen,
verkaveld door de sloten, zilvergrauw.

dit is mijn land, mijn volk;
dit is de ruimte waarin ik wil klinken.
laat mij één avond in de plassen blinken,
daarna mag ik verdampen als een wolk.
Baai bij avond
De schemering valt.
een grote, rode maan
stijgt langzaam uit de golven
aan de oosterrand
der nauwlijks ademende avondzee.
de dromen komen met de golven mee
en mijmerend gewordt mij, ongezocht,
waarvoor ik jaren in vertwijfeling vocht,
denkende dat het geluk omstréden moest zijn
en dat het leven zonder smeken niet schenkt.
o, heerlijk is nu het talmen
geworden aan deze rede!
bij het dwalen onder de nacht'lijke palmen
ben ik van vrede doordrenkt.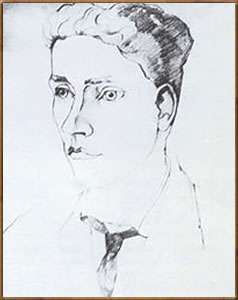 Hendrik Marsman (30 september 1899 – 21 juni 1940)
Portret door Charley Toorop, 1924
De Chinese schrijfster en scenariste Zhang Ailing (ook wel Eileen Chang) werd geboren op 30 september 1920 in Shanghai. Zhang Ailing werd bekend door haar verhalen en romans over de liefde, waarin ook vaak sprake is van emotionele dieptes en donkere kanten. In 1943 publiceerde ze haar eerste roman en werd ze een beroemde schrijver in Shanghai. In 1953 verliet ze Shanghai en werkte vanaf dat moment voor de Amerikaanse News Agency in Hong Kong. In 1955 verhuisde ze naar de VS, waar ze begon ook romans in het Engels te schrijven. Deze bleven echter in hun populariteit achter op haar Chineestalige romans. Haar werk gaat vaak over de gespannen relatie tussen man en vrouw. De verfilming van haar korte verhaal Se Jie, door de Taiwanese regisseur Ang Lee ontving op het International Film Festival van Venetië in 2007 de Gouden Leeuw.
Uit: Gefahr und Begierde (Vertaald door Susanne Hornfeck)
"Er ließ den Chauffeur halten, stieg aus und folgte ihr in den Laden. Auf ihren hohen Absätzen war sie fast einen halben Kopf größer als er. Wenn es ihn gestört hätte, würde sie keine so hohen Schuhe tragen, aber das tat es offenkundig nicht. Ihr war aufgefallen, dass große Männer sich oft zu kleinen, zierlichen Frauen hingezogen fühlten, kleine Männer hingegen zu Frauen, die größer waren als sie. Vielleicht der gegenseitigen Ergänzung wegen. Sie fühlte seinen Blick auf sich ruhen und ließ die
Hüften noch weicher und verführerischer ausschwingen.
Mit ihrer schmalen Taille tänzelte sie wie ein anmutiger Drache zwischen den Glasvitrinen hindurch.
Ein indischer Verkäufer in westlichem Anzug kam ihnen grüßend entgegen. Obwohl der Laden so klein war, erinnerte er in seiner Höhe und Helligkeit an einen leeren Iglu. Nur ganz hinten stand eine gedrungene Vitrine mit Horoskopsteinen – je nach Geburtsmonat sollten sie dem Träger Glück bringen: Halbedelsteine wie gelber Quarz, oder Rubine und Saphire, die allerdings aus Steinmehl hergestellt waren. Aus ihrer Handtasche holte sie einen tropfenförmigen Rubinohrring. Einer der Diamanten an der blattförmigen Fassung fehlte.
»Den kann man ersetzen«, sagte der Inder, nachdem er sich das Stück angesehen hatte. Sie erkundigte sich nach dem Preis, und wie lange es dauern würde. »Frag ihn, ob er auch wertvolle Ringe da hat«, sagte Herr Yi zu ihr. Er hatte in Japan studiert und vermied es, Englisch zu sprechen. Als ranghoher Beamter ließ er andere für sich dolmetschen.
Sie zögerte einen Moment und fragte dann: »Wieso? «
»Wir wollten doch einen Ring zur Erinnerung kaufen «, erwiderte er lächelnd. »Würde dir ein Diamantring gefallen? Es soll aber etwas Gutes sein.«
Wieder zögerte sie und lächelte dabei, als könne sie ihm das nicht abschlagen. »Haben Sie Diamantringe?«, fragte sie leise."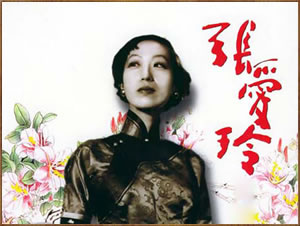 Zhang Ailing (30 september 1920 - 8 september 1995)
De Duitse schrijver en vertaler Edzard Schaper werd geboren 30 september 1908 in Ostrowo in de provincie Posen. Na ontslag uit actieve dienst van zijn vader (1920), verhuisde het gezin naar Hannover, waar de jonge Schaper, het Humboldt-Gymnasium en het Conservatorium (piano) bezocht. Vóór het examen in 1925 verliet hij de middelbare school en werd hij assistent-regisseur bij de opera in Stuttgart. Van 1927 tot 1929 woonde hij tijdelijk in Denemarken op het eiland Christiansø. In deze periode verschenen zijn eerste literaire werken. In 1932 emigreerde hij naar Estland en woonde in Reval, waar hij werkte als freelance schrijver en journalist voor het Amerikaanse persbureau United Press. Nadat pogingen om een baan in het Duitse Rijk te krijgen mislukt waren ging hij in 1940 als oorlogs- correspondent vanuit Estland naar Finland en berichtte vanaf daar over de inval van Sovjet-troepen. In september 1944 kreeg Schaper de Finse nationaliteit. In Duitsland was hij ter dood veroordeeld. Kort daarna, nadat Finland en de Sovjet-Unie had een wapenstilstand overeengekomen waren, vluchtte hij naar Zweden. Hier werkte hij o.a als bosarbeider en vertaler. In 1947 verhuisde hij van Zweden naar Zwitserland. In 1951 bekeerde hij zich tot het rooms-katholicisme. In de naoorlogse periode was Schaper een veelgelezen auteur, die ook lezingen gaf en voor radio-en televisie actief was. Tot Schapers literaire werken behoren de romans Der letzte Gast (1927), Die Bekenntnisse des Försters Patrik Doyle (1928), Die sterbende Kirche (1936) en Der Henker (1940; later onder de titel Sie mähten gewappnet die Saaten.
Uit: Die Legende vom vierten König
"Außer Caspar, Melchior und Balthasar war auch ein vierter König aus dem Morgenland aufgebrochen, um dem Stern zu folgen, der ihn zu dem göttlichen Kind führen sollte. Dieser vierte König hieß Coredan. Drei wertvolle rote Edelsteine hatte er zu sich gesteckt und mit den drei anderen Königen einen Treffpunkt vereinbart. Doch Coredans Reittier lahmte unterwegs. Er kam nur langsam voran, und als er bei der hohen Palme eintraf, war er allein. Nur eine kurze Botschaft, in den Stamm des Baumes eingeritzt, sagte ihm, dass die anderen drei ihn in Betlehem erwarten würden. Coredan ritt weiter, ganz in seinen Wunschträumen versunken.
Plötzlich entdeckte er am Wegrand ein Kind, bitterlich weinend und aus mehreren Wunden blutend. Voll Mitleid nahm er das Kind auf sein Pferd und ritt in das Dorf zurück, durch das er zuletzt gekommen war. Er fand eine Frau, die das Kind in Pflege nahm. Aus seinem Gürtel nahm er einen Edelstein und vermachte ihn dem Kind, damit sein Leben gesichert sei. Doch dann ritt er weiter, seinen Freunden nach. Er fragte die Menschen nach dem Weg, denn den Stern hatte er verloren. Eines Tages erblickte er den Stern wieder, eilte ihm nach und wurde von ihm durch eine Stadt geführt. Ein Leichenzug begegnete ihm. Hinter dem Sarg schritt eine verzweifelte Frau mit ihren Kindern. Coredan sah sofort, dass nicht allein die Trauer um den Toten diesen Schmerz hervorrief. Der Mann und Vater wurde zu Grabe getragen. Die Familie war in Schulden geraten, und vom Grabe weg sollten
die Frau und die Kinder als Sklaven verkauft werden. Coredan nahm den zweiten Edelstein aus seinem Gürtel, der eigentlich dem neugeborenen König zugedacht war. "Bezahlt, was ihr schuldig seid, kauft euch Haus und Hof und Land, damit ihr eine Heimat habt!" Er wendete sein Pferd und wollte dem Stern entgegenreiten - doch dieser war erloschen. Sehnsucht nach dem göttlichen Kind und tiefe Traurigkeit überfielen ihn. War er seiner Berufung untreu geworden? Würde er sein Ziel
nie erreichen?"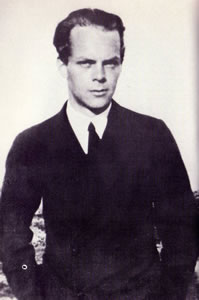 Edzard Schaper (30 september 1908 - 29 januari 1984)
De Duitse schrijver Hermann Sudermann werd geboren op 30 september 1857 in Matz, Oost-Pruisen.
Als zoon van een arme brouwer verdiende hij het geld voor zijn studie van de filologie en geschiedenis in Königsberg (1875) en Berlijn (vanaf 1877) als prive-leraar. In 1882 werd hij redacteur van het »Deutsche Reichsblatt«. Vanaf 1883 werkte hij als een freelancer voor de »Reichsfreund«.. Sinds 1897 woonde hij in het kasteel Blankensee in de Mark Brandenburg dat hij later kocht. Sinds de première van "Die Ehre" (1889) tot ongeveer de eeuwwisseling was hij naast Gerhart Hauptmann de leidende toneelschrijver van het Duitse naturalisme.
Uit: Das Bilderbuch meiner Jugend
"Das Notjahr 1867
Zu jener Zeit stand's schlimm um meines Vaters Haus. Die Leute wollten sein Braunbier nicht trinken. Es war nicht schlechter als das der anderen Brauereien, aber er ermangelte der Fähigkeit, sich und sein Produkt in Szene zu setzen. Da war sein Konkurrent, Herr Münsterberg aus Werden, schon ein ganz anderer Kerl. Wenn der mit seinen flotten Vatermördern und der prallen, perlengestickten Zigarrentasche von Gasthaus zu Gasthaus fuhr, anpreisend und überredend, dann hätte ich den Wirt sehen mögen, der seinen Lei-stungen widerstand. Und wenn morgens der Werdener Bierwagen, mit Tonnen bergehoch beladen, auf der Chaussee an uns vorüber-fuhr, dann standen wir alle angstvoll hinter der Gardine, und Mama preßte die Hand aufs Herz und ging schweigend nach hinten.
Und dann kam das schwerste aller Jahre - dann kam das Notstands-jahr.
Das war im Sommer 67, da gab es überhaupt keine Sonne mehr. Vom Juni an Tag für Tag nichts wie sickernder, suppender, trom-melnder Regen. Das Erdreich weichte auf, der Roggen reifte nicht, die Erntefelder sahen aus wie Lehmtennen, denn alle Halme lagen und braun und feuchtglänzend am Boden. Und das Schlimmste von allem: die Kartoffeln verfaulten. Was man zu Ende August als genießbar dem Boden entzog, hatte Haselnußgröße und war mit Propfen durchsetzt, die gingen querdurch bis ans andere Ende. Erst gegen Mitte September stellte zugleich mit dem Herbstreif blauer Himmel sich ein - aber da war schon alles verloren. Das hieß Hun-gern, und unter Umständen hieß es Verhungern. Wer hätte in sol-chen Zeiten, in denen jeder Groschen ein Schatz ist, Bier trinken mögen! Darum wurde auch im Sudermannschen Hause Schmalhans Küchenmeister."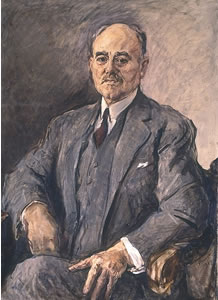 Hermann Sudermann (30 september 1857 – 21 november 1928)
Portret door Max Slevogt, 1924




Zie voor nog meer schrijvers van de 30e september ook
mijn vorige blog van vandaag.
30-09-2010 om 18:07 geschreven door Romenu

Tags:Truman Capote, Hendrik Marsman, Zhang Ailing, Edzard Schaper, Hermann Sudermann, Romenu



Eli Wiesel, Roemi, Henk Spaan, Ferdinand von Saar, Jurek Becker
De Joods-Roemeens-Frans-Amerikaanse schrijver Eli Wiesel werd geboren op 30 september 1928 in Sighet (nu Sighetu Marmaţiei), Roemenië. ook mijn blog van 30 september 2007 en en ook mijn blog van 30 september 2008 en ook mijn blog van 30 september 2009.
Uit: Night
"They called him Moishe the Beadle, as if his entire life he had never had a surname. He was the jack-of-all-trades in a Hasidic house of prayer, a shtibl. The Jews of Sighet—the little town in Transylvania where I spent my childhood—were fond of him. He was poor and lived in utter penury. As a rule, our townspeople, while they did help the needy, did not particularly like them. Moishe the Beadle was the exception. He stayed out of people's way. His presence bothered no one. He had mastered the art of rendering himself insignificant, invisible.
Physically, he was as awkward as a clown. His waiflike shyness made people smile. As for me, I liked his wide, dreamy eyes, gazing off into the distance. He spoke little. He sang, or rather he chanted, and the few snatches I caught here and there spoke of divine suffering, of the Shekhinah in Exile, where, according to Kabbalah, it awaits its redemption linked to that of man.
I met him in 1941. I was almost thirteen and deeply observant. By day I studied Talmud and by night I would run to the synagogue to weep over the destruction of the Temple.
One day I asked my father to find me a master who could guide me in my studies of Kabbalah. "You are too young for that. Maimonides tells us that one must be thirty before venturing into the world of mysticism, a world fraught with peril. First you must study the basic subjects, those you are able to comprehend."
My father was a cultured man, rather unsentimental. He rarely displayed his feelings, not even within his family, and was more involved with the welfare of others than with that of his own kin. The Jewish community of Sighet held him in highest esteem; his advice on public and even private matters was frequently sought. There were four of us children. Hilda, the eldest; then Bea; I was the third and the only son; Tzipora was the youngest.
My parents ran a store. Hilda and Bea helped with the work. As for me, my place was in the house of study, or so they said."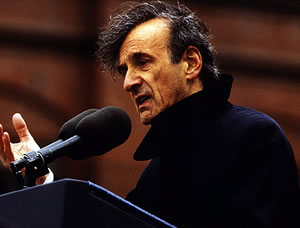 Eli Wiesel (Sighet, 30 september 1928)
De Perzische dichter en soefistisch mysticus Jalal ad-Din Rumi (of Roemi) werd geboren op 30 september 1207 in Balkh. Zie ook mijn blog van 30 september 2007 en ook mijn blog van 30 september 2008 en ook mijn blog van 30 september 2009.
Uit: Woorden van het Paradijs
Dit is liefde: opwieken naar de hemel
Elk moment een honderdtal sluiers stuk rijten.
Eerst maak je je los van het zelf,
Je eerste stap zet je zonder voeten -
Deze wereld negeren en alleen zien wat U ziet.
Ik zei: `Gelukgewenst, mijn hart
dat je de kring van minnaars hebt betreden,
dat je verder kijkt dan het oog,
dat je het hartenlaantje in rent.'
Waar komt deze adem vandaan, mijn hart?
Waar komt dit bonzen vandaan, mijn hart?
Vogel spreek de taal der vogels,
ik begrijp de geheime betekenis.
Het hart zei: `Ik was in de fabriek
waar het huis van water en klei stond te bakken.
Ik vloog bij de werkplaats vandaan
toen die in het leven werd geroepen.
Toen ik geen weerstand meer kon bieden,
sleepten ze me mee.
Wat moet ik daarover zeggen?'


Vertaald door Sipko den Boer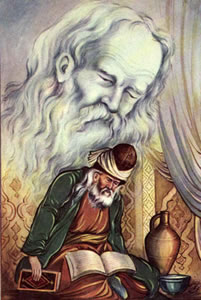 Roemi (30 september 1207 - 17 december 1273)
De Nederlandse (gelegenheids-)dichter, (sport)journalist, televisiepresentator en columnist Henk Spaan werd geboren in Heerhugowaard op 30 september 1948. Zie ook mijn blog van 30 september 2008 en ook mijn blog van 30 september 2009.
Jordi Cruijff, vergelijkenderwijs

Waarom schilderde Rembrandt Titus?
Gaf hij hem dubbele duurzaamheid
Met die alledaagse attributen
Uit de keukenkast:
Latjes, linnen, olieverf en kwast?

Zijn motief was niet zo alledaags en
Verborgen in de diepste genen van
Alle vaders uit elke tijd
Een zoon tegen de onsterfelijkheid

En de zoon denkt, kijkend
Naar de sterren : ben ik
Alleen gekomen als vervulling
Van mijn vaders dromen?

In het duister van de nacht
Heeft Titus van Rijn het
Vaak genoeg vervloekt
Rembrandts zoon te zijn.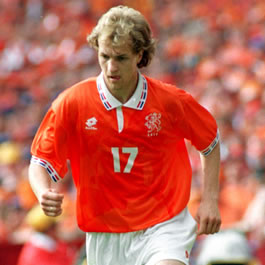 Henk Spaan (Heerhugowaard, 30 september 1948)
Jordi Cruijff tijdens Euro 1996
De Oostenrijkse schrijver en dichter Ferdinand von Saar werd geboren op 30 september 1833 in Wenen. Zie ook mijn blog van 6 oktober 2006. en mijn blog van 6 oktober 2008.
Uit: Leutnant Burda
"Bei dem Regiment, in welchem ich meine Militärzeit verbracht hatte, befand sich auch ein Leutnant namens Joseph Burda. In Anbetracht seiner Charge erschien er nicht mehr allzu jung; denn er mochte sich bereits den Dreißigern nähern. Dieser Umstand würde schon an und für sich genügt haben, ihm bei seinen unmittelbaren Kameraden, die fast durchweg flaumige Gelbschnäbel waren, ein gewisses Ansehen zu verleihen; aber er besaß noch andere Eigenschaften, die ihn besonders auszeichneten. Denn er war nicht bloß ein sehr tüchtiger, verwendbarer Offizier, er hatte sich auch durch allerlei Lektüre eine Art höherer Bildung erworben, die er sehr vorteilhaft mit feinen, weltmännischen Manieren zu verbinden wußte. Als Vorgesetzter galt er für streng, aber gerecht; Höheren gegenüber trug er eine zwar bescheidene, aber durchaus sichere Haltung zur Schau; im kameradschaftlichen Verkehr zeigte er ein etwas gemessenes und zurückhaltendes Benehmen, war jedoch stets bereit, jedem einzelnen mit Rat und Tat getreulich beizustehen. Niemand wachte strenger als er über den sogenannten Korpsgeist, und in allem, was den Ehrenpunkt betraf, erwies er sich von peinlichster Empfindlichkeit, so zwar, daß er in dieser Hinsicht, ohne auch nur im geringsten Händelsucher zu sein, mehr als einmal in ernste Konflikte geraten war und diese mit dem Säbel in der Faust hatte austragen müssen. Infolgedessen wurde er ein wenig gefürchtet, aber auch um so mehr geachtet, ohne daß er dadurch anmaßend oder hochfahrend geworden wäre, wenn es gleichwohl dazu beitrug, die etwas melancholische Würde seines Wesens zu erhöhen."

Ferdinand von Saar (30 september 1833 – 24 juli 1906)
Wenen: Het oude Burgtheater en de Winterreitschule aan de Michaelerplatz rond 1880
De Duitse schrijver, draaiboekauteur en DDR-dissident Jurek Becker werd geboren op 30 september 1937 in Łódź, in Polen. Zie ook mijn blog van 30 september 2008 en ook mijn blog van 30 september 2009.
Uit: Jakob der Lügner
"Willst du mir jetzt nicht sagen, was wir hier machen?"
"Pssst!"
Sie gehen den engen Kellergang entlang, hier kann man schon mit ganzer Sohle auftreten, der vorletzte Keller rechts ist ihrer. Frankfurter schließt das Vorhängeschloss auf, öffnet die Drahttür mit dem eisernen Rahmen, die nicht brennbar ist und darum noch vorhanden. Er geht hinein, sie folgt ihm zögernd, er schließt hinter ihr die durchsichtige Tür, und da sind sie nun.
Frankfurter ist ein vorsichtiger Mann, er sucht sich ein Stück Sacktuch oder einen Sack mit Löchern, den er zerreißt, oder, wenn kein Sack da ist, zieht er die Jacke aus und hängt sie vor die Tür, für alle Fälle. Ich denke mir, dass er für einen Augenblick den Finger auf den Mund legt, die Augen schließt und lauscht, aber nichts ist zu hören. Dann macht er sich an dem kleinen Berg zu schaffen, der eine Ecke des Raumes ausfüllt, ein kleiner Berg von unnützem Zeug, ein Hügelchen aus Erinnerungen.
Damals, als die Benachrichtigungen gekommen sind, haben sie zwei Tage zusammengesessen und überlegt, was sie mitnehmen sollen, bis auf die verbotenen Dinge natürlich. Die Lage war sehr ernst, ohne jeden Zweifel, sie haben nicht erwartet, dass es ein Paradies wird, aber Genaues gewusst hat keiner. Frau Frankfurter hat praktisch gedacht, zu praktisch für ihn, nur an Bettzeug und Geschirr und an Sachen zum Anziehen, aber er wollte sich von vielem, das sie für überflüssig gehalten hat, nicht trennen. Nicht von der Trommel, auf der er in einer überaus gelungenen Aufführung die Ankunft des Thronfolgers von Spanien angekündigt hat, und nicht von den Ballettschuhen Rosas, als sie fünf Jahre alt war, und die heute noch fast ungetragen sind, und nicht von dem Album mit den sorgfältig eingeklebten Rezensionen, in denen sein Name erwähnt und rot unterstrichen ist. Sag mir einen Grund, warum ich mich davon trennen soll, das Leben ist mehr als nur fressen und schlafen. Das Transportproblem? Er hat in aller Eile einen Handwagen gekauft, für irrsinniges Geld, denn über Nacht sind damals die Preise für Handwagen enorm angezogen, und jetzt füllt der kleine Berg eine Ecke des Kellers."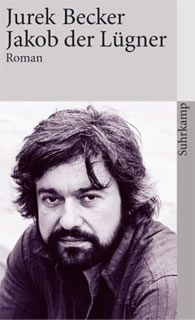 Jurek Becker (30 september 1937 – 14 maart 1997)

30-09-2010 om 18:00 geschreven door Romenu

Tags:Eli Wiesel, Roemi, Henk Spaan, Ferdinand von Saar, Jurek Becker, Romenu


29-09-2010

Pé Hawinkels, Hristo Smirnenski, Elizabeth Gaskell, Miguel de Unamuno
De Nederlandse dichter, schrijver, songwriter en vertaler Pé Hawinkels werd geboren op 29 september 1942 in Heerlen. Zie ook mijn blog van 29 september 2006 en ook mijn blog van 29 september 2007 en ook mijn blog van 29 september 2008 en ook mijn blog van 29 september 2009.
De val van Icarus
Hoe staat 't met de boerenstand?
'De boeren', zo zegt men, 'ploegen voort', -
daar zit iets in. De boer kijkt naar de
akker, zo bleek als 'n kwal, die hij kerft & omlegt in repen;
wat zou hij anders? Kijken boeren vooruit,
dan zien zij de kont van hun knol, en verder
niets. Maar wie hiermee op hen is uitgekeken,
heeft 't mis: met onbeholpen gratie
spitst de boer zijn tred. Hij wil zijn aarde
niet meer dan nodig pijn doen, hij
is tevreden, want zijn blikveld is gevuld.
Hoe staan de herders in 't veld?
De kudde, die houdt de hond in 't oog,
dat is bekend. Zwarte schapen, brave schapen,
alles lebbert aan de chlorophyle adem van de aarde,
en, mythologische paradepaardjes dat ze zijn laten de schapen
de herder over aan zijn historische bestemming.
Tijd heeft hij in overvloed: zijn taak wordt staren,
uren oog aan oog staan met uitgerekend
't meest nietszeggend segment van 't beslagen azuur
der hemelen. Zijn vermoedens zijn onzakelijk; maar hij heeft
ook geen emplooi voor groter zakelijkheid dan z 'n hond.
En de zeevaart? Joho, op volle zeilen scheert,
klapwiekt ieder schip zijn steven achterna. Speels in schijn
klauteren mannen als jongens 't want en het kraaiennest in, 't geldt
de koers te bestendigen naar de uit ivoor gesneden stad,
die als op uitgestoken tong vrolijk inviterend in de mond
van 's avonds lokt Eerst zullen de schepen, de veulens
nog dartelen en stoeien voordat ze
de zoele stal van haven & nachtrust erkennen,
en, nahijgend nog van de dolle avances
van de late bries, zich neerleggen bij hun adem,
die stil & langzaam liggen gaat.
Wie dan derden heeft er oog
voor die blanke beentjes van de enkeling
die net op dit uur in vredestijd pardoes in 't water valt?
Overal in 't rond worden de officiële schaduwlopers uitgerold,
verbeidt men de avond; en hoewel men vlak
bij zijn val de scherpste ogen van dit universum weet
- haviksogen, vissersogen - bestaat er gerechte twijfel
of er van de schemertafel 'n kruimel aandacht tuimelt
voor zijn duik in de dood. Of is de zon tegenwoordig
een oog, een gele, elementaire iris, welks onder
drijft in een bad van de zuiverste traan?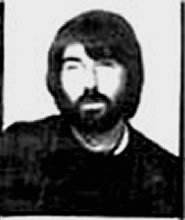 Pé Hawinkels (29 september 1942 – 16 augustus 1977)




De Bulgaarse dichter en schrijver Hristo Smirnenski werd geboren op 29 september 1898 in Koukoush.Zie ook ook mijn blog van 29 september 2006 en ook mijn blog van 29 september 2009.
Uit: The Tale Of The Stairs
"Who are you?" The Devil asked him.
"I am a plebeian by birth and all ragged folk are my brothers. How terrible the world is, how wretched the people are!"
It was a young man who spoke with head erect and clenched fists. He stood at the foot of the Stairs - a high white staircase of rose-flecked marble. He gazed fixedly into the distance where the grey crowds of poverty stirred like the turbid waters of a swollen river. The crowds surged and seethed, raised a forest of thin black arms, thunderous cries of wrath and indignation rent the air and the echo faded slowly and solemnly like distant gun-fire. The crowds grew and grew nearer in clouds of yellow dust, single silhouettes showed more distinctly against the grey horizon. An old man approached, bent low to the ground as if seeking lost youth. A barefoot little girl clutched his ragged clothes and stared at the high Stairs with mild cornflower-blue eyes. Stared and smiled. Then thin grey figures came all in rags, singing a long-drawn funeral chorus. Someone whistled shrilly, somebody else thrusting his hands in his pockets laughed loud and harshly and insanity blazed in his eyes.
"I am a plebeian by birth and all ragged folk are my brothers. How terrible the world is, how wretched the people are! But you there, you at the top there…"
It was a young man who spoke with head erect and fists clenched in manace.
"So you hate those up at the top," the Devil asked, and styly leaned forward towards the young man.
"I shall have my revenge on those nobles and princes. I shall cruelly avenge my brothers - my brothers whose faces are as yellow as sand and who groan more bitterly than the blizzards of December. See their naked bleeding bodies, hear their groans! I shall avenge them. Let me go!"
The Devil smiled: "I am the guardian of those at the top and without a bribe I shall not betray them."
"I have no gold. I have nothing with which to bribe you… I am poor, a youth in rags… But I am willing to give up my life…"
Again the Devil smiled: "O no, I do not ask as much as that. Just give me your hearing."
"My hearing? Gladly… May I never hear anything any more, may I…"
"You still shall hear," the Devil assured him, and made way for him. "Pass!"
The young man set off at a run and had taken three steps in one stride when the hairy hand of the Devil caught him.
"That's enough! Now pause and listen to your brothers groaning below."

Hristo Smirnenski (29 september 1898 – 18 juni 1923)
De Britse schrijfster Elizabeth Gaskell werd geboren op 29 september 1810 in Londen. Zie ook ook mijn blog van 29 september 2006 en ook mijn blog van 29 september 2008 en ook mijn blog van 29 september 2009.
Uit: Wives and Daughters
"Six o'clock now! the pleasant, brisk ringing of the church bells told that; calling every one to their daily work, as they had done for hundreds of years. Up jumped Molly, and ran with her bare little feet across the room, and lifted off the handkerchief and saw once again the bonnet; the pledge of the gay bright day to come. Then to the window, and after some tugging she opened the casement, and let in the sweet morning air. The dew was already off the flowers in the garden below, but still rising from the long hay-grass in the meadows directly beyond. At one side lay the little town of Hollingford, into a street of which Mr. Gibson's front door opened; and delicate columns, and little puffs of smoke were already beginning to rise from many a cottage chimney where some housewife was already up, and preparing breakfast for the bread-winner of the family.
Molly Gibson saw all this, but all she thought about it was, 'Oh! it will be a fine day! I was afraid it never, never would come; or that, if it ever came, it would be a rainy day!' Five-and-forty years ago, children's pleasures in a country town were very simple, and Molly had lived for twelve long years without the occurrence of any event so great as that which was now impending. Poor child! it is true that she had lost her mother, which was a jar to the whole tenour of her life; but that was hardly an event in the sense referred to; and besides, she had been too young to be conscious of it at the time. The pleasure she was looking forward to to-day was her first share in a kind of annual festival in Hollingford.
The little straggling town faded away into country on one side close to the entrance-lodge of a great park, where lived my Lord and Lady Cumnor 'the earl' and 'the countess', as they were always called by the inhabitants of the town; where a very pretty amount of feudal feeling still lingered, and showed itself in a number of simple ways, droll enough to look back upon, but serious matters of importance at the time."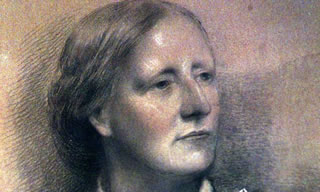 Elizabeth Gaskell (29 september 1810 – 12 november 1865)
De Spaanse dichter en filosoof Miguel de Unamuno y Jugo werd geboren op 29 september 1864 in Bilbao. Zie ook ook mijn blog van 29 september 2006 en ook mijn blog van 29 september 2008 en ook mijn blog van 29 september 2009.
Uit: Comment se fait un roman
« Lecteur, si ta vie n'est pas un roman, une fiction divine, un rêve d'éternité alors laisse ces pages, ne me lis pas plus avant. Car je te serai indigeste, et il te faudra me vomir sans profit ni pour toi ni pour moi. »
(...)
« Que vais-je faire demon Jugo de laRaza ? Comme ceci que j'écris, lecteur, est un vrai roman, un vrai poème, une création, qui consiste à te dire comment se fait et non comment se conte un roman, une vie historique, je n'ai pas à satisfaire ta curiosité feuilletonesque et frivole.Tout lecteur qui, lisant un roman, se soucie de savoir comment finiront ses personnages,sans se soucier de savoir comment lui-même finira, ne mérite pas qu'on satisfasse sa curiosité. »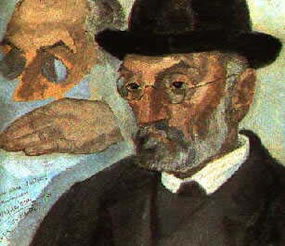 Miguel de Unamuno (29 september 1864 – 31 december 1936)



Zie voor nog meer schrijvers van de 29e september ook mijn vorige blog van vandaag.

29-09-2010 om 19:39 geschreven door Romenu

Tags:Pé Hawinkels, Hristo Smirnenski, Elizabeth Gaskell, Miguel de Unamuno, Romenu



| | |
| --- | --- |
| | |



Inhoud blog


| | |
| --- | --- |
| | Gerard Reve, Boudewijn Büch, Hervé Guibert, Paul Eluard, Helle Helle, Regina Ullmann, Shirley Jackson, Andreas Mand, Christian Huber |
| | José Eduardo Agualusa, Anton H.J. Dautzenberg, Jack Hirschman, Adrian Chivu, Heinrich Heine, Kenneth Patchen, Jean Rouaud, Ida Vos, William Drummond |
| | In Memoriam Wilhelm Genazino |
| | Susanna Tamaro, Kader Abdolah, Sophie Kinsella, Helen Dunmore, Gustave Flaubert, John Osborne, Vassilis Alexakis, Shrinivási, Hans Keilson |
| | Andrea De Carlo, Naguib Mahfouz, Marie Kessels, J.C. van Schagen, Paul Rigolle, Ludwig Laher, Helene Uri, Birago Diop, Ernst van Altena |
| | P. C. Hooftprijs 2019 voor Marga Minco |
| | Emily Dickinson, Karl Heinrich Waggerl, Reinhard Kaiser Mühlecker, Jorge Semprún, Gertrud Kolmarm, Jacquelyn Mitchard, Nelly Sachs, Cornelia Funke, George MacDonald |
| | Christbaum (Ada Christen) |
| | Thomas Verbogt, Margot Vanderstraeten, Eileen Myles, Patricio Pron, Michael Krüger, Gioconda Belli, Joe McGinniss, Wolfgang Hildesheimer |
| | Anna Gavalda, Ödön von Horváth, John Milton, Jan Křesadlo, Maksim Bahdanovič, Dalton Trumbo |
| | Jamal Ouariachi, Louis de Bernières, Mary Gordon, Bill Bryson, John Banville, Delmore Schwartz, Jim Morrison, Georges Feydeau |
| | Horatius, Hervey Allen, James Thurber, Carmen Martín Gaite, Nikos Gatsos, Jura Soyfer, Bjørnstjerne Bjørnson, Joel Chandler Harris |
| | Tatamkhulu Afrika, Dirk Stermann, Johann Nestroy, Joyce Cary, Gabriel Marcel, Willa Cather, Noam Chomsky, Friedrich Schlögl, Samuel Gottlieb Bürde |
| | Karl Ove Knausgård, Peter Handke, Yolanda Entius, Rafał, Wojaczek, Henk van Woerden, Alfred Joyce Kilmer, Sophie von La Roche, Paul Adam, Charlotte Wood |
| | Wat heeft Sint voor jou gekocht? (Thomas Verbogt) |
| | Hanif Kureishi, Alois Brandstetter, Joan Didion, Christina Rossetti, Fjodor Tjoettsjev, Calvin Trillin, Afanasy Fet, Hans Helmut Kirst, Eugenie Marlitt |
| | Rainer Maria Rilke, Geert Mak, Pat Donnez, Feridun Zaimoglu, Emil Aarestrup, Nikolay Nekrasov, Trudi Guda, Samuel Butler, Thomas Carlyle |
| | Hendrik Conscience, Kristina Sandberg, Joseph Conrad, Herman Heijermans, Grace Andreacchi, Ugo Riccarelli, France Pre¨eren, F. Sionil José, Franz Josef Degenhardt |
| | Advent (Marjoleine de Vos ) |
| | Frédéric Leroy, Ann Patchett, Hein Boeken, T. C. Boyle, George Saunders, Botho Strauß, Jacques Lacarrière, Iakovos Kampanellis, Eric L. Harry |
| | December (Algernon Swinburne) |
| | Pierre Kemp, Daniel Pennac, Arthur Sze, Natasza Tardio, Tahar Ben Jelloun, Billy Childish |
| | Ernst Toller, Mihály Vörösmarty, Valery Bryusov, Rex Stout. Henry Williamson |
| | Herinnering aan Ramses Shaffy |
| | Dennis Gaens, Christophe Vekeman, James Worthy, Y.M. Dangre, Reinier de Rooie, David Nicholls, Yasmine Allas, Jan G. Elburg, Jesús Carrasco |
| | Mario Petrucci, George Szirtes, Jean Senac, Carlo Levi, Jean-Philippe Toussaint, C.S. Lewis, Wilhelm Hauff, Louisa May Alcott, Franz Stelzhamer |
| | Erwin Mortier, Alberto Moravia, Stefan Zweig, Hugo Pos, Sherko Fatah, Philippe Sollers, William Blake, Alexander Blok, Rita Mae Brown |
| | Navid Kermani, Nicole Brossard, Han Kang, Philippe Delerm, James Agee, Jos. Habets, Friedrich von Canitz, Jacques Godbout, Saskia Goldschmidt |
| | Luisa Valenzuela, Eugène Ionesco, Marilynne Robinson, Herman Gorter, Paul Rodenko, Mihály Babits, Louis Verbeeck, Alyosha Brell, Mohamed Al-Harthy |
| | King of glory, King of peace (George Herbert) |
| | Maarten 't Hart, Connie Palmen, Abdelkader Benali, Arturo Pérez-Reverte, Ba Jin, Augusta de Wit |
| | Joseph Zoderer, Alexis Wright, Isaac Rosenberg, José Eça de Queiroz, Lope de Vega |
| | Isabel Ecclestone Mackay |
| | Jules Deelder, Wanda Reisel, Marlon James, Einar Kárason, Ahmadou Kourouma, Thomas Kohnstamm, Hans Sahar |
| | Wen Yiduo, Laurence Sterne, Cissy van Marxveldt, Arundhati Roy, Carlo Collodi, Gerhard Bengsch, Ludwig Bechstein |
| | Paul Celan, Marcel Beyer, Max Goldt, Jennifer Michael Hecht, Sipko Melissen, Henri Borel, Sait Faik Abasıyanık, Nigel Tranter, Guy Davenport |
| | André Gide, George Eliot, Dirk van Weelden, Christian Filips, Suresh en Jyoti Guptara, Viktor Pelevin, Endre Ady, William Kotzwinkle, Elisabeth Maria Post |
| | Margriet de Moor, Gerard Koolschijn, Isaac Bashevis Singer, Wouter Steyaert, Marilyn French, Freya North, P. A. de Génestet, Voltaire, Garth Risk Hallberg |
| | Don DeLillo, Viktoria Tokareva, Sheema Kalbasi, Nadine Gordimer, Thomas Chatterton, Zinaida Hippius, Selma Lagerlöf, Jordi Lammers, Ferdinand von Schirach, Yevgenia Ginzburg |
| | Scott Cairns, Sharon Olds, Mark Harris, Karel van den Oever, Alan Tate, Anna Seghers, Elise Bürger, Girolamo de Rada, Veronika Aydin |
| | Arno Van Vlierberghe |
| | November (Helen Maria Hunt Jackson) |
| | Toon Tellegen, Joost Zwagerman, Joost Oomen, Thomas Möhlmann, Pauline Genee, Klaus Mann, Eugenio Montejo |
| | Margaret Atwood, Seán Mac Falls, Jaap Meijer, Richard Dehmel, William Gilbert, Hans Reimann, Mireille Cottenjé |
| | Iemand als een mensenzoon (Walter Jan Ceuppens) |
| | Christoph Wilhelm Aigner |
| | Joost van den Vondel, Guido van Heulendonk, Dahlia Ravikovitch, Rebecca Walker, Auberon Waugh |
| | Christopher Paolini, Pierre Véry, Archibald Lampman, Max Barthel, Jelko Arts |
| | Anton Koolhaas, Chinua Achebe, José Saramago, Renate Rubinstein, Craig Arnold, Danny Wallace, Frits van der Meer, Jónas Hallgrímsson, Hugo Dittberner |
| | Jan Terlouw, Clemens J. Setz, Wolf Biermann, Ted Berrigan, J. G. Ballard, Gerhart Hauptmann, Liane Dirks, Lucien Rebatet, Marianne Moore |