E-mail mij


Druk op onderstaande knop om mij te e-mailen.


Romenu


Google


Georg Trakl

Georg Trakl werd op 3 februari 1887 in het conducteurshuis aan de Waagplatz 2 in Salzburg geboren. Zijn vader, Tobias Trakl, was een handelaar in ijzerwaren en zijn moeder, die ook psychische problemen had, was Maria Catharina Trakl, (meisjesnaam Halik). Voorts had hij nog drie broers en drie zussen. Margarethe (doorgaans Grethe genoemd) stond hem het naast, zelfs zodanig dat sommigen een incestueuze verhouding vermoeden. Zijn jeugd bracht hij door in Salzburg. Vervolgens bezocht hij van 1897 tot 1905 het humanistische gymnasium. Om toch een academische opleiding te kunnen volgen, werkte hij tot 1908 in de praktijk bij een apotheker. Sommigen vermoedden dat hij dit vooral deed om zichzelf opiaten te kunnen verschaffen. Bij het uitbreken van WO I werd Trakl als medicus naar het front in Galicië (heden ten dage in Oekraïne en Polen) gestuurd. Zijn gemoedsschommelingen leidden tot geregelde uitbraken van depressie, die verergerd werden door de afschuw die hij voelde voor de verzorging van de ernstig verwonde soldaten. De spanning en druk dreven hem ertoe een suïcidepoging te ondernemen, welke zijn kameraden nochtans verhinderden. Hij werd in een militair ziekenhuis opgenomen in Kraków, alwaar hij onder strikt toezicht geplaatst werd.Trakl verzonk daar in nog zwaardere depressies en schreef Ficker om advies. Ficker overtuigde hem ervan dat hij contact moest opnemen met Wittgenstein, die inderdaad op weg ging na Trakls bericht te hebben ontvangen. Op 4 november 1914, drie dagen voordat Wittgenstein aan zou komen, overleed hij echter aan een overdosis cocaïne


Paul Celan

Paul Celan werd onder de naam Paul Antschel op 23 november 1920 geboren in Czernowitz, toentertijd de hoofdstad van de Roemeense Boekovina, nu behorend bij de Oekraïne. Paul Celans ouders waren Duitssprekende joden die hun zoon joods opvoedden en hem naar Duitse christelijke scholen stuurden. In 1942 werden Celans ouders door de Duitse bezetter naar een werkkamp gedeporteerd en daar vermoord. Hijzelf wist aanvankelijk onder te duiken, maar moest vanaf juli 1942 in een werkkamp dwangarbeid verrichten. Celan overleefde de oorlog. Via Boekarest en Wenen vestigde Celan zich in 1948 in Parijs. Daar was hij werkzaam als dichter, vertaler en doceerde hij aan de prestigieuze Ecole Normale Supérieure. Vermoedelijk op 20 april 1970 beëindigde hij zijn leven zelf door in de Seine te springen.


Gerard Reve

Gerard Reve over: Medearbeiders "God is in de mensen, de dieren, de planten en alle dingen - in de schepping, die verlost moet worden of waaruit God verlost moet worden, door onze arbeid, aangezien wij medearbeiders van God zijn." Openbaring "Tja, waar berust elk godsbegrip op, elke vorm van religie? Op een openbaring, dat wil zeggen op een psychische ervaring van zulk een dwingende en onverbiddelijke kracht, dat de betrokkene het gevoel heeft, niet dat hij een gedachte of een visioen heeft, maar dat een gedachte gedachte of visioen hem bezit en overweldigt."


Simon Vestdijk
Simon Vestdijk (Harlingen, 17 oktober 1898 – Utrecht, 23 maart 1971) was een Nederlands romancier, dichter, essayist en vertaler. Zijn jeugd te Harlingen en Leeuwarden beschreef hij later in de Anton Wachter-cyclus. Van jongs af aan logeerde hij regelmatig bij zijn grootouders in Amsterdam, waar hij zich in 1917 aan de Universiteit van Amsterdam inschrijft als student in de medicijnen. Tijdens zijn studie die van 1917 tot 1927 duurde, leerde hij Jan Slauerhoff kennen.Tot 1932 is hij als arts in praktijken door heel Nederland werkzaam. In 1932 volgt zijn officiële schrijversdebuut met de uitgave van de bundel Verzen in De Vrije Bladen. Doorslaggevend voor Vestdijks uiteindelijke keuze voor de literatuur is zijn ontmoeting in 1932 met Eddy Du Perron en Menno ter Braak. Deze ontmoeting had tot resultaat dat hij redactielid werd van het tijdschrift Forum Kort daarop, in 1933, wordt zijn eerste novelle, De oubliette, uitgegeven. In hetzelfde jaar schrijft hij Kind tussen vier vrouwen, dat, eerst geweigerd door de uitgever, later de basis zal vormen voor de eerste drie delen van de Anton Wachter-romans. In 1951 ontvangt Vestdijk de P.C. Hooftprijs voor zijn in 1947 verschenen roman De vuuraanbidders. In 1957 wordt hij voor het eerst door het PEN-centrum voor Nederland voorgedragen voor de Nobelprijs voor de Literatuur, die hij echter nooit zal krijgen. Op 20 maart 1971 wordt hem de Prijs der Nederlandse Letteren toegekend, maar voor hij deze kan ontvangen overlijdt hij op 23 maart te Utrecht op 72-jarige leeftijd. Vestdijk was auteur van ca. 200 boeken. Vanwege deze enorme productie noemde de dichter Adriaan Roland Holst hem 'de man die sneller schrijft dan God kan lezen'. Andere belangrijke boeken van Simon Vestdijk zijn: "Kind van stad en land" (1936), "Meneer Visser's hellevaart" (1936), "Ierse nachten" (1946), "De toekomst de religie" (1947), "Pastorale 1943" (1948), "De koperen tuin" (1950), "Ivoren wachters" (1951), "Essays in duodecimo" (1952) en "Het genadeschot" (1964).


K.P. Kavafis

K.P. Kavafis werd als kind van Griekse ouders, afkomstig uit Konstantinopel, geboren in 1863 in Alexandrië (tot vandaag een Griekse enclave) waar hij ook het grootste deel van zijn leven woonde en werkte. Twee jaar na de dood van zijn vader verhuist het gezin in 1872 naar Engeland om na een verblijf van vijf jaar naar Alexandrië terug te keren. Vanwege ongeregeldheden in Egypte vlucht het gezin in 1882 naar Konstantinopel, om na drie jaar opnieuw naar Alexandrië terug te gaan. In de jaren die volgen maakt Kavafis reizen naar Parijs, Londen en in 1901 zijn eerste reis naar Griekenland, in latere jaren gevolgd door nog enkele bezoeken. Op de dag van zijn zeventigste verjaardag, in 1933 sterft Kavafis in Alexandrië. De roem kwam voor Kavafis pas na zijn dood, dus postuum. Deels is dat toe te schrijven aan zijn eigen handelswijze. Hij was uiterst terughoudend met de publicatie van zijn gedichten, liet af en toe een enkel gedicht afdrukken in een literair tijdschrift, gaf in eigen beheer enkele bundels met een stuk of twintig gedichten uit en het merendeel van zijn poëzie schonk hij op losse bladen aan zijn beste vrienden.


Thomas Mann


Thomas Mann, de jongere broer van Heinrich Mann, werd geboren op 6 juni 1875 in Lübeck. Hij was de tweede zoon van de graankoopman Thomas Johann Heinrich Mann welke later één van de senatoren van Lübreck werd. Zijn moeder Julia (geboren da Silva-Bruhns) was Duits-Braziliaans van Portugees Kreoolse afkomst. In 1894 debuteerde Thomas Mann met de novelle "Gefallen". Toen Thomas Mann met 21 jaar eindelijk volwassen was en hem dus geld van zijn vaders erfenis toestond - hij kreeg ongeveer 160 tot 180 goldmark per jaar - besloot hij dat hij genoeg had van al die scholen en instituties en werd onafhankelijk schrijver. Kenmerkend voor zijn stijl zijn de ironie, de fenomenale taalbeheersing en de minutieuze detailschildering. Manns reputatie in Duitsland was sterk wisselend. Met zijn eerste roman, Buddenbrooks (1901), had hij een enorm succes, maar door zijn sceptische houding tegenover Duitsland na de Eerste Wereldoorlog veranderde dit volledig. Stelde hij zich tot aan de jaren twintig apolitiek op (Betrachtungen eines Unpolitischen, 1918), meer en meer raakte hij bij het Politiek gebeuren betrokken. Zijn afkeer van het nationaal socialisme groeide, zijn waarschuwingen werden veelvuldiger en heftiger. In 1944 accepteerde hij het Amerikaanse staatsburgerschap. Tussen 1943 en 1947 schreef Mann Doktor Faustus (zie Faust), de roman van de 'Duitse ziel' in de gecamoufleerd geschilderde omstandigheden van de 20ste eeuw. In 1947 bezocht hij voor het eerst sinds de Oorlog Europa, twee jaar later pas Duitsland. In 1952 vertrok hij naar Zwitserland. Op 12 augustus 1955 stierf hij in Zürich. Twintig jaar na zijn dood, in aug. 1975, is zijn literaire nalatenschap geopend: dagboekaantekeningen van 15 maart 1933 tot 29 juli 1955, alsmede notities uit de jaren 1918 tot en met 1921.Belangrijke werken zijn: Der Zauberberg, Der Tod in Venedig, Dokter Faustus , Joseph und seine Brüder en Die Bekenntnisse des Hochstaplers Felix Krull.


Rainer Maria Rilke

Rilke werd op 4 december 1875 geboren in Praag. Hij had al naam gemaakt als dichter met zijn bundels Das Stundenbuch en Das Buch der Bilder, toen hij de literaire wereld versteld deed staan en wereldfaam verwierf met de publicatie van zijn twee delen Neue Gedichte in 1907 en 1908. Hij verzamelde daarin het beste werk uit een van zijn vruchtbaarste periodes, die hij grotendeels doorbracht in Parijs. Rilke was daar diep onder de indruk gekomen van Rodin, bij wie hij een tijdlang in dienst was als particulier secretaris. Rodin, zei hij later, had hem leren kijken. Dit kijken kwam neer op intense concentratie, om het mysterie te kunnen zien 'achter de schijnbare werkelijkheid'. Latere en rijpere werken als Duineser Elegien (1912-1923) en het ronduit schitterende Die Sonette an Orfeus (1924) illustreren Rilkes metafysische visie op het onzegbare, dat haar verwoording vindt in een hermetische muzikale taal. Op 29 december 1926 overlijdt Rilke in het sanatorium in Val-Mont aan de gevolgen van leukemie. Enkele dagen later wordt hij, overeenkomstig zijn wens, begraven op het kerkhof van Raron.


* * * * * * * * * * * * * * * *

| | |
| --- | --- |
| | Over literatuur, gedichten, kunst en cultuur |

07-06-2018

Orhan Pamuk, Monika Mann, Nikki Giovanni, Harry Crews, Louise Erdrich, Mascha Kaléko, Jan Engelman, Gwendolyn Brooks, Elizabeth Bowen
De Turkse schrijver Orhan Pamuk werd geboren op 7 juni 1952 in Istanbul. Zie ook alle tags voor Orhan Pamuk op dit blog.
Uit: The Red-Haired Woman (Vertaald door Ekin Oklap)
"The settlement was fifteen minutes on foot from our well. It was the town of Öngören, population 6,200, according to the blue sign with enormous white letters marking the entrance. After two days of ceaseless digging, two meters, we took a break on the second afternoon and went down to Öngören to acquire more supplies.
Ali took us to the town carpenter first. Having dug past two meters, we could no longer shovel out the earth by hand, so like all welldiggers, we had to build a windlass. Master Mahmut had brought some lumber in the landowner's pickup, but it wasn't enough. When he explained who we were and what we were up to, the inquisitive carpenter said, "Oh, you mean that land up there!"
Over the following days, whenever we went down to the town from "that land up there," Master Mahmut made a point of dropping by the carpenter; the grocer, who sold cigarettes; the bespectacled tobacconist; and the ironmonger, who stayed open late. After digging all day, I relished going to Öngören with Master Mahmut for an evening stroll by his side, or to sit in the shade of the cypress and pine trees on some little bench, or at a table outside some coffeehouse, on the stoop of some shop, or in the train station.
It was Öngören's misfortune to be overrun by soldiers. An infantry battalion had been stationed there during World War II to defend Istanbul against German attacks via the Balkans, and Russian attacks via Bulgaria. That purpose, like the battalion itself, was soon forgotten. But forty years later, the unit was still the town's greatest source of income, and its curse.
Most of the shops in the town center sold postcards, socks, telephone tokens, and beer to soldiers on day passes. The stretch known among locals as Diners' Lane was lined with various eateries and kebab shops, also catering to the military clientele. Surrounding them were pastry shops and coffeehouses that would be jammed with soldiers during the day—especially on weekends—but in the evenings, when these places emptied out, a completely different side of Öngören emerged. The gendarmes, who patrolled the area vigilantly, would have to pacify carousing infantrymen and break up fistfights among privates, in addition to restoring the peace disturbed by boisterous civilians or by the music halls when the entertainment got too loud."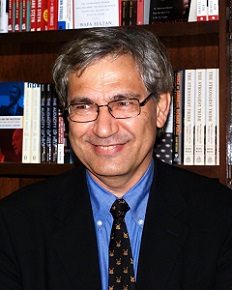 Orhan Pamuk (Istanbul, 7 juni 1952)
De Duitse schrijfster Monika Mann werd als vierde kind van Thomas Mann geboren op 7 juni 1910 in München. Zie ook alle tags voor Monika Mann op dit blog.
Uit: Das fahrende Haus
"Fast ohne Unterbrechung zwölf Jahre in einem Land gelebt zu haben – soll ich sagen, daß es die besten Jahre waren? –, reichen aus, ihm Treue und Verbundenheit zu bewahren fürs Leben.
Ein Gesetz der Vereinigten Staaten von Amerika jedoch erlaubt ihrem naturalisierten Bürger nicht mehr als fünf Jahre seiner ununterbrochenen Abwesenheit. Überschreitet er diese Frist, verliert er die Staatsbürgerschaft. Wer aber will den Kontinent so mir nichts, dir nichts wechseln, noch dazu um eines Gesetzes willen, das unserer Zeit entwachsen, nicht würdig scheint? Denn in Europa leben, heißt nicht, fern von Amerika leben, heißt nicht, das verlernen und vergessen, was man in der Neuen Welt gelernt und erfahren und sich errungen hat. Die Länder Europas, sind sie nicht so etwas wie amerikanische Provinzen (nicht zu ihrer Schande sei's gefragt!), und sind die Vereinigten Staaten Amerikas nicht so etwas wie europäische Ableger? Leben wir nicht in einer Welt, die immer mehr zusammenrückt, die unvermeidlich, bei allem Zaudern und Widerstand sich vereinheitlicht und vereinigt? Während ich meine amerikanische Staatsbürgerschaft niederlege, lese ich Emerson und Whitman, schreibe ich meine «Amerikanische Novelle», denk' ich an zwölf, wenn nicht immer leichte, so doch helle Jahre in New York und Los Angeles, New England, Vermont und Maine . . . Ja, es ist vor allem Amerikas Licht, das so unvergeßlich ist. Der Himmel der Neuen Welt ist heller als der Himmel der Alten Welt. (Ein grüner Baum wirkt dort dunkler als hier, zuweilen fast schwarz gegen das lichte Blau.)"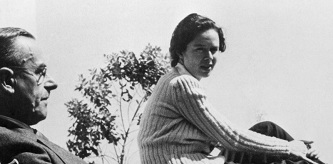 Monika Mann (7 juni 1910 – 17 maart 1992)
Thomas en Monika Mann, rond 1940
De Amerikaanse dichteres en schrijfster Nikki Giovanni werd geboren op 7 juni 1943 in Knoxville, Tennessee. Zie ook alle tags voor Nikki Giovanni op dit blog.
A Historical Footnote to Consider Only When All Else Fails
(For Barbara Crosby)
While it is true
(though only in a factual sense)
That in the wake of a
Her-I-can comes a
Shower
Surely I am not
The gravitating force
that keeps this house
full of panthers
Why, LBJ has made it
quite clear to me
He doesn't give a
Good goddamn what I think
(else why would he continue to masterbate in public?)
Rhythm and Blues is not
The downfall of a great civilization
And I expect you to
Realize
That the Temptations
have no connection with
The CIA
We must move on to
the true issues of
Our time
like the mini-skirt
Rebellion
And perhaps take a
Closer look at
Flour power
It is for Us
to lead our people
out of the
Wein-Bars
into the streets
into the streets
(for safety reasons only)
Lord knows we don't
Want to lose the
support
of our Jewish friends
So let us work
for our day of Presence
When Stokely is in
The Black House
And all will be right with
Our World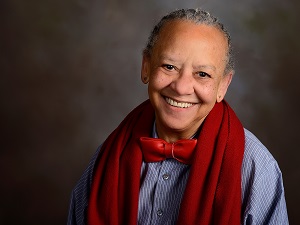 Nikki Giovanni (Knoxville, 7 juni 1943)
De Amerikaanse schrijver Harry Crews werd geboren op 7 juni 1935 in Bacon County, Georgia. Zie ook alle tags voor Harry Crews op dit blog.
Uit: Classic Crews: A Harry Crews Reader
"He was smiling, but he'd said it with just the finest edge of contempt, which is the way you are supposed to say it, and I scrambled to follow him, my heart lifting. Byron had heard me ask him much the same thing many times before, because if you change a couple of words, the question will serve in any number of circumstances. And now, in great high spirits, he was giving it back to me. …
"Dad, you remember about the time with the rain?"
"The time about the rain? Hell, son, we been in the rain a lot together." I was wet and my feet hurt. I wanted to get the tent up and start a fire.
He cut his eyes toward me. Drops of rain hung on the ends of his fine lashes. He was suddenly very serious. What in the hell was coming down here? What was coming down was the past that is never past and, in this case, the past against which I had no defense except my own failed heart.
"We weren't in it together," he said. "You made me stand in it. Stand in it for a long time."
Yes, I had done that, but I had not thought about it in years. It's just not the sort of thing a man would want to think about. Byron's mother had gone North for a while and left me to take care of him. He was seven years old and just starting in the second grade. I had told him that day to be home at six o'clock and we should go out to dinner. Truthfully, we'd been out to eat every night since Sally had been gone, because washing dishes is right up at the top of the list of things I won't do. It had started misting rain at midday and had not stopped. Byron had not appeared at six, nor was he there at 6:45. That was back when I was bad to go to the bottle, and while I wasn't drunk, I wasn't sober, either. Lay it on the whiskey. A man will snatch at any straw to save himself from the responsibility of an ignoble action. When he did come home at 7:15, I asked him where he'd been.
"At Joe's," he said. But I had known that. I reminded him of when we had said we were going to dinner. But he had known that.
"It was raining," he said.
I said, "Let's go out and look at it."
We went out into the carport and watched the warm spring rain."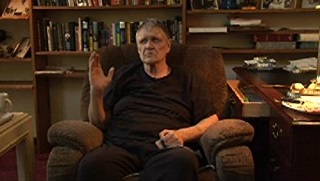 Harry Crews (7 juni 1935 – 28 maart 2012)


De Amerikaanse dichteres en schrijfster Louise Erdrich werd geboren op 7 juni 1954 in Little Falls, Minnesota. Zie ook alle tags voor Louise Erdrich op dit blog.
The King of Owls
It is said that playing cards were invented in 1392 to cure the French king, Charles VI, of madness. The suits in some of the first card packs consisted of Doves, Peacocks, Ravens, and Owls.
They say I am excitable! How could
I not scream? The Swiss monk's tonsure
spun till it blurred yet his eyes were still.
I snapped my gaiter, hard, to stuff back
my mirth. Lords, he then began to speak.
Indus catarum, he said, presenting the game of cards
in which the state of the world is excellent described
and figured. He decked his mouth
as they do, a solemn stitch, and left cards
in my hands. I cast them down.
What need have I for amusement?
My brain's a park. Yet your company
plucked them from the ground and began to play.
Lords, I wither. The monk spoke right,
the mealy wretch. The sorry patterns show
the deceiving constructions of your minds.
I have made the Deuce of Ravens my sword
falling through your pillows and rising,
the wing blades still running
with the jugular blood. Your bodies lurch
through the steps of an unpleasant dance.
No lutes play. I have silenced the lutes!
I keep watch in the clipped, convulsed garden.
I must have silence, to hear the messenger's footfall
in my brain. For I am the King of Owls.
Where I float no shadow falls.
I have hungers, such terrible hungers, you cannot know.
Lords, I sharpen my talons on your bones.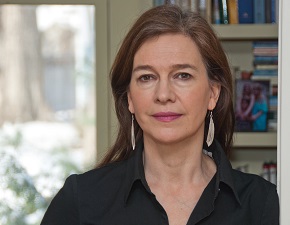 Louise Erdrich (Little Falls, 7 juni 1954)
De Duitstalige dichteres Mascha Kaléko (eig. Golda Malka Aufen) werd geboren op 7 juni 1907 in Krenau of Schidlow in Galicië in het toenmalige Oostenrijk-Hongarije, nu Polen. Zie ook alle tags voor Mascha Kaléko op dit blog.
Langschläfers Morgenlied
Der Wecker surrt. Das alberne Geknatter
Reißt mir das schönste Stück des Traums entzwei.
Ein fleißig Radio übt schon sein Geschnatter.
Pitt äußert, daß es Zeit zum Aufstehn sei.

Mir ist vor Frühaufstehern immer bange.
… Das können keine wackern Männer sein:
Ein guter Mensch schläft meistens gern und lange.
– Ich bild mir diesbezüglich etwas ein …

Das mit der goldgeschmückten Morgenstunde
Hat sicher nur das Lesebuch erdacht.
Ich ruhe sanft. – Aus einem kühlen Grunde:
Ich hab mir niemals was aus Gold gemacht.

Der Wecker surrt. Pitt malt in düstern Sätzen
Der Faulheit Wirkung auf den Lebenslauf.
Durchs Fenster hört man schon die Autos hetzen.
– Ein warmes Bett ist nicht zu unterschätzen.
… Und dennoch steht man alle Morgen auf.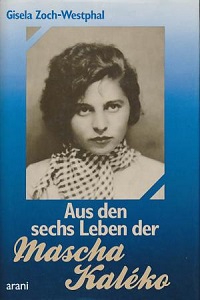 Mascha Kaléko (7 juni 1907 – 21 januari 1975)
Cover
De Nederlandse dichter Johannes Aloysius Antonius Engelman werd geboren in Utrecht op 7 juni 1900. Zie ook alle tags voor Jan Engelman op dit blog.
Gebed in 't Duister
Heer, behoed haar in de wereld
die ik lang mijn eigen noem.
In haar ogen staat bepereld
met uw eigen dauw de bloem

van een onverwelkbaar minnen
uit de grond der ziel geteeld.
En geen stervling zal bezinnen
op het eeuwig Aanvangsbeeld

lijk uw knecht, die hare leden
in het schemerlicht onthult,
die zich, stamelend gebeden,
aan háár wil alleen vervult.

Lang voor 't eerste dagegloren,
lang na Venus' gouden schijn
kniel ik, uwe stem te horen
uit die weelde, uit die pijn,

uit die tuin, bedekt, bedwereld
met een bloesem van Voorheen.
Heer, behoed haar in de wereld,
doe uw mantel om ons heen!
Klein Air
Morgen drink ik rode wijn,
morgen zal mijn lief hier zijn.
In de warme lampeschijn
zal zij liggen, bleek en fijn.
Wilder dan een springfontein
breek ik uit, en ben weer klein
bij haar leden, zoet satijn,
diepe bedding, dieper pijn.
Morgen drink ik rode wijn,
morgen zal mijn lief hier zijn.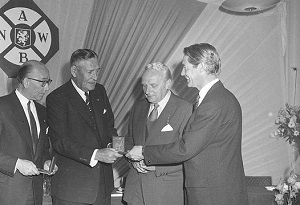 Jan Engelman (Utrecht 7 juni 1900 ;Amsterdam 20 maart 1972)
Engelman helemaal links tijdens de uitreiking van de ANWB-prijs 1958
De Amerikaanse dichteres Gwendolyn Brooks werd geboren op 7 juni 1917 in Topeka, Kansas. Zie ook alle tags voor Gwendolyn Brooks op dit blog.
Speech To The Young : Speech To The Progress-Toward
Say to them,
say to the down-keepers,
the sun-slappers,
the self-soilers,
the harmony-hushers,
"even if you are not ready for day
it cannot always be night."
You will be right.
For that is the hard home-run.
Live not for battles won.
Live not for the-end-of-the-song.
Live in the along.
The Good Man
The good man.
He is still enhancer, renouncer.
In the time of detachment,
in the time of the vivid heather and affectionate evil,
in the time of oral
grave grave legalities of hate - all real
walks our prime registered reproach and seal.
Our successful moral.
The good man.
Watches our bogus roses, our rank wreath, our
love's unreliable cement, the gray
jubilees of our demondom.
Coherent
Counsel! Good man.
Require of us our terribly excluded blue.
Constrain, repair a ripped, revolted land.
Put hand in hand land over.
Reprove
the abler droughts and manias of the day
and a felicity entreat.
Love.
Complete
your pledges, reinforce your aides, renew
stance, testament.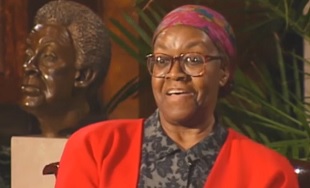 Gwendolyn Brooks (7 juni 1917 – 3 december 2000)
In 1996
De Ierse schrijfster Elizabeth Bowen werd geboren op 7 juni 1899 in Dublin. Zie ook alle tags voor Elizabeth Bowen op dit blog.
Uit: Friends and Relations
"Now the service was over the afternoon steadily brightened. The open-sided marquee was not, after all, to prove a fiasco. Laurel and Edward, obedient to Mrs Studdart's instructions, took up their position in the morning-room. A playing-card, overlooked, lay face down on the carpet. Edward stooped for it – 'Don't!' she cried, 'leave it!' her heart in her mouth. Better not – Finding themselves still alone Edward and she kissed hastily, with a feverish calm. They had all time, but only the moment. Then Laurel arranged her train in a pool, as she had seen brides do. Mrs Studdart, coming in shortly afterwards, re-arranged it.
'You might hold your lilies,' said Mrs Studdart, who had discovered the sheaf on a hall table specially cleared for the top-hats.
'Oh, Mother, I can't; they're heavy.'
'But don't you think it would be nice, Edward, if she were to hold her lilies?'
'I don't know,' said Edward. 'Do people generally?'
'They'd be such a strain on one arm all the time. You see I can't change them; I must keep my right arm for shaking hands.'
'And shake hands lightly,' said Mrs Studdart, 'don't grip.'
'Did I look ...?'
'Lovely, lovely,' said Mrs Studdart. She was looking round distractedly for a vase and soon found one, a kind of Italian urn in which she arranged the lilies beside the bride.
The house might have been designed for such an occasion. The position of the morning-room was admirable; it had two doors so that the guests could circulate through a chain of rooms. Each, having saluted the bridal pair, was to pass on through the dining-room; through the French window and out by duck-boards into the open- sided marquee. (This was the best of a summer wedding; to make this possible he and she had devoured each other nervously throughout the endless winter of their engagement.) In the dining-room Cousin Richard was to be posted to head the guests off through the window. He would be shot, he said, if he let one past him into the hall.
'I shall depend upon you, Richard,' said Mrs Studdart. (He had been in the Colonies.) 'For if the two streams mix in the hall and people get squeezed back into the drawing-room and have to pass Laurel all over again, there will be the most shocking confusion.'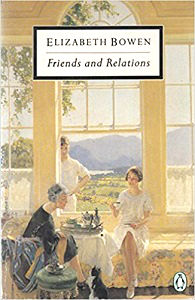 Elizabeth Bowen (7 juni 1899 – 22 februari 1973)
Cover
Zie voor nog meer schrijvers van de 7e juni ook mijn blog van 7 juni 2015 deel 2.
07-06-2018 om 14:30 geschreven door Romenu

Tags:Orhan Pamuk, Monika Mann, Nikki Giovanni, Harry Crews, Louise Erdrich, Mascha Kaléko, Jan Engelman, Gwendolyn Brooks, Elizabeth Bowen, Romenu


06-06-2018

Thomas Mann, Aleksandr Poesjkin, Sarah Dessen, Jean Cayrol, Pierre Corneille, Hendrik van Teylingen, V. C. Andrews, Frank Gericke
De Duitse schrijver Thomas Mann werd geboren in Lübeck op 6 juni 1875. Zie ook alle tags voor Thomas Mann op dit blog.
Uit: Doktor Faustus
"Ich breche aufs neue ab, indem ich mich daran erinnere, daß ich auf das Genie und seine jedenfalls dämonisch beeinflußte Natur nur zu sprechen kam, um meinen Zweifel zu erläutern, ob ich zu meiner Aufgabe die nötige Affinität besitze. Möge denn nun gegen den Gewissensskrupel geltend gemacht sein, was immer ich dagegen ins Feld zu führen habe. Es war mir beschieden, viele Jahre meines Lebens in der vertrauten Nähe eines genialen Menschen, des Helden dieser Blätter, zu verbringen, ihn seit Kinderzeiten zu kennen, Zeuge seines Werdens, seines Schicksals zu sein und an seinem Schaffen in bescheidener Helfersrolle teilzuhaben. Die librettistische Bearbeitung von Shakespeares Komödie »Verlorene Liebesmüh«, Leverkühns mutwilligem Jugendwerk, stammt von mir, und auch auf die textliche Zubereitung der grotesken Opernsuite »Gesta Romanorum« sowie des Oratoriums »Offenbarung S. Johannis des Theologen« durfte ich Einfluß nehmen. Das ist das eine, oder es ist bereits das eine und andere. Ich bin aber ferner im Besitz von Papieren, unschätzbaren Aufzeichnungen, die der Heimgegangene mir und keinem anderen in gesunden Tagen oder, wenn ich so nicht sagen darf, in vergleichsweise und legaliter gesunden Tagen letztwillig vermacht hat, und auf die ich mich bei meiner Darstellung stützen werde, ja, aus denen ich mit gebotener Auswahl einiges direkt in dieselbe einzuschalten gedenke. Letztens und erstens aber — und diese Rechtfertigung war noch immer die gültigste, wenn nicht vor den Menschen, so doch vor Gott: ich habe ihn geliebt — mit Entsetzen und Zärtlichkeit, mit Erbarmen und hingebender Bewunderung — und wenig dabei gefragt, ob er im mindesten mir das Gefühl zurückgäbe. Das hat er nicht getan, o nein.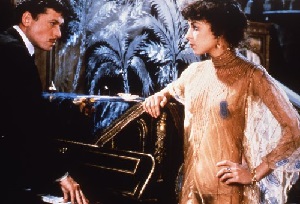 Jon Finch als Adrian Leverkühn en Marie-Hélène Breillat als Marie Godeau;in de film uit 1982
In der Verschreibung der nachgelassenen Kompositionsskizzen und Tagebuchblätter drückt sich ein freundlich-sachliches, fast möchte ich sagen: gnädiges und sicherlich mich ehrendes Vertrauen in meine Gewissenhaftigkeit, Pietät und Korrektheit aus. Aber lieben? Wen hätte dieser Mann geliebt? Einst eine Frau — vielleicht. Ein Kind zuletzt — es mag sein. Einen leichtwiegenden, jeden gewinnenden Fant und Mann aller Stunden, den er dann, wahrscheinlich eben weil er ihm geneigt war, von sich schickte — und zwar in den Tod. Wem hätte er sein Herz eröffnet, wen jemals in sein Leben eingelassen? Das gab es bei Adrian nicht. Menschliche Ergebenheit nahm er hin — ich möchte schwören: oft ohne sie auch nur zu bemerken. Seine Gleichgültigkeit war so groß, daß er kaum jemals gewahr wurde, was um ihn her vorging, in welcher Gesellschaft er sich befand, und die Tatsache, daß er sehr selten einen Gesprächspartner mit Namen anredete, läßt mich vermuten, daß er den Namen nicht wußte, während doch der andere ein gutes Recht zur Annahme des Gegenteils hatte. Ich möchte seine Einsamkeit einem Abgrund vergleichen, in welchem Gefühle, die man ihm entgegenbrachte, lautlos und spurlos untergingen. Um ihn war Kälte — und wie wird mir zumute, indem ich dies Wort gebrauche, das auch er in einem ungeheuerlichen Zusammenhange einst niederschrieb! Einzelnen Vokabeln können Leben und Erfahrung einen Akzent verleihen, der sie ihrem alltäglichen Sinn völlig entfremdet und ihnen einen Schreckensnimbus verleiht, den niemand versteht, der sie nicht in ihrer fürchterlichsten Bedeutung kennengelernt hat."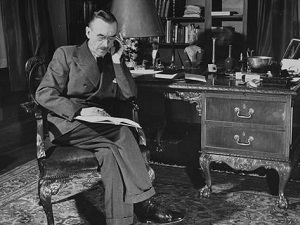 Thomas Mann (6 juni 1875 – 12 augustus 1955)
De Russische dichter en schrijver Aleksandr Poesjkin werd geboren in Moskou op 6 juni 1799. Zie ook alle tags voor Aleksandr Poesjkin op dit blog.
Uit: Evgeny Onegin (Vertaald door G. R. Ledger)
Book 5
I
That year the autumn weather lingered
Over the field and around the yards,
Winter held back, Nature awaited,
In January only snow fell at last
On the third, at night. And waking early
Tatyana saw through the window clearly
The yard all covered with morning whiteness,
The flower beds, roofs, and all the fences;
On the window glass the leaves of frost,
The trees in their winter silveriness,
And cheerful magpies in the snow.
The hills all covered with the soft glow
Of winter's carpet glistening bright,
Around all was shining, all was white.

II
Winter ! The peasant breathes a sigh,
Renews his sledge, and makes his way.
His horse, snorting in the fresh snow
With a finicky trot gets along somehow.
And now the dashing kibitka flies,
In the powdery snow cutting feathery furrows.
The coachman sits huddled upon his box,
In a sheepskin coat and a scarlet sash.
A yard boy runs out, and on his sledge
His favourite 'Dasher' is the driver,
While he himself is the willing puller;
The rascal struggles with frozen hands;
What fun it is, but so painful too,
While his mother scolds him above at the window.

III
But perhaps recollection of winter's scenes
Does not arouse you, gentle reader:
It is all base, lowly, and vulgar Nature,
But not much here of refinement breathes.
Warmed by the inspiration of the Muse,
Another poet, in luxuriant gloss,
Has painted for us the first fallen snow,
And all the shades of winter's sloth.
I am sure that he more than ever enchants you,
Depicting in his flamboyant verse
The charm of a secret rendezvous,
On a sledge; yet to fight I am somewhat averse,
With him, or with that other minstrel
Of the Finnish maiden, as bright as tinsel.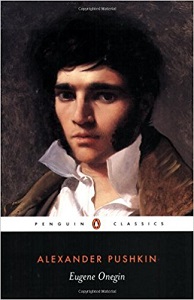 Aleksandr Poesjkin (6 juni 1799- 10 februari 1837)
Cover
De Amerikaanse schrijfster Sarah Dessen werd geboren op 6 juni 1970 in Evanston, Illinois. Zie ook alle tags voor Sarah Dessen nop dit blog.
Uit: Just Listen
"I taped the commercial back in April, before anything had happened, and promptly forgot about it. A few weeks ago, it had started running, and suddenly, I was everywhere. On the rows of screens hanging over the ellipticals at the gym. On the monitor they have at the post office that's supposed to distract you from how long you've been waiting in line. And now here, on the TV in my room, as I sat at the edge of my bed, fingers clenched into my palms, trying to make myself get up and leave. "It's that time of year again...." I stared at myself on the screen as I was five months earlier, looking for any difference, some visible proof of what had happened to me. First, though, I was struck by the sheer oddness of seeing myself without benefit of a mirror or photograph. I had never gotten used to it, even after all this time. "Football games," I watched myself say. I was wearing a baby-blue cheerleader uniform, hair pulled back tight into a ponytail, and clutching a huge megaphone, the kind nobody ever used anymore, emblazoned with a K. "Study hall." Cut to me in a serious plaid skirt and brown cropped sweater, which I remembered feeling itchy and so wrong to be wearing just as it was getting warm, finally. "And, of course, social life." I leaned in, staring at the me on-screen, now outfitted in jeans and a glittery tee and seated on a bench, turning to speak this line while a group of other girls chattered silently behind me. The director, fresh-faced and just out of film school, had explained to me the concept of this, his creation. "The girl who has everything," he'd said, moving his hands in a tight, circular motion, as if that was all it took to encompass something so vast, not to mention vague. Clearly, it meant having a megaphone, some smarts, and a big group of friends. Now, I might have dwelled on the explicit irony of this last one, but the on-screen me was already moving on. "It's all happening this year," I said. Now I was in a pink gown, a sash reading HOMECOMING QUEEN stretched across my midsection as a boy in a tux stepped up beside me, extending his arm. I took it, giving him a wide smile. He was a sophomore at the local university and mostly kept to himself at the shooting, although later, as I was leaving, he'd asked for my number. How had I forgotten that?"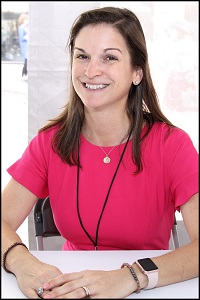 Sarah Dessen (Evanston, 6 juni 1970)
De Franse dichter en schrijver Jean Cayrol werd geboren op 6 juni 1911 in Bordeaux. Zie ook alle tags voor Jean Cayrol op dit blog.
Retour
À feu et à sang
belle fille qui se repent
les oiseaux sont dans le vent
à chercher qui vous attend
À feu et à sang
les villes tendres de la mort
les hauts jardins les fruits les corps
le désastre au premier rang
À feu et à sang
sans qu'on puisse dire une prière
un fleuve qui trouve la barque éphémère
un homme haletant
À feu et à sang
la guerre comme chevreau mort
sur tes épaules et tout ce qui dort
sur la rive d'Avant
À feu et à sang
j'ai de grands vergers qui hantent le soir
j'ai de grands amis qui peuvent me voir
des plaies qui s'en vont
À feu et à sang
la porte n'est jamais fermée
entends-tu au fond de l'année
l'écho, le démon
À feu et à sang
reviens mon enfant
inlassablement.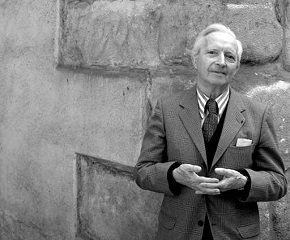 Jean Cayrol (6 juni 1911 – 10 februari 2005)
De Franse dichter en schrijver Pierre Corneille werd geboren in Rouen op 6 juni 1606. Zie ook alle tags voor Pierre Corneille op dit blog.
Uit: Le Cid
« LE COMTE
Je l'avoue entre nous, mon sang un peu trop chaud
S'est trop ému d'un mot, et l'a porté trop haut ;
Mais puisque c'en est fait, le coup est sans remède.
DON ARIAS
Qu'aux volontés du roi ce grand courage cède :
Il y prend grande part, et son cœur irrité
Agira contre vous de pleine autorité.
Aussi vous n'avez point de valable défense :
Le rang de l'offensé, la grandeur de l'offense,
Demandent des devoirs, et des soumissions
Qui passent le commun des satisfactions.
LE COMTE
Le roi peut à son gré disposer de ma vie.
DON ARIAS
De trop d'emportement votre faute est suivie.
Le roi vous aime encore ; apaisez son courroux.
Il a dit : « Je le veux ; » désobéirez-vous ?
LE COMTE
Monsieur, pour conserver tout ce que j'ai d'estime,
Désobéir un peu n'est pas un si grand crime ;
Et quelque grand qu'il soit, mes services présents
Pour le faire abolir sont plus que suffisants.
DON ARIAS
Quoi qu'on fasse d'illustre et de considérable,
Jamais à son sujet un roi n'est redevable.
Vous vous flattez beaucoup, et vous devez savoir
Que qui sert bien son roi ne fait que son devoir.
Vous vous perdrez, Monsieur, sur cette confiance. »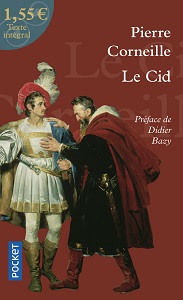 Pierre Corneille (6 juni 1606 – 1 oktober 1684)
Cover
De Nederlandse dichter en vertaler Hendrik van Teylingen werd geboren op 6 juni 1938 in IJmuiden. Zie ook alle tags voor Hendrik van Teylingen op ditt blog.
Antoine
In deze winternacht
is de gracht belegd
met een kruimige vacht
van bierschuim en licht.

Geëerde Stoffeerder,
zend thans uw borduurders.
Stuur uwe woerden
en eenden in horden.

Roep op uit de wakken.
Laat ze haast maken.
Dat al wat kan kwaken
guirlanden trappele

rondom de bijt
waarin Antoine, door de hik
van de wal gewipt,
allengs berijpt.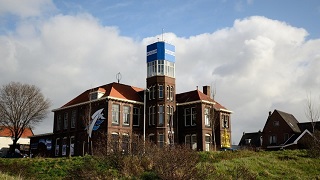 Hendrik van Teylingen (6 juni 1938 – 25 december 1998)
IJmuiden, Het Zee-en Havenmuseum
De Amerikaanse schrijfster V. C. Andrews (eig. Cleo Virginia Andrews) werd geboren in Portsmouth op 6 juni 1923. Zie ook alle tags voor VC Andres en eveneens alle tags voor V. C. Andrews op dit blog.
Uit:Petals on the Wind
"How young we were the day we escaped. How exuberantly alive we should have felt to be freed, at last, from such a grim, lonely and stifling place. How pitifully delighted we should have been to be riding on a bus that rumbled slowly southward. But if we felt joy, we didn't show it. We sat, all three, pale, silent, staring out the windows, very frightened by all we saw.
Free. Was ever a word more wonderful than that one? No, even though the cold and bony hands of death would reach out and drag us back, if God wasn't up there somewhere, or maybe down here on the bus, riding with us and looking out for us. At some time in our life we had to believe in someone.
The hours passed with the miles. Our nerves grew frazzled because the bus stopped often to pick up and let off passengers. It stopped for rest breaks, for breakfast, then to pick up a single huge black lady who stood alone where a dirt road met the concrete interstate. It took her forever to pull herself onto the bus, then lug inside the many bundles she carried with her. Just as she was finally seated, we passed over the state line between Virginia and North Carolina.
Oh! The relief to be gone from that state of our imprisonment! For the first time in years, I began to relax—a little.
We three were the youngest on the bus. Chris was seventeen years old and strikingly handsome with long, waving blond hair that just touched his shoulders, then curled upward. His darkly fringed blue eyes rivaled the color of a summer sky, and he was in personality like a warm sunny day—he put on a brave face despite the bleakness of our situation. His straight and finely shaped nose had just taken on the strength and maturity that promised to make him all that our father had been—the type of man to make every woman's heart flutter when he looked her way, or even when he didn't. His expression was confident; he almost looked happy. If he hadn't looked at Carrie he might have even been happy. But when he saw her sickly, pale face, he frowned and worry darkened his eyes. He began to pluck on the strings of the guitar strapped to his shoulder."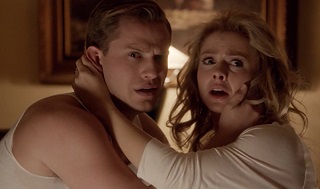 V. C. Andrews (6 juni 1923 – 19 december 1986)
Scene uit de gelijknamige film uit 2014 met Wyatt Nash (Christopher) en Rose McIver (Cathy)
De Nederlandse dichter en publicist Frank Gericke (pseudoniem van Derk Gerhardus Hoek) werd geboren in Hoogvliet op 6 juni 1887. Zie ook alle tags voor Frank Gericke op dit blog.
De naaister
Weken na weken, jaren na jaar, met een duldenden glimlach,
Minzaam, bescheiden en oud, komt zij en zet zich aan 't raam.
Kraaloogend volgde, uit mijn wieg, ik het bezig geheim van heur handen;
Morgen... Wie weet het hoe snel zij ook mijn doodslaken naait?
Wàt verzilvert heur taak, wàt doet haar, van 't deemstren des morgens,
IJvrend tot Helios daalt, 't zonnegoud zaamle' in heur oog?
Dieper dan 't staamrend verstand van den zinnenden dichter, den wijsgeer,
Weet zij hoe de eeuwigheid bloeit, bloeit uit een mensch en zijn taak.
Het renteniertje
Parkwaart stiert hij den tred: hij kiest, onder 't loof der platanen,
'T plekje dat, vroolijk en wijd, uitzicht en lommer hem biedt;
Volgt, met de baby, het meisje, en let hoe de wieletjes glijden; -
Krachtig stort de muziek volkwaart uit schaduw en tent.
Doet, in 't grauw van zijn baard, u zijn blik geen monkellach raden?
Heimelijk loert hij, en lonkt, pinkoogt en monkellacht weêr...
De ure verstilt; de kilte doorhuivert zijn leden... Zoo keert hij
Schoorvoetend weder, en steels pinkt hij uit d' ooghoek een traan.


Frank Gericke (6 juni 1887 − 14 december 1976)
Hoogvliet, kerk
Zie voor nog meer schrijvers van de 6e juni ook mijn blog van 6 juni 2015 deel 2.
06-06-2018 om 18:19 geschreven door Romenu

Tags:Thomas Mann, Aleksandr Poesjkin, Sarah Dessen, Jean Cayrol, Pierre Corneille, Hendrik van Teylingen, V. C. Andrews, Frank Gericke, Romenu


05-06-2018

Dolce far niente, Groen-grijs gebied (Jesse Laport)
Dolce far niente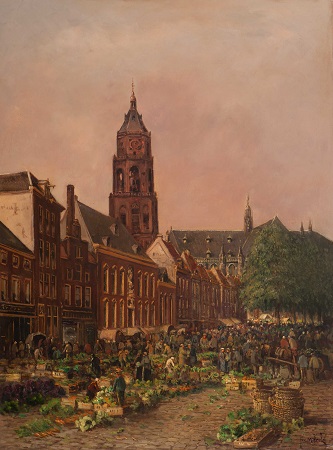 Gezicht op het Kerkplein en de Sint-Eusebiuskerk te Arnhem, z.j.
door Jurriaan Marinus Beek (5 april 1879 - 15 oktober 1965)
Groen-grijs gebied
Geen heuvels; bulten
geen monumenten; panden
geen gesprekken; praatjes
geen gedoe; gedonder;
aan de Rijn maakt niemand alles mooier
maar doet niet van iets of het niets is
aan de Rijn pas je in geen enkel hokje
dan het hokje dat je bouwt
ze kunnen gedichten schrijven
verhalen verzinnen
liederen zingen
video's maken
maar plaatsen kunnen ze ons niet
wie hier woont
pást niet in je plaatje
wie hier wonen
voldoen niet aan stigmata
dit is geen Randstad
geen periferie
dit is de Rijnstad
we zijn een groen, we zijn een grijs gebied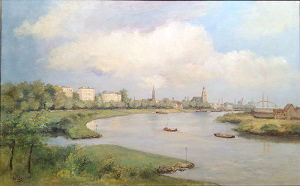 Jesse Laport (Arnhem, 1991)
Arnhem gezien vanaf de Rijn door Abraham van der Zee (1882-1958)
Zie voor de schrijvers van de 5e juni ook mijn vorige blog van vandaag.
05-06-2018 om 19:07 geschreven door Romenu

Tags:Jesse Laport, Dolce far niente, Romenu



Federico García Lorca, Adriaan Morriën, Ken Follett, Paul Farley, Geoff Dyer
De Spaanse dichter en toneelschrijver Federico Garcia Lorca werd geboren op 5 juni 1898 in Fuente Vaqueros, Granada. Zie ook alle tags voor Federico Garcia Lorca op dit blog.
Ballad Of The Moon
The moon came into the forge
in her bustle of flowering nard.
The little boy stares at her, stares.
The boy is staring hard.
In the shaken air
the moon moves her amrs,
and shows lubricious and pure,
her breasts of hard tin.
"Moon, moon, moon, run!
If the gypsies come,
they will use your heart
to make white necklaces and rings."
"Let me dance, my little one.
When the gypsies come,
they'll find you on the anvil
with your lively eyes closed tight.
"Moon, moon, moon, run!
I can feelheir horses come."
"Let me be, my little one,
don't step on me, all starched and white!"
Closer comes the the horseman,
drumming on the plain.
The boy is in the forge;
his eyes are closed.
Through the olive grove
come the gypsies, dream and bronze,
their heads held high,
their hooded eyes.
Oh, how the night owl calls,
calling, calling from its tree!
The moon is climbing through the sky
with the child by the hand.
They are crying in the forge,
all the gypsies, shouting, crying.
The air is veiwing all, views all.
The air is at the viewing.
Vertaald door Will Kirkland
Arbolé, Arbolé
Tree, tree
dry and green.
The girl with the pretty face
is out picking olives.
The wind, playboy of towers,
grabs her around the waist.
Four riders passed by
on Andalusian ponies,
with blue and green jackets
and big, dark capes.
'Come to Cordoba, muchacha.'
The girl won't listen to them.
Three young bullfighters passed,
slender in the waist,
with jackets the color of oranges
and swords of ancient silver.
'Come to Sevilla, muchacha.'
The girl won't listen to them.
When the afternoon had turned
dark brown, with scattered light,
a young man passed by, wearing
roses and myrtle of the moon.
'Come to Granada, inuchacha.'
And the girl won't listen to him.
The girl with the pretty face
keeps on picking olives
with the grey arm of the wind
wrapped around her waist.
Tree, tree
dry and green.
Vertaald door William Logan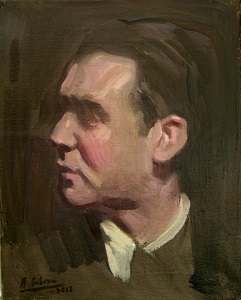 Federico García Lorca (5 juni 1898 – 19 augustus 1936)
Portret door Alejandro Cabeze, 2015
De Nederlandse dichter en schrijver Adriaan Morriën werd geboren op 5 juni 1912 in Amsterdam. Zie ook alle tags voor Adriaan Morriën op dit blog.
Zomerwind
Nog voor zonsondergang valt reeds de wind,
het land wordt diep waarin de boomen zwijgen
en de gedachten ruimte en toekomst krijgen,
voor 't open raam denkt menig moeder aan haar kind.

En in den nacht wordt 't gouden haar ontbonden
en streelen vingers een bemind gelaat;
het spel is oud waarvoor wij namen vonden
zoo zoet dat geen herinnering geheel vergaat.

In vele kamers schijnt de glans der maan
over de lichamen die zich verstrenglen;
de liefde raakt ons in 't voorbijgaan aan,
maakt ons één nacht haar uitverkoren englen.

Wie nu nog rond ziet in de leege straat
hoort hoe het loover nauwlijks leeft en fluistert,
de vogel onder maan en sterren klaagt,
de klimroos maakt het venster zoet en duister.

Straks gloort de morgen boven bosch en weiden,
het landschap waar het vee slaapt in het gras
wordt vochtig van den dauw, de vijver blinkt als glas
waarover schaduwen van wolken glijden.

Als de rivier zich rekt in 't heldre licht
en langs de wegen menschen naar de dagtaak loopen,
begint de wind opnieuw en waait den hemel open,
de boomen ruischen in het vergezicht.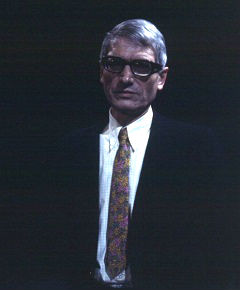 Adriaan Morriën (5 juni 1912 – 7 juni 2002)
De Engelse schrijver Ken Follett werd geboren op 5 juni 1949 in Cardiff, Wales. Zie ook alle tags voor Ken Follett op dit blog.
Uit: Fall of Giants
"22 June 1911
On the day King George V was crowned at Westminster Abbey in London, Billy Williams went down the pit in Aberowen, South Wales.
The twenty-second of June, 1911, was Billy's thirteenth birthday. He was woken by his father. Da's technique for waking people was more effective than it was kind. He patted Billy's cheek, in a regular rhythm, firmly and insistently. Billy was in a deep sleep, and for a second he tried to ignore it, but the patting went on relentlessly. Momentarily he felt angry; but then he remembered that he had to get up, he even wanted to get up, and he opened his eyes and sat upright with a jerk.
"Four o'clock," Da said, then he left the room, his boots banging on the wooden staircase as he went down.
Today Billy would begin his working life by becoming an apprentice collier, as most of the men in town had done at his age. He wished he felt more like a miner. But he was determined not to make a fool of himself. David Crampton had cried on his first day down the pit, and they still called him Dai Crybaby, even though he was twenty-five and the star of the town's rugby team.
It was the day after midsummer, and a bright early light came through the small window. Billy looked at his grandfather, lying beside him. Gramper's eyes were open. He was always awake, whenever Billy got up; he said old people did not sleep much.
Billy got out of bed. He was wearing only his underdrawers. In cold weather he wore his shirt to bed, but Britain was enjoying a hot summer, and the nights were mild. He pulled the pot from under the bed and took off the lid.
There was no change in the size of his penis, which he called his peter. It was still the childish stub it had always been. He had hoped it might have started to grow on the night before his birthday, or perhaps that he might see just one black hair sprouting somewhere near it, but he was disappointed. His best friend, Tommy Griffiths, who had been born on the same day, was different: he had a cracked voice and a dark fuzz on his upper lip, and his peter was like a man's. It was humiliating.
As Billy was using the pot, he looked out of the window. All he could see was the slag heap, a slate-grey mountain of tailings, waste from the coal mine, mostly shale and sandstone. This was how the world appeared on the second day of Creation, Billy thought, before God said: "Let the earth bring forth grass." A gentle breeze wafted fine black dust off the slag on to the rows of houses."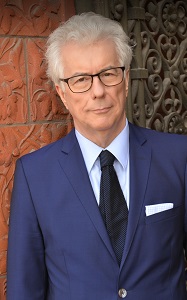 Ken Follett (Cardiff, 5 juni 1949)


De Britse dichter en schrijver Paul Farley werd geboren op 5 juni 1965 in Liverpool. Zie ook alle tags voor Paul Farley op dit blog.
For St Jerome
Guardian of the date-stamp and card catalogue,
keeper of knowledge, and a staff notice-board
pinned with drunks and men who lick the atlases,
go with me while I Tipp-Ex-out the bogies
and spray Glade in the newspaper section.
Curmudgeon, teach me how to smile while fining
the sinners who have lately been in hospital,
who were struck dumb by lightning, or forgot.
Teach me to bear their crumbs and bookmarks
with the fortitude for which you are not famous:
the bus tickets, postcards, rashers of bacon
and once - give me strength - a knotted condom.
Gatekeeper, watch over books on loan;
their months of purgatory spent in bath steam
or under beds. Watch over those abandoned
on bus seats or park benches. Heal the torn.
Take them back from houses with the measles.
Inform Environmental Health at once.
And teach me to work with an abrupt demeanour,
And the martyrdom of the index, which was yours;
to speak out in the silence of your feast day
whose widespread celebration is long overdue.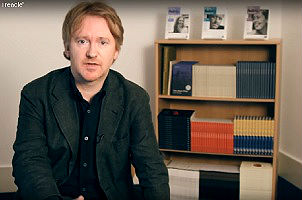 Paul Farley (Liverpool,. 5 juni 1965)
De Engelse schrijver Geoff Dyer werd op geboren 5 juni 1958 in Cheltenham. Zie ook alle tags voor Geoff Dyer op dit blog.
Uit: Jeff in Venice, Death in Varanasi
"On top of that he was supposed to make sure - at the very least - that she agreed to grant Kulchur exclusive rights to reproduce a drawing Morison had made of her, a drawing never previously published, and not even seen by anyone at Kulchur, but which, due to the fear that a rival publication might get hold of it, had acquired the status of a rare and valuable artefact. The value of any individual part of this arrangement was irrelevant. What mattered was that in marketing and publicity terms (or, from an editorial point of view, circulation and advertising) the planets were all in alignment. He had to interview her, had to come away with the picture and the right to reproduce it. Christ Almighty ... A woman pushing an all-terrain pram glanced quickly at him and looked away even more quickly. He must have been doing that thing, not talking aloud to himself but forming words with his mouth, unconsciously lip-synching the torrent of grievances that tumbled constantly through his head. He held his mouth firmly shut. He had to stop doing that. Of all the things he had to stop doing or start doing, that was right at the top of the list. But how do you stop doing something when you are completely unaware that you're doing it? Charlotte was the one who pointed it out to him, when they were still together, but he'd probably been doing it for years before that. Towards the end that's how she would refer to this habit of muted karaoke. 'That thing,' she would say. 'You're doing that thing again.' At first it had been a joke between them. Then, like everything else in a marriage, it stopped being a joke and became a bone of contention, an issue, a source of resentment, one of the many things that rendered life on Planet Jeff - as she termed the uninhabitable wasteland of their marriage - intolerable. What she never understood, he claimed, was that life on Planet Jeff was intolerable for him too, more so, in fact, than for anyone else. That, she claimed, was precisely her point."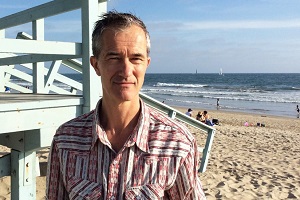 Geoff Dyer (Cheltenham, 5 juni 1958)
Zie voor nog meer schrijvers van de 5e juni ook mijn blog van 5 juni 2017 deel 1 en eveneens deel 2.
05-06-2018 om 19:06 geschreven door Romenu

Tags:Federico García Lorca, Adriaan Morriën, Ken Follett, Paul Farley, Geoff Dyer, Romenu


04-06-2018

Ralf Thenior, Marie Ndiaye, Erasmus Schöfer, Buddy Wakefield, Yaak Karsunke, Charles Dickinson, Dana Bönisch, Elizabeth Jolley, Apollon Maykov
De Duitse dichter en schrijver Ralf Thenior werd geboren op 4 juni 1945 in Bad Kudowa. Zie ook alle tags voor Ralf Thenior op dit blog.
Uit: Das Gelächter der Sterne
"Wenn der Abend fällt, leeren sich die Strände; die Badegäste begeben sich in ihre Wohnungen, Zimmer und Appartements und bereiten sich auf das Nachtleben vor. Hochgewachsene Frauen mit tragischen Mienen schreiten in den Fußgängerzonen auf und ab, während aus den Lautsprechern leise Jacques Brels Ne me quitte pas erklingt, und durch die Fensterscheiben der Restaurants sieht man – wie in einem Aquarium – Menschen, die ihre Münder öffnen und schließen und mit kleinen silbernen Zangen Hummerscheren knacken.
Es war zweiundzwanzig Uhr siebenunddreißig. Claire und Albert tauchten in das Neongeflacker der Lange Straat ein.
– Wo ist meine Sonnenbrille?
Claire nahm ihre Brille ab und verstaute sie in ihrer Handtasche.
– Was siehst du ohne Brille?
– Die Leuchtreklamen an den Fassaden nur als undeutliche Lichtreflexe und die Gesichter der Passanten sind bis auf zwei Meter milchige Schemen, aber deine Nasenspitze sehe ich gestochen scharf.
Claire stupste mit der Faust seine Nase. Albert lachte.
Ohne sich anzufassen, aber auf Tuchfühlung, gingen sie schweigend weiter und überließen sich dem Rhythmus ihrer Schritte.
Sie konnten es beide kaum fassen; es war Donnerstagabend, schon Donnerstagabend, erst Donnerstagabend, und sie gingen zusammen durch die Lange Straat, mit vollen Augen und leerem Magen.
Claire ließ sich durch ein Neonschriftenspalier treiben, das für sie Ornamentbänder aus sich verwischenden, sich vermischenden farbigen Bogen und Linien bildete, die im Pulsschlag der Straße zuckten.
Albert konnte sich nicht losreißen von den Worten, die ihm von allen Seiten entgegenkamen; Wortkörper aus Glas, Plastik, Eisen, Messing, Blech, Holz und Farbe, Worte mit Pappnasen, die ihm zuzwinkerten, Worte mit ausgestopften Bäuchen, falschen Schnurrbärten, Buckeln, Rucksäcken, Perücken ausgeschlagenen Zähnen und blauen Augen
LUUNNAAPPAARRKK …
– Und dann diese riesige schwarze Wolke, die aussah wie ein Seeungeheuer.
– Wann war das? In Irland?
– In meinem Traum. Ariane hat ein Medium gekannt, das mit dem Geist von Jules Verne Kontakt aufgenommen hat."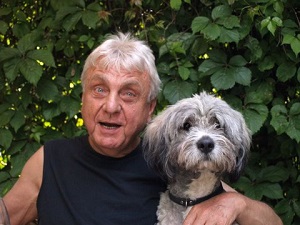 Ralf Thenior (Bad Kudowa, 4 juni 1945)
De Franse schrijfster Marie Ndiaye werd geboren op 4 juni 1967 in Pithiviers. Zie ook alle tags voor Marie Ndiaye op dit blog.
Uit: Ladivine (Vertaald door Jordan Stump)
« She was Malinka again the moment she got on the train, and she found it neither a pleasure nor a burden, having long since stopped noticing.
But it happened, she could tell, for no more could she answer without a second thought to "Clarisse" when, rarely, someone she knew took that same train and called to or greeted her as "Clarisse," only to see her stare back in puzzled surprise, a hesitant smile on her lips, creating a mutual discomfort that the slightly flustered Clarisse never thought to dispel by simply echoing that "Hello," that "How are you," as offhandedly as she could.
It was this, her inability to answer to Clarisse, that told her she was Malinka the moment she got on the train to Bordeaux.
Had that been the name she was hailed by, she knew, she would immediately turn her head—­had someone spotted her face or recognized from afar her slender form, her always slightly unsteady walk, and called out: "Hey there, Malinka, hello."Which couldn't possibly happen—­but was she sure?
There was a time, now long gone, when, in another city, another part of France, girls and boys called her Malinka because they knew her by no other name, and she had yet to invent one.
It was not out of the question that a woman her age might one day accost her and ask in delighted surprise if she wasn't that Malinka from her past, from that school and that city whose name and look she, Clarisse, had forgotten.
And a smile would come to Clarisse's lips, not hesitant but bold and assured, and she would be neither puzzled nor surprised, though she would most certainly not recognize that woman who claimed to have known her when she was Malinka."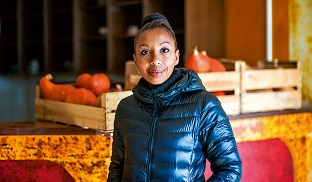 Marie Ndiaye (Pithiviers, 4 juni 1967)
De Duitse schrijver Erasmus Schöfer werd geboren op 4 juni 1931 in Altlandsberg bij Berlijn. Zie ook alle tags voor Erasmus Schöfer op dit blog.
Uit: Unsichtbar lächelnd träumt er Befreiung
"Aber er hats gewusst, natürlich hat ers gewusst dass sie uns Reisholzer kaputt machen wolln, egal ob wir den besten Stahl in Deutschland schmieden, nur um aus Montan rauszukommen, kein Sterbenswort davon hat er uns wissen lassen, damit wir schön brav produzieren bis zur letzten Tonne und keinen Stunk machen und er, ihr werdets erleben, in der nächsten Regierung Arbeitsminister wird, egalb ob bei Schmidt oder Strauss, oder vielleicht wie der Leber Verteidigungsminister und die ganze IG Metall wird jubeln Einer von uns im Kabinett! Kein Wort mehr von Gegenmacht! Das ist die Konzertierte Aktion über die Hintertreppe meine Herrn, deshalb scheiß ich auf ihre Mitbestimmung, egal ob Montan oder nicht, mit der sie uns eingeseift haben, und ein ganzer stolzer betriebsrat, 14 Mann und eine Frau, nickts ab wenn ihm der Vorsitzende weggeschossen wird! Hab ich mir denn meine Bude renovieren lassen auf betriebskosten wie der Feckler von F&G? Hab ich unsre Ellie vernascht? Hab ich Lustreisen nach Brasilien gemacht mit Mannesmannknete wie der Loderer? Hab ich das? Wie?"
Anklam packte Willi mit beiden Fäusten an der Jacke, rüttelte ihn: Hab ich das? Oder was gibts noch im Angebot der Einkäufer? He Manni mach kein Scheiß jetzt. Frank und Jupp und ich haben gegen deine Entlassung gestimmt. Hans Wiedemann hielt ihm sein Glas unter die Nase dass er Willi loslassen musste: Weil du das Gegenteil von all dem gemacht hast, Herrgott weil du ihnen ihre Schweinerein versalzen hast, deshalb haben sie dich gefeuert! Das weißt dugenau. Und es gibt einen Haufen Kollegen bei uns die wissen das auch. Aber jetzt redst dun Haufen Schnapszeug und außerdem mussich —So! Schnapszeug nennst du das! Wenn ich mal die Wahrheit sag! Bist auch schon eingekauft wie? Mensch Manni siehst du noch klar? Das ist der Hans! Ja der Hans! Hans bist du mein Freund? Besorgst du mir eine Knarre? Weißt du wo der Overbeck der Obergauner wohnt? Wiedemann blickte zum Wirt: Heinz ruf uns ein Taxi! Taxi? Wozu das denn? Mein Fahrrad steht draußen! Klar Manni. Aber bis zu Overbeck isses zu weit. Komm, wir fahrn zusammen! Wiedemann zahlte ihren Deckel. Sie nahmen Anklam rechts und links unter die Arme, zogen ihn auf die Straße. Das Taxi war gleich da. Der braunhäutige Fahrer schaute misstrauisch auf den Betrunknen: Kotzt der mir in Wagen? Fahr langsam Mustafa, dann kotzt er nicht. Sind nur fünfhundert Meter. Ihr zahlen mir Reinigung! Sie verstauten Anklam auf dem Rücksitz, setzten sich neben ihn. Zerrten den Fluchenden raus vor seinem Haus und in den Fahrstuhl, holten ihm den Schlüssel aus der Tasche, schubsten ihn aufs Bett. Hast du ne Aspirin im Haus? fragte Willi als er ihm die Schuh auszog."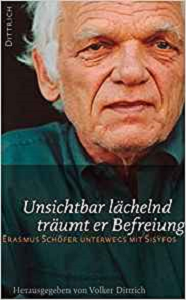 Erasmus Schöfer (Altlandsberg, 4 juni 1931)
Cover
De Amerikaanse (slam) dichter Buddy Wakefield werd geboren op 4 juni 1974 in Shreveport, Louisiana. Zie ook alle tags voor Buddy Wakefield op dit blog.
A Hole In God
you appeared like a body bag
fulla hymnal books
unzipped in half I
never saw so many door jams fall
outta anyone's mouth
into math like that when
Tennessee put its crooked smile
on a wadded up map
and sent you packin'
west
wood
gospel gospel got god
stuck to the rock he made and
and he mighta made it larger than us
or it mighta served to save this place
sure I coulda swore I heard you calling
for a shot at a grip on vice
doesn't mean your mouth was moving
doesn't mean I even heard you right
all I know is that your skin keeps calling
and I don't care if it's a busted flint
'cause every time you pull your thumb down on it
I get [up up] back up to my feet
again
all of them
move move
like an offering plate
on'm one by one
it's a penchant for a savior
a tendency to over – run
whatever shook do not get shook up
whatever's lost you don't get lost
even if they say you must give more than
everything you ever offered up
I know a voice does not come easy
I know the words fell out in bites
I know the moment when the
abandonment looked a lot like flight
you pulled whatever got left
inside
out right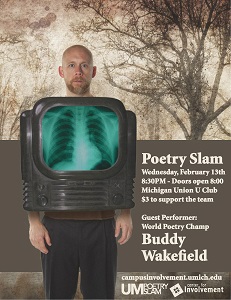 Buddy Wakefield (Shreveport, 4 juni 1974)
Affiche
De Duitse dichter en schrijver Yaak Karsunke werd geboren op 4 juni 1934 in Berlijn. Zie ook alle tags voor Yaak Karsunke op dit blog.
Der Schakal
Der Schakal, der Schakal
ist viel kleiner als ein Wal
doch er sieht viel größer aus
als beispielsweise eine Maus.
Dem Schakal, dem Schakal
ist das allerdings egal
denn er liebt die Mittelgröße
& dazu Kartoffelklöße.


Das Zebra
Eins wird das Zebra nie begreifen:
Wie kommt man übern Zebrastreifen?
Es bleibt am Straßenrande stehn
& ist dort stundenlang zu sehn –
bis sein Anblick jemand rührt
ders dann übern Fahrdamm führt.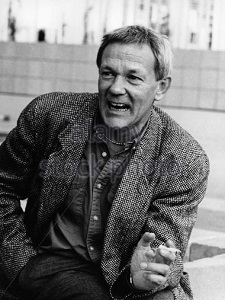 Yaak Karsunke (Berlijn, 4 juni 1934)

De Amerikaanse schrijver Charles Dickinson werd geboren op 4 juni 1951 in Detroit, Michigan. Zie ook alle tags voor Charles Dickinson op dit blog.
Uit: Shortcut in Time
"The police interviewed me just once, in our house at 1112 East Collier Street.
"The latch was held shut with a ballpoint pen," I insisted.
The cop held up the pen he was using to take notes. "Like this?"
"It was blue."
"You're sure?"
"Yes."
"Where is it then?"
"I had it and dropped it. Did you check the bottom of the pool?"
"We followed the drain all the way out to the street."
"It had gold writing on it."
"What did the writing say?"
"I don't know."
The incident was ruled an accident, the tragic consequence of two young men just goofing around. Nobody listened when I said that Kurt never goofed around.
* * *
Flo Garner stopped me in the hall on the first day of school.
"How's your brother?" she asked.
I shrugged. "Not great. My dad's already started complaining about the hospital bills."
"Can I ask you something?"
"Sure."
"Did you bring Kurt up first because he was your brother?"
"No. He was on top."
She touched my arm. I thought she was going to thank me for at least trying.
"I wish I could believe that," she said."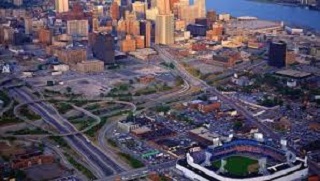 Charles Dickinson (Detroit, 4 juni 1951)
Detroit, Michigan
De Duitse schrijfster Dana Bönisch werd geboren op 4 juni 1982 in Frechen. Zie ook alle tags voor Dana Bönisch op dit blog.
Uit: Rocktage
"Er hoffte, sich sein Leben nicht einzubilden. In der U-Bahn hatte er aus Testgründen mal laut gesungen, aber niemand hatte wirklich hingesehen oder ihn angelacht oder Ähnliches. Sie saßen alle da wie vorher. All dies gab zu denken. Möglicherweise träumte er nur. Er konnte die Leute verstehen, die sich die Arme aufritzten, um zu spüren, dass sie da waren. Aber er selbst hatte viel zu viel Angst vor seinem eigenen Blut. Am Tag seines Rauswurfs fuhr Puck genauso still und tot U-Bahn wie die anderen auch. Es war eben einfacher. Allerdings saß an diesem Tag auch Johann Wolfgang neben ihm, der vor sich hin flüsterte: »Was zieht mir das Herz so? Was zieht mich hinaus?« Und Puck fühlte tatsächlich Ähnliches. Eine undefinierte Sehnsucht, vielleicht nach etwas, was er mal gekannt und dann verloren, oder nach etwas, was er nie gekannt und immer gesucht hatte. Schließlich stieg er an der Universitätsstraße aus und kaufte sich eine Brezel, und mit der Brezel im Mund rief er Mo an und bestellte sich Gras. Mo erwartete ihn dann schon am Weiher, saß auf den Steinen am Ufer und fütterte Enten. In einer H&M-Tüte hatte er altes Brot mitgebracht. Und blitzbildartig erinnerte sich Puck an anderes altes Brot, in einer Zeit, die ihm vorkam wie ein anderes Leben, Brot in einer Kaufring-Tüte, und an Regen, der sich in den Sommertag mischt. »Alter«, sagte Mo. »Alter«, sagte Puck. Er setzte sich neben ihn auf den kalten Stein. Später gingen sie im Biergarten noch was trinken, denn Mo hoffte, die Rothaarige aus der Meteorologie-Vorlesung wiederzusehen, die angeblich fast jeden Tag um diese Zeit hierherkam. Nach zwei Bier und einer Stunde wurde es jedoch langsam kalt für T-Shirt-Leute, und Mos Handy quäkte wegen wichtiger Geschäfte, und beide, Mo und Puck, gingen wieder ihrer Wege. »Alter«, sagte Puck. »Alter«, sagte Mo. Und verschwand Richtung U-Bahn, während Puck den Uni-Trampelpfad einschlug. Er mochte die Luft an Früh-Frühlingstagen, abends wenn schon ein paar Lichter brannten, hier eins, da eins, und wenn es plötzlich dämmrig geworden war, ohne dass man es bemerkt hatte, weil man sich unterhalten oder nachgedacht oder vom Gesicht eines Mädchens im folgenden Sommer geträumt hatte."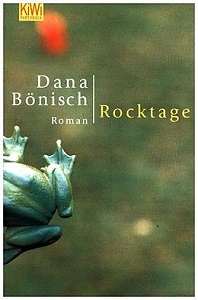 Dana Bönisch (Frechen, 4 juni 1982)
Cover
De Australische schrijfster Elizabeth Jolley werd geboren op 4 juni 1923 in Birmingham, Engeland. Zie ook alle tags voor Elizabeth Jolley op dit blog.
Uit: The Sugar Mother
"The Old Country!" Buffy said. They were still standing but would have risen if they had been sitting down.
"To Home. Here's to Home. Down the hatch. The Old Country!"
"The Queen!" Buffy was inspired. "God bless the Queen."
"I'll drink to that," Tuppy said. "God bless the Queen." Edwin, in silence, drank his share. With toasts it was impossible not to. In a minute, he thought, he would slip out and fetch Leila from the very awkward position she was in. A stranger in the yard, yet familiar. He looked at his guests. They were very good-looking and very good-hearted people. They would never knowingly hurt anyone, but Leila would be frightened of them. They were toasting their old regiments now. It seemed inconceivable that he belonged with these people. He never spoke or thought of England as the Old Country. He never thought of it as Home as they apparently, after many years, did. He believed this was described as a migration syndrome; he had heard the phrase. What was home anyway other than a place you lived in and came back to every night?
"Leila dear," Leila's mother said, "we shall be running out of knickers. Remind me, dear, to do some washing tonight when we come home. Now, have we got everything? Got the tickets? Yes? Slam the door then, dear. We'll wait by the gate for our taxi. He should be here any minute now."
The two women negotiated, in single file, the red-slabbed path between wet lavender and rosemary bushes. In the misty, sweet-smelling dusk they stood close together, easing their feet, lifting one and then the other, their best shoes pinching rather. Leila's mother, feeling the weight and the expense of her coat, said in a low voice, nudging her daughter with her thick shoulder, "You know, dear, I am certain that the people next door have separate bedrooms."
"There's only one light on now," Leila said, turning with a ponderous movement to peer through thick leaves.
"It isn't bedtime yet," Leila's mother said, "and I have the feeling that she has gone away. I'm pretty certain. I saw him wave to her from the edge of the veranda. Last evening, dear, last night she left."
"She goes every day and he always waves," Leila said. "She goes to work. I think she goes in the night too sometimes."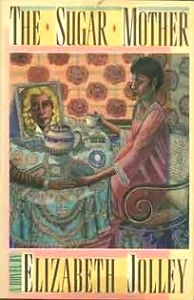 Elizabeth Jolley (4 juni 1923 – 13 februari 2007)
Cover
De Russische dichter Apollon Nikolayevich Maykov werd geboren op 4 juni 1821 in Moskou. Zie ook alle tags voor Apollon Maykov op dit blog.
The Aeolian Harp
The land lies parched in sun,- to heaven the air is still,
Hushed now upon the harp the golden strings' lost thrill;
Aeolian harps our native singers are,- and numb
Must be their heart, their dying life blood cease to flow,
Forever silent be their voice, if longer dumb
Their breath be suffocated in this sultry glow!
O if a Genius on tempest-pinions winging,
Stormed through our native land,- Spirit with freedom rife!
How jubilant would our Aeolian harps be ringing
To greet the Godly power that promises new life!
Mother And Child
'Mother, why weepest thou ever
For my little sister fair?
She is now in heaven's kingdom-
Ah, it must be wondrous there!'
'Yes, she is in heaven's glory,
But in heaven's own land, alas!
There are no butterflies nor flowers-
Nor meadows of velvet grass!'
'But mother, God's blessed angels
There, rejoicing sing to Him!'
Forth from the sunset's rosy fires
Now cometh the midnight dim.
Ah, the mother wants her baby-
That she watched from the window wide,
When 'mid butterflies and blossoms
She played in the meadow's pride!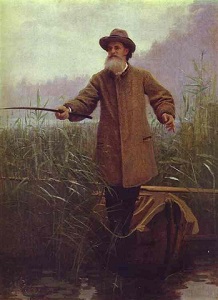 Apollon Maykov (4 juni 1821 – 20 maart 1897)
Portret van een vissende Maykov door Ivan Kramskoy, 1883
Zie voor nog meer schrijvers van de 4e juni ook mijn blog van 4 juni 2017 deel 2.
04-06-2018 om 18:25 geschreven door Romenu

Tags:Ralf Thenior, Marie Ndiaye, Erasmus Schöfer, Buddy Wakefield, Yaak Karsunke, Charles Dickinson, Dana Bönisch, Elizabeth Jolley, Apollon Maykov, Romenu


03-06-2018

Het laatste avondmaal (Nicolaas Beets)
Bij de tweede zondag na Pinksteren (Feest van het H. Sacrament)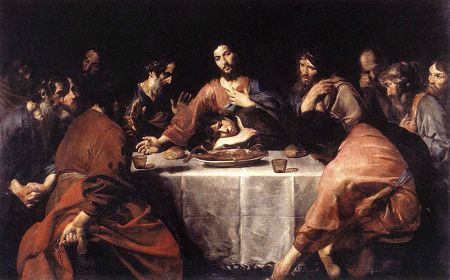 Laatste Avondmaal door Valentin de Boulogne, ca. 1625
Het laatste avondmaal
Mark. XIV v. 22-24.

Toen hij zijn bijzijn was ontvloden,
Wien Jezus, in den laatsten nacht,
De bittre bete had geboden.
Die al zijn bloed aan 't gisten bracht;
Toen Judas, om, naar 't woord des Heeren,
Met haast te doen hetgeen hij deed,
Zijn heilig aangezicht vermeed,
Om met dien kus terug te keeren!

Toen de ijslijke ure was gekomen,
Waarin de kampstrijd aan zou gaan,
Werd op zijn wezen niets vernomen.
Dat angst of droef heid kon verraân;
Hij zag in wat Hij zou beginnen,
In ieder foltring Hem bereid,
Al zijn aanstaande heerlijkheid,
En in zijn strijden 't overwinnen.

Nog eens tot de Elve dan gesproken,
Van liefde en eendracht, moed en trouw!
Toen heeft Hij plechtig 't brood gebroken,
Daar elk van hen van eten zou.
Toen heeft Hij, aan dien heilgen dissche,
Den laatsten beker om doen gaan,
Zoo als 't nog heden wordt gedaan,
Ter maaltijd der gedachtenisse.

O Beeldspraak van de felste smart:
Gebroken brood, vergoten wijn!
Moet gij voor mijn geloovig harte
Van 's Heilands dood de teeknen zijn!
Gewis; zijn lichaam werd verbroken,
Om mij te redden van 't verderf,
Zijn hand doorgriefd, zijn zij' doorstoken,
Opdat ik Gods gena verwerf.

Als ik 't gebroken brood dan ete,
En proeve den vergoten wijn,
Mijn Heiland! dat ik nooit vergete
Hoe veel en groot mijn zonden zijn!
Opdat ik voor mijzelf mij schame,
Maar, overtuigd van Gods gena,
Van uw gewijde tafel ga,
Op nieuw versterkt in uwen name.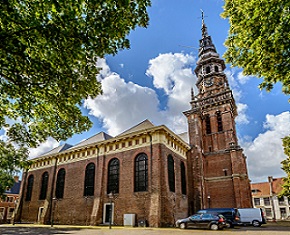 Nicolaas Beets (13 september 1814 – 13 maart 1903)
De Nieuwe Kerk in Haarlem, de geboortestad van Nicolaas Beets
Zie voor de schrijvers van de 3e juni ook mijn vorige twee blogs van vandaag.
03-06-2018 om 10:14 geschreven door Romenu

Tags:Nicolaas Beets. Pinksteren, Romenu



Allen Ginsberg, Philippe Djian, Maarten van Buuren, Solomonica de Winter, Monika Maron, Larry McMurtry, Norbert Gstrein, Wolfgang Cordan, Gerhard Zwerenz
De Amerikaanse dichter Irwin Allen Ginsberg werd geboren in Newark, New Jersey, op 3 juni 1926. Zie ook alle tags voor Allen Ginsberg op dit blog
Uit: Howl (Fragment)
"...who sang out of their windows in despair, fell out of the subway window, jumped in the filthy Passaic, leaped on negroes, cried all over the street, danced on broken wineglasses barefoot smashed phonograph records of nostalgic European 1930s German jazz finished the whiskey and threw up groaning into the bloody toilet, moans in their ears and the blast of colossal steamwhistles, who barreled down the highways of the past journeying to each other's hotrod-Golgotha jail-solitude watch or Birmingham jazz incarnation, who drove crosscountry seventytwo hours to find out if I had a vision or you had a vision or he had a vision to find out Eternity, who journeyed to Denver, who died in Denver, who came back to Denver & waited in vain, who watched over Denver & brooded & loned in Denver and finally went away to find out the Time, & now Denver is lonesome for her heroes, who fell on their knees in hopeless cathedrals praying for each other's salvation and light and breasts, until the soul illuminated its hair for a second, who crashed through their minds in jail waiting for impossible criminals with golden heads and the charm of reality in their hearts who sang sweet blues to Alcatraz, who retired to Mexico to cultivate a habit, or Rocky Mount to tender Buddha or Tangiers to boys or Southern Pacific to the black locomotive or Harvard to Narcissus to Woodlawn to the daisychain or grave, who demanded sanity trials accusing the radio of hypnotism & were left with their insanity & their hands & a hung jury, who threw potato salad at CCNY lecturers on Dadaism and subsequently presented themselves on the granite steps of the madhouse with shaven heads and harlequin speech of suicide, demanding instantaneous lobotomy, and who were given instead the concrete void of insulin Metrazol electricity hydrotherapy psychotherapy occupational therapy pingpong & amnesia, who in humorless protest overturned only one symbolic pingpong table, resting briefly in catatonia, returning years later truly bald except for a wig of blood, and tears and fingers, to the visible madman doom of the wards of the madtowns of the East, Pilgrim State's Rockland's and Greystone's foetid halls, bickering with the echoes of the soul, rocking and rolling in the midnight solitude-bench dolmen-realms of love, dream of life a nightmare, bodies turned to stone as heavy as the moon, with mother finally ******,"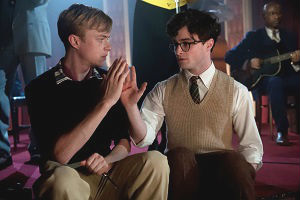 Allen Ginsberg (3 juni 1926 – 6 april 1997)
Dane DeHaan als Lucien Carr en Daniel Radcliffe als Allen Ginsberg in de film "Kill Your Darlings" uit 2013
De Franse schrijver Philippe Djian werd geboren in Parijs op 3 juni 1949. Zie ook alle tags voor Phiippe Dijan op dit blog.
Uit: Marlène
"Sourcils
Nath s'était mise sur son trente et un. Dan l'avait rendue un peu nerveuse avec ses avertissements mais elle n'avait pas la moindre intention d'en tenir compte. Elle jeta un coup d'oeil à sa montre. Elle se sentait fébrile. Appréhension, culpabilité, excitation. Tout le fichu bazar. Elle se servit un verre et tâcha de rester tranquillement assise en attendant l'heure. Au fond, elle se demandait comment elles avaient pu vivre ensemble jusque-là, par quel tour de force, par quel sombre miracle. Traiter sa mère de putain. Et avec quel aplomb, quel mépris. De qui sa fille tenait-elle, doux Jésus.
Elle se secoua, se pinça les joues pour les rosir, puis elle sauta dans un taxi. Alors qu'elle n'avait même pas couché avec ce type. Non qu'elle n'en ait pas eu envie, mais le fait était là. Elle n'était pas une putain. Elle était juste une femme seule. Et ça la rendait juste à moitié folle par moments. Mais ça, Mona s'en fichait bien sûr. Il n'avait pas compris qu'elle était mariée. Il fronça les sourcils. Il avait l'air gentil, pas très malin. Mon mari travaille sur une plate-forme pétrolière, lui dit-elle. On ne se voit pas beaucoup. Elle haussa les épaules. Parlons d'autre chose, fit-elle en souriant. Il était dans les assurances. Okay, dit-elle, oublions ça, allons plutôt danser. Il se dressa sur un coude et fronça de nouveau les sourcils lorsqu'elle se rhabilla. Il était jeune. Elle pensa que la fille qu'il épouserait un jour aurait une vie toute simple.
Présence
Dan mettait son réveil à quatre heures du matin mais il se réveillait toujours plus tôt et entamait sa séance de gymnastique en écoutant la radio, puis il allait courir quelques kilomètres sans varier d'itinéraire, tenant le compte de ses foulées. Après quoi, la journée pouvait commencer. Il pouvait s'attaquer au ménage. Son incapacité à dormir plus de quelques heures par nuit n'était plus un souci pour lui. Il en avait d'autres. Dès qu'il avait ouvert les yeux, cette fois, et tendu l'oreille dans l'obscurité, son réflexe habituel, il avait aussitôt senti la différence."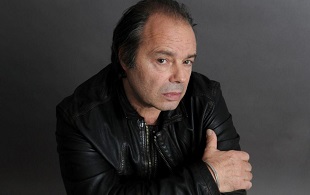 Philippe Djian (Parijs, 3 juni 1949)
De Nederlandse schrijver en letterkundige Maarten van Buuren werd geboren op 3 juni 1948 in Maassluis. Zie ook alle tags voor Maarten van Buuren op dit blog.
Uit: Rijdt het paard van Sinterklaas nog wel over het dak?
"Kolenkachels verwarmden ons ouderlijk huis in de Dutoitstraat van Maassluis. In de voorkamer stond de Becking en Bongers, een kleine, gedrongen, zwart gemoffelde gietijzeren kachel met een gebogen voorkant en bovenkant. De vorm kwam overeen met de helm van een monsterachtig grote ridder. Op ooghoogte zat het vizier: een gebogen deurtje met drie of vier micaraampjes. Daar onder, op neushoogte, een smaller deurtje met kleinere micaraampjes en daaronder, als een mond- of kaakstuk, een laatste lange smalle deur zonder raampje. Aan de bovenkant zat een klep die je kon openen door het gebogen uiteinde van een haak door het oog aan de bovenkant van de klep te steken en de klep naar je toe te trekken. Deze klep diende om de kachel bij te vullen, dat wil zeggen dat vader of moeder de kolenkit met behulp van de twee handgrepen zover omkeerden boven de opening dat antraciet in kleine hoeveelheden op het vuur kon worden geschud. De grote deur (het vizier) werd alleen geopend om met de pook de antraciet gelijk te verdelen over de stookplaat, of het vuur op te rakelen. Het deurtje daaronder toonde, indien geopend, de stookplaat. Dat was een dubbel gietijzeren rooster. Aan de voorkant van het bovenste rooster zat een uitstulping met een oog. Als je (dat wil zeggen vader of moeder, wij kinderen mochten niet aan de kachel komen) een haak stak door dat oog, en het rooster stevig van links naar rechts schudde, viel de as die zich erop verzameld had, door de reten van beide roosters in de asbak daaronder. Het benedenste deurtje tenslotte diende om de asla te verwijderen.
In de achterkamer, die van de voorkamer gescheiden was door tussendeuren, stond de Lentmoyen: een hoge smalle kachel, eigenlijk een vierkanten gietijzeren buis op vier korte naar buiten staande poten. Deze kachel werkte in principe op dezelfde manier als de voorkamerkachel, alleen bevond de stookplaat zich iets hoger en was de kachel aan de bovenkant plat. Als je de klep die, in tegenstelling tot de bijna verticale klep van de voorkamerkachel horizontaal was, opende zodat hij in achterovergeleunde stand bleef staan, werd daaronder een gietijzeren plaat zichtbaar waaruit met de haak zoveel concentrische ringen konden worden genomen als nodig was in verband met de grootte van de pan die je boven het vuur wilde verwarmen."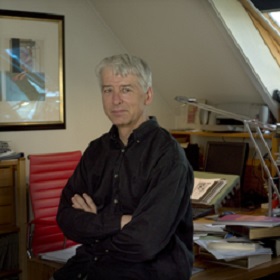 Maarten van Buuren (Maassluis, 3 juni 1948)
De Nederlandse schrijfster Solomonica de Winter werd geboren op 3 juni 1997 in Bloemendaal. Zie ook alle tags voor Solomonica de Winter op dit blog.
Uit: Die Geschichte von Blue (Vertaald door Anna-Nina Kroll)
"Und ich hasse es, andere Seelen zu spüren; ich hasse es, weil ich mich erst mal um meine eigene Seele kümmern muss.
»Ich hab dich tausendmal gerufen. Jetzt haben wir schon wieder Rot! Ich hab keine Lust mehr, diese Koffer durch die Gegend zu schleppen. Sobald wir im Hotel sind, kannst du machen, was du willst.«
Daisy hatte strähniges und meist ungewaschenes Haar. Ihre Wangen waren eingefallen und die Augen sehr groß und glasig. Sie sah mindestens zehn Jahre älter aus, als sie in Wirklichkeit war, und wie das komplette Gegenteil von mir. Ich selbst habe langes, dunkles Haar.
Meine Augen sind wie die einer Krähe, ich kann ganze Räume und Plätze auf einmal überblicken. Ich war die Tochter, von der Daisy sich wünschte, sie wäre nie geboren worden. Ich war der Schorf auf ihrem Knie, der hätte abheilen können, wenn sie nur aufgehört hätte, immer wieder daran herumzufummeln, bis das Blut kam.
Ich lebte mit Daisy, meinem Buch und der Vorstellung im Hinterkopf, die Welt wäre gut, ja, Blue, die Welt ist gut. Aber es ist schwer, Hoffnung zu finden, wenn sie sich schon so viele Male versteckt hat.
Wir gingen weiter. Noch mehr verlassene Gebäude, viel mehr als früher, bevor wir von hier weggegangen waren. Daisy ging schnell und zog mich am Handgelenk mit. Ich erkannte Geschäfte und Bänke und bestimmte Bäume und Straßenlaternen. Weil ich alles sehen kann.
Ich spreche eigentlich nicht darüber. Es ist mein Geheimnis. Aber da Sie mein Arzt sind, bin ich wohl dazu verpflichtet, Ihnen meine Geheimnisse zu verraten. Ich werde Sie Ihnen nicht alle verraten. Aber genug, damit Sie sich wundern.
Zum Beispiel, dass ich im Dunkeln und wie ein Blinder mit geschlossenen Augen sehen kann. Ich kann durch alles hindurchsehen. Ich kann durch Menschen und durch Augen, durch den Himmel und durch Köpfe sehen. Ich weiß, wer Gott ist. Ich habe ihn gesehen. Ich weiß, wer Satan ist. Ihn habe ich auch gesehen. Beide boten mir Tee an. Glauben Sie nicht, ich wäre verrückt! Das bin ich nicht. Ich kann beweisen, dass ich sie gesehen habe. Satan fragte mich nämlich, ob ich Zucker wolle.
Warum sollte ich so was erfinden, hm? Warum? Gott fragte mich jedenfalls nicht nach Zucker und Milch. Er gab mir einfach eine Tasse Tee, und das war's."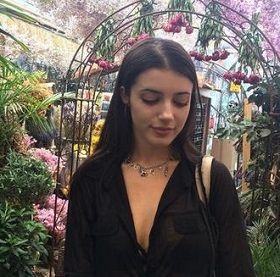 Solomonica de Winter (Bloemendaal, 3 juni 1997)
De Duitse schrijfster Monika Maron werd geboren op 3 juni 1941 in Berlijn. Zie ook alle tags voor Monika Maron op dit blog.
Uit:Munin oder Chaos im Kopf
"In den Nächten war es still. Oft saß ich lange in dem kühlen Luftzug, der durch die Balkontür ins Zimmer wehte, und genoss das anonyme Rauschen der Stadt, das akustische Konglomerat aus Moto­rengeräuschen, trunkenen Stimmen, Musikfetzen, Hundegebell, dem warnenden Schrei einer schlaflosen Krähe; hin und wieder auch das Klappen von Fenstern oder Autotüren, was in unserer schmalen Straße, in der überhaupt nur acht Häuser standen, so laut widerhallte, dass es ein Gefühl von familiärer Intimität erzeugte: einer von uns geht jetzt schlafen oder ist nach Hause gekommen – eine Nähe, die nichts bedeutete und trotzdem schön war, in der Nacht, nur in der Nacht.
Würden wir nicht in dieser engen Straße wohnen, wäre vielleicht gar nicht passiert, was in den letzten Wochen geschehen war und in der nächsten Zeit vielleicht geschehen würde.
Es begann im März. Über Nacht endete das nass­ kalte, eher noch winterliche Wetter und beglückte die von der Kälte erschöpften Menschen mit einem makellos blauen Himmel und fast sommerlichen Temperaturen. Überall, auch in unserer Straße, wur­den Fenster und Balkontüren weit geöffnet, um die Erinnerung an den Winter aus den Wohnungen zu vertreiben. Aber schon am ersten Tag mischten sich in das unverhoffte Glück so schrille wie vertraute Misstöne, die ich und vielleicht auch die anderen Bewohner über den Winter vergessen hatten oder wenigstens gehofft, dass sie uns diesen Sommer nicht verleiden würden wie die vergangenen. Auf dem Balkon des mickrigen Hauses aus den sechziger Jahren, schräg gegenüber meinem Haus und einge­klemmt zwischen zwei stattlichen, stuckverzierten Altbauten, stand sie wieder und sang, sofern man das Jaulen und Kreischen, in dem sich nur selten eine Melodie erkennen ließ, überhaupt Gesang nen­nen konnte."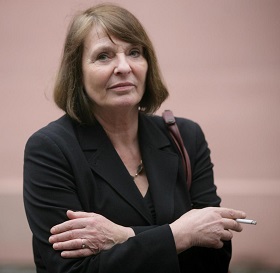 Monika Maron (Berlijn, 3 juni 1941)
De Nederlandse dichter Nico Noorman werd geboren op 3 juni 1949 te Groningen. Zie ook alle tags voor Nico Noorman op dit blog.
Hema-worst
Mugabe werkt niet mee aan zijn vertrek
Kritiek op 'zooitje' bij de hulp aan Grieken
Enkel ellende in de nieuwsrubrieken
Tja...aan problemen is er geen gebrek

Maar 't ergste zijn de stakingen in Oss
De Unox-worst raakt op...ik ben de klos!
De schoorsteenveger
Ze zeggen dat ik vuil ben en besmeurd.
Ze zetten mijn beroepsgroep mooi te kakken.
Me door zo'n zwarte schoorsteen laten zakken?
Ik kijk wel uit, dat is nog nooit gebeurd.

Ze noemen mij een vieze roetveegpiet.
Discriminatie! Ik voel veel verdriet.

Nico Noorman (Groningen, 3 juni 1949)
Groningen, Grote Markt
De Amerikaanse schrijver Larry Jeff McMurtry werd geboren op 3 juni 1936 in Wichita Falls, Texas. Zie ook alle tags voor Larry McMurtry op dit blog.
Uit: The Last Kind Words Saloon
"A hat came skipping down the main street of Long Grass, propelled only by the wind, which was sharp for March. The hat was brown felt and had a narrow brim.
"I believe that's Doc Featherston's hat," Wyatt said. "He may have lost track of it while setting a limb."
"Or, he might be over at the Orchid fornicating and let it blow out a window," Doc Holliday suggested.
"Doubt it . . . only rich dentists such as yourself can afford the Orchid these days," Wyatt said.
Doc drew his pistol and aimed at the hat but didn't shoot.
"Why would a grown man want to be a dentist anyway?" Wyatt inquired.
"Well, for one thing, the cost of equipment is low," Doc told him. "All you need is a pair of pliers and maybe a chisel for difficult cases."
At the mention of a chisel Wyatt turned pale—he had always been squeamish.
"I'm sorry I brought it up," he said. "Are we going to sit here and let the good doctor's hat blow clean away?"
A crow flew over. Doc shot at it twice, but missed.
Wyatt walked out in the street and picked up the hat.
Across the street, at the establishment called the Orchid a tall woman in a purple dressing gown came out onto a little balcony and shook out her abundant black hair.
"There's San Saba, what do you think about her?" Doc said.
"I don't often think about her," Wyatt said. "Jessie's all the female I can handle, and it ain't a hundred percent that I can handle her."
"Why do you ask?" he added.
"Just to be making conversation, I ain't a mute like you," Doc said. "And it's the only whorehouse in town. They say if you can sprout up twelve inches of dick you get to fuck free."
"Well, I can't sprout it up and I doubt you can so let's talk about something else," Wyatt suggested."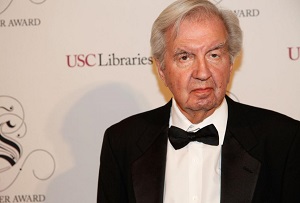 Larry McMurtry (Wichita Falls, 3 juni 1936)
De Oostenrijkse schrijver Norbert Gstrein werd geboren op 3 juni 1961 in Mils bei Imst, Tirol. Zie ook alle tags voor Norbert Gstrein op dit blog.
Uit: Die kommenden Jahre
"In einem knappen halben Jahr sollte der neue amerikanische Präsident gewählt werden, und die Stimmung, die auf der Tagung in New York herrschte, brachte am besten die Tatsache zum Ausdruck, dass von einheimischen Teilnehmern immer wieder der Satz zu hören war, wenn das Schlimmste einträte, würden sie nach Kanada auswandern. Ich hatte ein Sabbatical und war überhaupt nur hingefahren, weil unter den Organisatoren auch mein Freund Tim Markowich aus Montreal war und er mich gedrängt hatte, einen der Vorträge zu halten, verbunden mit der Einladung, danach noch für ein paar Tage zu ihm an den St.-Lorenz-Strom zu kommen.
Also hatte ich meinen Dauerbrenner über Tropengletscher mit neuen Daten aufbereitet und ein Exzerpt eingereicht. Ich hatte nicht nur auf dem Mount Kenya und dem Kilimandscharo, sondern auch in der Cordillera Blanca in Peru und, solange es dort noch einen Gletscher gegeben hatte, auf dem Chacaltaya in Bolivien im Eis gearbeitet und konnte meine eigenen Messwerte und Beobachtungen aus vielen Jahren heranziehen.
Zwar hatte ich mir vorgenommen, mich wenigstens ein paar Monate gar nicht mit dem Thema zu beschäftigen, wozu auch gehörte, möglichst keine Kollegen zu treffen, aber Tim eine Bitte abzuschlagen fiel mir schwer.
Obwohl das sonst nicht seine Art war, hatte er zum ersten Mal an mein Gewissen appelliert und mit einem für seine Nüchternheit erstaunlichen Pathos gesagt, wir dürften keine Gelegenheit auslassen, der Welt vor Augen zu führen, dass das ewige Eis keineswegs ewig sei.
Es gibt immer noch die Unverbesserlichen und Ewiggestrigen, die alles leugnen, aber seit jeder Politiker mit auch nur einem Funken Verstand kaum umhinkommt, Klimawandel und Erderwärmung in seine Litaneien einzubauen, ist unsere Expertise mächtig aufgewertet, weil wir als Wächter der gefrorenen Riesen angesehen werden, die vom Aussterben bedroht sind. Die Aufmerksamkeit hat der Profession nicht immer gutgetan, und auch bei diesem Treffen fehlte es nicht an Warnern, die mit Zahlen jonglierten, als ob die Welt noch in unserem Jahrhundert unterginge, und ihren Befund mit Schreckensbildern illustrierten, ganze Länder verschwunden, halbe Kontinente unter Wasser, die Menschen zusammengedrängt auf ein paar herausragenden Gebirgszügen, Überlebende einer biblischen Katastrophe."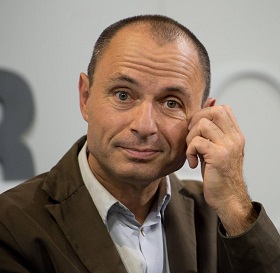 Norbert Gstrein (Mils, 3 juni 1961)
De Duitse dichter, schrijver, vertaler, antropoloog en verzetsstrijder Wolfgang Cordan (pseudoniem van Heinrich Wolfgang Horn) werd geboren op 3 juni 1909 in Berlijn. Zie ook alle tags voor Wolfgang Cordan op dit blog.
Uit:Popol Vuh. Das Buch des Rates
"Chiapas und Guatemala bildeten damals eine Verwaltungseinheit der spanischen Krone. Der junge Padre Francisco wurde in mehreren Indianerdistrikten in Guatemala eingesetzt, erlernte rasch verschiedene Mayadialekte und begann für sich selbst mit Notizen über die Struktur der Mayasprache. Im Jahre 1701 wurde er als Parochial nach Santo Tomás Chuilá, in das heutige Chichicastenángo versetzt.
Die Unterwerfung des Landes, die Erdrosselung und Lebendverbrennung der Fürsten war kaum 180 Jahre her, die Indios lebten in Frondienst, wo nicht in offener Sklaverei. Padre Ximenez muß ungewöhnliche Charaktereigenschaften besessen haben. Denn es geschah das Unerhörte: man legte ihm den Text der »Maya-Bibel« vor. Nach einem Wort des Cortés: »Acabar con el alma del Indio«, die Seele des Indios auslöschen, hatten die Spanier in ganz Amerika systematisch die Kulturträger, das ist die Fürstenhäuser und die Priesterschaft, ausgerottet. Die Tempel wurden geschleift, die Götterbilder zerschlagen, die heiligen Schriften verbrannt.
Man kann nach alledem ermessen, welchen Akt des Vertrauens es bedeutete, wenn dem Ximenez Älteste der Gemeinde eine Handschrift ihrer heiligsten Überlieferung zeigten.
Ximenez war ein guter Katholik und in den Begriffen seiner Zeit befangen. Aber er war ebenso gefangen vom indianischen Wesen und hat seine Schäfchen wohl als liebenswerte Kinder betrachtet, deren Nacht er durch das Licht des Wortes zu erhellen hatte.
Sein Erstaunen beim Lesen des Quiché-Textes muß sich zur Begeisterung gesteigert haben. Da gab es eine Weltschöpfung, wo die Götter sagten: »Erde!« und es bildete sich die Erde. Da gab es eine Sintflut. Da gab es den Raben, der ein neues Land zeigte. Da gab es eine Meeresdurchschreitung wie die der Kinder Israels. Und da gab es einen leuchtenden Stern, den Ximenez für den Stern Jakobs hielt, da es ja nicht gut der Stern von Bethlehem sein konnte.
Wir können diese Versuche eines gläubigen Gemütes, einen unerhört starken und in eindringlicher Sprache vorgetragenen Mythos seinem Weltbild einzuordnen, um so bereitwilliger übergehen, als die absurdesten Interpretationen unseres Buches bis zum heutigen Tage nicht abreißen."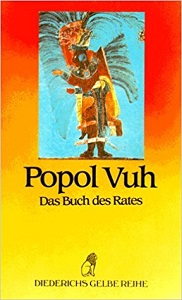 Wolfgang Cordan (3 juni 1909 – 29 januari 1966)
Cover
De Duitse schrijver en essayist Gerhard Zwerenz werd geboren op 3 juni 1925 in Crimmitschau in Saksen. Zie ook alle tags voor Gerhard Zwerenz op dit blog.
Uit: Die Verteidigung Sachsens und warum Karl May die Indianer liebte
"Es gelang mir nicht, den geschwollenen Text der Traueranzeige mit meinem Erlebnis von Kampf und Tod zu vereinbaren. Es ist Lüge, dachte ich, sie lügen alle, selbst diese naiven, liebenswerten Eltern lügen, und ob sie es wissen oder nicht, mit ihren falschen Worten töten sie den Sohn ein zweites Mal.
Ich war wohl ein wenig dumm mit meinen achtzehn Jahren, ein Produkt des Dritten Reiches und ein Held, der nichts und gar nichts begriff außer dem Umstand, dass ihm die Worte verdächtig wurden.
und wenn euch dürstet sollt ihr feuer saufen
man gieß es euch mit kannen in den schlund
und solltet ihr den bart euch raufen
befehle ich: kv-gesund
und ab mit euch gleich in die nächsten schlachten
im gleichschritt marsch drei vier
so wills die order von dem wiederaufgewachten
auferstandnen musketier
sie sollen alle mein gedenken
und die Gedanken rückwärts drehn
ein gutes pferd ist leicht zu lenken
das schlechte heißt die peitsche gehn
Was ich im Buch nicht schilderte und nicht für erwähnenswert hielt oder als unangenehm empfand, war mein Hustenanfall, nachdem ich die Anzeige gelesen hatte. Der Husten war ein kaschierter Lach-Anfall, bei dem ich das Gesicht ins Kopfkissen drückte."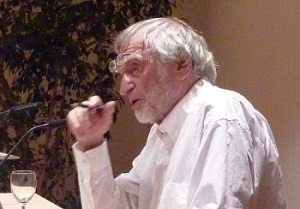 Gerhard Zwerenz (3 juni 1925 –13 juli 2015)
Zie voor nog meer schrijvers van de 3e juni ook mijn vorige blog van vandaag.
03-06-2018 om 10:12 geschreven door Romenu

Tags:Allen Ginsberg, Philippe Djian, Maarten van Buuren, Solomonica de Winter, Monika Maron, Larry McMurtry, Norbert Gstrein, Wolfgang Cordan, Gerhard Zwerenz, Romenu



Carlo Michelstaedter, Kathleen E. Woodiwiss, Eugène Van Oye, Pedro Mir, Detlev von Liliencron, Friederike Brun, Otto Erich Hartleben, Philippe Quinault
De Italiaanse dichter, filosoof en schilder Carlo Michelstaedter werd geboren op 3 juni 1887 in Gorizia. Zie ook alle tags voor Carlo Michaelstaedter op dit blog.
Wozu Mädchen
II
Wenn an zarten Abenden, im langen feurigen Mittag,
auf bleichen Gesichtern schmeichelnd Amor Verlockungen flüstert,
und wenn der Mai die Brust entfacht dem Manne, der lebt,
schweigt mein Herz, oh Mädchen. –
Und wenn über dunklen Ebenen bleiern der Himmel droht,
auflodert die ribellische Flamme getragen vom Winde des Hasses,
des schmerzlichen Hasses der besiegten Massen,
wenn brennt jedes junge Herz und in der rauchigen Luft
verzweifelte Qualen weint, und ertönt der höchste Schrei,
wenn entbrannt sich die Bögen aller Leben spannen,
schweigt jenes, oh Mädchen.
Und wenn die Mutter von meiner heissen Wimper eine Träne fängt
und wenn der Tod mich berührt, mein Herz krampfhaft drückt,
wenn warm die Augen verfinstert das Blut der Vielen die ich geliebt
schweigt jenes noch immer oh Mädchen.
Und wenn die Menge mich auslacht oder wenn Lob mich erhebt,
und wenn die freche Kraft der Jugend in mir sich regt,
schweigt oh Mädchen mein Herz ein erhabenes unendliches Schweigen.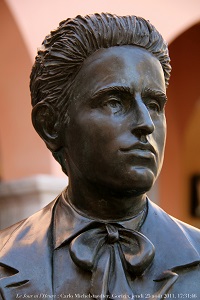 Carlo Michelstaedter (3 juni 1887 – 17 oktober 1910)
Borstbeeld in Gorizia
De Amerikaanse schrijfster Kathleen E. Woodiwiss werd geboren op 3 juni 1939 in Alexandria, Louisiana. Zie ook alle tags voor alle tags voor Kathleen E. Woodiwiss op dit blog.
Uit: Ashes in the Wind
"Bright moonlight streamed in through the parted curtains, lightening the room until all was visible. Though the lingering essence of intoxicants still clouded his brain, Cole became aware of the woman who leaned against the door. His mind felt slow and listless, and he could find no reason for what he saw, nor could he explain his presence in a strange bedroom. His situation struck him as extremely precarious. For all he knew he might momentarily find himself confronted by an outraged husband or an irate father bent on restoring his daughter's honor.
"Ma'am," he began, sorely chafed at the thickness of his tongue. "I fear I have intruded."
Alaina realized escape was impossible, and knew she would have to brazen it out.
Her soft laughter broke the silence of the room. "Surely you haven't decided to leave us after you vowed to stay the night, Captain. Can it be that you have forgotten so soon?" She mimicked the relaxed familiarity of the most successful courtesan and her voice was as honey, smooth and cultured. The deception seemed simple enough; she could play this part as successfully as that of ragged urchin. Yet she was thankful for the shadow that shrouded Cole's nakedness, for the game might have dissolved in her own embarrassment and flight.
Alaina remembered her uncle had kept a decanter of brandy hidden away in the guest room, and she went to search the bureau for it. This was no time for the captain to sober up. If he would just drink enough and go back to bed, she was sure he would sleep the night through.
As she passed before the window, a shaft of silvery moonlight penetrated her garments. The slim but well-curved figure whet Cole's appetite and imagination no small amount. The lust flared through his starved senses, and he felt a familiar tightening in his loins.
"Here, Captain," the silky voice urged as the woman came back. "Have another drink." Alaina pressed a water glass, liberally filled with brandy, into his hand, then slipped quickly away as he reached for her. Her soft laughter teased him. "Drink first, Captain."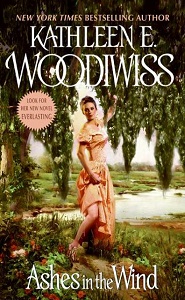 Kathleen E. Woodiwiss (3 juni 1939 – 6 juli 2007)
Cover
De Vlaamse dichter, toneelschrijver en arts Eugène Van Oye werd geboren in Torhout op 3 juni 1840. Zie ook alle tags voor Eugène Van Oye op dit blog.
Hoera Germania (Fragment)
Hoera, Gij edele, fiere Vrouw!
Hoera Germania!
Wat staat Gij stout en koen en trouw
bij d'ouden Rijn, hoera!
Bij laaiend heeten Junigloed
hoe zwaait Gij 't bliksmend zweerd!
Hoe trekt Gij toornig, blijgemoed,
ten kamp voor uwen heerd!
Hoera, hoera, hoera,
hoera, Germania!

Gij dacht niet, neen, aan kamp en strijd:
Gij maaidet - in vredeslust -
op uwe velden, wijd en zijd,
den oogst in kalmt en rust.
Gij maaidet stil, bij zeisenklank,
en zongt een vroom refrijn,
toen plots - stil!... hoor! - een andre zang.
De krijgshoorn aan den Rijn!

Fluks wierpt Gij 't zeisen weg in 't koorn,
uw arenkrans vervloog;
en op sprongt gij in eedlen toorn
met wild ontvlammend oog.
Gij zwoert - Europa schokte ervan - :
'Men wil 't! Zoo zal het zijn!
Mijn kindren, op! Op, alle man!
Ten Rijn! - ten Rijn! - ten Rijn!'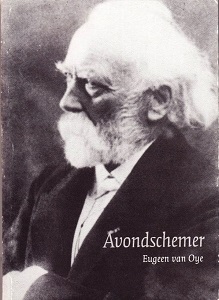 Eugène Van Oye (3 juni 1840 – 4 juni 1926)
Cover
De Domicaanse dichter en schrijver Pedro Mir werd op 3 juni 1913 in San Pedro de Macorís geboren. Zie ook alle tags voor Pedro Mir op dit blog.
Tegenzang voor Walt Whitman
1
Er was eens een maagdelijke wildernis.
Bomen en land zonder daden of hekken.
Er was eens een perfecte wildernis.
Vele jaren geleden. Lang voor de voorouders van onze voorouders.
Speelden de vlaktes met galopperende buffels.
De eindeloze kustlijnen speelden met parels.
De rotsen lieten diamanten los uit hun baarmoeders.
En de heuvels speelden met geiten en gazellen. . .
De wind wervelde door de open plekken in het bos
zwaar van het gedurfde spel van herten en berkentakken
de poriën van de avond vullend met zaad.
En het was een maagdelijk land vol verrassingen.
Waar een kluit aarde een zaadje raakte
groeide plotseling een geurig bos.
Soms werd het aangevallen door een furie van stuifmeel
uit de populieren, de pijnbomen, de dennen geperst,
en uitgietend de nacht en de landschappen in trossen.
En er waren grotten en bossen en prairies
wemelend van beken en wolken en dieren.
Vertaald door Frans Roumen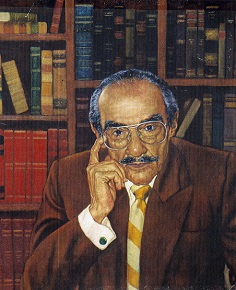 Pedro Mir (3 juni 1913 – 11 juli 2000)
Portret door Miguel Nuñez, z.j.
De Duitse dichter Detlev von Liliencron werd op 3 juni 1875 in Kiel geboren. Zie ook alle tags voor Detlev von Liliencron op dit blog.
Aus der Kinderzeit
In alten Briefen saß ich heut' vergraben,
Als einer plötzlich in die Hand mir fiel,
Auf dem die Jahresziffer mich erschreckte,
So lange war es her, so lange schon.
Die Schrift stand groß und klein und glatt und kraus
Und reichlich untermischt mit Tintenklecksen:
"Mein lieber Fritz, die Bäume sind nun kahl,
Wir spielen nicht mehr Räuber und Soldat,
Türk hat das rechte Vorderbein gebrochen,
Und Tante Hannchen hat noch immer Zahnweh,
Papa ist auf die Hühnerjagd gegangen.
Ich weiß nichts mehr. Mir geht es gut.
Schreib' bald und bleibe recht gesund.
Dein Freund und Vetter Siegesmund ..."
"Die Bäume sind nun kahl", das herbe Wort
Ließ mich die Briefe still zusammenlegen,
Gab Hut und Handschuh mir und Rock und Stock,
Und drängte mich hinaus in meine Haide.
Mein täglicher Spaziergang
Nur ein paar Birken, Einsamkeit und Leere,
Ein Sumpf, geheimnisvoll, ein Fleckchen Heide,
Der Kiebitz gibt mir im April die Ehre,
Im Winter Raben, Rauch und Reifgeschmeide,
Und niemals Menschen, keine Grande Misère,
Nichts, nichts von unserm ewigen Seelenleide.
Ich bin allein. Was einzig ich begehre?
Grast ihr für euch, und mir laßt meine Weide.

Vogel im Busch
Kleiner Vogel in den Zweigen,
Bleib hübsch sitzen, singe weiter,
Keine Pfeile führ' ich bei mir,
Singe fort, das ist gescheiter.
Bange nicht, ich hör' so gerne
Deine lieben Zwitscherlieder,
Wenn dir linder Frühlingsregen
Leise tropft aufs Graugefieder.
Doch du hebst die flinken Flügel,
Schwingst entsetzt dich in die Gegend,
Schein' ich dir denn so gefährlich,
Ist der Mensch so graunerregend?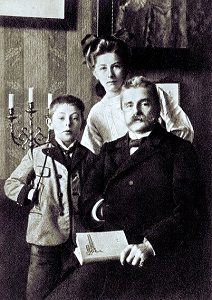 Detlev von Liliencron (3 juni 1875 – 22 juli 1909)
Hier met zijn derde vrouw Anna en zijn zoon Wulff in 1908
De Deense dichteres Friederike Brun werd geboren op 3 juni 1765 in Gräfentonna, Thüringen. Zie ook alle tags voor Friederike Brun op dit blog.
Freundschaft und Liebe

Hand in Hand und unzertrennbar wandeln
Freundschaft und reine Liebe mit einander!
Wo die Freundschaft entflieht, da senkt der keusche
Eros die Fackel.
Trost der Trennung
Trennung! Du fernst uns nicht mehr,
Wenn dies Erdengewühl
Uns ein hüpfendes Irrlicht ist –
Alle Hoheit der Erde
Traum des entfesselten Schmetterlings!
Grabschrift auf einen ertrunkenen Jüngling
Wohl sank er tief ins Meer hinab....
Weinet um Ihn!
Sanft ruht er im Meeres-Schoos!
Hoch hebet der Sturm die Wogen empor,
Sie donnern Tod in der Sterblichen Ohr.
Sanft ruht er im kühligen Moos!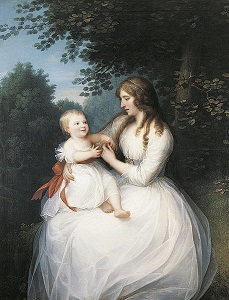 Friederike Brun (3 juni 1765 – 25 maart 1835)
Portret van Friederike Brun met haar dochter Charlotte door Erik Pauelsen, 1789
De Duitse dichter en schrijver Otto Erich Hartleben werd geboren op 3 juni 1864 in Clausthal. Zie ook alle tags voor Otto Erich Hartleben op dit blog.
Und wenn dein Lächeln unter die Leute fällt
Und wenn dein Lächeln unter die Leute fällt –
sie lesen es wie goldene Scherben auf,
sie danken dir wie frohe Kinder,
schreiten mit hellerem Auge weiter.
An deiner Seite schweigend und ernst nur ich,
dem du die leichte Hand in den Arm gelegt ...
O fernes Gold der lieben Sterne –
goldene Locken an meiner Schulter!
Liebe und Lyrik
Der Liebe Lust in Liedern auszuklagen,
scheint heutzutag dem Dichter fast verwehrt.
Was könnt er Neues auch den Leuten sagen:
so mancher hat uns schon sein Glück beschert.
Glaubt einer gar der Liebe Leid zu tragen,
lässt er uns sicherlich nicht unversehrt:
Herz reimt noch stets auf Schmerz, auf Liebe Triebe –
ich reimte mit Genuss auf beide – Hiebe!
So weiss denn selbst der traurigste Philister:
die Liebe sei so eine Himmelsmacht;
in illustrierten Wochenblättern liest er,
dass man sich oft sogar drum umgebracht.
Ein Kenner aller Leidenschaften ist er,
wer ihm nichts Neues bringt, wird ausgelacht:
kurz, was die Lieb angeht – er ist au fait:
es lässt sich nichts mehr machen drin. O weh!
Und ist man nun aus purem Pech ein Dichter,
dems schlecht behagt, den andern nachzutreten,
dems nicht genügt, nur manchmal neue Lichter
zu pflanzen vor ein Bild, zu dem sie beten –
so wird man fluchen auf das Reimgelichter,
das auch den schönsten Brei schon breitgetreten,
und wird, obwohl die Sache etwas schwierig,
die Liebe gänzlich streichen aus der Lyrik.
Wie hass ich jene, die naiv wie Thiere
ihr Lieben schmatzend beichten – ekelhaft!
Unreinem Ohre bei unechtem Biere!
Doch ist nicht schlimmer noch die Leidenschaft,
auf unverhülltem, feilem Druckpapiere
schamlos zu künden, was uns Freuden schafft?
Drum Heil dem Dichter, der mit sich gerungen
und als ein Held zum Schweigen sich bezwungen!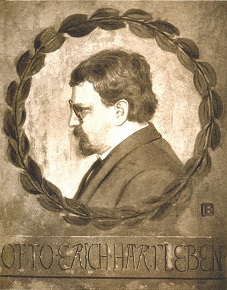 Otto Erich Hartleben (3 juni 1864 – 11 februari 1905)
De Franse dichter, schrijver en librettist Philippe Quinault werd geboren in Parijs op 3 juni 1635. Zie ook alle tags voor Philippe Quinault op dit blog.
Poème de Sceaux (Fragment)
C'est pour luy faire aimer la Demeure qu'elle aime
Qu'elle a rendu ces Lieux si beaux ;
Elle y joint chaque jour mille agrements nouveaux ;
Elle en a fait cesser la secheresse extréme,
Et l'on y voit par tout briller de claires eaux
Qu'elle puise au Ciel elle mesme.
Regarde avec estonnement
L'amas prodigieux des ondes escoulées.
Le Dieu du liquide Element
Semble avoir fait passer ses flots dans ces Vallées.
Deux Fleuves couronnez de Joncs et de Roseaux,
Ont soin d'attendre les Ruisseaux
Qui sortent de ce vert Boccage,
Et sont assis sur leur passage.
Avec un doux plaisir, ces venerables Dieux
Reçoivent les eaux qui descendent,
Pour grossir le tribut qu'ils rendent
A la nouvelle Mer qui se forme en ces lieux.

Mille fontaines dispersées,
Apres de longs detours, ensemble ramassées,
Forment d'un commun mouvement,
Sur ce riche Vallon un spectacle charmant.
Malgré le penchant qui les presse
De se precipiter sans cesse
Vers le lit spacieux qui leur est préparé,
Elles semblent, comme enchantées,
Ne pouvoir détacher leurs ondes argentées
Du verdoyant esmail, et du sable doré,
Dont si pompeusement leur chemin est paré :
Loin de paraistre impatientes
D'arriver à la fin de leurs courses errantes,
On les voit, par bouillons espais,
Tascher a remonter dans ces lieux pleins d'attraits
A cent reprises differentes ;
Et par cent bonds plaintifs, par cent chutes bruyantes,
On les entend gemir en tombant pour jamais
Dans le vaste sejour d'une profonde paix.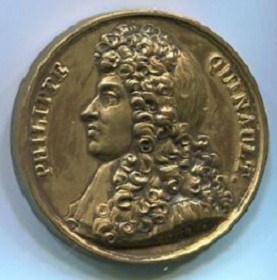 Philippe Quinault (3 juni 1635 – 26 november 1688)
Op een bronzen medaille uit 1822
03-06-2018 om 10:04 geschreven door Romenu

Tags:Carlo Michelstaedter, Kathleen E. Woodiwiss, Eugène Van Oye, Pedro Mir, Detlev von Liliencron, Friederike Brun, Otto Erich Hartleben, Philippe Quinault, Romenu


02-06-2018

Jim Knipfel, Marcel Reich-Ranicki, Sibylle Berg, Carol Shields, Jean Nelissen, Thomas Hardy
De Amerikaanse schrijver Jim Knipfel werd geboren op 2 juni 1965 in Green Bay, Wisconsin. Zie ook alle tags voor Jim Knipfel op dit blog.
Uit: The Blow-off
"Marv was your first husband," Hank gently corrected. He bit his lip, his eyes drifting involuntarily back toward the ticket booth outside the Girl-to-Gorilla tent.
"I just don't see the attraction."
"Fine, I can accept that," he said. "But would you mind if I went in? You can wait out here, and I'll be back in ten—"
From inside the tent came the squeal and crash of a metal cage door torn from its hinges and tossed to the ground. Annie jumped a step closer to Hank as, at that instant, the piercing shrieks of half a dozen teenage girls erupted inside. One of the tent's nylon side panels billowed outward, went taut, and focused nearly to a point before a small, almost delicate black fist punched through the orange fabric. The screams from inside the tent were growing more frenzied. There was a tearing sound as those same girls, blind with panic, ripped their way through the tent wall and poured out onto the midway, stumbling over one another, still screaming and laughing, before scattering in half a dozen different directions. Hank watched a few of them go, shaking his head in quiet, resigned amusement, knowing for certain there was now no way in hell he'd get Annie into the show. "They're a superstitious people," he explained. "They always overreact to these things."
"Shhhh." His wife glowered at him and pinched his arm for the third time that night. There was nothing playful about it.
Hank winced and pulled his arm away. "All right, then. Let's move on. We'll see the gorilla show later. Great show. Trust me. Used to see it when I was a kid."
She took his arm and they moved down the midway away from the ripped tent, weaving their way through the thick Jersey crowds, trying to avoid
the dropped ice-cream cones and puddles of cotton candy vomit as they went.
The rides they were passing grew more rickety and treacherous with each passing year. Or maybe, Annie sometimes thought, she and Hank were just getting older."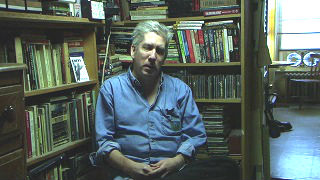 Jim Knipfel (Green Bay, 2 juni 1965)
De Duitse schrijver en literatuurcriticus Marcel Reich-Ranicki werd geboren op 2 juni 1920 in Włocławek, Polen. Zie ook alle tags voor Marcel Reich-Ranicki op dit blog.
Uit:Meine Geschichte der deutschen Literatur
"Mit dem Herzen hat es eine eigene Bewandtnis. Es ist — sagt der Prophet Jeremias —»das Herz ein trotzig und verzagt Ding; wer kann es ergründen?« Ohne das Herz, weiß jedes Kind, kann niemand existieren. Nur stellt sich meist heraus, dass gerade die herzlosen Menschen lange und gut leben. Man kann sein Herz verschenken: »Ich schenk mein Herz nur dir allein« — singt die Madame Dubarry in Millöckers Operette. Man kann sich auch ein Menschenherz als Geschenk wünschen, ohne deshalb der Grausamkeit bezichtigt zu werden. Aus dem »Notenbüchlein für Anna Magdalena Bach« kennen wir ja das wunderbare Lied, das mit den Worten beginnt: »Willst du dein Herz mir schenken, /so fang es heimlich an ...« Bisweilen sind jene Menschen besonders glücklich, die ihr Herz verschenkt oder die es ganz einfach verloren haben, beispielsweise in Heidelberg.
Verwunderlich ist auch, was das Herz alles vermag. Denn es kann schlagen und klopfen, pochen und hämmern, es kann zittern und flattern, aber auch schmachten und jubeln, es kann stillstehen, aber auch aufwachen und erglühen, es kann stocken und versagen, brechen und zerspringen. Das Herz kann sich an sehr verschiedenen Orten befinden, mitunter sogar gleichzeitig. Man kann es auf der Zunge haben, aber es kann einem auch in die Hose rutschen. Es kann einem im Leibe lachen, aber sich auch im Leibe umdrehen. Man kann es auf dem rechten Fleck haben, aber auch stehlen und erobern. Man kann sich ein Herz fassen, aber auch sein Herz an jemanden hängen. Man kann seinem Herzen Luft machen und ihm einen Stoß geben, es kann einem ein Stein vom Herzen fallen. Man kann etwas auf dem Herzen haben und ein Kind unter dem Herzen tragen. Man kann die Zwietracht, zumal die deutsche, mitten ins Herz treffen. Und wes das Herz voll ist — wir wissen es aus der Bibel —, des kann der Mund übergehen. Und da man sich einer Sache mit halbem Herzen zuwenden kann, lässt es sich offenbar auch halbieren. Natürlich kann man aus seinem Herzen eine Mördergrube und, häufiger noch, keine Mördergrube machen. Auch kann man jemanden in sein Herz schließen, ja, dort ist so viel Platz, dass sich sogar ein ganzer Chor ins Herz schließen lässt."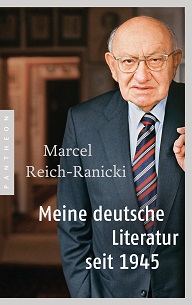 Marcel Reich-Ranicki (2 juni 1920 – 18 september 2013)
Cover
De Duitse schrijfster Sibylle Berg werd geboren in Weimar op 2 juni 1962. Zie ook alle tags voor Sibylle Berg op dit blog.
Uit: Ein paar Leute suchen das Glück und lachen sich tot (Tom geht weg)
"Die Luft riecht nach Großstadt, morgens um 4. Ein dicker Geruch. Nach schimmelndem Metall und Bäcker. Die Frau liegt oben. Wahrscheinlich weint sie. Wenn ich eine Frau wäre, würde ich auch weinen. Weil das so bequem ist, eine Flucht, die nichts ändert, falls ihr versteht, was ich meine.
Die Frau weint also vermutlich. Ich nicht. Ich weine nicht, ich leide auch nicht. Ich gehe einfach nur nach Hause. Ich werde mir die Frau abduschen. Wieder durch die Bars laufen und suchen. Nach einer neuen Frau. Wenn Weihnachten ist, und ich kann euch sagen, das kommt immer schneller, als man so denkt, werde ich wieder vor diesem Kaufhaus hier stehen. Jetzt sind da irgendwelche Herbstsachen drin. Blöde Plastefrüchte und so. Aber Weihnachten ist da eine Eisenbahn drin, in dem Schaufenster. Die fährt durch verschneite Dörfer. Die Häuschen sind von innen beleuchtet. Ich steh da immer ganz lange. Stell mir Sachen vor, die in diesen Häuschen passieren. Irgendwo wird eine Katze geschlachtet, in den Ofen geschoben, die Därme an den Baum geputzt. In einem anderen Häuschen liegt der Großvater im Bett und ist schon geraume Weile tot. Da sind Fliegen und die Enkel spielen mit dem Opa. Solche Sachen eben, und ich habe dann so einen Haß auf die Kinder. Die stehen neben mir und sehen meine Bahn an. Und die Eltern zwinkern, wenn die Scheißkinder fragen: Krieg ich so eine? Wir werden sehen, sagen die Eltern und zwinkern.
Ich könnt die dann immer in die Schnauze haun. Ich weiß wirklich nicht, warum. Was ich sagen will, ist, irgendwie suche ich nach einer Frau, die Weihnachten mit mir diese Bahn anguckt. Und die mich nichts Blödes fragt. Die vielleicht so einem Kind eine runterhaut. Und die mir dann eine Eisenbahn schenkt. Aber ich habe so eine noch nie gefunden. Ich gehe jetzt heim, dusche. Und dann gehe ich wieder los. Und suche weiter nach der Frau, die mit mir zu diesem Schaufenster geht."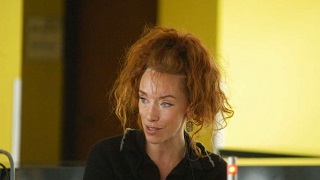 Sibylle Berg (Weimar, 2 juni 1962)
De Canadese schrijfster Carol Shields werd op 2 juni 1935 in Oak Park, Chicago, geboren als Carol Warner. Zie ook alle tags voor Carol Shields op dit blog.
Uit: The Stone Diaries
"All spring she's been troubled with indigestion. Often in the morning, and then again at night after her young husband has gone to sleep, she's risen from her bed and dosed herself with Bishop's Citrate of Magnesia. When she drinks ordinary milk or sweetened tea or sugary lemonade she swallows it down greedily, but Bishop's cool chalky potion she pours into a china cup and sips with deep, slow concentration, with dignity. She doesn't know what to think. One day she's persuaded her liver's acting up, and the next day her kidneys—she's only thirty years old, but kidney trouble can start early in life, especially for a woman of my mother's unorthodox size. Or perhaps the problem stems from constipation. Mrs. Flett next door has suggested this possibility, recommending rhubarb tablets, or else, speaking confidentially, some woman's trouble. Excessive loss of blood, she tells Mercy, is the cause of discomfort for many young ladies—has Mercy spoken to Dr. Spears? Dr. Spears is known for his sensitivity to women's complaints; he has a way of squeezing his eyes shut when he phrases his delicate inquiries, of speaking almost poetically of nature's cycles and balances, of the tide of fertility or the consolation of fruit salts.
No, Mercy has not approached Dr. Spears, she would never speak to Dr. Spears of such a thing, she would speak to no one, not even her husband—especially not her husband. Her monthly blood has appeared only twice in her life, springing out of the soft cushions of her genital flesh, staining her underclothes with its appalling brightness, and mocking the small decencies and duties that steady her life: her needlework, her housekeeping, her skill with a flat iron, her preserves and pickles and fresh linens and the lamp chimneys she polishes every single morning.
The doses of Citrate of Magnesia help hardly at all. Fruit salts only make her suffering worse. Her abdominal walls have continued to cramp and heave all spring, and she's wondered at times if her inner membranes might burst with the pressure. Bile rises often in her throat. Her skin itches all over. She experiences scalding attacks of flatulence, especially at night as she lies next to my father, who, out of love, out of delicacy, pretends deep sleep—she can tell from the way he keeps himself curled respectfully to his own side of the bed."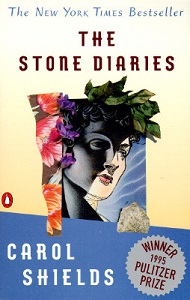 Carol Shields (2 juni 1935 – 16 juli 2003)
Cover
De Nederlandse sportjournalist en schrijver Jean Nelissen werd geboren in Geleen op 2 juni 1936. Zie ook alle tags voor Jean Nelissen op dit blog.
Uit: De Bijbel van 100 jaar Tour
"We rijden in langzaam tempo door de Midi, Perpignan. Toulouse, Beziers, Albi, Narbonne, Carcasonne. Het is bloedheet De toeristen die hun campings hebben verlaten zijn schaars gekleed. Dan zien ze onze auto. Het vaderland schuift voorbij. En 16 jaar lang horen wij als enige vraag: 'Hoe doet Joop het? Dan steken we onze duim omhoog en het volk zakt tevreden terug in de wankele campingstoeltjes. Holland en rijn beleving van de Tour de France. In een tunnelrelatie met een timmerman uit Rijpwetering, Joop Zoetemelk. Ik heb in al die jaren zeer vele spandoekjes gezien: 'Hup Joop'. Mensen, zittend voor hun tent. hebben zich de moeite getroost om in de campingwinkel of in het dorp een doek te kopen en daarop 'Hup Joop!' te kalken. Op zich een ontwapenende vorm van nationalisme.
Je zit daar een of meer weken voor zo'n tent, 2000 kilometer van Genemuiden Kwintsheul en Slagharen verwijderd ren over twee dagen komt Joop voorbij.
De enige opwinding in een weliswaar ontspannend maar soms ook slopend saai bestaan. 'Hup Joop!" Ik heb hem wel eens gevraagd "Zie je die spandoeken? Joop antwoordt 'Ja, af en toe.'
Ik ken Joop tamelijk goed. Ik heb tien jaar zijn column voor de kranten geschreven. Dat ging zo. Raam van de auto open. "Joop. nog iets bijzonders?' Hij antwoordt 'Nee.' Ik vraag hem naar enkele details over wat er die dag gebeurd is. Dan sluit ik het raam van de auto en begin aan de column. want ik weet met een afwijkingspercentage van slechts enkele percenten hoe Joop over de gang van zaken denkt. We maken samen ook een commercial voor TopDrop. En wij rijden op 8 juni 1971 de destijds befaamde koppeltijdrit bij De Gouden Karper in Hummelo. Topsporters zoals Ard Schenk en Sjaak Swart en journaltsten worden gekoppeld aan een wielrenner. Het bochtige parcours voert 8.5 km om smalle wegen."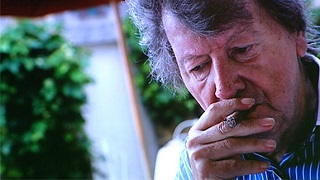 Jean Nelissen (2 juni 1936 – 1 september 2010)
De Engels romanschrijver en dichter Thomas Hardy werd op 2 juni 1840 geboren in Higher Bockhampton, bij Dorchester. Zie ook alle tags voor Thomas Hardy op dit blog.
Uit: Far from the Madding Crowd
"The field he was in this morning sloped to a ridge called Norcombe Hill. Through a spur of this hill ran the highway between Emminster and Chalk-Newton. Casually glancing over the hedge, Oak saw coming down the incline before him an ornamental spring waggon, painted yellow and gaily marked, drawn by two horses, a waggoner walking alongside bearing a whip perpendicularly. The waggon was laden with household goods and window plants, and on the apex of the whole sat a woman, young and attractive. Gabriel had not beheld the sight for more than half a minute, when the vehicle was brought to a standstill just beneath his eyes.
"The tailboard of the waggon is gone, Miss," said the waggoner.
"Then I heard it fall," said the girl, in a soft, though not particularly low voice. "I heard a noise I could not account for when we were coming up the hill."
"I'll run back."
"Do," she answered.
The sensible horses stood — perfectly still, and the waggoner's steps sank fainter and fainter in the distance.
The girl on the summit of the load sat motionless, surrounded by tables and chairs with their legs upwards, backed by an oak settle, and ornamented in front by pots of geraniums, myrtles, and cactuses, together with a caged canary — all probably from the windows of the house just vacated. There was also a cat in a willow basket, from the partly-opened lid of which she gazed with half-closed eyes, and affectionately-surveyed the small birds around.
The handsome girl waited for some time idly in her place, and the only sound heard in the stillness was the hopping of the canary up and down the perches of its prison. Then she looked attentively downwards. It was not at the bird, nor at the cat; it was at an oblong package tied in paper, and lying between them. She turned her head to learn if the waggoner were coming. He was not yet in sight; and her eyes crept back to the package, her thoughts seeming to run upon what was inside it. At length she drew the article into her lap, and untied the paper covering; a small swing looking-glass was disclosed, in which she proceeded to survey herself attentively. She parted her lips and smiled.
It was a fine morning, and the sun lighted up to a scarlet glow the crimson jacket she wore, and painted a soft lustre upon her bright face and dark hair. The myrtles, geraniums, and cactuses packed around her were fresh and green, and at such a leafless season they invested the whole concern of horses, waggon, furniture, and girl with a peculiar vernal charm."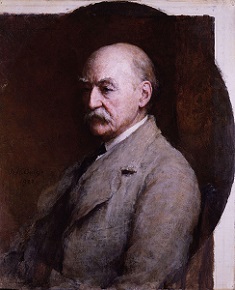 Thomas Hardy (2 juni 1840 – 11 januari 1928)
Portret door Walter William Ouless, 1922
Zie voor nog meer schrijvers van de 2e juni ook mijn vorige blog van vandaag.
02-06-2018 om 10:39 geschreven door Romenu

Tags:Jim Knipfel, Marcel Reich-Ranicki, Sibylle Berg, Carol Shields, Jean Nelissen, Thomas Hardy, Romenu



Markies De Sade, Dorothy West, Max Aub, Karl Gjellerup, Barbara Pym
De Franse schrijver Donatien Alphonse François, Markies de Sade werd geboren op 2 juni 1740 in Parijs. Zie ook alle tags voor Markies de Sade op dit blog.
Uit: The 120 Days of Sodom and Other Writings (Inleiding door Simone de Beauvoire vertaald door Austryn Wainhouse en Richard Seaver)
"Just what is his place, however? Why does he merit our inter-est? Even his admirers will readily admit that his work is, for the most part, unreadable; philosophically, it escapes banality only to founder in incoherence. As to his vices, they are not startlingly original; Sade invented nothing in this domain, and one finds in psychiatric treatises a profusion of cases at least as interesting as his. The fact is that it is neither as author nor as sexual pervert that Sade compels our attention; it is by virtue of the relationship which he created between these two aspects of himself. Sade's aberrations begin to acquire value when, instead of enduring them as his fixed nature, he elaborates an immense system in order to justify them. Inversely, his books take hold of us as soon as we become aware that for all their repetitiousness, their plati-tudes and clumsiness, he is trying to communicate an experience whose distinguishing characteristic is, nevertheless, a tendency to first presentation, as this extract shows, Beauvoir's argument cen-tres on two main claims. First, in 'assuming' his 'aberrations', rather than enduring them as a natural imposition, Sade made his `psycho-physical destiny' an ethical choice. This choice is ethical because he transcends the mere fact of his psycho-physical make-up by conferring an absolute value upon the aberrations that constituted it. In an extreme form, Sade demonstrates a general truth: the subjective origin of all value. If nothing has a value in itself, but only that which we confer on it, then anything can be valued, as the case of Sade shows. He also, unusually, demon-strates what is otherwise only implicit in Beauvoir's (and Sartre's) existentialist account of the subjective origin of value: the possi-bility of a singular ethic, a one-man morality. Further, he represents what, for most people, is the problem with such a possibility: Sade is a monster whose personal `ethic' abuses others. In `Must We Burn Sade?' Beauvoir is clear that Sade's ethic is not one to be emulated: 'every time we side with a child whose throat has been slit by a sex maniac, we take a stand against him.' (Must We Burn Sade?', p.61) Nevertheless his life has, she says, `an exemplary character' to the extent that the form (rather than content) of his ethic and its metaphysical motivation has a universal significance. This is explained in the elaboration of the second main claim from the opening pages of Beauvoir's essay and concerns Sade's commitment to the principle of subjectiv-ity. Sade's merit lies `in his having proclaimed aloud what everyone admits with shame to himself(`Must We Burn Sade?', p.63): the irrecusable fact of the `separateness' of each individ-ual. This fact is dramatized in Sade's `persistent singularity': 'he had no fellow but himself'."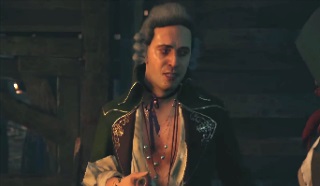 Markies De Sade (2 juni 1740 – 2 december 1814)
De Sade in het computerspel Assassin's Creed
De Amerikaanse schrijfster Dorothy West werd geboren op 2 juni 1907 in Boston. Zie ook alle tags voor Dorothy West op dit blog.
Uit: Skippy
"Having arrived at this hasty decision to move within a matter of days, the Adamses settled down to their excellent dinner, which they all ate with relish, for each thought thatthe major problem in his life had just been solved.
Except Skippy, who, until this moment, had had no problems. He lay under the table in his accustomed place by Buzz' feet. Usually his head was up, his ears pointing forward, his mouth ajar to release his eager panting, his tongue extended, and his expression one of sublime expectancy. But as the human voices grew impassioned, Skippy's keen perception noted the shades of discontent expressed in each. He cocked his head and began to listen intently. ...
Skippy loved the house. He had lived in it practically all his life. Actually, you might almost say it was his. For the thing was, the Adamses had bought it because of him. He had been given to Buzz as a birthday surprise when he, Skippy, was three months old. Until then he had lived in a kennel which could not be considered home life. He and Buzz had recognized each other instantly as dog lover and boy worshiper. Two days later the apartment house agent came over to register the complaint of the people downstairs, who could not accustom their ears to the overwhelming sounds of a boy and his dog. The dog, the agent explained regretfully, must go."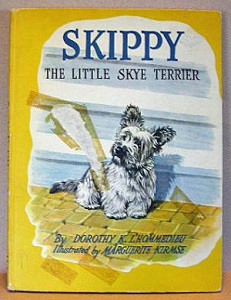 Dorothy West (2 juni 1907 – 16 augustus 1998)
Cover
De Spaanse schrijver Max Aub werd geboren op 2 juni 1903 in Parijs. Zie ook alle tags voor Max Aube op dit blog.
Uit: Crimes exemplaires (Vertaald door Jean Paul Guibbert)
"– Comment peut-on m'accuser de l'avoir tué alors que j'avais oublié que mon pistolet était chargé ?
Tout le monde sait que je n'ai pas de mémoire. Alors maintenant on va dire que c'est ma faute ? Ça, c'est un comble!
.
.
Je suis instituteur. Cela fait dix ans que je suis instituteur à l'École Primaire de Tenancingo, Zac. Beaucoup d'enfants sont passés sur les bancs de mon école. Je crois que je suis un bon maître. Je le croyais jusqu'à ce qu'arrive ce Pancho Contreras. Il ne me prêtait aucune attention et n'apprenait absolument rien : parce qu'il ne voulait pas. Les punitions aussi bien morales que corporelles ne lui faisaient aucun effet. Il me regardait avec insolence. Je le suppliais. Je le collais. Il n'y eut rien à faire. Les autres enfants commencèrent à se moquer de moi. Je perdis toute autorité et le sommeil et l'appétit jusqu'à ce jour où, ne pouvant plus le supporter et pour que cela serve d'exemple, je l'ai pendu à l'arbre de la cour.
.
.
Je suis couturier. Je ne le dis pas pour me flatter, ma réputation est bien établie : je suis le meilleur couturier du pays. Cette femme tenait absolument à ce que je l'habille. Une fois arrivée chez elle, de son manteau elle se fit une veste et cela comme si c'était sa propriété absolue. A ce vêtement vert elle assortit l'écharpe orange de son ensemble gris de l'année passée et des gants couleur de rose. Subrepticement j'ai attaché son voile à la roue de la voiture. Le démarrage a fait le reste. C'est au vent seulement qu'on doit jeter la pierre."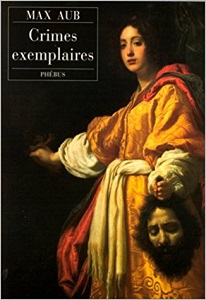 Max Aub (2 juni 1903 – 22 juli 1972)
Cover
De Deense schrijver Karl Adolph Gjellerup werd geboren op 2 juni 1857 in Roholte. Zie ook alle tags voor Karl Gjellerup op dit blog.
Uit: Der Pilger Kamanita (Door de schrijver zelf vertaald)
"Du tust recht, sie also zu grüßen," fuhr mein Beschützer fort. "Denn wenn die Ganga von dem Göttersitz im nördlichen Schneegebirge kommt und gleichsam aus der Ewigkeit flutet, so kommt die Jamuna aus fernen Heldenzeiten, und ihre Fluten haben die Trümmer der Ilfenstadt gespiegelt und jene Ebene bespült, wo die Panduinge und die Kuruinge um die Herrschaft rangen, wo Karna in seinem Zelte grollte, wo Krishna selber die Rosse Arjunas lenkte--doch ich brauche dich ja nicht daran zu erinnern, da du in den alten Heldenliedern wohl bewandert bist. Oft habe ich drüben auf jener spitzen Landzunge gestanden und gesehen, wie die blauen Wogen der Jamuna neben den gelben der Ganga dahinflossen, ohne sich mit ihnen zu vermischen, so wie die Kriegerkaste neben der Brahmanenkaste unvermischt besteht. Dann kam es mir vor, als ob ich mit dem Rauschen dieser blauen Fluten auch kriegerische Klänge vernähme, Waffengetöse und Hörnerrufe, Wiehern von Rossen und Trompeten der Kampfilfen, und mein Herz schlug höher, denn auch meine Ahnen waren ja dabei gewesen und der Sand Kurukschetras hatte ihr Heldenblut getrunken."
Voll Bewunderung blickte ich zu diesem Manne aus der Kriegerkaste empor, in dessen Familie solche Erinnerungen lebten.
Er aber faßte mich an der Hand.
"Komm, mein Sohn, und begrüße das Ziel deiner ersten Reise."
Und er führte mich nur wenige Schritte um ein dichtes Gebüsch herum, das bis jetzt die Aussicht nach Osten verdeckt hatte.
Als diese sich nun plötzlich öffnete, stieß ich unwillkürlich einen Schrei der Bewunderung aus.
Dort--an einer Biegung der breiten Ganga--lag eine große Stadt: Kosambi."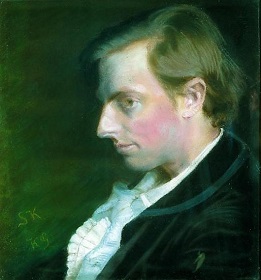 Karl Gjellerup (2 juni 1857 – 11 oktober 1919)
Portret door P.S. Krøyer, 1884

De Engelse schrijfster Barbara Pym werd geboren op 2 juni 1913 in Oswestry, Shropshire. Zie ook alle tags voor Barbara Pym op dit blog.
Uit: Excellent Women
"'Ah, you ladies! Always on the spot when there's something happening!' The voice belonged to Mr Mallett, one of our churchwardens, and its roguish tone made me start guiltily, almost as if I had no right to be discovered outside my own front door. New people moving in? The presence of a furniture van would seem to suggest it,' he went on pompously. 'I expect you know about it.' Well, yes, one usually does,' I said, feeling rather annoyed at his presumption. 'It is rather difficult not to know such things.' I suppose an unmarried woman just over thirty, who lives alone and has no apparent ties, must expect to find herself involved or interested in other people's business, and if she is also a clergyman's daughter then one might really say that there is no hope for her. 'Well, well, tempus fugit, as the poet says,' called out Mr Mallett as he hurried on. I had to agree that it did, but I dawdled long enough to see the furniture men set down a couple of chairs on the pavement, and as I walked up the stairs to my flat I heard the footsteps of a person in the empty rooms below me, pacing about on the bare boards, deciding where each piece should go. Mrs Napier, I thought, for I had noticed a letter addressed to somebody of that name, marked 'To Await Arrival'. But now that she had materialised I felt, perversely, that I did not want to see her, so I hurried into my own rooms and began tidying out my kitchen. I met her for the first time by the dustbins, later that afternoon. The dustbins were in the basement and everybody in the house shared them. There were offices on the ground floor and above them the two flats, not properly self-contained and without every convenience. 'I have to share a bathroom,' I had so often murmured, almost with shame, as if I personally had been found unworthy of a bathroom of my own. I bent low over the bin and scrabbled a few tea leaves and potato peelings out of the bottom of my bucket. I was embarrassed that we should meet like this. I had meant to ask Mrs Napier to coffee one evening. It was to have been a gracious, civilised occasion, with my best coffee cups and biscuits on little silver dishes. And now here I was standing awkwardly in my oldest clothes, carrying a bucket and a wastepaper basket. Mrs Napier spoke first. 'You must be Miss Lathbury,' she said abruptly. 'I've seen your name by one of the door-bells."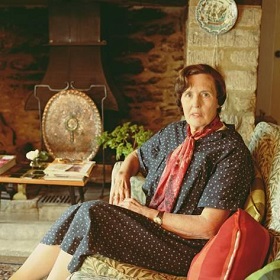 Barbara Pym (2 juni 1913 – 11 januari 1980)
02-06-2018 om 10:38 geschreven door Romenu

Tags:Markies De Sade, Dorothy West, Max Aub, Karl Gjellerup, Barbara Pym, Romenu


01-06-2018

Patrick Besson, John Masefield, Ferdinand Raimund, Peter de Mendelssohn, Petra Morsbach, Colleen McCullough, Macedonio Fernández, Wilfred Campbell, Vicky Francken
De Franse schrijver en journalist Patrick Besson werd geboren op 1 juni 1956 in Montreuil. Zie ook mijn blog van 1 juni 2009 en alle tags voor Patrick Besson op dit blog.
Uit: Tout le pouvoir aux soviets
« Ma dernière nuit à Moscou, capitale de la Russie lubrique et poétique. La ville où les piétons sont dans les escaliers des passages souterrains et les automobilistes au-dessus d'eux dans les embouteillages. Avenues larges et longues comme des pistes d'atterrissage. Retrouver la chambre 5515 du Métropole ou aller boire un verre ailleurs ? J'aime sortir, mais aussi rentrer. Il y a ce club libertin sur Tverskaïa, où mes clients étaient sans moi hier soir, après la signature de notre contrat. Jamais dans un club libertin avec des clients, même après la signature d'un contrat : photos, puis photos sur les réseaux sociaux. Je travaille dans l'argent, et l'argent, c'est la prudence.
Va pour le club. Dans le goulet d'étranglement de l'entrée, un distributeur de billets qui annonce la couleur : celle de l'argent. L'air mélancolique des deux gros videurs. À droite le bar, à gauche des seins. Il y a aussi des seins au bar. Je compte – c'est mon métier – quatorze filles nues ou en sous-vêtements pornographiques. Peaux d'enfant, visages d'anges. Elles me dansent dessus à tour de rôle. Obligé d'en choisir une pour échapper aux autres. Je prends la plus habillée, ça doit être la moins timide. Et j'aurai une occupation : la déshabiller. C'est une Kazakh ne parlant ni anglais ni français, dans une courte robe qui, dans la pénombre, semble bleue. On discute du prix à l'aide de nos doigts. Je l'emmène dans une chambre aux murs noirs et sans fenêtres qui se loue à la demi-heure. Le cachot du plaisir. Le point faible de la prostitution moderne : l'immobilier. Les bordels de nos grands-pères avaient des fenêtres. Et parfois des balcons.
Au cours des trente minutes suivantes, m'amuserai à soulever puis à rabaisser la robe de la Kazakh sur ses fesses rondes et fraîches. Je veux bien payer une femme à condition de ne pas coucher avec elle. La fille m'interroge, par petits gestes inquiets, sur ce que je veux. Étonnée d'échapper à l'habituel viol. Je ne lui ai pas dit que je parle russe. Tout le monde n'a pas eu la chance d'avoir un papa communiste. S'il s'était douté que la langue de Lénine me servirait autant dans la finance, mon père m'aurait obligé à en apprendre une autre.
C'était juste après la mort de maman qui m'a toujours parlé français par haine de sa terre natale soviétique."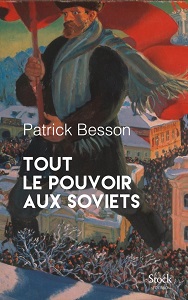 Patrick Besson (Montreuil, 1 juni 1956)
Cover
De Engelse dichter en schrijver John Edward Masefield werd geboren op 1 juni 1878 in Ledbury, in Herefordshire. Zie ook mijn blog van 1 juni 2009 en eveneens alle tags voor John Masefield op dit blog.
Trade winds
In the harbour, in the island, in the Spanish seas,
Are the tiny white houses and the orange trees,
And day-long, night-long, the cool and pleasant breeze
Of the steady Trade Winds blowing.
There is the red wine, the nutty Spanish ale,
the shuffle of the dancers, and the old salt's tale,
The squeaking fiddle, and the soughing in the sail
Of the steady Trade Winds blowing.
and o'nights there's the fire-flies and the yellow moon,
And in the ghostly palm trees the sleepy tune
Of the quiet voice calling me, the long low croon
Of the steady Trade Winds blowing.
I never see the red rose crown the year
I never see the red rose crown the year,
Nor feel the young grass underneath my tread,
Without the thought "This living beauty here
Is earth's remembrance of a beauty dead.
Surely where all this glory is displayed
Love has been quick, like fire, to high ends,
Here, in this grass, an altar has been made
For some white joy, some sacrifice of friends;
Here, where I stand, some leap of human brains
Has touched immortal things and left its trace,
The earth is happy here, the gleam remains;
Beauty is here, the spirit of the place,
I touch the faith which nothing can destroy,
The earth, the living church of ancient joy."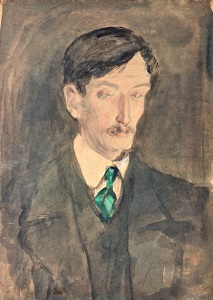 John Edward Masefield (1 juni 1878 – 12 mei 1967)
Portret door Jack B. Yeats, 1905
De Oostenrijkse schrijver Ferdinand Raimund werd geboren op 1 juni 1790 in Wenen. Zie ook mijn blog van 1 juni 2009 en eveneens alle tags voor Ferdinand Raimund op dit blog.
Uit: Der Diamant des Geisterkönigs
"FEUERGEIST (ganz rot gekleidet, rotes Gesicht und rote Hände; er hat die ganze Szene behorcht). Potz Pech und Schwefel, das ist zuviel! Ich bin Feuergeist, Oberfeuerwerker und Kanonier des Zauberkönigs! Wer kann sagen, daß seit drei Jahren eine menschliche Seele in seinen Palast gekommen ist? Bin ich nicht auf seine Kosten nach Neapel gereist, um den Vesuv aufzunehmen und einen ähnlichen über seinen Palast zu bauen? Ist das nicht geschehen? Blausäure und Vitriolöl!
FEE APRIKOSA. Und warum ist es geschehen? Damit wir ihn nicht sooft belästigen und mit unserm Wolkenwagen jetzt durch den Krater fahren müssen, wie die Hexen durch den Rauchfang.
FEUERGEIST. Nein! Potz Pech und Schwefel! Damit er von der Menschheit, die sich durch verschiedene magische Künste in sein Reich filoutiert hatte, um ihn mit Betteleien zu belästigen, Ruhe bekomme.
ZWEITER ZAUBERER. Ja, ja, so ist der Kaffee.
ERSTER ZAUBERER. Das müssen Sie Narren weismachen.
FEUERGEIST. Aber, ins Geiers Namen, das tue ich ja; und wer's nicht glauben will, den sollen alle kongreveschen Raketen –
ZWEITER ZAUBERER (gleich einfallend). Nun, nun, mein Herr Feuergeist und Oberkanonier, moderieren Sie sich nur! Sie zünden ja sonst den Palast an mit Ihren Raketen.
ALLE Werft ihn hinaus! Hinaus mit ihm!
FEUERGEIST. Was? Einen Feuergeist hinauswerfen?
ZWEITER ZAUBERER. Da haben wir schon andere hinausgeworfen.
FEUERGEIST. Beim Brand von Moskau, das ist zuviel! (Mit geballter Faust) Wer mir in die Nähe kommt, dem werf' ich eine Leuchtkugel an den Kopf, daß ihm das bengalische Feuer aus den Augen spritzen soll."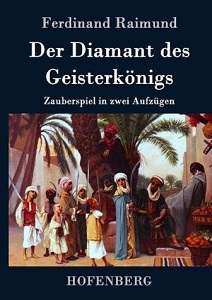 Ferdinand Raimund (1 juni 1790 – 5 september 1836)
Cover
De Duitse schrijver, essayist, journalist, biograaf en uitgever Peter de Mendelssohn werd op 1 juni 1908 in München geboren. Zie ook mijn blog van 1 juni 2009 en eveneens alle tags voor Peter de Mendelssohn op dit blog.
Uit: Der Zauberer
"Der Krieg war rundherum und ganz und gar verloren. Das große Rückzugsgefecht des Unpolitischen, mit Bravour und im nahezu sicheren Wissen um seinen schlechten Ausgang geführt, war zu Ende. Die heile Welt der machtgeschützten Innerlichkeit, das festgefügte wilhelminische Obrigkeits-Deutschland, in welchem der Künstler Thomas Mann sich an seinem legitimen Platz gewußt hatte, zerbarst Stück für Stück vor seinen Augen. Die »Katastrophe und Weltniederlage dieser Geistesrichtung und Sympathie« des konservativen Deutsch-land, so schrieb er am 5. Oktober 1918, sei da, und fügte hinzu: »Es ist auch die meine. « Freilich, »so lange noch ein Kaiser an der Spitze steht«, meinte er zwölf Tage später, »ist das roman-tische, das mittelalterliche Deutschland nicht tot«. Aber er wußte und notierte für sich: »Der Kaiser wird abdanken.« Hellsichtig war er nicht; aber er war auch nicht vor Gram und Enttäuschung blind. Am z1. Oktober notierte er: »Wilhelm II. als Privatmann in Civil an einem Schweizer See spazieren ge-hend ist auch eine wunderliche Vorstellung«. Die ganze Welt war ihm zu einer wunderlichen Vorstellung geworden. Im Sturm der politischen Ereignisse des Winters 1918-1919, in dem aus den Trümmern des Kaiserreichs notge-drungen und widerwillig die Republik hervorkam, und noch lange danach, war er, nicht anders als viele Deutsche, wohl gar die meisten, eine schwankende Gestalt. Er mußte seinen Standort von Woche zu Woche, ja von einem Tag zum näch-sten neu zu bestimmen suchen. »Man sieht heute keine drei Schritte weit, wer weiß denn, was in 8 Monaten sein wird ...«, schrieb er. Indessen erwies sich ihm allmählich, daß die zerbro chene, unheile Welt, in der er sich fand, noch genug unver-sehrte Elemente der heilen enthielt, damit er sie, zumindest für sich selbst und vielleicht auch für andere, wieder zusammen-fügen und womöglich in nicht allzu veränderter Gestalt wie-der heilen konnte. In einer Trümmerwelt konnte und wollte er weder leben noch schaffen. Seine ganze zweite Lebenshälfte ist ein einziges, viele Phasen der Hoffnung und Enttäuschung durchlaufendes verbissenes Streben, für sich und sein Werk die Ordnung einer heilen Welt wiederzugewinnen, in Deutsch-land, in der Schweiz, in Amerika und endlich, an seinem Lebensabend, abermals in der Schweiz. Wenn diese Lebenshälfte überhaupt auf eine Kurzformel zu bringen ist, dann wäre es am ehesten noch diese."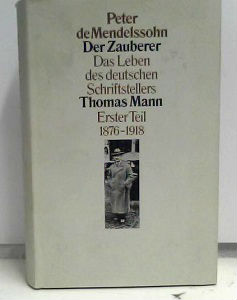 Peter de Mendelssohn (1 juni 1908 – 10 augustus 1982)
Cover
De Duitse schrijfster Petra Morsbach werd geboren op 1 juni 1956 in Zürich. Zie ook alle tags voor Petra Morsbach op dit blog.
Uit: Dichterliebe
"Eine Frau kommt über den Rasen auf mich zu und fragt: »Ist das hier das Künstlerhaus?. Ich muß in der Hitze eingenickt sein auf meinem Plastestuhl, das Hemd klebt mir am Rücken, Schweiß rinnt in die Augen. Vor dem weißen Rock die dunk-len Schlieren eines Traums. Alptraum, was sonst ... Ich kam zu spät zur Lesung, suchte vergeblich den Ort, landete in der fal-schen Stadt, rannte durch einen Bahnhof ohne Anzeigetafeln. Eine Durchsage meldete zwanzig Minuten Verspätung, aber von welchem Zug? Bahnbedienstete standen herum und er-klärten: -Das alles geht uns nichts mehr an.• Eine Schaffnerin rief: •Geschieht Ihnen recht!. Endlich fand ich die Bibliothek, Zuhörer waren auch da, aber es stellte sich heraus, ich war gar nicht eingeladen. Der weiße Rock jetzt vor mir. Eine blaue Bluse mit silbernen Blättchen auf der Brust — die Silhouette eines Einhorns. Wieso Einhorn? Frau mit Sonnenbrille, Typ Westschnepfe: So stelle ich mir eine Zahnarztgattin auf Kulturtourismus vor. »Ja«, seufze ich, •das ist das Künstlerhaus.• »Dann sind Sie sicher ein Künstler?. »Ja.« Was sonst? »Ich auchl« Sie strahlt mich an. Streckt mir die Hand entge-gen: »Sidonie Fellgiebel. Ich trete heute mein Stipendium an!. Eine Mitbewohnerin, o Gott. Ich stehe mühsam auf und reiche ihr die Hand. »Heinrich Steiger?. Den Namen hört sie sichtlich zum ersten Mal. Natürlich hört sie ihn zum ersten Mal. Deine Zeit ist vorbei, gewöhne dich daran. •Sonntags ist das Büro nicht besetzt•, bemerke ich lahm. »Ich weiß. Irene Ammann vom Appartement vier soll meinen Schlüssel haben. Aber vorn macht niemand auf. Das ist doch das Haupthaus? Wohnen Sie auch dort?. Nein, ich wohne nicht don, ich wohne hier im Schafstall, im sogenannten. Und was geht mich Irene Ammann an? Wahr-scheinlich ist sie drüben bei den Bildenden Künstlern und kocht. Warum kocht sie nicht mit mir? Seit Tagen habe ich sie nicht gesehen, immer hockt sie auf ihrer Bude, na, vielleicht ist sie krank. Bei schönem Wetter sitzt sie manchmal abends mit ei-nem Schreibblock auf dem Mäuerchen und notiert Einfälle für ihre Extremlyrik. Aber noch ist nicht Abend. •Was ist Extremlyrik?. Habe ich laut gesprochen? Auch das noch. »Vielleicht erklärt Ihnen besser Irene selbst ... Entschuldigen Sie mich, ich bin ... Hof der Bildenden Künstler ist das nächste große Haus, die Straße entlang links ...« »Vielen Dank!« Die Schnepfe hüpft davon. Nicht mehr ganz jung, Mitte Dreißig vielleicht, etwas schwerer Hintern. Wirkt wie eine Anfängerin. Westanfängerin. Wehe, sie schenkt mir ihr Erstlingswerk. Zwei Stunden später taucht sie wieder auf und erkundigt sich, wo sie was zu essen bekäme."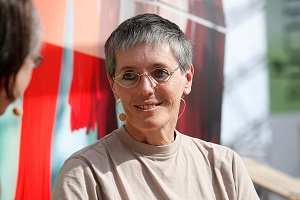 Petra Morsbach (Zürich, 1 juni 1956)
De Australische schrijfster Colleen McCullough werd geboren op 1 juni 1937 in Wellington. Zie ook mijn blog van 1 juni 2009 en eveneens alle tags voor Colleen McCullough op dit blog.
Uit: The Thorn Birds
"She was yanking inexpertly at a large knot when the dreadful thing happened. Off came the hair, all of it, dangling in a tousled clump from the teeth of the comb. Above Agnes's smooth broad brow there was nothing; no head, no bald skull. Just an awful, yawning hole. Shivering in terror, Meggie leaned forward to peer inside the doll's cranium. The inverted contours of cheeks and chin showed dimly, light glittered between the parted lips with their teeth a black, animal silhouette, and above all this were Agnes's eyes, two horrible clicking balls speared by a wire rod that cruelly pierced her head.
Meggie's scream was high and thin, unchildlike; she flung Agnes away and went on screaming, hands covering her face, shaking and shuddering. Then she felt Frank pull at her fingers and take her into his arms, pushing her face into the side of his neck. Wrapping her arms about him, she took comfort from him until his nearness calmed her enough to become aware of how nice he smelled, all horses and sweat and iron.
When she quietened, Frank made her tell him what was the matter; he picked up the doll and stared into its empty head in wonder, trying to remember if his infant universe had been so beset by strange terrors. But his unpleasant phantoms were of people and whispers and cold glances. Of his mother's face pinched and shrinking, her hand trembling as it held his, the set of her shoulders.
What had Meggie seen, to make her take on so? He fancied she would not have been nearly so upset if poor Agnes had only bled when she lost her hair. Bleeding was a fact; someone in the Cleary family bled copiously at least once a week.
"Her eyes, her eyes!" Meggie whispered, refusing to look at the doll.
"She's a bloody marvel, Meggie," he murmured, his face nuzzling into her hair. How fine it was, how rich and full of color!
It took him half an hour of cajoling to make her look at Agnes, and half an hour more elapsed before he could persuade her to peer into the scalped hole. He showed her how the eyes worked, how very carefully they had been aligned to fit snugly yet swing easily opened or closed."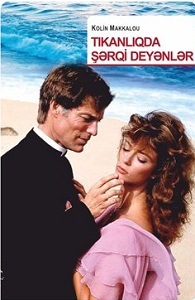 Colleen McCullough (1 juni 1937 – 29 januari 2015)
Cover Azerbeidzjaanse uitgave
De Argentijnse schrijver Macedonio Fernández werd geboren op 1 juni 1874 in Buenos Aires. Zie ook mijn blog van 1 juni 2009 en alle tags voor Macedonio Fernández op dit blog.
Uit: From The Museum of Eterna's Novel (Vertaald door Margaret Schwartz)
"I leave only the title finished, since:
A prologue that starts right away is really sloppy: the perfume of its preceding is lost, just as I said that futurism can only be genuinely practiced by leaving it for later.
I will also have said, earlier, that this is one of the twenty-nine prologues of a novel that's impossible to prologue, as a critic, who surely born in that tranquil country of "ask questions later," has recently predicted; there's another, more sympathetic, book, that is, one that's more given to length and limited in prologues—which can still be remedied—which was going to be called "The Man Who Would Be President But Wasn't."
* * *
Or, an equivalent:
"Buenos Aires hysterical, torn between the hilarious faction and the faction of eternity, and saved by its splendid compatriot, who unifies humorism and passion." But the title I've got left for "the novel permitted a beginning," which although it begins late has no less of a beginning, and, if he reads it, the reader will wish it were all made of continuations, such as "Novel of Eterna, and of the Child of Melancholy, Sweetheart, of-a-love that was kept unknown."
This last is the title a certain gentleman preferred; he began to read it and promised to come
back right away, to finish finding out how the novel is named."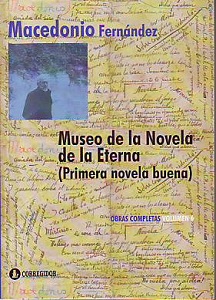 Macedonio Fernández (1 juni 1874 – 10 februari 1952)
Cover
De Canadese dichter en schrijver William Wilfred Campbell werd geboren rond 1 juni 1858 in Berlin, Ontario, tegenwoordig Kitchener. Zie ook alle tags voor William Campbell op dit blog.
An October Evening
The woods are haggard and lonely,
The skies are hooded for snow,
The moon is cold in Heaven,
And the grasses are sere below.
The bearded swamps are breathing
A mist from meres afar,
And grimly the Great Bear circles
Under the pale Pole Star.
There is never a voice in Heaven,
Nor ever a sound on earth,
Where the spectres of winter are rising
Over the night's wan girth.
There is slumber and death in the silence,
There is hate in the winds so keen;
And the flash of the north's great sword-blade
Circles its cruel sheen.
The world grows agèd and wintry,
Love's face peakèd and white;
And death is kind to the tired ones
Who sleep in the north to-night.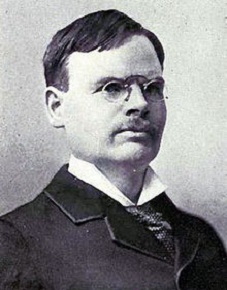 Wilfred Campbell (1 juni 1858 - 1 januari 1918)
Onafhankelijk van geboortedata
De Nederlandse dichteres Vicky Francken werd geboren in 1989 in Boxmeer. Zie ook alle tags voor Vicky Francken op dit blog.
[de lucht vouwt zich een]
de lucht vouwt zich een
zakdoek om onze hoofden
zoals de wind zich bolt
in de holten van was, we
neuriën absurde melodietjes
zoals in oude films van kleine
meisjes rennen we rond met
emmertjes om de regen op te vangen
voordat we de jongste uit het
oog verliezen, zij met haar
mooiste kaplaarsjes de vijver
instapt en zich afvraagt hoeveel
belletjes ze maakt op het
wateroppervlak dat zich boven
haar hoofd als een deur sluit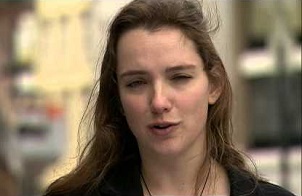 Vicky Francken (Boxmeer, 1989)
01-06-2018 om 19:04 geschreven door Romenu

Tags:Patrick Besson, John Masefield, Ferdinand Raimund, Peter de Mendelssohn, Petra Morsbach, Colleen McCullough, Macedonio Fernández, Wilfred Campbell, Vicky Francken, Thomas Mann,Romenu



C. Buddingh'-prijs voor Radna Fabias
C. Buddingh'-prijs voor Radna Fabias
De Nederlandse dichteres Radna Fabias heeft de C. Buddingh'-prijs 2018 gekregen voor de bundel "Habitus". De prijs voor het beste poëziedebuut werd uitgereikt op het festival Poetry International in Rotterdam. Aan de prijs is een bedrag van 1.200 euro verbonden. Radna Fabias werd geboren in Curaçao in 1983 en groeide op op de Nederlandse Antillen. Ze studeerde aan de Hogeschool voor de Kunsten Utrecht en de Universiteit van Amsterdam. Eerder won ze de poëzieprijs van de stad Oostende. In februari 2018 debuteert ze als dichteres met de bundel "Habitus" bij uitgeverij De Arbeiderspers.
richtlijnen voor vergelding

noem het ding bij de naam: beest
draag je kroon

leer alles over dwangvoer
draag je kroon

maak een voodoopop
geef hem drie poten
zie hem hinkelen
draag je kroon

laat minstens tien jaar lang de woede
aankoeken de nagels groeien
slik veel calcium
verlaat de toren

vijl de nagels elke nacht bij het ontwaken - kalm - tot scherpe harken
draag je kroon

Snijd de draak open met je harken
(puntig sexy scherp en vinnig)
draag je glitterende feestjurk

zeg
'maar je hebt woorden, beest, gebruik ze'
draag je kroon

laat het hurken laat het
hoesten tot het teruggeeft
wat niet van hem was




adam spoelt aan

op zondagochtend op het kerkplein
in de stad – het is herfst er ligt blad
het toeval is van overheidswege
afgeschaft – ik raap hem op ik dep hem
droog ik houd hem om hem om hem
heen schrijf ik een zin waarin zijn knapzak past

adam rekt zich uit de verdrinking
heeft hem goed gedaan wat is hij
schoon hij heeft zes maskers hij
draagt er één dat heeft hij mee
uit de woestijn waar hij alleen was toen
intact nog en droog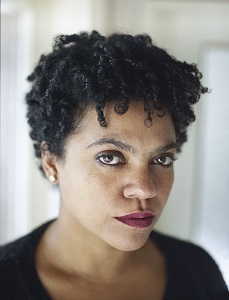 Radna Fabias (Curaçao, 1983)
01-06-2018 om 08:59 geschreven door Romenu

Tags:C. Buddingh'-prijs, Radna Fabias, Romenu



Wiel Kusters
De Nederlandse dichter, schrijver en letterkundige Wiel Kusters werd geboren in Spekholzerheide op 1 juni 1947. Kusters studeerde Nederlandse taal- en letterkunde in Nijmegen en gaf van 1972 tot 1978 les op een middelbare school. Hij was recensent en columnist voor NRC/Handelsblad en de Volkskrant en maakte literaire programma's voor de KRO. Van 1976 tot 1982 was hij redacteur van de kunstprogramma's van de Regionale Omroep Zuid. Kusters was van 1983 tot 1994 mederedacteur van De Gids en van 1993 tot 1994 van Dietsche Warande & Belfort. Hij vervulde verschillende functies voor de Maatschappij der Nederlandse Letterkunde en in 1995 werd hij lid van de Raad voor Cultuur. In 1985 promoveerde Kusters op "De killer", een proefschrift over de poëzie en de poëtica van Gerrit Kouwenaar. In 1989 werd hij hoogleraar aan de Rijksuniversiteit van Limburg, eerst buitengewoon hoogleraar en vanaf 1992 gewoon hoogleraar. Als dichter debuteerde Kusters in het tijdschrift Contour in 1964. In 1978 verscheen zijn eerste bundel poëzie, "Een oor aan de grond". Daarin is zijn verbondenheid met de Limburgse mijnstreek, waar hij opgroeide en zijn vader als mijnwerker werkte, één van de belangrijkste thema's. In zijn essays in "Tegen de verstening, tegen het gruis" (1993) zet hij zich af tegen de heersende opvattingen van het postmodernisme. Kusters verzamelde zijn poëzie en zijn poëtische notities uit de jaren 1975-1989 in "Zegelboom" (1998). Samen met Huub Beurskens schreef Kusters een dialoog in dichtvorm die werd gepubliceerd onder de titel "In duizend kamers" (2006). Aan Kusters werd in 1990 de Sphinx-Cultuurprijs toegekend vanwege zijn verdiensten als dichter en essayist, maar vooral als stimulator van het literaire leven in Limburg.
Margraten
Als je zo'n klein wit steentje was van nu
dat in een grote wei werd neergezet
bij al die andere stenen, rijen lang,
dan had je ons, maar niet jezelf gered.

Als je zo'n bange jongen was van toen
die in het gelid moet staan met vlees en bloed
dat je thuis achterliet, en in een heg
voorovervalt, waar je dan hangen moet,

je gezicht vol in de doorns, terwijl je sterft,
dan moeten wij toch even blijven staan
en vragen wie wij zijn, toen, nu, hier, daar.

Daar regent het. Je schuilt. Ik kam mijn haar.
Zon op je steen. Zij wandelt door de laan.
Het waait. De wereld heeft zich rood geverfd.
Vader Aarde, Moeder Wereld
Ik moet de wegen tonen die mijn vader liep,
maar ook de plaatsen die mijn moeder meed.
Die diepte waarin vader zich versliep
was voor mijn moeder eerder lang en breed:
de maten van haar waken in hun bed.

Haar wereld was niet groot, tien straten nauw.
De kleine dingen waar je dan op let.
Bewuste rondgang. God en wereld trouw.

De diepte en het oppervlak, het waken en de slaap.
De wouden van de droom, de perken van het licht.
Ik houd die twee maar moeilijk uit elkaar.

Maar nu ik hier mijn woorden samenraap,
ontbindt zich, vader, moeder, haast uw paar.
Kom toch te bed, en slaap en waak in dit gedicht.
Kerkraadse gedichten
Voor mij was glück auf
een nachtgroet, in het donker
gesproken door mannen

voor hun behoefte zittend
op de schop terwijl muizen
brood uit hun jaszak vraten

geen treffender beeld
voor de komende slaap
wanneer ik in bed
mijn vader groette
voor hij de deur sloot.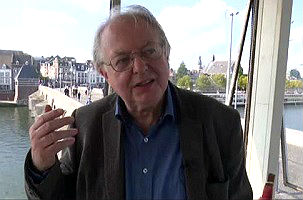 Wiel Kusters (Spekholzerheide, 1 juni 1947)
01-06-2018 om 00:00 geschreven door Romenu

Tags:Wiel Kusters, Romenu


31-05-2018

Love's Choice (Malcolm Guite)
Bij Sacramentsdag


La Bénédiction des blés dans l'Artois door Jean Breton, 1857
Love's Choice
This bread is light, dissolving, almost air,
A little visitation on my tongue,
A wafer-thin sensation, hardly there.
This taste of wine is brief in flavour, flung
A moment to the palate's roof and fled,
Even its aftertaste a memory.
Yet this is how He comes. Through wine and bread
Love chooses to be emptied into me.
He does not come in unimagined light
Too bright to be denied, too absolute
For consciousness, too strong for sight,
Leaving the seer blind, the poet mute;
Chooses instead to seep into each sense,
To dye himself into experience.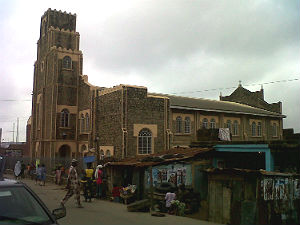 Malcolm Guite (Ibanda, 12 november 1957)
First Baptist Church in Ibadan, Nigeria, de geboorteplaats van Malcolm Guite
Zie voor de schrijvers van de 31e mei ook mijn vorige blog van vandaag.
31-05-2018 om 16:04 geschreven door Romenu

Tags:Malcolm Guite, Sacramentsdag, Fronleichnam, Romenu



Mariae Heimsuchung (Rainer Maria Rilke)
Bij Maria Visitatie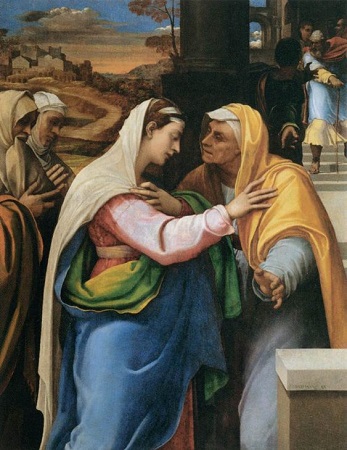 Visitatie door Sebastiano del Piombo, 1518-19
Mariae Heimsuchung
Noch erging sie's leicht im Anbeginne,
doch im Steigen manchmal ward sie schon
ihres wunderbaren Leibes inne, -
und dann stand sie, atmend, auf den hohn

Judenbergen. Aber nicht das Land,
ihre Fülle war um sie gebreitet;
gehend fühlte sie: man überschreitet
nie die Größe, die sie jetzt empfand.

Und es drängte sie, die Hand zu legen
auf den andern Leib, der weiter war.
Und die Frauen schwankten sich entgegen
und berührten sich Gewand und Haar.

Jede, voll von ihrem Heiligtume,
schützte sich mit der Gevatterin.
Ach der Heiland in ihr war noch Blume,
doch den Täufer in dem Schoß der Muhme
riss die Freude schon zum Hüpfen hin.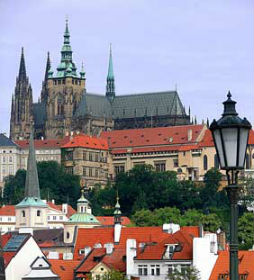 Rainer Maria Rilke (4 december 1875 – 29 december 1926)
De Sint Vituskathedraal in Praag, de geboortestad van Rainer Maria Rilke
Zie voor de schrijvers van de 31e mei ook mijn vorige blog van vandaag.
31-05-2018 om 16:03 geschreven door Romenu

Tags:Rainer Maria Rilke, Maria Visitatie, Romenu



Walt Whitman, Frank Goosen, Gabriel Barylli, Konstantin Paustovski, Svetlana Alexievich, Ludwig Tieck, Gerd Hergen Lübben, Saint-John Perse, T. T. Cloete
De Amerikaanse dichter Walt Whitman werd geboren op 31 mei 1819 in Westhills, Long Island, New York. Zie ook alle tags voor Whalt Whitman op dit blog.
Zang van de open weg
3
Jij, lucht die me adem schenkt om te spreken!
Jullie, voorwerpen die mijn intenties uit hun verstrooiing oproepen en vorm geven!
Jij, licht dat mij en alle dingen hult in tere, gelijkmatige vloed!
Jullie, paden, uitgesleten in de hobbelige gaten aan de kant van de weg!
Ik geloof dat er ongeziene bestaansvormen in jullie schuilen, jullie zijn me zo lief.

Jullie, geplaveide voetpaden in de steden! Jullie, sterke banden aan de rand!
Jullie, veerboten! Jullie, planken en palen van werven! Jullie, houtberande zijden! Jullie, verre schepen!
Jullie, huizenrijen! Jullie, raam-doorstoken gevels! Jullie, daken!
Jullie, veranda's en ingangen! Jullie, muurkappen en ijzeren ankers!
Jullie, ramen wier doorzichtige vliezen soms zoveel blootgeven!
Jullie, deuren en oplopende treden! Jullie, gewelven!
Jullie, grijze stenen van eindeloze straten! Jullie, uitgetrapte kruispunten!
Ik geloof dat jullie jezelf verrijkt hebben aan alles wat jullie raakte, en dat jullie daarmee heimelijk nu ook mij verrijken,
Uit levenden en doden hebben jullie je onbewogen oppervlak bevolkt, en hun geesten komen me nu als vrienden begroeten.
Vertaald door Jabik Veenbaas
I Saw in Louisiana A Live-Oak Growing
I saw in Louisiana a live-oak growing,
All alone stood it and the moss hung down from the branches,
Without any companion it grew there uttering joyous leaves of dark green,
And its look, rude, unbending, lusty, made me think of myself,
But I wonder'd how it could utter joyous leaves standing alone there without its friend near, for I knew I could not,
And I broke off a twig with a certain number of leaves upon it, and twined around it a little moss,
And brought it away, and I have placed it in sight in my room,
It is not needed to remind me as of my own dear friends,
(For I believe lately I think of little else than of them,)
Yet it remains to me a curious token, it makes me think of manly love;
For all that, and though the live-oak glistens there in Louisiana solitary in a wide flat space,
Uttering joyous leaves all its life without a friend a lover near,
I know very well I could not.
Uit: Calamus Poems (Fragment)
3.
Whoever you are holding me now in hand,
Without one thing all will be useless,
I give you fair warning, before you attempt me
further,
I am not what you supposed, but far different.
Who is he that would become my follower?
Who would sign himself a candidate for my affec-
tions? Are you he?
The way is suspicious—the result slow, uncertain,
may-be destructive;
You would have to give up all else—I alone would
expect to be your God, sole and exclusive,
Your novitiate would even then be long and ex-
hausting,
The whole past theory of your life, and all conformity
to the lives around you, would have to be aban-
doned;
Therefore release me now, before troubling yourself
any further—Let go your hand from my
shoulders,
Put me down, and depart on your way.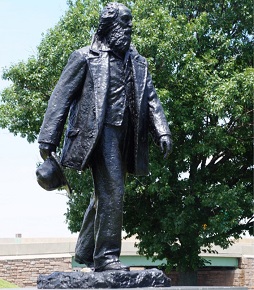 Walt Whitman (31 mei 1819 – 26 maart 1893)
Standbeeld in Philadelphia
De Duitse schrijver en cabaretier Frank Goosen werd geboren op 31 mei 1966 in Bochum. Zie ook alle tags voor Frank Goosen op dit blog.
Uit: Pokorny lacht
"Zu Hause riss er zuerst die Fenster auf. Die Luft war abgestanden und muffig, wie immer, wenn er drei Wochen auf Tournee gewesen war. Die dicke Frau Sander, seine Putzfrau, hatte hier zwar einmal in der Woche nach dem Rechten gesehen, dabei aber wieder nicht gelüftet. Er ging in die Küche und machte sich einen doppelten Espresso. Sein Blick fiel auf den Haufen Post, den Frau Sander auf dem Tisch deponiert hatte. Das hatte Zeit. Das waren sowieso nur Rechnungen, Programme von Kleinkunsttheatern und Post von Veranstaltern, die seinen Agenten umgehen wollten, weil sie glaubten, dann kriegten sie Friedrich Pokorny billiger. Mit der Tasse in der Hand ging er nach draußen.
Der Garten war in einem schlimmen Zustand. In den nächsten Tagen würde er Maus anrufen müssen, den pensionierten Gärtner, der ihm das Grünzeug in Ordnung hielt.
Er zog seine Schuhe aus und ging über den Rasen. Er liebte das. Manchmal erwischte er sich dabei, wie er schon im Zug, lange vor der Ankunft am heimischen Bahnhof, diesem Moment entgegenfieberte.
Er trank den Espresso im Stehen und dachte an nichts. Dann ging er wieder hinein und packte seinen Koffer aus. Im Keller warf er die Leibwäsche in die Waschmaschine und stopfte den Rest in den großen Stoffsack, den die Reinigung am nächsten Morgen abholen würde.
Jetzt wäre Zeit für die Post gewesen, aber ihm ging nun die Stille im Haus ein wenig an die Nerven. Das passierte meistens eine bis anderthalb Stunden, nachdem er von einer Reise zurückgekommen war. Er legte A Man alone von 1969 in den CD-Player, die Platte, die Rod McKuen eigens für Sinatra komponiert hatte. Wahre Fans hielten nicht viel von dieser Schaffensphase des Meisters. Zu viele sentimentale Balladen, kein Biss, kein Swing. Friedrich fand, es war die richtige Musik für einen einsamen Mann, der gern heimlich in Selbstmitleid versank.
Er wollte gerade in die Küche gehen und sich endlich der Post zuwenden, als das Telefon klingelte. Es war sein Vater.
»Bist du wieder zu Hause?«
Sag bloß nicht Guten Tag, alter Mann, dir könnte die Zunge im Maul verdorren. »Hallo Papa, wie geht es dir?"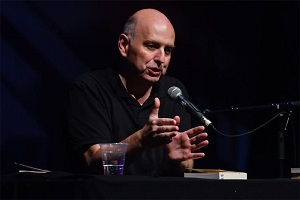 Frank Goosen (Bochum, 31 mei 1966)
De Oostenrijkse schrijver, toneelspeler en regisseur Gabriel Barylli werd geboren op 31 mei 1957 in Wenen. Zie ook alle tags voor Gabriel Barylli op dit blog.
Uit: Paradies
"Ich kenne den Weg dorthin und ich möchte davon erzählen, wie dieser Weg aussieht.
Den ersten Schritt habe ich vor zwei Jahren getan — ohne es zu wissen.
Mein Leben war zu dieser Zeit das Leben einer alleinlebenden Frau. Ich arbeitete in einem Kindergarten und war dabei, in meiner Freizeit Sportmassagen zu erlernen. Nachdem ich diese Ausbildung abgeschlossen hatte, machte ich mich auf die Suche nach einem Arbeitsplatz, an dem ich mein neues Können anwenden durfte.
Ich hatte die Vision, dass ich die eine Hälfte meines Arbeitstages mit meinen Kindern und die zweite Hälfte mit Massagen verbringen konnte Ich entschied mich fier einen unüblichen Weg und besuchte mehrere Wochen lang die
besten Hotels der Stadt. Ich wusste, dass diese luxuriösen Häuser einen Spa-Bereich haben, und so stellte ich mich der Reihe nach bei allen Managern vor. Nach drei Wochen hatte ich tatsächlich Glück.
Im größten Hotel der Stadt war ein Job im Saunabereich frei geworden. Dieses Hotel hatte so viel Personal, dass eine ständige Rotation stattfand, und ich war zum richtigen Zeitpunkt am richtigen Ort.
Ich zeigte meine Zeugnisse vor, absolvierte eine Probemassage bei dem Spa-Manager und dann hatte ich den Job. Ich bat darum, hauptsächlich am Wochenende eingeteilt zu werden, und auch dieser Wunsch ging in Erfüllung. Ich hatte mit einem Mal ein Leben, das rund um die Uhr mit Arbeit ausgetillt war. Das erstaunte mich und ließ meine schon etwas mutlos gewordene Stimmung wieder steigen.
Ich arbeitete so viel und vor allem tat ich Dinge, die mich mit Freude erfüllten, dass ich keine Zeit hatte, an etwas anderes zu denken. Etwas anderes wie in meinem Fall die Tatsache, dass ich 32 Jahre alt geworden war und nach wie vor ohne Mann lebte. Hie und da schoss mir diese Erkenntnis durch den Kopf, wenn sich an einem Samstagabend ein attraktiver Geschäftsmann von mir durchkneten ließ. Dabei blieb es aber dann auch. Ich hatte eine eigenartige Einstellung zu Männern bekommen_ Zu ihrer Art, die Welt zu sehen, ihrer Art mit Frauen umzugehen und in der Folge auch zu ihren Körpern.
Es schien mir so als würden sie durch die unsexuelle Nähe, die ich erlebte, wenn ich sie massierte, zu einer stillen Distanz gebracht. Es war seltsam, Dutzende nackte Männer auf einem schmalen Tisch liegen zu sehen, sie einzuölen und eine Stunde lang anzugreifen."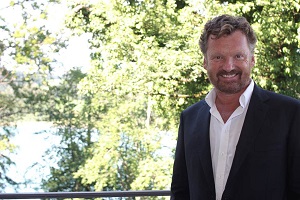 Gabriel Barylli (Wenen, 31 mei 1957)
De Russische schrijver Konstantin Paustovski werd geboren op 31 mei 1892 in Moskou. Zie ook alle tags voor Konstantin Paustovski op dit blog.
Uit:Goudzand (Vertaald door Wim Hartog)
"Nooit eerder heeft Rusland zo'n godverlaten, gietijzeren tijd gekend. Zelfs de aarde leek zwart te zijn geworden van al het aangekorste vergoten bloed. De grijns op de bek van de eeuwige bruut.
In Petersburg, een dodenstad, worden geen kinderen meer geboren. De mannen zijn er impotent. In de zes dagen dat hij* er was, heeft hij geen glimlach gezien, geen lach gehoord, zelfs geen koetsier horen roepen. Liefde bestaat niet meer. Het verschil tussen een man en een vrouw is uitgevlakt door de honger, het vuil en de ondraaglijke last van het leven. Wat vroeger flirten heette, bestaat niet meer. De monotonie is als van rubber. Het leven in deze monotonie, grauw en met de ammoniakgeur van de plee, is als een uitgedroogd elastiekje dat wordt gerekt tot het knapt.
Mannen lijken geen mannen meer en vrouwen geen vrouwen. Je ziet een wezen met uitgedoofde blik, een in een voddige bontjas gehulde hongerlijder. En als de meesten zich hoogstens eens in de twee maanden wassen – de waterleidingen zijn bevroren – kan er dan nog sprake zijn van liefde. Vrouwelijkheid, het teken van een levendig, vrij en rijk leven, is verschraald als een verdroogde rivier. De vrouwen wekken door hun vieze, rafelige kleding en tranende ogen al evenzeer walging op als de mannen met hun onfrisse, langharige luizenbos.
Lieve God, tot waar hebt Gij Rusland gebracht? Kon ik maar bidden in warme, van mat goud glanzende, halfduistere kerken. Bidden, wetende dat je, als je straks het kerkportaal uitloopt, op stille, met een blauwig licht beschenen pleinen van het Kremlin komt, donzige sneeuwvlokjes neerdwarrelen op de fluwelen wintermantel van een jonge vrouw en het leven zijn vaste loop heeft. Bidden voor ons reusachtige volk dat stervende is, blindelings rondtastend in het laatste schijnsel van troebel licht, zoekend naar een droge broodkorst. Duizeligheid en misselijkheid zijn ons nationale gevoel geworden. Er gaan meer mensen dood aan geestelijke misselijkheid, verdriet en eenzaamheid dan aan tyfus en honger."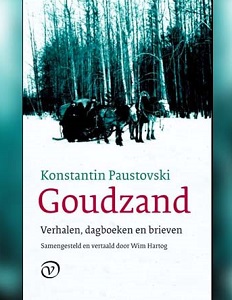 Konstantin Paustovski (31 mei 1892 – 14 juli 1968)
Cover
De Wit-Russische schrijfster en onderzoeksjournaliste Svetlana Alexandrovna Alexievich werd geboren op 31 mei 1948 in Stanyslaviv (sinds 1962 Ivano - Frankivsk). Zie ook alle tags voor Svetlana Alexievich op dit blog.
Uit: Secondhand Time: The Last of the Soviets (Vertaald door Bela Shayevich)
"After perestroika, no one was talking about ideas anymore — instead it was credit, interest, and promissory notes; people no longer earned money, they 'made' it or 'scored' it. Is all this here to stay? 'The fact that money is a fiction is ineradicable from the Russian soul,' wrote Marina Tsvetaeva. But it's as though Ostrovsky and Saltykov-Shchedrin characters have come to life and are promenading down our streets.
I asked everyone I met what 'freedom' meant. Fathers and children had very different answers. Those who were born in the USSR and those born afterwards do not share a common experience. They're people from different planets.
For the fathers, freedom is the absence of fear; the three days in August when we defeated the putsch. A man with his choice of a hundred kinds of salami is freer than one who only has ten to choose from. Freedom is never being flogged, although no generation of Russians has yet avoided a flogging. Russians don't understand freedom, they need the Cossack and the whip.
For the children: freedom is love; inner freedom is an absolute value. Freedom is when you're not afraid of your own desires, it's having lots of money, so that you'll have everything; it's when you can live without having to think about freedom. Freedom is normal.
In the 90s… yes, we were elated; there's no way back to that naiveté. We thought that the choice had been made and that communism had been defeated forever. But it was only the beginning…
Twenty years have gone by… 'Don't scare us with your socialism,' children tell their parents.
From a conversation with a university professor: 'At the end of the 90s, my students would laugh when I told them stories about the Soviet Union. They were sure that a new future awaited them. Now, it's a different story… Today's students have truly seen and felt capitalism: the inequality, the poverty, the shameless wealth. They've witnessed the lives of their parents, who never got anything out of the plundering of our country. And they're oriented toward radicalism. They dream of their own revolution and wear red t-shirts with pictures of Lenin and Che Guevara."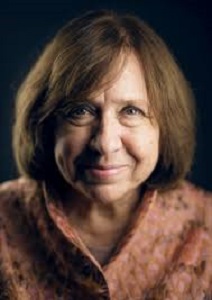 Svetlana Alexievich (Stanyslaviv, 31 mei 1948)
De Duitse dichter en schrijver Ludwig Tieck werd op 31 mei 1773 geboren in Berlijn. Zie ook Zie ook alle tags voor Ludwig Tieck op dit blog.
Der Dichter
Wie sehnsuchtsvoll fühlt sich mein Herz gezogen,
Dem frischen grünen Walde zugelenket,
Von Bächen wird das neue Gras getränket,
Die Blumen schauen sich in klaren Wogen.
Ein blau Krystall erscheint der Himmelsbogen,
Zur blühenden Erde liebend hergesenket,
Die Sonne zeigt, daß sie der Welt gedenket,
Sie hat die Blumen küssend aufgesogen.
Die Pflanzen glänzen, Wasserwogen lachen,
Die muntern Thiere regen sich in Sprüngen,
Der Vogel singt, vom grünen Zweig umrauschet.
Wenn Thiere, Wasser, Blumen, Flur' erwachen,
Läßt höher noch der Mensch die Stimm' erklingen,
Der Dichter fühlt von Gottheit sich berauschet.
Wandern
Wohlauf! es ruft der Sonnenschein
Hinaus in Gottes Welt!
Geht munter in das Land hinein,
Und wandert über Feld!
Es bleibt der Strom nicht ruhig stehn,
Gar lustig rauscht er fort;
Hörst du des Windes muntres Wehn?
Er braust von Ort zu Ort.
Es reist der Mond wohl hin und her,
Die Sonne ab und auf,
Guckt überm Berg und geht ins Meer,
Nie matt in ihrem Lauf:
Und Mensch, du sitzest stets daheim,
Sehnst dich nicht nach der Fern'?
Sei frisch, und wandle durch den Hain
Und sieh die Fremde gern.
Wer weiß, wo dir dein Glücke blüht,
So geh und such es nur!
Der Abend kommt, der Morgen flieht,
Betrete bald die Spur.
So weit dich schließt der Himmel ein,
Gerät der Liebe Frucht,
Und jedes Herz wird glücklich sein
Und finden, was es sucht.
Trost
Wenn die Ankerstricke brechen,
Denen du zu sehr vertraust,
Oft dein Glück so sicher schaust,
Zornig nun die Wogen sprechen, –
O so laß das Schiff den Wogen,
Mast und Segel untergehn,
Laß die Winde zornig wehn,
Bleibe dir nur selbst gewogen,
Von den Tönen fortgezogen,
Wirst du schön're Lande sehn:
Sprache hat dich nur betrogen,
Der Gedanke dich belogen,
Bleibe hier am Ufer stehn. –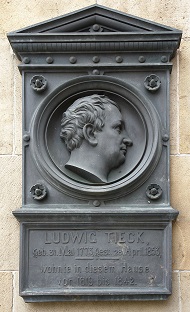 Ludwig Tieck (31 mei 1773 – 28 april 1853)
Plaquette aan de woning in Dresden, waar Tieck woonde van 1819 tot 1842.
De Duitse dichter en schrijver Gerd Hergen Lübben werd geboren op 31 mei 1937 in Sillenstede. Zie ook alle tags voor Gerd Hergen Lübben op dit blog.
Für einen redenden Gott
tu nichts verkehrts
dreh um den spieß
vergiss gut herz
bös blut vergieß
an strang gebannt
vor schand durchs land
aus angst die wand
vergessen herz
vergossen blut
wen wetter scherts
obs bös obs gut
am strange zerrt
der wind gekreisch
brich ab es dörrt
das falsche fleisch...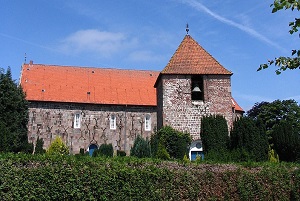 Gerd Hergen Lübben (Sillenstede, 31 mei 1937)
Sillenstede, St.-Florian-Kirche
De Franse dichter en diplomaat Saint-John Perse (eigenlijk Marie-René-Alexis Saint-Léger) werd geboren op 31 mei 1887 in Saint-Léger-les-Feuilles op Guadeloupe. Zie ook alle tags voor Saint-John Perse op dit blog.
Et vous, mers (Fragment)
Poésie pour accompagner la marche d'une récitation en l'honneur de la
Mer.

Poésie pour assister le chant d'une marche au pourtour de la
Mer.

Comme l'entreprise du tour d'autel et la gravitation du chœur au circuit de la strophe.

Et c'est un chant de mer comme il n'en fut jamais chanté, et c'est la
Mer en nous qui le chantera :

La
Mer, en nous portée, jusqu'à la satiété du souffle et la péroraison du souffle,

La
Mer, en nous, portant son bruit soyeux du large et toute sa grande fraîcheur d'aubaine par le monde.

Poésie pour apaiser la fièvre d'une veille au périple de mer.
Poésie pour mieux vivre notre veille au délice de mer.

Et c'est un songe en mer comme il n'en fut jamais songé, et c'est la
Mer en nous qui le songera :

La
Mer, en nous tissée, jusqu'à ses ronceraies d'abîme, la
Mer, en nous, tissant ses grandes heures de lumière et ses grandes pistes de ténèbres -

Toute licence, toute naissance et toute résipiscence, la
Mer ! la
Mer ! à son afflux de mer,

Dans l'affluence de ses bulles et la sagesse infuse de son lait, ah ! dans l'ébullition sacrée de ses voyelles -les saintes filles! les saintes filles ! -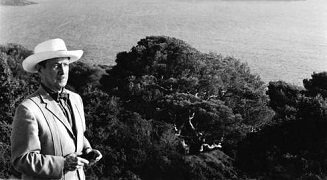 Saint-John Perse (31 mei 1887 – 20 september 1975)
De Zuid-Afrikaanse dichter, vertaler en wetenschapper Theunis Theodorus Cloete werd geboren in Vredefort op 31 mei 1924, in de toenmalige Oranje Vrijstaat. Zie ook alle tags voor T. T. Cloete op dit blog.
Boomstudies
I
eerste skets
uit die aarde kom die stam,
word boom en
stoot sy takke op
óp in die lug:
hy teken skadu's op sy eie lyf
én staan teen die hemel uitgeskryf
II
tweede skets
die witstinkhoute is lankal kaal
tot bruin en silwer skraalte afgeskaal
dan is die akkers nog
'n vuurgeel storm oor die straat
die swaar gekrulde donker balke hou
- goud teen blou, goud teen blou -
'n koepel sierlik op
ornaat in hoog barok
dié borne uit europa bou
uit eie bodem weggehaal
op afrika se oerou grond
'n outochtone katedraal
III
derde skets
lentetyd verdwyn my boom in groen
mis, groen wolk, groen grofgebreide mus
die sterk getekende taktiek van die
oorwintering - niks is ooit alles nie -
'n onderliggende herinnering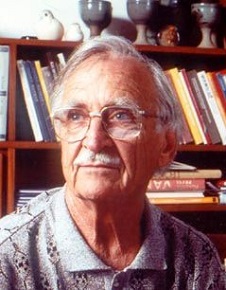 T. T. Cloete (31 mei 1924 – 29 juli 2015)
Zie voor nog meer schrijvers van de 31e mei ook mijn blog van 31 mei 2017 en ook mijn blog van 31 mei 2015 deel 2.
31-05-2018 om 15:43 geschreven door Romenu

Tags:Walt Whitman, Frank Goosen, Gabriel Barylli, Konstantin Paustovski, Svetlana Alexievich, Ludwig Tieck, Gerd Hergen Lübben, Saint-John Perse, T. T. Cloete, Romenu


30-05-2018

Summer Storm (Bliss Carman)
Dolce far niente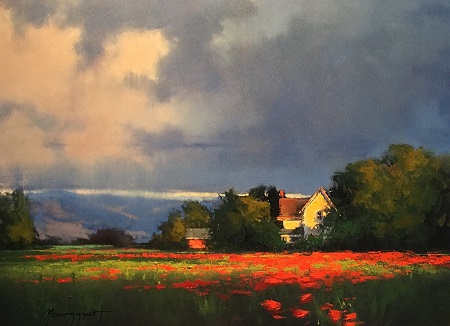 Summer Storm door Romona Youngquist, 2015
Summer Storm
The hilltop trees are bowing
Under the coming of storm.
The low gray clouds are trailing
Like squadrons that sweep and form,
With their ammunition of rain.
Then the trumpeter wind gives signal
To unlimber the viewless guns;
The cattle huddle together;
Indoors the farmer runs;
And the first shot lashes the pane.
They charge through the quiet orchard;
One pear tree is snapped like a wand;
As they sweep from the shattered hillside,
Ruffling the blackened pond,
Ere the sun takes the field again.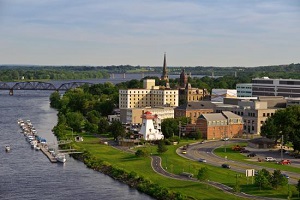 Bliss Carman (15 april 1861 – 8 juni 1929)
Fredericton, de geboorteplaats van Bliss Carman
Zie voor de schrijvers van de 30e mei ook mijn vorige blog van vandaag.
30-05-2018 om 18:14 geschreven door Romenu

Tags:Bliss Carman, Dolce far niente, Romenu



Elizabeth Alexander, Oscar van den Boogaard, Countee Cullen, Emmanuel Hiel, Martin Jankowski, Alfred Austin, Eddy Bruma, Henri François Rikken, Jan Geerts
De Amerikaanse dichteres en schrijfster Elizabeth Alexander werd geboren op 30 mei 1962 in New York. Zie ook alle tags voor Elizabeth Alexander op dit blog.
Minnesota Fats Describes His Youth
I've been eating
like a sultan
since I was two days old.

I had a mother
and three sisters
who worshipped me.

When I was two years old
they used to plop me
in a bed with a jillion

satin pillows
and spray me
with exotic perfumes

and lilac water,
and then
they would shoot me the grapes.
Narrative: Ali
a poem in twelve rounds
1.
My head so big
they had to pry
me out. I'm sorry
Bird (is what I call
my mother). Cassius
Marcellus Clay,
Muhammad Ali;
you can say
my name in any
language, any
continent: Ali.

2.
Two photographs
of Emmett Till,
born my year,
on my birthday.
One, he's smiling,
happy, and the other one
is after. His mother
did the bold thing,
kept the casket open,
made the thousands look upon
his bulging eyes,
his twisted neck,
her lynched black boy.
I couldn't sleep
for thinking,
Emmett Till.
One day I went
Down to the train tracks,
found some iron
shoe-shine rests
and planted them
between the ties
and waited
for a train to come,
and watched the train
derail, and ran,
and after that
I slept at night.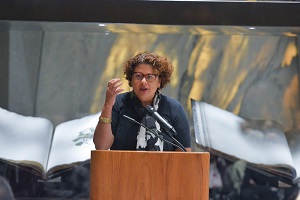 Elizabeth Alexander (New York, 30 mei 1962)
De Nederlandse schrijver Oscar van den Boogaard werd geboren in Harderwijk op 30 mei 1964. Zie ook alle tags voor Oscar van den Boogaard op dit blog.
Uit: Kindsoldaat
"Laten we beginnen bij de bron die om onverklaarbare redenen precies hier ontsprong – en niet ergens anders – midden tussen met eiken en beuken begroeide heuveltjes in het noorden van Nederlands- Limburg, in het moerassig gebied tussen de Maas en een hogergelegen rivierterras. De bron lag zo volmaakt ingebed tussen drie steenblokken dat haar ligging noodzakelijk leek.
De blokken die sterfelijke handen niet zouden kunnen verplaatsen, werden in de volksmond, dat wil zeggen door de dorpelingen die op het landgoed geen zaken hadden, cycloopstenen genoemd. In een ver verleden zou een eenogige reus ze vanuit de Alpen woedend weggeslingerd hebben. Andere waren bij de monding van de Geul in de buurt van Aken terechtgekomen, maar deze drie waren door een overschot aan toorn nog eens honderd kilometer verder geland in deze perfecte compositie rond het opborrelende water.
Het verontrustende aan het verhaal van eenoog is dat razernij de laatste hand heeft gelegd aan het paradijs, want zo zou je deze plek kunnen noemen. Herten, everzwijnen, eekhoorns, vogels en konijnen deelden de bron gebroederlijk met de bewoners van kasteel Metternich, die al honderden jaren hun flessen met het bronwater lieten vullen en er heilzame werking aan toekenden. Het was alsof zij behoorden tot dezelfde goddelijke natuur.
Omdat Metternich in het grensgebied tussen Nederland en Duitsland lag, beschikte het over een Limburgse en een Pruisische poort. In hun hart waren de bewoners, die pas sinds de Franse tijd officieel aan Nederlandse zijde woonden, evenzeer met het Duitse achterland verbonden.
Zo kon het gebeuren dat de Pruisische generaal Maximiliaan die vlak over de grens op een buitenplaats woonde, op een zomerse middag in 1884 toen hij op Metternich kwam jagen op goed geluk zijn dochter meenam om aan de enige zoon van de kasteelheer voor te stellen.
Terwijl ze zich in het koetsje over de dijk onder de steilrand door het moeras lieten rijden, lag haar vaders hand in Hermines ranke nek. Ze liet haar hoofd nog even zorgeloos achterover rusten, maar bij de grenspaal trok haar vader zijn hand weg.
Toen ze de Pruisische poort binnenreden en de hoektorens van Metternich in zicht kwamen, rechtte ze haar rug en bond haar haren samen.
'Twee verwante zielen,' merkte Arnold op toen zijn zoon Edmond en Hermine elkaar op het voorplein een hand gaven. Het klonk niet als een vaststelling maar als bevel.
'Onze jongelui zijn veel te gevoelig voor de jacht,' had Maximiliaan geconstateerd.
De vaders sloegen elkaar op de schouder en liepen met hun geweren in de aanslag de slotbrug over."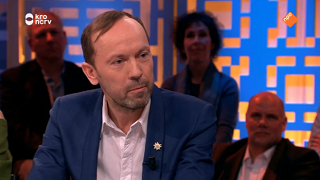 Oscar van den Boogaard (Harderwijk, 30 mei 1964)
De Afro-Amerikaanse dichter Countee Cullen werd geboren als Countee LeRoy Porter op 30 mei 1903 in Louisville, Kentucy, of Baltimore. Zie ook alle tags voor Countee Cullen op dit blog.
She Of The Dancing Feet Sings
And what would I do in heaven pray,
Me with my dancing feet?
And limbs like apple boughs that sway
When the gusty rain winds beat.
And how would I thrive in a perfect place
Where dancing would be a sin,
With not a man to love my face,
Nor an arm to hold me in?
The seraphs and the cherubim
Would be too proud to bend,
To sing the faery tunes that brim
My heart from end to end.
The wistful angels down in hell
Will smile to see my face,
And understand, because they fell
From that all-perfect place.
Tableau
Locked arm in arm they cross the way
The black boy and the white,
The golden splendor of the day
The sable pride of night.
From lowered blinds the dark folk stare
And here the fair folk talk,
Indignant that these two should dare
In unison to walk.
Oblivious to look and word
They pass, and see no wonder
That lightning brilliant as a sword
Should blaze the path of thunder.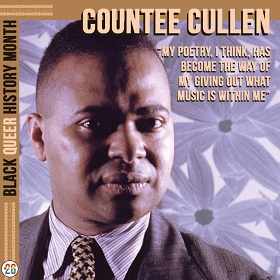 Countee Cullen (30 mei 1903 – 9 januari 1946)
Cover
De Vlaamse dichter en schrijver Emanuel Hiel werd geboren in Sint-Gillis-bij-Dendermonde op 30 mei 1834. Zie ook alle tags voor Emanuel Hiel op dit blog.
Kom, lieve mei
Kom lieve lente, tover
de bomen weder groen,
dan kan ik, onder 't lover,
een wandelingske doen.

Laat weer aan 't beekje groeien
de kleine violet,
ik zie zo geerne bloeien
wat zedig is en net.

't Is waar, de winterdagen
verschaffen ook plezier,
men kan door 't ijs dan jagen
in tomeloze zwier.

Maar de arme mensen strijden
zo fel met hongerpijn,
waar mijne broeders lijden
kan ik niet lustig zijn.

Doch 't geen mij meest doet treuren
is Liza's droefenis,
ze smacht naar 't bloemengeuren
gelijk de snoek naar vis.

Nu zit zij op haar bankske
als 't hoentje op zijn ei;
ik kus haar blozend wangske
en spreek haar van de mei.

De mei, die bloem en lover,
verspreidt door 't kale land,
die als een vogelrover
zijn wondernetten spant,

die lokt met gulle zangen
en streelt met zoele wind,
om 't jonge hert te vangen,
dat hij vol liefde vindt.

O, schone mei wil komen,
wil komen, schone mei!
dan kan mijn Liza dromen
zo zalig in de wei.

En breng ook met u mede
het honigzoet jolijt,
geluk, en spijs en vrede
voor al wie hier nog lijdt.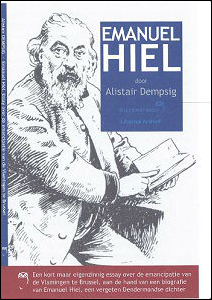 Emanuel Hiel (30 mei 1834 - 27 augustus 1899)
Cover
De Duitse dichter en schrijver Martin Jankowski werd op 29 mei 1965 in Greifswald geboren. Zie ook alle tags voor Martin Jankowski op dit blog.
Uit: Leck mich auf
"Ich gehe gern ins Kino. Aber nur alleine und in einen Film, der schon seit Wochen läuft, bevorzugt am Nachmittag.
Dann habe ich oft Glück und bin die einzige Zuschauerin. Heute sehe ich mir einen Liebesfilm mit Julia Roberts und Jude Law an.
Ich sitze in der letzten Reihe, ausgerüstet mit Popcorn und Cola, freue mich über die Ruhe. Die Werbung läuft, ich guck immer mal wieder zur Tür. Hoffentlich kommt keiner.
Es ist ein kleines Kino, acht Reihen. Billig, die Stühle haben hinten nicht mal n durchgängigen Rücken.
Da kommt einer rein, ein Junge, sicher zehn Jahre jünger als ich - zu alt, um meinen Mutterinstinkt zu wecken und zu jung, um begehrenswert zu sein.
Er ist klein, ein Weißer, mehr erkenne ich bei dieser Dunkelheit nicht.
Er geht in meine Richtung
Es sind ungefähr 42 andere Plätze frei, aber er wählt den direkt vor mir.
Ich bin entsetzt. Dass ich jetzt selber den Sitz wechsle, kommt nicht in Frage.
Er ist nicht groß genug und hat nicht einmal knisternde Chips dabei, trotzdem bin ich wütend - so eine Provokation kann ich mir nicht gefallen lassen.
Ich überlege schon, wie ich mich räche und kann mich nicht auf den Film konzentrieren. Julia Roberts und Jude
Law sind nicht mehr wichtig, Mister Blond und Jung vor mir ist es.
Ich starre auf seinen Rücken, dann sehe ich es und beiße mir auf die Lippen, um nicht laut loszulachen.
Er ist wohl einer von diesen Ich komme aus Hellersdorf, höre den ganzen Tag Eminem und kann genauso schnell sprechen wie Thomas D-Jugendlichen. Einer von denen, die weite Hosen tragen, die erst an den Kniekehlen beginnen. Ich kann es sehen, weil die Sitze in diesem Kino im unteren Teil der Rückenlehne eine größere Aussparung besitzen. Sei- ne Poritze ist jedenfalls sehr interessant. Poritze ist eindeu- tig untertrieben. Ich kann seinen Hintern bis zum After se- hen - gut, den After sehe ich nicht, da sind ja seine Backen davor. Aber was für Backen! So was krieg ich bei Männern in meinem Alter kaum mehr zu sehen."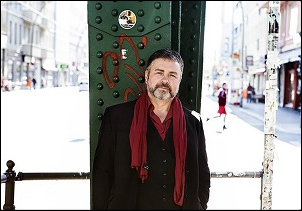 Martin Jankowski (Greifswald, 29 mei 1965)

De Engelse dichter Alfred Austin werd geboren in Headingley, Leeds, op 30 mei 1835. Zie ook alle tags voor Alfres Austin op dit blog.
A Country Nosegay
Where have you been through the long sweet hours
That follow the fragrant feet of June?
By the dells and the dingles gathering flowers,
Ere the dew of the dawn be sipped by noon.
And sooth each wilding that buds and blows
You seem to have found and clustered here,
Round the rustic sprays of the child-like rose
That smiles in one's face till it stirs a tear.
The clambering vetch, and the meadow-sweet tall,
That nodded good-day as you sauntered past,
And the poppy flaunting atop of the wall,
Which, proud as glory, will fade as fast.
The campion bladders the children burst,
The bramble that clutches and won't take nay,
And the pensive delicate foxgloves nursed
In woods that curtain from glare of day.
The prosperous elder that always smells
Of homely joys and the cares that bless,
And the woodbine's waxen and honeyed cells,
A hive of the sweetest idleness.
And this wayside nosegay is all for me,
For me, the poet-the word sounds strong;-
Well, for him at least, whatever he be,
Who has loitered his morning away in song.
And though sweetest poems that ever were writ,
With the posy that up to my gaze you lift,
Seem void of music and poor of wit,
Yet I guess your meaning, and take your gift.
For 'tis true among fields and woods I sing,
Aloof from cities, and my poor strains
Were born, like the simple flowers you bring,
In English meadows and English lanes.
If e'er in my verse lurks tender thought,
'Tis borrowed from cushat or blackbird's throat;
If sweetness any, 'tis culled or caught
From boughs that blossom and clouds that float.
No rare exotics nor forced are these;
They budded in darkness and throve in storm;
They drank their colour from rain and breeze,
And from sun and season they took their form.
They peeped through the drift of the winter snows;
They waxed and waned with the waning moon;
Their music they stole from the deep-hushed rose,
And all the year round to them is June.
So let us exchange, nor ask who gains,
What each has saved from the morning hours:
Take, such as they are, my wilding strains,
And I will accept your wilding flowers.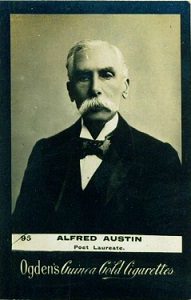 Alfred Austin (30 mei 1835 – 2 juni 1913)
Cover
De Surinaamse jurist, schrijver en politicus Eduard Johan (Eddy) Bruma werd in Paramaribo geboren op 30 mei 1925. Zie ook alle tags voor Eddy Bruma op dit blog.
Uit: De fuik
"Zou ze nog iets zachter hebben gesproken dan had geen van hen haar kunnen verstaan. Een ogenblik zelfs dachten de beide mannen, die vlak bij haar stonden, dat Oom Safrie haar niet hoorde. Hij zoog zo heftig aan zijn pijp, twee, drie keer, zo dat de pijpekop wel een smokopatoe [ijzeren pot, waarin een vuurtje wordt gestookt om door de rook de muggen te verdrijven] leek. Toen draaide hij zich om en begon met langzame stappen de dam af te lopen. De anderen volgden hem; zo bewogen ze zich als zwarte geesten onder de kokospalm voort. Elk van hen diep in gedachten. Oom Safrie, begon de vrouw weer. Toen, terwijl hij zich omdraaide en aan zijn pijp zoog, zodat de gloed zijn oude gezicht verlichtte, zei ze snel: Oom, weet je wel, dat Joewan naar de stad wil? Ik en Lodie zijn ten einde raad! Als door een dolkmes getroffen stond Oom Safrie stil. Zijn pijp viel op de dam, maar hij verzette geen voet om hem op te rapen. Als een stenen beeld stond hij daar en het was of iemand hem de keel dichtkneep, toen hij vroeg: Joewan, zeg je? Joewan?
Ja, Oom Safrie, Joewan! Al dagen geleden wou ik het je zeggen, maar ik wist niet hoe. Joewan zegt, dat hij weg gaat. Hij is dit leven moe, Oom Safrie! Oom Safrie zuchtte. Hij had iets dergelijks al verwacht. Hij was er al lang bang voor geweest. Een jaar voor de droogte begon had er een soort spanning over Coronie gelegen. Op een dag was er een auto naar Coronie gekomen, die een stevig gebouwde stedeling naar de plantage had gebracht. Ze wisten niet wie het was, maar op een vroege morgen zat Oom Safrie op zijn eigen wagen en was onderweg naar Totness om aan het kanaal zijn watervaten te vullen, want net als alle andere Coronianen placht hij water uit het kanaal te halen om de kokoskoeken voor zijn varkens te kunnen weken en 's morgens voor hij ging planten zijn olie te koken. Die dag stonden de watervaten bij hem op de wagen en ze denderden en slingerden maar heen en weer. Nog maar net was hij de oude kokosvelden van Djanie voorbij of hij zag een grote troep mensen op de weg staan. Nou, nou, dacht hij, terwijl hij de os aan zijn staart rukte om hem wat harder aan het lopen te krijgen. Nou, nou! Wat zouden die mensen daar moeten? Hoe komt het dat die dwazen al zo vroeg buiten zijn en daar nu als vlooien op de weg staan? Die negers zijn me toch ook rare mensen, kijk ze nu eens! Gestaag trok hij de leidsels aan toen hij zijn streekgenoten naderde."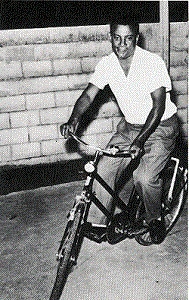 Eddy Bruma (30 mei 1925 – 6 november 2000)

De Surinaamse schrijver Henri François Rikken werd geboren in Paramaribo op 30 mei 1863. Zie ook alle tags voor Henri François Rikken op dit blog.
Uit: Ma Kankantrie
'Misgeene heeft de kamp tegen Falsi Lobi aanvaard', ziedaar het grote nieuws, dat de bewoners van Paramaribo in januari 1800 in beweging bracht. Indien wij zeggen 'de bewoners van Paramaribo' dan is deze uitdrukking in zoverre juist, dat zij de slavenbevolking, immers verreweg het grootste gedeelte der stadsbewoners, betreft.
'Mi sisa', riepen de slavinnen elkaar uitgelaten van vreugde op straat toe, 'heb je 't al gehoord, Misgeene heeft 't tegen Falsi Lobi opgenomen. Dat zal me eens wat worden! Mijn benen beginnen mij nu al te jeuken!' Bij deze laatste woorden maakten zij dansende een paar passen, draaiden lustig enige keren in 't rond en vervolgden weer opgewekt hun weg, terwijl zij het blijde nieuws aan allen, die zij tegenkwamen, met luidruchtige blijdschap mededeelden. Het rumoerigst echter werd dit grote nieuws verbreid en besproken op de Oude Oranjetuin, waar niet alleen de slavenmarkt gehouden, maar ook allerlei levensmiddelen ten verkoop werden aangeboden. Dit fraaie plein, dat een regelmatig vierkant vormde, was met oranjebomen beplant en ter weerszijden met nette huizen bezet. Van de kant der Heerenstraat uit gezien had men, iets verder dan waar thans de Hervormde kerk staat, het stadhuis of zoals 't in de wandeling genoemd werd: het Hof. Het behoorde tot de oudste gebouwen der stad en mocht eveneens onder de aanzienlijkste en grootste van Paramaribo gerekend worden. Het was een groot langwerpig vierkant met twee verdiepingen, dat hoog van de grond geheel uit zware 'klipstenen' was opgetrokken, terwijl de 'gevels van Mopstenen opgemetseld' waren en het met singels gedekt was. Volgens Stedman bezat het bovendien een spitse toren met een uurwerk. In het bovengedeelte werden de godsdienstoefeningen der Hervormde kerk gehouden en het benedengedeelte diende tot vergaderzaal van het 'Hof van Politie en Criminele Justitie', meer algemeen echter het 'Rode Hof' genoemd naar de rode kostuums der rechters."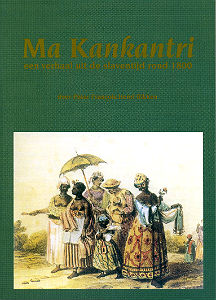 Henri François Rikken (30 mei 1863 - 17 mei 1908)
Cover
Onafhankelijk van geboortedata:
De Vlaamse dichter Jan Geerts werd geboren in Hoogstraten in 1972. Zie ook alle tags voor Jan Geerts op dit blog.
Vergeet
me en vind me jaren later terug
vouw me open als was mijn huid
van papier en de stad van je nachten
lees wat je kwijt raakte, wat achterbleef
in de binnenzak van een oude jas
terwijl onder een brug de regen
wacht op de laatste bus en op de tijd
die ons ontbrak en weer samenveegt
als een hand de kruimels van de tafel
maak me weer onmisbaar, geen leven
zonder en de wetenschap dat alles blijft
zoals het voorbijgaat, nauwelijks nog
aanraakbaar en spaar met je vinger
op mijn lippen de woorden die je wil
horen, besta mij opnieuw op de stoep
die ons tekent tussen stad en tijd
loop me tegen het lijf om de hoek
van het vergeten en spreek
me tegen als ik het niet ben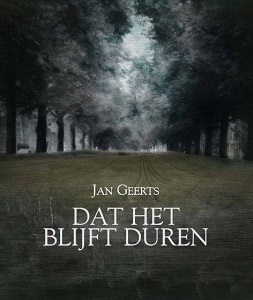 Jan Geerts (Hoogstraten, 1972)
Cover
Zie voor nog meer schrijvers van de 30e mei ook mijn blog van 30 mei 2017 en ook mijn blog van 30 mei 2015.
30-05-2018 om 18:12 geschreven door Romenu

Tags:Elizabeth Alexander, Oscar van den Boogaard, Countee Cullen, Emmanuel Hiel, Martin Jankowski, Alfred Austin, Eddy Bruma, Henri François Rikken, Jan Geerts, Romenu


29-05-2018

Summer in the City, 1949 (Ernest Farrés)
Dolce far niente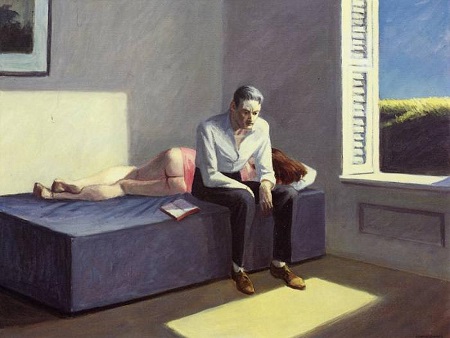 Summer in the City door Edward Hopper, 1949
Summer in the City, 1949
The man is looking for trouble,
thrills, sublime ecstasies, places
devoid of folklore, deals,
calculated approximations, objects
of desire that hold
your attention and help you
keep your cool, the latest rage
at your fingertips, binges,
infatuations, sexual icons,
irrefutable proofs, joyrides, advice
within parentheses, green lights, comfy shoes,
forms of expression that presume
supremacy, free tickets to the game,
ways of killing time that are reckless and frenzied,
the upper hand before bellyaching, straight
answers. The woman, however, is looking for love.
Vertaald door Lawrence Venuti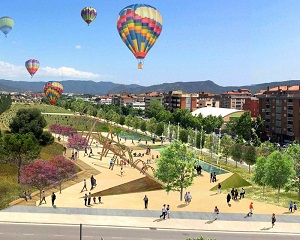 Ernest Farrés (Igualada, 21 juli 1967)
Igualada, de geboorteplaats van Ernest Farrés tijdens een ballonfestival

Zie voor de schrijvers van de 29e mei ook mijn vorige blog van vandaag.
29-05-2018 om 18:21 geschreven door Romenu

Tags:Ernest Farrés, Dolce far niente, Romenu



André Brink, Eduard Escoffet, G. K. Chesterton, Bernard Clavel, T. H. White, Hans Weigel, Alfonsina Storni, Max Brand, Joel Benton
De Zuid-Afrikaanse schrijver André Brink werd geboren op 29 mei 1935 in Vrede. Zie ook alle tags voor André Brink op dit blog.
Uit: A dry white season
"Even if I'm hated, and ostracized, and persecuted, and in the end destroyed, nothing can make me black. And so those who are cannot but remain suspicious of me. In their eyes my very efforts to identify myself with Gordon, with all the Gordons, would be obscene. Every gesture I make, every act I commit in my efforts to help them makes it more difficult for them to define their real needs and discover for themselves their integrity and affirm their own dignity. How else could we hope to arrive beyond predator and prey, helper and helped, white and black, and find redemption?
On the other hand: what can I do but what I have done? I cannot choose not to intervene: that would be a denial and a mockery not only of everything I believe in, but of the hope that compassion may survive among men. By not acting as I did I would deny the very possibility of that gulf to be bridged.
If I act, I cannot but lose. But if I do not act, it is a different kind of defeat, equally decisive and maybe worse. Because then I will not even have a conscience left.
The end seems ineluctable: failure, defeat, loss. The only choice I have left is whether I am prepared to salvage a little honour, a little decency, a little humanity — or nothing. It seems as if a sacrifice is impossible to avoid, whatever way one looks at it. But at least one has the choice between a wholly futile sacrifice and one that might, in the long run, open up a possibility, however negligible or dubious, of something better, less sordid and more noble, for our children…"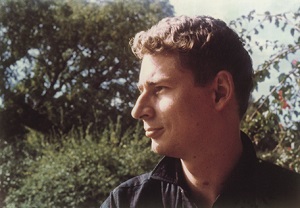 André Brink (29 mei 1935 - 6 februari 2015)
Begin jaren 1960
De Catalaanse dichter, schrijver en vertaler Eduard Escoffet werd geboren op 29 mei 1979 in Barcelona. Zie ook alle tags voor Eduard Escoffet op dit blog.
alles egal
die liebe
macht alles kaputt;
sie macht den sex kaputt,
sie zerstört den verstand
und sie bleicht den teint.
sie macht aus den augen ein möbel
und aus dem bett ein anderes möbel
– und zwar eins ums andere mal.
die liebe
macht das flirten kaputt,
sie tötet die masern,
sie tötet den schweifenden blick und
erhöht die moral
hin zu unbekannten neigungen.
die liebe
macht alles kaputt;
sie lässt die stimme rostig werden,
zerstört pläne und panoramablicke,
sie füllt den kaffee mit klumpen und
die adern mit nervenfasern, die sich überschlagen.
die liebe lässt das meer ruhig werden und die landschaften zahmer,
sie lässt die plattfüße platt
und macht platt die härteste rute.
die liebe
macht alles kaputt:
sie bedeckt dir die augen,
und zwischen den vorhängen und fensterläden
vergesse ich mich selbst,
die flüsse sind immer noch flüsse
und ich weiß nicht mehr was tun.
Vertaald doorRoger Friedlein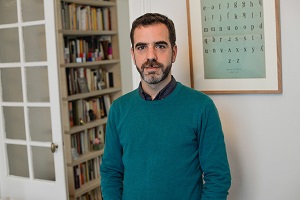 Eduard Escoffet (Barcelona, 29 mei 1979)
De Engelse dichter, letterkundige, schrijver en journalist Gilbert Keith Chesterton werd geboren in Londen op 29 mei 1874. Zie ook alle tags voor G. K. Chesterton en alle tags voor Chesterton op dit blog.
Uit: The Secret Garden (The Complete "Father Brown")
"I mean," said little Father Brown, from the corner of the room, "I mean that cigar Mr. Brayne is finishing. It seems nearly as long as a walking-stick."
Despite the irrelevance there was assent as well as irritation in Valentin's face as he lifted his head.
"Quite right," he remarked sharply. "Ivan, go and see about Mr. Brayne again, and bring him here at once."
The instant the factotum had closed the door, Valentin addressed the girl with an entirely new earnestness.
"Lady Margaret," he said, "we all feel, I am sure, both gratitude and admiration for your act in rising above your lower dignity and explaining the Commandant's conduct. But there is a hiatus still. Lord Galloway, I understand, met you passing from the study to the drawing-room, and it was only some minutes afterwards that he found the garden and the Commandant still walking there."
"You have to remember," replied Margaret, with a faint irony in her voice, "that I had just refused him, so we should scarcely have come back arm in arm. He is a gentleman, anyhow; and he loitered behind—and so got charged with murder."
"In those few moments," said Valentin gravely, "he might really—"
The knock came again, and Ivan put in his scarred face.
"Beg pardon, sir," he said, "but Mr. Brayne has left the house."
"Left!" cried Valentin, and rose for the first time to his feet.
"Gone. Scooted. Evaporated," replied Ivan in humorous French. "His hat and coat are gone, too, and I'll tell you something to cap it all. I ran outside the house to find any traces of him, and I found one, and a big trace, too."
"What do you mean?" asked Valentin.
"I'll show you," said his servant, and reappeared with a flashing naked cavalry sabre, streaked with blood about the point and edge. Everyone in the room eyed it as if it were a thunderbolt; but the experienced Ivan went on quite quietly:
"I found this," he said, "flung among the bushes fifty yards up the road to Paris. In other words, I found it just where your respectable Mr. Brayne threw it when he ran away."
There was again a silence, but of a new sort. Valentin took the sabre, examined it, reflected with unaffected concentration of thought, and then turned a respectful face to O'Brien. "Commandant," he said, "we trust you will always produce this weapon if it is wanted for police examination. Meanwhile," he added, slapping the steel back in the ringing scabbard, "let me return you your sword."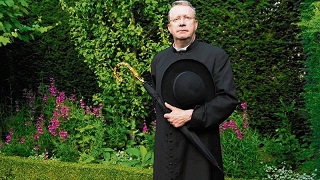 G. K. Chesterton (29 mei 1874 - 14 juli 1936)
Mark Williams speelt Father Brown in de BBC-serie vanaf 2013
De Franse schrijver Bernard Charles Henri Clavel werd geboren op 29 mei 1923 in Lons-le-Saunier. Zie ook alle tags voor Bernard Clavel op dit blog.
Uit: Les roses de Verdun
« Je suis allé à la porte. La neige tenait. La rue n'était pas déblayée et la voiture de Mme Vallier garée le long du trottoir, un peu plus bas, dans un renfoncement, était blanche. J'ai pensé un instant à la nettoyer, mais comme je ne savais pas quelle décision serait prise, je me suis dit que c'était inutile. Heureusement, elle était venue avec leur plus grosse auto qui était une quinze-chevaux Citroën. Si nous devions partir, sur la neige, la traction avant nous serait très précieuse. Et c'est une voiture que j'aime beaucoup conduire. [...]
Ce matin-là encore Monsieur allait m'étonner. Alors que je m'attendais à l'entendre pester contre le mauvais sort qui semblait s'acharner sur nous depuis le début du voyage, lorsqu'il a vu tomber la neige il nous a déclaré:
- Quelle chance que l'Hotchkiss soit cassée, nous serons plus en sécurité dans la traction avec une route pareille.
Mais, au petit déjeuner, il y a eu un très vif accrochage entre les deux femmes et lui. En dépit de l'état des routes et de la piètre visibilité, il s'était mis en tête de pousser jusqu'à Aulnois. Ce qui représentait, en comptant le retour, pas loin de quatre cents kilomètres de plus. Ça me semblait à proprement parler de la folie pure. Fort heureusement, cette empoignade avait dû faire monter sa tension artérielle. Il est devenu rouge et son souffle, de nouveau court et saccadé, l'a obligé à se taire.
- Veux-tu que j'appelle le médecin? a demandé Madame.
Dans un grand effort qui faisait un peu mal à voir car la souffrance se lisait sur ses traits, il est parvenu à gronder:
- Fous-moi la paix avec ce con! Il t'a fait acheter pour une fortune de drogues à foutre aux chiottes... Il doit toucher des ristournes du pharmacien, celui-là... Entre les toubibs qui ne font rien et ceux qui font trop... Les malades qui s'en tirent ont vraiment la peau dure...
- Tais-toi, papa. Tu parles trop. Tu t'essouffles encore plus.
Sa fille lui a pris la main qu'elle a caressée tendrement. Elle lui ressemble. Mince et les traits un peu durs comme lui. Le même grand front. Elle a ajouté d'une voix très douce:
- Tu devrais aller te reposer un moment. Nous ferons les valises et, dès que des voitures auront circulé un peu, on essaiera de partir. S'il faut s'arrêter en route, ce ne sont pas les hôtels qui manquent, entre ici et Lyon. «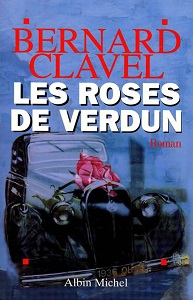 Bernard Clavel (29 mei 1923 – 5 oktober 2010)
Cover
De Engelse dichter en schrijver Terence Hanbury White werd geboren op 29 mei 1906 in Bombay (Mombai). Zie ook alle tags voor T. H. White op dit blog.
Uit:The Book of Merlyn
"The best thing for being sad," replied Merlin, beginning to puff and blow, "is to learn something. That's the only thing that never fails. You may grow old and trembling in your anatomies, you may lie awake at night listening to the disorder of your veins, you may miss your only love, you may see the world about you devastated by evil lunatics, or know your honour trampled in the sewers of baser minds. There is only one thing for it then — to learn. Learn why the world wags and what wags it. That is the only thing which the mind can never exhaust, never alienate, never be tortured by, never fear or distrust, and never dream of regretting. Learning is the only thing for you. Look what a lot of things there are to learn".
(...)
"He caught a glimpse of that extraordinary faculty in man, that strange, altruistic, rare, and obstinate decency which will make writers or scientists maintain their truths at the risk of death. Eppur si muove, Galileo was to say; it moves all the same. They were to be in a position to burn him if he would go on with it, with his preposterous nonsense about the earth moving round the sun, but he was to continue with the sublime assertion because there was something which he valued more than himself. The Truth. To recognize and to acknowledge What Is. That was the thing which man could do, which his English could do, his beloved, his sleeping, his now defenceless English. They might be stupid, ferocious, unpolitical, almost hopeless. But here and there, oh so seldome, oh so rare, oh so glorious, there were those all the same who would face the rack, the executioner, and even utter extinction, in the cause of something greater than themselves. Truth, that strange thing, the jest of Pilate's. Many stupid young men had thought they were dying for it, and many would continue to die for it, perhaps for a thousand years. They did not have to be right about their truth, as Galileo was to be. It was enough that they, the few and martyred, should establish a greatness, a thing above the sum of all they ignorantly had."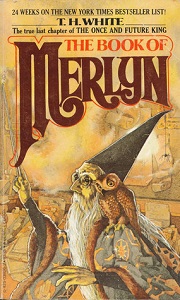 T. H. White (29 mei 1906 – 17 januari 1964)
Cover
De Oostenrijkse schrijver en theatercriticus Hans Weigel werd geboren op 29 mei 1908 in Wenen. Zie ook alle tags voor Hans Weigel op dit blog.
Uit: Niemandsland
"Österreich nimmt den Untergang Österreichs nicht zur Kenntnis. Man hört hier auch schon das verhängnisvolle Wort vom "kleineren Übel", das in Deutschland geprägt worden ist, so lange, bis die Betonung von dem "kleiner" unerheblich immer mehr auf "Übel" gewechselt hatte, so lange, bis das Übel unversehens immer grösser und schliesslich das ganz grosse geworden war. Peter versucht vergeblich darzutun, dass man jedes Übel bekämpfen müsse, ob es nun kleiner oder grösser sei.
Peter kann solche Gespräche nicht mehr hören. Es ist gespenstisch, höllisch, dass man hier das selbe erleben muss wie draussen, einen Staat auf dem selben Weg in den Untergang sehen und ein Volk die selben selbstbetrügerischen Phrasen dazu sagen hören muss, ohne dass man helfen kann, ja ohne dass der dokumentarische Hinweis dieser Gleichartigkeit auch nur zur Kenntnis genommen wird.
Peter fühlt sich erschöpft und völlig leer. Alles, was er, seit er denken kann, erlebt hat, alle Enttäuschung, alle Fragwürdigkeit seiner Existenz und der letzten Tage zumal, alles steigt auf, wächst unerträglich in ihm an und höhlt ihn aus. Kein Erlebnis kann ihn aus dieser Hoffnungslosigkeit reissen, was immer geschieht, wird sie nur bestätigen, falls es unerfreulich, wird sie doppelt grausam machen, wenn es erfreulich ist."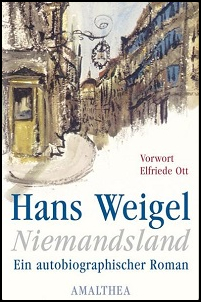 Hans Weigel (29 mei 1908 – 12 augustus 1991)
Cover
De Argentijnse dichteres Alfonsina Storni werd geboren in Sala Capriasca, Zwitserland op 29 mei 1892. Zie ook alle tags voor Alfonsina Storni op dit blog.
You Want Me White
You want me to be the dawn
You want me made of seaspray
Made of mother-of-pearl
That I be a lily
Chaste above all others
Of tenuous perfume
A blossom closed
That not even a moonbeam
Might have touched me
Nor a daisy
Call herself my sister
You want me like snow
You want me white
You want me to be the dawn
You who had all
The cups before you
Of fruit and honey
Lips dyed purple
You who in the banquet
Covered in grapevines
Let go of your flesh
Celebrating Bacchus
You who in the dark
Gardens of Deceit
Dressed in red
Ran towards Destruction
You who maintain
Your bones intact
Only by some miracle
Of which I know not
You ask that I be white
(May God forgive you)
You ask that I be chaste
(May God forgive you)
You ask that I be the dawn!
Flee towards the forest
Go to the mountains
Clean your mouth
Live in a hut
Touch with your hands
The damp earth
Feed yourself
With bitter roots
Drink from the rocks
Sleep on the frost
Clean your clothes
With saltpeter and water
Talk with the birds
And set sail at dawn
And when your flesh
Has returned to you
And when you have put
Into it the soul
That through the bedrooms
Became entangled
Then, good man,
Ask that I be white
Ask that I be like snow
Ask that I be chaste
Vertaald door Catherine Fountain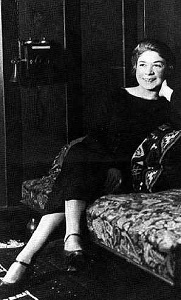 Alfonsina Storni (29 mei 1892 – 25 oktober 1938)
De Amerikaanse schrijver Max Brand (eig. Frederick Schiller Faust) werd geboren op 29 mei 1892 in Seattle. Zie ook alle tags voor Max Brand op dit blog.
Uit: The Garden of Eden
"By careful tailoring the broad shoulders of Ben Connor were made to appear fashionably slender, and he disguised the depth of his chest by a stoop whose model slouched along Broadway somewhere between sunset and dawn. He wore, moreover, the first or second pair of spats that had ever stepped off the train at Lukin Junction, a glowing Scotch tweed, and a Panama hat of the color and weave of fine old linen. There was a skeleton at this Feast of Fashion, however, for only tight gloves could make the stubby fingers and broad palms of Connor presentable. At ninety-five in the shade gloves were out of the question, so he held a pair of yellow chamois in one hand and in the other an amber-headed cane. This was the end of the little spur-line, and while the train backed off down the track, staggering across the switch, Ben Connor looked after it, leaning upon his cane just forcibly enough to feel the flection of the wood. This was one of his attitudes of elegance, and when the train was out of sight, and only the puffs of white vapor rolled around the shoulder of the hill, he turned to look the town over, having already given Lukin Junction ample time to look over Ben Connor.
The little crowd was not through with its survey, but the eye of the imposing stranger abashed it. He had one of those long somber faces which Scotchmen call "dour." The complexion was sallow, heavy pouches of sleeplessness lay beneath his eyes, and there were ridges beside the corners of his mouth which came from an habitual compression of the lips. Looked at in profile he seemed to be smiling broadly so that the gravity of the full face was always surprising. It was this that made the townsfolk look down. After a moment, they glanced back at him hastily. Somewhere about the corners of his lips or his eyes there was a glint of interest, a touch of amusement--they could not tell which, but from that moment they were willing to forget the clothes and look at the man.
While Ben Connor was still enjoying the situation, a rotund fellow bore down on him.
"You're Mr. Connor, ain't you? You wired for a room in the hotel? Come on, then. My rig is over here. These your grips?"
He picked up the suit case and the soft leather traveling bag, and led the way to a buckboard at which stood two downheaded ponies."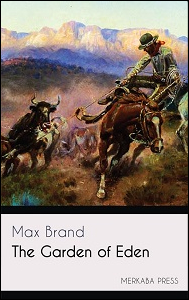 Max Brand (29 mei 1892 – 12 mei 1944)
Cover

De Amerikaanse dichter, schrijver en publicist Joel Benton werd geboren op 29 mei 1832 in het kleine stadje Amenia, in county New York. Zie ook alle tags voor Joel Benton op dit blog.
The Scarlet Tanager
A all of fire shoots through the tamarack
In scarlet splendor, on voluptuous wings;
Delirious joy the pyrotechnist brings,
Who marks for us high summer's almanac.
How instantly the red-coat hurtles back!
No fiercer flame has flashed beneath the sky.
Note now the rapture in his cautious eye,
The conflagration lit along his track.
Winged soul of beauty, tropic in desire,
Thy love seems alien in our northern zone;
Thou giv'st to our green lands a burst of fire
And callest back the fables we disown.
The hot equator thou mightst well inspire,
Or stand above some Eastern monarch's throne.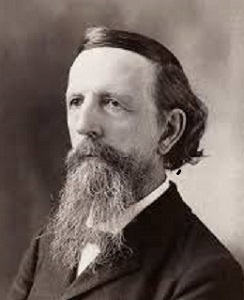 Joel Benton (29 mei 1832 – 15 september 1911)
Zie voor nog meer schrijvers van de 29e mei ook mijn blog van 29 mei 2016 deel 2.
29-05-2018 om 18:19 geschreven door Romenu

Tags:André Brink, Eduard Escoffet, G. K. Chesterton, Bernard Clavel, T. H. White, Hans Weigel, Alfonsina Storni, Max Brand, Joel Benton, Romenu



| | |
| --- | --- |
| | |



Inhoud blog


| | |
| --- | --- |
| | Louis Menand, Kristín Marja Baldursdóttir, Ludwig Thoma, Ludwig Jacobowski, Katharine Tynan, Egon Friedell, Joseph Méry, Rudy Dek, Anna Basener |
| | Stefan Popa, Anton Ent, Edward Hirsch, Guy Helminger, André Kubiczek, Batya Gur, Nazim Hikmet, Qurratulain Hyder, Robert Olen Butler Jr. |
| | Axel Hacke, Michiel de Swaen, Egon Bondy, Sawako Ariyoshi, Eugen Gomringer, Raymond Roussel, Edeltraud Eckert, Imre Madách |
| | Bruiloft te Kana (Gerrit Kamphuis) |
| | Julian Barnes, Bert Natter, Edgar Allen Poe, Edwidge Danticat, Patricia Highsmith |
| | Marie Koenen, Gustav Meyrink, Eugénio de Andrade, Thomas Gsella, Paul-Eerik Rummo |
| | Tsead Bruinja nieuwe Dichter des Vaderlands |
| | Peter Stamm, Sascha Kokot, Franz Blei, Jon Stallworthy, Montesquieu, Ioan Slavici, Rubén Darío, Paul Léautaud, Alan Alexander Milne |
| | Ilja Leonard Pfeijffer, Tom Dolby, Jaap van den Born, Anton Valens, David Ebershoff, Gavin Extence, Hideo Yokoyama, Raoul Schrott, Nanne Tepper |
| | Ester Naomi Perquin, Anthony Hecht, Reinhard Jirgl, Inger Christensen, Susan Sontag, Brian Castro, José Soares, Kálmán Mikszáth, Tino Hanekamp |
| | Antoine Wauters, Maud Vanhauwaert, Tsjêbbe Hettinga, F. Springer, Etty Hillesum, Osip Mandelstam, Mihai Eminescu, Molière, Philip Snijder |
| | J. Bernlef, Chris de Stoop, Edward St Aubyn, Anchee Min, Yukio Mishima, Martin Auer, Andreas Steinhöfel, John Dos Passos, Isaäc da Costa |
| | Edmund White, Daniel Kehlmann, Jay McInerney, Lorrie Moore, Jan de Bas, Edgardo Cozarinsky, Mohammad-Ali Jamālzādeh, Clark Ashton Smith, Michael Carroll |
| | Jurgis Kunčinas, Kostís Palamás, Karl Bleibtreu, Victor de Laprade, Eduard von Bauernfeld, Maler Müller, Mark Alexander Boyd |
| | Der Täufer (Christian Morgenstern) |
| | Cees van der Pluijm, David Mitchell, Jacques Hamelink, Haruki Murakami, Kamiel Verwer, Jakob Lenz, Fatos Kongoli |
| | Jack London, Ferenc Molnár, Alain Teister, William Nicholson, Florian Havemann, Charles Perrault |
| | Katharina Hacker, Jasper Fforde, W. C. Heinz, Nikos Kavvadias, Mart Smeets, Oswald de Andrade, Eduardo Mendoza, Diana Gabaldon, Slavko Janevski |
| | BNG Bank Literatuurprijs 2018 voor Nina Polak |
| | Saskia Stehouwer, Mohammed Benzakour, Antonio Muñoz Molina, Dennis Cooper, Annette von Droste-Hülshoff, Mies Bouhuys, Harrie Geelen, Adrian Kasnitz, Charles G. D. Roberts |
| | Bas Heijne, Wessel te Gussinklo, Benjamin Lebert, Nora Bossong, Theodor Holman, Danny Morrison, Brian Friel, Simone de Beauvoir, Kurt Tucholsky |
| | Juan Marsé, Claudia Grehn, Waldtraut Lewin, Leonardo Sciascia, Alfred Tomlinson, Gaston Miron, Vasyl Stus, Wilkie Collins, Béla Zsolt |
| | Frans Kellendonk, Reginald Gibbons, Dionne Brand, Sofi Oksanen, Henk van Zuiden, Shobhaa Dé, Marie Desplechin, Chester Kallman |
| | Kings of Bethlehem (Attila József) |
| | Hester Knibbe, Elizabeth Strout, Khalil Gibran, Romain Sardou, Carl Sandburg, Jens Johler, Philipp Friedrich Hiller, E. L. Doctorow |
| | Ivan Olbracht, Benedikt Livshits, Anja Meulenbelt, Astrid Gehlhoff-Claes, Joachim Specht, Günter Görlich, Idris Davies |
| | Umberto Eco, Joris van Casteren, Paul Ingendaay, Ngũgĩ wa Thiong'o, Xu Xiake, Luisa Futoransky, Friedrich Dürrenmatt, Forough Farokhzad, László Krasznahorkai |
| | Peter Zingler, Yevgeni Popov, William Snodgrass, Pierre Seghers, Fred Wander, Humbert Wolfe, Stella Gibbons, Terenci Moix |
| | Gao Xingjian, Hellmuth Karasek, Emil Zopfi, David Berman, Markus Seidel, Andreas Altmann, Doris Kearns Goodwin, Jacob Grimm, Svend Fleuron |
| | Peter Ghyssaert, Henk van der Waal, Dirk Ayelt Kooiman, J.R.R. Tolkien, Smith Henderson, Marie Darrieussecq, Alex Wheatle, Cicero, Jean Muno |
| | Nyk de Vries, André Aciman, Jimmy Santiago Baca, David Shapiro, Look J. Boden, Anton van Duinkerken, Hans Herbjørnsrud, Jean-Bernard Pouy, Luc Decaunes |
| | Old And New Year Ditties (Christina Rossetti) |
| | Ernest van der Kwast, Rawi Hage, Adonis, Jonas T. Bengtsson, Chantal van Gastel, Inge Schilperoord |
| | Rhidian Brook, J.D. Salinger, E. M. Forster, Juan Gabriel Vásquez, Douglas Kennedy, Rascha Peper |
| | Carry van Bruggen, Paul Hamilton Hayne, Rüdiger Safranski, Joe Orton, Mariano Azuela, René de Ceccatty |
| | Sven Regener, Ashfaq Hussain, Kristijonas Donelaitis, Johannes Kinker, Sándor Petőfi, Anne Duden |
| | Het einde (Inge Boulonois) |
| | Anne Vegter, Arjen Duinker, Junot Díaz, Bastian Böttcher, Jacob Israël de Haan, August van Cauwelaert, Paula Dehmel |
| | Dieter Noll, Nicolas Born, Dal Stivens, Connie Willis, Giovanni Pascoli, Marie d'Agoult |
| | Nicholas Sparks, Irina Korschunow, Gottfried August Bürger, Alexander Smith, Horacio Quiroga, Stephan Krawczyk, Kingbotho |
| | For The Holy Family By Michelangelo (Dante Gabriel Rossetti) |
| | Peter Buwalda, Theodor Fontane, Miklós Bánffy, Peter Lund, Joshua Clover, Paul Bowles, Rudyard Kipling, Douglas Coupland |
| | Willy Spillebeen, Norbert Hummelt, Georg von der Vring, Daniil Charms, Heinrich Hart, Betty Paoli, Maurice Bedel |
| | Stefan Brijs, Christian Kracht, Gilbert Adair, Paul Rudnick, Brigitte Kronauer, William Gaddis, Carmen Sylva, Vesna Lubina |
| | Liu Xiaobo, Burkhard Spinnen, Engelbert Obernosterer, Shen Congwen, Conrad Busken Huet, Manuel Puig, Hildegard Knef, Guy Debord, Antoine Bodar |
| | In Memoriam Amos Oz |
| | Bernard Wesseling, Édouard Nabe, Wendy Coakley-Thompson, Louis de Bourbon, Mariella Mehr, Markus Werner, Malin Schwerdtfeger, Louis Bromfield, Carl Zuckmayer |
| | Troostlied voor wie met Kerst alleen is (Willem Wilmink) |
| | David Sedaris, Elizabeth Kostova, Nigel Cliff, Henry Miller, Rainer Malkowski, Mani Beckmann, Alejo Carpentier |
| | Jean Toomer, Hans Brinkmann, Willy Corsari, Alfred Huggenberger, René Bazin, Julien Benda |