E-mail mij


Druk op onderstaande knop om mij te e-mailen.


Romenu


Google


Georg Trakl

Georg Trakl werd op 3 februari 1887 in het conducteurshuis aan de Waagplatz 2 in Salzburg geboren. Zijn vader, Tobias Trakl, was een handelaar in ijzerwaren en zijn moeder, die ook psychische problemen had, was Maria Catharina Trakl, (meisjesnaam Halik). Voorts had hij nog drie broers en drie zussen. Margarethe (doorgaans Grethe genoemd) stond hem het naast, zelfs zodanig dat sommigen een incestueuze verhouding vermoeden. Zijn jeugd bracht hij door in Salzburg. Vervolgens bezocht hij van 1897 tot 1905 het humanistische gymnasium. Om toch een academische opleiding te kunnen volgen, werkte hij tot 1908 in de praktijk bij een apotheker. Sommigen vermoedden dat hij dit vooral deed om zichzelf opiaten te kunnen verschaffen. Bij het uitbreken van WO I werd Trakl als medicus naar het front in Galicië (heden ten dage in Oekraïne en Polen) gestuurd. Zijn gemoedsschommelingen leidden tot geregelde uitbraken van depressie, die verergerd werden door de afschuw die hij voelde voor de verzorging van de ernstig verwonde soldaten. De spanning en druk dreven hem ertoe een suïcidepoging te ondernemen, welke zijn kameraden nochtans verhinderden. Hij werd in een militair ziekenhuis opgenomen in Kraków, alwaar hij onder strikt toezicht geplaatst werd.Trakl verzonk daar in nog zwaardere depressies en schreef Ficker om advies. Ficker overtuigde hem ervan dat hij contact moest opnemen met Wittgenstein, die inderdaad op weg ging na Trakls bericht te hebben ontvangen. Op 4 november 1914, drie dagen voordat Wittgenstein aan zou komen, overleed hij echter aan een overdosis cocaïne


Paul Celan

Paul Celan werd onder de naam Paul Antschel op 23 november 1920 geboren in Czernowitz, toentertijd de hoofdstad van de Roemeense Boekovina, nu behorend bij de Oekraïne. Paul Celans ouders waren Duitssprekende joden die hun zoon joods opvoedden en hem naar Duitse christelijke scholen stuurden. In 1942 werden Celans ouders door de Duitse bezetter naar een werkkamp gedeporteerd en daar vermoord. Hijzelf wist aanvankelijk onder te duiken, maar moest vanaf juli 1942 in een werkkamp dwangarbeid verrichten. Celan overleefde de oorlog. Via Boekarest en Wenen vestigde Celan zich in 1948 in Parijs. Daar was hij werkzaam als dichter, vertaler en doceerde hij aan de prestigieuze Ecole Normale Supérieure. Vermoedelijk op 20 april 1970 beëindigde hij zijn leven zelf door in de Seine te springen.


Gerard Reve

Gerard Reve over: Medearbeiders "God is in de mensen, de dieren, de planten en alle dingen - in de schepping, die verlost moet worden of waaruit God verlost moet worden, door onze arbeid, aangezien wij medearbeiders van God zijn." Openbaring "Tja, waar berust elk godsbegrip op, elke vorm van religie? Op een openbaring, dat wil zeggen op een psychische ervaring van zulk een dwingende en onverbiddelijke kracht, dat de betrokkene het gevoel heeft, niet dat hij een gedachte of een visioen heeft, maar dat een gedachte gedachte of visioen hem bezit en overweldigt."


Simon Vestdijk
Simon Vestdijk (Harlingen, 17 oktober 1898 – Utrecht, 23 maart 1971) was een Nederlands romancier, dichter, essayist en vertaler. Zijn jeugd te Harlingen en Leeuwarden beschreef hij later in de Anton Wachter-cyclus. Van jongs af aan logeerde hij regelmatig bij zijn grootouders in Amsterdam, waar hij zich in 1917 aan de Universiteit van Amsterdam inschrijft als student in de medicijnen. Tijdens zijn studie die van 1917 tot 1927 duurde, leerde hij Jan Slauerhoff kennen.Tot 1932 is hij als arts in praktijken door heel Nederland werkzaam. In 1932 volgt zijn officiële schrijversdebuut met de uitgave van de bundel Verzen in De Vrije Bladen. Doorslaggevend voor Vestdijks uiteindelijke keuze voor de literatuur is zijn ontmoeting in 1932 met Eddy Du Perron en Menno ter Braak. Deze ontmoeting had tot resultaat dat hij redactielid werd van het tijdschrift Forum Kort daarop, in 1933, wordt zijn eerste novelle, De oubliette, uitgegeven. In hetzelfde jaar schrijft hij Kind tussen vier vrouwen, dat, eerst geweigerd door de uitgever, later de basis zal vormen voor de eerste drie delen van de Anton Wachter-romans. In 1951 ontvangt Vestdijk de P.C. Hooftprijs voor zijn in 1947 verschenen roman De vuuraanbidders. In 1957 wordt hij voor het eerst door het PEN-centrum voor Nederland voorgedragen voor de Nobelprijs voor de Literatuur, die hij echter nooit zal krijgen. Op 20 maart 1971 wordt hem de Prijs der Nederlandse Letteren toegekend, maar voor hij deze kan ontvangen overlijdt hij op 23 maart te Utrecht op 72-jarige leeftijd. Vestdijk was auteur van ca. 200 boeken. Vanwege deze enorme productie noemde de dichter Adriaan Roland Holst hem 'de man die sneller schrijft dan God kan lezen'. Andere belangrijke boeken van Simon Vestdijk zijn: "Kind van stad en land" (1936), "Meneer Visser's hellevaart" (1936), "Ierse nachten" (1946), "De toekomst de religie" (1947), "Pastorale 1943" (1948), "De koperen tuin" (1950), "Ivoren wachters" (1951), "Essays in duodecimo" (1952) en "Het genadeschot" (1964).


K.P. Kavafis

K.P. Kavafis werd als kind van Griekse ouders, afkomstig uit Konstantinopel, geboren in 1863 in Alexandrië (tot vandaag een Griekse enclave) waar hij ook het grootste deel van zijn leven woonde en werkte. Twee jaar na de dood van zijn vader verhuist het gezin in 1872 naar Engeland om na een verblijf van vijf jaar naar Alexandrië terug te keren. Vanwege ongeregeldheden in Egypte vlucht het gezin in 1882 naar Konstantinopel, om na drie jaar opnieuw naar Alexandrië terug te gaan. In de jaren die volgen maakt Kavafis reizen naar Parijs, Londen en in 1901 zijn eerste reis naar Griekenland, in latere jaren gevolgd door nog enkele bezoeken. Op de dag van zijn zeventigste verjaardag, in 1933 sterft Kavafis in Alexandrië. De roem kwam voor Kavafis pas na zijn dood, dus postuum. Deels is dat toe te schrijven aan zijn eigen handelswijze. Hij was uiterst terughoudend met de publicatie van zijn gedichten, liet af en toe een enkel gedicht afdrukken in een literair tijdschrift, gaf in eigen beheer enkele bundels met een stuk of twintig gedichten uit en het merendeel van zijn poëzie schonk hij op losse bladen aan zijn beste vrienden.


Thomas Mann


Thomas Mann, de jongere broer van Heinrich Mann, werd geboren op 6 juni 1875 in Lübeck. Hij was de tweede zoon van de graankoopman Thomas Johann Heinrich Mann welke later één van de senatoren van Lübreck werd. Zijn moeder Julia (geboren da Silva-Bruhns) was Duits-Braziliaans van Portugees Kreoolse afkomst. In 1894 debuteerde Thomas Mann met de novelle "Gefallen". Toen Thomas Mann met 21 jaar eindelijk volwassen was en hem dus geld van zijn vaders erfenis toestond - hij kreeg ongeveer 160 tot 180 goldmark per jaar - besloot hij dat hij genoeg had van al die scholen en instituties en werd onafhankelijk schrijver. Kenmerkend voor zijn stijl zijn de ironie, de fenomenale taalbeheersing en de minutieuze detailschildering. Manns reputatie in Duitsland was sterk wisselend. Met zijn eerste roman, Buddenbrooks (1901), had hij een enorm succes, maar door zijn sceptische houding tegenover Duitsland na de Eerste Wereldoorlog veranderde dit volledig. Stelde hij zich tot aan de jaren twintig apolitiek op (Betrachtungen eines Unpolitischen, 1918), meer en meer raakte hij bij het Politiek gebeuren betrokken. Zijn afkeer van het nationaal socialisme groeide, zijn waarschuwingen werden veelvuldiger en heftiger. In 1944 accepteerde hij het Amerikaanse staatsburgerschap. Tussen 1943 en 1947 schreef Mann Doktor Faustus (zie Faust), de roman van de 'Duitse ziel' in de gecamoufleerd geschilderde omstandigheden van de 20ste eeuw. In 1947 bezocht hij voor het eerst sinds de Oorlog Europa, twee jaar later pas Duitsland. In 1952 vertrok hij naar Zwitserland. Op 12 augustus 1955 stierf hij in Zürich. Twintig jaar na zijn dood, in aug. 1975, is zijn literaire nalatenschap geopend: dagboekaantekeningen van 15 maart 1933 tot 29 juli 1955, alsmede notities uit de jaren 1918 tot en met 1921.Belangrijke werken zijn: Der Zauberberg, Der Tod in Venedig, Dokter Faustus , Joseph und seine Brüder en Die Bekenntnisse des Hochstaplers Felix Krull.


Rainer Maria Rilke

Rilke werd op 4 december 1875 geboren in Praag. Hij had al naam gemaakt als dichter met zijn bundels Das Stundenbuch en Das Buch der Bilder, toen hij de literaire wereld versteld deed staan en wereldfaam verwierf met de publicatie van zijn twee delen Neue Gedichte in 1907 en 1908. Hij verzamelde daarin het beste werk uit een van zijn vruchtbaarste periodes, die hij grotendeels doorbracht in Parijs. Rilke was daar diep onder de indruk gekomen van Rodin, bij wie hij een tijdlang in dienst was als particulier secretaris. Rodin, zei hij later, had hem leren kijken. Dit kijken kwam neer op intense concentratie, om het mysterie te kunnen zien 'achter de schijnbare werkelijkheid'. Latere en rijpere werken als Duineser Elegien (1912-1923) en het ronduit schitterende Die Sonette an Orfeus (1924) illustreren Rilkes metafysische visie op het onzegbare, dat haar verwoording vindt in een hermetische muzikale taal. Op 29 december 1926 overlijdt Rilke in het sanatorium in Val-Mont aan de gevolgen van leukemie. Enkele dagen later wordt hij, overeenkomstig zijn wens, begraven op het kerkhof van Raron.


* * * * * * * * * * * * * * * *

| | |
| --- | --- |
| | Over literatuur, gedichten, kunst en cultuur |

29-11-2018

Mario Petrucci, George Szirtes, Jean Senac, Carlo Levi, Jean-Philippe Toussaint, C.S. Lewis, Wilhelm Hauff, Louisa May Alcott, Franz Stelzhamer
De Engelse dichter en schrijver Mario Petrucci werd geboren op 29 november 1958 in Londen. Zie ook alle tags voor Mario Petrucci op dit blog.
Fence
This side of the fence
is clean. That side
dirty. Understand?
You must forget
that soil is like skin.
Or interlocking scales
on a dragon. Dirty
Clean - is all that matters
here. Imagine a sheet
of glass coming down
from the sky. It's easy
no? On this side
you can breathe
freely. Your cow can
eat the grass. You can
have children. That side
you must wear a mask
and change the filter
every four hours.
You ask - What if my cow
leans over the fence?
Personally I say
it depends which end. But
we have no instructions
for that. It is up to you
to make sure your cow
is not so stupid.
Halves

the blade drops
& both half-oranges
rock upon their backs as

beetled species made
zestful but without
the frantic legs

enlarged in heat
to overbrightly dribble
sap in that broken moment

after insect sex which could be
love yet dictates each rolls
apart to undercarriage

straight-grained ex
-posed in falling apart
where one gains access

to tarter matters animal
or vegetable softly to
be consumed for

rind is hard on us
unscooped or what
the starveling leaves

behind or am I for
getting I was once in
heart fruit-perfect & un-

halved?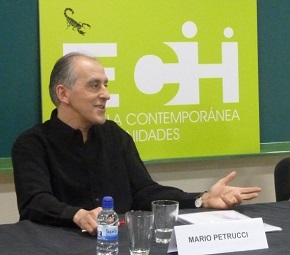 Mario Petrucci (Londen, 29 november 1958)
De Britse dichter en schrijver George Szirtes werd geboren op 29 november 1948 in Boedapest. Zie ook alle tags voor George Szirtes op dit blog.
My Fathers, Coming And Going
Moustaches and grey homburgs: our fathers were
Defined by properties acquired by chance—
Or by divine decree. Standing behind her
In rooms, on stairs, figures of elegance,
They came and went in a murmur of soft voices,
Objects of bewilderment and romance.
How many of them on the premises?
Some worked twelve hours a day in an office
In the city, some placed bristly kisses
On our brows, some would simply embarrass
Us for no particular reason. Their age
Was indeterminate. They would promise
Anything befitting their patronage.
Were all these fathers one? And was it you,
My father, who pushed me in that carriage
I can't remember now before time flew
And took her away as it will take us all?
I feel myself flying. It's like passing through
Clouds in an aeroplane in its own bubble
Of air, a slightly bumpy ride down
Towards a runway as we rise and fall
Above the brilliant lights of a big town.
Like A Black Bird
Like a black bird against snow, he flapped
Over the path, his overcoat billowing
In the cold wind, as if he had trapped
The whole sky in it. We watched trees swing
Behind him, lurching drunkenly, blurred
Bare twigs and branches, scrawny bits of string,
And as we gazed ahead the snowflakes purred
In our ears, whispering the afternoon
Which grew steadily darker and more furred.
His face was in shadow, but we'd see it soon.
As he approached it slowly gathered shape:
His nose, in profile, was a broken moon,
His hat a soft black hill bound round with tape,
His raised lapels held his enormous eyes
Between them. The winter seemed to drape
Itself about him as if to apologise
For its own fierceness, hoping to grow warm
Through physical contact, and we, likewise,
Ran towards him, against a grainy storm
Of light and damp. It was so long ago
And life was then in quite another form,
When there were blacker days and thicker snow.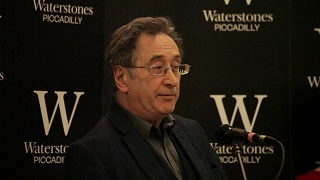 George Szirtes (Boedapest, 29 november 1948)
De Algerijnse, Franstalige, dichter en schrijver Jean Senac werd geboren op 29 november 1926 in Beni Saf in de regio Oran. Zie ook alle tags voor Jean Senac op dit blog.
Out Of My Algeria
Out of my Algeria
they made the prisons taller
than the schools.
They sullied the nocturnal roots
of the People,
the serious Tree
of the remote Berbérie...
They denied the certainty of our Land,
they tore apart Islam, its color,
its fantastical tribes, even the shame
that makes them live.
They denied the Vital Fire, our Flag
They exiled the humble joys of our huts
slow at the return of corn...
Blind! Blind!
On my Infinite People
they applied the whip without understanding
the power of books,
the rhythm of our blood,
our right to sacrifice,
to impatience.
Our whole body refused it.
Prisoners of their forfeiting
they listen to the dark crashes of the sticks
that mingle with the wind
following powder.
Without sight and without words
they assign the precise patrol
among raisins,
its halt under the dark pride of pines
at the detour of furious crossings,
the resumed cry of the Patriots
from which freedom falls like an eagle.

Miroir de l'églantier
Feu de sarments dans tes yeux
Feu de ronces sur tes joues
Feu de silex sur ton front
Feu d'amandes sur tes lèvres
Feu d'anguilles dans tes doigts
Feu de laves sur tes seins
Feu d'oranges dans ton coeur
Feu d'oeillets à ta ceinture
Feu de chardons sur ton ventre
Feu de glaise à tes genoux
Feu de bave sous tes pieds
Feu de sel et feu de boue
un incendie réel
tout droit sur la falaise
un faisceau de saveurs
où je me reconnais
Mère ma ténébreuse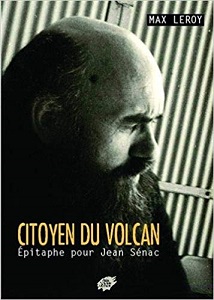 Jean Senac (29 november 1926 – 30 augustus 1973)
Cover
De Italiaanse schrijver, schilder, arts en politicus Carlo Levi werd geboren op 29 november 1902 in Turijn. Zie ook alle tags voor Carlo Levi op dit blog.
Uit: Christ Stopped at Eboli (Vertaald door Frances Frenaye)
"No one has come to this land except as an enemy, a conqueror, or a visitor devoid of understanding. The seasons pass today over the toil of the peasants, just as they did three thousand years before Christ; no message, human or divine, has reached this stubborn poverty. We speak a different language, and here our tongue is incomprehensible. The greatest travelers have not gone beyond the limits of their own world; they have trodden the paths of their own souls, of good and evil, of morality and redemption. Christ descended into the underground hell of Hebrew moral principle in order to break down its doors in time and to seal them up into eternity. But to this shadowy land, that knows neither sin nor redemption from sin, where evil is not moral but is only the pain residing forever in earthly things, Christ did not come. Christ stopped at Eboli.
I arrived at Gagliano one August afternoon in a rattling little car, I was wearing handcuffs and I was escorted by two stalwart servants of the State with vertical red bands on their trousers, and expressionless faces. I arrived reluctantly and ready for the worst, because sudden orders had caused me to leave Grassano where I had been living and where I had learned to know the region of Lucania. It had been hard at first. Grassano, like all the villages hereabouts, is a streak of white at the summit of a bare hill, a sort of miniature imaginary Jerusalem in the solitude of the desert.
I liked to climb to the highest point of the village, to the wind-beaten church, where the eye can sweep over an endless expanse in every direction, identical in character all the way around the circle. It is like being on a sea of chalk, monotonous and without trees. There are other villages, white and far away on the tops of their hills, Irsina, Craco, Montalbano, Salandra, Pisticci, Grottole, Ferrandina, the haunts and caves of the brigands; and beyond the reach of vision lies the sea, and Metaponto, and Taranto. I felt that I had come to understand the hidden virtues of this bare land and to love it; I had no mind to change. I am by nature sensitive to the pangs of separation and for this reason I was anything but well disposed toward the new village where I had to adapt myself to living. I looked forward, however, to the trip from one locality to the other and to the chance of seeing places I had heard so much about, and had pictured in fancy, beyond the mountains hemming in the Basento Valley."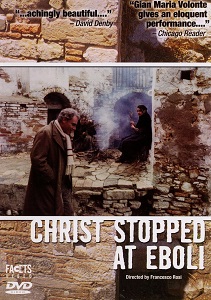 Carlo Levi (29 november 1902 – 4 januari 1975)
Poster voor de gelijknamige film uit 1979
De Belgische schrijver Jean-Philippe Toussaint werd op 29 november 1957 geboren in Brussel. Zie ook alle tags voor Jean-Philippe Toussaint op dit blog.
Uit: De waarheid omtrent Marie (Vertaald door Marianne Kaas)
"Later, terugdenkend aan de duistere uren van die gloeiend hete nacht, drong het tot me door dat we, Marie en ik, op hetzelfde moment de liefde hadden bedreven, maar niet met elkaar. Op een bepaald tijdstip van die nacht – het was de eerste warme periode van het jaar, die abrupt had ingezet, drie dagen achtereen 38°C in Parijs en omstreken, en de temperatuur kwam nooit onder de 30°C – bedreven Marie en ik de liefde in Parijs, in appartementen hemelsbreed op nauwelijks een kilometer van elkaar verwijderd. Aan het begin van de avond kwam de gedachte uiteraard niet bij ons op, en ook later niet, of op enig ander moment, het was simpelweg ondenkbaar, dat we elkaar die nacht zouden zien, dat we voor het aanbreken van de dag samen zouden zijn, en dat we elkaar zelfs even zouden omhelzen in onze flat, in de donkere gang waar alles verstoord was. Gezien het tijdstip waarop Marie thuiskwam (in ons huis, of eigenlijk in haar huis, ik zou nu haar moeten zeggen, want al bijna vier maanden woonden we niet meer onder hetzelfde dak), en gezien het feit dat ik om vrijwel dezelfde tijd was teruggekeerd, niet alleen, ik was niet alleen – maar met wie ik was doet weinig ter zake, daar gaat het niet om – in de kleine tweekamerflat waarin ik sinds we uit elkaar waren gegaan mijn intrek had genomen, zal het naar alle waarschijnlijkheid bij benadering twintig over een, op z'n laatst halftwee 's nachts zijn geweest toen Marie en ik die nacht in Parijs op hetzelfde moment de liefde bedreven, beiden lichtelijk aangeschoten, onze warme lichamen in het schemerduister, het raam waardoor geen zuchtje frisse lucht de kamer binnenkwam, wijd open. De lucht, die roerloos was, zwaar, onweersachtig, koortsig haast, verkoelde de atmosfeer niet, maar versterkte de lichamen eerder in het passieve en extreme gevoel van benauwdheid veroorzaakt door de hitte. Het was nog voor twee uur 's nachts – dat weet ik, ik heb gekeken hoe laat het was toen de telefoon ging. Maar wat de precieze chronologie van die nacht betreft houd ik me maar liever op de vlakte, want het gaat toch om het lot van een man, of om zijn dood, nog lang zou niet bekend zijn of hij in leven zou blijven of niet."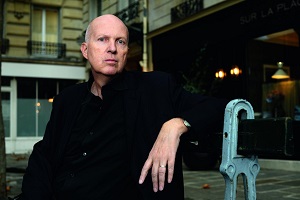 Jean-Philippe Toussaint (Brussel, 29 november 1957)
De Ierse schrijver C. S. Lewis werd geboren op 29 november 1898 in Belfast. Zie ook alle tags voor C. S. Lewis op dit blog.
Uit: The Business of Heaven
"Restoration of the Bible on Its Own Terms
January 29
Unless the religious claims of the Bible are again acknowledged, its literary claims will, I think, be given only 'mouth honour' and that decreasingly. For it is, through and through, a sacred book. Most of its component parts were written, and all of them were brought together, for a purely religious purpose. It contains good literature and bad literature. But even the good literature is so written that we can seldom disregard its sacred character. It is easy enough to read Homer while suspending our disbelief in the Greek pantheon; but then the Iliad was not composed chiefly, if at all, to enforce obedience to Zeus and Athene and Poseidon. The Greek tragedians are more religious than Homer, but even there we have only religious speculation or at least the poet's personal religious ideas; not dogma. That is why we can join in. Neither Aeschylus nor even Virgil tacitly prefaces his poetry with the formula 'Thus say the gods'. But in most parts of the Bible everything is implicitly or explicitly introduced with 'Thus saith the Lord'. It is, if you like to put it that way, not merely a sacred book but a book so remorselessly and continuously sacred that it does not invite, it excludes or repels, the merely aesthetic approach. You can read it as literature only by a tour de force. You are cutting the wood against the grain, using the tool for a purpose it was not intended to serve. It demands incessantly to be taken on its own terms: it will not continue to give literary delight very long except to those who go to it for something quite different. I predict that it will in the future be read as it always has been read, almost exclusively by Christians.
What Are We to Make of Christ?
February 1
`What are we to make of Christ?' There is no question of what we can make of Him, it is entirely a question of what He intends to make of us. You must accept or reject the story. The things He says are very different from what any other teacher has said. Others say, 'This is the truth about the universe. This is the way you ought to go', but He says, 'I am the Truth, and the Way, and the Life.' He says, 'No man can reach absolute reality, except through Me. Try to retain your own life and you will be inevitably ruined. Give yourself away and you will be saved.' He says, 'If you are ashamed of Me, if, when you hear this call, you turn the other way, I also will look the other way when I come again as God without disguise. If anything whatever is keeping you from God and from Me, whatever it is, throw it away. If it is your eye, pull it out. If it is your hand, cut it off. If you put yourself first you will be last. Come to Me everyone who is carrying a heavy load, I will set that right. Your sins, all of them, are wiped out, I can do that. I am Rebirth, I am Life. Eat Me, drink Me, I am your Food. And finally, do not be afraid, I have overcome the whole universe." That is the issue."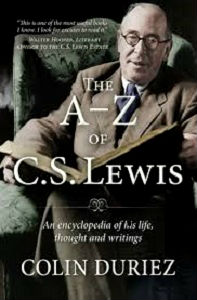 C.S. Lewis (29 november 1898 – 22 november 1963)
Cover
De Duitse dichter en schrijver Wilhelm Hauff werd geboren inStuttgart op 29 november 1802. Zie ook alle tags voor Wilhelm Hauff op dit blog.
Uit: Der junge Engländer oder Der Affe als Mensch
"Im südlichen Teil von Deutschland liegt das Städtchen Grünwiesel, wo ich geboren und erzogen bin. Es ist ein Städtchen, wie sie alle sind. In der Mitte ein kleiner Marktplatz mit einem Brunnen, an der Seite ein kleines altes Rathaus, umher auf dem Markt das Haus des Friedensrichters und der angesehensten Kaufleute, und in ein paar engen Straßen wohnen die übrigen Menschen. Alles kennt sich, jedermann weiß, wie es da und dort zugeht, und wenn der Oberpfarrer oder der Bürgermeister oder der Arzt ein Gericht mehr auf der Tafel hat, so weiß es schon am Mittagessen die ganze Stadt. Nachmittags kommen dann die Frauen zueinander in die Visite, wie man es nennt, besprechen sich bei starkem Kaffee und süßem Kuchen über diese große Begebenheit, und der Schluß ist, daß der Oberpfarrer wahrscheinlich in die Lotterie gesetzt und unchristlich viel gewonnen habe, daß der Bürgermeister sich »schmieren« lasse, oder daß der Doktor vom Apotheker einige Goldstücke bekommen habe, um recht teure Rezepte zu verschreiben. Ihr könnet Euch denken, wie unangenehm es für eine so wohleingerichtete Stadt wie Grünwiesel sein mußte, als ein Mann dorthin zog, von dem niemand wußte, woher er kam, was er wollte, von was er lebte. Der Bürgermeister hatte zwar seinen Paß gesehen, und in einer Kaffeegesellschaft bei Doktors geäußert, der Paß sei zwar ganz richtig visiert von Berlin bis nach Grünwiesel, aber es stecke doch was dahinter; denn der Mann sehe etwas verdächtig aus. Der Bürgermeister hatte das größte Ansehen in der Stadt; kein Wunder, daß von da an der Fremde als eine verdächtige Person angesehen wurde. Und sein Lebenswandel konnte meine Landsleute nicht von dieser Meinung abbringen. Der fremde Mann mietete sich für einige Goldstücke ein ganzes Haus, das bisher öde gestanden, ließ einen ganzen Wagen voll sonderbarer Gerätschaften, als Öfen, Kunstherde, große Tiegel und dergleichen hineinschaffen und lebte von da an ganz für sich allein. Ja, er kochte sich sogar selbst, und es kam keine menschliche Seele in sein Haus als ein alter Mann aus Grünwiesel, der ihm seine Einkäufe in Brot, Fleisch und Gemüse besorgen mußte. Doch auch dieser durfte nur in die Flur des Hauses kommen, und dort nahm der fremde Mann das Gekaufte in Empfang.
Ich war ein Knabe von zehen Jahren, als der Mann in meiner Vaterstadt einzog, und ich kann mir noch heute, als wäre es gestern geschehen, die Unruhe denken, die dieser Mann im Städtchen verursachte. Er kam nachmittags nicht wie andere Männer auf die Kugelbahn, er kam abends nicht ins Wirtshaus, um wie die übrigen bei einer Pfeife Tabak über die Zeitung zu sprechen."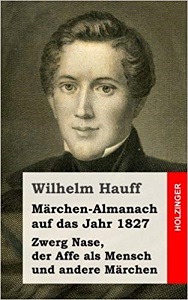 Wilhelm Hauff (29 november 1802 – 18 november 1827)
Cover
De Amerikaanse schrijfster Louisa May Alcott werd geboren op 29 november 1832 in Germantown, Pennylvania. Zie ook alle tags voor Louisa May Alcott op dit blog.
Uit: Little Men. Life at Plumfield With Jo's Boys
"While Nat takes a good long sleep, I will tell my little readers something about the boys, among whom he found himself when he woke up.
To begin with our old friends. Franz was a tall lad, of sixteen now, a regular German, big, blond, and bookish, also very domestic, amiable, and musical. His uncle was fitting him for college, and his aunt for a happy home of his own hereafter, because she carefully fostered in him gentle manners, love of children, respect for women, old and young, and helpful ways about the house. He was her right-hand man on all occasions, steady, kind, and patient; and he loved his merry aunt like a mother, for such she had tried to be to him.
Emil was quite different, being quick-tempered, restless, and enterprising, bent on going to sea, for the blood of the old vikings stirred in his veins, and could not be tamed. His uncle promised that he should go when he was sixteen, and set him to studying navigation, gave him stories of good and famous admirals and heroes to read, and let him lead the life of a frog in river, pond, and brook, when lessons were done. His room looked like the cabin of a man-of-war, for every thing was nautical, military, and shipshape. Captain Kyd was his delight, and his favorite amusement was to rig up like that piratical gentleman, and roar out sanguinary sea-songs at the top of his voice. He would dance nothing but sailors' hornpipes, rolled in his gait, and was as nautical in conversation to his uncle would permit. The boys called him "Commodore," and took great pride in his fleet, which whitened the pond and suffered disasters that would have daunted any commander but a sea-struck boy."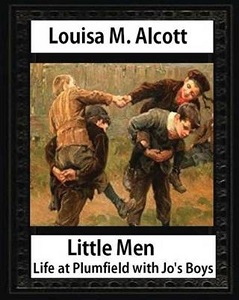 Louisa May Alcott (29 november 1832 – 6 maart 1888
Cover
De Oostenrijkse dichter en schrijver Franz Stelzhamer werd geboren in Großpiesenham op 29 november 1802. Zie ook alle tags voor Frans Stelzhammer op dit blog.
Uit: Der blinde Knabe
"Wilhelm war ein lieber, gemütlicher Knabe. Er mochte jetzt sieben Jahre alt sein und machte seinen guten Eltern, vorzüglich der Mutter, die er den ganzen Tag nicht verließ, ebenso viele Freude als heimlichen Kummer. Freude machte ihnen seine Folgsamkeit und sanfte Manier, den Kummer aber verursachte ihnen des Knaben von Geburt mitgebrachtes Unglück – denkt euch Kinder, der sonst so wohlgestaltete, liebenswürdige Wilhelm war blind geboren.
Wenn seine Geschwister und die anderen Kinder im Frühlinge auf dem weichen Grase herumsprangen, bunte Blümchen pflückten oder den schönen Schmetterlingen nachjagten, mußte Wilhelm allein im Grase sitzen bleiben und froh sein, wenn Bruder August oder des Nachbars flinkes Lenchen in der Eile ihm einige Blumen zuwarfen, die er dann mit seinen kleinen Händchen so leise und verständig betastete und abgriff, daß ihm von der Wurzel bis an das Ende der Krone kein Blättchen noch so fein, kein Staubfaden, wie zart er auch war, entgehen konnte.
Wenn er dann alles um ihn herum so fleißig befühlt und abgetastet hatte, war er oft so freudig im Herzen bewegt, daß er vom Boden aufspringen, im kleinen Kreise auf dem Grase herumtrippeln und mit den Händen wedeln mußte, als wenn er laufen und hurtig herumfliegen wollte vor Frühlingsluft und innigem Entzücken.
»August!« rief er dann, »Lenchen! kommt her zu mir, ich muß euch etwas sagen, etwas zeigen!« – Aber du mein Himmel, wo waren indessen August und Lenchen hingesprungen?
Da eilte dann die Mutter zu ihm und fragte wehmütig-mild: »Was denn Wilhelm, was ist denn?« Und, nach ihr langend, der allzeit Guten und Getreuen, und ihren Hals umschlingend, jubelte er: »o Mutter, die Blumen sind so weich, weicher noch als dein Samtkissen und so zart und fein wie deine Wangen!« Dann küßte er sie und streichelte die Blumen.
Dann aber, wenn sein Freudentaumel vorüber war, ging es an ein Fragen, was dies, das und jenes sei. Gleich darauf kamen »Wie?« und »Warum?« so häufig und mannigfach, daß die gute Mutter ein Gelehrter mit etlichen Zungen hätte sein müssen, um dem wißbegierigen Knaben alles vollständig zu beantworten.
Am allerschwersten, wie leicht zu denken, ging es ihr, wenn die andern Kinder plötzlich ausriefen: »Ach, das ist so schön rot, blau, gelb u. dgl.!« Und sie hätte dann dem kleinen Wilhelm begreiflich machen sollen, was – rot, blauweiß usw. sei. Oder, wie Sonne, Mond und Sterne aussehen; wie groß sie seien und wie das Weltmeer, wovon neulich der Lehrer etwas erwähnte, eigentlich beschaffen. – Was denn der Bach für Füße habe, daß er so schnell läuft, und warum er – der Bach – nicht deutlicher spreche usw. Das waren fürwahr Aufgaben für die Mutter!"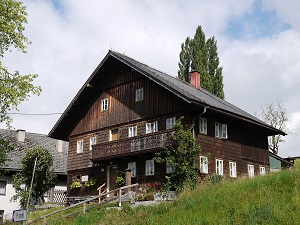 Franz Stelzhamer (29 november 1802 – 14 juni 1874)
Stelzhamers geboortehuis in Großpiesenham
Zie voor nog meer schrijvers van de 29e november ook mijn blog van 29 november 2015 deel 1 en eveneens deel 2.
29-11-2018 om 18:24 geschreven door Romenu

Tags:Mario Petrucci, George Szirtes, Jean Senac, Carlo Levi, Jean-Philippe Toussaint, C.S. Lewis, Wilhelm Hauff, Louisa May Alcott, Franz Stelzhamer, Romenu


28-11-2018

Erwin Mortier, Alberto Moravia, Stefan Zweig, Hugo Pos, Sherko Fatah, Philippe Sollers, William Blake, Alexander Blok, Rita Mae Brown
De Vlaamse dichter en schrijver Erwin Mortier werd geboren in Nevele op 28 november 1965. Zie ook alle tags voor Erwin Mortier op dit blog.
Uit: Gestameld liedboek. Moedergetijden
"Wat me nog het meest bij haar opvalt, wat me de meeste treurnis bezorgt, dat is de dubbele stilte van haar zijn. De taal heeft de koffers gepakt en is over de reling van het kapseizende schip gesprongen, maar er heerst ook een andere stilte in haar of rond haar.
Ik hoor de muziek van haar ziel niet meer; de existentiële aura om haar heen, dat hele vibrerende laken van narratieven en symbolieken waarmee ze zichzelf in de wereld heeft geweven – of omgekeerd, de wereld in haar.
Ik ben zeer gevoelig voor dat hele stelsel, dat web, dat netwerk, dat ons zijn uitmaakt en dat ik bij gebrek aan betere betitelingen nog altijd onze ziel noem. Het is de subtiele poëzie (de tragiek, de schoonheid, de microscopische gruwel) die ieder concreet leven met zich meedraagt en op een of andere wijze ook woordloos weet uit te stralen. Mensen hebben hun eigen echo, ik kan het moeilijk uitleggen. Ik kan de ruis van hun bestaan soms horen, de flarden muziek – en die klinken mooi, of niet, en ook in mij galmt de gehele menselijke fanfare, soms harmonisch en soms schril.
Maar bij haar hoor ik nog amper iets, soms eenzelfde soort van suizen dat me voor het eerst opviel toen ik nog heel erg jong was en op een nacht het kasteel in lichterlaaie stond. Ik herinner me dat ik naar de vlammenzee keek en me er toen we dichterbij kwamen over verbaasde dat die niet stil om zich heen greep. Ik hoorde het inferno zachtjes gieren. Ergens in die spelonken van vuur en walmen sprong glas aan scherven, floten brandende balken, barstten stenen, enzovoort.
Iets gelijkaardigs hoor ik nu in haar: een zachte klaagzang van vrijwel geruisloos, alomvattend verval."
******
Met de dag wordt ze stiller. Steeds meer tranen moeten de vervlogen woorden vervangen. Soms bewegen haar lippen, trillen haar mondhoeken, brengt ze kort gezucht voort. Dan lijken er nog altijd gedachten te zijn, maar op andere golflengtes, buiten het bereik van mijn trommelvlies. Dan denk ik aan haar als was ze een oude lampenradio, zoals die vroeger in de huizen van verwanten stonden. Ik denk aan het geruis en gefluit en de flarden van stemmen wanneer de zoeker over de frequenties bewoog. Soms lijkt ze ontredderd, lijkt haar brein even op zoek: gestamel, gestotter, veel Stilte."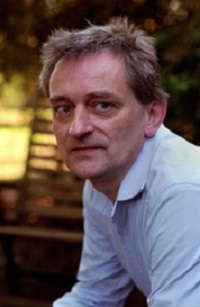 Erwin Mortier (Nevele, 28 november 1965)
De Italiaanse schrijver Alberto Moravia werd geboren in Rome op 28 november 1907. Zie ook alle tags voor Alberto Moravia op dit blog.
Uit: Daar moet je je niet in verdiepen (Vertaald door Anna Kapteijns)
"Agnes had me kunnen waarschuwen, in plaats van zo weg te gaan zonder zelfs maar te zeggen: 'barst'. Ik wil helemaal niet beweren dat ik perfect ben en als ze me had verteld wat er aan scheelde, dan hadden we er over kunnen praten. Maar nee hoor, in twee jaar huwelijk geen woord; en toen op een morgen maakte ze gebruik van een ogenblik dat ik er niet was om er stiekem vandoor te gaan, als een dienstmeisje dat een betere betrekking heeft gevonden. Ze is weggegaan en zelfs nu, na zes maanden, heb ik nog niet begrepen waarom.
Die morgen was ik nadat ik boodschappen had gedaan op de markt, weer uitgegaan om anderhalve meter franje te kopen voor het gordijn in de eetkamer. (Ik vind het leuk om boodschappen te doen, ik weet wat alles kost, weet wat ik wil hebben, ik houd van pingelen en praten, proeven en betasten, ik wil weten van welk dier mijn biefstuk komt, uit welke mand mijn appel.) Omdat ik niet meer dan een bepaald bedrag wilde uitgeven, moest ik nogal lang zoeken voor ik vond wat ik wilde hebben in een klein winkeltje aan de Via dell' Umiltà. Om twintig over elf kwam ik weer thuis; ik liep de eetkamer in om de kleur van de franje te vergelijken met die van het gordijn en ik zag meteen de inktpot, de pen en een brief op tafel. Om de waarheid te zeggen: wat mij vooral trof was een inktvlek op het tafelkleed. Ik dacht: 'Wat een knoeipot, ze heeft een vlek op het kleed gemaakt.' Ik haalde de inktpot, de pen en de brief weg, nam het kleed, ging naar de keuken en daar lukte het me de vlek weg te krijgen door flink te wrijven met citroen. Ik ging weer naar de eetkamer, legde het kleed op zijn plaats terug en toen pas dacht ik aan de brief. Hij was aan mij gericht: 'Alfredo'. Ik maakte hem open en las: 'Ik heb het huis schoongemaakt. Het eten kook je zelf maar, dat ben je toch gewend. Dag. Ik ga terug naar mijn moeder. Agnes.' Even begreep ik er niets van. Toen las ik de brief nog eens en eindelijk snapte ik het: Agnes was weggelopen. Ze had me na twee jaar huwelijk verlaten. Gewoontegetrouw deed ik de brief in de la van het buffet waar de rekeningen en de correspondentie in liggen en ging op een stoeltje bij het raam zitten. Ik wist niet wat ik ervan moest denken, ik was er niet op voorbereid en ik kon het bijna niet geloven. Terwijl ik zo zat na te denken keek ik naar de vloer en zag een klein wit veertje dat uit de plumeau moest zijn losgeraakt toen Agnes aan het afstoffen was. Ik raapte het op, deed het raam open en liet het naar beneden vallen. Toen pakte ik mijn hoed en ging de deur uit."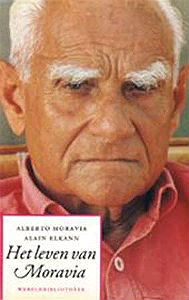 Alberto Moravia (28 november 1907 – 26 september 1990)
Cover biografie
De Oostenrijkse schrijver Stefan Zweig werd op 28 november 1881 geboren in Wenen. Zie ook alle tags voor Stefan Zweig op dit blog.
Uit: Verwirrung der Gefühle
"Und mit plötzlicher Wendung fuhr unvermutet das Blinkfeuer der Rede auf uns zu: »Versteht ihr nun, warum ich meine Vorlesung nicht in historischer Folge bei den Anfängen beginne, beim King Arthur und Chaucer, sondern aller Regel zum Trotz bei den Elisabethanern? Und versteht ihr, daß ich vor allem Vertrautheit mit ihnen verlange, Einleben in diese höchste Lebendigkeit? Denn es gibt kein philologisches Verstehen ohne Erleben, kein bloß grammatikalisches Wort ohne Erkenntnis der Werte, und ihr jungen Menschen sollt ein Land, eine Sprache, die ihr euch erobern wollt, zuerst in ihrer höchsten Schönheitsform sehen, in der starken Form seiner Jugend, seiner äußersten Leidenschaft. Erst müßt ihr bei den Dichtern die Sprache hören, bei ihnen, die sie schaffen und vollenden, ihr müßt Dichtung einmal atmend und warm am Herzen gespürt haben, ehe wir sie zu anatomisieren anfangen. Darum beginne ich immer mit den Göttern, denn England ist Elisabeth, ist Shakespeare und die Shakespearianer, alles Frühere Vorbereitung, alles Spätere lahmes Nachlaufen diesem eigenen kühnen Sprung ins Unendliche zu – hier aber, fühlt es, fühlt es selbst, ihr jungen Menschen, hier die lebendigste Jugend unserer Welt.
Immer erkennt man ja jede Erscheinung, jeden Menschen nur in ihrer Feuerform, nur in der Leidenschaft. Denn aller Geist steigt aus dem Blut, alles Denken aus Leidenschaft, alle Leidenschaft aus Begeisterung – darum Shakespeare und die Seinen zuerst, die euch junge Menschen erst wahrhaftig jung machen! Erst der Enthusiasmus, dann erst der Fleiß, erst Er, der Höchste, der Äußerste, Shakespeare, dies herrlichste Repetitorium der Welt, vor dem Studium des Worts!« »Und nun genug für heute – lebt wohl!« – Mit jäh abschließender Geste wölbte sich die Hand und taktierte herrisch unvermutet ab, indes er gleichzeitig vom Tische absprang. Wie auseinandergerüttelt fuhr mit einmal das dicht zusammengedrückte Bündel der Studenten schütter auf, Sessel knackten und polterten, Tische rückten, zwanzig verschlossene Kehlen huben mit einmal an zu reden, sich zu räuspern, breitströmig zu atmen – jetzt erst sah man, wie magnetisch die Bannung gewesen, die alle diese atmenden Lippen verschloß. Um so hitziger und hemmungsloser wogte nun im engen Raume das Durcheinander; einige traten auf den Lehrer zu, um ihm Dank oder ein anderes zu sagen, indes die übrigen heißen Gesichts untereinander ihre Eindrücke austauschten; keiner aber stand ruhig, keiner unberührt von der elektrischen Spannung, deren Kontakt brüsk gerissen war und von der doch Hauch und Feuer noch in der gedrängten Luft zu knistern schien. Ich selbst konnte mich nicht rühren: ich war wie auf das Herz getroffen. Leidenschaftlich ich selbst, und fähig, alles nur passioniert, mit einem vorstürzenden Stoß aller Sinne zu begreifen, hatte ich zum erstenmal von einem Lehrer, von einem Menschen mich gefaßt gefühlt, eine Übermacht empfunden, vor der sich zu beugen Pflicht und Wollust sein mußte. Meine Adern gingen warm, ich spürte es, mein Atem schneller, bis in meinen Körper hinein hämmerte sich dieser jagende Rhythmus und riß ungeduldig an jedem Gelenk. Endlich gab ich mir nach, drängte langsam in die vordere Reihe, das Gesicht dieses Mannes zu sehen, denn – sonderbar! – während er sprach, hatte ich seine Züge gar nicht wahrgenommen, so sehr waren sie vergangen, so sehr eingegangen in die Rede. Auch jetzt konnte ich vorerst nur ein ungenaues Profil schattenhaft erblicken: er stand, einem Studenten halb zugewandt, die Hand vertraulich auf die Schulter gelegt, im Zwielicht des Fensters. Aber selbst diese flüchtige Bewegung hatte eine Innigkeit und Anmut, wie ich sie niemals bei einem Schulmann für möglich gehalten."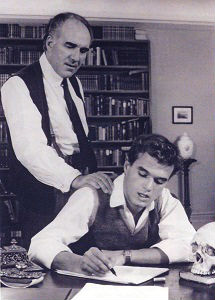 Stefan Zweig (28 november 1881 – 22 februari 1942)
Scene uit "La confusion des sentiments", de verfilming van de novelle met Michel Piccoli en Pierre Malet uit 1981
De Surinaamse schrijver, dichter en jurist Hugo Pos werd geboren in Paramaribo op 28 november 1913. Zie ook alle tags voor Hugo Pos op dit blog.
Uit: In triplo
"Al spoedig word ik dan lid van de redactie. Hoeveel redactievergaderingen, beurtelings in de kamer van een van de leden onder het genot van een goed verzorgde borrel, heb ik niet bijgewoond, hoeveel verzen heb ik niet laat op donderdagavond geschreven en dan op de vrijdagmiddagen voorgelezen en overlegd. Toch hebben een groot aantal zelfs dat stadium niet bereikt. Toen ik na de oorlog in januari 1948 naar Holland terugkwam vond ik in de bundel Leidse Studentenpoëzie, die zonder dat ik er iets van wist was uitgekomen, twaalf van mijn verzen afgedrukt. Plus een lovende recensie in de NRC die een vriend voor mij had uitgeknipt. Twee verzen moeten tot de verbeelding van mijn medestudenten hebben gesproken. Want nu nog kan het gebeuren dat een heer, die ik vanwege zijn gevorderde leeftijd nauwelijks meer herken, mij aanspreekt met de dichtregel

Annie-Marie heeft met haar mooie ogen
haar man en minnaar beî bedrogen
of, met een ondeugende twinkeling vanachter de brilleglazen, met de aanhef van de Repelsteeltje-aria

Ik klim
overal in.
Het is mogelijk dat ik daardoor op de idee ben gekomen dat dichters in het collectieve geheugen voornamelijk voortleven door slechts enkele regels.
Ik verbaas mij erover dat er voor de televisie geen quiz of hoe zoiets ook heten mag wordt gehouden, waarbij aan de deelnemers gevraagd wordt uit het hoofd regels van bekende dichters te citeren. Waarschijnlijk is dat niet praktisch uitvoerbaar, want de juryleden zouden dan over een fenomenale kennis van de poëzie moeten beschikken om stante pede het goed of fout te kunnen uitspreken. Maar toch, ook zonder quiz blijven de namen van de dichters in den volke alleen levend als er telkens en telkens weer een regel van hen wordt aangehaald."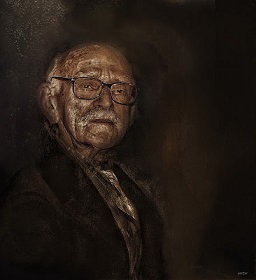 Hugo Pos (28 november 1913 – 11 november 2000)
Portretfoto door Nicolaas Porter, 2012
De Duitse schrijver Sherko Fatah werd geboren op 28 november 1964 in Oost-Berlijn. Zie ook alle tags voor Sherko Fatah op dit blog.
Uit: Der letzte Ort
"Sein Auge tränte und der Staub ließ ihn husten.
Er kniete nieder und lehnte den Oberkörper zurück. Jetzt begannen die Fesseln zu scheuern, die Blutarmut lähmte seine Hände. Er bewegte die Finger, stellte sich vor, einen Fahrradlenker zu halten — und plötzlich verließ ihn der Mut. Er ließ sich auf die Seite fallen, wobei die Hände an den Fesseln zerrten. Er stöhnte, blickte unruhig im Verschlag umher, robbte auf die Blechschale zu, die sie ihm dagelassen hatten. Er schob sein Kinn hinein, nur um festzustellen, dass sie leer war.
»Das wusstest du, und doch hast du nachgeschaut.«
Er schüttelte den Kopf über sich selbst und schob mit der gleichen Bewegung die Blechschale von sich. Draußen war das Gemecker von Ziegen zu hören, von fernher wurden menschliche Stimmen herangeweht. Das einfallende Licht veränderte sich, Albert döste vor sich hin. Wie leicht sie es sich gemacht haben, dachte er, einen wertvollen Gefangenen einfach nur zu fesseln und in einen leeren Schuppen zu sperren. Nichts daran wirkte vorbereitet oder gar geplant. Sie improvisieren, dachte er und fragte sich, ob das ein gutes Zeichen sei. Der Ruf des Muezzins lenkte ihn ab. Er dachte an die Stadt, die wieder so weit entfernt zu sein schien wie bei seiner Anreise.
Er fuhr auf einer der endlosen Landstraßen durch das staubtrockene Land. Ununterscheidbare Dornensträucher wuchsen am Weg und zuweilen, inmitten von Hügelrücken aus Sand und
Geröll, entdeckte er Reste steinerner Gebäude, die aussahen wie zertreten. Er verspürte keinerlei Bedürfnis nach Zwischenstopps in halb verlassenen Dörfern mit Hütten, an denen im beständigen Wind immer etwas flatterte, als würden sie ganz aus dunklen Stofffetzen bestehen, die sich gerade jetzt, als sie daran vorbeifuhren, an den Nähten voneinander lösten. Dennoch blieb ihm nichts übrig, als jede dieser Rasten durchzu-stehen und die durch das Wagenfenster gekaufte warme Cola in sich hineinzuschütten. Er hielt die Augen halb geschlossen, ruhte sie aus für den zu erwartenden, aber immer wieder un-glaublichen Anblick der Kamelkarawanen, die mit der gleich-mütigsten aller Bewegungen in Dunstschleier trotteten, um darin zu verblassen. Albert atmete gleichmäßig. Möglicherweise war er bereits versöhnt mit den Mühen, der Hitze und dem unaufhörlich auf das Armaturenbrett schlagenden Rosenkranz, den der Taxifah-rer ab und an beiläufig berührte. Vor der Weite der Wüsten-landschaft zogen die klaren Bilder ausgedachter Situationen an Albert vorbei, als würde diese leere Landschaft sie aus ihm he-rausziehen und sich damit beleben."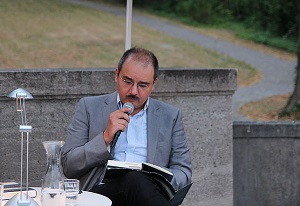 Sherko Fatah (Oost-Berlijn, 28 november 1964)
De Franse schrijver Philippe Sollers werd geboren op 28 november 1936 in Bordeaux. Zie ook alle tags voor Philippe Sollers op dit blog.
Uit: Het park ((Vertaald door Kiki Coumans)
"De lucht boven de lange glimmende lanen is donkerblauw.
Straks ga ik naar buiten, dan loop ik met opgeheven hoofd op hem af, en hij zal langzaam onzichtbaarder worden, totdat hij verdwenen is. Nu ligt hier de stad, ze is plotseling voelbaar, ze rijst omhoog, vol nieuwe geluiden en vol nacht. Weggaan. Maar eerst nog even de straat bekijken met de vergeelde bomen, en aan de overkant het pand met de zuiltjes, de halfronde balkons, de nog heldere zinken daken en de verlichte vertrekken in de verte, waarin vrouwen af en aan lopen om de tafel te dekken voor het avondeten. Een zitkamer, een eetkamer, een keuken, nog een keuken, nog een zitkamer...
In de leren fauteuil daar rechts naast de schoorsteenmantel en de staande lamp, zit een man in zijaanzicht met een glas wijn in zijn hand. Tegenover hem zit een vrouw die af en toe beweegt, ik kan haar rode jurk achter de gordijnen zien, haar gebaren, het bewegen van haar lippen als ze praat, terwijl de man voorover buigt om naar haar te luisteren, en het lijkt alsof ik hem kan horen, zoals gewoonlijk, en een beetje verstrooid zegt hij:
'Jazeker.' Ja, niets zal me ontgaan als ik in de leunstoel ga zitten die ik op het smalle balkon heb neergezet, waar ik mijn benen schuin kan uitstrekken en op het ijzeren hekje kan leggen, met de gesmede bladeren die langs symmetrisch gebogen, ronde, zwarte spijlen gekruld zijn. De walmende schoorstenen daarboven, die slordig op een rijtje op de daken staan, en die een dunne donkere pluim in de nog zichtbare lucht doen opstijgen; en de vogels, de zwaluwen die tijdens de schemering hun ingewikkelde patronen hebben gevlogen, die uiteenvliegen en na de regenbui klapwiekend de brede opening in de hemel doorkruisen. Beneden het geraas van de auto's, de bussen (het motorgeronk van de bus die net op de hoek van de straat van snelheid verandert en doorrijdt; het doffere, onderbroken, haast stiekeme gebrom van de auto's); de verlichte etalages (alleen het onderste deel van de huizen wordt zo voortdurend zichtbaar); de neonreclames (de rode ruitvorm van de sigarenwinkel); en precies aan de overkant, die vrouw en die man die glimlachend met elkaar zitten te praten in het ruime, helder verlichte appartement."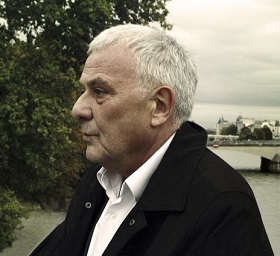 Philippe Sollers (Bordeaux, 28 november 1936)
De Engelse schrijver, dichter en schilder William Blake werd geboren op 28 november 1757 in Londen. Zie ook alle tags voor William Blake op dit blog.
The Fairy
'Come hither, my Sparrows,
My little arrows.
If a tear or a smile
Will a man beguile,
If an amorous delay
Clouds a sunshiny day,
If the step of a foot
Smites the heart to its root,
'Tis the marriage-ring…
Makes each fairy a king.'
So a Fairy sung.
From the leaves I sprung;
He leap'd from the spray
To flee away;
But in my hat caught,
He soon shall be taught.
Let him laugh, let him cry,
He's my Butterfly;
For I've pull'd out the sting
Of the marriage-ring.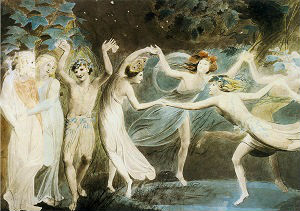 William Blake (28 november 1757 – 12 augustus 1827)
William Blake: Oberon Titania And Puck With Fairies Dancing, ca.1785
De Russische schrijver en dichter Alexander Blok werd geboren op 28 november 1880 in St. Petersburg. Zie ook alle tags voor Alexander Blok op dit blog.
Ik dwaalde in oktober door de nevel
Ik dwaalde in oktober door de nevel
en zocht in geheugen 't refrein
(o, tijd van onkreukbaar beleven
o, liefde van meisjes niet veil)
en daar, uit de donkere nevel
herrees het verloren refrein.

Mijn jeugd kwam terug, ging ik dromen,
en jij, als in leven, en jij...
en dromend begon ik te ontkomen
aan regen, en wind, duister tij
(want zo van je vroege jeugd droom je
en jij, kom je soms weer erbij?)

Daar zie ik - uit nacht en uit nevel
wat waggelend loopt op mij aan
een ouder jongmens (vreemd beleven,
had ik hem in droom al zien staan?)
hij treedt uit de nacht en de nevel
en recht loopt hij nu op mij aan.

Hij lispt: 'Ik ben moe van het dwalen,
ik ademde kilte en mist,
in spiegels van and'ren weerstraalde ik,
heb vrouwen van and'ren gekust...'
en ik ging mij steeds meer verbazen
dat ik dit een wederzien wist.

Opeens met een grijnslach verdween hij
en naast mij was niemand nadien...
ik kende dat droevige wezen
en had hem al ergens gezien...
Of kwam ik mijzelve misschien
weerkaatst in een spiegelvlak tegen?
oktober 1909
Vertaald door Frans-Joseph van Agt
Do not entrust
Do not entrust all roads yours
To the unfaithful, immense crowd:
It'll smash your castle with rough force,
And quench light of your temple, proud.

He's single to bear his hard cross
Whose spirit is unmoved in rightness,
His fire on high hills he burns,
And breaks a curtain of the darkness.
Ich trete vor düstre Altare
Ich trete vor düstre Altare,
Vollzieh karge Riten allein,
Die Herrliche Dame erwart ich
Im rötlichen Kerzenschein.

Im Schatten der hohen Säule
Vernehm ich, erzitternd, die Tür,
Doch blickt mir ins Antlitz, erleuchtet,
Der Traum nur, das Abbild von Ihr.

Wie bin ich gewöhnt an die Kleider
Des Ewig Hochherrlichen Weibs!
Hoch auf Gesimsen erscheinen
Sagen von Freuden und Leid.

O Heilige, flackernd zart leuchtend,
Dein Antlitz, wie tröstlich ist's mir!
Ich höre kein Flüstern, kein Seufzen
Und weiß doch: Du, Liebste, bist hier.



25. Oktober 1902
Vertaald door Eric Boerner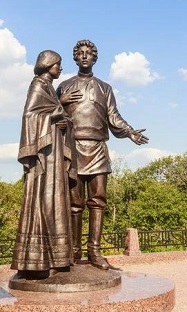 Alexander Blok (28 november 1880 – 7 augustus 1921)
Monument voor Alexander Blok en Ljuba Mendeljeva in Tarakanovo
De Amerikaanse schrijfster Rita Mae Brown werd geboren in Hanover, Pennsylvania op 28 november 1944. Zie ook alle tags voor Rita Mae Brown op dit blog.
Uit: The Sand Castle
"A white-hinged sign with a big red crab painted on it loomed out of the thinning fog.
"Jesus." Mother swerved to the right.
Her sister, Louise, replied sharply, "Thou shalt not take the name of the Lord in vain."
"I didn't, you twit, I took his son's."
"The Holy Trinity, Father, Son, and Holy Ghost. Same."
"This is supposed to be a trip to the Bay. If I want religious instruction I'll go to church."
"Well, that's just it, isn't it?" Louise was smug. "You're a Lutheran, which is God's punishment. Otherwise you'd worship at the One True Church."
Mother, sidestepping the bait for a fight dangled by her older sister—just how much older also a ripe subject for contention—shrugged. "God will forgive me, that's His trade."
Louise, pretty in what she deemed her mid-forties, crossed her arms over her chest. She was closer to fifty-two or fifty-three.
Awakened by the swerve, I piped up, "How long till we get there?"
"Not long." Mother avoided being specific.
"Forty-five minutes. If this fog would lift we'd get there faster." Louise feared driving in fog, which was sensible.
Mother feared nothing. At least that's what I thought at seven. Although Mother drove, we rumbled along in Aunt Wheezie's new black Nash with the dull gray interior. I hated the car but kept that opinion to myself. Why would anyone want to drive a car that looked like a cockroach? Even at seven I was a gearhead, which delighted my father and amused my mother. Leroy, still asleep next to me, evidenced no interest in motors even though he was a boy. He'd turned eight in June. I wouldn't reach that advanced age until November, so those extra months pleased him even if cars did not."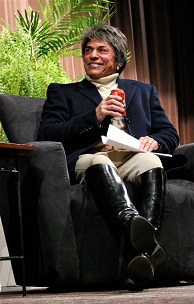 Rita Mae Brown (Hanover, 28 november 1944)
Zie voor nog meer schrijvers van de 28e november mijn blog van 28 november 2015 deel 2 en eveneens deel 3.
28-11-2018 om 18:11 geschreven door Romenu

Tags:Erwin Mortier, Alberto Moravia, Stefan Zweig, Hugo Pos, Sherko Fatah, Philippe Sollers, William Blake, Alexander Blok, Rita Mae Brown, Romenu


27-11-2018

Navid Kermani, Nicole Brossard, Han Kang, Philippe Delerm, James Agee, Jos. Habets, Friedrich von Canitz, Jacques Godbout, Saskia Goldschmidt
De Duits-Iraanse schrijver en islamist Navid Kermani werd geboren op 27 november 1967 in Siegen. Zie ook alle tags voor Navid Kermani op dit blog.
Uit: Große Liebe
"Der Leser darf sich den Jungen nicht eigentlich befangen, verwirrt, schwachmütig vorstellen. In seiner eigenen Klasse bewegte er sich mit breiter Brust, galt manchen Mitschülern als überheblich, den Lehrern als aufmüpfig, das Wort der Eltern mißachtete er oft. Auch war er nicht ganz ohne Erfahrung, zog mit seinen langen dunklen Locken durchaus die Blicke auf sich. Mit gleichaltrigen Mädchen war er schon mehrmals »gegangen«, wie es noch hieß. Daß er mit keiner geschlafen hatte, war für das Alter nicht ungewöhnlich, beunruhigte ihn jedenfalls kaum. Sosehr ihn das Geheimnis beschäftigte, das die Vereinigung zweier Körper ihm war, ahnte er zugleich dessen Bedeutung im Leben und hatte sich vorgenommen, auf eine Verbindung zu warten, die den Namen Liebe verdiente. An die Schönste des Schulhofs dachte er nicht. Als er die Pausen bereits in der Raucherecke verbrachte, dachte er nicht im Traum oder genau gesagt ausschließlich unter der Bettdecke daran, sie jemals zu küssen, sie nackt vor sich zu sehen. So viel Wirklichkeitssinn besaß er, um zu erkennen, daß die Schönste sich nicht für jemanden interessieren würde, der noch zu jung für die Raucherecke war. Der Leser darf eine plausible Erklärung erwarten, warum es den Jungen dennoch zwischen die breiteren Rücken zog, wo er sich tatsächlich so befangen, verwirrt und schwachmütig fühlen mußte, wie ich es auf der gestrigen Seite beschrieb. Seit vier Tagen versuche ich mir den Hergang zu erklären, meine Erinnerung ähnelt hier einem Film, aus dem ein Zensor die entscheidenden Szenen herausgeschnitten hat. Ich habe vor Augen, wie der Junge in einem langen Gang, der zwei Gebäude des Gymnasiums verband, auf die Schönste zulief, wie ihre Blicke sich trafen und sofort wieder trennten, sich ein zweites und drittes Mal begegneten; ich vergesse nie das Lächeln, das er auf ihren Lippen wahrzunehmen meinte, bevor sie aus dem Sichtfeld trat; ich erinnere mich vage der süßlichen Phantasien, denen er sich auf den restlichen Metern des Gangs und noch im Unterricht überließ, ohne länger als Sekunden an die Erfüllung zu glauben, er als ihr Geliebter, sie beide Hand in Hand, die erstaunten Blicke seiner Klassenkameraden.
Danach steht er im Film, den der Zensor geschnitten hat, bereits zwischen den breiteren Rücken. Nur mutmaßen kann ich, wieviel Überwindung es ihn kostete, sich in die Raucherecke zu stellen und, mehr noch: jede Pause wiederzukehren, sofern keiner der strengen Lehrer Aufsicht führte, jede Pause die Blicke zu ertragen, die über die Schultern geworfen wurden, jede Pause dem getuschelten Spott zu trotzen, den er zu hören glaubte, zwei oder drei Schritte von der Schönsten entfernt, unter dem Schattendunkel ihres Haars — gut, sie war blond — ihr Gesichtchen eine Lampe oder war auch eine Fackel, umflattert von Rabengefieder, wie der Dichter Nizami im 12. Jahrhundert über die sagenhafte Leila schrieb: »Wessen Herz hätte beim Anblick dieses Mädchens nicht Sehnsucht gefühlt? Aber Madschnun fühlte mehr! Er war ertrunken im Liebesmeer, noch ehe er wußte, daß es Liebe gibt. Er hatte sein Herz schon an Leila verschenkt, ehe er noch bedenken konnte, was er da weggab."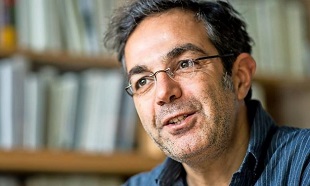 Navid Kermani (Siegen, 27 november 1967)
De Canadese dichteres en schrijfster Nicole Brossard werd geboren op 27 november 1943 in Montreal (Quebec). Zie ook alle tags voor Nicole Brossard op dit blog.
Towns really
towns with their ancient piles of misfortune
wavering
between memory and floods of virtual fury
until
the black and very-gray of dust and cries
make in my mouth
an erosion of life that cannot be shared



Echoing towns
towns with the word coral
in order to observe from inside
the shadow of veins

galloping with the foam and echo
of mirages and words in our mouths
I want comes back
so often the horizon quivers
with ardor
surprises with small tendernesses,
or wounds again and again
Towns with faces
so many received ideas like a chasm
in my muscles
someone says very close it's you but it's us
thinking about bridges, ghats,
rivers in a time of peace and torture

a caress along the earlobe
towns made to confound our soul
in the blue beauty of a dream
Vertaald door Sylvain Gallais en Cynthia Hogue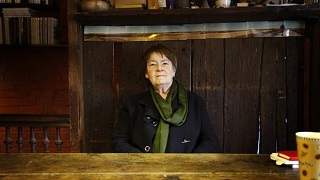 Nicole Brossard (Montreal, 27 november 1943)
De Zuid-Koreaanse schrijfster Han Kang werd geboren op 27 november 1970 in Gwangju, in de provincie Zuid-Cholla. Zie ook alle tags voor Han Kang op dit blog.
Uit: Human Acts
'Take off your clothes,' Seong-hee bellowed. 'All of us together, let's all take off our clothes.' It was impossible to say who was first to respond to this rallying cry, but within moments hundreds of young women were waving their blouses and skirts in the air, shouting 'Don't arrest us!' Everyone held the naked bodies of virginal girls to be something precious, almost sacred, and so the factory girls believed that the men would never violate their privacy by laying hands on them now, young girls standing there in their bras and pants. But the men dragged them down to the dirt floor. Gravel scraped bare flesh, drawing blood. Hair became tangled, underwear torn. You mustn't, you mustn't arrest us. Between these ear-splitting cries, the sound of square cudgels slamming into unprotected bodies, of men bundling girls into riot vans.
You were eighteen at the time. Dodging a pair of grasping hands, you slipped and fell onto the gravel, grazing your knees. A plain-clothes policeman stopped in his wild dash forward just long enough to stamp on your stomach and kick you in the side. Lying with your face in the dirt, the girls' voices seemed to swing between yells and whispers as you drifted in and out of consciousness. You had to be carried to the emergency room of the nearest hospital and treated for an intestinal rupture. You lay there in the hospital bed, listening to the reports come in. After you were discharged you could have resumed the fight, stood shoulder to shoulder with your sisters. Instead, you went back down south to your parents' home near Gwangju. Once your body had had enough time to heal, you went back up to Incheon and got a job at another textiles factory, but you were laid off within a week. Your name had been put on the blacklist. Your two years' experience working in a textiles factory was now worth nothing, and one of your relatives had to pull some strings to get you a job as a machinist at a Gwangju dressmaker's. The pay was even worse than when you'd been a factory girl, but every time you thought of quitting you recalled Seong-hee's voice: And that means . . . we are noble. You wrote to her, calling her onni, older sister. I'm getting on fine, onni. But it looks like it'll be a while before I can learn how to be a proper machinist. It's not so much that it's a tricky technique to learn, just that I'm not being taught very well. All the same, I have to have patience, right?"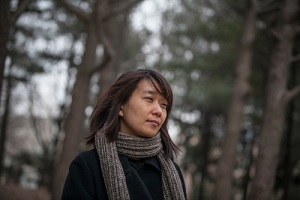 Han Kang (Gwangju, 27 november 1970)
De Franse schrijver Philippe Delerm werd geboren op 27 november 1950 in Auvers-sur-Oise. Zie ook alle tags voor Philippe Delerm op dit blog.
Uit: Les eaux troubles du mojito
"On fête la convivialité de se retrouver en terrasse, de parler sans restriction. Prendre un cocktail, c'est chaud. Il y a souvent des couleurs d'îles, des rouges tropicaux, des saveurs de noix de coco, un petit côté soleil Club Med à boire au deuxième degré, en se moquant de sa propre soif, d'une gourmandise enfantine que le rhum va créoliser.
Et puis il y a le mojito. Trrrrrr ouille ouille ! Le mot est sud-américain. Mais on attend bien autre chose. On a beau continuer à suivre la conversation, feindre l'indifférence, quand le serveur dépose le verre sur la table, on sent qu'une aventure commence.
C'est tellement pervers, tellement trouble. D'emblée, une invite à plonger, à s'embarquer vers des fonds sous-marins qu'on aura bien du mal à maîtriser. On va nager à la recherche d'une épave, peut-être, ou bien pour caresser des algues étranges, qui veulent emprisonner ou caresser, l'équivoque est tentante.
Le mojito, c'est à la fois opaque et transparent. Dans les verts, bien sûr, mais dans les noirs aussi, avec des zones un peu plus claires à la surface et des mystères insondables tout au fond de l'apnée. On y trempe les lèvres, surpris de cette fraîcheur qui sait prendre les oripeaux d'une moiteur de marigot. Tout cocktail impose une consommation lente, entrecoupée de pauses, d'abandons et de retours. Avec le mojito, on ne domine rien. La dégustation devient fascination, et c'est lui qui commande. Le plus étonnant est cette persistance du sucré dans une mangrove aux tons si vénéneux. On se laisse pénétrer par une fièvre froide, on s'abandonne. Au bout de cette errance glauque on sait que vont venir une chaleur, une euphorie. Mais il faut dériver dans la forêt feuilles de menthe, ne pas craindre de s'engloutir, abandonner l'espoir de la lumière. Nager toutes les transgressions, se perdre, s'abîmer, chercher infiniment, descendre. Alors montera le plaisir."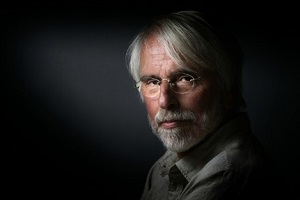 Philippe Delerm (Auvers-sur-Oise, 27 november 1950)
De Amerikaanse dichter en prozaïst James Agee werd geboren in Knoxville, Tennessee.op 27 november 1909. Zie ook alle tags voor James Agee op dit blog.
Sonnet II
Our doom is in our being. We began
In hunger eager more than ache of hell:
And in that hunger became each a man
Ravened with hunger death alone may spell:
And in that hunger live, as lived the dead,
Who sought, as now we seek, in the same ways,
Nobly, and hatefully, what angel's-bread
Might ever stand us out those short few days.
So is the race in this wild hour confounded:
And though you rectify the big distress,
And kill all outward wrong where wrong abounded,
Your hunger cannot make this hunger less
Which breeds all wrath and right, and shall not die
In earth, and finds some hope upon the sky.
Sonnet III
The wide earth's orchard of your time of knowing,
Shine of the springtime pleasures into bloom
And branched throes of health: but soon the snowing
And tender foretaste of your afterdoom,
Of fallen blossoming air persuades the air
In hardier practices: and soon dilate
Fruits and the air together that shall bear
Earthward the heavied boughs and to their fate:
Wrung of the wealth and wonder they unfurled
By that same air: which air the sun deranges
To slope the living season from the world
And charge the world with snow that all estranges.
Watch well this sun, and air, and orchard green:
None stay these changes every man has seen.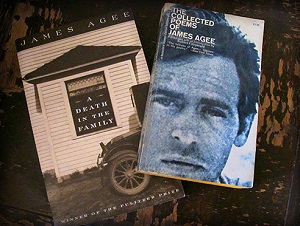 James Agee (27 november 1909 – 16 mei 1955)
Covers
De Nederlandse schrijver, priester en archivaris Joannes Josephus (Jozef) Habets werd geboren in Oirsbeek op 27 november 1829. Zie ook alle tags voor Jos. Habets op dit blog.
Een liedeken van de Bockenrijders uit het jaar 1743. (Fragment)
Tot Herten geen ik mette spoed,
Daer men ook heeft gevonden.
Kaumer daerbij, al weest gegroet!
Op die Zocht al heeft (sich) verbonden,
Die Spekeserheijdt mit Overhei,
Maer Kerckeraedt het meeste deil.
Het landt van der Heijden wordt bange.
Van de Blijerheidt sijnder gevangen.
Op den Kaffenberg was den enten verstakt,
Die ons allen heeft verraeden.
Den enten daeh wordt hij gepakt
Ende gevoert naar Kerckeraede
Gevangen ende geboenden.
Toe Herten hat men der gevoenden.
Toe Mercksteljn (ende overall)
Woendt onsen zoeten generael,
Op den Hoestert, daer al met spoet,
Men der oock heeft gevonden.
In die Groenstraet, alsoo benoempt
Daer wij te samen stoenden;
Tot Mergenberg al mit onzahle
Gevangen vast in een zael.
Tot Braechelen in het Gulkerlandt
Tot Poeffendorp al mit schandt.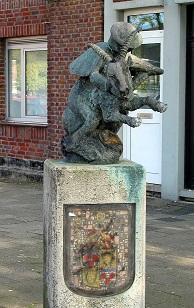 Jos. Habets (27 november 1829 – 22 juni 1893)
Beeld van een bokkenrijder op de Markt in Schaesberg
De Duitse dichter, schrijver en diplomaat Friedrich Ludwig Rudolf Freiherr von Canitz werd geboren op 27 november 1654 in Berlijn. Zie ook alle tags voor Friedrich von Canitz op dit blog.
Zufriedenheit im niedrigen Stande
Ich trachte nicht nach solchen Dingen,
Die hoch und zu gefährlich sind;
Mein Geist sucht nirgend durchzudringen,
Als wo er leichte Bahne findt.
Ich ruhe sanfft biß an den Morgen,
Wenn mancher, welcher voller Sorgen,
Nach eitler Hoffnung ängstlich ringt,
Der blinden Göttin Weyrauch bringt.
Ich mercke, daß in unserm Leben
Was Göttliches mit unter spielt;
Wer sich will zu den Sternen heben,
Und diesen Trieb nicht bey sich fühlt,
Muß endlich gar ein Spott auf Erden,
Ja, sich selbst Höll und Hencker werden:
Weil der, der sich am meisten quält,
Zu erst offt seinen Zweck verfehlt.
Wer will, mag in den Lüfften fliegen,
Mein Ziel erstreckt sich nicht so weit;
Ich lasse mich mit dem begnügen,
Was nicht bemüht, und doch erfreut.
Ein andrer mag sich knechtisch beugen,
Um desto höher aufzusteigen,
Ich neid ihn nicht in meinem Sinn,
Und bleibe gerne wer ich bin.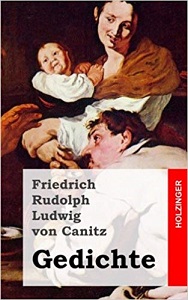 Friedrich von Canitz (27 november 1654 – 11 augustus 1699)
Cover
De Canadese dichter, schrijver, essayist en filmmaker Jacques Godbout werd geboren op 27 november 1933 in Montreal, Quebec. Zie ook alle tags voor Jacques Godbout op dit blog.
Uit: The World of the Gift (Vertaald door Donald Winkler)
"But how can we understand unilateral gifts to strangers?
According to this typology, the gift to strangers is characterized by what Sahlins calls "negative reciprocity" and is aimed at a return exceeding what has been given. We have seen that this rule of profitable return does not apply to the contemporary sphere of unilateral gifts to strangers, such as blood and organ donations. Nor does it apply to donations in time of disaster or volunteer work.
And there are mutual support groups, which sometimes create a bond that crosses frontiers, so that a member of Alcoholics Anonymous, wherever he is, can phone someone who will help him with his problems. In all these cases, contrary to what Sahlins says, there is no correlation between the proximity of the protagonists and the elasticity of equivalence.
We have said that this sphere of the gift to strangers is quintessentially modern. Why? First, most gifts in most societies, according to Sahlins, are mediated by networks of personal affinity, primary ties such as family or friendship. But these gifts are not, or such mediation is not essential to them. Often we have no idea of the specific recipient, despite, as noted elsewhere, the consistent tendency to personalize the relationship and to reduce the number of intermediaries other than the donors themselves, those inscribed in the system of the gift and imbued with its spirit.
But, one could reply, religions, Christianity especially, have always encouraged this sort of gift. The "love of the stranger" is an essential tenet of Christianity, and the charitable gift is never restricted only to those near and dear. On the contrary, one's neighbour is held to be all of humanity. Religious communities are exemplary in this regard, though their future is insecure.
Their members are in some sense "professionals in the gift," an unthinkable category for modern theory, whether Marxist or liberal or feminist, whose basic concepts are those of exploitation, domination, and utilitarianism. (Although it is difficult to see how anyone can feel they have correctly understood such communities when they portray the vow of poverty as just another form of exploitation or hypocrisy.)
But religion is not specifically modern, so how can we claim that the gift to strangers is exclusive to the modern gift? It is very likely that this sort of gift has its roots in the great religions, especially Christianity but the current link between religion and the gift to strangers is much more tenuous, and often non-existent. Religions, while playing an important role, are no longer indispensable to this phenomenon and their influence is often reflected privately, in a personal spirituality that keeps its own council. What is clear is that all the people we met insisted on repudiating the traditional religious model for the charitable gift: the gift as a form of sacrifice made in order to go to heaven."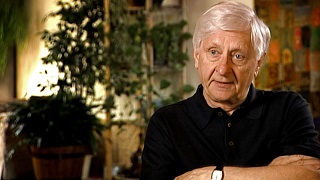 Jacques Godbout (Montreal, 27 november 1933)
Onafhankelijk van geboortedata
De Nederlandse schrijfster Saskia Goldschmidt werd geboren in Amsterdam in 1954. Zie ook alle tags voor Saskia Goldschmidt op dit blog.
Uit: De hormoonfabriek
"Ezra is erbij gelapt, de sukkel. Mizie heeft geprobeerd het voor me te verbergen, maar het jonge ding dat haar helpt met mijn gênante verzorging vergat haar krant. Voorpaginanieuws, dat heeft hij dan weer wel voor elkaar gekregen. Gebrek aan beheersing op het meest cruciale moment van zijn leven. Die jongen is altijd grenzeloos geweest. In zijn passies, zijn ambities, zijn eerzucht en zijn lichamelijke behoeftes. Een honger naar meer, altijd. Of het nu om eten gaat, om aandacht, macht of seks, nooit heeft hij genoeg. Die angst om niet gezien en overgeslagen te worden, het zat in hem vanaf het moment dat zijn moeder hem het leven schonk. Het lot van een nakomertje. Van jongs af aan genoodzaakt geweest zich in de belangstelling te vechten. De gulzigheid waarmee dat kind zich aan de borst van zijn moeder vastzoog heb ik bij geen van de anderen gezien. Hij was haar vanaf het eerste moment aan het uitvreten. Zo hardhandig dronk dat wurm en zo vastberaden leek het om de laatste druppel uit zijn moeder weg te zuigen. Gejankt heeft ze van de pijn, die tandeloze mond die zich haar tepel toe-eigende en hem weigerde los te laten, ook al schreeuwde ze het uit. Een klein monster was het, onze benjamin. Rivka, die altijd met zoveel plezier haar kinderen zoogde, was snel klaar met hem. Haar gemoedsrust werd door hem weggevreten, het kostte haar te veel hartenbloed, dit kind. Ik betrapte haar toen ik onverwachts thuiskwam. Daar zat ze, fles in de hand, met een tegenspartelende Ezra. Het kind rood van het huilen, graaiend naar haar borst, die ze stevig achter haar enorme bh en haar zwartkanten bloesje had afgeschermd. Rivka zat met een verhit hoofd, Ezra in de houdgreep, en duwde de weke rubberen speen van de fles zijn mondje in, waar hij zich dan weer walgend van ontdeed. Smaak heeft hij altijd gehad, mijn jongste. Toen ze me zag begon ze te huilen. `Mordechai, dit kind, dit koekoeksjong, ik heb het geprobeerd. Ik kan het niet. De vier meisjes heb ik allemaal met liefde gezoogd. Maar dit duivelskind, ik wil niet meer, zoek het maar uit met hem.' Ze smeet de fles de kamer in, reikte me het krijsende kind aan, stond op en verliet het vertrek, huilend. Ik was even thuisgekomen om me te verkleden, stond op het punt naar Londen te vertrekken voor een belangrijke bespreking over het veiligstellen van onze buitenlandse belangen, het was februari 1939. Een lange bespreking zou het worden, met ongetwijfeld een frivool diner na om de goede afloop te vieren."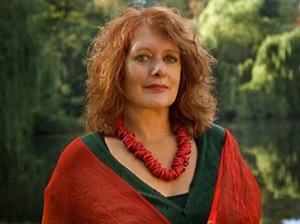 Saskia Goldschmidt (Amsterdam, 1954)
Zie voor nog meer schrijvers van de 27e november ook mijn blog van 27 november 2017.
27-11-2018 om 18:19 geschreven door Romenu

Tags:Navid Kermani, Nicole Brossard, Han Kang, Philippe Delerm, James Agee, Jos. Habets, Friedrich von Canitz, Jacques Godbout, Saskia Goldschmidt, Romenu


26-11-2018

Luisa Valenzuela, Eugène Ionesco, Marilynne Robinson, Herman Gorter, Paul Rodenko, Mihály Babits, Louis Verbeeck, Alyosha Brell, Mohamed Al-Harthy
De Argentijnse schrijfster Luisa Valenzuela werd geboren op 26 november 1938 in Buenos Aires. Zie ook alle tags voor Luisa Valenzuela op dit blog.
Uit: Strange things happen here (Vertaald door Helen lane)
"He sure needed a jacket like this one, a sports jacket, well lined, lined with cash not silk who titres about silk? With the booty in hand they head back home. They don't have the nerve to take out one of the crisp bills that Mario thought he had glimpsed when he opened the briefcase just a hair-spare change to take a taxi or a stinking bus. They keep an eye peeled to see whether the strange things that are going on hem, the things they happened to overhear in the cafe, have something to do with their two finds. The strange characters either haven't appeared in this part of town or have been replaced: two policemen per corner an too many because them are lots of corners. This is not a gray afternoon like any other, and come to think of it maybe it isn't even a lucky afternoon the way it appears to be. These are the blank faces of a weekday, so different from the blank faces on Sunday. Pedro and Mario have a color now, they have a . mask and can feel themselves exist because a briefcase (ugly word) and a sports jacket blossomed in their path. (A jacket that's not as new as it appeared to be-threadbare but respectable. That's it: a respectable jacket.) As afternoons go, this isn't an easy one. Something is moving in the air with the howl of the sirens and they're beginning to feel fingered. They see police everywhere, police in the dark hallways, in pairs on all the corners in the city, police bouncing up and down on their motorcycles against traffic as though the proper functioning of the country depended on them, as maybe it does, yes, that's why things are as they are and Mario doesn't dare say that aloud because the briefcase has him tongue-tied, not that there's a microphone concealed in it, but what paranoia, when nobody 's forcing him to carry it! He could get rid of it in some dark alley-but how can you let go of a fortune that's practically fallen in your lap, even if the fortune's got a load of dynamite inside? He takes a more natural grip on the briefcase, holds it affectionately, not as though it were about to explode. At this same moment Pedro decides to put the jacket on and it's a little too big for him but not ridiculous, no not at all. Loose-fitting, yes, but not ridiculous; comfortable, warm, affectionate, just a little bit frayed at the edges, worn. Pedro puts his hands in the pockets of the jacket (his pockets) and discovers a few old bus tickets, a dirty handkerchief, several bills, and some coins. He can't bring himself to say anything to Mario and suddenly he turns around to see if they're being followed. Maybe they've fallen into some sort of trap, and Mario must be feeling the same way because he isn't saying a word either. He's whistling between his teeth with the expression of a guy who's been carrying around a ridiculous black briefcase like this all his life. The situation doesn't seem quite as bright as it did in the beginning."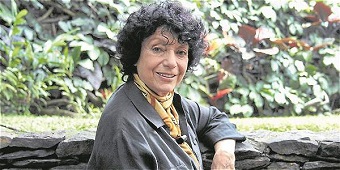 Luisa Valenzuela (Buenos Aires, 26 november 1938)
De Frans-Roemeense schrijver Eugène Ionesco werd geboren op 26 november 1912 in Slatina, Roemenië. Zie ook alle tags voor Eugène Ionesco op dit blog.
Uit: Rhinocéros (Vertaald door Derek Prouse)
"JEAN: It's different with me. I don't like waiting; I've no time to waste. And as you're never on time, I come late on purpose—at a time when I presume you'll be there.
BERENGER: You're right ... quite right, but ...
JEAN: Now don't try to pretend you're ever on time!
BERENGER: No, of course not ... I wouldn't say that.
[JEAN and BERENGER have sat down.]
JEAN: There you are, you see!
BERENGER: What are you drinking?
JEAN: You mean to say you've got a thirst even at this time in the morning?
BERENGER: It's so hot and dry.
JEAN: The more you drink the thirstier you get, popular science tells us that...
BERENGER: It would be less dry, and we'd be less thirsty, if they'd invent us some scientific clouds in the sky.
JEAN: [studying BERENGER closely] That wouldn't help you any. You're not thirsty for water, Berenger
BERENGER: I don't understand what you mean.
JEAN: You know perfectly well what I mean. I'm talking about your parched throat. That's a territory that can't get enough!
BERENGER: To compare my throat to a piece of land seems,..
JEAN: [interrupting him] You're in a bad way, my friend.
BERENGER: In a bad way? You think so?
JEAN: I'm not blind, you know. You're dropping with fatigue. You've gone without your sleep again, you yawn all the time, you're dead-tired ... "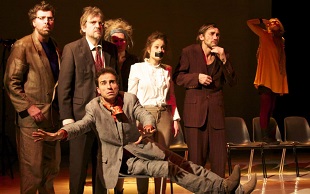 Eugène Ionesco (26 november 1912 – 28 maart 1994)
Scene uit een opvoering in Brussel, 2016
De Amerikaanse schrijfster Marilynne Robinson werd geboren in Sandpoint, Idaho op 26 november 1943. Zie ook alle tags voor Marilynne Robonson op dit blog.
Uit: Gilead
"My grandfather seemed to me stricken and afflicted, and indeed he was, like a man everlastingly struck by lightning, so that there was an ashiness about his clothes and his hair never settled and his eye had a look of tragic alarm when he wasn't actually sleeping. He was the most unreposeful human being I ever knew, except for certain of his friends. All of them could sit on their heels into their old age, and they'd do it by preference, as if they had a grudge against furniture. They had no flesh on them at all. They were like the Hebrew prophets in some unwilling retirement, or like the primitive church still waiting to judge the angels. There was one old fellow whose blessing and baptizing hand had a twist burned into it because he had taken hold of a young Jayhawker's gun by the barrel. 'I thought, That child doesn't want to shoot me,' he would say. 'He was five years shy of a whisker. He should have been home with his mama. So I said, "Just give me that thing," and he did, grinning a little as he did it. I couldn't drop the gun - I thought that might be the joke - and I couldn't shift it to the other hand because that arm was in a sling. So I just walked off with it.' They had been to Lane and Oberlin, and they knew their Hebrew and their Greek and their Locke and their Milton. Some of them even set up a nice little college in Tabor. It lasted quite a while. The people who graduated from it, especially the young women, would go by themselves to the other side of the earth as teachers and missionaries and come back decades later to tell us about Turkey and Korea. Still, they were bodacious old men, the lot of them. It was the most natural thing in the world that my grandfather's grave would look like a place where someone had tried to smother a fire.
Just now I was listening to a song on the radio, standing there swaying to it a little, I guess, because your mother saw me from the hallway and she said, 'I could show you how to do that.' She came and put her arms around me and put her head on my shoulder, and after a while she said, in the gentlest voice you could ever imagine, 'Why'd you have to be so damn old?' I ask myself the same question.
A few days ago you and your mother came home with flowers. I knew where you had been. Of course she takes you up there, to get you a little used to the place. And I hear she's made it very pretty, too. She's a thoughtful woman. You had honeysuckle, and you showed me how to suck the nectar out of the blossoms. You would bite the little tip off a flower and then hand it to me, and I pretended I didn't know how to go about it, and I would put the whole flower in my mouth, and pretend to chew it and swallow it, or I'd act as if it were a little whistle and try to blow through it, and you'd laugh and laugh and say, No! no! no!! And then I pretended I had a bee buzzing around in my mouth, and you said, 'No, you don't, there wasn't any bee!' and I grabbed you around the shoulders and blew into your ear and you jumped up as though you thought maybe there was a bee after all, and you laughed, and then you got serious and you said, 'I want you to do this.' And then you put your hand on my cheek and touched the flower to my lips, so gently and carefully, and said, 'Now sip.' You said, 'You have to take your medicine.' So I did, and it tasted exactly like honeysuckle, just the way it did when I was your age and it seemed to grow on every fence post and porch railing in creation."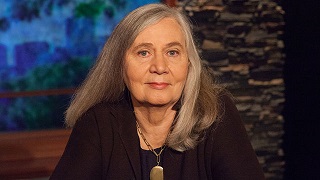 Marilynne Robinson (Sandpoint, 26 november 1943)
De Nederlandse dichter Herman Gorter werd geboren in Wormerveer op 26 november 1864. Zie ook alle tags voor Herman Gorter op dit blog.
Uit de donkere aarde ...
Uit de donkere aarde
Komt op het licht,
En het Heelal zweeft in het licht
Der Liefde.

Gij ligt in 't licht der Eeuwigheid,
In dat licht, dat zich om ons breidt,
Zweef ik.

O niet van mij het licht,
Dat zich over u breidt,
Het is, het is het licht
Der Eeuwigheid.

O niet van u het licht,
Dat zich uit u verspreidt,
Het is, het is het licht
Der Liefde der Eeuwigheid.
Gij ligt daarin,
Ik zweef daarin.
Uit: Mei
Toen luider lachend wentelde hij rond
En zwom naar boven door den waterval
Van schuim en sneeuw, die drijft in ieder dal
Tusschen twee waterbergen, zie, hij ligt
Nest'lend in kroezig water, 'n wiegewicht
Door moeder pas gewasschen in haar schoot;
Het drijft van ronde druppels, overrood
Reiken de armpjes, uit het mondje gaat
Gekraai; zoo dreef hij, in het bol gelaat
Tusschen de lippen in, de gouden kelk,
Fontein van gouden klanken, een vaas melk-
Wit was hij drijvend met gemengden wijn,
Vurig rood blozend door het porselein.
Nu zetelt hij in 't water, baar na baar
Ziet hij al lachend rijzen na elkaar,
Daar schatert hij en spant den blanken arm,
En door het water gaat een luid alarm.
Toen werd de zee wel als een groot zwaar man
Van vroeger eeuw en kleding, rijker dan
Nu in dit land zijn: bruin fluweel en zij
Als zilver en zwart vilt en pelterij
Vèr uit Siberisch Rusland; geel koper
Brandt vele lichtjes in de plooien der
Hoozen, in knoopen en in passement
Van het breed overkleed, wijd uithangend.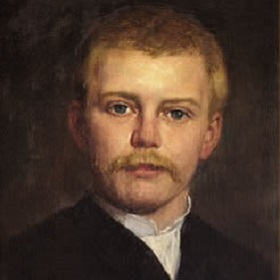 Herman Gorter (26 november 1864 – 15 september 1927)
Portret, waarschijnlijk door Thérèse Schwartze, ca. 1883
De Nederlandse dichter, criticus, essayist en vertaler Paul Thomas Basilius Rodenko werd geboren in Den Haag op 26 november 1920. Zie ook alle tags voor Paul Rodenko op dit blog.
Prelude tot een Oekraïns epos
Stormen jagen over de steppe
junckers jagen over de steppe
dorpen schuiven klagende
in hun foedraal
van rook

Wie zal de gitaar van mijn ziel bespelen
wie zal de gitaar van mijn dorp bespelen
een meisjeshand
heeft zeven snaren doorgeknipt
ze zijn gesprongen met een klein geluid van eksters.
Jij-Mei
Ik mors je over al mijn paden liefste
Jij rood de rozen en jij blinkende het blauw
Jij kano's in de blik van elke vrouw
Jij beelden in parijzen van het water
Jij lentebroden in de manden van de straten
Jij kinderen die met een hoofdvol mussen
Achter de zonnebal aandraven
Jij mei jij wij
Jij herteknieën van de zuidenwind

Ik juich je sterrelings
Laatseptembermorgenlicht
Gedaagd in kort geding
Straalsgewijs ondervraagd
Staat 't nachtelijkste ding
Met potenvol vandaag
Het lichtrequisitoir
Maakt alles recht en klaar
Vaas liefste en trompet
Zijn bij elkaar gezet
Naar ninivehse wet
Van 't onontkoombaar daar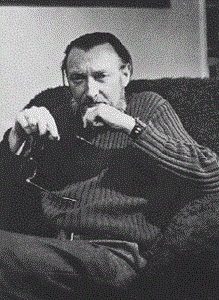 Paul Rodenko (26 november 1920 – 9 juni 1976)
De Hongaarse dichter, schrijver en vertaler Mihály Babits werd geboren op 26 november 1883 in Szekszárd. Zie ook alle tags voor Mihály Babits op dit blog.
Zigeunerlied (Fragment)
'Bündel an den Zweig geschwind,
schaukle nur, Zigeunerkind!
Maulbeerliebchen, schlafe ein,
winziges Zigeunerlein!
Wandern wirst durch dunkle Wälder,
schlechte Felder, gute Felder,
dir ist jedes Land egal,
Himmelblau gibt's überall.
Bist in Busch und Strauch geboren,
hätt dich fast im Moos verloren.
Wie die Samen, die verwehen,
wirst du von der Mutter gehen,
vaterlos, mutterlos,
wandre nur, die Welt ist groß!

Gruselmärchen, lust'ge Lieder
singe ich dir immer wieder.
Winz'ge Seele, Maulbeerschätzchen,
überall gibt's gute Plätzchen.
Kommt manchmal ein böser Wind,
fürcht dich nicht, Zigeunerkind.
Feuer gibt der trockne Ast,
wärmt dich bis zum Frühjahr fast.
Schlechte Ernte stöhnt der Bauer,
Dürre macht sein Leben sauer.
Kümmert's dich? Auf keinen Fall.
Schatten gibt es überall.
Wandern will durch dunkle Wälder,
schlechte Felder, gute Felder,
dir ist jedes Land egal,
Himmelblau gibt's überall.
Kommt der Jude durch den Wald,
schau dich um und schreie: halt!
Findst du eine Schöne hier,
fragst nicht lange, nimm sie dir.
Bist in Busch und Strauch geboren,
hätt dich fast im Moos verloren.
Wie die Samen, die verwehen,
wirst du von der Mutter gehen,
vaterlos, mutterlos, wandre nur,
die Welt ist groß!'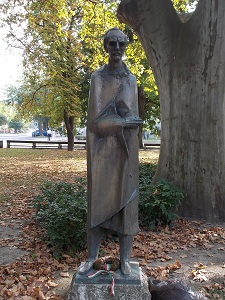 Mihály Babits (26 november 1883 – 4 augustus 1941)
Standbeeld in Szekszárd
De Vlaamse dichter, schrijver en columnist Louis Verbeeck werd geboren in Tessenderlo op 26 november 1932. Zie ook alle tags voor Louis Verbeeck op dit blog.
Uit: Roots (Column)
"Ze beginnen dat allemaal zo'n beetje in te zien, dat je terug naar je 'roots' moet. 'Back to the basics' zeggen sommigen, maar het komt er gewoon op neer, dat je niet moogt vergeten waar je vandaan komt.
Dus ging ik ook nog eens terug naar mijn dorp en ik dacht: 'Ik rijd tot aan de zandberg, daar parkeer ik mijn auto en dan zien we we'l. En ik had en petje bij en een zonnebril, want ik wilde het incognito houden. De zandberg was er nog, maar wat in de tijd van mijn roots en mijn verbeelding misschien een grote zandbak geweest was, een soort van Sahara met veel bergop, daar schoot niet veel meer van over.
Er was wel van alles bijgekomen, een stuk of vijf "oases" waar je er uitgebreid kon voor zorgen dat je 'roots', je wortels dus, niet van droogte en van dorst zouden omkomen. Er was zelfs een terras, en ik dacht: daar ga ik even zitten om eens grondig te bekijken wat er van mijn roots overgebleven is.
Ik had nog maar net een leeg tafeltje gevonden, toen er een enthousiaste inboorling op mij toekwam en mij verrast vertelde wie ik was, zelfs met petje en onherkenbare zonnebril. Hij had dwars door mijn camouflage heen gekeken.
"Ken je mij niet meer?" vroeg hij, en hij zei dat hij Frans was, Sus, gelijk ze zeien en dat hij getrouwd was met Adeline. En Adeline, die had ik toch zeker nog gekend want die woonde vroeger vlak in mijn buurt, en als hij zich niet vergiste was Adeline nog zo'n beetje een oude vlam van mij geweest. "Grapje" lachte hij, "maar vroeger vertelde ze dat jullie samen in de muziekschool gezeten hadden, en vioolles gevolgd. Bij meester Job."
Ik zette de camera van mijn roots wat scherper en jawel, Adeline kwam langzaam in beeld. Hij zei dat hij begreep dat ik me haar zo dadelijk niet herinnerde, ik was niet zo jong meer, hij trouwens ook niet, en het was allemaal zo lang geleden."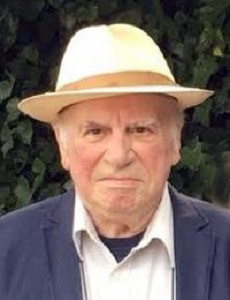 Louis Verbeeck (26 november 1932 – 25 november 2017)
Onafhankelijk van geboortedata
De Duitse schrijver Alyosha Brell werd geboren in 1980 in Wesel. Zie ook alle tags voor Alyosha Brell op dit blog.
Uit: Kress
"Er hätte mehr sparen müssen, dachte Kress, während er sich an einen Gummiriemen geklammert von der U-Bahn durchschütteln ließ. Beispielsweise die schöne, historisch-kritische Hamburger Goethe-Ausgabe: Die hätte, strenggenommen, nicht sein müssen. Anderseits, er war nun einmal ein Goethe-Forscher, beziehungsweise beabsichtigte ein solcher zu werden, und die Hamburger Goethe-Ausgabe gehörte zum Goethe-Forscher wie der Fleischerhammer zum Fleischer. Die Hamburger Goethe-Ausgabe war, bei Lichte betrachtet, sogar unbedingt notwendig gewesen, daran war nicht zu rütteln, dort zu sparen wäre unvernünftig, wäre perspektivisch sogar berufsschädigend gewesen. Wirklich, U-Bahn-Fahren war das Letzte! Er hasste es, Schulter an Schulter mit all diesen Leuten stehen zu müssen, eingepfercht wie Schlachtvieh in einen Tiertransporter. Dienstagmorgens war die Situation besonders fatal. Dienstagmorgens krochen all jene Studenten aus ihren Löchern, die am Montag ihren Rausch vom Wochenende auszuschlafen pflegten. Mittwochmorgens entspannte sich die Lage ein wenig, weil die Studenten empfanden, bereits am Dienstag etwas geleistet und sich daher eine Pause verdient zu haben, und am Donnerstag war im Grunde schon Wochenende und Kress hatte die U-Bahn mehr oder minder für sich. Jetzt aber war erst einmal Dienstag und die Enge kaum auszuhalten. Er hatte sich einen strategisch günstigen Platz an einer Plexiglaswand neben der Tür gesichert. Direkt vor ihm, keine Fingerlänge entfernt, standen zwei Frauen und erzählten einander in großer Ausführlichkeit von den Aventüren, die ihnen am Wochenende widerfahren waren. »Und denn«, sagte die eine, »waren wir was trinken im Alhambra, und denn ...« Kress hatte das Gefühl, vom bloßen Zuhören dümmer zu werden. Ein Leuchtturm war er, einsam Wacht haltend auf dem Felsen der Exzellenz. Dagegen brandete die Gischt der Banalität. Entsprechend froh war er, als am U-Bahnhof Dahlem-Dorf die Türen aufglitten und die Meute aus dem Waggon ins Freie drängte. Augenblicklich rempelte er sich an die Spitze der Bewegung. Es war ungewöhnlich warm für diese Jahreszeit, seit über einer Woche hatte sich am Himmel keine Wolke sehen lassen, und die Studenten, an denen er jetzt vorüberstapfte, hätten luftiger nicht gekleidet sein können: in kurze Hosen und T-Shirts und Röcke, aus denen die über lange Wintermonate entfärbten Glieder staken wie die weißen Tentakel von Tiefseequallen."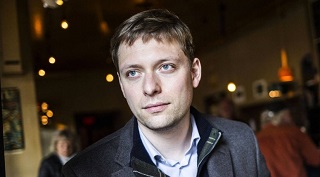 Alyosha Brell (Wesel, 1980)
De Omaanse dichter Mohamed Al-Harthy werd geboren in al-Mudhayrib, Oman, in 1962. Zie ook alle tags voor Mohamed Al-Harthy op dit blog.
The Angel's Whistling
Who are you reflected in the verse?
Its beginning
or its end
on the flowing page?
And what if, for all the controversy,
you really were its mirror?—Would the holy verse's mantle
be cast off? Would all hell break loose?
Or would the angel's whistling
hold hell off
until the star sees itself
reflected on the watery page,
reflected on the sea of words
before the tide brings the verse back?
One could read it
from top to bottom
(and not from right to left)
to prolong reflection's game . . .

But who are you in these mirrors?
Who are you reflected on the page
once the tide's gone out again?
Its beginning or its end?
Who are you when the words open
their crocodile jaws
to swallow a shining star? . . .
It might shine a few moments,
it might shine forever—but you,
you will not see its reflection
once the tide's flowed on
to the next verse.
Vertaald door Kareem James Abu-Zeid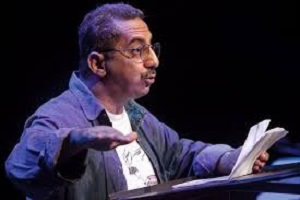 Mohamed Al-Harthy (al-Mudhayrib, 1962)
Zie voor nog meer schrijvers van de 26e november ook mijn blog van 26 november 2017 deel 1 en eveneens deel 2.
26-11-2018 om 18:26 geschreven door Romenu

Tags:Luisa Valenzuela, Eugène Ionesco, Marilynne Robinson, Herman Gorter, Paul Rodenko, Mihály Babits, Louis Verbeeck, Alyosha Brell, Mohamed Al-Harthy, Romenu


25-11-2018

King of glory, King of peace (George Herbert)
Bij Christus Koning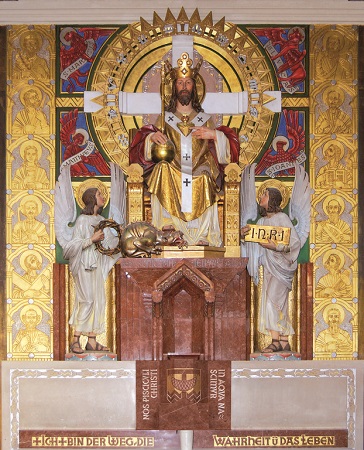 Christus Koning. Beeld van architect Richard Jordan en kunstenaar
Ludwig Schadler uit 1933 in de kerk van de Karmelieten in Döbling, Wenen
King of glory, King of peace
King of glory, King of peace,
I will love thee;
and that love may never cease,
I will move thee.
Thou hast granted my request,
thou hast heard me;
thou didst note my working breast,
thou hast spared me.
Wherefore with my utmost art
I will sing thee,
and the cream of all my heart
I will bring thee.
Though my sins against me cried,
thou didst clear me;
and alone, when they replied,
thou didst hear me.
Seven whole days, not one in seven,
I will praise thee;
in my heart, though not in heaven,
I can raise thee.
Small it is, in this poor sort
to enroll thee:
e'en eternity's too short
to extol thee.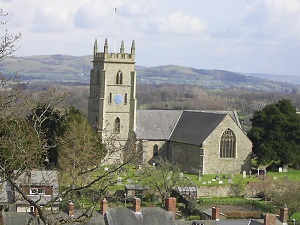 George Herbert (3 april 1593 – 1 maart 1633)
St Nicholas church in Montgomery, Wales, de geboorteplaats van George Herbert
Zie voor de schrijvers van de 25e november ook mijn vorige twee blogs van vandaag.
25-11-2018 om 13:44 geschreven door Romenu

Tags:Christus Koning, George Herbert, Kerkelijk Jaar, Romenu



Maarten 't Hart, Connie Palmen, Abdelkader Benali, Arturo Pérez-Reverte, Ba Jin, Augusta de Wit
De Nederlandse schrijfster Connie Palmen werd op 25 november 1955 geboren in Sint Odiliënberg. Zie ook alle tags voor Connie Palmen op dit blog.
Uit: Jij zegt het
"In november — een maand die me aan een verdronken hond doet denken —maakte ik een selectie van veertig gedichten, gaf de verzameling de titel The Hawk in the Rain mee en droeg de bundel op aan mijn vrouw. We liepen samen naar de brievenbus en lieten plechtstatig traag de grote enveloppe met de vereiste zestig bladzijden in de gleuf verdwijnen. Om de kostbare zending persoonlijker te maken had ze hem niet geadresseerd aan het Poëziecentrum te New York, maar schreef voluit de namen van de juryleden op — Mrs. Moore, Mr. Spender en Mr. Auden — in de hoop dat de geste indruk zou maken. Ze had in een visioen gezien dat ik met deze bundel de debutantenprijs voor dichters won, het boek in Engeland en Amerika een bestseller werd, en de zegetocht naar het pantheon begon. Ik moest het allemaal nog zien. Dubbelhartig verborg ik mijn afkeer van het woord 'bestseller' en de schaamte die ik moest overwinnen nu ik het heiligste wat ik bezat aan zoiets ordinairs als een competitie veil gaf, me sukkelig liet meeslepen in de jacht op succes, terwijl ik tegelijkertijd wist dat er geen andere manier was om gelezen te worden dan via het pad dat zij volhardend voor mij baande. Ik koesterde het beeld van de dichter als een zielsbezit, diep in mij verankerd, onafhankelijk van de glorie die een buitenwereld eraan zou verlenen. Ik moest vechten tegen het gevoel dat zij met haar mercantiele geest de zuiverheid van mijn liefde voor de poëzie corrumpeerde. Een van de lelijkste erfenissen van mijn afkomst is dat ik altijd te veel met geld bezig ben geweest, voortdurend zon op manieren om een fortuin te verdienen waarmee ik het leven als dichter kon financieren. Maar geld verdienen met poëzie grensde aan het verbodene. Op 23 februari 1957, twee dagen voordat we vierden dat we elkaar een jaar eerder hadden ontmoet, werd op 55 Eltisley een telegram bezorgd. Het Poëziecentrum in New York feliciteerde me met het winnen van de debutantenprijs. Van mijn dubbelhartigheid was niets over, we zongen en sprongen eenduidig door de kamer, zij juichte: 'Ik wist het, ik wist het,' en ik kon haar alleen maar bedanken en kussen. Hoewel het aan de overkant van de oceaan midden in de nacht was, holde ze naar de telefoon om haar moeder te bellen.
Bij het vertrek naar Cambridge kreeg ik van mijn leraar Engels, Mr. Fisher —sorry, echt waar, kan het ook niet helpen — het boek dat nu nog, naast de verzamelde Blake en Shakespeare, beduimeld en stukgelezen voor me ligt: The White Goddess van Robert Graves. Het was het begin van de jaren vijftig, en ik herinner me de schok bij het lezen ervan, alsof ik ruw werd beroofd van de geheime wereld waarin ik vanaf mijn dertiende leefde, een waarvan ik tot op dat moment de infantiele fantasie koesterde dat zij zich alleen aan mij openbaarde, en ik, dankzij het lezen van al die mythen en volksverhalen, een volstrekt originele kijk had op haar wonderen en wreedheid."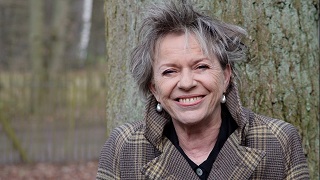 Connie Palmen (Sint Odiliënberg, 25 november 1955)
De Nederlandse schrijver Maarten 't Hart werd geboren op 25 november 1944 in Maassluis. Zie ook alle tags voor Maarten 't Hart op dit blog.
Uit:Stenen voor een Ransuil
"24 december, zondag Nu heb ik al een paar maal mijnheer Brikke bezocht. Hij verwijt me dat ik me heb ingekapseld, geen vrienden heb, geen echte vriend. Hij zegt dat ik naar clubs moet gaan waar mensen zoals hij en ik bij elkaar komen. Maar nooit ga ik naar een dergelijke club, een sociëteit, nooit. Hij praat als mijn moeder en mijn zusje. Zij zeggen: je moet trouwen. Zij weten niet dat ik zo ben, zij mogen het niet weten: vooral mijn vader, die niet over trouwen of vrienden praat, mag het niet weten. Hij zou sterven van verdriet, denk ik. Ja, eenmaal heb ik trouwplannen gehad, nu vijftien jaar geleden. Ik was acht jaar. Voor mij in de klas op school zat een meisje met lang, zwart haar: Lena Stigter. Ze was rooms-katholiek. Alle andere kinderen in de klas waren gereformeerd. Lena Stigter zou naar de hel gaan. Mijn vader en moeder hadden het zo vaak gezegd: alle roomsen gaan naar de hel als ze zich niet bekeren. Als Lena met mij trouwde werd ze ook protestant, dan zou ze niet naar de hel gaan. Het was goed dat roomsen naar de hel gingen, maar niet dit meisje. Ik vroeg haar ernstig: Wil je met mij trouwen?' Ja,' zei ze, 'dat is goed, breng me dan thuis vandaag.' Ik bracht haar thuis. Ik trachtte te begrijpen wat het zou betekenen dat dit meisje naar de hel zou gaan. Bij de afschuw van en de vrees voor haar voegde zich een verlangen om zo te zijn als zij was. Ik wist niet waarom. Ik wist ook niet hoe ik mij de hel moest voorstellen. Vuur was er, altijd vuur, langzaam verbranden en toch niet doodgaan. Telkens als ik achter Lena zat hield het mij bezig. Ik zag het vuur dat haar verteerde. Ik hoorde haar huilen, gillen, schreeuwen. Vuur, vuur. Het lange, zwarte haar door vuur verbrand. Het was een kwelling. Maar het was mogelijk om haar te redden door haar te trouwen. Een paar maanden na mijn huwelijksaanzoek ontmoette ik een meisje op de haven.
Waar zit jij op school?' vroeg ik.
`Op de openbare school,' zei zij.
`Is dat christelijk?' vroeg ik.
`Ben je gek? Natuurlijk niet.'
`Geloofje dan niet in de Here Jezus?'
Ze keek me verbaasd aan. Wie is dat?' vroeg zij. Nu was ik verbaasd. Een meisje dat niet wist wie Jezus was. Je moet in de Here Jezus geloven,' zei ik met nadruk, 'anders ga je naar de hel.'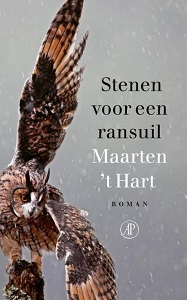 Maarten 't Hart (Maassluis, 25 november 1944)
Cover
De Nederlandse dichter, schrijver en tv-presentator Abdelkader Benali werd geboren in Ighazzazen, Marokko, op 25 november 1975. Zie ook alle tags voor Abdelkader Benali op dit blog.
Uit: Feldman en ik
"Door op mijn eentje rommelmarkten te gaan bezoeken, was ik in de voetsporen van mijn vader getreden. Het kan zijn dat ik ze bezocht omdat ik de illusie koesterde dat ik daar, in die beduimelde wereld van verwaarloosde mensen en dingen, als rook kon vervliegen zonder verplicht identiteitsbewijs.
Alsof de zware sigarenlucht die er hing, de stemmen die overal opklonken, het kakelen van de hooggeblondeerde dames de ideale omstandigheden creëerden voor een geslaagde vlucht uit de barre werkelijkheid. Het was een plek waar mensen zichzelf waren, zonder franje, waar ze geen loze gebaren hoefden te maken en geen last hadden van zichzelf.
Zo doolde ik daar, die bewuste dag, door de hallen, met beide handen in de zakken, totdat, net nadat ik had besloten maar weer eens op huis aan te gaan omdat het tijd werd om iets te gaan eten wat niet druipend van het vet onder een laag ketchup en mayonaise schuilging, mijn oog viel op 88 richtlijnen voor het schrijven van een dagboek, opgesteld door Lavoisier Carmel. Uit het Spaans vertaald met een nawoord van dokter Miguel Marineiro.
'Ligt daar al een tijdje,' zei de verkoper, die in de smiezen had naar welk boek mijn belangstelling uitging. 'Heb ik uit de boedel van een weduwe. De staat had voor haar organen maar een luttel bedrag over. Ze moest haar spullen verkopen, waaronder de boeken die haar man verzameld had.'
Ik reikte met een onbestemde gretigheid naar het boekje en net op het moment dat mijn hand het omklemde, greep ook een andere hand, toebehorend aan een jongeman van ongeveer mijn leeftijd, alleen wat langer en in het bezit van een donkere bos krullend haar en een opvallend bleek gelaat – alsof hij een ziekte onder de leden had die zijn bloedsomloop vertraagde –, het exemplaar vast. Zijn verschijning had mijn medelijden kunnen opwekken, maar dat gebeurde niet. Ik moest en zou het boekje aan deze begerige bleekscheet ontfutselen.
Anders dan mijn vader was het mijn gewoonte altijd iets op een rommelmarkt te kopen. Ik had al eens twintig eierdopjes gekocht. En een verlengsnoer. En een bot slagersmes. Had ik dat verlengsnoer en dat slagersmes bij me gehad, dan zou ik er die jongen mee gedreigd hebben. Ik bemerkte zelfs dat ik er een handgemeen voor zou overhebben, mocht die jongen de zaak op de spits willen drijven, want er was me ineens alles aan gelegen om in het bezit van dit papieren prullarium te komen. Het was niet zozeer dat ik dit boekje wilde hebben, maar eerder dat ik voelde dat het boekje míj wilde hebben."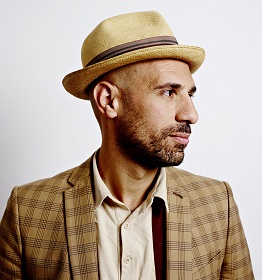 Abdelkader Benali (Ighazzazen, 25 november 1975)
De Spaanse schrijver Arturo Pérez-Reverte werd geboren op 25 november 1951 in Cartagena. Zie ook alle tags voor Arturo Pérez-Reverte op dit blog.
Uit: The Club Dumas (Vertaald door Sonia Soto)
"I was pleased, be-cause most visitors paid Sabatini little attention, taking him for an aged relative. I waited for Corso's reaction. He was half smiling as he sat down—a youthful expression, like that of a cartoon rabbit in a dead-end street. The kind of look that wins over the audience straightaway. In time I found out he could also smile like a cruel, hungry wolf, and that he chose his smiles to suit the circumstances. But that was much later. Now he seemed trustworthy, so I decided to risk a password. `He was born with the gf of laughter," I quoted, point-ing at the portrait. "... and with a feeling that the world was mad .. ." Corso nodded slowly and deliberately. I felt a friendly com-plicity with him, which, in spite of all that happened later, I still feel. From a hidden packet he brought out an unfiltered cigarette that was as crumpled as his old overcoat and corduroy trousers. He turned it over in his fingers, watching me through steel-rimmed glasses set crookedly on his nose under an untidy fringe of slightly graying hair. As if holding a hidden gun, he kept his other hand in one of his pockets, a pocket huge and deformed by books, catalogues, papers, and, as I also found out later, a hip flask full of Bols gin.
"... and this was his entire inheritance." He completed the quotation effortlessly, then settled himself in the armchair and smiled again. "But to be honest, I prefer Captain Blood." With a stern expression I lifted my fountain pen. "You're mistaken. Scaramouche is to Sabatini what The Three Muske-teers is to Dumas." I bowed briefly to the portrait. " 'He was born with the gift of laughter.. ..' In the entire history of the adventure serial no two opening lines can compare." "That may be true," Corso conceded after a moment's re-flection. Then he laid the manuscript on the table, in a protec-tive folder with plastic pockets, one for each page. "It's a coincidence you should mention Dumas." He pushed the folder toward me, turning it around so I could read its contents. The text was in French, written on one side of the page only. There were two types of paper, both discolored by age: one white, the other pale blue with light squares. The handwriting on each was different—on the white pages it was smaller and more spiky. The handwriting of the blue paper, in black ink, also appeared on the white pages but as annotations only. There were fifteen pages in all, eleven of them blue. "Interesting." I looked up at Corso. He was watching me, his calm gaze moving from the folder to me, then back again. "Where did you find it?" He scratched an eyebrow, no doubt calculating whether he needed to provide such details in exchange for the information he wanted. The result was a third facial expression, this time an innocent rabbit. Corso was a professional. "Around. Through a client of a client." "I see." He paused briefly, cautious. Caution is a sign of prudence and reserve, but also of shrewdness."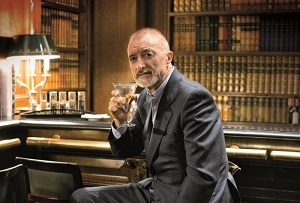 Arturo Pérez-Reverte (Cartagena, 25 november 1951)
De Chinese schrijver Ba Jin werd op 25 november 1904 geboren in Chengdu. Zie ook alle tags voor Ba Jin op dit blog.
Uit: When the Snow Melted (Vertaald door Tang Sheng)
"My words must have wounded him, for his face darkened further and he bit his lips.
"It's my fault, of course, I admit that," he replied wretchedly after a pause. "She is not to blame at all." This was unexpected, but I was not displeased to hear it. I hoped by following up this advantage to solve that problem of theirs.
"Then why behave the way you do?" I pursued. "Since you know you're in the wrong, it's up to you to do something about it."
Without the slightest sign of gratitude or gladness, he continued to shake his head and muttered hopelessly, "You still don't understand."
This puzzled me even more. I could not guess what he meant. Outside, the wind was still moaning. The fire was blazing and its leaping flames turned both our faces crimson, but I found him utterly inscrutable.
"I'm tasting the agonies of love," he muttered with a sigh. Suddenly he buried his face in his hands and I knew his mental anguish was beyond all I had suspected. Any clumsy probing into it would be useless.
"Believe me, Zisheng, I am telling the truth," he said at last, raising his head. "I did love Jingfang, I still love her, and I know that she loves me too. But . . ." he paused for a moment in painful thought, putting one hand to his temples, and my eyes were caught by the beads of sweat on his forehead.
"But I don't want to love her any more." His hand swept down and he spoke with determination as if love were something he could no longer endure. "Love can be agonizing. She once gave me joy and courage but those days are gone. Now I find that tenderness, that domesticity, unbearable. You see, my outlook has changed . . ."
I merely stared at him in bewilderment. I believed he was speaking the truth though.
"I have new convictions. I cannot go on living as before. I want to take a new road completely different from the old one, which means I must abandon my old life." He was absolutely in earnest but I still failed to understand. "However, she is incapable of going forward. She must have love, she must live the way we used to. It's not her fault, and I sometimes think she may be right . . . But she makes it difficult for me to give up the old life. She loves me but she can't understand what's in my mind. So she's making me miserable, making me hesitate."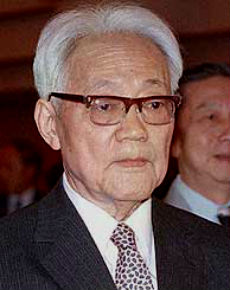 Ba Jin (25 november 1904 – 17 oktober 2005)
De Nederlandse schrijfster Augusta de Wit werd geboren in Sibolga (Sumatra) op 25 november 1864. Zie ook alle tags voor Augusta de Wit op dit blog.
Uit:Orpheus in de dessa
"Het fluitedeuntje deinde op en neer, al langzamer op en neer, stil als een ademhaling, die nog stiller gaat worden bij het inslapen.
De leguaan lag als bedwelmd.
Behoedzaam, zonder dat hij een blad liet ritselen, stond de Indo op en doodde hem met een lichten stokslag. Het dier bleef roerloos in dezelfde houding waarin het betooverende fluitspel het had doen verstijven; het leek dood-gespeeld.
De Indo die, tevreden, gezien had dat de huid niet gekwetst was door den slag van zijn stok, riep den fluitspeler te voorschijn uit zijn schuilplaats.
'Si-Bengkok! Kom!'
Uit den rood bloeienden struik zag een donker gezicht te voorschijn, met glanzige, schuchtere oogen. De hand die de twijgen opzij boog hield een bamboe-fluitje.
'Kom maar hier!'
De glanzige oogen zagen aarzelend naar den Hollander.
'Nu! kom dan toch! Voor wien ben je bang?'
Het loover deed zich op rondom een half-naakten knaap, die op gekruiste enkels in het groen zat. De avondhemel begloorde zijn gezicht en zijn tengere schouders.
Een oogenblik bleef hij besluiteloos zoo zitten; toen liet hij zich afglijden naar den oever en begon, zittende, voort te schuiven over het gras met een beweging die aan het huppelen van een onbeholpen jongen vogel deed denken.
Bake meende eerst dat hij uit de onderdanige beleefdheid van een Javaan tegenover zijn meerderen zoo kruipend naderde: maar toen de knaap vóor hem stilhield, zag hij dat zijn kruiselings over elkaar liggende schenkels verdord waren. Dat was het zeker wat hem dien naam van Si-Bengkok, 'de mismaakte', had doen geven.
Toch was er verder aan hem geen misvorming of teeken van lijden te zien. Zooals hij daar op zijn groene zode zat, geleek de jongen een Boeddha in den lotus-kelk. Het welgevormde jonge lijf rees rank van de heupen omhoog. Het gezicht was zacht in trek en ommelijn, als hadden liefkoozende handpalmen het uit de mollige, bruine boschaarde gevormd. Onder den sierlijk geplooiden hoofddoek, bont van bloemen en vlinder-kleuren, gloorden de oogen met die tinteldonkere klaarheid, die stroomend water heeft in de schaduw."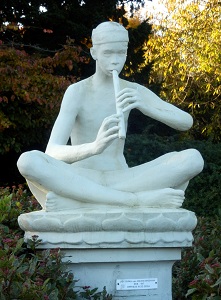 Augusta de Wit (25 november 1864 – 9 februari 1939)
Standdbeeld van Orpheus naar de roman van Augusta de Wit in het Zuiderpark in Den Haag,
Gemaakt door de beeldhouwster Lidi van Mourik Broekman
Zie voor nog meer schrijvers van de 25e november ook mijn vorige blog van vandaag.
25-11-2018 om 13:43 geschreven door Romenu

Tags:Maarten ',t Hart, Connie Palmen, Abdelkader Benali, Arturo Pérez-Reverte, Ba Jin, Augusta de Wit, Romenu



Joseph Zoderer, Alexis Wright, Isaac Rosenberg, José Eça de Queiroz, Lope de Vega
De Duitstalige (Italiaanse) dichter en schrijver Joseph Zoderer werd geboren op 25 november 1925 in Meran in Zuid-Tirol. Zie ook alle tags voor Joseph Zoderer op dit blog.
Uit: Die Walsche
"Sie hatte Silvano zuletzt anschreien müssen: Bleib da­heim, bis er endlich verstand und daheim blieb im italienischen Stadtteil, der von den Deutschen Schanghai genannt wurde.
Ich bin ein feiges Luder, sagte sie litaneienhaft vor sich hin, fast im Rhythmus des Rosenkranzgemurmels, das aus dem Nebenzimmer, wo sie ihren Vater, den Lehrer, aufgebahrt hatten, in die Stube hereindrang. Sie hätte Silvano das Mitkommen nicht verwehren dürfen zum Begräbnis ihres Vaters, für ihn aus dem Süden etwas Heiliges, Selbstverständliches, eine Sache des Respekts und der Ehrerbietung, ganz gleich, ob nun ihr Vater die Spaghetti, die Silvano einmal in dem Lehrerhaus gekocht hatte, dem Wolfshund hier neben diesem Tisch zum Fressen auf den Stubenboden hingestellt oder ob er ihn, den Italiener, einfach nur für einen Windbeutel gehalten hatte.
Sie hatte ihn nicht wie irgend jemanden, schon gar nicht wie einen geliebten Menschen behandelt, sondern wie einen Walschen, der in dieser Welt hier, in der deutschen, nichts zu suchen hatte, der besser draußen blieb, sie hatte ihn hinausgedrängt, wenn auch eigentlich nur abgedrängt, nicht hereingelassen, um nicht noch mehr Scherereien zu haben, gewiß, um ihm Belästigung zu er­sparen. Sie paßte sich an, sie tat ihm Unrecht, sie, die sich seit langem darum angeblich nicht mehr scherte und trotz der Redereien der Leute, trotz des Widerstands ihres Vaters lebte wie sie wollte, nämlich mit Silvano, aus dem nun einmal kein Deutscher zu machen war. Und sie hatte ihn nicht geheiratet, sie, jetzt mitten in den Dreißig.
Beim Begraben ihres Vaters sollte Ruhe sein. Und so war sie allein den ihr entgegenkommenden Wolken zugefahren, um allein zu erledigen, was hier erledigt werden mußte, wenn jemand gestorben war, um Ruhe zu haben, also aus Angst vor den anderen war sie allein heraufgefahren in dieses Nest auf tausenddreihundert Meter über dem Meer, sehr weit entfernt von Ebbe und Flut, in dieses Bergloch, aus dem ihr Vater nicht wegzukommen imstande gewesen war, obwohl er früher oft ausgerufen hatte: Hinaus in die Welt, nichts als hinaus in die Welt.
Himmel war das keiner, in den sie zurückfuhr, das wußte sie zu gut, die Leute hatten sich nicht geändert, sie waren nur freundlicher geworden, im Gesicht, und sogar der Ploser hatte den alten Hof, Haus und Stadel, niedergerissen und eine Pension gebaut.
In der letzten Kurve vor dem Ortsschild dachte sie: diese Dotterblumen, diese gelben Knollen, Silvano hätte sich darüber gefreut.
Die Nachbarn hatten den Lehrer, ihren Vater, im völlig ausgeräumten, also kahlen und kalten Schlafzimmer aufgebahrt auf Brettern, unter die zwei Malerböcke geschoben waren. Über die Leiche, die nach altem Brauch nicht gewaschen und ohne Schuhe in den Sonntagsanzug gesteckt worden war, hatten sie ein abgenutztes, wenn auch gebügeltes weißes Leintuch bis zum Kinn hinaufgezogen."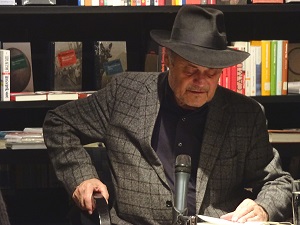 Joseph Zoderer (Meran, 25 november 1935)
De Australische (Aboriginal) schrijfster Alexis Wright werd geboren op 25 November 1950 in de Gulf of Carpentaria. Zie ook alle tags voor Alexis Wright op dit blog.
Uit: Tracker
"Tracker should have had a personal secretary taking down all of his ideas and patenting them, but he gave them away freely in conversations, with the action plans for projects that were on an enormous scale, or small community projects to create income from commercial activities. All of these ideas depended on the understanding of people from government, professional workers and developers; and mostly, his thinking was more advanced than theirs, and they would not have the willingness, or ability, or resources, to put plans they had not thought of themselves into action, with the paperwork they required.
Some of these ideas can be seen in the opportunities he created for thousands of Aboriginal people. But the full legacy of his work and thinking lives with the people who heard his stories, experienced his wit, or worked with him. He always left the details for others, those who listened to him, and in the work they did with him. You could say that his visionary ideas will be missed by Aboriginal people, but much of his work still lives in the minds of some of the best thinkers in the country. Tracker's legacy is in this archive, his filing cabinet, the minds of other people. The road maps or blueprints of the vision splendid, el grande plano, are spread among people of all walks of life around the country – the politicians and political thinkers, economists, resource and land developers, media representatives, Aboriginal communities and their leaders, and the everyday people who were Tracker's mates. Some of this rich tapestry of knowledge has been drawn from the vaults of these other peoples' minds, and told in this book.
I have always thought that all stories are important, but stories only come to life and stay alive when they are being imagined and remembered, and then in the telling, how they are retold to make sure they are being heard. The problem with creating this book was the question of how you would write a story about someone who challenged all expectations? Tracker used to say, I want you to write something for me, Wrighty. But how could you do the imagining on behalf of someone who was impossible to keep up with, who could never be contained, who never wanted to sit still long enough to go through the details time and again, as a writer would need to do to get the story right."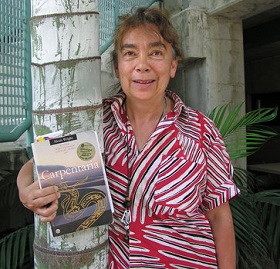 Alexis Wright (Gulf of Carpentaria, 25 November 1950)
De Engelse dichter Isaac Rosenberg werd geboren in Bristol op 25 november 1890. Zie ook alle tags voor Isaac Rosenberg op dit blog.
The Nun
So thy soul's meekness shrinks,
Too loth to show her face-
Why should she shun the world ?
It is a holy place.
Concealed to itself
If the flower kept its scent,
Of itself amorous,
Less rich its ornament.
Use-utmost in each kind-
Is beauty, truth in one,
While soul rays light to soul
In one God-linked sun.
The Blind God
Streaked with immortal blasphemies,
Betwixt His twin eternities
The Shaper of mortal destinies
Sits in that limbo of dreamless sleep,
Some nothing that hath shadows deep.
The world is only a small pool
In the meadows of Eternity,
And men like fishes lying cool ;
And the wise man and the fool
In its depths like fishes lie.
When an angel drops a rod
And he draws you to the sky
Will you bear to meet your God
You have streaked with blasphemy?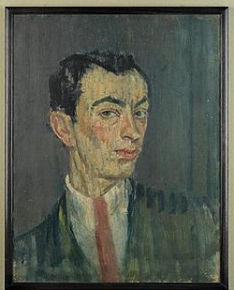 Isaac Rosenberg (25 november 1890 – 1 april 1918)
Self-portrait in a Pink Tie, 1914
De Portugese schrijver José Maria Eça de Queiroz werd geboren op 25 november 1845 in Póvoa de Varzim. Zie ook alle tags voor José Maria Eça de Queiroz op dit blog.
Uit: Stadt und Gebirg (Vertaald door Luise Ey)
"Während der Infant in der Verbannung zu Wien schmachtete, stieß der dickleibige Dom Galiaon Sehnsuchts-seufzer nach seinem »Engelchen« aus und intrigierte für seine Rückkehr. Während des Krieges mit dem »andern, dem Freimaurer«, schickte er dem König durch Boten gekochten Schinken, Eingemachtes, Flaschen mit seinem Wein von Tarrafal und seidene Beutel voll Goldstücke, die er abseifte, damit sie schön glänzten. Und als er erfuhr, daß Dom Miguel mit zwei alten, auf ein Maultier geschnallten Koffern den Weg nach Sines in das endgültige Exil eingeschlagen hatte, da lief Jacintho Galiaon nach Hause, schloß wie zur Trauer alle Fenster und schrie wütend: »Ich bleib' auch nicht hier! Ich bleib' auch nicht hier!« Nein, er wollte nicht in dem entarteten Lande bleiben, aus dem, entblößt und landesverwie-sen, dieser König von Portugal auszog, der die Jacinthos von der Straße aufzuheben pflegte! Er schiffte sich nach Frankreich ein, samt seiner Frau, der Senhora Donna Angelina Fafes, aus dem berühmten Hause der Fafes da Avellan, sowie seinem Sohn, dem Cinthinho, einem gelben, verweichlichten Jungen, der Wärterin und einem Negerknaben. An der kantabrischen Küste begegnete das Paketboot einer so schweren See, daß Donna Angelina ganz erschöpft auf den Knieen auf ihrem Lager in der Kabine dem »Senhor dos Pas-sog«, dem Christus der Leidensstationen von Alcantara, eine goldene Dornenkrone gelobte, mit Blutstropfen aus Rubinen von Pegu. In Bayonne, wo sie anliefen, hatte Cinthinho die Gelbsucht. Auf der Fahrt nach Orleans brach in stürmischer Nacht die Achse des Reisewagens, und der feiste Herr, die zarte Dame aus dem Hause da Avellan und der Knabe marschierten drei Stunden im Regen und Schmutz der Verbannung bis zu einem Dorfe, wo sie, nachdem sie wie Bettler an stummen Türen gepocht, auf den Bänken einer Schenke schliefen. In dem »Hotel des Saints Peres« zu Paris hatten sie die Schrecken einer Feuersbrunst auszustehen, die im Pferdestall un-ter dem Zimmer Dom Galiaons ausbrach, und der würdige Fidalgo trat, nachdem er sich im Nachthemd die Treppen hinab in den Hof geschleppt hatte, mit dem bloßen Fuße in einen Glassplitter."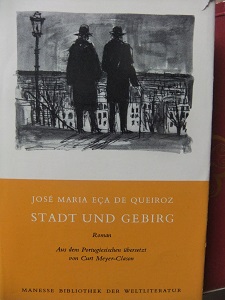 José Maria Eça de Queiroz (25 november 1845 – 16 augustus 1900)
Cover
De Spaanse dichter en schrijver Lope de Vega werd geboren op 25 november 1562 in Madrid. Zie ook alle tags voor Lope de Vega op dit blog.
Departing but to stay, and staying to depart
Departing but to stay, and staying to depart,
to leave--soulless--bearing another's soul along,
being th'mast's forever-captive heart
listening to the sweet sirenic song
imprisoned. To consume Self, and, burning
like th'candle's growing towers in the tender
sand, fall out of Heaven! watching (in luscerning
fires) a still bright suffering demon--Lucifer's defender.
To deny what's true, and the contrary,
converse alone in the unspeaking solitude
(winds weaving round th'pallid asphodel)
--Oh, to name eternal what is temporary
this is what's called on earth Absence's 'disquietude,'
'ardorous fires' by the soul, and during life: a 'hell.'
Love's poetry, the random concept's mind

Love's poetry, the random concept's mind
engendered in the cautious soul (in my care)
born from my bubbling senses, intertwined,
less from compliancy writ than despair—
O world abandoned, lost, and all but dead,
shattered & changed, distorted do you trod
the earth--Only where you were begot
would you be recognized, O artly bred!
You rob Crete's labyrinth, take
Dedalus's lofty thoughts & dreams, the seas'
tremendous fury, th'abyss' Flame:
If th'asp will not (of what is yours) partake,
renounce the ground and entertain the breeze--
There you'll be nestling on your own midst's same.
Vertaald door S.D. Rodrian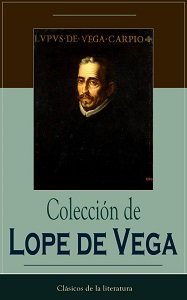 Lope de Vega (25 november 1562 – 27 augustus 1635)
Cover
25-11-2018 om 13:42 geschreven door Romenu

Tags:Joseph Zoderer, Alexis Wright, Isaac Rosenberg, José Eça de Queiroz, Lope de Vega, Romenu



Isabel Ecclestone Mackay
De Canadese dichteres en schrijfster Isabel Ecclestone Mackay werd geboren op 25 november 1875 in Woodstock, Ontario. Zie ook alle tags voor Isabel Ecclestone Mackay op dit blog.
Little Brown Bird
O little brown bird in the rain,
In the sweet rain of spring,
How you carry the youth of the world
In the bend of your wing!
For you the long day is for song
And the night is for sleep--
With never a sunrise too soon
Or a midnight too deep!
For you every pool is the sky,
Breaking clouds chasing through,--
A heaven so instant and near
That you bathe in its blue!--
And yours is the freedom to rise
To some song-haunted star
Or sink on soft wing to the wood
Where your brown nestlings are.
So busy, so strong and so glad,
So care-free and young,
So tingling with life to be lived
And with songs to be sung,
O little brown bird!--with your heart
That's the heart of the Spring--
How you carry the hope of the world
In the bend of your wing!
The Coming Of Love
How shall I know? Shall I hear Love pass
In the wind that sighs through the poplar tree?
Shall I follow his passing over the grass
By the prisoned scents which his footsteps free?
Shall I wake one day to a sky all blue
And meet with Spring in a crowded street?
Shall I open a door and, looking through,
Find, on a sudden, the world more sweet?
How shall I know?--last night I lay
Counting the hours' dreary sum
With naught in my heart save a wild dismay
And a fear that whispered, 'Love is come!'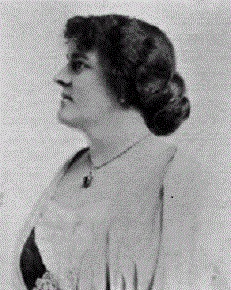 Isabel Ecclestone Mackay (25 november 1875 – 15 augustus 1928)
25-11-2018 om 00:00 geschreven door Romenu

Tags:Isabel Ecclestone Mackay, Romenu


24-11-2018

Jules Deelder, Wanda Reisel, Marlon James, Einar Kárason, Ahmadou Kourouma, Thomas Kohnstamm, Hans Sahar
De Nederlandse dichter en schrijver Jules Deelder werd geboren op 24 november 1944 te Rotterdam, in de wijk Overschie. Zie ook alle tags voor Jules Deelder op dit blog.
Der Untergang des Abendlandes
gezeten in het hemelsblauwe bad
neemt hij nadenkend de grote
zilveren zonnebril af en staart
door de kleine gouden zonnebril
die hij daaronder blijkt te dragen
naar de prehistoriese loopvogel
die aan het voeteneind
verschenen is

en terwijl hij stilaan vervliegt
tot een gas van onbekende
samenstelling
welt uit z'n kristallen keel
nog koel
de Waanzinsaria

- kijk eens in
m'n reet of
het theewater
kookt

een veelkleurige hagedis
verlaat vervolgens geruisloos
z'n navel
Enquête
opengereten in de Final Blast
gekookte hersens op je wangen?
verkoold verkruimeld weggesmolten
In Verzengende Winden?
of
langzaam leeggezogen
met een gebarsten leesbril
achter een krant van jaren her
rottend in een ziekenhuis
de bleke middagzon in je verschoten ogen
kraaiend boven een prentbriefkaartenverzameling
een zakje onder het hart voor de ontlasting
pratend over de paardetrem tegen een opgezette parkiet
bloedend op de overloop
na een week pas ontdekt
omdat de melk alsmaar blijft staan?

is dat dan de ideale staat to meet Thy Maker?!
is dit dan de Doem van Doodskoppenland?!
Kunst
'Wie van de aanwezigen
houdt er van kunst?'

'Ikke.'

'Prachtig! Dan kunt u
mij vast wel even helpen
met het ophangen van de
schilderijen.'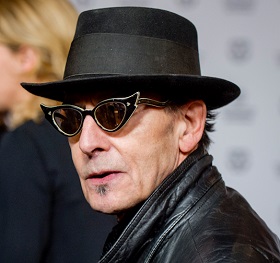 Jules Deelder (Rotterdam, 24 november 1944)
De Nederlandse schrijfster Wanda Reisel werd geboren in Willemstad (Curaçao) op 24 november 1955. Zie ook alle tags voor Wanda Reisel op dit blog.
Uit:Plattegrond van een jeugd
"Hier begint het: Amsterdam, Van Eeghenstraat 100, vijf verdiepingen, zestien kamers, zesentwintig vaste kasten. Kolenhok en prieel in de tuin, grenzend aan het Vondelpark.
Maar wat begint er eigenlijk? Wat er om je heen en met je gebeurt, wat er over je en aan je verteld wordt, alles wat je van horen zeggen hebt, dat alles zijn draden familiegeschiedenis, vergeelde fotoboeken, dozen vol dia's en 8 mm-films, een web van vroegere anekdotes en die welke nog wekelijks opduiken uit het brein van een bejaarde tante of oom, de verbindingen daartussen en het beeld dat jij ervan maakt… Dat gebruik je om het verhaal van je eigen leven op te tuigen. Ja, jij ook. Want zeg nu eerlijk: jou is het toch ook maar verteld?
Het leven van horen zeggen, dat kennelijk het mijne is, begint eerst ver weg met mijn geboorte in de West. Ik heb liefhebbende, fotograferende en filmende ouders. Mijn moeder, die graag met schaar en Lerolijm in de weer is en toegewijd baby's en babyboeken produceert, schrijft bij de foto's uitgebreide onderschriften: 'Kralen rijgen met grote houten kralen vind je leuk, maar niet te lang. Dan ga je ermee gooien. Net zo is het met tekenen. Je krabbelt wat op een papiertje, maar als ik niet oplet, zit even later alle ballpoint of potlood op deuren en muren. De meeste mensen zeg je uit jezelf goedendag. Speciaal de gekleurde bevolking bejegen je erg vriendelijk.'
Maar hier, in deze straat met bomen, begint het voor mij pas echt. Het is zomer en ik ben vijf jaar. Voor het huis staan de twee kratten zo groot als een kamer, waaruit een berg verse houtwol komt met daarachter verstopt meubels, schilderijen, lampen, beelden (waarvan één gebroken). Wij, mijn vriendje Mario en andere kinderen uit de buurt, staan er met onze fietsjes bij. Ik ben opgewonden want die grote kisten, die zo'n bekijks trekken, zijn van ons en wat erin verstopt zit, zijn onze spullen, die nu onbeschut op straat staan. Ik ben dus een van de hoofdpersonen van deze gebeurtenis, maar in wezen ben ik net zo benieuwd als de buurtkinderen, want ook ik weet niet wat er tevoorschijn zal komen. De spullen zijn misschien wel een jaar of langer geleden ingepakt en nu pas afgeleverd. Hoe die kratten hier zijn neergeplant, vraag ik me niet af. De dingen zijn er, dat is genoeg. Ik weet niet of ik ze nog herken, maar ze horen bij ons. En straks, als ze een plek hebben, bij het huis.
Kom maar wat dichterbij, dan hoef ik niet zo hard te praten. Gek dat ik niet weet wat dit voor bomen zijn. Ik heb geen verstand van de natuur. Ik woon hier vanaf mijn kleutertijd tot en met mijn achttiende jaar."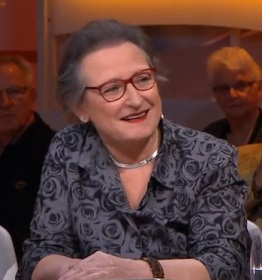 Wanda Reisel (Willemstad, 24 november 1955)
De Jamaicaanse schrijver Marlon James werd geboren op 24 november 1970 in Kingston, Jamaica. Zie ook alle tags voor Marlon James op dit blog.
Uit: A Brief History of Seven Killings
"Listen.
Living people wait and see because they fool themselves that they have time. Dead people see and wait. I once asked my Sunday school teacher, if heaven is the place of eternal life, and hell is the opposite of heaven, what does that make hell? A place for dirty little red boys like you, she said. She's still alive. I see her, at the Eventide Old Folks Home getting too old and too stupid, not knowing her name and talking in so soft a rasp that nobody can hear that she's scared of nightfall because that's when the rats come for her good toes. I see more than that. Look hard enough or maybe just to the left and you see a country that was the same as I left it. It never changes, whenever I'm around people they are exactly as I had left them, aging making no difference.
The man who was father of a nation, father to me more than my own, cried like a sudden widow when he heard I had died. You never know when people's dreams are connected to you before you're gone and then there's nothing to do, but watch them die in a different way, slow, limb by limb, system by system. Heart condition, diabetes, slow-killing diseases with slow-sounding names. This is the body going over to death with impatience, one part at a time. He will live to see them make him a national hero and he will die the only person thinking he had failed. That's what happens when you personify hopes and dreams in one person. He becomes nothing more than a literary device.
This is a story of several killings, of boys who meant nothing to a world still spinning, but each of them as they pass me carry the sweet-stink scent of the man that killed me.
The first, he screams his tonsils out but the scream stops right at the gate of his teeth because they have gagged him and it tastes like vomit and stone. And someone has tied his hands tight behind his back but they feel loose because all the skin has rubbed off and blood is greasing the rope. He's kicking with both legs because right is tied to left, kicking the dirt rising five feet, then six, and he cannot stand because it's raining mud and dirt and dust to dust and rocks. One rock claps his nose and another bullets his eye and it's erupting and he's screaming but the scream runs right to the tip of his mouth then back down like reflux and the dirt is a flood that's rising and rising and he cannot see his toes. Then he'll wake up and he's still dead and he won't tell me his name."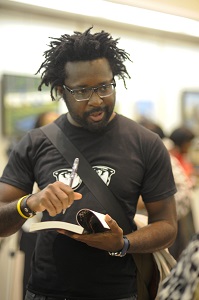 Marlon James (Kingston, 24 november 1970)
De IJslandse schrijver Einar Kárason werd op 24 november 1955 geboren in Reykjavík. Zie ook alle tags voor Einar Kárason op dit blog.
Uit: Feindesland (Vertaald door Helmut Lugmayr)
"Ich hatte bei ihm zu Hause in Reykholt viele Kostbarkeiten gesehen, die er aus den Händen des Königs oder von Fürsten empfangen hatte: Gold und wertvolle Kleinodien als Lohn für seine Dichtung und die Treue zu seinen Verwandten unter den norwegischen Herrscherfamilien. Und so glaubte ich, als ich vor einigen Wintern hierher kam, es würde reichen, Snorris Namen zu nennen und zu sagen, dass ich sein Neffe sei, um sogleich mit offenen Armen aufgenommen zu werden.
Ich hatte mir als Kind immer ausgemalt, wie Snorri an den Königshof kam und ihm eine Schar fürstlich gekleideter Männer entgegenging, die ihn vor den König geleiteten, während das ganze Volk in Respekt und Bewunderung das Haupt vor diesem großartigen Mann neigte.
Aber das waren natürlich nichts als Hirngespinste und lächerliche Kindereien. Denn in Norwegen betrachtet man Snorri Sturluson auch nur als gewöhnlichen isländischen Bauernlümmel. Als einen dieser sonderbaren, vom Wind zerzausten Isländer, über die man sich vielleicht noch lustig machen kann und die man bei Geschäften gerne über den Tisch zieht. Die Leute hier wissen nämlich, dass die Isländer am liebsten mit Geld um sich werfen und weder handeln noch feilschen – denn das ist nur die Sitte von Habenichtsen.
Man lässt sie deshalb für alles den doppelten Preis bezahlen, was sie auch freudig und mit stolzgeschwellter Brust tun. Hinterher lachen sich die Einheimischen ins Fäustchen, wenn sie ihr Geld zählen.
Ich habe meinen Onkel Snorri einmal getroffen, seit ich hierher nach Norwegen kam. Man hatte mich mit ein paar anderen im Auftrag des Königs nach Bergen gesandt – es war eine belanglose Mission und das Anliegen völlig unbedeutend. Dort angekommen begann ich, unter den Leuten am Hof von Skúli Jarl nach Snorri zu fragen. Immerhin, die meisten kannten ihn – lächelten bei dem Gedanken an ihn. »Ja, der Dichter!«, sagten sie. Nein, sie wüssten nicht, wo er sich aufhielte. »Sieh aber heute Abend in der Schenke nach!« Ich kenne solche Orte, man kann dort Bier und Met kaufen, und dahin ging ich am Abend – wäre ohnedies hingegangen ..."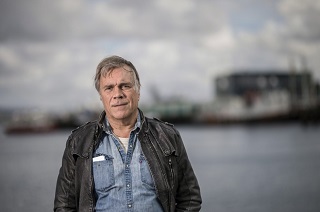 Einar Kárason (Reykjavík, 24 november 1955)
De Ivoriaanse schrijver Ahmadou Kourouma werd geboren op 24 november 1927 in Togobala. Zie ook alle tags voor Ahmadou Kourouma op dit blog.
Uit: Allah Is Not Obliged (Vertaald door Frank Wynne)
"I was running around on all fours and maman was chasing me. I was going faster than she was. She was chasing after me, her right leg stuck up in the air, moving on her arse in fits and starts, leaning on her arms. I went too far, too fast, 'cos I was trying not to get caught. I made a dash and fell on to the glowing embers.The fire did its job and grilled my arm. It grilled the arm of a poor little kid because Allah doesn't have to be fair about everything he does here on earth. I still have the scar, on my arm, in my head, in my belly like the Black Africans say, and in my heart. It's still there in my heart, in my whole being, like the smell of my mother. My body is saturated with maman's nauseating smell. (According to the Larousse,'nauseating' means 'capable of arousing aversion or disgust' and 'saturated' means 'drenched or soaked with liquid'.)Gnamokode!Anyway, even back when I was a cute kid, back in my childhood, there was this ulcer eating into maman's right leg and rotting it. An ulcer that steered my mother (to 'steer' is 'to guide someone somewhere').An ulcer that steered my mother and the rest of the family. And, around my mother and her ulcer was the hearth. The hearth that grilled my arm. The hearth always belching smoke or sparks; it spits sparks when you poke the fire to get it going. All round the hearth there were kanaris (according to the Glossary,a kanaris is a handcrafted earthenware jar). There were kanaris and more kanaris, and every one of them filled with decoctions (that means liquid obtained from the action of boiling plants).The decoctions were used for flushing maman's ulcer.There were more kanaris lined up along the wall at the back of the hut. Between the kanaris and the hearth, there was my mother and her ulcer wrapped up in a pagne. There was me, and there was the marabout, hunter and healer, Balla. Balla was maman's healer.Balla was a great guy and totally extraordinary. He knew all these countries and other stuff. Allah had given him hundreds of incredible destinies, and talents and opportunities. He was a freedman - according to Larousse, that's what they called someone who used to be a slave but is now free. And he was a donson ba, that's the name we give to a master huntsman who has killed black game and at least one malevolent djinn, according to the Glossary. Balla was a kaffir - that's what you call someone who refuses to believe in Islam and keeps his grigris. (According to the Glossary, a 'grigri' is 'a protective amulet, often a piece of paper inscribed with magical incantation kept in a small leather purse which is tied above the elbow or around the neck'.) Balla refused to burn his false idols, so he wasn't a Muslim, he didn't perform the five daily prayers, or fast for one month every year."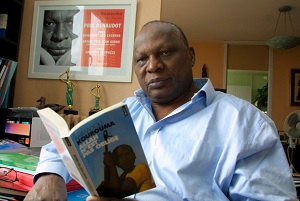 Ahmadou Kourouma (24 november 1927 – 11 december 2003)
De Amerikaanse schrijver Thomas Kohnstamm werd geboren in Seattle, Washington op 24 november 1975. Zie ook alle tags voor Thomas Kohnstamm op dit blog.
Uit: Do Travel Writers Go to Hell?
"I mistakenly thought that having an MA would open some doors, but I couldn't even get a callback from office temp agencies. In early 2002, I washed up as a retail employee at Club Monaco—a slightly fancier version of the Gap—up on 5th Av-enue and 55th Street in the middle of Manhattan. Even better, I was assigned to the women's dressing room. A key part of my job was to ask female customers if they needed a smaller size. If they came back to the dressing room with a size 6, I'd ask "Are you sure that I can't grab you a 4?" If they came back with a 4, I'd ask about a 2. It was just that simple. One day, while I was expertly folding jeans and fitted T-shirts, the assistant store manager, a Jersey boy with LA hair and a fake tan, asked me, "Do you think that you'll ever get your act together and go to college?" "I have a master's from Stanford and started a DPhil at the London School of Economics," I answered and went on folding. "Yeah right, man. There isn't even such a thing as a dee fill.
You should really try a jay cee instead. It helped me to get this job," he stated with the resolute authority of a Club Monaco assistant manager. I told him that I would consider it.
Every boom is followed by a bust and, in America, someone will always find a way to make money off of the bust—most likely lawyers. When I heard that a Wall Street firm was hiring re-searchers to work on high-profile, undisclosed cases, I was so eager to get out of retail that I didn't slow down enough to really understand what the job entailed. I was told only that they represented, among other concerns, a little-known firm called Cerberus Capital Management that was buying up dis-tressed debt. The fact that the company was named after the three-headed guardian clog of I-lades and that the papers re-ferred to distressed debt as "vulture investing" did not raise any red flags. I was racing toward thirty and most of the once-wide-open doors of opportunity had already slammed in my face. Maybe it was time to take the LSAT or the GMAT and get on with forg-ing a dependable career. These were the new realities. Law seemed respectable enough: something to use your brain, make a solid income; something that I could be proud of at col-lege reunions. Once hired, I worked with Cerberus on a couple of cases, but I specialized in the assorted legal problems of a once-prominent research analyst who had been the foremost opin-ion on telecommunications companies, most notably World-Corn. Research analysts are supposed to give unbiased opinion to the public on which stocks were worth buying. But during the telecom bubble, some analysts just worked hand in hand with the bankers and the telecom CEOs to promote the companies."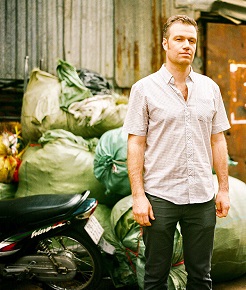 Thomas Kohnstamm (Seattle, 24 november 1975)
De Nederlandse schrijver van Marokkaanse afkomst Hans Sahar (pseudoniem van Farid Boukakar) werd geboren in Al Hoceima, Marokko, op 24 november 1974. Zie ook alle tags voor Hans Sahar op dit blog.
Uit: Zoveel liefde
'Hou je van gabberhouse? Dan zit je hier goed.' Dat was het enige wat de jongen had gezegd van wie Rash de kamer had overgenomen, de huisbaas had niks verteld over de andere huurders, alleen dat het er vijf waren en dat ze de keuken en de douche deelden. Het kon Rash niet veel schelen dat er naast hem een gabber zat, want zijn eigen rap en trance draaide hij ook niet echt zachtjes.
Hij was benieuwd hoe het zou gaan, voor het eerst van zijn leven was hij op kamers. Op kamers! Deze ene kale ruimte met een bed, een tafel en twee stoelen. Hij had een paar posters op de muur geprikt van Public Enemy en om zich heen staan kijken van: dit is dan het nieuwe begin, eindelijk vrij, zelfstandig, niet meer dat eeuwige gezeik thuis van pa, van de kinderen met al hun problemen waar hij altijd voor op moest draaien, vrij!
Maar hij voelde ook dat andere, waar hij de laatste nachten thuis wakker van had gelegen: alleen, alleen, zonder iemand, terwijl hij altijd in een huis vol drukte en mensen had gezeten, waar je alles met iedereen deelde.
Het waren bloedhete en benauwde dagen in september. Het raam van de kamer moest je met veel gekraak en gepiep omhoogtrekken en dan bleef het hangen aan halfvergane touwen. De eerste keer dat hij het deed, zag hij beneden op de hoek van de Ruysdaelstraat een jongetje, dat schrok van die herrie en omhoog keek maar toch zijn werk afmaakte: het slot forceren van de fiets die aan de lantaarnpaal vastzat. Rash kende de Schilderswijk goed genoeg om te weten dat het niks bijzonders was. Maar toch bleef het een tijdje door zijn kop spelen, niet dat het hier een crimineel zootje was – wat maakte dat hem uit – maar dat iedereen alleen met zichzelf bezig is.
Hij had de jongen even nagekeken toen hij op de fiets sprong en om de hoek verdween. Weg. Zo flits je hierheen en daarheen en je bent bezig met je eigen dingen. Zo'n fiets. Verkopen. Een paar tientjes. Geld opmaken. Verder maar weer. Maar zo'n leventje was niks voor Rash. Kleine criminaliteit is té klein. De rotmoeite niet. Hij zat lekker hier, dicht bij zijn school en zijn stageplaats – nee, hij zou echt geen fatsoenlijk mannetje worden – , en dan maar kijken wat het wordt.
Door het dunne, houten wandje hoorde hij de gabbersound van zijn buurman. Of was het happy hardcore? Het bleek dj Paul te zijn: 'Don't leave me alone.' Het volume ging steeds harder. Het eentonige ritme stampte. Rash stond midden in zijn kamer en liet het maar eens lekker door zijn oren bonken. Best wel relaxed. Hij had zin om te gaan dansen, maar om zo op je eentje een nieuwe kamer in te wijden, nee. Er werd geklopt en een schorre stem riep op de gang: 'Hé vriend, hoe is het?'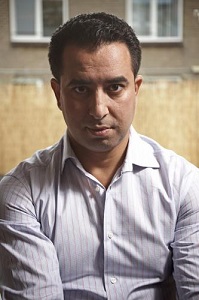 Hans Sahar (Al Hoceima, 24 november 1974)
Zie voor nog meer schrijvers van de 24e november ook mijn vorige blog van vandaag.
24-11-2018 om 11:31 geschreven door Romenu

Tags:Jules Deelder, Wanda Reisel, Marlon James, Einar Kárason, Ahmadou Kourouma, Thomas Kohnstamm, Hans Sahar, Romenu



Wen Yiduo, Laurence Sterne, Cissy van Marxveldt, Arundhati Roy, Carlo Collodi, Gerhard Bengsch, Ludwig Bechstein
De Chinese dichter en schrijver Wen Yiduo werd geboren op 24 november 1899 in Xishui, Hubei. Zie ook alle tags voor Wen Yiduo op dit blog.
Red Candle
Tears will dry only when the candle burns out. — Li Shangyin

Oh, red candle!
So red a candle!
Oh, poet!
Show your heart to compare
Are they of the same color?

Oh, red candle!
Who is it that made the wax — gave you a body?
Who is it that lighted it — kindled your soul?
Why should the wax be burnt
To give out the light?
One wrong after another;
To contradict! To conflict!

Oh, red candle!
No wrong, no wrong!
Your light should be "burned" out —
This is just a natural way.

Oh, red candle!
Once made, just burn it!
Burn, just burn!
Break the dream of the world,
Boil the blood of the world —
To save their souls,
To destroy their hell!

Oh, red candle!
The time when your heart is kindled
Is the day your tears begin to run.

Oh, red candle!
The craftsman made you
Just for burning.
Why are you hurt and tearful?
Aha! I know it!
It is the remaining wind that disturbs your light,
You are reduced to tears
When your light sways!

Oh, red candle!
Just let your tears run! How can you hold them back?
Please let your essence
Ceaselessly run into the human world,
To bring about the consulate flowers
And to produce happy fruit!

Oh, red candle!
Each tear you drop, each fraction of heart you will break.
Heartbreak and tears are your result,
But creating light is your cause.

Oh, red candle!
"Ask not for gains, but for pains."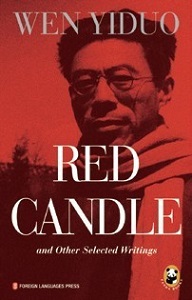 Wen Yiduo (24 november 1899 – 15 juli 1946)
Cover
De Engels-Ierse schrijver Laurence Sterne werd geboren op 24 november 1713 in Clonmel, Tipperary, Ierland. Zie ook alle tags voor Laurence Sterne op dit blog.
Uit: The Life and Opinions of Tristram Shandy, Gentleman
"—De gustibus non est disputandum;—that is, there is no disputing against Hobby-Horses; and for my part, I seldom do; nor could I with any sort of grace, had I been an enemy to them at the bottom; for happening, at certain intervals and changes of the moon, to be both fidler and painter, according as the fly stings:—Be it known to you, that I keep a couple of pads myself, upon which, in their turns, (nor do I care who knows it) I frequently ride out and take the air;—though sometimes, to my shame be it spoken, I take somewhat longer journies than what a wise man would think altogether right.—But the truth is,—I am not a wise man;—and besides am a mortal of so little consequence in the world, it is not much matter what I do: so I seldom fret or fume at all about it: Nor does it much disturb my rest, when I see such great Lords and tall Personages as hereafter follow;—such, for instance, as my Lord A, B, C, D, E, F, G, H, I, K, L, M, N, O, P, Q, and so on, all of a row, mounted upon their several horses,—some with large stirrups, getting on in a more grave and sober pace;—others on the contrary, tucked up to their very chins, with whips across their mouths, scouring and scampering it away like so many little party-coloured devils astride a mortgage,—and as if some of them were resolved to break their necks.—So much the better—say I to myself;—for in case the worst should happen, the world will make a shift to do excellently well without them; and for the rest,—why—God speed them—e'en let them ride on without opposition from me; for were their lordships unhorsed this very night—'tis ten to one but that many of them would be worse mounted by one half before tomorrow morning.
Not one of these instances therefore can be said to break in upon my rest.—But there is an instance, which I own puts me off my guard, and that is, when I see one born for great actions, and what is still more for his honour, whose nature ever inclines him to good ones;—when I behold such a one, my Lord, like yourself, whose principles and conduct are as generous and noble as his blood, and whom, for that reason, a corrupt world cannot spare one moment;—when I see such a one, my Lord, mounted, though it is but for a minute beyond the time which my love to my country has prescribed to him, and my zeal for his glory wishes,—then, my Lord, I cease to be a philosopher, and in the first transport of an honest impatience, I wish the Hobby-Horse, with all his fraternity, at the Devil.
'My Lord, I maintain this to be a dedication, notwithstanding its singularity in the three great essentials of matter, form and place: I beg, therefore, you will accept it as such, and that you will permit me to lay it, with the most respectful humility, at your Lordship's feet—when you are upon them,—which you can be when you please;—and that is, my Lord, whenever there is occasion for it, and I will add, to the best purposes too. I have the honour to be,
My Lord,
Your Lordship's most obedient,
and most devoted,
and most humble servant,
Tristram Shandy.'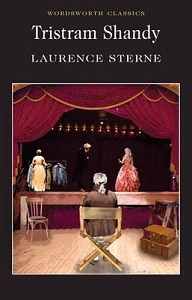 Laurence Sterne (24 november 1713 – 18 maart 1768)
Cover
De Nederlandse schrijfster Cissy van Marxveldt werd geboren in Oranjewoud op 24 november 1889. Zie ook alle tags voor Cissy van Marxveldt op dit blog.
Uit: Joop en haar jongen
"Schoonpapa van Dil zei: "Nee maar, nu geloof ik zeker, dat hij in zijn slaap gelachen heeft."
Leo zei. "Papa, als U dat lachen noemt, dan heeft hij tegen mij verleden week wakker al gelachen."
Grietje zei uit de veiligheid van haar keuken sottovoce : "Hij lachte al, toen hij veertien dagen was."
En ik boog me over het roode knuistje van Hans van Dil, oud vijf weken, en kuste het.
"Kom Papa," zei Leo, en hij nam Schoonpapa onder zijn arm, "gaat U weer mee achter in de tuin zitten? Of wilt U liever een stoel vlak naast de wagen van Uw kleinzoon hebben?"
',pat mag hij niet eens," zei ik en stak een hand door Schoonpapa's nog vrije arm. "Zoo'n kleine schat moet rust hebben. En als jullie aldoor over die wagen hangt — de lieve dot kan wel onder hypnose raken." Schoonpapa schaterde het uit. Hij heeft zoo'n volle lach, die uit zijn buik schijnt te komen. Hij klapte me op mijn hand. "Je neemt me niet kwalijk, he Jopie? Maar die nieuwe waardigheid van jou wind ik zoo verdraaid aardig."
"Hoe zou U het vinden," informeerde ik, "wanneer Tante Suzanna aldoor over Uw aanschijn hing, als U slaap hadt? En dan als maar lofliederen tong op Uw neus en Uw lach en Uw haar?"
Schoonpapa streek over zijn gansch kale schedel.
"Over dit laatste zou anders weinig te zingen zijn. Maar ik geef je toe, dat ik het toch criant vervelend vinden zou."
"O zoo," zei ik, "nu zoo denkt Uw naamgenoot er precies over."
Leo trachtte achter Schoonpapa's rug om aan mijn oor to trekken. ,
"Joost, je bent verschrikkelijk."
Ik knipoogde tegen hem, en plofte met een zucht van verrukking neer in een van onze witte tuinstoelen."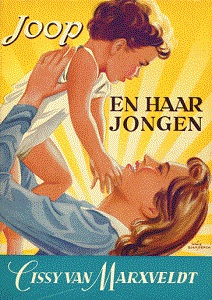 Cissy van Marxveldt (24 november 1889 – 31 oktober 1948)
Cover
De Indiase schrijfster Arundhati Roy werd geboren op 24 november 1961 in Shillong. Zie ook alle tags voor Arundhati Roy op dit blog.
Uit: The God of Small Things
"And these are only the small things.
Anyway, now she thinks of Estha and Rahel as Them, because, separately, the two of them are no longer what They were or ever thought They'd be.
Ever.
Their lives have a size and a shape now. Estha has his and Rahel hers.
Edges, Borders, Boundaries, Brinks and Limits have appeared like a team under their eyes and they are as old as Ammu was when she died. Thirty-one.
Not old.
Not young.
But a viable die-able age.
They were nearly born on a bus, Estha and Rahel. The car in which Baba, their father, was taking Ammu, their mother, to hospital in Shillong to have them, broke down on the winding tea-estate road in Assam. They abandoned the car and flagged down a crowded State Transport bus. With the queer compassion of the very poor for the comparatively well off, or perhaps only because they saw how hugely pregnant Ammu was, seated passengers made room for the couple, and for the rest of the journey Estha and Rahel's father had to hold their mother's stomach (with them in it) to prevent it from wobbling. That was before they were divorced and Ammu came back to live in Kerala.
According to Estha, if they'd been born on the bus, they'd have got free bus rides for the rest of their lives. It wasn't clear where he'd got this information from, or how he knew these things, but for years the twins harbored a faint resentment against their parents for having diddled them out of a lifetime of free bus rides.
They also believed that if they were killed on a zebra crossing, the Government would pay for their funerals. They had the definite impression that that was what zebra crossings were meant for. Free funerals. Of course, there were no zebra crossings to get killed on in Ayemenem, or, for that matter, even in Kottayam, which was the nearest town, but they'd seen some from the car window when they went to Cochin, which was a two-hour drive away."
of trolls on their separate horizons. Short creatures with long shadows, patrolling the Blurry End. Gentle half-moons have gathered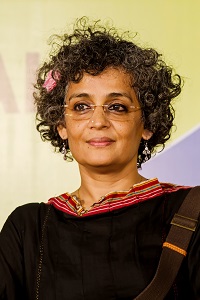 Arundhati Roy (Shillong, 24 november 1961)
De Italiaanse schrijver Carlo Collodi werd als Carlo Lorenzi op 24 november 1826 in Florence geboren. Zie ook alle tags voor Carlo Corrodi op dit blog.
Uit: Pinocchio (Vertaald door Carol Della Chiesa)
"Mastro Cherry grew dumb, his eyes popped out of his head, his mouth opened wide, and his tongue hung down on his chin.
As soon as he regained the use of his senses, he said, trembling and stuttering from fright:
"Where did that voice come from, when there is no one around? Might it be that this piece of wood has learned to weep and cry like a child? I can hardly believe it. Here it is--a piece of common firewood, good only to burn in the stove, the same as any other. Yet-- might someone be hidden in it? If so, the worse for him. I'll fix him!"
With these words, he grabbed the log with both hands and started to knock it about unmercifully. He threw it to the floor, against the walls of the room, and even up to the ceiling.
He listened for the tiny voice to moan and cry. He waited two minutes--nothing; five minutes--nothing; ten minutes--nothing.
"Oh, I see," he said, trying bravely to laugh and ruffling up his wig with his hand. "It can easily be seen I only imagined I heard the tiny voice! Well, well--to work once more!"
The poor fellow was scared half to death, so he tried to sing a gay song in order to gain courage.
He set aside the hatchet and picked up the plane to make the wood smooth and even, but as he drew it to and fro, he heard the same tiny voice. This time it giggled as it spoke:
"Stop it! Oh, stop it! Ha, ha, ha! You tickle my stomach."
This time poor Mastro Cherry fell as if shot. When he opened his eyes, he found himself sitting on the floor.
His face had changed; fright had turned even the tip of his nose from red to deepest purple."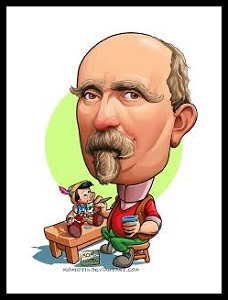 Carlo Collodi (24 november 1826 – 26 oktober 1890)
De Duitse schrijver Gerhard Bengsch werd geboren op 24 november 1928 in Berlijn. Zie ook alle tags voor Gerhard Bengsch op dit blog.
Uit: Der Colonel von Cattenberg
"Deine Ironie zieht bei mir nicht", gab Jutta zurück. "Tatsache ist, dass uns Karl Ernst Hasselbach in der ersten Zeit alle Wege geebnet hat. Der kennt ja Gott und die Welt. Regierungsräte, Staatssekretäre, alles, was Einfluss hat auf dem Wirtschaftssektor."
Während Jutta noch ihr Loblied auf Hasselbach sang, trat der Gelobte selber vor uns hin, und Bruno machte uns bekannt. Hasselbach war ein Mann in mittleren Jahren mit merkwürdig fahler Gesichtsfarbe und nikotingelben Fingern. Man sah ihm auf den ersten Blick den starken Raucher an, und tatsächlich, kaum saß er, zündete er sich schon die erste Zigarette an. Essen wollte er nichts, nur was trinken. Er verfluchte die Hitze, tupfte sich Schweiß von der Stirn und fragte, ob der Vorschlag erlaubt sei, sich ins Haus zu setzen, dort sei es voraussichtlich kühler.
Hasselbachs Wunsch war den Gastgebern Befehl. Sollte das kaufmännische Wissen, das er in die Firma eingebracht hatte, tatsächlich soviel wert sein, dass ihm diese Aufmerksamkeit zustand?
Wir saßen noch nicht lange im Wohnzimmer, einem fünf mal zehn Meter großen Raum mit wuchtigen Korbsesseln und einem breiten Fenster mit Blick zum See, da zog Hasselbach das Gespräch an sich. Bier war sein Thema, Bier aller Sorten und Brauarten. Untergäriges und obergäriges Bier. Einfach-, Schank-, Voll- und Starkbier. Lager-, Export-, Märzen-, Nähr-, Malz- und Diätbier. Und das Reinheitsgebot. Und die Verletzung dieses Gebots durch die Brüsseler Bestimmungen, die für ihn ein liberaler Schwachsinn waren, ein Verbrechen am Bier. Überhaupt Brüssel. Hasselbachs fahles Gesicht wurde rot vor Zorn. Die deutschen Interessen kämen in der EU entschieden zu kurz, auch in der Plastikbranche."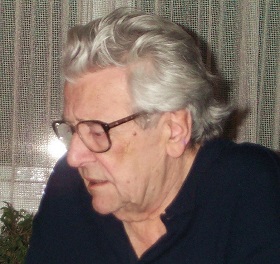 Gerhard Bengsch (24 november 1928 – 11 maart 2004)
De Duitse dichter, schrijver, bibliothecaris en archibaris Ludwig Bechstein werd geboren op 24 november 1801 in Weimar. Zie ook alle tags voor Ludwig Bechstein op dit blog.
Alter Mann
"Mein Frühling ist verblüht,
Mein Sommer ist verglüht,
Mein Herbst ging schon zur Ruh,
Mein Winter ruft mir zu:
Nun schlafe!"

"Mein zitternd Haupt ist kahl,
Mein Lebenswein ist schaal,
Die Neige leert' ich aus,
Und schleiche still nach Haus,
Und schlafe."

"Ich suchte Glück und fand
Nur Jammer oder Tand.
Komm her, mein Wanderstab,
Nun such' ich mir ein Grab,
Und schlafe."

"Es hat recht tief geschneit,
Es ist nun Schlafenszeit,
Der morsche Stamm zerfallt,
Gut' Nacht, gut' Nacht o Welt!
Ich schlafe!" —
Mein Geburtstag
Ja, heut'' ist mein Geburtstag,
Heut' zähl' ich dreissig Jahr.
Schon dreissig, und ein Mann schon!
Es dünkt mir wunderbar.

Meine Träume waren kindisch,
War knabenhaft, was ich sann;
Mein Herz fühlt Jünglingswärme,
Mein Leib — ist schon ein Mann.

Ich sitze traurig und trübe
Einsam im Stübchen hier,
Und niemand will sich zeigen
Und will Glück wünschen mir.

Will auch nichts hören von Wünschen,
Will auch nichts wissen vom Glück,
Meine hingemordete Jugend
Gibt mir kein Wunsch zurück.

Nur eine heiße Zähre
Mir über die Wange rinnt,
Das ist zu meinem Geburtstag
Mein einziges Angebind.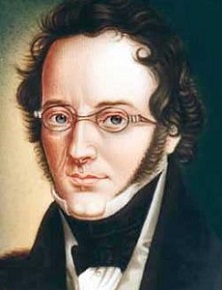 Ludwig Bechstein (24 november 1801 – 14 mei 1860)
Naar een lithografie van G. Bach, ca. 1840


24-11-2018 om 11:30 geschreven door Romenu

Tags:Wen Yiduo, Laurence Sterne, Cissy van Marxveldt, Arundhati Roy, Carlo Collodi, Ludwig Bechstein, Gerhard Bengsch, Romenu


23-11-2018

Paul Celan, Marcel Beyer, Max Goldt, Jennifer Michael Hecht, Sipko Melissen, Henri Borel, Sait Faik Abasıyanık, Nigel Tranter, Guy Davenport
De Duits-Roemeense dichter Paul Celan werd onder de naam Paul Antschel op 23 november 1920 geboren in Czernowitz, toentertijd de hoofdstad van de Roemeense Boekovina, nu behorend bij de Oekraïne. Zie ook alle tags voor Paul Celan op dit blog.
Stimmen
Stimmen, ins Grün
der Wasserfläche geritzt.
Wenn der Eisvogel taucht,
sirrt die Sekunde:
Was zu dir stand
an jedem der Ufer,
es tritt
gemäht in ein anderes Bild.
*
Stimmen vom Nesselweg her:
Komm auf den Händen zu uns.
Wer mit der Lampe allein ist,
hat nur die Hand, draus zu lesen.
*
Stimmen, nachtdurchwachsen, Stränge,
an die du die Glocke hängst.
Wölbe dich, Welt:
Wenn die Totenmuschel heranschwimmt,
will es hier läuten.
*
Stimmen, vor denen dein Herz
ins Herz deiner Mutter zurückweicht.
Stimmen vom Galgenbaum her,
wo Spätholz und Frühholz die Ringe
tauschen und tauschen.
*
Stimmen, kehlig, im Grus,
darin auch Unendliches schaufelt,
(herz-)
schleimiges Rinnsal.
Setz hier die Boote aus, Kind,
die ich bemannte:
Wenn mittschiffs die Bö sich ins Recht setzt,
treten die Klammern zusammen.
*
Jakobsstimme:
Die Tränen.
Die Tränen im Bruderaug.
Eine blieb hängen, wuchs.
Wir wohnen darin.
Atme, daß
sie sich löse.
*
Stimmen im Innern der Arche:
Es sind
nur die Münder
geborgen. Ihr
Sinkenden, hört
auch uns.
*
Keine
Stimme – ein
Spätgeräusch, stundenfremd, deinen
Gedanken geschenkt, hier, endlich
herbeigewacht: ein
Fruchtblatt, augengroß, tief
geritzt; es
harzt, will nicht
vernarben.
Schibboleth
Met al mijn stenen,
de grootgehuilde
achter de tralies,
sleepten ze mij
naar het midden van de markt,
daarheen,
waar de vlag openrolt, waarbij ik
geen enkele eed zwoer.
Fluit,
dubbele fluit van de nacht:
gedenk het donkere
tweelingsrood
in Wenen en Madrid.
Hijs halfstok je vlag,
herinnering.
Halfstok
voor heden en altijd.
Hart:
maak je ook hier bekend,
hier, in het midden van de markt.
Roep 't, het schibboleth, roep 't
de vreemdheid des vaderlands in :
Februari. No pasaran.
Eenhoorn:
je weet van de stenen,
je weet van de wateren,
kom,
ik leid je hier weg
naarde stemmen
van Estremadura.
Vertaald door Frans Roumen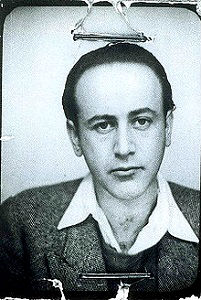 Paul Celan (23 november 1920 – 20 april 1970)
Hier op een pasfoto uit 1938
De Duitse dichter, schrijver en essayist Marcel Beyer werd op 23 november 1965 in Tailfingen / Württemberg geboren. Zie ook alle tags voor Marcel Beyer op dit blog.
Uit: Das blindgeweinte Jahrhundert
"Photographieren heißt sterben lernen, rede ich laut vor mich hin, während ich eines Nachmittags in einer alten Ausgabe des LIFE-Magazins blättere und in der Leserbriefspalte an drei kleinen Photos hängenbleibe. Das erste zeigt einen Schimpansen im Zoologischen Garten in Berlin, wie er eine LEICA vor seinem Bauch hält und neugierig, wenn auch ein wenig ratlos zu untersuchen scheint. Bei den beiden anderen dagegen, das geht aus dem kurzen Begleitbrief des Einsenders hervor, handelt es sich um Schnappschüsse, die der Schimpanse selbst mit ebenjener LEICA gemacht hat. Aber ein Tier, und sei es ein Menschenaffe, sage ich fast noch im selben Augenblick, kann nicht sterben lernen, auch wenn er zu einer Kamera greift und es versteht, aus seinem Käfig heraus die Gesichter der hinter den Stäben sich drängelnden Zoobesucher abzulichten. Die Menschen – Frauen in hellen Kleidern, Männer mit Hut, für den Sonntagsausflug herausgeputzte Kinder – lachen, und wer würde nicht wenigstens lächeln müssen, wenn er beim Zoorundgang das Affenhaus erreicht und, noch ehe er die eigene Kamera in Anschlag bringen kann, feststellt, daß der Schimpanse seinerseits eine Kamera auf ihn richtet. Hinter der Menschenwand Sträucher und alte Bäume, auf dem dichten Laub liegt Sonnenlicht, niemand trägt einen Mantel, es herrscht Sommerstimmung in Berlin. Längst habe ich weitergeblättert, überfliege Artikel, betrachte Anzeigen, lese wie mit dem angefeuchteten Daumen, doch die Affenphotographien gehen mir nicht aus dem Kopf. Auf dem einen Schnappschuß, dem leicht verwackelten, erinnere ich mich, erscheint am linken Rand ein dunkler Schatten, ein Schatten in Menschenform, so nah am Käfig, daß ich ihn im ersten Moment nicht bemerkt habe. Tatsächlich steht dort ein Mann, hält seine Kamera hoch, schaut durch den Sucher und scheint in derselben Sekunde abzudrücken, da auch der Schimpanse abdrückt. Denn sterben lernen heißt einen photographierenden Menschenaffen mit der LEICA ablichten, und es wirkt, je länger ich das Bild betrachte, als sei das Auge des Photographen nicht hinter dem Sucherfenster verborgen, als blinzele es über die LEICA hinweg. Dies ist kein zufällig vor dem Schimpansenkäfig stehender Zoobesucher, wird mir klar, dies ist der Einsender der Bilder selbst, und wenn er in seinem Begleitbrief behauptet, der Affenwärter habe die Idee gehabt, seinem Schützling die LEICA in die Hand zu drücken, dann lügt er, um nicht unbescheiden dazustehen, zumal er auf einem der Photos abgebildet ist. Hilmar Pabel, so lautet die Unterschrift unter dem Leserbrief, der Name sagt mir nichts, und damit ist dieser mir unbekannte Mann aus dem LIFE-Magazin vom 5. September 1938 im Gedränge verschwunden."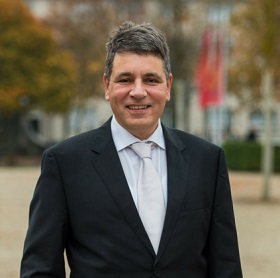 Marcel Beyer (Tailfingen, 23 november 1965)
De Duitse schrijver en muzikant Max Goldt (pseudoniem van Matthias Ernst) werd geboren op 23 november 1958 in Weende (nu Göttingen). Zie ook alle tags voor Max Goldt op dit blog.
Uit: Lippen abwischen und lächeln
"Schon schön, ein paar Tage auf Kosten zwar vermutlich unsympathischer, aber freigiebiger Funktionäre in einem RitzCarlton-Hotel zu verbringen. Schon schön, in der VIP-Etage von einem Konsortium internationaler junger Service-Damen, von Tove aus Schweden, Anna aus Prag, Laura aus Mexiko und Lorna aus Malaysia unentwegt bemuttert und betuddelt zu werden. You want ingwer musli? Yes! You want red wine? Yes! You want the Neue Zürcher Zeitung? Yes! Schon schön, in monsterweichen Riesensesseln zu versinken, in der Hauptstadt eines Gasstaates, den man wenige Wochen zuvor auf dem Globus nur mit Mühe hätte ausfindig machen können. Man schaut sich um, der Look ist einem durchaus nicht unbekannt. Auch in Deutschland gibt es Hotels, die sich bereits vollkommen dem Geschmack des Mittleren Ostens unterworfen haben, das Adlon in Berlin etwa oder der Breidenbacher Hof in Düsseldorf. In der VIP-Lounge gab es Buchregale, durch die sich lange Reihen prächtig ledergebundener, hundert Jahre alter, eigenartigerweise allerdings ausnahmslos schwedischer Konversationslexika zogen. Nicht lange dauerte es, bis uns auch der Fußballspieler Stefan Effenberg in Begleitung einer mit engen Dingen bekleideten Dame erschien. Er selbst trug kurze bunte Kinderhöschen und ließ Rotwein kommen. Die Kinderhöschen erregten mein Mißfallen. Wohlgefallen erregten natürlich hingegen die Zimmer. Man hatte uns tatsächlich in zweien der insgesamt sieben Präsidenten-Suiten untergebracht. Sie sahen aus wie Möbellager, die auf ein in einen farbenblinden Zweig der Gothic-Szene verlegtes Remake von «Ein Käfig voller Narren» warten. Auch in den dortigen feisten Betten hätte man sich der Lektüre antiquarischer schwedischer Nachschlagewerke widmen können, sie standen meterlang zur Verfügung."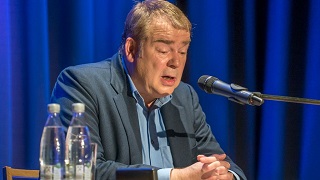 Max Goldt (Weende, 23 november 1958)
De Amerikaanse dichteres en schrijfster Jennifer Michael Hecht werd geboren op 23 november 1965 in New York. Zie ook alle tags voor Jennifer Michael Hecht op dit blog.
Steady, Steady
I believe you can build a boat.
I believe you can get to water.
I do not believe you can get the boat on water.
How do other people bear
what you are still afraid of? The answer
is that when big things happen
you do go through the looking glass,
but it is still you who goes through,
the inner text is all still right to left,
so you just keep reading.
Because there is no boat and there is no water.
I stare at my tiny baby's face
but he so wriggles he can't quite be seen.
He grows steadier, more the blur
is gone; joins us in the myth of the stable.
Of the quakiness of infancy and old age
we shimmer and shimmy into being
and out again. In the mean-
time, we're horses in the stable of the myth.
A quick check of the ocean, or any fire,
is a reminder of how things seem;
I can't seem to see them.
You're on the beach and you find out the secretary
of defense thinks calico cats are agents of the devil.
Your friend asks if they get 10 percent.
She was funny, your friend.
The water in this metaphor
is unreal because of the way time passes,
so you can't quite get the boat on water,
but you can build the boat,
and a boat is good for a lot of things
not just on water.
Will we, without the boat on water,
always feel that we are missing
something basic to the picture?
No. That is what I'm trying to say.
It is important to let sense quiver;
even in this stable of the myth of stable,
even living aboard a boat mired
in mud in view of the sea.
Who wants yet another world?
It's enough already.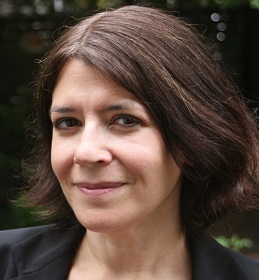 Jennifer Michael Hecht (New York, 23 november 1965)
De Nederlandse dichter en schrijver Sipko Melissen werd geboren in Scheveningen op 23 november 1944. Zie ook alle tags voor Sipko Melissen op dit blog.
Uit: Een kamer in Rome
"Die donderdagmiddag was ik op weg naar een café in de binnenstad waar ik een afspraak had met Stijn om te praten over The Real Life of Sebastian Knight. Stijn zou mij helpen het referaat om te werken tot een artikel voor The Nabokovian, het tijdschrift van The International Vladimir Nabokov Society. Mijn conclusie dat Nabokov zijn eerste in het Engels geschreven roman had gebruikt om een literaire beginselverklaring af te leggen, vond hij de moeite waard om aan een select publiek van geïnteresseerden voor te leggen.
Ik had de fiets laten staan en was gaan lopen in de hoop de onrust kwijt te raken die al dagenlang beslag op mij legde. De drie jongens voor mij hadden er de vaart in en aan hun manier van lopen was te zien dat ze plezier hadden. Ze stootten elkaar met de schouders aan, bogen zich tijdens het lopen naar elkaar toe zodat ze bijna struikelden. De jongen in het midden met lang blond haar tot op de schouders had het hoogste woord en lachte het uitbundigst. Ik bleef achter hen lopen alsof ik werd meegezogen en moest kijken naar de tekst op het t-shirt, alsof kijken kon leiden tot inzicht: Niets is werkelijker dan het Niets. Beckett. Hoewel ik de betekenis niet onmiddellijk vatte, wist ik dat deze zin de grond wegnam onder de voeten van het winkelende publiek. Die zin van Beckett was een korte samenvatting van de meeste van mijn gedichten, zag ik ineens. Die gedichten gingen over de dood, niet omdat ik ervaring had met de dood of er bang voor was. De dood was een metafoor voor dat Niets waar alles het tegen aflegt, ook de werkelijkheid. Ook dit moment in de Leidsestraat, hoe werkelijk het ook leek. Over een seconde bestond het al niet meer.
Bij de Keizersgracht sloegen de jongens rechtsaf. Ik moest rechtdoor, naar de afspraak in Kapitein Zeppos, en voelde mij vrolijk worden en licht als een schip dat alles overboord heeft gegooid. Niets is werkelijker dan het Niets. Als die uitspraak waar was, en hij was waar, waar maakte ik mij dan druk om? Ik was er nog niet aan toe om samen te wonen, had Carola gezegd en waarschijnlijk had zij gelijk.
Ik zou wel zien waar ik aan toe was.
Opgewekt, alsof ik zojuist bericht had gekregen geslaagd te zijn voor een belangrijk examen, kwam ik het café binnen waar Stijn al klaar zat achter een tafeltje met mijn artikel voor zich. De aantekeningen in de marge beloofden dat we hier nog wel even zouden zitten. Hoewel iedere Amsterdammer die het zich maar even kon permitteren, op dit uur en bij dit weer, op een terras was neergestreken, zaten wij binnen omdat literatuur het daglicht niet kon verdragen. Dixit Stijn Ravel."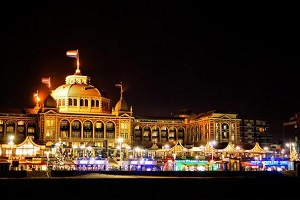 Sipko Melissen (Scheveningen, 23 november 1944)
Scheveningen, Kurhaus
De Nederlandse dichter, schrijver en journalist Henri Jean Francois Borel werd geboren in Dordrecht op 23 november 1869. Zie ook alle tags voor Henri Borel op dit blog.
Van eenzaamheid. Sonnetten.
I.
Uit Liefde's Lijden is omhoog gebeefd
Mijn reine ziel, ééns lief en warm gevangen
In banden van zacht gloeiend lijfsverlangen,
Waar ze' in een zoete slavernij geleefd ...

O! Lichte droomen, die mijn ziel verzweefd'!
Die avend-zachte oogen, bloeme-wangen,
Die lelieë-blanke handen! Lente-zangen
Van Liefste's stem! O Zaligheid doorleefd!

Toen is het àl verloren ... 'k Weet mijn klagen
Dat ik dit wreed Leed niet vermeet te dragen ...

En nu, mijn Ziel? Zoo eenzaam en verlaten,
Een eind'loos Schoon van vlakken, stillen stroom ...

Waar zijt gij nu, die u zoo droef-verwaten
Met mij opleefde' in éénen schoonen droom? ...
II.
Mijn ziel, zoo onbewust, in eeuwig droomen
Leeft heerlijk schoon in statiglijk bewegen,
Mijn ziel, die groote zee, waar langs veel wegen
De menschen eenmaal plachten gaan en komen.

O Vrienden, die zoo zacht en zoetjes plegen
U lucht te wieg'len op míjn mooie droomen,
Waar wáárt gij toen het Lijden was gekomen,
In stormen van hoog, grootmachtig bewegen?

Wáár was het zoete Lief? ... En al die vrinden? ...
Ik kon aan verren horizon niets vinden.

Zijt gij dan allen eeuwig, diep verzonken
In mijne ziel, dat ik nu eenzaam ben

In deez' immenze zee, licht opgeblonken,
Zóó groot, dat ik mijn gansche Zelf niet ken?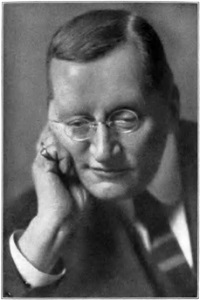 Henri Borel (23 november 1869 – 31 augustus 1933)
De Turkse schrijver Sait Faik Abasıyanık werd geboren op 23 november 1906 in Adapazarı. Zie ook alle tags voor Sait Faik Abasıyanık op dit blog.
Uit: Hisht, Hisht!… (Vertaald door Ufuk Özdağ)
"When are you gonna cut the horsebeans?"
"They need some more time," he said.
Like breathing air, I said, "hisht."
And again, he gazed suspiciously at the sea, suspiciously at the sky, suspiciously at myself.
"It must be the birds," I said.
"I, too, hear a swishing sound," he said, "but from where? I am hard of hearing these days, in this ear."
"You should get your ear washed out," I said, "I too was hard of hearing a while ago . . . "
"Did you have your ear washed out?"
"No, I did not. There was no need, I saw a doctor. He cleaned it all out, saying it was just dirt.
"How are the kids?" I asked.
"They're fine," he said. "It's down to eight now, used to be nine. Y'know the story with the ninth . . ."
"Oh, don't tell me," I said. "Breaks my heart. Goodbye then, may God be with you."
"So long."
Just after I walked a few steps away:
Hisht hisht.
This time I got him. It was the gardener. It was him! It was him!
"Now, now, I got you this time!" I said.
"No, I swear," he said, "I swear I haven't cut the horsebeans yet. Why would I keep that from you? Don't I take your money for them?"
"Didn't you go 'hisht hisht'?"
"I, too, keep hearing something, but from where?"
Let it come from wherever, it does not matter . . . from the mountains, from the birds, from the sea, from humans, from animals, from grass, from insects, from flowers. From wherever it comes, it doesn't matter, as long as it is here with us! When no being cries hisht hisht, that is truly bad. As long as it is with us, hurray for the flowers, the insects, human beings —
Hisht hisht!
Hisht hisht!
Hisht hisht!
1A mysterious bird found in this story only.
2A rocky beach at Burgazada, the third largest of the Princes' Islands in the Sea of Marmara, off the shore of Istanbul."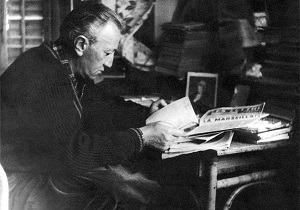 Sait Faik Abasıyanık (23 november 1906 – 11 mei 1954)
De Schotse schrijver en historicus Nigel Tranter werd geboren op 23 november 1909 in Glasgow. Zie ook alle tags voor Nigel Tranter op dit blog.
Uit:The Bruce Trilogy
"With a choking, bubbling groan, the other collapsed sideways against the altar, handsome features contorted, limbs writhing, and slid to the stone floor.
Dazed, unseeing, Robert Bruce stood, panting for breath. The horrified shouting of the watchers by the door changed to action. Sir Robert Comyn, nearest, came running forward, drawing his sword. Nigel Bruce sprang after him, but the two clerics threw themselves in his way; while young Thomas stood appalled, paralyzed. Not so Seton. A veteran soldier, he knocked Master William to the ground with a single blow, and leaping over him, raced after Sir Robert.
Comyn's uncle, cursing in fury, rushed on Bruce, who stood unmoving, as though stunned by what he had done. He did not attempt to parry or even dodge the blow which the older man aimed at him.
The other's sword-thrust was rageful rather than shrewd. And Bruce, unlike his fallen enemy, had anticipated that this might be a day in which armour would he a wise precaution, and was clad in a jerkin of light chain-mail. The slashing angry swipe drove him staggering backwards against the altar, in turn, but the steel did not penetrate the mail.
With a great roar, Seton hurled himself upon Sir Robert, his own blade high. Down it crashed, not in any wild swiping but in sheerest expert killing, on the unprotected neck of the older man. Head all but severed by that one stroke, Robert Comyn fell, spouting fountains of blood, over the body of his nephew.
Nigel came running to his brother now. "Robert!" he cried. "You are hurt? Stricken? Curse him! Robert speak I God's mercy ---are you sore hurt?"
Bruce did not answer, did not so much as shake his head.
"Rob-answer me!" Nigel was running over his brother's steel-girt torso with urgent hands.
"He is but dazed, man," Seton panted. "His harness would save him ....
"Quick!" Thomas Bruce exclaimed, hurrying to them, and pointing backwards. "They have gone. The churchmen. To tell the others. The Comyns. They will be back. Seeking blood let us away from here."
"Aye," Seton agreed grimly. "That is sense, at least. Come. Take his arm. An arm each. He will be well enough. The other door. To the street. Haste you!"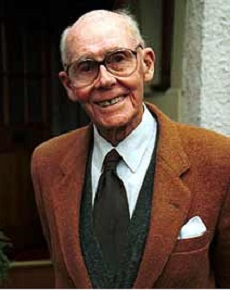 Nigel Tranter (23 november 1909 – 9 januari 2000)

De Amerikaanse dichter, schrijver, vertaler, schilder en illustrator Guy Mattison Davenport werd geboren op 23 november 1927 in Anderson, South Carolina. Zie ook alle tags voor Guy Davenport op dit blog.
There's nothing now
There's nothing now
We can't expect to happen!
Anything at all, you can bet,
Is ready to jump out at us.
No need to wonder over it.
Father Zeus has turned
Noon to night, blotting out
The sunshine utterly,
Putting cold terror
At the back of the throat.
Let's believe all we hear.
Even that dolphins and cows
Change places, porpoises and goats,
Rams booming along in the offing,
Mackerel nibbling in the hill pastures.
I wouldn't be surprised,
I wouldn't be surprised.
Percussion, salt and honey
I
Percussion, salt and honey,
A quivering in the thighs;
He shakes me all over again,
Eros who cannot be thrown,
Who stalks on all fours
Like a beast.



II
Eros makes me shiver again
Strengthless in the knees,
Eros gall and honey,
Snake-sly, invincible.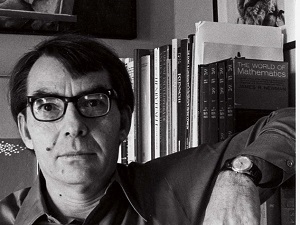 Guy Davenport (23 november 1927 – 4 januari 2005)
Zie voor nog meer schrijvers van de 23e november ook mijn blog van 23 november 2017 en eveneens mijn blog van 23 november 2014 deel 2.
23-11-2018 om 18:17 geschreven door Romenu

Tags:Paul Celan, Marcel Beyer, Max Goldt, Jennifer Michael Hecht, Sipko Melissen, Henri Borel, Sait Faik Abası,yanı,k, Nigel Tranter, Guy Davenport, Frans Roumen, Romenu


22-11-2018

André Gide, George Eliot, Dirk van Weelden, Christian Filips, Suresh en Jyoti Guptara, Viktor Pelevin, Endre Ady, William Kotzwinkle, Elisabeth Maria Post
De Franse schrijver André Gide werd geboren op 22 november 1869 in Parijs. Zie ook alle tags voor André Gide op dit blog.
Uit: La Porte étroite
"J'ai revu Juliette l'an passé. Plus de dix ans s'étaient écoulés depuis sa dernière lettre, celle qui m'annonçait la mort d'Alissa. Un voyage en Provence me fut une occasion de m'arrêter à Nîmes. Avenue de Feuchères, au centre bruyant de la ville, les Teissières habitent une maison d'assez belle apparence. Bien que j'eusse écrit pour annoncer ma venue, j'étais passablement ému en franchissant le seuil.
Une bonne me fit monter dans le salon où, quelques instants après, Juliette vint me rejoindre. Je crus voir la tante Plantier : même démarche, même carrure, même cordialité essoufflée. Elle me pressa tout aussitôt de questions dont elle n'attendait pas les réponses, sur ma carrière, mon installation à paris, mes occupations, mes relations ; qu'est-ce que je venais faire dans le Midi ? Pourquoi n'irais-je pas jusqu'à Aigues-Vives où Edouard serait si heureux de me voir ?… Puis elle me donnait des nouvelles de tous, parlait de son mari, de ses enfants, de son frère, de la dernière récolte, de la mévente… J'apprenais que Robert avait vendu Fongueusemare, pour venir habiter Aigues-Vives ; qu'il était maintenant l'associé d'Edouard, ce qui permettait à celui-ci de voyager et de s'occuper plus spécialement de la partie commerciale de l'affaire, tandis que Robert restait sur les terres, améliorant et étendant les plants.
Cependant je cherchais des yeux, inquiètement, ce qui pouvait rappeler le passé. Je reconnaissais bien, parmi le mobilier neuf du salon, quelques meubles de Fongueusemare ; mais ce passé qui frémissait en moi, il semblait que Juliette à présent l'ignorât ou prît à tache de nous en distraire.
Deux garçons de douze et treize ans jouaient dans l'escalier ; elle les appela pour me les présenter. Lise, l'aînée de ses enfants, avait accompagné son père à Aigues-Vives. Un autre garçon de dix ans allait rentrer de promenade ; c'est celui dont Juliette m'avait annoncé la naissance prochaine en m'annonçant aussi notre deuil. Cette dernière grossesse ne s'était pas terminée sans peine ; Juliette en était restée longtemps éprouvée ; puis, l'an passé, comme se ravisant, elle avait donné le jour à une petite fille qu'il semblait, à l'entendre parler, qu'elle préférât à ses autres enfants.
« Ma chambre, où elle dort, est à côté, dit-elle ; viens la voir. » Et comme je la suivais : « Jérôme je n'ai pas osé te l'écrire… consentirais-tu à être parrain de cette petit ?
– Mais j'accepte volontiers, si cela doit t'être agréable, dis-je, un peu surpris, en me penchant vers le berceau."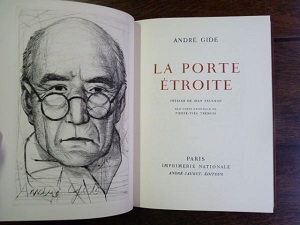 André Gide (22 november 1869 – 19 februari 1951)
Geïllustreerde editie van het boek
De Engelse dichteres en schrijfster George Eliot werd geboren op 22 november 1819 in Nuneaton in Warwickshire. Zie ook alle tags voor George Eliot op dit blog.
Uit: Adam Bede
"I was dreadful frightened, and angry with her for going. I didn't go to give information, because I'd no thought she meant to do any harm, and I knew she had money in her pocket to buy her food and lodging. I didn't like to set the constable after her, for she'd a right to go from me if she liked."
The effect of this evidence on Adam was electrical; it gave him new force. Hetty could not be guilty of the crime — her heart must have clung to her baby — else why should she have taken it with her? She might have left it behind. The little creature had died naturally, and then she had hidden it. Babies were so liable to death — and there might be the strongest suspicions without any proof of guilt. His mind was so occupied with imaginary arguments against such suspicions, that he could not listen to the cross-examination by Hetty's counsel, who tried, without result, to elicit evidence that the prisoner had shown some movements of maternal affection towards the child. The whole time this witness was being examined, Hetty had stood as motionless as before: no word seemed to arrest her ear. But the sound of the next witness's voice touched a chord that was still sensitive, she gave a start and a frightened look towards him, but immediately turned away her head and looked down at her hands as before. This witness was a man, a rough peasant. He said:
"My name is John Olding. I am a labourer, and live at Tedd's Hole, two miles out of Stoniton. A week last Monday, towards one o'clock in the afternoon, I was going towards Hetton Coppice, and about a quarter of a mile from the coppice I saw the prisoner, in a red cloak, sitting under a bit of a haystack not far off the stile. She got up when she saw me, and seemed as if she'd be walking on the other way. It was a regular road through the fields, and nothing very uncommon to see a young woman there, but I took notice of her because she looked white and scared. I should have thought she was a beggar-woman, only for her good clothes."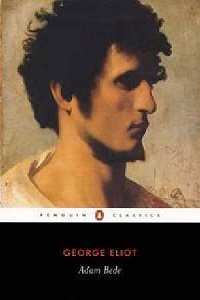 George Eliot (22 november 1819 – 22 december 1880)
Cover
De Nederlandse schrijver Dirk van Weelden werd geboren in Zeist op 22 november 1957. Zie ook alle tags voor Dirk van Weelden op dit blog.
Uit: Training
"De handrem kraakte. De stilte van het bos overspoelde de auto. We stapten uit. De grond rook naar potaarde uit de supermarkt.
'Iets te drinken meenemen?' vroeg ik.
'Heb ik aan gedacht,' zei Denijs. Hij toonde de inhoud van zijn lichtgewicht rugzakje: druivesuiker, twee bananen en een plastic veldflesje met isotone frisdrank.
Voor de warming up wandelden we naar een open plek waar banken stonden die het stretchen makkelijker maakten. De heldere winterlucht smaakte lekker en ik haalde zo diep mogelijk adem.
Tijdens de warming up zei Denijs:
'Kijk, daarom belde ik je. We hebben allebei de juiste loopconditie om dit experiment te kunnen doen, als het lopen een probleem is heeft het sowieso geen zin. Je moet aandacht óver hebben.'
Hij had onderweg in de auto verteld van het experiment dat op stapel stond. Het trainen van ons geestesoog. Denijs had een theorie over het afsterven van de visuele verbeeldingskracht. Dat kwam door de overdaad aan kant en klare beelden waarmee een modern mens overspoeld werd. Voorzover de moderne mens zich met gesloten ogen beelden voor de geest kon halen was het een vuilstort van versleten plaatjes. De oosterse meditatie, gericht op het leegmaken van de gedachten wees hij af.
'Laten we nuchter zijn,' zei hij, 'dat veronderstelt toch een soort volkenkundige salto mortale, zo zit ons denken niet in elkaar. Zelfs de mystiekste monniken hebben altijd over Maria, Jezus, een heilige of een bijbeltekst gemediteerd. Niks leegte. Een helder beeld, dat ze zich steeds beter leerden voorstellen. Ze trainden hun geestesoog. Tot ze konden denken in beelden. Geen opgejaagde stroom van ooit vluchtig opgepikte televisiebeelden en foto's, maar zelf samengestelde en opgeroepen beelden.
'Die mentale cinema is in onbruik geraakt. Ons geestesoog is lui geworden en luie ogen worden blind. Mensen hebben er tegenwoordig moeite mee iets te lezen en het voor zich te zien. En als ze zich iets voorstellen om het te beschrijven schieten hun alleen vlakke, grauwe beelden te binnen. Ik wil mijn geestesoog trainen om het krachtiger te maken en er een betere controle over te hebben."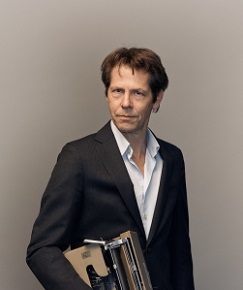 Dirk van Weelden (Zeist, 22 november 1957)
De Duitse dichter, schrijver, acteur en regisseur Christian Filips werd geboren op 22 november 1981 in Osthofen. Zie ook alle tags voor Christian Filips op dit blog.
Als ich neulich nachts
an die Wand gedrückt, wieder

(Ich-Taste) wie damals, mit sechs
oder sieben, die Eltern (im Traum

sind im Krieg)
kalt weiß massiv

(im Scheidungskrieg) geblieben
der Eindruck, den die Wand

ihm – wem? –
wieder gut macht:

Zugewandter
wendet die Wand sich

zu.
Ich sitze da, wo du mich sitzen lässt
auf deines Vaters Mauer, hoch dort oben

(Landschaft mit Kranich, Schilf
und Brise, weiter hinten)

höre ich dich
an dir vorbei ...

und höre
einen Flussgott, jung

der an die hohe, hehre

strullt (Mauer in der
Abenddämmerung)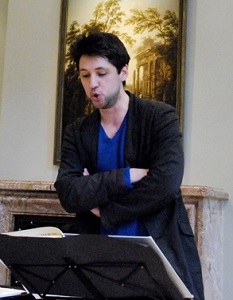 Christian Filips (Osthofen 22 november 1981)
De Brits-Indische schrijverstweeling Suresh en Jyoti Guptara werd geboren op 22 november 1988 in Frimley, Hants in het zuidoosten van Engeland. Zie ook alle tags voor Suresh en Jyoti Guptara op dit blog.
Uit: Calaspia, Das Erbe der Apheristen (Vertaald door Frank Böhmert)
"Es roch nach Räucherwerk. Er blickte sich suchend um, bis er die Weihrauchkugeln fand, die in einer Schale brannten. Schnuppernd ging er immer näher heran. Als ihn der Rauch in die Nase biss, schüttelte er mit einem Niesen den Kopf und tastete mit zittrigen Fingern nach der Glut. Er riss die Hand zurück. «Hast du den Verstand verloren, du Narr?» Plötzlich schien ihn der Anblick seines Gemachs zu ängstigen. Er sah sich vergeblich nach einer Wache um. Er hatte längst vergessen, dass sie allesamt draußen postiert waren, und wagte es nicht, die Tür zu öffnen, weil davor unaussprechliche Wesen auf der Lauer liegen mochten. «Peasmi? Rameon? Warum habt ihr mich verlassen?» Klagend und hustend schlich er umher. «Vater? Ich dachte, du wärst tot … Elyon sei Dank, dann bin ich gar nicht Imperator! Ich hatte einen Albtraum … viele Albträume …» Seine wirren Reden endeten in einem Aufschrei: «Holt mich hier heraus!» Er stolperte zu seinem Thron und strich mit den Finger spitzen über die Schatulle auf der Armlehne. Es bereitete ihm einige Mühe, den Deckel zu öffnen. Bald seufzte er erleichtert, versank in immer tieferen Schichten der Bewusstlosigkeit. Außerhalb der Gefangenschaft seiner Gedanken, außerhalb seines Palasts, der ihm wie ein Kerker vorkam, brannte sein Imperium.
***
Hundert Wegstunden von der schwimmenden Hauptstadt des Imperiums entfernt, stapfte ein bebrillter Krieger mit freiem Oberkörper durch den Schnee der Säbelzahnberge. Die behaarten Arme des Zwergs besaßen denselben Umfang wie die Oberschenkel der Soldaten, die er mit einem finsteren Blick bedacht hatte, als sie über diese Kombination von Körperkraft und Sehschwäche zu lachen wagten. Inzwischen befand sich Galar Sturlison im sturmumtosten Grenzland. Er kniff die tränenden Augen zusammen und hielt nach anderen Lebensformen Ausschau. Die Heere der Numenii standen versammelt im Hinterland und warteten auf den Befehl, in das unabhängige Königreich des Nordens einzufallen, und er sollte erkunden, inwieweit Polgaren seine Truppen bereits zusammengezogen hatte. Außer ein paar Bauern, die in der rauen Umgebung ein undankbares Dasein fristeten, lebte im Umkreis von Meilen niemand. Die windgepeitschten Gipfel ließen sich kaum voneinander unterscheiden, die Sonne gleißte schmerzhaft auf den Schneefeldern und Gletschern. Da nahm er ja sogar lieber am Rat von COLA teil, von Calaspias Offiziellen und Landesältesten, die durch ein schmutziges Komplott dazu verleitet worden waren, das Land in diesen Schlamassel zu stürzen. Politik hin oder her, dort gab es wenigstens etwas Anständiges zu futtern."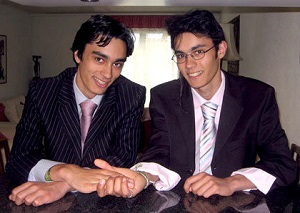 Suresh en Jyoti Guptara (Frimley, 22 november 1988)
De Russische schrijver Viktor Pelevin werd geboren op 22 november 1962 in Moskou. Zie ook alle tags voor Viktor Pelevin op dit blog.
Uit: Buddha's Little Finger (Vertaald door Andrew Bromfield)
"Vorblei picked up the receiver. `Yes, comrade Babayasin,' he roared into the ebony cup of the mouthpiece. `Yes, I remember ... No, don't send them ... Comrade Babayasin, I can't do that, it will look ridiculous ... Just imagine — with the sailors, it will be a disgrace ... What? I will follow orders, but I must register a vigorous protest ... What?'
He glanced sideways at me and, not wishing to embarrass him, I went through into the lounge.
The floor there was covered with newspapers — most of them banned long ago. I supposed there must have been files of them left behind in the flat. Other traces of the place's former life were also visible: there was a delightful Turkish carpet hanging on the wall and below it stood a secretaire decorated with enamel rhomboids of various colours. As soon as I saw it I realized that a well-to-do bourgeois family must have lived there. A large mirror stood against the opposite wall. Beside it hung a crucifix in the art-nouveau style, and for a moment I pondered the nature of the religious feeling which might correspond to such a work of art. A considerable part of the space was occupied by an immense bed under a yellow canopy. The items that stood on the round table in the centre of the room seemed to me — possibly because of their proximity to the crucifix — to be a still-life composed of esoteric Christian motifs: a large bottle of vodka, a halvah tin shaped like a heart, a staircase leading into emptiness constructed out of pieces of black bread laid one on top of another, three tooth glasses and a cross-shaped can-opener.
Lying on the floor beside the mirror was a pile of packages whose shapes put me in mind of contraband; a sour smell of leg-wrappings and stale drink hung in the air, and there were also a great many empty bottles in the room. I sat on the table."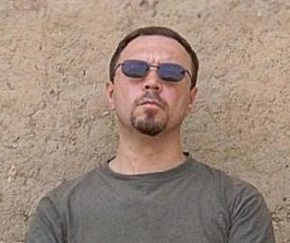 Viktor Pelevin (Moskou, 22 november 1962)


De Hongaarse dichter Endre Ady werd geboren op 22 november 1877 in het huidige Adyfalva. Zie ook alle tags voor Endre Ady op dit blog.
Hawk Mating On The Fallen Leaves
Up. Up. And onward into Autumn fly
In shrill pursuit and raucous hunting cry
A pair of hawks with summer-weary wings.

Summer has bred new pirates in her care
And fresher pinions flutter down her air
To join the lists of Love which now are wide.

We fled from Summer, now ourselves pursued,
Till somewhere sometime in an autumn wood
We stooped with fluttered wings for very love.

This is our final mating. Now the keen
Talon on feather tears the quick between
And so we fall together with the leaves
Mahnung an die Hüter
Ihr Hüter auf Wache, habt acht!
Die Sterne verstreut jede Nacht,
Erinnerung gestriger Sommer,
Glühwürmchen in Gärten entfacht.
Vermischt florentinischer Sommer
Mit Abschied vom Lido im Herbst,
Erinnerung dämmernder Morgen
An Ballsäle – dunstig – zerweht
An alles vergangene Schöne,
Das niemals durch Sterben vergeht.
Das ferne Lächeln der Herzen,
Lebendiges, Totes, behütet – bedacht,
Sieht auf euch besorgt und verlassen –
Ihr Hüter auf Wache, habt acht!
Ihr Hüter auf Wache, habt acht!
Das Leben will leben und lebt.
Es schenkt nicht deshalb soviel Schönes,
Damit es in Flammen zergeht,
Durch dumme und gierige Greuel.
So traurig das Menschsein auch ist,
Die Losung der heldischen Bestien,
Die Sterne verstreuende Nacht,
Sie lassen auch heut nicht vergessen
Den Glauben, durch Schönheit entfacht.
Ihr, die ihr noch da seid, bewahrend –
Ihr Hüter auf Wache, habt acht!
Vertaald door Paul Kárpáti e.a.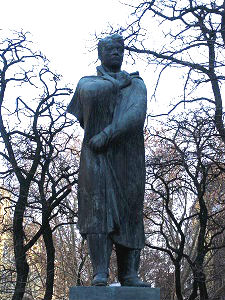 Endre Ady (22 november 1877 – 27 januari 1919)
Standbeeld in Boedapest
De Amerikaanse schrijver William Kotzwinkle werd geboren op 22 november 1943 in Scranton, Pennsylvania. Zie ook alle tags voor William Kotzwinkle op dit blog.
Uit: Fata Morgana
"Paris, 1861
The faces in the crowd were dark, from Spain, Morocco, Constantinople, and a sensuous air prevailed, exotic and violent. The shops were filled with cheap merchandise; a dark-haired prostitute stood on the corner, smiling, and Inspector Picard passed her, making his way through Pigalle. Glancing at his watch, he quickened his step, muttering the usual nonsense to himself about eating less and training more, for he was breathing heavily from his exertion. Yet he moved more swiftly than any other on the busy street, with the surprising swiftness of the bear who has suddenly found reason to move. And like the bear he had a heavy, natural grace, despite his fifty-two years and the extra pounds around his waistline, produced by a particularly delicious lemon tart sold on the rue Dauphine; he longed for one now, for as always when on the scent, a strange hunger stole over him—he felt he could devour Baron Mantes alive, swallow him down and munch his bones. As he hurried along, Picard studied certain faces carefully, taking note of their eyes, and also of their hands—the way they handled a franc note, almost caressing it, ritually folding it and slipping it away—these were men he would see again, in the intimate embrace of arrest, or they would find their fate elsewhere, or they would escape absolutely. The city was vast, sprawling, who could know it all? He left the street of cheap pimps and prostitutes, entering the chausee d'Antin, where the Great Whores had their apartments. The carriages at the curb belonged to diplomats, ambassadors, and the voices he heard were discreet, refined. Nonetheless, last month he'd assisted in the removal of a body from one of the luxurious gardens, where a duel had been fought over a whore's favor. Madness prevailed everywhere. Ahead he saw the lights of the Opera. The street was lined with waiting carriages. Among them he spotted Paradis the ragman, a wicker basket over his shoulder, a filthy paper flower in his lapel. Picard approached the informer quickly. "He's still here?" "The box seats," said Paradis, staring wildly around him. Picard handed him a roll of franc notes. "Stay and point him out to me." Paradis hurriedly thrust the money in his pocket and shuffled off as fast as he could, his enormous shoes slapping in the mud, his baggy pants trailing over his heels. Picard watched the retreating ragman for a moment, then turned and walked into the lobby of the theatre as the final ovation was being offered the horned and embattled singers. He took his position where he could observe those music lovers who'd held box seats. The crowd filed past, involved in the usual flirtations, the regular boredom. All they'd killed was another evening."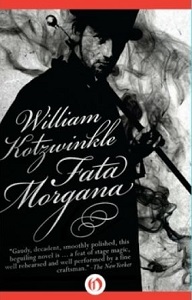 William Kotzwinkle (Scranton, 22 november 1943)
Cover
De Nederlands dichteres en schrijfster Elisabeth Maria Post werd geboren in Utrecht op 22 november 1755. Zie ook alle tags voor Elisabeth Maria Post op dit blog.
Uit: Het land, in brieven
"Ik woon, 't is waar, bij een klein, afgelegen, en schaarsbezogt Dorpje. Op het hangen van eenen eenzamen heuvel, ligt mijn aangenaam Zorgenvrij. - Mijne eenvoudige woning, is verscholen onder rijzend geboomte. In het vreedzaam dal, dat aan deszelfs voet ligt, vertoonen zig de lage bemoste hutten der Landlieden, met eene bekorende nederigheid. Akkers, Weiden, Bergen, Dalen, Beken, Bronnen, Bosschen en Vlaktens versieren dezen voor mij betoverenden oord en maken dien des Zomers, tot een Eden. - Maar de Winter, vraagt gij? In den Winter, ja, is de Natuur van haar voornaamste sieraad berooft. Zij slaapt. Zij schijnt dood, en draagt alom de merktekenen van eene akelige verwoesting. De digtste bosschen staan nu bladerloos. De gevleugelde zangers zwijgen. De bloemhoven toonen niet meer, dan de dorre overblijfzelen van verdwenen schoonheid. De velden zijn ledig en de weiden zonder vee. Het geruisch der beekjes is niet meer betoverend. Met een woord: er is geen schaduw meer van die heerlijkheid, die alles voor weinig maanden versierde. - Maar zou de Natuur daarom thans alles schoon missen? De gure, de woeste winter, is wel een treurig, maar toch een grootsch toneel van Gods alvermogen: en dit denkbeeld; 'De Natuur is niet dood - maar rust; zij bereidt zig, om eerlang met grooter luister te schitteren,' - neemt veel van zijne treurigheid weg. Het vervuld den geest met streelende vooruitzigten, die dikwils meer voldoen dan het genot zelve. - Met welk eene vergenoegde hoop, zie ik aan de boomen de knopjes, waarin de bladeren zitten opgewonden, die mij in een volgend jaar zullen beschaduwen, of het sieraad en den groei der vrugten bevorderen! Ga ik naar eenen kersenboom, ik pluk een knopje, en open het: welk een aangename verwondering volgt op de spijt, waar mede ik een zo konstig natuur-gewrogt vernietig! Welk eene wijsheid, welk eene almagt toont het eenvoudig blaadje! Wat zeg ik eenvoudig? in de bijna onzigtbare deeltjes van deze digt in elkander gerolde blaadjes die reeds de toekomstige vrugt in zig besluiten, is een samenloop van wonderen.
Kunt gij in de stad, daar u zoo veele afleidingen uwen tijd ontrooven, wel om deze dingen denken, die kleinigheden schijnen in het oog van iemand, die er het zagt genoegen niet van kent?"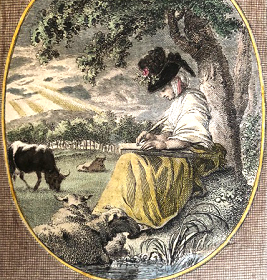 Elisabeth Maria Post (22 november 1755 – 3 juli 1812)
Illustratie uit "Het land, in brieven"
Zie voor nog meer schrijvers van de 22e november ook mijn blog van 22 november 2015 deel 2.
22-11-2018 om 18:19 geschreven door Romenu

Tags:André Gide, George Eliot, Dirk van Weelden, Christian Filips, Suresh en Jyoti Guptara, Viktor Pelevin, Endre Ady, William Kotzwinkle, Elisabeth Maria Post, Romenu


21-11-2018

Margriet de Moor, Gerard Koolschijn, Isaac Bashevis Singer, Wouter Steyaert, Marilyn French, Freya North, P. A. de Génestet, Voltaire, Garth Risk Hallberg
De Nederlandse schrijfster Margriet de Moor werd als Margaretha Maria Antonetta Neefjes op 21 november 1941 in Noordwijk geboren. Zie ook alle tags voor Margriet de Moor op dit blog.
Uit: Kreuzersonate
"Tien jaar later ontmoette ik de blinde criticus opnieuw, de patriciërszoon Marius van Vlooten die zich als student om een ongelukkige liefde een kogel door het hoofd had gejaagd. Hij stond als laatste in de rij voor een van de incheckbalies op Schiphol en doordat er rond zijn enorme, gebogen gestalte iets woedends hing, herkende ik hem meteen. Zijn schedel glansde. Gehuld in de donkerblauwe regenjas die hij ondanks het mooie zomerweer had aangetrokken, schuifelde hij tikkend met zijn blindenstok met de rij mee naar voren. Ik herinnerde me dat ik me er destijds over verbaasd had hoe onhandig hij vaak onder het voortgaan met zijn stok de grond aftastte, alsof hij verzuimd had in het begin van zijn blindheid, in de jeugd ervan, dit speciale zintuig te trainen en het de juiste gewoonten bij te brengen. Ik sloot achter hem aan. Aannemend dat hij net als ik onderweg was naar de Festspiele in Salzburg, besloot ik mij bekend te maken.
Ik kuchte. 'Meneer Van Vlooten...' Daarna legde ik even mijn vingers op zijn arm. Ik wist nog dat voor een blinde de mensen door hun stem en hun aanrakingen plotseling uit het niets te voorschijn komen.
Ik noemde mijn naam. 'Misschien herinnert u zich mij niet meer, maar wij hebben elkaar ontmoet...'
Zich abrupt naar mij toekerend, legde hij me met een gebaar van zijn hand het zwijgen op. Ik keek hem recht in het gezicht. Met een schok zag ik hoe het veranderd was en kon amper geloven dat het de tijd was geweest die deze ravage had aangericht. Onder zijn ogen lagen zwarte kringen en een krachtige spier trok een mondhoek omlaag. De put die het revolverschot van toen boven zijn oor had achtergelaten, kende ik al en hij wekte in plaats van schrik enkel een vlugge herinnering aan zomeravonden, aan uitgelezen maaltijden onder kroonluchters en aan de kleine canon van viool en cello op het motief cis d cis b cis fis-d cis b: de omstandigheden van onze eerste ontmoeting.
'Natuurlijk herinner ik me u!' onderbrak hij mijn klankvisioen en ik herkende zijn hese bekakte stem. 'U bent de jongeman in wiens gezelschap ik ooit naar Bordeaux ben gevlogen.'
'Ja,' zei ik meteen. 'We hadden een lange tussenstop in Brussel.'
Hij stak zijn nek naar voren.
'Óf ik me u herinner, u en uw soort!' Zijn gezicht werd rood. 'Pienter, belangstelling voor veel te veel dingen tegelijk en dus zonder enige ware hartstocht. Studie aan het Musicologisch Instituut van de Universiteit van Amsterdam. Een beurs, een bijbaantje, geen cent van thuis, afgestudeerd op Schönberg.'
Onwillekeurig knikte ik.
'Een aantal kortstondige liefdesverhoudingen die jullie relaties noemen met vrouwen die jullie vriendinnen noemen. Ten slotte trouwen jullie er eentje na voor jezelf logisch en goed beargumenteerd uiteengezet te hebben waarom zij de ware is, en wordt er een hypotheek op beider naam afgesloten. Ik zou u willen vragen: wat richt dit alles in godsnaam uit?'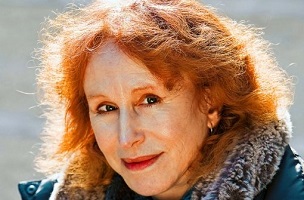 Margriet de Moor (Noordwijk, 21 november 1941)
De Nederlandse schrijver en vertaler Gerard Koolschijn werd op 21 november 1945 in Den Haag geboren. Zie ook alle tags voor Gerard Koolschijn op dit blog.
Uit: Geen sterveling weet
"Gelukzalig onwetend was ze nog van de zwarte wolken die zich in een verafgelegen land samenpakten. Wat wist ze ook van het christendom? Ja, de plantage was een keer bezocht door dominee Kostelijk, maar het prentje dat hij Jettie gaf, van een Hollands boerenlandschap waarin jonge meisjes vrolijk spelen met gieter en schep boven de tekst Gedenk uwen Schepper in de dagen uwer jongelingschap — dat kleurige plaatje kon slecht als voorbereiding op de Waarheid dienen. De wolken hingen in Den Haag. Daar zit het jongetje dat ons leven zou overheersen, Jan, op een gebloemde divan naast zijn moeder. Haar neus is groot, haar voorhoofd een berghelling. Haar verleden rust, ingelijst, op de ombouw van een opklapbed: een zwaargebouwd meisje naast een met bloemen versierde fiets op een Delftse gracht, voor de apotheek waar ze werkte. `Ap-teek,' zei oma later, wanneer ze ons trots en met spijt aan haar opgegeven betrekking herinnerde. `Ap-teekassistente.' Het ventje zelf lijkt met zijn speelgoedbeer nog heel normaal, al kijkt hij ernstig. Op tafel staat een glas melk. Op een platje voor opengeslagen deuren is het hele gezin vereeuwigd, Jan en zijn broertje Koos ook al in matrozenpak. Boven het viertal hangt beddengoed te drogen. Of is het vooroorlogs ondergoed? In een ruimte vol ordnerkasten ziet de vader toe op zestien andere keurige heren, die aan een lange tafel ijverig lderkenwerk verrichten. Fietsen, bolhoeden. Somber en kouwelijk staat Jan als puber op het station van Ede, met plusfours en pet, op weg naar zijn dominee in Bennekom, waar diens grote vlucht begon. Voorlopig was de afstand tussen de toekomstige gehuwden nog veilig groot, wekenlang varen. Zij zou in de tropenhitte moeten afdalen naar Belawan, de haven van Medan. Het schip zou haar door Straat Malakka onder India langs naar Aden voeren, en dan door de Rode Zee, het Suezkanaal en de Middellandse Zee tot aan Genua, waar de trein naar het land van de Elfstedentocht wachtte. Ze was zes toen haar reis naar de botsing van genen begon. Jan was tien."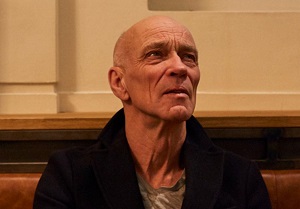 Gerard Koolschijn (Den Haag, 21 november 1945)
De Amerikaans-Poolse schrijver Isaac Bashevis Singer werd geboren op 21 november 1904 als Isaac Hertz Singer in Radzymin, Polen. Zie ook alle tags voor Isaac Bashevis Singer op dit blog.
Uit: More Stories from My Father's Court (He Wants Forgiveness From Her)
"I closed my eyes and contemplated the strangeness of human relationships. Because a young man in Lodz or Kolish can't sleep at night for thinking about his former fiancée, I, a young boy from Krochmalna Street, have to be in a droshky on a Wednesday noon. I passed through the elegant gate of the woman's building, climbed up a marble staircase to her apartment, and rang the bell. A maid clad in a white apron opened the door and asked me what I wanted.
"The lady of the house is being called to the rabbi's courtroom." The woman soon appeared. She was in her late thirties, still pretty, but her high bosom was heavy, and she had scattered strands of gray hair. She looked as imposing in her womanliness as did her former fiance in his manliness. She asked me why I had come. "Your former fiance is summoning you to see the rabbi—my father," I said. The woman's big dark eyes widened. "What fiance? And what rabbi?" As I told the woman everything I had heard, I noticed the color changing on her face—now pale, now red. One moment she was about to burst into laughter, the next she turned sad. At one point I thought she was going to yell at me and drive me from the apartment. Then she seemed to soften. "Do you already understand these matters?" she asked. "I understand everything," I said with boyish boastfulness. "Wait. I'm going to phone my husband." After I had waited for a long time in the corridor, the young woman came out wearing a coat and hat. "Let's go." I told her I had money for a droshky, but she said she'd pay for the droshky herself. Soon I was sitting next to her—a lady from Khlodna Street going to meet her former fiance, accompanied by a boy with red sidecurls, who knew bizarre secrets, was mixed up in the affairs of strangers, and was thinking wild thoughts. The woman herself did not interest me that much, but I couldn't take my eyes off the horse. I sat to the side, where I could observe the horse's broad hindquarters and long tail, which swayed and seemed to tell me mutely: I don't care who I carry or where I go. I don't know anything. I'm a horse's rear and I'll always be one. When I eat oats, I have the strength to pull this droshky. I don't care whether a priest, a rabbi, or a Turk is sitting in it. From time to time the horse's tail swished, a sign that its hindquarters were satisfied. As I climbed the stairs to our apartment with the woman, I noticed that her dress was narrow and long. She had to take small steps and was unable to negotiate two stairs at a time. The heels of her shoes were high and shiny. Pharmacy fragrances clung to her. She took me by the sleeve, as if to lean on me for protection."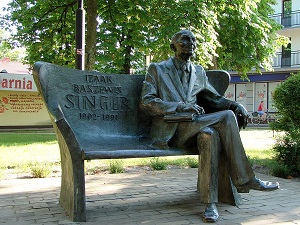 Isaac Bashevis Singer (21 november 1904 – 24 juli 1991)
Standbeeld in Biłgoraj, Polen
De Amerikaanse schrijfster en literatuurwetenschapster Marilyn French werd geboren op 21 november 1929 in New York. Zie ook alle tags voor Marilyn French op dit blog.
Uit: Beyond Power
"It is therefore extremely ironic that patriarchy has upheld power as a good that is permanent and dependable, opposing it to the fluid, transitory goods of matricentry. Power has been exalted as the bulwark against pain, against the ephemerality of pleasure, but it is no bulwark, and is as ephemeral as any other part of life. Coercion seems a simpler, less time-consuming method of creating order than any other; yet it is just as time-consuming and tedious and far more expensive than personal encounter, persuasion, listening, and participating in bringing a group into harmony. None of this is unknown, unfamiliar, unperceived. Yet so strong is the mythology of power that we continue to believe, in the face of all evidence to the contrary, that it is substantial, that if we possessed enough of it we could be happy, that if some "great man" possessed enough of it, he could make the world come right"
(…)
.For it is not enough either to devise a morality that will allow the human race simply to survive. Survival is an evil when it entails existing in a state of wretchedness. Intrinsic to survival and continuation is felicity, pleasure. Pleasure has been much maligned, diminished by philosophers and conquerors as a value for the timid, the small-minded, the self-indulgent. "Virtue" involves the renunciation of pleasure in the name of some higher purpose, a purpose that involves power (for men) or sacrifice (for women). Pleasure is described as shallow and frivolous in a world of high-minded, serious purpose. But pleasure does not exclude serious pursuits or intentions, indeed, it is found in them, and it is the only real reason for staying alive."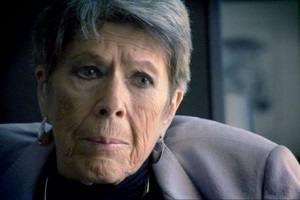 Marilyn French (21 november 1929 – 2 mei 2009)


De Britse schrijfster Freya North werd geboren op 21 november 1967 in Londen. Zie ook alle tags voor Freya North op dit blog.
Uit: The Turning Point
"Alone in his truck on an empty stretch of road in the middle of Thompson Country, Scott cursed out loud though no one could hear him. For the previous half an hour, as he drove from the belly of Kamloops and through the entrails of its suburbs, his phone signal had been off and the radio had played crystal clear everything he wanted to hear. His own personal play-list, beamed telepathically back through the radio, providing company and a soundtrack to the three hours remaining of the journey home. And now, as the road climbed and the scenery most deserved a rousing score, the music had gone and, instead, the cell-phone networks were polluting this immaculate part of British Columbia. His phone rang, his voicemail beeped, his phone rang again, his voicemail beeped. The sound wasn't dissimilar from some god-awful plastic Europop. A barrage of text-message alerts now chimed in like a truly crap middle eight before the calls started again. The phone was in his bag, in the footwell. Whatever risks Scott had taken in his life, he'd only ever driven with two hands on the wheel and both eyes on the road ahead. He pulled over. What, for Christ's sake, what?The voicemail icon with its red spot as angry as a boil. The envelope signifying text messages bursting with four unread. Missed calls. Managing his phone was the only thing in life that Scott was prepared to multitask, because to minimize the time spent on it, was time well spent. He accessed the voicemail whilst clicking into the texts. Before he'd heard a thing he knew what was wrong from Jenna's two words:
I'm fine x
But by then, a recorded voice was filling the car with the details.'Hi Scott – it's Shelley. I've been trying to contact you – Jenna's had a seizure. She's OK now but it lasted near enough five minutes. She hit her head, she has a concussion so they've taken her to Squamish just to be sure. It's just gone two. You have my number so feel free to call me.'Scott only vaguely listened to the later messages, all from Jenna's friend Shelley repeating the information in different tones of voice: tired, upbeat, reassuring, pseudo-medical. He stamped on the gas and drove fast, without looking at the view and with the radio off. There was no quick route. Too many mountains in the way"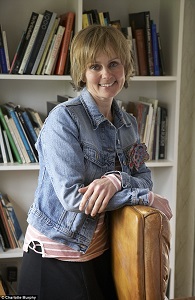 Freya North (Londen, 21 november 1967)
De Vlaamse dichter Wouter Steyaert werd geboren in Gent op 21 november 1982. Zie ook alle tags voor Wouter Steyaert op dit blog.
Ik doe het stof af. Ik schuur de tegelvloer. Ik ga bij de kapper en vermink iemand
met een haardroger. Ik vermoord een klant. Ik schiet een agent neer. Ik snijd het
hoofd van een kapster af.
Wij worden ouder. Wij worden zieker. Wij willen altijd alles beter doen.
Ik mis een leidende hand om in te bijten.
Ik mis de tijd waarin slurpen sociaal was aanvaard.
Onze inhoud loopt leeg over een diamanten steenweg. Wij dansen, wij zingen, wij
zijn cirkelzagen in ons verdriet. Wij mijmeren. Wij liggen slapeloos in een bed.

*
In het hakselhout liggen wij te kotsen. Op onze oprit plassen wij uw naam weg,
die wij daar in krijt hadden neergeschreven: om u hier te houden! Is een paard dat
huppelt in een laan in het donker dan niet goed genoeg voor u? Kan ik mijn gelaat
overschilderen en zingen in de molsgangen van de rooms-katholieke Kerk?
U bent niets, precies zoals wij het hebben gewild.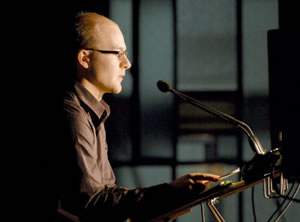 Wouter Steyaert (Gent, 21 november 1982)
De Nederlandse dichter en theoloog Petrus Augustus de Génestet werd geboren in Amsterdam op 21 november 1829. Zie ook alle tags voor P. A. de Génestet op dit blog.
Toen ik een knaap was
Toen ik een knaap was in 't zorgloze leven,
Gordde ik mij-zelve en liep naar mijn lust;
Vrij in mijn wandlen en zoeken en streven,
Vrij in mijn reizen, mijn dromen, mijn rust.

Straks ook voor mij is een ure gekomen,
Ure van roeping, van ernst, van genâ,
Dat in mijn boezem die stem werd vernomen
Hebt gij mij lief? – en mijn ziele sprak : Ja.

Sinds mij dat uur uit mijn dromen kwam wekken,
Leidt mij een ander, ook waar ik niet wil,
Leert mij de handen steeds williger strekken,
Volgen en dragen, ach, vrolijk of stil.

Toch, nu die Meerdre gebiedt in mijn leven,
Vinde ik, trots banden en zielstrijd en smart,
Wat ik eens vruchteloos zocht in mijn streven:
Vrijheid en vrede voor 't rusteloos hart.
De mailbrief
XXI
Toch, als de tovervonk langs wonderdraad gevlogen,
- Snel als de Laster vliedt en 't praatje van de Logen –
De tijding brengt in 't land: de Mail, de Mail is aan!
Dan hoort men harten vaak als dichterboezems slaan,
Want elk, vol vreugd, vol vrees, wacht van zijn verre lieven
De levenstekenen, de lange, dierbre Brieven!
Weemoed en hope
Op de bodem van het leven,
In de diepte van het hart
Rust de Weemoed
En de Smart;
Maar de Hope rijst er neven,
In 't geslingerd mensenhart.

Tussen weemoed, strijd en hope
Vliedt het leven snel voorbij;
Waakzaam, werkzaam
Wachten wij
Dat het Raadsel zich ontknope,
Wat ons korte leven zij.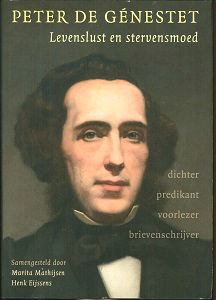 P. A. de Génestet (21 november 1829 – 2 juli 1861)
De Franse schrijver Voltaire, (pseudoniem van François-Marie Arouet)werd werd op 21 november 1694 geboren in Parijs. Zie ook alle tags voor Voltaire op dit blog.
Uit: Essai sur les moeurs et l'esprit des nations
«Quand le Cid eut chassé les musulmans de Tolède et de Valence, à la fin du XIe siècle, l'Espagne se trouvait partagée entre plusieurs dominations. Le royaume de Castille comprenait les deux Castilles, Léon, la Galice, et Valence. Le royaume d'Aragon était alors réuni à la Navarre. L'Andalousie, une partie de la Murcie, Grenade, appartenaient aux Maures. Il y avait des comtes de Barcelone qui faisaient hommage aux rois d'Aragon. Le tiers du Portugal était aux chrétiens.
Ce tiers du Portugal, que possédaient les chrétiens, n'était qu'un comté. Le fils d'un duc de Bourgogne, descendant de Hugues Capet, qu'on nomme le comte Henri, venait de s'en emparer au commencement du XIIe siècle.
Une croisade aurait plus facilement chassé les musulmans de l'Espagne que de la Syrie ; mais il est très-vraisemblable que les princes chrétiens d'Espagne ne voulurent point de ce secours dangereux, et qu'ils aimèrent mieux déchirer eux-mêmes leur patrie, et la disputer aux Maures, que la voir envahie par des croisés.
(1114) Alfonse, surnommé le Batailleur, roi d'Aragon et de Navarre, prit sur les Maures Saragosse, qui devint la capitale d'Aragon, et qui ne retourna plus au pouvoir des musulmans.
(1137) Le fils du comte Henri, que je nomme Alfonso de Portugal, pour le distinguer de tant d'autres rois de ce nom, ravit aux Maures Lisbonne, le meilleur port de l'Europe, et le reste du Portugal, mais non les Algarves. (1139) Il gagna plusieurs batailles, et se fit enfin roi de Portugal.
Cet événement est très-important. Les rois de Castille alors se disaient encore empereurs des Espagnes. Alfonse, comte d'une partie du Portugal, était leur vassal quand il était peu puissant ; mais, dès qu'il se trouve maître par les armes d'une province considérable, il se fait souverain indépendant. Le roi de Castille lui fit la guerre comme à un vassal rebelle ; mais le nouveau roi de Portugal soumit sa couronne au saint-siége, comme les Normands s'étaient rendus vassaux de Rome pour le royaume de Naples, Eugène III confère, donne la dignité de roi à Alfonse et à sa postérité, à la charge d'un tribut annuel de deux livres d'or (ll47). Le pape Alexandre III confirme ensuite la donation moyennant la même redevance."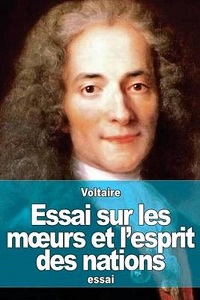 Voltaire (21 november 1694 – 30 mei 1778)
Cover
Onafhankelijk van geboortedata
De Amerikaanse schrijver Garth Risk Hallberg werd geboren in Louisiana in november 1978 en groeide op in Noord-Carolina. Zie ook alle tags voor Garth Risk Hallberg op dit blog.
Uit: City on Fire
"Good," she said. "That's great. Except can you try not to look at the camera, dumbass?"
All it took was the voice. It was her: the girl from the ballfield. The hair was different, or maybe it was that the headphones were gone, but her features were still larger than life: the pierced nose, the wide, expressive mouth. He flipped through some nearby records. Quick glances took in more of the boys across the shop. Or men, possibly, in a kind of uniform. Slogans in various hues covered their black jackets, superseded by an identical logo freshly painted on the back of each. The white guy's hair was short and uneven, as if cut by lawn- mower. The black one wore a stocking cap. The camera would make them look lost in contemplation of the record stacks; click, click, it went, a devouring sound, or so Charlie imagined. In reality it was impossible to hear over the deep-dish bass thumping off every surface. Then the white one, the giant one, announced he was bored. "Are we done yet?"
"Are you kidding? You do this like every day, Sol."
"Yeah, but not in front of a camera. You didn't tell us that would make it be so boring. Plus Nicky would kill me if he found out. No more cameras, he says."
"Nicky, Nicky, Nicky. Why should I listen to someone who refuses to even meet—"
"—only 'cause you never put down the fucking camera! Anyway, I got to get to work."
"Fine, whatever," the girl said. "I'm out of film anyway. Go screw." But once the guys drifted out the door, she started aiming her lens around at the perfunctory record store crap, the posters on the wall, the smoldering joss sticks, the caged ferret, et cetera, et cetera. It landed, eventually, on Charlie. The eye not blocked by the camera opened and then narrowed, as if to bring a memory into focus. "Hey, wait a minute. I know you. How do I know you?"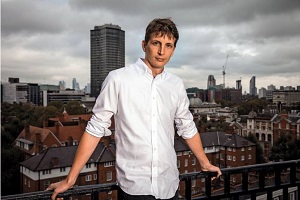 Garth Risk Hallberg (Louisiana, november 1978)
Zie voor nog meer schrijvers van de 21e november ook mijn blog van 21 november 2015 deel 2.
21-11-2018 om 18:12 geschreven door Romenu

Tags:Margriet de Moor, Gerard Koolschijn, Isaac Bashevis Singer, Wouter Steyaert, Marilyn French, Freya North, P. A. de Génestet, Voltaire, Garth Risk Hallberg, Romenu


20-11-2018

Don DeLillo, Viktoria Tokareva, Sheema Kalbasi, Nadine Gordimer, Thomas Chatterton, Zinaida Hippius, Selma Lagerlöf, Jordi Lammers, Ferdinand von Schirach, Yevgenia Ginzburg
De Amerikaanse schrijver Don DeLillo werd op 20 november 1936 geboren in New York City als zoon van Italiaanse immigranten. Zie ook alle tags voor Don DeLillo op dit blog.
Uit: Zero K
"Everybody wants to own the end of the world. This is what my father said, standing by the contoured win-dows in his New York office—private wealth management, dynasty trusts, emerging markets. We were sharing a rare point in time, contemplative, and the moment was made com-plete by his vintage sunglasses, bringing the night indoors. I studied the art in the room, variously abstract, and began to understand that the extended silence following his remark belonged to neither one of us. I thought of his wife, the sec-ond, the archaeologist, the one whose mind and failing body would soon begin to drift, on schedule, into the void.
That moment came back to me some months later and half a world away. I sat belted into the rear seat of an armored hatchback with smoked side windows, blind both ways. The driver, partitioned, wore a soccer jersey and sweatpants with a bulge at the hip indicating a sidearm. After an hour's ride over rough roads he brought the car to a stop and said some-thing into his lapel device. Then he eased his head forty-five degrees in the direction of the right rear passenger seat. I took this to mean that it was time for me to unstrap myself and get out. The ride was the last stage in a marathon journey and I walked away from the vehicle and stood a while, stunned by the heat, holding my overnight bag and feeling my body unwind. I heard the engine start up and turned to watch. The car was headed back to the private airstrip and it was the only thing moving out there, soon to be enveloped in land or sinking light or sheer horizon. I completed my turn, a long slow scan of salt flats and stone rubble, empty except for several low structures, pos-sibly interconnected, barely separable from the bleached landscape. There was nothing else, nowhere else. I hadn't known the precise nature of my destination, only its remote-ness. It was not hard to imagine that my father at his office window had conjured his remark from this same stark ter-rain and the geometric slabs that blended into it. He was here now, they both were, father and stepmother, and I'd come to pay the briefest of visits and say an uncer-tain farewell. The number of structures was hard to determine from my near vantage. Two, four, seven, nine. Or only one, a central unit with rayed attachments. I imagined it as a city to be discovered at a future time, self-contained, well-preserved, nameless, abandoned by some unknown migratory culture. The heat made me think I was shrinking but I wanted to remain a moment and look. These were buildings in hiding, agoraphobically scaled."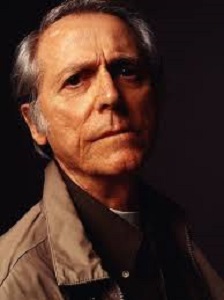 Don DeLillo (New York City, 20 november 1936)
De Russische schrijfster en scenariste Viktoria Tokareva werd geboren op 20 november 1937 in Leningrad (Sint Petersburg). Zie ook alle tags voor Viktoria Tokareva op dit blog.
Uit: Auch Miststücke können einem leidtun (Vertaald door Angelika Schneider)
"Bakowka ist ein Dorf, das an unsere Datschen-siedlung angrenzt. Ein richtiges Dorf mit Holzhäusern, aus Balken, die im Laufe der Zeit dunkel geworden sind. Das Dorf hat geschnitzte Fensterläden, Palisadenzäune, Vorgärten, ein ma-lerisches Flüsschen, Gänse, ausspuckende Männer und herumschreiende Frauen. Nach der Perestroika begann man, diese herum-schreienden Frauen >Farmerinnen< zu nennen. Sie brachten ihre selbstangebauten und -hergestellten Lebensmittel zu unserer Siedlung: Milch, Quark, Eier, Gemüse. Ich hatte schnell herausgefunden, bei wem man etwas kaufen konnte und bei wem nicht. Alles hängt vom >menschlichen Faktor< ab. Die sehnige Olga kaufte den Quark in der ganzen Gegend auf, er wurde bei ihr sauer, dann legte sie zweihundert Gramm frischen Quark obenauf und trug ihn aus. Die Leute probierten von oben — man wühlt ja nicht mit dem Finger bis in die Tiefe — und kauften voller Begeisterung die ganze Portion. In der Kü-che kippten sie den Quark in eine Schüssel. Dann kam das, was unten war, nach oben, stinkend und gesundheitsschädlich. Was kann man da sagen? Die kurzsichtige Olga kannte die Gesetze des Marktes nicht. Ein zweites Mal kaufte natürlich niemand mehr bei ihr. Und selbst wenn sie nun gute Sahne brachte und frische Eier, so jagte man sie doch mit deutlichen Worten von der Schwelle. Olga hatte so etwas wie Wett-bewerb nicht in ihre Rechnung mit einbezogen. Sie handelte nach dem Gesetz der Zieselmaus: raf-fen und ab in die Höhle. In der Datschensiedlung wohnten zwar Leute aus der Intelligenzija, doch Dummköpfe waren sie deshalb noch lange nicht. Man konnte sie einmal anschmieren, aber öfter auch nicht. Dann kam die dicke Irka, die polternd einen eisernen Karren hinter sich herzog. In diesem Kar-ren lagen alle Gemüse der Saison. Ihre Ware war nicht schlecht, doch ihre Preise hatten eine Null zu viel. Wenn ein Kilo Kartoffeln auf dem Markt zehn Rubel kostete, dann kostete es bei Irka hundert. »Na, nimm doch gleich tausend«, schlug ich vor. Irka sah mir misstrauisch ins Gesicht. »Na und?«, sagte ich weiter in naivem Ton. »Wenn einer Geld hat, was für einen Unterschied macht es da schon, wie viel er zahlt: ob hundert oder tausend?"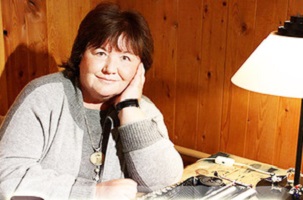 Viktoria Tokareva (Leningrad, 20 november 1937)
De Iraanse dichteres, vertaalster en mensenrechten-advocate Sheema Kalbasi werd geboren op 20 november 1972 in Teheran. Zie ook alle tags voor Sheema Kalbasi op dit blog.
God speaks Hebrew (Fragment)
God is my father,
With his big brown lovely eyes,
The strict laws of my mother,
To grow up good, nice and humble!
Demanding school grades with only straight A's!

God swims like a rolling fish,
Diverse of dolphins

Yesterday,
He sneezed within me,
God and his kissable mouth,
Smiling with a wide-open heart!

God never cheats,
Never rapes,
Never hates

Sings in Hindi,
Persian and Russian,
Latin, Swahili and Sindi!
Can be understood in Semitic languages,
Arabic and Hebrew!

God walks in kimonos,
Sophisticated and elegant
Smells like iris and talks like English

He is a little Chinese village-man,
Rejecting the ism
He reborn the angels,
As they sing the symphony of cotton fields,
A freedom's journey,
An escape from unformed yellow seeds

Crystal hands, crystal stars,
Crystal green gardens,
And my crystal laughter,
Essentializes the whole poem of life.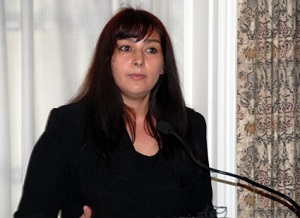 Sheema Kalbasi (Teheran, 20 november 1972)


De Zuidafrikaanse schrijfster Nadine Gordimer werd geboren op 20 november 1923 in Springs. Zie ook alle tags voor Nadine Gordimer op dit blog.
Uit:The House Gun
"They are watching it on the screen with their after-dinner coffee cups beside them. It is Bosnia or Somalia or the earthquake shaking a Japanese island between apocalytic teeth like a dog; whatever were the disasters of that time. When the intercom buzzes each looks to the other with a friendly reluctance; you go, your turn. It's part of the covenant of living together. They made the decision to give up the house and move into this townhouse complex with grounds maintained and security-monitored entrance only recently and they are not yet accustomed, or rather are inclined momentarily to forget that it's not the barking of Robbie and the old-fangled ring of the front door bell that summons them, now. No pets allowed in the complex, but luckily there was the solution that theirs could go to their son who has a garden cottage.
He, she--twitch of a smile, he got himself up with langhuor directed at her and went to lift the nearest receiver. Who, she half-heard him say, half-listening to the commentary following the images, Who. It could be someone wanting to convert to some religious sect, or the delivery of a summons for a parking offence, casual workers did this, moon-lighting. He said something else she didn't catch but she heard the purr of the electronic release button.
What he said then was, Do you know who a Julian-somebody might be? Friend of Duncan?
He, she--they didn't, either of them. Nothing unusual about that, Duncan, twenty-seven years old, had his own circle just as his parents had theirs, and these intersected only occasionally where interests, inculcated in him as a child by his parents, met.
What does he want?
Just said to speak to us.
Both at the same instant were touched by a live voltage of alarm. What is there to fear, defined in the known context of a twenty-seven-year-old in this city--a car crash, a street mugging, a violent break-in at the cottage. Both stood at the door, confronting these, confronting the footsteps they heard approaching their private paved path beneath the crossed swords of Strelitzia leaves, the signal of the second buzzer, and this young man, come from? for? Duncan. He stared at the floor as he came in, so they couldn't read him. He sat down without a word."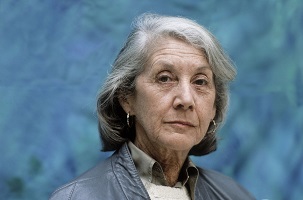 Nadine Gordimer (20 november 1923 – 13 juli 2014)
De Engelse dichter en schrijver Thomas Chatterton werd geboren op 20 november 1752 in Bristol als zoon van een koster. Zie ook alle tags voor Thomas Chatterton op dit blog.
The Advice (Fragment)
Tho' rapture wantons in your air,
Tho' beyond simile you're fair,
Free, affable, serene;
Yet still one attribute divine
Should in your composition shine--
Sincerity, I mean.

Tho' num'rous swains before you fall,
'Tis empty admiration all,
'Tis all that you require;
How momentary are their chains!
Like you, how unsincere the strains
Of those who but admire!

Accept, for once, advice from me,
And let the eye of censure see
Maria can be true;
No more for fools or empty beaux,
Heav'n's representatives disclose,
Or butterflies pursue.

Fly to your worthiest lover's arms,
To him resign your swelling charms,
And meet his gen'rous breast;
Or if Pitholeon suits your taste,
His muse with tattr'd fragments graced,
Shall read your cares to rest.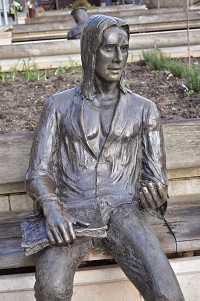 Thomas Chatterton (20 november 1752 – 5 augustus 1770)
Standbeeld in Bristol
De Russische dichteres en schrijfster Zinaida Nikolaevna Hippius werd als kind van uit Duitse familie geboren op 20 november in Beljov bij Tula. Zie ook alle tags voor Zinaida Hippius op dit blog.
Our Love Is One
A wave boils with its foam, freezing,
And dissipates - just only once,
A heart could not to live with treason.
No treason! Love is one for us!
We may be angry, may be reasoned,
Or false - but heart did not decline
To black adultery, to treason:
Our soul is one - our love is one.
In its monotony and emptiness,
All life could usually be gone…
And in this life as long as endless,
Our love is one, yes, always one.
Helplessness
I look at a sea - the greedy one and fervent,
Chained to the earth, on the depleted shore…
Stand by a gulf - over the endless heavens,
And could not fly to azure, as before.

I didn't decide to join or slaves, or rebels,
Have no a courage nor to live, nor - die…
I feel my God - but cannot say my prayers,
I want my love - but can't find love of mine.

I send to sun my worship and my groan,
I see a sheet of clouds, pale and cold…
What is a truth? It seems to me, I know, -
But for the truth I have not the right world.
Vertaald door Yevgeny Bonver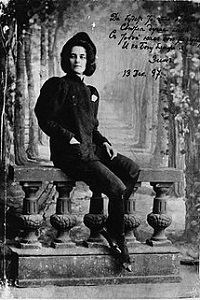 Zinaida Hippius (20 november 1869 – 9 september 1945)
De Zweedse schrijfster Selma Lagerlöf werd geboren op 20 november 1858 in Östra Emterwik in Zweden. Zie ook alle tags voor Selma Lagerlöf op dit blog.
Uit: Niels Holgersson's wonderbare reis (Vertaald door Margaretha Meijboom)
"Hij las een paar regels, maar toen keek hij toevallig op.
Daardoor viel zijn oog op den spiegel, en toen riep hij hardop: 'Kijk, daar is er nog een!'
Want in den spiegel zag hij duidelijk een klein, klein kaboutertje, gekleed met een slaapmutsje en een leeren broek aan. 'Die is precies gekleed als ik,' zei de jongen, en sloeg de handen in elkaar van verbazing. Maar toen zag hij, dat de kabouter in den spiegel hetzelfde deed.
Toen begon hij zich aan de haren te trekken en zich in de armen te knijpen en rond te draaien, en oogenblikkelijk deed hij daar in den spiegel het hem na.
De jongen sprong een paar keer rond, om te zien of er een of ander klein kereltje achter hem stond. Maar hij vond niemand - en toen begon hij van schrik te beven. Want nu begreep hij, dat de kabouter hem betooverd had, en dat de kabouter, dien hij daar in den spiegel zag, niemand anders was dan hijzelf.
***
De jongen kon maar niet gelooven, dat hij in een kabouter veranderd was.
''t Is zeker maar een droom - of verbeelding,' dacht hij. 'Als ik even wacht, word ik wel weer een mensch.'
Hij ging voor den spiegel staan, en sloot de oogen. Hij opende ze eerst na een paar minuten, en verwachtte toen, dat het weer over zou zijn. Maar dat was niet zoo: hij was en bleef even klein. Overigens was hij precies, zooals hij geweest was. Het lichte vlashaar en de zomersproeten op neus en lippen, de lappen op zijn leeren broek en de stoppen in zijn kousen, alles was precies eender; alleen was alles kleiner geworden.
Neen, stil te staan en te wachten tot het overging, dat diende nergens voor; dat merkte hij wel. Hij moest wat anders probeeren. En het verstandigste wat hij doen kon, was, meende hij, den kabouter op te zoeken en zich met hem te verzoenen."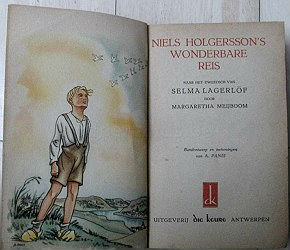 Selma Lagerlöf (20 november 1858 – 16 maart 1940)
Geïllustreerde uitgave
De Russische schrijfster Yevgenia Ginzburg werd geboren op 20 november 1904 in Moskou. Zie ook alle tags voor Yevgenia Ginzburg op dit blog.
Onafhankelijk van geboortedata
De Nederlandse dichter en schrijver Jordi Lammers werd geboren in 1996 in Venray. Zie ook alle tags voor Jordi Lammers op dit blog.
hoe noemen we dit lichaam
we gooiden onze namen in het dal en hoopten
dat het dal iets mooiers terug zou gooien
maar er kwam niets
we stopten bij een bergmeer, keken
elkaar oog in oog uit elkaars kleren
hingen onze spullen aan een tak en lieten
ons langzaam in het water zakken
je dreef op je rug alsof het water het gewicht uit je lichaam had gezogen
pas toen ik mijn vinger
aan een rotspunt opensneed
steeg uit de vallei een koor op
begon het uit volle borst onze naam te zingen
onze naam
zoals we die nooit
eerder hadden gehoord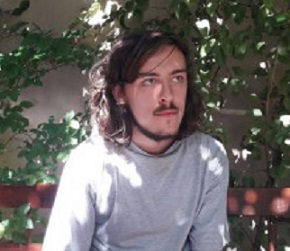 Jordi Lammers (Venray, 1996)
De Duitse schrijver en advocaat Ferdinand von Schirach werd geboren in 1964 in München. Zie ook alle tags voor Ferdinand von Schirach op dit blog.
Uit: Strafe
"Katharina wuchs im Hochschwarzwald auf. Elf Bauernhöfe auf 1100 Meter Höhe, eine Kapelle, ein Lebensmittelgeschäft, das nur montags geöffnet hatte. Sie wohnten im letzten Gebäude, einem dreistöckigen Hof mit heruntergezogenem Dach. Es war das Elternhaus ihrer Mutter. Hinter dem Hof war der Wald und dahinter waren die Felsen und dahinter war wieder der Wald. Sie war das einzige Kind im Dorf. Der Vater war Prokurist einer Papierfabrik, die Mutter Lehrerin. Beide arbeiteten unten in der Stadt. Katharina ging nach der Schule oft zur Firma des Vaters, sie war damals elf Jahre alt. Sie saß im Büro, wenn er über Preise, Rabatte und Liefertermine verhandelte, sie hörte bei seinen Telefonaten zu, er erklärte ihr alles so lange, bis sie es verstand. In den Ferien nahm er sie mit auf Geschäftsreisen, sie packte seine Koffer, legte seine Anzüge raus und wartete im Hotel, bis er von den Terminen zurückkam. Mit dreizehn war sie einen halben Kopf größer als er, sie war sehr schmal, ihre Haut hell, ihre Haare fast schwarz. Ihr Vater nannte sie Schneewittchen, er lachte, wenn jemand sagte, er habe eine sehr junge Frau geheiratet. Zwei Wochen nach Katharinas vierzehntem Geburtstag schneite es das erste Mal in diesem Jahr. Es war sehr hell und sehr kalt. Vor dem Haus lagen die neuen Holzschindeln, der Vater wollte das Dach noch vor dem Winter ausbessern. Wie jeden Morgen fuhr sie mit der Mutter zur Schule. Vor ihnen war ein Lastwagen. Die Mutter hatte den ganzen Morgen nicht gesprochen. »Dein Vater hat sich in eine andere Frau verliebt«, sagte sie jetzt. Auf den Bäumen lag Schnee und auf den Felsen lag Schnee. Sie überholten den Lastwagen, auf der Seite stand »Südfrüchte«, jeder Buchstabe in einer anderen Farbe. »In seine Sekretärin«, sagte die Mutter. Sie fuhr zu schnell. Katharina kannte die Sekretärin, sie war immer freundlich gewesen. Der Vater hatte ihr nichts gesagt, nur daran konnte sie noch denken. Sie drückte ihre Fingernägel in die Schultasche, bis es weh tat. Der Vater zog in ein Haus in der Stadt. Katharina sah ihn nicht mehr.
Ein halbes Jahr später wurden Bretter vor die Fenster des Hofs genagelt, das Wasser wurde aus den Rohren gelassen und der Strom abgestellt. Die Mutter und Katharina zogen nach Bonn, dort lebten Verwandte. Katharina brauchte ein Jahr, um sich den Dialekt abzugewöhnen. Für die Schülerzeitung schrieb sie politische Aufsätze. Als sie sechzehn war, druckte eine lokale Tageszeitung ihren ersten Text. Sie beobachtete sich bei allem, was sie tat."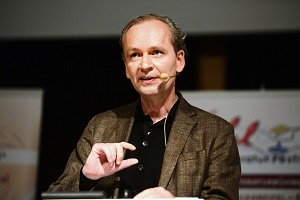 Ferdinand von Schirach (München, 1964)
Zie voor nog meer schrijvers van de 20e november ook mijn blog van 20 november 2017.


20-11-2018 om 18:27 geschreven door Romenu

Tags:Don DeLillo, Viktoria Tokareva, Sheema Kalbasi, Nadine Gordimer, Thomas Chatterton, Zinaida Hippius, Selma Lagerlöf, Jordi Lammers, Ferdinand von Schirach, Yevgenia Ginzburg, Romenu


19-11-2018

Scott Cairns, Sharon Olds, Mark Harris, Karel van den Oever, Alan Tate, Anna Seghers, Elise Bürger, Girolamo de Rada, Veronika Aydin
De Amerikaanse dichter, librettist en essayist Scott Cairns werd geboren op 19 november 1954 in Tacoma, Washington. Zie ook alle tags voor Scott Cairns op dit blog.
Embalming
You'll need a corpse, your own or someone else's.
You'll need a certain distance; the less you care about
your corpse the better. Light should be
unforgiving, so as to lend a literal
aspect to your project. Flesh should be putty,
each hair of the brows, each lash, a pencil mark.
If the skeleton is intact, its shape may
suggest beginnings of a structure, though even here
modification might occur; heavier
tools are waiting in the drawer, as well as wire,
varied lengths and thicknesses of doweling.
Odd hollows may be filled with bundled towel.
As for the fluids, arrange them on the cart
in a pleasing manner. I prefer we speak
of ointments. This notion of one's anointing
will help distract you from a simpler story
of your handiwork. Those people in the parlor
made requests, remember? Don't be concerned.
Whatever this was to them, it is all yours now.
The clay of your creation lies before you,
invites your hand. Becoming anxious? That's good.
You should be a little anxious. You're ready.
Hold the knife as you would a quill, hardly at all.
See that first line before you cross it, and draw.
Eremite
—Katounakia, 2007


The cave itself is pleasantly austere,
with little clutter—nothing save
a narrow slab, a threadbare woolen wrap,
and in the chipped-out recess here
three sooty icons lit by oil lamp.
Just beyond the dim cave's aperture,
a blackened kettle rests among the coals,
whereby, each afternoon, a grip
of wild greens is boiled to a tender mess.
The eremite lies prostrate near
two books—a gospel and the Syrian's
collected prose—whose pages turn
assisted by a breeze. Besides the thread
of wood smoke rising from the coals,
no other motion takes the eye. The old
man's face is pressed into the earth,
his body stretched as if to reach ahead.
The pot boils dry. He feeds on what
we do not see, and may be satisfied.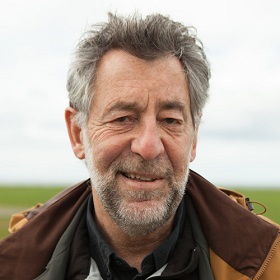 Scott Cairns (Tacoma, 19 november 1954)
De Amerikaanse dichteres Sharon Olds werd geboren op 19 november 1942 in San Francisco. Zie ook alle tags voor Sharon Olds op dit blog.
The Death of Marilyn Monroe
The ambulance men touched her cold
body, lifted it, heavy as iron,
onto the stretcher, tried to close the
mouth, closed the eyes, tied the
arms to the sides, moved a caught
strand of hair, as if it mattered,
saw the shape of her breasts, flattened by
gravity, under the sheet
carried her, as if it were she,
down the steps.

These men were never the same. They went out
afterwards, as they always did,
for a drink or two, but they could not meet
each other's eyes.

Their lives took
a turn-one had nightmares, strange
pains, impotence, depression. One did not
like his work, his wife looked
different, his kids. Even death
seemed different to him-a place where she
would be waiting,

and one found himself standing at night
in the doorway to a room of sleep, listening to a
woman breathing, just an ordinary
woman
breathing.
Japanese-American Farmhouse, California, 1942
Everything has been taken that anyone
thought worth taking. The stairs are tilted,
scattered with sycamore leaves curled
like ammonites in inland rock.
Wood shows through the paint on the frame
and the door is open--an empty room,
sunlight on the floor. All that is left
on the porch is the hollow cylinder
of an Albert's Quick Oats cardboard box
and a sewing machine. Its extraterrestrial
head is bowed, its scrolled neck
glistens. I was born, that day, near there,
in wartime, of ignorant people.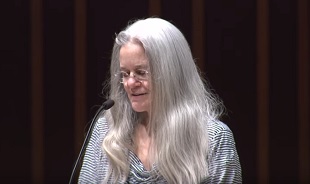 Sharon Olds (San Francisco, 19 november 1942)
De Amerikaanse schrijver en literaire biograaf Mark Harris (eig. Mark Harris Finklestein) werd geboren op 19 november 1922 in Mount Vernon, New York. Zie ook alle tags voor Mike Harris op dit blog.
Uit: Bang the Drum Slowly
"It was Joe's wife later left the cat out of the barn. Usually I do not hang with the coaches much, but me and Joe become fairly friendly on account of Tegwar, The Exciting Game Without Any Rules, T-E-G-W-A-R, which nobody on the club can play but me and Joe because nobody can keep a straight face long enough. I will be hilarious on the inside but with a straight face on the outside, and I was smiling while his phone was ringing while poor Goose's wife was probably still crying in a dead phone at her end which shows you the kind of a thoughtless personality I have. Joe was out baby-sitting his grandchildren. His wife give me his number, but I did not even take it down. "My Lord," she said, "Joe has got insurance with 3 or 4 different outfits." "You do not have insurance," said I, "unless you have got Arcturus." She laughed. She asked me how long I planned to be in town, and I said I did not know. There were the pictures of Holly and the pictures of the stewardess curled on the bed plus more pictures now of Joe Jaros baby-sitting his grandchildren, all cozy and warm with a snowstorm outside, not tramping the streets like Goose nor with girls in a number of towns, not drinking up all his credit in the saloons until all of a sudden one day the girls and the credit begin to give out at once. I seen it happen. I seen too many old-time ballplayers hanging around clubhouses telling you what a great game you just pitched (though you might of just got the hell shelled out of you) and could you by any chance loan them 5 to tide them over, which I used to loan them, too, before I was in so damn deep I was playing winter ball and hitting the banquet circuit and still getting in deeper with every passing day until Holly took a hold of things. I said, "Henry, look at Joe. He did not flub his life away chasing after every pair of big white teeth he run across," and I slid open the door again and circled around and went out a side door saying "Positively No Admission" and listing a number of fines and penalties and prison terms you could get for passing through that one door, and out in the snowstorm and back up in the air."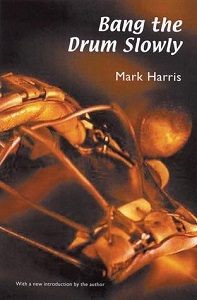 Mark Harris (19 november 1922 – 30 mei 2007)
Cover
De Vlaamse dichter, essayist en toneelschrijver Karel van den Oever werd geboren in Antwerpen op 19 november 1879. Zie ook alle tags voor Karel van den Oever op dit blog.
Geloovige Avond
Is de avond oud van tijd
en loom van kreuple uren
(ach, dat geen stuip'ge hekse heur berijd'
en over 't bezemstoksken naar den Oosten ture)
zie dan hoe zonder orgelronk noch belgerink
het allerstilste Lof begint.

Overal rijst de kranke maan,
sacramenteel geheven,
men blaast de koolge keersen wilder aan:
de starren in den kelderdonkren tochtig beven.
De wolken smeulen zwaar langs 't wijd verwulf
als wierooksmoor in Sint Gerulf..

De gulden lusters der
gesternten ruchtloos sintlen
de koele en donkre koor uit naamloos ver..
't Is of hun gouden glimge schaaklen nimmer tinklen.
Die lusters hangen windstil toch uit de oude lucht
vóor iedren Heilge, zonder gerucht..

't Geboomt der bosschen helt
in 't schimmrend licht voorover,
't gestruik hukt in den keersenschijn en kwelt
de sluikge grassen; prevelt iemand in den loover?
De heiplas is een gure kerke-ruit:
de Lofplecht kwijnt er dieper uit.

Als de avond, oud van duur,
vervaakt van zacht vervelen
(ach, dat het groene hostievuur
der ronde maan er eerst tot guldenheid vergele!)
zie dan hoe zonder orgelronk noch belgerink
het allerstilste Lof begint.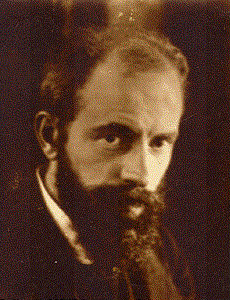 Karel van den Oever (19 november 1879 – 6 oktober 1926)
De Amerikaanse dichter Alan Tate werd geboren op 19 november 1899 in de buurt van Winchester, Kentucky. Zie ook alle tags voor Alan Tate op dit blog.
Sonnets Of The Blood
III
Then, brother, you would never think me vain
Or rude, if I should mention dignity;
Think little of it. Dignity's the stain
Of mortal sin that knows humility.
Let me design the hour when you were born
Since, if that's vain, it's only childlike so:
Like an attempting frost on April corn
Considerate death would hardly let you go.
Reckon the cost-if you would validate
Once more our slavery to circumstance
Not by contempt of a prescriptive fate
But in your bearing towards an hour of chance.
It is a part so humble and so proud
You'll think but little of it in your shroud.
IV
The times have changed. Why do you make a fuss
For privilege when there's no law of form?
Who of our kin was pusillanimous,
A fine bull galloping into a storm?
Why, none; unless you count it arrogance
To cultivate humility in pride,
To look but casually and half-askance
On boots and spurs that went a devil's ride.
There was, remember, a Virginian
Who took himself to be brute nature's law,
Cared little what men thought him, a tall man
Who meditated calmly what he saw
Until he freed his Negroes, lest he be
Too strict with nature and than they less free.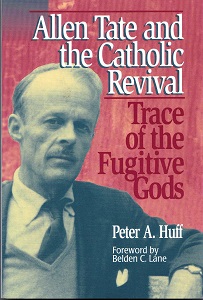 Allen Tate (19 november 1899 – 9 februari 1979)
Cover
De Duitse schrijfster Anna Seghers werd op 19 november 1900 geboren in Mainz als Anna Reiling. Zie ook alle tags voor Anna Seghers op dit blog.
Uit: Das siebte Kreuz
"Mancher hatte bei sich gedacht "Arme Teufel". Aber man hatte auch bald gedacht, was sie da eigentlich buddelten. Damals war es vorgekommen, dass auch in Liebau ein junger Schiffer offen auf das Lager fluchte. Den hatten sie dann gleich geholt. Er war auf einige Wochen eingesperrt worden, damit er sehen könnte, was drinnen los sei. Als er herauskam, hatte er sonderbar ausgesehen und auf keine Frage geantwortet. Er hatte Arbeit auf einem Schleppkahn gefunden und war später, wie seine Leute erzählten, ganz in Holland geblieben, eine Geschichte, über die das Dorf damals erstaunt war. Einmal waren zwei Dutzend Häftlinge durch Liebau gebracht worden, die waren schon vor der Einlieferung so zugerichtet, dass es den Menschen graute und eine Frau im Dorf offen weinte. Aber am Abend hatte der neue junge Bürgermeister des Dorfs die Frau, die seine Tante war, zu sich bestellt und ihr klargemacht, dass sie mit ihrer Flennerei nicht nur sich selbst, sondern auch ihren Söhnen, die zugleich seine Vettern waren, und ein Vetter war zugleich auch sein Schwager, für ihr Leben lang Schaden zufügte. Überhaupt hatten die jüngeren Leute im Dorf, Burschen um Mädchen, ihren Eltern genau erklären können, warum das Lager da sei und für wen, junge Leute, die immer alles besser wissen wollen – nur dass die Jungen in früheren Zeiten das Gute besser wissen wollten, jetzt aber wussten sie das Böse besser. Da man dann doch nichts gegen das Lager tun konnte, waren allerlei Aufträge auf Gemüse und Gurken gekommen und allerlei nützlicher Verkehr, wie es die Ansammlung und Verpflegung vieler Menschen mit sich bringt.
Doch als gestern früh die Sirenen heulten, als die Posten an allen Strassen aus der Erde wuchsen, als das Gerücht von der Flucht sich verbreitete, als dann mittags im nächsten Dorf ein richtiger Flüchtling gefangen wurde, da war auf einmal das Lager, an das man sich längst gewöhnt hatte, gleichsam neu aufgebaut worden, warum grad hier bei uns? Neue Mauern waren errichtet worden, neue Stacheldrähte gezogen. Jener Trupp Häftlinge, der von der nächsten Bahnstation kürzlich durch die Dorfgasse getrieben wurde, – warum, warum, warum?"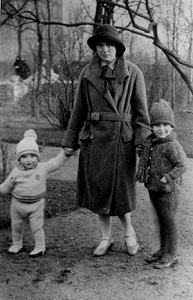 Anna Seghers (19 november 1900 – 1 juni 1983)
Hier met zoontje Peter en dochtertje Ruth rond 1930
De Duitse schrijfster en actrice Christiane Marie Elisabeth "Elise" Bürger, (eig. Hahn) werd geboren op 19 november 1769 in Stuttgart. Zie ook alle tags voor Elise Bürger op dit blog.
Uit: Briefe an Schiller
"Weimar d. 8. Mai 1802.
Wenn ich es wage, ihnen gütiger Mann! die Einlagen zu senden, so ist es Ihr Auge, aus welchem eben so viel Freundlichkeit als Geist leuchtet, welches mich zu der Hofnung berechtigt daß Sie der Durchsicht dieser weiblichen Federprodukte einige geduldvolle Augenblike vergönnen werden.
Ein Fragment aus dem 1. Akt des ersten Teils eines Schauspiels, dessen Stoff interressant genug ist, um etwas daraus hervorzuarbeiten", wenn anders die Kraft dazu der schwachen Hand, die es unternahm, nicht mislingt. -- Dabei habe ich zu fragen: ist in dem Versbau zu viel willkührliches? -- muß ich mich fester noch an Regeln binden? — Das zweite Päkchen enthält einige Gedichte, dererlei ich noch mehrere besize; sind sie wohl nicht zu uninterressant um eine kleine Sammlung davon der Lesewelt zu übergeben?) Nur Ihr Unheil soll mich entscheiden. Es kann mich nicht über mich selbst täuschen. 'Unbekannt mit der Buchhändlerwelt, weis ich nicht, wie man dergleichen Kleinigkeiten Kaufweise verhandelt, noch an welche Buchhändler man sich deshalb am besten und vortheilhaftesten wendet; auch hierüber erbitte ich Ihren Rath. — Sie nicht in Ihren Geschäften zu stören, versage ich es mir Ihnen persönlich nochmals aufzuwarten. Morgen früh 8 Uhr denke ich nach Jena herüber zu reisen, und erwarte meine dortige Aufnahme von Ihrer Güte. Wenn sich die höchste Verehrung mit der reinsten Hochachtung vereint in Worten fühlbar machen könnte, so würden Sie, Vortrefflicher! wissen wie ich mich mit der uneingeschränktesten Ergebenheit nenne, die Ihrige .EIisa Bürger, geb. Hahn"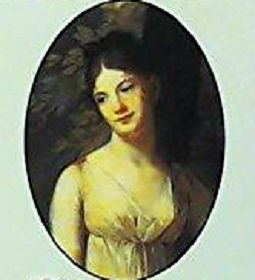 Elise Bürger (19 november 1769 – 24 november 1833)
De Italiaanse-Albanese dichter en schrijver Girolamo de Rada werd geboren op 19 november 1814 in Macchia Albanese. Zie ook alle tags voor Girolamo de Rada op dit blog.
Donna irene (Fragment)
There arrived a boat from the midst of the sea,
Arrived at the port of Cotrone
Of the ladies from Cotrone
Not a single one went down to it;
But for one, Lady Irena.
"Hello, Sailors!" "
Be welcome, Lady Irena!"
"Where do you have silken goods?"
"Step on board, Lady, onto the deck."
The Lady selected a gown
For her sister-in-law's wedding,
She selected it and put it into the hands
Of the servant, the maid.
And the sailors set off
And drifted away gently and slowly.
By the time she noticed this,
They were far out to se
Vertaald door Jason Blake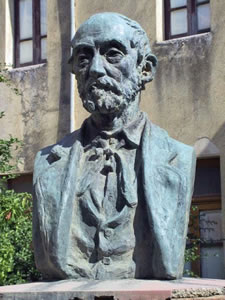 Girolamo de Rada (19 november 1814 – 28 februari 1903)
Borstbeeld in Macchia Albanese.
Onafhankelijk van geboortedata:
De Duitse schrijfster Veronika Aydin werd in 1961 in Emmerich geboren. Zie ook alle tags voor Veronika Aydin op dit blog.
Uit: Bestattungsfragen. Elfriedes zweiter Fall
"Elfriede ließ vor Schreck die Rechnung aus der Hand fallen. Das Geräusch klang, als würde jemand durch eine rostige Gießkanne Luft einsaugen. Mühsam und um sein Leben ringend. Und ganz in ihrer Nähe. Erschrocken schaute sie unter den Schreibtisch. Hugo lag auf der Seite, seine Rippen unter dem schwarz-braunen Fell hoben und senkten sich bedrohlich. »Du liebe Güte«, dachte Elfriede, »können sich Hunde auch erkälten? Und das mitten im Sommer?« Das Tier keuchte zum Gotterbarmen. Sie stopfte die Rechnungen zurück in die Schublade und beugte sich zu dem Hund hinunter. Was fehlte ihm bloß? Hugo sah sie aus seinen braunen Augen leidend an. Elfriedes Herz schmolz. Es war nicht Liebe auf den ersten Blick gewesen. Als Oliver den kurzbeinigen Sennenhund nach Hause brachte, hatte Elfriede es entschieden abgelehnt, ihm Asyl zu gewähren. Eine Detektivin war schließlich viel unterwegs und gerade erst hatte sie sich ein kleines Büro in der Hofheimer Altstadt eingerichtet, mit schicken Möbeln und einem neuen weißen Teppichboden. »Es ist doch nur für sechs Wochen, Mama«, hatte ihr Sohn gebettelt, »nur solange Leander in den Sommerferien in Kur ist.« »Nein! Kann der Hund nicht in eine Tierpension?« »Er braucht Menschen um sich. Leanders Mutter muss den ganzen Tag im Supermarkt arbeiten und den Vater sieht er kaum. Das Futter hat Leander mir gleich mitgegeben«, versuchte Oliver Einwände finanzieller Art zu entkräften. »Und ich geh auch jeden Tag mit ihm spazieren.« »Ich glaub dir kein Wort!«
Es war wieder mal Tante Ingeborg, die mit einem »Meinst du nicht, es könnte ihm guttun«-Blick der Situation eine Wende gegeben hatte. Der Junge hat es nicht leicht, schien dieser Blick zu sagen, jetzt, wo seine kleine Schwester auf der Welt ist. Gönn ihm doch das bisschen Freude! Nun, es kam, wie Elfriede es vorausgesehen hatte. Der Nach- wuchs ihres Ex-Mannes mit seiner neuen Lebensgefährtin änderte nichts daran, dass alle Hundespaziergänge an ihr hängenblieben."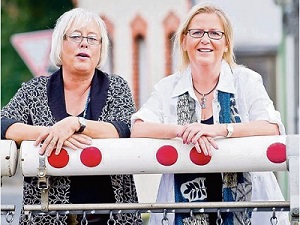 Veronika Aydin (Emmerich, 1961)
Hier met collega schrijfster Kerstin Klamroth (links)
Zie voor nog meer schrijvers van de 19e november ook mijn blog van 19 november 2017 deel 2.
19-11-2018 om 18:32 geschreven door Romenu

Tags:Scott Cairns, Sharon Olds, Mark Harris, Karel van den Oever, Alan Tate, Anna Seghers, Elise Bürger, Girolamo de Rada, Veronika Aydin, Romenu



Arno Van Vlierberghe
Onafhankelijk van geboortedata
De Vlaamse dichter Arno Van Vlierberghe werd geboren in Brussel in 1990. Na een studie Taal- en Letterkunde: Nederlands - Engels en Vergelijkende Moderne Letterkunde, volgde hij de aanvullende studie Literatuurwetenschap. Hij publiceerde in Het Liegend Konijn (2012; 2014) en DW&B (2014). Voorts schrijft hij poëziebesprekingen voor Kunsttijdschrift Vlaanderen, Literair Nederland en Poëziekrant. In 2017 debuteerde hij met de bundel "Vloekschrift". Van Vlierberghe werd genomineerd voor de C. Buddingh' prijs 2018.
De situatie 1
2016_12_27_16_29 — De uitgestrekte hand — De niet-wereld — Liberal nostalgia

2016_12_27_16_29. Tot slot, aan het kruispunt gekomen, zagen we De Situatie samenkomen. De politieke, economische, culturele, sociale situatie. De mooie huizen leeggehaald. De vergaderzalen ook. De bioscopen. De partijlokalen. De tempels. In deze tijd verschijnt deze tekst. Dit is ons werkbaar materiaal. Kortweg, De Situatie. Dit ogenblik, dit ene ondeelbare ogenblik voel ik me werkelijk thuis, ingeschreven in de mooiste niet-wereld van nu. Een met de nooit vermoeide God-en-vaderland-stemmen. I.M., jouw uitgestrekte hand is de mijne niet. Wat is De Situatie? Geen relaties, maar transacties. Nu ook mijn hersenen een beurs, een transferzone van weinig tot niets. Mijn werk, mijn thuis, mijn nest. De organisatie rondom me, zwelt aan, trekt dicht, klapt toe als een vruchtzak waarin een ik nog groeien mag. Rondom mij het restafval van de vorige eeuw. Een hyperpersoon, alleen in een ruimte. Wat is De Situatie? Het gedicht als dialoog, maar een Arno wil niet praten.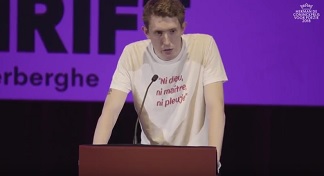 Arno Van Vlierberghe (Brussel, 1990)
19-11-2018 om 00:00 geschreven door Romenu

Tags:Arno Van Vlierberghe, Romenu


18-11-2018

November (Helen Maria Hunt Jackson)
Dolce far niente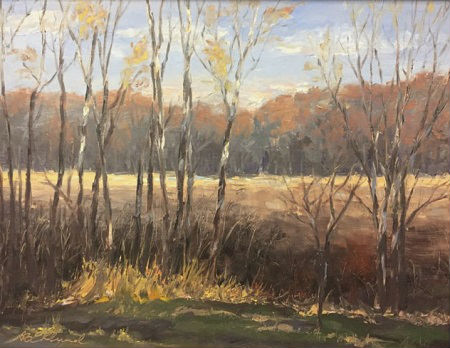 November's Last Light door Allison Eklund, 2017
November
This is the treacherous month when autumn days
With summer's voice come bearing summer's gifts.
Beguiled, the pale down-trodden aster lifts
Her head and blooms again. The soft, warm haze
Makes moist once more the sere and dusty ways,
And, creeping through where dead leaves lie in drifts,
The violet returns. Snow noiseless sifts
Ere night, an icy shroud, which morning's rays
Will idly shine upon and slowly melt,
Too late to bid the violet live again.
The treachery, at last, too late, is plain;
Bare are the places where the sweet flowers dwelt.
What joy sufficient hath November felt?
What profit from the violet's day of pain?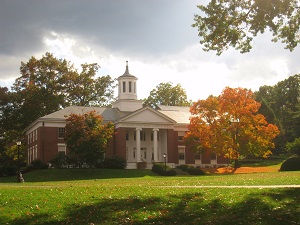 Helen Maria Hunt Jackson (18 oktober 1830 – 12 augustus 1885)
Een collegegebouw in Amherst, de geboorteplaats van Helen Maria Hunt Jackson
Zie voor de schrijvers van de 18e november ook mijn twee vorige blogs van vandaag.
18-11-2018 om 13:23 geschreven door Romenu

Tags:Helen Maria Hunt Jackson, Dolce far niente, Romenu



Toon Tellegen, Joost Zwagerman, Joost Oomen, Thomas Möhlmann, Pauline Genee, Klaus Mann, Eugenio Montejo
De Nederlandse dichter Toon Tellegen werd geboren op 18 november 1941 te Brielle. Zie ook alle tags voor Toon Tellegen op dit blog
Hoe meer zielen
Ik heb een ziel
die precies in mij past-
ik doe alles met mijn ziel
klop op mijn ziel en stof hem af
schaaf aan mijn ziel en blaas de krullen weg
boor gaten in mijn ziel en vul ze weer op
met nuchtere gedachten.
Ik wou dat ik meer zielen had
en van een andere soort
oneffen zielen kromme zielen
zielen als spartelende zilvervisjes
als meisjes in een winterjas
zwarte zielen.
Maar mijn ene ziel-
een tamelijk vierkante effen en solide ziel-
vult reeds alle beschikbare ruimte
en krimpt geen milimeter
zolang ik leef.
Aan het einde van de dag
Aan het einde van de dag,
als iemand aan komt hollen met de liefde,
als je moe bent en onhandig en toevallig net verward in een warnet
van angsten –
wat moet je doen,
wat moet je met de liefde doen, donzig, schrikachtig,
die iemand je nog brengt?
Twee koorddansers
Twee koorddansers.
Zonder publiek.
Onder een blauwe hemel, over een afgrond heen.
Zwaluwen, springerig gras, hier en daar
iets geels.
De een zegt, bijna jubelend, met vuurrode wangen:
'Niemand zal kunnen zeggen dat wij…'
Een vleugje wind, een rafelig wolkje, een krekel. Niets
bijzonders.
De ander zegt:'…niet diep gevallen zijn.'
Veel later pas gevonden, spreeuwen, modder.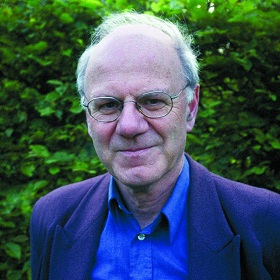 Toon Tellegen (Brielle, 18 november 1941)
De Nederlandse dichter en schrijver Joost Zwagerman werd geboren in Alkmaar op 18 november 1963. Zie ook alle tags voor Joost Zwagerman op dit blog.
Uit: Gimmick!
"Toen ik Groen over die armetierige shows van twee jaar geleden had verteld, keek 'ie me verbaasd aan. 'Shit, jij moet gewoon onmiddellijk naar 42nd Street, Walter Raam!' zei 'ie. 'Wat heb jij hier de vorige keer gedáán, man? Kom op!' Dat plan bracht de stemming er weer een beetje in. Want de eerste dag van ons bezoek aan New York was nou niet echt een succes geweest. Groen had in Amsterdam een lijstje met trendy New Yorkse hotels gekregen van een of andere West-Duitser die er kort tevoren was geweest. Maar behalve dat die hotels stuk voor stuk meer dan honderdvijftig dollar per persoon per nacht bleken te kosten, waren ze ook niet echt centraal gelegen. En omdat we allebei weinig zin hadden om met onze bagage rond te banjeren, kwamen we terecht in een ymca vlak bij Columbus Circle en Times Square. Voor Groen was er voor veertig dollar per nacht in die ymca nog een kamer op de derde, en voor mij eentje voor anderhalf keer die prijs op de twaalfde verdieping.
Toen we hadden ingecheckt en eenmaal in de lift stonden, zei Groen: 'Zo zie je maar weer hoe diep een mens kan zinken. Zitten we godverdomme in een ymca.'
We inspecteerden de kamers, die allebei zo'n beetje even weerzinwekkend waren. Twee bij drie, groezelige matrassen, macabere verlichting, bruin uitgeslagen wasbakken en tralies voor de piepkleine ramen.
'Nou ja, only prisoners can swing, zal ik maar zeggen,' mompelde Groen. En: 'Die ymca's zijn toch trouwens allemaal nichtenkitten? Als je hier op een liftknop drukt, heb je er volgens mij een ziekte bij.'
Ik had over die New Yorkse ymca's ook weleens gehoord dat je er soms over neukende groepjes homo's moest stappen als je over de gang liep. Maar dat bleken geruchten uit vervlogen jaren, de jaren van vóór de aids. Eigenlijk zagen we voornamelijk tandeloze ouwe mannetjes die vierentwintig uur per dag door de talloze gangen en gangetjes liepen te mummelen. En telkens als we de lift instapten, troffen we een onvervalste shopping-baglady die naar aangekoekte braadpannen en naar pis stonk en die keer op keer met grommende stem vroeg naar welke verdieping we moesten. De lift bleek haar onderkomen – ze had in ieder geval haar territoriumgeur doelmatig uitgezet."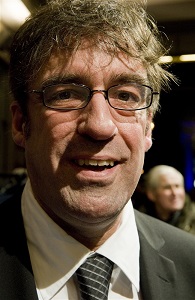 Joost Zwagerman (18 november 1963 – 8 september 2015)
De Nederlandse dichter Joost Oomen werd geboren in De Bilt op 18 november 1980. Zie ook alle tags voor Joost Oomen op dit blog.
Berenklauw
Mijn leven lang hebben ze me gewaarschuwd
voor de berenklauw
Het is de gevaarlijkste onder de planten
Sommige slachtoffers zijn bekend
die gingen dood
Maar nu trek ik mijn trui op naast de grootste struik
En gooi me in één klap tussen
zijn groene reikende vingers
De zon is op dit uur op zijn felst
Ik voel een felle pijn tussen
mijn beide oksels schieten
Mijn buik wordt bekrast en opgezwollen
vol met koperrode blazen
Ik heb zo'n pijn wanneer ik huil
en ik huil als ik mezelf
weer op het gras wil rollen
Hinkend en snotterend
hol ik langs de vijver naar mijn ouderlijk huis
Ik krijg van de dokter een pil voor de pijn
een zalf voor mijn huiden en een capsule om te slapen
Hij vraagt aan mijn ouders hoe dit heeft kunnen gebeuren
Zij weten het niet, denken na over spelen en vallen
Maar ik weet hoe het zit
Ik weet hoe het was
En ik weet het waarom
Mijn leven lang hebben ze me gewaarschuwd
voor de berenklauw
Het is de gevaarlijkste onder de planten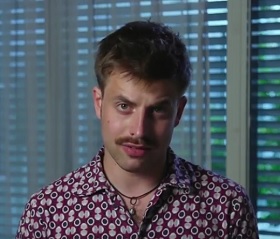 Joost Oomen (De Bilt, 18 november 1980)
De Nederlandse dichter en schrijver Thomas Möhlmann werd geboren in Baarn op18 november 1975. Zie ook alle tags voor Thomas Möhlmann op dit blog.
Elke koplamp zijn konijn
Ergens in de verte gaan altijd wel
de lichtjes aan een vierpersoonskamer
met een man die over het asfalt nadert

gaan altijd wel de lichtjes aan
als je de deur dicht trekt de motor start
na het zoeken naar de juiste zender
weer rechtop achter het stuur
opnieuw bedenken moet waarheen

de lichtjes aan een vierpersoons
tafel met twee stoelen twee borden
in een kamer met een man die nu alleen
het zout voor de wijn zoekt de weg
voor de wielen moet elders een man
zijn die altijd wel ergens nadert.
Momo's globe
Hij laat alles draaien, laat zijn benen
onder het tafeltje bungelen, om hun as
tollen de continenten en oceanen
de blauwe, bruine en groene vlakken
de miljoenen in het westen, de miljarden
in het oosten, alles draait en verwaait
onder zijn vlakke hand wentelt de wereld
zich geleidelijk stil, richten de bergketens
zich zwaar uit de heuvels op, duikt onder
het water het blauwere water, zingen onder
donker groen de ondoordringbare bossen
stippen de steden zich tegen de voorsteden
tegen de meren en rivieren aan, hij kijkt op
alsof hij je iets laat zien, alsof je iets moet
zien gebeuren, in het stilgevallen klaslokaal
fronst hij kort, controleert geconcentreerd
je ogen, richt zijn blik koppig weer op
de bol als je schudt, dat zijn de mensen niet
zwaait opnieuw de aarde aan, laat zijn vinger
ritmisch over het oppervlak gaan: hier.
En hier. En hier. En hier. En hier.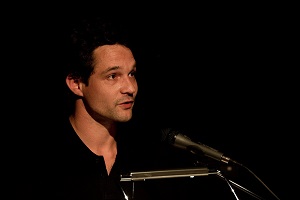 Thomas Möhlmann (Baarn, 18 november 1975)
De Nederladse schrijfster Pauline Genee werd geboren op 18 november 1968 in Heemskerk. Zie ook alle tags voor Pauline Genee op dit blog.
Uit: Russische stilte
"Op een heldere junidag waren we vanaf Sint-Petersburg noordwaarts gegaan, en een witte nacht varen later legde onze boot aan in Petrozavodsk. We zaten net op het muurtje in de haven te bedenken wat we met onze vrije tijd op de wal zouden doen, toen een man van een jaar of veertig, ongeschoren en een slecht gebit, hinkend op ons af kwam.
'Willen de dames de absolute stilte horen?'
We waren al een tijdje in dit land en verbaasden ons niet meer zo snel. Je zit in een haven ergens in het Noorden van Russisch Karelie en een onbekende, sjofel uitziende man met een houten been stelt je voor om je de absolute stilte te laten horen - wat is daar zo raar aan dan?
'We hebben al best veel stilte gehoord', zei Mop blasé.
Ja, dat vond ik ook. Op de meren was het heel stil geweest. Doodstil. Maar toch, als je echt goed luisterde was er altijd wel iets: gezoem van de motor, voetstappen van de medepassagiers, gedempte gesprekken in de belendende hut, gepiep van de bungelende scheepslampen.
De man schudde zijn hoofd. 'Jullie begrijpen het niet, dit is anders.'
Hij zou ons met een bootje meenemen naar de andere kant van de inham, daar was een eilandje met een kale berg. Die zouden we beklimmen, en daar, ergens op de top, op een plek tussen de bomen die alleen hij kon vinden, heerste die absolute stilte die hij ons wilde laten horen.
'Ik zorg er voor dat jullie op tijd terug zijn bij dit schip.'
Het tochtje in de motorboot duurde een minuut of tien. Het was fris, we stonden rechtop in de boot, zittend hadden we nog nietiger afgestoken tegen de groene bergwand. Het meer lag bewegingsloos en als een gladde spiegel om ons heen. De kleine rimpeling die ons bootje in het oppervlak maakte was maar heel even te zien, alsof het door een onzichtbaar vlies meteen weer werd gladgetrokken.
We legden aan bij een kleine steiger. Langzaam stierf het geluid van de motor weg. Er daalde iets op ons neer: dit was stiller dan ik het ooit had gehoord. Maar de man zei: 'njet zdjesj, davaj'- hier niet, kom. Hij legde een vinger over zijn lippen en wenkte ons achter hem aan te lopen."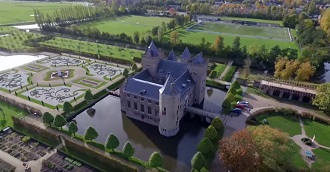 Pauline Genee (Heemskerk, 18 november 1968)
Heemskerk - Kasteel Assumburg
De Duitse schrijver Klaus Mann werd op 18 november 1906 geboren in München als oudste zoon van Thomas en Katia Mann. Zie ook alle tags voor Klaus Mann op dit blog.
Uit: Mephisto
"Kolossal", sagte schließlich einer von den beiden jungen Leuten leise – diesmal ohne jeden Sarkasmus, sondern wirklich beeindruckt, beinah verängstigt von dem riesenhaften Aufwand, der ihn umgab. Das Flimmern der von Lichtern und Wohlgerüchen gesättigten Luft war so stark, dass es ihm die Augen blendete. Ehrfurchtsvoll, aber misstrauisch blinzelte er in den bewegten Glanz. ,Wo bin ich nur?' dachte der junge Herr – er kam aus einem der skandinavischen Länder —. ,Der Ort, an dem ich mich befinde, ist ohne Frage sehr lieblich und verschwenderisch ausgestattet; dabei aber auch etwas grauenhaft. Diese schön geputzten Menschen sind von einer Munterkeit, die nicht gerade vertrauenerweckend wirkt. Sie bewegen sich wie die Marionetten – sonderbar zuckend und eckig. In ihren Augen lauert etwas, ihre Augen haben keinen guten Blick, es gibt in ihnen soviel Angst und soviel Grausamkeit. Bei mir zu Hause schauen die Leute auf eine andere Art – sie schauen freundlicher und freier bei mir zu Hause. Man lacht auch anders bei uns droben im Norden. Hier haben die Gelächter etwas Höhnisches und etwas Verzweifeltes; etwas Freches, Provokantes, und dabei etwas Hoffnungsloses, schauerlich Trauriges. So lacht doch niemand, der sich wohl fühlt in seiner Haut. So lachen doch Männer und Frauen nicht, die ein anständiges, vernünftiges Leben führen…'
Der große Ball zum dreiundvierzigsten Geburtstag des Ministerpräsidenten fand in allen Räumen des Opernhauses statt. In den ausgedehnten Foyers, in den Couloirs und Vestibülen bewegte sich die geputzte Menge. Sie ließ Sektpfropfen knallen in den Logen, deren Brüstungen mit kostbaren Draperien behängt waren; sie tanzte im Parkett, aus dem man die Stuhlreihen entfernt hatte. Das Orchester, das auf der leergeräumten Bühne seinen Platz hatte, war umfangreich, als sollte es eine Symphonie aufführen, mindestens von Richard Strauss. Es spielte aber nur, in keckem Durcheinander, Militärmärsche und jene Jazzmusik, die zwar wegen niggerhafter Unsittlichkeit verpönt war im Reiche, die aber der hohe Würdenträger auf seinem Jubelfeste nicht entbehren wollte.
Hier hatte alles sich eingefunden, was in diesem Lande etwas gelten wollte, niemand fehlte – außer dem Diktator selbst, der sich wegen Halsschmerzen und angegriffener Nerven hatte entschuldigen lassen, und außer einigen etwas plebejischen Parteiprominenten, die nicht eingeladen worden waren. Hingegen bemerkte man mehrere kaiserliche und königliche Prinzen, viele Fürstlichkeiten und fast den ganzen Hochadel; die gesamte Generalität der Wehrmacht, sehr viel einflussreiche Finanziers und Schwerindustrielle; verschiedene Mitglieder des diplomatischen Korps – meistens von den Vertretungen kleinerer oder weit entfernter Länder —; einige Minister, einige berühmte Schauspieler – die huldvolle Schwäche des Jubilars für das Theater war bekannt – und sogar einen Dichter, der sehr dekorativ aussah und übrigens die persönliche Freundschaft des Diktators genoss."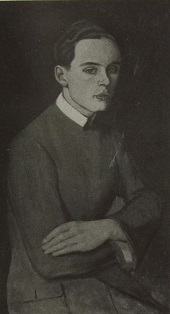 Klaus Mann (18 november 1906 – 21 mei 1949)
Portret, geschilderd door Manns tante, Olga Pringsheim, 1926
De Venezolaanse dichter en schrijver Eugenio Montejo werd geboren in Caracas op 18 november 1938. Zie ook alle tags voor Eugenio Montejo op dit blog.
Meine Liebe
In einem anderen Körper geht meine Liebe durch diese Straße,
ich spüre ihre Schritte im Regen,
sie geht und träumt schon seit einiger Zeit in mir...
In ihrem Flüstern erklingen Echos meiner Stimme,
ich erkenne sie wieder.
Sie ist jetzt so alt, wie ich damals war,
eine Lampe, die aufleuchtet, wenn wir uns begegnen.
Meine Liebe, die schöner wird durch das Übel der Zeit,
meine Liebe auf der Terrasse eines Cafés,
weiße Hibiskusblüten in den Händen,
gekleidet, wie es im neuen Jahrtausend üblich ist.
Meine Liebe, die bleiben wird, wenn ich aufbreche,
mit einem anderen Lächeln und anderen Augen,
wie eine Flamme, die von einer Kerze auf eine andere überspringt,
um weiter die blaue Erde zu erhellen.
Vertaald door Timo Berger
Die Bäume
Die Bäume sprechen wenig, wie man weiß.
Ihr ganzes Leben verbringen sie meditierend
und bewegen ihre Äste.
Es genügt, sie im Herbst zu betrachten,
wenn sie sich in den Parks versammeln:
es unterhalten sich nur die Ältesten,
die, die Wolken und Vögel verteilen,
aber ihre Stimme verliert sich im Laub
und sehr wenig erreicht uns, fast nichts.
Es ist schwierig, ein schmales Buch zu füllen
mit den Gedanken der Bäume.
In ihnen ist alles vage, bruchstückhaft.
Heute zum Beispiel, beim Hören des Schreis
einer schwarzen Drossel, bereits auf dem Weg nach Hause
(des letzten Schreis von ihr, die keinen Sommer mehr erwartet),
verstand ich, dass aus ihrer Stimme ein Baum sprach,
einer von so vielen,
aber ich weiß nicht, was ich mit jenem Schrei anfangen soll,
weiß nicht wie ihn aufschreiben.
Vertaald door Helwig Brunner en Susana Romano-Sued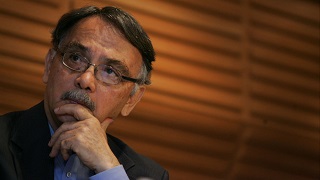 Eugenio Montejo (18 november 1938 – 5 juni 2008)
Zie voor nog meer schrijvers van de 18e november ook mijn vorige blog van vandaag.
18-11-2018 om 13:22 geschreven door Romenu

Tags:Toon Tellegen, Joost Zwagerman, Joost Oomen, Thomas Möhlmann, Pauline Genee, Klaus Mann, Eugenio Montejo, Romenu



Margaret Atwood, Seán Mac Falls, Jaap Meijer, Richard Dehmel, William Gilbert, Hans Reimann, Mireille Cottenjé
De Canadese schrijfster Margaret Atwood werd geboren in Ottawa op 18 november 1939. Zie ook alle tags voor Margaret Atwood op dit blog.
Uit: Hag-Seed
"Monday, January 7, 2013.
Felix brushes his teeth. Then he brushes his other teeth, the false ones, and slides them into his mouth. Despite the layer of pink adhesive he's applied, they don't fit very well; perhaps his mouth is shrinking. He smiles: the illusion of a smile. Pretense, fakery, but who's to know?
Once he would have called his dentist and made an appointment, and the luxurious faux-leather chair would have been his, the concerned face smelling of mint mouthwash, the skilled hands wielding gleaming instruments. Ah yes, I see the problem. No worries, we'll get that fixed for you. Like taking his car in for a tuneup. He might even have been graced with music on the earphones and a semi-knockout pill.
But he can't afford such professional adjustments now. His dental care is low-rent, so he's at the mercy of his unreliable teeth. Too bad, because that's all he needs for his upcoming finale: a denture meltdown. Our revelth now have ended. Theeth our actorth … Should that happen, his humiliation would be total; at the thought of it even his lungs blush. If the words are not perfect, the pitch exact, the modulation delicately adjusted, the spell fails. People start to shift in their seats, and cough, and go home at intermission. It's like death.
"Mi-my-mo-moo," he tells the toothpaste-speckled mirror over the kitchen sink. He lowers his eyebrows, juts out his chin. Then he grins: the grin of a cornered chimpanzee, part anger, part threat, part dejection.
How he has fallen. How deflated. How reduced. Cobbling together this bare existence, living in a hovel, ignored in a forgotten backwater; whereas Tony, that self-promoting, posturing little shit, gallivants about with the grandees, and swills champagne, and gobbles caviar and larks' tongues and suckling pigs, and attends galas, and basks in the adoration of his entourage, his flunkies, his toadies … Once the toadies of Felix.
It rankles. It festers. It brews vengefulness. If only … Enough. Shoulders straight, he orders his gray reflection. Suck it up. He knows without looking that he's developing a paunch. Maybe he should get a truss.
Never mind! Reef in the stomach! There's work to be done, there are plots to be plotted, there are scams to be scammed, there are villains to be misled! Tip of the tongue, top of the teeth. Testing the tempestuous teapot. She sells seashells by the seashore.
There. Not a syllable fluffed.
He can still do it. He'll pull it off, despite all obstacles. Charm the pants off them at first, not that he'd relish the resulting sight. Wow them with wonder, as he says to his actors. Let's make magic! And let's shove it down the throat of that devious, twisted bastard, Tony."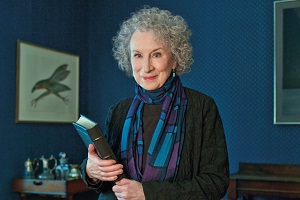 Margaret Atwood (Ottawa, 18 november 1939)
De Iers-Amerikaanse dichter Seán Mac Falls werd geboren op 18 november 1957 in Boston. Zie ook alle tags voor Seán Mac Falls op dit blog.
Jackdaws

The Jackdaw is a bird in its own right
And not a second rate crow.
If I were a member of the Feather Assembly
And the bird tongue fluent in my gob
I'd condemn co-operation, co-flight, co-travel
In wood, in air, in ploughed land and grass land.
I'd advise, and recommend strongly
An independent organisation for Jackdaws.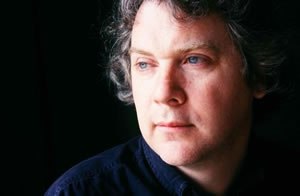 Seán Mac Falls (Boston, 18 november 1957)
De dichter en historicus Jakob (Jaap) Meijer (pseudoniem Saul van Messel) werd geboren in Winschoten op 18 november 1912. Zie ook alle tags voor Jaap Meijer op dit weblog.
''bitte Vorsicht"
in de garderobe van mijn droom
controleer ik mijn syndroom:
de J in mijn pas
de ster op mijn jas
indrukken
de moeten van mijn jodenster
dateren al van eeuwen her
ik voel hem ook vandaag nog goed
die moet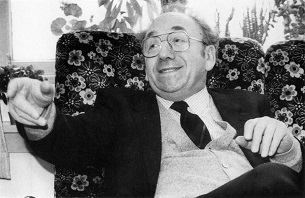 Jaap Meijer (18 november 1912 – 9 juli 1993)
De Duitse dichter Richard Dehmel werd geboren op 18 november 1863 in Wendisch-Hermsdorf. Zie ook alle tags voor Richard Dehmel op dit blog.
Der Fluß
In den abendgelben Fluß
grub mein Ruder schwarze Trichter;
ohne Won und ohne Kuß
sahn wir auf die Wellenlichter,
sahn wir eine dunkle Bucht
still das kahle Ufer spiegeln,
sahn der Berge starre Wucht
seine wirbelvolle Flucht
vor uns, hinter uns verriegeln.

Als wir dann um Mittemacht
in der Stadt mit Flüsterlauten
auf der hohen Brückenwacht
standen und hinunterschauten,
schienen uns die schwarzen Mauem
in dem grauen Wasserschacht
ihren Einsturz zu belauem.

Still, die Sonne kommt herauf.
Klar verfolgen meine Träume
bis zum Meer hin seinen Lauf;
fern durch morgenrote Bäume
steigt der blaue Nebel auf.
Am Scheideweg
Ich wollt dir die Stirn küssen
und dir sagen: hab Dank!
Aber da war ein Licht in deinen Augen
wie Morgenglut auf unerklommenen Bergwäldern;
und dem haben wir folgen müssen,
schweigend.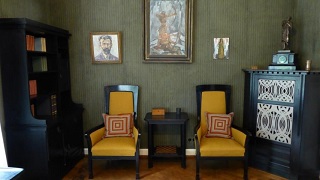 Richard Dehmel (18 november 1863 – 9 februari 1920)
Kamer in het Richard- und Ida-Dehmel-Haus in Hamburg
De Engelse toneelschrijver, librettist en illustrator Sir William Schwenck Gilbert werd geboren in Londen op 18 november 1836. Zie ook alle tags voor William Gilbert op dit blog.
The Englishman
He is an Englishman!
For he himself has said it,
And it's greatly to his credit,
That he is an Englishman!
For he might have been a Roosian,
A French, or Turk, or Proosian,
Or perhaps Itali-an!
But in spite of all temptations,
To belong to other nations,
He remains an Englishman!
Hurrah!
For the true-born Englishman!

Only Roses
To a garden full of posies
Cometh one to gather flowers;
And he wanders through its bowers
Toying with the wanton roses,
Who, uprising from their beds,
Hold on high their shameless heads
With their pretty lips a-pouting,
Never doubting - never doubting
That for Cytherean posies
He would gather aught but roses.
In a nest of weeds and nettles,
Lay a violet, half hidden;
Hoping that his glance unbidden
Yet might fall upon her petals.
Though she lived alone, apart,
Hope lay nestling at her heart,
But, alas! the cruel awaking
Set her little heart a-breaking,
For he gathered for his posies
Only roses - only roses!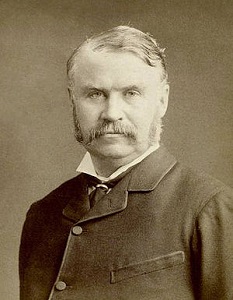 William S. Gilbert (18 november 1836 – 29 mei 1911)
De Duitse schrijver en satircus Albert Johannes (Hans) Reimann werd geboren op 18 november 1889 in Leipzig. Zie ook alle tags voor Hans Reimann op dit blog.
Uit: Joachim Ringelnatz
"Dieser mysteriöse Hamsun-Mensch war ein alkoholfreudiger Raubvogel mit säChsische Beene. Und an die Brust sanken wir gegenseitig hinan und suchten (oder, wie Ringelnatz sich ausdrücken würde: charterten) stantepede einen Kapitalisten, der viele flaschen Weins und die achtfache Anzahl Schnäpse spendieren würde, Zur förderung des gemeinnützigen Unternehmens bestiegen wir eine Straßenbahn. Sie war dicht gefüllt. Wir wurden ins Innere des Wagens bugsiert. Ringelnatz erregte Aufsehen durch die ihm anhaftende Schlipsnadel in form eines Wikinger-Bugspriets oder einer ähnlichen Obszönität. Um die gaffende Menge nicht zu enttäuschen, wendete sich Ringelnatz an mich und fragte mit schallendem Timbre: "Ist eigentlieh deine Schwester wieder aus dem Zuchthaus raus?" So, gab ein Wort das andre und eine Hanebüchenheit die andre, bis wir ausstiegen, ohne daß der Schaffnersmann gewagt hätte, uns zu belästigen. Wir zitterten in eine idyllische Klause und ließen dortselbst den lieben Gott und dergleichen Kapazitäten fromme Allegorien sein. Am übernächsten Tag sandte mir Ringelnatz ein Präsent anläßlich der Wiederkehr meines Eintritts in die Welt. Es waren ein aus stinkender Seife kunstvoll geknetetes Schwein sowie ein Reiniger für die Tabakspfeife, eine aparte Röhrengeschwulst mit Miniatur-Gummiballong. Ein Zettel lag dabei: "Herzliches Gratulatz! Verschäume das Seifenschwein, Halte die Pfeife rein, Ewig dein Ringelnatz." Die Tränen traten mir jählings in die Augen. Dem unerachtet mußte ich sofort die Reimgungsprozedur an meiner Shag-Pfeife vornehmen. Es war ein Genuß, für den ich manchen TheateTabend hingebe. Dank dir, O Ringelnatz! Aber er hat auch schöne Gedichte geschrieben, die die gesamte Produktion des mit Recht Otto Ernst geheißenen Poeten aufwiegen. Bei Alfred Richard Meyer sind die ,Turngedichte' erschienen, die zu den klassischen Säulen moderner Humorigkeit gehören. Außerdem: ,Kuttel Daddeldu' (dem wir des mehreren in der ,Weltbühne' begegnet sind) und das neueste standardwork: .,Die gebatikte Schusterpastete'."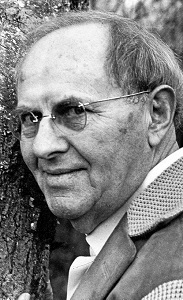 Hans Reimann (18 november 1889 – 13 juni 1969)
De Belgische schrijfster Mireille Cottenjé werd geboren in Moeskroen op 18 november 1933. Zie voor onderstaande schrijvers ook alle tags voor Mireille Cottenjé op dit blog.
Uit:De bevalling
"– Geef ik haar toch die spuit, dokter ?
Waarom ? Heb ik gegild ?
– 't Is gedaan, zegt de man.
Gedaan ? Wat betekent "gedaan" ? het is uit, weg, ik ben bevrijd ? Bevrijd van wie ? Waarvan ? Van de pijn ? Van Fred ? Het kind ? Van mijn haat ? Mijn liefde ? ik krimp ineen.
– Een wee, zegt de dokter geruststellend. De foetus is los, hij zal je nu gauw verlaten.
Zoals jij mij verlaten hebt: zonder een woord.
…
– Het komt, zegt de dokter. Persen nu.
Persen ! denk ik met wellust. Eruit, jij, weg, gedaan ! Ha ! waar ben je nu, verwaande kwast, met je "Ik alleen ben belangrijk !" ?
– Een jongetje, zegt de dokter.
Ik lach schamper, eis overmoedig:
– Laat zien !
In mijn palm komt een slijmerig brokje leven. Het vult mijn hele hand. Het heeft een hoofd met duidelijk afgetekend neusje en oogholten en kin, en het heeft armen en benen en vingertjes en teentjes. Het stuiptrekt als een visje op het droge en opeens breekt mijn harde haat als een ijsschots en binnenin me wordt alles week en weerloos als het tere wezentje in mijn hand en ik lik het en kus het en snik : sorry, sorry, sorry en vlij het tussen mijn warme borsten en ben bereid tot ieder offer, zelfs dat van mijn eigen leven, om de klok één uur achteruit te kunnen zetten en mijn kostbaar geheim nog in mijn schoot te voelen en te koesteren als een wolvin haar wollige welp."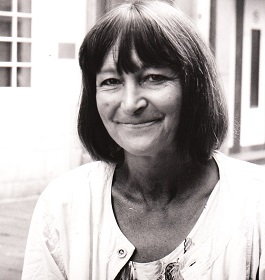 Mireille Cottenjé (18 november 1933 – 9 januari 2006)
18-11-2018 om 13:22 geschreven door Romenu

Tags:Margaret Atwood, Seán Mac Falls, Jaap Meijer, Richard Dehmel, William Gilbert, Hans Reimann, Mireille Cottenjé, Romenu



Iemand als een mensenzoon (Walter Jan Ceuppens)
Bij de 33e zondag door het jaar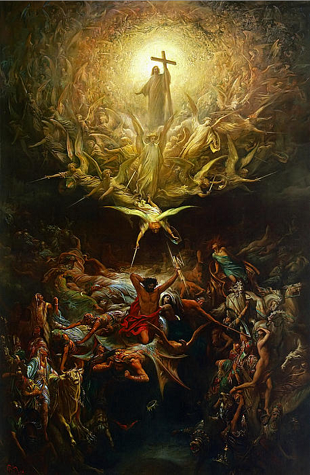 De triomf van het Christendom over heidendom door Gustave Doré, ca. 1868
Iemand als een mensenzoon
"Aggiornamento", zei de wijze man en wij
we waren jonge veulens, springend, dansend,
rollend, brandend, af en aan als noordzeegolven
in de strakke zoute wind van al die jaren.
Kon niet, mocht niet doorgaan, wijs was dwaas, maar
nu ligt d'oude zondagstraat verlaten en geimplodeerd,
met hier en ginder nog een klaproos,
zielsverloren late bloei. Misschien komt iemand
als een Mensenzoon, de lange, hoge trappen af,
grijpt me, glimlacht breed, omhelst me, kust me vrede,
trekt me van mijn werk vandaan en draagt me,
stuwt me, noemt mijn naam. Verliefde verzen hoor ik,
ogen lichten, woorden stralen. Voel mijn handen,
tast je adem, springend, dansend, lieve Mensenzoon!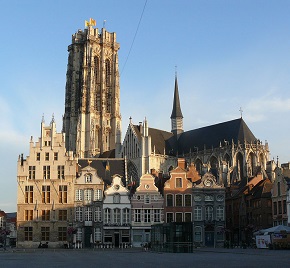 Walter Jan Ceuppens (Mechelen, 1942)
De Sint-Romboutskathedraal in Mechelen
Zie voor de schrijvers van de 18e november ook mijn volgende twee blogs van vandaag.
18-11-2018 om 13:22 geschreven door Romenu

Tags:Romenu, Walter Jan Ceuppens, Kerkelijk Jaar



| | |
| --- | --- |
| | |



Inhoud blog


| | |
| --- | --- |
| | Bernard Malamud, Vincente Alexandre, Carl-Christian Elze, Leo Stilma, Hannelies Taschau, Theun de Vries, Hertha Kräftner, Johann Uhland, Margreet van Hoorn |
| | Erik Menkveld, Ted Kooser, James Fenton, Walter de la Mare, Richard Anders, Fletcher Pratt, William Temple, John Keble, Leopoldo Alas |
| | Frans Coenen, Eric Bogosian, Robert Penn Warren, George Oppen, Sue Grafton, Carl Spitteler, Anthony Trollope, Michael Schaefer, Marcus Clarke |
| | William Shakespeare, Roman Helinski, Pascal Quignard, Peter Horst Neumann, Andrey Kurkov, Halldór Laxness, Christine Busta, Richard Huelsenbeck, Maurice Druon |
| | Easter Monday (Eleanor Farjeon) |
| | Giorgio Fontana, Jan de Hartog, Björn Kern, Vladimir Nabokov, Chetan Bhagat, Peter Weber, Jos de Haes, Thommie Bayer, Madame de Staël |
| | Ana María Shua, Louise Glück, Gert W. Knop, Robert Choquette, James Philip Bailey, Henry Fielding, Michael Schulte, Cabrera Infante, Ludwig Renn |
| | Easter (Edgar Guest) |
| | Charlotte Brontë, Patrick Rambaud, Charles den Tex, Ahmed Arif, Michael Mann, John Mortimer |
| | Peter Schneider, Alistair MacLean, Népomucène Lemercier, Meira Delmar, Gerrit Wustmann |
| | A Burden of Easter Vigil (Lionel Johnson) |
| | Martinus Nijhoff, Jan Cremer, Jean Pierre Rawie, Marieke Lucas Rijneveld, Sebastian Faulks, Jozef Deleu, Steve Erickson, Arto Paasilinna, Michel Leiris |
| | Emmanuel Bove, Henry de Montherlant, Charles Maurras, Herman Bang, Henry Tuckerman, Aloysius Bertrand, Pietro Aretino, Dinah Craik |
| | Weary River (Muus Jacobse) |
| | Marjoleine de Vos, Martin Michael Driessen, Manuel Bandeira, n. c. kaser, Veniamin Kaverin, Louis Amédée Achard, Pierre-Jean de Béranger, Hans Böhm, Werner Rohner |
| | Gethsemane (Richard Dehmel) |
| | Wam de Moor, Roos van Rijswijk, Hanane Aad, Bas Belleman, Clara Eggink, Kathy Acker, Joy Davidman, Henry Kendall, Katharina Schwanbeck |
| | Joop Visser |
| | Antoon Coolen, Vincent Corjanus, Nick Hornby, Ida Boy-Ed, David Wagner, Thornton Wilder, Helen Meier, Karen Blixen, R.J. Pineiro |
| | Thomas Olde Heuvelt, Sarah Kirsch, Kingsley Amis, Patricia De Martelaere, Tristan Tzara, Ewald Vanvugt, Sibylle Lewitscharoff, Jan Luyken, Anatole France |
| | Tomas Tranströmer, Daniël Samkalden, Jérôme Lambert, Patrick Bernauw, Benjamin Zephaniah, Henry James, Wilhelm Busch, Ina Boudier-Bakker, Bernhard Lassahn |
| | Palmzondag (Willem de Mérode) |
| | Péter Esterházy, Alexandre Jardin, Tjitse Hofman, Landolf Scherzer, Charles Lewinsky, Roman Graf |
| | Roberto Schopflocher, Martin Kessel, Helene Hübener, Gerhard Rohlfs, Gabriele Stötzer |
| | Dolce far niente, M. Vasalis, Nachoem Wijnberg, K. Michel, Alexander Münninghoff, Michel Faber |
| | Antje Rávic Strubel, Alan Ayckbourn, Scott Turow, Tom Clancy, Agnes Sapper, Edward de Vere, José Gautier Benítez, Alexander Ostrovski, Guillaume-Thomas Raynal |
| | Leonard Nolens, Mark Strand, Silvia Avallone, Marc Tritsmans, Patrick Cornillie, Stefan Chwin, Walid Soliman, Hubert Nyssen, Dorothy Allison |
| | Leo Vroman, Jan van Mersbergen, Paul Theroux, Claudio Magris, Bella Akhmadulina, Stefan Heym, Richard Wagner, Marcel van Maele, Eric Knight |
| | Eva Gerlach, Charles Baudelaire, Jelle Brandt Corstius, Karel Jonckheere, Jolz Denby, Albert von Schirnding, Johannes Bobrowski, Bernard-Marie Koltès, Yaël Vinckx |
| | Hanz Mirck, Christoph Hein, Judith Koelemeijer, Nnedi Okorafor, Barbara Kingsolver, John Fante, Johann Christian Günther, Glendon Swarthout, Martin Grzimek |
| | Herinnering aan Gerard Reve |
| | Juliana Spahr, Özcan Akyol, William Wordsworth, Gabriela Mistral, Henk Fedder, Donald Barthelme, Jens Peter Jacobsen |
| | Hervé Bazin, Johannes Mario Simmel, Quinsy Gario, Victoria Ocampo, Gustav Landauer, Flora Tristan, Roger Lemelin |
| | En Jezus schreef in 't zand (Gerrit Achterberg) |
| | Annejet van der Zijl, Kazim Ali, Uljana Wolf, Iulian Cioca, Günter Herburger, Jakob Ejersbo, John Pepper Clark, Brigitte Schwaiger, Julien Torma |
| | Alfred Hegenscheidt, Nicolas Chamfort, Levon Shant, Aasmund Olavsson Vinje, Dan Andersson, Erich Mühsam, Georges Darien, Jean-Baptiste Rousseau, Alexander Herzen |
| | Hugo Claus, Martin Reints, Mieke van Zonneveld, Vítězslav Hálek, Algernon Swinburne, Bora Ćosić, Werner J. Egli, Richard Eberhart, Marente de Moor |
| | J.C. Bloem-poëzieprijs 2019 voor Jonathan Griffioen |
| | Hanneke Hendrix, Marko Klomp, Marcel Vaarmeijer, Maya Angelou, E. L. James, Marguerite Duras, Robert Schindel, Michiel van Kempen, Bettina von Arnim |
| | Charles Ducal, Adriaan Jaeggi, Frederik van Eeden, Bert Bakker, Peter Huchel, Arlette Cousture, Pieter Aspe, Karel N.L. Grazell, Washington Irving |
| | Astrid Lindgren Memorial Award voor Bart Moeyaert |
| | Thomas Glavinic, Jay Parini, Anneke Claus, Ed Dorn, Klaus Ender, Konrad Merz, Émile Zola, György Konrád, Anne Waldman |
| | April (Hailaire Belloc) |
| | Milan Kundera, Sandro Veronesi, Nikolaj Gogol, Arnold Aletrino, Max Nord, Urs Allemann, Rolf Hochhuth, John Wilmot, Antoine Prévost |
| | Rob Boudestein, Kornej Tsjoekovski, Andrew Lang, Nichita Stănescu, Hartmut Lange, Marge Piercy |
| | Angela Kreuz, Judith Rossner, Andrew Marvell, John Fowles, Edward FitzGerald, Robert Brasillach, Peter Motte |
| | De verloren zoon (Willem de Mérode) |
| | Stefan Hertmans, Octavio Paz, Asis Aynan, Martijn Teerlinck, Marga Minco, Enrique Vila-Matas |
| | Dolce far niente, Robert Southey, Gerrit Komrij, Paul Verlaine, Uwe Timm |
| | Geert van Istendael, Wim Brands, Eric Walz, Georg Klein, Ernst Jünger, Yvan Goll, R. S. Thomas, Jacques Brault, Denton Welch |