E-mail mij


Druk op onderstaande knop om mij te e-mailen.


Romenu


Google


Georg Trakl

Georg Trakl werd op 3 februari 1887 in het conducteurshuis aan de Waagplatz 2 in Salzburg geboren. Zijn vader, Tobias Trakl, was een handelaar in ijzerwaren en zijn moeder, die ook psychische problemen had, was Maria Catharina Trakl, (meisjesnaam Halik). Voorts had hij nog drie broers en drie zussen. Margarethe (doorgaans Grethe genoemd) stond hem het naast, zelfs zodanig dat sommigen een incestueuze verhouding vermoeden. Zijn jeugd bracht hij door in Salzburg. Vervolgens bezocht hij van 1897 tot 1905 het humanistische gymnasium. Om toch een academische opleiding te kunnen volgen, werkte hij tot 1908 in de praktijk bij een apotheker. Sommigen vermoedden dat hij dit vooral deed om zichzelf opiaten te kunnen verschaffen. Bij het uitbreken van WO I werd Trakl als medicus naar het front in Galicië (heden ten dage in Oekraïne en Polen) gestuurd. Zijn gemoedsschommelingen leidden tot geregelde uitbraken van depressie, die verergerd werden door de afschuw die hij voelde voor de verzorging van de ernstig verwonde soldaten. De spanning en druk dreven hem ertoe een suïcidepoging te ondernemen, welke zijn kameraden nochtans verhinderden. Hij werd in een militair ziekenhuis opgenomen in Kraków, alwaar hij onder strikt toezicht geplaatst werd.Trakl verzonk daar in nog zwaardere depressies en schreef Ficker om advies. Ficker overtuigde hem ervan dat hij contact moest opnemen met Wittgenstein, die inderdaad op weg ging na Trakls bericht te hebben ontvangen. Op 4 november 1914, drie dagen voordat Wittgenstein aan zou komen, overleed hij echter aan een overdosis cocaïne


Paul Celan

Paul Celan werd onder de naam Paul Antschel op 23 november 1920 geboren in Czernowitz, toentertijd de hoofdstad van de Roemeense Boekovina, nu behorend bij de Oekraïne. Paul Celans ouders waren Duitssprekende joden die hun zoon joods opvoedden en hem naar Duitse christelijke scholen stuurden. In 1942 werden Celans ouders door de Duitse bezetter naar een werkkamp gedeporteerd en daar vermoord. Hijzelf wist aanvankelijk onder te duiken, maar moest vanaf juli 1942 in een werkkamp dwangarbeid verrichten. Celan overleefde de oorlog. Via Boekarest en Wenen vestigde Celan zich in 1948 in Parijs. Daar was hij werkzaam als dichter, vertaler en doceerde hij aan de prestigieuze Ecole Normale Supérieure. Vermoedelijk op 20 april 1970 beëindigde hij zijn leven zelf door in de Seine te springen.


Gerard Reve

Gerard Reve over: Medearbeiders "God is in de mensen, de dieren, de planten en alle dingen - in de schepping, die verlost moet worden of waaruit God verlost moet worden, door onze arbeid, aangezien wij medearbeiders van God zijn." Openbaring "Tja, waar berust elk godsbegrip op, elke vorm van religie? Op een openbaring, dat wil zeggen op een psychische ervaring van zulk een dwingende en onverbiddelijke kracht, dat de betrokkene het gevoel heeft, niet dat hij een gedachte of een visioen heeft, maar dat een gedachte gedachte of visioen hem bezit en overweldigt."


Simon Vestdijk
Simon Vestdijk (Harlingen, 17 oktober 1898 – Utrecht, 23 maart 1971) was een Nederlands romancier, dichter, essayist en vertaler. Zijn jeugd te Harlingen en Leeuwarden beschreef hij later in de Anton Wachter-cyclus. Van jongs af aan logeerde hij regelmatig bij zijn grootouders in Amsterdam, waar hij zich in 1917 aan de Universiteit van Amsterdam inschrijft als student in de medicijnen. Tijdens zijn studie die van 1917 tot 1927 duurde, leerde hij Jan Slauerhoff kennen.Tot 1932 is hij als arts in praktijken door heel Nederland werkzaam. In 1932 volgt zijn officiële schrijversdebuut met de uitgave van de bundel Verzen in De Vrije Bladen. Doorslaggevend voor Vestdijks uiteindelijke keuze voor de literatuur is zijn ontmoeting in 1932 met Eddy Du Perron en Menno ter Braak. Deze ontmoeting had tot resultaat dat hij redactielid werd van het tijdschrift Forum Kort daarop, in 1933, wordt zijn eerste novelle, De oubliette, uitgegeven. In hetzelfde jaar schrijft hij Kind tussen vier vrouwen, dat, eerst geweigerd door de uitgever, later de basis zal vormen voor de eerste drie delen van de Anton Wachter-romans. In 1951 ontvangt Vestdijk de P.C. Hooftprijs voor zijn in 1947 verschenen roman De vuuraanbidders. In 1957 wordt hij voor het eerst door het PEN-centrum voor Nederland voorgedragen voor de Nobelprijs voor de Literatuur, die hij echter nooit zal krijgen. Op 20 maart 1971 wordt hem de Prijs der Nederlandse Letteren toegekend, maar voor hij deze kan ontvangen overlijdt hij op 23 maart te Utrecht op 72-jarige leeftijd. Vestdijk was auteur van ca. 200 boeken. Vanwege deze enorme productie noemde de dichter Adriaan Roland Holst hem 'de man die sneller schrijft dan God kan lezen'. Andere belangrijke boeken van Simon Vestdijk zijn: "Kind van stad en land" (1936), "Meneer Visser's hellevaart" (1936), "Ierse nachten" (1946), "De toekomst de religie" (1947), "Pastorale 1943" (1948), "De koperen tuin" (1950), "Ivoren wachters" (1951), "Essays in duodecimo" (1952) en "Het genadeschot" (1964).


K.P. Kavafis

K.P. Kavafis werd als kind van Griekse ouders, afkomstig uit Konstantinopel, geboren in 1863 in Alexandrië (tot vandaag een Griekse enclave) waar hij ook het grootste deel van zijn leven woonde en werkte. Twee jaar na de dood van zijn vader verhuist het gezin in 1872 naar Engeland om na een verblijf van vijf jaar naar Alexandrië terug te keren. Vanwege ongeregeldheden in Egypte vlucht het gezin in 1882 naar Konstantinopel, om na drie jaar opnieuw naar Alexandrië terug te gaan. In de jaren die volgen maakt Kavafis reizen naar Parijs, Londen en in 1901 zijn eerste reis naar Griekenland, in latere jaren gevolgd door nog enkele bezoeken. Op de dag van zijn zeventigste verjaardag, in 1933 sterft Kavafis in Alexandrië. De roem kwam voor Kavafis pas na zijn dood, dus postuum. Deels is dat toe te schrijven aan zijn eigen handelswijze. Hij was uiterst terughoudend met de publicatie van zijn gedichten, liet af en toe een enkel gedicht afdrukken in een literair tijdschrift, gaf in eigen beheer enkele bundels met een stuk of twintig gedichten uit en het merendeel van zijn poëzie schonk hij op losse bladen aan zijn beste vrienden.


Thomas Mann


Thomas Mann, de jongere broer van Heinrich Mann, werd geboren op 6 juni 1875 in Lübeck. Hij was de tweede zoon van de graankoopman Thomas Johann Heinrich Mann welke later één van de senatoren van Lübreck werd. Zijn moeder Julia (geboren da Silva-Bruhns) was Duits-Braziliaans van Portugees Kreoolse afkomst. In 1894 debuteerde Thomas Mann met de novelle "Gefallen". Toen Thomas Mann met 21 jaar eindelijk volwassen was en hem dus geld van zijn vaders erfenis toestond - hij kreeg ongeveer 160 tot 180 goldmark per jaar - besloot hij dat hij genoeg had van al die scholen en instituties en werd onafhankelijk schrijver. Kenmerkend voor zijn stijl zijn de ironie, de fenomenale taalbeheersing en de minutieuze detailschildering. Manns reputatie in Duitsland was sterk wisselend. Met zijn eerste roman, Buddenbrooks (1901), had hij een enorm succes, maar door zijn sceptische houding tegenover Duitsland na de Eerste Wereldoorlog veranderde dit volledig. Stelde hij zich tot aan de jaren twintig apolitiek op (Betrachtungen eines Unpolitischen, 1918), meer en meer raakte hij bij het Politiek gebeuren betrokken. Zijn afkeer van het nationaal socialisme groeide, zijn waarschuwingen werden veelvuldiger en heftiger. In 1944 accepteerde hij het Amerikaanse staatsburgerschap. Tussen 1943 en 1947 schreef Mann Doktor Faustus (zie Faust), de roman van de 'Duitse ziel' in de gecamoufleerd geschilderde omstandigheden van de 20ste eeuw. In 1947 bezocht hij voor het eerst sinds de Oorlog Europa, twee jaar later pas Duitsland. In 1952 vertrok hij naar Zwitserland. Op 12 augustus 1955 stierf hij in Zürich. Twintig jaar na zijn dood, in aug. 1975, is zijn literaire nalatenschap geopend: dagboekaantekeningen van 15 maart 1933 tot 29 juli 1955, alsmede notities uit de jaren 1918 tot en met 1921.Belangrijke werken zijn: Der Zauberberg, Der Tod in Venedig, Dokter Faustus , Joseph und seine Brüder en Die Bekenntnisse des Hochstaplers Felix Krull.


Rainer Maria Rilke

Rilke werd op 4 december 1875 geboren in Praag. Hij had al naam gemaakt als dichter met zijn bundels Das Stundenbuch en Das Buch der Bilder, toen hij de literaire wereld versteld deed staan en wereldfaam verwierf met de publicatie van zijn twee delen Neue Gedichte in 1907 en 1908. Hij verzamelde daarin het beste werk uit een van zijn vruchtbaarste periodes, die hij grotendeels doorbracht in Parijs. Rilke was daar diep onder de indruk gekomen van Rodin, bij wie hij een tijdlang in dienst was als particulier secretaris. Rodin, zei hij later, had hem leren kijken. Dit kijken kwam neer op intense concentratie, om het mysterie te kunnen zien 'achter de schijnbare werkelijkheid'. Latere en rijpere werken als Duineser Elegien (1912-1923) en het ronduit schitterende Die Sonette an Orfeus (1924) illustreren Rilkes metafysische visie op het onzegbare, dat haar verwoording vindt in een hermetische muzikale taal. Op 29 december 1926 overlijdt Rilke in het sanatorium in Val-Mont aan de gevolgen van leukemie. Enkele dagen later wordt hij, overeenkomstig zijn wens, begraven op het kerkhof van Raron.


* * * * * * * * * * * * * * * *

| | |
| --- | --- |
| | Over literatuur, gedichten, kunst en cultuur |

01-07-2018

Far-niente (Théophile Gautier)
Dolce far niente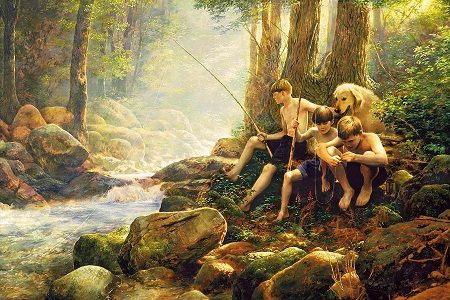 Hook Line And Summer door Greg Olsen, 2004
Far-niente
Quand je n'ai rien à faire, et qu'à peine un nuage
Dans les champs bleus du ciel, flocon de laine, nage,
J'aime à m'écouter vivre, et, libre de soucis,
Loin des chemins poudreux, à demeurer assis
Sur un moelleux tapis de fougère et de mousse,
Au bord des bois touffus où la chaleur s'émousse.
Là, pour tuer le temps, j'observe la fourmi
Qui, pensant au retour de l'hiver ennemi,
Pour son grenier dérobe un grain d'orge à la gerbe,
Le puceron qui grimpe et se pende au brin d'herbe,
La chenille traînant ses anneaux veloutés,
La limace baveuse aux sillons argentés,
Et le frais papillon qui de fleurs en fleurs vole.
Ensuite je regarde, amusement frivole,
La lumière brisant dans chacun de mes cils,
Palissade opposée à ses rayons subtils,
Les sept couleurs du prisme, ou le duvet qui flotte
En l'air, comme sur l'onde un vaisseau sans pilote ;
Et lorsque je suis las je me laisse endormir,
Au murmure de l'eau qu'un caillou fait gémir,
Ou j'écoute chanter près de moi la fauvette,
Et là-haut dans l'azur gazouiller l'alouette.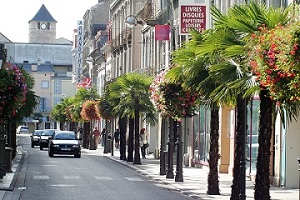 Théophile Gautier (31 augustus 1811 – 23 oktober 1872)
Tarbes, de geboorteplaats van Théophile Gautier
Zie voor de schrijvers van de 1e juli ook mijn vorige blog van vandaag.
01-07-2018 om 11:50 geschreven door Romenu

Tags:Théophile Gautier, Dolce far niente, Romenu



Ik ben de kleine dochter van Jaïrus (Ed Hoornik)
Bij de 6e zondag na Pinksteren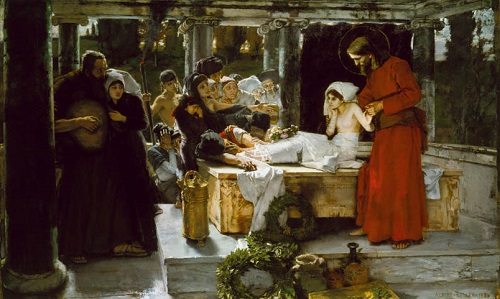 Die Erweckung der Tochter des Jairus door Albert von Keller, 1886
Ik ben de kleine dochter van Jaïrus
Ik ben de kleine dochter van Jaïrus.
Ik lig hier op een veel te grote baar.
De dood zit in mijn ogen en mijn haar,
dat, nu de krul eruit is, zonder zwier is.
Ik mis mijn pop, die nu zij niet meer hier is,
slaapt als ik slaap, de vingers in elkaar.
Ik weet dat twee en twee te zamen vier is,
maar nu ik dood ben, is dat niet meer waar.
Waarom had ik daarstraks ook weer verdriet?
Er zou een man die toveren kon, komen,
mij beter maken, maar toen kwam hij niet.
De mensen op het dak en in de bomen
gingen naar huis, maar ik blijf van hem dromen.
Morgen ben ik de eerste die hem ziet.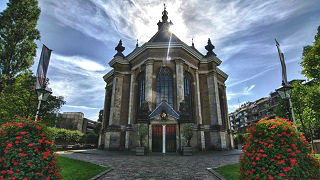 Ed Hoornik (9 maart 1910 – 1 maart 1970)
De Nieuwe Kerk in Den Haag, de geboorteplaats van Ed Hoornik
Zie voor de schrijvers van de 1e juli ook mijn vorige blog van vandaag.


01-07-2018 om 11:50 geschreven door Romenu

Tags:Ed Hoornik, Pinksteren, Romenu



Remco Ekkers, F. Starik, Wim T. Schippers, J. J. Voskuil, Carry Slee, Denis Johnson, Alun Lewis, George Sand, Juan Carlos Onetti
De Nederlandse dichter en schrijver Remco Ekkers werd geboren op 1 juli 1941 in Bergen. Zie ook alle tags voor Remco Ekkers op dit blog.
Lezer
Waar in de bibliotheek zij zat
te lezen hoe woorden zich laten voegen
en niet begreep hoe een ander
moest lachen om de woorden
van een dichteres en vroeg
wat en hoe, waarom poëzie?

Hij, verbaasd dat niet iedere lezer
begreep waarom die woorden aandacht
trekken door hun muziek en betekenis
begon te begrijpen hoe klein de sekte was.

Vele jaren later steeds als hij
daar langs kwam, zag hij haar zitten
streng, gedisciplineerd en begreep
dat hij haar nooit bereiken zou
en ze wuifden naar elkaar zonder woorden.
De libellen
Waar de zwaan zwemt met vier jongen
over het kleine kratermeer Monticchio
zweven de blauwe libellen Calopterix Virgo.

Waar de vader zwaan de jongen bedreigt
die aan komt rennen om te vissen
vliegen rusteloos de blauwe libellen.

Waar de vader van de jongen zijn zoon redt
- angstig staat de jongen te wachten
tot de hand op zijn schouder hem rustig
leidt langs de blazende zwaan -

Daar dansen de blauwe libellen
over het water en schrijven hun brieven
over de zwaan, de jongen, het kratermeer.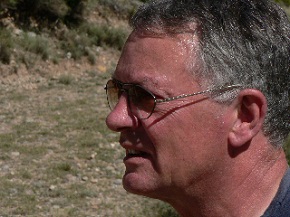 Remco Ekkers (Bergen, 1 juli 1941)
De Nederlandse dichter, schrijver, beeldend kunstenaar, zanger en fotograaf F. Starik werd geboren in Apeldoorn op 1 juli 1958. Zie ook alle tags voor F. Starik op dit blog.
Uit: O teder lied. Bij Rainer Maria Rilkes Nieuwe gedichten
"Staat u mij dus toe een cruciale regel uit de eerste elegie in het Duits te citeren. Zo moeilijk is dat nu ook weer niet. En we gaan die engel straks nog nodig hebben. 'Wie, als ik riep, zou mij dan horen uit de reien der engelen? En stel eens, één nam mij plotseling aan het hart: ich verginge von seinem stärkeren Dasein.' Het is hier vertaald als 'ik zou vergaan door zijn sterker bestaan'. Ik vind dat geen gelukkige keuze. Ik weet ook niet hoe dat beter moet, misschien is het een onoplosbaar probleem, maar wat had ik graag gezien dat Peter Verstegen zich met zijn wendbare elegantie hier eens aan waagde.
Het is tijd om op te merken dat Peter Verstegen de Neue Gedichte weergaloos heeft vertaald. Het lezen van een vertaling van Peter Verstegen is een verhelderende en plezierige exercitie; je valt van de ene verbazing in de andere. Hoe handig en slim hij dat heeft gedaan. Hoe hij goochelt met rijmschema's, ritme, metrum, betekenis, stijl. Hoe hij, door soms ogenschijnlijk fors van het origineel af te wijken, dat origineel juist heel dicht nadert. Verstegen swingt.
In diezelfde intuïtief gerangschikte boekenkast moet zich ergens een exemplaar bevinden van de twintig liefdesgedichten van Rilke die Menno Wigman in 1997 heeft vertaald. Ik leen dus maar het exemplaar dat mijn geliefde in haar keurig alfabetisch geordende collectie heeft staan. Er is alleen even verwarring of het onder de W van Wigman dan wel de R van Rilke zal zijn gerubriceerd. Het blijkt de W van Wigman. Terecht: Wigman blijft in zijn vertalingen dicht bij zijn eigen stijlkenmerken als dichter. Het sluw verborgen halfrijm. De retorische drieslag van de opsomming. Verstegen is in de eerste plaats vertaler, al heeft hij zowel onder eigen naam als onder het pseudoniem Igor Streepjes enige poëzie gepubliceerd."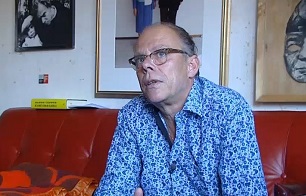 F. Starik (1 juli 1958- 16 maart 2018)
De Nederlandse televisiemaker, schrijver en beeldend kunstenaar Wim T. Schippers werd geboren in Groningen op 1 juli 1942. Zie ook alle tags voor Wim T. Schippers op dit blog.
Uit: Veelbelovend
"Het afgewogen gat dat Harry en Hein lieten vallen in hun door anderhalve man en een paardenkop op gepaste afstand beluisterde tweespraak over Hegeliaanse dialectiek in het denken van Marx, werd prompt opgevuld met de zinsnede 'en dan heb je nog je gas en je licht!', toegevoegd door de aanschuivende, gemoedelijk ogende oude dikke gedragskunstenaar Gras Heyen. 'Als het ware,' nuanceerde een uit Gras Heyens schaduw opduikende magere jonge veelbelovende kunstenaar. Daar hadden de grote denker en de beroemde schaker niet van terug. 'Eenieder wordt vriendelijk verzocht nu op te rotten, uw portier heeft ook recht op een seksleven,' klonk aansluitend door het onherbergzame sociëteitslokaal. Hier en daar wat protest. Geruzie met de barman. Een gerenommeerd dichter sloeg met nieuwe vriendin en barkruk en al ruggelings tegen de vloer.
Lang geen gekke avond, stelde de veelbelovende kunstenaar vast. Veel onzin uitgekraamd, nog meer onzin opgevangen, een uur lang tot ergernis van velen weer eens fijn quatre-mains gespeeld met Gras Heyen, en passant gewonnen met sjoelbakken, mooie dingen bedacht - ook weer vergeten, maar toch. Geflikflooid met vrouwvolk. Misschien was zijn aanpak op het laatst te abrupt en/of te doortastend geweest want ze was er ineens vandoor, maar dat was voor een volgende keer dan wel weer een mooi aanknopingspunt, al had hij daar nu natuurlijk niet veel aan. En er viel niks te betalen want hij had hier en daar goed getimed een praatje aangeknoopt en onopvallend van rondjes geprofiteerd.
Weer eens als laatste kloste hij de steile houten trap af. Uitdagend gloorde de ochtend hem tegemoet. Hij schopte een berg kartonnen dozen vol horeca-afval van de stoep. Hij miste het geruststellende geritsel van de twee grote populieren die tot voor kort sinds jaar en dag, ver verheven boven het lamlendig struikgewas en het sleetse gras met in perkjes gevangen timide bloeiende plantjes, het aanzien van het pleintje bepaalden. De gemeentelijke plantsoenendienst had kennelijk ingezien dat die populieren er wel wat raar bij stonden en gedacht die misstand te kunnen rechtzetten, niet met het verplaatsen van de laag-bij-de-grondse begroeiing, maar met het omzagen van de hoge bomen. Daarmee waren ook de traditionele spreeuwen beroofd van een riante verzamelplek voor de trek. Eens, in een heldere oktobernacht, had hij Gras Heyen gewezen op zo'n bijeenkomst. Die wendde zich tot het vogelvolk, sprak en zei: 'Dondert op met uw gekwetter! Vliegt op! En wel nu!' En zie, zij vlogen op, scheerden in duikvlucht om de mannen heen en trokken zuidwestwaarts. Waarop Gras riep: 'Niet zo bedoeld, kom maar weer terug, het spijt me!' Maar ze wilden hem niet meer horen. Of ze hoorden hem echt niet. Die spreeuwen, welteverstaan. Want her en der werden ramen opengeschoven."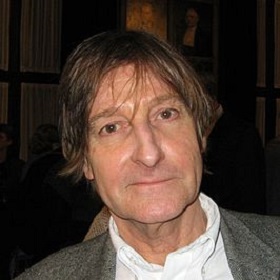 Wim T. Schippers (Groningen, 1 juli 1942)
De Nederlandse schrijver Johannes Jacobus (Han) Voskuil werd op 1 juli 1926 in Den Haag geboren. Zie ook alle tags voor J. J. Voskuil op dit blog.
Uit: Das Büro 1: Direktor Beerta (Vertaald door Gerd Busse)
"Waren Sie gerade am Arbeiten?" fragte er.
"Ich bin immer am Arbeiten", antwortete Beerta. Er sah Maarten unbewegt an. "Ich hab dich lange nicht gesehen." Es klang vorwurfsvoll.
"Wir haben ein Jahr in Groningen gewohnt", sagte Maarten. "Ich war dort Lehrer."
Beerta nickte. "Ich war auch Lehrer", erwiderte er, so, als wenn das die Sache damit besser machte. "Und was tust du jetzt?"
"Nichts."
"Nichts!" wiederholte Beerta. Er spitzte seine Lippen, halb erstaunt, halb ironisch. "Ich glaube, ich wäre darüber nicht so begeistert." Er stand auf. "Wollt ihr vielleicht noch eine Tasse Tee?"
"Ob es ihm paßt, daß wir hergekommen sind?" fragte Nicolien, als Beerta das Zimmer verlassen hatte.
"Natürlich paßt es ihm", sagte Maarten entschieden, aber er war sich seiner Sache nicht sicher. Er ließ seinen Blick über die große, eingerahmte Zeichnung eines Bauernjungens schweifen, ein Werk von Toorop oder von van Konijnenburg, betrachtete das Batiktuch, das dahinter über den Kaminsims drapiert war, sowie die dunklen Möbel und bestickten Kissen, die dem Raum etwas Unvergängliches gaben, ein Eindruck, der durch das langsame Ticken einer Pendeluhr im vorderen Zimmer noch verstärkt wurde. Es hing ein etwas drückender, leicht parfümierter Geruch im Raum, der ihn vage an das Zimmer seiner Großmutter erinnerte, in den letzten Jahren vor ihrem Tod.
"Von Klaas de Ruiter höre ich auch nichts mehr", sagte Beerta, als er wieder in den Raum kam. Vorsichtig hantierte er mit einer Teekanne, die in einem in den Farben Rosa, Braun und Blau gestrickten Kannenwärmer steckte und aus der nur der Griff und der Ausguß herausragten.
"Der ist auch Lehrer", sagte Maarten.
"Das weiß ich", entgegnete Beerta trocken. "Aber ist das ein Grund, mich nicht mehr zu besuchen?"
"Vielleicht hat er viel zu tun", wandte Nicolien ein. Sie lachte nervös.
"Wir haben alle viel zu tun", sagte Beerta und verzog dabei ironisch seine Mundwinkel, "außer Maarten natürlich. Möchtet ihr Milch und Zucker?"
Sie bekamen einen Keks aus einer alten Blechtrommel, deren Blümchenmuster bereits an mehreren Stellen verschlissen war."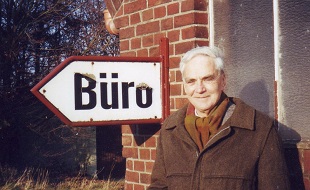 J. J. Voskuil (1 juli 1926 – 1 mei 2008)
De Nederlandse schrijfster Carry Slee werd geboren op 1 juli 1949 in Amsterdam. Zie ook alle tags voor Carry Slee op dit blog.
Uit: #Laatstevlog
"Roos kijkt ongeduldig naar Femke, die in de aula bij de koffi eauto- maat met Jesse staat te praten. Ze wil naar hen toe gaan, maar weet niet of ze hen wel kan storen, want het gesprek ziet er heel serieus uit. Een eindje bij hen vandaan gaat ze zitten en ze haalt haar tablet uit haar rugzak Als ze dan toch moet wachten, dan kan ze mooi even haar Instagram-account checken. Roos bekijkt de foto die ze gisteravond heeft gepost. Chill! Al meer likes dan bij de vorige foto. Jammer genoeg heeft ze vandaag geen tijd om nog meer te posten. Ze moeten taarten bakken. Misschien hebben ze er nog wel meer bestellingen bijgekregen vanochtend. Roos checkt haar mail. Zie je wel, nog een bestelling. Dat zijn al drie taarten! Femke moet nu wel opschieten.
De deur van de aula gaat open. Gijs staat in de deuropening. Hij kijkt naar Femke. Wat een timing! Femke pakt Jesse vast en geeft hem een knuff el. Roos schrikt van Gijs' kwade gezicht. Zal ze naar hem toe gaan en zeggen dat het niet is wat hij denkt? Femke is niet verliefd op Jesse, ze zijn gewoon vrienden. Maar Gijs draait zich om en loopt woedend weg. Laat maar, denkt Roos. Femke lost het wel weer op. Ze hebben wel vaker ruzie. Als het niet om Jesse is, dan gaat het wel ergens anders over.
Roos kijkt weer naar haar telefoon. Als ze ziet hoe laat het is, schrikt ze. Nu moet Femke toch echt komen, anders krijgen ze de bestellingen nooit af. Net op het moment dat Roos haar vriendin wil waarschuwen, geeft Femke Jesse een kus en komt naar haar toe.
'Hèhè,' verzucht Roos.
'Sorry!' Femke wacht tot Jesse de deur van de aula achter zich dichtdoet. 'Ik moest echt even naar Jesse luisteren. Hij was zo zielig."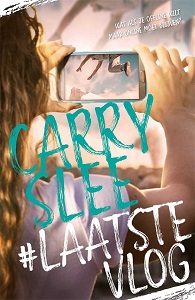 Carry Slee (Amsterdam, 1 juli 1949)
Cover
De Amerikaanse dichter en schrijver Denis Hale Johnson werd geboren op 1 juli 1949 in München. Zie ook alle tags voor Denis Johnson op dit blog.
Heat
Here in the electric dusk your naked lover
tips the glass high and the ice cubes fall against her teeth.
It's beautiful Susan, her hair sticky with gin,
Our Lady of Wet Glass-Rings on the Album Cover,
streaming with hatred in the heat
as the record falls and the snake-band chords begin
to break like terrible news from the Rolling Stones,
and such a last light—full of spheres and zones.
August,
you're just an erotic hallucination,
just so much feverishly produced kazoo music,
are you serious?—this large oven impersonating night,
this exhaustion mutilated to resemble passion,
the bogus moon of tenderness and magic
you hold out to each prisoner like a cup of light?

Quickly Aging Here
1
nothing to drink in
the refrigerator but juice from
the pickles come back
long dead, or thin
catsup. i feel i am old
now, though surely i
am young enough? i feel that i have had
winters, too many heaped cold
and dry as reptiles into my slack skin.
i am not the kind to win
and win.
no i am not that kind, i can hear
my wife yelling, "goddamnit, quit
running over," talking to
the stove, yelling, "i
mean it, just stop," and i am old and.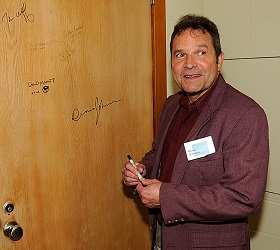 Denis Johnson (1 juli 1949 – 24 mei 2017)
De Engelse (Welshe) dichter Alun Lewis werd geboren op 1 juli 1915 in Cwmaman, in de buurt van Aberdare in Cynon Valley, Zuid-Wales. Zie ook alle tags voor Alun Lewis op dit blog.
Goodbye
So we must say Goodbye, my darling,
And go, as lovers go, for ever;
Tonight remains, to pack and fix on labels
And make an end of lying down together.
I put a final shilling in the gas,
And watch you slip your dress below your knees
And lie so still I hear your rustling comb
Modulate the autumn in the trees.
And all the countless things I shall remember
Lay mummy-cloths of silence round my head;
I fill the carafe with a drink of water;
You say 'We paid a guinea for this bed,'
And then, 'We'll leave some gas, a little warmth
For the next resident, and these dry flowers,'
And turn your face away, afraid to speak
The big word, that Eternity is ours.
Your kisses close my eyes and yet you stare
As though god struck a child with nameless fears;
Perhaps the water glitters and discloses
Time's chalice and its limpid useless tears.
Everything we renounce except our selves;
Selfishness is the last of all to go;
Our sighs are exhalations of the earth,
Our footprints leave a track across the snow.
We made the universe to be our home,
Our nostrils took the wind to be our breath,
Our hearts are massive towers of delight,
We stride across the seven seas of death.
Yet when all's done you'll keep the emerald
I placed upon your finger in the street;
And I will keep the patches that you sewed
On my old battledress tonight, my sweet.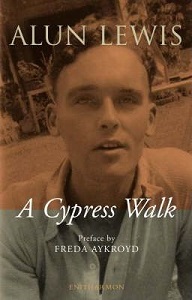 Alun Lewis (1 juli 1915 – 5 maart 1944)
Cover brievenboek
De Franse schrijfster George Sand (pseudoniem van Amandine Lucile Aurore Dudevant, geboren Dupin) werd op 1 juli 1804 geboren in Parijs. Zie ook alle tags voor George Sand op dit blog.
Uit:Journal intime
"L'homme se sait nécessaire à la femme.
Il a trop d'imbécile confiance et, soit cupidité, soit galanterie, soit vanité, la plupart des femmes sont trop intéressées par leur amour pour qu'il ne s'arroge pas un pouvoir despotique sur elles, dans l'amour, comme dans la haine.
La femme n'a qu'un moyen d'alléger son joug et de conserver son tyran, quand son tyran lui est nécessaire : c'est de le flatter bassement. Sa soumission, sa fidélité, son dévouement, ses soins, n'ont aucun prix aux yeux de l'homme ; sans tout cela, selon lui, il ne daignerait pas se charger d'elle. Il faut qu'elle se prosterne et lui dise : « Tu es grand, sublime, incomparable. Tu es plus parfait que Dieu ! Ta face rayonne, ton pied distille l'ambroisie, tu n'as pas un vice et tu as toutes les vertus. Aucun mortel ne peut t'être comparé, je ne dis pas par moi qui suis éblouie de l'éclat de tes regards, mais par ce peuple stupide qui devrait se prosterner quand tu passes et t'élire roi de l'univers ; quand tu me frappes, je suis glorieuse , quand tu me repousses du pied, mon sort est préférable à celui de tous les êtres, t'appartenir est une telle gloire que le genre humain tout entier voudrait se mettre à ma place s'il savait quel honneur y est attaché. » Et pourtant, ces aberrations sont quelquefois dans l'amour le plus pur et le plus vrai. Mais si elles ne sont suivies de réactions violentes, n'y crois pas, homme imbécile, car celle qui t'adore sans cesse, te méprise en secret, celle-la seule qui t'accepte imparfait, et te subit injuste, t'aime avec désintéressement. Mais, fat imprudent, tu ne veux pas qu'on te pardonne, tu veux qu'on croie et qu'on prétexte n'avoir rien à te pardonner. Tu veux qu'on baise la main qui frappe et la bouche qui ment. Cherche donc l'objet de ton amour dans la fange, et empêche tout un rêve d'en sortir tant que tu seras toi-même une idole debout, car si la femme n'ennoblissait, tu serais forcé, pour demeurer son supérieur, de t'ennoblir et de te purifier aussi et c'est ce que tu ne sais, ne peux, ni ne veux faire."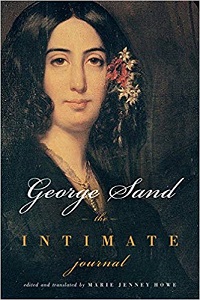 George Sand (1 juli 1804 – 8 juni 1876)
Cover Engelse uitgave
De Urugayaanse schrijver Juan Carlos Onetti werd geboren op 1 juli 1909 in Montevideo. Zie ook alle tags voor Juan Carlos Onetti op dit blog.
Uit: Das kurze Leben (vertaald door Curt Meyer-Clason)
"Santa Rosa
"Verrückte Welt", sagte noch einmal die Frau, als zitiere, als übersetze sie.
Ich hörte sie durch die Wand. Ich stellte mir ihren Mund vor, wie er sich vor dem nach gärenden Nahrungsmitteln riechenden eisigen Atem des Kühlschrankes bewegte oder vor dem braunen Holzperlenvorhang, der vermutlich steif zwischen dem Abend und dem Schlafzimmer hing und die Unordnung der jüngst eingetroffenen Möbel verdunkelte. Zerstreut lauschte ich den abgehackten Sätzen der Frau, ohne an das zu glauben, was sie sagte.
Als ihre Stimme, ihre Schritte, ihr Morgenrock und ihre dicken Arme - so stellte ich sie mir vor - von der Küche ins Schlafzimmer wanderten, wiederholte ein Mann einsilbige Worte, stimmte zu, ohne sich völlig dem Spotten zu überlassen.
Die Hitze, welche die Frau im Gehen durch schnitt, schloß sich wieder, füllte die Ritzen und legte sich schwer auf alle Zimmer, auf die Hohlräume der Treppen, in die Ecken des Gebäudes.
Die Frau ging in dem einzigen Raum der Wohnung nebenan auf und ab, ich hörte sie vom Bad aus, den Kopf unter den fast unhörbaren Regen der Dusche gebeugt.
"Auch wenn es mir das Herz in winzige Stücke zerreißt", sagte die Stimme der Frau leicht singend, nach jedem Satz den Atem anhaltend, als tauche jedes Mal ein hartnäckiges Hindernis auf, um sie davon abzuhalten, etwas zu bekennen, "schwöre ich, werde ich ihn nicht auf den Knien anflehen. Er hat es so gewollt, und nun hat er es. Auch ich habe meinen Stolz. Auch wenn es mir weher tut als ihm."
"Komm, komm", sagte der Mann versöhnlich. Kurze Zeit lauschte ich der Stille in der Wohnung, in dessen Mitte jetzt Eisstückchen in Gläsern quirlten. Der Mann war vermutlich in Hemdsärmeln,
vierschrötig und dicklippig; sie zog nervöse Grimassen, trübselig wegen des Schweißes, der ihr von der Oberlippe und der Brust rann."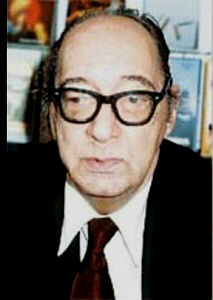 Juan Carlos Onetti (1 juli 1909 – 30 mei 1994)
Zie voor nog meer schrijvers van de 1e juli ook mijn blog van 1 juli 2017 deel 2.
01-07-2018 om 11:49 geschreven door Romenu

Tags:Remco Ekkers, F. Starik, Wim T. Schippers, J. J. Voskuil, Carry Slee, Denis Johnson, Alun Lewis, George Sand, Juan Carlos Onetti, Romenu



Sascha Reh
De Duitse schrijver Sascha Reh werd geboren op 1 juli 1974 in Duisburg. Reh studeerde geschiedenis, filosofie en literatuur in Bochum en Wenen. In 2005 studeerde hij af met een masterscriptie over de geschiedenis van de filmtheorie. Sinds 1999 literaire publiceert hij in verschillende literaire tijdschriften en bloemlezingen. In 2010 verscheen zijn debuutroman "Falscher Frühling", in 2013 gevolgd door "Gibraltar". Zijn derde roman "Gegen Die Zeit" werd in 2015 genomineerd voor de Alfred Döblin-prijs en ontving in hetzelfde jaar de Literatuurprijs Ruhrgebiet.
Reh woont en werkt in Berlijn.
Uit: Gibraltar
"Am Automaten der Bank Austria nahe des Schottentors hob Thomas Alberts 200 Euro Bargeld ab und hatte dabei das eigentümliche Gefühl, als würde sich an seinen Einkommensverhältnissen entweder in Kürze etwas ändern oder als sei diese Veränderung, von ihm unbemerkt, bereits eingetreten. Er war kein Kunde dieser Bank, also musste er es fürs Erste bei dem Gefühl bewenden lassen. Sein Telefon klingelte. Es war 12 Uhr. Frau Sudek meldete sich wöchentlich bei ihm, immer dienstags zur selben Zeit, er hätte seine Uhr danach stellen können. Anders als die meisten seiner Klienten arbeitete sie nicht selbst in einer leitenden Position. Mit seinen übrigen Klienten teilte sie jedoch die Überzeugung, seine Telefonberatung eigentlich nur ausnahmsweise in Anspruch nehmen zu müssen, da Menschen ihres Lebensstandards allenfalls solche Probleme zu haben pflegten, mit denen sie selbst fertigwurden. Als »Ratgeber«, wie er sich in seinen Annoncen schlicht nannte, wusste er um die Vermessenheit dieses Selbstkonzepts; seine gesamte Geschäftsstrategie fußte darauf. Und Frau Sudek war in ihrer allzu durchschaubaren Selbstgewissheit eine musterhafte Vertreterin jenes Menschentyps, der es als nicht standesgemäß empfindet, seinen Problemen ins Auge zu blicken, und sie deswegen lieber telefonisch erörtert. Er führte sie unter »selbstunsicher« und »histrionisch«; jede Woche berichtete sie von einem neuen Eheskandal. Eine Geschichte wie diese war jedoch selbst für ihre Verhältnisse unerhört. »Ich habe es einfach nicht mehr ausgehalten. Diese Kälte. Diese Gleichgültigkeit«, sagte sie. »Seit zwei Jahren führe ich praktisch Selbstgespräche.« Er drückte den Stöpsel seines Headsets etwas tiefer ins Ohr, vergewisserte sich, dass sein Labrador Sol Moscot an seiner Seite lief, und nahm die Rolltreppe an der U-Bahn-Haltestelle Schottentor nach unten, um den Innenstadtring zu unterqueren. Augenblicklich bereute er es. Das Gewimmel der Menschen, das Drängeln der Bettler, die Blicke der Zeitungsverkäufer lenkten ihn ab. Eine Roma-Frau, vielleicht dreißig, mit deutlich vorgealterten Gesichtszügen, ein rotznasiges Mädchen hinter sich herziehend, verstellte ihm stumpfen Blicks den Weg und hielt die Hand auf. Er blieb stehen, suchte nach einem Weg an ihr vorbei, spürte Hitze auf seinen Wangen. Auf sein Telefon deutend versuchte er, an ihr vorbeizugehen. Als sie die Hand erneut und mit erhöhtem Nachdruck nach ihm streckte, wich er zurück; Sol Moscot knurrte. Erst da wurde die Frau auf den Hund aufmerksam und gab den Weg frei. Schnell ging Thomas weiter und klopfte gegen seinen Oberschenkel. Sol Moscot folgte sofort. »Ich habe mich bei einer Agentur angemeldet«, fuhr Frau Sudek fort. »Die vermitteln Seitensprünge.« Sie ließ das letzte Wort in der Leitung nachzittern. »Ich wollte ... ich weiß nicht. Ich war so wütend.« Er zog in Betracht, etwas Verständnisvolles zu sagen, über ihre Wut oder auch ihre Verzweiflung, dann entschied er sich dagegen. Sie lachte, wie über sich selbst."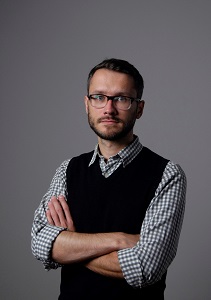 Sascha Reh (Duisburg, 1 juli 1974)
01-07-2018 om 00:00 geschreven door Romenu

Tags:Sascha Reh, Romenu


30-06-2018

Sommer (Gustav Falke)
Dolce far niente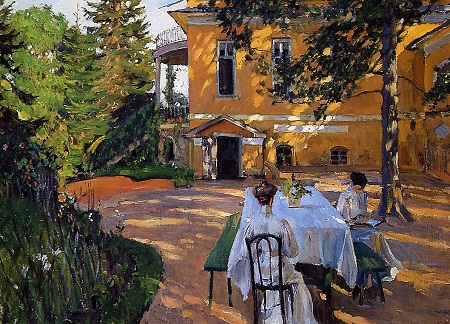 In de zomer door Sergei Vinogradov, 1908
Sommer
Ihr singt von schönen Frühlingstagen,
Von Blütenduft und Sonnenschein,
Ich will nichts nach dem Frühling fragen,
Nein Sommer, Sommer muss es sein.

Wo alles drängt und sich bereite
Auf einen goldnen Erntetag,
Wo jede Frucht sich schwellt und weitet
Und schenkt, was Süßes in ihr lag.

Auch ich bin eine herbe, harte,
Bin eine Frucht, die langsam reift.
O Glut des Sommers, komm! Ich warte,
Dass mich dein heißer Atem streift.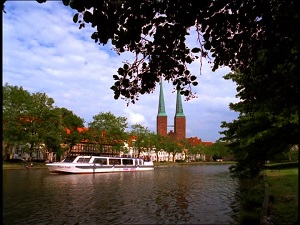 Gustav Falke (11 januari 1853 - 8 februari 1916)
Lübeck, de geboorteplaats van Gustav Falke
Zie voor de schrijvers van de 30e juni ook mijn vorige blog van vandaag.
30-06-2018 om 11:28 geschreven door Romenu

Tags:Gustav Falke, Dolce far niente, Romenu



Czeslaw Milosz, Juli Zeh, Yaseen Anwer, José Emilio Pacheco, Assia Djebar, Jacqueline Zirkzee, Hendrik Jan Schimmel, Georges Duhamel, Thomas Lovell Beddoes
De Poolse dichter, schrijver en Nobelprijswinnaar Czesław Miłosz werd geboren in Šeteniai op 30 juni 1911. Zie ook alle tags voor Czeslaw Milosz op dit blog.
Account
The history of my stupidity would fill many volumes.
Some would be devoted to acting against consciousness,
Like the flight of a moth which, had it known,
Would have tended nevertheless toward the candle's flame.
Others would deal with ways to silence anxiety,
The little whisper which, though it is a warning, is ignored.
I would deal separately with satisfaction and pride,
The time when I was among their adherents
Who strut victoriously, unsuspecting.
But all of them would have one subject, desire,
If only my own—but no, not at all; alas,
I was driven because I wanted to be like others.
I was afraid of what was wild and indecent in me.
The history of my stupidity will not be written.
For one thing, it's late. And the truth is laborious.
Vertaald door Czeslaw Milosz en Robert Pinsky
Late Ripeness
Not soon, as late as the approach of my ninetieth year,
I felt a door opening in me and I entered
the clarity of early morning.
One after another my former lives were departing,
like ships, together with their sorrow.
And the countries, cities, gardens, the bays of seas
assigned to my brush came closer,
ready now to be described better than they were before.
I was not separated from people,
grief and pity joined us.
We forget—I kept saying—that we are all children of the King.
For where we come from there is no division
into Yes and No, into is, was, and will be.
We were miserable, we used no more than a hundredth part
of the gift we received for our long journey.
Moments from yesterday and from centuries ago—
a sword blow, the painting of eyelashes before a mirror
of polished metal, a lethal musket shot, a caravel
staving its hull against a reef—they dwell in us,
waiting for a fulfillment.
I knew, always, that I would be a worker in the vineyard,
as are all men and women living at the same time,
whether they are aware of it or not.
Vertaald door Robert Hass en Czeslaw Milosz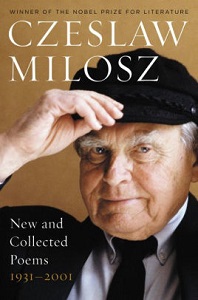 Czeslaw Milosz (30 juni 1911 – 14 augustus 2004)
Cover
De Duitse schrijfster Juli Zeh werd geboren in Bonn op 30 juni 1974. Zie ook alle tags voor Juli Zeh op dit blog.
Uit: Corpus Delicti
"Unter dem besonders lang gezogenen Flachdach des Amtsgerichts geht Justitia ihren Routinegeschäften nach. Die Luft im Raum 20/09, in dem die Güteverhandlungen zu den Buchstaben F bis H stattfinden, ist auf exakt 19,5 Grad klimatisiert, weil der Mensch bei dieser Temperatur am besten denken kann. Sophie kommt niemals ohne ihre Strickjacke zur Arbeit, die sie bei Strafgerichtsverhandlungen sogar unter der Robe trägt. Rechts von ihr liegt ein Aktenstapel, den sie bereits erledigt hat; linker Hand verbleibt ein kleinerer Haufen, den es noch zu bearbeiten gilt. Ihr blondes Haar hat die Richterin zu einem hochsitzenden Pferdeschwanz gebunden, mit dem sie immer noch aussieht wie jene eifrige Studentin in den Hörsälen der juristischen Fakultät, die sie einmal gewesen ist. Sie kaut auf dem Bleistift, während sie auf die Projektionswand schaut. Als sie den Augen des öffentlichen Interessenvertreters begegnet, nimmt sie den Stift aus dem Mund. Sie hat mit Bell zusammen studiert, und er konnte schon vor acht Jahren in der Mensa nervtötende Vorträge über Rachenrauminfektionen halten, die durch den oralen Kontakt mit verkeimten Fremdkörpern verursacht werden. Als ob es in irgendeinem öffentlichen Raum im Land Keime gäbe!
Bell sitzt ihr in einiger Entfernung gegenüber und nimmt mit seinen Unterlagen einen Großteil der Tischplatte ein, während sich der Vertreter des privaten Interesses an die kurze Seite des gemeinsamen Pults zurückgezogen hat. Um die allgemeine Übereinstimmung zu unterstreichen, teilen sich das öffentliche und das private Interesse einen Tisch, was für beide Unterhändler ziemlich unbequem, aber nichtsdestoweniger eine schöne Rechtstradition ist. Wenn Bell den rechten Zeigefinger hebt, wechselt die Projektion an der Wand. Momentan zeigt sie das Bild eines jungen Mannes. »Bagatelldelikt«, sagt Sophie. »Oder gibt's Vorbelastungen? Vorstrafen?«
»Keine«, beeilt sich der Vertreter des privaten Interesses zu versichern. Rosentreter ist ein netter Junge. Wenn er in Verlegenheit gerät, fährt er sich mit einer Hand in die Frisur und versucht anschließend, die ausgerissenen Haare möglichst unauffällig zu Boden schweben zu lassen.
»Also einmaliges Überschreiten der Blutwerte im Bereich Koffein«, sagt Sophie. »Schriftliche Verwarnung, und das war's. Einverstanden?«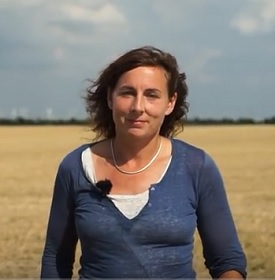 Juli Zeh (Bonn, 30 juni 1974)
De Indiase dichter Yaseen Anwer werd geboren op 30 juni 1989 in Patna. Zie ook alle tags voor Yaseen Anwer op dit blog.
Poor boy
Poor boy
Rolling,
Crawling,
Searching..
For a piece of bread
Crying,
Struggling,
Fighting...
With hunger.
Somehow,
Somewhat,
Somewhere...
I feel even I am responsible
How?
Why?
Where?
I don't know.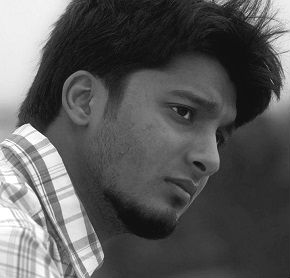 Yaseen Anwer (Patna, 30 juni 1989)
De Mexicaanse schrijver, dichter, essayist en vertaler José Emilio Pacheco werd geboren in Mexico City op 30 juni 1939. Zie ook alle tags voor José Emilio Pacheco op dit blog.
The Octopus
Dark god of the deep,
fern, toadstool, hyacinth,
among stones unseen,
there in the abyss,
where at dawn, against the sun's fire,
night falls to the sea floor and the octopus sips
a dark ink with the suckers of its tentacles.
What nocturnal beauty its splendor if sailing
in the salty half-light of the mother waters,
to it sweet and crystalline.
Yet on the beach overrun by plastic trash
this fleshy jewel of viscous vertigo
looks like a monster. And they're
/ clubbing / the defenseless castaway to death.
Someone's hurled a harpoon and the octopus breathes in death
through the wound, a second suffocation.
No blood flows from its lips: night gushes
and the sea mourns and the earth fades away
so very slowly while the octopus dies.
Crickets
(A Defense and Illustration of Poetry)
I retake an allusion by crickets:
their murmur is hopeless,
the chattering of their elytra
is of no use whatsoever.
Yet if not for the cryptic signal
they broadcast to one another
(for crickets) night would
not be night.
Vertaald door Katherine M. Hedeen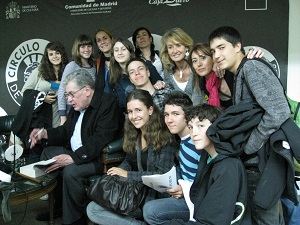 José Emilio Pacheco (30 juni 1939 – 26 januari 2014)
Bij een signeersessie in Madrid in 2010
De Algerijnse schrijfster Assia Djebar (eig.Fatima-Zohra Imalayen) werd geboren op 30 juni 1936 in Cherchell, een kleine kustplaats in de buurt van AlgiersZie ook alle tags voor Assia Djebar op dit blog.
Uit: La soif
« J'étais une enfant gâtée — pas seulement par mon père, mais aussi par la chance ; je l'avais toujours su. Il me suffisait d'avoir un désir secret, même vague, pour qu'aussitôt les circonstances vinssent à mon secours.
Ce fut donc sans surprise que je tombai, ce jour-là, sur Hassein. Je revenais du bain, pieds nus, les cheveux mouillés, quand une voiture freina près de moi. Joyeusement, je souris à Hassein; je le retrouvais toujours avec plaisir. Quelques minutes après, nous étions attablés à la terrasse d'un café, devant la mer.
(…)
"Nos voisins, je les avais souvent entendus ces derniers temps quand, selon mon habitude, j'allais m'étendre à l'ombre trop rare des quelques arbres vite brûlés par l'été. Tout près des roseaux, j'avais mon coin préféré : sous un vieux citronnier qui, autrefois, m'avait prêté ses branches noueuses pour mes balançoires d'enfant, et dont il ne restait plus maintenant qu'un tronc coupé, raide comme une jambe d'infirme. Enroulée autour de l'arbre, je somnolais là, pendant des heures, soupirant après un peu de souffle frais. J'avais la gorge sèche, je me sentais bien, si bien dans cette torpeur ! J'en gémissais de plaisir. Souvent des rires, des éclats de voix, derrière la haie, m'avaient fait sursauter ; jusque-là, je n'y avais pas prêté attention, bien que la voix d'homme claire me plût. Mais, la veille, je m'étais étonnée d'entendre l'homme s'exclamer en arabe, un arabe guttural, comme le parlent les gens du Sud. Ma surprise était légitime ; sur cette plage à la mode, fréquentée en majorité par des familles de colons et quelquefois de fonctionnaires, tous, en tout cas, européens, nous étions les seuls estivants musulmans. D'ailleurs, mon teint de blonde et mon allure émancipée trompaient la plupart; et ceux qui me connaissaient n'oubliaient pas de rappeler ma mère française, morte, il est vrai, à ma naissance, mais mon père m'avait élevée, comme ils disaient, « à l'européenne ». J'avais beau les ignorer, j'étais une des leurs. Je le savais, et mon beau-frère aussi, lui qui jetait un regard oblique sur mes pantalons, qui devinait dans le noir le feu rouge de mes cigarettes."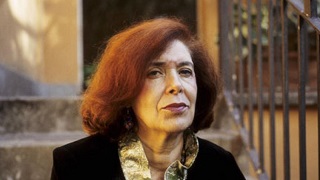 Assia Djebar (30 juni 1936 – 6 februari 2015)
De Nederlandse schrijfster Jacqueline Zirkzee werd geboren in Leiden op 30 juni 1960. Zie ook alle tags voor Jacqueline Zirkzee op dit blog.
Uit: Reimer
"De meester-chirurgijn was niet bijzonder geliefd, maar hun ontzag voor zijn kunde grensde aan het bijgelovige. Het deed er niet toe dat de chirurgijn een azijnpisser was die nauwelijks een woord zei terwijl zijn assistent het gezicht van een engel had: iedereen kende het spectaculaire verhaal van Klaas Kluns, die met de chirurgijn had gevaren toen deze nog ondermeester was. Tot tweemaal toe had hij zijn leven gered. Het spreekwoord zei dat er drie soorten chirurgijns waren: meesters die genazen met gebeden, meesters die genazen met vloeken en meesters die genazen met het slagersmes. Op dit schip hadden ze een exemplaar van de zeldzame vierde soort aan boord: een meester die zijn patiënten daadwerkelijk uit de klauwen van de dood wist te ontfutselen.
De leerling wachtte die avond vergeefs op patiënten bij de grote mast. De manschappen zouden wachten tot de meester weer bij kennis was gekomen en zelf hun kwalen en kwetsuren kon behandelen. Dat wil zeggen, áls hij nog bijkwam, wat in de ogen van de bemanning een godswonder zou mogen heten nu hij aan de twijfelachtige zorgen van zijn leerling was overgeleverd.
In de stapelkooien benedendeks zouden 's avonds laat de tongen loskomen. De vreemde gebeurtenis zou van alle mogelijke kanten worden belicht en besproken. Niemand zou het antwoord kunnen geven op de vraag die hen allen bezighield: hoe had de chirurgijn overboord kunnen vallen? Een van de mannen zou na verloop van tijd opmerken dat dit wellicht niet de juiste vraag was. Moest die niet luiden: waarom was de chirurgijn overboord gesprongen? Waarna een ander zou opperen dat hij ook geduwd kon zijn. Maar door wie? En waarom? Al deze vragen zouden onbeantwoord blijven, want er was niemand die had gezien wat er was gebeurd in de seconden voordat hij te water raakte."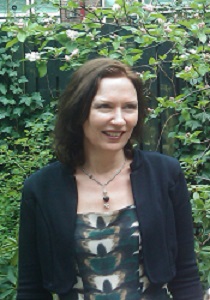 Jacqueline Zirkzee (Leiden, 30 juni 1960)
De Nederlandse dichter en schrijver Hendrik Jan Schimmel werd geboren in 's-Graveland op 30 juni 1823. Zie ook alle tags voor Hendrik Jan Schimmel op dit blog.
Kent gij 't land zo rijk gezegend
Kent gij 't land zo rijk gezegend,
Kent gij 't weergevonden Eden?
Mensen zonder vijgenblâren
Wandlen daar naar de oudste zeden.

Vroeger was 't een warlig Babel
Door het onding: Revolutie,
Ieder school er, ieder huisde er
In 't gebouw der Constitutie!

Ieder mat en ieder paste,
Ieder woog en ieder stutte,
Schudde zelfs d'Aartsvader wakker,
Als hij op zijn vouwstoel dutte;

Dorst hem in zijn soep beknibblen,
Zich het bitse woord vermeten:
'Gij zit stil, terwijl wij werken,
En wie zit moet niet veel eten.'

Maar de Aartsvader 'bij Gods gratie'
Sloeg zijn knuppel toen aan stukken,
En begon van desperatie
Haar en baard zich uit te plukken.

O gij krom, verdraaid geslachte,
Die wilt werken, die wilt delven,
Die wilt wroeten, die wilt bouwen,
Niet voor mij, maar voor u zelven!

Broedsels van de revolutie,
Waar 'k van ijze, grijze en gruwe!
Al het uwe is wel het mijne,
Maar het mijne is niet het uwe.

Ik wil soep, zo veel ik luste!
Hoor uws vaders resolutie:
Hij wil dutten, gij zult werken,
En hij sloopt uw Constitutie.

Sinds die ure was er ruste;
Slechts één stem werd meer vernomen,
En die stem verkondde in 't ronde:
''t Eden is teruggekomen.'

Maar in 't hart der meeste kindren
Klonk het heimlijk: 'Och eilacie!
Strafloos is het beurzensnijden
En de meineed "bij Gods gratie!"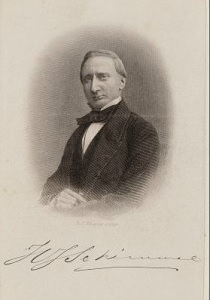 Hendrik Jan Schimmel (30 juni 1823 – 14 november 1906)
De Franse dichter, romanschrijver en essayist Georges Duhamel werd geboren op 30 juni 1884 in Parijs. Zie ook alle tags voor Georges Duhamel op dit blog.
Uit: Le jardin des bêtes sauvages
« Connais-tu Severini ? Non. Tant pis et même tant mieux. C'était un ami de ma mère. Nous sommes fâchés maintenant. Un homme de génie, Laurent. Un chimiste. Il a découvert deux ou trois corps qu'on ne connaissait pas avant lui. Il a chambardé toutes les industries, inventé des engrais, des procédés pour conserver la viande, pour fabriquer le pain, et même pour soigner le cancer. Enfin, des merveilles ! Un bienfaiteur de l'humanité, quoi ! Eh bien, Laurent, figure-toi que Severini martyrisait ses gosses. Il a divorcé trois fois. Il débauche toutes ses bonnes. Il a quatre ou cinq enfants naturels. Il est avare. Enfin, odieux. Ma mère le déteste. D'ailleurs on s'est fâché.
(…)
Je t'ouvre la porte du temple et tu es encore assez godiche pour demander ce que la musique veut dire ! Et que veut-elle dire, monsieur le nigaud ? Des bêtises, peut-être ? « L'instant où nous naissons est un pas vers la mort. » On m'a fait apprendre tout ça dans vos écoles. Ou des choses fameuses pour jeunes personnes sentimentales... « L'homme est un dieu tombé qui se souvient des cieux. » Pas possible ! Mais, Laurent, Laurent, quand elle te donne, ta mère, tes petits pois ou du pain blanc, est-ce pour te dire que l'homme est un dieu tombé ? Non, Laurent, non, c'est pour te nourrir pour faire la chair de ton corps et de ton âme.
(…)
Toi, Laurent, tu es ce qu'on appelle un garçon sentimental. Je n'y vois pas d'inconvénient. C'est ta qualité comme ça. Mais je te répète qu'à ton âge, j'avais tout vu, tout compris. Tu fais du latin, du grec. Tu dis que ça développe la faculté d'analyse. C'est possible, c'est bien possible. N'empêche que tu n'est pas observateur. Mme Hemmer ! Tu ne savais pas Mme Hemmer ? Une histoire qui crevait les yeux. Ca prouve que tu n'est pas observateur. Tu veux devenir un savant. Ce n'est pas plus bête qu'autre chose. N'empêche que tu devrais commencer par comprendre ce qui se passe autour de toi."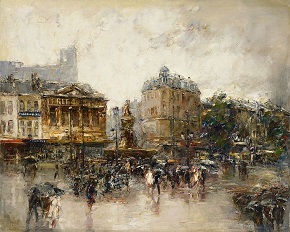 Georges Duhamel (30 juni 1884 – 13 april 1966)
Paris, place de Clichy door Mosè Bianchi, 1884
De Engelse dichter Thomas Lovell Beddoes werd geboren op 30 juni 1803 in Clifton. Zie ook alle tags voor Thomas Lovell Beddoes op dit blog.
Song On The Water
As mad sexton's bell, tolling
For earth's loveliest daughter
Night's dumbness breaks rolling
Ghostily:
So our boat breaks the water
Witchingly.
As her look the dream troubles
Of her tearful-eyed lover,
So our sails in the bubbles
Ghostily
Are mirrored, and hover
Moonily.
Song From The Ship
To sea, to sea! The calm is o'er;
The wanton water leaps in sport,
And rattles down the pebbly shore;
The dolphin wheels, the sea-cows snort,
And unseen Mermaids' pearly song
Comes bubbling up, the weeds among.
Fling broad the sail, dip deep the oar:
To sea, to sea! the calm is o'er.
To sea, to sea! our wide-winged bark
Shall billowy cleave its sunny way,
And with its shadow, fleet and dark,
Break the caved Tritons' azure day,
Like mighty eagle soaring light
O'er antelopes on Alpine height.
The anchor heaves, the ship swings free,
The sails swell full. To sea, to sea!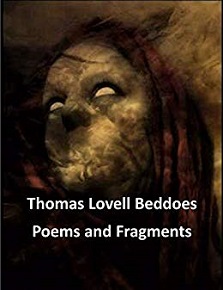 Thomas Lovell Beddoes (30 juni 1803 – 26 januari 1849)
Cover
Zie voor nog meer schrijvers van de 30e juni ook mijn blog van 30 juni 2014 en eveneens mijn blog van 30 juni 2013 deel 1 en eveneens deel 2.
30-06-2018 om 11:28 geschreven door Romenu

Tags:Czeslaw Milosz, Juli Zeh, Yaseen Anwer, José Emilio Pacheco, Assia Djebar, Jacqueline Zirkzee, Hendrik Jan Schimmel, Georges Duhamel, Thomas Lovell Beddoes, Romenu


29-06-2018

Dolce far niente, Lucy Maud Montgomery, Maarten Asscher, Ror Wolf, Thomas Frahm
Dolce far niente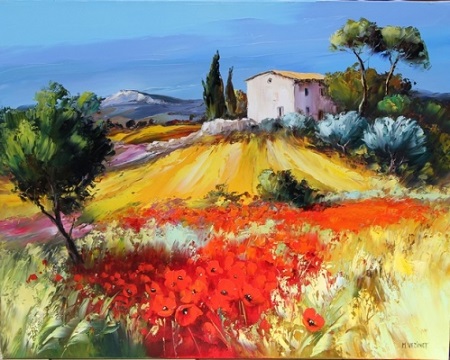 Juin en Languedoc door Michel Vézinet, z.j.
A Summer Day
I
The dawn laughs out on orient hills
And dances with the diamond rills;
The ambrosial wind but faintly stirs
The silken, beaded gossamers;
In the wide valleys, lone and fair,
Lyrics are piped from limpid air,
And, far above, the pine trees free
Voice ancient lore of sky and sea.
Come, let us fill our hearts straightway
With hope and courage of the day.

II
Noon, hiving sweets of sun and flower,
Has fallen on dreams in wayside bower,
Where bees hold honeyed fellowship
With the ripe blossom of her lip;
All silent are her poppied vales
And all her long Arcadian dales,
Where idleness is gathered up
A magic draught in summer's cup.
Come, let us give ourselves to dreams
By lisping margins of her streams.

III
Adown the golden sunset way
The evening comes in wimple gray;
By burnished shore and silver lake
Cool winds of ministration wake;
O'er occidental meadows far
There shines the light of moon and star,
And sweet, low-tinkling music rings
About the lips of haunted springs.
In quietude of earth and air
'Tis meet we yield our souls to prayer.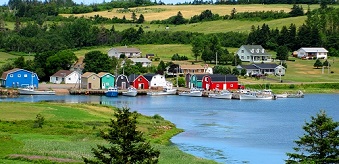 Lucy Maud Montgomery (30 november 1874 – 24 april 1942)
De haven van New London (vroeger Clifton), Prince Edward Island, de geboorteplaats van de dichteres
De Nederlandse dichter, schrijver, vertaler en uitgever Maarten Asscher werd geboren op 29 juni 1957 in Alkmaar. Zie ook alle tags voor Maarten Asscher op dit blog.
Uit: Het onrustige graf van Oscar Wilde
"Toen Robert Ross op donderdag 29 november om 10.20 vanuit het zuiden in Parijs aankwam, gealarmeerd door een telegram van Reginald Turner met de tekst 'Almost hopeless', en hij met eigen ogen had gezien hoe hopeloos Wildes ziekbed inderdaad was, besloot hij op zoek te gaan naar een priester die de stervende dichter in extremis zou kunnen bijstaan. Dat had er niet alleen mee te maken dat Ross, net als Turner trouwens, van huis uit zelf rooms-katholiek was, het was in de eerste plaats een logisch uitvloeisel van Oscar Wildes eigen, levenslange fascinatie voor de Kerk van Rome. Hoewel hij in zijn ontvankelijke jaren evenzeer dweepte met de Griekse mythologie en haar pantheïstische rijkdom, ofschoon hij in 1876 toetrad tot de vrijmetselarij, en zijn jaren van sybaritisch esthetendom op het eerste gezicht slechts een zeer wereldlijke indruk maken, is het rooms-katholicisme als 'de grootste en meest romantische godsdienst' een telkens terugkerend geestelijk ideaal voor hem geweest. Na zijn vrijlating uit de gevangenis van Reading in 1897 was het zijn eerste aandrang om in het klooster te treden, maar het antwoord dat hij per omgaande van de jezuïeten op Farm Street in Londen ontving, namelijk dat hij daar eerst een jaar over moest nadenken, moet hem - impulsief als hij was - niet alleen als teleurstellend maar ook als onrealistisch hebben getroffen. Dat veranderde evenwel niets aan zijn voornemen om zich ooit tot het Roomse geloof te bekeren, en bij gelegenheid van zijn laatste bezoek aan Rome, in het voorjaar van 1900, zocht hij zo vaak de pauselijke zegen te verkrijgen, als wilde hij zich daarmee opladen voor zijn vaste voornemen om naar de katholieke Kerk over te gaan. In elk geval, zo had hij reeds jaren tevoren gezegd, is het rooms-katholicisme de enige godsdienst om in te sterven.
Robert Ross had dus groot gelijk toen hij die donderdagmiddag 29 november op zoek ging naar een priester. Maar dat was niet zo eenvoudig, want het moest wel iemand zijn die Engels sprak. Om vier uur 's middags vond hij de toen eenendertigjarige Ierse Broeder van het Heilig Kruis Father Cuthbert Dunne, verbonden aan de Engelse R.K. Kerk van Saint-Joseph op de Avenue Hoche nr. 50, bereid om hem onmiddellijk te vergezellen, terug naar de rue des Beaux-Arts."
Op grond van zijn priesterlijke waardigheid heeft Father Dunne bijna een halve eeuw lang geweigerd om te reageren op de speculaties en verdachtmakingen die het sterfbed en de bekering van Oscar Wilde bleven omringen. Een van de telkens opgeworpen vragen was of Wilde wel voldoende bij kennis is geweest om de hem toegediende riten geldigheid te verlenen. Maar Father Dunne bewaarde een categorisch zwijgen, tot hij in de jaren veertig opnieuw een nogal malicieus artikel las, waarin aan de bekering werd getwijfeld met een beroep op de Wilde-biografie van de aarts-fantast, journalist en amateur-Casanova Frank Harris, die zich trouwens zelf indertijd verre van Wildes sterfbed had gehouden."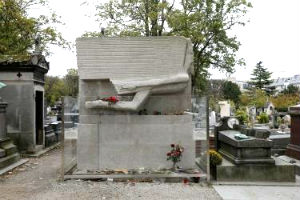 Maarten Asscher (Alkmaar, 29 juni 1957)
Het graf van Oscar Wilde op Père-Lachaise in Parijs
De Duitse dichter en schrijver Ror Wolf (pseudoniem van Raoul Tranchirer) werd geboren op 29 juni 1932 in Saalfeld/Saale. Zie ook alle tags voor Ror Wolf op dit blog.
Uit: Verschiedene Möglichkeiten, die Ruhe zu verlieren
"Was wollte ich eigentlich damals haben? Das, was der Verlag Hartleben im Klappentext annoncierte? Einen Autor, aus dessen Schriften man so leicht belehrt, so angenehm unterhalten werden kann? Ich wollte mich nicht belehren lassen. Auch nicht auf angenehme Weise. Ich war auf der Suche nach Lesegrotten, in die ich hineinspazieren konnte, in denen ich mich verlaufen konnte. Diese Begegnung ist nicht ohne Folgen geblieben. Etwas glühte nach von damals, von den Überraschungen im Umgang mit seinen Büchern; und etwas von heute strahlt zurück auf dieses Erlebnis; etwas von heute, wo Jules Verne ganz in der Nähe von Kafka und Beckett und Robert Walser in meinem Regal steht. Lesen und Leben sind bei mir, meine ich, zu stark miteinander vermischt. Das eine ist ohne das andere nicht denkbar. Aber gerade deshalb ist es auch schwer, mit Sicherheit zu sagen, was damals diesen außergewöhnlichen Eindruck auf mich gemacht hat. Seine Komik, seine Phantastik, seine eigenartige Poesie haben mich wahrscheinlich mehr fasziniert als das technische Inventar. So wie ich heute (und auf die Kopulation zwischen zwei Zeitabschnitten kommt es mir an) Verne nicht als den großen technischen Vorausschauer sehe.
Das, was er an technischem Beiwerk anbietet, kann man ohne Mühe auch in den zeitgenössischen illustrierten Zeitungen, in Reiseberichten und Sachbüchern nachlesen. Verne hat das auch gelesen. Er hat alles geplündert, was ihm in die Hände kam. Er schnitt, sammelte, klebte wieder zusammen; und aus diesen Fetzen entstanden unerhört bizarre Bilderbogen mit merkwürdig zusammengeschrumpften Perspektiven. Er ist nicht der Erfinder der Ballone und Unterseeboote und Flugmaschinen, aber er setzt sie in Bewegung, und sie bewegen sich nach seinem Kommando in seinen Büchern, die zugleich magisch sind und real, komisch und melancholisch, grausam zärtlich entsetzlich und poetisch und fratzenhaft und fabelhaft."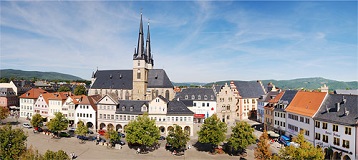 Ror Wolf (Saalfeld/Saale, 29 juni 1932)
Saalfeld/Saale, markt
De Duitse dichter, schrijver, uitgever en vertaler Thomas Frahm werd geboren op 29 juni 1961 in Homberg. Zie ook alle tags voor Thomas Frahm op dit blog.
Uit:Die beiden Hälften der Walnuss
"Zwar wissen wir auch über viele andere Länder der Erde meist weniger als »gefühlt«; im Falle Bulgariens nimmt diese Unkenntnis aber manchmal gespenstische Züge an. Eine Anekdote des in Wien lebenden Schriftstellers Di-mitrd Dinev veranschaulicht das auf humorvolle Weise. Dinev wurde oft gefragt, woher er denn stamme. Kaum hatte er geantwortet: »Aus Bulgarien«, kam auch schon die Gegenfrage: wo das denn liege? Eines Tages wurde es ihm zu bunt. Er beschloss, den Spieß umzudrehen und die Probe aufs Exempel zu machen. »Im Norden., so begann Dinev seine Umschreibung, »grenzt es an Rumä-nien mit der Donau als Grenzfluss. Im Osten haben wir das Schwarze Meer. Im Südosten den europäischen Zipfel der Türkei. Im Süden Griechenland, und im Westen Mazedonien und Serbien. Na, jetzt dürfte es aber kinderleicht sein, oder?. Doch sein Gegenüber runzelte die Stirn, schaute ihn entgeistert an und stammelte: »Aber ... da ist doch nichts?!« Ein weiterer Klassiker ist der Bu-Bu-Effekt, der auch vor Menschen mit abgeschlossenem Hochschulstudium und einem Reiseverhalten, das über Stranddestinationen mit Sonnengarantie hinausgeht, nicht Halt macht. Er schlägt vorzugsweise auf Stehempfängen und anderen Small-Talk-Treffen zu: »Wo leben Sie eigentlich?«
»In Bulgarien..
»Ah, in Bukarest?« »Nein, die bulgarische Hauptstadt heißt Sofia.« »Ach ja, natürlich, entschuldigen Sie. Und wie lebt es sich so in Rumänien?. Die gängigen Erklärungen für Bulgariens Totalabsenz in vielen Köpfen sind meines Erachtens nicht sehr triftig. Langjährige Abriegelung hinter dem Eisernen Vorhang ist kein Spezifikum Bulgariens; sie betraf auch andere Länder, in denen nach dem Zweiten Weltkrieg kommu-nistische Parteien, mehr oder weniger ferngesteuert von der Kommunistischen Partei der Sowjetunion, an die Macht gehievt wurden. Formen der kyrillischen Schrift werden auch in Serbien, der Ukraine und Russland be-nutzt; und die Schrift der Griechen können auch nur wenige Westeuropäer lesen. Die angebliche Kleinheit des Landes wird durch häufige Erwähnung ebenfalls nicht wahrer: Bulgarien steht unter den bislang 47 Staa-ten, die ganz oder teilweise zu Europa gezählt werden, mit 110.000 Quadratkilometern an sechzehnter Stelle, lässt also ganze 31 Staaten, Kleinstaaten und europäische Staatenteile hinter sich; bei der Bevölkerung belegt es mit mehr als 7 Millionen Menschen an zwan7irter Stelle einen oberen Mittelfeldplatz."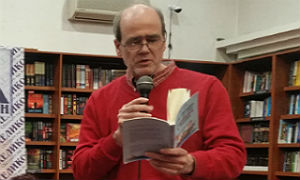 Thomas Frahm (Homberg, 29 juni 1961)
Zie voor nog meer schrijvers van de 29e juni ook mijn blog an 29 juni 2017 en eveneens mijn blog van 29 juni 2013 deel 2.
29-06-2018 om 18:15 geschreven door Romenu

Tags:Dolce far niente, Lucy Maud Montgomery, Maarten Asscher, Ror Wolf, Thomas Frahm, Romenu


28-06-2018

Florian Zeller, Ryszard Krynicki, Mark Helprin, Marlene Streeruwitz, Fritzi Harmsen van Beek, Luigi Pirandello, Jean Jacques Rousseau, Anton van Wilderode, Juan José Saer
De Franse schrijver Florian Zeller werd op 28 juni 1979 in Parijs geboren. Zie ook alle tags voor Florian Zeller op dit blog.
Uit:La Jouissance
"L'histoire commence là où toutes les histoires devraient finir : dans un lit. Nicolas vit depuis deux ans avec Pauline, ce n'est donc pas la première fois qu'ils se retrouvent l'un en face de l'autre et qu'elle lui fait un sourire équivoque en lui prenant la main. Ce sont des gestes qu'ils connaissent par coeur, des gestes qui peuplent le territoire des choses rassurantes et familières ; Nicolas se rapproche alors d'elle et l'embrasse.
Il a toujours pensé que le sexe était un moment métaphysique, quelques secondes pendant lesquelles tout homme peut prendre sa revanche sur la vie. Quelle revanche ? Comme tout le monde, Nicolas va mourir un jour, et ce jour approche inexorablement. Par ailleurs, à trente ans, il n'est pas parvenu à devenir celui qu'il aurait rêvé d'être (un réalisateur reconnu) ; ses chances de réussite sont de plus en plus minces, et il est souvent envahi par un sentiment de détestation et de honte. Pour tout cela, le sexe est une consolation. Ce jour-là, pourtant, quelque chose d'inédit se produit entre eux. Nicolas est allongé sur le dos et Pauline, qui vient de retirer son soutien-gorge, ferme légèrement les yeux, comme elle a l'habitude de le faire quand le plaisir commence sa douce anesthésie du monde.
Soudain, la couette se soulève, et une troisième tête apparaît.
D'un geste théâtral, Sofia envoie la couette valdinguer derrière elle. Elle est nue et tient le sexe de Nicolas de sa main gauche tandis qu'elle cherche, de la droite, à retirer le cheveu qu'elle a l'impression d'avoir sur la langue (mais que faisait-elle sous la couette ?). Pauline descend alors au niveau de Sofia, dans un mouvement d'une lenteur lunaire, c'est la mer quand elle se retire ; Nicolas ferme les yeux.
Il respire calmement et cherche une pensée, un sujet, un objet qui pourrait neutraliser la vision de ces deux femmes entrelacées. Son regard tombe miraculeusement sur le livre qui traîne sur la table de nuit : il s'agit de la Correspondance d'Héloïse et Abélard. Pauline le lui a offert quelques semaines auparavant, en lui disant que c'était selon elle le plus beau témoignage de la littérature amoureuse ; il tente alors de se souvenir du dernier passage qu'il a lu - n'est-ce pas justement le moment où Abélard se fait châtrer ?
A cet instant, son objectif est moins de prendre du plaisir que de tenir le plus longtemps possible. Car Nicolas est un garçon serviable et bien éduqué. Mais tout homme a ses faiblesses : l'effet combiné des langues de Pauline et de Sofia vient facilement à bout de sa concentration. Il se redresse sur les coudes. "Qu'est-ce qu'il y a ?" lui demande Sofia, surprise."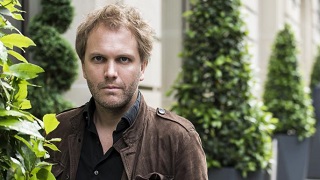 Florian Zeller (Parijs, 28 juni 1979)
De Poolse dichter, vertaler en uitgever Ryszard Krynicki werd geboren op 28 juni 1943 in St.Valentin, Lager Wimberg, Oostenrijk. Zie ook alle tags voor Ryszard Krynicki op dit blog.
Citizen R. K. Doesn't Live
Citizen R. K. doesn't live
with his wife (or any object
that is his own), he doesn't live by the pen,
by the indigestible fountain pen marked "Parker"
that sticks in his throat: he is a sado-
(he gulps the ink that streams
from the fountain pen marked "Parker")
masochist (with this pen he revives the corpses
of days gone by, so as to harass
them): born (he doesn't
know why): into a worker's family, but just the same
he freeloads (on speech): an honorary
blood donor (does foreign blood flow
in his veins): against our
death penalty: he tried to smuggle
something across the border: a birth
certificate, his collective
organism, and a fountain pen ("Parker"): he
doesn't jot down thoughts, he communicates telepathically
(there's a snake
in his telephone) and he corrupts underaged
wristwatches: to fall asleep he counts to 19
84 (isn't he counting on nothing?). He lives,
though it remains unclear
whether he deserves such a life
Vertaald door Clare Cavanagh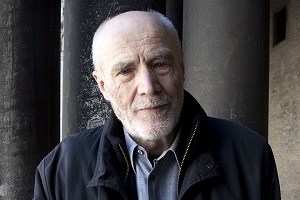 Ryszard Krynicki (St.Valentin, 28 juni 1943)
De Amerikaanse schrijver en journalist Mark Helprin werd geboren in New York op 28 juni 1947. Zie ook alle tags voor Mark Helprin op dit blog.
Uit: In Sunlight and in Shadow
"If you were a spirit, and could fly and alight as you wished, and time did not bind you, and patience and love were all you knew, then you might rise to enter an open window high above the park, in the New York of almost a lifetime ago, early in November of 1947.
After days of rain and unusual warmth, the skies are now the soft deep blue that is the gift of an oblique sun. The air is cool but not yet dense enough to carry sound sharply. From the playing fields, the cries and shouts of children are carried upward, sometimes clearly, sometimes muted, like murmurs, and always eventually to disappear. These sounds inexplicably convey the colors of the children's jerseys, which seen from the eleventh storey are only bright flecks on grass made so green by recent rains and cool nights that it looks like wet enamel.
Coming in the window, you might wonder who had left it open, for the apartment is empty, its silence, to a spirit, thundering like a heartbeat. Perhaps you would turn back to glance at the gulls bobbing in the reservoir, as white as confetti, or to see how the façades of Fifth Avenue across the park and over the trees are lit by the sun in white, ochre, and briefly flaring yellow. The wind coming through the window, as you do, unseen, moves a shade to and fro as if gently breathing, its circular pull occasionally leaping up enough in contrary motion to tap against a pane as if it wants to speak. No one is in. In a breeze that enters and dies before it reaches the back rooms, you ride above particles of dust propelled across polished floors like snowflakes tumbling in a blizzard. In the air is a remnant of perfume, strongest by the door, as is often the case. The lights are off, the heat not yet been turned on, and the brass front-door lock silent and immobile, waiting to be turned and released.
In the room overlooking the park the bookshelves are full. Hanging above the fireplace is a Manet seascape with flags and pennants snapping in the wind; in a desk drawer beneath the telephone, a loaded pistol. And on an oval marble table in the entrance hall near the immobile lock and its expectant tumblers is a piece of card stock folded in half and standing like an A. Musical staffs are printed on the outside. Inside, sheltered as if deliberately from spirits, is a note waiting to be read by someone living. On the same smooth marble, splayed open but kept in a circle by its delicate gold chain, is a bracelet, waiting for a wrist."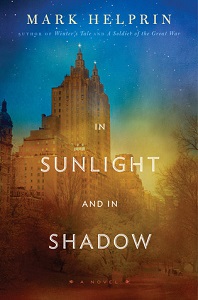 Mark Helprin (New York, 28 juni 1947)
Cover
De Oostenrijkse schrijfster Marlene Streeruwitz werd geboren op 28 juni 1950 in Baden bij Wenen. Zie ook alle tags voor Marlene Streeruwitz op dit blog.
Uit:Die Schmerzmacherin
"Dezember.
Noch nie waren so viele Raubvögel zu sehen gewesen. Die lange Kälte hatte sie aus den Wäldern herausgetrieben. Sie saßen auf den Pfosten der Feldbegrenzungen und in den Kronen der Obstbäume. Sie kauerten auf den Köpfen der Heiligenfiguren an den Brücken und auf den Kreuzen an den Weggabelungen. Bewegungslos hockten sie in der Wintersonne. Ihre Umrisse dunkle
Drohungen vor den Schneefeldern und dem wolkenlosen Himmel. Nichts in Bewegung. Eis und Schnee und die Sonne und kalt. Das breite Tal und die Hügel am Rand. Alles weißglitzernd und der dünnblaue Himmel.
Sie musste langsam fahren. Sie war die Erste auf dem neuen Schnee. Sie fräste eine Spur in die glatte Schneedecke. Aber es gelang kein ruhiges Fahren. Unter dem Neuschnee der Nacht führten die alten Spuren aus Eis und gefrorenem Matsch ihre Räder. Im Rückspiegel sah es aus, als zöge sie eine gerade Spur. Das Fahren war aber ein Gerumpel. Ihr Auto wurde von den Rillen unter dem Schnee umhergeworfen. Sie hatte versucht, aus diesen Eisspuren herauszukommen. Sie hatte so fahren wollen, wie es aussah zu fahren. Gleiten. Sie hatte gleiten wollen. Gleiten so glatt wie der Schnee. Sie war dann ins Rutschen geraten und viel zu nah an die Böschung zum tiefen Straßengraben hinuntergekommen.
Sie fuhr langsam. Sie ließ das Auto dahinschleichen. Ließ die Räder sich selbst den Weg in den Rillen suchen. Sie saß vorgebeugt. Das Rumpeln und Schütteln gegenden Bauch und die Brust. Sie schaute hinaus. Schaute in die Schneeweite hinaus und wie das weiße Tal auf sie zukam und wie sie es durchschnitt. Wie das weiße Tal an ihr vorbeizog und zu beiden Seiten wegsank.
Den Bussard auf dem Brückengeländer hatte sie schon von weitem gesehen. Bei jedem Schlag gegen die Achsen. Bei jedem Knirschen der Räder in einer Querrinne. Sie dachte, der Vogel würde auffliegen. Wegfliegen. Flüchten. Sie begann zu blinzeln. Der Vogel würde sich abstoßen. Er würde die Flügel ausbreiten und wegstreichen. Sie blinzelte in der Erwartung, der Himmel vor ihrer Windschutzscheibe verdunkle sich und einen Augenblick würde dieser Vogel den Blick ausfüllen."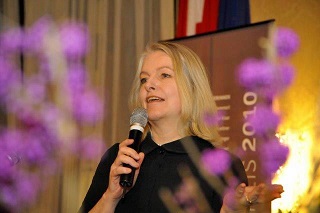 Marlene Streeruwitz (Baden, 28 juni 1950)
De Nederlandse dichteres en schrijfster Fritzi Harmsen van Beek werd geboren in Blaricum op 28 juni 1927. Zie ook alle tags voor Fritzi Harmsen van Beek op dit blog
Zo rauw
gaat het toe op die rampzalige terreinen, waar
de geraffineerde gekkin spreekt tot de kruidenier:

dokter, als mijn geliefde komt zal ik de teergeworden
kersentakken breken en de wimpels verbranden van

mijn wispelturigheid. o als hij komt, die onder
hevig is aan mijn bevalligheid en zich mijn zinnen

ontbinden als loze leliebladeren, zal ik betalen
overvloediger dan bloeiend ik, want god weet dat geld

is als zaad en het is beter te geven dan te ontvangen...
(maar in een bel boven zijn kop verschijnt het: lul

maar raak) en zij, nog razender: een oude merrie heeft
een trap gekregen waarvan ik niet genezen ben, ik heb

het zelf gelezen, waar Aristoteles van Plato schrijft,
en hij: dat kan wel zijn maar ik heb iets gegeven en

niets terug gekregen en zij: mijn vader en hij: mijn
geld en zij (getroubleerd): ik zweer u, als de maan

week is en heel wit zal ik het geven: ik, toch zelf
een wassende maan, een zwellende witkalfslederen

beurs vol pure ongerechtigheid, dat is dus afgesproken?
dus klimt hij op zijn schitterende schat, zijn bakfiets-

dier dat hem terug voert in het naburig proper dorp,
het hoofd vol geuren van vuilnis, koninklijke stallen en

hasekamps onvolprezen oude genever. maar de maanden
zich vervullen, de verloofden putten zich uit, de

lege flessen hopen zich op en sneller steeds zich alles
ledigt, vermindert en ontwijkt: in liefde en liefde in

beestachtige grenzeloze onverschilligheid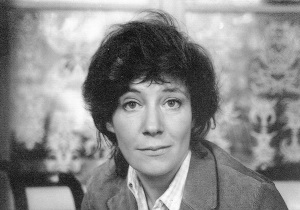 Fritzi Harmsen van Beek (28 juni 1927 – 4 april 2009)
De Italiaanse schrijver Luigi Pirandello werd op 28 juni 1867 geboren in de villa 'Caos' (chaos) in de buurt van Agrigento. Zie ook alle tags voor Luigi Pirandello op dit blog.
Uit: Six Characters in Search of an Author (Vertaald door Edward Storer)
"The Manager [throwing a letter down on the table]. I can't see [To PROPERTY MAN.] Let's have a little light, please!
Property Man.Yes sir, yes, at once. [A light comes down on to the stage.]
The Manager [clapping his hands]. Come along! Come along! Second act of "Mixing It Up." [Sits down.] [The ACTORS and ACTRESSES go from the front of the stage to the wings, all except the three who are to begin the rehearsal.]
The Prompter [reading the "book"]. "Leo Gala's house. A curious room serving as dining-room and study."
The Manager [to PROPERTY MAN]. Fix up the old red room.
Property Man [noting it down]. Red set. All right!
The Prompter [continuing to read from the "book"]. "Table already laid and writing desk with books and papers. Book-shelves. Exit rear to Leo's bedroom. Exit left to kitchen. Principal exit to right."
The Manager [energetically]. Well, you understand: The principal exit over there; here, the kitchen. [Turning to actor who is to play the part of SOCRATES.] You make your entrances and exits here. [To PROPERTY MAN.] The baize doors at the rear, and curtains.
Property Man [noting it down]. Right!
Prompter [reading as before]. "When the curtain rises, Leo Gala, dressed in cook's cap and apron is busy beating an egg in a cup. Philip, also dresesd as a cook, is beating another egg. Guido Venanzi is seated and listening."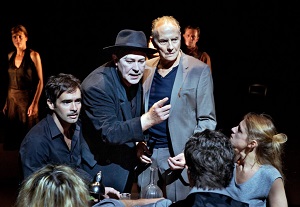 Luigi Pirandello (28 juni 1867 – 10 december 1936)
Scene uit een opvoering in New York, 2014
De Franse schrijver, filosoof en componist Jean Jacques Rousseau werd geboren in Genève op 28 juni 1712. Zie ook alle tags voor Jean-Jacques Rousseau op dit blog.
Uit: Bekentenissen (Vertaald door Leo van Maris)
"Zijn gevoelens moeten hevig zijn geweest, want dertig jaar later zag ik hem nog ontroerd raken toen hij over haar sprak. Mijn moeder bezat meer dan alleen haar deugdzaamheid om zich tegen hem te verdedigen. Ze hield innig van haar man en drong er bij hem op aan dat hij terugkwam. Hij liet alles in de steek en kwam terug. Ik was het trieste resultaat van die terugkeer. Tien maanden later werd ik geboren, zwak en ziek. Ik kostte mijn moeder het leven en mijn geboorte was de eerste ramp die mij getroffen heeft.
Ik weet niet hoe mijn vader dit verlies droeg, maar wel weet ik dat hij het nooit te boven is gekomen. Hij meende haar in mij terug te zien, zonder dat hij kon vergeten dat ik haar van hem had afgenomen. Hij omhelsde me nooit zonder dat ik door zijn zuchten en zijn krampachtige gebaren merkte dat er een bitter verdriet achter zijn liefkozingen schuilging. Die waren mij er des te dierbaarder om. Wanneer hij zei: `Jean-Jacques, laten we over je moeder spreken', antwoordde ik: `Wel, vader, dan gaan we dus huilen', en die woorden alleen al brachten hem de tranen in de ogen. `Ach,' zei hij zuchtend, `geef me haar terug, troost me over haar verlies, vul de leegte die ze in mijn hart heeft achtergelaten. Zou ik zo van je houden als je alleen maar míjn zoon was?'
Veertig jaar nadat hij haar verloren had is hij gestorven in de armen van een tweede vrouw, maar met de naam van de eerste op zijn lippen en haar beeld diep in zijn hart gegrift.
Dat waren mijn ouders. Van alle gaven waarmee de hemel hen had begiftigd, lieten ze mij alleen een gevoelig hart na, maar voor henzelf had dat geluk betekend, terwijl het mij alle rampen van mijn leven bracht.
Ik was bijna stervend geboren. Men had weinig hoop mij in leven te houden. Ik bracht de kiem mee van een kwaal die met de jaren is verergerd en die mij tegenwoordig af en toe met rust laat alleen om mij op een andere manier heviger te laten lijden. Een zuster van mijn vader, een lieve en verstandige jonge vrouw, zorgde zo goed voor me dat ze mij er bovenop bracht. Op het ogenblik dat ik dit schrijf is ze nog steeds in leven en verzorgt ze, op tachtigjarige leeftijd, een man die jonger is dan zij, maar die door de drank is geveld. Lieve tante, ik vergeef u dat u mij in leven hebt gehouden en het doet me verdriet dat ik u aan het einde van uw leven niet de liefdevolle zorgen kan schenken die u mij zo overvloedig hebt geschonken aan het begin van het mijne."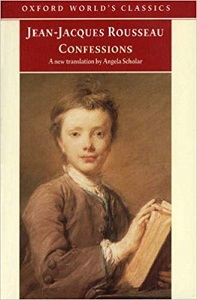 Jean-Jacques Rousseau (28 juni 1712 – 2 juli 1778)
Cover Engelse uitgave
De Vlaamse schrijver dichter, vertaler en scenarist Anton van Wilderode (pseudoniem van Cyriel Paul Coupé werd geboren in Moerbeke op 28 juni 1918. Zie ook alle tags voor Anton van Wilderode op dit blog.
Avond
Aardappelloof rookt bitter rond de hoeven
achter het labyrint van lange dreven,
aan wolken mist en maanlicht prijsgegeven
keren de paardenspannen met de boevers.

Gerucht van melk en ijzer in de stallen,
van hooi en room de reuk tot in de keuken;
een ritueel luidruchtig zonder spreken
voltrekt zich als de avond is gevallen.

De ruiten blinken door een waas van tranen
waarin het huisgezin naar buiten zwevend
het toegeschoven bord ontspannend ledigt.
Gespoord slapen de paarden en de hanen.
Afscheid
Het bos dat ik niet meer zie
is het bos dat ik in de aarde
van mijn geheugen bewaarde
met varens tot aan de knie.

Ik blijf wel de schoolknaap die
in schuilhoeken van geblaarte
onmetelijk moed vergaarde
en longen vol poëzie.

Ik ben om het even wie
maar ik adem mijn eigen aarde.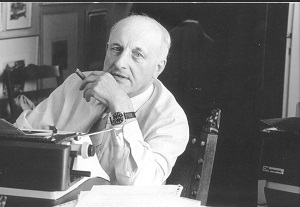 Anton van Wilderode (28 juni 1918 – 15 juni 1998)
De Argentijnse schrijver Juan José Saer werd geboren in Serodino op 28 juni 1937. Zie ook alle tags voor Juan José Saer op dit blog.
Uit: The Sixty-Five Years of Washington (Vertaald door Steve Dolph)
"He, helpful and enthusiastic, went along to the station. That man who, ever since Leto has had use of his reason, has always been silent, distant, shut away with his unsuspected chimeras in his radio workshop, for the last month or so seems to have broken the bell jar that separated him from the outside world, and has come with them, seeming euphoric, close, warm, and open. Leto observes him at a distance, incredulous. At first the change was so sudden that, in his skepticism, he was sure it was some kind of joke, or a tactical transformation, but his persistence and his conviction to the role were so intense that Leto's initial incredulity was replaced with doubt—is he? would he?—all that, no?, telling himself at the same time, but from then on without concrete ideas or words and almost without realizing it, though not only his mind but also his whole body are for some reason saturated with those senses that more and more resemble the shudder or the silent beating or the contraction of nerves, temples, veins, muscles, telling himself, he would say, but in that way, no?, that if it was a comedy the intended audience was Leto himself, because for Isabel, Lopecito, and the rest, who were convinced in advance, no persuasion was necessary—he, Leto no?—the only one who suspected that the man had something up his sleeve, that the man had realized—and decided I was the last obstacle to demolish before his magical circle could finally close, the straggler he had to force in before sealing, hermetically, from the inside, the capsule, and launching it into the interstellar space of his own delirium, Leto thinks, this time with clear and well-formed thoughts, walking, next to the Mathematician, always to the south, on the shady sidewalk, where, more and more frequently, the windows and doors of businesses are open. On a bright, warm, and calm November afternoon, the bus drives past rectangles of blue flax, of yellow sunflowers and green wheat, leaving behind, slow and regular, the repetitive uprights of the telegraph poles, while Leto, sitting next to the window, candidly observes Isabel who, in the seat ahead of him, calmly and serenely flips through the latest issue of Ms & Mrs. The comedy that Leto, after several weeks, has convinced himself is real, produces a tranquilizing and at the same time euphoric effect in Isabel, inasmuch as her old phantasms of marital bliss, upward mobility, sexual satisfaction, economic stability, familial harmony, religious tranquility, and physical well-being have seemed, in recent weeks, to have found their long-awaited substantiation, de–spite the resistance of a hostile world."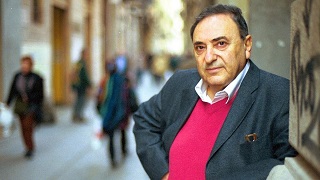 Juan José Saer (28 juni 1937 – 11 juni 2005)
Zie voor nog meer schrijvers van de 28e juni ook mijn blog van 28 juni 2014 deel 2.
28-06-2018 om 18:35 geschreven door Romenu

Tags:Florian Zeller, Ryszard Krynicki, Mark Helprin, Marlene Streeruwitz, Fritzi Harmsen van Beek, Luigi Pirandello, Jean Jacques Rousseau, Anton van Wilderode, Juan José Saer, Romenu


27-06-2018

Lucille Clifton, Rafael Chirbes, Teju Cole, Frank O'Hara, Paul Laurence Dunbar, E. J. Potgieter, Kees Ouwens, Dawud Wharnsby, João Guimarães Rosa
De Amerikaanse dichteres en schrijfster Lucille Clifton werd geboren in New York op 27 juni 1936. Zie ook alle tags voor Lucille Clifton op dit blog.
It Was A Dream
in which my greater self
rose up before me
accusing me of my life
with her extra finger
whirling in a gyre of rage
at what my days had come to.
what,
i pleaded with her, could i do,
oh what could i have done?
and she twisted her wild hair
and sparked her wild eyes
and screamed as long as
i could hear her
This. This. This.
The Mississippi River Empties Into The Gulf
and the gulf enters the sea and so forth,
none of them emptying anything,
all of them carrying yesterday
forever on their white tipped backs,
all of them dragging forward tomorrow.
it is the great circulation
of the earth's body, like the blood
of the gods, this river in which the past
is always flowing. every water
is the same water coming round.
everyday someone is standing on the edge
of this river, staring into time,
whispering mistakenly:
only here. only now.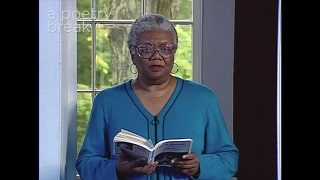 Lucille Clifton (27 juni 1936 – 13 februari 2010)
De Spaanse schrijver Rafael Chirbes werd geboren op 27 juni 1949 in Tabernes de Valldigna bij Valencia. Zie ook alle tags voor Rafael Chirbes op dit blog
Uit: Der lange Marsch (Vertaald door Antje Kunstmann)
"Die blauen Augen waren jedoch von gleicher Lebendigkeit, obwohl die des Vaters eingesunken und, umgeben vom Saum dünner Wimpern, in die Feuchtigkeit des Tränensekrets getaucht waren, vielleicht aber gerade deshalb mit größerer Intensität zu glänzen schienen. Beide Körper strahlten eine unmäßige, fast rohe Kraft aus. Die machte sich in der Stimme des Jüngeren Luft, als in der Tür, die den Rest des Hauses mit der Küche verband, ein barfüßiges Kind in einem grün-weiß gestreiften Schlafanzug erschien. »Ich hab dir doch gesagt, daß ich dich hier nicht sehen will, Lolo. Du gehst jetzt sofort ins Bett und bleibst da, bis es Zeit ist, zur Schule zu gehen«, sagte der Mann. Der Junge kam nicht dazu, ein Wort zu sagen, obwohl er den Mund schon geöffnet hatte. Er machte kehrt und tauchte in die Dunkelheit des Ganges ein. Sein Erschei-nen hatte das Bild vom Vergehen der Zeit abgerundet. Denn das Gesicht war das der beiden Männer, vor vie-len Jahren gesehen. Die drei Lebensalter. »Und Sie soll-ten sich auch hinlegen, Vater«, fuhr der junge Mann, nun in einem anderen Ton, fort. Der Alte machte kei-nerlei Anstalten zu antworten. Er führte die Zigarette an die Lippen, nahm einen tiefen Zug, stieß eine Rauch-wolke aus und griff dann mit der rechten Hand das Kaffeeglas und trank einen Schluck Der Kaffee im Glas dampfte. Die Gegenstände erschienen verzerrt im Wechselspiel von Licht und Schatten, das vom Kamin-feuer ausging, und dann und wann, wenn die Flammen an den feuchten Scheiten leckten, war ein Pfeifen zu hören und, ebenfalls nah, das Tosen des Wildbachs. Es war noch stockfinster; Wahrscheinlich brannten in kei-nem anderen Haus in Hz die Lichter. Und vermutlich liefen in dieser Nacht nicht einmal die herrenlose Tiere über die vom winterlichen Sturm gepeitschten Straßen und das Grenzgebiet zwischen dem Wald und den ab-seits liegenden Häusern, die nichts als eine Schatten-masse unter dem mondlosen Himmel waren."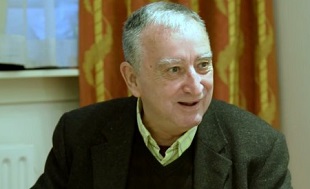 Rafael Chirbes (27 juni 1949 - 15 augustus 2015)
De Nigeriaans-Amerikaanse schrijver, fotograaf en kunsthistoricus Teju Cole werd geboren op 27 juni 1975 in Kalamazoo, Michigan. Zie ook alle tags voor Teju Cole op dit blog.
Uit: Every Day Is for the Thief
"Iwake up late the morning I'm meant to go to the consulate. As I gather my documents just before setting out, I call the hospital to remind them I won't be in until the afternoon. Then I enter the subway and make my way over to Second Avenue and, without much trouble, find the consulate. It occupies several floors of a skyscraper. A windowless room on the eighth floor serves as the section for consular services. Most of the people there on the Monday morning of my visit are Nigerians, almost all of them middle-­aged. The men are bald, the women elaborately coiffed, and there are twice as many men as there are women. But there are also unexpected faces: a tall Italian-­looking man, a girl of East Asian origin, other Africans. Each person takes a number from a red machine as they enter the dingy room. The carpet is dirty, of the indeterminate color shared by all carpets in public places. A wall-­mounted television plays a news program through a haze of static. The news continues for a short while, then there is a broadcast of a football match between Enyimba and a Tunisian club. The people in the room fill out forms.
There are as many blue American passports in sight as green Nigerian ones. Most of the people can be set into one of three categories: new citizens of the United States, dual citizens of the United States and Nigeria, and citizens of Nigeria who are taking their American children home for the first time. I am one of the dual citizens, and I am there to have a new Nigerian passport issued. My number is called after twenty minutes. Approaching the window with my forms, I make the same supplicant gesture I have observed in others. The brusque young man seated behind the glass asks if I have the money order. No, I don't, I say. I had hoped cash would be acceptable. He points to a sign pasted on the glass: "No cash please, money orders only." He has a name tag on. The fee for a new passport is eighty-­five dollars, as indicated on the website of the consulate, but it hadn't been clear that they don't accept cash. I leave the building, walk to Grand Central Terminal, fifteen minutes away, stand in line, purchase a money order, and walk the fifteen minutes back. It is cold outside. On my return some forty minutes later, the waiting room is full. I take a new number, make out the money order to the consulate, and wait.
A small group has gathered around the service window. One man begs audibly when he is told to come back at three to pick up his passport:
—­ Abdul, I have a flight at five, please now. I've got to get back to Boston, please, can anything be done?"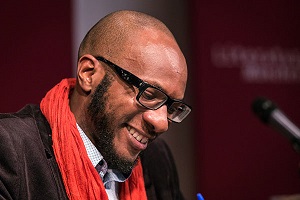 Teju Cole (Kalamazoo, 27 juni 1975)
De Amerikaanse dichter, schrijver en kunstcriticus Francis Russell "Frank" O'Hara werd geboren op 27 juni 1926 in Baltimore. Zie ook alle tags voor Frank O'Hara op dit blog.
Call Me
The eager note on my door said "Call me,"
call when you get in!" so I quickly threw
a few tangerines into my overnight bag,
straightened my eyelids and shoulders, and
headed straight for the door. It was autumn
by the time I got around the corner, oh all
unwilling to be either pertinent or bemused, but
the leaves were brighter than grass on the sidewalk!
Funny, I thought, that the lights are on this late
and the hall door open; still up at this hour, a
champion jai-alai player like himself? Oh fie!
for shame! What a host, so zealous! And he was
there in the hall, flat on a sheet of blood that
ran down the stairs. I did appreciate it. There are few
hosts who so thoroughly prepare to greet a guest
only casually invited, and that several months ago.
Song (Is It Dirty)
Is it dirty
does it look dirty
that's what you think of in the city
does it just seem dirty
that's what you think of in the city
you don't refuse to breathe do you
someone comes along with a very bad character
he seems attractive. is he really. yes. very
he's attractive as his character is bad. is it. yes
that's what you think of in the city
run your finger along your no-moss mind
that's not a thought that's soot
and you take a lot of dirt off someone
is the character less bad. no. it improves constantly
you don't refuse to breathe do you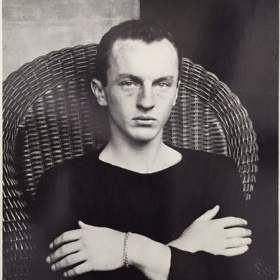 Frank O'Hara (27 juni 1926 – 25 juli 1966)
De Amerikaanse dichter en schrijver Paul Laurence Dunbar werd geboren op 27 juni 1872 in Dayton, Ohio. Zie ook alle tags voor Paul Laurence Dunbar op dit blog.
De Way T'Ings Come
De way t'ings come, hit seems to me,
Is des' one monst'ous mystery;
De way hit seem to strike a man,
Dey ain't no sense, dey ain't no plan;
Ef trouble sta'ts a pilin' down,
It ain't no use to rage er frown,
It ain't no use to strive er pray,
Hit's mortal boun' to come dat way.
Now, ef you 's hongry, an' yo' plate
Des' keep on sayin' to you, 'Wait,'
Don't mek no diffunce how you feel,
'T won't do no good to hunt a meal,
Fu' dat ah meal des' boun' to hide
Ontwell de devil's satisfied,
An' 'twell dey's some'p'n by to cyave
You 's got to ease yo'se'f an' sta've.
But ef dey 's co'n meal on de she'f
You need n't bothah 'roun' yo'se'f,
Somebody's boun' to amble in
An' 'vite you to dey co'n meal bin;
An' ef you 's stuffed up to be froat
Wid co'n er middlin', fowl er shoat,
Des' look out an' you 'll see fu' sho
A 'possum faint befo' yo' do'.
De way t'ings happen, huhuh, chile,
Dis worl' 's done puzzled me one w'ile;
I 's mighty skeered I 'll fall in doubt,
I des' won't try to reason out
De reason why folks strive an' plan
A dinnah fu' a full-fed man,
An' shet de do' an' cross de street
F'om one dat raaly needs to eat.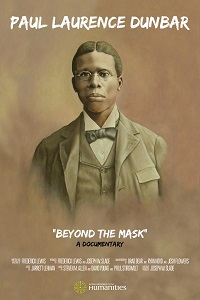 Paul Laurence Dunbar (27 juni 1872 – 9 februari 1906)
Affiche voor een documentaire
De Nederlandse schrijver Everhardus Johannes Potgieter werd geboren in Zwolle op 27 juni 1808. Zie ook alle tags voor Potgieter op dit blog.
Uit: Een dag te Kleef
"Een goedhartig maar medelijdend glimlachje, ziedaar wat u wacht, wanneer gij er voor uitkomt, dat ge de weinige zomerdagen, welke ter uwer beschikking stonden, met genoegen te Kleef hebt doorgebragt; dat gij uwen viertijd in de omstreken van het stadje waarlijk genoot. "Kleef," klinkt het; – maar van welk tal van teekens de drukkerij voorzien moge zijn, dat ondeugend middending tusschen vraag en verbazing, 't welk ieder uwer bekenden zich veroorlooft er achter te zetten, ontbreekt haar, – "Kleef," en de toon, waarop het woord wordt uitgesproken, heeft beurtelings iets van een verwijt of van beklag, "Kleef." Hagchelijk oogenblik, waarin het aan het licht komt, of en hoe ge u hebt vermaakt, – wie van beiden aanvaller of verweerder, niet den zuiversten zin voor het schoon der natuur blijkt begaafd. Het geldt hier minder den toets van hen, bij wie het met deze ook niet breed staat geschapen, zij die aan de villeggiatura maar mededoen, omdat zij tot de mode du grand monde behoort, die op den schoonsten zomeravond eene operazaal in de buurt eene alleraardigste ressource heeten, helaas! zoo zijn er, maar die gaan niet naar "Kleef." Het geldt hier, ach! zoo zijn er ook, zijn er velen, hen, die eenige sporten lager geplaatst op den ladder der beschaving, beweert men, op dien der fortuin zouden wij er willen bijvoegen, zich verbeelden door zulk een stappen over de grenzen in Duitschland, te zijn geweest, die bij Maywald niet louter het onvergelijkelijk uitzigt van het terras, die er ook den toon, en wel niet alleen: dien der eeuwige muzijk prijzen, die dweepen met het Schützen-Bal, – hola! Wat ter wereld zou ons echter het regt verleenen om u onder die schare te schikken, welke, zegt zij, voor iederen gulden, dien zij daar uitgeeft, er voor drie pret heeft; het is er pret naar! wat zou ons de bevoegdheid geven u bij hen te tellen, die afdeinzen, die inkrimpen, die Kleef verloochenen als hun voorname vriend van zijne verre togten ophaalt, zelfs den moed missende hem te vragen, of hij zich op deze wijzer gedroeg dan zij op den hunnen. Liever stellen wij u ons voor, ondanks het verkeer in het gewoel van velerlei wereld zoo eenvoudig van harte gebleven, als vereischt wordt om in vollen zin het leven op het land te smaken, maar tevens schalk genoeg om met het geduldigste gezigt dat goedhartig glimlachje te verdragen, tot de overmoed ten val voert. "Tien dage in Kleef," hoort gij en laat gij in éénen adem zeggen: "maar amice! in tien dagen hadt ge Belgie, hadt ge den Rhijn, hadt ge Ems, Wiesbaden, hadt gij de Saxische Schweitz kunnen zien," en lacht op uwe beurt en herneemt: "Af-, op- en overvliegen, meent ge; minus het genot van den vogel, de vrije lucht!" inderdaad, gij hadt regt, maar naar Kleef te gaan."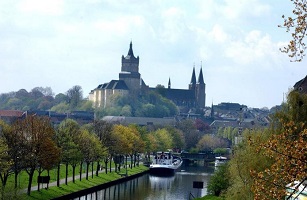 Potgieter (27 juni 1808 – 3 februari 1875)
Kleef
De Nederlandse dichter Kees Ouwens werd geboren op 27 juni 1944 in Zeist. Zie ook alle tags voor Kees Ouwens op dit blog.
Treur niet...
treur niet, late lichtval, als uw gemis
omgloeit de ranke stammen der dennen en
doet blozen hun schubben onder uw streling
uw ophef baart het oog en schokt zijn aanleunen
als een ladder aan de gevel, zoals een aanpassing het
dwalen liet tot de kunstgreep verslapt, zich afleert de
gewenning de eerste beginselen, toen het wendde zijn blik
toe naar uw keervloed maar zich bevond in uw aftocht

leger maakt het uur des inziens u dan de droogste lucht
in een beweging uw toevluchtshoek in zonder een spoor van
resten

beween niet, schuldeloos licht, uw getuige als strijkt
uit uw opzicht uw verving de vanen van heugenis uit over
het oog dat herleidt, merkend uw intocht tot de gang
terug en uw eenzaamheid reddend van
vereenzaming
De stervende natuur
Wanneer de bladeren vallen en, meegevoerd door de wind,
over de straten dwalen, is de winter
nabij. Het zal weldra koud zijn en niets zal
meer herinneren aan de frivole dagen van
weleer.
Wel zie ik nog, ver weg,
mijn moeder in de badkuip zitten,
het haar opgebonden in een handdoek,
en ik hoor haar ondeugende
liederen, die zich met de stoom vermengen,
maar dat is reeds lang geleden.

Zij zal nu eveneens koud zijn
en ingevroren in de huiselijke zorgen.
Want tegenwoordig, men weet het, wil geen kruidenier meer borgen
en het slachten van eigen kind doet aan het
hart zo pijn.

Als de bladeren vallen en, meegevoerd door de wind,
in een troebele vijver belanden, sta ik daar
en zie het droevig aan en denk
hoe gelukkig het is, het schreien nog
niet verleerd te zijn.

Mijn bleke, opgeheven hand troost de stervende natuur
en een tor, staalblauw, kruipt langs mijn schoen.

Kees Ouwens (27 juni 1944 – 24 augustus 2004)
De Canadese dichter, singer-songwriter, performer en sociale activist. Dawud (David) Wharnsby Ali werd geboren op 27 juni 1972 in Kitchener, Ontario. Zie ook alle tags voor Dawud Wharnsby op dit blog.
Little Bird
Little Bird, where has your mother gone?
Why are you here all alone?
Little bird where is your nest?
Why are you so far from all the rest?
Allah knows the language you speak.
And Allah can lift you high.
Allah can bring you home again,
For Allah is stronger than I,
Allah is stronger than I.

Little Bird, I wish I could
Understand the words you speak.
I wish that you could spend the day with me,
We could sit and chat as you perch upon my knee.
Allah knows the language you speak.
And Allah can lift you high.
Allah can bring you home again,
For Allah is stronger than I,
Allah is stronger than I.

Little Bird, I'd love to take you home.
Little Bird, your eyes enchant me so.
Smiling moons in the dark night sky,
I wish that I could lift you up to fly
Allah knows the language you speak.
And Allah can lift you high.
Allah can bring you home again,
For Allah is stronger than I,
Allah is stronger than I.

I'll tell you a secret my Little Bird,
Sometimes I feel alone just like you.
But we should always know, Allah is nearby,
To hear each word we pray and kiss each tear we cry.
Allah knows the language we speak
And Allah will lift us high
Allah will bring us home again
For Allah is stronger than you and I
Allah is stronger than I
Allah will bring us home again
For Allah is stronger than you and I
Allah is stronger than I.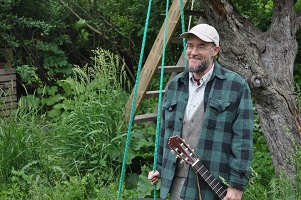 Dawud Wharnsby (Kitchener, 27 juni 1972)
De Braziliaanse schrijver João Guimarães Rosa werd geboren op 27 juni 1908 in Cordisburgo, Minas Gerais. Zie ook alle tags voor João Guimarães Rosa op dit blog.
Uit: The Devil To Pay In The Backlands (Vertaald door James L. Taylor en Harriet de Onís)
"But tell me, when it comes to being possessed of a devil, or helped by one, you too must have known of cases – men – women? Isn't that so? As for me, I've seen so many that I learned to spot them: Rincha-Mãe, Sangue-d'outro, Muitos-Beiços, Rasga-em-Baixo, Faca-Fria, Fancho-Bode, a certain Treciziano, Azinhavre, Hermógenes – a whole herd of them. If I could only forget so many names… I'm not a horse wrangler. And besides, anyone who fools around with the notion of becoming a jagunço, as I did, is already opening the door to thedevil. Yes? No?
In my early days, I tried my hand at this and that, but as for thinking, I just didn't. Didn't have time. I was like a live fish on a griddle – when you're hard-pressed you waste no time in day-dreams. But now, with time on my hands and no special worries, I can lie in my hammock and speculate. Does the devil exist, or doesn't he? That's what I'd like to know. I give up. Look: there is such a thing as a waterfall, isn't there? Yes, but a waterfall is only a high bank water tumbling over the edge. Take away the water, or level the bank – what becomes of the waterfall? Living is a very dangerous business…
Let me try to explain: when the devil is inside a man, in his guts, the man is either evil or suffers bad luck. But, on his own, a man as such has no devil in him. Not one! Do you agree? Tell me frankly – you'll be doing me a great favor, and I ask it of you from my heart. This matter, however foolish it may seem, is important to me. I wish it wasn't. But don't tell me that a wise and learned person like you, sir, believes in the devil! You don't? I thank you. Your opinion reassures me. I knew you felt that way – I expected you would – I give you credit for it. Ah! When a man is old he needs to rest easy.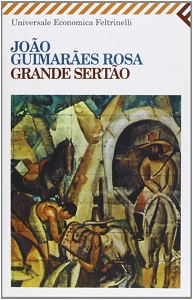 João Guimarães Rosa (27 juni 1908 – 19 november 1967)
Cover Braziliaanse uitgave
Zie voor nog meer schrijvers van de 27e juni ook mijn blog van 27 juni 2016 en eveneens mijn blog van 27 juni 2015 deel 2.
27-06-2018 om 18:10 geschreven door Romenu

Tags:Lucille Clifton, Rafael Chirbes, Teju Cole, Frank O',Hara, Paul Laurence Dunbar, E. J. Potgieter, Kees Ouwens, Dawud Wharnsby, João Guimarães Rosa, Romenu


26-06-2018

Aimé Césaire, Jacqueline van der Waals, Annie Salomons, Yves Beauchemin, Elisabeth Büchle, Laurie Lee, Pearl S. Buck, Stefan Andres, Martin Andersen-Nexø
De Afrocaraïbische schrijver en politicus Aimé Césaire werd geboren op 26 juni 1913 in Basse-Pointe, Martinique. Zie ook alle tags voor Aimé Césaire op dit blog.
From My Stud Farms
Clouds, jump the tracks with a blowtorch! Rain violent girl unravel your shreds! Sea wound settle in with a hiss! All funnels and volcanoes adrift! Stampede mad gods! Blow your brains out! Let the fields be ripped apart by the trident and the pearl fishermen be catapulted to the very sky! A thought. What? The fire that is no longer squandered. What is possible tearing in its sumptuous chest everything slow in becoming.
Night. What? The entire matter which weighs and exhausts itself to become space. The password. What? To pass the world through a sieve and the lack of solidarity in each subterfuge.
Times of lightning, times of lightning, placid beasts, frenzied beasts, plodding beasts, at my call by nostrils and foamings you used to run out of the stables of the sky
and there were marvelous multicolored
prairies of every trot and every
shade of bay which grew for the desire of these fiery beasts
young and brushed by coco plums
under the tender skin of water forever dazzling

Vertaald door Clayton Eshleman
Calme
pousseront leur douce tête violente de torturé à travers la
claire-voie que deux à deux font les paroles les lianes dépêcheront du fond de leurs veilles une claire batterie de sangsues dont l'embrassade sera de la force irrésistible
des parfums de chaque grain de sable naîtra un oiseau de chaque fleur simple sortira un scorpion (tout étant recomposé)
les trompettes des droseras éclateront pour marquer l'heure où abdiquer mes épaisses lèvres plantées d'aiguilles en faveur de l'armature flexible des futurs aloès
l'émission de chair naïve autour de la douleur sera généralisée
hors de tout rapport avec l'incursion bivalve des cestodes cependant que les hirondelles nées de ma salive agglutineront
avec les algues apportées par les vagues qui montent de toi le mythe sanglant d'une minute jamais murmurée aux étages des tours du silence les vautours s'envoleront avec au bec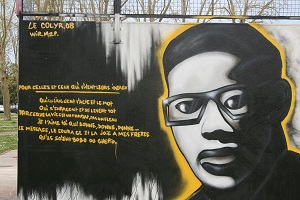 Aimé Césaire (26 juni 1913 – 17 april 2008)
Als graffiti
De Nederlandse dichteres Jacqueline Elisabeth van der Waals werd geboren op 26 juni 1868 in Den Haag. Zie ook alle tags voor Jacqueline van der Waals op dit blog.
Bergen
Nu zien de grote bergen op mij neder.
Ze zijn verwonderd, dat ik al zo lang
Alleen geklommen ben, en half nieuwsgierig,
Half spelend volgt hun oog mijn trage gang.

Nu zien de bergen goedig op mij neder,
Terwijl ik altijd verder, rusteloos
Naar boven klauter naar hun kale toppen.
Niet ongeduldig zijn ze en niet boos

Om mijn vermetelheid; ze kijken rustig
Zoals mijn oog soms spelend nederziet
Op 't trage rupsje kruipend op mijn vinger,
En doelloos zijn bewegingen bespiedt.

De goede bergen zijn nu heel voorzichtig,
Ze houden zich stil, opdat vooral
Geen steentje los zou laten waar ik klauter,
Geen steen mij treffen zoude in zijn val.

Ze houden zich heel rustig, maar ten laatste
Wanneer dat stille kijken hen verveelt,
Beginnen zij een spel, dat ik zo dikwijls,
Het arme rupsje plagend, heb gespeeld.

Dat zag ik verder kruipen, onverdroten,
En argeloos, terwijl ik keer op keer
De eerste hand achter de tweede plaatste;
En 't plagend spel herhaalde ik telkens weer.

Zo zie ik nu de bergen met mij spelen,
En na de top, die mij de hoogste scheen,
Zag ik nog steeds een hoogre top verrijzen,
En wat ik eerst een top dacht, was er geen.

Toch klom ik voort en laat ze met mij spelen,
Die grote bergen met hun logge kracht;
Ze menen 't niet zo kwaad en vol vertrouwen
Begeef ik mij weer telkens in hun macht.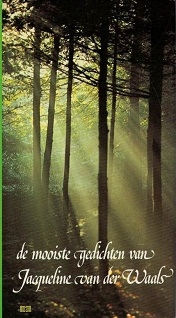 Jacqueline van der Waals (26 juni 1868 – 29 april 1922)
Cover
De Nederlandse schrijfster, dichteres en vertaalster Annie Salomons (eigenlijk Anna Maria Francisca van Wageningen-Salomons) werd geboren in Rotterdam op 26 juni 1885. Zie ook alle tags voor Annie Salomons op dit blog.
Moderne Eva
O, kindren, kindren, die nooit wezen zult,
Omdat uw moeder alle warmte weerde,
En liever 't hart door eigen gloed verteerde,
Dan u te dragen in een schoongeduld…

Hoe heeft uw liefheid toch mijn droom vervuld,
Als in de nacht de schimmen wederkeerden,
Die daags ik uitdreef, naar 't mijn wil begeerde,
Maar die dan kwamen, klagend hoogmoed's schuld.

O, kindren, kindren, die nooit zult zijn
Wat baat het eer en roem en glans te dragen,
Als niets ons bijblijft, dan een droge dorst…

Omdat de martelendste barenspijn
Toch nooit zo wreed kan wezen als het knagen,
Dat nooit uw mondje ik voelde aan mijn borst.
Herinnering
Scherp verstand wist te verzamelen
klaar bewezen grief op grief.
't Domme hart kon enkel stamelen
'k heb je lief, ik heb je lief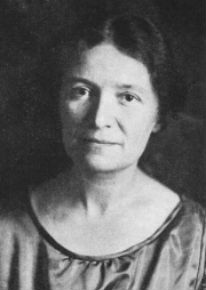 Annie Salomons (26 juni 1885 – 16 januari 1980)
De Canadese schrijver Yves Beauchemin werd geboren op 26 juni 1941 in Rouyn-Noranda, Quebec. Zie ook alle tags voor Yves Beauchemin op dit blog.
Uit:Du sommet d'un arbre
"1er mars
J'ai commencé aujourd'hui la rédaction de mon troisième roman. Voilà plusieurs semaines que je repoussais la minute de vérité. Depuis cinq ou six ans, j'accumulais pêle-mêle des matériaux dans mes petits calepins noirs. Il y a un an, j'ai commencé à mettre un peu d'ordre dans ce fouillis, retranscrivant tout dans un cahier, sur la couverture duquel j'avais écrit en grosses capitales:
ROMAN III, un peu comme ces compositeurs à grosse tête et petites lunettes qui baptisent leurs oeuvres expérimentales: Ambiance IV, Atmosphère II, Cosmogonie XIV ou Bio-transmutation 118 et autres turlupinades post-viennoises du même genre. Six mois plus tard, je commençais les premières esquisses de mon plan. Vers la mi-janvier, je me suis mis à la rédaction de mon résumé final.
Première difficulté: les noms des personnages.
J'en avais trouvé quelques-uns, mais il restait bien des baptêmes à faire.
Or comment connaître un personnage quand on ne l'a pas fait vivre par l'écriture? Et quand on le connaît mal, comment lui trouver un nom? Dan mon esprit, en effet, il y a une sorte de lien magique entre le nom d'un personnage et ce qu'il est. Je procède avec les mêmes tâtonnements anxieux des futurs parents qui cherchent par unprénom à cerner — ou fixer? — la personnalité du petit foetus en train de se balancer dans le ventre de sa mère, un pouce dans la bouche. Je consulte des liste de prénoms, des dictionnaires de synonymes, je fouille dans des annuaires téléphoniques, attendant que le déclic se produise. Pourquoi Juliette et non Hortense? Pourquoi Pomerleau et non Gratton? Je tiens ma logique soigneusement à l'écart pour laisser mon inconscient s'amuser tout son soûl. Et à chaque déclic je remercie Freud à genoux. Enfin ma liste est prête. Bien des personnages viendront s'ajouter par surprise au cours du récit.
C'est à ce moment que se présente la minute de vérité. Jusqu'ici, je préparais mon roman. Maintenant, il faut le faire.
Je ne suis pas le premier écrivain que le moment de la première phrase fait frémir.
C'est une réaction aussi banale que le mal de mer. Mais elle tord diablement les tripes! Comme le saut dans le vide."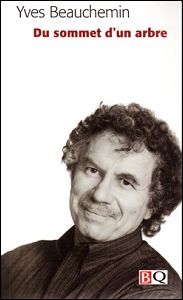 Yves Beauchemin (Rouyn-Noranda, 26 juni 1941)
Cover
De Duitse schrijfster Elisabeth Büchle werd geboren op 26 juni 1969 in Trossingen, Baden-Württemberg. Zie ook alle tags voor Elisabeth Büchle op dit blog.
Uit: Himmel über fremdem Land
"In den Augen ihrer Schwester war Demy allerdings alt genug, ihr in Berlin als Gesellschafterin zu dienen – was auch immer sie als solche tun sollte.
Demy wurde durch eine Stimme, die ihren Namen rief, in ihren aufgebrachten Gedanken und düsteren Überlegungen unterbrochen.
Da sie es bei solch unwirtlichem Wetter eigentlich gewohnt war, den Strand für sich allein zu haben, drehte sie sich überrascht und neugierig in Richtung Dünen um, wobei sich ihr Rock schwer
und nass um ihre Beine wickelte.
Zu ihrer Verwunderung erkannte sie Tilla, und bei ihrem Anblick brodelte erneut unbändige Wut in ihr auf. Ihre Schwester winkte auffordernd mit einer Hand und signalisierte Demy, dass sie aus dem Wasser und zu ihr hinüberkommen solle.
Im Gegensatz zu der nachlässigen Bekleidung des jüngeren Mädchens trug Tilla Schuhe, hatte sich einen Wettermantel umgelegt und schützte ihre Frisur mit einem um den Kopf geschlungenen
Schal.
Die beiden älteren van Campen-Mädchen, Tilla und Anki, waren noch in den Genuss einer vollständigen, gehobenen Ausbildung durch ihre deutsche Mutter und nach deren Tod der ebenfalls deutschen Stiefmutter sowie einer Erzieherin gekommen. Kurz nach dem Tod von Erik van Campens zweiter Frau bei der Geburt ihres jüngsten Kindes, Erik Feddo, hatte die Erzieherin aus unbekannten
Gründen die Familie verlassen. Jedenfalls waren die exquisite Ausbildung und der Hausunterricht von Tilla und Anki zwar vollendet, für Demy und Rika jedoch beides frühzeitig abgebrochen worden.
Dementsprechend frei und ungebunden waren Demy und ihre beiden jüngeren Geschwister aufgewachsen, und da sie anstelle des Hausunterrichts eine reguläre Schule besuchten, hatten sie viele Schulkameraden
»Was willst du?«, rief Demy ihrer Schwester über das Brausen des Windes und das Donnern der Brandung zu, blieb aber in den schäumenden Wellen stehen. Entweder musste Tilla ebenfalls ins
Wasser waten oder sich gegen den Wind brüllend mit ihr unterhalten.
Und beides, das wusste Demy, würde Tilla missfallen, da es ihrer guten Erziehung zuwiderlief."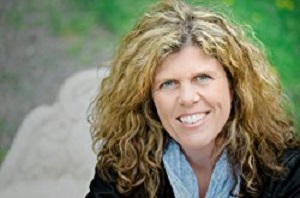 Elisabeth Büchle (Trossingen, 26 juni 1969)
De Engelse dichter en schrijver Laurence Edward Alan "Laurie" Lee werd geboren in Stroud, Gloucestershire op 26 juni 1914. Zie ook alle tags voor Laurie Lee op dit blog.
Uit: Cider with Rosie
'There, there, it's all right, don't you wail any more. Come down 'ome and we'll stuff you with currants.'
And Marjorie, the eldest, lifted me into her long brown hair, and ran me jogging down the path and through the steep rose-filled garden, and set me down on the cottage doorstep, which was our home, though I couldn't believe it.
That was the day we came to the village, in the summer of the last year of the First World War. To a cottage that stood in a half-acre of garden on a steep bank above a lake; a cottage with three floors and a cellar and a treasure in the walls, with a pump and apple trees, syringa and strawberries, rooks in the chimneys, frogs in the cellar, mushrooms on the ceiling, and all for three and sixpence a week.
I don't know where I lived before then, My life began on the carrier's cart which brought me up the long slow hills to the village, and dumped mein the high grass, and lost me. I had ridden wrapped up in a Union Jack to protect me from the sun, and when I rolled out of it, and stood piping loud among the buzzing jungle of that summer bank, then, I feel, was I born. And to all the rest of us, the whole family of eight, it was the beginning of a life."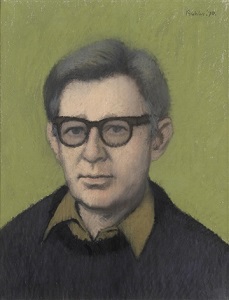 Laurie Lee (26 juni 1914 – 13 mei 1997)
Portret door Robert Buhler, 1970
De Amerikaanse schrijfster Pearl S. Buck werd geboren in Hillsboro West-Virginia, op 26 juni 1892. Zie ook alle tags voor Pearl S. Buck op dit blog.
Uit: The good earth
"It was Wang Lung's marriage day. At first, opening his eyes in the blackness of the curtains about his bed, he could not think why the dawn seemed different from any other. The house was still except for the faint, gasping cough of his old father, whose room was opposite to his own across the middle room. Every morning the old man's cough was the first sound to be heard. Wang Lung usually lay listening to it, and moved only when he heard it approaching nearer and when he heard the door of his father's room squeak upon its wooden hinges.
But this morning he did not wait. He sprang up and pushed aside the curtains of his bed. It was a dark, ruddy dawn, and through a small square hole of a window, where the tattered paper fluttered, a glimpse of bronze sky gleamed. He went to the hole and tore the paper away.
'It is spring and I do not need this,' he muttered.
He was ashamed to say aloud that he wished the house to look neat on this day. The hole was barely large enough to admit his hand, and he thrust it out to feel of the air.
A small soft wind blew gently from the east, a wind mild and murmurous and full of rain. It was a good omen. The fields needed rain for fruition. There would be no rain this day, but within a few days, if this wind continued, there would be water. It was good. Yesterday he had said to his father that if this brazen, glittering sunshine contin-ued, the wheat could not fill in the ear. Now it was as if Heaven had chosen this day to wish him well. Earth would bear fruit.
He hurried out into the middle room, drawing on his blue outer trousers as he went, and knotting about the full-ness at his waist his girdle of blue cotton cloth. He left his upper body bare until he had heated water to bathe himself. He went into the shed which was the kitchen, leaning against the house, and out of its dusk an ox twisted its head from behind the corner next the door and lowed at him deeply.The kitchen was made of earthen bricks: the house was, great squares of earth dug from their ow fields, and thatched with straw from their own wheat. Out of their own earth had his grandfather in his youth fashioned also the oven, baked and black with many years of meal-preparing. On top of this earthen structure stood a deep, round, iron cauldron."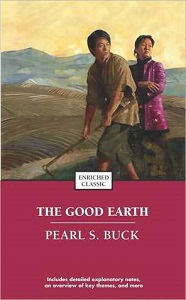 Pearl S. Buck (26 juni 1892 – 6 maart 1973)
Cover
Duitse schrijver Stefan Andres werd geboren op 26 juni 1906 in Breitwies bij Trier. Zie ook alle tags voor Stefan Andres op dit blog.
Uit: Die Sintflut
"Ich grüße den Normer und in ihm die neue Zukunft der Ge-normten.' Nun dankte der Normer dem Confessor mit einem Zeichen und begann: 'Genormte, lieber Confessor! credimus, quod optamus, sagt der Lateiner, leicht glauben wir das, was wir heftig verlangen. Der Confessor hat so sehr nach dein Normer verlangt, daß ihm sein Glaube leicht fallt. Doch das heißt nicht, daß er 1,;ichtgliiubig ist, wie das Menschen, die etwas verlangen, so leicht werden. Ich darf Ihnen, nein, ich muß Ihnen in diesem ersten Augenblick mei-nes Amtsantrittes sagen, ich habe mich legitimiert. Und so stehe ich nun vor euch als euer Normer. Was heißt das: Normer? Ich frage nicht, um eine Antwort zu erhalten, denn das ist das Wesen des Normers, daß ihr fragt und er euch die Ant-worten erteilt. Und daß er euch die einzig richtigen und wichti-gen Fragen zu stellen lehrt. Der Normer ist die Prägung, das sagte der Confessor richtig. Ich präge euch in meinem Sinne, nach mei-nem Bilde, das ich vom Menschen habe!< Der Normer trat darauf vom Podium herab, ließ die Genorm-ten einzeln heranführen und gab jedem die Hand. Wahrend die Diener nun die violetten Vorhänge rings um den Schachsaal an den Schnüren herabkommen ließen und rote aufzogen, schar-lachrote Vorhänge, gingen die Geladenen ins Diwanzimmer. So begann dieser Abend, diese Nacht ! >Agite, bibite!‹' rief der Normer leutselig strahlend, die Normfasten sind vorbei, Purpur beherrscht die Stunde!' Und keiner vermochte, so gewissenhaft auch ein jeder bis zur Stunde das Abstinenzgebot gehalten hatte, seinen einleuchtenden Gründen, sich dann und wann ans Becher zu laben, auch nur kurz zu widerstehen, von zwei Ausnahmen abgesehen: der Confessor zog sich sofort zurück, sein gefähr-deter Gesundheitszustand war ihm, allen sichtbar, aufs Gesicht geschrieben. Auch Tollet verließ uns bald, sein Fortgehen war uns eine Erleichterung. Sollen sie alle gellem, rief der Normer, >die Trübseligen, die Engen, die Freudlosen. Ich bringe euch das große Fest ! Ich liebe die Verzückten! Die Gläser gefüllt, wir wol-len die Welt erneuern! Die Genormten werden der Welt zeigen, wie man sie schöner macht!"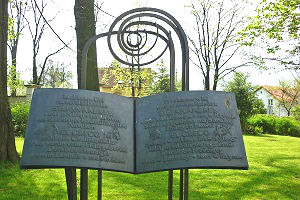 Stefan Andres (26 juni 1906 – 29 juni 1970)
Monument ter herinnering aan de schrijver in het park van slot Łomnica in Mysłakowice, Polen.
De Deense schrijver Martin Andersen-Nexø werd geboren op 26 juni 1869 in Kopenhagen. Zie ook alle tags voor Martin Andersen-Nexø op dit blog.
Uit: Die Passagiere der leeren Plätze (Vertaald door Ellen Schou en Karl Schodder)
"Und so vergingen die Jahre damit, am Tage sie alle zu versorgen und nachts, wenn sie zu Bett waren, ihre Kleider instand zu halten, damit sie am nächsten Morgen sauber und heil wären. Sich mit Dingen darüber hinaus zu beschäftigen, dazu reichte niemals die Zeit. Dann begannen die Kinder eins nach dem andern zu sterben, die einen im frühen Alter, andere erst, als sie schon herangewachsen waren und sie einem eine kleine Hilfe gewesen wären. Der Mann war einmal bei der Arbeit zu Schaden gekommen, eine Reihe von Jahren kränkelte er, und als sie so lange Gutes und Schlechtes miteinander geteilt hatten, dass sie daran denken konnten, silberne Hochzeit zu feiern, starb er. Da war endlich Zeit, die Hände eine Weile in den Schoß zu legen und nachzudenken, und Madame Jensen entdeckte, dass sie eine einsame alte Frau geworden war, und begann Sehnsucht nach der Heimat ihrer Kindheit zu verspüren. Sie fing also an, auf die Reise zu sparen, aber es wollte nie gelingen, das Geld zusammenzubringen. Jedes Mal wenn sie meinte, nun den Betrag beisammen zu haben, kam die Miete oder sonst etwas dazwischen und fraß ihr das Geld vor der Nase weg. Zweimal war das Heimweh so stark in ihr geworden, dass es sie zum Bahnhof getrieben hatte;
das eine Mal wurde sie vom Schaffner vor Abgang des Zuges angehalten; das andere Mal gelangte sie bis nach Korsör, ehe sie gefasst und zurückbefördert wurde. "Das Mal war es wirklich nahe daran, dass man bestraft worden wäre — obwohl man keiner Menschenseele den Platz weggenommen hatte", sagte die Alte und bebte noch immer bei dem Gedanken daran.
Dann hatte sie es aufgegeben. "Jetzt hat man nur noch einen einzigen Wunsch — den müden Kopf bald dahin legen zu dürfen, wo keine Wagen hinkommen."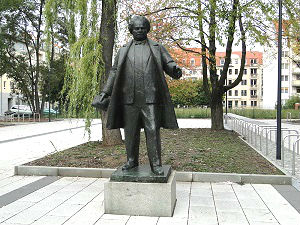 Martin Andersen-Nexø (26 juni 1869 – 1 juni 1954)
Standbeeld in Dresden
Zie voor nog meer schrijvers van de 26e juni ook mijn blog van 26 juni 2017 en eveneens mijn blog van 26 juni 2016 deel 2.
26-06-2018 om 18:34 geschreven door Romenu

Tags:Aimé Césaire, Jacqueline van der Waals, Annie Salomons, Yves Beauchemin, Elisabeth Büchle, Laurie Lee, Pearl S. Buck, Stefan Andres, Martin Andersen-Nexø, Romenu


25-06-2018

Yann Martel, Rob van Essen, George Orwell, Michel Tremblay, Nicholas Mosley, Ingeborg Bachmann, Leendert Witvliet, Arseny Tarkovsky, Larry Kramer
De Canadese schrijver Yann Martel werd op 25 juni 1963 geboren in Salamanca. Zie ook alle tags voor Yann Martel op dit blog.
UIt: The High Mountains of Portugal
« Tomás decides to walk.
From his modest flat on Rua São Miguel in the ill-famed Alfama district to his uncle's stately estate in leafy Lapa, it is a good walk across much of Lisbon. It will likely take him an hour. But the morning has broken bright and mild, and the walk will soothe him. And yesterday Sabio, one of his uncle's servants, came to fetch his suitcase and the wooden trunk that holds the documents he needs for his mission to the High Mountains of Portugal, so he has only himself to convey.
He feels the breast pocket of his jacket. Father Ulisses' diary is there, wrapped in a soft cloth. Foolish of him to bring it along like this, so casually. It would be a catastrophe if it were lost. If he had any sense he would have left it in the trunk. But he needs extra moral support this morning, as he does every time he visits his uncle.
Even in his excitement he remembers to forgo his regular cane and take the one his uncle gave him. The handle of this cane is made of elephant ivory and the shaft of African mahogany, but it is unusual mainly because of the round pocket mirror that juts out of its side just beneath the handle. This mirror is slightly convex, so the image it reflects is quite wide. Even so, it is entirely useless, a failed idea, because a walking cane in use is by its nature in constant motion, and the image the mirror reflects is therefore too shaky and fleeting to be helpful in any way. But this fancy cane is a custom-made gift from his uncle, and every time he pays a call Tomás brings it.
He heads off down Rua São Miguel onto Largo São Miguel and then Rua de São João da Praça before turning onto Arco de Jesus—the easy perambulation of a pedestrian walking through a city he has known his whole life, a city of beauty and bustle, of commerce and culture, of challenges and rewards. On Arco de Jesus he is ambushed by a memory of Dora, smiling and reaching out to touch him. For that, the cane is useful, because memories of her always throw him off balance.
"I got me a rich one," she said to him once, as they lay in bed in his flat.
"I'm afraid not," he replied. "It's my uncle who's rich. I'm the poor son of his poor brother. Papa has been as unsuccessful in business as my uncle Martim has been successful, in exact inverse proportion."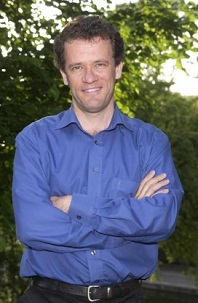 Yann Martel (Salamanca, 25 juni 1963)
De Nederlandse schrijver en vertaler Rob van Essen werd op 25 juni 1963 geboren in Amstelveen. Zie ook alle tags voor Rob van Essen op dit blog.
Uit: Visser
"Anders denk je maar dat Ajax morgen tegen fc Zwoldrecht komt spelen. Kom op, nog eens.' Hij zet nog eens in, en een paar jongens beginnen voorzichtig mee te zingen. Er wordt een bierfles naar het podium gegooid die tegen de kale achterwand uit elkaar spat en een paar mensen steken hun middelvinger op naar het podium. Het gezang zwelt aan. Als Jonathan voor de derde keer inzet, wordt er uit volle borst meegezongen. Een aantal jongens in leren jasjes hossen met de armen om elkaars schouders rond. 'Fascisten, fascisten!' gilt iemand. Midden in de zaal wordt geduwd en getrokken. Wegereef begint iets in Jacobs oor te schreeuwen en Jacob werkt zich door de zingende menigte bij hen vandaan, verder naar voren. `Het zijn de moslims!' roept een student die vlak voor het podium staat. Jonathan buigt zich naar hem toe. 'Natuurlijk niet!' roept hij terwijl het gezang en de vechtpartijen in de zaal gewoon doorgaan. Hij schreeuwt iets over vlieglessen en wolkenkrabbers.
`Kutkankermoslims,'
beginnen een paar andere studenten te zingen,
`0, o, o, kutkankermoslims, Kutkankermóslims, 0, o, o, kutkankermoslims.'
Als het groepje Marokkaanse jongens op hen af komt, vallen ze stil. Jonathan zet weer in, gevolgd door een groot deel van de zaal.
`Kutkankerjoden,' 0, o, o, kutkankerjoden.'
De Marokkanen delen klappen uit aan de studenten. Jacob krijgt een fles bier in zijn handen gedrukt door Clarissa. 'Het gaat over jou!' roept ze. 'Hij is goed, hè?' Achter Clarissa staan een kale jongen in een lange leren jas en een jongen met een rode hanenkam tegen elkaar te schreeuwen."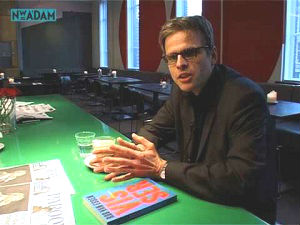 Rob van Essen (Amstelveen, 25 juni 1963)
De Britse schrijver George Orwell (pseudoniem van Eric Arthur Blair) werd op 25 juni 1903 geboren in Motihari, India. Zie ook alle tags voor George Orwell op dit blog.
Uit: 1984
"Winston stroked his nose gently with a paper clip. In the cubicle across the way Comrade Tillotson was still crouching secretively over his speakwrite. He raised his head for a moment: again the hostile spectacle-flash. Winston wondered whether Comrade Tillotson was engaged on the same job as himself. It was perfectly possible. So tricky a piece of work would never be entrusted to a single person; on the other hand, to turn it over to a committee would be to admit openly that an act of fabrication was taking place. Very likely as many as a dozen people were now working away on rival versions of what Big Brother had actually said. And presently some master brain in the Inner Party would select this version or that, would re-edit it and set in motion the complex processes of cross-referencing that would be required, and then the chosen lie would pass into the permanent records and become truth.
Winston did not know why Withers had been disgraced. Perhaps it was for corruption or incompetence. Perhaps Big Brother was merely getting rid of a too-popular subordinate. Perhaps Withers or someone close to him had been suspected of heretical tendencies. Or perhaps—what was likeliest of all—the thing had simply happened because purges and vaporizations were a necessary part of the mechanics of government. The only real clue lay in the words "refs unpersons," which indicated that Withers was already dead. You could not invariably assume this to be the case when people were arrested. Sometimes they were released and allowed to remain at liberty for as much as a year or two years before being executed. Very occasionally some person whom you had believed dead long since would make a ghostly reappearance at some public trial where he would implicate hundreds of others by his testimony before vanishing, this time forever. Withers, however, was already an unperson. He did not exist; he had never existed. Winston decided that it would not be enough simply to reverse the tendency of Big Brother's speech. It was better to make it deal with something totally unconnected with its original subject."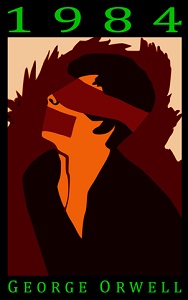 George Orwell (25 juni 1903 – 21 januari 1950)
Cover
De Canadese schrijver Michel Tremblay werd geboren in Quebec op 25 juni 1942. Zie ook alle tags voor Michel Tremblay op dit blog.
Uit: Un ange cornu avec des ailes de tôle
« On dit que désirer est plus jouissant que posséder.
C'est faux pour les livres. Quiconque a senti cette chaleur au creux de l'estomac, cette bouffée d'excitation dans la région du cœur, ce mouvement du visage - un petit tic de la bouche, peut-être, un pli nouveau au front, les yeux qui fouillent, qui dévorent- au moment où on tient enfin le livre convoité, où on l'ouvre en le faisant craquer mais juste un peu pour "l'entendre", quiconque a vécu ce moment de bonheur incomparable comprendra ce que je veux dire. Ouvrir un livre demeure l'un des gestes les plus jouissifs, les plus irremplaçables de la vie.
(…)
J'aime les livres, je I' ai assez dit jusqu'ici, j'aime les palper,les feuilleter,les humer; j'aime les presser contre moi et les mordre; j'aime les malmener, les sentir vieillir entre mes doigts, les tacher de café- sans toutefois faire exprès-, y écraser de petits insectes, l'été, et les dépose n 'importe où ils risquent de se salir, mais quand je vois pour la première fois un de mes livres à moi, un enfant que j'ai pensé,pondu, livré, l'émotion est tellement plus forte, la joie tellement plus vive, que le monde s 'arrête littéralement de tourner. Je ressens une petite secousse comme lorsqu'un ascenseur s'arrête, mes genoux se dérobent, mon coeur tape du pied comme ma grand-mère Tremblay sur le balcon de la rue Fabre quand j 'étais enfant, et chaque fois – ce livre-ci sera le quarantième -, je pense à maman qui n'a jamais su que j 'écrivais, qui est partie doublement trop tôt: parce que je I'aimais et parce que je n'ai jamais pu lui confier les deux secrets de ma vie, mon orientation sexuelle et... Qu'aurait-elle dit en ouvrant le premier livre de son fils qui I'avait si souvent exaspérée?"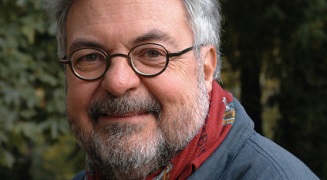 Michel Tremblay (Quebec, 25 juni 1942)
De Engelse schrijver Nicholas Mosley werd geboren op 25 juni 1923 geboren in Londen. Zie ook alle tags voor Nicholas Mosley op dit blog.
Uit: Efforts At Truth
"So I got the idea of trying to do some autobiographical writing that would examine what I was saying in my early novels, what was written in letters at the time, and what I remembered of my life, and consider what relation there was between the sort of novels I was writing and the sort of life I was leading. Because one of the things that had come to interest me was the way in which so many writers of my generation, and of a later generation in particular, were writing about life as an absolutely hopeless business where no one made any communication with anyone else and life was a very dismal affair, and yet they - these people, some of whom I knew - seemed to be leading a happy life, they seemed to be able to make communication with other people, they seemed to be okay. And yet they were writing about life as if it were an awful mess. So I was interested in that. Then, when I looked back on my early novels, I found that I was doing the same sort of thing. After I came back from the war, I wrote Spaces of the Dark, which is about a young man who has returned from the war, where things had gone wrong for him, and for whom things kept on going wrong at home. This wasn't like my own experience. My own experience was that I'd got through the war okay, I'd been lucky. And when I got home I had a nice time. When I was twenty-four I married, and we were happy, and we went off on a long sort of working honeymoon. I was going to write my first novel, which I did.
Anyway, that was one of the things that interested me. Why do these people write novels about life being a mess, when in fact their lives, to a very large extent, don't seem to be a mess. Then I wondered whether novel writing was actually putting up some sort of smokescreen, some sort of protection: you had to say life was a mess, because if you said life was not a mess then perhaps your luck would run out and you would become a mess. This would be rather like touching wood: you have to sort of get the worst out in novels, as some sort of self-protection. And yet at the same time, I thought my own novels - which were to a certain extent doing this - were also some desperate way of trying to break through the smokescreens and protections that one put up in ordinary life, or ordinary life put up around one. And so I thought I'd try to write about that."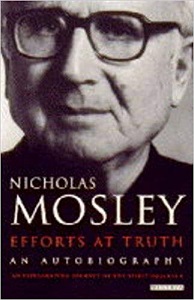 Nicholas Mosley (Londen, 25 juni 1923)
Cover
De Oostenrijkse dichteres Ingeborg Bachmann werd geboren op 25 juni 1926 in Klagenfurt. Zie ook alle tags voor Ingeborg Bachmann op dit blog.
Schwarzer walzer
Das Ruder setzt auf den Gong mit dem schwarzen Walzer ein,
Schatten mit stumpfen Stichen nähn die Gitarren ein.

Unter der Schwelle erglänzt im Spiegel mein finstres Haus,
Leuchter treten sich sanft die flammenden Spitzen aus.

Ueber die Klänge verhängt: Eintracht von Welle und Spiel;
immer entzieht sich der Grund mit einem anderen Ziel.

Schuld ich dem Tag das Marktgeld und den blauen Ballon -
Steinrumpf und Vogelschwinge suchen die Position

zum Pas de deux ihrer Nächte, lautlos mir zugewandt,
Venedig, gepfählt und geflügelt, Abend- und Morgenland.

Nur Mosaiken wurzeln und halten im Boden fest,
Säulen umtanzen die Bojen, Fratzen- und Freskenrest.

Kein August war geschaffen, die Löwensonne zu sehn,
schon am Eingang des Sommers liesz sie die Mähne wehn.

Denk dir abgöttische Helle, den Prankenschlag auf den Bug
und im Gefolge des Kiels den törichten Maskenzug,

überm ersäuften Parkett zu Spitze geschifft ein Tuch,
brackiges Wasser, die Liebe und ihren Geruch,

Introduktion, dann den Auftakt zur Stille und nichts nachher,
Pauken schlagende Ruder und die Coda vom Meer!
Aanroeping van de grote beer
Grote Beer, daal af, ruige nacht,
wolkenpelsdier met je oude ogen,
sterreogen,
door het struikgewas breken glinsterend
je poten met de klauwen,
sterreklauwen,
waakzaam hoeden wij de kudden,
echter in de ban van jou, en wantrouwen
je vermoeide flanken en je scherpe,
halfontblote tanden,
oude beer.

Een denneappel: jullie wereld.
Jullie: de schubben eraan.
Ik drijf ze, rol ze
van de dennen in het begin
naar de dennen aan het einde,
snuffel aan ze, proef ze in mijn bek
en pak ze met mijn poten.

Vrees of vrees niet!
Gooi in het kerkezakje en geef
de blinde man een goed woord,
dat hij de beer aan de lijn houdt.
En kruid de lammeren goed.

Het kan gebeuren dat deze beer
zich losrukt, niet meer dreigt
en op alle denneappels jaagt die van de bomen
zijn gevallen, van de grote, gevleugelde dennen
die uit het paradijs neerstortten.
Vertaald door Paul Beers en Isolde Quadflieg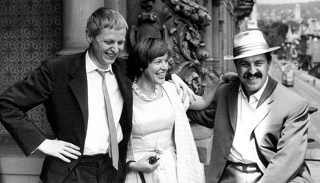 Ingeborg Bachmann (25 juni 1926 – 17 oktober 1973)
Hier tussen Hans Magnus Enzensberger en Gunter Grass
De Nederlandse dichter en schrijver Leendert Witvliet werd geboren in Werkendam op 25 juni 1936. Zie ook alle tags voor Leendert Witvliet op dit blog.
Al die oude gedichten
Obligate woorden,
woorden met spleen
in een schimmig en gestoken landschap
van nevel, mist en nutteloze regen,
de landerige herhaling van het nakijken.

Hoe door het opgeschoven raam
de lucht van de zomer binnendreef,
vergankelijk als geluiden
en het spokende relaas
van de gespleten vage man bij de molen,
die lucht aan flarden draaide.

Maar

hoe we liggen en niet liggen
in droomloos geworden ruimte.
Voor F.
Avonden in de tuin
een schemerlamp op de tafel
vader en moeder en vrienden kaartten
muggen dansten om de lamp
de lucht rook naar grolsch.
Achter de tuindeuren
wachtten de kinderen.
Alles was vrede
en iedereen was er nog,
al was het aan de rand.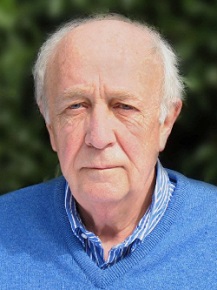 Leendert Witvliet (Werkendam, 25 juni 1936)
De Russische dichter en vertaler Arseny Alexandrovich Tarkovsky werd geboren op 25 juni 1907 in Elisavetgrad. Zie ook alle tags voor Arseny Tarkovsky op dit blog.
After The War
I
Like a tree on top of forest grass
Spreads its leafy hands through the leaves
And, leaning on a shrub, propagates
Its branches sideways, widthwise —
So I shot up gradually. My muscles
Swelled, my rib cage expanded. From the blue
Goblet with prickly alcohol, my lungs
Filled to the smallest alveoli, and my heart
Took blood from the veins and veins
Returned the blood, and took the blood again
And it was like a transfiguration
Of simple happiness and simple grief
In a prelude and fugue for organ.

II
I would be sufficient for all living things,
Both plants and people,
Who'd been dying somewhere near
And somewhere at the other end of the earth
In unimaginable suffering, like Marsyas,
Who was flayed alive. If I'd given them my life,
I would not become any poorer
In life, in myself, in my blood.
But I myself became like Marsyas. I'd long lived
Among the living, and became like Marsyas
Vertaald door Philip Metres en Dimitri Psurtsev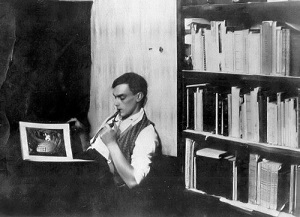 Arseny Tarkovsky (25 juni 1907 – 27 mei 1989)
De Amerikaanse schrijver, columnist en homoactivist Larry Kramer werd geboren in Bridgeport, Connecticut op 25 juni 1935. Zie ook alle tags voor Larry Kramer op dit blog.
Uit: Faggots
« I know it, too." Sammy continued to marvel at such com-mon sense. Then he recollected the fairy business and asked: "Do you ... do you look at me in the showers as much as I look at you?" "Yes. I do." And Dunnie, again giving himself the look of the loved in that tilted mirror, further said: "I think sometimes we're lucky to know certain things early, like being shown what's in the crystal ball at the beginning of your life instead of at the end. I know I want to be looked at by everybody and to pass around my beauty ... ," at this point he took Sammy's damp hand and used it to make his further illustrative point, "... and have everybody touching me all over and letting me do the same to them and ... maybe we better not tell anybody about this Poor Sammy. He was not only on scholarship but was also getting very excited. His schoolmate, between reaching for the maternal brownies, was massaging his penis, now bulging mightily within Sammy's only pair of gray-flannel trousers, which he had begged his mother and father to buy for him on the trip to Philadelphia at the start of term and he had summoned up all his cour-age to ask for them and to say that every boy in class had at least one pair except him and his dad had mumbled something about how the fucking scholarship Sammy had should include a gray-flannel-pants allowance but had bought them for the boy anyway and Sammy had never been able to wear them without a slight tinge of guilt and if Dunnie rubbed him anymore he might explode white stuff all over the gray and then he'd have to throw the pants away. "Please, Dunnie, could I ... please... take off my gray flannels?" And that of course had been the beginning of the end, or of the beginning. It was only seconds before both boys were completely naked and opening themselves to the joys and conflicts redolent in this early tender moment of exploring themselves in the body of another, holding on to each other's dickies as if they were holding on to their own. It was as if each were rather hungry from some already precocious deprivation now being at last fulfilled, their little hands grabbing their little things, Dunnie even returning kisses and not worrying that the lips, too, were Jewish. Unfortunately, Sammy could not contain his involuntary reflexes for too long and his little load of white stuff melded not with the gray flannels from the Broth-ers Brooks but with the brownies from the Mother Rosen. It came so suddenly, the spurt of liquid, that he looked down upon himself as it quivered out, then just sat there studying the improbable com-bination of semen and chocolate. Dunnie was also looking at the brownies rather strangely."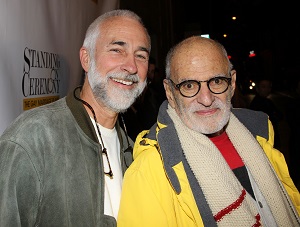 Larry Kramer (Bridgeport, 25 juni 1935)
Hier met echtgenoot David Webster (links)
Zie voor nog meer schrijvers van de 25e juni ook mijn blog van 25 juni 2017 deel 2.
25-06-2018 om 18:33 geschreven door Romenu

Tags:Yann Martel, Rob van Essen, George Orwell, Michel Tremblay, Nicholas Mosley, Ingeborg Bachmann, Leendert Witvliet, Arseny Tarkovsky, Larry Kramer, Romenu


24-06-2018

Zacharias II (Nicolaas Beets)
Bij de geboorte van Johannes de Doper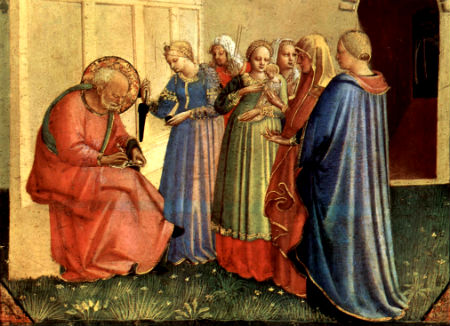 De naamgeving van Johannes de Doper door Fra Angelico, 1434 - 1435
Zacharias
II.
O, Zie hem thans in 't heiligdom,
Het priesterkleed om 't lijf geslagen,
Het wierookvat voor 't outer dragen,
En keeren 't over 't outer om.

Veel hooger dan de wierook stijgt
Zijn beê: 'Vervul uw woord in 't ende;
Gedenk, o Heer! uws volks ellende,
En hoe 't zijn Redder tegenhijgt.'

En eensklaps, daar hij eenzaam bidt.
Daar treft een zacht geruisch zijn ooren,
En in den geurwalm ziet hij gloren
Eens Engels schittrend zilverwit.

Wel was des priesters vreeze groot;
Maar de Engel sprak: 'Wat zoudt gij vreezen
Elizabeth zal moeder wezen;
Gij zult een zoon zien vóór uw dood.

Die zoon zal vóór den Heiland gaan,
Van Hem getuigen, roepen, leeren,
En aller voet te Hemwaart keeren,
Met kracht van boven aangedaan.'

Dit treft den ouden man te zeer;
Zoo de Engel 's Heilands komst verkondde,
Het was genoeg te dezen stonde.
Genoeg tot 's Heeren eeuwige eer;

Maar dat hem ook een Zoon gewordt!...
Hij durft zoo stout een hoop niet wagen,
En staat in twijfling en verslagen;
Is niet eens grijsaards kracht verdord?

Daar spreekt des Heeren knecht tot hem:
'Ik sta voor Godes aangezichte;
Hij sprak het woord dat ik berichtte:
En twijfelt gij aan 's Heeren stem?

Zoo hoor hoe gij gelooven zult:
Daar ga, van dezen stonde,
Geen woord uit uwen monde,
Tot alles zij vervuld.'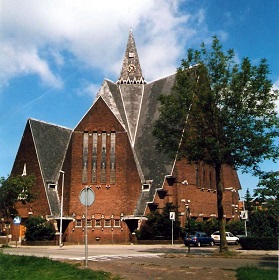 Nicolaas Beets (13 september 1814 – 13 maart 1903)
De Kloppersingelkerk in Haarlem, de geboorteplaats van Nicolaas Beets
Zie voor de schrijvers van de 24e juni ook mijn twee vorige blogs van vandaag.
24-06-2018 om 11:46 geschreven door Romenu

Tags:Nicolaas Beets, Romenu



Wilfred Smit, Matthijs Kleyn, Ernesto Sabato, Yves Bonnefoy, John Ciardi, Scott Oden
De Nederlandse dichter Wilfred Smit werd geboren in Soerabaja (Java, Nederlands Indië) op 24 juni 1933. Zie ook alle tags voor Wilfred Smit op dit blog.
Parabel
Zo zag ik een erwt weifelen
aan een stoeprand,
de erwtenbloesem onzeker zijn
naar welke wind
haar dolle rose hoofd te hangen -

en de bloesem nikte, er kwam een hand
in handschoen haar bedekken,
en de erwt viel, er kwam een schoen
om op haar te staan.
Stilleven
Twee harten op een schotel
met glimlichten van droefenis,
een aarden kruik waaruit
de geest staat te verwaaien,
wat klein rood fruit
dat deze noen gevallen is
maar nooit de grond bereikte -

en de tuinier was daarbij als fazant
verbeeld, het schot hoog aan de hals;
dit is om aan mijn vriendin te geven,
een aansporing tot stiller leven.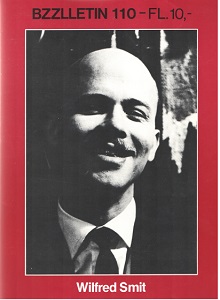 Wilfred Smit (24 juni 1933 -13 augustus 1972)
De Nederlandse schrijver en televisiemaker Matthijs Leonard Kleyn werd geboren in Leiden op 24 juni 1979. Zie ook alle tags voor Matthijs Kleyn op dit blog.
Uit: Ik zie je
"Als ik het terras op loop, zit ze aan een lange tafel. Ik loop erheen en ga naast haar zitten. Ze negeert me. Een meisje dat tegenover haar aan tafel zit, kijkt me verbaasd aan.
'En jij bent?' vraagt ze.
'Fender.' Ik steek mijn hand uit.
'O, grappige naam. Ik ben Frida,' zegt ze tijdens het schudden.
'Frida de kunstenares of Frida van ABBA?'
'Frida van ABBA,' antwoordt Frida.
'Dat is volgens mijn vader ook een kunstenares. Kunnen we je ergens mee helpen?'
'Nee, ik ga zo naar de film. Die film is nog niet begonnen, want die begint niet op een terras.'
Onder de tafel wordt mijn pink geaaid. Ik vermoed dat het haar pink is waarmee ze de mijne streelt, maar het zou ook haar wijsvinger kunnen zijn. Of haar duim. Haar handen zijn te klein om me voor te kunnen stellen hoe ze voelen. Ze kijkt me weer aan door de glazen van haar zonnebril.
'Hoelang duurt het nog voor de film begint?' vraagt ze zacht naast me.
'Niet zo heel lang meer,' zeg ik.
'En waar gaat die over?'
'Over een jongen en een meisje die iets bij elkaar vinden wat ze nooit eerder hebben gevonden.'
'Klinkt cliché.'
'Maar dat is het niet. Want aan deze twee mensen is niets cliché. Deze horen bij elkaar in al hun gektes.'
'Loopt de film goed af?'
'Dat weet ik niet, ik heb 'm nog niet gezien. Maar ik denk het wel. Want we houden allebei niet van films die niet goed aflopen, dus we zullen er alles aan doen.'
'Sorry,' zegt Frida, 'maar kennen jullie elkaar?'
'Ja,' antwoordt ze terwijl ze haar zonnebril afdoet, 'maar het lijkt alsof hij me niet wil leren kennen. Hij reageert niet eens als ik hem op een vol terras sms.'
De trilling die ik wilde negeren.
'Hoe kom je aan mijn nummer?' vraag ik.
'Van die lelijke website van die op sterven na dood zijnde videotheek van je.'
'Sta ik zo ook in je telefoon? Als de jongen van de op-sterven-nadoodvideotheek?'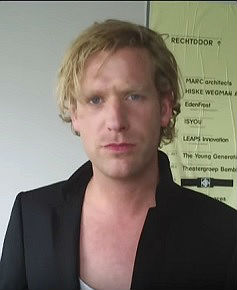 Matthijs Kleyn (Leiden, 24 juni 1979)
De Argentijnse schrijver Ernesto Sabato werd op 24 juni 1911 geboren in Rojas, een dorp in de provincie Buenos Aires. Zie ook alle tags voor Ernesto Sabato op dit blog.
Uit: Maria oder die Geschichte eines Verbrechens (El túnel, vertaald door Helga Castellanos)
"Es wird genügen, wenn ich erwähne, dass ich Juan Pablo Castel bin, der Maler, der María Iribarne umgebracht hat. Ich nehme an, dass der Prozess noch allen in Erinnerung ist und dass zu meiner Person keine näheren Erklärungen erforderlich sind.
Obwohl nicht einmal der Teufel weiß, woran sich die Leute erinnern, geschweige denn, warum. Es ist so, dass ich immer gedacht habe, es gäbe kein kollektives Erinnerungsvermögen, was vielleicht eine Art Verteidigung des Menschengeschlechts ist. Der Satz »Früher war alles besser« weist nicht darauf hin, dass früher weniger Schlechtes geschah, sondern dass – glücklicherweise – die Leute das Schlechte vergessen. Selbstverständlich hat ein solcher Satz keine Allgemeingültigkeit. Ich zum Beispiel zeichne mich dadurch aus, dass ich mich vorzugsweise an alles Schlechte erinnere, und so könnte ich fast sagen, dass »früher alles schlechter war«, wenn es nicht so wäre, dass mir die Gegenwart genauso entsetzlich vorkommt wie die Vergangenheit. Ich erinnere mich an so viel Unheil, an so viele zynische und grausame Gesichter, an so viele schlechte Taten, dass die Erinnerung daran für mich wie das zaghafte Licht ist, das ein dreckiges Museum der Scham beleuchtet. Wie oft habe ich mich Stunde um Stunde in eine dunkle Ecke meines Ateliers verkrochen, wenn ich eine Nachricht in der Spalte der Polizeiberichte gelesen hatte! Aber es ist ja so, dass dort nicht immer die schändlichsten Taten der Menschheit aufgeführt werden. Bis zu einem gewissen Punkt sind Verbrecher eher saubere, eher harmlose Menschen. Diese Behauptung stelle ich nicht auf, weil ich selbst einen Menschen getötet habe. Nein, es ist meine ehrliche und tiefe Überzeugung. Ein Individuum ist schädlich? Dann wird es eben beseitigt, und fertig. Das ist das, was ich eine gute Tat nenne. Denken Sie einmal, wie viel schlechter es für die Gesellschaft ist, wenn dieses Individuum sein Gift weiterhin verspritzt und wenn man, statt es zu beseitigen, seinem Treiben dadurch Einhalt gebieten will, indem man sich in die Anonymität flüchtet, in üble Nachrede und ähnliche Gemeinheiten. Was mich angeht, so muss ich bekennen, dass ich es heute bedauere, die Zeit meiner Freiheit nicht besser genutzt und sechs oder sieben Typen, die ich kenne, nicht beseitigt zu haben."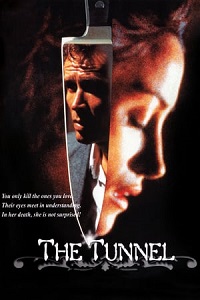 Ernesto Sabato (24 juni 1911 – 30 april 2011)
Affiche voor de film « The Tunnel" uit 1988
De Franse dichter, schrijver en vertaler Yves Bonnefoy werd in Tours geboren op 24 juni 1923. Zie ook alle tags voor Yves Bonnefoy op dit blog.
Phénix
L'oiseau se portera au-devant de nos tètes,
Une épaule de sang pour lui se dressera.
Il fermera joyeux ses ailes sur le faîte
De cet arbre ton corps que tu lui offriras.

Il chantera longtemps s'éloignant dans les branches,
L'ombre viendra lever les bornes de son cri.
Refusant toute mort inscrite sur les branches
Il osera franchir les crêtes de la nuit.

Cette pierre ouverte est-ce toi, ce logis dévasté,
Comment peut-on mourir ?

J'ai apporté de la lumière, j'ai cherché,

Partout régnait le sang.

Et je criais et je pleurais de tout mon corps.
Sur une pietà de tintoret
Jamais douleur

Ne lut plus élégante dans ces grilles
Noires, que dévora le soleil.
Et jamais Élégance ne lut cause plus spirituelle.
Un feu double, debout sur les grilles du soir.

Ici,

Un grand espoir fui peintre.
Oh, qui est plus réel

Du chagrin désirant ou de l'image peinte ?

Le désir déchira le voile de l'image.

L'image donna vie à l'exsangue désir.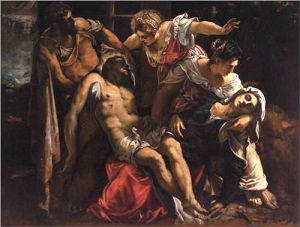 Yves Bonnefoy (Tours, 24 juni 1923)
De Pietà door Tintoretto uit 1559
De Amerikaanse dichter, vertaler en etymoloog John Anthony Ciardi werd geboren op 24 juni 1916 in Boston. Zie ook alle tags voor John Ciardi op dit blog.
Most Like An Arch This Marriage
Most like an arch—an entrance which upholds
and shores the stone-crush up the air like lace.
Mass made idea, and idea held in place.
A lock in time. Inside half-heaven unfolds.
Most like an arch—two weaknesses that lean
into a strength. Two fallings become firm.
Two joined abeyances become a term
naming the fact that teaches fact to mean.
Not quite that? Not much less. World as it is,
what's strong and separate falters. All I do
at piling stone on stone apart from you
is roofless around nothing. Till we kiss
I am no more than upright and unset.
It is by falling in and in we make
the all-bearing point, for one another's sake,
in faultless failing, raised by our own weight.
The Catalpa
The catalpa's white week is ending there
in its corner of my yard. It has its arms full
of its own flowering now, but the least air
spills off a petal and a breeze lets fall
whole coronations. There is not much more
of what this is. Is every gladness quick?
That tree's a nuisance, really. Long before
the summer's out, its beans, long as a stick,
will start to shed. And every year one limb
cracks without falling off and hangs there dead
till I get up and risk my neck to trim
what it knows how to lose but not to shed.
I keep it only for this one white pass.
The end of June's its garden; July, its Fall;
all else, the world remembering what it was
in the seven days of its visible miracle.
What should I keep if averages were all?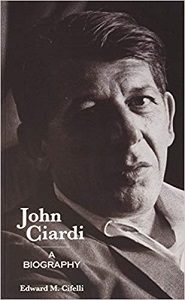 John Ciardi (24 juni 1916 – 30 maart 1986)
Cover biografie
De Amerikaanse schrijver Scott Oden werd geboren op 24 juni 1967 in Columbus, Indiana. Zie ook alle tags voor Scott Oden op dit blog.
Uit: A Gathering of Ravens
"No place where your Nailed God is welcome," Grimnir said. "So watch your tongue, little fool."
Étaín nodded, her eyes wide with fear.
Grimnir led them to the water's edge, to where someone had drawn a slender punt up on shore. Étaín looked dubiously at the flat-bottomed boat. It seemed as old as the forest, its boards black and shiny with use and decay. A pole lay next to it.
"Get in," Grimnir said.
"We shouldn't be here," Étaín replied, backing away from the water. "This place is… wrong. It's evil. I can feel it."
"Evil, eh? What do you know about evil? Get in the boat. We're close, now."
Étaín shook her head, her trembling hands clasped before her. Something inimical to her lived among these trees, something unnatural whose hatred and malevolence warped the bosom of the earth itself. That island…
"Get in the gods-be-damned boat, little fool!" roared Grimnir. The echo of his voice profaned the silence. Boughs rustled on a phantom wind; Étaín imagined she could hear spectral laughter, as though whatever dwelled here took great pleasure in her terror. She backpedaled. She was on the verge of fleeing from this cursed grove when Grimnir sprang.
Étaín screamed. She had the impression of lips skinning back from yellowed fangs and eyes blazing like coals an instant before his fist hammered into the side of her jaw and sent her sprawling into oblivion."
Étaín woke by a fire — a great, roaring blaze that filled the glade with warmth and light. She lay with her back against a fallen log, her hands bound behind her. A dull ache radiated from her bruised jaw. Her ears rang, yet. She blinked, looked around, and tried to remember how she'd gotten here — wherever here was.
What she'd taken for a glade was actually a bight in the living palisade of trees that girt the small island, a grassy cove dominated by a stone-curbed fire pit. It was fully dark, now, but Étaín could still see the black lake beyond, its surface gleaming like a sheet of dark ice. It was snowing; fat flakes hissed and died in the crackling flames rising from the pit."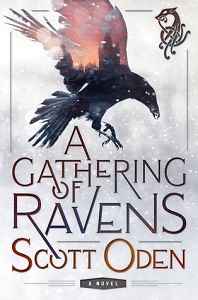 Scott Oden (Columbus, 24 juni 1967)
Cover
Zie voor nog meer schrijvers van de 24e juni ook mijn vorige blog van vandaag.
24-06-2018 om 11:44 geschreven door Romenu

Tags:Wilfred Smit, Matthijs Kleyn, Ernesto Sabato, Yves Bonnefoy, John Ciardi, Scott Oden, Romenu



Madelon Székely-Lulofs, Johannes van het Kruis, Kurt Kusenberg, Ambrose Bierce, Jean-Baptiste Boyer d'Argens, Josse Kok
De Nederlandse schrijfster en journaliste Magdalena Hermina Székely-Lulofs werd geboren in Soerabaja op 24 juni 1899. Zie ook alle tags voor Madelon Székely-Lulofs op dit blog.
Uit:Rubber
'Ts....êh!' zei Pâ Karmo met een licht geërgerde verbazing in zijn stem. 'Natuurlijk is hij dood.' Hoe kon iemand zooiets doms vragen! En dan nog wel een blanke! En hij vertelde verder:
'Hij was aan het baden en toen kwam er een krokodil en ineens werd hij meegesleurd. We hebben hem wel hooren roepen, maar we konden hem toch niet meer helpen. En hij is niet terug gekomen. Dus is hij dood.'
John bleef een oogenblik in gedachten. Het deed hem leed om den kleinen jongen dien hij graag had mogen lijden.
'Maar de anderen,' zei hij toen, 'baden die nu toch maar weer op dezelfde plaats?'
Pâ Karmo haalde de schouders op.
'Ze zijn het al gewend om daar te baden.'
'En als er wéér een krokodil komt?'
'Als dat Allah's wil is....' antwoordde Pâ Karmo gelaten.
De pont naderde nu den anderen oever, die steil naar boven opliep. Na wat heen en weer manoeuvreeren lag ze eindelijk goed. De chauffeur schakelde in en het Fordje begon te schokken en te trillen.
'Tabeh toewan....'
'Tabeh.' In zijn blijheid, dat nu de overtocht eindelijk achter den rug was, doofde zijn ergernis om Pâ Karmo's fatalisme.
Smal, hobbelig, kronkelend en steenig, lag de weg vóór hem. Aan beide zijden was nu oerwoud. Het suizelende oerwoud, dat tot vlák langs de bermen stond, stug, somber, verwoekerd en ontoegankelijk. De reuzen van boomen, twintig, dertig maal manshoog hieven zich trotsch boven het klein gekruip van rottan en slingerplanten en spreidden hun breede, platte kronen open naar de zengende zon en den valen hemel.
Het leek zonder leven, dit woud, omdat het zijn leven zoo geheim hield. Alleen een aap sprong soms ineens door de zwiepende takken van het onderbosch, bleef even nieuwsgierig kijken naar den voorbijrijdenden wagen, maakte een paar grimassen en een paar uittartende geluiden. Een enkele maal zig-zagde een gluipend snelle leguaan over den weg, die slechter werd naarmate het terrein vervlakte."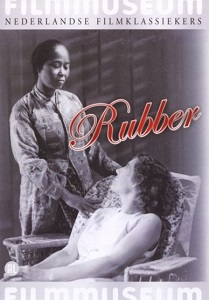 Madelon Székely-Lulofs (24 juni 1899 – 22 mei 1958)
Cover DVD van de film uit 1936
De Spaanse heilige, mystiek dichter en kerkleraar Johannes van het Kruis werd geboren op 24 juni 1542 in Fontiveros bij Avila. Zie ook alle tags voor Johannes van het Kruis op dit blog.
Levende vlam van liefde (fragment)
Levende vlam van Liefde,
Wier tongen, tedere schade,
Schroeiend tot in mijn diepste zielskern wroeten :
Verzoend nu wat U griefde,
Voleindig uw genade,
Doorbreek het weefsel van dit zoet ontmoeten.
Vuur dat van vreugd doet beven!
Wond waaruit lusten stralen!
o liefelijke hand! o teer beroeren!
Die smaakt naar eeuwig leven,
Uw schuld kwaamt afbetalen,
En, dood verslaande, dood tot leven voeren!
O brand van vlammen, lampen,
Wier helle flonkeringen
Der zinnen labyrint en blinde gangen,
Lang zwart van nacht en dampen,
In nieuwe pracht doen dingen,
Met licht en gloed, naar 't Doel van hun verlangen!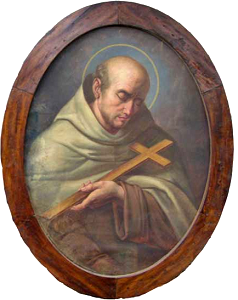 Johannes van het Kruis (24 juni 1542 – 14 december 1591)
Portret uit een klooster
De Duitse schrijver en criticus Kurt Kusenberg werd geboren op 24 juni 1904 in Göteborg. Zie ook alle tags voor Kurt Kusenberg op dit blog.
Uit: Ein verächtlicher Blick
"Das Telefon summte, der Polizeipräsident nahm den Hörer auf. "Ja?"
"Hier spricht Wachtmeister Kerzig. Soeben hat ein Passant mich verächtlich angeschaut."
"Vielleicht irren Sie", gab der Polizeipräsident zu bedenken. "Fast jeder, der einem Polizisten begegnet, hat ein schlechtes Gewissen und blickt an ihm vorbei. Das nimmt sich dann wie Geringschätzung aus."
"Nein", sprach der Wachtmeister. "So war es nicht. Er hat mich verächtlich gemustert,
von der Mütze bis zu den Stiefeln."
"Warum haben Sie ihn nicht verhaftet?"
"Ich war zu bestürzt. Als ich die Kränkung erkannte, war der Mann verschwunden."
"Würden Sie ihn wiedererkennen?"
"Gewiss. Er trägt einen roten Bart."
"Wie fühlen Sie sich?"
"Ziemlich elend."
"Halten Sie durch, ich lasse Sie ablösen."
Der Polizeipräsident schaltete das Mikrofon ein. Er entsandte einen Krankenwagen in Kerzigs Revier und ordnete an, dass man alle rotbärtigen Bürger verhafte.
Die Funkstreifen waren gerade im Einsatz, als der Befehl sie erreichte. Zwei von ihnen probierten aus, welcher Wagen der schnellere sei, zwei andere feierten in einer Kneipe den Geburtstag des Wirtes, drei halfen einem Kameraden beim Umzug, und die übrigen machten Einkäufe. Kaum aber hatten sie vernommen, um was es ging, preschten sie mit ihren Wagen in den Kern der Stadt.
Sie riegelten Strassen ab, eine um die andere, und kämmten sie durch. Sie liefen in die Geschäfte, in die Gaststätten, in die Häuser und wo sie einen Rotbart aufspürten, zerrten sie ihn fort. Überall stockte der Verkehr. Das Geheul der Sirenen erschreckte die Bevölkerung und es liefen Gerüchte um, die Hetzjagd gelte einem Massenmörder."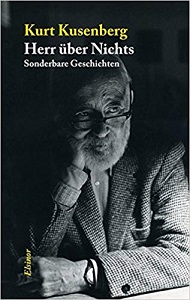 Kurt Kusenberg (24 juni 1904 – 3 oktober 1983)
Cover
De Amerikaanse satiricus, schrijver van korte verhalen en criticus, uitgever en journalist Ambrose Gwinnett Bierce werd geboren in Meigs County, Ohio op 24 juni 1842. Zie ook alle tags voor Ambrose Bierce op dit blog.
Uit:The Devil's Dictionary
« EDIBLE, adj. Good to eat, and wholesome to digest, as a worm to a toad, a toad to a snake, a snake to a pig, a pig to a man, and a man to a worm.
EDITOR, n. A person who combines the judicial functions of Minos, Rhadamanthus and Aeacus, but is placable with an obolus; a severely virtuous censor, but so charitable withal that he tolerates the virtues of others and the vices of himself; who flings about him the splintering lightning and sturdy thunders of admonition till he resembles a bunch of firecrackers petulantly uttering his mind at the tail of a dog; then straightway murmurs a mild, melodious lay, soft as the cooing of a donkey intoning its prayer to the evening star. Master of mysteries and lord of law, high-pinnacled upon the throne of thought, his face suffused with the dim splendors of the Transfiguration, his legs intertwisted and his tongue a-cheek, the editor spills his will along the paper and cuts it off in lengths to suit. And at intervals from behind the veil of the temple is heard the voice of the foreman demanding three inches of wit and six lines of religious meditation, or bidding him turn off the wisdom and whack up some pathos.
O, the Lord of Law on the Throne of Thought, A gilded impostor is he. Of shreds and patches his robes are wrought, His crown is brass, Himself an ass, And his power is fiddle-dee-dee. Prankily, crankily prating of naught, Silly old quilly old Monarch of Thought. Public opinion's camp-follower he, Thundering, blundering, plundering free. Affected, Ungracious, Suspected, Mendacious, Respected contemporaree! J.H. Bumbleshook
EDUCATION, n. That which discloses to the wise and disguises from the foolish their lack of understanding.
EFFECT, n. The second of two phenomena which always occur together in the same order. The first, called a Cause, is said to generate the other — which is no more sensible than it would be for one who has never seen a dog except in the pursuit of a rabbit to declare the rabbit the cause of a dog."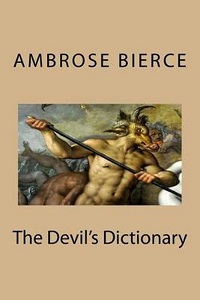 Ambrose Bierce (24 juni 1842 – ? 1913/1914)
Cover
De Franse schrijver en filosoof Jean-Baptiste de Boyer, Marquis d'Argens werd geboren op 24 juni 1704 in Aix-en-Provence. Zie ook alle tags voor Jean-Baptiste Boyer d'Argens op dit blog.
Uit: Memoires
« Une troupe de comédiens était arrivée à Aix, presque en même temps que moi. J'allai à la première représentation avec une foule de jeunes gens qui aimaient le spectacle : on représentait l'Andromaque de Racine. L'actrice qui jouait le rôle d'Hermione était une jeune brune âgée de seize ou dix-sept ans ; elle avait la taille fine, de grands yeux noirs, la voix belle et touchante. Quelque attaché que je fusse à la représentation de la tragédie, il me semblait que, d'abord qu'elle sortait du théâtre, la pièce languissait ; j'avais peine à démêler des sentimens qui ne m'étaient pas connus ; j'attendis avec impatience que la pièce fût finie ; j'allai dans sa loge ; je la trouvai remplie d'un nombre de petits-maîtres provinciaux. Un silence, qui ne m'était pas ordinaire, lui fit juger, à ce qu'elle m'a dit depuis, que j'avais assez d'usage du monde. Après lui avoir dit quelques mots, je me retirai. Toute la nuit l'idée de Sylvie m'occupa ; je la voyais sans cesse ; il me semblait que je l'entendais déclamer ; sa voix aussi bien que ses yeux avait passé jusqu'au fond de mon cœur. J'attendis le lendemain l'heure de la comédie avec une extrême impatience ; enfin quatre heures sonnèrent. J'arrivai le premier, et, comme j'étais seul dans la salle, je passai au foyer, où elle était déjà habillée. Dans l'idée que je m'étais formée d'une comédienne ; je crus que je ne devais pas perdre une aussi belle occasion pour lui dire ce que je pensais : je lui fis une déclaration aussi tendre que longue. »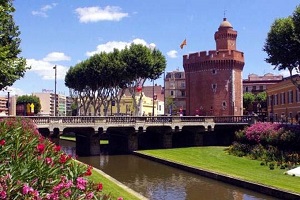 Jean-Baptiste Boyer d'Argens (24 juni 1704 – 11 januari 1771)
Perpignan, waar de schrijver in 1722 een tijdje gevangen zat in de citadel.
Onafhankelijk van geboortedata
De Nederlandse dichter Josse Kok werd geboren in Zeist in 1983.Kok woont in Dordrecht en werkt in een staalmagazijn. Zie ook alle tags voor Josse Kok op dit blog.
Kijkdoos
Ik zie u gaan vanachter glas
en ken uw wandel verder niet.
U laat een huisdier uit of wacht
op een ontmoeting met een vriend.
U bent een leven in mijn ooghoek
met een hartslag en een plan.
Ik sta hier jaren te verzamelen
als hoogbejaarde man.
U ziet alles door dit glas.
Ik ben doorzichtig als de pest.
Ooit heeft er iets in mij geleefd.
Deel dat maar met de rest.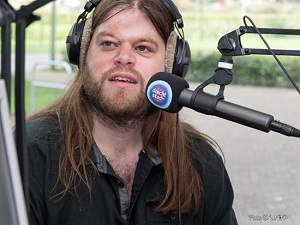 Josse Kok (Zeist, 1983)
24-06-2018 om 11:42 geschreven door Romenu

Tags:Madelon Székely-Lulofs, Johannes van het Kruis, Kurt Kusenberg, Ambrose Bierce, Jean-Baptiste Boyer d',Argens, Josse Kok, Romenu


23-06-2018

David Leavitt, Jo Govaerts, Rafik Shami, Aart van der Leeuw, Pascal Mercier, Franca Treur, Jean Anouilh, Anna Achmatova
De Amerikaanse schrijver David Leavitt werd geboren in Pittsburgh op 23 juni 1961. Zie ook alle tags voor David Leavitt op dit blog.
Uit:The Page Turner
"Well, well, well," said Mr. Mansourian, "if you're not the best-dressed page turner I've ever seen. Come on, I'll introduce you to Kennington."
"Good luck, sweetheart!" Pamela called almost mournfully. She waved at Paul, a tissue balled in her fist. "Break a leg! I'll see you after the concert."
He didn't answer. He was out of earshot, out of the wings, beyond which the hum of the settling audience was becoming audible.
Mr. Mansourian led him up steep stairways and along antiseptic corridors, to a dressing room at the door to which he knocked three times with sharp authority.
"Come in!"
They went. In front of mirrors Richard Kennington, the famous pianist, sat on a plastic chair, bow tie slack around his throat. He was drinking coffee. Isidore Gerstler, the famous cellist, was eating a cinnamon-frosted doughnut out of a box. Maria Luisa Strauss, the famous violinist, was stubbing out a cigarette in an ashtray already overflowing with red-tipped butts. Her perfume, capacious and spicy, suggested harems. Yet the room had no softness, no Persian carpets. Instead it was all lightbulbs that brightened the musicians' faces to a yellowish intensity.
"Good evening, folks," Mr. Mansourian said, shutting the door firmly. "Richard, I'd like you to meet Paul Porterfield, your page turner."
Haltingly Kennington revolved in his seat. He had dark, flat hair, short sideburns, eyes the color of cherry wood. Fine ridges scored his face, which was slightly weather-beaten: not old-looking exactly, just older-looking than the pictures on his CDs suggested. As it happened, Paul owned all eight of Kennington's CDs.
Kennington smiled. "Pleased to meet you, Paul Porterfield," he said, holding out his hand.
"Thank you, sir," Paul answered, and accepted the hand with caution; after all, he'd never had the opportunity to touch anything so precious before. Yet it did not feel different from an ordinary hand, he reflected. Nor did anything in Kennington's handshake transmit to Paul the magic that happened when he sat down in front of a piano.
"This is an honor for me," Paul went on. "I've always been a great admirer of yours."
"Very kind of you to say so. And may I introduce my cohorts?"
Isidore Gerstler, still involved with his doughnut, only waved. But Maria Luisa Strauss winked at Paul, shook out her long black hair, played with the gold ankh that hung between her freckled breasts. "I've never seen such a well-dressed page turner," she said."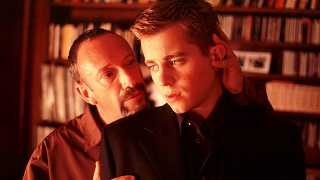 David Leavitt (Pittsburgh, 23 juni 1961)
Scene uit de film "Food of Love" uit 1998 (gebaseerd op de roman "The Page Turner") met
Alan Corduner (Joseph) en Kevin Bishop (Paul)
De Vlaamse dichteres, schrijfster vertaalster en columniste Jo Govaerts werd geboren op 23 juni 1972 in Leuven. Zie ook alle tags voor Jo Govaerts op dit blog.
Zij stuurde hem een blad
Zij stuurde hem een blad
waar hij vroeg om een
brief. Zo was de taal
die zij samen spraken
brieven = bladeren.

Zij hadden kunnen kiezen
voor andere zij had hem
een letter kunnen sturen in plaats van
vele wat hij wou zinnen verhalen zij

kozen
de moeilijkste die waarin zij beiden
nog kinderen waren
niets meer wisten dan wat zintuigen
hun gaven wat is het
dat ik voel (stilte)
hoe heet het daar waar je me
kust - onnoembare details nu
naamloos uitvergroot:
Krakau (moedervlek).
Alleen in mijn gedichten kan ik wonen

Alleen in mijn gedichten kan ik wonen,
elk land, elk huis, laat staan dit lijf is mij te eng.
Aan niets, aan niemand kan ik ooit volledig toebehoren
dan aan die onbetrouwbare innerlijke stem.

Alleen in mijn gedichten kan ik wonen,
mijn eigen bouwwerken van het meest flexibel materiaal,
vol gaten, voor wie geen grenzen kan stellen aan zijn dromen,
vol nestelplaatsen in het eigenwijs gekronkel van een taal.

Soms vrees ik dat voor mij de tijd al is gekomen
waarin mij elke kracht ontbreekt
om van de barre steden waar ik ben nog weg te dromen,
maar dan is daar toch weer die stem die in mij spreekt
en mij terug tot mijzelf doet komen,
d.w.z. die mij openbreekt.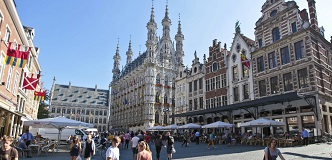 Jo Govaerts (Leuven, 23 juni 1972)
Leuven
De Syrisch-Duitse schrijver Rafik Shami werd geboren op 23 juni 1946 in Damascus. Zie ook alle tags voor Rafik Schami op dit blog.
Uit: Eine deutsche Leidenschaft namens Nudelsalat
"Mein Bruder Antonios und ich bekamen die ersten Ohrfeigen. Marie blieb verschont, weil sie in ihrem weißen Kleid engelsgleich dastand und viel zu klein war für eine große Ohrfeige vom väterlichen Kaliber. Nach der zweiten Ohrfeige heulten wir. Der Fotograf verfluchte uns und mahnte meinen Vater barsch, seine Hand bei sich zu lassen. Diese Formulierung kam in meinem Leben nur einmal vor – die Hand bei sich lassen. Ich habe sie in bitterer Erinnerung und deshalb in meinen dreißig Büchern nicht ein einziges Mal gebraucht.
Als Antonios nicht aufhören wollte, Witze zu reißen, gab ihm mein ältester Bruder, stellvertretend für den Vater, einen kräftigen Tritt. Schlagartig verwandelte sich Antonios in einen Schauspieler, tat so, als wäre die Kamera des Fotografen, damals ein beachtlicher Kasten aus Holz, eine Filmkamera, und warf sich wie Robert Mitchum nach einem Faustschlag in einer Bar zu Boden. Der Fotograf bat ihn mit süßlicher, aber zugleich giftiger Stimme aufzustehen. Antonios richtete sich auf und wischte sich mit dem rechten Handrücken über seinen Mundwinkel. Es gab nichts zu wischen, aber diese Geste gehörte zur Filmszene. Ich bog mich vor Lachen und mein Vater drehte mir gegen alle Gesetze der Physik, Biologie und Pädagogik mein rechtes Ohr um 180 Grad herum. Und staunte selbst, wie das Ohr in seine Ausgangsposition zurückschnellte. Dieses Staunen ließ sein Gesicht auf dem Foto nicht gerade intelligent erscheinen.
Ich mache es kurz. Das Foto wurde nach Amerika geschickt. Der Onkel in Florida hat nie geantwortet. Und so blieben wir Syrer."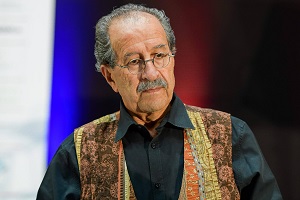 Rafik Shami (Damascus, 23 juni 1946)
De Nederlandse dichter en schrijver Aart van der Leeuw werd geboren in Hof van Delft op 23 juni 1876. Zie ook alle tags voor Aart van der Leeuw op dit blog.
Uit: Ik en mijn speelman
"Eerst deed hij de snaren donker dreunen, en dan zwol een klank aan, dien wij niet meer herkenden, zoo vol en schoon was die stem. Wij zaten in roerlooze stilte te luisteren. Bij het einde hoorde ik snikken, en een van mijn vrienden vloekte, alsof hem een wond was toegebracht. Ik voelde een hand op mijn schouder.
Een oogenblik later stond ik op straat naast den speelman. Mijn draagstoel was er nog niet. Geen ster ontbrak er aan den stralenden hemel. Ik volgde mijn geleider door buurten, waar ik nooit tevoren was geweest. Flambouwgloed over wemelend water, nachtgespuis, dat zich om vuren had gelegerd, de dreunende stap van den wacht, met de haakbus geschouderd, een mompelend man voor ons uit langs de huizen; krotten, bouwvallige puien en een vrouw voor een drempel, die in een donker trapgat wees. Ook eenzame stegen, waar wij haastig achter twee schaduwen aansnelden, een slanke en zwierige, en een, die door een spotvogel op het plaveisel scheen te zijn geschetst. Alles, wat ik tegemoet trad, maakte mij licht en gelukkig; het scheen me, of mij lang geleden een belofte gedaan was, welke nu eindelijk werd ingelost.
Bij een omhoog rankende kerk, die aan het lied van daareven deed denken, nam hij de muts in de rechterhand, zijn gitaar droeg hij mee in de linker, en dan maakte hij een buiging, waarbij zijn bult boven zijn hoofd rees, als de koepel boven de domkerk daar naast ons. Zoo nam hij afscheid.
Spoedig verloor ik hem uit het gezicht in het warnet der straten. Mijn huis was niet ver.
Den volgenden morgen werd ik door mijn kamerdienaar gewekt, en zoo begon er dan weer een dag voor mij, gelijk er al duizenden door de opengeschoven gordijnen bij mij binnen waren gelaten. Basque, de knecht, schenkt het lauw gemaakte water in, hij reikt mij de satijnen kousen, het schoeisel, dat kostbaar gegespt is, het ondergoed van zijde en de fluweelen jas met kantwerk aan de mouwen en knoopen uit edelsteen. Nu schikt hij mij de krulpruik om het weerbarstige haar. Het morgenmaal wordt opgedragen in vaatwerk van zilver en email uit Limoges, dat ik van mijn moeder geërfd heb.
De koets is voorgereden ondertusschen, en ik laat mij naar een dame brengen, die ik een handkus aan ga bieden, en een compliment, dat ik gedurende den rit heb bedacht.
Van de bezoeken ben ik weer thuisgekomen, en nauwelijks zit ik, met over elkander geslagen beenen, een pamflet door te bladeren, dat een van mijn vrienden bespot, of een lakei reikt mij op een presenteerblad een brief over, waarvan ik dadelijk het vaderlijk handschrift herken."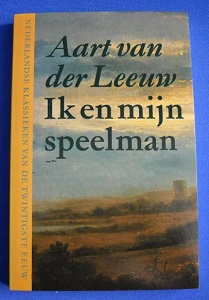 Aart van der Leeuw (23 juni 1876 – 17 april 1931)
Cover
De Zwitserse schrijver en filosoof Pascal Mercier (eig. Peter Bieri) werd geboren op 23 juni 1944 in Bern. Zie ook alle tags voor Pascal Mercier op dit blog.
Uit: Perlmann's zwijgen (Vertaald door Gerda Meijerink)
"De schuld van dit alles was het prachtige licht dat het stille watervlak achter de badhokjes op witgoud deed lijken. Zulk licht had Agnes willen vastleggen, en om die reden was hij uiteindelijk voor Carlo Angelini's aandringen gezwicht, ondanks dat hij hem onsympathiek vond, die atletische, alerte man met zijn innemende maar net iets te geroutineerde glimlach. Ze hadden elkaar begin vorig jaar in de wandelgangen van een conferentie in Lugano leren kennen, toen Perlmann tot lang na het begin van een zitting op de gang voor een raam was blijven staan. Angelini had hem aangesproken, en voor Perlmann was dat een goed excuus geweest om nog niet naar de zaal te gaan. Ze waren in de kantine gaan zitten, waar Angelini hem over zijn functie bij Olivetti had verteld. Hij was vijfendertig, een generatie jonger dan Perlmann. Het aanbod bij Olivetti te komen werken had hij pas twee jaar geleden geaccepteerd, nadat hij een paar jaar een assistentschap aan de universiteit had bekleed. Het was zijn taak de contacten van het concern met universiteiten te onderhouden. Hij kon dat naar eigen inzicht doen, waarbij hij de beschikking had over een royaal budget, want zijn activiteiten werden beschouwd als een onderdeel van de PR van het concern. Ze hadden een poosje over machinaal vertalen gesproken, het was een gesprek als vele andere. Maar opeens was Angelini heel enthousiast geworden en hij had hem gevraagd of hij geen zin had ten behoeve van een taalwetenschappelijk project een onderzoeksgroep samen te stellen: een kleine, maar intensieve klus, een handjevol gerenommeerde wetenschappers die een paar weken op een mooie plek bijeen zouden komen, natuurlijk alles op kosten van het concern. Perlmann vond destijds dat de man veel te snel met dat voorstel was gekomen. Ook al had Angelini laten doorschemeren dat Perlmann voor hem geen onbekende was, toch kende hij hem persoonlijk krap een uur. Maar wie weet moest een man met de verantwoordelijkheden van Angelini wel zo doortastend kunnen zijn. Achteraf bedacht Perlmann dat zijn intuïtie hem toen al had gewaarschuwd. Hij had niet bijster enthousiast op het voorstel gereageerd, eerder lauw; niettemin had hij gezegd dat zo'n groep naar zijn mening uit mensen van verschillende disciplines zou moeten bestaan."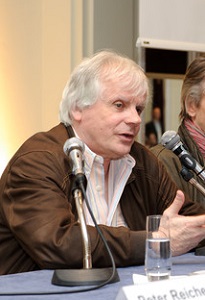 Pascal Mercier (Bern, 23 juni 1944)

De Nederlandse schrijfster en freelance journaliste Franca Treur werd geboren in Meliskerke op 23 juni 1979. Zie ook alle tags voor Franca Treur op dit blog.
Uit: De woongroep
"We volgen zijn wijsvinger naar de overkant.
'Daar zit een parenclub,' fluistert hij. 'Ik heb ze in het snotje. Zeg maar niet tegen Caro. Ze doet al een beetje jaloers.'
Ik had wel een tientje willen geven voor die blik. Je hoopt van jezelf dat je nooit zo zal kijken. Je hoopt het, maar voor hetzelfde geld hoort het bij een fase.
Freddie en Erik slaan elkaar op de schouders. Ze staan nu allebei een drempel hoger dan ik. Zo kunnen ze vanuit de hoogte op mij neerkijken. Ik ga op mijn tenen staan en kus Freddie vluchtig, ik ken hem tenslotte niet zoals Erik hem kent. Maar híj drukt zijn lippen warm tegen mijn wangen. Ik voel een golf van sympathie door me stromen. Freddie is oké.
'Caro is binnen,' zegt Freddie.
Op de drempel neem ik nog even een diepe teug lucht. Ik hou niet zo van de geur van andermans huizen.
Binnen zijn de gordijnen halfdicht. We staren een tijdje in het rond om wat te wennen aan de bijna sacrale schemer die er hangt.
'Wauw!' zeggen we. Ze hebben er echt wat van gemaakt. Een houten vloer, een lange tafel met op de hoek een aankleedkussen, lichtgele crèmetubes, een stapeltje pampers. Er zijn twee grote gatenplanten, aan de muur hangt ingelijste kunst. Eén wand is tot de nok gevuld met boeken. In zijn vrije tijd pakt Freddie graag een keer een goed boek. Op de onderste rij staan vijfentwintig delen Winkler Prins.
En dan, achter ons, in de beige zithoek, bij het zachtgele schijnsel van een schemerlampje, zit vol glans en glimlach Caro met een baby."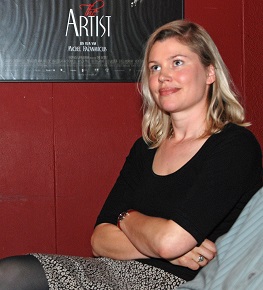 Franca Treur (Meliskerke,23 juni 1979)
De Franse (toneel)schrijver Jean Anouilh werd geboren in Bordeaux op 23 juni 1910. Zie ook alle tags voor Jean Anouilh op dit blog.
Uit: Médée
« LE GARÇON C'est Jason qui m'envoie.
MÉDÉE Il ne rentrera pas? Il est blessé, mort?
LE GARÇON Il vous fait dire que vous êtes sauvée.
MÉDÉE Il ne rentrera pas ?
LE GARÇON Il vous fait dire qu'il viendra, qu'il faut l'attendre.
MÉDÉE Il ne rentrera pas? Où est-il?
LE GARÇON Chez le roi. Chez Créon.
MÉDÉE Emprisonné ?
LE GARÇON Non.
MÉDÉE, crie encore. Si ! C'est pour lui cette fête ? Parle ! Tu vois bien que je sais. C'est pour lui ?
LE GARÇON Oui. C'est pour lui.
MÉDÉE Qu'a-t-il donc fait ? Allons, dis vite. Tu as couru, tu es tout rouge, il te tarde d'y retourner. On danse, n'est-ce pas ?
LE GARÇON Oui.
MÉDÉE Et on boit?
LE GARÇON Six barriques ouvertes devant le palais!
MÉDÉE Et les jeux, et les pétards, et les fusils qui partent tous ensemble vers le ciel. Vite, vite, petit, et tu auras joué ton rôle, tu pourras retourner là-bas et t'amuser. Tu ne me connais pas. Qu'est-ce que cela peut te faire ce que tu vas me dire? Pourquoi mon visage te fait-il peur? Tu veux que je sourie? Voilà, je souris. D'ailleurs, c'est plutôt une bonne nouvelle puisqu'on danse. Vite, petit, puisque je sais!
LE GARÇON Il épouse Créuse, la fille de Créon. C'est demain matin la noce.
MÉDÉE Merci, petit ! Va danser maintenant avec les filles de Corinthe. Danse de toutes tes forces, danse toute la nuit. Et quand tu seras vieux, rappelle-toi que c'est toi qui es venu dire à Médée. »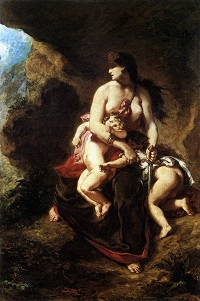 Jean Anouilh (23 juni 1910 – 3 oktober 1987)
Medea op het punt haar kinderen te vermoorden door Eugène Delacroix, 1862
De Russische dichteres Anna Achmatova werd geboren in Bolshoi Fontan bij Odessa, 23 juni 1889. Zie ook alle tags voor Anna Achmatova op dit blog.
Aan de geliefde
Je moet geen duiven naar mij sturen,
je moet geen bange brieven schrijven,
de maartse wind niet laten waaien in mijn gezicht.
Gisteren ben ik aangekomen in een groene gaarde
waar ziel en lichaam mogen rusten
in de schaduw van een populierenbos.

Van hier kan ik ons stadje zien:
Paleis, wachthuisjes, legerplaatsen,
boven het ijs de gele boog van de chinese brug.
Je bent verkleumd van drie uur op mij wachten,
je durft niet weg te gaan van de veranda
en kijkt verbaasd naar al die nieuwe sterren.

Als een grauwe eekhoorn zal ik in de elzen springen,
als een wezel schichtig draven langs het pad,
als een zwaan zal ik je uit de verte roepen
opdat mijn bruidegom geen angst zal hebben
terwijl hij in de blauwe, dwarrelende sneeuw
op het verschijnen van zijn dode bruidje wacht.
Vertaald door Kees Verheul
Der eine geht den graden Weg
Der eine geht den graden Weg,
Im Kreise geht ein andrer
Und will ins Elternhaus zurück,
Zur Freundin, die er kannte.
Doch ich, ich geh – nach mir die Not,
Nicht grade, nicht im Kreise,
Ins Nirgendwann, ins Nirgendwo,
Wie'n Schnellzug von der Weiche.
Der Mut
Wir wissen, was heut in der Waagschale liegt
Und sehn das Geschehne gelassen,
Die Stunde des Muts in den Uhrwerken tickt,
Uns wird unser Mut nicht verlassen.
Uns schreckt nicht das Sterben im Kugelhagel,
Es schreckt uns nicht, jagt man uns fort,
Denn wir bewahren dich, russische Sprache,
Das große, das russische Wort.
Wir sprechen dich aus, unabhängig und rein,
Den Enkeln als Erbe, in Freiheit zu sein
Auf ewig!
Vertaald door Eric Boerner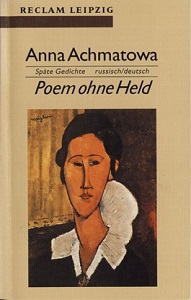 Anna Achmatova ( 23 juni 1889 – 5 maart 1966)
Cover
Zie voor nog meer schrijvers van de 23e juni ook mijn vorige blog van vandaag.
23-06-2018 om 12:07 geschreven door Romenu

Tags:David Leavitt, Jo Govaerts, Rafik Shami, Aart van der Leeuw, Pascal Mercier, Franca Treur, Jean Anouilh, Anna Achmatova, Romenu



Richard Bach, Cornelia Schmerle, Wolfgang Koeppen, Urs Jaeggi, Robert C. Hunter, Hanneke van Eijken, Will Shutt
De Amerikaanse schrijver Richard Bach werd geboren in Oak Park, Illinois op 23 juni 1936. Zie ook alle tags voor Richard Bach op dit blog.
Uit: The Bridge Across Forever
"Dearest Richard,
It's so difficult to know how and where to begin. I've been thinking long and hard through many ideas trying to find a way. . .
I finally struck one little thought, a musical metaphor, through which I have been able to think clearly and find understanding, if not satisfaction, and I want to share it with you. So please bear with me while we have yet an­other music lesson.
The most commonly used form for large classical works is sonata form. It is the basis of almost all symphonies and concertos. It consists of three main sections: the ex­position or opening, in which little ideas, themes, bits and pieces are set forth and introduced to each other; the development, in which these tiny ideas and motifs are explored to their fullest, expanded, often go from major (happy) to minor (unhappy) and back again, and are developed and woven together in greater complexity until at last there is: the recapitulation, in which there is a restatement, a glorious expression of the full, rich ma­turity to which the tiny ideas have grown through the development process.
How does this apply to us, you may ask, if you haven't already guessed.
I see us stuck in a never-ending opening. At first, it was the real thing, and sheer delight. It is the part of a rela­tionship in which you are at your best: fun, charming, excited, exciting, interesting, interested. It is a time when you're most comfortable and most lovable because you do not feel the need to mobilize your defences, so your partner gets to cuddle a warm human being instead of a giant cactus. It is a time of delight for both, and it's no wonder you like openings so much you strive to make your life a series of them.
But beginnings cannot be prolonged endlessly; they can­not simply state and restate and restate themselves. They must move on and develop—or die of boredom. Not so, you say. You must get away, have changes, other people, other places so you can come back to a rela­tionship as if it were new, and have constant new begin­nings."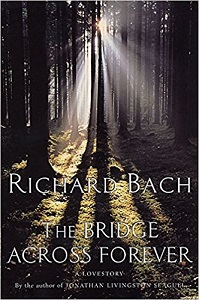 Richard Bach (Oak Park, 23 juni 1936)
Cover
De Duitse dichteres Cornelia Schmerle werd geboren op 23 juni 1973 in Berlijn. Zie ook alle tags voor Cornelia Schmerle op dit blog.
Mono, perspektiv
Der Diskurs ist nicht.
Du hast den Diskurs nicht eingeplant; das Fahrtenbuch
auf den Knien, die Zigarre ansteckbereit
zwischen lesenden Fingern - doch

der Diskurs rechnet sich selbst ein, sagst du.
(Wie könnte er?)

Von Zwangsläufigkeit ist die Rede, von der ich
nichts verstehe, nur

die Wolken seh, die aufziehn, sich
übern Kranich schlieren.
Welpe
diese puppe trägt einen namen –
bis gänzlich über die unbeschriebene stirn. schon
kriecht er ins weichplastik oder läuft aus

den sinnen. läuft nach: voraus. sicher aus
der stativen plastik; raunend in die gebärde.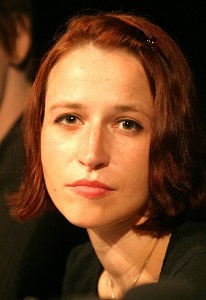 Cornelia Schmerle (Berlijn, 23 juni 1973)
De Duitse schrijver en essayist Wolfgang Arthur Reinhold Koeppen (eig. Köppen) werd geboren op 23 juni 1906 in Greifswald. Zie ook alle tags voor Wolfgang Koeppen op dit blog.
Uit: Amerikafahrt und andere Reisen in die Neue Welt
"In Paris auf dem Bahnhof St. Lazare, dicht bei Balzacs alter Rue d'Amsterdam, blühte Frankreich, spannte sich von Pfeiler zu Pfeiler das Netz der Hirngespinste, faulte Geschichte. Die lange, wie von milchig zerfließendem Absinth überglaste Passage war neunzehntes Jahrhundert, sie verkörperte eine große französische Epoche, sie war lächerlich und bewundernswert, sie war anrüchig und verführerisch.
Das kleine helle Irrlicht der Aufklärung und die rührende bunte Wunderlampe der Literatur leuchteten. Sie leuchteten immer noch. Ich fragte mich, wie lange noch? Das Blut der Gloire und der Freiheit hatte den Boden gedüngt, das Blut war von Schicht zu Schicht gesickert. Der Duft des Huhn-im-Topf lag in der Luft, wie der Wolfshauch des Hungers, der Atem der Erhebung, der Mief der Malaise, das schalgewordene Parfüm der Skandale und der saure Geruch der Macht, die seit Jahrhunderten um die Bastille wehen. Ich fühlte mich hier zu Hause. Ich hatte gelesen, daß nur wer im achtzehnten Jahrhundert in Frankreich gelebt habe, die Lust des Daseins kenne; dennoch liebte man in Paris die Revolution, den nie endenden Sturm auf alle Zwingburgen, die Geister des Aufstandes waren von altersher zum Bankett geladen, man wünschte die Unruhe, hier war ich Europäer, und ich wollte es bleiben. Einer Maus wurde eine Schale Milch hingestellt, eine Katze sah der Maus begehrlich und träge zu. Algerien und die Folter waren fern und nah. An den Zeitungsständen war das Wort des Gewissens affichiert, Sartre und Mauriac riefen Zolas »J'accuse«, und der General sang vor hundert Kamera-augen die Marseillaise. Vor einem Bistro luden wacklige Stühle zu gemütlichem Verweilen ein. Man schenkte den herben Weißwein aus, den nach Georges Simenon die Kommissare der französischen Kriminalpolizei lieben, was ihnen einen menschlichen Zug verleiht, der am Quai des Orfevres enttäuscht. Frauen, für Umarmungen geboren, eilten mit ernstem Berufsgesicht zur Arbeit. Auf einem Leuchtbild warb eine üppige Blondine aus dem Samen Renoirs und als Matrose gekleidet für ein schäumendes Bier."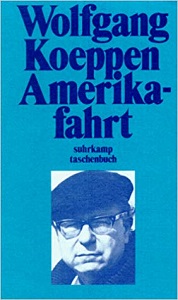 Wolfgang Koeppen (23 juni 1906 – 15 maart 1996)
Cover
De Zwitserse schrijver, kunstenaar en socioloog Urs Jaeggi werd geboren op 23 juni 1931 in Solothurn. Zie ook alle tags voor Urs Jeaggi op dit blog.
Uit: Kunst
"Die Provinz kennen wir. Teils kommen wir von dort, haben sie ertragen, gehasst, geliebt und verflucht, teils trieb uns der Brotberuf in die Inseln der Langeweile und der Enge, die als Gefängnisse wirken. Es sind aber auch die Orte, wo wir unsere Körper entdeckt haben, und die Fremden, den Anderen, die Andere. Und wo ein Septembernachmittag mit seiner melancholisch milden Sonne etwas von dem vermittelt hat, was wir anspruchsvoll, aber uns angemessen scheinend das »Erhabene« oder das »Transzendente« nannten, das Intensivere als alles übrige. Sehen, riechen, spüren, fühlen. Hier lernten wir mit der Nase umzugehen und mit dem Kopf, hier lernten wir mit den Händen und Füssen uns zu wehren. Hier hörten wir zum ersten Mal Töne und Tonfolgen, die uns weghoben, zerfetzten und wieder zusammenfügten, die uns tanzen liessen. Be high. Be hot. Be in the groove, ohne speed, nur mit schwarzer Musik.
Tougher than the rest. In der Provinz ist das für die, die es wissen möchten, intellektuelle und künstlerische 'Pflicht'.
In der Pheripherie heisst das: Überleben, Kampf (Kampf bis aufs Messer, wenn es so ist und anders nicht geht). Peripherien sind gemessen an der deftigeren, sinnlicheren Provinz abstrakter, flüchtiger, maroder und moderner, zukunftseuphorischer und apokaliptischer. Es sind glitschige, abschüssige, hochbrisante und langweilige Terrains, Orte des extrem Gewaltätigen, Exzessiven, Kriminellen, aber auch der flüchtigen Zärtlichkeit und Poesie; Explosives, Resignatives und, ja, es sind auch Orte der Liebe und des bizarr Schönen."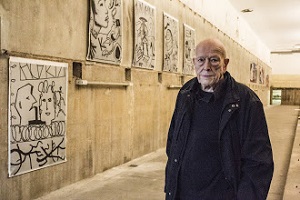 Urs Jaeggi (Solothurn, 23 juni 1931)
De Amerikaanse dichter, vertaler en tekstschrijver Robert C. Hunter werd geboren op 23 juni 1941 in San Luis Obispo, California. Zie ook alle tags voor Robert C. Hunterop dit blog.
Love in the afternoon

Love - Love in the afternoon
Outside the window
an organ grinder's tune

Rhythm, wine
A touch of Jamaica
Twilight time with a Kingston lady
All the time in the world
for me and that girl

Sweet - She sang sweetly
Come back soon
Come back for more of that love
in the afternoon

Breezes blow by me
in the afternoon
She sings sweetly
an organ grinder's tune

Finally recovered from last years round
of bye bye baby blues
All I crave today
Some love in the afternoon

Love - Love in the afternoon
It's easy as she goes
like an organ grinder's tune

Gone with the moon
any old trouble
can't leave too soon
Trouble's no part of what I want
especially in the afternoon
Singing
Sleeping till two
Waking to make more
love in the afternoon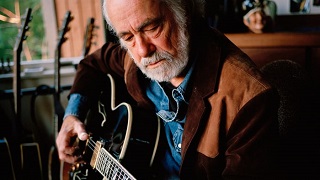 Robert C. Hunter (San Luis Obispo, 23 juni 1941)
Onafhankelijk van geboortedata
De Nederlandse dichteres Hanneke van Eijken werd geboren in 1981 in Amersfoort. Zie ook alle tags voor Hanneke van Eijken op dit blog.
Op de rug van een stier
Iemand zei dat Europa niets meer is
dan een grillige vlek op een wereldkaart
zonder te beseffen
dat goden van alle tijden zijn
dat Europa vele vormen kent
ze is een eiland in de Indische Oceaan
een maan bij Jupiter
zevenentwintig landen die als koorddansers
in evenwicht proberen te blijven
er leven godenkinderen die vergeten zijn
wie hun vader is
Europa is een vrouw
met een kast vol jurken
ze houdt er niet van een vlek genoemd te worden
over de wraak van goden en vrouwen met jurken
kun je beter niet lichtzinnig doen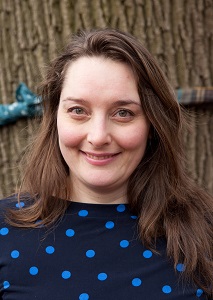 Hanneke van Eijken (Amersfoort, 1981)
De Amerikaanse dichter Will Shutt werd geboren in 1981 in New York. Zie ook alle tags voor Will Shutt op dit blog.
American Window Dressing
Half a dozen pestamals hanging on hooks,
a cuckoo clock twigged from scrap metal,
a single copy of Everyman's Haiku-
the letters pit the cover's look-at-me
moon sheen-and the poems I love
inside: spartan, semitransparent, nature's fools,
like faraway countries in full disclosure.
"Put everything into it." My father's
words on Sunday visits. Man of few words.
Those were the days work took him
as far as Chungking and he sported
a straight green army coat he called
his Mao Suit. His hair was still parted
straight to one side and he could
still lift me up so that I stood eyelevel
with row after row of ducks, like smokers'
lungs, in the restaurant windows
off Confucius Plaza-thick tar up top
swizzed into brown and rose gold.
A metal sling dug under their wings ended
in a hole the heads were put through.
Knowledge of them was terrible.
Everything looked terrible: the heads
of bok choy noosed in rubber bands
and pale-eyed fish laid out on ice. Terrible
things put delicately, like polite fictions
families invent. The words stand behind
great portals and are seen to yet untouchable.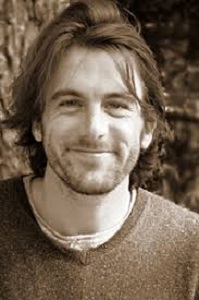 Will Shutt (New York, 1981)
23-06-2018 om 12:07 geschreven door Romenu

Tags:Richard Bach, Cornelia Schmerle, Wolfgang Koeppen, Urs Jaeggi, Robert C. Hunter, Hanneke van Eijken, Will Shutt, Romenu


22-06-2018

Nescio, Juliën Holtrigter, Jaap Robben, Willie Verhegghe, Erich Maria Remarque, Dan Brown, Aaro Hellaakoski, Henry Rider Haggard, Xavier Grall
De Nederlandse schrijver Nescio (pseudoniem van Jan Hendrik Frederik Grönloh) werd geboren in Amsterdam op 22 juni 1882. Zie ook alle tags voor Nescio op dit blog.
Uit: Mene Tekel
"Bavink was begonnen met te zeggen datti niet ernstig kon praten, dat is een raar begin voor zoo'n mannetje, dat in de eerste plaats ernstig is en in opdracht komt. 't Mannetje had zoo goed mogelijk gelachen en gezegd: `11 schertst, meneer Bavink.' Toen schudde zelfs Bekker van 't lachen en zei datti een idioot was en z'n zaken aan kant zou doen en z'n gekleede jas verkoopen en voor 't geld sigaren rooken. Watti natuurlijk niet gedaan heeft. En Bavink had geantwoord datti niet schertste en 't mannetje was heelemaal van de wijs geraakt. Hij durfde Bavink niet minachten, omdatti van bekende menschen had gehoord, dat Bavink 'bijzonder knap werk maakte.' `Dan veronderstel ik,' hatti gezegd en toen hatti even gewacht en z'n lorgnet recht gezet en Bavink aangekeken en toen hatti weer gezegd: Dan veronderstel ik, dat u al uw ernst in uw werk legt?' `Zou jij geweten hebben, Koekebakker, wat je toen had moeten doen?' t Mannetje had zoo eerbiedig gesproken, dat Bavink dacht: Wat is-i toch een erg mal ventje,' maar nix dorst te zeggen. Weet je wat ik gedaan zou hebben, Bavink? Ik had gevraagd of-i es wilde opsteken.' Dat heb ik nou juist ook gedaan en toen zeidi: "Neen dank u ik rook nooit."' 't Mannetje sprak alsof-i uit de krant voorlas. Hij begreep volkomen dat 't Bavink niet aangenaam was over zichzelf te spreken, hijzelf vond 't ook altijd onaangenaam, maar u begrijpt, je kunt er niet altijd buiten, 't leven brengt verplichtingen mee en een kunstenaar (dat woord sprak 't mannetje met veel nadruk uit) behoort nu eenmaal min of meer... Toen bedacht Bavink datti ook wel eens iets kon zeggen dat klonk alsof 't uit een redevoering was en zei: 'Volkomen waar."t Mannetje schrok er van. 't Dee 'm genoegen, dat meneer Bavink op dit punt net zoo dacht als hij, zoo iets noemen zulke mannetjes een 'punt', en hij vond daarin de vrijmoedigheid, meneer Bavink te vragen of 't waar was wat in sommige kranten (`clagbladen', zeidi) had gestaan, dat hij in hooge mate, in hooge mate ongevoelig was voor roem? `Jezus, daar zat ik,' zei Bavink, 'ik dacht, was nou Hoyer maar hier, die zou wel even 't woord doen.' En wat zei je?' Ik vroeg, heeft dat in de krant gestaan?' Leest u dan geen krant?' vroeg-i, net als een gewoon mensch. `Verdomme,' zei Bekker, 'dan was dat mannetje toch niet voor nix gekomen. Nou kanni in zijn blaadje zetten, dat Johannes Bavink nooit een krant leest.'"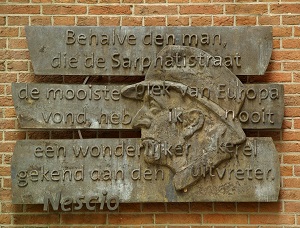 Nescio (22 juni 1882 – 25 juli 1961)
Bronzen reliëf in de Sarphatistraat in Amsterdam door Da van Daalen
De Nederlandse dichter Juliën Holtrigter (pseudoniem van Henk van Loenen) werd geboren op 22 juni 1946 in Hilversum. Zie ook alle tags voor Juliën Holtrigter op dit blog.
Aarde
Zoals ze leefden zo liggen ze hier
ook begraven, dicht op elkaar, bijna
hand in hand.

Spandiensten verleent men elkaar
tot op de rand van de dood.

Blinde paarden draven erheen,
met koetsen maar zonder koetsiers.
Het is het geheim van de hemel.

Zo hoog komen de mussen niet,
waar de zwaluwen buitelen, tuimelen
door de geweldige ruimte.
Zondagmiddag
Zondagmiddag, de krekels naaien de stilte.
Ik volg de spoorbaan, de brandnetels bloeien,
de bramen smaken naar niets en naar bloed.

Het dorp ligt verscholen in dichte grijzen.
Ik herken het, dit lopen: zo kwam ik thuis.
Van het nog warme huis staan de ramen wijd open.

Het bijna doorzichtige hoofd in de kamer
is van mijn vader, hij kijkt niet naar buiten.
In de hemdsmouwen wacht hij op onweer en regen.

Zo jongen, zal hij wel zeggen, dat is lang geleden.
Wat brengt je hier? Waar heb je gezeten?
Hij vraagt niet maar gebaart: hoor, het begint.

Hij loopt naar de deur, naar de stromende regen.
Hij zal zwijgen en knikken en alles vergeten.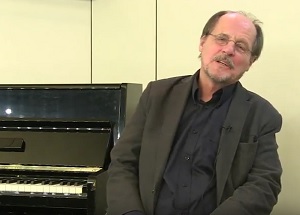 Juliën Holtrigter (Hilversum, 22 juni 1946)
De Nederlandse dichter, schrijver en theatermaker Jaap Robben werd geboren in Oosterhout op 22 juni 1984. Zie ook alle tags voor Jaap Robben op dit blog.
Vier vingers en een duim
Mijn duim
kij kt mij n vingers niet aan.
Omdat zij met z'n vieren
op een muurtje aan
en hij mag er niet tussen.
Kleine dikke broer
en zij n vier pianozussen.
Ze lij ken wel een voetbalteam
en hij aat kleumend
langs de kant.
Zij zij n de giraff en
en hij is altij d olifant.
Maar het eenzaam e zij n de winters.
Alle dagen in z'n eentje
in een want
Haar nek
Mijn handen passen precies
om de nek van onze poes.
Dat vind ik eng.
Niet de poes
en niet mij n handen.
Maar dat ze precies om haar nek
dat ik dat weet
terwij l er verder niemand thuis is.
En de poes mij n knie vertrouwt,
haar pootjes om een hand heen vouwt
en voorzitig op mijn vinger kauwt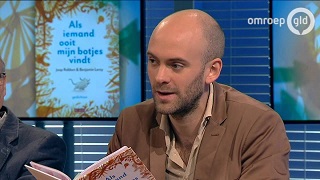 Jaap Robben (Oosterhout, 22 juni 1984)
De Belgische dichter en schrijver Willie Verhegghe werd op 22 juni 1947 te Denderleeuw geboren. Zie ook alle tags voor Willie Verhegghe op dit blog.
Opvolging verzekerd
- voor Vic, Ferre en Arthur -
Kleinzonen blijven niet klein,
je ziet ze groeien als kool, ze zitten je speels
op de steeds tragere hielen en rijden je
met panache en jeugdige grinta uit de wielen.
Zoals dat bij de meeste jongens het geval is
gaat de voorkeur eerst uit naar voetballen en
komt de liefde voor de fiets pas later.
Maar eens de derailleur in de prille kopjes
zijn verslavend tikkend werk doet kan het rijden
met een heuse koersfiets niet meer stuk en
vormen afstanden of het tegen hellingen opspurten
geen probleem meer, wordt zelfs de outfit
van blitse brillen en kleurrijke truitjes
met smaak en een eigentijdse look verzorgd.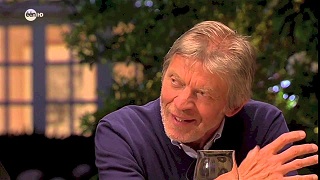 Willie Verhegghe (Denderleeuw, 22 juni 1947)
De Duitse schrijver Erich Maria Remarque (pseudoniem van Erich Paul Remark) werd geboren op 22 juni 1898 in Osnabrück. Zie ook alle tags voor Erich Maria Remarque op dit blog.
Uit: Im Westen nichts Neues
»Haie, was würdest du denn machen, wenn jetzt Frieden wäre?«
»Er müßte dir den Arsch vollhauen, weil du hier von so etwas überhaupt anfängst«, sage ich,»wie kommt das eigentlich?«
»Wie kommt Kuhscheiße aufs Dach?« antwortet Müller lakonisch und wendet sich wieder an Haie Westhus.
Es ist zu schwer auf einmal für Haie. Er wiegt seinen sommersprossigen Schädel:»Du meinst, wenn kein Krieg mehr ist?«
»Richtig. Du merkst auch alles.«
»Dann kämen doch wieder Weiber, nicht?«- Haie leckt sich das Maul. »Das auch.«
»Meine Fresse noch mal«, sagt Haie, und sein Gesicht taut auf,»dann würde ich mir so einen strammen Feger schnappen, so einen richtigen Küchendragoner, weißt du, mit ordentlich was dran zum Festhalten, und sofort nichts wie 'rin in die Betten! Stell dir mal vor, richtige Federbetten mit Sprungmatratzen, Kinners, acht Tage lang würde ich keine Hose wieder anziehen.«
Alles schweigt. Das Bild ist zu wunderbar. Schauer laufen uns über die Haut. Endlich ermannt sich Müller und fragt:»Und danach?«
Pause. Dann erklärt Haie etwas verzwickt:»Wenn ich Unteroffizier wäre, würde ich erst noch bei den Preußen bleiben und kapitulieren.«»Haie, du hast glatt einen Vogel«, sage ich. Er fragt gemütlich zurück:»Hast du schon mal Torf gestochen? Probier's mal.«
Damit zieht er seinen Löffel aus dem Stiefelschaft und langt damit in Alberts Eßnapf.
»Schlimmer als Schanzen in der Champagne kann's auch nicht sein«, erwiderte ich.
Haie kaut und grinst:»Dauert aber länger. Kannst dich auch nicht drücken.«
»Aber, Mensch, zu Hause ist es doch besser, Haie.«»Teils, teils«, sagt er und versinkt mit offenem Munde in Grübelei.
Man kann auf seinen Zügen lesen, was er denkt. Da ist eine arme Moorkate, da ist schwere Arbeit in der Hitze der Heide vom frühen Morgen bis zum Abend, da ist spärlicher Lohn, da ist ein schmutziger Knechtsanzug -»Hast beim Kommiß in Frieden keine Sorgen«, teilt er mit,»jeden Tag ist dein Futter da, sonst machst du Krach, hast dein Bett, alle acht Tage reine Wäsche wie ein Kavalier, machst deinen Unteroffiziersdienst, hast dein schönes Zeug; – abends bist du ein freier Mann und gehst in die Kneipe."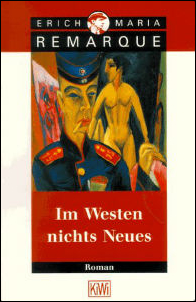 Erich Maria Remarque (22 juni 1898 – 25 september 1970)
Cover
De Amerikaanse schrijver Dan Brown werd geboren in Exeter, New Hampshire, op 22 juni 1964. Zie ook alle tags voor Dan Brown op dit blog.
Uit: Origin
"As the ancient cogwheel train clawed its way up the dizzying incline, Edmond Kirsch surveyed the jagged mountaintop above him. In the distance, built into the face of a sheer cliff, the massive stone monastery seemed to hang in space, as if magically fused to the vertical precipice.
This timeless sanctuary in Catalonia, Spain, had endured the relentless pull of gravity for more than four centuries, never slipping from its original purpose: to insulate its occupants from the modern world.
Ironically, they will now be the first to learn the truth, Kirsch thought, wondering how they would react. Historically, the most dangerous men on earth were men of God . . . especially when their gods became threatened. And I am about to hurl a flaming spear into a hornets' nest.
When the train reached the mountaintop, Kirsch saw a solitary figure waiting for him on the platform. The wizened skeleton of a man was draped in the traditional Catholic purple cassock and white rochet, with a zucchetto on his head. Kirsch recognized his host's rawboned features from photos and felt an unexpected surge of adrenaline.
Valdespino is greeting me personally.
Bishop Antonio Valdespino was a formidable figure in Spain—not only a trusted friend and counselor to the king himself, but one of the country's most vocal and influential advocates for the preservation of conservative Catholic values and traditional political standards.
"Edmond Kirsch, I assume?" the bishop intoned as Kirsch exited the train.
"Guilty as charged," Kirsch said, smiling as he reached out to shake his host's bony hand. "Bishop Valdespino, I want to thank you for arranging this meeting."
"I appreciate your requesting it." The bishop's voice was stronger than Kirsch expected—clear and penetrating, like a bell. "It is not often we are consulted by men of science, especially one of your prominence. This way, please."
As Valdespino guided Kirsch across the platform, the cold mountain air whipped at the bishop's cassock.
"I must confess," Valdespino said, "you look different than I imagined. I was expecting a scientist, but you're quite . . ." He eyed his guest's sleek Kiton K50 suit and Barker ostrich shoes with a hint of disdain. " 'Hip,' I believe, is the word?"
Kirsch smiled politely. The word "hip" went out of style decades ago.
"In reading your list of accomplishments," the bishop said, "I am still not entirely sure what it is you do."
"I specialize in game theory and computer modeling."
"So you make the computer games that the children play?"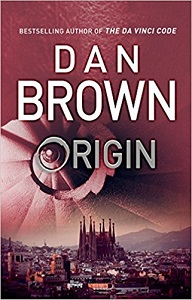 Dan Brown (Exeter, 22 juni 1964)
Affiche voor de film uit 2016
De Finse dichter, criticus en geograaf Aaro Hellaakoski werd geboren op 22 juni 1893 in Oulu. Zie ook alle tags voor Aaro Hellaakoski op dit blog.
Humming
A sunbeam glistened,
flickered for a flash
on the side of a comber,
stroked the rockside,
vanished between leaves.
In passing we
swapped a word or so.
We'd, just a little,
understood
the other.
We were working together.
Rejoicing at it, I hummed,
hummed, just so.
Don't know,
did that light,
the slightest of lights,
also know
that I was.
That we were.
Death's sitting on my shoulder
Death's sitting on my shoulder. Ravenlike?
No. A little beak pecked my cheek, the faintest knock
promising some song, to make me look
for the unlocking, when all the bolts slide back.
Vertaald door Herbert Lomas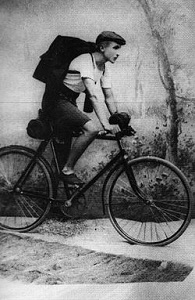 Aaro Hellaakoski (22 juni 1893 – 23 november 1952)
In 1913
De Engelse schrijver Henry Rider Haggard werd geboren in Norfolk op 22 juni 1856. Zie ook alle tags voor Henry Rider Haggard op dit blog.
Uit: The Days of My Life
"A while ago, it may have been a year or more, the telephone in this house rang and down the mysterious wire — for notwithstanding a thousand explanations, what is more mysterious than a telephone wire, except a telephone without one? — came an excited inquiry from a London press agency, as to whether I were dead.
Miss Hector, my secretary, answered that to the best of her knowledge and belief I was out walking on my farm in an average state of health. Explanations followed; diversified by telegrams from the Authors' Society and others interested in the continuance or the cessation of my terrestrial life. From these it appeared that, like a sudden wind upon the sea, a rumour had sprung up to the effect that I had vanished from the world.
It was a false rumour, but the day must come, when or how I know not, since Providence in its mercy hides this ultimate issue from our eyes, on which it will be true, and like the storm that I hear raving outside the windows as I write, the elemental forces which are about every one of us will sweep me away as they brought me here and my place will know me no more.
Before this event happens to me, this common, everyday event which excites so little surprise even among those who knew us and yet, whatever his degree or lack of faith, is so important to the individual concerned, shall overtake me, before I too, like the countless millions who have gone before, put on the Purple and have my part in the majesty of Death, it has entered into my mind that I desire to set down, while I still have my full faculties, certain of my own experiences of life.
I have met many men, I have seen many lands, I have known many emotions — all of them, I think, except that of hate; I have played many parts. From all this sum of things, tangible or intangible, hidden now in the heart and the memory, some essence may perhaps be pressed which is worthy of preservation, some picture painted at which eyes unborn may be glad to look. At least, such is my hope."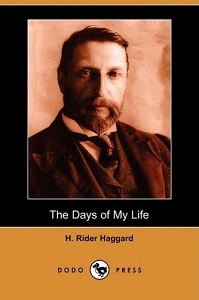 Henry Rider Haggard (22 juni 1856 – 14 mei 1925)
Cover
De Franse dichter en schrijver Xavier Grall werd geboren op 22 juni 1930 in Landivisiau (Finistère). Zie ook alle tags voor Xavier Grall op dit blog.
Solo (Fragment)
Seigneur me voici devant votre face
chanteur des manoirs et des haies
que vous apporterai-je
dans mes mains lasses
sinon les traces et les allées
l'âtre féal et le bruit des marées
les temps ont passé
comme l'onde sous le saule
et je ne sais plus l'âge
ni l'usage du corps
je ne sais plus que le dit
et la complainte
telle la poésie
mon âme serait-elle patiente
au bout des galantes années ?

Seigneur me voici c'est moi
de votre terre j'ai tout aimé
les mers et les saisons
et les hommes étranges
meilleurs que leurs idées
et comme la haine est difficile
les amants marchent dans la ville
souvenez-vous de la beauté humaine
dans les siècles et les cités
mais comme la peine est prochaine !
Seigneur me voici c'est moi
j'arrive de lointaine Bretagne
O ma barque belle
parmi les bleuets et les dauphins
les brumes y sont plus roses
que les toits de l'Espagne
je viens d'un pays de marins
les rêves sur les vagues
sont de jeunes rameurs
qui vont aux îles bienheureuses
de la grande mer du Nord.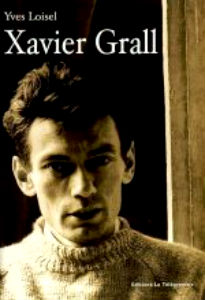 Xavier Grall (22 juni 1930 – 11 december 1981)
Cover, 1989
Zie voor nog meer schrijvers van de 22e juni ook mijn blog van 22 juni 2014 deel 1 en eveneens deel 2.
22-06-2018 om 18:01 geschreven door Romenu

Tags:Nescio, Juliën Holtrigter, Jaap Robben, Willie Verhegghe, Erich Maria Remarque, Dan Brown, Aaro Hellaakoski, Henry Rider Haggard, Xavier Grall, Romenu


21-06-2018

Ed Leeflang, Thomas Blondeau, Anne Carson, Adam Zagajewski, Ian McEwan, Alon Hilu, Jean-Paul Sartre, Stanley Moss, Machado de Assis
De Nederlandse dichter Ed Leeflang werd geboren op 21 juni 1929 in Amsterdam. Zie ook alle tags voor Ed Leeflang op dit blog.
Voor de sopraan
Een vrolijke familie de pioenen,
van de bollebozen die geen leed verkroppen,
volle harten en onnozel, gulzig in de lippen,
sierlijk in verliefd gespreide vingers,
doende doende in het rond te zoenen.

Zomer wordt het nooit zonder pioenen
te bezingen, jou, mij, jullie en ook u,
regen die ze schudt, ieder dol en dommer
van de lente, terwijl schoenen, paraplu
van die overoude droeve dingen bleven
uit die tijden, nu wij zomaar en hoognodig
mee met de pioenen moeten bloeien,
doof en blozend en terzijde.
In de ton
Maakt het uit wie het dicht
de wind of een ander, zijn slepende regels
stemmen niet hondser en wie ze nog opschrijft
is mij om het even, de stad raakt vergeten.
Wie het je aanzegt, lood om oud ijzer.

Maakt het je enig verschil waar ze bleven
de zomer de schemer november de dagen.
Kan het je schelen wie in je huizen
voetvegen narrige wezens windvanen,
als het hier binnen zingt van de regen
buien en avonden lang op je duigen.
Najaar
Ze hadden het recht van overpad,
honden, geweren. Ze keken binnen,
lachten zowaar en schikten
hun lege tassen. Hun rode koppen
telden we voor ze verdwenen
in de nog dampende velden.
We aten ons brood, lazen bladen.
Tegen het donker kwamen ze terug
beladen met hangende poten.
We gingen naar bed, lagen wakker,
hatend omdat ze bestonden.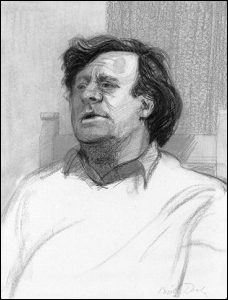 Ed Leeflang (21 juni 1929 – 17 maart 2008)
Portret door Rein Dool, 1982
De Vlaamse dichter, schrijver en journalist Thomas Blondeau werd geboren in Poperinge op 21 juni 1978. Zie ook Zie ook alle tags voor Thomas Blondeau op dit blog
Uit: Donderhart
"Eva twijfelde even maar toen ze Max zag glimlachen, krulden ook haar mondhoeken omhoog. Max stond op, en kuste haar wang. Hij deed een stap naar achter en keek naar haar. Ze was afgevallen. Ze was altijd slank geweest, maar de plooien bij haar ogen en mondhoeken waren nu nog zichtbaarder geworden.
Eva uit zijn gedachten schrappen was niet makkelijk geweest. Ze was al tien jaar zangeres van een band die bij ieder album nog meer platen verkocht en nog meer zalen deed volstromen. Vlak na hun breuk spotte haar roem met zijn liefdesverdriet. Soms nam die hoon paranoïde vormen aan. Was ze even uit zijn aandacht verdwenen, dan hoorde hij opeens haar stem op de radio terwijl de kappersschaar over zijn hoofd gleed. 's Nachts in de snackbar danste ze op het tv-scherm dat de wachtenden moest vermaken. De etalages van kiosken, de rijen affiches op blinde muren reproduceerden haar bestraffende blik in oneindig veelvoud.
Om het vergeten makkelijker te maken, had Max de muziekzenders van zijn tv gewist. Hij luisterde bijna alleen nog maar naar klassieke muziek en zijn autoradio was zo geprogrammeerd dat het gevaar van opdringerige herinneringen tot een minimum was gereduceerd.
De tijdschriftenkast op de redactie van Criterium kon hij natuurlijk niet censureren. Wanneer er een nieuw album uit was, zag hij een maand lang Eva's nieuwe look opduiken op de voorpagina van de concurrerende bladen. Hij had geluk dat popmuziek nog steeds zelden toegang vond tot de kolommen van zijn tijdschrift. In de jaren dat Max voor Criterium werkte, was de band slechts één keer door het blad geïnterviewd. Hij had zijn ogen over de tekst laten glijden, zoekend naar woorden als 'vriendje', 'ex' of 'lief' maar kon niks vinden.
Behalve wat oude vrienden wist niemand uit Max' omgeving van zijn tijd met Eva af. Véronique vertelde hij het pas toen ze elkaar al twee jaar kenden. Eerst geloofde ze het niet. Eens ze overtuigd was, vroeg ze of hij Eva nog wel eens zag. Dat ze een keer langs moest komen. Max snauwde haar af. Véronique was er niet meer over begonnen.
'Londen, meneer Gosset, dat brengt mij hier. Evenals u, neem ik aan.' Door Max' overdreven formele toon over te nemen, gaf ze blijk van een mondigheid die nieuw was voor hem. Bij het uitspreken van zijn achternaam had ze zelfs een kleine buiging gemaakt. Ze had iets smalends, arrogants over zich gekregen. Was het een uitwas van de ijdelheid die vroeger slechts sluimerend bij haar aanwezig was geweest? "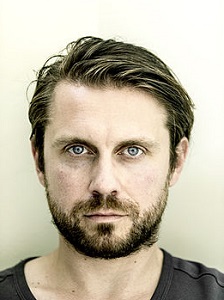 Thomas Blondeau (21 juni 1978 – 20 oktober 2013)
De Poolse dichter en essayist Adam Zagajewski werd geboren op 21 juni 1945 in Lwów, het huidige Lviv. Zie ook alle tags voor Adam Zagajewski op dit blog.
Poetry searches for radiance
Poetry searches for radiance,
poetry is the kingly road
that leads us farthest.
We seek radiance in a gray hour,
at noon or in the chimneys of the dawn,
even on a bus, in November,
while an old priest nods beside us.

The waiter in a Chinese restaurant bursts into tears
and no one can think why.
Who knows, this may also be a quest,
like that moment at the seashore,
when a predatory ship appeared on the horizon
and stopped short, held still for a long while.
And also moments of deep joy

and countless moments of anxiety.
Let me see, I ask.
Let me persist, I say.
A cold rain falls at night.
In the streets and avenues of my city
quiet darkness is hard at work.
Poetry searches for radiance.
Ravenna
This sleepy little town was once the empire's center.
This baker was Caesar's baker.
This fire flamed high.
This tailor hunched over cloth of gold.
This oriole sang in the language of the gods.

Ravenna is quiet, botanical.
Thrushes hop over its flat earth.
Bikes chat together casually like deaf-mutes.
A sluggish train from Ferrara enters the station.
Two German girls squabble: how to say solitude?

These bricks touched fingers.
These fingers touched iron and trees.
These acacias climbed romanesque vaults.
Ravenna's bookmark lies in a herbarium of guidebooks,
and waits, just keeps on waiting.

A golden flame still smoulders in mosaics,
one day it will doubtless go out.
A single match may serve
to kindle it again.
A single moment's concentration.
Is that so?
Vertaald door Clare Cavanagh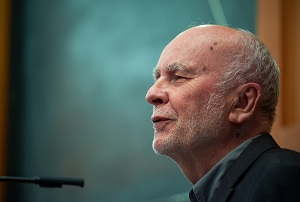 Adam Zagajewski (Lwów, 21 juni 1945)
De Canadese dichteres, essayiste en vertaalster Anne Carson werd geboren op 21 juni 1950 in Toronto. Zie ook alle tags voor Anne Carson op dit blog.
Apostle Town
After your death.
It was windy every day.
Every day.
Opposed us like a wall.
We went.
Shouting sideways at one another.
Along the road.
It was useless.
The spaces between us.
Got hard.
They are empty spaces.
And yet they are solid.
And black and grievous.
As gaps between the teeth.
Of an old woman.
You knew years ago.
When she was.
Beautiful the nerves pouring around in her like palace fire.
Short Talk on Major and Minor
Major things are wind, evil, a good fighting horse,
prepositions, inexhaustible love, the way people
choose their king. Minor things include dirt,
the names of schools of philosophy, mood and
not having a mood, the correct time. There
are more major things than minor things
overall, yet there are more minor things
than I have written here, but it is
disheartening to list them. When I
think of you reading this I do not
want you to be taken captive,
separated by a wire mesh lined with glass
from your life itself, like some Elektra.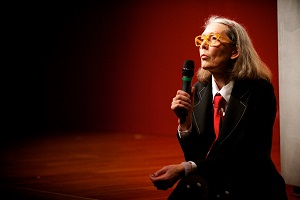 Anne Carson (Toronto, 21 juni 1950)
De Britse schrijver Ian McEwan werd op 21 juni 1948 geboren in de Engelse garnizoensplaats Aldershot. Zie ook alle tags voor Ian McEwan op dit blog.
Uit: Nutshell
"So here I am, upside down in a woman. Arms patiently crossed, waiting, waiting and wondering who I'm in, what I'm in for. My eyes close nostalgically when I remember how I once drifted in my translucent body bag, floated dreamily in the bubble of my thoughts through my private ocean in slow-motion somersaults, colliding gently against the transparent bounds of my confinement, the confiding membrane that vibrated with, even as it muffled, the voices of conspirators in a vile enterprise. That was in my careless youth. Now, fully inverted, not an inch of space to myself, knees crammed against belly, my thoughts as well as my head are fully engaged. I've no choice, my ear is pressed all day and night against the bloody walls. I listen, make mental notes, and I'm troubled. I'm hearing pillow talk of deadly intent and I'm terrified by what awaits me, by what might draw me in.
I'm immersed in abstractions, and only the proliferating relations between them create the illusion of a known world. When I hear "blue," which I've never seen, I imagine some kind of mental event that's fairly close to "green"—which I've never seen. I count myself an innocent, unburdened by allegiances and obligations, a free spirit, despite my meagre living room. No one to contradict or reprimand me, no name or previous address, no religion, no debts, no enemies. My appointment diary, if it existed, notes only my forthcoming birthday. I am, or I was, despite what the geneticists are now saying, a blank slate. But a slippery, porous slate no school­room or cottage roof could find use for, a slate that writes upon itself as it grows by the day and becomes less blank. I count myself an innocent, but it seems I'm party to a plot. My mother, bless her unceasing, loudly squelching heart, seems to be involved.
Seems, Mother? No, it is. You are. You are involved. I've known from my beginning. Let me summon it, that moment of creation that arrived with my first concept. Long ago, many weeks ago, my neural groove closed upon itself to become my spine and my many million young neurons, busy as silkworms, spun and wove from their trailing axons the gorgeous golden fabric of my first idea, a notion so simple it partly eludes me now. Was it me? Too self-loving. Was it now? Overly dramatic. Then something antecedent to both, containing both, a single word mediated by a mental sigh or swoon of acceptance, of pure being, something like—this? Too precious. So, getting closer, my idea was To be. Or if not that, its grammatical variant, is. This was my aboriginal notion and here's the crux—is. Just that. In the spirit of Es muss sein. The beginning of conscious life was the end of illusion, the illusion of non-being, and the eruption of the real. The triumph of realism over magic, of is over seems. My mother is involved in a plot, and therefore I am too, even if my role might be to foil it. Or if I, reluctant fool, come to term too late, then to avenge it."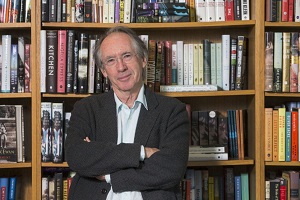 Ian McEwan (Aldershot, 21 juni 1948)
De Israëlische schrijver Alon Hilu werd geboren op 21 juni 1972 in Jaffa. Zie ook alle tags voor Alon Hilu op dit blog.
Uit: Death of a Monk
"I would bathe alone, never at the hammam in Kharet Elyahud, the Jewish Quarter, with the other men, but with a bucket of hot water in the room at the edge of the fruit orchards, so that no unfamiliar eye could catch sight of me, and I could gaze in wonder at my feeble body: the pale and bloated belly, which had not seen a ray of sunlight for some time and was always hidden under thick clothing; the toes, as separate and distant from one another as a band of brothers in hot dispute; the brittle fingers, unfit for labour, mottled pink and red; the shoulders, made like two marbles that roll and sway in every direction. And in summertime, when a tardy sunbeam flickered suddenly through the window and lit up the small room, tiny pores that covered my skin in flocks would reveal themselves and I would regard them without comprehending their meaning. The long days and weeks when Father was absent from the city, travelling to Aleppo or Sidon and from there by ship across the sea, were my moments of happiness and pleasure; upon returning from the Talmud Torah school, when my evil and angry sister had turned her blue eyes to her games and my little brother was preoccupied with matters in his room, I would circle the large apricot tree that stood in the centre of the alkhosh, tossing crumbs of bread to the goldfish sailing the fish pond at the foot of the tree, and then with hesitation tinged with anticipation I would ask one of the servants to request an audience for me with Maman, and when the response came — that she awaited me in her room — I would walk slowly to her, close the door behind me, and give myself over to her cursory kisses and sugary hugs. Then we would spread about the costly bolts of fabric she had had sent by special delivery from shops in Europe, and alongside them garments and dresses she had obtained from sharp-eyed local traders or from the travelling merchants who sometimes visited our estate. "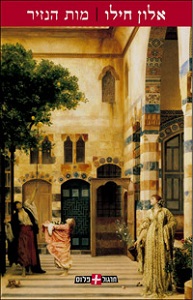 Alon Hilu (Jaffa, 21 juni 1972)
Cover Israëlische uitgave
De Franse schrijver Jean Paul Sartre werd geboren op 21 juni 1905 in Parijs. Zie ook alle tags voor Jean-Paul Sartre op dit blog.
Uit: Huis clos

"GARCIN Vipère ! Tu as réponse à tout.
INÈS Allons ! allons ! Ne perds pas courage. Il doit t'être facile de me persuader. Cherche des arguments, fais un effort. (Garcin hausse les épaules.) Eh bien, eh bien ? Je t'avais dit que tu étais vulnérable. Ah ! comme tu vas payer à présent. Tu es un lâche, Garcin, un lâche parce que je le veux. Je le veux, tu entends, je le veux ! Et pourtant, vois comme je suis faible, un souffle ; je ne suis rien que le regard qui te voit, que cette pensée incolore qui te pense. (Il marche sur elle, les mains ouvertes.) Ha ! elles s'ouvrent, ces grosses mains d'homme. Mais qu'espères-tu ? On n'attrape pas les pensées avec les mains. Allons, tu n'as pas le choix : il faut me convaincre. Je te tiens.
Garcin ! Quoi ? Venge-toi. Comment ?
ESTELLE Garcin !
GARCIN Quoi?
ESTELLE Venge-toi.
GARCIN Comment?
ESTELLE Embrasse-moi, tu l'entendras chanter.
GARCIN
C'est pourtant vrai, Inès. Tu me tiens, mais je te tiens aussi. Il se penche sur Estelle. Inès pousse un cri. INÈS Ha ! lâche ! lâche ! Va ! Va te faire consoler par les femmes.
ESTELLE Chante, Inès, chante !
INÈS Le beau couple ! Si tu voyais sa grosse patte posée à plat sur ton dos, froissant la chair et l'étoffe. Il a les mains moites ; il transpire. Il laissera une marque bleue sur ta robe.
ESTELLE Chante ! Chante ! Serre-moi plus fort contre toi, Garcin ; elle en crèvera. INÈS Mais oui, serre-la bien fort, serre-la ! Mêlez vos chaleurs. C'est bon
l'amour, hein Garcin ? C'est tiède et profond comme le sommeil, mais je t'empêcherai de dormir.
Geste de Garcin.
ESTELLE Ne l'écoute pas. Prends ma bouche ; je suis à toi tout entière."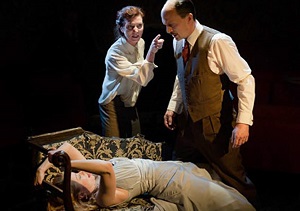 Jean-Paul Sartre (21 juni 1905 – 15 april 1980)
Scene uit een opvoering in Londen, 2012
De Amerikaanse dichter, uitgever en kunsthandelaar Stanley Moss werd geboren in Woodhaven, New York op 21 juni 1925. Zie ook alle tags voor Stanley Moss op dit blog.
Paper Swallow
Francisco Goya y Lucientes,
I dedicate this paper swallow to you and fly it
from the balcony of San Antonio de la Florida
past the empty chapels of the Four Doctors of the Church.
My praying hands are fish fins again,
one eye a lump of tar, the other hard blood,
my flapping lids sewed down to my cheekbones.
Time, the invisible snake, keeps its head
and fangs deep in the vagina of space.
Reason blinded me, banished me.
I fight the liar in me, selective desire,
my calling nightmares 'dreamless sleep.'
Blind, coño, I made a musical watch,
the image of Don Quixote points the hours,
Sancho the minute hand. I hear the right time
when I listen to my watch play church bells.
Mystery this, mystery that.
I have another watch—wolves howling and dogs barking.
Now the invisible snake swims in the Ebro.
I look out of my window to see time
as if it were not in my mouth
and all my other two-timing orifices.
Don Francisco, I swear at the feet of the dead who maim me
and the living who heal me that the least sound,
a page turning, whips me. I owe my blindness,
this paper swallow, to you, because I lived
most of my life, a marrano, in your deaf house.
I pull open one of my eyes like the jaws of a beast.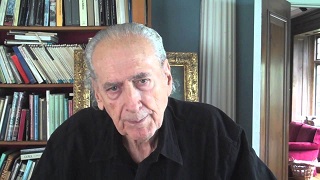 Stanley Moss (Woodhaven, 21 juni 1925)
De Braziliaanse schrijver Joaquim Maria Machado de Assis werd geboren in Rio de Janeiro op 21 juni 1839. Zie ook alle tags voor Machado de Assis op dit blog.
Uit: The Posthumous Memoirs of Brás Cubas (Vertaald door Gregory Rabassa)
"As it so happened, one day in the morning while I was strolling about my place an idea started to hang from the trapeze I have in my brain. Once hanging there it began to wave is arms and legs and execute the most daring antics of a tightrope-walker that anyone could imagine. I let myself stand there contemplating it. Suddenly it took a great leap, extended its arms and legs until it took on the shape of an X: decipher me or I'll devour you.
That idea was nothing less than the invention of a sublime remedy, an antihypochondriacal poultice, destined to alleviate our melancholy humanity. In the patent application that I drew up afterward I brought that truly Christian product to the government's attention. I didn't hide from friends, however, the pecuniary rewards that would of needs result from the distribution of a product with such far-reaching and profound effects. But now that I'm on the other side of life I can confess everything: what mainly influenced me was the pleasure I would have seeing in print in newspapers, on store counters, in pamphlets, on street corners, and, finally, on boxes of the medicine these three words: Brás Cubas Poultice. Why deny it? I had a passion for ballyhoo, the limelight, fireworks. More modest people will censure me perhaps for this defect. I'm confident, however, that clever people will recognize this talent of mine. So my idea had two faces, like a medal, one turned toward the public and the other toward me. On one side philanthropy and profit, on the other a thirst for fame. Let us say:--love of glory.
An uncle of mine, a canon with full prebend, liked to say that love of temporal glory was the perdition of souls, who should covet only eternal glory. To which another uncle, an officer in one of those old infantry regiments called tercos, would retort that love of glory was the most truly human thing there was in a man and, consequently, his most genuine attribute.
Let the reader decide between the military man and the canon. I'm going back to the poultice."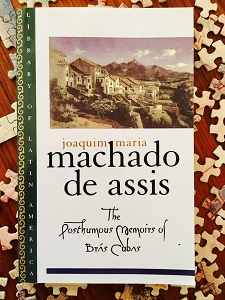 Machado de Assis (21 juni 1839 - 29 september 1908)
Cover
Zie voor nog meer schrijvers van de 21e juni ook mijn blog van 21 juni 2016 en eveneens mijn blog van 21 juni 2014 deel 1, en deel 2 en eveneens deel 3.
21-06-2018 om 18:41 geschreven door Romenu

Tags:Ed Leeflang, Thomas Blondeau, Anne Carson, Adam Zagajewski, Ian McEwan, Alon Hilu, Jean-Paul Sartre, Stanley Moss, Machado de Assis, Romenu


20-06-2018

Vikram Seth, Paul Muldoon, Kurt Schwitters, Jean-Claude Izzo, Silke Andrea Schuemmer, Carel van Nievelt, Robert Rozhdestvensky, Laure Wyss, Lillian Hellman
De Indische schrijver Vikram Seth werd geboren op 20 juni 1952 in Kolkata. Zie ook alle tags voor Vikram Seth op dit blog.
Uit: A Suitable Boy
"The Fever Bird

The fever bird sand out last night.
I could not sleep, try as I might.

My brain was split, my spirit raw.
I looked into the garden, saw

The shadow of the amaltas
Shake slightly on the moonlit grass

Unseen, the bird cried out its grief,
Its lunacy, without relief:

Three notes repeated closer, higher,
Soaring, then sinking down like fire

Only to breathe the night and soar,
As crazed, as desperate, as before.

I shivered in the midnight heat
And smelt the sweat that soaked my sheet.

And now tonight I hear again
The call that skewers though my brain,

The call, the brain-sick triple note--
A cone of pain stuck inits throat.

I am so tired I could weep.
Mad bird, for God's sake let me sleep

Why do you cry like one possessed?
When will you rest? When will you rest?

Why wait each night till all but I
Lie sleeping in the house, then cry?

Why do you scream into my ear
What no one else but I can hear?"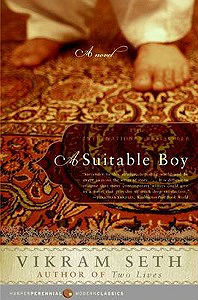 Vikram Seth (Kolkata, 20 juni 1952)
Cover
De Ierse dichter en schrijver Paul Muldoon werd geboren in Portadown, County Armagh, in Noord-Ierland op 20 juni 1951, Zie ook alle tags voor Paul Muldoon op dit blog.
The Old Country (Fragment)
IV
Every runnel was a Rubicon
where every ditch was a last ditch.
Every man was "a grand wee mon"
whose every pitch was another sales pitch
now every boat was a burned boat.
Every cap was a cap in hand.
Every coat a trailed coat.
Every band was a gallant band
across the broken bridge
and broken ridge after broken ridge
where you couldn't beat a stick with a big stick.
Every straight road was a straight up speed trap.
Every decision was a snap.
Every cut was a cut to the quick.

V
Every cut was a cut to the quick
when the weasel's twist met the weasel's tooth
and Christ was somewhat impolitic
in branding as "weasels fighting in a hole," forsooth,
the petrol smugglers back on the old sod
when a vendor of red diesel
for whom every rod was a green rod
reminded one and all that the weasel
was nowhere to be found in that same quarter.
No mere mortar could withstand a ten-inch mortar.
Every hope was a forlorn hope.
So it was that the defenders
were taken in by their own blood splendour.
Every slope was a slippery slope.

VI
Every slope was a slippery slope
where every shave was a very close shave
and money was money for old rope
where every grave was a watery grave
now every boat was, again, a burned boat.
Every dime-a-dozen rat a dime-a-dozen drowned rat
except for the whitrack, or stoat,
which the very Norsemen had down pat
as a weasel-word
though we know their speech was rather slurred.
Every time was time in the nick
just as every nick was a nick in time.
Every unsheathed sword was somehow sheathed in rime.
Every cut was a cut to the quick.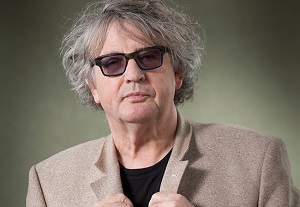 Paul Muldoon (Portadown, 20 juni 1951)
De Duitse schrijver, dichter en kunstenaar Kurt Schwitters werd geboren op 20 juni 1887 in Hannover. Zie ook alle tags voor Kurt Schwitters op dit blog.
Du
Du,
Unbekannte Frau,
Dich liebe ich.
Ich hab' Dich nie gesehn
Und kenne Dich.
Ich liebe Dich,
Denn Du bist die,
Die mich versteht,
Die alles mir verzeiht.
Die alles, was ich tu und was ich denke
Mit Liebe füllt
Und Glück.
Du, unbekannte Frau, Die gelten meine Träume, meine Sehnsucht.
Und wenn ich einst Dich finde,
Dann,
Ja dann??
Die Welt ist groß und tief.
Dir gelten meine Träume,
Dir,
Nur Dir!
Die rote Lilie
Die glühendrote, welke Nelke
Sprach zu sich selber: "Wenn ich welke,
Dann welke ich mich selber tot,
Dann bin ich nicht mehr glühendrot."
Oh Mensch, der du dies je gelesen,
Wenn du einmal nicht mehr gewesen,
Dann wirst du nie und nimmermehr,
Und wünschtest du es noch so sehr.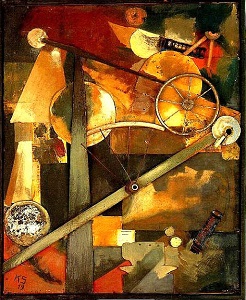 Kurt Schwitters (20 juni 1887 – 8 januari 1948)
Construction for Noble Ladies door Kurt Schwitters, 1919
De Franse dichter en schrijver Jean-Claude Izzo werd geboren op 20 juni 1945 in Marseille. Zie ook alle tags voor Jean-Claude Izzo op dit blog.
Plage du Prophète
«Plage du Prophète à Marseille
Ils se sont arrêtés.
D'abord la fille aux yeux gris verts
Des mers du Nord
Et au sourire mûri sur les berges du Nil
L'ami ensuite
Le poète des Hauts Pays
Attentif aux murmures des passeurs
Sur les sentiers arides des exils
Le plus âgé enfin
Homme aux semelles de vent
Tantôt Afghan, tantôt Mongol
Porté par des mondes d'hier entrevus
Plage du Prophète
Ils ont porté leurs pas
Vers le soleil couchant
Une vague est venue lécher leurs pieds
Bénédiction du Prophète
Prophète anonyme
De ceux qui croient
Aux vérités de la beauté
Plage du Prophète
Du Prophète»
Arête faîtière

III
Érosion des lèvres à désapprendre.

J'ai dévidé les mots de ma mémoire

rêvant le roc
où écorcher
accrocher quelques lambeaux
d'hier.

L'air s'écoule
au creux d'une combe.

Douleur claire.

Dérive.

Dans l'ombre des chênes survivants,
je ne réponds plus.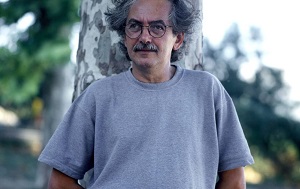 Jean-Claude Izzo (20 juni 1945 – 26 januari 2000)
De Duitse dichteres, schrijfster en kunsthistorica Silke Andrea Schuemmer werd geboren op 20 juni 1973 in Aken. Zie ook alle tags voor Silke Andrea Schuemmer op dit blog.
Uit: Nixen fischen
"Ines zuckte zusammen, als die Tür vom Nebenzimmer aufging, sich ein massiger Bauch durch den Spalt schob und ein beißender und säuerlicher Geruch in den Laden strömte. Der mittelgroße Mann, der mit auffälligem Hohlkreuz in der Türfüllung stand und seinen Reißverschluss über den trommelartigen Leib hochzog, trat auf Socken über die Schwelle in den Verkaufsraum und rieb sich dabei den Bauch.
»Makrele, pikant«, er schmatzte einige Male, »da kaut man die Angst des geangelten Tierchens mit.«
Sein Kopf war fast rechteckig, und um die fleckige Halbglatze führte ein dünner rötlicher Haarkranz. Augenbrauen und Wangenknochen waren wulstig, die Lippen dick und geschwungen.
Dann bemerkte er Ines, der er knapp bis zum Kinn reichte, und blieb abrupt stehen. Mit offenem Mund und aufgerissenen, weit auseinanderstehenden Augen besah er sie von oben bis unten.
»Eine weiße Riesin«, sagte er schließlich. »Hinabgestiegen aus Hemplers feuchten Träumen. Dich kann man ja exponieren. Wie groß bist du, Mädchen?«
Seine Stimme klang überraschend hoch.
»Ich wollte fragen wegen ...«, setzte Ines an, aber der Mann brachte sie mit einer Handbewegung zum Schweigen. Er kratzte mit dem Nagel seines kleinen Fingers zwischen den Schneidezähnen, die groß und gelblich waren, während er sie nicht aus den Augen ließ und auf seinen dünnen Beinen um sie herumging, seinen massigen Bauch vor sich herschiebend.
»Geduttet wie des Fischers Fru. Die Haare gehen wohl bis zum Arsch, wenn sie offen sind?«
Er pfiff leise und nickte. Ines presste ihre Tasche an sich.
»Egal, was du willst, hier bist du richtig. Wenn ich dich dem Hempler zeige, der wässert sich direkt den Latz mit seinem Saft, der speichelt sich eine Pfütze, der ...«
Er stockte und hielt ihr seine Hand entgegen.
Ines reichte ihm ihre zögerlich. »Es geht um das Fotoalbum im Schaufenster.«
Der Mann nickte, als wäre es ohnehin völlig klar, wieso sie sein Geschäft betreten hatte. »Ich bin Knut Seckig. Komm rein, heim-heim zum guten Knut, immer hinein."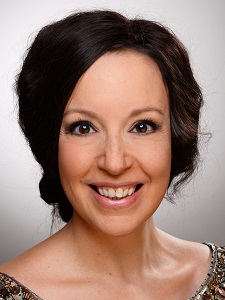 Silke Andrea Schuemmer (Aken, 20 juni 1973)
De Nederlandse schrijver Carel van Nievelt werd op 20 juni 1843 geboren in Delfshaven, als zoon van een boekhandelaar. Zie ook alle tags voor Carel van Nievelt op dit blog.
Uit: Mijn Angelo. Herinneringen van het Garda-meer
"Nu ik mij echter eenmaal van die taak gekweten heb, zult ge mij over niets meer hooren klagen: niet over hitte en dorst, niet over inktigen wijn, niet over spoelwatersoep of riekende kalfscoteletten, niet over beurzensnijdende voerlui en kasteleins - neen, zelfs niet over nachtelijke worstelingen met eenen menschenetenden vijand. Integendeel: gij zult mij louter geestdrift vinden voor wat er éénig schoons is in dit land: voor de wonderbare betoovering eener natuur, die binnen een afstand van weinige mijlen de strenge verhevenheid van het Noorden en den glans, de weelde, de kleurenpracht van het Zuiden aan elkander grenzen, met elkander ineenvloeien doet: den eeuwigen winter met de eeuwige lente. De vijgeboom en de olijf dicht aan den voet van gevaarten op welke de sneeuw nooit smelt, fonkelende gletscherspitsen nederblikkend op het lommer der citroentuinen - wie zou voor dezen aanblik niet gaarne wat lijfelijk ongemak zich getroosten!
Zoo zij het En om u te bewijzen hoe zeer het mij ernst is met die geestdrift, ruk ik mij oogenblikkelijk los van het azijnzure wijntje, het droge brood, de vliegenzwermen en de mesthoopgeuren in de herberg te Nago, om u, een kwartier gaans buiten het dorp, op eene hoogte te voeren, die reeds van verre uwe aandacht trok door het wapperen - neen, tot gewapper is wind noodig -, door het met geknakte wieken langs zijnen stok hangen van den Oostenrijkschen adelaar. Gij treedt door de poort van een fort - - en plotseling staat gij als Mozes op Nebo, met het land der belofte aan uwe voeten.
Zet u neder in de schaduw van den vestingmuur. In de diepte ligt het Garda-meer - blauw, blauw - - o maar, bij dit blauw is het blauw der Zwitsersche meren kleurloos, het blauw der korenbloem flets, het blauw van de oogen uwer aangebedene blondine een paar verlepte viooltjes gelijk. Daar ligt zij, de liefelijke, tusschen hare bergen, gelijk een hemelveld tusschen donkere wolken. Een smetteloos ultramarijn, glanzend en onafzienbaar. Aan haren noordelijken oever omvangt haar het donzige loofwoud van Riva's Campagna - groen in alle tonen en tinten: grauwe olijven en zwarte cypressen, sappig vijgenloof en bleeke wingerdranken."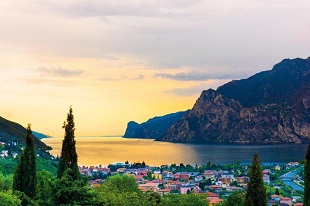 Carel van Nievelt (20 juni 1843 – 2 augustus 1913)
Het Gardameer

De Russische dichter en schrijver Robert Ivanovich Rozhdestvensky werd geboren op 20 juni 1932 in Kosikha in het district Altai Krai. Zie ook alle tags voor Robert Rozhdestvensky op dit blog.
As Severe as a War...
As severe as a war was that cold
winter
drilled and pierced by the winds it was
tempered
snow lay on it in a bulk,
bitter,
and the homes under its weight.
trembled.
Frost would blow across the floor,
sneaking,
our teacher sneezed and coughed,
patient.
Ink would melt in our class-room,
dripping.
and the principle would cancel
dictation.
And I knew that the winds blew with
reason,
no surprise, in the morning I have
a sore throat.
All I have in this world from that
season
are the war and winter
in my thought.
Snow would storm and slash the ground,
roaring,
and the ice in the river bed was
fierce..
Flowers bloomed on the windows,
growing,
as if each was by a bullet
pierced!
Neighbor granny put on widow's
shawl and
sat up weeping till late
hours...
Like a war that winter was
Long, and
up to now it feels like cold
showers.
Vertaald door Alec Vagapov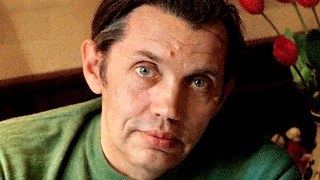 Robert Rozhdestvensky (20 juni 1932 – 19 augustus 1994)
De Zwitserse schrijfster Laure Wyss werd geboren op 20 juni 1913 in Biel/Bienne. Zie ook alle tags voor Laure Wyss op dit blog.
Uit:Laure Wyss. Leidenschaften einer Unangepassten (Biografie door Barbara Kopp)
"Häufig fuhr der Beistand zum Hausbesuch in die Arbeiterviertel. Viele Mütter arbeiteten in den Fabriken als Stanzerinnen, Sortiererinnen, Packerinnen, Zuschneiderinnen, bedienten als Saaltöchter und Buffetdamen oder hatten sich in einem Heim eine Stelle als Köchin erkämpft. Die besser Ausgebildeten hatten Anstellungen in Kaufhäusern und Büros. Wie viele unverhei-ratete Mütter in der Stadt Zürich lebten, konnte der Beistand nur vermuten. Bei der Volkszählung erfragten die Verantwortlichen bloß die Kinderzahl der Verheirateten und Verwitweten. Das Statistische Amt der Stadt rechnete im Jahr 1950 grob mit 1700 ledigen Müttern.
Nach der Unterredung mit dem Fürsprecher machte der Beistand an der Kirchgasse in der Zürcher Altstadt unangemeldet seinen Hausbesuch.
«Frau Wyss ist nicht zu Hause. Dafür treffe ich meinen Schützling mit seiner sehr bejahrten Pflegerin. Diese zeigt mir die kleine 2-Zimmerwohnung und Nickolaus, wie er genannt wird, schläft in einem sauberen antiquen Bettchen. Die Pflegerin sagt aus, dass der Kleine gut daran sei, was ich auch selber feststelle. Die kleine Wohnung macht sehr sauberen, gepflegten Eindruck, was auf einen guten Lebensstandard schließen lässt.»
Er bemerkte das altgediente Kinderbett, die Enge der Altstadtwohnung und das Alter der Betreuerin, vieles wies auf materiell bescheidene Verhältnisse hin, aber der «Lebensstandard», den er nachweisen musste, war nicht wirtschaftlicher Art. Wer die Wohnungsmiete bestritt, den Lohn der Betreuerin, wer Essen, Strom und Heizung bezahlte, ob die Mutter aus eigener Kraft für sich und das Kind aufkam oder ob sie die Hilfe der Familie brauchte, für den Beistand war solches nicht von Belang.Für ihn zählte der Zustand des Kindes und seines Bettes, sie ließen auf mütterliche Pflege schließen, die Aufgeräumtheit der Wohnung auf hausfraulichen Sinn".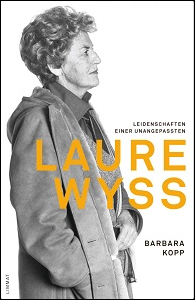 Laure Wyss (20 juni 1913 – 21 augustus 2002)
Cover
De Amerikaanse schrijfster en vertaalster Lillian Hellman werd geboren op 20 juni 1905 in New Orleans. Zie ook alle tags voor Lillian Hellman op dit blog.
Uit: The Children's Hour
"MARTHA (goes to lamp, lights it): It gets dark so early now. (Sits down, stretches, laughs) Cooking always makes me feel better. Well, I guess well have to give the Duchess some dinner. When the hawks descend, you've got to feed 'ern. Where's Joe? (No answer) Where's Joe?
KAREN: Gone.
MARTHA : A patient? Will he be hack in time for dinner ?
KAREN: No.
MARTHA (watching her); Well save dinner for him, then. Karen Whirs the matter?
KAREN (in a dull lone) : He won't be back any more.
MARTHA (speaking slowly and cordially): You mean he won't be back any more tonight?
KAREN : Ile won't be back at all.
MARTHA (quickly walks to Karen) : What happened? (Karen shakes her head) What happened, Karen ?
KAREN He thought that we had been lovers,
MARTHA (tensely): I don't believe you. (Wearily Kann turns her bead away ).
KAREN : All right_
MARTHA (automatically) : I don't believe it. He's never said a word all these months, all during the trial (Suddenly grabs Karen by the shoulders) shakes hen Didn't you tell him it wasn't true?
KAREN Yes.
MARTHA He didn't believe you?
KAREN I guess he believed me.
MARTHA (angrily) Than waht have you done?"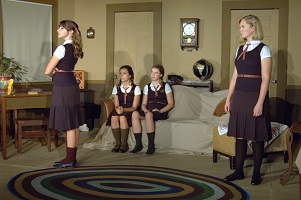 Lillian Hellman (20 juni 1905 – 30 juni 1984)
Scene uit in opvoering in Alexandria, Virginia, 2013
Zie voor nog meer schrijvers van de 20e juni ook mijn blog van 20 juni 2015 deel 2.
20-06-2018 om 18:16 geschreven door Romenu

Tags:Vikram Seth, Paul Muldoon, Kurt Schwitters, Jean-Claude Izzo, Silke Andrea Schuemmer, Carel van Nievelt, Robert Rozhdestvensky, Laure Wyss, Lillian Hellman, Romenu


19-06-2018

Salman Rushdie, Sybren Polet, Josef Nesvadba, Osamu Dazai, José Rizal, Friedrich Huch, Gustav Schwab, Elke Geurts, Claudia Gabler
De Indisch-Britse schrijver en essayist Salman Rushdie werd geboren in Bombay op 19 juni 1947. Zie ook alle tags voor Salman Rushdie op dit blog.
Uit: The Golden House
"On the day of the new president's inauguration, when we worried that he might be murdered as he walked hand in hand with his exceptional wife among the cheering crowds, and when so many of us were close to economic ruin in the aftermath of the bursting of the mortgage bubble, and when Isis was still an Egyptian mother-goddess, an uncrowned seventy-something king from a faraway country arrived in New York City with his three motherless sons to take possession of the palace of his exile, behaving as if nothing was wrong with the country or the world or his own story. He began to rule over his neighborhood like a benevolent emperor, although in spite of his charming smile and his skill at playing his 1745 Guadagnini violin he exuded a heavy, cheap odor, the unmistakable smell of crass, despotic danger, the kind of scent that warned us, look out for this guy, because he could order your execution at any moment, if you're wearing a displeasing shirt, for example, or if he wants to sleep with your wife. The next eight years, the years of the forty-fourth president, were also the years of the increasingly erratic and alarming reign over us of the man who called himself Nero Golden, who wasn't really a king, and at the end of whose time there was a large—and, metaphorically speaking, apocalyptic—fire.
The old man was short, one might even say squat, and wore his hair, which was still mostly dark in spite of his advanced years, slicked back to accentuate his devil's peak. His eyes were black and piercing, but what people noticed first—he often rolled his shirtsleeves up to make sure they did notice—were his forearms, as thick and strong as a wrestler's, ending in large, dangerous hands bearing chunky gold rings studded with emeralds. Few people ever heard him raise his voice, yet we were in no doubt that there lurked in him a great vocal force which one would do well not to provoke. He dressed expensively but there was a loud, animal quality to him which made one think of the Beast of folktale, uneasy in human finery. All of us who were his neighbors were more than a little scared of him, though he made huge, clumsy efforts to be sociable and neighborly, waving his cane at us wildly, and insisting at inconvenient times that people come over for cocktails. He leaned forward when standing or walking, as if struggling constantly against a strong wind only he could feel, bent a little from the waist, but not too much. This was a powerful man; no, more than that—a man deeply in love with the idea of himself as powerful. The purpose of the cane seemed more decorative and expressive than functional. When he walked in the Gardens he gave every impression of trying to be our friend. Frequently he stretched out a hand to pat our dogs or ruffle our children's hair. But children and dogs recoiled from his touch."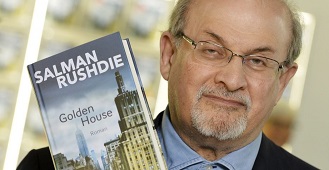 Salman Rushdie (Bombay, 19 juni 1947)
De Nederlandse dichter en schrijver Sybren Polet (pseudoniem van Sybe Minnema) werd geboren in Kampen op 19 juni 1924. Zie ook alle tags voor Sybren Polet op dit blog.
Stopwoord
Ik vond een oorschelp in de grond
om aan te luisteren.
ik luisterde en vond
drie takken taal
een drietakttaal voor één gedicht.
daar is geen zin mee te verrichten.
ik stop dat oor maar met een stopwoord dicht.
De dichter als dokter
Klop klop.
Hier komt de dokter met zijn woorden,
als een vriendelijk geklede avond,
een avond in sportkostuum.

Zeg maar niets.
Ik zal de pijn wegzuigen uit je wang
en als je wilt
leg ik mij op je als een warm compres.
Zo wen je misschien misschien gemakkelijker aan je lichaam.

Ben je alleen? Stel je maar voor:
iedere minuut treed ik opnieuw de kamer binnen,
ik steek de lamp aan en schik je bed;
één woord leg ik op je voorhoofd
als een hand koel ijs,
twee woorden duw ik als kussens in je rug,
één woord laat ik achter om je te strelen.
Zo heeft mijn gedicht toch een funktie.

En als je wakker wordt en wilt drinken,
twee jonge in het wit gestoken woorden geven je te drinken
en als je slapen wilt
dit is een woord zó zacht
dat je wel moet slapen.

Als zulke woorden zou ik om je willen zijn.

Klop, klop
hier komt de dokter met zijn woorden.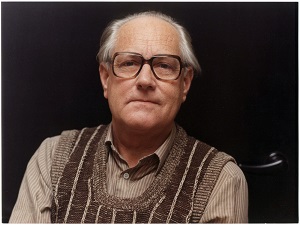 Sybren Polet (19 juni 1924 – 19 juli 2015)
De Tsjechische schrijver Josef Nesvadba werd geboren op 19 juni 1926 in Praag. Zie ook alle tags voor Josef Nesvadba op dit blog.
Uit: The Half-wit of Xeenemuende (Vertaald door Iris Unwin)
"The unfortunate teacher always counted the minutes to suppertime; never in all his life had lessons seemed so long, and never before had he felt so reluctant to go and teach his pupils.
About a month later he caught sight of Bruno fighting a gang of younger children in the street. He was attacking a couple of eight-year-olds, tripping them up and then kicking them when they were down.
"Bruno!" he shouted from a way off, but he couldn't run because he had trouble with his breathing, and so it was the butcher's wife who dealt with Bruno because she had seen the whole thing from her shop. She grabbed the boy by the collar -- she was a muscular woman -- and just lifted him over the fence into the Habichts' garden. Then she took the other children indoors and washed their grazes for them.
"He's always doing things like that," she explained to the horrified teacher. "An idiot, that's what he is. Ought to be in a Home. If his father wasn't such a big bug they'd have taken him away long ago. Everybody's surprised at you going there at all."
It was a particularly good supper at the Habichts' that evening, though, and he could even taste a hint of real coffee in the ersatz. Even Bruno was behaving quietly, only staring sulkily at one spot in the corner of the room. And so the old man could not bring himself to give notice.
That night the whole town was roused by another catastrophe. The butcher's shop opposite the Habichts' was destroyed the very same way as the governess's house had been: by a small-calibre bomb or an artillery shell. The missile must have passed in through the window, and exploded inside the room, demolishing it. The shop was burned down.
Next day Bruno was smiling all through his lesson. The teacher began to feel uneasy.
"Who looks after your boy all day?" he carefully approached Mrs. Habicht at supper-time.
"Nobody. He's awfully good. He spends all his time on the veranda at the back of the house. His father put together a little workshop for him to potter about in."
"I'd like to see that."
"No!" the boy blurted out in a low, furious voice, and his face darkened."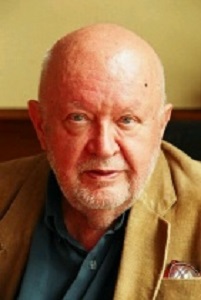 Josef Nesvadba (19 juni 1926 – 26 april 2005)
De Japanse schrijver Osamu Dazai (eig.Shūji Tsushima) werd geboren op 19 juni 1909 in Tsugaru. Zie ook alle tags voor Osamu Dazai op dit blog.
Uit: The setting sun (Vertaald door Donald Keene)
"I have never liked breakfast and am not hungry before ten o'clock. This morning I managed to get through the soup, but it was an effort to eat anything. I put some rice-balls on a plate and poked at them with my chopsticks, mashing them down. I picked up a piece with my chopsticks, which I held at right angles to my mouth, the way Mother holds a spoon while eating soup, and pushed it into my mouth, as if I were feeding a little bird. While I dawdled over my food, Mother, who had already finished her meal, quietly rose and stood with her back against a wall warmed by the morning sun. She watched me eating for a while in silence.
"Kazuko, you mustn't eat that way. You should try to make breakfast the meal you enjoy most."
"Do you enjoy it, Mother?"
"It doesn't matter about me — I'm not sick anymore."
"But I'm the one who's not sick."
"No, no." Mother, with a sad smile, shook her head.
Five years ago I was laid up with what was called lung trouble, although I was perfectly well aware that I had willed the sickness on myself. Mother's recent illness, on the other hand, had really been nerve-racking and depressing. And yet, Mother's only concern was for me.
"Ah," I murmured.
"What's the matter?" This time it was Mother's turn to ask.
We exchanged glances and experienced something like a moment of absolute understanding. I giggled and Mother's face lighted into a smile.
Whenever I am assailed by some painfully embarrassing thought, that strange faint cry comes from my lips. This time I had suddenly recalled, all too vividly, the events surrounding my divorce six years ago, and before I knew it, my little cry had come out. Why, I wondered, had Mother uttered it too? It couldn't possibly be that she had recalled something embarrassing from her past as I had. No, and yet there was something.
"What was it you remembered just now, Mother?"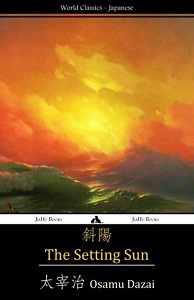 Osamu Dazai (19 juni 1909 – 13 juni 1948)
Cover
De Filippijnse dichter en schrijver José Rizal (eig. José Protacio Rizal Mercado y Alonso Realonda) werd geboren op 19 juni 1861 in Calamba. Zie ook alle tags voor José Rizal op dit blog.
Flower Among Flowers
Flower among flowers,
soft bud swooning,
that the wind moves
to a gentle crooning.
Wind of heaven,
wind of love,
you who gladden
all you espy;
you who smile
and will not sigh,
candour and fragrance
from above;
you who perhaps
came down to earth
to bring the lonely
solace and mirth,
and to be a joy
for the heart to capture.
They say that into
your dawn you bear
the immaculate soul
a prisoner
-- bound with the ties of
passion and rapture?
They say you spread
good everywhere
like the Spring
which fills the air
with joy and flowers
in Apriltime.
They say you brighten
the soul that mourns
when dark clouds gather,
and that without thorns
blossom the roses
in your clime.
If then, like a fairy,
you enhance
the joy of those
on whom you glance
with the magic charm
God gave to you;
oh, spare me an hour
of your cheer,
a single day
of your career,
that the breast may savor
the bliss it knew.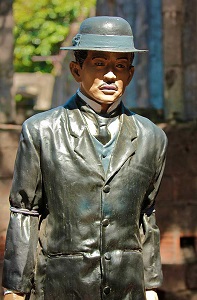 José Rizal (19 juni 1861 – 30 december 1896)
Standbeeld in Fort Santiago
De Duitse dichter en schrijver Friedrich Huch werd geboren op 19 juni 1873 in Braunschweig. Zie ook alle tags voor Friedrich Huch op dit blog.
Uit: Pitt und Fox
"Wurde Fox am Ende seiner Erzählungen König, so verscholl Pitt am Schlusse ganz und gar und wußte selbst nicht, wo er blieb. – In solchen Augenblicken schwelgte Fox im Gefühle seiner eingebildeten Stärke. Herr Sintrup aber sagte: Aus dir wird mal was Großes! Aber du, Pitt, kannst dich nur gleich begraben lassen. – Dann zog Pitt unbemerkt ein Taschenbüchlein hervor, suchte eine bestimmte Seite und machte einen Bleistiftstrich. Sein Vater und seine Mutter sagten stets dasselbe, und er führte darüber eine Art Statistik.
Herr Sintrup war ein rühriger, geachteter Fabrikant in dem kleinen Städtchen. Pünktlich mit dem Glockenschlag war er zumeist im Bureau und schnauzte seinen Angestellten ein gutmütiges «Guten Morgen» zu. Nur manchmal kam es vor, daß er im Bett länger liegenblieb, denn ab und zu liebte er einen «guten Tropfen», wie er das nannte. Bekam er einen neuen Lehrling, so stellte er ihn vor sich hin, durchbohrte ihn mit seinen Augen und sagte in schrecklich drohendem Ton: Bengel, Bengel, ich sage dir...! Im Grunde aber war er gutmütig und leicht gerührt.
Fox fühlte sich in seiner Haut sehr wohl; den Dienstboten gegenüber tat er, als sei er eigentlich eine Art von Kronprinz; seine Mutter hatte er ganz in der Gewalt, sie verwöhnte ihn und gab ihm in allem seinen Willen, um so mehr, als Pitt ihr nicht im Wege war, der nie um etwas bat und mit einem stereotypen Danke alles in Empfang nahm, mochte es nun Gutes oder Geringwertiges sein.
Pitt erschien wie ein verschlossenes, etwas impertinentes Waisenkind, das trotz aller jahrelangen Gewöhnung niemals recht häuslich wird in dem Kreise seiner Pflegeltern. Die Namen seiner nächsten Verwandten konnte er nicht auseinanderhalten. Manchmal mußte er sich erst besinnen, wo das Eßzimmer, wo die Wohnstube lag. Genau so fremd lebte er in der Schule. Seinen Kameraden gegenüber hatte er einen leise überlegenen, ironischen Ton, feiner oder plumper, je nachdem er es für angemessen hielt. Wirkliche Freundschaften kannte er nicht. Er litt darunter, konnte es aber nicht ändern. Einmal schloß er sich an eine gleichaltrige Kusine an; aber das Mädchen wurde so gefühlvoll, ihm war, als spielten sie Theater; und als sie ihn eines Tages wie gewöhnlich besuchen wollte, fand sie seine Tür verschlossen, und er rief ihr durchs Schlüsselloch zu, es sei aus zwischen ihnen, er wolle sie nie wiedersehen. Als er dann später einmal ein tragisch auf ihn gerichtetes Gesicht erblickte, mußte er sich erst besinnen, wer das war."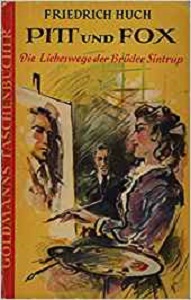 Friedrich Huch (19 juni 1873 – 12 mei 1913)
Cover
De Duitse dichter, schrijver en pastor Gustav Schwab werd geboren op 19 juni 1792 in Stuttgart. Zie ook alle tags voor Gustav Schwab op dit blog.
Die stille Stadt
Nenne mir die stille Stadt,
Die den ew'gen Frieden hat,
Deren düstere Gemächer
Sanft sich bauen grüne Dächer:
Ueber ihrer Häuser Zinne
Wandelt ernst der Fremdling hin,
Ziehet fort und hält nicht inne,
Grauen fasset ihm den Sinn.
Aber endlich tritt er wieder
Zitternd auf das morsche Dach,
Und die Wölbung sinket nieder,
Daß er stürzt in das Gemach.
Drunten in den Hallen traurig
Sieht er da die Bürger ruhn,
Alle liegen stumm und schaurig,
Mögen keinen Gruß ihm thun.
Die geschlossne Pforte kündet
Ihm sein ewig Bürgerrecht,
Und der arme Wandrer findet
Bald ein Bettlein recht und schlecht,
Ist des Prunkens müde worden,
Schickt sich in den stillen Orden,
Legt sich nieder in der Stadt,
Die den ew'gen Frieden hat.
Sonette aus dem Bade 1835
1
Was liegt der Schlaf auf meinen Augenlidern
Am hellen Tag? was ist mein Haupt so schwer?
Bald ras't mein Puls, bald find' ich ihn nicht mehr!
Pickt schon der Totenwurm in meinen Gliedern?

»Du bist nicht krank!« hör' ich den Arzt erwiedern
Auf dieser Klagen ungestümes Heer.
»Setz' gegen deine Bücher dich zur Wehr!
Laß dir den trägen Mut Natur befiedern!

Geh' in ein Bad, doch hüte dich zu baden;
Zum Brunnen, doch das Glas nicht an den Mund,
Viel lieber laß zum Firnewein dich laden.

Hinab zur Kühle, dort im Felsengrund!
Empor im Schweiß auf steilen Tannenpfaden,
Lern' wieder leben, und du wirst gesund!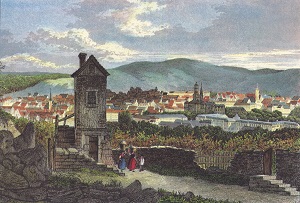 Gustav Schwab (19 juni 1792 – 4 november 1850)
Stuttgart, Ansicht von Südosten. Gravure door C. Gerstner naar H. Schönfeld, ca. 1870
Onafhankelijk van geboortedata:
De Nederlandse schrijfster Elke Geurts werd geboren in Heijen in 1973. Zij studeerde aan de Hogeschool voor de Kunsten in Utrecht. Ze schreef toneelstukken en hoorspelen alvorens ze doorbrak met korte verhalen. Zij was de eerste winnaar van de verhalenwedstrijd Duizend Woorden en won de Nieuw Proza Prijs Venlo 2008Geurts publiceerde de verhalenbundels "Het besluit van Dola Korstjens" (2008), "Lastmens" (2010) en "Lastmens & andere verhalen" (2015), en de veelgeprezen roman "De weg naar zee" (2013). Haar werk werd genomineerd voor onder andere De Gouden Boekenuil, de BNG Literatuurprijs en de Anna Bijns Prijs. Geurts is schrijfdocent aan o.a. Schrijversvakschool Amsterdam, en columniste en recensent buitenlandse fictie voor Trouw.
Uit: Ik nog wel van jou
"Ik vroeg of hij de titel die mijn nieuwe uitgever had bedacht goed vond. 'Veel te plat,' zei ik. 'Dat kan écht niet, toch?'
We hingen tegen het aanrecht in onze keuken met onze armen over elkaar en praatten over het werk en de kinderen, maar niet over de zakelijke mail die we om kwart over negen in de ochtend beiden hadden ontvangen. Met het stappenplan.
We hadden uitzicht op onze kleine entreehal en keken naar de jassen aan, op en onder de kapstok; een plank met haakjes die man zelf had gemaakt toen we hier kwamen wonen. Mijn vader ergert zich er al jaren aan dat er in ons nieuwbouwhuis niets waterpas is.
'Alles wat dat jong hier zelf timmert is waardevermindering.'
We zagen een onordelijke berg schoenen, heely's, skeelers en één groezelig grijze slof, daarnaast de uitpuilende rieten mand vol ongelezen kranten en wijnfl essen, erg veel lege wijnflessen.
Die grijze afgedragen sloff en staan nu nóg overal waar ik kijk, alsof er hier in huis een onzichtbaar mannetje achter me aan sloft dat ze – waar ik ook zit of sta – steeds precies in mijn zicht legt.
Op dit punt van het verhaal bevonden we ons in de donkere dagen voor kerst, een ijskoude wind kwam naar binnen, maar man had de deur naar het halletje wijd open laten staan, zo ook onze voordeur. Wagenwijd. Het lelijkste standaardmodel, met vier horizontale ramen waar ik de afgelopen anderhalf jaar nogal vaak – kromgebogen – doorheen had staan kijken. Zoals de buurvrouwen in het dorp waar ik vandaan kom vroeger altijd door de jaloezieën gluurden om te kijken wie er thuiskwam en wie er wegging, zo stond ik daar op die ingelegde droogloopmat de straat af te speuren. Te wachten. Op man."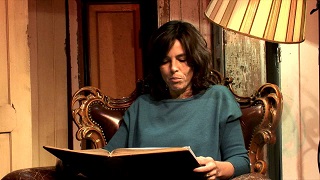 Elke Geurts (Heijen, 1973)
De Duitse dichteres Claudia Gabler werd in 1970 geboren in Lörrach. Zie ook alle tags voor Claudia Gabler op dit blog.
Eigentlich hatte ich gehofft, der Bus sei schon abgefahren.
Ich hatte ja keine Ahnung von den Rokokokirchen und
ihren egozentrischen Lichtspielen. Dich dagegen befriedigt es
offensichtlich völlig, wenn eine Taube sich aus den Glocken
schlägt, so wie wir damals dachten, wir wüßten alles über
das Leben und diese albernen Raclettegeräte. Heute weiß
ich zumindest, daß wir jahrelang neben einem berühmten
Hirnchirurgen gewohnt haben, ohne auch nur seinen Namen
zu kennen. Im Nachhinein bin ich mir sicher, daß er
ein guter Gesprächspartner gewesen wäre.

Ja, es ist wahr, von der Natur können wir so manches über
Ordnung lernen. Und ich meine nicht die Ordnung, die sich
ständig wiederholt und deshalb langweilig ist. Sondern ich
meine die komplexe Ordnung der Welt der Dinge, in der wir
leben. Also das Chaos als subtilere, nicht wiederkehrende
Art von Ordnung.

Schreibst du das alles auf? Rufst du mich an, wenn du
wiederkommst von dem Kontinent, der dich aufbläht wie
einen Mathematiker, der über seiner Arbeit verzweifelt?
Ich wünschte, wir hätten noch etwas von dem Käse da,
den wir im Morgengrauen in der alten Markthalle
neben der Themse gekauft haben. Als du am anderen
Ende der Welt am Fenster standst und ein Insekt
aus deinem Auge riebst.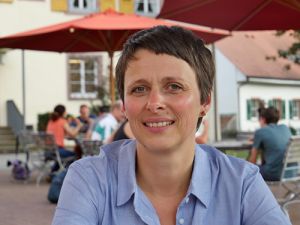 Claudia Gabler (Lörrach, 1970)
19-06-2018 om 18:16 geschreven door Romenu

Tags:Salman Rushdie, Sybren Polet, Josef Nesvadba, Osamu Dazai, José Rizal, Friedrich Huch, Gustav Schwab, Elke Geurts, Claudia Gabler, Romenu



| | |
| --- | --- |
| | |



Inhoud blog


| | |
| --- | --- |
| | P. C. Hooftprijs 2019 voor Marga Minco |
| | Emily Dickinson, Karl Heinrich Waggerl, Reinhard Kaiser Mühlecker, Jorge Semprún, Gertrud Kolmarm, Jacquelyn Mitchard, Nelly Sachs, Cornelia Funke, George MacDonald |
| | Christbaum (Ada Christen) |
| | Thomas Verbogt, Margot Vanderstraeten, Eileen Myles, Patricio Pron, Michael Krüger, Gioconda Belli, Joe McGinniss, Wolfgang Hildesheimer |
| | Anna Gavalda, Ödön von Horváth, John Milton, Jan Křesadlo, Maksim Bahdanovič, Dalton Trumbo |
| | Jamal Ouariachi, Louis de Bernières, Mary Gordon, Bill Bryson, John Banville, Delmore Schwartz, Jim Morrison, Georges Feydeau |
| | Horatius, Hervey Allen, James Thurber, Carmen Martín Gaite, Nikos Gatsos, Jura Soyfer, Bjørnstjerne Bjørnson, Joel Chandler Harris |
| | Tatamkhulu Afrika, Dirk Stermann, Johann Nestroy, Joyce Cary, Gabriel Marcel, Willa Cather, Noam Chomsky, Friedrich Schlögl, Samuel Gottlieb Bürde |
| | Karl Ove Knausgård, Peter Handke, Yolanda Entius, Rafał, Wojaczek, Henk van Woerden, Alfred Joyce Kilmer, Sophie von La Roche, Paul Adam, Charlotte Wood |
| | Wat heeft Sint voor jou gekocht? (Thomas Verbogt) |
| | Hanif Kureishi, Alois Brandstetter, Joan Didion, Christina Rossetti, Fjodor Tjoettsjev, Calvin Trillin, Afanasy Fet, Hans Helmut Kirst, Eugenie Marlitt |
| | Rainer Maria Rilke, Geert Mak, Pat Donnez, Feridun Zaimoglu, Emil Aarestrup, Nikolay Nekrasov, Trudi Guda, Samuel Butler, Thomas Carlyle |
| | Hendrik Conscience, Kristina Sandberg, Joseph Conrad, Herman Heijermans, Grace Andreacchi, Ugo Riccarelli, France Pre¨eren, F. Sionil José, Franz Josef Degenhardt |
| | Advent (Marjoleine de Vos ) |
| | Frédéric Leroy, Ann Patchett, Hein Boeken, T. C. Boyle, George Saunders, Botho Strauß, Jacques Lacarrière, Iakovos Kampanellis, Eric L. Harry |
| | December (Algernon Swinburne) |
| | Pierre Kemp, Daniel Pennac, Arthur Sze, Natasza Tardio, Tahar Ben Jelloun, Billy Childish |
| | Ernst Toller, Mihály Vörösmarty, Valery Bryusov, Rex Stout. Henry Williamson |
| | Herinnering aan Ramses Shaffy |
| | Dennis Gaens, Christophe Vekeman, James Worthy, Y.M. Dangre, Reinier de Rooie, David Nicholls, Yasmine Allas, Jan G. Elburg, Jesús Carrasco |
| | Mario Petrucci, George Szirtes, Jean Senac, Carlo Levi, Jean-Philippe Toussaint, C.S. Lewis, Wilhelm Hauff, Louisa May Alcott, Franz Stelzhamer |
| | Erwin Mortier, Alberto Moravia, Stefan Zweig, Hugo Pos, Sherko Fatah, Philippe Sollers, William Blake, Alexander Blok, Rita Mae Brown |
| | Navid Kermani, Nicole Brossard, Han Kang, Philippe Delerm, James Agee, Jos. Habets, Friedrich von Canitz, Jacques Godbout, Saskia Goldschmidt |
| | Luisa Valenzuela, Eugène Ionesco, Marilynne Robinson, Herman Gorter, Paul Rodenko, Mihály Babits, Louis Verbeeck, Alyosha Brell, Mohamed Al-Harthy |
| | King of glory, King of peace (George Herbert) |
| | Maarten 't Hart, Connie Palmen, Abdelkader Benali, Arturo Pérez-Reverte, Ba Jin, Augusta de Wit |
| | Joseph Zoderer, Alexis Wright, Isaac Rosenberg, José Eça de Queiroz, Lope de Vega |
| | Isabel Ecclestone Mackay |
| | Jules Deelder, Wanda Reisel, Marlon James, Einar Kárason, Ahmadou Kourouma, Thomas Kohnstamm, Hans Sahar |
| | Wen Yiduo, Laurence Sterne, Cissy van Marxveldt, Arundhati Roy, Carlo Collodi, Gerhard Bengsch, Ludwig Bechstein |
| | Paul Celan, Marcel Beyer, Max Goldt, Jennifer Michael Hecht, Sipko Melissen, Henri Borel, Sait Faik Abasıyanık, Nigel Tranter, Guy Davenport |
| | André Gide, George Eliot, Dirk van Weelden, Christian Filips, Suresh en Jyoti Guptara, Viktor Pelevin, Endre Ady, William Kotzwinkle, Elisabeth Maria Post |
| | Margriet de Moor, Gerard Koolschijn, Isaac Bashevis Singer, Wouter Steyaert, Marilyn French, Freya North, P. A. de Génestet, Voltaire, Garth Risk Hallberg |
| | Don DeLillo, Viktoria Tokareva, Sheema Kalbasi, Nadine Gordimer, Thomas Chatterton, Zinaida Hippius, Selma Lagerlöf, Jordi Lammers, Ferdinand von Schirach, Yevgenia Ginzburg |
| | Scott Cairns, Sharon Olds, Mark Harris, Karel van den Oever, Alan Tate, Anna Seghers, Elise Bürger, Girolamo de Rada, Veronika Aydin |
| | Arno Van Vlierberghe |
| | November (Helen Maria Hunt Jackson) |
| | Toon Tellegen, Joost Zwagerman, Joost Oomen, Thomas Möhlmann, Pauline Genee, Klaus Mann, Eugenio Montejo |
| | Margaret Atwood, Seán Mac Falls, Jaap Meijer, Richard Dehmel, William Gilbert, Hans Reimann, Mireille Cottenjé |
| | Iemand als een mensenzoon (Walter Jan Ceuppens) |
| | Christoph Wilhelm Aigner |
| | Joost van den Vondel, Guido van Heulendonk, Dahlia Ravikovitch, Rebecca Walker, Auberon Waugh |
| | Christopher Paolini, Pierre Véry, Archibald Lampman, Max Barthel, Jelko Arts |
| | Anton Koolhaas, Chinua Achebe, José Saramago, Renate Rubinstein, Craig Arnold, Danny Wallace, Frits van der Meer, Jónas Hallgrímsson, Hugo Dittberner |
| | Jan Terlouw, Clemens J. Setz, Wolf Biermann, Ted Berrigan, J. G. Ballard, Gerhart Hauptmann, Liane Dirks, Lucien Rebatet, Marianne Moore |
| | Susanne Fröhlich |
| | Norbert Krapf, Astrid Lindgren, P. J. O'Rourke, Jonathan van het Reve, Olga Grjasnowa, René de Clercq, Jurga Ivanauskaitė, Karla Schneider, Peter Orner |
| | Christine Otten, Inez van Dullemen, Frank Westerman, Timo Berger, Hadjar Benmiloud, Nico Scheepmaker, José Carlos Somoza, Peter Härtling, Bert Leston Taylor |
| | Daniël Dee, Lize Spit, Frank Witzel, Johnny van Doorn, Cristina Peri Rossi, Naomi Wolf, Malcolm Guite, Jacobus Bellamy |
| | Old Martinmas Eve (Ivor Gurney) |