E-mail mij


Druk op onderstaande knop om mij te e-mailen.


Romenu


Google


Georg Trakl

Georg Trakl werd op 3 februari 1887 in het conducteurshuis aan de Waagplatz 2 in Salzburg geboren. Zijn vader, Tobias Trakl, was een handelaar in ijzerwaren en zijn moeder, die ook psychische problemen had, was Maria Catharina Trakl, (meisjesnaam Halik). Voorts had hij nog drie broers en drie zussen. Margarethe (doorgaans Grethe genoemd) stond hem het naast, zelfs zodanig dat sommigen een incestueuze verhouding vermoeden. Zijn jeugd bracht hij door in Salzburg. Vervolgens bezocht hij van 1897 tot 1905 het humanistische gymnasium. Om toch een academische opleiding te kunnen volgen, werkte hij tot 1908 in de praktijk bij een apotheker. Sommigen vermoedden dat hij dit vooral deed om zichzelf opiaten te kunnen verschaffen. Bij het uitbreken van WO I werd Trakl als medicus naar het front in Galicië (heden ten dage in Oekraïne en Polen) gestuurd. Zijn gemoedsschommelingen leidden tot geregelde uitbraken van depressie, die verergerd werden door de afschuw die hij voelde voor de verzorging van de ernstig verwonde soldaten. De spanning en druk dreven hem ertoe een suïcidepoging te ondernemen, welke zijn kameraden nochtans verhinderden. Hij werd in een militair ziekenhuis opgenomen in Kraków, alwaar hij onder strikt toezicht geplaatst werd.Trakl verzonk daar in nog zwaardere depressies en schreef Ficker om advies. Ficker overtuigde hem ervan dat hij contact moest opnemen met Wittgenstein, die inderdaad op weg ging na Trakls bericht te hebben ontvangen. Op 4 november 1914, drie dagen voordat Wittgenstein aan zou komen, overleed hij echter aan een overdosis cocaïne


Paul Celan

Paul Celan werd onder de naam Paul Antschel op 23 november 1920 geboren in Czernowitz, toentertijd de hoofdstad van de Roemeense Boekovina, nu behorend bij de Oekraïne. Paul Celans ouders waren Duitssprekende joden die hun zoon joods opvoedden en hem naar Duitse christelijke scholen stuurden. In 1942 werden Celans ouders door de Duitse bezetter naar een werkkamp gedeporteerd en daar vermoord. Hijzelf wist aanvankelijk onder te duiken, maar moest vanaf juli 1942 in een werkkamp dwangarbeid verrichten. Celan overleefde de oorlog. Via Boekarest en Wenen vestigde Celan zich in 1948 in Parijs. Daar was hij werkzaam als dichter, vertaler en doceerde hij aan de prestigieuze Ecole Normale Supérieure. Vermoedelijk op 20 april 1970 beëindigde hij zijn leven zelf door in de Seine te springen.


Gerard Reve

Gerard Reve over: Medearbeiders "God is in de mensen, de dieren, de planten en alle dingen - in de schepping, die verlost moet worden of waaruit God verlost moet worden, door onze arbeid, aangezien wij medearbeiders van God zijn." Openbaring "Tja, waar berust elk godsbegrip op, elke vorm van religie? Op een openbaring, dat wil zeggen op een psychische ervaring van zulk een dwingende en onverbiddelijke kracht, dat de betrokkene het gevoel heeft, niet dat hij een gedachte of een visioen heeft, maar dat een gedachte gedachte of visioen hem bezit en overweldigt."


Simon Vestdijk
Simon Vestdijk (Harlingen, 17 oktober 1898 – Utrecht, 23 maart 1971) was een Nederlands romancier, dichter, essayist en vertaler. Zijn jeugd te Harlingen en Leeuwarden beschreef hij later in de Anton Wachter-cyclus. Van jongs af aan logeerde hij regelmatig bij zijn grootouders in Amsterdam, waar hij zich in 1917 aan de Universiteit van Amsterdam inschrijft als student in de medicijnen. Tijdens zijn studie die van 1917 tot 1927 duurde, leerde hij Jan Slauerhoff kennen.Tot 1932 is hij als arts in praktijken door heel Nederland werkzaam. In 1932 volgt zijn officiële schrijversdebuut met de uitgave van de bundel Verzen in De Vrije Bladen. Doorslaggevend voor Vestdijks uiteindelijke keuze voor de literatuur is zijn ontmoeting in 1932 met Eddy Du Perron en Menno ter Braak. Deze ontmoeting had tot resultaat dat hij redactielid werd van het tijdschrift Forum Kort daarop, in 1933, wordt zijn eerste novelle, De oubliette, uitgegeven. In hetzelfde jaar schrijft hij Kind tussen vier vrouwen, dat, eerst geweigerd door de uitgever, later de basis zal vormen voor de eerste drie delen van de Anton Wachter-romans. In 1951 ontvangt Vestdijk de P.C. Hooftprijs voor zijn in 1947 verschenen roman De vuuraanbidders. In 1957 wordt hij voor het eerst door het PEN-centrum voor Nederland voorgedragen voor de Nobelprijs voor de Literatuur, die hij echter nooit zal krijgen. Op 20 maart 1971 wordt hem de Prijs der Nederlandse Letteren toegekend, maar voor hij deze kan ontvangen overlijdt hij op 23 maart te Utrecht op 72-jarige leeftijd. Vestdijk was auteur van ca. 200 boeken. Vanwege deze enorme productie noemde de dichter Adriaan Roland Holst hem 'de man die sneller schrijft dan God kan lezen'. Andere belangrijke boeken van Simon Vestdijk zijn: "Kind van stad en land" (1936), "Meneer Visser's hellevaart" (1936), "Ierse nachten" (1946), "De toekomst de religie" (1947), "Pastorale 1943" (1948), "De koperen tuin" (1950), "Ivoren wachters" (1951), "Essays in duodecimo" (1952) en "Het genadeschot" (1964).


K.P. Kavafis

K.P. Kavafis werd als kind van Griekse ouders, afkomstig uit Konstantinopel, geboren in 1863 in Alexandrië (tot vandaag een Griekse enclave) waar hij ook het grootste deel van zijn leven woonde en werkte. Twee jaar na de dood van zijn vader verhuist het gezin in 1872 naar Engeland om na een verblijf van vijf jaar naar Alexandrië terug te keren. Vanwege ongeregeldheden in Egypte vlucht het gezin in 1882 naar Konstantinopel, om na drie jaar opnieuw naar Alexandrië terug te gaan. In de jaren die volgen maakt Kavafis reizen naar Parijs, Londen en in 1901 zijn eerste reis naar Griekenland, in latere jaren gevolgd door nog enkele bezoeken. Op de dag van zijn zeventigste verjaardag, in 1933 sterft Kavafis in Alexandrië. De roem kwam voor Kavafis pas na zijn dood, dus postuum. Deels is dat toe te schrijven aan zijn eigen handelswijze. Hij was uiterst terughoudend met de publicatie van zijn gedichten, liet af en toe een enkel gedicht afdrukken in een literair tijdschrift, gaf in eigen beheer enkele bundels met een stuk of twintig gedichten uit en het merendeel van zijn poëzie schonk hij op losse bladen aan zijn beste vrienden.


Thomas Mann


Thomas Mann, de jongere broer van Heinrich Mann, werd geboren op 6 juni 1875 in Lübeck. Hij was de tweede zoon van de graankoopman Thomas Johann Heinrich Mann welke later één van de senatoren van Lübreck werd. Zijn moeder Julia (geboren da Silva-Bruhns) was Duits-Braziliaans van Portugees Kreoolse afkomst. In 1894 debuteerde Thomas Mann met de novelle "Gefallen". Toen Thomas Mann met 21 jaar eindelijk volwassen was en hem dus geld van zijn vaders erfenis toestond - hij kreeg ongeveer 160 tot 180 goldmark per jaar - besloot hij dat hij genoeg had van al die scholen en instituties en werd onafhankelijk schrijver. Kenmerkend voor zijn stijl zijn de ironie, de fenomenale taalbeheersing en de minutieuze detailschildering. Manns reputatie in Duitsland was sterk wisselend. Met zijn eerste roman, Buddenbrooks (1901), had hij een enorm succes, maar door zijn sceptische houding tegenover Duitsland na de Eerste Wereldoorlog veranderde dit volledig. Stelde hij zich tot aan de jaren twintig apolitiek op (Betrachtungen eines Unpolitischen, 1918), meer en meer raakte hij bij het Politiek gebeuren betrokken. Zijn afkeer van het nationaal socialisme groeide, zijn waarschuwingen werden veelvuldiger en heftiger. In 1944 accepteerde hij het Amerikaanse staatsburgerschap. Tussen 1943 en 1947 schreef Mann Doktor Faustus (zie Faust), de roman van de 'Duitse ziel' in de gecamoufleerd geschilderde omstandigheden van de 20ste eeuw. In 1947 bezocht hij voor het eerst sinds de Oorlog Europa, twee jaar later pas Duitsland. In 1952 vertrok hij naar Zwitserland. Op 12 augustus 1955 stierf hij in Zürich. Twintig jaar na zijn dood, in aug. 1975, is zijn literaire nalatenschap geopend: dagboekaantekeningen van 15 maart 1933 tot 29 juli 1955, alsmede notities uit de jaren 1918 tot en met 1921.Belangrijke werken zijn: Der Zauberberg, Der Tod in Venedig, Dokter Faustus , Joseph und seine Brüder en Die Bekenntnisse des Hochstaplers Felix Krull.


Rainer Maria Rilke

Rilke werd op 4 december 1875 geboren in Praag. Hij had al naam gemaakt als dichter met zijn bundels Das Stundenbuch en Das Buch der Bilder, toen hij de literaire wereld versteld deed staan en wereldfaam verwierf met de publicatie van zijn twee delen Neue Gedichte in 1907 en 1908. Hij verzamelde daarin het beste werk uit een van zijn vruchtbaarste periodes, die hij grotendeels doorbracht in Parijs. Rilke was daar diep onder de indruk gekomen van Rodin, bij wie hij een tijdlang in dienst was als particulier secretaris. Rodin, zei hij later, had hem leren kijken. Dit kijken kwam neer op intense concentratie, om het mysterie te kunnen zien 'achter de schijnbare werkelijkheid'. Latere en rijpere werken als Duineser Elegien (1912-1923) en het ronduit schitterende Die Sonette an Orfeus (1924) illustreren Rilkes metafysische visie op het onzegbare, dat haar verwoording vindt in een hermetische muzikale taal. Op 29 december 1926 overlijdt Rilke in het sanatorium in Val-Mont aan de gevolgen van leukemie. Enkele dagen later wordt hij, overeenkomstig zijn wens, begraven op het kerkhof van Raron.


* * * * * * * * * * * * * * * *

| | |
| --- | --- |
| | Over literatuur, gedichten, kunst en cultuur |
29-07-2018

Logos (Mary Oliver)
Bij de 17e zondag door het jaar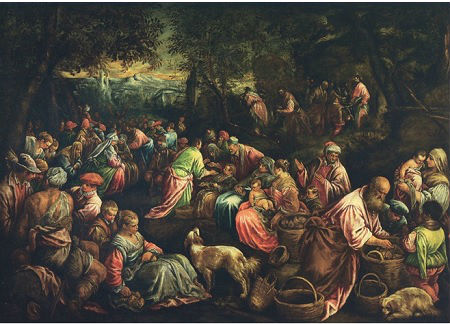 Het wonder van de broden en de vissen door Jacopo Bassano, ca, 1580
Logos
Why worry about the loaves and fishes?
If you say the right words, the wine expands.
If you say them with love
and the felt ferocity of that love
and the felt necessity of that love,
the fish explode into many.
Imagine him, speaking,
and don't worry about what is reality,
or what is plain, or what is mysterious.
If you were there, it was all those things.
If you can imagine it, it is all those things.
Eat, drink, be happy.
Accept the miracle.
Accept, too, each spoken word
spoken with love.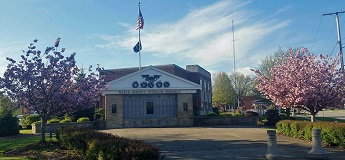 Mary Oliver (Maple Heights, 10 september 1935)
Veteranen Memorial in Maple Heights, de geboorteplaats van Mary Oliver
Zie voor de schrijvers van de 29e julli ook mijn vorige blog van vandaag.
29-07-2018 om 13:44 geschreven door Romenu

Tags:Mary Oliver, Kerkelijk Jaar, Romenu



Harry Mulisch, Chang-Rae Lee, Thomas Rosenlöcher, Guillermo Martínez
De Nederlandse schrijver Harry Mulisch werd geboren op 29 juli 1927 in Haarlem. Zie ook alle tags voor Harry Mulisch op dit blog.
Uit: De ontdekking van de hemel
"Alleen al in ons eigen melkwegstelsel zijn er zo'n honderd miljard. Even veel als de mens hersencellen heeft.' `Speak for yourself.' `Verder zijn er ook rond honderd miljard extragalactische stelsels bekend, even veel als ik hersencellen heb, dus reken maar uit. Een één met tweeëntwintig nullen. Hoeveel talen zijn er?' `Een schijntje. Rond tweeënvijftighonderd.' 'Kun je ook hiëroglyphen lezen?' Wat voor hiëroglyphen?' `Egyptische.' `Niks aan. Spreken ook. Paut neteroe her resch sep sen ini Asar sa Heroe men ab maa kheroe sa Ast auau Asar. Hetwelk is, overgezet zijnde: «De paut van de goden verblijden zich over de komst van Osiris' zoon Horus, opgericht in het hart, wiens woord absoluut is, zoon van Isis, erfgenaam van Osiris».' 'Toe maar. Wat betekent paut?' 'Ja, dat is nu even moeilijk, vervelend dat je dat vraagt. Volgens de meeste kenners slaat het op de oersubstantie, waarvan de goden zijn gemaakt; maar eigenlijk is het nog ingewikkelder, want in het Dodenboek zegt de scheppergod: «Ik bracht mijzelf voort uit de oersubstantie, die ik maakte». Maar laat ik je niet vermoeien met zulke archaïsche paradoxen.' `Ze komen mij nogal modern voor,' zei Max. 'Waar woon je? Dan zet ik je voor de deur af.' Beiden bleken in het centrum te wonen, niet ver van elkaar. Terwijl zij de stad in reden, vertelde Onno dat hij hiëroglyphen al kon lezen toen hij elf was. Dat had hij zichzelf bijgebracht met een oud engels leerboekje, voor een kwartje gekocht op de markt, zodat hij, met een woordenboek, tegelijk ook engels leerde. Dat was in de laatste oorlogswinter gebeurd, waarin, zei hij, honger en kou hem definitief hadden geknakt, — en meteen vroeg hij zich af, waarom hij zoiets vertelde aan een wildvreemde. Thuis, als jongen, sprak hij niet over zijn taalstudies. Hij dacht dat iedereen dat kon, die even de moeite nam. Zo was dat altijd met talent: een schrijver kon zich ook niet voorstellen, dat iemand niet kon schrijven. Dat het toch niet zo gewoon was, besefte hij pas na de oorlog, toen zij eens op vakantie waren in Finland. Zij zaten in hun hotel in Fbrneenlinna, daar ergens tussen die depressieve meren en naaldbossen, en de avond voor hun vertrek was het eten koud, of juist warm. Zijn vader riep de gerant, die vervolgens deed of hij de ober een uitbrander gaf; maar in werkelijkheid zei hij, dat hij zich maar niets moest aantrekken van die krenterige kaaskoppen, want morgen waren zij toch opgelazerd naar hun stompzinnige tulpen en windmolens."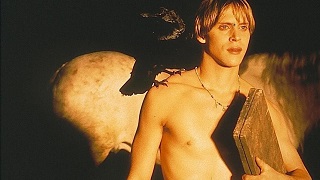 Harry Mulisch (29 juli 1927 – 30 oktober 2010)
Neil Newbon als de 18-jarige Quinten Quist in de verfilming uit 2001
De Koreaans-Amerikaanse schrijver Chang-Rae Lee werd geboren op 29 juli 1965 in Seoel. Zie ook alle tags voor Chang-Rae Lee op dit blog.
Uit: Native Speaker
"She was traveling heavy. This wasn't a trip of escape, in that normal sense. She was taking with her what seemed to be hundreds of books and notepapers. Also pads, brushes, tiny pastel-tinted sponges. Too many hats, I thought, which she wore like some dead and famed flyer. A signal white scarf of silk. Nothing I had given her. And maps. Here was a woman of maps. She had dozens of them, in various scales. Topographic, touristical, some schematic—these last handmade. Through the nights she stood like a field general over the kitchen counter, hands perched on those jutting hip bones, smoking with agitation, assessing points of entry and encampment and escape. Her routes, stenciled in thick deep blue, embarked inward, toward an uncharted grave center. A messy bruise of ink. She had already marked out a score of crosses that seemed to say You Are Here. Then, there were indications she was misreading the actual size of the islands. Her lines would have her trek the same patches of rocky earth many times over. Overrunning the land. I thought I could see her kicking at the bleached, known stones; the hard southern light surrendering to her boyish straightness; those clear green eyes, leveling on the rim of the arched sea. Inside the international terminal I couldn't help her. She took to bearing the heaviest of her bags. But at some point I panicked and embraced her clumsily. "Maybe I'll come with you this time," I said. She tried to smile. "You're just trading islands," I said, unhelpful as usual.
I asked if she had enough money. She said her savings would take care of her. I thought they were our savings, but the notion didn't seem to matter at the moment. Her answer was also, of course, a means of renunciation, itself a denial of everything else I wasn't offering. When they started the call for boarding she gave me the list, squeezing it tight between our hands. "This doesn't mean what you'll think," she said, getting up. "That's okay." "You don't even know what it is." "It doesn't matter." She bit her lip. In a steely voice she told me to read it when I got back to the car. I put it away. I walked with her to the entrance. Her cheek stiffened when I leaned to kiss her. She walked backward for several steps, her movement inertial, tipsy, and then disappeared down the telescoping tunnel. I read through the list twice sitting in our car in the terminal garage. Later I would make three photocopies, one to reside permanently next to my body, in my wallet, as a kind of personal asterisk, I thought, in case of accidental death. Another I saved to show her again sometime, if I wanted pity or else needed some easy ammunition."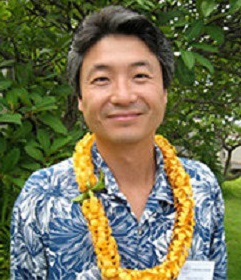 Chang-Rae Lee (Seoel, 29 juli 1965)
De Duitse dichter en schrijver Thomas Rosenlöcher werd geboren op 29 juli 1947 in Dresden. Zie ook alle tags voor Thomas Rosenlöcher op dit blog.
Uit: Die Wiederentdeckung des Gehens beim Wandern. Harzreise

"Auch in den Auslagen herrschte das Signum der Sieger längst vor, und der Chrom ihrer Brotröstmaschinen leuchtete bis zum Ural. Nur hier und da hielt sich im Schaufenster noch ein sozialistischer Hilfspullover, oder eine Planerfüllungslampe brütete gebeugt vor sich hin. "Viel zu teuer", sagte die Frau, die hier "viel zu teuer" sagte. Auch mir tat es weh, für ein Fünf-Pfennig-Brötchen aus den Zeiten des Zentralkomitees eine halbe Westmark hinlegen zu müssen. "Viel zu teuer", sagte ein weißhaariger Greis angesichts der Selterswasserflaschen und hob seinen Stock drohend in Richtung Verkäuferin. "Wir machen doch nicht die Preise", rief die Verkäuferin, und ihre Stimme klang ängstlich, da sich ihr, in Form meiner Person, ein bartverwildertes Wesen mit Rucksack näherte und jene eisenharte Semmel auf die Ladentheke knallte. (…) Das Zentrum der allgemeinen Aufregung war die Sparkassenschlange, die sich den Marktplatz entlang in Dreierreihen erstreckte: Schritt für Schritt, Bauch an Rücken, geschah der Übertritt in die neue Zeit auf die alte Weise: In einer Geschwindigkeit von 12½ Metern die Stunde. (…) Die Männer und Frauen aber, die wieder aus der Sparkasse traten, würdigten die Sparkassenschlange mit keinem Blick. Auf einmal ohne Vordermensch, mit luftigerem Gehensgefühl, zögerten sie kurz und gingen merkwürdig stromlinienförmig über die Gehwegplatten davon: als plötzliche Westgeldbesitzer ihre eigenen Westtanten und -onkel geworden. Nur einige ältere Leute blieben hier und da stehen und hielten ihren Kontoauszug verblüfft in Augenhöhe. (…) Immerhin war ein Teil des Ersparten in Westmark umgetauscht worden, aber der Rest der Jahre gnadenlos abgewertet. Selbst die Wäsche im Hof, wehend unter den vollen Segeln meiner Kindheitserinnerungen, trug auf einmal den Stempel SED-Regime."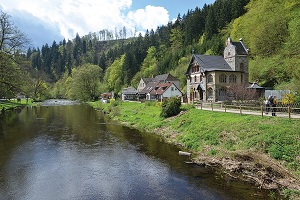 Thomas Rosenlöcher (Dresden, 29 juli 1947)
De Harz
De Argentijnse schrijver en wiskundige Guillermo Martínez werd geboren in Bahía Blanca op 29 juli 1962. Zie ook alle tags voor Guillermo Martinez op dit blog.
Uit: Vast Hell
"Often, when the grocery store is empty and all you can hear is the buzzing of flies, I think of that young man whose name we never knew and whom no one in town ever mentioned again. For some reason that I can't explain, I always imagine him as we saw him that first time: the dusty clothes, the bristling beard, and especially the long, dishevelled hair that almost covered his eyes. It was the beginning of spring, which is why, when he came into the store, I took him for a camper headed south. He bought a few cans of food and some coffee; as I added up the bill, he looked at his reflection in the window, brushed his hair off his forehead, and asked me if there was a barber in town.
In those days, there were two barbers in Puente Viejo. Now I realize that if he'd gone to Old Melchor's he might never have met the French Woman, and no one would have gossiped about them. But Melchor's place was at the other end of town, and I had no reason to anticipate what happened.
The fact is that I sent him to Cerviño's place, and it seems that while Cerviño was giving him a haircut the French Woman appeared. And the French Woman looked at the boy the way she looked at all men. And that was when the bloody business started, because the boy stayed on in town and we all thought the same thing: that he'd stayed on because of her.
It hadn't been a year since Cerviño and his wife had settled in Puente Viejo, and we knew very little about them. They didn't socialize with anyone, as the whole town used to point out angrily. If the truth be told, in poor Cerviño's case it was little more than shyness, but the French Woman may, in fact, have been quite stuck up. They'd come from the big city the previous summer, at the beginning of the season, and when Cerviño opened his barbershop I remember thinking that he'd soon send Old Melchor under, because he had a hairdresser's diploma and had won a prize in a crewcutting competition, and he owned a pair of electric clippers, a hair dryer, and a swivel chair, and he would sprinkle vegetable extracts onto your scalp and even spray some lotion on you if you didn't stop him in time. Also, in Cerviño's shop the latest sports magazine was always in the rack. And, above all, there was the French Woman. I never actually knew why people called her the French Woman, and I never tried to find out—I'd have been disappointed to discover that the French Woman was born, for instance, in Bahía Blanca, or, even worse, in a small town like this one. Whatever the truth, the fact is that I'd never met a woman quite like her. Maybe it was simply that she didn't wear a bra: even in winter you could see that she wasn't wearing a thing under her sweater."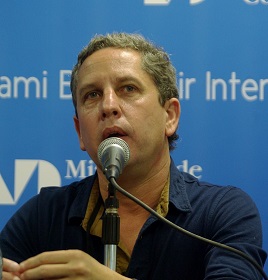 Guillermo Martínez (Bahía Blanca, 29 juli 1962)
Zie voor nog meer schrijvers van de 29e juli ook mijn blog van 29 juli 2017 deel 1 en ook deel 2.
29-07-2018 om 13:42 geschreven door Romenu

Tags:Harry Mulisch, Chang-Rae Lee, Thomas Rosenlöcher, Guillermo Martínez, Romenu



J. Neil C. Garcia
Onafhankelijk van geboortedata
De Filipijnse dichter en letterkundige J. Neil C. Garcia werd geboren in 1969 in Manilla. Garcia behaalde een AB Journalistiek, magna cum laude, aan de Universiteit van Santo Tomas in 1990; een MA in comparatieve literatuur in 1995, en een PhD in Engelse studies: creatief schrijven in 2003 aan de universiteit van de Filipijnen Diliman. Hij is momenteel hoogleraar Engels, creatief schrijven en vergelijkende literatuur aan het College van Kunsten en Letteren, Universiteit van de Filipijnen Diliman, waar hij ook dient als Associate voor Poëzie aan het Likhaan: U.P. Instituut voor creatief schrijven. Garcia publiceerde talrijke poëziebundels en werken op het gebied van in literaire en culturele kritiek, waaronder "Closet Quivers" (1992), "Our Lady of the Carnival" (1996), "The Sorrows of Water" (2000), "Kaluluwa" (2001), "Slip / pages: Essays in Philippine Gay Criticism" (1998), "The Garden of Wordlessness" (2005), en "Misterios and Other Poems" (2005). Garcia's baanbrekende studie, "Philippine Gay Culture: The Last Thirty Years" (1996), kreeg in 1996 een National Book Award van de Manila Critics Circle. Garcia heeft meerdere literaire prijzen gewonnen, waaronder de Palanca en de National Book Award van de Manila Critics Circle. Hij heeft ook beurzen ontvangen om lezingen te geven in Taipei, Hawaii, Berkeley, Manchester, Cambridge, Leiden en Bangkok.
Uit: Poems from Amsterdam
XLVI
It reaches my hearing, now and then—
the suavely mouthed proposition
from one of the Red Light sentries,
chiefly of African extraction,
keeping hawkeyed watch on nooks
and along the urine-daubed streets.
They must stand there for hours on end,
seeking out the curious-looking tourist
who's out for a fine time, good as cash.
But today it was different, for the word
mumbled through thick indigo lips
was supple and ribbed and musk-scented,
enticing in its own gauche way—
Ecstasy, the bespectacled man moaned,
his teeth disarmingly white on his face.
I don't think he knew what he gave me,
for which I didn't even need to pay.
In this city, metaphors are for the picking
every time something new calls the eye,
or in this case, the ear. I could've told him,
No thanks, I get ecstatic on my own terms.
As in, literally: the words that are my home
here and back in my own prosy city—
words coaxed out of the pullulating air
that rouse and tease and chafe the senses,
clarify the mind so it gleams like a mirror
on which the body can see its own glimmer
once more; an afterglow, we might say.
Nonetheless, there it is: the reckless gift
quickening the heartbeat of my language,
and pushing it back into song. And so,
Mr. Pusher, I end with my thanks, after all.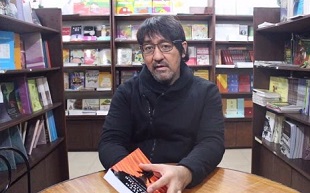 J. Neil C. Garcia (Manilla, 1969)
29-07-2018 om 00:00 geschreven door Romenu

Tags:J. Neil C. Garcia, Romenu


28-07-2018

Onweer (Rien Vroegindeweij)
Dolce far niente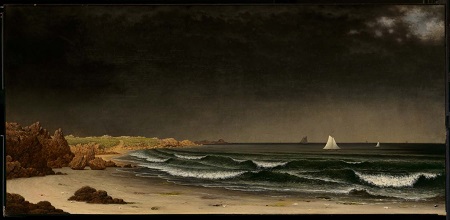 Approaching Storm on Beach near Newport door Martin Johnson Heade, ca. 1861 - 1862

Onweer
Ik hou van de hete zon
die schittert op de rivier
en ik ben gek op de eerste
kou van de winter. Ik hou
van de zon die ondergaat
en zou, als ik de kans kreeg,
ook genieten van een kort
doch hevig bosbrandje. Ik hou
van mijn moeder die oud is
en na een godvruchtig leven
niet weet wat het worden zal,
de hel of de hemel. Ik lijk
op haar omdat mijn dochter
op haar lijkt. Maar ik maak
haar niet bang met het vuur
dat opstijgt rond de zondaars.
Noch vrolijk ik haar op
met het vooruitzicht op hemels
gezang: als zij mijn hand vast
houdt, durf ik voor het raam
te staan, als zij lacht om mijn
oud geloof dat God in de donder
spreekt, praat zij hem na
en zegt: boemdereboemboemboem.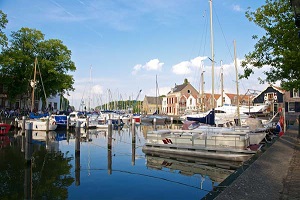 Rien Vroegindeweij (Middelharnis, 13 juli 1944)
Middelharnis, haven
Zie voor de schrijvers van de 28e juli ook mijn blog van 28 juli 2017 en ook mijn blog van 28 juli 2011 deel 2 en ook de post over Sarah Schulman.
28-07-2018 om 17:24 geschreven door Romenu

Tags:Rien Vroegindeweij, Romenu


27-07-2018

Louise Glück, Michael Longley, Marijke Höweler, Elizabeth Hardwick, Dan Coman, Hilde Domin, Eimear McBride, Graeme C. Simsion
Dolce far niente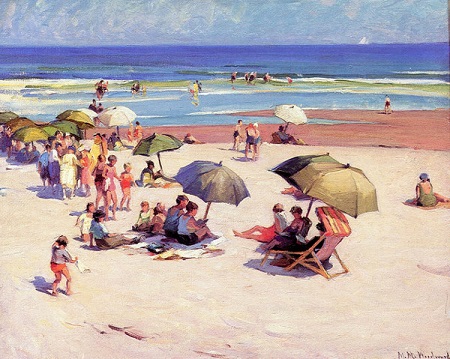 Bathers On A Beach door Mabel May Woodward, ca. 1915–1920
Summer at the Beach
Before we started camp, we went to the beach.

Long days, before the sun was dangerous.
My sister lay on her stomach, reading mysteries.
I sat in the sand, watching the water.

You could use the sand to cover
parts of your body that you didn't like,
I covered my feet, to make my legs longer;
the sand climbed over my ankles.

I looked down at my body, away from the water.
I was what the magazines told me to be:
coltish. I was a frozen colt.

My sister didn't bother with these adjustments.
When I told her to cover her feet, she tried a few times,
but she got bored; she didn't have enough willpower
to sustain a deception.

I watched the sea; I listened to other families.
Babies everywhere: what went on in their heads?
I couldn't imagine myself as a baby;
I couldn't picture myself not thinking.

I couldn't imagine myself as an adult either.
They all had terrible bodies: lax, oily, completely
committed to being male and female.

The days were all the same.
When it rained, we stayed home.
When the sun shone, we went to the beach with my mother.
My sister lay on her stomach, reading her mysteries.
I sat with my legs arranged to resemble
what I saw in my head, what I believed was my true self.

Because it was true: when I didn't move I was perfect.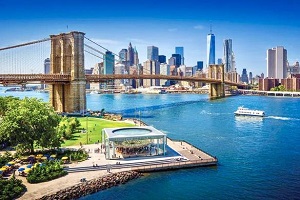 Louise Glück (New York, 22 april 1943)
Zomer in New York
De Ierse dichter Michael Longley werd geboren op 27 juli 1939 in Belfast. Zie ook alle tags voor Michael Longley op dit blog.
The Waterfall
If you were to read my poems, all of them, I mean,
My life's work, at the one sitting, in the one place,
Let it be here by this half-hearted waterfall
That allows each pebbly basin its separate say,
Damp stones and syllables, then, as it grows dark
And you go home past overgrown vineyards and
Chestnut trees, suppliers once of crossbeams, moon-
Shaped nuts, flour, and crackly stuffing for mattresses,
Leave them here, on the page, in your mind's eye, lit
Like the fireflies at the waterfall, a wall of stars.
Freeze-Up
The freeze-up annexes the sea even,
Putting out over the waves its platform.
Let skies fall, the fox's belly cave in -
This catastrophic shortlived reform
Directs to our homes the birds of heaven.
They come on farfetched winds to keep us warm.
Romantic
Bribing these with bounty, we would rather
Forget our hopes of thaw when spring will clean
The boughs, dust from our sills snow and feather,
Release to its decay and true decline
The bittern whom this different weather
Cupboarded in ice like a specimen.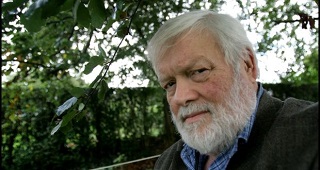 Michael Longley (Belfast, 27 juli 1939)
De Nederlandse schrijfster en psychologe Marijke Höweler werd geboren in Koog aan de Zaan op 27 juli 1938. Zie ook alle tags voor Marijke Höweler op dit blog.
Uit: Zum Wohl, Zum Glück!
"Bovengekomen met de stapel houtblokken waarvoor hij eigenlijk naar beneden was gegaan bleef hij een ogenblik uit het raam staan kijken. Als een verre, vage schemerlamp bescheen de zon het mistige dal. Het was zes uur. Jasper kon zich niet herinneren de laatste jaren ooit zo vroeg te zijn opgestaan. Toch leek hij in het verleden goede ervaringen te hebben opgedaan met dit vroege uur want er maakte zich een gevoel van hem meester alsof hij een onvervreemdbaar deel van de schepping uitmaakte. Dit vervulde hem van hoopvolle verwachting en een soort energie die hij zich ook herinnerde als behorend tot vervlogen dagen. Buiten maakten de vogels - de soort kende hij niet - geluiden alsof ze met een handzaag op een roestige spijker gestuit waren, terwijl de koeien een houten tafel over een stenen vloer leken te schuiven. Ook in de dierenwereld is het niet altijd rozegeur en maneschijn blijkbaar. Gisteren was Jasper zo kinderachtig geweest om direct na aankomst in zijn betrekkelijk nieuwe huis het zwaluwnest onder de dakrand te verwijderen. Met toegeknepen ogen en afgewend gezicht van schaamte had hij hun eengezinswoning met een forse duw van de bezem van zijn fundamenten gestoten. Jasper had zich daarbij de krakersbeweging voor ogen gehouden; en het feit dat de diertjes er de voorkeur aan gegeven hadden buiten het eigen nest, maar langs Jaspers glanzende beits te toiletteren en dus eigenlijk in Jaspers nest, had hem daar bij geholpen.
Wat zou hij nu eens gaan doen behalve wachten tot de bakker langs kwam? Witkalk gaan kopen misschien om z'n zonde ongedaan te maken? Maar Jasper vond dat sneu voor de bakker, die te zamen met zijn treurige dochter dag in dag uit deze negorij bezocht in de hoop dat één van de bewoners uit het rijtje van sterkste schouders die meenden de zwaarste lasten te dragen door de liquide middelen persoonlijk over de grens te tillen, hier zou zijn vandaag. Een kleine impasse dus en Jasper drentelde de voordeur uit en maakte een rondje om zijn huis. De zon had nu de mist uit het dal verdreven en veegde de laatste restjes tussen de bomen weg. Kringelend kwamen zij in de vorm van rookwolkjes uit hun schuilplaatsen te voorschijn. Jasper zou graag de krant zijn gaan lezen op zijn stoepje in de zon. Maar er was geen krant. Ook zou hij graag een praatje gemaakt hebben met een onbekend iemand. Maar er was niemand. Nee, zijn nieuwe huisje voldeed aan al z'n verwachtingen: de koeien, het gras, de beek, de bomen, de zenuwachtige vogeltjes en hij. En daar was de bakker, nee niet de bakker... of toch? Jawel daar was de bakker."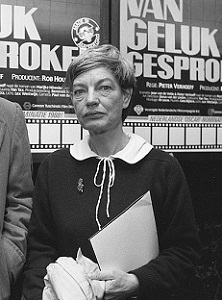 Marijke Höweler (27 juli 1938 – 5 mei 2006)
In 1987
De Amerikaanse schrijfster en literatuurcritica Elizabeth Hardwick werd geboren op 27 juli 1916 in Lexington, Kentucky. Zie ook alle tags voor Elizabeth Hardwick op dit blog.
Uit: Sleepless Nights
"It is june. This is what I have decided to do with my life just now. I will do this work of transformed and even distorted memory and lead this life, the one I am leading today. Every morning the blue clock and the crocheted bedspread with its pink and blue and gray squares and diamonds. How nice it is—this production of a broken old woman in a squalid nursing home. The niceness and the squalor and sorrow in an apathetic battle—that is what I see. More beautiful is the table with the telephone, the books and magazines, the Times at the door, the birdsong of rough, grinding trucks in the street.
If only one knew what to remember or pretend to remember. Make a decision and what you want from the lost things will present itself. You can take it down like a can from a shelf. Perhaps. One can would be marked Rand Avenue in Kentucky and some would recall the address at least as true. Inside the can are the blackening porches of winter, the gas grates, the swarm.
The sunlight blinds me. When I look up I see confusing electricity behind windows. Maybe the shadows will suffice, the light and the shade. Think of yourself as if you were in Apollinaire's poem:
Here you are in Marseilles, surrounded by watermelons.
Here you are in Coblenz at the Hotel du Geant.
Here you are in Rome sitting under a Japanese medlar tree.
Here you are in Amsterdam...
1954
Dearest M.: Here I am in Boston, on Marlborough Street, number 239. I am looking out on a snowstorm. It fell like a great armistice, bringing all simple struggles to an end. In the extraordinary snow, people are walking about in wonderful costumes—old coats with fur collars, woolen caps, scarves, boots, leather hiking shoes that shine like copper. Under the yellow glow of the streetlights you begin to imagine what it was like forty or fifty years ago. The stillness, the open whiteness—nostalgia and romance in the clear, quiet, white air... More or less settled in this handsome house. Flowered curtains made to measure, rugs cut for the stairs, bookshelves, wood for the fireplace."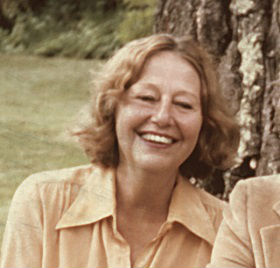 Elizabeth Hardwick (27 juli 1916 – 2 december 2007)
De Roemeense dichter en schrijver Dan Coman werd geboren op 27 juli 1975 in Gersa in de provincie Bistrita-Nasaud. Zie ook alle tags voor Dan Coman op dit blog.
Chicco
i wake up every morning before five
and like this, unwashed without tobacco
like this, in the dark and cold
i get out of bed on all fours
feeling for it.
before five he's no more than a glass bead
when I touch him whoosh
leaping to some other part of the room.
i pick him up quickly, using only two fingers
roll him only on the carpet
lest he make noise and
wake the girls.
so it's this way at five on all fours with this sun
this sun in the room rolled for hours on end
until like a snowball it grows quite large
until it begins to brighten begins to warm
though it's only after growing so large
brighter and warmer
it's only then that the sweat pours out
the chicco sun sweating likes a grown man
and at eight when the girls wake up
they must open the window
needing nearly an hour to air out the room.
Impossible to move
i'm impossible to move, there is nothing inside me
still I'm impossible to move with the force of only one man.
like a massive piece of living-room furniture.
like anything that means nothing in itself.
but i talk. i talk until the skin of my cheeks bursts.
i never stop talking.
all my force gathers like a spring inside my mouth
and mercilessly beats out sound after sound. phrase after phrase.
nobody ever seems to get tired of understanding nothing of what I say.
nobody seems annoyed because there's nobody left.
that's how I was born. straight out of the ground impossible to move
directly with words outside mine. exactly like this.
like anything else that means nothing in itself.
Vertaald door Martin Woodside en Ioana Ieronim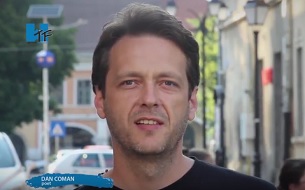 Dan Coman (Gersa, 27 juli 1975)
De Duitse schrijfster, dichteres en vertaalster Hilde Domin werd geboren in Keulen als Hilde Löwenstein op 27 juli 1909. Zie ook alle tags voor Hilde Domin op dit blog.
Älter werden
Antwort an Christa Wolf

Die Sehnsucht
nach Gerechtigkeit
nimmt nicht ab
Aber die Hoffnung

Die Sehnsucht
nach Frieden
nicht
Aber die Hoffnung

Die Sehnsucht nach Sonne
nicht
täglich kann das Licht kommen
durchkommen

Das Licht ist immer da
eine Flugzeugfahrt reicht
zur Gewissheit

Aber die Liebe

der Tode und Auferstehungen fähig
wie wir selbst
und wie wir
der Schonung bedürftig
Herbstaugen
Presse dich eng
an den Boden.
Die Erde
riecht noch nach Sommer,
und der Körper
riecht noch nach Liebe.
Aber das Gras
ist schon gelb über dir.
Der Wind ist kalt
und voll Distelsamen.
Und der Traum, der dir nachstellt,
schattenfüssig,
dein Traum
hat Herbstaugen.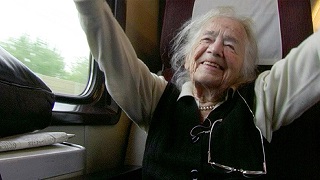 Hilde Domin (27 juli 1909 – 22 februari 2006)
Onafhankelijk van geboortedata
De Iers-Britse schrijfster Eimear McBride werd geboren in 1976 in Liverpool en groeide op in Tubbercurry, County Sligo en in Castlebar, County Mayo. Zie ook alle tags voor Eimear McBride op dit blog.
Uit: A Girl is a Half-Formed Thing
"For you. You'll soon. You'll give her name. In the stitches of her skin she'll wear your say. Mammy me? Yes you. Bounce the bed, I'd say. I'd say that's what you did. Then lay you down. They cut you round. Wait and hour and day.
Walking up corridors up the stairs. Are you alright? Will you sit, he says. No. I want she says. I want to see my son. Smell from dettol through her skin. Mops diamond floor tiles all as strong. All the burn your eyes out if you had some. Her heart going pat. Going dum dum dum. Don't mind me she's going to your room. See the. Jesus. What have they done? Jesus. Bile for. Tidals burn. Ssssh. All over. Mother. She cries. Oh no. Oh no no no.
I know. The thing wrong. It's a. It is called. Nosebleeds, head aches. Where you can't hold. Fall mugs and dinner plates she says clear up. Ah young he says give the child a break. Fall off swings. Can't or. Grip well. Slipping in the muck. Bang your. Poor head wrapped up white and the blood come through. She feel the sick of that. Little boy head. Shush.
She saw it first when you couldn't open your eye. Don't wink so long wind'll change and you'll stay that way. I'm not Mammy. It's got stuck. She pull it open. Hold it up. I can't it's all fall down.
And now Holy Family on a Saturday night. He is leaning you are sleeping she the chair me whirlabout. Listen in to doctor chat. We done the best we could. There really wasn't much. It's all through his brain like the roots of trees. Sorry. Don't say. That. He's running out I'm afraid. I'm afraid he's running down. You should take him home, enjoy him while you can. He's not. He is. Can't you operate again? We can't. Shush. Something? Chemo then. We'll have a go at that.
Gethsemane dear Lord hear our prayer our. Please. Intercession. Night in hospital beds. Faces on the candlewick. Lino in the knees. Please don't God take. Our. Holy Mary mother of all, humbly we beseech thee."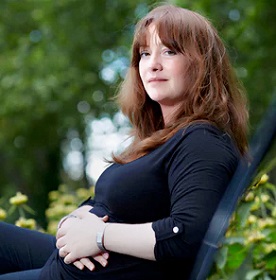 Eimear McBride (Liverpool, 1976)
De Nieuw-Zeelandse schrijver Graeme C. Simsion werd geboren in in Auckland, Australië, in 1956. Zie ook alle tags voor Graeme C. Simsion op dit blog.
Uit: The Rosie Project
"Afterward, Claudia advised me that I should have abandoned the experiment prior to Elizabeth's leaving. Obviously. But at what point? Where was the signal? These are the subtleties I fail to see. But I also fail to see why heightened sensitivity to obscure cues about ice-cream flavors should be a prerequisite for being someone's partner. It seems reasonable to assume that some women do not require this. Unfortunately, the process of finding them is impossibly inefficient. The Apricot Ice Cream Disaster had cost a whole evening of my life, compensated for only by the information about simulation algorithms. • • • Two lunchtimes were sufficient to research and prepare my lecture on Asperger's syndrome, without sacrificing nourishment, thanks to the provision of Wi-Fi in the medical library café. I had no previous knowledge of autism spectrum disorders, as they were outside my specialty. The subject was fascinating. It seemed appropriate to focus on the genetic aspects of the syndrome, which might be unfamiliar to my audience. Most diseases have some basis in our DNA, though in many cases we have yet to discover it. My own work focuses on genetic predisposition to cirrhosis of the liver. Much of my working time is devoted to getting mice drunk. Naturally, the books and research papers described the symptoms of Asperger's syndrome, and I formed a provisional conclusion that most of these were simply variations in human brain function that had been inappropriately medicalized because they did not fit social norms--constructed social norms--that reflected the most common human configurations rather than the full range. The lecture was scheduled for 7:00 p.m. at an inner-suburban school. I estimated the cycle ride at twelve minutes and allowed three minutes to boot my computer and connect it to the projector. I arrived on schedule at 6:57 p.m., having let Eva, the short-skirted cleaner, into my apartment twenty-seven minutes earlier. There were approximately twenty-five people milling around the door and the front of the classroom, but I immediately recognized Julie, the convenor, from Gene's description: "blonde with big tits." In fact, her breasts were probably no more than one and a half standard deviations from the mean size for her body weight and hardly a remarkable identifying feature."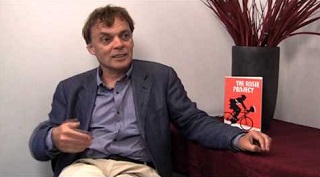 Graeme C. Simsion (Auckland in 1956)
Zie voor nog meer schrijvers van de 27e juli ook mijn blog van 27 juli 2017 en ook mijn blog van 27 juli 2011 deel 2.
27-07-2018 om 18:33 geschreven door Romenu

Tags:Louise Glück, Michael Longley, Marijke Höweler, Elizabeth Hardwick, Dan Coman, Hilde Domin, Eimear McBride, Graeme C. Simsion, Romenu


26-07-2018

Paul Rodenko, Arthur Japin, Gregoire Delacourt, Anne Provoost, Yves Petry, Aldous Huxley, Nicholas Evans, George Bernard Shaw
Dolce far niente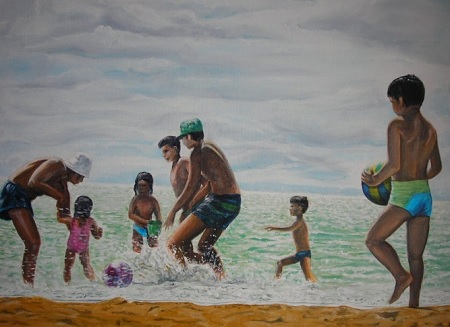 Jeux de plage door Philippe Greffard, 2010
Strand
De zon. Het strand.
De rode torso van de dag,
half in het hete zand begraven.
Een vogel schreeuwt gekweld.
Tegen een bronzen hek van baders
schurkt zich de zee als een loom rund.
In kassen van de horizon
staan vreemde purperrode varens.
Ik lig geketend in het zand
en hoor het bonzen van gitaren
tegen de deuren van de nacht
en hoor je hoge hese praten.
Je lijf staat donker in het licht.
Ik ruik de brandlucht van je schaduw
en voel een onderhuidse pijn.
Je benen zijn twee zwartgeblakerde pilaren
in een vergane stad.
De zon drijft stil in haar aquarium,
een dode vis met witgezwollen buik.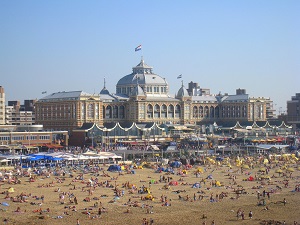 Paul Rodenko (26 november 1920 – 9 juni 1976)
Het strand bij Scheveningen, Den Haag, de geboorteplaats van Paul Rodenko
De Nederlandse schrijver Arthur Japin werd geboren in Haarlem op 26 juli 1956. Zie ook alle tags voor Arthur Japin op dit blog.
Uit: Kolja
"Ik zag het al vanaf de Nevski Prospekt, nog voordat ik de straat in liep.
In de verte had zich voor het huis een menigte verzameld, hoofd in de nek, hopend op een glimp van het onnoemelijk verdriet daarboven. Op de vijfde verdieping stonden, ondanks het vroege uur en de ijzige wind die vanaf de Neva door de straten joeg, alle ramen wijd open.
Ik versnelde mijn pas, alsof na een nacht ononder - broken reizen die laatste honderd meter nog iets uit - maakte.
Een theeventer wrong zich door de wachtenden, die daar sinds middernacht al stonden. Waterdamp hing rond de samowaar die hij op zijn rug droeg. Zijn klanten warmden hun verkleumde vingers aan de wolkende kommen. Een melkkar had de oploop ook gevonden. Een jongen met een plateau kartosjka-cakejes deed goede zaken, een paar boerinnen, zeulend met een mand vol antonovka-appels, minder.
Wie niet wist wat hier gaande was, had het voor een buurtfeest kunnen houden: rood aangelopen koppen met her en der een glimmer van sensatie. Hun opwinding leek op die van de wachtende meute buiten de hekken van een regimentsbal, en toch... Er is iets aan de dood wat de levenden doortrilt. Zijn loodzware aanwezigheid beperkt zich niet tot de ontslapene, maar sijpelt door de kieren van het sterfhuis en doordrenkt ons van een doodsbesef, dat Deze schuldige gewaarwording, aan andermans pijn te zijn ontsnapt, verenigde de mensen voor de deur van de Morskajastraat. Hun mededogen en de vroomheid van hun gebeden zijn er niet minder om, maar het idee voorlopig nog een lengte op het onvermijdelijke voor te liggen werkt op een massa even aanstekelijk als vrolijkheid of bloeddorst.
Eén blik op die koppen en ik wist dat ik te laat kwam.
Sommigen probeerden, alsof ik voordrong bij de avondkassa van het Aleksandrinski, mij de doorgang te beletten. Anderen dachten dat ik voor de ophef kwam en klampten mij aan om mij op de hoogte te brengen van de laatste geruchten, maar ik sloeg mijn blik neer, zodat ik niet wist wat ze zeiden."


Arthur Japin (Haarlem, 26 juli 1956)
De Franse schrijver, journalist, regisseur en scenarist Gregoire Delacourt werd geboren op 26 juli 1960 in Valenciennes, Zie ook alle tags voor Gregoire Delacourt op dit blog.
Uit: De lijst van al mijn wensen (Vertaald door Marga Blankestijn)
"Iedereen liegt zichzelf voor.
Zo weet ik bijvoorbeeld best dat ik niet mooi ben. Ik heb niet van die blauwe ogen waarin mannen zich graag spiegelen, waarin ze willen verdrinken om weer opgedoken en gered te worden. Ik heb niet de ideale maten van een fotomodel: ik ben weelderig, zeg maar mollig van vorm. Zo'n vorm die anderhalve plaats inneemt. Ik heb zo'n lichaam waar de armen van een gemiddelde man net niet helemaal omheen reiken. Ik heb niet de gratie van vrouwen tegen wie lange zinnen worden gepreveld, met zuchten als leestekens, nee. Ik roep eerder korte zinnen in gedachten. Het abrupte aforisme. Het gebeente van de lust, zonder het zwoerd, zonder het zachte vetrandje.
Dat weet ik allemaal best.
En toch gebeurt het wel dat ik, voordat Jo thuiskomt, boven in onze slaapkamer voor de spiegel van de klerenkast ga staan. Ik moet hem er nog aan herinneren dat hij die kast aan de muur bevestigt, voordat ik er een dezer dagen tijdens mijn bespiegelingendoor verpletterd word.
Dan sluit ik mijn ogen en kleed me langzaam uit, zoals niemand me ooit heeft uitgekleed. Iedere keer krijg ik het een beetje koud en ril ik even. Als ik helemaal naakt ben, wacht ik nog voordat ik mijn ogen open doe. Ik geniet. Ik mijmer. Ik droom. Ik zie weer de aandoenlijke, hunkerende lichamen voor me in de kunstboeken vol schilderijen die vroeger thuis in de kast stonden; later, de grovere lichamen uit de blaadjes.
Dan doe ik langzaam mijn ogen open, in slow motion.
Ik kijk naar mijn lijf, mijn donkere ogen, mijn kleine borsten, mijn zwembandje, mijn donkere bos schaamhaar en ik vind mezelf mooi en ik zweer je dat ik op dat moment mooi ben, een schoonheid zelfs.
Die schoonheid maakt me intens gelukkig. En verschrikkelijk sterk.
Hij zorgt dat ik de lelijke dingen vergeet. De fourniturenwinkel, die een beetje saai is. Het gebabbel en de lotto van Danièle en Françoise, de tweelingzussen die de kapperszaak Coiff'Esthétique ernaast runnen. De schoonheid zorgt dat ik de onveranderlijke dingen vergeet. Zoals een leven zonder verhalen. Zoals deze akelige stad, zonder vliegveld; deze grijze stad waaraan je niet kunt ontsnappen en waar nooit iemand komt, geen hartendief, geen witte ridder op een wit paard."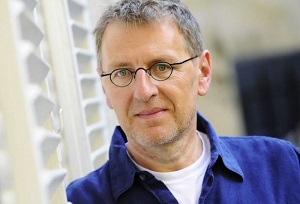 Gregoire Delacourt (Valenciennes, 26 juli 1960)
De Vlaamse schrijver Yves Petry werd op 26 juli 1967 geboren in Tongeren. Zie ook alle tags voor Yves Petry op dit blog.
Uit:In Paradisum (Vertaald door Gregor Seferens)
"Die Tür geht auf, und für Marino ist es keine Überraschung, dass der Mann, der dort erscheint, nur eine Unterhose anhat. Das haben sie so verabredet. Überraschender ist der Gesichtsausdruck des Mannes. Die halb geschlossenen Augen deuten auf ein gewisses Maß von Sedierung. Seine Schritte sind ein wenig unsicher. Doch die straff angespannten Kiefermuskeln drücken eine große Entschlossenheit aus. Das Kinn ist leicht in die Höhe gereckt, die Lippen ragen herausfordernd hervor. Er sieht aus wie eine Kreuzung aus Zombie und Märtyrer, wie ein vor Kampfeslust flimmernder Schlafwandler. Höchstwahrscheinlich ist dies ein Effekt der Drogen, die er genommen hat.
Die Wohnzimmervorhänge sind sorgfältig geschlossen. Kein Schimmer ist mehr von der Außenwelt zu sehen. In einer Ecke verbreitet eine Stehlampe mit einem grobbaumwollenen Schirm ein nicht allzu helles Licht. Es könnte beinahe gemütlich sein, wenn das Zimmer nicht ansonsten leer wäre, von einem Esstisch mit zwei Stühlen und einem Sofa abgesehen.
Auf einem der Stühle sitzt Marino. Wovor er sich vorher schon gefürchtet hat, überfällt ihn plötzlich als unverrückbare Tatsache: Der Moment ist nicht gut gewählt. Nicht, weil es noch zu früh ist, nicht, weil es bereits zu spät ist, nicht, weil ein anderer Zeitpunkt besser gewesen wäre, sondern weil es falsch ist, selbst einen Zeitpunkt zu wählen.
Jetzt kann er nicht mehr zurück. Er steht auf und folgt dem Mann, der sich schweigend mit dem Rücken an eine Wand stellt. Links und rechts von ihm befinden sich, jeweils eine Armlänge entfernt, zwei Metallringe, die dort vor einigen Tagen angebracht wurden. Mit zwei kurzen Seilen, die auf dem Tisch bereitliegen, bindet Marino die Handgelenke des Mannes an den Ringen fest.
Auch was er sonst noch tun soll, haben sie vorher verabredet.
Auf dem Gesicht des Mannes liegt ein recht verträumter Ausdruck, um seine Lippen spielt sogar ein Hauch von Spott, als fände er Marinos Schüchternheit lustig. Marino zieht einen Stoffstreifen, den er aus einem alten Kleid geschnitten hat, aus der Hosentasche und verbindet damit dem Mann die Augen, der dies widerstandslos zulässt.
Marino lässt eine Hand über die Brust des Mannes gleiten. Die andere Hand fährt über Schenkel und Geschlecht. Er kennt diesen Körper. Er hat ihn schon öfter gespürt. Damals hatten sie Sex miteinander. Diesmal werden sie sehr viel weiter gehen.
Geplant ist, dass Marino sich nicht wie der Liebhaber dieses Körpers verhält, sondern wie dessen Schinder. Oder sogar wie etwas, das noch weniger menschlich, noch unpersönlicher ist: eine tödliche Krankheit, ein rein körperlicher Unfall. Aber wie glaubwürdig ist es, wenn eine tödliche Krankheit wie verabredet zuschlägt?"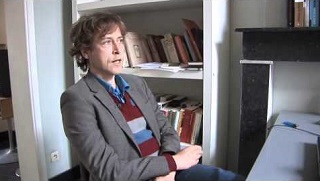 Yves Petry (Tongeren, 26 juli 1967)
De Vlaamse schrijfster Anne Provoost werd geboren in Poperinge op 26 juli 1964. Zie ook alle tags voor Anne Provoost op dit blog.
Uit: In de zon kijken
"Ilana en ik zaten op de achterbank van de Volkswagen, de strohoeden tegen de zon tussen ons in. Ilana had haar haren hoog opgebonden, haar handen losjes in haar schoot, de rug gestrekt. Ze keek niet naar me, had alleen aandacht voor het land dat zich eindeloos ontrolde. Ik zat op mijn knieën, achterstevoren, mijn armen om de hoofdsteun geslagen. In de rechthoek van de achterruit doken elektriciteitspalen ritmisch op, schoven naar elkaar toe, verdwenen in een luchtspiegeling aan de horizon. We lieten het vlakke binnenland achter ons, de grijze velden met de gombomen, hun zilveren stammen en onbeweeglijke bladeren. De witte streep op het wegdek wentelde als een worm op zoute grond. Ik wachtte op een verandering in het beeld, ik was nog niet dikwijls zo ver van huis geweest. Al sinds de ochtend waren we aan het rijden en de bodem was nog altijd kurkdroog: geen onkruid in de bermen, de vertrouwde schraalheid van een verzilte omgeving.
Het was hoogzomer. We hadden een jerrycan benzine bij ons, en liters drinkwater. Bij elke oneffenheid rinkelden de likeurflessen in de koffer. In de auto hing de geur van namaakleder dat kneedbaar wordt in de zon. Ik was op mijn hoede. Als ik Ilana iets wilde zeggen, leunde ik naar haar toe om te fluisteren. We waren de reis begonnen met raadsels en een spel, maar de vrolijkheid was nu voorbij. Mijn vader zat aan het stuur, mijn moeder naast hem met haar fototoestel op haar schoot. Ze wreef over haar mondhoeken; ze denkt dat haar speeksel zich daar ophoopt als ze vurig praat. 'Je had je broer kunnen vragen wat hij bedoelde met een verrassing,' zei ze.
Mijn vader had zijn ene hand op het stuurwiel, de andere aan zijn voorhoofd. Hij was de enige met kortgeknipt haar, maar evengoed parelde het zweet in zijn nek. 'Wat had Brendan meer kunnen vertellen dan dat er iets zou zijn?' antwoordde hij. 'Anders was het toch geen verrassing meer.'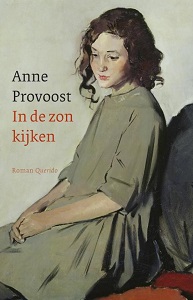 Anne Provoost (Poperinge, 26 juli 1964)
Cover
De Engelse schrijver en criticus Aldous Huxley werd geboren op 26 juli 1894 in Godalming, Surrey. Zie ook alle tags voor Aldous Huxley op dit blog.
Uit: Brave new World
"Mustapha Mond shut the book and leaned back in his chair. 'One of the numerous things in heaven and earth that these philosophers didn't dream about was this' (he waved his hand), 'us, the modern world. "You can only be independent of God while you've got youth and prosperity; independence won't take you safely to the end." Well, we've now got youth and prosperity right up to the end. What follows? Evidently, that we can be independent of God. "The religious sentiment will compensate us for all our losses." But there aren't any losses for us to compensate; religious sentiment is superfluous. And why should we go hunting for a substitute for youthful desires, when youthful desires never fail? A substitute for distractions, when we go on enjoying all the old fooleries to the very last? What need have we of repose when our minds and bodies continue to delight in activity? of consolation, when we have soma? of something immovable, when there is the social order?'
'Then you think there is no God?'
'No, I think there quite probably is one.'
'Then why?...'
Mustapha Mond checked him. 'But he manifests himself in different ways to different men. In pre-modern times he manifested himself as the being that's described in these books. Now...'
'How does he manifest himself now?' asked the Savage.
'Well, he manifests himself as an absence; as though he weren't there at all.'
'That's your fault.'
'Call it the fault of civilization. God isn't compatible with machinery and scientific medicine and universal happiness. You must make your choice. Our civilization has chosen machinery and medicine and happiness. That's why I have to keep these books locked up in the safe. They're smut. People would be shocked if...'
The Savage interrupted him. 'But isn't it natural to feel there's a God?'
'You might as well ask if it's natural to do up one's trousers with zippers,' said the Controller sarcastically. 'You remind me of another of those old fellows called Bradley. He defined philosophy as the finding of bad reason for what one believes by instinct. As if one believed anything by instinct! One believes things because one has been conditioned to believe them. Finding bad reasons for what one believes for other bad reasons--that's philosophy. People believe in God because they've been conditioned to believe in God.'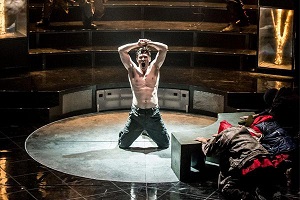 Aldous Huxley (26 juli 1894 – 22 november 1963)
Scene uit een toneelbewerking in Northampton, 2015
De Engelse schrijver Nicholas Evans werd geboren op 26 juli 1950 in Bromsgrove. Zie ook alle tags voor Nicholas Evans op dit blog.
Uit:The Horse Whisperer
"There was snow. The first fall of winter. And from the laterals of the fence up by the pond she could tell there must be almost a foot of it. With no deflecting wind, it was perfect and driftless, heaped in comical proportion on the branches of the six small cherry trees her father had planted last year. A single star shone in a wedge of deep blue above the woods. The girl looked down and saw a lace of frost had formed on the lower part of the window and she placed a finger on it, melting a small hole. She shivered, not from the cold, but from the thrill that this transformed world was for the moment entirely hers. And she turned and hurried to get dressed.
Grace Maclean had come up from New York City the night before with her father, just the two of them. She always enjoyed the trip, two and a half hours on the Taconic State Parkway, cocooned together in the long Mercedes, listening to tapes and chatting easily about school or some new case he was working on. She liked to hear him talk as he drove, liked having him to herself, seeing him slowly unwind in his studiously weekend clothes. Her mother, as usual, had some dinner or function or something and would be catching the train to Hudson this morning, which she preferred to do anyway. The Friday-night crawl of traffic invariably made her crabby and impatient and she would compensate by taking charge, telling Robert, Grace's father, to slow down or speed up or take some devious route to avoid delays. He never bothered to argue, just did as he was told, though sometimes he would sigh or give Grace, relegated to the backseat, a wry glance in the mirror. Her parents' relationship had long been a mystery to her, a complicated world where dominance and compliance were never quite what they seemed. Rather than get involved, Grace would simply retreat into the sanctuary of her Walkman.
On the train her mother would work for the entire journey, undistracted and undistractable. Accompanying her once recently, Grace had watched her and marveled that she never even looked out of the window except perhaps in a glazed, unseeing scan when some big-shot writer or one of her more eager assistant editors called on the cellular phone."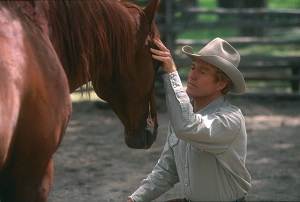 Nicholas Evans (Bromsgrove, 26 juli 1950)
Robert Redford als de "Horse Whisperer" Tom Booker in de gelijknamige film uit 1998
De Ierse toneelschrijver, socialist en theatercriticus George Bernard Shaw werd geboren in Dublin op 26 juli 1856. Zie ook alle tags voor George Bernard Shaw op dit blog.
Uit: The Devil's Disciple
"At the most wretched hour between a black night and a wintry morning in the year 1777, Mrs. Dudgeon, of New Hampshire, is sitting up in the kitchen and general dwelling room of her farm house on the outskirts of the town of Websterbridge. She is not a prepossessing woman. No woman looks her best after sitting up all night; and Mrs. Dudgeon's face, even at its best, is grimly trenched by the channels into which the barren forms and observances of a dead Puritanism can pen a bitter temper and a fierce pride. She is an elderly matron who has worked hard and got nothing by it except dominion and detestation in her sordid home, and an unquestioned reputation for piety and respectability among her neighbors, to whom drink and debauchery are still so much more tempting than religion and rectitude, that they conceive goodness simply as self-denial. This conception is easily extended to others--denial, and finally generalized as covering anything disagreeable. So Mrs. Dudgeon, being exceedingly disagreeable, is held to be exceedingly good. Short of flat felony, she enjoys complete license except for amiable weaknesses of any sort, and is consequently, without knowing it, the most licentious woman in the parish on the strength of never having broken the seventh commandment or missed a Sunday at the Presbyterian church.
The year 1777 is the one in which the passions roused of the breaking off of the American colonies from England, more by their own weight than their own will, boiled up to shooting point, the shooting being idealized to the English mind as suppression of rebellion and maintenance of British dominion, and to the American as defence of liberty, resistance to tyranny, and selfsacrifice on the altar of the Rights of Man."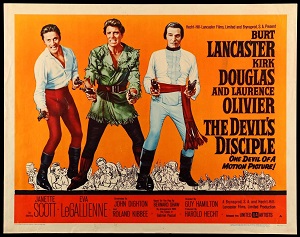 George Bernard Shaw (26 juli 1856 – 2 november 1950)
Affiche voor de gelijknamige film uit 1959 met Kirk Douglas, Burt Lancaster en Laurence Olivier
Zie voor nog meer schrijvers van de 26e juli ook mijn blog van 26 juli 2017 en ook mijn blog van 26 juli 2015 deel 2.
26-07-2018 om 18:11 geschreven door Romenu

Tags:Paul Rodenko, Arthur Japin, Gregoire Delacourt, Anne Provoost, Yves Petry, Aldous Huxley, Nicholas Evans, George Bernard Shaw, Romenu


25-07-2018

Nate Pritts, Lieke Marsman, Sytze van der Zee, Robyn Carr, Annette Pehnt, Jovica Tasevski – Eternijan, Elias Canetti, Louise Boege
Dolce far niente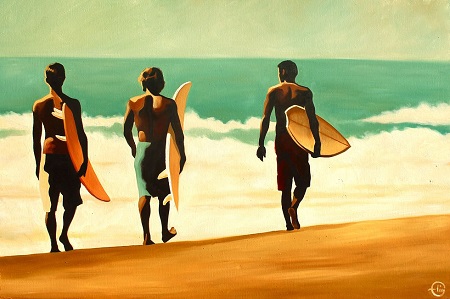 Endless Summer door Emilie Arnoux, z.j.
Endless Summer
. . .
It was the summer I fucked up the summer fucked up me
fucked up a fuck-up in the summer & I spent time laying under stars
too much time I wasted the stars you lied to me under the stars
& the summer was endless the summer endless it was an endless summer
. . .
. . .
endless & I said things like "If I ever see you again"
but I'll never see you again I never saw you again I made sure of that
& I circled the lake I went in circles the lake was endless it was
summer I fucked up too much time & I never saw you again & I
. . .
. . .
circled & it was endless & the stars lied to me the summer
light moving so slowly I saw the summer light move endless
& when I see you the trees will cluster green rage green trees raging
with love endless love & I'll never see you again I made sure of that
. . .
. . .
wasted under the stars the slow summer light the endless fuck-up
& you never again you lovely you summer you everything that is now
never again whatever that may be the rage I loved me under the stars
then & now endless wasting away me haze wandering around endless
. . .
. . .
haze it was endless too much time & you lied to me & I said things like
I can't describe the air on my skin can you can you please I know it was
important & the light from stars moved so slowly & you moved off
forever how can you save everything everything important endless
. . .
. . .
summer light the fuck-up the lake a circle circling the lake
how can you save everything how can I answer you the light of summer
stars I'm sorry for my light the endlessness of my endless & my fuck-up
the me that is now looking back & thinking & this summer circling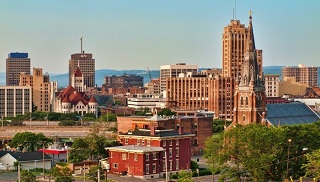 Nate Pritts (Syracuse, 27 september 1974)
Syracuse
De Nederlandse dichteres Lieke Marsman werd op 25 juli 1990 geboren te Den Bosch. Zie ook alle tags voor Lieke Marsman op dit blog.
Woensdag
1
Dit is onze slaapkamer. Al sliepen er veel mensen voor ons,
al sliepen er veel mensen met ons - onze slaapkamer.
Een ruimte is van wie er vannacht het vaakst heeft geademd.
Iemand zegt: toen mijn vader stierf, was het huis voor altijd
van hem. Wij erfden het, maar hij had er het vaakst niet geademd.
Zijn huis. Hier kan mijn theorie niet tegenop. Stel je voor,
je hebt je mooiste rok aangetrokken, je hebt eindelijk opgezocht
hoe je Dvořák uit moet spreken, op de radio klinkt Jens Lekman's
farewell song to Rocky Dennis en het huis zal de hele dag
niet het jouwe zijn.

2
We zijn heel stil terwijl ik haast voor het eerst een gedicht schrijf
waarin ik niet begin met enkel 'ik' - in het gedicht is plaats voor
iemand anders. Hij is stil. Dan zegt hij dat onze lieve heer
vreemde kostgangers heeft en begrijp ik dit maar al te goed.
De stad, bijvoorbeeld, is als het ware een kind aan huis,
staat iedere ochtend voor mijn deur. De keuken van de heer
krijgt het nog druk vandaag, geeft schone borden aan de obers mee.
En ook de taal is vreemd wreed, zegt dingen als: wanneer je je
alleen voelt, kun je wachten tot je een ons weegt.


3
De tijd lijkt maar niet verder dan drie uur te willen zijn, de stad
verlaat mijn stoep. Ik kijk haar door de brievenbus na
om te zien hoe de fietsers als naaimachines haar straten aaneenrijgen.
In de gordijnen hangen gordijnen een metafoor voor moeheid
te zijn, ik draag mijn droefheid als een polshorloge. Het bandje
maak ik los voor ik het bad in stap, de wijzers van het klokje
zet ik stil tot ik weet wie. In de keuken knettert stroom
als vliegen door de lampen. Er staat een kabinet waarin ik achter glas
mijn angst bewaar als relikwie. En dan is zij er nog, die wat ze is
met een horloge vergelijkt en wat ze zegt met poëzie.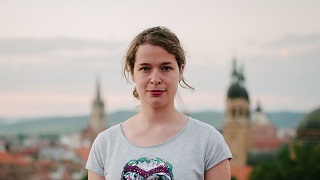 Lieke Marsman (Den Bosch, 25 juli 1990)
De Nederlandse journalist en schrijver Sytze van der Zee werd geboren op 25 juli 1939 in Hilversum. Zie ook alle tags voor Sytze van der Zee op dit blog.
Uit: Harer Majesteits loyaalste onderdaan
"Dominee Laurens van 't Sant stond bekend als een rustige, beminnelijke man, zeker geen scherpslijper in de leer, qua religieuze opvattingen binnen de Nederlands-hervormde kerk vrijzinnig. Toen hij eenmaal een standplaats in Heiloo had gekregen, trouwde hij in 1870 op stand met de domineesdochter Néline Francois. In het naslagwerk Nederland's Patriciaat, ook wel het Blauwe Boekje genoemd, gaat haar stamboom terug op de schoolmeester Joseph Francois, rond 1715 geboren in het Franse stadje Nemours. Diens zoon, Joseph, vestigde zich na zijn studie theologie in Amsterdam als predikant van de Waalse kerk. In de daaropvolgende decennia steeg de familie snel op de sociale ladder. Van zijn kant kon de dominee bogen op een stamvader, ene Hendrik, die het in de zeventiende eeuw tot schepen in het Noord-Brabantse Sleeuwijk had gebracht. In april 1871 beviel Néline van hun eerste kind, waarna er de daaropvolgende jaren nog negen bij kwamen. Een ervan overleed acht weken na de geboorte. Nadat dominee Van 't Sant in Heiloo, Oterleek en Akersloot had gestaan, volgde in februari 188o een beroep naar Den Helder, of eigenlijk Helder: pas in 1929 zou de stad per Koninklijk Besluit Den Helder gaan heten. De stad telde bij de komst van het echtpaar Van 't Sant zo'n 25.000 inwoners. Eens de bloeiende, drukbezochte voorhaven van Amsterdam raakte Den Helder na de opening in 1876 van het Noordzeekanaal in verval. De Koninklijke Marine en de rijksmarinewerf vormden nog de voornaamste bron van inkomsten.' Het echtpaar betrok een woning in de Koningstraat op nummer io8 (later 9o), waar Francois op It februari 1883 als achtste in de reeks werd geboren. Tot hun buren behoorde Cornelis Dito, een visser en vletterman, die tal van schipbreukelingen redde. Een paar huizen verderop woonde Henri ter Hall, toen nog muzikant bij de marine, later oprichter van de Neutrale Partij, lid van de Tweede Kamer voor de Liberale Staatspartij 'De Vrijheidsbond' en directeur van het destijds befaamde Eerste Nederlandsche Revuegezelschap 'Henri ter Hall'.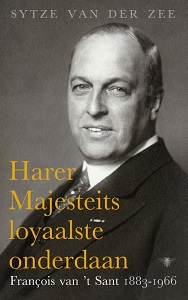 Sytze van der Zee (Hilversum, 25 juli 1939)
Cover
De Amerikaanse schrijfster Robyn Carr werd geboren op 25 juli 1951 in Minnesota. Zie ook alle tags voor Robyn Carr op dit blog.
Uit: The Family Gathering
"Dakota was just about finished mopping the floor when Sid handed him a cup of coffee. "Thanks," he said. "Is this my coffee date? Because I was really hoping for a little pie to go with this. Like from a coffee shop or diner or maybe we could go crazy and hit a Denny's."
She laughed. "We could do that. Let's head back toward Timberlake and go to the Denny's on the highway."
He followed her all the way to the restaurant, a little afraid she might ditch him on the long drive, but she waited by the door while he parked. They had no trouble getting a table, late as it was. They sat across from each other in a booth, ordered coffee, and Dakota asked for a moment to look at the menu. But he didn't. Instead, he looked at Sid and asked, "Soup kitchen?"
"I guess you don't meet too many of your potential girlfriends at a soup kitchen?"
He lifted his eyebrows. "You've upgraded your status," he said. "I thought I was going to have to work much harder for that."
"I feel sorry for you," she said with a smile.
"Whatever ticks your clock. Just explain the soup kitchen. Is it some kind of a test? To see if I'm charitable?"
"It actually has nothing to do with you. After my divorce I needed counseling. I struggled with depression. I think that's not unusual or unexpected. After some months of talking about myself and my feelings, the counselor gently suggested I might want to take the focus off myself and see what I could do for the less fortunate. She gave me an intimidating list of places that needed help. I just couldn't bring myself to cuddle terminally ill toddlers, and if I'd worked at an animal shelter, I would have brought them all home. I went to the soup kitchen and Sister Mary Jacob tried to feed me. She couldn't wrap her head around me as a server, that's how bad I must have looked."
"Must have been worse than just a bad divorce," he said.
She paused for a moment as if considering how much personal information she'd give him on this, their first date. It made him smile for two reasons. One, it wasn't much of a date and two, she was very protective of her privacy. When she continued, he decided she must have at least branded him as a good guy."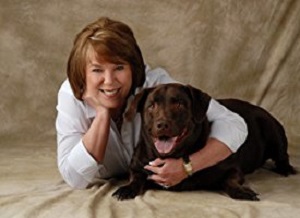 Robyn Carr (Minnesota, 25 juli 1951)
De Duitse schrijfster Annette Pehnt werd geboren op 25 juli 1967 in Keulen. Zie ook alle tags voor Annette Pehnt op dit blog.
Uit: Ich muss losIch muss los Ich muss los Ich muss los Ich muss los
"Als Kind sagte Dorst die Wahrheit. Wenn die Mutter ihn fragte, schmeckt es, sagte er oft ja. Manchmal auch nein. Dann konnte es passieren, daß sich die Augen der Mutter mit Tränen füllten. Das tat Dorst leid, aber er konnte ja nichts dafür. Er sagte dann, tut mir leid, Mami.
Schlimmer war es, wenn Omi fragte, und hast du denn deine Omi lieb, Spätzchen. Omi hatte eine laute Stimme, jammerte über Wasser in den Beinen und küßte Dorst zum Abschied gern auf die Lippen. Nein, sagte Dorst, nicht so doll. Omi tat so, als hätte sie nicht verstanden, und legte den Kopf schräg. Nein, sagte Dorst laut und deutlich. Omi ließ die Kaffeetasse auf den Tisch fallen und verbrühte sich. Sie rief nach der Mutter, und die Mutter sagte, sicher hat er dich lieb, Kinder können das nicht so ausdrücken. Gell, Schatz, du hast Omi lieb, und sie legte einen Arm um Dorst und führte ihn aus dem Wohnzimmer.
Als Peter in der Schule auf seiner Geige ein Stück vorspielte, fragte die Lehrerin die Kinder, hat er das nicht gut gemacht. Ja, sagte Dorst, aber er machte dabei immer so ein komisches Gesicht. Die anderen Kinder lachten. Peter lachte nicht. Dorst bekam eine Strafarbeit auf und einen Brief für die Mutter mit nach Hause. Darin stand, Ihr Kind ist taktlos und hat wenig Gefühl für andere. Bald merkte Dorst, daß niemand die Wahrheit mochte. Er beschloß, von nun an nicht mehr die Wahrheit zu sagen. Also schwieg er. Seitdem knackte sein Kiefergelenk beim Gähnen.
Später mit Elner versuchte er es noch einmal. Sie saßen zusammen unter ihrer Kamelhaardecke und tranken heißes Kräuterblut. Dorst öffnete und schloß den Mund vorsichtig, um das Knacken zu vermeiden, wie ein Fisch auf dem Trockenen. Ist dir zu heiß, fragte Elner und schlug die Kamelhaardecke zurück. Ich muß los, sagte Dorst. Elner wußte, daß seine Wohnung leer und die Arbeit getan war. Warum denn jetzt noch, sagte sie. Es wird Zeit, sagte Dorst. Er stellte seine Tasse auf einen Bücherstapel. Nicht auf die Bücher, sagte Elner. Er warf sie auf den Boden, nicht heftig, beinahe behutsam. Sie kreiselte hohl über das Parkett, ohne Schaden zu nehmen. Elner richtete sich auf, stellte beide Füße auf den Boden und schloß die Augen. Dann schrie sie. Was willst du eigentlich, schrie sie, du Arschgesicht. Dorst staunte. Ja, guck nur. Du glaubst wohl, du könntest nach Belieben kommen und gehen. Pension Elner, liebevolle Betreuung ohne Aufschlag, Frühstück bis zehn. Gib den Schlüssel her. Der Herr will frische Luft schnappen, und ich sitz dann allein da. Mitkommen darf man auch nicht. Rück sofort den Schlüssel raus. Dann haben wir wenigstens beide unsere Ruhe. Elner, sagte Dorst, hob die Tasse auf und stellte sie auf eine Armlehne."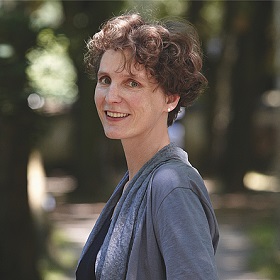 Annette Pehnt (Keulen, 25 juli 1967)
De Macedonische dichter Jovica Tasevski – Eternijan werd geboren op 25 juli 1976 in Skopje. Zie ook alle tags voor Jovica Tasevski – Eternijan op dit blog.
From Above
The angel brandish
with readings aflame
in the locks of the night
spreading
like a cloak
Ready to lie down
on the frail shoulder
A boundless verb
with a crystal pin
the bruises in the cold bed
that long ago covered
the child
From above it takes them out
singed
To leave
the gates of the vault
behind its hard heels
Vertaald door Marija Girevska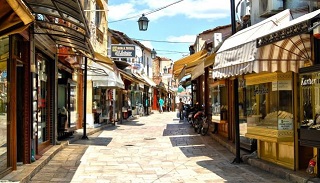 Jovica Tasevski – Eternijan (Skopje, 25 juli 1976)
Skopje, de oude bazaar
De Duitstalige schrijver Elias Canetti werd geboren op 25 juli 1905 in Russe in Bulgarije. Zie ook alle tags voor Elias Canetti op dit blog.
Uit: Het boek tegen de dood (Vertaald door Ria van Hengel)
'In het struikgewas hadden ze een man gevonden die dodelijk gewond was geraakt door een speer, en ze brachten hem naar de missiepost terwijl hij stervende was. Ik zag hoe twee lekenbroeders met de brancard naar een van de hutten liepen, met een horde inboorlingen in hun kielzog. Het viel mij op dat ze hun last vreemd hoog hielden. Plotseling, toen ze hem lieten zakken om de hut binnen te gaan, stortten de om hen heen dringende inboorlingen zich tot mijn schrik op het lichaam van de stervende en drukten ze hun lippen op de zijne, in een bruut verlangen zijn laatste adem op te zuigen. Zij geloofden dat ze daarmee zijn kracht en zijn deugd, ja, zijn levensvonk zelf in zich opnamen, en alle waarschuwingen van de "witte vader" konden hen daar niet van weerhouden. De man was natuurlijk dood toen we hem uit hun handen bevrijdden, en het was een spookachtig gezicht toen de gelukkige "ademvanger" zijn wangen hol maakte bij het inslikken van de "zielenadem", die hem dubbele kracht gaf om te jagen.'
(...)
'Het dienstmeisje van Fröhlich vertelt dat ze, toen haar vader was gestorven, "van wie ze zoveel had gehouden", en zij bij het wassen en aankleden van het lijk had geholpen, de koude stijfheid van dat lijk verschrikkelijk had gevonden. Toen had ze gedacht: als een "jong, gezond iemand" bij hem zou gaan liggen, misschien zou hij van die warmte dan weer bijkomen. Toen 's nachts dus iedereen sliep, was ze opgestaan, was bij haar vader in bed gekropen en daar de hele nacht blijven liggen. Toen men haar 's ochtends miste en overal zocht, werd ze ten slotte half verstijfd bij het lijk gevonden. Een flink pak slaag was de beloning voor deze allopathische poging tot genezing. Er zit iets afschuwelijks, maar ook iets heroïsch in deze liefdevolle onnozelheid."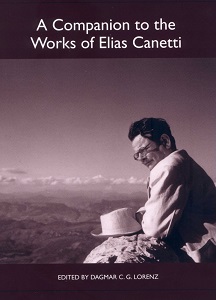 Elias Canetti (25 juli 1905 – 14 augustus 1994)
Cover
Onafhankelijk van geboortedata:
De Duitse dichteres en schrijfster Louise Boege werd geboren in 1985 in Würzburg. Zie ook alle tags voor Louise Boege op dit blog.
"hier können sie noch mit dm bezahlen"

als das geld abgeschafft worden war
warfen die betroffenen spieler
ihre zähne in die glücksautomaten
tranken aus ihrer haut die zugleich
haus war bis man sie selbst hinauswarf

draußen war wie drinnen randvoll glas
die spieler interessierten diese strukturen kurz
dann brechteten sie zusammen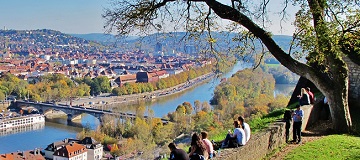 Louise Boege (Würzburg, 1985)
Würzburg
Zie voor meer schrijvers van de 25e juli ook mijn blog van 25 juli 2017.
25-07-2018 om 16:51 geschreven door Romenu

Tags:Nate Pritts, Lieke Marsman, Sytze van der Zee, Robyn Carr, Annette Pehnt, Jovica Tasevski –, Eternijan, Elias Canetti, Louise Boege, Romenu, Dolce far niente


24-07-2018

Judith Herzberg, Robert Graves, Johan Andreas der Mouw, Banana Yoshimoto, Rosemarie Schuder, Katia Mann, Junichirō, Tanizaki, Betje Wolff
Dolce far niente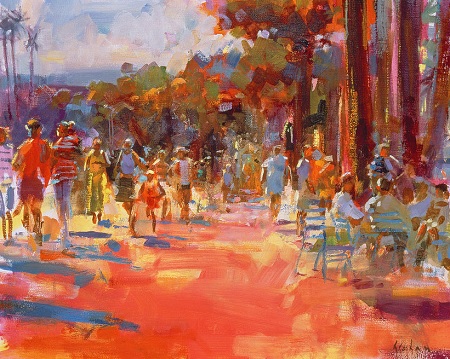 All Summer In A Day door Peter Graham, 2015
Er is nog zomer en genoeg
Er is nog zomer en genoeg
wat zou het loodzwaar
tillen zijn wat een gezwoeg
als iedereen niet iedereen
terwille was
als iedereen niet iedereen
op handen droeg.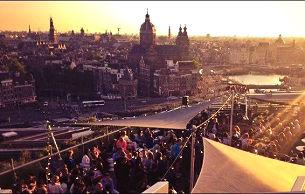 Judith Herzberg (Amsterdam, 4 november 1934)
Amsterdam op een zomeravond
De Engelse dichter en schrijver Robert Graves werd geboren in Londen (Wimbledon) op 24 juli 1895. Zie ook alle tags voor Robert Graves op dit blog.
Uit: I, Claudius
"I came into the inner cavern, after groping painfully on all-fours up the stairs, and saw the Sibyl, more like an ape than a woman, sitting on a chair in a cage that hung from the ceiling, her robes red and her unblinking eyes shining red in the single red shaft of light that struck down from somewhere above. Her toothless mouth was grinning. There was a smell of death about me. But I managed to force out the salutation that I had prepared. She gave me no answer. It was only some time afterwards that I learnt that this was the mummied body of Deiphobe, the previous Sibyl, who had died recently at the age of 110; her eyelids were propped up with glass marbles silvered behind to make them shine. The reigning Sibyl always lived with her predecessor. Well, I must have stood for some minutes in front of Deiphobe, shivering and making propitiatory grimaces - it seemed a lifetime. At last the living Sibyl, whose name was Amalthea, quite a young woman too, revealed herself. The red shaft of light failed, so that Deiphobe disappeared - somebody, probably the novice, had covered up the tiny red-glass window - and a new shaft, white, struck down and lit up Amalthea, seated on an ivory throne in the shadows behind. She had a beautiful mad-looking face with a high forehead and sat as motionless as Deiphobe. But her eyes were closed. My knees shook and I fell into a stammer from which I could not extricate myself. `O Sib ... Sib ... Sib ... Sib ... Sib ...' I began. She opened her eyes, frowned, and mimicked me: 'O Clau Clau Clau… '
That shamed me and I managed to remember what I had come to ask. I said with a great effort: '0 Sibyl: I have come to question you about Rome's fate and mine.' Gradually her face changed, the prophetic power overcame her, she struggled and gasped, and there was a rushing noise through all the galleries, doors banged, wings swished my face, the light vanished, and she uttered a Greek verse in the voice of the God:
Who groans beneath the Punic Curse And strangles in the strings of purse, Before she mends must sicken worse.
Her living mouth shall breed blue flies, And maggots creep about her eyes. No man shall mark the day she dies. Then she tossed her arms over her head and began again: Ten years, fifty days and three, Clau - Clau - Clau shall given be A gift that all desire but he."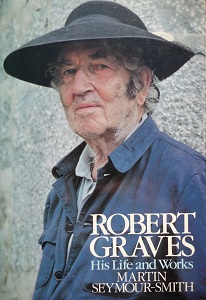 Robert Graves (24 juli 1895 – 7 december 1985)
Cover biografie
De Nederlandse dichter Johan Andreas dèr Mouw (Adwaita) werd geboren op 24 juli 1863 in Westervoort. Zie ook alle tags voor Johan Andreas dèr Mouw op dit blog.
Nagelaten Verzen
1
'T is lang geleden; 'k was nog maar een kind.
Toen dacht ik: Als ik maak, dat ik nooit meer
Ondeugend ben, en dat 'k op school goed leer,
Dan word ik vast 'een kind, van God bemind'.

En - dacht ik - als ik dood ga, nou, dan vind
Ik in de lucht bij onze Lieven Heer
De menschen, waar 'k van hou, allemaal weer,
Mijn vader en mijn moeder en mijn vrind.

In ons salon, boven 't antiek buffet,
Hing aan de muur een prachtig-mooi portret,
Van hoe een moeder slaapt; ze is zeker moe;

En naast haar ligt een kindje dood in 't bed;
Een engel hangt erbij; 'k begreep niet, hoe;
En draagt het kindje naar de hemel toe.
2
Zoo zou ik eenmaal naar de hemel gaan,
En vleugels krijgen, wit als een kapel,
En vliegen door de lucht, zoo hoog, zoo snel,
Sneller dan vogels, hooger dan de maan;

En 'k zou misschien op Zondag mogen staan
Vlak bij de troon van God, naast Gabriël;
Jesus vond 't zeker goed: die wist het wel,
Dat ik op school mijn best zoo had gedaan.

En dan zongen ze vast een kerkgezang;
Alleen: als 't licht maar niet te helder was:
Zoo dicht bij God - een heele Zondag lang -

Als 'k daaraan dacht, werd 'k om mijn oogen bang.
Maar groen is goed voor de oogen: een stuk glas
Hield men zich voor 't gezicht, daar, groen als gras.
3
Maar - één ding was er, dat 'k niet prettig vond:
Ik kende een plaat, waarop een neger vloog
Met de armen om een blanke, in 't donker. Hoog
Zag je veel licht; beneden was de grond.

Werd hij nu ook een engel? Met zoo'n mond?
En met dat griez'lig witte van zijn oog?
Ik hoopte, dat grootmoeder zich bedroog,
En hij niet was bij God, als ik er stond.

Grootmoeder zei - 'k hoor nog haar lieve stem -:
De kleur was niets; God zag alleen de harten;

En was dàt goed, dan kwam je vast bij Hem;
Hij hield niet meer van blanken dan van zwarten.

En ik begreep 't: gelijk zijn al de dooden,
De menschen en de negers en de Joden.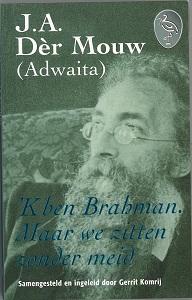 Johan Andreas dèr Mouw (24 juli 1863 – 8 juli 1919)
Cover
De Japanse schrijfster Banana Yoshimoto werd geboren op 24 juli 1964 inTokyo. Zie ook alle tags voor Banana Yoshimoto op dit blog.
Uit: The Lake (Vertaald door Michael Emmerich)
"No, I know that, it's just ... I know I can't express it very well, no matter how I phrase it, but you're just right. This sounds kind of odd, but your proportions are just right." I sort of knew what he was trying to say. Considering how smart Nakajima was, I bet he could have found a way to express more precisely what it was like to push his body to the limit while studying, or his perspec-tive on the way my emotions were structured inside me. He was just being nice, communicating on my level. That's what made it sound vague. Still, I had the sense that right then it helped for him to be talking about something, and so I decided to draw him out. I intentionally cocked my head slightly, feigning puzzle-ment. "I mean, for you love is more important than anything else, right, Chihiro?" Nakajima said. "But you don't try to control other people, do you?" "I guess that's pretty true," I replied. "And you cherish the memory of your mother? Of course, everyone has little knots in their hearts, no matter what their families are like—but wouldn't you say that in your case you feel love and hate in ordinary, healthy amounts? Even if one may seem a bit stronger at times?" "Yeah, I'd agree with that." "And you don't hate your father, do you?" "No, I don't. If anything I think he's kind of lovable. The environment we lived in wasn't ideal, but I suspect that it actually made it easier for us to express our love than in your average family. We didn't fit into any ready category, so we all had to work that much harder." "Exactly—you don't have that sense that you can take your family for granted, that's why I feel so comfortable with you. You see your family members for what they are, and you look at me in an ordinary way, without wishing that I was some-how different," Nakajima said, his tone very level. "That's what I like about you. I'm extremely, almost pathologically sensitive to violence, and I pick up on it immediately when something violent is happening. Most people are constantly perpetrating little acts of violence on others, even when they don't mean to. You almost never do that, Chihiro." "How about you?" I asked. "I've never been able to discuss this before," Nakajima said, "but honestly, I felt oppressed the whole time until my mother died, because of the way she was always fretting over me—no one else mattered."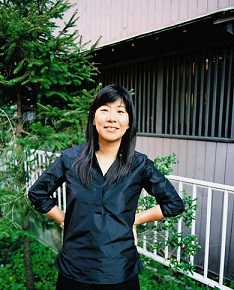 Banana Yoshimoto (Tokyo, 24 juli 1964)
De Duitse schrijfster Rosemarie Schuder werd geboren op 24 juli 1928 in Jena. Zie ook alle tags voor Rosemarie Schuder op dit blog.
Uit: In der Mühle des Teufels
"Je mehr Furcht und Schmerz Siegmund verspürte, desto frecher redete er, er wollte sich selbst Mut machen.
"Gut, daß ihr gekommen seid", rief er dem Hauptmann zu, "ich wollte sowieso zum Statthalter. Nun komme ich viel schneller hin. Und so vornehm zu Pferde."
"Was wolltest du denn bei ihm?" fragte einer der Reiter. Sie hatten Spaß an ihren Gefangenen.
"Was Wichtiges sagen", rief Siegmund, "was sehr Wichtiges." Er wollte sich wertvoll machen, vielleicht würden sie ihn besser behandeln und die Stricke nur ein ganz klein wenig lockern.
"Kennst du Anführer?" fragte der Hauptmann, aufmerksam geworden.
Siegmund bedachte sich kurz.
"Ja, ich kenne sie alle", sagte er entschlossen.
"Willst du darum zum Statthalter?" vergewisserte sich der Hauptmann.
"Ja", sagte Siegmund schroff, "aber eh wir da sind, werd ich vor Schmerzen tot sein. Dann kannst du Herrn Adam einen schönen Gruß von mir bestellen."
"Nehmt ihm die Fesseln ab!" ordnete der Hauptmann an. Er berechnete rasch, daß für ihn auf alle Fälle etwas dabei herausspringen würde; es wäre wirklich dumm gewesen, wenn der Mann vorher unbrauchbar zu einer Aussage geworden wäre.
Der Färbergeselle atmete auf. Er vermied es, hinzusehen zu dem Wirt von Baumgarting. Der war auch gefragt worden:
"Kennst du Namen von Anführern?"
"Nein!" hatte der geschrien. Und man hatte seine Fesseln noch enger zusammengezogen.
Während des Rittes nach Vöcklabruck, wo der Statthalter Quartier genommen hatte, sprach Siegmund kein Wort mehr. Die Reiter, die ihn ins Gespräch zu ziehen versuchten, fertigte er mit einem Knurren ab. Er mußte viel denken. Anne, dachte er, Anne Preiner, ich könnt deinen Mann angeben, dann wärst du los und ledig. Er spielte weiter mit dem Gedanken. Ich könnte dann hingehen zu dir und sagen, nun muß ich dich beschützen. Niemand wird wissen, daß ich den Namen gesagt hab. Dem Wirt hast du pfui gesagt, entgegnete er sich selbst, ihn Verräter genannt."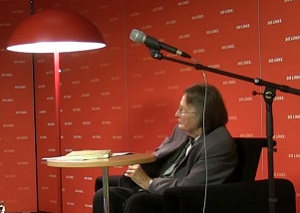 Rosemarie Schuder (Jena, 24 juli 1928)
De Duitse schrijversvrouw Katia Mann, steun en toeverlaat van de Duitse schrijver Thomas Mann, werd geboren als Katharina Pringsheim op 24 juli 1883 in Feldafing. Zie ook alle tags voor Katia Mann op dit blog.
Uit:Katia Mann: Meine ungeschriebenen Memoiren
"Meine Eltern machten, wie man sagt, ein ziemliches Haus. Sie hatten ein ganz angesehenes und vielfältig besuchtes Haus und gaben große Gesellschaften.
Durch den Beruf meines Vaters und seine persönlichen Neigungen war es ein wissenschaftliches Haus mit musikalischen Interessen. Zur Literatur hatte er kein sehr lebhaftes Verhältnis, im Gegensatz zu meiner Mutter. Es kamen sehr viele Leute in die Arcisstraße, auch Literaten, besonders aber Musiker und Maler. Richard Strauss kam zu uns und Schillings, es kamen Fritz August Kaulbach, Lenbach, Stuck und viele andere aus Münchens gesellschaftlich-künstlerischen Kreisen. Mein Vater war ein begeisterter Früh-Wagnerianer und hatte auch seine Eltern veranlaßt, Anteilscheine, Patronatsscheine nannte man sie, für den Bau des Theaters in Bayreuth zu nehmen. Er kannte Wagner persönlich und besaß einen oder zwei Briefe von ihm, die seine Heiligtümer waren. 1876 bei den Proben für den >Ring< war er in Bayreuth, aber er hat nie intim in Wahnfried verkehrt. Weil er sich einmal Wagners wegen in Bayreuth duellierte, hatte er sich seine persönliche Beziehung zu Wahnfried verscherzt. Es hatte sich in einem Restaurant irgend jemand in seiner Nähe abschätzig über Wagner geäußert, und da mein Vater sehr jähzornig war, schlug er diesem Mann mit seinem Bierglas auf den Kopf und wurde darauf der »Schoppenhauer« genannt. Der andere forderte ihn, es kam zu einem Pistolenduell, welches aber unblutig verlief. Nun, in Wahnfried haben sie sich darüber furchtbar geärgert. Das wollten sie nicht; sie wollten keinen Skandal. Aber mein Vater blieb zeit seines Lebens ein leidenschaftlicher Wagnerianer und hat eine Menge Sachen für Klavier, auch zu vier Händen, gesetzt. Diese Arrangements wurden dann bei uns zu Hause gespielt. Bei uns wurde sehr viel und sehr oft Hausmusik gemacht. Wir hatten einen sehr hübschen Musiksaal. Es kamen oft erste Sänger von der Oper. Da gab es eine hervorragende Wagnersängerin, die Primadonna, sie nannte sich Ternina, und mein Vater verehrte sie über alle Maßen."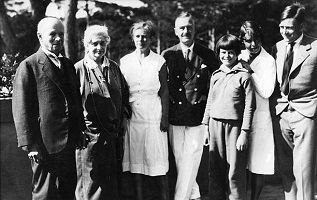 Katia Mann (24 juli 1883 – 25 april 1980)
V.l.n.r. Alfred en Hedwig Pringsheim (Katia's ouders), Katia, Thomas, Elisabeth, Monika en Golo Mann in 1931
De Japanse schrijver Junichirō Tanizaki werd geboren in Tokio op 24 juli 1886. Zie ook alle tags voor Junichirō Tanizaki op dit blog.
Uit: Kinderjaren. Herinneringen (Vertaald door Tinke Davids)
"Ik heb twee of drie herinneringen die lijken te stammen uit de tijd dat ik vier of vijf jaar was, maar het is geen gemakkelijke opgave uit te zoeken welke daarvan de allereerste is.
De mensen beginnen meestal redelijk duidelijke herinneringen te krijgen vanaf de leeftijd van een jaar of vijf; er zijn er een paar die zich dingen uit hun vierde jaar herinneren, maar die zijn relatief zeldzaam. En er is nauwelijks iemand die veel weet op te halen uit zijn derde jaar -- afgezien van Yoshitsune zoals beschreven in de scène van `Kumagais kamp'. Hoewel ik er niet helemaal zeker van ben dat ik destijds vier was, herinner ik me dat ik op een dag, heel lang geleden, in een riksja reed, en op en neer hupte op mijn moeders schoot; we kwamen bij een huis in de wijk Yanagiharain het district Kanda, in het centrum, een gebouw van rode baksteen, wat nog ongewoon was in het laatnegentiende-eeuwse Japan. We stapten uit de riksja en gingen naar binnen, en daar zagen we Vader zitten aan een toonbank, met tralies voor zich.
Moeder en ik bogen en begroetten hem van bij de ingang -- dat alles herinner ik me, weliswaar vaag, maar niet als een droom -- als werkelijkheid. Wat ik me herinner, dat is dat gebouw van rode baksteen, de uitdrukking op mijn vaders gezicht, de toonbank met de tralies, de hoge drempel van de tatami-kamer daarachter, en het feit dat het mooi weer was. Ik herinner me niet wat ik of mijn moeder of vader voor kleren droegen, of welk jaargetijde het was.
Toch weet ik om de een of andere reden dat het kantoor in de wijk Yanagihara in Kanda lag, en dat het was in de periode dat mijn vader een agentschap voor lantarenopstekers had. Waarschijnlijk hebben mijn moeder en mijn verzorgster me dat destijds verteld.
Toch heb ik me lange tijd afgevraagd waar Moeder en ik die dag vandaan waren gekomen: woonden we misschien bij mijn vader in Yanagihara en waren we net teruggekomen van een tochtje naar een of andere tempel, of van een bezoek aan het familiehuis in de wijk Kakigara-cho in Nihombashi? Maar goed, omdat mijn herinneringen aan dat huis in Yanagihara beperkt blijven tot dit fragment van één dag (als één enkele opname uit een scène in een film), vermoed ik dat ze dateren uit mijn vierde jaar, en dat ze dus mijn `allervroegste' herinneringen zijn. Toen ik bij de voorbereidingen voor dit boek naar deze dingen informeerde bij mijn jongste oom, de enige die nog leeft, en bij mijn inmiddels overleden neef, vertelden ze me dat het gebouw in Yanagihara de plaats was waar mijn vader hoofdzakelijk werkte, niet waar hij woonde; en dat wij destijds woonden in het familiehuis in Kakigaracho, vanwaar Vader elke dag naar zijn werk ging."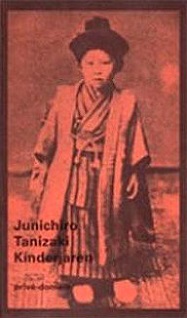 Junichirō Tanizaki (24 juli 1886 – 30 juli 1965)
Cover
De Nederlandse schrijfster Betje Wolff (eig. Elizabeth Bekker) werd geboren in Vlissingen op 24 juli 1738. Zie ook alle tags voor Betje Wolff op dit blog.
Uit:Historie van mejuffrouw Sara Burgerhart (Samen met Aagje Deken)
"Veele deezer menschen, ik spreek van de besten uit de zôô, meenden dat haar grimmige uitkyk, haar grommig voorkomen, haar nutteloze berisping, de zoete vrugtjes waren van eene naauw gezette godsvrugt. Die goede Slooven dagten, dat Tante los was van de Waereld, om dat de wyze schikkingen der Voorzienigheid nooit de eer hadden van haar Wel Edele te voldoen. Hoe zeer zy ook de Fyne uithing, zy beviel evenwel méér aan de Zusjes, dan aan de Broedertjes: men moet bekennen, dat Juffrouw Holland juist niet heel oogelyk is. Met myn zesde jaar hielt ik al meé Oeffening by Tante. De Vriendjes hadden veel met my op. Men zag wat goeds in my. Ik hielt ook veel van Tantes Oeffening; want, met myn zak en peperhuizen vol Lekken, kwam ik altoos thuis, zie daar de genoegzame rede Hoe zeidt WOLFF, de ratio sufficiens der dingen? Zo veele middelen bleven niet ongezegend. Ik verlangde altoos naar Tantes oeffendag. Wat zal ik meer zeggen? Gy kent my: medelydend, meëgaande, en zo voords. Toen kon ik al geene droefheid zien zonder ook te kryten; en er werdt ook meest altyd eens geweent, (waarom weet Joost; want me dunkt, dat zy het nog al zo taamlyk wél hadden.) Deeze weekheid behaagde. Myne Tante zelf, of schoon ik hare gehaate Zusters dochtertje was, kreeg my, op hare wys, recht lief. Zy mydde ons huis niet meer, om dat ik me'è oeffening hield, en me'è huilde Twaalfjaren leefde ik zo gelukkig, als een gehoorzaam en gelieft kind leven kan. Toen keerde myn lot. Myn waarde Vader, zich op eenen heten dag, door het inpakken en afzenden van Thee, zeer verhit hebbende, kreeg een pleuris, en stierf binnen drie dagen, nog geen veertig jaren oud zynde. Geene V AN MERKEN zou u kunnen afbeelden, hoe groot myner Moeders en myne droefheid was. Wy verloren alles, en myne tederlievende Moeder voelde alles wat zy verloor; meer zeg ik niet. Oordeel nu. Myne Moeder deedt den handel aan iemand onzer Kantoorbedienden over, vertrok naar de .... gragt, en hielt maar eene onzer meiden; daar leefden wy stil en proper. Maar haar verlangen naar stilte was te gunstig voor haar, om toch onafgebroken aan haar Overledenen te denken! Myne Ouders hadden elkander hartlyk bemint: de dood myn's Vaders stortte haar in de aller diepste zwaarmoedigheid. Zy sneedt alle uitspanningen af, zag niemand, sprak weinig, zuchtte veel, en stortte veele droeve tranen."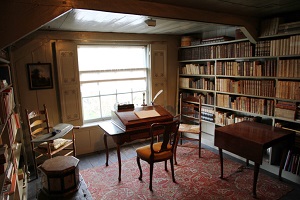 Betje Wolff (24 juli 1738 – 5 november 1804)
De schrijfkamer in het Betje Wolff Museum in Middenbeemster
Zie voor nog meer schrijvers van de 24e juli ook mijn blog van 24 juli 2017 en ook mijn blog van 24 juli 2016 deel 2.
24-07-2018 om 14:45 geschreven door Romenu

Tags:Judith Herzberg, Robert Graves, Johan Andreas der Mouw, Banana Yoshimoto, Rosemarie Schuder, Katia Mann, Junichirō, Tanizaki, Betje Wolff, Romenu


23-07-2018

Mary Oliver, Mohsin Hamid, Lauren Groff, Frans Erens, Kai Meyer, Thea Dorn, Irina Liebmann, Lisa Alther
Dolce far niente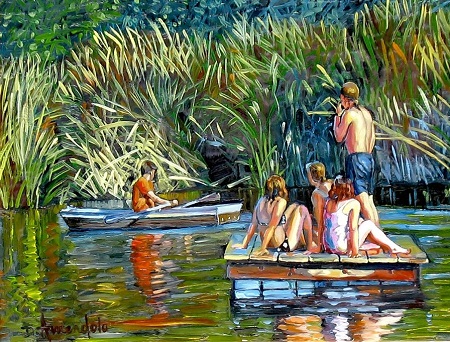 The Bathers door Dominique Amendola, 2008
The Pond
August of another summer, and once again
I am drinking the sun
and the lilies again are spread across the water.
I know now what they want is to touch each other.
I have not been here for many years
during which time I kept living my life.
Like the heron, who can only croak, who wishes he
could sing,
I wish I could sing.
A little thanks from every throat would be appropriate.
This is how it has been, and this is how it is:
All my life I have been able to feel happiness,
except whatever was not happiness,
which I also remember.
Each of us wears a shadow.
But just now it is summer again
and I am watching the lilies bow to each other,
then slide on the wind and the tug of desire,
close, close to one another,
Soon now, I'll turn and start for home.
And who knows, maybe I'll be singing.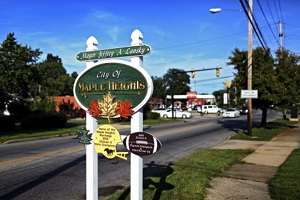 Mary Oliver (Maple Heights, 10 september 1935)
Maple Heights, Ohio

De Amerikaanse schrijver Lauren Groff werd geboren op 23 juli 1978 in Cooperstown, New York. Zie ook alle tags voor Lauren Groff op dit blog.
Uit: Furie en fortuin (Vertaald door Maaike Bijnsdorp en Lucie Schaap)
"Na het onbegrip en de rauwe vis kwam de lange vlucht en daarna de korte. En uiteindelijk: thuis. Hij keek door het raampje naar de trap die over het zondoorstoofde asfalt op het vliegtuig af rolde. Tijdens het taxiën was er even een lentebui langsgewaaid, die net zo snel weer was verdwenen. Hij wilde met zijn gezicht in Mathildes nek, de troost van haar haar. Twee weken als gastschrijver voor het theater in Osaka, zo lang was hij nog nooit bij zijn vrouw vandaan geweest. Te lang. Bij het wakker worden de afwezigheid van Mathilde in zijn bed, de pijn van de koelte waar haar warmte had moeten zijn.
De rijdende vliegtuigtrap zocht en miste de deur drie keer voordat hij vastklikte. Gretig als een maagd. Wat heerlijk om zijn lange lichaam te kunnen strekken, om even boven aan de trap te kunnen blijven staan om diep in te ademen, te genieten van de geur van olie, mest en ozon die op het vliegveldje van Albany hing, de zon op zijn wangen, zijn vrouw wachtend in de terminal om hem mee te nemen naar hun mooie buitenhuis, een vroege avondmaaltijd. De buitensporige vermoeidheid uit zijn botten verdrijven met koude prosecco, een warme douche, dan zachte Mathildehuid en slaap.
Zijn gelukzaligheid strekte haar vleugels en fladderde een paar keer.
Hij had geen rekening gehouden met het ongeduld van de andere passagiers. Pas toen hij al door de lucht vloog voelde hij de handafdruk hard midden op zijn rug.
Schandalig, dacht hij. Geduwd.
Het plaveisel bolde op hem af als een tafelkleed dat uitgeschud werd, in de verte een windzak die zijn tong uitstak naar het oosten, de kantelen van de luchthaventerminal, schittering van de schuurpapierachtige treden in het zonlicht, de neus van het vliegtuig die op de een of andere manier zijn blikveld in schoot, de piloot die zich achter het raampje uitrekte. Toen zijn rechterschouder de rand van een tree raakte was hij volledig om zijn as gedraaid en keek hij op naar degene die hem schijnbaar had geduwd en nu uit de duistere grotopening boven hem opdoemde, een man met een tomaatrood gezicht en dito haar, in zijn voorhoofd geëtste groeven en in een geruite korte broek, kon het erger?"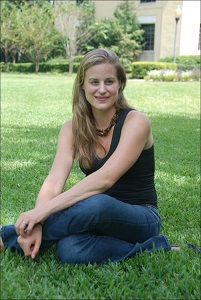 Lauren Groff (Cooperstown, 23 juli 1978)
De Brits-Pakistaanse schrijver Mohsin Hamid werd geboren op 23 juli 1971 in Lahore, Pakistan. Zie ook alle tags voor Moshin Hamid op dit blog.
Uit: Exit West
"Nadia looked him in the eye. 'You don't say your evening prayers?' she asked.
Saeed conjured up his most endearing grin. 'Not always. Sadly.'
Her expression did not change.
So he persevered, clinging to his grin with the mounting desperation of a doomed rock climber: 'I think it's personal. Each of us has his own way. Or . . . her own way. Nobody's perfect. And, in any case –'
She interrupted him. 'I don't pray,' she said.
She continued to gaze at him steadily.
Then she said, 'Maybe another time.'
He watched as she walked out to the student parking area and there, instead of covering her head with a black cloth, as he expected, she donned a black motorcycle helmet that had been locked to a scuffed-up hundred-ish cc trail bike, snapped down her visor, straddled her ride, and rode off, disappearing with a controlled rumble into the gathering dusk.
The next day, at work, Saeed found himself unable to stop thinking of Nadia. Saeed's employer was an agency that specialised in the placement of outdoor advertising. They owned billboards all around the city, rented others, and struck deals for further space with the likes of bus lines, sports stadiums and proprietors of tall buildings.
The agency occupied both floors of a converted townhouse and had over a dozen employees. Saeed was among the most junior, but his boss liked him and had tasked him with turning around a pitch to a local soap company that had to go out by email before five. Normally Saeed tried to do copious amounts of online research and customise his presentations as much as possible. 'It's not a story if it doesn't have an audience,' his boss was fond of saying, and for Saeed this meant trying to show a client that his firm truly understood their business, could really get under their skin and see things from their point of view."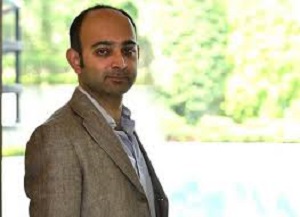 Mohsin Hamid (Lahore, 23 juli 1971)
De Nederlandse schrijver Frans Erens werd geboren op 23 juli 1857 in Schaesberg. Zie ook alle tags voor Frans Erens op dit blog.
Uit: Limburg
"Deze provincie, vroeger altijd in wetten en of ficieele stukken aangeduid als het 'Hertogdom Limburg' (en die benaming is, als ik mij niet vergis, nauwelijks twintig jaar geleden eerst daaruit verdwenen) mag stellig wel de jongste dochter van het Nederlandsche provincie-gezin heeten. Weifelend tusschen het Duitsche, het Belgisch-Vlaamsche en het Hols landsche element, heeft dit laatste definitief door het tractaat van 1839 de zegepraal behaald. In dat jaar werden de grenzen vastgesteld, zoo als ze op heden zijn, maar toch bleef tot 1866 Limburg deel uitmaken van den Noord-Duitschen Bond. Welke rechten en verplichtingen precies uit dit bondgenootschap voortvloeiden, weet ik niet, ik meen echter dat de steden Maastricht en Venlo daar buiten gesloten waren en niet tot dien Bond behoorden. In 1848, toen het overal in Europa onrustig werd, en revolutionnaire bewegingen zich openbaarden, ontstond in Limburg een strooming ten gunste van den Duitschen Bond, en van afscheiding van Nederland, waarvan Roermond het brandpunt werd. Baron von Scherpenseel stelde zich aan het hoofd van die beweging. Een groote geestdrift maakte zich van een deel der bevolking meester. Er werden redevoeringen gehouden op de markt te Roermond. In de stad werden op talrijke uithangborden van neringdoenden de Hollandsche geschriften voor Duitsche verwisseld. Een leerlooier b.v. wischte dit woord uit en zette er Lohgerber voor in de plaats. Met kracht werd tegen dezebeweging door de Hollandsche militairen opgetreden; de cavalerie behoefde zich slechts even te vertoonen of de heele markt was schoon geveegd, slachtoffers vielen er niet en het enthousiasme voor Duitschland was spoedig gedempt.
Of er ooit in Limburg eene strooming ten gunste van België is geweest, zou ik moeten betwijfelen. Wel hebben zich hier en daar soms afzonderlijke stemmen laten hooren, die voor eene aansluiting van deze provincie aan België pleitten, doch tot een gezamenlijke actie is het niet gekomen. België heeft nooit in Limburg eene bizondere geestdrift verwekt. De reden daarvan is, dat men dit land niet als eene afzonderlijke natie heeft beschouwd. Zijn bestaan uit twee heterogene elementen, het Waalsche en het Vlaamsche, was daarvoor een onoverkomelijke hinderpaal. Daarbij komt, dat de ligging der Belgische bevolkingen niet zoodanig is, dat zij Nederlandsch Limburg zouden vermogen op te slorpen. Het Waalsche element, waarop Maastricht en omstreken onmiddellijk staan, is geheel vreemd, terwijl de meer verwante bevolking van Belgisch Limburg te dun gezaaid over heien peellanden, te weinig contact vermag te brengen met de streken van den rechter-Maasoever. Antwerpen en Gent, ze liggen zoo ver; Luik, dat zoo dicht bij Maastricht ligt, is door de barrière van het Waalsche idioom volkomen daarvan gescheiden."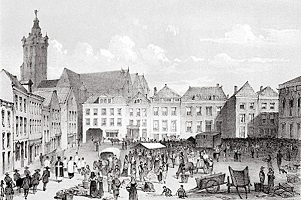 Frans Erens (23 juli 1857 – 5 december 1936)
De Markt van Roermond anno 1879, geschetst door Piet Schipperus.
De Duitse schrijver Kai Meyer werd geboren op 23 juli 1969 in Lübeck. Zie ook alle tags voor Kai Meyer op dit blog.
Uit: Arkadien erwacht
"Alessandro seufzte leise und führte Rosa vom Hauptweg in eine schmale Gasse zwischen Wänden aus marmornen Grabfächern.
Fünf, sechs lange Reihen aus Rechtecken übereinander, darauf gerahmte Schwarzweißfotos der Toten, ihre Namen, die Geburts- und Todesdaten. An einigen waren Blumen und Gestecke befestigt.
»Eigentlich möchte ich dir etwas geben«, sagte er, als sie zwischen den Marmorwänden aus dem Blickfeld der übrigen Trauergäste verschwanden. »Ein Geschenk. Und dann wollte ich dich einladen.«
»Mich – «
»Erst das Geschenk.« Er zog etwas aus der Tasche seines Jacketts.
»Oh«, sagte sie ohne jeden Enthusiasmus. »Ein Babybuch.«
Es war winzig, kleiner als eine Zigarettenschachtel, mit ledernem Einband und vergilbtem Seitenschnitt.
»Aber es hat den Vorteil, dass es ein Leben lang so niedlich bleibt«, sagte er. »Und nicht schreit.«
»Und besser riecht, hoffe ich.«
Er öffnete es und presste die Nase zwischen die Seiten.
»Nicht so gut wie frisch gedruckt, aber ganz in Ordnung, schätze ich.« Ihre erste Reaktion schien ihn nicht abzuschrecken.
»Mein Vater hat es mir gegeben, bevor er mich ins Internat nach Amerika abgeschoben hat.«
Sie verkniff sich eine Bemerkung, beobachtete ihn nur.
Sein Blick streifte über die zahllosen Gesichter auf den Grabplatten, die meisten der ausgeblichenen Fotografien alt und seltsam unscharf, wie von Geistern. Viele Blumen an den Grabfächern waren vertrocknet."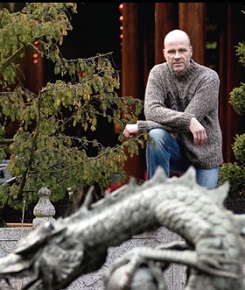 Kai Meyer (Lübeck, 23 juli 1969)
De Duitse schrijfster en televisiepresentatrice Thea Dorn (peudoniem van Christiane Scherer) werd geboren op 23 juli 1970 in Offenbach am Main. Zie ook alle tags voor Thea Dorn op dit blog.
Uit: Die deutsche Seele (Samen met Richard Wagner)
"Er kann seine Stereoanlage aufdrehen und Sven Regener mit dessen Band Element of Crime lauschen: »Braungebrannte Arme brechen jeden Tag / Das harte Brot der Wirklichkeit, als wär's das letzte Mal [...]
Zum Abendbrot / Zum Abendbrot [...]«
Die Tendenz, meditative Mahlzeit der Einsamen zu sein, hatte das Abendbrot seit je. Gleichzeitig war der Abendbrottisch jahrhundertelang der Ort, an dem der Hausvater die Familie versammelte, um über die Ereignisse des Tages zu berichten und sich berichten zu lassen, auf dass im Anschluss gerichtet werde. Spuren davon haben sich bis in die Gegenwart erhalten, weshalb das Abendbrot dem Spätpubertierenden, der dem Elternhaus entronnen ist, als Inbegriff spießigen Schreckens erscheint. Er schwört, des Abends künftig alles zu essen von kalten Dosenravioli bis hin zu drei Tage altem Sushi. Nur nie wieder ein belegtes Brot.
Dass belegte Brote einst in den erlesensten Zirkeln gereicht wurden, wenn man über Literatur, Politik und die großen Fragen der Welt plauderte, ist vergessen. Voll Stolz berichtete Johanna Schopenhauer ihrem Sohn Arthur, der zu jugendlicher Großmannssucht neigte, dass in ihrem Weimarer Salon nichts Kostspieliges, sondern lediglich Tee mit Butterbroten gereicht wird. Auch Rahel Varnhagen, die berühmteste Gastgeberin im romantischen Berlin, servierte Schlichtes, wenn sie die Größen ihrer Zeit zum »Teetisch« empfing. Die anschaulichste Beschreibung des gehobenen Abendbrots findet sich bei dem Juristen und Schriftsteller Felix Eberty, der uns in seinen Jugenderinnerungen eines altenBerlinersin die erste Hälfte des px. Jahrhunderts mitnimmt: »Bei den gewöhnlichen geselligen Abendzusammenkünften begnügte man sich […[ mit einer Tasse Tee und Butterbrot, und setzte einige sehr zierlich, aber auch recht sparsam mit Wurstscheibchen, Braten und Schinkenschnitten belegte Teller auf die Tafel.«
Geiz spielte bei dieser frugalen Sitte die unwesentlichste Rolle. Man wollte sich bewusst absetzen von den Abendschlemmereien in katholischen Ländern wie Frankreich, und ganz im Ernst: Wen interessieren Austern, gebratene Wachteln oder Petits Fours, wenn er die Wahl zwischen Johann Wolfgang von Goethe und Georg Wilhelm Friedrich Hegel, Wilhelm und Alexander von Humboldt, Heinrich Heine und Bettine von Arnim hat? Kein Zufall also, dass die großbürgerlichen Gastgeberinnen erst in der zweiten Hälfte des px. Jahrhunderts, als der deutsche Geist feister geworden war, ihren Ehrgeiz daransetzten, mit immer ausgefinkelteren Menüfolgen zu glänzen."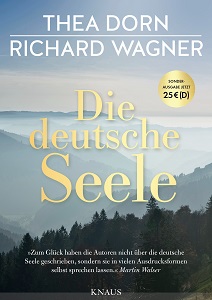 Thea Dorn (Offenbach am Main, 23 juli 1970)
Cover
De Duitse dichteres en schrijfster Irina Liebmann werd geboren op 23 juli 1943 in Moskou. Zie ook alle tags voor Irina Liebmann op dit blog.
Uit: Drei Schritte nach Russland
"Ich bin auch eine erwachsene Frau, ich trinke Tee und überlege, was ich sagen kann, um meine Bekannte zu trösten, zu verblüffen.
Das Sportstadion an der Berliner Chausseestraße fällt mir ein, wie ich dort als Kind erlebte, dass riesiger Jubel ausbrach, als es aus den Lautsprechern tönte, dass die Delegation der Sowjetunion
die Aschenbahn betreten hat: »… begrüßen wir die Vertreter des ersten sozialistischen Staates der Erde!«, und mit ihren roten Fahnen kamen lachend und singend unendlich viele junge Frauen und Männer in weißer Kleidung, ja, weißer Kleidung gelaufen.
Da lief sie, da unten, die Weltmacht meiner Kindheit, Garant des Friedens, so hat sie sich selber bezeichnet, und besonders wir sollten sie so nennen, wir, die Kinder im Osten Deutschlands.
Aber auch die übrige Welt führte ihre Losungen immerzu im Munde, ihre Abrüstungsinitiativen, ihre Führer, ihre Raketen, ihre Filme und ihre Sportler natürlich.
In meiner Erinnerung sehe ich sie wieder und wieder auf die Siegertreppchen steigen, junge Leute mit drei halbrunden Kreisen auf der Brust und dem großen P: CCCP!
Und ihre Fahne wird hochgezogen, die rote, mit Hammer und Sichel, und die Hymne erklingt, ihre Hymne, die ganz große Opernmusik:
»Von Russland, dem großen, auf ewig verbündet, steht machtvoll der Volksrepubliken Bastion!
Es lebe, vom Willen der Völker gegründet, die einig und mächtige Sowjetunion!«
– Ihr singt sie immer noch, stimmt's?
– Nein.
Doch, doch. Sie singen sie noch, und sie singen sie auch nicht.
Der Text ist geändert. Und die Kremltürme auf dem Roten Platz tragen den zaristischen Doppeladler und sie tragen ihn auch nicht – denn vom höchsten und wichtigsten Turm blitzt wie immer der rote Stern.
Ob er auch immer noch leuchtet nachts? Wie früher, als ich ein Kind war, auf der Durchreise in Moskau?
Wir sind hier in Moskau. Die Wohnung gehört einer Frau, die oft auch nach Deutschland kommt, und schon hier, in der Winzigkeit des Raumes und der Heftigkeit des Gefühls ist die ganze Entfernung zu spüren, die zwischen uns liegt."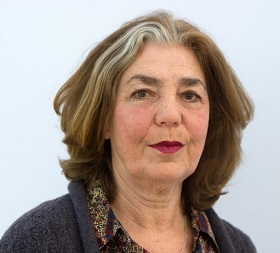 Irina Liebmann (Moskou, 23 juli 1943)
De Amerikaanse schrijfster Lisa Alther werd geboren op 23 juli 1944 in Kingsport, Tennessee. Zie ook alle tags voor Lisa Alther op dit blog.
Uit: Original Sins
"Corliss Rainey was removed from a debtors' prison in England and put on a ship. He was working as an indentured servant to a farmer in tidewater Virginia when he met Buck Tatreaux, the son of a Cherokee woman and a French trader. Tatreaux did odd jobs for Rainey's master. One day the farmer sent them both to Williamsburg for supplies. They headed toward Richmond instead. On the way they further darkened Tatreaux's skin with berry juice and charcoal, cut off his braids, and scorched his remaining hair into kinks. They rubbed lard over his muscled body until he gleamed with apparent good health. Rainey put on a stolen set of his master's clothes. In Richmond they found the slave market, and Rainey put Tatreaux up for sale. Rainey soon drove away with more money than he had ever before seen. He supplied the wagon and headed down a dusty road through well-tended farmland toward the hazy mountains. At the foot of the mountains he hid.
Tatreaux meanwhile had run away from his new master. He scrubbed with sand in a stream until his skin was its usual copper color. With a sharp stone he hacked off his kinked hair. Then he ran for the mountains.
Rainey gave him his clothes, and a hat with the braids attached, and the two set off up the mountain. At times the slopes were so steep that they had to hitch ropes to trees and haul on them, to help the mules drag the wagon up the narrow rutted path to the pass. Upon reaching the pass, they saw below them the valley, heavily forested but dotted here and there with cleared land and cabins and sheds. And on the far side, the rugged walls of the neighboring plateau."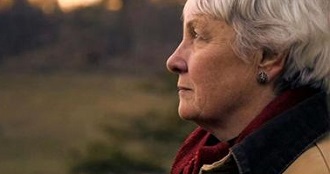 Lisa Alther (Kingsport, 23 juli 1944)
Zie voor nog meer schrijvers van de 23e juli ook mijn blog van 23 juli 2017 deel 2.
23-07-2018 om 18:06 geschreven door Romenu

Tags:Mary Oliver, Mohsin Hamid, Lauren Groff, Frans Erens, Kai Meyer, Thea Dorn, Irina Liebmann, Lisa Alther, Romenu



Stephan Thome
De Duitse schrijver en filosoof Stephan Thome werd geboren op 23 juli 1972 in Biedenkopf, Hessen, als Stephan Schmidt. Thome deed eindexamen gymnasium aan de Lahntalschule in Biedenkopf. Na zijn vervangende dienstplicht in een sociale psychiatrische instelling in Marburg studeerde Thome filosofie, godsdienstwetenschappen en sinologie aan de Vrije Universiteit van Berlijn. Studies voerden hem naar China, Taiwan en Japan. In 2004 studeerde hij af aan de Universiteit van Berlijn met een proefschrift over "Interkulturelle Hermeneutik und die Herausforderung des Fremden" dat een jaar later onder de titel "Die Herausforderung des Fremden: Interkulturelle Hermeneutik und konfuzianisches Denken" werd gepubliceerd onder zijn burgerlijke naam Stephan Schmidt. Hij kreeg hiervoor van de Wissenschaftliche Buchgesellschaft een ​​beurs. Van 2005 tot medio 2011 woonde Thome in Taipei, waar hij werkte aan het Instituut voor Chinese literatuur en filosofie van de Academia Sinica. Hij deed onderzoek naar de Confuciaanse filosofie van de 20ste eeuw en vertaalde het werk "Confucianisme Continuïteit en ontwikkeling" van Chun-Chieh Huang: naar het Duits. In 2009 maakt Thome "Grenzgang" zijn felbegeerde debuut als romanschrijver. De titel van het boek stamt van het gelijknamige festival in Biedenkopf. De Duitse vakpers prees het boek unaniem. De filmrechten van de roman verwierf de WDR, namens wie de roman in het najaar van 2012 werd verfilmd. De film werd in 2014 bekroond met de Grimme-prijs. Zijn tweede fictiewerk, een reisroman onder de titel "Fliehkräfte" verscheen in september 2012. In september 2012 haalde "Fliehkräfte" de shortlist van de Deutsche Buchpreis. In januari 2015 werd zijn roman "Gegenspiel" gepubliceerd.

Uit: Fliehkräfte
"Am späten Nachmittag verwandelt sich die Welt. Flaumig leichte Flocken wirbeln durch die Luft, als wären sie von der Schwerkraft ausgenommen. Lautlos füllen sie den Raum und legen eine weiß-graue Schraffur über den Campus. Seit November hängen dichte Wolken über der Stadt, und wenn die Studenten nach den Seminaren ins Freie traten, legten sie die Köpfe in den Nacken und blickten erwartungsvoll nach oben. Jetzt streicht Schnee über die Fenster der Wilson Library, ohne daran haften zu bleiben. Fahrradfahrer, die von der Brücke kommen, ziehen pulverige Schleier hinter sich her. Vor ihm auf der winzigen Arbeitsfläche liegt Empiricism and the Philosophy of Mind, seit einer halben Stunde auf derselben Seite aufgeschlagen. Gebannt schaut Hartmut nach draußen und versucht, den Weg einer einzelnen Flocke zu verfolgen. Am liebsten würde er das Gesicht gegen die Scheibe drücken und den milchigen Niederschlag seines Atems daraufmalen. Er hat sowieso keine Ahnung, was das sein soll: der Mythos des Gegebenen. Endlich, denkt er. Wochenlang hat die Luft nach Winter gerochen, auch wenn es in Wirklichkeit kein Geruch ist, sondern eine Sehnsucht, die man erst erkennt, wenn sie sich erfüllt. Alle haben ihn gewarnt vor Stromausfällen bei dreißig Grad minus, vor eingeschneiten Häusern und eisglatten Wegen. Jetzt wird die Welt nur still, und er ist glücklich. Das Wort in seinem Kopf überrascht ihn, aber es stimmt. Um ihn herum schauen Kommilitonen von ihren Büchern auf und beginnen, miteinander zu flüstern. Als er um halb sieben die Bibliothek verlässt, ist es draußen stockdunkel. Leer wie nie um diese Zeit streckt sich die Washington Avenue Bridge über den Fluss. Wenn Hartmut nach oben schaut, wird ihm schwindlig. Unter ihm fließt der Mississippi schwarz und beinahe geräuschlos dahin. Ein fremdes Gewässer, das er zwei Mal täglich überquert, manchmal öfter. Auf der östlichen Campusseite steht Ford Hall stoisch an seinem Platz. Benannt nach dem früheren Uni-Präsidenten und ausgestattet mit einem Vorbau aus viereckigen Säulen, trotzt das Bauwerk den dicht fallenden Flocken. Jeden Morgen steigt er hinauf in den dritten Stock, mit demselben flauen Gefühl im Magen wie vor einer Prüfung. Jetzt geht er am Gebäude vorbei durch den bereits knöcheltiefen Schnee auf der Mall. Immer die University Avenue entlang, hat Professor Hurwitz gesagt. Weil der Text partout nicht in seinen Kopf wollte, hat Hartmut ihn schließlich beiseitegelegt und stattdessen die zwei eng beschriebenen Kladden mit Notizen studiert, die er immer in der Tasche trägt. Konzentrieren konnte er sich auch darauf nicht. Kann man einen Ort vermissen, an den man nicht zurückwill? Die Rodelpartien fallen ihm ein, die Straße neben dem Haus hinab. Weil das Geld knapp war, hat sein Vater den Schlitten selbst gebaut. Hat die Kufen im Betrieb zugeschnitten und sie nach Feierabend unter das Holzgestell geschraubt, mit derselben bedächtigen Sorgfalt, mit der er jede Arbeit erledigt. Als Dinkytown hinter ihm liegt, stapft er durch unbekanntes Gebiet."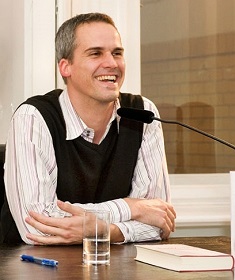 Stephan Thome (Biedenkopf, 23 juli 1972)
23-07-2018 om 00:00 geschreven door Romenu

Tags:Stephan Thome, Romenu


22-07-2018

Zoals de zee zichzelf weerlegt (Herman de Coninck)
Dolce far niente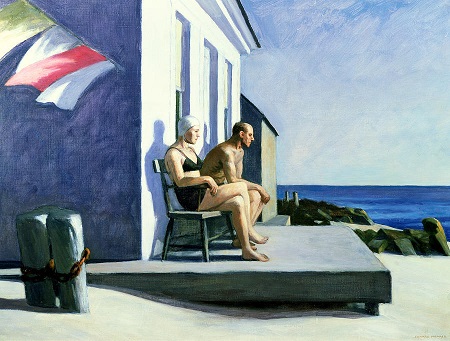 Sea Watchers door Edward Hopper, 1952
Zoals de zee zichzelf weerlegt

Zoals de zee zichzelf weerlegt
Zoals de zee zichzelf weerlegt, nee, juist legt,
golf over golf, cliché over cliché,
als kaarten bij een patience-spel,
en zich weer opraapt en zich opnieuw legt;

zoals horizon slechts horizon -
taal duldt, zo ver als je kunt kijken,
en zee tien keer per minuut verticaal wil,
zo luid als je kunt horen;

zoals water zwemt om zichzelf te kloppen
in de sprint, een arm zegevierend omhoog-
steekt, waarna een andere arm en nog een arm;
zoals alle water ter wereld zich haast
om aan te komen binnen de tijdslimiet
van de eeuwigheid: zo nu.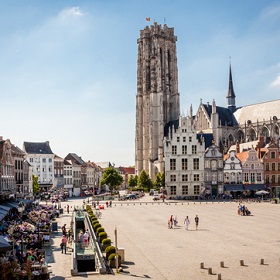 Herman de Coninck (21 februari 1944 – 22 mei 1997)
Mechelen, de geboorteplaats van Herman de Coninck
Zie voor de schrijvers van de 22 juli ook mijn vorige blog van vandaag.
22-07-2018 om 11:41 geschreven door Romenu

Tags:Herman de Coninck, Dolce far niente, Romenu



Mij, schaap (Mark Boog)
Bij de 16e zondag door het jaar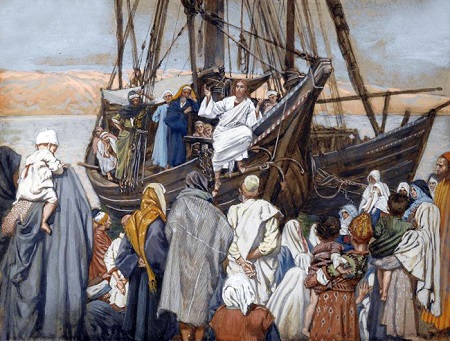 Jezus prekend op een boot door James Tissot, 1886 – 1894
Mij, schaap

Mij, schaap, overkomt niets dan wat de herder wil,
wat het gras wil, de lucht,
wat de dam en de groene overkant.
En ik tors mijn wol mee of het verlies van wol,
en ik kijk vol overgave uit mijn
vochtige ogen. Ik ben gelukkig met wat ik heb.
De tijd verstrijkt als gras, door mij,
en elk verzet is hol. De bomen ruisen zinneloos.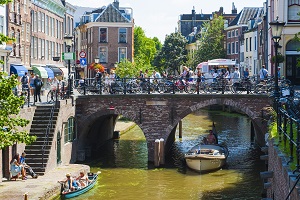 Mark Boog (Utrecht, 24 september 1970)
Utrecht, de geboorteplaats van Mark Boog
Zie voor de schrijvers van de 22 juli ook mijn vorige blog van vandaag.
22-07-2018 om 11:40 geschreven door Romenu

Tags:Mark Boog, Kerkelijk Jaar, Romenu



Arno Geiger, Susan Hinton, Manu Joseph, Stephen Vincent Benét, Tom Robbins
De Oostenrijkse schrijver Arno Geiger werd geboren op 22 juli 1968 in Bregenz, Vorarlberg. Zie ook alle tags voor Arno Geiger op dit blog.
Uit: Zelfportret met nijlpaard (Vertaald door W. Hansen)
"Kus op de mond? Dat zou me gewoon geleken hebben, omdat het vertrouwd was. Of kus links en rechts? En wie beslist dat? Wat als ik probeer haar op haar mond te zoenen en zij me haar wang toekeert? Moeten we elkaar een hand geven? We gaan elkaar toch zeker geen hand geven!
Dan maar beter helemaal niets. – Dus zeiden we: Hallo, hoe is het? En met jou? Wat moet ik zeggen? Je gelooft me toch niet.
Ik injecteerde het kalmeringsmiddel in de borst van de oehoe en daarna een verhoogde dosis narcoticum in de vleugelader, waarvoor ik de rechtervleugel uitspreidde, de ader was makkelijk aan de binnenkant te vinden. Judith bleef bij het dier totdat het dood was. Voordat ze wegging kwam ze nog één keer uit het andere vertrek om me te bedanken.
Ik vond het jammer dat ik de oehoe niet had kunnen helpen. Ik had graag alles goed willen laten aflopen. Eén ogenblik overwoog ik nog of ik me moest excuseren, ik voelde de overweldigende behoefte sorry te zeggen. Maar per slot van rekening was het niet mijn schuld.
Judith zei: 'Ik hoop dat je hier gevonden hebt wat je zocht.'
Ik haalde onzeker mijn schouders op en knikte halfslachtig:
'Zo'n beetje wel...'
Ze zei: 'Het was goed dat we uit elkaar zijn gegaan.'
'Zo zie ik het ook,' antwoordde ik.
'Ja, het was goed.'
'Als ik erop terugkijk, ja.'
'Ik hoorde dat je in Frankrijk hebt gezeten.'
'In Parijs, twee jaar.'
'Ik...'
Judith wilde iets zeggen, iets persoonlijks, dacht ik. Misschien onderbrak ze zichzelf doordat een verpleegster me aan mijn mouw trok en naar de röntgentafel wees, waarop een grote hond lag.
'Nou, dan...' zei Judith, 'nogmaals bedankt.'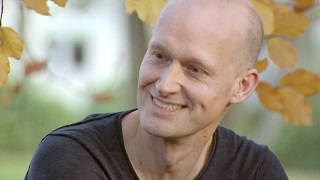 Arno Geiger (Bregenz, 22 juli 1968)
De Amerikaanse schrijfster Susan Eloise Hinton werd geboren op 22 juli 1948 in Tulsa, Oklahoma. Zie ook alle tags voor Susan Hinton op dit blog.
Uit: The Outsiders
"I about decided I didn't like it so much, though, when I spotted that red Corvair trailing me. I was almost two blocks from home then, so I started walking a little faster. I had never been jumped, but I had seen Johnny after four Socs got hold of him, and it wasn't pretty. Johnny was scared of his own shadow after that. Johnny was sixteen then.
I knew it wasn't any use though—the fast walking, I mean—even before the Corvair pulled up beside me and five Socs got out. I got pretty scared—I'm kind of small for fourteen even though I have a good build, and those guys were bigger than me. I automatically hitched my thumbs in my jeans and slouched, wondering if I could get away if I made a break for it. I remembered Johnny—his face all cut up and bruised, and I remembered how he had cried when we found him, half-conscious, in the corner lot. Johnny had it awful rough at home—it took a lot to make him cry.
I was sweating something fierce, although I was cold. I could feel my palms getting clammy and the perspiration running down my back. I get like that when I'm real scared. I glanced around for a pop bottle or a stick or something—Steve Randle, Soda's best buddy, had once held off four guys with a busted pop bottle—but there was nothing. So I stood there like a bump on a log while they surrounded me. I don't use my head. They walked around slowly, silently, smiling.
"Hey, grease," one said in an over-friendly voice. "We're gonna do you a favor, greaser. We're gonna cut all that long greasy hair off."
He had on a madras shirt. I can still see it. Blue madras. One of them laughed, then cussed me out in a low voice. I couldn't think of anything to say. There just isn't a whole lot you can say while waiting to get mugged, so I kept my mouth shut.
"Need a haircut, greaser?" The medium-sized blond pulled a knife out of his back pocket and flipped the blade open.
I finally thought of something to say. "No." I was backing up, away from that knife. Of course I backed right into one of them. They had me down in a second. They had my arms and legs pinned down and one of them was sitting on my chest with his knees on my elbows, and if you don't think that hurts, you're crazy. I could smell English Leather shaving lotion and stale tobacco, and I wondered foolishly if I would suffocate before they did anything. I was scared so bad I was wishing I would. I fought to get loose, and almost did for a second; then they tightened up on me and the one on my chest slugged me a couple of times. So I lay still, swearing at them between gasps. A blade was held against my throat."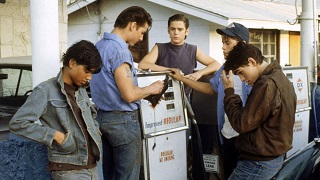 Susan Hinton (Tulsa, 22 juli 1948)
Scene uit de gelijknamige film uit 1983.
De Indiase schrijver en journalsit Manu Joseph werd geboren op 22 juli 1974 geboren in Kottayam en groeide op in Chennai. Zie ook alle tags voor Manu Joseph op dit blog.
Uit: Serious Men
"The crowd on the Worli Seaface was swelling: it was now a giant colourless swarm. Pale boys with defeat in their eyes walked in horizontal gangs; they giggled at the aerobics of unattainable women. And they did not give way to the hasty girls. Ayyan loved this about the city-the humid crowds, the great perpetual squeeze, the silent vengeance of the poor. In the miserly lifts and stuffed trains, he often heard the relief of afternoon farts, saw scales on strange faces and the veins in their still eyes. And the secret moustaches of women. And the terrible green freshness when they had been newly removed with a thread. He felt the shoves and pushes and the heaviness of paunches. This unnerving constriction of Bombay he loved, because the congestion of hopeless shuffling human bodies he was born into was also, in a way, the fate of the rich. On the streets, in the trains, in the paltry gardens and sudden beaches, everybody was poor. And that was fair. The desperate lovers were still arriving and they quickly stole the gaps on the parapet between other fused couples. And then they, too, sat facing the sea with their backs to the great passing crowds, arranged their bodies and did their discreet things. Among these lovers were married people, some of them even married to each other. When night fell, they went back to their one-room homes, which were as large as a Mercedes, to rejoin their children, elders, siblings, nephews and nieces, all heaped under a single roof in gigantic clusters of boiling tenements. Like the BDD chawl, the mother hell. People who knew what BDD stood for were not the kind who lived there. But Ayyan knew such things, even though he was born on a cold floor there, thirty-nine years ago……He walked down the dim corridor of the third floor, which was the top floor. It was flanked by ageing pale-yellow walls with huge cracks that ran like dark river systems. There were about forty open doors here. Unmoving shadows sat on the doorways and gaped. Old widows calmly combed their hair. Children ran happily on the ancient grey stones of the corridor. He knocked on the only door on the corridor that was shut. As he waited, he felt the turbulence of all those open doors, and the milling shadows."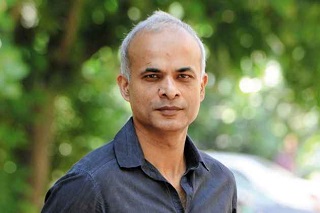 Manu Joseph (Kottayam 22 juli 1974)
De Amerikaanse dichter en schrijver Stephen Vincent Benét werd geboren op 22 juli 1898 in Bethlehem, Pennsylvania. Zie ook alle tags voorStephen Vincent Benét op dit blog.
Going Back To School
The boat ploughed on. Now Alcatraz was past
And all the grey waves flamed to red again
At the dead sun's last glimmer. Far and vast
The Sausalito lights burned suddenly
In little dots and clumps, as if a pen
Had scrawled vague lines of gold across the hills;
The sky was like a cup some rare wine fills,
And stars came as he watched
-- and he was free
One splendid instant -- back in the great room,
Curled in a chair with all of them beside
And the whole world a rush of happy voices,
With laughter beating in a clamorous tide. . . .
Saw once again the heat of harvest fume
Up to the empty sky in threads like glass,
And ran, and was a part of what rejoices
In thunderous nights of rain; lay in the grass
Sun-baked and tired, looking through a maze
Of tiny stems into a new green world;
Once more knew eves of perfume, days ablaze
With clear, dry heat on the brown, rolling fields;
Shuddered with fearful ecstasy in bed
Over a book of knights and bloody shields . . .
The ship slowed, jarred and stopped. There, straight ahead,
Were dock and fellows. Stumbling, he was whirled
Out and away to meet them -- and his back
Slumped to the old half-cringe, his hands fell slack;
A big boy's arm went round him -- and a twist
Sent shattering pain along his tortured wrist,
As a voice cried, a bloated voice and fat,
"Why it's Miss Nancy! Come along, you rat!"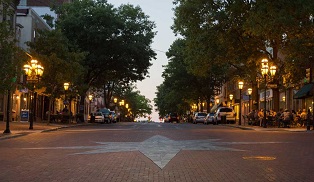 Stephen Vincent Benét (22 juli 1898 – 13 maart 1943)
Bethlehem, Pennsylvania, Main Street
De Amerikaanse schrijver Tom Robbins werd geboren op 22 juli 1936 in Blowing Rock, North Carolina. Zie ook alle tags voor Tom Robbins op dit blog.
Uit: Wild Ducks Flying Backward
"Getting back on course, beneath those baseball caps that advertise brands of beer or heavy equipment, under those genuine imitation Stetsons, there're some rough ol' hangovers being processed and some rough ol' ideas being entertained. One simply does not approach a miner, a wrangler, a prospector, a gambler, a Stealth pilot, a construction sweat hog, or sandblasted freebooter and interrupt his thoughts about big, fast bucks and those forces—environmental legislation, social change, loaded dice, et cetera—that could stand between him and big, fast bucks; one simply does not march up to such a man, a man who lifts his crusty lid to no one, and ask:
"Sir, might you possibly direct me to the Canyon of the Vaginas?"
***********

Should readers desire to make their own pilgrimage to the Canyon of the Vaginas—and it is, after all, one of the few holy places left in America—they'll have to find it by themselves. Were one to inquire of its whereabouts at a bar or gas station (in west-central Nevada they're often one and the same, complete with slot machines), the best that one could hope for is that a dude would wink and aim one at the pink gates of Bobbie's Cottontail Ranch, or whatever the nearest brothel might be called.
In the improbable event that he fails to misinterpret one's inquiry, and/or to take sore offense at it, a dude still isn't likely to further one's cause. For that matter, save for the odd archeologist, neither is anybody else. The population of Nevada arises every morning, straightens its hat, swallows a few aspirin, and trucks off to try to strike it rich without so much as a nervous suspicion that the Canyon of the Vaginas lies within its domain.
Your pilgrim learned of it from a Salt Lake City artist who has hiked and camped extensively in the high deserts of the Great Basin. The man drew me a fairly specific map, but I, in good conscience, cannot pass along the details. My reluctance to share is rooted neither in selfishness nor elitism, but in the conviction that certain aspects of the canyon are quite fragile and in need of protection.
Not that genuflecting hordes are likely to descend upon it: the canyon is remote; troubled, according to season, by killer sun, ripping wind, and blinding blizzard; and is reached by a road that nobody making monthly car payments should even think of driving. Still, there are plenty of new-agers with the leisure and energy to track down yet another "power center," and plenty of curiosity seekers with an appetite for the exotic souvenir. Surely I'll be forgiven if I'm ever so slightly discreet. »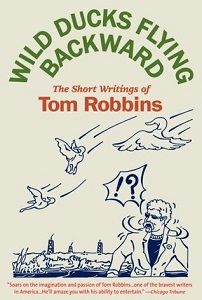 Tom Robbins (Blowing Rock, 22 juli 1936)
Cover
Zie voor nog meer schrijvers van de 22e juli ook mijn vorige blog van vandaag.
22-07-2018 om 11:39 geschreven door Romenu

Tags:Arno Geiger, Susan Hinton, Manu Joseph, Stephen Vincent Benét, Tom Robbins, Romenu



Oskar Maria Graf, Maria Janitschek, Emma Lazarus, Per Hojholt, Jakob Lorber
De Duitse schrijver Oskar Maria Graf werd geboren op 22 juli 1894 in Berg am Starnberger See. Zie ook alle tags voor Oskar Maria Graf op dit blog.
Uit: Das Leben meiner Mutter
"Hin und wieder kommt der Pfarrer, oder ein Bettelmönch tritt in die verrußte, geräumige Kuchl. Sie werden ehrfürchtig empfangen und in die nebenanliegende, helle, selten benützte gute Stube geführt. Gleich und gleich blieben Zeit und Leben für Aufhausen. Deshalb sind auch die Überlieferungen der Heimraths ziemlich spärlich. Für sie muß es nie etwas anderes gegeben haben als Geborenwerden, Aufwachsen, unermüdliche Arbeit, demütige Gottesgläubigkeit und Sterben. Während des Dreißigjährigen Krieges, in den Jahren 1632 und 34, verwüsteten die Schweden zweimal die Dörfer und Höfe der katholischen Pfarrei Aufkirchen. Die Wiesen waren erstmalig gemäht, die noch grünen Getreideäcker standen prall da und versprachen eine reiche Ernte. Die Bauern verließen Haus und Feld und flohen in die dichten Wälder. Der Pfarrer Georg Colonus irrte von einem Haufen Flüchtender ab und wurde von feindlichen Reitern ergriffen. Sie hieben erbarmungslos auf ihn ein, banden seinen blutig zerschundenen Körper an einen Strick, befestigten diesen am Sattelknopf und schleiften den unglücklichen Geistlichen so lange mit, bis er sich nicht mehr rührte. Kurz vor Aufhausen ließen sie ihn liegen. Er erwachte nach einiger Zeit, kroch mühsam weiter und fand schließlich die Seinigen im Wald. Wie durch ein Wunder blieb er am Leben und wurde wieder gesund. Nach dem ersten Abzug der Schweden zeichnete er gewissenhaft die Namen der 23 Bauern auf, die von den feindlichen Soldaten ermordet worden waren. Darunter befand sich auch der Lechner von Aufhausen. Die Heimraths waren davongekommen. Zwei Jahre darauf, anno 34, ergriff Colonus beim Wiedereindringen der schwedischen Scharen in den Aufkirchner Gau die Flucht und blieb neun Wochen fort. Nach seiner Rückkehr legte er abermals eine genaue Liste der getöteten Pfarrangehörigen an. In diesen Aufzeichnungen sind auch alle Verwüstungen durch den Feind der Reihe nach angegeben. Das nahe Schloß in Bachhausen, das dem kaiserlich-bayrischen Generalkriegskommissar Graf von Rüpp gehörte, die meisten Dörfer und Einzelhöfe wurden schonungslos niedergebrannt. Die Heimraths mußten auch diese schreckliche Zeit ohne sonderlichen Schaden überlebt haben. Merkwürdig, ihr Hof —alleinstehend, ansehnlich, kaum eine Viertelstunde vom Pfarrdorf entfernt, an der Fahrstraße liegend — konnte den rachsüchtigen, beutegierigen Feinden doch nicht entgangen sein!"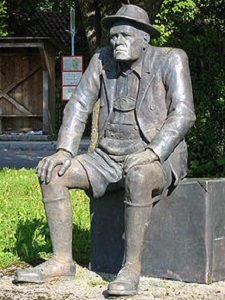 Oskar Maria Graf (22 juli 1894 – 28 juni 1967)
Standbeeld in Aufkirchen
De Duitse dichteres en schrijfster Maria Janitschek (geb. Tölk) werd geboren op 22 juli 1859 in Mödling bij Wenen. Zie ook alle tags voor Maria Janitschek op dit blog.
Geburtstagsgruß
Heut war dein Todestag. Ich konnt nicht beten,
ich konnt nicht weinen; müde schwieg mein Herz.
Zur Nachtzeit war ich in den Wald getreten;
starr lag er da, wie eine Welt von Erz.
Schläfst du denn, Leben? Will sich gar nichts regen?
Mich dünkt, ich selber wär vor Leid versteint.
Es meidet mich der Thränen linder Segen,
und dieser Nacht bleibt selbst ihr Thau verneint.
So still, so ernst, so bleiern! Mitternacht!
Wohin hat sich das Leben denn verkrochen?
Als ob der Tod mit seiner schwarzen Pracht
erdrückt des Erdenherzschlags lautes Pochen.
Da ... nein, das .. ist ... o Gott, das ist ja Traum,
das muß ja Traum sein, denn die Wirklichkeit
erdichtet solche Wunderthaten kaum ...
Ein Vogel singt, um Mitternacht! .. ganz leise,
als flüstern liebe Lippen, singt er; schauernd
beugt sich mein Knie der wunderbaren Weise.
Das ist kein Vogel, was da oben singt,
das ist die fleischgewordene Erbarmung
der ewigen Liebe, die den Tod bezwingt
und Starres weckt zu seliger Erwarmung.
Und plötzlich dünkt der Wald mich ganz erhellt,
in weißen Kränzen seh ich Wesen gleiten,
die lichten Söhne einer andern Welt,
die nach der Schwester ihre Arme breiten.
Heut ist dein Todestag! Nun kann ich beten,
nun kann ich weinen ... Freudenthränen weinen ...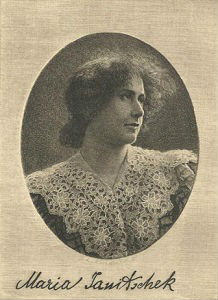 Maria Janitschek (22 juli 1859 – 28 april 1927)
De Amerikaanse dichteres Emma Lazarus werd geboren op 22 juli 1849 in New York. Zie ook alle tags voor Emma Lazarus op dit blog.
Echoes
Late-born and woman-souled I dare not hope,
The freshness of the elder lays, the might
Of manly, modern passion shall alight
Upon my Muse's lips, nor may I cope
(Who veiled and screened by womanhood must grope)
With the world's strong-armed warriors and recite
The dangers, wounds, and triumphs of the fight;
Twanging the full-stringed lyre through all its scope.
But if thou ever in some lake-floored cave
O'erbrowed by rocks, a wild voice wooed and heard,
Answering at once from heaven and earth and wave,
Lending elf-music to thy harshest word,
Misprize thou not these echoes that belong
To one in love with solitude and song.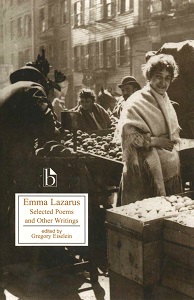 Emma Lazarus (22 juli 1849 – 19 november 1887)
Cover
De Deense dichter en schrijver Per Højholt werd geboren op 22 juli 1928 in Esbjerg. Zie ook alle tags voor Per Højholt op dit blog.
So und so viele Lerchen
383 lerchen sind gekommen 384
die kronen der birken sieden (385) wie ballons
sozusagen
ballons die man aufbläst gasvorkommen am stiel
sich neigend wie birken ja genau wie
siedende birken
388 lerchen sind gekommen und singen über maulwurfshügeln 389
die schlafwege des winters werden entblößt sie liegen entblößt
und voll wasser die sonne trifft sie
ein morris fährt den hügel hinauf und hinunter und brummt
den hohlweg hoch und nähert sich platschend
die kiefern entlang
der morris der post erscheint unter 390 lerchen
Die deutliche Amsel
Eine Amsel kommt geflogen
aus dem Nebelinnern
hier sitzt sie nun
und singt auf einer nassen Latschenkiefer
gleich fliegt sie zurück
zur Natur
Vertaald door Peter Urban-Halle en Henning Vangsgaard

Per Højholt (22 juli 1928 – 16 oktober 2004)
De Oostenrijkse mysticus, musicus en schrijver Jakob Lorber werd geboren in Kani¸a bijŠentilj, dat tegenwoordig deel uitmaakt van Slovenië, op 22 juli 1800. Zie ook alle tags voor Jakob Lorber op dit blog.
Uit: Kindheit und Jugend Jesu
"Joseph aber war mit einem Hausbau beschäftigt in der Gegend zwischen Nazareth und Jerusalem. Dieses Haus ließ ein vornehmer Bürger aus Jerusalem dort der Herberge wegen erbauen, da sonst die Nazaräer bis Jerusalem kein Obdach hatten. Maria aber, die im Tempel auferzogen ward, ist reif geworden, und es war nach dem Mosaischen Gesetze not, sie aus dem Tempel zu geben. Es wurden darum Boten in ganz Judäa ausgesandt, solches zu verkünden, auf daß die Väter kämen, um, so jemand als würdig befunden würde, das Mägdlein zu nehmen in sein Haus.
Als solche Nachricht auch zu Josephs Ohren kam, da legte er alsbald seine Axt weg und eilte nach Jerusalem und daselbst an den bestimmten Versammlungs- und Beratungsplatz in dem Tempel.
Als sich aber nach Ablauf von drei Tagen die sich darum gemeldet Habenden wieder am vorbestimmten Orte versammelt hatten und ein jeder Bewerber um Maria einen frischen Lilienstab so bestimmtermaßen dem Priester dargereicht hatte, da ging der Priester alsbald mit den Stäben in das Innere des Tempels und betete dort. Nachdem er aber sein Gebet beendet hatte, trat er wieder mit den Stäben heraus und gab einem jeglichen seinen Stab wieder. Alle Stäbe aber wurden sobald fleckig; nur der zuletzt dem Joseph überreichte blieb frisch und makellos.
Es hielten sich aber darob einige auf und erklärten diese Probe für parteiisch und somit für ungültig und verlangten eine andere Probe, mit der sich durchaus kein Unfug verbinden ließe."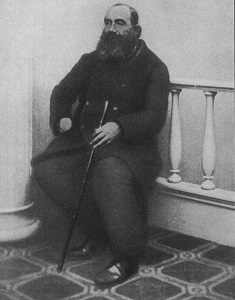 Jakob Lorber (22 juli 1800 – 24 augustus 1864)
22-07-2018 om 11:37 geschreven door Romenu

Tags:Oskar Maria Graf, Maria Janitschek, Emma Lazarus, Per Hojholt, Jakob Lorber, Romenu


21-07-2018

Peter Winnen, Ernest Hemingway, Belcampo, Boris Dittrich, Sarah Waters, Ernest Farrés, Hans Fallada
Bij de Tour de France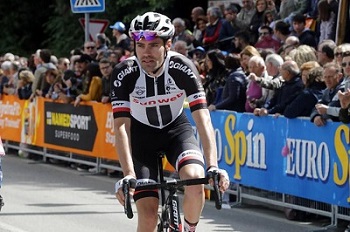 Tom Dumoulin
Uit: De praatjes van Tom Dumoulin
"Het gedicht 'De wielrenner' van Hans Warren leerde ik in fragmenten kennen. Een jaar of vijfentwintig geleden las ik dit:
Ik fietste: een prachtige ranke,
donkere wielrenner suisde me voorbij.
Glimp van vooroverhangend krulhaar,
de geur die daar bij hoort,
ruige gebronsde benen.
De homo-erotische toets was me duidelijk, maar de wielrenner in het gedicht van Hans Warren was voor een wieleradept als ik herkenbaar als sportief ideaalbeeld. Ik herkende Tom Dumoulin erin, hoewel die nog een hele poos op zijn geboorte moest wachten – tot 1990 om precies te zijn.
Ze worden eens om de zoveel tijd geboren, ideaalbeelden, maar makkelijk hebben ze het niet.
Het recente, openhartige en tegelijkertijd hermetische interview van NRC met Dumoulin heb ik een keer of vijf herlezen. Tom wil het doen voorkomen alsof hij de verbale touwtjes in handen heeft, maar hij lijkt me zo eenzaam in de controle. Achter alles wat hij zegt hoor ik de ingehouden schreeuw: laat me in godsnaam met rust!
Hij die zegt "toevallig" wielrenner geworden te zijn en als fundamenteel levensgevoel een "laat maar waaien" viert, komt op de koffie. Praten over fietsen is tot daar aan toe, maar praten over de mens achter de fietser, ook al heeft hij het "hart op de tong", is wel veelgevraagd.
Dumoulin plaatst schermen. De publieke figuur die hij is, is hij liever niet. Een drastisch gemodificeerde schets kunnen ze krijgen! Vriendin? Verboden gebied. Ouders? Idem. Alleen door de kier van de wieleruitslagen is hij te pakken te krijgen.
Fietszaken. Ja, hij is een perfectionist, en ja, hij is helaas te goed opgeleid om alles wat zijn trainers en ploegleiders hem opdissen voor zoete koek te slikken. En ja, binnen de ploeg is hij intussen iemand die invloed heeft. Nee, hij is geen dictator, hij wil alleen maar op zijn eigen niveau tegengesproken worden.
Ik ben gecharmeerd van de zeldzame wielerpersoonlijkheden als Dumoulin. Misschien moet hij iets minder spastisch omspringen met zijn verworven status. Wielrennen, het is en blijft een nederige bezigheid in een onvoorspelbaar decor van klimaat, hoogtemeters en wetenschap. Daarom ook is het sport noch theater – het blijft knielen op een bed van violen."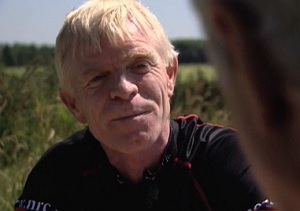 Peter Winnen (Ysselsteyn, 5 september 1957)
De Amerikaanse schrijver Ernest Hemingway werd geboren op 21 juli 1899 in Oak Park, Illinois. Zie ook alle tags voor Ernest Hemingway op dit blog.
Uit: The Garden of Eden
"Did you think I could ever be this dark?"
"No, because you're blond."
"I can because I'm bon color and they can go dark. But I want every part of me dark and it's getting that way and you'll be darker than an Indian and that takes us further away from other people. You see why it's important.!'
"What will we be?"
"I don't know. Maybe we'll just be us. Only changed. That's maybe the best thing. And we will keep on won't we?"
"Sure. We can go over by the Esterel and explore and find an-other place the way we found this one."
"We can do that. There are lots of wild places and nobody is there in the summer. We could get a car and then we could go everyiVhere,SpaIn too when we want. Once we're really dark it won't be hard to keep unless we had to live in towns. We don't want to be in towns in the summer."
"How dark are you going to get?"
"As dark as I can. wet have to see. I wish I had some Indian blood. I'm going to be so dark you won't be able to stand it. I can't wait to go up on the beach tomorrow."
She went to sleep that way with her head back and her chin up as though she were in the sun on the beach, breathing softly; and then she curled toward him on her side and thiyotmg man lay awake and thought about the day. It is very possible that I couldn't get started, he thought, and it probably is sound to not think about it at all and just enjoy what we have. When I have to work I will. Nothing can stop that. The last book is good and I must Make a better one now. This nonsense that we do is fun although I don't know how much of it is nonsense and how much is serious. Drinking brandy at noon is no damn good and already the simple aperitifs mean nothing. That is not a good sign. She changes from a girl into a boy and back to a girl care. lessly.and happily. She sleeps easily and beautifully and you will • sleep too because all you truly know is that you feel good. You did not sell anything for the moners he thought. Everything she said about the money was true. Actually it all was true. Every-thing was free for a time. What was it that she had said about destruction? He could not remember that. She'd said it but he could not remembeiit. Then he was tired of trying to remember and he looked at the girl and kissed her cheek very lightly and she did not wake. I le kneed her very much and everything about her and he went to sleep thinking about her cheek against his lips and how the next day they would both be darker from the sun and how dark can she become, he thought, and how dark will she ever really be?"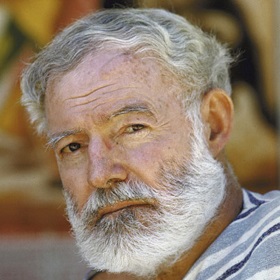 Ernest Hemingway (21 juli 1899 – 2 juli 1961)


De Nederlandse schrijver Belcampo werd in Naarden geboren op 21 juli 1902 als Herman Pieter Schönfeld Wichers. Zie ook alle tags voor Belcampo op dit blog.
Uit: De surprise
"Zij is uiterst verleidelijk maar toch niet onsmakelijk gekleed, om blootheid flodderende frivole kleurtjes. Haar armen schenken koffie in terwijl haar achterwerk gaat zitten. Haar vuurrood aangezette mond spreekt het woord: `Koffie.' Hij neemt zijn kop zonder op te kijken, wat door het lage tafeltje wordt mogelijk gemaakt. 'Dank u' zijn de woorden die hij daarbij bezigt. Nu schikt zij zich zo gemakkelijk mogelijk op haar stoel terecht en zegt met hoopvol warme stem: 'Het gezelligste ogenblik van de dag!', drinkt en kijkt onder dat drinken tersluiks naar hem. Van zijn kant geen enkele reactie. Op het moment waarna langer wachten geen zin meer heeft breekt zij uit in de volgende monoloog, onbewust gewend naar de statige staande scheepjesklok, die haar met zijn zware slingerslag toch nog enigszins antwoordt. Bij ons thuis was het koffie-uurtje — zo werd het altijd genoemd maar het was lang geen uur, soms duurde 't niet eens een kwartier — iets waar we de hele ochtend naar uitkeken. Dat was even een gezamenlijke adempauze. We vertelden elkaar wat we al hadden gedaan en wat we verder nog van plan waren te doen op die dag. En dat was gezellig. Dan voelde je een band. Dan voelde je dat je met huisgenoten samen was. Met huisgenoten!' De kracht waarmee ze dit laatste luisgenoten' uitsprak stond in zonderlinge tegenstelling tot het langs zijn neus weg van zijn nu ten slotte toch komende reactie. `En vond u dat een prettig gevoel?' Dat was een prettig gevoel. Dat was een heel fijn gevoel!' pleitte de huishoudster, want dat was zij, en niets meer dan dat. leder zijn smaak.' Dit klonk mogelijk nog laconieker dan zijn vraag. Nu stond de huishoudster bruusk op, stiet haar kopje een eind over de tafel vooruit, siste een 'Dank u' en verliet met opgestreken zeil de kamer. Nu konden zijn gedachten weer ongestoord hun loop vervolgen. Daarbij knoopten ze aan bij het zojuist ervarene. `Huisgenoten! Is er erger ongedierte denkbaar! Omdat je toevallig onder dezelfde dakpannen bent aangespoeld. Zonder koffie kunnen ze elkaars tegenwoordigheid niet aan, dat zal het wezen. Elke keer als het gesprek stokt kun je dan tenminste een slok nemen of in het oor van je kop friemelen. De hinderlijkste vorm van medemens."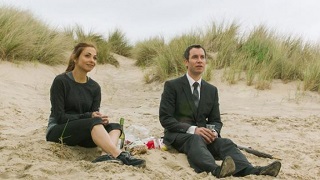 Belcampo (21 juli 1902 – 2 januari 1990)
Scene uit de gelijknamige film uit 2015 met Georgina Verbaan en Jeroen van Koningsbrugge
De Nederlandse schrijver, mensenrechtenactivist en oud-politicus Boris Dittrich werd geboren in Utrecht op 21 juli 1955. Zie ook alle tags voor Boris Dittrich op dit blog.
Uit: Moord en Brand
"Weislogel negeert de inleidende frasen van Fouali. `Het moet frustrerend voor u zijn dat u constant aan uw Marokkaanse achtergrond wordt herinnerd,' refereed hij aan een passage uit de gespreksnotitie die zijn medewerker hem vanmorgen had gegeven. Hij observeert hoe Redouan Fouali gaat verzitten. `Ik ben in Amsterdam geboren, heb er op school gezeten en gestudeerd. En toch wordt me elke dag wel ergens gevraagd hoe ik het in Nederland vind. Alsof ik te gast ben.' Fouali kijkt de kamer rond, die vol met antieke meubelen staat. Op de schoorsteenmantel staat een protserige vaas met oranje tijgerlelies, die een scherpe geur verspreiden. Ambassadeur Weislogel trekt een vergelijking met Amerika. 'Bij ons is dat anders. Amerika is een migrantensamenleving. ledereen komt wel ergens anders vandaan. Je afkomst is een curiositeit. Niet meer dan dat. In New York, waar ik vandaan kom, worden geregeld parades van Italianen, leren, Israeli's of Sikhs gehouden. De deelnemers willen laten zien dat ze geworteld zijn in Amerika zonder dat ze hun afkomst verloochenen.' Fouali wil niet te veel tijd verloren laten gaan. Hij heeft een gesprek van een half uur toegewezen gekregen, maar hij is geboeid door Weislogel en vraagt hem naar zijn familiegeschiedenis, die hij overigens al in grote lijnen uit openbare bronnen kent. `Mijn vader is in de jaren dertig van de vorige eeuw in Duitsland geboren,' vertelt Weislogel. We komen uit een geslacht van joodse diamantairs. Mijn grootouders zijn op tijd met mijn vader als jongetje naar New York geemigreerd. Mijn moeder komt uit een orthodox-joodse familie uit Williamsburgh, in Brooklyn. lk ben daar geboren.' Niet alleen Weislogel had zijn huiswerk goed gedaan. Ook Fouali had ter voorbereiding een dossier gelezen, opgesteld door de AIVD, de Algemene Inlichtingen- en Veiligheidsdienst. Nu de joodse wortels van de ambassadeur ter sprake zijn gebracht, is het moment voor Fouali gekomen om zijn troefkaart uit te spelen. `Mijn ouders komen uit Fez. lk ben ook joods, omdat mijn moeder uit een joodse familie stamt."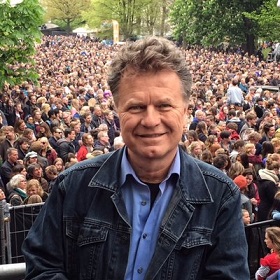 Boris Dittrich (Utrecht, 21 juli 1955)
De Britse schrijfster Sarah Waters werd geboren in Neyland, Wales, op 21 juli 1966. Zie ook alle tags voor Sarah Waters op dit blog.
Uit: Tipping the Velvet
"It was a curious kind of life, mine, even by Whitstable standards; but it was not a disagreeable or even a terribly hard one. Our working day began at seven, and ended twelve hours later; and through all those hours my duties were the same. While Mother cooked, and Alice and my father served, I sat upon a high stool at the side of a vat of natives, and scrubbed, and rinsed, and plied the oyster-knife. Some people like their oysters raw; and for them your job is easiest, for you have merely to pick out a dozen natives from the barrel, swill the brine from them, and place them, with a piece of parsley or cress, upon a plate. But for those who took their oysters stewed, or fried – or baked, or scalloped, or put in a pie – my labours were more delicate. Then I must open each oyster, and beard it, and transfer it to Mother's cooking-pot with all of its savoury flesh intact, and none of its liquor spilled or tainted. Since a supper-plate will hold a dozen fish; since oyster-teas are cheap; and since our Parlour was a busy one, with room for fifty customers at once – well, you may calculate for yourself the vast numbers of oysters which passed, each day, beneath my prising knife; and you might imagine, too, the redness and the soreness and the sheer salty soddenness of my fingers at the close of every afternoon. Even now, two decades and more since I put aside my oyster-knife and quit my father's kitchen for ever, I feel a ghostly, sympathetic twinge in my wrist and finger-joints at the sight of a fishmonger's barrel, or the sound of an oyster-man's cry; and still, sometimes, I believe I can catch the scent of liquor and brine beneath my thumb-nail, and in the creases of my palm.
I have said that there was nothing in my life, when I was young, but oysters; but that is not quite true. I had friends and cousins, as any girl must have who grows up in a small town in a large, old family. I had my sister Alice – my dearest friend of all – with whom I shared a bedroom and a bed, and who heard all my secrets, and told me all of hers. I even had a kind of beau: a boy named Freddy, who worked a dredging smack beside my brother Davy and my Uncle Joe on Whitstable Bay.
And last of all I had a fondness – you might say, a kind of passion – for the music hall; and more particularly for musichall songs and the singing of them. If you have visited Whitstable you will know that this was a rather inconvenient passion, for the town has neither music hall nor theatre – only a solitary lamp-post before the Duke of Cumberland Hotel, where minstrel troupes occasionally sing, and the Punch-and- Judy man, in August, sets his booth."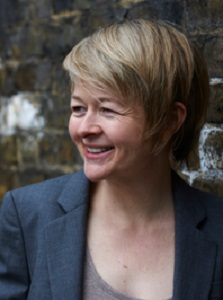 Sarah Waters (Neyland, 21 juli 1966)
De Catalaanse dichter Ernest Farrés i Junyent werd in Igualada geboren op 21 juli 1967. Zie ook alle tags voor Ernest Farrés op dit blog.
Compartment C, Car 293, 1938
Face stern, hair
more or less blonde, eyes
with an inward-looking glint,
skin in the pink, wearing
a stare-till-you're-bored attitude
in a black dress that hugged her breasts
and a pair of long legs, in good working order,
she looked real swell, sure enough,
and 'independent', as the saying goes.
The down time on the train was just
the ticket for stealing looks at her
as she sat across the aisle, reading –
poor kid – with such concentration
that at dusk she completely missed
the sun's last rays burning in the west,
stuck to the limitless vault of the sky.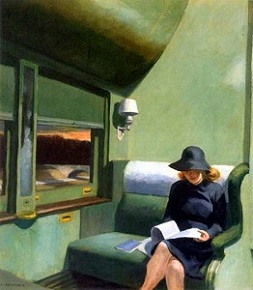 Ernest Farrés (Igualada, 21 juli 1967)
Compartment C, Car 293, 1938 door Edward Hopper
De Duitse schrijver Hans Fallada (eig. Rudolf Ditzen) werd geboren in Greifswald op 21 juli 1893 als de zoon van een jurist. Zie ook alle tags voor Hans Fallada op dit blog.
Uit: Kleiner Mann – was nun?
"Sie gehen auf die Tür zu und kommen an einer andern, halb offen stehenden vorbei. Das ist wohl das gewöhnliche Wartezimmer, und in ihm scheinen die dreißig zu sitzen, die Pinneberg an sich vorbeikommen sah. Alles schaut auf die beiden und ein Stimmengewirr erhebt sich:
»So was gibt's nicht!«
»Wir warten schon länger!«
»Wozu zahlen wir unsere Kassenbeiträge?!«
»Die feinen Pinkels sind auch nicht mehr wie wir.«
Die Schwester tritt in die Tür: »Seien Sie man bloß ruhig! Herr Doktor wird ja gestört! Was Sie denken, ist nicht. Das ist der Schwiegersohn von Herrn Doktor mit seiner Frau. Nicht wahr?«
Pinneberg lächelt geschmeichelt, Lämmchen strebt der andern Tür zu. Einen Augenblick ist Stille.
»Nu bloß schnell!«, flüstert die Schwester und schiebt Pinneberg vor sich her. »Diese Kassenpatienten sind zu gewöhnlich. Was die Leute sich einbilden für das bißchen Geld, das die Kasse zahlt ...«
Die Tür fällt zu, der Junge und Lämmchen sind im roten Plüsch.
»Das ist sicher sein Privatsalon«, sagt Pinneberg. »Wie gefällt dir das? Schrecklich altmodisch finde ich.«
»Mir war es gräßlich«, sagt Lämmchen. »Wir sind doch sonst auch Kassenpatienten. Da hört man mal, wie die beim Arzt über uns reden.«
»Warum regst du dich auf?« fragte er. »Das ist doch so. Mit uns kleinen Leuten machen sie, was sie wollen ..."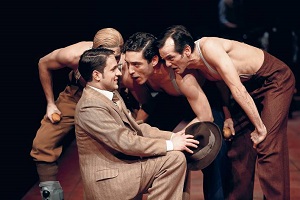 Hans Fallada (21 juli 1893 – 5 februari 1947)
Scene uit een toneeluitvoering in Berlijn, 2016
Zie voor nog meer schrijvers van de 21e juli ook mijn vorige blog van vandaag.
21-07-2018 om 12:05 geschreven door Romenu

Tags:Peter Winnen, Ernest Hemingway, Belcampo, Boris Dittrich, Sarah Waters, Ernest Farrés, Hans Fallada, Tour de France, Romenu



David Boerljoek, Hart Crane, Mohammed Dib, Brigitte Reimann, Anton Schnack, Julius Sturm, Matthew Prior
De Russisch-Amerikaanse dichter, schrijver en schilder David Davidovitsj Boerljoek werd geboren in Semirotowschtschina, nabij Charkov, op 21 juli 1882. Zie ook alle tags voor David Boerljoek op dit blog.
Festive Blue
A green spirit flashed boldly like a stone
Into the lake's depth where mirrors dreamt.
Look now how brightly flared the flame
Where previously nestled the dim dark.
So heartless you in me awakened sorrow
Toward the water ghosts you'd demolished.
In that flash you wished to resist absence
Above the abyss that is a festive blue.
Vertaald door Alex Cigale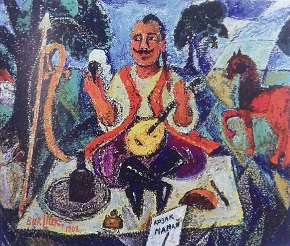 David Boerljoek (21 juli 1882 – 15 januari 1967)
Cossack Mamay door David Boerljoek, 1912
De Amerikaanse dichter Hart Crane werd geboren op 21 juli 1899 in Garrettsville, Ohio. Zie ook alle tags voor Hart Crane op dit blog.
O Carib Isle!
The tarantula rattling at the lily's foot
Across the feet of the dead, laid in white sand
Near the coral beach—nor zigzag fiddle crabs
Side-stilting from the path (that shift, subvert
And anagrammatize your name)—No, nothing here
Below the palsy that one eucalyptus lifts
In wrinkled shadows—mourns.
And yet suppose
I count these nacreous frames of tropic death,
Brutal necklaces of shells around each grave
Squared off so carefully. Then
To the white sand I may speak a name, fertile
Albeit in a stranger tongue. Tree names, flower names
Deliberate, gainsay death's brittle crypt. Meanwhile
The wind that knots itself in one great death—
Coils and withdraws. So syllables want breath.
But where is the Captain of this doubloon isle
Without a turnstile? Who but catchword crabs
Patrols the dry groins of the underbrush?
What man, or What
Is Commissioner of mildew throughout the ambushed senses?
His Carib mathematics web the eyes' baked lenses!
Under the poinciana, of a noon or afternoon
Let fiery blossoms clot the light, render my ghost
Sieved upward, white and black along the air
Until it meets the blue's comedian host.
Let not the pilgrim see himself again
For slow evisceration bound like those huge terrapin
Each daybreak on the wharf, their brine-caked eyes;
—Spiked, overturned; such thunder in their strain!
And clenched beaks coughing for the surge again!
Slagged of the hurricane—I, cast within its flow,
Congeal by afternoons here, satin and vacant.
You have given me the shell, Satan,—carbonic amulet
Sere of the sun exploded in the sea.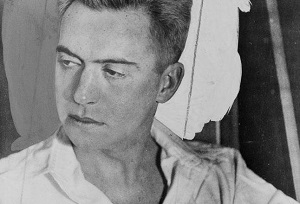 Hart Crane (21 juli 1899 – 26 april 1932)
De Algerijnse schrijver Mohammed Dib werd geboren op 21 juli 1920 in Tlemcen, een stad in het noordoosten van Algerije. Zie ook alle tags voor Mohammed Dib op dit blog.
Uit: La Grande Maison
« Brahim Bali pointa le doigt en l'air. Tiens, celui-là ! Il savait donc ? Bien sûr. Il redoublait, il était au courant. - La France est notre mère Patrie, ânonna Brahim. Son ton nasillard était celui que prenait tout élève pendant la lecture. Entendant cela, tous firent claquer leurs doigts, tous voulaient parler maintenant. Sans permission, ils répétèrent à l'envi la même phrase. Les élèves serrés, Omar pétrissait une petite boule de pain dans sa bouche. La France, capital Paris. Il savait ça. Les Français qu'on aperçoit en ville, viennent de ce pays. Pour y aller ou en revenir, il faut traverser la mer, prendre le bateau… la mer : la mer Méditerranée. Jamais vu la mer, ni un bateau. Mais il sait : une très grande étendue d'eau salée et une sorte de planche flottante. La France, un dessin en plusieurs couleurs. Comment ce pays si lointain est-il sa mère ? Sa mère est à la maison, c'est Aïni ; il n'en a pas deux. Aïni n'est pas la France. Rien de commun. Omar venait de surprendre un mensonge. Patrie ou pas patrie, la France n'était pas sa mère. Il apprenait des mensonges pour éviter la fameuse baguette d'olivier. C'était ça les études. Les rédactions : décrivez une veillée au coin du feu… pour les mettre en train, M. Hassan leur faisait des lecture où il était question d'enfants qui penchent studieusement sur leurs livres. La lampe projette sa clarté sur la table. Papa enfoncé dans fauteuil, lit son journal et maman fait de la broderie. Alors Omar était obligé de mentir. Il complétait le feu qui flambe dans la cheminée, le tic tac de la pendule, la douce atmosphère du foyer pendant qu'il pleut, vent et fait nuit dehors. Ah ! Comme on se sent bien chez soi au coin du feu ! Ainsi : la maison de compagne où vous passez vos vacances. Le lierre grimpe sur la façade ; le ruisseau gazouille dans le pré voisin. L'air est projet urbain, quel bonheur de respirer à pleins poumons ! Ainsi : le laboureur. Joyeux, il pousse sa charrue en chantant, accompagnée par les trilles de l'alouette. Ainsi : la cuisine. Les rangées de casseroles sont si bien astiquées et si reluisantes qu'on peut s'y mirer. Ainsi : Noël. L'arbre de Noël qu'on plante chez soi, les fils d'or et d'argent, les boules multicolores, les jouets qu'on découvre dans ses chaussures. Ainsi, les gâteaux de l'Aïd-Seghir, le mouton qu'on égorge à l'Aïd-Kebir… ainsi la vie ! «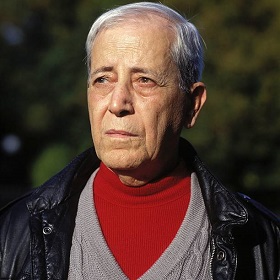 Mohammed Dib (21 juli 1920 – 2 mei 2003)
De schrijfster Brigitte Reimann werd op 21 juli 1933 vlakbij Maagdenburg geboren en groeide op in de DDR. Zie ook alle tags voor Brigitte Reimann op dit blog.
Uit: Jede Sorte von Glück
"Hoywoy, am 17. 3. 60
Liebe Eltern,
…gestern habe ich mein zweites Kapitel abgetippt, und Daniel hat es abends noch nach Hoy. zur Post gebracht und per Eilbrief abgeschickt. …
Ihr könnt Euch vorstellen, wie ich geschuftet habe, und jetzt bin ich ganz schön nervös – zum Glück äußert sich diese Nervosität nur in schrecklicher Albernheit, und da es Daniel auch nicht viel besser geht (gestern hat er bis morgens um acht Uhr gearbeitet und eine Menge geschafft), treiben wir lauter Unsinn, balgen uns und spielen das große »Kater- und Schellfisch-Spiel«. Eigentlich zanken wir uns hier so gut wie gar nicht, vielleicht deshalb, weil wir zum erstenmal ganz allein auf uns gestellt sind.
Herzlichen Dank für das Päckchen, liebe Mu! Wir haben uns vor allem über die Forsythien aus der Neuendorfer Straße gefreut. Sie haben sich im Wasser sofort erholt und stehen jetzt in voller Blüte. Das war wirklich eine wunderbare Idee!
Du sahst letztes Mal so schlecht aus, lieber Vati, daß ich geradezu einen Schreck bekommen habe, und ich hoffe sehr, daß Du Dich in der einen Woche ein bißchen erholst. Du müßtest wirklich versuchen, egoistischer zu werden und Dir das Übermaß an Arbeiten möglichst vom Hals zu halten. Wenn Du diese ganze Anstrengung in Genthin mit einem Zusammenbruch bezahlst, nützt Du weder Dir noch der Bank, das müßtest Du den Leuten mal klarmachen.
Geld, Geld … Ich glaube, diese Sorge werden wir niemals los. Dabei brauchen wir jede Woche ungefähr hundert Mark, meistens noch ein wenig mehr als hundert. Wir leben wirklich nicht üppig oder gar verschwenderisch, aber jede Woche kommen irgendwelche Sonderausgaben dazu – Miete, Fahrgelder, ein paar teure Südfrüchte, ein Paket Kaffee, eine Flasche Wodka, wenn wir Gäste erwarten, Ferngespräche, irgendwelche Haushaltsgegenstände – kurzum, es summiert sich erschreckend. Für größere Anschaffungen ist nichts da. Dabei brauchten wir zum Sommer dringend einen Kühlschrank, denn den ganzen Morgen und Mittag knallt die Sonne ins Küchenfenster, und wenn es erst richtig heiß wird, läuft uns die Butter und Sahna im Schrank weg. Freilich gibt es momentan gar keine Kühlschränke zu kaufen, nur Bestellungen werden angenommen. Lieferzeit: ein dreiviertel Jahr."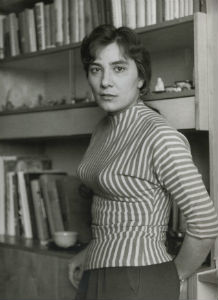 Brigitte Reimann (21 juli 1939 – 20 februari 1973)
De Duitse dichter en schrijver Anton Schnack werd geboren op 21 juli 1892 in Rieneck. Zie ook alle tags voor Anton Schnack op dit blog.
Was traurig macht (fragment)
Besuch bei einem Kameraden aus der Schulzeit.
Er ist Direktor einer Fabrik geworden. Er gibt dir die Hand,
aber es scheint so, als ob er dich nicht mehr erkennen will,
da du nichts geworden bist als ein Dichter dunkler und
schwermütiger Worte. Das Gespräch stockt.
Und er sagt mit der Uhr in der Hand, daß er gleich zu einer
wichtigen Konferenz gehen müße.
Der Blick eines sterbenden Rehes ahf der Jagd.
Der Duft von Jasmin. Immer muß ich an die Heimat denken,
wo ein Strauch unter dem Fenster stand.
Leise Musik aus einem Park. es ist ein wunderbarer Sommerabend.
Du hörst die Schritte der Leute leise auf dem Kies knirschen,
ein Gelächter jubelt herauf, aber du liegst schon wochenlang
krank im verdunkelten Zimmer.
Ein fahrender Zug macht traurig. Es ist zwischen Abend und Nacht.
Die blitzenden Fenster sausen wie Spuk vorbei. Ein schönes
Frauengesicht steht Lächelnd am Fenster.
An einem Metzgerladen vorübergehen. Die roten, blutenden
Keulen, die aufgespalteten Körper, die gläsernen und blind
gewordenen Augen der Kälber und Schafleiber machen traurig.
Man soll nicht hinsehen und schnell vorübergehen.
Von einem bunten und heißen Maskenfeste heimkehren.
Die ungenaue Morgenluft bewegt ein feiner und unhörbarer Regen.
Die Geliebte küßte einen Schauspieler.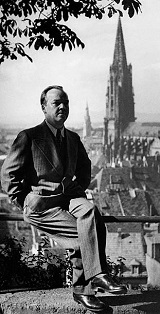 Anton Schnack ( 21 juli 1892 – 26 september 1973)
De Duitse dichter Julius Carl Reinhold Sturm werd geboren op geboren 21 juli 1816 in Koestritz. Zie ook alle tags voor Julius Sturm op dit blog.
Aus der Kindheit
Ein Hügel war′s, wo ich im Gras
Zur Sommerzeit am liebsten saß
Als frohes Kind allein;
Weit um mich her die grüne Au′
Und über mir nur tiefes Blau
Und goldner Sonnenschein.

Da schwärmten Falter mir vorbei,
Und fleiß′ge Bienen summten frei
Mir um das blonde Haar.
Goldkäfer stellten oft sich ein,
Und Grillen musizierten fein
Zum Tanz der Mückenschar.

Und wenn der Tag zu Rüste ging,
Wie selig da mein Auge hing
An Wolken, goldumsäumt!
O, das war tiefe Poesie, -
So lebensvolle, wie ich nie -
Mir je als Mann erträumt.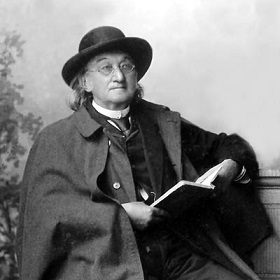 Julius Sturm (21 juli 1816 - 2 mei 1896)
De Engelse schrijver en diplomaat Matthew Prior werd geboren in Wimborne Minster, East Dorset, op 21 juli 1664. Zie ook alle tags voor Matthew Prior op dit blog.
Hymn To The Sun
I.
Light of the World, and Ruler of the Year,
With happy Speed begin Thy great Career;
And, as Thou dost thy radiant Journeys run,
Through every distant Climate own,
That in fair Albion Thou hast seen
The greatest Prince, the brightest Queen,
That ever sav'd a Land, or blest a Throne,
Since first Thy Beams were spread, or Genial Power was known.
II.
So may Thy Godhead be confest;
So the returning Year be blest;
As His Infant Months bestow
Springing Wreaths for William's Brow;
As His Summer's Youth shall shed
Eternal Sweets around Maria's Head.
From the Blessings They bestow,
Our Times are dated, and our Æra's move:
They govern, and enlighten all Below,
As Thou dost all Above.
III.
Let our Hero in the War
Active and fierce, like Thee, appear:
Like Thee, great Son of Jove, like Thee,
When clad in rising Majesty,
Thou marchest down o'er Delos' Hills confest,
With all Thy Arrows arm'd, in all Thy Glory drest.
Like Thee, the Hero does his Arms imploy,
The raging Python to destroy,
And give the injur'd Nations Peace and Joy.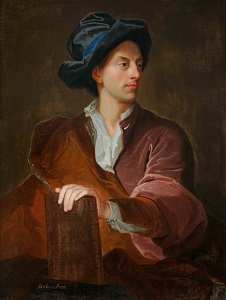 Matthew Prior (21 juli 1664 – 18 september 1721)
Portret door Hyacinthe Rigaud, 1699
21-07-2018 om 12:04 geschreven door Romenu

Tags:David Boerljoek, Hart Crane, Mohammed Dib, Brigitte Reimann, Anton Schnack, Julius Sturm, Matthew Prior, Romenu


20-07-2018

Eddy van Vliet, Hans Lodeizen, Henk Hofland, Arie Storm, Paul Violi, Uwe Johnson, Maurice Gilliams, Francesco Petrarca
Dolce far niente - Bij de Nijmeegse Vierdaagse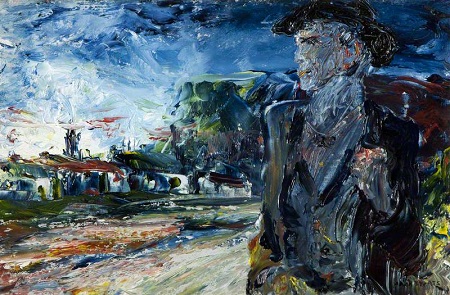 Return of the Wanderer door Jack Butler Yeats, ca. 1928
De Wandelaar
De wandelaar hijgt. Bij het achterlaten
van niets heeft hij ervaren hoe alles blijft.

Langs de jaren voordien ging zijn tocht.
Wat tot bedaren werd gebracht,
als met water besprenkeld stof, wordt herdacht.

In over elkaar gelegde landschappen
vindt hij één voor één iedereen terug.

Alleen: omkeren naar zichzelf kan hij niet.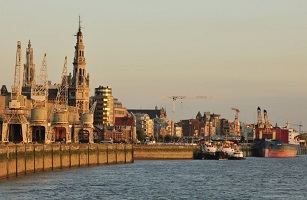 Eddy van Vliet (11 september 1942 – 5 oktober 2002)
De Scheldekaaien in Antwerpen, de geboortestad van Eddy van Vliet
De Nederlandse dichter Hans Lodeizen werd geboren op 20 juli 1924 in Naarden. Zie ook alle tags voor Hans Lodeizen op dit blog.
als we maar hoop hebben
deze oude vieze wereld
die kun je gerust weggooien:
de romantiek van
uilskuikens

het is verdomd
moeilijk om te leven
zie in de hemel:
alles is rotzooi

maar als we maar
hoop hebben
zolang we maar
hoop hebben...
Mazurka
Geef mij de hand
zo zacht en goedgeefs,
de hand die liefde
als een sjaal uitspreidt,
de hand die een doorn
is in de zijde van de nacht,
en de regen overschaduwt.
doodsbenauwd is
de hand; een keizer

geef mij het lichaam,
zachter dan zeewind,
zacht als een vos.
dan zal ik niet meer
vragen, de storm
van mijn ogen zal lachen
in zonlicht, een waaier
van lente gelijk, een zaad
dat ontplooit tot
lach en droefheid,
nevel en rood.
daar hangen de bloemen,
de vingers van de hand,
de hand van het lichaam.

raak mij zachtjes aan,
in mij woont het raadsel.
soms wandelt het in jouw wereld,
soms wandelt het dagenlang,
soms rust het uit in jouw ogen,

laat me je hand zien,
morgen zal ik een andere zien.
ik ken jouw leven omdat de zon
met jou wat te doen heeft.
Jim ik zou willen weten
Jim ik zou willen weten
wat maakt het de moeite waard
dat je door blijft schrijven
brieven, opstellen en gedichten
waarin je de wereld aanprijst
en deskundig schat als een koopman.
hoe komt het dat je niet moe
wordt en de ogen dicht doet en
denkt ik wou dat ze allemaal
naar de hel gingen met hun
kletspraatjes en door blijft schrijven
brieven, opstellen en gedichten
waaruit ik je herken en waardoor
ik je tegenkom lachend
en mij moed insprekend
want ik ben heel moe en terwijl
ik spreek glijdt hoop uit mij vandaan.
Jim wat maakt het de moeite waard
dat je door blijft schrijven
brieven, opstellen en gedichten... etc.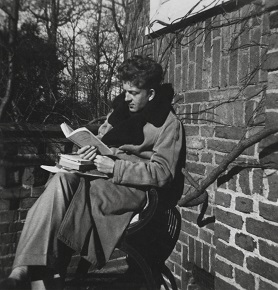 Hans Lodeizen (20 juli 1924 – 26 juli 1950)
De Nederlandse schrijver, journalist, commentator, essayist en columnist Henk Hofland werd geboren in Rotterdam op 20 juli 1927. Zie ook alle tags voor Henk Hofland op dit blog.
Uit: Van zazou tot provo
"Van alle jeugdbewegingen in Nederland waarover sinds de oorlog bezorgde, verontwaardigde of diepzinnig verklarende artikelen zijn geschreven, is die van de provo's de enige die er revolutionaire theorieën op nahoudt, althans een aantal formules op schrift heeft gesteld. Dit onderscheidt de provo's van al hun voorgangers, en het is nu maar de vraag of we hier met een principieel verschil hebben te maken, of dat de anarchistische theorie alleen maar franje is. In het laatste geval hebben de provo's al een stamboom waarin ze na de zazous en de nozems al de derde generatie zijn.
Wie spreekt er nu nog over zazous? Ze zijn totaal vergeten, maar toch hebben ze jarenlang voor grote verontrusting onder de pedagogen gezorgd. Het best zijn ze beschreven door Malaparte in De huid:
'Zazous waren excentrieke jongelieden tussen de zeventien en de twintig, opvallend gekleed, met golfschoenen, nauwe tot het scheenbeen reikende broekspijpen, een overmatig lang jasje en een overhemd met een hoog nauw boord. Ze droegen hun haar lang, tot in hun nek en het geheel deed herinneren aan Marie Antoinette. De zazous verschenen voor het eerst in 1940 hier en daar in Parijs in de buurt van de Place Victor Hugo. In een bar aan dit plein hadden ze hun hoofdkwartier. Vervolgens werden ze in dichte drommen waargenomen aan de Rive Gauche en in de bars in de buurt van St. Germain des Prés. Maar de voorkeur bleken ze toch te geven aan Muette en de Champs Elysées.
Over het algemeen kwamen ze uit welgestelde burgermilieus en op het eerste gezicht lieten de zorgen die de meeste Fransen somber stemden, hen koud. Ze toonden geen buitengewone belangstelling voor kunst of litteratuur of sport en vooral niet voor de politiek, als men tenminste de smerigheid uit die tijd politiek wil noemen. Voor alles wat onder de term flirt wordt samengevat, waren ze onverschillig, hoewel ze in gezelschap waren, of liever, meisjes in hun gevolg hadden die op soortgelijke excentrieke manier gekleed waren - in een lange blouse en een rok die tot even boven de knieën reikte.In openbare gelegenheden spraken ze nooit luid, maar steeds met gedempte stem, bijna fluisterend, en hun gesprekken gingen altijd over de film, minder over de sterren dan over de regisseurs en de films op zichzelf. Hun middagen brachten ze door in de bioscoop, en in de donkere zalen hoorde men hun zacht gefluister en de korte keelgeluiden waarmee ze elkaar aanriepen."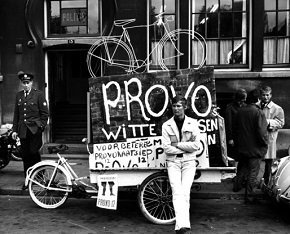 Henk Hofland (20 juli 1927 – 21 juni 2016)
Provo in Amsterdam, 1965
De Nederlandse schrijver en literatuurcriticus Arie Storm werd geboren in Den Haag op 20 juli 1963. Zie ook alle tags voor Arie Storm op dit blog.
Uit: Retourtje seksland
"Je komt er niet langer mee weg, als schrijver. Ik bedoel: gewoon thuis blijven zitten en werken, dat is niet meer goed mogelijk. Van alle kanten wordt er aan je getrokken (zo, de toon is gezet!). Na de publicatie van mijn reisverhalenboek - doeltreffend Op reis! genoemd - werd mij al spoedig gevraagd meer van dit soort ondernemingen op touw te zetten en mijn vleugels wederom uit te slaan (the plot thickens). Reizen is in, seks is nooit uit geweest. Wil hier thuis de schoorsteen blijven roken - dit is een moeizame en tegelijkertijd niet al te originele vorm van beeldspraak, met die rokende schoorsteen, maar enfin (mensen worden met minder beroemd), en élk fallisch symbool is vanaf nu mooi meegenomen -, dan moet ik echt álles aannemen. Voor vrouw en kind. Persoonlijk heb ik gewoon thuis seks, maar dat is weinig enerverend. Die seks is op zichzelf wel enerverend, haast ik mij te zeggen (anders is ook dat afgelopen), maar het decor en de privé-situatie nodigen niet uit tot verdere uitweiding. 'Seks hebben' is trouwens een anglicisme, beter is het om te spreken over 'de liefde bedrijven' - maar gezien de toonzetting van het verzoek dat mij heeft bereikt (een uitnodiging van het bekende seksblad De Gids - 'sinds 1837' -, opgericht door E.J. Potgieter en C.P.E. Robidé van der Aa; we zijn van ver gekomen), is het duidelijk dat het die kant niet op moet. Het woord 'liefde' kan beter worden vermeden, in deze context, en daar zal ik me vanaf nu aan houden. Wat ik nodig had, voor het schrijven van dit stuk, om inspiratie op te doen (zeg maar...), was een retourtje (heen en terug) seksland - dat was mij vrij vlot duidelijk.
Mijn vrouw had het, als we probeerden dat seksland te lokaliseren (nee, we spráken er gewoon over), al spoedig over een voetbalkleedkamer. Zelf dacht ik meer in de richting van Paris Hilton of Sienna Miller en hun gepimpte landhuizen, waar, nu ja, et cetera. Toch liet ik het haar even uitleggen. Nog niet zo héél erg lang geleden had ik in het kader van de verschijning van het boek We gaan naar Duitsland om te winnen (treurig) meegedaan aan een partijtje voetbal, hielp ze mij me te herinneren (het zweet stond spontaan op mijn voorhoofd en ook bij haar zag ik iets glinsteren). Een team bestaande uit de schrijvers die aan het boek hadden meegewerkt speelde tegen een team dat werd gevormd door boekverkopers. Na afloop was ik even verdwenen. Niet, om het eens poëtisch te zeggen, verdwenen voor mezelf (hoewel dat ook voorkomt), maar voor mijn vrouw."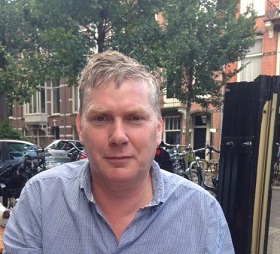 Arie Storm (Den Haag, 20 juli 1963)
De Amerikaanse dichter Paul Randolph Violi werd geboren op 20 juli 1944 in Brooklyn, New York. Zie ook alle tags voor Paul Violi op dit blog.
Abundance
In Breughel's great picture "Canal Street,"
restaurant customers order roast swan
instead of chicken, hurled salad
instead of tossed salad, while shoppers
spill through a maze of stalled trucks
and scurry around the sidewalk stalls
jammed with countless nameless things
that housewives sidestep
to surround a Japanese man
in a broad-brim hat and painted silk tie
as he demonstrates how one gadget
can cut food 50 different ways
and though they don't understand a word
he says, they stand transfixed by his spiel
amid the fumes and noise and loud fruitvendors
dropping casual perfections of sun and rain
into bags and sacks against a backdrop
of silver towers and sea and fields
vibrant with excess that giddy farmers hail
by tossing animals, large animals,
into the air to be carried away
on the winds of exuberance
to the four corners of the globe
where the romping gods
bear so many attributes
they're a bundle of incongruities
and no one takes them seriously
not even their beaming angels
who parachute drunkenly down to the shore
distracting the dogs let loose on cormorants
that ate so much they can't fly
but not the boys in the rowboat
who have caught a blowfish,
tickled its belly until it's about to burst
like a balloon before dropping it overboard
to watch it blow itself backward to kingdom come,
nor the other children who have stopped
clamoring over the stranded whale's back
to swim out underwater, under the swans,
grab them by the legs and yank them down
in a slow fury of bubbles and light
and then sell them to the market
near the restaurant in the foreground
of Breughel's great picture "Canal Street."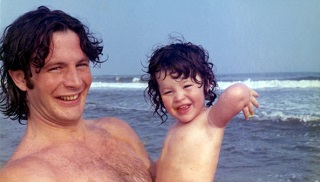 Paul Violi (20 juli 1944 – 2 april 2011)
Hier met zijn dochtertje in 1973
De Duitse schrijver Uwe Johnson werd geboren op 20 juli 1934 in Cammin (tegenwoordig Kamień Pomorski, Polen). Zie ook alle tags voor Uwe Johnson op dit blog.
Uit: Mutmaßungen über Jakob
»Ah –: galubuschka« sagte er. Er hatte alles im Kopf, tolles Gedächtnis, bat mich um Vortrag. Ich hielt ihm Vortrag.
Er hielt mir Vortrag. Verabredung. Eto ujasno. Verabredung. Zusammenfassung. Ich sagte noch: »Jesliana ostawajetssa galubka na kryschje …«, er verstand es nicht gleich, die haben dafür eine andere Fassung, dann lachte er. »Lutsche warabeja« sagte er. Er war sehr nett, gar nicht förmlich, immerhin war es ein Einzelgängerauftrag. Die Taube auf dem Dach. Den Abend verbrachte ich noch zu Hause, war aber ziemlich in Gedanken, manchmal auch unruhig. Schliesslich war die vorige Aktion gute Arbeit, dafür haben sie mich ja befördert, und Freistellung zur besonderen Verwendung ist letzten Endes noch eine Beförderung, musste es nun aber gleich die sein, wie konnte Cresspahl dann noch solche Lieder singen, ich kann auch wieder runterbefördert werden, dabei bleibt es nicht. Und der Ärger wegen des Kindes. Ich seh ja ein dass meine Tochter schlafen muss um zwanzig Uhr, sie ist zwei Jahre alt, ich seh das ein, aber ich hab sie doch auch nur ein bisschen angehoben zum Abschied, also gut. Um Mitternacht ging ich runter auf die Strasse. Hänschen las in seiner ewigen technischen Fernschule und gähnte dass ich es sehen sollte, beim Anlassen sagte er: »Der Urlaub hätte länger dauern dürfen«, und ich sagte »In Jerichow ist ein Badestrand«, das war aber so um den siebenten Oktober, da fühlte ich mich wieder wohl, das wollen wir doch mal sehen. Das war Anfang Oktober und Herbst und wir fuhren die ganze Nacht weg aus Berlin nach unten und der Himmel wurde immer grösser immer weisser, da stand der Kirchturm von Jerichow ziemlich bescheiden hinter dem Berg. Die Hundefänger von Jerichow haben die beiden Einfamilienhäuser in der Bahnhofstrasse, trübefinster, beinahe baufällig, die Garage dicht daneben, lediglich ein Schild haben sie noch nicht angebracht."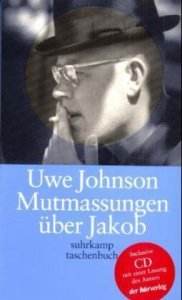 Uwe Johnson (20 juli 1934 – 24 februari 1984)
Cover
De Vlaamse dichter en schrijver Maurice Gilliams werd geboren in Antwerpen op 20 juli 1900. Zie ook alle tags voor Maurice Gilliams op dit blog.
Uit: Elias of het gevecht met de nachtegalen
"Wij vluchten bij mijne moeder in de eetzaal, omdat we weten dat ze Aloysius tegen tante Zénobie beschermen zal. wonderlijk stil is hij voor mijne moeder geworden, en wanneer haar trage hand over zijn haren streelt, springen er op eens lang ingehouden snikken in hem los.
Beschaamd, zijn voorhoofd tegen de muur gesteund, staat hij met zichzelf te vechten. Ondertusschen zijn wij aan tafel gegaan. Er hangt een afwachtende stilte over de familie. De dienstmeid gaat heen en weer met de dampende soepterrine. Als hij zich eindelijk omkeert is Aloysius als een doofstomme, verdwaasd en ongevoelig voor ons geworden. Zijn oogen staan hard en donker in zijn bleek gezicht, en zij schijnen niemand rond zich heen te herkennen.
Tijdens de zomervacantie wordt er ieder jaar op het familiebuiten een feest gehouden, en naar gewoonte zullen de kinderen een tooneelstukje opvoeren. Tante Theodora heeft er zich mede bemoeid, en alles werd voor een paar weken tot in de puntjes verzorgd. Er zijn de jongens van tante Emma: Casimir, Oscar en Leopold; en er zijn de kinderen van tante Zénobie: Albertus, Aloysius en Hermine. Met vragende oogen staan wij benieuwd rond tante Theodora geschaard; er is verwondering in ons hart, omdat ze met zulke geveinsde en profijtige vriendelijkheid over allerlei bijkomstige dingen spreekt.
Tante Zénobie heeft een zoontje dood: Pietje; Tante Emma, een dochtertje: Virginia. Daar zullen we dit jaar een aandoenlijk spel van vertoonen. Hermine speelt voor het kindje van tante Emma; maar omdat er onder de kinderen van tante Emma geen zulke kleine jongens meer zijn om Pietje uit te beelden, moet ik die gewichtige rol vervullen. Wij houden dagelijks repetitie in een buiten dienst gestelde remise en tante zegt ons plechtig voor wat wij aan elkaar vertellen moeten.
Wanneer we eindelijk mogen uitscheiden ben ik doodmoe, zoodat ik niet met Aloysius mee kan. De groote jongens gaan met hun boeken languit in het gras liggen; ze spelen vogelpik onder een oude eik of kegelen in de schaduw van het waschhuis. Ik word door Hermine in huis gelokt en wij gaan heerlijk in het salon onder de tafel uitrusten.
Hermine is erg zenuwachtig, mager, van doorschijnende bleekte en ze kan plotseling zulke malle invallen hebben. Zij heeft ook gevoelerige buien; dan kan ze niet dicht genoeg bij me zijn en gedurig aan trapt ze mij op de voeten of ze tikt me nijdig op de vingers, dat ze er van gloeien en pijn doen. Zij leert me met vuur spelen. Tersluiks heeft ze een doosje lucifers weggenomen; drie tot tien solferstekken tegelijk ontbranden, die ze dan onvoorzichtig over mij heen in de richting van de koolemmer gooit."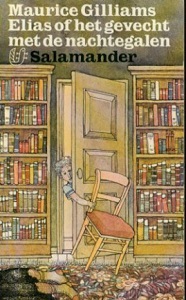 Maurice Gilliams (20 juli 1900 – 18 oktober 1982)
Cover
De Italiaanse dichter en schrijver Francesco Petrarca werd geboren in Arezzo op 20 juli 1304. Zie ook alle tags voor Francesco Petrarca op dit blog.
Uit: Die Besteigung des Mont Ventoux (Vertaald door Kurt Steinmann)
"Am festgesetzten Tage gingen wir fort von Haus und kamen gegen Abend nach Malaucène, - das ist ein Ort am Fuße des Berges, nach Norden gewandt.
Wir verweilten dort einen Tag und bestiegen heute endlich, jeder mit einem Bedienten, den Berg, nicht ohne viel Beschwerde. Er ist nämlich eine jäh abstürzende, fast unersteigliche Felsmasse. Indessen gut hat der Dichter gesagt: Verwegnes Mühen alles zwingt. Ein langer Tag, schmeichelnde Luft, Lebensfeuer der Gemüter, Kraft und Gewandtheit der Leiber und was es sonst dergleichen geben mag, stand uns beim Wandern zur Seite; einzig widerstand uns die Natur des Ortes. Einen uralten Hirten trafen wir an den Hängen des Berges, der sich mit viel Worten bemühte, uns von der Besteigung abzubringen. Dieser sagte, er habe vor 50 Jahren in ebensolchem Ansturme jugendlichen Feuers den höchsten Gipfel erstiegen, indessen nichts von da heimgebracht als Reue und Mühe und von Felskanten und spitzen Dorngestrüpp zerrissenen Leib und Rock, und es sei weder vor noch nach jener Zeit je bei ihnen davon gehört worden, daß irgendwer Ähnliches gewagt habe. Da jener dies uns zuschrie, wuchs uns am Verbote das Verlangen – denn jugendliche Herzen schenken ja Warnern nur ungern Glauben. Infolgedessen ging der Greis, als er sah, daß er sich vergebens Mühe, etwas mit vorwärts und wies uns zwischen den Felsen einen steilen Pfad mit dem Finger, wobei er vielerlei zu erinnern wußte und viel hinter uns her seufzte, als wir schon davongegangen waren. Wir lassen bei ihm alles zurück, was irgend an Kleidungsstücken oder sonstiger Ausrüstung hinderlich sein könnte, schicken uns einzig und allein zur Besteigung an und klettern munter los. Aber, wie es meist geschieht, folgt dem ungeheuren Unterfangen geschwind die Ermattung. So erging es mir zu meiner Entrüstung mindestens dreimal innerhalb weniger Stunden, und mein Bruder lachte darob nicht wenig. So hatte ich mich denn, oft enttäuscht, in einem Tal niedergelassen. Dort schwang ich mich auf Gedankenflügeln vom Körperlichen zum Unkörperlichen hinüber und wies mich selbst etwas mit den folgenden Worten zurecht: Was du heute so oft bei Besteigung dieses Berges erfahren hast müssen, wisse, genau das tritt an dich und an viele heran, die da Zutritt suchen zum seligen Leben. Aber es wird deswegen nicht leicht von den Menschen richtig gewogen, weil die Bewegungen des Körpers zutage liegen, die der Seele jedoch unsichtbar sind und verborgen."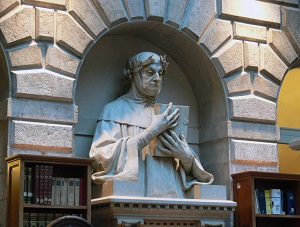 Francesco Petrarca (20 juli 1304 – 19 juli 1374)
Standbeeld in Venetië
Zie voor nog meer schrijvers van de 20e juli ook mijn blog van 20 juli 2017 en ook mijn blog van 20 juli 2013 deel 2 en eveneens deel 3.
20-07-2018 om 16:47 geschreven door Romenu

Tags:Eddy van Vliet, Hans Lodeizen, Henk Hofland, Arie Storm, Paul Violi, Uwe Johnson, Maurice Gilliams, Francesco Petrarca , Dolce far niente, Romenu


19-07-2018

Sarah Josepha Hale, Anna Enquist, Laurent Binet, Ghayath Almadhoun, Jean-Pierre Faye, Lucas Malan, Dom Moraes, Miltos Sachtouris
Dolce far niente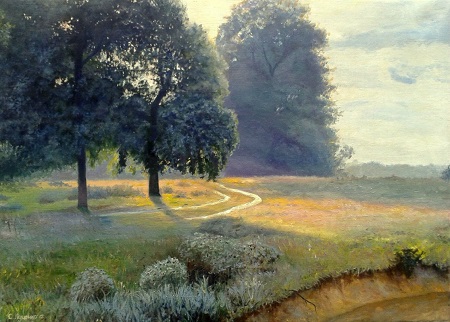 Zomermorgen door Sergey Lutsenko, 2016
Summer Morning
How beautiful the morning,
When summer days are long;
O, we will rise betimes and hear
The wild-bird's happy song--
For when the sun pours down his ray
The bird will cease to sing;
She'll seek the cool and silent shade,
And sit with folded wing.

Up in the morning early--
'Tis Nature's gayest hour!
There's pearls of dew upon the grass
And fragrance on the flower.
Up in the morning early,
And we will bound abroad,
And fill our hearts with melody,
And raise our songs to God.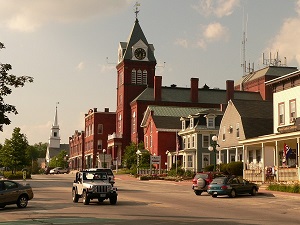 Sarah Josepha Hale (24 oktober 1788 – 30 april 1879)
Newport, New Hampshire, de geboorteplaats van Sarah Josepha Hale
De Nederlandse dichteres en schrijfster Anna Enquist werd geboren op 19 juli 1945 in Amsterdam als Christa Boer. Zie ook alle tags voor Anna Enquist op dit blog.
Mijn zoon
Mijn zoon stormt door het huis,
een roffel op de trap. Hij is
zichzelf een motor. Het lied
dat in hem leeft ontsnapt hem
soms. Ik hoor hem zingen
op de gang en zwijg.

's Nachts is hij bang, hij twijfelt
aan zichzelf, aan ons, de wereld.
Ik neem hem in mijn arm
en zonder spreken vaag ik
de oorlog weg en kinderkanker,
mijn eigen dood, het monster van de tijd.

Ik lieg hem voor en red hem
tot wij beiden slapen in gestolen veiligheid.
Winterwerk
De sarabande spelen op de vrieskoude
deel. De uilen hebben het klavier onder-
gescheten. Stom staan de dingen
van de zomer om je heen, strohoed,
trompet. Omhoog die bovenstem, waar
vogels schuilen op de balk, en dan omlaag.

Vertraag het lied, houd in totdat bloed
stolt en adem stokt. Kan zij nu gaan?
Doorspelen. In de bas orgelt een toon
die alle tegenstemmen op zal zuigen.
Hollen of stilstaan - maakt niet uit,
je hamert hoorbaar op het einde aan.

Niet meer dan vilt op staal, lucht
die uittrilt tot stilte. Slechts een dag
in de gestage rij van dagen.
Conversatie met de kinderen
Aan tafel gaat het over
wreed. Dat je een lied zingt
waar de ander van moet huilen,
en dat je dat wéét, zeggen zij
zwaaiend met hun lepels. Zeker.

Of met een licht de trage
zwarte kreeften lokt. Jij
in de boot. De dieren spoeden
zich, kunnen niet anders doen
dan ijlen naar wat trillend
fonkelt achter raster dood.

Het ergste is de dolkstoot,
vinden zij. Dat iets geheels en
gaafs zo onverhoeds wordt aangetast
en voortaan niet meer zelf is
maar in binding met het wapen
dat zich toegang eist, en breekt, en krast.

Ontroerd, geobsedeerd, verwond
hoor ik hoe zij het wapentuig
van liefde argeloos als wreed
benoemen. Zonder aarzeling.
Boven de soep houd ik mijn mond.

(Schumann, Kinderszenen, opus 15)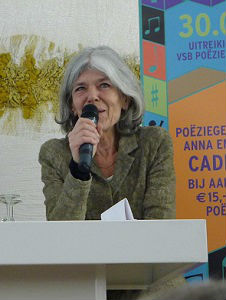 Anna Enquist (Amsterdam, 19 juli 1945)
De Franse schrijver Laurent Binet werd geboren in Parijs op 19 juli 1972. Zie ook alle tags voor Laurent Binet op dit blog.
Uit:La septième fonction du langage
"Au Flore, à côté d'une petite bonne femme blonde, ils aperçoivent un homme qui louche derrière de grosses lunettes, il a l'air souffreteux et sa tête de grenouille dit vaguement quelque chose à Bayard, mais ce n'est pas pour lui qu'ils sont là. Bayard repère les hommes de moins de trente ans et va les aborder. La plupart sont des gigolos qui draguent dans le secteur. Est-ce qu'ils connaissaient Barthes ? Tous. Bayard les interroge un par un tandis que Simon Herzog surveille Sartre du coin de l'œil : il n'a pas l'air en forme du tout, il n'arrête pas de tousser en tirant sur sa cigarette. Françoise Sagan lui tapote le dos avec sollicitude. Le dernier à avoir vu Barthes est un jeune Marocain : le grand critique était en pourparler avec un nouveau, il ne connaît pas son nom, ils sont partis ensemble l'autre jour, il ne sait pas ce qu'ils ont fait ni où ils sont allés ni où il habite mais il sait où on peut le trouver, ce soir : aux Bains Diderot, c'est un sauna, à Gare de Lyon. « Un sauna ? » s'étonne Simon Herzog, quand surgit un énergumène en écharpe qui lance à la cantonade : « Regardez-moi ces gueules ! Elles n'en ont plus pour longtemps ! En vérité, je vous le dis : un bourgeois doit régner ou mourir ! Buvez ! Buvez votre Fernet à la santé de votre société ! Profitez, profitez ! Chassez ! Périclitez ! Vive Bokassa ! » Quelques conversations s'interrompent, les habitués observent le nouveau venu d'un œil morne, les touristes essaient de profiter de l'attraction sans bien comprendre de quoi il s'agit, mais les serveurs continuent à servir comme si de rien n'était. Son bras balaie la salle d'un geste théâtral outré et, s'adressant à un interlocuteur imaginaire, le prophète à écharpe s'exclame sur un ton victorieux : « Pas la peine de courir, camarade, le vieux monde est devant toi !
(…)
Quand Jacques Bayard arrive devant la chambre, il découvre une queue de plusieurs mètres dans le couloir. Tous attendent pour rendre visite à l'accidenté. Il y a des vieux bien habillés, des jeunes mal habillés, des vieux mal habillés, des jeunes bien habillés, des styles très variés, des cheveux longs et des cheveux courts, des individus de type maghrébin, plus d'hommes que de femmes. En attendant leur tour, ils discutent entre eux, parlent fort, s'engueulent ou lisent un livre, fument une cigarette. Bayard, qui n'a pas encore bien pris la mesure de la célébrité de Barthes, doit vraisemblablement se demander ce que c'est que ce bordel. Usant de ses prérogatives, il passe devant la queue, dit « Police » et entre dans la chambre."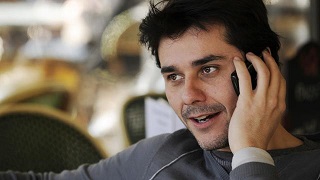 Laurent Binet (Parijs, 19 juli 1972)
De Zweeds – Palestijnse dichter, toneelschrijver, journalist en literair criticus Ghayath Almadhoun werd geboren op 19 juli 1979 in Damascus. Zie ook alle tags voor Ghayath Almadhoun op dit blog.
For Damascus
This summer seeping through the fractures
of Damascus is killing me. I creep like rust
on the doors of this prison, now turned
into a museum. I sit in a cafe
frightened and shrinking on days
when money is scarce, and laughing loudly
on days when my shifty pockets are full.
Damascus is my cracked home, and
Kasyon is what I grieve. I sprawl
in the evening like horns of cars
and carts of broad beans. Strangers and
tourists take to me. I am fenceless, any
joy that betrays me, returns
in sorrow to my laughing face. I
am a weird blend; my face mirrors
the wretched and the shopfront displays.
My body is fields of burning
wheat and my tongue scolds like a shoe.
The policeman, the teacher and
the mysterious man stare at me, so I sadly
laugh, and they joyfully cry. Damascus
is mine, and I will not share my bed with
anyone other than the wicked and
the whores. I am the descending ladder
to high pits and the footsteps of thieves
on the sand. My body is a departure
motel and my words are tiny gospels that
the prophets had lost, so the prodigal sons
embraced them. Therefore, I will toss the crumbs
to birds on barbed wire, and I will castrate
glory on asphalt. This is what they taught us
in public schools, before they let us off
like rabbits to chew the grass
of submission. I said to you that I will not
allow anyone to sneak in and peek at Damascus
as she bathes alone, her small
breasts timidly uncovered, I will not
let you
in.
Vertaald door Zeina Issa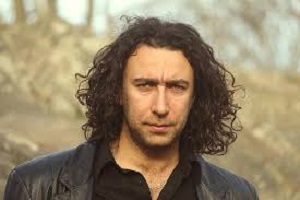 Ghayath Almadhoun (Damascus, 19 juli 1979)
De Franse schrijver en filosoof Jean-Pierre Faye werd geboren in Parijs op 19 juli 1925. Zie ook alle tags voor Jean-Pierre Faye op dit blog.
Le visage qui va
Le visage qui va
voir, est aussi regardé
juste avant qu'il ne lève
les yeux au-devant, et ne soit traversé
- maintenant il est juste
moulé dans la lumière, modelé
du dehors, caressé
le long du cou, de la hanche
et des reins, jusqu'à la confluence
des jambes et du ventre
et jusqu'où il est ventre et corps
mais lève les yeux, ouvre
ce trou dans la distance, le long
des murs chauds ici, rouges
délabrés, marqués de joints écaillés
et jusqu'au fond et aux arbres
au chemin de son, passé et crissé
à peine prenable, ici
elle, confondue
peu à peu avec les murs
assise, fondue dans le ciment
et les grandes écailles tracées et détachées
écoutant longtemps et voyant
appuyée au revers de main, et
ne cessant pas de rester et d'être
durable et dessinée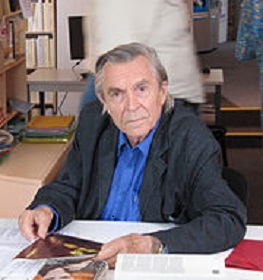 Jean-Pierre Faye (Parijs, 19 July 1925)
De Zuidafrikaanse dichter Lucas Cornelis Malan werd geboren in Nylstroom op 19 juli 1946. Zie ook alle tags voor Lucas Malan op dit blog.
In Camera 1
Ensconced in Duchess Court she managed to retain
some antique furniture and a precarious dignity:
and after fifty years as midwife also the knack
of charming people. Here she preserves photographs,
old journals and her pain in specific detail.
The Royal Albert tea service (picked out
at Anstey's as a bride) she uses only
for teas such as this – and all the snacks I made myself.
Now, this is the lounge where we will have our tea.

But let me show you something at the back
– please excuse the mess round here, I am
a dressmaker too, you know – designer stuff –
the place gets terribly untidy; and then, of course
Lindy's always underfoot. Sit down! Now sit!
She gets so worked up, you see. And this gate
I had installed for my security. But just take a look
out there: You can almost see eternity. Now,
have you ever seen a view like that?

This gown I made for Marguerite. She came
round here this morning – Miss South Africa of '68.
Never married, do you know? And still
as beautiful, although she's put on weight.
Poor girl. I wonder, though . . . Oh, never mind,
that's, after all, the way things go. Now come,
let's have some tea. Do you know this? Earl Grey,
which Gavin brings from London, always fresh.
He's with SAA, a gentleman and very kind –

The sun is shifting, she makes more tea. We speak
of this and that: My husband died in '83, how sad
for me who had no kith or kin. But then, you see,
the Lord provides: my tiny Lindy here
is like a child and always such a joy. But what
is to become of her if I – She speaks, and all the while
the light around us fades. It's getting late,
she notes, but don't go yet! You have to see
the view at night. I go along with her to look:

Like a sea the city lies, incandescently inflamed
in outgrowths round the core, the outskirts –
like a nocuous yellow flicker along the seam
dividing elite and deprived neighbourhoods:
a Milky Way torn off by gravity. This is a place
of people, of passion and loneliness. She looks:
You know what this reminds me of? I listen
and then leave. But embedded in that metaphor
(a cemetery alight) I see an old placenta
splayed out – black and terminal with blight.
Vertaald door Charl J.F. Cilliers en Lucas Malan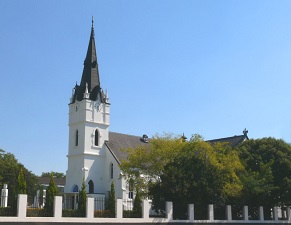 Lucas Malan (19 juli 1946 – 15 april 2010)
De NH kerk in Nylstroom
De Indiase dichter en schrijver Dominic Francis Moraes werd geboren op 19 juli 1938 in Bandra. Zie ook alle tags voor Dom Moreas op dit blog.
KANHERI CAVES
Over these blunted, these tormented hills,
Hawks hail and wheel, toboggan down the sky.
It seems this green ambiguous landscape tilts
And teeters the perspective of the eye.
Only two centuries after Christ, this cliff
Was colonised by a mild antique race
Who left us, like a faded photograph,
Their memories that dry up in this place.
They left no ghosts. The rock alone endures.
The drains and cisterns work, but wrecked the stairs;
Blocks are fallen: sunlight cracks those floors,
And fidgets in a courtyard where a pair
Of giant Buddhas smile and wait their crash.
Then temples, audience-halls, a lonely tomb.
I touch its side. The stone's worn smooth as flesh.
A stranger dangles peaceful in that womb.
Worm he will be, if born: blink in the sun.
I'll crawl into his dark; perhaps he'll climb
Beyond the trippers to the final stone
Flat of the hillock, there to grow in Time.
Dry pubic ferns prickle the bitter sand.
Hawks in a hot concentric ecstasy
Of flight and shriek will wake his vision.
And When the clouds lift, he'll glimpse the miles-off sea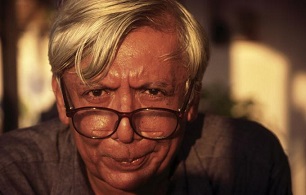 Dom Moraes (19 juli 1938 – 2 juni 2004)
De Griekse dichter Miltos Sachtouris of Miltos Sahtouris werd geboren in Athene op 19 juli 1919. Zie ook alle tags voor Miltos Sachtouris op dit blog.
The Poet's Head
I cut off my head
I put it on a plate
and took it to my doctor
— There's nothing wrong, he said,
it's just overheated
throw it in the river and we'll see
I threw it in the river with the frogs
and it raised a dreadful racket
it started shrieking and howling
all kinds of strange songs
I picked it up and put it back on my neck
and roamed the streets in a rage
with a poet's green hexagonometric head
For Spring
The sun is green
the trees are burning
awaiting the swallows
our iron swallows' nests
no longer fool us with their flowers
they cost us our arms and legs
now our arms and legs are hanging
from the trees
Vertaald door Karen Emmerich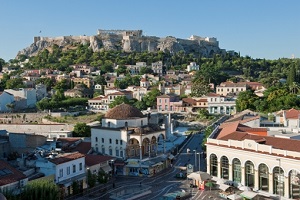 Miltos Sachtouris (19 juli 1919 – 29 maart 2005)
Athene
Zie voor nog meer schrijvers van de 19e juli ook mijn blog van 19 juli 2017 en ook mijn blog van 19 juli 2015 deel 1 en eveneens deel 2.
19-07-2018 om 16:08 geschreven door Romenu

Tags:Sarah Josepha Hale, Anna Enquist, Laurent Binet, Ghayath Almadhoun, Jean-Pierre Faye, Lucas Malan, Dom Moraes, Miltos Sachtouris, Romenu, Dolce far niente


18-07-2018

Judith Beveridge, Simon Vinkenoog, Hunter S. Thompson, Steffen Popp, Per Petterson, Elizabeth Gilbert, Alicia Steimberg, Aad Nuis
Dolce far niente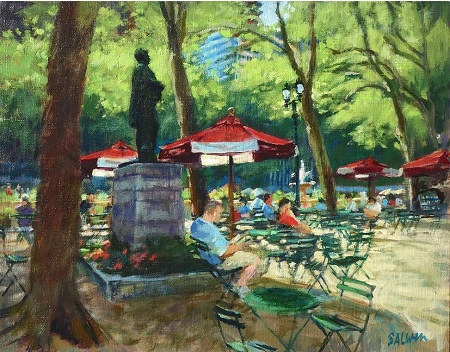 Bryant Park Reading Room door Peter Salwen, 2014
In The Park
Sitting on the grass
in the park—thinking about
what's going by, about
the pinks and plenary reds
of today's sunset.
Insects rampant as ions
off charged wires nipping,
tingling my legs.
Those buildings are like
bottles of scent fragile
in their lemon spray
mist and cologne light.
The harbour's becoming
dark against the chromocosm
of the moon adrift
under the stars.
A gull squeaks—it's
the sound of a pin
piercing polystyrene—it
carries out to the yachtmasts
moving mechanically
as wiper-bars, out to
the Opera House a duster
of starched serviettes.
Now, out to the suburbs,
those racks and racks
of tinted light
rising behind the trees.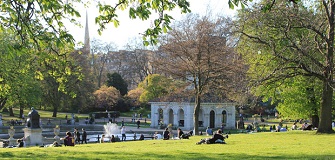 Judith Beveridge (Londen, 1956)
Hydepark in een zomers Londen
De Nederlandse dichter en schrijver Simon Vinkenoog werd op 18 juli 1928 in Amsterdam geboren. Zie ook alle tags voor Simon Vinkenoog op dit blog.
Robert
dit kan mijn geboorte nog niet zijn
dit is het leven van een ander -
het slaan van mijn hart is geen bewijs
en mijn mond is nog gesloten

dit is het bloeden van een rose keel
het woord dat de eerste daad verlamt
de hand die op mijn mond gelegd
aarzelend de gedichten zegt
waarin mijn vloeken
huizen naar beneden halen

dan sloop ik deze negenmaandse muur
waarop mijn vingers langzaam
het mene mene tekel schrijven
Groet
In de pijnkamer van onthechting
overgave deint en dreint

alles weten om niets te weten
lessen vergeten alles opnieuw
van te voren

kleine roofridder
hard als staal

adieu
Thelonious Monk
dit is een straat van parijs
met een arabier in de zon
die langzaam slenterend werkloos
loopt te zijn een 1951-noordafrikaan
ting ting ting in de bleke zon
zonder geluid

dit onder water uitgesproken
vonnis ting ting ting
ternauwernood de oppervlakte rakend
en met een strofe in de franse taal:
je donnerais ma vie
toute entière
pour un petit rire confus et obscène
herinnert aan de dierentuinapen
met mondbekken harige benen
en ronde gladde achterhanden
die gretig alle kleuren willen grijpen wit en zwart
ting ting ting

Simon Vinkenoog (18 juli 1928 – 12 juli 2009)
De Amerikaanse schrijver en journalist Hunter Stockton Thompson werd geboren in Louisville (Kentucky). op 18 juli 1937. Zie ook alle tags voor Hunter S. Thompson op dit blog.
Uit: Fear and Loathing in Las Vegas
"The only thing that really worried me was the ether. There is nothing in the world more helpless and irresponsible and depraved than a man in the depths of an ether binge. And I knew we'd get into that rotten stuff pretty soon. Probably at the next gas station. We had sampled almost everything else, and now – yes, it was time for a long snort of ether. And then do the next 100 miles in a horrible, slobbering sort of spastic stupor. The only way to keep alert on ether is to do up a lot of amyls – not all at once, but steadily, just enough to maintain the focus at 90 miles an hour through Barstow.
"Man, this is the way to travel," said my attorney. He leaned over to turn the volume up on the radio, humming along with the rhythm section and kind of moaning the words: "One toke over the line … Sweet Jesus … One toke over the line …"
One toke? You poor fool! Wait till you see those goddamn bats. I could barely hear the radio … slumped over on the far side of the seat, grappling with a tape recorder turned all the way up on "Sympathy for the Devil." That was the only tape we had, so we played it constantly, over and over, as a kind of demented counterpoint to the radio. And also to maintain our rhythm on the road. A constant speed is good for gas mileage – and for some reason that seemed important at the time. Indeed. On a trip like this one must be careful about gas consumption. Avoid those quick bursts of acceleration that drag blood to the back of the brain.
My attorney saw the hitchhiker long before I did. "Let's give this boy a lift," he said, and before I could mount any argument he was stopped and this poor Okie kid was running up to the car with a big grin on his face, saying, "Hot damn! I never rode in a convertible before!"
"Is that right?" I said. "Well, I guess you're about ready, eh?"
The kid nodded eagerly as we roared off.
"We're your friends," said my attorney. "We're not like the others."
O Christ, I thought, he's gone around the bend. "No more of that talk," I said sharply. "Or I'll put the leeches on you." He grinned, seeming to understand. Luckily, the noise in the car was so awful – between the wind and the radio and the tape machine – that the kid in the back seat couldn't hear a word we were saying. Or could he?"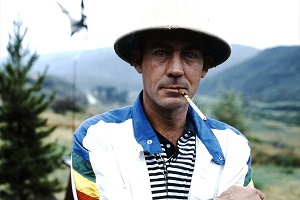 Hunter S. Thompson (18 juli 1937 – 20 februari 2005)
De Duitse dichter en schrijver Steffen Popp werd geboren op 18 juli 1978 in Greifswald. Zie ook alle tags voor Steffen Popp op dit blog.
Dickicht mit Reden und Augen
Möglichkeit und Methode überschneiden sich
ein kühner Satz bricht sich im Wald, fortan er hinkt

kein Sprung ins Dickicht dringt, kein Huf hinaus
kein ausrangiertes Fahrrad betet hier um Ruh
kein altes Lama spuckt, kein junges auch

sie hängen in den Tag, in Baumschaukeln
kein Baum, genau besehen, keine Schaukel, nicht mal
ein sie, nur hängen, Tag

Reden, durch nichts gedeckt, doch lebhaft
Lebewesen fast in einem Dickicht
hängend, hinkend eine, darum nicht weniger wahr
nicht wahr, nicht weniger, nicht – ungerührt

schaukeln oder grasen zur Pflege der Landschaft
oder stehen nur in ihr, schauen herüber mit Augen.
Betonstufen, die Meere
Bewegung (Luft), Meerfarbe (grün), ein Igel (die Technik eines Coyoten
ihn auf den Rücken zu drehen) – dein Herz, der nahe Hafen
dehnt sich an seinen Schlafkanten. Futter in Säcken, Munitionskisten
der gespaltene Huf eines Esels im Brackwasser –
das Meer zeigt dir Ufer (die Grenzen), du schläfst in deinen Staaten
es gibt Geheimzeichen, Türme (auf See blickend), Flugabwehr
Ingenieure mit Fliegerkappen – du zählst sie an Stränden, es sind Gelenke
und sie verbinden dich (wie eine Schrift) mit allen Dingen.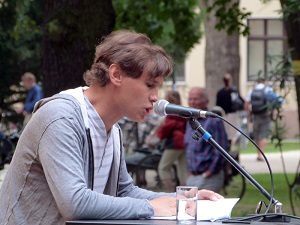 Steffen Popp (Greifswald, 18 juli 1978)
In 2013
De Noorse schrijver Per Petterson werd geboren in Oslo op 18 juli 1952. Zie ook alle tags voor Per Petterson op dit blog.
Uit: Out Stealing Horses (Vertaald door Anne Born Picador)
"Early November. It's nine o'clock. The titmice are banging against the window. Sometimes they fly dizzily off after the impact, other times they fall and lie struggling in the new snow until they can take off again. I don't know what they want that I have. I look out the window at the forest. There is a reddish light over the trees by the lake. It is starting to blow. I can see the shape of the wind on the water.
I live here now, in a small house in the far east of Norway. A river flows into the lake. It is not much of a river, and it gets shallow in the summer, but in the spring and autumn it runs briskly, and there are trout in it. I have caught some myself. The mouth of the river is only a hundred metres from here. I can just see it from my kitchen window once the birch leaves have fallen. As now in November. There is a cottage down by the river that I can see when its lights are on if I go out onto my doorstep. A man lives there. He is older than I am, I think. Or he seems to be. But perhaps that's because I do not realise what I look like myself, or life has been tougher for him than it has been for me. I cannot rule that out. He has a dog, a border collie.
I have a bird table on a pole a little way out in my yard. When it is getting light in the morning I sit at the kitchen table with a cup of coffee and watch them come fluttering in. I have seen eight different species so far, which is more than anywhere else I have lived, but only the titmice fly into the window. I have lived in many places. Now I am here. When the light comes I have been awake for several hours. Stoked the fire. Walked around, read yesterday's paper, washed yesterday's dishes, there were not many. Listened to the B.B.C. I keep the radio on most of the day. I listen to the news, cannot break that habit, but I do not know what to make of it any more. They say sixty-seven is no age, not nowadays, and it does not feel it either, I feel pretty spry. But when I listen to the news it no longer has the same place in my life. It does not affect my view of the world as once it did. Maybe there is something wrong with the news, the way it is reported, maybe there's too much of it. The good thing about the B.B.C.'s World Service, which is broadcast early in the morning, is that everything sounds foreign, that nothing is said about Norway, and that I can get updated on the position of countries like Jamaica, Pakistan, India and Sri Lanka in a sport such as cricket; a game I have never seen played and never will see, if I have a say in the matter. But what I have noticed is that 'The Motherland', England, is constantly being beaten. That's always something."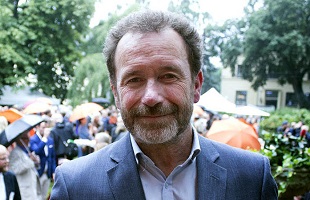 Per Petterson (Oslo, 18 juli 1952)
De Amerikaanse schrijfster en essayiste Elizabeth M. Gilbert werd geboren op 18 juli 1969 in Waterbury, Connecticut. Zie ook alle tags voor Elizabeth Gilbert op dit blog.
Uit: Big Magic
"When I talk about 'creative living' here, please understand that I am not necessarily talking about pursuing a life that is professionally or exclusively devoted to the arts. I'm not saying that you must become a poet who lives on a mountaintop in Greece, or that you must perform at Carnegie Hall, or that you must win the Palme d'Or at the Cannes Film Festival. (Though if you want to attempt any of these feats, by all means, have at it. I love watching people swing for the Bleachers.) No, when I refer to 'creative living' I am speaking more broadly. I'm talking about living a life that is driven more strongly by curiosity than by fear.
One of the coolest examples of creative living that I've seen in recent years, for instance, came from my friend Susan, who took up figure skating when she was forty years old. To be more precise, she actually already knew how to skate. She had competed in figure skating as a child and had always loved it, but she'd quit the sport during adolescence when it became clear she didn't have quite enough talent to be a champion. (Ah, lovely adolescence when the 'talented' are officially shunted off from the herd, thus putting the total burden of society's creative dreams on the thin shoulders of a few select souls, while condemning everyone else to live a more commonplace, inspiration-free existence! What a system...)
For the next quarter of a century, my friend Susan did not skate. Why bother, if you can't be the best? Then she turned forty. She was listless. She was restless. She felt drab and heavy. She did a little soul-searching, the way one does on the big birthdays. She asked herself when was the last time she'd felt truly light, joyous, and – yes – creative in her own skin. To her shock, she realised that it had been decades since she'd felt that way. In fact, the last time she'd experienced such feelings had been as a teenager, back when she was still figure skating. She was appalled to discover that she had denied herself this life-affirming pursuit for so long, and she was curious to see if she still loved it."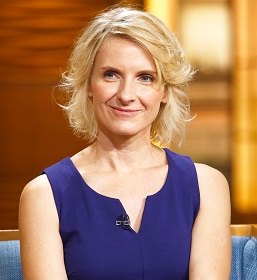 Elizabeth Gilbert (Waterbury, 18 juli 1969)
De Argentijnse schrijfster en vertaalster Alicia Steimberg werd geboren op 18 juli 1933 in Buenos Aires. Zie ook alle tags voor Alicia Steinberg op dit blog.
Uit: Call Me Magdalena
"They were helping themselves from all the dishes and trays, and they left everything a mess. They were playing with a little rubber ball, and suddenly one of them missed the mark and the ball fell into Enrique's cup, and to top it all off he was dressed in a white shirt and blue tie at the time?' "My God" "But nothing bothered us after the first bite of that crisp toast with butter and homemade duke de leche. And right after that a good cup of excellent coffee" "With milk?" "Yes, it was already mixed with the milk, in an enormous coffee pot?' "Just like in those old-fashioned hotels" "Everything was old-fashioned in that house. Even the kitchen helper, who was white and chubby, with a blue dress and apron and white slippers, with freckles on her arms and chest. She was the one who knew how to make a cocktail with port and a beaten egg" "What's it like?" "You have to go get the eggs from the henhouse and use them while they're still warm. You separate the whites from the yolks. You can reserve the whites to make meringue. You beat the yolks with sugar until they take on a whitish color, and you add the port drop by drop, beating all the while. That woman beats egg yolks with sugar and port all day long?'
"Now let's have breakfast in Mar del Plata, as you suggested?' "This isn't the same place where we always go?' "But Hike it, dear. It's sheltered from the wind and you can see the ocean. How many croissants do you want?" "How many do you think? Three, of course. Don't they always bring three croissants with the café au lait?" "No, dear, that was before. Now you have to ask for the number of croissants you're going to eat" "Why did they change it, dear?"
"Because diets have become so popular: croissants are very fattening. By the way, shouldn't you be on a diet?" '
"Im not planning to diet in Mar del Plata, dear?'
"But you weigh 125."
"And YOU weigh 150. Let's go to the casino?"
"Later. I think I'm just going to order cafe au lait and nothing else. No croissants."
"I'll do the same, dear. Coffee with skim milk and artificial sweetener?'
"Now you're talking?"
"May I ask your name? We've called each other 'dear' so much I've forgotten your name?'
"My name is Ignacio Ibargiiengoitia."
"Basque?"'
"Strange that you should ask after forty years of marriage. My grandparents were Basque, all four of them."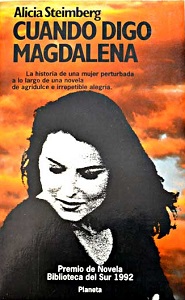 Alicia Steimberg (18 juli 1933 – 16 juni 2012)
Affiche
De Nederlandse schrijver, criticus en politicus Aad Nuis werd geboren op 18 juli 1933 in Sliedrecht. Zie ook alle tags voor Aad Nuis op dit blog.
Gezichten
Een gezicht nooit meer zien.

Een gezicht zien dat niet bestaat.
Langzaam duidelijker, totdat
ook de kleinste rimpels, putjes in de huid
een oogwenk helder zichtbaar zijn.

Maar het is geen gezicht.
Het was misschien een man die
honderd jaar dood is, en gestorven
zonder ooit te zijn afgebeeld.

Er zijn er zoveel.
Voor B.
Gedachteloze woorden raken dieper dan doordachte,
weloverwogene, ze snijden door het zachte
web dat onzichtbaar de vertrouwde dingen bindt.
Vastknopen kan dan niet. Geen goed woord dat ik vind.
Ik voel me dwaas - en even dwaas is alles weer terecht
als je gedachteloos 'dag liefje' zegt.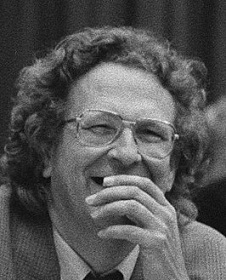 Aad Nuis (18 juli 1933 – 8 november 2007)
Zie voor nog meer schrijvers van de 18e juli ook mijn blog van 18 juli 2015 deel 2.
18-07-2018 om 18:06 geschreven door Romenu

Tags:Judith Beveridge, Simon Vinkenoog, Hunter S. Thompson, Steffen Popp, Per Petterson, Elizabeth Gilbert, Alicia Steimberg, Aad Nuis, Dolce far niente, Romenu



Judith Beveridge
Onafhankelijk van geboortedata
De Australische dichteres en schrijfster Judith Beveridge werd geboren in 1956 in Londen, Engeland, en emigreerde in 1960 met haar familie naar Australië. Ze groeide op en ging naar school in de westelijke buitenwijken van Sydney. Later studeerde zij aan de University of Technology in Sydney. Ze besloot toen ze van school ging om zich te wijden aan het schrijven van poëzie en nam parttime banen in kantoren en bibliotheken aan om voor zichzelf tijd over te houden om te schrijven. Haar eerste boek "The Domesticity of Giraffes" (1987) was een enorm succes. Ze won de Dame Mary Gilmore Award, de New South Wales Premier's Award en de Victoriaanse Premier's Award in 1988. Voor haar vierde boek "Wolf Notes" (2004) ontving zij de Victorian Premier's Award en de Age Book of the Year Award voor poëzie. Beveridge heeft creatief schrijven gedoceerd aan de University of Technology, Sydney, de University of Newcastle en de University of Sydney, evenals aan hogescholen. Ze co-redigeerde de poëzie bloemlezing "A Parachute of Blue" (1995) en heeft ook meegewerkt aan de poëzietijdschriften Hobo en Kalimat. Ze was lid van de Literatuurraad van de Australische Raad en werd in 2005 poëzie-editor van het literaire tijdschrift Meanjin.
The Kite
Today I watched a boy fly his kite.
It didn't crackle in the wind – but
gave out a barely perceptible hum.

At a certain height, I'd swear I heard
it sing. He could make it climb in
any wind; could crank those angles up,

make it veer with the precision of
an insect targeting a sting; then he'd
let it roil in rapturous finesse, a tiny

bird in mid-air courtship. When
lightning cracked across the cliff –
(like quick pale flicks of yak-hair

fly-whisks) – he stayed steady. For
so long he kept his arms up, as if
he knew he'd hoist that kite enough.

I asked if it was made of special silk,
if he used some particular string –
and what he'd heard while holding it.

He looked at me from a distance,
then asked about my alms bowl,
my robes, and about that for which

a monk lives. It was then I saw
I could tell him nothing in the cohort
wind, that didn't sound illusory.
For Rilke
You can cup your ear in your hand
and hear your voice turn all light and clear
in its depths —
but we hear nothing, just the noisy world.
And the world loves to be noisy.
It loves to make a clatter,
to play itself with our tongues
its diamond styluses
loudly
and for long periods.
But you are your own quiet singing.
The world sets speakers above our heads
(even when we sleep)
blaring at tremendous decibels —
and we can't hold out against it,
in the morning
the words of its song
pummel our lips awake.
Our hearts—they're like utensils
taken from their original uses
and put into the world's jug-band.
Listen to us: we are like bottles
filled to different levels and then struck
for our various resonances:
not like you, poet —
your voice pure as a tuning fork
independent
of what it's struck off; the gentle
absolute humming of steel
against which we are, to ourselves
severe grating, unbearable
dissonance.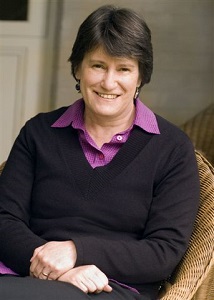 Judith Beveridge (Londen, 1956)
Hydepark in een zomers Londen
18-07-2018 om 18:06 geschreven door Romenu

Tags:Judith Beveridge, Romenu



| | |
| --- | --- |
| | |



Inhoud blog


| | |
| --- | --- |
| | Emily Dickinson, Karl Heinrich Waggerl, Reinhard Kaiser Mühlecker, Jorge Semprún, Gertrud Kolmarm, Jacquelyn Mitchard, Nelly Sachs, Cornelia Funke, George MacDonald |
| | Christbaum (Ada Christen) |
| | Thomas Verbogt, Margot Vanderstraeten, Eileen Myles, Patricio Pron, Michael Krüger, Gioconda Belli, Joe McGinniss, Wolfgang Hildesheimer |
| | Anna Gavalda, Ödön von Horváth, John Milton, Jan Křesadlo, Maksim Bahdanovič, Dalton Trumbo |
| | Jamal Ouariachi, Louis de Bernières, Mary Gordon, Bill Bryson, John Banville, Delmore Schwartz, Jim Morrison, Georges Feydeau |
| | Horatius, Hervey Allen, James Thurber, Carmen Martín Gaite, Nikos Gatsos, Jura Soyfer, Bjørnstjerne Bjørnson, Joel Chandler Harris |
| | Tatamkhulu Afrika, Dirk Stermann, Johann Nestroy, Joyce Cary, Gabriel Marcel, Willa Cather, Noam Chomsky, Friedrich Schlögl, Samuel Gottlieb Bürde |
| | Karl Ove Knausgård, Peter Handke, Yolanda Entius, Rafał, Wojaczek, Henk van Woerden, Alfred Joyce Kilmer, Sophie von La Roche, Paul Adam, Charlotte Wood |
| | Wat heeft Sint voor jou gekocht? (Thomas Verbogt) |
| | Hanif Kureishi, Alois Brandstetter, Joan Didion, Christina Rossetti, Fjodor Tjoettsjev, Calvin Trillin, Afanasy Fet, Hans Helmut Kirst, Eugenie Marlitt |
| | Rainer Maria Rilke, Geert Mak, Pat Donnez, Feridun Zaimoglu, Emil Aarestrup, Nikolay Nekrasov, Trudi Guda, Samuel Butler, Thomas Carlyle |
| | Hendrik Conscience, Kristina Sandberg, Joseph Conrad, Herman Heijermans, Grace Andreacchi, Ugo Riccarelli, France Pre¨eren, F. Sionil José, Franz Josef Degenhardt |
| | Advent (Marjoleine de Vos ) |
| | Frédéric Leroy, Ann Patchett, Hein Boeken, T. C. Boyle, George Saunders, Botho Strauß, Jacques Lacarrière, Iakovos Kampanellis, Eric L. Harry |
| | December (Algernon Swinburne) |
| | Pierre Kemp, Daniel Pennac, Arthur Sze, Natasza Tardio, Tahar Ben Jelloun, Billy Childish |
| | Ernst Toller, Mihály Vörösmarty, Valery Bryusov, Rex Stout. Henry Williamson |
| | Herinnering aan Ramses Shaffy |
| | Dennis Gaens, Christophe Vekeman, James Worthy, Y.M. Dangre, Reinier de Rooie, David Nicholls, Yasmine Allas, Jan G. Elburg, Jesús Carrasco |
| | Mario Petrucci, George Szirtes, Jean Senac, Carlo Levi, Jean-Philippe Toussaint, C.S. Lewis, Wilhelm Hauff, Louisa May Alcott, Franz Stelzhamer |
| | Erwin Mortier, Alberto Moravia, Stefan Zweig, Hugo Pos, Sherko Fatah, Philippe Sollers, William Blake, Alexander Blok, Rita Mae Brown |
| | Navid Kermani, Nicole Brossard, Han Kang, Philippe Delerm, James Agee, Jos. Habets, Friedrich von Canitz, Jacques Godbout, Saskia Goldschmidt |
| | Luisa Valenzuela, Eugène Ionesco, Marilynne Robinson, Herman Gorter, Paul Rodenko, Mihály Babits, Louis Verbeeck, Alyosha Brell, Mohamed Al-Harthy |
| | King of glory, King of peace (George Herbert) |
| | Maarten 't Hart, Connie Palmen, Abdelkader Benali, Arturo Pérez-Reverte, Ba Jin, Augusta de Wit |
| | Joseph Zoderer, Alexis Wright, Isaac Rosenberg, José Eça de Queiroz, Lope de Vega |
| | Isabel Ecclestone Mackay |
| | Jules Deelder, Wanda Reisel, Marlon James, Einar Kárason, Ahmadou Kourouma, Thomas Kohnstamm, Hans Sahar |
| | Wen Yiduo, Laurence Sterne, Cissy van Marxveldt, Arundhati Roy, Carlo Collodi, Gerhard Bengsch, Ludwig Bechstein |
| | Paul Celan, Marcel Beyer, Max Goldt, Jennifer Michael Hecht, Sipko Melissen, Henri Borel, Sait Faik Abasıyanık, Nigel Tranter, Guy Davenport |
| | André Gide, George Eliot, Dirk van Weelden, Christian Filips, Suresh en Jyoti Guptara, Viktor Pelevin, Endre Ady, William Kotzwinkle, Elisabeth Maria Post |
| | Margriet de Moor, Gerard Koolschijn, Isaac Bashevis Singer, Wouter Steyaert, Marilyn French, Freya North, P. A. de Génestet, Voltaire, Garth Risk Hallberg |
| | Don DeLillo, Viktoria Tokareva, Sheema Kalbasi, Nadine Gordimer, Thomas Chatterton, Zinaida Hippius, Selma Lagerlöf, Jordi Lammers, Ferdinand von Schirach, Yevgenia Ginzburg |
| | Scott Cairns, Sharon Olds, Mark Harris, Karel van den Oever, Alan Tate, Anna Seghers, Elise Bürger, Girolamo de Rada, Veronika Aydin |
| | Arno Van Vlierberghe |
| | November (Helen Maria Hunt Jackson) |
| | Toon Tellegen, Joost Zwagerman, Joost Oomen, Thomas Möhlmann, Pauline Genee, Klaus Mann, Eugenio Montejo |
| | Margaret Atwood, Seán Mac Falls, Jaap Meijer, Richard Dehmel, William Gilbert, Hans Reimann, Mireille Cottenjé |
| | Iemand als een mensenzoon (Walter Jan Ceuppens) |
| | Christoph Wilhelm Aigner |
| | Joost van den Vondel, Guido van Heulendonk, Dahlia Ravikovitch, Rebecca Walker, Auberon Waugh |
| | Christopher Paolini, Pierre Véry, Archibald Lampman, Max Barthel, Jelko Arts |
| | Anton Koolhaas, Chinua Achebe, José Saramago, Renate Rubinstein, Craig Arnold, Danny Wallace, Frits van der Meer, Jónas Hallgrímsson, Hugo Dittberner |
| | Jan Terlouw, Clemens J. Setz, Wolf Biermann, Ted Berrigan, J. G. Ballard, Gerhart Hauptmann, Liane Dirks, Lucien Rebatet, Marianne Moore |
| | Susanne Fröhlich |
| | Norbert Krapf, Astrid Lindgren, P. J. O'Rourke, Jonathan van het Reve, Olga Grjasnowa, René de Clercq, Jurga Ivanauskaitė, Karla Schneider, Peter Orner |
| | Christine Otten, Inez van Dullemen, Frank Westerman, Timo Berger, Hadjar Benmiloud, Nico Scheepmaker, José Carlos Somoza, Peter Härtling, Bert Leston Taylor |
| | Daniël Dee, Lize Spit, Frank Witzel, Johnny van Doorn, Cristina Peri Rossi, Naomi Wolf, Malcolm Guite, Jacobus Bellamy |
| | Old Martinmas Eve (Ivor Gurney) |
| | Hans Magnus Enzensberger, Mircea Dinescu, Carlos Fuentes, Nilgün Yerli, Luigi Malerba |